Port Hedland
Things to Do
Restaurants
Holiday Rentals
Travel Stories
Rental Cars
Add a Place
Travel Forum
Travellers' Choice
Help Centre
Port Hedland harbour cruise - Port Hedland Seafarers Centre Tours
South Pacific
Australia
Western Australia
The Pilbara
Port Hedland
Port Hedland - Things to Do
Port Hedland Seafarers Centre Tours
Fantastic tour and great introduction to learn about the life of a seafarers, and all the behind... read more
Working in the Pilbara can be all-consuming, so taking the time out to get a handle on the role the... read more
Port Hedland harbour cruise
Having been on a magical cruise around the Port, on the Seafarers Centre launch to get up close and personal with the huge iron ore carriers and salt freighters, we thoroughly recommend the cruise to anyone passing through Port Hedland. Contact the Seafarers Centre's friendly staff for all the details and bookings on 08 9173 1315. It is well worth it.
Our tour guide Melba was so informative and so professional tour guide, I highly recommended this tour for everyone have a day to spend in hedland, such amazing cause for all the seafarer of the world who sacrifice family time to earn money for the family and future of their kids
Awesome tour. worth the trip from Karratha. Kids didn't tell us they were bored once. Melba our guide did a great job. Not easy when the kids are into PlayStation and the like.
The Seafarers Centre run two tours. One, via boat around the harbour. The second, around the operation of the Fortescue Metals iron ore loading facility. We took to the water, using the same boat that is used to ferry the visiting seafarers to and from the Seafarers Centre. Such a great perspective on the working of what is the largest bulk port in the world, a perspective that only a few of the workers at the port ever get. The visit comprised a briefing on the operation of the Centre as well as some fascinating statistics about the port. For instance the automated loaders fill the ships, which can range up to 290,000 tonnes, at a rate of 3 tonnes per second. Great bunch of people with great stories and experiences.. Loved it.
We have just done the Seafarers Harbour Cruise. A very worthwhile trip indeed hearing the wonderful work these folk are doing for all the seafarers that come into the harbour of Port Hedland. Cathy our tour guide was extremely knowledgeable and happy to answer any questions you had. It was good to hear just how the port worked and about the ships but the best bit was basically getting amongst them on the boat when they collected any seafarers who wanted to come onshore. Money well spent indeed s trip not to be missed.
There is not a lot to do in Port Hedland but I would recommend this to anyone visiting the area. My 11 yr old wasn't very excited about it but at the end of it she even commented how she enjoyed it. The Seafarers do a fantastic job with helping visited ship crew and it was interesting in hearing how and the tour of the harbour right up next to the big ships was awesome
Visitor Centre Port Hedland Visitor Centre
Tourism Western Australia acknowledges Aboriginal peoples as the traditional custodians of Western Australia and pay our respects to Elders past and present. We celebrate the diversity of Aboriginal West Australians and honour their continuing connection to Country, culture and community. We recognise and appreciate the invaluable contributions made by First Nations peoples across many generations in shaping Western Australia as a premier destination.
Home » Travel Guides » Australia » 15 Best Things to Do in Port Hedland (Australia)
15 Best Things to Do in Port Hedland (Australia)
An export powerhouse for Australia, Port Hedland in Western Australia 's Pilbara region is one of the largest and busiest harbours in the world.
The main cargo is iron ore, which is mined in mindboggling quantities in the ranges outside the town.
This is then transported to the harbour via trains so long they'll take several minutes to pass by.
Another big export is salt, produced at endless evaporation ponds close to the town and piled into stacks that look like white mountains.
Many of the activities in Port Hedland involve getting as close as possible to the colossal industry, but there's rich wildlife away from the harbour at beaches with nesting flatback sea turtles and intertidal areas flocked by thousands of shorebirds.
1. Port Hedland Harbour Tour
There are several lookouts in Port Hedland where you can survey the harbour's vast operations.
But to really get a handle on things you can pay a visit to the Port Hedland Seafarers Centre in Port Hedland's West End.
This mission provides a daily launch service for the crew of those hulking iron ore carriers, bringing them ashore to the centre which has a licensed bar, high-speed Wi-Fi, private chapel, currency exchange and a recreation room and outdoor space.
A tour will begin with a presentation about the mission and its functions, before you head out into the harbour on a Seafarers Launch Service boat, picking up crew members on the way.
A well-informed member of staff will be there to give you a commentary and will answer any questions.
2. Salt Eco Tour
Salt production takes place on a massive scale in and around Port Hedland.
The company in charge is Dampier Salt, 68.4% of which is owned by the Rio Tinto Group.
There's a 78-square-kilometre evaporation pond complex on Port Hedland's outskirts, which is contained by the Port Hedland Saltworks Important Bird Area, made up of the ponds, a seawater intake zone and intertidal mudflats.
This is a magnet for wading birds, including a large slice of the worldwide populations of sharp-tailed sandpipers and red-necked stints.
From Port Hedland you can go on a three-hour bus tour of the complex, observing birds, mammals, reptiles, amphibians and fish, while also finding out about the Dreamtime stories of the Ngarla traditional owners.
You'll then enjoy a spot of morning or afternoon tea before returning to the towering salt stacks just outside the town where you can touch the salt in its rawest form.
3. Fortescue Tour
As well as a boat tour of the harbour, the Port Hedland Seafarers Centre can also take you behind the scenes at the Fortescue Metal Group's port site.
You'll witness tonnes of iron ore being shifted from giant piles via the colossal stackers, re-claimers and conveyors.
The tour then skirts the wharf as the immense ships are loaded up.
Almost all of the tour takes place in the comfort of a coach and an experienced guide will talk you through every stage of the complex loading process.
4. Pretty Pool Park
If you'd like to relax by the coast in Port Hedland, but want to see less of the industrial infrastructure, your best bet is Pretty Pool Park.
This inlet is on the east side of Port Hedland, at the mouth of a tidal river and edged by dunes and mangroves.
The difference between high and low tide is dramatic in the Pilbara, and at times the ocean flows briskly through the inlet.
The pool is at its fullest at high tide, but even when the ocean is out there's lots of trapped shallow water to wade in.
It is worth wearing some kind of footwear as stonefish and snakes aren't uncommon.
For local families Pretty Pool Park is a scenic place for a picnic, beachcombing and for children to play in the water on a hot day.
5. Cemetery Beach Park
One of Port Hedland's favourite parks hugs the Indian Ocean coast for just under two kilometres.
Cemetery Beach Park is well looked-after, and features a fenced children's playground, barbecues, swaying palms, works of public art, shelters, toilets and ample grassy space.
The beach is less suited for typical seaside activities, not least because, from October to March, it's a nesting site for flatback sea turtles (more info below). Come late in the day and you'll be greeted by a lovely sunset, as the shore is angled north-west.
6. Koombana Lookout
The water tower standing high behind Cemetery Beach is a landmark for Port Hedland, and is illuminated in changing colours at night.
Near the tower's base there's a lookout where you can see the iron ore ships waiting to dock offshore, watch the sun go down and observe turtles (with a good pair of binoculars). The lookout is named after the Edwardian-era passenger and cargo ship, SS Koombana, which sank off Port Hedland in 1912 at a cost of 150 lives.
There's an information board about the disaster close to the viewing platform.
7. Port Hedland Courthouse Gallery + Studio
Somewhere to go for a dose of culture, this dynamic community gallery is in Port Hedland's mid-century Justice Complex.
There's a lot going on here all year round, be it curated exhibitions for local and regional artists or activity-packed art and craft programming.
The main gallery is in the original courthouse building, and has a bright, floor-to-ceiling exhibition space.
This is supplemented by the Studio, combining an artist/maker space, darkroom and tech lab.
For a special handmade something, check out the Store+Stockroom.
Four times a year the complex also hosts the arts and crafts-oriented West End Markets.
8. Cooke Point Viewing Platform
The large tidal range causes a natural phenomenon that can't be seen outside of this corner of Western Australia.
Staircase to the Moon happens when a full moon (or nearly full) rises over the exposed tidal flats.
The moon is reflected in the standing water rippling sands, creating a continuous band of light that looks like a staircase.
This spectacle only occurs in Port Hedland between March and October, and the best place to see it is from the east-facing Cooke Point Viewing Platform.
Staircase to the Moon happens once a month on three consecutive nights, and a calendar is available from the Port Hedland Visitor Centre.
9. Marapikurrinya Park
Somewhere to take in the harbour's comings and goings, Marapikurrinya Park is by the water in Port Hedland's historic West End.
You'll have a front row view across the channel to Finucane Island to see the humongous iron ore ships being loaded up and escorted in and out of the harbour by tugs.
The park faces west so the view is especially striking at sunset.
On the second or third Friday of the month, this is also the venue for Port Hedland's Sunset Food Markets.
Normally there's live music, dance performances, children's activities and a lineup of food trucks for anything from pizza to kebab, Thai, Malaysian, barbecue, pizza, gourmet coffee or shaved ice.
10. Dalgety House Museum
A good 70 years before the birth of the mining industry that dominates life in Port Hedland, the town was a distant harbour outpost that made its living from waterborne trade.
One of the big players in that era was Dalgety and Company, an agricultural and shipping conglomerate with a transcontinental reach.
Dating to 1901, the company manager's residence for the Port Hedland branch has been preserved and holds an interactive museum explaining the town's story.
Central to this is the impact of European settlement on the Pilbara's Kariyarra Aboriginal people.
There's a wide collection of artefacts and documents to pore over, and displays delve into topics like Port Hedland in WWII, camel racing and the SS Koombana.
11. Redbank Bridge Lookout
Without signing up for a tour, this location on the south side of the town is as good a place as any to gauge the awesome scale of Port Hedland's industry.
The lookout is on the north-western corner of those massive evaporation ponds and has a clear view of the white mountains of salt piled up.
But you'll also be next to the railway tracks, and the length of the iron trains that service Port Hedland need to be seen to be believed.
It can take five minutes or more for one of these vehicles to pass through! The lookout is on a serpentine path, with a series of information panels about the ecosystems and natural history of the coast and surrounding regions.
12. Turtle Viewing
The flatback sea turtle, which famously only nests on Australian beaches, is a summer visitor to Port Hedland's sandy coastline.
This species comes ashore between October and March, and from December to March its younglings hatch and scramble down to the ocean.
Although not endangered in Australia, the flatback sea turtle is threatened locally, and its conservation is managed by "Care for Hedland". You can contact this organisation for a guided evening tours for deeper insight about the turtles and their behaviour.
13. Cape Keraudren Coastal Reserve
Leave the town behind for a road trip east along the Great Northern Highway to this secluded reserve on the Indian Ocean.
Cape Keraudren is at the west end of Eighty Mile Beach, officially the longest uninterrupted beach in Australia, at 220 kilometres.
The vast sands of Eighty Mile Beach open up as you travel north-east, but at the Cape Keraudren Coastal Reserve are narrower sandy beaches, tidal creeks, rocky outcrops, seagrass meadows and patches of mangrove.
This is all a haven for a wealth of wildlife on land and in the water, but especially wading birds like pied oystercatchers, beach stone curlews, striated herons, eastern reef egrets and migratory waders from plovers to whimbrels.
You can enter the reserve for a small fee, and have access to campsites, toilets and other low-key facilities.
If you do stay overnight you'll be wowed by a glorious sunset, followed by one of the brightest night skies you've ever witnessed.
14. Port Hedland Boulevard
Now, Port Hedland may be remote, but that doesn't stop it having a shopping centre, located a couple of streets in from Cemetery Beach Park, opposite the Town Oval.
In fact the majority of the town's shops, and many of its dining options, can be found here.
The big anchor is a Woolworths supermarket, and there are two branches of Harvey Norman (electrical and computing), a BWS and the town's community library.
Food-wise you've got a cluster of cafes, a bakery, a branch of Chicken Treat (WA barbecue chicken chain) and a noodle stand.
15. Port Hedland Visitor Centre
As guided tours are the best way to experience Port Hedland and its industrial activity, the town's visitor centre is a handy amenity for bookings and extra information.
If you want to go it alone, the staff are clued up about the harbour's arrivals and departures, and can tell you when to go to see the iron ore ships at anchor or sailing past.
The centre also has a handy live map of the harbour, as well as mineral samples to show you Port Hedland's lifeblood up close.
Tales of Hedland is an enlightening program of talks by local residents, taking place once a week, while the regular Wedge Street Footpath Markets have stalls for plants, jewellery, books and arts and crafts.
15 Best Things to Do in Port Hedland (Australia):
Port Hedland Harbour Tour
Salt Eco Tour
Fortescue Tour
Pretty Pool Park
Cemetery Beach Park
Koombana Lookout
Port Hedland Courthouse Gallery + Studio
Cooke Point Viewing Platform
Marapikurrinya Park
Dalgety House Museum
Redbank Bridge Lookout
Turtle Viewing
Cape Keraudren Coastal Reserve
Port Hedland Boulevard
Port Hedland Visitor Centre
Your browser is not supported for this experience. We recommend using Chrome, Firefox, Edge, or Safari.
Tourism Industry
Media & Film
Privacy Statement
Plan Your Holiday To Australia's North West
Harbour tour
The Port of Amsterdam harbour tour takes you to places that are normally only accessible for commercial shipping. For example, we'll take you past cocoa warehouses, where cocoa for the tastiest chocolate is stored and transhipped. And you'll discover how the port transforms into a circular hub.
Discover, experience, and marvel
The harbour cruise Amsterdam offers a unique view of the port, with views of locations usually only accessible to the shippers. The cruise crosses the place where the cacao for our chocolate is stored, Koopman's Car Terminal, where we might even spot a big RoRo ship, and across multiple other terminals and companies that work on the energy transition and circulair economy.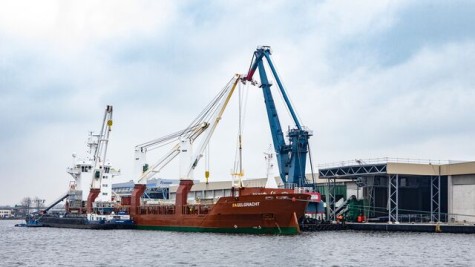 We sail on the River Dream, a passenger ship that is 36 meters in length with a spacious upper deck and secured lower deck with a huge panoramic window. Op the upper deck, you can enjoy the sun or the wind in your hair, whilst enjoying the port to the fullest. Inside it is warm and dry, and your view of the port is expansive, thanks to the big windows.
Dates and times
Due to corona, there will be no harbour tours through the Amsterdam port in 2020 anymore. This is in line with the measures taken by the government to limit the spread of the virus as much as possible.
We are investigating whether and how we can organise the roundtrips in the '1.5-metre society'. Hopefully we can offer you this unique insight into the port again as soon as possible.
Keep an eye on this page for up-to-date information. In the meantime, want to stay up to date on what's going on in the port? Then follow us on social media: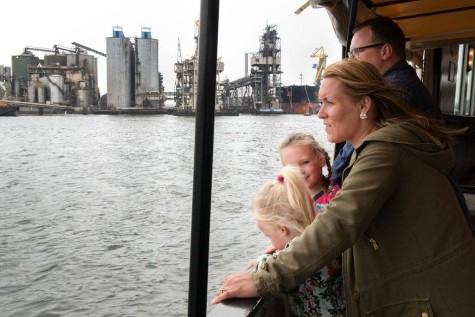 Amsterdam en de haven
De havenrondvaart is een samenwerking tussen Amports, Amsterdam Boat Cruises en Port of Amsterdam. We hebben de handen ineen geslagen om zoveel mogelijk inwoners van Amsterdam en de Metropoolregio kennis te laten maken met de Amsterdamse haven en te laten zien wat de rol van de haven is voor de stad.
Ontdek meer over wat de haven voor de stad doet!
Always up to date with the latest developments?
Subscribe to the newsletter!
Welcome to Port Hedland
Come in to the Port Hedland Visitors Centre in the main street of town for all your tourist services. We look forward to making your visit to Port Hedland an enjoyable one!
Port Hedland Tours
Harbour tour.
9:00am and 1:00pm Monday to Friday.
Additional tours may run in peak season
Tour begins with an informational talk, followed by the launch trip. Please allow 2 hours due to varying vessel traffic in the port.
Adult - $65
Child - $35
Seniors - $60
Family of 4 - $180
Join the seafarers launch (boat) as we circle the harbour delivering supplies to the crew who are unable to come ashore due to COVID 19. We start with a presentation about the Seafarers Mission and what we do, including facts and figures about Australia's largest tonnage port and loading processes before we bus you down to the jetty for the launch run around the harbour. After the tour please join us for a cuppa and take the opportunity to ask questions. .
Yarning with the Locals
11:00am Tuesday
Operates between May to September
Join local residents for a cuppa and learn about a different side of Hedland - the community, camaraderie and funny stories that make Hedland home. This is the perfect activity for locals and visitors, and is an opportunity to meet new people and build friendships which the Pilbara is famous for.
PUBLIC Art in Port Hedland - self-guided street art map
Port Hedland's West End is home to some of the best street art in the region, completed by artists such as Yok and Sheryo, Saner and Hayley Welsh. Street art enthusiasts can pick up a copy of the street art map from the Visitors Centre or Courthouse Gallery and spend an afternoon exploring the alleyways and streets of the West End. Some are obvious, and some require a little bit of adventure!
Cultural and Heritage Trail - self-guided tour of the historic West End
If you prefer to explore at your own pace, pick up a copy of the Visitor Centre's Cultural and Heritage Trail guide which will take you around the West End and the historic sites such as Banger's Bungalow and the Old Nurses Medical Quarters (both now utilised as an office and a Dome Cafe, respectively).
Twilight Industry Tour
4:40pm Daily
Child - $40
Family of 4 - $170
See the world's largest bulk loading port from the outside looking in with our expert guide. On this 1 ½ hour bus tour learn about the history of the port, as you travel past the Dampier Salt site around to Finucane Island where you'll learn about our miners, BHP, FMG, Roy Hill and the newer lithium miners. As the sun sets over the port enjoy a complimentary beverage while watching the ships come and go. On your trip home you'll see the whole port light up as the night shift begins.
Salt Industry Tour
Monday and Friday 1.30pm
Adult - $60
Seniors - $55
Family of 4 - $155
This is a 90 minute guided bus tour of Dampier Salt's operation where you will learn how the salt is grown and see how the salt is harvested. Head back to the production area where you can touch the salt in its raw form while taking photos of the salt stack
Big Fish Tour
<< Picture Not Provided >>
Please contact Pilbara Tours on 0408 933 108 or visit website www.pilbaratours.com.au for information and bookings.
Port Hedland Experiences
Port industry.
Port Hedland is home to the world's largest export tonnage port, shipping over 600 million tonnes per annum in the 15/16 financial year. The best views of industry in motion in the harbour can be found at Marapikurrinya Park (Richardson Street, Port Hedland) on the waters edge in the historic West End. You can also see the ships in action while enjoying a coffee at Dome Cafe at the corner of McKay Street, Port Hedland. The Port Interpretive Walk running along the Esplanade offers information about the port's history and the resource companies that utilise the facility.
Port Hedland's uniquely beautiful beaches and mangroves are home to an abundance of fish and other wildlife. Off the coast of Port Hedland you can see whales, bottlenose dolphins and sharks.
Turtle Monitoring
Flatback sea turtles nest only on Australian beaches and they have the shortest migratory range of all sea turtles.
From October to March Hedland's beaches become home to hundreds of flatback turtles (natator depressus) as they nest and their younglings hatch. For turtle viewing and monitoring, it is advisable to contact the local Care for Hedland Environmental Association who manage the turtle monitoring program.
Care for Hedland's turtle program provides much needed monitoring, awareness and conservation for these local threatened species. This program is a part of a wider turtle monitoring project encompassing nesting rookeries from Shark Bay in the south, up to the Kimberly. Guided evening tours operate for anyone to watch the turtles nesting whilst following the turtle watchers code of conduct. Nesting season is from October to January. Hatchling season is in December to March.
Pilbara Wildflowers
During the winter months in Port Hedland you will be able to find a multitude of native wildflowers. You could make an adventure of wildflower viewing by following the Pilbara Wildflowers Trail by road through the region . July to September is the time to experience this beautiful natural occurrence unique to the Pilbara. Look in the right places and you will find the unmistakable Sturt's desert pea, Mulla mulla and the tall majestic Ashburton pea as well as up to 65 species of the Acacia (wattle).
Staircase to the Moon
The Staircase to the Moon is a natural phenomenon that occurs only in the North West of Australia between March and October. During the full moon this region experiences such dramatic tidal changes throughout the day that enable the pockets of water caught in the sand ripples to reflect the natural rising colour of the moon. Viewed at full moon on a still evening this light creates what looks like a golden staircase leading to the moon.
The times for the rising moon are in the local telephone book, they are also displayed monthly at the Port Hedland Visitors Centre. The best vantage spot is next to the Cooke Point Caravan Park (Goode Street) in Port Hedland. There is a viewing deck set up especially for this natural occurrence.
Note: A super full moon occurs when the moon's closest to the Earth, during this time the moon may seem bigger and brighter.
Here are just a taste of the things that you can expect to experience and love on your trip to Port Hedland:
Arts and Culture
Port Hedland Courthouse Gallery
The Port Hedland Courthouse Gallery on Edgar Street is located in the heart of the West End and has become a destination in the region, with a full and diverse year-round exhibition program featuring Indigenous artworks, national and local artists and photographers including the annual Hedland Art Awards (August). The Gallery also runs a range of art and craft workshops it's also home to retail space where you can find stylish objects, homewares, jewellery, accessories and books.
Spinifex Hill Studios
Port Hedland's only Aboriginal arts centre, the Spinifex Hill Studios in South Hedland is home to artists from skin groups across the Pilbara. What makes this centre unique is the range of art styles brought by the artists, giving depth and dimension to the final product. Visitors are welcome to pop by and watch the artists at work, and they also stock an extensive collection of artwork available for sale. 
Dalgety House Museum + Don Rhodes Mining Museum
Dalgety House on Wedge Street was the original Dalgety & Co manager's house, and has been converted to a museum and interpretive centre run by the volunteers of the Port Hedland Historical Society. Along Wilson Street sits the Don Rhodes Mining Museum with historic mining and transport equipment and a monument to the town's Torres Strait Islander residents.
Matt Dann Theatre and Cinema
Feel like a night at the movies or the theatre, or want to catch a weekend matinee with the kids? Perhaps you'd like to take in a contemporary music or dance performance, or some stand-up comedy? The Matt Dann Theatre and Cinema is the hub of Hedland's performing art scene with an annual calendar of vibrant stage shows and movies to suit all ages.
PUBLIC Street Art
Take a walk through Port Hedland Historic West End to discover some awesome urban artworks by Creepy, Phibbs, Tim Rollin' and Ryan Boserio which bring the street to life. Download a copy of the PUBLIC Street Art map here.
Coastal Experiences
On the coast, tides which range from half a metre to eight metres create fine fishing spots and great opportunities for shell collectors, reef walkers and photographers. Several coastal public parks are linked by pathways so you can walk or ride your bikes while admiring the view.
Fishing is a renowned activity in Port Hedland, whether by boat, off the rocks, public jetty or along the beaches and spoil bank. A wide variety of fish such as bream, whiting, mullet, kingfish and skippy can be caught in a number of habitats. A large population of juicy mud crabs live in the dense mangroves vegetated with samphires and other salt-tolerant plants.
Tides fluctuate from half a metre to seven metres, with beaches ranging from sand to rock and flourishing mangrove, the most popular swimming beach is Pretty Pool Beach and the town also offers plenty of public pool and water park amenities. Birdlife is abundant along the beaches and in the tidal creeks.
Care for Hedland run Reef Walks which provide a great opportunity to get in amongst Port Hedland's natural environment. Contact the centre to For other coastal adventures, picnics or beach fishing it is worth visiting Finucane Island, Cemetery Beach, Six Mile and the Spoilbank.
Community Activities and Events
West End Markets
Hedland's only dedicated maker's markets attracts around 50 stallholders selling an array of locally handmade items including adult and children's clothing, textile, artwork, jewellery and homewares. Held in the shady gardens of the Courthouse Gallery, market-goers are treated to live music, roving street performers and an array of delicious market foods in an outdoor food court. The West End Markets are held in April, June, August and October off Edgar Street, Port Hedland.
Port Hedland Yacht Club Markets
Held on the first Sunday of each month, these markets are set against the gorgeous backdrop of the Indian Ocean and the world's largest export tonnage port. Browse products from local makers and suppliers, and enjoy a big breakfast by the ocean. The yacht club also has a large kids playground so is the perfect family-friendly activity.
Port Hedland Racing Season
Like most other things in Port Hedland, racing season is big! Each winter the season kicks off with Family Day and other meets, but Ladies Day (July) and Hedland Cup (first Sunday in August) are the best excuse to get frocked up (hat, heels, the works) and enjoy a glass of bubbly trackside. 
West End Movies
Enjoy a free movie under the stars in the Courthouse Gallery Gardens. Kick back in a vintage-style deckchair and enjoy a live acoustic performance before the film. No food or beverages are served at this event, however patrons are more than welcome to bring their own picnic basket of nibbles and refreshments, as well as their own chairs or rugs. Visit www.whatsonhedland.com.au to for dates and movie titles.
Silver Star Cafe
It is also worth checking out the Silver Star Cafe in the West End. This iconic cafe and restaurant is housed inside a silver 1920s rail carriage. Through the 1960s to 80s the carriage travelled between Port Hedland and Newman servicing dignitaries and community members travelling between Mt Newman Mining's (now BHP Billiton) sites. Now in its new home in the West End, you can expect to find a great cup of coffee, delectable cakes and sweets and a tasty breakfast, lunch and dinner menu.
Header images: 1-4 - by Simon Phelps, 5 - by Gary Seton, 6 - by John Elliott
Copyright 2023 Port Hedland Visitor Centre