6 Helen Georgia Wineries to Visit for Relaxing Fun (2023)
Local wineries are one of North Georgia's best-kept secrets. The wine smells (aromas and bouquets) are all unique because they come from different growing conditions and varieties of grapes! Not to mention each local professional winery/brewery often has something unique and charming to attract visitors.
Helen, Georgia has six wineries that all offer something special. Each brings its own local charm and flavors. In this article, I'll talk a little more about each winery so you can choose the one(s) that is right for you!
1. Habersham Winery
Habersham Winery provides excellent examples of high-quality Georgia wines. Habersham has been producing award-winning wines since 1983!
This family-owned winery has an extensive selection of different wines made with vinifera, French-American, and Southern Muscadine grapes.
CHALET WHITE
SIGNET (COMING SOON)
CHEROKEE ROSE
And so much more!
They even have winemaker experiments for sale for the bold.
For visitors, the wine-tasting room that is open daily is a delightful hangout area with live entertainment, gourmet foods, imported cheese, and wine specialty items. Try to visit during their annual winefest !
Interesting Fact: Before the American Revolutionary War, the English government had sought to establish Georgia as a wine-making country. But that vision wouldn't be realized until centuries later.
2. Creekstone Winery
Creekstone Winery is the cousin of Habersham Winery. The Creekstone label formed its own winery in 2019 after nearly 40 years of producing wines as part of Habersham.
Just like its predecessor, Creekstone is a master of combining fruits, spices, and flowers in matches made in heaven! Creekstone has no shortage of wine selection.
You have your choice of
Cabernet Sauvignon
Chambourcin
Sauvignon blanc
You can taste 5 of these wines in the wine tasting room for $14 + tax per person, without the need for reservations! During this experience, there is live entertainment, such as the Creekstone After Hours Music Series which is every Friday and Saturday.
And if you really like their wine, it can be shipped to select states .
3. Fox Winery
The Fox Winery takes pride in its unique flavor profiles and attention to detail. Though Fox is a smaller operation than others, they have earned several awards for their wines.
Their wines are packed with Georgia charm, and their potency pairs them perfectly with traditional Southern-comfort cooking.
They also have a delightful gift shop so that you can take samples of Fox Winery home with you. And if you're needing wine glasses, check these out from Amazon.
Their hours of operation for tours and wine tastings are:
Wednesday – Saturday: 10am – 6pm
Sunday: 1pm – 6pm.
Monday & Tuesday: Open by appointment only.
4. Frogtown Cellars
Frogtown Cellars has wine creation process down to a science. At 57 acres, Frogtown is a massive winery and wine club at the base of the beautiful Appalachian mountains.
It's a tri-level gravity flow winery. Each level serves a separate function in the wine-making process. Outside of California, it may be the most awarded winery in the U.S. with 2 Platinum awards, 36 gold, 82 silver, and 92 bronze!
It would take too long to list all of the wines they offer, but here are their many categories:
Premiums reds
Premium whites & roses
Off-dry reds
Off-dry whites & roses
Sweet wines
Visitors can enjoy various events throughout the year, such as the Lobster Feast event. Also, enjoy the wine club citizenship which, includes a 3-bottle wine selection and 18 bottles yearly.
Their wine tasting room is open daily.
5. Sweet Acre Farms Winery
Sweet Acre Farms Winery is based in the foothills of the northeast Georgia mountains and is all about comfort.
Their rustic winery in Alto has plenty of little spaces for you to find solitude and have your own personal getaway. Or you can find a setting to be with your friends.
You can make the winery your second home by renting the upper loft and bar that overlooks their pastures and lounge in a rocking chair to your heart's content.
Not only do they sell unique wines such as "2017 R.E.D Remember Everyone Deployed,†or "2021 Quittin' Time Lemon Blackberry,†but they also sell mead!
Their wine tasting room is open Thursday through Sunday. The tasting offers 3 small pours for free and then includes five 1oz samples.
It's $13 per person and you get a souvenir glass to keep. While you're there, don't forget to try their wine slushies!
6. The Cottage Vineyard & Winery
A few decades after being stationed in Europe, the founder Jim and his wife Sandra established their 29-acre dream vineyard in Georgia. These owners take excellent care of their winery and share the lovely experience with all their visitors.
The atmosphere is beautiful as you take in mountain views, while the sunset washes the Georgia pines in bold oranges and pinks. It's just the spot for any private event, which the Cottage Vineyard & Winery caters to.
The Cottage has 15 different wines to choose from between various dry, semi-sweet, and sweet options. They include Chardonnay, Merlot, Pinot Meunier, Muscat, Syrah, and Viognier.
Reservations are required for parties of 4 or more people for wine tasting. You don't want to be late either! After 15 minutes, you'll lose your table.
You'll want to read the other rules regarding their tasting room here .
Georgia has no shortage of fun spots for you to visit. There are even more wineries to check out in North Georgia : Yonah Mountain Vineyards, CeNita Vineyards, Serenity Cellars, and Sylvan Valley Lodge & Cellars are just a few!
For other ideas, check out these breweries near Blue Ridge or try your hand at fly fishing!
Tips on Tasting: Wine Bouquet vs Aroma | Wine Folly
Youtube Videos
Augusta Planet
Recent Posts
15 Best RV Parks & Resorts Near Valdosta GA (2023)
Discover the draw of South Georgia from the comfort of your RV! Whether you're driving big rigs, camper vans, or pulling pop-up campers. Here is our curated list of the top RV parks near Valdosta,...
10 Best RV Camping Parks Near Hiawassee GA (2023)
Looking for a great place to park your RV the beautiful north Georgia mountains? This guide will help you find the best RV parks near Hiawassee, GA! Table of Hiawassee RV Parks and...
OLDEST AND LARGEST WINERIES
HABERSHAM WINERY
One of Georgia's oldest and largest wineries, Habersham Winery has been producing award winning Georgia wines since 1983.
WINERY HOURS
TASTING ROOM MONDAY-SATURDAY | 11a-6p SUNDAY | 12:30p-5p
TASTING END 30 MINUTES BEFORE CLOSING
We are proud to be locally and family owned. So when you visit us, we want you to feel right at home.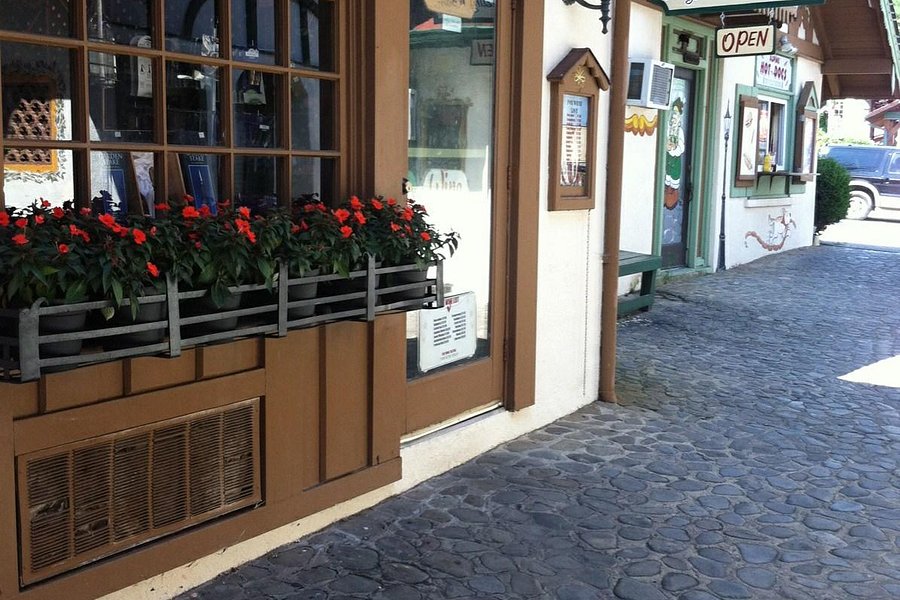 Top ways to experience Fox Winery and nearby attractions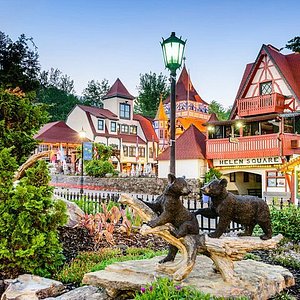 Also popular with travelers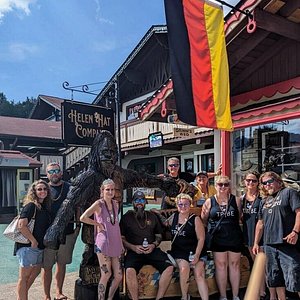 Fox Winery - All You Need to Know BEFORE You Go (with Photos)
Fox winery information.
4 Wineries Near Helen, GA You Need to Visit
Think about some of the things you can enjoy in the North Georgia Mountains. You may be picturing panoramic views, scenic overlooks, and refreshing hikes. Did you know you can enjoy some award-winning wines here, too? Check out some of our favorite  North Georgia Wineries  for wines made from a variety of fruits.
Four of the Best North Georgia Wineries
Nothing completes a mountain getaway like a trip to the best North Georgia wineries! It's the perfect activity for a fun girl's trip, couple's retreat, or just a relaxing weekend trying new Georgia wines. Here are a few of our favorite wineries in North GA:  
Yonah Mountain Vineyards
Located in nearby Cleveland, GA,  Yonah Mountain Vineyards  is a 200-acre, family-owned winery  located  at the base of Yonah Mountain. The property boasts a wide variety of grapes, including Sauvignon Blanc, Chardonnay, Petit Manseng, and many others. Their spacious, circular tasting room is open daily for tours (you won't want to miss it—it's an architectural wonder). A popular choice is the Cave Tour & Tasting, a 90-minute walking tour of the winery. On this tour, you'll taste three unreleased wines as you explore the only "wine caves" in the state. Finally, you'll end the tour with a tasting of six  additional  wines tastings, and unforgettable memories! 
View this post on Instagram A post shared by Yonah Mountain Vineyards (@yonahmountainvineyards)
Tiger Mountain Vineyards
Tiger Mountain Vineyards  is a boutique winery  located  in scenic Tiger, GA ,  A Rabun County town that neighbors Clarkesville. This  North Georgia vineyard  grows six French Vinifera varieties including Cabernet Franc, Malbec,  Mourvedre , Petit Manseng,  Tannat , and Viognier. Tiger Mountain's tasting room and vineyards are open year-round. A great activity for you and yours to try is a group tour; simply make a reservation in advance.  The best part?  If you get hungry at this North Georgia winery tour, you'll be able to grab a bite at the  Red Barn Cafe   located on the property.
Habersham Vineyards and Winery
Habersham Vineyards and Winery  has been producing award-winning Georgia wines since 1983. This North Georgia favorite is  located  at the Nacoochee Village near Helen, GA. Their popular Habersham Estates label includes varietal Vinifera and blended wines that use  French-American  grapes. As one of the largest wineries in Georgia, Habersham opens daily for complimentary tastings and self-guided tours. If you're looking for more than just a few quick sips, attend one of their special events! One of our favorites is,  WineFest , an annual event during which visitors taste wines made from different places in Georgia. You'll also enjoy live music here!
View this post on Instagram A post shared by Habersham Vineyards & Winery (@habershamwinery)
Montaluce Winery
Situated on  a gorgeous property ,  Montaluce  Winery  should be at the top of your list! This winery produces some of the best grapes in the state and features a  year-round tasting room.  From  Cabernet  Sauvignon to Chardonnay ,  this winery truly has something for everyone.  Take a seat at the outdoor tasting bar and enjoy  an  incredible view   of one of the best vineyards in North Georgia , while you  sip some fantastic wines!
Enjoy the Best Wineries in Maine When You Stay at Glen-Ella Springs Inn
Is it time you treated yourself to a vacation?  Check our availability  and start your North Georgia Mountain getaway today.  
Recent Posts
1789 Bear Gap Road Clarkesville, GA 30523
706-754-7295
Website Accessibility
Sign Up For Our Newsletter
© 2023 Glen-Ella Springs Inn & Restaurant
Website & digital marketing by logan marketing.
Follow us on Facebook for upcoming specials, promotions and events
Choose The Perfect
All-Inclusive Wine Tour Adventure at 3 local North Georgia Wineries or tasting rooms with Artisan Lunch
We can create your ideal tour for you based on your preferences and our experience.
Tour North Georgia's Wine Country in Comfort and Style
Private Wine Tour For Your Bachelorette Party
Private Birthday Parties Customized For Your Special Day!
Private luxury SUV tour for couples and small groups of friends.
Ride In Comfort and Style
Coming Soon
CUSTOMIZE YOUR TOUR!
Let us help you customize your day, your way. We offer private tours of any size to celebrate any occasion so contact us today so we can help you plan your personalized, unique trip!
1 Bedroom Cabins
Treehouse Cabins
2 Bedroom Cabins
3 Bedroom Cabins
4 Bedroom Cabins
Group Booking Guide
Creek View Cabins
Mountain View Cabins
Waterfall View Cabins
Wooded View Cabins
Seasonal Mountain View Cabins
Cabins With Hot Tub
Cabins With Jacuzzi Bath
Cabins With Pool Table
Cabins With Game Table
Cabins In Helen Georgia
Pet Friendly Cabins
Biker Friendly Cabins
Cabin Gift Certificates
Things To Do In Helen Georgia
Family Vacations & Kid Friendly Activities
Definitive Guide to Romantic Getaway in North Georgia
Restaurants In Helen
Oktoberfest In Helen
Fishing in North Georgia
Explore North Georgia
River Activities (Tubing, Kayaking, Rafting)
Discover The Outdoors
History & The Arts
Vineyards & Wineries
Helen Shopping
Make The Most Of Your Cabin Rental
Downloadable Resources
Definitive Guide to Booking a Trip to Helen, GA
Latest Posts
Blog Topics
View All Blogs
Cabin Guide
Rental Agreement
Travel Insurance
Firewood Request
Map of Cabin Locations
Manage Your Property
About Cedar Creek
Frequently Asked Questions
Guest Reviews
VIP Southern Tours - Helen Georgia Business Profile
VIP Southern Tours provides the finest all inclusive wine tour experience on the East Coast. Every week their team selects different vineyards for tours to travel to, providing a unique wine tour experience each time.
VIP Southern Tours
Check out helen's wine country with ease.
In 2013, Christina Ernst set out to help her hometown draw more tourists to the area by launching her company, VIP Southern Tours. It came as the result of local county officials and business owners seeking her advice on the region's future in tourism. She jumped on the opportunity to play a part in the gorgeous mountains of Helen Georgia, where her father launched the first retail store, and continue carrying the entrepreneurial legacy of her family.
VIP Southern Tours provides the finest all-inclusive wine tour experience on the East Coast. Every week their team selects different vineyards for tours to travel to, providing a unique wine tour experience each time. With a community she's known her whole life and vineyard owners she's developed close relationships with, she's been able to create a new & unique enterprise for the area.
They're goal is to give their guests an enjoyable and leisurely experience, and the experience starts with the driver picking up guests from their nearby location. The well-trained and charismatic drivers narrate the journey and interact with each group of guests for a fun and educational adventure. Upon arrival at the vineyard, guests enjoy a wine tasting of the various wines offered. At lunchtime, their personalized gourmet meal is handed out to this group of relaxed travelers.
The alternative to this great tour company is a private transportation service like a taxi. For around the same price, an inclusive tour from a caring company is the way to go, in fact, VIP Southern Tours cost includes the wine tasting so it's an unbeatable deal.
When going on a tour, vacationers appreciate the melting pot of diversity in the group. New friends make the vineyard and wine tasting more enjoyable. For patrons preferring privacy and seclusion, they've got them covered with personalized private tours.
Growing up in the area, as well as owning a travel agency for 20 years, has uniquely qualified Christina and her company to make an experience not easily forgotten. She knows what it's like to get lost and have a miserable trip, and she's motivated to prevent those pitfalls while ensuring an enjoyable and safe trip.
With over 150 reviews, VIP Southern Tours has a rating of 4.8 and one of the main reasons is the drivers. Drivers know the area, interact with the groups, and they adapt to the needs of the group. These drivers also notice if someone has drunk too much, so they can get them back to where they're staying, even when it's inconvenient to the driver. VIP Southern Tours goes out of its way for the safety and enjoyment of its guests.
Whether you're looking for a romantic getaway, honeymoon adventure, relaxing retreat, or a group outing, VIP Southern Tours is the journey to go on. Like many of their reviewers, you may find this tour to be one of the best days you've ever had.
Contact Information
Private Tours 706.348.8747 Monday–Friday 10 AM – 5:30PM
Email Us [email protected]
Our Physical Address 2276 Hwy 17 Sautee, GA 30571
VIP Southern Tour Guest Feedback
Wine Tour With Friends "Santa Lou was GREAT! He was very accommodating and let us have as much time as we wanted at each winery. While we were at the last winery, he went and picked dinner up for us so we could take it back to our cabin. Had a great time and would definitely use again!" jillsams Via Zerve So Much Fun!! "We came to Helen for a bachelorette trip this past weekend. We booked the all day wine tour & it was so much fun! They took us to 4 different wineries, where one included lunch. They will pick you up & drop you back off at your location. It was a great day & great experience!!" kristi3908 Via Zerve Great Day With Great Wine! "The tour was great and the wineries we hit each had their own personality. Captain Woody is great and very accommodating to your groups needs! Hotel pickup and drop off is awesome too! Already planning another trip and tour again!" Mgoos23 Via Zerve
Cedar Creek Cabin Rentals 703 Zeppelin Strasse Helen , GA 30545 Call us @ 770-952-4130 Office Hours: Weekdays 10am-5pm Saturday 10am-1pm Email [email protected]
Cabin Search
About Cedar Creek Cabin Rentals
Things To Do In Helen, GA
Romantic Getaways In Georgia
Tubing In Helen GA
Oktoberfest Helen GA
Horseback Riding Helen GA
Best Wineries Near Helen, Georgia
By: Author Kim
Posted on Published: August 3, 2023 - Last updated: October 26, 2023
Nestled in the beautiful North Georgia Mountains, Helen is not only known for its Bavarian-inspired architecture and scenic views but also for its charming wineries.
The Alpine Helen region offers a delightful selection of wineries that are sure to please your palate. In this article, we'll explore some of the top wineries in Helen, Georgia, and what makes each one special.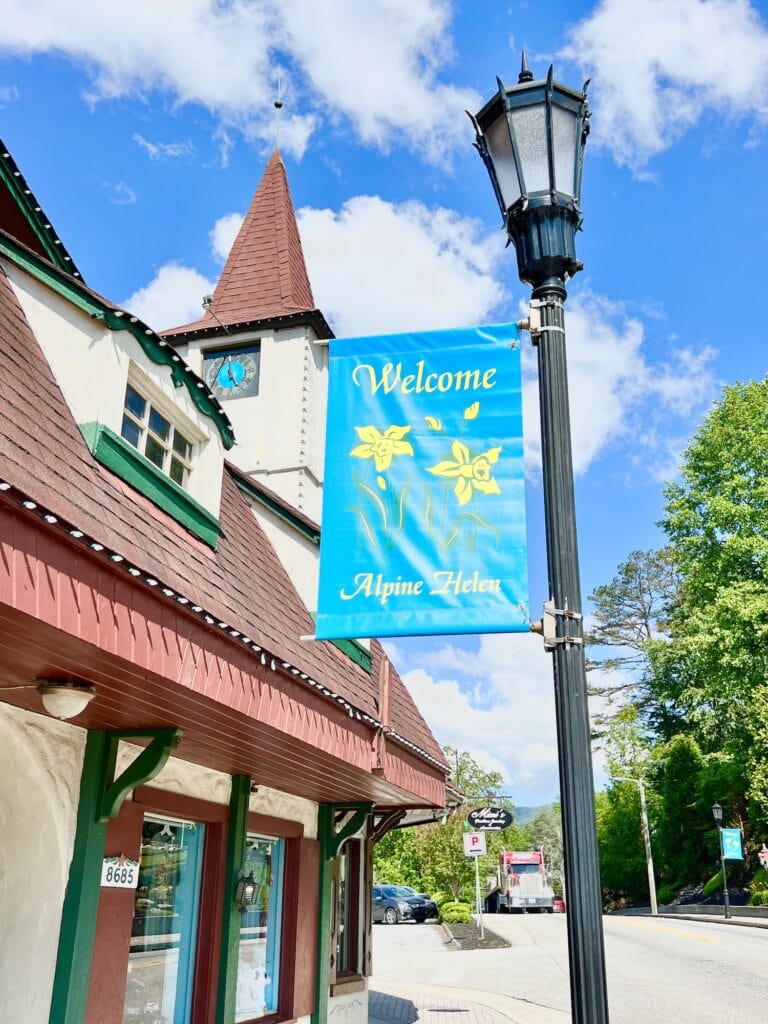 Table of Contents
Helpful Tips for Visiting Helen, GA Wineries
Most wineries are not open every day. Be sure to check their operating hours before visiting.
While snacks are available at many of the wineries, there is only one on this list that serves up a meal. You may want to bring your own food or pack a picnic lunch.
Winery tours are not common at these wineries. Delicious tastings and leisurely days or nights at the vineyard are the stars of the show. Don't expect a guided tour of the wine making process or vineyards.
Several of these locations are tasting rooms only without the option of sitting outdoors for an hour or two. Be sure to read each description carefully before planning a visit.
Wine slushies are a Georgia thing that you must try!
These are just a few of the best things to do for couples in Helen, Georgia ! Be sure to see them all!
1. Habersham Winery
Established in 1983, Habersham Winery holds the distinction of being one of the oldest and largest wineries in Georgia.
It is located just outside of downtown Helen in Nacoochee Village, which is across from the very popular Nora Mill Granary and next to Nacooche Adventures, a zip-lining location in Helen. This is a destination well worth the extra minute or two drive beyond the tourist region on the river.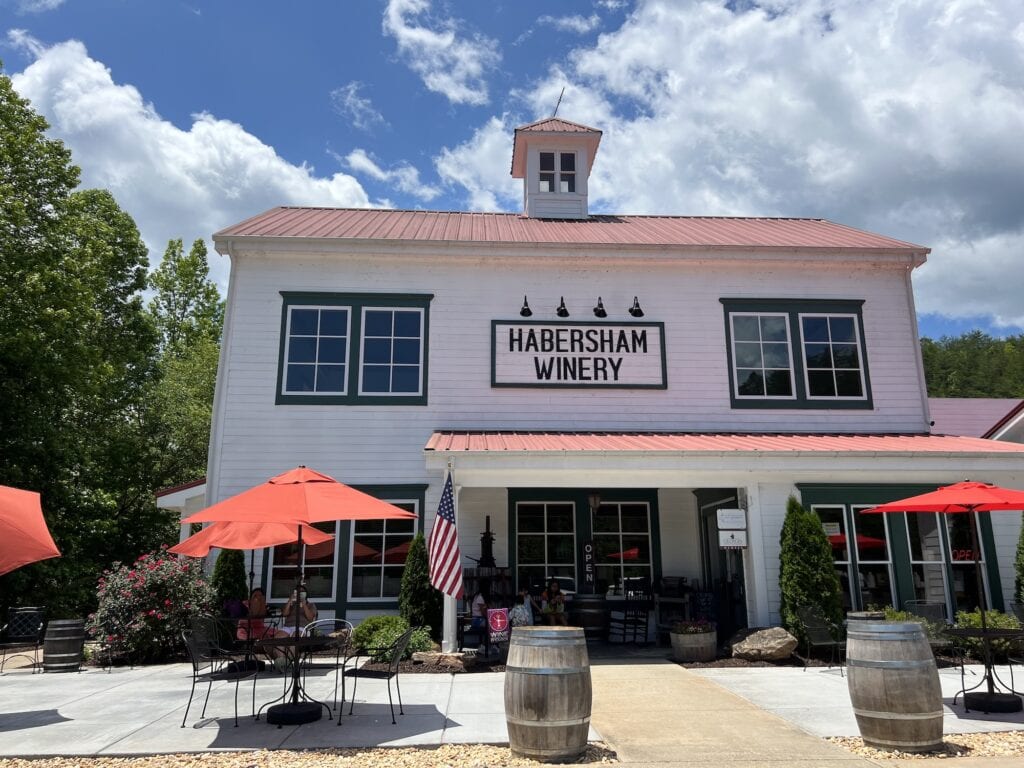 You won't find vineyards to wander at this winery or guided tours. However, you will find a charming tasting room that is bustling with visitors walking up to the bar for a tasting.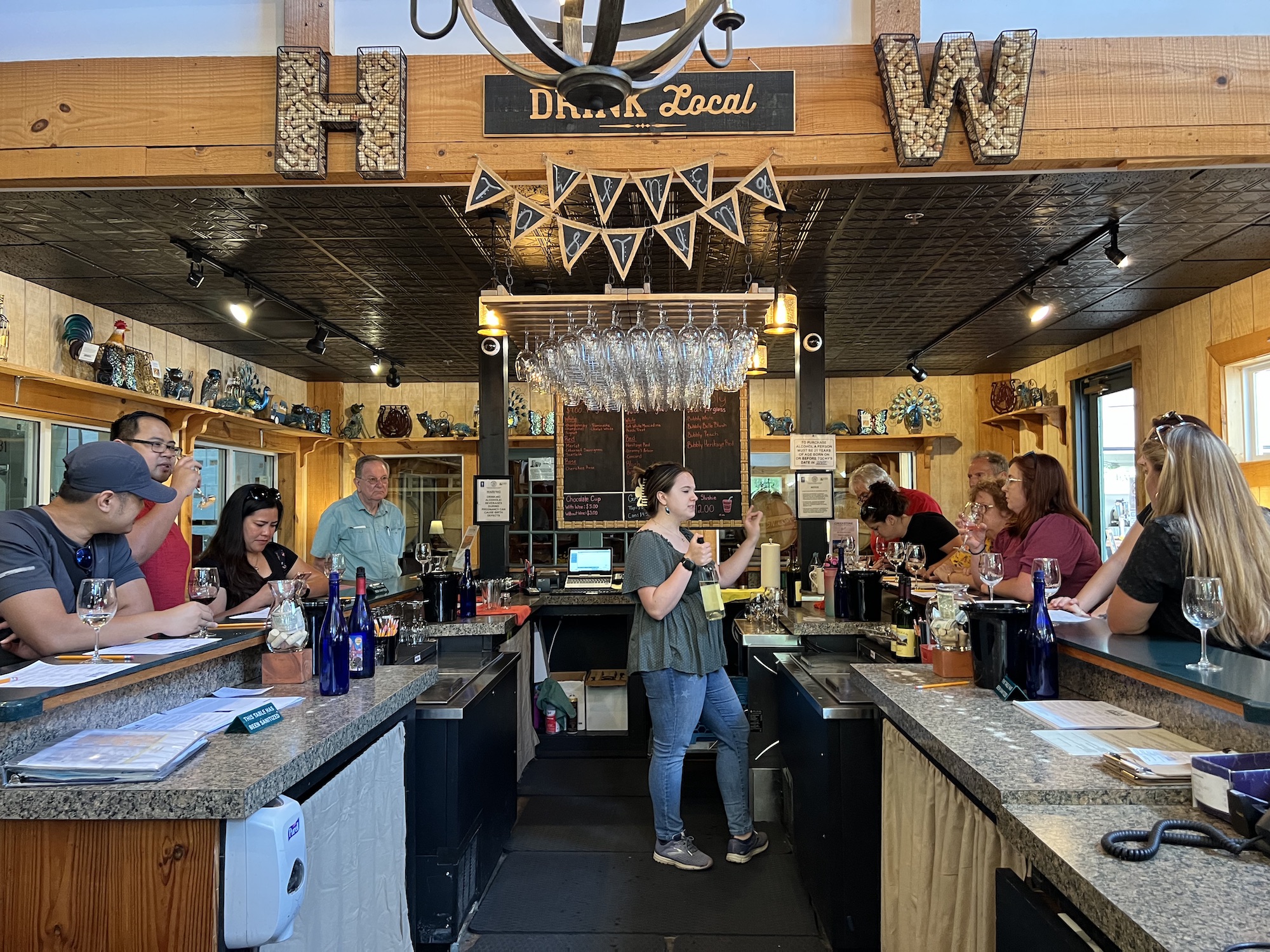 The gift shop inside Habersham Winery is packed with wine-related items to purchase, plus a lot more fun items to consider bringing home as a souvenir.
Habersham Vineyards and Winery has a main location in Helen, Georgia with additional tasting rooms in Dahlonega and Sautee Nacoochee.
2. Yonah Mountain Vineyards
Yonah Mountain Vineyards offers breathtaking views alongside its impressive wines. Located in Cleveland, Georgia, this is the perfect location if you are craving mountain views and a leisurely atmosphere to enjoy a flight of wine.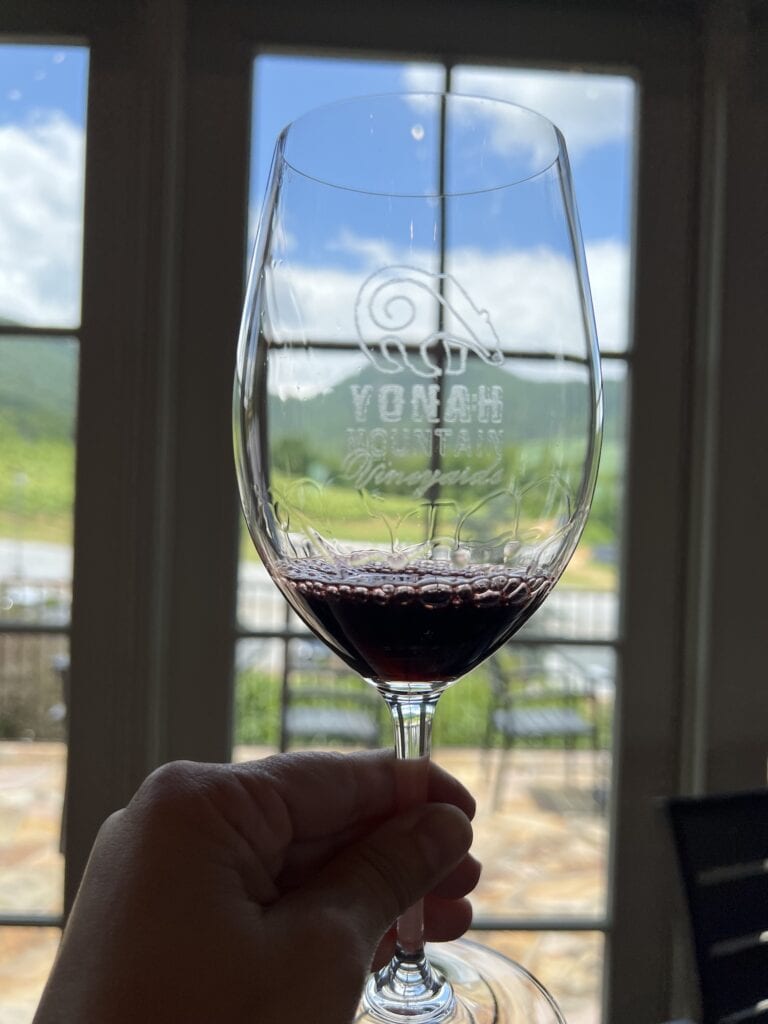 We were really impressed with this expansive winery that has plenty of seating throughout the property.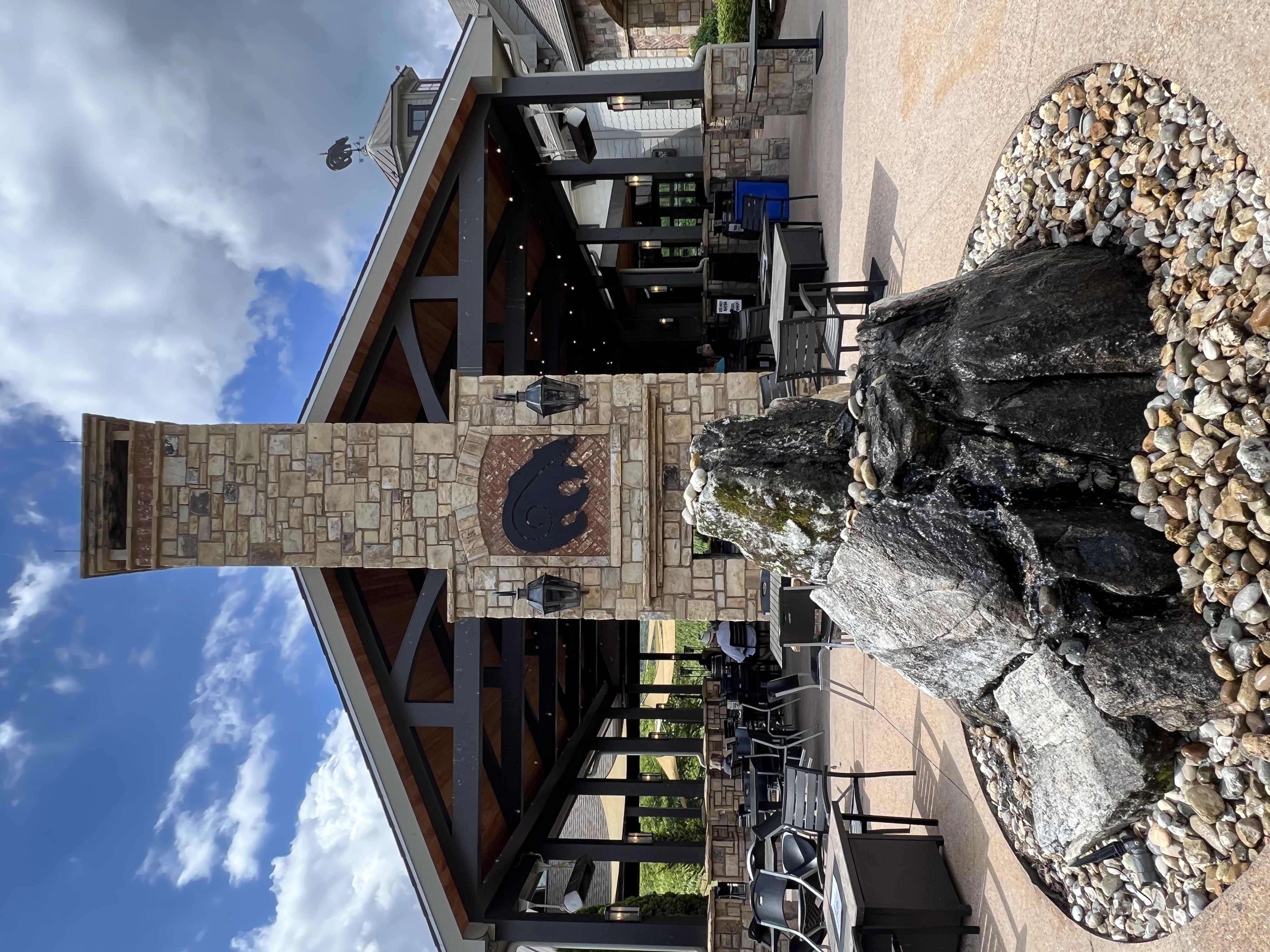 The 200-acre property has rolling hills of vineyards that make great photo backdrops, too.
Downstairs, the wine cave is a fun place for groups and large gatherings. You can see the wine cave, which is the only known wine cave in Georgia according to Yonah Mountain Vineyards, when you book a Winery Select Tour.
Yonah Mountain Vineyards is striving to be as sustainable as possible. You will definitely notice this as you drive into the winery and see the solar panels in the field which provide more than 60% of their electricity, or the 14 electric vehicle charging stations in the parking lot.
A Tesla Solar Roof, electric forklift and on-site bee hives for harvesting honey are just a few more of the sustainable business practices.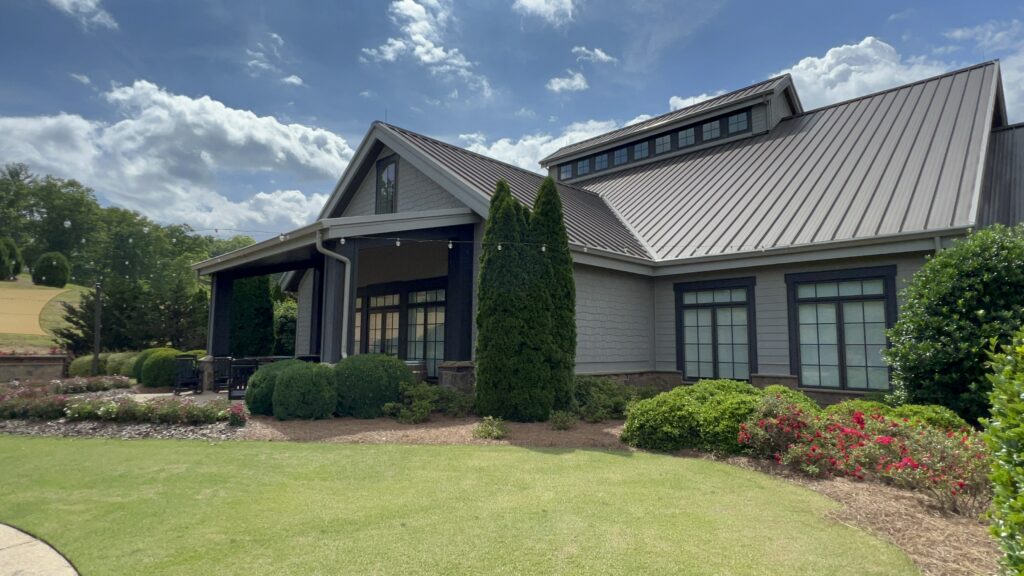 3. Creekstone Winery
Habersham Winery's Creekstone label is so popular that a winery was created just for it!
Creekstone Winery is located just 3 minutes from Habersham Winery (which is listed above). Situated near Hardman Farm Historic Site and the Nacoochee Indian Mound, this is an area of Helen that has some interesting attractions, as well.
The location is a French-style mansion that sits atop a hill with great views of Mount Yonah.
This winery does have a kitchen, one of the few that offer food beyond small snacks. You will find flatbread pizzas, giant pretzels, charcuterie and more. Beers are also available.
There is a great selection of live music and special events at this location.
4. Fox Winery
Fox Winery is a tasting room in downtown Helen that offers free wine samples from three Georgia wineries:
Fox Vineyards
Horse Creek Vineyards
Still Pond Vineyards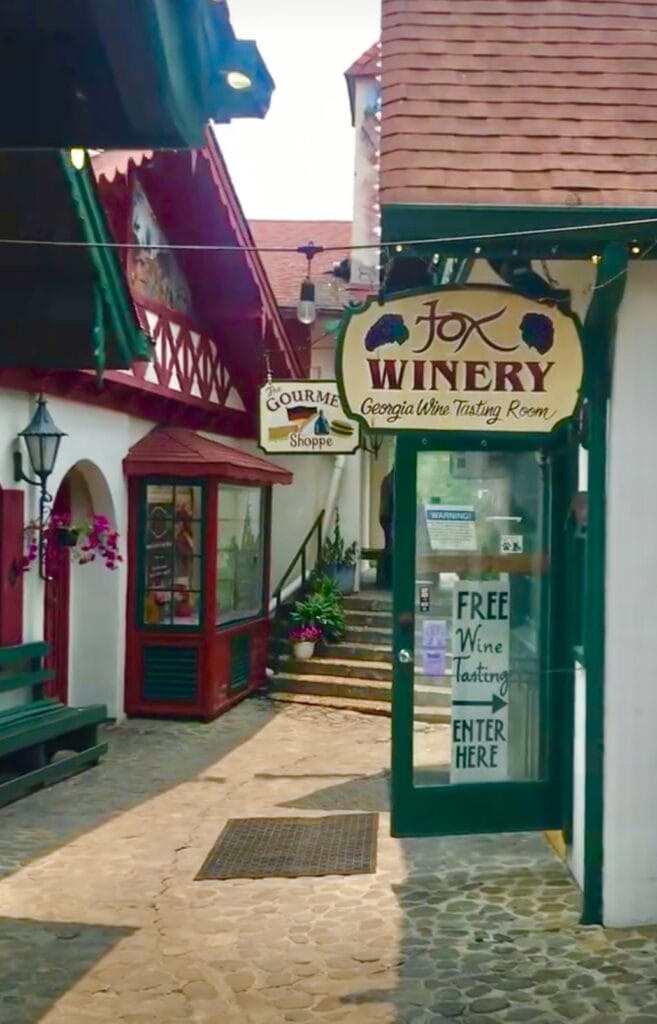 In addition to wine tastings, you can also find gourmet chocolates, wine-related merchandise, antique German steins and hot sauces and seasonings.
5. Serenity Cellars
This boutique winery doesn't ship their products, so if you want to try their delicious wines, you will need to visit the intimate tasting room.
Serenity Cellars as a Tuscan-inspired tasting room in Cleveland, Georgia, about 12 minutes from downtown Helen.
While they have a lovely selection of white, red and rose wines, Serenity Cellars is definitely known for their dessert wines!
Be sure to try one of these favorites:
Dolce Bello (Chambourcin blend infused with chocolate)
Luce Del Sole (a lemon after-dinner drink reminiscent of Limoncello)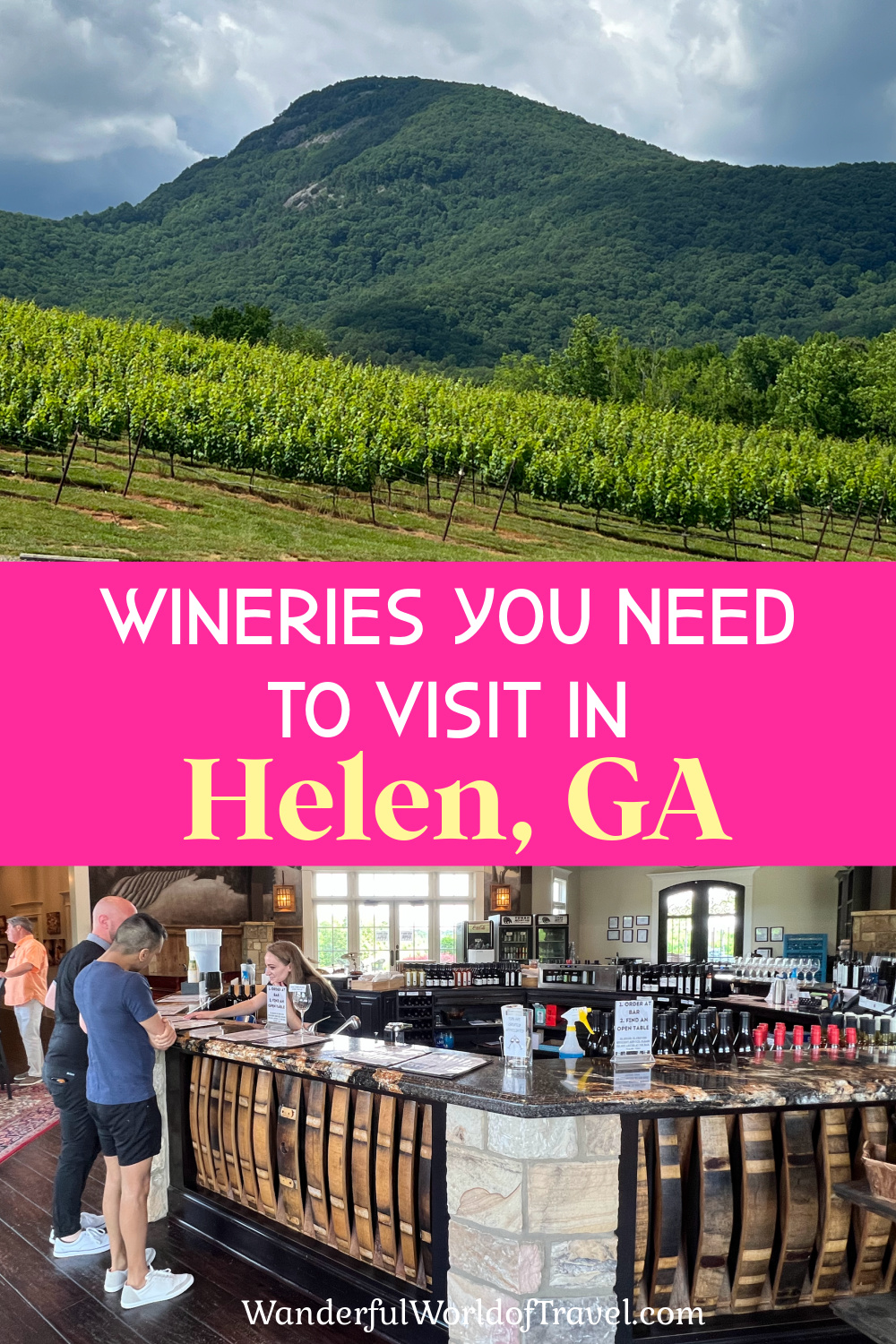 6. Cenita Vineyards and Winery
Named after their parents, Cenita Vineyards and Winery is truly a family-run destination that is a labor of love! In fact, the vineyards are now planted on land that was the site of the family's first dairy. Four generations having been farming the land.
We love the outdoor seating area with views over the vineyard and rolling hills in the background. A fire pit is also on the property with gorgeous views behind. Or just relax in one of their hammocks!
If you prefer indoor seating, you won't be disappointed with the cozy atmosphere and copper-panel roof.
Wine plushies are available, as well as light snacks such as chips and salsa or hummus and pita chips.
A farmhouse is located at CeNita Vineyards that can accommodate up to 10 guests. See booking details on their website.
The winery is located in Cleveland, GA, about a 20 minute drive from Helen.
Related Post: Waterfall Hikes in Helen, GA
7. Kaya Vineyard and Winery
Located about 25 minutes outside of Helen is Kaya Vineyard and Winery in Dahlonega, GA.
One of the highlights of visiting Kaya Vineyard and Winery is the breathtaking views that surround the property. Located at an elevation of 1,600 feet in the North Georgia Mountains, the winery offers panoramic views of the rolling hills and vineyards that stretch as far as the eye can see. It's the perfect backdrop for a peaceful and serene wine tasting experience.
Sweet wines are available in addition to white, red and rose.
This is one of the few wineries near Helen, GA that offers a meal. Light lunch is available on select days at the winery.
Cottages are available for rent at Kaya Vineyard and Winery. These cottages actually look like luxurious family homes in a residential neighborhood and are within walking distance of the tasting room.
8. Limoges Cellars
One of the newest wineries near Helen, GA, Limoges Cellars is located in the town of Cleveland, Georgia, about 20 minutes from Helen.
Located adjacent to the Dahlonega Plateau, which is the state's first designated AVA (American Viticultural Area), you will be able to sip wines with mountain views.
The 37-acre vineyard and winery has a robust wine menu, along with beers for non-wine drinkers so that friends and family can join together, regardless of preferences.
Bring your own food to enjoy a picnic outdoors or build a charcuterie board from their small market.
9. Sweet Acre Farms Winery
For a rustic wine experience that feels like you are on a farm, head outside of Helen, GA to Sweet Acre Farms Winery in Alto, about a 35 minute drive.
Sweet Acre Farms Winery does have a tasting room in downtown Helen, as well, that is open on the weekends.
Wine slushies are among the most popular items at Sweet Acre Farms Winery, but don't miss their wine flights or wines by the glass, either!
This family-owned winery is a true labor of love, and you will get that feeling when you visit either their rustic tasting room with wood paneled walls and a tin ceiling in Alto, or their more urban-tasting room in Helen.
Among the unique wines to enjoy are:
Blueberry Wine
Muscadine Wine
Watermelon Wine
The unique labels on the wine bottles are created by the owner's mom. This is truly a family business that loves what they do!
10. Cottage Vineyard Winery
You can enjoy 360-degree views of the North Georgia Mountains at The Cottage Vineyard and Winery in Cleveland, GA, about 15 minutes from Helen.
This family-owned and operated vineyard has a veteran's memorial wall surrounded by flags of military branches and first responders. The original owner was in the U.S. Air Force for 20 years. It has since passed on to new owners.
Sweet wines, dry wines, wine slushies and beers are available, as well as a small assortment of snacks.
Tours are available for large groups. There is a cabin onsite available to rent.
Wine Tours in Helen, GA
If you are looking for a guided wine tour in Helen, Georgia with a driver, check out these companies:
VIP Southern Wine Tours
North Georgia Wine Tours
If you are traveling from Atlanta to Helen, the North Georgia Wine Country Tour from Atlanta is perfect for you! No need to worry about directions or driving, and everyone can enjoy the wines!
Pin This list of the best wineries near Helen, GA to save for future trip planning!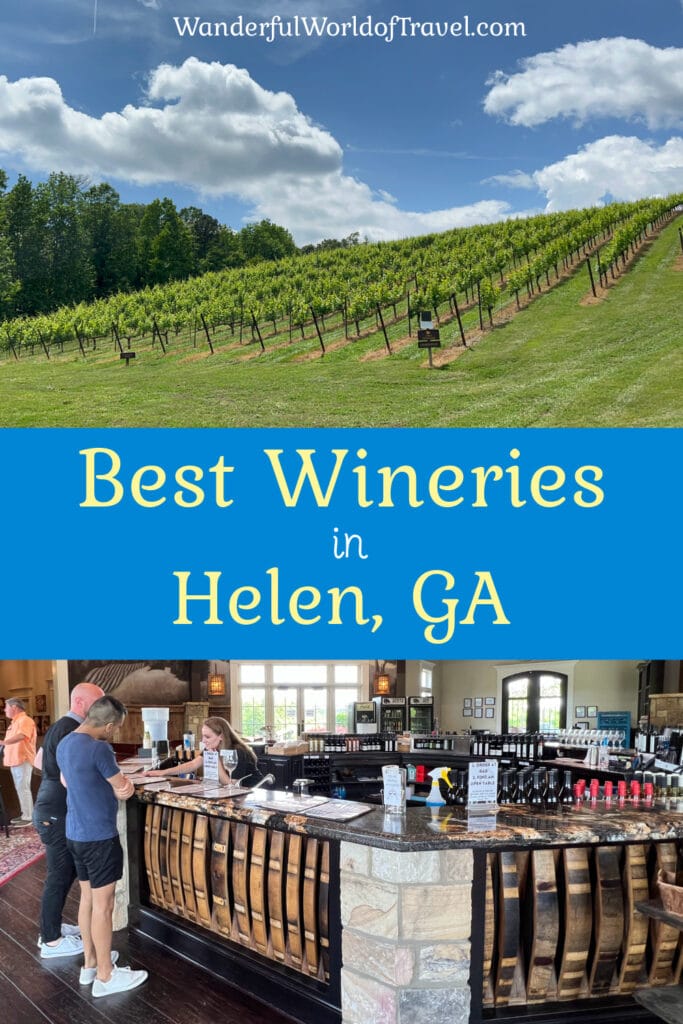 Looking for more Georgia destination information? Check out these articles:
Best Campgrounds Near Helen, GA
Why You Should Visit Pooler, Georgia
Banning Mills Treehouses
Groovy Buses
(706) 450-4440
See Our Bus
Bachelor & Bachelorette Parties
Concert Transportation
Distillery Tours
Family Reunions
Golf Tournaments
Kids Birthday Parties
Lake & Waterfall Tours
Oktoberfest Transportation
Prom & Formal Transportation
School Event Transportation
Sightseeing & Mountain Tours
Winery & Brewery Tours
Blairsville, GA
Blue Ridge, GA
Clayton, GA
Cleveland, GA
Dahlonega, GA
Hiawassee, GA
Sautee-Nacoochee, GA
Things To Do
Privacy Policy
Accommodations
Winery & Brewery Party Bus Rental in Helen, GA
Winery & brewery tours in north georgia, what's groovy about the groovy bus.
We Rent Our Bus By The Hour with the driver and You Get The Whole Bus! (up to 13 passengers)
$150 Per Hour
FOR THE WHOLE BUS! (Minimum 2 Hours)
Seats Up To 12 Comfortably (13 Not So Comfortably)
Conversational Style Seating
"LOUD"  State of the Art Sound System with Bluetooth for audio streaming
TV with streaming channels
Laser Show System
Complimentary Bottled Water
Soft Drinks and Snacks For Purchase
The Groovy Bus is the perfect transportation option for your upcoming winery or brewery tour near Helen, Georgia! Our drivers are trained, experienced, and licensed so that you can arrive at your winery or brewery tour safely. All you have to do is have a groovy time!
See our favorite winery tours in North georgia
Cavender Winery Tour North Georgia
Cavender Creek Vineyards is a small farm winery just outside Dahlonega, Georgia. An hour due north of Atlanta, this beautiful property sits at the foothills of the ancient Appalachian Mountains. Discover your new favorite getaway with our unique style of Southern Hospitality and where your comfort is #1 priority.
Dahlonega Brewery Transportation in North Georgia
The Dahlonega Brewery shares a tasting room and production facility with Etowah Meadery. It is the first craft brewery to be built in Dahlonega, offering a family atmosphere that's open year-round!
Dahlonega Resort and Vineyard Transportation in North Georgia
Escape to the mountains and reward yourself with rustic charm at Dahlonega Resort and Vineyard. This spa resort has a welcoming staff that will set the tone, providing unobtrusive yet attentive service. Their vineyard is located in the peaceful foothills of the Blue Ridge Mountains.
Etowah Meadery Transportation in North Georgia
Located in Dahlonega, the very Heart of Georgia's Wine Country and Wine Tasting Capital of Georgia, Etowah Meadery gives "wine" a unique buzz! Their meads are a collection of wines made with only the finest honey, fruits, and spices. Etowah Meadery is a veteran-owned company that is geared towards involving the Dahlonega community in as many ways as possible.
Frogtown Winery Tour North Georgia
Frogtown Cellars & Winery's principal estate property is a 57-acre vineyard and winery complex located at the foot of the Appalachian Mountains equal distance between Dahlonega and Cleveland, Georgia. Their estate property is within the geographically defined "Dahlonega Plateau."
Kaya Winery Tour North Georgia
Kaya Vineyard's winery and tasting room are built atop a ridge that is 1600 feet above elevation and offers the most exquisite panoramic mountain view in North Georgia. Their tasting room features twelve-foot windows, Edison light bulbs, and reclaimed wood, making the combination of Kaya and the Appalachian Mountains a retreat. You'll enjoy the view on their two-thousand-square-foot covered deck with live music in the warmer seasons and, of course, great wine!
Montaluce Winery Tour
When you visit Montaluce Winery and Restaurant, you're greeted as a guest visiting a home. Enjoy the simplicity of experiencing their first-class Tuscan winery, world-class food, and exquisite views. Montaluce Winery and Restaurant is located in Dahlonega, Georgia.
Tantrum Brewery Tour North Georgia
Tantrum Brewing Company broke ground in March 2018 and quickly became a North Georgia staple. Ross, CEO of Tantrum Brewing Company, enjoyed the hobby of home brewing during his college years and turned his passion into a business.
The Cottage Vineyard & Winery Transportation in North Georgia
The Cottage Vineyard & Winery is the premier wine and venue destination focused on a people-first environment. Their vineyard is located on 29 acres of beautiful mountainside terrain in Cleveland, Georgia.
Three Sisters Winery Tour North Georgia
Three Sisters Vineyards is a favorite destination of wine lovers visiting the North Georgia Mountains and Dahlonega-Lumpkin County. Three Sisters Vineyards & Winery is dedicated to presenting a small family farm experience that is a destination for tourists and wine enthusiasts.
Wolf Mountain Winery Tour North Georgia
Wolf Mountain Vineyards and Winery is a stunning, award-winning winery located less than 60 miles from downtown Atlanta, Georgia, in the North Georgia Mountains. Often compared to wineries in Napa, their hillside vineyards, fieldstone-encased winery, and hospitality facilities are the perfect setting for enjoying their award-winning handcrafted wines.
Yonah Winery Tour North Georgia
Yonah Mountain Vineyards is a two-hundred-acre family winery located on the southeastern base of iconic Yonah Mountain. Making world-class wines and enjoying the process is their ultimate goal. Rolling hills and sandy soil are the perfect settings for their twenty planted acres of Sauvignon Blanc, Chardonnay, Petit Manseng, Cabernet Sauvignon, Merlot, Cabernet Franc, Malbec, and Petit Verdot.
Read Our Google Reviews
download our
Tour companies.
Elite Excursions and Wine Tours
North georgia wine tours, vip southern tours and georgia wine bus and vip travel, groovy buses, alpine express, scoot the hooch, georgia walking tours, north georgia wine tour excursion.
800-858-8027
706-878-2181.
726 Bruckenstrasse Helen, GA 30545
P.O Box 730 Helen, GA 30545
Things to do
Accommodations
plan your visit
downtown cameras
Designed By
receive our free newsletter
" * " indicates required fields