Complete Guide to White Pocket Arizona in Vermilion Cliffs National Monument
Sharing is caring!
White Pocket Arizona is one of the best things to do in Vermilion Cliffs National Monument. This otherworldly landscape has features that look similar to the Wave hike in Utah and is known for the brain rocks in Arizona.
White Pocket is located on the border between Utah and Arizona but just over the line on the Arizona side. It is difficult to reach but worth the drive or a tour if needed.
Here is everything you need to know to visit White Pocket Arizona.
For more unique landscapes near White Pocket, Arizona, don't miss out on visiting the Great Chamber in Kanab , the Bentonite Hills near Hanksville , or the Moab Potash Ponds . Hungry after all of your adventures? Here are the best restaurants in Kanab, Utah .
***Some of the links in this post are affiliate links. We earn a small commission at no extra charge to you when you purchase or book through these links.
Table of Contents
Where is White Pocket Arizona?
White Pocket is located in Vermilion Cliffs National Monument on the state border between Arizona and Utah. It is located in Northern Arizona just south of the Utah border.
White Pocket is often thought to be in Utah, but White Pocket Utah is actually White Pocket Arizona. It is further south and east of the more famous North Coyote Buttes (the Wave) and South Coyote Buttes hikes.
Because it is across state lines, keep in mind that there is a time difference for half of the year. Arizona does not observe Daylight Savings Time, so be aware of the time in Arizona if you are basing out of Kanab.
This becomes especially important if you are planning to be at White Pocket for either sunrise or sunset. You will need to factor in the time difference if Daylight Savings Time is in effect.
Located in a remote part of the park, it is not easy to get here. Expect a couple of hours of bouncing on dirt roads and driving through soft sand before an easy hike to reach the actual area.
The exact location on Google Maps can be found here . However, we did not find following Google Maps to be helpful as many of the routes it sent us included roads with signs saying they do not go to White Pocket. I've included driving directions below.
The GPS coordinates for White Pocket are (36.955011, -111.893296).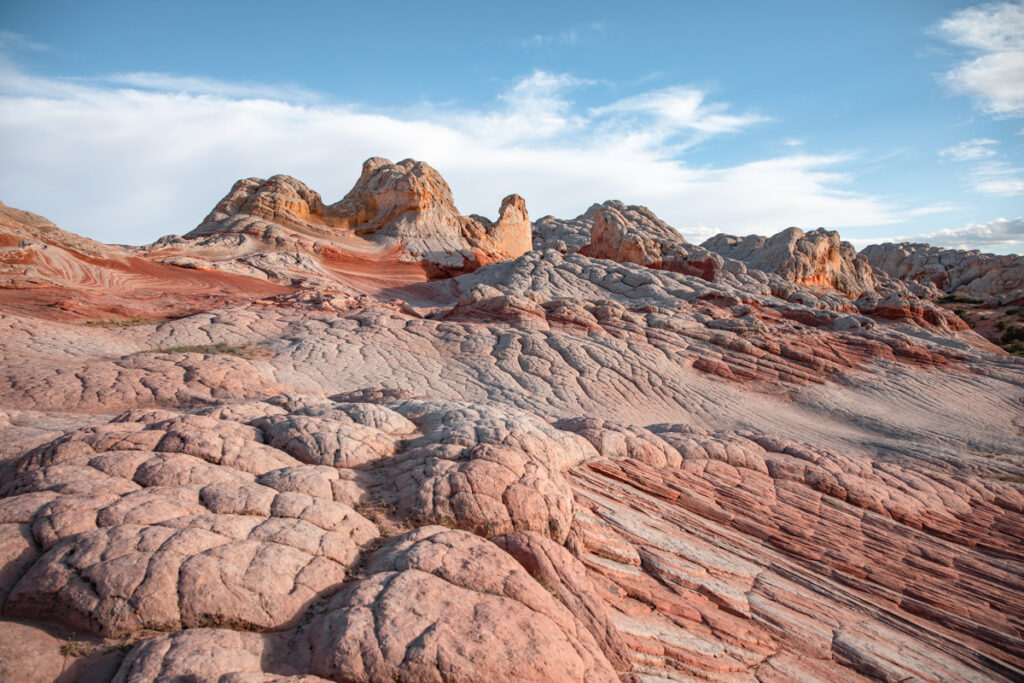 How to Visit White Pocket Arizona
You have a few options for visiting White Pocket in Arizona, but none of them are easy or fast. Because White Pocket is a more off-the-beaten-path Arizona destination, it is not easy to access.
Your first option is to drive, but you will need to factor in the type of vehicle you have and your driving skills. We had little to no cell phone service with T-Mobile and Verizon once we got out of Kanab.
If you get stuck on the BLM roads, you may be there a while before someone finds you. Or you may have to walk a while to find service. Plan ahead for worse case scenarios.
BLM warns that people get stuck or stranded on the way to White Pocket every year. If you get lost (easy to do if you are not paying attention) or break down or get stuck, it is your responsibility to handle the situation.
Another option is to take a White Pocket tour with one of the groups that offer them. This is your best option if you do not feel comfortable making the drive or if you do not have the correct vehicle.
Whether you plan to drive to White Pocket or to take a tour of White Pocket, here is what you will need to know: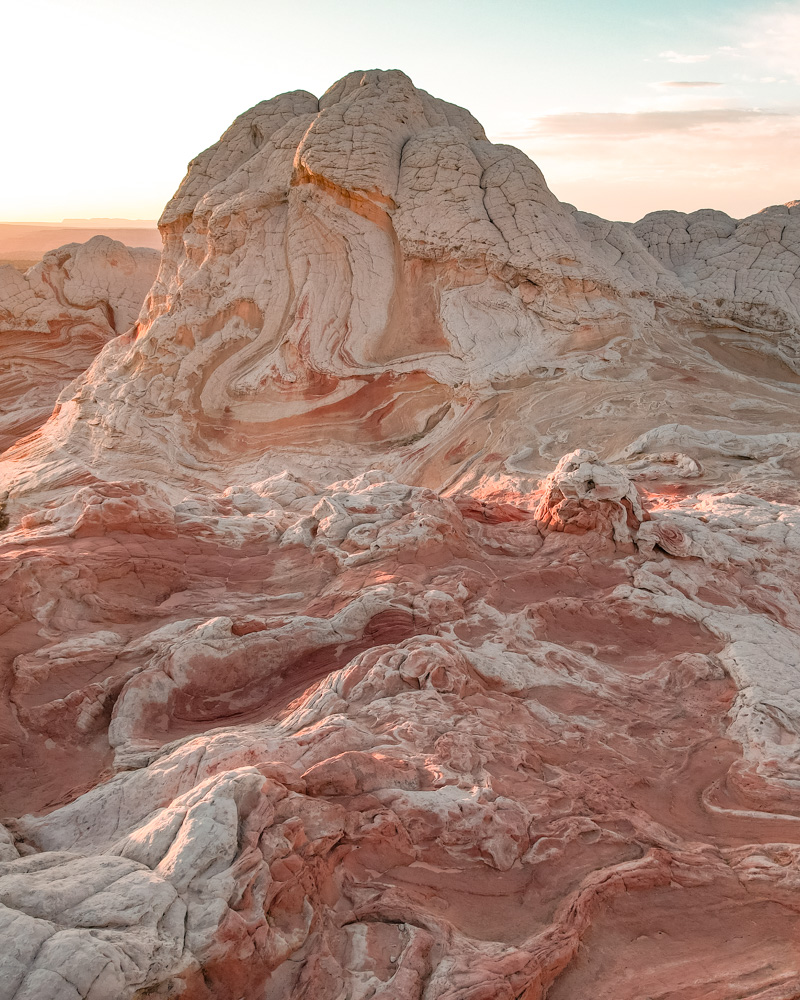 What Vehicle Do You Need to Get to White Pocket?
To get to White Pocket, you will need a high-clearance 4×4 vehicle . You do not want to do this in an All-Wheel Drive (AWD) vehicle, and there are multiple signs stating that AWD vehicles are not allowed on the way there.
We drove our Jeep Wrangler out to Kanab to do some off-roading, so we used it to get to White Pocket. It does have a small lift (not needed for this trail) and off-road tires (definitely helped).
We stopped at a ranger station the day before we went to ask about the conditions of the road as well as if our vehicle would be okay for the drive. The ranger we spoke to assured us the Jeep would be fine. He had been out there two days before, and the roads were dry.
If the roads are wet, it becomes impossible to reach White Pocket. Keep an eye on the weather when you plan your trip as it can change quickly. Watch the weather a few days before your trip as well to make sure the roads will be dry.
A good portion of the drive is on hard-packed dirt and sand which is easy to drive on even in a smaller two-wheel drive vehicle. However, the last part of the drive is all on soft sand. In some areas, it is also deep sand.
The last section before you arrive at White Pocket is the worst section. Do not try to stop in that area and do not park in that area.
The ranger let us know they do enforce no parking or stopping near that last deep patch of sand because it blocks the only road. You must make it through that and all the way to the parking area.
There are also some sharp rocks on the way. Drive slowly enough that you can avoid them and make sure to have a spare tire just in case.
We ended up loving White Pocket so much that we took two road trips out there during our trip (and will be going again in a couple of weeks). We did not have any issues getting through that spot either time but did try to keep a steady speed through it.
White Pocket Tour Options
If you do not have a four-wheel drive high clearance vehicle to get to White Pocket, take a tour. If you do not feel comfortable driving to White Pocket in the soft, deep sand, take a tour.
There is little to no cell phone reception in White Pocket, so you may be waiting a while if you get stuck or break down out there. We had both T-Mobile and Verizon and only found patches where we had service once we got off the paved road.
Thankfully there are a few tour options if you plan to visit White Pocket.
The one we considered before finding out our Jeep could handle it was through Dreamland Safari Tours. They offer a 9-hour tour to White Pocket Arizona for $199 per person.
Their tours leave at 8 a.m. or 10 a.m., but there is also a White Pocket overnight tour option for night photography. Depending on the time of year, they can also sometimes do sunset tours.
We did not end up using Dreamland Safari only because we found out we could get there on our own. If we did not have the right vehicle or the confidence to make the drive, they are who we would use and are who we recommend.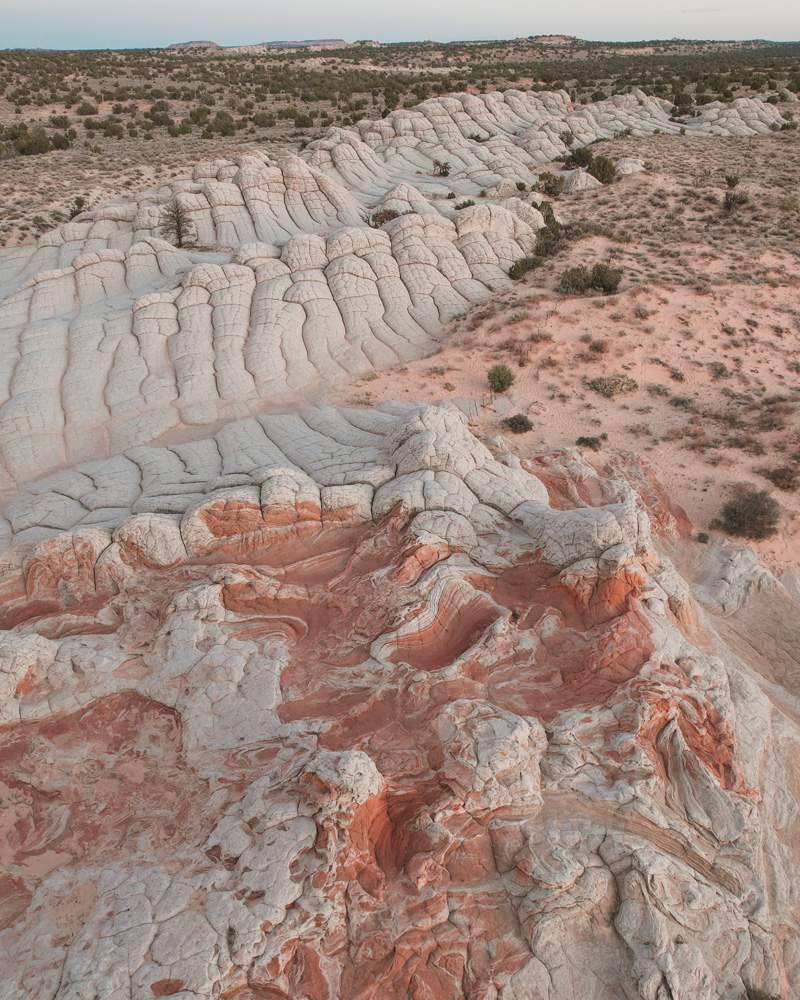 How to Get to White Pocket in Vermilion Cliffs National Monument – Driving Directions
If you decide to drive to White Pocket, you can access it from both the Utah and Arizona side. The best places to access White Pocket from are Kanab, Utah, and Page, Arizona.
We chose to stay in Kanab and to use it as our base to explore much of Southern Utah. The drive from Kanab to White Pocket takes about 2 hours to 2.5 hours. Going from Page to White Pocket takes about 2.5 hours or a little more.
Either way, the last hour and a half of the White Pocket drive will be on dirt roads or soft sand roads. House Rock Valley Road has some deep ruts and is jarring but an easy drive. The BLM roads are more soft sand and slower speeds but not as much bouncing.
Keep in mind that driving time will vary. You are unlikely to deal with traffic, but your comfort level driving on the dirt and sand roads will impact your drive time.
Make sure to fill up your gas tank before you drive to White Pocket. There are no gas stations once you get onto House Rock Valley Road, and you do not want to run out of gas out there.
How to Get to White Pocket from Kanab Utah
To get to White Pocket from Kanab, Utah, take Highway 89 east for 38 miles to House Rock Valley Road (BLM 1065). Once you are on House Rock Valley Road, continue 23.5 miles. You will pass the trailheads for Buckskin Gulch, Wire Pass and The Wave on the way.
If you need to stop for a bathroom, stop at the Wire Pass parking area. From here to White Pass, you are just bouncing on dirt roads with no more bathrooms available.
While you are on House Rock Valley Road, you cross from Utah into Arizona. If you see the sign, you are still going the right way.
Travel 23.5 miles on House Rock Valley Road, and then turn left onto BLM 1017. Google Maps tried to have us turn several spots before this, but we followed the official directions. Many of the roads Google Maps said to turn on had signs that said, "Not the route to White Pocket."
Once you get to BLM 1017, these roads will show up on the map but without names. There are little signs on the side of the road that let you know which road it is. Use these signs to follow the rest of the route.
Take BLM 1017 east for 6.2 miles. When you get to BLM 1087, go northeast. This will eventually split into BLM 1086. Stay left to get to the White Pocket Trailhead.
As you cross through the gates on the road, make sure to close them back behind you if they are closed when you get to them. If they have been left open and have a sign to close them, please close them.
Quick White Pocket Driving Directions from Kanab to Screenshot:
Highway 89 east for 38 miles
House Rock Valley Road for 23.5 miles south
East on BLM 1017 for 6.2 miles
Northeast on BLM 1087.
Follow split at BLM 1086 to the left
Arrive at White Pocket Trailhead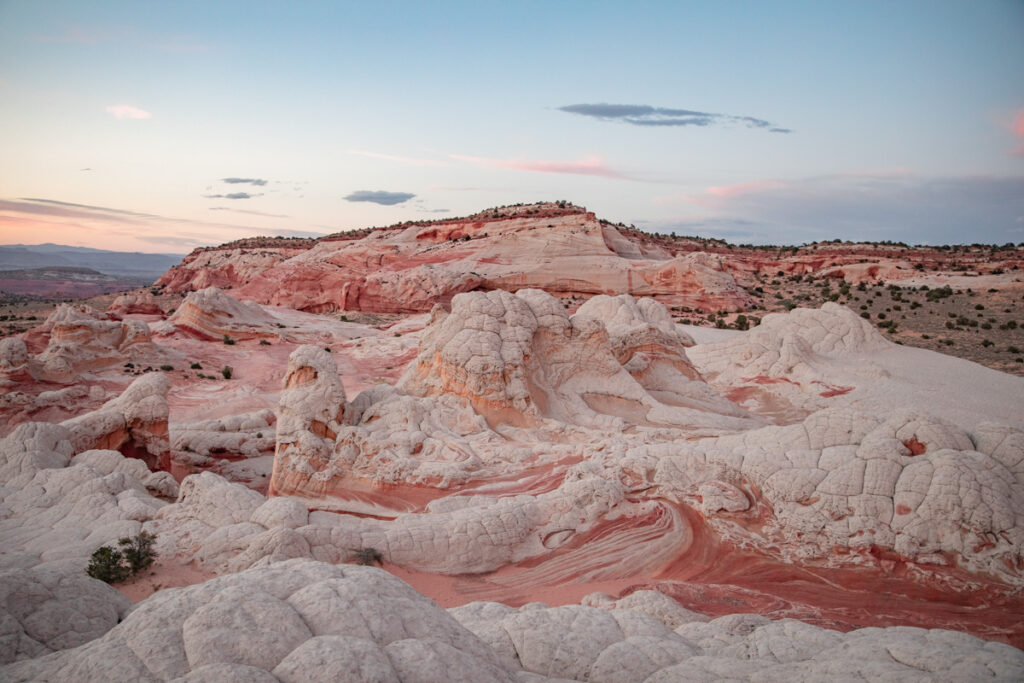 How to Get to White Pocket from Page Arizona
To get to White Pocket from Page, Arizona, take Highway 89A west for 36 miles. You will meet up with House Rock Valley Road 13.5 miles east of Jacob Lake, Arizona.
After turning onto House Rock Valley Road, head north for 9.3 miles until you get to BLM 1017 and go east.
Because we came from Kanab for both of our road trips to White Pocket and not from Page, I am not sure if Google Maps takes you the correct route or not this way. Either way, we chose to follow the official directions and not Google Maps. Google Maps was not accurate coming from Kanab.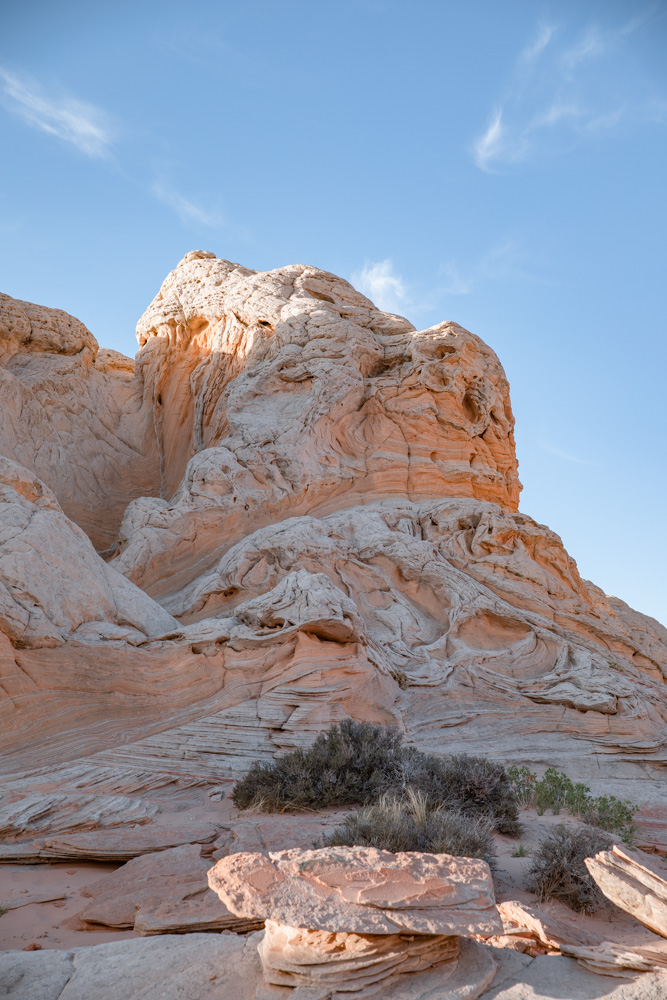 Quick White Pocket Driving Directions from Page to Screenshot:
Highway 89A west for 36 miles
House Rock Valley Road for 9.3 miles north
Visiting White Pocket Arizona
When visiting White Pocket, one of the biggest reminders I can give is to remember to leave no trace. Anything you take in with you needs to leave with you.
There are no trash cans and no bathrooms at White Pocket. The closest bathroom coming from Kanab was at the Wire Pass trailhead. Take your own toilet paper even for this bathroom as it was out one of the times we parked there to hike.
White Pocket is amazing, but watch your footing. The rocks are uneven and there are lots of places to trip easily. Protect the area, but also protect yourself as you do not want to roll an ankle or worse out there.
When you visit White Pocket, plan on spending at least three to four hours exploring the area. We only had about two hours the first time we went, so we ended up going back another day for a few more hours.
Really we could have stayed even longer. On our next trip in a few weeks, we plan to spend even more time exploring.
Best Time to Visit White Pocket Arizona – Season + Time of Day
If you plan to visit White Pocket on your own, factor in the drive time for your arrival and departure times. We left both times after dark and drove back to Kanab in the pitch black. It was not easy, but it was worth the sunset views.
If you want to arrive for sunrise or stay for sunset but do not feel safe driving in the dark (or worse, getting stuck in the dark), plan to camp on the way. We brought out gear to camp if needed but already had a hotel in Kanab and made it back both times without a problem.
Sunset was by far my favorite time of day to be at White Pocket. The lighting is stunning and the colors change as the sun drops in the sky. We did not do sunrise, but I assume it would be the same.
If you are worried about driving in the dark, plan in enough time to get back to Highway 89 or to House Rock Valley Road before dark. White Pocket is amazing any time of day, so it will still be worth the visit.
As far as the seasons go, if you are taking a tour, you are more likely to convince them to do a sunset tour in the winter, late fall, or early spring. Because the sunset is earlier and days are shorter, it makes it easier to get back before it is too late.
We visited White Pocket in May, and it was perfect. The weather was not too hot earlier in the day but not too cold for being out after dark.
If you visit in the winter, keep in mind the shorter days when planning your drive time and time at White Pocket. If you visit in the summer, you have longer days but it also gets very warm. There is no coverage, so you will be in the direct sunlight the whole time.
With the 2.5-ish hour drive each way and spending 3 – 4 hours exploring, you have an 8 or 9 hour day easily.
Do You Need a Permit for White Pocket?
Unlike The Wave and several other hikes in the area, you do not need a permit for White Pocket. There is no fee to visit White Pocket either. The difficulty of getting to White Pocket keeps it limited for now.
While White Pocket is free to visit, please do your part to protect the land and visit responsibly. With more people visiting the area each year, it may eventually become a permitted area like the Wave to protect it.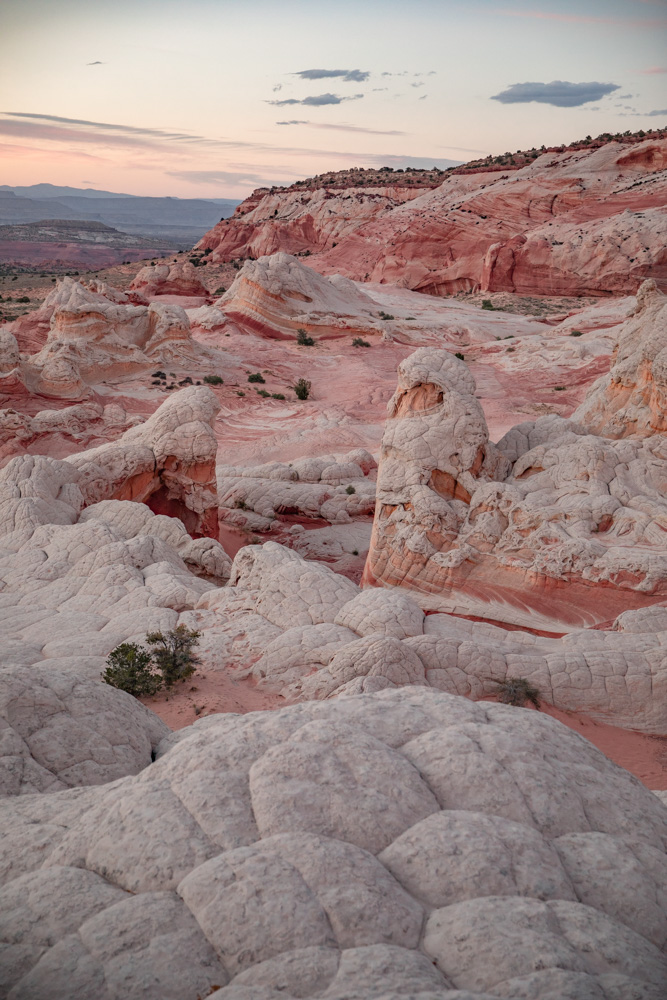 Hiking White Pocket Arizona
There are no trails at White Pocket other than the short trail leading from the parking area to the first formations. This part of the trail is soft sand.
After you get to the formations, you'll find you want good hiking shoes or shoes with a good grip. If you plan to climb up some of the rocks, the surfaces can be slippery even when dry.
You can explore as much of the area as you want. We stayed mostly to the left side of the area the first time we went and then explored more of the middle on our second visit.
Because there are no trails, you are free to roam around and see what you can find. Take in the variety of rock formations and colors in the rocks as you explore.
We hiked about a mile on our first visit and about two miles on our second visit. You can easily hike much more than this depending on where you go. However, you can also keep the hike short and still see many of the best photo spots in White Pocket.
Best White Pocket Photography Spots – Places Like the Wave Arizona
White Pocket has amazing photography spots throughout the area. Get creative and consider various angles. As you climb around, be safe and aware of your own limits.
The first day we visited, there were extreme winds. Climbing up on top of some of the rocks, we struggled to stay on our feet with the wind gusts. On our second visit, it was much calmer and easier to navigate climbing.
One of my favorite photo spots is an area that looks like a small pool in the middle of a cloud-like rock formation. Some people pointed out it looks like cauliflower but they are more often known as the brain rocks. Arizona has some incredible landscapes, but these Arizona brain rocks are one of my favorites..
This area is located here on the map. I found it was easiest to look at the map when I found service and the climb to it.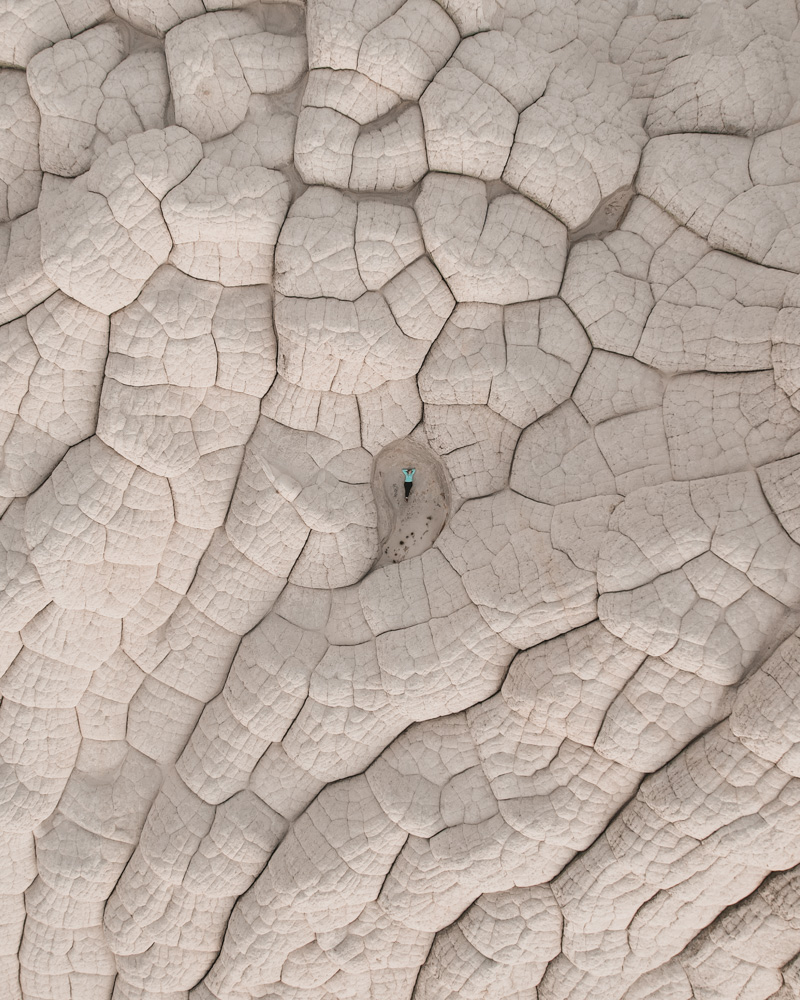 View this post on Instagram A post shared by Christine | Travel Blogger (@liveloveruntravel)
If you do not have service, look for the highest point on the white rocks at the left of White Pocket (facing it from the parking area). The little pool is just to the right of the highest point (east of it).
Another favorite spot is an area with the white rocks in the background but swirls of red and orange and white rock leading up to it.
This area is one of the more famous photo spots because of its unique colors and formations. You can find it on the map here .
The spot I marked on the map is where you stand to take the photo. If you want to be in the photo, you need to follow the rocks on the left side. It is steeper than it looks at the end to climb up on top of the rock, so hiking shoes were a big help here.
If you are shorter, the last climb at the end will be more difficult. My husband is 5'10" and was able to climb up and down from it much easier than I was able to at 5'6″.
Two other areas I really liked for photos are behind the previous two spots. There are lots of spots near the pool with the white rocks that make for great photo spots.
The other area is to the east of the Wave-like feature. This area is covered in rocks streaked in lines of color just like the more famous Wave hike in Coyote Buttes North.
I always travel with my camera, my phone, and our drone. We also bring a GoPro with us, so we have lots of options. I mostly used my 24-70mm lens at White Pocket, but I did break out my 70-300mm lens some as well.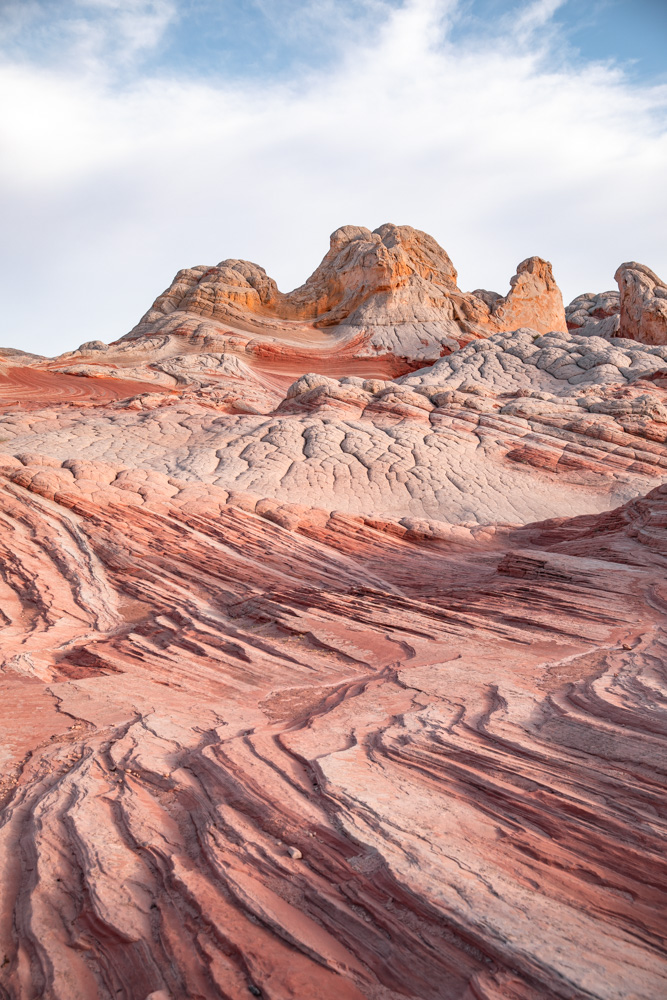 Can You Fly a Drone at White Pocket?
The short answer is yes. The longer answer is depending on where you are. Drones are allowed but NOT over protected areas. White Pocket has protected Wilderness Areas around it, and you cannot take off, land, or fly a drone over those areas at all.
You can use this map to see the Wilderness Areas or stop and talk to the rangers to get a map and see where you can fly.
We called to verify we could fly the drone there and that the formations are outside of the Wilderness Area. After double-checking, the rangers confirmed that drones are allowed above White Pocket.
However, this could change at any time. Please fly responsibly and know where you can fly so that they do not need to put in more rules or ban drones from the area.
If there are other people around, check with them or wait until they leave to fly in that area. On our first visit, no one else was around. We were able to fly without bothering anyone.
On our second visit, there were six or eight other people hiking in the area. Only four of them were nearby, set up in a spot to watch the sunset. We talked to them for a while and then asked if they minded if we flew the drone. They were also there to get photos, so they did not mind at all.
Avoid flying above other hikers, especially at low altitudes. Keep your drone where you can see it at all times. Make sure to take a few batteries, but limit your flying time if others are nearby so they can enjoy the peace and quiet.
What to Take to White Pocket
When it comes to packing for White Pocket, what you take will depend on how long you plan to stay. Because we just did a day trip to White Pocket, we did not need to take as much.
However, if you are planning to camp at White Pocket, you'll need to add on camping supplies. We did take our blow-up mattress for the back of the Jeep in case we ended up staying the night, enough food to get through, and a change of clothes.
Whether you camp or not, take some toilet paper with you. You need to pack out your waste or bury it at least 6″ down and away from any campsites.
For a White Pocket day trip, make sure to take plenty of water. There are no facilities in the area, so you will need to have enough water to get you through the trip and the hike. We both had large 32 oz bottles of water, and we had an ice chest in the Jeep full of water as well.
We were there when the weather was mild in May, but you will want lots of water if you visit in the summer. You will be in the direct sunlight, and Arizona gets hot in the summer in the middle of the day especially.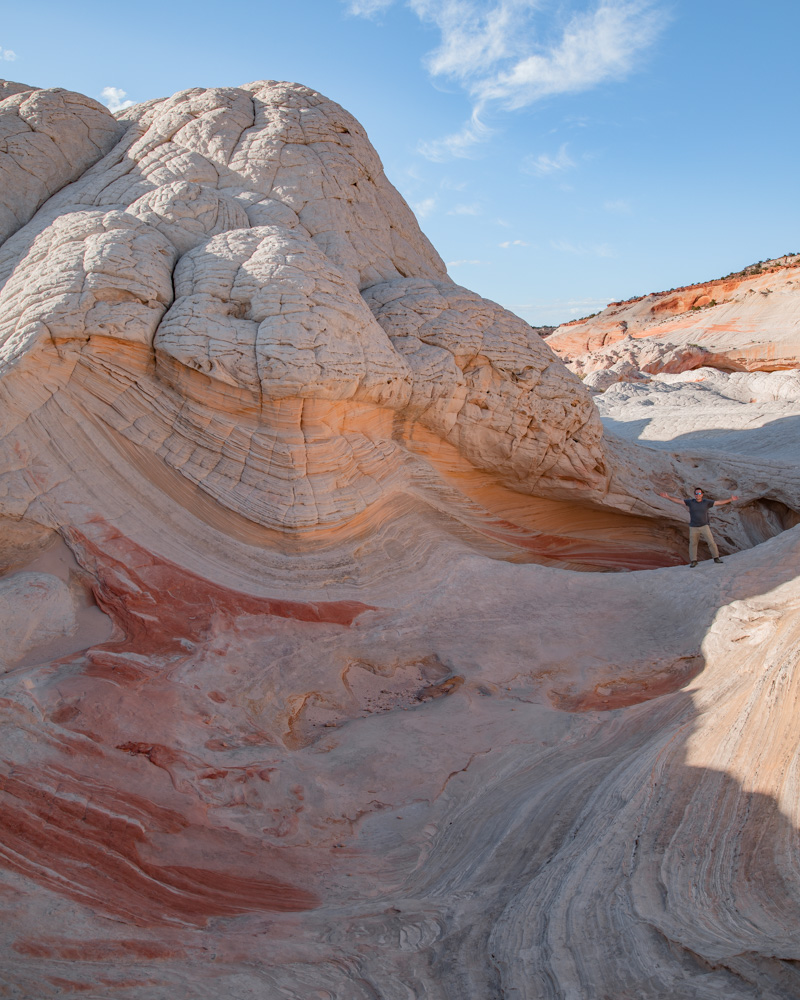 Because this ends up being an all-day trip, take some snacks or a meal as well. With the drive time and time spent hiking, you will get hungry. We had peanut butter and jelly sandwiches, cheese sticks, bananas, and some bars to get us through the day.
For shoes, we found that our hiking boots and shoes were perfect. The only part that is not rock directly in this area is the first 100 yards or so of soft sand. As long as you have good grips, hiking sandals would be fine as well.
If you go in the summer especially, but really anytime, take sunscreen and sunglasses. The white rocks can get bright in the sunlight, and there is no shade to hide from the sun. Wear long sleeves and long pants or protect your arms and legs with sunscreen.
You may want a hat to help protect your head from the sun as well. We just had our sunglasses and sunscreen for our faces, but we were not out in the middle of the day or in the heat of the day either.
If you visit early in the morning or stay for sunset, take layers. It cooled off quickly once the sun set. I was thankful for my jacket both nights for the walk back to the Jeep.
White Pocket Arizona Camping Tips
Camping is available near White Pocket. We saw a few groups camping in the parking area at the trail head. When we spoke to the ranger, they asked for us not to camp at the trailhead if we stayed overnight.
This is because it blocks up the area. A couple of people were camping right near the entrance to the trail when we went both times. They did not block the entrance, but it meant there were fewer parking spots near it.
If you park further away in the parking area, you might be okay. There were a couple of groups also camping at the far end of the lot on our second visit. They were out of the way of the entrance completely.
If you want to make sure though, camp in one of the camping spots on the BLM roads on the way out to White Pocket. There are multiple spots along the way where we saw people set up to camp and additional open spots as well.
These spots are all first-come-first-serve, and they will fill up quickly in the busier months.
Make sure to camp in existing campsites and not to make your own spot to preserve the land. Do not damage trees or collect firewood in the area either. Pack out all of your trash and bury waste at least 6″ deep and well away from the campsite or pack it out as well.
Where to Stay Near White Pocket
For us, we chose to stay in Kanab, Utah, to explore the area. We stayed at the Hampton Inn in Kanab and found it to be perfect.
The room was large and comfortable. The wifi was fast enough for me to get my work done. Best of all, it was perfectly located to get to restaurants and local attractions and hikes.
Find current prices and availability on Agoda here and on Booking here .
If you are looking for other options in Kanab, here are currently available hotels in Kanab on Agoda and on Booking . If you are looking for options in Page, Arizona, here are currently available hotels in Page on Agoda and on Booking .
Other Things to Do Near White Pocket & Vermilion Cliffs National Monument
If you will be staying in Kanab, there are lots of amazing hikes and outdoor activities in the area. We enjoyed the Wire Pass and Buckskin Gulch hike, and you can hike The Wave if you can get a permit.
Another great off-the-beaten-path hike in Kanab is the Great Chamber at Cutler Point . This is another fun off-road adventure to a massive cave. The arch of the cave opening perfectly frames the massive sand dune inside making it great for photography.
Kanab is located near both Zion National Park and Bryce Canyon National Park, and both are great stops on a Southern Utah road trip. Arches, Canyonlands, and Capitol Reef are a little further away, but Kanab is a great stop on Utah National Parks road trips too.
If you are trying to figure out where to eat in Kanab , don't miss out on Rocking V Cafe and Iron Horse Restaurant.
If you are staying in Page, don't miss Horseshoe Bend or Antelope Canyon. Lake Powell is an amazing lake to explore from the water or for the views from the land around it.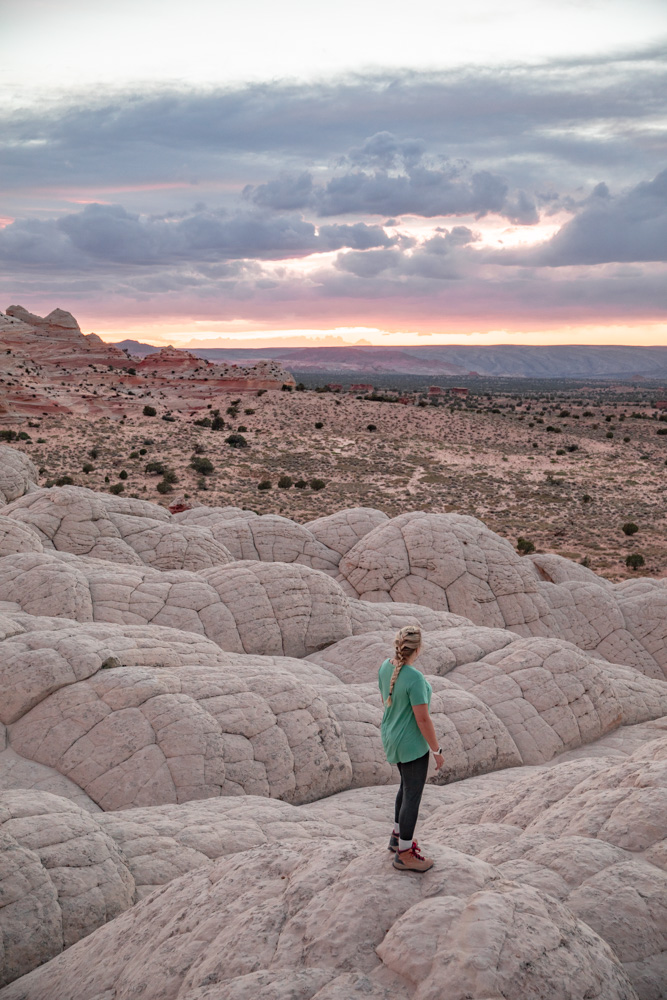 Why You Need to Visit White Pocket at Vermilion Cliffs Arizona
As a photographer, this area is a photographer's dream. As an outdoor lover and hiker, it's a unique spot unlike any other I've found. My husband and I agreed that White Pocket is one of our favorite places we've ever been.
If you are up for an adventure, don't miss a trip out to White Pocket Arizona while visiting either Kanab or Page.
For more spots to check out in the area, don't miss:
Bentonite Hills Utah over near Capitol Reef for another unique natural landscape
Moab Potash Ponds for another off-road adventure to manmade blue pools in the desert
Great Chamber near Kanab for an off-road adventure with another easy hike
And don't forget to enjoy the best places to eat in Kanab Utah to fuel your adventures
Like this post? Pin it for later and share it with others!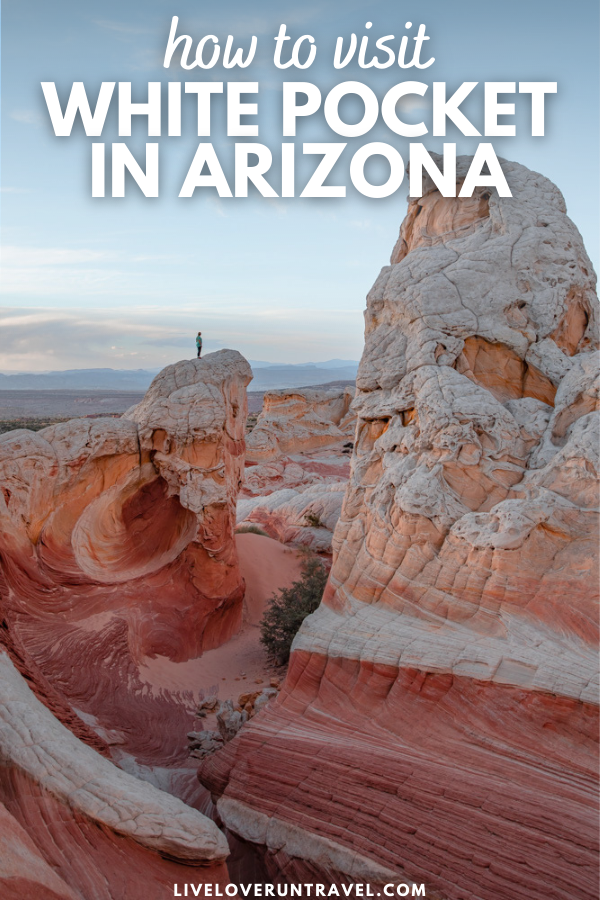 You may also be interested in...
Notify me of follow-up comments by email.
Notify me of new posts by email.
This site uses Akismet to reduce spam. Learn how your comment data is processed .
Sunday 5th of March 2023
Huge wright up with great pics!!
Tuesday 24th of January 2023
Best travel site I've found in my research of Arizona/Utah so far and I've looked at a lot of blogs. Very comprehensive and amazing pictures. We will most likely use Dreamland Tours and were wondering if had to choose would you do tour to South Coyote Buttes (if we got the permit) or White Pocket? I'm a photographer and love varied landscape. Also I'm thinking of buying a drone for this trip (in July) do they take a long time to learn to use as the overhead picts are really amazing but I doubt I could use them in the national parks
Christine Wheeler
Wednesday 25th of January 2023
Thank you, Pam! I've got lots more Utah/Arizona content coming and more on my Instagram (@liveloveruntravel). I loved both, but I would choose White Pocket over South Coyote Buttes. As a photographer, I found the colors at White Pocket more interesting. Honestly though, you can't go wrong! If you are getting a drone, you won't be able to use them at South Coyote Buttes (it's a wilderness area) or in national parks. You can use them on BLM land (White Pocket). If you are just sending it up to get a picure, it's pretty easy to learn to use. If you are wanting to get fancy with video shots, it takes longer. With photos, you can send it up and set it up before you take the shot. With video, it's much harder to get a smooth shot without practice.
Sunday 8th of January 2023
Excellent overview of the trek. One question: We don't have a 4x4, and getting one in the area seems to be impossible. So, what if we drove as far as we can, and then park and hike the rest of the way through the sand, etc.? You mention one section is 6.2 miles, but there are no distances on the other legs. Possible??
Scott Ashley
Saturday 18th of March 2023
This page is a great overview of the trip to White Pocket. I have a 4WD Toyota Tacoma with wide tires and off-road package, and I was concerned about making it through the deep sand on the road there. I've been stuck in deep sand even with this truck, and it's no fun trying to get out, especially as remote as this is. Without a 4WD and wide tires, I would recommend playing it safe and taking a tour. You do not want to get stuck or stranded out there.
And Christine, your trip summaries are excellent! I look forward to seeing more.
Monday 9th of January 2023
It would be possible, except there are not many parking areas available on the side of the road. You can only park in the camping spots along the side, and you cannot park in the road/leave your vehicle if stuck. What kind of vehicle/tires do you have?
Depending on the season/road conditions, you might be able to make it a good amount of the way with high clearance, but making it all the way without 4x4 is unlikely. We were there again a few months ago, and the sign for 4x4 high clearance required is at 9.1 miles left to White Pocket (so 18 miles roundtrip). We have off-road tires, 4x4, and a small lift on our Jeep Wrangler, and our differential was still hitting a few times with how deep and soft the sand was this year. They did regrade 1017 before we were there, and it was wider/better driving this year.
I would recommend looking into a tour with Dreamland Safaris. We used them for South Coyote Buttes, and we loved them. You can do a private tour, but we didn't and still only had one other group of 3 with us. Just another option to consider.
(435) 414-9793
White Pocket
This stunning rock formation of White Pocket is about 1 square mile of unique swirls and curious curves that may make you feel like you've stepped onto the planet Mars. Often called "Brain Rock", its iconic red, orange, and yellow rock formations have recently captured the attention of a company you may know, as it can now be seen as one of the wallpaper options on Apple products. This is a photographers happy place!
This longer tour is well worth it and definitely recommended as an equal alternative to the Wave, but no permit is needed!  The sand on route is very deep but our high clearance four wheel drive vehicles and experienced guides make it so you don't have to worry. We usually stop to see the California Condors release site where you can often see them nesting on the Vermillion Cliffs.
Additional Details
Pricing 7-8 hour tours, ***all tours are subject to 15% taxes and fees***.
***With current unpredictable inflation of gas prices, ALL PRIVATE TOURS WILL BE SUBJECT TO AN ADDITIONAL GAS SURCHARGE OF THE DIFFERENCE OF THE CURRENT PRICE PER GALLON OVER $2.75/GAL. Pricing was originally made when gas was $2.50/gal, we hope there is another drop before we have to permanently change our prices. Thank you for understanding!
Select a Tour Duration, Location and Number of People below to start booking your tour.
Email Address
Your Phone Number
Number Of People In Group
Tour Type Tour Type 2-3 Hour Tour Half-Day Tour Full-Day Tour Combo
Tour Requested (2-3 Hours) Tour Requested (2-3 Hours) No Preference Peek-a-Boo Slot Canyon The Great Chamber Candy Corn Toadstools Inchworm Arch Pinnacles/TV Tours The White Wave Rosie Canyon Petroglyphs Moccasin Dinosaur Tracks South Fork Pictographs
Tour Requested (Half-Day) Tour Requested (Half-Day) No Preference The Huntress - Canyoneering/Rappelling Kanab Creek Overlook - Canyoneering/Rappelling Advanced
Tour Requested (Full-Day) Tour Requested (Full-Day) No Preference Rock Canyon White Pocket The Wave - Need Permit To Tour Wire Pass / Buckskin Gulch Coyote Butte South - Need Permit To Tour
Combo Combo No Preference Best of Kanab / Choice of 3+(K) Walk With the Ancients/Choice of 4+(K)
Rosie Canyon Petroglyphs
Drive Distance:
About 40 minutes from Kanab including 2 miles of deep sand
10-15 minutes from the Coral Pink Sand Dunes 
10 minutes to the Moccasin Mountain Dinosaur tracks turn off
Hike Distance:  
Less than 1 mile round trip
The hike is easy except at the end there is a little scramble to get up to the petroglyphs
 We rank the overall hike a 2/10 difficulty, except that one section of 50 feet we'd rate about a 4
Recommended Items: 
We provide plenty of water, but always encourage guests to bring extra 
Sun screen 
 Closed-toe shoes  
Hat and sun glasses 
Coat (October-March)
Warm hat (October-March)
Gloves (October-March
Boots/thick socks (October-March)
Why We Love This Site:
This panel is one of our absolute favorites!  We love to show people the amazing rock art from centuries past in Rosie Canyon.  This particular spot is in a really pretty setting in a tiny box canyon.  The short hike is in a wash with wonderful scenery in every direction.  
Best Combinations for this site:
Peekaboo Slot Canyon
South Fork Pictographs
Moccasin Mountain Dinosaur Tracks
Of the options in the "Best of Kanab Southwest Tour", Rosie Canyon is a must!
Private Tour Pricing:  All tours are subject to 8.1% state sales tax, and 3% BLM land usage fee(subject to change)
Single Site
2 Site Combos
5+ Sites, Best of Kanab Tours NE & SW
$135 ($67.50/per)
$225 ($112.50/per)
$400  ($200/per)
$180 ($60/per)
$290 ($96.67/per)
$500  ($166.67/per)
$180 ($45/per)
$290 ($72.50/per)
$500  ($125/per)
$225 ($45/per)
$290 ($58/per)
$500  ($100/per)
$225 ($37.50/per)
$290 ($48.33/per)
$500  ($83.33/per)
Please Call
*For groups of 7 or more we will likely need another vehicle and guide. Please contact us for pricing. Thank you!
Phone: 435-899-0697 or 801-631-3500
about 40 minutes from Kanab
 The last two miles are on a deep sandy road
 Near- Rosy Canyon turn off, Coral Pink Sand Dunes
About ½ mile round trip
This hike is easy.  We rank it a 1/10 difficulty. 
 We will drive up to within 20 yards of the first tracks.  
Recommended Items:
Closed-toe shoes  
Shade hat and sunglasses 
Gloves (October-March)
This is one of the easier places to hike and see evidence of ancient life.  The tracks lie in a beautiful sandstone wash where you will feel remote and quiet.  Our vote is that this is one of nature's perfect yoga/meditation spots!  We frequently hear, "I can't believe I'm walking in the very place the dinosaurs walked! This is so cool!".  Although it is not technical at all, it is a great experience to marvel at the history of the rocks we walk on here!
Add on to Peekaboo Slot Canyon
Easy to combine with the Rosie Canyon Petroglyphs
A fun complement to the South Fork Pictographs
For the "Best of Kanab Southwest Tour", the Dinosaur Tracks are a great option!
(7 Hours Round Trip)
About 70 miles (26 miles of dirt and sandy roads)
2 hours 15 minute drive from Kanab
Near Coyote Buttes South
Usually 2-3 hours
The hike is as easy as you'd like it to be, but it is full exposure to the sun
 We rank the overall hike a 3/10 difficulty, unless you want to take a back route, then it's a 6.
White Pocket is a unique landscape where we wander around in the 1.5 square miles of white "brain rock", and take in the amazing red, yellow, and orange swirls erupting out of the otherwise uniform out of this worldly formation.  White Pocket offers a variety of formations and colors.  It is our most popular 7-8 hour tour.  We love being out there because it feels like a brief trip to another planet!
Peekaboo Slot Canyon (Peekaboo morning- lunch break in Kanab – head out to White Pocket for sunset is our most popular full day combo)
Coyote Buttes South (permit required)
Private Tour Pricing:  All tours are subject to 8.1% state sales tax, and 3% BLM land usage fees
4+ Sites, Best of Kanab Tours NE & SW
Cayote Butte South/White Pocket Combination Special
Select a service below to start booking your tour., peek-a-boo/white pocket combination special, peek-a-boo slot canyon.
(2.5 Hours)
This spectacular slot canyon is becoming more and more popular, however, it remains an excellent alternative to, or addition to the very crowded Antelope Canyon. On this tour, we are happy to let you take all the pictures you'd like.  Although we are more and more likely to share the canyon with others, we are often alone here and the groups we see are just in passing.  It is a pleasant experience with the time allotted for you to enjoy the marvels of a slot canyon.  Some guides call this Mystical Canyon for good reason.
The hike is 1.5 miles round trip.  It is a pretty flat hike through the sandy floor of the slot. There is one waist high boulder to scramble up just past the halfway point.  Sometimes we have the opportunity to see some other local sites depending on the time in the slot canyon.
The White Wave
(7-8 Hours)
The Pinnacles is a memorable jeep ride climbing sandy hills, rock crawling and squeezing through tight spots!  It is a windy, twisty, rocky road for the thrill seeker! We also take a small detour to go to the TV towers on the cliff above the Kanab City Park.  From there we see a spectacular view.  This tour is by far the most fun to drive!  We spend just a few minutes outside of the Jeep on this one.  There certainly are some spectacular views where we will stop, but this one is all about the 4 wheel low, let the Jeep do the dirty work, crawl speed, up and down the rocks and sand.  It is a safe ride, but you will certainly ask yourself a few times, "Are cars supposed to drive here?!"  Not everyone likes to bring their tours up these rocks because its hard on the vehicles, but we love it!!  We strongly recommend this add on to the Peekaboo Slot Canyon Tour.
(6-8 Hours)
The iconic Wave is a very popular destination. It is a pretty rugged 3.1 mile hike each way.
The heat can be brutal!
The destination is definitely worth the effort to wait for the daily lottery, and brave the elements. Around the Wave, you may have time to check out the Boneyard, Cheeseburger Rock, Dinosaur Tracks, and a variety of additional formations and spectacular colors.
There are a couple of tricky spots along the hike, so we are happy to guide your group to ensure that you have a memorable, safe experience. We will provide some water, however, we recommend that you bring extra, as the heat can be dangerous.
This tour will last anywhere from 6-8 hours depending on the weather, ability of the hikers, and the number of photos you desire to take.
We are happy to point you to some of the attractions, and help you make this a wonderful day!
2-3 Hour Tours
Half-day tours, full-day tours.
Turn your travel photos into cherished memories with our Lightroom Presets! 
White Pocket: Should You Visit with a Guide?
Are you dreaming of visiting the otherworldly landscapes in White Pocket, Arizona? Planning a trip to this remote area of the Vermillion Cliffs National Monument can be overwhelming!
Let me guess, you saw a photo of White Pocket on Instagram, or you saw the mind-bending white and pink rock swirls splashed across your iPhone screen as one of Apple's newest stock wallpapers.
You know you HAVE to see this place for yourself, and now you're planning your visit! AWESOME!
I remember that moment myself when I first heard of White Pocket and started researching how to get myself and Tim there. I was surprised by how little information I could find online about this place.
Vague driving directions and words like "deep sand" and "high clearance" and "flat tire" had me wondering:
Is it best to visit White Pocket with a tour guide?
We have traveled extensively in the Vermillion Cliffs National Monument area, both on our own and with a tour guide. So if you're debating whether or not to hire a guide to visit White Pocket, I'm about to make your decision a lot easier!
Table of Contents
Should you visit White Pocket with a guide?
In most cases, YES! We think it is best to visit White Pocket with a guide, not just for a more enjoyable trip, but a safer one too.
We recently toured White Pocket with Dreamland Safari, based out of Kanab, Utah. After having toured the South Coyote Buttes without a guide last winter, we were eager to compare that experience with a guided tour in a similar location.
Even though we have a capable vehicle and sufficient wilderness experience to safely visit on our own, we found a lot of advantages to visiting with a guide!
Visiting White Pocket with a guide can be more enjoyable
Visiting with a tour guide is less stressful
If it isn't obvious by now, visiting White Pocket on your own has some inherent risks. Even if you have the right vehicle and know-how, depending on your level of risk aversion, you might still have a better time with a guide!
Personally, as someone who travels with chronic anxiety, I have a hard time enjoying myself and being fully present if I'm also feeling anxious about the "what-ifs". Visiting White Pocket with Dreamland Safari meant I didn't have to worry about the logistics. Rather than stressing about finding all the spots I wanted to see, or whether I restocked the first aid kit, I got to relax, turn off my brain a bit, and just enjoy nature!
Tour guides can show you Hidden Gems
On our tour with Dreamland Safaris, our guide, Mel, also took us to a few hidden petroglyph panels in the area. We would never have known about these incredible spots without her sharing them with us.
By visiting White Pocket with a guide, you may also have the opportunity to see some hidden gems you wouldn't have found on your own! It should be obvious, but don't forget that tour guides are GUIDES, meaning they have expert-level information you can't easily get for yourself.
Going with a guide unlocks more possibilities for what you'll get to see and experience than if you toured the area on your own.
You learn about unique geology
We love to learn about the places we visit, whether it's history or nature. In a place as geologically unique as White Pocket, having a guide will enhance your educational experience.
On our tour, Mel used a stick to draw in the sand a general history of how these strange rock formations came to be. We learned that what we were hiking on were actually petrified sand dunes, millions of years old.
Now, whenever we are driving through the southwest and see similarly-formed rocks, I geek out because I know what to call them now: petrified sand dunes! And that right there is a perfect example of the educational value of visiting with a guide!
Visiting with a guide is safer
Tour guides have the right vehicle
You need a 4×4, high clearance vehicle to drive to White Pocket due to deep sand on the road, as well as rocky areas.
If you don't have a 4×4 high clearance vehicle or know how to drive in deep sand, you absolutely need to hire a guide to visit White Pocket!
To avoid getting stuck, it's imperative that you only drive yourself if you have a suitable vehicle and experience driving in deep sand! If you get stuck, you may not have cell service to call for help. Once you do get help, expect a four-figure bill for the tow service to get your car out!
Dreamland Safari's vehicles are equipped for this kind of off-pavement journey, and their guides know these roads intimately, minimizing the chances of getting stuck.
By visiting White Pocket with a guide, you can put driving risks into the hands of experts who know these roads and how to drive them.
Tour guides know the route
Wayfinding is difficult in White Pocket and in the Vermillion Cliffs National Monument as a whole.
This is partly because cell phone reception is too scarce to rely on online maps. The dirt roads in Vermillion Cliffs National Monument also do not use traditional road names. Most of the roads are designated with four-digit numbers, indicated by small signs at the intersections.
If you want to visit White Pocket on your own, you absolutely must download driving directions in advance, or even print or write them out. This is not a place you want to get lost.
I don't mean to scare you, but with the hot summer heat, risk of seasonal flash floods, and lack of access to water and food, getting lost in Vermillion Cliffs National Monument is potentially life-threatening.
Tour guides are prepared if things go haywire
Many of the guides at Dreamland Safaris are certified Wilderness First Responders. In the event of an emergency, there is nothing better than being with someone who is literally a professional at getting people out of unsafe wilderness situations.
Visiting with a guide does good for the area
Hiring a guide supports the local economy
Kanab, Utah is a small but growing town. It is quickly becoming a popular destination for outdoor adventure enthusiasts. With this influx of tourism, the cost of living is rising in the area. Hiring a tour guide through local businesses like Dreamland (and tipping your guide!) is a great way to support the community.
Guides are well-versed in outdoor ethics.
Guides will often remind you of what is or is not okay to do in nature. For example, can you walk across a particular rock formation, or will that cause damage? Can you fly your drone at White Pocket (yes, by the way)?
Whether you're new to the outdoors or not, we all benefit from being reminded of how to respect nature! If you're new to outdoor adventures, start with a quick overview of the Leave No Trace principles to master the basics!
Do you NEED a tour guide to visit White Pocket?
There is no requirement to hire a tour guide to visit White Pocket at this time. People visit independently without a guide every day. With the right vehicle, driving experience, gear, and emergency preparedness, anyone is welcome to visit, anytime.
Of course, that's a pretty major caveat! When it comes to going without a guide, your biggest limitations will be your vehicle and your wilderness experience! You can consider self-driving if you have a four-wheel-drive high clearance vehicle, are experienced in driving in deep sand, and have a means of navigating and communicating without cell phone reception (like a satellite phone and GPS or downloaded maps). We consider these to be the minimum requirements for a safe independent adventure to White Pocket!
That said, if you're prepared for that kind of adventure, go for it!
Do you need a permit to visit White Pocket?
You do not need a permit to visit White Pocket at this time.
Two nearby locations in the Vermillion Cliffs, the North Coyote Buttes (where the famous Wave is located) and South Coyote Buttes, both require a permit from the Bureau of Land Management to visit. Permits are awarded by random lottery either online 4 months in advance or in person the day before you want to visit. Many predict that White Pocket will soon require a permit as well.
Definitely read about Dreamland's other tours too – you'll quickly see just how much there is to explore near Kanab, Utah, and the Vermillion Cliffs National Monument!
Make sure you're prepared with the right gear. Check out our hiking gear list on Amazon!
We think there are huge benefits to exploring White Pocket with a tour guide! It's more fun, safer, and is good for the area (and not just economically!). No matter how you see it, though, this geologically rich destination is sure to impress you.
While in the southwest, don't miss Capitol Reef National Park in Utah or the amazing hiking opportunities in Sedona, Arizona !
Please note: Dreamland Safari Tours hosted us on their White Pocket tour in exchange for this blog post. As always, our opinions, thoughts, and experiences are our own!
Pin this post to save it for later!
Similar Posts
What It's Like Grand Canyon Glamping at Backland Eco-Resort
35+ Unique Things to Do in Sedona, Arizona
Bucket List Guide to the 35+ Best Things to Do in Capitol Reef National Park
Adventurous Sedona Hiking Itinerary: How to Spend 7 Days Exploring Sedona's Trails and Sights
14 Unique Wisconsin Dells Fall Experiences
10 Day Road Trip Nevada, Utah, Arizona
Leave a reply cancel reply.
Your email address will not be published. Required fields are marked *
Save my name, email, and website in this browser for the next time I comment.
This site uses Akismet to reduce spam. Learn how your comment data is processed .
Organized Adventurer uses Accessibility Checker to monitor our website's accessibility.
American West Scenic Adventures uses cookies to give you the best possible service. If you continue browsing, you agree to our use of cookies. More details can be found in our terms and conditions .
+1 435-767-0220
Open Facebook account in a new tab.
Open Instagram account in a new tab.
Open Tripadvisor account in a new tab.
White Pocket Tour
Natural Beauty
Fun Can-Am UTV Ride
Photographer's Dream
Experience the Out-of-this-World Wonders of White Pocket
Discover why the Vermilion Cliffs National Monument is a favorite for all our guides and you'll leave this tour wondering just how nature crafted such a unique place. Spectacular vistas created by the heady mix of a few lone trees, a bursting colorful palette , and a variety of sandstone formations await photographers and sightseers alike on our epic White Pocket tours. After grabbing a coffee together, we'll set out down Highway 89A on a winding, scenic journey to remember through the Kaibab National Forest. The views change dramatically on the drop out of the forest and down into Marble Canyon – it's a moment sure to take your breath away .
Tour Highlights
Escape from society to the isolated and colorful beauty of White Pocket
Discover our favorite places to snap photos and make lasting memories
Enjoy the off-road trip in a 4-wheel drive to House Rock Valley
Come find out why everybody sees something different in the abstract sandstone formation where everyone sees something different - Do the rocks resemble a turtle shell? A brain? Have we landed on another planet entirely?
Click the tabs to find out more...
Trip details.
Pricing & Details
$200.00 per person
Children under 12 years old: $100.00
25% discount to all Active Military and Veterans
Departure time
Depends on the season
Meeting point
We'll pick you up from any hotel or Airbnb in Kanab, Utah, or we can meet at the Kane County Visitors center in Kanab Utah.
Availability
All year round, 7 days a week
Max 9 hours
Overnight camping
Large groups: Our permits specify that tours with over 5 guests must have an additional guide. There will be a $200 fee for the second vehicle and guide charged.
Minimum 2, maximum 5 per tour guide. We can take groups of up to 10 people. There will be a $200.00 fee for the second vehicle and guide.
Hike distance
Hike difficulty.
Easy – uneven rocks and small sections of sand but overall this is a comfortable hike. The hike typically takes between 2 and 4 hours, depending on your group's pace, comfort, and safety. We do exercise caution during the summer months, and during rain storms.
Drinking water
Energy bars
What to bring
Appropriate clothing for the season
Lunch if you would like
Hiking poles if needed
About your guide
1 knowledgeable and enthusiastic guide with years of experience exploring these incredible lands
Important Info
The Drive: We start in our comfortable vehicle with 50 miles of paved highway, taking approximately 1 hour. Then we switch it up, taking approximately 45 minutes in the fun Can-Am over 25 miles off-road. The tour takes a total 4-5 hours of driving, and the drive is one of the great elements of the adventure. We'll pick up some coffee together, and set out down Highway 89A on a winding, scenic journey through the Kaibab National Forest.
We always have to keep an eye on the weather before any hike due to potential flash flooding. However, we do offer a refund on deposits if weather is a factor.
Be aware that the ride might get a bit rough - especially after a storm.
Don't Just Take Our Word For It….
Tripadvisor reviews.
I thoroughly enjoyed our tour of White Pocket and South Coyote Butte. Both places are incredible in their own right. Jeff went out of his way to show us some really cool stuff that we would never have seen on our own. He has an incredible knowledge of the area which he shared freely. As a person with 16 years of experience as a professional raft guide, I can't recommend American West Scenic Adventures highly enough.
Amazing tour of White Pocket. Can't recommend Jeff highly enough. He was kind, intuitive, and interesting and took excellent care of us. I know he wasn't responsible for the incredible day we had but he did his part to make it a wonderful experience. Jeff pointed out tons of great photo ops and took more pictures of us than we have from the rest of our road trip. He has a wealth of local knowledge, insight into the geology of the area and is an amazingly interesting and well rounded individual. We couldn't have asked for a better day, tour and guide. Highly recommended!
Jeff took us out to White Pocket and the Great Chambers. Very knowledgeable about the area and was able to show us a lot of cool things! He also gave us photo tips and was willing to help us out with pictures
We had THE best time visiting White Pocket with Jeff. He is an amazing tourguide who takes good care of his guests and knows a lot about the area and wildlife too. I 100% recommend booking a tour with him.Thank you Jeff of taking us to the one of the most beautiful places on earth. When we're back in the area, we'll sure give you a call to go on another adventure.
Check Out Our Other Tours
Buckskin gulch, peekaboo and dinosaurs, peekaboo canyon tour.
VERMILION ADVENTURES
Quick Details
Hour Glass Duration: 7 - 8 hours
Calendar Availability: Daily / Request
User Ages: Ages 4+
Heart Health & Safety: You can read our Health & Safety policies here.
Available and Accepting bookings for 2021
TOUR THE VERMILION CLIFFS NATIONAL MONUMENT
The Vermilion Cliffs National Monument is 294,000-acre monument that offers beautiful sandstone, hiking, and wildlife viewing, plus a landscape of cliffs and canyons. We offer three different full-day tours of the area.
Tours depart from our office location: 22 South Lake Powell Blvd – Page AZ 86040
TOUR OF WHITE POCKET The real gem of the Vermilion Cliffs and surrounding area. Simply put, our trip to White pocket will show you the most scenic place and most unusual geology in this region. This is an 8-hour trip and you will leave having visited one of the most amazing places in all of the southwest of the US. The area of White Pocket on the Paria Plateau in Northern Arizona is very impressive indeed! While many are lured and wait their turn to visit the infamous "Wave" in the North Coyote Buttes, the "White Pocket" area to the east is seldom visited. Maybe because of its remoteness or the requirement of 4WD to access the area. The impressive White Pocket will fill the senses beyond imagination! The drive to the swirling, twisted, multicolored natural artwork is an adventure in its own right, and the exploration by foot is endless. "White Pocket" will surely become "top of the top" in the list of special places. This area has colors, shapes, and textures that are hard to beat. A trip to the White pocket is a memory of a lifetime.
Time spent will be for exploration and photography. Moderate hiking is involved, water and a sandwich is provided but we do encourage you to pack your own bag with water and items you may need while we are on tour.
Tour Duration: 8 Hours 5hrs of Total drive time (round-trip) and 3 hours on-site. We provide the transportation in our SUV(s), sit back and relax and take in the scenery.
Maximum group size 10 persons. This Tour does not include Antelope Canyon, nor does it include "The Wave."
TOUR OF BUCKSKIN GULCH
For the avid hiker. This hike does involve steep climbing up and down sandstone – which is also known as slick rock. Please know this is a rather demanding hike, with strong legs and strong ankles required. We explore the longest slot canyon known. Granted we may not have enough time to explore all 16 miles, but with 3 hours on-site, there is much to be discovered. Lunch & water please pack your own, we have emergency rations just in case.
Buckskin is very seasonal. We mainly offer tours from May 1st to June 30th, then again from Sept 1st to Oct 31st. You're more than welcome to submit a request outside of those days, but all tours are weather dependent, as the Buckskin is prone to flooding year-round. This tour does not include Antelope Canyon.
We have two access points, two tail heads we can start the tour from.
Middle Entry is more of a challenge: The hike begins at the elevation of 5,100 ft and we hike down to 4,000 ft, the final 200 feet involves climbing down sandstone – most can do this without the aid of ropes but we will have a rope there just in case. The hike from where we park to the actual slot canyon is 1.3 miles (one-way), so be prepared for this, especially during the hotter seasons.
Wirepass Trailhead is a bit easier: The hike is flat-level for the most part, we do have to climb over a boulder or two, and this path has a higher chance of walking through water that can be as deep as 4 feet.
Both entry points run the risk of walking through water (not so much with Middle Entry).
Tour Duration:  7-8 Hours
Hiking Distance: up to 8 miles. This Tour does not include Antelope Canyon, nor does it include "The Wave."
North / South Coyote Buttes
If you're able to win a permit 4 months in advance we can arrange a tour for you, prices start at 250$ before tax and tours run about 7-8 hours from start to finish.
_____________ All tours to Vermilion Require 2 or more persons. Due to COVID-19 we require a mask to be worn during transportation and when social distancing is not possible. All tours to Vermilion require hiking, not advisable for small children. due to the terrain, we don't recommend this tour for younger children. But if you believe your child can handle the hike, they are more than welcome, they must pay the child rate (even babies).
_____________
We are an authorized Outfitter permitted by the BLM.
RELATED TOURS
MOST POPULAR
Calendar Daily
Hour Glass 1 hour 45 minutes
UPPER ANTELOPE CANYON SIGHTSEEING TOUR
This experience offers you a fully guided tour into the Upper Antelope Canyon. Guided tours are required to visit this world-famous gem, so don't miss this opportunity to take in the beauty of Antelope Canyon!
Tours run Year-Round
White Pocket ATV Tour
Explore the hidden treasures of Kanab, Utah by ATV!
Quick Details
User Ages: 5 Years & Up
Hour Glass Duration: 8 Hours
Users Max Group Size: Up to 5 People , For larger groups, please call us to book!
Check Bubble Activity: ATV Tours
Backpack REQUIRED! Guide will not carry cooler or water for you. You must be able to carry your lunch and water yourself.
You'll be sent a waiver to sign along with your booking confirmation.
Experience incredible geography on this White Pocket Tour on the border of Utah and Arizona!
White Pocket – a truly unique, otherworldly escape! The sandstone here weaves tales with its smoky reds, oranges, and whites, making the journey half the fun.
When you arrive, it's like stepping into another planet! Explore this mesmerizing landscape with your guide, uncovering geology and rock formations, like hexagonal white rocks and deep red swirls – a photographer's dream!
For the ultimate experience, consider adding a visit to South Coyote Buttes (permit required)!
Chevron down What to Bring
Backpack REQUIRED! Guide will not carry cooler or water for you. You must be able to carry your lunch and water yourself. Our guide will have a cooler full of water but it will remain in the vehicle for when you get done with the hike.
The RZRs are not allowed for passengers younger than 5 years old. Please call for further details.
Depending on the time of year, you may need a coat and warm hat
Sunscreen, hats, and comfortable hiking shoes are recommended
The white rock is very bright, so sunglasses are a must for this tour.
Since it is a sand trail you may want to bring something to cover your face for the ride to the canyon
A cooler full of water is supplied, though you may want to bring snacks and/or a lunch.
Chevron down Inclusions
A friendly, knowledgeable guide
Transport to and from the meeting point
Bottled water
Helmets and Goggles
NOT INCLUDED
Gratuity for your guide
Lunch or snacks (Please bring your own, you are welcome to store them in our cooler.)
Face covering (recommended) offered for sale in office for $3 each or 2 for $5
Permit for optional add-on tour to South Coyote Buttes
Chevron down Important Info
Tour Details
Your guide will meet you and transport you, along with the ATVs, to the tour departure point , House Rock Valley Road (this takes 45 minutes), which accesses the trails that lead to White Pocket.
We'll bring along plenty of iced water but won't provide lunch or snacks. We recommend that you bring along high energy snacks and a filling sandwich which you can store in our cooler.
It is very easy to get dehydrated on this tour, make sure to drink plenty of water throughout the day!
If you decide to add on a tour to South Coyote Buttes, you will need a permit . Read more about permits here .
ATV Participation Requirements
Children under 5 years old are not allowed on the ATV's.  Please ask about 4WD options for families with youngsters.
You'll need to watch a safety video and sign an ATV/OHV waiver or a hiking waiver after booking this tour.
You must be able to fasten the seat belt on the machine.
You must be 18 and have a current, valid driver's license to drive the ATV.
If you are under 18 years of age, an adult must be present in the vehicle with you.
The driver must be able to speak and understand English.
Related Activities
Our Most Popular Tour!
Users Up to 12 People
Hour Glass 2.5 - 3 Hours
User 5 Years & Up
Peek-a-Boo Slot Canyon ATV Tour
Pack some serious fun and adventure into a few hours while you're in Kanab! Race over sand trails in 2 or 4 person ATVs towards the breathtaking Peek-a-Boo Slot Canyon and learn about this special area from one of our experienced tour guides.
Hog Canyon ATV Tour
Looking for a fun, rugged, off-road experience with tons of thrilling driving?  Then look no further than our awesome Hog Canyon ATV tour! Hog Canyon isn't far from Kanab, so this is a quick tour that you can easily fit into your day in the area.
East Zion ATV Tour
Experience the thrill of off-road exploration, uncover stunning landscapes, and create unforgettable memories in the heart of Zion.
This tour is run through our sister company, Beyond Zion ATV.
Users Up to 10 People
Hour Glass 5 Hours
Inchworm Arch ATV Tour
Get ready for incredible scenery and expansive views on our Inchworm Arch ATV tour. We'll visit Grand Staircase National Monument and stop by the rarely seen Double Arch while riding through rugged and sandy terrain.
North Rim ATV Experience
Experience the Grand Canyon like never before. Our open air Side by Side ATVs efficiently access overlooks such as Crazy Jug Point, Monument Point, Thunder River, and the Kanab Wilderness overlooks of Sowats Point, Jumpup and Goosenecks Point.
PERMIT REQUIRED
Info BLM Permit
Users Up to 6 People
South Coyote Buttes Tour
Located near the Wave, South Coyote Buttes is a great alternative. Enjoy guided ATV rides to the trail-head then hike to some of the most stunning rock formations you'll ever see. You MUST obtain a BLM permit before we can take you on this tour.
JAVASCRIPT IS DISABLED. Please enable JavaScript on your browser to best view this site.
Paria Outpost & Outfitters
Your guides to the grand staircase-escalante & vermilion cliffs national monuments, coyote buttes, and white pockets.

ABOUT PARIA OUTPOST
THE WAVE – NORTH COYOTE BUTTES
SOUTH COYOTE BUTTES
WHITE POCKET
Yellow rock, sidestep canyon, vermilion cliffs, grand staircase.
OVERNIGHT TOURS
PHOTO WORKSHOPS
SOAP CREEK PHOTO GALLERY
THE WAVE – NORTH COYOTE BUTTES PHOTO GALLERY
SOUTH COYOTE BUTTES PHOTO GALLERY
WHITE POCKET PHOTO GALLERY
YELLOW ROCK PHOTO GALLERY
SIDESTEP CANYON PHOTO GALLERY
VERMILION CLIFFS PHOTO GALLERY
GRAND STAIRCASE PHOTO GALLERY
PHOTOGRAPHY WORKSHOPS GALLERY
YOUR GUIDES TO REMOTE & FAMOUS LOCATIONS IN THE GRAND STAIRCASE & VERMILION CLIFFS NATIONAL MONUMENTS.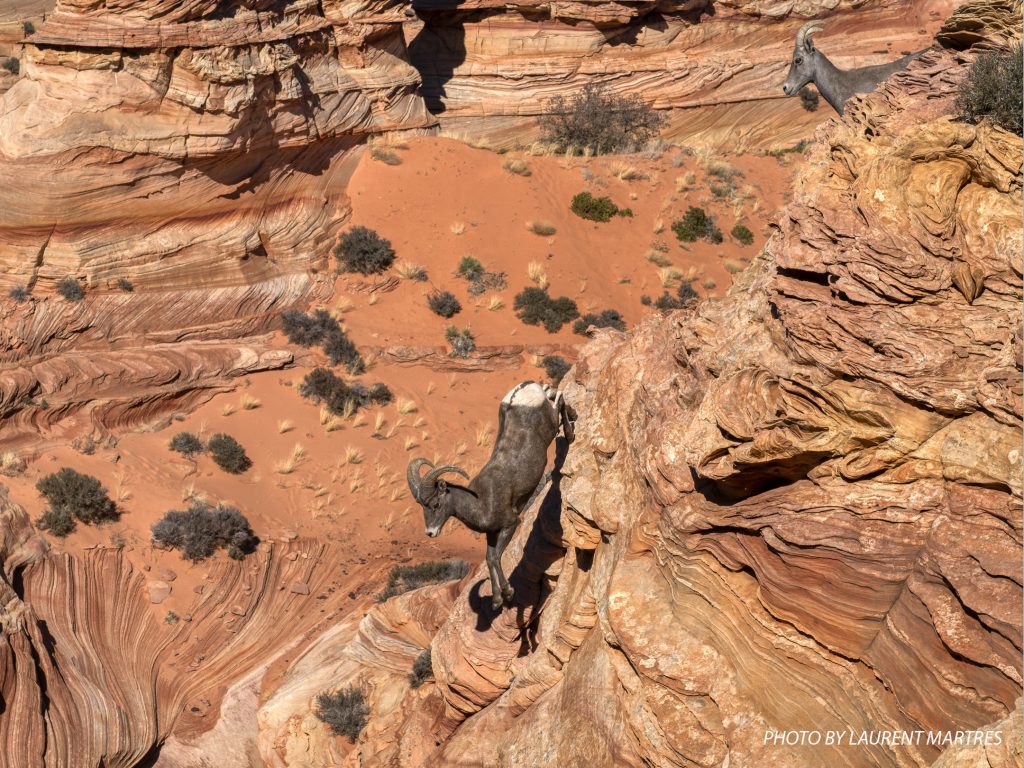 Hello and welcome to the Paria Outpost & Outfitters ! Nestled in the historic and scenic Paria River Valley , we are in the heart of the Southwest's 'Grand Circle' of National Parks and Monuments . We've been providing photography and hiking tours in the Grand Staircase and Vermilion Cliffs National Monuments for 22 years. This is a vast landscape of a million and a half acres with strikingly diverse geology, containing some of the most colorful and picturesque shaped formations on the planet.
We are here to get you out to remote, beautiful locations so you can photograph and experience nature in the solitude it merits.
We can take you on an amazing journey to visit brainrocks, hoodoos, badlands, slot canyons, balanced rocks, and wildly colored formations.
We offer day trips, early morning until late afternoon or middle of the day until sunset, as well as overnights and photo workshops. We offer group and family rates. Kids of any age are $50. Since our location is only a five minute drive from both Monument entrances, our tours are considerably longer than those who put in an hour and a half highway time to get here.
We are committed to showing you the best you can experience and photograph, as well as sharing information about the entire area. Additionally offering advice about road conditions and distances to locations you can visit on your own, if you have the time.
We can get you through the deep sand covering the five hundred square mile Vermilion Cliffs plateau to remote largely unvisited but extremely photogenic locations. Or, take you to the world-class Coyote Buttes and the increasingly famous White Pocket .
We can show you the best of the Southern Grand Staircase Monument's incredibly diverse geology that includes canyons and slot canyons, valleys full of balanced rocks, arches, spires and domes of brightly colored rocks.
Let us help you explore and enjoy our magnificent backyard!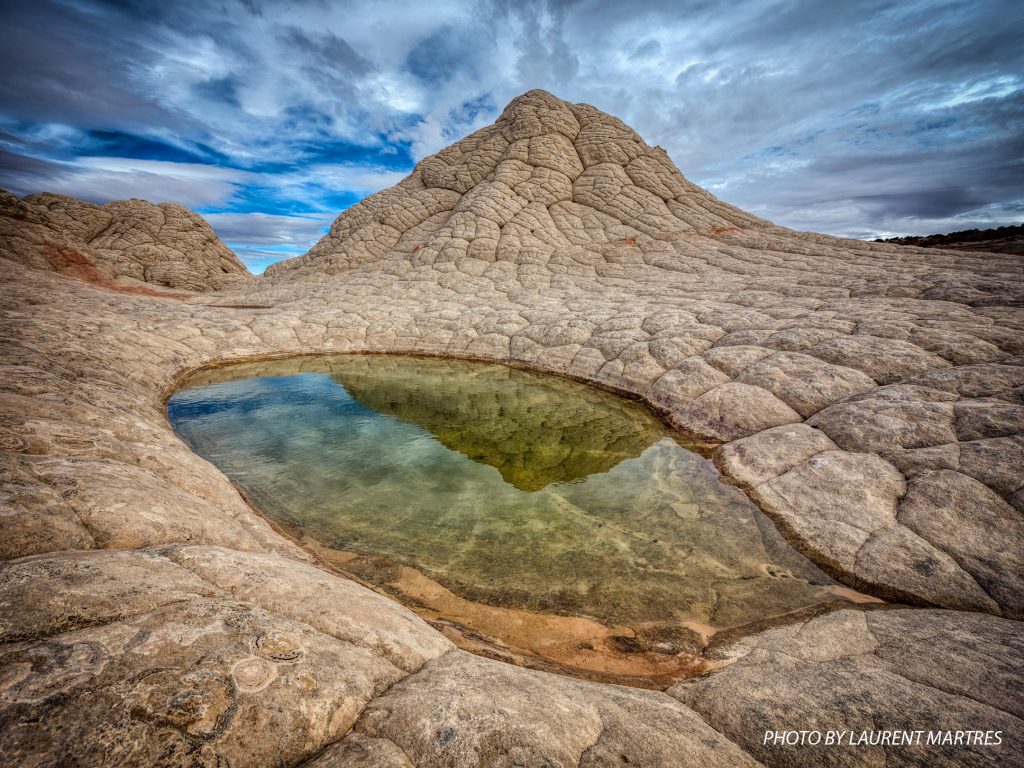 We wish to thank our friends Laurent Martres: author "Photographing the Southwest", Jennifer Khordi Photography, Fred Carneau Photography, Matthias Sebald, Jim and Nina Pollock, and our guides for these many years, Dallas Barnhurst and Mike Leinen for their photo contributions.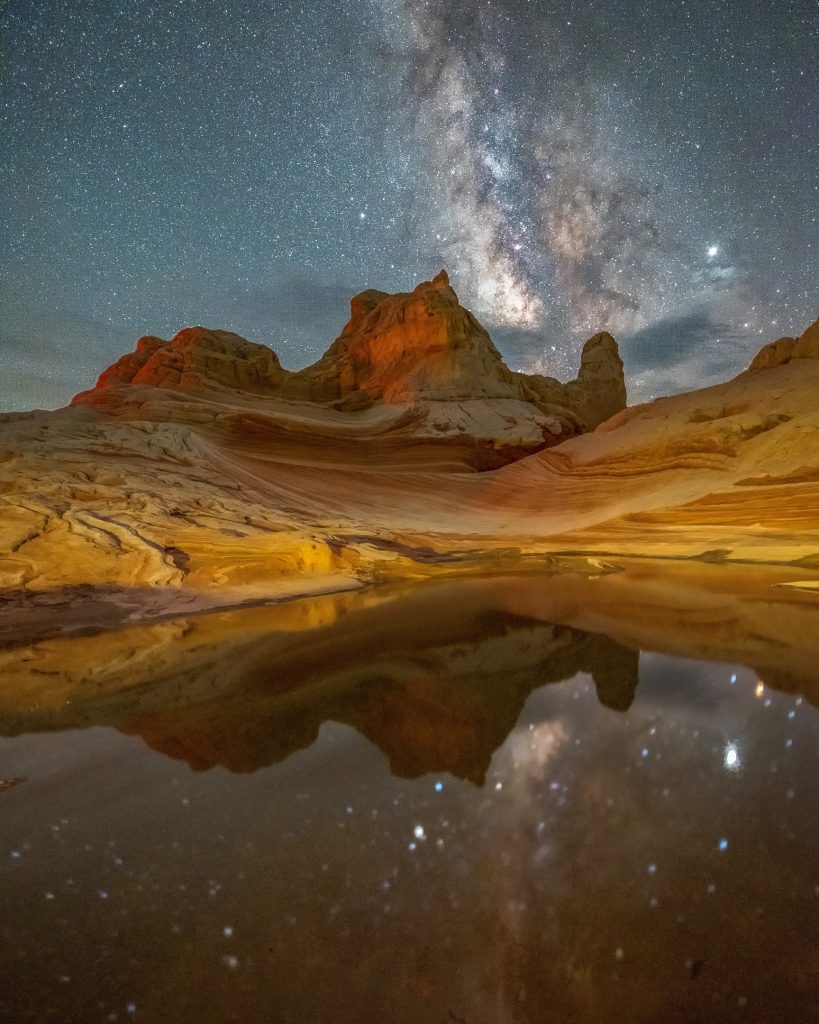 All our tours are eight to nine hours long with as much hiking as you wish.
We provide lunch, water and cold drinks.
We don't take money upfront for reservations. You can book your day and if the weather is bad or you can't make it for some reason we don't want your money. We accept cash or personal checks. Sorry, no plastic.
The only tours that need a permit are the North Coyote Buttes Wave and the South Coyote Buttes . We cannot obtain the permit for you.
All tours leave from The Paria Outpost , located on Highway 89, 30 minutes from Page, 10 minutes from Big Water, and 45 minutes from Kanab, Utah.
Please check out our tour pages and photo galleries, and let us show you great day!
We offer shuttles to and from the Wave trailhead for $200 per group at your time preference.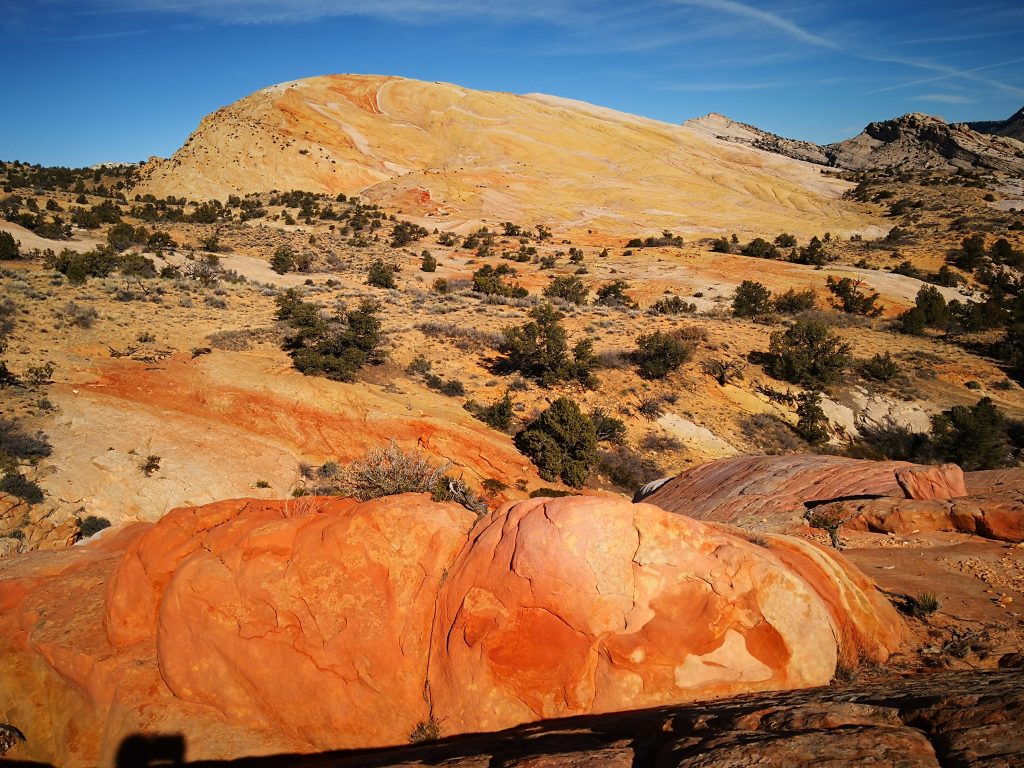 TESTIMONIALS
THE BEST GUIDES ON EARTH! Fantastic guide! I wish I had a guide like Steve on every trip. Words cannot describe his hospitality. We felt like VIPs the entire time. We started our tour from an outpost that is located 1 hour closer than Kanab from Coyote Buttes so our tour was two hours longer than usual, and we walked through 3 major points of South Coyote Buttes. The guided trip surpassed every expectation!
OUTSTANDING TOUR…GO WITH THEM VS. THE OTHER COMPANIES! Excellent tour, Steve is a class act and was an excellent guide for White Pocket. Of our 3 week trip in the US this is one of our most memorable. He is also located closer to the entrance of the White Pocket / Wave area than the other companies in Page / Kanab so you get more time out! Could not recommend it enough.
Alessandro B
Check out all of our incredible tours, click any tour name to visit the tour page.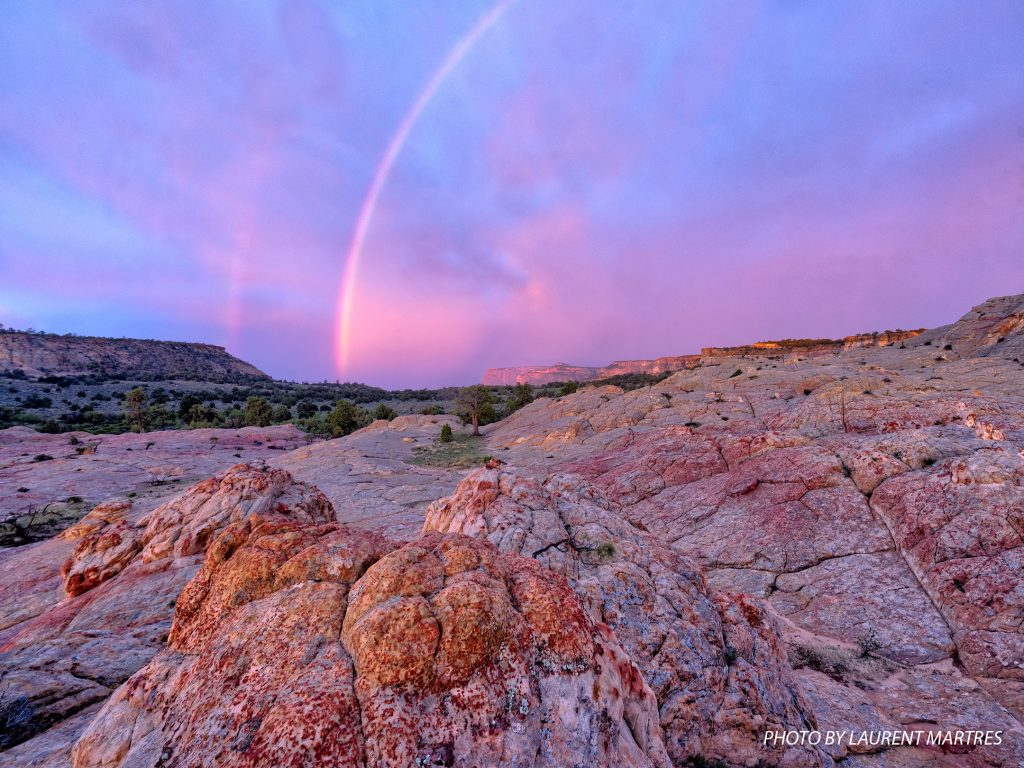 Let us take you through the heart of the VERMILION CLIFFS out to the colorful, extremely photogenic formations of the remote, largely unvisited SOAP CREEK . A really great tour.
We can show you more of the remote part of the VERMILION CLIFFS , such as a hike through Pinnacle Valley , out to Middle Reservoir , the "Cowboy Hat" Formation , Double Barrel Arch or see petroglyph panels and ruins as well.
Take another day to visit the increasingly famous WHITE POCKET , an other-worldly formation of brain rocks and colors. World Class and World-Famous photography. Easy hiking.
If you're a good hiker hike the three miles or so to see largely unvisited SIDESTEP CANYON , a giant green-colored valley full of literally hundreds of balanced rocks, from 3 feet tall to 150 feet tall. Great for viewing a spectacular example of unique geology and excellent photographic opportunities.
Again, if you are a good hiker, make the short but somewhat steep climb up to YELLOW ROCK , for lovely, stunning colors and great views of the Cockscomb area.
NORTH OR SOUTH COYOTE BUTTES
The famous NORTH or SOUTH COYOTE BUTTES . If you can be in Kanab, Utah at 9 a.m., try the North Coyote Buttes Wave Lottery at the Kanab BLM visitor Center on Highway 89, or be there at 10 a.m. to try for a permit to the South Coyote Buttes, which, though less known, is easily as good or perhaps even better than the famous "Wave" that everyone wants. It's easier to get this permit as well. However, only ten permits are available for each area per day at the Visitor Center. Permits are issued for the next day.
If you don't want to hike much, we can take you on a mostly driving tour of the GRAND STAIRCASE . The COTTONWOOD CANYON ROAD and the SMOKEY MOUNTAIN ROAD are unbelievably eye-catching and photogenic, with lots of short stops and short hikes
Privacy Overview
White Pockets Guided Tour

48-Hour Astro Photography Tour at White Pocket
Spring and fall
Las Vegas is 3 hours away
Things to know
Who says magical moments can't be captured? Join renowned photographer Cody York at White Pocket and discover the secrets of astrophotography in a dreamscape of swirling sandstone layers, illuminated by the dim light of the Milky Way. Immerse yourself in this enchanting environment during two unforgettable overnight stays, as Cody's expertise ignites your creative spirit and elevates your photography skills. With delectable meals, seamless logistics, and a cozy campsite, savor every sunrise, sunset, and starry night. This extraordinary 3-day adventure culminates with a post-processing session in Kanab, ensuring your photos are cover-worthy for National Geographic. Unleash your inner shutterbug and capture pure magic at White Pocket.
Enhance your photography skills with renowned photographer Cody York, featured in NYT and Sports Illustrated
Enjoy the comfortable camp environment and make the most of the sunsets, sunrises, and night skies
Personalized experience and ample opportunities for one-on-one teaching, including a 4-hour post-processing session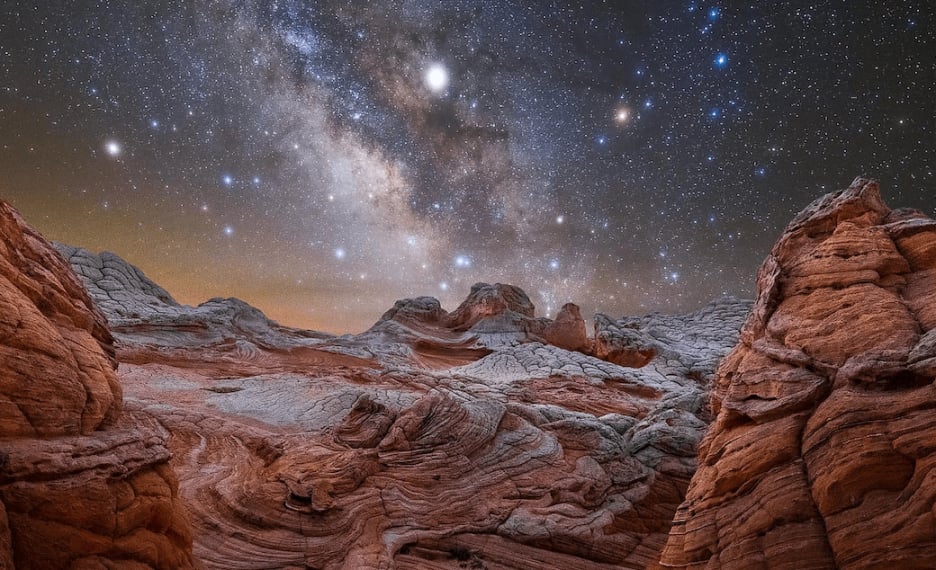 Join renowned photographer Cody York and two expert guides at the captivating White Pocket, a remarkable photographic destination. Immerse yourself in the stunning sandstone landscapes and marvel at the unparalleled night skies. Capture the perfect shot while enjoying short hikes and learning about the geologic history. This all-inclusive trip from Kanab provides transportation, comfortable camping, and delicious home-cooked meals. Enhance your skills with an editing clinic and conclude the adventure with a delightful dinner at one of Kanab's top restaurants. Embark on this unforgettable journey of photography and exploration.
Join your photography instructor Cody York and other guides at Dreamland Safari Tours, located at 406 E 300 S, Kanab, UT 84741 at 10:00am. This is where you'll also have your gear checked before you grab something for lunch. Around noon, you'll get a ride to White Pocket. At 2.45pm, it's time for a 1-hour hiking tour to explore various points of interest. During the afternoon, you'll have the opportunity to discuss your workshop goals and shooting plan with Cody York, as well as enjoy some free time to explore the area. Dinner will be provided before sunset and Milky Way times, to ensure ample opportunities for golden hour, blue hour, and astrophotography. For fall workshops, shooting typically wraps up before midnight, while for spring workshops, shooting usually starts around 2-3am and seamlessly transitions into sunrise and breakfast. Meals: Dinner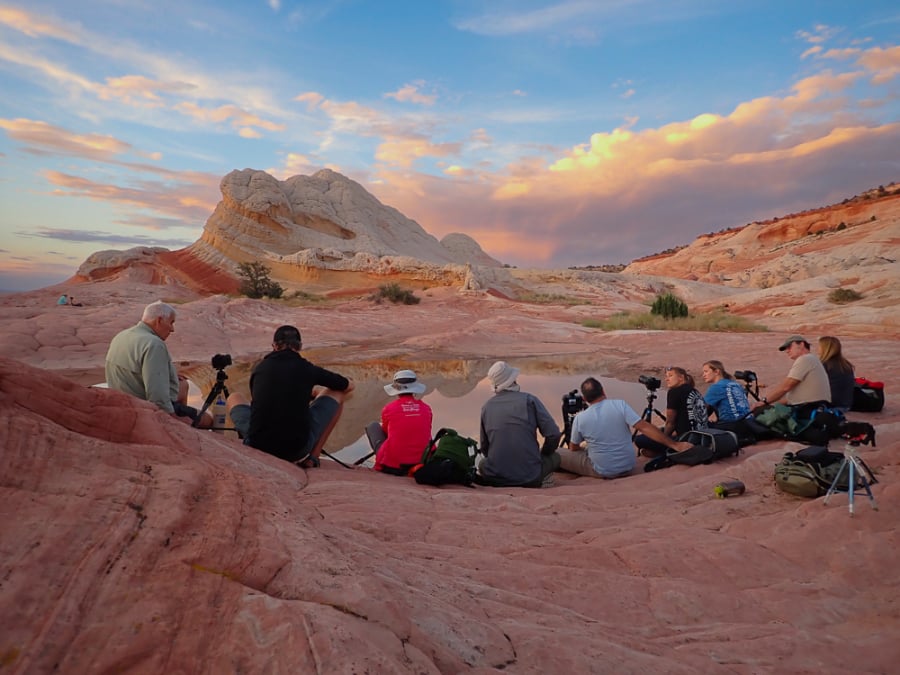 Begin your day with a wake-up call at 5am, accompanied by coffee and muffins to energize you for the sunrise photography session. At 8am, indulge in a hearty full cowboy breakfast to fuel your day. You'll then have free time to engage in photography discussions, enjoy lunch, and explore the surroundings while planning your next shoot. As the day progresses, capture the mesmerizing sunset through your lens. A delicious dinner will be served before your group prepares you for another night of enchanting astrophotography, just like on day 1. Meals: Breakfast, lunch, and dinner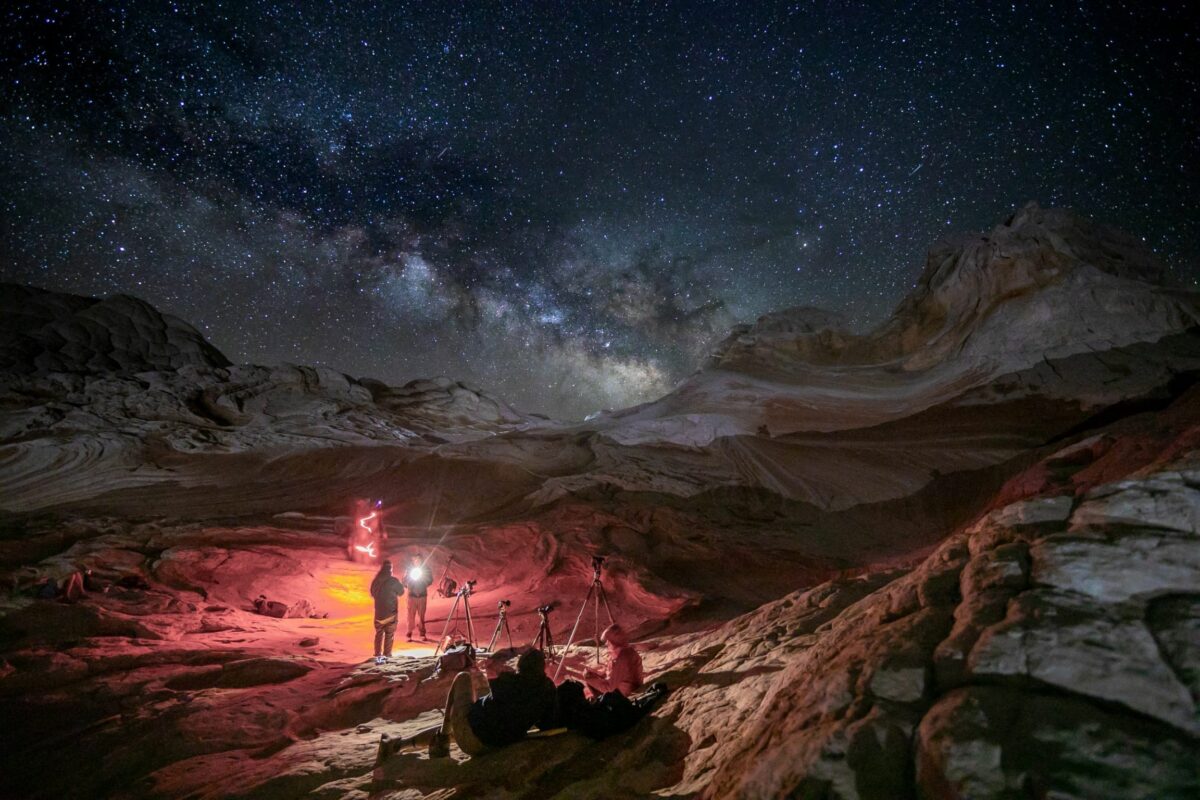 Experience the magic of early mornings with the last sunrise photography session, starting at 5am. Fuel up with coffee and muffins before capturing the mesmerizing sights. Indulge in a full cowboy breakfast at 8am. As your guides prepare for departure at 8:30am, you'll have an extra hour to shoot or relax. Leave White Pocket at 9:30am and arrive in Kanab by noon. After checking into your lodging, enjoy free time for a shower and lunch. From 3pm to 7pm, join Cody York for an editing clinic. Finally, gather at 8pm for a closing dinner at one of Kanab's finest restaurants. Meals: Breakfast and dinner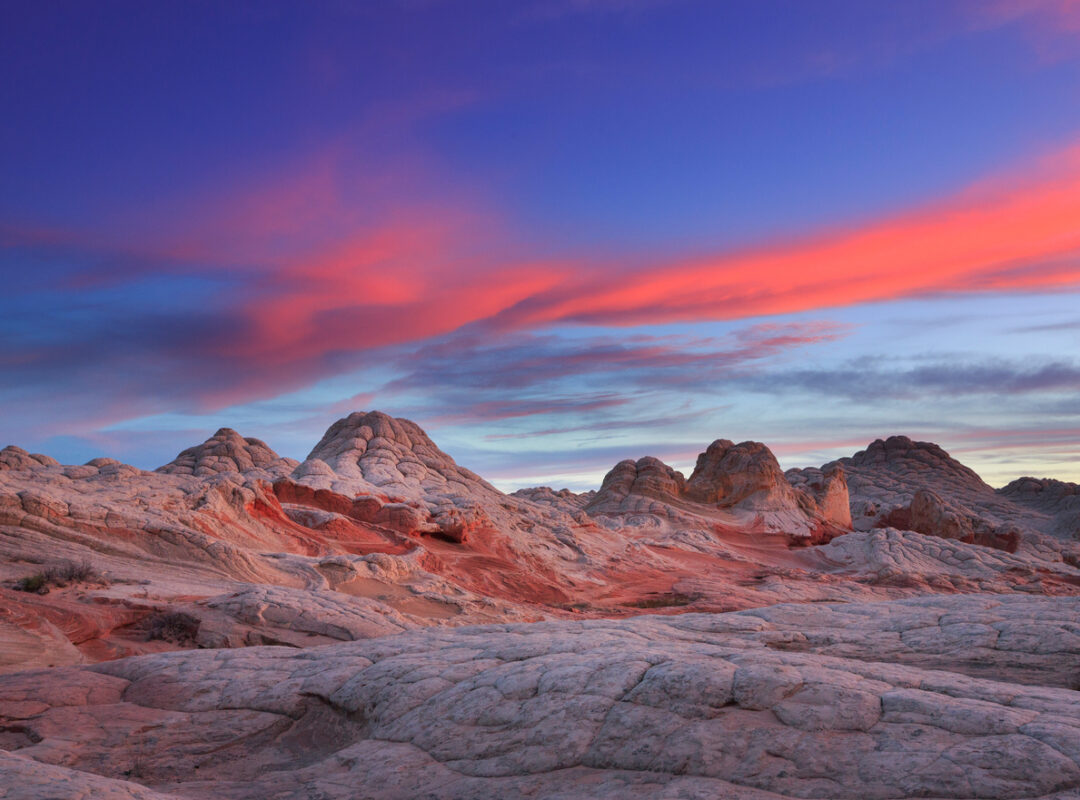 Meet your guides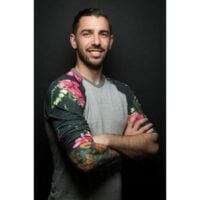 We did a two night trip to White Pocket featuring Cody York teaching astro-photography. This is our third trip with Dreamland to White Pocket, so this speaks volumes about our love for the location and our respect for the company. As before, the service provided by Dreamland was exceptional and making an attempt at astro-photography with the incredibly knowledgeable and patient Cody York was rewarding. The Dreamland team consisted of Cody, another professional photographer, one of the owners, and Robert (an excellent chef and willing photo model). The team worked very well together and made the overall experience very memorable. Kudos to Robert for making delicious dinners of chicken, steak and salmon. We had one night of unseasonably cold weather, and we appreciated having our water bottles filled with hot water to tuck in our sleeping bags. We love this area and Dreamland is superb. We're scheduled for trip #4 with Dreamland in October!
The trip catered specifically to photographers. Venue provided exceptional dark sky. Trip entailed night sky photography on a moonless nights. Introduced techniques to best capture the milky way's Galactic Core in the South sky. Cody York, the instructor, was spectacular, sharing image capture technique among attendees who had a broad swath of camera equipment. Could have not successfully captured product needed for post processing without the instruction. Cody has gift of being able to multi task among attendees competing for his attention. The image post processing lab IMHO, was absolutely critical to obtain a reasonable end product. The workflow was detailed with many opportunity to get lost, but Cody was there hands on to share his knowledge. Then Dreamland did usual great job of handling the expedition logistics for guiding, feeding, and providing sleeping accommodations for us. In short, doing all the heavy lifting. I am 6′ 4″ and tents provided all room needed for a person and all their gear. I have been a Dreamland customer in the past and plan to keep working with them in the future. Another night sky shoot, if of same caliber as this one, is definitely on my TDL.
Making the third Dreamland Safari Tour I have taken with the company. This particular trip was, yet, another fabulous overnight. This trip, however, was a two night event that featured Cody York teaching us photographic technique in shooting photos of the Milky Way against the White Pockets area in the Vermillion Cliffs. Spectacular adventure for all levels of skills, marvelous hosts and hostess (Sonny) that organized and made things possible. Thanks Robert for pulling out your geology background, insight, information, and cooking skills. Thanks to IRA for he clean equipment and behind the scenes work. Thanks to Dreamland Safari for the concept of the photo journey and thanks to Cody for the relentless effort in making it all possible.
What you get on this adventure:
1:1 teaching by your guide and photographer Cody York
An assistant instructor
Two guides from Dreamland Safari Tours to ensure your comfort at camp
3-day guided White Pocket photography tour
Photography lessons — optimal photographic timing to capture sunset, sunrise, and some of the best night skies in the continental U.S.
All meals (except on Day 1) — excellent home-cooked meals and a goodbye dinner
Accommodation in a comfortable camp
Transportation during the tour — safe, comfortable 4×4 transport on rough dirt roads
4-hour post-processing session in Kanab
Wilderness First Responder Guide and satellite messenger in case of emergency
What's not included:
Transportation to Kanab
Canyons Boutique or Canyons Lodge are recommended for the quality of their accommodations and proximity to the editing clinic and final dinner
Any meal not listed in the itinerary
Guide gratuities — optional
There are no special skills needed for this guided White Pocket Tour. Though the focus of this trip is on photography, there's still some hiking featuring uneven footing and optional mild scrambling. The area is very close to the camp so it's up to you how much you want to hike and explore—there will be lots of free time to discover the spectacular landscape.
Here's a list of the equipment you need to bring:
Backpack large enough to carry all the items listed (around a 55-65L bag)
Camera and any relevant photography gear
Water bottles or hydration bladders (3L capacity)
Quality, durable hiking boots
Hiking attire
Spare clothes for layering
Waterproof rain jacket
Headlamp or flashlight
Toiletries (sunscreen, hand sanitizer, bug spray, toilet paper, etc.)
Dress comfortably and for the weather in clothes you can move in. We suggest bringing clothing appropriate for the season.
Your guide will secure sleeping bags for every participant.
Group sizes and prices:
For this photography White Pocket tour, the maximum group size is set at 8. There will be two experienced guides as well as a photographer Cody York and his assistant.
The cost does not decrease as the group grows.
Photography trip at White Pocket can be arranged for larger groups. Contact us to make arrangements.
Min. age requirements:
If you are older than 18, you're good to go.
Minors younger than 18 may be permitted to join the hike on a case-by-case basis, but must be in the presence of a parent or legal guardian.
If your group has hikers under the age of 18, contact us prior to booking to make arrangements.
A 50% deposit to secure your place is due upon booking. The remaining amount is paid 1 month (30 days) prior to departure. Once the trip is confirmed by the guide, the cancellation policy stated below applies.
If Client cancels the Booking anytime prior to ninety-one (91) calendar days in advance of the trip contemplated by the booking, Client is entitled to a full refund minus a $100 fee.
For cancellations sixty-one (61) to ninety (90) calendar days in advance, Client is entitled to a refund in the amount of 80 percent (80%) of the full tour price.
For cancellations thirty-one (31) to sixty (60) calendar days in advance, Client is entitled to a refund in the amount of seventy (70%) of the full tour price.
For cancellations eight (8) to thirty (30) calendar days in advance, Client is entitled to a refund in the amount of sixty percent (60%) of the full tour price.
For cancellations forty-eight (48) hours to seven (7) calendar days in advance, Client is entitled to a refund in the amount of thirty (30%) of the full tour price.
After that deadline, Client is not entitled to any refund. Any reimbursable expenses arising out of the Booking incurred by Guide prior to the date of cancellation (including but not limited to plane tickets, car rental payments, and lodging or transportation fees) are non-refundable as soon as they are incurred by the Guide.
There are multiple options to reach Kanab, the starting point of your tour. Most people fly into one of these three major airports: Harry Read International Airport (LAS) near Las Vegas, Salt Lake City International Airport (SLC) , and Phoenix Sky Harbor International Airport (PHX) . From there, the best option would be renting a car—depending on the chosen airport, it will take you anywhere between 3 and 5.5 hours to get to Kanab.
Meet your White Pocket photography instructor and other guides and go through your gear check at 10am on Day 1 at 406 E 300 S, Kanab, UT 84741, next door to the Travelodge. Guests may leave cars or extra bags here. Arrange your travel accordingly.
57hours is committed to providing safe outdoor adventure experiences. We require all guides using our platform to have a COVID-19 safety plan and to make the details of that plan accessible to travelers. In most cases, group sizes will be reduced, guides will avoid overcrowded locations, and other safety measures will be met depending on the location and activity.
We also expect clients to respect local regulations and take measures to protect themselves, their guides, and the communities they're traveling to. For more information on COVID-19 measures in Arizona, please refer to COVID-19 travel info .
Please contact us if you have any questions or require further information. We are happy to provide you with the most up-to-date information!
Other things to do in Utah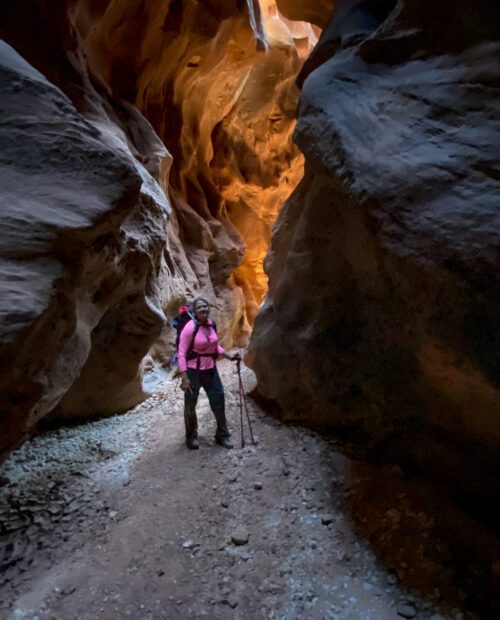 Hiking Through the Paria River Canyon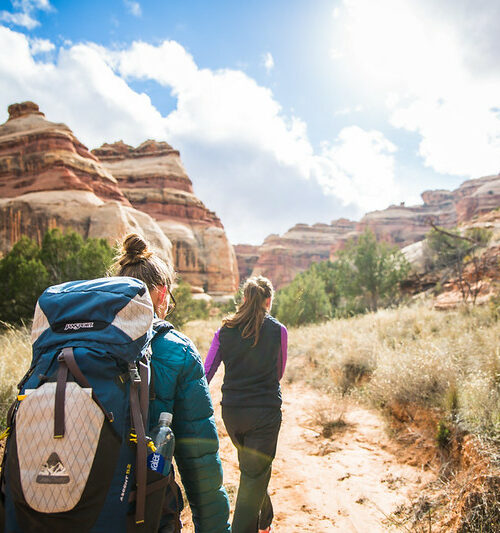 Hiking in Arches and Canyonlands NPs in Moab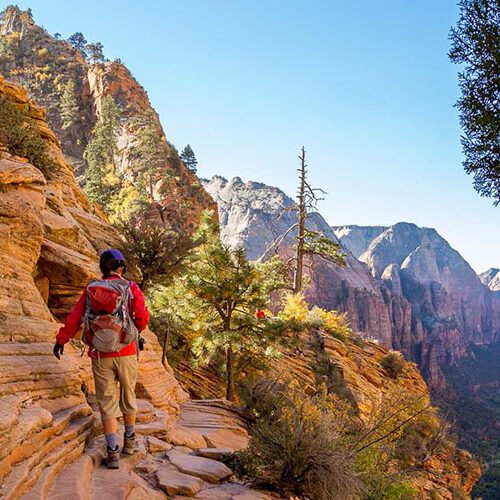 Hiking and Camping Tour of Zion National Park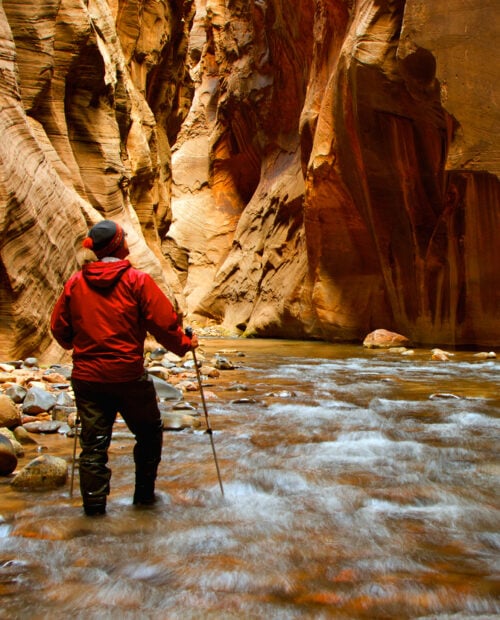 Hiking the Narrows in Zion National Park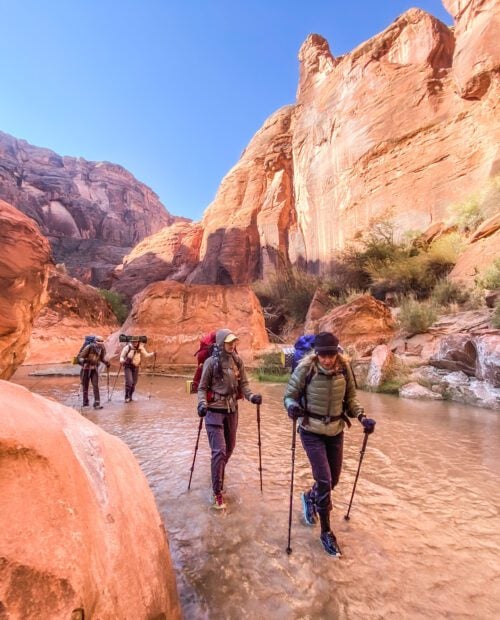 Women's Hiking Through the Paria Canyon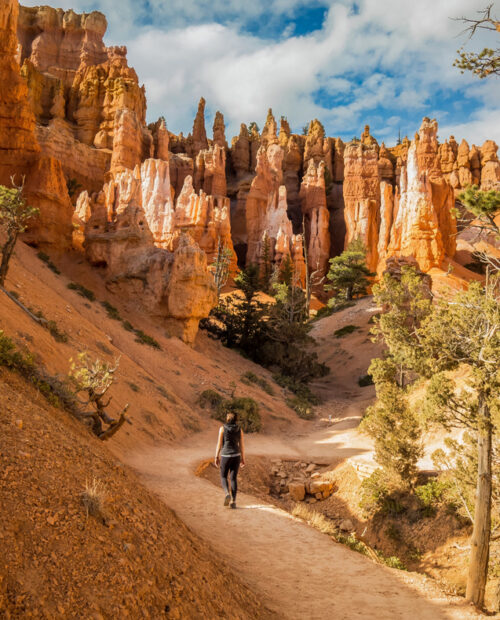 Hiking in Bryce Canyon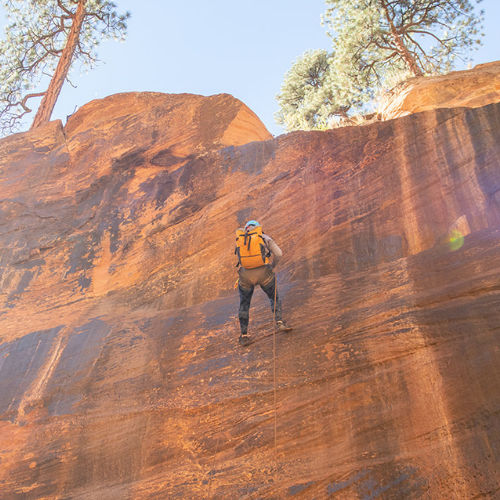 Canyoning near Zion National Park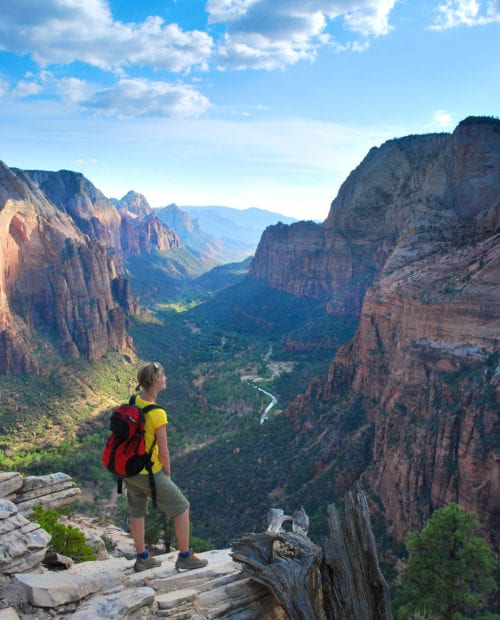 Zion National Park Hiking Tours
View all (52) adventures in Utah

Choose a currency
USD - $ US Dollar
EUR - € Euro
AUD - AU$ Australian Dollar
CAD - CA$ Canadian Dollar
GBP - £ British Pound Sterling
CHF - CHF Swiss Franc
JPY - ¥ Japanese Yen
SGD - S$ Singapore Dollar
HKD - HK$ Hong Kong Dollar
DKK - Dkr Danish Krone
NOK - Nkr Norwegian Krone
SEK - Skr Swedish Krona
Things to Do
Restaurants
Vacation Rentals
Travel Stories
Rental Cars
Add a Place
Travel Forum
Travelers' Choice
Help Center
White pocket tour - Vermilion Cliffs Day Tours
United States
Arizona (AZ)
Page
Page - Things to Do
Vermilion Cliffs Day Tours
White pocket tour
While my trip with Kyle occurred in July, 2013, i thought i would still like to comment. My daughter wanted to go to the slot canyons and while looking at Trip Advisor, i read about Kyle and his tour. My teen daughter and i booked a day in July to go to White Pocket. Kyle picked us up at the hotel on time and we headed to White Pocket. He is a very knowledgeable guide and traveler, and is also knowledgable about the area. While we went in July we had nice weather. We spent several hours walking around and taking pictures. Kyle was engaging and he was our first experience using a private guide. We took some good photos and we would consider another tour with Kyle in the future.
Thank you for visiting us. Glad you had such an excellent time and hope to see you again in the future.
My wife and I just finished two days of tours with Kyle Walker and his associate, Mike Henrie. Both are extremely experienced and qualified, both are outstanding at what they do, and both obviously enjoy what they do. Kyle's Circle Tours offers a myriad of different tours. We opted for White Pockets on our first day and Coyote Buttes South the second day. Both places are remote and require long rides over dirt roads, but the time flew by as Kyle and Mike are masters of conversation and genuinely interested in learning about and from their clients. Both also place their clients' interests and well-being above all else, customizing each tour as they go to meet the needs and capabilities of their clients. I give Circle Tours my highest recommendation. No frills, but they will turn a great tour into a once-in-a-lifetime experience.
Thank you so much for sharing the day with us
We booked with Kyle and had a spectacular day !!! His knowledge of geology, natural history and advice on lighting conditions for photography made for the perfect trip. He toured us through the White Pocket system at a pace that allowed us to soak in and appreciate our very special and unique surroundings. This was towards the end of our 26 day Great Circle Tour and I'll tell you, it was something not to be missed. Having someone with the right vehicle (Suburban 4X4) and the in depth knowledge of the area, really lets you just relax and take it all in. Sign up and enjoy, I can't imagine a better trip.
So happy you came all the way from Florida to our little corner of the earth. Had a great time with you and hope the rest of the tour went well.
We wanted a personalized trip and Kyle put it all together. We had a great day wandering the formations, learning the geology of the area and getting tremendous photos. For any trip from Bryce to the North Rim, we'd recommend Kyle Walker at Grand Circle Tours. 928-691-0166 Info@ vermilioncliffs.net
Thanks for a great day. Glad you liked it.
We signed up for the full day White Pocket tour at the last minute since we were worried about weather complications, and it ended out being one of the best parts of our trip. Driving on the sandy, un-paved roads wouldn't have been something we would have been comfortable doing on our own, so going with a guide allowed us to see something we never would have otherwise. Kyle came and met us at our hotel in Kanab (which he had recommended and was very convenient and affordable). We followed him out to near where the dirt roads started so that we could grab our car on the way out since we were driving to Flagstaff that night, which ended up saving us a lot of time. He let some air out of his tires to cushion the ride a little, and the ride was pretty comfortable considering the road quality. It's further out than Buckskin Gulch (by more than an hour I think). But the roads go straight to a parking lot next to White Pocket, so there's really no hike out to the features. White Pocket itself is amazing; it's like you're walking around on a different planet. We did a little loop around the area, which was easy hiking but required a few high steps or drops and a slightly exposed area around the back. I went with my parents, who are less mobile than me and my brother, so we took our time. There were definitely one or two spots my parents had a little difficulty with, but they pushed through it with some help and encouragement from Kyle and us. They definitely took it at a slower pace than I think Kyle expected them to, but he was very patient and helpful. When circling back, there is a terrific drop down into a knarled, rocky area with some dramatic red, fluid sandstone patterns. My parents elected not to go down into it like me and my brother did since they weren't comfortable with the short scramble down (and we had already pushed them further than I expected them to go). It's kind of a shame, because that was the most spectacular part, but they definitely enjoyed themselves anyway. Kyle walked around with my parents while my brother and I ran off to explore some more of the pockets. And we met up at the car for the walk back. This was the first time I'd been on a small, guided tour like this, and it was truly a great experience thanks to a terrific landscape and a wonderful guide. Thanks.
Great to have you. Thanks a bunch
Our party of 3 had a wonderful time with Kyle. Kyle took our retirees age into consideration and was very patient with us. We manage to see a lot and got a lot of help from Kyle going over deep and slippery steps. We were even treated to an extra visit over the Paria canyon. The scenery of both the Buckskin Gulch and White Pockets were outstanding. They were hard to get to and you definitely need a 4x4 vehicle. Kyle knows this area extremely well and constantly points to unusual things. Overall we visited some very beautiful places. Buckskin Gulch had some amazing rock formation with all different sizes and shades of orange. I was mesmerized by it. White pockets looks like you are walking on clouds or should it that be a trip to the moon Kyle was flexible enough to agree to rearrange the venue should we win the lottery to the Wave, however it was not meant to be. Maybe we can try again sometime in the future. Thanks Kyle for a wonderful outing.
Glad you had so much fun. Thank you for contacting us!
WHITE POCKET IN KANAB, UTAH
See White Pocket From a New Perspective with ATV & Off-Road Tours
White Pocket is a stunning destination located in Utah. Famous for its eye-catching rock formations and vibrant colors, this natural wonder is sure to captivate visitors of all ages. If you're looking for an unforgettable getaway with plenty of activities to choose from, White Pocket should be at the top of your list. Here are some of the best things to do when visiting this amazing spot.
Adventures in White Pocket
The spectacle that is White Pocket can be enjoyed in many ways – whether you go hiking or take a leisurely stroll through the area, you can marvel at the white domes, teetering towers, and craggy ridges that create endless opportunities for exploration. If you're feeling adventurous, there are also plenty of opportunities for rock climbing and rappelling down into one of its vast canyons.
Relaxed Experience
For those who prefer a more relaxed experience, the area also offers plenty of peaceful moments in nature. Take pictures from atop one of its rocky outcrops or go bird watching – hundreds of species make their home here. You can also find some interesting artifacts left by ancient civilizations if you know where to look.
Book Your Next ATV Or Off-Road Experience Today At Expedition Kanab!
Expedition Kanab is the perfect place to book an ATV or off-road tour. We give you access to beautiful vistas of Western Utah, including areas like White Pocket which are stunningly unique. From outdoor adventures with friends to peaceful moments spent admiring nature's beauty – your time here will be like no other experience.
Leave the noise and congestion of city life behind and spend a day in nature, exploring the hidden gems of Utah as we guide you along. With our commitment to safety, you can rest assured that your experience will be enjoyable and worry-free. Book your ATV or off-road exploration today for a memorable adventure!
(435) 644-5506
Guest Favorite
Filter by: --> Slot Canyons Pro Photographers Choice Instagram Classic Hikers Choice Kid-Favorite Pet Friendly Rock Art Special Events -->
Tour Duration --> Half-day Full-day Overnight Backpacking -->
Region --> Vermilion Cliffs Grand Staircase Escalante Kanab Area Grand Canyon North Rim -->
Showing all 29 results
Dreamland Women's Adventure Award Application / Nomination
Know a woman who could use a fresh-air getaway to Southern Utah at close to no cost? Nominate her (or yourself!) today. You are welcome to nominate more than one individual by submitting multiple nomination forms. The Women's Adventure Award weekend takes place from March 1-3 2024 and includes a full-day hiking adventure with Dreamland Safari Tours, two nights of lodging, meals, and more. Adventure Award recipients are responsible for their own travel to/from Kanab and need to plan to arrive in Kanab by 4pm on the afternoon of Friday March 1.
Your Name * First Last
Your Email * Enter Email Confirm Email
The Spirit behind the Women's Adventure Award
About the woman you are nominating.
Nominee's Name * First Last
Nominee's Email Address * Enter Email Confirm Email
Nominee's City & Country City Afghanistan Albania Algeria American Samoa Andorra Angola Anguilla Antarctica Antigua and Barbuda Argentina Armenia Aruba Australia Austria Azerbaijan Bahamas Bahrain Bangladesh Barbados Belarus Belgium Belize Benin Bermuda Bhutan Bolivia Bonaire, Sint Eustatius and Saba Bosnia and Herzegovina Botswana Bouvet Island Brazil British Indian Ocean Territory Brunei Darussalam Bulgaria Burkina Faso Burundi Cabo Verde Cambodia Cameroon Canada Cayman Islands Central African Republic Chad Chile China Christmas Island Cocos Islands Colombia Comoros Congo Congo, Democratic Republic of the Cook Islands Costa Rica Croatia Cuba Curaçao Cyprus Czechia Côte d'Ivoire Denmark Djibouti Dominica Dominican Republic Ecuador Egypt El Salvador Equatorial Guinea Eritrea Estonia Eswatini Ethiopia Falkland Islands Faroe Islands Fiji Finland France French Guiana French Polynesia French Southern Territories Gabon Gambia Georgia Germany Ghana Gibraltar Greece Greenland Grenada Guadeloupe Guam Guatemala Guernsey Guinea Guinea-Bissau Guyana Haiti Heard Island and McDonald Islands Holy See Honduras Hong Kong Hungary Iceland India Indonesia Iran Iraq Ireland Isle of Man Israel Italy Jamaica Japan Jersey Jordan Kazakhstan Kenya Kiribati Korea, Democratic People's Republic of Korea, Republic of Kuwait Kyrgyzstan Lao People's Democratic Republic Latvia Lebanon Lesotho Liberia Libya Liechtenstein Lithuania Luxembourg Macao Madagascar Malawi Malaysia Maldives Mali Malta Marshall Islands Martinique Mauritania Mauritius Mayotte Mexico Micronesia Moldova Monaco Mongolia Montenegro Montserrat Morocco Mozambique Myanmar Namibia Nauru Nepal Netherlands New Caledonia New Zealand Nicaragua Niger Nigeria Niue Norfolk Island North Macedonia Northern Mariana Islands Norway Oman Pakistan Palau Palestine, State of Panama Papua New Guinea Paraguay Peru Philippines Pitcairn Poland Portugal Puerto Rico Qatar Romania Russian Federation Rwanda Réunion Saint Barthélemy Saint Helena, Ascension and Tristan da Cunha Saint Kitts and Nevis Saint Lucia Saint Martin Saint Pierre and Miquelon Saint Vincent and the Grenadines Samoa San Marino Sao Tome and Principe Saudi Arabia Senegal Serbia Seychelles Sierra Leone Singapore Sint Maarten Slovakia Slovenia Solomon Islands Somalia South Africa South Georgia and the South Sandwich Islands South Sudan Spain Sri Lanka Sudan Suriname Svalbard and Jan Mayen Sweden Switzerland Syria Arab Republic Taiwan Tajikistan Tanzania, the United Republic of Thailand Timor-Leste Togo Tokelau Tonga Trinidad and Tobago Tunisia Turkmenistan Turks and Caicos Islands Tuvalu Türkiye US Minor Outlying Islands Uganda Ukraine United Arab Emirates United Kingdom United States Uruguay Uzbekistan Vanuatu Venezuela Viet Nam Virgin Islands, British Virgin Islands, U.S. Wallis and Futuna Western Sahara Yemen Zambia Zimbabwe Åland Islands Country
Tell us about your nominee. * Why should she (you?) receive the Dreamland Women's Adventure Award?
The IWD Adventure Award intends to recognize women who are advocates for female participation and leadership in their community, and inspire others * What example of leadership accomplishments, community involvement, or impactful projects can you share with us that will give us a better understanding of how your nominee contributes to her community?
Optional: What impact has the nominee had on your life? If you have a personal story to share, don't hold back. If you are nominating yourself, you don't need to answer this question (unless you really want to!).
The Fine Print
Your nominee is in good physical condition and able to hike 5+ miles in a day.
Your nominee would enjoy a desert adventure hike among a small group of like-minded women.
Your nominee is in a position to travel to Utah and spend Friday March 1 - Sunday March 3 2024 in Kanab (must arrive by 4pm on Friday)
Thanks for your nomination!
Contact us for a private tour - overnight toroweap photography tour, contact us for a private tour - white pocket overnight photography tour.
Dreaming of epic desert adventures? 
Stay in the loop to find out when we add new hiking destinations, backpacking trips and photo workshops. We won't spam you. 

White Pocket is our most popular photo tour and the scenery here is absolutely spectacular! Many unique compositions can be made and you'll enjoy exploring these crazy rock formations.
Leave the difficult 4x4 driving and route finding to us and maximize your photography time.  Professional photo instruction and critique included on all trips.
A short 5-10 min walk will get you out on the rock formations with myriad photo compositions all around you!
Small group size capped at 5 people to ensure personalized instruction and individualized attention.
No permits are required to access White Pocket.
You'll have around 3-3.5 hrs on location. A night photography extension can be added upon request if conditions and group interest allow.
Trip Details
Tour Length:  8 hours
Drive Time:   A little over 2 hours each way with 1 hour on pavement and 1 hour on rough roads.
Time Spent on Location:  Approx 3.5 hrs
Tour Departure Time: Tour departure times vary throughout the year. Please refer to the time listed on your booking. Plan to arrive 10 mins early to load your gear and finish the check-in process. The return time is approximately 8 hours after the departure time. Note that we operate on Utah time which is one hour ahead of Las Vegas. During the months of Daylight Savings (approx mid-March through early Nov), Utah is also one hour ahead of Arizona.
Group Minimum: Our tours require a minimum of 2 people for the base price. After you book, we will try to combine single travelers with others. In the event the minimum is not met, you will have the option to pay the 2-person rate and go on a private tour, reschedule to a different date, or cancel and get a full refund.
Tour Meetup Location: You will meet at our office in Kanab, UT. The address will be given in your confirmation email. This is a safe place to park your vehicle and you can leave any valuables inside. Once you arrive, you'll load your gear and sign a liability release waiver. Las Vegas is the closest major airport to Kanab. There is no public transportation to Kanab, so you'll need your own rental car or private vehicle. We recommend that you stay in a hotel in Kanab the evening of your tour. There are many good hotels in the area like the Best Western, Hampton Inn, Holiday Inn Express, Comfort Inn & Suites, and the Canyons Botique.
Permits: No permits are required to access White Pocket.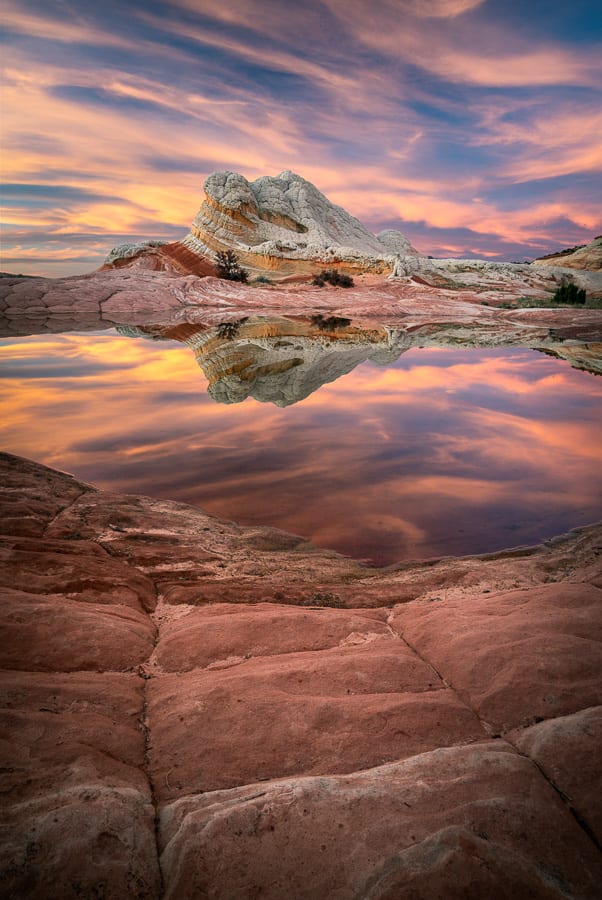 More Trip Details....
Food/Water: We do not provide food on our outings.  All participants should bring food/water to hold them through dinner and while hiking. Many folks will eat their dinner during the drive back to Kanab.  We will have a cooler where you can store food and drink.
Tour Meetup Outside of Kanab:  If you are coming from Page, AZ, we can pick you up at the Scenic Overlook on Highway 89A: Google Maps . Expect at least a 1hr 15min drive from Page, AZ. If you want us to pick you up here, PLEASE CONTACT US AHEAD OF TIME TO MAKE ARRANGEMENTS. We will come by approx. 60-90 mins after the tour departure time (note that this is Utah Time, not Arizona Time). Look for the vehicle marked as Action Photo Tours.
Weather Conditions: We can still access White Pocket even in the most inclement of conditions. If the weather is truly ugly, your tour guide may suggest you visit an alternate destination.  This decision will be made the day of the outing based on the consensus of the group.  Note that we cannot offer refunds due to weather unless we cannot go out at all. Don't despise bad weather as that is when you can get the most dramatic photos!  Just make sure you are prepared for the conditions the day of your tour.
Hiking / Fitness : You'll be on the brainrock of White Pocket after a short and sandy 5-10 min walk. Once there, we'll hike a total of 2-3 miles while chasing the light and getting you the best photos. The hiking is not strenuous, but it is over uneven terrain with some short, steep sections. All participants should ensure their fitness level is adequate for this trip.
Night Photography: Occasionally we get requests to stay out later for night photography. A 2-hour night photography add-on is $99/person and will only be done if skies are clear and everyone in the group agrees to it.  For the best night photography experience, we recommend booking an Overnight White Pocket Tour .
More Trip Details
What to Wear: Check the weather forecast prior to coming on the trip (search for Kanab, UT and Page, AZ on Weather.com). If it's going to be hot, wear light-colored clothing and a hat. If the temperatures are cold, bring warm layers and long pants. Don't forget sunglasses and sunscreen. Even when it's warm outside, the temperature can drop quickly after the sun sets so you may wish to bring a light jacket. If it's very cold and or windy, don't forget a warm hat and some gloves. If rain, wind, or snow are in the forecast, bring a rain jacket, a warm hat, and gloves. We recommend wearing sturdy closed-toe footwear in due to the uneven terrain and sand.
Restroom Facilities: There are no facilities at White Pocket.  We will stop at a restroom if needed about an hour into the drive.  If you need to use the restroom at White Pocket, we will have toilet paper, hand sanitizer, and a shovel available.
Cell Phones: Bring your cell phone along!  They are great for capturing candid images.  Plus, most folks will have cell service out at White Pocket.  Note that cell service is limited during the drive.  There are USB ports in our vehicles so bring a charging cable if you need one.
Group Size: Our groups will never exceed 5 people per guide. We like to keep our photo tours small so we can give adequate individual attention. For those photographers that feel more independent, we will allow you to wander away from the group and explore on your own within reasonable limits.
Instructors:   Due to scheduling complexities, we don't know which instructor will accompany your group until a day or two prior.  If you want a specific guide, please Contact Us to make your request. Although we'll do our best to make it happen, please note that there are no guarantees.
Safety: Our guides are trained in CPR/First-Aid. All 4WD vehicles are equipped with extraction equipment and a first-aid kit. We carry a satellite beacon with us in case of emergencies outside of cell range.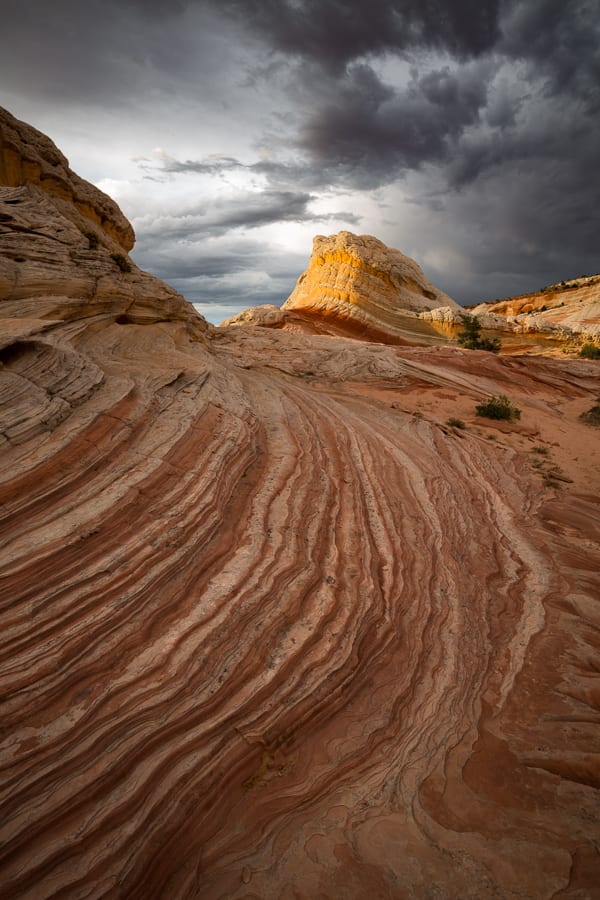 Need more information?
Please see our Frequently Asked Questions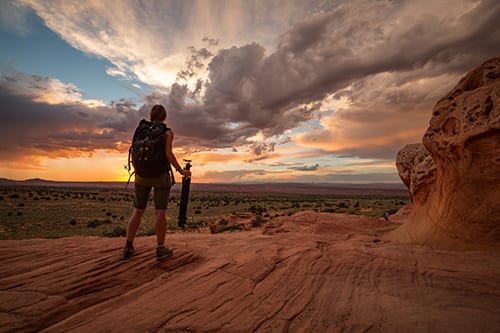 Camera Gear
Camera Gear:  A wide angle zoom lens is most useful at White Pocket and will account for the bulk of your shots (equivalent 16-35 on a full-frame camera or 10-22mm on a crop sensor).  There are opportunities for mid-range, telephoto, and macro shots so you can bring any of those lenses if you like - just ensure your pack isn't too heavy. All participants should bring a tripod. For filters, a circular polarizer can come in handy as long as it's not a clear, blue-sky day.  A neutral density filter can be nice to smooth out rough water or create long exposures for fast moving clouds. Don't forget extra batteries, memory cards, and cleaning supplies.   Please contact us if you'd like to rent any camera gear for your outing.
Cancellation/Re-Scheduling: Please see our Terms and Conditions .
Testimonials
See Client Images ›
Need More Information?
Contact us, 435-767-0222, info@actionphototours.com.

Buckskin Gulch Guided Tours
4 Guided Tours of The Buckskin Gulch.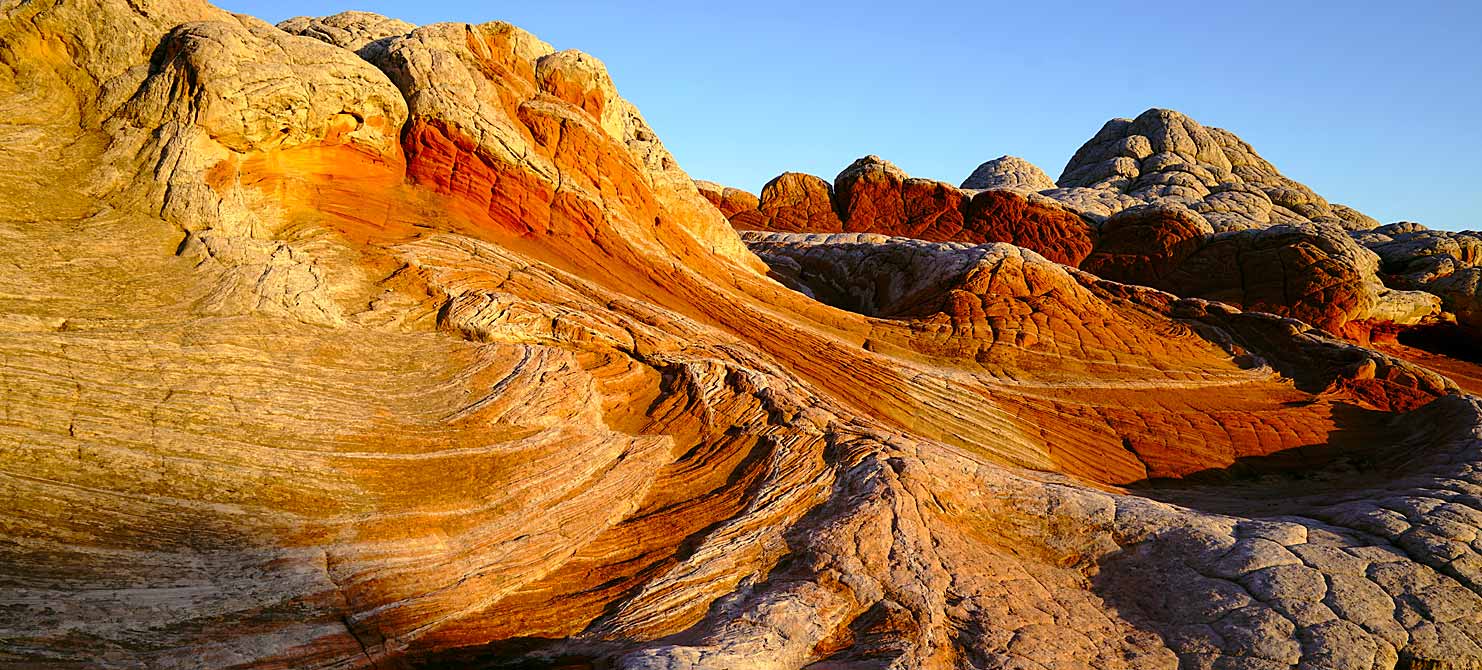 White Pocket Guided Tour
Amazing tours of The White Pocket.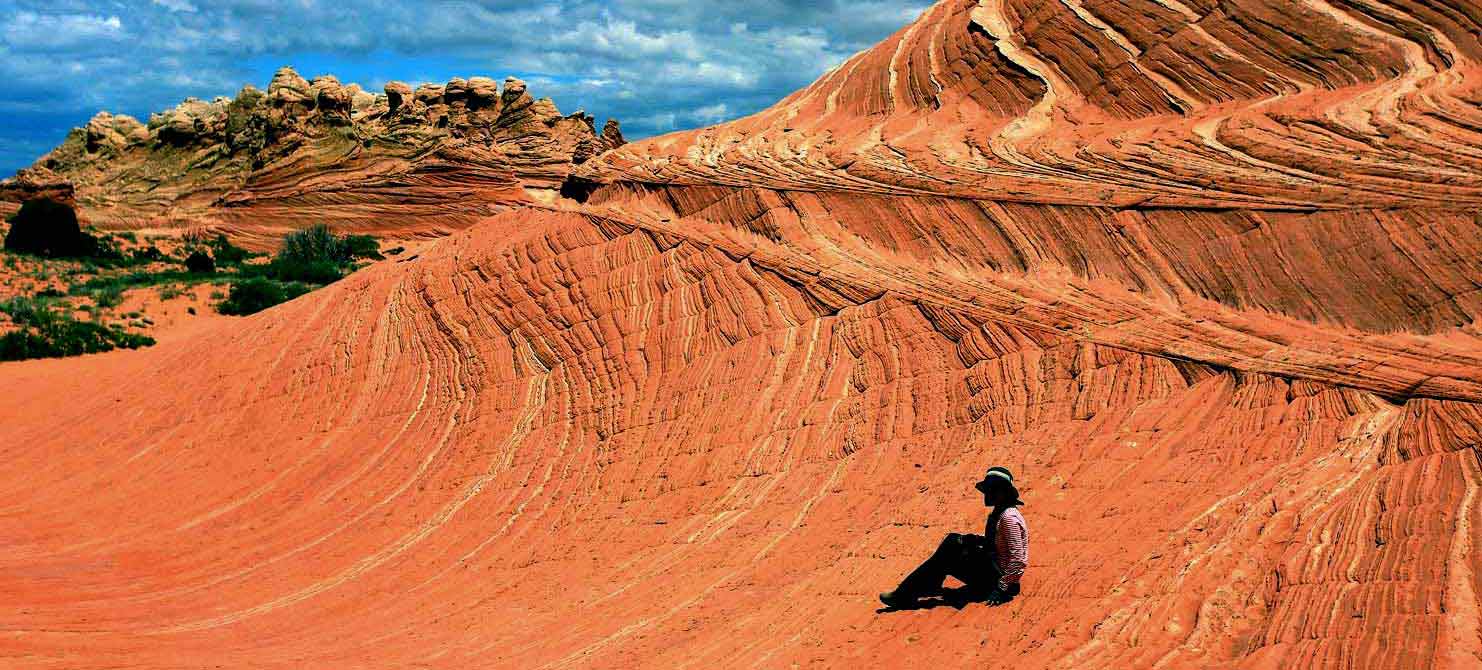 Coyote Buttes South Guided Tour
Tours of The Coyote Buttes South area.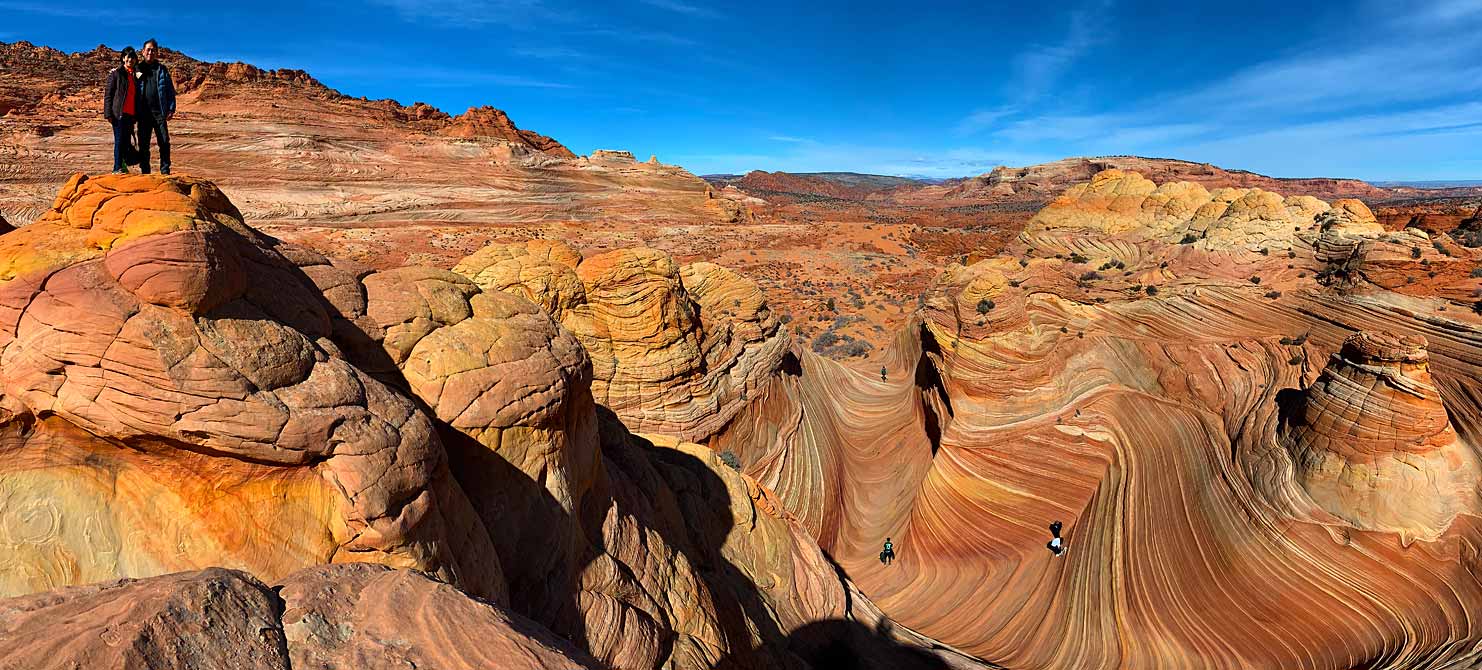 Coyote Buttes North Guided Tour
Tours of The Coyote Buttes North area.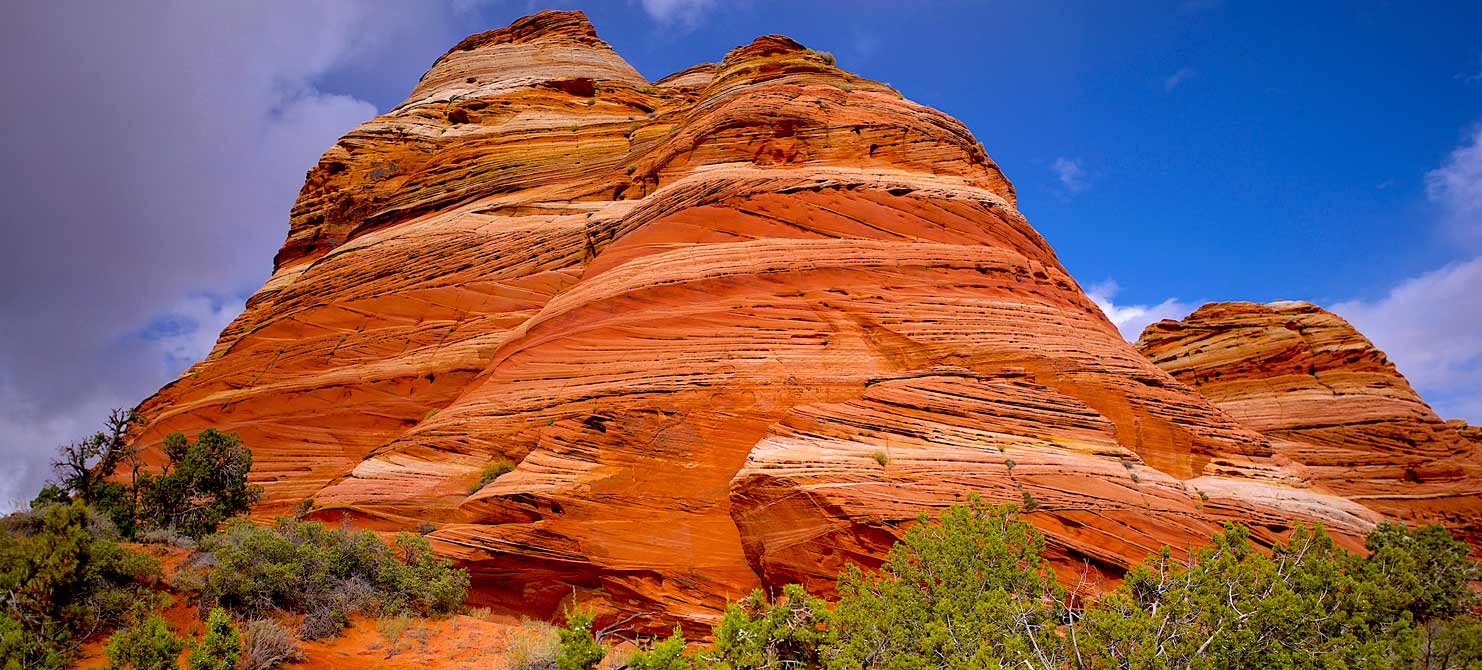 The Tee Pees Guided Tour
Fantastic tours of The Tee Pees.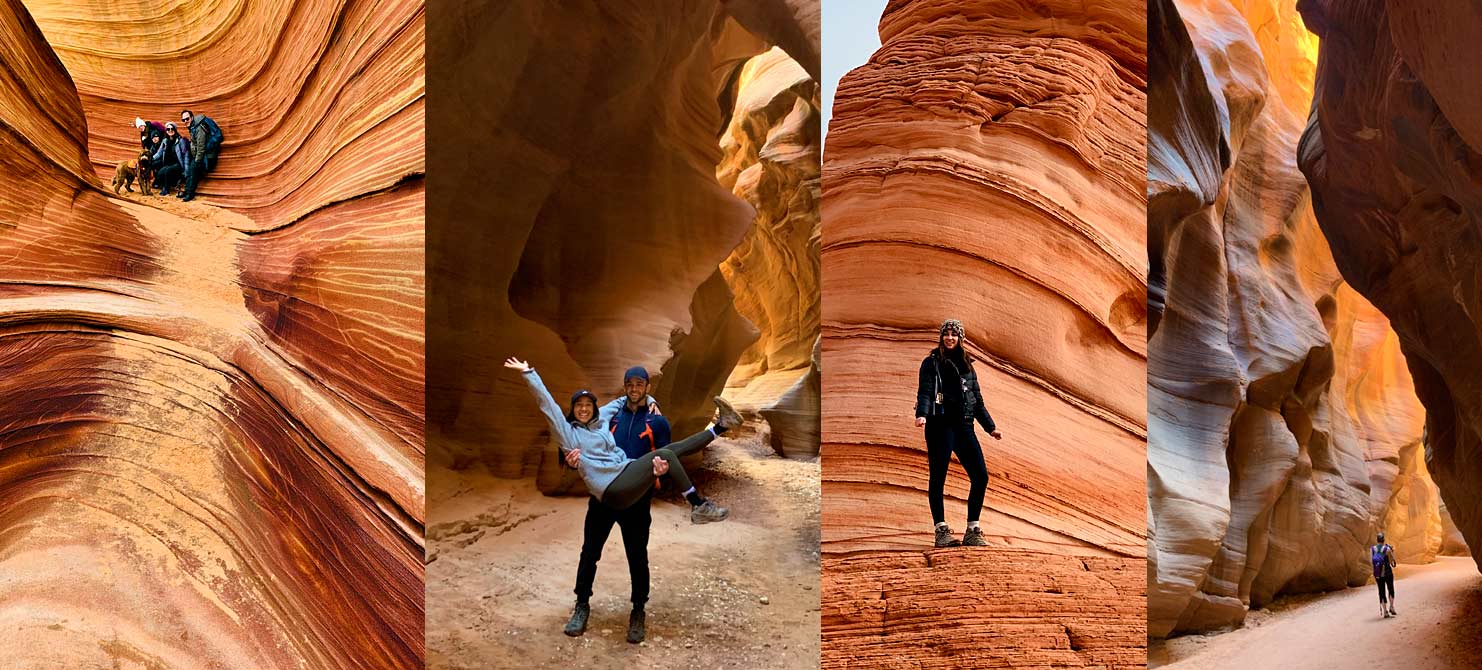 Guided Tours of The Vermilion Cliffs
Guided Tours of The Vermilion Cliffs National Monument.
Hiked Buckskin Gulch with Grand Circle Tours. Owner Kyle was most accommodating to our many questions. Our guide Angie was so informative and tailored the hike to our desires and skills. We learned so much, had an incredible hike and saw amazing natural rock formations.

We booked a tour to White Pockets from Page, Arizona with Grand Circle Tours. Angie is a great guide. She was very organized in the logistics of the tour, and made sure everyone was safe and comfortable. She was enthusiastic and knowledgeable, and flexible with the schedule.

The famous TeePees of Vermilion Cliffs. Amazing views! Breathtaking experience! Angie was so accommodating to our group and was a wealth of knowledge. An experience we won't forget!

Grand Circle Tours - Vermilion Cliffs
Grand Circle Tours is pleased to offer exciting and safe small group hiking and photography tours to The Vermilion Cliffs, including The Wave, Buckskin Gulch, Coyote Buttes North, Coyote Buttes South, White Pocket, and The Tee Pees. For tours of the Grand Staircase-Escalante Monument, Grand Canyon, Bryce Canyon and St. George area please call or visit our other website GrandCircleTours.net for 7 additional tours.
The outstanding scenery, desert wildlife, colorful history, and opportunities for primitive recreation of Vermilion Cliffs will remain free of man's influence and be protected for future generations by the Bureau of Land Management, an agency of the U.S. Department of the Interior. Its 112,500 acres beckon adventurers who yearn for solitude, scenic splendor, and the chance to explore one of the most beautiful ecological formations in the world. The Cliffs are located in the heart of the Colorado Plateau. Nowhere will you find a comparable concentration of such varied geologic phenomena. There is more sandstone in this area than anywhere on earth, making it the number one choice for landscape photographers.
Tours to White Pocket are primarily vehicle-based, while the Coyote Buttes, Teepees, Buckskin Gulch, and Wire Pass Canyon are hiking trips.
The hikes to Buckskin Gulch, Coyote Buttes, and The Wave typically last 7 to 8 hours in total. We provide bottled water and snacks during the journey, but you can also bring your Camelback, personal food and anything else you want to bring for the day.
Grand Circle Tours is a company licensed by the Bureau of Land Management (BLM) and has operated locally for over 20 years with safe, enclosed vehicles and fully insured guides. Our number one goal is always safety and providing an unforgettable day of nature and photography. Each of our trips will be small groups to ensure a personal experience. We currently offer VIP custom trips to any of the areas mentioned on our site. These are available upon request. Vermilion Cliffs casts a spell, not unlike Sedona with astounding views of golden and red sandstone known throughout the Colorado Plateau. It's a powerful experience not to be missed. Don't forget to slow down and enjoy! Thanks for your consideration.
Book your Dream Adventure Now!
Grand Circle Tours offers exclusive hiking tours of The Vermilion Cliffs National Monument.
or Call +1 928-691-0166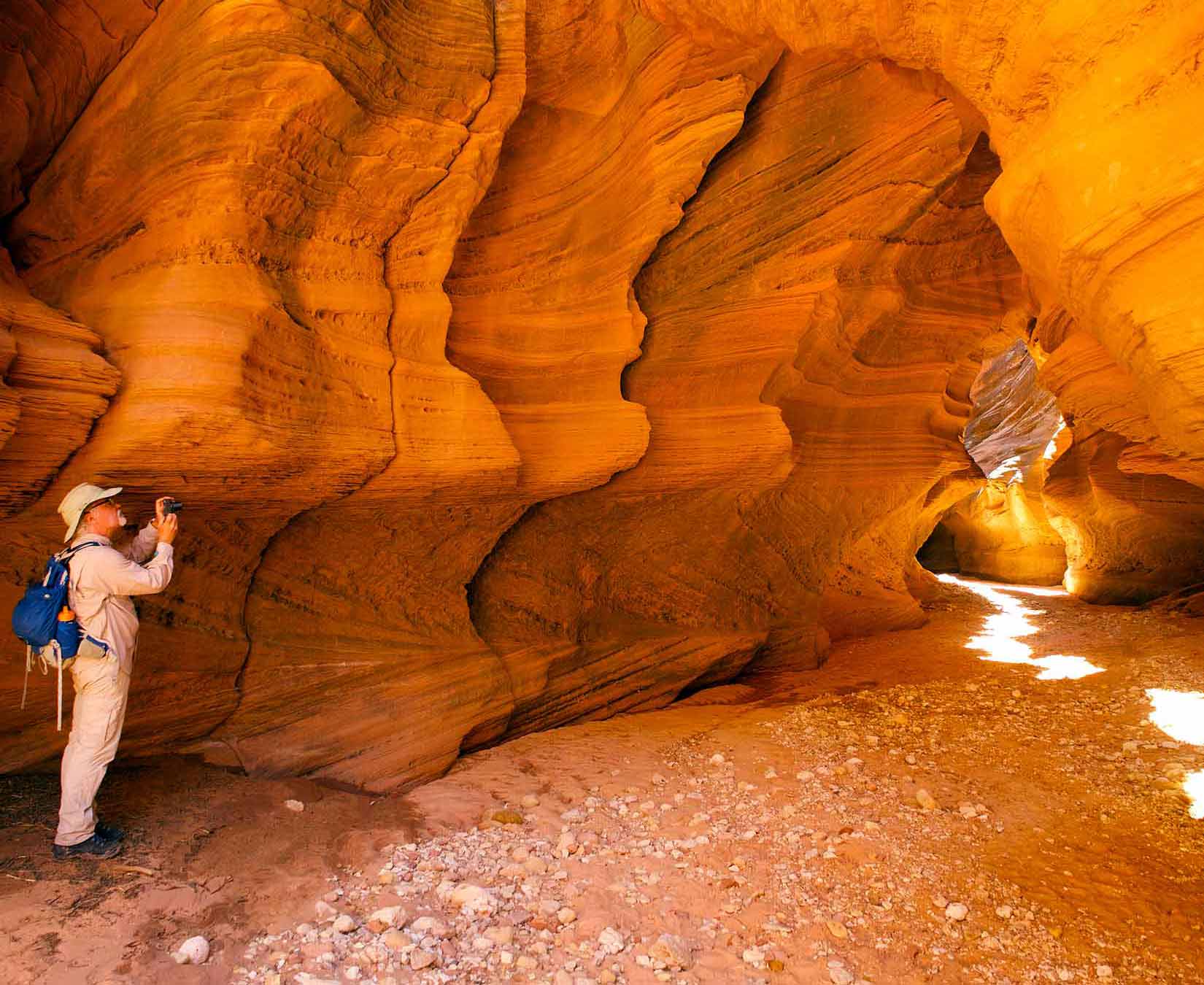 This is an all-day canyon hike with the option to venture out of the wash and onto rock formations that rival The Wave and White Pockets. Tour Details ->
This section of Buckskin is the right choice if you're looking for slot canyons with excellent light for photography. Tour Details ->
This tour requires navigating down into the Gulch revealing views of White Pockets, North & South Coyote Buttes, and large parts of the Buckskin itself. Tour Details ->
This is a combined hike to both the Wire Pass and Buckskin trailheads, providing an epic day of desert slot canyon hiking. Tour Details ->
The White Pocket guided tour in the Vermilion Cliffs National Monument is the go-to spot for the serious photographer. Tour Details ->
This tour requires a much shorter hike than the North tour and is considerably more varied from a photographer's point of view. Tour Details ->
The Wave, located in the Coyote Buttes North tour, is a world-famous destination. Permit required. Tour Details ->
Hiking to the Teepee formation is an excellent hike in spring, fall, and winter. Tour Details ->
11 Additional Tours at GreaterZionTours.net
Visit our other website, GreaterZionTours.net, for tours of Zion National Park.
7 Additional Tours at GrandCircleTours.net
Visit our other website, GrandCircleTours.net, for additional tours and different locations.