CruiseMapper
Scrapped Cruise Ships
Black Watch
Former names: royal viking star, star odyssey, westward, club harmony, odin.
Cruise line Scrapped Cruise Ships
Specifications of Black Watch
Black Watch Review
Review of black watch.
The 1972-built (as "Royal Viking Star") cruise ship MS Black Watch was the oldest of the Fred Olsen fleet , with fleetmates Boudicca (sistership, 1973-built/2021-scrapped), Balmoral and Braemar . The cruise ship cost to build was USD 50 million. The vessel was last refurbished in 2019 December and sold in 2020.
On August 21, 2020, Fred Olsen confirmed the retirement ( scrapping ?) of its ships Boudicca (1973-built, 47-years-old) and Black Watch (1972-built, 48-years-old). All bookings on Boudicca and Black Watch were automatically transferred onto the new ships (acquired from Holland America Line in July 2020) MS Bolette/fka Amsterdam and MS Borealis/fka Rotterdam . After joining the fleet in September 2020, Bolette and Borealis increased the company's passenger capacity by ~30%.
In late-September 2020 was announced that Boudicca and Black Watch are both sold (to the Turkish company "Miray International Shipping Agency and Trade Co"/Istanbul-based) and not to be scrapped but to serve the new owner as hotel ships under the brand "Miray Cruises". On October 21, 2020, Black Watch left the UK ( Port Rosyth, Edinburg Scotland) en route to TRTUZ ( Port Tuzla, Istanbul Turkey ). The vessel was also listed under the name "Club Harmony" (MMSI 538004519, Marshall Islands -flagged).
For Fred Olsen, the vessel (IMO number 7108930) was Bahamas- flagged (MMSI 311166000) and registered in Nassau . On November 13, 2020, the AIS last showed the ship docked in Tuzla, reportedly, awaiting scrapping at Aliaga .
On April 17, 2022, the 50-year-old Black Watch (renamed ODIN, and reflagged to Palau/MMSI 511100668) left Turkey (Port Yalova's anchorage), transited the Suez Canal (April 22), stayed overnight anchored at Port Suez (April 23-24), and on May 20th started drifting off the coast of India's Gujarat state where (near Bhavnagar) is the world's largest shipbreaking yard Alang . On June 5th, the AIS showed the boat off Bhavnagar. Black Watch arrived at Alang on June 18th (last AIS signal transmitted at 13:30 UTC).
Royal Viking Star (Black Watch) had two sisterships - Royal Viking Sea (Albatros) and Royal Viking Sky (Boudicca) .
History - construction and ownership
Fred Olsen Cruise Lines Ltd is a Norwegian-owned and UK-based cruise shipping company, part of the Fred Olsen Group (Fred Olsen & Co / shipowner, headquartered in Oslo, Norway ). The company is headquartered in Ipswich (Suffolk England) and is owned by Bonheur and Ganger Rolf. The company was founded in 1848 (in Hvitsten, Norway) by the three Olsen brothers (Petter, Andras, Fredrik Christian) who bought their first ships and established an international shipping company. Today Fred Olsen Group is into its 5th family generation and operates subsidiary companies specializing in cruise passenger shipping, trade, shipbuilding, aviation, offshore industries.
Fred Olsen Group wholly owns the companies Fred Olsen Cruise Lines Ltd, Fred Olsen Travel Ltd (worldwide tours and vacations via independent operators), Fred Olsen Marine Services AS (shipowner and vessel management), First Olsen Ltd (tanker ships), Dolphin Drilling Holdings Ltd (offshore drilling rigs), Fred Olsen Express (Canary Islands-based fast ferries / catamarans), Fred Olsen Freight Ltd (cargo shipping and air freight), Fred Olsen Windcarrier AS (transport and installation of offshore wind turbines), Fred Olsen Production AS (offshore petroleum production), Fred Olsen Renewables AS, SeaRoc Group Ltd (offshore and marine consultancy and contracting services), ZephIR Lidar UK (wind measurement devices), Ganger Rolf ASA (energy and shipping). Also part of Fred Olsen Group, the company Bonheur ASA manages several fully-owned companies, among which are NHST Media Group AS (newspapers and online media) and the real estate companies Stavenes Byggeselskap, Koksa Eiendom, Fred Olsens gate 2. Part of Fred Olsen Group is also Timex Group BV - parent of several watchmaking companies, including the subsidiaries in the USA, India and Philippines).
The 800-passenger ship Black Watch was acquired by Fred Olsen in 1996. The cruise ship was renamed "Black Watch" after a Scottish Regiment and nowadays is best known for its innovative worldwide voyages, outstanding service, and affordable rates. Since Black Watch cruise ship carries mainly British travellers the UK influence is apparent in everything from onboard amenities and lectures to cuisine and currency (all charges are assessed in British pounds). The cruise vessel inspires extreme loyalty between past cruisers as on a typical cruise upwards of 50 % may be repeaters.
In 1981, the vessel (under the Royal Viking Line's ownership) was stretched by adding a 91 ft / 28 m long prefabricated middle-section. The refit resulted in an increased gross tonnage (from 28,220 to 28,610 GT tons) and passenger capacity (from 758 to 820). During the ship's stretching (done in Germany, at the Seebeckwerft AG's shipyard in Bremerhaven ) were built new cabins (including 9 balcony suites - the industry's first), 2 lounges, the dining room's size was doubled.
The list of other stretched (elongated) cruise ships includes the fleet mates Balmoral, Boudicca, and Braemar, also the MSC Cruises ships Armonia , Lirica , Opera , the Phoenix Reisen 's Albatros and the Royal Caribbean 's Enchantment of The Seas .
During the 2018 drydock at Blohm+Voss ( Hamburg Germany ), to the ship were added two fiberglass-bottomed boats, each with capacity 12 passengers.
Decks and Cabins
MS Black Watch staterooms (423 total, in 21 grades) include 79 Suites, 37 Balcony, 225 Oceanview and 48 Inside cabins. Most cabins are sized 160-200-ft2 (15-19 m2). The ship has 4 wheelchair-accessible cabins. The largest is the Premier Suite (550 ft2 / 51 m2 including the terrace).
The boat has 10 decks , of which 8 are passenger-accessible and 6 with cabins.
Shipboard dining options - Food and Drinks
Breakfast and lunch in the MDR of the Glentanar Restaurant, as well as in a smaller annex, are generally open seating. Dinner is served in 2 assigned seatings. The nice Orchid Room features an Asian theme and serves as an alternative formal dining area. Braemar Garden is the casual buffet option onboard for meals and late-night snacks. Snacking options are also offered near the pools. Room service light meals are complimentary during limited hours.
Follows the complete list of Black Watch restaurants and food bars.
Glentanar Restaurant (main dining room; hosts the formal Gala Dinner; with 2 fixed dinner seatings at 6:15 pm and 8:30 pm, open-seating buffet-style Breakfast 8:00 - 10:00 am and Lunch 12:00 - 2:30 pm)
Orchid Room (annex to the MDR)
Garden Cafe (alternative buffet-style restaurant, open-seating; offers Breakfast 7:00 - 9:30 am, Brunch 10:30 - 11:30 am, Lunch 12:30 - 2:30 pm, Afternoon Tea 3:30 - 4:30 pm, Dinner 6:30 - 9 pm and Supper Club 11:30 pm - 12:30 am; also features a 24-hour open tea-coffee station)
The Grill restaurant (former Poolside Cafe, an alternative, buffet-style venue for breakfast and lunch; offers al-fresco dining)
Marquee Bar (casual restaurant for lunch; alfresco dining, with large, floor-ceiling panoramic windows; serves the pool area with alcoholic/non-alcoholic drinks).
Shipboard entertainment options - Fun and Sport
Black Watch was regularly drydocked for renovations and upgrades, to make the boat attractive and an appealing travel vacation option, particularly for the older tourists looking for a relaxing and authentic British cruising experience.
Follows the complete list of Black Watch lounges, clubs and other entertainment venues for kids, teens, and adults.
Marina Theatre (150-seat cinema room)
Port Shop (duty-paid, sells essentials, hats, swimwear, toiletries, beachwear, sweets, books, snacks)
Photo Gallery & Shop (offers digital images printing/transferring; personal video making; sells photo and video equipment at duty-free prices)
Neptune Lounge (ship's theater lounge/main entertainment venue for grand-style show productions in the evenings at 8:45 pm and 10:45 pm; during the day serves the Fred Olsen enrichment program, with various lectures and seminars, multimedia presentations, dance classes, workshops, bridge lectures, cards playing tournaments)
Boutique Shops (duty-free luxury gifts, perfumes, cosmetics, fashion clothing, watches, fine jewelry, Fred Olsen logo merchandise)
Explorers' Library; Internet Room; Dalreoch Card Room (bridge-playing club lounge)
Bookmark Cafe (a la carte priced patisserie; offers luxury chocolates, specialty coffees, hand-made chocolates); Cafe Venus
The Braemar Garden (adjoins the Glentanar Restaurant); Braemar Lounge (relaxation place; offers live music performances; served by the Braemar Garden's Bar; also serves Afternoon Tea); Casino
Morning Light Pub (features stand-up comedy acts, live music performances)
Lido Lounge & Bar (live piano performances; transforms into a disco in the late hours)
Pool Deck area (swimming pool, whirlpool, 2 exercise pools, sunbathing area)
Fitness Centre (Wellness complex; there is no Spa, but the ship offers Sauna Rooms and Treatment Rooms for massages)
The Gymnasium (gym room, with floor-ceiling windows, modern equipment; hosts various exercise and dance classes)
Beauty Salon (part of the Wellness Centre; offers hairdresser/barber services, facial/body treatments, manicure/pedicure, massages)
Observatory Lounge (indoor observation lounge with piano, glass dancefloor, panoramic windows for 270-degree views; serves Afternoon Tea)
Golf Nets; Tennis Court; Deck Games area (shuffleboard, quoits, darts, tennis tables, board games, jigsaw puzzles); Walking Track.
Itineraries
Fred Olsen Black Watch itinerary program was exclusively based on roundtrip UK departures from Bristol , Greenock-Glasgow , Southampton , Liverpool . Destinations included Transatlantic crossings (UK to South America and the Caribbean), Mediterranean, Canary Islands, British Isles.
Black Watch also offered World Voyages visiting ports in Australia-New Zealand, South Pacific Islands, Asia.
Black Watch - user reviews and comments
Photos of black watch.
Black Watch ship related cruise news
Older cruise ships disappear from expedition itineraries due to tightened safety regulations
As maritime regulations tightened around safety, maintenance, and environmental concerns, the cruise ships of the past are disappearing from...
Fred Olsen's cruise ship MS Black Watch soon to be scrapped at Alang India
The 1972-built (as "Royal Viking Star") cruise ship MS Black Watch was the oldest vessel in the Fred Olsen Cruise Line's fleet, with fleetmates...
ex-Phoenix Reisen's cruise ship Albatros sold for scrapping in India
The former Phoenix Reisen's ship ms Albatros, which was built back in 1973 in Finland as Royal Viking Sea for the Royal Viking Line (1972-founded...
Fred. Olsen's Boudicca and Black Watch to serve as accommodation vessels
Fred Olsen Cruise Line's ships Boudicca and Black Watch (both recently replaced by the two ex-Holland America ships - Bolette and Borealis...
Fred Olsen's cruise ship Borealis homeported in Liverpool UK in 2021
Voyages for Fred Olsen's second (ex-Holland America) cruise ship Borealis (fka MS Rotterdam) went on sale, with the inaugural program 2021 including...
Fred. Olsen Cruise Lines welcomes first of two new ships
Fred Olsen Cruise Lines welcomed the first of a couple of new ships joining its fleet in September. Borealis (fka MS Rotterdam) made her debut at...
VIDEO: Fred. Olsen announcement - back in the water
Fred Olsen Cruise Lines unveiled its plans to have 3 ships 'back in the water' in March-April 2021, with Balmoral due to sail even sooner...
Fred. Olsen Cruise Lines retiring Boudicca and Black Watch ships
Fred. Olsen Cruise Lines is expected to retire two of its ships, Boudicca and Black Watch, when the company brings on the pair of former Holland...
Fred Olsen's "Four Ladies in Lisbon" fleetmeet 2021
Customers named Fred Olsen Cruise Lines' 3rd fleetmeet "Four Ladies in Lisbon" via social media poll. The UK-based cruise copany suggested 3...
Fred Olsen cruise passengers choose name for the fleet-meet in Lisbon 2021
The UK-based Fred Olsen Cruise Line invited its customers to help choose a name for the next fleet gathering. The company will be holding the fleet...
Other Scrapped Cruise Ships cruise ships
American Glory
Amusement World
Carnival Ecstasy
Carnival Fantasy
Carnival Fascination
Carnival Imagination
Carnival Inspiration
Carnival Sensation
Carnival Tropicale
CMV Columbus
CMV Magellan
CMV Marco Polo
Costa Concordia
Costa neoRomantica
Costa Victoria
Golden Iris
Grand Celebration
Leisure World
Marella Celebration
Marella Dream
mv Discovery
Orient Queen
Pacific Jewel
Pride of Burgundy ferry
Pride of Canterbury ferry
Pride of Kent ferry
Pullmantur Horizon
Pullmantur Monarch
Pullmantur Sovereign
Saga Pearl II
Salamis Filoxenia
SeaDream Innovation
SuperStar Aquarius
SuperStar Gemini
SuperStar Libra
Thomson Spirit
Black Watch Wiki
On May 12, 1971, the cruise ship was launched (floated out from drydock) as "Royal Viking Star", and on June 26, 1972, entered service for the Royal Viking Line (1972-founded, 1998- defunct ). The vessel has also sailed as "MS Westward" for NCL-Norwegian and as "Star Odyssey" for Royal Cruise Line. On November 15, 1996, the ship entered service for Fred Olsen under the name "MS Black Watch".
Since Black Watch caters primarily to British travellers (from the UK), influence is evident in all the onboard activities, enrichment programming, cuisine, even currency (charges are valued in GBP /pounds). All Fred Olsen ships inspire extreme loyalty among past guests. On a typical Black Watch cruise, over 50% are repeaters.
Fred Olsen also offers an all-inclusive cruise package upgrade (additional fixed price PP per day) and the UK fly-cruise deals to Canary Islands (year-round discounted airfare from Southampton, England ).
Black Watch ship's last drydock 2019 (December 11-20, at Blohm+Voss Hamburg ) was mainly for general maintenance and engineering works, interior renovations (public areas) and stateroom refurbishments (including bathroom upgrades).
Royal Viking Star became Royal Viking Line's first cruise ship, having originally GT tonnage 21847 tons and max passenger capacity 539. In 1981, the vessel was drydock enlarged (lengthened by 28 m / 92 ft). The refit included adding new public venues and spaces, as well as new cabins with 200 more berths (beds).
In 1984, Royal Viking Line was acquired by Kloster Group but continued operations as a separated brand. In 1988, the vessel became under Kloster Cruise's management and was reflagged from Norway ( Oslo ) to Bahamas ( Nassau ). In 1990, the Royal Viking Star was transferred to the Kloster-owned Norwegian Cruise Line and renamed "MS Westward". In May 1993, Westward started short Bahamas cruises out of homeport Miami (Florida USA) .
In 1994, the boat underwent a USD 30 million drydock refurbishment, renamed to "Star Odyssey", transferred to Royal Cruise Line (Royal Caribbean Cruises) and scheduled for cruises in Alaska, Mexican Riviera, Panama Canal, Canada-New England.
In 1996, Star Odyssey was purchased by Fred Olsen Cruise Lines (USD 55 million), renamed to "MS Black Watch" and started service in November. In 2001, vessel's flag-state was changed from Norway to Bahamas. The drydock 2005 (at Blohm und Voss Hamburg) resulted in major technical upgrades, including new engines (Wartsila-Sultzer, model 9ZH40/48, power output 13,44 MW). During drydock 2016 (26-day project), Black Watch received new restaurants, upgraded cabins, Fred Olsen's new livery (gray hull-white superstructure). In 2020, the 48-years-old liner was retired. Black Watch's 2021 schedule was taken by MS Borealis (fka Rotterdam) .
A Cruise Ship History: Black Watch
September 5, 2020
Cruise Industry News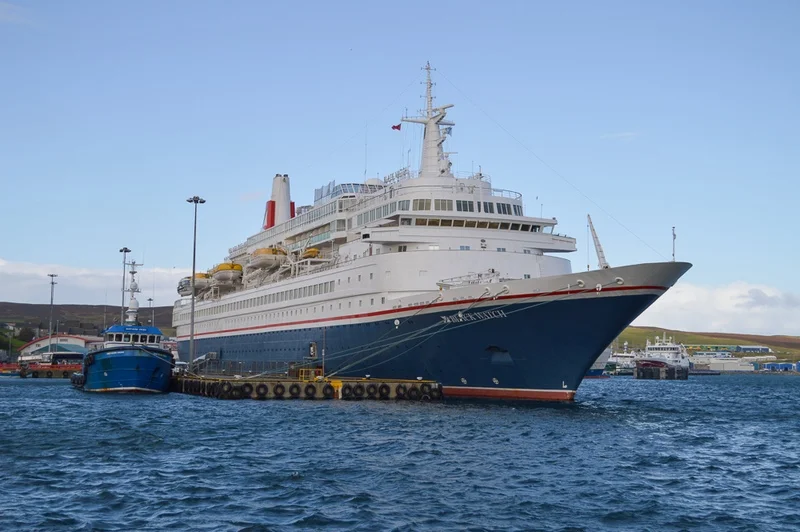 After nearly 25 years sailing for Fred. Olsen, the Black Watch is set to be retired soon.
Built in the 1970, it was one of the oldest cruise ships currently in service and now faces an uncertain future.
Replaced by a newer and larger vessel, the former Royal Viking Star is now waiting for the next chapter of its long cruise career:
1970: Royal Viking Line is established as a luxury cruise brand. The newly formed company orders three ships at the Wartsila Helsinki Shipyard.
1972: At 21,847 tons, the Royal Viking Star enters service as Royal Viking Line's first ship.
The 539-guest vessel is also the first on a series of three ships that later included the Royal Viking Sky and the Royal Viking Sea.
1981 : The Royal Viking Star enters a drydock in West Germany to be enlarged. The vessel is lengthened by nearly 28 meters, receiving new public areas and also 200 additional berths.
1984: Royal Viking Line is acquired by Kloster but remains a separated brand with independent management.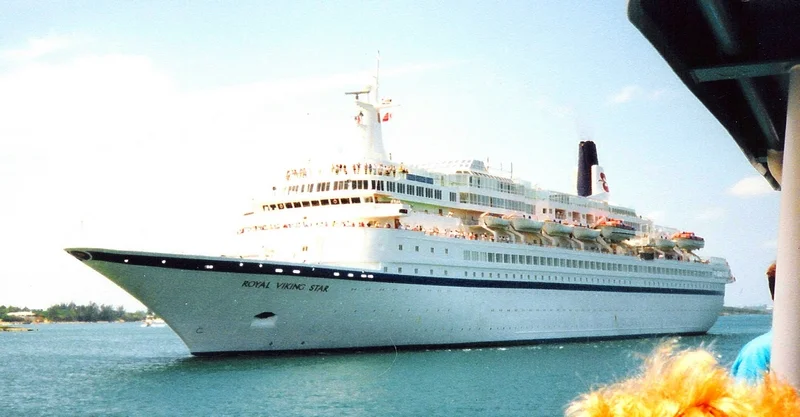 1988: After a corporate restructuring , the ship is now managed directly by Kloster Cruise. Flag is changed from Norway to Bahamas.
1990: After yet another reorganization , the Royal Viking Star is transferred to Norwegian Cruise Line, Kloster's contemporary brand. The vessel is renamed the Westward and deployed in the Caribbean.
1993: From May, the Westward sails a program of short cruises from Miami to the Bahamas, replacing the Sunward .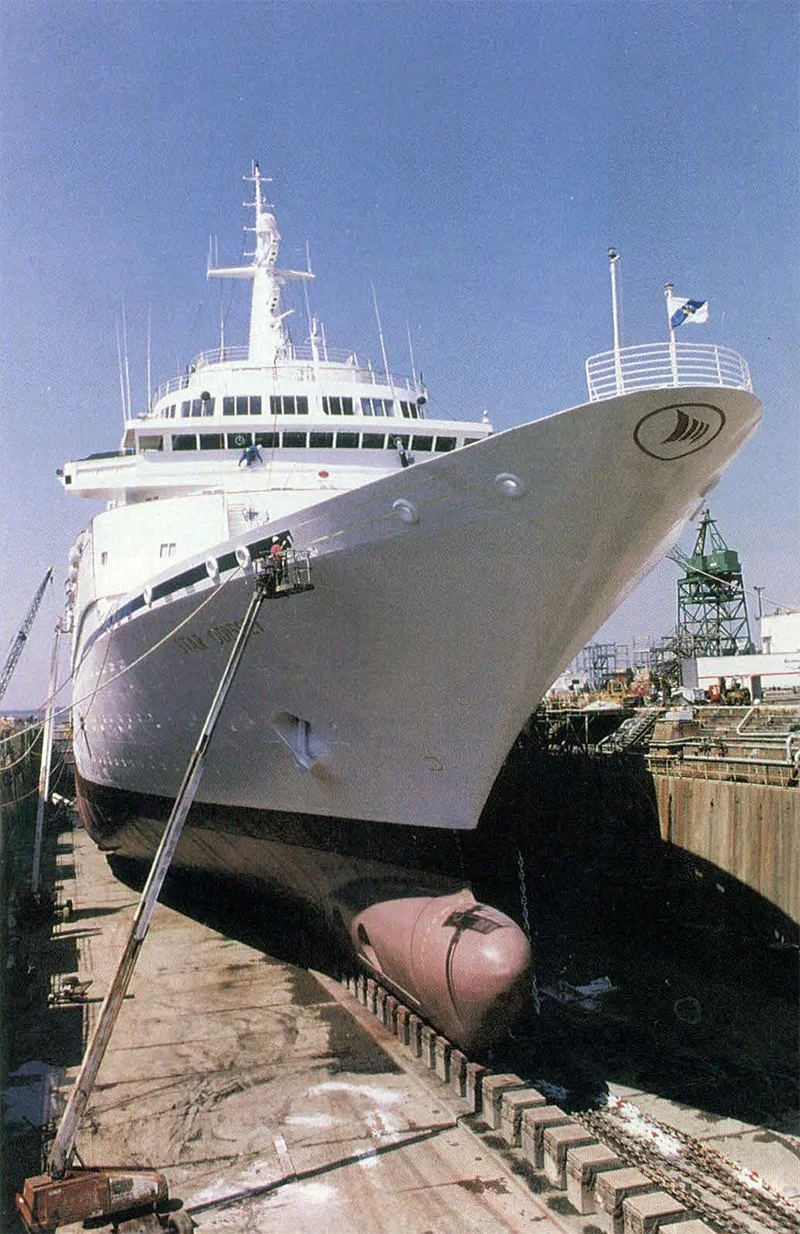 1994: The Westward is renamed Star Odyssey and transferred to Royal Cruise Line after a $30 million refurbishment . The ship's deployment includes cruises in the Alaska, Mexican Riviera, Panama Canal and Canada and New England.
1996: Fred. Olsen Cruise Lines buys the Star Odyssey for $55 million . Renamed the Black Watch, the ship starts service for its new owners in November.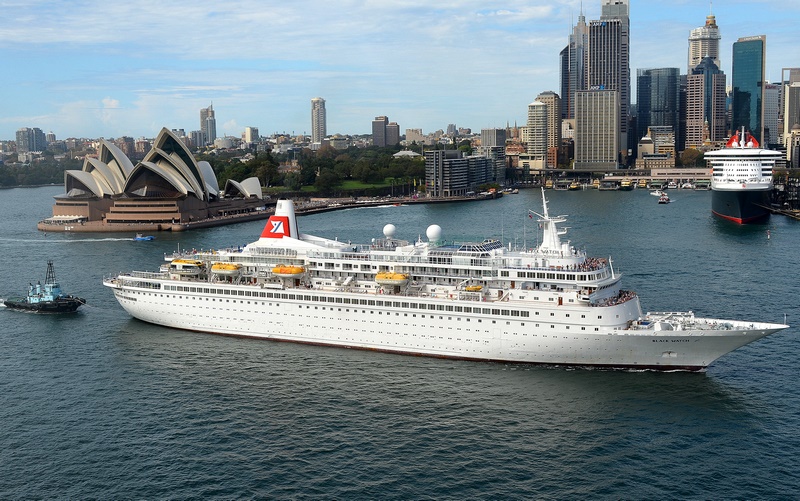 2001: After a few years sailing with Norwegian registry, the Black Watch's flag is reverted back to the Bahamas.
2005: Fred. Olsen sends the ship to the Blohm + Voss shipyard for a major refurbishment. On the technical side, the vessel is modernized, receiving new engines and other upgrades.
2006: The former Royal Viking Sky is bought by Fred. Olsen and renamed the Boudicca. After ten years sailing for Fred. Olsen, the Black Watch is now reunited with one of its sister-ships.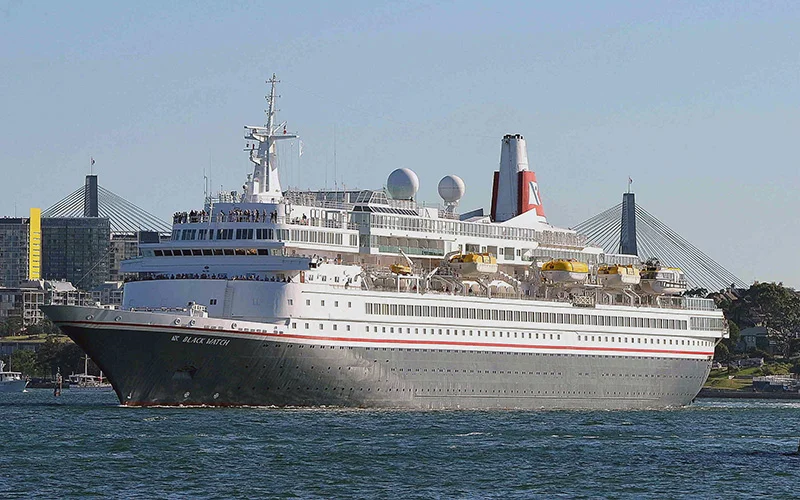 2016: The Black Watch receives Fred. Olsen's new livery, with a gray hull, and goes through a major refit. The ship spends 26 days at the Blohm + Voss shipyard to receive new restaurants and various other features, upgraded cabins and more.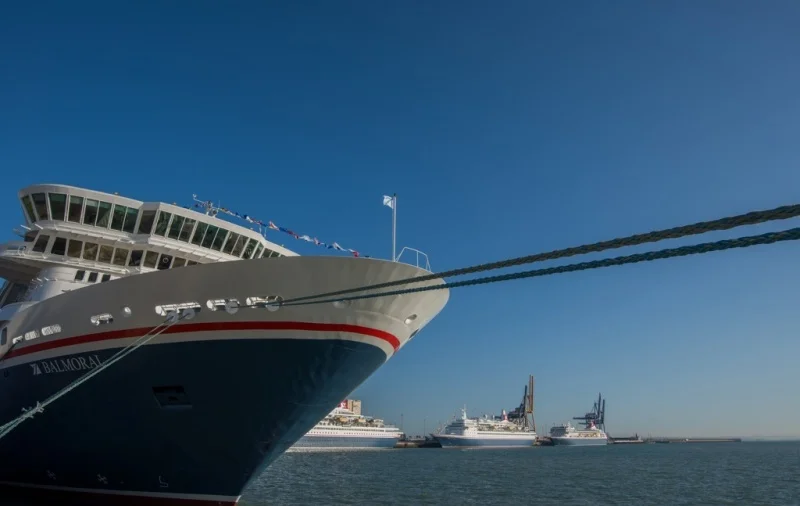 2018: The Black Watch joins its three fleet mates for an event in Cádiz, Spain . Along with the Boudicca, Balmoral and Braemar, the vessel was part of a program of festivities and activities.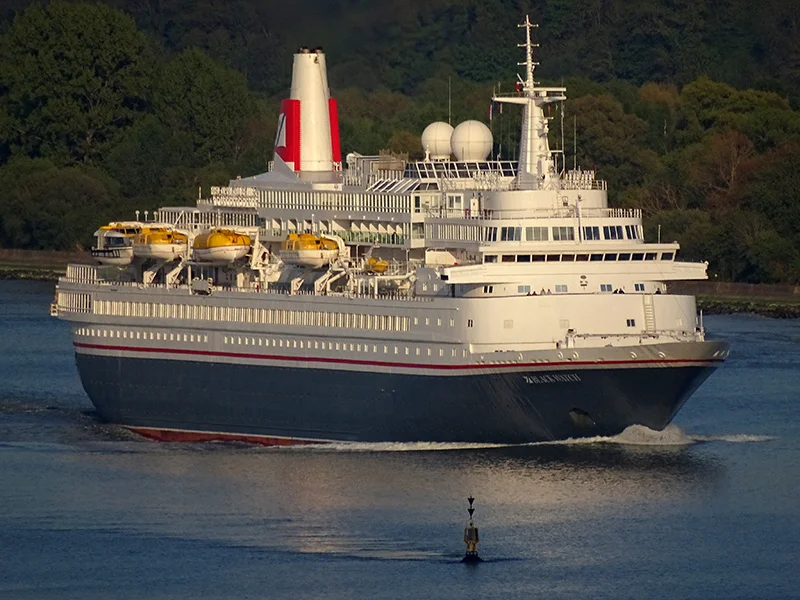 2020: Fred. Olsen announces the retirement of the ship. After 24 years, Black Watch is to be replaced by a newer and larger vessel once cruising resumes.
2021: Renamed Borealis, Holland America's former Rotterdam will take on the Black Watch's existing itineraries from March 2021.
Cruise Industry News Email Alerts

Get the latest breaking  cruise news .  Sign up.
60 Ships | 134,437 Berths | $41 Billion | View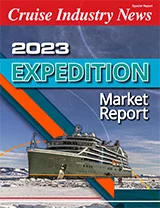 Highlights:
Mkt. Overview
Supply Data
PDF Download
2027 Outlook
Order Today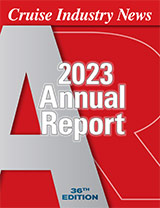 Industry Outlook
All Operators
Easy to Use
Instant Download
Advertising
Cruise News
Magazine Articles
Quarterly Magazine
Annual Report
Email Newsletter
Executive Guide
Digital Reports
Privacy Overview
MV Black Watch – Past and Present
ex Black Watch, Star Odyssey, Westward, Royal Viking Star
Royal Viking Star – © Ray Thorsteinson/Marc Piché
Steel twin screw motor vessel built in 1972 by Oy Wartsila Ab, Helsinki, Finland (Yard No 395) as a Passenger (Cruise) Ship for Royal Viking Line, Oslo, Norway 
Technical Data
Original Cost: $22.5 million
Length on deck: 177.70m (overall)(1971), 205.57m (1981), 169.73m (between perpendiculars)
Breadth of hull: 25.19m (extreme)(1971), 25.19m (1981)
Draught: 7.30m (maximum)(1971), 7.547m (1981)
Tonnage: 21,847 gross (1971), 28,221 (1981), 28,613 (ITC 69)/11,854 net (ITC 69)/3,595 deadweight (1971), 5,656 (1981)
Engines: Four 9-cylinder Sulzer-Wartsila diesels
Propulsion/Propellers: (13,400kW)/2
Speed: 21 knots
Capacity: 539 (1971), 759 (1981)
Passenger decks: 8
Navigation Officers: European
Call Sign: LILY, C6CN2,  C6RS5, T8A3855
MMIS Number:  511100668
Official Number: 8000293
Registry: Bergen/Norway 🇳🇴, Nassau/The Bahamas 🇧🇸, Bergen/Norway 🇳🇴, Nassau/The Bahamas 🇧🇸, Valletta/Malta 🇲🇹, Nassau/The Bahamas 🇧🇸, Palau 🇵🇼
Sister Ships:   Royal Viking Sky (396) , Royal Viking Sea (397)
Current AIS Location
Please note that this specific vessels AIS position data may be over an hour old and that the vessels position will only be displayed when it is within range of the VesselFinder AIS system. The AIS transponder/ship position data featured on this page is intended for information purposes only and it is in no way related to the 'Safety of Navigation at Sea' . All the AIS ship position data featured within this article is provided by VesselFinder  and we are therefore not responsible for its content or its accuracy.
July 1st 1970: Keel laid.
May 5th 1971: Launched.
June 26th 1972: Delivered to Royal Viking Line, Oslo as ROYAL VIKING STAR and installed in cruise service. Manager Fred. Olsen Marine Services AS
Royal Viking Star – © Marc Piché
August 30th – November 22nd 1981: As an alternative to new a new build, lengthened at Seebeckwerft, Bremerhaven.
1988: Sold to Kloster Cruise, Nassau, Bahamas.
April 1991: Renamed WESTWARD .
April 1994: She was again sold to Royal Cruise Lines, Nassau, Bahamas , renamed STAR ODYSSEY and went into service cruising the Mediterranean.
Star Odyssey – © Mike Jackson
October 1996: Fred Olsen Cruise Lines, Nassau, Bahamas, bought her for $55,000,000 and renamed her BLACK WATCH
Black Watch – © Fred Olsen Cruise Lines (all)
November 15th 1996: Made her first cruise under this banner.
March 17th 1997: Re-registered to Hvitsten in Norway
2001: Re-registered again, this time to Nassau in the Bahamas. She continued to cruise Europe, Mediterranean and Baltic, with port of call Dover.
December 15th 2004: The vessel went to the Blohm and Voss shipyard following her 2005 world cruise in April. Her engines, auxiliary engines, gearboxes, and propellers were replaced with more fuel-efficient gear that was installed on new rubber mountings to reduce vibration and noise. More balconies were fitted on the Bridge Deck cabins and a general refurbishing of all public areas was undertaken. It was intended for this refit to expand the life expectancy.
April 20th 2005: Arrived at Blohm & Voss, Hamburg, Germany.
Black Watch – © Aleksi Lindström
June 11th 2005: Re-engined with a total of four new engines, four exhaust boilers and two gearboxes. New control systems and propeller blades designed to reduce noise and vibration were also fitted along with two auxiliary engines. Additionally, 14 suites with balconies, were being created while existing cabins were upgraded some with new balconies.
June 23rd 2005: Expected to return to service with a short cruise to Guernsey and Amsterdam.
Black Watch – © Ray Goodfellow (left) and © Nigel Thornton (right)
Black Watch – © Nigel Thornton (all)
2006: Registered owner; Partrederiet Fred. Olsen Shipping ANS II. Registered manager; Fred. Olsen Cruise Lines
Black Watch – © Robert Fournier
December 17th 2007: Arrived at Dover with apparent stabilizer problems. Divers attended. Sailed for Portland later in the day.
Black Watch – © Jens Boldt (Hamburg 11/12/2009)
2012: Still in service.
Black Watch – ©  Micke Asklander (all)
December 11th 2015:  Received new livery.
"Following a recent refurbishment at the Lloyd Werft shipyard in Bremerhaven, Germany, Fred Olsen Cruise Lines' Boudicca has been given a new colour scheme and livery. Boudicca is the first ship in the fleet to be given the new colours. The previously white hull is now a dark grey, topped with a red line above. Nathan Philpot, Sales & Marketing Director, Fred. Olsen Cruise Lines, said: "The painting of the hulls is a positive statement and represents the on-going changes to position Fred Olsen Cruise Lines' fleet within the premium market. A grey hull harks back to Fred. Olsen's heritage, to when the first Black Watch and Black Prince were launched in the 1930s; these were two of the most luxurious ships afloat at the time. The use of the 'Cartier' red line is a visual reminder to all our guests and crew of what we refer to internally as our 'Red Carpet' service." Balmoral has also began her transformation, with Black Watch and Braemar being painted in due course." Source: Cruise Critic
Black Watch – © John Wilson
Black Watch – © Nigel Scutt ( Dover Strait Shipping )
Black Watch – Arriving at Dover 13/05/16 © Nigel Scutt ( Dover Strait Shipping )
November 20th 2016: Extended refit in Hamburg updating cabins and create new restaurants and bars.
Black Watch – © Erwin Willemse
April 13th 2020: Arrived in Firth of Forth for extended lay-up (Coronavirus) later moving to the port of Rosyth
August 21st 2020: Fred Olsen announced the ship would be retired, but disposal is, as yet, unknown.
September 25th 2020: 
"Fred. Olsen Cruise Lines has found a buyer for the classic Black Watch and Boudicca ships as the company modernizes its fleet with the addition of the former Rotterdam and Amsterdam from Holland America Line. The Black Watch and Boudicca will leave the Fred. Olsen fleet with immediate effect, and will not be scrapped, but instead serve as hotel ships. The ships are believed to be heading to Miray International, according to sources speaking to Cruise Industry News on the condition of anonymity. The Turkey-based company specializes in ship management and also Providing accommodation vessels for large-scale projects. Miray did not return a request for more information. ". Source: Cruise Industry News
Black Watch/Braemar/Blamoral – © Patrick Hill (Leith, 02/10/2020)
October 21st 2020: Left Rosyth bound for Tuzla.
October 22nd 2020: Passed Dover
October 26th 2020: Left Gibraltar.
Black Watch – © Brian Donovan (Leith, 21/10/2020)
November 3rd 2020: Arrived Tuzla Anchorage.
Black Watch & Boudicca – © Google Earth (Image date 29/04/2021)
August 1st 2021: Remains in Tuzla
February 12th 2022: Currently moored in Yalova (Turkey).
Black Watch – © Selim San (Yalova, 12/02/2022)
April 16th 2022: Noted as being renamed ODIN . Left Yalova for Yalova Anchorage where she showed destination as Suez.
June 3rd 2022: Noted as having arrived at Bhavnagar Anchorage (Near Alang, India) however she is currently the subject of a dispute:
" BLACK WATCH and BOUDICCA were sold to a Turkish buyer. According to Fred. Olsen Cruise Lines who stipulates that after its last use, the ship may only be scrapped at a certified shipyard in Turkey in accordance with the Hong Kong Convention (Hong Kong International Convention for the Safe and Environmentally Sound Recycling of Ships). After being resold and renamed ODIN , the ship is now anchored off India, not far from the beaches of the notorious demolition sites in Alang. The suspicion is that the ODIN ex BLACK WATCH (IMO 7108930) to be beached there soon. That would probably be a breach of contract. According to Olsen Cruise Lines, they have therefore taken legal action to prevent their former liner from being scrapped in India." ""While we do not have a full picture of what has happened to the vessel since the sale, we understand that the vessel has since changed hands. Unfortunately, we have not received a full picture from the Turkish buyers." Cruisedeck.de
June 10th 2020:
" Fred Olsen arrests cruise ship ahead of beaching at Alang.
Operator secures last-minute stay of execution for its former vessel and seeks its return to Turkey. Fred Olsen Cruise Lines has arrested a former cruise ship it sold for eventual recycling at an approved facility in Turkey but that instead ended up off the Indian shipbreaking centre of Alang. The UK-based, Norwegian-controlled cruise operator has secured an arrest warrant from the High Court of Gujarat in Ahmedabad against the 28,600-gt Odin (ex-Black Watch, built 1972) as part of its legal battle to prevent it being scrapped in India. The company wants the ship returned to Turkey for recycling.". Tradewinds
June 18th 2022: Arrived at Alang.
🆕June 18th 2022: 
Despite the best efforts of Fred Olsen, on Saturday a judge in India lifted the arrest warrant the vessel was under since the start of June 2022. As soon as the arrest warrant was lifted, the new owners beached the ship at the Alang-based shipbreaking yard, GGSBY Industries. Cruisehive
Black Watch – 🆕  Ship Breaking (Facebook)
All information is believed to be correct and no responsibility is accepted for any errors or omissions found. All items included in this article are subject to © copyright. We would like to take this opportunity of thanking: Micke Asklander, Jens Boldt, Brian Donovan, Robert Fournier, Nigel Scutt ( Dover Strait Shipping ), Aleksi Lindström, Mike Jackson, Marc Piché, Selim San, Ray Thorsteinson, Erwin Willemse, John Wilson and Andreas Wörteler for their assistance in producing this feature.
Special thanks go to Fred Olsen Cruises Lines .
Article © Nigel Thornton and Ray Goodfellow (Dover Ferry Photos Group)
Hsc the princess margaret (gh 2006) - past and present, hsc prince of wales (gh 2054) - past and present, one comment.
….and now anchored near Alang
Leave a Reply Cancel reply
Your email address will not be published. Required fields are marked *
Notify me of follow-up comments by email.
Notify me of new posts by email.
This site uses Akismet to reduce spam. Learn how your comment data is processed .
Privacy Overview
This website uses cookies to improve your experience while you navigate through the website. Out of these cookies, the cookies that are categorized as necessary are stored on your browser as they are as essential for the working of basic functionalities of the website. We also use third-party cookies that help us analyse and understand how you use this website. These cookies will be stored in your browser only with your consent. You also have the option to opt-out of these cookies. But opting out of some of these cookies may have an effect on your browsing experience.
Track A Ship
View Ship Traffic In A Port
World Map Of Port Locations
Guest Register If you are reading this it means you have not yet registered. Please take a second to REGISTER (it's FREE). You will then be able to enjoy all the features of Cruising Earth .
Ship Tracking
Ship Tracker
Fred. Olsen Cruise Lines
Track Black Watch Current Position / Location - Black Watch Cruise Ship Tracker - Fred. Olsen Cruise Lines - Cruising Earth
Black watch - cruise ship tracker.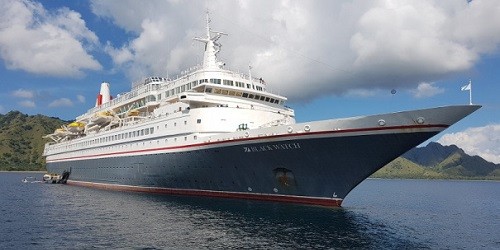 Cruise Ship Details & Statistics
Black Watch Was Decommisshioned In 2020
Sold for scrap in 2020. Still awaiting scrapping. It could possible be resold and brought back into service. Further tracking information will likely not be available.
Track Another Ship
If you know another ship you want to track, enter the ship name or ship line name in the search box below. Then select the ship from the available search results.
Track Cruise Ships , Cruise Ferries , Research Ships , Military Ships and Famous Ships right here live on Cruising Earth !
Cruise / Passenger
Military / Special
Navigation Aids
Get the latest current and forecast weather information that may affect your cruise vacation travel plans.
This site uses cookies to help personalize content, tailor your experience and to keep you logged in if you register. By continuing to use this site, you are consenting to our use of cookies. Accept Learn more…
It looks like you may be utilizing ad blocking software or another ad filtering technology while visiting Cruising Earth. Certain areas of this site may not work properly because of this, particularly live updates of ship trackers and webcams.
We work hard to strike a balance between content and ads and as a free site we greatly appreciate your support in permitting ads to render. Ads help us cover our server and maintenance costs, which helps us continue to keep this site free to use. You also don't want to miss out on any specials or discounts posted from the Cruise & Travel Industry! For the best site experience please disable your ad blockers for cruisingearth.com, then click the button below. Thank you.
Home Cybercruises.com | Links | Lines | Agencies | Specials | Forum | Articles | Ship List | Newsletter | Advertise | Cruise Ports | Orderbook | Retired Ships | About us / Privacy Stat
Another Iconic Cruise Ship is Beached for Scrapping in Alang, India. Former Fred. Olsen Cruise Line ship Black Watch has been beached for scrapping in India
June 22, 2022
Tags: Fred. Olsen Cruise Lines
With fuel prices at an all-time high, available crew in short supply, and the world entering a worrying financial period, many cruise ship owners are taking the step to sell their ships as scrap metal.
On Saturday, the former Fred. Olsen Cruise Line ship Black Watch was beached at the shipbreaking yard in Alang, India. However, her arrival here is not to the liking of her former owners.
Full story https://www.cruisehive.com/another-iconic-cruise-ship-is-beached-for-scrapping-in-alang-india/74566
OTHER RECENT POSTS
Scenic Group Announces Mega-Deals for Black Friday and Cyber Monday on River and Ocean Sailings
November 15, 2023
Portsmouth (NH) cruise ship visits close to reality: What to expect in 2024
November 14, 2023
American Glory Passes Sea Trials: More American Cruise Lines Coastal Cats On the Way
Next story "Star Trek: The Cruise VI" To Explore New Worlds And New Civilizations As It Sails From Los Angeles For The First Time
Previous story Right to forced use of Havila Capella. Hordaland District Court granted Havila Kystruten arrest in Havila Capella, and the right to forced use for a period of up to 2 years
Books / Publications / Websites / Blogs / Surveys
Cruise Ships Review
Event / Convention / Exhibition
Interview / Video / TV
The Cruise Examiner
Search contents since March '10 (Tags associated with a post are searched as well)
Search contents since march '10 (tags associated with a post are searched as well), recent posts.
Four Seasons-Branded Cruise Line Will Offer Trips by Invitation Only. Its Leader Explains Why
Disney Cruise Line Celebrates Opening of New Cruise Terminal at Port Everglades
Disney Cruise Line opens 2nd Florida home at Port Everglades
Holland America Line's 2025-2026 South America and Antarctica Cruises Feature Iconic Sites and UNESCO Experiences
Seven Seas Grandeur Delivered In Ancona – Regent Seven Seas Cruises
Resorts World Cruises celebrates arrival in Nha Trang and Da Nang
4 Countries, 21 nights. The Full Mekong Combo Cruise – Pandaw Cruises
November 13, 2023
Oceania Cruises Launches Its Best-Ever Black Friday Sale
Market study: The cruise industry is expected to soar – Ulstein
MSC Bellissima Featured In Upcoming Netflix Japanese Film
European Waterways Announces Black Friday Special of 25% Off On Select Hotel Barge Charters in France for Spring 2024
Job Vacancies
Meet the Team
Cruise Lines
Fred Olsen Cruise Lines
Black Watch
Black Watch Cruise Ship
Fred. olsen cruise ships.