Baku – Absheron Tour
Duration: 3 nights/4 days
Destination: Baku – Absheron
Season: All  
DAY 1:  Baku
Meet our tour leader at Airport and transfer to hotel.
DAY 2: Baku  – Heydar Aliyev Center, Alley of Honor, Highland Park, Icheri sheher, Baku Boulevard
Our Baku sight seeing tour starts with visiting Heydar Aliyev Center.The cultural center of Heydar Aliyev  was developed in 2007 by the architect Zaha Hadid.
The Alley of Honor is a public cemetery and memorial in Baku, Azerbaijan. The Alley includes burials of famed Azerbaijanis and Azerbaijan-affiliated expatriates, including several Presidents, scientists and artists.
The Inner City of Baku, along with the Shirvanshah's Palace and Maiden Tower, The city is renowned for its harsh winds, which is reflected in its nickname, the "City of Winds".
Modern Baku-Highland Park (Dag Ustu Park) – Panoramic view of Baku Bay from the highest point of the city.Name Highland Park received due to its location.   
DAY 3: Baku Absheron peninsula tour
Ateshgah Temple – The temple of fire worshippers Ateshgah is located at the Absheron peninsula at the outskirts of Surakhani village in 30 km from the centre of Baku and was revered in different times by Zoroastrians, Hindus and Sikhs.
Qala Archaeological and Ethnographic Museum Complex – The Gala state archaeological and ethnographic museum complex is considered one of the most interesting tourist sites in Baku.
Yanardag (Burning Mountain)- One of the most famous and popular tourist places of the "eternal flame" in Azerbaijan is the mountain of Yanar Dag.
DAY 4: Baku – Departure
Check-out from the hotel till noon.
Free time until transfer to Baku International Airport.
End of the tour.
We can add different places within Azerbaijan according to the request.
beautiful city
Leave a Reply Cancel reply
You must be logged in to post a comment.
Azal Airline
Heydar Aliyev Airport
Azerbaijan Weather
Phone: +994-12-3100482
Mobile: +994-55-8824921
Email: [email protected]
105 Təbriz küç, Bakı - Azərbaycan
Things to do in Baku in 3 days – A complete guide
By Joan Torres 19 Comments Last updated on September 13, 2023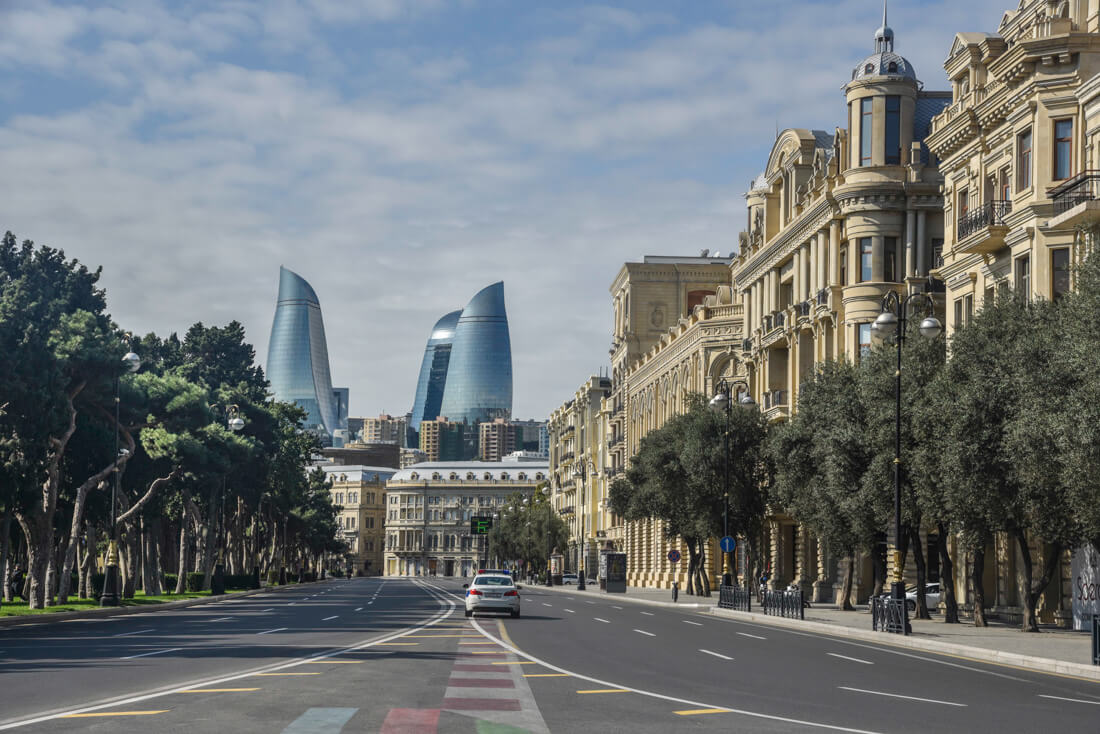 Until very recently, Baku, the capital of Azerbaijan, was a real off-the-beaten-track destination only known by the most intrepid travelers.
Pierce Brosnan, in the James Bond movie The world is not enough , was the first person who finally told us about its existence, when he showed images of some oil fields right in the desert plains around Baku.
Those images, however, didn't really trigger any interest in the country, as people thought that, perhaps, Baku was not very different from the Arab Gulf monarchies, which was a really wrong approach.
Whereas it is true that Baku is an oil-rich city and, in fact, Azerbaijan was the top world exporter at the beginning of the 20th century, many years before the Gulf monarchies discovered the black gold, on the other hand, it is also a city with a very deep history, belonging to a region which has been inhabited for thousands of years, besides having an important role in the Silk Road , as well as, of course, being part of the USSR for nearly a century.
Nevertheless, thanks to exponential development, Baku today is an almost futuristic city that manages to combine both tradition and modernity, two elements that can be seen together all across the city.
After visiting Baku on two occasions, here is a complete Baku travel guide with all the best things to do in Baku in 3 days, including plenty of travel tips.
For more places to visit in the country, read my complete itinerary to Azerbaijan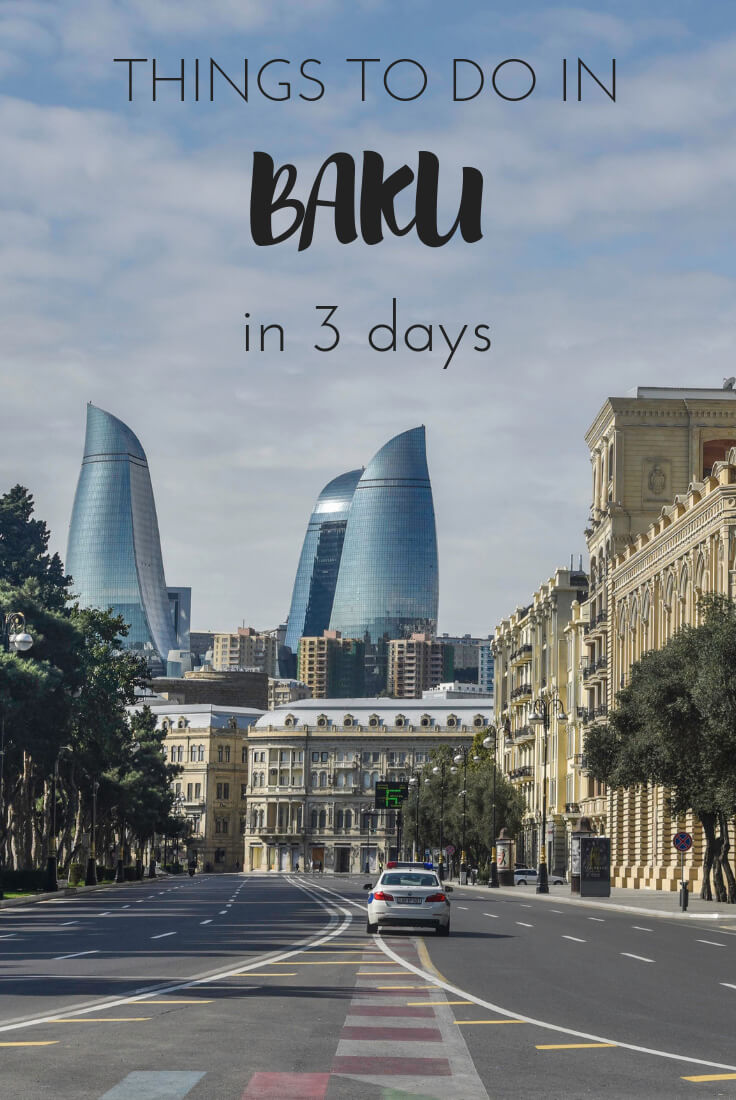 In this Baku travel guide you will find:
Table of Contents
Introduction
Where to stay
How to move around
What to do in Baku
Where to eat
More information
Insurance for traveling in Baku I strongly recommend IATI Insurance : COVID-19 coverage + 5% discount BUY IT HERE TO GET YOUR SPECIAL DISCOUNT
Introduction to traveling to Baku
From the end of the 19th century, Baku has been a global leader in oil exportation and has been growing at full speed, but it was only after the dissolution of the USSR and Azerbaijan's post-independence, that this development was accelerated, Baku became a futuristic and modern city, perfectly comparable to European standards.
However, due to the obvious corruption, or preferably, bad resource management, this development has been exclusively focused on the capital, to the extent that its contrast with the second largest city, Ganja, where you can still find unpaved streets in the city center, is huge.
The capital of Azerbaijan is a luxurious city, a Dubai -like-concept but with a real soul, meaning that, in the city center, you can find a Rolls Royce official store and the most luxury brand stores, along with buildings and mosques from the 12th century.
Going to Tbilisi? Check out my city guide to Tbilisi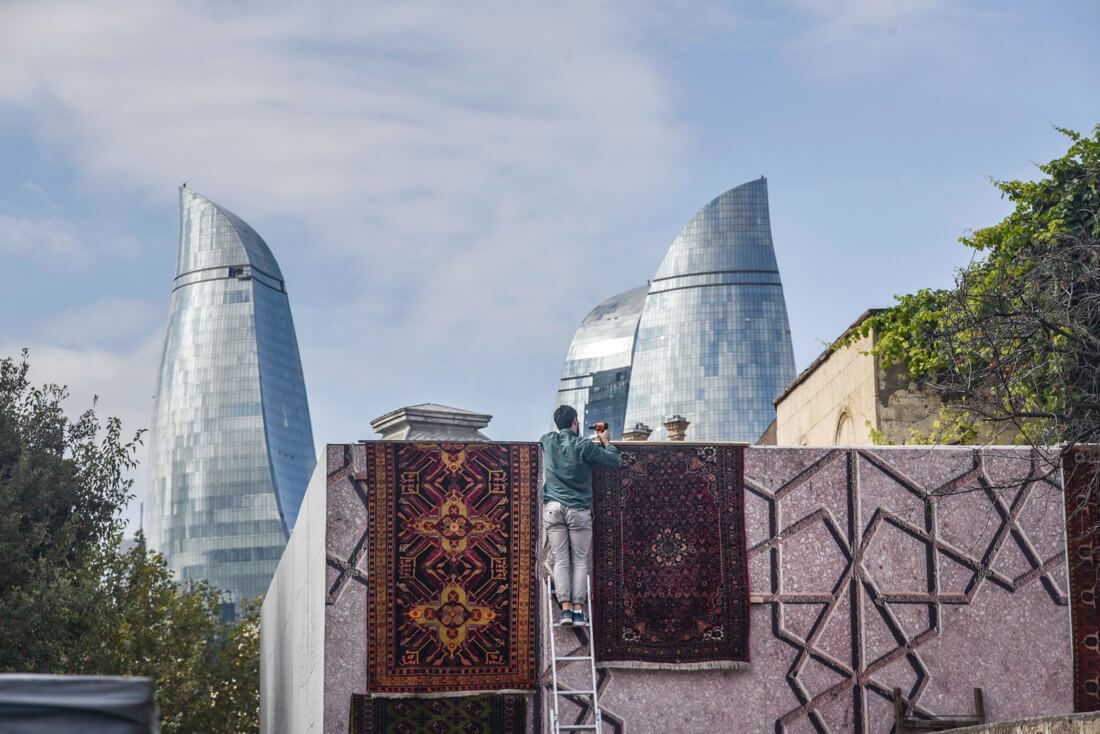 Baku is, definitely, the most developed city in the Caucasus (including Armenia and Georgia ) but, in my humble opinion, this development is economic, not social.
Whereas, in its neighbor Georgia , many young people are quickly learning European values, in Baku, even though they are a rich and supposedly secular city, people are much more traditional, and you will quickly realize when you only see men hanging out in most places, people not speaking English and, overall, people being more closed-minded.
However, visiting Baku is totally worth it and not only due to its eccentric composition but also because it is a real blend of Europe, the East, and the Soviet Union, so, so chaotic, that it's practically impossible to define it, and that's the most exciting thing about it.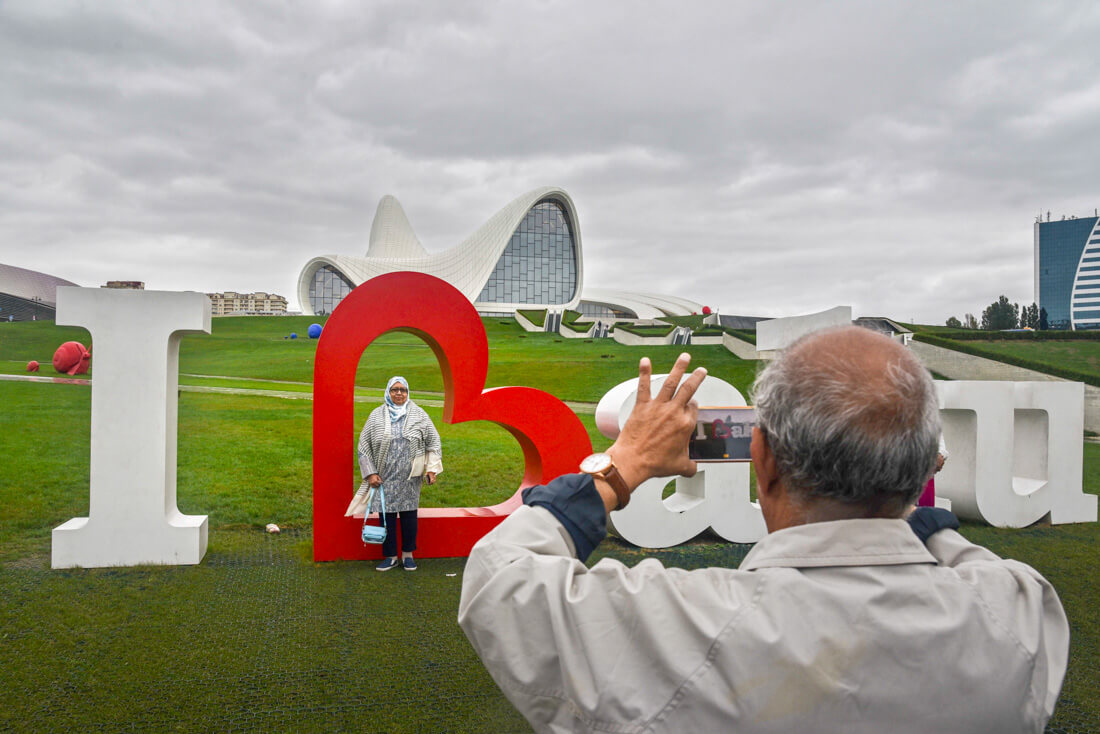 Visa for visiting Baku
From January 2016, you can apply for an e-visa to visit Baku.
The visa costs 25 USD, takes 3 working days and is valid for 30 days.
For 50 USD, you can also apply for an urgent visa and get it on the same day.
All Western nationalities are eligible for the e-visa but you can check the full country list here .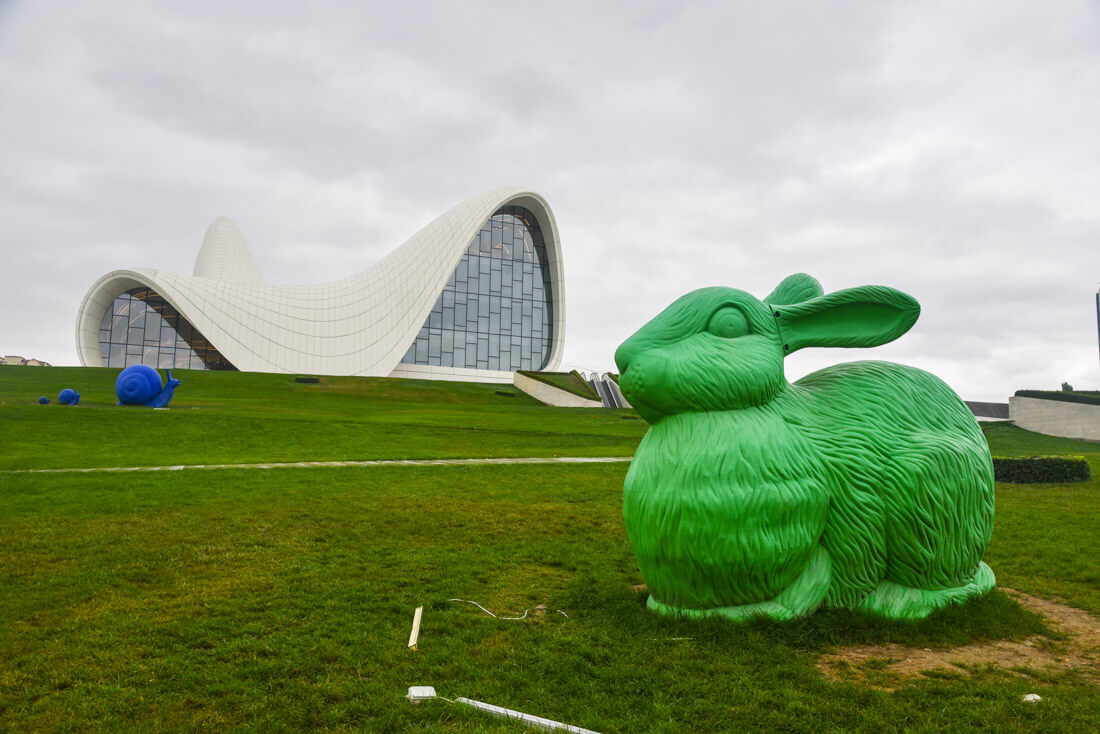 Where to stay in Baku
Backpackers Hostel – Sahil Hostel – The busiest hostel in town, as it is really cheap, plus everything is brand-new and very clean. A nice place to meet other travelers, it also has private rooms.
Budget Guest House – Khazar Old City Guest House – If you want to stay in a traditional house, in the heart of the old city, this is the most highly recommended.
Mid-range Hotel – Deniz Inn Boutique Hotel – The top well-rated boutique hotel in town is a traditional building in the old part of Baku.
Top-end – Four Seasons – Located downtown, this is the best 5-star hotel in Baku. The building where is it built is a real landmark, by the way.
Transportation – How to move around Baku
Moving around baku by taxi.
In order to avoid bargaining with taxi drivers, I recommend you use Uber and short taxi rides costing around 2-3AZN (1.20 – 1.70USD), so moving around by taxi is also a feasible way to check all the places to visit in Baku. Apparently, Yandex isn't available anymore.
Moving around Baku by metro
There are two metro lines and a single ticket costs 0.30AZN (18¢). However, first, you have to get a metro top-up card which costs 2AZN (1.20USD).
Alternatively, you can buy a single-use metro card, which you can only top-up once and costs 0.20AZN (12¢).
Moving around Baku by bus
There is a modern bus network but you will have to know where you are going. The price is the same as in the metro.
How to get from and to the airport
How to get from baku city center by bus.
There are buses going and coming to the airport every 20 or 30 minutes, all day long. They drop you off in downtown, in front of 28th May metro station. A single ticket costs 1.30AZN (75¢) and it also works with the metro card.
How to get from Baku city center by taxi
With Uber, a taxi ride costs around 10AZN (5.90USD).
For generic info about moving around the country, read the transportation section of this guide.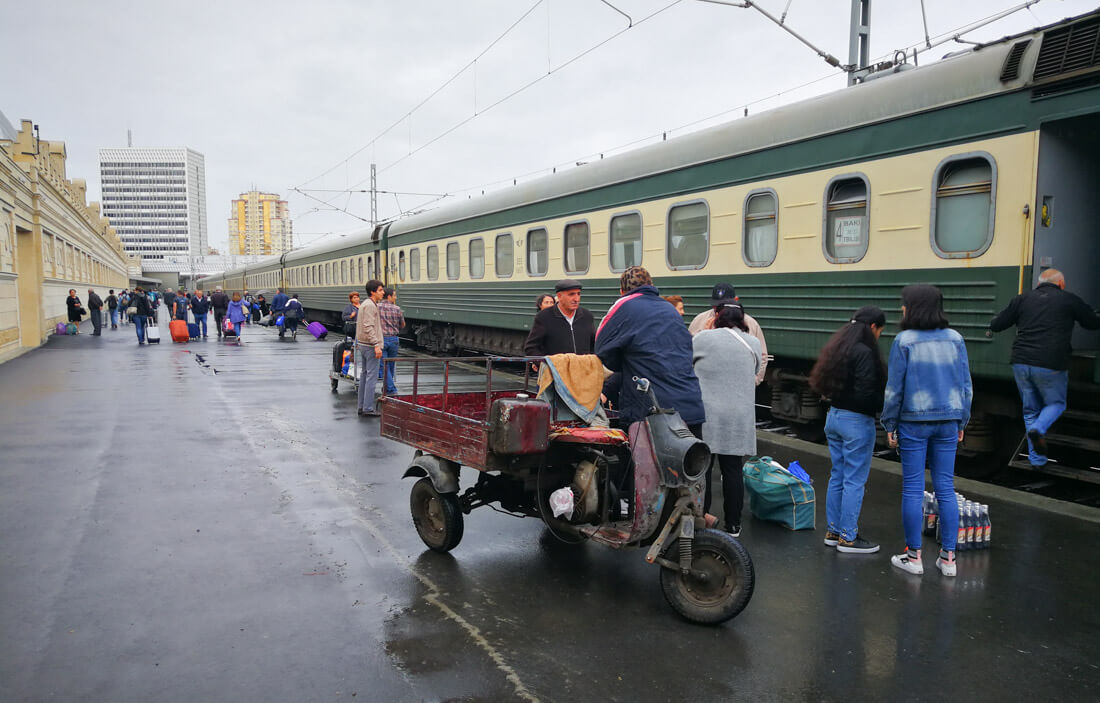 Things to do in Baku in 3 days
In 3 days, you can cover most things to do in Baku, including a day trip to visit the mud volcanoes and the petroglyphs of Qobustan .
If you are interested in all the tours offered in Baku, as well as day trips from Baku, there is a large offer of tours that can be booked online. CLICK HERE TO LEARN MORE
Map of the places to visit in Baku
What to do in Baku on day 1
The first day Baku itinerary is quite optimistic but, if you plan well ahead, I think you can manage it.
Baku Old City
A UNESCO World Heritage site, the walls of the Old City mark the boundaries of where the city used to extend.
Its oldest building is claimed to date from the 11th century, although some historians think that it might belong to the 7th.
As in any old city, the best you can do is getting lost among its entangled streets but there are a few buildings which are must-visits, like Maiden Tower , one of the most iconic buildings in the country, which is even printed in one of their notes.
The tower contains a museum that shows the historical evolution of Baku and you can also climb to the top to enjoy some of the best views in the city. Going to the top costs 10AZN (5,90USD).
The other building which you can't miss is the Shirvanshas Palace , whose main attraction is a stunning mosque from the 15th century. The Shirvanshas is the dynasty that ruled the region for nearly 700 years, from the 9th to the 16th century.
From all the things to do in Baku, the Old City is, certainly, the most interesting one.
Do you want to visit the Old City of Baku with a professional guide? CLICK HERE TO LEARN MORE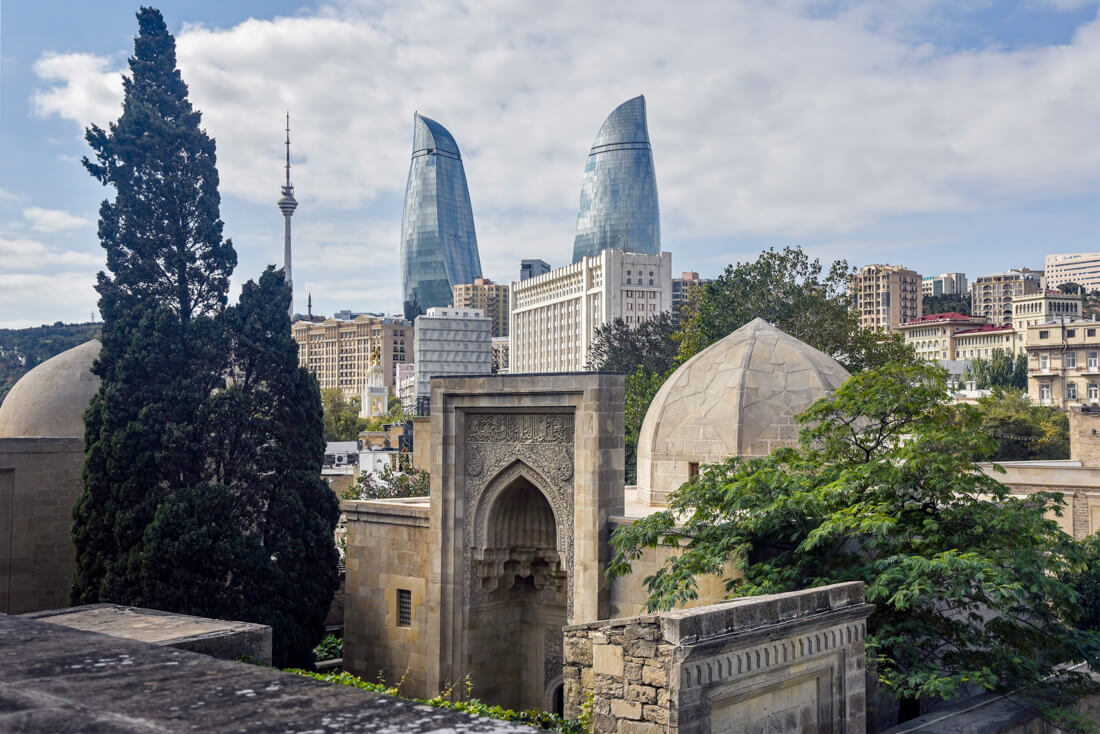 The Carpet Museum
In my opinion, the cool part about the Carpet Museum is not getting in, as the outside is much more awesome than inside. Jokes aside. If you are interested in Persian carpets, just go ahead but, if not, the coolest thing is to take pictures at the waving walls that are trying to imitate a carpet.
Read: Everything you need to know to travel to Georgia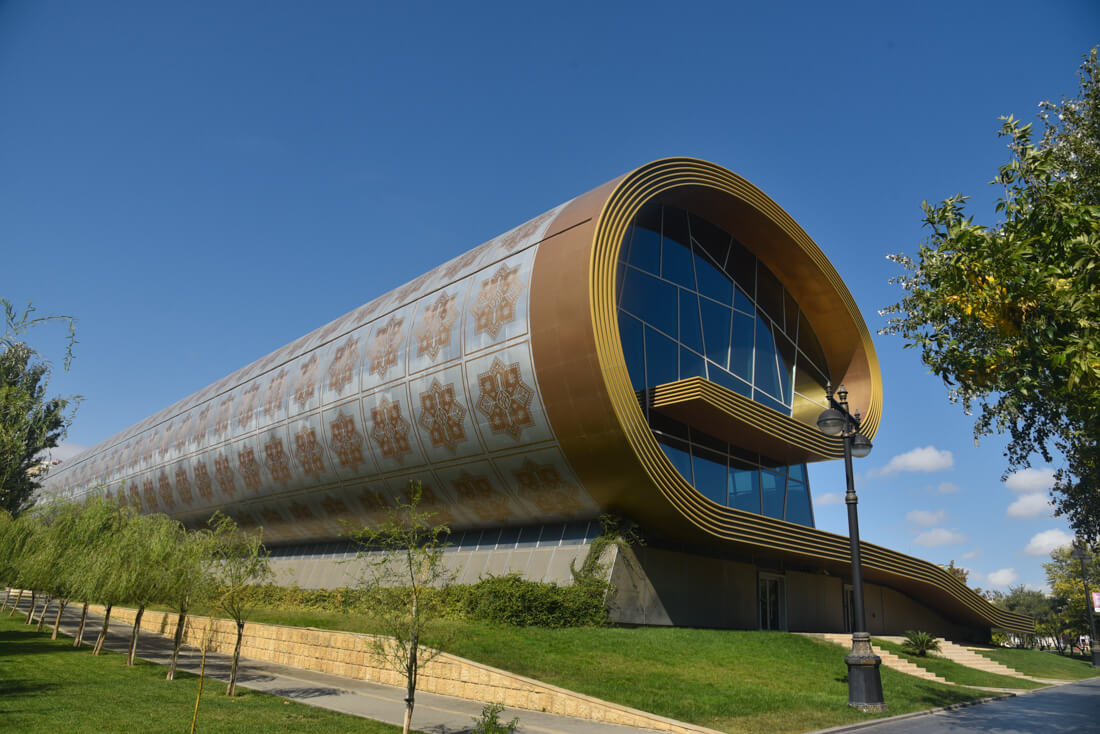 The Flame Towers
The Flame Towers are the three flame-shaped skyscrapers which managed to link Baku to the concept of futurism by themselves.
To be honest, they are only 182 meters high but, due to their position, in the upper part of Baku, they are visible from anywhere.
You can get there on foot through some stairs that go along a beautiful park. There is a funicular at the bottom of the park but I always found it closed.
The towers were finished in 2012 and, besides showing off, their main purpose is to accommodate pretentious businesses like Fairmont Hotel , one of the top hotels in the city, a Lamborghini dealer store, and I don't know what other posh stuff.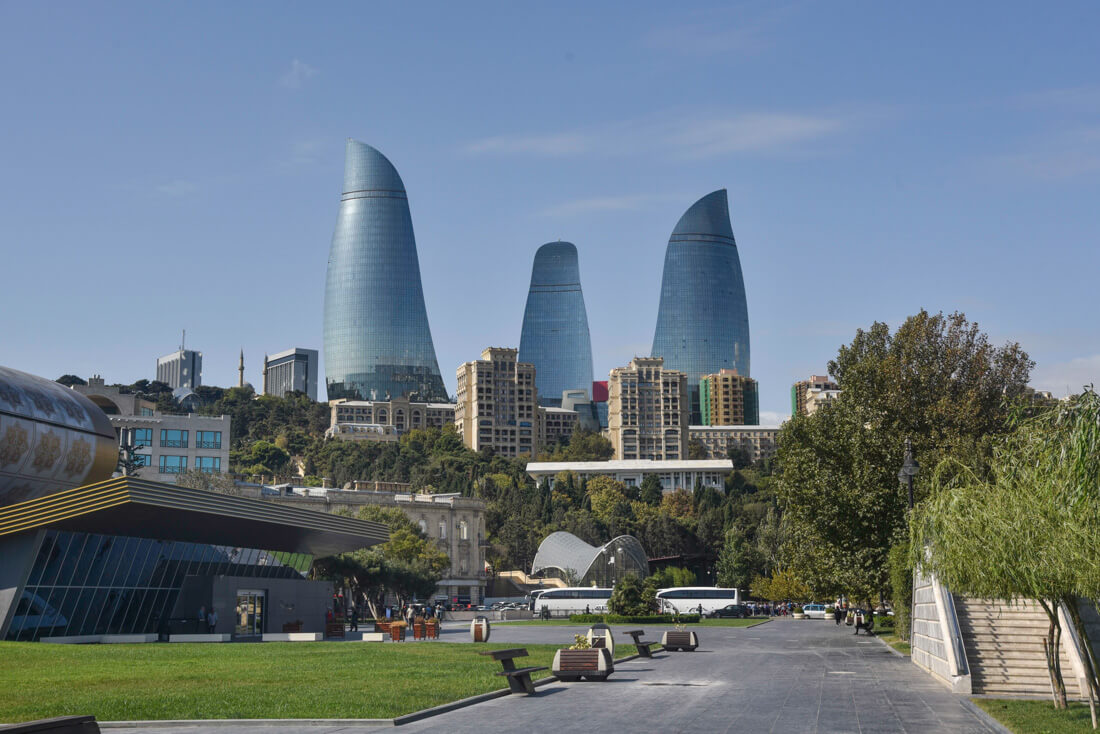 The oil extractors
This place is off the main tourist trail but, if you are interested in checking out some perfectly functional oil drillers, this is your chance.
They are not very far and, actually, you can get there on foot from the Flame Towers. They are just behind the TV tower (you can see the exact location on the map), from where you can also enjoy pretty cool views of the city and the bay.
By the way, if you get down to the seaside, you will pass by a very poor neighborhood of Baku, which clearly shows the huge social inequality that rules in this country.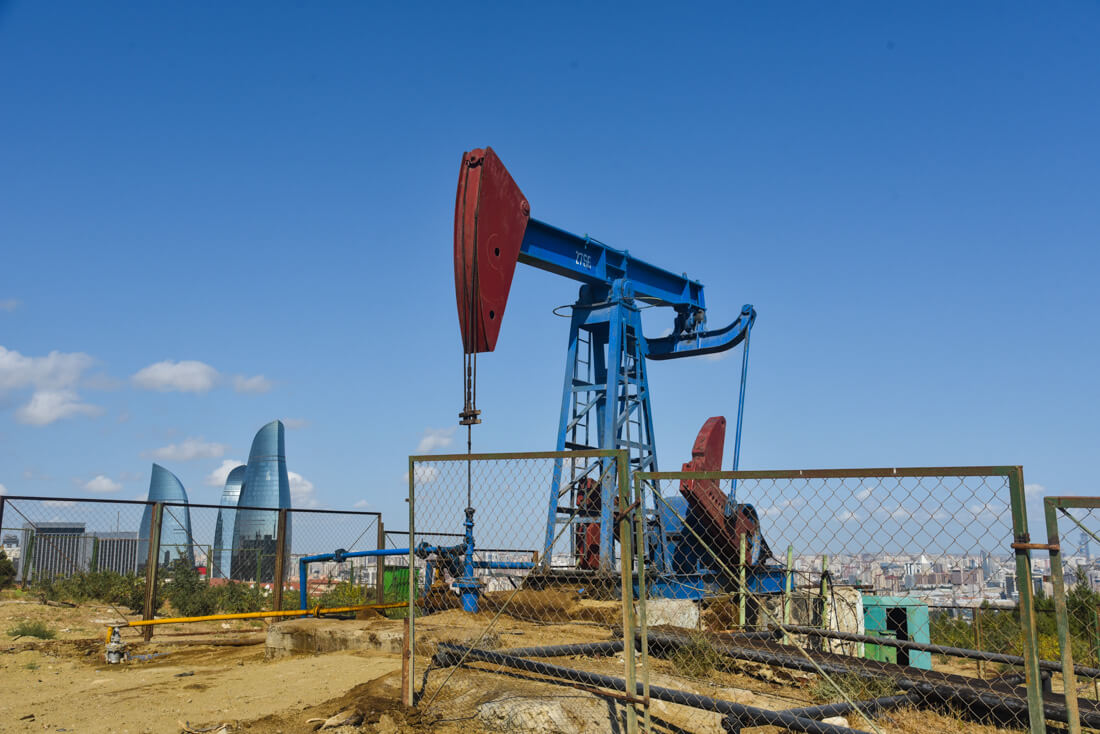 Taza Pir Mosque
A one-hundred-year-old mosque, even though it was built on a place that used to serve as a sanctuary from the 15th century.
To be honest, this isn't an outstanding mosque but, for me, the most interesting part was to see the other face of Azerbaijan, which is the face of Azerbaijani men worshipping and showing their faith to Islam.
Like all the Muslim ex-Soviet countries, the Government of Azerbaijan is secular but, its main peculiarity is that, unlike the rest of the world, the most religious people are the young ones and not the elderly that lived in the Soviet Union, as Islam is only now coming into fashion. When I was traveling in Uzbekistan , I also observed a similar situation.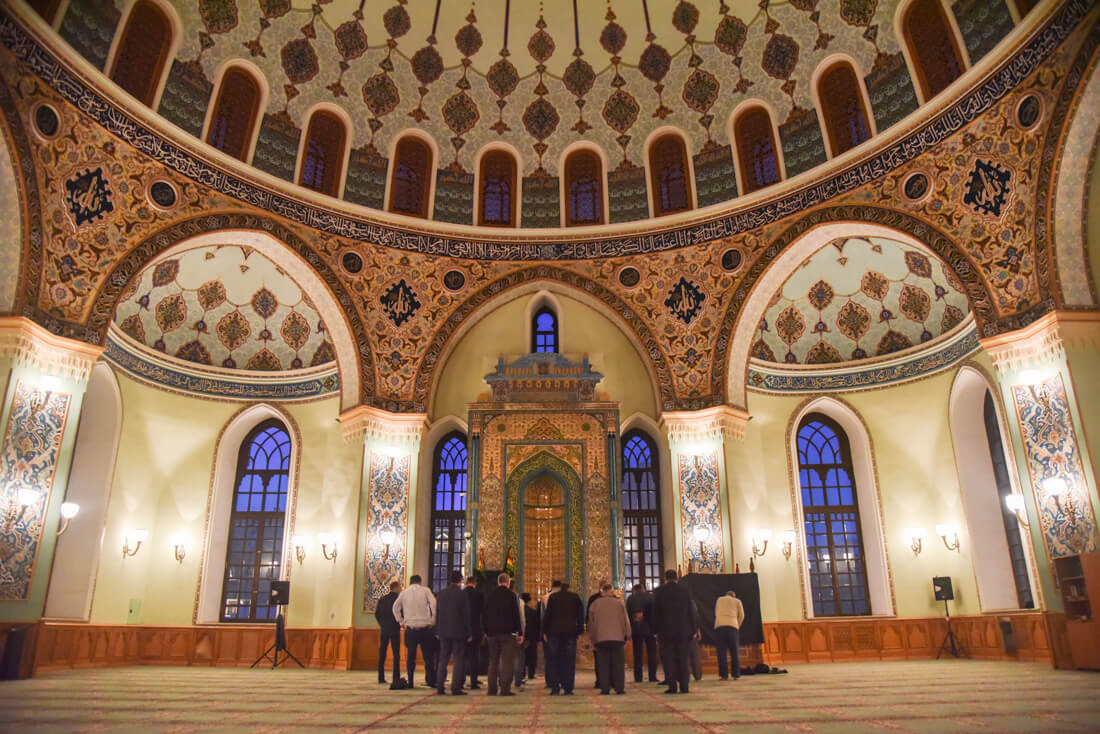 Heydar Aliyev Center
Another pretty cool thing to do in Baku is visiting the futuristic building whose architect is the deceased Iraqi-British woman Zaha Hadid .
With its surrealistic and almost impossible curved walls, this building is a perfect sample of innovation and modern art.
Its surroundings are filled with super weird statues, like giant rabbits and snails, apart from the classic I Love Baku .
The building accommodates different types of temporary exhibitions. The entrance fee costs 15AZN (9USD).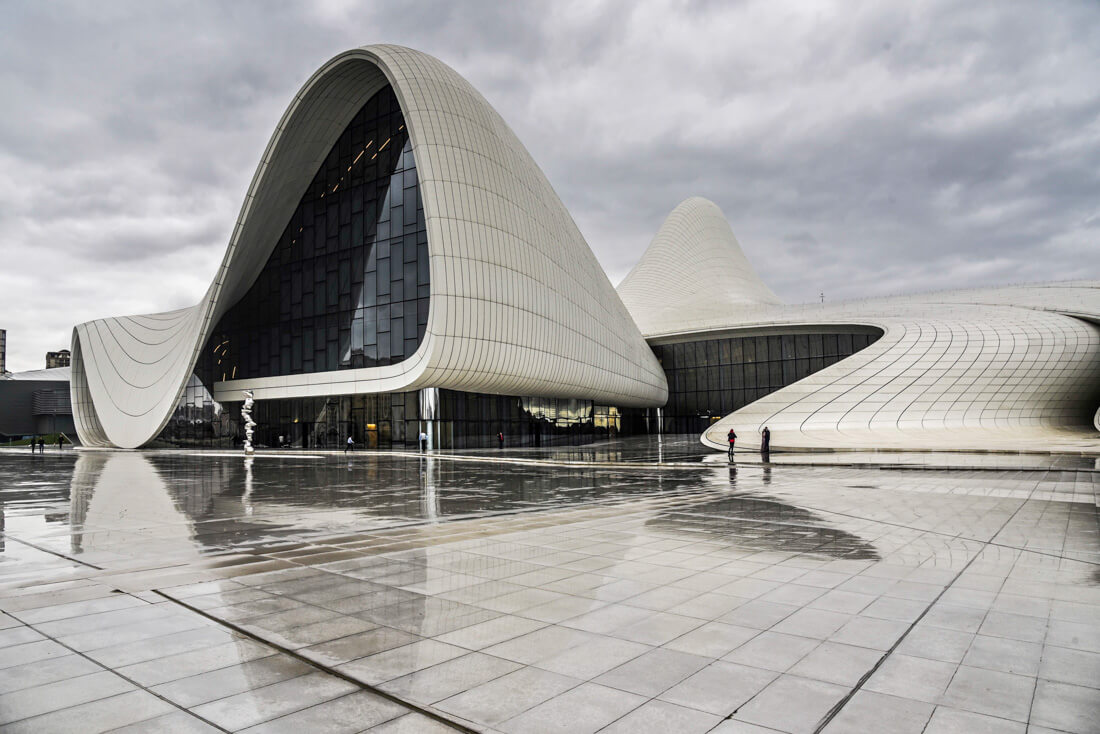 Museum of Miniature Books
If you have the time, you can also visit the museum that has the World Guinness Record for the largest collection of miniature books, including the 3 smallest books ever, measuring 2mmx2mm, which can only be seen using a microscope.
Like me, you may be thinking that those mini-books don't make a lot of sense, basically because you can't read them, but they originate in an ancient Persian tradition.
Fountain Square and the rest of downtown
Composed of the most fashionable shops, restaurants, bars, hipster cafés, parks and so on, I recommend you finish your day in downtown, in the area around Fountain Square, the place where all the local people gather to hang out.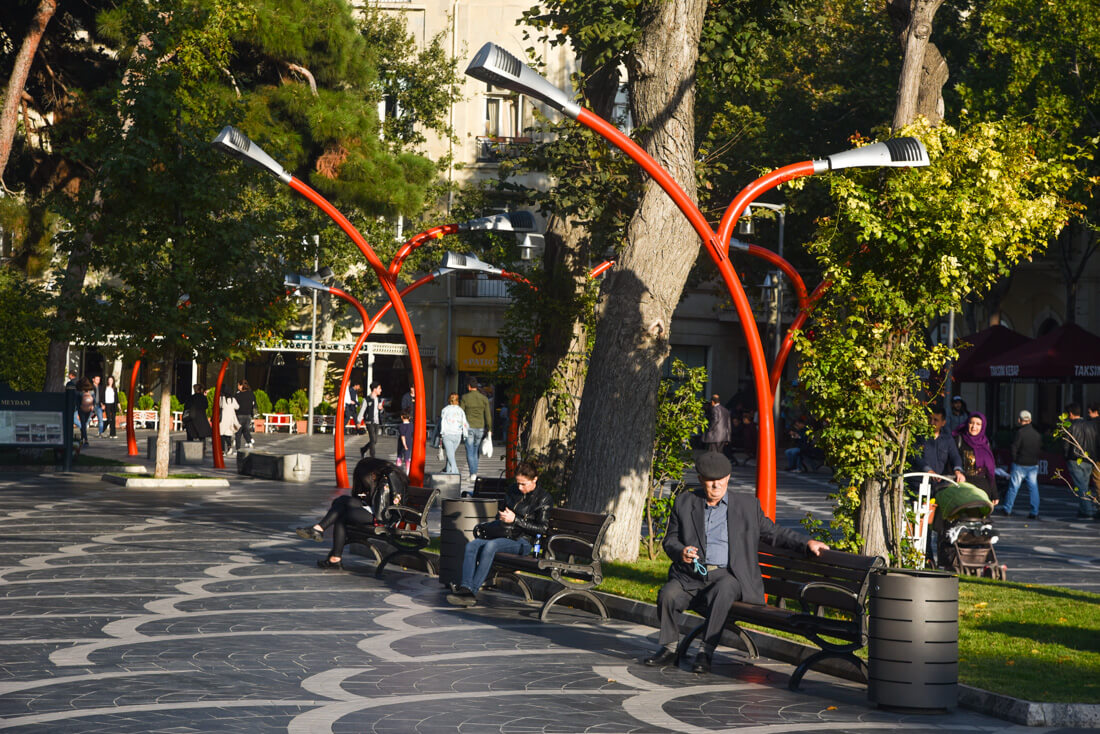 What to do in Baku on day 2
Yasil market.
I bumped into this market by mere chance and then I found out that it is very famous among locals, but I didn't see any tourists.
Yasil is a traditional market which has been restored as per Baku modern standards. It is a typical fruit and vegetable market and everything sold is seasonal.
I was lucky enough to visit Baku in October, the pomegranate season, the symbol of Azerbaijan.
Almost all stalls were filled with pomegranates and they were selling freshly squeezed juice for just 1AZN (60¢).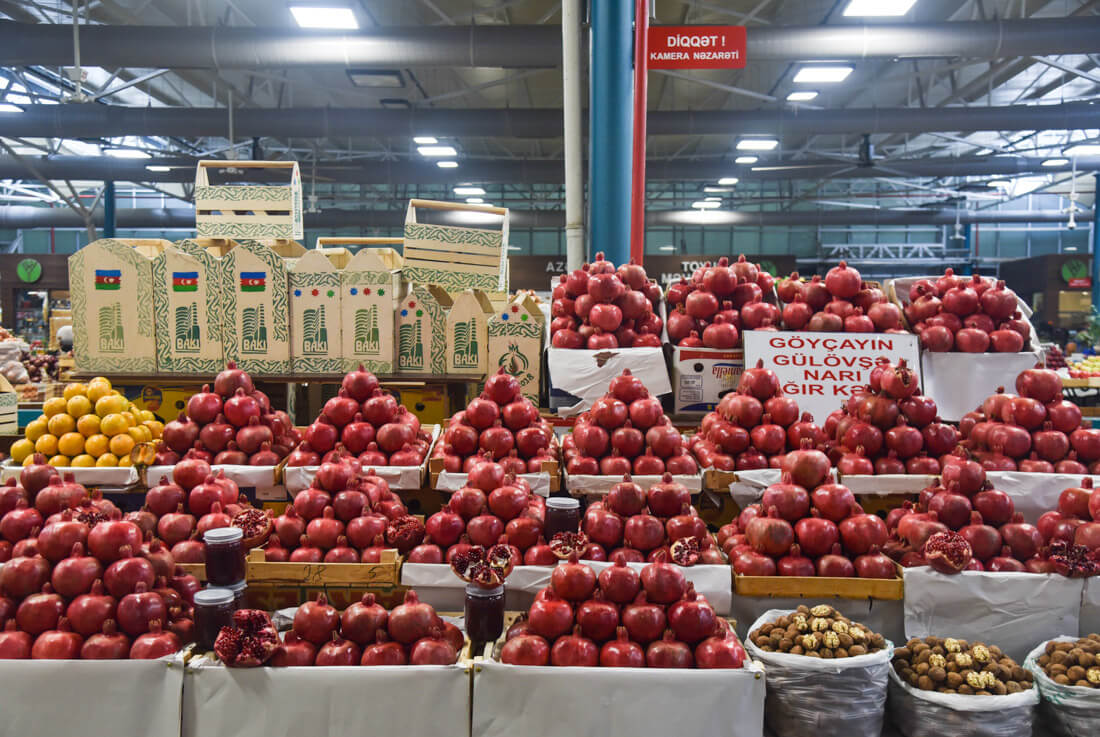 Yanar Dag (Burning Mountain)
Did you know that Azerbaijan was formerly called The Land of Fire ?
From the 12th century, tales from travelers wandering this region mentioned the existence of several magic fires found across the area.
They thought those fires were magic because they burnt continuously without any wood but, what they didn't know is that the fire was coming from natural underground gas fields.
Yanar Dag is one of those fires which is still burning, even though the fire is artificial today, as it was extinguished after they discovered an oil reserve next to it in the 19th century.
How to get there – Yanar Dag is outside of the city. To get there, you will have to catch the 147 bus from Azadliq metro station. Alternatively, you could also get there by Uber, which is easier, quicker and won't cost you much.
Fire Temple Ateshgah
In the 18th century, a merchant traveler was so fascinated by one of those flames that he decided to build a worshipping temple on it.
How to get there – The temple is very close to the airport and the 184 bus passes close to it.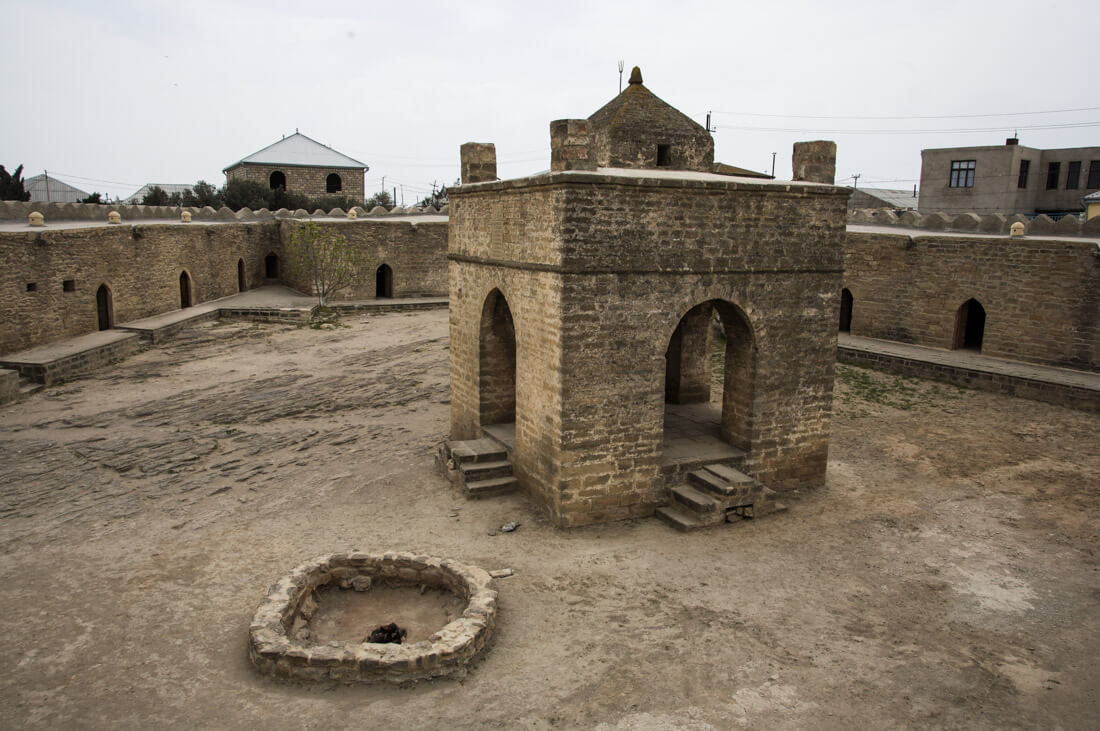 What to do in Baku on Day 3
Day trip to qobustan to see the petroglyphs and the mud volcanoes.
During the Stone Age, around 15,000 years ago, when the Caspian Sea waters were higher and the region was completely green and fertile, a bunch of hunters decided to settle in some caves in the area.
These caves were decorated with their own art style and more than 600 petroglyphs were drawn, many of them still being in very good conditions. Today, these paintings have become one of the best places to visit in Baku.
For more information, read my article about the petroglyphs of Qobustan (it includes prices and how to get there).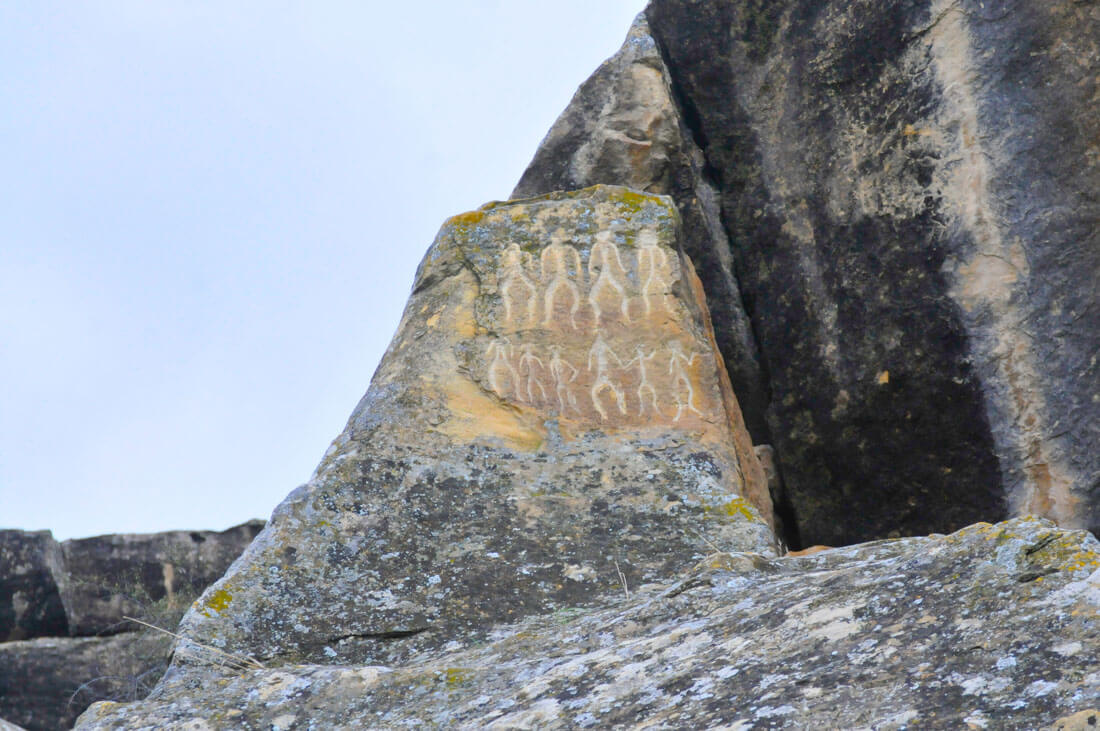 Moreover, if you are interested, you can also visit some volcanoes that expel mud , which have become a real tourist attraction. They are very close to the petroglyphs and you can only go by car.
If you want to make things easier and go with a guide, there's this tour targeting the petroglyphs + mud volcanoes + an ancient mosque from the area. I think it's worth it. CLICK HERE TO LEARN MORE ABOUT THE TOUR
Where to eat in Baku
Here are my restaurant recommendations (all places are frequented by locals).
Budget – Xezer Restaurant – Local eatery serving traditional food.
Gourmet fast food – Gourmet Pendir & Chorek – The first national fast-food chain in Azerbaijan serves good quality local sandwiches and stuff like that.
Fine dining – Sumakh – A local fancy restaurant serving high-quality food and awesome service.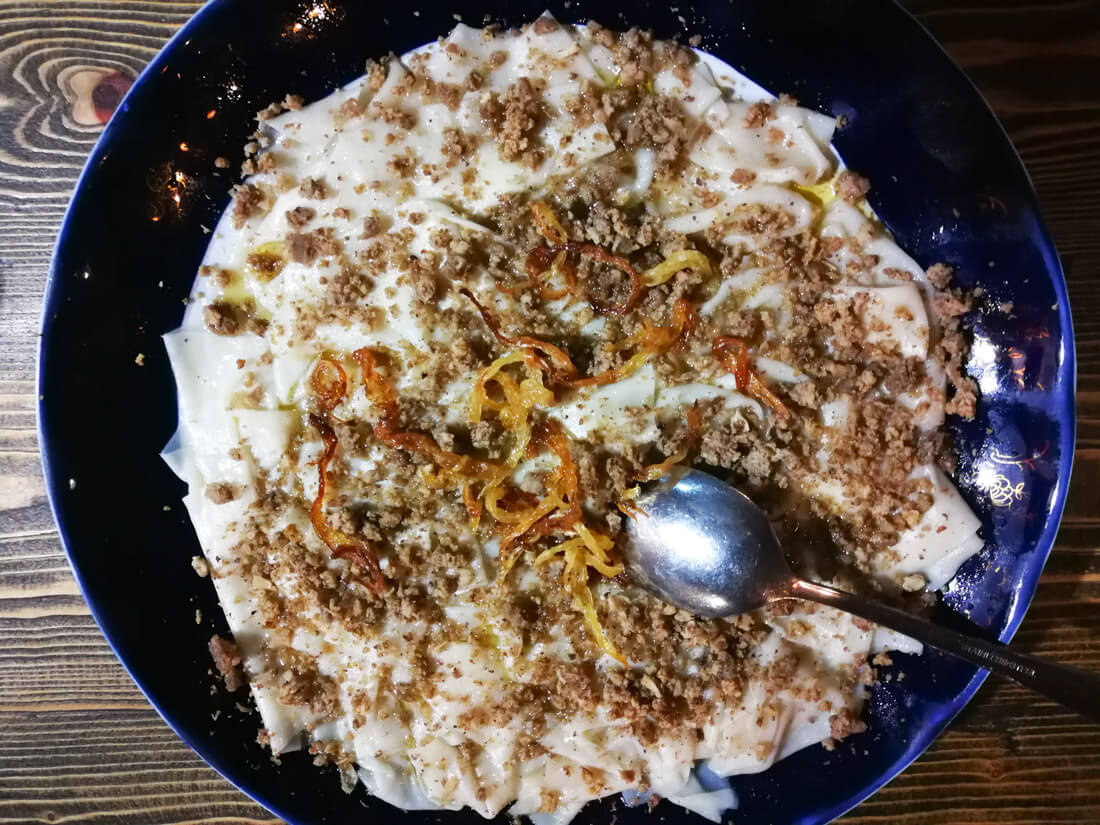 More information for visiting Baku
📢 In my Travel Resources Page you can find the list of all the sites and services I use to book hotels, tours, travel insurance and more.
Tours – Here you can see a big bunch of tours in Baku, as well as day trips from Baku.
SIM Card – You will need one, especially to move around by Uber. I recommend Azercell. You can buy a SIM Card in many mobile stores but you should go to the official store of Azercell, as you will be charged the real price. There is a big one in Fountain Square.
All guides and articles for traveling in Azerbaijan destination
Azerbaijan Travel Guide
Best Hostels in Baku
Qobustan Petroglyphs and Sovietism
Reasons to Visit Azerbaijan
Azerbaijan Itinerary
Check more city guides
Tunis Travel Guide
Asmara Travel Guide
Travel Guide to Riyadh
Muscat Travel Guide
Travel Guide to Dubai
Beirut Travel Guide
Erbil Travel Guide
Tehran Travel Guide
Travel Guide to Astana
Tashkent Travel Guide
Tbilisi Travel Guide
Travel Guide to Minsk
Kiev Travel Guide
Travel Guide to Nouakchott
These were my top recommendations for what to do in Baku. If you know of any other places to visit in Baku, kindly let us know in the comments section.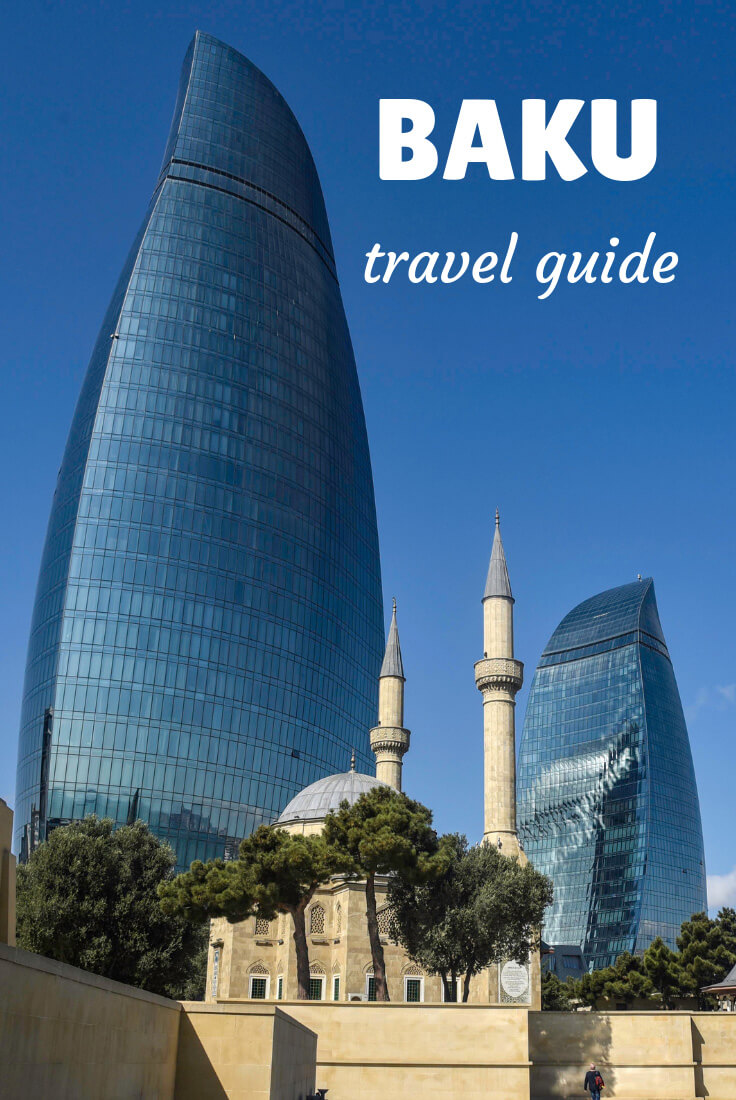 19 comments
I never went to the oil extractors and i wish i had thought about that! One thing i think you should have mentioned though is the beautiful designs of some of the metro stations 🙂
oh yes, the stations were pretty nice indeed 🙂
Hey Joan, I love this travel guide to Baku very much, very detailed, thank you 🙂 I have a question: is it safe to take photos of the petrol extractors? I mean, I am pretty sure that in some countries they would not like people to sniff around them, for several reasons. I have been living in several countries in the Arab Gulf, and I am pretty sure that you would not be allowed to take photos of them. I would not even try it! Thank you and keep up the good work!
Hey Marc, thank you for your email. You can't really compare it to the Gulf because the Gulf petrol areas are very deep into the desert and they are in restricted areas. The ones in Baku are in the suburbs of the city, some of them located right next to houses, meaning that the area is not restricted at all. Does this mean that you can take a photo of them? Well, I don't know, but I have been there twice and there wasn't official surveillance at all. I only saw a few workers roaming around who didn't really care about my presence.
I was in the oil field at Romanov, 40 minutes outside Baku a few days ago. There is surveillance and locals keeping an eye open. When we were about to leave the oil field a company car came at high speed and they men in the car screamed that taking photos was forbidden. They was quite aggressive. I had the camera under my jacket, else they probably would have demanded that I delete the photos. My Azerian father in law explained that the oil companies are concerned about making the pollution too exposed in these days of social media.
wow, thanks for sharing your experience, Michael!
Very useful information, keep up the good work ! very well done !
Hi, I am reading over and again – to prepare for our short visit coming up to Baku. Just so you know, the visa is now good for 90 days. Any thoughts on survival guide for vegetarians (no egg, fish, meat, chicken, in short no animal food of any kind) who can take milk, yoghurt?
Hi Vasu, the visa is valid for 30 days. I just re-checked the official e-visa portal and there are no changes. I think you are confused because it says that you can travel for 30 days within a 90 days period but you can't exceed those 30 days.
I am not a vegetarian, so I can't really give you many tips. They don't have a very vegan cuisine but I remember that most menus had salads and some eggplant-based dishes.
I cannot see the map for places to visit in Baku.
Maybe it is a problem of your browser
Thank u very much for valuable informatin you prensent for us.Baku,s weather,s more pleasent and mild and than dubai.Baku is the capital of Azeebayjan, İt,s people are turk, it was colonized by soviet 101 years ago, but they,re not russion. Thank u every body★)
Joan – your guide has proved very useful while I have been in Baku. Just to say that Azerbaijan appear to have got on board with 2-tier foreign tourist / local prices for their main sites: Maidens Tower and The Palace now both 15 Manat to access; Fire Temple Ateshgah 4 Manat & Yanar Dag 9 Manat. The Quobastan Petroglyphs were 10 Manat – but as the museum staff picked me up in their bus to take me to the site from Baku I am quids in on that one 😀
Hey Andrew, glad you found it useful and thanks for the price updates 🙂
Hi, iam planning to travel with Family December first week,. Can you please advise us as we want to see snow filled area. Can we have one day trip from Baku to hill stations. Thank you
Hi Yes, you can go to the area around Quba
Hi Joan, thank you for the amazing work! I am flying to Azerbaijan in a few days and your guide is of great help. I wonder if you have ever visited Sumqayit polluted areas and/or poor neighborhoods (slums) in Baku? I know that "Shangai" has been demolished but I am sure there are still deprived areas of the same kind. Any idea about that?
Hi Isabelle. I did walk through some slums (by pure coincidence) when I was walking around the TV tower, very close to it, but I don't know the name of those slums
"Wow, this guide on things to do in Baku is absolutely fantastic! I recently had the opportunity to spend 3 days in this vibrant city, and this blog provided me with an incredible list of activities and attractions to make the most of my trip. From exploring the historic Old City and its charming narrow streets to visiting the iconic Flame Towers for breathtaking panoramic views, there was never a dull moment. I especially loved indulging in the local cuisine and trying out traditional Azerbaijani dishes at the various restaurants recommended in the article. Thanks to this comprehensive guide, I had an unforgettable experience in Baku and would highly recommend it to anyone looking for an exciting destination to visit!"
Leave a Comment Cancel reply
Your email address will not be published. Required fields are marked *
Notify me when new comments are added.
Join our Expeditions
From Syria to Iraq in Pakistan, Against the Compass is finally running expeditions to the most epic and off-the-beaten-track countries.
We have scheduled expeditions for every month of the year.
Latest posts
A guide to traveling in Iraq in 2023
How to travel to Haiti (2023)
How to Travel to Libya in 2023
How to travel to Afghanistan during Taliban rule (2023)
Overlanding from Kabul to Herat via Minaret of Jam by local transportation
Uzakrota Belgrade
Uzakrota Baku
Uzakrota Global 23
OCTOBER 20, 2023
09:00 - 16:00
About uzakrota baku.
When: Oct 20, 2023
Where: Hilton Baku, Azerbaijan
Uzakrota connects the biggest companies with the brightest minds and professionals in the travel industry worldwide. One of the world's largest tourism events Uzakrota UK&Ireland, from the UK, Ireland, CIS, Balkans, Europe, and the Middle East with the participation of 5 00 tourism professionals , and 30 speakers on the 20th of October 2023 in Hilton Baku, Azerbaijan
Last year was mind blowing
Connect with like-minded industry colleagues and expand your network with other leading travel companies from all over the world.
Memories of last year
Bahruz Asgarov
Nizami Mehdiyev
Barış Öztürk
Bertan Aner
Orhan Sancar
HEAD OF INCOMING COMMITTEE
GENERAL MANAGER
Gunay Saglam
Chingiz Mursalov
DIRECTOR OF SALES
Yesim Dogukan
AREA SENIOR FIELD ACTIVATION MANAGER
Nakariakov Artemii
SALES MANAGER
Handan Bozdag Yildirim
Norlizah Jahaya
REGIONAL MANAGER
Cihan Saray
Hasan Ali Arican
Atakan Kurt
Board Member
Yucel Cakir
Bülent Biçer
Hanife Bayram
Eda Bayraktar
TOURISM DIRECTOR
Berfin Tanya Yarasir
GLOBAL SUCCESS MANAGER
Anar Zamanov
Jeyhun Ashurov
Bojan Petkovic
İbrahim Yüksel
Ruslan Guliyev
Elshad Ramazanov
Harika Kızılhan
Hakan Aksungur
Ozgur Beter
Koray Senaydin
Explore flexible pricing plans
Single day pass
Conference Booth Area
Conference 3x2m sq. Booth Event Dinner
All prices include VAT.
Our official sponsors
About venue
Hilton baku.
1B Azadlig Avenue, Baku 1000, Azerbaijan
Uzakrota Travel Summit is connecting the biggest companies with the brightest minds and professionals of the travel industry around the world.
Find Events
Let's do it together, get subscribed today. Welcome to Ugur
This is Ugur website created by Ugur. Ugur falls in LOCAL BUSINESS line of business. You can visit us offline at our office located at : Sərhədçi İdman Olimpiya Mərkəzi, Baku, Baku, Azerbaijan - 88 588 222 You can contact us by phone - *********6635 or email us on u****************@g*****.com or use the Contact Form. This is your first po...

Subscribe To Our Newsletter
This site was designed with Websites.co.in - Website Builder
Safety and Abuse Reporting
Thanks for being awesome.
We appreciate you contacting us. Our support will get back in touch with you soon!
Have a great day!
Are you sure you want to report abuse against this website?
Please note that your query will be processed only if we find it relevant. Rest all requests will be ignored. If you need help with the website, please login to your dashboard and connect to support
Uğur Otel Reserve now
Lock in a great price for Uğur Otel – rated 8.2 by recent guests!
Enter dates to get started.
How guest reviews work
Each review score is between 1 and 10. To get the overall score, we add up all the review scores and divide that total by the number of review scores we received. Guests can also give separate subscores in crucial areas, such as location, cleanliness, staff, comfort, facilities, value, and free WiFi. Guests submit their subscores and their overall scores independently – there's no direct link between them.
You can review an accommodation that you booked through our platform if you stayed there, or if you got to the property but didn't actually stay there. To edit a review you've already submitted, contact our Customer Service team.
We have people and automated systems that specialize in detecting fake reviews submitted to our platform. If we find any, we delete them and, if necessary, take action against whoever is responsible.
Anyone who spots something suspicious can always report it to our Customer Service team so that our fraud team can investigate.
Ideally, we'd publish every review we get, positive and negative. However, we won't display any reviews that include or refer to (among other things):
Politically sensitive comments
Promotional content
Illegal activities
Personal or sensitive info (e.g. emails, phone numbers, credit card info)
Swear words, sexual references, hate speech, discriminatory remarks, threats, or references to violence
Spam and fake content
Animal cruelty
Impersonation (i.e. if the writer is claiming to be someone else)
Any violation of our review guidelines.
To make sure reviews are relevant, we may only accept reviews that are submitted within 3 months of checking out. We may stop showing reviews once they're 36 months old, or if the accommodation has a change of ownership.
An accommodation can reply to a review.
When you see multiple reviews, the most recent ones will be at the top, subject to a few other factors (e.g. language, whether it's just a rating or contains comments as well, etc.). You can sort and/or filter them by time of year, review score, and more.
Sometimes we show external review scores from other well-known travel websites, but make it clear when we do this.
Guidelines and Standards for Reviews
These guidelines and standards aim to keep the content on Booking.com relevant and family-friendly, without limiting expression or strong opinions. They're also applicable regardless of the comment's tone.
Contributions should be travel related. The most helpful contributions are detailed and help others make better decisions. Please don't include personal, political, ethical, or religious commentary. Promotional content will be removed and issues concerning Booking.com's services should be routed to our Customer Service or Accommodation Service teams.
Contributions should be appropriate for a global audience. Please avoid using profanity or attempts to approximate profanity with creative spelling, in any language. Comments and media that include hate speech, discriminatory remarks, threats, sexually explicit remarks, violence, or the promotion of illegal activity are not permitted.
All content should be genuine and unique to the guest. Reviews are most valuable when they are original and unbiased. Your contribution should be yours. Booking.com property partners should not post on behalf of guests or offer incentives in exchange for reviews. Attempts to bring down the rating of a competitor by submitting a negative review will not be tolerated.
Respect the privacy of others. Booking.com will make an effort to obscure email addresses, telephone numbers, website addresses, social media accounts, and other similar details.
The opinions expressed in contributions are those of Booking.com customers and properties, and not of Booking.com. Booking.com does not accept responsibility or liability for any reviews or responses. Booking.com is a distributor (without any obligation to verify) and not a publisher of these comments and responses.
By default, reviews are sorted based on the date of the review and on additional criteria to display the most relevant reviews, including but not limited to: your language, reviews with text, and non-anonymous reviews. Additional sorting options might be available (by type of traveler, by score, etc...).
Translations disclaimer
This service may contain translations powered by Google. Google disclaims all warranties related to the translations, express or implied, including any warranties of accuracy, reliability, and any implied warranties of merchantability, fitness for a particular purpose, and non-infringement.
Wonderful: 9+
Good: 7 – 9
Fair: 5 – 7
Poor: 3 – 5
Very Poor: 1 – 3
Categories:
There was a problem loading the reviews. Try again
Families (19)
Couples (25)
Groups of friends (7)
Solo travelers (6)
Business travelers (1)
Wonderful: 9+ (35)
Good: 7 – 9 (22)
Fair: 5 – 7 (8)
Poor: 3 – 5 (1)
Very Poor: 1 – 3 (1)

Mar–May
Jun–Aug
Sep–Nov
Dec–Feb
Featuring a garden, Uğur Otel is located in Kaş in the Mediterranean Region Turkey region, a 8-minute walk from Little pebble Beach and one mile from Big pebble Beach. The property is around 20 miles from Kekova Sunken City, 27 miles from Myra Rock Tombs and 28 miles from Saint Nicholas Church. The property provides a 24-hour front desk, airport transportation, a shared lounge and free WiFi throughout the property. At the hotel, rooms come with a closet. Every room has air conditioning, a desk and a flat-screen TV, and certain units at Uğur Otel have a balcony. At the accommodation rooms are equipped with bed linen and towels. Guests at Uğur Otel can enjoy a halal breakfast. Popular points of interest near the hotel include Ince Bogaz Cinar Beach, Lycian Rock Cemetery and Kas Bus Station. The nearest airport is Kastellorizo Airport, 6.8 miles from Uğur Otel.
Couples in particular like the location – they rated it 9.5 for a two-person trip.
Distance in property description is calculated using © OpenStreetMap
Family rooms
Airport shuttle
Non-smoking rooms
Property Highlights
Located in the best-rated area in Kaş, this hotel has an excellent location score of 9.5
Breakfast Info
Saved to 605 lists
Availability
Select dates to see this property's availability and prices
See what guests loved the most:
Property questions and answers
Hotel area info, amenities of uğur otel great facilities review score, 8.1.
Toilet paper
Bathtub or shower
Wardrobe or closet
Extra long beds (> 6.5 ft)
Drying rack for clothing
Clothes rack
Flat-screen TV
Cable channels
Satellite channels
Shared lounge/TV area
Suit press Additional charge
Fax/Photocopying
Ironing service Additional charge
Laundry Additional charge
Airport shuttle Additional charge
24-hour front desk
Meeting/Banquet facilities Additional charge
Designated smoking area
Air conditioning
Smoke-free property
Hardwood or parquet floors
Ironing facilities
See availability House rules
From 2:00 PM
Until 12:00 PM
Cancellation/ prepayment
Cancellation and prepayment policies vary according to accommodations type. Please enter the dates of your stay and check what conditions apply to your preferred room.
Children & Beds
Child policies
Children of all ages are welcome.
Children 18 and above are considered adults at this property.
To see correct prices and occupancy info, add the number and ages of children in your group to your search.
Crib and extra bed policies
Cribs and extra beds aren't available at this property.
No age restriction
There's no age requirement for check-in
Pets are not allowed.
Accepted payment methods
Cash Debit card Uğur Otel accepts these cards and reserves the right to temporarily hold an amount prior to arrival.
Uğur Otel accepts these cards and reserves the right to temporarily hold an amount prior to arrival.
See availability The fine print
Faqs about uğur otel, how far is uğur otel from the center of kaş.
Uğur Otel is 650 feet from the center of Kaş. All distances are measured in straight lines. Actual travel distances may vary.
How much does it cost to stay at Uğur Otel?
The prices at Uğur Otel may vary depending on your stay (e.g. dates, hotel's policy etc.). To see prices, enter your dates.
What are the check-in and check-out times at Uğur Otel?
Check-in at Uğur Otel is from 2:00 PM, and check-out is until 12:00 PM.
What type of room can I book at Uğur Otel?
What is there to do at uğur otel, the best of kaş.
Kaputas Beach
Small Pebble Beach
Big Pebble Beach
Kas Bus Station
Kas Lions Tomb
Kas State Hospital
Monastery of Saint George
Cathedral of St. Constantine and St.Helen
Kas Yacht Marina
Kas New Yacht Marine
Palaiokastro
Kas Ataturk Statue
Hellenistic Theatre
Myra Rock Tombs
Archaeological Museum of Megisti
Popular Areas
Megisti Port
Bezirgan Plateau
Shopping Areas
Kas Bazaar Market
Kas Hellenistic Theatre
Most Popular Cities

Save time, save money!
Error: Please enter a valid email address.
Error: Oops! An error has occurred.
Thanks! We've sent you an email so you can confirm your subscription
Personalized recommendations
We provide personalized recommendations based on your activity on our platform. If you prefer, you can opt out of this option. Opting-out only affects your current device. Adjust this setting to your preference on other devices as well.
Verified reviews from real guests.
We have more than 70 million property reviews, all from real, verified guests .
How does it work?
It starts with a booking.
The only way to leave a review is to first make a booking. That's how we know our reviews come from real guests who have stayed at the property.
Followed by a trip
When guests stay at the property, they check out how quiet the room is, how friendly the staff is, and more.
And finally, a review
After their trip, guests tell us about their stay. We check for naughty words and verify the authenticity of all guest reviews before adding them to our site.
If you booked through us and want to leave a review, please sign in first.
Check-in date
Check-out date
Save big in Kaş
Get exclusive Booker deals by email
For a limited time only
Awesome! You're now subscribed