30% off bundles
50% off select items
10% off everything else
Your cart is empty
Travel Jewelry box
Inventory on the way
Free shipping
Free returns
2 years warranty
This small travel box has multiple compartments and a pouch pocket for all your jewelry – plus watches and other tiny cute things. For looking good in every picture from the trip.
SKU DW99500072
Color Black
Selected products purchased from our website during the Black Friday and Holiday Campaign can be returned until January 17, 2024. Please take note that the return policy reverts to 30 days for orders placed on December 17, 2023 onwards.
We offer free returns on all our products, except earrings which cannot be returned or exchanged unless faulty. With the exception of earrings, You have the right to return any/all products you have purchased directly from our website within 30 days of receiving the item.
In the event you would like to return your purchase, all items need to be returned if you ordered a gift set.
Please note that "Complimentary" items (or any free product received as part of a promotional offer) are not eligible to be exchanged and must be returned along with the other items in your order if you are returning your order for a refund. However, gift wrapping included in a purchase during a campaign does not have to be returned.
The campaign offer is based on the original purchase. In case of a return where you no longer fulfil the criteria for the campaign offer, the refunded or charged amount will be adjusted accordingly.
For Iconic Link Watch, kindly note that after the watch has been adjusted to fit your wrist, the warranty is still valid but you cannot return the watch.
Read more in our Refund policy
Similar collection
Gifts under 100
Gifts under 80
1 - 2 business days
Home delivery
Recently viewed products
Continue where you left off
JOIN THE DW MOVEMENT AND ENJOY 10% OFF YOUR FIRST ORDER
Be the first to hear about exclusive offers, special editions, and new launches from the Daniel Wellington community. Sign up today, and you'll receive 10% off your first order.
By signing up, I confirm that I'm 16 years or older, that I want to receive personalised marketing by email and that I have read and understood Daniel Wellington's Privacy Policy .
Choosing a selection results in a full page refresh.
Hello, Hej, Ciao
Choose your location
Notice that shipping options, pricing, payment methods, currencies, languages and inventory availabilty may vary between stores.
Trending now
New In Accessories
All Christmas Gifts
Jewellery Advent Calendar
Olly's Picks
Christmas Cards
Christmas Gifts for Her
Christmas Gifts for Him
Secret Santa Gifts
Stocking Fillers
Advent Calendar Fillers
Jewellery Gifts
Beauty Gifts
Fashion Gifts
Alphabet Gifts
Christmas Decorations
Christmas Tree Decorations
Christmas Tableware
Christmas Glasses
Christmas Candles & Holders
Gifts by recipient
Gifts for Friends
Gifts for Mum
Gifts for Sisters
Gifts for Dad
Gifts for Couples
Gifts for Pets
Shop All New In
New Season Edit
The Party Edit
Most Wanted
New In Gifts
New In Bags
New In Beauty
New In Furniture
All Homeware
Candle Holders
Mix & Match Lighting
Lamp Shades
Table Lamps
Floor Lamps
Home Accessories
Photo Frames
Gluggle Jugs
Pet Accessories
Kitchen & Dining
Mugs & Cups
Bar Accessories
Soft Furnishings
Throws & Blankets
Storage & Organisation
Jewellery Boxes
Shop All Clothing
Last Chance
OB Pre-loved
All Clothing
Midi Dresses
Mini Dresses
Floral Dresses
Jumper Dresses
Long Sleeve Tops
Wedding Guest Outfits
Coats & Jackets
Pyjamas & Nightwear
Shop All Jewellery
Mikaela Lyons x Oliver Bonas
Bestsellers
Gold Earrings
Silver Earrings
Stud Earrings
Hoop Earrings
Huggie Earrings
Drop Earrings
Pearl Earrings
Stacking Sets
Gold Bracelets
Silver Bracelets
Gold Necklaces
Silver Necklaces
Pearl Necklaces
Pendant Necklaces
Chain Necklaces
Layered Necklaces
Statement Necklaces
Silver Rings
Gemstone Rings
Gold Jewellery
Silver Jewellery
Pearl Jewellery
Gemstone Jewellery
Jewellery Storage
Jewellery Stands
Ring Holders
Jewellery Gift Boxes
Everyday Jewellery
Jewellery Inspiration
Mikaela Lyons jewellery collaboration
How to curate your earscape
A guide to jewellery gifts
Explore more inspiration
Shop All Accessories
Winter Warmers
All Accessories
Cross Body Bags
Weekend Bags
Clutch Bags
Shoe Brands
Hair Accessories
Hair Clips & Slides
Small Accessories
Card Holders
Socks & Tights
Shop All Gifts
All Greetings Cards
Gift Bags & Tags
Gifts by Recipient
Gifts for Her
Gifts for Him
Gifts by Occasion
Birthday Gifts
Engagement Gifts
Wedding Gifts
Anniversary Gifts
Housewarming Gifts
Gifts for New Mums
Leaving Gifts
Christmas Gifts
Unusual Gifts
Shop All Furniture
Available Now
Made to Order Furniture
Fabric Swatches
All Furniture
Accent Chairs
Bedside Tables
Side Tables
Desks & Console Tables
Dressing Tables
Storage Furniture
Cabinets & Sideboards
Chests of Drawers
Drinks Trolleys
Shop All Beauty
Shop All Wellness
Bath & Body
Makeup Bags
Sleep & Relaxation
Floral Street
Dr. Paw Paw
Coco & Eve
Sale Clothing
Sale Knitwear
Sale Dresses
Sale Trousers
Sale Skirts
Sale Jewellery
Sale Earrings
Sale Necklaces
Sale Bracelets
Sale Accessories
Sale Scarves
Sale Hair Accessories
Sale Homeware
Sale Tableware
Sale Candles & Diffusers
Sale Beauty
Sustainability
Our Materials
Operations, Packaging & Waste
Our Suppliers & Ethical Trade
Global Initiatives & Partners
Animal Welfare
Make It Last
Fashion Care & Repair Hub
Homeware Care & Repair Hub
OB x Reskinned
OB x British Heart Foundation
Inspiration
Expressions Of
Your bag is empty
Travel Jewellery Boxes
The Christmas Edit
Gifts under £10
Gifts under £20
Gifts under £30
Gifts under £5
Shop All Homeware
Kitchen Textiles
Behind the design: the Ocelot print
All Knitwear
High Neck Jumpers
Sweatshirts
Shop All Bags
Shoulder Bags
Gifts by Category
Greetings Cards
All Lighting
Glass Table Lamps
Ceramic Table Lamps
Light Bulbs
Made to Order
Chest of Drawers
Shop by material
All Earrings
Statement Earrings
Chain Earrings
All Necklaces
Drop Necklaces
All Bracelets
Gold Bangles
Silver Bangles
Charm Bracelets
Chain Bracelets
Stacking Bracelets
Everyday Earrings
Everyday Necklaces
Everyday Bracelets
All Everyday Jewellery
All Jewellery Storage
Boucle Furniture
Velvet Furniture
Marble Furniture
Wood Furniture
Metal Furniture
Rattan Furniture
Blue (1)
Green (5)
Orange (2)
Purple (1)
Home (5)
Beauty (4)
Jewellery Storage (1)
Makeup Bags & Wash Bags (3)
Travel Accessories (5)
S (1)
Extra small (1)
Free Shipping within Canada. Flat fee worldwide.
Item added to your cart
Collection: travel jewellery boxes, medium travel jewellery box, medium travel jewellery box in sage green.
(1) 1 total reviews
Medium Travel Jewellery Box in Black
Medium travel jewellery box in dusky blue, medium travel jewellery box in taupe, medium travel jewellery box in oatmeal, medium travel jewellery box in lavender, medium travel jewellery box in blush pink, medium travel jewellery box in pebble grey, travel jewellery roll, travel jewellery roll in sage green, travel jewellery roll in oatmeal, travel jewellery roll in pebble grey, travel jewellery roll in taupe, travel jewellery roll in blush pink, travel jewellery roll in lavender, travel jewellery roll in pebble navy, travel jewellery roll in white, watch box in navy, watch box in slate grey, oval travel jewellery box, oval travel jewellery box in sage green.
(2) 2 total reviews
Oval Travel Jewellery Box in Lavender
Petite travel jewellery box, jewellery & accessories box, jewellery & accessories box in sage green, jewellery & accessories box in pebble grey, jewellery & accessories box in lavender, large travel jewellery box, large travel jewellery box in dusky blue, large travel jewellery box in blush pink, large travel jewellery box in taupe, large travel jewellery box in oatmeal, large travel jewellery box in black, large travel jewellery box in sage green, sleek necklace travel jewellery box, sleek necklace travel jewellery box in dusky blue, sleek necklace travel jewellery box in taupe, build a jewellery box, classic jewellery box lid, classic necklace layer, classic statement layer, classic trinket layer, classic ring & bracelet layer, classic watch & accessory layer, classic chunky jewellery layer, classic acrylic lid, supersize jewellery box lid, supersize watch & accessory layer, classic glasses & accessory layer.
(3) 3 total reviews
Supersize Trinket Layer
Grey velvet bracelet/watch pad, supersize necklace layer, travel with us, large hanging washbag, small hanging washbag, luggage tag, compact cable tidy, wraparound makeup bag, double watch wrap, passport sleeve, unlock the secret to beautifully organized living.
Subscribe to Stackers Canada's emails today and be the first to discover our latest products, exclusive offers, and expert tips for a more organized and stylish life.
Choosing a selection results in a full page refresh.
Opens in a new window.
We use cookies that are essential for our website to work. We would also like to set some additional cookies to enhance your shopping experience and for ad personalisation.

free delivery when you spend £20 & free returns
next day delivery get it tomorrow order in 2 hours
weekend delivery get it on saturday or sunday

Shop by Category
Advent Calendars
Festive Food & Drink Christmas Glasses & Barware Christmas Hampers Christmas Food Gifts Christmas Cocktail Kits Christmas Alcohol Gifts View All
Christmas Gifts Christmas Jellycat Personalised Christmas Gifts Christmas Dried Flowers Gifts for Friends Secret Santa Gifts Stocking Fillers Christmas Eve Boxes Christmas Gifts For Teens Gifts for Her Gifts for Him Gifts for Kids Gifts for Mum Gifts For Grandad Gifts for Dad Gifts for Sisters Gifts for Grandma Gifts for Partners Gifts for Couples Local & Independent Gifts Top 20 Christmas Gifts View All
Christmas Decorations Christmas Dried Flowers Christmas Tree Decorations Baubles Christmas Wreaths Christmas Lighting Christmas Ornaments and Accessories Christmas Table Decorations Personalised Decorations Christmas Candles & Holders View All
Christmas Cards & Wrap
Christmas Gift Finder
Shop By Category
View All Personalised
Accessories
Bracelets Bangles Bar Bracelets Beaded Bracelets Charm Bracelets Friendship Bracelets Handmade Bracelets Heart Bracelets Initial Bracelets Name Bracelets Pearl Bracelets Sterling Silver Bracelets View All
Necklaces Bar Necklaces Beaded Necklaces Family Necklaces Heart Necklaces Initial Necklaces Layered Necklaces Long Necklaces Name Necklaces Pendant Necklaces Statement Necklaces Sterling Silver Necklaces View All
Earrings Drop Earrings Ear Cuffs Hoop Earrings Huggie Hoop Earrings Hypoallergenic Earrings Statement Earrings Sterling Silver Earrings Stud Earrings View All
Rings Adjustable Rings Everyday Rings Statement Rings Sterling Silver Rings View All
Charms, Chains & Pins
Jewellery Storage Jewellery Boxes Jewellery Stands Ring Holders Travel Jewellery Cases View All
Children's Jewellery
Men's Jewellery Cufflinks Men's Bracelets Men's Necklaces View All
Shop By Collection
Personalised Jewellery Personalised Bracelets & Bangles Personalised Friendship Bracelets Personalised Necklaces View All
Fine Luxury Jewellery
Sterling Silver Jewellery
Silver Jewellery
Gold Jewellery
Rose Gold Jewellery
Shop By Brand
Estella Bartlett
View All Brands
Jewellery Edits
Party Jewellery
Bar Jewellery
Mixed Metals
Statement Jewellery
Organic Styling
Vintage Inspired
Animal Jewellery
Acrylic Jewellery
Holiday Accessories
Bags & Purses Clutch Bags Handbags Lunch Bags Makeup & Wash Bags Mini Bags Totes & Shopper Bags Weekend Bags Disaster Designs Bags View All
Scarves Map Scarves Patterned Scarves Summer Scarves Winter Scarves View All
Travel Accessories
Beauty & Compact Mirrors
Clothing & Loungewear
Hair Accessories
Phone Accessories
Hats & Gloves
Men's Accessories
Personalised Accessories
House of Disaster
Lisa Angel Accessories
View All Homeware
Bunting & Garlands
Candles & Holders
Storage Solutions
Home Accessories
Wall Art & Prints
Cushions & Soft Toys
Kitchenware
Photo Frames
Vases & Planters
Dried Flowers
Mugs & Cups
Glasses & Barware
Books & Stationery
Glass Domes
Gadgets & Games
Shop By Room
Living Room
Children's Bedroom
Outdoor Living
Party Decorations
Lisa Angel Homeware
Sass & Belle
Homeware Edits
Indoor Entertaining
Metallic Home
Minimalist Home
Personalised Homeware
Shop By Recipient
Gifts for Her Gifts For Grandma Gifts For Mum Gifts For Wife Gifts For Girlfriend View All
Gifts for Men Gifts for Boyfriends Gifts for Dad Gifts for Grandad Gifts for Husbands View All
Gifts For Friends
Gifts For Sisters
Gifts For Kids
Gifts For Teenagers
Gifts For Parents
Gifts For Grandparents
Gifts For Couples
Gifts For Families
Gifts For Teachers
Shop By Occasion
Christening Gifts
Wedding Gifts
Engagement Gifts
Housewarming Gifts
Graduation Gifts
Thank You Gifts
Birthday Gifts April Birthday Gifts Birthday Gifts For Her Birthday Gifts For Him February Birthday Gifts January Birthday Gifts March Birthday Gifts May Birthday Gifts 1st Birthday Gifts 16th Birthday Gifts 18th Birthday Gifts 21st Birthday Gifts 30th Birthday Gifts 40th Birthday Gifts 50th Birthday Gifts 60th Birthday Gifts View All
Gifts Under £10
Gifts Under £20
Gifts Under £30
Anniversary Gifts Anniversary Gifts For Couples Anniversary Gifts For Her Anniversary Gifts For Him View All
Personalised Gifts Personalised Gifts For Couples Personalised Gifts For Families Personalised Gifts For Friends Personalised Gifts For Grandparents Personalised Gifts For Her Personalised Gifts For Him Personalised Gifts For Kids Personalised Gifts For Teachers Personalised Gifts For Teenagers Personalised Anniversary Gifts Personalised Birthday Gifts Personalised Engagement Gifts Personalised Graduation Gifts Personalised Housewarming Gifts Personalised Thank You Gifts Personalised Christening Gifts Personalised Food & Drink Gifts Personalised Gift Hampers Personalised Homeware Gifts Personalised Jewellery Gifts Personalised Vegan Gifts View All
Gift Hampers
Homeware Gifts
Letterbox Gifts
Jewellery Gifts
Greetings Cards Anniversary Cards Birthday Cards Thank You Cards Wedding Cards View All
Vegan Gifts
Alcohol Gifts
Food & Drink Gifts
Gift Vouchers
Thinking of You Gifts
Accessory Gifts
Shop By Interest
Made in the UK
Dinosaur Gifts
Gadget Gifts
Gifts For Travellers
Animal Gifts
Romantic Gifts
Stylish Gifts
Birth Flower Gifts
Travel Jewellery Cases
Weekend away? Our covetable collection of travel jewellery cases have been designed with your needs in mind, and are as pretty as they are practical. These mini jewellery boxes for on-the-go storage come in a range of flattering shades and open to reveal ring rolls, compartments, and hidden pockets for your delicate jewellery pieces. Safe, secure, and tangle free, your necklaces and bracelets will sit alongside your rings and earrings, ready for you to wear whether you are at home, or away. Best of all, our Lisa Angel in-house designed vegan leather travel boxes can be personalised with your very own wording, whether it's a name, quote or simply an initial, to really make your travel jewellery box truly unique.
Birthday Gifts
Gifts for Her
Gifts for Men
Holiday Shop
Jewellery Storage
Personalised Gifts
Valentine's Gifts for Friends
Valentine's Gifts for Her
Valentine's Gifts for Him
jewellery boxes
jewellery cases
jewellery wallets
ring holders
textile film
birth flowers
Lisa Angel Accessories Collection
Lisa Angel Homeware Collection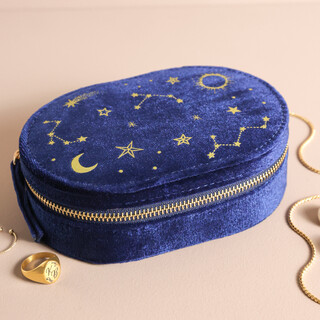 the lisa angel story
store locator
student discount
delivery information
newsletter signup
hallmarking information
privacy policy
cookie policy
terms & conditions
send a message
(+44) 01603 859111

DK kr NOK kr SEK kr EUR €
Norsk (bokmål)
Get free travel jewelry box · See here >>
All jewelry
Men's jewelry
One of a Kind
Oxidized silver
Wedding rings for her
Wedding jewelry for her
Travel jewelery box
Jewelry box
Dulong Notebbok
Royal Rubies
The story behind Dulong
Flagship Stores
Diamond guide
Pearl guide
Dulong Travel Jewelry Box
Dulong Travel Jewelry Box is backordered and will ship as soon as it is back in stock.
PAYMENT & SECURITY
You can choose to pay with Dankort, Visa, Visa Electron, MasterCard, Maestro, JCB, American Express, Google Pay, Shop pay, Mobilepay, Klarna, and Paypal. Dulong Fine Jewelry is approved by PBS to handle all the payment cards and forms of payment listed above.
Dulong Fine Jewelry encrypts all your card information with the so-called SSL (Secure Socket Layer) protocol. This means that unauthorized persons cannot read your card number or other information during the transaction with PBS. The amount for the jewelry or product is deducted only when your order is shipped from Dulong Fine Jewelry. No amount greater than what you have approved at the time of purchase can be deducted.
You have the option to reject a payment when you receive your payment statement. If your card is misused in a web shop that uses SSL in its payment system, you pay no deductible.
The delivery time is usually 1–2 working days for jewelry and products we have in stock. Any longer delivery times will be communicated to you by e-mail or phone immediately after your order has been processed. You can choose to pick up your order yourself in our stores. Just choose "pick up" as the delivery alternative at checkout, and then choose the store where you want to pick up your order. You'll receive an e-mail when your order is ready for you to pick up. 
Shipments to Denmark: Free delivery. Shipments within the EU: Free delivery. Shipments outside the EU: DKK 150
Quick links
Terms and contidions
Privacy Policy
Do not sell my personal information
Ny Østergade 10 1101 Copenhagen K Tel. +45 3373 1240 [email protected]
Monday – Friday: 10.00-18.00 Saturday: 10.00-16.00 Sunday: By appointment only
Lyngby Storcenter 1, st. 50 2800 Kongens Lyngby Tel. +45 3316 1240 [email protected]
Monday – Friday: 10.00-19.00 Saturday – Sunday: 10.00-17.00
Get news and inspiration from our jewelry universe in your inbox.
Sign up for the newsletter, and participate in the draw for an exclusive Dulong Jewelry Box, valued at EUR 170. We draw a lucky winner every month.
Save up to $100 on suitcase sets. Shop now
Go chrome for the holidays. Shop the Holiday Collection
Order tracking
Make an exchange
Make a return
Warranty & repairs
Boston: Newbury
Boston: Seaport
LA: Venice Beach
LA: West Hollywood
NYC: Williamsburg
San Francisco
Washington DC
New arrivals
Shop all suitcases
Compare Carry-Ons
Compare checked
Save on suitcase sets
It's Magenta season
The Holiday Collection
Shop all bags
Crossbodies
Extended stays
Attachable sleeve
Personal item
Laptop friendly
Shop all accessories
Packing organizers
Toiletry bags
Tech organizers
In-flight essentials
Small leather goods
Tags & charms
Best sellers
Corporate gifting
Shop by size
Shop by collection, shop by category, shop by features.
You might also like
keyboard_backspace Rings
keyboard_backspace Necklaces
keyboard_backspace Earrings
keyboard_backspace Bracelets
keyboard_backspace Sobre Nosotros
Travel jewelry box JOYERO4
Mínimo 35€ de pedido y dos artículos para obtener este packaging
Travel jewelry box to protect your anartxy pieces. Made of textile and imitation leather, it is very practical and comfortable to store many pieces in very little space. Available in turquoise combined with yellow or fuchsia.
Deliveries 3 to 7 days international shipments, outside Europe .
If you are not satisfied you can make any return or exchange within 30 days of receipt + info
You might also like
Travel jeweler
Jewellery gift box, jewelery bag joyero5, 20 other products in the same category:, lightning pin com010, girl pendant med004, multifunction chain com028, skull pin com009, anartxy freshener, flower brooch com031, pet pendant med005, multifunction chain com023, chain extender ext1, crystal multifunction chain com027, zircon pin com013, mask chain com005, star pin com012, multifunction chain com022, geometric brooch com030, mask chain com001, star pin com008, mask chain com003.
Save products on your wishlist to buy them later or share with your friends.
We use own and third party cookies for a better experience when visiting the web. You can read our privacy policy (RGPD) and the cookies policy, and change the configuration if you wish by pressing here .