Touropia Travel Experts
Tours & Top Tens
12 Best Things to Do in Puebla City, Mexico
Last updated on October 2, 2023 by Lauren Bailey - Leave a Comment
Puebla City in Central Mexico is probably one of Mexico's most underrated cities. It may only be the fourth largest in the country, but its decadent cuisine, iconic Talavera pottery, and fascinating mix of Baroque, Renaissance, and Classic architecture make it well worth the journey.
Tucked within the mountain-and-volcano-clad Valley of Cuetlaxcoapan, Puebla is dubbed the 'cradle of Mexican Baroque'. One of the best things to do in Puebla City is to visit its many religious and historical wonders from monasteries and mansions to museums and art galleries. In fact, it's believed to have as many as 365 churches – one to mark every day of the year!
In this post, we'll cover:
12. Volcan el Cuexcomate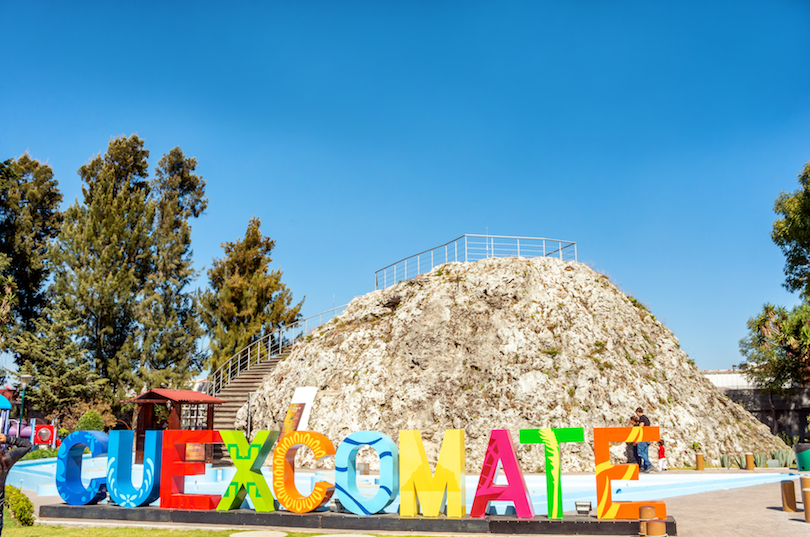 Volcan el Cuexcomate (the Cuexcomate Volcano) is the smallest volcano on Earth, despite not technically being classified as a volcano. Located in the neighborhood of Libertad, it's actually an inactive geyser with an interior that can be explored via a metal staircase.
According to local legend, Cuexcomate is believed to be the love child of two volcanoes: the Iztaccihuatl and the Popocatepetl volcano. As far as history goes, though, it was actually formed as a result of the buildup of hydrogen sulfide after the Popocatepetl Volcano erupted back in 1064.
Back in its hey-day, the geyser was used as a place to dispose of the city's trash and the bodies of people who had committed suicide, as they weren't considered worthy of an appropriate burial.
11. Museo Internacional del Barroco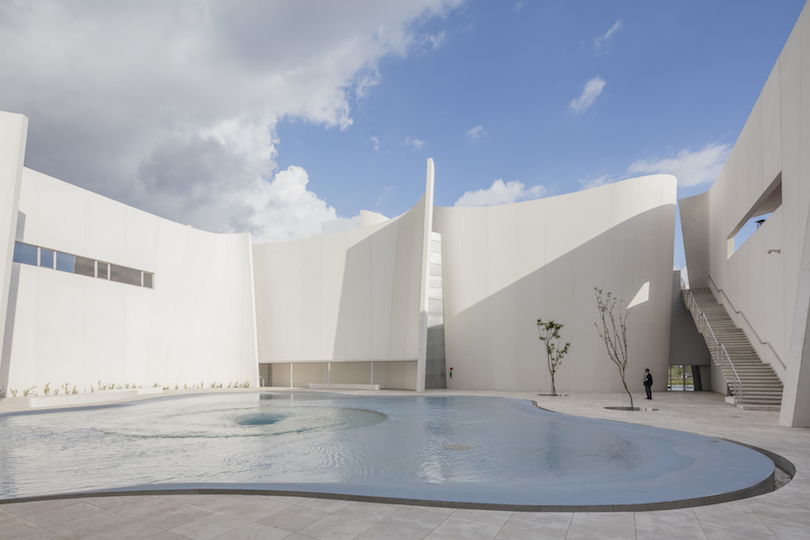 The Museo Internacional del Barroco (the International Museum of the Baroque) is a peculiar-shaped museum dedicated to all that is Baroque art. Designed by Toyo Ito, a Japanese architect, to be earthquake resistant, it's characterized by walls of concrete, glass, reflective pools, and plenty of natural light.
The Baroque style was popular between 1598 and 1752, and the museum showcases all the features of this unusual period through artwork, theater shows, literature, traditional costumes, music, and dance.
Opened in 2016, the Museo Internacional del Barroco is still fairly new. You can spend hours browsing the many exhibitions, both temporary and permanent, with everything from paintings and sculptures, to installations and interactive displays that tell the tales of the Baroque era.
10. Africam Safari
Africam Safari is a safari park on the outskirts of Puebla City. Opened to the public in 1972, it was initially the private animal farm of Captain Carlos Camacho Espíritu, a famous Mexican businessman. It was named after a combination of his surname and Africa, where most of the animals originally came from.
Today, the safari park boasts a variety of different ecosystems and natural habitats where the animals can roam freely. About 2,500 animals of 350 different species call the park home, including giraffes, Asian water buffalo, African elephants, white rhinoceros, American black bear, and Nubian ibex – to name just a few.
Don't miss the Adventure Zone – a car-free area where visitors can explore a butterfly park, a herpetarium, an insectarium, a botanical garden, as well as kangaroo and bat exhibits. Other highlights of the park include bird shows, a zip line, and the Nocturnal Safari, where you can explore the park at night when the animals are most active.
9. Estrella de Puebla
The Estrella de Puebla (the Star of Puebla) is Mexico's alternative to the United Kingdom's London Eye. This massive observation wheel offers some of the best views over Puebla City with its 30-minute rotation.
Once the largest observation wheel in the world at the time it was built, the Estrella de Puebla remains the tallest of its kind in Latin America. It runs every day of the week but is especially spectacular at night when the city is lit up beneath you. A full rotation lasts half an hour and is a great way to see the city's famous landmarks and volcanoes.
Inside the Linear Park complex that houses the Star of Puebla, you'll also find the Art Park, the Metropolitan Park, and the Atoyac River Walk.
8. Cantona Ruins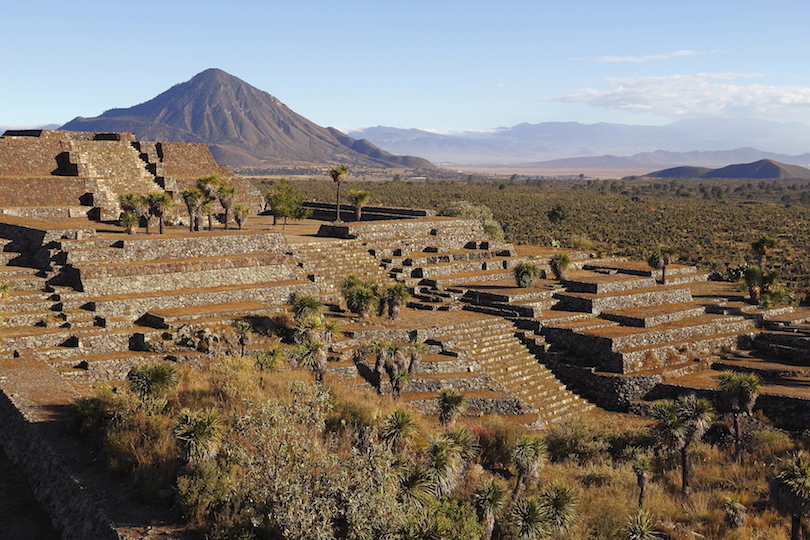 The Cantona ruins are a Mesoamerican archaeological site located around an hour's drive from Puebla, Mexico. While excavations have begun, it's believed that less than 10% of the original ancient city can be seen today – from cobblestone causeways, patios, and private residences to ball courts, temples, and an acropolis.
During its hey-day, Cantona was a walled city on a prominent trading route between the Gulf Coast and the Central Highlands. Spread across three separate sections, it was considered one of the largest and most modern cities in pre-Hispanic times during its prime.
The town was at its busiest between 600 and 1,000 CE. It was then abandoned after 1,050 AD. Cantona highlights include the Earth Fertility Plaza and the on-site museum.
7. Church of Santo Domingo
The Church of Santo Domingo, now known as the Kewa Puebla, is a historic mission church in Puebla. First built back in 1607, the church was initially destroyed by locals as a sign of rebellion during the Spanish invasion. It was then rebuilt by Fray Antonio Zamora in the 1700s but destroyed again by floods.
Santo Domingo went ten years without a church in the town; the current-day Santo Domingo Church was only rebuilt in 1886 and designed in the same style as the original church. Visitors can now explore the interior of the historic church when they visit Kewa Puebla. Don't miss the arts and crafts fair held over Labour Day and the various festivities held over Christmas.
6. Fuertes de Loreto
The 18th-century Fuertes de Loreto (Fort Loreto) is a historical military landmark and fortress in Puebla City. Initially built as a religious shrine in the 1600s, it was fortified two centuries later when it served as the site of one of the most famous battles in Mexican history – one that's now marked with the annual Cinco de Mayo.
Visitors can brush up on their knowledge of the notorious Battle of Puebla in the Museum of Non-Intervention. Exhibits include letters, documents, and paintings of the infamous battle, as well as old military uniforms and weapons. There's also an exhibit on Benito Juarez, the first Mexican president.
While you're here, visit the surrounding Centro Civico Cinco de Mayo park with its soccer stadium, planetarium, playing fields, and Museo Imagina.
5. Museo Amparo
The Museo Amparo (the Amparo Museum) is one of Mexico's most iconic historical museums. Spread across two colonial buildings dating back to the 17th and 18th centuries (one, a former hospital), the museum details Mexico's fascinating history with pre-Hispanic, modern and colonial artwork, as well as ceramics, pottery, and ancient murals.
Mesoamerican artifacts include the Mayan stelae, a variety of old-world furniture, and hundred-year-old retablos. When you've had your fill of Mexican history, stop for a refreshment on the rooftop café terrace. Guided tours are available.
4. Biblioteca Palafoxiana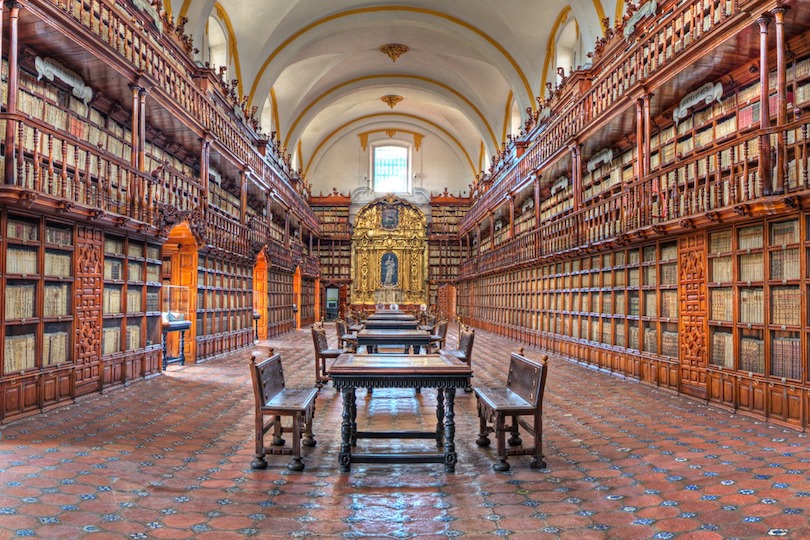 The Biblioteca Palafoxiana is an important public library in the center of Puebla. In fact, as it was established in 1646, it's the oldest public library in the Americas. Inside, you can discover over 41,000 pieces of Mexican and international literature from books to manuscripts, many of which date back to the 15th-century.
While the library has been damaged by two 1999 earthquakes, it's managed to survive, and its 2003 rebuild is the perfect place for a quiet read. Three layers of bookshelves made from carved cedar, coloyote wood, and white pine surround the walls. The most interesting finds include the earliest New World dictionaries and the 1493 Nuremberg Chronicle.
3. Callejon de los Sapos
The Callejon de los Sapos (the Alley of the Toads or the Toad Quarter), is one of Puebla's most famous streets, characterized by bright yellow, orange, and blue buildings.
Its unusual name stems from colonial times when the San Francisco River flooded its banks onto 6th South Street. To take advantage of the excess water, the locals built mills along the Callejon de los Sapos, which in turn brought an abundance of toads to the area. While not many toads remain today, there is a toad fountain that pays tribute to the street's unique history.
A major highlight is the Toad Alley Market, where you can find antique books, iconic Talavera pottery, and other interesting treasures on Sunday mornings. Visit on a Friday or Saturday night and you can soak up the music and laidback atmosphere.
The tree-lined Zocalo is the most famous central square in Puebla, Mexico. This park-cum-plaza was originally built in the shape of a rectangle but was redesigned in the shape of a square as it was considered more attractive.
The plaza served as the main market for Puebla up until the late 18th-century, and bullfights were famously held here from 1566 to 1722.
Today, the square is the site of many cultural and political events, and there are plenty of fascinating statues and sculptures to explore, from Jan Hendrix to Monumento al Sitio de Puebla. Don't miss the San Miguel Arcangel Fountain (1777), the City Hall, the Casa de los Munecos, and the Puebla Cathedral.
1. Catedral de Puebla
The Catedral de Puebla (the Puebla Cathedral) is a colonial Roman Catholic church overlooking the Zocalo square in the historic center of Puebla. One of Mexico's most sacred sites and one of its oldest churches, the Puebla Cathedral was first built back in 1575.
Constructed in a mixture of Renaissance and Baroque styles, the cathedral has a dark stone façade and two twin towers – one of which remains a bell tower. Inside, you can explore 14 chapels and an unusual octagonal altar. The dome is special in itself, as it was built to mirror that of St. Peter's Basilica in Rome.
Share this post:
14 Best Things to Do in Playa del Carmen, Mexico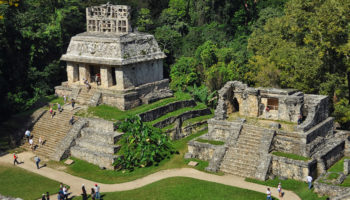 10 Best Places to Visit in Chiapas, Mexico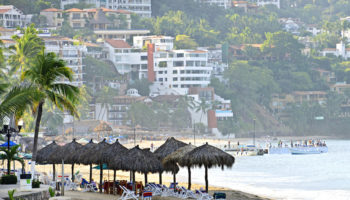 10 Best Vacation Spots in Mexico
8 Best Day Trips from Cancun
10 Best Places to Visit in Oaxaca, Mexico
10 Best Places to Visit in Veracruz, Mexico
15 Best Things to Do in Guanajuato, Mexico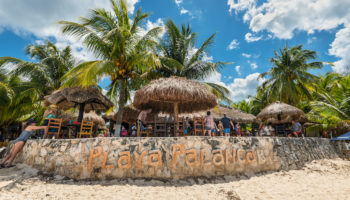 18 Best Things to do in Cozumel, Mexico
4 Best Day Tours in Mexico
15 Best Things to do in Mazatlan, Mexico
Reader interactions, leave a reply cancel reply.
Your email address will not be published. Required fields are marked *
This site uses Akismet to reduce spam. Learn how your comment data is processed .

Discover 20 Awesome Things to Do in Puebla, Mexico
Thanks to its proximity to Mexico City, many people visit Puebla on a day trip from the capital. Visiting Puebla City on a day trip will give you enough time to experience its highlights but this underrated city (and state) in central Mexico deserves more than a day to really do it justice.
We lived in Puebla for a time and had gotten to know the city quite well. If you're planning a trip to central Mexico, then here are twenty of the most fun things you can do in Puebla.
VISIT PUEBLA QUICK LINKS
To help maximize your time in Puebla City, we've compiled links to popular tours and activities here. Click on the link for a guide to some of the best Puebla Tours .
Guided Tours: Puebla Sightseeing and Food Tours
Day Trips: Day Trips to Puebla from Mexico City
Cooking Classes: Puebla Cooking Classes
Top-rated hotels in the Historic Center, the best area to stay for people on their first trip to Puebla. Click on the link for more Puebla hotel recommendations .
Luxury: Casona de los Sapos Hotel Boutique
Midrange: Hotel Boutique Casareyna
Budget: Hostal Casa De Arcos
OTHER SERVICES
Mexico Tourist Card (FMM)
Travel Insurance (with COVID cover)
Mexico SIM Card
Save This on Pinterest!
No time to read this guide on the best things to do in Puebla, Mexico? Click on the save button and pin it for later!
TOP THINGS TO DO IN PUEBLA, MEXICO
20. spend the day at zona historica de los fuertes.
Zona Historica de los Fuertes is a sprawling park district located on top of Acueyametepec hill, about 1.4 miles (2.3 km) north of the zocalo (main square). It's a lovely area that's home to centuries-old forts and several museums.
Fuertes de Loreto y Guadalupe (Loreto and Guadalupe Forts) are the two most well-known historical attractions and museums at the park. Both are former churches that were converted into military forts to help defend the city against the French during the Battle of Puebla in 1862.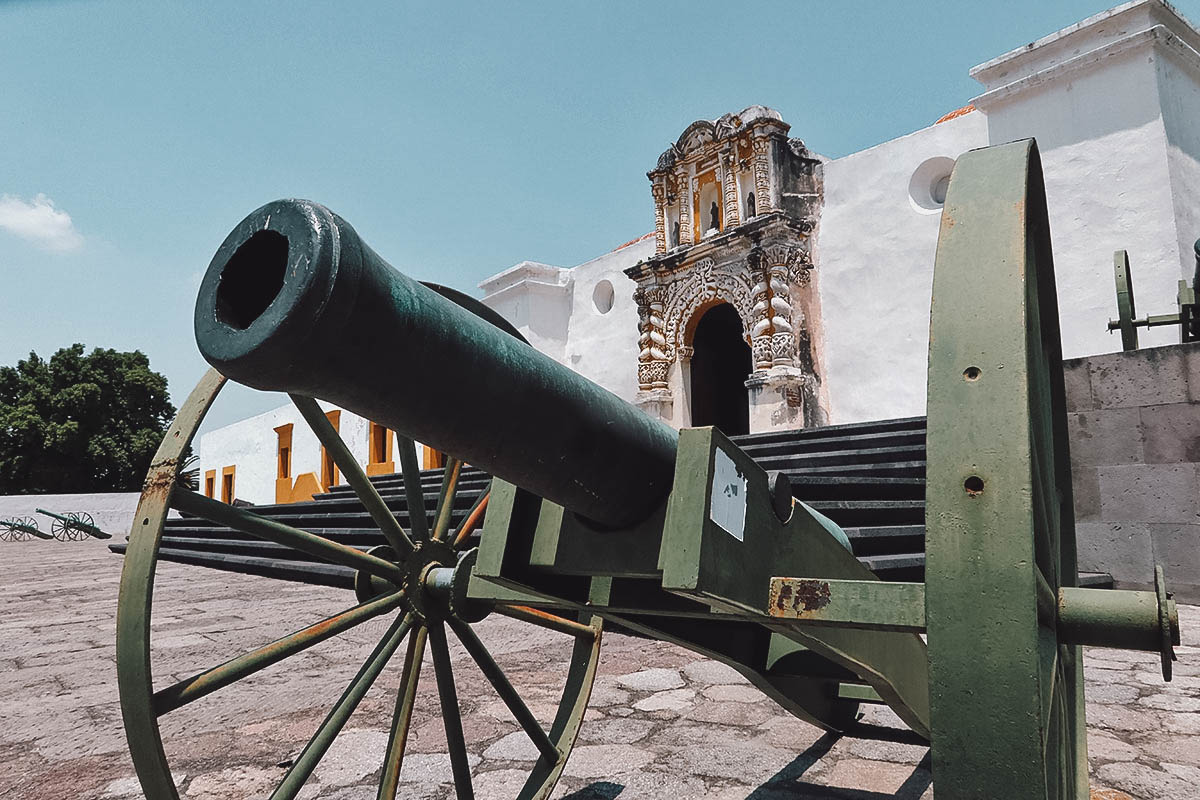 Fuertes de Loreto y Guadalupe are the most popular but Zona Historica is known for other museums and attractions as well. You can also visit Museo de la Evolucion (Museum of Evolution), Museo Interactivo de la Batalla del 5 de Mayo (Interactive Museum of the Battle of May 5), and the Regional Museum of Puebla. You can learn more about these museums and others in our guide to the best museums in Puebla .
Zona Historica is also home to Planetario Puebla (planetarium), several miradors (viewpoints), a large expo center, and Teleférico Puebla – a cable car ride that gives you terrific bird's eye views of Puebla City and the surrounding Iztaccíhuatl and Popocatépetl volcanoes.
The gondola ride takes you about 200 feet (60 meters) off the ground and stretches for a little under half a mile (700 meters). It costs MXN 35 each way and MXN 53 roundtrip.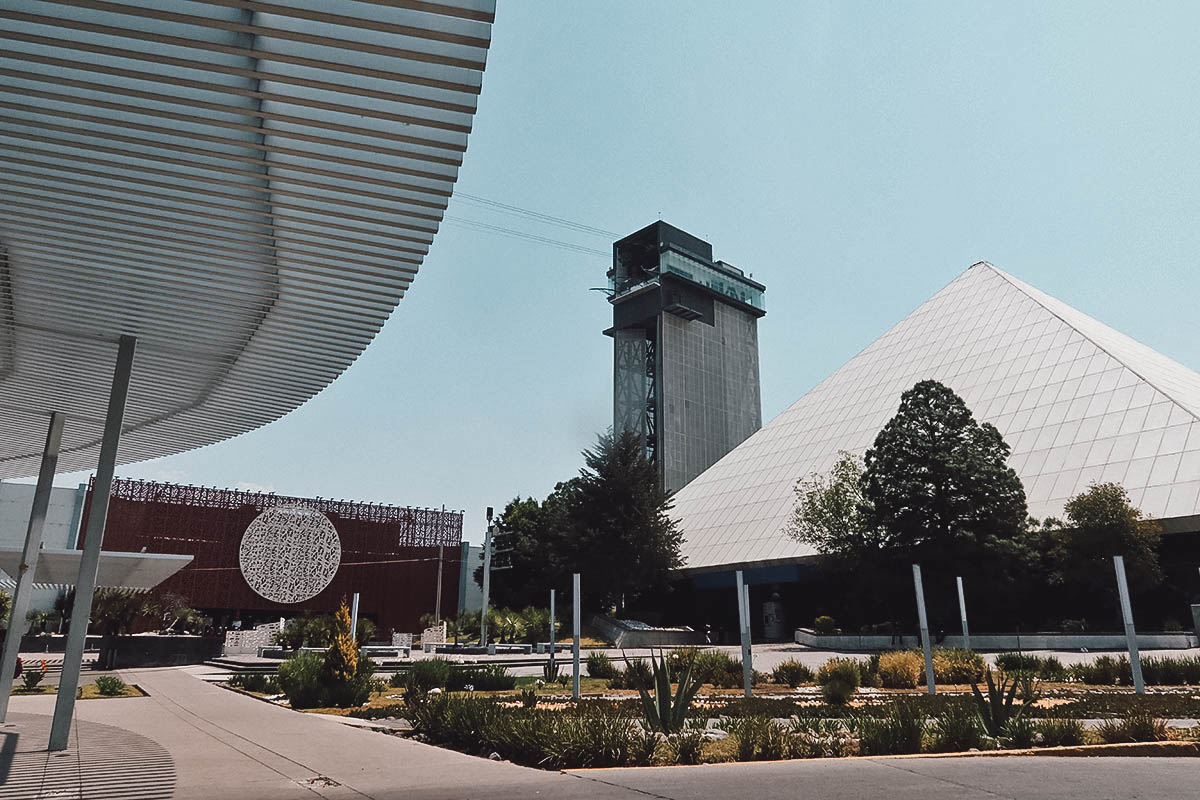 19. Explore Mercado Municipal La Acocota
Visiting a traditional Mexican market is one of the best ways to get a glimpse of local life in Mexico. There are a handful you can visit in Puebla City but my favorite one is Mercado Municipal La Acocota .
Located about a 20-minute walk east of the zocalo, La Acocota is our go-to market for fresh fruits and vegetables in Puebla. If you're looking for cheap traditional poblano food, then be sure to visit the fondas (family-owned Mexican eateries) at the western end of the market.
If you'd rather visit a market closer to Puebla's Historic Center, then you can go to Mercado 5 de Mayo . It's bigger than La Acocota but it's also more chaotic and not as pleasant.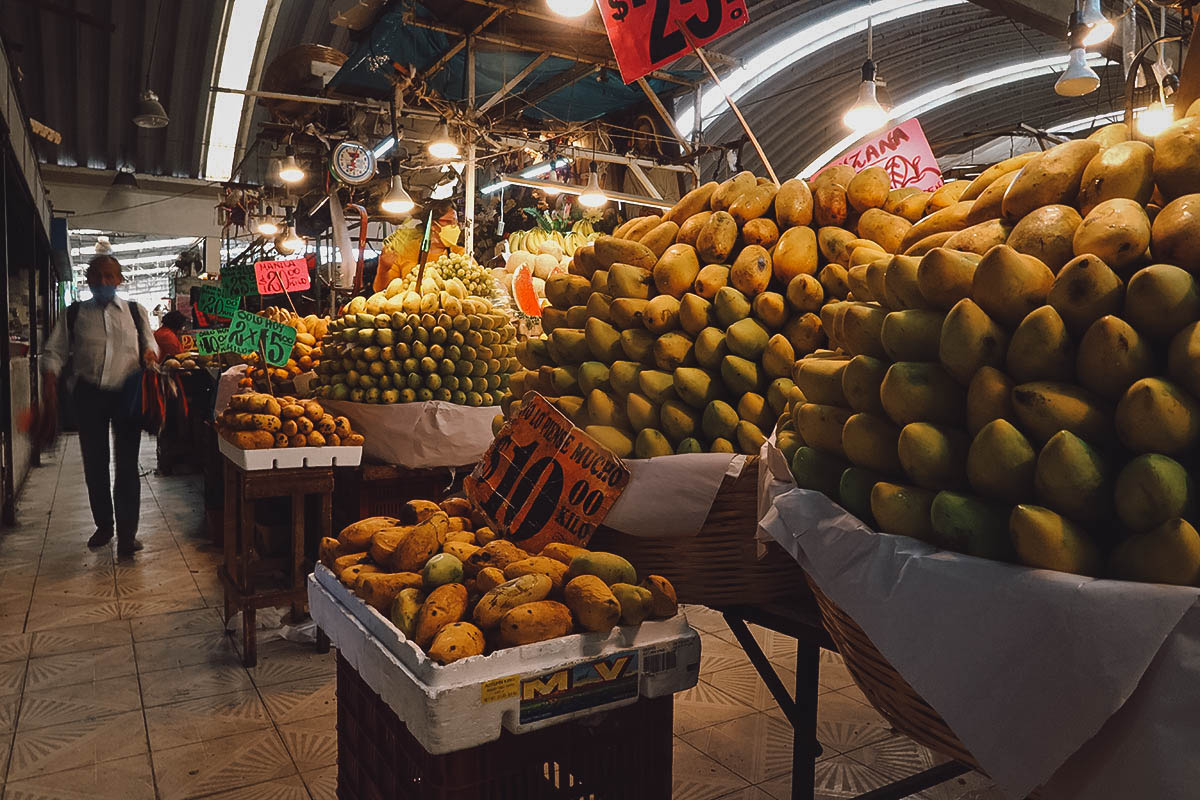 18. Watch the Cinco de Mayo Parade
If you're in Puebla City in early May, then attending the Cinco de Mayo parade is a no-brainer. Cinco de Mayo is an annual celebration held on May 5 to commemorate the Battle of Puebla. Led by General Ignacio Zaragoza, a vastly outnumbered Mexican army successfully defended the city in 1862 against a larger and better-equipped French army.
Contrary to popular belief – or more accurately, misconception – Cinco de Mayo has nothing to do with Mexico's Independence Day which is celebrated on September 16.
Cinco de Mayo in Puebla is celebrated with a morning parade along Blvd Heroes del 5 de Mayo and a month-long fair at Zona Historica de los Fuertes.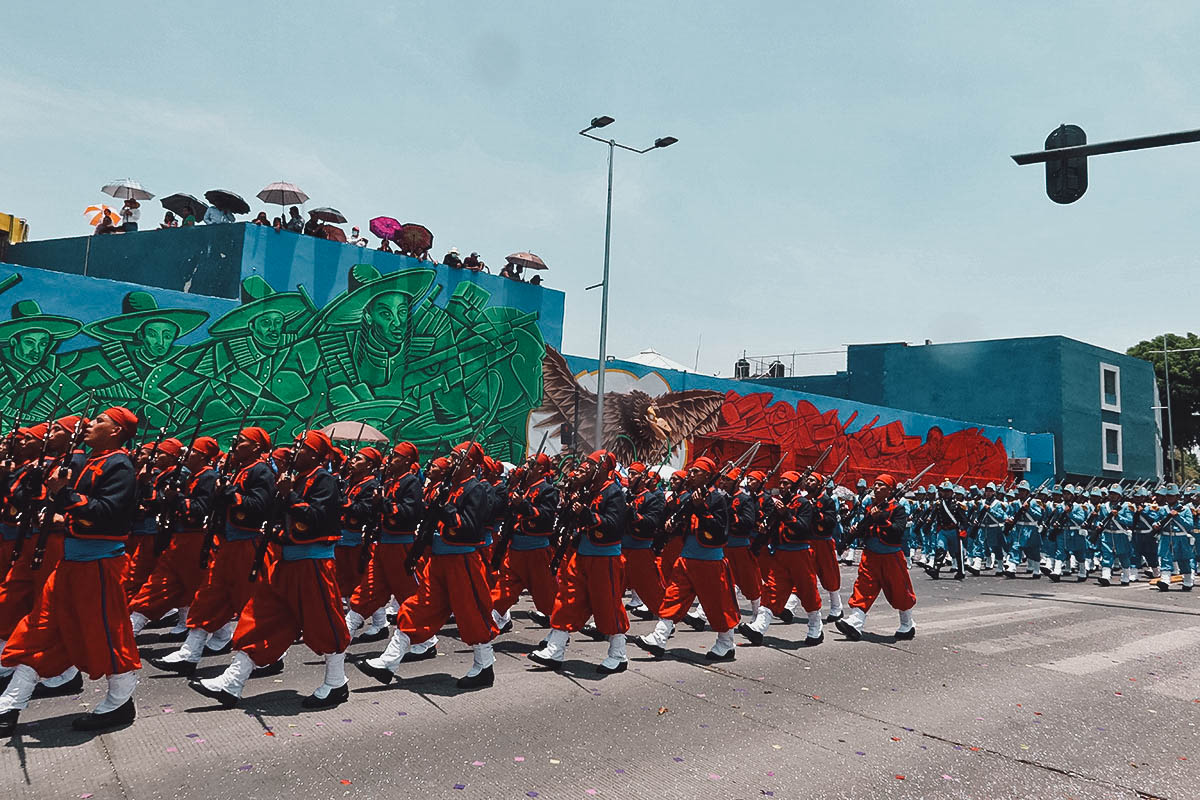 The Feria de Puebla is a month-long festival that happens every year around Cinco de Mayo. A fairground is set up with rides and carnival games while the expo center plays host to live music shows and a bazaar with traditional poblano food and handicrafts.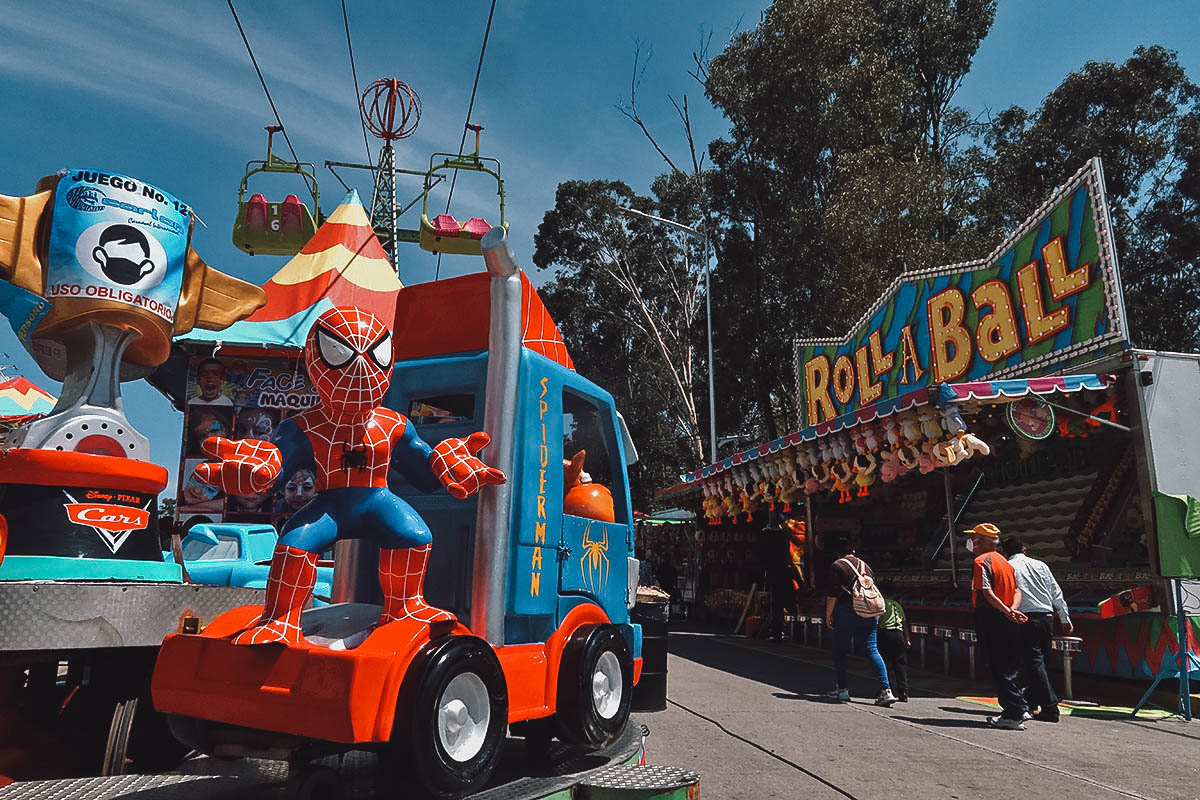 17. Take a Day Trip to Val'quirico
Val'Quirico is a tourist development in neighboring Tlaxcala state, about 15 miles (24 km) northwest of Puebla. Val'Quirico is characterized by cobblestone streets and stone houses that are designed to look like a medieval village in Tuscany, Italy.
Val'Quirico is home to a good number of restaurants, cafes, bars, shops, and hotels, making it a worthwhile day trip or overnight destination from Puebla.
There doesn't seem to be an easy way of getting to Val'Quirico using public transportation so it's best to go in your own car. Alternatively, you can book this private tour on Get Your Guide . It takes you to Val'Quirico, Chautla's Castle, and the lavender fields at Rancho San Martin.
16. Visit Parque Ecologico and ArboTerra
After Zona Historica de los Fuertes, Parque Ecologico is the biggest and most interesting park in Puebla City. Located about a 30-35 minute walk east of the city center, it's a 58-hectare city park with a lagoon, botanical garden, cycling trails, playgrounds, and sporting facilities. It's also home to one of the best hidden places to visit in Puebla – ArboTerra .
ArboTerra is a domed attraction and aviary featuring different species of birds and reptiles. Surrounded by a small lake, at the center of the aviary is this large treehouse with several themed rooms you can explore.
If you're visiting Puebla with kids, then ArboTerra and Parque Ecologico is a great place to spend the day. Entrance is MXN 145 for adults and MXN 130 for kids.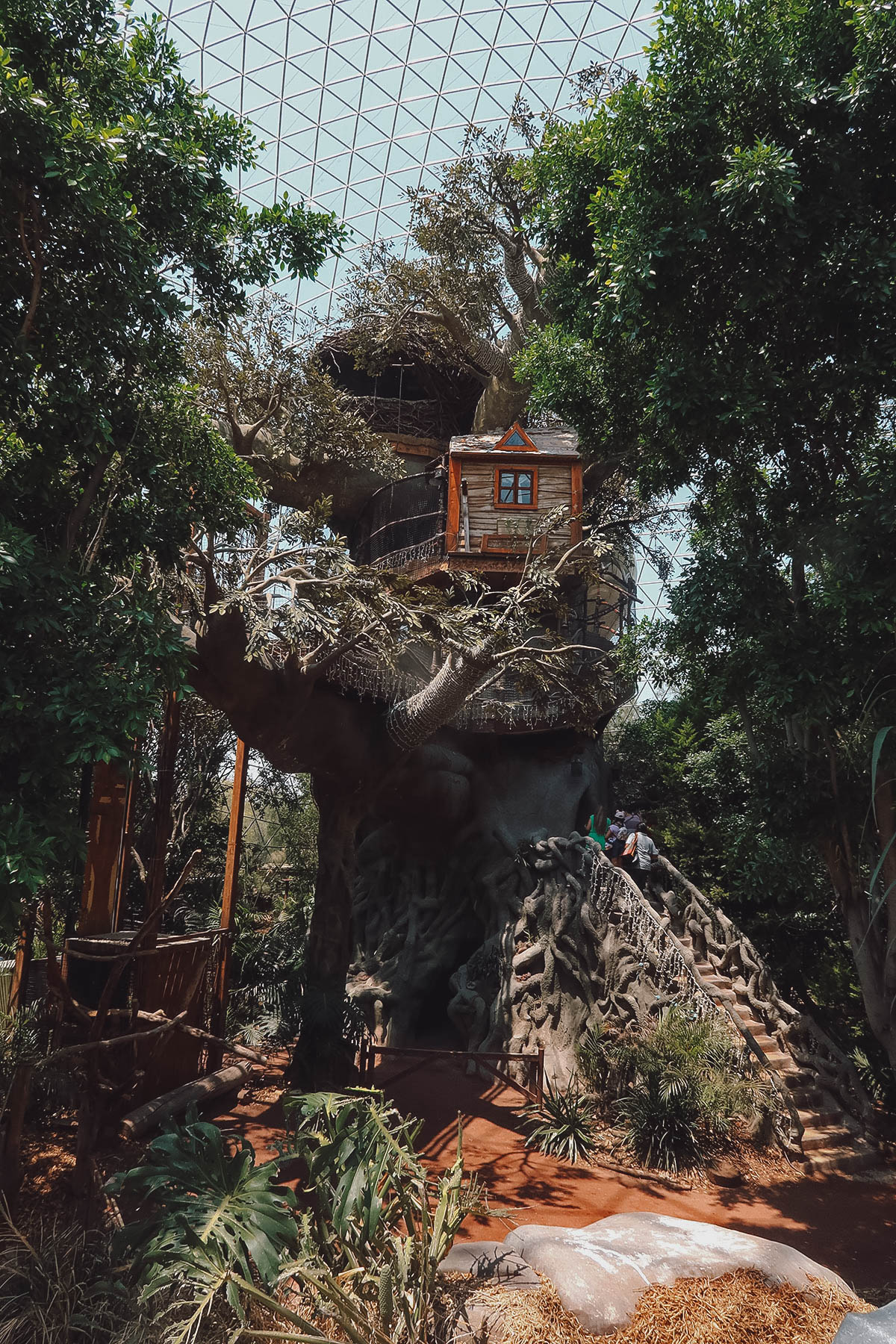 15. Buy Dulces Tipicos at Calle de los Dulces
Dulces tipicos literally means "typical sweets" and refers to the many traditional confections produced in Puebla. Originally created by convent nuns, they've now become one of the most popular souvenirs you can buy in Puebla .
There are said to be over 300 different types of dulces tipicos in Puebla . You can buy them at souvenir shops throughout the city but you'll find a particularly large concentration of dulcerias (sweets shops) along Avenida 6 Oriente. There are so many sweets shops along this street that it's commonly referred to as "Calle de los Dulces".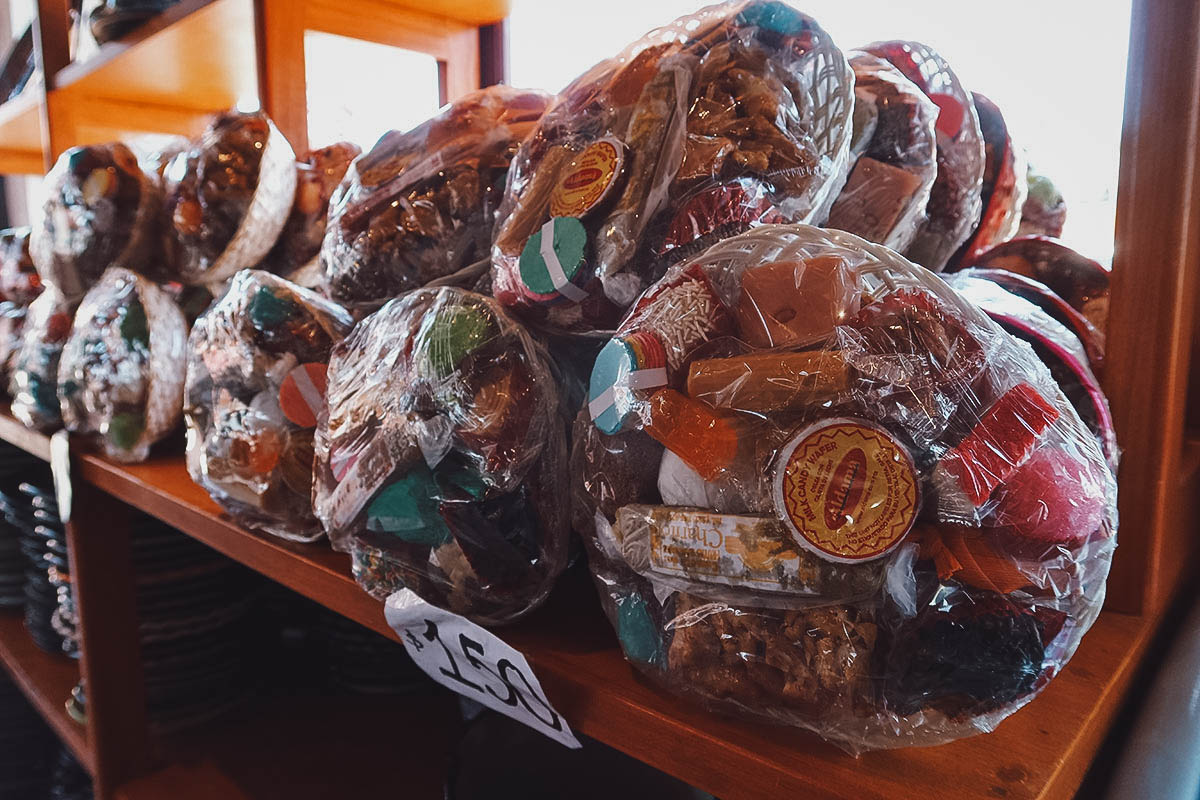 14. Take a Day Trip to Atlixco
Pueblo magico (literally "magic town") is a designation given by the Secretary of Tourism to smaller towns in rural areas of Mexico. It's a designation that's meant to promote tourism to towns known for their cultural richness, beauty, historical relevance, interesting cuisine, and hospitality.
As of this writing, there are over 130 pueblos magicos in Mexico, 10 of which are in Puebla, the most of any state in Mexico. Eight are off the beaten path but two – Cholula and Atlixco – are easily accessible and within an hour of Puebla City.
Located at the foot of Popocatépetl Volcano, Atlixco is known for its stunning natural scenery and pleasant climate that makes it ideal for growing a wide variety of flowers.
Atlixco is about 20 miles (32 km) southwest of Puebla City. It's best to stay the night but if you don't have enough time, then you can easily visit on a day trip by ORO bus , car, or guided tour ( Option 1 | Option 2 ). Check out our detailed Atlixco travel guide for more information.
13. Try Tacos Arabes
If you're a fan of tacos, then you need to try tacos arabes. Originally from Puebla, it refers to the taco dish that descended from Lebanese shawarma and led to the creation of Mexico's beloved taco al pastor.
Unlike tacos al pastor which are made with heavily marinated pork and corn tortillas, tacos arabes are more simply seasoned and wrapped in fluffier pan arabe (pita bread). It's a delicious type of taco and the most common you'll find in Puebla.
You can refer to our tacos arabes guide for a list of our favorite tacos arabes restaurants in Puebla .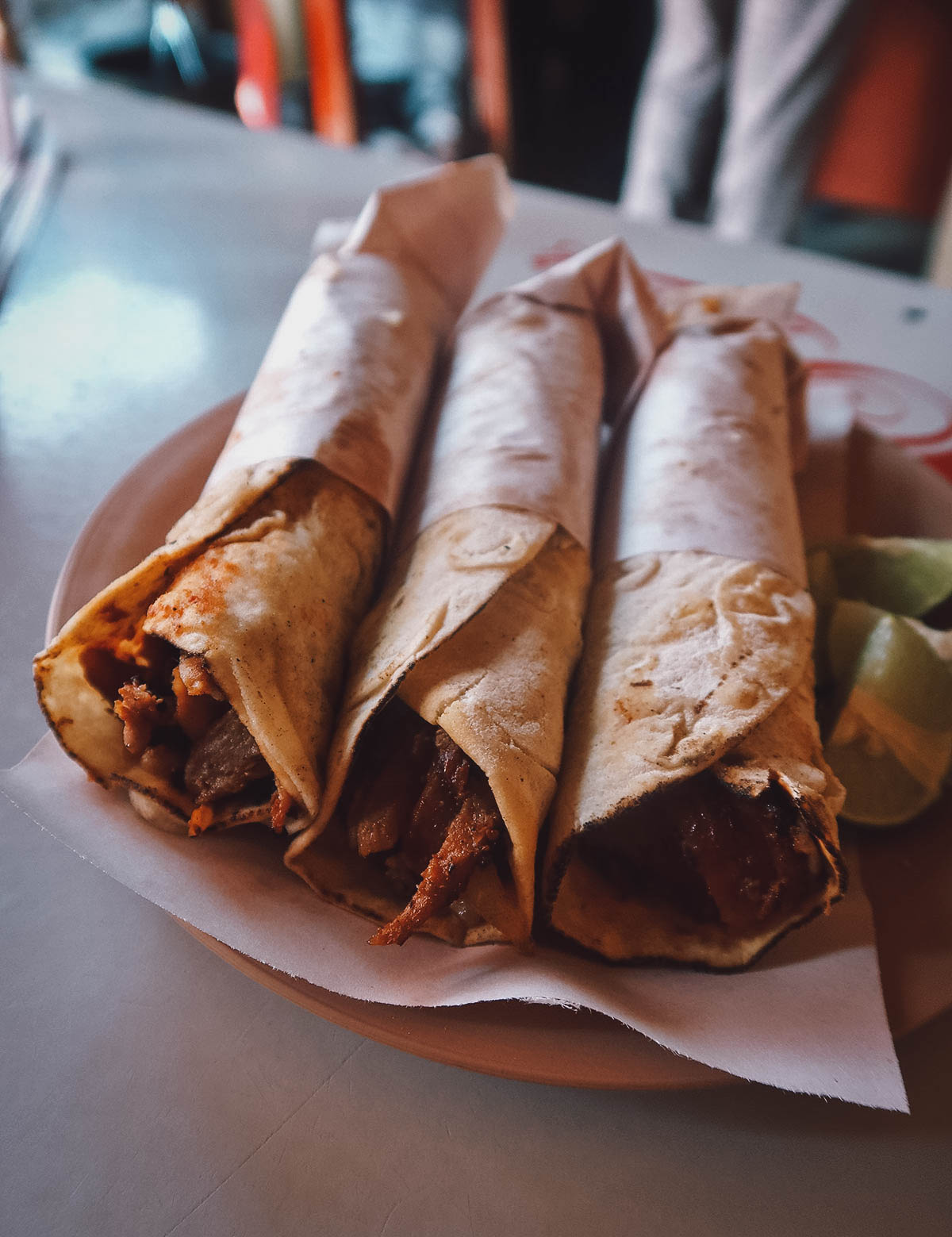 12. Buy Talavera Pottery
There are many souvenirs you can buy in Puebla. But if you want something that's truly emblematic of the city and state, then one of the best things you can buy is Talavera pottery .
Talavera refers to a style of pottery that originated in Talavera de la Reina in Spain. It was brought to Mexico during the early colonial period and took root in Puebla state thanks to the region's abundance of high-quality natural clay.
Fashioned into plates, cups, saucers, and bowls, you can buy Talavera pottery from the many souvenir shops in Puebla City but the best pieces bear the potter's signature and the logo of the workshop where they were made. Sold at a more premium price, they also come with a hologram certifying their authenticity.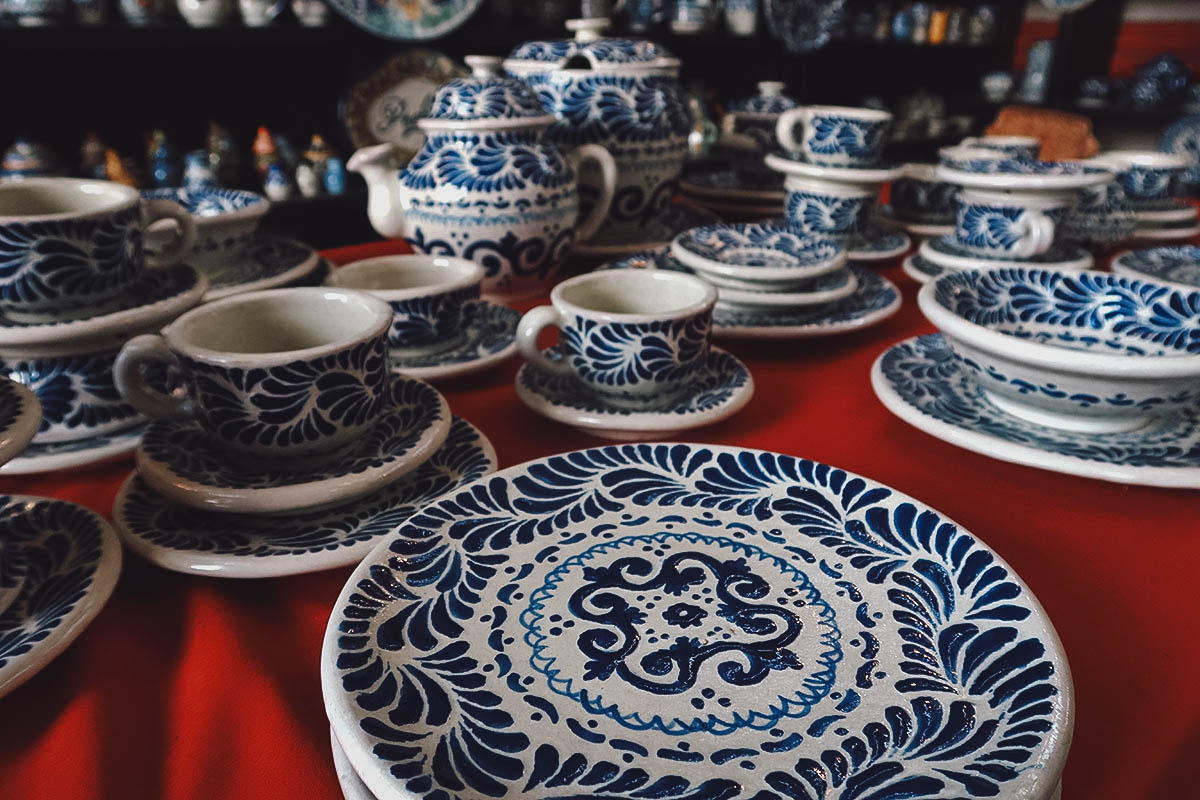 11. Visit Biblioteca Palafoxiana
If you have a fondness for books and libraries, then you'll definitely want to visit Biblioteca Palafoxiana. Established in 1646 by the former Bishop of Puebla Juan de Palafox y Mendoza, it's recognized by UNESCO as the oldest public library in the Americas.
Biblioteca Palafoxiana is a small library located on the second floor of Casa de la Cultura (Cultural Center). Admission is MXN 42 but you can get in for free on Tuesdays and Sundays. If you'd like to visit with a guide, then perhaps you'd be interested in booking this walking tour through Get Your Guide .
Click on the link to learn more about Biblioteca Palafoxiana .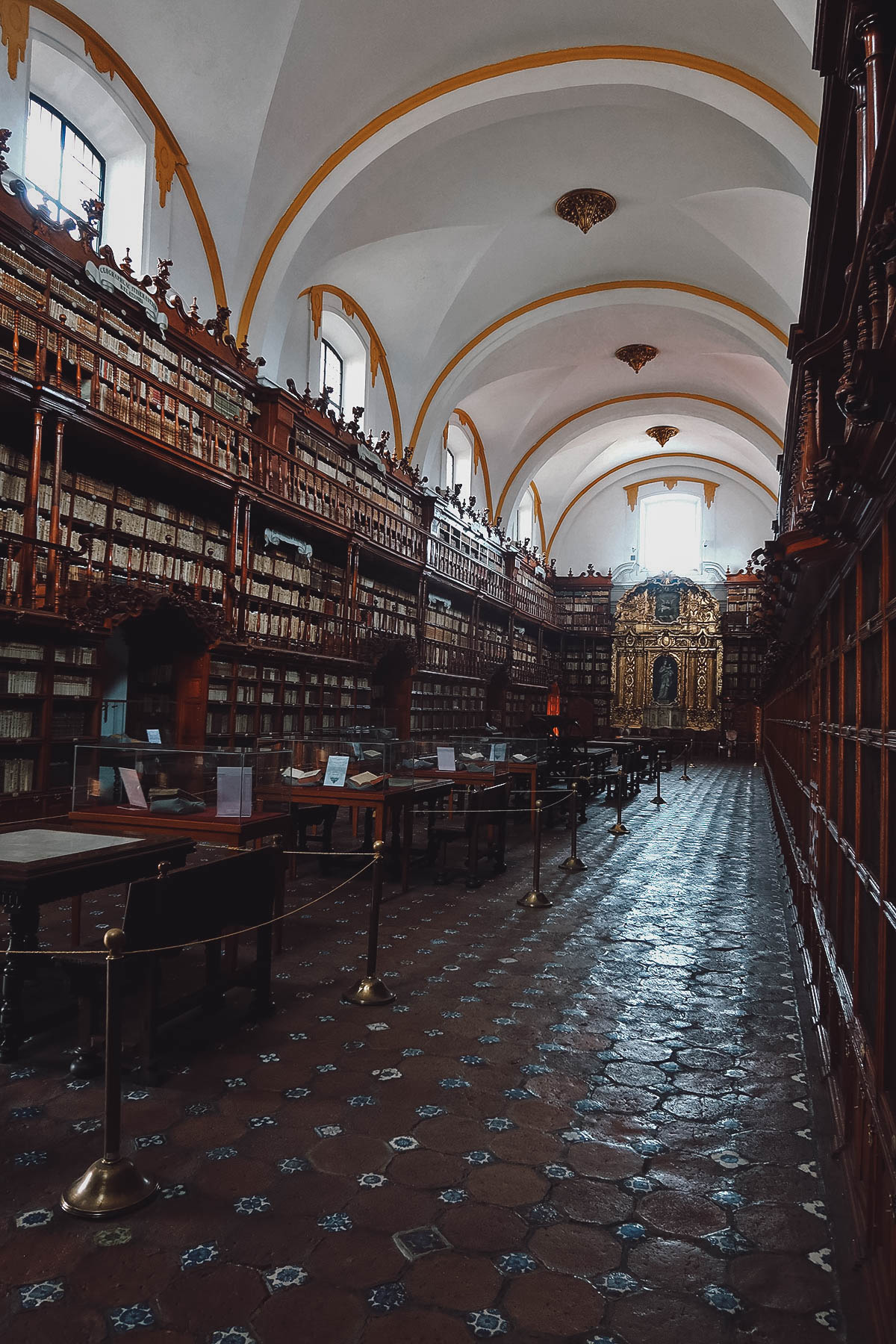 10. Explore Callejón de los Sapos
Callejón de los Sapos literally means "alley of the frogs" and refers to Calle 6 Sur, a picturesque two-block alleyway with colorful houses and interesting antique shops. It's one of the most visually appealing streets in Puebla City and a great place to peruse antiques and take photos for your Instagram feed.
Frogs are a recurring theme in Puebla. I'll need to confirm this with a local but I believe they're in homage to the Pueblan pool frog ( Lithobates pueblae ), a species of frog endemic to the Necaxa River near Huauchinango .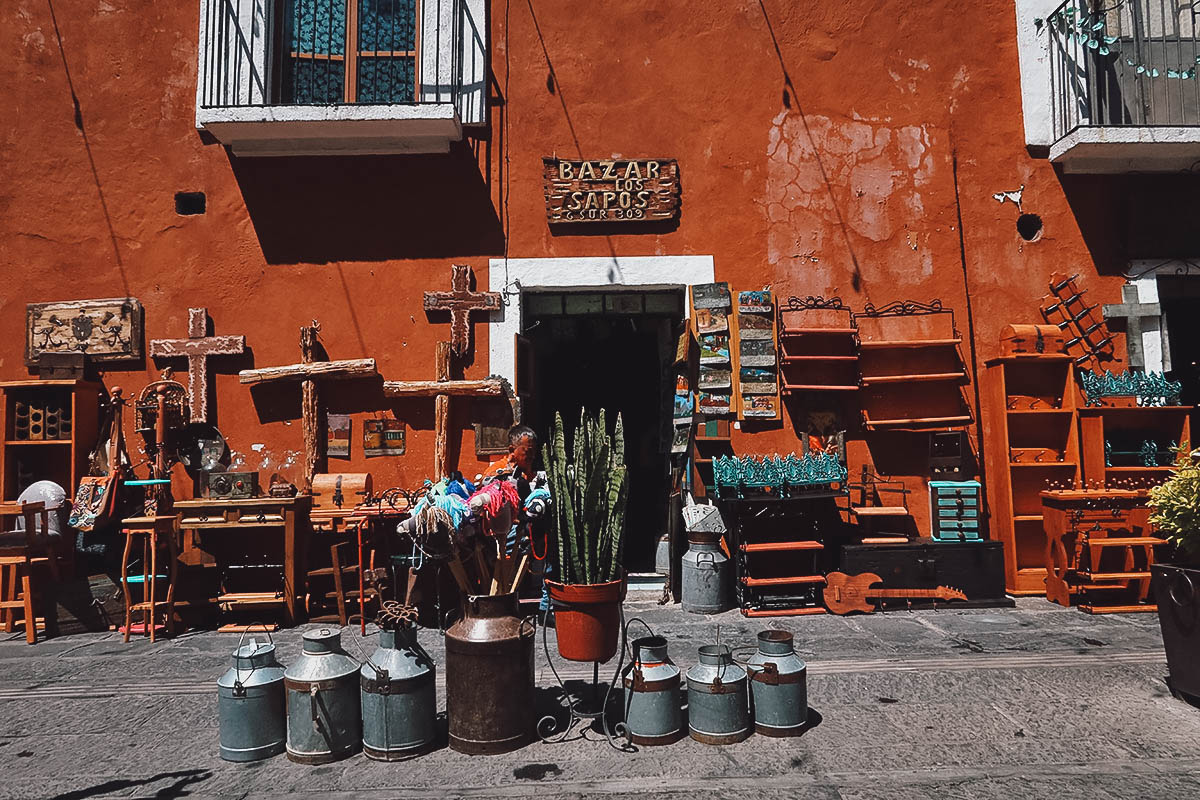 If you happen to be in Puebla City over the weekend, then be sure to visit one of the outdoor artisanal markets that set up in different parts of the city.
This smaller one sets up on one end of Callejon de los Sapos but a larger one can be found at Parque Analco , on the other side of Blvd Heroes del 5 de Mayo.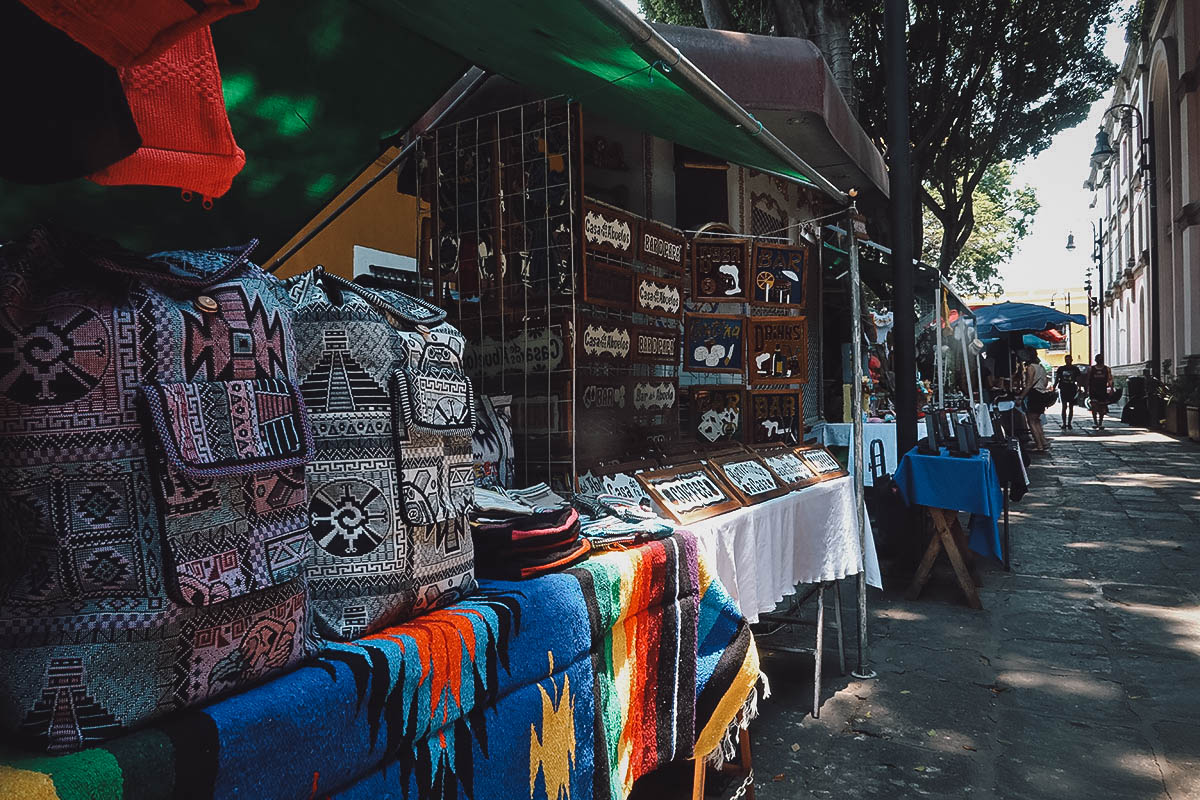 9. Take a Shot of Pasita and Rompope
Puebla is famous for regional dishes like mole poblano and chiles en nogada but it's also known as the birthplace of two types of liqueur – pasita and rompope.
Pasita refers to a raisin-flavored liqueur invented by a cantina (bar) of the same name – La Pasita. It's served in a slender shot glass called a "caballito" with a toothpick-skewered raisin and a cube of goat cheese.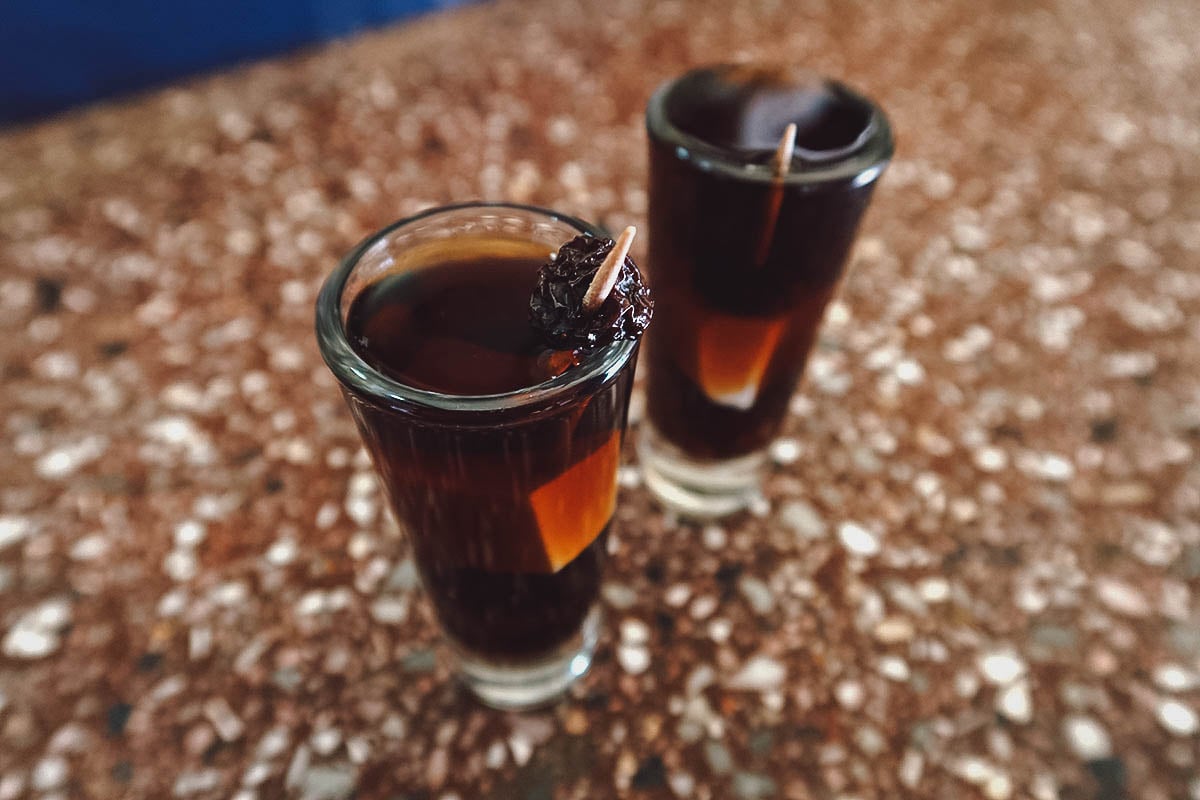 The yellowish liqueur dusted with cinnamon is rompope. Rompope refers to a type of Mexican eggnog enriched with rum or brandy. It's popular throughout Latin America but like dulces tipicos, it's believed to have been invented by convent nuns in Puebla City.
You can enjoy shots of pasita and rompope at La Pasita . Open since 1916, La Pasita is a poblano institution with two locations in Puebla – the more popular spot just off Callejón de los Sapos and another on the other side of the zocalo.
If you like to drink, then you need to enjoy shots of pasita and rompope at La Pasita. I like to think of them as welcome drinks to Puebla.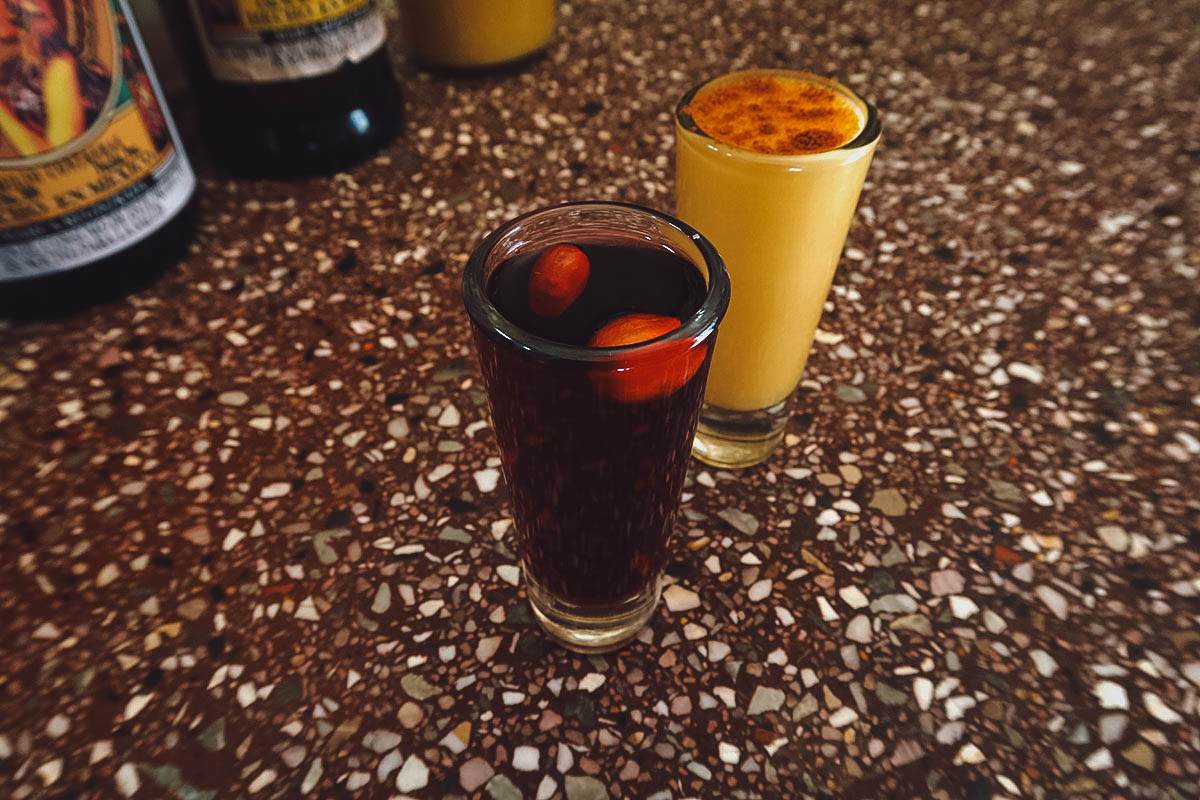 8. Eat a Cemita Poblana
Like anyone, I enjoy a good sandwich but the cemita poblana may be one of my favorite sandwiches in the world. It refers to a delicious poblano sandwich made with a cemita bread roll stuffed with chicken or pork milanesa, quesillo ( Oaxaca cheese ), avocados, onions, papalo , and chili peppers (either chipotle or poblano).
I like cemitas poblanas so much that I probably enjoy them around three or four times a week. Like tacos to Mexico City, they're one of the most popular snacks or comfort foods you'll find in Puebla.
Check out our article on cemitas for a list of our favorite cemitas shops in Puebla .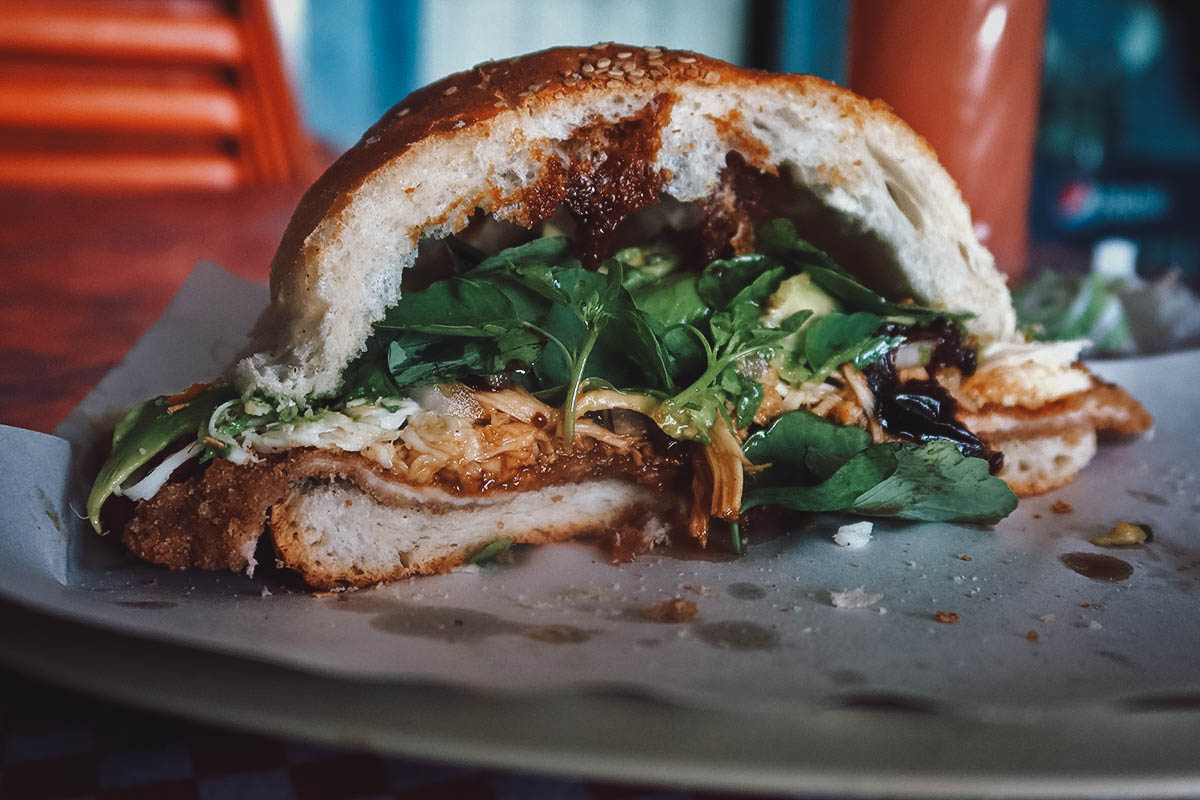 7. Visit Museo Internacional del Barroco (International Museum of the Baroque)
There are many interesting museums in Puebla City but the International Museum of the Baroque is one of the biggest and most impressive. Located around 6 miles (10 km) south of the Historic Center, it features a fantastic collection of Baroque art, architecture, and music.
The museum's well-curated exhibits will keep you entertained for hours but the building itself is just as noteworthy. Opened in 2016, the building was designed by renowned Japanese architect Toyo Ito.
Museo Internacional del Barroco is located at Reserva Territorial Atlixcáyotl, a lush green space with plenty of walking trails. Admission is MXN 85 (free on Sundays) and you can there using public transportation or Uber.
6. Take a Day Trip to Cholula
Thanks to its proximity, Cholula is the most frequently visited pueblo magico from Puebla City. This magic town is located just 9 miles (15 km) west of downtown Puebla and can easily be reached by public bus, car, or even Uber. You can also go on a guided tour ( Option 1 | Option 2 | Option 3 ). Check out our Cholula travel guide for more information.
Cholula's most emblematic attraction is Iglesia de Nuestra Señora de los Remedios, a 16th-century Roman Catholic church that sits on top of the largest pre-Hispanic pyramid in Mesoamerica.
Like Atlixco, Cholula is worthy of a longer stay but its accessibility makes it the easiest day trip destination from Puebla. You may have heard of a tourist train that shuttled people between Puebla and Cholula but it's no longer operational.
Instead, you can catch a public bus from the station at 6 Poniente between 11 and 13 Norte (behind Mercado de Sabores ). The fare is just MXN 10 each way.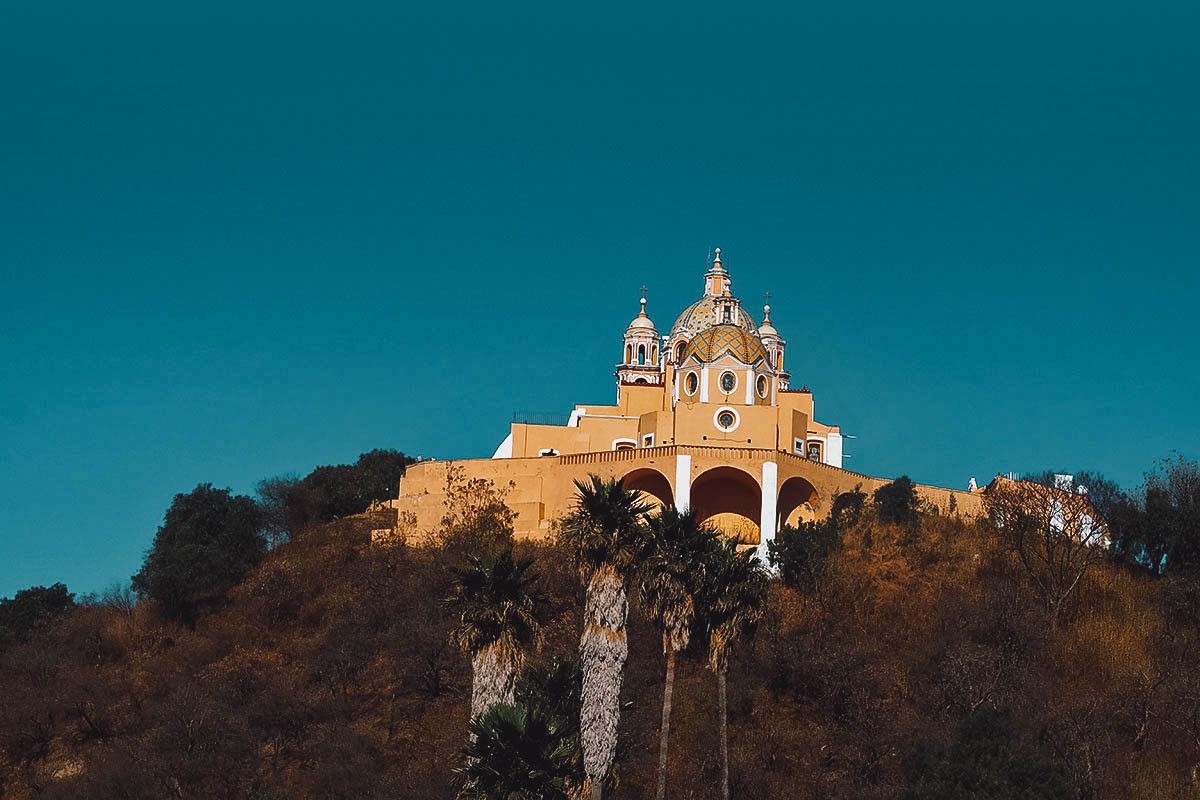 5. Visit Capilla del Rosario and Templo de Santo Domingo
There are many impressive churches in Puebla , but none are more visually striking than Capilla del Rosario (Rosary Chapel) inside Templo de Santo Domingo. This masterpiece of the Mexican Baroque style has been described as the " eighth wonder of the world " and dubbed "America's shrine" by Pope John Paul II.
Also known as "The Golden House", Capilla del Rosario is covered in 24k gold stucco and features countless details in Talavera and onyx. It also features six large oil paintings by artist José Rodríguez Carnero depicting key moments in the life of the Virgin Mary. To say that the Rosary Chapel is breathtaking would be an understatement.
Like any church in Puebla, entrance to the Church of Santo Domingo is free but you'll need to pay MXN 20 to enter the Rosary Chapel.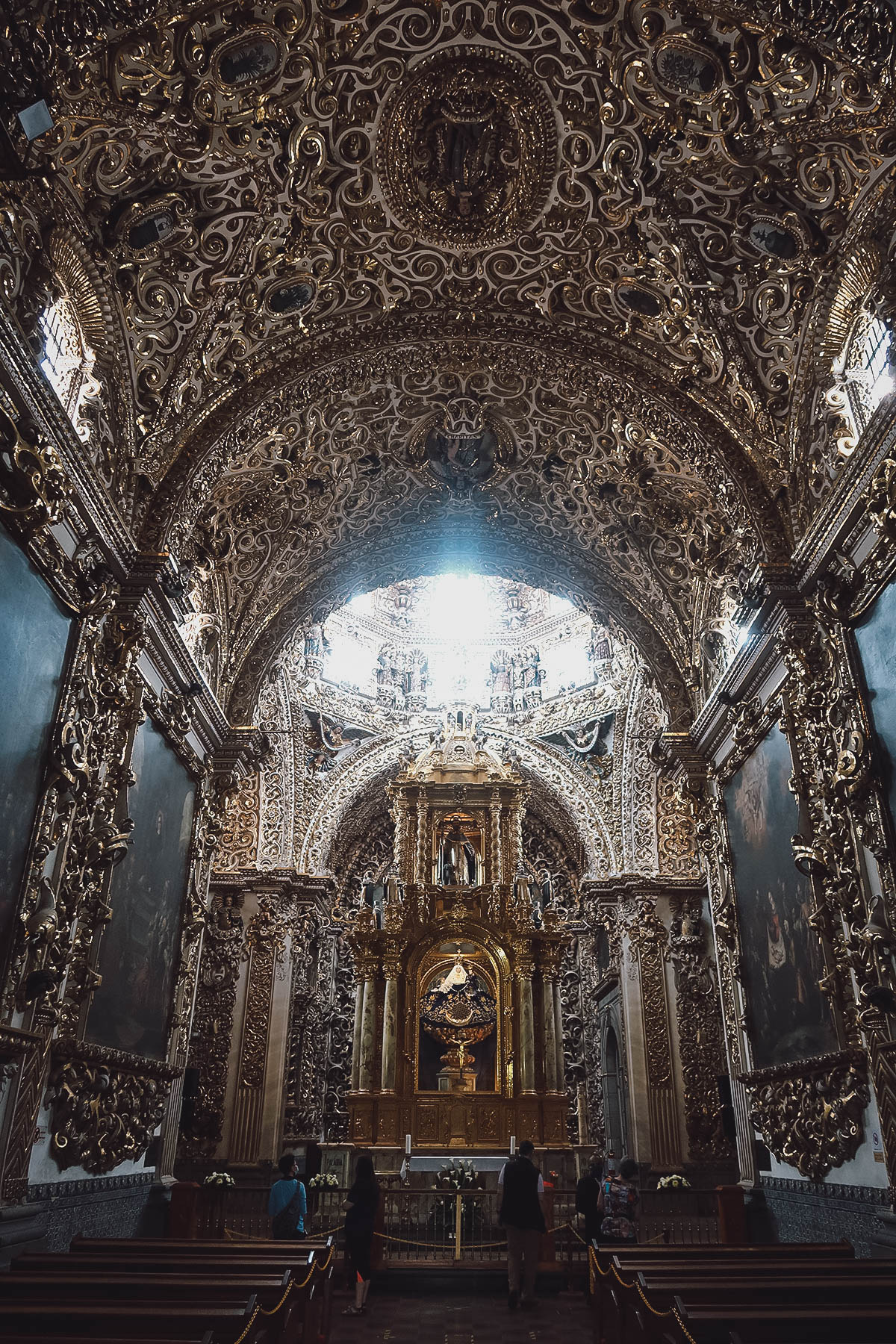 4. Eat Chiles en Nogada
The regional food in Puebla is one of the most renowned in Mexico. In fact, the two dishes that are widely considered to be Mexico's national dishes are from Puebla. Mole poblano is one, chiles en nogada is the other.
Chiles en nogada is a seasonal dish consisting of a large chile poblano pepper stuffed with a picadillo mixture. Typically prepared around August till mid-September when pomegranates are in season, the stuffed chili pepper is covered in a creamy walnut sauce and topped with fresh pomegranate seeds and parsley.
This interesting and delicious dish is traditionally prepared to celebrate Mexico's Independence Day. As nationalistic as it is beautiful, the main ingredients in chiles en nogada mimic the colors of the Mexican flag – poblano chili pepper for green, walnut sauce for white, and pomegranate seeds for red.
Some touristy restaurants in Puebla City serve chiles en nogada year-round but it's best to try it when pomegranates are in season. Otherwise, the pomegranate seeds taste fairly bland.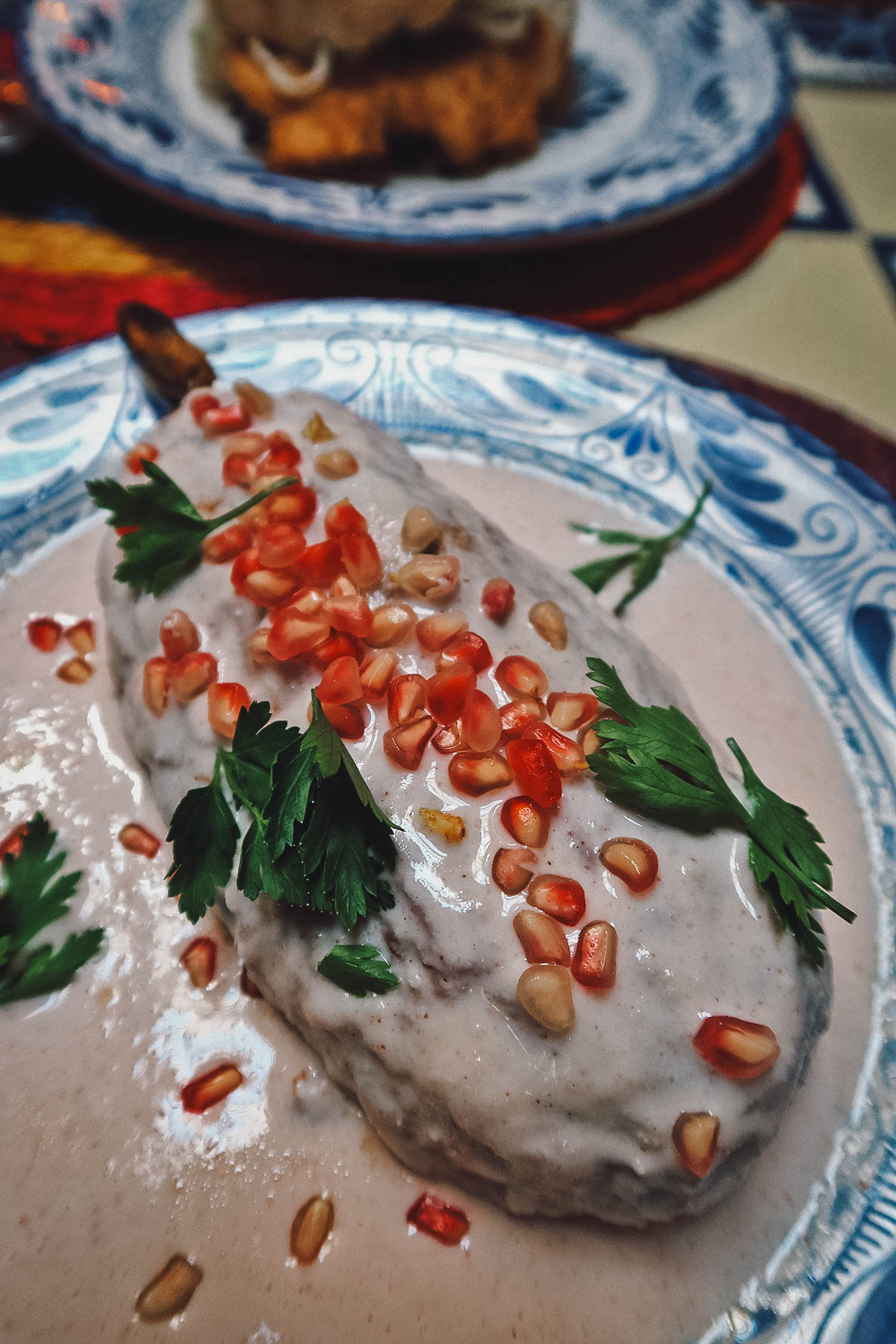 3. Visit Museo Amparo (Amparo Museum)
As great as the International Museum of the Baroque is, Museo Amparo is still the best museum in Puebla. Occupying two colonial buildings in the heart of the Historic Center, it's a large art and archaeology museum housing an impressive collection of contemporary art, installation pieces, religious paintings, artifacts, and pre-Hispanic art.
I've probably been to over fifty museums in Mexico and Amparo Museum, together with Soumaya Museum in Mexico City, is the best museum I've visited thus far. It's a Puebla must-see with its excellent mix of art and Mexican history put together in a modern, comfortable, and well-curated space. Best of all, admission is always free.
After Amparo Museum, I suggest visiting Casa de los Muñecos as well if you have the time. Located just five minutes away, it's another fascinating museum in the Puebla downtown area.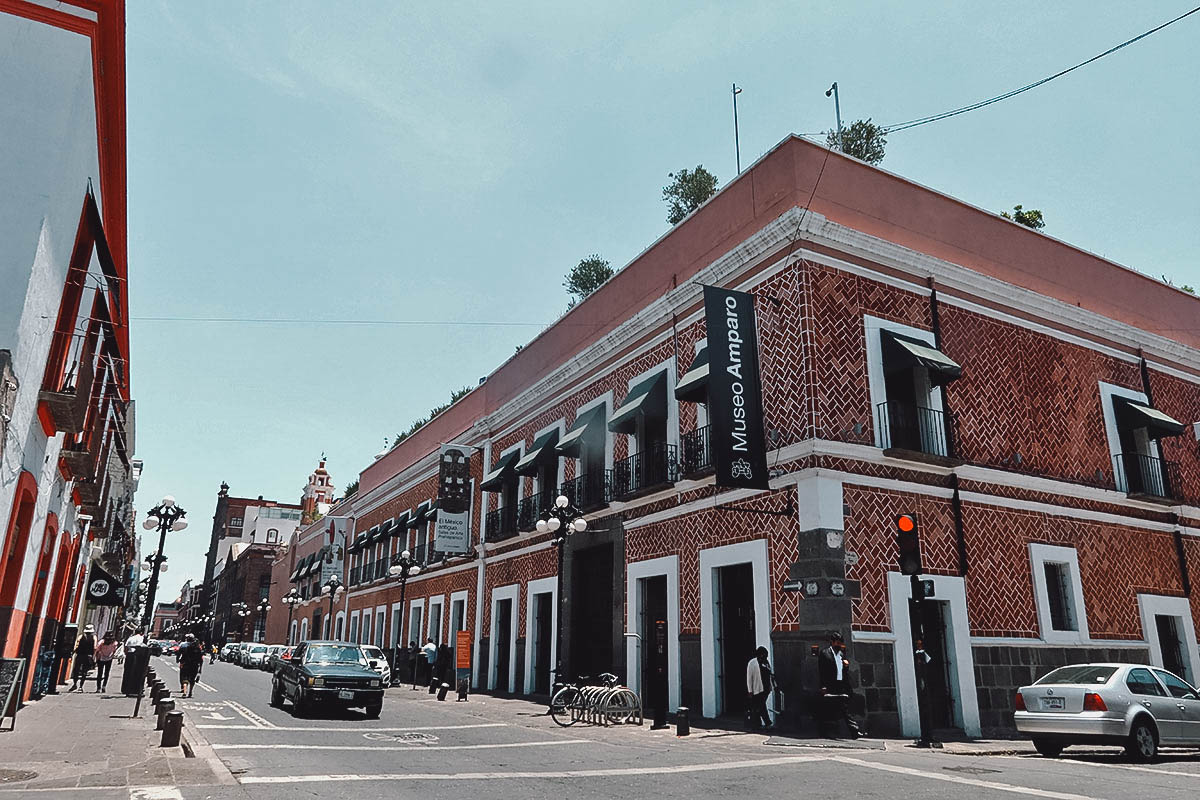 2. Make Three Wishes at Catedral de Puebla (Puebla Cathedral)
Capilla del Rosario may have the more visually striking interior but in my opinion, Catedral de Puebla is still the most impressive church in Puebla. Its sheer size will take your breath away.
Located on the south side of the zocalo, opposite city hall, Catedral de Puebla is a massive colonial-era church featuring two towers housing a total of ten bells, the largest weighing in at over 8 tons. The Cathedral is visible from miles away and is easily the focal point of the Historic Center.
In some Catholic countries, there's a belief that entering a new church for the first time entitles you to three wishes. Don't forget to make them when you visit Puebla Cathedral.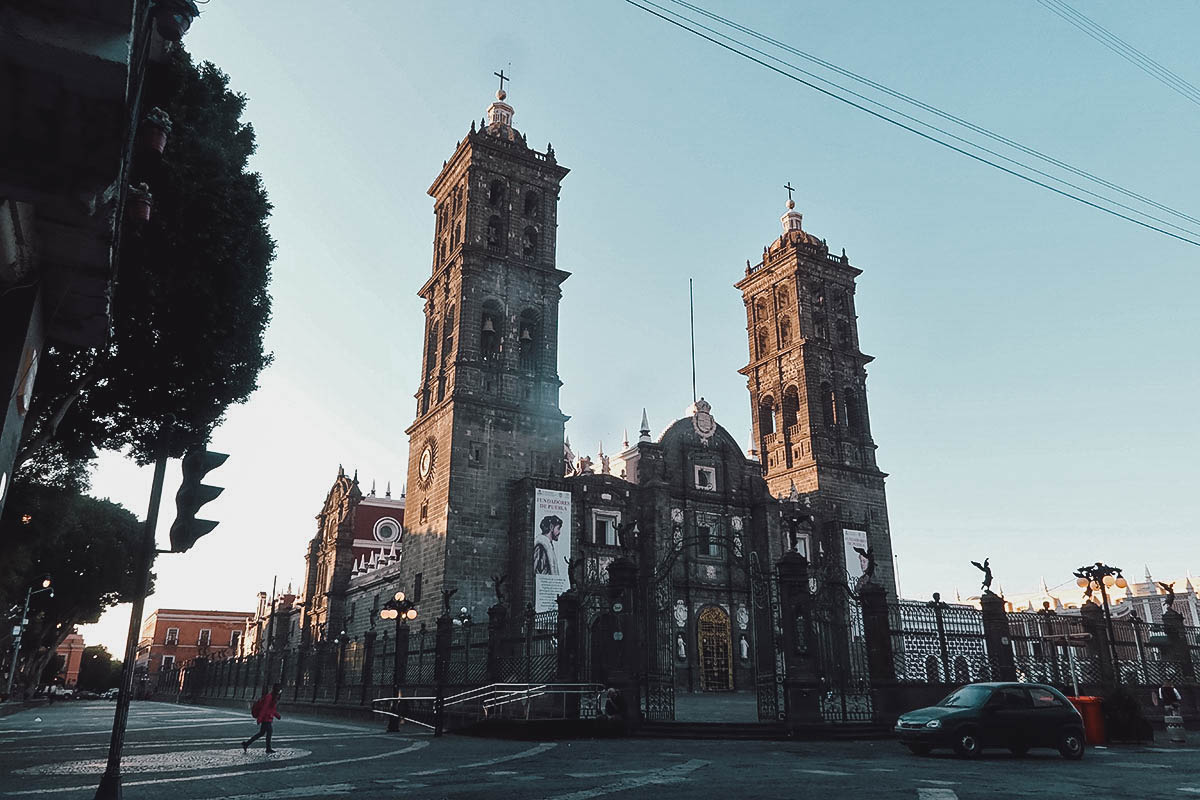 1. Eat Mole Poblano
Puebla is known for its food and mole poblano is the most celebrated dish in poblano regional cuisine. I prefer cemitas poblanas as an everyday dish but if you had time to eat just one thing in Puebla, then it should definitely be mole poblano.
Mole poblano refers to a thick and dark sauce made with over twenty different ingredients like cocoa, several types of chili peppers, and warm spices like allspice, cloves, and coriander seeds. A common misconception is that chocolate is the primary ingredient in mole poblano but the sauce actually gets much of its flavor and color from dried mulato peppers.
There are hundreds of known mole recipes in Mexico but mole poblano is arguably the most important. In fact, when someone says "mole", they're typically referring to mole poblano.
There are many mole restaurants in Puebla but I suggest trying it at Restaurante Casareyna, a more upscale restaurant inside a boutique hotel of the same name. They offer a mole degustation platter with four different types of mole. Alternatively, you can try it on a food tour ( Option 1 | Option 2 ).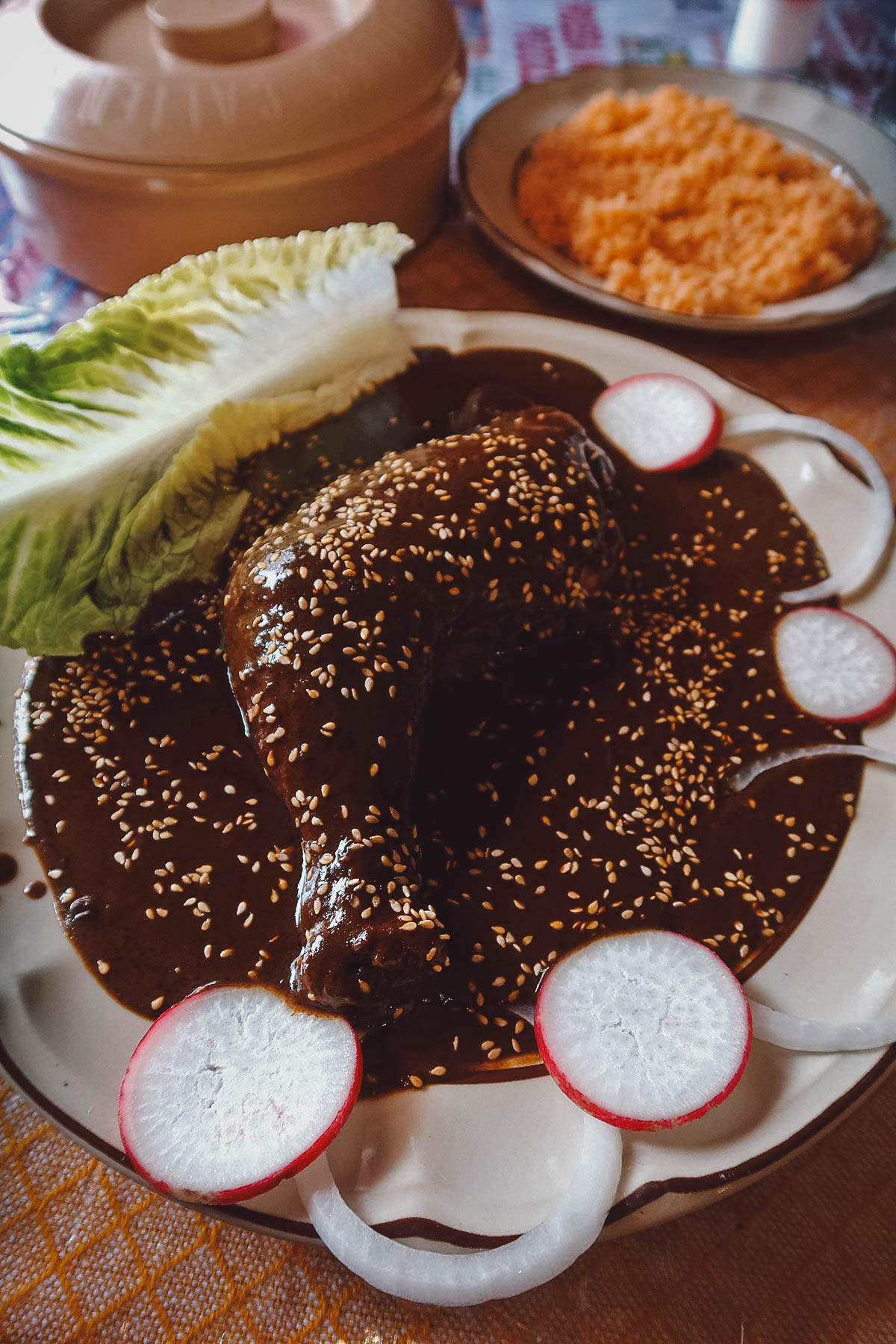 FINAL THOUGHTS ON THE BEST THINGS TO DO IN PUEBLA, MEXICO
While researching Puebla attractions, you may have come across articles recommending Estrella de Puebla. Meaning "Star of Puebla", Estrella de Puebla is a 260-ft (80 meters) ferris wheel located about 3 miles (5 km) southwest of the Historic Center. It holds a Guinness record for being the world's largest portable observation wheel.
Estrella de Puebla has been closed for over two years but people fond of lofty views may want to visit when it reopens. I'll be sure to update this guide on the top Puebla sights if and when it does.
As described at the top of this article, many people relegate Puebla to a day trip from Mexico City but I hope this guide convinces you to stay longer than that. At the very least, I hope it gets you even more excited to visit this fascinating and vastly underrated destination in central Mexico.
Anyone who's spent time in this Mexican city can tell you – Puebla is the real Mexico.
Some of the links in this guide on the best things to do in Puebla, Mexico are affiliate links. What that means is that we'll earn a small commission if you make a purchase at no additional cost to you. Authenticity is important to us so we only recommend products and services that we use ourselves. We really appreciate your support as it helps us keep this free Puebla travel website going. Thank you!
Thank you for sharing!
The Top 14 Things to Do in Puebla, Mexico
Mexico's fifth-largest city, Puebla de Zaragoza is the capital of Mexico's Puebla state. With well-conserved Baroque-style architecture, a UNESCO-recognized historic center, and iconic regional dishes like mole poblano, Puebla's blend of modernity and rich history make the city a must-visit on any Mexico itinerary. As it lies 80 miles southeast of Mexico City, Puebla is an easy day trip from the country's capital , but it is well worth staying a few days. Here are 15 of our favorite things to do.
Stroll Around the Zócalo de Puebla
Located in the city's historic center is the Zócalo de Puebla, a main square and UNESCO World Heritage Site. Formerly a marketplace and bullfighting stage, this large and attractive plaza is now a common gathering ground for cultural and political events. Plan a visit here to see the Catedral de Puebla (Puebla Cathedral), statues and monuments, and San Miguel Arcángel Fountain, which dates back to 1777. The Zócalo can get quite crowded on weekends, but it makes for great people-watching. This is the perfect starting point for a walking tour of Puebla.
Tour the Amparo Museum
Spread across two buildings, the Museo Amparo (Amparo Museum) houses impressive collections of pre-Colombian, Viceregal, 19th-century, and contemporary Mexican art. Among the objects here, you'll find bowls, stelae, figures, and more crafted by civilizations indigenous to Mesoamerica, including the Aztec, Maya, and Teotihuacan cultures. Along with excellent museography and interactive displays, you'll find a variety of temporary Mexican and international exhibits highlighting themes ranging from archaeology and history to architecture and design. Be sure to head up to the café and rooftop terrace, where you'll get a gorgeous view of Puebla.
See the International Museum of the Baroque
 Getty Images / Edmund Sumner/VIEW
The striking architecture of this all-white building, designed by Japanese architect and 2013 Pritzker Prize winner Toyo Ito, is decidedly modern but the exterior belies what you'll discover inside. Spanning seven halls, you'll see a stunning collection of paintings, sculptures, installations, and interactive exhibits that explore the Baroque period, which ran from the early 17th to the late 18th centuries, in Mexico and abroad. A highlight is the Angelopolis exhibit, which features a scale model of Puebla's historical center. It's open from 10 a.m. to 7 p.m., Tuesday to Sunday.
Meet Elephants, Giraffes and Tigers at Africam Safari
Suzanne Barbezat
This wildlife conservation zoo is home to more than 450 species of animals that roam across roughly 500 acres of various habitats, from Botswana's Okavango Delta to the Huasteca. View elephants, giraffes, rhinos, tigers, zebras, and more from the comfort of your own car or via guided tour (4x4, bike, and walking tours available). You can also sign up for fun and educational experiences with the different animals, including drinking cocktails as safari animals roam around you, picnicking with the giraffes, and learning how to track animals. Africam Safari is located 10 miles south of Puebla; buses leave from the Zócalo and the CAPU bus terminal daily.
Visit the Catedral de Puebla
Catedral de Puebla (Puebla Cathedral) is a Roman Catholic church located right in the city's historic center, on the southern side of the Zócalo. Although construction began in 1575, it wasn't completed until the late 1600s. Its two towers, which stand at about 226 feet, are the tallest in Mexico. Admire the cathedral's architectural design, a blend of Baroque and Renaissance-Herrerian styles, before stepping inside to explore its 14 chapels.
Sample Some of Puebla's Delicious Regional Foods
Fonda de Santa Clara / Facebook
Puebla is well-known among Mexicans for its cuisine: Both mole poblano and chiles en nogada are said to originate here. Be sure to try the mole at Fonda Santa Clara , a Poblano landmark with two locations in the historical center, or at Casona de la China Poblana , a boutique hotel whose restaurant serves up a pine nut-based version. Chalupas—mini corn tortillas topped with shredded pork, chopped onion, and red and green chili sauce—are also very popular, and can be best enjoyed at La Casita Poblana . And if you're hankering for some snacks, La Calle de los Dulces (Sweet Street) is the place for treats like camote, muégano, and las tortitas de Santa Clara.
Learn About Cinco de Mayo at the Forts of Loreto and Guadalupe
 Getty Images / Roberto Vaca
The Battle of Puebla on May 5, 1862, in which the Mexican army led by General Ignacio Zaragoza defeated French forces, is celebrated every year as the Cinco de Mayo holiday —and it took place right here. Overlooking the city atop Acueyametepc hill, the neighboring forts of Loreto and Guadalupe (Fuertes de Loreto y Guadalupe) were originally built as chapels in the 16th century, but both were fortified in the 1800s to protect the city during its independence movement. Wander around Fort Guadalupe to see the remains of its walls and cannons, then visit the Museo de la No Intervención (Museum of Non-Intervention), which showcases weapons, uniforms, documents, and oil paintings portraying the battle. If you take the Turibus city tour, you'll drive by here, but you're better off taking a taxi if you would like to visit the museum.
Take a Day Trip to Cholula
Just 6 miles outside of Puebla, you can see The Great Pyramid of Cholula, the world's largest pyramid by volume. Also known as Tlachihualtepetl, it is said to comprise six structures, which collectively stand at 180 feet tall and have a base of 1,480 by 1,480 feet. Now mostly covered in vegetation, you can explore the archaeological site, including a fraction of its 5 miles of tunnels, on a guided tour before visiting the on-site museum. The church at the top, La Iglesia de la Virgen de Los Remedios, is open and free to the public.
Get Lost in the Stacks of Palafoxian Library
 Getty Images / ​De Agostini / G. Dagli Orti
The oldest public library in the Americas, the original collection of the Biblioteca Palafoxiana (Palafoxian Library) was donated by Bishop Juan de Palafox in 1646 with the stipulation that the books be made available to the public and not just academics. Now boasting more than 45,000 works, the library features not only its original collection of books but also the original shelving, which dates all the way back to the 1770s. Don't miss the splendid 14th-century altarpiece, located at the far end of the library. Biblioteca Palafoxiana is open for guided tours, Tuesday through Sunday.
Sign Up for a Talavera Workshop
Puebla isn't called the "City of Tiles" for nothing. Talavera poblana (Talavera pottery) is a type of hand-painted, tin-enameled earthenware that was first introduced to Puebla in the 16th century by colonizers from Talavera de la Reina, Spain. Today, the city is one of the few places in the world producing authentic Talavera, and seeing some of Puebla's master artisans at work will add a whole new level of interest to your shopping expedition. You can watch the whole process by signing up for a workshop tour of Talavera de la Reyna or Uriarte Talavera , after which you will have the opportunity to purchase some beautiful ceramics to take home.
Shop for Traditional Handicrafts at El Parián Market
Dedé Vargas/Getty Images
Located in the historic center of Puebla, this charming handicrafts market (also known as the Antigua Plaza de San Roque) is the largest in the city. With 112 stands, you'll find a little bit of everything here, from Talavera pottery and traditional clothing to wax dolls, blown glass, and Amozco silverware. Alternatively, you can check out the Mercado La Victoria, a late 19th-century market that's been converted into a modern shopping center with department stores and upscale boutiques, or the Sunday flea market on Callejón de los Sapos (Frog Alley).
Marvel at the Rosary Chapel of Santo Domingo Church
The opulently decorated Capilla del Rosario (Rosary Chapel) inside the Templo de Santo Domingo (Santo Domingo Church) is a dazzling example of the New Spanish Baroque style. The church was built between 1571 and 1611, but the chapel was added later, in 1690, to teach locals how to pray the rosary. At one time called the Eighth Wonder of the World , it is adorned in a dazzling display of 24-carat gold leaves as well as stucco and onyx work. It's located just three blocks from the Zócalo; admission is free.
Hike One of the City's Nearby Volcanoes
About 28 miles from Pueblo is Lq Malinche National Park, home to the sixth-tallest mountain in Mexico. The 14,566-foot peak of La Malinche volcano (also known as Matlalcueye or Malintzin) can be reached by trekking the difficult 7.6-mile summit route. Passing through thick forests and winding up a rocky ridgeline, the trail is no easy feat (there's a 4,183-foot elevation gain)—but the views are well worth it. Further afield (37 miles) is Izta-Popo National Park , where you'll find Mexico's third-highest peak. IztaccíhuatlIf (Izta, for short) rises more than 17,000 feet above sea level; if you're up for the challenge, take the strenuous 7.6-mile summit trail , which has an elevation gain of 4,537 feet. Note that this trail is recommended for experts only, as the high altitude and icy terrain add an extra challenge to the trek.
Visit an Art Museum Housed in a Former Convent
Getty Images / De Agostini / S. Gutierrez
According to legend, the former convent of Santa Rosa is where mole poblano was first prepared. Although the 17th-century building is now home to the Poblano Museum of Popular Art, you can still step inside the kitchen, which is decked out in nearly 18 thousand Talavera tiles. Elsewhere in the museum, you'll find textiles, silverware, wooden masks, and other folk art created by ethnic groups indigenous to the region, including the Mixtecs, Popolocas, and Totonacs. The Museo de Arte Religioso de Santa Monica (the Religious Art Museum of Santa Monica) is located in a former convent, too, and it is here where the nuns allegedly invented chiles en nogada. Recently renovated and restored, the museum features sacred paintings, sculptures, embroidery, and altarpieces.
World Population Review. "Population of Cities in Mexico (2022)." Retrieved on February 18, 2022.
Top Mexico Destinations
The Top 10 Sights in Mexico City
A Walking Tour of Mexico City
Top 10 Free Things to Do in Mexico City
Discover the Beauty of San Miguel de Allende
The Top 13 Things to Do in Monterrey, Mexico
20 Top Things to Do in Mexico
10 Cities in Mexico Recognized by UNESCO
How to Travel From Mexico City to Oaxaca by Plane, Bus, and Car
9 Top Things to Do in Guadalajara, Mexico
Visit Taxco, Mexico's Silver Capital
5 Destinations for Family Vacations in Mexico
12 Top Things to Do in Bologna, Italy
The Complete LGBTQ Travel Guide for Mexico City
9 Top Things to Do in Tijuana
10 Best Things to Do in Acapulco, Mexico
By clicking "Accept All Cookies", you agree to the storing of cookies on your device to enhance site navigation, analyze site usage, and assist in our marketing efforts.
The Top Things To Do in Puebla City, Mexico

Northern England Writer
The city of Puebla de los Ángeles , in the state of the same name, is one of the most popular tourist destinations in Mexico , not least because of the delicious culinary heritage, ornate and magnificent colonial architecture, and ease of access from Mexico City. Even Unesco has recognised its cultural value. Here's our guide to the unmissable sights and activities in Puebla City.
View all trips, explore a volcano – inside or out.
If you're feeling adventurous, or prefer the path less traveled, may we recommend exploring a few volcanoes? Puebla has the twin volcanoes, Iztaccíhuatl and Popocatépetl, as good as on the doorstep. While the latter is off limits to visitors, due to a 1994 eruption, the former still makes for a great day climbing or sightseeing. You could also venture within the Cuexcomate geyser.
Destinations Unlocked:
Looking for an expert's perspective.
CentralAmerica

Gorgeous Guatemala
1. guatemala.

Beachy Belize

Colonial Mexico
Back to map, southamerica.

Adventurous Ecuador

Ancient Peru

Seductive Southern Italy

Edinburgh And The Scottish Highlands By Train
2. scotland.

Complete Portugal By Train
3. portugal.

Soulful South Korea
1. south korea.

Thailand, Cambodia & Vietnam
2. thailand.

Secrets Of Sri Lanka By Train
3. sri lanka.

Epic Morocco

Ultimate Egypt

Immersive Kenya

Indulge your sweet tooth on Calle de los Dulces
Besides mole poblano and the seasonal delight that is chile en nogada , Puebla is also well known for producing delicious sugary treats. The best place to sample all the culinary specialties this city has to offer is the so-called Calle de los Dulces (Sweet Street) – also known as La Calle de Santa Clara. Make sure to try some of the region's most representative candies – camote , muégano and las tortitas de Santa Clara .

Get a different perspective on the city
Once you've had your fill of browsing the artisanal stores that line the Puebla streets, you'll be ready for a new perspective on the colonial city: a ride in the teleférico, or cable car. You're suspended high above the city on the 2,231ft (680m) traverse, so you can see all the beauty in one go. If the thought of dangling from a wire doesn't appeal, ride the Estrella de Puebla, a 262ft (80m) high ferris wheel that delivers views of Izta and Popo volcanoes as you circle slowly.
Become a Culture Tripper!
Sign up to our newsletter to save up to 800$ on our unique trips..
See privacy policy .
Admire unusual architecture
Puebla is known as one of the finest destinations for architecture in Mexico. While you're here, seek out some of the slightly less conventionally decorated buildings – your Instagram followers will thank you. The first is Casa de los Muñecos, its facade clad in gingerbread-colored faience-style Talavera tiles. If that's your bag, also take in the Casa del Alfeñique, covered in tiles that make the exterior look like gingham. For baroque fans, Capilla del Rosario is a must-see, as is the Iglesia de la Compañía de Jesús. For something more modern, head to the Ricardo Legorreta-designed La Purificadora.

Visit Museo Amparo
If you love art, don't forget to visit Museo Amparo. It might be little, but within two colonial buildings is housed one of the finest collections of Mexican art in Latin America – and entry is free. Since it opened 30 years ago, the museum has acquired everything from pre-Hispanic art to modern-day pieces. Take a good look for the sculptures of rabbit-headed gods of scribe and the elaborate canvases of Catholic saints and aristos. While you're here, check out the terrace too – you'll get an unbeatable view over the city.

Try the local drinks
In Puebla they like their food – and they adore their libations. The city is the home of many fantastic drinks more or less exclusive to the state. You could sip a Mexican mojito, also known as a menyul – there are many varieties but essentially it's a mint julep made with rum instead of bourbon. You might like a super-strong pasita, a much-loved liqueur made from a local, raisin-esque fruit. Also try the eggnog-like rompope.
Try the 'mole poblano' for which Puebla is famous
You simply cannot visit Puebla without trying mole poblano . This rich, thick, chili-chocolate-flavour sauce, typically served with rice and meat, is the national dish, and where better to try it than in the place from which it originates? Of course, you could order at a restaurant, but why not buy the ingredients from Mercado el Carmen and make your own? If mole doesn't sound up your street, then perhaps you need Puebla's signature dish, the sandwich-like cemita, or how about a purple quesadilla from Mercado de Cholula?
Take photos of the murals in Xanenetla
Considered the youngest neighborhood in Puebla, Xanenetla is also one of the most vibrant and will give you a great culture hit if you're more interested in street art than colonial architecture. Once written off as unsafe, it has a new lease of life thanks to street-art projects around the barrio, attracting plenty of arts-oriented travelers. Cobbled streets and around 55 colourful, full-wall sized murals await in this quirky corner of the city. It's a great way to find out more on foot – the art addresses everything from the city's past to its celebrated residents, as well as people's hopes and fears.

Visit the Cerro de Loreto y Guadalupe
Many people think Cinco de Mayo is Mexican Independence Day, when in fact that is on 16 September. Still, one state in Mexico does celebrate 5 May and that state is Puebla. On 5 May 1862, Ignacio Zaragoza and his troops defeated the attacking French army on the Cerro de Loreto y Guadalupe, the hilltop home to the Loreto and Guadalupe forts. You can – and should – explore the old military stronghold, now home to a museum rather than an army. The view from the forts is spectacular, too, down over the city below.
Visit one of the most beautiful cathedrals in Mexico
Easy to find – as are most of the cathedrals in Mexico – right on the main square, the Roman Catholic Catedral de Puebla is essential viewing, with its façade covered in sculptures of saints including Rose of Lima, Teresa of Avila, Peter, Paul and Gabriel. Constructed in 1575 it has a remarkable tiled dome roof inspired by St Peter's Basilica in Rome. You can wander the peaceful interior, which is lined with 14 tranquil side chapels. Prolific sculptor Manuel Tolsá, who worked in Spain and Mexico in the early 19th century, was the creative force behind the impressive principal altar.

Browse the antiques on Frog Alley
Callejón de los Sapos (Frog Alley), is a treasure trove of antiques dealers, artisanal vendors and furniture hawkers. At the weekends, it hosts a flea market, where you can pick up some Talavera pottery or some vintage movie paraphernalia to take home as a colourful souvenir of your time in Puebla.
Visit the Biblioteca Palafoxiana
No point in playing it down – this is one of the finest libraries in Mexico, if not North America. You'll find the Biblioteca Palafoxiana tucked within Casa de la Cultura and even if you only consider yourself an amateur bibliophile you'll treasure a visit. Founded in 1646, it has since amassed more than 41,000 works on its polished-wood bookcases, lining the place wall to wall and floor to ceiling. This was the first public library in Mexico and, many believe, in the Americas.

Museo Internacional del Barroco
With gold-filled churches full of Tenebrist art in the Caravaggio style, Puebla is the best place in Mexico to host a museum of the baroque. Housed in a spectacular white-concrete building by Pritzker Prize-winning architect Toyo Ito, the establishment focuses on the glittering ecclesiastical baroque, which reached a zenith in Latin America. Galleries are crammed with altarpieces and artifacts from the region, many of them displaying indigenous craftsmanship; classical music of the period plays throughout and interactive displays explain the context.

Parque Ecológico
Puebla's not all colonial architecture, cobbled streets and glittering churches. The Parque Ecologico is a 143-acre (58 ha) public park in the northeastern suburbs. It's a good place to settle in and cool off – pooled with lakes and home to extensive woodlands plus plenty of shady nooks. There's a circular aviary (filled with tropical birds), cycle trails and running paths (with adjacent fitness machines), cafes and picnic areas. After dark the fountains are illuminated in rainbow colors.
Africam Safari
This safari park was founded in the 1970s by celebrity businessman Carlos Camacho Espiritu. With open-air enclosures, which mimic natural surrounds, and an active conservation programme, it is one of the more forward-looking zoos in Latin America. The collection is themed according to famous wilderness locations: Chitwan is home to Bengal tigers, Serengeti to African lions and Huasteca (based on the Gulf-Coast region of La Huasteca) exhibits North American animals including coyote, peccaries and black bears.

Alex Robinson contributed additional reporting to this article.
Did you know – Culture Trip now does bookable, small-group trips? Pick from authentic, immersive Epic Trips , compact and action-packed Mini Trips and sparkling, expansive Sailing Trips .
Volcanic Iceland Epic Trip
Meet our local insider.
HOW LONG HAVE YOU BEEN A GUIDE?
What do you love about your job, it's the personal contact, the personal experiences. i love meeting people from all over the world... i really like getting to know everyone and feeling like i'm traveling with a group of friends., what destination is on your travel bucket-list, i have so many places on my list, but i would really lobe to go to africa. i consider myself an "adventure girl" and africa feels like the ultimate adventure.
Every CULTURE TRIP Small-group adventure is led by a Local Insider just like Hanna.
See Our Culture Trips

KEEN TO EXPLORE THE WORLD?
Connect with like-minded people on our premium trips curated by local insiders and with care for the world
Since you are here, we would like to share our vision for the future of travel - and the direction Culture Trip is moving in.
Culture Trip launched in 2011 with a simple yet passionate mission: to inspire people to go beyond their boundaries and experience what makes a place, its people and its culture special and meaningful — and this is still in our DNA today. We are proud that, for more than a decade, millions like you have trusted our award-winning recommendations by people who deeply understand what makes certain places and communities so special.
Increasingly we believe the world needs more meaningful, real-life connections between curious travellers keen to explore the world in a more responsible way. That is why we have intensively curated a collection of premium small-group trips as an invitation to meet and connect with new, like-minded people for once-in-a-lifetime experiences in three categories: Culture Trips, Rail Trips and Private Trips. Our Trips are suitable for both solo travelers, couples and friends who want to explore the world together.
Culture Trips are deeply immersive 5 to 16 days itineraries, that combine authentic local experiences, exciting activities and 4-5* accommodation to look forward to at the end of each day. Our Rail Trips are our most planet-friendly itineraries that invite you to take the scenic route, relax whilst getting under the skin of a destination. Our Private Trips are fully tailored itineraries, curated by our Travel Experts specifically for you, your friends or your family.
We know that many of you worry about the environmental impact of travel and are looking for ways of expanding horizons in ways that do minimal harm - and may even bring benefits. We are committed to go as far as possible in curating our trips with care for the planet. That is why all of our trips are flightless in destination, fully carbon offset - and we have ambitious plans to be net zero in the very near future.

The Best Art Galleries in Puebla, Mexico

See & Do
Top reasons why you should visit puebla at least once in your lifetime.

Bars & Cafes
The best nightclubs in puebla, mexico.

The Best Bars in Puebla, Mexico

Restaurants
The best restaurants in puebla, mexico.

The Best Places to Buy and See Talavera on Your Trip to Puebla

Places to Stay
The best budget hostels in puebla, mexico.

The Top Hotels in Puebla, Mexico
Black Friday Offers on Our Trips
Incredible savings.
Post ID: 942372
Sponsored? No
View Payload
Work with me
Privacy policy

Years in review
United Kingdom
Bosnia & Herzegovina
North Macedonia
Philippines
South Korea
South Africa
Africa Overlanding
Central America
New Zealand
Solo Travel
Budget travel
Travel tips
Travel itineraries
Hidden gems
Bucket list
Travel resources
Digital nomadism
Blogging tips
Start a travel blog
28 Best Things To Do In Puebla, Mexico For 1-2 Days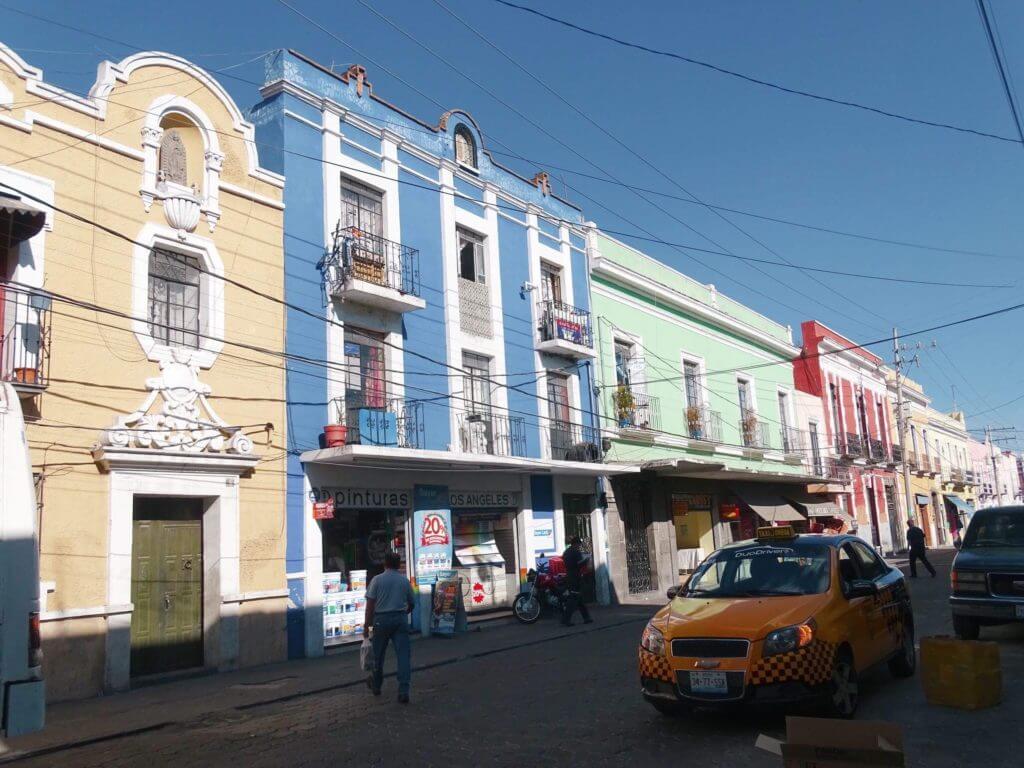 Table of Contents
This post may contain affiliate links to things like tours, hotels, Amazon associates and products. These help me earn a small commission at no additional charge to you.
Planning a trip to Puebla? I'm jealous because, even though I just got back, I'm dying to go again. There are so many ways things to do in Puebla Mexico including simply wandering and soaking up the vibe of this charming city. Puebla is one of my favourite places in Mexico so far. I couldn't help but compare it to Oaxaca with its colourful colonial buildings and local markets serving regional delicacies like mole . But Puebla is quieter, making it one of the best places in Mexico to experience the culture without feeling OTT touristic. It's worth noting that as a solo traveller in Mexico , I felt totally safe during my trip.
PUEBLA ESSENTIALS Accommodation: Booking.com / Hostelworld Copy of Lonely Planet Mexico Activities in Puebla: GetYourGuide Getting there: Rentalcars.com / Busbud
Puebla intro
Puebla is the name of the state as well as its capital city. I'll be talking about the city in this Puebla travel guide. Aside from nearby Cholula in Puebla state, I didn't have time to explore other places in the region but there are plenty of destinations to check out. The other great thing about visiting Puebla is its close proximity to Mexico City. It only takes 2 hours by bus from the capital. Along with Taxco and Tepoztlan, it's one of the best short trips from CDMX. I'll explain what to do in Puebla whether you have either 1 day or 2.
Getting to Puebla
Getting to Puebla by bus – Simply board a bus from Tapo (Terminal de Autobuses de Pasajeros de Oriente) in Mexico City. You can catch a taxi there from your accommodation or catch the Metro for 5 pesos to San Lazaro Station which connects to the bus terminal. Buses to Puebla from Mexico City depart every 30 minutes and cost around 250 pesos ($13) each way when booking on Busbud . The journey takes just 2 hours. Getting to Puebla by day tour – while are many things to see in Puebla Mexico and I'd recommend spending 2 days if possible, you can take an organised day tour if time's tight. I'd opt for this full-day tour from CDMX to Puebla and Cholula .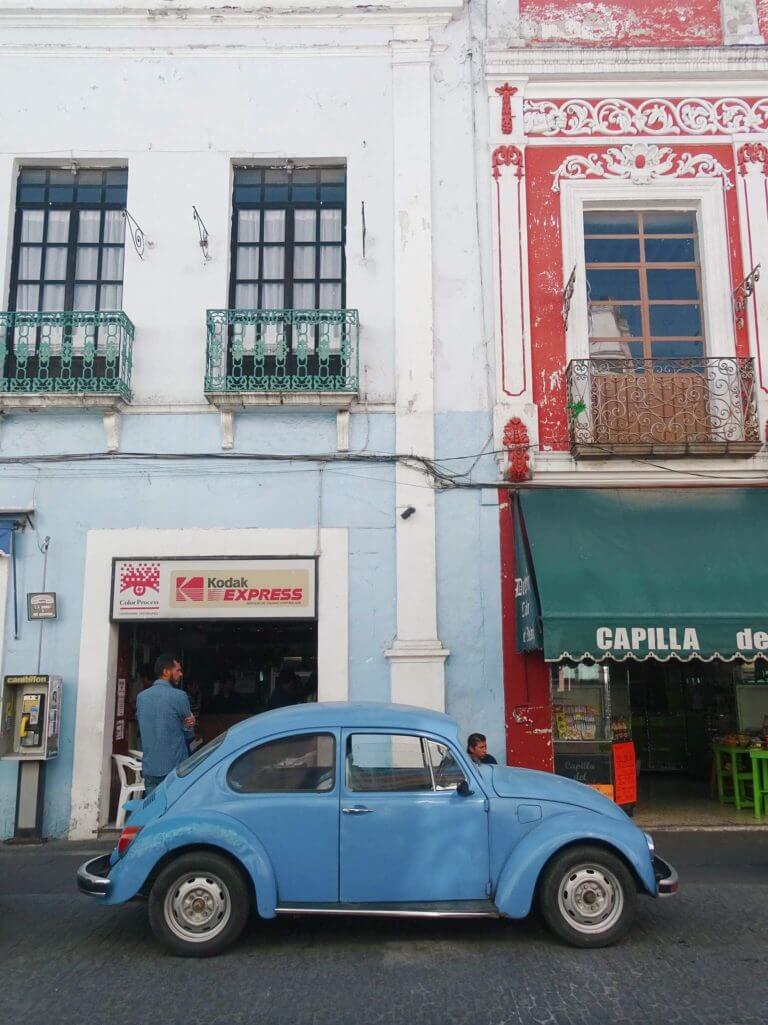 Where to stay in Puebla
Budget hotel – Hotel Isabel ($39)
Splash out hotel – Hotel Boutique Casareyna ($97)
Hostel – I stayed at Posada Vee Yuu (from $8) which is a lovely, colourful hostel with spacious rooms. They organise walking tours and games nights to get to know new people.
History of Puebla
Puebla is a city with little indigenous history: it was built by the Spanish to connect their government of Vera Cruz with the capital of Mexico City. Designed and planned by the bishop (apparently based upon messages from angels, earning the nickname Puebla de los Angeles AKA City of the Angels), it's an organised city built upon a grid of 100 blocks with many, many grand churches. The other historic event that puts Puebla on the map is the Battle of Puebla in 1862 which saw the Mexican army defeat the French, under orders of Napoleon, who were trying to capture Mexico. They were defeated on the 5th of May or Cinco De Mayo, an event now celebrated annually in Puebla and the USA.
2 days in Puebla
While you could spend way longer, many travellers visit for two days. It's a small city yet there's plenty to fill your Puebla itinerary. If you've got two days, I would recommend one of the following options:
Spend a busy day seeing Puebla and a second taking a day trip to Cholula
Spend both days wandering beautiful Puebla at your leisure with more time for eating and museums.
Keep reading for my ultimate 2 day Puebla itinerary.
20 things to do in Puebla Mexico
Time for me to tell you about all the very best places to visit in Puebla! I managed to squeeze all the below Puebla activities into 2 days so I can vouch that it's possible. Here's what to do in Puebla Mexico for foodies, culture lovers and history buffs! I'll share the main Puebla tourist attractions as well as my favourite hidden gems.
1. Eat mole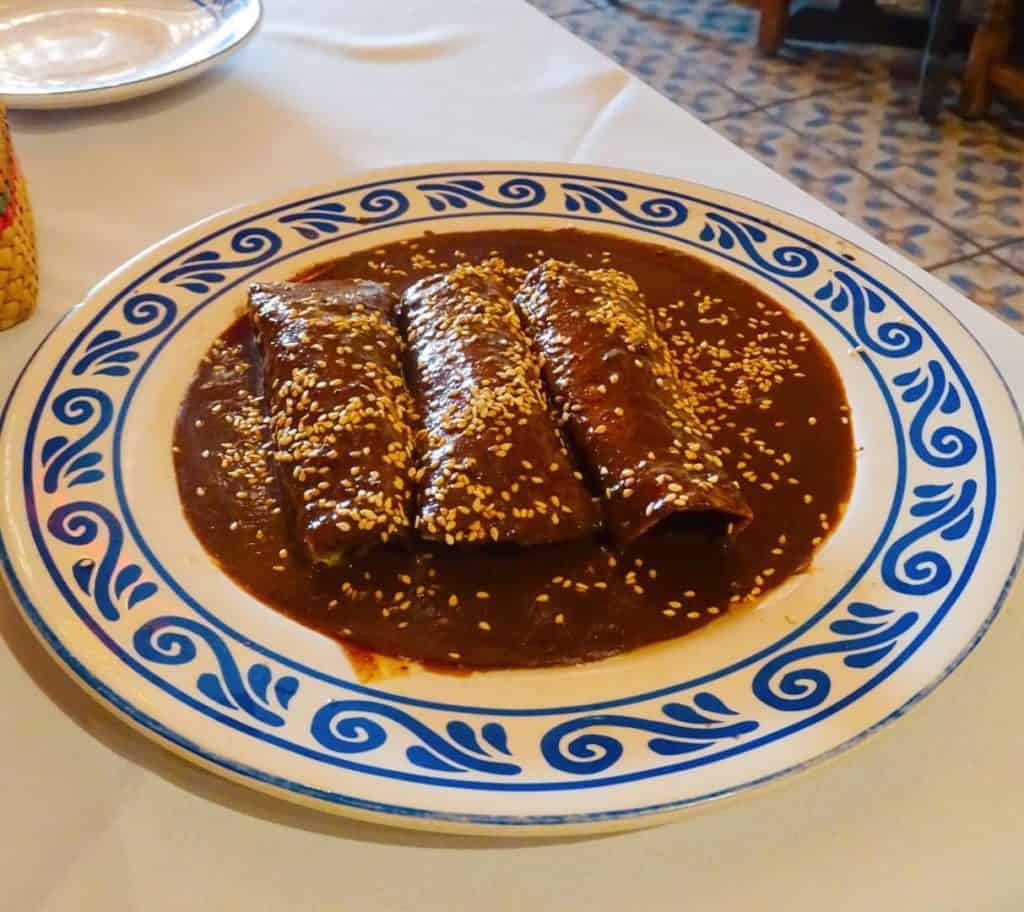 Eating mole in its birthplace should be high on your Mexico bucket list ! Poblanos (people from Puebla) will tell you mole was invented here, although people from Oaxaca also lay claim to it. The only thing to do? Try it in both! This delicious sauce made of chocolate, chili, nuts, onion, garlic and spices. It takes an age to prepare but is worth every moment. Eat it drizzled over chicken or enchiladas.
Related tour: Puebla mole poblano cooking class and market tour
2. Take a free walking tour
I booked a fantastic free walking tour of Puebla with Estacion Mexico . It runs every day in English and Spanish from 11am and lasts 2.5 hours. Our guide was fantastic: entertaining and super knowledgeable! Not only will you learn about the history of the city and tour the key things to do in Puebla, but you'll also learn about the regional foods. We even got to try some samples of mole sauce!
3. Browse Parian Market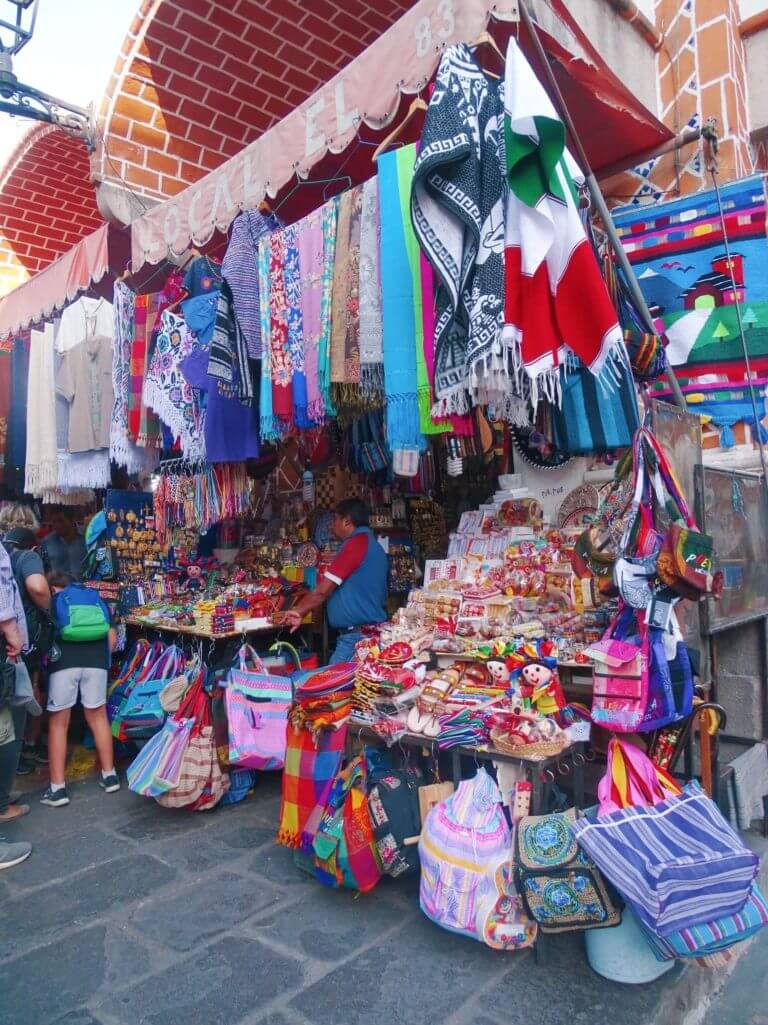 This colourful artisan market is one of the best places to visit in Puebla to shop for affordable souvenirs or browse and soak up the atmosphere. Interestingly, the name El Parian is not Spanish but a Filipino word adopted during Spanish colonial rule. The market was still quiet when I walked through at 10am so you should visit after lunch for the best atmosphere. Don't forget to haggle; the vendors expect it.
4. Visit the Artist's Quarter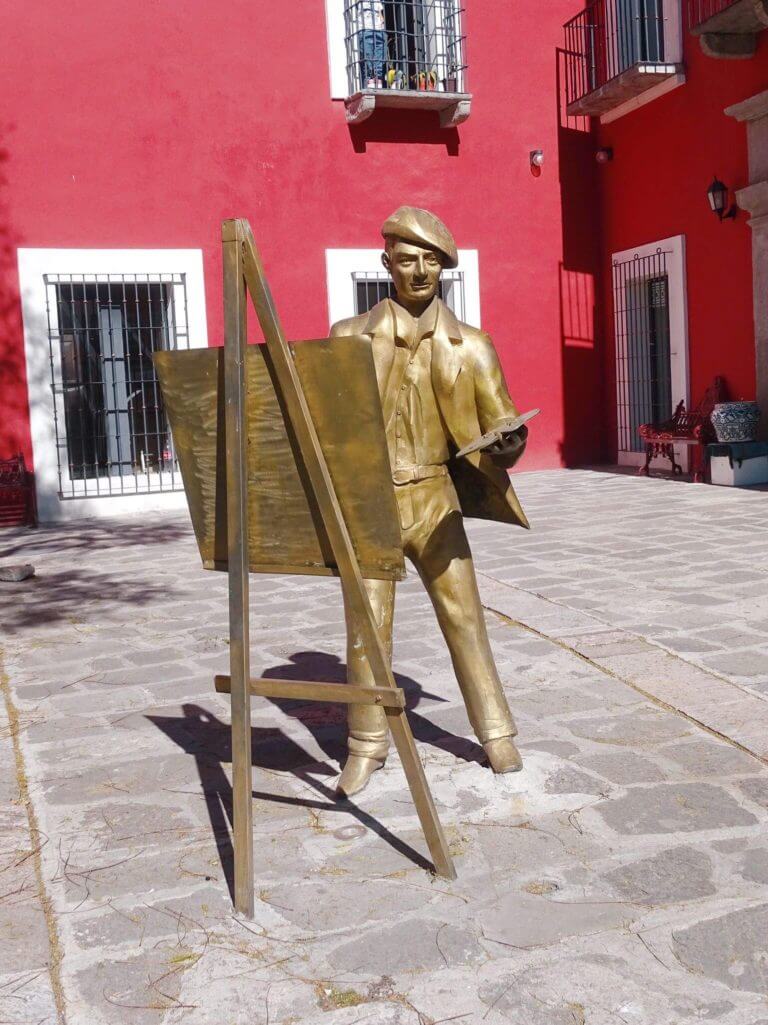 Just across the road from Parian Market is the Artist's Quarter. Here, small galleries display their work beside a cobbled courtyard. It's a good spot for people-watching and wandering, especially on a sunny day. For a bohemian night and live music, visit Cafe Gallery Amparo from 8-11pm on Saturdays (entry 25 pesos).
5. Shop for Puebla Talavera Pottery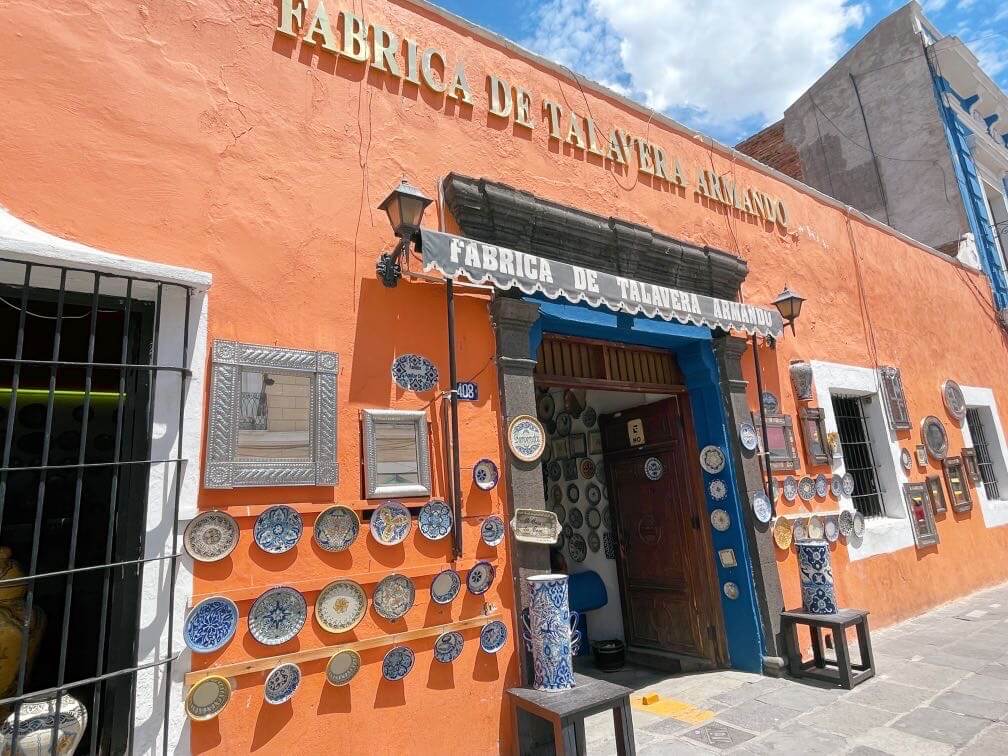 Ornate, handpainted glazed ceramics from Puebla are famous around Mexico and the world. You'll notice beautiful tiles on buildings in the city, earning it the nickname, 'City of Tiles'. Although Talavera pottery originated in Spain, Poblana Talavera has been mixed with prehispanic tradition and techniques practised before the arrival of the conquistadors. The land in Puebla is some of the most fertile in Mexico thanks to the volcanos surrounding the region, resulting in quality clay. Shop for dishes, plates, vases and countless other Talavera items. There are lots of places to shop for Talavera in Puebla but you can't do better than Uriarte Factory . Remember to check for the four marks proving it's real showing the name, factory and location. These are painted and sealed so that if the police (acting under the Mexican Talavera Regulatory Council) rub alcohol across the mark, it doesn't come off. Vendors can be charged with 3-5 years in jail for selling fake Talavera!
6. Learn at the Amparo Museum
One of the best things to do in Puebla for history lovers is visit the Amparo Museum of Puebla . With over 3,500 items and exhibitions on ancient Mexican, pre-Hispanic culture, and Black history of Mexico, there's a lot to learn. I would point out that only about half the exhibits are in English. Entry is 35 pesos.
7. More museums in Puebla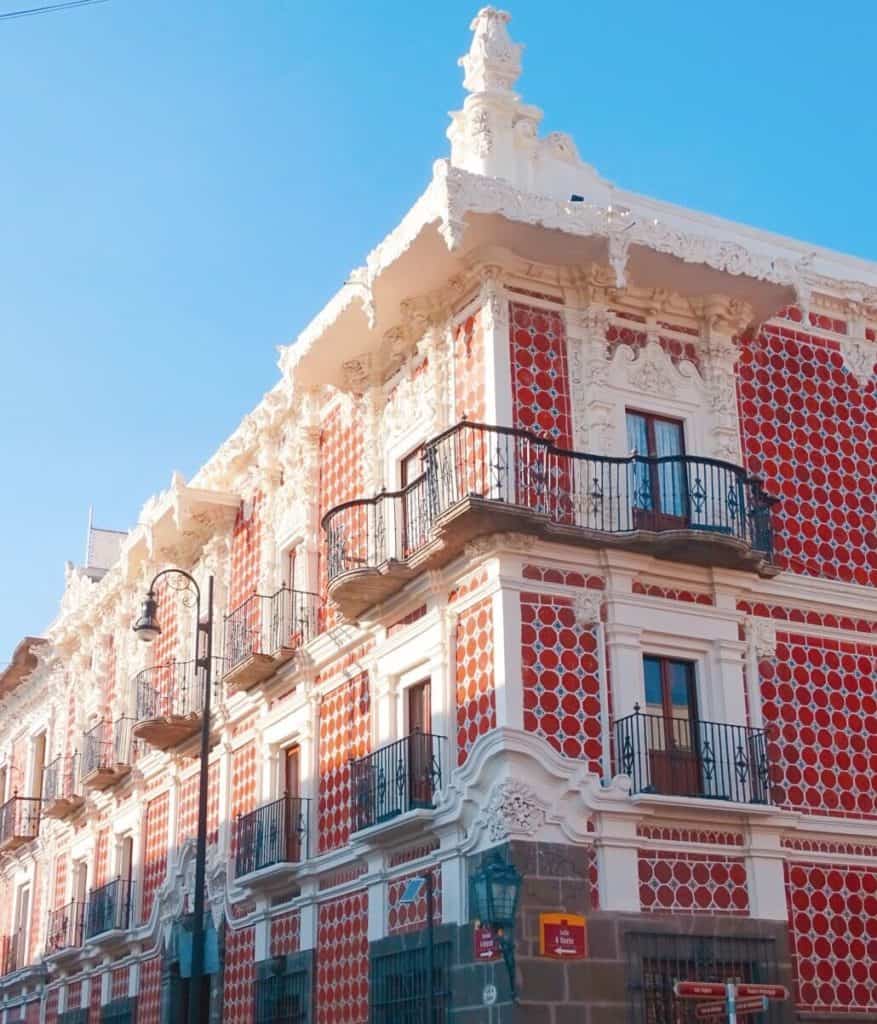 Puebla is a cultural city with lots to learn about. A few museums to visit include:
Note – one Saturday, a month, the museums are free from 5-10pm. Check if your trip lines up!
Revolution Museum – this preserved 19th-century house peppered with pellets was the site of the first battle of the 1910 Mexican Revolution. It's worth a visit for those with a real interest in this period (and perhaps some pre-existing knowledge) as I found parts of this museum quite dry. Entry is 55 pesos.
Museo Casa de Alfeñique – this unique Spanish house was built by the owner for his wife featuring a wedding cake-like structure on top. Inside is a small museum with art and artefacts.
Museo Carolino – an art museum in a beautiful building with a tranquil cafe onsite. I was told it was free but found entry to be 100 pesos, perhaps because there was a Da Vinci exhibition on?
Museo Casa del Mendrugo – this culture museum holds exhibits of pre-hispanic funeral rites, the remains of Chuchita (the oldest inhabitant of Puebla) and Talavera pottery, protected by UNESCO. Entry is 50 pesos or free on Wednesdays (and free if you eat in the restaurant).
The museum next to Biblioteca Palafoxiana in Casa de la Cultura – I missed the name of this place but it's a small, free museum displaying typical Poblano costumes and dress. One with a spectacular headpiece worn by men mimics the style and colour of a local bird.
8. Visit a 100-year-old shot bar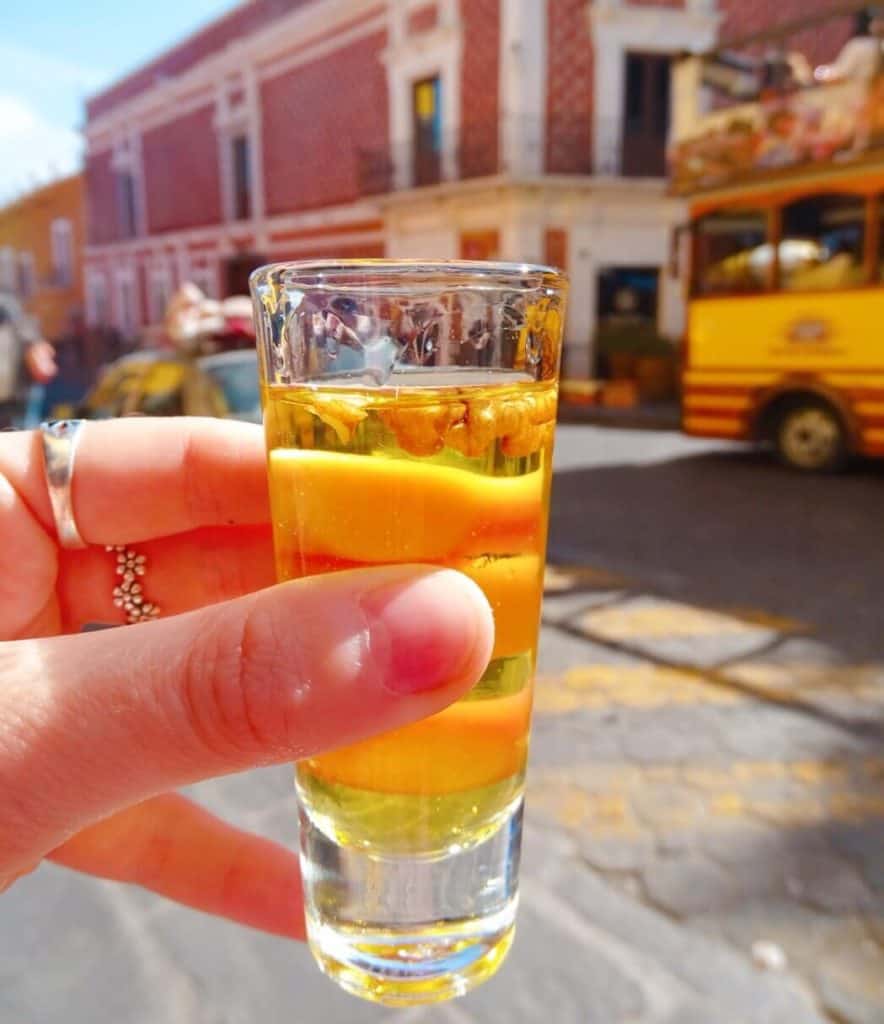 I was advised not to leave without drinking daytime shots at La Pasita . This quirky bar full of antiques and memorabilia has been serving its signature shots for decades. Don't miss the statue dedicated to the famous local who drank 100 shots and passed away immediately after! He's remembered as a local hero. Pop into this busy bar and rub shoulders with the locals from 1pm daily. Make sure to try the house namesake shot, a sweet brown liquid with a raisin on top and a cube of cheese inside. Sounds weird, tastes amazing!
Read next: Puebla food guide
9. Indulge on Sweet Street (Calle del Dulces)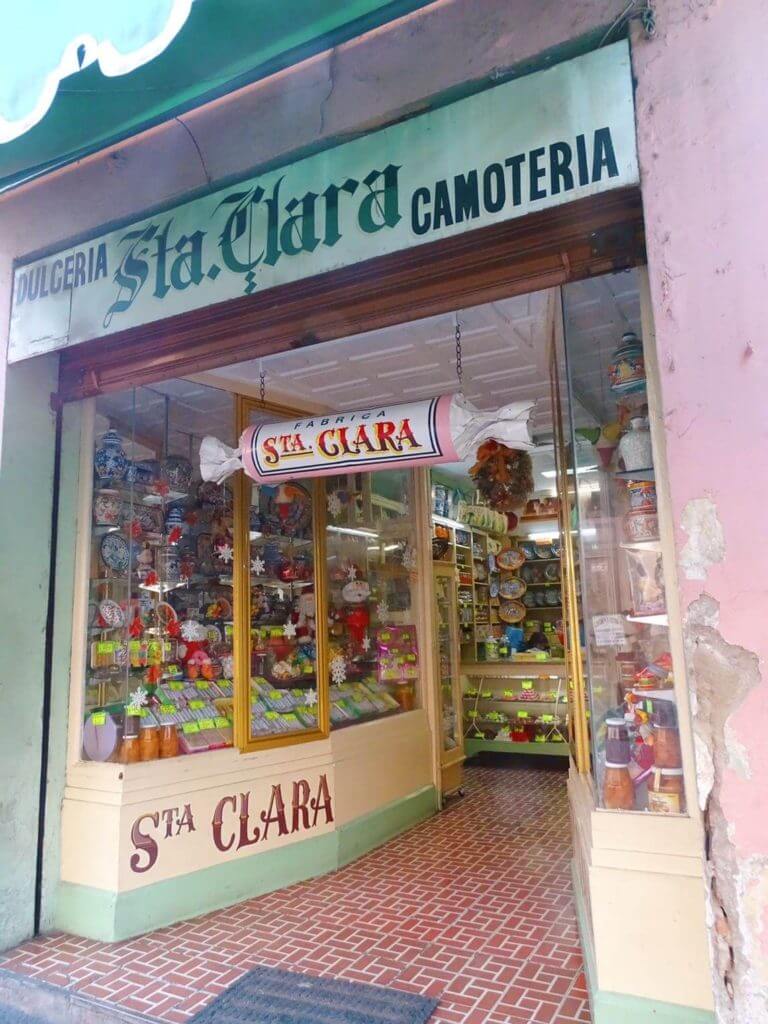 What to do in Puebla for foodies? Gorge yourself senseless on sugar, of course! Sweet shops run the length of Calle del Dulce (Sweet Street). They sell a selection of signature sweets so you'll see the same offerings in each store. You'll also notice how cheap the prices are in Puebla. I bought a basket containing 12 or so little desserts for 30 pesos. If you're looking for the best places in Puebla to pick up souvenirs, you're onto a good one!
10. Go inside Puebla Cathedral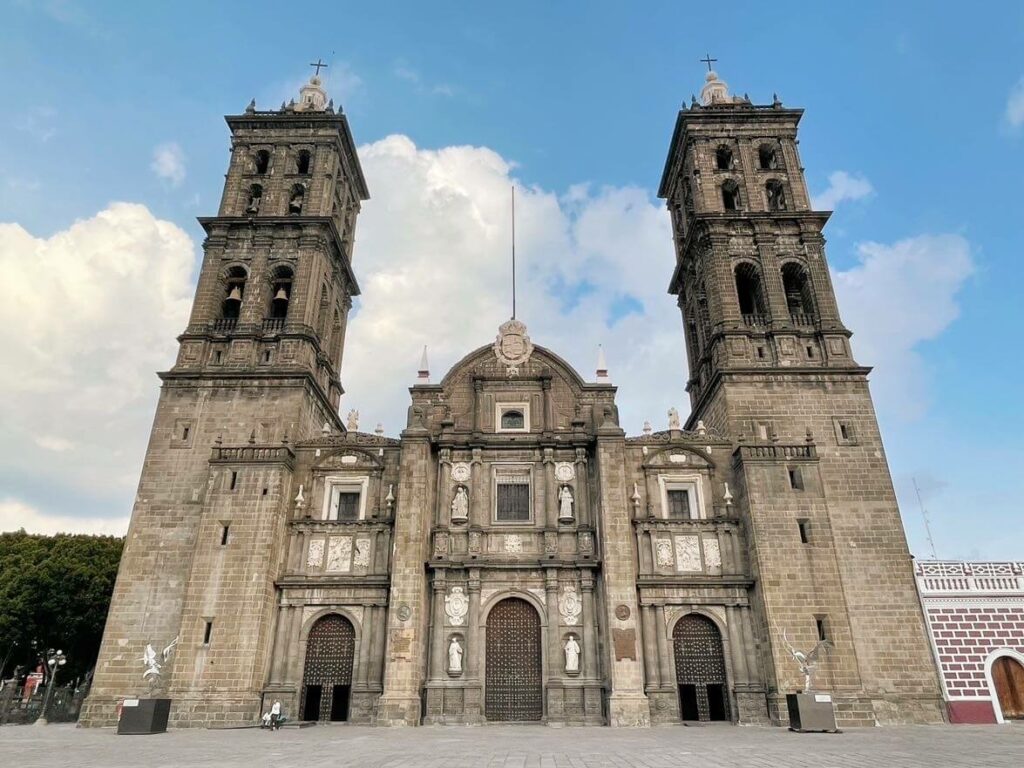 The second-largest cathedral in Mexico, after Mexico City Cathedral, is located in Puebla and took over 100 years to be built between 1575 and 1690. It was once the tallest cathedral in the country, but now it's only the third tallest. Around the gates can be found 58 cherub statues, a reference to the angles who allegedly helped the Spanish bishop design the city. The Cathedral dome is designed to look like the Church of St Peter in the Vatican. This Roman Catholic church sits at the heart of the Zocalo, opening onto the large central plaza where locals sit and socialise. Visiting is one of the best things to do in Puebla whether or not you're religious: it's extremely impressive, laden with gold and other precious materials.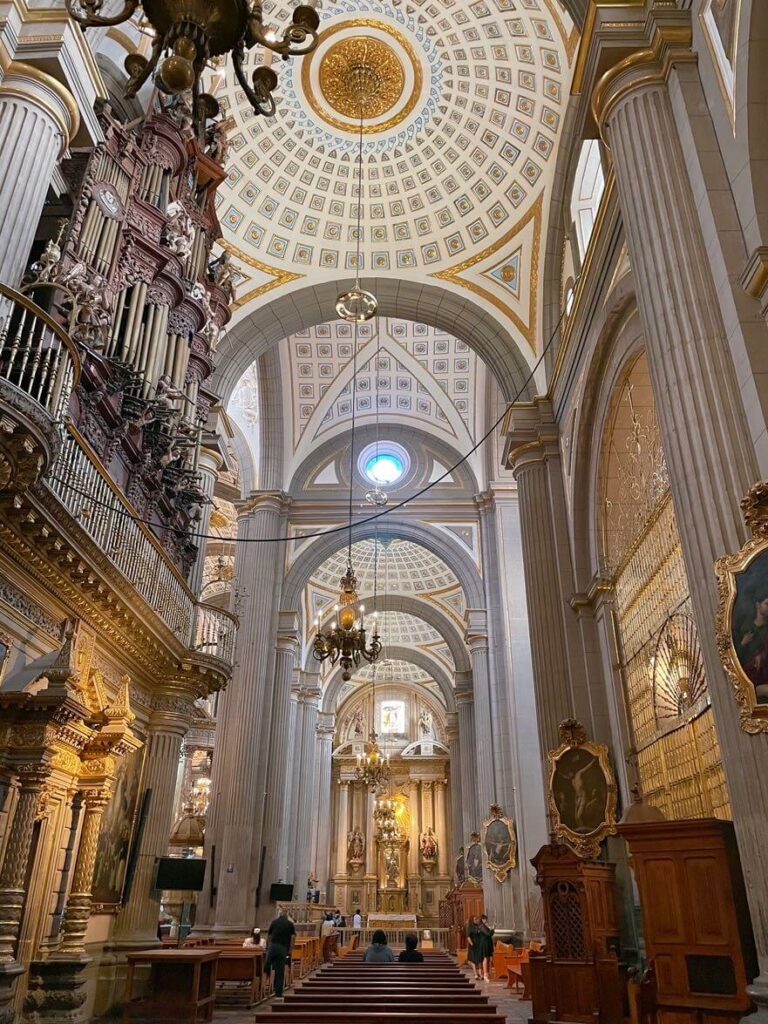 11. Other religious sites
Once the richest city in the Americas, it's little wonder that Puebla is awash with Catholic monuments. I'm not religious so I had no interest in visiting them ALL but, since they're some of the top attractions in Puebla, it's worth seeing a couple even if just from the outside.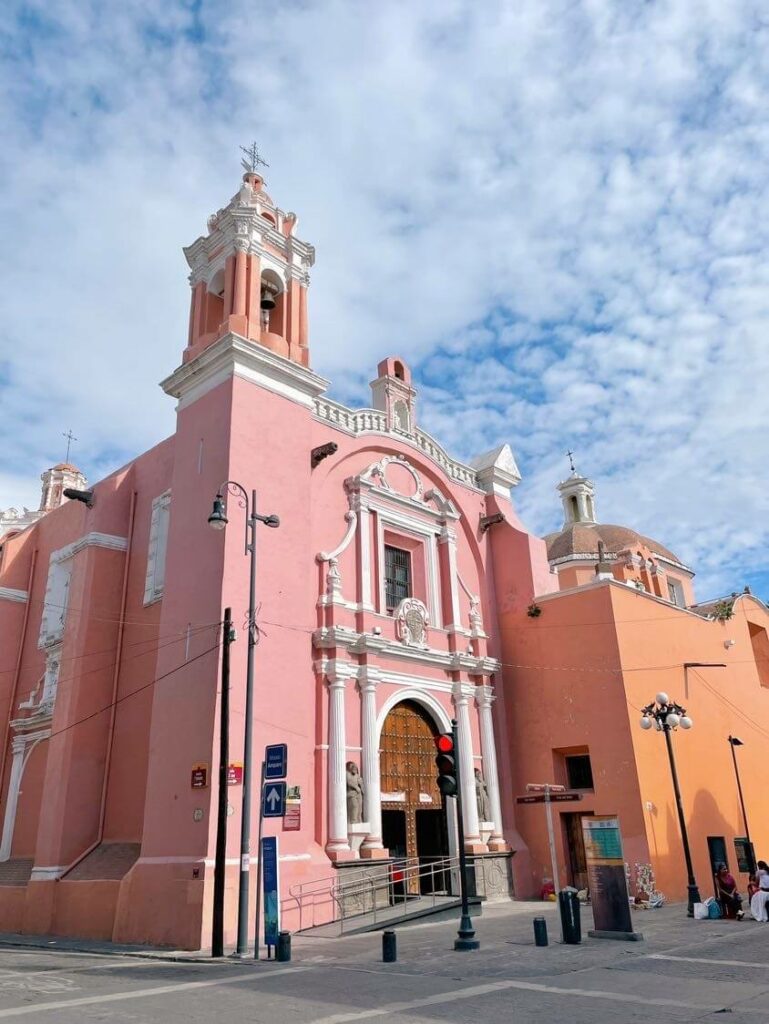 Churches to visit in Puebla include :
Templo de Santo Domingo – the Capilla del Rosario (above right) inside this 17th-century church is even more grand and gold-gilded than the cathedral. It's worth peeking inside, and arriving there along 5 de Mayo street which is bustling with locals rather than tourists sightseeing.
La Compañía – a few blocks from the Zocalo, this grand Jesuit church is dedicated to the Holy Spirit. A legend says it's the final resting place of Catarina de San Juan, an Asian slave credited with inspiring the traditional China Poblana dress style for women in Puebla.
Church of San Cristóbal – a grand yellow church with a beautiful tiled dome on Calle de Dulces. Sweets and culture in one place!
Ex-convento de San Francisco de Puebla – a short walk from the city centre, this church is bright and colourful from the outside, unlike the dark stone Cathedral. It was the first convent in the city, built in 1730.
12. Spot street art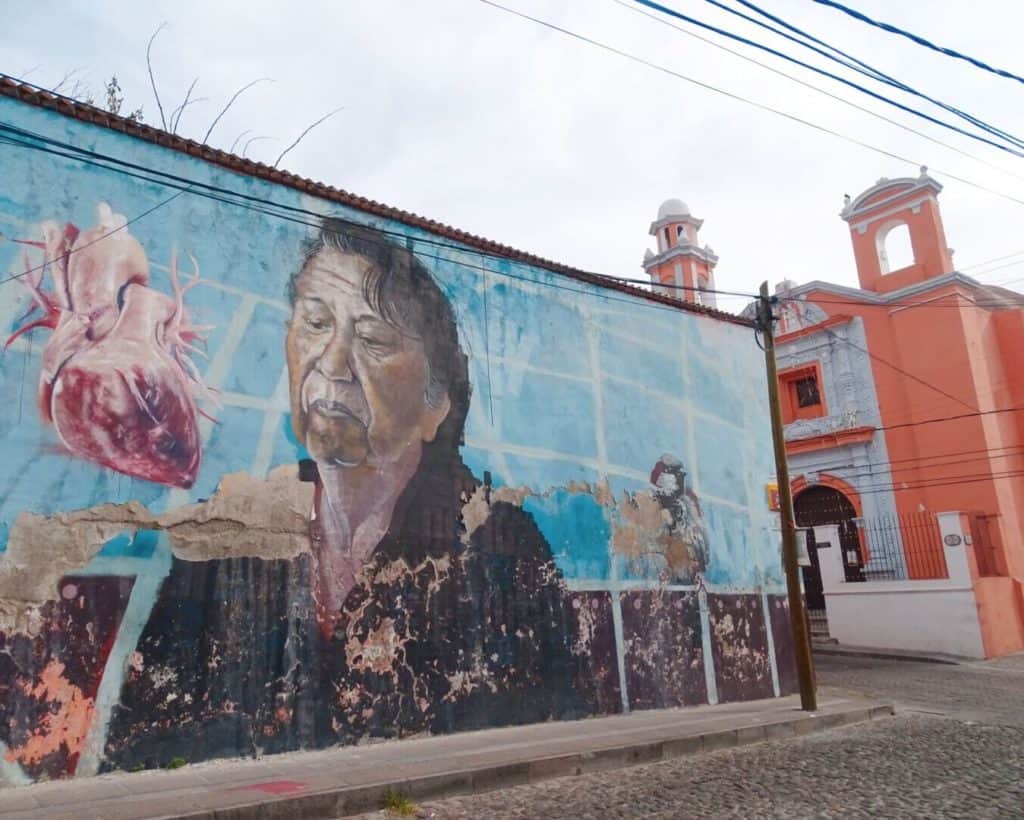 For a fun and alternative activity in Puebla, go street art hunting. I was amazed by the urban art I saw in Puebla: I expected a few murals but the art was so detailed, covering whole buildings. You won't see much street art in the historical streets of the city centre but you will find it a 5-10 minute walk away. Puebla street art locations include the streets surrounding Capilla Ecce Homo Church and the area running from the back of Puebla Secret Tunnels (Calle 4 Nte) towards Xanenetla. A new piece I found when revisiting Puebla in May 2023 is this enormous mural running along Blvd. Héroes del 5 de Mayo .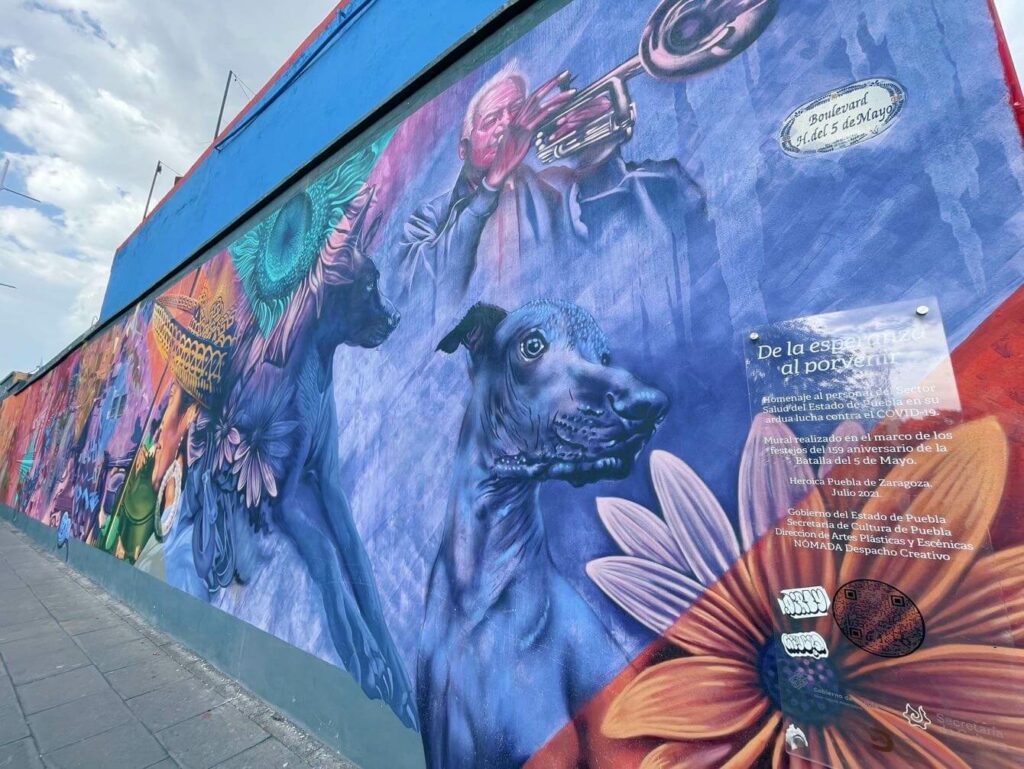 Related read: Where to find street art in Oaxaca, Mexico
13. Fall in love with Barrio de los Sapos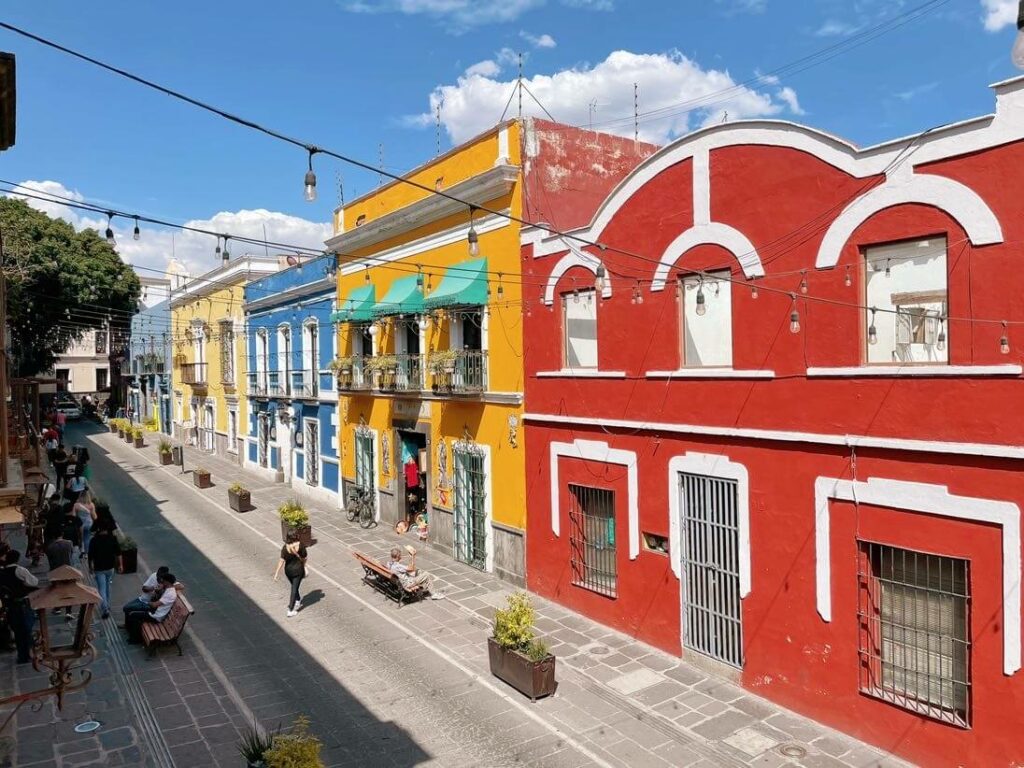 This beautiful callejon is one of the most attractive places in Puebla. Barrio de los Sapos translates as 'place of the frogs' referring to a time when the nearby river would flood, bringing amphibians to the barrio. Today, it's frog-free and lined with colourful houses. A tour guide explained that, in Puebla, you're not allowed to paint your house the same colour as your neighbours. The residents of Frog Alley are certainly playing by the rules!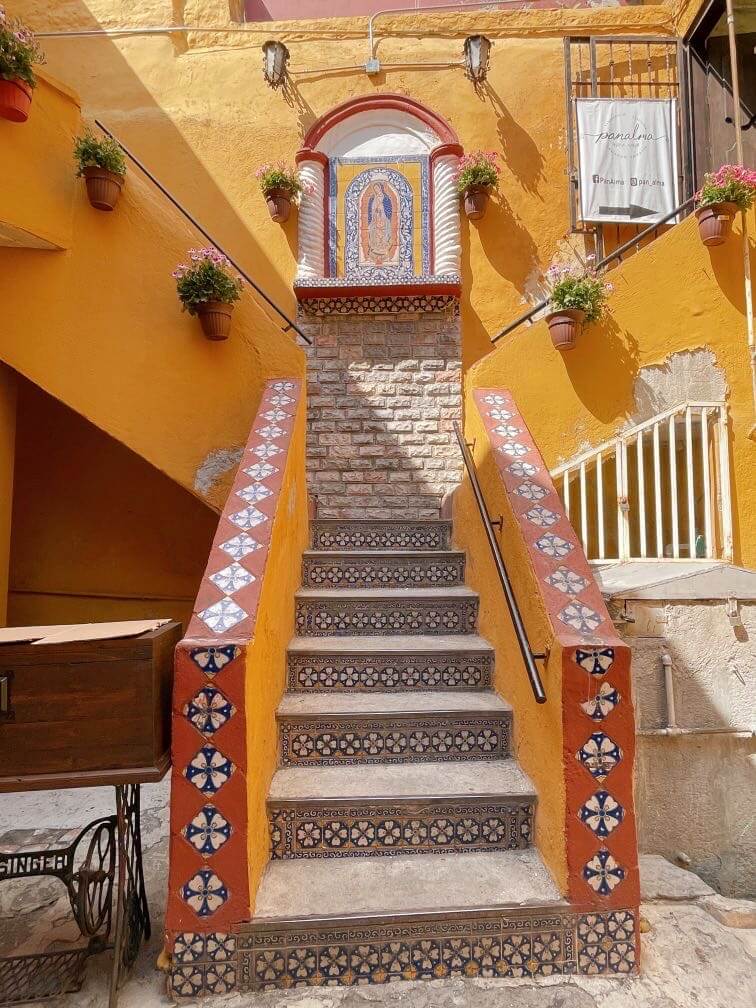 I found a lovely cafe with a balcony overlooking this street. An antique shop hides the entrance to Panalma but, after you've made your way up a gorgeous yellow staircase, you reach this peaceful hidden gem.
14. Stay for the weekend markets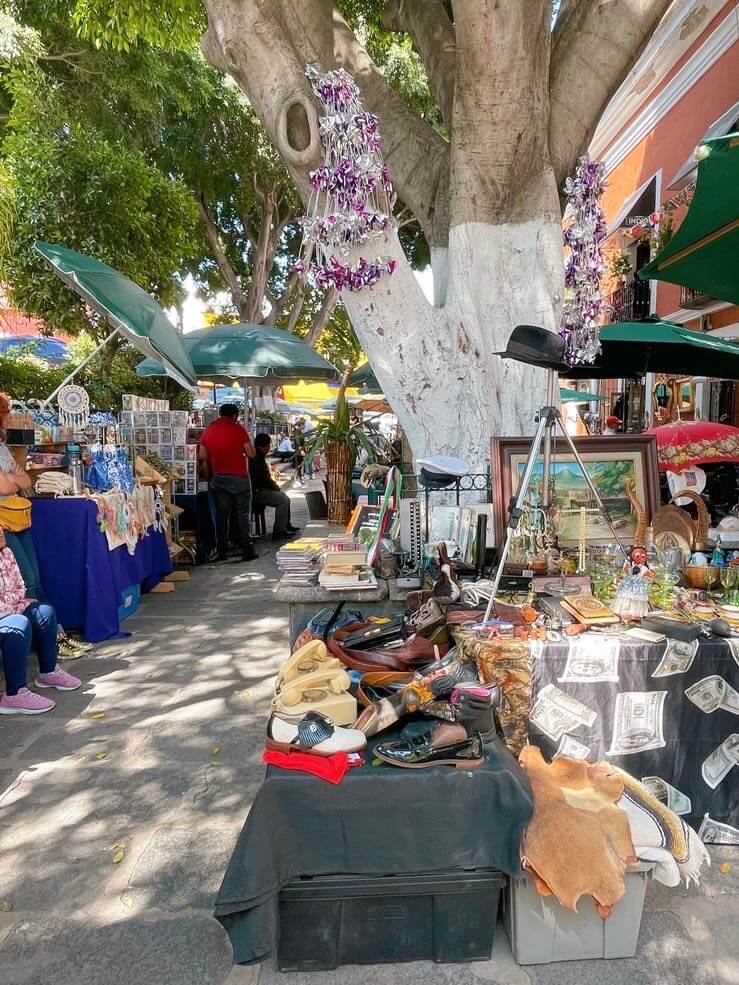 What to do in Puebla on weekends? Well, Barrio de los Sapos and the surrounding streets come to life with antique markets. You can buy everything from genuine antiques to tourist souvenirs, jewellery and the like. It's a lively place with many bargains to be found!
15. Eat churros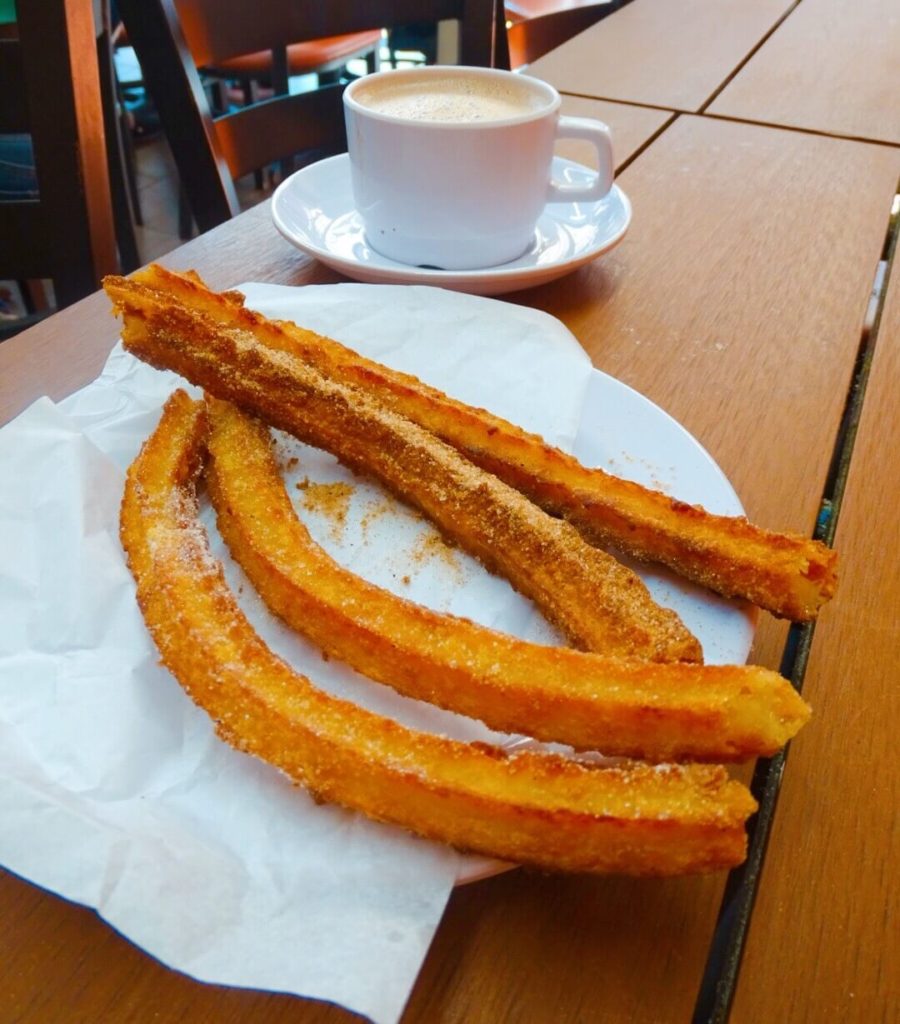 Take a break from sightseeing in Puebla and relax with churros and chocolate. You'll find churros, which date back to Spanish rule, in every Mexican city. Puebla has a particularly good churreria with a totally obscure name which you might struggle to figure out… Puebla La Churreria ! They serve crispy, oozy churros coated in sugar or cinnamon for 4 pesos apiece. Dunk them in hot chocolate to your heart's content.
Read next: what to eat in Mexico – 36 traditional dishes
16. Ride the Teleférico
When it comes to Puebla sightseeing, you can't do much better than drinking in panoramic views from a gondola-style cable car. The teleférico is located away from Puebla centre past the neighbourhood of Xananetla. Head to Parque del Paseo del Teleférico and enjoy a 10-minute ride for just 50 pesos.
17. Explore the Historic Zone of the Forts
At the top of the hill reached by the Teleferico, you can explore this large green space home to many Puebla attractions like the Museum of Evolution, the Planetarium, Guadalupe Fort Museum and numerous historical monuments. It would be easy to spend a whole day here, especially given the fantastic views over the city. There are several parks like Parque Lago de La Concordia where you can relax.
18. Estrella de Puebla
Although it's further from the city, you may want to take a spin on this giant Ferris wheel. The views are impressive, plus you'll glimpse the famous volcanos in the background. Estrella de Puebla is located as far from the teleférico as you can get, closeby to Angelópolis Lifestyle Center Mall and Parque del Arte. It's open from 11am on weekends and 3.30pm on weekdays, closing at 10pm. If coming from central Puebla in a taxi, expect to pay around 60 pesos each way.
19. Try cemitas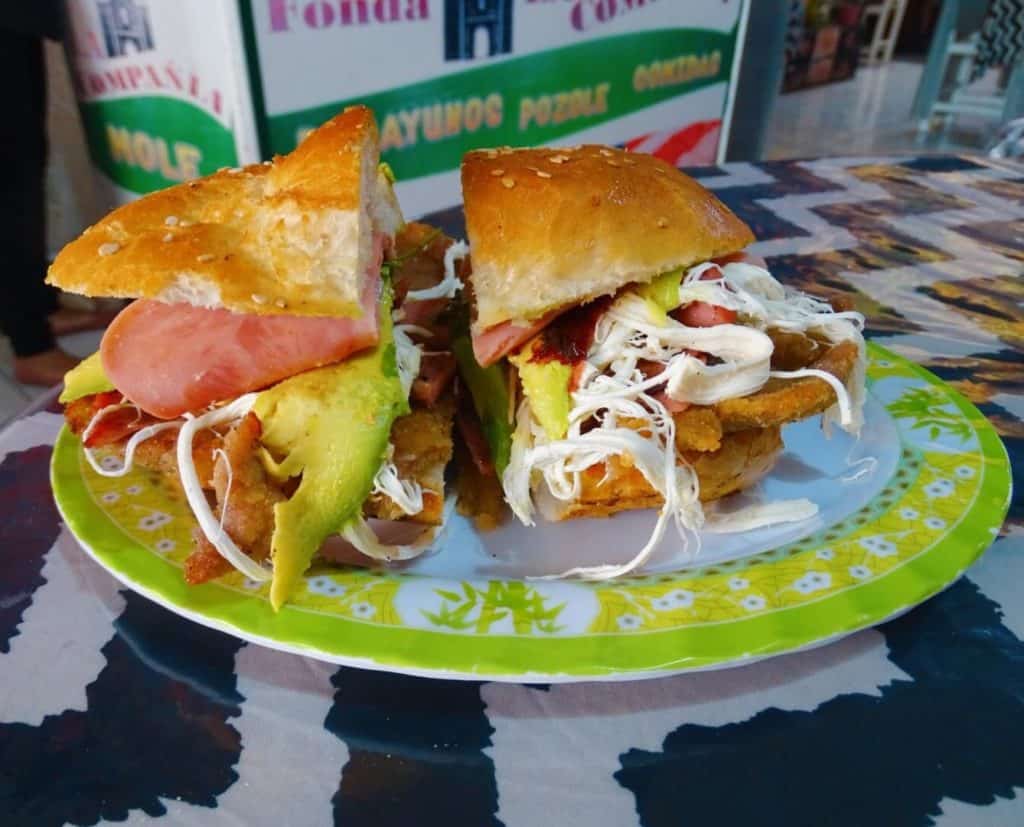 As you're probably realising, many of the best things to do in Puebla revolve around food! Cemitas are similar to tortas but made with a type of bread popular in Puebla. These Mexican sandwiches can be filled with a number of ingredients including quesillo (stringy cheese also sometimes known as Oaxaca cheese), milanesa, avocado and chipotle. You'll find them all over the city but Cemitas y Tortas La Poblanita is an unbeatable spot. Expect to pay 50-90 pesos.
20. Visit Biblioteca Palafoxiana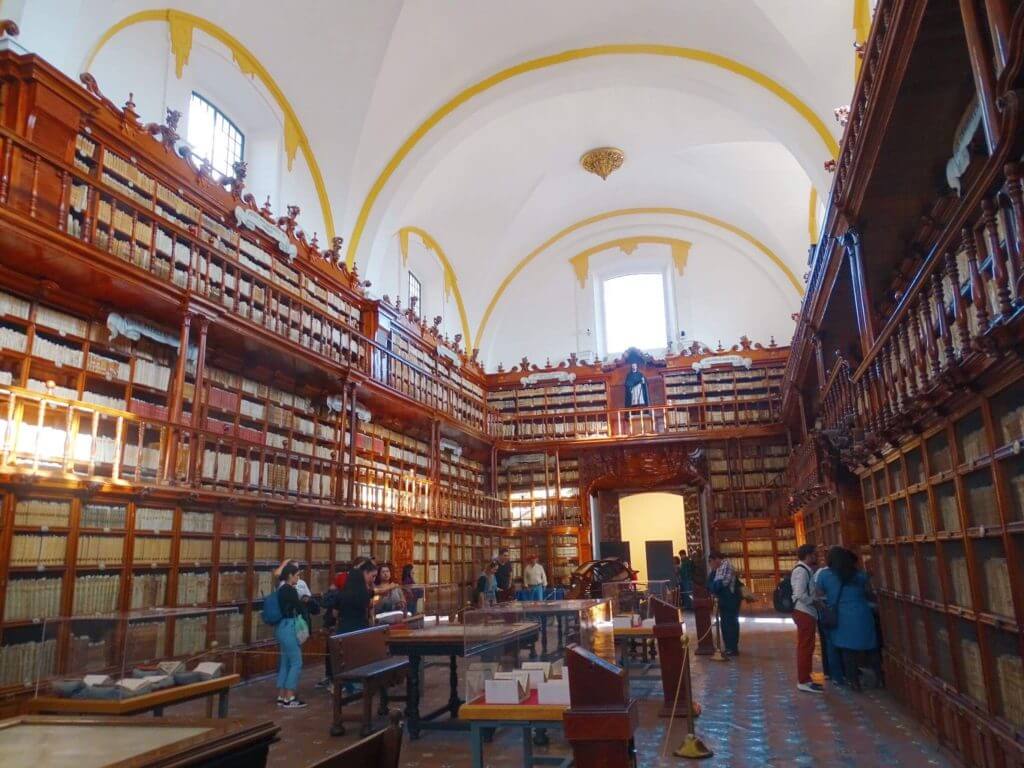 One of the most popular attractions in Puebla is Biblioteca Palafoxiana, recognised by UNESCO as the oldest public library in the Americas. If you're a fan of history or literature, you can pop inside this decadent library home to 45,000 books. These range from the 15th to the 20th century but the library itself was built in 1646. Entrance to Biblioteca Palafoxiana is 50 pesos or 30 for students. I wasn't totally blown away and you'd be hard-pushed to spend more than 20 minutes here, but it's an interesting thing to do in Puebla nonetheless. Find it upstairs in the Casa de la Cultura .
21. Catch live music in Casa de la Cultura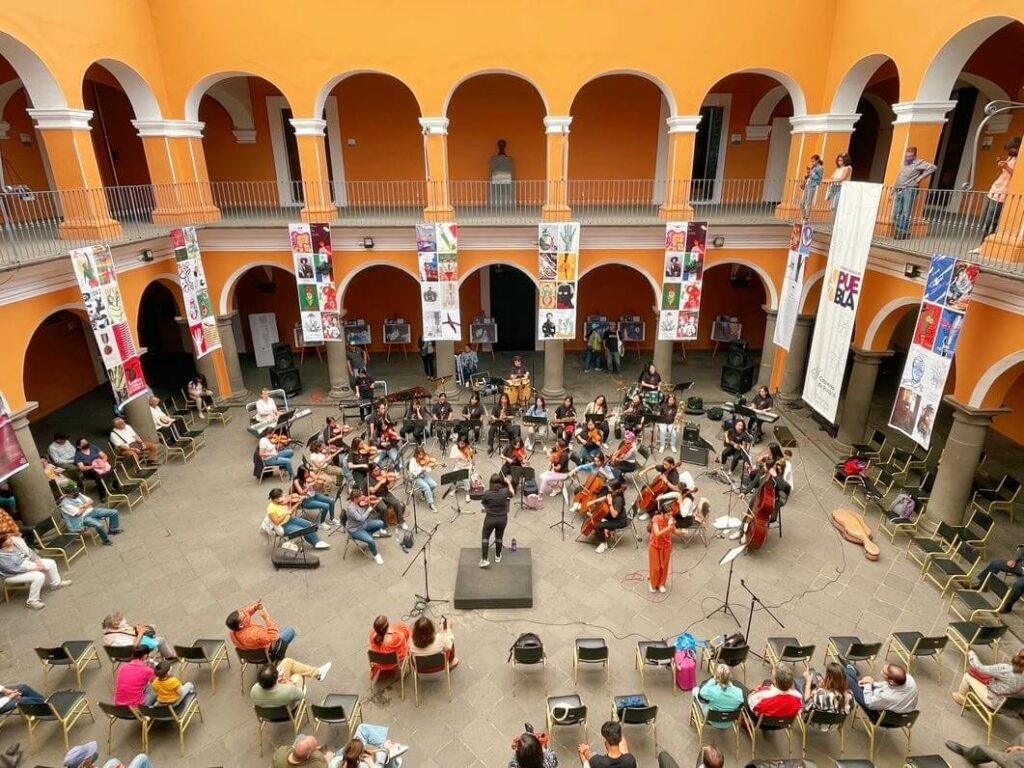 At weekends, there's live music and events in this colourful house of culture. When you enter, you can scan a QR code that will tell you the schedule for the rest of the weekend. I caught a full-scale live band with a super-talented singer during my visit.
22. Sample chile en nogada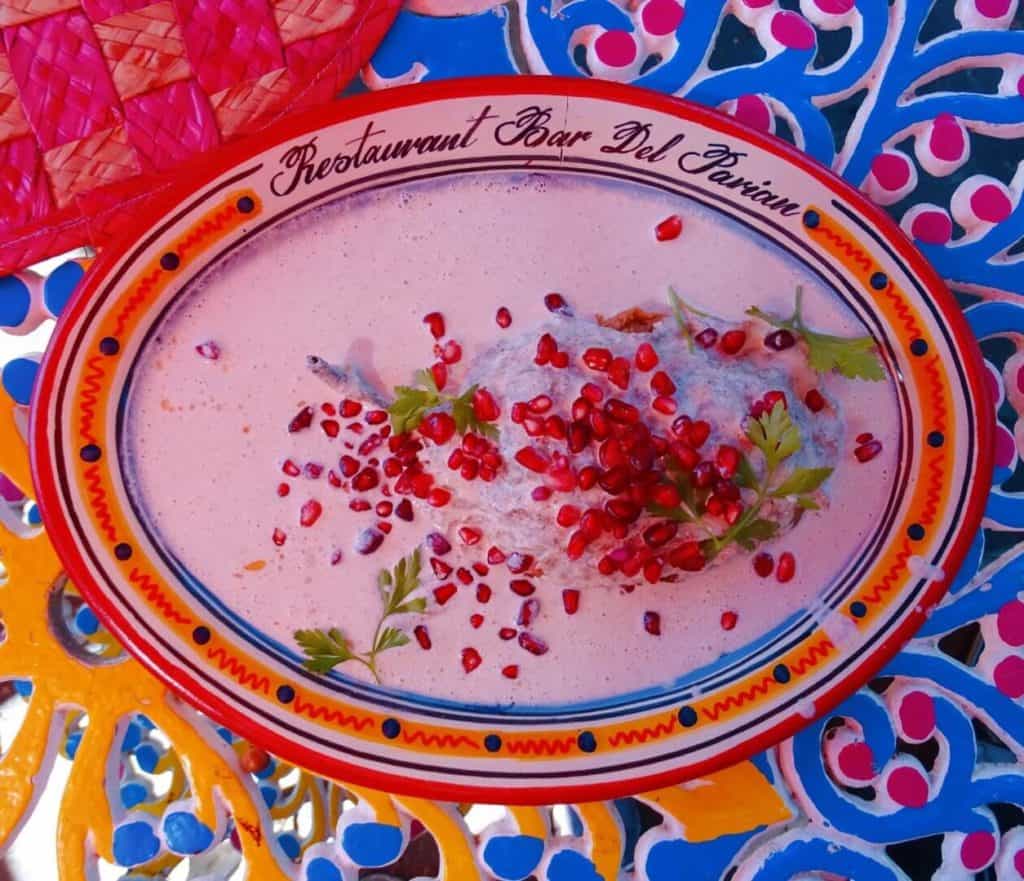 Many cities in Mexico have speciality dishes you won't find elsewhere. During another weekend away, I discovered unique food in Tepoztlan and the same can be said for Puebla. Chile en nogada translates as chili in walnut . As the name suggests, one giant green chili ( non -spicy ) is stuffed with a hash of apple, pear and peach, bathed in a pool of creamy walnut sauce with pomegranate seeds. Chile en nogada is a seasonal dish, usually found between April and October. But keep a beady eye out and you'll find a few places, like Fonda Tipicana La Poblana , serving it year-round.
23. Take a day trip to Cholula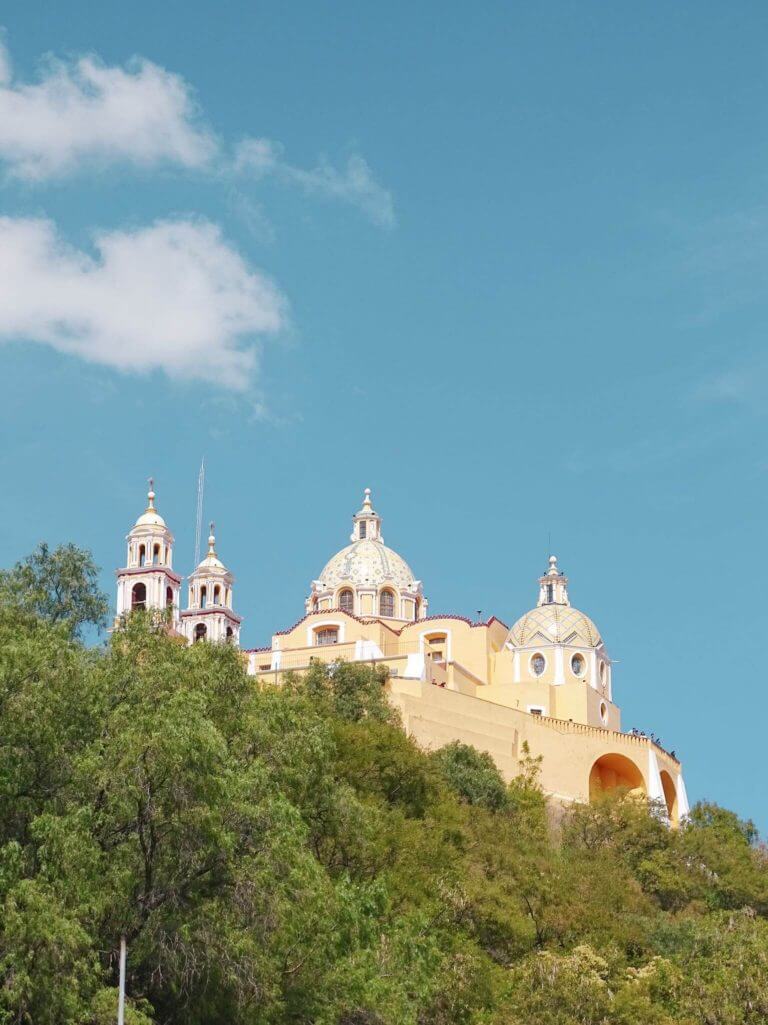 If you've finished sightseeing in Puebla, consider a day trip to Cholula. This small, colourful city a 40-minute drive from Puebla has been voted a Pueblo Magico (magic town). The Mexican Tourism Board have awarded 32 destinations this status as a result of their cultural charm, folklore or cuisine.
Read next: a complete guide to visiting Cholula
In Cholula, you can walk underground through Tlachihualtepetl, the Great Pyramid of Cholula built by indigenous Toltec people. Afterwards, climb up the sunny yellow church (dating back to Spanish rule) on top and look out over colourful Cholula and the volcanos behind. In Cholula Zocalo (part of Cholula San Pedro), there are more churches, museums and traditional markets to be found. In the cooler barrio of San Andrés Cholula, there are speciality coffee shops and bars due to the large student population. I'd recommend spending a whole day in Cholula or staying overnight. Getting from Puebla to Cholula: Travel by taxi (Uber or InDrive for 120-140 pesos) or local bus. Alternatively, take an organised day tour from Puebla to Cholula. Book a half-day Cholula tour or a full-day tour including Cholula and a stop in Atlixco known for chocolate making.
24. Secrets Tunnels of Puebla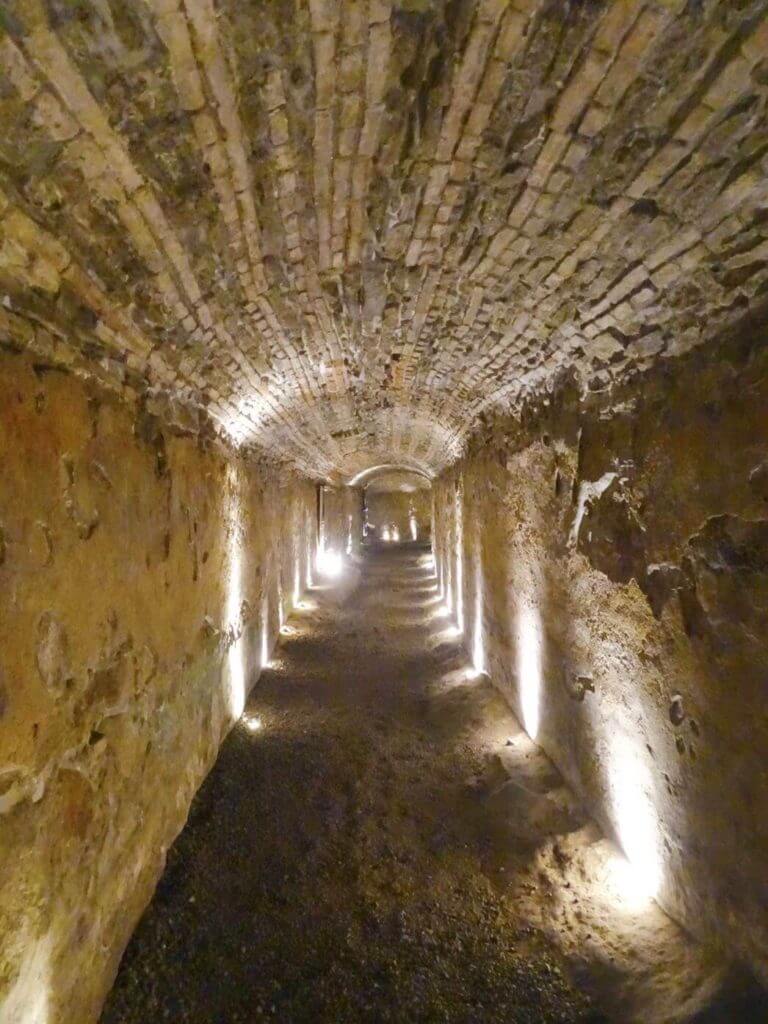 One of the more unusual activities in Puebla is walking under the city through hidden walkways. These tunnels are called secret for a reason: they were built in the 1500s but only discovered in 2016. Apparently, there had been rumours of these tunnels for generations but no evidence they actually existed. When they were discovered, there were antiques and weaponry found inside, thought to date back to the Battle of Puebla with France. Walking through the tunnel network is a fun thing to do in Puebla that takes around 10 minutes . I only paid 10 pesos entry with my student card and I believe it was 30 without. You might want to hire a guide otherwise you won't learn much about the tunnels. On a hot day, you can head inside the tunnels just to escape the heat!
25. Xanenetla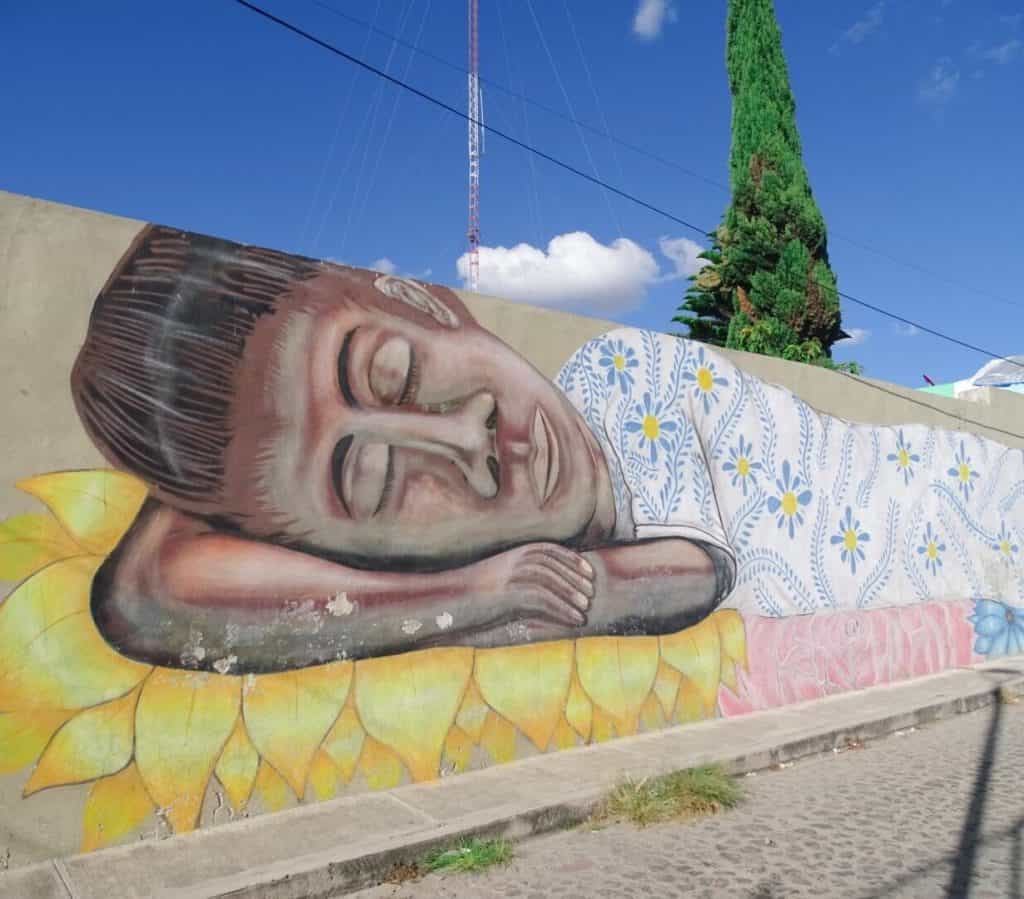 For an unusual place to visit in Puebla, take a trip to Xanenetla neighbourhood after visiting the underground tunnels. You'll start to see colourful street art and houses, especially along Calle 4 Nte. As you get closer to Xananetla you'll see even more. Use the Google pin for Murales de Xanenetla to begin. Note – while walking in this area, a local warned me to be careful with my camera. He presumably meant that thieves operate in the area and, while I didn't see evidence of this myself, I thought I'd pass the message along so you can be aware. Xananetla is a hidden gem so if you've got 2 days in Puebla, I'd recommend exploring the area.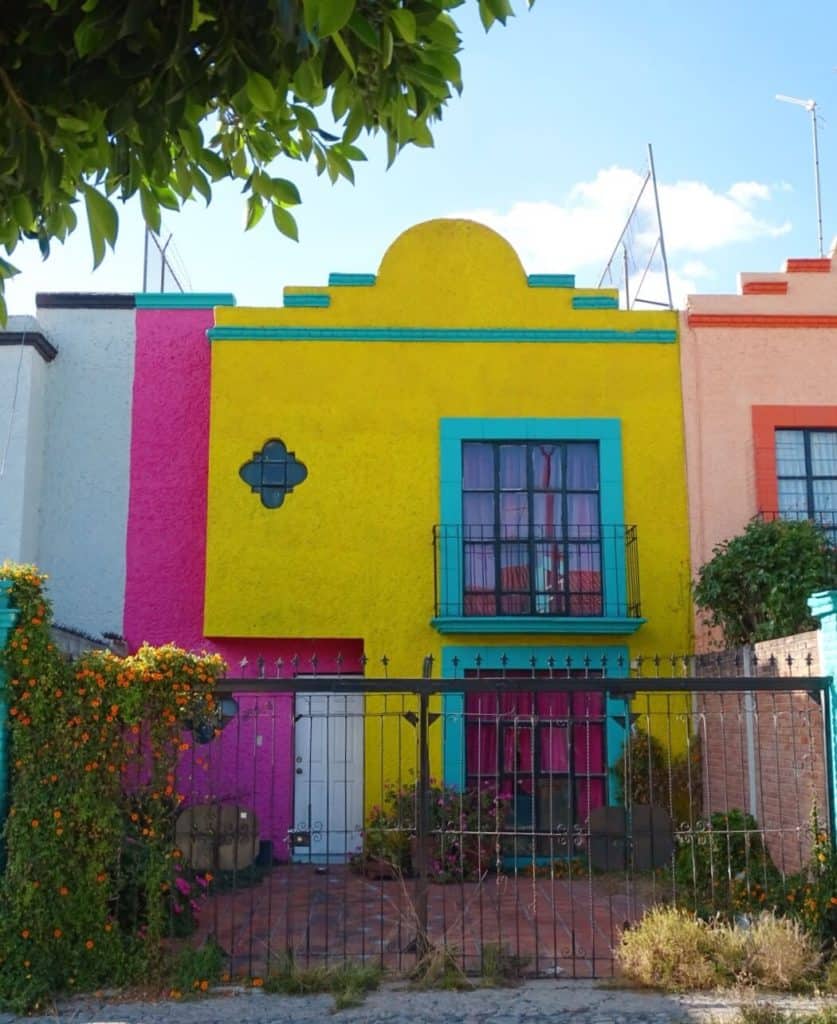 26. Cool down at Carmen Sodas
This cute juice bar run by a friendly old man is a lovely place to hydrate and escape the heat. There are endless juices and ice creams to try but I went with maracuya (passion fruit) soda made with fresh fruit. I later learnt that it has more than 50 years of history, open since 1945!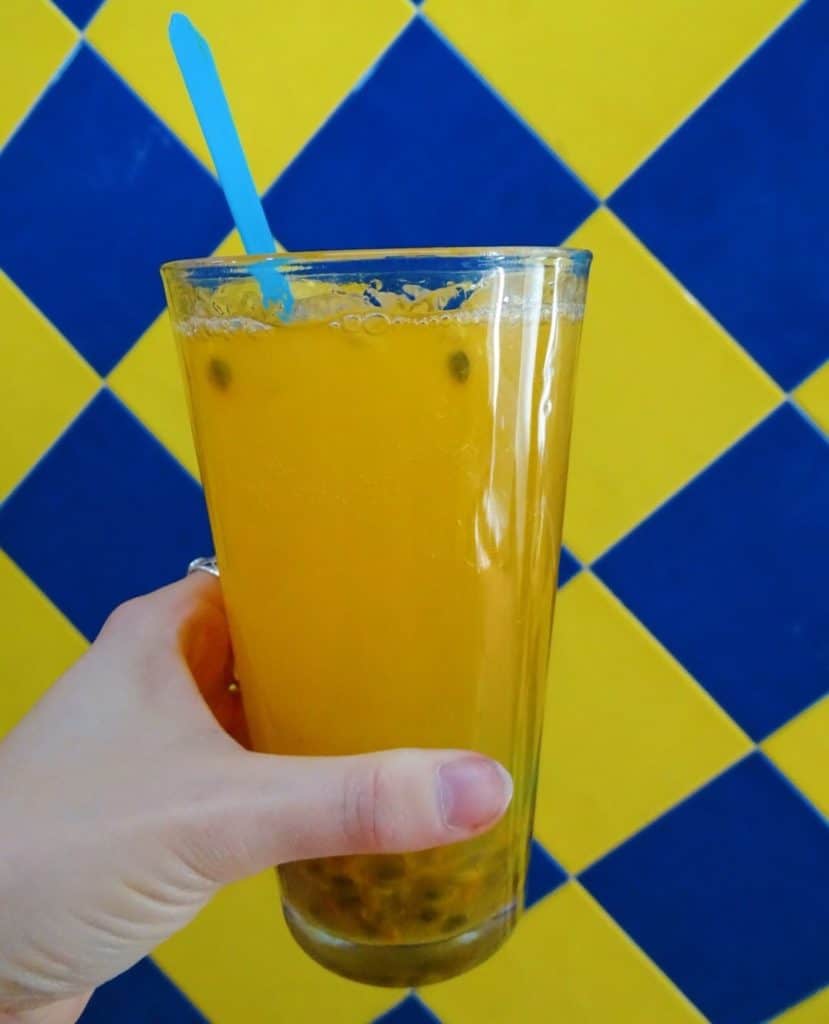 27. Visit Square Carolina
This is a historic corner that may be of interest to historians. It's where Porfirio Diaz – prior to becoming president of Mexico – was held after being captured during the Battle of Puebla in 1862 before escaping. There's even a bar named La Fuga de Don Porfirio meaning 'the escape of Don Porfirio'. Visit for mezcal, beer and Mexcian music.
28. Climb the world's smallest volcano
Far less volatile than Popocatépetl is Cuexcomate , a tiny inactive volcano in a quiet suburb of Puebla. It's just 13 metres tall with a small ladder leading up it. If you're more about tourist sights than hardcore trekking, this is a unique and easy thing to do in Puebla. It's a 15-20 minute drive from the downtown so, if you don't have a car, jump in an Uber.
2 day Puebla itinerary
Option #1 including Cholula: Day 1: Explore the main tourist attractions in Puebla Mexico today, starting by wandering the streets and markets around the Cathedral and Church of Santo Domingo. Visit the Amparo Museum and Biblioteca Palafoxiana before stopping for lunch of chile en nogada , a cemita or mole. For the afternoon, buy desserts on Calle de Dulces and stroll the Artist's Quarter and Parian Market. Finish with sunset views by riding the Teleférico. Day 2: Take a day trip to Cholula. Visit the Great Pyramid of Cholula and walk up the hill to Our Lady of Remedies Church. Explore the Zocalo, eat at Mercado Municipal San Pedro Cholula (the local market) and visit churches including Templo de San Gabriel. If you stay for the evening, there are lots of bars like Jazzatlan with beer gardens for traditional Mexican drinks and spirits.
Puebla itinerary option #2 (not including Cholula) Day 1: Begin your day by wandering the streets and squares of Puebla and getting a feel for the city. Grab chile en nomads for lunch at Fonda Tipicana La Poblana and wander the Artists Quarter and Parian Market. In the afternoon, visit the Secret Tunnels and walk further to Xananetla for street art spotting. Day 2: Indulge in some cultural activities in Puebla by visiting the Amparo Museum and Biblioteca Palafoxiana. Grab a cemita for lunch and indulge in dessert along Calle de Dulces. Take a ride on the Estrella or Teleférico. Try signature shots at La Pasita (before it closes at 5.30pm) and eat mole for dinner somewhere local like Fonda de Santa Clara .
General pack list
Jeans, t-shirts, dresses, shorts – relaxed summer clothes are appropriate to wear in Puebla
Layers for the evenings
Comfy shoes – there are lots of cobbles!
The latest copy of Lonely Planet Mexico
A Lonely Planet Mexican Spanish Phrasebook & Dictionary
A stainless steel reusable water bottle with straw lid to reduce the use of plastic bottles
Alternatively, a filtering water bottle that allows you to safely drink tap water
Metal straw kit with straw cleaner and cloth bag
A handy bum bag with secure zip
Travel luggage: Osprey Farpoint backpack ( men's ) ( women's )
Solo photography pick: Manfrotto tripod and Joby Gorillapod
A GoPro if you're making videos – I use the HERO8 Black
I hope you enjoy these Puebla Mexico things to do!
If you have a better idea of what to see in Puebla and how to plan a trip, please save and share this post!
Check out my other Mexico blogs:
The ultimate 5 day Mexico City itinerary
How to visit San Miguel and what to do there
Complete bucket list for Mexico
Solo female travel in Mexico
23 Mexico City travel tips
Things to do in Coyoacan, Mexico City
Visiting Xochimilco Mexico City
Visiting Hierve el Agua from Oaxaca
Oaxaca Day of the Dead guide
Best food in Tepoztlan Mexico
VISITING MEXICO? These are my trusted resources: Getting around by air – the quickest (and often cheapest) way to travel between Mexican cities is by flight. I use Skyscanner to find the best-value flights, using the 'search by month' tool to find the cheapest dates. You can also use the 'to anywhere' feature if you're flexible on where you're going. Getting around by bus (environmental option) – buses in Mexico are comfy with free snacks and an in-journey entertainment system. I use Busbud to find the best prices. Driving in Mexico – use Rentalcars.com to compare car rentals in Mexico (and all around the world). For hotels and apartments, I use Booking.com . They have a wide range of accommodation for all budgets, plus the loyalty programme gives you discounts and upgrades. For hostels, I use Hostelworld.com . Hostels in Mexico are great for meeting other travellers. To save money on accommodation, I use Trusted Housesitters , a website that connects homeowners going away and travellers who can sit their homes & pets. I use GetYourGuide for tours & activities when I don't want to travel solo. I also check Viator as they often have fun & unique options. EatWith – your one-stop for Mexico food tours, cooking classes and hosted meals with local chefs and foodies. Pick up the latest copy of Lonely Planet Mexico . Need travel insurance ? I use True Traveller (for UK & Europe residents) since it's affordable but covers everything you'd need including various activities, valuables and pre-existing conditions. Unlike some companies, they insure you if you're already travelling / don't yet have your flight home booked. Get a quote . For travel insurance for other nationalities, I recommend Hey Mundo and for long-term digital nomad travellers, I suggest Safety Wing . Check out my resources page for more travel discounts and tips from 10+ years of travel!
See you next time for more adventures,
Liked these Puebla attractions? Pin this for later !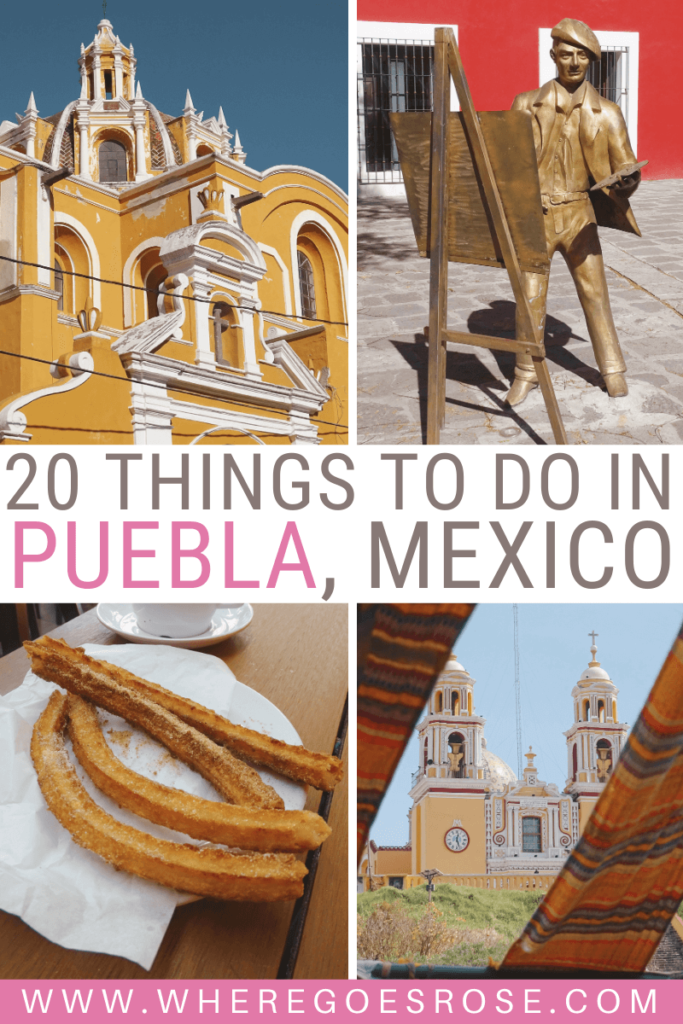 Rose is a solo traveller from the UK who has been on the road since 2015. She wants to show other women that solo travel isn't scary and doesn't have to be expensive! Rose has lived in Mexico, Canada and all over Asia, seeking out food, bubble tea and street art wherever she goes!
2 thoughts on " 28 Best Things To Do In Puebla, Mexico For 1-2 Days "
Thank you Rose for an excellent introduction to Puebla. We now know how to fill our two days there next February. You've made it easy!
Hey Eloise. Glad it helped! Puebla is a beautiful city – enjoy !
Leave a Reply Cancel reply
Your email address will not be published. Required fields are marked *
You can see how this popup was set up in our step-by-step guide: https://wppopupmaker.com/guides/auto-opening-announcement-popups/
What to Do in Puebla: Top 10 Puebla Attractions

Vibrant, enormous, and full of colors and history. The city of Puebla attracts tourists from all over the world, offering them unforgettable experiences. Find out what are the best Puebla attractions in our guide to Puebla , including top activities and must-see places.
You might also be interested in reading:
Yucatán Itinerary—2 Weeks Full of the Best Places to Visit
Safety in Mexico—Is It Safe to Travel There?
The Best Food in Mexico: 11 Things You Should Try + 3 You Shouldn't
7 Best Aztec Ruins in Mexico
33 Mexico Travel Tips from Our Own Experience
What you need to know about Puebla city
A very common problem people come across is that they mix up Puebla city and Puebla state. It can create lovely misunderstandings. For example, if someone keeps persuading you that Puebla city is 34,306 square kilometers (13,246 square miles) large, don't trust them. They are talking about the state.
So, the Puebla city:
is 534 square kilometers (206 square miles) large
is home to 1,700,000 inhabitants
is located at the altitude of 2,135 meters (7,004 feet) above sea level (which means you'll need sun protection if you don't want to end up burnt)
And, as I suppose you've already guessed, Puebla city is the capital of Puebla state in Mexico.
This is why you should visit Puebla city
Puebla in Mexico is one of the most beautiful non-European cities I've ever seen. And that's something—I've been in North as well as South America, Africa, and Asia. To see all Puebla attractions worth visiting, you should spend at least two days there.
What's great about Puebla is that it's within convenient driving distance from Mexico City . The journey takes only about two hours which means you can squeeze it into your Mexico itinerary pretty easily.
You should take into account that Puebla is really far-reaching and you will need a car to move from one place to another. If you're not experienced in driving in Mexico, read my article where I explain everything important.
Top 10 things to do in Puebla
When it comes to Puebla activities , these 10 are the best:
10. Laugh at the smallest volcano in the world
Cuexcomate in Puebla is considered to be the smallest volcano on the planet and is therefore visited by tourists laughing at it and saying it's not worth a visit. But if you read somewhere that it's the smallest volcano… It's a mistake, and the writer didn't fact-check the text. Cuexcomate is not a volcano, it's an inactive geyser .
It's 13 meters (42 feet) tall and a staircase leads down in its channel. If you follow it, instead of hot lava and flowing magma you can stumble upon hot artists and flowing wine— cultural events are held in the geyser. How cool is that?
Address: Libertad, 72130 Puebla, Mexico
9. Take a walk among architectural gems
Take a walk in Zócalo, the city center . You'll explore narrow streets, colorful colonial houses, diverse people, cozy cafés, and lovely shops. You can do all sightseeing on foot; all architectural landmarks are within walking distance. Don't forget to visit:
Catedral de Puebla
Palacio de Gobierno (town hall)
H. Ayuntamiento de Puebla (city government office)
Do you prefer a proper hike instead of a peaceful walk? Try my top 10 best hikes in Mexico .
Hotel tip: I recommend staying at the Banyan Tree Hotel in Puebla . It's in a great location close to all the architectural gems mentioned above. The prices start at USD 265 per night for 2 people.
Just so you know, we really spend time choosing the best places to stay in, it's not just a random selection. If you decide to use our link to book any of the hotels in the article (or even if you click away and book a different hotel), we get a small commission at no extra charge to you. Thank you!
8. Visit Puebla's traditional marketplace
Breathe in the true atmosphere of Mexico by visiting the local traditional market: El Parián . 112 stands made of brick offer handcrafted items, high-quality and cheap at the same time. You'll get to buy not only souvenirs, but pretty much anything you could need
Address: Mercado de artesanias El Parian local 111, 72000 Puebla, Pue., Mexico
7. Do (NOT) touch a book in Biblioteca Palafoxiana
Numbers describe Biblioteca Palafoxiana, the oldest public library in the Americas , better than words:
45,000 books and manuscripts
founded in 1646
43 meters (141 feet) long
3 levels of bookshelves
The library is open for a visit between 10 AM and 5 PM daily , except on Mondays. The visit takes around 15 minutes.
Address: Av 5 Ote 5, Centro, 72000 Puebla, Pue., Mexico
6. Catedral de Puebla
Look at the picture above and make a guess: How long do you think it takes to build such a cathedral?
The answer is: It took 74 years (with some breaks). The construction began in 1575 and was finally finished in 1649 , and consecrated to the Virgin Mary. Today, it serves as the see of the Roman Catholic Archdiocese.
The building is truly fascinating. It consists of 14 lateral chapels and the main altar. The interior is ostentatiously decorated with ornaments, statues, and paintings.
Warning: It's not allowed to take pictures inside.
Address: C. 16 de Septiembre s/n, Centro, 72000 Puebla, Pue., Mexico
Hotel tip: We've stayed at Hilton MM Grand Hotel . It cost us around USD 65 per night and the quality matches the price – overall the hotel was very nice, and we enjoyed our stay there, even though the breakfast could've been better.
5. Cholula (30 minutes from Puebla)
Cholula is the paradise for all history lovers and enthusiastic explorers of Mexico's ancient cultures. It's the oldest still-inhabited village in Mexico and hides true gems. For example the largest pyramid in the world . Read the 12 facts about Mexico article to find out even more about Mexican history.
Before you start yippeeing and hooraying, let me disappoint you a bit: The pyramid is covered by soil and plants, and resembles a hill rather than a pyramid. But still. The Great Pyramid of Cholula (Tlachihualtepetl) is 450 meters (1,480 feet) wide in its base. For comparison, the Giza pyramid is 230 meters (750 feet) wide.
When you look at the picture, a question might creep into your mind: Why is there a Catholic cathedral on top of the world's largest ancient pyramid? Well, when Spaniards came to Mexico, they apparently thought: Look, a pagan building! Let's destroy it! What a great idea! And they covered the pyramid with soil and built a cathedral on top. (Actually, most of the ancient Mexican buildings were christianized by the Spanish after they arrived in the 16th century. But that's another story.)
The archeological site in Cholula offers plenty of interesting activities : not only the pyramid and the cathedral, but also ruins, tunnels, a museum, several churches, festivals… Deciding what to do depends on how much time you have. For your own sake, I hope you have a lot. If you're interested in these kinds of monuments, you might also want to read about the 7 Best Aztec Ruins in Mexico .
Address: Calle 14 Pte. S/N, San Miguel, Zona Arqueológica San Andrés Cholula, 72760 San Andrés Cholula, Pue., Mexico
4. San Francisco Acatepec (in Cholula)
San Francisco Acatepec is a typically Mexican baroque church . Vivid colors shine far and wide from the facade, making the building one of the most interesting things to see in Puebla (in San Andrés Cholula, to be specific).
Address: Puebla 6, La Purísima, San Francisco Acatepec, 72875 San Andrés Cholula, Pue., Mexico
3. Orizaba (2 hours from Puebla)
If you feel an irresistible urge to get away from tourist-packed Puebla, Orizaba is the place to go to. It's a city in the state of Veracruz, approximately 2 hours from Puebla by car . I've summarized the top 8 places to visit in Veracruz state for you in a separate article. Here's a bunch of tips on what to do there:
Teleférico is a cableway which will take you up the hill above Orizaba. The visit is simple: go up, enjoy approximately 30 minutes of beautiful views , and get down again. It's open from 10 AM to 6 PM every day.
Address: Centro, 94300 Orizaba, Veracruz, Mexico
Orizaba River
Take a walk along the river in Orizaba (Río Orizaba). Locals run a free zoo there, so your walk will be spiced up by animals all around you. It's surrounded by cafés and restaurants so you won't starve either.
Address: Sur 4, Centro, 94300 Orizaba, Ver., Mexico
500 Escalones
Fancy a stroll in the wild? 500 Escalones are 500 stair steps , creating a gorgeous hike with a dam at the end. In my opinion, the hike is more about the journey than about the dam so there's no use in going entirely down, if you're out of time or tired.
Address: Autopista Orizaba Cordoba KM. 273+620 S/N, Barrio Nuevo, 94340 Orizaba, Ver., Mexico
Palacio de Hierro
Palacio de Hierro, Iron Palace in translation, was designed by Gustave Eiffel in the 19th century. It was made of 600 tons of steel, and its price was 100,000 pesos—equivalent to 21.3 million Mexican pesos (1.1 million US dollars) today.
There is a café in the palace. Don't go there . The service is unpleasant, and the coffee undrinkable.
Address: Fco. I. Madero Norte, Centro, 94300 Orizaba, Ver., Mexico
Final tip for Orizaba: How to get there
Whereas Puebla's elevation is 2,135 meters (7,004 feet) above sea level, Orizaba lies much lower: at the altitude of 1,200 meters (4,000 feet). Which means you will go down the hill . A lot. And the highway is literally highway to hell.
That fact the road goes down, together with the fact it leads also to Veracruz, Mexico's second largest port, causes very heavy traffic . Get ready to honk at a truck or to. Or get up early and set off in the morning, when the road is empty. Read about other helpful Mexico travel tips.
2. Africam Safari
Africam Safari is a private zoo with more than 2,500 animals and over 300 species from Africa. When I first stumbled upon it on the internet, I was a bit skeptical: African safari in Mexico? But I gave it a chance and I didn't regret it.
The tickets are quite expensive, but definitely worth it. You'll go to the zoo in your car, and slowly drive among the animals . I must pay a compliment to the safety—the lioness in the picture below jumped in front of our car and wanted to scratch it, but the moment she raised her paw, the zoo staff came and drove her away.
The safari is open from 10 AM to 6 PM .
Address: Blvd. Capitan Carlos Camacho Espiritu Km. 16.5, Tecali de Herrera, Heróica Puebla de Zaragoza, Pue. Mexico, 75240
1. Chapel of the Rosario
Finally, we are getting to the most beautiful tourist attraction in Puebla. And that's the Chapel of the Rosario. I'm not pious and chapels don't usually impress me… but this one is on a completely different level than any other chapel I've seen.
The chapel is hidden in the Church of Santo Domingo in Puebla, and is described as the eighth world wonder by some. Every inch of it is covered in gold. Built in the architectural style called New Spanish Baroque , it shows the wealth of the Church and is full of symbolism. The opening hours are from 11 AM to 1:30 PM and then again from 3:30 PM to 5:30 PM every day, except for Mondays.
Address: Av. 4 Pte., Centro, 72000 Puebla, Pue., Mexico
Enjoy the best vacation of your life
Explore the tips and tricks about different destinations in Mexico, and make your vacation unforgettable. With our articles, you can enjoy the best and skip the rest:
Mexico's Top 10 Places to Visit | NEXT LEVEL OF TRAVEL
Top 5 Things to Do in San Cristóbal + 3 Day Trips | Next Level of Travel
12 Best Places to Visit in Chiapas (with Photos and Itinerary) | Next Level of Travel
Recommended articles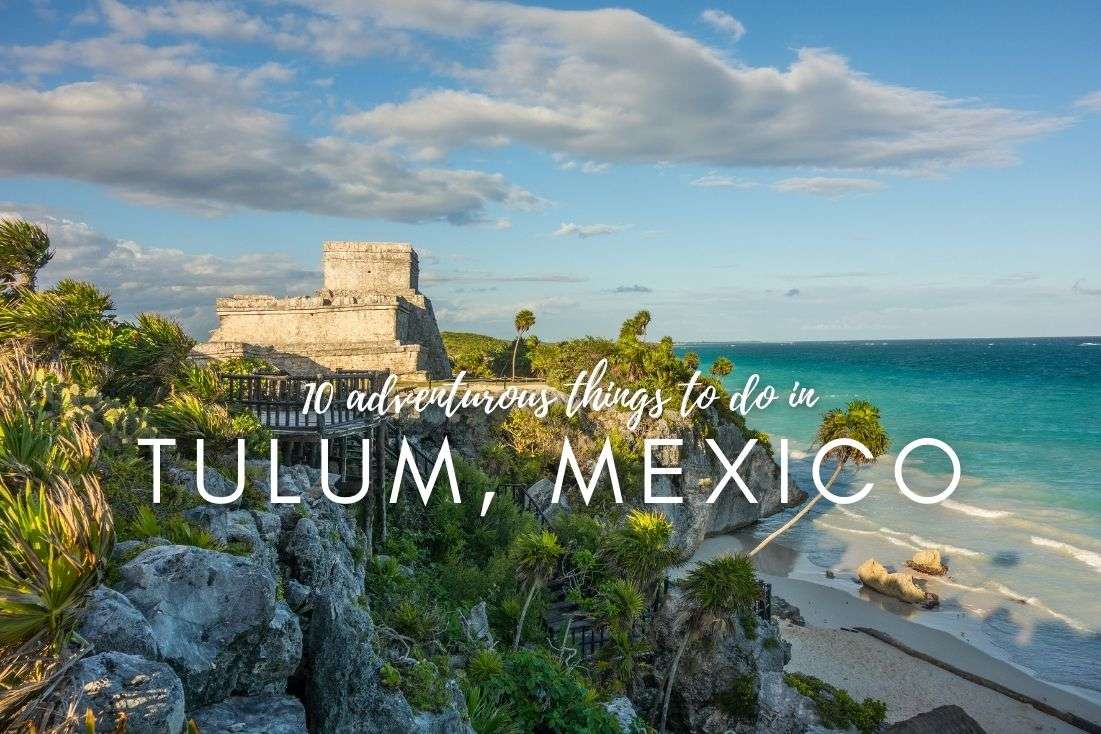 Get ready for the most adventurous things you can do in Tulum. We'll do some whale shark swimming, ziplining, ATV riding, swimming with turtles, and authentic cooking in Tulum, followed by horseback riding and deep-sea fishing in Cozumel.
The Aztecs were ruthless warriors, canny economists, and devoted god worshippers. Mexico is strewn with their cities, statues, and monuments—some will take your breath away, whereas others barely deserve a second glance.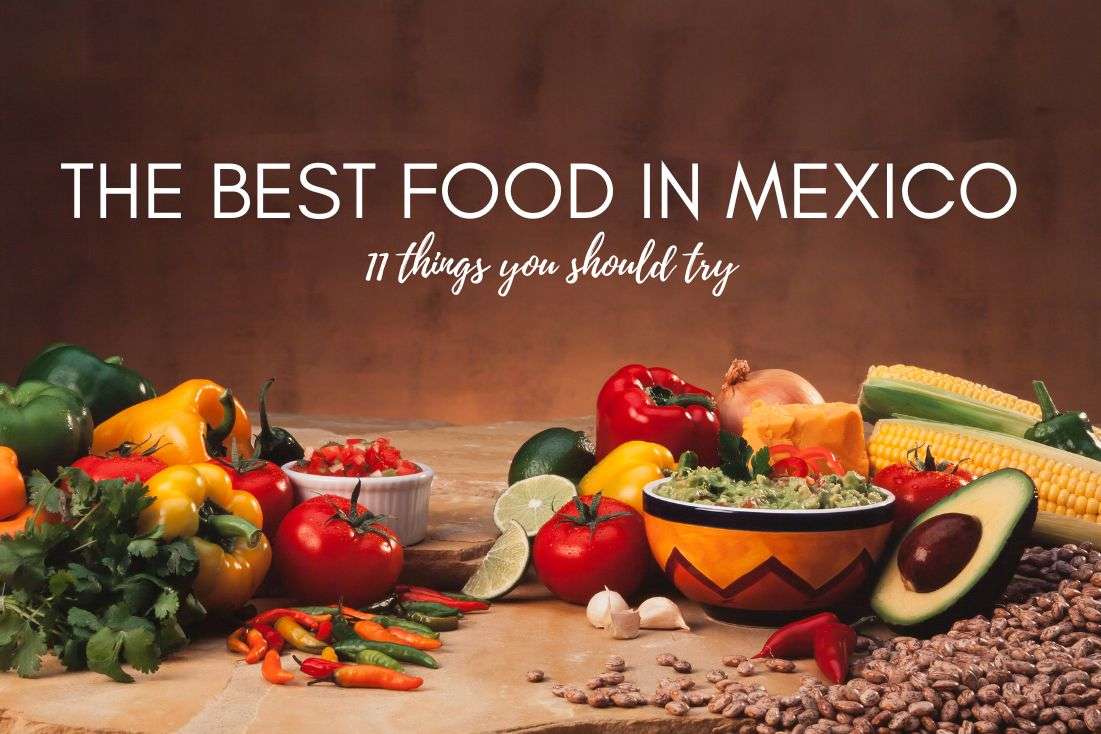 If you travel in Mexico, make sure to try the top 11 foods and drinks typical for Mexican cuisine. You don't need to learn by trial and error. Dive into this article and explore the best food in Mexico.
Thoughts? Give us a shout!
Hi! I'm Jan. I live in Prague, Czech Republic. I try to experience the best the world has to offer, and I don't cease to be impressed. But if I'm not, I'm sure going to tell you! You can count on my full honesty and real opinions here. No bullcrap. I own and run several companies, which gives me great (but not unlimited) freedom to roam the world.
I was first inspired to start this blog by my own experience of researching for upcoming trips—I often struggle with a lack of good information, accuracy, and authenticity of resources. You wouldn't believe how many "travel bloggers" don't even visit the destinations they write about!
My goal with this blog is to provide you with complex and practical information so that you can plan your own vacation, complete with insights you'd only get if you visited the place. I also put together itineraries that are fully planned out trip guides.
Another aspect that drives this platform is my curiosity about the history, geography, politics, and economy of each country I visit, so I try to include this information in my articles, too. It's always great to get the bigger picture, right?
And just to be clear, I am not trying to compete with backpacking blogs or provide hacks for an economical and affordable experience. My vacations follow the standard pattern of traveling by plane, staying in good hotels, and renting a car on the spot to get around. I'm also always up for a fantastic meal, though I don't shy away from local delicacies and street food, either.

Destinations
Travel hacks
Privacy policy


Visit Puebla: Top 25 Things To Do and Must-See Attractions
Things to do in puebla: the 25 best places to visit.
If you're looking for a great destination near Mexico City , you should visit Puebla de Zaragoza , the capital of the state of Puebla.
This charming colonial city is located at 7,005 ft above sea level and surrounded by majestic volcanoes like Popocatepetl , Iztaccihuatl and La Malinche . It's famous for its colorful buildings, its traditional talavera pottery , and its rich history and culture.
Puebla has so much to offer that you'll never run out of things to do!
To make sure you have the best experience possible, I've created this guide, with the 25 best places to visit in Puebla and its surroundings.
I've also included all the practical information you need to get to Puebla, a suggested itinerary for a day in Puebla , and my recommendations for restaurants and hotels for all budgets.
So, what are the best things to do in Puebla? Where to stay?
1. The Zócalo
2. the cathedral, 3. chapel of the virgen del rosario, 4. biblioteca palafoxiana, 5. amparo museum, 6. the gastronomy of puebla, 7. calle de los dulces (street of sweets), 8. museum of the revolution, 9. the talaveras, 10. tasting ancho reyes, 11. the parián handicrafts market, 12. callejon de los sapos, 13. explore the secret tunnels of puebla, 14. barrio de analco, 15. the forts of puebla, 16. street art in xanenetla, 17. take a free walking tour of puebla, 18. ride the tourist bus, 19. international museum of the baroque, 20. descend into the world's smallest volcano, 21. cholula, 22. zacatlan and chignahuapan, 23. cuetzalan, 24. botanical cactus garden, 25. atlixco, where to stay in puebla, 7 best things to do in puebla with kids, what to do in puebla in 1 day, where to eat in puebla, how to get from mexico city to puebla, how to get from oaxaca to puebla, tourist map of puebla, do you want to rent a car in mexico, how to find the best airline ticket to mexico, you're traveling in mexico these articles will help you.
One of the must-see places in Puebla is the zócalo, the heart of the historic center and a   World Heritage Site by UNESCO .
This is where Puebla's history and culture come alive, as you can admire its impressive buildings (the cathedral, the municipal palace), and enjoy the lively atmosphere of the restaurants, shops and cafes that line the square. You'll definitely want to visit the zócalo during your stay!
If you need tourist information about Puebla, such as maps, guides, etc., you can go to the Palacio Municipal (Portal Hidalgo 14), where you'll find a helpful staff. Very handy.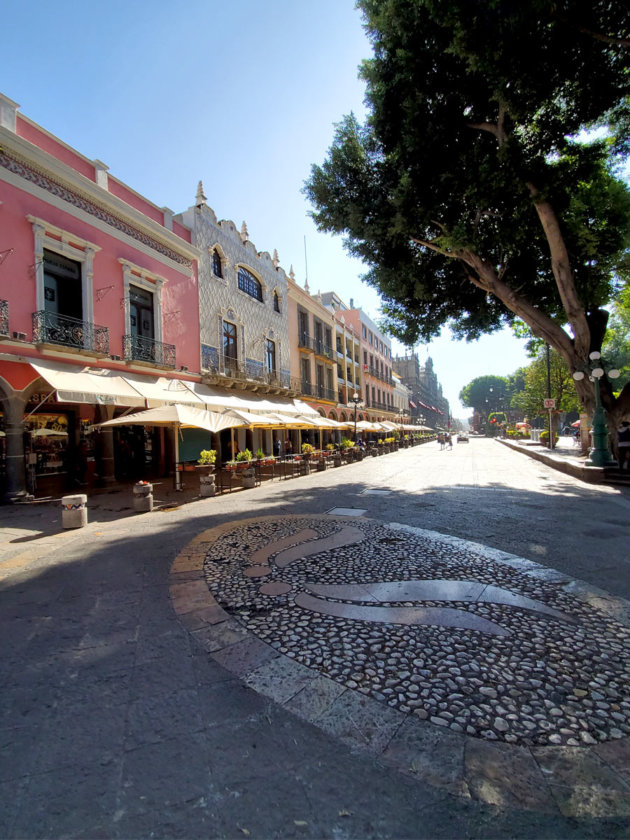 You can't miss the basilica cathedral , also known as Catedral de Nuestra Señora de la Inmaculada Concepción , when you visit Puebla: it's the second largest cathedral in Mexico !
This magnificent building was constructed from the 16th to the 17th centuries, with a stunning Renaissance-style façade and a lavish Baroque interior. It houses many artworks, such as paintings, sculptures, gold and silver work, three organs and exquisite woodwork.
I was especially captivated by the Altar de los Reyes , which is full of intricate details.
Open Monday to Saturday, 9 am to 1 pm and 4 pm to 8 pm
If you think Puebla's cathedral is amazing, wait until you see the Capilla del Rosario del Templo de Santo Domingo (1650-1690), which is even more spectacular!
This chapel is considered the finest example of Mexican Baroque and you'll be dazzled by its beauty as soon as you enter: everything here is richly decorated from floor to ceiling, with intricate designs and covered with 24-karat gold leaf.
The walls are adorned with large paintings by Jose Rodriguez Carnero and talaveras typical of Puebla.
I'm a fan of churches, I've visited many in my life, but I've rarely seen one as ornate as this one. The only one that comes close is the  Church of La Compañía , in Quito, which has a stunning interior covered in gold.
Address: 5 de Mayo esquina 4 Poniente #101, Puebla
Tuesday to Thursday, from 11:00 am to 1:30 pm and from 3:00 pm to 5:30 pm, Friday to Saturday, from 11:00 am to 1:30 pm and Sunday, from 3:00 pm to 5:30 pm.
Free admission
The Palafoxiana Library is a treasure for book lovers and history buffs alike. It's the first public library on the American continent , and it has a collection of 43,000 volumes , ranging from the 15th to the 20th century , covering various topics such as history, philosophy, theology, and literature.
This library is located on the second floor of the Casa de Cultura de Puebla , in a beautiful vaulted room. It was founded in the 17th century by Bishop Juan de Palafox y Mendoza , who donated his personal library of 5,000 volumes to the schools of San Pedro and San Juan.
He also made a very progressive decision for that time: he allowed anyone who could read to access his books. 😍
The library became a museum in 1981, and today it is one of the most popular tourist attractions in Puebla .
Address: 5 Oriente 5, corner with 16 de Septiembre, Puebla
Open Tue-Thurs 10am to 5pm, Fri-Sun 10am to 6pm. Admission 45 pesos
Facebook Page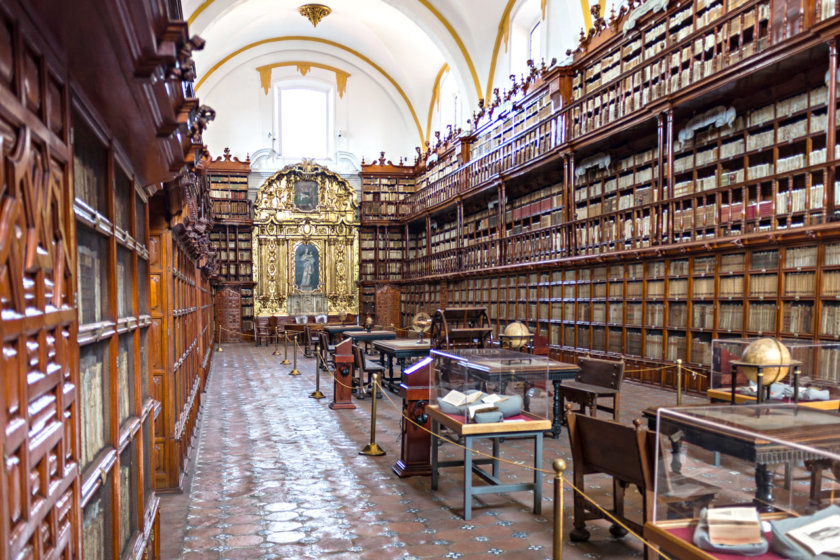 The Amparo Museum is one of the places you can't miss in Puebla. It's located in a historic palace and hospital from the colonial era, and it has a huge collection of Mexican art : 7 rooms dedicated to the pre-Hispanic era, 3 rooms showcasing the colonial era and the nineteenth century, and exhibitions of modern and contemporary art.
There are also temporary exhibitions of national and international artists.
I highly recommend downloading the free Amparo Plus app ( Android , iOS ) which gives you information about the exhibitions (audio, video, etc.).
You can also go up to the terrace where there is a cafeteria with a nice view , perfect for taking photos of the historic center.
You can have breakfast here (Wednesday to Monday from 9am to 12:30pm) or have a drink in the evening (Friday to Saturday until 10pm). There are even concerts sometimes.
Address: Avenida 2 Sur 708, Downtown, Puebla
Open every day from 10am to 6pm, except Tuesdays when it is closed
Admission 85 pesos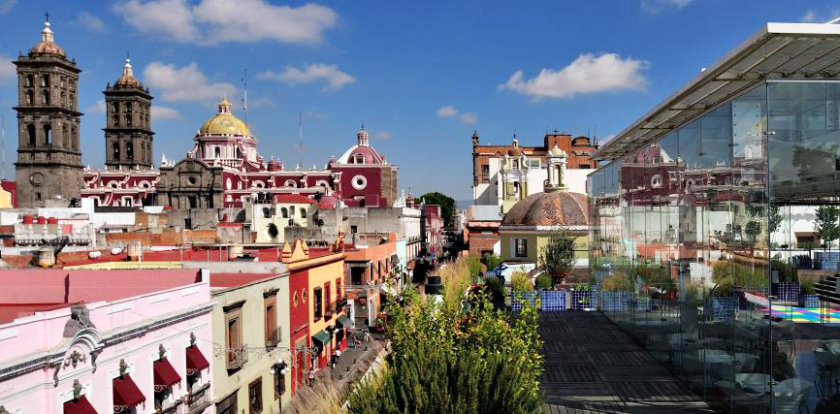 Puebla is famous for its delicious cuisine , which is recognized throughout Mexico. It is the home of the famous mole poblano , a sauce made with different chiles and spices, which is usually served with chicken.
Another iconic dish is the chile en nogada , a chile stuffed with meat and fruit, covered with a nut sauce and pomegranate seeds. The colors are reminiscent of the Mexican flag -green, white and red- and that's why it is widely offered by restaurants in September, the month of independence .
And, of course, street food in Puebla also has some tasty surprises: cemitas, tacos árabes, chalupas.
Personally, I really like the cemitas poblanas , which are sandwiches with avocado, cheese, onion, meat, papalo , red sauce, all served on a bread with sesame seeds.
If you want to enjoy the best of Puebla's cuisine, I recommend you take this food tour in Puebla: 
Puebla is not only a feast for the eyes, but also for the taste buds. You have to try its famous sweets , which have been made since colonial times.
Puebla's sweets are so important that they even have their own street: Calle 6 Oriente, also known as Calle de los Dulces (or Calle del Dulce) in the historic center.
There is a lot to choose from, but the most famous sweets in Puebla are sweet potatoes, macaroons, muégano, jamoncillo, borrachitos, cocadas, coconut-filled lemons, alegrías and tortas de Santa Clara, my favorite.
They are cookies created in colonial times by the nuns of the Santa Clara convent . They are made with flour, butter, sugar and egg yolk, and they have a delicious almond flavor.
If you want to taste these and other traditional sweets in Puebla, you can go to La Gran Fama , the first confectionery that opened in the 19th century, and to Dulcería Santa Clara , another Puebla institution, open since 1907.
They are a perfect souvenir to take home or to enjoy on the spot. 😋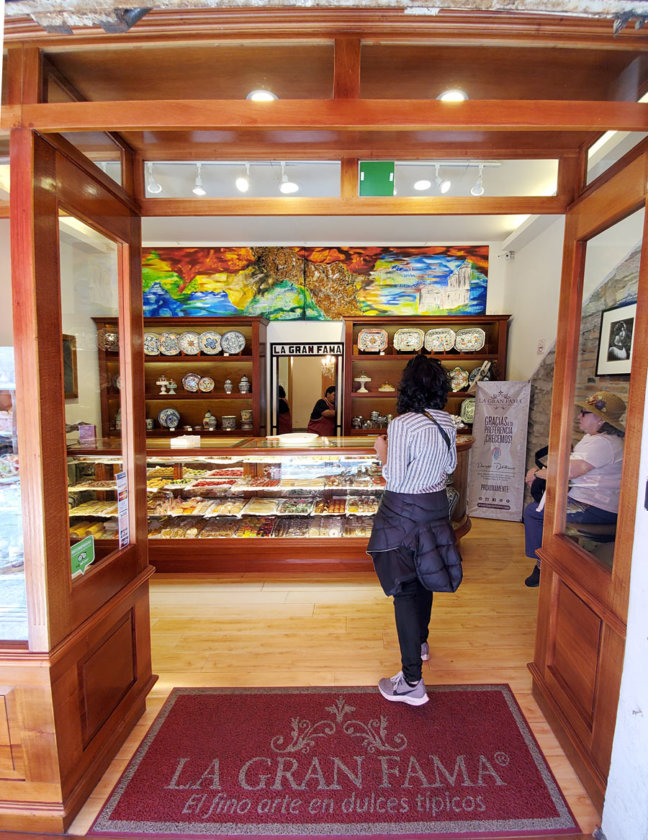 This is the home of the 4 Serdán siblings (Carmen, Natalia, Aquiles and Máximo) who joined the revolutionary movement led by Francisco Madero against Porfirio Díaz in 1910.
The place is considered the cradle of the Mexican Revolution and the facade still has many bullet holes.
There are 26 rooms on 2 floors where you can learn about the family's daily life and different aspects of the revolution (documents, photographs, weapons, objects)
Address: Av 6 Ote 206, Downtown, Puebla
Open Tuesdays and Thursdays from 10 am to 5 pm; Fridays and Sundays from 10 am to 6 pm
Admission 40 pesos or 20 pesos for children under 12 years old
Talavera is a type of pottery that has made Puebla famous since the 17th century.
The products are mainly plates, vases, pitchers and figurines, but you can also see Puebla talavera on the walls and facades of buildings (like the famous Casa de los Azulejos in Mexico City ).
A great place to admire the beauty of talaveras in Puebla is the Casa de los Muñecos (2 Norte #4, Puebla (Zocalo).
This building has a stunning façade decorated with 16 images made of talaveras. They depict different scenes from mythology, history, and literature. They also have a hidden meaning: they represent the 16 councilmen who opposed the construction of the building because the owner wanted it to be taller than the city hall.
You can also visit the church of San Francisco (Address: 14 Oriente corner Blvd. 5 de Mayo, Puebla) which is the oldest convent in Puebla, and has a facade with talaveras. It's stunning!
You can also discover the manufacturing process -which takes an average of 3 months and can take up to 6 months- in some workshops that offer guided tours.
I recommend, for example, Casa Uriarte (4 Poniente #911, Puebla), the oldest workshop in the city, which has been operating since 1824.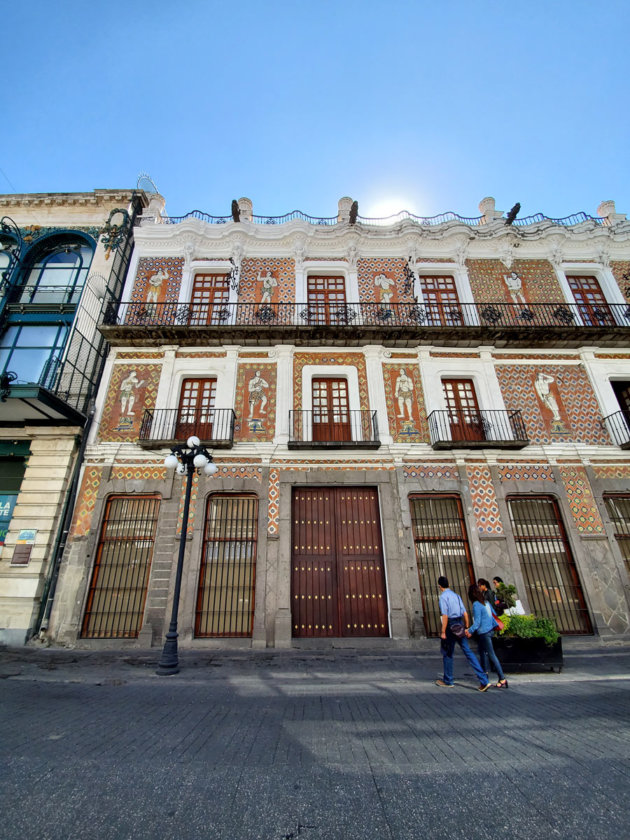 It's a unique drink, with a sweet and spicy taste, a smoky aroma and 40% alcohol. I like to drink it in a cocktail with ice, but you can also enjoy it neat or mixed with other drinks.
Ancho Reyes is inspired by a traditional liquor that was popular among artists and intellectuals in Puebla in the 1920s. It's a tribute to that creative and rebellious spirit.
If you want to try Ancho Reyes, you can find it in many bars and liquor stores in Puebla. You can also visit the distillery located in downtown Puebla , where you can learn more about the history and production of this liqueur
Address: Av 12 Pte 912B, San Pablo de los Frailes, Puebla
Free visit (1h30), Wednesdays, Thursdays and Fridays. You need to make an Online reservation.
If you're looking for a place to buy some souvenirs in Puebla , you should check out the Parián Market .
It's the best place in Puebla to buy talaveras (and other crafts), as there are many shops selling all kinds of traditional crafts, such as talaveras, leather, textiles, jewelry, sweets, ceramics, wooden objects, etc.
The Parián is considered the first craft market in Puebla , as it started in 1760.
Address: Calle 6 Norte #205, Puebla
Open every day from 10:00 am to 8:00 pm
I advise you to take the opportunity to see the Casa de Alfeñique (Av 4 Oriente 416, 46 pesos the entrance, from 10h to 17h – closed on Mondays) which is very close to the Parián.
It is a large 18th century colonial house turned into a museum in 1926 (the first museum in Puebla!). It is a very nice example of the Alfeño style, named after the typical sugar and egg white candy of the same name.
My tip If you're near the Parián, you should also visit the Casa de Alfeñique (Av 4 Oriente 416, 46 pesos the entrance, from 10h to 17h – closed on Mondays).
It's a beautiful 18th century colonial house that became a museum in 1926 (the first museum in Puebla !). It's a great example of the Alfeño style, named after the typical sugar and egg white candy of the same name.    
The Callejon de los Sapos (street of the toads) has a curious name that comes from a flood: they say that in colonial times, the San Francisco River used to overflow often, causing floods.
Some people decided to take advantage of the situation by installing windmills , which attracted many toads because of the stagnant water.
Today, it is a colorful pedestrian street with restaurants, cafes, antique shops, bars and stores.
My tip  If you like nightlife, you'll enjoy the Callejon de los Sapos on Friday and Saturday nights ; you can have a drink and listen to music at one of the many bars and pubs that line the street.
But, the best day to visit the Callejon de los Sapos is Sunday, when there is a big market (10 am-6pm) with antiques, handicrafts and all kinds of objects.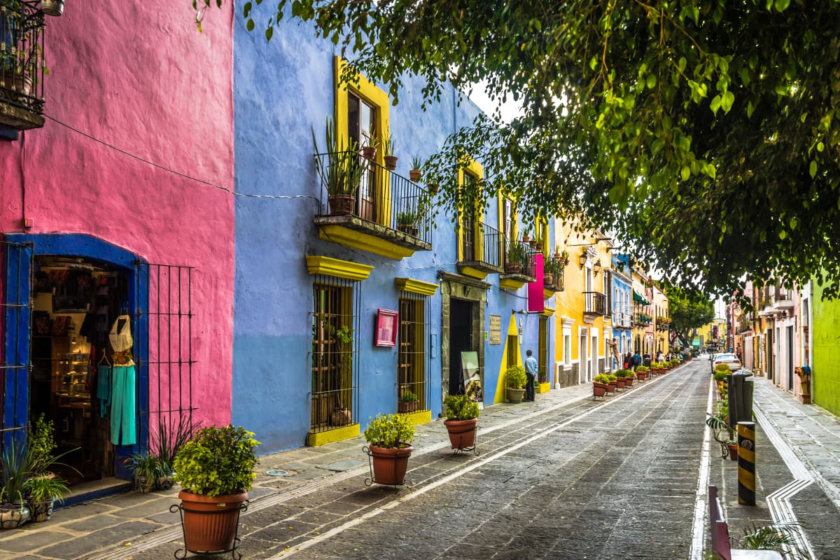 One of the most unique and fascinating activities in Puebla is exploring the underground tunnels that were discovered in 2014.
These tunnels are part of a network that was built between the 17th and 19th centuries , and that connected different strategic buildings and churches in Puebla. They have a mysterious history, as they were used for various purposes, such as hiding treasures, escaping enemies, or storing weapons and ammunition.
You can enter the tunnels through the Puente de Ovando , then walk through the Puente de Bubas , which is another bridge that was used as a leper hospital in colonial times. You can also visit some rooms that display historical artifacts and information about the tunnels.
You'll end your tour with the Pasaje Histórico 5 de Mayo , which is a 16 ft deep passage that commemorates the Battle of Puebla in 1862, when the Mexican army defeated the French invaders.
The part of the tunnels that is open to the public is called " The Secrets of Puebla ", but it is estimated that the whole network extends for 6 miles!
Admission 30 pesos
Open Tuesday to Sunday from 10am to 4pm
Address: Blvrd Héroes del 5 de Mayo 8, Barrio de La Luz, Puebla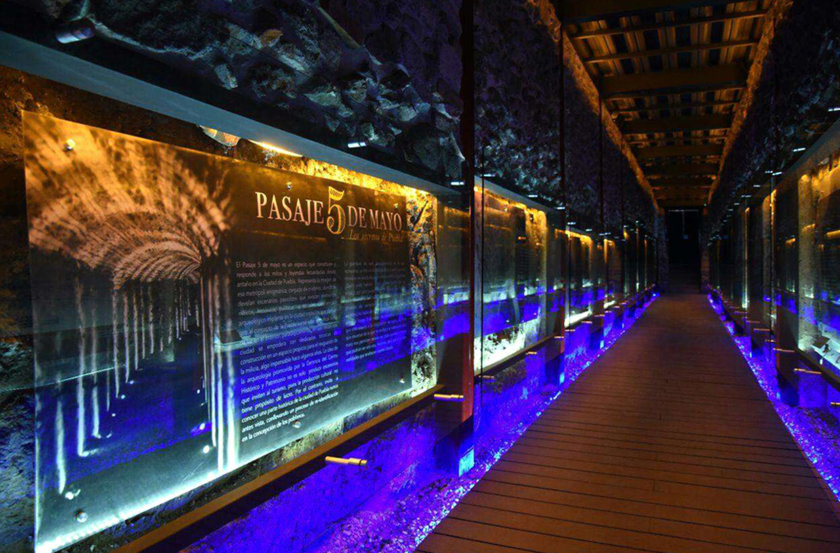 Founded in 1560, Barrio de Analco is one of the oldest neighborhoods in Puebla. Its name means "on the other side of the river".
Today it is best known for its market that you can explore on Saturdays and Sundays, and where you will find mainly handicrafts (wood, silver, etc.), but also clothing, furniture and even several food stalls.
The " Cinco de Mayo " holiday honors the Battle of Puebla , which happened on May 5, 1862.
The Mexican army, led by General Ignacio Zaragoza , beat the French army, who wanted to take over Mexico. The Mexican soldiers were fewer than the French soldiers, but they fought hard and won.
The Fort of Loreto (which houses a museum open Tuesday through Friday, 70 pesos) and the Fort of Guadalupe are symbols of this important battle and allow you to learn more about this part of history.
Also in the same park you can take the Puebla cable car at 58 meters high to see the city. Ticket 57 pesos round trip.
The Xanenetla neighborhood is a place where you can see the power of art and community . It used to be a neglected area, but now it is a safe and attractive zone, with a network of narrow streets filled with colorful murals.
The murals are the work of Colectivo Tomate , a group of artists who have beautified several cities in Mexico. They always involve the local residents in the creation of the murals, and they reflect the cultural elements of each place.
I was amazed by their murals in La Paz in Baja California Sur , where they painted whales, sea turtles, and other marine animals. Here, in Puebla, they painted roosters, virgins, flowers, and other symbols of Puebla's identity.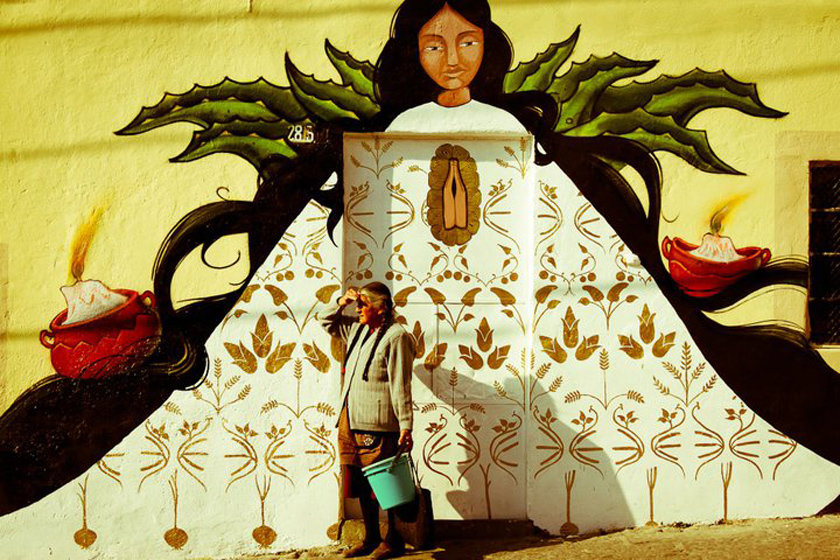 If you want to visit Puebla on a budget , you should take a free tour of Puebla with Estación México. You'll be able to see its main attractions and learn about its history and culture, without spending a lot of money. You'll visit the Cathedral, the Chapel of the Rosary, the Palafoxiana Library, the Barrio del artista, the Calle del dulce, the Church of San Francisco, and more.
You just need to give a tip at the end , as a sign of appreciation.
I have taken several tours with them, and I can tell you that they are very informative and entertaining. They also offer different tours for different interests, such as gastronomy, art, or nightlife.
The tour leaves every day at 11:00 am from the Zócalo –  Book the free tour here
Taking the tourist bus is a great option if you have limited time in Puebla .
You'll be able to see as much as possible in 55 minutes, as the bus passes by Puebla's main sights . You'll see the cathedral, the municipal palace, the library, Los Sapos and Analco markets, the Palacio de Congreso, the forts, the theater and the Calle de los Dulces.
It's also a good way to start your tour of the city (departure at 10 am) and see what you want to explore more. Plus, it's very affordable!
You can book your tickets here: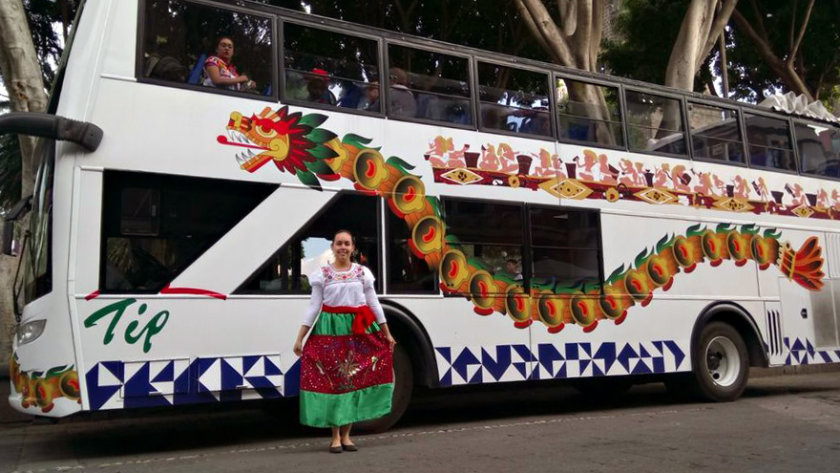 This is the perfect museum for a city with so many examples of Latin American Baroque.
Its amazing structure was designed by Japanese architect Toyō Itō and it has several temporary exhibition halls, as well as 7 permanent halls that explore different baroque themes (architecture, painting, theater, music, clothing, etc.).
This museum is very interactive, with many touch screens and video mapping. It is quite large, so you might need 2 hours to see everything.
Address: Atlixcayotl Territorial Reserve, 2501, Puebla
Open from Tuesday to Sunday from 10am to 7pm
Price: 80 pesos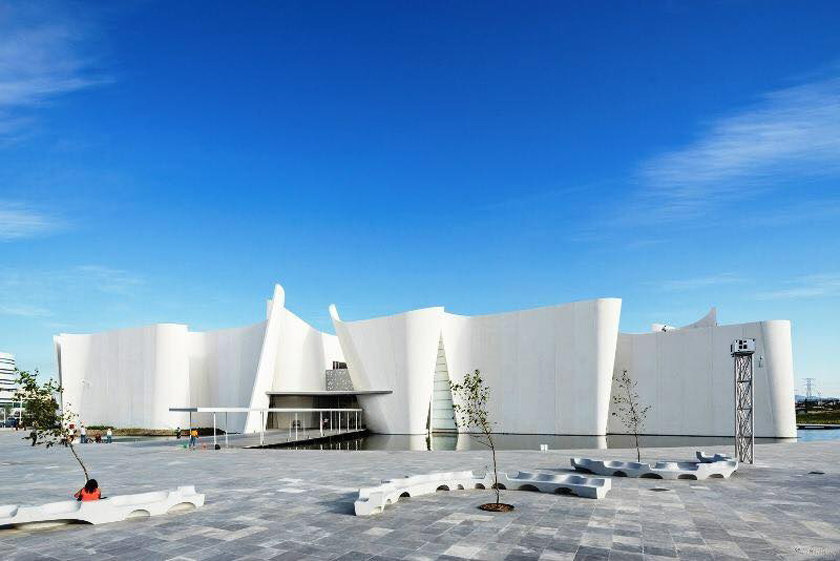 Cuexcomate , the world's smallest volcano , is only a 15-minute drive from the Zócalo.
But don't be fooled by its name: it's actually a geyser that formed after Popocatepetl erupted in 1064. It's now inactive, but still impressive: it's 43ft high, 75ft in diameter and 55ft deep.
You can see this unique sight in the middle of the city, and even go inside the crater with stairs!
Address: 2 Poniente and Ayuntamiento, Colonia La Libertad, Puebla
Admission: 14 pesos
Open from Monday to Sunday from 10 am to 6 pm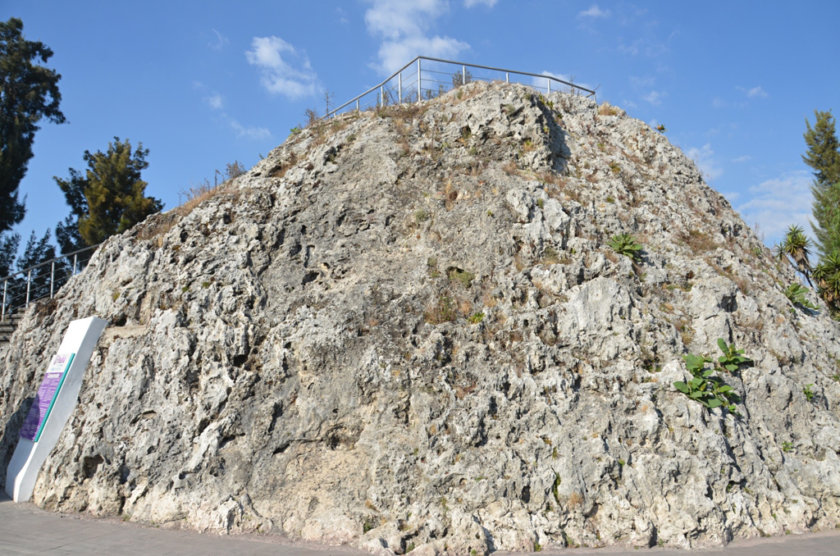 Around Puebla
Cholula is a charming "pueblo mágico" (magical town) on the outskirts of Puebla, split into San Pedro Cholula and San Andres Cholula . It was once a sacred site for the Toltecs , who built the largest ceremonial center in the region around 500 BC.
In Cholula, you can visit:
– The Great Pyramid of Cholula : this is the world's largest pyramid by base (over 1300 ft on each side!) and volume (4,500,000 m³). It has 5 miles of tunnels that reveal its different stages of construction and its murals.
– The Sanctuary of Nuestra Señora de los Remedios: this is the church that stands on top of the pyramid, built in the 16th century and remodeled in the 19th century.
– The site museum : this is where you can learn about the history and culture of Cholula since pre-Hispanic times, through an exhibition with ceramics, models, paintings, artifacts, etc.
How to visit Cholula from Puebla : 20-30 minutes by car, cab (from Terminal CAPU or Terminal 4 Poniente) or bus (from Terminal 6 Poniente)
How to visit Cholula from Mexico City : you can join a tour that includes Puebla and Cholula.
Book the tour here :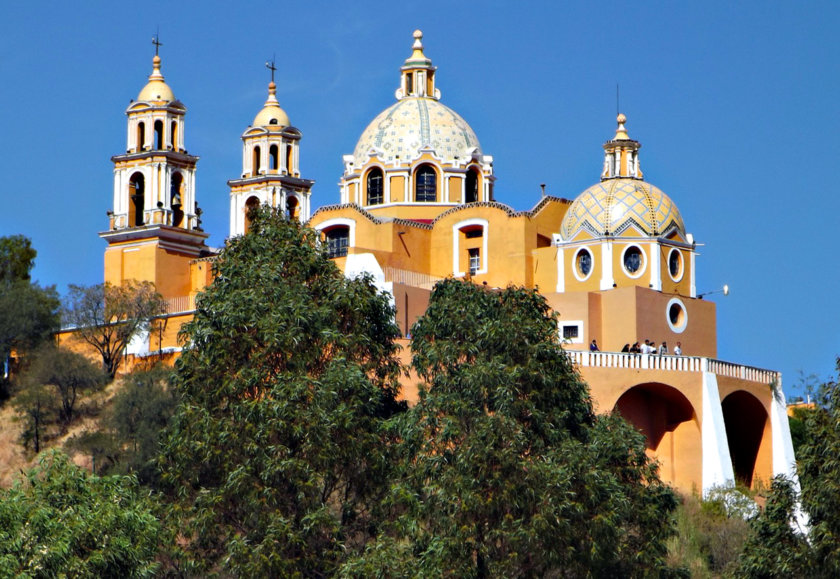 You can enjoy the beauty of the Sierra de Puebla by visiting these two towns, which are only 2h15 away from Puebla.
I suggest stopping on the way at the Salto de Quetzalapan waterfall , one of the highest waterfalls in the state of Puebla (330 ft).
A little further on is the Cascadas Tulimán Recreational Center , which has 3 areas with different activities: hiking trails along the two rivers, waterfalls, local food, hanging bridge, natural hot water pools, zip line.
You can also see the Barranca de los Jilgueros , a 440 yards deep ravine from its glassed-in viewpoint. Green and misty due to its tropical climate, it offers a beautiful natural spectacle.
In Zacatlan you can learn about the process of making local fruit wines, cider and taste its famous traditional cheese bread.
There is also the Clock Museum , the wine museum and the old Franciscan convent.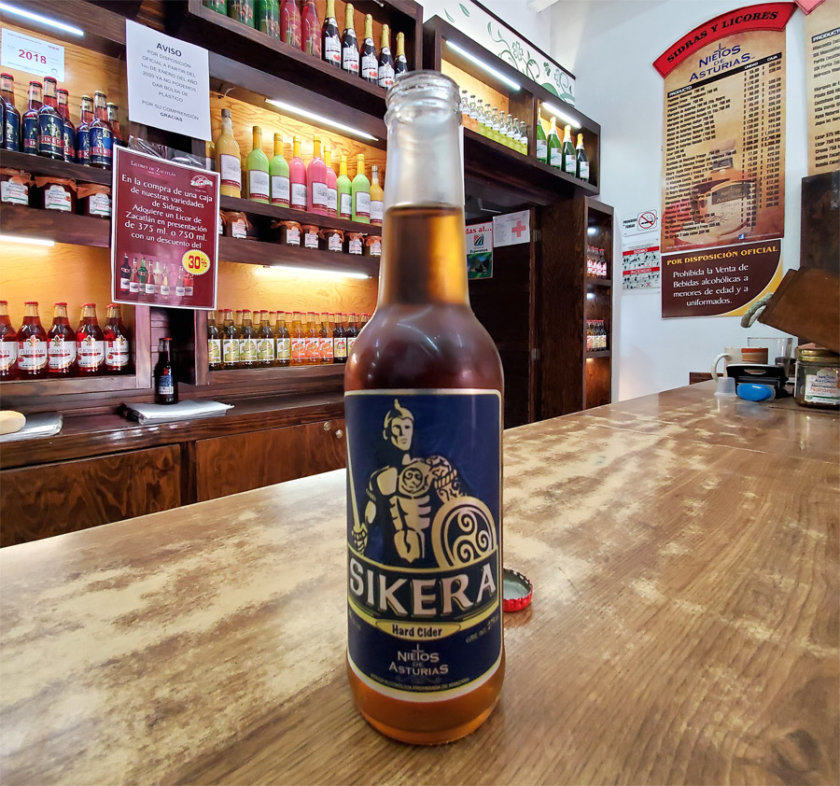 Chignahuapan is known for its handmade Christmas spheres , which are a great souvenir to buy.
Another attraction is the Basilica of the Immaculate Conception , which has a 40 ft high Virgin statue and a colorful Moorish style kiosk in its main square.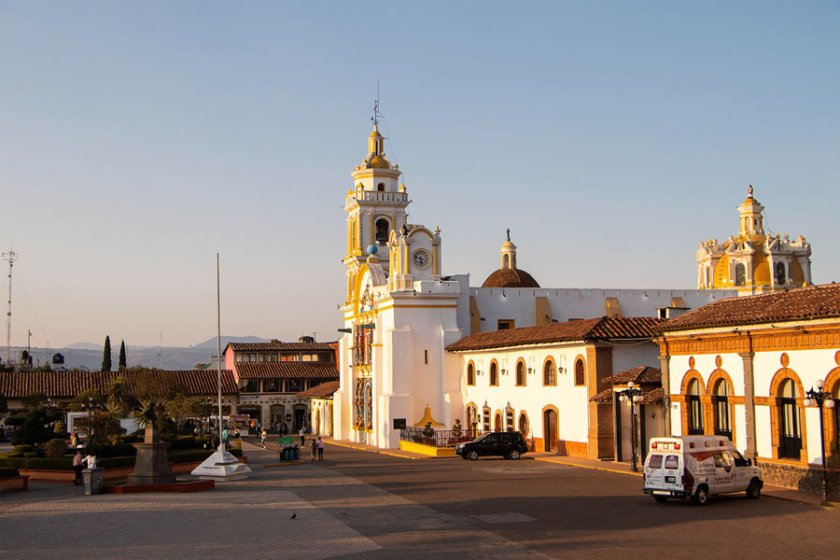 Its name means "the place where the quetzals are abundant".
Quetzals are colorful birds that were sacred to the ancient Maya and Aztec civilizations. They have long green tail feathers and red chests. Maybe that's why the typical clothing of the local women is one of the most beautiful in Mexico. 🙂
What to see in Cuetzalan:
-The Parish of San Francisco de Asis , built in the 17th century, which is the symbol of the town
-The Church of the Jarritos or Sanctuary of Guadalupe, a neo-Gothic building decorated with clay pots, whose construction was inspired by those found in Lourdes in France
-The archaeological site of Yohualichan: it was inhabited by several cultures, among them the Totonacs , who later built El Tajin ( State of Veracruz ) on the same model and became one of the most important cities in Mesoamerica. Admission 70 pesos, open Tuesday to Saturday from 10 am to 5 pm
-Its numerous waterfalls (there are about 30!): there are several activities to do such as rappelling or zip-lining at Cascada El Salto , hiking to the magnificent Cascada de Las Golondrinas (Swallow waterfall)
-Poza Pata de Perro : you can swim in this rock formation with natural pools full of water
-The local market: held on Sunday mornings in the Plaza de Cuetzalan. The Nahua people, mainly women, sell all kinds of products (fruits, vegetables, etc.). Look closely and you will notice that the locals use barter among themselves.
How to get to Cuetzalan
By bus there are several departures from Mexico City per day (6h trip with ADO or AU – leaving from TAPO ), and every hour from Puebla (3h trip with VIA)
The Helia Bravo Hollis Botanical Garden is a natural wonder in the Tehuacán-Cuicatlán Biosphere Reserve , 2 hours away from Puebla. It is named after a Mexican botanist who devoted her life to studying cacti.
This garden is home to more than 100 species of cacti , some of them rare and endangered. Some are as tall as 33 ft and as old as 200 years! You can learn about their medicinal and nutritional uses, and how they were valued in ancient times.
You can also admire the birds that live in this area, such as eagles that soar in the sky looking for their prey. You can watch them from the bird watching towers in the garden.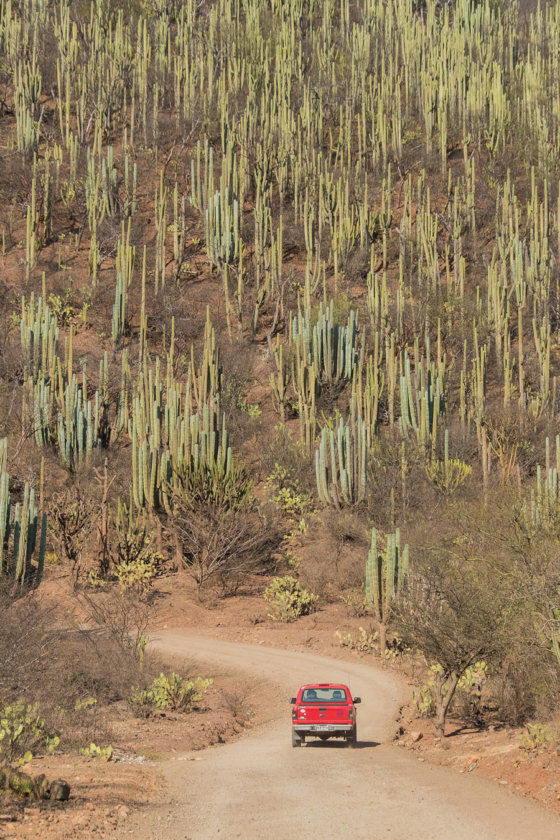 Atlixco is a town at the foot of the Popocateptl volcano , known for its mild climate and its large flower production. That's why it's also called " Atlixco de las Flores "!
You can enjoy the beauty and color of this town as you stroll through its streets, markets, craft stores and restaurants with terraces. You can also admire the view of the volcano from different spots in the town.
In the main square you can see the Ex-Convento del Carmen , which dates back to the 16th century.
Along with the convents of San Francisco and Santa Clara, they are the three most important religious buildings in Atlixco, but my favorite is the Church of La Merced with its stunning baroque facade.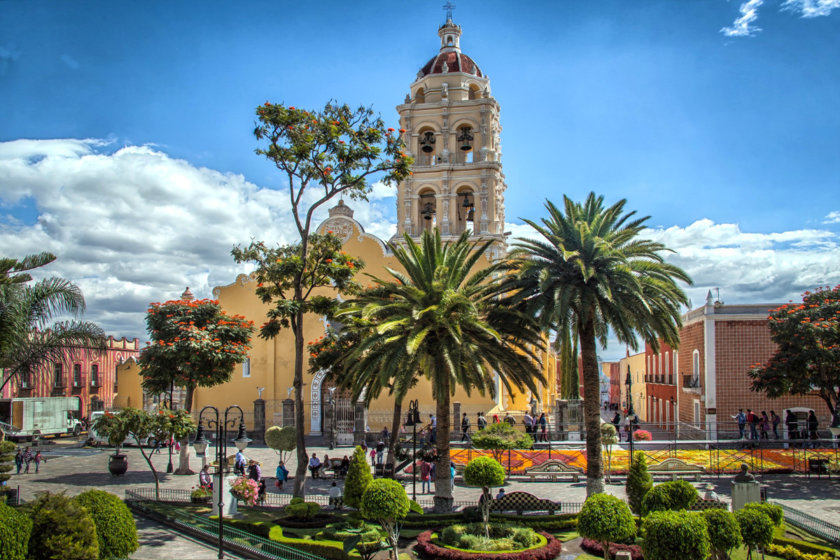 There are hotels for all budgets in Puebla, but it pays to book in advance , as its proximity to Mexico City makes it a major tourist destination on weekends and holidays.
Hotels that offer good value for money fill up very quickly.
Hotel Santiago : the ideal hotel for a cheap stay in Puebla , practically on the corner of the Zocalo, with a rooftop terrace offering a beautiful view of the cathedral . Rooms are only 30 $usd per night!
NH Puebla Centro Historico : a hotel in the historic center of Puebla,  with a rooftop terrace that has a swimming pool , a gym, available parking, good wifi and a buffet with breakfast included , starting at 48 $usd per night!
Hotel Boutique Casareyna : a 16th century mansion next to the Bubas Bridge, converted into a luxury hotel that offers spacious rooms, a rooftop pool and jacuzzi , a gym and spa, parking and a hearty breakfast. Rooms with parking and breakfast start at 105 $usd per night!
Banyan Tree Puebla : this is my favorite hotel in Puebla , the perfect choice for a romantic stay or to enjoy real luxurious comfort in the heart of the city. There's a terrace garden, a rooftop , a pool and spa overlooking the volcanoes, a restaurant with a terrace, and a good breakfast. For 226 $usd per night.
To see all hotels in Puebla you can also click on the green button:
There are also many things to do in Puebla with your family , here are some suggestions:
1. Museum of Viennese Music : it is a replica of the Vienna House of Music (Haus der Musik) with 16 rooms dedicated to music, sound, great international and Mexican composers, 2 rooms with interactive games. Don't miss the Virto Stage, where you can "conduct" a virtual orchestra. – Temporarily closed
2. Africam Safari:  a fun and educational activity for kids in Puebla . You can see 350 different species of animals living in (semi) freedom and drive along paths, without disturbing them. You can also explore a botanical garden and an insectarium on foot, where you can learn about plants and insects. –  Buy your tickets here!
3. ArboTerra : it is an interactive conservation project with about 50 different species, mainly birds. There is also a tree house. The visit takes about 1 hour. This is a great place to visit with the family in Puebla , as there is also a themed restaurant on site. Website , open Wednesday to Monday from 10am to 5pm
4. Tactical Rescue : This is a laser tag game where you can choose to be an elephant protector or a poacher. The goal is to either save the elephants or capture them for their tusks. It's just a game, but it feels very realistic. Website , open Monday to Friday from 1pm to 9pm, Saturday and Sunday from 11am to 9pm
5. Estrella de Puebla : with its 260 ft it is the biggest Ferris wheel in Latin America . When the sky is clear you can even see the volcanoes Popocateptl, Iztaccihuatl, Pico de Orizaba and La Malinche. Admission 40 pesos, open from 4 p.m. – Temporarily closed
6. Museum of Evolution : a museum that explores science, technology and ecology. You can learn about the universe, dinosaurs and human evolution in different thematic rooms. Admission 45 pesos for adults and 23 pesos for children under 12 years old, open Tuesday to Thursday from 10 am to 5 pm, Friday to Sunday from 10 am to 6 pm
7. Planetarium : right next to the museum of evolution, with interactive games, and an OMNIMAX dome that shows projections from Tuesday to Sunday at 12pm, 2pm, 4pm and 6pm. Facebook page
How much time to visit Puebla?
If you want to see the best of Puebla , you should spend one or two days in the city , but you will need more time to discover the other attractions of the state.
Here is my suggested itinerary to see as much as possible in 1 day in Puebla .
You can easily visit Puebla in one day , at least its historic center, since the main tourist attractions are within walking distance.
In the morning, start at the Zocalo and the cathedral
Continue to the Biblioteca Palafoxiana
Continue to the Amparo Museum . You should also go up to the terrace to enjoy the views. And why not have a coffee while you're there?
Discover the Callejón de los Sapos
To buy a souvenir, go to the Mercado del Parián
Stroll through the Barrio del Artista
Buy some typical Puebla sweets on the Calle de los Dulces
Finish at the magnificent Capilla del Rosario 
This map will guide you to the best places to see in Puebla in 1 day:
Mercado de Sabores : this is the best place to eat on a budget in Puebla . You can try the cemitas, those huge sandwiches I mentioned before, there are several places, but I recommend Super Cemitas Alex!
Los Globos : located right next to the zocalo, this is a good cheap restaurant in Puebla where you can try some typical dishes (like mole poblano). Calle 2 Sur 509, Puebla.
Clementina cocina Poblana : my favorite place in Puebla ! It is a small local restaurant run by very friendly young people, with very good quality and affordable prices. I went with my family and we all loved the different dishes. Personally, I ordered the enchiladas tres moles (159 pesos) and LOVED it!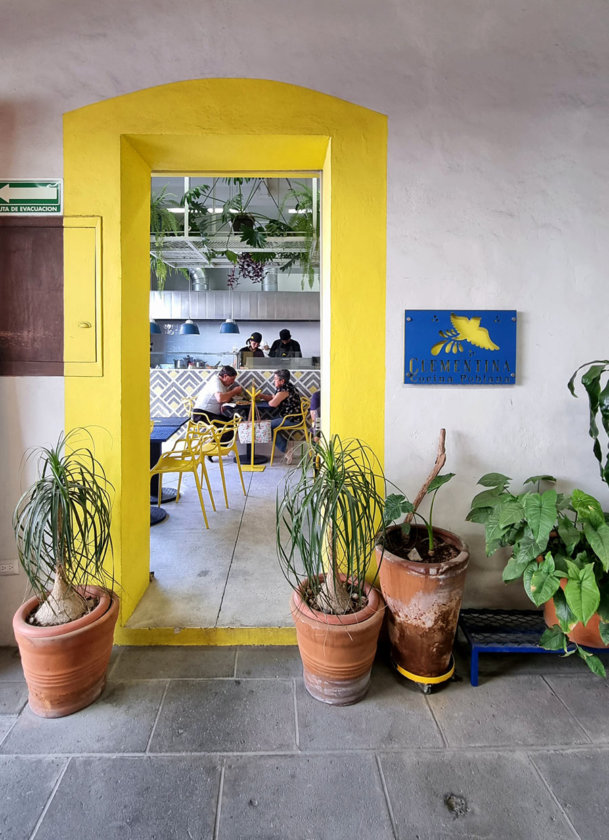 Augurio : a good restaurant in Puebla, to try to discover the regional cuisine if you have a little more budget. It is best known for its moles and won the 2017 Gourmet Award for best new restaurant in the state. Calle 9 Oriente 16, Puebla.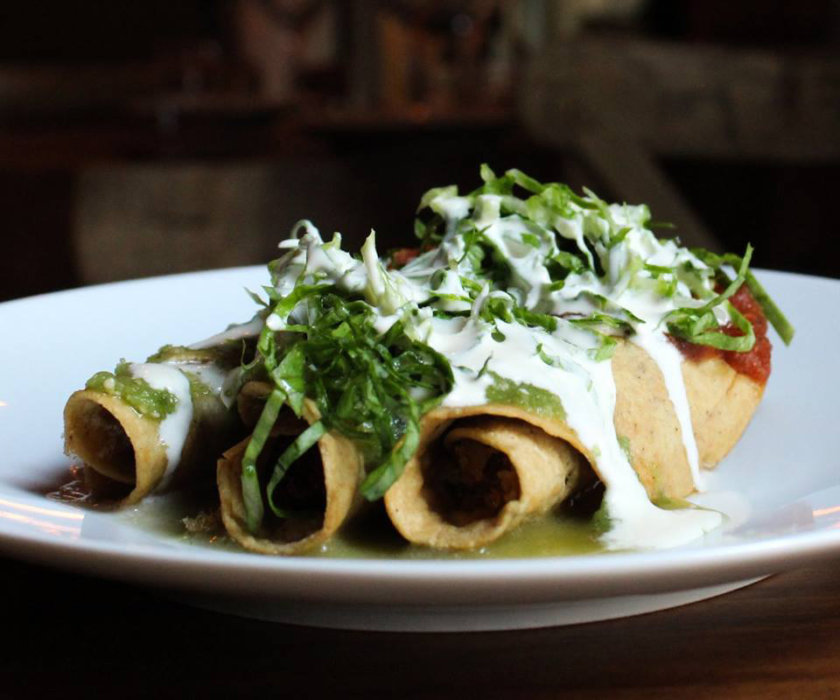 How to get to Puebla
The trip from Mexico City to Puebla takes 2h30.
There are several bus companies to Puebla but I recommend ADO , as it is safe, comfortable and reliable in terms of schedules.
There are departures every 20-30 minutes, so it is not necessary to book in advance (but it is a good idea on holidays and weekends), and the price varies depending on the departure time (ticket between 180-220 pesos each way).
There are several bus terminals in Mexico City , but I recommend leaving from TAPO in the center because it is better located to avoid traffic to Puebla.
You will arrive at the CAPU bus station in Puebla which is 20 minutes from downtown.
Here is how to get from the terminal to the Zocalo in Puebla :
By official cab: there are counters inside to request the service, about 100 pesos. The uber costs a few pesos less.
By bus: in front of the station you have to take bus 44 (white and yellow) or the one that goes from Boulevard – CU – Xilotzingo (cream and blue), ticket 6 pesos
It takes 2 hours (140 km) to drive from Mexico City to Puebla .
From the historic center: take Calzada Ignacio Zaragoza which becomes Highway 150 Mexico-Puebla
From the south: the easiest way is to take the Periferico to the highway
There are two tolls:
Between Mexico City and San Martin Texmelucan (140 pesos)
Between San Martin Texmelucan and Puebla (44 pesos)
To know the tolls, it is best to visit the Traza tu Ruta website
3. By plane
I don't think it is the best option for such a short trip, but Volaris and Aeromexico offer a few flights a week.
There are no direct flights, there is always a stopover (Monterrey, Tijuana, Cancun ). Sometimes there are even two stops, so be careful when comparing prices.
The shortest trip I found was 4 hours, so arriving by plane is longer than the bus .
Hermanos Serdan International Airport is 15 miles from downtown Puebla. A cab should costs between 330 and 400 pesos
The trip from Oaxaca City to Puebla takes 5 hours.
Several departures with ADO and AU. Prices vary a lot (between 427 pesos and 676 pesos) depending on the time of day and the length of the trip, as some trips are direct and others are not.
To get from Oaxaca to Puebla by car, it takes 4 hours and 15 minutes.
From Oaxaca, take highway 135D to Mexico City, then follow the signs to Puebla/Mexico City to take highway 150D (Orizaba – Puebla/Córdoba – Puebla/Mexico City)
There are five toll booths on the highway:
Huitzo: 93 pesos
Suchixtlahuaca: 80 pesos
Miahuatlan: 33 pesos
Tehuacan: 46 pesos
Amozoc: 75 pesos
For updated rates, don't forget to check the Traza tu Ruta website
Renting a car is for sure the best way to explore Puebla and make the most of your stay!
To rent a car, personally, I always use Rentalcars.com, for a few reasons:
You can easily compare the rental cars prices between all the agencies: for sure the easiest way to find the best rate!
Cancellation is often offered free of charge: no need to worry if you change your mind
Rentalcars offers full insurance coverage at a lower price than the rental companies , so it's an instant saving with no effort
Simply click on the green button to find your rental car at the best price:
To find your cheap flight to Mexico I recommend you to use our flight comparator in partnership with Skyscanner, it's the guarantee to pay the best price for domestic and international flights !
Discover all my articles about Mexico : All my articles to help you plan your trip to Mexico are listed there.
The 35 Best Things to Do in Mexico
Mexico City: The 31 Best things to Discover
Oaxaca : Top 20 Things To Do and Must-See Attractions !
Itinerary : 10 days in Mexico – Mexico City, Chiapas and Yucatan
Itinerary : 2 weeks in Mexico   – Best itinerary to discover the Yucatan Peninsula and Chiapas!
Itinerary : 3 weeks in Mexico – Mexico City, Puebla, Oaxaca, Chiapas, Campeche , Yucatán and Riviera Maya
Itinerary : 1 month in Mexico – My Epic 30-31 Days Itinerary from Mexico City to Cancun
Road trip in Mexico : The best itineraries for 10, 15, 21 days and a month
Itinerary : 1 week in Yucatan – The Ultimate 6, 7 or 8 days Itinerary
Itinerary : 10 days in Yucatan – Best Itinerary for 9, 10 or 11 Days in Yucatan
Itinerary : 2 weeks in Yucatan – Epic Itinerary + All my Best Tips!
Itinerary : 3 weeks in Yucatan – Best things to do in 20-21 days
Itinerary : 1 month in Yucatan – Yucatan Peninsula in 29, 30 or 31 days from Cancun
Road trip in Yucatan : The best itineraries for 7, 10, 15, 21 days and 1 month
You're using Pinterest? Here is the picture to pin!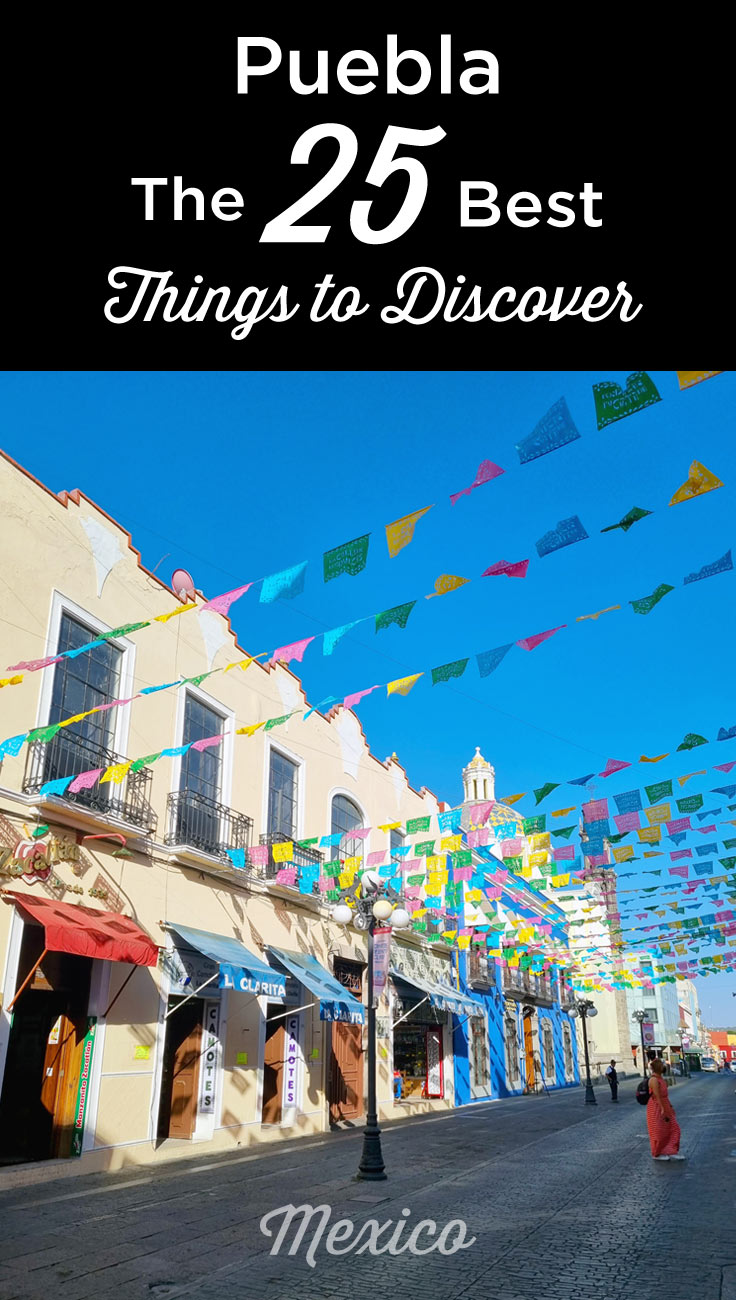 I have created this blog to give you all my best tips to plan your next trip to Mexico, regardless of your budget. I share detailed itineraries, advice about places to visit as well as recommendations for transportation, hotels and restaurants. I hope I will also help you to discover amazing off the beaten path destinations in Mexico!
Related Stories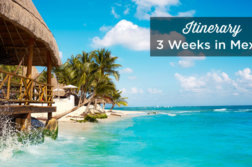 3 weeks in Mexico: The Perfect 20-21 Days Itinerary + My Best Tips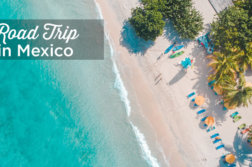 Road trip Mexico: The best itineraries for 10, 15, 21 days and 1 month
Leave a reply cancel reply.
Your Name (required)
Your Email (required)
Your Website (optional)
Save my name, email, and website in this browser for the next time I comment.
All our Guides about Mexico