Complete Norway | Fjords and Midnight Sun
Start in Oslo and travel along, one of the worlds most scenic railway trips, The Flam Railway to Bergen via Flam and Voss.
Voyage north along Norway's beautiful coastline, under the Midnight Sun visiting 34 ports, more than 100 fjords and 1,000 mountains.
Wide choice of optional excursions and onboard Hurtigruten Guides who lead included activities and interpret the cultural and natural treasures on your voyage.
Included in your voyage
Choose the category of your cabin
Full board (breakfast, lunch and dinner) from Norway's Coastal Kitchen
Onboard presentations on history, biology, geography, geology and culture to help you understand the destinations you will experience
English-speaking Tour Leader on board
Under the glow of the Midnight Sun, travel from the cosmopolitan capital, Oslo, to the top of Norway and Europe, Journey along some of the world's most scenic and beautiful railways as you travel through the lush countryside to Bergen via Flam and Voss. With a range of authentic Norwegian experiences, majestic fjords and friendly locals - discover this and so much more on this 16-day classic voyage.
Day 2 Flåm
Day 4 Bergen
Day 5 Bergen
Day 6 Florø - Molde
Day 7 Kristiansund - Rørvik
Day 8 Brønnøysund - Svolvær
Day 9 Stokmarknes - Skjervøy
Day 10 Øksfjord - Berlevåg
Day 11 Båtsfjord - Berlevåg
Day 12 Mehamn - Tromsø
Day 13 Tromsø - Stamsund
Day 14 Bodø - Rørvik
Day 15 Trondheim - Ålesund
Day 16 Ålesund - Bergen
DAY 1 : Oslo
Arrive In Oslo
Arrive in Oslo and spend the day exploring the historical and beautiful Norwegian capital.
Its compact size makes it ideal to discover and experience the best, the city has to offer. For the cultural loves, the Bydgdøy peninsula is home to several museums like the outdoor museum, Folkemuseet and the Viking ship museum. Downtown Oslo, is bustling with trendy restaurants, bars, cafes and green open spaces such as the Vigeland Sculpture Park and Ekeberg Park.
At the heart of the city is the Royal Palace, home to the Norwegian Royal family since work began in 1814.
DAY 2 : Flåm
Oslo - Myrdal - Flåm
After breakfast, make your own way to Oslo Central Railway Station to commence your 'Norway in a Nutshell' adventure by boarding the train to Myrdal. Enjoy one of the world's most scenic rail journeys as you travel from Oslo through farmland, past lush green forests and majestic peaks.
At Myrdal join the famous Flåm Railway - a marvel of railway engineering, descending more than 900 metres to the town of Flåm. Take time to explore at your the town and even a visit to the local brewery or the Flåm railway museum.
DAY 3 : Voss
Flåm - Gudvangen - Voss
After breakfast, board the ferry from Flåm to Gudvangen, enjoying the spectacular views as you pass through the narrow Nærøyfjord. Known for extensive mountain peaks, deep valleys, fast-flowing rivers and thunderous waterfalls, the journey along the valley from Gudvangen to Voss is as beautiful as it sounds.
For those wanting a view to remember, take the Voss Gondola to the summit of Mount Hanguren (820 metres above sea level). The panoramic views of the valley and surrounding areas are more than worth the journey.
DAY 4 : Bergen
Voss - Bergen
Enjoy breakfast at the hotel and spend the morning exploring Voss, before taking the train for the last bit of your journey to Bergen. Once you arrive in Bergen, take the afternoon to explore this colourful gateway to the fjords. Bergen was founded in 1070 AD, and retains a great deal of its character, charm and history. Visit the UNESCO-listed Bryggen district with colourful wharfs dating back to the 14 th century.
You may enjoy a stroll in the cobblestone alleyways, a bite at an outdoor café or restaurant, a trip on the Fløibanen funicular or a visit to the famous fish market .
DAY 5 : Bergen
Gateway to the Fjords
Following breakfast and another chance to explore this picturesque city, join the ship at the port to begin your voyage towards the Arctic circle and the Midnight Sun.
After we depart, enjoy a tasty dinner buffet made from fresh coastal produce. We sail north from Bergen along the Viking route of Hjeltefjord. Spend the rest of the evening relaxing as you admire the spectacular landscapes from the deck or in our panorama lounge.
Seven of our ships along the Norwegian Coast have Hurtigruten Guides . You are welcome to join them on hikes during many of our port stays or enjoy onboard lectures and activities.
TIME IN PORT:
Bergen: 14.30 - 21.30 all year
Want to know when the different ships are in port? See the complete sailing plan here
DAY 6 : Florø - Molde
Architectural and Natural Masterpieces
Enjoy the early morning in the breathtaking Nordfjord, followed by a delicious breakfast. We then sail past West Cape for our approach to Ålesund.
Art Nouveau city
Ålesund is renowned for its beautiful Art Nouveau architecture and famed Atlanterhavsparken aquarium. Our tour to the aquarium includes a visit to see resident penguins before we continue to nearby Mount Aksla for an amazing view.
Into the fjords
In the summer, we set our course for the spectacular UNESCO-listed Geirangerfjord , passing sheer, 800 metre-high cliffs and dramatic waterfalls. The fjord's pristine natural landscape of steep rock walls, lush green meadows, lonely mountain farms and tiny villages is unforgettable.
Mountains and roses
Molde is known as the 'City of Roses' because of its lovely municipal gardens. This attractive coastal town has an amazing view of 222 mountain peaks across the fjord, called 'the Molde Panorama'.
TIME IN PORT
Florø: 02.45 - 03.00
Måløy: 05.15 - 05.30
Torvik: 08.20 - 08.30
Ålesund: 09.45 - 10.00
The Geirangerfjord: 14:25 - 14:45
Ålesund: 19:00 - 20:00
Molde: 22:35 - 23:05
Kayaking in Ålesund Join us on a guided kayaking tour through the elegant town of Ålesund and learn more about its history and Art Nouveau influence.
Atlanterhavsparken Aquarium and Mount Aksla Get a bird´s-eye-view of the Art Nouveau town of Ålesund from a nearby mountain before visiting the expansive saltwater Atlanterhavsparken aquarium.
Art Nouveau Walk (Spring & Winter) Join us on a guided walking tour through Ålesund and discover the history and culture of this elegant Art Nouveau town.
Art Nouveau Walk (Autumn) Ålesund is best known for its vibrant Art Nouveau architecture. Join us on a walking tour to discover the hidden charms of this Norwegian coastal town.
Hjørundfjord - tastes and traditions Explore the beautiful Hjørundfjord aboard a vintage ship and treat your tastebuds to a delicious four-course meal in a 16th century guesthouse in the village of Sæbø.
A Taste of Norway A beautiful fjord, narrow valleys, an ancient settlement, historic hotel, and tiny village – join us for this highly popular journey through spectacular Norwegian nature.
Hike with a Visit to a Shieling Join us for a pleasant hike up from the fjord through lovely meadows to a summer grazing site at Haukås where we learn about traditional farming and taste local delicacies.
Alnes Lighthouse Explore the ancient islands of Giske and Godøy and enjoy the fantastic coastal scenery at Alnes Lighthouse.
DAY 7 : Kristiansund - Rørvik
History and Charm
Charming Trondheim is home to great history and a rich cultural life.
Magical, medieval and modern
Founded by Viking king Olav Tryggvason in 997, Trondheim today is a unique mix of the ancient and modern. Join our optional excursion to the soaring Nidaros Cathedral, Norway's only gothic cathedral and the burial place of St. Olav (Tryggvason). Marvel at the cathedral's exquisite works of art, architectural details and medieval statues.
In summer, we continue to Ringve Museum of Musical History, where Norwegian music´s past is brought to life in a grand manor with a fantastic view.
Excursions for every taste
Explore Trondheim by kayak on the River Nid or experience the city by bicycle, for something truly unique, be sure to ride the world's only bicycle lift, near the quaint Bakklandet neighbourhood. You can also join the Hurtigruten Guides for a hike to discover more of the area.
In the afternoon, the ship sails northwest, passing the Kjeungskjær lighthouse, islets and rocky reefs and onwards towards charming Rørvik.
Kristiansund: 02.45 - 03.00
Trondheim: 09.45 - 12.45
Rørvik: 21.40 - 22.00
Trondheim with Nidaros Cathedral Learn more about Trondheim by visiting one of its most famous landmarks, Nidaros Cathedral. Take in the whole city from the famous Utsikten viewpoint and enjoy a bus tour of the city.
Trondheim City Walk Explore Trondheim while learning about its history and culture from a local guide. See all the best sights of the city, from Stiftsgården to the bridge that locals call "The Portal of Happiness".
Kayaking on the River Nid See the city's main attractions from water level inside a kayak. Paddle down Trondheim's waterways and get some exercise while learning more about this exciting city.
DAY 8 : Brønnøysund - Svolvær
Welcome to the Arctic!
Today we cross the Arctic Circle and the land of the midnight sun. We mark the occasion with a truly memorable traditional ceremony on deck.
Forces of nature
Ørnes is the site of Norway's second-largest glacier, Svartisen.
We then sail along the beautiful coast of Helgeland to Bodø, where you can experience Saltstraumen, the world's most powerful maelstrom, by small boat.
Majestic Lofoten and Vikings
That afternoon, the 1,000 metre-high Lofoten Wall looms on the horizon, ushering us towards majestic granite cliffs and white sandy beaches. Following this, we journey towards Stamsund and the home of the Vikings. Join an excursion to visit the Lofotr Viking Museum, where you are welcomed into the chieftain's house for a real Viking feast.
Going organic
Between Stamsund and Svolvær, you can experience life on an organic herb and cheese farm, or visit the Lofoten's only craft brewery, in Svolvær.
Brønnøysund: 01.35 - 01.45
Sandnessjøen: 04.35 - 04.50
Nesna: 06.00 - 06.10
Ørnes: 10.00 - 10.10
Bodø: 13.05 - 15.20
Stamsund: 19.15 - 19.40
Svolvær: 21.20 – 22.15
Arctic Coastal Walk Enjoy a guided walk along the coast in Bodø and learn how a love of nature and the outdoors is an integral part of Norwegian culture.
Experience Bodø and Saltstraumen After a tour of the town of Bodø, visit the strongest tidal current in the world at the Saltstraumen maelstroms.
Lofotpils Brewery If you're a beer enthusiast, you won't want to miss this tour of Lofoten's first craft brewery. Meet the owner of Lofotpils and learn how they brew the perfect beer.
DAY 9 : Stokmarknes - Skjervøy
In the Footsteps of Polar Heroes
We briefly dock at Risøyhamn, Harstad and Finnsnes in the morning, before continuing to the Arctic exploration capital of Tromsø for a prolonged stay. Here, you can taste beer from the world's northernmost brewery.
Today it is a modern city with many activities on offer, from an aquarium and several quality museums to the world's northernmost botanical garden. The city is also a popular place to experience the unique phenomenon of the Midnight Sun.
All year, you can join the Hurtigruten Guides for hikes and discover more of the Tromsø area.
Get close to marine wildlife
Want to experience serenity on the sea? Join us for a kayaking excursion in summer along Tromsø's coastline - a great way to get close to marine wildlife.
Stokmarknes: 01.30 - 01.40
Sortland: 02.55 - 03.10
Risøyhamn: 04.35 - 04.50
Harstad: 07.10 - 07.45
Finnsnes: 11.00 - 11.30
Tromsø: 14.15 - 18.15
Skjervøy: 22.10 - 22.25
The Arctic Capital Tromsø Tour the city's best spots from the Arctic Cathedral to the world's northernmost aquarium, including taking the cable car up for mountaintop views over Tromsø.
DAY 10 : Øksfjord - Berlevåg
Top of the World - North Cape
Experience the north cape.
After a brief stop in Hammerfest , we arrive in Havøysund the world's northernmost fishing village. One of the most popular excursions is a visit to the North Cape , one of the northernmost points on the European continent marked by the photogenic globe monument.
For those who like to wake up early, enjoy a lavish breakfast buffet in the North Cape Hall while looking out over the Barents Sea, before experiencing the four seasons of the North Cape through a panoramic film.
Sailing north
The ship continues north into the heartland of the Sámi people. Visit Kjøllefjord, where you can learn about the Sámi way of life and hear traditional joiking (song).
Øksfjord: 01.50 - 02.00
Hammerfest: 05.05 - 05.45
Havøysund: 08.30 - 08.45
Honningsvåg: 10.55 - 14.30
Kjøllefjord: 16.40 - 17.00
Mehamn: 18.55 - 19.15
Berlevåg: 22.00 - 22.10
The North Cape Cross the 71st parallel and visit North Cape, the northernmost point on the European continent, marked by the photogenic globe monument.
Fishing Village Visit Join us on a tour to visit two colourful fishing villages and discover Christmas, whatever the time of year, at the very top of Norway.
DAY 11 : Båtsfjord - Berlevåg
Russian Border and Turning Point
We arrive early into Vadsø before docking in Kirkenes - the ship's turning point for the return journey.
Streets with Russian names
The Russian border is a just few kilometres from Kirkenes and you'll notice local road signs in both Norwegian and Russian. There are many ways to experience the Russian influence on the local area with many different excursions and activities. For those who like a bit of adrenaline, take to four wheels and ATV/Quad-biking towards the Russian border, whilst those who enjoy a more relaxed way of travelling there are bus and hiking tours available.
Southbound and down
As the ship starts its voyage south, remember that you've seen only half of what Norway's coastline offers. The ports we visited by night going north are now seen by day.
Båtsfjord: 00.00 - 00.30
Vardø: 03.30 - 03.45
Vadsø: 06.55 - 07.10
Kirkenes: 09.00 - 12:30
Vardø: 16.05 - 17.00
Båtsfjord: 20.00 - 20.30
Berlevåg: 22.25 - 22.35
The Norwegian Border Explore the area around Storskog, a border station located on Norway's easternmost edge, and enjoy views over the town of Kirkenes from Prestfjellet Mountain.
King Crab Adventure (Summer) Join fishermen out on the Barents Sea to see them catch king crabs. A chef will then prepare them for an all-you-can-eat king crab buffet.
DAY 12 : Mehamn - Tromsø
Unmatched Scenery
North cape breakfast.
We again dock at Honningsvåg, where you can join an excursion that includes eating breakfast at North Cape. The ship continues to Hammerfest, where you can see the UNESCO-listed Meridian Column. You can also join a mini-mountain expedition and learn about local polar hero Adolf Lindstrøm.
We continue south to Øksfjord with a brief stop at the old trading post of Skjervøy.
Midnight adventures
We then dock at Tromsø, just in time to enjoy a concert at the Arctic Cathedral under the Midnight Sun or explore the city by boat for a unique view of the sights and landmarks. You may want to drop by Ølhallen, a classic pub for a friendly beer.
Mehamn: 01.20 - 01.30
Kjøllefjord: 03.25 - 03.35
Honningsvåg: 05.45 - 06.00
Havøysund: 08.00 - 08.15
Hammerfest: 11.00 - 12.45
Øksfjord: 15.50 - 16.05
Skjervøy: 19.30 - 19.45
Tromsø: 23.45 - 01.30
The Northernmost Town In The World Join us on a coach tour that explores and explains the events that have shaped Hammerfest, a town at the top of Europe.
Breakfast at the North Cape Imagine having breakfast at the top of Europe. You enjoy breakfast and more on this scenic coach tour from the town of Honningsvåg to North Cape, one of the northernmost points in Europe.
Mountain Hike In Hammerfest Enjoy an exhilarating hike up Mount Salen, passing through Hammerfest's only forest on your way up to the peak for panoramic views.
DAY 13 : Tromsø - Stamsund
Lofoten, Where Nature Amazes
We arrive in Harstad, where you can join the excursion, A taste of Vesterålen.
Amazing scenery
The island groups of Lofoten and Vesterålen offer some of the most stunning natural scenery of the entire voyage. Lofoten is renowned for its steep mountains, sandy beaches, wild nature and picturesque fishing villages.
Hurtigruten's birthplace
We make a short stop at Risøyhamn, population 200, to deliver passengers, groceries and mail, and then continue to Stokmarknes, where Hurtigruten was founded more than 125 years ago.
Go ashore and visit the Hurtigruten Museum. Continuing south, we slip through a passage into the narrow Raftsund, past peaks rising 1,000 metres from the sea.
Spectacular Trollfjord
We now reach spectacular Trollfjord, only 2 km long, 100 m wide and surrounded by majestic mountains. If possible, we sail inside, where the dramatic landscape inspires images of fairy tales and trolls. Just north, you can opt to see sea eagles up close by boat.
Heart of Lofoten
At Svolvær, you can select several excursion options. We then proceed to Stamsund along the massive Lofoten wall.
Tromsø: 23.45 - 01.30
Finnsnes: 04.20 - 04.40
Harstad: 08.00 - 08.30
Risøyhamn: 10.45 - 11.00
Sortland: 12.30 - 13.00
Stokmarknes: 14.15 - 15.15
Svolvær: 18.30 - 20.30
Stamsund: 22.15 - 22.30
A Taste of Vesterålen This popular, classic excursion takes you on a sightseeing tour of Harstad and historic Trondenes. Enjoy the beautiful fjord landscape along Kvæfjord before boarding a ferry across the Gullesfjord.
Lofoten by Horse Discover the coastline of Gimsøy on horseback. These Icelandic horses are suitable for beginners or experienced riders.
Discover a Fishing Village Join us on a guided walk through the fishing village of Svinøya. Visit an original rorbu hut to learn about life as a fisherman, and taste locally produced stockfish.
DAY 14 : Bodø - Rørvik
Across the Arctic Circle
Celebrate crossing the Arctic Circle with a `taste´ of Arctic tradition – a fun ceremony highlighted by a spoonful of cod liver oil.
Mountain with a hole
As we sail along the Helgeland coast, you'll see the strange mountain Torghatten, famous for its distinctive hole in the centre. The opening is 160 m long, 35 m high and 20 m wide, and was created during the ice age. If the weather allows, join a hike with your guides up the mountain.
Myths and legends
We also sail past the Seven Sisters mountain range – with peaks up to 1,100 m high. The story goes that seven beautiful troll sisters got caught out at sunrise and turned to stone, thus the seven beautiful peaks.
UNESCO heritage
We next make a short stop at UNESCO Nesna, before moving on to Sandnessjøen. From there we voyage towards Brønnøysund a pretty little town that offers a charming high street and marina. You can join an excursion to the Norwegian Aquaculture Centre for an interesting tour and a taste of fresh salmon.
Bodo: 02.30 - 03.30
Ørnes: 06.25 - 06.35
Nesna: 10.25 - 10.35
Sandnessjøen: 11.45 - 12.15
Brønnøysund: 15.00 - 17.25
Rørvik: 21.00 - 21.30
Visit the Salmon Learn about the salmon lifecycle, as well as salmon fishing and farming in this hands-on tour of the Norwegian Aquaculture Centre in Toft.
UNESCO Vega Archipelago Go on a boat tour of the UNESCO-protected Vega Islands and learn about the islands' unique industry of eider duck down harvesting.
DAY 15 : Trondheim - Ålesund
Rich History and Living Culture
Spend the morning in Trondheim, then sail past beautiful island scenery and some of Norway's smallest communities before exploring Kristiansund and Molde.
Capital of the Viking Age
Stroll around Trondheim in the early morning as the city wakes. Visit the sacred Nidaros Cathedral , resting place of St. Olav. Then, walk to Gamle Bybro bridge for a photo opportunity over Nid River .
Treat yourself to quality coffee and a Nordic patisserie in one of the Bakklandet district's many chic cafés then walk up to Kristiansten Fort for great views of Norway's third largest city.
Dealing in dried cod
We dock at Kristiansund's harbour in the late afternoon. The town is spread over three islands and known for being Norway's "Bacalao Capital" for the salted cod that's dried on the surrounding cliffs, called klippfisk in Norwegian.
Take a walk around the cobblestone streets of the old town and tour the lively port. You can also head up to the old watchtower at Varden viewpoint for a lovely panorama.
Peaks and petals
The penultimate port of the day is Molde where you can spot the tops of the Romsdal Alps . Nicknamed "The City of Roses", flowers should be in bloom between mid-June and late August.
Trondheim: 06:30 - 09:30
Kristiansund: 16:30 - 17:30
Molde: 21:15 - 21:45
Trondheim With Nidaros Cathedral Take a bus tour of Trondheim, an ancient city rich in history and culture that also serves as one of Norway's major academic and research centres
Bergtatt – Magnificent Marble Mine Journey down into Bergtatt, a marble and limestone mine deep inside the mountain and take a raft ride onto the illuminated subterranean lake.
DAY 16 : Ålesund - Bergen
A Fjord Farewell
During the night, the ship calls at Ålesund, Torvik and Måløy, as our voyage draws to a close. But before we dock in Bergen, there is some fascinating scenery ahead of us.
Glaciers and lush farmland
We sail through picturesque Nordfjord beneath Jostedal Glacier . This rugged coastal region features farms with fruit orchards and glacial fingers that stretch towards glistening lakes. In the morning, we call at Florø .
Back to Bergen
We navigate the mouth of the mighty Sognefjord and enjoy superb views of the island-studded coastline before you disembark in Bergen.
We hope you will take home memories of stunning nature, wildlife and fascinating culture, and we hope to see you on board again in the near future!
Enjoy even more of Norway
To see more of Norway, we highly recommend our excursion Bergen City Sightseeing (only sold on board) or join one of our Post-programmes to experience more Norwegian cuisine, culture and scenery.
Ålesund: 00.30 – 01.00
Torvik: 02.15 – 02.30
Måløy: 05.15 – 05.45
Florø: 07.45 – 08.15
Bergen: 14.30
What's included
4 nights' accommodation including breakfast in 4 star hotels
Norway in a Nutshell combination ticket including seat reservations if required (train/bus/ferry Bergen-Myrdal-Flam-Gudvangen-Voss-Bergen)
Hurtigruten shuttle from Bergen railway station to hotel
Hurtigruten shuttle from Bergen hotel to ship
Hurtigruten Classic Round Trip voyage in cabin grade of your choice
Everything you need for an adventure (on board the ship only):
12-day voyage in cabin category of your choice
Full board (breakfast, lunch and dinner) from Norway's Coastal Kitchen
Engaging onboard activities and lectures:
Onboard lectures and presentations on history, biology, geography, geology and culture that provide context to your voyage and help you understand the destinations you will experience
Introductory photo presentations, camera adjustment and tips & tricks, photo and film footage from the voyage
Opportunities to casually engage with the guides and other guests, including a welcome event, daily gatherings to recap the day and prepare for the day to come
Port presentations providing destination insight
Presentation of excursion programmes
Point of interest presentations out on deck
Loan of trekking poles, snow shoes, head lamps, ice-spikes needed for optional hikes depending on season and conditions
Captain's dinner and a farewell event
Not included in your voyage
International flights
Optional excursions
Travel insurance
Luggage handling
Hikes with Hurtigruten guides
Transfers other than those specified
During the land tour prior to the voyage only breakfast is included, once on board the ship all meals are included
The Oslo to Bergen (Norway in a Nutshell) sector of the trip is self-guided and does not have a tour escort. Once on board the ship you have access to our Tour Leaders.
Prices are in EUR per person based on two people travelling together sharing a twin cabin
Not all cabin categories are available for all departures
Single cabin pricing available on request
Hurtigruten has a flexible pricing system and all prices are capacity controlled and subject to availability.
Practical information
Life on board, norwegian coastal express.
Norway Fjords Cruise
Northern Lights Cruise
Hurtigruten Expeditions
For explorers by explorers
Discover our world up close with the experts on sustainable, knowledge-centred expedition cruises
The Original since 1893
Sailing north and south along the scenic Norwegian coast connecting 34 key communities, in all seasons
Discover our world up close on sustainable, knowledge-centred expedition cruises
Sailing the scenic Norwegian coast to 34 key communities
Norwegian Coastal Express
Norway Fjords Cruise
Northern Lights Cruise
Norway Midnight Sun Cruise
Hurtigruten Expeditions

Hurtigruten cruises in Norway: what you need to know
An adventurous way to experience the full splendour and drama of the Norwegian coastline is to view it from one of the iconic Hurtigruten ships.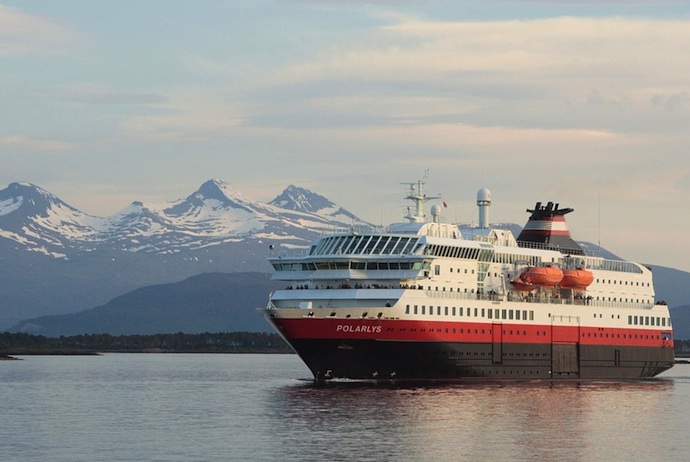 The 12-night round trip from Bergen to Kirkenes passes some of the world's most sublime landscapes, docking at some of Norway's remotest settlements. It may be pricey – but this journey is definitely one for the bucket list.
How to pronounce Hurtigruten
First things first: what is that word all about? The word Hurtigruten means "express route" or "rapid route" and the most usual way to pronounce is " hurti-rerten ", without the "g" .
What makes the Hurtigruten trips different?
Subsidised by the Norwegian government, Hurtigruten ships have been plying the Norwegian coast for more than 120 years, providing a vital lifeline to settlements that were otherwise inaccessible by road or rail. Eleven ships run along the full route taking valuable supplies to the country's remote outposts.
So what's a Hurtigruten cruise like?
While the boats still carry out their original function as essential supply ships, they also carry visitors and tourists. The ships vary in their level of comfort and facilities – and correspondingly, price – but all are well-adapted to cover the 1500-mile journey through Arctic waters in all weathers.
Where can you go on a Hurtigruten cruise in Norway?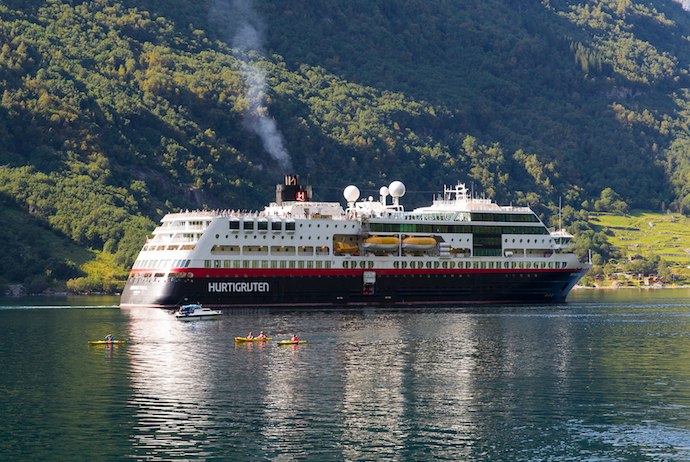 The full Hurtigruten cruise runs along the Norwegian coast from Bergen to Kirkenes in the Arctic Circle, stopping at 32 ports on its way, then the same on the way back down. The ports vary in size from Norway's third largest city, Trondheim, to the tiny village of Risøyhamn, which has just 203 inhabitants.
In summer, the northbound ships sail into the Unesco-listed Geirangerfjord, while in autumn they explore the beautiful Hjørundfjorden.
How do Hurtigruten cruises work, then?
A Hurtigruten ship leaves Bergen every day, right throughout the year, stopping at towns such as Ålesund, Trondheim, Bodø and Tromsø en route to Kirkenes, where it heads back south.
You can either book the full 13-day round-trip; a seven-day Bergen to Kirkenes cruise; or a six-day Kirkenes to Bergen cruise. Alternatively, you can book individual port-to-port legs if you just want to use the boat as a way of hopping from one destination to the next.
How long do Hurtigruten boats spend in each port?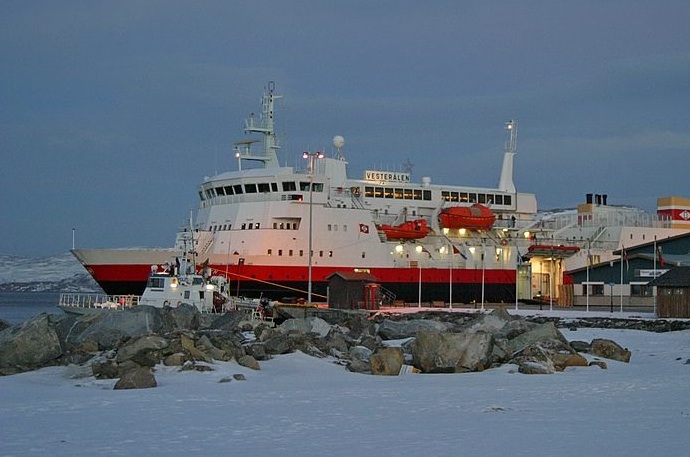 The amount of time you'll have at each port varies depending on the size of the settlement and the time of day that you arrive.
Ships can spend six hours in Trondheim during the day, for example, but only 15 minutes in tiny Måløy, where they can dock in the early hours of the morning. The schedules are arranged (as far as possible) so that ports which are visited at night on the northward journey will be visited by day on the way back down.
What about side trips and excursions?
If the boat is spending 30 minutes or longer at a port, you are free to disembark and explore on your own. Alternatively, you can book an organised excursion, which can be anything from dog-sledging in Tromso or horse-riding in the Lofoten Islands to quad-biking to the Russian border.
Some trips, such as the drive along the Trollstigen, may take the longer than the boat docking time. As long as you've booked an official tour with Hurtigruten, you'll be transferred to the ship's next point of call in time for its departure.
Excursions can either be booked online up to four weeks before you travel (two weeks if you pay by credit card), or on the boat itself. If there are any trips that you particularly fancy, it's a good idea to pre-book as the most popular ones fill up fast. All trips booked on the boat itself are payable in Norwegian kroner.
How to book the Hurtigruten port-to-port
It is possible to book individual legs of the journey through the Norwegian version of the Hurtigruten website (let your browser translate it into English for you). Alternatively, you can contact the dedicated port-to-port booking office in Tromso, on +47 7759 7019, or [email protected] .
Combining short hops on the Hurtigruten boats with bus and train travel can be a fun way of exploring the Norwegian coastline, but it's not particularly cheap. The three-hour trip from Alesunde to Molde, for example, starts from around 250 NOK per person. You don't need to book a cabin for any trip under 23 hours, so you can keep costs down by snoozing on deck or in a chair.
Can I take my car on the Hurtigruten ships?
All the ships except MS Lofoten and MS Spitsbergen carry cars, though none take caravans and camper vans. Taking your car for a short hop on the Hurtigruten can save hours of driving over mountain passes and along indented fjords, though again it's not a particularly cheap option.
If you need to catch a specific boat, it's worth booking well in advance as the boats only have limited spaces for cars.
What are Hurtigruten ships like inside?
A cross between a cruise ship and passenger ferry, the boats are smaller than most cruise liners. They have an informal, relaxed vibe on board, with no set dress code in the restaurants. This means you can focus on packing practical stuff for the trip (like comfy clothes and outdoor gear) without needing to worry about dressy clothes for the evenings – unless you'd like to, of course!
What are Hurtigruten cruises like?
If you're after a classic luxury cruise with cabaret entertainment, ten types of restaurant and waterslides on deck, this is not for you. The emphasis is less on luxury and more on appreciating the natural surroundings and the environment.
The onboard entertainment is also low-key, consisting of star-gazing, wildlife-watching and looking out for the northern lights, plus the odd lecture on local habitats and culture.
Are Hurtigruten cruises all-inclusive?
All the cruises include full-board buffet or set menu meals, and you can also opt to upgrade to the à la carte menu. Port-to-port passengers can either pay to eat in the restaurant, or in the café selling snacks and drinks, which is usually open 24 hours a day.
Restaurants on the Hurtigruten boats are known for their good food and specialise in dishes made from local, sustainable and seasonal produce. The boats pick up ingredients from ports along the way, so the fish and seafood is literally fresh from the water.
What to pack for Hurtigruten cruise
What you pack depends, of course, on what time of year you're travelling and how active you intend to be onshore. Bearing in mind that the boats sail into the Arctic Circle, you'll certainly need thermal clothing, a thick coat, hat and gloves in winter.
If you're planning any hikes or excursions, such as skiing, Rib rides or king crab fishing, make sure you bring suitable clothing.
Which Hurtigruten ship is best?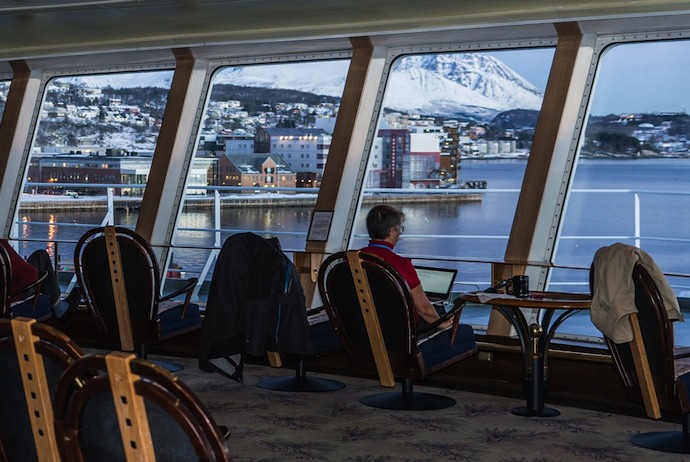 Well, that depends on what you want from your cruise. The smallest and oldest Hurtigruten ship, the MS Lofoten, has been in service for 55 years, so its facilities are pretty basic. However, it's got a certain classic old-world sense of adventure about it – and it's certainly the cheapest boat to travel on.
If you're after a bit more luxury, opt for one of the more modern refurbished boats. The MS Finnmarken, for example, has a pool and hot tub on deck, while the MS Midnatsol and MS Trollfjord also have outside jacuzzis.
Two new luxury, eco-friendly hybrid ships, the MS Fridtjof Nansen and MS Roald Amundsen, each with an infinity pool and hot tub, are due to be in service within the next couple of years, though they will only run the Bergen to Kirkenes route at certain times of the year.
Which Hurtigruten ships have balconies?
The MS Midnatsol, the MS Trollfjord, the MS Fram, MS Finnmarken and the MS Spitsbergen all have some cabins with balconies, though you'll have to pay extra for a top-of-the-range cabin to guarantee one with a balcony.
Some of the other ships are currently being refurbished so may have some cabins with balconies in the future – check the website for details of individual ships. Half the cabins on the new MS Fridtjof Nansen and MS Roald Amundsen ships will have balconies.
How much do Hurtigruten trips cost?
It really depends where you're based, and whether you want to include flights. For example, prices for the classic 13-day full-board round trip including flights from London start at around £1450 per person (approx 16,500 NOK at the time of writing). A one-way northbound 7-day full-board journey without flights starts from around £660 (7,500 NOK).
Erm… why are Hurtigruten trips so expensive?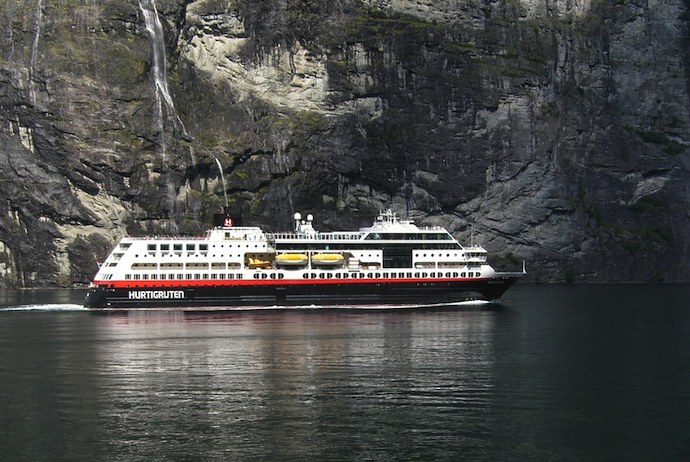 A Hurtigruten cruise is not a cheap option. On top of the basic price, you'll pay extra if you want to upgrade to an outside or balcony cabin, or to a more luxurious ship – and booking a couple of excursions will add yet more to the cost. And don't even think about having a drink; alcohol on-board is very pricey.
Having said that, if you're happy with basic facilities, doing your own thing onshore and simply watching the dramatic scenery drift by, you needn't spend much on board.
On port-to-port trips you can save money by buying food at the café or eating on shore and bringing sandwiches back with you – though, this being Norway, even this option is not cheap.
What is the Hurtigruten northern lights promise?
If you do the 12-day Hurtigruten cruise, you're pretty likely to see the northern lights at some point. The company is so sure of this, that if they don't appear during the trip, they'll give you another free six- or seven-day trip free of charge. You can read more about seeing the northern lights in Norway here.
Where are the Hurtigruten ferry terminals?
Read more: Seeing the northern lights in Norway Norway's best fjords Glaciers worth visiting in Norway

Full-day Mountain Hike in Abisko
You may also like.
Getting from Copenhagen to Oslo
Renting a car in Norway
Cycling in Norway
Norway's scenic routes
Oslo to Bergen: Europe's Most Breathtaking Train Journey?
Get the Routes North newsletter delivered once a month. No spam.
I experience the full 12 night cruise in March a couple of years ago. Totally amazing a true 'bucket ' list experience. Not cheap but worth every penny
Arctic Canada and Greenland Expedition
Circumnavigating baffin bay.
Request a quote
Cruise Overview
Arctic canada cruise | arctic canada and greenland expedition—circumnavigating baffin bay.
Enjoy the best of the western Arctic as you circumnavigate the icy waters of Baffin Bay, exploring Baffin Island, Devon Island, Northwest Greenland and Disko Bay. 
Visit remote settlements in Arctic Canada and Greenland to learn about life in the far north, and discover incredible landscapes and Arctic wildlife. 
Experience the renowned Tallurutiup Imanga National Marine Conservation Area and UNESCO-listed Ilulissat Icefjord aboard purpose-built MS Roald Amundsen.
Four iconic Arctic regions 
After a flight from Reykjavík, your voyage of discovery begins in Nuuk. On this all-encompassing expedition cruise, you'll discover the wonders of four Arctic regions: the jagged east coast of Baffin Island, the azure shores of Devon Island, the spine-tingling fjords of Northwest Greenland, and the awe-inspiring Disko Bay in West Greenland.   
Life in the Far North
You'll sail through biologically rich sea ice environments and visit remote coastal communities.  Learn about Inuit culture through firsthand experiences and search for wildlife like bowhead whales, narwhals, seabirds and elusive polar bears. On board your fully equipped vessel, you can recharge between adventures and delve into the science of the region with your Expedition Team.
Know before you go
Practical information you need to know
Expedition Health & Safety
Travel Entry Requirements
What to pack?
Frequently Asked Questions About Life on Board
Health and Safety
Safer Together
We have introduced measures on all our Hurtigruten Expedition ships designed to reduce the risk of COVID-19.
We'll help you plan where to go, when to visit and how long to stay
Welcome to Reykjavík
Explore the world's northernmost capital, Reykjavík
Your adventure begins with an overnight stay in Reykjavík.  
 A laid-back city of art, culture and history, delightful Reykjavík is well worth spending some time getting to know it.  
Take a stroll along Laugavegur with its boutiques and outdoor shops, gaze in awe at the striking Hallgrímskirkja church, and drop in on the fascinating Reykjavík Art Museum.
If you have the time, we recommend booking a Pre-Program with us and discovering some of Iceland's natural highlights before your cruise begins.
Embarkation Day in Nuuk
Welcome to the capital of Greenland
You'll have an early start today as we depart Reykjavík and fly to Nuuk.  
Nuuk is Greenland's colorful and compact capital with a population of fewer than 20,000. Located just 150 miles from the Arctic Circle, this picturesque city is a striking mix of old and modern buildings, set against a backdrop of the mountainous peaks Quassussuaq and Ukkusissat.  
Your expedition ship awaits you in the harbor. After being welcomed aboard and collecting your complimentary expedition jacket, it's time to settle into your cabin before enjoying your first dinner on board.
Crossing the Arctic Circle
Sailing towards the Arctic Circle, your Expedition Team will brief you on the AECO rules and recommendations regarding visiting the Arctic region safely and responsibly. Make sure you attend these mandatory presentations if you want to join planned landings as we head north. 
 You can also enjoy the state-of-the-art ship facilities and join the first lectures on Arctic Canada-related topics such as ornithology, geopolitics and culture. You'll also learn about the Citizen Science projects we run on board the ship. 
At some point during the sailing, we'll cross the Arctic Circle, entering the lands of the midnight Sun at the height of summer.
East Coast of Baffin Island (Qikiqtaaluk)
Cross into the majesty of the unknown
The shores of Baffin Island (Qikiqtaaluk) are guarded by ice for most of the year. In August, the ice begins to recede, allowing ships to navigate these waters for just a short period of time. The sea ice environment around the island is a natural wonder that creates a rich habitat for wildlife. 
Our objective is to reach the small settlement of Qikiqtarjuaq, where we hope to begin our adventures in Arctic Canada.  
 In true explorer style, our route will be determined by the presence and concentration of sea ice. We will plan our excursions and landing sites in consultation with local communities, so as not to disrupt their seasonal activities.  
Possible destinations include:
  Isabella Bay (Ninginganiq)  
Ninginganiq (Isabella Bay) National Wildlife Area is a critical habitat for Arctic wildlife, most notably bowhead whales. As a summer feeding ground for these massive marine mammals, it's a crucial area for their conservation.  
Sam Ford Fjord (Kangiqtualuk Uqquqti) and Gibbs Fjord  
With towering peaks and epic glaciers, these fjords are renowned for their impressive scenery and are popular with nature enthusiasts and adventure seekers alike. This area is rich in wildlife, with marine mammals like seals and whales, and a variety of bird species.   
Coutts Inlet (Inalugaarjuup Kangiqłua)  
Experience the solitude and serenity of this remote and seldom-visited wilderness. The 50-mile-deep fjord system contains two arms: the "North Arm" and the main inlet itself. One of the Arctic's most elusive species, the narwhal, can be found here.
Relax at Sea
Sailing to the gates of the Northwest Passage
After a few days of exploration, enjoy a day at sea and prepare for what lies ahead as we continue northward to the entrance of the Northwest Passage.  
Days at sea are the perfect time to relax on board, perhaps chatting with new friends in the Expedition Lounge & Bar, catching up on any lectures you may have missed and enjoying leisurely lunches. If you haven't tried the hot tubs yet, now's your chance.
Lancaster Sound and Devon Island
Welcome to Lancaster Sound (Tallurutiup Imanga), the gateway to the Northwest Passage. 
 This breathtaking sound is home to incredible scenery, iconic Arctic wildlife and colorful Inuit communities. We plan to sail deep into the sound, and over the course of three days in the area, our possible exploration sites include:  
Dundas Harbour  
This historic and scenic site is on the southern shores of Devon Island. The harbor is a former Royal Canadian Mounted Police (RCMP) post, and it was also a base for scientific research and exploration. It's a great spot for a hike, and musk oxen are frequently seen along the peninsula.  
Beechey Island (Iluvilik) 
This site holds a significant place in the history of Arctic exploration, as it is known particularly for the ill-fated Franklin expedition in the mid-19th century. The island is home to several well-preserved grave sites of expedition members and a monument commemorating Arctic exploration efforts. 
Croker Bay  
A picturesque bay on the south coast of Devon Island. With two large outlet glaciers streaming down from the island's ice cap, this is an excellent place for small boat cruising. You may even spot walruses lounging around the calved ice floes. 
  Coburg Island (Nirjutiqarvik) 
This island is a protected National Wildlife Area, and it lives up to its Inuktitut name, Nirjutiqarvik, meaning "The Place of Animals." The island is renowned for its significant seabird colonies, including large populations of thick-billed murres and northern fulmars, and it's an important feeding ground for marine mammals.
Expedition Day
Enjoy a day of adventure in the far north
Before your adventure continues to northwest Greenland, enjoy a day on expedition in the north of Baffin Bay. 
From landings to kayaking, be ready for anything as your Captain and Expedition Team decide on the best sites and activities based on the day's conditions.   Land at sites linked to early exploration history, visit Inuit communities and look out for Arctic wildlife such as whales, narwhals, seals and seabirds.
Discovering the Thule Region
Explore life at the edge of the world
"Ultima Thule " was the term used in the 4th century BC by the Greek explorer Pytheas to describe a mythical land in the far north. Nobody knows for sure which land Pytheas had in mind when he coined this name, but for some, it has come to refer to the far north in Greenland. 
As we explore here, expect wild beauty at the edge of the inhabitable world. Extreme climatic conditions all year round guarantee isolation and tough living conditions for the inhabitants and, even by Arctic standards, the Thule region is harsh and remote. And yet, this was the first region in Greenland ever to be colonized by the forerunners of the Inuit, somewhere around 4,500 years ago. How they managed to survive and thrive in that environment still puzzles Arctic archaeologists. 
The abundant bird and animal life provides sustenance, and the traditional hunting culture has survived better here than elsewhere in Greenland. The polar travel know-how of the locals has been highly sought after on European and American expeditions, either as guides or saviors. In fact, thanks to its position, the region has been the natural starting point for many travelers heading towards the North Pole.  
While always adapting our program to the changing weather and ice conditions, we will spend the next few days exploring the region. We aim to visit some of the local communities, land with expedition boats to marvel at the power of nature, sail through icy channels and—with a bit of luck—spot some of the giants of the Arctic, including walruses, orcas, narwhals, belugas and perhaps even polar bears.
Melville Bay
Relax and learn at sea
We'll spend the day on the open seas crossing Melville Bay. This is a huge bay bordering the icy coast of Lauge Koch, where the ice caps meet the sea. Known by the locals as Qimusseriarsuaq, meaning "The Great Dog Sledding Place," the bay was renamed by British explorers after Robert Dundas, 2nd Viscount Melville, in the mid-19th century. 
Enjoy your day as we sail well beyond 70 degrees north. Relax on board, join in with wildlife watches out on deck with the Expedition Team, and learn more about the Arctic with the ongoing series of lectures on topics such as nature, geology and mythology.
West Greenland
Discover the wonders of west Greenland
The final chapter of our epic voyage around Baffin Bay takes us to an area of extreme natural beauty: the fjords of West Greenland and Disko Bay. Known as the "iceberg factory of the Arctic," this area produces the most ice of anywhere in the Northern Hemisphere.   
As always, nature is in charge and our exact route will depend on the weather and ice conditions on the day. Possible landing sites include:  
  Uummannaq Fjord  
In Greenland's far north, the beauty of the land and the relative productivity of the environment have attracted people here for thousands of years. Intriguing archaeological sites are silent witnesses to the ability of Arctic people to thrive in such a harsh environment. We may visit the community of Uummannaq—a beautiful island town with a heart-shaped mountain—or the archaeological site of Qilakitsok, where the famed Greenland mummies were discovered. 
  Viagat Sound  
Also called Sullorsuaq Strait, this beautiful waterway sits between two rugged land masses at the north end of Disko Bay. Depending on the weather and wildlife conditions, we might use our small expedition boats to land on a beach or perhaps get up close to a glacier. Have your binoculars and camera ready, as wildlife sightings in this region can include humpbacks, orcas and bowhead whales, as well as several types of seals.  
  UNESCO-listed Ilulissat Icefjord  
This spectacular UNESCO World Heritage Site regularly tops the list of things to see and do in Greenland. Marvel at giant icebergs floating placidly in the deep blue water as they take on different hues of white, gray and blue. All photographers, regardless of skill, will return to the ship with enviable images. Visit the Icefjord Centre in Ilulissat to learn more about the ice in this fascinating area, and take a hike to Sermermiut to drink in the incredible views.
Towards Nuuk
A final day at sea to rest and reflect
After exploring the ethereal, rugged beauty of western Greenland, you'll enjoy a day at sea, recapping highlights with the Expedition Team, learning more about the delicate ecology of Greenland in the Science Center, and relaxing.  
 Out on deck, you might spot  whales or the seabirds that like to follow our ship. Our on-board photographer will share tips to capture them in action. You can even log any whales you see with the Happywhale Citizen Science project.  
 This might be the time to enjoy the panoramic sauna, on-deck hot tubs or heated pool. Why not book a treatment in our wellness area? Otherwise, simply enjoy the company of your fellow explorers over drinks in the Explorer Lounge & Bar.
End of Expedition in Nuuk
Return to Nuuk
Today, as we arrive back in Nuuk, you'll have completed your voyage around Baffin Bay. Say a fond farewell to MS Roald Amundsen, her crew and the Expedition Team. 
 Nuuk  is a relative metropolis compared to all the other towns in the country you have visited over the last couple of weeks, and it's a fascinating window into modern Greenland.   
 From here, you'll catch a flight back to Reykjavík and enjoy an overnight stay at a local hotel.
Back to Reykjavík
See more of Iceland's capital
Your adventure concludes in Reykjavík, giving you another chance to explore Iceland's stylish capital.  
If you want to discover more, you can join our optional Post-Program before heading home. Or simply extend your stay and enjoy Reykjavík and its surrounding geothermal attractions.
- - - Attempted route, ice conditions dependent
Our Attempts are voyages where we challenge the elements in true expedition style. As we explore these remote and captivating areas in a safe way, our adventure will ultimately be guided by nature. If weather, sea or ice conditions do not allow our planned navigation, our experienced crew will deliver an adapted itinerary. Flexibility and our deep knowledge of the area combine to give you an amazing exploration experience.
What's included
Overnight in Reykjavík before and after the expedition cruise, including breakfast
Flights in economy class between Reykjavík and Nuuk
Transfers between the hotel and the airport in Reykjavík before and after the flight to Nuuk
Transfers between the airport and the ship in Nuuk
Expedition Cruise
A stay in a cabin of your choice
Breakfast, lunch and dinner including beverages* in restaurants Aune and Fredheim
À la carte restaurant Lindstrøm included for suite guests
Complimentary tea and coffee
Complimentary Wi-Fi on board†
Complimentary reusable water bottle
English-speaking Expedition Team that organizes and accompanies activities on board and ashore
Range of included activities
*House beer and wine, sodas, and mineral water
†Please note that the Wi-Fi signal and phone reception are very limited in the remote areas where we travel, and streaming is not supported.
Onboard Activities
In-depth lectures and discussions hosted by experts on the Expedition Team
Full use of our Science Center, library and advanced biological and geological equipment
Our Citizen Science Program, where you can assist with ongoing scientific research
Photography tips and techniques for capturing landscapes and wildlife from our on-board professional photographer
Use of the ship's hot tubs, infinity pool, panoramic sauna, outdoor and indoor gyms, and running track
Informal gatherings with the crew for daily briefings
Landing Activities
Escorted landings with small expedition boats
Loan of boots, trekking poles and all equipment for activities
Complimentary wind- and water-resistant expedition jacket
Expedition photographers on hand to assist you
All planned activities are subject to weather and ice conditions
Excursions and activities are subject to change
Please make sure you meet all entry and boarding requirements 
No gratuities expected
Depending on your flight times, an additional overnight stay might be needed (not included)
What's not included
International flights  
Additional overnight stay(s) may be required due to international flight schedules 
Travel insurance 
Luggage handling 
Optional shore excursions with our local partners 
Optional small-group activities with our Expedition Team 
Optional treatments in the on-board wellness and spa area
Related cruises
In the Wake of the Great Explorers | Westbound
Departure date
Price from $25,824
MS Fridtjof Nansen
In the Wake of the Great Explorers | Eastbound
Price from $24,594
MS Roald Amundsen
Reykjavík to Cambridge Bay
Price from $20,252
Sign up for our newsletter
Be the first to hear about our latest offers, exciting itineraries and inspirational articles.
Get Daily Travel Tips & Deals!
By proceeding, you agree to our Privacy Policy and Terms of Use .
10 Things to Know About Hurtigruten, Norway's Expedition Cruise Line
Sarah Schlichter
Deputy Executive Editor Sarah Schlichter's idea of a perfect trip includes spotting exotic animals, hiking through pristine landscapes, exploring new neighborhoods on foot, and soaking up as much art as she can. She often attempts to recreate recipes from her international travels after she gets home (which has twice resulted in accidental kitchen fires—no humans or animals were harmed).
Sarah joined the SmarterTravel team in 2017 after more than a decade at the helm of IndependentTraveler.com. Sarah's practical travel advice has been featured in dozens of news outlets including the New York Times, the Chicago Tribune, USA Today, Budget Travel, and Peter Greenberg Worldwide Radio. Follow her on Twitter @TravelEditor .
The Handy Item I Always Pack: "A journal. Even years later, reading my notes from a trip can bring back incredibly vivid memories."
Ultimate Bucket List Experience: "Road tripping and hiking through the rugged mountains of Patagonia."
Travel Motto: "'To awaken quite alone in a strange town is one of the pleasantest sensations in the world.'—Freya Stark"
Aisle, Window, or Middle Seat: "Aisle. I get restless on long flights and like to be able to move around without disturbing anyone else."
Email Sarah at [email protected] .
Travel Smarter! Sign up for our free newsletter.
Sailing on a modern-day cruise ship may be a long way from the perilous polar expeditions of 19th- and 20th-century Norwegian explorers—but when you cruise with Hurtigruten , those adventures don't seem so far away.
This expedition company based in Norway isn't your typical cruise line. Onboard, the vibe is more about casual dress and learning about wildlife than evening wear and hairy-chest contests. Hurtigruten sailings draw adventurous travelers seeking to explore remote places like Greenland, Antarctica, and the far reaches of Norway.
Intrigued? Here's how to decide whether Hurtigruten cruises are right for you.
Hurtigruten Has a Long, Adventurous History
Now celebrating its 125th anniversary, Hurtigruten was founded in 1893 as a solution to a problem. Back then it was difficult and time-consuming to travel by sea between northern and southern Norway; because there were relatively few lighthouses, nighttime sailing was dangerous. But Richard With, a sea captain from northern Norway, was adventurous enough to take the risk.
In 1893 his steamer, DS Vesteraalen, began weekly sailings between Trondheim and Hammerfest and, later, between Bergen and Kirkenes. The latter route took just seven days and was dubbed hurtigruten , or "the fast route."
A few years later, With pioneered a regular service between mainland Norway and the remote northern islands of Svalbard. Since then, Hurtigruten has expanded its operations to exotic destinations around the globe.
Hurtigruten Sails to Norway, the Poles, and Beyond
For many years the company's North American name was "Norwegian Coastal Voyage," and this route is still the one for which Hurtigruten is best known. Eleven ships explore the fjords and islands between Bergen and Kirkenes year-round, allowing travelers to enjoy the midnight sun of the Arctic summer or the northern lights that wash over the winter sky. You can book a one-way journey or stay aboard for the entire 12-day round trip from Bergen.
What makes this voyage unique is that Hurtigruten's Norwegian coastal ships also serve as ferries for locals (some of whom only stay on for a few hours) and as cargo delivery vessels. This means they make frequent—and sometimes very brief—stops, but you'll still have time to explore the larger ports along the route.
A few of Hurtigruten's expedition ships travel more widely, offering cruises to Antarctica and to various parts of the Arctic including Greenland, Svalbard, Iceland, and the Northwest Passage. During the shoulder seasons (spring and fall), you can explore non-polar destinations such as Europe and the eastern coast of North and South America.
The Ships Aren't Large
If the thought of cruising with thousands of other passengers makes you want to run and hide, the modest size of Hurtigruten cruise ships might offer a better fit. No ship carries more than 970 passengers, with most having a capacity of 400 to 600. MS Fram, the line's main expedition ship, carries 318 passengers, and Nordstjernen, which sails in Svalbard, holds just 149.
These vessels have a more intimate feel than bigger ships from lines like Carnival or Royal Caribbean, but keep in mind that this also means fewer amenities. On Hurtigruten ships you'll only have one to three restaurants to choose from, and onboard entertainment is limited, with no casinos or production shows. If you're content to read a book, soak up the passing scenery, and attend lectures about the local culture and wildlife, these ships might be right for you.
Sailings Can Be Unpredictable
Cruise ships are always at the mercy of waves and weather, but that goes double for expedition sailings in remote parts of the world. A few years ago, I was aboard Hurtigruten's MS Fram on a trip from Iceland to Greenland, and we missed two scheduled port days due to heavy fog and ice.
"We always have a plan B, C, D, E, and F," a member of MS Fram's expedition team told me on a more recent sailing. This means you shouldn't have your heart set on visiting a particular port—but you can count on the captain and the expedition team to make necessary changes to maintain passenger safety and comfort.
The Cuisine Reflects Norwegian Heritage
If you've ever wanted to eat like a Norwegian for a week or two, this is your chance. Even on non-Norwegian sailings, items like brown cheese and gravlax (cured salmon) are regular items on the buffet, and other Scandinavian dishes—reindeer soup, anyone?—often show up on the set dinner menus.
It's all part of the line's "Norway's Coastal Kitchen" initiative, which focuses on locally produced ingredients and sustainable seafood. If you love fish, you'll be in heaven. If you don't, there are plenty of other alternatives, including meat, pasta, and a small salad bar.
Expect a European Crowd and a Laid-Back Vibe
Despite growing popularity in North America, most of Hurtigruten's passengers come from across Europe. PA announcements are given in multiple languages depending on the mix of nationalities onboard; this typically includes English, Norwegian, and/or German.
Onboard dress is casual at all times, though many passengers take it up a notch for dinner (think dress pants and a nice top). You can leave your suit or formal gown at home.
Don't Expect Fancy Cabins
As on many expedition vessels, the staterooms on Hurtigruten's ships are more functional than luxurious. In lower-priced categories, expect fold-down single beds that can't be pushed together. If you're looking for a more romantic option—i.e., a double bed for you and your partner—you'll have to upgrade to a superior cabin or suite.
Balconies are few and far between, available only on select suites on certain ships. But if you have the budget, they're worth paying for; imagine gazing out at Antarctic icebergs floating under the midnight sun from your own private verandah.
Do Expect a Variety of Excursions
Hurtigruten excursions vary widely depending on where you're sailing, but might include activities such as snowshoeing in Antarctica, hiking through a Viking settlement in Greenland, dog sledding in Svalbard, or visiting a working farm in Lofoten, Norway. There's generally a range of options for all physical abilities. As on most larger cruise lines (and unlike on many expedition lines), Hurtigruten excursions cost extra.
You'll Learn Something New
Most Hurtigruten ships have a dedicated expedition team aboard all sailings. Enthusiastic and knowledgeable, these experts lead excursions and give onboard lectures on everything from Viking history to Arctic wildlife. You might also hear them over the PA system offering information about the port you're sailing into or about a whale just spotted off the bow.
Hurtigruten Is Environmentally Responsible
With sailings in some of the world's most endangered places, Hurtigruten takes its environmental obligations seriously. The company recently announced that it will eliminate single-use plastic items aboard all its ships by July 2018 and retrofit up to nine of its older vessels to run on a combination of liquefied natural gas and battery power (both cleaner options than diesel fuel). MS Roald Amundsen and MS Fridtjof Nansen, new expedition ships that will debut within the next two years, will use hybrid technology that reduces CO2 emissions by more than 3,000 metric tons per year.
More from SmarterTravel:
How Not to Get Sick on a Cruise
10 New Bucket List Cruises for 2018
The Ultimate Cruise Packing List: What to Pack for a Cruise
Don't Miss a Trip, Tip, or Deal!
Let us do the legwork! Sign up for our free newsletter now.
Sarah Schlichter traveled to Canada and New England as a guest of Hurtigruten . Follow her on Twitter @TravelEditor for more travel tips and inspiration .
We hand-pick everything we recommend and select items through testing and reviews. Some products are sent to us free of charge with no incentive to offer a favorable review. We offer our unbiased opinions and do not accept compensation to review products. All items are in stock and prices are accurate at the time of publication. If you buy something through our links, we may earn a commission.
Top Fares From
Don't see a fare you like? View all flight deals from your city.
Today's top travel deals.
Brought to you by ShermansTravel
Exclusive: 7-Night Private Kenya Safari w/Game...
Odyssey Safaris
Santiago to Buenos Aires: Luxe, 19-Night...
Regent Seven Seas Cruises
Pennsylvania: Daily Car Rentals from Pittsburgh
Trending on SmarterTravel
Hurtigruten
History, review, itineraries, ships, deck plans, news.
Fleet
Review
Itinerary
News
Hurtigruten fleet
Ms fridtjof nansen, ms roald amundsen, ms spitsbergen, ms trollfjord, ms otto sverdrup, mv santa cruz ii galapagos, ms nordnorge, ms polarlys, ms nordkapp, ms richard with, ms kong harald, ms vesteralen, review of hurtigruten.
Hurtigruten (hurtigruten.com) is a Norwegian passenger shipping company specializing in cruise and ferry services. The "Norwegian Coastal Express Route" ( Bergen - Kirkenes ) is a cargo-passenger ferry service along Norway's western and northern coast. Hurtigruten's cruiseferries sail nearly the entire length of Norway and complete this roundtrip itinerary in 11 days. The route also includes Lofoten Islands and Vesteralen Islands .
Hurtigruten's competitor on the Norwegian cruiseferry market is Havila Voyages .
Company History
The Hurtigruten company was established by government contract in 1893, in order to improve communications along Norway's jagged and long coastline. On July 2, 1893, the steamship Vesteralen departed on the company's maiden voyage/first roundtrip itinerary from Trondheim , arriving in Svolvaer on July 3rd (35,5 hours crossing) and at Hammerfest on July 5th (after 67 hours). The steamer was mastered by Captain Richard With (Hurtigruten's founder).
Hurtigruten's first expedition voyage was in 1896.
Only Vesteraalens Dampskibsselskab was willing to navigate the then poorly charted waters. Such a voyage was especially hard during the dark and long winters. Hurtigruten was a breakthrough for communities. Mail to Hammerfest from central Norway (which had taken 3 weeks in summer and 5 months in winter) could already be delivered in just 7 days.
Encouraged by Vesteraalens' early success, several other companies obtained concessions to operate the coastal route, extended to run from Bergen (southwest) to Kirkenes (far northeast). 11 ships visit each of the 34 ports daily, northbound and southbound. The 12-day roundtrip itinerary Bergen-Kirkenes includes 65 port stops, with ports' stays ranging from 15 min to 4+ hours.
Currently, Hurtigruten provides 24/7 cargo and passenger ferry service Bergen-Kirkenes. To operate this service, the company receives a Norwegian subsidy. However, in 2017 the subsidy arrangement was changed as preventing ferry competition. Some Norwegian interests also argued that Hurtigruten's Norwegian Coastal Service monopoly is not beneficial to the country and that local passengers will only benefit from more competitive offers.
In the 1980s, Hurtigruten's role changed. Operating subsidies were phased out and the operators put emphasis on tourism. New, larger and more luxurious vessels were introduced, with more attention to restaurants, bars, hot tubs, and other comforts. Hurtigruten still serves important cargo and passenger needs and operates year-round. The last two shipping companies, Troms Fylkes Dampskibsselskap (TFDS) and Ofotens og Vesteraalens Dampskibsselskab (OVDS), merged on March 1, 2006, as the Hurtigruten Group AS, and a year later became Hurtigruten ASA. In addition to the ferries, high-speed regional express ships, and coastal route, the company operates cruises around South America, Antarctica, and Greenland.
At the end of 2014, the British private equity "TDR Capital" (specializing in control buyout investments in Europe) acquired Hurtigruten. In July 2014, TDR announced 3 potential buyers for the company and receiving offers from them. Since 2014, TDR Capital has provided the money needed for the purchasing and the refurbishment of MS Spitsbergen, as well as the capital for the drydock refurbishments of 4x ships in the Hurtigruten fleet and for two new shipbuilding orders (with optional two more vessels) in an attempt to revive the company.
When TDR bought Hurtigruten, the bid was for USD 884 million. TDR Capital got 90% and both Hurtigruten's shareholders retained 5% of the company each. Future plans are the brand (specializing in explorer cruising / expedition-type vacations) to be popularized on the markets in Asia and the USA. New itineraries will be added, including in exotic destinations, such as Amazon River (South America in general), Caribbean and other not polar regions, in addition to the line's traditional Arctic and Antarctica cruises.
In 2017, Hurtigruten signed a strategic partnership with Alibaba Group's Fliggy (a subsidiary company specializing in tourism). Via Figgy, Hurtigruten scheduled in January and February 2018 and 2019 Antarctica cruises (on the ship Midnatsol (now Maud) ) exclusively for Chinese travelers. These itineraries are roundtrips from Ushuaia Argentina and transit through the Drake Passage to the Antarctic Peninsula .
Since July 2, 2018, fleetwide was implemented a policy for not using any single-use plastic products (bags, straws, cups, cutlery, toothpicks, aprons, stir pins, drink mixers, coffee lids). The decision made the shipping company world's first "plastic-free". It is estimated that 15 tons of plastic enters into oceans every minute of the day, ranking plastic pollution world's single biggest threat to the oceans. Hurtigruten's ban of single-use plastics was also imposed on all hotels, restaurants and other establishments contracted by the subsidiary company subsidiary Hurtigruten Svalbard for the land-based operations on Svalbard islands .
Hurtigruten Group's CEO is Daniel Skjeldam, Steven Taylor is the CCO. Hurtigruten Norway's CEO is Hedda Felin. Hurtigruten Americas' President is Jeffrey Oar.
In January 2021, Hurtigruten Group's cruise shipping operations were reorganized into two separate entities - "Hurtigruten Expeditions" (rebranded "HX" in December 2023) and "Hurtigruten Norway". Both entities have different management teams (including CEOs).
"Hurtigruten Expeditions" operates a fleet of 8 small-sized (expedition-type) vessels deployed in regions like South America and Antarctica, Alaska, Iceland and Greenland, Arctic Norway (Spitsbergen, Svalbard), North and Central America.
"Hurtigruten Norway" operates Norwegian coastal voyages (Bergen-Kirkenes/ 34-port route) providing cruise and ferry services.
In 2023 Hurtigruten hired Alex McNeil ( Quark Expeditions ' Director of Expedition Experience & Innovation) as SVP of Expeditions Product & Guest Experience, as well as Alastair Newton (Alavan Business Advisory Ltd's Director and Co-founder) as Director of Expedition Operations.
Company changes 2023
In November, Hurtigruten Norway signed a partnership with Arctic Umiaq Line AS (aka Arctic Umiaq/2006-founded passenger and freight shipping/ferry line in Greenland) to promote sustainable travel and tourism in Greenland.
In September, HX appointed Sheralyn Berry as General Manager for the Americas (USA-Canada-Latin America). Previously (2018-2023) she was Contiki Holidays' President for Canada.
In 2023, Hurtigruten Norway celebrated its 130th Anniversary, since its first Norwegian Coastal Express voyage in 1893. In September, the sister-company Hurtigruten Expeditions (operating a 6-ship fleet) was rebranded to "HX".
In March 2023, Hurtigruten launched the "Sea Zero" ship project in partnership with SINTEF (1950-founded, Trondheim-based independent research organization) plus a consortium of 12 maritime companies. The project (budgeted EUR 13 million/USD 14M/GBP 11,5M) received EUR 7M (~USD 7,5M/~GBP 6,2M) in public funding. The 2-year research and development phase (2023-2025) is for developing a battery-based powerplant, a hybrid propulsion system and optimized hull design and onboard energy consumption (electricity used for the hotel operations). Hurtigruten's Sea Zero project will result in the construction of the world's most energy-efficient cruise vessel.
In December 2022, Hurtigruten purchased from the family-owned Rathfinny Wine Estate (Vineyard in Polegate, East Sussex, England UK) a total of 1700 wax-sealed bottles of sparkling wine and placed them at a secret location off Arctic Norway's coast to age. In May 2023, after six months of aging on the seabed (at depth 34 m/112 ft), the bottles (branded Havets Bobler) were retrieved and introduced fleetwide to celebrate the company's 130th Anniversary. The first "Arctic-aged" champagne was tasted on May 12th (by celebrity sommelier Nikolai Haram Svorte) in Sandnessjoen. The special wine-tasting event was attended by Tina Gurra (Hurtigruten's Director of Beverages) and Mark Driver (Rathfinny Estate's co-owner).
Company changes 2022
In March 2022, Hurtigruten Group AS acquired a 24,9% stake (1/4th) in Metropolitan Touring ( Quito Ecuador -headquartered travel company and luxury brand) specializing in South America and Galapagos voyages.
In October 2022 Hurtigruten Expeditions signed a deal with Speedcast (Australian satellite technology provider) and implemented fleetwide SpaceX ' Starlink (satellite internet) connectivity. The fast Internet is unlimited and offered complimentary to both passengers and the crew.
Company changes 2021 (Hurtigruten Galapagos cruise charter)
In June 2021, Hurtigruten Expeditions signed a boat charter deal with Metropolitan Touring (shipowner/company specializing in Galapagos and South America voyages) for the luxury yacht Santa Cruz 2 (max capacity 90 passengers). The boat was extensively drydock-renovated in 2021 (all staterooms and public areas).
The first Hurtigruten Galapagos cruise was scheduled to depart on January 7, 2022.
Hurtigruten's 8-night/9-day Galapagos Islands itinerary includes hotel stays in Quito Ecuador (two nights/pre- and post-voyage), 6-nights of cruising (roundtrips from Baltra Island ), and two domestic flights (between Quito and Baltra).
The maiden season (2022) included a total of 32x expedition packages combining the voyages with land tours in the Galapagos, Cusco-Machu Picchu , Lake Titicaca (Andes Mountain/Bolivia and Peru), Manuel Antonio National Park (off Costa Rica's coast).
In December 2021 were opened bookings for Galapagos 2023-2024 seasons and announced new itineraries. To the 6-night "Eastern Galapagos" was added a 4-night "Northern Galapagos", a 4-night "Western Galapagos" and an 8-night B2B/back-to-back (Northern and Western Galapagos). Hurtigruten also expanded its land program by adding the luxury hotel Mashpi Lodge (capacity 47 beds, northwest of Quito), as a 3-night pre-/post-tour accommodation option for any Galapagos voyage.
Company changes 2020
In late-November 2020, Hurtigruten sold MS Lofoten to Sorlandet Maritime Videregaende Skole (Maritime High School). Since August 2021, the 1964-built vessel is used as a training ship (including hotel ship) for the students. The deal included the option Hurtigruten to occasionally charter the vessel during non-school periods.
For 2020, Hurtigruten reported a loss of EUR 160,6 million (~USD 194M) - in comparison to EUR 17M (~USD 20,5M) loss in 2019. As of Dec 31, 2020, the company had EUR 72M (~USD 87M) liquidity (cash and cash equivalents) and average monthly cash burn EUR 13M (~USD 16M). Hurtigruten's current fleet consists of 16 boats, including 11x expedition ships (5x for Arctic-Antarctic voyages) and 7x ferries (under a 10-year contract with Norway's Ministry of Transportation).
Hurtigruten Svalbard (catamaran cruises)
In May 2019, Hurtigruten partnered with Brim Explorer (Norwegian company specializing in eco-friendly cruising) to introduce a battery-powered catamaran (double-hulled vessel / with 2 parallel hulls) which is custom-designed for scenic polar exploration. The new boat operates various daily-scheduled sea excursions from homeport Longyearbyen (on Spitsbergen Island , Svalbard Norway ) under the new "Hurtigruten Svalbard" brand.
The 2020-launched hybrid catamaran has LOA length 24 m/79 ft, large battery packs and is one of the world's newest fully-electric powered ships. The vessel's batteries can be recharged shoreside and provide power for up to 10 hours at cruising speed 10 knots (18,5 kph / 11,5 mph). Max passenger capacity is 140. Shipbuilder is Maritime Partner AS (shipyard in Alesund Norway ). Boat's exterior and design is by Hareide Design AS - the company that designed the ships of Norwegian Yacht Voyages . Catamaran's hull design is by Wave Propulsion AS (based in Bomlo Norway). Among catamaran's features are hydrophones and underwater drones. The Blueye Robotics-produced drones were also introduced to other Hurtigruten ships.
The construction of MS Brim Explorer (sistership) started in September 2018 (the order was placed in April) and it was launched in June 2019. Starting in August, itineraries are along Norway's coast and north of the Arctic Circle, including Lofoten (during summer) and short breaks from Tromso (during winter). The sistership ( currently under construction ) for Hurtigruten Svalbard was inaugurated in August 2019. Futuristically designed, both tour boats feature 2 decks with floor-ceiling and wall-to-wall windows and offer premium food prepared with locally sourced ingredients.
Since 2019, the company's subsidiary Hurtigruten Svalbard (via partnership with the Finnish company Aurora Powertrains) offers eSled (electric snowmobiles) on shore excursions (wilderness tours) on Svalbard Islands (Norway's Arctic). The new snowmobiles are powered by electricity supplied by alternative sources (solar panels and windmills).
In mid-October 2020, Hurtigruten Group initiated a process to sale Hurtigruten Svalbard's real-estate portfolio (3 hotels, retail shops, apartments). As financial advisor was contracted Carnegie Investment Counsel (Registered Investment Advisor firm).
Hurtigruten's ferry service "Norwegian Coastal Express"
"Norwegian Coastal Express" is a Norwegian passenger shipping (cruise ferry) service on the routes Bergen-Kirkenes (northbound) and Kirkenes-Bergen (southbound) along the western and northern coasts of Norway. Currently, Trondheim-Svolvaer ferry route takes 33 hours, while Trondheim-Hammerfest ferry time is 41 hours 15 min.
On the Bergen-Kirkenes ferry route are transported passengers, as well as provisions, mail and various cargo to Norwegian communities without any road or air access.
For the period 2012-2019, Hurtigruten was given an annual USD 600 million subsidies for public transportation (regular ferry) services not otherwise provided. The company's current contract expires on December 31, 2019, with an optional 1-year extension. At the end of September 2017, Norway's Ministry of Transportation and Communication invited ferry companies to compete for the Norwegian Coastal Service's subsidy, with a deadline for the bids January 3, 2018. The new ferry contract was signed for the period January 1, 2021, through December 31, 2031. Hurtigruten had to modernize 7x vessels (deployed on this route) in order to comply with the contract's requirements.
New ships (Polar-class expedition vessels)
In early-June 2016, Hurtigruten signed a letter of intent for building 4 new expedition ships with ice-strengthened hulls, allowing cruising to Antarctic and Arctic destinations. This was company's largest investment in its 123-year history. It followed the announcement (April 2016) that Hurtigruten will add 2 new Polar-class expedition vessels to its fleet.
The shipbuilder is Kleven Marine shipyard ( Ulsteinvik Norway ). Ship design and propulsion were developed by Rolls-Royce, with the assistance of the designer Espen Oino. The construction order included two additional options. The new ships were named MS Fridtjof Nansen and MS Roald Amundsen . These are the world's first expedition ships with hybrid propulsion. The new-class vessels feature latest environmentally friendly marine technologies. The new hybrid technology allows cruising with fully electric propulsion for up to 30 min. The main gain is the total reduction in fuel consumption and CO2-emissions. The new hybrid technology, along with the effective use of electricity onboard and optimized hull design, reduces emissions by nearly 20%.
The newbuilds have underwater drones (ROV / remotely operated underwater vehicle) developed by Blueye Robotics (Norway). Each drone weighs 7 kg and has 4 thrusters for propulsion. The ROV also features a wide-angle video camera designed to work in limited-light conditions. It streams true-color live images to the ship's TV screens, to all cabin TVs and also to the digital diving masks of the passengers cruising on the ship's Zodiac boats.
Each newbuild has 3 restaurants with current itinerary-based menus. The pool deck has bars, infinity pool, Jacuzzis. Building materials used during construction were predominantly Norwegian, with extensive use of granite, oak, and wool, among others. WIth max passenger capacity 530 each, the new ships were scheduled for launch in July 2018 and July 2019.
In August 2017, Hurtigruten made an investment of NOK 300 million (USD 39 M) in Kleven Group for a 40% interest. In September 2017, Hurtigruten acquired 40% stocks in Kleven Verft after the shipyard experienced a financial crisis.
Along with Hurtigruten, Kleven Group (parent company for the shipyards Kleven and Myklebust) includes Age Remoy, the Kleven-owned companies John Kleven and H-Invest, the yacht-building company Lurssen (Germany) and the private investor Per Lillebo. Without the newly infused capital, Kleven Shipyard was facing bankruptcy. In June 2018, Hurtigruten became full owner of the shipyard after buying the remaining 60% shares. Under the 2018 deal, Hurtigruten also fully owns the subsidiaries Kleven Maritime Contracting and Kleven Maritime Technology. Following the acquisition, Hurtigruten provided NOK 600 million (USD 75 M) financing in order to facilitate Kleven Verft's shipbuilding capabilities.
The last time when the company had a newbuild was in 2007 ( MS Fram ).
In early-February 2019, Hurtigruten announced that in 2021 will add 4 old ships to the company's expedition fleet - Spitsbergen (2009), Midnatsol (2003), Trollfjord (2002), Finnmarken (2002). This fleet also includes Fram (2007) and the newbuilds/sisterships Roald Amundsen (2019) and Fridtjof Nansen (2020).
On October 25, 2018, Hurtigruten signed an MoU (memorandum of understanding) with Kleven Verft AS for the construction of a third newbuild (530-passenger expedition vessel) sistership to the hybrid-powered Roald Amundsen and Fridtjof Nansen. The MoU was signed by Daniel Skjeldam (Hurtigruten Group's CEO) and Olav Nakken (Kleven Verft's CEO).
In March 2023 the company signed a partnership with SINTEF (Stiftelsen for industriell og teknisk forskning/1950-founded, Trondheim-headquartered independent organization specializing in contract projects/analysis, research, and development) for the design of a new class "zero-emission" ferries for Hurtigruten's Norwegian Coastal Express service. The first ship is planned for inauguration in 2030.
Hurtigruten fleet's LNG and Battery Power upgrades
In April 2018, the company announced a USD 150 million fleet renovation project - Hurtigruten's ever largest. Almost all vessels will be upgraded with new hybrid powerplants that combine LNG-engines (liquefied natural gas) and batteries. For the project was contracted Rolls-Royce Marine, initially for 6 vessels and optional another 3. The program's completion was scheduled before the new coastal service contract (January 1, 2021). The project also includes all boats to be upgraded with shore power capabilities.
In November 2018, Hurtigruten announced its fleet will be powered with LBG (liquified biogas) produced mainly from dead fish using organic-waste recycling methods. LBG is sourced from Norway and other Northern European countries with large fisheries and forestry industries producing big volumes of organic waste. In May 2019, Hurtigruten signed an 8-year deal with Biokraft AS to supply LBG fleetwide.
By 2021, Hurtigruten has six old vessels upgraded with FGSS (fuel gas supply system) and biogas- battery-powered (LBG, LNG, batteries).
For this USD 850 million (EUR 770 M) drydock conversion project, in March 2019 was contracted Hoglund Gas Solutions (HGS) - Hamburg -based subsidiary of the Norwegian company Hoglund Marine Automation). Hoglund developed, delivered and installed the FGSS equipment package, while HB Hunte Engineering GmbH designed and engineered the vessels' fuel tanks.
Hurtigruten also allocated three boats - Midnatsol (Maud) , Trollfjord (Eirik Raude) , Finnmarken (Otto Sverdrup) - exclusively for cruise shipping operations between homeports Bergen and Kirkenes. These new Norwegian coastal cruises are available for booking by international passengers and not serving Norwegian ferry passengers.
Following the project's completion in 2021, the three vessels (Trollfjord, Finnmarken, Midnatsol) were renamed to, respectively, MS Eirik Raude, MS Otto Sverdrup, MS Maud. These ships were also upgraded with hybrid powerplants and equipped with large-capacity battery packs. Starting in 2021, the 3 ships are deployed year-round for Norwegian Coastal cruises.
MS Otto Sverdrup (Finnmarken) was drydocked in 2020, while MS Eirik Raude (Trollfjord) and MS Maud (Midnatsol) were drydocked in 2021. The three boats were also significantly refurbished (all interior public spaces and all staterooms) and new suites were added. Their max passenger capacity was reduced to 530.
By 2023, 3x "Norwegian Coastal Express" boats (Kong Harald, Nordlys, Richard With) will undergo drydocks for powerplant conversions (from diesel to battery-hybrid), during which new low-emission diesel engines and large battery packs will be installed.
For this project, on May 11, 2021, Hurtigruten signed a contract with Kongsberg Maritime to deliver the hybrid equipment packages.
Each ship will be fitted with 2x SAVe Energy storage systems (1,120kWh lithium-ion batteries) controlled via SAVe CUBE (drive switchboards that control the thrusters) and 2x Bergen B33:45V diesel engines (diesel generator sets with SCR-Selective Catalytic Reduction to optimize CO emissions control). The Kongsberg's equipment also includes re-blading of the propellers, installing new thruster motors, AC (current switches), new safety and radio systems.
The drydocks will be conducted by Myklebust Verft AS (shipyard in Gursken, Norway).
All Hurtigruten ships now have shoreside-power capabilities (plugs for electricity supply at port berths).
Among the deckplan changes following the drydock refurbishments are:
new venues - Expedition Launch (tender boat platform serving passenger embarkation for shore excursions, complete with expedition equipment and boats), Science Center (fitted with high-tech gadgets and top-notch media technologies and served by ship's Expedition Team), new/redesigned wellness complex (relaxation lounge, gym, treatment rooms for massages).
Ships' sundeck areas (with outdoor swimming pool/whirlpool) were also upgraded.
Three new restaurants were introduced - Restaurant Aune (Main Dining Room serving breakfast, lunch, dinner), Restaurant Lindstrom (new speciality dining venue for contemporary cuisine) and Fredheim (casual eatery). On top deck was added an outdoor grill bar.
The onboard art collections were preserved.
Hurtigruten cruise experience
Hurtigruten ships provide comfortable home-like travel experiences while touring the charming cities, islands and mountain scenery of Norway. The atmosphere onboard is casual because these vessels are on a mission to transport traveling locals and freight in addition to the international mix of cruise passengers making a voyage out of it. Most of the Norwegian crew speak English. Tipping is optional, though many guests will remember the ship's dining staff. On the expedition ms Fram, Hurtigruten recommends 50 kroner per day.
Dining, with all meals included for one-way and roundtrip travelers, takes place in a single onboard restaurant. Breakfast and lunch are buffet-style, open-seating, with a good selection of international and Norwegian selections. Dinners are reserved-seat, set-time, 3-course meals. Special dietary requests have to be made in advance. The 24-hour cafe is most often used by travelers making short trips. Liquor is highly taxed. Passengers may bring their own alcohol supply onboard for consumption in cabins.
Apart from an occasional musical group aboard during summertime departures, there is no entertainment scheduled by Hurtigruten. The Arctic Circle crossing ceremony is a rousing show for those guests chosen by King Neptune as victims (ice-cold water initiation) and others spectating. Everyone watches the constantly changing scenery from decks or in the cozy observation lounges and midship bars, while some also play games and read. Norwegian art (sculptures and paintings) decorates the entire fleet.
An extensive tour program is geared to the seasons and includes city walking tours, church and museum visits, dog sledding, birding, kayaking, Lapland cultural tours, and trips to the North Cape. Hurtigruten tours may be pre-booked online. One of the unique features of these voyages is that passengers rotate often, with point-to-point ferry travelers embarking and disembarking along the route.
Itinerary of Hurtigruten
Currently, the company Hurtigruten operates 2 types of services - ferry (cargo and passenger shipping along Norway's coast) and cruises (global expeditions and Norwegian cruiseferry ).
Galapagos cruises 2023-2024
Starting in January 2022, Hurtigruten Expeditions offer an 8-night/9-day Galapagos Islands itinerary that includes hotel stays in Quito Ecuador (two nights/pre- and post-voyage), 6-nights of cruising (roundtrips from Baltra Island ) and two domestic flights (between Quito and Baltra).
Hurtigruten's Galapagos voyages are operated by the chartered from Metropolitan Touring luxury yacht Santa Cruz 2 (2002-built, last refurbished in 2021). The first Hurtigruten Galapagos cruise was scheduled to depart on January 5, 2022.
Hurtigruten's Galapagos 2023-2024 seasons feature new itineraries and land-stay options.
6-night "Eastern Galapagos"
4-night "Northern Galapagos"
4-night "Western Galapagos"
8-night "Northern and Western Galapagos" ( B2B/back-to-back ).
As a 3-night pre-/post-tour accommodation option for any Galapagos voyage Hurtigruten offers Mashpi Lodge (rainforest luxury hotel, capacity 47 beds) located northwest of Quito.
HX 2025-2026 season
In November 2023, HX (Hurtigruten Expeditions) unveiled its 2025-2026 season, highlighting its commitment to expanding into growth destinations through the introduction of new ports, landings, and itineraries, along with increased emphasis on local integration and community engagement initiatives.
The upcoming season features 80+ itineraries spanning 5 continents, solidifying HX's reputation for pioneering novel and innovative travel experiences in vital expedition regions such as Alaska, Antarctica, Greenland, and the Northwest Passage .
Notable Highlights:
Greenland: HX's most extensive Greenland season to date involves the addition of a 4th vessel, MS Spitsbergen . The company is among the first to operate from Nuuk's new airport, with the launch of four itineraries, including 'Grand Greenland' voyages originating from and concluding in Nuuk. This development reduces transit times, allowing passengers to immediately immerse themselves in Greenland's wildlife and landscapes. Furthermore, the itineraries along Greenland's west coast feature enhanced community engagement, building upon the recently announced partnership between HX's sister brand, Hurtigruten, and the local Arctic Umiaq Line.
Iceland: HX is set to offer two new Icelandic itineraries, both departing from Reykjavik . The company made history by becoming the first cruise line to connect to shoreside electricity in Iceland this fall.
Northwest Passage and Arctic Canada: In 2025, HX introduces four new Arctic Canada sailings, all originating from or concluding at the new port in Nuuk, Greenland . These voyages encompass two Northwest Passage crossings, allowing travelers to experience this renowned route.
Antarctica: HX offers 50 departures to Antarctica, marking the largest-ever offering in this destination. The company's Science & Education program continues to support numerous projects and research endeavors in the region.
Svalbard: HX introduces exclusive spring itineraries, allowing guests to explore Svalbard as it emerges from the polar winter into spring.
Alaska: HX's MS Roald Amundsen , the world's first battery hybrid-powered ship , continues to serve guests for its 5th season in Alaska.
West Africa: HX plans to return to West Africa, where it is expected to be the sole cruise line offering exclusive voyages to the archipelagos of Cape Verde and the Bissagos Islands.
"Svalbard Express" and "North Cape Express" voyages 2023
In 2023, Hurtigruten offers with MS Trollfjord two new for the company voyages themed as "Svalbard Express" and "North Cape Express". The new itineraries are an upgraded extension to the Norwegian Coastal Express, also featuring longer in-port stays (half-day or full-day), special onboard events and exclusive amenities (all-day dining, afternoon tea service, takeaway service, cooking classes, alcoholic beverages tastings, cocktail bar, live entertainment).
Svalbard Express (June 3 - Sept 9, 2023) is priced from USD 4960 pp. North Cape Express (departing on September 26, 2023) is priced from USD 2457 pp.
The 14-night/15-day "Svalbard Express" itinerary is a Bergen roundtrip that follows the original coastal routes operated by Hurtigruten in the period 1968-1982, visiting the archipelagos Lofoten and Vesteralen, as well as Nordkapp and Spitsbergen Island ( Svalbard Archipelago ). Svalbard Express' call ports include Andalsnes, Traena, Stokmarknes, Tromso, Honningsvag, Bjornoya/Bear Island (coastal cruising), Spitsbergen ( Longyearbyen , Ny-Alesund ), Tromso, Senja Island, Svolvaer, Bronnoysund, Alesund, Urke/Hjorundfjord, Bergen.
Svalbard Express is also offered as a 7-day one-way either Kirkenes-Longyearbyen or Longyearbyen-Kirkenes. Both one-way packages are inclusive of a 2-night hotel in Longyearbyen, 2x land excursions, an evening at Camp Barentz's cabin, as well as catamaran cruising (MS Bard/hybrid-electric passenger ship, 2020-built/IMO 9892248).
The 14-night/15-day "North Cape Express" departs from Oslo (overnight) and ends in Bergen (overnight) visiting Kristiansand, Farsund, Haugesund, Hardangerfjord (cruising), Alesund, Bronnoysund, Svolvaer, Stokmarknes, Tromso, Honningsvag, Alta, Lodingen, Rorvik, Molde, Kristiansund, Bergen.
Norwegian Coastal Express cruises (Hurtigruten and Havila Voyages)
Hurtigruten's new coastal Norway excursions program implements expedition teams. More than 35 of these voyages are new, along with the company's existing shore excursions and themed activities.
Next is the cruise ship itinerary map showing the Norwegian Coastal Express (ferry route) operated by Hurtigruten and Havila Voyages (since 2021).
The list of all ports along the northbound "Norwegian Coastal Express" itinerary includes Bergen (turnaround port), Alesund , Floro , Geiranger (Stranda) , Maloy (Vagsoy) , Molde , Torvik (Heroy, Leinoya Island) , Kristiansund , Rorvik (Vikna) , Trondheim , Bodo , Bronnoysund (Bronnoy) , Nesna , Ornes (Meloy) , Sandnessjoen (Alstahaug) , Stamsund (Vestvagoy Island) , Svolvaer (Vagan, Austvagoya Island) , Trollfjorden (Hadsel) , Finnsnes (Lenvik) , Harstad (Hinnoya Island) , Risoyhamn (Andoy Island) , Skjervoy , Sortland (Langoya Island) , Stokmarknes (Hadseloya Island) , Tromso , Berlevag , Hammerfest , Honningsvag (Mageroya Island , Nordkapp / North Cape ), Kjollefjord (Lebesby) , Mehamn (Gamvik) , Oksfjord (Loppa) , Batsfjord , Vardo (Vardoya Island) , Kirkenes (turnaround port).
Next table shows Hurtigruten's 11-night / 12-day "Classic Norwegian Coastal Voyage" itinerary roundtrip from Bergen. Prices in 2020 started at ~USD $1900 per person (double-occupancy cabin rates).
Adventure cruisers can expect the unexpected with Hurtigruten, offering:
A record number of authentic Norwegian excursions (3-day and 4-day cruise extensions) are offered, ranging from gentle strolls to energetic hikes, and from nature-themed tours to urban exploration - onshore and by ship.
Professional expedition teams interpret the wildlife, nature, and culture along the coast during onboard lectures and port talks.
"Young Explorers" kids activity program is custom-tailored (on selected ships and cruises only).
Kids-friendly tours/excursions specifically designed for children ages 7-13 yo
New astronomy-themed cruises offer stargazing excursions (first introduced in 2018).
A locally-sourced onboard food menu mirrors Norway's rugged coastline.
The company offers convenient dates for year-round Norwegian cruise departures. Hurtigruten is one of the ever best options to book the unique "Northern Lights" cruises.
Hurtigruten's coastal expedition excursions accommodate all activity levels and ages. They range from the midnight concert (in Tromso's Arctic Cathedral) to exploring Kristiansund mountains by dogsledding with Alaskan huskies. Adventurers are even able to chase the Northern Lights during snowmobile safaris between the ports Kjollefjord and Mehamn.
Among the other excursions on the daily coastal voyages between Bergen to Kirkenes, are themed:
Discover Norway's 2nd largest glacier
Catch, prepare and eat king crabs
Explore the most powerful tidal current in the world on a RIB-boat safari.
Expedition hosts of the coast are available on 9 out of 11 Hurtigruten ships. Onboard experts share their first-hand knowledge of natural phenomena, wildlife, landscapes, and history. They also enhance cruise tourists' experiences by a variety of activities and interpreting the natural and cultural treasures encountered along the ferry route.
Hurtigruten passengers can also enjoy touring mainland Norway by adding port stays (3 or 4 days) in one of 6 featured port cities (prior to or after the voyage). In Bronnoysund , Tromso , and Trondheim , passengers can take "naturban" mini-expeditions on explorer boats while the cruise ship is docked in port.
Hurtigruten announced it will offer roundtrip voyages from Port Dover UK in winter 2021-2022, which is a first in the company's 126-year history. Also revealed were 12-day "Norway Expedition" cruises (between October 2021-March 2022) departing out of Dover and visiting ports along Norway's coast. The itineraries are on MS Maud (currently MS Trollfjord ). Passengers can participate in complimentary activities each day, allowing them to explore the history, culture, and wildlife of the destinations visited. Hurtigruten also increased the number of its expedition team members sailing onboard the cruise ship in order to provide lectures and additional information.
Hurtigruten related cruise news
Hurtigruten Expeditions unveils HX's 2025-2026 cruise season
HX (Hurtigruten Expeditions) has unveiled its 2025-2026 season, highlighting its commitment to expanding into growth destinations through the...
HX (Hurtigruten Expeditions) connects to shoreside electricity in Iceland
HX (Hurtigruten Expeditions) achieved a significant milestone in its efforts to reduce emissions by becoming the first cruise company to connect to...
Hurtigruten Expeditions cruise company to rebrand as HX in December
Hurtigruten Group AS, renowned for pioneering the world's first expedition voyage back in 1896, is advancing its adventure travel brand, Hurtigruten...
Hurtigruten's ships Roald Amundsen and Fridtjof Nansen meet in Northwest Passage
On August 28th, 2023, a significant event unfolded on the Northwest Passage route as Hurtigruten Expeditions' ships MS Roald Amundsen and MS Fridtjof...
Hurtigruten's ship MS Otto Sverdrup to be moved to Hurtigruten Norway
Hurtigruten Group has announced fleet adjustments as part of its long-term strategic growth initiatives. MS Otto Sverdrup will be moved to...
Dover says Farewell to Hurtigruten's cruise ship MS Maud until 2024
Dover Cruise has bid farewell to Hurtigruten's ship MS Maud for the time being until 2024, marking the end of a remarkable series of expeditions...
Hurtigruten Norway to create the world's most energy-efficient cruise ship 'Sea Zero'
Hurtigruten Norway has announced plans for its first environmentally friendly cruise ship ahead of its 130th anniversary. The project, known as 'Sea...
ACL-American Cruise Lines rolling out Starlink Wi-Fi across its fleet
ACL-American Cruise Lines announced it is rolling out Starlink Wi-Fi across its fleet of river/coastal ships, bringing the fast satellite-based...
Hurtigruten Expeditions is the first to implement SpaceX's Starlink satellite internet fleetwide
Hurtigruten announced it will install SpaceX's Starlink satellite internet service fleetwide, joining RCI-Royal Caribbean, Celebrity, and Silversea...
Hurtigruten Expeditions simplifies COVID testing protocols
Hurtigruten Expeditions announced it is updating and simplifying its COVID protocols. The main change is the removal of pre-departure testing across...

Destinations
Åland Islands
Faroe Islands
Winter Travel
Accommodation
Inspiration
Itineraries
Photography
Planning tips
Things to Do
What to Pack
Living Abroad
Work With Us
Norway , Inspiration
My experience on a hurtigruten cruise in norway (and how you can go on one too).
I had just arrived in Norway. In between seeing bleached-out messes on Paradise Hotel on Norwegian television and the constant running of news, I would sometimes skim through channels to see a large cruise ship slowly drifting its way down a narrow fjord. I remember frequently asking myself how someone could be so harebrained to keep tuned into such a thing for any duration of time.
As the months passed, I slowly started to leave that channel on for a few minutes longer each time I passed it. Eventually, I left it on and it would become a relaxing backdrop to whatever else I was doing. The phenomenon of slow television in Norway somehow inflicted me with the desire to take a Hurtigruten cruise in Norway and through those illustrious and mystical fjords.
But, as it turns out, it took me years to actually do it, and I only did it from Svolvær in the Lofoten Islands to Tromso. I full-heartedly believe that everyone should take a Hurtigruten Cruise in Norway at least once in their lifetime. This is a recap of my experience on the Hurtigruten.
In this post...
Getting on the Hurtigruten in Svolvær
What to do on the hurtigruten, hurtigruten excursions, watching the northern lights on a hurtigruten cruise, tips and things that surprised me on the hurtigruten, who should go on the hurtigruten.
I had had the roughest travel day of my life that day. I had been sick throughout the entire trip, but that day is when it hit 'I just want to die' mode.
Fortunately, I was completely hoarse and no one got to hear how horrible it was (until now) that day. I woke up like a truck had hit me and we went to ride Icelandic horses on Gimsøya and then to the Lofotr Viking Museum, activities that were actually perfect for how I felt that day.
We arrived back to Svolvær fairly early and rested up in our cabin at Svinøya Rorbuer until 2200, when we had to leave on the Hurtigruten for Tromso. We had a taxi take us to the docks and the boarding process was seamless.
We arrived on board and headed straight for our cabin, which we were assured was one that was in a good place and wouldn't receive too much movement (I was worried about getting seasick). We laid our things down and I passed out within a matter of minutes. My partner went to explore.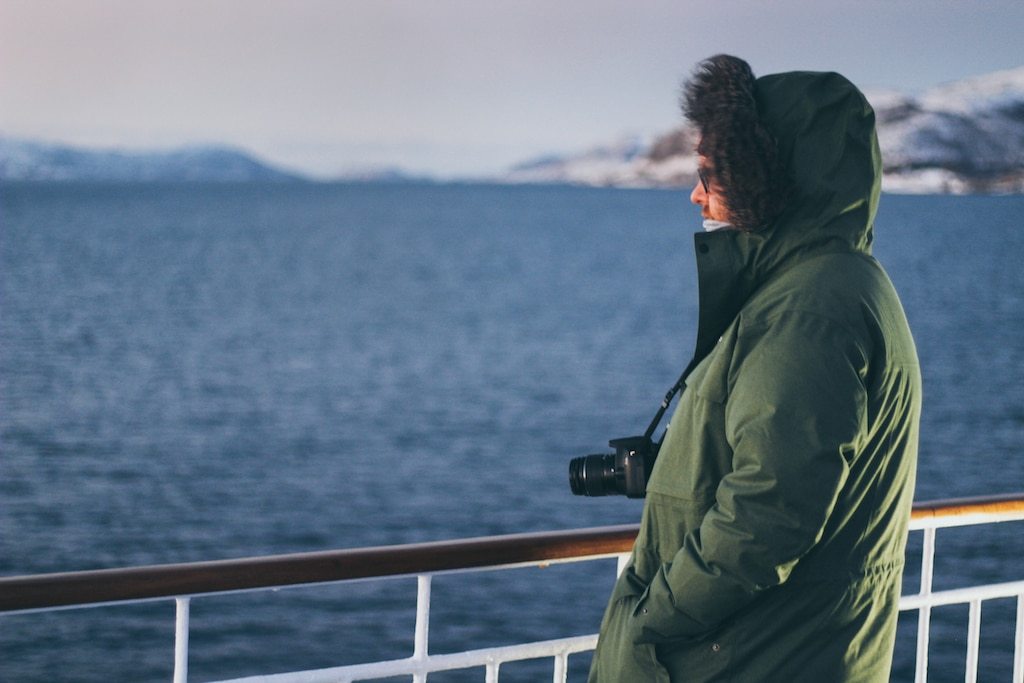 I must admit, I had never taken a cruise before. And the ferries I had taken were not usually equipped with much more than a duty-free shop and restaurant. On the Hurtigruten, however, it was like a new world. There was a lot to keep passengers occupied and having fun throughout their trip.
We were on the MS Richard With and the boat had a cafe, bar, sundeck, many panorama decks and areas, library, fitness room, and shops. It was kind of like its own little town but conveniently located on a boat. The ship also had a large restaurant area where breakfast and other meals were served.
I think I got the breakfast leftovers and scraps when I was there, but I suspect that is because I woke up like five minutes before it was done being served and ran down to get some.
The food seemed to cater to the Brits and Germans on board (which was a vast amount of the passengers on our ship) and ranged from sandwiches to baked beans to blood sausage. This was the only meal I ate on board and I heard that the dinner and lunches are delicious.
In addition to eating on board the ship, you can also take part in the many cultural activities and shows that are put on by staff. To find out what is available on your ship, ask for a program upon check-in. There is something new and entertaining every night and during the day!
Like activities, excursions are available for guests during the day while docking at a port. In Lofoten, you can head out to the Lofotr Viking Museum and learn about local history in addition to enjoying a sizeable Viking feast. You can even take a tour of a local brewery there.
Different excursions exist in different Norwegian cities and trust me, there are plenty (and most are pretty affordable!) To check out the different excursion options while on a Hurtigruten cruise through Norway, click here . Also, click here to read more about Tromso whale safaris .
The Northern Lights were extremely active the night I was on my cruise. Sadly, I was so sick and because I was passed out, I stood no chance of hearing the intercom announce that they were out and visible from the viewing platforms that evening. So gutting as it would have been the icing on the cake on this trip.
And yes, you can see the northern lights during the right months on the Hurtigruten. On the contrary, during summer, you can witness the sun not setting. I can't imagine that there is a bad time to be aboard the ship!
Click here for the best Tromso northern lights tours .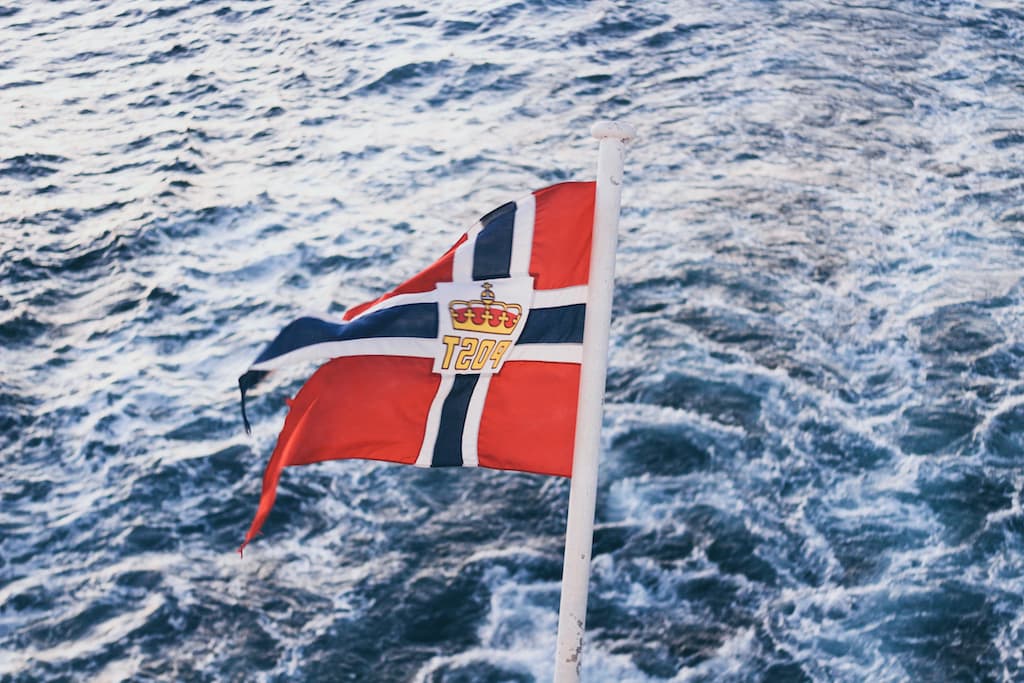 I have to note this first and foremost- I was surprised that I didn't get seasick. I tend to get a bit queasy on boats. And, shockingly, not when the water is rough (I'm fine then)… but when it is smooth.
The Hurtigruten cruises through fjords, so the water is usually pretty smooth. And I never once felt queasy or like I was going to be sick on board. I even brought seasickness tablets along with me and never once even gave thought to them.
I was also surprised to not see a wider variety of ages of passengers. Most of the passengers were older. I don't get it. The Hurtigruten cruises are seriously made for any age group- particularly for people around my age (early to mid-thirties).
There are active excursions at each port, bars on board, and nice cabins… I am determined to get all of my friends to venture up to Norway to take this trip and they can thank me later.
Not that this was super surprising, but the customer service on board was exceptional. Everyone was so friendly, spoke multiple languages, and really made my time there memorable. They also kept my boyfriend entertained while I was passed out sick in bed.
Another random surprise was how the boat was decorated for Christmas. One of the things I miss most from living in Norway is the Christmas season (shame I didn't appreciate it more when I was living there!), so whenever I see Norwegians decorate for the holiday nowadays, it brings back a sense of nostalgia that transplants me back to my time spent in Norway.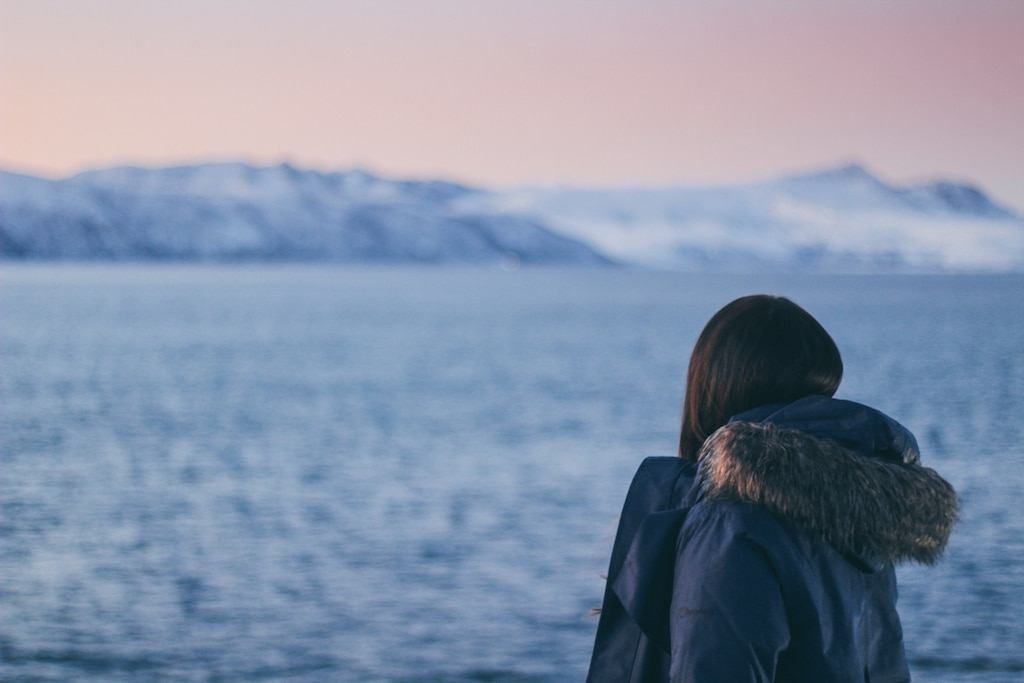 I think the Hurtigruten is a perfect trip for people of all ages, but especially people around my age looking for a different type of holiday. Norway can be rather pricey and difficult to organize as a result, but having accommodation squared away on the Hurtigruten is a good way to get a taste of the fjords and west coast of the country.
While I didn't get quite as much time as I would have liked on the Hurtigruten, because I really could have spent a month on board, I did get a good impression of the voyage and highly encourage others to find a way to incorporate it into their Norway travel plans.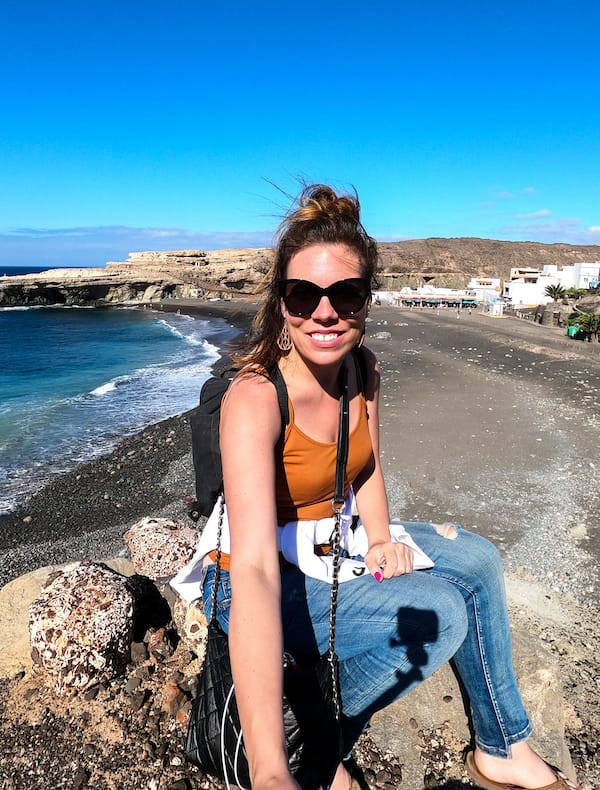 Megan is a travel blogger and writer with a background in digital marketing. Originally from Richmond, VA, she now splits her time between Frankfurt, Germany and Arctic Finland after also living in Norway, Armenia, and Kazakhstan. She has a passion for winter travel, as well as the Nordic countries, but you can also find her eating her way through Italy, perusing perfume stores in Paris, or taking road trips through the USA. Megan has written for or been featured by National Geographic, Forbes, Lonely Planet, the New York Times, and more. She co-authored Fodor's Travel 'Essential Norway' and has visited 45 US states and 100+ countries.
9 thoughts on " My Experience on a Hurtigruten Cruise in Norway (and How You Can Go on One Too!) "
I had booked a 12 day classic coastal voyage for my 68th birthday 2021. I booked it on 3rd March this year. I had splashed out on an Arctic Superior outside cabin at over £4000. I had bought extra winter gear, guide books etc. It has now been cancelled ( I understand why) such a huge disappointment as this was to be a once in a lifetime holiday. I shan't re-book it for my 69th as I don't know whether I will be fit enough to travel in 15 months time. 💔💔💔
How long was the total trip from Svolvaer to Tromso?
Hi! It was 17 hours :) Overnight… and such a cool experience! I hope you can do it :)
I just took the full cruise on the Spitzbergen (ship)–Bergen to Kirkenes to Trondheim in September. Absolutely magnificent. Busy but also relaxing. Yes, saw the northern lights. But if you want all the activities as on the huge ships, this is not the way to go. But I kept busy just seeing the sights. The scenery is incredible.
I'm really glad you got to do this! Although it's utterly horrible to hear you were so ill. This is something I'd love to do one day – I love boats and I love Norway, so it would go hand in hand. Definitely will look into it next time I'm in that part of the world. :)
Leave a Reply Cancel reply
Your email address will not be published. Required fields are marked *

Things to Know Before Taking a Greenland Cruise
Posted: November 11, 2023 | Last updated: November 11, 2023
The chance to kayak between bobbing bits of electric-blue icebergs, experience traditional Greenlandic customs, spot the northern lights, hike along rugged fjords, and scan the horizon for whales-these are some of the reasons travel to Greenland has been growing steadily for the past two decades (not including during the pandemic).
Granted, it's not an easy country to get around. Because Greenland is so vast and most of its communities aren't connected by roads (locals get around by boat, bush plane, or sled dog team), one of the most convenient ways to see the country is on an expedition cruise.
Having just sailed with Scenic Cruises to Greenland , I've been asked myriad questions from curious travelers, ranging from "Is it really covered in ice?" to "What do you do on a cruise to Greenland?" With those inquiries (and others) in mind, here are some of the things that are useful to know before booking a cruise to Greenland.
Understand the basics
Greenland is one of the most sparsely populated places in the world. It is an 836,330-square-mile island-larger than Texas, California, Montana, New Mexico, Arizona, Nevada, Colorado, and Maine combined. However, only about 57,000 people live there (nearly 90 percent of whom are Indigenous), and most residents are concentrated in a handful of cities along the western coast.
The cruising season for Greenland is rather short-the bulk of all sailings are in July, August, and September, due to high concentrations of icebergs. And though roughly 80 percent of Greenland is covered by an ice sheet (the world's largest, outside of Antarctica), in the summer, the fjords are awash in green moss and grasses and dotted with wildflowers like fireweed and buttercups.
Choose the right operator (and itinerary) for you
A number of cruise companies have started offering sailings to Greenland in recent years. The majority are small expedition brands, with space enough for 100 to 300 guests onboard, including such lines as Lindblad, Hurtigruten, Adventure Canada, Quark, and Scenic. Some larger cruise lines, like Carnival and Norwegian Cruise Line, occasionally sail here, as well.
The embarkation and disembarkation ports, the duration of the sailing, and the ship's icebreaking capabilities are among the factors that will dictate where travelers will be able to go. Some itineraries focus on the more populated western coast, where travelers can visit local communities, interact with residents, and shop for handicrafts. Others center around the rugged, wild eastern coast, where daily activities revolve around outdoor pursuits and maneuvering among the scenic ice. Longer journeys may tackle both.
If you're on a sailing that spotlights the western coast, you'll typically pull into port towns in the morning and will have the option to sign up for an organized day trip or to noodle around the area by yourself for the day. These are some of the highlights of a western sailing:
Nuuk: The largest city, where roughly a third of all people in Greenland live, is a popular stop, as it offers a small clutch of museums, a performing arts center, restaurants and bars, handicraft stores, and supermarkets.
Narsaq: Not far from Nuuk is this tiny sheep-herding and fishing community.
Ilulissat: Here passengers can visit a UNESCO-protected ice fjord that is home to one of the most active glaciers in the world.
Sailings on the eastern coast of Greenland don't typically pull into port. Instead, passengers load into 10-person inflatable dinghies known as Zodiacs to putter around floating bits of iceberg or to head to land for a hike. On the eastern side, spotting wildlife, including foxes, Arctic hares, seals, and shore birds, is more common. And because itineraries are more flexible, ships can stay put a little longer to watch nature unfold, like a glacier calving or pod of humpback whales bubble netting (where whales blow bubbles to confuse and trap fish for their podmates to eat). Decide which type of itinerary speaks most to you and opt for a sailing that aims to meet it.
Pick the right ship for your needs and wants
Another thing to consider is ship size. Smaller vessels can visit harder to reach places and offer guests a more intimate experience both on and off the ship. However, larger ships often have more onboard amenities, like spas, multiple dining rooms, and toys like helicopters and submarines that can showcase a different side of the destination. Deciding what are must-have amenities can help narrow your options.
Manage your nature viewing expectations
While it is possible to see showstoppers like polar bears and the northern lights while sailing in Greenland, there's no guarantee. Polar bears, for instance, are mostly concentrated in northern and eastern Greenland, typically in areas only accessible to ships with icebreaking capabilities. So, if missing out on seeing polar bears would disappoint you, perhaps consider a trip to Svalbard instead, where there's a higher concentration of the bears. And because Greenland sees the midnight sun, it's often too bright to see aurora borealis displays until late-season sailings (generally September, but potentially August). However, there are cruises, mostly in Norway , that cater to travelers looking to see a solar show.
Know what to pack
Despite many cruise companies emphasizing the need for polar gear, you might find that Greenland is warmer than you thought. In July through September, the average minimum temperature is in the low 40 degrees, while the average high is in the mid to upper 50s. As a Coloradian, I could get away with wearing hiking trousers and a flannel shirt for most outings on our early August sailing, though my Georgia-based travel companion typically added long underwear and a puffy jacket.
While your base and mid-layers involve personal preferences, there are a couple of non-negotiable items you'll need. Here's a short list of essential packing items:
A set of windproof and waterproof coats and pants: important for rides in Zodiacs, to protect from sea spray
A good pair of tall, waterproof boots: You'll likely need to do wet landings when going ashore in remote areas (meaning there's a chance of getting splashed by the tide when the Zodiac brings you to the beach) and there's also potential for walking in snow. Some operators provide boots for guests, so be sure to check ahead of time. If not, look into options like Xtratuf or Hunter.
Sunglasses: particularly important in snow or ice-covered areas because the sun's rays are reflected
Sunscreen: the days can be long and quite sunny
Be prepared for unpredictable ice and weather
While Greenland has seen dramatic changes at the hands of climate change in recent years, with diminishing glaciers and warmer temperatures, there is still ample ice, which can greatly affect what you're able to see and do on your sailing.
If there's too much ice around the shore, there's a chance you won't be able to make landings. It could also affect Zodiac rides and kayaking excursions. Because the ice rolls as it melts and the larger part of the mass is underwater, it's dangerous to get too close, so some expedition leaders may scrap water-based activities entirely, too, if there's excess ice.
Similarly, due to the mixing of coastal breezes and ice, fog is frequent (and thick) in Greenland. Because there's the risk of polar bears (the only type of bear that will actively hunt humans), cruise companies won't make landings if it's foggy (or raining so hard it affects visibility), so depending on the weather, you may end up spending a few days on the ship if you're on the eastern side of the country. Ditto for situations where the wind is making the water too choppy to safely navigate Zodiacs. Really any weather event that could put guests in danger (from the elements or from polar bears) means more time on the ship.
Come with an open mind
Typically, cruise companies will work with local tour operators to arrange for cultural experiences with Greenlandic people for cruise passengers. That could include a traditional kaffeemik (an afternoon coffee and cake meet-up), a historical walking tour, a craft beer tasting with the local brewmaster, and beyond. You might have the opportunity to dine on local food. That can include meals that wouldn't be uncommon in parts of the USA, like halibut, snow crab, herring, or lamb. It may also include proteins that visitors might find upsetting, such as polar bear, narwhal, and whale.
In Greenland, it is legal for Indigenous people to harvest a certain number of these animals on a yearly basis for subsistence purposes. It's also an important part of their culture.
Greenland is a harsh environment where it's too cold for most food to grow, so locals have long had to make do with what is available to them as a means of survival. You may find it helpful to remember that Greenlandic Inuit believe in wasting no part of the animals they harvest and taking only what is necessary. However, if you find this aspect of the experience disconcerting, this may not be the right cruise for you.
More for You
Yoshinobu Yamamoto free agency: Ranking landing spots with Mets, Yankees, Giants eyeing Japanese ace
Winter Storm Warning Snow Totals Depend On Where You Live
A new COVID variant, HV.1, is now dominant. These are its most common symptoms
Xi arrives in the US as his Chinese Dream sputters
Hagar the Horrible by Chris Browne
Congress just found the dumbest way to avoid a government shutdown
Supreme Court Delivers Blow to Vaccine Skeptics
Tower block at risk of collapse as residents told to evacuate immediately
49 Side Dishes So Good They'll Upstage Your Baked Ham
It's Official: This Map Shows America's Top Thanksgiving Pies in Every State
IRS Increases Gift and Estate Tax Exempt Limits — Here's How Much You Can Give Without Paying
Israel's Golani Brigade avenges troops killed by Hamas on Oct 7 with Gaza gains
Judge Chutkan Just Shut Down Trump's 'Mischief'—Ex-Prosecutor
12 Fast-Food Items You Should Never Order, According to Employees
Hit The First Vehicle, Hit The Last & Trap The Rest: The Ukrainians Used A Classic Tactic To Devastate A Russian Ammo Convoy
NBA roundup: Wolves earn ejection-marred win over Warriors
Adm. Yi Sun-sin trilogy reaches zenith with final film 'Roryang': director
GP surgery blunder led to healthy 28-year-old being given fatal AstraZeneca Covid jab
Putin Just Took Out a Threat to His Power
30 Vintage Cakes Like Grandma Used To Make
NEWS... BUT NOT AS YOU KNOW IT
Want a cruise with a conscience? These tours pair holidaymakers with scientists to help the planet
Share this with
Even the most eco-conscious cruises leave a mark on the world, so any little you can do to help redress the balance is a good thing.
A growing number of cruises enable amateur holidaymakers to help with important research — so-called 'citizen science' schemes that are fun and easy to contribute to.
Here are five options that combine research and relaxation for some real R&R…
Aid aurora knowledge in Norway
Scientists accompany every Hurtigruten cruise, and often require help. One such opportunity comes in Norway, where you can combine seeing the Northern Lights with boosting boffins' understanding of the beautiful phenomenon via website: Aurorasaurus .
Every time any form of green, red or lilac swirls appear in the night sky, passengers are shown how to send on their observations.
Should no sightings materialise, Hurtigruten will compensate you with a gratis six or seven-night sailing — effectively a second chance.
WIN the ultimate family day out at Hyde Park Winter Wonderland with Crystal Ski Holidays
Hyde Park Winter Wonderland   and  Crystal Ski Holidays  have partnered up with Metro to give you the chance to win the Ultimate Family Day Out at Hyde Park Winter Wonderland this festive period so you can  get that feeling you can't forget .
You could win entry for six people to Hyde Park Winter Wonderland including tickets for the Real Ice Slide in partnership with Crystal Ski Holidays and Magical Ice Kingdom. You'll also receive three Ride Tokens per person so you can continue the fun, plus 1 x food voucher and 2 x drink vouchers per person so you can tuck into the delicious alpine snacks and beverages available in the park.
Click   here and fill out the form to enter  – you have until  midnight 24 November . Full T&Cs  here . 
Try your luck first on its Northern Lights & Charter Flights package, which follows Norway's fjord-ridden coast from Bergen.
11 nights from £1,849pp, including all flights, departures until March 14, Hurtigruten
Help whale sharks in the Maldives
While many cruise lines encourage the support of whale-tracking apps, a Maldivian adventure goes further. Roaming the typically idyllic South Male and Ari Atolls courtesy of a local-style gulet sailboat, you'll undertake two whale-shark safaris with a coordinator of the Maldives Whale Shark Research Program.
This includes helping to take the beasts' measurements underwater. Other days see you visit a coral nursery, learn about sea turtle conservation efforts and join beach cleans. In between comes plenty of time for snorkelling and sunbathing on empty sandbank islands.
Seven nights from £1,550pp, full board, including all activities, next departs December 3 and February 4, Responsible Travel .
Count penguins in Antarctica
Polar Latitudes was one of the pioneers of citizen science efforts in Antarctica back in 2010 — something now offered by almost every liner visiting the White Continent.
This year has heralded a new scheme with Oceanites Penguin Count. During daily shore excursions from the pool-equipped, 139-person MS Seaventure, guests are encouraged to tot up the flightless birds they see before reporting to on-board scientists from the non-profit research programme. Population counts help Oceanites assess the state of surrounding eco-systems.
You can get involved on a trip departing from Ushuaia on February 29 hoping to cross the Antarctic Circle.
14 nights from £7,225pp, full board, including transfers, pre and post-cruise accommodation and wi-fi, Polar Latitudes .
No Barrier to progress
Focused on Australia's wondrous but vulnerable Great Barrier Reef, Coral Expedition Cruises has partnered with the Australian Geographic Society for an ongoing series of citizen science cruises where you'll have special access to marine research stations and wildlife rehabilitation centres.
Setting sail from Brisbane on March 19, the third visits far-flung atolls in focusing on turtles and rays, but also sees you monitoring mangroves, coral and other reef-based species. It's open to just 70 guests on the small, sleek Coral Discoverer.
Ten nights from £5,225pp, full board, including tips, entry fees and excursions, Coral Expeditions .
MORE : Lesser-known hotel chain named 'best in the UK' and rooms start from just £42 per night
MORE : Forget skiing, snowshoeing is an epic winter holiday alternative
MORE : TikTok is obsessed with cruise ships — now I get why
Get need-to-know travel news, inspiration and advice from Metro every week.
Sign up here....
Privacy Policy
To the beautiful redhead reading the book about mushrooms on the Liverpool…
To the tipsy bloke on the Jubilee line train between Westminster and…
Get us in your feed