Art & Design
2D Plates & Logos
Star Trek TOS - Shuttlecraft Galileo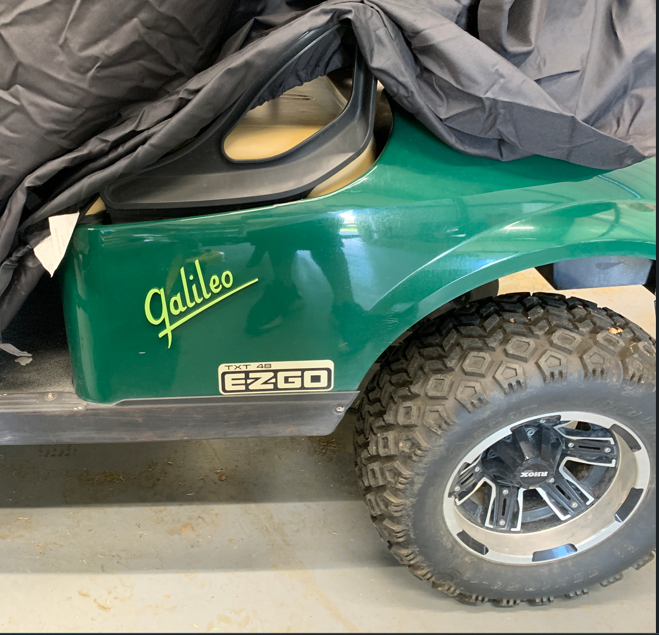 Related models
Collections 1
User print files 0
Description
I purchased a Golf Cart a few months ago, and because I am a Trekkie at heart, I had to give it a name. After many discussions, and arguments, I settled on using the Shuttlecraft Galileo from Star Trek: The Original Series.
While the 3D Printing community is vast, I was unable to find a model of the Galileo's decal in it's original scripted font design. So, I scoured the interwebz for a quality picture of the Shuttlecraft's decal - I then edited the photo to remove all other objects and used an online PNG to SVG converter to convert it to an SVG - I uploaded the SVG to TinkerCAD, added some connection points, and BOOM, I had myself a quality, 3D printed decal for my EZ-GO Golf Cart!
I have included (uploaded) all images that I used to create this model, including the SVG and the original artist's rendering of the text that I found online. Additionally, I included two different STL files of the model: 1) The decal without any supports to keep it together; and 2) The decal with connecting supports to keep the design's original spacing and such.
Happy Printing! Cheers!
----------------------------------------------------------------
Print Settings
Printer Brand:
Printer:
Ender 3 Pro
Supports:
Resolution:
Doesn't Matter
Infill:
If you are printing the version that has connection supports, print it as-is. However, if you plan to print it without any connections, I would suggest rotating it 180° so that the top of the text is flat on the print bed since it will provide you with a smoother surface.
Category: Signs & Logos
Model origin
The author marked this model as their own original creation. Imported from Thingiverse.
Attribution-ShareAlike
Highlighted models from creator.
Star Trek - Astrometrics Lab Door Sign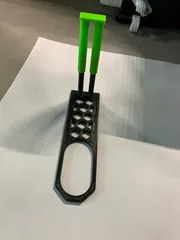 Adjustable Anti-Tangle Filament Tensioner [Remix]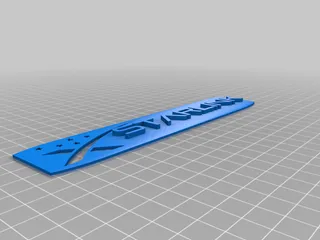 Starlink Router Mounting Bracket [Remix]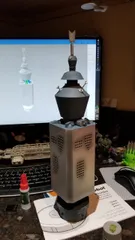 Star Trek (TOS) - NOMAD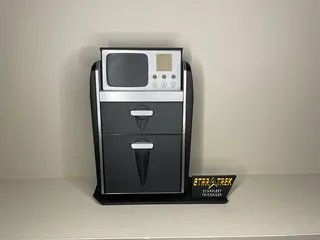 Star Trek TOS Tricorder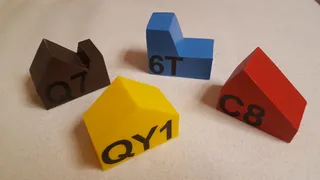 Star Trek TOS Jumpers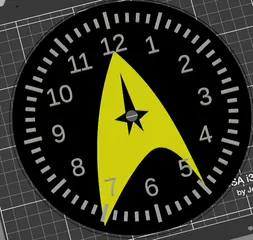 Star Trek (TOS) Clock Face
This site requires javascript enabled.

Sign In or Create Account
Forgot password.
If you don't receive the email within an hour (and you've checked your Spam folder), email us as [email protected].
shuttlecraft 3d models
No description provided.
UPDATE: I'm just going to revise the shuttle. I've added another section. Also I added an inner life in two sections. Please have a look if you like it Here is another model that has been inspired by Star trek. The USS Ozymandias. It is a...
a 23rd century federation starfleet shuttlecraft
a early 25th century federation starfleet shuttlecraft
This is another Post TOS / Pre TNG shuttlecraft design
Klingon D'ktagh (Dagger) Type Shuttlecraft from "Klingon Academy II: Empire at War".
Type-9 shuttlecraft optimized for tiny size. ...At 35mm long by default, but confident that it can be sized down to 25mm.
Type-6 shuttlecraft optimized for tiny size. ...At 35mm long by default, but confident that it can be sized down to 25mm.
Type 11 shuttlecraft as seen on Star Trek: Insurrection optimized for tabletop use. ...This one doesn't have very many details; I wouldn't scale it up beyond 60mm long.
I've been looking around for a good Klingon shuttlecraft design. ...I didn't find one, so in model making tradition, I kitbashed one together using the Toron shuttle body (from Star Trek Online) and the nacelles from a D7.
Any resemblance to Star Trek Shuttlecraft is purely coincidental. There are two models: 50mm x 70mm and 60mm x 100mm designed in Fusion 360. If you are interested in different dimensions, you may change LENGHT and WIDTH parameters in fusion360 (see...
Type 7 Shuttlecraft taken from Star Trek: Adversaries. ...No special printing considerations.
Type 8 Shuttlecraft taken from Star Trek: Online. ...No real optimization for printing needed this time.
Converted and modified a model found on the 3D Warehouse (https://3dwarehouse.sketchup.com/model/6d1623d2f0e829b0264c43f47c3e0e4d/Type-6-Shuttlecraft), optimized for small scale prints. ... *EDIT 03/10/2018* Fixed nacelle/main hull connection *EDIT...
Converted and modified a model found on the 3D Warehouse by Carbon Dudeoxide(https://3dwarehouse.sketchup.com/model/4b5807e336563819264c43f47c3e0e4d/Type-9-Shuttlecraft), optimized for small scale prints. Due to the shape of the warp engines, the...
A fellow member of my makerspace is building a scale shuttlecraft from the classic star trek series. It is huge, around 1/7, 1/8 scale. He needed some seats, I found a pretty good look-alike in the sketchup samples and created a base from scratch. ...
Cruising on in is the heavy shuttlecraft Delta Flyer, designed by the crew of the Voyager! I did not make this; this is only a conversion I did of MeslesitsFleetYards original model from a .max to a .stl file for printing. ...Find this model and more...
The essential short-range craft for any 24th century traveler, the type 6 shuttlecraft is ready for departure. I did not make this; this is only a conversion I did of MeslesitsFleetYards original model from a .max to a .stl file for printing. ...Find...
Having nothing but images and a brief look at the model I have produced this, my first STL file and work-in-progress version of the NCC-1701/7 Shuttlecraft top rear door. The part is missing from the toy lent to me for this project, and at first, I...
We highly recommend that you get acquainted with the "Assembly video" and "Assembly Manual" before getting down to the Galileo II Shuttlecraft model.The model is saved in STL files, a format supported by most 3D printers. All STL files for 3D...
ACAD Dwg. ...file with both the movie version nacelles and nacelles that match the parent ship as per Star Trek tradition.I included a scale crew.TruType font included for those who may require them.I intend to add a 3D model in the future.
Converted from https://3dwarehouse.sketchup.com/model/d4425f184cdc19b57399e6caa33de869/Starfleet-Type-12-Shuttle
I made this just for funType 6 is the standard space shuttle from Star Trek series "The next generation". This particular version was situated on Enterprise NCC-1701-D as markings show.I tried to keep it as cannon as possible but due to lack of good...
Approaching for landing, the classic class F shuttle is here for all your personnel transport needs! I did not make this; this is only a conversion I did of MeslesitsFleetYards TOS model from a .max to a .stl file for printing. ...Find this model and...
This thing was made with Tinkercad. ...Edit it online https://www.tinkercad.com/things/hHp7q9Yp4Xe
Learn to 3D Model at: 3D Builder Users https://www.facebook.com/groups/762817337537667/ https://youtu.be/xcHefWWy72I
Klingon Kivra Class Shuttlecraft
Atmosphere to orbit shuttlecraft.
Shuttlecraft suitable for tabletop miniatures games like A Billion Suns, FullThrust, Battlefleet Gothis, or any other space battle game. ...
Free 3D Models
star trek free 3D models
Startrek (567)
Space (539)
Spaceship (412)
Sci-Fi (411)
Scifi (400)
hobby (333)
Cosplay (315)
Free Star trek 3D models
Free 3D Star trek models available for download. Available in many file formats including MAX, OBJ, FBX, 3DS, STL, C4D, BLEND, MA, MB. Find professional Star trek 3D Models for any 3D design projects like virtual reality (VR), augmented reality (AR), games, 3D visualization or animation. ...Show more
Premium models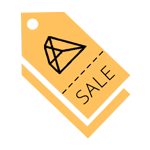 Borg Spacecraft
Deep space 9, klingon ship.

Professional Star Trek 3D Models
New & Unrated
$200 to $300 (1)
$100 to $200 (11)
$1 to $100 (211)
Enter custom price range
On Sale
.3ds (3D Studio)
.blend (Blender)
.c4d (Cinema 4D)
.fbx (Autodesk FBX)
.gltf (GL Transmission Format)
.ma/mb (Maya)
.max (3DS Max)
.stl (StereoLithography)
.unitypackage (Unity Game Engine)
.upk/uasset (Unreal Game Engine)
.usdz (USDz Apple)
Learn about CheckMate
Low Poly (154)
Learn more. " href="https://www.turbosquid.com/3d-model/enhanced-licenses/star-trek">Enhanced Licenses
Exclude Editorial (0)
Exclude Branded (0)
Learn about Editorial uses
Learn about Branded Assets
Learn more. " href="https://www.turbosquid.com/3d-model/real-time/star-trek" class="filter">Real-Time
Learn more. " href="https://www.turbosquid.com/3d-model/star-trek?certification_id=7">StemCell
Higher Prices
Lower Prices
SELECT ENHANCED LICENSE
$10,000 in Legal Protection (Indemnification)
Uncapped Legal Protection (Indemnification)
Waiver from injunctive relief
Assignable model rights
$1,000,000 in Legal Protection (Indemnification)
$250,000 in Legal Protection (Indemnification)
World's best 3D model collection
Sell Your 3D Models
3D Modeling Resources
Contact Support
Open Support Ticket
Chat with Support 24/7
Search Knowledge Base
Terms of Service
3D Model License
Privacy Policy
Brand Management
Enterprise Accounts
Company Info
Select Language
Your Cart ... View Full Cart Generate Quote Print Cart Email Cart Open Support Ticket Chat with Support 24/7
There are currently no models in your cart.
Payment Method Add a Payment Method
Add a Payment Change Method
Buy More, Save More
Get this item for $ when you bundle it with the items in your cart.
POPULAR SEARCHES:
Raspberry Pi
Woodworking
3D Printing
Maker Faire

All Stories
Magazine Projects
Board Guide
Maker Spotlights
Magazine Issues
Building an Incredibly Detailed Star Trek Galileo Shuttlecraft
By Roger Garrett
Roger garrett.
Roger is a retired software engineer. He worked on everything from military computers (UNIVAC AN/YUK-7) for nuclear submarines, to DEC PDP-11s, to PCs, to the latest microprocessors (Arduino, Raspberry Pi, etc.). Author of The Inventors Sketchpad column in Interface Age magazine for several years, and Star Ship Simulation, a book about how a set of small computers could be networked to simulate the bridge of the Starship Enterprise, written and published long before the advent of personal computers. Founder and current president of Hawaii Inventors Association.
I've been a lifelong fan of Star Trek and was motivated, like many other students at the time, by the original TV series (as well the amazing space programs at NASA) to pursue a career in engineering. I even wrote a book, Starship Simulation.
So, when I heard about the restoration project  by Adam & Leslie Schneider, Alec Peters, and Gene Winfield in which the original Galileo Shuttlecraft was located (in a garbage dump) and fully, painstakingly, and lovingly restored to its former glory, ending up as a permanent display at the Houston Space Center , I was again motivated. This time I wanted to build my very own Galileo Shuttle, but not the little plastic one that was originally offered back in the sixties. I wanted to assemble a large-scale, hand-built model.
My original thoughts were to build a full-size Galileo that was accurate in every detail inside and out. Then, I wanted to tour the country with it as a traveling educational exhibit, keeping the love of Star Trek alive; Trekkies, old and new, would get to see it up close and personal. My Galileo would, perhaps, inspire yet another generation of students to pursue careers in science and engineering. Unfortunately, that plan didn't work out when CBS Productions, which owns the Star Trek franchise, informed me that they wouldn't allow it to happen.
I started my project by searching the web for photos and diagrams that I could use as the basis for my own CAD and other engineering drawings. Fortunately there are many people who have taken the time to draw up excellent engineering drawings and publish them on the web. I used many of those drawings, as well as photos of the "real" shuttle, to prepare files, mostly using Alibre CAD software, that were then used to drive a laser cutter and CNC router at our local makerspace . Almost the entire shuttle is made from ⅛" MDF (Medium Density Fiberboard) cut with the laser, the router, or by hand on a small table-top jigsaw.
In 1978, I wrote and published, through Dilithium Press, my book, Star Ship Simulation , describing how the bridge of the Enterprise could be simulated using small interconnected computers. This was long before the advent of personal computers or even before hobby computers. In the intervening years I've heard from a number of people and hobby groups who have used my book as the basis for actually building both hardware and software simulations of the Enterprise.
Learn more about the Honolulu Mini Maker Faire here !
6 thoughts on " Building an Incredibly Detailed Star Trek Galileo Shuttlecraft "
< ??????.+ zeldadungeon+ *********….. < Now Go R­e­­a­d M­o­r­e
❣❣❣✔❣❣❣✔❣ I Just Got Paid 1700 $ Per Week by Doing Some Work On My Lapt0p…… Last saturday I got a great Alfa Romeo after I been earning $9498 this past four weeks and a little over 10k lass month . with-out a doubt this is the nicest-work Ive ever had . I actually started 4 months ago and pretty much immediately began to make more than $89.. per-hour . find out here now ->
Just Check Out here for More information…..
➡➡➡➡ https://www.MakingBucketWebWork.C0m
……◉◉◉◉◉◉◉◉◉◉◉◉◉◉◉◉◉◉◉◉◉◉
It's clear this is Butter your old job by makezine… Find Here
-> I qu­it m­­y desk job a­nd since then I get paid $85 every hr. How? I am freelancing online! My last job didn't exactly make me happy ,so I chose to try something different… Two years have passed since And I can say in great confidence it was a best decision I ever made! Check it out, what it is about… <-
Want Success.? Read this makezine article… Online Job Help
So freaking cool! Thanks for sharing. Wish I had the engineering skills to tackle one of these. Beautiful.
Comments are closed.
Related Articles from Make:
From the shed: new arrivals.
5pc Lock Pick Set with Manual
DIY Arcade Joystick Kit
17pc Lock Pick Set
Make: Arduino Electronics Starter Pack
Our websites use cookies to improve your browsing experience. Some of these are essential for the basic functionalities of our websites. In addition, we use third-party cookies to help us analyze and understand usage. These will be stored in your browser only with your consent and you have the option to opt-out. Your choice here will be recorded for all Make.co Websites.
Escape to an island of imagination + innovation as Maker Faire Bay Area returns for its 15th iteration!
Buy tickets today save 15% and lock-in your preferred date(s)..
Star Trek Shuttle Class 6
👁 1.8k views
⬇️ 6 downloads
💬 0 comments

664 Downloads
18 Liked designs
38 Followers
follow#submit cults:markAsFollowed->follow#markAsFollowed" data-follow-followed="" data-follow-followed-class="btn-second" data-follow-unfollowed-class="btn-plain" data-follow-followed-text="Unfollow" data-follow-unfollowed-text="Follow" data-follow-url="/en/users/eumoba/follow" data-follow-auth-url="/en/users/sign-in" > Follow
⬇️ 3D printer file info
3d model description.
+++++++++++++++++++Versions-Verlauf++++++++++++++++++++++++
Preview f. Version V1.3 - coming soon:
*) Benches in the cargo area
*) Interior details
Version V1.2 - 16.05.2023
The following parts will be added soon:
*) Details on outer skin
*) Ceiling lighting
*) Tailgate hinges
V1.1 - 02.05.2023
The following parts have been added:
*) Cockpit/dashboard including LCARS console
*) Cockpit seats
*) Cockpit and load compartment floor
Complete outdoor model
++++++++++++++++++Beschreibung+++++++++++++++++++++++++++
The famous shuttle Class-6 of the Enterprise in the huge scale 1:20 (length approx. 30cm). The interior is currently being realized and will be added to this model free of charge as soon as it is ready.
The model is constantly being updated and improved.
3D printing settings
Use 0.2mm layer height
📸 1 3D print photo
📚 similar 3d models, 💖 would you like to support cults.
You like Cults and you want to help us continue the adventure independently ? Please note that we are a small team of 3 people , therefore it is very simple to support us to maintain the activity and create future developments . Here are 4 solutions accessible to all:
ADVERTISING: Disable your banner blocker (AdBlock, …) and click on our banner ads.
AFFILIATION: Make your purchases online by clicking on our affiliate links here Amazon .
DONATE: If you want, you can make a donation via Ko-Fi 💜 .
WORD OF MOUTH: Invite your friends to come, discover the platform and the magnificent 3D files shared by the community!
Become a partner
Merchandising
Terms & conditions
upload tips
Maker Toolbox
Design on Demand
Coupon codes
best stl files
Best sellers
Trending searches
Best 3D designers