Awards Season
Big Stories
Pop Culture
Video Games
Celebrities
The Best Places to Go for First-Time Solo Travelers
Going on your first solo trip is scary, but the countries on this list make the experience easy and worthwhile. Many travelers prioritize safety, breezy navigation and friendly locals. If you're one of those travelers, this list is perfect for you.
Here are the best places to go for first-time solo travelers. After visiting these countries, you'll be thinking, "I should've done this a long time ago!"
Famous for its good wine, sandy beaches and football, Portugal is a great place for first-time solo travel. It's hard to resist the historic cities, rich culture and beautiful, sunny weather.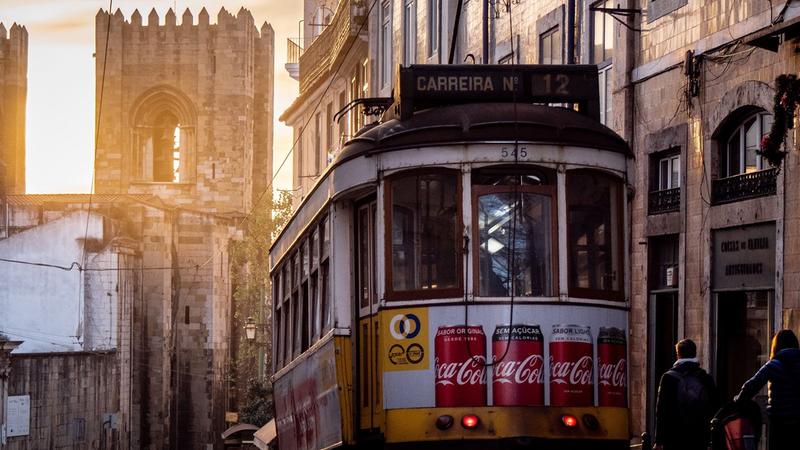 Portugal is safe and comfortable for tourists to get lost in. The approachable locals are known to help or chat with tourists. Plus, the Portuguese love learning about other groups of people, which shows in the variety of their museums.
Voted one of the world's friendliest places for visitors, Lisbon is where everyone goes. Wander the hills or cobblestone streets. Check out the dazzling architecture and growing arts scene. Some notable points of interest include the Baixa district, the medieval Belém Tower, Alfama's rooftops and St. George's Castle. The Lisbon experience would not be complete without riding on a tram or eating a freshly baked "pastel de nata" (custard tart).
Porto is another charming city with plenty to offer. Harry Potter fans flock here to visit the magical Livraria Lello bookstore that inspired the Hogwarts Library in J.K. Rowling's books. Tourists also go to admire the 12th-century Porto Cathedral, the 1800s São Bento railway station and the historic Bolsa Palace.
Thailand is Southeast Asia's most popular destination with a long history of welcoming international tourists. Solo travelers will love that the country is budget-friendly and easy to navigate. Its street food scene is world-famous. Even better, the locals are warm and inviting.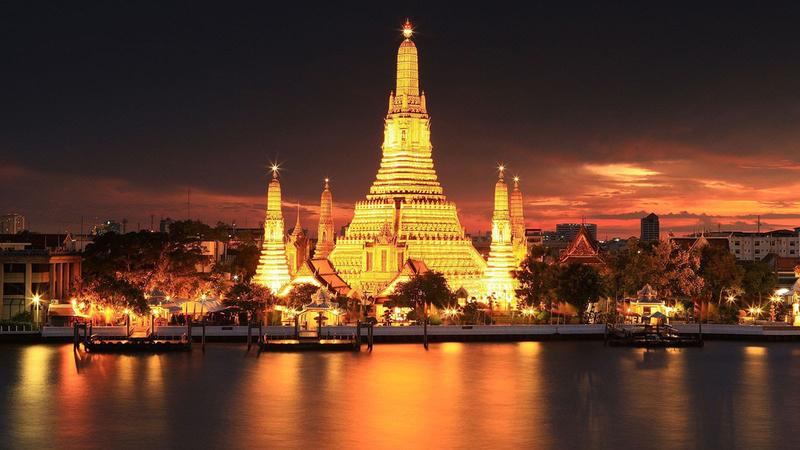 Many travelers highly recommend stopping in Bangkok to fall in love with the city. Its main attractions include the Grand Palace, Temple of the Emerald Buddha and Wat Arun (the Temple of Dawn).
Want to get away from city life? Hop to one of Thailand's islands. Check out Koh Tao and lie back in a hotel room that costs $20 a night or less. With miles of clear waters and white sand, the island is a beach-lover's dream.
Many travelers can't stop talking about how safe, clean, organized and technologically advanced Japan is. Plus, the locals are very respectful and friendly. These aspects make the country an ideal destination for those flying alone for the first time, especially when you don't know the language or where you're going. Any time is the best time to visit, but many travelers strongly suggest going in the springtime, when it's blooming season for cherry blossoms.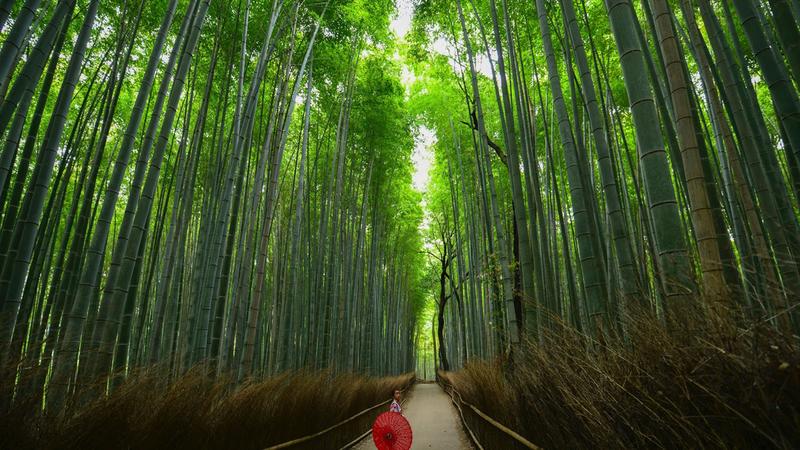 The "golden triangle" is a popular journey for travelers that features three of Japan's major destinations. First stop? Tokyo, a big modern city with bright lights and towering skyscrapers. Must-see attractions in the city include Tokyo Tower, Tsukiji Market, the temple Sensō-ji and Shinjuku's entertainment district.
After exploring Tokyo, hop on Japan's impressive high-speed bullet train to Kyoto or Osaka. Full of peaceful temples, old neighborhoods and real geisha, Kyoto is much more traditional and relaxing than Tokyo. Popular attractions in Kyoto include Arashiyama (a bamboo forest), Fushimi Inari Taisha (a Shinto shrine with famed gates) and Kinkaku-ji (the iconic golden-colored temple).
Osaka, another big city, often gets compared to Tokyo. However, once visitors step into Osaka, they see that it has its own unique vibe. Check out Japan's Universal Studios and Dōtonbori, a.k.a. the bright heart of the city.
New Zealand
Widely known as the filming location of The Lord of the Rings , New Zealand is one of the top destinations for solo travelers. The country provides a welcoming and laid-back environment to keep residents and tourists happy.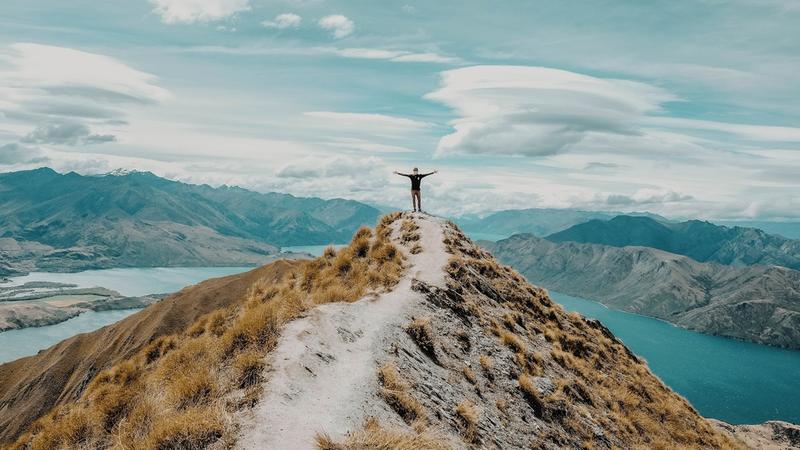 New Zealand is one of the safest countries in the world, giving solo travelers who prioritize safety peace of mind. The country is also great for outdoorsy travelers. Two islands make up New Zealand — North Island and South Island.
On North Island, go on a tour at the famous Waitomo Glowworm Caves. Check out the powerful Huka Falls. Of course, the Hobbiton Movie Set Tour is also a must-do.
Behold the natural beauty of Milford Sound on South Island. Many mountains, lakes and parks are waiting to be explored there, like Abel Tasman National Park and Mount Cook.
Hawaii isn't just for lovers; Hawaii is actually an extraordinary destination for travelers flying solo for the first time. Cue the fireworks! Whether you're looking for relaxation, adventure or a lesson on history, there's plenty of fun things to do in Hawaii. The state has four major islands that travelers can visit — Kauai, Maui, the Big Island (also named Hawaii) and Oahu.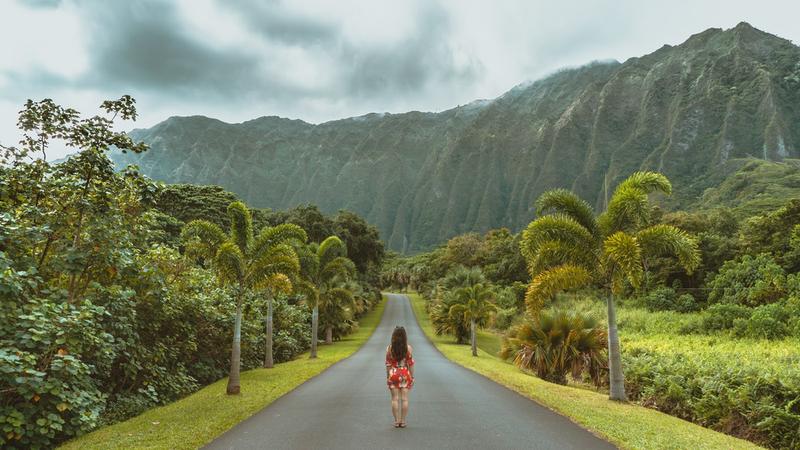 Dubbed the "the Garden Isle," Kauai is best for travelers who want to get away from the crowds. Kauai is home to miles of lush foliage and dramatic cliffs. See the Na Pali Coast and Waimea Canyon, the "Grand Canyon of the Pacific."
Maui is a great destination for beach bums and adventure seekers. Catch the sunrise at 10,023 feet in Haleakala National Park. Take a long scenic ride on the Road to Hana, which is also famous for its twists and turns. Some travelers argue that Maui has some of the best beaches in the world.
Animal lovers and outdoorsy visitors will appreciate the Big Island the most. It has all sorts of landscapes and climates, from snow-capped mountains to humid rainforests. Some popular attractions include Hawaii Volcanoes National Park, Waipi'o Valley and the Kohala Coast (to spot green sea turtles).
Oahu is best for foodies, shoppers and travelers who love city life. Although it seems as if the island is all about action, travelers can still find time to unwind. Check out the iconic Waikiki Beach or learn about history at Pearl Harbor museums and memorials.
MORE FROM ASK.COM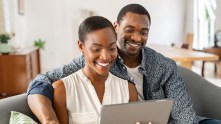 PR & Marketing
Privacy Policy
Girl about the Globe
Making solo travel easier.
Solo Travel in Azerbaijan
Types of Girl about the Globes – Skiing GatG, Sightseeing GatG, History GatG
Solo travel in Azerbaijan is as comfortable as you want it to be. That's why we've given it 3 out of 5 stars. Instead of finding your way around the country by bus traveling by yourself, there are tours which operate from Baku, the capital city, showing you the best of beautiful Azerbaijan.
If you can't speak Azerbaijani or Russian you may prefer to take the tours depending on how adventurous you want to be. I used the local buses to get around which was an adventure but I was also able to see and learn more from combining this way with tours.
Azerbaijan feels more like the Middle East than an Asian country with a culture that is similar to Turkey. Azerbaijanis are very hospitable and similar to the Turkish culture, they like to drink tea. Don't be surprised if a family invites you to sample their jam tea and home-made cuisine.
The country is relatively safe. Just be careful with your belongings as you would anywhere else and don't walk around at night.
Don't venture into Nagorno-Karabakh, a territory which is in conflict with Armenia and occupied by Armenian troops. You may want to avoid asking about the conflict which resulted in a loss of land for Azerbaijan and hundreds killed. Many are still internally displaced by the conflict.
Below is our Azerbaijan travel guide on how to travel solo in Azerbaijan including places to see in Azerbaijan, the best cities to visit in Azerbaijan, where to stay, what to do in Azerbaijan, which tour company to use and Azerbaijan travel. Find out how to get from the airports and what to do in each place.
All companies included have been recommended by solo female travellers and come with our Solo Female Friendly endorsement. Just choose the relevant section or read the full article for your Azerbaijan visit.
N.b. By booking through this page you are helping to improve the lives of vulnerable girls about the globe. Thanks for helping.
Places To Visit in Azerbaijan
Hotels in azerbaijan, tours to azerbaijan, travelling in azerbaijan, azerbaijan itinerary, best time to visit azerbaijan, azerbaijan airports.
Frequently Asked Questions About Azerbaijan
Map of azerbaijan, related posts.
Mountains in Azerbaijan
Azerbaijan may not be a country that you've ever heard of, let alone considered travelling to. Located in Asia on the Caspian Sea, Azerbaijan was once part of the former Soviet republic. Located in the southern Caucasus Mountains, the country borders Russia, Georgia, Iran, and Armenia.
It is often overlooked by visitors to Georgia but this oil-rich country known as "The Land of Fire" has redefined itself since its Soviet days and is now a fascinating country to visit. If you've ever wanted to see mud volcanoes, cave drawings and futuristic buildings, take a trip to Azerbaijan.
* Click here to discover all activities and things to do in Azerbaijan
Fountains Square, Baku
The capital Baku is the lowest lying national capital in the world being located below sea level. From Baku you can easily reach most of the country's main attractions and the best thing about visiting an emerging destination is that you don't get the crowds of tourists.
Baku seems to be the most modern place in the country and something that Baku definitely knows how to do is architecture. This cool city is a unique blend of old and new modern designs, many of which are futuristic with their own unique style.
Baku's most famous buildings have to be the Flame Towers: three skyscrapers designed as giant flames – a symbol of the country. And an iconic image. These towers are visible from Baku's Old City where you can take the iconic photographic image of the old and the new Baku.
The award-winning Heydar Aliyev Centre
Places To Visit in Baku Azerbaijan
The most beautiful city in Azerbaijan has to be the capital city in Azerbaijan, and Baku solo travel is really safe. See the curvy award-winning Heydar Aliyev Centre and learn more about the history and cultural heritage of the country. From costumes and weaving processes to the country's musical instruments, this is one of the best tourist places in Azerbaijan.
Another of the Baku things to do is to see the Azerbaijan Carpet Museum which also needs to be on your Baku itinerary. Seeing a building designed as a giant rolled-up carpet is definitely up there in the Baku Azerbaijan points of interest. You don't even need to go inside.
Baku's Old City is a gorgeous walled city, and one of those beautiful places truly deserving of its UNESCO World Heritage status. As well as shops and restaurants, things to do in old city Baku is wander around the 15th century masterpiece that is Shirvanshahs' Palace. Inside is a blend of Arabic, Persian and Ottoman architecture.
Climb the steps of the Maiden Tower for a great view of the Old Town before visiting the museum of Baku's evolution inside. See the main sites on an Old City walking tour or take a panoramic night tour instead to see the highlights of city at night.
From the Old Baku City you can stroll along the Baku boulevard and watch the city's skyline as it lights up after dusk. Chess is one of the popular outdoor activities here so don't be surprised if you see men playing on giant chess boards near the promenade. Opposite, in front of the Government House is Freedom Square (Azadliq Square), which was renamed after the fall of the Soviet Union. Before the year 1991, it was known as Lenin Square.
The Maiden Tower in the Old City
Other Baku Attractions
Fountains Square is one of my favourite areas and best places to visit in Baku. This public square is aptly named because of its many fountains. It's a safe area to walk around at night. There are a number of restaurants from international brands to Indians and of course the local food.
You may even hear some live music coming from one of the bars when you're there. If you prefer some company at night, join a Baku Lights night tour to see the city at it's illuminated best. The Bibi-Heybat Mosque is a spiritual centre within the Azerbaijan city. This historical mosque is one of the major monuments of Islamic architecture.
Something unique that Azerbaijan has is Yanar Dag. This small hillside of fire 25 kms from Baku is a burning mountain of natural gas which continues to blaze. Unless you want to get a taxi there and back I highly recommend to take a tour.
But this isn't the only reason that Azerbaijan is called 'The Land of Fire.' the Ateshgah Fire Temple is another fiery sight to see. This temple – which looks like tiny castles – is located in a suburb of Baku, and is one of the country's religious sites. People from the country used to worship fire and the shrine was built on top of a natural flame.
Ateshgah, the Fire Temple
Step outside of the city and you'll see the real Azerbaijan. Azerbaijan has some breathtaking scenery especially in the Guba region . Remote villages such as Khinalig and Griz are perfect for the Eco GatG who can learn more about the ethnic minorities who live in these villages. This area is ideal for hiking too and you can find hiking and ecotourism tours here.
History and nature GatGs will love Gobustan National Park. A historic and UNESCO site of thousands of rock carvings (petroglyphs). The onsite museum provides history about this open-ai museum.
From here you can see another of the country's natural spots, the mud volcanoes , one of the best places to visit in Azerbaijan, and definitely the coolest place in Azerbaijan. It honestly feels as though you have landed on another planet with the bubbling mud surrounding you.
Inside Juma Mosque in Shamakhi
If you only see one mosque in the country, make it Juma Mosque in Shamakhi . The intrinsic interior of this mosque is just beautiful. A ninety minute drive from here brings you to the Seven Beauties Waterfall (known as Yeddi Gozel Waterfall). Although there are seven waterfalls here only two of them are accessible).
If you are an adrenalin GatG then Azerbaijan is ideal for rock climbing. Five Finger Mountain (Besh Barmag Mountain) is popular with rock climbers but if you prefer to stand on flat ground, you can just pay a visit to this holy mountain in the Siazan District instead. Guba has a very cool ice cave to explore.
The bubbling mud volcanoes
Ganja is in the west of the country and is the second largest of the Azerbaijan cities. If you are travelling to or from Georgia it's worth a quick stop to see the archaeological site with old fort ruins otherwise it's a long journey from Baku.
From Ganja it is an hour's drive to Goygol National Park and one of the best sites in the west of Azerbaijan. Lake Goygol (also known as "Blue Lake") is at the foot of Mount Kapaz. This area is really untouched with just a few teahouses to rest your weary self in after hours of hiking.
If you are on a budget just do a day trip here from Ganja where the accommodation is cheaper. Even the journey to get here offers dramatic views.
Skiing in Gabala
Azerbaijan was on the path of the old Silk Road, from China to Europe. The country exported its carpets, spices and silk fabrics along this famous route with great success. Sheki is one of these former Silk Road cities.
Here, at the foot of the Caucasus Mountains in the northwest of the country is where you can still see the traditional silk and handicraft traditions. Don't forget to visit the Sheki Fortress too.
Azerbaijan produces it's own wine and you can visit a winery in Ismayilli for an insight into its wine-making methods (as well as tasting some of course).
Gobustan National Park
If you are a skiing GatG head to the snowy hills of Qabala . Once the ancient capital of Caucasian Albania, Gabala is the country's most ancient city. Nowadays it is one of Azerbaijan's most popular ski resorts and one of the best places to visit in Azerbaijan during winter months.
Even if you don't ski, you can still take the teleferic (the cable car) to experience this stunning scenery for yourself. Apparently this is the longest teleferic in the world! Skiing only lasts from mid-December to February.
Other places to visit in Azerbaijan are : Nakchivan – an important biblical destination which can be reached by air from Baku. Ivanovka – a centre of Russian culture with some of the country's best honey, and the Absheron Peninsula where you'll find locals frequenting at the city's beach. Visit Azerbaijan for unique landscapes, futuristic buildings and plenty of culture. It's all about Azerbaijan.
Azerbaijan has many hotels including four and five star hotels in Baku if you prefer to travel in comfort. You can rent an apartment if self-catering is more your style. If you are on a budget, there is budget accommodation such as guest houses as well as hostels.
Sheki has the design hotels, resorts and spas as well as budget hotels, guest houses and hostels. You can find hostels, villas and hotels in Ganja: the west of the country. In the foothills of the Greater Caucasus you can stay in resorts and guest houses too.
In local villages such as Xinaliq and Vandam you can stay in a Bed&Breakfast, guesthouses, villas or family homes. They even have a five star hotel in Xinaliq. Gabala has cottages and villas to stay in. Qusar has a mix of guest houses, apartments, cottages, resorts, villas and hotels. You can find any type of accommodation here depending on what you prefer.
Airbnb connects you to staying with locals whether you choose to just book a room or a whole apartment. Save $20 off your first stay with this Airbnb link. Due to the boom in Azerbaijan tourism it is better to book ahead to ensure that you have a room to stay in.
All accommodation below has been recommended by solo female travellers. For all other accommodation, such as cheap hotels in Baku city centre, a 3 star hotel Azerbaijan or top hotels in Azerbaijan, click the link below for booking Azerbaijan.
* To book, check prices or availability for all accommodation in Azerbaijan
Baku – Sahil Hostel & Hotel
This Baku city hostel is really solo friendly. It's in a great place and only a few minute walk from the gorgeous Fountain Square with bars, restaurants, and cafes. If you like running the boulevard is nearby too, as well as the metro. The dorm rooms are large and you have your own personal space with a curtain for your bed, as well as big lockers for your things. If you visit in the hotter months there is air conditioning.
The Baku hostel and hotel is sociable and is one of the friendly hotels. It is easy to meet other guests, and kept clean with a great atmosphere. You don't have to worry about arriving late as there is a 24 hour front desk, and they can arrange an airport shuttle for you too. They also serve breakfast for an additional cost.
Choose from a bed in a 6, 8 or 10 bed mixed dormitory room. There is a 6 bed female-only dorm room as well as a double room with a balcony.
Prices from £5 per night for a bed in a 10 bed mixed dorm
To book, check prices or availability for Sahil Hostel & Hotel
Baku – Winter Park Hotel
If you prefer more comfort on your trip, the Winter Park Hotel is a 4 star Baku hotel in a great location just 500 metres away from Fountains Square. There's a lovely park to relax in by the hotel and a gym if you want to work out (you may need to check when women can use it though). Reception is open 24 hours and the staff can't do enough for you.
You can hire bikes to get around the city and they offer car hire too. The rooms in the property come with some comfy slippers, a bathrobe and a hairdryer so you can really unwind in your room. There's also cable TV for some entertainment at night. Choose from a standard or deluxe double room or upgrade to a superior king room if you are feeling really flush.
Prices start from £80 for a standard double room
To book, check prices or availability for Winter Park Hotel
Ganja – Grand Qafqaz Hostel
There's a reason that this hostel is called 'Grand' because it literally is. Located in Ganja, the hostel is decorated in a distinct style. There's a restaurant and a cafe and you may even meet others in the communal lounge and bar. Some of the rooms come with climate control, a desk and a TV.
There's an ATM in case you need to take some cash out, a currency exchange and also a 24 hour desk in case you arrive late. This hostel is great value for money and they also provide breakfast at an additional cost. Choose from a bed in a dormitory room with a shared bathroom or a double room.
Prices from £9 for a bed in a dormitory room
To book, check prices or availability for Grand Qafqaz Hostel
Sheki – Marxal Resort & Spa
The Marxal Resort & Spa is one of the Azerbaijan hotels 5-star and it offers everything that you would expect from fantastic spa hotels. There's a gym to work out in as well as an outdoor pool and sauna for when you need to relax, plus free WiFi throughout and free parking too.
Reception is open 24 hours which is ideal if you are arriving late at night. A continental breakfast is included too. The resort is in a quiet area surrounded by nature. It is perfect if you are looking for an escape in the Caucasus Mountains. You may even find yourself in the villa next to the waterfall. Choose from a standard or deluxe double room (or twin), a suite or a villa.
Prices from £70 per night for a standard double room
To book, check prices or availability for Marxal Resort & Spa
Intrepid Travel – If you feel more comfortable in a group for either part of your Azerbaijan vacation or the whole durati on, consider joining a tour to Azerbaijan. Intrepid Travel is a r esponsible tour company that travels to Azerbaijan. Over 50% of people using their trips are solo travellers and they are a fantastic company if you are looking for a small group tour.
You share a room with someone of the same gender or you can pay extra for your own room. They offer tours to Georgia and Azerbaijan that start from a 10 or 20 day Highlights of Azerbaijan and Georgia tour to an epic 80 day Xi'an to Istanbul tour. Read our Intrepid Travel Reviews
* Click here for the full itineraries, prices, and start dates
Tes Tour – Tes Tour is a local tour operator offering tours all over Azerbaijan with a local Azerbaijan guide. In additional to their Baku city tours, they also offer Baku tours at night and private tours Azerbaijan. Their day trips from Baku can be full days and take up to 12 hours long depending on the destinations you are travelling to.
They use minibuses for their tours and take you to restaurants where you can sample the local cuisine for lunch (lunch is not included). I have personally used these tours to travel Baku Azerbaijan and I like the fact that the tours run frequently because of their popularity.
* Click here for the itineraries, prices, and dates
Get Your Guide – Get Your Guide helps you to find top-rated experiences and day tours in the best Azerbaijan tourist places. Choose from a day tour to Gobustan and Absheron, a full-day city tour of Baku with an Azerbaijani lunch, or a Gabala and Shamakhi nature and food tour. There are several Baku trips to choose from and it's really simple to use. Just check the reviews, price and availability then book online.
* Check all Get Your Guide tours and prices here
When you travel Azerbaijan, Baku has a few transport options. You can walk around the capital but make sure that you use the underpasses as crossing the roads can be a bit dangerous. The city has a metro with signs in both Azerbaijani and English. The metro runs from 06:00 to 24:00 with trains running every few minutes.
The buses in Baku are modern and clean. You need to buy a card at the machines at the bus stops and load it with money to use on the bus. This isn't that easy though so ask a local to help you. The station outside of the city will take you onto places such as Gobastan National Park. These buses are more rickety and not the modern ones that you find in the city. You pay the driver onboard.
From Baku you can hire a car for your own Azerbaijan road trip, to see the sights outside of the city. The roads are a mix of paved and gravel roads so you may prefer to take public transport if you don't feel comfortable driving on poor infrastructure especially in the rain. There is also a train system which takes you from Baku to Georgia. The train doesn't run that regularly so you do need to plan ahead. To get across the country from Baku to Sheki you can take the train to Shaki, changing in Yevlah to Shaki then take a a private taxi.
Travelling outside of Baku you'll find minibuses which connect most of the cities (they are called marshrutkas). You pay your fare on the bus. Check with the driver where you need to get off too.
Taxi drivers don't really speak English so unless you know some phrases of Azerbaijani or Russian it's an adventure to take one. Agree the price upfront to avoid any confusion. You may prefer to download a taxi app instead.
When you are visiting Azerbaijan, you can easily spend 5 days in Baku and doing day trips from the capital. To see the best of Azerbaijan, a 1 week trip to 8 days is ideal. Below are examples of an Azerbaijan travel itinerary to help you plan your Azerbaijan trips.
7 Day Itinerary Azerbaijan – Baku (5 nights) Three days exploring the city, the museums and the Old City. Day four – day trip to the Fire Temple and Burning Mountain. Day five – Gobustan and the mud volcanoes. Ganga (2 nights).
8 Days in Azerbaijan – Baku (4 nights), Ganja (2 nights), Sheki (2 nights).
If you visit Azerbaijan in the winter months expect snow and lots of it in the mountain regions. Even in March it may be difficult to navigate some of the mountain passes and remote villages due to bad weather.
Azerbaijan can get hot during the summer months. Although Baku is known as being a windy city you may prefer to travel to the country during April to June or September/October, the best time to travel to Azerbaijan.
This chart shows the average maximum day temperatures for Baku (from January to December).
Azerbaijan has several international airports as well as domestic airports. Heydar Aliyev International Airport in Baku is the main airport. There is also Ganja Airport, Lankaran Airport, Nakhchivan Airport and Qabala International Airport.
Baku Airport – Taxis operate from the main entrance of Heydar Aliyev International Airport and cost approximately £8 to the city. The Aero Express bus takes 30 minutes from the airport to 28 May station: the main train and bus terminal in the city.
This is the cheapest option at just £1 for a single ticket. Paying in cash isn't possible on the bus as you need to purchase a BakuCard from one of the BakuCard Terminals before you board. Check timetables and payments here .
Ganja Airport – Taxis cost approx £5 from the airport and take 10 minutes into the city.
Lankaran Airport – Taxis take 20 minutes from the airport to Lankaran and cost £3.
Use Rome2Rio to help plan your journeys.
* Feel more confident with someone waiting for you at the airport when you pre-book a transfer with Hoppa , a reliable and safe service for solo females.
Travelling Onwards (check visas before you travel)
Although Azerbaijan borders Armenia, it is not possible to cross the border due to the conflict. Flying from Azerbaijan to Armenia isn't direct. You generally have to stop in Russia meaning that the flight can take up to 10 hours.
Instead travel back to Tbilisi in Georgia and either take the overnight train from Tbilisi Central Railway Station to Yerevan or the minivan which departs from the same station every 2 hours from 9am in the morning. Just ask for "Erevan" outside the station and a local will point you to the bus.
Overnight trains run from Baku to Tbilisi. These are old Soviet trains and are definitely an adventure. If you buy a second class ticket the carriages have 4 bunks and come with a mattress, sheets and a pillow.
The train stops at each border so you don't even need to disembark. Trains depart Baku at 21.59 and arrive into Tbilisi at 10.39 the next morning. Choose a second or first class sleeper if you can. Prices cost approx £17.00 for a second class ticket. Check here for more info.
Where can I fly from here?
Georgia – 1 hour 10 mins
Turkey – 3 hours (to Istanbul)
Russia – 3 hours 5 mins
Can I drink the water? Yes.
How much for tipping in Azerbaijan? A service charge is usually added to your bill.
Fixed price or barter? Fixed price.
Any ATMs? Yes in both the large and smaller cities.
Which side of the road do they drive? The right-hand side.
Good for vegetarians? They make fantastic lentil soup and tomato salads but apart from that vegetarian dishes can be hard to find as the typical cuisine is meat and kebabs.
Any seven wonders of the world? No but the mud volcanoes are definitely a wonder.
Things to Do in Baku
Solo Travel in Central Asia
Southeast Asia Travel Guide
Solo Travel in Bali
Solo Travel in Cambodia
Solo Travel in China
Solo Travel in Georgia
Solo Travel in Hong Kong
Solo Travel in India
A Guide To The Indonesian Islands
Solo Travel in Kyrgyzstan
Solo Travel in Laos
Solo Travel in Malaysia
Solo Travel in Mongolia
Solo Travel in The Philippines
Solo Travel in Singapore
Solo Travel in Sri Lanka
Solo Travel in Thailand
Solo Travel in Taiwan
Solo Travel in Vietnam
Current Time in Baku
Join the GatG Facebook Group
101 solo travel tips.
Subscribe to Girl about the Globe and receive 101 Solo Travel Tips for your next solo trip!
Your Solo Travel Journey….
Most popular post, g adventures review, join our gatg facebook community, contact us....
Search the site...
The small print....
Girl about the Globe Copyright © 2012-2023
Web by Eldo Web Design Ltd
Early Black Friday Deals: Solo Adventures Up to 50% OFF
Destinations
Azerbaijan tours for solo / single travelers, 15 azerbaijan tours for singles / solo travelers.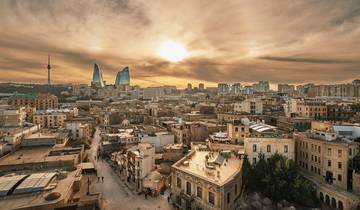 In-depth Cultural
Fully Guided
Personalized
Christmas & New Year
7 Day Cities of Azerbaijan Economic Private Tour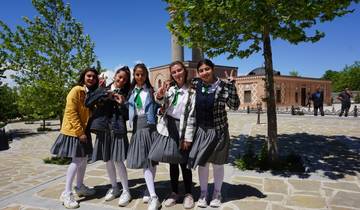 Fire of the Caucasus
Customized Azerbaijan Highlights Trip, Daily Departure & Private Guide
Book With Flexibility This operator allows you to rebook your dates or tours with them for free, waiving change fees.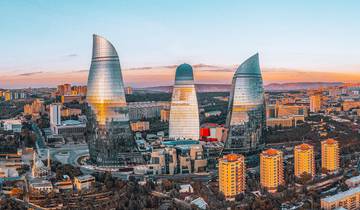 Easy Azerbaijan Tour
Tailor-Made Azerbaijan Baku Tour, Daily Departure & Private Guide
Tailor-Made Best Azerbaijan Tour with Daily Departure & Private Guide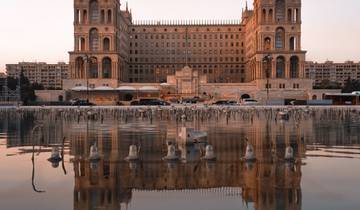 Luxury Baku Capital of Azerbaijan
Black friday 2023 is coming.
Subscribe to our newsletter to get notified about the year's biggest deals at TourRadar
By submitting this form, I agree to the TourRadar T&Cs and Privacy policy .
You've subscribed! Stay tuned for our Black Friday deals.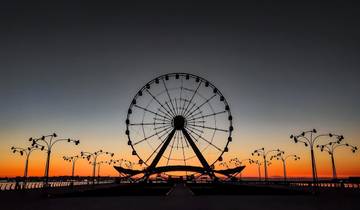 Azerbaijan - Baku City Break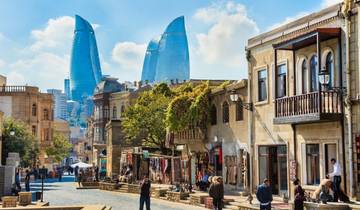 Italy to Azerbaijan flight included 7 day tour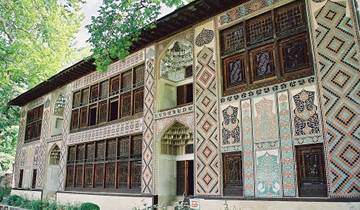 10 days/9 nights in Azerbaijan (FB).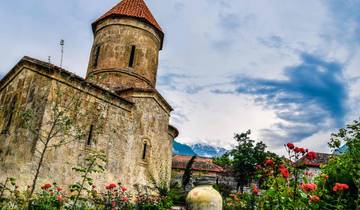 Azerbaijan Highlights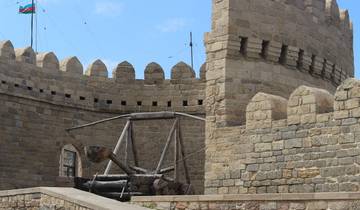 4 days like a local in Azerbaijan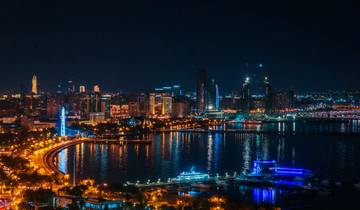 Start Baku sightseeing to Qusar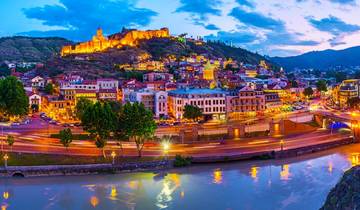 9 days Baku to Qabala - Sheki - Zaqatala - Sighnaghi and Tbilisi Private Tour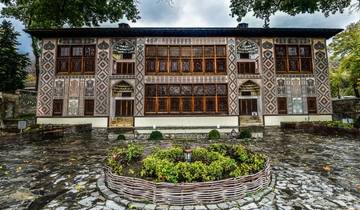 4 Day Historical Baku and Sheki City Private Tour
More tours in azerbaijan for singles and solo travellers.
Travel Styles
Singles and Solo (15)
For Couples (5)
International Versions
Deutsch: Rundreisen für Alleinrei...
Nederlands: Single reizen in Azer...
Skip to primary navigation
Skip to main content
Skip to primary sidebar
The Hangry Backpacker
Go Alone. Get Lost. Eat.
Baku, Azerbaijan: Complete Solo Travel Guide
April 6, 2019 By Hangry Backpacker 3 Comments
Solo travel is one of the best ways to see Baku, the capital city of Azerbaijan. This fascinating city barely registers on most travel radars, and there are plenty of reasons, from food to history, to visit Baku.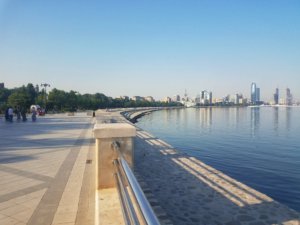 Here is everything you need to know for a solo trip to Baku, complete with tips getting around, expenses, safety and what to do:
Practical Information for Solo Travel in Baku
Baku, azerbaijan.
Baku is a rapidly developing city. Azerbaijan is in the Caucasus region of Eurasia, with the Caspian Sea to the east, Iran bordering to the south and Armenia, Georgia and Russia forming borders to the north and west.
Travel to Baku primarily consists of foreigners visiting for work, with major international petroleum companies maintaining a presence in the area. The country has massive natural gas reserves that have fueled a boom in the capital city.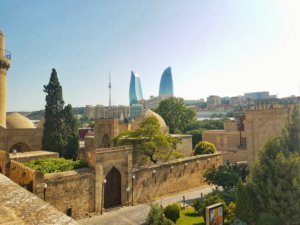 Solo travel to Baku and the rest of Azerbaijan has increased in recent years, with the city seeing an influx of independent travelers. Outside of Baku, the tourism industry in Azerbaijan remains in infancy. There is a lot of nature to enjoy, tons of great food and plenty of picturesque villages, but not a lot to offer for most tourists.
Heydar Aliyev International Airport
Baku's Heydar Aliyev International Airport is Azerbaijan's gateway of travel to the world. The airport is nice, shiny and new.
Entrance to Azerbaijan through Baku International Airport is fairly simple for solo travel. The process begins online, where you apply and pay ($25) for a visa. It takes about a week for confirmation. Upon arrival in Baku, immigration officials really have one concern: whether or not you've been to Armenia . After answering no, the official flipped through my passport to confirm, took my photo and fingerprints, then sent me on my way. Quick and simple.
Make sure to have a copy of your hotel booking. This is a visa requirement.
Before leaving the secure area, there is an ATM down the escalators, in the corner on the ground floor.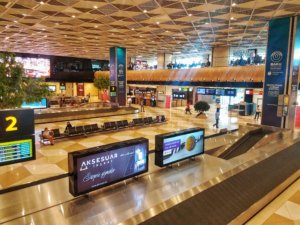 Transportation to the city is easy. Solo travel on a budget in Azerbaijan will require a lot of public transportation, and the Airport Express to Baku city center is a deal.
DO NOT take a taxi. Prices for taxis are absolutely insulting. I was quoted no less than the equivalent of $50 for an official taxi to the city. Prices were not negotiable. This is legal robbery of unsuspecting visitors.
Instead, the Airport Express stops directly in front of the terminal. Tickets for the bus can be purchased at a small kiosk (cash only), outside the doors and next to a coffee stand. The bus departs every 30 minutes, heading to the city center with one stop along the way. The bus is air conditioned, clean and comfortable.
The Airport Express costs about 2 Azerbaijani manat (AZN). That's barely more than $1. Don't waste money on a taxi.
The bus unloads in the city center, at 28 May metro station, where you can take a subway, walk or find a more affordable taxi to your destination.
Baku, Azerbaijan Solo Travel Costs
While the rest of Azerbaijan lags behind, Baku is as incredibly expensive place to live, evidence by the designer shops and fancy high rise condominiums popping up across the city.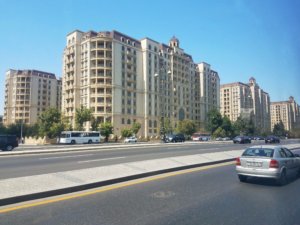 For travelers, Baku isn't the cheapest destination, but travel to "Little Dubai" can be done on a budget. There is not an abundance of hostels and guesthouses in the city center. Most foreigners, likely in Azerbaijan for business, wind up in one of the many luxury hotels of Baku.
Of the limited options available, travelers can expect to pay a per night average of 30-40 AZN (about $20 USD) on the low end. A room with air conditioning, which is not normally needed in Baku, will cost more.
However, in 2018, Baku experienced one of the hottest summers on record, with temperatures 20 degrees (Farenheit) above average. The surge in power demands caused massive blackouts in Baku and across Azerbaijan, even leading to the subway system losing power and shutting down.
Ride the Subways
Solo travel in Azerbaijan eventually leads to the subway in Baku. The Baku Metro is the best method for getting around the city. Riding on the Soviet-era subway trains is an uncomfortable, but fun ride. The trains are only about 50 years old, but you can feel every jolt, bolt, twist and turn as they blaze beneath the streets. Perhaps it is the rickety, old cars, but the Baku Metro feels faster than any other subway in my travel experiences.
Seriously, hold on.
The Baku Metro is typical of Soviet metro systems. Like others, it is incredibly far below city streets, effectively doubling as a bomb shelter. And it is beautiful. Despite everything else, the Soviets deserve credit for their subway systems. The detail and intricate design put into each station is impressive. There are also reminders on the walls of lessons learned about propaganda and communism, but that topic isn't exactly cheerful.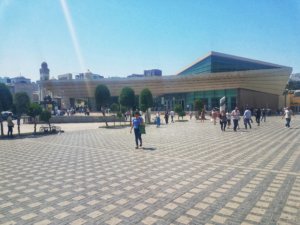 The Baku Metro is good news for a travel budget. One ride on the subway is 0.2 AZN. A reloadable card is required, which costs 2 AZN. The card plus five rides will cost a mere 3 AZN. That's less than $2 USD! Buses are even cheaper, making public transportation the easy choice for solo travel in Baku.
English is sparse in Baku, so plan your routes and know your stops before setting out for the day.
Solo travel in Azerbaijan is a thrill, but easy in Baku. Free from the constraints of prearranged group travel buses, solo travelers are able to go where they please on the speedy trains of Baku.
Safety in Baku
When hearing of solo travel to Baku, most people express confusion and concern that anyone would travel to Azerbaijan. In fact, many westerners are entirely unaware that Azerbaijan is a country.
That's okay, though. What people lack in awareness of Baku is simply a better opportunity for off-the-beaten-path solo travel. With Baku off of most travel radars, the worry is that a solo traveler could be in danger in Azerbaijan.
Thankfully, there is no need to fear for safety in Baku. As long as you aren't Armenian, Azerbaijan is a safe country. The two countries aren't exactly best buds, and travel across the border is practically impossible.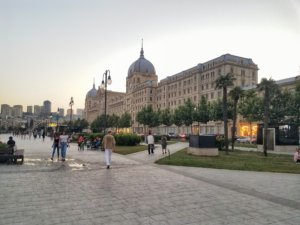 Locals in Baku are out and about enjoying the city's parks and are helpful to tourists. Any notion of being unwelcome is not apparent.
For visitors to Baku, the city is safe. Walking the wide, shiny promenades in the city center, it's hard to imagine feeling any worry. Bakuvians enjoy their city and do not want any disturbance of the peace. Meanwhile, the Azerbaijani government has worked hard – and done a great job – to eliminate any extremist groups that may hinder progress and harm a good reputation of safety.
How to Dress in Baku
The only area tourists should exercise caution in Azerbaijan is with clothing. Unlike some nearby Muslim nations, women in Azerbaijan dress freely. Baku is more liberal than the rest of the country, with women enjoying high fashion and dressing to impress.
Western women may encounter staring. Lots of uncomfortable staring. When it is warm out, it is tempting to wear a tank top and shorts, a skirt or something cooler. This is fine in Baku, and your safety is not at risk, but the stares can be uncomfortable. It is best to move along and ignore the onlookers.
For men, dress in Azerbaijan is peculiar. Men in several countries in the world wear long pants year-round. In Azerbaijan, men wearing shorts is particularly taboo. A few government officials have been outspoken about the issue. There are men in Baku bold enough to wear shorts, but not many.
Tourists get a pass on wearing shorts more than locals in Baku, but I recommend blending in as much as possible for solo travel anywhere.
Onward Solo Travel from Baku
Onward travel from Baku, heading elsewhere in Azerbaijan, is a simple, yet complex affair for solo travelers. If you're going back to the airport, simply retrace your steps, starting where the Airport Express drops off at 28 May station. If further travel is via bus, travelers need to go to the main bus station.
The bus station is easy to reach from the Baku Metro. Take the Green Line from 28 May Station to Memar Əcəmi Station. There, switch to the Purple Line to Avtovağzal , which is one stop away. Avtovağzal means "bus station," and that's where you want to go.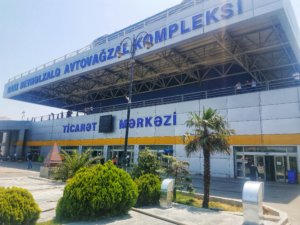 Navigating the Baku bus station can be a headache for solo travelers that don't speak the language. Hopefully for you, my headache will help you avoid the same frustration.
Tickets can be purchased at the station, inside in the back of the building . On the 3rd level. The back of the building appears empty, but there will be a few ticket windows open. Say the name of your destination and the employees will direct you to the appropriate window.
This doesn't sound complicated, but in a massive, four-story international bus station with hundreds of shops – and did I mention no one speaks any English? – finding the right ticket window can be a nightmare. Get there early and be patient. Also, good luck.
What to See & Do in Baku
Gobustan petroglyphs.
Gobustan is a site of prehistoric petroglyphs dating back thousands of years. The rock carvings include Viking ships, Roman markings, as well as depictions thousands of years older.
The visitor center and museum at this UNESCO-designated site is informative, interesting and modern. Entrance is cheap, at 5 AZN.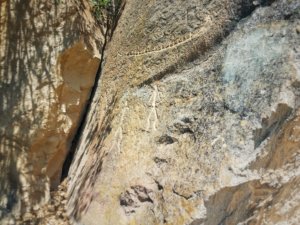 There are thousands of carvings spread out among the barren rocks, with paths leading around many of them. However, the carvings are underwhelming. Truthfully, pictures are sufficient. Sure, the carvings are interesting and anthropologically important, but they're much smaller than images suggest. It's fairly difficult to even get a decent photograph without a high-powered lens.
Consider that the drive to Gobustan takes at least an hour and hiring a car is the only practical option. Time is better spent in Baku for most tourists. If you have a spare day and anthropology excites you, wandering Gobustan for a few hours is the perfect activity.
Mud Volcanoes of Gobustan
If Gobustan is alluring, make sure to save time for a more interesting site nearby. Also in the Gobustan National Park are the famous mud volcanoes. The area is home to nearly half of the world's mud volcanoes.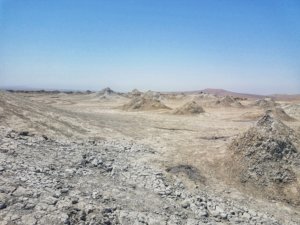 If you're thinking massive mountains spewing mud, scale down your expectations. Mud volcanoes are large mounds in a geothermally active area.  Mud bubbles up and slowly oozes out, over time building up to these mini "volcanoes."
The Gobustan mud volcanoes are a fascinating thing to see in Azerbaijan, but require a tedious journey from Baku that makes solo travel to the spot almost impossible for non-locals. Theoretically, it is possible to catch a bus to the nearest town. From there, drivers may or may not be hanging out by the road waiting for passengers. But the bus takes a long time and runs inconsistently.
The route to the mud volcanoes – it is not a road – winds along a dusty, bumpy path. Drivers have a deep trust in their cars, careless and fearless of the terrain. They drive straight through bumps and obstacles at a blistering pace in their old Soviet jalopies. As for off-roading in an old Soviet Lada, it's pretty fun. Wear sunglasses and bring a cloth, though. It's dusty.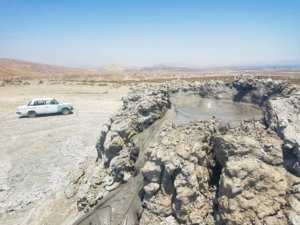 The site is not developed – it's just there . On the day I visited the mud volcanoes, there were no other tourists in sight. A few locals were soaking in one of the bubbling pits of mud, which is supposedly therapeutic.
The Azerbaijan mud volcanoes are pretty cool, but it is best to think twice about making the solo travel venture to Gobustan from Baku. It's a long way out for a short wander. Although the next time I visit Baku, I plan to have a mud soak of my own.
Ateshgah of Baku
The Ateshgah of Baku is a temple that has been home to fire-worshiping Hindus, Sikhs and Zoroastrians. The current complex is a few hundred years old, but there is evidence of use going back over one thousand years.
The temple is centered around a flame in the center that burned naturally from gas leaks for hundreds of years. The original flame finally burned out and the current flame is man-made, but the temple is still authentic.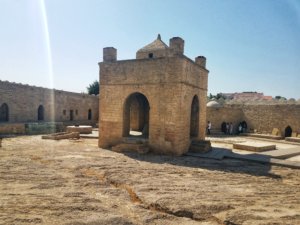 The trip out to Ateshgah of Baku is like any solo travel in Azerbaijan – crowded buses and a lot of guessing, traveling on an indirect route to finally reach the destination.
With the cheap transportation mentioned above, and an admission cost of only 4 AZN, the Ateshgah of Baku is a great budget activity for a day. The best part of visiting the Ateshgah of Baku is seeing a side of the city few other tourists ever will. Bus 184 from Koroğlu metro station will (eventually) get you to the Fire Temple.
Yanar Dag is a another fiery attraction outside of Baku. This is an open, 50-foot-long flame coming out of the ground. There's so much natural gas in Baku that it is literally leaking out of the ground. At some point, this gas leak ignited and has been burning for years.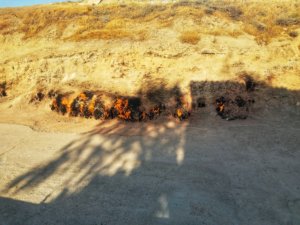 Why Yanar Dag is often recommended to tourists is beyond me. It's certainly intriguing, but to spend several hours bussing around Baku only to come upon a little bit of fire is a colossal waste of time.
The suburbs and towns the bus passes through are very different from the city. For window-watchers like myself, that is the cool part of this excursion. However, unless you are in need of some kind of solo travel day-challenge of navigation, stay in Baku.
Yanar Dag, it's a fire. See the picture above. Save the time.
Exploring Old City Baku
Old City Baku is a real-life postcard before your eyes. The tiny, walled Old City is another UNESCO-designated site travelers can check off the list. The various buildings range from a few hundred to a thousand years old.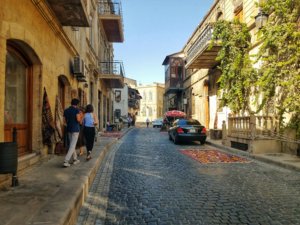 Among the narrow, winding streets of Old City Baku are mosques, museums, a palace and the iconic 12th century Maiden Tower.
The Old City may be small, but it is worth spending at least a day wandering the area. Oddly, the streets are calm and quiet, while thousands of people walk the streets beyond the walls. There are several shops for tourists as well, selling everything from gaudy t-shirts to beautiful handmade rugs.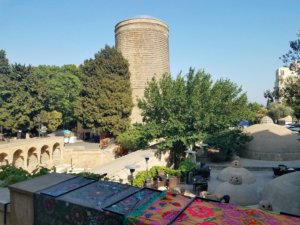 Restaurants in the Old City range from touristy Italian to fast food. There are a few restaurants serving local food, too. The prices are inflated, owing to the location, but the food is fantastic and is a great starting point for a curious eater.
Shopping in Baku
Travelers in search of cool trinkets and souvenirs will find plenty in the shops around Old City Baku. The rugs are a tempting spoil for any traveler to the region. But before you go and drop serious cash on an antique rug, buyer beware.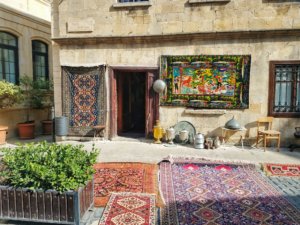 There are strict laws regulating the purchase of rugs. Souvenir rugs will (probably) cause no issue. But authentic, especially antique, rugs are not easily (read: legally ) transported. Old rugs that are eligible for tourist export are subject to serious taxes, sometimes effectively doubling the price. If you're caught trying to bring an antique rug out of the country, expect a lot of grief, including fines, visa revocation and possibly criminal charges.
Oh, and locals may ignore the laws and sell rugs anyway. Customs officials will not be sympathetic to your plight, and trouble will ensue.
The tip: when in Baku, travel light and leave the rugs behind.
Eating Cheap in Baku
Baku is not an expensive city. Aside from the accommodation costs mentioned above, solo travel to Baku can be done on a budget. Food is not expensive, either.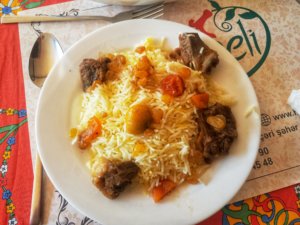 There is a growing industry of fine dining and expensive restaurants in Baku, but you can still eat great food elsewhere. Piti, a simple mutton and vegetable soup, is an Azerbaijani national treasure that is worth eating at least once. Other common foods include various lamb dishes, dushbara (Azerbaijani dumplings), an assortment of yogurt-based dishes and great pastries.
If you're looking for something quick and cheap, there are few places in the world with as many shawarma stands and shops as Baku. In Baku and the greater region, for any sort of solo travel on a budget, shawarma is your best friend. They do it right in Azerbaijan. Ayran, a popular salty yogurt beverage in the wide world of shawarma, is always the perfect pairing.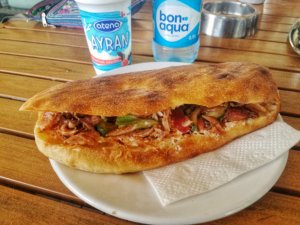 Local bakeries are also a great source of cheap food. Freshness is the norm in Baku, and you can grab a few pastries to eat for the day for a few manat.
Finding cheap food is an important part of travel , and Baku is an easy place to turn your cash into plenty of delicious local food.
Azerbaijani Beer & Cheese
Azerbaijanis love their beer and consume more booze per capita than any other Muslim country in the world. (Technically, Kazakhstan consumes slightly more, but it has a considerable population of non-Muslims.) Xirdalan, the de facto national beer of Azerbaijan, is a drinkable brew readily available in Baku. Xirdalan is a soothing relief from the dry, windy air.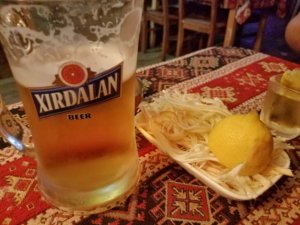 Azerbaijanis eat cheese when they drink beer. The cheese is braided when made and served in strings. The chewy cheese comes in long, thin strings and has a slight smokiness to accompany the high saltiness. It may not be endemic to Azerbaijan, but it pairs perfectly with beer. And locals eat it, so join in!
The best part about beer in Baku is that it is really cheap. A giant mug of that delicious ice cold golden nectar from the gods can be yours for 1-2 AZN, about a dollar.
Baku is a destination barely on the radar of most tourists. Azerbaijan is often lumped in with the turmoil of surrounding areas, but the country is peaceful and safe. Foreigners are welcome and locals in Baku are receptive to tourists.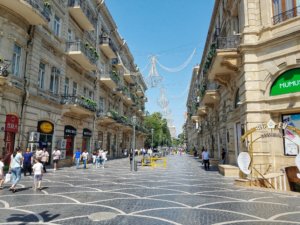 Azerbaijan is changing, and Baku is at the forefront. Head-turning skyscrapers are just the beginning. Fortunately, Baku has a strong hold on its culture and visitors can enjoy the best of the city's food and culture.
Despite a few expensive aspects of visiting Azerbaijan, it is generally an affordable destination, and solo travel in Baku is a wonderful experience.
Reader Interactions
May 2, 2019 at 9:24 am
Hey I just wanted to say that I saw your recent collab on The Ninja Gypsy's blog and just wanted to say that I am so glad to see other bloggers have the same positive sentiments about this country that I do! I've visited four times myself and fallen in love a little more each time. This country truly is one of the most underrated in the world.
May 2, 2019 at 3:57 pm
Hey, thanks for checking it out! I couldn't agree more. It's a beautiful country and definitely underrated. Four times? That's awesome! I can't wait to go back myself.
Leave a Reply Cancel reply
Your email address will not be published. Required fields are marked *
Notify me of follow-up comments by email.
Notify me of new posts by email.
This site uses Akismet to reduce spam. Learn how your comment data is processed .
Before Footer

Solo Female Travel to Azerbaijan
Located on the Caspian Sea, the naturally-rich country of Azerbaijan is one of the most diverse countries in terms of history, food, nature, and architecture. There is something for everyone in Azerbaijan and it is easily explored as a solo female traveler or one that likes to take adventures in small groups.
Advantages of Solo Travel in Azerbaijan
Azerbaijan provides a serene mix of dramatic nature and modern architecture that will leave any traveler wanting more. From the imposing mountains of the north, perfect for exploring and epic hikes, to the innovative capital of Baku, the ancient history and endless attractions offer a great trip to curious tourists. The country, although not large in size, is able to provide something for the tastes of all kinds of travelers.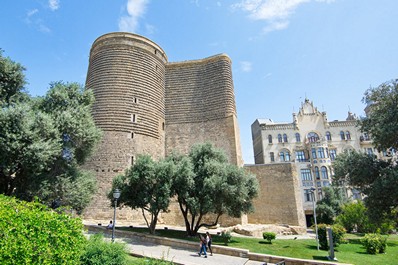 Baku's ultra-modern and clean aesthetic coupled with a strong culture of hospitality makes the city feel safe and welcoming, even if you are walking around by yourself at night. Brilliant hospitality is common all over the country and its not uncommon for families to see solo female travelers pass by and offer them a warm meal and a relaxing break. These interactions provide a unique insight into the true culture of the country and the Azeri way of life.
Challenges of Travelling Alone in Azerbaijan
Although Azerbaijan is developing rapidly and the tourism industry is one of the main sectors growing fastly, there are still challenges one will meet in Baku that can impact one's trip. One of the main challenges is language, especially when traveling outside of Baku. Most people in the country speak Azeri which is a relatively difficult language to grasp. In the cities, you will find small pockets of Russian speakers. Once out of the cities, it will be extremely difficult to communicate in a language other than Azeri.
Tourism infrastructure is still in its early stages of development and although it is available, there are still many challenges that can cause long delays. Outside of the main towns and cities, road conditions can be poor and the infrastructure is recommended to be tackled only by experienced drivers. Along with poor road conditions, driving standards throughout the country may not be to the same standard as you are used to. Car ownership has boomed within the country, which mixed with a lack of suitable roads and highways, can mean congestion between cities and large towns.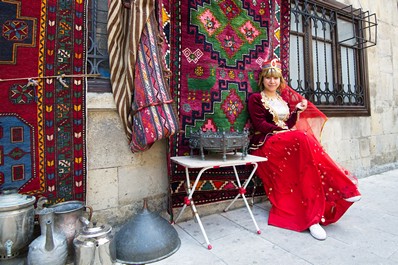 Azerbaijan has had a turbulent history in recent times and this has caused some areas to be off limits to visiting tourists or difficult to reach. It often requires special knowledge and permits to visit these areas of the country which are hard to obtain. Although they exist, these autonomous regions may not be differentiated on local maps and accidently crossing the borders can cause huge amounts of trouble and problems.
Solo Female Friendly Small Group Tours
Azerbaijan is an incredible country that deserves the attention and praise it garners from travelers. The best and most secure way to see the country in an independent, albeit stressless manner is by joining the solo friendly small group tour through the Caucasus. You will gain insight to a country that is receiving more and more attention throughout the years as it embarks as being the host country for several sporting and cultural events. The tour will also allow you to experience the ease of a trip through the Caucasus while still fulfilling the desire to travel solo or independently.
Is Azerbaijan Safe for Solo Female Travelers?
Safety overview.

Safety at night: Safe

Public transportation: Safe

Street harassment: Low

Petty crimes: Low
Tap water: Moderate
Safe travel with travel ladies, discuss travel plans with locals and travelers, find recommendations, organize meetups, find travel buddies and stay with locals for free through couch surfing..

Travel experiences
Overall rating.
based on 2 experiences
Rating summary
Things to do, budget-friendly, solo travel experience.
I spent the whole week in Baku. I stayed in two different hotels, which cost me $33 and $70 per night. In total, I spent around $1200 for the week. I booked three full-day trips directly and paid cash, which was much cheaper than booking online. It was safe for me to travel alone as a woman.
I've only been to Azerbaijan for a couple of days. Really loved the day trip to Gobustan (mud volcanoes, cave drawings, Yanardag, etc.) Bolt was super cheap so I used that to get around.
Meet ups in Azerbaijan
Hi!, My name is Elvira and I'm interested in animals, architecture, art, backpacking, books, camping, cycling, culture, cinema, dancing, digital nomad, diving, education, events & social, food & cuisine, hiking, languages, nightlife, photography, nature, science, sightseeing, swimming, solo travel, van life and trekking
Countries I've Visited
🇦🇱 Albania, 🇦🇿 Azerbaijan, 🇧🇦 Bosnia and Herzegovina, 🇭🇷 Croatia, 🇲🇪 Montenegro, 🇲🇰 North Macedonia, 🇹🇷 Turkey
Hey!, I'm Feride and I'm interested in backpacking, cinema, culture, business, animals, architecture, books, art, camping, events & social, cycling, caving, boozing, digital nomad, fashion, history, writing, van life, trekking, swimming, sightseeing, shoestring, rafting, nature, shopping, technology, surfing, skiing, sunbathing, solo travel, running, science, nightlife, photography, live music, languages, hiking, health, food & cuisine, games, dancing, diving and education
Hi!, I'm Lala and I'm interested in art, cinema, dancing, fashion, nature, swimming, books, camping, photography, food & cuisine and shoestring
🇿🇼 Zimbabwe, 🇿🇲 Zambia, 🇾🇪 Yemen, 🇪🇭 Western Sahara, 🇼🇫 Wallis and Futuna, 🇻🇳 Vietnam, 🇻🇦 Vatican City, 🇻🇪 Venezuela, 🇻🇺 Vanuatu, 🇺🇿 Uzbekistan, 🇺🇾 Uruguay, 🇬🇧 United Kingdom, 🇺🇸 United States, 🇦🇪 United Arab Emirates, 🇺🇦 Ukraine, 🇻🇮 U.S. Virgin Islands, 🇺🇬 Uganda, 🇺🇲 U.S. Minor Outlying Islands, 🇹🇻 Tuvalu, 🇹🇨 Turks and Caicos Islands, 🇹🇲 Turkmenistan, 🇹🇳 Tunisia, 🇹🇷 Turkey, 🇹🇹 Trinidad and Tobago, 🇹🇴 Tonga, 🇹🇰 Tokelau, 🇹🇬 Togo, 🇹🇿 Tanzania, 🇹🇭 Thailand, 🇹🇯 Tajikistan, 🇹🇼 Taiwan, 🇨🇭 Switzerland, 🇸🇾 Syria, 🇸🇪 Sweden, 🇸🇿 Swaziland, 🇸🇯 Svalbard and Jan Mayen, 🇸🇷 Suriname, 🇸🇩 Sudan, 🇪🇸 Spain, 🇱🇰 Sri Lanka, 🇸🇸 South Sudan, 🇰🇷 South Korea, 🇬🇸 South Georgia and the South Sandwich Islands, 🇿🇦 South Africa, 🇸🇴 Somalia, 🇸🇮 Slovenia, 🇸🇧 Solomon Islands, 🇸🇰 Slovakia, 🇸🇽 Sint Maarten, 🇸🇱 Sierra Leone, 🇸🇬 Singapore, 🇸🇨 Seychelles, 🇷🇸 Serbia, 🇸🇦 Saudi Arabia, 🇸🇳 Senegal, 🇸🇹 São Tomé and Príncipe, 🇸🇲 San Marino, 🇼🇸 Samoa, 🇻🇨 Saint Vincent and the Grenadines, 🇵🇲 Saint Pierre and Miquelon, 🇱🇨 Saint Lucia, 🇲🇫 Saint Martin, 🇰🇳 Saint Kitts and Nevis, 🇸🇭 Saint Helena, 🇧🇱 Saint Barthélemy, 🇷🇺 Russia, 🇷🇼 Rwanda, 🇷🇴 Romania, 🇷🇪 Réunion, 🇶🇦 Qatar, 🇨🇬 Republic of the Congo, 🇵🇷 Puerto Rico, 🇵🇹 Portugal, 🇵🇳 Pitcairn Islands, 🇵🇱 Poland, 🇵🇭 Philippines, 🇵🇪 Peru, 🇵🇬 Papua New Guinea, 🇵🇾 Paraguay, 🇵🇦 Panama, 🇵🇸 Palestine, 🇵🇰 Pakistan, 🇵🇼 Palau, 🇴🇲 Oman, 🇳🇴 Norway, 🇲🇵 Northern Mariana Islands, 🇲🇰 North Macedonia, 🇰🇵 North Korea, 🇳🇫 Norfolk Island, 🇳🇬 Nigeria, 🇳🇺 Niue, 🇳🇮 Nicaragua, 🇳🇿 New Zealand, 🇳🇪 Niger, 🇳🇱 Netherlands, 🇳🇵 Nepal, 🇳🇨 New Caledonia, 🇳🇦 Namibia, 🇲🇲 Myanmar [Burma], 🇳🇷 Nauru, 🇲🇦 Morocco, 🇲🇿 Mozambique, 🇲🇸 Montserrat, 🇲🇪 Montenegro, 🇲🇨 Monaco, 🇲🇳 Mongolia, 🇫🇲 Micronesia, 🇾🇹 Mayotte, 🇲🇽 Mexico, 🇲🇺 Mauritius, 🇲🇩 Moldova, 🇲🇷 Mauritania, 🇲🇶 Martinique, 🇲🇭 Marshall Islands, 🇲🇹 Malta, 🇲🇱 Mali, 🇲🇻 Maldives, 🇲🇾 Malaysia, 🇲🇬 Madagascar, 🇱🇧 Lebanon, 🇱🇦 Laos, 🇦🇽 Åland, 🇦🇸 American Samoa, 🇦🇩 Andorra, 🇦🇮 Anguilla, 🇩🇿 Algeria, 🇦🇱 Albania, 🇦🇴 Angola, 🇦🇶 Antarctica, 🇦🇬 Antigua and Barbuda, 🇦🇷 Argentina, 🇦🇼 Aruba, 🇦🇺 Australia, 🇦🇹 Austria, 🇧🇸 Bahamas, 🇧🇭 Bahrain, 🇧🇩 Bangladesh, 🇧🇧 Barbados, 🇧🇾 Belarus, 🇧🇪 Belgium, 🇧🇿 Belize, 🇧🇯 Benin, 🇧🇲 Bermuda, 🇧🇹 Bhutan, 🇧🇶 Bonaire, 🇧🇦 Bosnia and Herzegovina, 🇧🇴 Bolivia, 🇧🇼 Botswana, 🇧🇻 Bouvet Island, 🇧🇷 Brazil, 🇮🇴 British Indian Ocean Territory, 🇻🇬 British Virgin Islands, 🇧🇳 Brunei, 🇧🇫 Burkina Faso, 🇧🇬 Bulgaria, 🇧🇮 Burundi, 🇰🇭 Cambodia, 🇨🇦 Canada, 🇨🇲 Cameroon, 🇨🇻 Cape Verde, 🇰🇾 Cayman Islands, 🇨🇫 Central African Republic, 🇨🇱 Chile, 🇹🇩 Chad, 🇨🇽 Christmas Island, 🇨🇳 China, 🇨🇨 Cocos [Keeling] Islands, 🇨🇴 Colombia, 🇨🇷 Costa Rica, 🇨🇰 Cook Islands, 🇰🇲 Comoros, 🇭🇷 Croatia, 🇨🇺 Cuba, 🇨🇾 Cyprus, 🇨🇼 Curacao, 🇨🇿 Czech Republic, 🇨🇩 Democratic Republic of the Congo, 🇩🇯 Djibouti, 🇩🇰 Denmark, 🇩🇲 Dominica, 🇩🇴 Dominican Republic, 🇹🇱 East Timor, 🇪🇨 Ecuador, 🇸🇻 El Salvador, 🇪🇬 Egypt, 🇬🇶 Equatorial Guinea, 🇪🇷 Eritrea, 🇪🇹 Ethiopia, 🇪🇪 Estonia, 🇫🇰 Falkland Islands, 🇫🇷 France, 🇫🇮 Finland, 🇫🇴 Faroe Islands, 🇫🇯 Fiji, 🇬🇫 French Guiana, 🇵🇫 French Polynesia, 🇹🇫 French Southern Territories, 🇬🇦 Gabon, 🇬🇲 Gambia, 🇩🇪 Germany, 🇬🇪 Georgia, 🇬🇭 Ghana, 🇬🇮 Gibraltar, 🇬🇱 Greenland, 🇬🇷 Greece, 🇬🇩 Grenada, 🇬🇵 Guadeloupe, 🇬🇹 Guatemala, 🇬🇺 Guam, 🇬🇬 Guernsey, 🇬🇳 Guinea, 🇬🇾 Guyana, 🇬🇼 Guinea-Bissau, 🇭🇹 Haiti, 🇭🇲 Heard Island and McDonald Islands, 🇭🇳 Honduras, 🇭🇰 Hong Kong, 🇮🇸 Iceland, 🇭🇺 Hungary, 🇮🇳 India, 🇮🇩 Indonesia, 🇮🇪 Ireland, 🇮🇱 Israel, 🇮🇲 Isle of Man, 🇮🇷 Iran, 🇯🇵 Japan, 🇯🇲 Jamaica, 🇮🇹 Italy, 🇨🇮 Ivory Coast, 🇯🇪 Jersey, 🇯🇴 Jordan, 🇽🇰 Kosovo, 🇰🇿 Kazakhstan, 🇰🇮 Kiribati, 🇰🇪 Kenya, 🇰🇬 Kyrgyzstan, 🇰🇼 Kuwait, 🇱🇻 Latvia, 🇱🇸 Lesotho, 🇱🇾 Libya, 🇱🇷 Liberia, 🇱🇮 Liechtenstein, 🇱🇹 Lithuania, 🇲🇴 Macao, 🇱🇺 Luxembourg, 🇲🇼 Malawi
Stay with locals in Azerbaijan
You can stay for:, i can host:.
Hi! My name is Nandini and I'm a student. I love traveling and exploring. I have several goals. I want to travel the world🌍🌟
🇦🇹 Austria, 🇦🇿 Azerbaijan, 🇧🇬 Bulgaria, 🇫🇷 France, 🇬🇪 Georgia, 🇩🇪 Germany, 🇭🇺 Hungary, 🇸🇰 Slovakia, 🇨🇭 Switzerland, 🇹🇷 Turkey, 🇳🇱 Netherlands
Local discussions
Solo travel has anyone been to azerbaijan is it safe to travel.
Has anyone been to Azerbaijan? Is it safe to travel? Tell me about your experience with this country.
Safety in Azerbaijan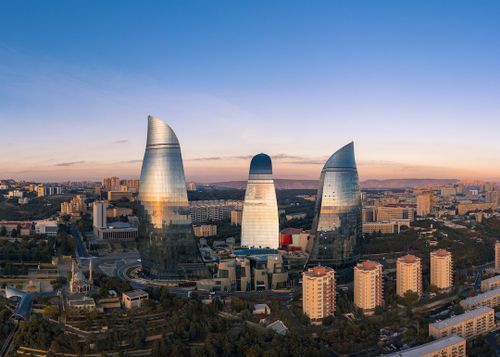 Privacy Policy
Terms & Conditions
Solo Travel
Couch surfing
Travel Buddy
Meet New People
Safety Index
Best countries for solo female travel
Safest countries for solo female travel
Cheap countries for solo female travel
Best places for solo female travel
Safest places for solo female travel
Cheap places for solo female travel

Baku Tourism
Baku Hotels
Baku Guest House
Baku Holiday Homes
Baku Flights
Baku Restaurants
Baku Attractions
Baku Travel Forum
Baku Photos
All Baku Hotels
Baku Hotel Deals
Last Minute Hotels in Baku
Things to Do
Restaurants
Holiday homes
Travel Stories
Add a Place
Travel Forum
Travellers' Choice
Help Centre
Is Baku safe for solo female traveler - Baku Forum
Asia
Azerbaijan
Absheron Region
Baku
Is Baku safe for solo female traveler
India Forums
United States Forums
Europe Forums
Canada Forums
Asia Forums
Central America Forums
Africa Forums
Caribbean Forums
Mexico Forums
South Pacific Forums
South America Forums
Middle East Forums
Honeymoons and Romance
Business Travel
Train Travel
Traveling With Disabilities
Tripadvisor Support
Solo Travel
Bargain Travel
Timeshares / Holiday Rentals
Absheron Region forums
Hi I'll be spending three days in Baku
Is it safe for female solo traveler
Is it fine to wear jeans and tshirts ( no offence random question for first time visitor)
Looking also for a female guide for one day if any recommendations
It seems to me to be safe, it is fine to wear jeans and tshirt.
Tripadvisor staff removed this post because it did not meet Tripadvisor's forum posting guidelines with prohibiting self-promotional advertising or solicitation.
I personally felt like it was really safe, everyone was busy with there own thing and not once did I feel uncomfortable.
Regarding clothes, just wear whatever you like; jeans are T-shirts are perfectly fine, they wear them all the time there.
Baku is one of the safest tolerant cities in the world, see how many international events are held in this city, tourists from all over the world come and everyone is happy, you can dress at your discretion depending on the weather conditions, there are no worries, welcome to Baku
Ya its safe but try one thing use UBer never taxi private taxi.
I saw many females walking freely in the city of Baku, it is extremely safe, but of course use caution as you would with any city.
Whatever clothing you feel comfortable wearing is fine - it is very relaxed.
Overall I feel it is a safe place to visit, and a clean and beautiful city, use caution as in any city if alone. I had one unpleasant and scary experience whilst in a coach alone, so I would say have your wits about you.
Its one of the safest cities I've ever visited and I've been to 61 countries to date . Knock yourself out ... Baku is a terrific and as yet undiscovered gem .... enjoy. Its probably more tolerant of dress than many Western countries in my experience
welcome to Baku
Mrafii - How was your solo trip? Did you find it safe for a solo female traveler? Any tips?
Recommending tourguide Zhala 13 November 2023
JW Marriot Absheron Baku or Courtyard by Marriot Baku 13 November 2023
Baku restaurants and bars recommendations 09 November 2023
Mid November 03 November 2023
6 nights Baku with kids age 12 & 14 02 November 2023
Travelling from uk To Baku, phone sim help 02 November 2023
Laundry in Baku 31 October 2023
7 Nights ( 23rd Dec to 30th Dec 2023)- 2 Adults, 2 Kids 28 October 2023
nightlife and new years 28 October 2023
6 days Baku - end November 26 October 2023
Less than 24 hours in Baku - 25 October 2023
Breakfast Spots 18 October 2023
Baku-quba-xinaliq 18 October 2023
How to get E-Sim on Airport of Baku, Azerbaijan 13 October 2023
Letter of Invitation 2 replies
A day trip from Baku 2 replies
Visiting BAKU in 2012 10 replies
how to apply for visa 9 replies
Visa and invitation question? 8 replies
Islamic New YEar 3 replies
How is baku for long time work 2 replies
trip to baku 2013 22 replies
Cab fares in Baku 40 replies
When will hotel rooms be made available for Eurovision fans? 4 replies
Baku Hotels and Places to Stay
Europe Tours
Azerbaijan Tours
Azerbaijan Solo Trips and Holidays 2023/2024
The best solo trips and solo holidays in Azerbaijan. We currently offer 13 Azerbaijan solo tour packages, many of which are guided tours . You can also read 5 customer reviews for solo vacations, often written by solo travelers.
13 solo trips in Azerbaijan
Starts Baku, Azerbaijan
Ends Tbilisi, Georgia
Caucasus Countries (12 days)
Trip customizable
Best price guaranteed
Tour Type Small Group Tour
Activities Sightseeing Tours & Cultural, religious and historic sites Sightseeing Tours , Cultural, religious and historic sites , Art and architecture & National parks 'data-more-tripid='18354'>+2 more
Accommodation Hotel
Transport Coach & Minibus
Age Range 12-75 yrs
Operated in English
May 04 10+ seats left
May 18 10+ seats left
View More Jan 1, 2019 Jan 2, 2019 Jan 3, 2019
Caucasus Countries (7 days)
Activities City sightseeing & Cultural, religious and historic sites City sightseeing , Cultural, religious and historic sites & Museum and gallery visits 'data-more-tripid='18358'>+1 more
Transport Boat, Private Vehicle, Flight & Minibus
Highlights of Azerbaijan & Georgia
No booking fees
Activities City sightseeing & Museum and gallery visits City sightseeing , Museum and gallery visits , Cultural, religious and historic sites & Local culture 'data-more-tripid='5501'>+2 more
Accommodation Hotel, Guest House & Home-stay
Transport Private Vehicle & Bus
Age Range 15-99 yrs
May 06 Only 9 seats left
May 13 Only 10 seats left
Azerbaijan and Georgia
Activities Cultural, religious and historic sites & Sightseeing Tours Cultural, religious and historic sites , Sightseeing Tours & Wine tasting tours 'data-more-tripid='18357'>+1 more
Transport Flight, Private Vehicle, Boat & Minibus
Age Range 12-80 yrs
May 11 10+ seats left
May 25 10+ seats left
Azerbaijan & Georgia Experience
Activities City sightseeing & Museum and gallery visits City sightseeing , Museum and gallery visits , Cultural, religious and historic sites & Art and architecture 'data-more-tripid='8787'>+2 more
Accommodation Hotel, Guest House, Resort & Home-stay
Transport Private Vehicle, Bus, Train & Taxi
Mountains and Monasteries
Activities Explorer & Mountains Explorer , Mountains & Overland Journeys 'data-more-tripid='28034'>+1 more
Accommodation Hotel, Guest House & Resort
Transport Private Vehicle
Age Range 12-90 yrs
Apr 09 10+ seats left
May 14 10+ seats left
The Caucasus
Activities Cultural, religious and historic sites
Age Range 16-99 yrs
May 10 Only 7 seats left
Sep 27 Only 8 seats left
Azerbaijan, Georgia & Armenia Explorer
Activities Adventure
Accommodation Hotel, Guest House, Hut & Tent
Transport Private Vehicle & 4WD Jeep
Age Range 18-99 yrs
Apr 21 10+ seats left
May 12 10+ seats left
Premium Azerbaijan, Georgia & Armenia
Activities Luxury & Cultural, religious and historic sites
Apr 14 Only 9 seats left
Apr 18 Only 8 seats left
Absheron Peninsula Tour
Accommodation No Accommodation
Age Range 1-95 yrs
Nov 22 Only 6 seats left
Nov 23 Only 6 seats left
Wine tour in Kakheti Region (Group)
Activities Wine tasting tours
Nov 22 10+ seats left
Nov 23 10+ seats left
Tbilisi and Mtskheta Day Tour (Group)
Activities Getaways and short breaks
Azerbaijan Georgia and Armenia Tour (16 Days)
Activities Explorer
Accommodation Hotel & Resort
Transport Boat, Private Vehicle, Minibus & Coach
Traveling to Azerbaijan alone? Chat with a local travel expert in Azerbaijan who can help build the perfect solo trip in Azerbaijan.
Azerbaijan Solo Trip Reviews
Andrew Norman
Siow Keong Gan
Liz And David Holland
Solo trips and solo holidays
Europe solo trips
Balkans solo trips
Baltic solo trips
Eastern Europe solo trips
Mediterranean solo trips
Northern Europe solo trips
Scandinavia solo trips
Uk And Britain solo trips
Azerbaijan trips
Eco tours in Azerbaijan
Azerbaijan guided tours
Azerbaijan family tour packages
Azerbaijan small group tours
Azerbaijan tailor-made vacation packages
Azerbaijan tours for senior citizens
Azerbaijan tours for young adults
Azerbaijan group tours
Azerbaijan customized tours
Azerbaijan upcoming departures
Fall 2023/2024
Spring 2024
Summer 2024
August 2024
September 2024
October 2024
Sign-in to unlock instant trip discounts. Create wish lists and save up to USD 1,500.
TESTIMONIALS
ADDIS ABABA
JOHANNESBURG
DAR ES SALAAM
LUANG PRABANG
KUALA LUMPUR
ULAANBAATAR
GILGIT-BALTISTAN
HO CHI MINH
SUNNY BEACH
VELIKO TARNOVO
MANUEL ANTONIO
GUADALAJARA
MEXICO CITY
PUERTO VALLARTA
SAN CRISTOBAL DE LAS CASAS
PANAMA CITY
BUENOS AIRES
JOAO PESSOA
RIO DE JANEIRO
SANTO DOMINGO
PORT-AU-PRINCE
BOOKING FORM
ADVERTISE WITH US
Your Perfect Travel Companion
BAKU, AZERBAIJAN
Solo tour guides, to fully appreciate baku you need to book a solo tour guide , your local friendly tour guide. whether you want to see the tourist sites, places off the beaten track or discover new experiences, the solo tour guide is there to help you. looking after your safety and welfare at all times, you plan your private tour together..
Orkhan has a masters degree that he obtained in Germany, as a Philologist. He will make a positive contribution to your travelling experience. In addition, he has over 7 years experience as a licensed tour guide. Guests will not only leave Azerbaijan with a lasting memory of the country, but also of Orkhan. He is well-groomed,  has a pleasant appearance and an approachable manner. In addition to this, his hobbies are: travel, literature and international cuisine. In conclusion, he is very friendly and has excellent communication skills.
Orkhan is 28 years old, doesn't smoke. he speaks english, german, russian and turkish., total cost for the guide services of orkhan for one day (8 hours) = a non refundable deposit of usd 45 by paypal. or major credit card (visa, mastercard, american express). plus usd 50  in cash to orkhan after his services. total 95 us dollars., alternatively for the guide services of  orkhan for half a day (4 hours) = a non refundable deposit of usd 25 by paypal. or major credit card (visa, mastercard, american express). plus usd 30 in cash to orkhan after his services. total 55 us dollars., this does not include transport, entrance fees or any food & beverage costs., how to book a solo tour guide, to book any of our solo tour guides please go to the enquiry form ., or send an email to [email protected] ., alternatively whatsapp +94-76-630-1069., remember a solo tour guide looks after your safety and welfare at all times., highlights of baku.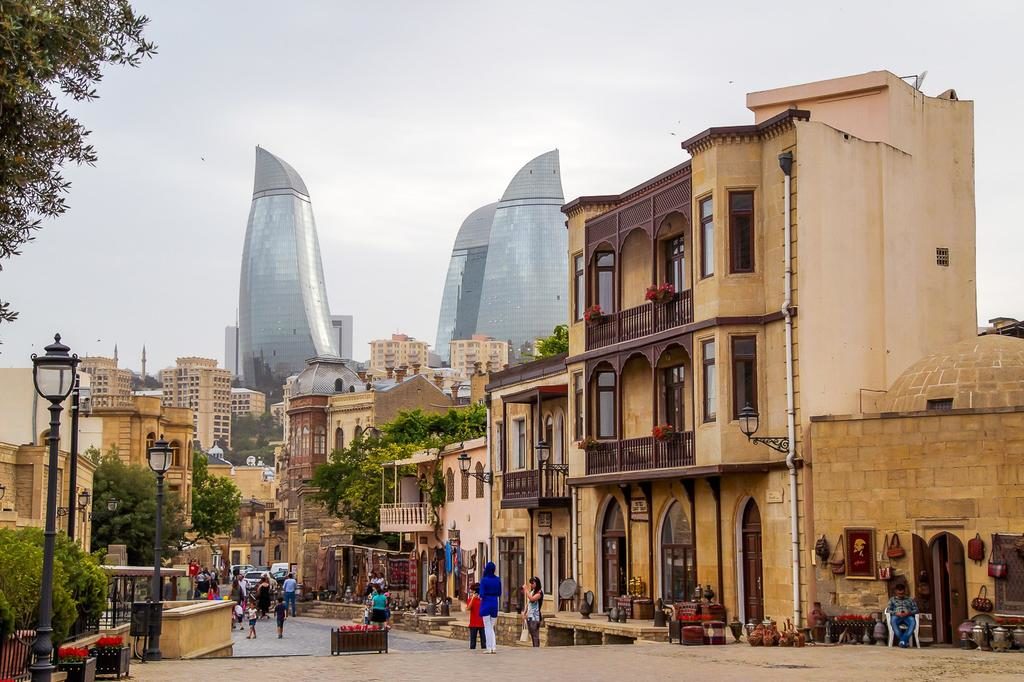 The old town with contemporary buildings of the commercial district in the background.
Baku is the capital of Azerbaijan. It is adjoining the Caspian Sea. As such its is a commercial hub with port access. It has a population of 2.2 million.
One of the most remarkable things about this city is its medieval wall city. within there is a large royal complex that houses the palace of the shirvanshahs . additionally you will be able to see the 12 century maiden tower ., despite all the antiquity, the sky line is pierced by three contemporary buildings. these are the heydar aliyev center and the flame towers . it is a testament to how this azerbaijani capital is striving to be an important commercial centre connecting east with west., if you are a people watcher and just enjoy a stroll, then check out the main boulevard with its open area and fine dining experiences. other areas include upland park and dagustu park . moreover if watching water to music is of interest then try the philharmonic fountain park ., ---> not withstanding, for an unusual museum there is gobustan rock art and workshop ali shamsi . alternatively try the curious miniature book museum ., moreover azerbaijan is famous for its carpets. not surprisingly there is a museum dedicated to this art form too., in addition what many people don't know is that azerbaijan has the highest number of mud volcanoes in the world. over 350 of them. one of the best to see is garasu volcano . eruptions occur when gas builds up below the surface . then they release that gas by spewing mud into the air. the area has a moon-like appearance., another activity could be to go to naftalan resort . it is famous for its crude oil. the medical properties of the oil here help reduce pain and inflammatory conditions. yes, you can even bathe in the oil. there is a boom in the tourist health industry to cater for visitors to the area., find hotel deals & discounts in baku, find your cheapest flight.

Like us on Facebook
Latest blog post list.
For the Latest Information on Covid Travel Restrictions
Covid cancellation policy.
Even though the deposit you pay is non refundable, during the present challenging times your booking maybe cancelled due to the ever changing covid travel restriction. In this case your deposit can be transferred to a later booking at any of our 145+ destinations worldwide for a period of 12 months.
Click  HERE  to see our full Terms and Conditions
For the Best Deals On Hotels
We offer amazing tours of egypt and the pyramids.
Beach Road, Mount Lavinia, Colombo, Sri Lanka
Contact Us by Email You can also contact us by  WhatsApp on +94-76-630-1069
©2020- 2023 Solo Tour Guides
Nomadic Matt's Travel Site
Travel Better, Cheaper, Longer
Azerbaijan Travel Guide
Last Updated: August 9, 2023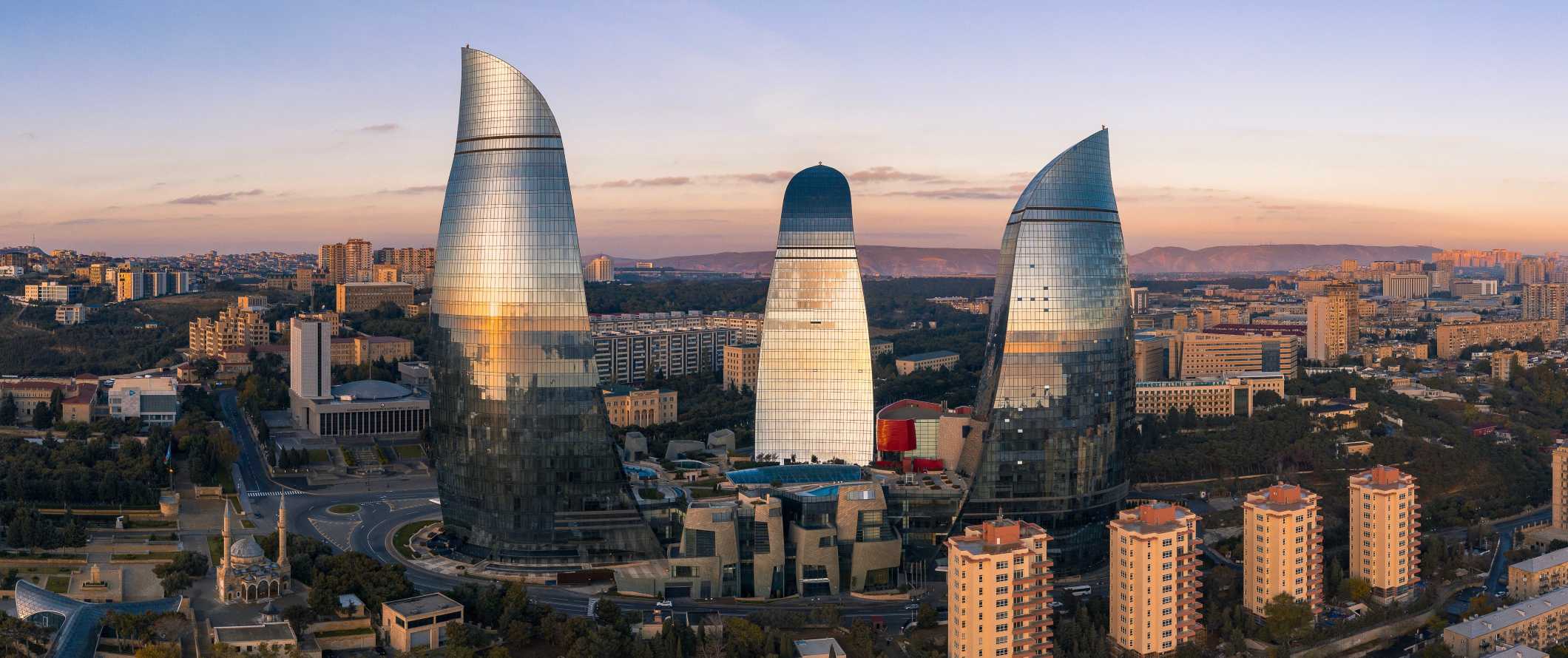 Dubbed "the land of fire," Azerbaijan is a former Soviet republic famous for its high-tech capital city of Baku, the Great Caucasus mountains, and strange fire phenomenon of Fire Mountain (hence the country's nickname).
I knew two things about Azerbaijan before I visited: it won the Eurovision Song Contest in 2011 and it has a lot of oil money.
Though a very rural and quiet country, when I backpacked around Azerbaijan, I found it to be one of those "undiscovered gems" that too many people skip — especially if you want to get out and hike without crowds!
Azerbaijan is an amazing, wonderful, beautiful, and friendly place. The country became the world's first secular democratic Muslim-majority state when it first declared independence in 1918. Today, Baku, the capital, is a modern city steeped in oil money with a recently built subway, fast Wi-Fi, and tons of Parisian-style buildings (in the 1900s, newly rich oil barons modeled the city after Paris) as well as towering and futuristic steel and glass buildings.
The rest of the country is incredibly rural with small towns surrounded by gorgeous mountains and farmland. In tiny villages, old men with canes sat in town squares gazing at passersby's like out of some movie. Locals, who don't see many visitors, are very welcoming.
From things to do, costs, ways to stay safe, save money, how to get around, and more, this travel guide to Azerbaijan will help you plan your trip and ensure you make the most of your time in the off-the-beaten-path destination!
Table of Contents
Things to See and Do
Typical Costs
Suggested Budget
Money-Saving Tips
Where to Stay
How to Get Around
How to Stay Safe
Best Places to Book Your Trip
Related Blogs on Azerbaijan
Top 5 Things to See and Do in Azerbaijan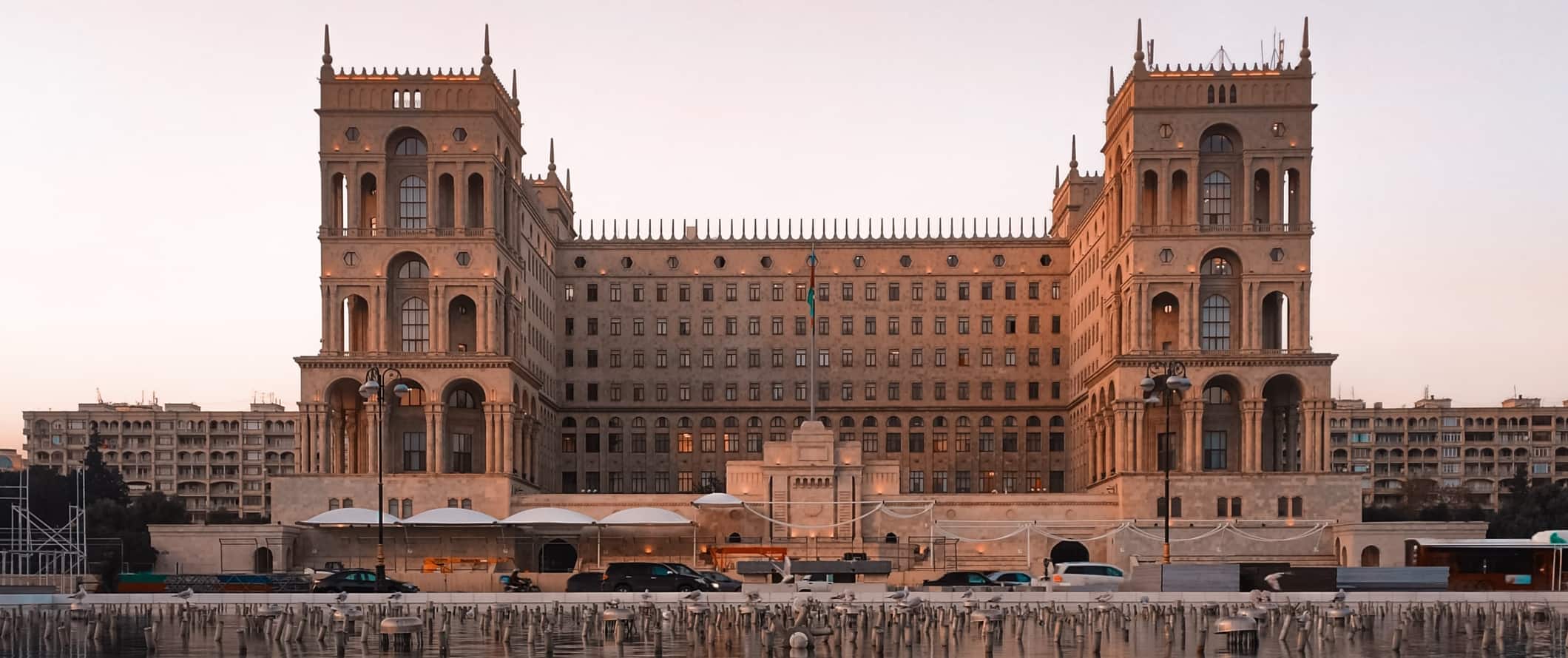 1. Explore Baku
Baku, the capital city of Azerbaijan, lies along the Caspian Sea and is a somewhat curious mix of old walled city and modern skyscrapers. It's a cool small city that only needs a day or two. There's good food, interesting museums, and amazing wine bars.
2. Visit Sheki
The city of Sheki was a famous stop on the Silk Road, and the large old caravanserai (inn with a courtyard) dating to the early 18th century still stands today. Built like a castle to protect merchants (high walls, one gate), you can stay there today for around 50 AZN per night.
3. Go to Lahij
Lahij is beautiful, with cobblestone streets and stellar views of the valley. There are some ruins on the trail leading up from the nearby river and waterfall but be warned: it's a steep 6 kilometers (3.7 miles) up and the ruins (really just a wall) are easily missed.
4. See the Gobustan Petroglyph Reserve
The UNESCO-listed Gobustan Petroglyph Reserve is home to 6,000 rock paintings that are up to 40,000 years old. The well-preserved sketches display ancient populations traveling on reed boats, men hunting antelope and wild bulls, and women dancing.
5. Visit Ateshgah
Ateshgah is a temple just outside Baku that has been used as a Hindu, Sikh, and now a Zoroastrian place of worship. Each room has panels detailing the temple's history and the Zoroastrian religion. In the complex center is a flame representing God. It's open daily. Admission is 4 AZN.
Other Things to See and Do in Azerbaijan
1. check out the mud volcanoes.
Azerbaijan is home to nearly a third of the world's mud volcanoes, which form when pockets of underground gas force their way to the surface. They're like geysers, but with mud, and since they're not made from magma, the mud is pretty cold (just above freezing temperature). The ones at Gobustan National Park are the most popular to visit from Baku on a day tour (it's possible to take a bus to the park's entrance but finding the volcanoes isn't easy). Half-day tours start from about 60 AZN.
2. Tour the Sheki Khan's Palace
The Sheki Khan's Palace was built in 1797 and was once the summer residence for the Khans. It is one of the most ornate and iconic buildings in the South Caucasus. Its shebeke windows (incredibly delicate stained glass with geometric patterns made specifically by Azerbaijan masters) cast brilliant rays of colored light across the entire interior. The palace opens daily from 10am-6pm and costs 2 AZN or 5 AZN with a guide.
3. See the Palace of the Shirvanshahs
Within Baku's walled Inner City is the 54-acre limestone Palace of the Shirvanshahs. Surrounded by walls and topped by domes, the sprawling palace complex was built in the 15th century and includes a mosque with a 16-meter (52 foot) minaret, bathhouse, mausoleum, ancient bathhouse ruins, and an octagon-shaped tomb known as the "Dervish's Tomb." The complex features grand gates adorned with intricately carved arabesques, doorways covered in Arabic scripture, magnificent domes, and courtyards with octagonal reflecting pools. Inside, there are displays of traditional artifacts such as clothing, jewelry, ancient texts, weaponry, and more. The famous 12th-century Maiden Tower, an iconic Azerbaijani monument with Arabic, Persian and Ottoman influences, is here too. Standing at over 29.5 meters (97 feet), it offers panoramic views of the city from the top. (Fun fact: They still have no idea what this tower was built for, though over 20 legends attempt to explain its purpose.) The Palace is open daily from 10am until 6pm and admission is 2 AZN or 6 AZN for a guided tour.
4. Relax on the beaches of the Absheron
During the summer, the residents of Baku migrate to their country houses (known as dachas ) on the Absheron Peninsula to escape the city heat. In recent years, thanks to the resorts popping up along the coast, tourists are following suit. The public beaches at Mardakan or Buzovna are two popular choices for sunbathing and swimming in the warm waters of the Caspian Sea.
5. Go hiking in the Guba region
The Guba or Quba region, located 2 hours north of Baku, is a remote region famous for its traditional villages, rolling apple orchards, and mountainous landscapes perfect for lots of hiking. Tenghi Canyon is popular to visit, as is Khinalig, a major Zoroastrian center. Krasnaya Sloboda, the only all-Jewish town outside of Israel, is populated by the Juhuro, or Mountain Jews. Although you can travel here and hike independently, many companies offer organized day tours of the region, for around 53-115 AZN.
6. Hit the slopes
Azerbaijan may not be known internationally for its skiing, but it does have two winter resorts that offer an "off-the-beaten-path" winter experience: Shahdag Mountain Resort and Tufandag Mountain Resort. The ski season is very short, lasting just two months from mid-December to late February. A ski day pass costs about 25-35 AZN. Ski lessons cost around 40 AZN per lesson.
7. Go to Quba
Head north by bus to the mountain town of Quba for a cooler climate, old mosques, and traditional carpet weaving in beautiful alpine surroundings. Home to less than 40,000 people, there are dramatic panoramic views everywhere you turn, with pastel-colored houses and red-tiled roofs standing out against the lush verdant mountains. Nestled on the slopes of Shahdag mountain on a flowing river, Quba remains similar to 19th-century Azerbaijan. While you're here, make sure to visit the Quba Genocide Memorial Complex, which is dedicated to the memory of the 12,000 Azerbaijanis who were killed by the Bolsheviks and Armenians during the March Days genocide that took place in 1918.
8. See Qabala
Once strategically located along the middle of the Silk Road, this dusty, old, not-so-small town is named after the nearby Gabala village. The walled town, dating back to the 4th-century, used to be the ancient capital of Caucasian Albania. As such, there are many ancient monuments and archaeological sites here, including a thousand-year-old defense tower, a 4th-century temple, a 13th-century mosque, and a mausoleum. The area is also home to wonderful hiking trails, beautiful waterfalls, dense woodlands, lakes, and one of the best ski resorts in the country. Take an early bus from Sheki and spend the night here. All the attractions are close together so you can easily see the town in a day.
9. Hang out in Ganja
Azerbaijan's third-biggest city dates to the 6th century and features many attractions, historical sites, and parks. Main attractions include the 18th-century Shah Abbas Caravanserai (similar to the one in Sheki), traditional mosques and churches from the 14th-19th centuries, the domed, red-bricked 17th-century Chokak Hamam, the 19th-century Khan Gardens, and the Tomb of Nizami Ganjavi, the country's most famous 12th-century poet (he's kind of a national hero). The most important museum here is the Ganja State History-Ethnography Museum where you can learn the history of the region from ancient to modern times through its displays of over 30,000 artifacts and objects. For a quirkier thing to see, visit the Bottle House, a private residence built in the 1960s and covered in over 48,000 glass bottles.
10. Visit Lankaran
This sleepy resort town on the Caspian Sea is home to the Old Prison and Lighthouse (Stalin was a prisoner here for a while), an ancient bazaar, an 18th-century fortress, and a 19th-century mosque. You can spend a good day sightseeing here and then another on the beaches further south in Kenaramesha. If you have more time, take a day trip to the Ghizil-Agaj State Reserve, which is home to some 250 bird species.
11. Skip Yanar Dag (aka the "Fire Mountain")
Yanar Dag (Fire Mountain or Burning Mountain) is a natural gas fire that blazes continuously on a hillside just outside Baku. Marco Polo once described the land in this area as being on fire because of phenomena like this, but this is one of the only fires left in the region. It's small, so I wouldn't make the journey specifically to see this, but it's included in most tours of the region anyway.
Azerbaijan Travel Costs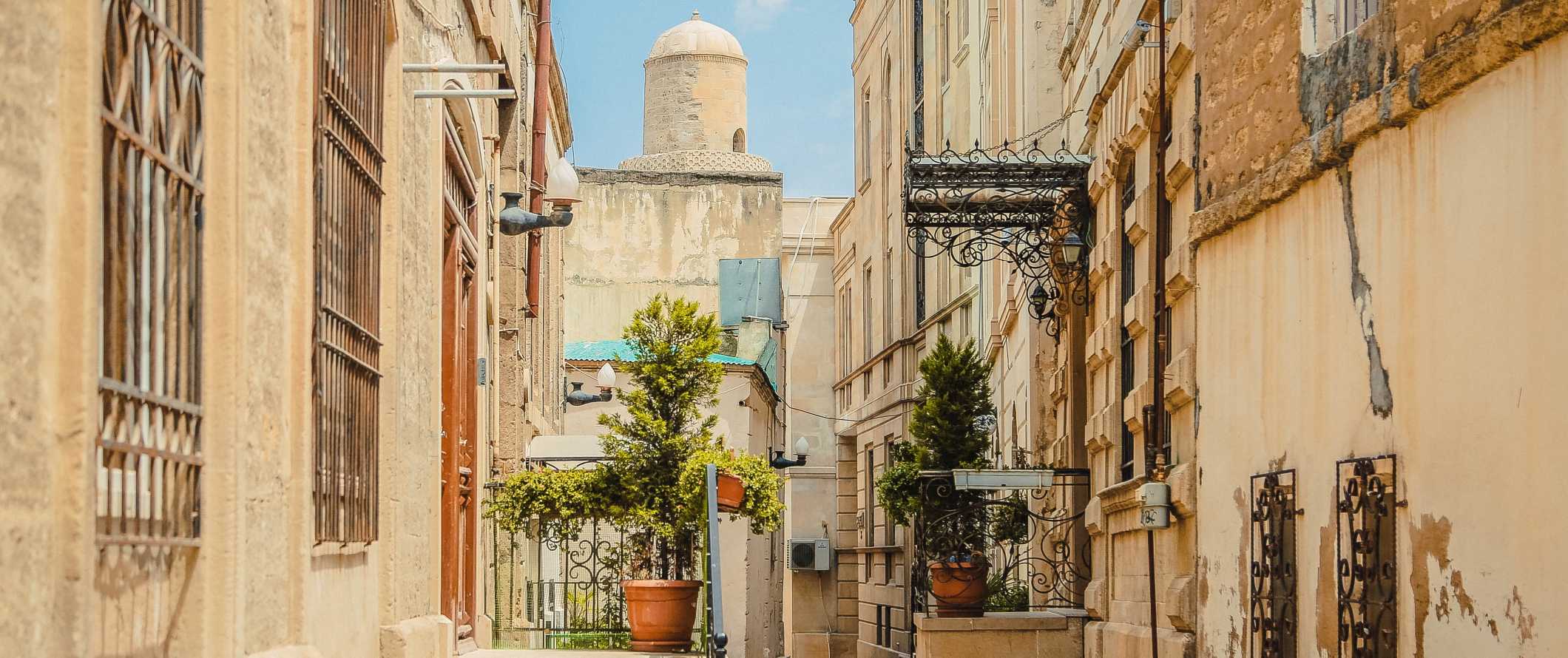 Accommodation – There are only a handful of hostel options in Azerbaijan. A bed in a 4-6-bed dorm costs around 26-32 AZN per night in Baku and 10-20 AZN anywhere else. Prices in Baku are generally higher than elsewhere around the country.
A private room in a hostel is around 40-80 AZN per night. Most hostels have self-catering facilities, Wi-Fi, and free breakfast.
Budget hotels and guesthouses are much more common in the country. These cost around 60-85 AZN per night for a double room that includes breakfast.
Airbnb is available in Azerbaijan, with private rooms starting around 25 AZN per night while entire homes and apartments cost at least 80 AZN per night.
Wild camping is legal in Azerbaijan so feel free to pitch your tent anywhere, apart from a few national parks where it is forbidden (including Shirvan, Ag Gol or Absheron National Park). If you prefer to stay at a campsite with amenities, there are some campgrounds scattered around. You won't find any online booking though, so keep your eyes peeled for signs when you get to a new place.
Food – Azerbaijani cuisine is a blend of Mediterranean and Middle Eastern flavors and is usually heavily spiced, aromatic, and vegetable-rich. Many traditional cooking methods (such as using copper or clay cookware) are still in use today. For meat, mutton, lamb, and sturgeon are the most comm, while vegetables widely used include eggplant, cucumber, red pepper, and tomato.
Dining out is very affordable in Azerbaijan. Street food like döner kebabs cost 2-3.50 AZN. Fast food like McDonald's costs about 9 AZN for a combo meal while a whole pizza is 7.50-11 AZN.
A meal at a restaurant serving traditional cuisine is around 7-11 AZN. Look for traditional meals like plov, or pilaf, which uses saffron-flavored rice, fried meat, and vegetables. This is usually shared and costs around 10-12 AZN for a large plate. Cold starters, such as hummus or salads, cost 3-7 AZN. Traditional soups, of which there are many varieties, are around 3-5 AZN.
"Western" food is more expensive, with main dishes (such as a burger) costing around 16-18 AZN. Fish or steak dishes are generally around 25-40 AZN. A three-course meal at a higher-end restaurant costs about 50 AZN.
For drinks, you can expect to pay 2-4 AZN for a beer or soda, 6-8 for a glass of wine, and 8-10 AZN for a cocktail. A cappuccino is around 4-5 AZN.
If you are planning to cook your own food, a week's worth of basic groceries costs 50-70 AZN but since most places don't have kitchens, you're better off just buying snacks and grab-and-go meals if you don't want to eat at a restaurant.
Backpacking Azerbaijan Suggested Budgets
If you are backpacking Azerbaijan, my suggested budget is 85 AZN per day. This covers staying in a hostel dorm, eating street food, cooking some meals, visiting a few attractions like museums and palaces, and using local transportation to get around.
On a mid-range budget of about 175 AZN per day, you can stay in a private hostel room or Airbnb, eat out a lot more, take some guided tours, enjoy a few drinks out, take some taxis, and visit more paid attractions.
On a "luxury' budget of 375 AZN or more per day, you can stay in hotels, get a rental car, eat out for all your meals, drink as much as you want, and do all the activities and tours you want. This is just the ground floor for luxury though — the sky is the limit!
Use the chart below to get some idea of how much you need to budget daily, depending on your travel style. Keep in mind these are daily averages – some days you'll spend more, some days you'll spend less (you might pay less every day). We want to give you a general idea of how to make your budget. Prices are in AZN.
Azerbaijan Travel Guide: Money-Saving Tips
Baku can be kind of expensive but, once you leave the capital, prices drop considerably and it's easy to see a lot and spend a little. Here are some additional ways to save money when you visit Azerbaijan:
Take a free walking tour – While in Baku, take a free walking tour to familiarize yourself with the city. I recommend using Baku Free Tour .
Wild camp – It's free to wild camp in Azerbaijan, so bring a tent and camp just about anywhere you like!
Cook your own meals – Some hostels here don't include kitchen facilities, so if you want to save money, make sure you book accommodation that does. Buying your own groceries may not be as glamorous as going out to eat, but it will save you money!
Stay with a local – If you plan ahead, you can usually find nice Couchsurfing hosts throughout the country if you look in advance. This way, you not only have a place to stay but you'll have a local host that can share their insider tips and information!
Walk everywhere – All of the major towns and cities in Azerbaijan are quite walkable, so skip the public transportation (and the taxis) if you want to save a few extra dollars.
Enjoy the free spaces – There are plenty of free parks as well as many free hiking trails around the country. Save your budget and enjoy the outdoors!
Bring a water bottle – The tap water here is generally not safe to drink so bring a reusable water bottle to save money and reduce your plastic use. LifeStraw is my go-to brand as their bottles have built-in filters to ensure your water is always clean and safe.
Where to Stay in Azerbaijan
Azerbaijan had a boom in 4-5-star hotels during the first influx of tourism, but today there are more budget-friendly accommodations available for backpackers. New hostels are popping up all the time, but most of them are still in Baku. Here are some of my favorite places to stay in Azerbaijan:
Sahil Hostel (Baku)
Baku Home Hostel (Baku)
Travel Inn Hostel (Baku)
Hostel Ilgar (Sheki)
Hostel One Lankaran (Lankaran)
How to Get Around Azerbaijan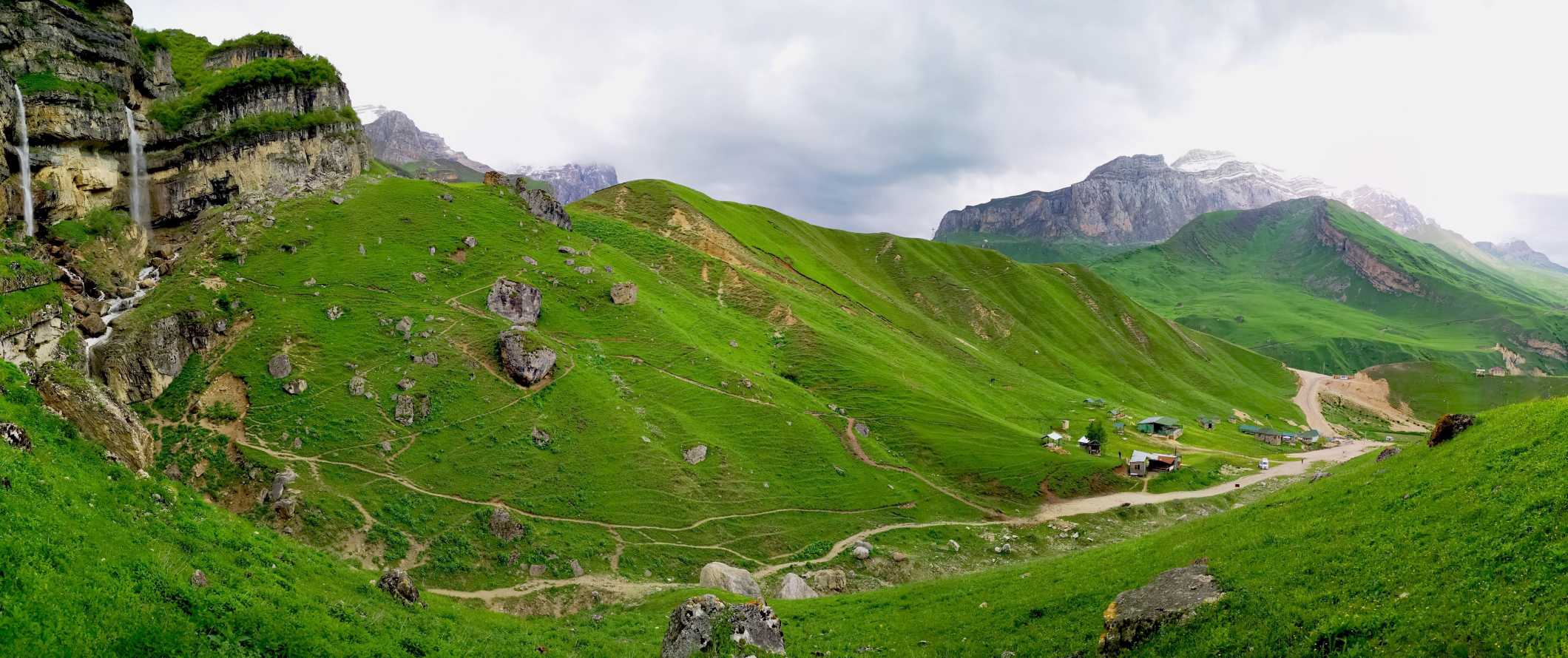 Public Transportation – Public transportation prices vary by city, but expect to pay around 0.20 AZN for a standard ticket for the bus.
Baku has a subway system that costs 0.30 AZN per ride. You need a prepaid smart card, called BakiKart, to access the metro. The card itself costs 2 AZN and you can refill it as much as you like.
If you need to take a taxi, prices start around 1.89 AZN and costs around 0.60 AZN for every kilometer.
Bus – Buses and minibuses (marshrutkas) are the most common options for intercity travel. Marshrutkas are the local favorite for getting around, so you can always find one that goes wherever you need to go. They run on general timetables, but usually just leave whenever they are full. Expect to pay about 2 AZN for an 80-kilometer (50-mile) trip. Going from Baku to Quba is around 160 kilometers (100 miles), takes around 2-3 hours, and costs 5 AZN. You usually pay the bus driver directly, but be sure to check at the stations, especially larger ones.
Trains – Trains in Azerbaijan are a lot slower and less frequent than buses; however, if you're not in a rush, night trains can be an excellent option to save on a night's accommodation. Baku connects directly with Tbilisi , Moscow, Rostov, Kiev, Kharkiv ( Ukraine ), Brest ( Belarus ) as well as towns and cities within Azerbaijan. It is possible to travel across Azerbaijan overnight in a reserved sleeping berth for as little as 9 AZN. Booking in advance is advisable during the peak season to ensure you can reserve a bunk.
For detailed information on the trains in Azerbaijan and to book, use TuTu .
Budget Airlines – The main airline that services all major cities in Azerbaijan is Azerbaijan Airlines. However, unless you are pressed for time, I wouldn't fly. It's a hassle, expensive, and flights are infrequent.
Car Rental – Car rentals can be as low as 60 AZN per day for a multi-day rental when booked in advance. If you're driving, make sure to have an International Driving Permit (IDP) as you need one for any car rental.
When to Go to Azerbaijan
The best time to visit Azerbaijan really depends on the activities you want to do. Spring and early summer are the nicest months for hiking and enjoying outdoor activities, with temperatures usually between 10-20°C (50-68°F).
From April to June is when the flowers are in full bloom in the lowlands, and July is a popular month for trekking. It's still warm during this time, but there aren't as many crowds. This time of year is especially good for outdoor activities. August can be particularly hot, with temperatures as high as 40°C (104°F).
Temperatures drop below freezing in the winter months, but if you're here to ski, this is the time to do it. Although Azerbaijan has a large Muslim population, the locals celebrate Christmas with markets and festivals throughout December.
How to Stay Safe in Azerbaijan
Azerbaijan is very safe. I mean like super safe. The country is ruled by one of those "president for life" guys (the current president has been in power since 2003 and is the son of the former president) and in order to increase tourism, has created severe punishments for crimes against tourists. Therefore, you are unlikely to get in trouble because everyone knows the harsh penalties if they get caught. There's a lot of tourist police around too.
As in any destination, never leave your drink unattended when out at the bar and never walk home alone intoxicated. Solo female travelers should feel safe here, though it's best to avoid walking around alone at night just to be safe.
When you get out of Baku, the cities and towns are pretty small and everyone knows everyone. People aren't going to try to scam you. That said, here is a list of common travel scams to keep an eye out for just to be safe.
If you need police assistance, dial 102 for help.
Also, do not try and talk politics here. Because "the president for life" type doesn't like dissent, a quick way to get in trouble is to talk about politics and criticize the government. Avoid politics to avoid trouble.
For more in-depth coverage of how to stay safe in Azerbaijan, check out this post we wrote that answers some frequently asked questions and concerns.
Always trust your gut instinct. Make copies of your personal documents, including your passport and ID. Forward your itinerary along to loved ones so they'll know where you are.
The most important piece of advice I can offer is to purchase good travel insurance. Travel insurance will protect you against illness, injury, theft, and cancellations. It's comprehensive protection in case anything goes wrong. I never go on a trip without it as I've had to use it many times in the past. You can use the widget below to find the policy right for you:
Azerbaijan Travel Guide: The Best Booking Resources
These are my favorite companies to use when I travel. They consistently have the best deals, offer world-class customer service and great value, and overall, are better than their competitors. They are the companies I use the most and are always the starting point in my search for travel deals.
Skyscanner – Skyscanner is my favorite flight search engine. They search small websites and budget airlines that larger search sites tend to miss. They are hands down the number one place to start.
Hostelworld – This is the best hostel accommodation site out there with the largest inventory, best search interface, and widest availability.
Booking.com – The best all around booking site that constantly provides the cheapest and lowest rates. They have the widest selection of budget accommodation. In all my tests, they've always had the cheapest rates out of all the booking websites.
HostelPass – This new card gives you up to 20% off hostels throughout Europe. It's a great way to save money. They're constantly adding new hostels too. I've always wanted something like this and glad it finallt exists.
Get Your Guide – Get Your Guide is a huge online marketplace for tours and excursions. They have tons of tour options available in cities all around the world, including everything from cooking classes, walking tours, street art lessons, and more!
The Man in Seat 61 – This website is the ultimate guide to train travel anywhere in the world. They have the most comprehensive information on routes, times, prices, and train conditions. If you are planning a long train journey or some epic train trip, consult this site.
Rome2Rio – This website allows you to see how to get from point A to point B the best and cheapest way possible. It will give you all the bus, train, plane, or boat routes that can get you there as well as how much they cost.
FlixBus – Flixbus has routes between 20 European countries with prices starting as low 5 EUR! Their buses include WiFi, electrical outlets, a free checked bag.
SafetyWing – Safety Wing offers convenient and affordable plans tailored to digital nomads and long-term travelers. They have cheap monthly plans, great customer service, and an easy-to-use claims process that makes it perfect for those on the road.
LifeStraw – My go-to company for reusable water bottles with built-in filters so you can ensure your drinking water is always clean and safe.
Unbound Merino – They make lightweight, durable, easy-to-clean travel clothing.
Top Travel Credit Cards – Points are the best way to cut down travel expenses. Here's my favorite point earning credit cards so you can get free travel!
Azerbaijan Travel Guide: Related Articles
Want more info? Check out all the articles I've written on backpacking/traveling Azerbaijan and continue planning your trip: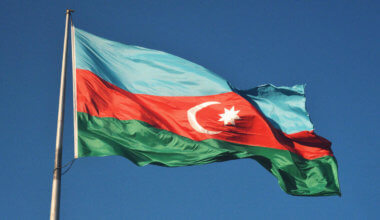 Is Azerbaijan Safe to Visit?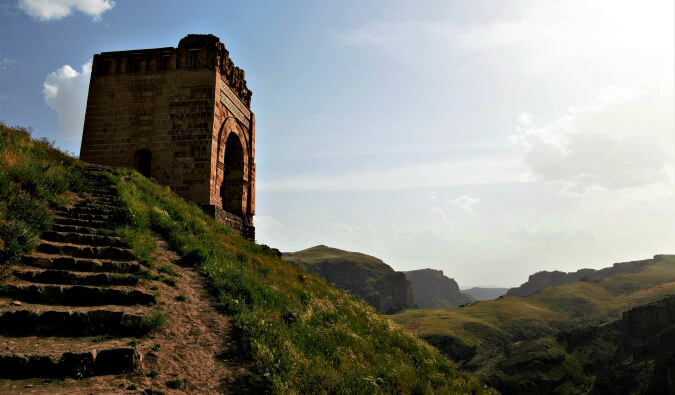 Azerbaijan Itinerary: 1 & 2-Week Routes for First-Time Visitors
Get my best stuff sent straight to you, pin it on pinterest.
Where To Stay
Transportation
Booking Resources
Related Blogs