Sagada Travel Guide: A Peaceful Mountain Destination
Best Time to Go to Sagada
By Private and Shared/Joiner Tours
By private car, where to stay in sagada, what to see and do in sagada, spelunking at sumaguing cave, see the view at kiltepan peak and marlboro hills, walk through history at lumiang burial cave, rise and shine at kapay-aw rice terraces, know the beginnings of sagada at ganduyan museum, forget the blues at blue soil hills, what to eat in sagada, practical information and tips, what to wear, what to bring, sample itinerary in sagada, day 0: travel to sagada, day 1: arrival + cultural tour, day 2: sightseeing + weaving + cave excursion, day 3: museum tour + nature appreciation + souvenir shopping, day 4: departure.
Explore the laidback town of Sagada in the Mountain Province known for its hanging coffins. Find out the best time to go, how to get there, the top attractions to visit and activities to try, what to eat, and how to plan your itinerary with this guide.
If your idea of the perfect vacation is waking up to sunny yet chilly weather, with lush natural landscapes as your backdrop, Sagada is going to be your happy place.
Find the best tours in Sagada for your travel itinerary
Book this 1-week Ilocos Baguio Sagada tour package
Situated in the Mountain Province of Cordillera Administrative Region in North Luzon, around 415 km from Manila, Sagada offers a relaxing escape from the hustle and bustle of city life.
Famed for its mysterious and historic hanging coffins, these Sagada tourist attractions are a testament to 2,000 years of Igorot burial traditions that you can marvel at today.
Sagada is known for its scenic and calming mountain valleys, rice fields, limestone caves, refreshing waterfalls, and cliffs that come with a sea of clouds.
See our popular Sagada Tours and Activities
1-month philippine itinerary tour package | bohol to cebu, palawan, boracay, siargao, baguio, ilocos, 2-week ilocos, mt. pinatubo, baguio & sagada philippines tour package | flight + hotel, 2-week llocos, mt. pinatubo, baguio, sagada & bohol philippines tour package | flights + hotel.
Add to that the friendly Igorot locals, fresh servings of food, coffee, and lemon pies. It's a destination where you can find the peace and quiet you've been yearning for.
Read on to know more about Sagada to plan your ultimate getaway.
Sagada weather is similar to Baguio - chilly on both dry and wet seasons. Being in a mountainous region, it's a haven away from the humidity in other Philippine cities, and where agriculture is a booming business of bountiful fresh vegetables and fruits.
The best time to go and discover Sagada is during the wet season (November to February) where you can expect temperatures that drop to as low as 4 degrees Celsius.
The wet season is also the harvest period for fruits and produce so you can taste the best of Sagada and participate in festivals. The only downside would be the crowds as this is also considered as the peak season for travelers.
In fact, specific festivals are held to celebrate the harvest season from October to early January. Rice is also celebrated through Begnas Festival, a sacred thanksgiving tradition that happens three to four times a year.
Panag-etag, a festival native to Sagada, is a tradition that locals do to preserve their ancient culture, encourage ecotourism, and improve the economy. It happens annually from January 30 to February 2 where every visitor can participate and partake in various ceremonies (parades, holy mass, rituals).
If you want to avoid heavy crowds, you can go just in time before the rainy season starts (June to October). You can expect a colder climate than usual due to the rain showers so it's important to bring raincoats and umbrellas to keep you warm.
The dry season (March to May) is also known as summertime in Sagada. Expect moderate crowds, and warm weather conditions so dress comfortably.
Depending on your vacation schedule, secure your trip by planning ahead and checking the weather conditions and calendar events to prepare against the weather and crowds.
How to Get to Sagada
What was once a challenging place to visit, is now made convenient with multiple ride options bound for Sagada.
Due to the popularity of the place, tour and bus companies have made it possible to enjoy a smooth and streamlined system despite the long hours of travel.
Here are the ways and some tips on how to best visit Sagada:
Bus trips are the easiest way to visit Sagada due to the amount of operating companies available in Pasay and Cubao. It's also the most wallet-friendly way to travel, if you don't mind the longer travel hours and stopovers.
From Manila via Baguio
If you're coming from Manila, you can buy tickets at Victory Liner , one of the regular bus companies that operate daily to and from Manila to Baguio. They have terminals at Pasay, Cubao, and Caloocan and you can choose from a basic or deluxe riding experience.
Within 4 to 6 hours, you will arrive at Baguio City where you have to ride a taxi bound for Dangwa Station to ride the GL Trans Bus going to Sagada. Trips are from 6AM to 1PM, and will take you around 5 to 6 hours.
From Manila via Benguet
In Sampaloc, Manila you can ride Dangwa Tranco bound for Banaue. Buses leave at 10PM and takes around 9 hours. Upon arrival in Banaue, you can ride jeepneys to Sagada. There are mini buses and vans as well but only on rare occasions.
The entire trip will take 3 to 4 hours with the same road conditions as the Baguio route so prepare wisely to have a comfortable journey.
Non-Stop Bus from Manila
Coda Lines operates non-stop trips from Quezon City to Sagada every 9PM, with a total of 10 to 15 hours trip (including stopovers). There are also additional trips in super deluxe, deluxe, and VIP service. Apart from the non-stop route from Manila to Sagada and back, Coda Lines also have routes on Bontoc, Banaue, Baguio, and Kiangan.
If you're looking for a cost-efficient and time-efficient way to travel to and from Sagada, your best option would be to book tour operators.
A lot of tour operators offer both transportation, accommodation, entrance fees, activity itineraries, and food so you won't have to plan other things and focus on experiencing Sagada to the fullest.
Make sure to find the right tour operator - do your research, check the comments, ratings, and reviews, compare tour packages and you're all set!
If you plan to Do-It-Yourself your entire Sagada trip, you can approach it in two ways: renting a car with driver, or driving on your own.
If you want to go around most Sagada tourist spots at your own pacing, having your own car will be the best option to make. Sagada is a mobile data / Wi-Fi friendly place so you can Waze or Google Maps your itinerary away.
Here are some tips to help you prepare for the long and challenging ride ahead if you're up for the task and the experience:
If renting a car/car driver to Sagada:
1. Social media is your friend. A lot of individuals are now offering rent-a-car / van services on different daily rates. Check previous user reviews and make sure to ask everything especially about gas, car limitations, driver rates (if renting one), etc.
2. Save the contact numbers and arrange schedules before your trip. Don't let stress get in the way of your Sagada getaway.
3. Make sure the rented car is in the best condition and ready to face Sagada's rough roads.
If driving on your own to Sagada:
1. The roads of Sagada are bumpy, twisty, and extremely challenging. It won't be an easy ride especially once you arrive at the mountainous roads of Baguio to Sagada, particularly the Halsema Highway (the 'Mountain Trail', one of the Philippines' deadliest highways).
If you're a city driver, it might take time to adjust to the long ride + road condition so prepare ahead. If you're not confident enough to face the road, renting a driver might be suitable.
2. With the construction of TPLEX (Tarlac - Pangasinan - La Union Expressway), the total ride to Sagada have been reduced to 8 to 12 hours depending on your driving speed and resting times.
To maximize time, you have to go for an overnight drive (around 10PM) to avoid traffic and rushing crowds especially during holidays or vacation season.
You have an option to rest at Baguio City and wait until dawn to continue driving to Sagada so you can better manage the road and see clearly. There are gas stations and food stores along the way so you can be rest assured you'll be covered.
3. While there's mobile signal and Wi-Fi in Sagada's main town proper, you might get signal bumps prior to your arrival as you'll be driving beside mountains where GPS / internet connectivity might get slow or lost.
To prevent this, you can download the offline version of the map to Sagada via Waze or Google Maps. You can also ask locals along the way but it might be a bit tricky especially if you're driving at night.
4. Make sure to get your car checked and ready for the long ride. Experiencing engine failures will eat up your time and make you more tired to continue the journey. Ensure your car is in the best shape so you can have a continuous drive.
5. Take rests if you must! Have a shifting schedule if you have a fellow driver in your travel party. Never drive when you're sleepy or tired.
Remember: You're driving along the mountains so there are instances of falling rocks and cliffs. Avoid accidents by being in tiptop shape as well. Bring energy snacks and drinks, be patient, and drive carefully.
You can enjoy a variety of Sagada hotels and other accommodation styles. From Bed and Breakfasts (BNBs), private hotels, hostels, and homestays, you have a lot of options to choose from.
Budget Accommodation
As you've probably read and heard from fellow travelers, Sagada is a budget-friendly place - from food, activities, to accommodations. Whether you're looking for a comfortable place to crash the night for a few days, or a luxurious stay, you've got lots to choose from:
Shamrock Tavern Inn
Located at Makingking, Demang, Shamrock Tavern Inn is a cozy room ideal for backpackers aiming for a short-term stay.
The inn comes with free internet and parking, dry cleaning and laundry service, room service, concierge, sun terrace, and a restaurant bar / lounge. The location is also near to common spots such as GAIA Café & Crafts, Sagada Brew, and Hanging Coffins.
Isabelo's Inn and Cafe
Isabelo's Inn and Café provides a place for relaxation and rejuvenation at the heart of Poblacion, Sagada.
Famous for its family-friendly features as well as proximity to known spots, the inn also includes free internet and breakfast, non-smoking and family-friendly hotel rooms, and laundry service.
Agape Log Cabin and Restaurant
Somewhere at Dagdag, Sagada lies an enchanting cabin that's made entirely of logs. If you're looking for a rustic, yet moody stay Agape Log Cabin and Restaurant is the perfect pick for you.
What's more, it comes with free parking and Wi-Fi, non-smoking hotel and family rooms, restaurant, and laundry service.
Mid-range Accommodations
If you have some budget to spare, you can level up your accommodation preference with these options:
Coffee Heritage House & Hostel
If you're a coffee lover, this pleasant hostel at Sitio Nadatngan, Brgy. Madongo, Sagada will pump you up. As the first coffee-themed destination in town, Coffee Heritage House & Hostel is more than just a bed and breakfast.
Here you will meet coffee enthusiasts and specialists as well as partake in coffee-related activities that help promote Philippine coffee.
Apart from the smell of coffee in the morning, there's also free Wi-Fi and parking, non-smoking hotel and family rooms with multilingual staff, breakfast offering, laundry service, and a restaurant bar / lounge to get you settled.
Treasure Rock Inn
Great views, great atmosphere, great stay. The Treasure Rock Inn at Makingking, Demang, Sagada is a great valuable find when finding your second home at Sagada.
Warm, cozy, and welcoming, you can also find free Wi-Fi and parking, non-smoking hotel and family rooms, kitchenette, and a bar / lounge to complete your experience.
Inandako's BNB
A family-owned establishment, the Inandakos BNB situated at Kenlibed, Dagdag, Sagada provides a genuine hostel environment for all – cozy and comfy beds, social places, serene atmosphere, and energizing coffee.
Complete your stay with free Wi-Fi, non-smoking hotel and family rooms, and several breakfast offering.
Luxury Accommodations
While Sagada is not a place to seek exceptional luxury hotels, it still has its own share of high-quality quarters:
Martha's Hearth
Sheltering travelers since the '70s, Martha's Hearth is a guesthouse where you'll always feel at home in Dokkos, Sagada. Here, guests are treated as family and will forever be treated as one.
Newly reopened and renovated, the inn provides a majestic experience with free parking and romantic hotel-style features.
Nellies Chalet Sagada
A luxury inn found at the quiet streets of Nangonogan Road, Sagada. Aunt Nellie's Chalet has four comfortable rooms you can call your own for the duration of your stay. Experience peace and quiet as you fully immerse in the surroundings. The chalet also comes with free Wi-Fi and parking.
Rock Inn is a mid-range and quaint hotel style at Batalao, Sagada that's known for its fresh oranges and vegetables harvest.
Bask in nature and enjoy raw food from the gardens of the inn, as you relax your heart out at the Filipino-style rooms. Also available at the inn is free parking, non-smoking hotel and family rooms, shuttle bus service, and restaurant.
While the peace and quiet is an enchanting quality, Sagada offers a multitude of activities for the young at heart, adventurous at heart, and wanderers at heart.
Known as 'The Big Cave', Sumaguing Cave has the largest enclosure from the 60 caves found underneath Sagada. Discovering Sumaguing Cave is a popular activity when in Sagada as you will see countless rock formations - animals, food, and people shapes.
The entire trail is divided into three levels:
Level 1 - Going down the cliffs (caution: it's slippery and full of bat wastes)
Level 2 - Rock formations (reminder: shoes and slippers will be removed)
Level 3 - Get wet in the tunnel (prepare: move through narrow openings and wash in stone-cold waters
Sagada is famous for its sea of clouds sighting at Kiltepan Peak and Marlboro Hills. You can either camp out to wake up to this majestic view or wake up before dawn breaks to rise in time with the sun and clouds.
Plan early, the sea of clouds viewing is one of the most popular things to do at Sagada and there will be lots of people waiting for the morning to rise. This is where people with broken or complete hearts go to.
Tip: ride the jeepney en route to Kiltepan or Marlboro Hills, topload version. It's fun, thrilling, and you get to see marvelous sights as you breeze through!
A 30-minute walk from town will take you to Sagada's ancient sites. This is where the oldest coffin is said to be 500 years old.
You know you've reached the cave when you see hundreds of stacked coffins at the entrance, with symbolic markings of life and fertility. The 'Cave Connection' challenge starts with the Lumiang Burial Cave.
Kapay-Aw rice terraces is Sagada's own version of the rice terraces in Banaue. It's not just a simple walk in the terraces, you can see the lush agriculture life cultivated by the locals to make time for harvest. As you climb and rise through the stairs you will see a majestic view that only the sunshine-y valleys of Sagada can provide.
Ganduyan, the Kankana-ey origin of Sagada's name is a fitting name for this museum. Listen to Christina Aben (owner of the museum) as she narrates Sagada's birth and the stories in between.
You can view sculptures, traditional clothes, and Sagada's rich history inside, however picture-taking is not allowed.
This is an awe-inspiring natural wonder. Best viewed after the Marlboro Hills sunrise viewing or just before sunset, let yourself be transported to a fantasy land once you caught sight of Blue Soil Hills and the towering trees surrounding it.
While the trek to Blue Soil Hills is achievable even for beginners, wear appropriate trekking equipment to avoid injuries.
There are a lot of food and culinary trips you can do in the Philippines, which is why you should try out local food and restaurants during your trip to the beautiful province of Sagada.
Sagada Lemon Pie House
Lemons are an unusual sight in the Philippines. But in Sagada, it's a different case. The famous lemon pie from Sagada Lemon Pie House is one of the most sought after treats that will complete your Sagada adventure.
In fact, the rustic feel and interior complement the food you will be consuming - warm, hearty, and memorable.
Apart from lemon pies, they also offer other breakfast, lunch, and dinner meals. If you plan to order boxes of lemon pies, make sure to order in advance as they tend to get sold out - quick!
GAIA Cafe & Crafts
An atmospheric place to be creative, relax, and be one with nature as you marvel at the lush forests of Ambasing, Namsung, Balugan / Bugang, Ankilang, and Suyo valleys.
Best time to eat here is during brunch or merienda to savor their locally-grown delights and coffee and view the Kankana-ey fashion and crafts.
Yoghurt House
Yoghurt House has been voted as the #1 best food house in Sagada. While their yoghurt is a must-try (it's a different experience than the ones available in the metro cities) their fresh and local menu leads to a good morning, indeed.
After eating, you may view the Sagada photo exhibit but taking pictures are prohibited.
Tip: the first floor gets crowded easily so best to find a place near the windows (if you don't mind the jeepney fumes) or find a seat at the second floor or balcony - fast.
Currency
There are ATMs near the tourism center for you to use. But it's still best to bring enough cash in case of emergencies.
Pack lightly, but wisely. Depending on the season, make sure to bring comfortable and light clothes for layering to counter the cold and activewear for spelunking and trekking. Bring sandals, slippers, and first aid kit to help you with motion sickness and injuries.
Make sure to bring medicine. The way to Sagada contains lots of twists, turns, and bumps, so you have to arm yourself with remedies to counter motion and altitude sickness.
Travel responsibly. Refuse single-use plastics and utensils. Bring your own tumblers, lunch boxes, and utensils to reduce trash. Sagada is an eco-friendly destination and every traveler is encouraged to practice and be a good steward of responsible traveling.
With so many activities and attractions to see in Sagada, how do you schedule them in your trip? We recommend at least 4 days in Sagada for the complete experience. Here's a sample itinerary to guide you.
See our popular North Luzon Tour Packages
3d2n the manor hotel baguio staycation package with city tour, 2d1n la union package | aureo hotel with breakfast, 4d3n the manor hotel baguio staycation package with city tour.
09:00 PM - Departure from Manila
08:00 - 09:00 AM - Arrive in Sagada
09:30 AM - Visit Sagada Tourism Center (registration, tour packages)
12:00 NN - Lunch at Yoghurt House
02:00 PM - Hotel check-in
02:30 PM - Visit Echo Valley, Hanging Coffins, Church of St. Mary the Virgin, and more. It's included in a day tour in Sagada
04:00 AM - Visit Kiltepan Peak. Go sightseeing in Marlboro Hills
08:00 AM - Visit Sagada Brew
0 9:00 AM - Try Sagada weaving and pottery
10:00 AM - Cave connection experience. Lumiang and Sumaguing Caves are popular attractions included in Sagada tours
02:00 PM - Visit Sagada Lemon Pie House
07:00 PM - Dinner
06:00 AM - Blue Soil Hills
10:00 AM - Brunch at GAIA Arts & Crafts
11:00 AM - Ganduyan Museum
12:00 NN - Lunch
01:00 PM - Kapay-aw Rice Terraces
02:00 PM - Sagada Cemetery
03:00 PM - Sagada orchard (ideal for harvest season)
04:00 PM - Souvenir shopping
09:00 AM - Hotel check-out
10:00 AM - Breakfast
11:00 AM - Back to Manila
Start Planning Your Trip to Sagada Philippines
If you find yourself going to bed and dreaming of a calming fortress away from the busy concrete jungle, it's a sign that you have to go to Sagada and explore its tourist spots, stat.
Gather your family, invite your friends, call your special someone, or go on your own - take this moment to collect your thoughts and reward yourself with a well-deserved break at Sagada.
Bookmark this guide to help you plan your ultimate Sagada getaway. The journey might be long, but it's going to be worth more than what you see on the pictures and blogs. Look into Sagada tours and activities that you can add to your itinerary for a hassle-free adventure.
Popular articles
Best Palawan Guide: Top Tours, Where to Stay, How to Get Around
20 Most Beautiful Sandbars in the Philippines: White Sand, Longest, Vanishing
11 Best Santorini-Like Resorts in the Philippines: Near Manila, Cebu, Palawan, Vigan
15 Best Tropical Bali-Like Resorts in the Philippines: Near Manila, Siargao, Cebu, Bohol
10 Best Treehouse Resorts in the Philippines for a Scenic Getaway at Mountains, Beaches & Rivers
Other interesting articles.
Best Boracay Nightlife Bars & Clubs: White Beach, Happy Hour, Parties
28 Best Luxury Resorts & Hotels in the Philippines: 5-Star, Most Expensive, Exclusive Islands
Best Batangas Vacation Rentals & Beach Houses for Your Next Staycation
Top things to do in the philippines.
Discover all the adventures you can experience in the Philippines
Philippines Tour Packages
Boracay Island
Bohol Island
Cebu Island
Coron Palawan
El Nido Palawan
Siargao Island
Iloilo City and Nearby
19 Best Things to Do in Sagada (With Tips and Guide)
Please share this post:
Sagada is undoubtedly the most beautiful and mystic place you can ever find in the northern Philippines. It is where I had so much fun, gained peace of mind, and felt immeasurable awe —all at the same time!
Tucked high in the mountains, Sagada is blessed to have eternal spring . That said, it is undoubtedly the unusual side of the Philippines you would want to go to to escape the country's perpetual summer .
In this blog post, I will explain why you should visit Sagada . Also, you will know the activities & attractions in Sagada and some of the essential things you must know before you come to Sagada . Sagada is a destination you'll love and won't regret visiting!
This post contains affiliate links. I may receive a tiny commission at no additional cost to you.
Use the table of contents to skip to topics.
Perched in a valley within the Philippine Cordillera mountains, Sagada is the face of the Philippines that most tourists from other countries aren't so familiar with . There are no beaches and coconut trees but breathtaking mountains and pine trees.
If you're a foreign tourist wanting to discover a hidden gem in the Philippines, Sagada is the best destination I can recommend.
Sagada was my first mountain experience, which changed my life forever. I'm not kidding! And, there are no exaggerations in it. 
Awe-filled by breathtaking views of the mountains and scenery in Sagada, I was partly cured of my anxiety from a depressing "dream" job. 
In Sagada's blue soil , while breathing the freshest air in my life, I realized that the world really has beautiful places. And life, like the world, isn't only about suffering and ugly experiences. Everything has its lovely side. And sometimes, we can only find it if we desire to see it.
Sagada is beautiful in many ways. But, for me, the profound benefits we can get from traveling to Sagada serve the best reasons to visit Sagada.
Let me explain further by answering the question:
Is Sagada Worth Visiting?
For several reasons, yes, Sagada is worth visiting ! It is one of the best places to discover a fascinating culture (the Igorots and their hanging coffins) , see marvelous works of indigenous Filipinos (rice terraces), and behold rare wonders in the mountains (blue soil).
The pristine nature and spiritual heritage of the Igorot people in Sagada can undoubtedly give you an authentic mountain experience . Because of this, I can personally describe Sagada as a mystical place in the Philippines, a destination best for finding inner peace.
Sagada is pure and sacred.
When I visited Sagada, I learned that the folks in Sagada don't sell their lands to outsiders . Even big tourism corporations aren't allowed to alter their surroundings and do business inside Sagada. 
Believe me, Sagada is a totally different destination .
Although food prices (and other commodities) are relatively higher in Sagada, I did not feel like it was a tourist trap. This is why when I buy their souvenirs and meals, in my mind, it's helping their community thrive.
Nonetheless, Sagada offers numerous things to do, which is also why it is worth visiting. There are activities and attractions where you can discover their culture, have an adventure, taste their local food, and relax.
Ultimately, based on my experience, Sagada is a lovely destination for creating wholesome moments with other people.
It is! Whether you're with acquaintances or your family, friends, or friends that became a family.
You'll learn them all (what and how) in the next section of this post.
Back to [ Table of Contents ]
19 Best Things To Do In Sagada
Despite being only a small municipality in the province of Mountain Province, Sagada offers several attractions you can't all visit within a weekend. We can group them in four categories:
I will discuss each attraction/activity in Sagada after this summary:
Culture. If you want to learn the culture in Sagada, there are four places you must visit:
Sagada Weaving
Church of saint mary the virgin, sagada pottery.
Echo Valley and the Hanging Coffins
Among the cultural attractions in Sagada, the ones which you should not miss are the Echo valley and the Hanging Coffins. It will give you insights into the Igorot's unique culture.
You'll learn more about Hanging Coffins later.
Adventure. Sagada lets you have adventures, too! I think these are the highlights of a memorable trip to Sagada. Don't miss trying at least one of these:
Cave Connections / Lumiang Cave to Sumaguing Cave
Kiltepan Viewpoint
Marlboro Hills
Sagada blue soil, bomod-ok falls.
Among the adventurous attractions in Sagada, the Blue Soil is the one you must not forget to include in your itinerary. It is a gem and a wonder unique to Sagada. 
When I saw the Blue Soil, I was incredibly amazed by its appearance. It appears like snow, but when you touch it, you'll know it's really soil. Fascinating.
Food. Your wanderlust and taste buds are satisfied on a trip to Sagada. The local meals and dishes in Sagada have a taste enriched by the freshest vegetables and fruits from the Philippine mountains. 
Definitely, pigging out in Sagada is an unmissable thing to do! Here are the restaurants I recommend:
Gaia Cafe and Crafts
Sagada cellar door, sagada brew, yoghurt house, sagada lemon pie house.
I've tried eating in every one of these restaurants I mentioned. But the restaurant I had the best moment in Sagada was Sagada Cellar Door. I'll tell you my story about this later!
For the quality of the food, I recommend the Yoghurt House. The serving also is enormous! It's worth your money.
Lastly, if you're looking for an Instagrammable restaurant in Sagada, Gaia Cafe & Crafts is the place to go. While you eat, you can see a view of the rice paddies at the foot of the mountains.
Nature. After dining and doing all the adventures, you can relax in these nature-related places in Sagada:
Rice Terraces viewpoint
Orange Picking at Sagada Rock Inn and Cafe
Ambasing Bus Ruin
Picnic or camping in Lake Danum
Forest Bathing everywhere
For me, the best place to spend the most time in nature in Sagada is Lake Danum. Lakes in the mountains have a magical appearance, especially during sunrise. (The lake can be extremely crowded during the peak season and sunset)
Before we discuss each, remember that you can use the table of contents to navigate this post. You may skip the parts you want to read.
So without further ado:
1/19 things to do in Sagada (culture)
Let's kick off the list of things to do in Sagada with Sagada Weaving . It is located northeast of the town center, 7 minutes away by foot.
Let's say you are coming to Sagada from Manila via Bontoc in a private vehicle. Then, Sagada Weaving is the first attraction you can list in your itinerary. It's just beside the road connecting Sagada and Bontoc , and you should be able to easily spot it.
In a nutshell, Sagada Weaving is home to good-quality handwoven products designed with traditional patterns. They have been weaving bags, slippers, souvenirs, and apparel since 1968. 
When you go inside, you can check not only their merchandise but also how they weave their products. Here, you'll see the creativity of the locals through the products they're weaving.
It's like a mini-museum of local's traditional art.
2/19 things to do in Sagada (culture)
In the town center, near Sagada Municipal Tourist Information Center, you can find an  Episcopal church or Anglican church . It is a rare find in the Philippines that's mainly Catholic.
How did the Episcopal church reach Sagada?
After the Spanish colonizers handed over the Philippines to the United States of America in 1904, the Episcopal Church began sending missionaries to the Philippines. One of the towns they've reached is Sagada, where they built the Church of Saint Mary the Virgin . 
The Church of Saint Mary the Virgin looks very western , especially with its masonry construction . 
With the mild weather in Sagada and all the pine trees around you, a short stroll in front of this church can make you feel like you're not in the Philippines at all .
Come inside the church and feel some solemnity. I like the lighting effects made by the windows at the sides of the church, though.
Behind the altar, you can see the kaleidoscopic flower stained-glass window behind the statue of Chris at the Choir.
3/19 things to do in Sagada (culture)
Aside from weaving, the locals of Sagada create pots too. It is a tradition of the Cordilleran people that dates back to ancient times. You can discover it in Sagada Pottery.
Where is Sagada Pottery ?
You can walk to Sagada Pottery from the town center if you don't have a private vehicle. You can find it along Sagada-Besao (west) road, and it should take 30 minutes to get there.
(Remember that Sagada is a mountainous place. So you must expect inclined/high gradient roads even in different parts of the town.)
When you come to Sagada Pottery, you will meet the skilled potters Siegrid Bangyay and Tessie Baldo . They will introduce you to the pot-making process using their rotating platform.
If you want, you can make your own pot ! They will teach and guide you to shape a piece of earth with your hands. It can be a fascinating experience, especially for culture seekers.
Sagada Pottery has a gallery of beautifully handcrafted pots in their cute hut in the middle of the pine forest. Some are for sale as souvenirs.
Echo Valley and Hanging Coffins
4/19 things to do in Sagada (culture)
Aside from the rice terraces, the Hanging Coffins of Sagada are perhaps the most interesting cultural attraction you can find in the northern Philippines. 
You should come here because it is also a unique tradition practiced only in very few places in East and Southeast Asia , including Sagada .
From the perspective of the Igorot people, what are the Hanging Coffins all about?
In a nutshell, Hanging Coffins is a tradition followed by locals believing that the higher the coffin, the closer they are to heaven when they die. It is the testament of a meaningful reverence of Igorots to their ancestors.
To go here, you must have a guide which you must coordinate with. (Get a guide in Sagada Municipal Tourist Information Center)
From what I've experienced, even if people can visit the Hanging Coffins without a guide, having a guide is necessary. Why? Because the guide will be the one who can explain the Hanging Coffins to you very well .
The guide will let you know every detail of their Hanging Coffins tradition. Like, why their coffins are relatively smaller compared to modern coffins. Also, as to how their ancestors can fit inside the coffins . Etc.
Before you reach the Hanging Coffins, you'll have to hike for about 30 minutes on a paved, cemented path. In the middle of the trail, you'll pass through the Echo Valley , where you'll literally hear your voice come back when you shout. 
In popular culture, the Echo Valley is where some Filipinos used to scream words of their pain after a heartbreak.
However, shouting is now prohibited due to disturbances affecting wildlife. Visitors can feel more tranquility while trekking the valley.
Cave Connection (Lumiang Cave to Sumaguing Cave)
5/19 things to do in Sagada (Adventure)
Believe it or not, there are more than 60 caves underneath Sagada ! You can have an adventure you won't forget in two of them.
The names of the caves you can have an adventure into are Lumiang Cave and Sumaguing Cave . In them, eye-opening rock formations await. They will uncover as you do the craziest spelunking activities.
Lumiang cave and Sumaguing cave can be traversed together since a route connects them. The activity in which you will explore both caves is called Cave Connection .
The Cave Connection starts from the mouth of the Lumiang Cave and ends in Sumaguing Cave.
In the beginning, you will be welcomed by hundreds of coffins stacked together based on tradition. The coffins are very similar to the ones you'll see in the Hanging Coffins. Don't let them scare you!
Anyhow, to try Cave Connections, you must be physically or mentally prepared. You rappel, crawl, climb, and squeeze yourself between the slippery rocks and boulders. Fun and adventure, it is!
Claustrophobic fellows might not want to try, but it's a great place to overcome fear .
The whole Cave Connection spelunking adventure lasts for 4 hours . You will need a guide to get and try the Cave Connections. Don't worry about where you can find the caves, your guide will bring you there.
Kiltepan View Point
6/19 things to do in Sagada (Adventure)
Kiltepan is the attraction in Sagada, which became viral on social media after it was featured in a local movie. It is one of the vantage points in Sagada, where you can witness a heaven-like sunrise view with a sea of clouds .
If it is not foggy, the nearby rice terraces will be visible from Kiltepan.
You can hike to Kiltepan or ride a jeepney departing the town center at 4:30 am. It is that early because you need to catch the spectacular sunrise. The jeepney ride is approximately 15 minutes.
When I visited Sagada, the Kiltepan viewpoint was closed because of a nearby fire incident. If you want to learn how to see Kiltepan, I suggest you check this article from LostAndWonder .
7/19 things to do in Sagada (Adventure)
The Marlboro Hills is another spot in Sagada where you can watch a beautiful sunrise and, at the same time, witness a sea of clouds. 
Like Kiltepan, the Marlboro Hills is a viewpoint for watching the sunrise in Sagada. And, it's best to get to the Marlboro Hills before sunrise . This way, you may have a lot of options for a good vantage point.
During the weekends and the peak season (usually December, January to March), Marlboro Hills and Kiltepan can be badly crowded.
However, unlike Kiltepan, you can't spot the rice terraces from the Marlboro Hills. Also, going to the Marlboro hills requires a 3-hour hike after a 15-minute jeepney ride from the jump-off location.
Yeah, you really have to get up early to catch the sunrise in the Marlboro Hills.
To get to the Marlboro Hills, all you need to do is to coordinate well with your guide (At least a day before). Your guide shall make all the arrangements (as I have experienced). That includes the vehicle to the jump-off location.
Based on my experience, hiking the Marlboro hills is not that demanding. But I suggest conditioning your body a week or days before you get to Sagada if you plan to hike to the Marlboro Hills.
By the way, Sagada isn't the only place in the Philippines where you can find absolutely scenic views.
Look at my list of the Most Beautiful Mountains in the Philippines .
I also suggest you check the views from Mount Pulag and Mount Mayon —the two most beautiful mountains in the Philippines.
Also Read: The 7 Best Things To Do (Best Experiences!)
8/19 things to do in Sagada (Adventure)
Do you know what the most awe-inspiring destination in Sagada is? It's the Blue Soil. Well, at least for me! LOL.
But, honestly, it's a unique natural wonder you can't find anywhere else in the Philippines. And you must see it. Maybe, it can change your life as it did to me. (as I mentioned in the introduction)
The thing is, it's really magical. When I stood on a small hill overlooking the Blue Soil , I literally said "wow" to myself. 
I still remember standing in that spot, breathing the freshest air in my life.
I even closed my eyes, stopped taking photos, and put my phone in my pocket. I did not miss the moment to commune with nature (hear the sound of the breeze and the sound they make with the branches of the trees)… and let it take away all the things that trouble me within.
That was deep! But, I think you should also do it. I promise, it heals.
The Blue Soil was also the part of Sagada where I felt immense awe filling me. There's no word to describe that feeling . For me, to explain that feeling is like for me to answer the question, "how did the Blue Soil come into existence?"
I'll just say, "I can't tell."
Of course, as a curious guy, I did not forget to ask our guide, "how was it possible?"
He wasn't very clear with his answer, though. What I understood was that there are rich deposits of minerals below the blue soil . They make chemical reactions causing the discoloration of the ground, turning it into blueish white like snow.
Do you now also want to see the Blue Soil?
Again, all that you need to do is to coordinate with your guide . You must know that a hiking trail links the Marlboro hills and the Blue Soil. You can ask your guide to bring you that way so you can save time visiting the best attractions in Sagada. 
Leaving the Marlboro Hills immediately after sunrise is a must if that will be your itinerary. 
Departing from the Marlboro Hills early will give you much time to appreciate the Blue Soil before the crowd invades it . The Blue Soil's gonna be full of people, and it will be tough to find a spot where you can meditate or simply take pictures without photobombers. 
9/19 things to do in Sagada (Adventure)
Bomod-ok is a 61-meter (200-feet) tall majestic waterfall you won't miss taking long exposure shots with your camera. It is located near the communities called Pide and Fidelisan in the northern part of Sagada.
It can only be reached through hiking from the jump-off site in Barangay Bangaan , which is approximately a 15-minute drive from the town center. You can book a vehicle ride to Barangay Bangaan from the Municipal Tourist Information Center.
I put Bomod-ok falls on the last part of the adventurous things to do in Sagada because I think it must be the last place you must see when you visit Sagada .
Why is that?
It is because you can be so exhausted after you visit Bomod-Ok falls. And, you may not fully enjoy the rest of your trip to Sagada if you have already used your energy in Bomod-Ok falls hike.
Believe me, we tried. And that's what we have realized.
Frankly, the hike is not so challenging at all if you're an experienced hiker. But for beginners, like I was, the hike (at least the return trip to Barangay Bangaan) has strained my hips and legs after the almost-forever-inclining path.
Make sure to bring your hiking poles if you visit Bomod-Ok falls. Usually, your guide will let you borrow a long stick as an alternative to a hiking pole if you do not have one.
If you feel discouraged by the hike, don't be! The view of Bomod-Ok falls is undoubtedly rewarding. 
You'll love the sound of its thundering cascade! 
Then, the cool, moist air coming from Bomod-Ok falls? It will quench the heat in your body—one hundred percent relaxing. 
Although the return trip from Bomod-Ok falls can be pretty challenging, the view from the hiking trail is already scenic . And if trekking rice terraces is on your bucket list, the hike to Bomod-Ok falls can be that one experience you're looking for.
The hiking trail to Bomod-Ok waterfall passes through Fidelisan Rice Terraces. The journey to Bomod-Ok waterfall is a two-in-one experience you can have in Sagada.
You will need at least 4 hours to fully enjoy the hike, rest, and a dip in the plunge pool of Bomod-Ok waterfall.
Indeed, it is an adventure you must have.
But do you know which place has rice terraces, which I think is a glimpse of heaven on earth in the Philippines? Maligcong . You are missing half of your life of travel if you don't see it with your own eyes. 
Here's my article about Maligcong . Don't forget to read it!
10/19 things to do in Sagada (Food)
Located in the northern mountainous region of the Philippines, crops in Sagada are cultivated in an ideal climate: cool temperature, enough rain, and the sun showing up all year . 
If you are looking for tasty, fresh, and nutritious meals, Sagada won't let you down!
One of the best restaurants in Sagada is Gaia Cafe and Crafts . It is one of the highest-rated restaurants on Tripadvisor that you'll find in Sagada.
People like dining in Gaia Cafe and Crafts for three reasons:
The food tastes incredibly delicious,
The cozy ambiance 
And the beautiful view of the rice terraces seen from its gigantic windows .
The food they prepare is made from locally grown vegetables. So, you must expect what you'll eat is fresh and delicious!
The menu here varies from sandwiches to rice meals, salad, pasta, and more. 
During our visit, I ordered pesto pasta. The way it was prepared was absolutely appetizing. But when I started devouring it, I realized I should have requested the spaghetti my friend ordered. 
Gaia Cafe is located in Barangay Ambasing, located south of the town center. If you try walking, it can take 20 to 25 minutes to reach Gaia Cafe from Sagada Municipal Tourist Information Center.
11/19 things to do in Sagada (Food)
If you are traveling to Sagada in a group and looking for a beautiful place to have dinner, Sagada Cellar Door is the one you're looking for. Let my story I'll tell you later be the reason why.
In a nutshell, Sagada Cellar Door is a rustic bar & grill restaurant with an absolutely cozy country vibe.
Inside Sagada Cellar Door's wooden house is where you will eat your dinner. When we were eating, the crew played songs in the country genre, boosting the we-are-really-in-the-mountain-feels. It was a pleasant experience!
The food that Sagada Cellar Door prepared that night, which our group had chosen, did not match my taste. For me, it was just okay. But to my friends, they are great!
Sagada Cellar Door serves authentic Igorot and Ilonggo dishes , often in a buffet, depending on what they offer you when you reserve for dining. 
You can go to Sagada Cellar Door's Facebook Page to know how you can reserve. 
After your dinner, you can proceed to the outdoor bar that has a bonfire in the middle. They sell quality beers —totally unmissable! The ambiance is so perfect for bonding with friends and family.
Actually, the outdoor bar is where I had one of the memorable nights in Sagada.
Touched by the warmth from the bonfire, inspired by the glittering sky, and surrounded by pine trees and people also wanting to enjoy the night—I was stimulated to do something everyone can enjoy.
So, I borrowed the guitar I found in the wooden house and brought it to the outdoor bar. 
Nervously, I started strumming the guitar and sang a song… a good thing everyone joined in! 
That was my first time performing in front of my friends and people I barely knew. As we sang together, it felt at home .
Other acquaintances and friends also played the guitar and sang. 
That time, I realized how beautiful traveling is. Thus, I promised to travel the following year at least once a month.
The thing is, you can also have that perfect moment in Sagada Cellar Doo r! The last time I checked the Facebook page of Sagada Cellar Door, they are now allowing walk-in for the outdoor bar until 8 in the evening.
12/19 things to do in Sagada (Food)
If you want to drink legit mountaintop coffee and tea , Sagada Brew is the restaurant you should not miss! You can easily find it along the south road, a 10-minute walk from the town center.
Sagada Brew, aside from coffee, offers various desserts and rice meals that I think are great for brunch, lunch, afternoon meals, and dinner. Absolutely, this restaurant is vegetarian-friendly as they sell many vegan options.
I like their chocolate shake and the brown rice meal, which look appetizing.
However, I recommend that you come here only when you're not that hungry or you're not in a rush to visit other attractions in Sagada. The service can be really slow, especially during peak hours. 
13/19 things to do in Sagada (Food)
I think any trip to Sagada is incomplete if Yoghurt house is not included in your itinerary, especially if you're a foodie !
As I have mentioned earlier, Sagada has some of the freshest fruits you can find in the Philippines. And the yogurts that Yoghurt House prepares are made from the mountains' extra nutritious and fresh berries . 
It may seem that Yoghurt house only makes yogurts based on their name. But the truth is, they have many on their menu, like pasta, salad, sandwiches, chicken, beef, pork, and hot drinks . 
Not only delicious, but you will also be surprised how enormous the food serving size in Yoghurt house is. A meal can already satisfy two people.
Because of this, I think Yoghurt House is the best restaurant to dine at after hiking to Bomod-Ok waterfall.
The dining area has a chalet ambiance ; you'll love it. The floor makes a squeaky sound while you walk. They made me feel like I wasn't in the Philippines.
Yohgurt House also offers authentic mountaintop coffee . 
Go to the second floor and stay on the balcony for a cold breeze of the air while sipping your hot coffee.
14/19 things to do in Sagada (Food)
Do you plan to stay in Sagada for more than 3 days? Spend some relaxing time in Sagada Lemon Pie. Whether you are a group or a solo traveler looking for a "me time," Sagada Lemon Pie has got you. 
Their restaurant has tables for both group and solo travelers where you can hang out, enjoy the cozy vibe and savor the taste of their special juicy sweet lemon pies . When you come, match the lemon pies with a coffee. It is a perfect snack combination and a foodie experience unique to Sagada.
I also put Sagada Lemon Pie House in the last part of my foodie things to do in Sagada for one reason: their lemon pies are an excellent takeaway and pasalubong for your friends and family at home .
Sagada Lemon Pie' pies are extremely famous pasalubong . Their pies sell out fast! Make sure you come to their store in the morning.
Rice Terraces of Sagada
15/19 things to do in Sagada (Relax)
A trip to northern Luzon, especially in the Cordillera region, is without a doubt incomplete if you missed seeing the rice terraces . It is one of the few places in Asia where you can find such marvels. 
Believe me, they're really spectacular . 
And whenever I see these rice terraces, I can't help but applaud the ingenuity and hard work of the Filipinos who built them. Can you imagine how they carved the mountains ?
If you plan to stay in Sagada for much longer, I suggest you hike, relax, and admire one of the rice terraces surrounding Sagada. The panoramic view and the fresh mountain air should soothe you so well. 
I believe they will make you forget all your problems, worries, and negative thoughts. 
As far as I know, you can find five rice terraces in Sagada:
Bangaan Rice Terraces (Northern Sagada)
Aguid Rice Terraces (Northern Sagada)
Ankileng Rice Terraces (Southern Sagada)
Balungan Rice Terraces (Southcentral Sagada)
Kilong Rice Terraces (Eastern Sagada)
The name of the rice terraces depicts the Barangay they are found in.
You can ask Sagada Municipal Tourist Information Center to give you instructions on how you can visit each of these rice terraces. 
However, if you want to see the best rice terraces in the Philippines, Maligcong is the best place you must go. Maligcong is one jeepney ride away from Bontoc, which is also one jeepney ride away from Sagada. 
Here's my guide to Maligcong .
Orange Picking at Sagada Rock Inn & Café
16/19 things to do in Sagada (Relax)
Do you want to feel like you have your own estate or the orange plantation? Try the orange picking activity at the Orange Orchard of Sagada Rock Inn and Cafe. You can pick and eat unlimited oranges within 30 minutes for 50 pesos . 
They will teach you how to pick oranges from their branches correctly.
By the way, don't pick and harvest too many oranges. The orchard caretakers will charge 100 pesos per kilo for the oranges harvested but not eaten.
Orange picking is not available all year round. The best time to come here is during the harvest season, typically from November to December. Please inquire first about Rock Inn & Cafe's Facebook page before going.
17/19 things to do in Sagada (Relax)
Ambasing Bus Ruin is perhaps one of the most Instagrammable places in Sagada . The artsy bus with a wall of pine trees in the background will definitely capture your attention to take photos. 
I suggest not climbing to the top of the bus , but if you want to take a risk for a fantastic photo, it's all in you. When we were there, the bus was already rusty and would seem to collapse if two or three people climbed the roof simultaneously.
Ambasing Bus Ruin is a 20-minute walk or 6-minute drive from the town center. 
It's an excellent shortstop before and after you eat in Gaia Cafe and Crafts. Ambasing Bus Ruin and Gaia Bus Ruin are only 3 minutes away on foot. 
We spent 30 minutes in the Ambasing Bus Ruin. After we took photos, we hung out under trees beside the bus and admired the mountain views from a spot a few steps from the bus. 
18/19 things to do in Sagada (Relax)
Another picture-perfect place in Sagada is Lake Danum . If the weather is perfect, you'll love the mesmerizing reflections that the calm lake shows on its surface. This small lake lies near the Sagada-Besao (West) Road, a 10-minute drive from the town center. 
Bring a small chair or a mat where you can lie down while you take long exposure shots of the lake. 
Lake Danum is also an excellent place to relax, pitch a tent, and spend time with your friends. As far as I know and according to our guide, you can camp here overnight and make a bonfire .
What makes Lake Danum an exciting place to spend a night at? The folk tales and the legend of Lake Danum . You can ask your guide about it or just read this post from Yzagada (I suggest not reading it until you visit Lake Danum).
I do not recommend visiting Lake Danum to watch the sunset on the weekend.
It is the time when Lake Danum is packed with tourists. You would barely feel the tranquility and see the profound beauty of the lake.
Forest Bathing
19/19 things to do in Sagada (Relax)
For me, Sagada is a sanctuary for people who seek inner peace and healing. The mystic atmosphere, tranquil path, fresh air, and serene nature won't forget to cleanse not only your lungs but also your mind.
If you have a lot of time, I suggest you commune with nature like the Japanese people do. They call the activity "shinrin-yoku," or forest bathing .
Basically, forest bathing, according to National Geographic , is a psychological exercise to offer an eco-antidote to tech-boom burnout and to inspire residents to reconnect with the forests. It's a simple hike in the forest mixed with meditation to cleanse your mind .
There is no specific place in Sagada where I can recommend forest bathing. You can do it along the hike between Marlboro hills and Blue Soil or wherever there are a lot of trees around you.
How to Go to Sagada?
There are several ways you can go to Sagada; you can use public transportation, drive your own car, or join a travel group. If you plan to commute , you can start from Baguio or Manila, where the bus terminals to Sagada are located . 
Below is more information to guide you get to Sagada:
Commute from Manila to Sagada (direct bus)
Coda Lines is the only bus line company with direct bus rides from Manila to Sagada. It is the easiest and most convenient way to come to Sagada from the metro .
Begin your trip by booking a ticket from the website of Coda Lines . Do not forget to book a return trip to the metro if you plan to return to Manila after your trip to Sagada. After your reservation, Make your way to the bus station.
See it from Google Maps . Do not be confused if you see " HM Transport Bus Terminal ." Inside the terminal, you shall find buses in purple and white colors. When you do, you have found your bus to Sagada.
Coda Lines buses going to Sagada pass through Banaue and not Baguio.
The total travel time would be 12 hours , depending on the traffic situation. If you worry that you will need a restroom, these buses will have several stops where you can pee or poop in case you need to.
Another option is to book a more expensive " Super Deluxe " bus. It is a bus with a restroom inside. With that, you won't have to worry about your bladder when it gets full.
Commute from Manila to Sagada via Baguio
Baguio City is one of the cities nearest to Sagada. It is also a tourist destination you must visit, especially if you want to explore a city with pleasant weather.
If you do, you can follow these steps:
Book your tickets going to Baguio ahead of time. Victory liner is the biggest and most trusted bus company going to Baguio. They have 5 terminals in Metro Manila; you can book what's nearest to you. 
Hop on the bus an hour or 30 minutes before your departure time. You shall arrive at Victory Liner Terminal in Baguio about 4.5 hours after leaving Metro Manila.
When you arrive in Baguio, take a taxi and head to GL Trans terminal in Baguio Dangwa Terminal. Do not forget to tell the driver that you are heading to Sagada. The driver must bring you to a new terminal if the buses are moved into a new location.
As you arrive at the GL trans terminal, go to the counter immediately to buy tickets heading to Sagada.
Essential notes for Manila-Baguio-Sagada Commute
The taxi fare should not pass more than 100 pesos.
The fare should cost 220 pesos. 
The Buses going to Sagada leave the terminal every hour from 5:30 in the morning until lunch. The last bus leaves at 1 in the afternoon.
You must arrive early in Baguio to buy tickets to Sagada. Tickets are sold starting at 5 am. The buses get full quickly, especially during weekends. 
There are no reservations and advanced booking. Tickets are sold first-come, first-served. 
As you might notice, the buses have a "Besau" signboard. Sagada is not their final destination but only a stop on their route. The travel time to Sagada is about 6 hours. With that long, most of us tend to fall asleep. You must be awake before reaching Sagada, or you'll end up in Besau instead. So, it's better to set the alarm on your phone 5 hours after departure from the terminal.
You can take the buses parked near the Church of Saint Mary to return to Baguio from Sagada. 
You should be able to spot the buses every day. They depart at 5 am, 10 am, 1 pm, and 5 pm .
If you see these buses parked, I recommend you ask the driver or the bus conductor about the departure time for your last day in Sagada. Sometimes, the schedule changes without prior notice.
Driving your own car to Sagada
You could use Waze to direct you to Sagada. But definitely, it is going to be a long and tiring drive . You should also have experience driving in the Philippines, most importantly, in mountainous regions.
The roads to Sagada are mostly zigzag , and you will encounter enormous trucks along the way. It could be dangerous if you are not extremely careful, especially when driving at night .
Important things to know when bringing your own car to Sagada:
You could only use your vehicle when going to Sagada. On your arrival to Sagada, you must park your car on a pay parking site or inside the premises of your hotels. 
It is prohibited to park your vehicle along the road .
You cannot use your vehicle when going to the attractions in Sagada. Only local transport shall be allowed to ferry tourists to tourist sites, restaurants, and souvenir shops.
Important Thing To Do As Soon As You Arrive To Sagada
On your arrival in Sagada, head straight to Sagada Tourism Office and register.
You need to pay a small amount of P50 for the tourism and environmental fee. Then, proceed to the office of Sagada Genuine Guides Association (SAGGAS) to book your tours.
Always bring the receipt you receive after paying as you need to present them to enter attractions in Sagada.
IMPORTANT: You must get a guide to visit attractions in Sagada. 
How do I move around Sagada?
For locals, the most convenient way to explore Sagada is by joining a group tour organized by social media communities. 
International tourists who want to try it may find it a great way to meet local travelers. Search for the " DIY Travel Philippines " Facebook group and ask to join. In the group, you can find posts from organizers offering tours to Sagada at a very affordable price !
You may also search for Malaya Travels on Instagram or Facebook. They are one of the best travel groups that organize trips to the northern Philippines, like Sagada, Maligcong, and Mount Pulag.
For DIY travelers, you can explore Sagada by walking, renting motorbikes, or booking tours offered by SAGGAS.
Sagada is only a small town, and you can go around by just walking. Besides, Sagada is a hiking destination, and the weather in Sagada is fantastic! You should not worry about sweating a lot.
You can explore Sagada through motorbikes . Hotels like Yellow House Sagada offer motorbike rentals, so you can explore Sagada at your own pace. However, you must not forget to coordinate with SAGGAS if you decide you want to use the motorbikes.
If there is a town in the Philippines with one of the most organized tourism programs, it's Sagada. SAGGAS and its guides are the ones who will arrange everything for you, including your transportation.
You can ask your guide for a vehicle if walking isn't your choice to explore Sagada. However, the vehicle fee is excluded from your guide fee.
When is the Best Time to go to Sagada?
The Philippines has only rainy and dry seasons. But unlike the rest of the country, Sagada enjoys a milder climate thanks to its elevation.
According to the graphs below, you should visit Sagada from November to March for clear skies and cooler temperatures, which are perfect for hiking.
However, December is the holiday month and peak travel season in the Philippines. 
Most Filipinos spend 2 weeks of vacation visiting different tourist attractions around the country. With the desire of Filipinos to experience a mild climate, you should not doubt why Sagada is one of our favorite destinations.
You might experience heavy traffic and overcrowding in some attractions in Sagada. Therefore, the ideal months to go here are during November, January, February, and March . 
Best Month for Sea of Clouds
Visit Sagada in March for a higher probability of witnessing a sea of clouds in Kiltepan and Marlboro hills. It is when the precipitation is near the lowest level. Thus, a clearing (less fog and rain clouds) is more likely to happen.
March is also the month in the Philippines when very few to no storms enter the country . You can expect a more successful trip (being able to visit all the attractions and see all the spectacular views).
However, before you expect too much that you can witness a sea of clouds, bear in mind some science behind it: Clouds are condensed water in the air. If the environment is dry, clouds are not likely to appear. 
This is why seeing a thick sea of clouds in Sagada is more likely if there is rain/drizzle the night before sunrise.
March was also when I went to Mount Pulag —the most beautiful mountain in the Philippines, several kilometers south of Sagada. There I first witnessed the magnificent sea of clouds. Read my hike about Mount Pulag.
Check out my other travel-related posts:
100 Inspiring Short Travel Quotes Best For Instagram Captions
5 FREE & CHEAP ways to expand iPhone Storage while traveling
15 Tips on How To Travel With Your Parents as an Adult
Meaningful Travel Songs: 15 Songs For Your Travel Playlist
Save it on Pinterest .
Leave a Reply Cancel reply
Your email address will not be published. Required fields are marked *

Showcasing the Best of Off-Beaten Destinations
Abra Province Tourist Spots
Baguio City
Mountain Province
REGION I-ILOCOS REGION
REGION II- CAGAYAN VALLEY
REGION III – CENTRAL LUZON
REGION IVA-CALABARZON
REGION IVB – MIMAROPA
REGION V – BICOL REGION
REGION VI – WESTERN VISAYAS
REGION VII – CENTRAL VISAYAS
REGION VIII – EASTERN VISAYAS
REGION IX – ZAMBOANGA PENINSULA
REGION X – NORTHERN MINDANAO
REGION XI- Davao Region
REGION XIII-CARAGA
Region XII-SOCCSKSARGEN
BARMM – Bangsamoro
Work with Me
Blogging Resources
Travel Musings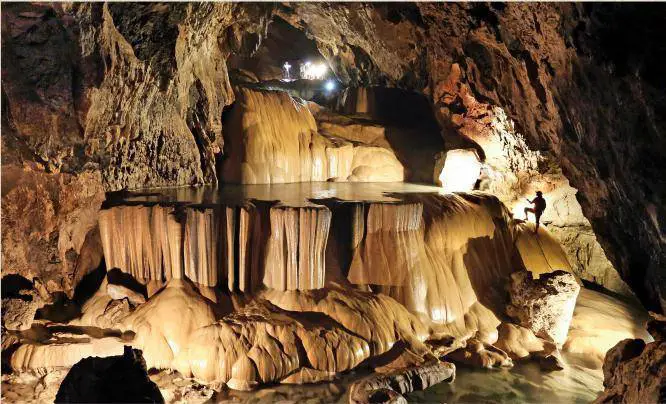 Top 20+ Best Sagada Tourist Spots: Sea of Clouds, Caves, & Waterfalls
Here is a complete list of Sagada tourist spots you should not miss especially if you're an adrenaline junkie! Aside from eco wonders, I also included the best cultural places to visit in Sagada.
Sagada in Mountain Province easily ranks as one of the top ecotourism destinations in the Philippines.
Cascading waterfalls, stunning caves, limestone rock formations, rustic mountain views, and authentic cultural heritage are among the tourist spots in Sagada. Indeed, it's a paradise of amazing natural, cultural, and historical wonders rolled into one.
A whole month of a break from work allowed me to visit Sagada's tourist spots. I've conquered almost all of them, even the off-beaten tracks and I would like to share them on this travel guide.
Without further ado, let me now walk you through the different tourist spots in Sagada!
Behold Must-See Sagada Tourist Spots
1. mt. ampacao.
Mt. Ampacao towers to more than 1,889 MASL, making it the highest peak in Sagada.
Getting here is quite easy as the trails are well-established and do not run across steep terrains. Expect to walk on grassy terrains and on some parts, trail on secondary forests.
While atop, you can see a panoramic view of Sagada town and its surrounding mountains and pine forests. Kapay-aw rice terraces are also visible from here.
During the early morning, a sea of clouds usually forms. Mt Ampacao is one of the most popular of Sagada's tourist spots.
Location/Jump-off: Ambasing Elementary School, Brgy Ambasing
Trekking Time: 40 minutes
Guide Fee: Php 1,700 for 10 visitors or less
2. Bumayeng Falls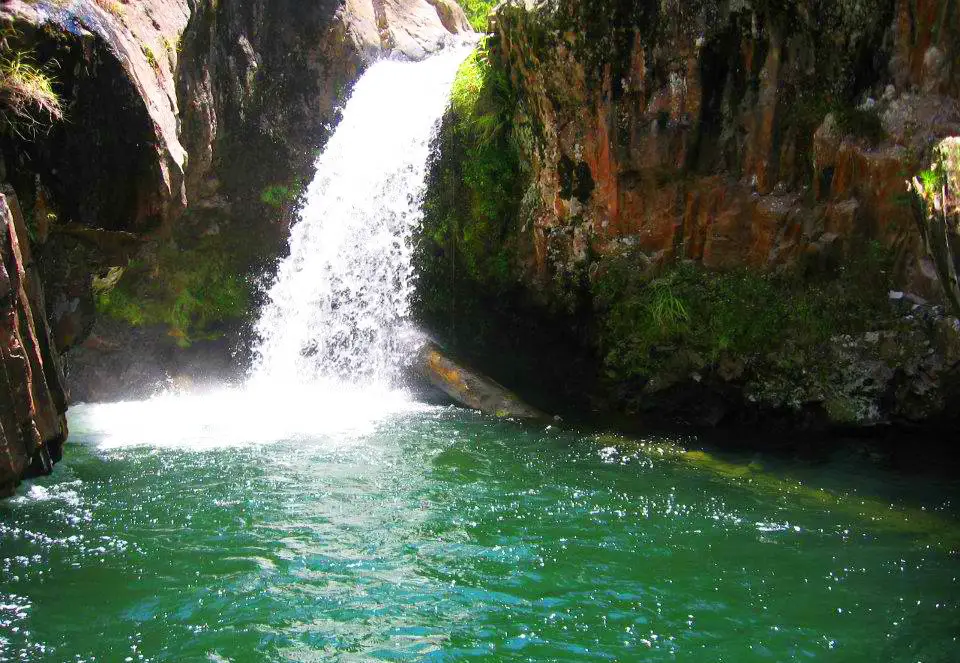 Located on the remote mountains, Bumayeng falls is one of the least known tourist spots in Sagada.
To get here, you'll have to cross streams, jump across boulders, and wade on pools. Thus, it is only recommended for ardent adventurers and extreme hikers.
Bumayeng is a multi-layered fall, each with a beautiful catchbasin. If you prefer a more rustic setting, away from social bustles and hustles, then you should brave the trail to this wonder. An experienced guide is also required to ensure your safety and convenience.
Many locals especially youngsters love coming here during summer months to have a picnic and enjoy the sceneries. Mossy forests upstream feed the river leading to the waterfall.
Location/Jump-off: Brgy. Bangaan
Fee: Php 2500 for 5 visitors or less (inclusive of guide fee and packed meal)
Trekking Time: 3 hours (one-way)
Transportation: Php 650 (one-way)
3. Kiltepan Viewpoint
Made famous by the movie, "That Thing called Tadhana," Kiltepan Viewpoint offers a spectacular view of the sunrise and an occasional sea of clouds including the scenic Kiltepan Rice Terraces.
That is why it is best to come here during the early morning or late afternoon to catch sight of a beautiful sunset.
Some trek to the viewpoint from the town center for more or less one hour. Others arrange a van with the Sagada Tourist Information and this usually departs at 4:30 a.m. You can also camp here during the night if you want.
Kiltepan Viewpoint is among the iconic tourist spots in Sagada.
Location/Jump-off: Sagada town center/Poblacion
Trekking Time: 30 minutes – 1 hour
Camping fee: Php 100 per person
4. Bomod-ok Falls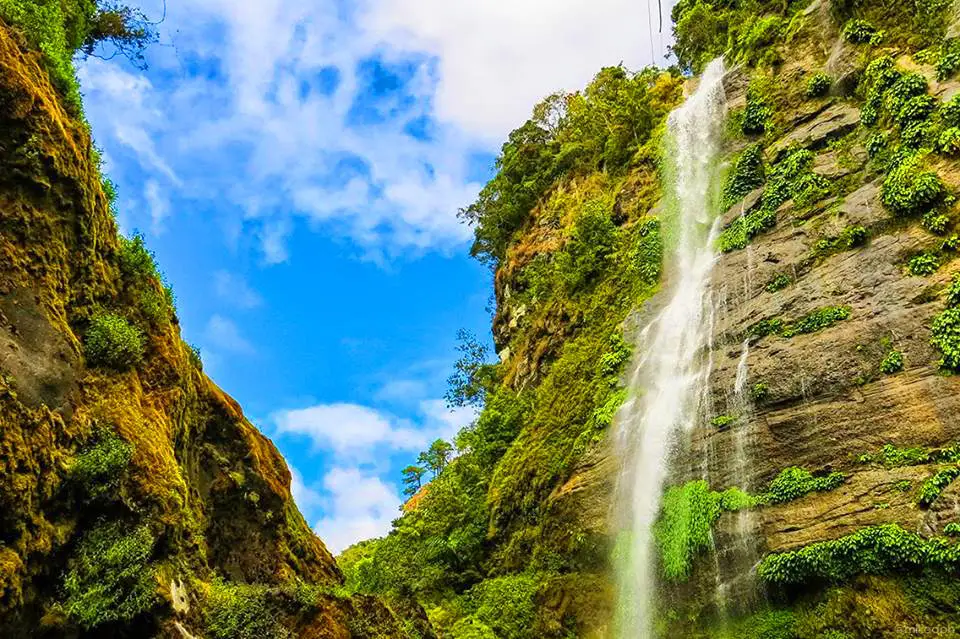 Considered the highest cascade in Sagada, Bomod-ok falls has a height of more than 50 meters. It has a naturally-built pool with icy-cold and crystal-clear waters. Thus, you can often see small fishes swimming around. One local told me that they also caught a giant eel from the pool.
Beautiful rock formations surround the catch basin and from these, you can jump or dive for an invigorating swim. If not, you can just sit on one of the boulders and let the mists of the waterfall caress you.
To get here, you'll hike for more or less an hour, passing by barangay Fidelisan and their beautiful rice terraces. It's a downhill hike towards Bomod-ok falls and obviously, an uphill trek back to the road. Bomod-ok falls is one of the tourist spots in Sagada you should not miss.
Entrance Fee/Barangay Fee: Php 10
Tour Guide Fee: Php 500 for a group with a maximum of 10 pax
Location: Barangay Fidelisan/Brgy Bangaan
Trekking Time: 1 hour
5. Bokong Falls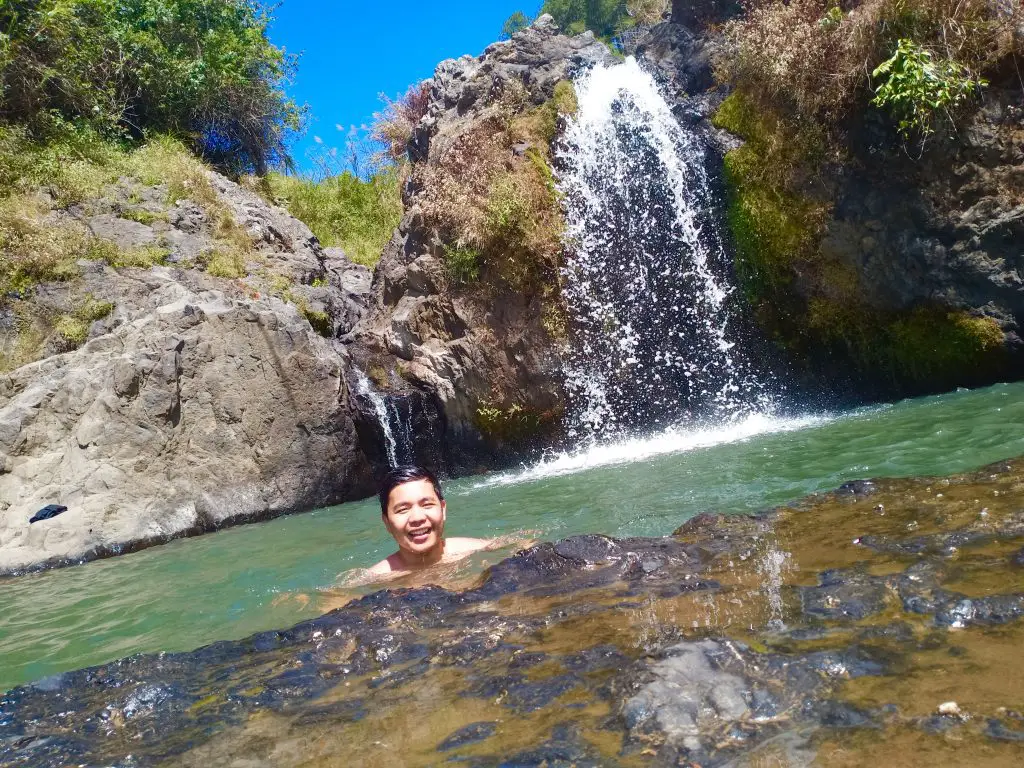 Want a natural treat near the Sagada proper? Check out Bokong Falls , one of the most accessible tourist spots in Sagada. It is just a 30-minutes of easy walk from the town center.
The falls is relatively small compared to the rest. But it has its own unique features to offer. It has a small catchbasin. But don't be fooled by its miniature size. It is actually very deep and you must know how to swim before taking a plunge.
Whenever I come here, I would jump from the top of Bokong Falls towards the deep pool. Oh, what a soothing way to relieve me from the daily hustles and bustles.
Entrance Fee: None
Jump-Off: Poblacion, Sagada
Trekking Time: 30 minutes
Guide: Optional
6. Pongas Falls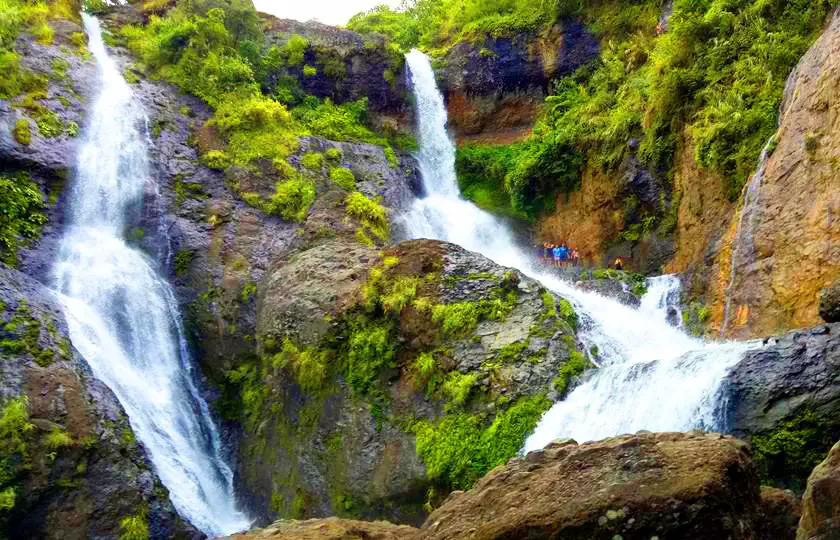 Located on a remote outskirt, this towering twin beauty is one of the less-known tourist spots in Sagada. It is best to come here just after the rainy months to catch sight of Pongas falls' full force.
Huge boulders surround the small and shallow basin of Pongas Falls . To enjoy it, you can position yourself on its base while the cascading waters give you a caressing massage.
There are more waterfalls to see upstream and downstream. If you have more time and energy, ask your guides to take you to some of these.
Entrance Fee: Php 10
Location: Barangay Ankileng
Trekking Time: 30 minutes- 1 hour
Guide Fee: Php 600 for a group with a maximum of 10 persons
7. Sumaguing Cave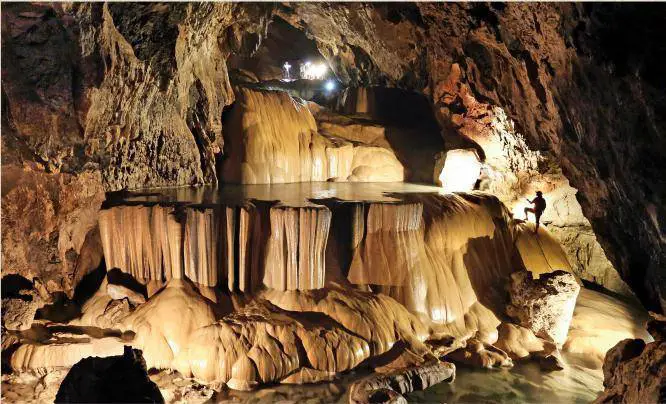 If you're seeking to explore the underneath, check out Sumaguing cave, arguably the most popular tourist spot in Sagada. It contains fascinating stalactite and stalagmite formations resembling different figures such as an elephant's trunk.
Spelunking here is quite challenging and can often be dangerous if safety procedures are not properly followed. It is considered the deepest cave system in the Philippines.
Two-way Transportation: Php 350 (Optional)
Tip: Best to come here with a group for a more budget-friendly experience
Guide Fee: Php 800 for 4 pax
Caving Time: 2 hours
8. Echo Valley and Hanging Coffins
They don't call it the echo valley for no reason. While you're there, do create echoes and you'll see why. Interestingly, this is also where you can find the iconic hanging coffins, one of the cultural tourist spots in Sagada. You could just wonder how the locals of the past were able to place the coffins high up on the ground.
To know more about the folklore associated with the Hanging Coffins , you can ask your guide. It's one of the tourist spots in Sagada which are just some minutes of walk from the Tourist Information Center.
There is also a spot nearby for rappelling or rock climbing.
Guide Fee: Php 300
Trekking Time: 20-30 minutes
Extra Sights to See: Pine forests, Limestone Rock Formations, Burial Caves
Local's Tip: You can try rock climbing near Hanging Coffins.
9. St. Mary the Virgin Church
This is one of the historical tourist spots in Sagada. It is a stone-walled structure catering to the spiritual needs of the locals who are mostly Anglicans.
What I find interesting about this church is the fact that it was built during the American period. It's more than a century-old heritage! Regular masses are conducted here. The church is one of the sights to see when going to the Echo Valley and Hanging Coffins.
Location/Jump-off: Poblacion, Sagada
Trekking Time: 5 minutes from the Tourist Information Center
Reminder: It's a sacred place so do respect it.
10. Marlboro Hill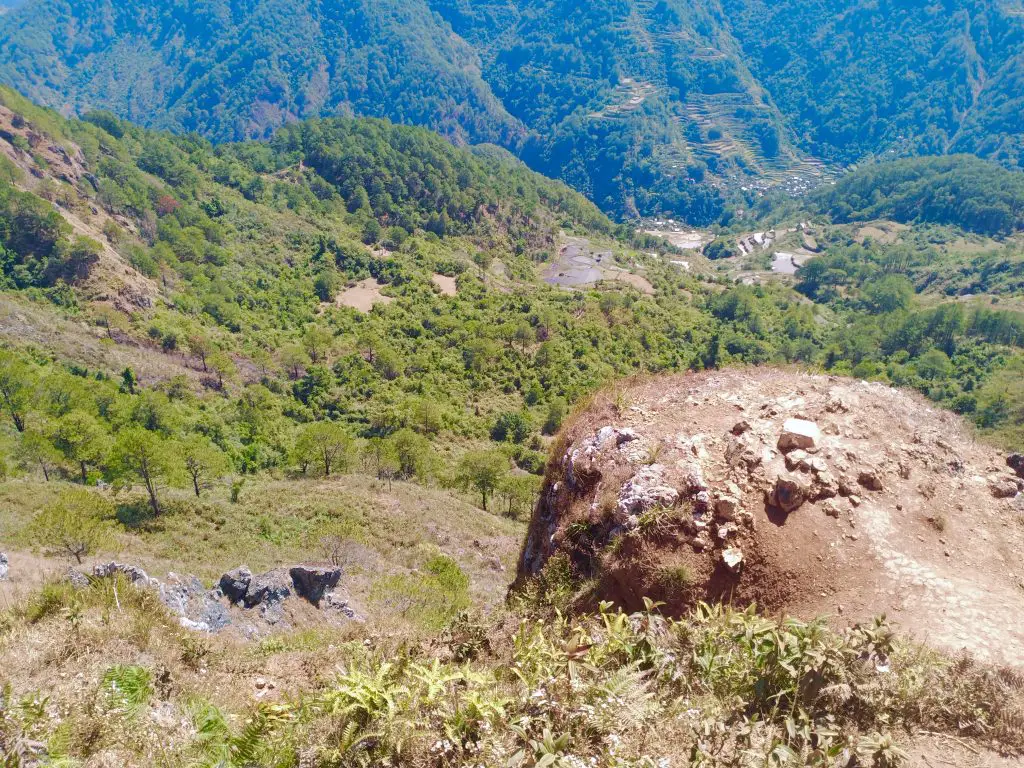 If you are looking for challenging and at the same time, rewarding hiking experience, Marlboro Hill should be added to your list. It is one of the rising tourist spots in Sagada.
Hiking there will lead you across lush pine forests, scenic rice terraces, and limestone rock formations. You will also pass by the so-called Blue Soil or Blue Hill which turns bluish-green especially just after the rains. There are also good points here for viewing sunrise and sea of clouds, making it a good alternative for the Kiltepan viewpoint.
To save on budget, it's best to come here as a group.
If you're lucky, you'll glimpse of horses running around. But they are not wild. They were just released years ago to give the place a feature of the cowboy's range in the United States.
Guide Fee: Php 1800 for 3 pax
Trekking Time: 3-4 hours
Transport Fare: Php 1350 (roundtrip)
Tip: Best to come here during early morning to chance on sunrise and sea of clouds.
11. Gaia Cafe
This is one of my recommended Sagada tourist spots. Aside from the magnificent views of the rice terraces from here, they serve organic vegan meals. It's a paradise for health-conscious travelers, environmentalists, and vegan advocates. They have coffee, drinks, and snacks that can help nourish your mind, body, and soul.
The cafe advocates for sustainable living in harmony with nature and God. It's just minutes of walk from the Sumaguing Cave. If you happen to chance on Dr. Penelope Domogo, you can ask her to share some tips on how to develop habits for an eco-living. She'll be more than happy to share with you her knowledge and experience.
Plus, she's a good friend and mentor of mine (hehe).
Location/Jump-off: Ambasing, Sagada, Philippines (near Sumaguing Cave)
Trekking Time: 20 minutes from Tourist Information Center
Contact: +63 949 137 6777 (Smart) +63 915 727 6831 (Globe)
Operating Time: Mondays to Saturdays (11.00 am to 7 pm)
12. Blue Soil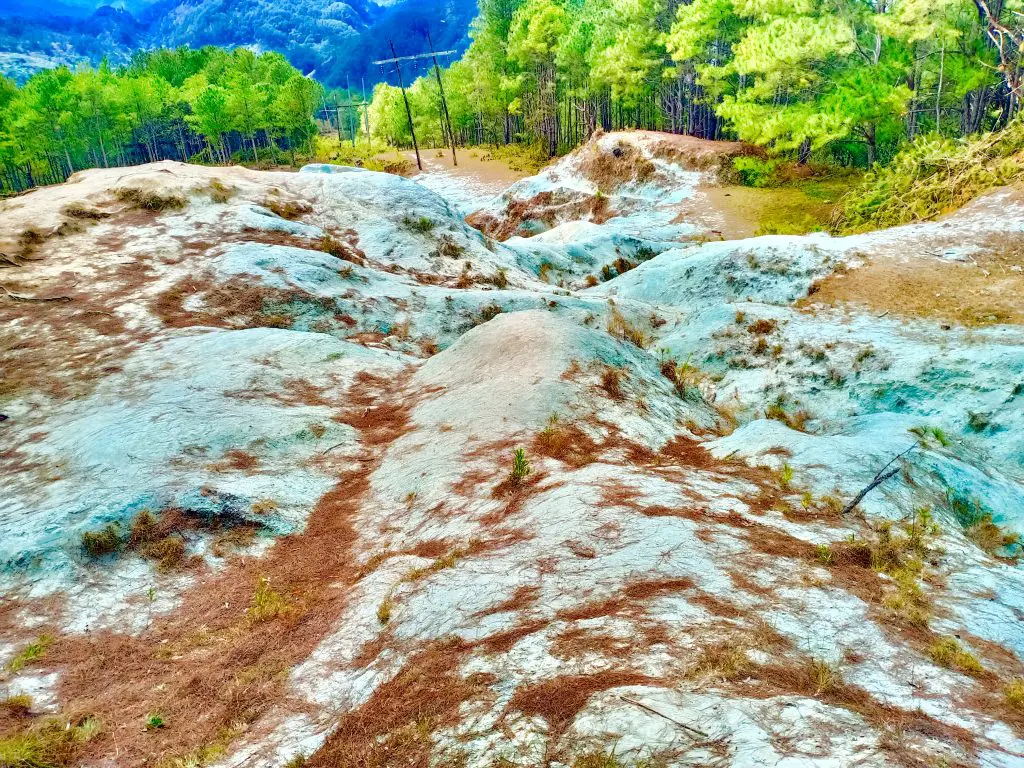 If you're up for a thrilling trek to a bizarre destination, check out the so-called Blue Soil . It features mounds of limestone rock formations that turn blue when wet. Those hiking to Marbolo Hills usually follow the trail all the way to the Blue Soil.
Barangay Balili of Bontoc also claims the site and call it Kaman-Utek because it resembles the brain. This is one of my favorite Sagada tourist spots.
To reach it, expect a long trek from the town center. Although tiring, the views you'll see on the way will surely gratify your quest for adventure. Add to that the stunning view of Blue Soil itself.
Location/Jump-off: Sagada town center
Trekking Time: 4-5 hours
Extra Sights to See: Pine forests, mountain views, wildflowers, rock formations, cliffs, grasslands
13. Sagada Underground River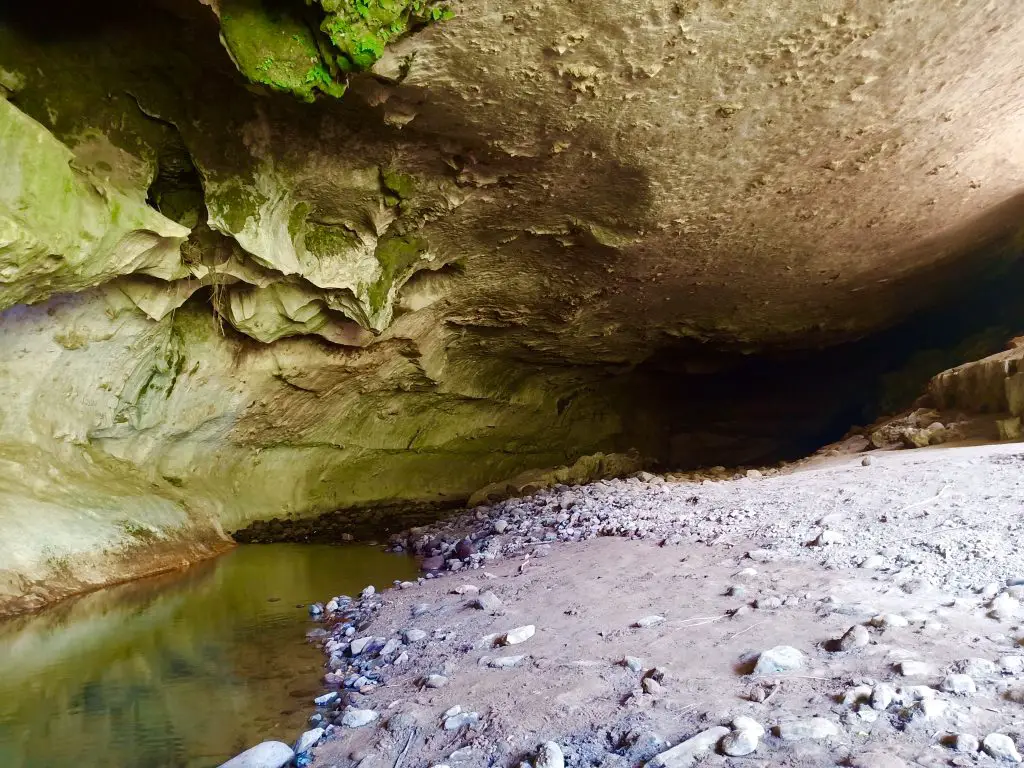 If you're coming from Bokong Falls or the Hanging Coffins, you can actually follow a trail leading to Sagada's Underground River . It's around 300 meters in length. Inside, you'll find natural pools and different limestone rock formations. You'll also glimpse of bluish pools when you follow the brook to Sagada Underground River.
14. Our Lady of Mount Carmel Catholic Mission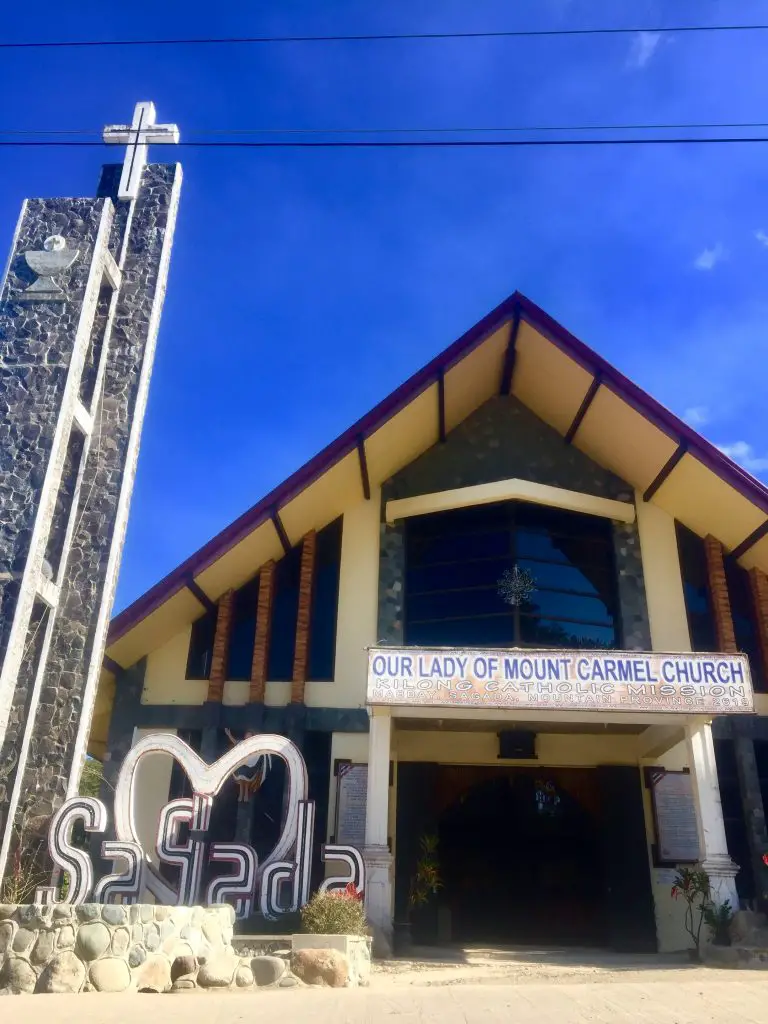 Our Lady of Mount Carmel Catholic Mission is a newly-constructed church catering to the Catholic faithful. You can see this along the highway when trekking to Kiltepan Viewpoint or Bokong Falls. The church is among the best places to visit in Sagada.
If you're after a place for a tranquil spiritual escape, you should come here.
Trekking Time: 15-20 minutes from Tourist Information Center
Reminder: It's a sacred place.
15. Fidelisan Rice Terraces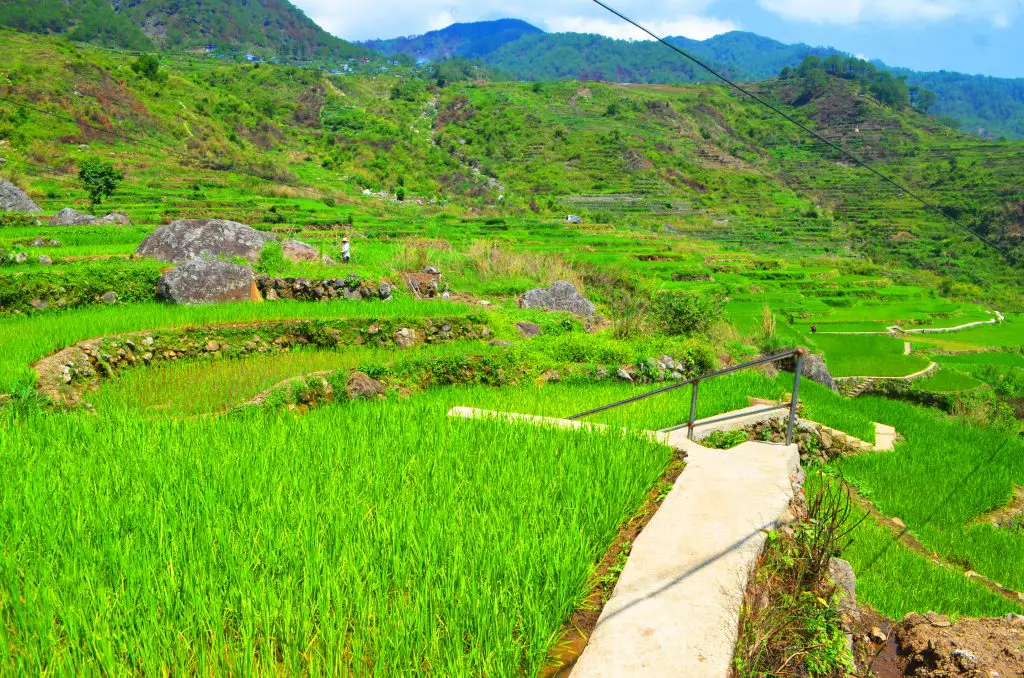 You'll catch sight of these when trekking to Bomd-ok Falls. These stone-walled structures signify the industry of the locals and their communion with nature. Interestingly, the locals' ancestors built these using only wooden tools and stones.
If you want, you can join the locals in planting or harvesting rice. In that way, you'll learn to appreciate farming and its importance to our society. Surely, you'll also find it more enjoyable and fulfilling sharing casual stories with the locals.
You bet. They'll love you for that.
Location/Jump-off: Brgy Fidelisan, Sagada
Trekking Time: 20-30 minutes from the highway
Tip: You can join the locals when planting and harvesting rice.
16. Lumiang Cave
Lumiang Cave is known for its piles of burial coffins. It is connected with the Sumaguing Cave and there is a tour package that covers both caves. Along the way going here, you can also glimpse of limestone mountains and hanging coffins. It is one of the best places to visit in Sagada.
Location/Jump-off: Brgy Ambasing, Sagada
Trekking Time: 25 minutes from the tourism center
17. Lake Danum
Lake Danum is claimed by both Sagada and Besao. Because of this, the lake is currently closed for tourism. It's just along the highway so you can actually view it when going to and from Besao.
18. Balangagan Cave
Balangagan Cave is one of the newly-discovered tourist spots in Sagada. It is a bit far from the town center and you need to ride a vehicle to reach it. Inside, you'll also find stalactite and stalagmite rock formations.
Location/Jump-off: Between Taccong and Suyo
19. Sagada Blue Lagoon/ Obwa Falls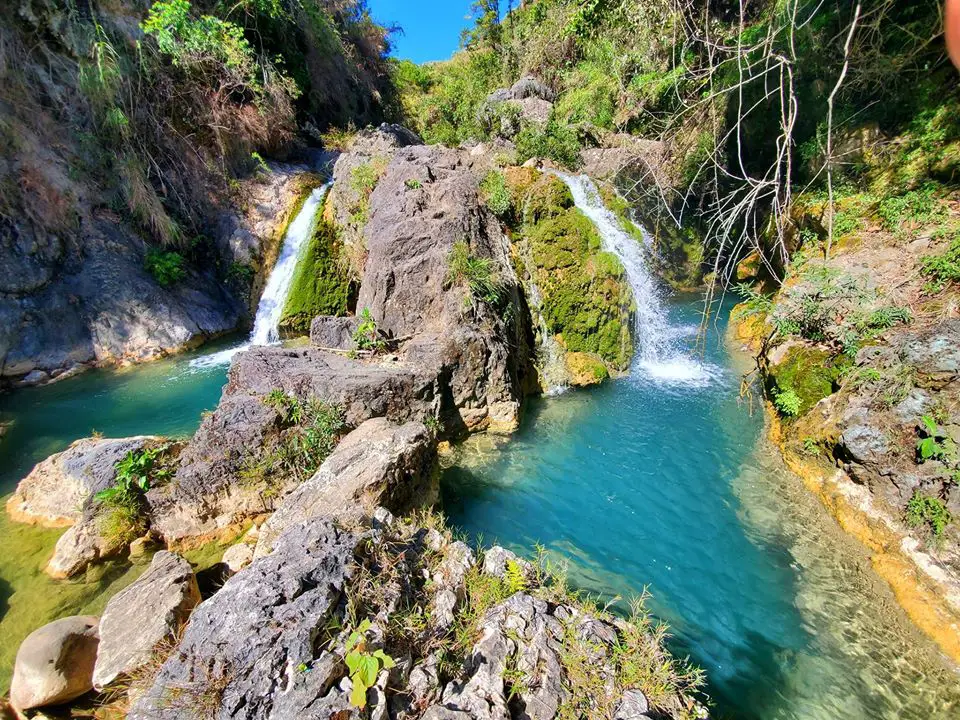 Sagada Blue Lagoon is a series of mini-waterfalls with circular pools that reflect the blue sky. It is one of Sagada's remotest tourist spots. Thus, getting here is recommended for extreme hikers and adventurers. Plunge into one of the pools to give you instant relief. It is one of the rustic places to see in Sagada.
Location/Jump-off: Brgy Suyo
Trekking Time: 25 minutes from the highway
20. Sagada Pottery House
Sagada Pottery House is one of the cultural Sagada tourist spots, advocating for the preservation of pot making in the said town. Here, you can experience and see for yourself how the pots are made.
To get here, ride a jeep bound to Besao and tell the driver to drop you by the pottery house. If not, take the one hour walk to reach the place.
Every time you come here, you help promote the preservation of this ancient culture. You can buy one or two of these pots for a souvenir.
How to Get to Sagada
Manila to Sagada . If you want a direct trip to Sagada, ride Coda lines bus, stationed at HM Transport Cubao Terminal. This is located along EDSA at Cubao, Quezon City. Regular trip schedules are 8:00 pm, 9:00 pm, 10:00 pm, and 10:30 pm.
Fare is 720 pesos and travel takes around 12-13 hours. Take note. If you cannot do online booking, be at the station at least an hour before your preferred time of departure.
Baguio to Sagada . First, ride either Victory Liner or North Genesis buses going to Baguio. Both have stations at Pasay and Cubao, Quezon City and both have hourly departures. Travel time takes around five to six hours and fare ranges from 450 pesos to 485 pesos.
Upon reaching Baguio city, ride a taxi or Grab towards GL Trans station at Dangwa Terminal (back of Center Mall). GL Trans buses that are bound to or passes along Sagada depart by 6:30 am, 8:00 am, 9:00 am, 10:00 am, 11:00 am, and 1:00 pm. Travel time is more or less six hours and the regular fare is 220.
Bontoc to Sagada . If you are coming from Bontoc, there are jeeps there bound to Sagada. These are stationed in front of the Walter Clapp Hotel. A jeep departs once filled to capacity. Travel time takes less than an hour and fare is 50 pesos.
Try Speaking Local Utterances
As goes a popular adage, "When in Rome, do as the Romans do." In the same way, you can also try conversing with the locals using their language. This is especially helpful in building rapport with the community.
Kankanaey is the main language in Sagada. Take note, this is different from the Kankanaey language of some communities in Benguet. I get it. You don't need to be well-versed. But you can at least try common utterances such as the following. Have fun learning and using them:)
Sagada Tour Packages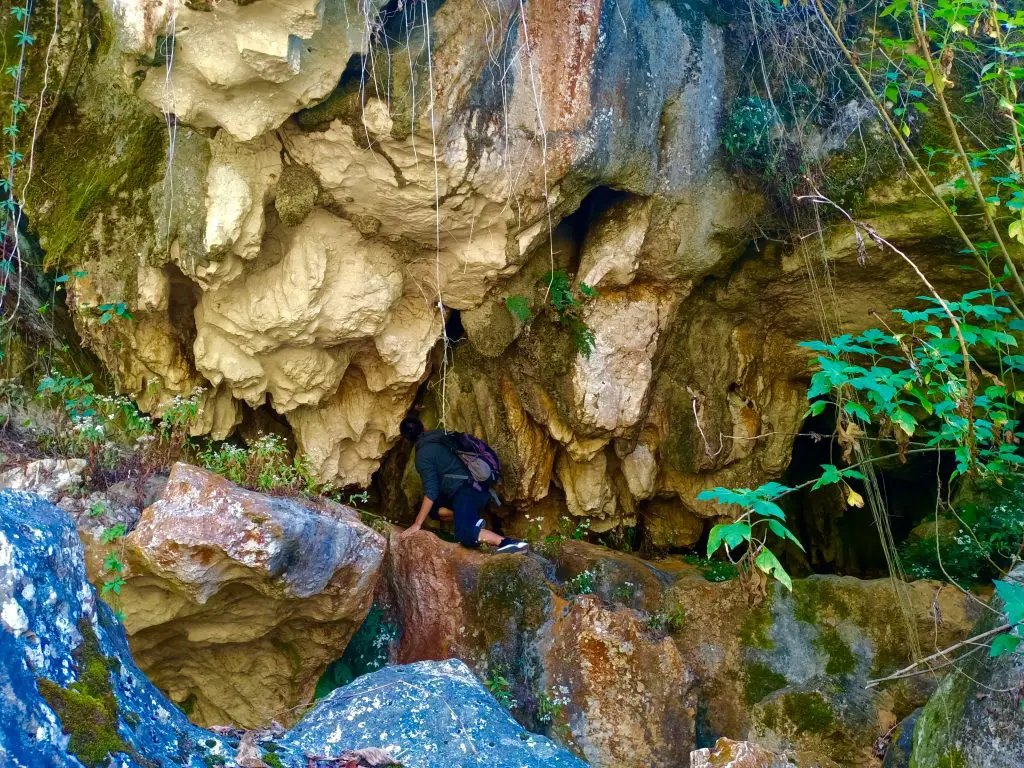 Here are the tours in Sagada you can avail of. Take note. There are new tours you might want to try. Inquire from the Sagada Tourist Information Center about these.
Sagada Caves Tour
1. Cave Connection
Lumiang Burial Cave to Sumaguing Cave
Time Required: 3-4 hours
Guide Fee: Php 1000 for 2 visitors, Add Php 500 for every extra
Transportation Fee: Php 400 (two-way)
Tip: You can walk all the way to the cave to cut on transportation costs.
2. Sumaguing Cave/Short Course Caving
Time Required: 1 hour and 30 minutes
Php 800 for 4 persons or less
Php 900 for 5 persons
P 1,600 for 6-9 persons
Php 1,800 for 10 persons
P 2,400 for 11-12 persons
P 200 per person for a group of 13 or more
Transportation Fee: Php 250 (Two-Way)
3. Balangaan Cave
Time Required: 2 hours
Php 650 for 4 visitors or less
Php 800 for 5 visitors
P 1,300 for 6-9 visitors
Php 150 each for a group of 10 or more
Transportation Fee: Php 650 (two-way)
Sagada Waterfalls Tour
1. Bomod-ok Falls
Trekking Time: 3 hours back and forth
Guide Fee: Php 500 for 1-7 persons
Barangay Fee: Php 10 per person
2. Pongas Falls
Trekking Time: 1 hour to the falls
Guide Fee: Php 600 for 1-10 visitors
3. Bokong Falls
Trekking Time: 10 minutes
Guide Fee: Php 300 for 1-10 visitors
Transportation Fee: Php 250 (two-way)
Walking Tours
1. Eco-Tour
Time Required: 3 hours of a loop hike
Attractions: Church of St. Mary the Virgin, Echo Valley, Hanging Coffins, Sagada Underground River Entrance
Php 800 for 10 persons or less
Php 1,600 for 11-20 persons
P 2,400 for 23-30 persons
2. Adventure Trail
Time Required: 3 hours of trek
Attractions: St Mary Church, Echo Valley, Hanging Coffins, Latang River, Underground River, Bokong Falls
Php 3000 for 10 visitors or less
3. Echo Valley Hanging Coffins
Trekking Time: 30 minutes from the tourist info center
Php 300 for 1-10 persons
Php 400 for 11 persons
P 600 for 12-20 persons
Php 700 for 21 persons
Php 900 for 22-30 persons
P 1000 for 31 persons
Php 1,300 for 32-40 persons
Php 30 per head for a group of 41 and above
Sagada Mountain Trekking Tour
1. Mt Ampacao Traverse
Trekking Time: 3 hours
Guide Fee: Php 1,200 for 10 persons or less
Shuttle Fee: Php 800 (two-way)
2. Marlboro Country/Hills
Guide Fee: Php 800 for 10 persons
Shuttle Fee: Php 650 (two-way)
3. Langsayan Danum Traverse
Trekking Time: 3 hours hike
Guide Fee: Php 1000 for 3 visitors or less
4. Marlboro Hills to Blue Soil Traverse
Guide Fee: Php 1600 for 1-5 persons
Shuttle Fee: Php 1350
Sagada Weather and Temperature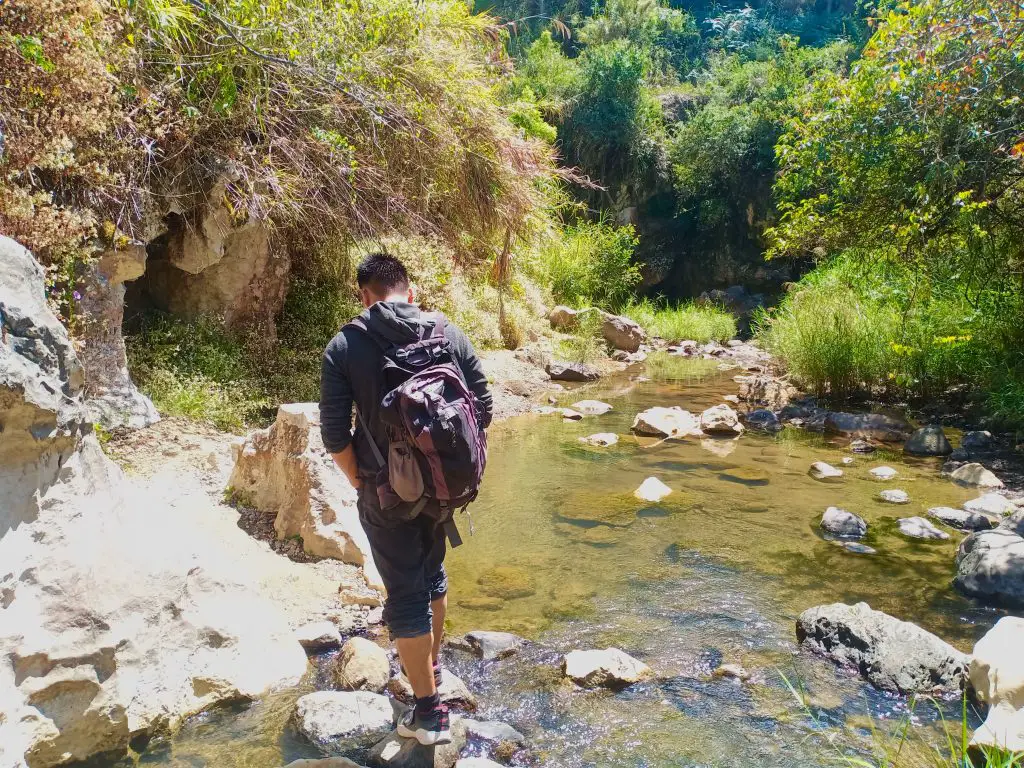 Sagada's weather and the temperature are much like that of Baguio City. If you're after the sunny months, then it's best to visit Sagada from January to April. Most rainy days are during the months of August to October, coinciding with the occurrence of typhoons.
During March to April, the temperature in Sagada becomes warmer but that does not mean, it loses its hinterland feels. The coldest months are typically starts from November to February. So you've got to bring thick jackets during these times.
With the changing climate, however, there have also been inconsistent weather intervals in Sagada and elsewhere.
Thus, it's best to keep in touch with the Sagada Tourist Information Center or with the locals for them to provide updates regarding the weather and temperature in Sagada.
Where to Stay in Sagada?
There are numerous accommodation amenities where you can stay in Sagada. Most of these are homestay setups as well as inns. There are no hotels in Sagada as per the standard of the Department of Tourism. But that's what makes your stay here unique as you'll get to experience simple living, not luxuries.
We'll provide a comprehensive list of these soon! Keep touch.
Where to Eat in Sagada?
Eating in Sagada is one of the most memorable experiences you'll have during your visit. That is because you'll get to experience local cuisines and treats. The most popular are the Lemon Pie Cake and the Etag (meat salted the traditional way). The price of a meal in Sagada ranges from Php 50 to Php 200.
We'll also provide a comprehensive list of these soon!
For More Info on Sagada Tourist Spot:
If you need more information that may help in setting up your itinerary to the tourist spots in Sagada, contact the following:
Sagada Tourist Information Center: 0917 134 5353
Sagada PNP: 0908 2258115
Note: Sagada Tourist Information Center opens from 7 AM to 5:30 PM. You can also refer to the following brochure for more info about Sagada tourist spots' package rates. Share this:
Thank You for your comprehensive and very informative write up on your travels. It's very helpful tips for first time travelers.
Thank you for your warm remarks 🙂 Glad it helped 🙂
Leave a Comment Cancel
Your email address will not be published. Required fields are marked *
Email Address *
Save my name, email, and website in this browser for the next time I comment.
Hi there fellow traveler! My name is Daniel although you can call me Kumafor. That's my indigenous name. I grew on a remote village called Lias in Barlig, Mountain Province.
Check Out our Latest Posts
Top 18 Romblon Tourist Spots including natural attractions
Top 14 Siquijor Tourist Spots: Island of Enchantment
19 Top Cebu Tourist Spots and Best Things to Do
Top 20 Siargao Tourist Spots: Home of Waves and Beaches
Best 22 Bohol Tourist Spots including the Things to do
Dive Into Philippines
⛰️Perfect Sagada Itinerary For 1-3 Days [2023]
Heading to Sagada and looking for the perfect itinerary for Sagada? Perfect! We can help in this Sagada itinerary blog post.
Come spend a few days in crisp mountain air, surrounded by pine trees and scenic views, dining on fresh produce and enjoying excursions led by friendly guides. Not to mention some fantastic adrenalin activities, epic mountain treks, rice fields, waterfalls, plus the early morning world-famous "sea-of-clouds"… and those weird and wonderful Hanging Coffins of Echo Valley!
Sagada is a unique Philippines destination, away from the coast and far from crowded cities. Similar to Sapa in Vietnam, you're transported high above sea level to lush covered mountains, to small villages where local people still tend their rice fields by hand, and fully immersed in nature. Every waking moment is spent savouring the healthy fresh air and peaceful views.
Often paired with a trip to Banaue, you're sure to fall in love with the beauty of Sagada.
Below, you will find the ultimate itinerary: Sagada! We walk you through options whether you have just a day in Sagada or are looking for a full Sagada itinerary 3 days 2 nights. You can simply stop following our itinerary in Sagada if your trip finishes in less than 3 days when you hit the number of days you have or pick the days that sound best from the itinerary below.
We also have a complete list of what to do in Sagada, Philippines so you can decide if the stops in our itinerary are perfect for you. You will find all the options for Sagada activities below.
Finally, we also recommend some top places to stay in Sagada depending on your budget and some tips for visiting Sagada with kids.
Table of Contents
Full Sagada Itinerary 2023
Remember, this is a full Sagada 3 days 2 nights itinerary. If you have less days, simply pick the days that most appeal.
This can be either a Sagada budget itinerary or a more expensive one – you can pick the quality of accommodation and activities to suit your budget.
Sagada Itinerary 1 Day: Historic Sagada, with the Hanging Coffins
Wondering what to do in Sagada 2023? Well, here we go with your Sagada tour itinerary, and there's a lot to fit into your first day. Don't dally on breakfast as this itinerary makes the most of your stay and you're ticking off some prime Sagada attractions today!
First stop is the Sagada Municipal Tourist Information Centre to book guides, where needed or mandatory, for your excursions to the Sagada tourist attractions
Spend an hour at the Ganduyan Museum
Take a short stroll to explore the cemetery at Calvary Hill
On to Echo Valley – one of our favourite Sagada places to visit -and through to the viewing point for the Hanging Coffins
Back in town and refresh
Mid-afternoon stroll to Danum Lake, possibly with a picnic, and await the sunset or hang around longer for the stunning starlit sky – definitely one of our favourite places to go in Sagada
Sagada Itinerary 2 Days: Sagada Sea-of-Clouds, Treks and Caves
If time is short and you're enjoying a Sagada Itinerary 2 days 1 night, this is your last day. However, if you're staying for the full three days… lucky you! Either way, it's a pre-dawn start today.
Join your jeep and guide at 4 am to start your journey to perhaps the best place in Sagada, the Marlboro Hills
Catch the first rays of sunrise and photograph – weather permitting – the gorgeous sea-of-clouds before taking the 2-3 hour Trek to the Blue Soil Hills (a highlight of any Sagada 2 days, 1 night itinerary)
Return to town, grabbing a locally-made coffee and early lunch
Next up, Spelunking adventure at Sumaguing Caves
…and drop by nearby Lumiang Cave on your return to Sagada
Early evening, visit Demang for a glimpse of old Sagada and local life – a great way to end your Sagada 2 days itinerary
Sagada Itinerary 3 Days: Sagada Full On: Waterfalls or Rafting
Following our full 3 days itinerary? Great, as there are still lots of beautiful places in Sagada to discover. We're giving you two options today, dependent on the season and/or your preference… but both promise an exhilarating final day!
Full day trek, with picnic lunch, to the beautiful Bomod-ok Falls
An early morning start again, this time heading to another of our favourite places to see in Sagada, Mt Kiltepan for your second Sagada-famous sunrise!
Back to town for a late breakfast and refresh
Join a tour for rafting or kayaking experience at the Upper Chico River
Click here for a Sagada and Cordillera Mountain Range tour option and discounted tickets.
Complete List Of Best Things To Do In Sagada, Philippines
Don't forget that for many activities within our Sagada trip itinerary it is mandatory to have a guide. Thus the best start to your stay is to head directly to the Tourist Office, planning out your days and tours.
Hanging Coffins In Echo Valley
Locals believe that the higher coffins are placed, the nearer to heaven they are… hence the unique Hanging Coffins at Echo Valley, perched halfway up a cliff.
This old-world burial site (supposedly dating back almost 2000 years) of the Igorot indigenous people, is just a short walk from Sagada's main road. You'll soon come across a view of sharp cliffs with coffins suspended along one edge – making this Sagada's most popular attraction.
The majority of the coffins – hollowed from logs and usually carved by the elderly Igorot themselves before they die – are centuries old, whilst others have only been there a few years, with the last placed around 2008.
They are actually so high up that it almost defies logic how they were erected!
Echo Valley Lookout
You'll find the Hanging Coffins in the magnificent Echo Valley, which offers splendid views of Sagada's rocky village and the coffins. A small ravine along the highlands – near to the town's centre – it's apparently one of the few places in the world where shouting is allowed. Echoes reverberate around the valley, shaped like a large megaphone.
Visitors flock here to enjoy the beauty of the surroundings that lead the way to the coffin's viewing point… and, perhaps more importantly, to scream out their names waiting on the fun echo!
Calvary Hill
On your way to Echo Valley and the Hanging Coffins, you'll also pass by the town cemetery, known as "Calvary Hill". This is the newer version of the Sagadan's burial site, replacing the cliffside coffins with a more traditional style of burial.
At first glance, this seems a typical cemetery, until you learn that burials are planned not on a lot or family plot basis, but by the type of death. This comes about due to the Sagadan's believing that the spirits of their deceased are the highest forms of supernatural beings. Therefore, they are particular about where they are buried. Macabre as it is, there are areas for deaths such as childbirth, suicide, dying unmarried (!), etc. For example, suicides are buried within the deepest parts of Echo Valley to stop them returning to haunt those left behind…
There are many interesting rituals surrounding the burials in Sagada and it's well worth discussing this with a local or joining with a tour guide.
Also, take time to search out one tomb of note – that being of Sagada's adopted son, Dr William Henry Scott. An anthropologist/historian, Dr Scott spent most of his life studying the people of the Cordillera and wrote many books about the prehispanic Philippines.
Marlboro Hill to Blue Soil Trek
There are many hikes on offer in the mountains around Sagada (and you should be aware that the majority need a guide, easily arranged from within the village). One of the top treks is this highly rated trail that leads from the splendid Marlboro Hills, along a rugged terrain to the Blue Soil Hills.
Most visitors choose to experience sunrise and the renowned sea-of-clouds at Marlboro Hills (see more below), before tackling this two-to-three hour trek (from where you'll need a transfer truck (approx 700php) back to the town centre.
Arrange a mandatory guide – from any of the operators within Sagada town – and take a jeep ride 30 minutes up to the drop off point, and a further twenty minutes trek to the Marlboro Hill lookout point.
Clean air, crisp weather (sometimes very cold, so pack well) and silent countryside abounds, with rice paddies in the upper valleys, pine trees covering the mountainsides, and wild strawberries underfoot with a sea of white clouds usually hiding the lower valleys. This is some seriously beautiful countryside.
Set off on the trail through colourful mountain wildflowers, passing unusual rock formations, all set to the splendid mountain backdrop. Tall, proud pine trees reach to the sky, emitting a fresh, fragrant scent. Your senses feel alive!
Not a difficult trail, even suitable for children (just ensure sensible footwear and clothing), this is a lovely trek through the colourful countryside with unique plant life. Your final destination doesn't disappoint either, with the Blue Soil Hills (or Kaman-utek Hills as they are locally known) delighting with their bluish-green colour – due to the high copper sulphate content of the soil. A quite unique natural wonder!
Sumaguing Cave
With over 60 caves discovered underneath the town of Sagada, Sumaguing Cave is perhaps the most famous. Noted as "The Big Cave", it has the largest chamber of all the caves and is filled with countless rock formations, slowly shaped by nature over thousands of years.
Some of the formations call to mind animals and have been nicknamed such: elephants, turtlehead, bear and, the non-animal but equally unique, Chocolate Cake. These unusual formations, along with dramatic stalagmites and stalactites, are some of the highlights of spelunking adventures on offer at the cave.
A man-made staircase from the roadside leads you into the interior of the cave, an initial easy walk down. However, it soon becomes apparent at the challenges that lay ahead!
Divided into three areas, spelunkers enjoy a great "Descent", the rock formations, and then The Tunnel, where it's time to get wet as you squeeze into narrow openings and soak in cold waters! There is also a 10ft boulder to climb up (with the help of ropes) to find your way out of the cave.
Guided throughout your 2-hour exploration, this is a thrilling activity and a firm favourite for tourists visiting the area. Wear sturdy shoes, with a good grip, and ideally bring a flashlight. Wear lightweight clothing, as you're going to get wet, but there's a shower area at the end of the tour if you need to change. Have fun!
Lumiang Burial Cave
South of the main village, only 10-15 minutes walk toward Ambasing, you'll find the well signposted Lumiang Burial Cave. Steep steps lead you down to a massive cave where more than 100 coffins are stacked high at the entrance.
With pinewood coffins dating back almost 500 years, this is yet another ancient burial site. Elaborate designs are carved into the coffins, including images of lizards (symbols of long life and eternity). Buried in the fetal position – as Sagadan's believe that we came out of our mothers in this position and thus should leave the world in the same position – the coffins are surprisingly small.
If you're up for a real adventure and have more time – perhaps following your own Sagada DIY Itinerary 2023 – check out the 4-5 hour Cave Connection course, starting here at Lumiang and ending at Sumaguing. Epic.
Marlboro Hills
A guide is mandatory but is well worth the cost, so is the hassle of reaching this rather offbeat location. An alternative to the more well-known sunrise spot of Kiltepan (more on that later), Marlboro Hills promises a similar unobstructed 360-degree view of sunrise across a sea-of-clouds… Totally mesmerizing!
You'll need to head out around 4 am, taking a jeep/4×4 with your guide up to the viewing point, walking the last 20-30 minutes to the rocky outcrop. And then… wait for the sun to aim its rays over the mountains, seeming to wash the world with a golden glow. As the sun rises, your surroundings take shape, coming into view – plants, flowers, rice fields, pine forests and the ever-present mountains. What a great start to your day!
It's also a lesser known fact that the sunsets are equally dramatic from this viewpoint and stick around for stunning milky-way views. If you have the time, camping overnight is highly recommended.
Located to the west of town, near the town of Besao, Danum Lake is a peaceful at-one-with-nature setting, surrounded by the Ampacao mountains.
Trek 4km from Sagada town centre – approx 1h10m walk – along Sagada's West Road, aiming to arrive about an hour before sunset to capture the setting at its best.
A small lake (more of a pond, in fact), the beauty is in the surrounding pine trees reflected in the still waters, and the relaxing atmosphere. A lovely end to any day, this is a firm favourite camping location for Sagada visitors.
If you're staying longer in Sagada, walk just 200 metres to the smaller Lake Banao, the jumping off point for the long trek to the summit of Mt Ampacao, the highest peak in the area.
Ganduyan Museum
Your visit to Sagada is not complete unless you drop by here. A privately owned museum, maintained by family members, it's almost directly opposite the Tourist Information Centre in the middle of town and offers a fantastic overview of the beginning of Sagada.
Listen as the curator tells stories of Sagada's history, culture, art and its people, especially their beliefs and traditions. The small museum is packed with an anthropologist's dream of sculptures, jewellery and other Kankanay (including Sagada Igorot) artefacts.
To the south of Sagada you'll find an old village called Demang. Once the original "Sagada", the village is today still the true cultural heart of the area. You might be lucky enough to witness celebrations or fiestas – always a loud and fun affair!
Bomod-ok Falls
This is the Philippines countryside at its best: an impressively high waterfall (200m), surrounded by rice terraces and breath-taking views. Instagram-worthy pictures guaranteed!
The falls can be reached by a challenging 3-hour trek from Sagada, passing through communities, down and up a mountain, and through rice fields with steep steps at almost 70-degrees. Not for the faint of heart, with 3 hours there and back, it's fair to say that the exciting part is the journey itself, not the final destination.
Take it slow, pack well, and pencil out a full day to really enjoy the experience. Pack water and a picnic lunch too, though you will find a few local stores along the route selling drinks and basic snacks.
An hour or so into your trek, at the "staging area", you'll need to register and take a tour guide through to the Bomod-ok Falls. This is actually great, as the guides have a fountain of knowledge about the area and the places that you pass through.
Once at the falls, it's time to cool off with a well-earned swim before, alas, facing the return trek. There are a couple of routes back, both taking the same time but one slightly easier so ensure to discuss this with your guide.
Though tiring this is a wonderful trek, totally worth it in our opinion!
Mt Kiltepan
Best explored in the early hours, you'll need to leave Sagada before the crack of dawn to reach here as it's again all about catching the dramatic sunrise!
Another popular spot to view the famous Sagada sunrise, with the sea-of-clouds laid out below, you'll also have panoramic views of the Kilong Rice Terraces.
Located around 40-minutes walk (or 10 minutes drive) from the town, don't be surprised to find throngs of fellow tourists heading up here at 4.30 am. Fog-allowing, it's all worth it… As the first rays of the sun breakthrough in a blaze of light and colour!
Probably the most popular viewing spot for the famous Sagada sunrise, if you're lucky with the weather this is a unique experience and well worth the early start. Wrap up warm as this will be a chilly trip, with your breath smoking from your mouth in the cold mountain climate.
Kapay-Aw Rice Terraces
Sagada's own version of the rice terraces of Banaue, with variations of greens and patterns spread out over the valley. Take an easy stroll here to see the lush agriculture cultivated by the locals and capture some stunning photos.
Climb up through the rice-terrace levels for a majestic view across the valleys of the Sagada province.
Rafting And Kayaking On The Chico River
Time to get wet and have some fun at the Upper Chico River, high in the mountains. Rated as some of the best white water rafting in the Philippines, six sections of the Upper Chico are accessible from Sagada giving different water conditions, with the season usually running from late June to early January. Experienced kayakers also have a choice of scenic challenging runs, some almost 9km long.
Try The Local Coffee
Fair to say that the Philippines is not renowned for its cuisine or drinks, yet Sagada is definitely an exception when it comes to coffee. Thanks to the high altitude and cooler mountain temperatures, coffee grows very well here. Cafes offer the premium local coffee, with some even roasting the beans themselves.
What To Do In Sagada Map
On this Sagada map, tourist attractions available in this area are all noted.
Best Places To Stay In Sagada
When it comes to the best hotels in Sagada, there isn't a huge range. The good news is that the accommodation in Sagada is generally good value and budget hunters will feel at home. However, people that prefer more upper midrange and luxury accommodation may be disappointed.
Below I've listed a few different places to consider.
Coffee Heritage House & Hostel Review
Looking for peaceful accommodation, surrounded by lush greenery? The Coffee Heritage House & Hostel ticks the boxes.
The first coffee-themed accommodation, aiming to share their passion about Philippine artisanal coffee whilst aiding the local farmers, it's located on a hill approx 6km outside of town. A family welcome awaits you here, with tasty local and western food cooked to order. And as much fresh coffee as you want!
Views are spectacular, pine-tree scents fill the air, dogs and chickens entertain you, and the dramatic mountain weather of Sagada presents changing views. Oh, and the night sky… You should be easily spotting the milky-way from this remote, rural area.
Beds are comfortable and clean, and the common shared area is spacious – with an open fire for those mountain-crisp evenings. Rooms are varied: 5-bed mixed dorm with Queen, 5-bed mixed dorm with Single, 3-bed mixed dorm Single, Deluxe Queen and Deluxe Triple rooms. Do note that washroom facilities are all shared.
A favourite of visitors enjoying a Sagada backpacking itinerary 2023 offers, the inconvenient location is not ideal for everyone. However, if you're looking for tranquillity, scenic views and a relaxed atmosphere, this is the spot for you.
Click here for the latest prices
Isabelo's Inn and Cafe Review
Known for its family-friendly welcome and proximity to some good restaurants within the village, this is a great mid-market accommodation option.
Free internet access, on-site coffee shop and complimentary breakfast are offered. Less than half a mile from the Hanging Coffins, this is a great base for exploring the area.
With two floors, you'll find the reception on the 1st floor, along with a small living room (with cable tv) and the breakfast-dining area. Upstairs there are 10 various room choices: standard double with private bathroom, twin room with shower, double queen with shared bathroom, triple and family rooms.
The convenient location, friendly welcome and comfortable facilities make this an ideal place to stay for families and couples, or anyone looking to maximise their time for excursions and activities.
Kanip Aw Pines View Lodge Review
Approx 8-minutes walk from the centre of the village, Kanip Aw Pines View Lodge is another ideally located accommodation option.
Various room options include 2 double beds, 1 single, 1 double, family and queen standard. Most have mountain views and a couple have a small balcony/terrace area. WiFi is available in the public areas, a vending machine and a shared lounge/TV area.
A popular choice for backpackers or those looking for a cheap base, not planning on spending too much time in their accommodation.
Find our full list of the best places to stay in Sagada here .
Visiting Sagada With Kids
With its cooler climate and out-doors lifestyle, caves, rock formations, forests and mountain views, children love Sagada! Rough-and-tumble younger children do well here, with lots of space and few vehicles around, climbing rocks, collecting flowers, and basically revelling in the outdoors lifestyle.
Older children appreciate the scenic views and thrill at the early morning jeep rides up to mountain viewing points for those pre-sunrise excursions. Needless to say, the hanging coffins are a winner too, and when you add in rafting, kayaking and spelunking… The kids might not be ready to leave after only 3 days!
Thus, all this makes Sagada a favourite for families with unique cultures and traditions helping to make a stay here not just great fun, but educational too. Don't forget, that you're guided by the welcoming and caring Filipinos, who especially enjoy sharing the sights and thrills of their home country with enthusiastic families.
With many things to do in Sagada with kids, this is one destination the whole family will enjoy.
How To Get To Sagada
Reaching Sagada is a fairly lengthy journey, whichever route you take.
Most visitors fly into Manila and take the new Coda Lines bus from Cubao, Quezon City, Manila, straight to Sagada in 12 hours (with a few stops for the restroom along the way). You'll find a couple of choices – Super Deluxe with 35-seats and restroom, or a more reasonably priced Semi Deluxe 45-seater. This overnight service helps you avoid wasting a full day whilst travelling to Sagada.
Nearer still is Baguio, with a domestic airport 5km outside the city: Loakan Airport. From Baguio, Sagada is only 6 hours by road and there are a couple of bus companies that operate this route.
To see all the latest flights and prices, click here . For the bus routes and rates, click here .
Final Words
Theodore Roosevelt said, "Nothing in the world is worth having or worth doing unless it means effort…". Reaching Sagada might seem like a lot of effort, but we assure you there will be no regrets!
One of the most relaxing travel spots in the archipelago, the beautiful town, indigenous culture and unbelievable scenery will blow you away. Hire a guide and explore, explore, explore!
We hope you enjoyed this Sagada sample itinerary and the complete list of places to visit in Sagada Philippines. You can find more information in our complete guide to Luzon here .
Related posts:
By Julia Rolph
Julia first discovered the Philippines in 2011, eventually settling in beautiful Bantayan Island, Cebu, with her daughter and Filipino partner.  The family spend every vacation exploring the Philippines, and Julia enjoys helping others discover this wonderful destination. When she's not sharing her vast Philippines knowledge here, she works as a travel agent planning trips for people who want to visit the Philippines
9 Places to Visit in Sagada and Mountain Province + Things To Do
The Philippines isn't just all about postcard-perfect beaches. It has cool highland destinations too! If you want to be close to nature and the Philippines' mountain culture, venture north of Manila and visit Sagada. You can find this small town high in the mist-covered Cordillera (mountain range) of Northern Luzon.
Surrounded by spectacular mountain views, Sagada is most-known for the bizarre hanging coffins, a burial tradition that has survived for over 2,000 years. When in town, don't miss the cave connection tour (Sumaging-Lumiang Cave), sunrise view from above a sea of clouds at Kiltepan Peak, the local coffee (best in PH) & hike to the many waterfalls in the area including Bomod-ok Falls and Pongas Falls.
To help with your trip planning, I've added links to the locations on Google Maps. Feel free to click/tap on the links posted below. Then, use the "save" feature on the Google Maps app for easy reference. But before you start ticking goals off your bucketlist, here are travel essentials & discounts you'll need to check. Pre-book online for a hassle-free trip!
Sagada travel essentials
Click below to compare rates & read reviews:
Sagada Hotels Flights
View all travel tips on: Sagada .
1. Echo Valley & Sugong Hanging Coffins
Location : Sagada, Mountain Province, Cordillera Administrative Region (CAR), Luzon Island, Philippines . Save on Google Maps .
For more travel inspiration,  follow Detourista on :
Instagram Facebook tiktok Pinterest
2. Lumiang Burial Caves
Location : South Rd, Sagada, Mountain Province . Save on Google Maps .
3. Sumaging-Lumiang Cave Connection
4. Bomod-ok Falls
Location : Aguid-Pide-Fidelisan Trail, Sagada, Mountain Province . Save on Google Maps .
5. Aguid Rice Terraces
Location : Aguid Rd, Sagada, Mountain Province . Save on Google Maps .
6. Pongas Falls
Location : Ankileng, Sagada, Mountain Province . Save on Google Maps .
7. Kapay-aw Rice Terraces (South Central Sagada Rice Terraces)
Save on Google Maps .
8. Sagada Food Trip
Yogurt House Location:   Save on Google Maps .
Log Cabin Location:   Save on Google Maps .
Sagada Lemon Pie House Location:   Save on Google Maps .
Pinikpikan Haus Location:   Save on Google Maps .
9. Church of St. Mary the Virgin
Location : Staunton Rd . Save on Google Maps .
Other interesting spots in Sagada
Lake Danum Location:   Save on Google Maps .
Ganduyan Museum Location:   Save on Google Maps .
Sagada Weaving Location:   Save on Google Maps .
Sagada Pottery House Location:   Save on Google Maps .
Orange Picking Location:   Save on Google Maps .
Marlboro Hills Location:   Save on Google Maps .
Blue Soil Hills Location:   Save on Google Maps .
Kiltepan View Location:   Save on Google Maps .
Where to go near Sagada
Location : Mountain Province . Save on Google Maps .
Location : Ifugao province . Save on Google Maps .
Where to stay
See more : Banaue travel tips
Location : Benguet . Save on Google Maps .
Where to stay Tours + discounts
Top discounts
Manila-Luzon Shuttle – Tagaytay, Baguio, Laguna, La Union & more
Baguio Day Tour from Manila
The Manor at Camp John Hay (Overnight Stay) with Breakfast
See more : Baguio travel tips
What places have you added to your bucketlist? Have you been to beautiful places in Sagada that should be on this list? Feel free to share your thoughts!
Places to visit in Sagada
Sagada tourist spots, things to do in Sagada, where to go in Sagada & more.
Note: Destinations featured above are not listed by rank.
Where to Stay in Sagada
Click below & search recommended Sagada hotels/hostels/home rentals within your budget. Remember to set your  min/max price , travel dates, and  sort by review ratings . I often book online with these trusted booking sites below for rock-bottom prices & convenient bookings.
Agoda Booking.com
Book sooner rather than later if you already have your dates set. Cheaper-priced rooms and hotels with high reviews tend to get fully booked faster, especially during busy days like weekends, holidays & peak tourist seasons.
Don't Stop Here
Click below for more travel inspiration:
Don't leave yet. There's more!
Discover more blogs and travel tips in:
Southeast Asia
Philippines
Mountain Province
Leave a Reply Cancel reply
Your email address will not be published. Required fields are marked *
This site uses Akismet to reduce spam. Learn how your comment data is processed .
Must-see attractions in Sagada
Sagada's most popular attractions are the hanging coffins of Echo Valley: some are centuries old, while others are only a few years old. Most are high up…
Lumiang Burial Cave is a 10- to 15-minute walk south of the main village, towards Ambasing, well signposted along the left-hand fork in the road. Steep…
The exhilarating Sumaging Cave, or Big Cave, is the most popular of Sagada's caves. Its immense chambers are home to other-0worldly rock formations with…
South of the centre, the small village of Demang is now a barangay of Sagada but was the area's original settlement and remains Sagada's cultural and…
This small museum is packed with an anthropologist's dream of sculptures, jewellery and other Kankanay artefacts. Be sure to chat to the owner, the son of…
You'll pass the Echo Valley lookout on the way to the Echo Valley Hanging Coffins. You'll probably hear people shouting into the valley before you get…
Hikes from nearby Besao are less busy than those around Sagada, but they don't feature any coffins and you'll need determination to tackle them. Jeepneys…
Top Things to Do in Sagada
Things to do in sagada.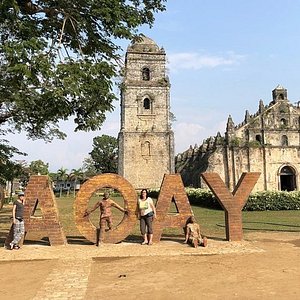 Tours in and around Sagada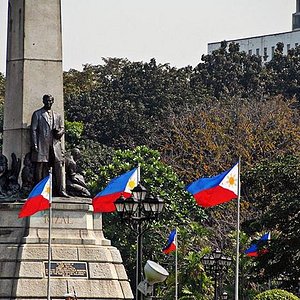 Tours & Sightseeing
Top attractions in sagada.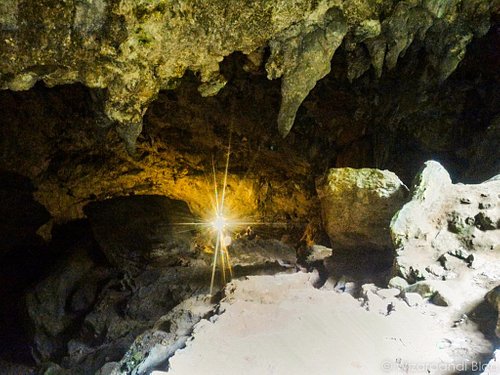 1. Sumaguing Cave

2. The Hanging Coffins Of Sagada

3. Bomod-Ok (Big) Falls
4. Marlboro Hill

5. Kiltepan

6. Lumiang Cave

7. The Episcopal Church of Saint Mary the Virgin

8. Echo Valley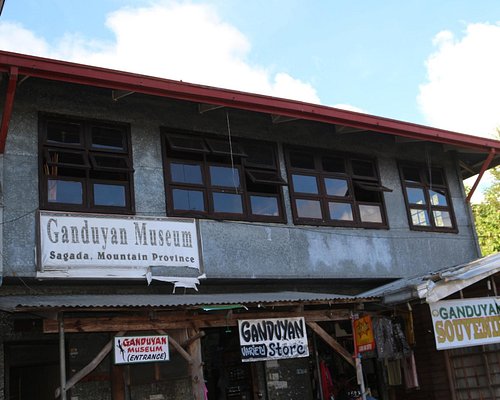 9. Ganduyan Museum
10. Pongas Falls

11. Mt Ampacao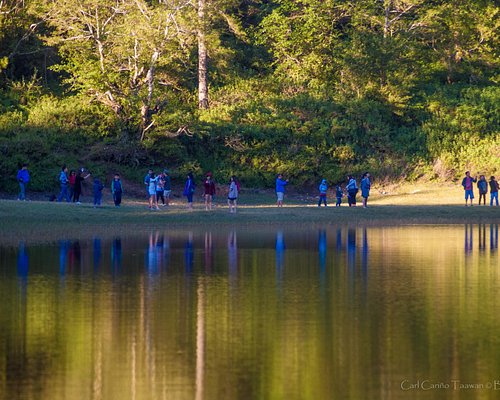 12. Lake Danum
Multi-day & extended tours, outdoor activities.
What travelers are saying

Sumaguing Cave
Bomod-Ok (Big) Falls
Marlboro Hill
The Hanging Coffins Of Sagada
Lumiang Cave
The Episcopal Church of Saint Mary the Virgin
Sagada Attractions Information
Meet the Team
Talk to The Broke Backpacker
Czech Republic
Netherlands
Switzerland
Scandinavia
Philippines
South Korea
New Zealand
South Africa
Budget Travel
Work & Travel
The Broke Backpacker Manifesto
Travel Resources
How to Travel on $10/day
Home » Southeast Asia » Philippines » Sagada
The ULTIMATE Sagada Travel Guide (2023 • updated)
Exactly like a mangy stray after a bath, a pedicure and a long visit to the veterinarian, Sagada is currently getting a lot more love than it used to.
And it is DESERVING!
It is a welcome break from the infallible exhaustion of gorgeous sandy beaches, offering clear mountain air , fascinating cave systems, and, of course, the echo valley hanging coffins.
In my top tier S agada travel guide , I'm going to be exposing all the info you need to ensure an action-packed and mostly problem free visit. I might even tell you how to save a bit of money too…
Let's get into it!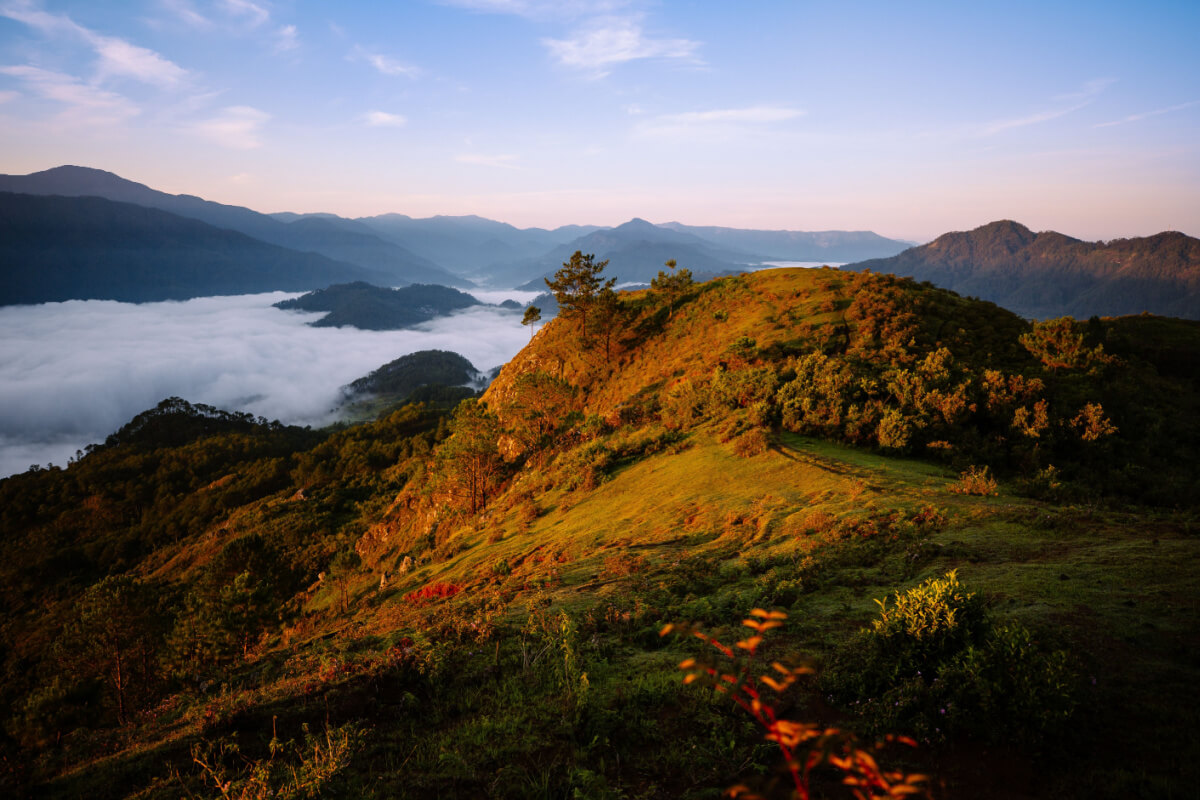 Heading Off-Grid? • Download This Guide as a PDF!
Sign up to The Broke Backpacker's EXCLUSIVE VIP AREA below and download our top backpacking guides as PDFs – go offline with peace of mind!
Why Visit Sagada?
A sample 3-day itinerary for sagada, top things to do in sagada, backpacker accommodation in sagada, sagada backpacking costs, sagada travel guide budget travel tips, the best time to visit sagada, staying safe in sagada, sagada travel guide to getting around, working and volunteering in sagada, nightlife according to my sagada travel guide, faqs about travelling to sagada, final thoughts.
If my spectacular introduction has not yet convinced you that my Sagada Travel Guide holds some crucial (and juicy) knowledge, you and I are going to have some serious words later ( ED : or more likely, you and me).
Anyway, Sagada is an awesome location to add to any Philippines trip ! Especially if you are one of those beautiful people who loves varying their experiences and getting off the beaten path. Mountains? Caves? Limestone cliffs decorated by coffins? Legendary …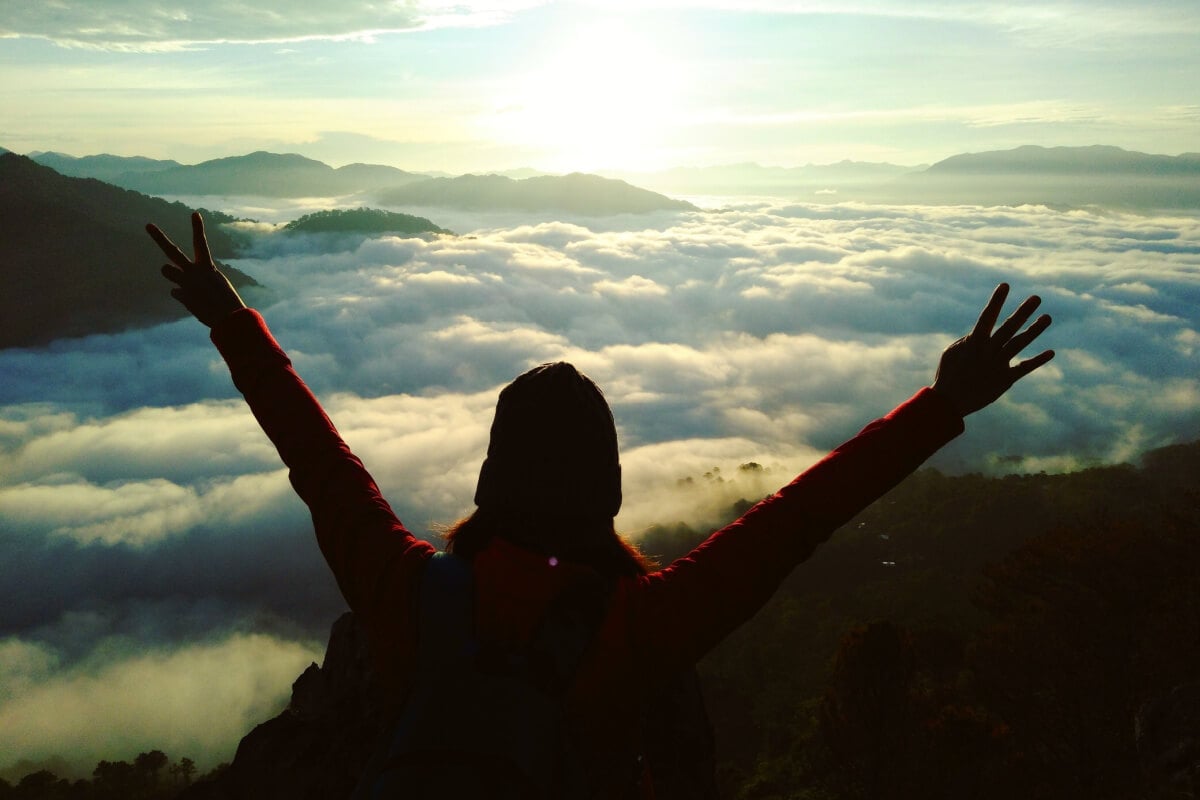 Why else should you visit Sagada (and utilise my epic Sagada travel guide)?
It is seriously cheap. The cost of living in the Philippines is low, and this means that you can send it up a mountain, explore the tastiest places and stay at surprisingly lush accommodations for pennies on the dollar.
The people (as with most places in the Philippines), are super friendly and generous, making Sagada a fantastic place for better exploring local culture. Beaches are cool, but they can sap the exoticism from a place, in the form of multiple little stars…
So what does a trip here look like? For starters, you have to remember to register online and book a single night's accommodation at a trusted location. You need this to get through the border!
There are increasing amounts of red tape to account for the number of tourists. It's worth double-checking what is and isn't allowed. However, I do know that you must stay for at least one night! So why not try 3…?
Day 1: The Tourist Office, Sumaguing Cave, Lake Danum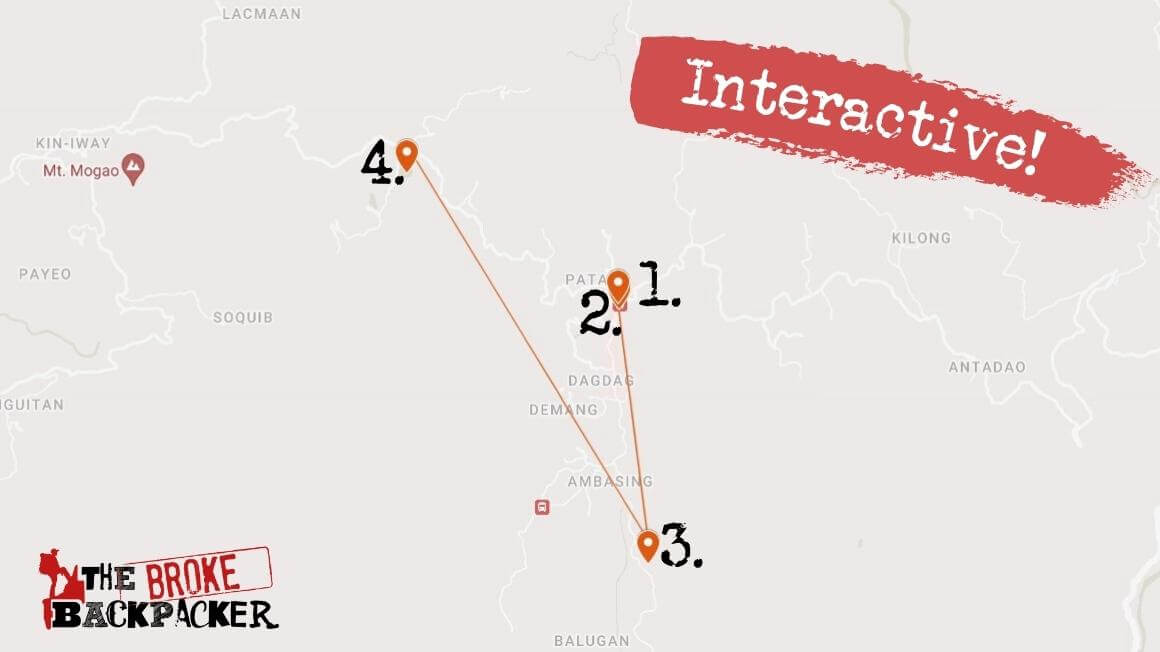 There's no way anyone is taking part in a sunset hike on day 1. But that doesn't mean that things won't get done! Head to the Sagada Tourism office to book your tours (and the mountain sunrise on day 2). Yes, you may part with a significant cash sum, but there is an ATM in the town, and this will be one of your biggest expenses.
The Ganduyan Museum is worth an hour, and grab a delicious breakfast at any of the local cafes nearby.
Next, we're going to get stuck into the Sumaguing Cave , one of the most popular tourist attractions in the area. It is a caving experience, so get ready to climb through some tight spaces and see weird cave stuff. The whole activity takes 2 hours, with transport either way.
You're likely to be pretty tired after caving, so we'll head to Lake Danum for gorgeous sunset views, and maybe a picnic if you're pragmatic enough. You've got an early start tomorrow, so don't overdo it at the local bar…
Day 2: Mountain Sunrise, Blue Soil Hill and Hanging Coffins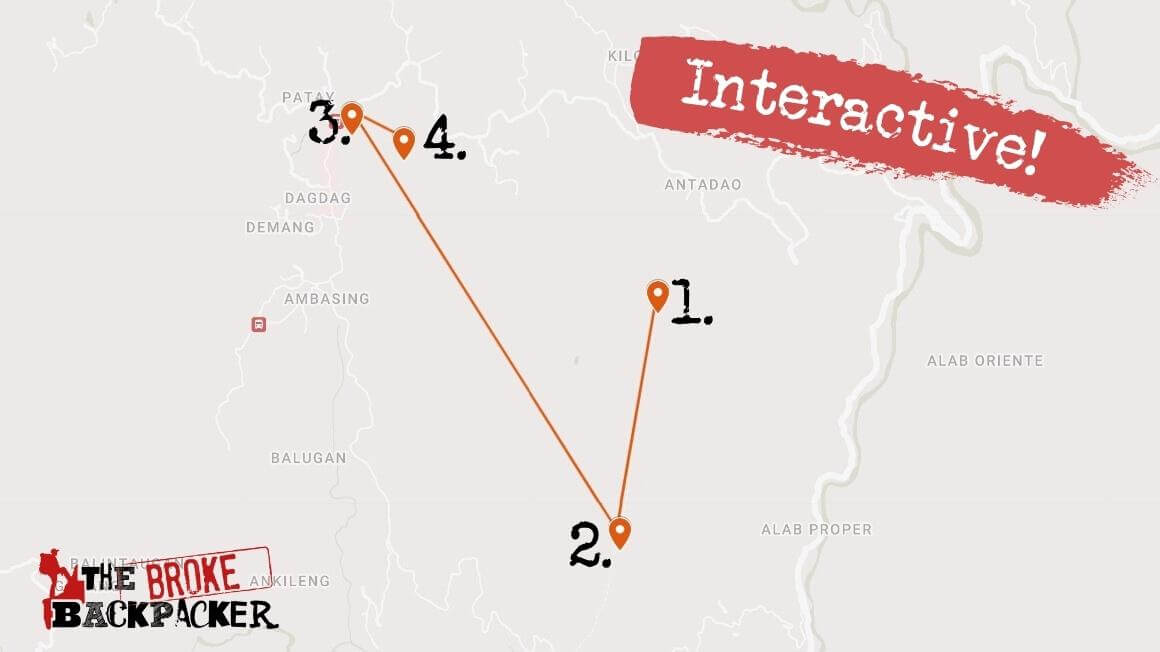 4:30 am start to catch some stunning views. Head to the Marlboro Hills (incl. Kamanbaneng) to stick your head above the clouds and experience the magic of the morning. There are various vendors in the area, so you can grab a snack and a drink if for some reason you are awake enough to eat.
Next, we're going to embark on a hike to Blue Soil Hill . It takes around 2 hours to trek there but is predominantly downhill, and there is a range of other awesome viewpoints to take advantage of. The blue soil is pretty amazing too.
When you get back, grab a super tasty/amazing brunch and chill out in the city centre. You could take the time to hike to the cemetery at Calvary Hill if you want something free and local to do. That is a top Sagada travel guide recommendation right there.
Next up are the Hanging Coffins . The whole tour takes about an hour, but it is super interesting. Head for dinner at Log Cabin for a super tasty dinner. You can have a beer or five tonight.
Day 3: Bomod-ok Falls, Balangagan Cave
Heading to the Bomod-ok Falls is a top thing to do in Sagada. The largest of the three local waterfalls, touring here involves a mountain trek, followed by some sensational photo opportunities and the chance to swim in the pool at the base. There might even be a little surprise for you when you get there.
Head back to town for lunch, as you will be starving!
For your second caving experience of the trip, jump into Balangagan Cave . It is less visited than Sumaguing and is a little less user-friendly. If you back your caving skills, then challenging yourself here can be fun and rewarding. It has the prettiest cave formations in Sagada.
If that's not enough for you, head to Demang to experience another side of the local culture. Sometimes, wild celebrations and activities are conducted, so count yourself lucky if you manage to see them!
Being one of the most beautiful areas of the Philippines , there is a boatload of cool stuff to do in Sagada. My Sagada travel guide has got all the best ones, including intricate cultural oddities, paradisical nature, and some saucy bonuses!
1. Marvel at the Unique Hanging Coffins
One of the main reasons a lot of people make the trek up to Sagada is to see the iconic hanging coffins. The Igorot people of Sagada have traditionally 'buried' their dead in colourfully painted coffins clinging to the sides of limestone cliffs, or piled up at the entrance of caves.
They believe these methods of burial provide an easier path for the spirits to reach the great beyond, as well as keep wild animals from their remains. These days it is more common for locals to bury their dead in cemeteries – although there are still a few locals who choose to be buried in the traditional way.
You can reach some of the coffins independently or a visit can be included in an Echo Valley tour booked through the Tourist Information Centre. This is a must-see on any Sagada itinerary.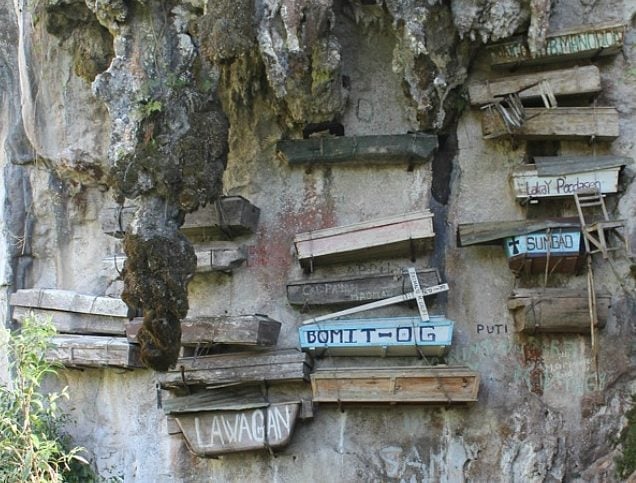 2. Go Spelunking in Massive Cave Systems
If adventure is your middle name, and you're backpacking the Philippines, then spelunking may very well be the perfect activity for you. The most popular spelunking adventure is the Cave Connection tour, which takes you from Lumiang Cave through to Sumaguing Cave .
Exploring the underground cave system involves wading through chilly rivers, rappelling down waterfalls, and squeezing yourself through tiny openings.
It is like being birthed again, except this time you are old enough to be aware of it. Definitely not for the claustrophobic! There are also stacks of wooden coffins located at the mouth of Lumiang Cave, which is always an interesting sight.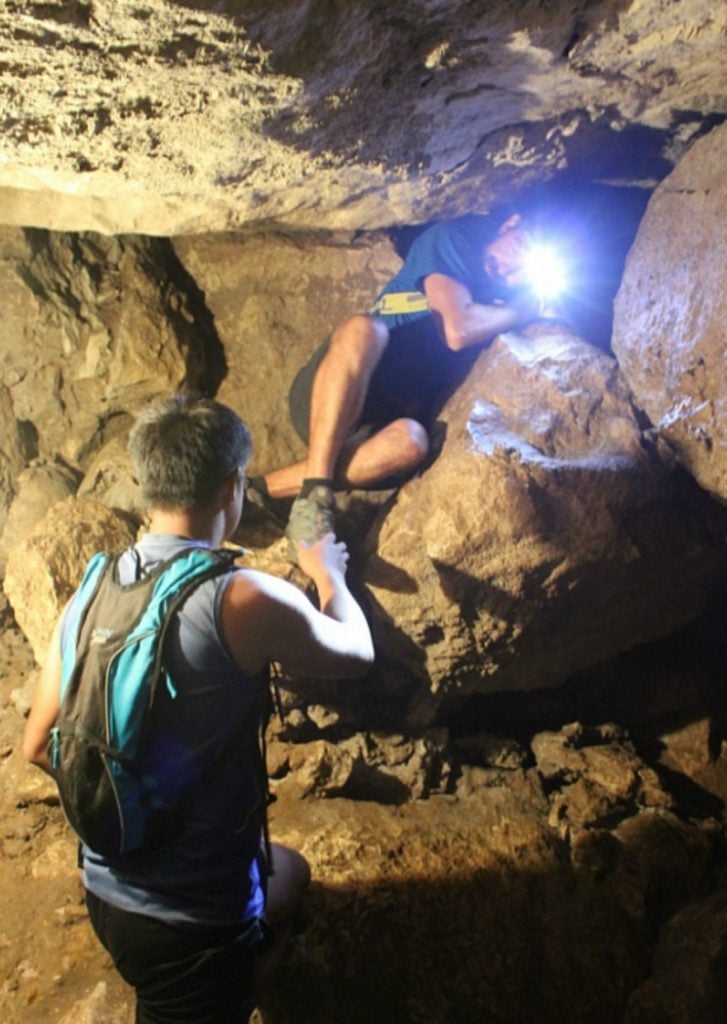 Tour Guides are required for this 3-4 hour adrenaline rush of an activity, and you can pick them up from the Tourist Information Centre. If this sounds too extreme, you can do a shorter caving course in Sumaguing Cave. There is also an option to explore Balangagan Cave which is a 4-hour adventure and has some of the most beautiful rock formations of all the caves.
3. Hike in the Lush Mountainous Surroundings
There are many hikes on offer in the mountains around Sagada, some that can be done independently and a larger number that require a guide (all very affordable) Echo Valley is one of the most popular hikes in a Sagada itinerary, and on half-day hiking, you will see rice terraces, an underground river, hanging coffins, and a waterfall, along with lots of gorgeous scenery.
If you feel like a challenge, you could climb the highest peak in Sagada – Mt Ampacao – or hike to one of the waterfalls mentioned below. There are a large number of hikes available with local guides from the Tourist Information Centre, where you can pick up a free map and guide with the hikes listed.
4. Swim under a waterfall
It can get pretty hot during the day up in the mountains and what better way to cool off than in a deep, cool pool under a cascading waterfall? I can't think of any!
There are numerous waterfalls around Sagada that can be visited independently or as part of a tour. Visit Bokong Falls for its deep, perfectly shaped rock pool close to town, Bomod-Ok Falls for its impressively high falls surrounded by rice terraces, and Pongas Falls for an adventure, with a challenging trek of slippery trails, and a sheer drop-off to reach it.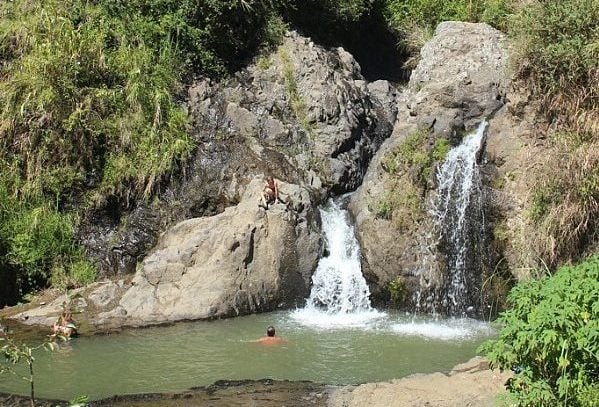 5. Try all the excellent eateries
The Philippines is not known for its cuisine but it doesn't mean there aren't delicious food destinations – Sagada is definitely one of them. For such a small town there is a ridiculously high number of eateries, and the crazy thing is – almost all of them serve incredible food.
Sagada is known for its lemon pie, but there are so many other delectable dishes that are done so well here – wood-fired pizza, Korean dishes, fried chicken that Colonel Sanders would be proud of, traditional Pinoy dishes such as chicken adobo, handmade Italian pasta dripping with cheese, and so much more.
You won't go hungry in Sagada, in fact, you may come away with a few joyfully earned extra pounds. Check out the restaurant list further down this guide to start planning your meals now and make sure to include at least some of them when planning your Sagada itinerary.
6. Try the local coffee
As with its cuisine, the Philippines is also not generally known for having great coffee, but Sagada is definitely an exception. Due to the higher altitude and cooler mountain temperatures, coffee grows exceptionally well in this mountainous corner of the Philippines and a lot of the local cafes not only serve the premium local stuff, some even roast the beans themselves onsite. They also grow tea in the area so try to pull yourself away from the glorious coffee to try the mountain tea as well. They also grow tea in the area so try to pull yourself away from the glorious coffee to try the mountain tea as well.
If you have ever wanted to try the infamous civet coffee, a.k.a. Kopi Luwak, the most expensive coffee in the world – then you can find it here. However, the method of harvesting this coffee bean requires the s ystematic abuse of the endangered civet . Civets are kept in cage farms where they are fed and harvested for the half-digested coffee beans they excrete (yep – that's the source of Kopi Luwak).
Think hard before you spend your dollaridoos: The Broke Backpacker doesn't engage with animal tourism , and neither should you. (The other coffee is fine though.) 🙂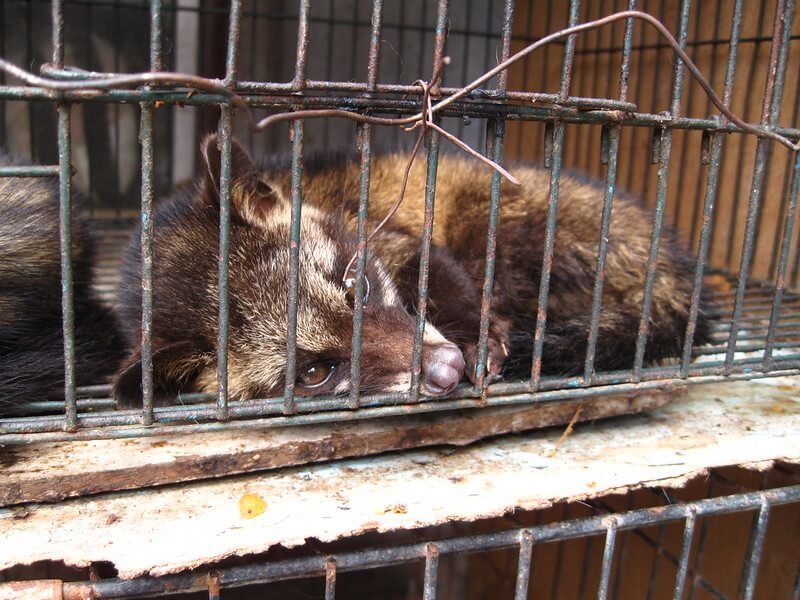 7. Go for a leisurely stroll around town
The surrounding mountains of Sagada offer gorgeous spots for hiking and adventure, but the town itself is beautiful and also definitely worth exploring. There are pine-covered mountains surrounding you everywhere you look, and once you head in any direction from the main street of town, you will very quickly come across the lush and verdant countryside with mountain views, rice terraces, and a whole lot of peace and quiet.
There are a few destinations that are worth visiting on the outskirts including the Sagada Weaving Cooperative where you can buy quality woven items and clothing while also seeing the talented weavers at work, Gaia Cafe – a crazy-looking hippie treehouse/vegetarian restaurant, and Misty Lodge – a painfully quaint wooden lodge with a restaurant serving the most amazing pizza. Make sure to add these to your Sagada itinerary.
8. Try your hand at rock climbing
If you have ever wanted to give rock climbing a try but have been put off by high prices, then now is your chance. Rock climbing in Sagada is relatively cheap and with a low difficulty level, it is the perfect place for beginners.
You can either just show up, it is located behind the cemetery in town and the attendant is usually there, or ask for more information at the Tourist Information Centre. All the gear is provided.
We've tested countless day packs over the years, and now we've found our absolute favourite: the traveller-approved Osprey Daylite Plus .
Want more deetz on why we love it  so damn much?  Then read our comprehensive review for the inside scoop!
Wondering where you should stay in Sagada ? Sagada is the perfect destination for backpackers and home to some of the best accommodations in the Philippines!
There are plenty of budget options in and surrounding the town, but it's almost impossible to book anything in advance, so you need to just rock up and see. If that isn't your style, you can book a hotel…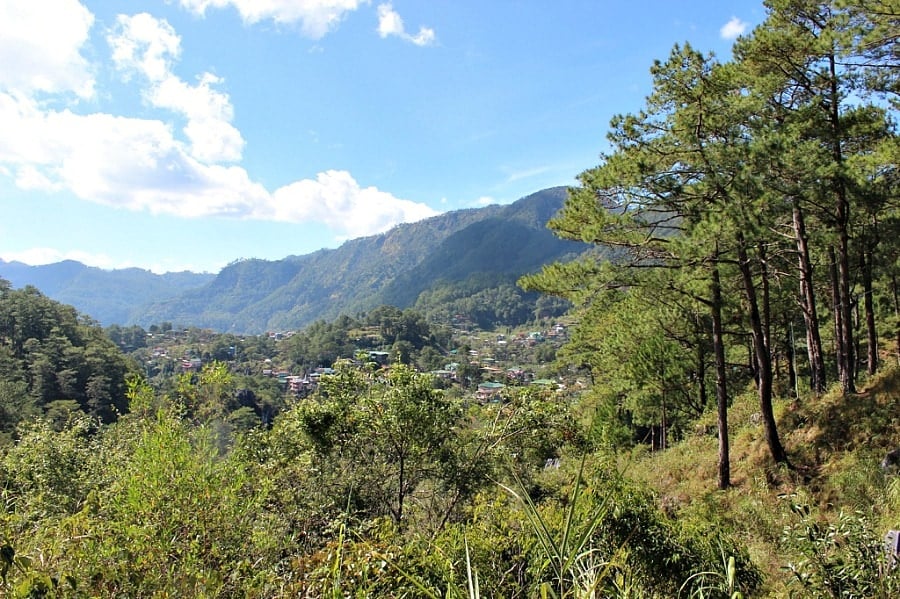 You have to book at least one night online, but after that, feel free to search for much better and cheaper accommodation options. The Sagada tourism office wants you to spend money, but they also understand that backpackers are travelling on a shoestring.
Accommodation is usually more expensive during the peak tourist season. Try heading over between October and April when the tourists are away!
Remember that Sagada is still a little out of the way. You're not going to find too many places that can offer the whole package. It is a perfect backpacker destination, however!
Best Places to Stay in Sagada
These are the top places to stay in Sagada, according to my EPIC Sagada travel guide:
If you want to be a little more off the beaten track, then look for somewhere to stay in Kilong. You'll find mostly private Sagada accommodation options in this area as well as a wealth of natural features.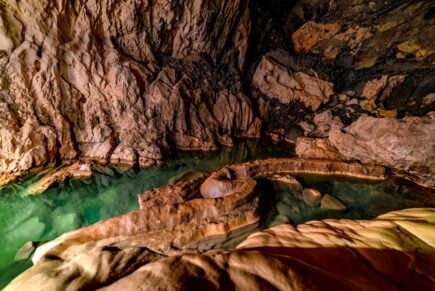 Ambasing is located south of the center of Sagada and close to the Lumiang and Sumaguing Caves. This makes it a great choice when you're deciding where to stay in Sagada on a budget.
Patay is one of the largest neighborhoods in Sagada and is pretty much the center of the town. This is where you'll find the tourist center where you can get information on the best activities and sites.
We should all have been gallivanting through the Philippines for long enough to know that 100PHP = $1.80. Or (a more useful approximation) $1 = 50PHP. Using this will keep your budget in line!
You generally don't have to worry too much about costs, unless you are taking some seriously expensive tours, or staying at plush hotels. Most tours are worth it though!
Tour prices are generally set without regard to the group size. If you can get together with the right number of people, the prices are much lower individually. Sadly, every tour has a different bloke in charge, so having a flexible group will drop prices.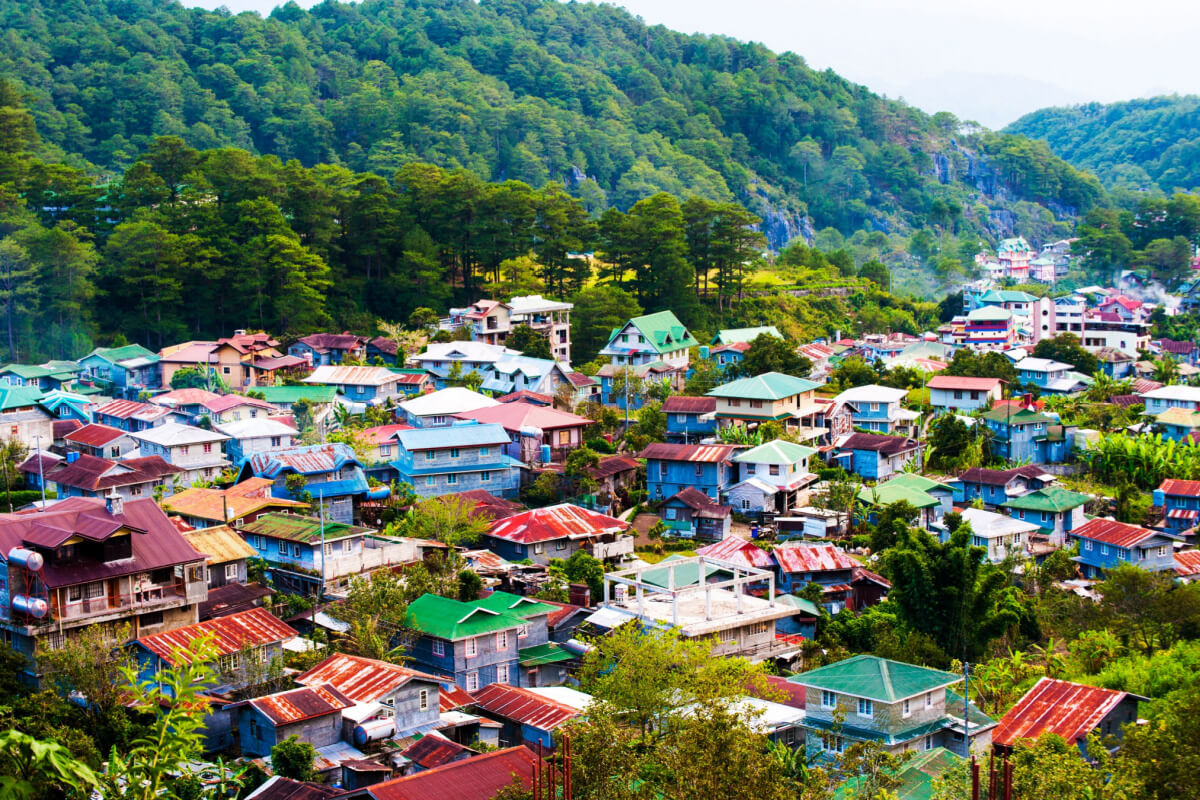 When you explore further afield, you are required to have a guide. Don't be a dick and slip off alone, THEY WILL CATCH YOU. A workable daily budget is probably $10-$30 .
The town itself is walkable, and eating street food is a great way to slash costs. Water is weirdly expensive here too, so buy a big 10L thingy and refill your water bottle from there.
As always, the most expensive parts of your day should be tours and accommodation. You want to get out there, and you need a place to sleep! Public transport to Sagada is about $15 each way by bus.
A Daily Budget in Sagada
Need some more info? Here's a breakdown of a stereotypical daily budget in Sagada…
Below I have listed a few key travel tips for visiting Sagada!
Register with the Tourist Information Centre when you arrive and pay the environmental fee, you will need the receipt to book any tours and to do any hiking in the area.
You don't generally need to book accommodation in advance (unless it's a holiday period), just turn up and ask around until you find a place where the price is right. It is perfectly acceptable to haggle (if you know how) .
The Internet is pretty spotty in Sagada and most cafes either don't offer it or it is so bad that it's not worth using. Try getting a guesthouse with internet or pay to use the internet at the internet cafe on the top floor of the shopping centre, next to the Tourist Information Centre.
There is an ATM in the Tourist Information Centre
If you want to travel during holidays such as over Christmas, New Year's or Easter – make sure to book your buses in advance as they fill up quickly.
Most importantly: be respectful of the local people and their culture.
Top Tips for Broke Backpackers
To keep your spending to an absolute minimum and travel cheaply whilst backpacking in Sagada I recommend sticking to the three basic rules of budget backpacking …
Camp : With plenty of gorgeous natural places surrounding Sagada, why not carry a tent and camp to cut down on costs? If not camping then why not a local experience? Make sure to check out Airbnb or Couchsurfing for a local taste of Sagada.
Cook your own food: To save money on food, carry a pocket rocket stove on your backpacking trip so you can cook meals on the fly. Another option is to make simple salads and sandwiches – no cooking required. It will save you a ton of money.
Hitchhike : Thumb a ride! People in the Philippines are kind and generous so there's no harm in giving hitching a shot. Getting around by hitchhiking is a great way to keep your transport costs in Sagada down.
Pack a travel water bottle: Ditch plastic – save money AND the planet every day!
Why You Should Travel to Sagada with a Water Bottle
Plastic washes up on even the most pristine beaches… so do your part and keep the Big Blue beautiful
You aren't going to save the world overnight, but you might as well be part of the solution and not the problem. When you travel to some of the world's most remote places, you come to realise the full extent of the plastic problem. And I hope you become more inspired to continue being a responsible traveller .
Plus, now you won't be buying overpriced bottles of water from the supermarkets either! Travel with a filtered water bottle instead and never waste a cent nor a turtle's life again.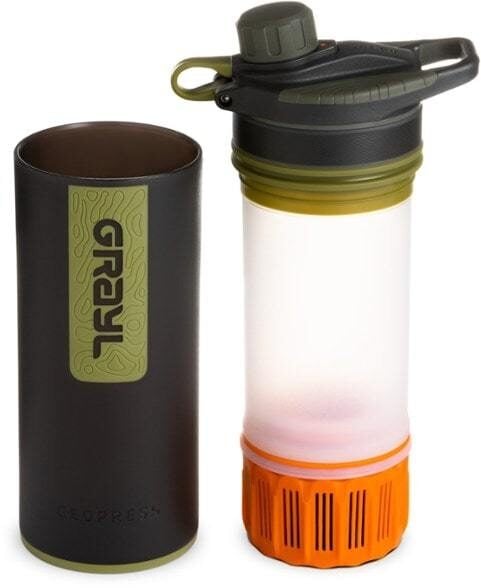 Drink water from ANYWHERE. The Grayl Geopress is the worlds leading filtered water bottle protecting you from all manner of waterborne nasties.
Single-use plastic bottles are a MASSIVE threat to marine life. Be a part of the solution and travel with a filter water bottle. Save money and the environment!
We've tested the Geopress  rigorously  from the icy heights of Pakistan to the tropical jungles of Bali, and can confirm: it's the best water bottle you'll ever buy!
The best time to visit Sagada is generally considered to be between November and February. A lot of tourists go at this time, especially in January and December, which can make it more expensive than usual. Sagada is generally humid and hot and has two seasons; the dry season and the wet season.
The dry season runs from December until May, which means that you are less likely to be obliterated by a torrential downpour. Visiting June to November in the wet season will earn you some pretty epic rainstorms.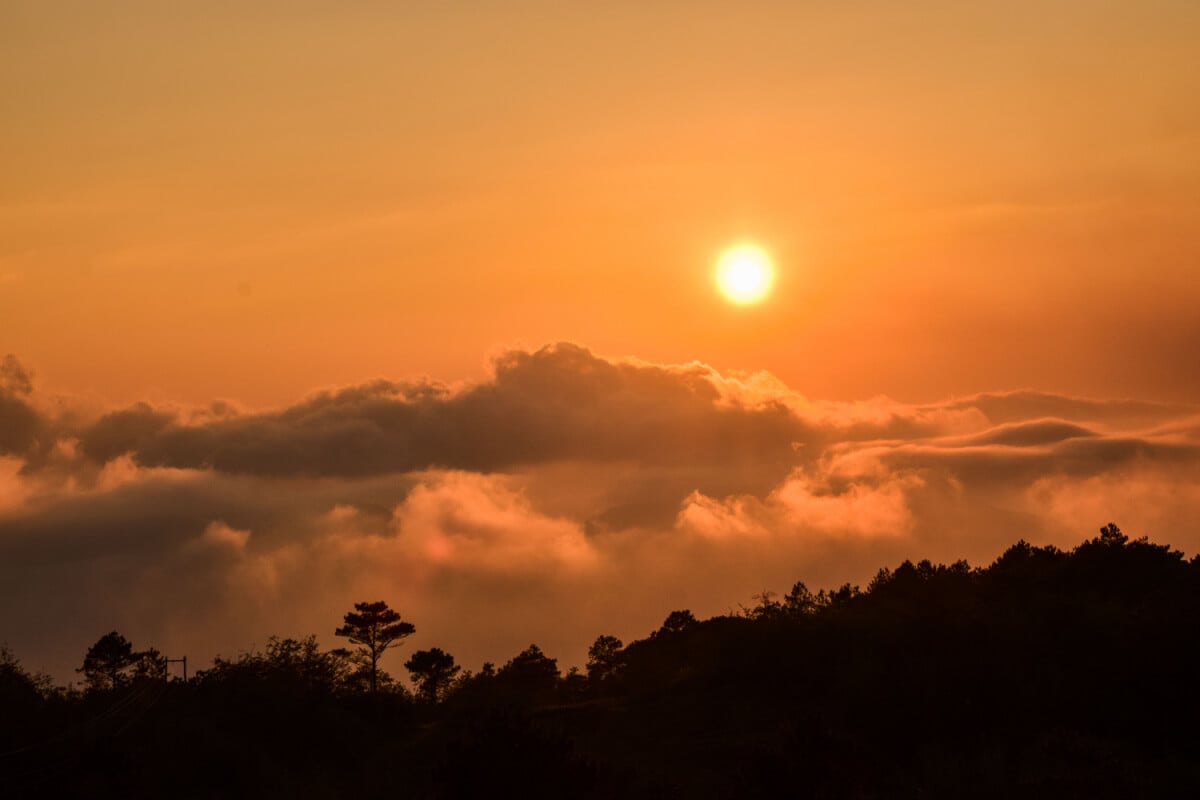 Average temperatures hover between 25-30 degrees Celsius and are pretty consistent within this range. Because of the humidity, it can feel hotter. However, when you head up the mountains for a glorious sunset, it can get pretty chilled. Take a coat?
What to Pack for Sagada
Here are a few essentials I wouldn't miss when heading out on the trail. Add 'em to yo packing list man!!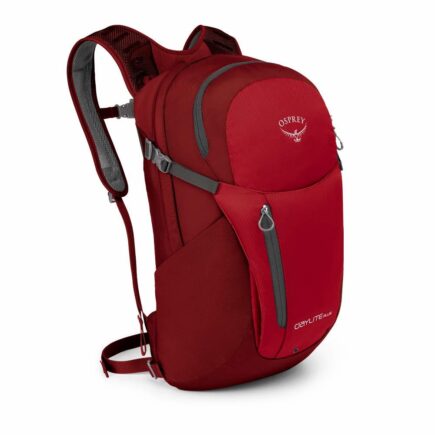 Osprey Daylite Plus
Any city slicker needs a SLICK daypack. In general, you can never go wrong with an Osprey pack, but with its array of awesome organisation, durable materials, and a comfy build, the Daylite Plus will make your urban jaunts buttery smooth.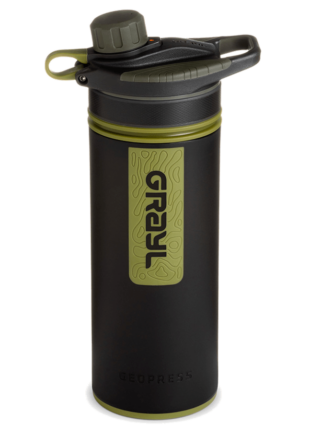 Grayl Geopress Filtered Bottle
Save $$$, save the planet, and save yourself the headache (or tummy ache). Instead of sticking to bottled plastic, buy a Grayl Geopress, drink water no matter the source, and be happy knowing the turtles and fishies thank you (and so do we!). 🙂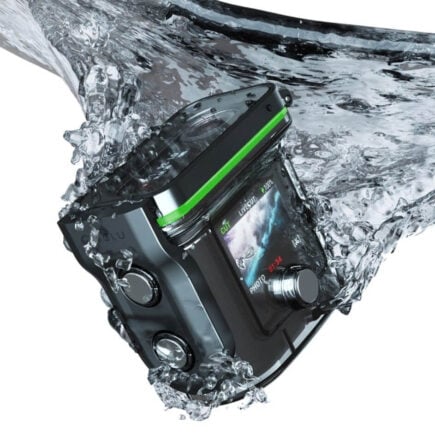 OCLU Action Camera
Wait, it's cheaper than a GoPro and… better than a GoPro? The OCLU action cam is the cam for budget backpackers that want to immortalise all their wildest adventures – including that time you dropped it off a Himalayan mountain – WITHOUT breaking the bank.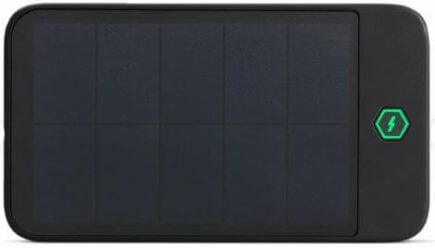 Solgaard Solarbank
Resourceful travellers know how to find power outlets anywhere on the road; smart travellers just pack a solar power bank instead. With 4-5 phone cycles per charge and the ability to top up literally anywhere the sun is shining, there's no reason to ever get lost again!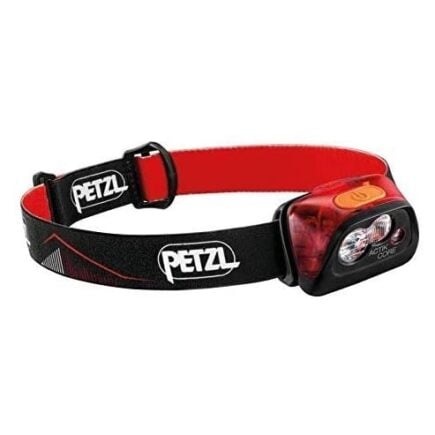 Petzl Actik Core Headlamp
ALL travellers need a headtorch – no exceptions! Even in the hostel dorm, this beauty can save you in a real pinch. If you haven't got in on the headtorch game, DO. I promise you: you'll never look back. Or at least if you do, you'll be able to see what you're looking at.
Sagada is generally super safe. Operating as a relatively isolated mountain town, everyone knows everyone and tourists are generally treated very well (for obvious reasons).
Crime is extremely rare, but you should stay on top of your possessions and not do silly stuff. Take normal precautions and you should have no trouble.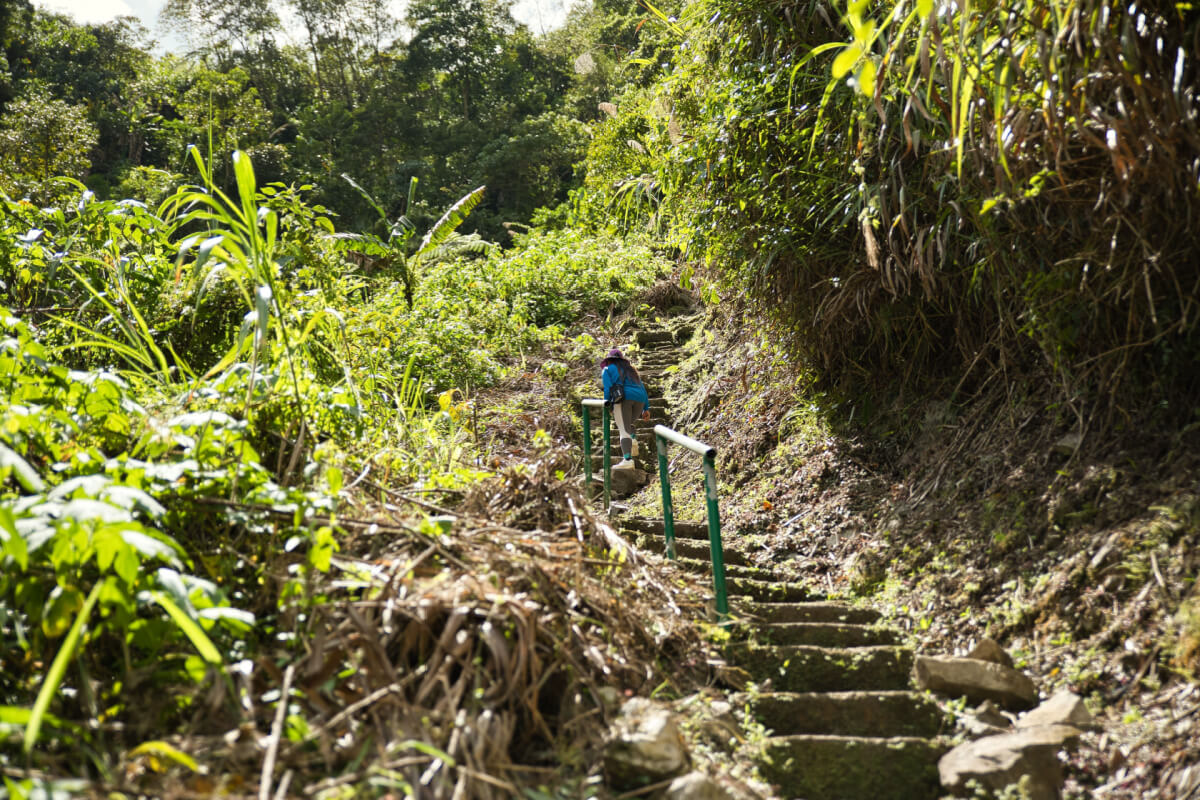 Sustaining injury from adventuring is a much more likely occurrence. There are a host of active occupations to take part in, and accidents do happen. However, the chances of this happening are still low.
Especially since you are accompanied on active tours by an experienced guide (e.g. caving, climbing, rafting, hiking), the extent of problems that may arise is relatively narrow. However, healthcare is not superb, so try not to puncture a lung 🙂
Sex, Drugs, and Rock 'n' Roll in Sagada
Like the rest of the Philippines, alcohol is as free-flowing as a mountain stream. You can pick up local brews, cheap shots, and even head to some pretty western bars.
However. Local rules and customs mean that most bars shut around 10 pm, which means there is no crazy wild nightlife. Your best bet is to make some friends and try and work out if anything is going down under the radar. Or have some beers around a fire and leave it at that.
This is definitely not the place for super wild partying!
There are two ways to reach Sagada from Manila: via the mountain city of Baguio, or via the smaller town of Banaue, which is a popular destination in itself (for its rice terraces).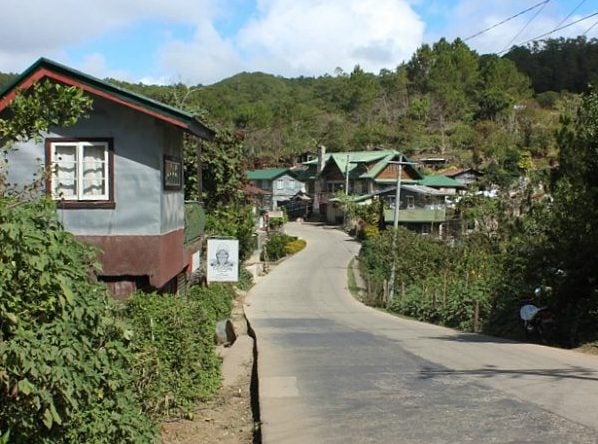 There are several bus companies that run regular buses, usually hourly, between Manila and Baguio. You can also catch buses overnight. Victory Liner is one of the main companies and they run buses from Cubao, Pasay and Monumental Main Terminal in Caloocan City. The trip takes between 4-6 hours and you can choose a basic or deluxe bus service.
On arrival in Baguio, you will need to get from the main bus station to Dangwa Station, a short taxi ride away, to catch the GL Trans bus to Sagada. You can also choose to stay in Baguio if you'd prefer to explore the town before heading to Sagada.
Buses leave on the hour from 6 am to 1 pm and take about 5-6 hours to reach Sagada. These buses are basic, with tiny seats and no air-conditioning. A word of warning: prepare for a hot and bumpy ride!
For buses to Sagada from Manila via Banaue, you can take Autobus and Dangwa Tranco which both leave their respective terminals in Sampaloc at 10 pm for the nine-hour journey.
On arrival in Banaue, there are jeepneys, and sometimes minibusses or vans that can take you the last 3-4 hours to Sagada. Just ask at the Information Centre although it is likely you will have drivers waiting where the bus drops you off. Alternatively, take the 9 am jeepney to Bontoc and transfer there to the bus to Sagada.
Both ways take about the same amount of time and also cost approximately the same amount. You could break up the long journey with time in either Baguio or Banaue if you don't want to bang it all out in one go.
Book your transport on Bookaway NOW . Get the best price for the best ride… then use those savings to buy the best feed in town!
The working and volunteering scene in Sagada is almost nonexistent unless you are somehow able to magic a project from your back pocket.
In general, for the Philippines, all foreign nationals are required to fill out a work visa if they intend to earn in the country. If you want to volunteer though, you won't need a visa unless you plan on sticking around longer than six months! How cool is that!
In general, I am a massive fan of Worldpackers , which connects you to volunteering and work opportunities all over the globe. If you're looking to travel for a while, this is one of the best ways of extending your stay , and contributing to local communities too!
Worldpackers opens the doors for the top work opportunities in hostels, homestays, NGOs, and eco-projects around the world.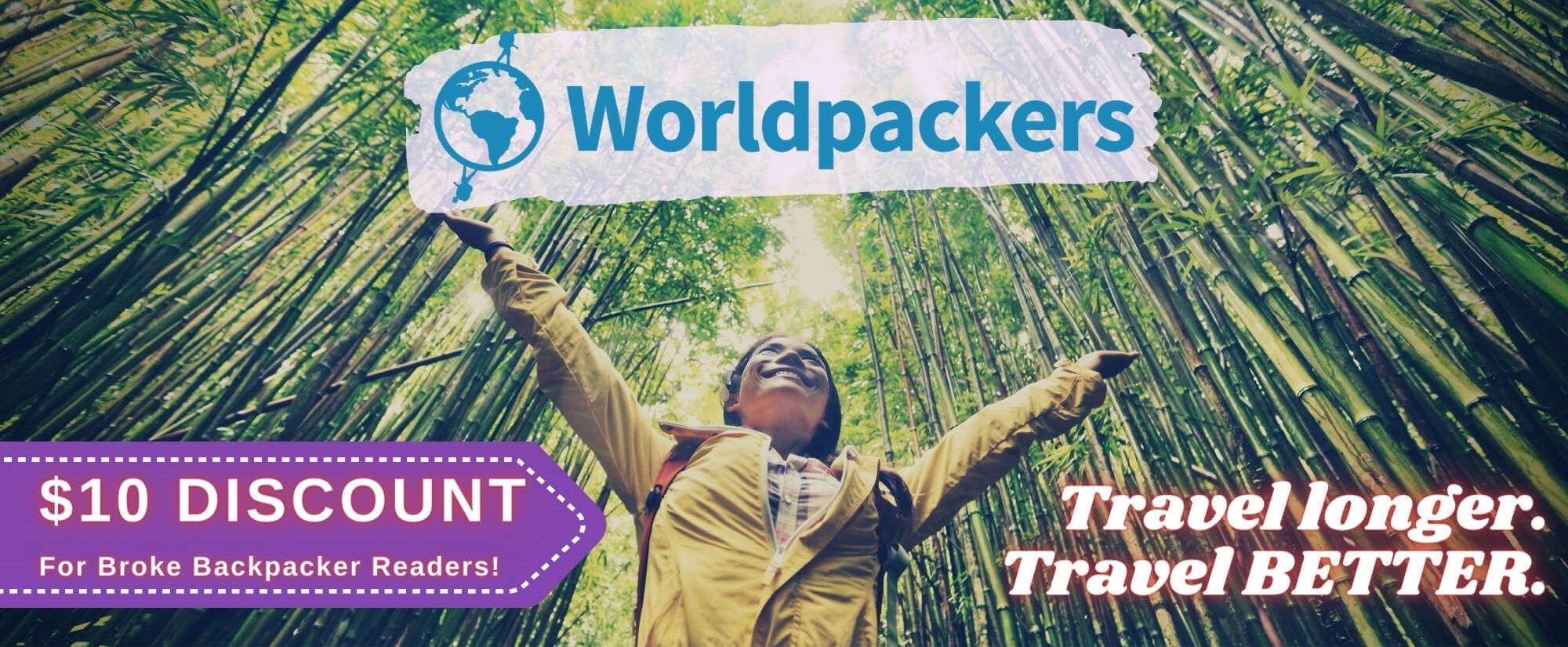 Worldpackers: connecting travellers with meaningful travel experiences.
As previously said, there is little to no nightlife, considering bars close at 10 pm. There is occasional live music though, and you can have a few beers in the daytime with no trouble. Don't expect a big party scene, but you might be able to link up with some other travellers for a few beers.
Food in Sagada
As mentioned above, the options are almost endless for amazing food in Sagada. Sagada's street food is delicious, but don't take my word for it. Check out this awesome video guide to the best street food in Sagada .
Here are a few tried and tested favourites:
Bana's Cafe – One of my favourite spots, hanging over a leafy gorge. Bana's serves awesome local coffee which they brew themselves onsite, including civet coffee, as well as some of the best-tasting food in Sagada. The breakfasts here are the best in town, their chicken curry is the best I have eaten in the Philippines and the honey and broccoli chicken is to die for. Don't miss this place.
Yogurt House – A cosy two-storied log cabin, Yoghurt House is famous for – you guessed it: Yoghurt. They have some killer yoghurt and fruit lassis here but the mains are also pretty good – try the pasta and chicken with potato rosti.
Strawberry Cafe – Hidden away down an alley off the main street, Strawberry Cafe has simple but delicious breakfasts that are very budget-friendly, and their coffee is awesome.
Gaia Cafe and Crafts – Gaia Cafe is a hippie spot serving organic vegetarian and vegan dishes along with local crafts. The unusual treehouse structure has the best views in town, overlooking a scenic valley of rice terraces. It's about a ten-minute walk out of town and isn't always open when it says it will be but it's definitely worth trying your luck for.
Misty Lodge Cafe – On the outskirts of town, Misty Lodge Cafe is a peaceful spot to enjoy some of the most amazing pizza in the Philippines, which is made from scratch. Misty Lodge is also well-known for its great breakfasts at affordable prices.
Sagada Lemon Pie House – The best spot in town for the world-famous Sagada lemon pie. Seating is Japanese tea house style – on cushions on the floor around low tables. Make sure to try the iconic lemon pie or their equally as good egg (custard) pie, washed down with a steaming cup of mountain tea or local coffee.
Being a Responsible Backpacker in Sagada
Travelling is the best, however, travelling can be one of the most AMAZING opportunities for personal growth and development. Provided you travel well.
Backpacking in Sagada can be one hell of a crazy party at times. Take it from me, it can be easy to get carried away. It is important to keep in mind that you are an ambassador for your country, which is awesome. We can make a positive impact on people when we travel and get rid of any ugly stereotypes that may be associated with your country.
If you visit indigenous villages or small communities in the rural areas always ask before taking photos. The people who live in these villages are not exhibits in a museum. They are normal folks just living their lives. Always show them the complete respect that they deserve.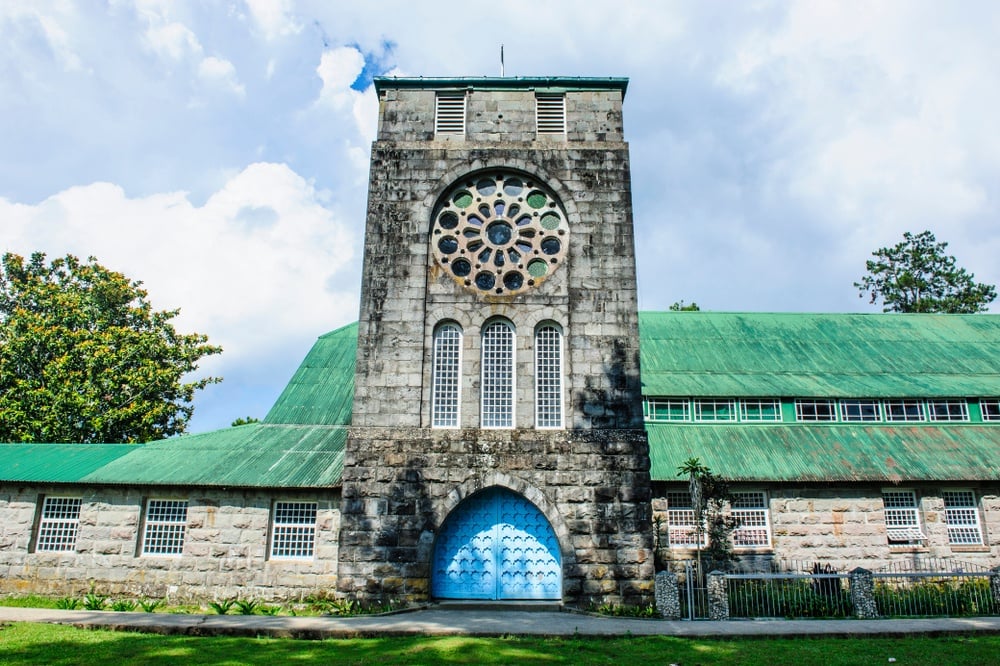 I know it can be hard, but do your best to use the least amount of plastic water bottles that you can. Refill the ones that you do buy! Use a Grayl Geopress . Refill at your hostel! There are plenty of ways to reduce plastic!!!
Show the world around you some gratitude and help to make a positive impact on it. Be a good traveller , smile, laugh, and show the world your best side. Most of all have the time of your life and spread the love!
I hope that this Sagada Travel Guide has been helpful to assist in planning where to stay, how to get there, what to eat and, the top things to add to your Sagada itinerary.
Don't Forget Travel Insurance for Sagada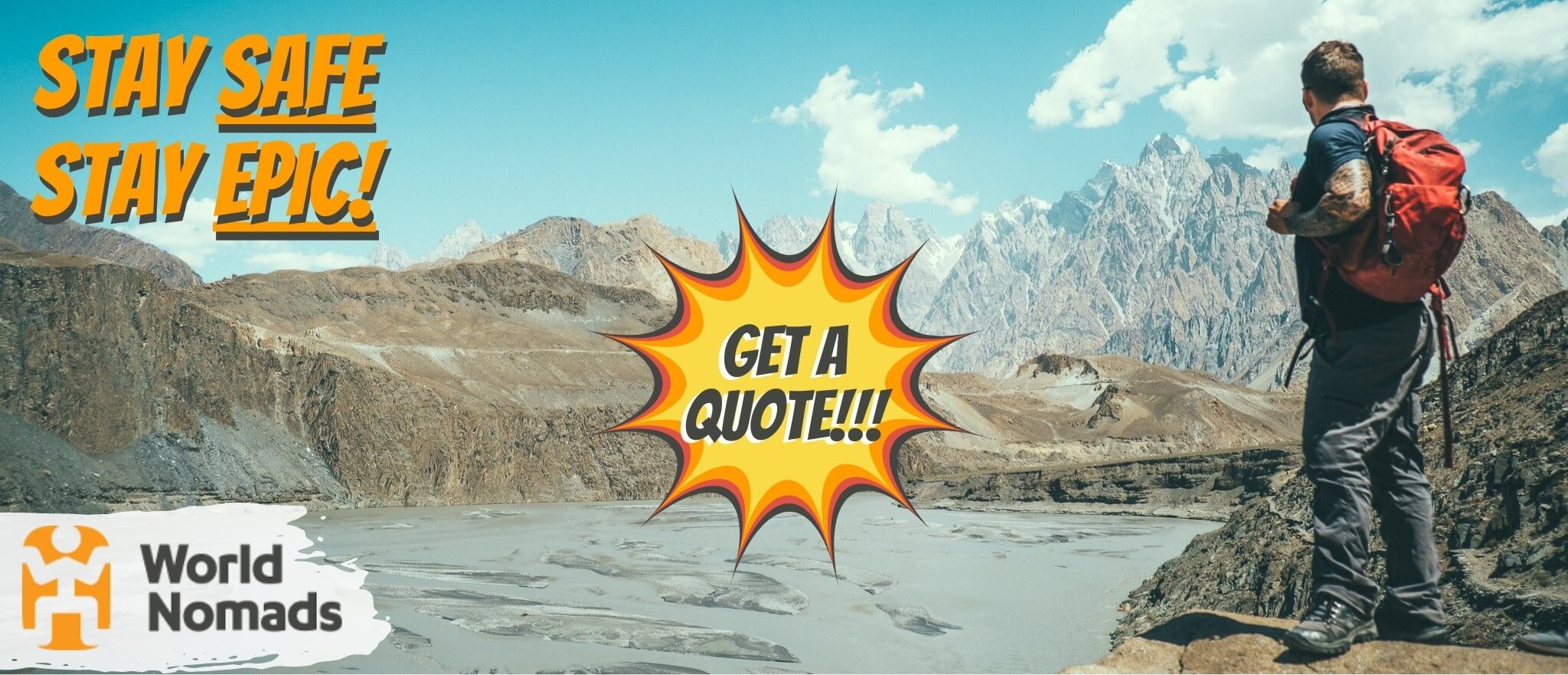 World Nomads ' mission is to support and encourage travellers to explore their boundaries. They offer simple & flexible travel insurance, and safety advice to help you travel confidently.
They've been doing it since 2002 – protecting, connecting, and inspiring independent travellers just like you.
Get a quote below or read our in-depth review!
World Nomads provides travel insurance for travelers in over 100 countries. As an affiliate, we receive a fee when you get a quote from World Nomads using this link. We do not represent World Nomads. This is information only and not a recommendation to buy travel insurance.
Here's what people usually ask us about visiting Sagada, and what they wanted from my Sagada Travel Guide.
What are the Top Tourist Spots in Sagada?
The best tourist spots in Sagada are: 1. The Hanging Coffins 2. Sumaguing Cave 3. The Kapay-aw Rice Terraces 4. The Marlboro Hills 5. The Blue Soil Hill 6. Mount Ampacao 7. The Bomod-ok Falls 8. Mount Kiltepan Viewpoint (check if open) 9. Balangagan Cave 10. Cave Connection
How do you get to Sagada?
From Manila, find the HM Transport Cubao Terminal and jump on a Coda line bus. It'll cost around 700PHP and take 12-13 hours. They are regularly scheduled in the morning. From Baguio, find the GL trans station at the Dangwa Terminal. The cost is around 200 PHP and it will take around 6 hours. From Bontoc, grab a jeep from in front of the Walter Clapp Hotel. Less than an hour, and 50PHP. Easy!
What are the Best Sagada Caves?
The most popular cave in Sagada is the Sumaguing Cave. There is a two-hour caving experience here that is very popular. With some extra time, you can travel between the Sumaguing and Lumiang caves via the cave connection tour. Balangagan Cave is best known for having the best geological formations in the region.
What are the Best Attractions in Sagada, Philippines?
There are a ton of great attractions in Sagada, but checking out the mountain dawn at the Marlboro Hills or on top of Mount Ampacao has got to take the crown. The hanging coffins are pretty spectacular too, and take the time to go caving in Sumaguing Cave! Checking out the Bomod-ok Falls is ok too I guess.
Sagada is a fantastic place to head to, especially if your Philippines trip has become too beachy. The rice paddies, mountain air and bizarre culture are all massive drivers of tourism in the region. However, that doesn't mean that it has become overcrowded. Whilst you will undoubtedly meet other tourist groups, the Philippine travel authority keeps a sharp eye on tourism in the region. So don't worry!
You're going to need that adventurous spirit because Sagada is probably one of the strangest and most brilliant places you will ever go to. I hope you enjoyed my Sagada travel guide!
Abe out. 22/04/2023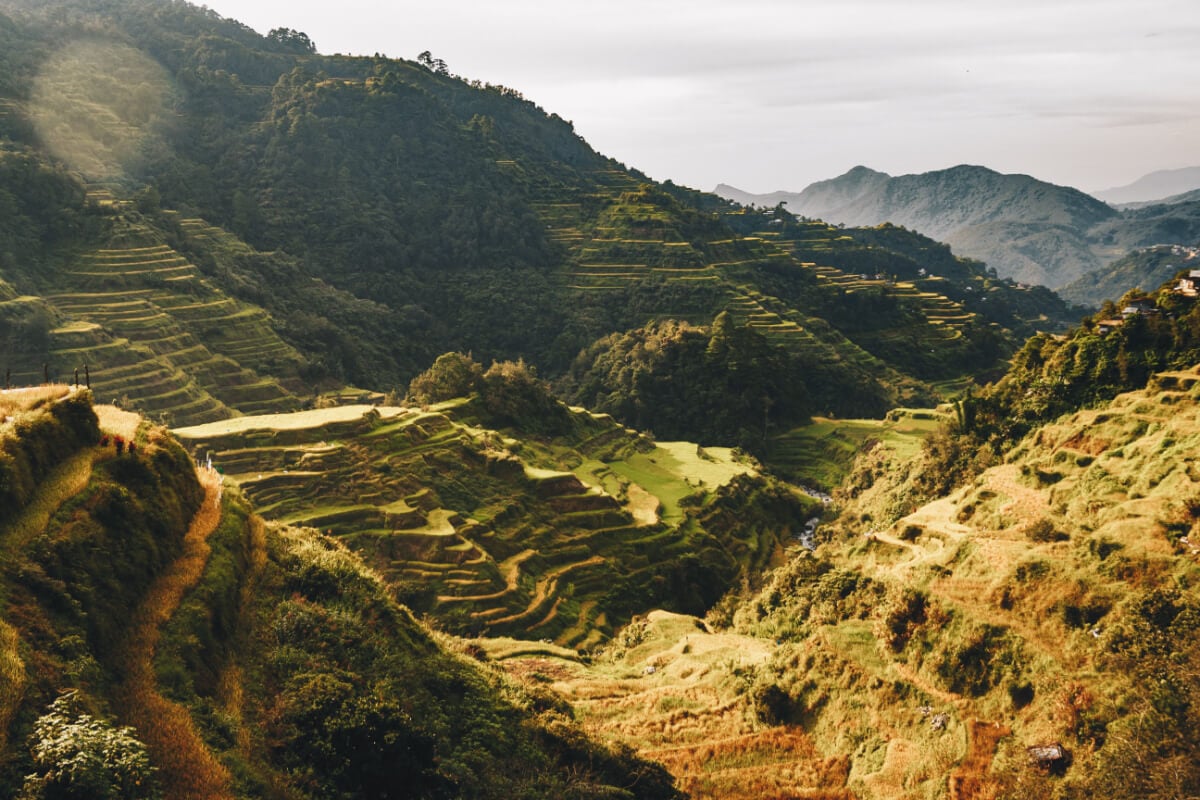 And for transparency's sake, please know that some of the links in our content are affiliate links . That means that if you book your accommodation, buy your gear, or sort your insurance through our link, we earn a small commission (at no extra cost to you). That said, we only link to the gear we trust and never recommend services we don't believe are up to scratch. Again, thank you!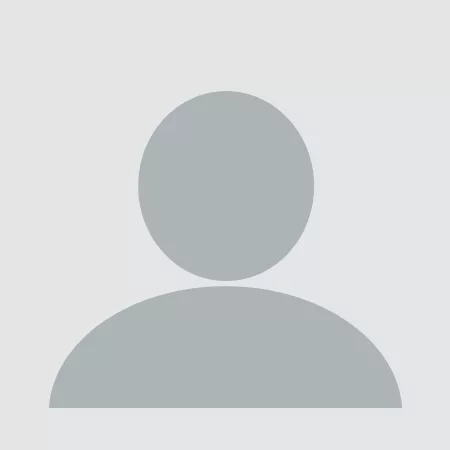 Guest Poster
Share or save this post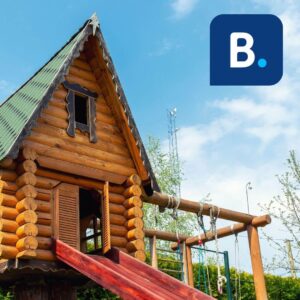 Things to Do in Sagada: A Comprehensive Guide to the Best Activities in the Area
Sagada, located in the Mountain Province of the Cordillera Region in the Philippines, is a picturesque town known for its scenic mountain valleys, limestone caves, and refreshing waterfalls. It is a popular destination for those looking to escape the hustle and bustle of city life and immerse themselves in nature.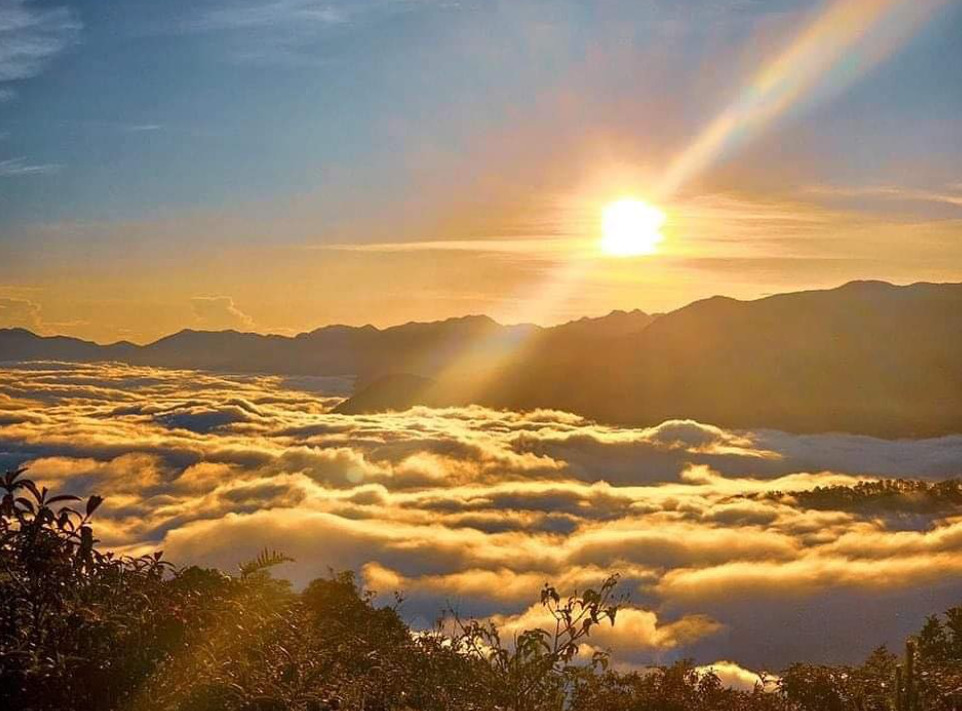 Visitors to Sagada can explore various activities, from trekking through Echo Valley to see the famous hanging coffins, to spelunking in the intricate Sumaguing Cave. For those seeking a more relaxed experience, taking a dip in the cool waters of Bomod-ok Falls or enjoying a cup of coffee at Sagada Brew are also great options. With so much to see and do, Sagada is a must-visit destination for any traveler looking to experience the natural beauty of the Philippines.
Table of Contents
Getting to Sagada
Sagada is a small town located in the Mountain Province of the Philippines. Despite its secluded location, it is a popular tourist destination due to its natural beauty and unique culture. Visitors have a few options to get to Sagada depending on their starting point.
From Manila
The most common way to get to Sagada from Manila is by bus. Victory Liner offers daily trips from Manila to Baguio, which takes 6-7 hours. From Baguio, visitors can take a bus or van to Sagada, which takes around 5-6 hours. Another option is to hire a private driver, which can be arranged in Baguio.
From Baguio
Visitors already in Baguio can take a bus or van to Sagada from the Dangwa Station or Coda Lines Bus Terminal. The trip takes around 5-6 hours. Visitors can also hire a private driver in Baguio to take them to Sagada.
Private Driver
Hiring a private driver is a convenient option for those who want to avoid the hassle of public transportation. Visitors can arrange for a private driver in either Manila or Baguio. The trip takes 6-7 hours from Manila and 5-6 hours from Baguio. However, hiring a private driver can be more expensive than public transportation.
Visitors have several options for getting to Sagada. Whether they choose to take public transportation or hire a private driver, they can expect a scenic journey through the mountains of the Philippines.
Accommodation in Sagada
Sagada offers a variety of accommodation options for travelers with different budgets and preferences. From luxurious hotels to budget-friendly hostels, visitors can choose from various options in the town.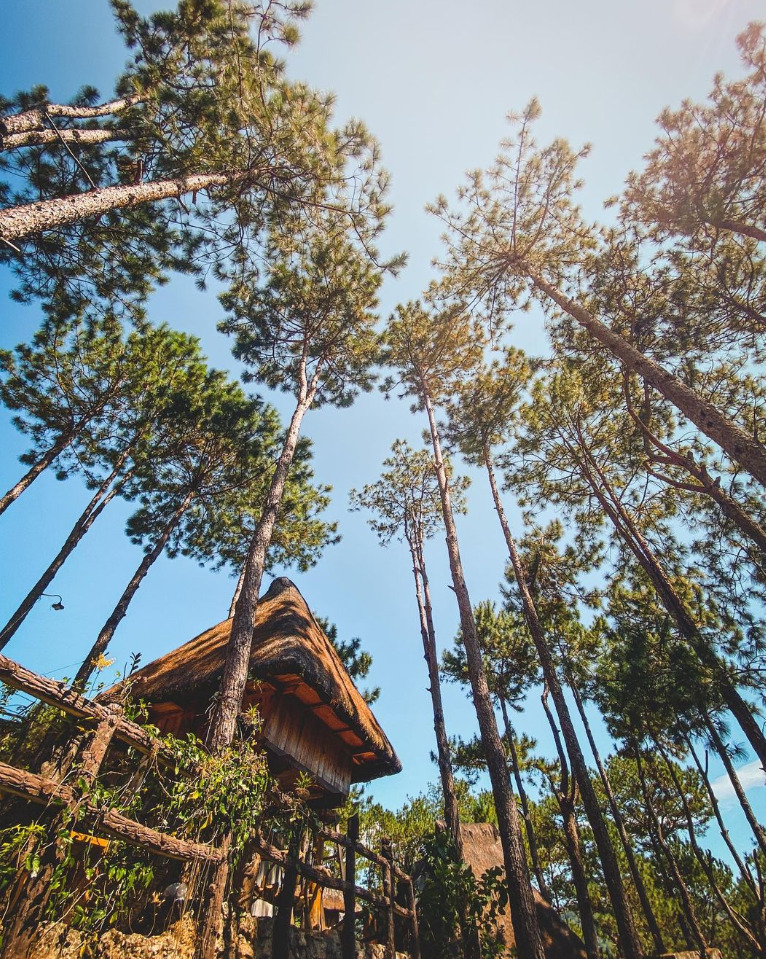 Sagada has some great hotel options for those looking for a luxurious stay. The Sagada Heritage Village is a popular choice among tourists. This hotel offers comfortable rooms with modern amenities and a stunning view of the mountains. Another great option is the Sagada Blue Mountain Cabins, which offers cozy cabins with a fireplace and a balcony with a mountain view.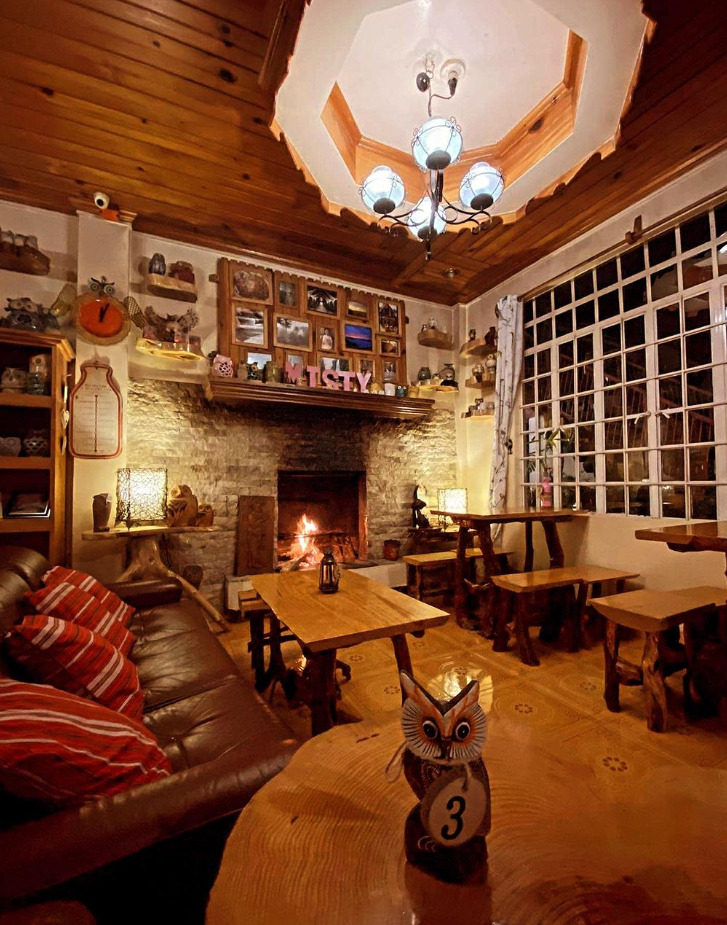 For budget travelers, Sagada has some great options as well. The Misty Lodge and Cafe is a popular choice among backpackers. This hostel offers dormitory-style rooms and private rooms at an affordable price. Another great option is the Sagada Igorot Inn, which offers basic rooms at a reasonable price.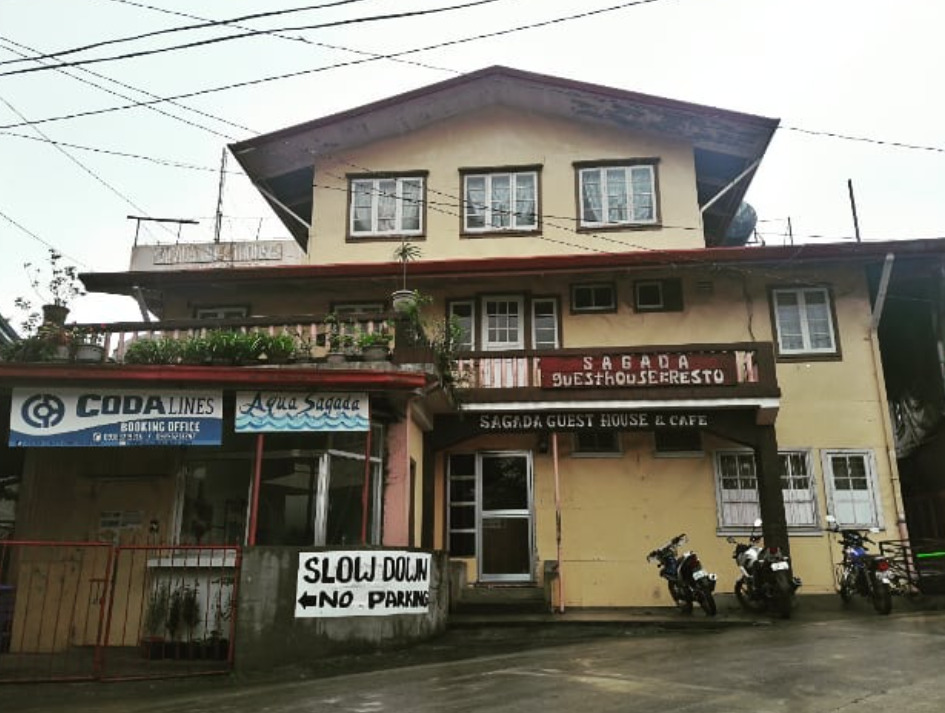 Hostels are a great option for those looking for a social and communal atmosphere. Sagada Homestay and Coffee Bar is a popular choice among backpackers. This hostel offers dormitory-style rooms and a common area where guests can socialize and meet other travelers. Another great option is the Sagada Guesthouse, which offers private rooms and a communal kitchen where guests can cook their meals.
Cultural Highlights
Igorot culture.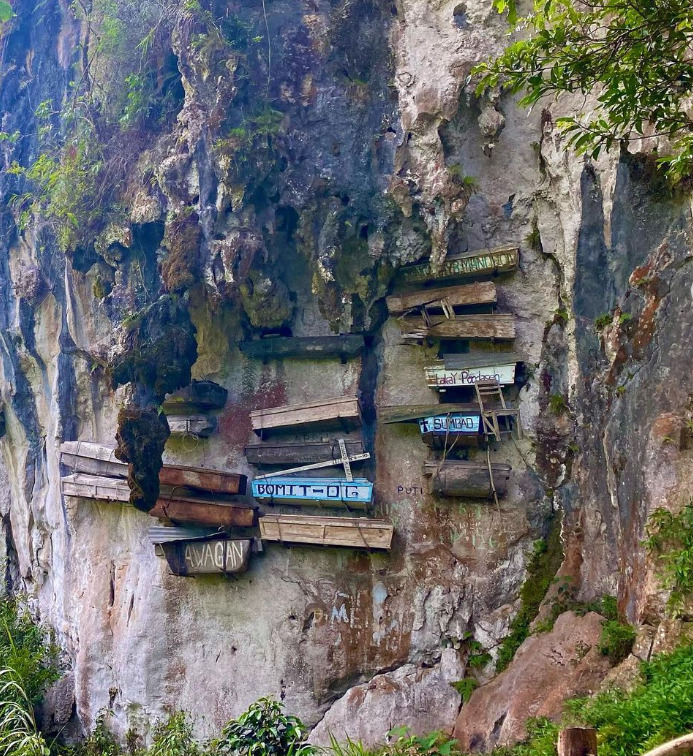 Sagada is a great destination to learn about the Igorot culture, which is the indigenous culture of the Cordillera region. The Igorots are known for their unique customs and traditions, and visitors to Sagada can witness some of these traditions firsthand. One of the most popular cultural activities in Sagada is the hanging coffins, which is a traditional burial practice of the Igorots. Visitors can see these coffins up close and learn about the significance of this practice.
Ganduyan Museum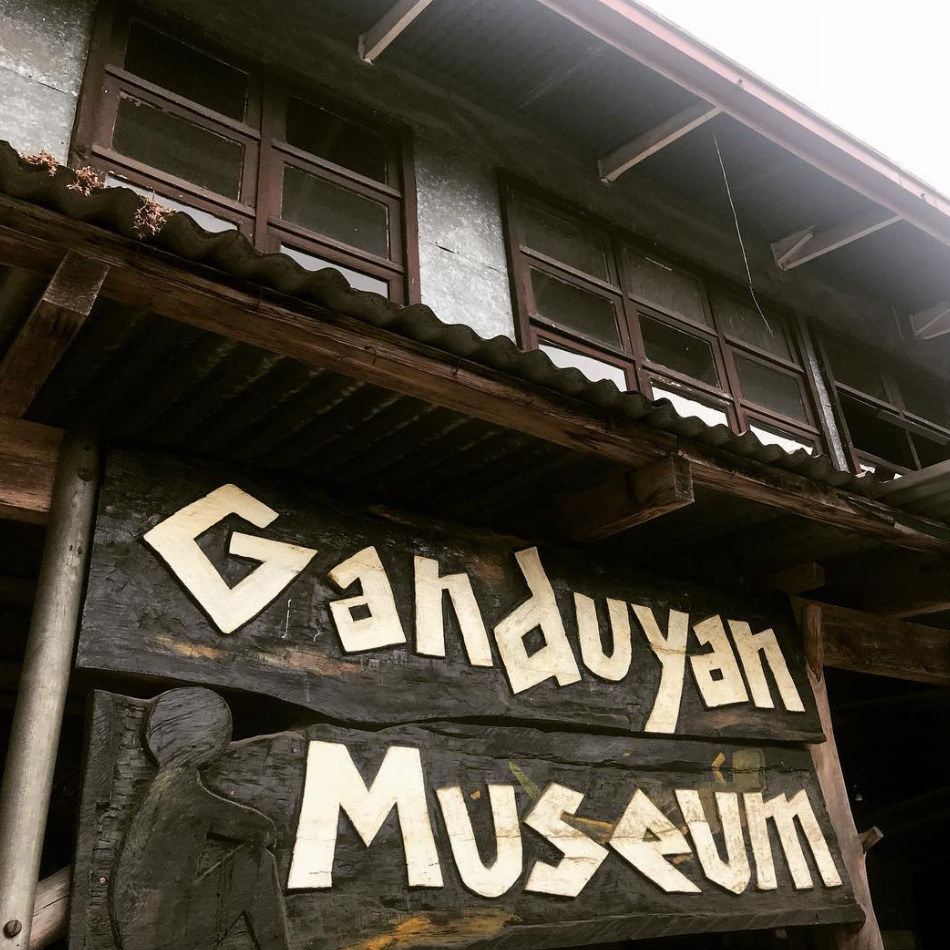 For a more in-depth look at the Igorot culture, visitors can visit the Ganduyan Museum. The museum showcases a collection of artifacts, photographs, and other items that provide insight into the traditional way of life of the Igorots. A local family runs the museum, and visitors can learn about the museum's history and the family's connection to the Igorot culture.
Church of St. Mary the Virgin
The Church of St. Mary the Virgin is an important cultural landmark in Sagada. The church was built by American missionaries in the early 1900s and is known for its unique architecture and stained glass windows. Visitors can attend church services and learn about religion's role in the local community.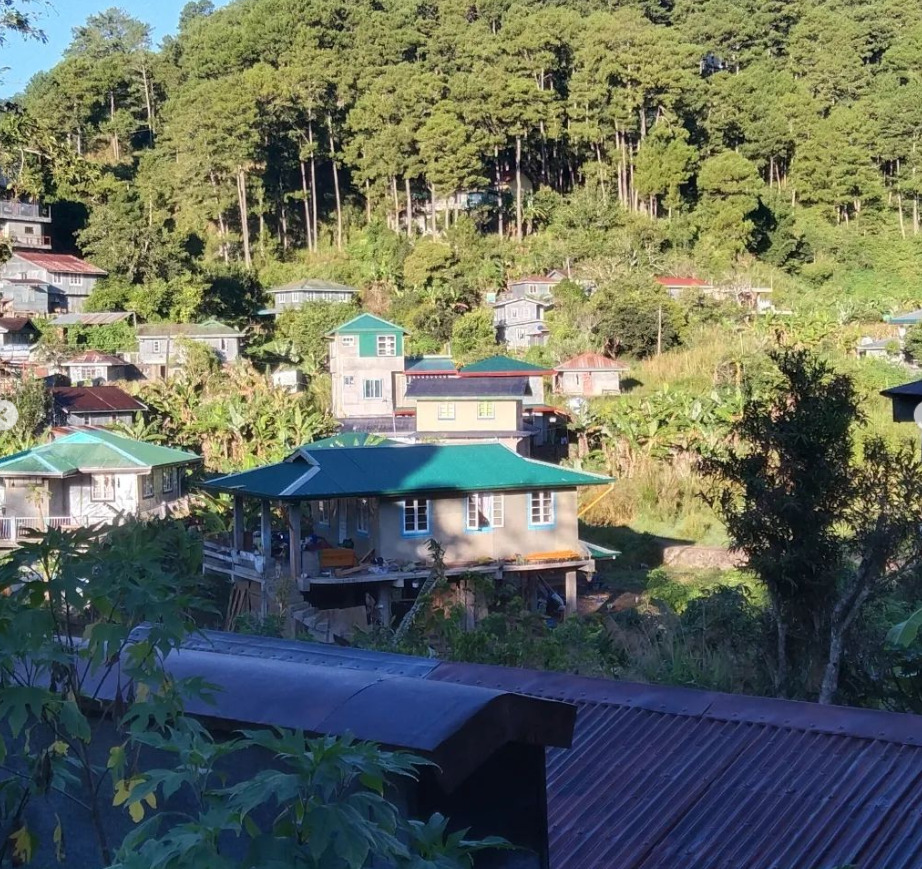 Demang is a traditional Igorot village located near Sagada. Visitors can take a guided tour of the village and learn about the customs and traditions of the Igorot people. The village is known for its rice terraces, a UNESCO World Heritage site. Visitors can also participate in cultural activities such as rice planting and weaving.
Sagada offers a unique opportunity to learn about the Igorot culture and the traditional way of life of the Cordillera region. From the hanging coffins to the Ganduyan Museum to the Church of St. Mary the Virgin, many cultural highlights exist. Visitors can also visit Demang and other traditional villages to learn about the customs and traditions of the Igorot people.
Exploring the Caves
Sagada is known for its stunning caves and rock formations, making it a popular destination for spelunking enthusiasts. There are three main caves to explore in Sagada: Sumaguing Cave, Lumiang Cave, and Cave Connection Tour.
Sumaguing Cave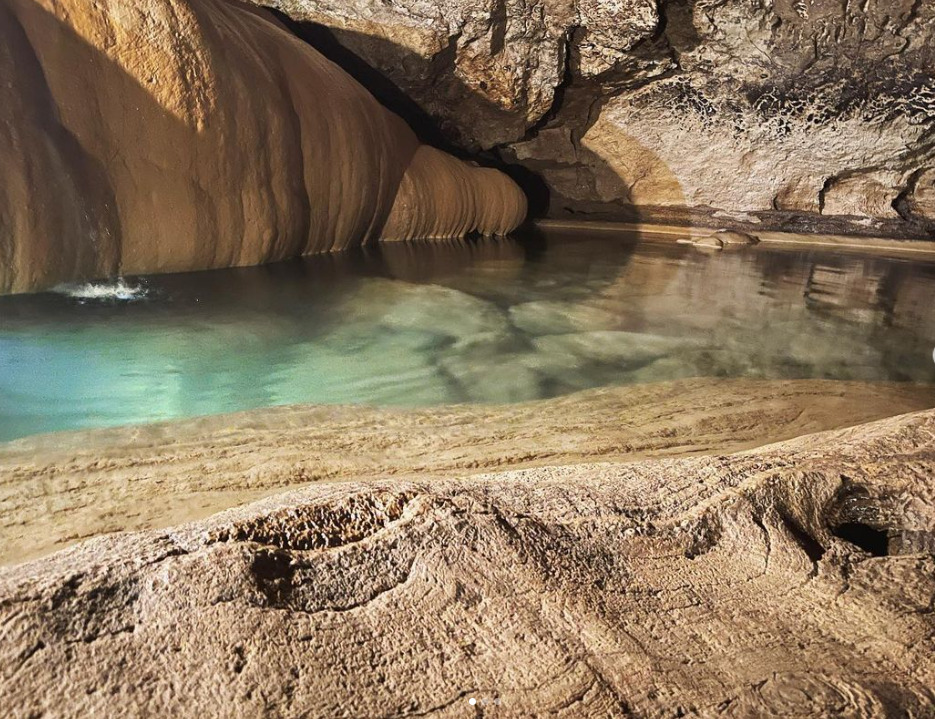 Sumaguing Cave is the most popular cave in Sagada, and for good reason. It features impressive rock formations, underground rivers, and waterfalls. Visitors can take a guided tour of the cave, which includes rappelling down to the entrance and exploring the cave's various chambers. The tour takes around two to three hours, and visitors are advised to wear comfortable clothing and shoes.
Lumiang Cave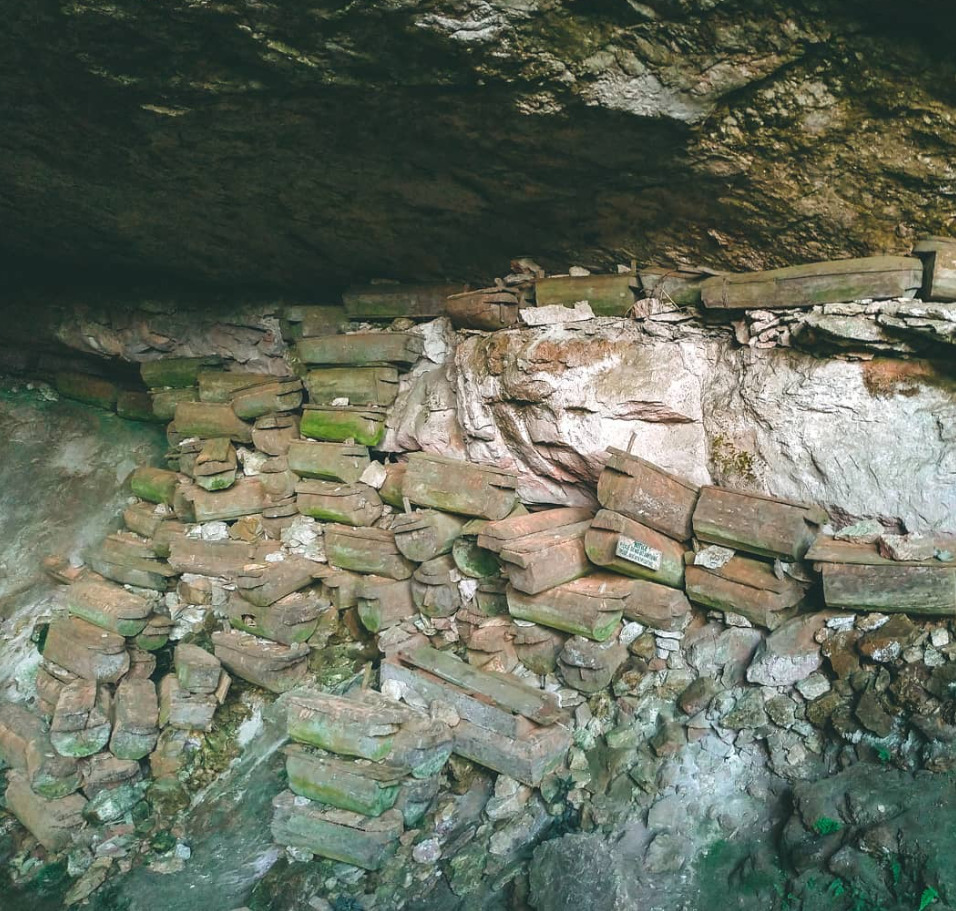 Lumiang Cave is another popular Sagada cave known for its unique burial sites. The cave is home to the Lumiang Burial Cave, which contains over 200 coffins. Visitors can take a guided tour of the cave, which includes viewing the coffins and exploring the cave's various chambers. The tour takes around one to two hours, and visitors are advised to wear comfortable clothing and shoes.
Cave Connection Tour
The Cave Connection Tour is a unique experience that allows visitors to explore both Sumaguing Cave and Lumiang Cave. The tour takes around four to five hours and includes rappelling down to the entrance of Sumaguing Cave, exploring its chambers, and trekking through the mountains to Lumiang Cave. Visitors will explore the Lumiang Burial Cave and its various chambers before exiting the cave and trekking back to town. Visitors are advised to wear comfortable clothing and shoes and bring a change of clothes as the tour involves wading through underground rivers.
Overall, exploring the caves in Sagada is a must-do activity for any visitor. Whether you choose to explore Sumaguing Cave, Lumiang Cave, or take the Cave Connection Tour, you will surely be amazed by the stunning rock formations and unique experiences these caves offer.
Outdoor Adventures
Sagada is a haven for outdoor enthusiasts, offering various activities to suit every taste. From hiking to spelunking, there's something for everyone in this beautiful mountain town. Here are some of the top outdoor adventures to experience in Sagada:
Echo Valley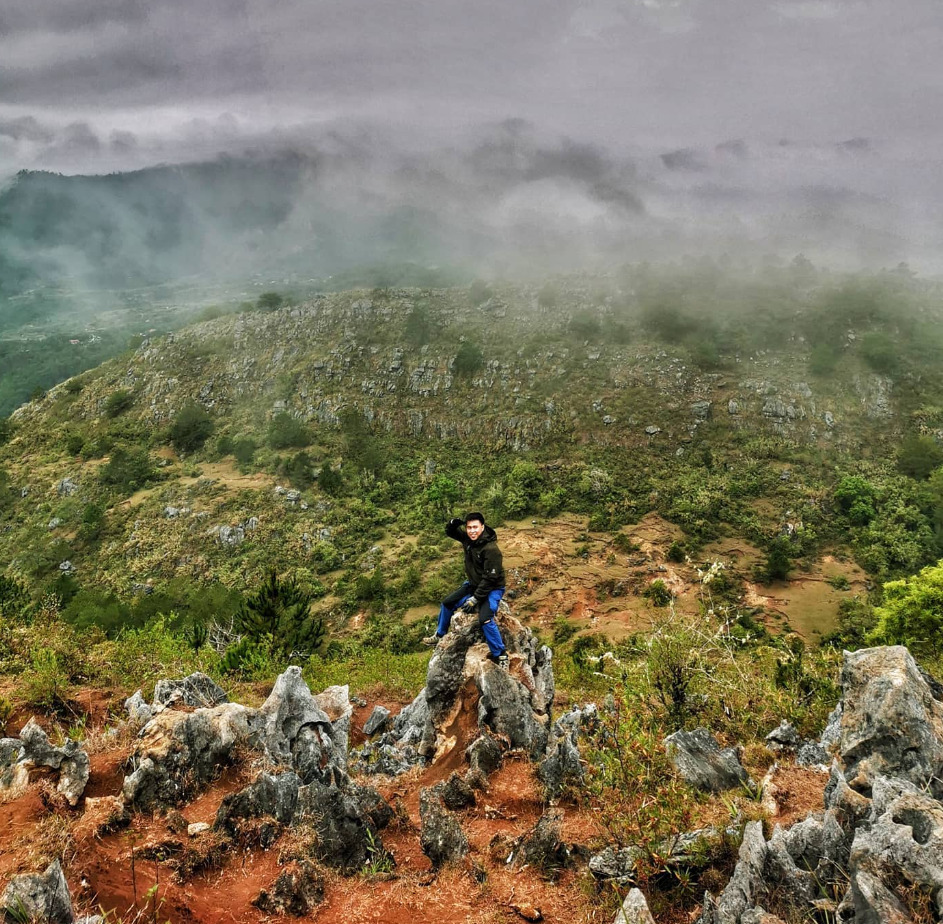 One of Sagada's most popular outdoor activities is a trek through Echo Valley. This scenic valley is named after the sound that echoes through the surrounding mountains. The trek is relatively easy and takes around 30 minutes, offering stunning views of the valley and surrounding mountains. Visitors can also see the famous hanging coffins, a traditional burial practice of the Igorot people.
Marlboro Hills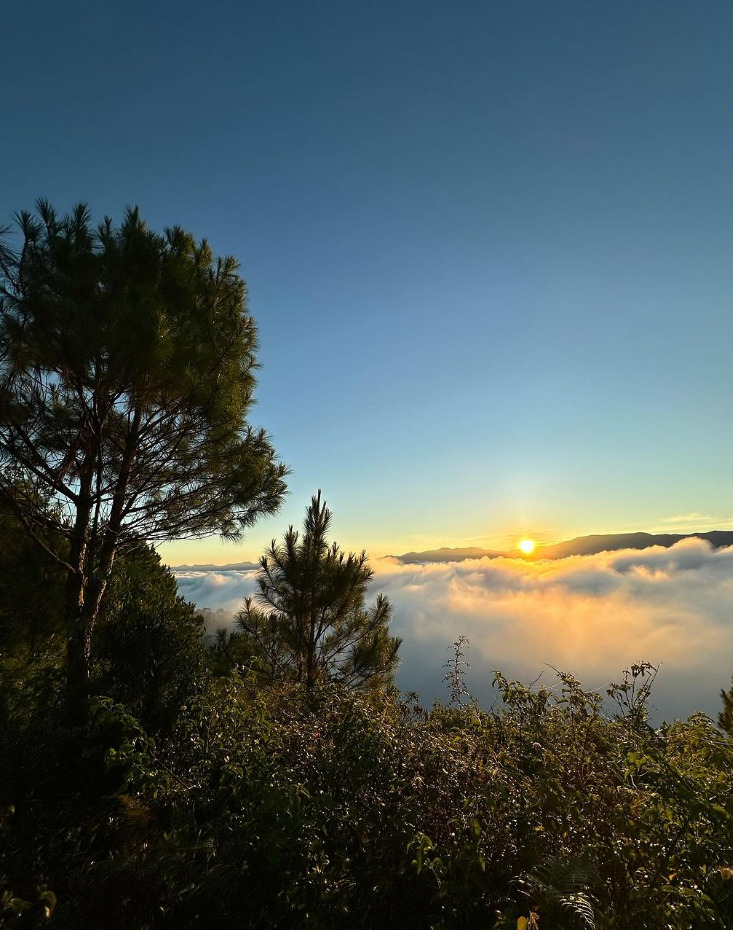 For a more challenging adventure, visitors can hike up to Marlboro Hills. This trek takes around two hours and offers breathtaking views of the surrounding mountains and valleys. The hills are named after the famous cigarette brand due to their resemblance to the rolling hills of Marlboro country. Visitors can also see the rice terraces and traditional villages on the way.
Bomod-Ok Falls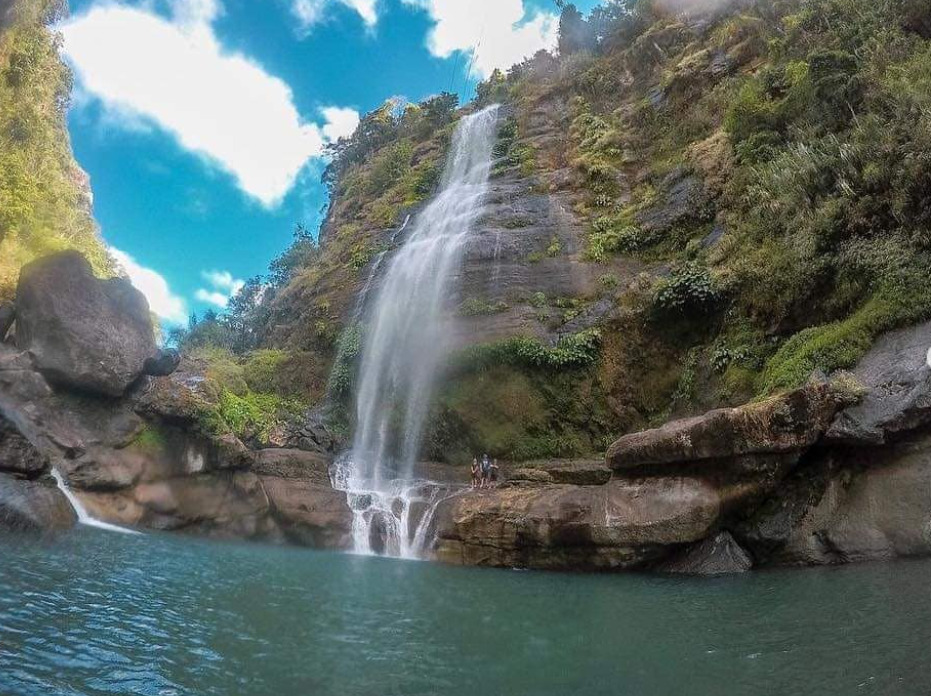 Another must-see attraction in Sagada is the Bomod-Ok Falls. This stunning waterfall is located in the Barangay Fidelisan and is accessible via a two-hour trek. The trail offers beautiful views of the surrounding mountains and valleys, and visitors can take a refreshing dip in the cool waters of the falls.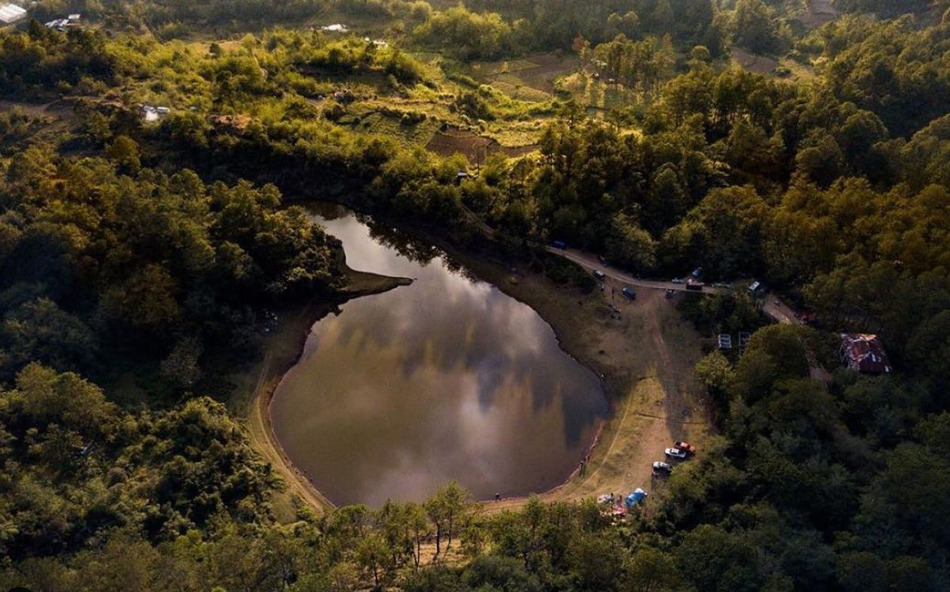 For a more relaxed outdoor adventure, visitors can head to Lake Danum. This serene lake is within walking distance of the town center and offers stunning views of the surrounding mountains. Visitors can take a leisurely stroll around the lake or rent a boat to explore the tranquil waters.
Pongas Falls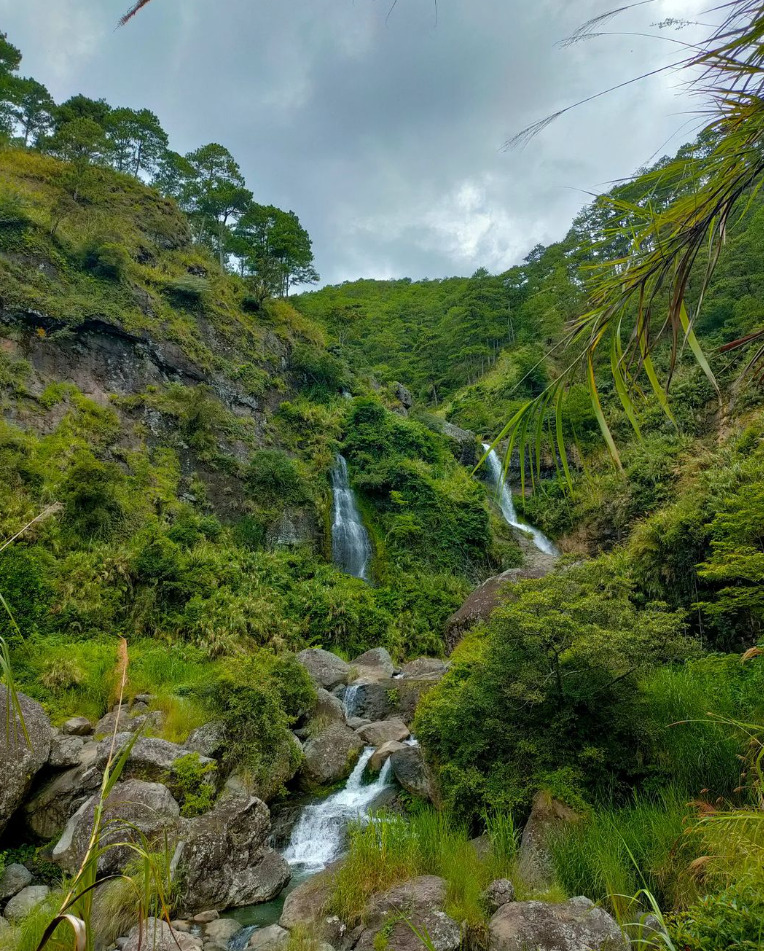 Another beautiful waterfall to visit in Sagada is Pongas Falls. This waterfall is located in the Barangay Ankileng and is accessible via a two-hour trek. The trail offers beautiful views of the surrounding mountains and valleys, and visitors can take a refreshing dip in the cool waters of the falls.
Blue Soil Hill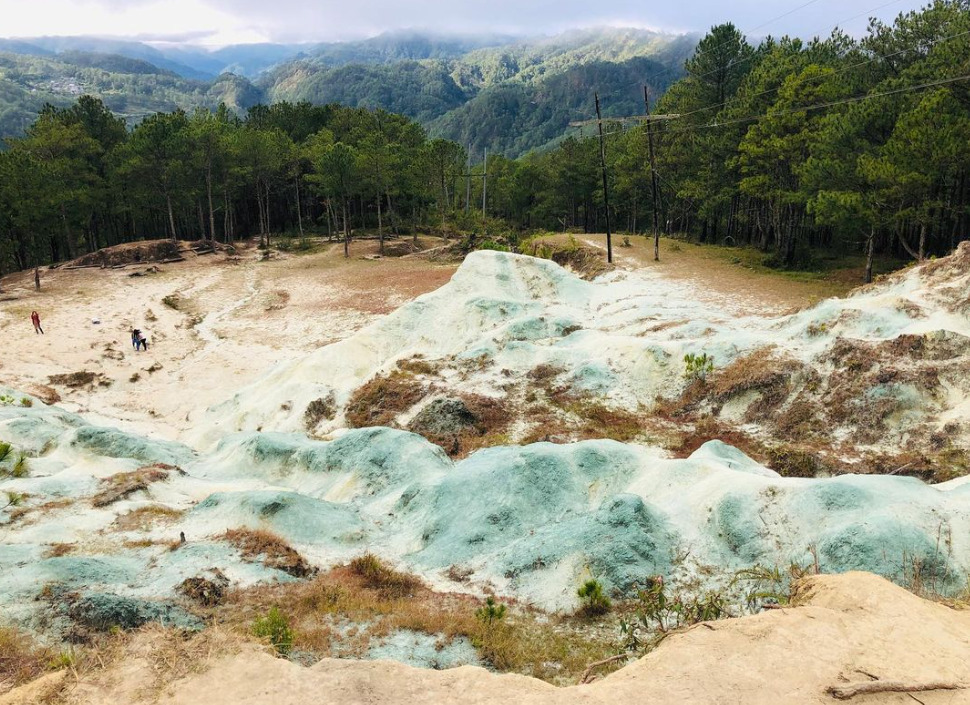 For a unique outdoor adventure, visitors can head to Blue Soil Hill. This hill is named after the blue soil found in the area, which is believed to have healing properties. Visitors can take a short trek up the hill to see the blue soil and enjoy stunning views of the surrounding mountains and valleys.
Sagada's outdoor adventures offer something for everyone, from easy treks to challenging hikes. Visitors can experience the beauty of nature and the rich culture of the Igorot people while enjoying the fresh mountain air and misty mountain views.
Experiencing the Sunrise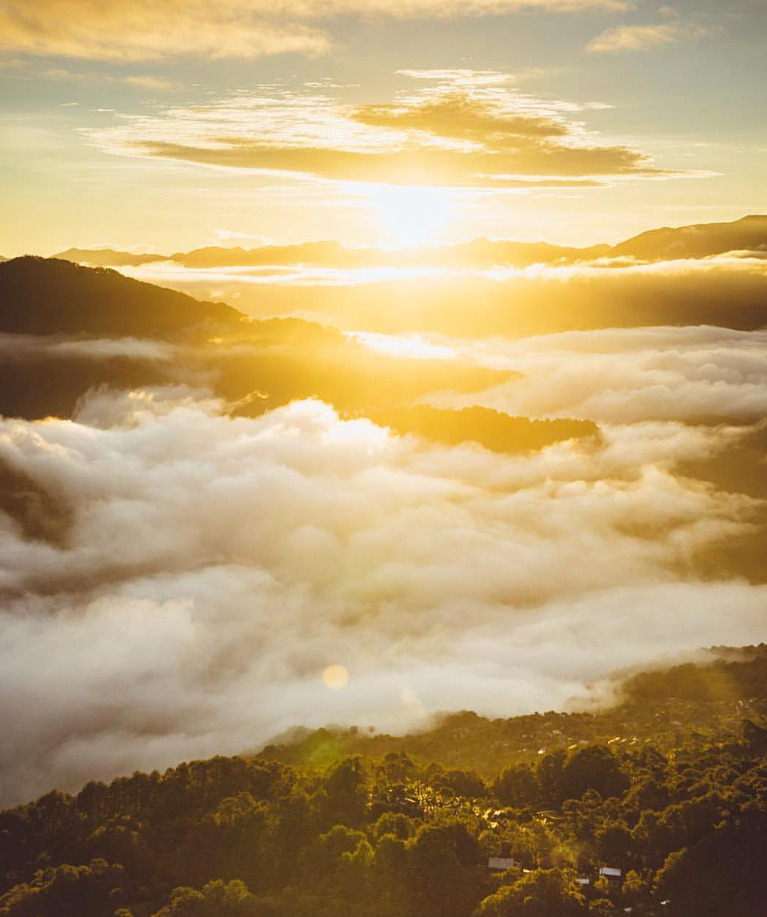 Sagada is known for its breathtaking sunrise views. One of the best places to witness this natural wonder is at Kiltepan Viewpoint, which is situated around 3.5 kilometers away from the town center. The viewpoint is also known as Kiltepan Peak, the highest point in the area bounded by Kilong, Tetep-an, and Antadao villages.
Visitors can wake up early to catch the sunrise, which is a popular activity in Sagada. As the sun rises behind the mountains, the sea of clouds below creates a picturesque view worth waking up early for. The experience is truly magical and unforgettable.
Visitors can join a guided tour or hike up to the viewpoint to witness the sunrise. Arriving at the viewpoint at least 30 minutes before sunrise is recommended to secure a good spot. Visitors should also bring warm clothing and a camera to capture the stunning view.
Overall, experiencing the sunrise in Sagada is a must-do activity for nature lovers and those who appreciate the beauty of the natural world. It is a peaceful and serene moment that will leave a lasting impression on anyone who witnesses it.
Coffins of Sagada
Sagada is known for its unique burial practices that involve hanging coffins on the cliffs. This practice has been passed down from generation to generation and is still practiced today.
Hanging Coffins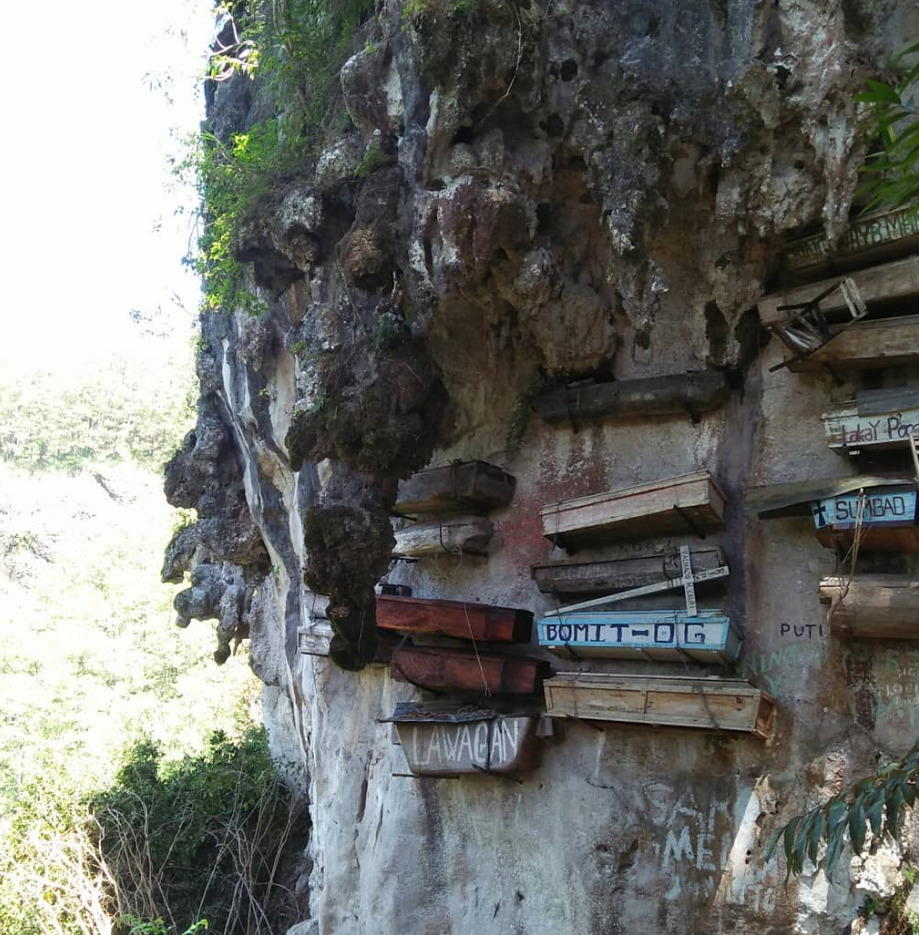 The hanging coffins of Sagada can be found in Echo Valley. These coffins are attached to the cliffs using ropes and wires and can be seen from afar. It is believed that this practice was done to bring the deceased closer to their ancestral spirits and to protect their bodies from being taken by animals.
Visitors can take a guided tour to see the hanging coffins up close. It is important to respect the burial site and follow the rules the locals set. Visitors should also know that taking photos of the coffins is prohibited.
Lumiang Burial Cave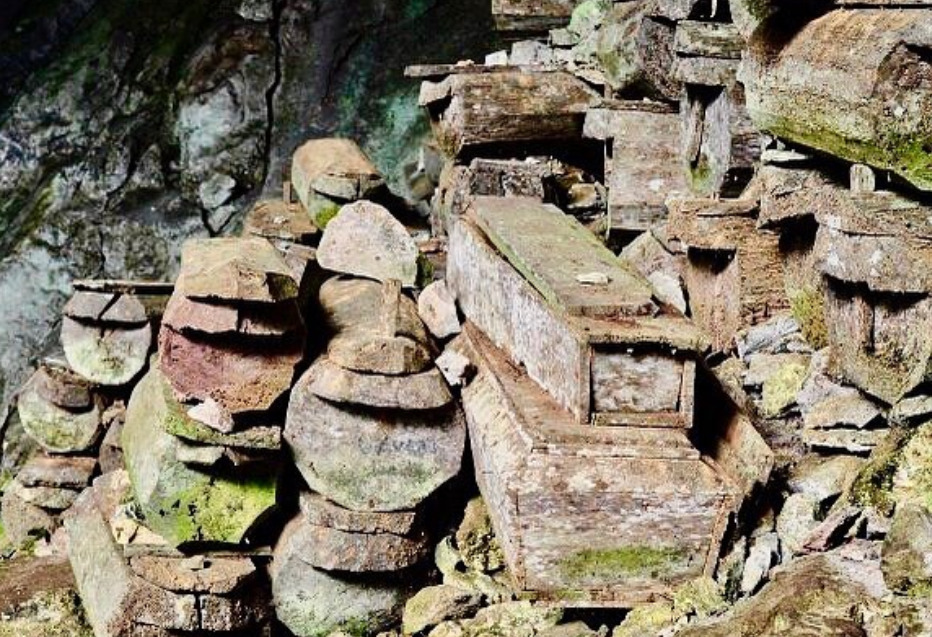 Another unique burial practice in Sagada is the Lumiang Burial Cave. This cave serves as a burial site for the locals, and it is filled with coffins stacked on top of each other. The cave is located in Calvary Hill and can be reached through a short hike.
Visitors can take a guided tour to explore the Lumiang Burial Cave and learn about the burial practices of the locals. It is important to respect the burial site and follow the rules the locals set.
In conclusion, the hanging coffins and Lumiang Burial Cave are two unique attractions visitors can explore in Sagada. These burial practices are an important part of the local culture and should be respected by visitors.
Local Cuisine
Sagada is known for its delicious local cuisine, a must-try for anyone visiting the area. Here are some of the top places to try out for local cuisine:
Sagada Brew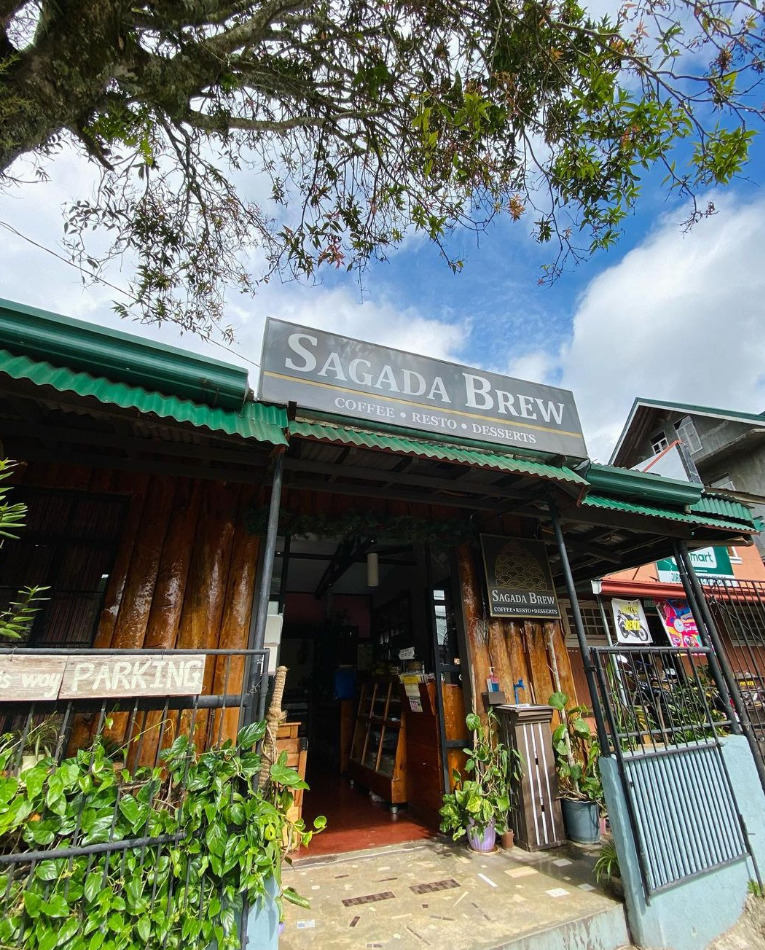 Sagada Brew is a popular coffee shop serving delicious coffee, including Sagada coffee and mountain tea. They also offer a variety of food options for breakfast and meals. Visitors can enjoy the cozy atmosphere and beautiful views while sipping coffee.
Yoghurt House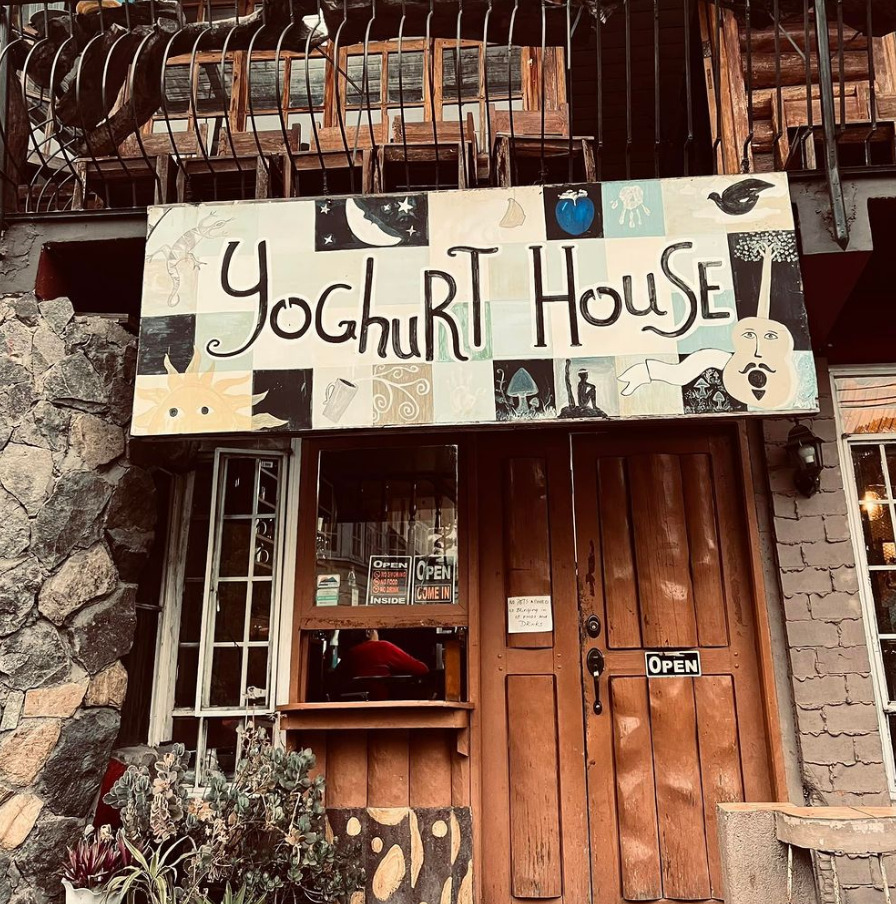 Yoghurt House is another popular restaurant in Sagada known for its delicious food and drinks. They offer a variety of meals, including local cuisine, and their homemade yogurt is a must-try. Visitors can also enjoy the cozy atmosphere and beautiful views while dining.
Sagada Lemon Pie House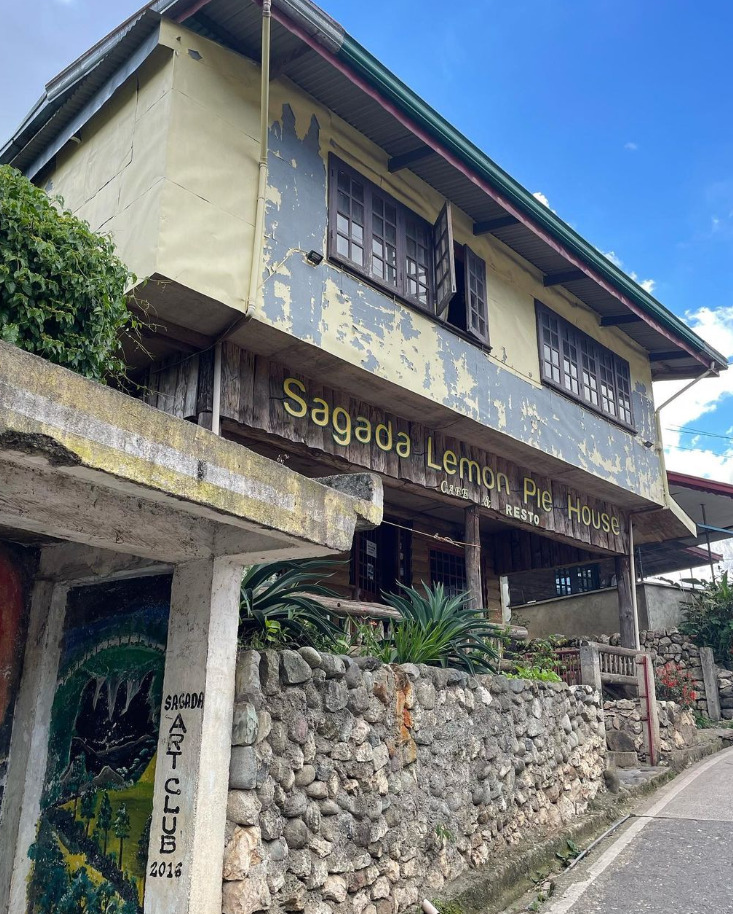 Sagada Lemon Pie House is a small restaurant known for its delicious lemon pies. They also offer a variety of other food options, including local cuisine. Visitors can enjoy the cozy atmosphere and delicious food while dining.
Gaia Cafe and Crafts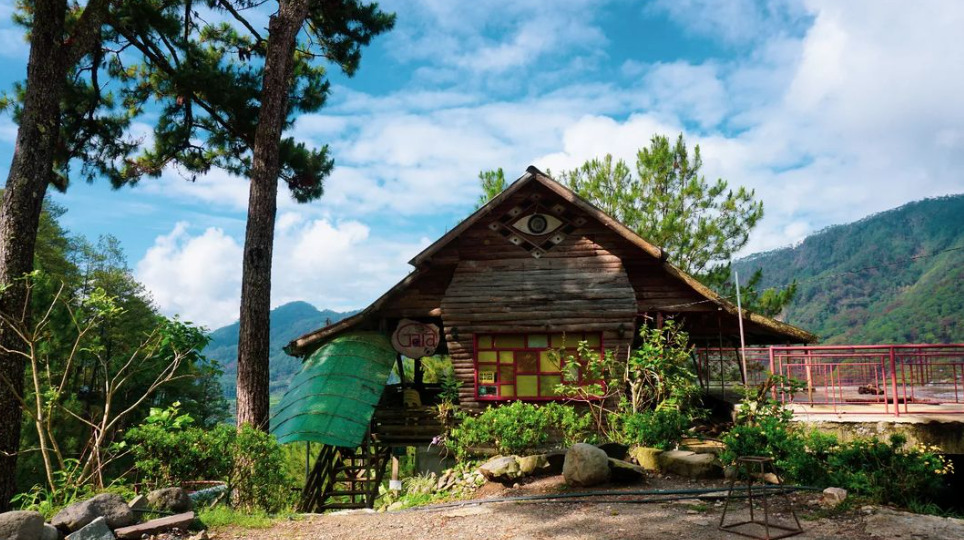 Gaia Cafe and Crafts is a unique restaurant that offers a variety of food options, including local cuisine. They also have a gift shop where visitors can purchase handmade crafts. Visitors can enjoy the cozy atmosphere and beautiful views while dining.
Other Attractions
Sagada weaving.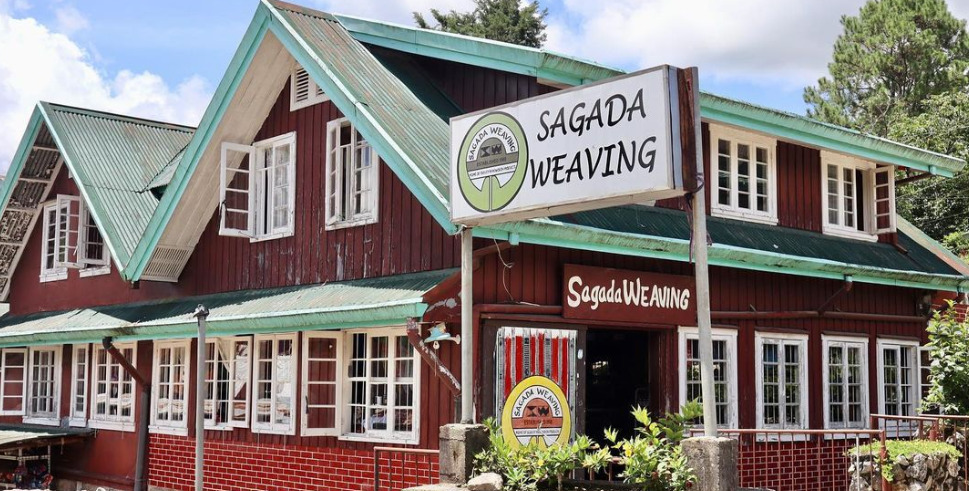 Sagada Weaving is a traditional craft in the Mountain Province. The locals use a backstrap loom to weave cotton and abaca fibers into intricate patterns. The finished products are often used for clothing, blankets, bags, and other accessories. Visitors can watch the weavers at work and purchase handmade items as souvenirs. The Sagada Weaving Cooperative is a good place to start.
Sagada Pottery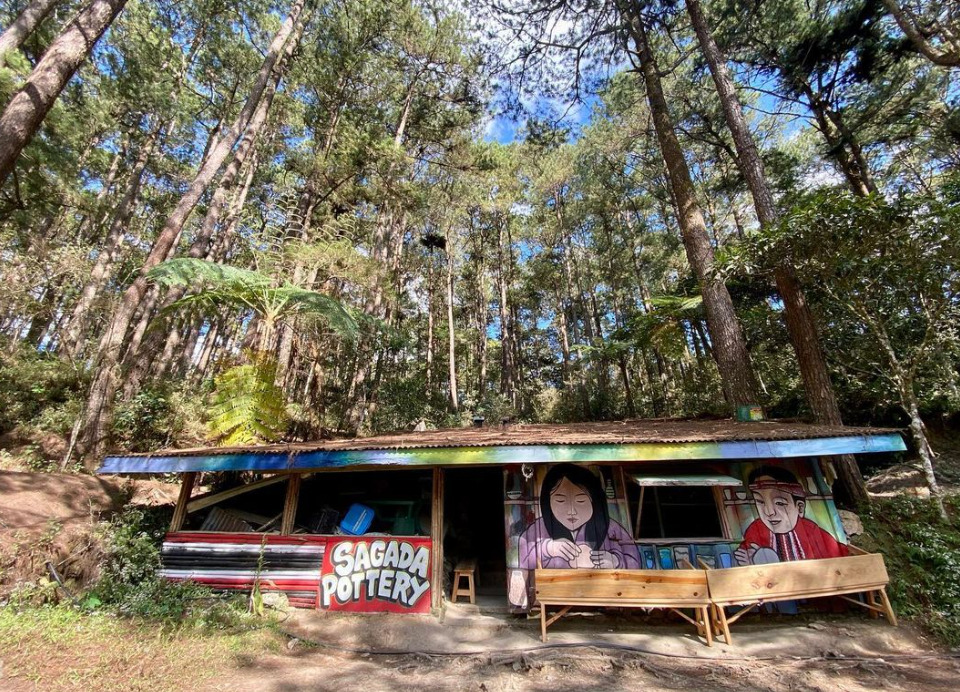 Sagada Pottery is another traditional craft that has been passed down through generations. The potters use local clay to create functional and decorative pieces such as jars, vases, and plates. Visitors can watch the potters at work and even try making their own pottery. The Sagada Pottery House is a popular destination for pottery enthusiasts.
Kapay-Aw Rice Terraces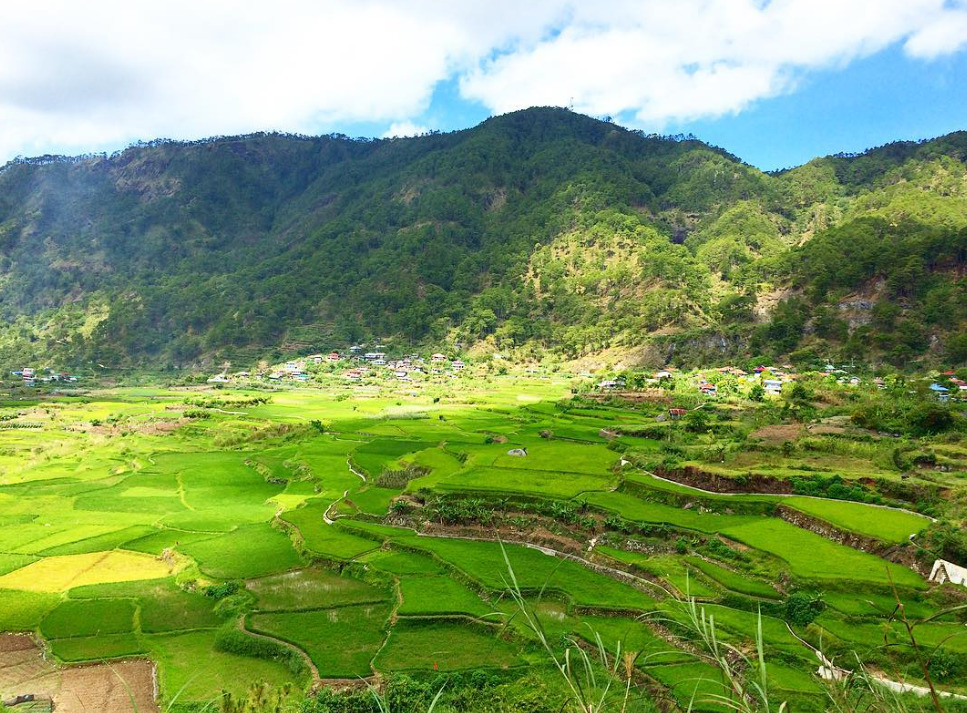 The Kapay-Aw Rice Terraces are a beautiful example of the ancient agricultural practices of the Ifugao people. The terraces are carved into the mountainside and are irrigated by a complex system of canals and springs. Visitors can hike through the terraces and learn about the history and culture of the Ifugao people. The best time to visit is during the planting and harvesting seasons when the terraces are most vibrant.
Overall, Sagada offers a variety of cultural and natural attractions for visitors to enjoy. Whether it's weaving, pottery, or rice terraces, there is something for everyone to explore and appreciate in this unique destination.
Tourist Information
Sagada is a popular tourist destination in the Cordillera Region of the Philippines. It is known for its scenic mountain landscapes, limestone caves, waterfalls, and cultural heritage. Tourists can find plenty of things to do in Sagada, from trekking to caving to exploring the local culture.
The Sagada Tourist Office is a good place to start for visitors who want to get information about the destination and its attractions. The office is located in the town center and provides brochures, maps, and other helpful materials. Tourists can also find information about Sagada tours and local guides at the office.
Sagada tours are a great way to explore the destination and its attractions. Many tour operators offer guided tours to popular destinations such as the Hanging Coffins, Sumaguing Cave, and Mt. Kiltepan Viewpoint. Tourists can choose from various tour packages catering to different interests and budgets.
Local guides are also available for tourists who want a more personalized experience. These guides are knowledgeable about the local culture and can provide insights into the history and traditions of the community. They can also take tourists to off-the-beaten-path destinations not in standard tour packages.
Best Time to Visit
Sagada is a beautiful town in the Cordillera Mountains of the Philippines known for its stunning natural scenery, rich culture, and unique attractions. The best time to visit Sagada is during the dry season, which runs from November to February.
During this time, visitors can expect cooler temperatures and less rainfall, making it the perfect time to explore the town's many outdoor attractions. The cooler climate also makes participating in activities such as trekking, caving, and exploring waterfalls easier.
While Sagada can be visited year-round, the rainy season, which runs from June to October, can make some of the town's attractions inaccessible due to flooding and landslides. Visitors should also be aware that the town can get quite crowded during peak season, so it is best to plan and book accommodations in advance.

10 MUST SEE SPOTS IN SAGADA YOU SHOULDN'T MISS
Sagada has come a long way. From being a quaint little town that only the bravest soul searching travelers did explore to becoming a primary tourist hubspot in the North. A lot of things have definitely changed in this once offbeat destination. The thick pine forest of its land were now slowly being replaced by inns and restaurants but there are things which remained the same and those were the gems only this amazing town can offer. If you are visiting Sagada for the first time, here are 10 Must See Spots You Don't Wanna Miss On Your Visit.
1. The Hanging Coffins
Price:  P300/Guide as part of the Eco Valley Tour
One of the remaining pieces of evidence of the rich culture that once thrive in the Cordilleras is the Hanging Coffins. It showcases the Kankanaeys' ancient tradition of burying their ancestors which they have practiced for hundreds of years and continued to do so until the 2000's.
2. Kiltepan Peak
Price: P500/Van/10Pax
Featured in the movie "That Thing Called Tadhana", Kiltepan Peak wasn't the first to introduce Sagada's beauty to the world but it certainly put it on the map. A sunrise witnessing the sea of clouds in Kiltepan Peak is one kind of experience you surely don't wanna miss but unlike in the movie you don't have to be heartbroken just to truly feel how enchanting it is.
3. Marlboro Hills
Price: P1200/2-Way Transpo/5pax | P1800/Guide/5Pax inc a tour to Blue Soil Hills
Marlboro Hills is another spot where you could witness a spectacular sunrise over a sea of clouds. Although Kiltepan Peak is the more popular choice at this category, in my opinion, however, Marlboro Hills is better. Not only that it offers a 360-degree view of the sea of clouds, but it also is less crowded and is a great spot for sunsets too.
4. Lake Danum
Remember that scene of Piolo and Juday in the movie "Don't Give Up On Us" in 2006 where they were in front of a lake. That was the first time I saw Sagada. And that lake surely made me fall in love. And Oh boy, never had any idea that was Lake Danum. Not only that it is a dramatic spot for movies but it is a great place for sunsets too. Those towering pine trees turn orange and yellow during sunset reflected by the lake is one memory you'd like to embed in your mind forever.
5. Lumiang Cave
Price: P500 for 4 | P600 for 5 | P1000 up to 9
Lumiang Cave is more known as the "Burial Cave" and the most popular burial site in town where more of Sagada mummies are found inside their wooden caskets. It has a beautiful cave system that is connected to the more popular Sumaguing Cave. This tour can be challenging which involves trekking along rugged terrain but it's nothing no ordinary travelers can't manage.
6. Bokong Falls
This is normally part of the Eco Valley tour and the perfect day ender before witnessing the sunset in either Marlboro Hills or Lake Danum. Bokong meaning "small" is the alternative for waterfall chasers if you are not yet up to the challenge of Bomod-Ok Falls. Getting here is through a long descent from the main road leading to a vast vegetation where this gem is hidden beyond several unstable bridges you needed to cross.
7. Sumaguing Cave
Price:  Cave Connection 3-4Hrs P800 for 2 pax and P400 for each additional heads | Short Course P500 for 4 | P600 for 5 | P1000 up to 9
The most popular cave in Sagada is Sumaguing yet it is the most challenging. To experience this gem needs you to have not only the courage but the strength and motivation to endure exploring it that should take up to four hours. As a reward, you will get to marvel at one of the most beautiful caves in the country boasting of beautiful rock formations.
8. Bomod-Ok Falls
View this post on Instagram A post shared by Jonah Chavez – Ranchez (@jonahstravel)
Price:  P500/Guide up to 10 pax | 2-Way Transpo – P650
Arguably one of the most gorgeous waterfalls in the Cordilleras is Bomod-Ok Falls. Getting to this falls will challenge you to so many levels but it is definitely worth it especially if you are an avid waterfall chaser.
9. Orange Picking At Rock Inn Cafe
Price:  P50/Person
Tucked several kilometers away from town is the humbly Rock Inn Cafe which is home to an amazing restaurant and a vast orange orchard where you can go picking for a minimal fee of P50. If you loved picking strawberries in Baguio, you would surely enjoy orange picking in Rock Inn. Know that you can pick as much oranges as you can but whatever you pick should be consumed within the orchard otherwise you'll be paying for the oranges by the kilo.
10. Blue Soil Hills
Price: P1200/2-Way Transpo/5pax | P1800/Guide/5Pax inc a tour to Marlboro Hills
Sagada is home to some of the strangest things found in our country and the Blue Soil Hills is no exception. Imagine a roll of hills in a dreamy color of baby blue hidden in the mountainous terrains of Sagada where it is surrounded by pine trees. It truly is one spectacular spot to spend some time away from the crowded town to unwind and to simply be with nature.
There you have it lovelies. There's definitely more to see in Sagada but for starters, these 10 spots should make your visit a great one. If you would like to see more of the Cordilleras, our 5-Day Budget Itinerary should give you an awesome idea. If you need a more comprehensive Sagada Guide , I've written a separate post just for you. Hit the comments below for questions, suggestions or to simply show me some love. Until next time and don't forget to share. Ciao!
BLUE SOIL HILLS: Travel Guide To The Other Side Of Sagada
5 best eats in sagada, related posts, balot island (sultan kudarat): travel guide, budget + itinerary, 10 top-rated hotels in siargao for your next island staycation, 6 interesting things to do in glan.
thank you so much for your blog, this help me plan for my itinerary road trip to Sagada, very informative
Hi Leony! Ure welcome! Enjoy Sagada 😊
Write A Comment Cancel Reply
Save my name, email, and website in this browser for the next time I comment.
Notify me of follow-up comments by email.
Notify me of new posts by email.
Instagrammable
Travel Hacks
Privacy Policy
Terms Of Use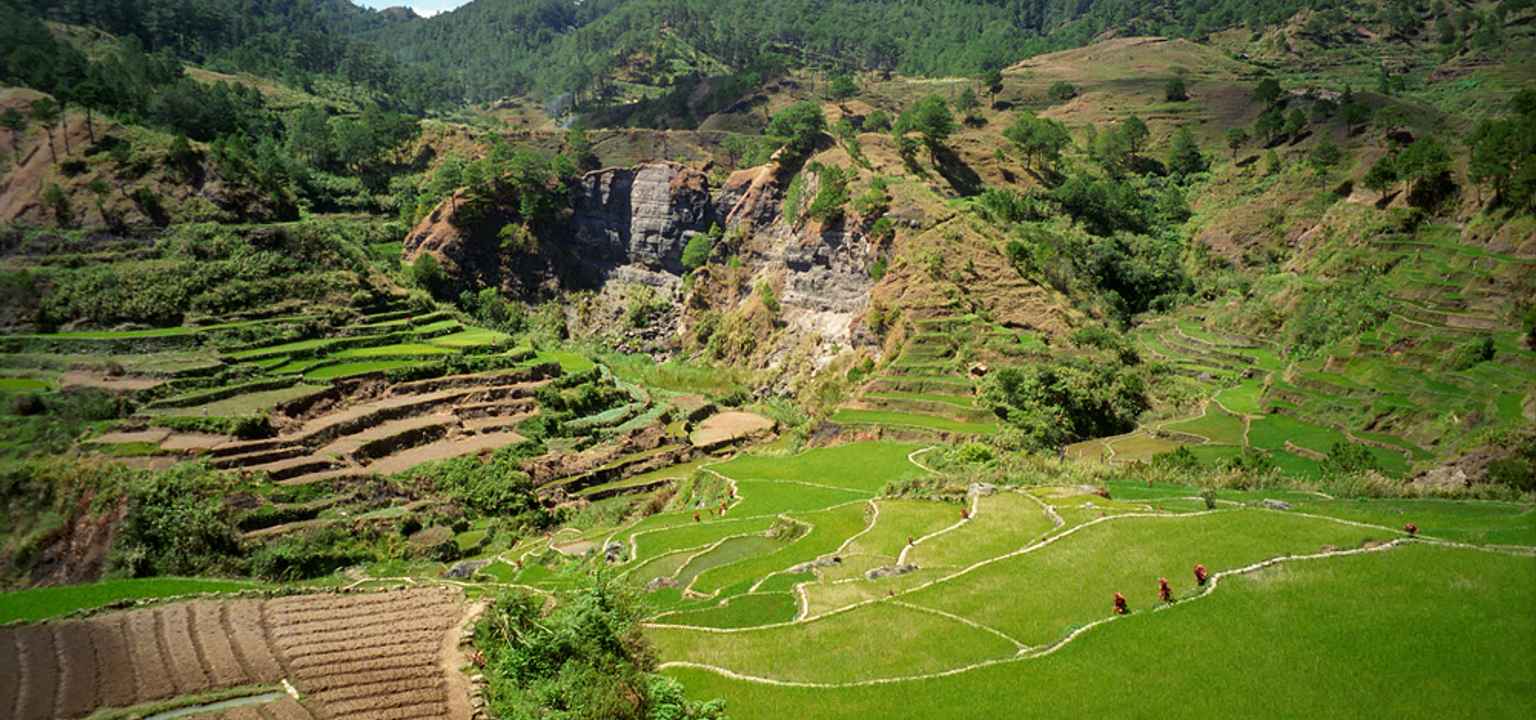 Traveloka Accomodation
22 Jul 2023 - 4 min read
Exploring the Best-Kept Secrets of Sagada, Philippines: A Traveler's Guide to the Most Photogenic Tourist Spots
Uncover the best-kept secrets of Sagada, Philippines, from picturesque waterfalls to traditional craft studios. Experience the authentic Filipino way of life in this secluded town.
Nestled in the belly of the Cordillera Mountain range, Sagada has become one of the most popular destinations for tourists who want to immerse deep into the natural and historical wonders of the Philippines.
Known for its jaw-dropping landscapes and unique indigenous culture, this comfortable little town in the Mountain Province literally has everything you need in one place. From trekking, spelunking, caving, canyoneering, and river rafting, to eating and drinking exotic food, every Sagada tourist spot has something to offer for those seeking adventure.
Keep reading as we explore the best-kept secrets of Sagada in this personal traveler's guide to the most photogenic spots of this beautiful town that takes us back in time.
Uncovering the Hidden Gems of Sagada, Philippines
Sagada Philippines is one of the very few remaining communities that have preserved and maintained a strong and unshakable pre-colonization identity that both foreigners and locals respect and admire.
The following tourist spots in Sagada Philippines will give you a very distinct perspective
on the authentic Filipino way of life that was once a secluded secret that tourists had to put in the effort to access before.
Bomod-ok Falls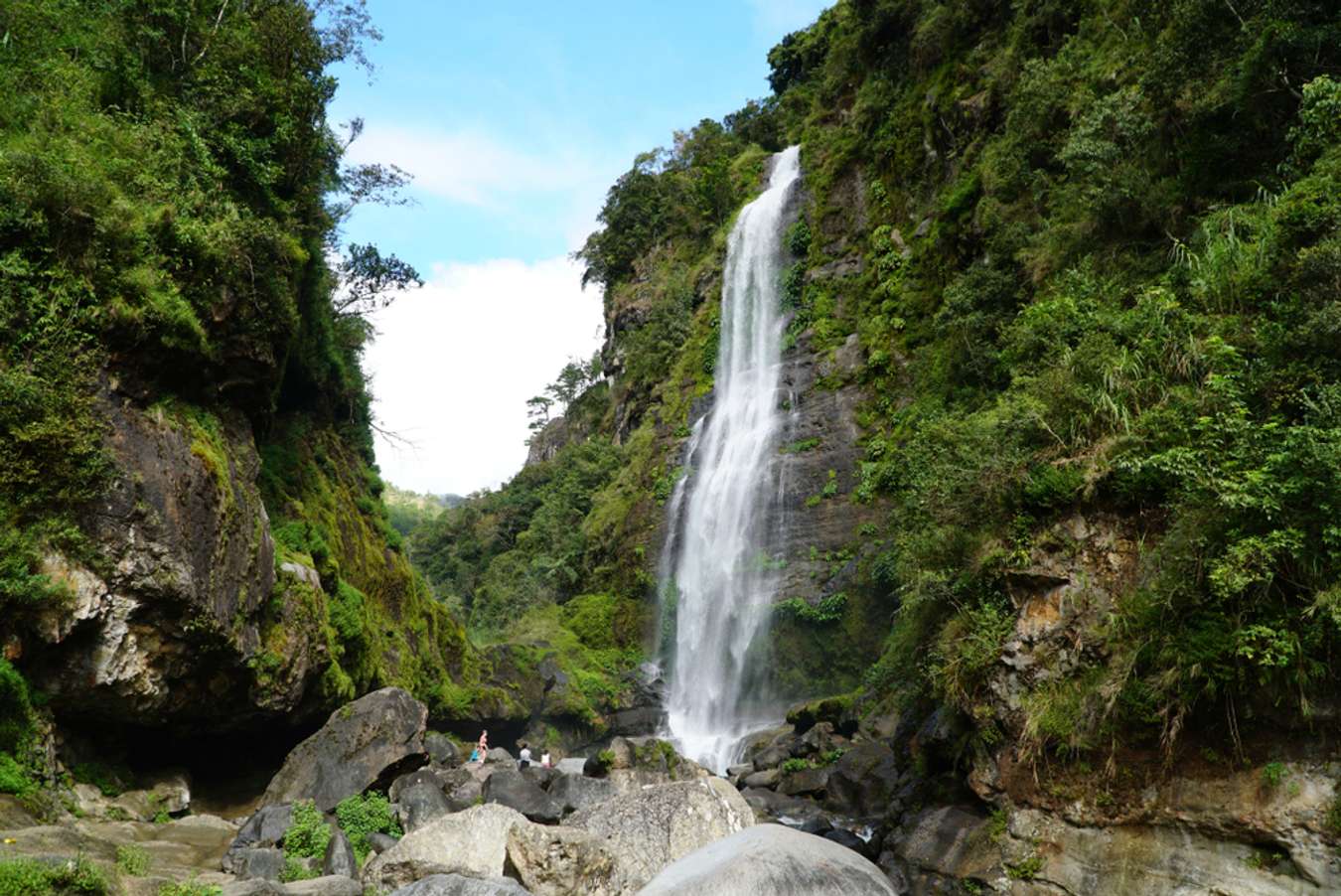 First on this Sagada travel guide is a breathtaking work of nature that requires a short walk into the wilderness. Enjoy scenic views of the rice terraces and lush vegetation as you cascade down to a series of crystal-clear pools at the bottom that you can use for a cold, refreshing swim.
Bomod-ok, towering at 200 feet, is also a picture-perfect first stopover and spot for a sumptuous picnic after a grueling nine to 12-hour drive from Manila to Sagada.
Sagada Pottery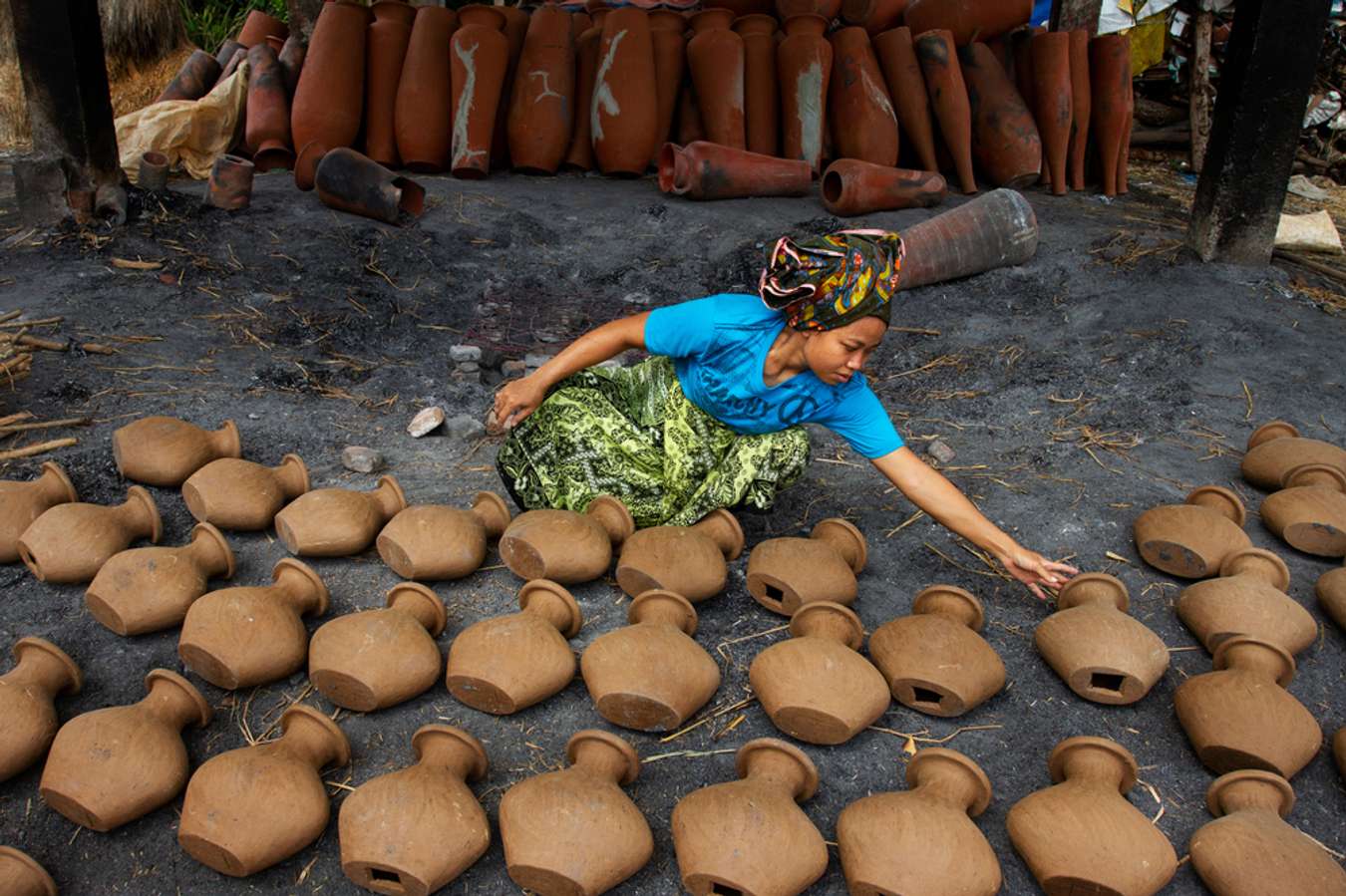 This small gallery features traditional pot-making techniques by the Sagadians. It is run by a group of resident artists who use locally sourced raw materials to create beautiful masterpieces made of clay. Tourists are allowed to try and make their own personal hand-made pots, of course, under the supervision of professionals.
Sagada Weaving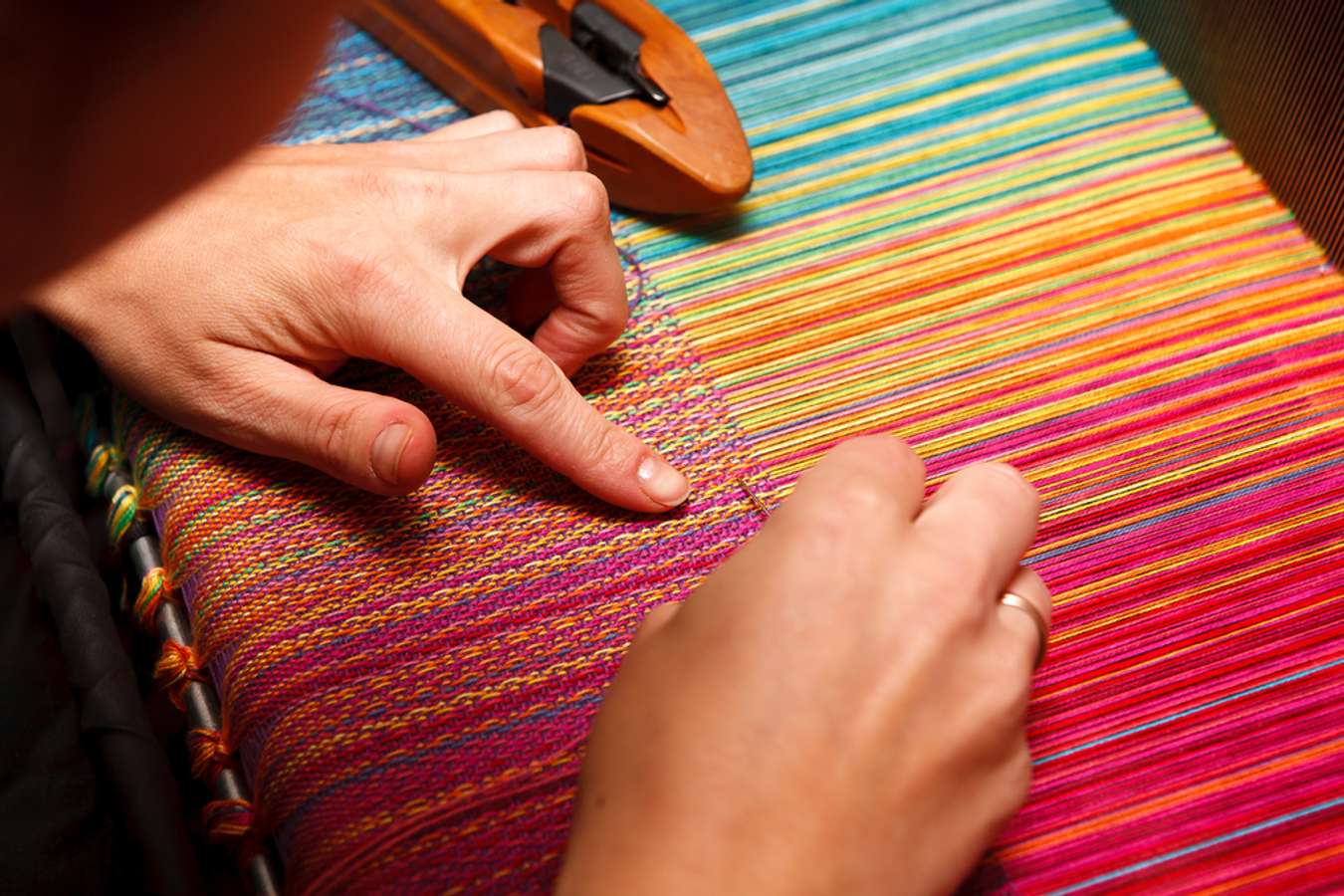 Here's another secluded traditional craft studio in Sagada. Weaving is a Filipino tradition passed down through generations up North and down in the Southern provinces of Mindanao.
Visitors can purchase handcrafted products made of cloth while watching the weavers work gracefully. They also offer weaving workshops for those who want to stay a little longer and learn more about this traditional craft.
Read more : Exploring the Best Northern Cebu Tourist Spots in 2023
The Best Must-Visit Tourist Attractions in Sagada
Echo Valley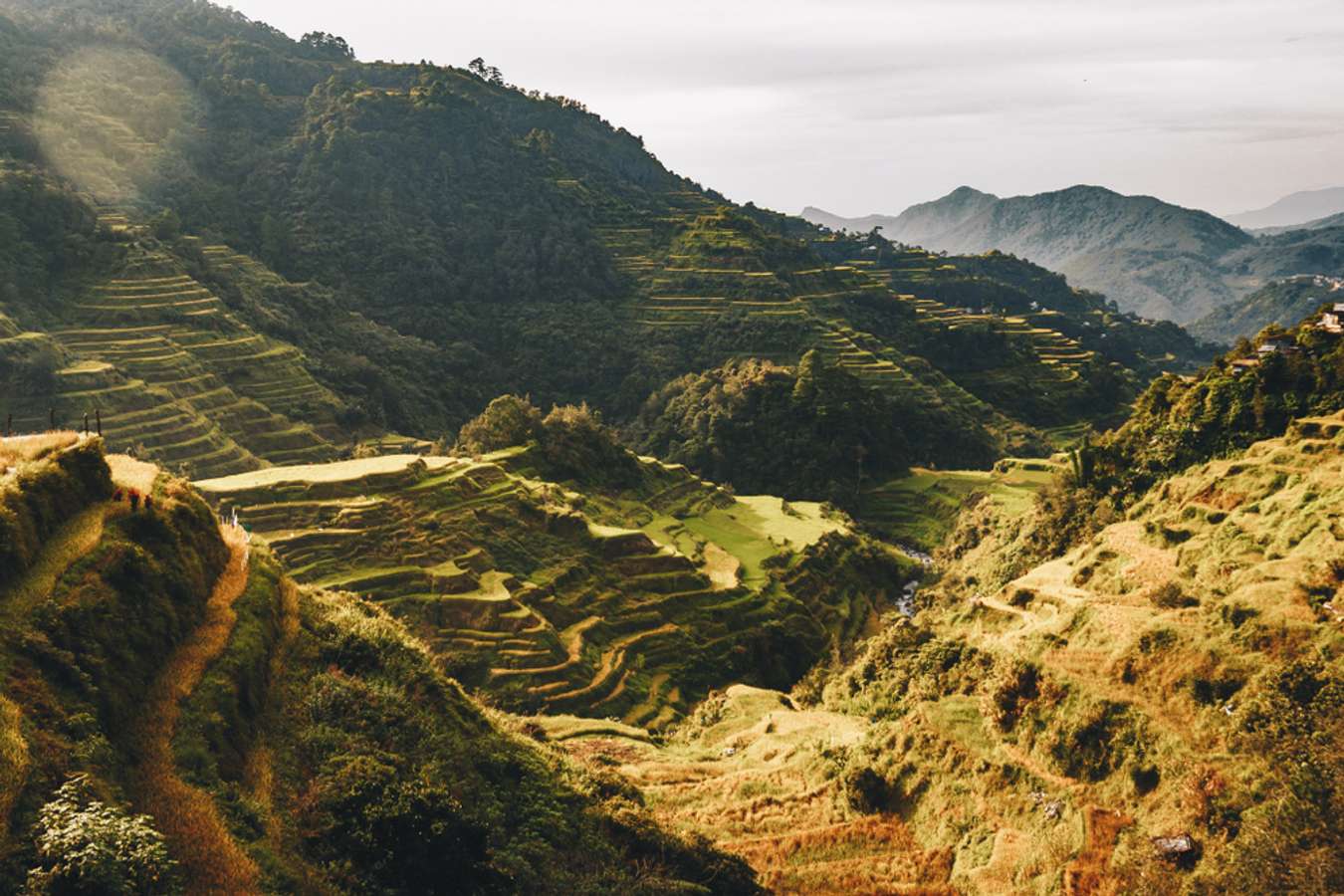 This picturesque valley is always number one on almost everyone's go-to list of Sagada sightseeing spots. It is surrounded by towering limestone walls that produce echoing sounds, thus the name "Echo Valley".
Hanging Coffins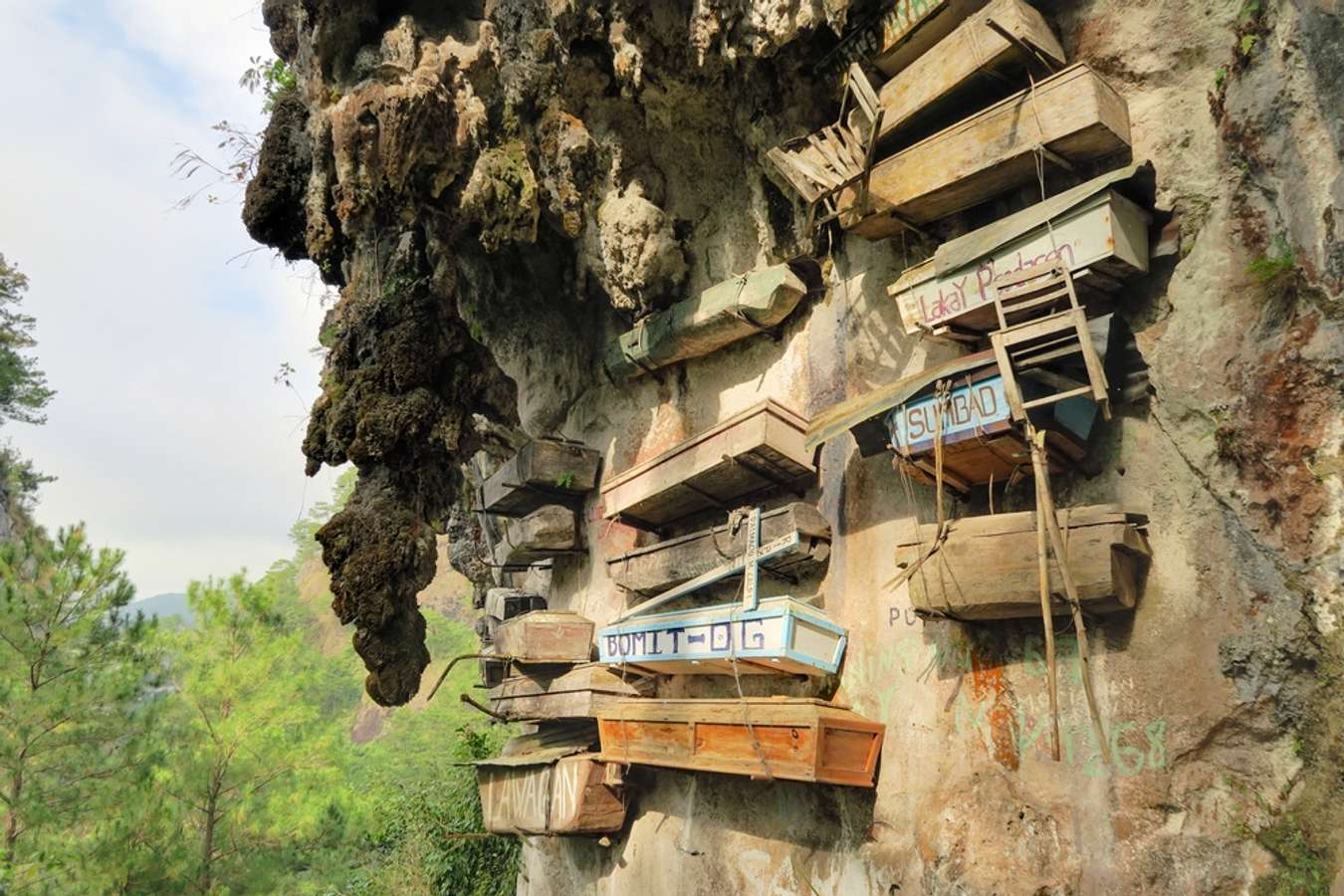 Deeper into the tropical rainforest is an ancient burial site of the Igorot People known as the "Hanging Coffins". Ironically, the remains of the dead are boxed and then hanged on the side of a fatal cliff.
Marlboro Country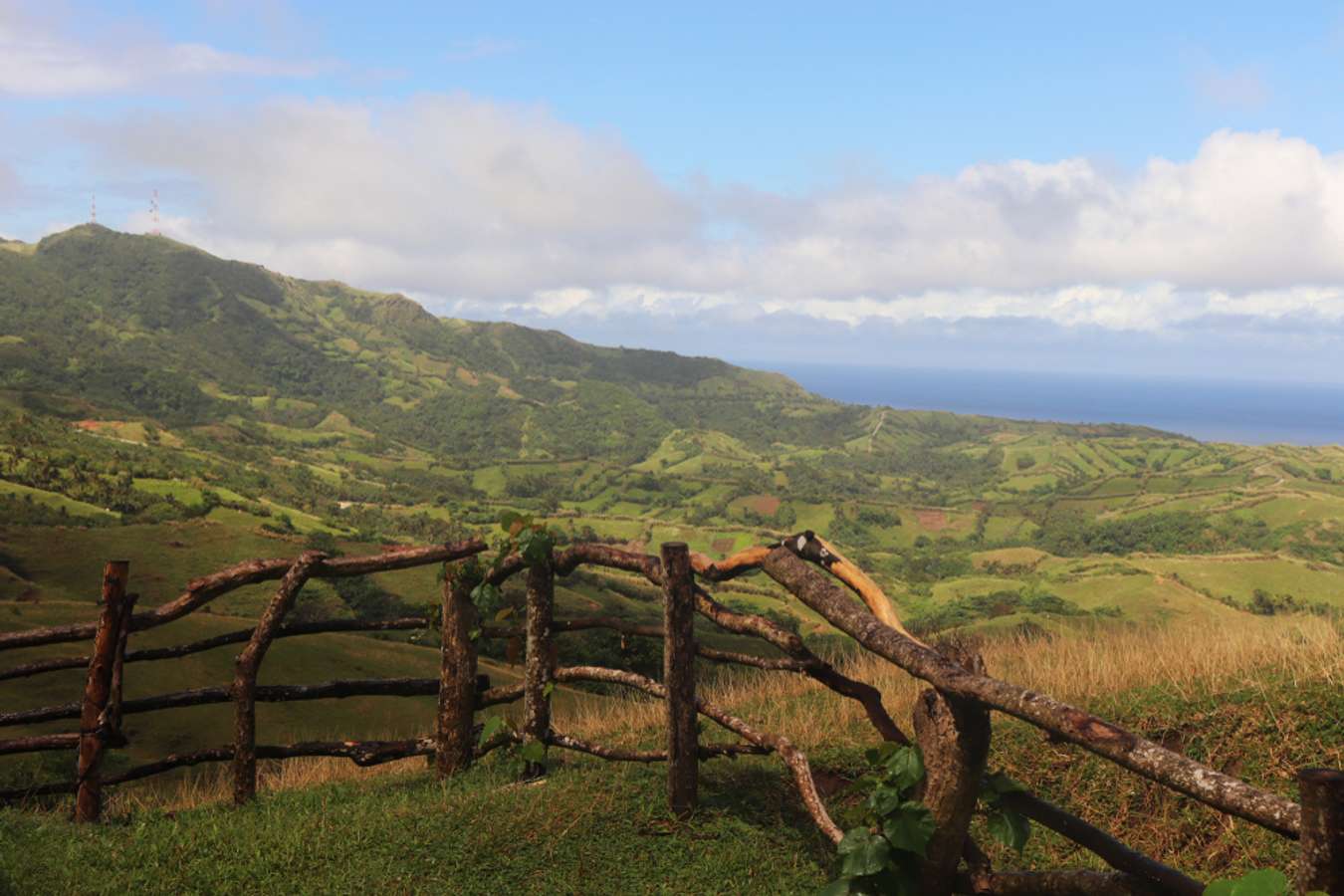 Of all the must-see places in Sagada, the Marlboro Country is among the most challenging. Be ready for a major climb estimated to last two to three hours. Don't worry though, a lot of spectacular Mother Nature shows along the way will absolutely drive the fatigue away.
Blue Soil Hills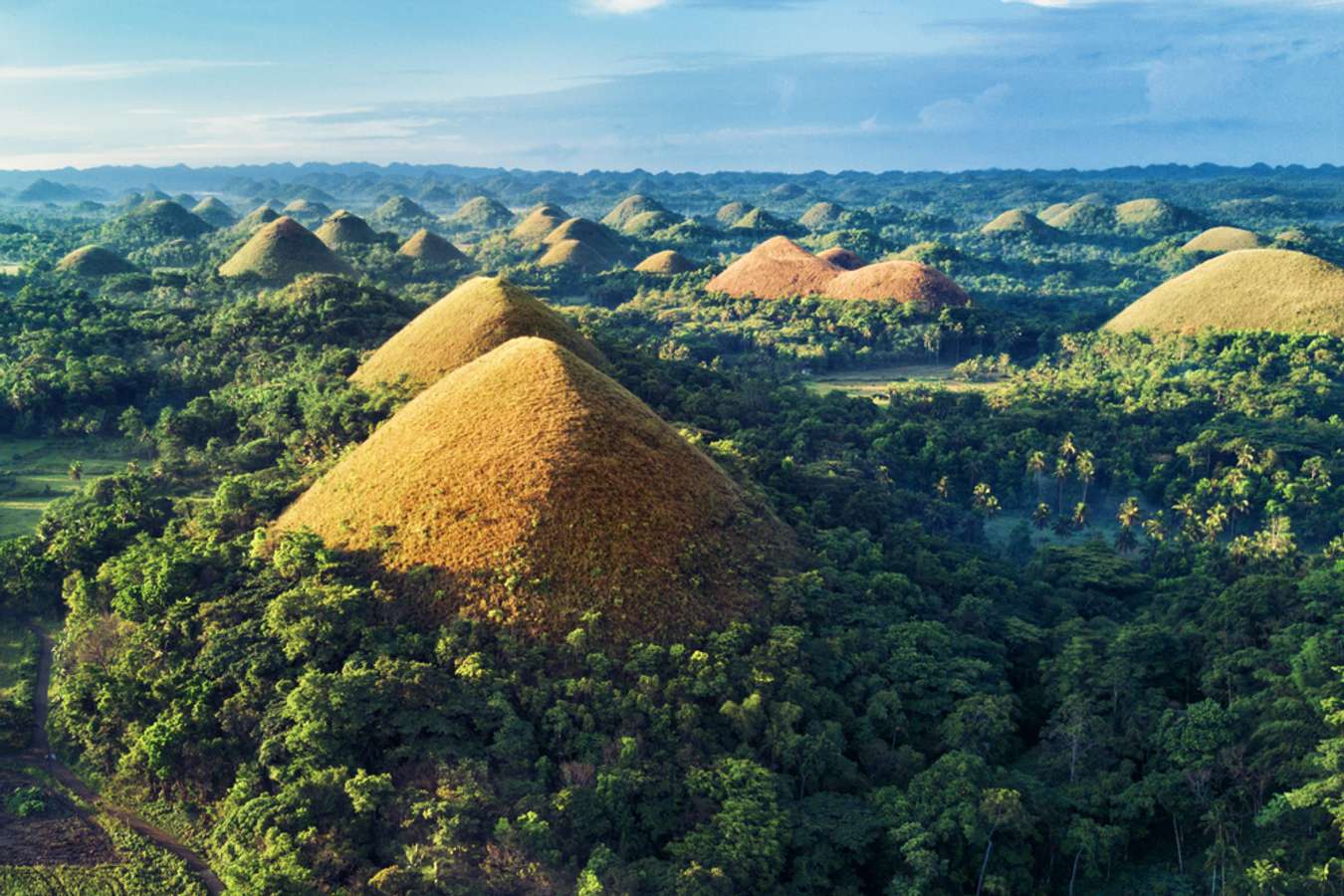 Also located in Marlboro Country, the Blue Soil Hills is definitely one of the best tourist attractions in Sagada Philippines. It is bizarre and nearly out-of-this-world. As the name suggests, rolls of bulging rock and soil formations display a lovely faint blue color contrasting against the lush pine tree surroundings.
This place is truly magical. A dream-come-true for the young spirits and a resting haven for the old adventurous souls.
The Best Outdoor Activities & Hiking Trails in Sagada
Sumaguing Cave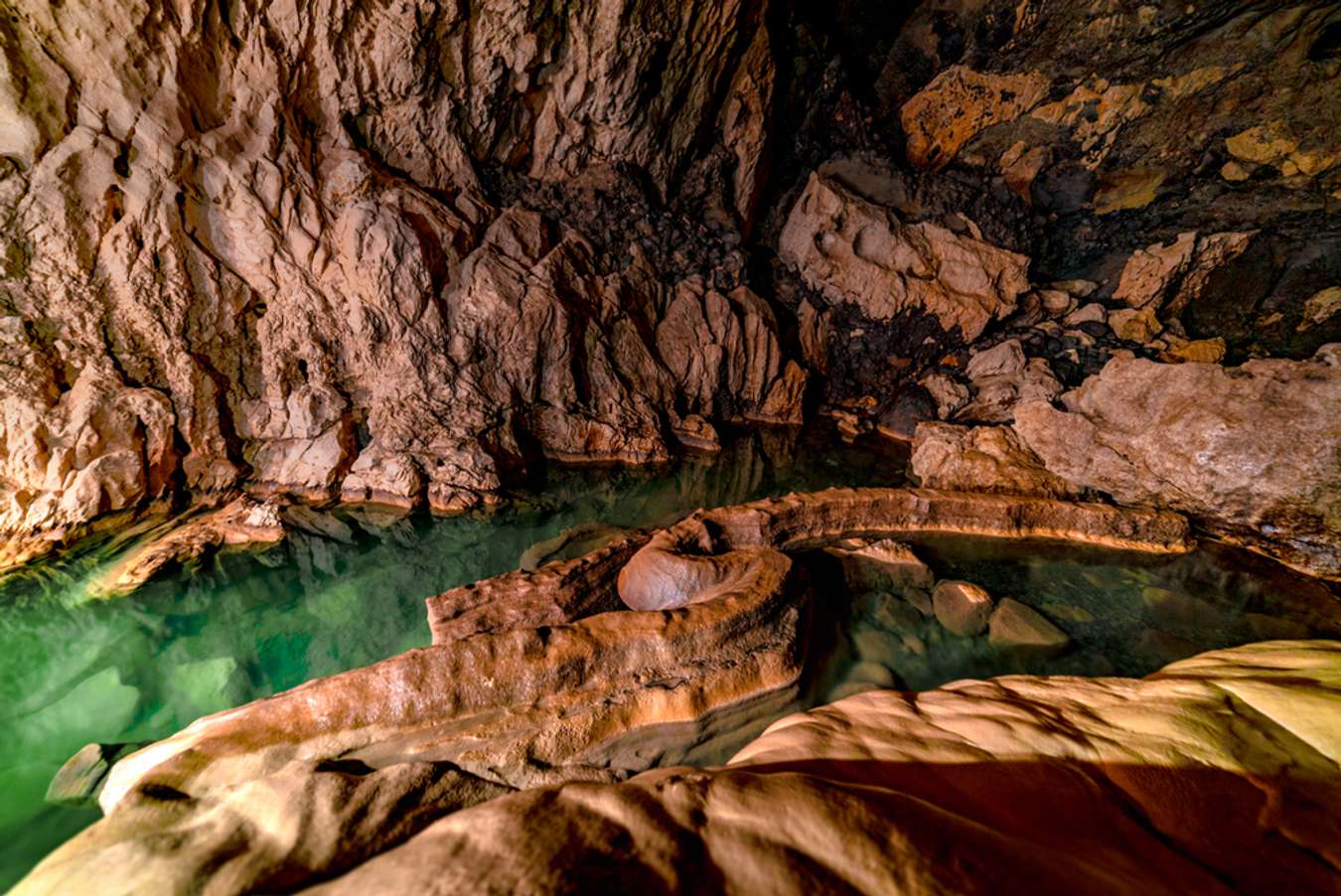 If you're looking for outdoor activities in Sagada Philippines, you can go spelunking and explore the many chambers of Sumaguing. This cave is famous for its impressive rock formations and underground rivers. Take a guided tour to ensure your safety as some areas can be quite challenging to navigate.
Lumiang Cave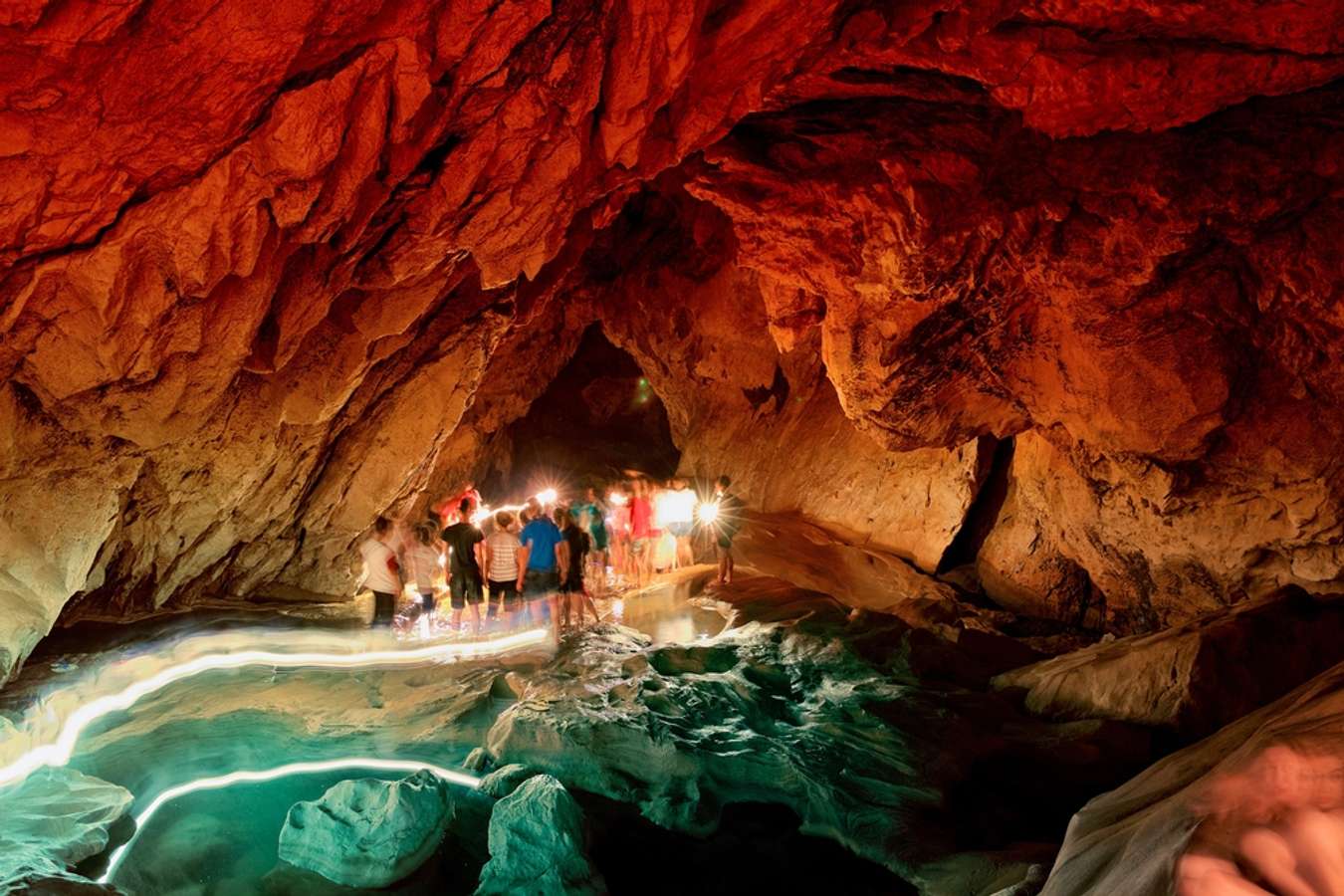 Looking for more spelunking after Sumaguing? Bring out your phone and type "best outdoor activities near me" and discover an even more exciting adjoining cave. Lumiang connects to Sumaguing. This cave connection creates the majestic turquoise-blue waterfalls and ice-cold natural swimming pools.
Read more : 9 Best Hotels and Resorts with Pools in Cebu City
Alright, fellow adventurers, it's time to pack your bags and get ready for an unforgettable journey! If you're looking for a platform that covers all your travel needs, look no further than Traveloka! With just a few clicks, you can book your flight tickets, secure cozy hotel , and even explore exciting attractions and activities with Traveloka Xperience , all from the convenience of your smartphone!
So, why wait any longer? Let the wanderlust take over and start planning your dream holiday or staycation using Traveloka. Whether you're craving an adrenaline-pumping adventure in the mountains or a peaceful escape in the heart of nature, Traveloka has got you covered!
Now, it's time to turn those travel dreams into reality. Plan your journey with Traveloka, where convenience meets adventure. So, book your flight and hotel today, and get ready to explore the wonders of Sagada and beyond! Happy travels!

Best Hotels & Accommodations in Sagada
Find more choices of hotels and accommodations in Sagada with the best price offers on Traveloka

Payment Partners

About Traveloka
Follow us on
Flight + Hotel
Airport Transfer
Traveloka Affiliate
Privacy Policy
Terms & Conditions
Register Your Accommodation
Register Your Experience Business
Traveloka Press Room
Download Traveloka App
TRAVEL GUIDES
DESTINATIONS
ADVENTURE TRIPS
HOTELS & RESORTS
FIND HOTELS WITH DISCOUNTED RATES!
ads_banners
Sagada travel guide: 11 things to do in sagada (tourist spots, attractions and things to do and experience).
Looking for Sagada Travel Guide Blog with list of Tourist Spots, Attractions and Things To Do and Experience? What are the travel requirements to visit Sagada ?
[ click here to see the list of hotels in sagada ], here are some of my must-do activities for first-timers visiting sagada., 1. view the sugong hanging coffins.
2. Visit Lumiang Burial Caves
3. Marvel on the Beauty of Kapay-aw Rice Terraces
4. Spelunking at Sumaguing Cave
5. Hiking at Mt. Ampacao
6. Zip lining over Kapay-aw Rice Terraces
7. Visit St. Mary the Virgin Episcopal Church
8. Trek to Echo Valley
9. Visit to the Hanging coffins
10. Take an Enriching tour at the Ganduyan Museum
11. Savor on the Flavors of Sagada
I can't wait to visit Sagada again to try and discover other things it offers. 'Til the next time!
HOME STAYS, TRANSIENT HOUSES & HOTELS IN SAGADA
Isabelo's Inn and Cafe √ See room rates & availability
Kanip-aw Pines View Lodge √ See room rates & availability
Coffee Heritage House & Hostel √ See room rates & availability
Shamrock Tavern Inn √ See room rates & availability
Sagada Heritage Village √ See room rates & availability
Kenlibed Inn √ See room rates & availability
Masferre Country Inn & Restaurant √ See room rates & availability
Grandma's Yellow House √ See room rates & availability
Sagada Salt and Pepper Inn & Restaurant √ See room rates & availability
Sagada Blue Mountain Cabins √ See room rates & availability
HOW TO GET TO SAGADA
Follow my adventures on youtube @pinoyadventurista, 21 comments :.
What I miss most about Sagada is the yogurt! Yummy!!
some say that sagada is already a little overrated but i have not been there yet and i can see from your post that it's an interesting destination. will plan on a visit soon.
wah gusto ko na rin pumunta dyan!
ganda nmn dame option sa gagawin nice thanks for sharing

thanks! as always, the best ka tlg pagdating sa mga travel tips... will plan a tour to Sagada... hopefully, soon...
Ang tagal ko ng gustong pumunta dito. Makailang beses na rin ako nainvite ng bagets tapos mga classmates ko nung highschool tapos yung kelan lang hindi pa rin pwede may trabaho kasi sagabal ang trabaho sa lakwatsa hahaha
Its so nice at Vincents Cafe, we had a great evening there the food was delicious, mmmm the fish and salad was perfect. This place is a hidden gem.
This I never got to do. Never thought Sagada can this be interesting. :)
pupunta kami jan sa sabado
How do we get a tour guide in Sagada? We'll go there on Feb 21.
Sagada is really a nice destination that draws you closer to nature.
Can we pitch tent at kiltepan peak?
hi... I was raised in sagada... other places you could go to are tabyay-ew falls, bumayeng falls, kakaonge falls, Lake danum, langsayan, balangagan cave, fidelisan rice terraces, bokong falls....
Hello, Can anyone refer me a good transient house in sagada? we prefer a house away from the town if available. Thanks! Nice blog btw. Our family is planning to go there (its our first time).
Gold pricing... I was surprised as I bought a coffee while waiting for the sun to be raise. The 3 in 1 coffee here in Manila worth only 7 Php, if you buy at sari-sari store but there 30 pesos, Oh my G. But anyway its full of enjoyment. You never regret if you been there.
Any suggestion po for a guest house or Inn near the village of Apo Whang Od?
we will go there!
Did you visit Whang Od?
Any suggestion po for a guest house or Inn overnight near the village of Apo Whang Od?
Looking for Budget Travel Guide Blogs, Hotel Reviews, and Sample DIY Itineraries? Welcome to Pinoy Adventurista, "Your Next Ultimate Adventure Starts Here!" Pinoy Adventurista is one of the Top Travel Blogs in the Philippines and the World. In 2013, he visited all the 81 provinces in the Philippines.