940 Main Street, Koror, Palau 96940
(680)488 5522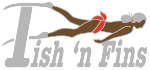 Dive into Adventure with Palau's Premier Dive Shop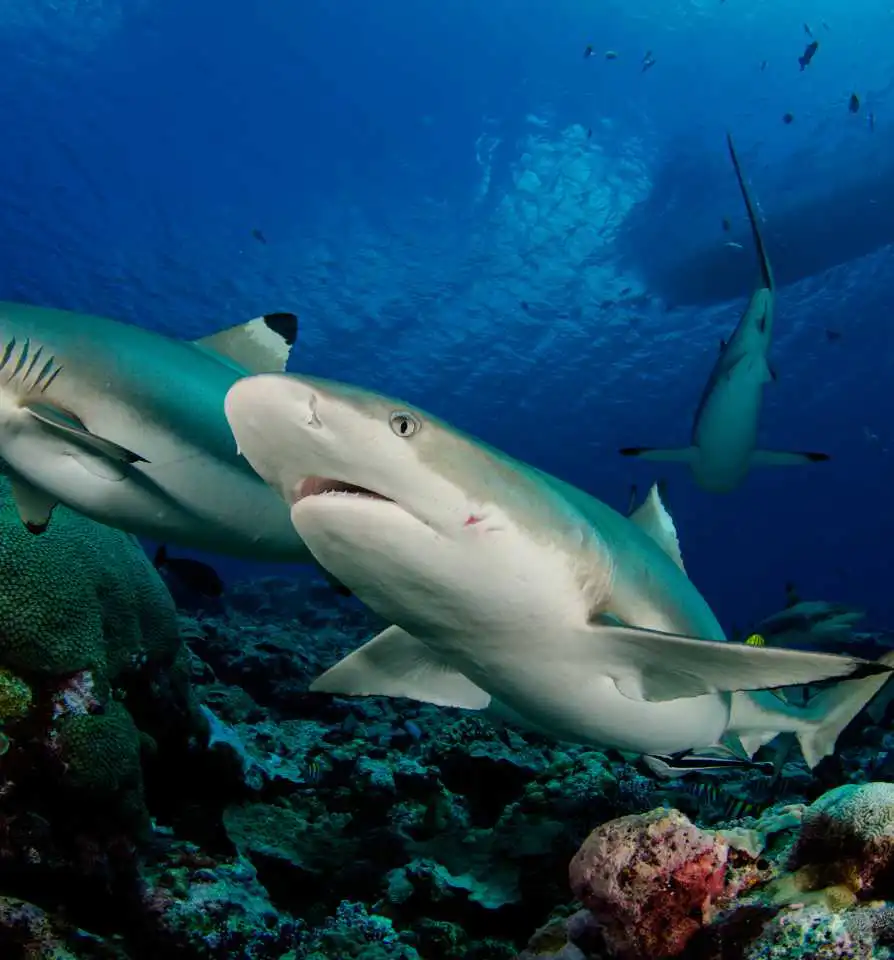 Embark on a journey of discovery with Fish 'n Fins Palau, the premium One-Stop-Shop for diving and adventure tours in Pristine Palau. Our team of experts and seamless online booking system make planning your ideal Palau dive adventure effortless. Dive into the depths of the Pacific, traverse off-road jungle paths, paddle through breathtaking vistas, and immerse yourself in the rich culture of the islands. Elevate your vacation experience with our unbeatable hotel and dive packages, setting Fish 'n Fins apart from the rest. Don't just take a trip, create memories that will last a lifetime with Fish 'n Fins.
Speed Boats
Our meticulously maintained dive boats are equipped with comfortable seats, secure dry boxes for storing personal items, and sturdy tank holders to ensure the safety and enjoyment of all passengers.
Palau's Best Price Hotel & Dive Packages
We offer the best price hotel, dive, and adventure packages in Palau, with six of Palau's premium hotel options to suit any budget. Custom design your own Dive Package - Book Online!
Exciting Rock Islands Kayaking Nikko Bay
Stone Money & More Indiana Jones Tour
Island Adventures Await Island & Cultural Tours
Get airborne with us! Palau Sightseeing Flights
Nikko Bay Kayak & SUP Tour
Explore Palau's stunning Rock Islands by kayak or SUP. Glide through crystal clear turquoise waters with Fish 'n Fins.
Indiana Jones Tour
Experience an adventure-packed tour with the Indiana Jones tour. Visit stone money quarry, kayak, explore caves, snorkel, and relax on beautiful beaches.
Island & Cultural Tours
Discover Palau's rich culture and breathtaking natural wonders with Airai Bai Experience and Palau Adventure Tours. A must-do on any traveler's itinerary.
Palau Sightseeing Flights
Escape to paradise and experience the breathtaking beauty of Palau from above. On our aerial flight (45 minutes), you'll see the crystal clear turquoise waters, the vibrant city of Koror, the world-famous Jellyfish Lake and dive sites, and the iconic Rock Islands.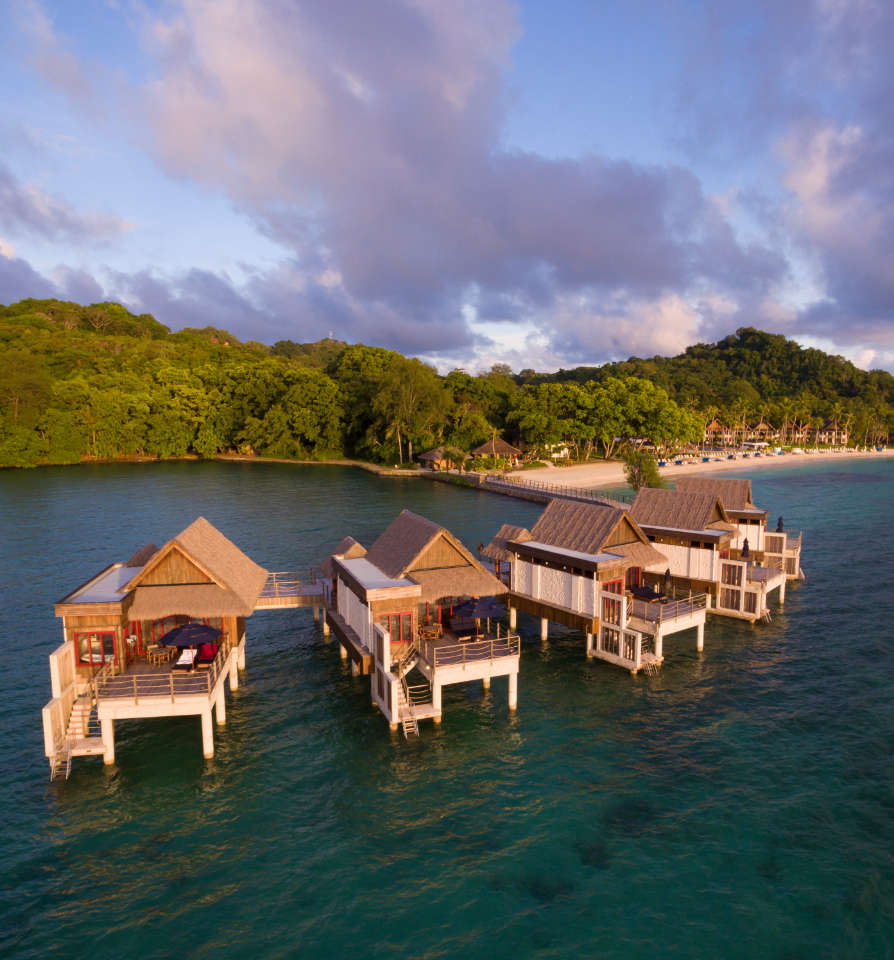 PALAU'S BEST PRICE HOTEL & DIVE PACKAGES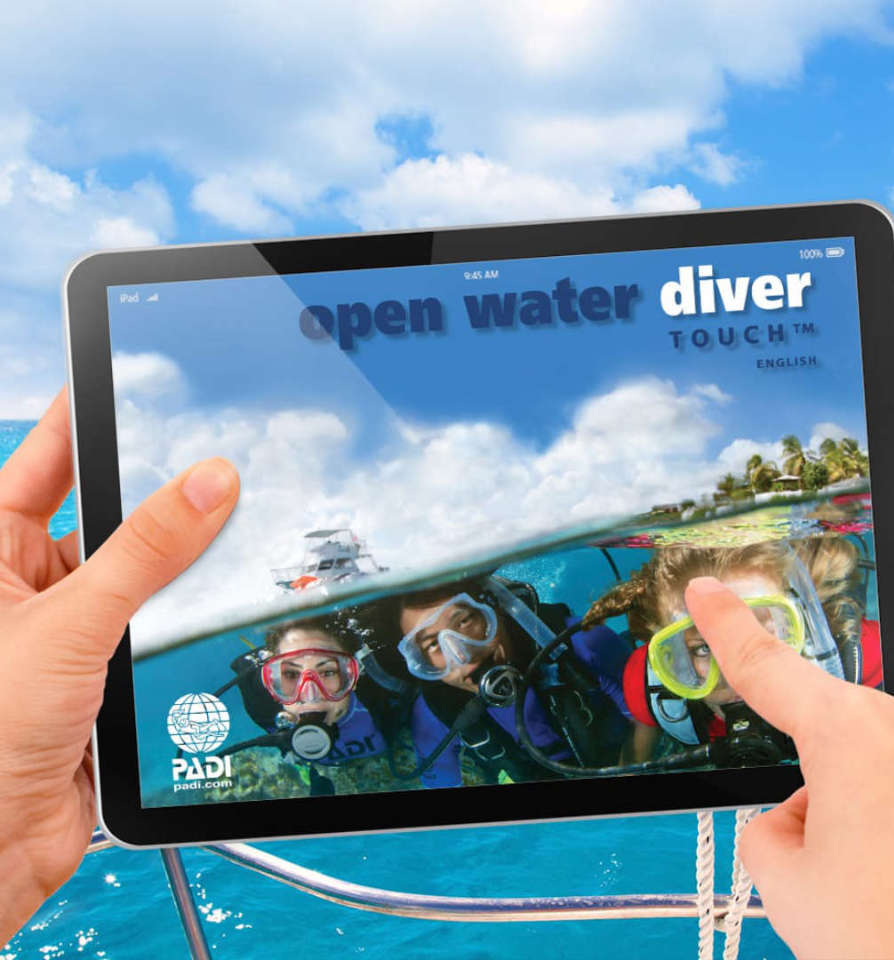 PADI 5 Star IDC Center Palau
Book ocean hunter liveaboard, testimonials.

Margarete F.

Local Links
Sign up to our newsletter.
Copyright © 2023 Fish 'n Fins Palau's Premium Dive Shop

Diving Palau's Astonishingly Rich Dive Spots
The way you've always dreamed with the top rated palau dive shop..
According to Trip Advisor Palau Dive Adventures is the top-rated Palau dive shop. We offer small, flexible, flawlessly organized scuba diving adventures in Palau. You choose the dive spots you want to see, and we take care of everything else.
Tell me more about scuba diving in Palau
13 dazzling dives over 5 days
Maximum of 10 divers per group
Stay with the same group all week
Scroll down
Come diving in Palau with the top rated Palau dive shop and get jaw-droppingly close to Manta Rays, Sharks, Dolphins, Turtles, Eels, and whirlwinds of Brilliant Fish
One of the world's most prized & protected scuba diving destinations, Palau boasts unimaginable riches just below the surface, including…
Dizzying Dropoffs & Dive Spots
Descend into the exquisitely peaceful, ethereal Blue Holes. Watch the sunlight dance above you as you sink deep into an indigo abyss.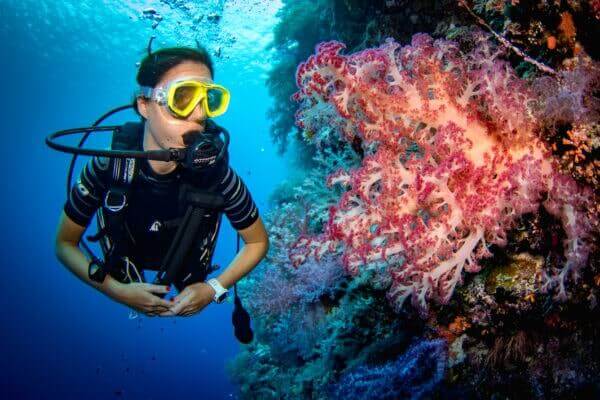 Spellbinding Palau Drift Dives
Clip into the reef at the famous Palau dive site Blue Corner and relax as an endless parade of sharks & rays put on a show all around you.
Wreck Diving Palau
Explore the remains of planes and ship sunk during WWII. Experience the eerie thrill of world-class wreck diving.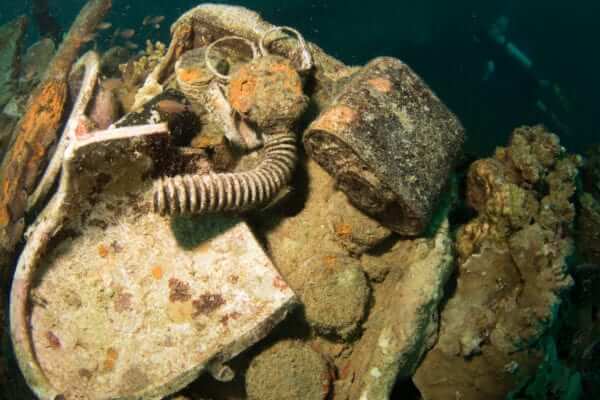 For 5 Glorious Days Scuba Diving in Palau, You Won't Lift a Finger… The Hardest Part of Your Day Will Be Rolling Off the Boat.
At Palau Dive Adventures, we make it our mission to spoil you from the moment your plane touches down to the moment it takes off for home. All you have to do… is get here!
100% Hassle-Free Valet Diving
No lugging wet, heavy gear around for you! We clean, dry & store it every night and get it back on the boat with fresh tanks the next day.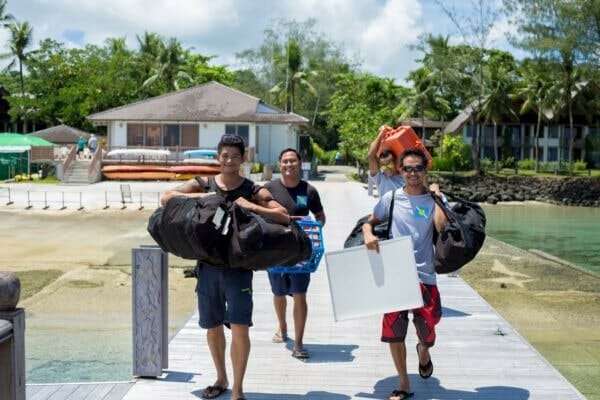 Customize Your Dive Schedule
Our  dive schedule  is a thing of beauty, but it's not set in stone. Want to change it up? We'll bend over backwards to make it happen.
Explore the Island at Night
Get a live-aboard experience with the freedom & comfort of a shore-based operation. Meet the locals & see the sights!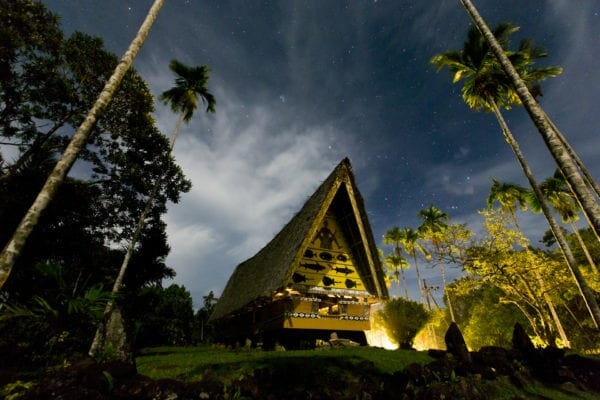 Experience Unparalleled, Personalized Service.
(we take "white glove treatment" to a whole new level.).
The once-in-a-lifetime delights of Palau should NOT be wasted on crowded "cattle boats" and cookie-cutter itineraries. That's why we make sure every moment you spend here is special… on the boat and off.
Here are just a  few  examples of how we've gone the extra mile to give our patrons a truly flawless, magical experience…
Helping plan an underwater proposal to a fiancee (she said yes!)
Making time for land-based attractions, like the war ruins of Peleliu
Taking an extra-scenic (and secret) boat trip through the Rock Islands
Changing the day's route to hone in on a giant school of manta rays
Setting up an amazing black-water dive just for the heck of it
Surprising a couple with a personalized wine box & cheesecake
Arranging car rentals, restaurant reservations, massage bookings, even airplane tours!
Come Scuba Diving in Palau With the Top Rated Palau Dive Shop on Trip Advisor (with 350 Five-Star Reviews and Counting)
"Outstanding"
"Look no further!"
"First class"
Pssst…Our group sizes are limited, so spots fill up FAST. Don't miss your chance! 
PALAU DIVE ADVENTURES PALASIA HOTEL KOROR, PALAU
(310) 321-2558
(44) 121 318 4748
PALAU DIVE ADVENTURES BLOG
PALAU TRAVEL GUIDE DOWNLOAD
PALAU WEATHER FORECAST
PALAU DIVE PACKAGES
Coronavirus Info for Palau
The Ultimate Guide to Diving in Palau
Contact Your Dive Shop in Palau
PALAU DIVE ADVENTURES PALASIA HOTEL KOROR, PALAU CALL or TEXT: +310 321 2558
Small Print
CANCELLATION, DEPOSIT AND PAYMENT POLICY
PRIVACY STATEMENT
COOKIE POLICY
© 2023 Palau Dive Adventures, Your Dive Shop in Palau. All rights reserved. 
Young Pioneer Tours

Palau is now open to tourism
Palau is now open to tourism – the first country in the region to open borders since the Covid-19 shutdown began.
To read about which countries are currently open to tourism click here .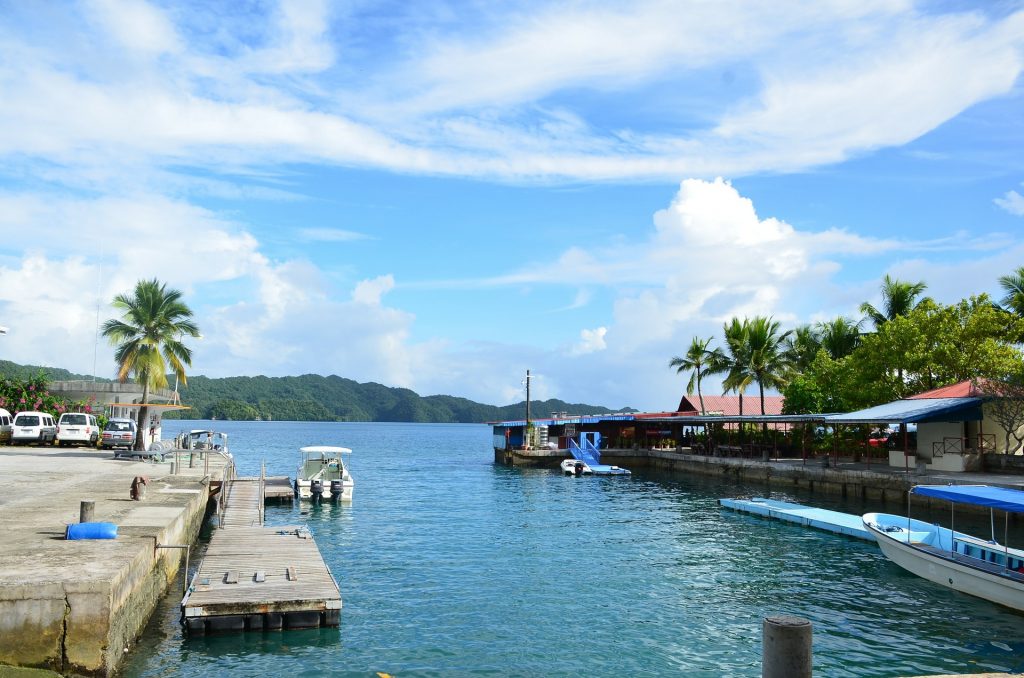 What are the requirements for entering Palau?
Tourists wishing to enter Palau will need to have had both doses of a recognised vaccine (no Sputnik) finished at least 14 days prior to entry into the country. Entrants will also have to produce a negative PCR test taken within 72 hours of arrival into the country.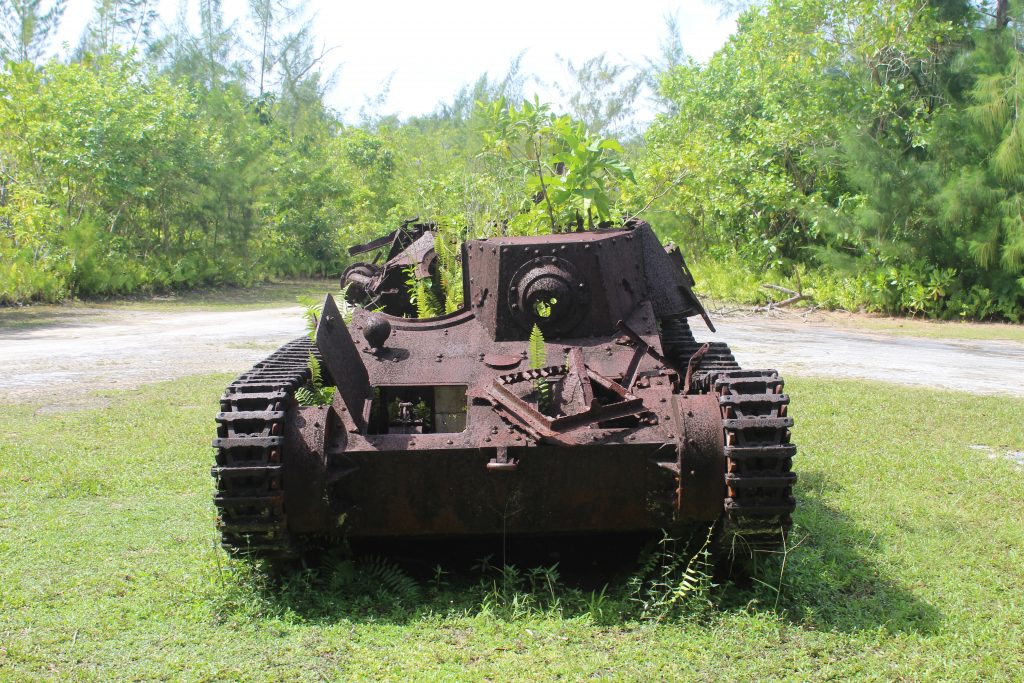 Why visit Palau?
There are so many reasons to visit Palau, such as the food and some of the best boating, diving and island hopping in the world. Palau is very much a firm favourite on our least listed countries tour – which we will get to in a bit.
Does this mean that the Pacific Islands are now open?
In short, no it does not. Palau is a unique case for a number of reasons, such as its close relationship with the USA as Freely Associated State, as well its reliance on tourism.
As things stand, other countries such as Nauru, Tuvalu and Vanuatu are unlikely to open up to tourism in the near future. Although with that being said it does look promising that places such as the Marshal Islands and the Federated States of Micronesia may open sooner rather than later.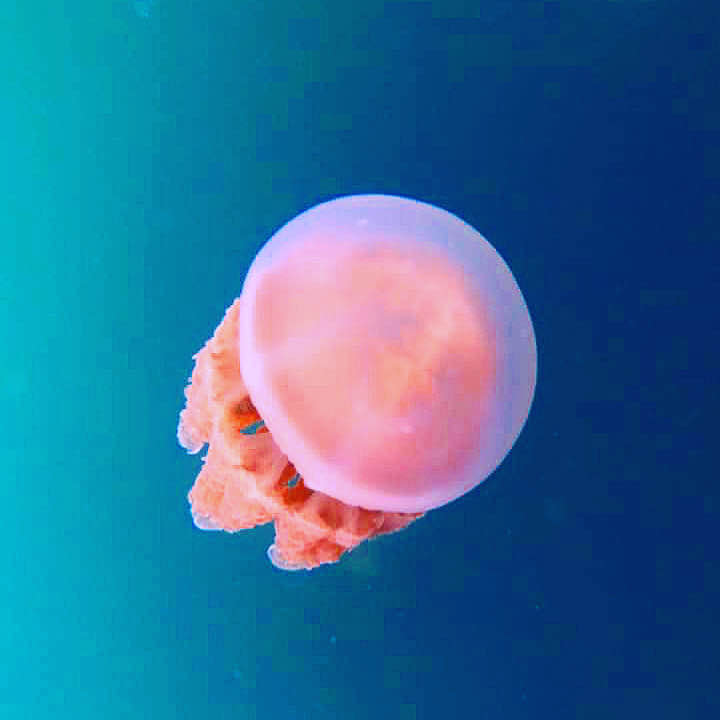 Will there be a Least Visited Countries Tour in 2021?
The reality is that we are unlikely to be able to run this tour this year, so will be delaying until 2022/2023, but with this extremely promising news we are extremely confident that it will be able to take place.
You can read the itinerary and indeed book the Least Visited Countries Tour here
About Post Author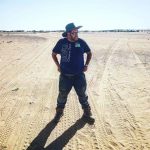 Gareth Johnson
Gareth Johnson is the founder of Young Pioneer Tours and has visited over 180+ countries. His passion is opening obscure destinations to tourism and sharing his experience of street food.
See author's posts
Suspendisse tincidunt nunc nec
Tripadvisor
Latest news.
Where should Young Pioneer Tours go in 2024 – The Results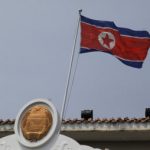 North Korea to Close Embassies – What does it mean for travel?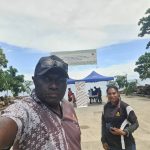 Breaking News – International Border Crossing Between Bougainville and Solomon Islands Opened

An American in South Korea Heads North (Part 1)
Terms & Conditions
Payment Policy
North Korea Tours – 2017 Tours
Tour Extensions
Independent Tours
North Korea FAQ
Our Terms and Conditions
Our Payment Policy Terms
©YoungPioneerTours.com 2023. All rights reserved.
Palau Tours and Vacation Packages
Discover Palau's wonders! Book fantastic Palau tour packages with the best price guarantee and free cancellation options from Adventure Republiq . Palau is an archipelago of over 500 islands in Micronesia . Palau is renowned for its breathtaking natural wonders and unique attractions. Visitors flock to its pristine beaches, where turquoise waters lap against powdery shores, and sheer cliffs rise dramatically from the ocean's edge. It offers pristine beaches, dramatic cliffs, Ngardmau Falls, Jellyfish Lake, Milky Way, Rock Islands, Koror, vibrant coral reefs, and world-class dive spots. For sunseekers and diving enthusiasts, the best time to visit Palau is between June and August. Dive into the best Palau diving packages for an unforgettable underwater adventure. Experience scuba diving and shark encounters in this affordable and popular destination. Explore Palau's untouched beauty on an adventure trip with us. Choose our incredible Palau tour packages for memorable holidays with loved ones.
Best Price Guarantee
Free Cancellation Tours
Destinations
Recommended for, travel style.
Group Tour 0
Private Tour 0
Tour Operators
Whoops no tours found.
Data Policy
Terms and Conditions
For Operators
List Your Tours
Partner Login
For Travellers
Travel Insurance
Adventure Guide
Social Icons
ADVENTURE REPUBLIQ GIVES YOU
At Adventure Republiq we deal directly with each local tour operators from around the globe and make sure we work with the best ones. As a result, most of our tour operators have an average score of 4.5 of 5.0.
Explore the world of Adventures, with thousands of tours and holiday experiences, handpicked by our travel experts just for you.
At Adventure Republiq, we deal directly with each individual tour operator, which means we provide you with the Best Price on your tour, guaranteed.  you won't find your tour cheaper but if you do, we'll offer you the difference. Earn Unlimited Travel Credits!! you earn travel credits that can be applied on any future Adventures you book through us.
When you book with a travel agent, you can be charged with unexpected fees. At Adventure Republiq we will never charge you hidden booking or credit card fees.
Palau, Micronesia – Palau Pacific Resort and Sam's Tours
Palau Pacific Resort and Sam's Tours
Palau, micronesia.
Palau Pacific Resort is located on a pristine white sand private beach on the island of Koror, the Republic of Palau. It is the ultimate tropical gateway in Micronesia, nestled in 64 acres of lush tropical gardens with the Pacific Ocean caressing its pristine white sand beach. This luxury resort in Palau features 160 unique villa-style guestrooms including the amenities of a world-class resort. The resort was built respecting the surrounding natural Palau environment, building no higher than the tallest coconut tree.
The Palau Pacific Resort is one of the primary supporters of conservation to protect Palau's biodiversity for future generations. The resort contributes annually to various organizations and continues to promote eco-tourism activities.
The resort is just a 30-minute drive from the Palau International Airport. Transportation to and from the airport may be arranged for guests by NECO Shuttle bus service ($22.00 each way), private taxi, or car rental. Transportation from the hotel to restaurants and shops downtown may be arranged at the Guest Service counter either by BBI shuttle bus service (starting at $8.00 for a one-week pass) available in the evening or any time of the day by taxi (starting at $8.00 one way to downtown).
MARINE LIFE RESERVE BY KOROR STATE LAW:
Palau Pacific Resort Marine Sanctuary was established on December 2, 2002. The fringing reef sanctuary has a high biodiversity with over 566 species of marine life including algae, sea grass, coral, fish, and macroinvertebrates. This sanctuary is home to several endangered species: the famous giant clam, the humphead parrotfish, the humphead wrasse, and the hawksbill turtle.
PROTECTING WATER RESOURCES:
Palau has had dry seasons leading to water shortage and conservation. To ensure an adequate and safe water supply, the resort maintains its own source of water from rainwater and a deep well. Water drawn from these sources is filtered, chlorinated, and stored in tanks that distribute the water to the entire resort.
TRANSPLANTING BABY GIANT CLAMS:
Palau has 7 species of clams out of 9 species in the world. Guests can participate in the Baby Clam Planting at Palau Pacific Resort's marine sanctuary during Earth Day or on special occasions. This is their effort to conserve clam species as well as snorkeling attractions for their guests.
SOLAR POWER GENERATION:
Most living things on earth such as people, plants, and animals enjoy the benefit of the sun. A solar module panel was installed in 2011 to generate solar energy. This effort was to help minimize global warming as well as cost savings on electricity and maintenance. The solar panels provide electricity for the lobby area of Palau Pacific Resort.
WASTE PLASTIC OILING SYSTEM
Palau Pacific Resort has invested in an environmentally friendly machine that converts discarded plastic back into oil which is a blend of gasoline, diesel, kerosene, and some heavy oils. The oils are being used for tiki torches and small equipment. It can be processed further and could go straight into a diesel car.
COMPOSTING RAW GARBAGE:
Every day, raw food is picked up at the Koror State's compost recycling center where the raw food is processed into pure soil. The soil is used for gardening throughout Palau Pacific Resort.
DUGONG AWARENESS CAMPAIGN:
Palau Pacific Resort is one of the major sponsors of the "I Love Mesekiu" Dugong Awareness campaign. The campaign published various awareness and educational materials to help stop the killing of these endangered species.
GUIDED NATURE WALK:
Explore the Nature Trail whether on a guided tour or on your own. There are a variety of plants and bird sightings along the trail. Plants are important for food, shelter, medicine, arts, and customary practices.
Accommodations:
Water Bungalow:
Water Bungalows overwater offers a spectacular view of the Pacific Ocean. Relax in the privacy and luxury of your own room overlooking the pristine waters of the lagoon and enjoy the amazing sunset view. Each room has a tropical décor featuring a large living area with a glass floor for a glimpse of the ocean below, king size bed, air conditioning, and ceiling fan, a large flat-screen TV, a mini bar, ocean view bathroom with a double sink, shower, tub and a complete selection of bath amenities. Each of these Water Bungalows has a private furnished deck for sun loungers with steps down into the ocean, and a perfect place for romantic dinners as the sun sets.
Garden View Room:
The resort offers a lovely view of the lush tropical gardens or a view of the saltwater fishpond a variety of fish, turtles, and stingrays. Garden View room features either one king-size bed or twin beds.
Ocean View Room:
These beautifully appointed rooms at their luxury hotel in Palau offer a view of the Pacific Ocean and landscaped grounds. Ocean View rooms feature either one king-size bed or twin beds.
Ocean Front Room:
When you stay and visit them in Palau, these beautifully appointed rooms offer an oceanfront view of the Pacific Ocean. Ocean Front rooms feature either one king-size bed or twin beds.
Travel to Palau and experience one of the resort's Luxury Ocean Front Suites with a spectacular view of the Pacific Ocean. Each room has a tropical décor featuring a partitioned bedroom, a large living area, large plasma screen TV, a private furnished patio or balcony, an ensuite bathroom with double sinks, and a bathtub. Each of these rooms features either a king-size bed or twin beds.
Palau Pacific Resort offers cottage-type villas with traditional Palauan A-frame style structures across 64 acres of lush tropical gardens to enhance the island sensation for all their guests while in Palau for vacation.
Each of their 165 rooms features tropical island décor and offers the following:
King-size or Twin beds (Simmons' pocketed coil spring beds)
Private patio or balcony
Air conditioning and ceiling fans
Color Television
In-room safe
Electric kettle
Bathroom with tub and shower
Shampoo & Conditioner
Body Lotion
Bath Towel, Hand Towel, Face Towel
A separate lavatory with TOTO washlet
Bathrobes and slippers
Alarm clock
Nightly turn-down service
Room service is available until 10:30 pm
Wi-Fi complimentary internet access
Check-In Time 3:00 pm
Check-Out Time 12:00 pm (Noon)
Enjoy appetizing dining opportunities at the Palau Pacific Resort Restaurants whether casual or fine dining whilst being entertained by local performers.
Meduu Ribtal:
Meduu Ribtal is a fine dining experience in air-conditioned comfort. An island motif atmosphere serving fresh local seafood, U.S. prime rib, and other island specialties.
Coconut Terrace:
Coconut Terrace is an al fresco dining facing the sea offering delightful a la carte or buffet breakfast, a la carte lunch, Sunday buffet lunch, or theme night buffet dinner with live entertainment on most nights.
Delight your senses and enjoy the tropical ambiance while you try their delectable pastries, cookies, sandwiches, and freshly brewed coffee or tea. Available at the Coconut Terrace Restaurant in Palau between 2:00 pm – 4:00 pm.
Enjoy freshly barbequed meat, seafood, and vegetables at the Beach BBQ Restaurant in Palau situated right on the beach. The scenic view of the sunset and the cool island breeze combine for a memorable experience. Daily entertainment right on the beach.
MESEKIU WATER HOLE:
Mesekiu Waterhole Bar in Palau is an oasis under palm trees by the beach, serving tropical drinks and offering an all-day snack menu.
SUNSET BEER GARDEN:
Enjoy the great ambiance and hospitality along with Local draft beers with unique food at Sunset Beer Garden at Palau Pacific Resort!
AKOI-KOI BAR:
Akoi Koi Bar is a cozy gathering place to get together with friends located by the hotel lobby. Enjoy a refreshing chilled drink or select from their espresso menu.
Private Dining:
Dining on the Ocean:
An exclusive private dinner for two, under the stars and above the ocean. The 7-course dinner is served by your personal waiter under the gazebo on the pier. Relax and unwind as you enjoy your private dinner with the cool breeze and the sound of the waves under your feet.
King & Queen Dinner:
Your special evening begins as you are escorted by your personal waiter to a private table surrounded by bamboo torches. You are presented with flower crowns, the traditional headdress worn by Palauan royalty, and a flower necklace before you are seated in regal empress chairs.
Room Service:
The chefs have put together an exceptional menu of room service offerings that would go great with a book, on the balcony, or with a bottle of your favorite whatever.
Experiences:
Palau Pacific Resort offers an array of luxurious resort facilities including a private Palau beach with sun loungers and a bar, hiking trails, and snorkeling.
Palau is the ultimate paradise for the adventurous traveler during holidays, boasting some of the most spectacular water features and beaches as well as the world-famous Jellyfish Lake and the UNESCO World Heritage-listed Southern Lagoon Rock Islands. Palau is an archipelago of more than 586 islands with about 20,000 inhabitants and was the world's first official Shark Sanctuary. With 1,500 species of fish and 500 species of coral, some have called Palau the "8th Natural Wonder of the World", while others have identified Palau as "One of the Seven Underwater Wonders of the World."
Private Beach:
The 1,000 feet of beautiful white sand beach in Palau is equipped with beach cabañas, umbrellas, and sun loungers. The private lagoon has been declared as one of Koror State's conservation areas which are home to a variety of corals, fish, and giant clams.
*Please understand that they might close the beach due to low tide or sea conditions for safety.
Pool and Jacuzzi:
Spend your holidays at Palau Pacific Resort and enjoy an outdoor freshwater infinity pool with a large Jacuzzi alongside, both are overlooking the Pacific Ocean with amazing sunset views.
A perfect hideaway located at the secluded end of Palau Pacific Resort and taking advantage of its peaceful soothing surroundings. Elilai Spa in Palau offers an exotic range of body treatments combining the wisdom and allure of ancient health and beauty traditions, to renew your body, mind, and spirit.
Their exotic treatment range combines the wisdom and allure of ancient health and beauty traditions, to renew your body, mind, and spirit. Their gracious staff will serve you from the heart, careful never to intrude on your experience. An exclusive range of beauty treatments by ELEMIS, the leading British skincare brand is available.
The exotic aromas of spices and fragrant blooms and the gentle sound of soothing music will bathe your senses and lull you into a state of relaxed bliss. An unforgettable experience awaits you.
Visit their Boutique to view the beautiful range of spa products and accessories… a wonderful way to remember your holiday and great gift ideas for friends and family.
Milad Gift Shop:
Milad Gift Shop offers a wide range of resort logos and top-name brands in apparel, footwear and gift items, local arts and crafts, jewelry and accessories, as well as food and beverage.
Pro Shop offers a selection of scuba diving equipment, accessories, Splash Dive Shop logo items, dive sportswear, and so much more.
Pro Shop is merged into Milad Gift Shop.
Captain Wilson Gallery:
An Ocean-themed art gallery showcasing and selling Palau photo prints and unique ocean gifts. Customers will have access to various slideshows on Palau's birds, marine life scenery, culture, and history, and books on Palau available for sale at the gallery
Activity Center:
Activity Center at Palau Pacific Resort has the basic equipment for your exercise needs. The full-size windows offer a scenic view of the small saltwater pond. Cool off and relax in one of the two Jacuzzis.
Tennis Courts:
Two championship outdoor tennis courts are available day and night for tennis enthusiasts at Palau Pacific Resort.
Excursions:
Tour desks are available in the Resort lobby providing comfortable seating areas, for tour arrangements such as Snorkeling, Diving, Rock Island tours, and much more as well as car rental, providing friendly services and professionalism to make your stay more enjoyable.
Nature found at the resort:
Fishpond: The saltwater fishpond at Palau Pacific Resort is home to a variety of reef fish, stingrays, and clams.
Hiking Trail: Discover different species of plants, birds, and animals at the Palau Pacific Resort's Nature Trail. Unexpected sightings of endemic birds such as the Kingfisher bird can be spotted, or even the colorful feathers of a Palau Fruit Dove can be found along the trail.
Divers seeking the ultimate underwater experience will be whisked away by Sam's Tours, a PADI Five-Star National Geographic Center, and Palau's most award-winning dive center and eco-adventure tour company.  Sam's Tours operates every day of the year, offering scuba dive trips, snorkel trips, rock island tours, land tours, and sailing charters.
They provide a full range of guided tours and services that include full-day or half-day trips and customized private charters for individuals, families, and groups. Their modern facilities include a full-service PADI 5 Star Dive Center complete with authorized Scubapro and Aqua Lung sales and service, a Digital Photo Center offering rentals and download services, and Underwater Videography Services.
Sam's Tours is less than 40 minutes by speedboat from Palau's stunning outer reefs and only 10 minutes away from the many ships and plane wrecks leftover from WWII.
Their custom-built boats provide safe, fast, and comfortable trips and for added safety and comfort,  diving guests are offered complimentary Nitrox up to 36% (with proof of certification) and a maximum of only eight divers per guide.
As a leader in efforts to protect Palau's natural resources, Sam's Tours is a corporate sponsor of the Palau Shark Sanctuary and the only Palau dive center to receive the Palau Conservation Society "Corporate Partner in Conservation 10-Year Award".
There are no reviews yet.
You must be logged in to post a review.
Related Tours
Liveaboards, Caribbean – Blackbeard's Cruises
Blackbeard's Cruises – the best adventure at a bang for your buck price
Does the real-world craziness make you feel like you are at the end of your rope? Try hanging out with Blackbeards Cruises instead! You will spend a week diving and relaxing in the warm waters of the Exuma Cays in the Bahamas! Do you love an adventure? Is meeting other like minded travelers up your alley?   Shipmates are usually a motley crew of interesting folks from all over.
Turks & Caicos – Liveaboards – Explorer II
The Turks & Caicos Islands, located 575 miles southeast of Miami, were first populated by the Lucayan or Arawak Indians. Columbus claimed the islands for Spain in 1492, which then in 1670 ceded them to Britain. Dependencies of the Bahamas until 1874, the islands were subsequently controlled by the Jamaican government. In 1962 the islands became a British Commonwealth Colony, which they remain today.
Turks & Caicos – Liveaboard – Aggressor II
The luxurious Turks and Caicos Aggressor II offers her pampered guests two exciting aquatic adventures. January through March, snorkelers have the rare opportunity to swim, not watch from a crowded tour boat, but actually enter the water and swim with majestic humpback whales. Humpback whales fulfill an instinctual migrating ritual before the inquisitive eyes of visiting snorkelers. It's incredible!
Search Tour
Copyright © 2018 Design Creative : First Sight Design
Toll Free: 888-266-2209 Local: 419-517-6309
Email: [email protected]
Open: Monday – Friday 9am – 6pm EST Closed: Saturday & Sunday
Terms and Conditions
Booking Form
Make A Payment
Manage My Reservation
Travel Insurance
Important Information Regarding Airline Tickets and Arrangements
Privacy Policy
Airport Hotel and Parking Packages
DEMA Seminar Schedule
Support Our Dive Industry
Newsletters
Sign up for our Specials and News Emails
Dive Shops & Travel Agents
COVID Entry Requirements
Annual Dive Calendar
What is a Seller of Travel
Passport Assistance
Electricity
Currency Converter
Travel Checklist
Sustainable Travel Guide
Permitted and Prohibited Items When Flying
 International Phone and Dialing Codes / Placing Calls to and From Other Countries
Meet Our Team
ON THE PALAU SIREN!
Search form
Best scuba diving in the world.
Best Diving in Asia
Best Diving in Africa
South Africa
Zanzibar, Tanzania & Kenya
African Land Safaris
Tanzania Land Safari
Australia Best Diving
Great Barrier Reef
Caribbean Best Diving
British Virgin Islands
Cayman Islands
Dominican Republic
Jardines de la Reina
Roatan, Utila & Guanaja
Saba, St Kitts & St Eustatius
St. Vincent and the Grenadines
Tiger Beach
Trinidad & Tobago
Turks and Caicos
Best Diving in Costa Rica
Cocos Island
French Polynesia Best Diving
Galapagos Islands
Andaman Islands
Indonesia - Top 10 Areas
Cenderawasih Bay
Derawan Islands
Lembeh Strait
Manado and Bunaken
Raja Ampat Area
Wakatobi National Park
Best Scuba Diving in Mexico - Top 9
Baja California
Cabo San Lucas
Guadalupe Island
Isla Mujeres
San Ignacio Gray Whales
Sea of Cortez
Socorro Islands
Micronesia Dive Guide
Bikini Atoll
Truk Lagoon
Saudi Arabia
Southeast Asia - Top Areas
Philippines - Top Areas
Cebu and Bohol
Malapascua Island
Puerto Galera
Papua New Guinea
Solomon Islands
Thailand Best Diving
Similan Islands
Best Diving in the USA
Best Scuba Diving in Hawaii
Catalina Island
Southern California
All 110 Destinations
Best Liveaboard Destinations
All Liveaboard Destinations
Bahamas Liveaboards
Belize Liveaboards
Caribbean Liveaboards
Cocos Island Liveaboards
Galapagos Liveaboards
Great Barrier Reef Liveaboards
Indonesia Liveaboards
Komodo Liveaboards
Maldives Liveaboards
Norway Liveaboards
Palau Liveaboards
Philippines Liveaboards
Raja Ampat Liveaboards
Red Sea Liveaboards
Sea of Cortez Liveaboards
Similan Island Liveaboards
Socorro Liveaboards
Tubbataha Liveaboards
Turks & Caicos Liveaboards
170+ Liveaboards Worldwide
Bali Dive Resorts
Belize Dive Resorts
Bonaire Dive Resorts
Caribbean Dive Resorts
Cayman Islands Dive Resorts
Cozumel Dive Resorts
Fiji Dive Resorts
French Polynesia Dive Resorts
Indonesia Dive Resorts
Maldives Dive Resorts
Mexico Dive Resorts
Palau Dive Resorts
Philippines Dive Resorts
Raja Ampat Dive Resorts
Roatan, Utila, & Guanaja Dive Resorts
Sipadan Dive Resorts
200+ Dive Resorts Worldwide
All Guided Group Trips
African Safari Trips
swim with whales
snorkel trips
Hottest Specials
All Dive Travel Specials
Take our Survey to Win a Trip!
Best Of Articles
All Articles
Top 10 Lists
Top Luxury Liveaboards
Top Rated Liveaboards
Travel Search
Travel Insurance
Terms of Service
Leave a review
Learn Underwater Photography
Buy Underwater Camera Gear
Sam's Tours Palau
Destination: Palau
Price varies p.p.p.n.

Sam's Tours Palau Quick Pitch
Sam's Tours is one of Palau's best-known scuba diving and eco-adventure companies. They have a reputation for excellent customer care, personalized attention, and professional service standards.
Sam's Tours Palau Features
Complimentary coffee and tea all day
Safe-to-drink water from triple filtration system
Recently renovated training room, fully equipped with all amenities, where the PADI courses are conducted
Secure Guest Gear Locker and a Rental Gear Center
Three separate freshwater rinse tanks for cameras, gear and wetsuits
Restrooms with hot and cold shower facilities
Wireless internet access
Wheelchair accessible
Compressor room with two Bauer air compressors, one Nitrox membrane
Covered parking area for loading and unloading our customer shuttle
Accommodations - Dive Information - Package & Rates
Other Information - Booking & Inquiry - Underwater Gallery
How to Get There
Several airlines departing from the western United States make 1 stop and then continue on direct to Palau. Sam's Tours can provide guests with airport transfers.
Dive Overview
This area offers epic diving along a breathtaking archipelago with underwater highlights including Jellyfish Lake , World War II wrecks, and stunning wildlife. Sam's Tours offers specialized service and caters to all levels of diver.
[Read More: Palau Dive Travel Guide ]
Back to Menu
Accommodations
Types of rooms, amenities and photos, palau pacific resort .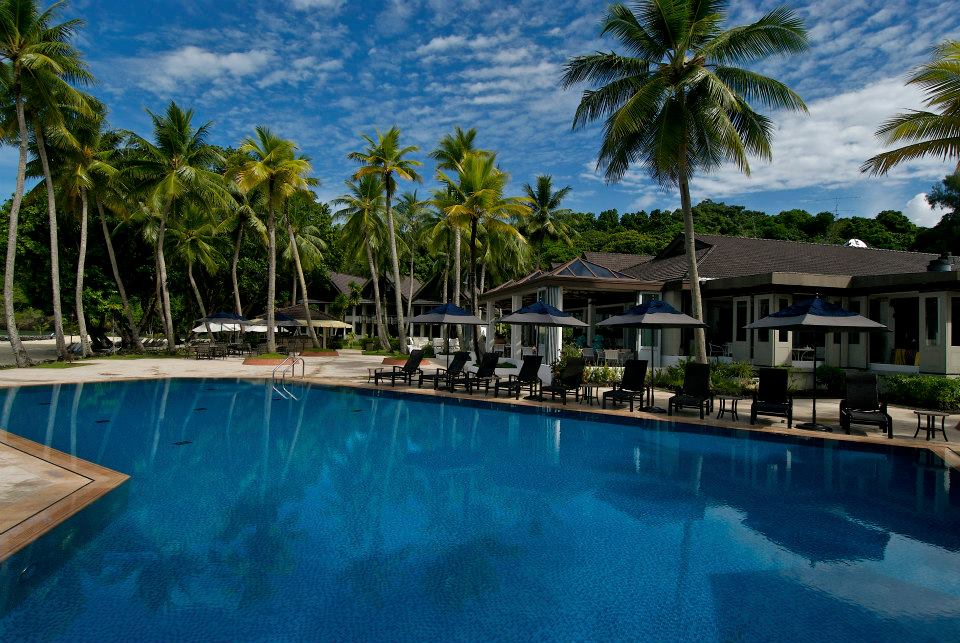 Palau Pacific Resort is your dream getaway resort! With its own private beach, guests enjoy the incredible sunset views. The hotel offers spa, restaurant and shops, a poolside bar, seamless pool, and a great variety of activities. Relax and indulge at Palau Pacific Resort after your dive days or tours with Sam's for an unforgettable vacation!
Palau Royal Resort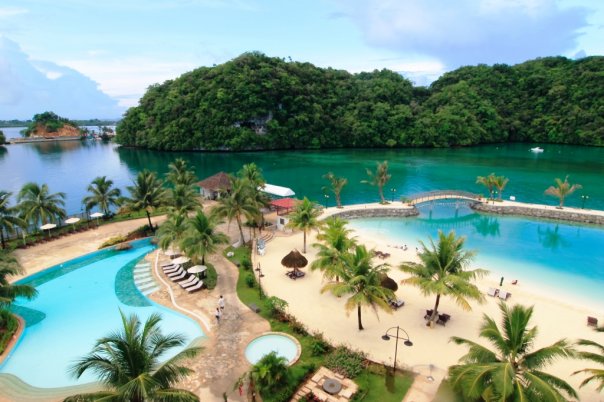 Located right across the street from Sam's Tours, Palau Royal Resort offers a private beach, swimming pool, tennis courts, pool table, kids corner and a gym. Our partner for our Kids Sea Camp activities, we offer dive and hotel packages at Palau Royal Resort!
Aliiibamou Resorts - Carolines
Situated on a cliff facing the incredible sunset view in Myunes, The Carolines Resort offers 8 handcrafted private bungalows, surrounded by beautiful island vegetation. Each bungalow is built from local materials such as bamboo, mahogany and mangrove, inspired by Palau's centuries-old architecture, with all room amenities for the modern traveler. Breakfast is served on the balcony, where you can begin your day with the view of the beautiful Rock Islands and end it with a stunning sunset.
Palasia Hotel
Right in Koror center, Palasia Hotel offers the proximity to numerous shops and restaurants. An excellent choice for our dive and hotel packages, the hotel features a large pool, open-air bar with excellent views and breeze, and great town or Rock Island bay views. On your diving days, our complimentary daily pickups will get you to Sam's Tours within 10 minutes drive!
Rose Garden Resort
Tucked away on a hillside with a spectacular view of Babeldaob Island, the Japan-Palau Friendship Bridge, Koror, Malakal Island, and its surrounding lagoons, Rose Garden offers 20 rooms, all wooden cabins, in a lush green garden.
Palau Plantation Resort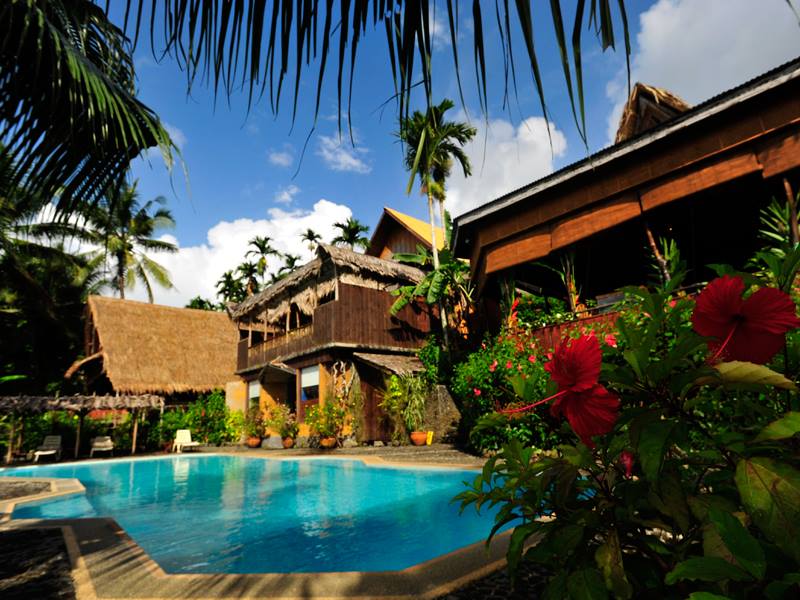 Tucked in one of the residential neighborhoods of Koror, Palau Plantation Resort offers traditional styled cabins, cottages and villas surrounded by the natural beauty of a tropical paradise. Palau Plantation Resort is a chic resort brimming with Palauan inspired flavors set against the relaxing natural environment. Each room is equipped with an in room safe, shower and tub, TV and a hairdryer. Ground level rooms have a veranda, while family rooms have an in-room laundry.
West Plaza Hotels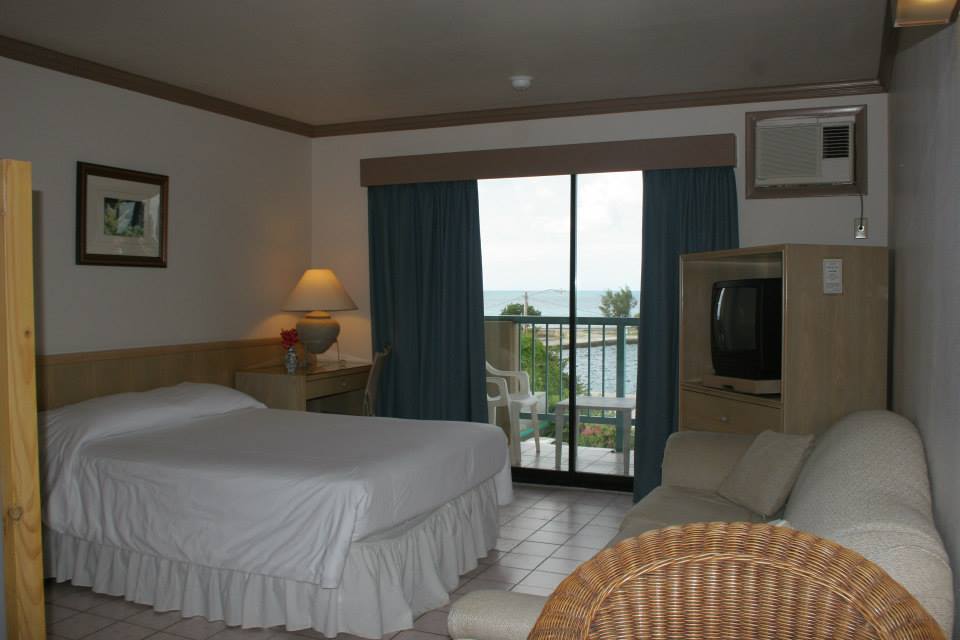 The West Plaza chain offers a great variety of rooms at five different locations in Koror. Whether you are looking to be close to Sam`s Tours, downtown or right by the sea, book a dive and hotel package with us at West Plaza Hotels.
Comfort Suites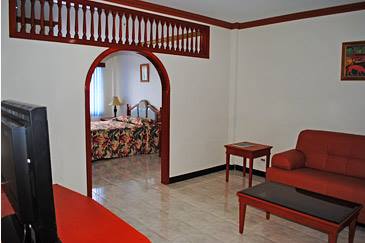 Looking for great value? Comfort Suites offers both rooms and long-stay apartments with kitchen. A short walking distance from Sam's Tours, Comfort Suites is a wonderful place to stay for dive enthusiasts... and don't worry, we'll pick you with our complimentary pickup service if you don't like walking.
Lehns Motel
Lehns Motel, located close to Koror center and a short drive from Sam's Tours with our complimentary pickup service, offers short-stay rooms or long-stay apartments and studios at a monthly rate.
Back to Menu
Dive Information
Daily dive tours .
Palau is considered one of the world's premier dive destinations, with dozens of dive sites in a rare variety: walls with fascinating coral formations, reef corners where the currents attract sharks, rays and schooling fish, channels and other sandy bottom sites, tunnels, holes, caves and caverns, and plenty of WWII freighter and plane wrecks! From macro to mantas, Palau has it all!
Although Palau is considered an advanced dive destination due to frequent currents and depths, there are plenty of easy dive sites for beginners, or for those who wish to become a diver!
A typical day of diving with Sam's Tours beings with an 8:30 a.m. (unless otherwise stated) complementary pickup from various hotels in Koror to our dive center in Malakal.
Most dive sites are located about 45 minutes from Sam's Tours, offering our guests picture-perfect scenic boat rides through the mushroom-like Rock Islands. Surface intervals and lunch breaks are normally spent on either a virgin white sand beach with wild green vegetation, equipped with cozy seating benches and toilet facilities, or on top of snorkeling sites with stunning shallow reef plateaus.
Depending on your daily schedule, most boats return to Sam's Tours around 3-4 p.m. You can hop right back into the water, with our offer of unlimited free dives at Sam's Macro Wall right off our dock, where mandarin fish are often spotted mating at twilight.
We dive a maximum of three tanks a day on our day tours, not counting Sam's Macro Wall and night dives.
The tanks are aluminum 80 cft (or 11.1 liter) tanks. We also have several 80 cft compact tanks, available upon request. We do not carry 100 cft (15L) tanks.
Sam's Tours Palau offers complimentary shuttle services back to your hotel, available whenever you choose to return. Many guests stick around to enjoy a deco-beer and snacks with friends and fellow divers at Bottom Time Bar and Grill while enjoying the beautiful sunset views.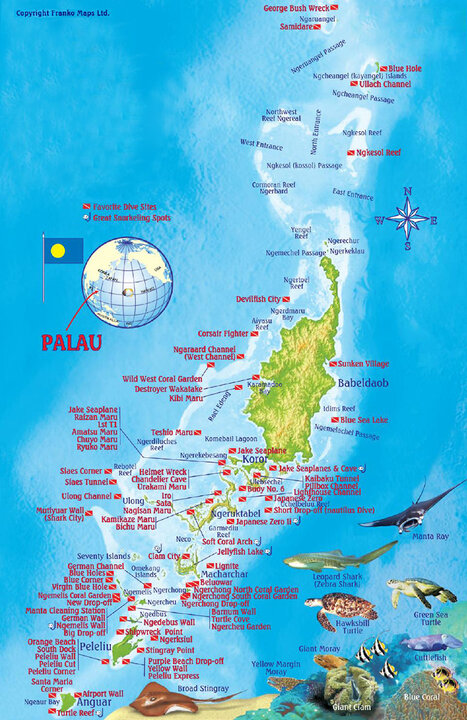 Unique Dive Expeditions
Sam's Tours Unique Dive Expeditions are tailor-made, exclusive expeditions specializing in spawning events and animal behavior. This Unique Dive style based on the monthly lunar cycles offers an once-in-a-lifetime diving expedition.
Experience these expeditions and Palau's premier dive sites in Sam's Tours Unique Dive style. Take advantage of diving in a small and flexible group that enables us to show you the full potential of these exceptional sites. The flexible dive itinerary is based around currents and lunar cycles to maximize your diving experience.
During certain lunar cycles (Full Moon and New Moon), different species of fish gather in huge aggregations to spawn. Numbers can vary from hundreds to thousands, depending on the species. These mind-blowing spawning events usually attract bigger predators as well. Through local knowledge, thousands of dives and documenting our experiences, we have been able to discover some of Palau's best kept secrets.
FULL MOON EXPEDITION
For several days leading up to, and around the full moon, huge numbers of red snappers (Lutjanus bohar) aggregate, ready to spawn. Our expeditions will start on Palau's premier dive sites where conditions can sometimes be challenging due to strong currents and early starts. However, the rewards are high! As the sun rises, we will begin our dive to watch the spectacle about to unfold. A huge aggregation rises from the deep to ensure a continuation of their species. You will witness what only can be described as an underwater display of 'fireworks' that also attracts the biggest predators in Palau.
NEW MOON EXPEDITION
A common favorite is the Bumphead Parrot Fish (Bolbometopon muricatum), often seen patrolling the reefs in smaller schools. These encounters are amongst favorites for divers, but imagine an aggregation of nearly a thousand individuals. This expedition takes us to a remote site where aggregations begin forming early morning. Hundreds of individuals from all around the area join for what is about to be an unforgettable site. Building up to a spectacular show-down, males begin their display of dominance, attempting to attract as many mating partners as possible. As females continue to gather the school spills out in the blue where tension erupts into a climatic mating dance.
SEABREAM EXPEDITION
Sam's Tours Unique Dive Expeditions' latest offering is the spawning aggregation of Bluelined Seabream, also known as the Sailfin Snapper (Symphorichthys spilurus). This phenomenon is arguably more special than the spawning of the Red Snapper and Bumphead Parrotfish as it only occurs in March and April for a select few days in each month. It is estimated that this aggregation could contain more than 50,000 fish and the predation on the aggregation by the Bull Sharks and Oceanic Blacktips is simply awesome. Adding to this the fact that the aggregation only occurs in Peleliu makes this the spawning aggregation that the guys from Sam's Tours Unique Dive Expeditions relish the most!!!
BLACKWATER NIGHT DIVE
As divers, we know the adventure of night diving on the reefs –the thrill and anticipation of rolling off the boat into the inky waters below, seeing creatures rarely seen during the day. Now, imagine diving in the pitch black of night, relying solely on GPRS to lead us to the exact spot where meters of water lies below us. A lit hang-bar is lowered to 16 meters, attracting the ocean's most bizarre creatures. Test your photography skills as creatures no bigger than a few centimeters drift pass and countless members of the jellyfish family pulsate in every color imaginable…
Note: Blackwater night dives cannot be offered on nights of the Full Moon and New Moon Expeditions.
Technical Diving
Whilst the diving in Palau is world renowned, there is a side to diving in Palau not everyone is aware of, and very few have experienced: technical diving. Drop-offs and walls that plummet to hundreds of meters, caves and caverns, wrecks remaining from the Japanese occupation of Palau, offering opportunities for exploration for qualified and experienced tec divers.
Tec diving at Sam's Tours is conducted by the highly trained and experienced instructors from our Unique Dive Expeditions. With many years' experience as technical divers, the Unique Dive Expeditions guides have more technical diving hours in Palau than probably anyone.
From extended range air dives to 180 ft/55 m with twin sets, through decompression gases to deep rebreather wall dives to 490 ft/150 m and beyond, Unique Dive Expeditions specializes in taking experienced technical divers to the deeper side of Palau. Non-tec-qualified divers may also complete a number of TDI and PADI Tec courses, allowing them to experience a side of Palau very few people have been privileged to visit.
Tec diving is much more than just depth; at Sam's Tours, we also offer technical wreck diving, which allows for greater time on and inside the wrecks, exploring areas recreational divers cannot experience.
Sam's Tours' facilities cater to all levels of tec diving, including diving with twin sets, various sizes of decompression cylinders, and hang bars for your comfort during decompression stops, while oxygen, helium, booster pumps, and Sofnolime are available upon request.
Packages & Rates
Sam's tours palau packages, details and rates.
Dive & Hotel Packages: Palau Pacific Resort - Palau Royal Resort
Palasia Hotel - Palau Central Hotel
Hotel & Dive Packages
All rates are valid for travel between December 18, 2021 - December 16, 2022. Other hotel options available. Contact us for more information.
Sam's Tours and Palau Pacific Resort rates
Rates are in USD and include Room Tax, Service Charges, and Breakfast for Two.
weekly rates inclusions
7 nights' accommodation, taxes & service charges included Roundtrip airport transfer
BUFFET BREAKFAST INCLUDED
5 days of 2-tank boat diving
Complimentary 3rd tank dive at Chandelier Cave
Jellyfish Lake snorkeling after one of the 2-tank dive days
Unlimited diving at Sam's Macro Wall
Professional guide, tanks and weights
Free Nitrox up to 32% (with proof of certification)
Hotel transfers on dive days
Lunch and refreshments each dive day
Sam's Tours reef hook
important dates
Low Season: Apr 1 -28, 2022, May 9 – Jun 30, 2022, Oct 10 – Dec 16, 2022
Shoulder Season: Jul 1 – 31, 2022, Sep 1 – 30, 2022
High Season: Jan 4 – 28, 2022, Feb 7 – Mar 31, 2022, Apr 29 – May 8, 2022 Aug 1 – 31, 2022, Oct 1 – 9, 2022
Peak Season: Dec 18, 21 – Jan 3, 2022, Jan 29 – Feb 6, 2022
Back to Menu Other Options
Sam's Tours and Palau Royal Resort rates
7 nights' accommodation, taxes & service charges included
Roundtrip airport transfer
IMPORTANT DATES
Regular Season: Jan 4 – Dec 26, 2022
High Season: Jan 1 – 3, 2022, Dec 27– 31, 20222
Sam's Tours and Palasia Hotel rates
5 days of 2-tank boat diving Complimentary 3rd tank dive at Chandelier Cave
Low Season: Jan 1 – 24, 2022, Feb 5 – Dec 31, 2022
High Season: Jan 25 – Feb 4, 2022
Sam's Tours and Palau central hotel rates
weekly rates INCLUSIONS
Low Season: J un 1 – Oct 31, 2022
High Season: Jan 1 – May 31, 2022, Nov 1 – Dec 31, 2022
Rates & Availability
For more information on rates, availability and to book, drop us an email at [email protected] or call us today at 310-915-6677. We will gladly help you plan your dream vacation!
Other Information
Practical information .
Local Currency: USD (US Dollar)
International Airport: Palau International Airport
Languages: Palauan, English, German, Japanese, Spanish, Mandarin, Tagalog, Italian, Dutch, Hebrew, & Irish
Time Zone: UTC+9
Electricity: 110 V
Got Questions? Ready to Book?
Call us today at 310-915-6677 or email us [email protected]
And let us book your dream vacation!
Underwater Gallery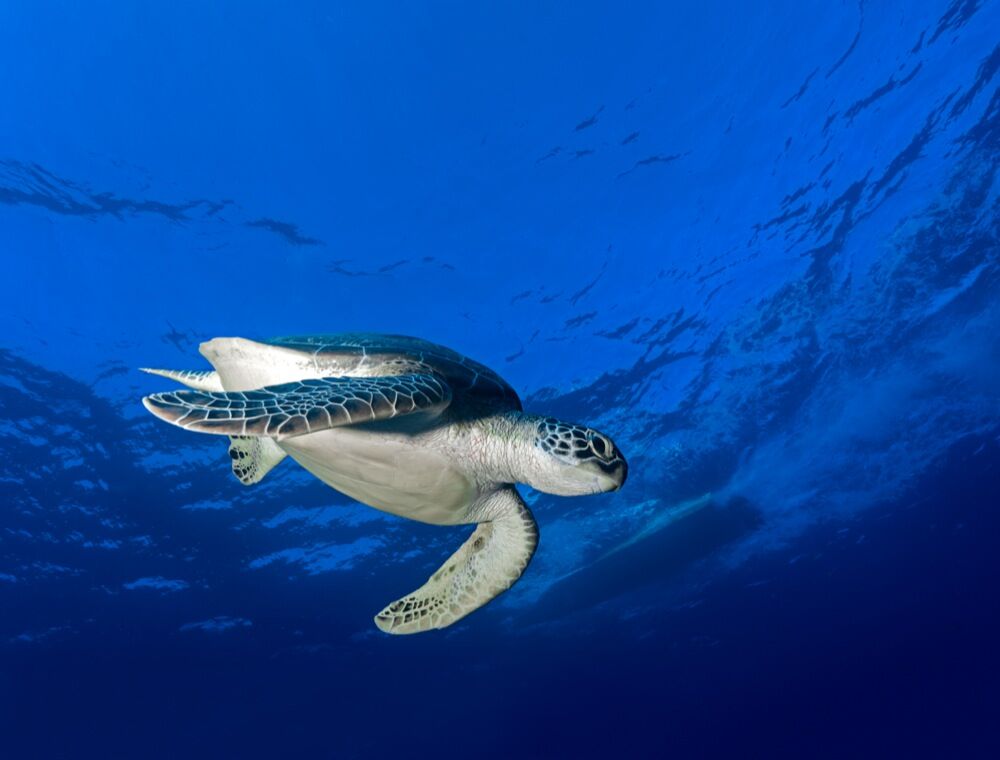 © Sam's Tours/Marc Stickler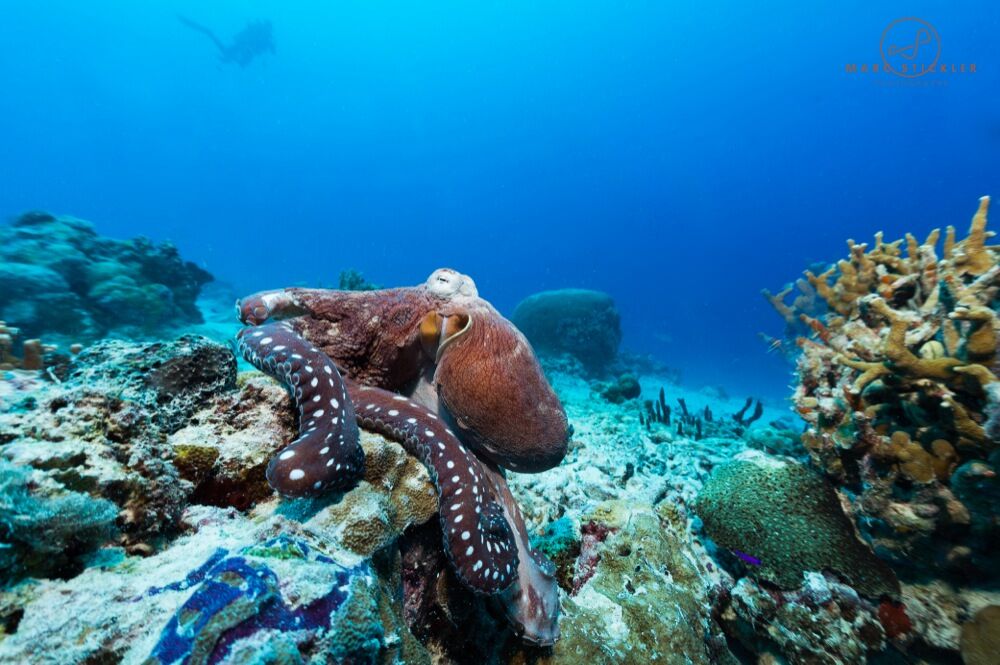 © Sam's Tours/ Wendy Capili Wilkie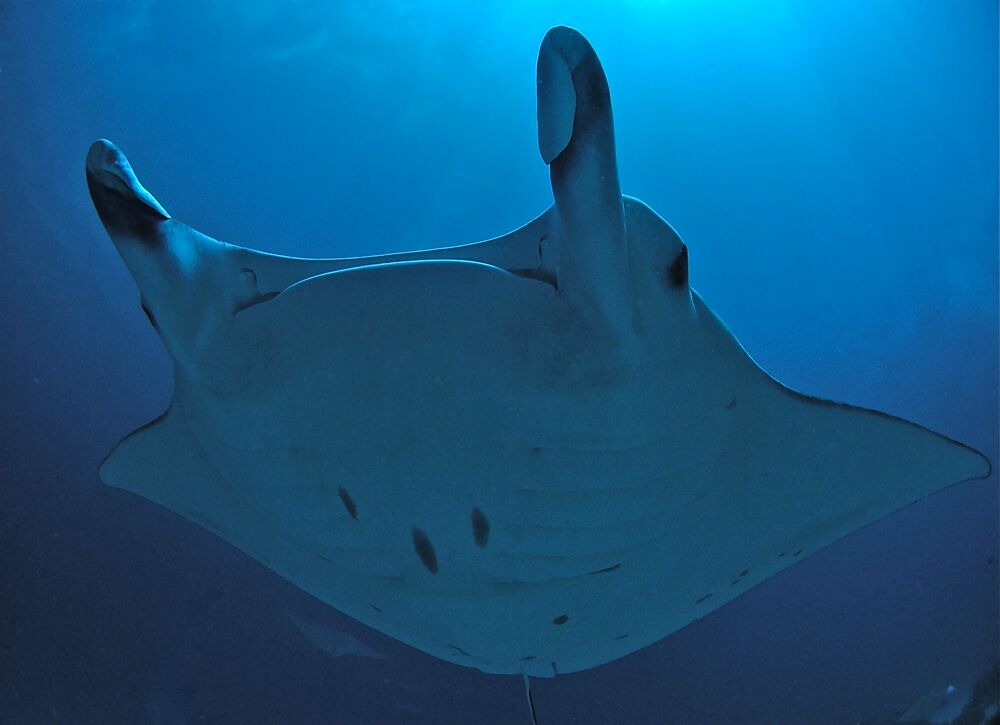 © Sam's Tours/ Christoph Hoppe
Reviews (7)
Sort Recent
Sort Helpful
Sort Alphabetically
Staff at Sam's Tours made sure I had a great time during the dives and on the boat. I really felt I got the best possible experience during my 6 days of diving. Sharon, Arnie, Neil and June were great dive masters and made sure everyone was attended to. I was super happy with my GoPro footage after every day of dives because Sam's took me to the best dive locations for the conditions. Thanks also to my driver Swel, who was very personable, and Jennifer for being there in case I needed anything. Staff at the front desk and gear rental were great as well as the knowledgeable boat captains. I would recommend Sam's Tours to anyone looking to go to Palau for a great dive experience.
I did not give the boat any stars since I didn't actually use them - I spent some time on the house reef and met a lot of the staff in the rental department and the shop.
Sam's is fantastic. Free house diving on their reef? Borrow a tank - go dive. Right there. For free. The reef was fun, quiet, peaceful, and offered a lot of interesting animals! I saw the Razor fish or Shrimp fish dancing vertically right under their dock, beautiful corals everywhere! I looked for mandarin fish as I heard they are right in that area, but didn't see any. The dive is right in their little harbor - but there affords lots of unique creatures and topography! Next time I'm in Palau I will do some boat dives with them too!
I have dreamed of diving in Palau for many years, and finally I managed to squeeze in 6 days of diving after a work trip. WOW! For such a small country Palau has a bit of everything - macro, big fish, drop-offs, drift dives, cave dives and the list goes on.
I had heard some good things about Sam's Tours and this was also the dive operator recommended by Bluewater Travel. I wasn't disappointed. The operation is big and popular which I generally don't like, but I was also clear at the beginning that I preferred diving with experienced divers and doing dives which depart from the norm. I was told about the Unique Dive Experience which is offered by Sams Tours in collaboration with two local marine biologists. They have studied Red Snapper and Bumphead Parrot spawning for the last few years and are now able to predict fairly well when and where they will spawn. They require divers to be a minimum Advanced OpenWater and to be comfortable diving on their own - just what I like!! The two days I did Unique dives were amazing. They are a bit on the expensive side, but otherwise the chance to see spawning Red Snapper was brilliant. This was a great start to my trip. I then joined the normal Sams Tours' dives. They do a good job of trying to keep divers together with dive guides they are comfortable with, and also other divers who are diving for more than one day. This also enables the group to not dive the same sites too often.
Lunch is provided which is pretty good. Dive briefings were sometimes a little brief, and I had one boat without an auto bilge pump on a day with rough weather, but other than that the operation was great.
Sams Tours has a wall dive right next to the shop which is a great place to see Mandarin Fish and just across from the shop is Chandelier cave which was just wonderful. They also come and pick you up from your hotel every morning and always have a driver waiting to take you back.
There is a bar at Sams and always a few people hanging around to share dive tales. The atmosphere was great.
I am just looking for another excuse to go back...
To do land based on Palau, my impression was that choices were limited. There're a few specially catered the Japanese speaking divers, and there's one who frequently by ones who don't adhere to rules of diving, such as no drinking and diving. So Sam's Tours was an obvious choice at that time.
I was impressed by the efficiency and friendliness of the staff at the office, the two Philippinos ladies knew me by my first name and dive preference. The dive operation was a lot busier than I's used to in Hawaii and Guam, and the mixture of divers on each dive boat was interesting, which added to the fun part of diving. My Palauan dive guides and boat captions were fun and extremely knowledgeable and helpful. On day 2 of diving, the divers on our boat splited up in 2 half after the first 2 dives, since 4 of us wanted to dive the German Channel again and the other four wanted to dive the Chandeliar cave. The staff really did a good job tried to cater our needs as best as they could.
We got a box lunch everyday, which included fish, some greens, and carb. It's fine, since you can't be too picky in the middle of the ocean, when the weather is about 80-90 degree. The scenery, dive sites, and people made up for everything that's lacking. At the end of the day, they brought all of your dive gears up to the washing area, and you were responsible to cleaning and storing everything in the dive lockers. There's never any problem with things getting stolen or missing at the dive lockers.
There's a photography section, although the knowledge and help there was very minimum. So Sam's tours was more like a causal diving place than doing or learning serious underwater photography.
One major drawback for me is the choice of dive sites, which is extremely limited. I traveled during the week of Thanksgiving, so they were pretty busy and full. I chose to dive 5 days 3-4 dives per day, since the dive sites were few, on my second to last day, I started diving the same site over again. I only wished they could go up further north for the divers who don't mind to pay extra gas fee. So maybe I need to do a liveaboard if I want to dive in Palau again.
Destination
Latest Articles
Bluewater bucket list trips, best places to swim with whales, best shark diving in the world, best whale shark diving locations, best macro destinations, best diving in the philippines - top 9, best coral reefs in the world , best diving in indonesia - top 10, best diving in the caribbean - top 12, top dive sites in the world, be the first to get news and specials.
Sign up for the mailing list today
310-915-6677 [email protected]
OUR DIVE TRAVEL EXPERTS
TERMS OF SERVICE
Private Beach
Pool & Jacuzzi
Elilai Spa By Mandara
Palau Excursions & Adventures
Tour operators, car rentals, splash dive center.
Our Location
Garden View Room
Ocean View Room
Ocean Front Room
Water Bungalow
Restaurants
Private Dining
Room Service
Event Space
Destination
Eco Friendly
Privacy Policy
A first timer's guide to Palau
Sep 25, 2023 • 7 min read
Prepare to feel like you've discovered paradise when you arrive in Palau © Thomas Janisch / Getty Images
A string of 340 coral and volcanic islands spread against the deep blue waters of the western Pacific, Palau is a picture postcard of paradise.
Given that only ninety thousand tourists visited the country in 2019 – and in the years since considerably less – this is the kind of country to live out your scuba diving dreams or Robinson Crusoe fantasies on uninhabited tropical beaches.
From unique marine life encounters to towering waterfalls and WWII ruins there's plenty here to pique the interest of visitors and, outside of the handful of beach resorts that draw large numbers of Chinese visitors on national holidays, you'll have much of the country all to yourself to explore.
When should I go to Palau?
Palau's best season is the dry period from December to April. With the ideal weather for water sports and visiting the country's many islands, this is of course also the peak tourism season and so prices are higher – particularly during the New Year holidays (both Western and Chinese).
While the wet season from May to November presents more challenges for tourism, visiting is possible throughout the year as the country does not experience typhoons.
How long do I need in Palau?
If you're visiting Palau as part of a longer island-hopping itinerary, two to three days is enough to hit the highlights. Visit Koror 's handful of museums upon arrival to get to know the culture and history, spend the next day on a boat trip to the Rock Islands , and finish up with a day hike to 217m-high  Ngardmau Waterfall – the tallest in Micronesia .
With more time, opt for several days of diving (leaving a one-day surface interval before hopping back onto a flight) or take the public ferry down to Peleliu to explore the island's jungle-ruin WWII sites and a handful of idyllic empty beaches. If time and money are no limit, hire a private boat charter to Kayangel Atoll or the remote Southwest Islands.
Is it easy to get in and around Palau?
Unless you're captaining your own boat or have caught a lucky ride with a friend who is, expect your first impression of Palau to be an endless blue panorama from the window of an airplane – the cheapest way to get to Palau if a yacht charter isn't in the cards. Koror's Palau International Airport (ROR) is connected by direct flights from Seoul , Brisbane , Taipei , and a number of nearby Pacific island nations, including the famous United Island Hopper flight from Honolulu to Guam with stops along the way in the Marshall Islands and the Federated States of Micronesia.
Palau's largest city at 11,000 residents (that's more than half of Palau's population of just over 21,000, mind you), Koror's handful of bus routes are the only public road transportation in the country. Additionally, state-run ferries travel between Koror and the southern islands of Peleliu and Angaur. Everywhere else, charter or group trips are your only regular options – though popular destinations like the Rock Islands see daily group departures from multiple local operators.
Top things to do in Palau
No first-timer's guide to Palau would be complete without a mention of the country's commitment to conservation: Palau declared its water the world's first shark sanctuary in 2009, and implemented a Palau Pledge in 2017 to commit visitors to the cause of conservation as well.
Nearly every point of interest that brings visitors to Palau is built on the nation's incredible diversity of flora and fauna, particularly under the Pacific Ocean waves. More than 500 coral species, 17 thriving species of shark, and at least 1300 species of reef fish can be found here, along with 95% of Micronesian fish species.
Most travelers explore on snorkeling and scuba day trips using Koror as a base, often to the Rock Islands but sometimes just off the shores of Koror itself. The most iconic visitor experience in Palau is a quick swim in Jellyfish Lake with up to 7 million stingless Golden Jellyfish – one of several such small lakes across the Rock Islands in which a lack of natural predators and significant oceanic inflow has led to native jelly populations losing their natural defenses.
While nearly all of Palau's 340 islands showcase pristine beaches and healthy coral just begging for a swim, a few are also home to significant historic sites dating to the Japanese occupation in WWII. Chief amongst these for history buffs is Peleliu; just a few hours by ferry from Koror opens the way to exploring abandoned Japanese command outposts and defensive structures, and the shells of American and Japanese tanks whose battles led to the liberation of the islands at the end of the war. Most of it is now slowly being absorbed into the encroaching jungle in a losing battle against the ravages of time and nature.
My favorite thing to do in Palau
The Rock Islands are the highlight of Palau for most visitors. Snorkeling and scuba diving among the several hundred limestone islands showcase the colorful marine life, as does a swim in Jellyfish Lake. Rather than heading out for a day, aim to spend a few nights. With dive centers running daily boats from Koror to the Rock Islands, it's typically possible to arrange a drop-off and pick-up somewhere on the islands.
With a kayak and a stash of food and fresh water, it's hard to beat paddling between uninhabited islands or through hidden coves by day, and camping beneath the palm trees and starry skies by night. Given the popularity of tourism among the islands it's rare that you'll ever go a full day without seeing a snorkeling tour or coming across an anchored yacht somewhere, but most of the time there's just the backdrop of crashing waves and your paddle cutting through the surf.
How much money do I need for Palau?
As one might expect from a remote island nation, prices are high compared to nearby regions such as Southeast or East Asia. While it may not be expensive to get to Palau from the Philippines , Taiwan,   or other nearby countries, expect to pay considerably more for basic tourist necessities upon arrival.
Hostels basically don't exist on the islands – for simple guesthouses and hotel rooms expect to pay $60-100 per night, for midrange places around $100-200, and for top-end hotels or beach resorts even more. Food, on the other hand, is fairly good value considering the country's remote location. Self-catering is not notably more expensive than in destinations like the USA , and restaurants are also about the same or – particularly for fresh seafood – cheaper than in the USA or Western European countries.
Diving in Palau is also not inexpensive; anticipate at least $200 for two-dive trips through tour operators, though significant package discounts are often available for travelers who will stay in operator-run accommodation or who will be visiting for longer periods.
What currency is used in Palau?
Palau uses the US Dollar as its official currency.
What is the Palau Pledge?
Palau's immigration laws formally recognize conservation, and arriving visitors are required to pledge their intention to protect the country's nature:
"Children of Palau, I take this pledge, as your guest, to preserve and protect your beautiful and unique island home. I vow to tread lightly, act kindly and explore mindfully. I shall not take what is not given. I shall not harm what does not harm me. The only footprints I shall leave are those that will wash away."
Is sunscreen really banned in Palau?
While sunscreen is not banned per se, ten chemicals that are toxic to coral reefs and present in some sunscreens were banned in 2020 . Thus, sunscreens that contain these chemicals are indeed banned for purchase or import in Palau. If in doubt, look for products that advertise themselves as "reef bill compliant" on their packaging.
Explore related stories
Destination Practicalities
Nov 8, 2023 • 5 min read
There are endless ways to experience Brazil, but these are the top things to know if you want to plan a trip that goes above and beyond.
Nov 3, 2023 • 10 min read
Nov 1, 2023 • 18 min read
Oct 29, 2023 • 7 min read
Oct 25, 2023 • 19 min read
Oct 25, 2023 • 6 min read
Oct 23, 2023 • 6 min read
Oct 20, 2023 • 8 min read
Oct 19, 2023 • 3 min read
Oct 14, 2023 • 5 min read

Taiwan News
Bilingual Pages

All Front Page Taiwan News Business Editorials Sports World News Features Bilingual Pages
Tue, Mar 30, 2021 page2
Palau tours prove a hard sell to travelers.
By Hsiao Yu-hsin / Staff reporter

While pilot tours to Palau were sold out within one week of being made available for purchase, some tour operators said only half of the tours in the next three batches were sold, as high costs might have turned away some potential customers.
Palau became the first country that Taiwanese can visit for tourism amid the COVID-19 pandemic after the two countries created a "travel bubble" earlier this month. The first tour group is to depart for Palau on Thursday.
According to the guidelines issued by the Central Epidemic Command Center, travelers to Palau must join group tours and adhere to self-health management guidelines for 14 days upon their return.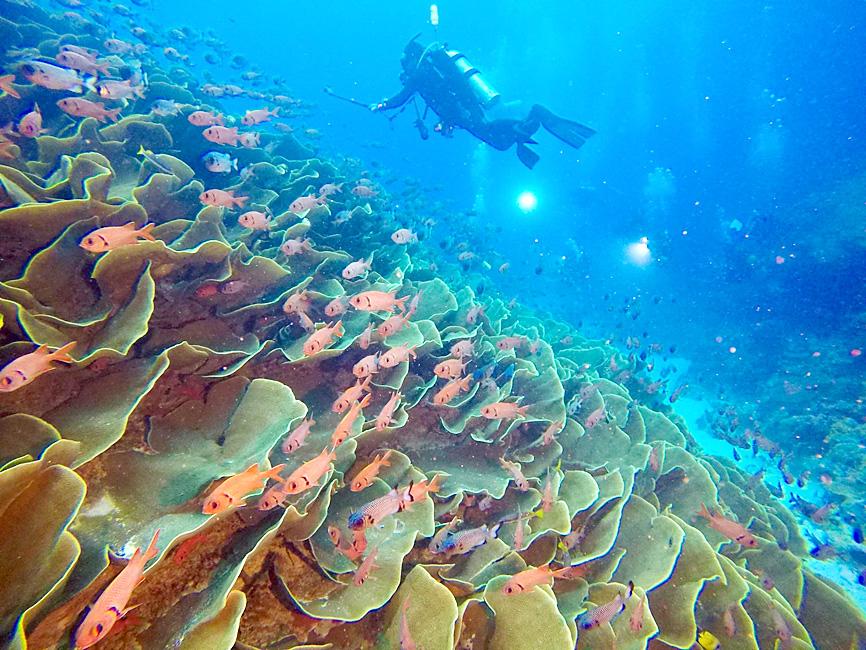 A diver swims among tropical fish and coral off the coast of Palau in an undated photograph.
Photo courtesy of KKDay
China Airlines would be the sole carrier for the group tours in the first two weeks, offering two flights per week.
The six travel operators selling package tours to the Micronesian country are Lion Travel, Phoenix Tours, G. Tours, Life Travel & Tourist Service Co, DTS Group and online travel platform KKDay.
A total of 110 pilot tour travelers are scheduled to depart from Taiwan Taoyuan International Airport at 2:30pm on Thursday and arrive in Palau at 6:20pm, the airline said.
Phoenix tours said while its pilot tour packages have been sold out, sales for the next three batches have been below 50 percent, adding that high prices and the 14-day self-health management requirement make it difficult to promote the tours.
"We will discuss relaxing the self-health management requirement with the Tourism Bureau. It makes it difficult for us to sell the tour packages, and it could cause financial losses," the travel agency said.
Phoenix Tours had previously promoted a luxury four-day tour to Palau for NT$69,000, including accommodation at a five-star hotel and polymerase chain reaction (PCR) tests for COVID-19.
It is now promoting a four-day tour that costs NT$49,000, which includes accommodation at a regular hotel, while travelers need to pay for their PCR tests.
Lion Travel said people wanted to join the pilot tours because they wanted to be part of a significant moment.
Although more than 1,000 people made reservations for the pilot tours, only a small number followed through with payment, while many passed on the offer after they learned about the prices, it said.
The agency said it has sold 70 to 80 percent of the tours in the second batch, while about 60 percent of the tours in the third and fourth batches have been sold.
A tour operator who spoke on condition of anonymity said the bureau kept changing the destinations that are open to tourists, which could not be finalized by Friday.
Many travel agencies were concerned about the perception of customers if they did not strictly follow the publicized itineraries, the operator said.
In addition to high flight and accommodation costs, the bureau has raised boat rental fees from US$1,200 to US$1,700 per boat, with each boat carrying only 17 passengers, down from 25, the operator added.
Boat operators would not be serving lunch aboard as they used to, the operator said.
The Palauan government would have to bear greater responsibility if the "travel bubble" turns out to be a failure, the operator added.
Some people said they would be more receptive to a five-day tour to Palau at a cost of NT$30,000, the operator said.
Given the high tour prices, it is better to travel to some of the nation's outlying islands and wait until the pandemic is over, the operator added.
KKDay is offering a four-day package at NT$29,999 to people who pre-order "travel bubble" tours, likely the cheapest offering on the market.
Most Popular
Chinese boat seized after colliding with coast guard, tropical storm to move closest from wednesday, three charged over sales of fake watches, vp lai warns of chinese attempts to 'annex' taiwan, us oversaw pac-3 missile drill: source.
You might also like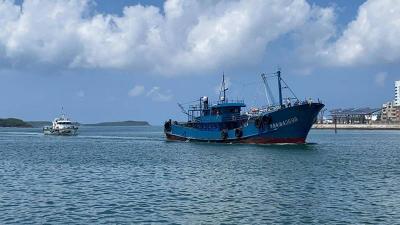 The coast guard on Friday took a Chinese fishing boat and the 17 people on board into custody, after it rammed into a patrol boat while attempting to flee. A 100-tonne coast guard vessel at about 8am discovered a Chinese fishing boat illegally operating in waters about 11 nautical miles (20.4km) northwest of Hsinchu, the Hsinchu offshore flotilla of the Coast Guard Administration said. The crew refused to allow law enforcement to board the ship and attempted to flee, it added. The coast guard vessel and another ship chased the fishing boat for about a half hour, during which time the Chinese boat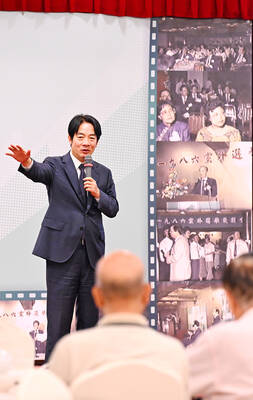 Vice President William Lai (賴清德) yesterday said that Beijing was trying to "annex" Taiwan, while China said its recent series of drills near Taiwan are aimed at combating the "arrogance" of separatist forces. The Ministry of National Defense earlier this month said that it had observed dozens of Chinese fighters, drones, bombers and other aircraft, as well as warships and the Chinese aircraft carrier Shandong, operating nearby. The increased frequency of China's military activities has raised the risk of events "getting out of hand" and sparking an accidental clash, Minister of National Defense Chiu Kuo-cheng (邱國正) said last week. Asked about the spurt
By Bernard Orr and Roger Tung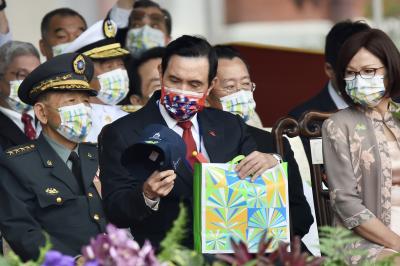 Ma rejects National Day invite over 'Taiwan'
Former president Ma Ying-jeou (馬英九) on Monday said he would not attend the official Double Ten National Day celebrations for the first time this year, as its English name, "Taiwan National Day," implies "Taiwan independence." Writing on Facebook, Ma said he has attended every National Day celebration since entering public service 40 years ago, but "with an exceedingly heavy heart," has decided to reject this year's invitation. For the past three years, the government under President Tsai Ing-wen (蔡英文) has used "Taiwan National Day" for the event's official English-language title, leaving the "Republic of China" nowhere to be found, he said. The move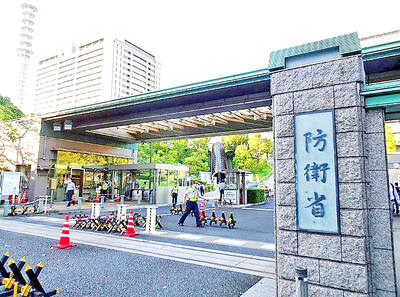 Japan's plans have Taiwan focus
RUNWAY UPGRADES: Airports and ports mainly scattered around southwestern Japan are being given major overhauls, primarily serving as civilian-use facilities Japan has chosen 33 airports and ports as candidates for improvement to enhance military capabilities, with a particular focus on infrastructure that could be utilized in a Taiwan emergency, according to a recent report in Japan's Nikkei Shimbun. Citing the Japanese government's fiscal budget proposal for next year, the newspaper said Toyko is to name some facilities as essential bases and receive funding for upgrades in line with the revamped national security strategy published last year. According to an unofficial policy document drafted last month and reviewed by the Nikkei, the Japanese government designated 14 airports and 19 ports for improvement, including
By Lin Tsuei-yi and Jonathan Chin

THE 10 BEST Palau Tours & Excursions
Palau tours.
Sightseeing Tours
Private Tours
Multi-day Tours
Ports of Call Tours
Wine Tours & Tastings
Cultural Tours
Historical & Heritage Tours
Free cancellation
Up to 1 hour
1 to 4 hours
4 hours to 1 day
Likely to Sell Out
The ranking of tours, activities, and experiences available on Tripadvisor is determined by several factors including the revenue generated by Tripadvisor from these bookings, the frequency of user clicks, and the volume and quality of customer reviews. Occasionally, newly listed offerings may be prioritized and appear higher in the list. The specific placement of these new listings may vary.
1. Catamaran Tour TENERE' Maddalena Archipelago from Cannigione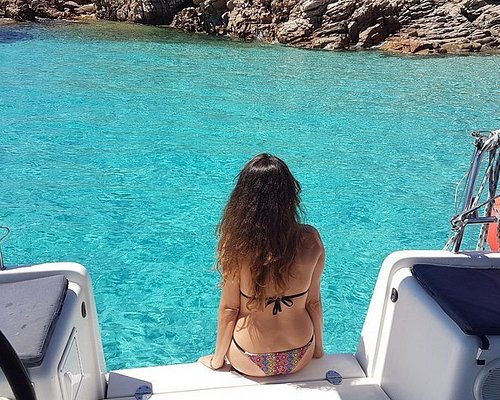 2. Sailboat tour from PALAU to the Maddalena Archipelago.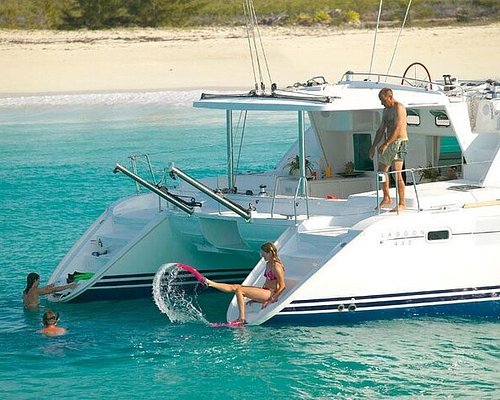 3. Catamaran Alice from Porto Rafael-Palau to Maddalena Archipelago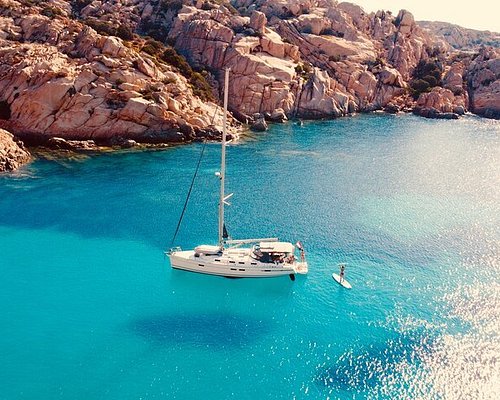 4. La Maddalena Archipelago Sailing Tour with Lunch from Palau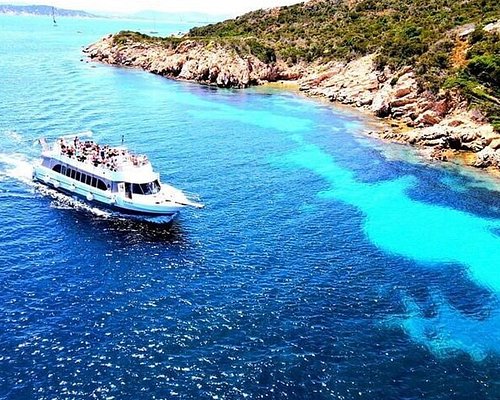 5. Boat tour of the La Maddalena Archipelago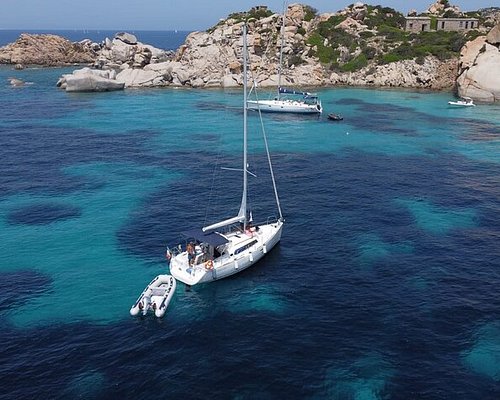 6. Daily excursions on a sailing boat, Maddalena Archipelago
7. Corsica Tour by Sailboat from Santa Teresa di Gallura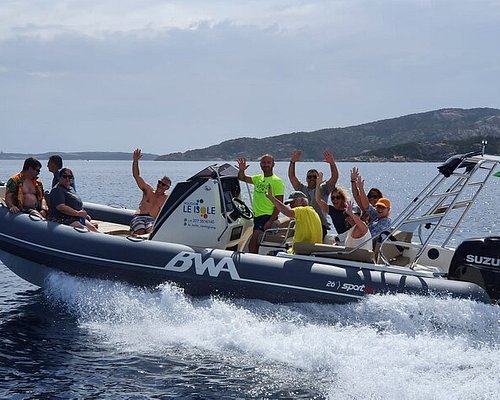 8. Boat Tour Full Day La Maddalena, Caprera, Spargi, Budelli
9. Private Catamaran Tour to the Maddalena Archipelago from Porto Rafael Palau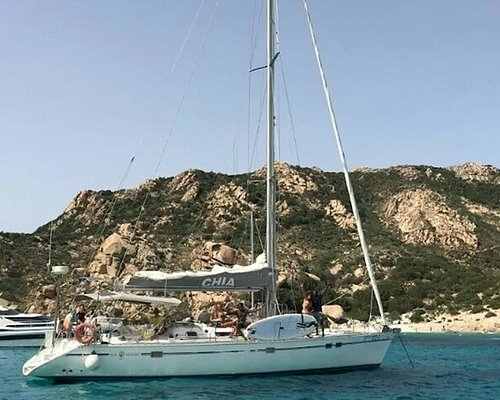 10. Sailing Boat Tour CHIA Maddalena Archipelago from Cannigione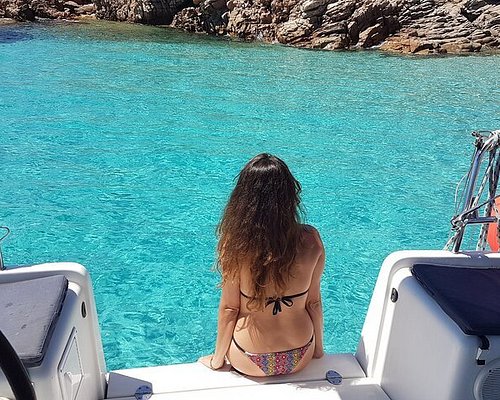 11. Maddalena Archipelago Private Sailboat Tour from PALAU
12. Private Tour and Snorkeling, Islands of Budelli, Razzoli, Santa Maria and Spargi.
13. Shared Tour and Snorkeling, Islands of Budelli, Razzoli, S. Maria and Spargi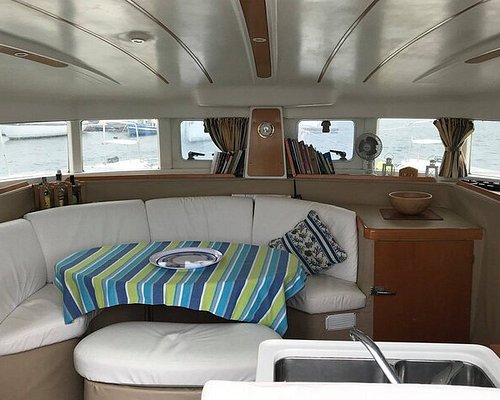 14. Private Catamaran Tour to the Maddalena Archipelago from Cannigione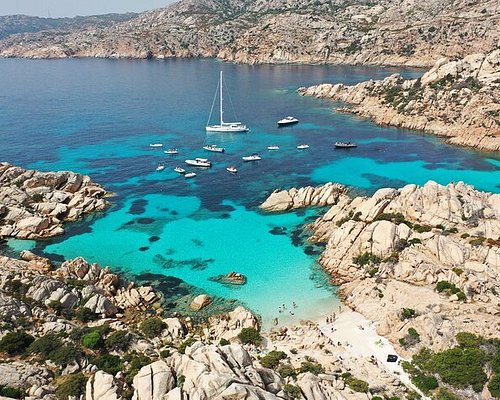 15. Private tour, archipelago of La Maddalena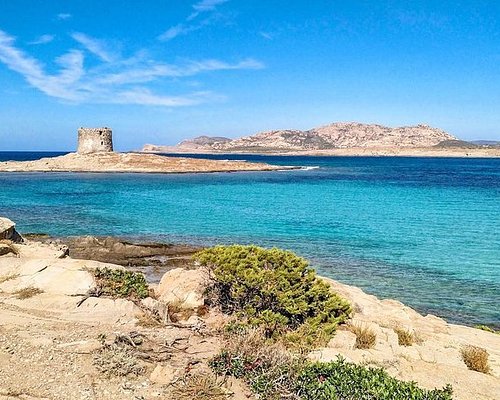 16. 6 Days Sardinia Tour from Genoa or Rome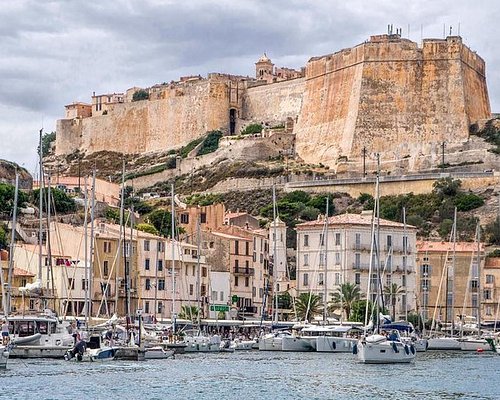 17. 7 Days Gran Tour Sardinia and Corsica from Genoa or Rome
18. tour & dinner in a farm of north sardinia.
19. La Maddalena Archipelago Comfort Boat Tour
20. Catamaran Miguel DA PALAU for Maddalena Archipelago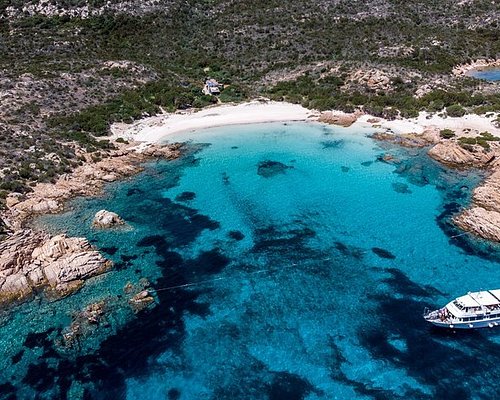 21. Boat trip La Maddalena Archipelago - Departure from Palau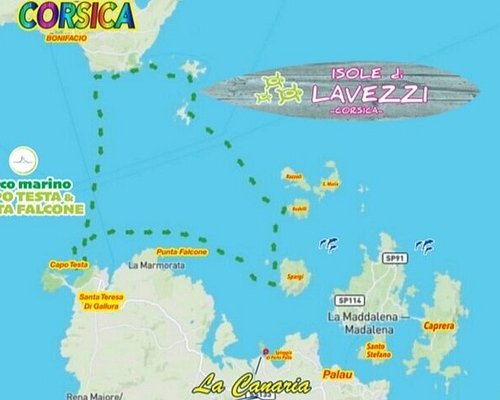 22. Exclusive tour in dinghy Bonifacio/Capo Testa
23. Sailing Boat Tour from S. Teodoro-Puntaldia to Tavolara, Molara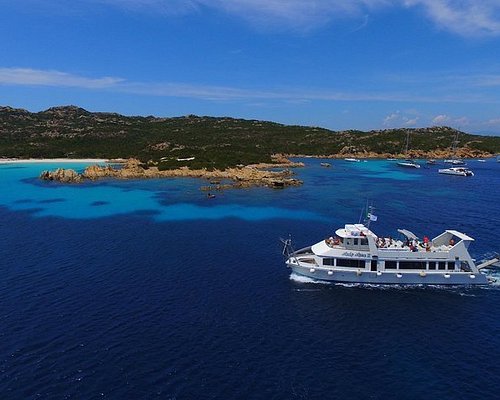 24. 4-stop boat excursion to La Maddalena Archipelago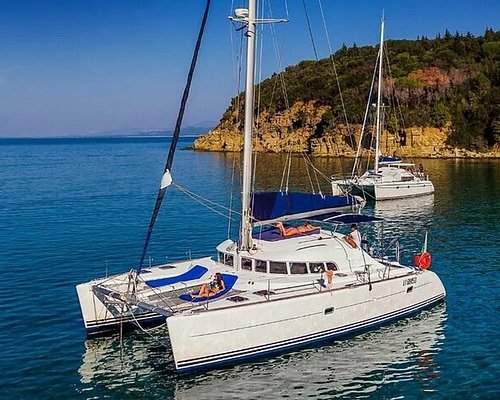 25. Moonlight catamaran on Maddalena Archipelago from CANNIGIONE
26. 7-Hour Motorboat Tour of La Maddalena Archipelago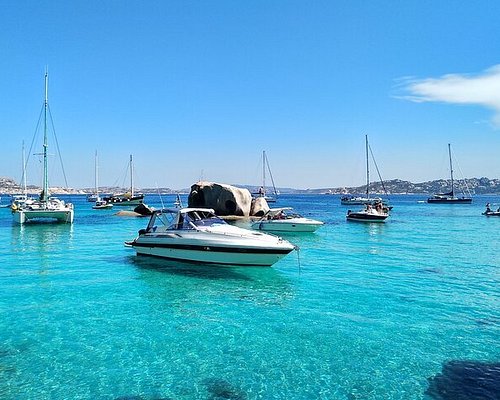 27. Private Boat Tour of the La Maddalena Archipelago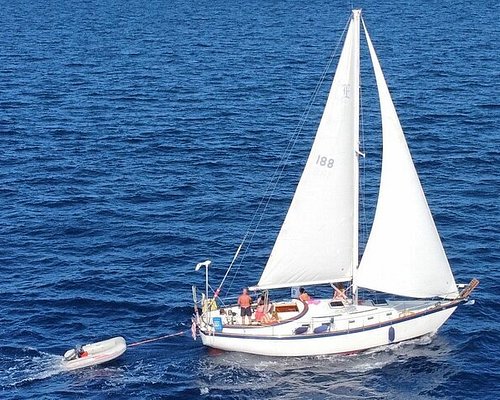 28. Sailing La Maddalena Archipelago (boarding in Palau)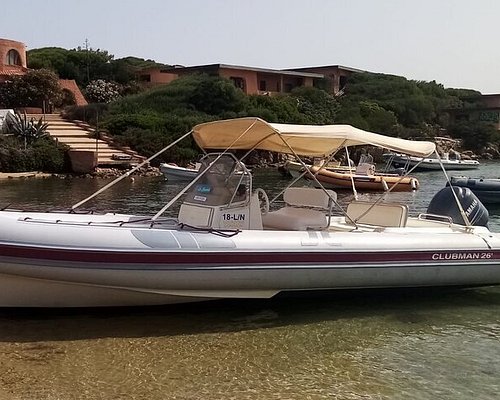 29. Private tour to the 7 islands of the La Maddalena archipelago
What travelers are saying.

Catamaran Tour TENERE' Maddalena Archipelago from Cannigione
Sailboat tour from PALAU to the Maddalena Archipelago.
Catamaran Alice from Porto Rafael-Palau to Maddalena Archipelago
La Maddalena Archipelago Comfort Boat Tour
Boat trip La Maddalena Archipelago - Departure from Palau
Palau Excursions & Snorkeling
NatourSardinia
Sardinia Sailing Tour
North Tempest escursioni
Sardinia Island Tours
MAXIRIBEXCURSION
Dea del Mare ShardanaSail
Boating Sardinia
Athena Sail
Morama Cruising
gite a vela ichnusa
Bleex - Boating For You
Rumbera Charter
Nautilus Diving Center
Palau: Tours Information