Testimonials
Melina's evolutionary travel.
❗️❗️SALE ENDS THIS THURSDAY! Call today to get a free quote and put a deposit down before this offer sails past you! 🛳😁 Call or Text "CARNIVAL" to Melina #travelmode #cruiselife #explore #vacay #staycation #saveontravel #dealsfordays #vacationtime #lovetocruise #lastingmemories #traveladdic...
The least stressful vacation we've ever been on thanks to Melina's Evolutionary Travel! Thank you! I highly recommend!
Melina was always available to help and made sure she got all the details! Love her and highly recommend!!
Melina is the absolute best! Never met such a professional and knowledgeable person. She got me such a great deal and I can't wait to contact her again for my future trips! ⭐️⭐️⭐️⭐️⭐️
Lets Plan The Vacation Of Your Dreams!
Business Hours

Contact Melina
Thanks! We'll be in touch
Meet Your Agent
918-329-8270
Melina's Recommended Specials
11/05/24 - 11/27/24 - $3,498.00 per person
Grand Atlantic Panorama
Vacation Quote Request Provide some details on your trip and get a quote
Travel specials, 12-day mexico & sea of cortez holiday.
$133 / Per Night
Dec 22, 2023 - Jan 03, 2024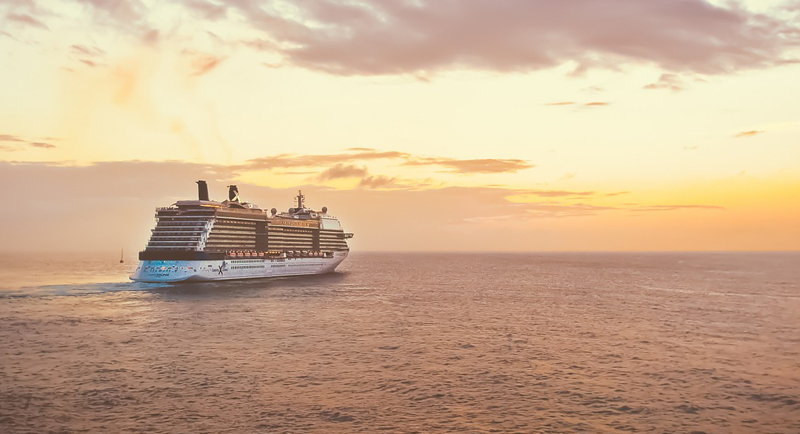 9 Nights Mediterranean
$45 / Per Night
Nov 01, 2024 - Nov 10, 2024
29-Day Jewels Of West Africa
$357 / Per Night
Jan 21, 2025 - Feb 19, 2025
View All Specials
Check out Our
Travel Blog
A Foodies Guide To A Weekend In Chicago
A Weekend Guide To Newport And Boston
A Weekend Guide To Seattle
View all blogs, call melina.
Copyrights © 2023 All Rights Reserved by Evolution Travel LLC. - Privacy Policy
(800) 272-4377
The owner of this website is an Independent Contractor for Archer Travel Service, Inc. and operates this business as an Independent Company with all financial responsibilities associated with it.
Melina's Evolutionary Travels jobs
Melina's Evolutionary Travels Joined: November 04, 2021
We are a Travel Agency looking for qualified agents to work from home and provide clients with their necessary travel needs. The goal is to help our clients take their dream vacation and make memories that last a lifetime. We provide all the training you need to grow in the company. You will earn your travel certification to book travel and be given your own personal travel website. We have a great support system team that treats you like family!
Your browser is out-of-date!
Update your browser to view this website correctly. Update my browser now
Home › Travel
Innovations in travel management making business travel easier
As the business travel landscape gains ground in a post-pandemic world, SmartBrief is celebrating some innovative technologies and solutions that are shaping the future of the end-to-end experience.
By SmartBrief Published: November 14, 2023
In uncertain times, innovations such as travel management systems, online booking platforms for business, and global travel and expense workflow solutions can make travel more affordable, efficient and convenient, and they can be pivotal to successful business travel. Improvements to the in-flight guest experience can also make the corporate traveler's experience easier, helping to encourage business travel. 
View the SmartBrief Business Travel Innovation Guide to find out more about the following companies that are playing a role in streamlining travel management, building traveler confidence and supporting corporate travel today.
Booking.com for Business
Mesh Travel Management
TSA PreCheck
_____________________________________
If you enjoyed this content, you can  sign up for SmartBrief for the Business Traveler  and  SmartBrief for the Travel Professional  to get travel news and trends in your inbox.
Q&A: GBTA's Suzanne Neufang on the evolution of business travel
Part 3: How to serve client, supplier and stakeholder business travelers
Study predicts rebound of business travel in 2023
Bahasa Indonesia
Slovenščina
Science & Tech
Russian Kitchen
Moscow-City: 7 surprising facts about the Russian capital's business center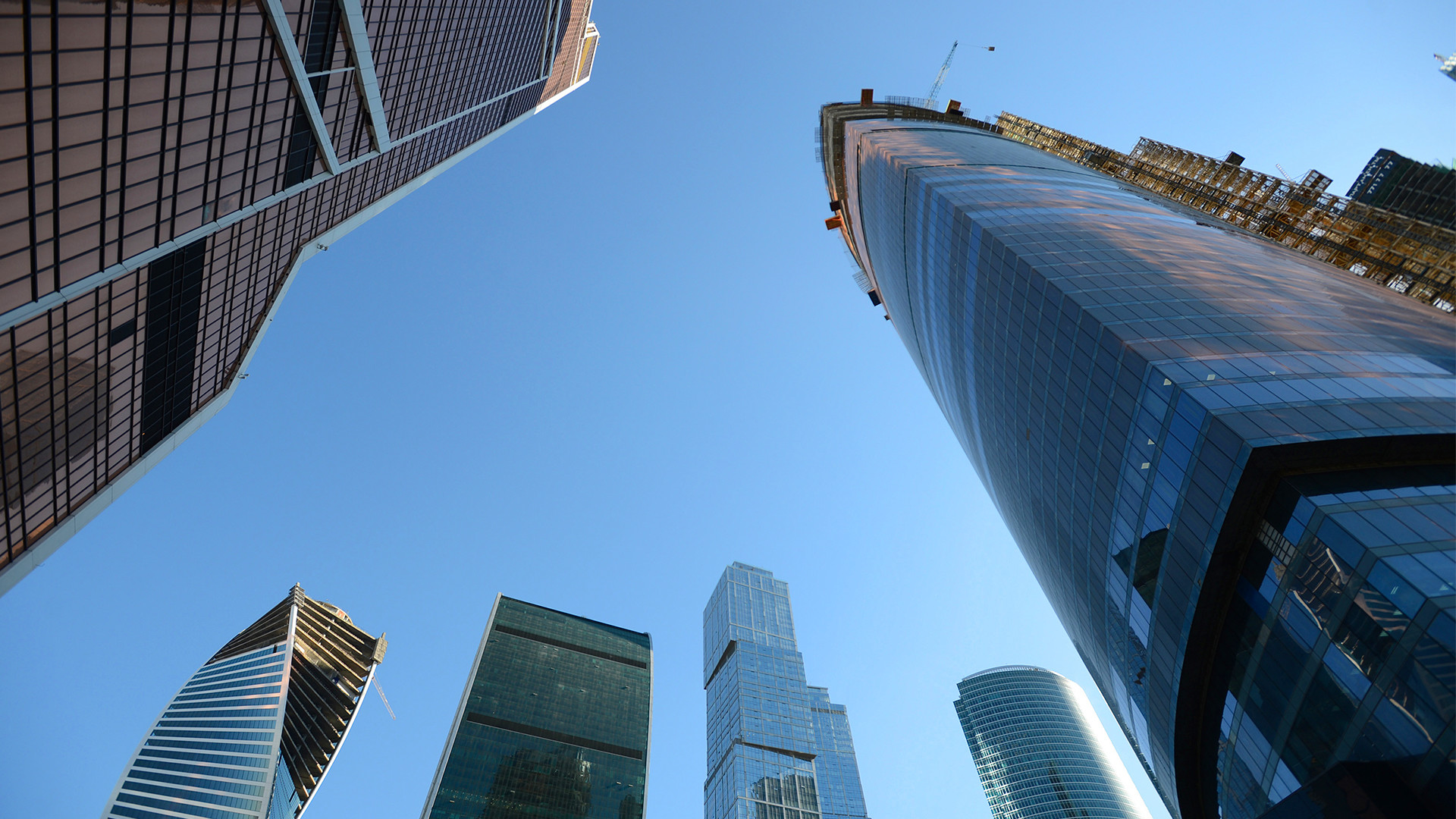 1. Guinness World Record in highlining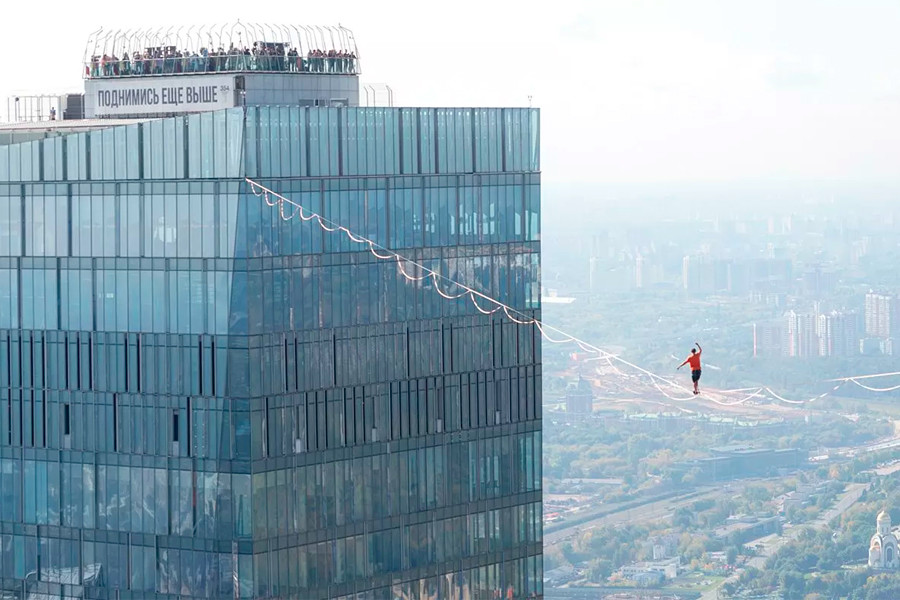 The record was set in 2019 by a team of seven athletes from Russia, Germany, France and Canada. They did it on September 8, on which the 'Moscow-City Day' is celebrated. The cord was stretched at the height of 350 m between the 'OKO' ("Eye") and 'Neva Towers' skyscrapers. The distance between them is 245 m. The first of the athletes to cross was Friede Kuhne from Germany. The athletes didn't just walk, but also performed some daredevil tricks. Their record is 103 meters higher than the previous one set in Mexico City in December 2016.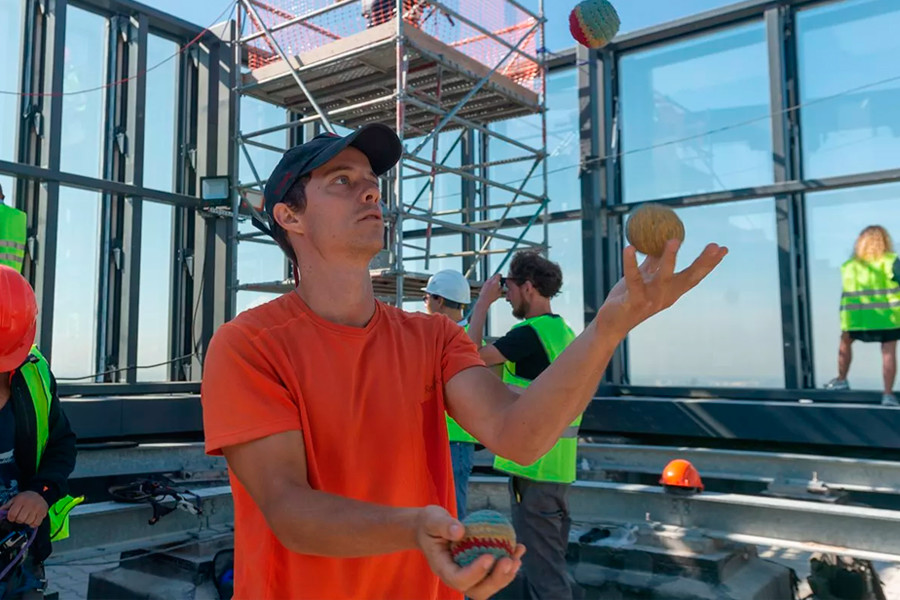 2. Domination of Europe's top-10 highest skyscrapers
7 out of 10 Europe's highest skyscrapers are located in Moscow-City. Earlier, the 'Federation Tower' complex's 'Vostok' ("East") skyscraper was the considered the tallest in Europe.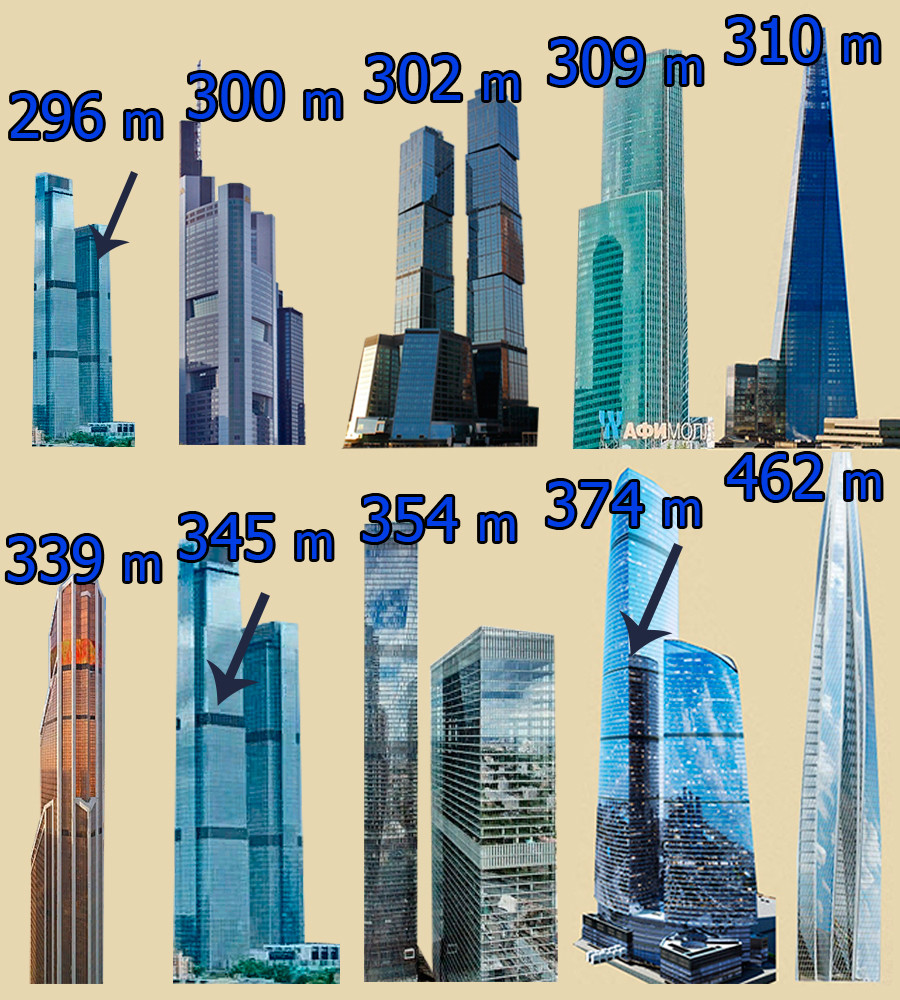 Left to right: the lower of the 'Neva Towers' (296 m), Commerzbank Tower in Frankfurt (300 m), Gorod Stolits ("City of Capitals") Moscow tower (302 m), Eurasia tower (309 m), The Shard' skyscraper in London (310 m), Mercury City Tower (339 m), Neva Towers (345 m).
However, in 2018, the construction of the 462 meter tall 'Lakhta Center' in Saint-Petersburg was completed, pushing 'Vostok' (374 m) into 2nd place. The 3rd place is taken by OKO's southern tower (354 m).
3. The unrealized 'Rossiya' tower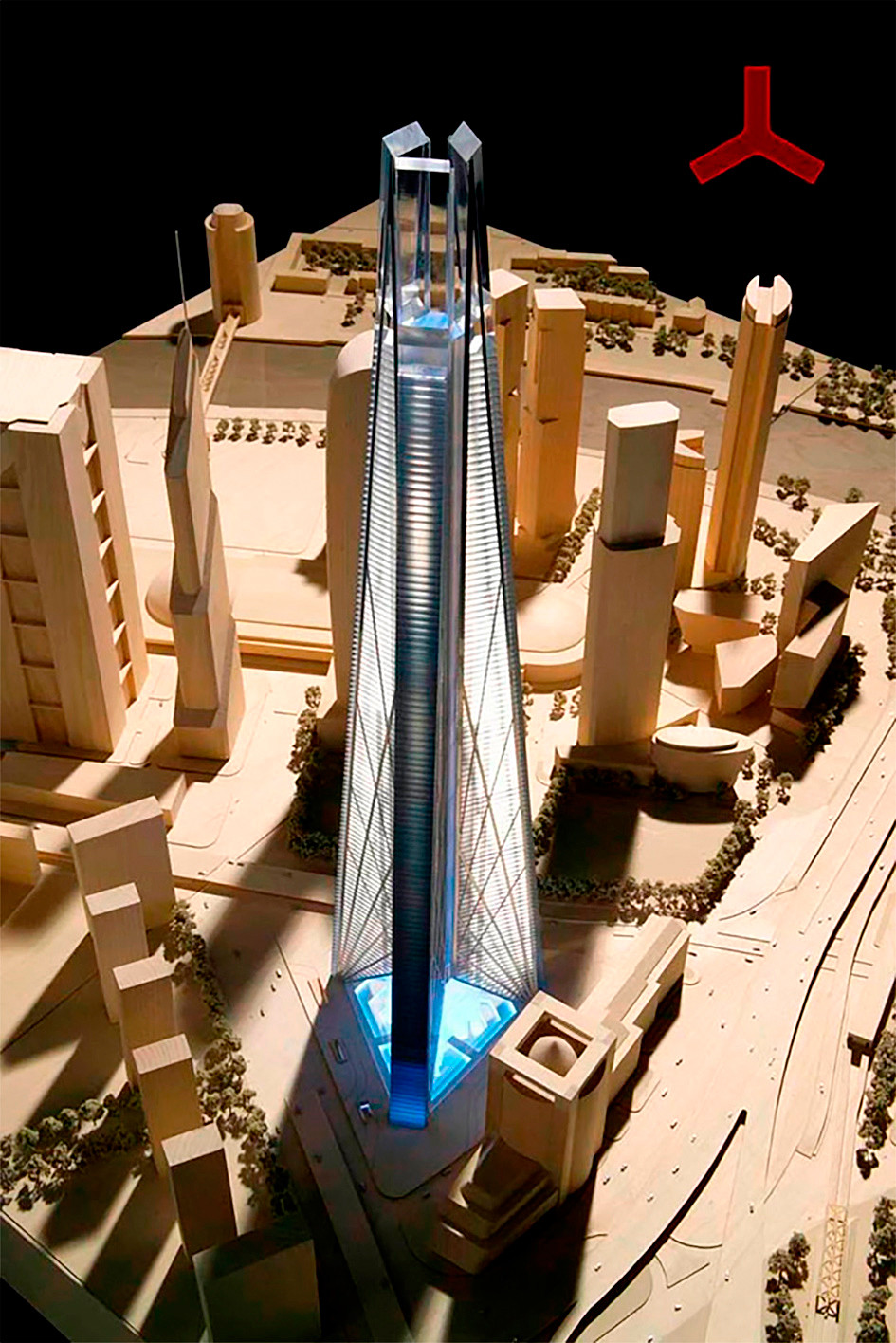 If all the building plans of Moscow-City were realized, the 'Lakhta Center' in St. Petersburg wouldn't have a chance to be Europe's highest skyscraper. Boris Tkhor, the architect who designed the concept of Moscow-City, had planned for the 'Rossiya' tower to be the tallest. In his project, it was a 600 meter tall golden cylindrical skyscraper ending with a spire that was inspired by traditional Russian bell towers. Then, the project was reinvented by famous British architect Sir Norman Foster. He had designed 'Rossiya' as a pyramid ending with a spire. The skyscraper itself would have been 612 meters tall, and the height including the spire would have reached 744,5 meters (for comparison, the 'Burj Khalifa' in Dubai, UAE, would have been just 83,5 meters taller). Unfortunately, the investors faced a lot of economic problems, due to the 2008 financial crisis, so the 'Rossiya' skyscraper was never built. A shopping mall and the 'Neva Towers' complex was constructed at its place in 2019.
4. Changed appearance of 'Federation Tower'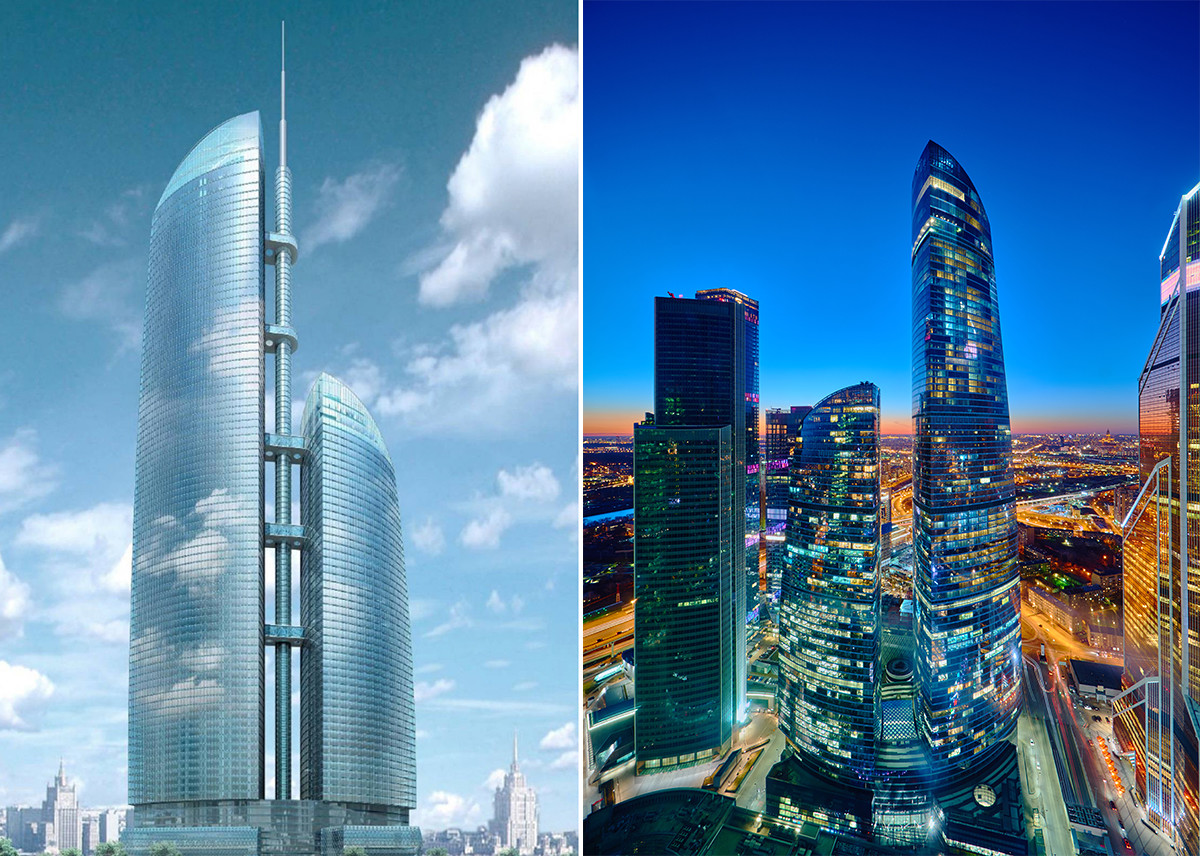 In its first project, the 'Federation Tower' was designed to resemble a ship with a mast and two sails. The mast was to be represented by a tall glass spire with passages between the towers. It was planned to make a high-speed lift in it. The top of the spire was going to be turned into an observation deck. But the ship lost its mast in the middle of its construction. Experts at the Moscow-city Museum based in the 'Imperia' ("Empire") tower say, that the construction of the spire was stopped, firstly, due to fire safety reasons and secondly, because it posed a threat to helicopter flights – the flickering glass of the spire could potentially blind the pilots. So, the half-built construction was disassembled. However, an observation deck was opened in the 'Vostok' tower.
5. Open windows of 'Federation Tower'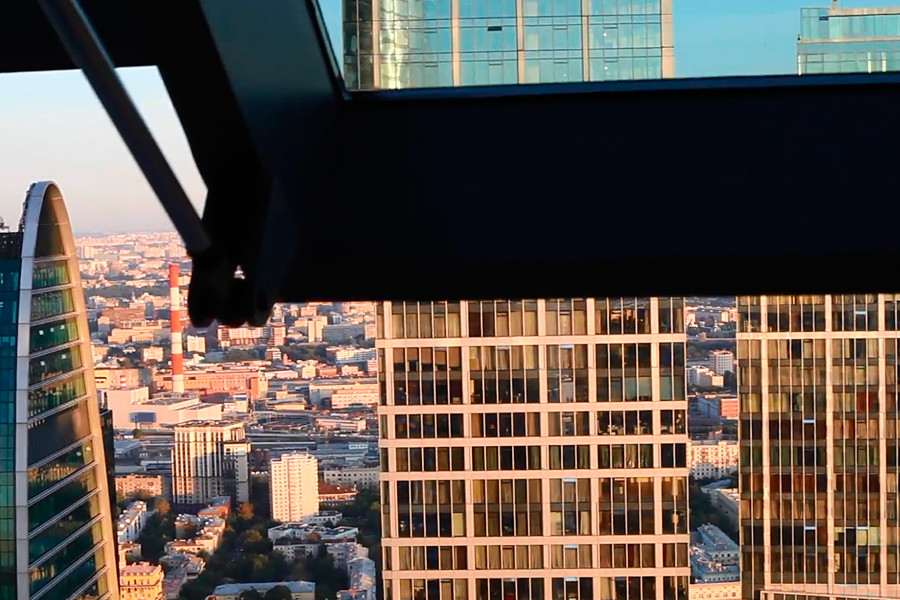 We all know that the windows of the upper floors in different buildings don't usually open. Experts say that it's not actually for people's safety. Falling from a big height is likely to be fatal in any building. The actual reason is the ventilation system. In a skyscraper, it's managed with a mechanical system, and the building has its own climate. But in the 'Zapad' ("West") tower of the 'Federation Tower' complex, the windows can open. The 62nd and last floor of the tower are taken up by a restaurant called 'Sixty'. There, the windows are equipped with a special hydraulic system. They open for a short period of time accompanied by classical music, so the guests can take breathtaking photos of Moscow.
6. Broken glass units of 'Federation Tower'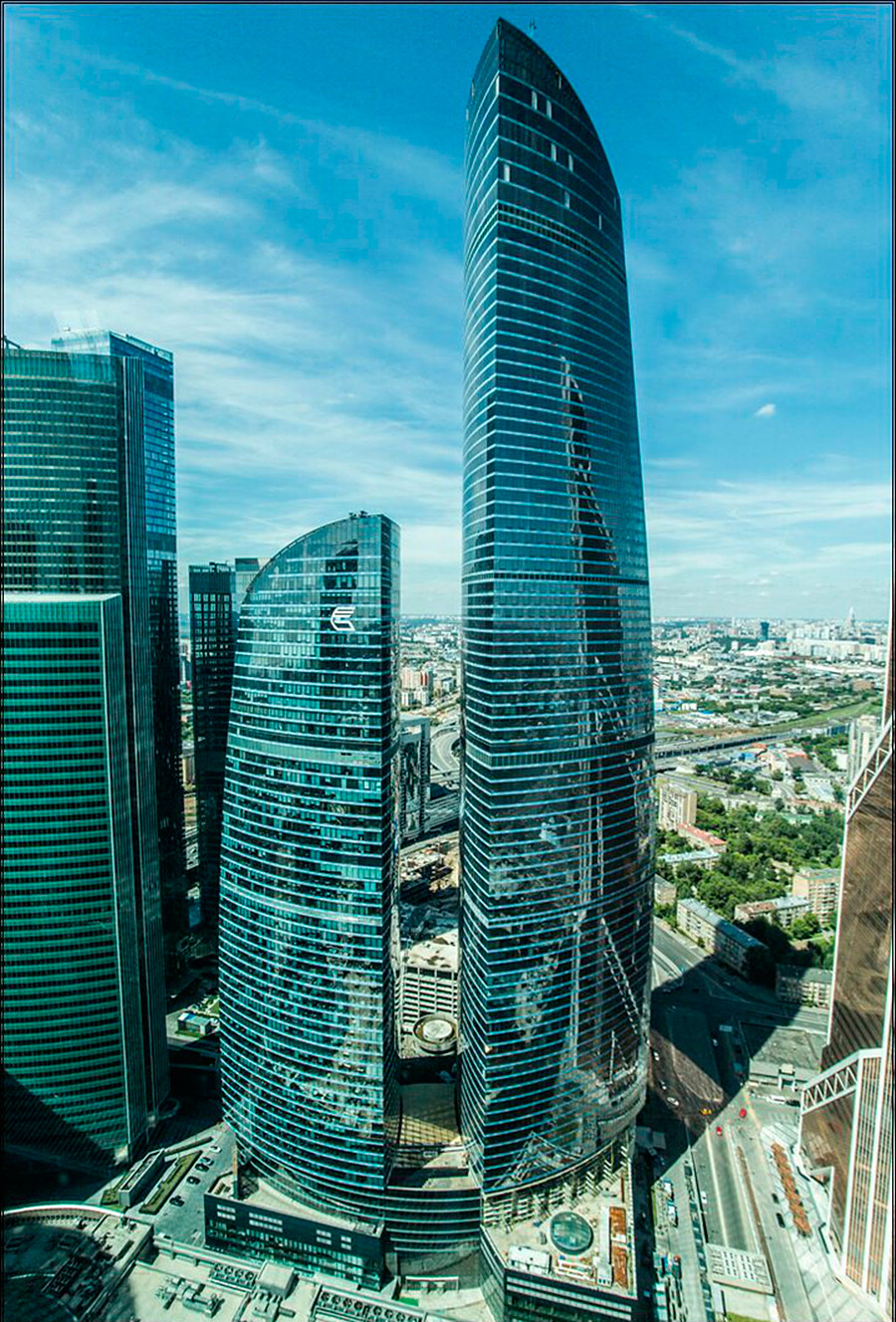 The guests of the 'Sixty' restaurant at the top of the 'Zapad' tower can be surprised to see cracked glass window panes. It is particularly strange, if we take into consideration the special type of this glass. It is extremely solid and can't be broken once installed. For example, during experiments people threw all sorts of heavy items at the windows, but the glass wouldn't break. The broken glass units of 'Zapad' were already damaged during shipment . As each of them is curved in its own way to make the tower's curvature smooth, making a new set of window panes and bringing them to Russia was deemed too expensive . Moreover, the investors had financial problems (again, due to the 2008 financial crisis), so the 'Vostok' tower even stood unfinished for several years. Eventually, the cracked window panes were installed in their place.
7. The highest restaurant in Europe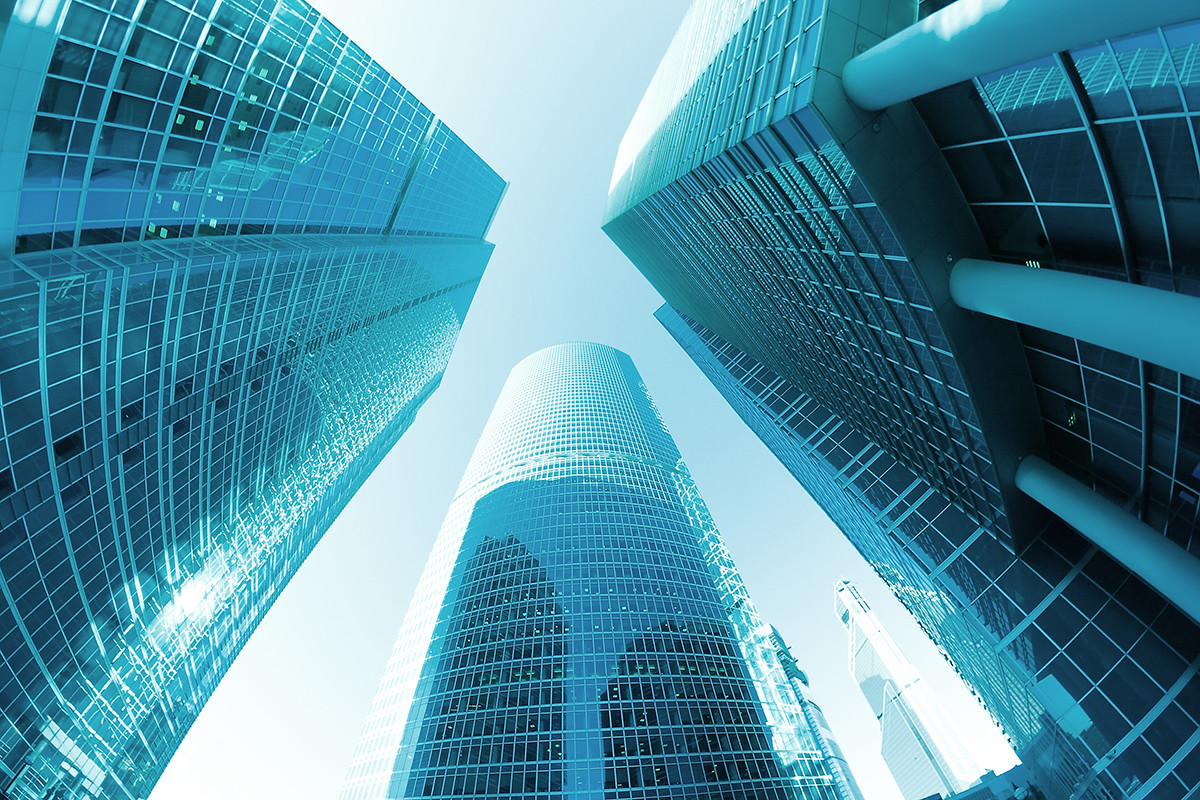 'Birds', another restaurant in Moscow-City, is remarkable for its location. It was opened at the end of 2019 on the 84th floor of the 'OKO' complex's southern tower. Guests at the restaurant can enjoy an amazing panoramic view at a height of 336 meters. On January 28, the experts of 'Kniga Recordov Rossii' ("Russian Records Book") declared 'Birds' the highest restaurant in Europe, a step toward an application for a Guinness World Record.
If using any of Russia Beyond's content, partly or in full, always provide an active hyperlink to the original material.
to our newsletter!
Get the week's best stories straight to your inbox
The evolution of Russia's No. 1 news program - from the USSR to now
The Khodynka tragedy: A coronation ruined by a stampede
'Moskvitch': the triumph and sad end of a famous Moscow car plant (PHOTOS)
This website uses cookies. Click here to find out more.
Moscow-City

Delovoy Tsentr • 3 min walk
Vystavochnaya • 4 min walk
Also popular with travelers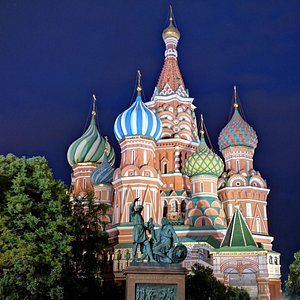 Moscow-City - All You Need to Know BEFORE You Go (with Photos)
(0.05 mi) Novotel Moscow City
(0.07 mi) Icon Hostel
(0.08 mi) High Level Hostel
(0.07 mi) The 7 Hostels
(0.07 mi) Hostel 47Nebo
(0.02 mi) Pepebianco
(0.02 mi) UDCcafe
(0.02 mi) Healthy Food
(0.03 mi) Garage-Bar Anton
(0.03 mi) Zu Cafe
(0.05 mi) GuiaRus - Day Tour
(0.08 mi) Moscow City Museum
(0.07 mi) Oblako 53
(0.09 mi) Challenge Park
(0.13 mi) PANORAMA360
Moscow-City Information

Wealth of Geeks
Unveiling The Top Travel Trends of 2023
Posted: November 10, 2023 | Last updated: November 10, 2023
Nearly ninety percent of Americans were resolute in their plans to travel during 2023, when polled in January. 49% say they plan to travel more, making minor and major adjustments to stave off inflation while embracing their spirit of adventure. 
According to a Forbes Advisor Survey , 87% of survey participants anticipate maintaining or exceeding their travel frequency from 2022, while nearly  60% of individuals aged 18 to 26 intend to take even more trips than before.
2023 has ushered in a wave of novel and revitalized travel trends to consider for your next vacation .
The Quest for Personal Transformation
Larry Snider, VP of Operations of Casago Santa Barbara Vacation Rentals , says, "There's a big rise in wellness travel. This kind of travel includes spa treatments, yoga retreats, fun culinary experiences, and more. It's all about taking care of yourself. Even hotels are beginning to offer wellness packages that include meditation classes and personal training sessions."
Travelers are pursuing personal growth and rejuvenation through transformative retreats. These journeys seamlessly integrate wellness, mindfulness, and self-discovery, offering a profound connection between travel and holistic well-being. This relationship between travel and personal transformation encourages a remarkable experience for the individual.
Culinary Evolution on The Road
Travel cuisine takes a health-conscious turn with adaptogenic menus, infusing wellness into dining. These menus are designed to elevate health and enhance the travel experience by incorporating herbs, roots and other plant substances that help our bodies manage stress.
Imagine starting your day at a charming café with a menu boasting adaptogenic lattes infused with herbs like ashwagandha and reishi, providing a comforting taste and an energizing boost. From adaptogen-infused smoothie bowls to hearty soups that fuel exploration after a day of sightseeing, these culinary innovations cater to the health-conscious traveler seeking both nourishment and novelty.
Reimagining Accommodations: From Modular to Pop-up
A modular hotel is an accommodation constructed using prefabricated modules or units. These modules are typically built off-site and then transported to the hotel location, where they are assembled to create the final structure. Each module serves as a self-contained living space with its own amenities and features.
Pop-up hotels bring a sense of novelty by briefly transforming distinctive locations into unique lodgings. Pop-up hotels provide an unparalleled sense of originality and exploration, allowing travelers to experience unique sites in unconventional ways.
Essential Walt Disney World Attractions for Your Next Trip
Road trips redefined.
Electric road trips offer travelers a guilt-free journey, combining the joy of open-road exploration with environmentally friendly transportation. Electric vehicles minimize carbon footprints and provide a quieter and smoother ride, enhancing the overall road trip experience.
The allure lies in striking the perfect balance between sustainable choices and the excitement of new destinations. The increasing availability of charging infrastructure aligns with the rise of ecotourism initiatives, making electric road trips convenient and aligned with travelers' desire to engage in responsible and mindful travel experiences.
Slow Travel's Resurgence
Slow travel invites travelers to indulge in local cultures and traditions, going beyond superficial tourism. By embracing a slower pace, travelers can savor the essence of each destination, creating more meaningful memories along the way.
Kim Bennett, CEO and co-frounder of Atlas Guru , says, "There is something about experiencing the awe and wonder of small century-old villages and natural landscapes that our travelers seem to crave right now. My personal style of travel is to always include several days outdoors, and I try to keep flights to a minimum, even if that means seeing less."'
This approach encourages travelers to appreciate the journey itself, focusing on quality experiences rather than trying to check off numerous destinations. In a fast-paced world, slow travel is also a remedy for burnout.
Luxurious Layovers
Upscale airport lounges are changing the way people kickstart their journeys. Consider an establishment like the Dubai International Airport, where travelers can feel spoiled before taking off. These lounges, adorned with fancy decor and top-notch personalized services, elevate the pre-flight experience to unparalleled luxury.
With this array of lavish amenities at one's fingertips, there's a brief yet exquisite escape from the hustle and bustle of the terminal. By turning layovers into moments of relaxation, these swanky airport lounges bring enjoyment and comfort to the entire travel experience.
Hybrid Flight-Light Travel
Hybrid flight-light travel effortlessly combines air journeys with alternative transportation modes.
Imagine your plane landing in London, and a few days later, you're transitioning to a scenic train ride through Europe . Or travelers disembark in Tokyo and head to a bullet train ride to Kyoto.
This inventive approach broadens travel possibilities, enabling explorers to merge the convenience of air travel with the refined experiences of ground-based exploration. Ethan Williams, travel expert and owner of Traveling Gossip , mentions that the rise in this trend can be somewhat attributed to eco-consciousness.
"As the global community becomes more environmentally conscious, travelers are actively seeking ways to reduce their carbon footprint. While flying is often necessary to reach distant destinations, there's a growing realization that exploring a region doesn't require hopping from one short-haul flight to another. As per a report by the Environmental Transport Association (ETA), using trains over planes for short distances can reduce a traveler's carbon emissions by up to 90%."
Bleisure Trips
Bleisure travel is relatively straightforward. It's when travelers mix work and fun; a balanced blend of getting things done and having a good time. Make the most of your business trips by checking out local attractions and soaking up the destination's vibe. This approach results in a satisfying journey that merges career and personal development.
Sleep Tourism
Sleep tourism is an emerging trend that addresses the often-overlooked aspect of travel: quality rest. Travelers are now seeking destinations prioritizing sleep experiences, offering serene environments and accommodations to promote a reinvigorating slumber.
From serene seaside retreats that sync with the rhythm of ocean waves to high-tech hotels equipped with personalized sleep-enhancing technologies, sleep tourism underscores the growing recognition of sleep's critical role in the overall travel experience. Beyond sightseeing and activities, getting rest has become a component contributing to a traveler's well-being and satisfaction.
The Appeal of Set-Jetting
Set-jetting transports travelers from their living rooms into the realms of their favorite movies and TV series. These destinations hold a special allure as visitors walk in the footsteps of beloved characters and relive iconic scenes.
Based on the American Express 2023 Global Travel Trends Report , nearly 64% of participants concur that their desire to explore a place has been kindled after witnessing it showcased on TV programs, news outlets, or within the frames of movies.
From the mesmerizing landscapes of Middle Earth in The Lord of the Rings  to the historical splendor of Downton Abbey , set-jetting offers an intimate link between fiction and reality. This trend ignites fans' passion for storytelling, turning travel into a riveting journey that allows them to connect with the magic of on-screen worlds in a tangible and unforgettable way.
The Future of Traveling
Amid the ongoing travel renaissance, there's excitement for what lies ahead. As technology, sustainability, and traveler preferences evolve, the future promises revolutionary experiences. From sustainable transport to immersive AI-guided tours, the anticipation of what's to come adds a thrilling dimension to the journey.
This article was produced and syndicated by Wealth of Geeks .
More Articles From Wealth of Geeks:
These US Areas Are Most Interested in International Travel
16 Useful Travel Tips: How To Plan, Save Money, and Relax
More for You
Hundreds ordered out of flats immediately because building's at risk of collapse
49 Side Dishes So Good They'll Upstage Your Baked Ham
Greatest cars ever made with pop-up headlights
Marjorie Taylor Greene Gets 'Lesson in Civics' During Fiery Confrontation
A new COVID variant, HV.1, is now dominant. These are its most common symptoms
Time for US to counter the bully at 30,000 feet
I was a bartender for almost a decade. Here are the techniques I used to land bigger tips — and the people I tried to avoid serving.
40 workers trapped in collapsed tunnel
Why a Blue-Leaning Swing State Is Getting Redder
Three potential landing spots for Patriots HC Bill Belichick
IRS Increases Gift and Estate Tax Exempt Limits — Here's How Much You Can Give Without Paying
Russian Su-25 Jet's Fiery Mid-Flight Destruction Caught on Video
Congress just found the dumbest way to avoid a government shutdown
Jesse Watters: The Secret Service has been lying to you about everything in White House cocaine scandal
Zero Points, One Headlock, Three Ejections, 103 Seconds: The NBA's Hectic, Historic Night
Cartoon falls to cancel culture: In perilous times, free speech attacks are no laughing matter
The 20 Most Ignored Cancer Symptoms in Women and Men
On-Trend Winter Dresses to Keep You Warm This Season
Prosecutors seek emergency protective order in Trump case after video disclosure
Sorry New York and San Francisco, these 4 red-state cities could be the future of America