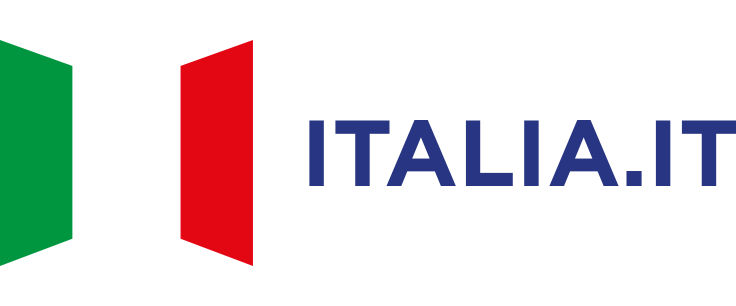 Northern Italy
Lombardy: a dynamic land immersed in the present and reaching toward the future, but with an extraordinary heritage of art and nature.
Lombardy is a region in the north of Italy known for its industry and finance, of course, but also for its art and extraordinary landscapes, starting with the picturesque lakes and its mountains, Valcamonica and Valtellina in primis. Capital and symbolic city, Milan represents the industrious heart that goes hand in hand with other cities with a vibrant spirit.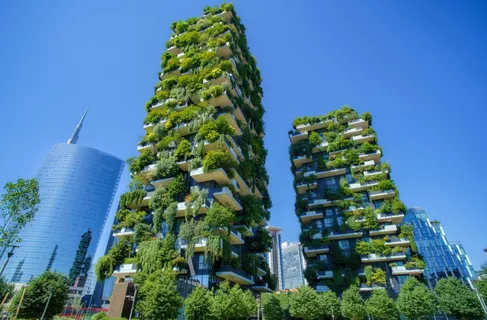 Milan, the metropolis that finds a perfect and dynamic balance between history and modernity. While it is considered one of the world's fashion and design capitals, as well as a financial hub, Milan is also a city of culture and thought. While always looking towards the future, this Lombard capital lovingly preserves its prominent history, boasting spectacular museums and some of the most monumental churches in Italy.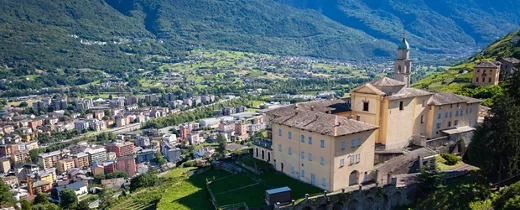 Adrenalin at high altitude Sondrio has the discreet charm of mountain resorts, amid noble buildings and characteristic stone houses. A quiet town in the middle Valtellina, at the gateway to the Valmalenco, it rises below the Corna Mara massif. Characteristic is the tour of the stüe, rooms entirely covered with wood, from ceiling to walls, found in both peasant houses and aristocratic palaces. There are well-preserved ones in Palazzo Pretorio, Palazzo Sassi de' Lavizzari and Villa Quadrio. For cycling enthusiasts, we recommend the Via dei Terrazzamenti, a 70-kilometre-long cycle and pedestrian route linking Morbegno to Tirano, the Lower and Middle Valleys at an altitude of between 300 and 700 metres. Along the way, you will come across ancient villages, agritourisms and wine cellars. There are 40 equipped rest areas, it is not obligatory to walk the entire trail and you can also choose to use public transport. Outdoor activities along the Adda River include rafting, kayaking and hydrospeeding. There are two other adventure routes: the Sentiero Valtellina, which is over 100 kilometres long, and the Sentiero Rusca, which leads up to the Muretto Pass (2562 m), the transit route between Valtellina and Engadina.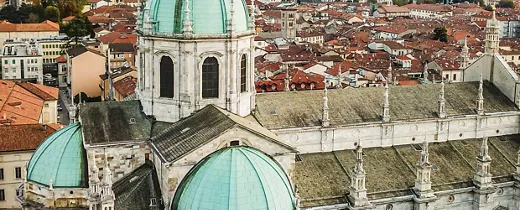 Walking around the lake, among villages, historic villas and superb views The province of Como is industrious, but it is on the shores of its famous lake featuring picturesque views, charming villages, Art Nouveau-style architecture and enchanting gardens that over the years have captivated Hollywood and the countless actors who have made their home there. From Menaggio to Cernobbio, from Torno to Laglio via Bellagio and Tremezzo: every stop along the way is bursting with beauty and authenticity. Tourists looking for a cultural holiday among unmissable monuments, churches and museums can start in Como and spend a day exploring the city: the Cathedral, Villa Olmo, which often hosts exhibitions, not forgetting a trip to the Tempio Voltiano with its permanent exhibition dedicated to physicist Alessandro Volta. Then you can take a break for a few hours and take the cable car from the lakeside promenade to Brunate. Trekking enthusiasts can enjoy breath-taking views from the Sacro Monte di Ossuccio, one of the nine Sacri Monti hilltop complexes of Piedmont and Lombardy, listed as UNESCO World Heritage Sites. Another must is a trip to the Isola Comacina, a small oasis of peace surrounded by the waters of the lake and accessible by boat from March to October.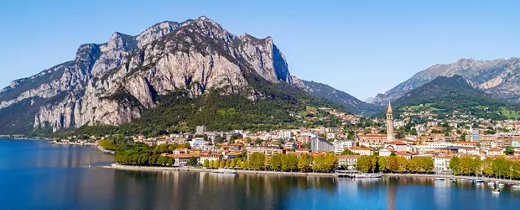 The hidden jewel of Lake Como On the shores of that "branch of Lake Como" lies Lecco, one of Lombardy's most picturesque locations. You can explore the city and its surrounding territory by following the footsteps of the characters in Alessandro Manzoni's novel The Betrothed. Ponte Azzone Visconti offers the best views of Pescarenico, the oldest district of the city, which is described in the novel. Be sure to visit the Rocca di Vercurago castle, also known as Castello dell'Innominato, and Villa Manzoni, which belonged to the author's family. The Basilica of San Nicolò, Palazzo Belgiojoso and Piazza Era are worth visiting. The lake shores offer enchanting villages, like Lierna, a popular tourist destination all year round thanks to its Riva Bianca beach and late-medieval castle. To discover a real-life ghost town, head to Consonno, the "Las Vegas of Brianza". For visitors who love high-altitude hiking, around Lecco you can enjoy scenic treks to the peaks of Monte Resegone or the Grigne group. You can follow the Viandante hiking trail around the entire lake, from Lecco to Colico, finding beautiful villages along the way, including Mandello del Lario, Varenna and Bellano. Don't miss the hill of Montevecchia, with its sanctuary immersed in the park and criss-crossed by paths you can travel on foot, by horse or by mountain bike.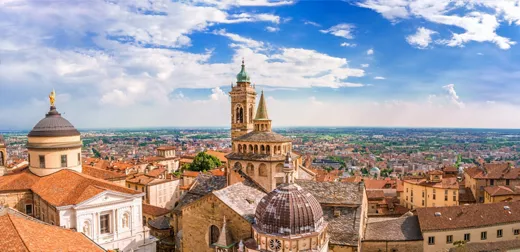 A medieval heart and a contemporary soul, Bergamo is a jewel set within ancient World Heritage walls Bergamo is one of a kind. It is characterised by an older part located on hills, rich in medieval remains, and a modern part at its foot, born and raised with industrial expansion. Two souls and one heart. Ideal for a holiday of exploration, it promises a conquest at every step.
From the lake to the mountains, among history, culture and natural paradises From mountains, lakes, forests and panoramic trains, to villages, castles and the refined wine cellars of Franciacorta: the province of Brescia, the largest province in Lombardy, boasts an extremely varied territory, which stretches from Bassa Bresciana to Val Camonica. Here, visitors can enjoy a rich variety of experiences. Do you love nature walks, water sports or cycling? Between Lake Garda and Lake Iseo, you will be spoilt for choice, with cycle paths suitable for all proficiency levels and the scenic "Treno dei Sapori" (Flavour Train), aboard which you can discover typical local products. History buffs can travel back in time to the Middle Ages by visiting Brescia Castle or discover the fascinating Camuni civilisation the Naquane National Park of Rock Engravings in Capo di Ponte. We also recommend visiting the Villa Romana in Desenzano del Garda and the historic town centre of Sirmione. If you are looking for family-friendly activities, don't miss the Forest of Gnomes in Zone, where you will encounter gnomes, dragons and other magical creatures. Visitors who want to indulge in a little relaxation are sure to love the thermal baths of Boario and the healing water of Sirmione. Skiing enthusiasts can choose between the Pontedilegno-Tonale Ski Area and the Borno Ski Area, between Val Camonica and Valle di Scalve.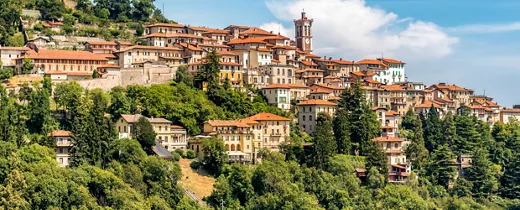 Strolling among lakes, noble residences and spiritual sites The province of Varese offers visitors a stunning array of artistic and natural beauties to explore — starting with its capital, a "garden city" set in a region rich in lakes set atop seven hills. You can visit the Palazzo Estense with its park, Villa Panza, Piazza del Podestà and the Basilica of San Vittore. Near the city are the 18th-century Villa Della Porta Bozzolo, the Valganna caves and the Sacro Monte di Varese, with its frescoed chapels and panoramic views over the valley. Overlooking Lake Maggiore is the hermitage of Santa Caterina del Sasso. Or another way to admire the lake from above is to visit the Rocca di Angera castle, which houses the Museo della Bambola, or to take the cable car to the summit of Sasso Ferro from Laveno Mombello, a delightful lakeside village. For an immersive experience in nature, you can take a dip in Lake Monate, cycle along the Comabbio lakeside path, or go trekking or mountain biking along the 150 km of trails in the Cinque Vette Park. Not far from Malpensa is Volandia, a museum dedicated to flight.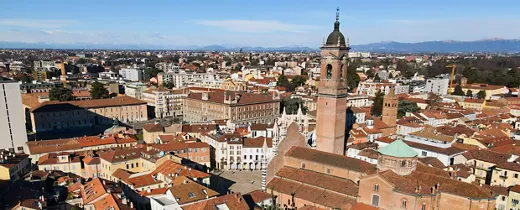 A city symbolising power and royalty in Lombardy Monza is undoubtedly one of the most renowned urban centres in Lombardy. Rich in history, its origins date back to the Iron Age. You will be enchanted by the beautiful black and white façade of Monza Cathedral, the 6th-century Basilica of St John the Baptist. Inside, you will find the Chapel of Queen Theodolinda, a masterpiece of Gothic art, which houses the Iron Crown, the most famous example of Lombard goldsmithing. An air of royalty permeates Monza. The Royal Villa, or Reggia di Monza, is a must-see. This huge, neoclassical building, the former residence of the Habsburgs, is surrounded by its enormous Park, one of the largest urban parks in Europe. Anyone with a passion for engines can visit the Monza Circuit, built in 1922 and still a go-to track for motorbike sports. Walking through the streets of the centre, you will come across the Arengario, an ancient, 13th-century municipal palace. As you continue along the Lambro river, you will discover the many bridges that cross it, starting with the most famous, the Ponte dei Leoni. You can treat yourself to a bite to eat at one of the typical trattorias. We recommend trying the risotto with Luganega, a sausage typical of Monza.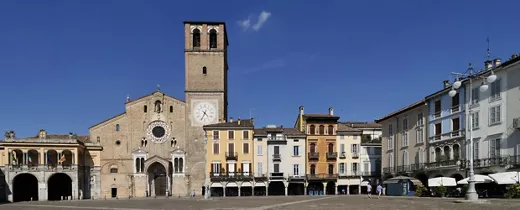 History and tradition in the Po Valley Lodi is among the richest cities in history in the Po Valley. Founded in 1158 by Frederick Barbarossa, its origins are even older. As you walk through the streets of the historic centre, make sure to stop by monuments such as the Lodi Cathedral of Santa Maria Assunta, the Tempio dell'Incoronata and Palazzo Mozzanica, one of the best examples of Lombard Renaissance architecture. You can stop for a coffee or an aperitif at Piazza della Vittoria, with arcades on all four sides. Slightly further away from the city, you can visit Lodi Vecchio, the ancient Laus Pompeia, a city founded by the Romans that originated as an earlier village of Celtic origin. From Piazza Santa Maria, you can see the ruins of the ancient cathedral. If you love nature, we recommend visiting the Paradiso Fish Park to see fish in their natural habitat, thanks to the underwater observatory. As well as a thousand-year-old history, Lodi also has its own fantastic culinary tradition. The undisputed star is Granone Lodigiano cheese, considered the predecessor of all Grana cheeses, but Lodigiano salami and Raspadura cheese are also worth trying.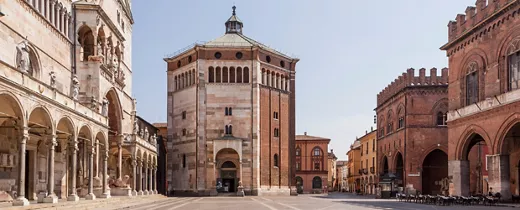 The home of the violin, among thriving plains and protected green areas The province of Cremona boasts many protected green areas, including regional parks and nature reserves. However, visitors flock to the area not only for these natural paradises, such as the Oglio and Serio Regional Parks, but also for its elegant cities, like Cremona and Crema. Your first stop when visiting the provincial capital should undoubtedly be the Torrazzo bell tower, which stands beside Cremona Cathedral. At 112 metres high, it is among the tallest bell towers in Europe. You can visit this undisputed icon of the city by climbing no fewer than 502 steps, but the views you will enjoy from the top make it worth the effort. Cremona is also considered the home of violins ⁠— we recommend visiting the Violin Museum, a stone's throw from the beautiful Piazza del Comune. The historic centre of Crema, within the Serio Park, is easily accessible by foot. Be sure not to miss the Sanctuary of Santa Maria della Croce, the former Convent of Sant'Agostino, which now houses the Civic Museum of Crema and the central Piazza del Duomo.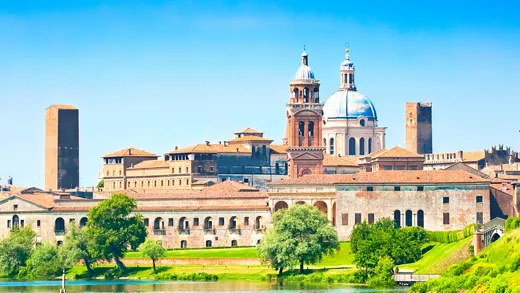 One of Italy's major art cities, Mantua is surrounded by water and marked by a prestigious history. Mantova is a gem of Italian art and architecture which beautifies Lombardy as a region. Built around three lakes supplied by the Mincio river, it is the city of Virgil and the Gonzagas characterised by an overwhelming charm and aiming straight at the heart of the visitors who will never forget it.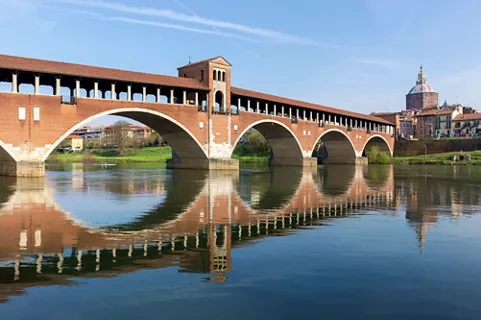 Falling in love with Pavia: the rice capital of Italy and home to Einstein A rich historical and artistic heritage, an enviable food and wine tradition, and countless fascinating sites make Pavia surprisingly unique and perfect for a tailor-made holiday. The Charterhouse, a jewel of the Renaissance The best place to start is the Charterhouse of Pavia, a monumental complex eight kilometres away from the city centre. Commissioned as a family chapel and mausoleum by Gian Galeazzo Visconti in the 15th century, it was entrusted to the Carthusian monks, before passing to the Cistercians and the Benedictines of Pavia. But, though his ashes were taken there, its patron never saw the end of its construction, which was continued by Francesco Sforza and Ludovico il Moro. Housing works by Perugino, Pinturicchio and Guercino, the interior flaunts a Gothic style, modelled on the Milan Cathedral, while the façade is overtly Renaissance. The Visconti Castle, a symbol of power More than a castle, this building is a symbol of wealth and power dating back to 1360. It is surrounded by a beautiful park, which you can only see part of today, connecting it to the Charterhouse of Pavia. Significant historical events it bore witness to include the marriage of Ludovico il Moro to Beatrice d'Este. Although today part of the castle has been destroyed, the interior still hosts the Civic Museums and the Malaspina civic art gallery, with masterpieces such as Antonello da Messina's Portrait of a Man. The Church of San Pietro in Ciel d'Oro and the Ponte Coperto The Church of San Pietro in Ciel d'Oro is definitely worth a visit. It is the resting place of two Church Fathers: St Augustine, who lies in a magnificent tomb, and Severinus Boethius, philosopher and martyr. The Longobard-style church was rebuilt in the Romanesque style and is considered one of the most important religious building in the city together with the Basilica of San Michele Maggiore. Also well worth a visit is the Ponte Coperto, the iconic covered bridge of Pavia that crosses the Ticino river. This bridge connects the historic centre with Borgo Ticino, originally located outside the city walls, and the Palazzo Broletto, a 12th-century building with a striking porticoed inner courtyard, the heart of institutional life in times gone by. Keen eyes can also spot a plaque dedicated to the 50th anniversary of the death of Albert Einstein, who lived here for some time. Albert Einstein It's true! Einstein's parents moved to Pavia in 1894, to Palazzo Cornazzani to be precise, the former home of Ugo Foscolo, and Albert himself also lived here for a while. The theatre that hosted Gassman and Fo The 18th-century Teatro Fraschini theatre is a true masterpiece that has seen renowned actors such as Vittorio Gassman and Dario Fo grace its stage. It has a typical horseshoe shape, with a series of box seats and an entirely painted wooden ceiling. Pavia and its passion for heels In nearby Vigevano is the International Footwear Museum, which exhibits all kinds of shoes from the historical to the super fashionable and even recent models. You can even find the historic slipper "la pianella di Beatrice d'Este" strutting side by side with the best of Manolo Blahnik! Rice: an icon Pavia has around 80 thousand hectares of paddy fields. We are talking about the largest area of rice cultivation in Italy, and you can enjoy a walk or cycle on paths alongside the paddies.
What to see in Lombardy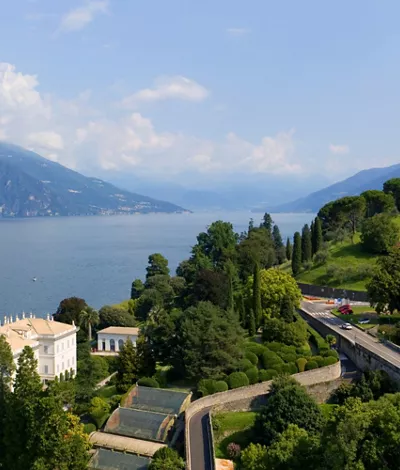 Burning sunsets, castles and rock-cut gorges. A painting? No, Lombardy to be toured by bicycle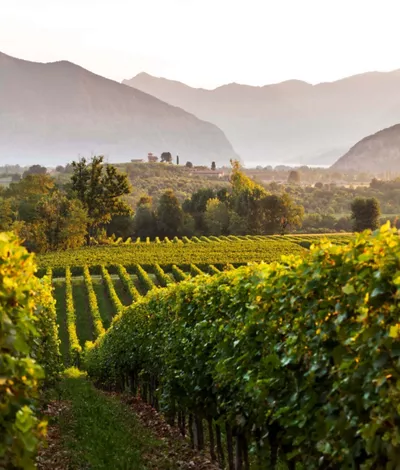 5 delicacies from Lombardy: a land to savour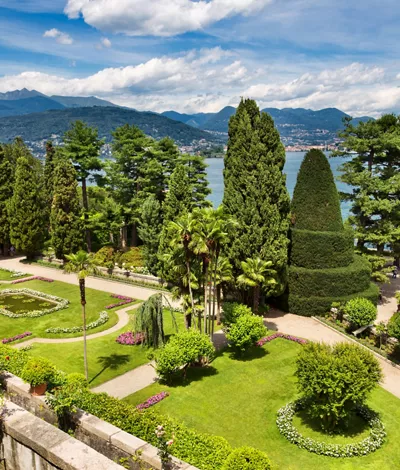 Lake Maggiore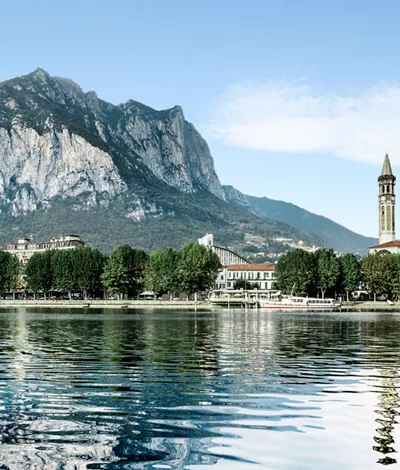 7 cities of art to visit a short distance from Milan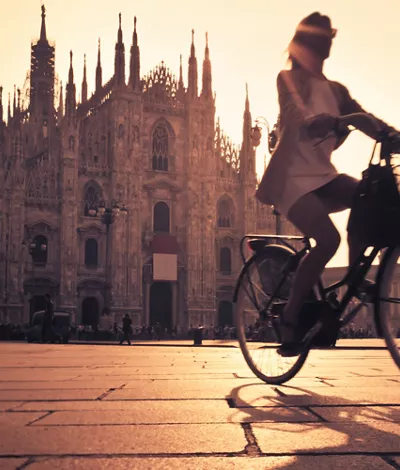 Milan: cycling along the Navigli with Leonardo da Vinci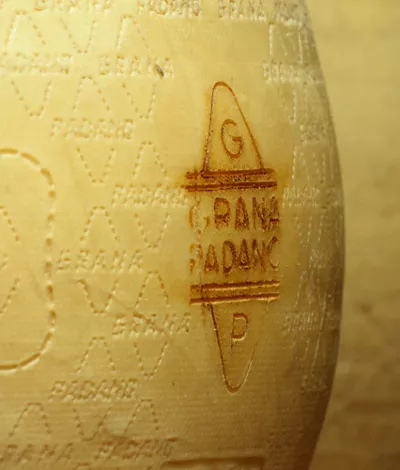 Gastronomic tourism: a tour to discover the cheeses of Lombardy
Mantua, an aristocratic city steeped in art and history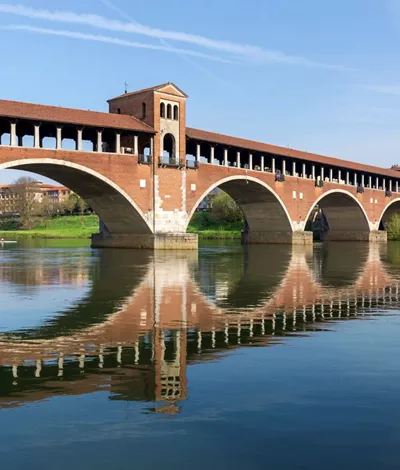 Milan: much more than the world's fashion capital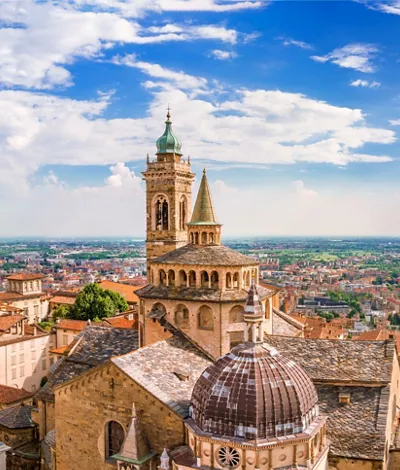 Bergamo, medieval heart, contemporary soul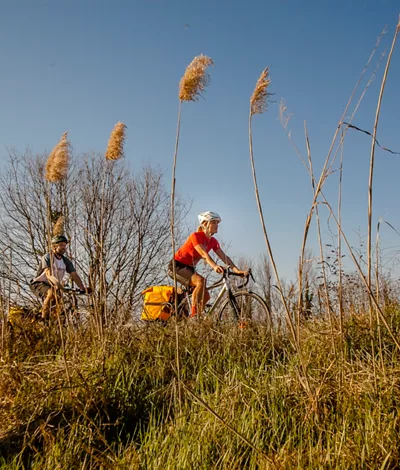 Cycling around cities of art and historic villages in Lombardy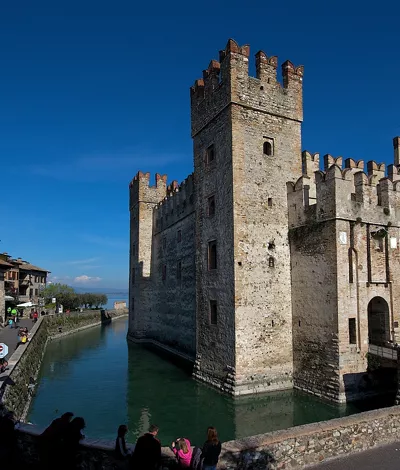 Lake Garda, for a magical weekend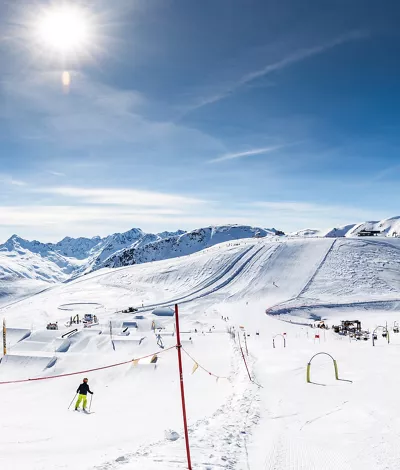 Valtellina: nuances of snow and taste for everyone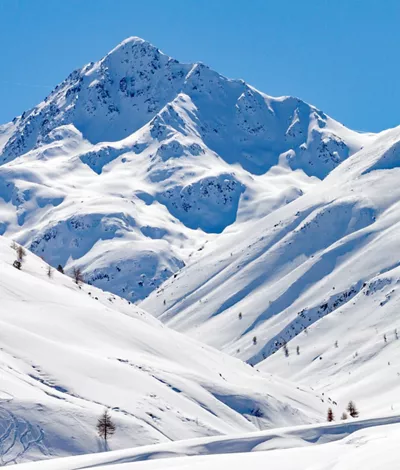 Livigno, Bormio and the Valtelline Valley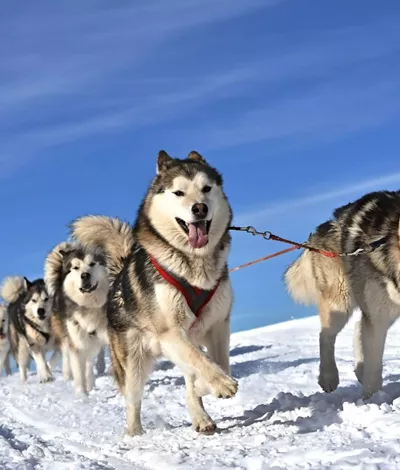 Arnoga: on skis or a husky sled?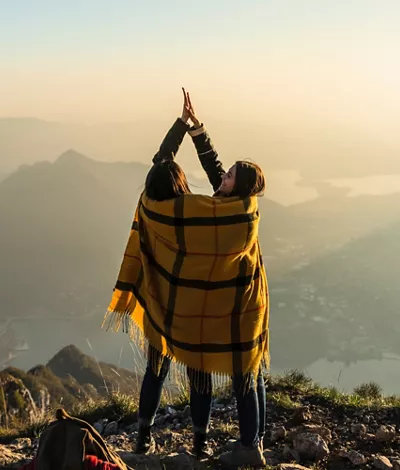 8 things to do to experience the beauty of the Bergamo Alps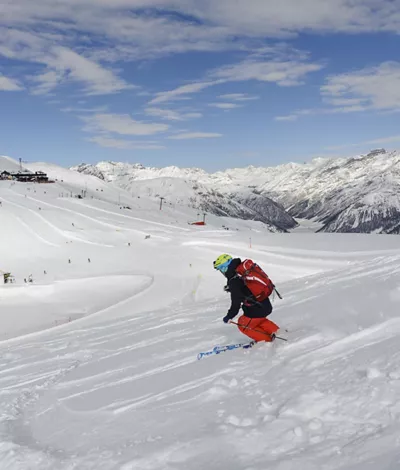 Livigno, a snow and duty-free paradise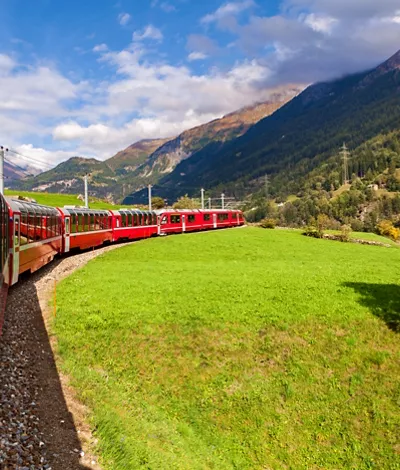 Rhaetian Railway, the engineering masterpiece crossing part of the Alps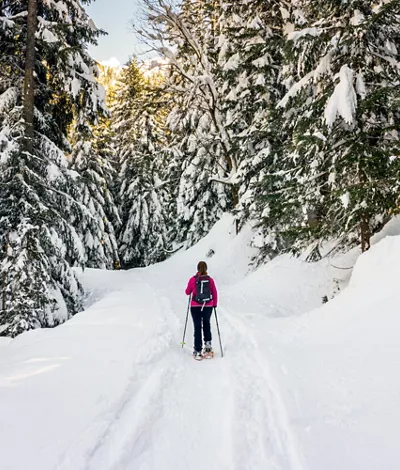 The 5 best snowshoe hikes in Lombardy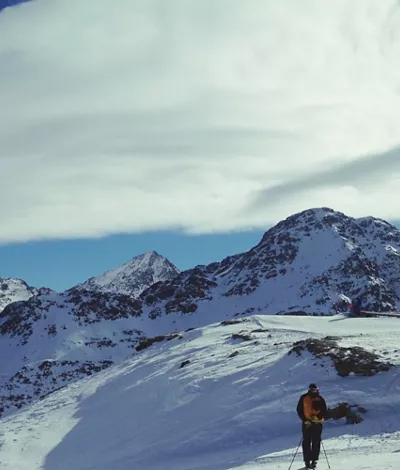 The 5 favourite destinations for the Milanese to ski near Milan
Santa Caterina Valfurva, on the Compagnoni piste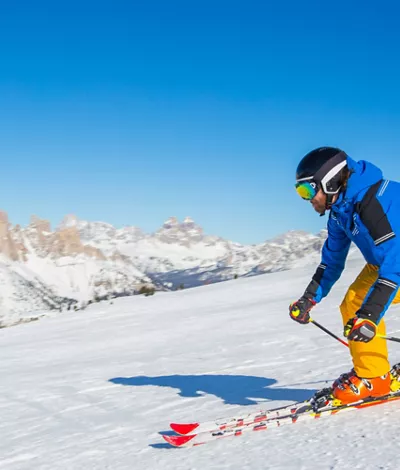 Milan-Cortina 2026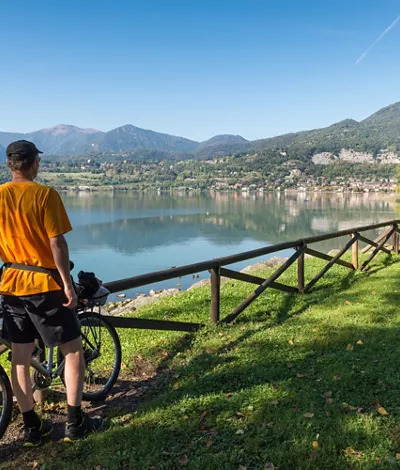 10 easy cycling routes in Lombardy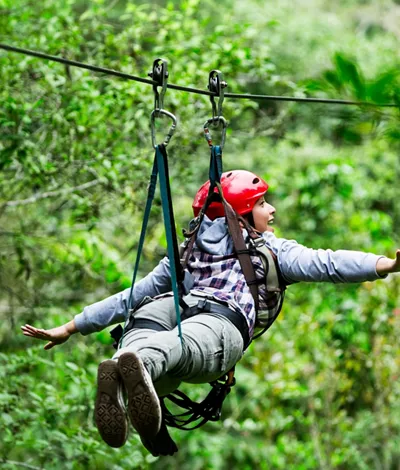 Lombardy, the Valtelline: Fly Emotion's panoramic Aerofune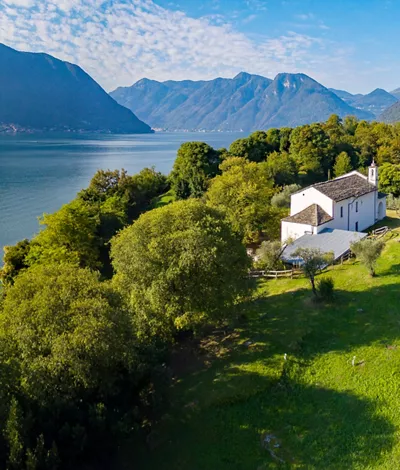 The Sacri Monti of Piedmont and Lombardy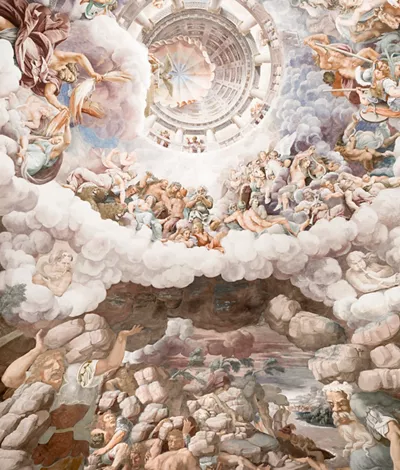 Lombardy: 10 treasures you may wish to explore in the city of Milan and its surrounding areas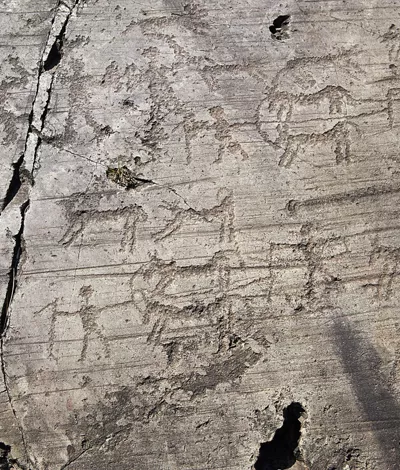 Valcamonica: history spanning over 8,000 years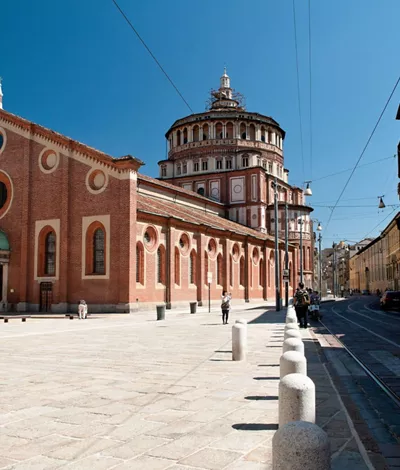 Santa Maria delle Grazie and Leonardo's Last Supper, for a touch of the true Renaissance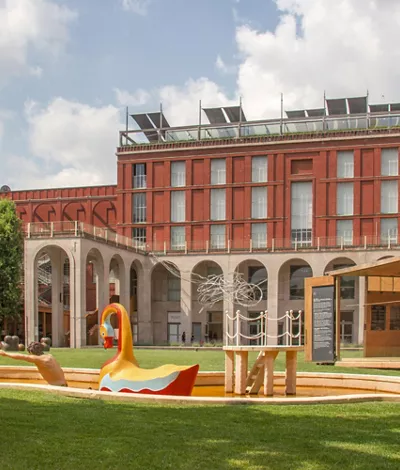 In Milan, art and design meet at the Triennale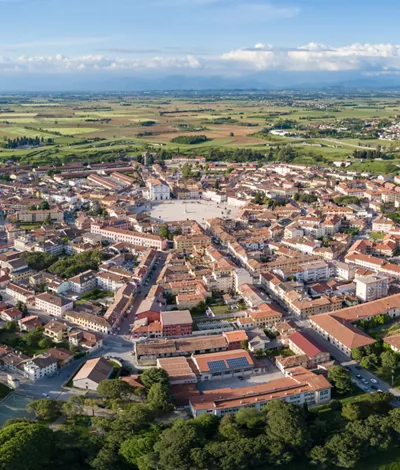 The Venetian Works of Defence: outposts of the Republic of Venice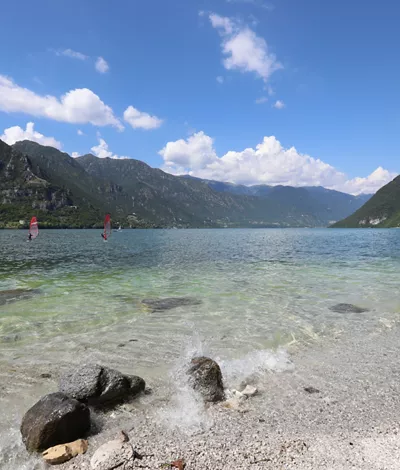 Lombardy: 5 unforgettable lakes for a day of total relaxation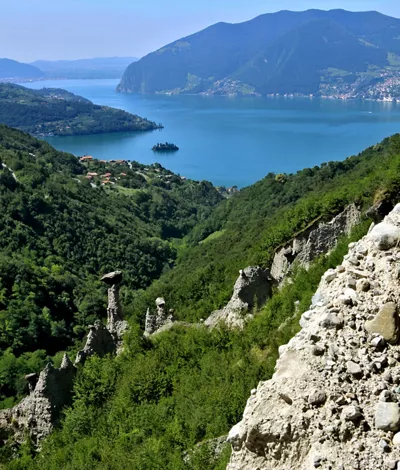 Lombardy with children, 6 unmissable adventures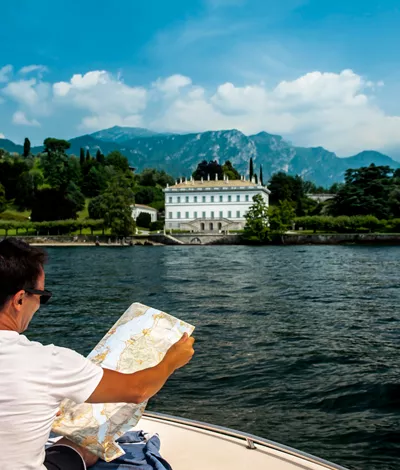 A trip to Lombardy: 5 places surrounded by nature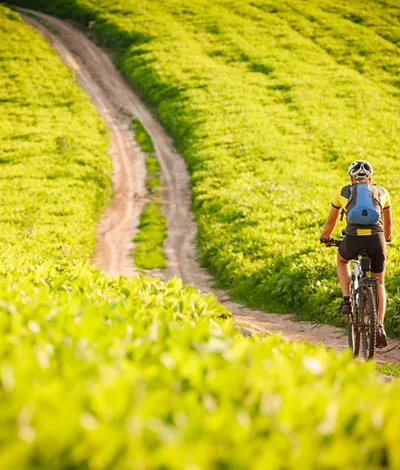 Bike and bubbles: discovering the nature of Lombardy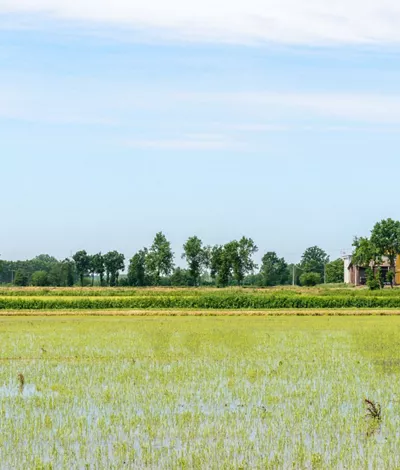 The Ticino Park: rice paddies and nature reserves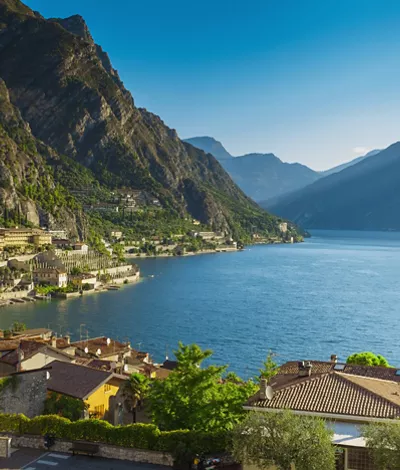 The charm of Spring on the Great Lakes of Northern Italy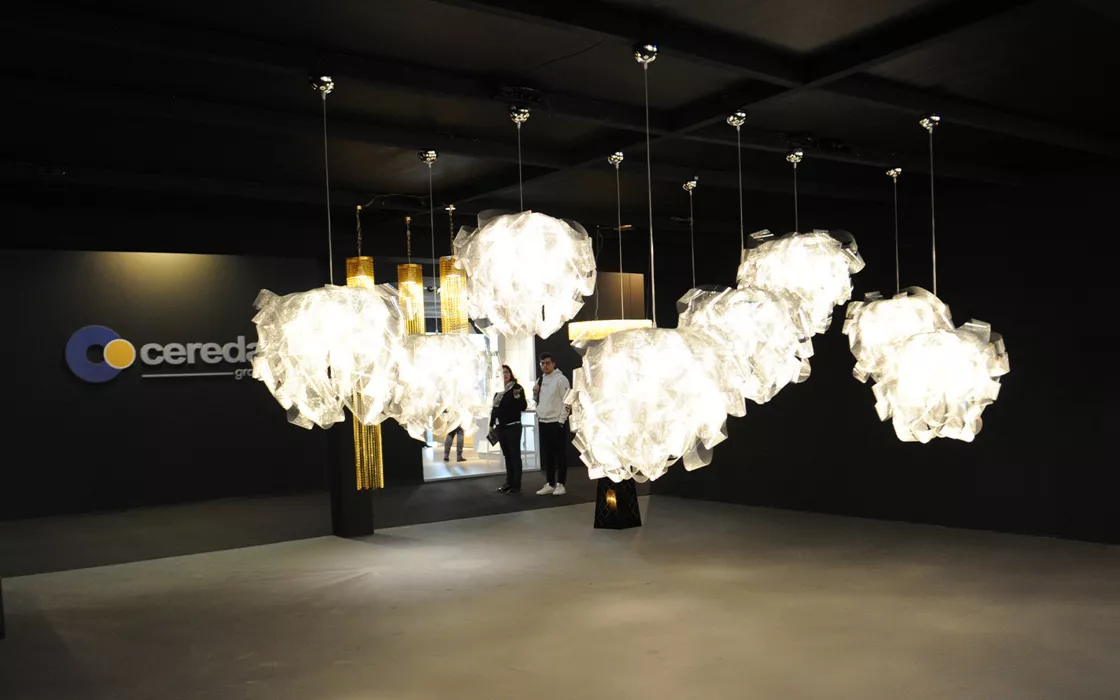 The great "Made in Italy" showcase at the Salone del Mobile in Bergamo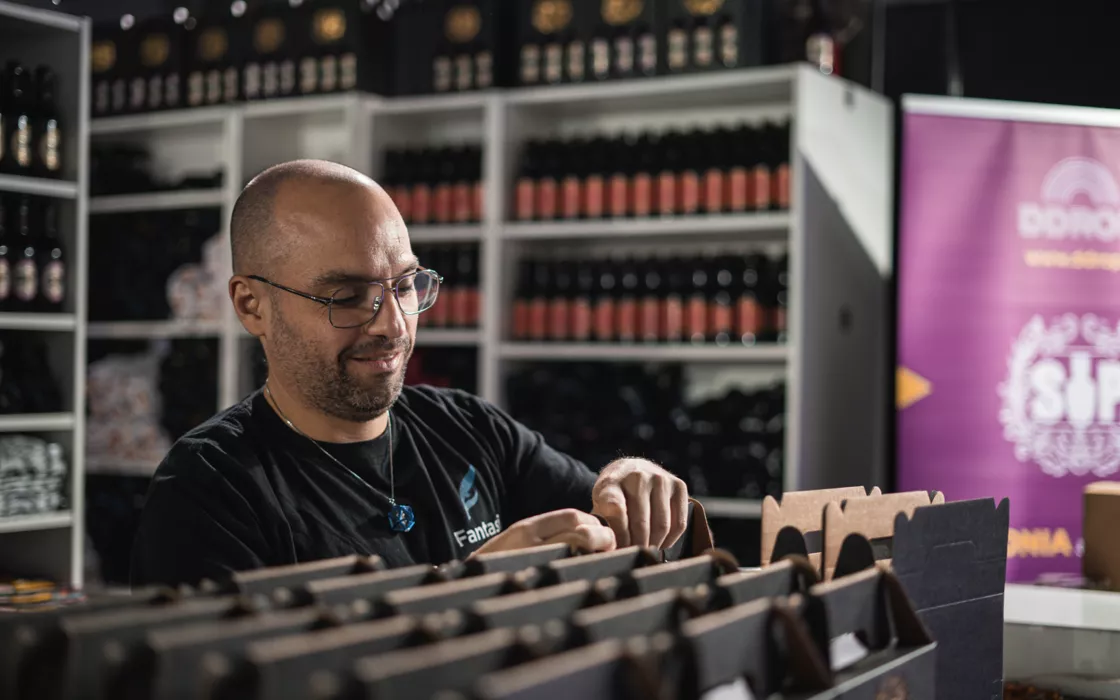 Milan Games Week e Cartoomics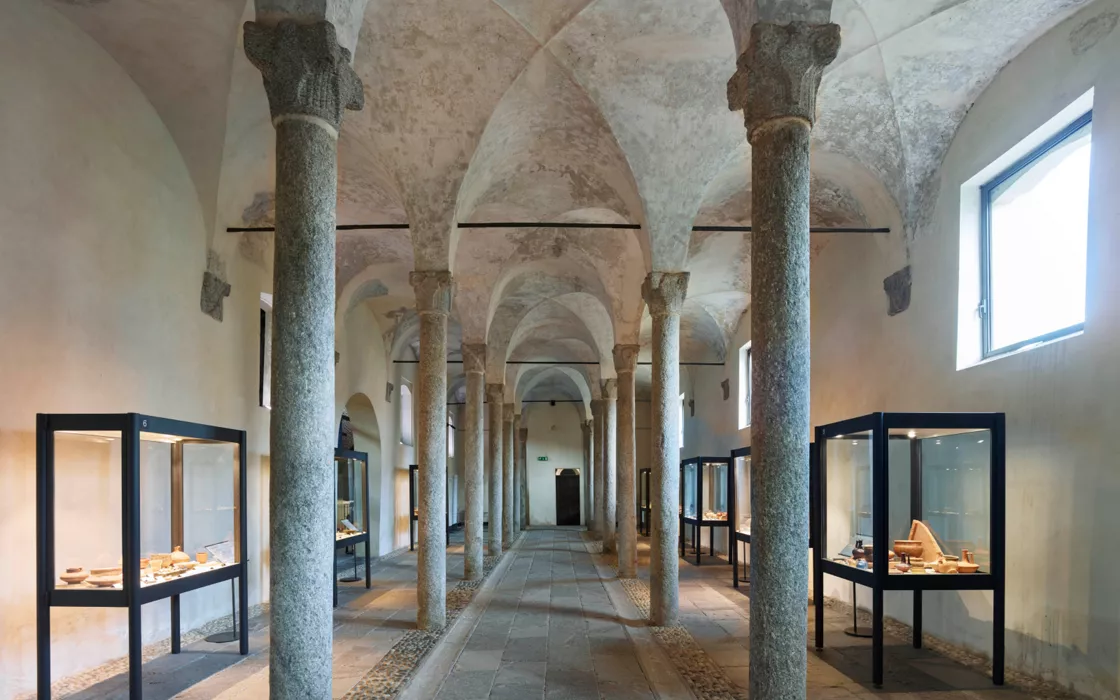 The Strada Collection in Vigevano: almost 30 centuries of history in over 260 exhibits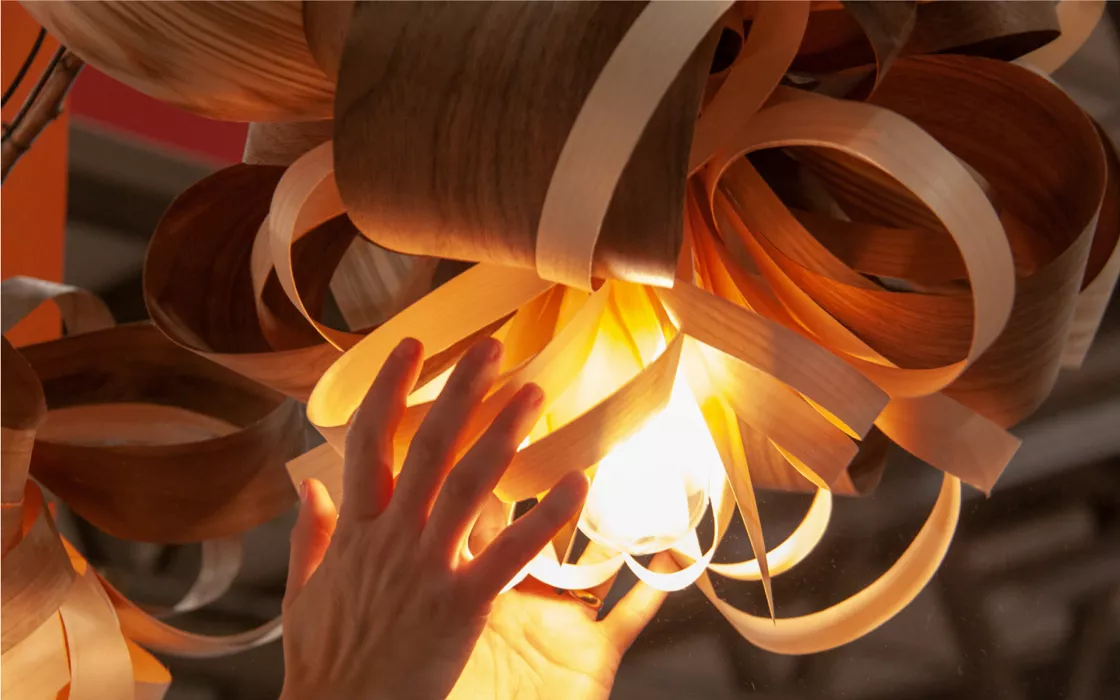 Artigiano in Fiera 2023

Inspiration for living the Italian way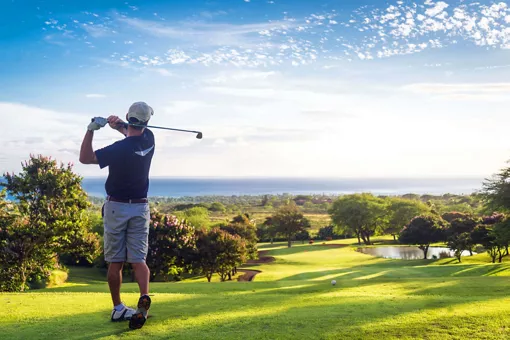 The most scenic golf courses in Italy

Zip lining, an adrenaline-filled flight surrounded by nature

Smart working immersed in a natural environment: at a camping village or on a sailing boat, supporting a sustainable world

6 unmissable destinations in Italy featured in famous novels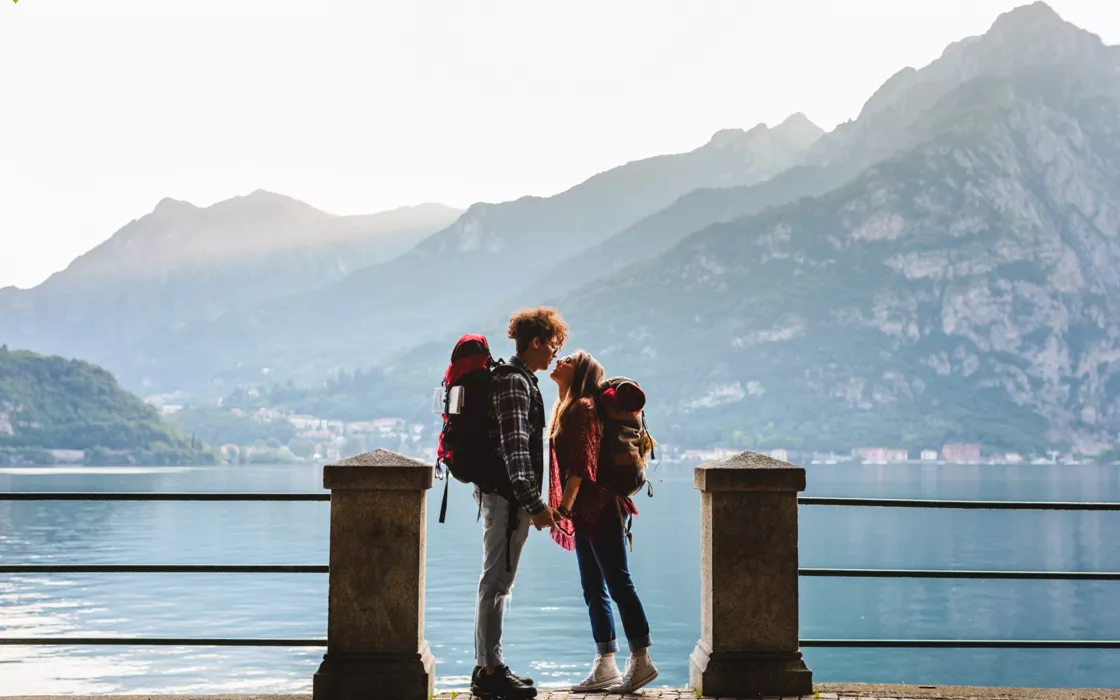 In Lecco, for a romantic itinerary in the footsteps of the Bride and Groom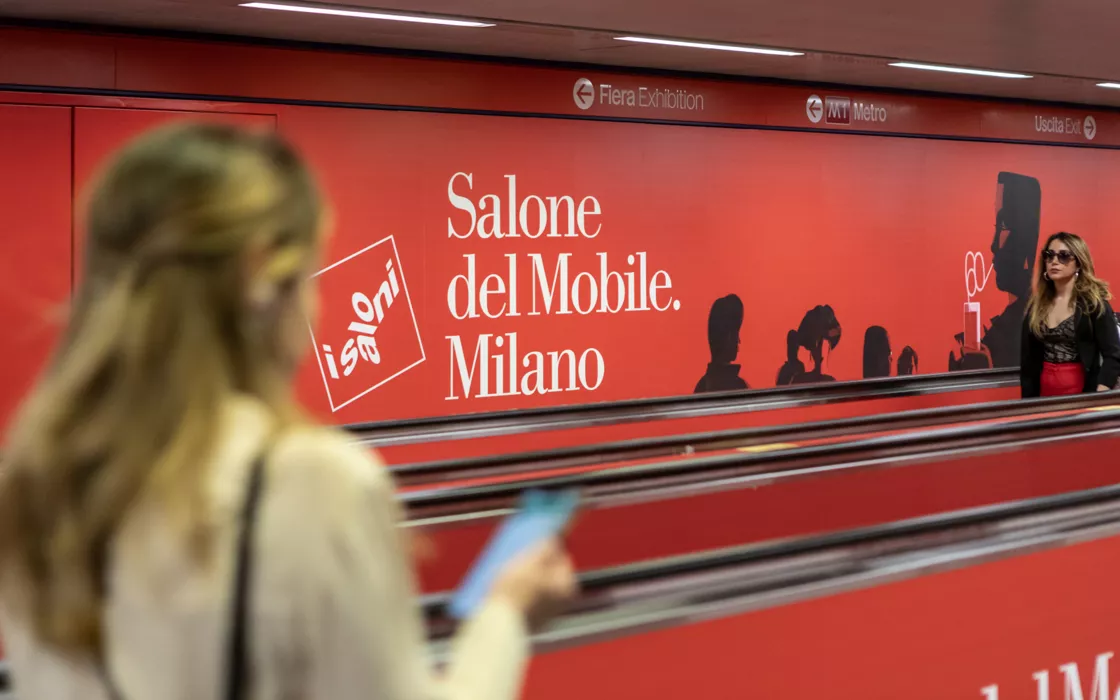 Salone del Mobile in Milan: the districts and events not to be missed at Fuorisalone 2023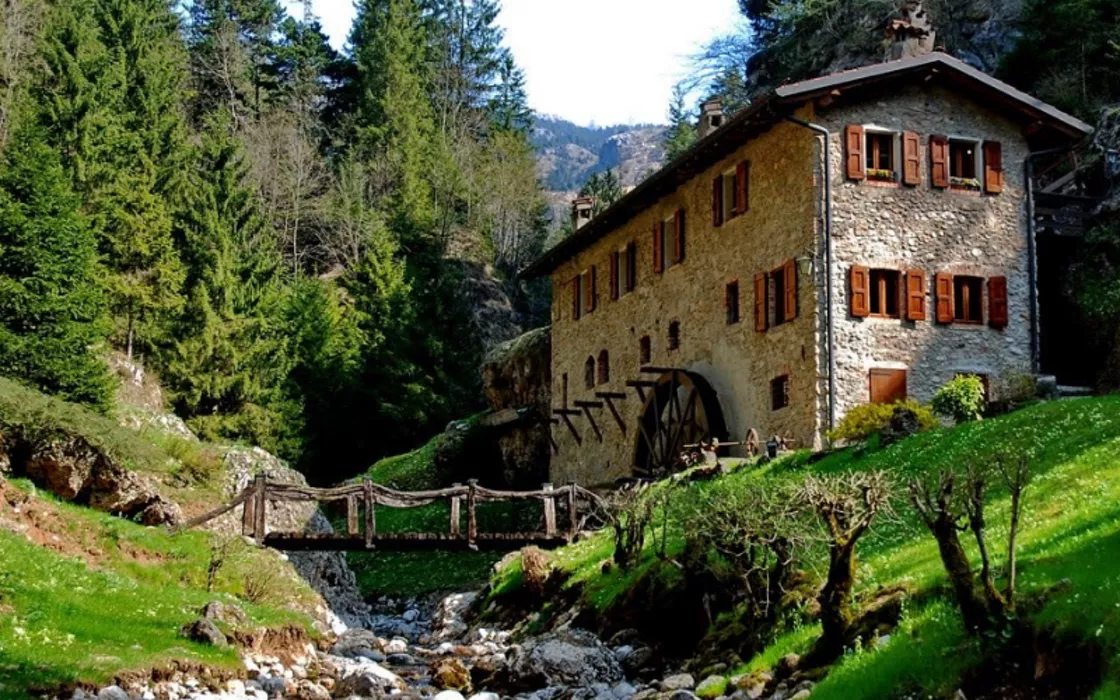 Between past and present: a tour of Bergamo and Brescia's mills

The engine of Italy and a region of culture and charm
Lombardy: a dynamic land immersed in the present and reaching toward the future, but with an extraordinary heritage of art and nature. Lombardy is a region in the north of Italy known for its industry and finance, of course, but also for its art and extraordinary landscapes, starting with the picturesque lakes and its mountains, Valcamonica and Valtellina in primis. Capital and symbolic city, Milan represents the industrious heart that goes hand in hand with other cities with a vibrant spirit.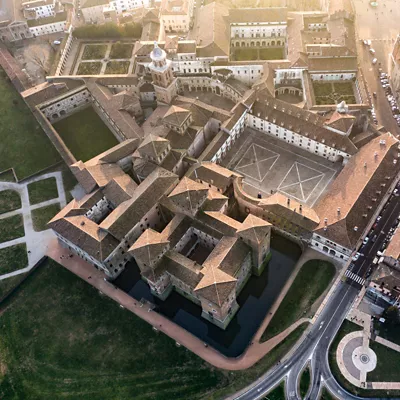 All you need to know
How to get there, how to get around, sustainable mobility, accessibility and inclusivity.
Continue living like an Italian
Subscribe to the Newsletter so as not to miss places, events and experiences for experiencing the best side of Italy: the authentic one.
Keep up to date
Would you like to learn about the most authentic experiences to be had in Italy, stay up to date on the most interesting events, discover our special offers and receive lots of insider hints and tips?
Save your favorite places
Create an account or log in to save your wishlist
Do you already have an account? Sign in
You have selected
Belgioioso castle.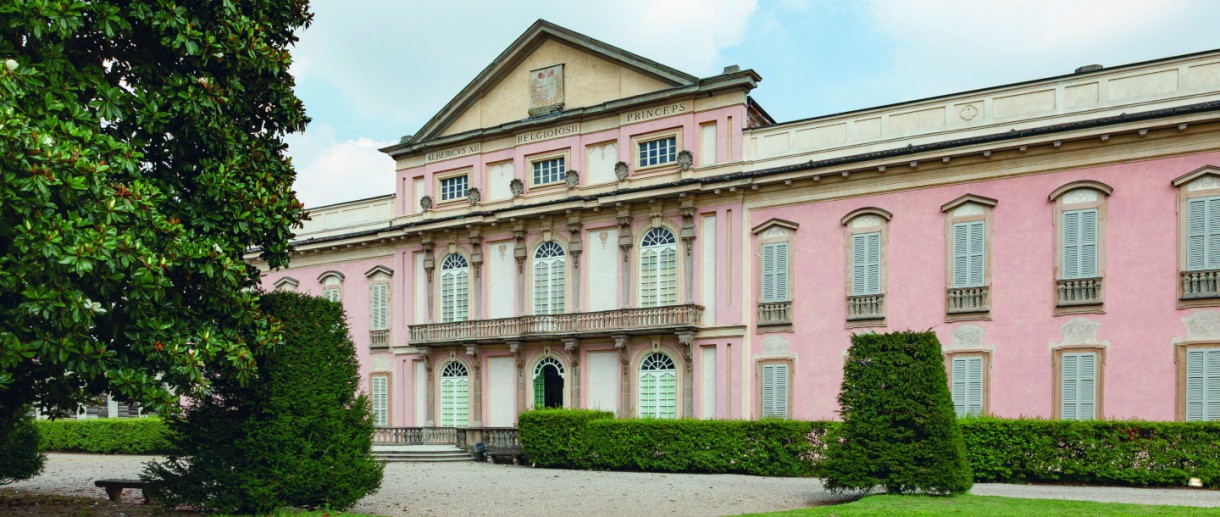 Parco al Po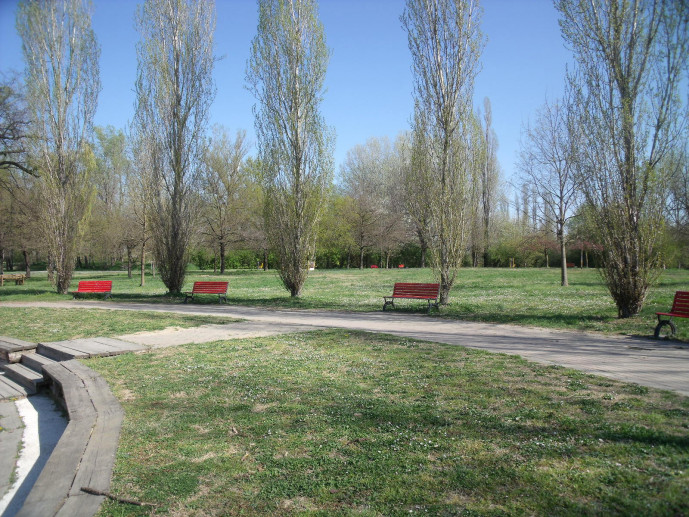 From Varese to Campo dei Fiori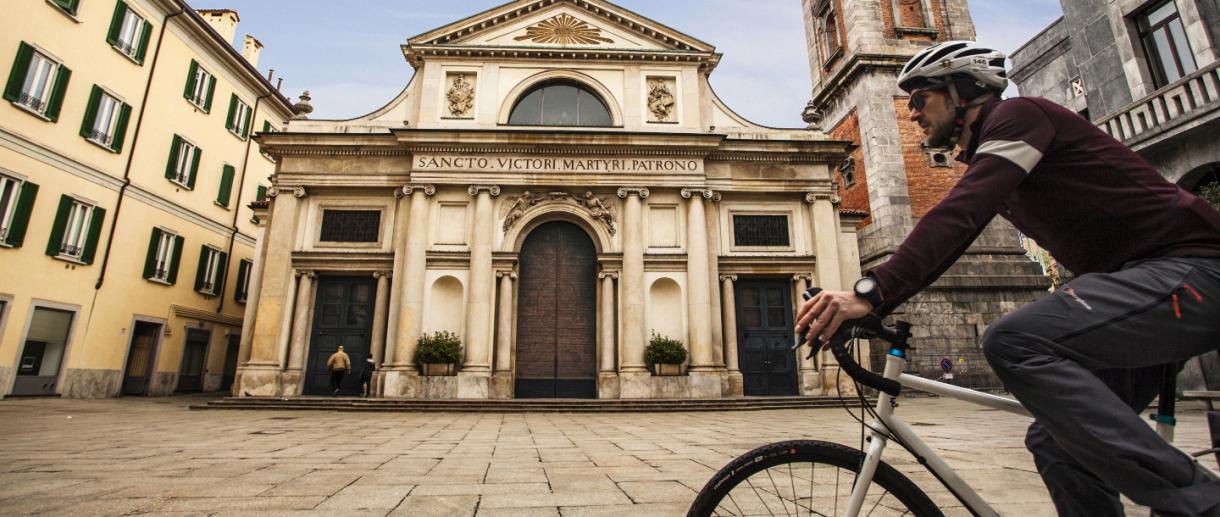 Roman Basilica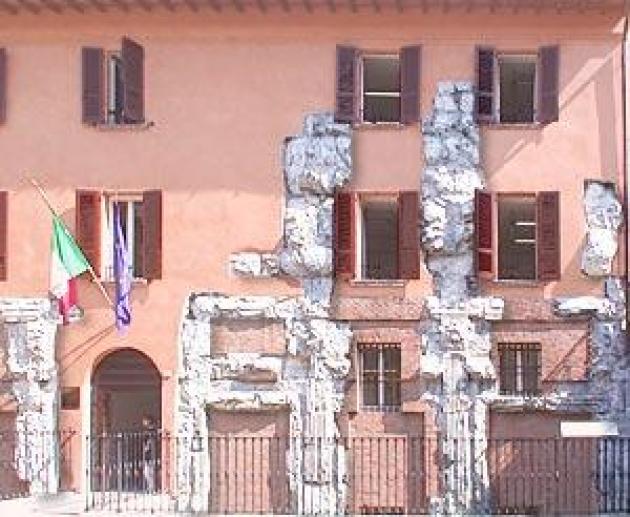 Church of Sant'Eustorgio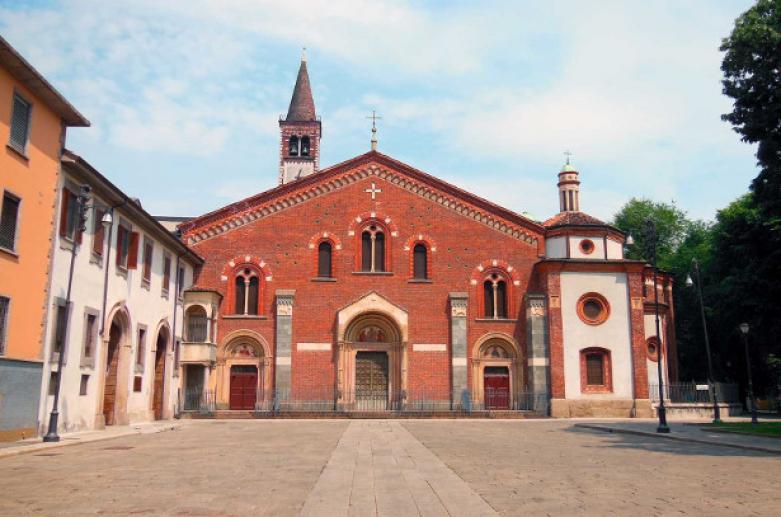 CASTELLO DI POZZOLENGO
Castellaro lagusello.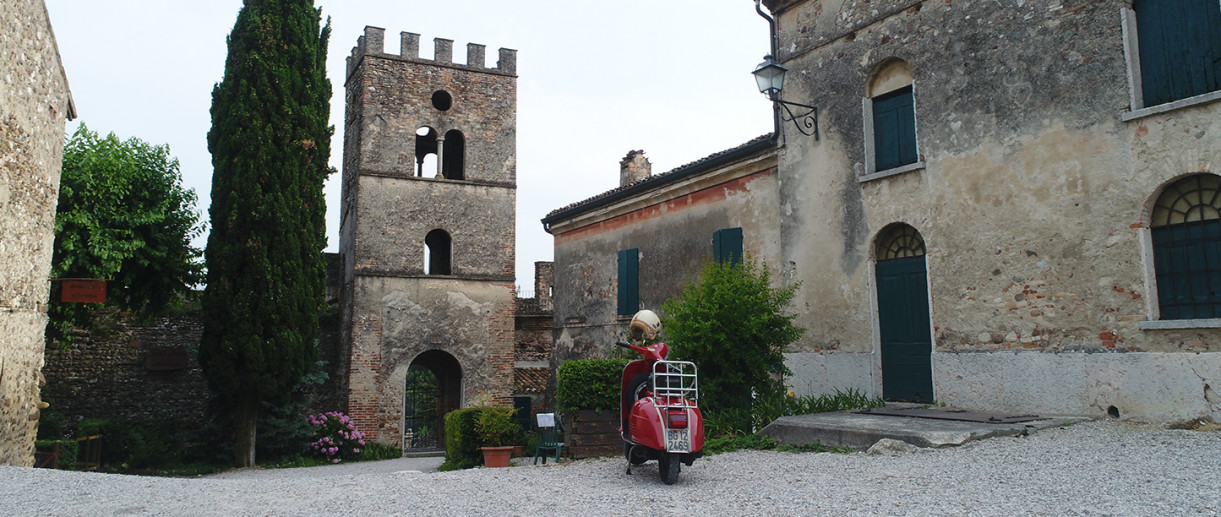 Palazzo San Filippo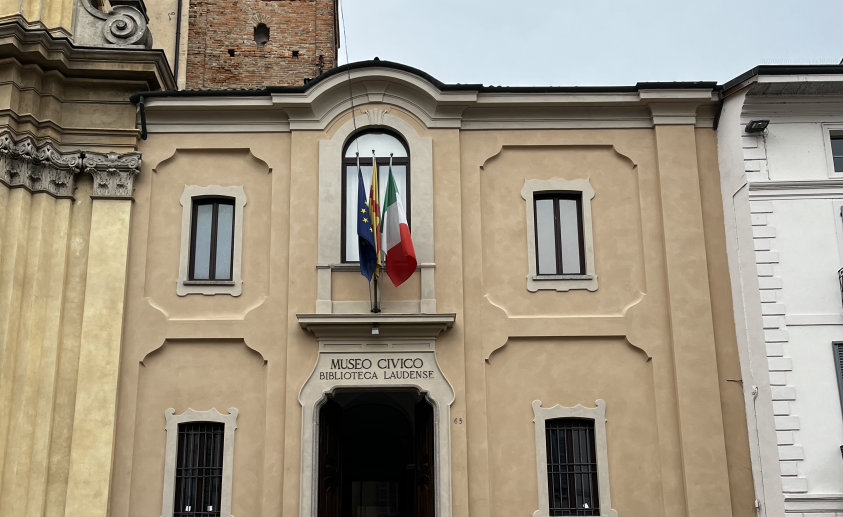 Choose Your Art City
LAKE ISEO and FRANCIACORTA
LAKE MAGGIORE
VALLE CAMONICA
Experiences
Active & Green
Art & Culture
Bicycle Touring
Food & Wine
Turismo Accessibile
Find your experiences
Lake Iseo & Franciacorta
Lago Maggiore
Valle Camonica
Search your event
Festa del torrone.
Sloweekend 2023
BookCity 2023
Festival dei Laghi Lombardi 2023
Una città per Manzoni
Itineraries
Mountain bike
Motorcycling
Snow Shoeing
Find your itineraries
General info
Organise your trip
Subscribe to the newsletter #inlombardia, fill out the form below and subscribe to our newsletter to be informed about news, events, and happenings in lombardy., live your experience #inlombardia, select your destination, select your destination #inlombardia, enter a destination. discover attractions, events, experiences and services to organise your trip #inlombardia., log in to your reserved area.
Register as an operator
to upload your tourist offers and discover B2B opportunities
Discover the new functions in the " plan " area
The PLAN area has been improved and new services have been added. Now you can consult travel options for air and rail tickets and purchase them on in-lombardia.it in collaboration with our trade partners.
The Top Things to Do and See in Lombardy, Italy

Surrounded by the rising foothills of the Alps, Lombardy is a region rich in culture, cuisine and castles. Famed for the Duomo of Milan , Lake Como and the Livigno ski resort, this enclave of northern Italy rarely fails to impress – whatever the season. Once you've gotten over the jaw-dropping views of the Alps, you'll realise that the Lombardy region has much more than just spectacular scenery to offer. The region stretches from the industrial wealth in Milan (home to Leonardo da Vinci's The Last Supper ) and northern glassy blue lakes to the historical town of Mantua. Here's our pick of the best things to do when you're there.
View all trips, admire the view from scaligero castle.
Historical Landmark

Since it was built in the 14th century, Scaligero Castle has been used as an armoury, military barracks, a police station and even a jail. It's now a museum but remains one of Italy's most well preserved castles. Walk around the moat, stroll over the drawbridge and explore its impressive towers. From the ground, the castle looks as though it's floating on Lake Garda , but if you climb the 146 steps to the ramparts, the harbour view is equally divine.

Discover the birthplace of the violin at the Museo del Violino
Northern Italy was the birthplace of the violin in the early 16th century, and Cremona boasts many of its finest makers. Trace the history of the instrument at the Museo del Violino, where you can see violins crafted by Stradivari. Breathe in the scent of the resin and wood as you learn how they are made. Then, if you're brave enough, try playing one. You can also experience how it feels to be part of the orchestra in the immersive audio room.
Go skiing in Livigno
Architectural Landmark

Take in the beauty of the valley as you whizz down the mountains in Livigno . The resort is a winter paradise and caters to skiers of all abilities. Try your hand at skiing and snowboarding or try something different – like Nordic skiing and tobogganing. Experienced skiers can climb aboard a helicopter to try heli skiing from one of the nearby mountaintops, before schussing down to the lively après-ski bars in town.
Become a Culture Tripper!
Sign up to our newsletter to save up to 800$ on our unique trips..
See privacy policy .
Take a boat trip on Lake Como
Natural Feature

With the likes of George Clooney extolling its virtues, expectations of Lake Como are high. Set in the foothills of the Alps, the inverted Y-shaped lake does not disappoint. It's the third largest of the Italian lakes, with its crystal-clear waters shimmering against the backdrop of mountains and charming villages that make it a firm favourite for travellers. For a different view of the area, jump aboard one of the many boat trips on offer.
Sip wine at Ca' Del Bosco
Once a small house in the forest, where a vineyard was planted in the 1960s, Ca' Del Bosco is now one of the leading producers of Italian wine. Take a cellar tour where you can wander around the lush vineyards and see how the wine is produced before sampling some for yourself. The Annamaria Clementi sparkling wine, named after the founder's mother, is definitely the pick of the bunch.
Eat tortelli di zucca in Mantua
Experience the authentic taste of the city of Mantua when you dive into traditional dishes from the region at Osteria dell'Oca. The recipes have been handed down through the generations, and the tortelli di zucca (pumpkin ravioli ) is sublime. Expect some more unusual dishes, such as stewed donkey or boiled pike in a caper, anchovy and pepper sauce, but there are some veggie dishes, too. Save some room for the chocolate mousse, which is flavoured with Sambuca.
Trace millennia-old drawings at Val Camonica

Step back in time when you visit the Neolithic carvings in Val Camonica. The valley is home to around 300,000 carvings (or petroglyphs) that were carved in the rocks over several thousand years. These range from prehistoric carvings of geometric patterns and weapons right through to elaborate carvings of people or animals, such as deer, elks and dogs, dating back to the early Roman age. The alpine views from the valley are breathtaking, too.
Visit the Duomo of Milan
Building, Cathedral, Church

Explore the island of Monte Isola
Monte Isola, as the name would suggest to speakers of the Italian tongue, is a mountainous island located on Lake Iseo . It's the largest of its kind in Europe. Regular ferries are at hand to transport travellers from shoreside towns (like Iseo and Lovere) to the docks of the beautiful island. There are several paths leading up to the top of the peak that forms the island itself, where old monasteries and pine forests coalesce.
Marvel at Leonardo da Vinci's 'The Last Supper'

Luca Pinelli contributed additional reporting to this article.
Destinations Unlocked:
Looking for an expert's perspective.
CentralAmerica

Gorgeous Guatemala
1. guatemala.

Beachy Belize

Colonial Mexico
Back to map, southamerica.

Adventurous Ecuador

Ancient Peru

Seductive Southern Italy

Edinburgh And The Scottish Highlands By Train
2. scotland.

Complete Portugal By Train
3. portugal.

Soulful South Korea
1. south korea.

Thailand, Cambodia & Vietnam
2. thailand.

Secrets Of Sri Lanka By Train
3. sri lanka.

Epic Morocco

Ultimate Egypt

Immersive Kenya
Volcanic iceland epic trip, meet our local insider.
HOW LONG HAVE YOU BEEN A GUIDE?
What do you love about your job, it's the personal contact, the personal experiences. i love meeting people from all over the world... i really like getting to know everyone and feeling like i'm traveling with a group of friends., what destination is on your travel bucket-list, i have so many places on my list, but i would really lobe to go to africa. i consider myself an "adventure girl" and africa feels like the ultimate adventure.
Every CULTURE TRIP Small-group adventure is led by a Local Insider just like Hanna.
See Our Culture Trips

KEEN TO EXPLORE THE WORLD?
Connect with like-minded people on our premium trips curated by local insiders and with care for the world
Since you are here, we would like to share our vision for the future of travel - and the direction Culture Trip is moving in.
Culture Trip launched in 2011 with a simple yet passionate mission: to inspire people to go beyond their boundaries and experience what makes a place, its people and its culture special and meaningful — and this is still in our DNA today. We are proud that, for more than a decade, millions like you have trusted our award-winning recommendations by people who deeply understand what makes certain places and communities so special.
Increasingly we believe the world needs more meaningful, real-life connections between curious travellers keen to explore the world in a more responsible way. That is why we have intensively curated a collection of premium small-group trips as an invitation to meet and connect with new, like-minded people for once-in-a-lifetime experiences in three categories: Culture Trips, Rail Trips and Private Trips. Our Trips are suitable for both solo travelers, couples and friends who want to explore the world together.
Culture Trips are deeply immersive 5 to 16 days itineraries, that combine authentic local experiences, exciting activities and 4-5* accommodation to look forward to at the end of each day. Our Rail Trips are our most planet-friendly itineraries that invite you to take the scenic route, relax whilst getting under the skin of a destination. Our Private Trips are fully tailored itineraries, curated by our Travel Experts specifically for you, your friends or your family.
We know that many of you worry about the environmental impact of travel and are looking for ways of expanding horizons in ways that do minimal harm - and may even bring benefits. We are committed to go as far as possible in curating our trips with care for the planet. That is why all of our trips are flightless in destination, fully carbon offset - and we have ambitious plans to be net zero in the very near future.

See & Do
Why san ginesio is one of the best tourism villages in the world.

Guides & Tips
The best private trips to book with your girl friends.

The Best Group Trips to Take With Your Partner

The Most Amazing Markets in the World

Visit the Locations from Your Favourite TV Shows with Culture Trip

Your Guide to Travelling Italy by Train

The Best Trips and Tours in Italy

Top Tips for Travelling in Rome

Top Tips for Travelling in Italy

How Much Does a Trip to Italy Cost?

The Best Places to Travel in April 2024

The Best Places to Travel in July
Black Friday Offers on Our Trips
Incredible savings.
Post ID: 416725
Sponsored? No
View Payload

Touropia Travel Experts
Tours & Top Tens
14 Best Places to Visit in Lombardy, Italy
Last updated on November 3, 2023 by Alex Schultz - Leave a Comment
Nestled up against the Alps in the very north of the country, Lombardia is most known for its spectacular lakes. Hemmed in by majestic mountains, they make for a stunning sight what with all the colourful towns hugging their shores.
While Milan and its many lovely lakes dominate most visitors' itineraries, Lombardy has much, much more to see and do. Asides from sizeable cities like Brescia and Bergamo, the region has plenty of amazing medieval towns and villages to explore. Dotted about amidst its picture-perfect countryside, they are generally less touristy and well-known than those found in Tuscany and Veneto.
It also boasts a whole host of artistic and architectural gems of which Milan's Duomo, and da Vinci's Last Supper are definitely the pick of the lot. With fine local foods and sparkling wines to sample, Lombardy is one of Italy's most rewarding regions to travel around.
In this post, we'll cover:
14. Lake Iseo
Lying in between both Brescia and Bergamo is the magnificent Lake Iseo. Far less crowded than those of Garda, Como and Maggiore, it is surrounded by lush green mountains and medieval towns.
The fourth largest lake in Lombardy, its crystal clear waters are fed by the Oglio River. All along its scenic shores are cute historic towns, tucked away at the foot of rolling hills and forests.
Of these, Sarnico and Monte Isola are arguably the most beautiful thanks to their pretty centres full of charming churches and colourful townhouses. The latter is also set in a idyllic spot, on the lake's largest island overlooked by a mighty mountain.
You can also hike and drive around the whole lake or take boat trips out to see some other isles. Due to its authentic look, feel and untouched nature, we almost preferred Iseo to the region's other incredible lakes.
13. Soncino
For those interested in history, the small, medieval town of Soncino is certain to be a very pleasant surprise. Almost like an open-air museum, its centuries-old castle and churches lie just over an hour's drive directly east of Milan.
Dominating and defining the small settlement is the enormous old Rocca Sforzesca which was built back in the 1470s. One of the best examples of military architecture in all Lombardy, the tall, sturdy towers of the fortress, its moat and ramparts are fascinating to explore. It was initially erected to protect the region from the invading Hungarians before being used to slow the encroaching Venetians.
Other than checking out the castle, you can also stop by the superb Silk Museum and Museum of Printing. The latter was where the first Hebrew Bible was printed back in 1488 using the rudimentary equipment on display. Its quaint centre and countless fine churches mean Soncino is well worth its inclusion on the official list of the 'Most Beautiful Villages in Italy'.
Equally arresting is the pretty city of Pavia which is situated about half an hour's train journey south of Milan. Now most known for its incredible monastery complex on the outskirts of town, it straddles the lower Ticino River.
As it was the capital of numerous kingdoms and courts over the centuries, the city is full of fine buildings like its dramatic Duomo and colossal Visconti Castle. Once called the 'City of a Hundred Towers', it also boasts one of the oldest universities in Europe.
Founded in 1361, the prestigious institute's central piazza is presided over by three tall medieval towers. Some of only a dozen or so still remaining, they make for some fantastic photos and viewing.
Although Pavia is awash with exquisite architecture and excellent museums, you just have to visit Certosa too. One of the largest monastery complexes in Italy, it was built between 1396 and 1495. Renowned for its remarkable Renaissance and Gothic-style architecture, its art-filled church, cloisters and refectory are fascinating to explore.
11. Cremona
Famed for both its tasty nougat and revered violin-making traditions, Cremona has a rich history and culture to uncover. Located not far from Piacenza in the neighbouring Emilia-Romagna, its gorgeous center is a treat to stroll around slowly.
At its historic heart, you'll find its impressive cathedral, baptistery and belltower, all clustered about Piazza del Comune. While the former is known as the 'Sistine Chapel of the Po Valley' due to its phenomenal frescoes, the latter's facade boasts the world's largest astronomical clock. Towering 111 meters tall, the soaring brick structure offers up some spellbinding views over the city below.
Aside from admiring its palazzi, make sure to stop by its excellent violin museum. As well as seeing intricately crafted instruments, it also examines how Cremona became a center for the unique artform. If you visit in November, you can try delicious torrone at its annual festival dedicated to the traditional nougat treat.
10. San Benedetto Po
Like Pavia, the small city of San Benedetto Po is best known for its extensive abbey more than anything else. Dominating the center of town, its huge complex includes immaculate grounds, endless cloisters and enormous monastery buildings.
As it was once one of the richest abbeys in northern Italy, master craftsmen worked to improve and enlarge Polirone for many centuries. Initially established by Tedald of Canossa in 1007, it served as an important religious, cultural and political center up until 1797 when Napoleon secularized it.
While ambling about its vast rooms, you can see fabulous floor mosaics, frescos and sculptures. Elaborate altarpieces and paintings also feature while its sizeable church borders one of the largest squares in the country.
Another memorable place to head if you want to travel back in time is the magical Renaissance city of Mantua. Incredibly well-preserved, its elegant squares, palaces, and churches look like they did centuries ago.
Surrounded on three sides by man-made lakes, the city thrived under the rule of the Gonzaga family during the Renaissance. As such, it has a rich but often overlooked history and heritage for you to delve into.
Between the fourteenth and seventeenth centuries, the important, art-minded rulers constructed the absolutely enormous Ducal Palace. Now impressively Italy's largest architectural museum, its almost endless rooms are packed with priceless artworks and period pieces.
The town also has the big Basilica of Sant'Andrea to explore and the ornate Bibiena Theater where Mozart once performed. We were absolutely blown away by its many artistic and architectural masterpieces – especially considering we'd never heard of it before arriving in Lombardy!
8. Val Camonica
After seeing all the old historic cities and sparkling lakes, the stunning alpine scenery and outdoor activities of Val Camonica makes for a very welcome change. Lying just an hour's drive northeast of Lake Iseo, it is most famed for its phenomenal prehistoric rock art.
One of the largest valleys in the central Alps, it extends about ninety kilometers with the Oglio River running its entire length. Now recognized as a biosphere reserve, it encompasses flower-filled meadows, narrow gorges and towering mountain peaks.
Asides from basking in the valley's breathtaking beauty, you can hike and bike about or ski and snowboard in winter. As it contains the most rock drawings in Europe, you also have to see some of its 300,000 ancient petroglyphs. To top it all off, there are charming towns like Bienno and Lovere to stop off at and explore.
7. Castellaro Lagusello
Perched atop a hill overlooking a heart-shaped lake, the fortified town of Castellaro Lagusello is every bit as romantic as its setting implies. Remarkably well-preserved, its winding cobbled lanes and castle walls really are lovely to wander around.
Another of the 'Most Beautiful Villages in Italy', it was founded in the twelfth century by the influential Scaliger family. Protecting the strategic hilltop are lots of old stone towers and archways, set in the side of its formidable fortifications. From atop the town's bell tower, you can drink in delightful views over its terracotta rooftops, lake and surrounding countryside.
Other than strolling about its peaceful streets and seeing all the arresting artworks in the church, you can hike or bike about its nearby vineyards, woods and hills. As the hamlet is set not far from Lake Garda, you can easily include a stop when exploring the area.
6. Lake Maggiore
Straddling the border with Switzerland is the massive Lake Maggiore. Overlooked by the snow-topped Alps, its long shoreline is split between Piedmont and Lombardy on the Italian side.
Quite wide for the most part, its reflective waters stretch almost 65 kilometers in total. Looming above the ginormous lake's jagged banks and glinting bays are the Pennine and Lepontine Alps while small isles dot its surface below.
Besides taking boat trips to the Borromean and Brissago Islands and strolling about their gorgeous gardens, you can visit some of the idyllic towns studding its shores. Of these, Angera and its imposing castle is arguably the most popular and picturesque to visit in Lombardy.
Although it is the region's second largest city, Brescia sees a lot less visitors than the lakes, Milan and many of its other nearby neighbours. This is a shame as its endless Roman ruins are among the best preserved in northern Italy .
Founded over 3,200 years ago, its center is literally littered with impressive churches, squares and palazzi wherever you look. Just like with Rome, every corner seems to reveal 'new' millennia-old monuments and ruins for you to take in.
Our favourites included its amazing Roman amphitheatre, sanctuary and temple and the Monastic Complex of San Salvatore-Santa Giulia. While the former has fantastic frescos to examine, the latter houses more than 11,000 artworks and archaeological findings.
It's new and old cathedrals were also special to see as was the enormous Castle of Brescia which affords guests stupendous views over the city. If you couldn't already tell, we loved Brescia and could definitely recommend spending a few days exploring its old streets.
Another overlooked gem is the historic hilltop city of Bergamo which lies aroundabout a forty-five minute train ride from Milan. As it was ruled for centuries by the Lombard Duchy and then the Republic of Venice, it exhibits a unique mix of architectural styles and culture influences.
Clustered atop the crest of its prominent hill is a warren of wonderful old baroque and renaissance buildings. Outside the Citta'Alta's protective ring of Venetian walls is the more modern lower town that spreads across the plain below. Connecting the two is a short, steep funicular ride that whisks you between them in no time at all.
Highlights include the refined Piazza Vecchia and richly decorated Basilica di Santa Maria Maggiore. In addition to ambling about taking in all its arresting architecture, you can visit some of the numerous art galleries and museums that explain all about the city's captivating past.
3. Lake Garda
The largest lake in Italy, Garda offers up all kinds of exciting outdoor activities, water sports, and sightseeing opportunities. Located in between both Brescia and Verona in Veneto , it too is one of Lombardy's top holiday destinations.
Formed by giant glaciers during the last ice age, Lake Garda vast basin lies amidst the Alps to the north and Po plain to the south. Scattered about beneath all its craggy cliffs and dramatic mountain ranges are colourful towns and villages to visit.
As it is surrounded by water on three sides, Sirmione, its very narrow promontory and centuries-old castle is the most popular to explore. Aside from snapping some pics of its cool crenellations against the bright blue sky, we also liked lounging on its beach.
From Desenzano del Garda, the lake's largest town, you can also take ferries across its shimmering surface. Some fun jet skiing, sailing, and windsurfing can also be had with its mighty mounts rising up in the background.
A busy, bustling metropolis, Milan is Italy's wealthiest city and both its financial and industrial heart. While it is a bit less visually striking than many of the nation's other main cities, it is still feted for its fashion, art and architecture.
The capital of Lombardy, it now covers an absolutely enormous part of the Po Valley. Although only a few reminders of its Roman past still remain, it does boast one of the most beautiful buildings in the world: the Duomo. Erected between 1386 and 1877, the gigantic Gothic cathedral's ostentatious facade is sure to shock any visitor with its artistry. We also enjoyed walking about its roof where you can examine its impressive architectural flourishes from closer up.
See also: Where to Stay in Milan
After shopping at the grand Galleria Vittorio Emanuelle II and admiring its cast iron, glass roof, make your way to Navagli as night falls. Amidst all the hip neighborhood 's ancient canals, you can dine at trendy restaurants and try some splendid wine bars.
1. Lake Como
One of the prettiest parts of Italy (and that's really saying something!), Lake Como has been a popular destination since Roman times. As well as spectacular scenery, nature and views, it has lots of gorgeous lakeside villas and towns to explore.
The third largest lake in all of Italy after Garda and Maggiore, its distinctive 'Y' shaped waters are lined by marvellous mountains and sweeping valleys. Dotted all along its scenic shores are elaborate gardens and attractive estates like Villa Carlotta and Villa d'Este. Besides lovely landscaped lawns and colourful flowerbeds, these offer divine views out over the lake.
The main town everyone heads is the chic and sophisticated Bellagio which has long been a favourite haunt of the rich and famous. Although it is not quite as elegant, the lively Como at its southern end also attracts tons of tourists. Wherever you go around the lake though, you're guaranteed unforgettable views, food and holiday snaps.
Map of Places to Visit in Lombardy, Italy
Share this post:
Italy Travel Guide
14 Best Places to Visit in Veneto, Italy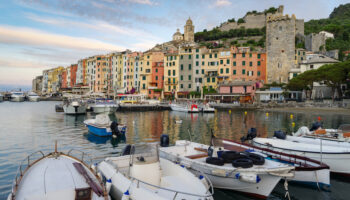 12 Best Places to Visit in Liguria, Italy
12 Best Places to Visit in Piedmont, Italy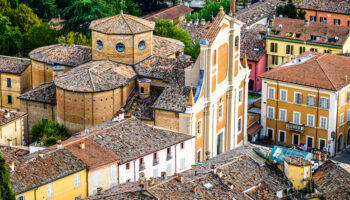 12 Best Places to Visit in Emilia-Romagna, Italy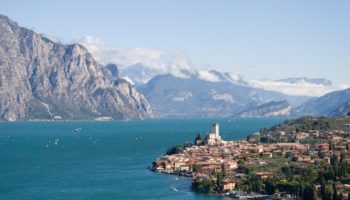 10 Top Destinations in Northern Italy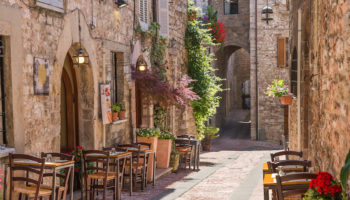 12 Best Places to Visit in Umbria, Italy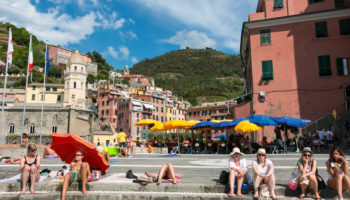 Where to Stay Cinque Terre: Best Towns & Hotels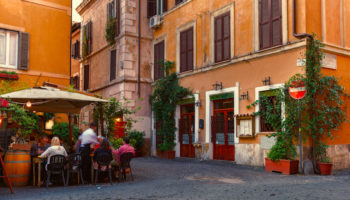 Where to Stay in Rome: Best Neighborhoods & Hotels
16 Best Things to do in Taormina, Italy
Reader interactions, leave a reply cancel reply.
Your email address will not be published. Required fields are marked *
This site uses Akismet to reduce spam. Learn how your comment data is processed . Things to see in Lombardy: 10 unmissable places
Places and Tours
What to see in Lombardy? It's not an easy question to answer. We are talking about one of the largest regions of Italy by extension, which, for this reason, offers its visitors a wide variety of beautiful landscapes.
1 - Milan, the capital, one of the most important cities in Italy
2 - The Charterhouse of Pavia, one of the most important religious monuments in Lombardy
3 - Monte Isola, the pearl of Lake Iseo
4 - Villa Erba, Cernobbio: the most beautiful villa on Lake Como
5 - Desenzano del Garda, a must-see destination on the shores of the lake
6 - Mantua, the city that overlooks 3 lakes
7 - Val Camonica: nature, rupestral art and ancient finds
8 - Franciacorta, the land of sparkling wine
9 - Abbey of Chiaravalle and Morimondo
10 - Bernina Red Train: tour from Italy to Switzerland through the landscapes of the Alps
We recommend
Things to Do in Lombardy, Italy - Lombardy Attractions
Things to do in lombardy.
Centro Storico
Good for a Rainy Day
Budget-friendly
Good for Kids
Good for Couples
Good for Big Groups
Hidden Gems
Honeymoon spot
Good for Adrenaline Seekers
Adventurous
Things to do ranked using Tripadvisor data including reviews, ratings, photos, and popularity.
16321. Parco Archeologico di Asinino-Anvòia
16322. parco comunale archeologico e minerario di sellero.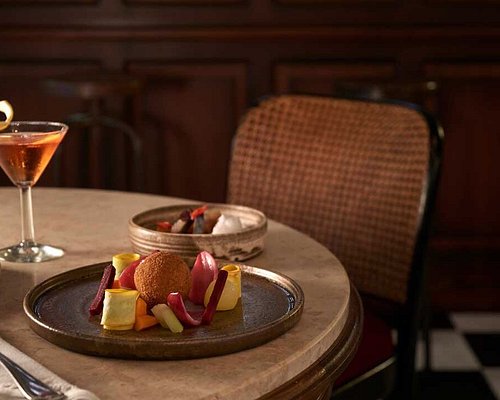 16323. Fabriziaguide Italy 🇮🇹
16324. enoteca la cantina, 16325. ermida calzature, 16326. torre medioevale via astino, 16327. lovere street food festival.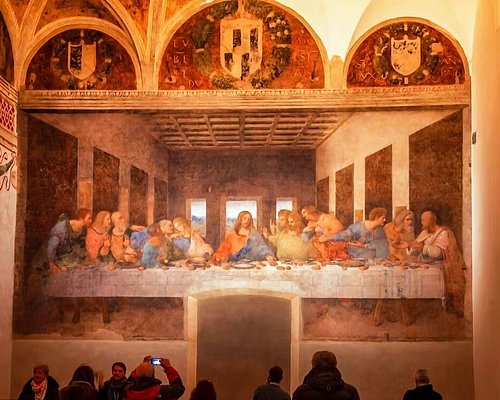 16328. All Over Europe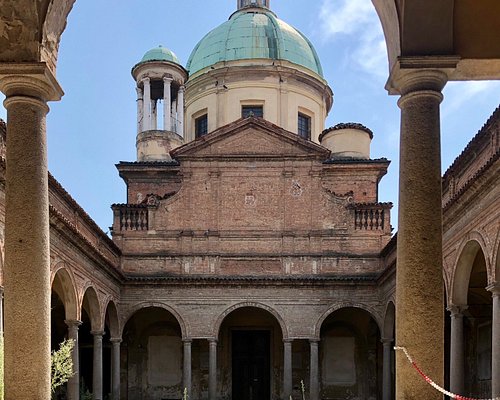 16329. Chiesa Di San Facio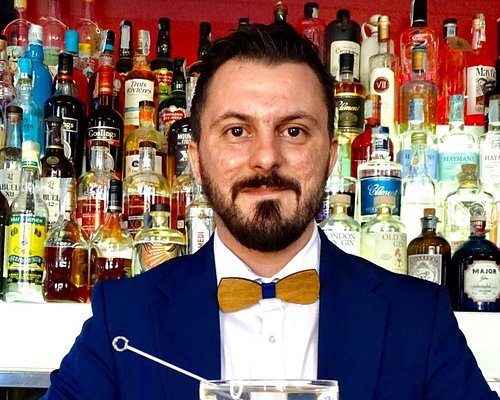 16330. Mattia's Cocktail Experience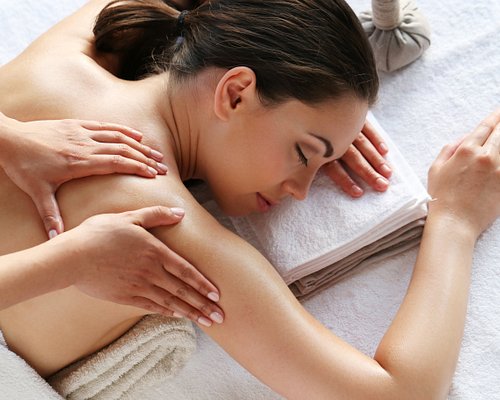 16331. Approche Naturelle
16332. milanofiori padel club.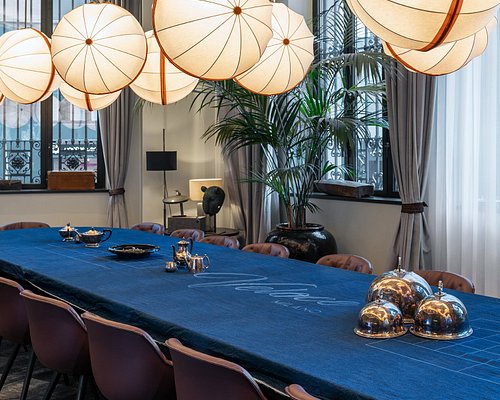 16333. Veloce Milano
16334. chiesa di santa maria assunta, 16335. chiesa di san barnaba, 16336. chiesetta della piana, 16337. chiesetta di sant'antonio, 16338. esselunga.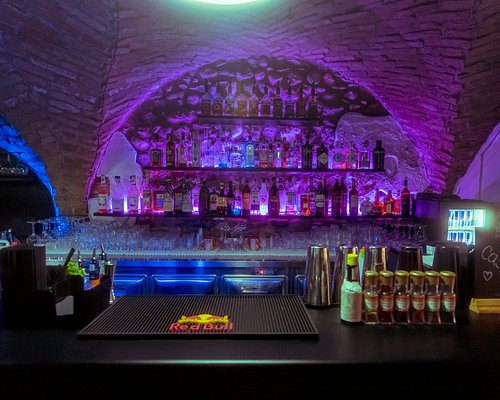 16339. Vicolo 23 Coktails&Music
16340. Museo D'arte Sacra
16341. bottiglieria pontiroli ercole.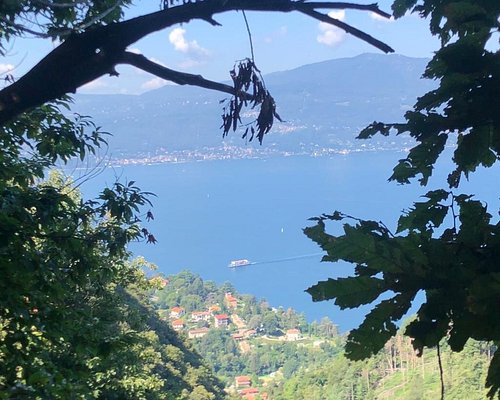 16342. Sass De Solireou ( Solirö)
16343. nocntrl virtual arena.
16344. Laveno Fly
16345. energia bimbi.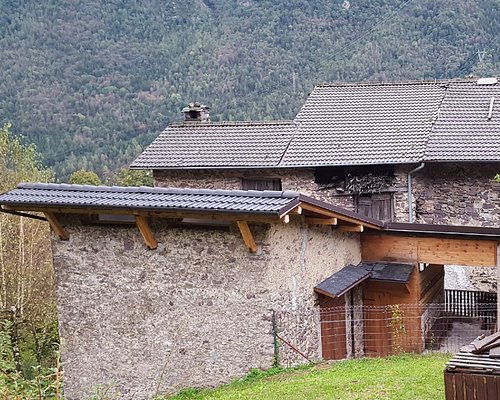 16346. Museo Piccolo Mondo Antico
16347. the dap - dei missaglia art park.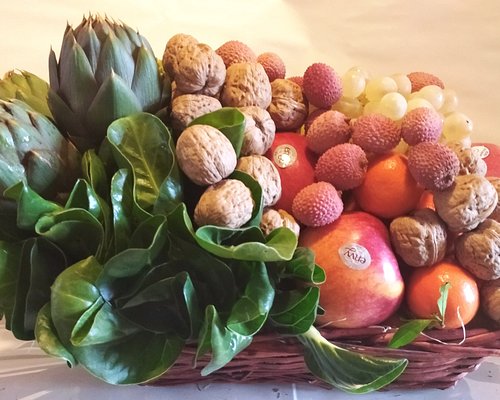 16348. Azzimonti Srl
16349. chiesa di san vigilio.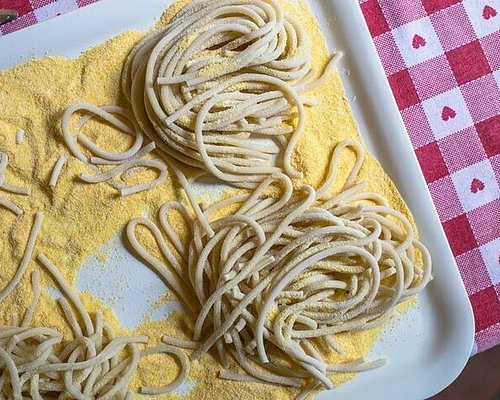 16350. Cesarine - Casorate Primo
A Guide To Everything Worth Seeing (And Doing) In Lombardy, Italy
Lombardy is near some of Italy's most beloved places, and this is what fits in your Italy itinerary if you happen to be staying there.
Located in the northern part of Italy is the region of Lombardy. The capital of Lombardy in Milan and is a paradise for finance, fashion, and numerous top-notch stores as well as restaurants. Lombardy houses one of the legendary Leonardo Da Vinci's works, specifically; "The Last Supper." Lombardy is known for its industrialization as it is one of the main producers of iron and steel, vehicles, and all sorts of trucks. Aside from all its industrialization and banking excellence, Lombardy is a beautiful place itself and is a must-visit for anyone lost on places to visit. Below we will explore Lombardy and everything worth seeing and doing.
What To See And Do
You are now in Lombardy and thinking about what to do. Well, you're in luck as there is plenty of fun activities and tours that will guide you through everything worth seeing and doing in Lombardy. Let's discuss a few.
A Milan Tour
As stated earlier, Milan is the capital city of Lombardy. Milan has some of the best tours and things to see . If you are in Milan and need some help as you explore. This tour is the best for you. This tour is the ultimate introduction to the city as it guides you through all the relevant and most prominent areas and sites. The tour features a confirmed entry to see the beauty of Da Vinci's art "The Last Supper." In this tour, visitors will be led by a tour guide who speaks English.
Visitors get special treatment as they get to Milan Duomo without waiting by simply skipping the line to this famous cathedral. The tour comes to a temporary stop at some point which allows visitors to take in the beauty of the Medival Sforza Castle.
Unfortunately, visitors are not allowed in but it's a great sight in itself. When through with that, visitors will head straight for the Brera district, precisely the cobbled streets. This place is easily the soul of the social and cultural life in Milan. While stopped, the guide gives commentary about some of the famous thinkers and artists who lived nearby. To be straightforward, the peak of this tour is "The Last Supper" by Leonardo Da Vinci. This work of art is considered a true gem and is maintained properly.
However, this can only be seen by some group at a time, making tickets not so easy to get due to the pieces' popularity. But as a tourist, you do not have to worry about getting the tickets because they are included in this tour package along with cards that enable you to skip any line thus giving visitors a stress-free and enjoyable experience in Milan. After this Milan tour, you would without a doubt see Milan in a different light.
Need To Know
For a full refund, visitors are to cancel their tour 24 hours before the date
Mobile tickets are accepted
The duration of the tour is an average of 3 hours
Skip the line tickets are available
Accompanied by a live tour guide
Covid-19 guidelines are to be followed at all times
The cost of this tour sits at a comfortable $93.31 per head
The above tour experience features most of the prominent sites and things worth seeing in Milan. You could call it the ultimate Lombardy experience in its capital city.
RELATED:   One Of The Most Beautiful Places In Switzerland Can Easily Be Reached From Milan, Italy
Located in the northern part of Brescia is lake Iseo. This lake is the fourth largest lake in Lombardy. It is not so popular outside Lombardy thus the inflow of tourists tilts to the minimum. That being said, lake Iseo is home to the biggest inland lake island throughout Europe which is the Monte Isola and is definitely worth the visit.
If you are looking for some peace and quiet away from the bustling town outside then this is a place for you. Visitors can go on day trips where they can drive around the lake and even take a detour to see other unique sites such as Bergamo.
RELATED:   There's A New Way To Explore Italy, And It's Every Hiker's Dream
A visit to Lombardy without at least a glance at Crema would be incomplete. Crema is a well-known architectural landmark and also a small town. This town was the setting used to film the 2017 movie Call Me By Your Name. The film features some of the most charming parts of Crema along with its beautiful countryside.
The town's architecture is so beautiful due to the fact that Crema remained autonomous during the time the Duchy of Milan was occupied by Spain thus enabling Crema to build continuously, making Crema home to some of the most beautiful buildings from that time with the inclusion of multiple grand palazzi. Crema also houses a large gothic-style cathedral right at its center.
Lombardy is one of the many regions in Italy with beautiful views and places. However, Lombardy stands out as unique amongst some other places thanks to its people who are very cheerful thus making a visit there feel like home.
NEXT:   Destinations In Italy The Kids Will Love, And We Promise You Will Too

12 Best Things To Do in Lombardy, Italy
Are you looking for the best things to do in Lombardy, Italy ? There are quite many, so stick around.
Located in the northeast of the country, it is one of the most popular and the most beautiful Italian regions – and certainly the wealthiest. Read on to find out the must-see attractions in Lombardy, as well as the best activities in the region.
Lombardy is a large region that ranges from the Alps to the plains, from cities of art to small medieval villages. Its capital, Milan, is the cultural and fashion epicenter of this boot-shaped country.
Lombardy, however, is much more than just Milan . Read on to find out more of the must-see attractions in Lombardy, Italy.
Best Things To Do in Lombardy, Italy
If you're planning a one-week trip to this northern Italian region, this guide to the best things to do in Lombardy should help you discover its beautiful scenery, history, culture, and delicious cuisine .
1. Discover Lombardy's living history
If you don't have time to visit museums or historic sites while in Lombardy, there are other ways to learn about the region's history.
In Erba's Castello di Casiglio and Como's Castello di Carimate , guests can stay in rooms that date back to the 14th and 15th centuries, respectively. You may also enjoy dinner in Belle Epoque restaurants, like Ristorante Biffi in Milan, are open to the public.
In the city of Brescia, there's a really old coffee shop that opened in 1850. Its name used to be Caffè Maffio. When it closed in 1980 and reopened a year later, the coffee shop changed its name to Zanardelli36.
This is one of the best places to visit in Lombardy if you want to discover living history. Here you will feel like you've been transported to an older era as you sip your morning coffee .
2. Visit the fantastic lakes of Lombardy
Lombardy is also known as the "lake region," being home to more than fifteen. These lakes alone are enough reason for visiting the region!
All year-round, the Italian lakes are stunning. However, in the summer, when everything opens up for business, the lakes truly come to life.
Some of the most well-known lakes in the region are Lake Como, Lake Garda, Lake Maggiore, and Lake Iseo. Visiting these lakes is among the best activities in Lombardy.
Check out the best Lombardy lakes group tours here:
3. Snowsports and other mountain activities
In central Europe's Alps region, Italy is separated from Switzerland, Austria, and Liechtenstein by the formidable mountains.
During the colder months, the mountains are a great place to enjoy cold-weather activities like skiing, snowshoeing, and snowboarding. The mountains are also a popular destination for hikers and those who simply want to reconnect with nature during the summer.
The following Lombardy mountains should be on your itinerary, whether you're a beginner or an expert in winter sports and hiking:
• Alta Valtellina
Several of Lombardy's best ski resorts are part of the Alta Valtellina ski area, which spans 250 miles of linked slopes and is accessible with just a single ski pass.
With its 115 kilometers of slopes, Livigno is one of the most popular ski resorts in Alta Valtellina.
The highest ski resorts for skiing in this area extend to the Stelvio Pass, which shares the border with Switzerland. It has an altitude of 3,450 meters.
• Mt. Pagano and Fortification of WWI
Upon reaching the peak, you will see the second-line fortification from World War. The defensive perimeter of the fortification is still clearly visible.
Mt. Pagano offers beautiful walks in Val Camonica .The breathtaking views allow you to get a good perspective of the Adamello and Mortirolo complex.
Click here to check out the best walks in Italy to trek and hike!
• Monte Pizzocolo
Climbing opportunities are available along the east ridge of this mountain hike on Lake Garda's west bank.
Rated as moderate, the Monte Pizzocolo trail is mainly used for hiking and running, as well as bird-watching. It is located near Toscolano-Maderno in Lombardy.
The trail offers a perfect panoramic view of Lake Garda. You can also see the Adamello Group, the Appennines, and many other mountains in clear weather.
Here are the best snowsport and mountain activities group tours in Lombardy:
4. Ride the funicular to enjoy unparalleled views
A funicular ride is a must-do if you aren't afraid of heights at all. It is one of the most enjoyable activities in Lombardy you shouldn't miss when in the region.
From the charming village of Laveno-Mombello, take the Funivia del Lago Maggiore to the 1,062-meter summit of Mount Sasso del Ferro. Take the open-top cable car for a 20-minute ride if the weather is clear and sunny. The Alps and the Pre-Alps Mountains can be seen from this location.
Perhaps it's a little overstated to refer to a funicular as a cable car. There's enough room for two people to stand in it, yet this is what makes this ride so enjoyable!
Other Lombardy funiculars to try are the ones in Como-Brunate which offer stunning views of Lake Como, and the historic Vellone-Sacro Monte funicular which takes passengers to the sanctuary of 15 chapels dedicated to the Madonna.
Interested in funicular group tours in Lombardy? Check out these deals:
5. Explore the UNESCO Heritage sites in Lombardy
Lombardy is a veritable treasure trove for history buffs, with countless stories, structures, and artifacts to explore. The Kingdom of Lombardy once ruled this area, so this isn't all that surprising.
The region got its name from the Germanic people known as the Lombards, who ruled the area from 568 to 774 CE. It's a well-known historical site, and there's a lot of interesting things to see and do.
Lombardy is Italy's most UNESCO World Heritage Site-rich region, making for an ideal road trip rich in history, architecture, and mystique.
The historic cities of Mantua and Sabbioneta, the rock carvings of Valcamonica, the Rhaetian Railway in the Albula, and the village of Crespi d'Adda are some of the best places to visit in Lombardy, which should be part of your itinerary.
Book these unique Lombardy UNESCO sites group tours:
6. Admire Lombardy's churches and cathedrals
Of course, no visit to Lombardy is complete without visiting its capital city and the Duomo is always in every itinerary in Milan. Checking out these churches are among the best things to do in Lombardy.
Here's a quick list of the best churches and cathedrals you must visit in Lombardy, starting with Italy's largest church.
• Duomo di Milano (Milan Cathedral)
The Duomo of Milan, the largest church in the Italian Republic, took almost 600 years to finish since its construction began in 1386.
The Duomo is the symbol of Milan and one of the most beautiful churches you'll ever see. It is an absolute marvel of architecture that everyone wants to see in the Lombardy capital.
• Cathedral of Como
This church, also named the Cathedral of Santa Maria Assunta, is the main place of worship in the city of Como. It was built between the 14th and the 18th centuries.
Considered one of the most important religious buildings of northern Italy, the Cathedral of Como is easily recognizable from its teal roof. Its blue patterned ceiling and stained-glass windows are just as impressing, and so are the altar and the dome.
The Cathedral of Como is well worth a stop if you're visiting the famous lake nearby.
• Duomo Vecchio – Brescia
The Duomo Nuovo (New Cathedral) and Duomo Vecchio (Old Cathedral) are Brescia's two cathedrals located in one piazza.
The Old Cathedral is also called "La Rotonda" because of its circular layout, one of the most pertinent examples of Romanesque round church in Italy. This is one of the many interesting attractions that Brescia has to offer. When you visit, check out the red marble sarcophagus near the entrance!
7. Relax at Lombardy's thermal spas
There are numerous thermal water springs across Lombardy, with a wide array of thermal baths to choose from. The most famous of these springs is in the Valtelline Valley, near Bormio.
Bagni Vecchi di Bormio is highly recommended for an unforgettable thermal bath experience. It is a spa center that offers over 30 spa treatments and varying types of baths. Bagni di Bormio is situated along the road that leads up to the Stelvio Pass.
Another nice destination for thermal baths is the Terme di Boario in the Camonica Valley. It boasts over 150 years in the business with about 5,000 massages done each year. The place is also well-known for the magnesium waters of Boario which are said to possess excellent therapeutic properties.
8. Try your hands at traditional paper making and other local crafts
There's a small business in Toscolano Maderno that has been in operations since 1381. It's Toscolano 1381 company. It has been making paper for the Venetian Republic in the traditional manner for centuries.
You can go there and learn about the process of papermaking, as well as purchase sheets of paper made by one of the artisans who work there. Creating your own is even an option! When you hold a piece of paper that you made with your own hands, it will be a proud moment. It is definitely one of the unique things to do in Lombardy.
Other crafts to learn while in Lombardy are perfume-making, oil painting, and pottery.
9. Sample Lombardy's regional cuisine
Throughout the world, Italy – or "Eataly," if I may say so – is known for its delectable cuisine and abundance of locally-sourced produce. Lombardy, of course, is no exception in this regard.
Any Lombardy restaurant serving a good cheese dish is far superior to any you'll find outside of Italy, even if the pizza in the south of the country is a little better.
Traditional Lombardy foods to try include the lean and delicate bresaola (a Valtellina salami made with beef that has been salted and cured for one or two months), risotto alla Milanese (a risotto rice dish flavored saffron), and Bitto, which is cow's milk cheese from the Orobie Alps' mountain pastures and stables.
Sampling the local cuisine is one of the absolute best activities in Lombardy.
Do you love Lombard food? Then you should book the following unique food tasting and cooking group tours:
10. Go on an agriturismo and wine-tasting session
Lombardy is home to a handful of renowned wine styles which include the bright, cherry-smelling Valtellina and the high-quality sparkling wine of Franciacorta and Oltrepo Pavese Metodo Classico, which is one of Italy's alternatives to champagne. You can sample these wines at an agriturismo.
An agriturismo is a small, typically family-run farm in Italy that provides food, lodging, or both for visitors. It is fast becoming among the must-experience attractions in Lombardy.
In Lombardy, an example of an agriturismo is Montelio, a 13th-century agriturismo in the town of Codevilla in the province of Pavia.
Before its conversion to a private winery in 1848, the building served as a Benedictine convent. In addition to their wines, you can sample local cheese, cured meats, and frittata when you stop by for a wine tasting at the estate.
Other must-visit agriturismos in Lombardy are Cavril Agriturismo in Sotto il Monte , Relais da Vittorio to the east of Bergamo, and L'Albereta near Erbusco in Brescia. These are definitely among the best places to visit in Lombardy.
11. Shop 'til you drop in Milan
Shopping in Milan is without a doubt one of the best activities in Lombardy. As one of the world's fashion capitals and a wealthy city filled with beautiful people, it's only natural that it is among the world's best cities for shopping – along with London , Paris, and New York.
However, shopping in Milan is more than just designer boutiques – although, of course, you'll find plenty of that as well. Think of the various major Italian fashion brands , such as Prada , Versace, Armani, Valentino, Dolce & Gabbana, Missoni, Trussardi, and Moschino – all currently headquartered in this beautiful Northern Italian city. For more Italian brands that are best bought in Milan, check out this post .
For luxury shoppers, there's Via Montenapoleone for you. It is Milan's key shopping street, home to all mentioned designer brands and more others.
For souvenirs and mid-range to high-street brands, Corso Vittorio Emanuele II is the place for you.
For those looking for alternatives to the designer labels of the Via Montenapoleone, head to Corso di Porta Ticinese. This is a haven for denims and you'll also find offbeat fashion brands that are much easier on the pocket .
Affordable brands can be bought at Corso Buenos Aires, said to be the longest shopping street in Europe.
12. Join in the festivals and events
Do you want to partake in the best activities in Lombardy? Well, then, plan your trip around any of Lombardy's festivals .
Let's pick a couple for you.
• Festa del Tartufo Nero a Bracca (Black Truffle Festival)
When : End of September to the beginning of October Where : Bracca, Province of Bergamo
If you're visiting Bracca in late September, partake in the Black Truffle Festival. It is a week-long celebration honoring the celebration of the black truffle, a popular produce in the area.
The festival is characterized by lots of cooking and tasting of specialties offered by the participating restaurants.
This is a fun-filled event where you can visit an actual truffle ground and see demonstrations of truffle hunting with trained truffle dogs .
• Sagra del Casoncello (Festival of Casoncello)
When : Around 15 June Where : Castro, Province of Bergamo
The Sagra del Casoncello in Lombardy town of Castro attracts many visitors every year, around the middle of June. This is held in celebration of the famous fish that's caught from Lake Iseo.
This festival is a typical Italian event in a sense that it involves a lot of eating. You will never run out of food here and all in typical Bergamo recipes. This is a perfect opportunity to sample the real casoncello, a raviolo typical of the province.
This gastronomic feast is not limited to casoncelli , though. You will also be able to partake in other culinary delights of Bergamo such as cheese , chips, and barbecue meat.
Looking for a place to stay in Lombardy? Check prices and see pictures here:
Similar Posts
The Best Italian Brands To Buy in Milan, Italy
Milan is home to many luxurious fashion brands that you can ever think of. Still, there are also other top brands that some people often overlook because of their unfussy…
14 Best Things To Do in Liguria, Italy
You need to prepare a nice list of the best things to do in Liguria if you're visiting this Italian region soon. There is just so much to see and…
Seasons in Italy
What are the seasons in Italy and when is the best time to go? Read on to find out the answers. Italian tourism is booming, thanks mostly to the country's…
11 Best Restaurants in Lake Como, Italy
Are you looking for the best restaurants along Lake Como in Italy? When it comes to popularity, Lake Como is hands down the number one lake in Italy. It belongs…
10 Best Glamping Sites in Italy
Want to get close to nature without leaving the familiar comforts of a hotel? How about exploring the Italian outdoors without the hassle of preparing stuff to bring and putting up your temporary shelter? Go glamping! We've handpicked some of the best glamping sites in Italy for you to choose from.
12 Best Wineries and Vineyards To Visit in Italy
Are you ready for the best wineries and vineyards to visit in Italy? Wine is a popular beverage and a symbol of celebration – and Italy is a country of…
17 hidden gems to visit in Lombardy
In this article, I share a captivating list of Lombardy's most enchanting hidden gems, which travelers often overlook.
In this article, I share a list of the prettiest hidden gems to visit in Lombardy that travelers often miss.
From cultural attractions to quaint villages and rural idylls, there's no shortage of charms in Lombardy. I recently wrote down all the places I want to explore or revisit in my region once we are allowed to travel again and came up with quite an extensive list . Here below you'll find all those places that travelers often overlook but are well worth a visit. 
1. The vineyards of San Colombano al Lambro
Did you know that there's a wine district right in the province of Milan ? It's called San Colombano al Lambro and is Milan's only wine-producing region. The red and white wines bottled here are excellent and received the DOC mark in 1984. The village of San Colombano itself is charming and forms part of a special itinerary called "The Road of San Colombano Wine and the Food" . It connects Milan to Lodi, passing through beautiful hamlets brimming with history, art, and culinary delights. Check out this cool video on the wine of Milan .
Fun fact: the logo of the local Wine Consortium depicts a religious man holding a bunch of red grapes. Tradition has it that it an Irish missionary started to produce wine in San Colombano in the 6th century after converting the Barbarians to Christianity and the cultivation of vines!
2. Livigno,   Lombardy's "Little Tibet"
Hidden away in the Italian Alps, at 1816 meters above sea level, Livigno is a beautiful town surrounded by pristine forests and spectacular snow-capped mountains. In other words, it's the kind of place to go to when you need a breath of fresh air and a full immersion in nature. It's often nicknamed the "Little Tibet of Lombardy" because of its remoteness and the benefits that a trip there can produce on one's mind and spirit.
Despite being a popular ski resort, it offers lots of things to do for non-skiers like me, from trekking excursions and water sports to crazy tax-free shopping (Livigno enjoys the status of a free area and is therefore exempt from VAT tax!). There's also a popular wellness center in town called Aquagrande, with a number of swimming pools and spa areas for a little pampering.
3. Nesso and its beautiful gorge
Lake Como is dotted with tens of beautiful villages, but Nesso is truly unique. This sleepy village about twenty minutes' drive from glamorous Bellagio is home to   a striking natural gorge called Orrido di Nesso. There, you'll find the  waterfall flowing into the lake that Leonardo Da Vinci mentioned in one of his diaries.
The best views are from Ponte della Civera, a cute stone bridge accessible via some 300 steps downhill. All around the village are picturesque alleys to explore, including sections of the Strada Regia, an ancient road built by the Romans that connects Como to Bellagio.
4. The Cistercian abbey of Morimondo
A group of Cistercian monks founded Morimondo back in the 12th century and built a splendid Gothic-style monastery that continues to be an attractive landmark in the province of Milan. The village is only a handful of kilometers from Lombardy's capital and represents a popular destination for a weekend escape to the countryside.
Morimondo seems to be frozen in time, with picturesque alleys, lovely cottages, and green fields . All around are various walking and cycling paths leading to the fields and the farms that dot the area. One of the favorite pastimes in this idyllic corner of Lombardy is laying on the grass with a local artisanal beer in hand while soaking up the sun.
5. Soncino, the walled village
Soncino is a beautiful village with grandiose defensive walls, sitting at the center of the Lombard plain. The main attraction here is the magnificent fortress built by the Sforza family in the 15th century, which is considered one of the finest examples of military architecture in Lombardy . Other interesting things to see in Soncino include the frescoed interiors of the Church of Santa Maria delle Grazie, the Azzanelli palace, and a museum dedicated to silk housed in a former spinning mill.
Soncino is also renowned for its past as a flourishing printing center thanks to a Jewish family who came from Germany in the 15th century. They printed the first Jewish Bible complete with accents and vowels, and traces of their precious contribution can still be seen at the local Printing Museum .
6. Vigevano and its Renaissance jewels
The elegant town of Vigevano is one of those hidden gems that should be on the list of any traveler exploring Lombardy. It's only a thirty-minute train ride from Milan, yet it feels like stepping into a different world. The historic center develops around what's considered  one of Italy's most stunning piazzas , a real jewel of the Italian Renaissance lined with charming porticoes and home to bubbling cafés and shops. A staircase leads to  the magnificent Sforza Castle from the piazza, one of Europe's largest fortified complexes . Just to give you an idea, it's about twice the size of Buckingham Palace.
Interestingly,  Vigevano played a significant role in developing the shoemaking industry , as seen at the International Shoe Museum that displays a vast collection of shoes of all shapes and models, including some unique pieces worn by popes and celebrities.
READ MORE: 5 reasons to visit Vigevano
7. the beautiful villas of cassinetta di lugagnano.
About 25 km west of Milan, Cassinetta di Lugagnano is a lovely village on the banks of the Naviglio Grande, immersed in the Ticino Park. Such an idyllic location made it a popular destination for noble Milanese families, who used to escape here in the summer attracted by the peaceful, rustic atmosphere of the village.
Today the villas of these noble families represent the key heritage of Cassinetta di Lugagnano, with some of the most beautiful including Villa Negri (the mansion of Gaetano Negri, one of the first mayors of Milan), the neoclassical Villa Visconti Castiglione Maineri with splendid English and Italian gardens, and Villa Nai Bossi Poroli . Most of these mansions are private property but still, it's nice to walk around and catch glimpses of them – even from the water, aboard one of the boats that take visitors along the Naviglio Grande .
8. Toscolano Maderno, the town of fishing and paper mills
Toscolano Maderno is a lovely town of ancient origins located on Lake Garda's western shores, consisting of  two distinct centers ideally divided by a river . Toscolano has been a major paper production center since the Middle Ages, while Maderno is more geared towards tourism, with a quaint little harbor and a particularly renowned lake cuisine.
One of the must-sees in Toscolano Maderno is the  Paper Mill Valley  (yep, just like the one in  Amalfi ), with a series of delightful walking paths and a museum located in an old paper production complex. There are also some  pretty beaches in town, including one specially designed for dogs called Bau Beach .
9. Zavattarello and the Oltrepò Pavese vineyards
Zavattarello is an interesting historic hamlet immersed in Oltrepò Pavese, a beautiful corner of Lombardy that combines two major Italian attractions: excellent wines and beautiful sceneries . A grandiose castle towers majestically over the village, offering stunning views of the surrounding countryside from its terraces. Also, a curious thing to see is the local cemetery with its unique octagonal shape.
A trip to Zavattarello can be easily combined with a visit to some local wineries and other pretty places like Fortunago, Varzi, and the mysterious – and quite isolated – Abbey of Sant'Alberto di Butrio to further explore this totally undiscovered side of the region.
READ MORE: A wine tasting tour of Oltrepò Pavese
10. sabbioneta, the ideal city.
Only half an hour's drive from Mantova, in the valley of the Po River, Sabbioneta is a jewel of Renaissance architectural style and town planning . It was built in the 1550s when Vespasiano Gonzaga, Marquis of Mantua, decided to create  an "ideal city" based on Rome's aesthetic and architectural canons . Solid walls enclose the village, forming the shape of a six-pointed star .
The oldest building in Sabbioneta is Palazzo Ducale, the former residence of the duke. Other interesting sights include Teatro all'Antica , the first example of a civic theater in Europe , Palazzo Giardino, the mansion built for the duke's 'delights and entertainment', and the Jewish Quarter with its splendid synagogue.
11. Monte Isola, the island on Lake Iseo
Monte Isola is  the largest lake island in Europe , located at the south end of Lake Iseo. It's home to  11 adorable hamlets frozen in time, where cars are banished , and locals still use  naecc , the traditional tapered boats. Life is very much centered around fishing, focusing on the artisanal production of ships and fishing nets and a particular way of conserving the lake sardines that won the island the title of  Slow Food Presidium .
Monte Isola can be explored by foot or bike using a 15km trail around the island. The main village is Siviano, the departing point of ferries that connect the island to the mainland. At the top of the island (about 600 mt / 1,968 feet above sea level), there's a sanctuary that offers stunning 360° views over the lake .
12. Cornello dei Tasso, the birthplace of the postal system
Cornello dei Tasso is a tiny medieval hamlet nestled on a rocky spur amidst Val Brembana, in the province of Bergamo. It can be accessed only by foot and is exceptionally well preserved, with charming cobbled streets and porticoed alleys.  It's here that the current postal service was born back in the 14th century , thanks to the entrepreneurial spirit of the local Tasso family. Their story is well retraced at the local museum, where a letter sent in 1840 using  the first stamp ever issued in the world is displayed . 
In the village, there's a popular trattoria that attracts locals and visitors during the weekend and a little church with frescoed interiors worth visiting. 
READ MORE: The medieval hamlet of Cornello dei Tasso  
13. the blacksmiths of bienno.
Another beautiful hamlet to visit in Val Camonica is Bienno, which stands high on a hill surrounded by lush mountains and beautiful hiking trails. Bienno is the village of blacksmiths, as  it used to be a thriving center for the production of iron tools . The local Ethnographic Museum of Iron, Arts, and Popular Traditions represents a precious testimony of the ancient iron forging tradition of Bienno, with an interesting collection of tools and finds related to the mining activity in the region, as well as examples of iron products.
The village looks really pretty, with a maze of alleys opening onto picturesque courtyards with flowery balconies, panoramic corners, and fascinating historic buildings. There is also an ancient mill and an interesting church with precious works of art.
14. Sirmione, the pearl of Lake Garda
Sirmione is an attractive spa town with a scenic location on a small peninsula that juts onto Lake Garda . An impressive fortress that seems to be floating on the water welcomes visitors, who come here for the beautiful – and completely pedestrian – center, the excellent thermal baths, and the lovely beaches.
Not to miss are the remains of the ancient mansion of Catullus, one of the largest Roman villas in northern Italy , while in summer Jamaica Beach , right on the tip of the peninsula, is a famous stretch of coast with large slabs of rock lapped by crystal-clear waters.
15. Bagolino and its unique traditions
B agolino is a picturesque stone hamlet in the province of Brescia, particularly renowned for a type of local cheese called Bagoss that is produced only there . Its narrow streets and cobbled alleyways lead to little corners of authentic beauty. These include the parish Church of San Giorgio (often nicknamed the mountain cathedral), preserving precious artworks by Tintoretto and Titian.
Bagolino is home to exceptional Carnival celebrations that scientists have classified as one of Italy's most important ethnological discoveries over the last 200 years! The museum 'Habitar in sta terra' is where to learn more about this and other local traditions and customs .
READ MORE: A day trip to Brescia
16. the monastery of santa caterina del sasso.
Santa Caterina del Sasso is undoubtedly  one of the top sights on Lake Maggiore : a charming monastery perched on a rocky spur that overlooks the lake's azure waters. After surviving a shipwreck, a merchant looking to spend the rest of his life in prayer and solitude founded it in the 12th century. His mummified body is still preserved inside the church.
The monastery features three different chapels, each beautifully decorated with splendid frescoes. Externally there are some  charming porticoes where visitors can admire stunning lake views .
17. A road trip to Lomellina
Lomellina is a magical stretch of countryside, located in southwestern Lombardy, just about one hour's drive from Milan.  Here, rice paddies and old farmhouses share space with fascinating historical and artistic attractions; the abundance of castles earned it the nickname of "Lombardy's Little Loire" .
Lomellina is also a great destination for foodies, offering a variety of dishes that make extensive use of locally grown ingredients, from Borlotti beans and white asparagus to rice, saffron, and Breme's sweet red-skinned onion. This type of onion is so special that its seeds are conserved in the Global Seed Vault on the Svalbard islands.
READ MORE: What to do in Lomellina
Pssst… pin this article for future reference and get in touch if you have any questions about the hidden gems of lombardy.
Ciao for now,
Grazie mille for reading My Italian Diaries!
If you've enjoyed the blog and found my articles useful, you can treat me to a virtual coffee to support the creation of new content and the site's running costs. Just click on the button below and sprinkle a little virtual caffeine magic my way. Cheers to you!
What to see in Caserta beyond the Royal Palace
9 easy day trips from Venice by train you can't miss
Staying in Mestre when visiting Venice: things to know
13 thoughts on "17 hidden gems to visit in lombardy".
Wow these places are truely spectacular.i would love to visit sometime surely
Oh I could just stare at these pictures all day! I can't wait until we can travel to Italy again…and especially to Lombardy.
I love all the old world charm, it looks stunning
Valentina, I absolutely love your list – I am always in search for authentic places to visit and I saved your post for my next trip to Italy. I have been a couple of times, and I LOVE Italy and your guide looks like a perfect itinerary for when I come back. Thank you!
I am glad to know more about this part of Italy thanks to you! So many beautiful places here!
As a bit of a cheese lover I'm interested in trying Bagoss. I've heard of it before through an Italian friend of mine, she said that during the curing process they add Saffron so that the cheese has a slight yellow tinge like straw. I don't know if it affects the taste, but definitely the look. It's an aged cheese that I think can be used like parmesan. Didn't know it was only made in one place. Thanks for sharing your gorgeous photos of Lombardy. 🙂
hi I am overwhelmed by the sneak preview of these wonderful paces that you described. I have never even heard of these gems and I feel that they are a world themselves. Places that can be sited on foot, places tucked high up in the hills, wow these are the place that a traveller always yearns to visit. Kudos to you for such great post, definitely worth bookmarking
Lombardy was in our plan for this summer as we had missed visiting the place and also Florence the last time we were in Italy. But before we could get down to planning the minute details we had to call off the trip. In hindsight this post of yours would be a great help for me to plan for next year. I had heard Lombardy is beautiful and I can see why it is so. Must confess I have fallen in love. The view of Bagolino is amazing and once there would love to taste the local cheese Bagoss too.
The Ponte della Civera looks so quaint and beautiful. My boyfriend lives in the south of France so visiting Italy is so tempting since it's a stones throw away. Lombardy looks so magical, especially the countryside look of Sabbioneta. For a nature nut like me, it's the perfect retreat.
Wow I have never heard of Lombardy before but wow. All these hidden gems look like something out of a fury tale! The gorge at lake como is utterly beautiful. I definitely want to visit here! Wow
Lombardy is such beautiful Place of Italy. I haven't been to Italy but the history of Italy is interesting. The towns of Sirmione looks beautiful. Bagolino and its local cheese Bagoss looks interesting, and Monte Isola lake looks beautiful. The trekking excursions in Livigno sounds quite adventurous. Itally has such amazing mix of places that one can easily fell in love.
Whenever I think Italy surely can't get any better, it does. It's such a beautiful country with so much to explore! Sirmione looks like such a sweet town – can just imagine sitting at a cafe there to drink some delicious coffee.
Wow! These are indeed hidden gems. Sirmione is charming and it looks straight a place straight from a romance novel. Hope I get the chance to visit someday. Thank you for sharing.
Leave a Comment Cancel reply
This site uses Akismet to reduce spam. Learn how your comment data is processed .
An Italian travel writer in love with my country. Having travelled widely across the globe, I realized there was more to explore closer to home. My Italian Diaries is the place where I share itineraries, activities and off-the-beaten-path places to help you experience the best of Italy like a local!
Get the latest news, fresh posts, and exclusive unblogged stories from Italy delivered straight to your inbox each month.
I consent to the processing of my personal data as per the Privacy Policy
You've just been sent an email that contains a confirmation link. Just click on it to finalize your registration.
My Italian Diaries is the place where I share with you stories, photos and useful tips from my travels around Italy. I hope you will enjoy reading it and that my stories will inspire you to organize your next trip to my beautiful country.
Let's collaborate Collaboriamo Contact

7-Day Lombardy Itinerary in Northern Italy (Road Trip or Train)
Home » Destinations » Europe » Italy » 7-Day Lombardy Itinerary in Northern Italy (Road Trip or Train)
This website uses affiliate links which may earn a commission at no additional cost to you. As an Amazon Associate I earn from qualifying purchases.
Updated: 9th August 2021
Of the countless times I've been lucky enough to visit Italy, this epic road trip with friends was one of the most unforgettable. What made it so great was that our 7-day trip in Lombardy was actually the second part of our adventure, having spent our first week in Puglia . If you have the time, this split is a great way to explore the country, as you'll be able to experience both Northern Italy, but also the vastly different south of the country too.
During this one-week itinerary in Northern Italy – which I've updated a little bit based on my various visits to the region – you'll visit Milan's highlights, dazzling lakes, cultured cities and plenty more of the best places to visit in Lombardy .
For some, this one-week itinerary might be a bit too fast-paced. If so, you'll ideally stretch it out into a ten-day trip (with more time on the lakes and in Milan) or cut out a stop or two to have more time in the regional capital. For those who want to maximise their vacation days and see as much as possible, you'll find this journey fast enough to feast on many magical moments but slow enough to live the La Dolce Vita.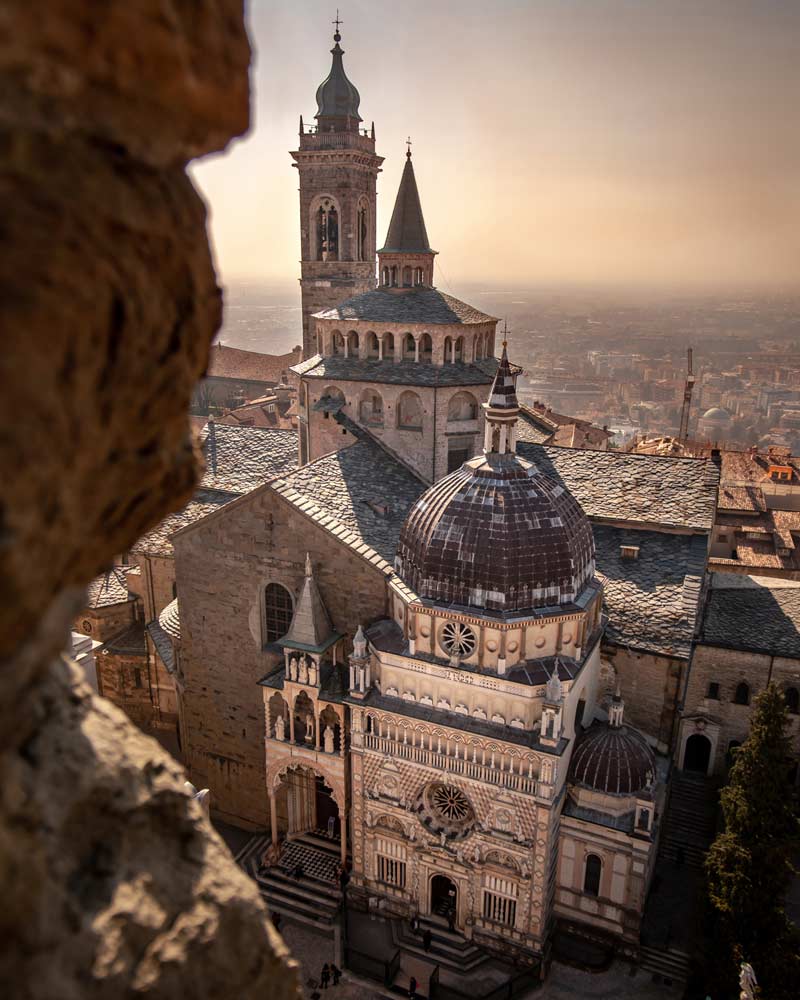 Don't have a car? I've tried to give the best public transport or tour options I can so you can try and do a similar itinerary as possible without driving.
In general, when travelling by train in Italy and Europe, the best value fares are those booked in advance. With a variety of high-speed and slower trains serving Italy, you can usually find the right journey at the right price. I'd suggest searching for routes and tickets before travelling to secure discounts or searching for bus connections on Omio.
Here is an overview of my suggested two-week itinerary in Lombardy; you can find full details, including route, accommodation, and tips on what to see below.
Day One: Milan Day Two: Milan Day Three: Lake Garda and Lugana Day Four: Mantua Day Five: Cremona Day Six: Lake Como Day Seven: Bergamo (or back to Milan) / Travel day
Day One: Travel Day / Fly to Lombardy / Milan
Sleep in Milan
Day one is somewhat of a travel day and will depend on which flight you take to Italy and, likewise, which of the three airports you arrive in, Bergamo, Malpensa or Linate.
If you fly into Bergamo, you might want to see day seven of the road trip and consider visiting Bergamo before heading into Milan itself. I've put all the suggestions for Milan on the second day of this itinerary, so you can spread them out to suit your flight time best.
Where to stay in Milan
There are countless places to stay in Milan to suit all budgets and tastes, so I won't make any personal recommendations as you have plenty to choose from, and I've stayed in so many places here, from great, to awful. I have made Milan a two-night stay on this itinerary though, so you can start off slow-paced.
Day Two: Milan
Total drive time: None | Sleep in Milan
It's no surprise Milan, being the capital of the region and fashion capital of Italy, is the top thing to do in Lombardy . With so much to discover here, you'll likely want to get an early start.
What to do in Milan
I've written about the many things to do in Milan before, as there is a lot of option here. Milan is a city that it took me a few visits to really uncover, as there are a lot of great spots around, so take a pick of your favourites:
The Duomo and Galleria Vittorio Emanuele II are the best-known attractions, but go early morning if you can for photos. There are countless other churches worthy of your time in Milan, such as San Maurizio al Monastero Maggiore, which is one of my favourites.
In contrast, the newer district of Milan, Porta Nova, especially around the Vertical Forest apartment buildings, offers a totally different side of the city, with lots of shopping next to the green park.
The Brera district is one of my favourite parts for restaurants and people-watching; the University Library here is also a bit of a hidden gem. Then, head to the Castle of Milan, which a lot of people somehow miss, and from here, you can walk through the park to the Triennale and the Design Museum.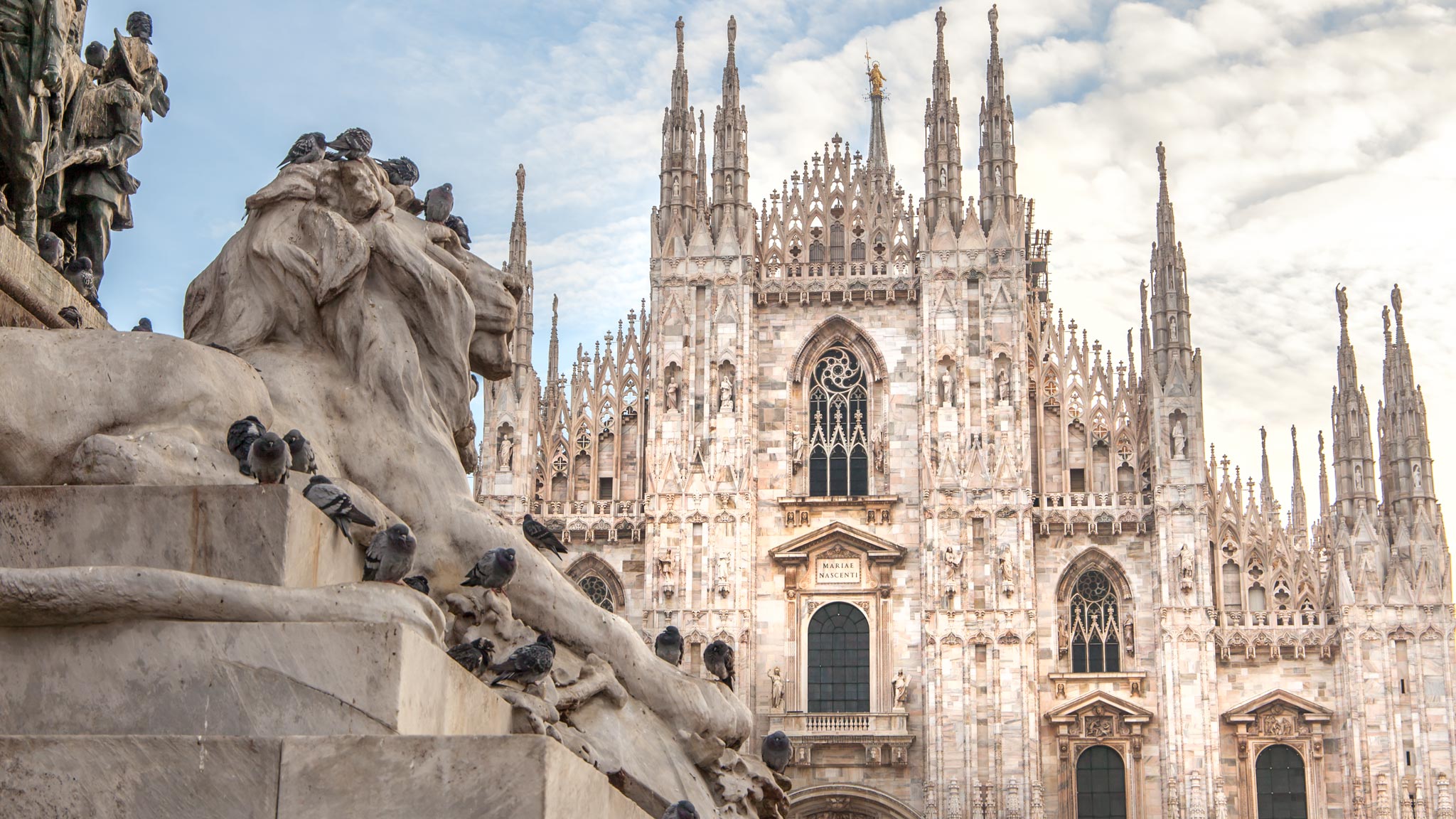 End your day in Navigli, the canal district, to enjoy aperitivo hour, where food and snacks are included with the cocktail of your choice, and in many of the places here – it's a large buffet affair.
There are a few things in Milan you'll likely want to book ahead, such as the tickets for the rooftop of Milan Duomo – or perhaps even skip-the-line fast-track tick ets in peak months. You'll find plenty of other tour tickets for sale on sights like GetYourGuide, but for other bits, such as the theatre tour, or even the Duomo if you don't mind the queue, it's usually a bit cheaper to buy there and then.
Prefer a tour?
There are lots of tours available in Milan to suit any taste, but a fun one that we did was the rickshaw tour of Milan, which gave us a bit of free choice with the driver, but also a chance to learn some facts and history at a quicker pace as we weren't staying for a full-blown city visit.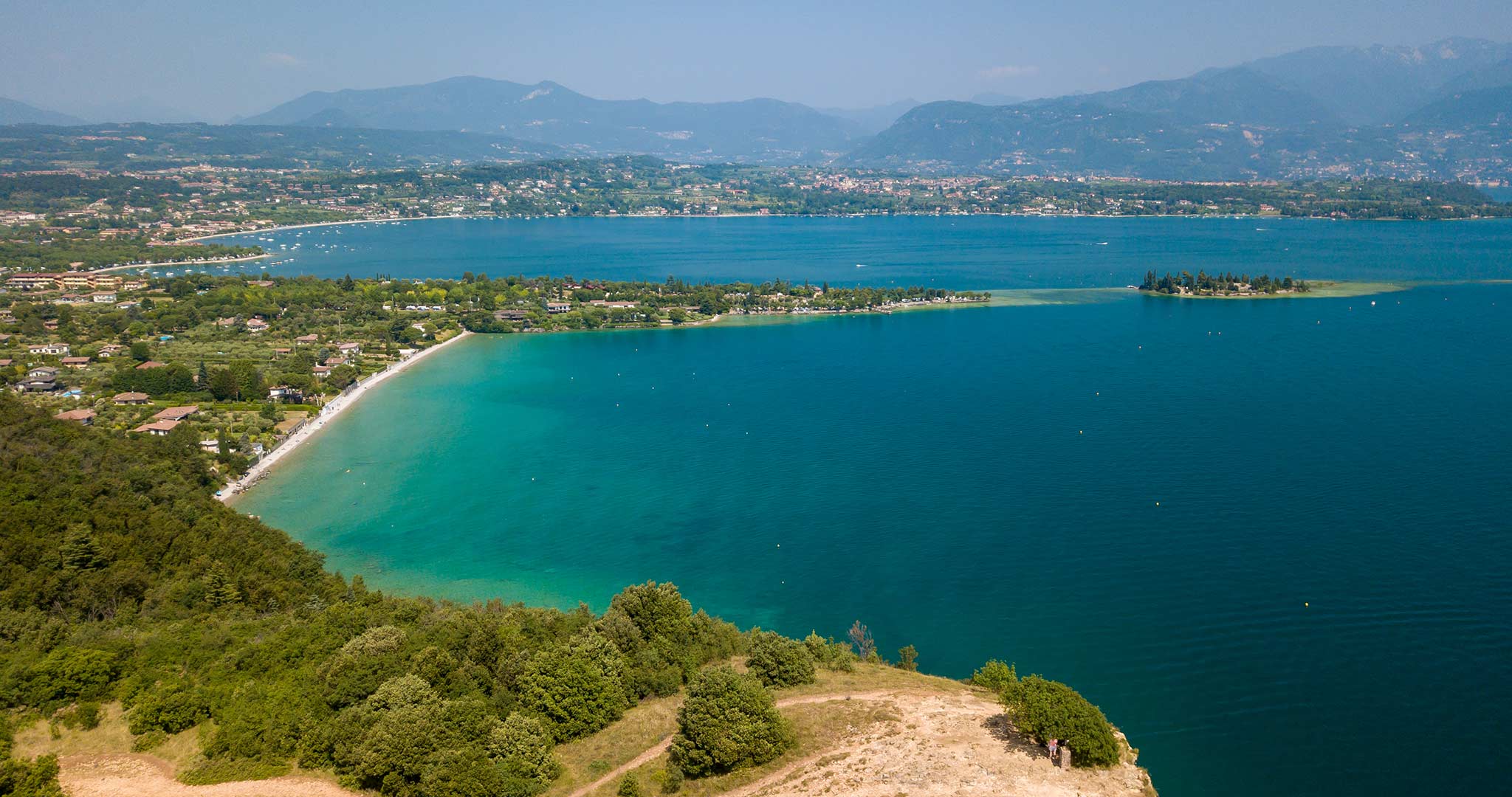 Day Three: Lake Garda and Lugana
Total drive time: 3 hours | Sleep in Lake Garda
After a whirlwind tour of Milan, it's time to escape the busy city life and head to the peaceful shores of Lake Garda. One of the largest lakes in Italy, it actually spans three different regions, but for this Italy itinerary, I'm focusing just on the Lombardy part, which has plenty to offer.
What to do in Lake Garda
Manerba del Garda provides some amazing hiking and beach options, with the clear water lapping up against either practically hidden stone beaches or more sandy shores where watersports are available. For some of the best views, hike up to Rocca di Manerba. We used a local guide, Andrea at Millemonti , who helped us find some of the hidden beaches.
There are lots of delightful towns and villages around the lake, but Desenzano del Garda is not only the easiest to get to but also adorable. Whether you stop here for lunch, decide to make it your base, or spend time exploring the castle and lazing on the nearby beaches, be sure to pass by.
Sirmione is likely the most famous spot on Lake Garda, thanks to the Scaligero Castle, a fortress on the peninsula with some wall remains in the water. There are also lots of lovely but quite expensive restaurants and resorts here, and at the far end of the land are the ruins of an old Roman villa.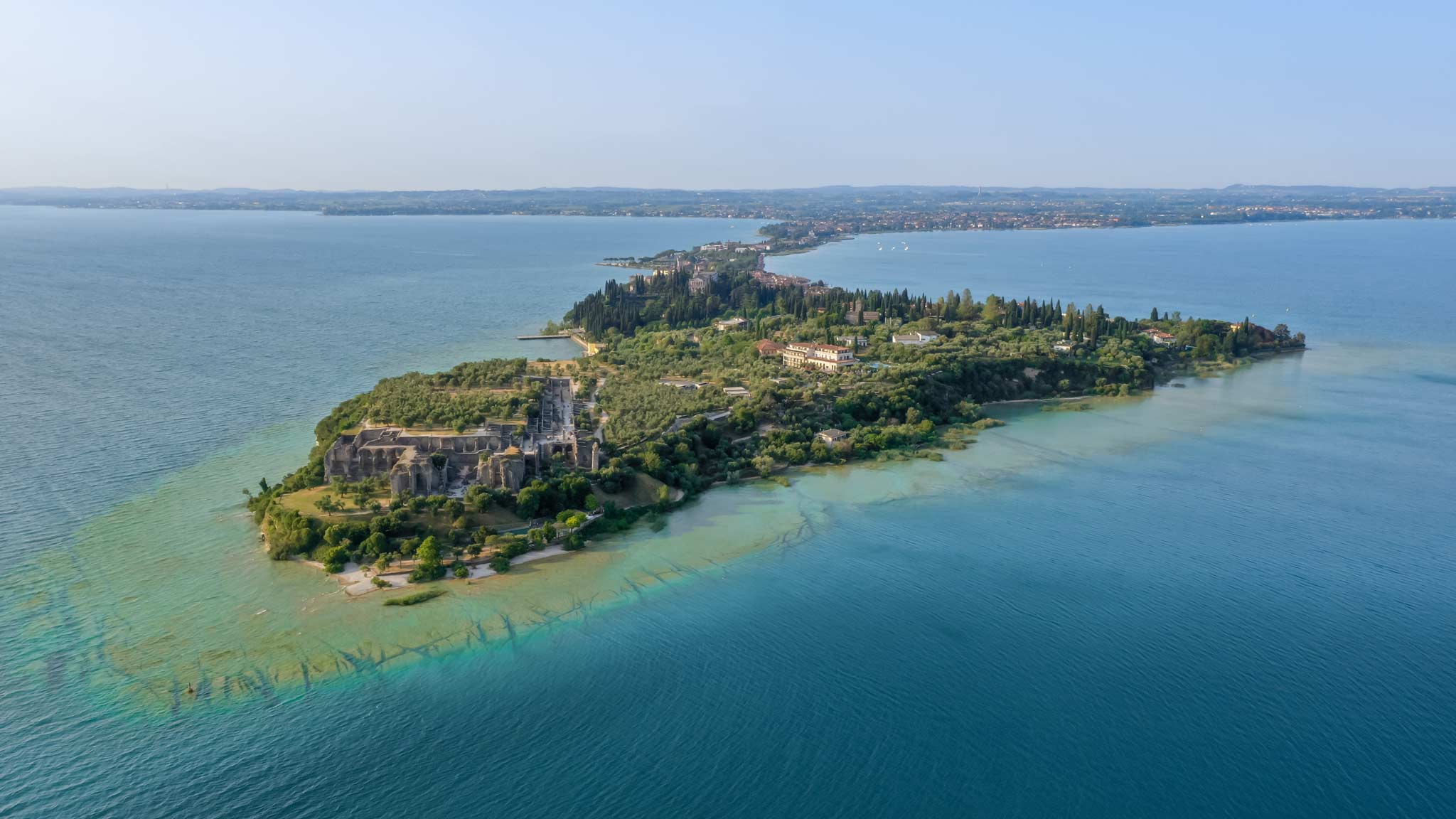 One other idea is to visit Lugana, a wine-producing region by the lake that stretches across both Lombardy and Veneto regions.
We went to Cascina Maddalena to learn more about the vineyard but also to have a local cooking class which was very garden-to-table, and then we all got to eat together family-style, literally with the family, and it was a lovely local experience for what can feel like a very touristed area.
Prefer public transport?
If you are coming to Lake Garda by public transport, it might change where you visit. Trains from Milan to Desenzano Del Garda-Sirmione station take around 1.5 hours, and from here, you have ferries and buses onwards to Sirmione, for example. That said, I found it easy in the summer, but in the off-season, the boats weren't running, and the buses were less regular, so keep that in mind.
Brescia is the principal city here, so a train from Milan to Brescia will also provide other options, such as a bus from Brescia to Manerba del Garda .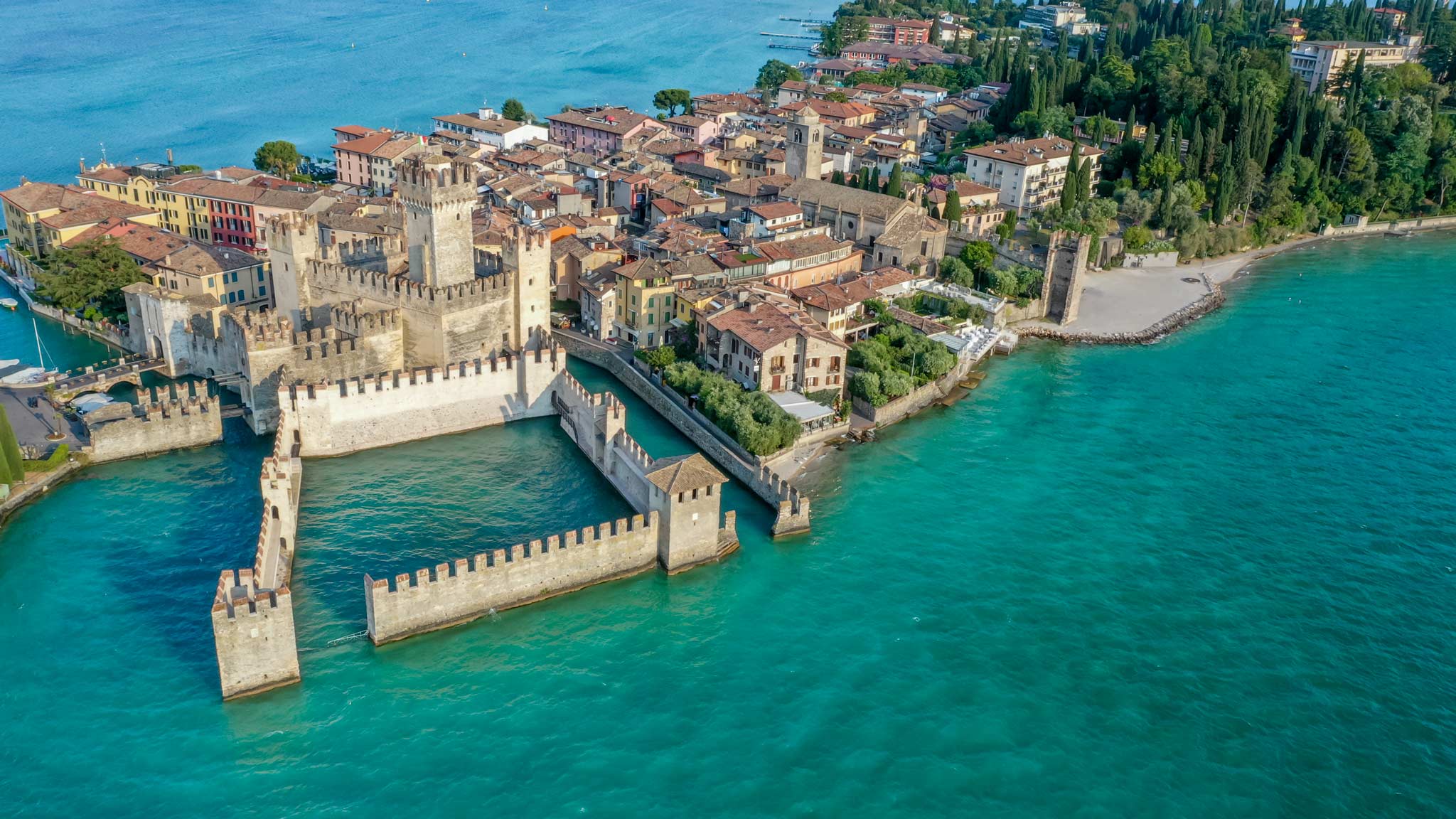 Where to stay on Lake Garda
I've made this another two-night stay, as I personally think Laka Garda is dreamy, and it's somewhere you should relax. Sirmione is, of course, the star of the show, but accommodation is expensive here and books out fast. During this trip, we stayed in basic but welcoming apartments just outside Sirmione called Daisy Guesthouse.
On my previous visit, I stayed in Desenzano Del Garda at Hotel Benaco , which I loved, as there are excellent restaurants and gelato places nearby, and the hotel was nice and fairly priced.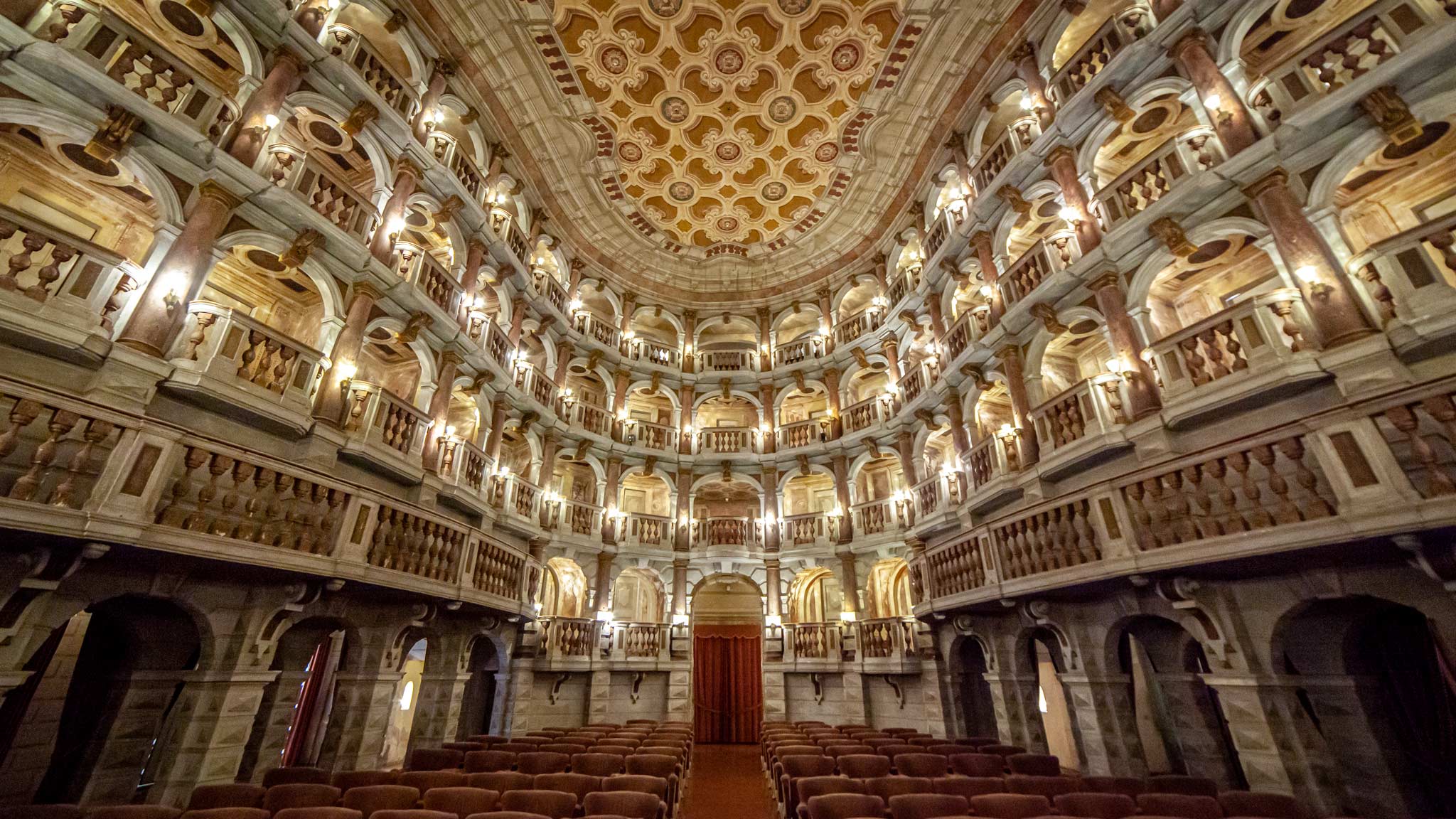 Day Four: Mantua
Total drive time: 1.15 hours | Sleep in Mantua
Wow! What a city, and to be honest, I'm surprised this incredible place is somewhat off the beaten path in Italy as it's a real treat.
What to do in Mantua
Home to the largest residential building in Europe, after the Vatican, Mantua is packed with art and architectural gems.
The city is surrounded by three artificial lakes, one coated in lilypads, and I enjoyed a sunset boat cruise through the lake looking back on the city, which was very serene.
We have to thank the Gonzaga rulers for most of the grand architecture in Mantua, whose Ducal Palace presents some 600 odd rooms. While only some are open to the public, they are an architectural feast with grand frescos and beautiful art; truly, this is the highlight of Mantua.
Impressive and worth a visit is the Palazzo Te (which has nothing to do with the drink), which also boasts some grand halls, and perhaps my favourite spot, the Teatro Bibiena, a true Italy hidden gem if ever there was one!
Lastly, be sure to try the local pasta speciality, Tortelli di Zucca , a pumpkin tortellini we sampled at Ristorante Tiratappi , which has a lovely outside deck (spray for mosquitos advised in warmer months) and was where Charles Dickens stayed in Mantua.
If you are looking for an expert on Mantua to help you discover the best of the city, then Lorenzo Bonoldi is the man you need and runs Visit Mantua tours .
If you get back to Brescia, you can hop a bus to Mantua, but the easiest option might be a train from Desanzo del Garda via Verona. If you're planning to travel by train, I'd suggest learning at least the more famous Italian place names and their pronunciation – for example, Mantua is actually Mantova in Italian – to ensure no confusion when buying tickets or listening out for your stop.
Where to stay in Mantua
I loved where we stayed in Mantua, the hosts were so welcoming, and with just a few rooms in the accommodation but also lounge and dining space, it was super spacious. The rooms were also a good size, and you could see the history of the place through the frescos and wooden beams, so be sure to take a look at Le Casa del Pittore .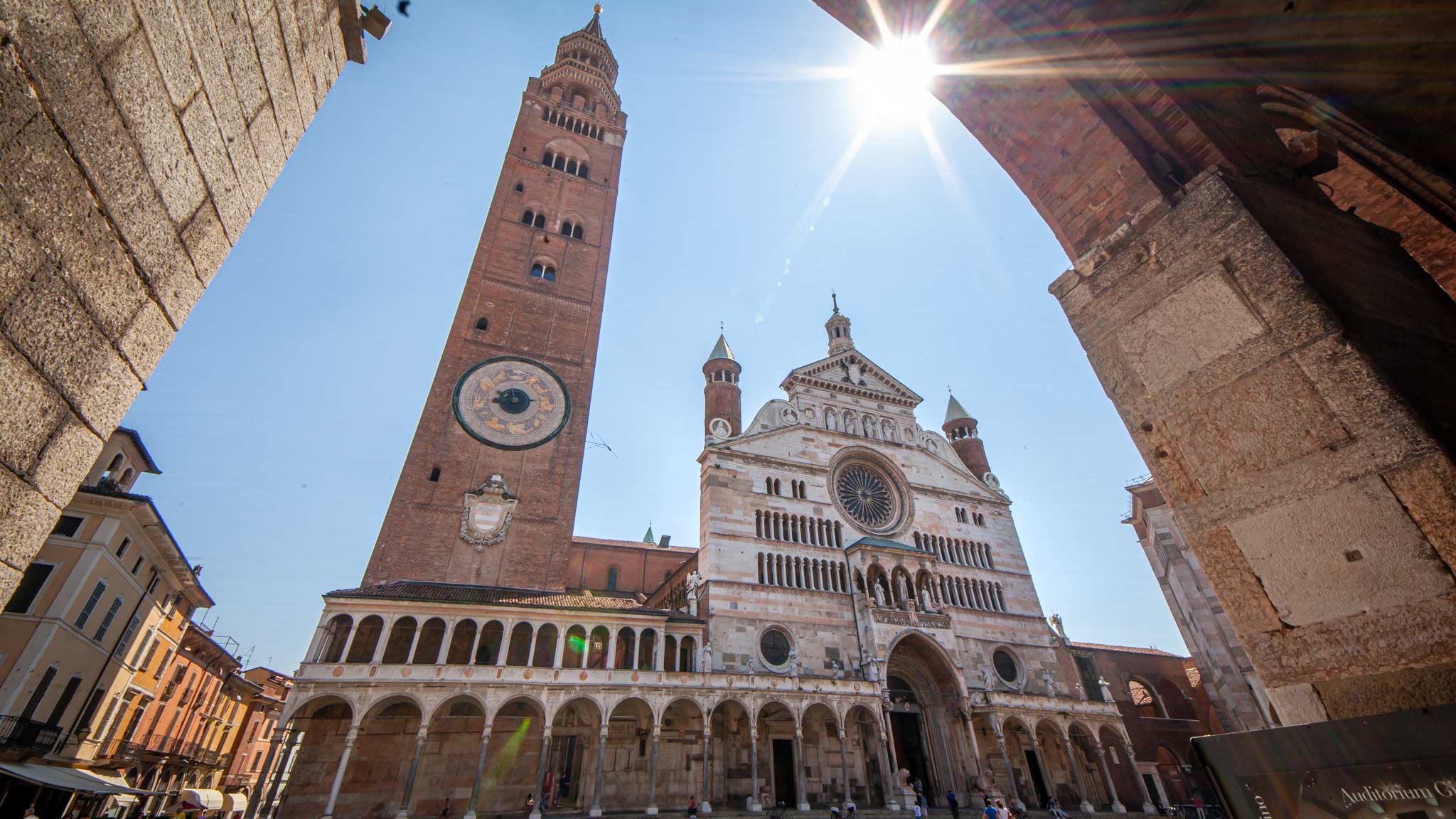 Day Five: Cremona – Como
Total drive time: 3 hours | Sleep in Lake Como
Cremona is a city known for its Violin heritage, being the birthplace of one of the most famed string instrument makers, Antonio Stradivari. While there is a museum here dedicated to Violins, I actually found visiting a small Violin Workshop a more exciting way to discover the musical culture of this underrated European city .
What to do in Cremona
Firstly, let's cover one of the typical local dishes, Mostarda di Frutta, an interesting condiment of candied fruits in a spiced mustard dressing, actually much nicer than it sounds. The city is also renowned for its nougat .
Beyond the violins, there is some lovely architecture to enjoy, such as the cathedral and baptistery, and some fantastic views atop the clock tower, which stretch out into the neighbouring region of Emilia Romagna – this also could be a day trip from Bologna .
A direct train from Mantua to Cremona is under an hour. From Cremona to Como, you'll need to take a train back through Milan and change there.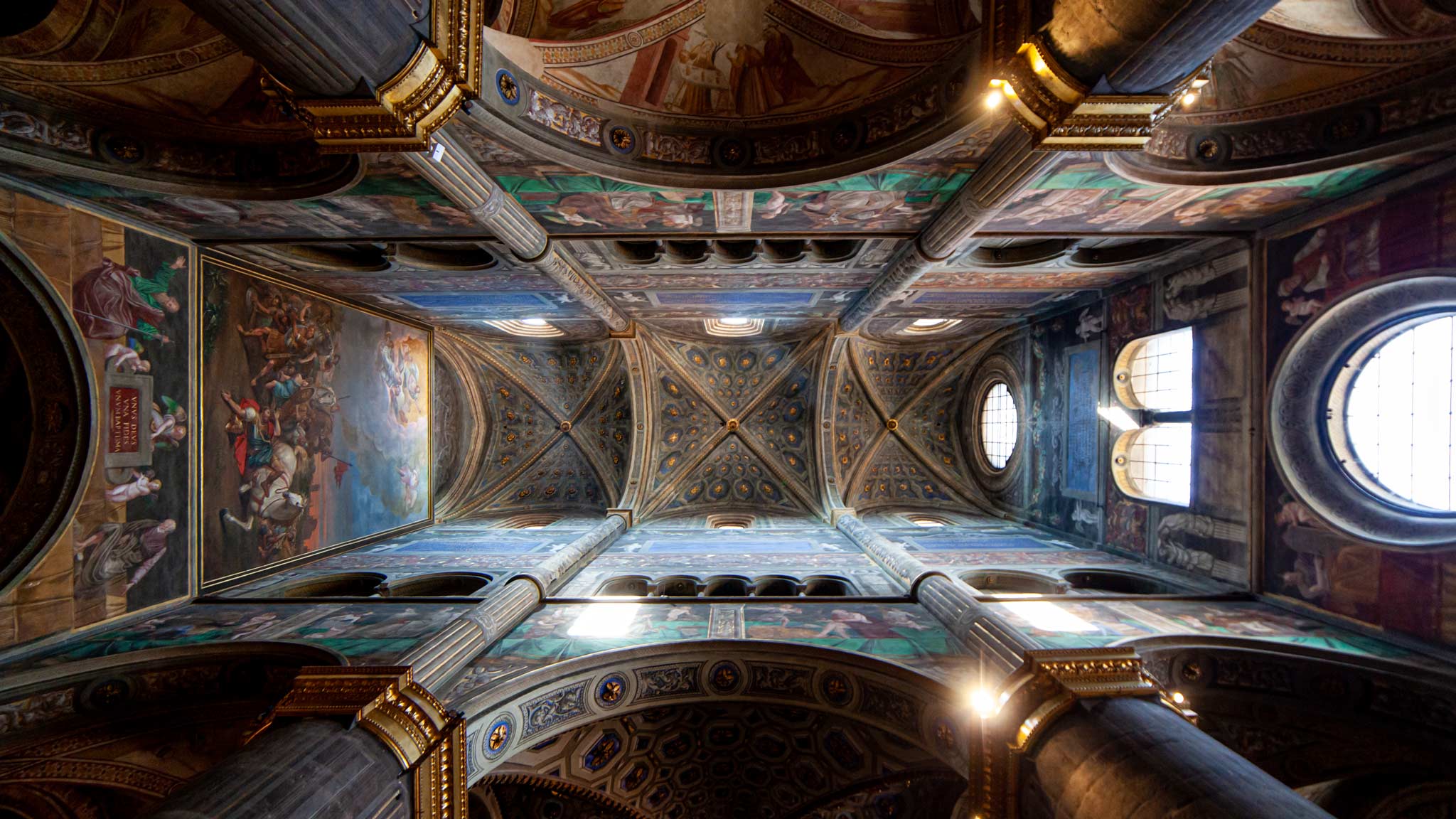 Where to stay in Lake Como
I can personally vouch for the Hotel Metropole Suisse , which is quite upmarket option on the waterfront of Como town. For something more affordable, on my most recent summer visit, I stayed at Megaride Guest House . I've always stayed in Como proper, so I don't have any personal recs of hotels around the lake.
Where to stay in Cremona
If you decide to stay the night in Cremona and are driving, the Agriturismo Cascina Farisengo , which is around 4kilometres out of Cremona, might be the perfect option as a restored country house centred around a grand courtyard.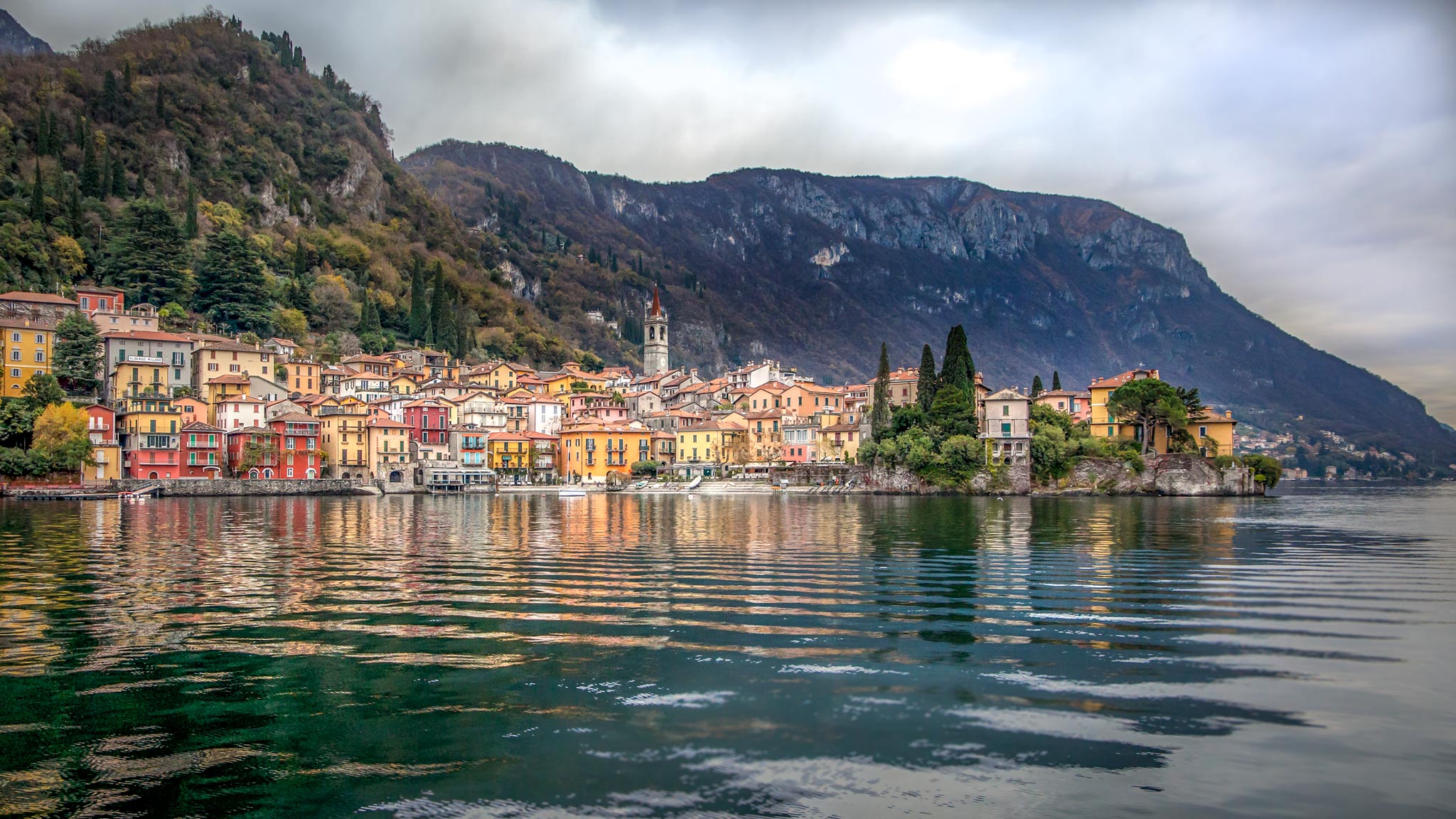 Day Six: Lake Como
Total drive time: None or 2-3 Hours | Sleep in Lake Como
After exploring the culture and cityscapes of Lombardy, it's time to head back to the lakes.
What to do in Lake Como
Lake Como has plenty to offer, from relaxing water-side villages of colourful houses to mountain bike trails and hiking.
This is a pretty large lake, so there are plenty of different spots to visit. You should read my guide to a weekend in Lake Como for some more inspiration.
But, for some starting points, the main sized towns are Como and Lecco, both of which have a hub of shops and restaurants and excellent transport links out to other destinations. Then you have some other beautiful destinations such as the well-heeled Bellagio, Varenna (one of my favourites) and tiny hideaways such as Nesso.
To get between the different spots on the lake, there are plenty of ferry-style boats. In summer, services are more regular, though not all villages and towns link to each other as there are different routes. These ferries are great if you just want to go between, say, Como and Varenna. But, if you want to visit a few different places along the lake in quick succession, consider one of the many Lake Como boat tours available, and see if there's a departure which visits the villages you're keen to explore.
If you are happy to stick with four wheels and continue your road trip through Lombardy, you'll also be able to access other places around the lake that aren't as regularly visited by the ferries.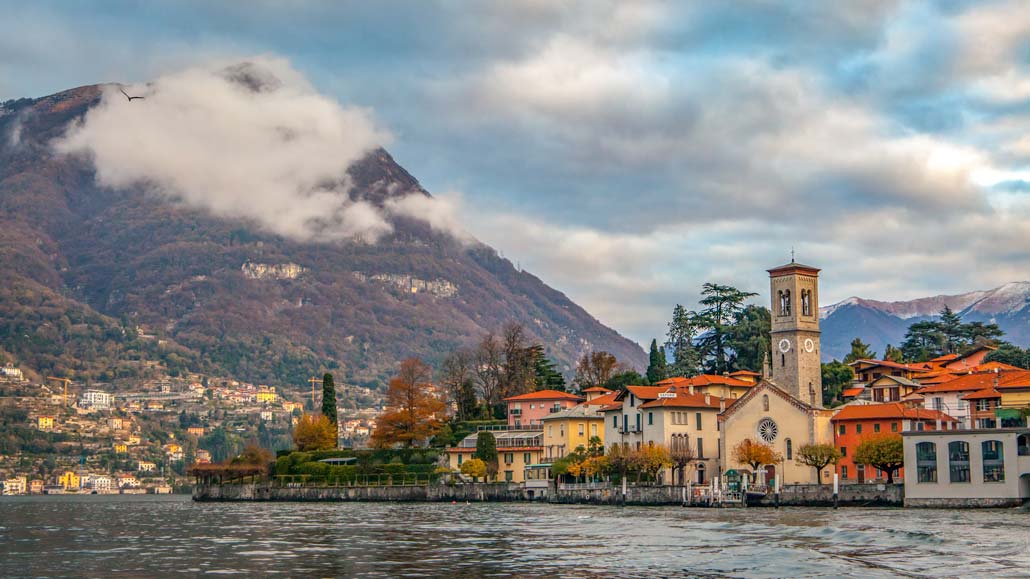 There is a network of boats going around Lake Como, obviously more in high season. There are also some buses and trains to the likes of Lecco and Varenna, so plan your route to best suit the options available I'd suggest.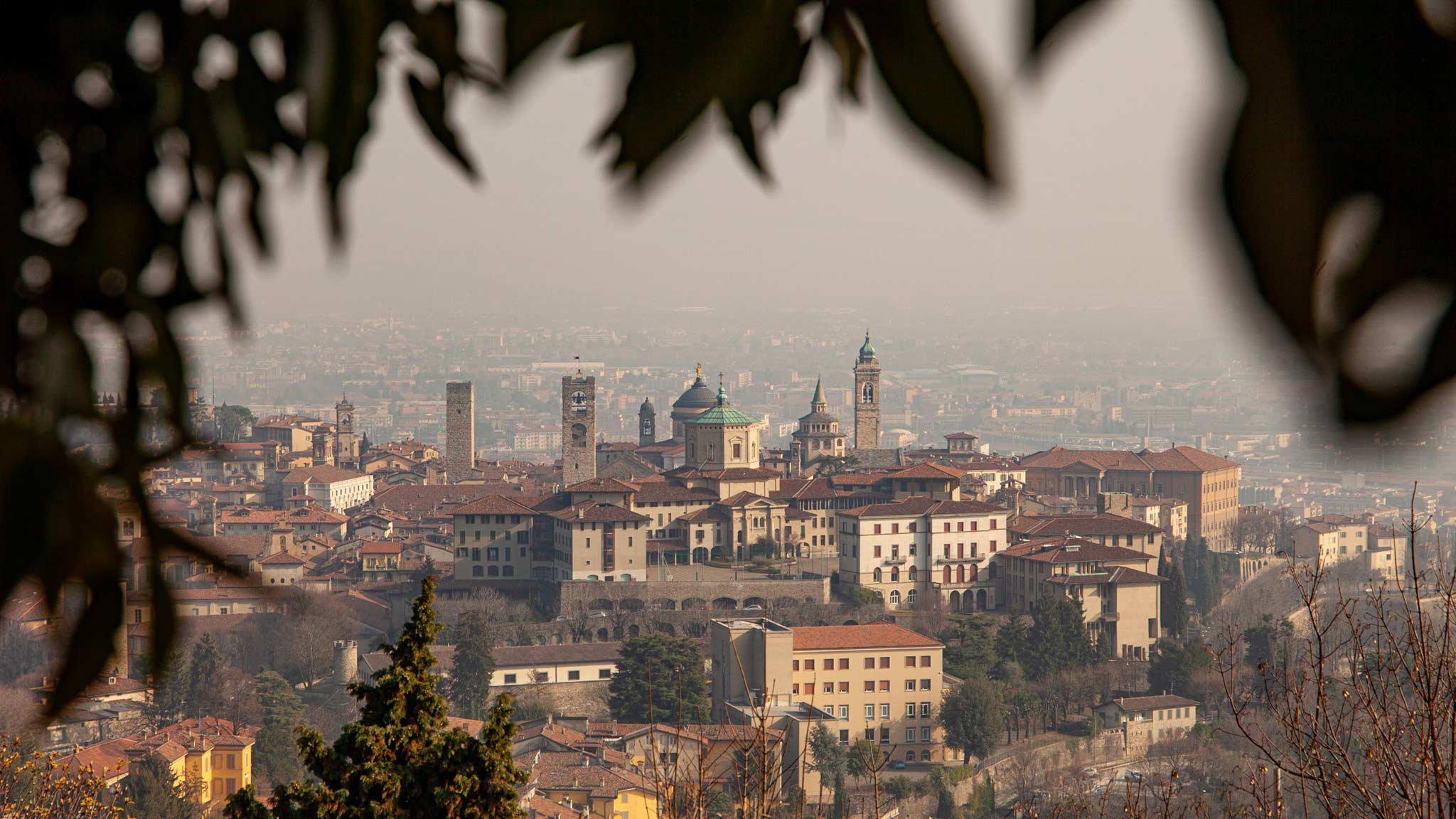 Day Seven: Bergamo / Travel Day
Total drive time: Approx 2 hours (Depending on which airport)
And here we are, at the end of an epic Northern Italy itinerary in Lombardy, but there is time to fit in one last stop.
If you are flying from Bergamo, then this is a no-brainer. If you are flying onwards from Malpensa or Linate, you likely won't want to detour to the city, but perhaps you will instead prefer to spend your last hours at Lake Maggiore, which is close to Malpensa instead.
What to do in Bergamo
The main draw of Bergamo is the Città Alta, the fortified part of the city which sits above the not quite as interesting modern part.
There are numerous viewpoints here; some reach by funicular, others at the top of buildings, with the architecture around the main square of particular note thanks to the cathedral and porticos surrounding it.
If you are heading straight back to Milan for a flight, then from Como, you can get trains into central Milan. Have a Google at the best transport options as it will depend on which airport you are flying from. To get from Como to Bergamo, it's often suggested to take the train back to Milan, but there is a bus a few times a day that would cut out going back into Milan.
Where to stay in Bergamo
If you decide to stay the night in Bergamo, then there is a surprisingly high-quality hostel here with dorms and privates that I've stayed in before. Alternatively, staying in the Citta Alta is one of the smaller B&Bs or private apartment rentals. If you have an early morning flight though, you might want to stay nearer the airport or drop off the car before exploring Bergamo.
Car hire and driving in Italy: Ensure you have your international driving permit for Italy. Car hire costs will vary between seasons, but I suggest using a car-search platform to find the best value. You won't be going too off the beaten path on this road trip, so there is no need to have a supercharged car.
Be aware when parking for restrictions, which can change from space to space and will be marked on signs. A lot of places allow free overnight parking, but you may need to move them. Also, parts of some Italian cities have restricted zones that you may not be able to go into, even if others have – this will usually be followed with a fine letter a month later. Most of the time, signs are just in Italian, though, so keep an eye out!
Related Posts:
Italy off the beaten path: 25 hidden gems in Italy
12 Emilia Romagna Food Experiences Not To Miss
Best Things To Do in Italy: 15 Unforgettable Italian Experiences
7-Day Puglia Itinerary (Road Trip or Public Transport)
Visiting Cervia, Italy: Beaches, Canals, Seafood and Storied Salt
15 Underrated Cities in Europe You Should Visit
Leave a Reply
Leave a reply cancel reply.
Your email address will not be published. Required fields are marked *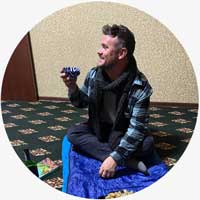 Hey, I'm Dan…
Sign up for (irregular) updates.
Email Address *
Recent Articles…
12 Epic Multi-Day Hiking Destinations: From Famed Peaks to Offbeat Trails
20 Best Cities to Visit in Spain for Culture, Coast or Cuisine
5 Epic Island Escapes for Wildlife and Adventure
Slowing down in Graz, Austria's sustainable second city
Why Visit Sicily? 10 Reasons to Love Italy's Largest Island
Sample Spain in Seven Days With These 5 Itinerary Ideas
How To Spend a Weekend in Innsbruck, Austria's Altstadt in the Alps
Best Places To Visit in the Algarve: Things To Do and Top Attractions

10 Reasons to Visit the Region of Lombardy in Italy – From Milan and Lake Como to Lombardy's History, Nature, and Art
By Author Rossi Thomson
Posted on Last updated: 4th September 2022
Categories Lombardy
Here are ten reasons to visit Lombardy – the Italian region that has the worldwide famous city of Milan as its capital.
Known as lombardia in italian, you will find it right in the centre of the cuff of the boot of italy. from this top location, it plays a leading role in the country's commerce, industry, and cultural life..
Plus, many of Italy's most coveted destinations are on the territory of Lombardy. Lake Como is a case in point. Perennially popular, it attracts both travellers and Hollywood stars eager to experience the beauty of Italy.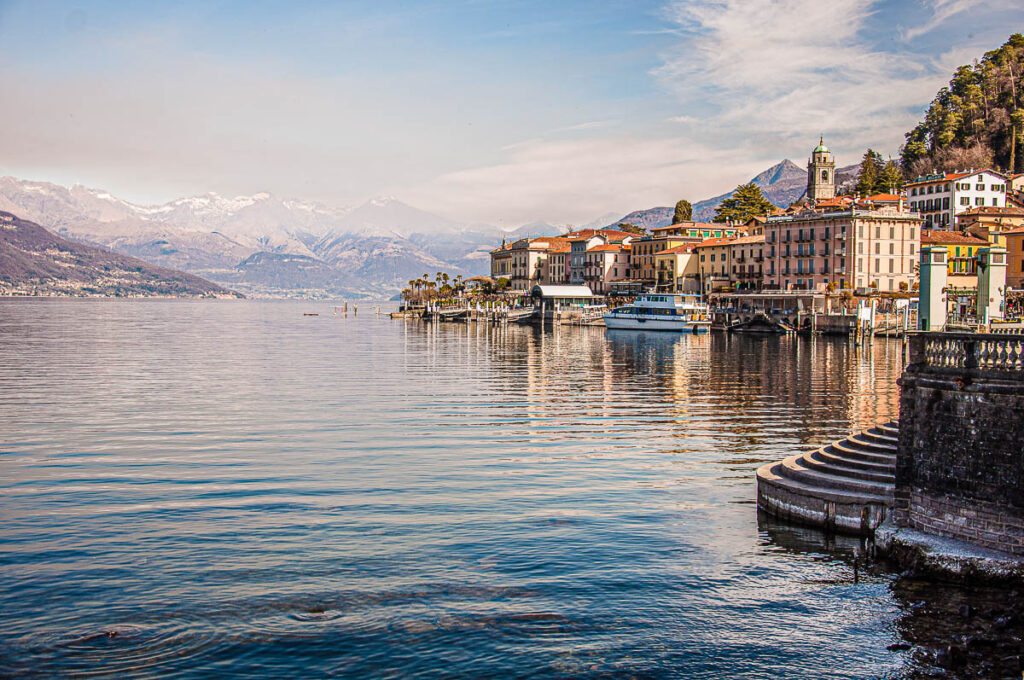 Lombardy also includes a significant portion of the Italian Alps, some of the prettiest northern Italian lakes, as well as many historic towns and cities the names of which have become synonymous with art. Impressively, the region also has the highest concentration of UNESCO World Heritage Sites in all of Italy.
With Switzerland to the north, and the Italian regions of Trentino-Alto Adige and Veneto to the east, Emilia-Romagna to the south, and Piedmont to the west, Lombardy is easy to reach from anywhere in Italy , Europe, and the world.
The region's busy airports, high-speed railway network, and fast highways make a trip to Lombardy a quick and easy experience. It's not surprising then that millions of visitors flock to this corner of Italy every year eager to see Milan and Lake Como for themselves. Many of them also use Milan's international airports as a point of arrival for a wider-reaching Italian holiday.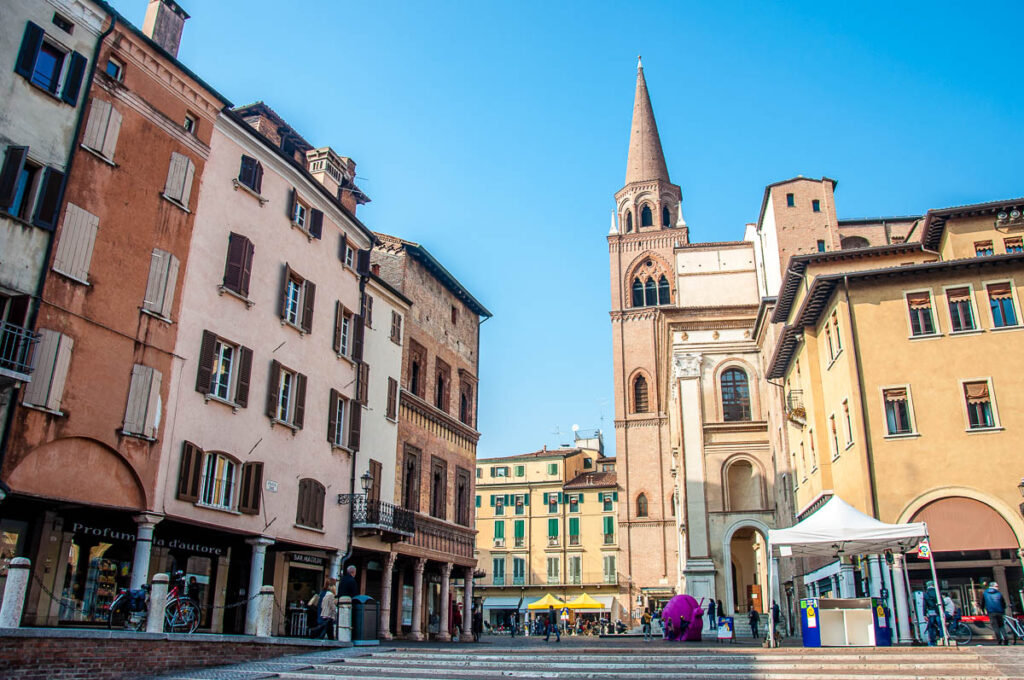 Lombardy, however, is so much more than just its capital and famous lake. This is a place of millennial history, refined art, centuries-old music heritage, and delicious local food.
It's a land where many of Italy's most famous historic figures lived and worked. Among them are the Roman author and natural philosopher Pliny the Elder, the polymath Leonardo da Vinci, and the pioneer of electricity Alessandro Volta.
It's also the most cosmopolitan Italian region which, at the same time, has many towns and villages with perfectly preserved medieval and Renaissance look and feel.
All this makes Lombardy a very exciting place to explore. No matter what you may be passionate about – history, art, sports, food, famous landmarks or traditional festivals and lively events – in Lombardy there are many ways to indulge and expand your interests.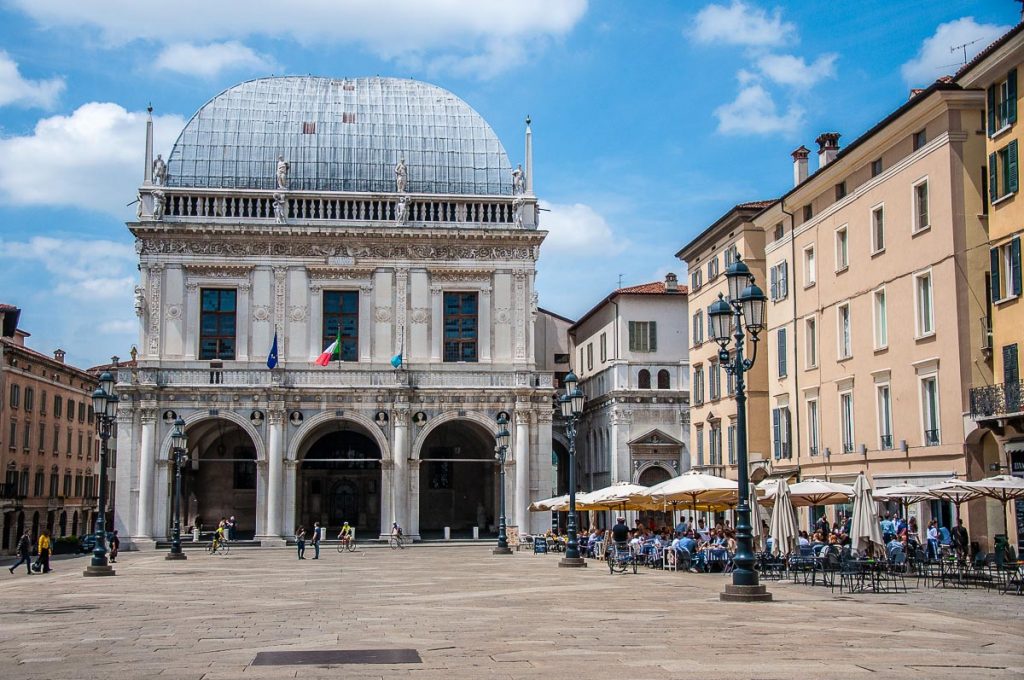 I am a big fan of Lombardy in Italy myself. I love visiting and revisiting its cities , villages, mountains, and lakes, its hidden corners and worldwide known gems.
So, in this blog post today, I will give you the ten best reasons that make Lombardy a must-see destination in Italy. From its cities, history, music, and art to its stunning nature and centuries-old traditions and culture, it's all covered. Plus, this easy to read travel guide is peppered from start to finish with practical travel tips that I personally tried and tested over my many visits to Lombardy.
I hope that you will enjoy reading it, looking at the photos I took of the Lombardian nature and sights, and that you will feel inspired to head to this beautiful Italian region as soon as possible. It's the perfect place for a weekend trip a longer Italian holiday.
Find out why!
10 reasons to visit the region of lombardy in italy – from milan and lake como to lombardy's history, nature, and art.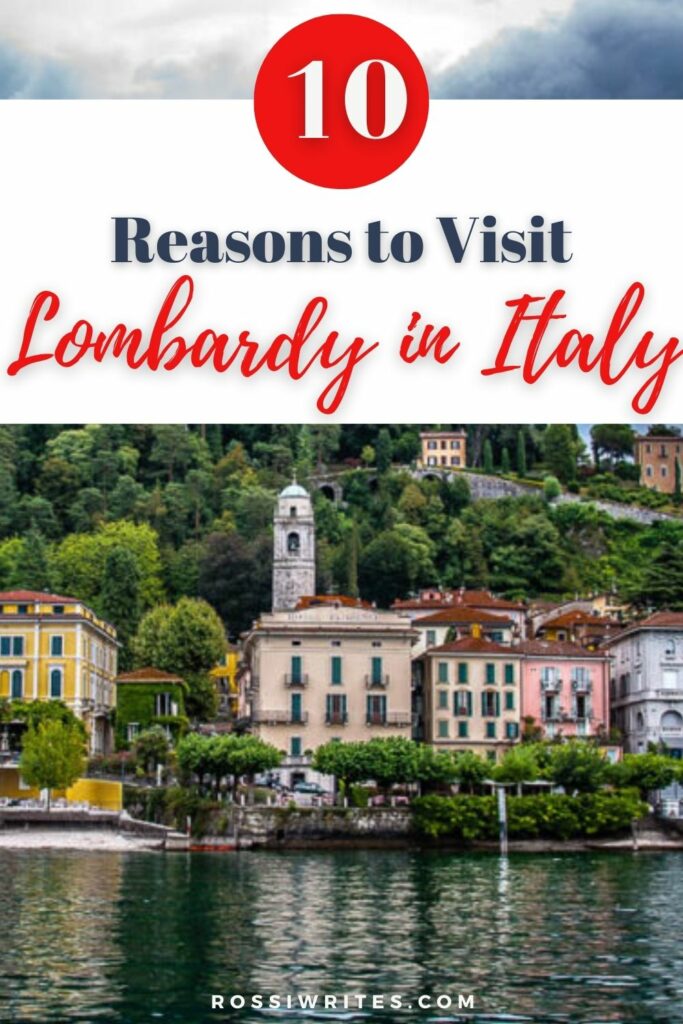 1. Lombardy's Capital Milan – Experience Italy's Most Cosmopolitan City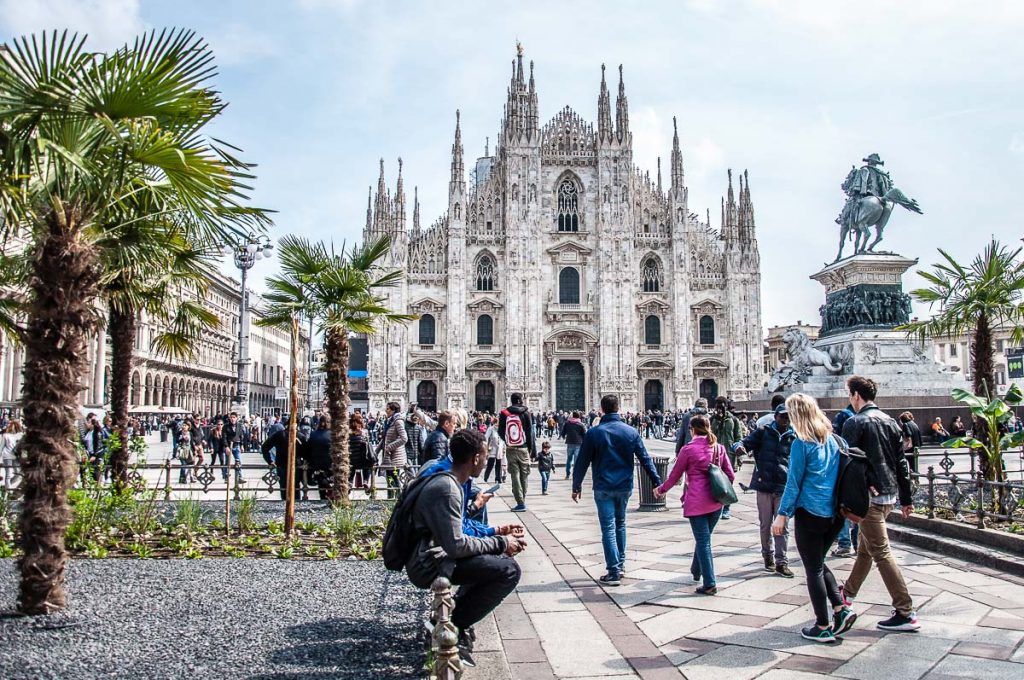 Milan – or Milano in Italian – is one of the most famous cities in the world. A fashion capital and an important centre of industry and commerce, this is a large, exciting city that has its finger on the pulse of Italy and Europe.
At the same time, Milan is also a place with centuries-old history and a repository where some of the world's most precious works of art are kept.
From the iconic Duomo di Milano – a stunning Gothic cathedral with a lace-like triangular facade – to the famous Teatro alla Scala , Lombardy's capital has a string of beautiful must-see landmarks.
This is also the city where the famous painter, sculptor, and engineer Leonardo da Vinci spent 18 years of his life. Nowadays, some of his greatest masterpieces can be seen here.
The famous fresco The Last Supper doesn't really need an introduction. In addition, in Milan, you can also see:
Leonardo's Codex Atlanticus – a 12-volume set of his writings and drawings which nowadays is kept in the city's Biblioteca Ambrosiana . This ancient library conserves precious historic books and has an important art gallery on-site. You can admire another of Leonardo's works of art – Portrait of a Musician – here. Click to book your visit .
Leonardo's Vineyard – this was a gift that the artist received from the Duke of Milan in 1498. Nowadays, the original rows and the original vine stock have been carefully restored and brought back to life once again. Click to book your tickets or guided tour .
In addition to all its striking landmarks and international creative buzz, Milan also has many hidden corners and little quirks. Seek them out as they reveal the authentic character of this sprawling and at a first glance rather grey city in all its multilayered charm.
From the historic trams rumbling through the city's wide central boulevards to the Navigli district – crisscrossed by canals flanked by lively eateries – Milan must be seen and experienced at least once in a lifetime.
More Information:
For more about Milan have a look at point 11 here: 15 Must-See Cities and Towns in Lombardy, Italy (With Map, Photos, and Insider Tips)
2. Lombardy's Lakes – Enjoy the Famous Lake Como, Lake Maggiore, and Lake Garda and Discover Many More Beautiful Northern Italian Lakes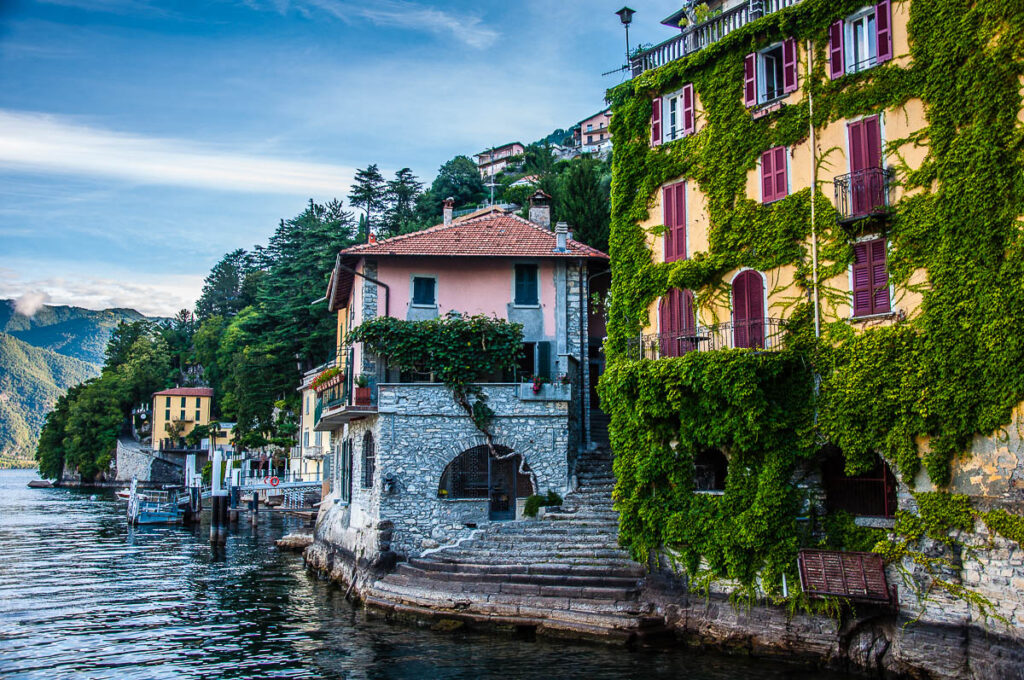 Lombardy is blessed to have several of Northern Italy's most well-known and beautiful lakes on its territory. Most importantly, Lago di Como . Italy's most famous lake is one of the brightest gems in Lombardy's crown.
An easy train ride or car drive away from Milan, Lake Como stretches up towards Switzerland. It looks like an upturned letter Y. The panorama of its three branches' meeting point is best enjoyed from Bellagio.
This lakefront town is very picturesque! It's not surprising really that the ancient Romans used to build their villas here.
Among them was Pliny the Younger – a famous Roman lawyer, magistrate, and author as well as the nephew of Pliny the Elder. He had not one but two villas at the spot of modern-day Bellagio. While one was up in the hill above the lake, the other was right next to the water, so he could fish through the window while he relaxed in bed.
Beautiful as it is, don't limit yourself just to Lake Como during your visit to Lombardy.
In this northern Italian region, you can also spend wonderful moments on the shores of the worldwide known Lake Garda , Lake Maggiore, and the gaining wider appreciation Lake Iseo. Or you can discover many small yet striking lakes like Lake Idro and Lake Valvestino. The first is a thin and long lake where, they say, the mythical monster Idra lives. The other resembles a Norwegian fjord and makes up in beauty what it lacks in size.
If you are planning to visit Lombardy primarily to explore its capital Milan, then make sure that you put a day aside to see one of the region's lakes, too. Easy to get to by public transport or by car, they give you a chance to experience Italy from a different point of view.
For example, at Lombardy's lakes you can explore picturesque waterfront towns. Sirmione on Lake Garda and Varenna on Lake Como are my personal favourites. You can go for a hike in the hills and the mountains flanking the Lombardian lakes and take in heady panoramic views. Or you can simply top up your tan on one of the many lakefront beaches and take a ferry across the water so as to enjoy the views of lush hills, olive groves, and small villages as they glide past you.
If you would rather combine city sightseeing and a lake visit, however, then head straight to Mantua . This Lombardian city is surrounded by three lakes and it's a beautiful place to explore.
Lake Como – The Beauty of Italy's Most Famous Lake in 25 Photos
Lake Garda Map – Where is Lake Garda ad What to Do around Italy's Largest Lake
For Sirmione have a look at point 1 here: 20 Best Towns to Visit around Laego di Garda – Italy's Largest Lake (With Map and Insider Tips)
For Mantua have a look at point 9 here: 15 Must-See Cities and Towns in Lombardy, Italy (With Map, Photos, and Insider Tips)
3. Lombardy's Excellent Transport Links – Arrive at Busy International Airports and Travel around by High-Speed Trains and Fast Highways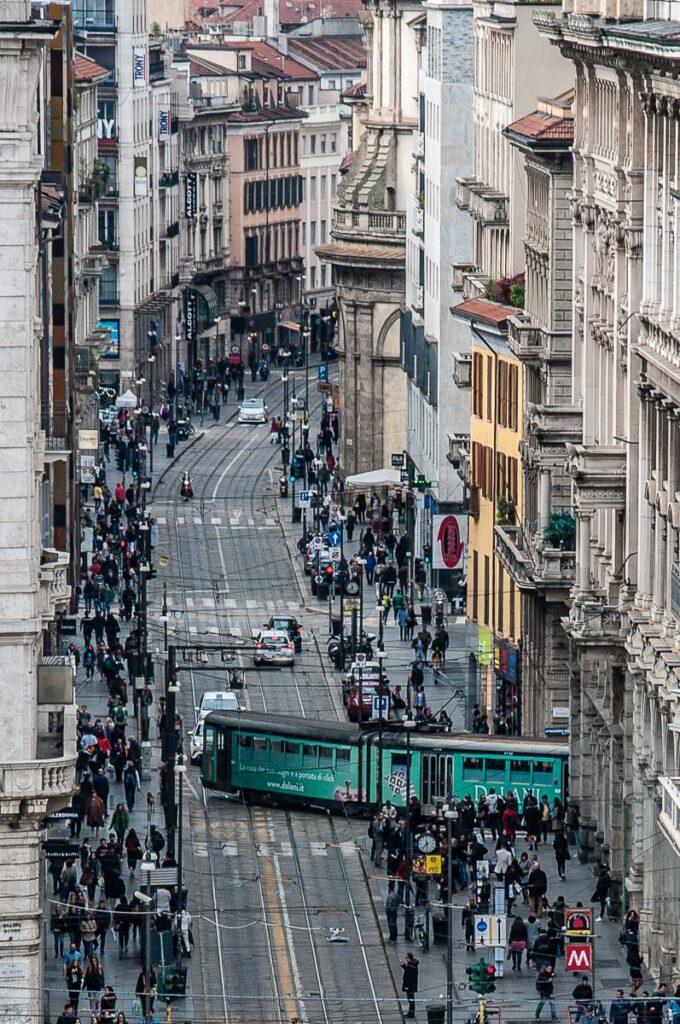 Lombardy is very well connected by air, rail, and road to all corners of Italy and Europe.
Three major airports operate in this northern Italian region. They are:
Milan Bergamo Airport (also known as Orio al Serio Airport)
Milan Linate Airport
Milan Malpensa Airport
Based on the number of passengers they deal with on a daily basis, all three are in the top 10 of the busiest Italian airports.
This means that you can easily reach Lombardy and Milan from anywhere in the world on a flight operated either by a low-cost company or a major airline. This way you can book just the right ticket for your budget and available travelling times and pick the most convenient airport for your destination in Lombardy and Italy.
Lombardy's well-developed railway network is another top reason to come here. High-speed trains and fast regional trains operated both by the national railway company and a private enterprise guarantee you quick and easy access to a long list of must-see destinations and cities in Italy .
Here are some sample travelling times by high-speed train both within Lombardy and beyond:
Milan to Brescia – from 36 mins;
Milan to Turin – from 1 h;
Milan to Desenzano del Garda on Lake Garda – from 1 h 3 mins;
Milan to Bologna – from 1 h 4 mins;
Milan to Genoa – from 1 h 27 mins;
Milan to Florence – from 1 h 54 mins;
Milan to Venice – from 2 h 27 mins;
Milan to Rome – from 3 h 10 mins.
All this gives you so many options for exciting day trips and longer journeys during your stay in Lombardy and Italy.
Finally, exploring Lombardy by car is also very easy. A dense road network connects the region's main cities like Milan and Brescia to the smaller towns and picturesque villages here.
Knowing that within an hour's drive from anywhere in Lombardy you can be on the shores of a beautiful lake, in the folds of the mountains or exploring the art and history of a new place, is a great incentive to visit this northern Italian region.
If you are looking further afield, then travelling by car is also a quick way to get from Lombardy to anywhere in Italy. Several important highways run through the region leading to the country's most beautiful and important destinations. Among them are:
Autostrada A4 (known also as La Serenissima after the moniker of the historic Republic of Venice) – it connects Turin first to Milan then Brescia and continues to Verona , Venice and Triest; and
Ausostrada A21 (known also as the Motorway of the Wines as it goes across several important wine-producing areas) – it connects Turin to Cremona and Brescia.
11 Major Airports in Northern Italy (With Map, Nearest Cities, and Public Transport Options)
Getting Around Lake Garda – 8 Best Ways to Travel Around Italy's Largest Lake
4. Lombardy's UNESCO World Heritage Sights – Explore the Highest Concentration in Italy of Cultural and Natural Landmarks with Universal Value to Humanity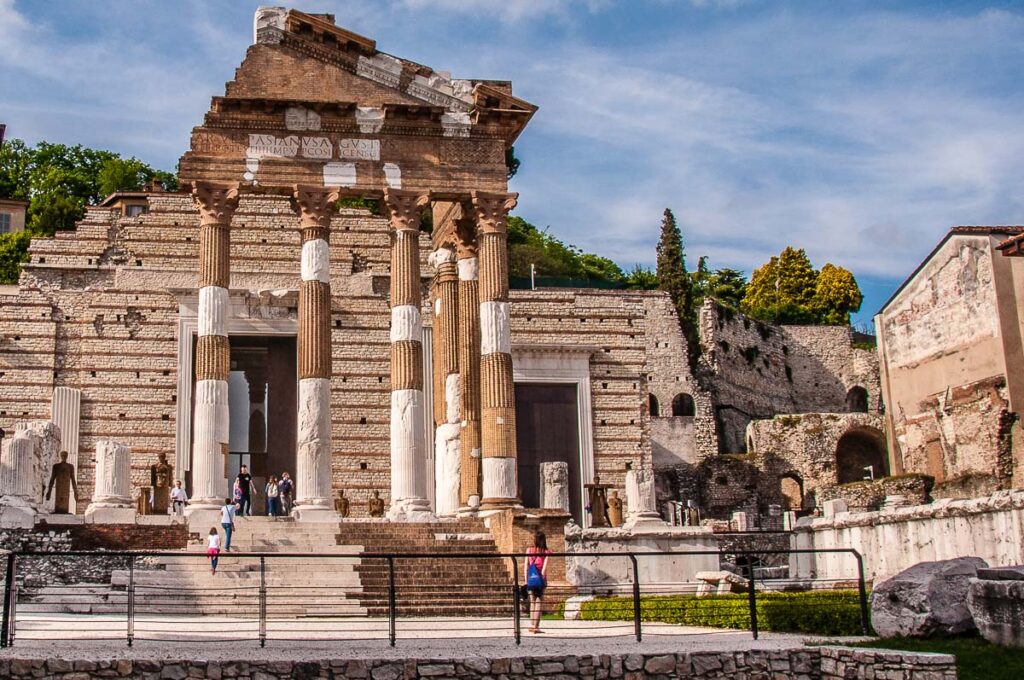 Lombardy is the region with the highest number of UNESCO World Heritage Sites in Italy. There are 11 of them here.
Even more, this is the region with Italy's first UNESCO World Heritage Site. The Rock Drawings in Valcamonica in Lombardy were inscribed by UNESCO in 1979. For comparison, the Historic Centre of Rome was listed in 1980.
If you like exploring cultural landmarks with a value that transcends local history and national borders, then Lombardy is a must-see. From the Church and the Dominican Convent of Santa Maria delle Grazie with The Last Supper fresco by Leonardo da Vinci in the heart of Milan to the Renaissance gem of Mantua and the ideal city of Sabbionetta , here you can immerse yourself into humanity's highest levels of creativity from art to architecture.
In terms of natural sights, Monte San Giorgio is a great representative. This pyramid-shaped mountain stands right on the border of Italy and Switzerland. It is regarded as the best depository of marine fossils from the Triassic period (245-230 million years ago). At the time, the mountain was a tropical lagoon teeming with life.
The city of Brescia is my favourite destination in Lombardy in terms of UNESCO World Heritage Sites. Come here to see Northern Italy's largest and best-preserved Roman archaeological area . Next door to it stands the Santa Giulia Museum Complex with an area of 14,000 sq. m and over 12,000 artefacts.
The archaeological area and the museum are inscribed on UNESCO's List of World Heritage Sites as part of the property ' Longobards in Italy. Places of the power (568-774 A.D.) '. Both deserve a visit during a day trip to or a longer stay in Brescia – an exciting city just over half an hour away by high-speed train from Milan.
Brescia, Italy – How to Visit and Best Things to Do in the Most Underrated Italian City (With Map and Practical Tips)
Official website of the UNESCO Sites in Lombardy, Italy
5. Lombardy's Cities of Art – Discover Roman Ruins, Medieval Fortifications, and Renaissance Pearls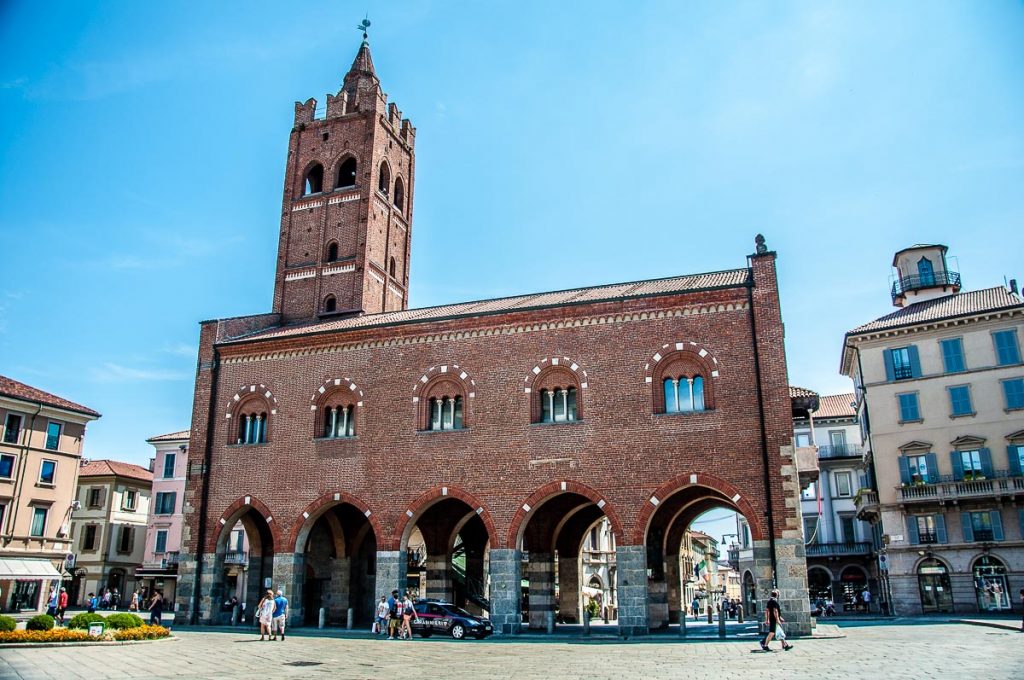 Beyond the buzz of Milan and the sights of Brescia , Lombardy is dotted with many smaller cities and larger towns that safeguard some of Italy's best artistic achievements and historic places of interest.
Known collectively as Cities of Art (in Italian, Citta' d'Arte ), they have so much to offer to the curious traveller – from art galleries densely packed with masterpieces to sturdy fortifications, splendid buildings, and tall bell towers offering heady views.
Take the funicular up to Bergamo's Upper Town – or Citta' Alta as it is known in Italian – for example, and you will find yourself in an urban nucleus where the Middle Ages meet the Renaissance. To make it even more dramatic, it's all enveloped in massive Venetian walls. The narrow cobbled streets will then lead you up to a central square – Piazza Vecchia – that the famous Swiss-French architect Corbusier once declared to be "the most beautiful in the world".
In the town of Como on the lower edge of Lake Como, you can start your exploration of the past from Roman ruins and then progress through the Middle Ages all the way to the present. The different historic periods here blend and fuse into one another, each taking inspiration from the previous ones and adding something new and inspired to the mix.
Hence, when you look at imposing buildings like the Como Cathedral, you can spot many elements pertaining to different eras and yet all of them create a harmonious whole.
Monza – another of the Lombardian Cities of Art – lives one foot in the past and one foot in the future. This lovely city – the third-largest in Lombardy – is famous both for its medieval and Neoclassical buildings and as the seat of the Italian Grand Prix.
Built in 1922, the Autodromo Nazionale di Monza is the world's third-oldest purpose-built motor racing circuit. It has been hosting high-speed motor races for a century. Nowadays, it's officially referred to as The Temple of Speed as the cars achieve top speeds of nearly 350 km/h.
From Pavia to Sondrio and from Mantua to Varese , there are many Cities of Art in Lombardy. Each one of them has something special and unique to offer to the traveller eager to experience the best of Italy. Head there and see it all for yourself!
15 Must-See Cities and Towns in Lombardy, Italy (With Map, Photos, and Insider Tips)
6. Lombardy's Musical Heritage – Learn about Violinmaking in Cremona and Enjoy Opera in Brescia and Milan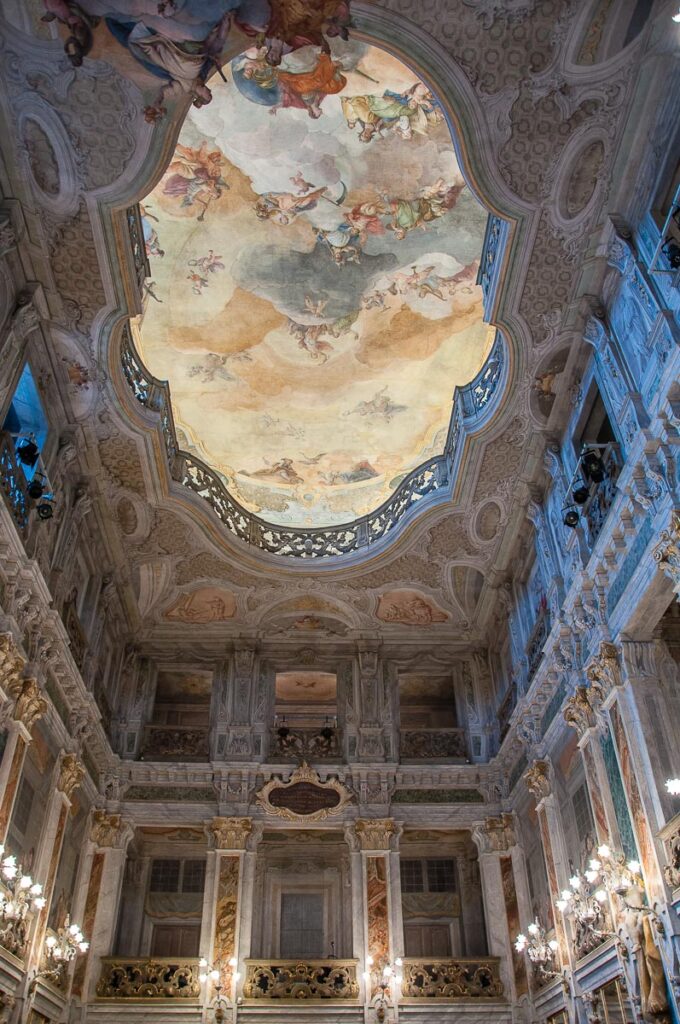 Lombardy plays an important role in Italy's musical heritage. This northern Italian region has contributed greatly to the development of lyrical singing and the refining of musical instruments as we know them nowadays. As such, it's dotted with important landmarks giving you a chance to gain a first-hand understanding of the history of music.
If music is in your heart, then make sure that you visit Cremona in Lombardy, Italy. Less than an hour and a half away from Milan, this small city preserves centuries-old violinmaking traditions. Some of the world's greatest luthiers like Nicolo' Amati and Antonio Stradivari worked here in the 16th and 17th centuries crafting violins, cellos, guitars, and harps that to this day set the standards for string instruments.
To this day, Cremona's beautiful historic centre is dotted with the workshops of luthiers. And then a short walk away from the city's splendid Cathedral stands the excellent Violin Museum . Don't miss a visit! It has state-of-the-art displays and many priceless historic violins and other string instruments. You can book your tickets here .
In addition, make sure that you visit Lombardy's historic opera houses. Two of the most famous of them all are:
Teatro alla Scala in Milan – you can either catch a world-class performance here or simply visit during the day to see the theatre's lavish interiors and the excellent on-site museum for yourself. Alternatively, you can enjoy a guided tour of La Scala or see it from the comfort of your own home with this virtual tour . This is one of the world's most famous opera houses where great Italian composers like Rossini, Donizetti, and Verdi have premiered many of their operas and where globally famous opera singers have given the performances of their lives.
Teatro Grande in Brescia – a spectacularly lavish theatre with a history that goes back to the 16th century. It's housed in a purpose-built building from the start of the 19th century. The theatre was recognised as a national monument of Italy over 100 years ago. Its performance hall is horseshoe-shaped, 22 x 17 m in size, and has five rows of boxes.
Lombardy is also the birthplace of famous Italian composers. Gaetano Donizetti, for example, was born in Bergamo in 1797. Nowadays, the Donizetti Museum is one of the best things to see in this underrated northern Italian city.
The composer Claudio Monteverdi was born in the city of Cremona. His opera Orfeo is widely accepted to be 'the first great opera' ever.
Finally, Lombardy is where many renowned music festivals and competitions take place every year. Brescia, for example, organises a highly regarded piano competition under the name of Arturo Benedetti Michelangeli – one of the greatest pianists of the 20th century who was a native of the city.
7. Lombardy's Great Outdoors – Get Active by Practicing All Sorts of Sports in This Beautiful Corner of Italy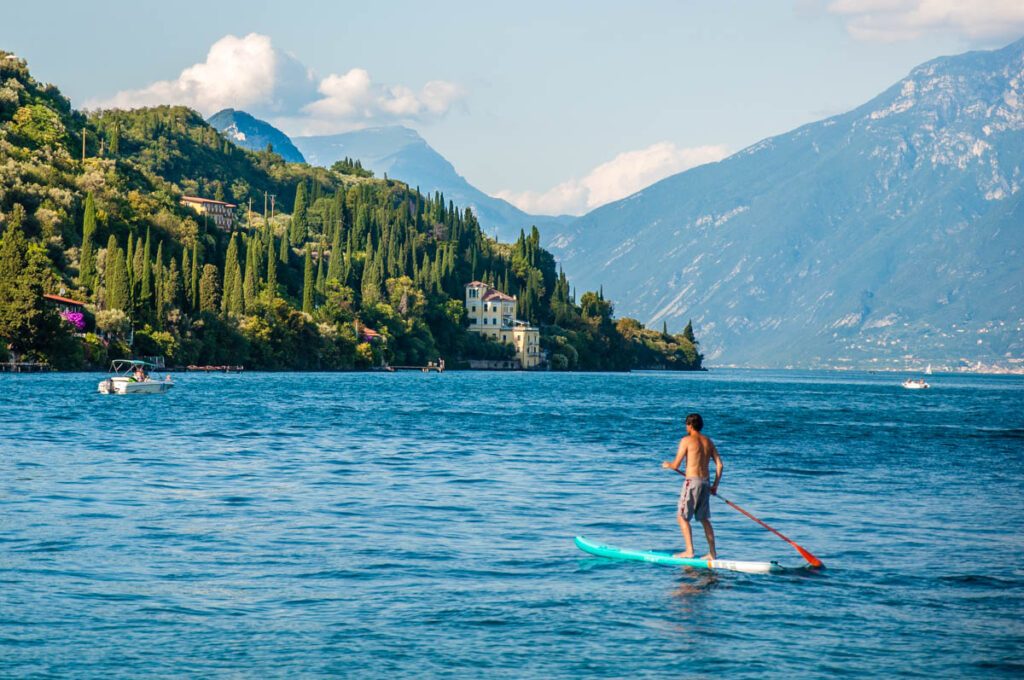 It's so very easy to get out and get active when you are in Lombardy.
This northern Italian region is dotted with lakes where you can swim, sail, paddleboard, and even practice kitesurfing. It also has a generous portion of the Italian Alps where hiking trails and ski slopes are in their hundreds. No matter the season, there is always something exciting to do here – from snowboarding and snowshoe walking in winter to canyoning and mountain biking in summer.
Lombardy's great outdoors are a delight to discover and there is something for all abilities and ages to enjoy. From gentle walks and ski schools for absolute beginners to rock climbing and expert slopes.
Some of Lombardy's most important ski resorts are in the provinces of Brescia , Bergamo, and Sondrio. From Pontedilegno-Tonale , Brembo Super Ski , and Valtorta-Piani di Bobbio to Piazzatorre , Bormio Ski , and Aprica , there are dozens of excellent ski destinations to choose from here.
In terms of walking and hiking, you will be spoilt for choice, no matter if you are travelling as a family with small kids, as a group of friends or with a significant other. Trails of different levels of difficulty crisscross Lombardy's beautiful nature offering you splendid panoramic views, forest bathing, fairytale waterfalls, and the ability to fill in your lungs with fresh, clean air.
There is nothing like going for a hike on a beautiful day in the forests and hills of Lombardy. Then you can stop for a hearty lunch in one of the many mountain huts that serve freshly cooked traditional food prepared with zero km ingredients. It's a wonderful way to clear off your mind and relax.
The local tourist offices in Lombardy usually have plenty of information about local hikes and outdoor explorations. These are especially numerous around the region's lakes like Como, Iseo, and Garda.
Provided you bring in the right shoes and clothing to ensure your comfort and safety, it's a great idea to add a hike or another type of activity to your list with things to do in Lombardy, Italy.
If you would rather rely on an expert local guide to show you hidden gems in the bosom of Lombardy's nature, then you can simply book an organised hike or activity. Have a look at the options below for some must-see destinations:
8. Lombardy's Rich Culinary Traditions – Savour Delicious Dishes and Enjoy Italy's Best Sparkling Wines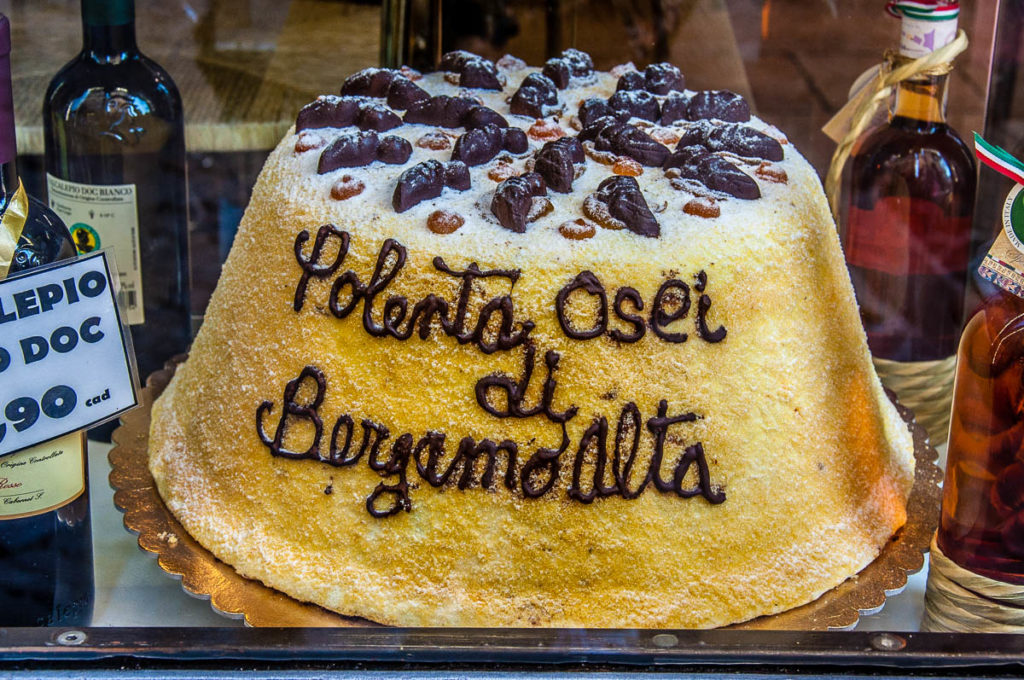 As a land of centuries-old traditions, Lombardy has a rich cuisine based on the many and varied delicacies of the different provinces that comprise this northern Italian region.
From stuffed pasta and elaborate risottos to polenta used both in savoury dishes and sweet cakes, Lombardy is a delight to discover fork and spoon in hand.
Here are some traditional Lombardian dishes to enjoy during your visit:
risotto alla milanese – this is a classic Italian dish from the Lombardian capital Milan. It's prepared with Arborio rice and it owes its yellow colour to the addition of saffron;
cotoletta alla milanese – another signature dish from Milan, this is a breaded veal chop wich traditionally is served with a portion of French fries or patatine fritte as they call them in Italian. By the way, the easiest way to discover Milan's culinary secrets and delights is to join a small guided tour to take you to all the right places. This one is particularly good.
Bagoss – prized cheese that is only produced in the small village of Bagolino near the city of Brescia in Lombardy. It has a lovely dense and salty flavour with hints of walnuts and chestnuts. Having a thick slice of Bagoss in a soft bread roll feels like a feast in itself.
casonsei – large pasta shapes stuffed with a filling made of eggs, mature cheese (or ricotta), spinach or meat. Typical for Bergamo and Brescia , they are served generously drizzled with melted butter and decorated with sage leaves.
polenta taragna – typical for Bergamo and Brescia , this is polenta prepared with ground buckwheat and corn flour. It is then mixed with fresh cheeses and melted butter.
tortelli di zucca – typical for the Lombardian city of Mantua, these are pasta shapes stuffed with a delicious pumkin filling.
In addition, Lombardy enjoys a great tradition of sweets and desserts. Without a doubt, panettone is its most famous sweet creation. Served for Christmas in Italy , it's also adored and devoured all around the world.
Other famous Lombardian sweets and cakes are:
Cremona's nougat – locally known as torrone ;
Mantua's sbrisolona cake – it's similar to shortbread but it has a rougher crumb and it's made with generous helpings of almond flour and chopped almonds; and
Bergamo's splendid polenta e osei – this is a sweet polenta cake covered with marzipan and decorated with chocolate birds.
Finally, it is in Lombardy that you can visit one of Italy's most famous wine-producing areas – Franciacorta. Its sparkling wines enjoy worldwide recognition. It's widely accepted that Franciacorta sparkling wines surpass Veneto's prosecco and are a serious rival to France's champagne.
Franciacorta is in the province of Brescia and booking a guided tour is an easy way to explore the beautiful vineyards and the historical wineries that it's dotted with. For example, you can visit a centuries-old cellar and do a tasting by pairing wines with delicious local specialities.
9. Lombardy's Religious Landmarks – Seek Peace in Sacred Mountains and Some of Italy's Most Splendid Duomos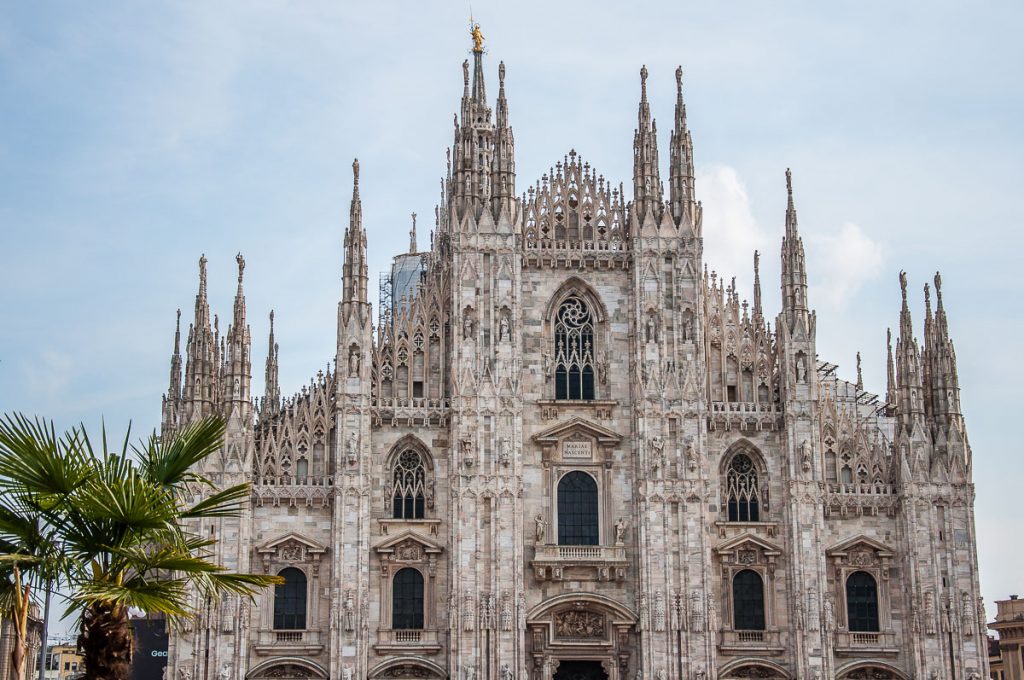 Lombardy is one of the best destinations to explore in Italy if you have a particular interest in religious architecture and little-known historic events that have left their imprint on Europe from the Middle Ages onwards.
This northern Italian region is dotted with some of the world's most impressive cathedrals, centuries-old monasteries, and picturesque sanctuaries. The most famous of them all is the Duomo di Milano . This is a must-see landmark in Lombardy's capital. It can be explored from many different angles:
history – by visiting the Duomo's archaeological area;
architecture – by learning about this Gothic masterpiece the construction of which lasted nearly six centuries;
religion – by seeing for yourself the interiors of the cathedral or attending a mass held in it; and even
stunning panoramas – by enjoying bird's-eye views of Milan from the rooftop of its Duomo.
Depending on what you want to see and/or the time you have available, you can either book a ticket to see the Duomo, its rooftops and museum, a priority entry just to its rooftops by lift or stairs or a skip the line entry to the cathedral only.
There are several other impressive Duomos in Lombardy, Italy. Monza Cathedral deserves a special mention here for its black and white marble facade and the fully frescoed Royal Chapel of Teodolinda – the Queen of the Lombards from 590 to 627 AD.
In terms of monasteries and convents, don't miss the Certosa di Pavia – a monumental religious complex with outstanding architecture and many priceless works of art.
One of my favourite sanctuaries in Lombardy is the Santuario di Montecastello . Built on a tiny piece of flat surface bordering the summit of a sharp peak, it overlooks Lake Garda from a tremendous height.
Everywhere you go in Lombardy, you will come across large and small churches guarding the memories and the traditions of the local communities. In many of them, you will discover unexpected masterpieces. A case in point is the small town of Clusone. A beautiful day trip from Bergamo, here you can see a late 15th-century fresco known as The Triumph and Dance of Death (also often referred to as The Macabre Dance ).
Finally, it is in Lombardy (and the neighbouring Italian region of Piedmont) that you can visit Italy's Sacred Mountains or Sacri Monti . This is a group of nine calvaries – or devotional complexes built on the slopes of mountains – that date back to the late 16th/17th centuries. A UNESCO World Heritage Site, they blend beautifully with the surrounding nature and are skillfully decorated with frescoes and statues.
10. Lombardy's Small Towns and Villages – Experience Beautiful Sights and Authentic Lombardian Traditions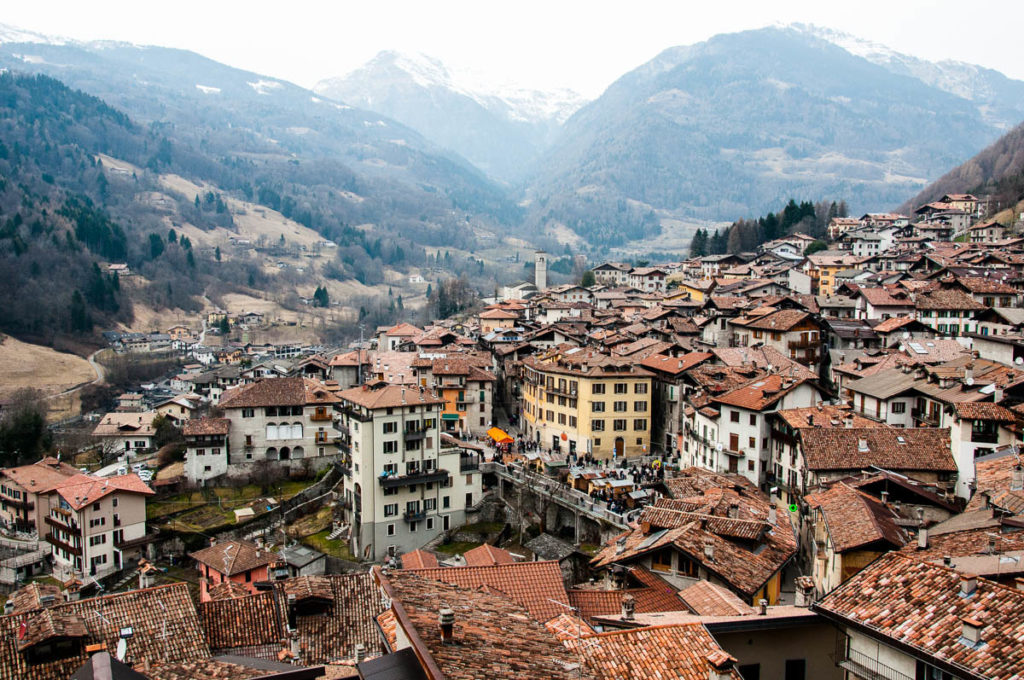 It's not all about large cities and worldwide famous landmarks in Lombardy though.
This Italian region is also peppered with small towns and villages in the bosom of lush mountains or on the shores of beautiful lakes. These are places where centennial architecture is preserved together with ancient traditions that culminate in town-wide heartfelt festivals.
A case in point is the small village of Bagolino . Its tall houses tumble down the slope of a hill overlooking a small alpine valley. The locals speak their own dialect and produce one of the most prized cheeses in Lombardy – Bagoss.
They also preserve a centuries-old Carnival tradition which has been classified as an ethnological discovery of immense importance.
The small fortified village of Castellaro Lagusello near Mantua in Lombardy seems plucked from a fairy tale. Surrounded by medieval defensive walls it stands on the shores of a tiny heart-shaped lake. It makes for a great visit to this corner of Italy offering a chance to not only learn about history but actually see it and experience it first hand.
The tiny village of Nesso clings to the steep slopes above Lake Como. Right in its heart, a tall waterfall – powerful and rumbling – hurtles down a vertiginous narrow gorge. At the bottom, its waters collect and now calm and clear flow together into the lake. Along the way, they pass underneath a small medieval bridge.
In summer, people jump from the bridge into the lake for a refreshing swim. A tall house stands right next to the bridge and seems to grow straight from the lake. Its facade is embraced by the luxuriant leaves of a huge Virginia creeper which turn bright red each autumn. It's all so very beautiful and picturesque!
Then you have Monte Isola – Europe's largest lake island. It stands tall and proud in the centre of Lombardy's Lake Iseo. Eleven tiny fishing villages dot the island which is a car-free territory and has one bus line. It's as idyllic and as far from the hustle and bustle of our modern world as you can get in Europe.
And yet, Monte Isola is only two hours away from Milan and an hour away from Brescia. Easy to explore even on a day trip, it brings you close to the authentic heart of Italy.
In Conclusion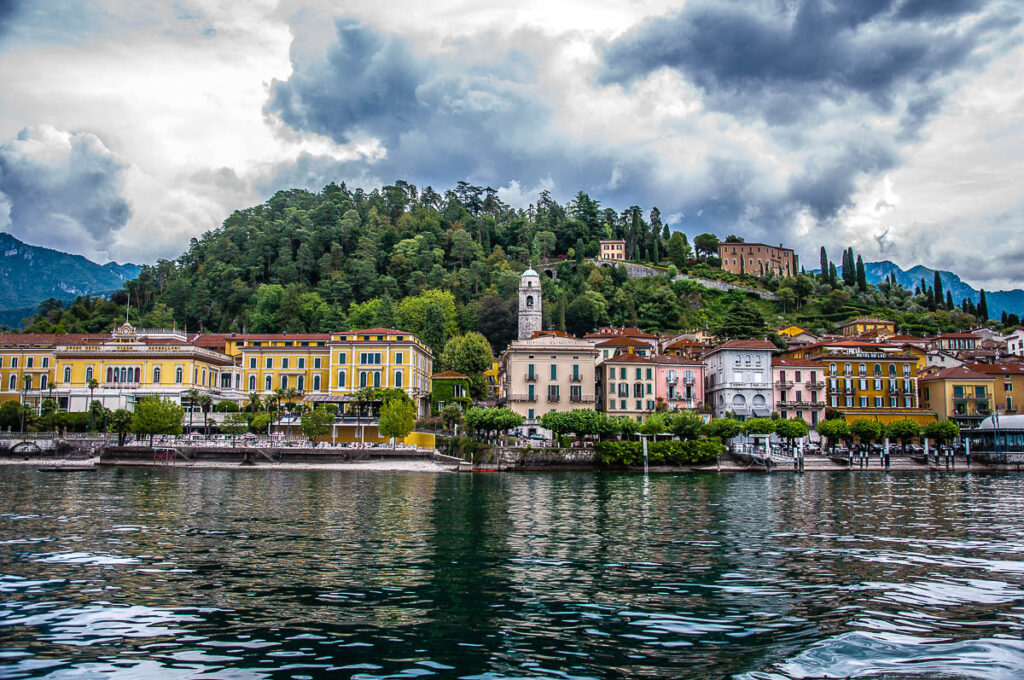 Lombardy is a beautiful and exciting region in the north of Italy . With the cosmopolitan city of Milan as its capital, a large portion of the Italian Alps, and a number of the most famous northern Italian lakes on its territory, it's a great place to visit.
No matter if you are after an exciting city break with lots of sightseeing and oodles of good food, a relaxing vacation in the bosom of nature, or a holiday that helps you reconnect with yourself and discover new interests, Lombardy delivers in so many different ways.
So, in this blog post today I shared with you the ten best reasons to visit Lombardy in Italy. From the region's art and history to its lush nature, from its most well-known points of interest to its hidden gems, it's all covered in an easy to reference format.
I hope that the information provided will pique your curiosity and will have you making travel plans for Lombardy in Italy even before you have finished reading.
I love visiting and revisiting Lombardy and I took every opportunity to do it during the six years that I spent living in Italy. It's a region that has a lot to offer, it's easy to get to and around, has delicious local cuisine, and so many sights and activities that you will want to return time and time again to experience it all.
Enjoy discovering Lombardy for yourself!
And have a wonderful time in this beautiful corner of italy.
Now, get ready quick for your visit to Lombardy, Italy!
Consult these guidebooks .
Buy plane tickets to Italy .
Book train tickets , bus tickets or rent a car .
Research accommodation .
Select tours and activities .
More Helpful Italy Info for You
Northern Italy: Reasons to Visit , Best Cities , Major Airports Lombardy: Best Cities and Towns , Brescia Day Trips: Milan to Verona , Milan to Venice , Milan to Lake Garda , Venice to Milan , Verona to Milan Lake Garda: Best Towns , Map of Lake Garda , Theme Parks , Nearest Airports , Travel Options , Lake Garda with Kids , Beautiful Castles Lake Como: Things to See , Nesso
Thank you for reading! Please, leave me a comment, pin the images below or use the buttons right at the top and at the end of this blog post to share it on social media.
For more useful information like this, please, like my blog's page on Facebook and subscribe to my strictly no-spam newsletter.
Email address: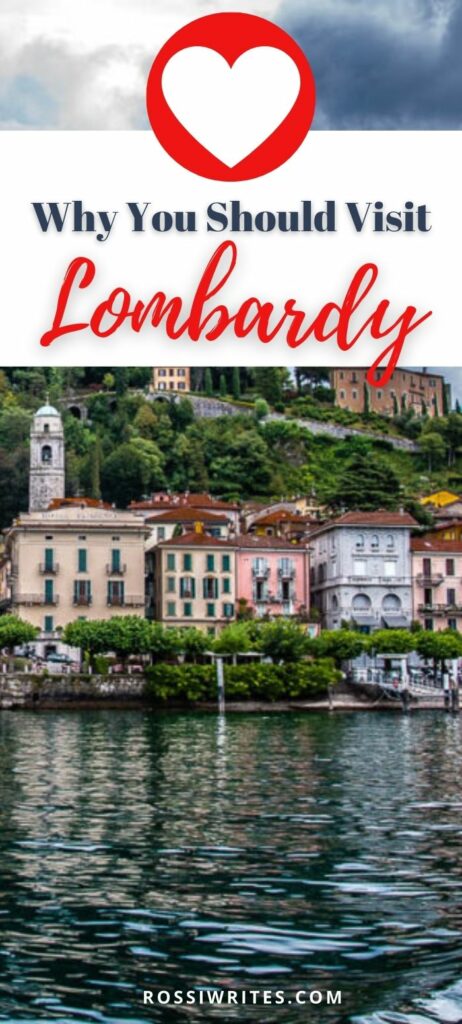 Sharing is Caring
Help spread the word. You're awesome for doing it!
Early Black Friday Deals: Solo Adventures Up to 50% OFF
Destinations
Lombardy tours & trips.
Find the right tour package for you through Lombardy. We've got 45 trips going to Lombardy, starting from just 3 days in length, and the longest tour is 11 days. The most popular month to go is September, which has the most tour departures.
45 Lombardy tour packages with 82 reviews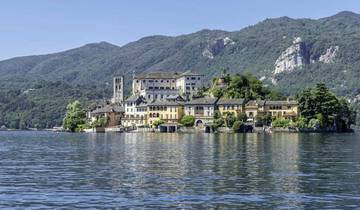 In-depth Cultural
Fully Guided
Personalized
4 Days NORTHERN LAKES TOUR - from Milan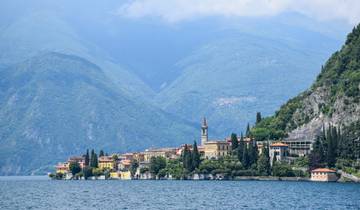 Food & Culinary
Self-Guided
Sightseeing
Christmas & New Year
Wine tasting
The Northern Lakes
"Byzantine mosaics are incredible, our guide was detailed and his explanations were..."
€50 deposit on some dates Some departure dates offer you the chance to book this tour with a lower deposit.
Milan & Lake Como - 3 Days/ 2 Nights
"Eduardo was fantastic! He paid great attention to every little detail throughout..."
€100 deposit on some dates Some departure dates offer you the chance to book this tour with a lower deposit.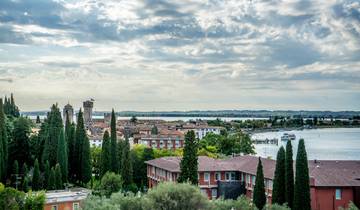 The Magic of the Italian Lakes
"The Italian lakes scenery and towns where we stayed are magnificent Our guide Francesca..."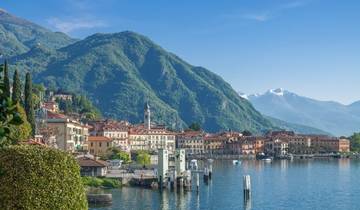 Hiking & Trekking
Mountain Hikes
Lake Como Walking
"Overall very happy with the trip. Walks were pretty steep, more moderate than easy,..."
10% deposit on some dates Some departure dates offer you the chance to book this tour with a lower deposit.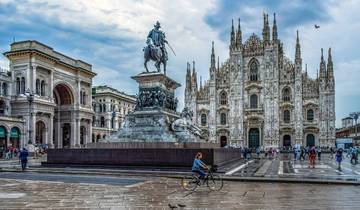 Milan And Verona: A Tale Of Two Cities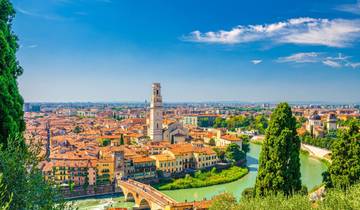 Enchanting Northern Italy: Milan to Verona - 2024
Black friday 2023 is coming.
Subscribe to our newsletter to get notified about the year's biggest deals at TourRadar
By submitting this form, I agree to the TourRadar T&Cs and Privacy policy .
You've subscribed! Stay tuned for our Black Friday deals.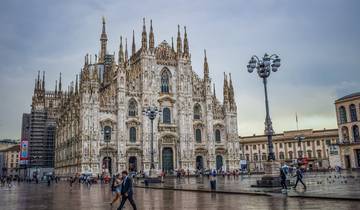 Journey of Milan & Verona - 7 Days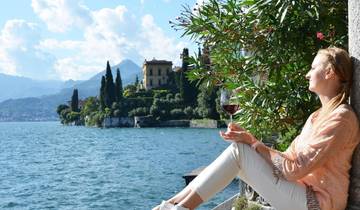 The Lakes of Northern Italy - 2024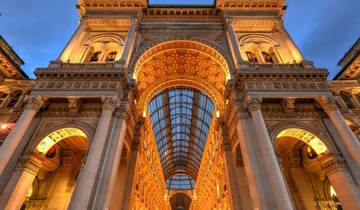 Discovering Milan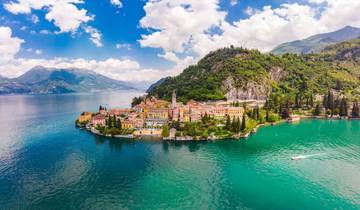 Bell'Acqua, Self-Drive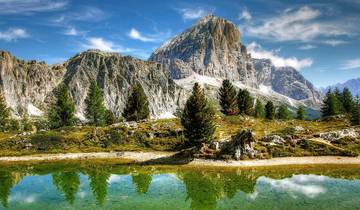 Active Adventure
Train & Rail
Alps By Bernina Train & Northern Lakes - 6 Days
"A really good tour and our tour guide was a gem. He was full of information and helpful..."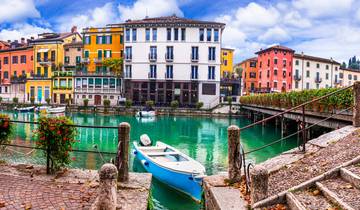 Cycling the Italian Lakes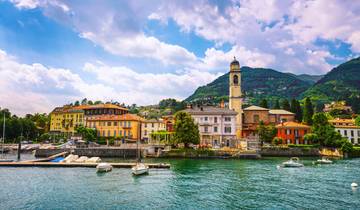 Three Lakes and More-Luxury Bike Tour
"We were a family of four on this trip, made up of parents ages 58 and 72 and two..."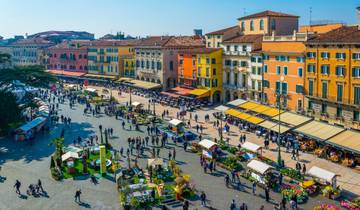 Escorted Tour of Northern Italy Lakes Region: from Milan to the Alps
Lombardy holiday and vacation packages reviews.
"Best tour I have ever done. Luca and Rici were outstanding. I will book with them..."
Lombardy Tours starting in:
Explorer (31)
Family (23)
Fully Guided (23)
Personalized (22)
Private (16)
Self-Guided (15)
In-depth Cultural (12)
Partially Guided (9)
Bicycle (8)
Hiking & Trekking (7)
Coach / Bus (6)
Active Adventure (5)
Small Group (11)
7 Day Tours (19)
10 Day Tours (12)
Winter 2023 / 2024 (4)
Spring 2024 (28)
Summer 2024 (32)
Fall / Autumn 2024 (33)
Winter 2024 / 2025 (3)
Spring 2025 (1)
Summer 2025 (1)
November 2023 (3)
December 2023 (3)
January 2024 (3)
February 2024 (4)
March 2024 (8)
April 2024 (19)
May 2024 (27)
June 2024 (32)
July 2024 (29)
August 2024 (27)
September 2024 (33)
October 2024 (27)
November 2024 (4)
December 2024 (3)
April 2025 (1)
May 2025 (1)
June 2025 (1)
July 2025 (1)
August 2025 (1)
September 2025 (1)
October 2025 (1)
Other Regions in Italy
South Italy (575)
Northern Italy (288)
Central Italy (254)
Sicily (202)
Amalfi Coast (166)
Campania (166)
Tuscany (139)
Italian Alps (109)
Puglia (107)
Prosecco (100)
Apulia (96)
Trentino Alto-Adige (70)
Italian Lakes District (66)
Veneto (62)
South Tyrol (52)
Lazio, Marche & Abruzzo (47)
Travel Styles
Singles and Solo (32)
For Couples (15)
Seniors (18)
International Versions
Deutsch: Lombardei Rundreisen
Nederlands: Lombardije Rondreizen