Kedarnath News 2023
After the flash floods of 2013 in Kedarnath Shrine, It is must for every traveller and pilgrim to have up-to-date information, before planning to visit. The roads were washed away, with no accommodation or facilities remaining. The govt is restoring the facilities, constructing the basic amenities so that Kedarnath Yatra can be started at the earliest.
Latest Update of Kedarnath : Due to heavy snowfall and rain in Kedarnath, Pilgrims are not allowed from Sonprayag, Gaurikund, Rishikesh, Srinagar today. Pilgrims are advised to visit Badrinath before Kedarnath till weather improves.
Chardham Dham Yatra Breaking News
Latest Chardham Dham Weather Updates
Road Status Updates for Chardham Dham Yatra
Still, it is always better to be updated with Kedarnath current weather, climate, road routes, road conditions, opening and closing dates of Kedarnath, before tour planning. We will also update news of places enroute Kedarnath like: Srinagar , Rudraprayag , Ukhimath , Guptkashi , Sonprayag, Gaurikund . At sacred yatra we try to update all the latest news, weather news, govt news about Kedarnath Dham yatra.
Following is the latest Kedarnath news and updates
46 lakh pilgrims visited chardham yatra till sept.
The number of pilgrims who have visited Chardham Yatra so far has crossed 45 Lakh. Over 46 Lakh pilgrims have visited Chardham Temples in till... Read More †
Annakoot Fair Celebrations in Kedarnath
Bhatuj (Annakoot) fair in Kedarnath, which is celebrated one night before Rakshabandhan, concludes with Bhandara on morning next day. Annakoot festival in Kedarnath Dham is being celebrated... Read More †
Annkoot Fair is Celebrated at Kedarnath a Night Before Rakshabandhan
On the auspicious occasion of Annkoot Fair in Kedarnath, devotees take darshan of Shivling all night. Celebrated a day before the Rakshabandhana, the fair was... Read More †
Delhi to Kedarnath (Gaurikund) Daily Bus Service from Uttarakhand Roadways
Uttarakhand Transport Corporation UTC is running direct bus service to Kedarnath from Delhi. Pilgrims visiting Chardham can benefit from Kedarnath direct bus service from Delhi.... Read More †
Madmaheshwar Temple Opened Today
The gates of the fourth Kedar, Lord Madhmaheshwar (Madhyamaheshwar) in Panch Kedar has been opened today with Vedic Mantras at 11:00 am. Lord Madhmaheshwar resides... Read More †
Portals of Fourth Kedar 'Rudranath' open for the pilgrims
Famous as one of the Panch Kedars, the fourth Kedar "Rudranath' threw its doors open for the devotees on May 20. Following the grand ceremony,... Read More †
Sara Ali Khan visit to Kedarnath & Tungnath, Share Splendid Photos on Instagram
Sara Ali Khan, actress and a travel enthusiast, took to social media to share some breathtaking photos from her trip to Kedarnath and Tungnath. Fans... Read More †
Kedarnath Trek Timings : Due to Adverse Weather, No Pilgrims Allowed from Sonprayag after 10:30 am
Latest Update : In view of the rain and snowfall in Kedarnath, Pilgrims will not be allowed to visit Kedarnath Dham after 10:30 am from... Read More †
Kedarnath Temple Opened Today for Pilgrims
One of the twelve Jyotirlingas of Lord Shiva, Shri Kedarnath dham is open today for devotees after puja archana. The shrine open its gates on... Read More †
09 Heli Companies to Provide Kedarnath Yatra
Kedarnath Heli Service Latest Update Bookings for Kedarnath Heli service has been started through IRCTC website. Bookings slots for journey date 09 Nov - 14... Read More †
Helicopter Status for Char Dham 2023 Yatra
Chardham Yatra will start from 22 April in 2023. All pilgrims will take Darshans at Chardham Temples Badrinath, Kedarnath, Gangotri & Yamunotri. Helicopter operations for... Read More †
Green Card Service for Chardham Yatra Vehicles started
Transport Department has started preparation for the Chardham Yatra. The issuance of Green cards for vehicles operated on Chardham Yatra has been started through online... Read More †
Record Online Registrations for Chardham Yatra
Lot of enthusiasm among the pilgrims is being shown regarding the registration of Char Dham Yatra 2023. Till now, 3.2 Lakh pilgrims have registered for... Read More †
Kedarnath Heli Service Tickets Will Be Booked Through IRCTC
On the lines of railways, now tickets for Kedarnath Heli Service will now be booked from IRCTC for the journey to Kedarnath Dham. For the... Read More †
Kedarnath Temple Will be Decorated with Flowers for Complete Yatra Season
The Kedarnath temple will be decorated with more than 30 quintals of flower garlands and colorful electric strings for the Kedarnath Yatra starting from April... Read More †
Chardham Yatra 2023 Online Registration Starts – Use Website, App, Whatsapp for Registrations
The bugle has been sounded in Uttarakhand regarding the Chardham Yatra. The registration process for pilgrims coming on the Chardham Yatra 2023 has also started... Read More †
Pilgrims Limit Increases for Char Dham Yatra 2023
In Badrinath, Kedarnath, Gangotri and Yamunotri Dham, the state government has increase the number of devotees for daily darshan according to the capacity. Now more... Read More †
Chardham Online Registration for 2023 to Start on 21 February – Here How to do Online Registration for Chardham Yatra 2023 in Advance
As Chardham Opening Dates has been announced, preparations are being made to start the online registration facility for Chardham Yatra on the official website from... Read More †
Only Online Registration Facility Available for Chardham Yatra in 2023
There will be only online registration facility will be available for Chardham Yatra. Like last year, the option of offline registration will not be given.... Read More †
Token System Will be Employed in Kedarnath Temple
Pilgrims coming to Kedarnath Dham this yatra season will not have to wait barefoot in the cold for hours to have darshan of Baba. The... Read More †
Get Latest Updates of Kedarnath Dham
Kedarnath : Kedarnath Temple : Kedarnath Weather : Kedarnath How To Reach : Kedarnath Pictures : Kedarnath Important Dates
If you are planning to visit Kedarnath during 2023, then you check the following pages for best deals.
Kedarnath Tour Packages :: Kedarnath Hotels :: Guptkashi Hotels
Book Now & Get Some Exciting Discounts on Hotel/Transport
Get travel quotes from char dham experts.
Destinations
Char dham yatra tour packages.
Char Dham Packages
Badrinath Packages
Kedarnath Packages
Gangotri Packages
Yamunotri Packages
Teen Dham Tours
Do Dham Packages
Chardham Helicopter Packages
Chardham Leisure Hotels
Fixed Departure Tours
GMVN Tour Packages
Hemkund Tours
Winter Chardham Packages
Chardham Packages 2023
Char Dham Hotels
Chardham Hotels
Hotels in Badrinath
Hotels in Kedarnath
Hotels in Gangotri
Hotels in Yamunotri
Hotels in Barkot
Hotels in Joshimath
Hotels in Auli
Hotels in Srinagar
Hotels in Devprayag
Hotels in Guptkashi
Hotels in Harsil
Hotels in Ukhimath
Hotels in Uttarkashi
Hanumanchatti
Rudraprayag
Sayanachatti
Srinagar Garhwal
Karanprayag
Jankichatti
Kedarnath trek route blocked after avalanche, third in two days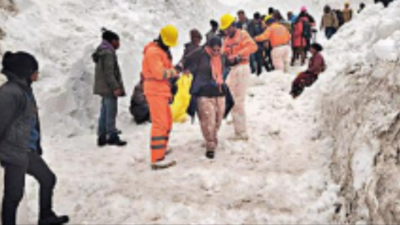 About the Author
Visual stories.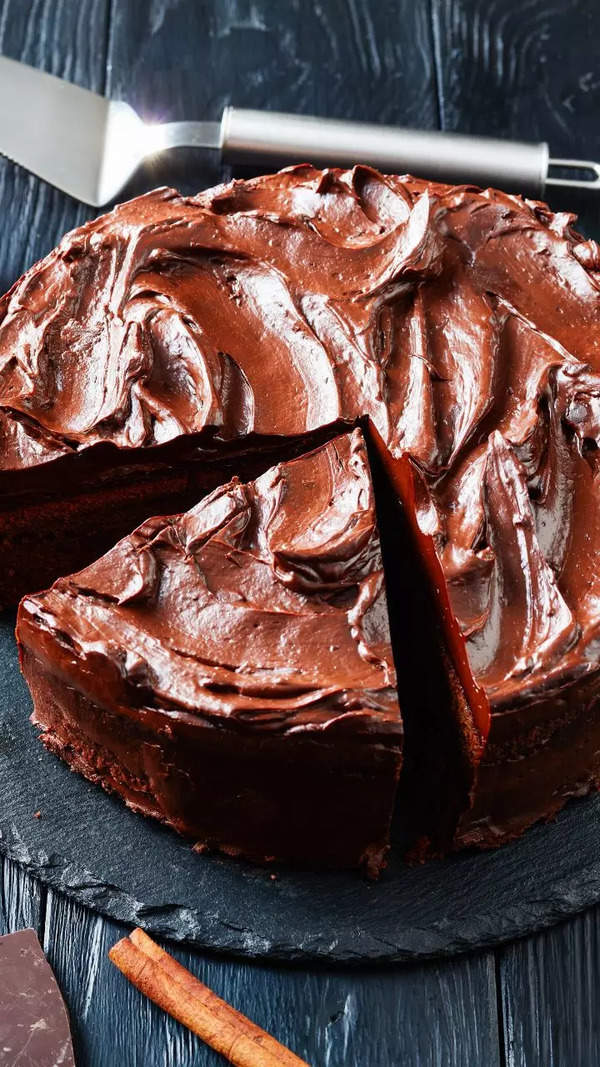 Uttarakhand
Uttarakhand Tourism
12 Places to See
24 Tour Packages
Kedarnath Dham Yatra
Kedarnath is a holy Hindu town located in Rudraprayag district of Uttarakhand in India . It is one of the Char Dhams located in the Himalayas. Kedarnath is situated at an astonishing height of 3584 meters above sea level near the head of Mandakini River.
The Kedarnath temple lies amidst the majestic snow-capped Garhwal Himalayan ranges and is thronged by thousands of tourists each year.
Get Kedarnath Travel Guide, Kedarnath Dham 2023 Tips
Places to See
Tour Packages
How to Reach
Distance Chart
Kedarnath temple is one among the twelve Jyotirlingas temples of India. Visit to Kedarnath Dham is considered to be very auspicious and most important in the Char Dham Yatra circuit. Known for its astonishing beauty, Kedarnath Yatra attracts millions of tourists every year.
The extreme weather condition of Kedarnath prompts the temple to remain open from the end of April to the beginning of November. 4G network is now available at Kedarnath by Jio, Airtel, and BSNL.
Kedarnath Temple Opening 2023
Kedarnath Dham Temple will open on 25 April 2023 at 6:20 am.
The opening date of Kedarnath temple was announced on the occasion of Mahashivratri. The 'Badrinath - Kedarnath Samiti' has announced the opening dates of Kedarnath Dham along with Badrinath , Gangotri Yamunotri dham .
Daily, Temple opens at 7 am, closes around lunch, then opens at 5 pm, the evening Aarti starts around 6-6:30 after that temple closes.
Pilgrims coming to Char Dham need to register on the online portal of Uttarakhand Tourism Department.
Kedarnath Doli Yatra Program 2023 (Tentative)
21 April : The Panchmukhi Doli of Kedarnath Ji will start its journey from Omkareshwar Temple of Ukhimath . It will reach Vishwanath Temple at Guptkashi and will have overnight stay there.
22 April : The Kedarnath Doli will reach Phata from Guptkashi. It will stay overnight at Phata.
23 April : The Kedarnath Doli will leave for Gaurikund from Phata. It will stay overnight at Gaurikund.
24 April : The Doli journey will start from Gaurikund to reach Kedarnath Dham via Junglechatti, Bhimbali, Rambada, Lincholi, and Rudra Point.
25 April : The Kedarnath Temple Kapat will be opened for pilgrims in the early hours. The opening will take place amid vedic chants and rituals at 6.20 am.
Kedarnath Temple Closing date for 2023: Kedarnath Temple will get closed for winters on 15 Nov 2023 amidst the vedic rituals . Last year Kedarnath was closed on on 27 October 2022 at 8:30 am.
Places to See in Kedarnath
Activities in Kedarnath
Pilgrimage – Perched at an altitude of 3,500 meters, Kedarnath is one of the most revered Hindu shrines and thousands of pilgrims partake in arduous pilgrimage every year. The shrine sleeps under a thick blanket of snow during winters.
Trekking – Kedarnath temple is located 19 km from Gaurikund , the nearest town with road connectivity. Thus, one has to trek 16 kms to the Kedarnath shrine making it a wonderful trekking experience. You can also extend your treks to Chorabari Tal , Vasuki Tal and Bhairon mandi in Kedarnath
Camping in Kedarnath – Since there is only little accommodation at Kedarnath, tourists and pilgrims can also set up tents near the town and enjoy the natural beauty that envelops the town as well as the towering Kedarnath peak in the background.
Kedarnath Travel Tips
One can also find mules and porters for hire; Check the official price chart before hiring.
For safety, reason do check the ID Cards issued to Porters and Mule Owners.
When traveling in monsoons, check with local authorities, tour guides or tour operators about the weather and road conditions before you actually start your journey.
Photography is generally not allowed inside the temple due to religious reasons. It would be wise to abide by the rules set up by temple authorities.
Weekends/Long weekends are so crowded, Weekdays are not so crowded. Also the temple closed on Mid-November.
After mid-October the night temperature will drop into minus, so carry enough woollens, plus avoid going around DIwali, its the most crowded time. Go 10-15 days before Diwali.
Staying in Kedarnath
You will find a big Govt tented colony consisted of Tents, Cottage, and rooms just before Kedarnath is operated by GMVN , which are sufficient to accommodate more than a thousand pilgrims and tourists. There are many hotels and lodges around the temple since Kedarnath is a small place. You can find a room upon reaching there.
All the stays and food is extremely basic, the geyser is a big luxury, so don't expect running hot water or room service, you're getting to sleep on a bed at that height is enough in itself.
Nowadays, many tourists take Helicopters to Kedarnath for a day's visit and come back from Kedarnath the same day. They generally stay in these locations: Phata , Rampur, Gaurikund , Sitapur , Sonprayag , Guptkasthi , etc. For more details check hotels in Kedarnath.
How To Reach Kedarnath By Public Transport
Reach Rishikesh from wherever you are, From Rishikesh, you can take the direct shared cab/bus till Guptkashi, or do multiple shared cabs from Rishikesh to Rudraprayag then Rudraprayag to Guptkashi.
From Guptkashi, another shared cab or one of the less frequent buses till Sonprayag, spend the night at Sonprayag, then early morning leave for Gaurikund (roundhead) and start your 16 km trek from there.
Alternatively, you can also stay at Gaurikund overnight but stay options seem better in Sonprayag.
Also, if you are coming by your own vehicle, you can only take it till Sonprayag, there's a huge parking area available. Also, if you are coming from your own vehicle, Rishikesh to Rudraprayag main road is currently blocked, so take Rishikesh to Tehri to Srinagar to Rudraprayag route.
Kedarnath Food Guide
Apart from few roadside dhabas and tea stalls there are not many good eating options at Kedarnath. The local restaurants serve north Indian vegetarian food. Due to being a revered religious place, alcohol and non-vegetarian food is strictly prohibited at Kedarnath.
History of Kedarnath
According to Mahabharata, the Pandavas had built the Kedarnath Temple where they pleased Lord Shiva with their penance. The temple was revived by the great Hindu philosopher, Adi Shankaracharya in the 8 th century CE, when he visited the place with his four disciples. Sadly, the temple was hit by the catastrophic floods of 2013, which engulfed hundreds innocent lives.
Mythology about Kedarnath
There is a famous Hindu mythology related to the origin of Kedarnath temple, which states that after the Mahabharata war, the Pandavas went on an anonymous journey to beg mercy from Lord Shiva. After failing multiple times, Bhima was able to find Lord Shiva, who had incarnated as a bull to hide from the Pandavas.
Bhima tried to catch it and hit its hind part with his mace. The injured bull then immersed in the earth and its body parts appeared indifferent places. It is believed that the hind part of the bull appeared at Kedarnath, from which a ' Jyotirlinga ' or light flickered and Lord Shiva appeared in his divine avatar.
It is said that after taking the blessings of the cosmic light, the Pandavas were exempted of their sins and Lord Shiva told them, "from now onwards, I will be present here as a triangular shaped Jyotir Linga and by paying obeisance at Kedarnath, the devotees would attain piety". From then onwards, a triangular shaped rock is worshiped in the ' Garbhagriha ' or the sanctum sanctorum of the temple.
The other four parts of Lord Shiva fell at Tungnath , Rudranath , Madhmaheshwar and Kapleshwar . Kedarnath along with these four are also described as Panch Kedar.
Kedarnath Ropeway
15 May 2022 : The state government has approved construction of a ropeway to Kedarnath Temple . The DPR for Kedarnath Temple Ropeway has been prepared and it has estimated a cost of Rs. 1100 crores for the construction of Kedarnath Ropeway .
Day To Day Travel Guide for your Journey To Kedarnath Dham
If you are a traveler/pilgrim who wants to visit Kedarnath and don't know much about how to do Kedarnath Dham then this travel guide is going to help you a lot to plan your Kedarnath Trip.
Day 0: Reach Rishikesh
Rishikesh is one of the famous cities of north India and Uttarakhand. The city is well connected with rail routes, inter-state & national bus routes. In case if you are coming via flight then Jollygrant airport is just 20km or 35 minutes route. Try to complete this Journey in the night only so you can reach to Rishikesh in the sharp morning to start your road route to Kedarnath.
Day 1: Rishikesh To Sonprayag or Gaurikund (211 km / 8 hours by road).
From Rishikesh Bus terminal, you can catch public transport like buses or Tata Sumos to Sonprayag . Direct buses to Sonprayag are hard to get but try for Guptkashi which is well settled in the last town before Kedarnath and daily bus service is also available from major cities of Uttarakhand to Guptkashi. However, you can also get a bus to Rudraprayag and then Rudraprayag to Guptkashi. From Guptkashi you can complete your further journey to Sonprayag via sharable Jeeps or Tata Sumo. Below is the road route from Rishikesh to Sonprayag: Rishikesh - Devprayag - Srinagar - Rudraprayag - Augustmuni - Guptkashi - Sonprayag
Bio-metric registration at Sonprayag
As instructed by the Uttarakhand government, it is necessary for every traveler to do bio-metric registration. This registration facility is also available online on the Uttarakhand tourism site or visit How to do Char dham bio-metric registration online . However, if you missed that you can complete this process by reaching Sonprayag. You have to carry your ADHAR CARD with yourself for this registration.
Below are the facilities you can found at Sonprayag :
Bio-metric registrations of pilgrimage or travelers for Kedarnath Dham yatra or for char Dham yatra.
Accommodation facility is from budget to deluxe hotels are available in Sonprayag.
Parking facility is also available in Sonprayag in case if you are coming from your personal vehicle.
Shuttle service to Gauri Kund , which are actually sharable jeeps.
Sonprayag to Gaurikund shuttle service & night stay at Gaurikund :
Please keep this in mind that Sonprayag is the last point for all kinds of vehicle. You can't travel by using your personal vehicle or by public transport. A huge parking facility is available at Sonprayag for all kinds of Vehicle on the bank of Mandakini river . You have to complete the further 5km journey by using shuttle service or through jeeps between Sonprayag and Gaurikund. The charge of shuttle service is 20 rupees per person.
After reaching Gaurikund you can ask any hotel owner for a room. The charge of the room varies on the hotel to hotel or on season respectively. Least amount you can pay for a hotel room in the month of May and June is 500.
Day 2 : Gaurikund to Kedarnath (16 km trek / 5 - 6 hours).
You can reach Kedarnath only after a trek of 16 km through a paved road from Gaurikund. You can take a horse or ponies to climb up the steep path.
Below are few trekking tips for your journey to Kedarnath temple :
Try to start your trek early in the morning to avoid harsh sunlight of noon.
Don't try to walk empty stomach it can make your journey even harder.
Carry umbrella/raincoat because the weather in the valley can be change dramatically.
Walk with good grip shoes and try to carry only necessary things in your bag cause heavy bag can slower your speed in the trek and etc load can hurt your back.
Carry water bottles but don't through it anywhere, respect nature.
Keep your eyes on trekking route most of the time cause sometimes ponies coming back from the temple can hit you or can cause serious injury.
You will probably reach to Kedarnath valley post noon or around 3 pm if you have started your journey at 8 am int he morning. Search for a hotel room for your night stay. Maybe you have to share your room with others if you are traveling alone or if you have enough money then you can book the whole room for yourself or for your family. In the evening you can do photography in the valley and can enjoy the temple atmosphere.
You can talk with other travelers from where they have come and about their journey to give some relief to your mind from the tiredness of trek. Walking around the temple and savoring the view of snow-capped Himalayas will surely gonna help to make this day the best day of your life. Eat your dinner & go to bed on time to give rest your body or to get prepare for next day journey.
After the flash flood of 2013 which greatly affected the Kedarnath region, it has been restored and work is being done by the Nehru Institute of Mountaineering (NIM) to revive Kedarnath to its former glory. the new trekking path to Kedarnath is now from the right side of the valley which can be reached by crossing a bridge at Rambada, though Rambada is now completely destroyed. The NIM has set up sheds after every kilometer so that pilgrims can rest during the trek.
Day 3 : Kedarnath Temple to Sonprayag via Gaurikund (16 km trek / 5 - 6 hours).
Try to wake up early in the morning. Take a bath and pay your obeisance at Kedarnath temple . From standing in the temple row to darshan, it will hardly take your 3 hours to complete this process. Prashad shops are available around the Kedarnath temple. After this, you can also visit the Baba Bhairav temple , which is situated on a hilltop near Kedarnath. It is around 600 meters far from the temple.
eUttaranchal Tip 1: If you want to visit Bhairavnath temple in Kedarnath then do this after checking out from your hotel room cause there is a small shortcut route from Bhairav temple to another side which will surely be going to save your time while coming back to Sonprayag/Gaurikund.
You can hire ponies/horse or Palki or can complete the further distance by simply trekking. It takes 5 to 6 hours to reach Gaurikund from where you have to take shuttle service to Sonprayag.
eUttaranchal Tip 2 : If you have reached at Sonprayag around 2 to 3 pm then do travel to Guptkashi (30 km by road / 1.5 hours). It will save your 2 hours for the next day trip and is going to save you from morning traffic too.
Day 4 : Guptkashi to Rishikesh ( 184 kms / 7 hours).
Say goodbye to this beautiful town of Uttarakhand. The journey will take 7 to 8 hours of your time. It is recommended to start your journey in the sharp morning so you can reach Rishikesh on time to catch night buses or trains.
Easy way to visit Kedarnath Temple
If you are unable to do a hard trekking of more than 16 kms to reach Kedarnath temple then you have to take the help of a pony to reach there. They charge around 2500 to 3000 rs for one side but there is an easy way to reach kedarnath temple here it is.
Book your hotel to Phata which is close to Kedarnath
Book a Helicopter service to Kedarnath from Phata which charge around 7000 Rs. of both side almost like the rate of pony but it will save your time and efforts to reach Kedarnath.
Do the darshan and reach at Kedarnath Helipad to come back to Phata .
In-case if you have low budget then book Helicopter from Sersi, it will cost you around 2500 for one side & come back through trekking route because walking to down is easier than climbing.
Latest 2023 News & Updates from Kedarnath
Heli service to Kedarnath Dham will be started from October 9. On October 6, the DGCA team will inspect the Sirsa , Phata and Guptkashi helipads.
The maximum limit of devotees visiting the Kedarnath temple situated in Uttarakhand has been increased upto 3000 per day.
Kedarnath Photo Gallery
Kedarnath Travel Guide
Kedarnath Weather
Kedarnath Hotels
How to Reach Kedarnath
Kedarnath Distance Chart
Places near Kedarnath
Kedarnath Blog, Articles, Travelogues
Kedarnath Bus Car Taxi Hire
Kedarnath FAQs
Kedarnath Photos
Kedarnath Travel Tips, Blogs & Articles
What is Kedarnath famous for?
Kedarnath is famous among tourist as Kedarnath Temple, Char Dham Yatra, Trekking, Himalayas, Pilgrimage, Panch Kedar, Religious.
Kedarnath is recommended destination for Family and Kids, Foreigners, Groups, Solo.
Kedarnath is popular destination for following activities/ interests - Char Dham Route , Char Dham Yatra , Helipads , Panch Kedar , Pilgrimage , Religious , Shiva Temples , Temples , Trekking .
Kedarnath Highlights
Highest Jyotrirlinga of Lord Shiva
One of the Panch Kedar Dhams
One of the Char Dhams of Uttarakhand
Kedarnath Travel Update
Plan for Popular Winter treks of Uttarakhand - Kedarkantha Trek , Har ki Dun , Kuari Pass Trek , Chopta , Deoriatal , Brahmatal Trek .
Char Dham Closing Dates: Yamunotri Temple will be closed on 15 Nov 2023. Madmaheshwar Temple will be closed on 22 Nov and Tungnath Temple on 1 Nov 2023.
Char Dham Closing Dates:  Gangotri , Yamunotri and Kedarnath dhams are closed now. Badrinath temple will be closed 19 Nov. Check out Char Dham Yatra tours : Char Dham News . Char Dham Registration is compulsory for visiting Char Dham Temples. Check Kedarnath Helicopter Ticket booking guide .
Traveling to Uttarakhand?  Check out Uttarakhand Covid Stats , Uttarakhand Travel Guidelines  and Uttarakhand Travel News
Char Dham Update:  Gangotri , Yamunotri , Kedarnath and Badrinath are open for pilgrims. Check out Char Dham Yatra tours : Char Dham News . Char Dham Registration is compulsory for visiting Char Dham Temples. Check Kedarnath Helicopter Ticket booking guide .
Last Updated: 24 Oct 2023
Kedarnath overview
Temperature in Nov 4 /-10 °C
Best time to visit Kedarnath May, Jun, Sep, Oct, Nov,
Located in Rudraprayag , Garhwal
Recommended stay 2 days
Railway Station Rishikesh, 228 kms
Nearest Airport Jolly Grant Airport Dehradun, 248 kms
Famous for Kedarnath Temple, Char Dham Yatra, Trekking, Himalayas, Pilgrimage, Panch Kedar, Religious
Travelling to Kedarnath in 2023?
Contact us for planning your Kedarnath tour with best travel packages of as per your requirements!

Char Dham Yatra
Sacred Yatra
Chopta Tungnath
Uttarakhand Stories
Uttarakhand Travel Books
eUttaranchal
Uttarakhand Tour Packages
Uttarakhand Hotels
Uttarakhand News
Customer Service
Return, Cancellation & Refund
Privacy Policy
Terms of Use
Business Connect
List your Package
List your Hotel
Send Feedback
Send Enquiry
Travel Guidelines
Get Free Quote
Send us your travel details and we will help you with making best travel itinerary at the best offer price!
Plan your Trip
Kedarnath Trek and Yatra – Where, What & How? All the information you need
by Agni Amrita Treks & hikes , Uttarakhand
Last Updated on: May 20, 2023     |     
About this Blog: Kedarnath Yatra is one of the most spiritual pilgrimages in India. Kedarnath, the abode of Lord Shiva attracts thousands of devotees within a span of 6 months when the shrine remains open. Kedarnath is a part of the sacred Char Dhams (4 pilgrimages) as well as a part of the Panch Kedars . This blog is about our experience of the Kedarnath Trek done in the month of October. Read on to know more about Kedarnath Yatra, how to reach and where to stay and other related information.
Kedarnath is not just a place of pilgrimage for me. The place has much more significance. It was the first place that I had ever travelled with my family. I do hear every now and then that I had been a very difficult 2-year-old during that time who gave a tough time to my parents. Well, what else to expect from a toddler! Now after almost three decades, I was again ready for Kedarnath Yatra again with Agni in tow. Only this time, we decided to go on foot from Gaurikund and I was quite excited about the Kedarnath trek.
This trip was going to be a special one, not for a singular reason. To be honest, I was way too excited to visit a place that has such nostalgic memories for me. The moment we told our families about this trip, my father started telling me stories about "that" Kedarnath Yatra that happened almost 30 years ago. By stories, he meant all the embarrassing episodes of a two and a half-year-old on a trip with the family. It seemed he divulged all my idiotic secrets to my husband, who of course, did not forget to tease me later.
My uncle was quite excited to know we were visiting Kedarnath and Badrinath. He recalled all the special places and even told me to take pictures in the same pose as we had done previously. So much for changes! Overall, going to Kedarnath was exciting not only for us, but also for my family.
For Agni and me, Kedarnath trek was important because we were again trekking the Himalayan trails after almost 2 years. All these years, we had done a few short treks in the Western Ghats and the David Scott Trail in Meghalaya. We thought Kedarnath trek might be the catalyst that would overcome the drought in our trekking trips. After all, it was after Amarnath Yatra that we had fallen for trekking! So enough of my ramblings, let us start with all the information you wanted to know about Kedarnath Yatra, Kedarnath Temple and of course our amazing experience there.
Where is Kedarnath located?
Kedarnath Dham is a part of the Char Dhams Yatra (4 religious places) that also includes Gangotri, Yamunotri and Badrinath. Located in the Rudraprayag district of Garhwal region in Uttarakhand, the Kedarnath temple is located in the Kedar valley below the Chorabari glacier, which is the source of the river Mandakini.
Kedarnath – History, Legend and Stories
It is usually an obsession with me to find out about the past of any place that we visit, especially if the place happens to be a historical and religious place. For temples in India have numerous stories hidden in them. I did the same for Kedarnath.
It is believed that the Kedarnath shrine was buried under the snow for almost 400 years!
Like others, Kedarnath also has its fair share of mythologies and legends. There are various versions on the origin of the Kedarnath Temple. While there are claims that the temple was resurrected and built by the great Hindu seer Adi Shankaracharya in the 8th century while others claim that it was built by the Hindu King Raja Bhoj of Malwa in the 2nd century AD. Well, as I said before, there are numerous versions.
Kedarnath finds mention in the great Hindu epic Mahabharata and this is where the legend of Panch kedar comes in. Did I mention before that Kedarnath is also one of the five (Panch) Kedars, the five holy places of Lord Shiva.
In the epic battle of Kurukshetra where the brothers fought against each other, the Pandavas defeated and killed their cousin brothers Kauravas. The Pandavas killed their own in the battle and were inflicted by self-remorse and guilt. They decided to ask for forgiveness from Lord Shiva, the master of the Universe. With this thought in mind, the Pandavas decided to go to Kashi to ask for forgiveness from God. Lord Shiva, on the other hand, was not too keen on forgiving the Pandavas for their carnage. He left his abode at Kashi and hid as a bull at Guptkashi. Bhima, the strongest of the Pandavas, however, was able to find Lord Shiva in the form of a bull. The bull again escaped and later rematerialized at five places and these 5 places came to be known as the Panch (five) Kedars.
Different parts of the bull materialized at different locations – the hump at Kedarnath, the arms at Tungnath , the navel and stomach at Madmaheshwar, the face at Rudranath and the hairs at Kalpeshwar. It is believed that the Pandavas had built temples at all the five locations and were freed of their sins. It is also believed that the front portion of the bull fell at Pashupatinath in Nepal. The Pandavas built temples at all five locations. It is believed that the Pandavas performed Yagna at Kedarnath before they left for Mahaprasthana (renouncing the world to attain salvation). Incidentally, the Mahaprasthana started from Mana village near Badrinath. That story is for some other time.
There is another story where Nara-Narayan, a Hindu deity worshipped Lord Shiva and Goddess Parvati. He prayed to the Lord and asked him to stay at Kedarnath for the wellbeing of the human beings. Lord Shiva granted him his request and thus Kedarnath became the abode of Lord Shiva.
The Floods of 2013
Kedarnath is also now known for the devastating floods that occurred in the Garhwal region of Uttarakhand in 2013. Surprisingly the Kedarnath Temple was one of the few structures that remained unscathed during the floods.
If the mythology is to be believed, then the temple was perhaps built almost 3000 years ago. However, there are inscriptions of the wall of the temple that dates towards a period in between 650 – 850 AD. How the temple withstood the ravages of the flood has been an area of interest for researchers. The reason is apparently related to the glaciers of the region and the lichens grown there.
Ravinder Kumar Chaujar, a retired professor from Wadia Institute of Himalayan Geology, Dehradun, studied lichens growing on the rocks of Chorabari's moraines to determine the geological history of the place. Professor Chaujar found that the temple had remained submerged in ice or in the glacier for at least 400 years. This was perhaps one of the reasons for the resilience of the temple. It remained unharmed in the 2013 floods and will perhaps survive further such episodes of flooding.
Kedarnath Trek – Our Experience
As I have mentioned before that we decided to go on foot all the way to Kedarnath from the base point at Gaurikund. The journey started from Haridwar. Local buses from Haridwar to Guptkashi were very few because of the post-pandemic situation. So we rented a car for 5 days for a trip to Kedarnath and Badrinath.
We started early in the morning from Kedarnath and passed through the winding mountain roads. We had been to these parts a few times, but the scenery never failed to enchant me. The meeting of Mandakini and Alaknanda Rivers at Rudraprayag still makes us wistful of the unadulterated beauty of the mountain rivers.
The Mandakini River was our constant companion throughout the road to Kedarnath. We reached Guptkashi at around 3 PM and then decided to travel to Sonprayag. There are a number of hotels at Guptkashi and is one of the places to stay for the night if you reach late.
We reached Sonprayag soon and found a hotel to stay for the night. We found a number of hotels at Sonprayag well but the majority of them were closed. It seemed this season the number of pilgrims were lesser than previous years, the reason being obvious.
Earlier, Sonprayag was the starting point of Kedarnath Yatra. But now, a motorable road upto Gaurikund has been built and the 5 km distance from Sonprayag to Gaurikund can be travelled by a shared jeep.
We started quite early in the morning. Once we were at Sonprayag, we headed towards the Yatra Registration Counter. To conduct the Chardham Yatra in a controlled manner after the flash floods of 2013, the number of Yatris (pilgrims) visiting the Kedarnath shrine is regulated. Yatra registration can be done online and you get an e-pass. You can do it yourself or ask your agent to do it for you. There is also a counter for getting the Yatra e-pass at Sonprayag. A man was sitting with a laptop and was making the Yatra e-pass for a fee of Rs.50/-.
We had our Yatra e-pass with us and went to the Registration Counter directly. They recorded the e-pass number, did thermal screening and we were given the permission to start our Yatra. Every year, the pilgrims get a physical pass as well. We did not get it this year, perhaps because of the lesser number of pilgrims.
Sonprayag – Gaurikund
As soon as we got ourselves registered for Kedarnath Yatra, we walked towards the jeeps standing for taking the yatris to Gaurikund. We got our seats in the jeep and were soon at Gaurikund. The jeep fare was Rs30 per head.
The Kedarnath trek route starts from Gaurikund and concludes at Kedarnath covering a distance of 16km. The trekking route had changed and rebuilt after the flash floods of 2013. The old trekking route has now given way to a better and wider trekking trail.
Kedarnath Trek Starts
The trek starts at Gaurikund. "Kund" literally means a reservoir and Gaurikund has a hot water spring where the pilgrims usually have a bath before embarking on the Yatra. The hot spring no longer exists after the floods of 2013. Now, there is a huge enclosure where pilgrims can take a bath.
Gaurikund is also known for the Gauri Temple dedicated to Goddess Parvati. Close to the Gauri Temple is the Uma Maheswar Temple where Lord Shiva is worshipped in the form of a rock.
Gaurikund is congested and there are a number of shops catering to all the needs of the travellers. There are a number of accommodation facilities as well at Gaurikund.
We started from Gaurikund at around 8 AM. The Mandakini River was gushing down with beauty and spirit. As much as I wanted to stay there and admire the sprightly river, we had to start our trek towards Kedarnath Temple.
About half a kilometer from the starting gate, is a booking office for horses, mules and palkis and Pitthus . Pitthus are basically men carrying the pilgrims on their back. Usually very old and young pilgrims take the service of Pitthus . There is a fixed rate for mules and Pitthus . You can book them from here. However, you will find mules almost entirely through the trail.
After a kilometer of trekking comes the Horse Point (Ghoda Pul) or the place from where you can get on your horses or mules to carry your journey. The horses are allowed from this point only. Upto this place, the trail is quite crowded with horses, mules and their owners. And don't you forget, they will constantly ask you to get a mule for the journey! I had been told at least 15 times that I should take a horse to Kedarnath.
We trekked along the well-made trail. As usual, very soon we were quite tired and panting. Our legs were screaming for respite. Well, this is what happens if you are out of any fitness regime and had not trekked for almost a year! Nevertheless, we continued to trek. Though I must admit that there were a couple of moments when I felt that I should have hired a mule.
The next significant stop on the trail is the Bheembali. The trekking route bifurcates at Bheembali – one for the trekkers and the other specially designated for horses and mules. Both the trails finally meet after Rambara.
Rambara was once one of the biggest settlements in the Kedarnath trek route. The floods of 2013 had completely wiped off the settlement. What remains now is the debris of the old trekking route which was pointed to us by a local shopkeeper. It is also here that we see the Mandakini River flowing down with force through the gorges.
The older route to Kedarnath was through the left of Mandakini River and that route is now completely destroyed. The new route has now been constructed at the right side of the river. A few more minutes of trekking and we reached Chhoti Lincholi. It was almost 12.30 PM at that time and we decided to take a lunch break there. This place can be roughly said to be the midpoint of the trail.
We had a good lunch of alu paratha at Chhoti Lincholi and were quite ready for our next stretch of the trek. And it was then, something sort of a miracle happened. It started snowing! Well, not exactly all the big snowfall, but we could see the snowflakes on the tents and on us.
To be honest, it was a bright and sunny day when we started. The snowfall made all the people quite happy and a group started singing a local song. We were told that it was the second snow of the season and all the locals were quite happy to see the snow. We enjoyed the snowfall for almost half an hour after which it stopped.
The snowfall might have had us gushing like diehard romantics, but it definitely made the trail a bit difficult for us. We were already late for more than an hour and the weather became chilly. It was a lazy start after lunch and snowfall and gradually we trekked our way towards Kedarnath.
Finally, we reached Lincholi. There are a few accommodation options at Lincholi. You can stay here for the night. Kedarnath is about 6 km from Lincholi. As much as we were tempted to stop at Lincholi, we decided to trek all the way to Kedarnath. After trekking for another hour, we reached Kedarnath Base Camp.
There is a GMVN Guest house and cottages at Kedarnath base Camp. Kedarnath shrine is another 500 m from here. There is also a check post here where they check the registration slips. They only ask for the e-pass numbers and really do not check any slips. We trekked towards the shrine and finally we reached there at around 4PM. Once we reached Kedarnath, we tried to look for a place to stay. There are a number of places to stay near the shrine, mostly dormitories. We finally chose to stay at Bikaner House just behind the Kedarnath Temple.
We were quite in time for the evening Aarti at the Kedarnath Temple. The Aarti starts at 5.30 PM. After watching the Aarti, we went to our guest house, had our dinner and simply snuggled into our sleeping bags.
Kedarnath Temple – the end of the trek
We awoke early the next morning and went to visit the Kedarnath Temple. This time we saw the temple in all its glory. The main temple of the Kedarnath remained unscathed in the floods of 2013.
The interior of the temple is a bit dark. There are statues of the five Pandava brothers and Draupadi, their consort. Inside the main hall, there is a conical shaped stone that is said to be the hump of the bull that Lord Shiva transformed into (remember the story I mentioned before). There are statues of Lord Shiva and a few other deities inside the main hall as well.
We offered our prayers in the temple and then roamed around the place for some time. I had a few old pictures when I had visited Kedarnath Temple almost 3 decades back. I tried to connect the places with that of those pictures. Obviously, the place had changed, but the temple had remained intact.
Outside the temple, there is a statue of Nandi, the bull facing the temple. The entire place looks quite beautiful with the snow-covered Kedarnath peak (6940 m or 22,769 ft), the Kedar Dome (6,831 m 22,411 ft) and other peaks surrounding the temple on three sides.
Just behind the temple is a huge rock known as the Shri Divya Bheem Shila. It is believed that this stone had protected the temple from the waters of the flood in 2013. When the waters of Gandhi Sarovar carried large chunks of moraines and stones, this huge stone boulder tumbled down and anchored just behind the temple. This rock then diverted the flow of water to the sides and the temple remained intact.
You will invariably feel calmness at this place. All around the temple, you will see many ash-smeared saints and sadhus sitting with a trident (Trishul). They seem to be in a world of their own. It is quite interesting to see these sadhus all around the temple, sometimes singing while at other times having a pot of marijuana.
After spending some time around the Kedarnath Temple, we started our return journey towards Gaurikund at around 8.30 AM. We descended to Gaurikund after taking occasional breaks and reached there by 2 PM. Our car had been waiting for us at Gaurikund. We continued our journey towards Guptkashi and decided to stop there for the night before continuing our journey towards Badrinath. Our visit to Badrinath remains for the next story.
Kedarnath Temple Timings:
The temple remains open from 4 AM to 9 PM everyday.
All that you need to know about Kedarnath Trek and Yatra
How to Reach Kedarnath?
Jolly Grant Airport near Dehradun is the nearest airport and is located about 235 km from Kedarnath. Taxis are available from the airport to Sonprayag.
The nearest railway station to Kedarnath is Haridwar or Rishikesh. From Haridwar and rishikesh, you will get direct buses to Guptkashi and Sonprayag. But these buses are few in number. You can check online bus sites to see the time of the buses. Buses to Guptkashi, Karnaprayag, Gopeshwar are now available from Delhi (ISBT) as well.
You can also hire a car to reach Guptkashi or Sonprayag. However, it is better to book a car for both Kedarnath and Badrinath or the entire Char Dham Package. The cars charge a lot more if you only ask them to drop at Sonprayag.
We had hired a car for 5 days to visit Kedarnath and Badrinath and it cost us about INR 11,000 for the 5 days (which I do consider to be cheap). We also stopped at Tungnath and Chopta on the way from Kedarnath to Badrinath.
If you are driving by your own car, you can follow the route:
Haridwar – Rishikesh – Pipalkoti – Devprayag – Srinagar – Rudraprayag – Agastamuni – Guptkashi – Phata – Sonprayag
Sonprayag has a huge parking space where you can keep your car for the night. The Registration centre for the yatra is just a few metres ahead of the parking space.
The distance between Sonprayag and Gaurikund is about 5 km. You can start the trek from Sonprayag or else take the shared jeeps to Gaurikund. The jeep fare is INR 30 per head. The stretch of road from Sonprayag to Gaurikund is quite bumpy and rough.
Gaurikund serves as the base camp for the Kedarnath trek.
From Gaurikund, you can either trek or ride horses/mules to Kedarnath.
Kedarnath on foot (Kedarnath Trek)
The total trekking distance from Gaurikund to Kedarnath Temple is about 16-17 km.
Kedarnath Trek Route
Gaurikund – Jungle Chatti (4 km)
Jungle Chatti – Bheembali (3 km)
Bheembali – Lincholi (4 km)
Lincholi – Kedarnath base camp (4 km)
Kedarnath base camp – Kedarnath temple (1 km)
The entire trail can be covered in a single day on foot. There are a few accommodation facilities in the middle.
Kedarnath by Horses/ Mules and Pitthus
Horses, palkis , kandis and Pitthus are available from Gaurikund to Kedarnath. There is a booking office just before the starting point of the trek from where you can get them. There is a fixed rate for horses and mules. The rate for pitthus and kandis vary with weight. While you will get them easily at Gaurikund, you will also get them on the way.
Tip on riding horses/mules: Bend forward while climbing upward and bend backward while climbing down and hold the saddle tightly.
Kedarnath by Helicopter
These days many people travel to Kedarnath by helicopter as well. The helipad is at Phata located between Guptkashi and Sonprayag. We found a couple of different operators providing helicopter services to Kedarnath. While Phata is the main place from where you can get helicopter rides, other helipads are found at Sersi and Sitapur. The helicopter would take you to Kedarnath Base Camp, about 1 km from the Kedarnath Temple. This distance has to be covered by foot. Even horses are not allowed beyond a certain point.
Things to remember for Helicopter ride to Kedarnath
The helipads are at Phata, Sersi and Sitapur.
Only 2 kg of luggage is allowed per person.
Additional charges are levied if you weigh more than 80 kg and above 120 kg, 2 seats need to be booked.
The price of the tickets depends on the helipad you are flying from. Usually a round trip cost somewhere between INR 5000 to 7000.
If you get the round trip ticket for the same day, then they usually allot 2 hours to visit the temple and come back to the helipad.
It takes roughly around 10 minutes to fly to Kedarnath Base Helipad and from there it is an easy trek of 15-20 minutes to the Kedarnath Temple.
Helicopter services might stop at any time due to bad weather conditions.
Where to stay at Kedarnath?
There are plenty of hotels and guest houses at Sonprayag as well as Gaurikund. GMVN Guest Houses are also available and you can book them online.
GMVN Guest House and cottages are also available at Kedarnath Base Camp. There are a number of guest houses and dormitories available near the temple as well. We stayed at Bikaner Bhawan just behind the temple.
Accommodation options are also available on the way to Kedarnath. GMVN Guest Houses are available at Jungle Chatti, Bheemabali and Lincholi. Online booking is available at these guest houses and I would recommend you to book them beforehand if you opt to stay in between.
We stayed at Bikaner Bhawan in a double-bed room which cost INR 2000. Hot water is also available and a bucket would cost you around INR 60 – 70.
The rates of the guesthouses and hotels near the Kedarnath temple can change randomly. We would recommend you to book your stay beforehand if you are visiting with family.
Medical facilities on Kedarnath Trek
Medical centres and facilities are available throughout the way. You can find them in between Jungle Chatti, Bheemabali and Lincholi.
Food, Drinks, Shops and Restaurants on Kedarnath Trek
Most of the hotels, guest houses and GMVN Guest Houses provide food at reasonable prices. The food available is vegetarian and quite tasty. There are many shops available all through the trek route selling Maggi, parathas, snacks and hot beverages. You will definitely not go hungry on your trek to Kedarnath.
Toilet Facilities on Kedarnath Trek
Make-shift toilet tents are available on the way at various places in the trekking route.
Is there Mobile and Internet Service at Kedarnath?
Mobile services are available at Gaurikund till Lincholi. However, it is a bit rough at Kedarnath. We found Jio and Airtel services at Kedarnath while there was no mobile service for Vodafone.
Free wifi is available at the main areas like Jungle Chatti, Bheemabali, Lincholi and Kedarnath. However, do not rely much on the free wifi services. We did not get any during our stay at Kedarnath.
When is the best time to visit Kedarnath Temple ?
Kedarnath is a part of the Char Dham Yatra. The temple opens on the auspicious day of Akshay Tritiya (usually falls in April or May) and closes on the day of Bhai Dooj (falls in October or November). Kedarnath Dham can only be visited during this time.
Kedarnath is located at an altitude of 3553 m and remains cold most of the time. The weather is quite unpredictable in the mountains. Usually May to June and October to November is a good time for Kedarnath Trek. July to September are the monsoon months and there are chances for landslides during this time.
Places around the Kedarnath Temple
Bhaironath Temple
This temple is located at a very short distance from the Kedarnath Temple. It is believed that Bhaironath guards the Kedarnath Temple by keeping the evil at bay.
Shankaracharya Samadhi
This is the resting place of Adi Shankaracharya and is located near the Kedarnath Temple.
Gandhi Sarovar
About 3 km from Kedarnath Temple lies the Gandhi Sarovar that is fed by the Chorabari Glacier. If you wish to trek there, start early in the morning. The weather can change quite abruptly.
Vasuki Tal is located about 8 km from Kedarnath Temple. The trekking trail is quite steep and should be done with the help of guides. The Vasuki Taal offers a great view of the Chaukhamba ranges.
Rudra Meditation Cave
This is an interesting place. Located about 1.5 km from the temple, there is an underground cave available for meditation and isolation. The caves have a window that provides a direct view of the Kedarnath Temple. You can book the cave for yourself for the purpose of meditation for a maximum of 3 days. Obviously, only one person can stay inside the cave. The cave has all living facilities like water, electricity, heater, attached toilet and a phone to call the authorities in case of emergency.
Some interesting Facts about the Kedarnath Temple
It is believed that the Kedarnath Temple is eternally protected and cannot be harmed.
Bhaironath Ji is the protector of the Kedarnath Temple and is known as the Kshetrapal. He is the fiery avatar of Lord Shiva and is known for devastation and destruction.
Kedarnath is one of the 12 Jyotirlings of Lord Shiva. It is infact, the highest of all the Jyotirlings in India.
After Bhai Dooj, when the temple is closed, the main deity is brought down to Ukhimath.
The head priest of the Kedarnath Temple belongs to the Veerashaiva community of Karnataka and is known as Rawal. However, the head priest or Rawal does not conduct the ritual inside the temple. He only gives instructions to his assistants. The deity is transferred to Ukhimath during the winter. The puja is performed in Kannada language.
The temple is said to have been buried under ice for almost 400 years.
Have you visited Kedarnath? Please let us know your thoughts on this famous pilgrimage. If you liked this post and found it helpful, please share it with your family, friends and neighbours!
Pin it for a later read!
Reproduction of the content, including the photographs without prior consent/permission of the writer and photographer, is not encouraged at all and a violation of the same will attract legal action. If you need anything, Contact Us .
May We Suggest
Ultimate Guide to the Offbeat Pikey Peak Trek in Nepal
Nepal , Treks & hikes
Located near the classic jiri to Everest Base Camp, Pikey Peak Trek is a new trekking route in the Solukhumbu region with an off the beaten path experience. When you stand on top of Pikey Peak, you cannot agree more with Sir Edmund. He had said that it was the most...
Phugtal Monastery Trek – Guide to the Cave Monastery of Zanskar
Featured , Ladakh , Treks & hikes , Zanskar
About this Blog: There are some places that you simply want to visit. Phugtal Monastery was one such place. Also known as the cave monastery, Phugtal Monastery, also known as Phuktal Monastery and Phuktar Gompa is located in a remote part of Zanskar Valley in Ladakh...
DUMAIL TREK KASHMIR – An easy hike from Naranag
Jammu & Kashmir , Treks & hikes
About this blog: Naranag is mainly known for the ancient Shiva Temple complex and the basecamp of a number of treks in Kashmir. Our experience at Naranag was much more. Not only did we experience the pristine beauty of the valley, but was also completely amazed by the...
Trip to Mana Village – the Last Village of India
Uttarakhand
About this blog: This blog is about our visit to Mana village, the last village of India. This small and picturesque village located near the India-China border is steeped with mythology. Mana is also known as the gateway to heaven as it is believed that the Pandavas...
Mawryngkhang Trek (Bamboo Trail) Meghalaya – Guide to The Scariest Trek
Meghalaya , Northeast India , Treks & hikes
Have you ever walked on a bamboo skywalk with the cliff on one side and the gorge on the other? You look down and can see the endless abyss beneath. This is said to be one of the scariest treks in Meghalaya. Scariest or not, I do not know, but the experience of the...
Trekking in Nepal: 15 Best Treks and all that you want to know
There are only a few places in the world where you can trek for days through the incredible mountain scenery and rustic rural villages. We believe that Nepal is the Holy Grail for trekkers and mountaineers. The country is the home to eight of the world's highest...
Tungnath Deoriatal Chandrashila Trek Itinerary and details (FAQs answered)
Treks & hikes , Uttarakhand
About this blog: We always wanted to visit the Panch Kedars and Tungnath was the first one we explored. Along with it, we also did Deoriatal Chandrashila trek. This blog will give you all the details about the trek, how to reach and other important tips and guides....
Overtrekking in Himalayas – Facts that you should know
Treks & hikes
Overtrekking in Himalayas - it has been told umpteenth time. Of late, rules and regulations are also in place. But are they really effective? Can they really help in preserving the already fragile ecosystem of the Himalayas from the impact of over-trekking? We love to...
David Scott Trail – A Historical Trail in Meghalaya
Meghalaya , Treks & hikes
So we decided to walk down the horse cart trail that was laid down to connect Assam and Bangladesh during the nineteenth century. The David Scott Trail, named after the British administrator David Scott is one of the oldest trekking routes in Meghalaya. Last year was...
About Chadar Trek in Ladakh – Experience, Guide & FAQs answered
Ladakh , Treks & hikes
The Chadar Trek is undoubtedly one of our favourite Himalayan treks. The first time we heard about Chadar Frozen River Trek in Ladakh, we were intrigued. When I came to know about the conditions in which we have to trek, I was a bit sceptical. Just imagine walking on...
48 Comments
Hi. Its very interesting to hear from you. Congratulation for the trek. Now I booked at gourikund . Can you provide any information the proceedings before start trek from Gourikund. Thanks again.
Thank you so much for your comment. Have a great trip and let us know how it went.
thank you for such a nice, elaborate and interesting blog!! while we have been aspiring to visit Kedarnath and badrinath much in recent times, i was actually looking for a visitor's experience and just came across yours… thank you once again.
Thank you poorna for the kind words.
Thankyou for the amazing informative content on kedarnath yatra. Everybody needs this informative content keep sharing.
Wonderfully done article..Pretty complete. I am planning to do the Kedar trek with kids 7&12 and planning to rent a car.
You have mentioned you rented a car for 5 days. Does it come with a driver or you drive on your own. Any preferred rental companies for Car?
We had rented a car with driver. We got the car from a rental service at Haridwar. It was near Haridwar Railway Station. Have a wonderful trip to Kedarnath.
Hi… felt like a movie … scenes passes thru my imaginative mind! Clear cut, lively explanation. I am visiting kedar, badri and tungnath this June. Plz help me with a trustable travel agency or travel agents number. We are from bangalore and will come thru flight. Thanks a lot I. Advance. I am inspired to write a page later.. ( in my son's notebook.. not here 😉 ) ha ha. Will be waiting for the reply
Thank you for a very informative write up. One question, how long did it take you to trek back to Gaurikund? You mentioned you reached at 12.30, but not state the start time. Did you have time to look around in the morning before starting the trek back?
Hello Sharmila! Thank you for reading our blog! And thank you also for pointing out the time. We had reached Gaurikund by 2PM and not 12PM. It was typo error. Now we have corrected it. We had started around 8.30AM after attending the morning aarti and just roaming around the place.
Woooow so nicely explain every minute details. This will help us a lot for sure for our planning.
Thank you so much!
Nice Blog…. This is really amazing. Great information about Kedarnath trek.
It's amazing blog and very informative about Kedarnath trek….. This blog will very helpfull for newbies.
Amazing Blog… many things to learn. thanks for sharing.
Good Luck for the upcoming update.This article is really very interesting.
One of my biggest dreams is to go to Kedarnath and in this blog, I got all the information for my next trip. And all the images are extremely beautiful. Thank you so much for sharing all this wonderful info with us.
Thank you so much Shivani! We are so glad you liked our blog.
Hi, How can we book hotels near the temple in Kedarnath? You mentioned that it's better if done ahead of the travel?
Can it be done online?
There are a few websites from where you can find out the contact numbers of the hotels near Kedarnath Temple. But I doubt whether it can be done online. There are also a number of travel agents in Haridwar and Rishikesh from where you can get your stay. Thank you for stopping by our blog. Keep reading!
this is a great read, very engaging and informative. I have a quick question regarding the stay at Kedarnath, you mentioned your stay at Bikaner house, is there any way to pre-book it?
Thank you so much for the comment. I think the stay at Bikaner House can be pre-booked. Please try calling +91-8191900012.
Amazing Blog, Thank for sharing this wonderful website with us.
I felt as if I were doing the trek with you as I read this. Beautifully covered with useful tips within. I have been meaning to get here and now am even more tempted. Loved your pics of the Sonprayag and the various trekking spots. The history and legends around this place really make it special. I knew the bit about Mahabharat and Shankracharya but did not know about how it was discovered
Thank you so much, Ami!
I'm hoping to go on Kedarnath Yatra after a couple of years. Good to know that they trek is about 16-17km and can be done in a day and there are also some accommodations on the way. Hahaha, it is funny and awesome that you visited Kedarnath as a kid and now your dad managed to give all the embarassing details to Agni. Now that I travel with my toddler, I have quite a bit of such funny and embarassing moments. Hoping to pass it on to her partner in future… Am I evil? Hahaha..
I bet you are! Just imagine my embarrassment when my dad gave all my secrets to my hubby. And he teases me with those till date!
Oh my God! I am bookmarking this post. Kedarnath has been on the top of my list. I want to hike and visit this amazing place, especially to hike. And also take my mother as she loves these kinds of religious places even though I would send her to the temple by other means and not by hiking. Thanks for this post, I will try to visit it as soon as the pandemic is over.
Thank you, Raksha! I am sure you will love Kedarnath.
What a great travel story and also a guide for those who want to do this trek. The views are absolutely breathtaking! And I love all those hidden little stories you mentioned. This trip also get a very personal feeling as other family members told you all those stories. The temples are all beautiful.
Thank you so much, Paula!
So interesting to read about the Kedarnath Yatra pilgrimage. And great to return to a trek that brings back special family memories. I can certainly see why the scenery along the river way to the start of your trek intrigued you. It looks like an interesting trek up to the Kedarnath Temple. Even if there was snow along the way. I might want to visit by helicopter and see those amazing views from above.
Helicopter ride is a good way to reach the place for those who cannot hike. Thank you Linda for the lovely comment!
What a fantastic experience! You provided so much information about Kedarnath, I feel like I could go and have a good idea of what to expect. I think the Kedarnath Trek sounds fascinating, although it must have been tiring the cultural experience and natural views must have been worth it.
Thank you Chloe! Kedarnath trek is quite an experience.
This is a great comprehensive guide! We have never heard of Kedarnath Yatra, but it looks like an interesting place to discover. Spiritual, historic and hiking all in one trip? That sounds like our kind of thing. We'll definitely include this in our India itinerary when it's safe to travel.
Wow just look at those mountains. I would love to do this hike and when I visit India I need a long time to see the beautiful places in this country. This looks like a great 2 day and worth it and the views must be amazing during the whole trek. I hope I get to visit one day as it looks amazing.
That I totally agree to. You will need a lot of time to explore India! Thank you for the lovely comment!
I never heard of the Kedarnath and after this in-depth description and experience, I would love to do a trek here. I love a hike with beautiful mountains and culture combined and this has it. The backdrop to the temple is truly amazing and I would just go to the temple just to see that. A lot of information here to consider as well, so I have bookmarked this page as I hope to do some hiking in India once Covid clears off. This part of the world has been on my list for a long time.
Thank you Danik! Kedarnath is one of the spiritual places in India and is absolutely gorgeous.
This is by far the most amazing blog I found on Kedarnath yatra. All the information is quite helpful. I almost felt that I am right there with you on the trek.Thanks for writing.
Thank you so much, for your kind words.
Descriptive blog about Kedarnath, valuable info shared for first-time travelers. Trekking in Kedarnath is an exciting and adventurous journey where you can avail all the accommodation as well as camping facilities with an awestruck top view from hills. Worth visiting along the trails to experience the local life.
Submit a Comment Cancel reply
Your email address will not be published. Required fields are marked *
Submit Comment
This site uses Akismet to reduce spam. Learn how your comment data is processed .
Hi! we're Agni & Amrita.
A creative couple, explorer and the team behind  Tale of 2 Backpackers .
Find more about us.
Don't miss out
Subscribe to our travel letters.
Get inspired! Receive fresh, free and honest thoughts about travel and life .
Thank you! You have subscribed successfully.
Latest video.
Travel Notes
Want to add travel to your life? Join our newsletter for travel tips and guides, interesting and untold travel stories. We also promise to send you advices to travel smarter and better gained after 14+ years of travelling.
Follow us on Instagram for more travel inspirations
How to start a travel blog
Travel blog name ideas
Travel Quotes
Plan your trip
Work with us
Write for us
Copyright © 2023 Tale of 2 Backpackers – Made with ❤️  by us | All Rights Reserved
Pin It on Pinterest

Kedarnath Yatra to resume today after weather conditions improve after two weeks of heavy snowfall
The registration of pilgrims for kedarnath was also suspended till may 3, 2023, the district administration said..

The registration of pilgrims for Kedarnath was also suspended till May 3, 2023, the district administration said. "Due to bad weather and snowfall in Kedarnath, the registration of pilgrims for Kedarnath has been stopped till tomorrow May 3. The decision regarding registration will be taken keeping in view the weather conditions," Mayur Dixit, Rudraprayag District Magistrate (DM) said. 

Kedarnath temple opens for devotees; pilgrims' yatra halted due to bad weather | Video

Char Dham Yatra 2023: Yatris stopped in Srinagar due to heavy snowfall in Kedarnath, Badrinath

Paytm issues clarification for installing QR codes outside Badrinath-Kedarnath Temple I DETAILS

Uttarakhand: Part of glacier breaks away obstructing Kedarnath trek route; 4 Nepali porters rescued
Latest India News
Read all the Breaking News Live on indiatvnews.com and Get Latest English News & Updates from India

India monitoring movement of Chinese warships participating in naval exercise with Pakistan: Sources

Video of Nana Patekar SLAPPING fan during film shoot goes viral | WATCH

IND vs NZ Semi Final Live score: Shreyas Iyer joins Virat Kohli after Gill gets retired hurt
Related India News

Uttarakhand tunnel collapse: Protest breaks out by workers at accident site, rescue ops enter Day 4

PM Modi pays tribute to Birsa Munda on birth anniversary, visits village of tribal icon in Jharkhand

Smriti Irani hosts weekly radio show 'Nayi Soch Nayi Kahani' on Akashvani | VIDEO

Breaking News, November 15 | LIVE Updates
Latest News

How to buy products from Amazon via using the Snapchat platform? Here are steps

What is Child Pneumonia? Know causes, symptoms, diagnosis and treatment

Indo-European popstar Ridi Oswal ready for India debut, upcoming fusion 'Guilty Feet'

The Hundred: Andrew Flintoff appointed head coach of Northern Superchargers Men

Aap Ki Adalat
Aaj Ki Baat
Kurukshetra
Haqiqat Kya Hai
Entertainment 'Congress Ki Bidaai Ka Waqt...': PM Modi Predicts Baghel Government's Defeat In Chhattisgarh What PM Modi Predicts On Assembly Elections? PM Modi addresses a public meeting at Chhattisgarh PM Modi Speech: PM Modi's address from Chhattisgarh Aaj Ka Rashifal: Know from Acharya Indu Prakash ji what your stars are saying today
Maharashtra
Uttar Pradesh
Madhya Pradesh
West Bengal
Jammu & Kashmir
Chhattisgarh WATCH | Rohit Sharma gets out to superb running catch from Kane Williamson in Mumbai IND vs NZ: Shubman Gill gets retired hurt after scoring 79 runs World Cup 2023: Virat Kohli goes past legendary Ricky Ponting in huge ODI record

World Cup 2023 semi-final: India win toss, opt to bat; Rohit Sharma gives 'used pitch' as key reason Bhupesh Baghel government going to lose, people not happy, says Union Minister Dharmendra Pradhan Chhattisgarh: 450 arrested, Rs 16 crore seized in Mahadev betting App case, says Bhupesh Baghel Rajasthan: BJP expels Jitendra Meena for contesting from Bassi against party's official candidate

EC issues show-cause notice to Priyanka Gandhi Vadra for 'unverified' statement against PM Modi

AAP gets EC's notice for 'disparaging' remarks against PM Modi on social media Former Indian Defence Secretary Ajay Kumar appointed as advisor to USISPF board 'Uncertain, weak': Suella Braverman slams British PM Rishi Sunak after getting fired as Home Secy Netanyahu slams Justin Trudeau after he urged Israel to 'stop killing of babies, women' in Gaza

Biden aims for normalcy with China in meeting with Xi today, says 'we're not trying to decouple...'

Israel-Hamas War, Day 40: IDF launches 'targeted' military operation in Gaza's al-Shifa hospital 'Power of trolls...': Rhea Chakraborty on whether Bollywood is scared of working with her Who is Ines de Ramon? 5 things about Brad Pitt's 'serious' girlfriend after split with Angelina

'Tore his photos': Ankita Lokhande makes SHOCKING revelations about her relationship with Sushant

Tiger 3 Box Office Collection Day 3: Salman Khan's film is soon to cross THIS whopping amount

Conversational AI vs. generative AI: What's the difference? Looking for a cheaper Samsung foldable smartphone? Here's what the Korean giant has to say

NASA and ISRO to launch NISAR Mission for mapping the globe | Here are the deets

Government's urgent alert: Android 13 users face critical security risks – Learn how to safeguard yo Horoscope Today, November 15: Golden day for Libra; know about other zodiac signs Horoscope Today, November 14: Aries to make progress in business; know about other zodiac signs Weekly Horoscope (Nov 20 to Nov 26): Gemini to get new opportunities, know about other zodiac signs

Diwali 2023: Auspicious timings, celestial insights and more for puja

Horoscope Today, November 11: Prosperity awaits Leo, know about other zodiac signs Climate Change: Experts warns of five-fold increase in heat-related deaths by 2050 World COPD Day 2023: Prevention tips for the chronic lung disease

Superfood Salmon: 7 surprising benefits of Rawas

World COPD Day 2023: Winter season can worsen symptoms
Kedarnath Trek
Description
Reviews (3), things to take, available dates, include / exclude, kedarnath temple  trek the india's most popular destination in uttarakhand himalayas, complete information 2024 yatra trek .
Kedarnath Trek is a remote but highly celebrated pilgrimage site of the famous 'Char Dham' in the Rudraprayag district of Uttarakhand. At an astounding location of 3583m Kedarnath lies near Chorabari Glacier, the birthplace of Mandakini River and is surrounded by various snow-capped peaks. The famous Kedarnath Mountain also lies in the vicinity to the site of Kedarnath. The Hindu pilgrimage site is visited every year by thousands of devotees from all around India.
Many Peoples thinks the Kedarnath Trek and Kedarkantha Trek are the same but these both are different Treks and also located in different location. Kedarnath Trek located in Rudraprayag district and Kedarkantha Trek located in Uttarakashi district in Uttarkhand.
In local dialect 'Kedarnath' means 'lord of fields'; according to a local legend it is believed that Lord shiva hid in an assumption of a bull trying to avoid the Pandavas. Bhima, one of the brothers from Pandavas, recognized lord Shiva and tried to capture the bull through its tail and hind legs. Just before Bhima could fully grasp the bull, it disappeared into the ground only to later appear in many forms across the region. The hump of this bull appeared in Kedarnath where it is believed that Pandavas built the temple and later worshipped it.
Kedarnath should not be mistaken as any easy trek, hikers not accustomed to long journeys and altitudes might face some problems, hence it is generally advisable that trekkers practice a reasonable amount of physical fitness.
Kedarnath Temple is a revered Hindu shrine located in the Rudraprayag district of Uttarakhand, India. Here are some of the highlights of the temple:
Ancient Temple: Kedarnath Temple is one of the oldest temples in India, believed to have been built by the Pandavas during the Mahabharata era.
Dedicated to Lord Shiva: The temple is dedicated to Lord Shiva, one of the most important deities in Hinduism.
High Altitude: The temple is located at an altitude of 3,583 meters (11,755 feet) above sea level, making it one of the highest temples in India.
Magnificent Architecture: The temple's architecture is a beautiful blend of ancient and modern styles, featuring intricate carvings and a unique design.
Unique Rituals: The temple has several unique rituals, including the Abhishekam ceremony, in which the idol of Lord Shiva is bathed with water, milk, and other offerings.
Char Dham Yatra: Kedarnath Temple is one of the four shrines that make up the Char Dham Yatra, a pilgrimage tour that is considered one of the most sacred in Hinduism.
Importance in Hindu Mythology: According to Hindu mythology, Kedarnath is one of the twelve Jyotirlingas, which are considered to be the most sacred abodes of Lord Shiva. It is also believed to be the place where Lord Shiva absolved Pandavas of the sin of killing their own brothers during the Mahabharata war.
Overall, Kedarnath Temple is a significant pilgrimage destination for devotees of Lord Shiva and Hinduism, and a beautiful site for tourists to visit and admire the ancient architecture and natural beauty of the surrounding region.
A special place of Lord Shiva in Himalayas of Uttarakhand
Kedarnath is a place where a special form of Lord Shiva is seen. Kedarnath Temple is one of the holy pilgrimage sites in the state of Uttarakhand, northern India, located on the banks of the Mandakini river and is a beautiful place in the lap of Himalayas, which is known as Kedarnath. The name of the historical heritage of this area is "Kedar Khand". Kedarnath temple is a special part of Char Dham Yatra and Panch Kedar in Uttarakhand state and it is known among the 12 Jyotirlingas of Lord Shiva in India.
Kedarnath This is the most remote place among all the Char Dham sites where Shiva is the Taposthali, and is surrounded by snow-capped mountains that attract thieves and people to itself. Known for its ancient Shiva temple, a visit to Kedarnath Dham is a beautiful and mind-blowing exhilarating experience. Like other places, Kedarnath temple closes on the first day of Hindu month Kartik October-November and every year Baba Kedarnath ji's door opens again for his devotees in Vaishakh April-May
Where do worship Lord Kedarnath in Uttarakhand ?
When Lord Shiva is shifted from Kedarnath to Ukhimath Dham, this Shiva temple remains submerged in snow for almost half a year 6 months. Where sages dedicate themselves to the feet of Baba Kedar even in the winter season, they worship him and do meditation yoga. According to a legend, it is said that Lord Shiva is seen in various forms such as arms in Tungnath temple, face in Rudranath temple, stomach in Madmaheshwar temple and head in Kalpeshwar temple with his hair. give. Kedarnath and the above four temples are considered as Panch Kedar. Where Lord Shiva is worshiped in all the Dhams.
Key Points of Kedarnath Trek
Some of the trek highlights of kedarnath trek.
Even before the trek starts trekkers are introduced to many lavishing vistas of Rishikesh, Devprayag and Rudrapryag. The magical confluence of Alaknanda & Bhagirathi at Devprayag and Alaknanda with Mandakini at Rudraprayag is an inner outer experience. Beautiful temples at every few kilometers clearly stamps that yes trekkers are indeed at the Land of Gods 'Uttarakhand".
The trek officially commences from Gaurikund covering many campsites along the way. Jungle Chatti, Bheembali, and Linchauli are some of the camps we pass during the trek.  The entirety of journey trekkers would find devotees chanting and celebrating the trail. Echo of "Har Har Mahadev" fills you with an exceptional spiritual embodiment.
The final reach of Kedarnath is enough to overwhelm devotees with the chants of "Mahadev". Temple covered in long ribbons of marigold garlands, long happy queues of devotees and the calmness of the Kedarnath. Everything about this place will capture you in its essence.
The trek to Kedarnath Temple offers several beautiful and scenic locations that you can visit along the way. Here are some of the most popular places to visit during the Kedarnath trek:
Gaurikund: Gaurikund is the base camp for the Kedarnath trek and is located at an altitude of 1,982 meters (6,503 feet) above sea level. It is believed to be the place where Goddess Parvati meditated to win Lord Shiva's heart.
Rambara: Rambara is a picturesque location located around 7 kilometers from Gaurikund, and is an ideal place to take a break during the trek. It is situated at an altitude of 2,835 meters (9,301 feet) above sea level and is surrounded by beautiful valleys and waterfalls.
Kedarnath Temple: Kedarnath Temple is the main attraction of the trek and is located at an altitude of 3,583 meters (11,755 feet) above sea level. It is one of the twelve Jyotirlingas in Hindu mythology and is considered to be one of the most sacred sites in India.
Vasuki Tal: Vasuki Tal is a serene lake located around 6 kilometers from Kedarnath, and is surrounded by beautiful mountain peaks. It is situated at an altitude of 4,150 meters (13,615 feet) above sea level and is a popular spot for camping and trekking.
Gandhi Sarovar: Gandhi Sarovar is a glacial lake located around 2 kilometers from Kedarnath, and is named after Mahatma Gandhi. It is situated at an altitude of 3,900 meters (12,795 feet) above sea level and offers stunning views of the surrounding mountain ranges.
Things to Look out for-
Souvenirs from Rishikesh are great for memories.
There are countless photogenic vistas, so we recommend that you prepare yourself for any aesthetic shoots. The best pictures are those taken under a blue sky with snow-covered peaks in the background.
Explore the tranquility of this holy site and submerge yourself in "Baba Kedar's" blessings.
The altitude covered in Kedarnath Trek 
Rishikesh-340 m
Sonprayag-1829 m
Gaurikund-1982 m
Kedarnath-3583 m
Best Time to Visit  Kedarnath Trek & Opening or closing  time every year 
Kedarnath Temple, located in the Indian state of Uttarakhand, usually opens for visitors in late April or early May each year, and closes in the first week of November before winter sets in. The exact dates of opening and closing of the temple are determined by the Char Dham Devasthanam Board, which oversees the management of the temple. However, it's important to note that the dates may vary slightly from year to year, depending on various factors such as weather conditions and other local considerations. If you are planning to visit the temple, it's a good idea to check with the official website of the Char Dham Devasthanam Board or local authorities for the exact dates of opening and closing before making travel arrangements.
Kedarnath temple is best visited during the summer months of April to June. and September to Last October.  Families and friends can enjoy the mild temperatures of these months. The unfavorable temperatures and precipitation make this trek a per and post monsoon season trek. Temperatures typically range from 15 to 20 degrees Celsius during the day, with substantially colder nights.
The most popular time to visit Kedarnath Temple is during the Char Dham Yatra season, which typically runs from April/May to October/November, depending on the weather conditions. During this time, the roads leading to Kedarnath are open, and the temple is easily accessible.
To reach Kedarnath from Haridwar, you can take a shared taxi or bus to Gaurikund, which is the base camp for the trek to Kedarnath. The trek is approximately 14 kilometers long and takes around 6-8 hours to complete, depending on your pace and physical fitness level. Along the way, you will pass through several scenic locations, including waterfalls, lush forests, and picturesque valleys.
During the Char Dham Yatra season, there are several facilities available for pilgrims, including accommodation options, medical facilities, and food stalls. It is advisable to carry warm clothing, sturdy trekking shoes, and basic first aid supplies when trekking to Kedarnath, as the weather can be unpredictable and the terrain can be challenging.
Overall, visiting Kedarnath during the Char Dham Yatra season can be a memorable and spiritually uplifting experience, as you will be part of a large community of devotees who are all journeying towards a common goal.
1) Is it safe?
2) Difficulty level
3) Weather conditions
4) Things to carry
5) Connectivity and transaction
6) How to reach
7) Short Itinerary
Is Kedarnath Trek is safe?
Set amidst the high altitude ranges, concerns regarding Kedarnath Trek safety are undeniably very valid questions. Yes the trek to Kedarnath is indeed very safe and reliable, new trails and much clearer safety protocols are sure to easy anyone's concern.
Difficulty level in Kedarnath Trek
Because the top is relatively high in elevation for any beginner level trekkers we strongly recommend a reasonable level of physical fitness. We advise trekkers to physically and mentally prepare themselves prior to this trek. 
Any medical assistance that is required will be provided at any point of the journey; however, trekkers must consult their professional care before beginning any trek. We also strongly advise trekkers to learn about altitude sickness and to notify our teams as soon as any symptoms appear.
Weather conditions
Weather conditions depend on the time of the year trekkers are travelling. In the months leading up to and following the monsoon season, the daytime temperatures are moderate, but the nighttime temperatures are significantly lower. Monsoons receive moderate to heavy rainfall.
Short itinerary of Kedarnath Trek
Day 1       Drive from Haridwar via Rishikesh to  Sonprayag   202 km by taxi (1982 m overnight stay hotel
Day 2      Aftre breakfast Sonprayag to   Gaurikund same day trek  to Kedarnath temple 15 km (6/7 hours) (3553 m) overnight stay Hotel
Day 3     After Arti Darshan   trek from Kedarnath to Gaurikund same day drive to Sonprayag  over night stay Hotel
Day 4      Drive from Sonprayag to Haridwar via Rishikesh 202 km
Note: – Our service will remain from Rishikesh to Rishikesh – for more details please check includes or excludes 
Things to carry in Kedarnath Trek
1) Because nights at elevations tend to be considerably colder, we suggest having well-graded, warm and comfortable clothing along with good quality shoes.
2) Despite the fact that we handle medical crises, we urge individuals to keep their emergency kits at hand in any case of personal underlying illnesses.
3) Since the journey provides you with a picturesque view of many peaks, don't forget to bring your camera along with extra batteries.
4) Our staff will consult with fellow trekkers about their luggage and, if lacking, will assist trekkers in obtaining any necessary equipment. Only the relevant luggage should be brought, as a result.
Other trekking Essentials-
Connectivity and Transactions
1) Because connectivity along the route is unpredictable, we urge people to do all of their work ahead of time.
2) Last ATM transactions available will be at Gaurikund but we recommend travelers to collect cash beforehand or while in Rishikesh as ATMs available at other places might not dispense cash at times.
How to Reach Kedarnath Trek
If you are travelling from any metropolitan city in India or from outside India, getting to the capital city of Delhi may be the first and most important step. All major modes of transportation, such as air, road, and rail, can take you to Delhi.
Rishikesh is connected to most major cities in India via all chief modes of transportation. Trekkers could perhaps conduct extensive research for their direct mode of transportation to ensure a much smoother arrival.
By air – Jolly Grant Airport is the nearest airport to Rishikesh. It is well connected to Delhi and many chief cities with daily flights.  How to reach Rishikesh from Delhi
By road -Delhi has direct road routes to Rishikesh. Trekkers will have to book either a bus or private cabs. Prior booking for cabs and buses are easily available at various sites.
Delhi> Rishikesh >Sonprayag>Gaurikund
By railway – Nearest Railway station to Rishikesh will be Rishikesh Railway station . Since Rishikesh is connected to all major railway routes, trekkers can opt for a direct route or via Delhi. They can also opt for direct trains to Dehradun or Haridwar and the take cab or bus to Rishikesh.
.Some important points to note-
Please note that we don't provide timings schedules for transportation before Rishikesh. Subjected to various conditions the scheduled timings and availability of particular rides may differ. We recommend trekkers to reach out to our teams for any queries. You can drop an email or call us for an initial guided session.
Our teams will be collecting trekkers at fixed points of airports, railway stations and bus stands.
It is recommended that unless any delay arrives, trekkers are advised to reach the destinations at least 2 hours prior.
Things Himalayan Hikers Recommend
As previously stated, a camera, as well as spare batteries and memory cards, are recommended. We can assure and guarantee that you will be stopping frequently along the trail to observe the grandeur of the trekking experience.
We strongly recommend trekkers to prepare beforehand for the journey ahead. Regular practicing physical fitness and mental endurance will surely assist trekkers in great time.
After the trek, we strongly encourage trekkers to tag us on social media when they post any memories from the trip; this will not only prove invaluable to us with our work, but will also serve as a motivational example for all of our experts.
Why you should choose us
We're here to give you the greatest experience possible through the eyes of highly skilled and qualified specialists who have a passion for adventure sports. We are community members attempting to promote our favorite adventure sports while also supporting local businesses. We, at Himalayan hikers, dedicate ourselves to providing you with an unforgettable experience.
What we do during an emergency breakout in the Kedarnath Trek?
First of all, the safety of trekkers is much more for us, if you see in the trek, then there are all the risks, which I do not think about.
Himalayan Hikers worry more about you that no one should ever have any problem in the trek.
What should we and you keep more safety in the trek
Whenever you are going for kedarnath trek, it is very important that you go completely fit and ready.
Kedarnath trek is Moderate, if you make your feet and your mind calm and strong, you will find the trek very easy.
While trekking, keep in mind that you are walking on the right route or not always with your guide.
Most people look somewhere and where they are walking, this can cause twitching in your legs, which can ruin your entire trek.
It is important to ask your doctor if you have any medical problems
I should always keep my medical kit with me, it is very important.
Himalayan Hikers always keep a medical kit with you, such as oxygen cylinders, medicine to be given in emergency on the kedarnath trek
If any trekkers have any more problems, then they are brought back to the base camp by laying them in the stretcher.
Our Hotels in Kedarnath trek is around the 6000 feet to 11,000 feet where you can not have any problem of oxygen, this is tree line area
In case of any medical problem, the help of your guide or a well-informed trekkers should be taken
If there is major health problems in Kedarnath trek , then Nearest Hospital is in Rudarparyag / Gaurikund / Karanparyag which is about  69  Kms away from Kedarnath trek  last option in dehradun and Rishikesh the distance is 257 kms
Along with the trek we keep getting acclimatization
  Self-Certificate of Emergency Breakout
Trekking in the Himalayas is not a cup of tea but it is a rewarding experience. However, it's important to keep things in mind when it comes to Safety. One must know about the weather conditions, the altitude gain, fitness and other factors that can wreck your experience. In such adverse conditions, you are solely responsible for your well being and act maturely.
Also Read About – Safety Tips For Safe Trekking.
Preparations before the Trek
You've to understand that treks are away from cities and medical help is not always easily available. So, if you are heading for an adventurous trekking trip, stick to certain trekking guidelines and tips. Following these simple tips will help make the trek more fun and experiential for you as well as your fellow trekkers.
These tips and guidelines cater to useful and requisite information about your fitness training, packing and health precautions to be taken before and during the trek.
Firstly, when you start, target 5 km in 40 minutes
Then gradually increase your pace by running at least 4 times a week. Then try to bring it down to 5 km in less than 37 minutes
If you are a person who prefers cycling over running then your target must be 22 km means you should be able to cover 22 km in 60 minutes.
Walking is a great exercise that gives great shape to your legs and your body. It helps in burning calories and cut down excess weight and strengthens the heart.
Jogging is effective in increasing the human lifespan and makes your lungs stronger. It is an aerobic activity that requires a lot of oxygen. This is a great exercise for fighting obesity and staying healthy.
Squats are the best form of functional exercises to improve stability. They also strengthen your legs, thighs, hips, and hamstring.
Another great cardiovascular exercise is pushing your body upstairs after stairs. This is regarded as the best exercise for increasing strength and power
What to pack for Kedarnath Trek
Warm clothes, sleeves, wind shelter, comfortable clothing, and extra warm clothes so that you can enjoy trekking. A raincoat is the necessary
Footwear: A well-fitted trekking footwear shoes are highly recommended. If you wear an uncomfortable pair of shoes, your feet will be hurt.
Day 1: Drive from Rishikesh to Sonprayag 
Our teams will pick up trekkers at Rishikesh and then they will be taken to Sonprayag. The entire journey of the holy river Ganga will accompany us. Trekkers can relish in the beauty of the journey. Buses will be stopping at Devprayag and if lucky trekkers might get a chance to witness the great confluence of rivers Alaknanda and Bhagirathi. After crossing another confluence of Alaknanda and Mandakini at Rudraprayag, trekkers will finally reach Sonprayag. Check in to respective hotels and rest for the night
Day 2 :  Gaurikund to Kedarnath
Next day after breakfast teams will be dispatching for Kedarnath temple trail via Gaurikund. Jungle Chatti, Bheembali, and Linchauli are some of the camps we pass during the trek.As the teams reach Kedarnath temple after covering a long distance of new trail, trekkers will be stopping to visit the temple and receive Lord Kedarnath's blessings. Since teams will be staying overnight at camps, hikers will be getting a great opportunity to explore the surroundings. The tranquill grim of this place will leave trekkers yearning for more.
Day 3 : Kedarnath to Gaurikund same day Drive sonparyag 
After attending the morning 'Aarti' teams will prepare for their return. Trek from Kedarnath to Gaurikund and same day drive to Sonprayag/ rudraprayag on the same day.
Day 4: Sonprayag  to Rishikesh
Trekkers will be dispatching for Rishikesh from Sonprayag early in the morning. Come across the beautiful vistas of the journey. Interacting with our teams and other locals in the entirety of our journey can provide an opportunity to learn more about the local culture.
Note- reaching Rishikesh on the date decided is trekkers' sole responsibility. We can only offer assistance after their arrival in Rishikesh.
Mandatory Documents
Please carry the documents given below.
Original and photocopy of government photo identity card- (Aadhar Card, Driving License, Voters ID, etc, Passport and Visa important to foreigners Medical Certificate (First part should be filled by the Doctor and Second part by the Trekker) Declaration Certificates
Note: –   Many trekkers commit the same mistake of carrying unnecessary items on a trek which only makes the backpack heavy. It is important to know the right items to carry. It differs from season to season if you are trekking in summers then carry less layers of warm clothing and if you are trekking in winters carry enough layers to protect yourself against chilly cold.
Necessary Items for trekkers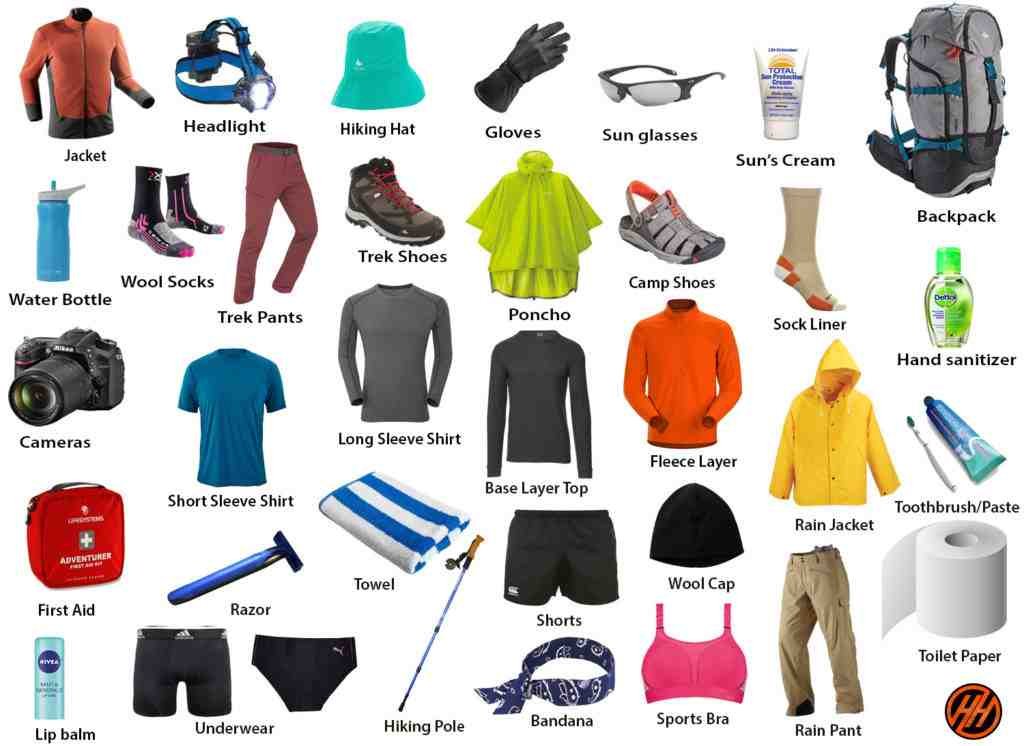 Backpack (50 to 60 liters) A strongly built backpack with good support is compulsory for a trek. (Rain cover is important)
Sturdy Trekking Shoes The shoes should be strong enough with good support. The people ask if sports shoes would be comfortable but it is good to bring the right trekking shoes.
The Clothes You Should Bring On a Trek Avoid keeping extra clothes because it only makes you backpack heavy.
Trek Pants – The jeans are never suitable for a trek so you need at least 2-3 trek pants for treks carry more for longer treks.
Jacket – Jackets are very important to carry on a trek it protects you against the chilly weather. So carry 2 jackets on a week long trek.
Layers of warm Clothing  Carry warm woolen layers or fleece. Carry more layers during winter season (at least 2 to 3) and less during summer.
Thermals – The Temperature decreases at night so you might be need thermals for Night.
T- Shirts – Bring those t shirts which dry fast.
Poncho –They are needed if you are trekking on a Rainy day to keep you dry.
Hiking Pole
Water Bottle 2
Cap or Balaclava
Woolen and Waterproof Gloves
Socks (Woolen and Regular)
Torch head light
Personal Toiletry Items –  (toothpaste, toothbrush, toilet paper, sanitizer etc.)
Carry Personal Medical Kit
Personal Medical Kit (Carry minimum 5 tablets and maximum 10)
Diamox – (Prevents altitude sickness)
Digene – (It cures discomfort in stomach, acidity)
Crocin Advance – (Cures fever and headache)
Aspirin/Combiflam – (Pain reliever)
Disprin – (Cures headache)
Avomine – (Prevents motion sickness)
Avil – (It treat allergies)
Norflox TZ & Lomofen – (Prevents Diarrhoea)
Ranitidine – (Reduces the amount of acid in stomach)
Volini/Moov spray – (For sprains)
Betadine/Savlon – (Antiseptic cream)
Stretchable/Elastic bandage
Note:- Use medicines only when prescribed by the doctor. In case you face any problem during your trek, discuss and take advice from the Professional guide.
September-2024
What is included in this trek.
Transport Facility from Rishikesh to Rishikesh
Forest Permit and entrance fee
Accommodation in Hotel on twin share basis
All meals: breakfast, packed lunch, tea, coffee, snacks, soup and Dinner
Radio Walkie Talkie for Communication
Good Experience Local Trek Leader guide and Technical guide
Medical Kit
Oxygen Cylinders
What is Not Include In This Trek?
Personal Insurance
Medical Certificate
Personal toiletry Items and Personal Medicine kit
3 reviews for Kedarnath Trek
Arijeet Das – June 14, 2023
I want to visit kedarnath temple & tungnath temple in one trip, can I get a customised package for that?
Himalayan Hikers – June 15, 2023
Please contact or WhatsApp us at +91-9756197558
dilip varadharajan – May 11, 2023
HI i planned for kedarnath during 29 to 2nd june 2023 im travelling fron uae and will i be able to complete and travel back on 02nd june 2023
Himalayan Hikers – May 13, 2023
Please Email us at [email protected] and call or Whatsapp us at +91-9756197558.
Nishant prajapati – December 3, 2022
I want to go Kedarnath
Himalayan Hikers – December 4, 2022
Hi Namaste please feel free call us 9756197558
Your email address will not be published. Required fields are marked *
Name *
Email *
Save my name, email, and website in this browser for the next time I comment.
Related Tours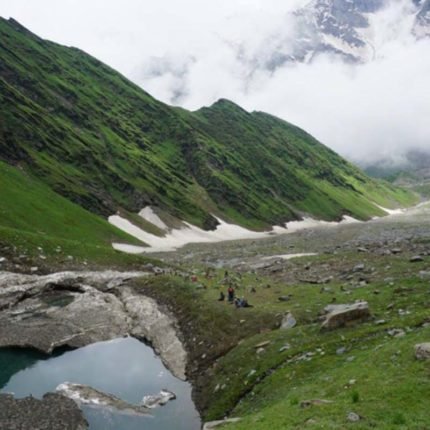 Beas Kund Trek
KUND BEAS TREK ALPINE LAKE IN HIMACHAL
Dayara Bugyal Trek
The Most Popular Winter Trek in Uttarakhand Himalayas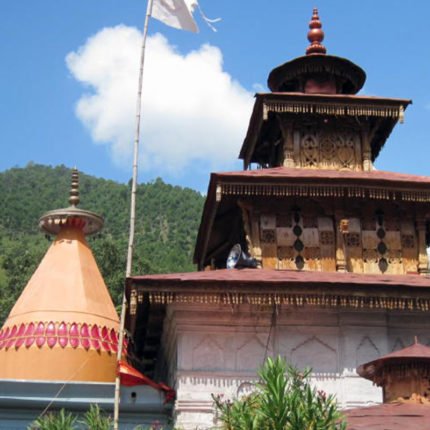 Buda Kedar Trek
Buda Kedar is known for "Lord Shiva" in Tehri Garhwal, Uttarakhand.
Price: ₹ 10,000.00
Book the tour
Book your trek.
Kedarnath Trek
Kedarnath trek- A Gateway To Paradise
The Kedarnath Trek is a challenging trek that takes you through some of the most stunning landscapes and scenery of the Garhwal Himalayas. The trek begins from Gaurikund, which is located at an altitude of 11,750 ft and it's the gateway to the Kedarnath valley. As you trek through the valley, you will come across several stunning views of the snow-clad Himalayan peaks, lush green meadows, and rivers. The trek also takes you through dense forests and meadows, which makes it even more exciting.
The trek is quite challenging and requires a lot of physical fitness. It takes around four to five days to complete the Kedarnath Trek. During the trek, you will not only get an opportunity to explore nature, but you will also get to learn about the culture and traditions of the locals. The Kedarnath Trek is also known as one of the holiest places in India and it's a great pilgrimage for Hindu devotees. The trek is also a great way to connect with spirituality and let your soul wander in the lap of nature.
If you are looking for an amazing trekking experience with a touch of spirituality, then the Kedarnath Trek is the best option for you. With its breathtaking views and challenging terrains, the Kedarnath Trek is definitely an unforgettable experience that will help you create some amazing memories!
Kedarkantha Trek Highlights
Here are some highlights that should not be missed:
Gaurikund is the starting point of the Kedarnath trek. It is an important pilgrimage destination and is home to several ancient temples. During this journey, one can explore the breathtaking beauty of Gaurikund and unravel its religious history.
As you trek to Kedarnath, you will be surrounded by breathtaking views of the Himalayas. Taking a break to enjoy the views of the majestic Himalayas is a must-do during this trek.
The highlight of the Kedarnath trek is visiting the ancient Kedarnath temple. This holy temple is dedicated to Lord Shiva and is one of the most important pilgrimage destinations in India. You must visit the temple to experience the spiritual vibe of the place.
After a tiring day of trekking, you can unwind at the hot springs near Kedarnath. These hot springs are believed to have healing and therapeutic qualities and are a great way to rejuvenate your body and soul.
Chorabari Lake is an ideal spot for camping during the Kedarnath trek. Here, you can spend a night under a blanket of stars and wake up to the beauty of the lake and its surroundings.
Best time to visit Kedarnath Trek
The best time to visit the Kedarnath Trek is during the summer months of May to October . This is when the weather is most conducive for trekking, and the snow is at its lowest level. The bright sunshine and clear sky make the trekking experience even more rewarding.
How to Reach Kedarnath Trek
By Road : You can take a bus or taxi from Rishikesh to the trek starting point, Gaurikund. The journey is around 208.1 km and takes about 11 hours. If you want to take a shorter route, you can also reach Gaurikund from Haridwar, which is only a few kilometres away from Rishikesh. Once you reach Gaurikund, you can start your trek. The trek passes through some of the most picturesque places in the Garhwal Himalayas. You will be crossing the Mandakini River, trekking through beautiful meadows, and walking through dense forests.
By Air: The closest airport to the Kedarnath Trek is the Jolly Grant Airport which lies at a distance of 239 km. Passengers can opt for a private taxi or public transport from the airport itself to further complete the journey.
By Train : Rishikesh Railway Station is closest to the Kedarkantha Trek with a distance of 221 km. In the same way, passengers can opt for different transport options available from the railway station.
Route Map for Kedarnath Trek
There are three main routes you can take to reach the Kedarkantha summit –
Gaurikund >> Rambara bridge >> Jungle Chatti >> Bheembali >> Linchauli >> Kedarnath base camp >> Kedarnath temple >> Gaurikund
Chaumasi → Kham → Rambara → Kedarnath
Trijuginarayan → Kedarnath
Quick Info about the Kedarnath Trek:
Travel tips for kedarnath trek.
Here are some essential travel tips that will help you make the most of your Kedarnath Trek.
Get acclimatized : Kedarnath Trek is at an altitude of 11,750 feet. You will need to get used to the high altitude before you start the trek. Spend some time in the local area and start your trek slowly. This will help you avoid altitude sickness.
Be prepared for extreme weather: The weather in the mountains can be unpredictable. Carry enough warm clothing and waterproof gear to protect yourself from the elements.
Pack light : You need to pack light, as you will be carrying your bag all the way up the mountain. Make sure to carry only the essential items like a sleeping bag, warm clothing, first-aid kit, energy bars, and trekking poles.
Carry a first-aid kit: You never know what might happen on a trek. It's always better to be safe than sorry. Carry a basic first-aid kit that includes bandages, antiseptic cream, painkillers, and other essential items.
Stay hydrated: Drink plenty of water and stay hydrated throughout the trek. Carry a few water bottles with you and refill them at streams and springs.
Be aware of the terrain: The terrain on the Kedarnath trek is quite rugged. Be mindful of your steps and be aware of any slippery patches.
Pack some snacks: Carry some energy bars, dry fruits, and nuts in your bag. This will provide you with the energy and nutrition to keep going during the trek.
Don't forget to enjoy: The Kedarnath Trek is an amazing experience. Don't forget to take time and enjoy the beautiful views, take pictures, and meet new people.
Documents to Carry for Kedarnath Trek
The documents that you must carry for the Kedarnath trek are
Identity proof: It is essential to carry valid identity proof such as an Aadhar card, PAN card, Voter ID card, or Passport. This will be required for verification at the entry point and other checkpoints.
Medical certificate: The trek to Kedarnath is quite challenging, and it is important to carry a medical certificate that states that you are fit and healthy enough to undertake the trek.
Permit: You will need to get a permit from the Uttarakhand government before you can start your trek. This is important for security purposes and you will need to show the permit at every checkpoint during your journey.
Travel insurance: It is always better to be safe than sorry. You must carry travel insurance to ensure financial protection in case of any unforeseen circumstances during the trek.
What to pack for the Kedarnath Trek
Clothing : When it comes to clothing, you'll want to dress in layers to cope with the changing weather conditions. Bring multiple light layers, such as a long-sleeved T-shirt, a fleece or light-down jacket, and a waterproof outer layer. You'll also need a hat and a pair of gloves, as well as a good pair of sunglasses to protect your eyes from the sun.
Footwear : Your choice of footwear is very important when trekking in the Himalayas. You'll need a sturdy and waterproof pair of boots with good ankle support, as well as thick woollen socks. You should also bring an extra pair of socks and a pair of sandals or slippers for when you get back to camp.
Other Essentials: In addition to the above, you'll also need to bring a few other essentials. These include a headlamp, a pocket knife, a few water bottles, a small first aid kit, good sunscreen, and insect repellent. Also, consider bringing along a pocket-sized book of prayers to chant at the temple.
Additional Tips: If you're trekking in the summer, you'll need to bring a few extra items to protect you from the sun. These include a sunhat, a pair of light-coloured long pants, and long-sleeved shirts. It's also a good idea to bring a few energy bars, as there won't be many opportunities for a meal on the trek.
Other Popular Treks To Explore In Uttarakhand
Set in the stunning Himalayan range of Uttarakhand, the Kedarkantha Trek is one of the most popular treks in India. It is an ideal choice for beginners and experienced trekkers alike.
It is a thrilling and challenging trek in the Garhwal Himalayas. The trail of the Brahmatal Trek passes through meadows, forests, lakes and offers spectacular view.
Situated in Uttarakhand, the Valley of Flowers Trek is a paradise for nature lovers. The trek passes through a variety of alpine meadows, wildflowers and majestic peaks.
It is an easy, picturesque route in the Garhwal Himalayas. The Har Ki Dun trek passes through meadows, forests, villages and glaciers. The views of the snow-covered mountains is amazing.
It is one of the most popular treks in the Garhwal Himalayas. The trail for Nag Tibba Trek passes through thick forests, meadows and villages. This trek is great for adventure.
It is situated in the Garhwal Himalayas. The trail for Dayara Bugyal Trek passes through lush meadows, pine forests, and breathtaking views of the mountains.
Choose Travanya For End-to-End Kedarnath Trek Information
At Travanya , we understand how important it is to be well-informed before embarking on any trek. That's why we've put together all the information you need to make your Kedarnath trek a success. From essential equipment and packing lists to detailed route maps and advice on dealing with altitude sickness, we've got you covered. We're passionate about helping you make the most of your Kedarnath trek. With our friendly and knowledgeable team, you can rest assured you'll have all the information you need for a safe and enjoyable journey. So, don't hesitate – to get in touch with us at +91-800-023-5865 and let us help you make your Kedarnath trek unforgettable.
Frequently Asked Questions
Q: what type of terrain and weather should i expect on the kedarnath trek.
A: The Kedarnath Trek is a little riskier and a good level of fitness is required to complete the trek. As you keep climbing, the oxygen level will decrease so it is important to have good health when doing this trek.
Q: How many hours does it take from Gaurikund to Kedarnath?
A: It takes around 5-6 hours to reach Kedarnath from Gaurikund. Many people take the help of horses and ponies but it is always recommended to complete the trek by yourself and avoid being a burden on animals.
Q: Can I do the Kedarnath Trek alone?
A: Kedarnath Trek can definitely be done solo. Take a taxi to Gaurikund from Sonprayag and keep proper track of your trek with the help of GPS files. The trek is moderate and one must keep all the precautions handy.
Q: Are there any outdoor gears I need to take when doing the Kedarnath Trek?
A: It is important to carry the necessary outdoor gear such as hiking boots, waterproof jackets, backpacks, sleeping bags, and other items that you might need during the trek.
Q: Is there an age limit for the Kedarnath Trek?
A: There's no limit to the Kedarnath Trek officially but it is always better for children below 10 and senior citizens above 65 to avoid the trek due to the high altitude.
Reading Corner Our Blog Activities
Wondering where to get your travel inspiration from? Read our blogs to understand your dream destinations better, know the latest updates, and enjoy world-class insights about global attractions at the convenience of a click.
Copyright © 2023 Shipra Travel. All Rights Reserved.
Simply drop your number and we'll do the rest.
Plan Your Package With Us!
Kedarnath Temple
'kedarnath temple' - 143 news result(s).
'Kedarnath Temple' - 131 Video Result(s)
'Kedarnath Temple' - 1 Photo result(s)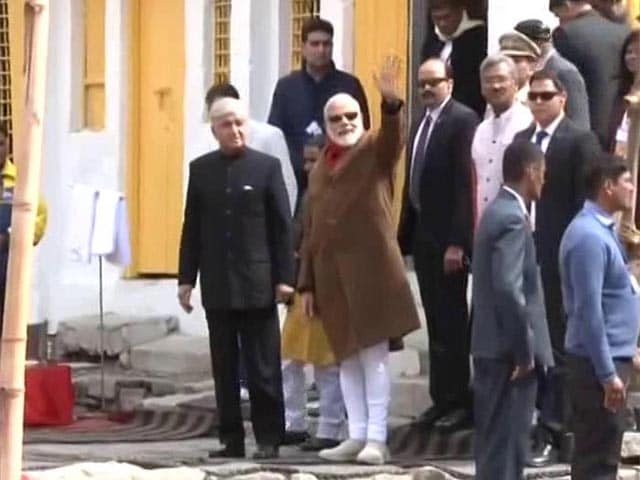 ................................ Advertisement ................................
Panch Kedar
Helicopter Services
Weather in Kedarnath
Kedarnath Temple
Badrinath Temple
Gangotri Temple
Yamunotri Temple
Kedarnath Yatra
Kedarnath Trek – 16 Km (Travel Guide)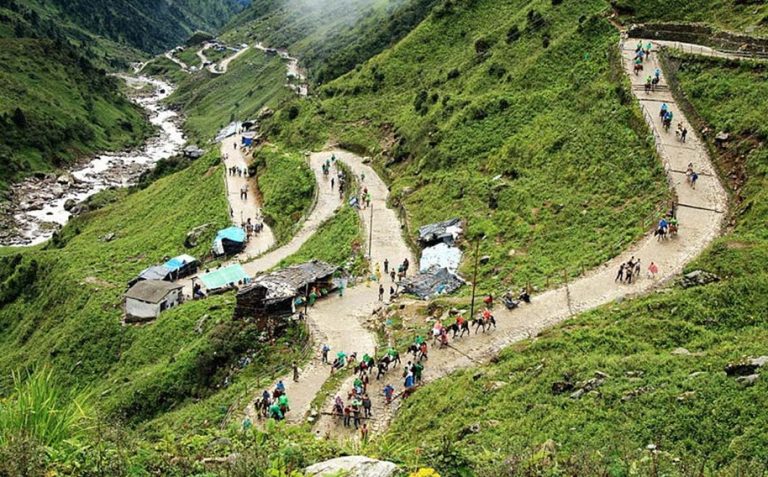 The Kedarnath trek is one of the most challenging and difficult treks in India. But it got easier when pilgrims chant the name of Kedar Baba (Lord Shiva). Here in this article, we have shared a complete travel guide for the trekking tour at Kedarnath Temple.
About Kedarnath Trek
Kedarnath Trek is a popular pilgrimage and trekking destination in the Indian state of Uttarakhand. The trek leads to the Kedarnath temple, one of the four major shrines in Hinduism, located at an altitude of 3,583 meters (11,755 feet) above sea level.
The trek to Kedarnath starts from a place called Gaurikund, which is located at a distance of 16 km from Kedar Nath Temple. The trek takes you through some beautiful and scenic landscapes, including lush green forests, waterfalls, and streams.
The route is steep and challenging in some places, but the stunning views of the Himalayan peaks make it all worth it.
Best Time To Visit Kedarnath Trek
The best time to undertake the Kedarnath trek is from May to June and from September to November, as the weather during these months is mild and pleasant.
During the monsoon season, which is from July to August, the trek can be risky due to the possibility of landslides and flooding.
The Kedarnath trek is considered a holy pilgrimage by Hindus, and thousands of devotees undertake this trek every year to seek the blessings of Lord Shiva.
However, it is also a popular trekking destination for adventure enthusiasts and nature lovers who want to experience the beauty of the Himalayas up close.
Best Time for Char Dham Visit
Best Time To Visit Kedarnath
Best Time To Visit Badrinath
Best Time To Visit Gangotri
Best Time To Visit Yamunotri
Kedarnath Trek Distance and Time
The distance of the Kedarnath Trek is around 16 km (one way) from Gaurikund to Kedarnath Temple.
The trek can be completed in a minimum of 2 days, with a one-night halt at Kedarnath, or it can be completed in a single day by experienced trekkers.
The trek from Gaurikund to Kedarnath takes around 6-7 hours to complete, depending on the fitness level of the trekker.
On the first day, trekkers usually cover a distance of around 7-8 km from Gaurikund to Kedarnath. The trek route passes through scenic locations like Jangal Chatti, Bheembali, Rambara, Lincholi, and Chhani Camp which are popular camping sites, and there is a hot water spring also.
On the second day, trekkers can explore the Kedarnath temple and surrounding areas and start the return journey to Gaurikund. The return journey takes around 5-6 hours to complete and covers a distance of around 9 km.
Can I Complete Kedarnath Trekking Non-stop?
Yes, Most of the young people complete the Kedarnath trek in one go. and Stay at Kedarnath Temple at the night and then return the next day.
A young person with a good fitness level can complete this 16km trek in 6-7 hours (non-stop) while going upside to the temple. (Upward direction)
Returning time for the same distance will be around 5 hours . (Down direction)
Up-Down Daily Timings by the Temple Authority
Last Timing  for Upcoming Visitors – 5 Pm (Evening)
Last Timing for Downgoing Visitors – 6:30 PM (Evening)
It is important to note that the duration of the trek may vary depending on the fitness level of the trekker and the weather conditions.
It is always advisable to undertake the trek under the guidance of an experienced trekking guide and to carry essential gear and supplies for the trek.
Don't forget to check out this Best-selling TREKKING Bag on Amazon
Kedarnath Trek Route Map (New)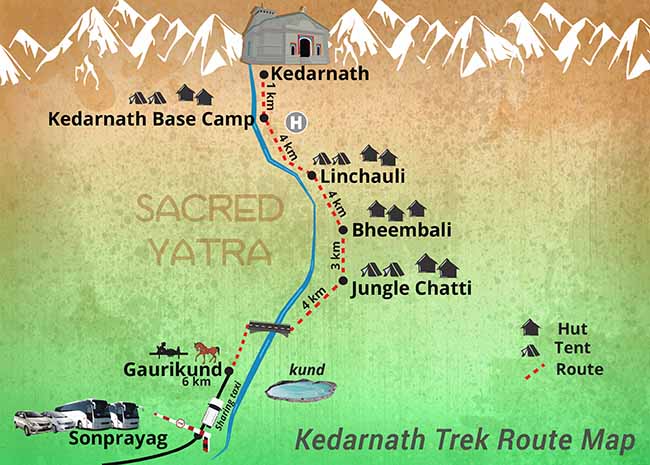 There are mainly 10 Checkpoints in the route of the Kedarnath Trek. These checkpoints are shown below in the order they come during the 16km trekking.
Gaurikund (गौरीकुंड)
Jangal Chatti (जंगल चट्टी)
Bheembali (भीमबली)
Rambara (रामबाड़ा)
Chhota Lincholi (छोटी लिंचोली)
Lincholi (लिंचोली)
Chhani Camp (छानी कैंप)
Rudra Point (रूद्र पॉइंट)
Base Camp (बेस कैंप)
Kedarnath Temple (केदारनाथ मंदिर)
Kedarnath Trek Route Length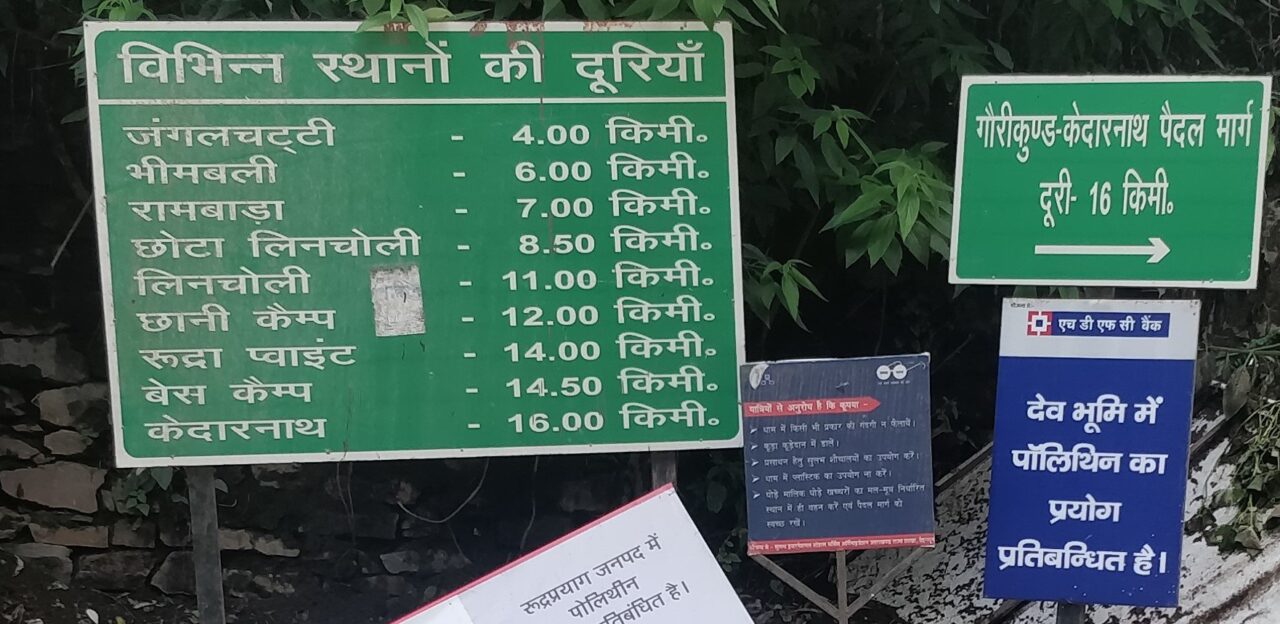 Gaurikund To Jangle Chatti/Bhairon Chatti distance is 4 km.
Jangle/Bhairon Chatti To Bheembali distance is 3 km.
Bheembali To Linchauli  distance is 4 km.
Linchauli To K. Base Camp distance is 4 km.
K. Base Camp To Kedarnath Temple distance is 1 km.
Char Dham Distance from Delhi
Delhi to Kedarnath (466 km)
Delhi to Badrinath (555 km)
Delhi to Gangotri (530 km)
Delhi to Yamunotri (485 km)
Gaurikund to Kedarnath Trek
Gaurikund is a Hindu pilgrimage site and base camp for trek to Kedarnath Temple. It is situated at an altitude of 6502 feet above mean sea level in the Garhwal Himalayas in the Rudraprayag district of Uttarakhand.
There are various options available at the starting point (Gaurikund) of the Kedarnath Trek. To complete the trek route, you have three options there.
Read More: Gaurikund to Kedarnath Guide
Explore Kedarnath
History of Kedarnath
Weather i n Kedarnath
Hotels  i n Kedarnath
Meditation Cave i n Kedarnath
21 Facts About Kedarnath
Kedarnath Yatra 2023 Guide
Here are the most Frequently Asked Questions about Kedarnath Trek.
How long is Kedarnath Trek?
The length of the Kedarnath Trekking route is around 16-18 kilometers from Gaurikund to Kedarnath temple.
How much time does it take for Kedarnath Trek?
The Kedarnath Trekking usually takes 2 days to complete (If stops midway for rest). And for a young fit person, it takes 6-7 hours to reach the Kedarnath temple. (nonstop)
From Where Does Kedarnath Trek Start?
The Kedarnath Trekking route starts from Gaurikund.
How difficult is Kedarnath Trek?
The Kedarnath Trekking is considered a moderate to difficult level.
How many km is Trek to Kedarnath?
The trekking route to Kedarnath is around 16 kilometers one way.
How to prepare for Kedarnath Trek?
To prepare for the Trek, one should focus on physical fitness, pack appropriate clothing and gear, carry essential items like water and food, and acclimatize to the high altitude.
What to wear in Kedarnath Trek?
For Trekking at Kedarnath, it is recommended to wear comfortable trekking shoes, quick-drying pants and t-shirts, a warm jacket, a hat, sunglasses, and sunscreen. It is also important to carry rain gear and warm clothes for the night as the temperature can drop significantly.
Which trek is more difficult Kedarnath or Amarnath?
Kedarnath and Amarnath's treks are both considered challenging, but the Kedarnath trekking is comparatively easier than the Amarnath. (due to the difference in the distance)
How steep is Kedarnath Trek?
The Kedarnath Trek is considered a moderate to difficult level, with several steep ascents and descents along the route.
The trekking route involves walking uphill for a significant portion of the journey, with an altitude gain of around 3,550 feet (1,082 meters) from Gaurikund to Kedarnath.
The terrain can be rocky and uneven at times, and there are several sections of the trail that require careful footing and a good level of fitness. The steepness of the trek can vary depending on the specific route taken and the individual's level of physical fitness.
Overall, the Kedar Trek is a challenging but rewarding experience, with stunning views of the Himalayan mountain range and opportunities to explore the region's natural beauty and cultural heritage. It is important to prepare properly and take necessary precautions to ensure a safe and enjoyable trekking experience.
Things to carry for Kedarnath Trek?
Some of the essential things to carry for the Kedarnath Trekking are comfortable trekking shoes, warm clothes, rain gear, sunscreen, sunglasses, a hat, a first aid kit, sufficient water and snacks, and a backpack to carry all the gear. It is also recommended to carry a trekking pole and a camera to capture the beautiful views.
Here is a list of things to carry for the Kedarnath Trekking:
Clothing: Carry warm clothing such as thermals, fleece jackets, and windcheaters. It can get chilly at night, so bring a warm hat and gloves as well. Wear quick-dry, breathable clothes that are comfortable to trek in. Also, carry an extra set of clothes for emergencies.
Footwear: As discussed earlier, wear comfortable and sturdy hiking boots or shoes with good grip and ankle support.
Backpack: A good quality backpack with a capacity of around 40-50 liters is recommended to carry your essentials. It should have padded straps and a waist belt for better support.
Sleeping Bag: Carry a good quality sleeping bag that is rated for the appropriate temperature range.
Trekking Poles: Trekking poles help provide extra support and balance on uneven terrain. They are particularly useful when ascending or descending steep slopes.
Water Bottles : Carry at least 2-3 liters of water, and ensure drink enough water throughout the trek.
First Aid Kit : Carry a well-equipped first aid kit with essential medicines, band-aids, antiseptics, pain relievers, and any prescription medication you may require.
Sunscreen, Sunglasses, and Hat : Protect yourself from the harsh sun by carrying sunscreen with SPF 50+, sunglasses with UV protection, and a hat.
Personal Toiletries : Carry a small towel, hand sanitizer, wet wipes, toilet paper, and any personal toiletries you may require.
Power bank and Extra Batteries : Carry a good quality flashlight or headlamp with extra batteries for use during early morning starts, late evening walks, or in case of power outages.
Remember to pack light and carry only essentials for the trek. Avoid carrying unnecessary items that add weight to your backpack.
Kedarnath Trek Itinerary?
Here's a brief itinerary for the Kedarnath Trek:
Day 1: Reach Gaurikund and hike to Kedarnath (16-18 km)
Day 2: Explore Kedarnath and acclimatize to the high altitude
Day 3: Trek back to Gaurikund (16-18 km)
Note : The duration of the trek can be extended depending on the fitness level of the trekker and weather conditions.
Best shoes for Kedarnath Trek?
The best shoes for Kedarnath Trekking are comfortable and sturdy trekking shoes with good grip, ankle support, and waterproofing to tackle the steep and rocky terrain.
Some good options for shoes for the Kedarnath Trek include hiking boots or shoes from well-known brands such as Salomon, Merrell, or The North Face. It is important to break in your shoes before the trek and wear them around for a few weeks to ensure that they are comfortable and fit well.
Trekking to Kedarnath at the night is generally not recommended as it can be quite risky and dangerous. The trek is quite challenging, and even during the day, it requires a good level of fitness and stamina.
Trekking at night can be more challenging due to low visibility and increased chances of slipping, tripping, or losing the trail.
Moreover, the trail to Kedarnath is located in a remote mountainous region with steep inclines, rocky terrain, and unpredictable weather conditions. It can be risky to trek in the dark without proper lighting, equipment, and a guide. There have been cases of trekkers getting lost or injured during night treks to Kedarnath.
Therefore, it is advisable to trek to Kedarnath during the daytime when the weather and visibility are better, and there is more help available in case of emergencies.
If you do plan to trek at night, it is essential to prepare adequately, carry appropriate gear, and seek the advice of experienced guides or local authorities.
[…] Kedarnath Trek (16 km) […]
LEAVE A REPLY Cancel reply
Save my name, email, and website in this browser for the next time I comment.
India Today
Business Today
Reader's Digest
Harper's Bazaar
Brides Today
Cosmopolitan
Aaj Tak Campus
India Today Hindi
TRENDING TOPICS
Kedarnath yatra 2023: all you need to know, here is all you need to know about the guidelines, opening and closing dates of kedarnath yatra 2023..
Listen to Story
Kedarnath Yatra is one of the auspicious places visited by the devotees of Lord Shiva. The holy shrine will open its doors today, April 25, 2023. The completion of the opening and closing ceremonies along with the puja rituals marks the beginning of the Kedarnath Yatra.
Kedarnath temple has great significance for visitors across the world. The opening and closing dates are decided by the priests of Ukhimath's Omkareshwar Temple on the occasion of Mahashivratri.
Lord Shiva's idol was decked with 20 quintals of flowers, and Baba Kedar's Panchmukhi Chal Vigraha Doli arrived at the Dham yesterday.
Due to poor weather conditions, thousands of pilgrims were forced to turn back on their way to the holy shrine. The Uttarakhand government has also ceased accepting pilgrim registration applications due to excessive snowfall on the pilgrimage route.
KEDARNATH YATRA 2023: OPENING AND CLOSING DATES
Kedarnath yatra 2023: new guidelines.
The Uttarakhand government issued a notice indicating that due to the recent rain and snowfall in Kedarnath Dham, worshippers are advised to be cautious about the journey and were asked to begin the yatra according to the weather prediction.
Uttarakhand | Char Dham Yatra pilgrims are advised to proceed from Yatra to Kedarnath temple only after the weather there improves Pilgrims with prior registration are being allowed to move to Rudraprayag while others are being stopped at Srinagar Meteorological Departmentâ€æ pic.twitter.com/8i3YDAHMXD — ANI UP/Uttarakhand (@ANINewsUP) April 25, 2023
The administration has said that suitable health precautions have been taken on all travel routes.
Passengers can also go to the nearest health centre as soon as they begin their journey and can check with the doctor if their health deteriorates on the way towards the journey.
"Standard Operating Procedures (SOP) have been issued for the visit to the Kedarnath temple. It is advisable that passengers acclimatize their bodies to the alpine weather during their travel to the holy shrine. If you are having problems, relax for a while before travelling," the Health Secretary said.
#WATCH | Uttarakhand: The portals of Kedarnath Dham opened for devotees. Kedarnath Temple Chief Priest Jagadguru Rawal Bhima Shankar Ling Shivacharya opened the portals. pic.twitter.com/WjPf2fcYdg — ANI (@ANI) April 25, 2023
It is advised to do five to ten minutes of breathing exercises and a half-hour walk each day before departing for the pilgrimage.
Perform a health examination and do not go on the trek without the authorisation of a doctor, as some pilgrims perished last year owing to health issues like heart attacks.