How Light Travels
Introduction on Light travel
Light is a fascinating and essential element in our lives. It surrounds us everywhere, but we seldom think about how it travels. Light follows a straight path, and understanding how it travels is critical in understanding different concepts in science. In this lesson, we will learn about how light travels and the experiments we can use to observe the phenomenon.
Observing the Path of Light
We will start by observing the path of light in a fun and interactive way. Turn off the lights in the room and place a torch on a table. Then place some black cards on the table and ask the students to observe the direction of light. This experiment helps students understand that light travels in a straight path. Shadows provide evidence of light traveling in straight lines. When an object blocks the light, it can't reach the surface where we see the shadow. The light fills up all of the space before it hits the object, but the whole region between the object and the surface is in shadow.
Observing Light Travel through Holes
The next experiment involves arranging three pieces of card with holes in an uneven line. The light stops and cannot travel through all three cards. However, when we arrange the holes in a straight line, the light can travel through them. This experiment helps students understand that light travels in straight lines and does not bend around corners.
Reflection and Scattering of Light
The final experiment involves shining a light source onto a shiny and uneven surface, like a small mirror. The light still travels in a straight line but scatters and reflects in different directions. This experiment helps students understand that light can be reflected and scattered by surfaces.
Conclusion on light travel
In conclusion, understanding how light travels is essential in understanding many scientific concepts. In this lesson, we have learned that light travels in a straight path, and we can observe its path using various experiments. We have also learned that light can be reflected and scattered by surfaces. By understanding how light travels, students can understand how it interacts with different objects and how we can use it to our advantage.
Author: Sualeha Anjum
More like this, contact info.
House 191-A, Main Service Road, near Street 21, F-11/2, Islamabad, Pakistan
Don't miss out
Sign up for our newsletter to stay in the loop, quick links, school owners.
Friend's Email Address
Your Email Address
International
Schools directory
Resources Jobs Schools directory News Search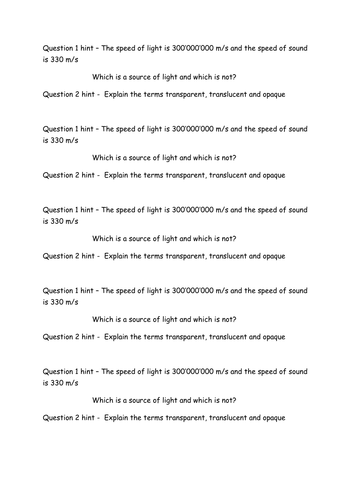 How Light Travels
Subject: Physics
Age range: 11-14
Resource type: Lesson (complete)
Last updated
29 October 2018
Share through email
Share through twitter
Share through linkedin
Share through facebook
Share through pinterest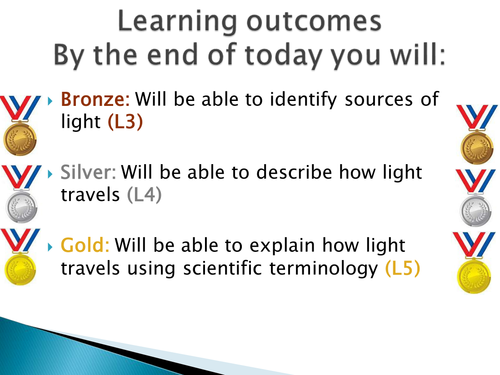 Tes classic free licence
Your rating is required to reflect your happiness.
It's good to leave some feedback.
Something went wrong, please try again later.
Empty reply does not make any sense for the end user
Really good resource on light. I like the various tasks throughout the presentation as they keep learners engaged. I added this resource to the @tesScience Twitter stream. Thanks for sharing.
Report this resource to let us know if it violates our terms and conditions. Our customer service team will review your report and will be in touch.
Not quite what you were looking for? Search by keyword to find the right resource:

Teaching How Light Travels – Energy for Kids
Teaching how light travels? For kids in elementary school, keep this energy lesson simple. Light travels in a straight line. Read on for activities to let third, fourth, or fifth grade students explore this concept on their own.
Ms. Sneed Prepares for Teaching How Light Travels
Our favorite fourth grade teacher sat at the side table with her teaching partner. "Let's go through our light lesson plans ," she said. "As usual, we'll use science stations to teach forms of energy."
"Right," Mr. Frank replied. After opening the files on his laptop, he pulled up the first lab sheet. "In this physical science station, kids explore how light travels. Three activities let kids explore. When they're done, they should deduce that light travels in a straight line."
As her co-teacher spoke, Ms. Sneed searched the concept on her own laptop. "It says here that light has characteristics of both waves and particles, which are called photons."
"True. But our kids don't need to know that. Let me read the standard for you.
NGSS 4-PS3-2 Make observations to provide evidence that energy can be transferred from place to place by sound, light, heat, and electric currents.
Ms. Sneed smiled slightly. "Okay, but I might just mention photons – as a preview to what's coming in middle school."
How Light Travels with a Mirror
"Let's look over the light activities we'll use at this station," Mr. Frank continued. "Kids touch the right-hand side of their faces. Then they look in the mirror."
"And the reflection touches the left," said Ms. Sneed.
"You got it. This provides the first piece of evidence on how light travels. With a mirror image, we can see that it reflects in a straight line."
"Hmm," Ms. Sneed said, "while it's one little piece of evidence, our students will definitely need more exploration to make that generalization."
More Exploration with Mirrors
"As a follow-up to the first activity," said Mr. Frank, "kids write their names on slips of paper. Then they hold them up to the mirror."
"Again, a mirror image," his teaching partner said.
"Um-hm. This time, the writing is backward."
A Challenge That Illustrates How Light Travels
"For the grand finale," said Mr. Frank, "kids must shine a flashlight on the front of a book. Then, using mirrors, they bounce the light until it shines on the back of the book."
"I love this activity," Ms. Sneed said. "It combines science, math, and critical thinking."
"Don't forget teamwork! Kids work in their science groups to achieve a common goal."
Ms. Sneed looked over her teaching partner's shoulder. "So they use three mirrors. No more, no less. What a great challenge! Last year, one of my groups finished early. So I challenged them to focus their flashlight on the wall inside the classroom – and get it to get it to shine on the other side of the wall in the hall. And guess what? They did it!"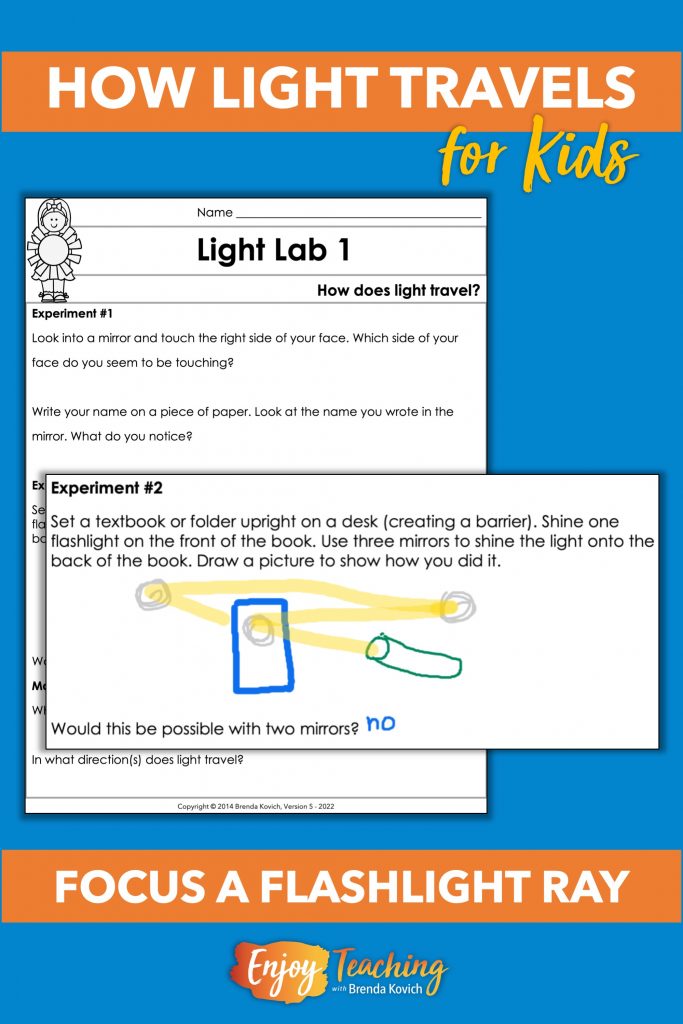 Extending Understanding of How Light and Sound Travel
Ms. Sneed tapped her pencil on the table, deep in thought. "I'd just like to add one more little activity. After they finish their lab sheets, I'm going to take my students onto the playground. I'll ask them to stand on one side of the field while I stand on the other (with one student). They will watch while I turn on a flashlight and the student with me claps their hands. Obviously, they'll see the light before they hear the clap. That establishes that light travels faster than sound."
"Great idea," said Mr. Frank. "I remember doing that activity when I was in elementary school. A great addition, I agree."
Enjoy Teaching
In addition to teaching how light travels, this set asks kids to explore four more concepts:
Transparent, translucent or opaque
Check it out!