Asia & India
Europe & Turkey
Middle East
Oceania & Easter Island
The Americas
Archived Trips
Custom Trips
Tour Scholars
Guides & Blogs
(415) 482-8400
[email protected]
Request Info
Western Türkiye Tour
Adding item to wishlist requires an account, already a member.
Username or E-mail
Forget Password?
Don't have an account? Create one.
May 27 - June 12, 2024
$9995.00 + air
Single Supplement: $895.00
Tour Western Türkiye: Ankara, Cappadocia, Sagalassos, Assos, Istanbul, and Nine UNESCO World Heritage Sites
Far Horizons offers 14 participants an extraordinary 17-day archaeological sojourn that includes nine UNESCO World Heritage Sites.
This is a Western Türkiye cultural tour packed with a multitude of highlights: revel in a barbeque and beer dinner onsite with the archaeological crew of Hattusa; enjoy an evening cruise up the Bosphorus by private vessel; view outstanding museum collections in Ankara, Burdur, Antalya, and Ephesus; and enjoy specially arranged private tours with archaeologists at several archaeological sites including four of the most important excavations in the eastern Mediterranean – Hattusa, Çatalhöyük, Ephesus, and Troy.
Our limited group size allows for overnights in unique boutique hotels, dinners in upscale restaurants serving traditional Ottoman cuisine, and intimate discussions onsite with our study leader.
From Ankara to Cappadocia, Çatalhöyük to Sagalassos, Ephesus to Pergamum, Assos to Istanbul, this exciting expedition reveals the texture and hue of Türkiye's history. This truly unique journey is sure to resonate with the discerning traveler for years to come.
Continue reading to learn more about this Far Horizons adventure. If you have any questions, please get in touch .
Cultural Tour of Türkiye Led by: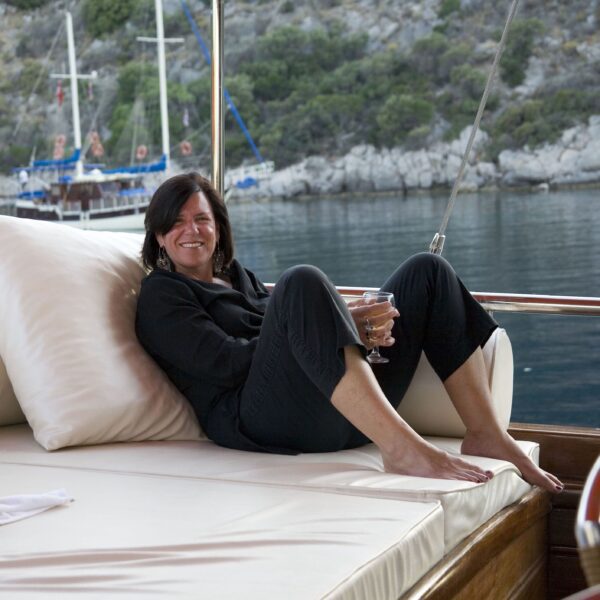 Dr Jennifer Tobin
University of Illinois at Chicago Greek and Roman Art & Archaeology
Why Take this Historical Tour of Western Türkiye?
Private tour of Ephesus by a member of the archaeological project
Private tour of Troy by a member of the archaeological project
Private tour of Perge by the Director of Excavations
Private tour of Arykanda by the Director of Excavations
Private tour and dinner with the excavators at Hattusa
Private cruise up the Bosphorus
Visit 9 UNESCO World Heritage Sites
Visit the Temple of Artemis at Ephesus, one of the Seven Wonders of the Ancient World
Limited to a maximum of 14 participants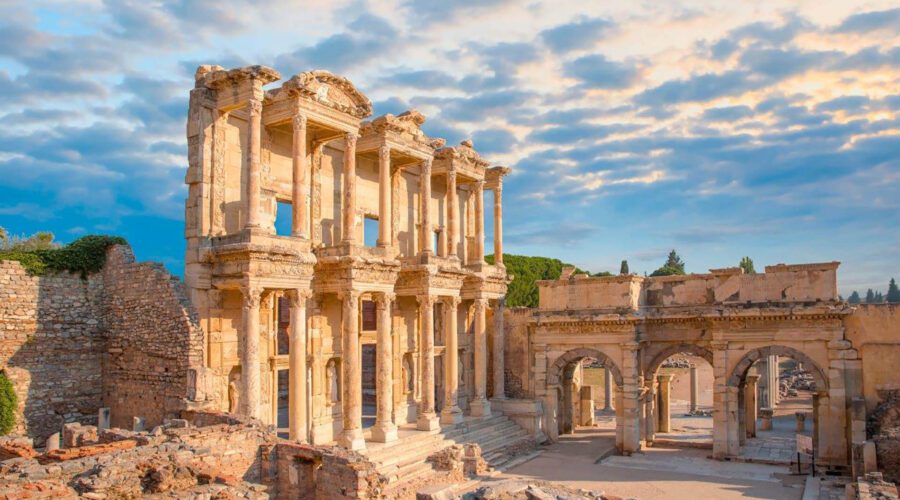 Your Western Türkiye Tour Itinerary
Day 1 depart for türkiye.
Depart on a flight bound for Istanbul, Türkiye.
Day 2 Arrive Istanbul
Arrive Istanbul and transfer to the historic area of the city, a UNESCO World Heritage Site . After a light lunch, visit Aya Sofya, the first church of Christianity, begun in the 2 nd century AD by Constantine the Great. One of the great buildings of the world, it served as the cathedral of Constantinople and was the center of the Byzantine Empire for almost a thousand years.
Walk to the Hippodrome, scene of Byzantine chariot races, athletic events, victory celebrations and executions, and the Museum of Turkish and Islamic Arts. Housed within a 16 th -century palace built by the brother-in-law of Sultan Suleyman, the museum contains the world's richest collection of 13 th to 20 th -century hand-knotted Turkish carpets and an ethnographic section depicting objects used in everyday Turkish life.
Then it's on to the the Mosque of Sultan Ahmet I, known to foreigners as the Blue Mosque Built partly on the site once occupied by the Byzantine imperial palace stands, it is one of the city's most prominent landmark. The shrine took seven years to build, and has an enormous central dome supported by four huge freestanding pillars and six fluted minarets. The interior walls are covered with stunning hand-crafted Iznik tiles from the 17 th century which give the mosque its name.
Overnight for the next two nights in the Ottoman Imperial Hotel. This former Ottoman residence has been transformed into a charming bed-and-breakfast inn and is within walking distance of the important sites within the historic section of Istanbul. Dinner is on our own. (L)
Day 3 Topkapi Sarai, Private Bosphorus Cruise
Walk through Topkapi Sarai, built in 1468 as a summer palace for Mehmet the Conqueror. Within the estate are exquisite gardens, the council chambers of government, and the harem, the home of the sultan's family.
Nearby, Yerebatan Cistern is the largest and most magnificent covered cistern in Istanbul. Built in the 6th century in the reign of Justinian, it supplied water to the Byzantine Great Palace nearby
This afternoon, we will travel by chartered boat up the Bosphorus to view these lovely villas and elegant marble palaces along the shore. We will leave the vessel to dine in one of the excellent seafood restaurants along the strait. (B/L/D)
Day 4 Ankara, Museum of Anatolian Civilizations, Yazilikaya
An early flight takes us to Ankara, the capital of the country. Here, we examine the extraordinary collection of artifacts in the Museum of Anatolian Civilizations. The exhibits are housed within a splendidly restored 15th century covered bazaar. Displayed are frescoes from Çatalhüyük, grave offerings from Early Bronze Age burials at Alaca Hüyük, a unique and priceless collection of Hittite art, and discoveries from Gordion's Midas Tomb.
Located within the 7th century citadel above the city is one of the best surviving Byzantine forts. Our lunch restaurant is within its walls with dazzling views over the city.
Later, move on to Yazilikaya, an open air rock shrine located where a spring of fresh water once flowed. The site has characteristics similar to other Anatolian spring-sanctuaries and may well have been a place of worship for hundreds or even thousands of years before the rise of Hittite power. The former importance of the shrine is shown by the incised Hittite gods marching across the cliff face. 
Continue to Boğazkale where, if available, members of the Hattusas archaeological project will host us at their dig house for a barbeque and beer dinner party. Overnight at the simple Asikoğlu Hotel. (B/L/D)
Day 5 Hattusa
Four thousand years ago, the Hittite Empire stretched from the Black Sea to Syria. This morning, we join the project director for an insider's view of the capital of the Hittites from 1600 to 1180 BC. Hattusa, a UNESCO World Heritage Site, was a fortified city. And inside the walls was the residence of the great kings, the administrative seat as well as the principal cult center. One of the most important discoveries found here has been the royal archives of cuneiform clay tablets. When translated, they consisted of official correspondence and contracts, as well as legal codes, procedures for cult ceremony, oracular prophecies and literature of the ancient Near East.
One particularly important tablet details the terms of a peace settlement between the Hittites and the Egyptians under Ramesses II, circa 1283 BC. A copy is on display in the United Nations in New York as an example of one of the earliest known international peace treaties. Move on to the Cappadocia region, noted for its Byzantine churches and monasteries carved out of the volcanic tuff. Spend the next two nights in the Upper Greek House, a beautifully restored 300 year old villa in the village of Mustafapasa. (B/L/D)
Day 6 Cappadocia: Optional Balloon Ride, Göreme, Underground City
Millions of years ago, a volcano near Cappadocia spewed out molten lava and dust. Since then, wind and weather have reshaped the soft rock, leaving an eye-catching landscape of cones and "fairy chimneys." Early Christians carved churches and monasteries out of the volcanic tuft, many with colorful wall paintings still visible. They also dug huge underground cities where they could hide from their persecutors.
Early this morning, float above this dramatic landscape on an optional balloon ride. Afterwards, our explorations take us to the rock-cut churches of Göreme Valley, a UNESCO World Heritage Site. Here, cliff faces are riddled with openings to houses and churches. In the underground city of Kaymaklı, walk through a maze of tunnels and rooms at least eight stories deep. In Mustafapaşa, walk down steps carved hundreds of years ago to see a church, Ayios Vasilios, still containing painted murals of St. Basil. (B/L/D)
Day 7 Sultan Han, Mevlana's Tomb in Konya, Eflatunpinar Hittite Monument
Travel along ageless caravan trails with stops to examine an intricately carved 13th century caravansary built by Seljuk Turks as a rest stop for camel trains. Continue to Konya, the center of the whirling dervish orders. Jalal ad-Din ar-Rumi, later given the honorary title of Mevlâna ("our master"), was a beloved, 13th-century Sufi mystic. This Persian-language poet is renowned for his lyrics. As such, he deeply influenced early Muslim mystical thought and literature. The former monastery of the original whirling dervishes now houses Rumi's tomb.
In the late afternoon, we stop by the Eflatunpinar Hittite Monument, and the stone-built pool monument built at the time of the Hittite Empire.
Overnight at the Fulya Hotel in Egidir for one night. (B/L/D)
Day 8 Sagalassos, Burdur Museum, Antalya
Once a humming Roman metropolis, monumental structures, colossal baths and a 9,000-seat theatre still proclaim the importance of  Sagalassos . Markedly, this was the highest city in the Roman Empire. The Sagalassos Archaeological Project has made many remarkable discoveries recently. In particular, the finds include a colossal, 15-foot tall statue of the emperor Hadrian, a huge statue of Marcus Aurelius the longest surviving successor of Antoninus Pius, and an imperial statue of the empress Faustina. We will inspect many of these breathtaking treasures in the Burdur Museum that we visit this afternoon.
Afterwards we will drive to Antalya, majestically situated atop 150-foot cliffs overlooking the Mediterranean coast. The award-winning renovations of the Old Port Section have recaptured the charm of the age-old Roman and Ottoman styles.
Our hotel for the next two nights is in the Ruin Adalya Hotel. A series of beautifully restored 19th-century Ottoman mansions, the complex is located within the Roman walls encircling the ancient section of town. Dinner is on our own to discover one of Antalya's fine dining establishments. (B/L)
Day 9 Perge, Aspendos, Antalya Archaeological Museum
Nearby Perge, is one of the southern coast's most remarkable ancient cities. Greek settlers journeyed to Perge following the Trojan War, and the ruins of a great theater, stadium, enormous Hellenistic and Roman gates, and a colonnaded street can be seen.
Here, we meet with the director of excavations to learn about the latest archaeological finds. Continue to Aspendos, where almost ten miles of Roman aqueduct still stand. Also, we will walk through what is probably the finest Roman theater in the country, restored by Ataturk in 1932.
This afternoon we return to Antalya and visit the Antalya Archaeological Museum to view its stunning collection of marble sculptures, many from Perge. Enjoy some free time this afternoon to explore the historic quarter of Antalya with dinner on our own. (B/L)
Day 10 Demre, Myra, Patara
We leave Antalya this morning and begin our journey along the western coast. Heavily indented and full of isolated caves and islets, the terrain displays some of Lycia's most rugged scenery. Hundreds of tombs dot the hills and valleys, and castles guard the sea channels.
Our drive takes us first to Myra's huge necropolis of tombs carved in the cliff-faces by Lycians before the time of Christ, and Demre where St. Nicholas was the bishop in the 4 th century. Through his good works the cleric became known as Santa Claus and we will see the still standing church dedicated to him. 
In the afternoon, we visit Patara, the capital and port of the Lycian Federation after the 4th century BC. Turkish archaeologists have been excavating here for the past two decades, and they are restoring the city to its former grandeur.  Continue to the village of Kaş, our home for one night. (B/L/D)
Day 11 Xanthos, Boat to Kaunos
We begin today at Xanthos, a UNESCO World Heritage Site, another capital city of the Lycian Federation and its greatest metropolis. Excavations show that the city dates back to the 8th century BC, but it is possible that the site may have existed during the Bronze Age. The history of the city is quite violent – the Xanthos people twice demonstrated their fierce independence. Markedly, they chose to commit mass suicide rather than submit to invading forces.
After lunching on tasty fresh fish and salad at a mountainside trout farm, we enjoy a boat trip on the Dalyan River. Along the way, we stop to explore the ancient city of Kaunos. Continue to Geyre with dinner and overnight at Anatolia Boutique Hotel. (B/L/D)
Day 12 Aphrodisias
Our destination is the ancient city of  Aphrodisias . Dedicated to the goddess of love, it is a UNESO World Heritage Site. In recent years, breathtaking revelations made by an international team of archaeologists have excited worldwide interest. Ongoing research has brought to light the substantial remains of a theater, an odeum, temples, baths, streets and public squares, a building that may have been a bishop's palace, and several Byzantine churches. Notably, monuments and statues of great beauty, many of Aphrodite herself, have been uncovered. Many of these sculptures are on exhibit in the site's museum.
Continue on to Kusadasi and overnight for two nights at the charming La Vista Hotel, overlooking the sea. (B/L/D)
Day 13 Ephesus
We spend today in monumental Ephesus, a UNESCO World Heritage Site since 2015. Dedicated to the virgin goddess of the chase, the Temple of Diana (Artemis), one of the Seven Wonders of the Ancient World, dominates the city. We will walk through the Church of Saint John, where St. John spoke. Likewise, stroll the streets in the classic Ephesus with its stunning 2nd century Library of Celsus.
Along the way, if they are available, we meet with a member of the archaeological staff for a private tour of the project's excavations and restorations. Then it's on to the nearby Selçuk Museum containing outstanding artifacts found in the nearby excavations. (B/L/D)
Day 14 Pergamum
Created by the heirs of Alexander, Pergamum was a Hellenistic city that rivaled Ephesus. This UNESCO World Heritage Site stands majestically on an acropolis rising precipitously to a height of nearly a thousand feet above the modern city of Bergama.
Next is Antandros where remains, including a huge bath complex, Roman cisterns, and an extensive necropolis, date back 2,500 years. The biggest attraction here is a wonderfully preserved Roman villa, festooned with stunning mosaic floors and colorful wall frescoes.
Continue over a 14th century Ottoman bridge to Assos, a picturesque village clinging to the side of the ancient acropolis. Down the cliff-face from the ruins is the port with charming buildings dating from the last century when the town was Greek. Overnight here for one night. (B/L/D)
Day 15 Assos, Private tour at Troy
This morning we will explore the splendid ruins of Assos dominating the top of a mountain overlooking the Aegean Sea. The oldest part of the city was Hellenistic, and the formidable, still standing basalt walls encircling the site date from this period. On our way to lunch we stop at an olive oil production center and museum.
Drive on to Troy, a UNESCO World Heritage Site. Late 19th century excavations revealed nine principal levels of occupation covering a period of over 3000 years. Possibly founded by the Hittite King Tudhaliyas IV, it was encircled by more than two miles of imposing 4 th century BC walls.
We meet privately with one of the archaeologists to learn how recent excavations have given us much more information on the city. Overnight in the Hotel Iris in Çanakkale. (B/L/D)
Day 16 Return to Istanbul
Today we complete our route and return to Istanbul. A trip across the newly opened bridge spanning the Dardanelles Straits and a scenic journey through European Thrace returns us to Istanbul. Our farewell dinner will be at one of Istanbul's fine local restaurants. Overnight back at the Ottoman Imperial Hotel. (B/L/D)
Day 17 Depart Türkiye
Transfer to the airport for out return flights home. (B)
Tour Information
Tour cost & inclusions.
Price is based on double occupancy and includes:
Internal flights during the trip (if applicable)
The accompaniment of your scholar throughout the entire trip
Local English-speaking guide
Hotel accommodations (3 or 4 stars; or best available based in the area)
Ground transportation
Airport transfers for arrivals and departures
Most meals as noted in the itinerary
Entry fees to all included sites and museums
Gratuities to guides, drivers, and restaurant and hotel staff
Coordination for any private presentations or tours
Trip prices are based on a minimum number of participants. If this minimum number is not met, trip prices are subject to change. Should the prices need to change, Far Horizons will reach out to registered guests to discuss directly.
Single Supplement
Should a roommate be requested and one not be available, the single supplement must be charged.
International round trip airfare
A separate donation check of $150.00 per person to a designated donation project
Passport or visa fees
Required vaccines or tests
Airport or departure taxes
Alcoholic drinks, beverages or food not included on set menus
Excess baggage charges
Personal tips and hotel incidental expenses
Laundry or other items of a personal nature
Donation Checks
As a tour company that benefits from the cultural and natural riches of our destinations, we have a policy of donating to the scientific and cultural sites and projects which we visit. This has created a bond between Far Horizons and the academic and local communities that has helped us establish an extensive list of lecturers and contacts in each of our destinations. We ask that each participant donate to the noteworthy project we designate. The donation amount is $150.00 per person. Note that the donation is required as part of your registration for the trip and that it is non-refundable.
Exchange Rate Fluctuations
Prices are based on currency exchange rates keeping below a projected level. While it is unlikely, if the exchange rates should change substantially, Far Horizons reserves the right to charge an additional amount to the trip cost.
Registration
A deposit of $1000 per person is required along with your registration & health forms, which will be linked in the email confirmation you receive once you pay your deposit on our booking platform. Final payment is due 120 days before departure. Prior to departure, you will be sent a reading list and a tour bulletin containing travel information.
Cancellation
Cancellations received in writing at least 120 days before departure will receive a refund less a $500 per person administrative fee. Cancellations received less than 120 days before the departure date will not receive a refund. If for any reason you are unable to complete the trip, Far Horizons will not reimburse any fees. Upon registering for the tour, the purchase of travel protection with both trip cancellation and emergency evacuation is strongly advised. Links to recommended insurance policies will be included in the email you receive confirming receipt of your deposit.
Air Ticketing
International round trip flights are not included in the cost of the trip. If Far Horizons must change the trip dates or cancel the trip for any reason, Far Horizons is not responsible for any air ticket you may have purchased. Please send your complete air schedule as soon as you have it. NOTE: Please contact Far Horizons if you would like for us to handle your air ticketing.
Private Tours and Talks
The private tours of archaeological sites and talks by specialists are scheduled in advance and include a donation to each. Specialists working at these sites are excited about showing their work to interested enthusiasts. However, please be aware that there may be times when the director or a member of the staff may not be on site when our groups arrive due to other commitments.
Walking and Standing
Far Horizons expects all participants to be physically active and able to walk and climb independently throughout the full touring days. This includes walking over uneven terrain (uphill and downhill) for 2 miles or more at each site. You should expect to be on your feet for much of each day, averaging as much as 5 miles of walking per day. As such, each participant should be able to walk unaided at a pace of 3 miles per hour for at least an hour at a time, and to stand unsupported for at least 60 minutes. Bearing this in mind, we suggest that, if you have not already done so, you begin walking several miles every day, ideally including stairs and hills. If you have questions about your ability to keep up with the group or the strenuous nature of this trip, please contact the Far Horizons staff.
Travel in This Part of the World
This tour is designed for flexible, energetic people who like to be active, have a spirit of adventure and a positive attitude. We have designed this trip to be as comfortable as possible, while also aiming to visit some remote or unique sites that other companies do not attempt to include in their itineraries. There may be days where we have very long drives and the conditions of the roads may vary. Hotels and transportation in some remote areas may not be up to western standards. There may be times when no bellhops are available; please pack with the understanding that you need to be able to handle your own luggage at times. At times we may be walking over uneven trails for a mile or more; hiking boots are strongly recommended. Not every meal will not be haute cuisine and several lunches may be picnics or box lunches. By maintaining a flexible attitude we will soon be captivated by the beauty of the natural scenery, the hospitality of the local people, and the fascinating sites we will see. Your flexibility and patience will be appreciated.
Itinerary Changes
Changes in our itinerary, accommodations, and transportation schedules may occur. While we are committed to keeping as close to the published details as possible, sometimes it is simply not possible. Weather events, government affairs, or other factors out of our control sometimes come into play. A good book to read as well as patience, flexible attitude, and a sense of humor are essential.
Travel Insurance
Cultural tour in türkiye map.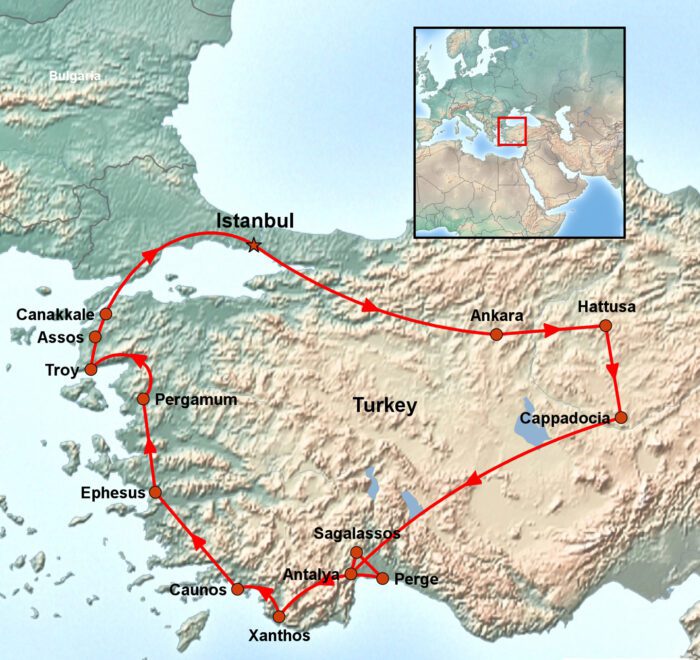 Related Tours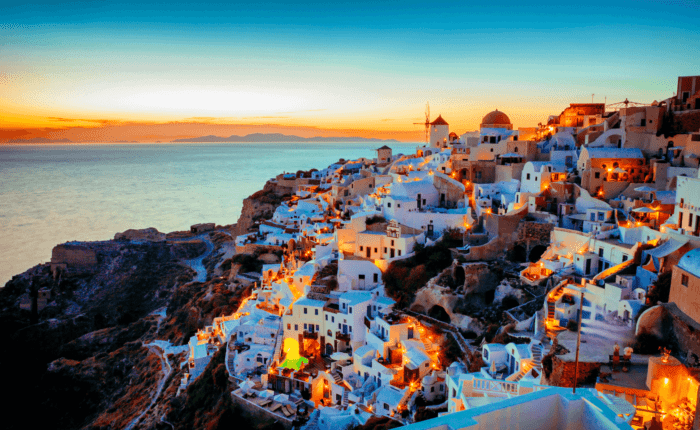 Greek Isles Tour: Cyclades, Santorini, and Aegina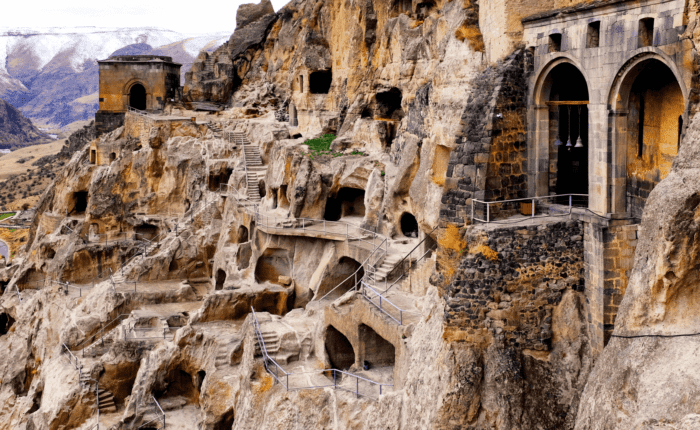 The Remote Caucasus: Tour Georgia and Armenia
Far Horizons Archaeological and Cultural Trips
Location & Hours
Suggest an edit
San Anselmo, CA 94960
You Might Also Consider
Robert G. said "First thing first, I honestly have no clue why all of these bad reviews are on here. I walked in and even though they were busy with other customers I was quickly greeted. I knew basically what I wanted but still had a few specific…" read more
in Travel Services, Luggage, Airlines
Wok Wiz Chinatown Walking Tours
Martha H. said "Had a wonderful tour of Chinatown today with Gimmie Park Li. She is a talented guide, and showed us many places that we never would have ventured into on our own, and explained what we were seeing. Her enthusiasm is contagious ands…" read more
in Walking Tours, Food Tours, Historical Tours
Blazing Saddles Bike Rentals & Tours
Pertti F. said "I'm really glad I didn't read any reviews before our trip to SF as I probably would have stayed away from this company and missed out of a really wonderful time. Either we where extremely lucky or that people with negative…" read more
in Bike Rentals, Tours
About the Business
Business owner information
Mary Dell L.
Business Owner
Far Horizons specializes in small group educational travel throughout the world led by renowned scholars to gain a deeper knowledge of both past and living cultures. Experience a wide range of journeys to sites where the boundaries of archaeological knowledge are being tested and pushed ever outward. We offer you adventure, education, camaraderie and a new understanding of the world's cultures - both past and present. …
Ask the Community
Ask a question
Yelp users haven't asked any questions yet about Far Horizons Archaeological and Cultural Trips .
Recommended Reviews
1 star rating Not good
2 star rating Could've been better
3 star rating OK
4 star rating Good
5 star rating Great
Select your rating
Overall rating
Went on a tour of Ireland. The driver was a young man who drove too fast for the tiny lanes we traveled on. The van had no way for people in the back to escape in case of a crash. The van also had no shock absorbers and the ride was very hard on the travelers, especially those in the third rear seat. The narrow lanes in the west of the country where we spent most of the tour are lined by tall hedges on both sides so there is no view out the windows of the van. The tour guide, an archaeologist trained in Ireland, informed us that all the archaeological sites were scams run by various vainglorious archaeologists who had no intellectual integrity. One day we went on a boat ride where several people were terribly seasick even though we were told conditions would be pleasant. One of the participants was a judge from New Zealand who made rude comments to all the women we encountered on the tour and seemed to think he was hilarious. Two men could barely walk and so we ended up at each day quite late with a very early start the next day. The tour guide was drunk as a lord one morning having had a late night with his pals in one of the towns we stayed in. He was very resentful of anyone who made more money than he did which of course was everyone on the tour. Another woman kept insulting her husband who had a physical infirmity but he seemed to be unaffected except to cast around knowing glances at the rest of us who had to suffer through his martyrdom. This woman also put an end by her own fiat that no longer could we buy each other a round before dinner. She disapproved of this social custom! Of course, we all had to comply. At several sites, people were asking for donations to help preserve the site. She never put in a nickel. It was not surprising that her only child chose to live thousands of miles distant from this couple. In one hotel, kids from a local college kept us up all night with crazy antics in the parking lot. The tour guide was often uninformed about what we were looking at as anyone who bothered to read the information on site would discover. The tour guide and the tour company apparently messed up the van rental on the first day and so we had to go in an even smaller and less comfortable vehicle to the first site and then drive to pick up the regular vehicle and wasted half a day. The entire enterprise was incompetence, ill mannered and unpleasant. Take tours with this company at your own risk.
Aug 15, 2019
Dear Ann J., I am aware of your true name and question why you are using a false one here to make such slanderous claims. You did not complete the Ireland tour and did not respond to our attempts to reach out to you before and after you left the group. There was indeed an issue with the vehicle at the beginning of the tour which was remedied within the first couple of days. However, the accusation that our PhD scholar and driver was drunk is outrageous and categorically untrue. We pride ourselves on our professional standards and maintaining the safety of our groups at all times. The participants who completed the tour, including one who was on his 14th tour with Far Horizons, all returned rave reviews about both our Study Leader and itinerary. One participant's evaluation stated - 'The scholar's knowledge of Irish archaeology was a true asset for the tour and provided important insights for new and emerging studies for the sites we visited. He was flexible and able to adjust for changing circumstances and work well with the various personalities in the group. I am aware that there was a problem with one participant and he managed it and was very discreet.' It seems odd that you would wait over six months after the trip was completed to post such a negative and untrue review of our Ireland trip (that, again, you chose to leave halfway through), one that amounts to little more that personal attacks on your fellow travelers and complaints about bad weather and narrow roads. Clearly you were on the wrong group tour and I do hope you find the right tour company to travel with in the future.
We've traveled with Far Horizons once but would certainly do it again if timing and trip work out. We went to Egypt with Bob Brier and his wife. The group was small and generally educated and very interested in learning about Ancient Egypt. Far Horizons specializes in tours with an academic as a leader/teacher. Many of us had chosen this trip because of familiarity with Bob Brier. The tour company performed excellently. We had a home office guide with us as well as local Egyptian company taking care of the arrangements. The trip flowed without a hitch. Bob and Pat were not just leaders they were warm and friendly hosts. The Group bonded rapidly and there were no people problems, the hotels and food were all excellent. The insights and experiences going with an experienced Egyptologist were outstanding. We have done other trips with another similar company and they were comparable. We are very interested in learning on our trips and find the 'Far Horizons' genre of company very satisfying. As tour company they are first rate, as educational experience providers we found the trip a favorite. They have a repeat clientele and we will likely join the repeat group when timing/academic and locus come together for us again. We can unreservedly recommend this company.
2 other reviews that are not currently recommended
Saracina Vineyards
Chris K. said "WOW!!!!!! I've been traveling for the past month and have not had time to leave any reviews...Jodi is AWESOME!!! I did not get the other lady's name that was working with her, but she was AWESOME also!! They make you feel very…" read more
in Wine Tasting Room, Wine Tours
Golden Gate Ferry
Jordan N. said "I'm a tourist... and a friend of mine who had lived in Sausalito recommended me to ride a ferry to Sausalito. Why? Well let me tell you something, you landlubbers. Did you know that "cruises" to see the Golden Gate Bridge was…" read more
in Public Transportation
People Also Viewed
Original World
Santini Tours & Tropical Travels
Geographic Expeditions
Extranomical | San Francisco Tour Agency
Next Adventure
Mountain Travel Sobek
Wilderness Travel
Cuba Travel Adventures Group
Alcatraz Combo Tours & Souvenirs
Best of San Anselmo
Things to do in San Anselmo
Other Tours Nearby
Find more Tours near Far Horizons Archaeological and Cultural Trips
Browse Nearby
Restaurants
Fun Places for Teens
Limo Service
Mines Near Me
Tours Near Me
Related Cost Guides
Town Car Service
Last updated on 01/12/2019
Programmes Consumer Information for SCP Sustainable Buildings and Construction Sustainable Food Systems Sustainable Lifestyles & Education Sustainable Public Procurement Sustainable Tourism
Network Members Directory Organisations
Share your contribution to SDG12 and sustainable consumption and production
Far horizon tours, role in programme(s):, commitments:.
Encourage partners in the supply chain and at destination level to join the Global Tourism Plastics Initiative. They will do this by encouraging their service providers to adhere to the norms that they themselves subscribe to and have worked to eliminate usage of plastic water bottles and plastic garbage bags by their transport, guides and accommodation providers. Far Horizon Tours set a target of 50 service providers to be encouraged to join GTPI.
Advise and guide partners in the supply chain and at destination level to better manage plastics in their operations through practices, criteria, standards, and/or policies. 
Communicate successes to partners, suppliers, travelers, and key local stakeholders by providing written instructions, doing on-site training for service providers over next two years and then asking destination teams and tour leading teams to do regular reporting. 
Publicly report on implementation of commitments above.
Select a language
City Sightseeing Moscow Hop-On Hop-Off Bus Tour with Optional Cruise
Hop-on or hop-off at any of Moscow's main highlights
Views of Moscow from an open-top, double-decker bus
Learn about the city with recorded commentary
Visit Red Square, Alexander Gardens, and more
Bus pass inclusions: 48 or 72 hour bus pass + walking tour
Boat pass inclusions: 60 minute boat trip + walking tour
Bus & Boat pass inclusions: 48 hour bus pass + 60 minute boat trip + walking tour
Vouchers valid for 12 months
Hotel pickup and drop-off
Food and drinks, unless specified
Location Name: The route begins at Red Square but you can board at any stop
Wheelchair accessible
Stroller accessible
Near public transportation
Confirmation will be received at time of booking
Red Route runs from 10:00am - 6:00pm, every 25 minutes. Duration - 60 minutes. First stop - Bolotnaya Square.
Green Route runs from 10:00am - 6:00pm, every 60 minutes. Duration - 120 minutes. First stop - Bolotnaya Square.
Orange Route (currently suspended) runs from 10:30am - 6:30pm, every 30 minutes. Duration - 140 minutes. First stop - Museum of Cosmonautics
Walking tour runs daily at 10:45am. Duration - 2 hours 30 minutes. Meeting point - Next to monument of Saints Cyril and Methodius.
Boat tour operates 5th May - 20th October, from 11:30am - 6:30pm. Duration - 60 minutes. Meeting point - Zaryadye Park Pier.
Mobile and paper vouchers are accepted for this tour.
Vouchers can be redeemed at any of the stops along the routes.
Vouchers are valid for 12 months
Most travelers can participate
For a full refund, cancel at least 24 hours in advance of the start date of the experience.
City Sightseeing Moscow Hop-On Hop-Off Bus Tour with Optional Cruise provided by City Sightseeing Moscow
#Luxury travel
#Unusual Moscow
#Jewish Heritage
#Russian traditions
Choose your route to discover Russia
There are many itinearies to see what Russia has to offer. Its culture, its art, its history, its nature, its gastronomy, its people. Each stop on the route is a new experience.
Classic tours, city breaks, themed trips or multi-destination journeys across the country - we offer you ideas for spending as many days as you want. Contact us if you want to optimize an itinerary for your request.
Most popular routes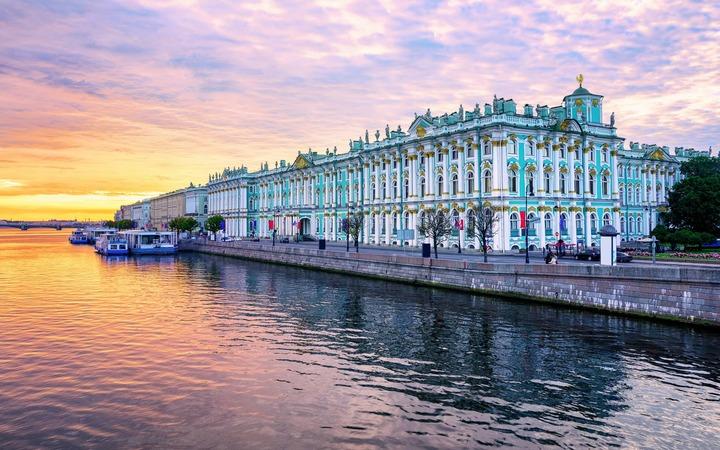 The Northern Capital of Russia, Saint Petersburg is the second biggest city in the country. It would take forever to explore everything that is worth seeing here, but if you have only a weekend for a vacation in Saint Petersburg, there are still opportunities for you! Our experienced guide will not let you miss the most important things.
The classical tour of Moscow and Saint Petersburg is designed for tourists, who just start their acquaintance with Russia and its two treasures — the biggest cities, Moscow, the capital, and Saint Petersburg, the cultural center and the cradle of architectural and gems of tsar époque. The classical program usually takes from 5 to 8 days and can be adapted in intensity depending on how much free time you would like to have in addition to excurs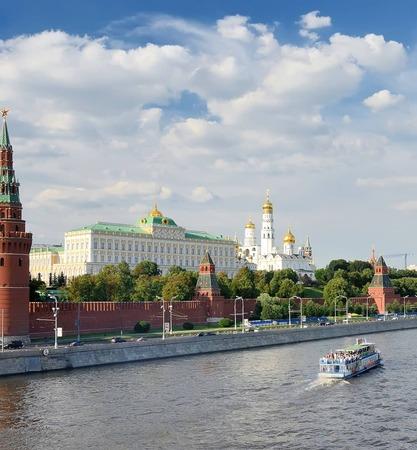 This tour is available only for week-end dates (from Friday till Sunday)! We offer you a great opportunity to visit the majestic capital of Russia and its out of town attractions. Get filled with unique Russian culture and traditions, vivid impressions of the Kremlin, Red Square and other numerous highlights. Our optimal package tour includes a panoramic tour of major sights. If you want to get acquainted with other splendid highlights of Mosc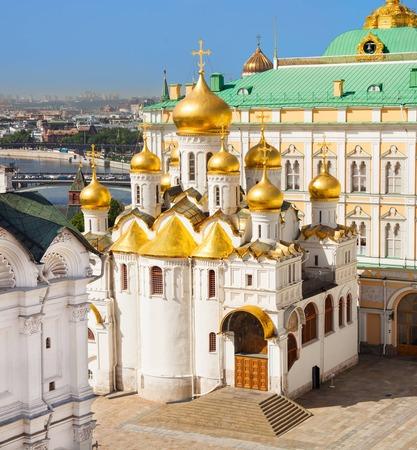 #Suburbs of St. Petersburg
#Saint Petersburg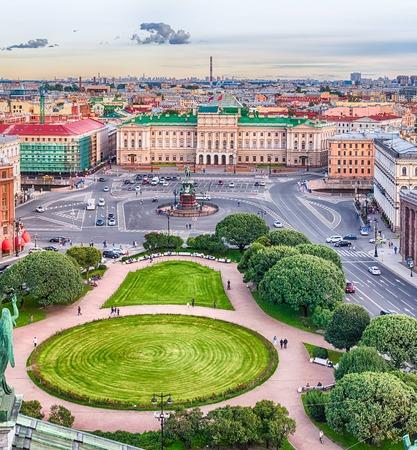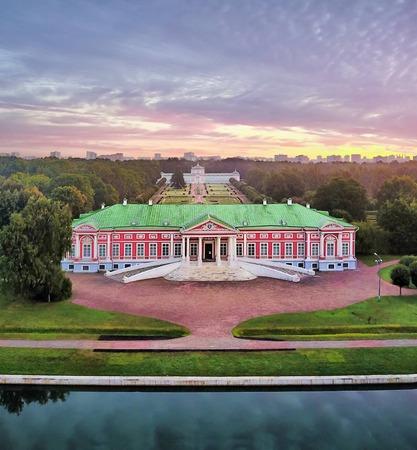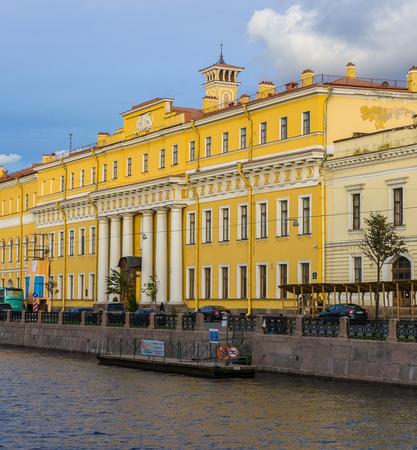 We use cookies to improve your experience on our Website, tailor content, and measure advertising. By continuing to use our Website, you accept our Privacy Policy .
Your request has been sent successfully! Our travel expert will contact you shortly.
This site is protected by reCAPTCHA and the Google Privacy Policy and Terms of Service apply.
‌ (+91) 0129 4098000
‌ #50 LGF, Charmwood Plaza, Charmwood Village, Faridabad 121009, India.
Trip Ideas to match your interests
--> We had a fantastic time! We only have great things and compliments to say to all the crew! Everything was fantastic! We freely enjoyed the African safari! We found the cruise and the talks very informative and it gave us a better understanding of Assam. Thank you! Ms Ginette Sylvie and Mr. John Charles Fox Canada
--> Since each and every destination, lecture, optional program was unique so its very difficult to highlight. The group leader along with the instructors did a fabulous job and his experience , knowledge and personal touch all corralled to a wonderful India tour. Jawaharlal Bhatt United States of America
--> We recommend Far Horizon as much as possible to anyone who is interested in India. We really appreciate the work and support of Pankaj and his team. Robert William Symons Australia
--> The magic of India and The Mahabaahu The light is fading, as we are gliding downstream, somewhere near Dhansiri, at the confluence of the Dhansiri River and the Brahmaputra. I'm enjoying this second Brahmaputra expedition even more and as anticipated Steve has fallen headlong under the spell of India. Val and Steve United Kingdom
--> South India surprised us in every way. We enjoyed learning about the culture, religions and daily way of life. This set the stage for us. Some experiences were extraordinary. I appreciated the flexibility and real time attention provided by Far Horizon on whole Juli Kauffman United States of America
--> Thank you yet again for your tremendous service. Far Horizon really is the best travel company: friendly, efficient, knowledgeable, reliable and so upfront in sorting out any queries or problems. Thank you to all of you who have dealt with our several trips! Ian Cluskey United Kingdom
--> What a beautiful voyage!! Raghu took us to his home. Joshi taught us about birds. The whole team taught us about Indian hospitality. We found God himself on the backwaters. With love and abundant memories. Russell Brand United Kingdom
--> A day to remember! Late Shri Atal Bihari Vajpayee (Former Prime Minister of India) India
--> We had a great time in Agra. Karen was so happy with the hotel she took hundreds of pictures. Everything have been great Mr. & Mrs. Davis United States of America
Enquiry Form
Reservation Terms and Conditions
Accommodations
What To Pack
FAQ's
"In every walk with Nature one receives far more than he seeks."
Far horizons camp.
Nestled in the majestic wilderness of the Giant Sequoia National Monument in the high sierras, Far Horizons is midway between Los Angeles and San Francisco, one hour east of Fresno at 7200 feet. Far Horizons is electricity‑free (lighted and heated with propane), and provides a magical place to experience pure nature.
PLAN YOUR VISIT
What to pack.
Far Horizons Travel Call: Patti: 608 258-1600 or Email: WriteTransform("\u003cn uers=\"znvygb:[email protected]\" fglyr=\"sbag-fvmr: 15ck; grkg-nyvta: evtug;\"\u003e\u003cfcna fglyr=\"pbybe:#SSSSSS;\"\[email protected]\u003c/fcna\u003e\u003c/n\u003e")
"without a travel agent, you're on your own" .
Far Horizons Travel is a full service travel agency made up of agents with over 40 years of travel industry experience. Our specialty is the Hawaiian Islands. We are Hawaii Destination Specialists from the Hawaii Visitors and Convention Bureau. We've been there and can help you with tours , restaurants, snorkeling and much more. Because of our status as Hawaii Specialists we have been able to negotiate the best prices for our clients. Our expert agents are here to assist with all of your travel needs. With our knowledge, we know how to get around the issues travelers can face with airlines,hotels and vendors.
Call: Patti 608 258-1600 or Email: [email protected]
Featured Specials
Find your vacation.
Call: Patti: 608 258-1600
Email: [email protected]