Trek Powerfly 5 Gen 3 Review (2023)
Table of Contents
The Trek Powerfly range comes in many guises.
The large series of Powerfly bikes include hardtail commuters, which can go bike touring and also take on the dirt, along with the Powerfly Full Suspension rides, which are geared up for more aggressive riding.
The standard Trek Powerfly hardtails stand somewhere in between, and that includes the Trek Powerfly 5, which we're featuring in this review. Lighter and made to move speedily across multiple terrain types – from urban settings, as well as gravel trails and forest roads.
So, can the Powerfly 5 Gen 3 straddle these multiple worlds successfully? Or does it falter at the first hurdle?
Our Verdict
One of the best mixed terrain and commuter hardtails we've had the pleasure of riding.
Trek has created a wonderful versatile e-MTB, with long range, brilliant motor and at a very reasonable price. The bike ticks a heck of a lot of boxes and for a versatile commuter – it absolutely smashes it.
The display is the only real let down, but that's an easy fix if you swap it out for another. Overall, it's a real success and dare we say it – a bargain in the notoriously expensive e-MTB market.
Ride experience
Could offer slightly more travel in small size frames
Trek Powerfly 5 Gen 3
Price: $4,546
Weight/frame.
The Trek Powerfly 5 has a strong aluminium frame, made out of the company's Alpha Platinum aluminium compound. It's a sturdy old bike, capable of soaking up lots of pressure – however, it means a little extra weight, with the bike coming in at 22.94kg in a size medium frame .
You get more than 2kg of weight saving though compared to the Powerfly 5 Equipped, which has a luggage cage over the back wheel and a longer frame. That weight saving makes the bike more nimble and it certainly feels it out on the trail.
You can choose between 5 frame sizes – extra small , small , medium , large and extra large .
The geometry of all the frame sizes allows for a good level of clearance to get up and over obstacles and you get a decent planted feeling through the back wheel – good for the speed you want in a versatile commuter and trail bike.
It isn't ultra aggressive in its layout, but you can move at a fair lick and it feels fairly light to manipulate, despite the overall weight. The bike feels well grounded and it provides a comfortable riding experience.
The Trek Powerfly 5 has a big old Bosch PowerTube battery, which can kick out 625Wh . It's a sizable partner for the bike and gives you a large old range, which takes away any real range anxiety.
We pumped out well over 100km on one charge, without ever having to feel nervous about the amount of battery we might have left. The bike is made for long distance riding and when you couple that with the comfortable geometry, you can happily spend hours upon hours in the saddle.
When you do run out of battery you aren't waiting all day for it to juice back up again – you can get back up to full charge from dead in around 5 hours and it takes less than half of that to get up to 50% charge.
The battery is secured neatly into the downtube of that sturdy aluminium frame and it's simple to click in and out for charging. Hassle free all around in the battery department – something we love to see.
You have power in the bike's name and the Trek Powerfly 5 doesn't disappoint in the motor department. It's paired with the excellent Bosch Performance CX motor , which throws out a chunky 85Nm of torque.
That's enough to make light work of any climb you put in its way and the respectable overall bike weight means it dances up the hills. Despite having a lot of torque in the tank the motor doesn't feel aggressive in its output, it works intuitively to release in a natural way and it feels measured.
There's no upsetting lag or overshoot as you release off the assistance, so you feel in control throughout. You get 4 modes of assist – Eco , Tour , Sport and Turbo – with the Turbo offering a seriously punchy level of assist for the toughest stretches of your day's ride.
ℹ️ You don't need to use the Turbo mode a great deal. It's useful for the very trickiest inclines, but if you use it too much you'll find it sapping your battery quite quickly. Use it sparingly.
We love the Bosch Performance CX and it's a brilliant accompaniment to this bike.
Motor Display
The Trek Powerfly 5 comes with the Bosch Purion display . It's mounted on the handlebars and has an easy-to-use controller to flip between data.
There are pros and cons with the Purion; you get a range estimation in kilometres, which is certainly helpful while out on the trails. However, the actual percentage of battery left isn't shown – a real oversight.
Instead, you get a series of lights which indicate a range of battery percentage left and it isn't quite exact. Fortunately, the battery is a big old beast and you never really have to worry too much anyway, but we think an exact figure would be much better.
You can also flip between a few other data options, including speed and the distance you've ridden so far.
The Trek Powerfly 5 is a hardtail , so doesn't have any rear shocks, it only has a travel at the front end. Depending on the frame size you go for will dictate how much travel you get in the forks, which are supplied by RockShox, with their Recon Silver RLs fitted.
The extra small frame comes with 80mm of travel , whilst the small, medium, large and extra large options come with 120mm of travel . This bike isn't made for the wild drops and monster descents, so don't expect it to – it's made for longer distance, multi-terrain riding, on flatter land and it has a setup capable of exactly that.
The hardtail means you always have a good level of traction at the back end to pick up speed and it doesn't bounce around. The minimal travel in forks allows you to take a few lumps and bumps, without any worry, but it isn't made for the seriously chunky stuff.
Wheels/Tyres
The Powerfly 5 comes with varying wheel sizes depending on the frame size you choose. The extra small and small comes with 27.5in, meanwhile the medium, large and extra large come with 29inchers at both the front and the rear.
The wheels are Bontrager Kovee Comps, with Bontrager XR3 Comp tyres . They're a sturdy pairing, which offer strength and stability, capable of long distances and feeling comfortable throughout.
You also have some toothy tyres, which can offer the traction you need for the speed you want to pick up – but you don't feel weighed down, the tyres offer decent dirt shedding on the hard packed bits.
The Trek Powerfly 5 comes with Shimano MT4100, 4-piston hydraulic disc brakes .
These aren't the most powerful Shimano components out there, but they offer enough stopping power for the style of riding the bike is made for – let's be honest, this isn't made for super-sendy drops and lines.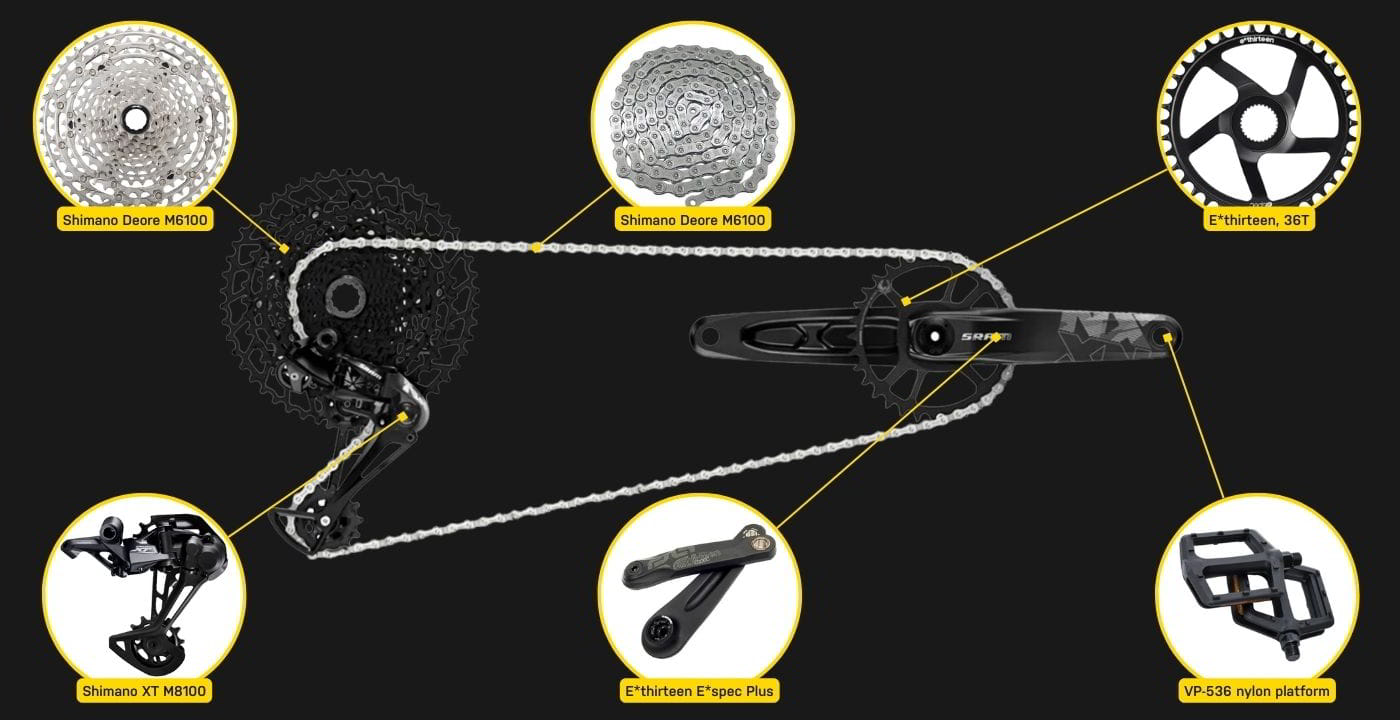 The Trek Powerfly 5 is fitted with a 12-speed Shimano Deore M6100 drivetrain – a solid accompaniment, which offers reliability and ease of use. Quick and smooth shifting – exactly what you want over long distances.
A fairly priced e-MTB. The Trek Powerfly has outstanding electrical components and offers a brilliant ride experience. It's pitched fairly in the market.
Trek Powerfly 5 Gen 3 Facts & Figures
Size configurations.
* All measurements provided in cm unless otherwise stated.
* Please note – spec applies to all sizes unless listed separately
How Does it Compare?
Another challenger in the electric hardtail market is Specialized's Turbo Tero 5.0.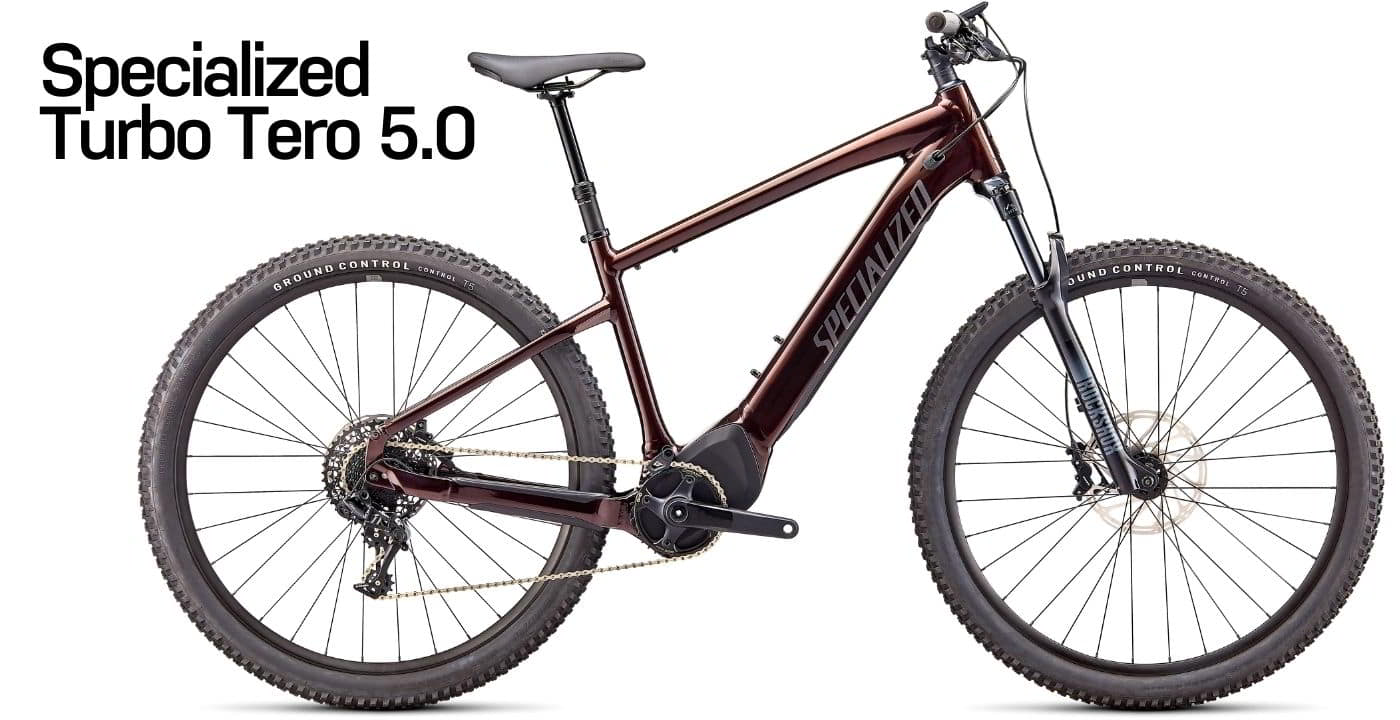 Our Trek Powerfly 5 is 0.2kg heavier, so very similar, but offers a slightly smaller battery – with the Specialized coming in at 700Wh over our 625Wh.
Specialized has their custom 2.2 motor fitted, which offers 90Nm of torque – 5Nm more than our Bosch battery. However, the Bosch electrical components and their relationship between each other are superior in quality and ride experience.
The Specialized motor display is far more advanced than our Bosch Purion display – which could be fixed if Trek go for one of the other displays in Bosch's armoury.
You get 110mm of travel on all frame sizes on the Turbo Tero 5.0, which is more consistent than the varying amounts of travel on our Trek bike – with both choosing RockShox as their partner in this department. Both setups do the trick.
Both drivetrain and brake setups also work we;, with Specialized choosing SRAM components and Trek gunning for SRAM. Price is a big factor in this comparison – the Trek Powerfly 5 comes in $1,600 cheaper – which for us puts it in pole position in this comparison.
The bikes aren't too dissimilar, but you have a huge saving.
Final Thoughts
We're big fans of the Trek Powerfly 5 and very impressed by its price. You don't often get many bargains in the e-MTB world, but we think Trek has successfully managed to offer a bargain here.
It's a big range and versatile bike, which offers an excellent ride experience and some top components, but at a fraction of the price to some of its competitors. For a bike which is designed for long distance, you want to feel comfortable up top and this bike offers it.
The electrical components are outstanding and the other aspects are solid – it's only let down by the display. That's an easy fix, though, by replacing the display for one of the other top Bosch displays. And in any case, it's still by no means the worst display in the world.
A big congrats to the team at Trek – we think this is right up there among the best e-MTB hardtails for mixed terrain and commuting. Now give it a spin.
If you enjoyed this review then make sure to check out our other Trek reviews.
Trek Powerfly FS 9 Equipped Gen 2 Review (2023)
Trek Fuel EXe 9.9 XX1 AXS Review (2023)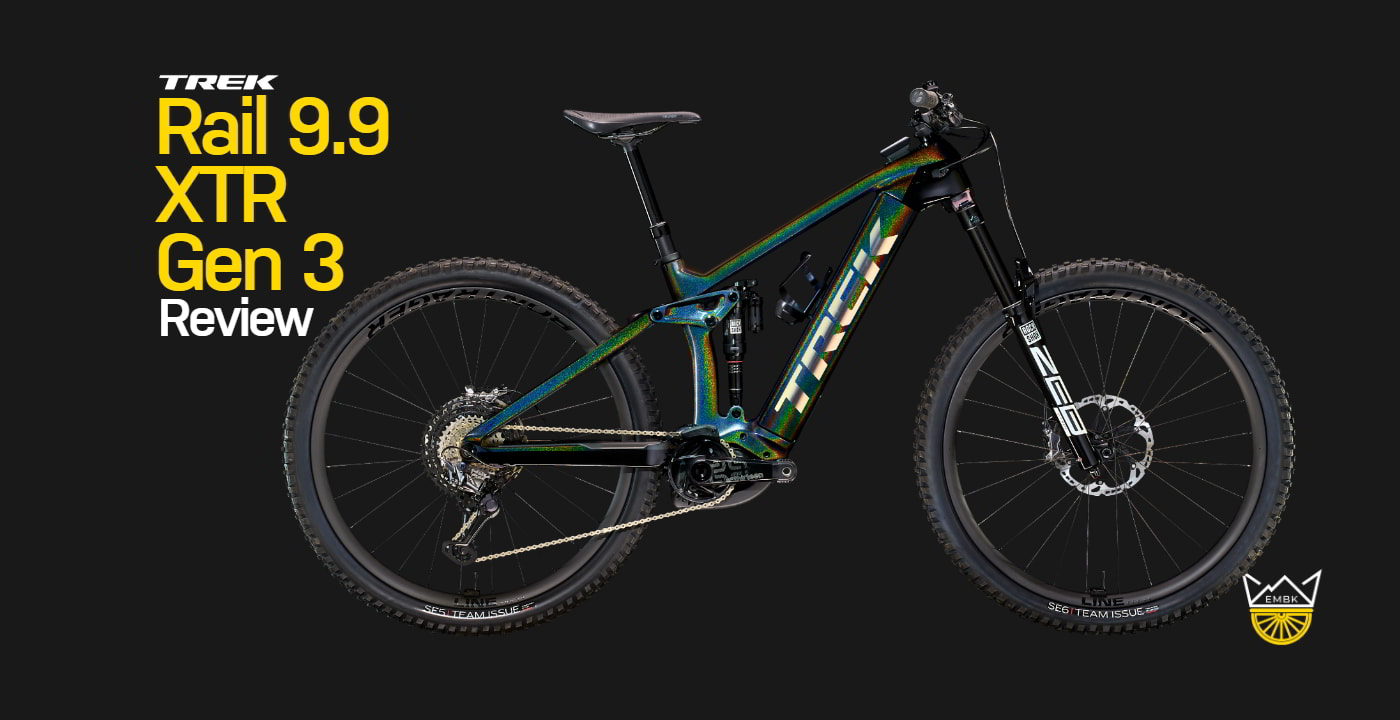 Trek Rail 9.9 XTR Gen 3 Review (2023)
Trek Rail 9.9 XX1 AXS Gen 3 Review (2023)
LATEST POSTS
Top 7 Fastest Electric Bikes of 2023
For the speed demons amongst us, we've searched high and low for the e-bikes offering the rawest power on the market.   E-bikes come in
Are E-bikes street legal & laws by state in 2023
E-bikes are no doubt getting faster and there are some now, which can reach the dizzying speeds of 120km/h.   However, understanding the laws on
Best Electric Mountain Bikes 2023
We've spent hours upon hours riding varied terrain and bikes from across the world – to find the absolute must haves in the e-MTB industry.
Guides and Advice
Accessories & Parts
USEFUL LINKS
LATEST NEWS
2022 · Trek Powerfly 5
A 27.5″ / 29″ aluminum frame hardtail trail e-bike with upper mid-range components.
For This Bike
View more similar bikes →
Based on frame geometry and build specs.
A bike with lower gearing will be easier to ride up steep hills, while a higher top end means it will pedal faster down hills.
Similar Bikes
(descending)
Add custom gearing
Based on build material and quality level of the frame, fork, wheelset, groupset, suspension system, and more.
156cm – 166cm
163cm – 174cm
171cm – 182cm
179cm – 189cm
185cm – 195cm
🐐 Estimated
Do you have this bike? Help other riders make a decision about which size will work for them by sharing your own size and fit notes. Report your fit
Sept 2022 · Mike Hunger
We have tested the Trek Powerfly FS 9 Equipped with Bosch Performance Line CX motor and 625 Wh battery for you.
Wide range of applications
Sporty and stylish look
Intuitive handling
Bosch SmartphoneHub ensures good connectivity
Read Review
Feb 2022 · Russell Burton
A well-specified, comfortable and versatile ebike, but at a serious price
Expensive, especially if you're considering leaving it outside the local shop
Jan 2021 · Susanne Feddersen
One bike for all occasions – with the Trek Powerfly FS 7, the American brand promises to have created a true all-rounder. The smart concept should please everyone from trekking and leisure riders to moderate trail adventurers. We tested the 120/100 mm travel eMTB with the Bosch Performance Line CX motor to find out whether the new Trek Powerfly FS 7 is the all-rounder that many have been looking for.
All-round capabilities
Overall concept
Good-natured and intuitive handling
Confidence-inspiring
Comfortable riding position and low top tube
Responsiveness of the fork is mediocre
No model featuring the Nyon display
Price: $5999.00 | Model Year: 2021 | A premium
A premium "do anything" full suspension electric bike that's equipped to handle pavement, trails, light mountain terrain, rain, shine, day, or night conditions. Available in five frame sizes for optimal fit, the XS and S come with 27.5" wheels and the M, L, and XL come with 29" wheels. Sold through one of North America's largest network of dealers. Trek and Bosch provide excellent support and warranty.
Custom made extra-wide plastic fenders are durable and quiet, very capable in off-road conditions. A sleek and sturdy rear rack provides 25kg (55lbs) of cargo capacity with pannier hangers on both sides and a removable top platform for trunk bags. Puncture resistant tires also feature unique black reflective stripes that combine safety with aesthetics.
Downtube-integrated battery pack and mid-drive motor keep weight low and center. Trek designed a "RIB" battery casing includes a handle for safe removal and transport. The battery doesn't rattle, and it can be charged on or off the bike with the fast 4 amp charger. Peformance Line CX motor is the most powerful from Bosch, but lightweight with a magnesium casing.
Highly adjustable air suspension front and rear with 120mm and 100mm travel respectively. Boost hub spacing and thru-axles increase wheel strength. Extra large 203mm hydraulic disc brakes with heat sinks and alloy cores deliver incredible stopping power. The biggest trade-offs here include the high price, smartphone display (that some may not like), louder motor operation, and increased weight (due to the high capacity battery and accessories).
The 2021 Trek Powerfly full suspension e-MTBs blend European sensibility with modern trail capability for a unique e-mountain bike option.
If I had to think of one common theme that continually came up during our time with the Powerfly, that would be it—too damn fun. Over the months we've had this bike, we've done it all and it does it all with ease.
Oct 2018 · Alan Muldoon
Up hill or down, ebikes take an absolute beating, so the new Trek Powerfly 9 has a beefed up the parts package to handle the additional abuse.
Suspension, brakes and tyres are all on point. New battery layout is neat and easy to use.
Could have more generous reach measurements and shorter stems on all sizes.
New in this Powerfly generation are an advanced removable battery system, carbon fiber frames, purpose-built ebike components and the 150mm of travel in the LT model. - Mtbr.com
Trek Powerfly 5
A variety of frame sizes to suit every rider
Great handling on challenging terrains
Smooth traditional bike feeling
No integrated lights, as is the case on many similarly priced bikes
Women's model includes limited features
Specifications: Trek Powerfly 5
Proud Wisconsin brand Trek Bikes has been a leading innovator in the cycling market for decades. Now they've shifted their focus to making quality electric bikes for every rider. Designed in the US and built in China, every Trek bike comes with the coveted Trek warranty and guarantee. Though Trek offers a full range of electric bikes, we'll be focusing on the Trek Powerfly 5.
Priced at $4,199.99 and available in two colors (red/black, green/charcoal) the Trek Powerfly 5 is an electric mountain bike built with premium Bosch components. A highly versatile ride, it boasts a robust aluminum frame available in four size options (S, M, L, and XL). The frame offers durability while protecting the components inside, including the interior cabling system and battery. Unlike similar e-bikes, the Powerfly 5 has a clean aesthetic and easier handling due to a lower overall weight. This is a very quiet ride which many appreciate.
In terms of battery, Trek wanted to include a fully integrated battery that is protected from dirt and grime, thus extending the overall battery life. The battery utilized is a Bosch Powertube 500Wh with the removable portion located on the downtube. Like every Powertube battery, you garner an impressive range of up to 80 miles in Eco mode and 37 miles in Turbo mode. Once your battery is drained, it can charge in as little as 3 hours on the fast charger.
Of course, Trek didn't forget about adding enough power to boost your ride. Thus they included a Performance CX motor that pairs perfectly with the Powertube. The mid-mount motor on this bike was designed with off-road riding in mind. Ideal for an electric mountain bike. With 75Nm of torque, you can tackle even the most challenging trails while reaching speeds of up to 15 MPH.
The motor system also includes a Bosch Purion controller that lets you achieve your ideal power range with 5 assistance modes. Performance is also enhanced by the 10-speed Shimano Deore drivetrain. Smart wheel size technology, means you'll always get the right size tires for the frame you choose. Tire sizes range from 27.5"x2.35" (Small) to 29×2.30" (M, L, XL).
Overall, the Powerfly 5 is a great choice if you want to spend a little more on an electric mountain bike that really works. While you may be able to find cheaper options from Rad or Hyper, you won't be getting the high-end components included in the Trek.
User Reviews
There are no reviews yet.
Be the first to review "Trek Powerfly 5" Cancel reply
Your email address will not be published. Required fields are marked *
Your Rating Rate… Perfect Good Average Not that bad Very Poor
Your Review *
Save my name, email, and website in this browser for the next time I comment.
Description
Additional information
Reviews (0)
Related Products
Jetson Adventure Electric Bike
Ecotric Tornado Full Suspension
Himiway Fat Stepthru
Schwinn Sidewinder Electric Bike
Cyclamatic Power Plus CX1
Ancheer Mountain Bike
Compare items

Trek Powerfly 5 Review
When you purchase through links on our website, we may earn a commission. Affiliate disclosure.
When it comes to hardtail electric mountain bikes there's an awful lot of choice (if they're in stock) from the big-name manufacturers. When one of my friends called me last week to say he'd brought a Trek, I was eager to try it out. In this Trek Powerfly 5 review, I will take a closer look at the specifications and share with you my opinions after spending a couple of hours with it on Bodmin Moor .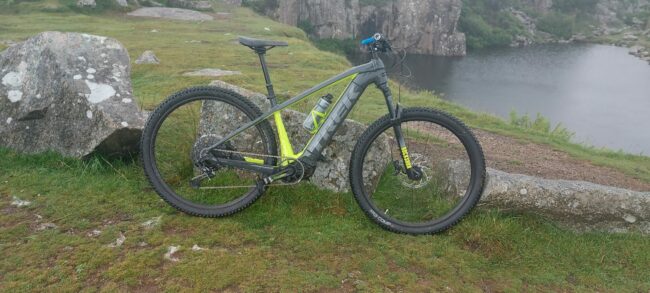 Introduction
Trek's mountain bike heritage goes back to 1983 when they released the 850 – fast forward 28 years and they have a comprehensive range of high-end e-MTBs ranging in price from just over £2500 to up to an eye-watering £11500.
At £3750 the Trek Powerfly 5 sits at the upper end of their hardtail range and benefits from the latest Bosch Performance Line CX motor with a 625Wh battery. The Powerfly 5 also boasts Rockshox forks and SRAM Eagle SX 12-speed drivetrain.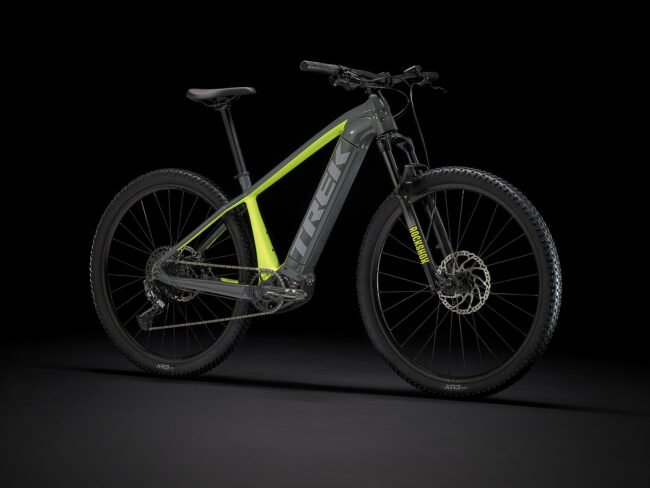 My friend had been talking about upgrading his Cube Acid hardtail e-MTB for some time and we'd previously discussed the merits of the Trek. He recently took the plunge and purchased the bike reviewed here.
First impressions
The first thing that struck me about the Trek Powerfly 5 was how stunning the paintwork finish is – it's a gorgeous bike in the 'slate/volt' colour scheme. Mind you, you'd expect nothing short of this on an e-bike costing more than a decent second-hand car!
Although the 17″ frame was a bit on the short side for me, with the seat post properly adjusted it felt quite comfortable. My friend paid an extra £200 to have the optional Bontrager dropper seat post fitted, which is a must if you're going to be tackling the trails.
Riding some rock-strewn single track the Trek feels sure-footed. For an older rider like me, the Powerfly 5 inspires confidence (maybe a bit too much) and is great fun to ride. Where this e-bike comes into its own is when the trail turns upwards – it's not the first Bosch CX I've experienced but this motor never fails to impress me with its 85Nm of torque. Riding up steep tracks is helped even further by the trail-busting SRAM Eagle 11-50 12-speed rear cassette, meaning you never run out of gears.
Although my ride was fairly brief I was thoroughly impressed with the off-road abilities of the Trek, it's a great all-around package suitable for beginners, intermediate or the older more experienced cyclist who's returning to mountain biking after a long break. Below I will go into more detail on the components.
Check out the 2023 Powerfly 5 from Trek
Electric components
The high-end mountain bike world is dominated by either the Bosch CX or Shimano Steps E8000 / EP8 of Brose motors. It's good that manufacturers recognised the demand for a greater battery range and the Trek Powerfly 5 comes with the Bosch 625Wh power tube battery which is neatly integrated into the frame.
Bosch Performance Line CX
The Bosch Performance Line CX motor benefits from several upgrades over the previous model, most notably the 85Nm torque output offering the rider up to 340% assistance.
There's the new Extended Boost mode which makes negotiating rocks and exposed roots on the trail much easier, particularly uphill. This means the bike can be manoeuvred with greater agility on technical sections.
Revised e-MTB mode – This ensures the rider is well-prepared for whatever situation the trail has in store. New sensor and motor control functions give mountain bikers a much wider range of dynamic and natural support.
The Bosch motor is smooth and the whine from the motor is quiet and not intrusive. Performance is as good as you will find on a road-legal e-MTB and it adds a whole new dimension of fun when riding off-road.
625Wh Powertube battery
I first rode an e-bike with a 625Wh battery at the end of 2019 and having the extra capacity will ensure riders can spend more time enjoying the trails. The range will depend on lots of different variables but 50 miles should be achievable when riding off-road – check out the Bosch range calculator for a rough estimate of battery range from the 625Wh battery.
Bike components
Quality components are a must on electric mountain bikes at this price point and the Trek Powerfly 5 doesn't disappoint. I have gone into more detail on the specification below.
The gearing is comprised of an SRAM Eagle single-click 12-speed shifter with an NX Eagle rear derailleur and 11-50 cassette – as the Bosch uses an ISIS-type crank interface, an SRAM X1 crankset is fitted. The drivetrain is finished off with a high-quality SRAM SX Eagle chain.
Braking is provided by the excellent Shimano MT-420 4-pot calipers with 203mm brake rotors – as expected these brakes work well and will provide more than enough stopping power for most riders. I found them to be excellent, and you only need to use one finger for braking.
If found the 120mm Rockshox Recon RL suspension forks worked very well indeed. Although they are at the lower end of Rockshox forks they feature trickle-down technology from more expensive forks and feature Motion Control™ damping which features low-speed compression adjustment to lockout.
Wheels and tyres
The wheelset is a disc-specific Bontrager Kovee Comp 23 with Boost 110, 15 mm thru axle at the front and a Boost 148, 12 mm thru axle at the rear. Tyres are Bontrager XR3 Comp, wire bead, 30 tpi, 29×2.30″ which seemed to handle the damp moorland trails very well. If you wish to upgrade to a tubeless set-up these wheels are tubeless-ready. The hub is a standard 9/10 speed Shimano freehub.
Frame and finishing kit
For the frame Trek use their Alpha Platinum Aluminium which is their premium lightweight aluminium designed for maximum strength and minimum weight. As I've mentioned above the finish is exquisite and looks incredibly hard to wear.  The frame also benefits from internal routing for lights (should you choose to fit them) and a direct kickstand mount.
All of the finishing kits are all by Trek's in-house brand Bontrager which is of excellent quality. This bike also had the optional Bontrager Line Dropper seat post fitted which costs an additional £199.99.
If I was in the market for a capable hardtail electric mountain bike I'd be very tempted by the Trek Powerfly 5. It's great fun to ride and feels very capable on a rough single track – the handling inspires confidence and that Bosch motor is the icing on the cake!
There are cheaper options available and if you're new to electric mountain biking you may not want to spend quite so much on your first purchase.
Having said that, if I had the money to spend on a nice hardtail e-MTB the Trek would certainly be on my shortlist. Other plus points are the excellent brakes, SRAM 1 x 12 gearing and the 625Wh battery.
My friend has brought this e-bike with the intention of keeping it for a good few years and I'll post any relevant updates here.
Thanks for reading and if you have any questions or comments please leave them below.
Meet Tony, a passionate e-bike advocate and enthusiast who discovered the life-changing benefits of electric bikes back in 2016. Tony's technical experience within the e-bike field was gained while running a successful electric bike conversion business for 5 years in his home county of Cornwall, UK.
Similar Posts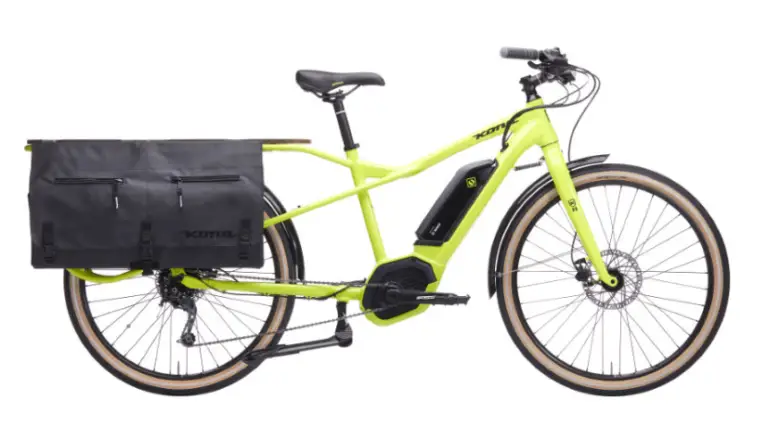 Kona Electric UTE Review
When you purchase through links on our website, we may earn a commission. Affiliate disclosure. If there is one kind of bicycle that benefits the most from electric assist it…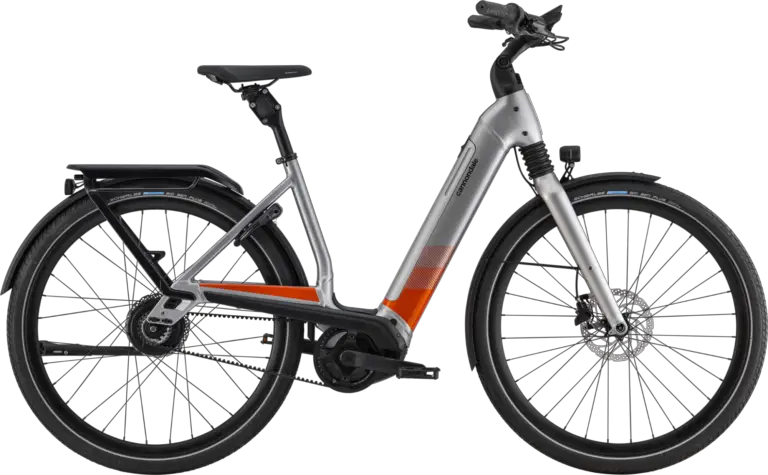 Cannondale Mavaro Neo 1 Electric Bike Review
When you purchase through links on our website, we may earn a commission. Affiliate disclosure. As 2021 e-bike models start to be released by major manufacturers, it's obvious there are…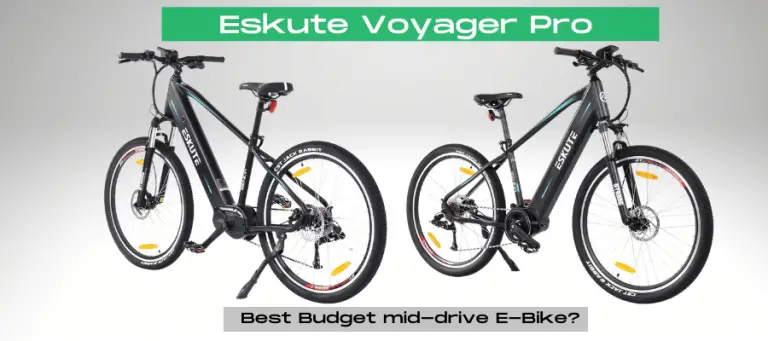 Eskute Voyager Pro Review [Budget Mid-Drive E-Bike]
When you purchase through links on our website, we may earn a commission. Affiliate disclosure. Finding a half-decent budget mid-drive electric bike can be challenging nowadays. In this Eskute Voyager…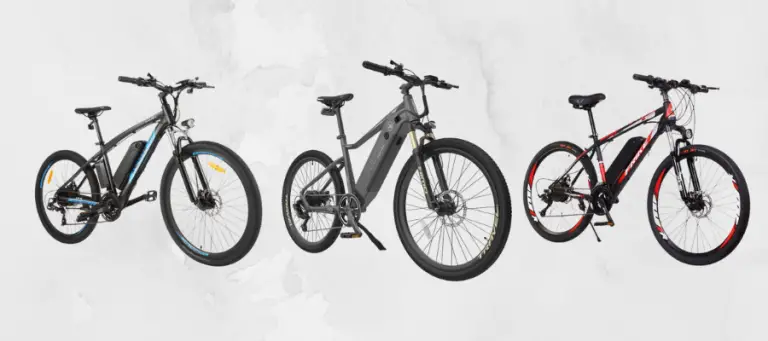 Best Electric Mountain Bikes under £1000
When you purchase through links on our website, we may earn a commission. Affiliate disclosure. You're in luck if you're looking for an electric mountain bike that won't break the…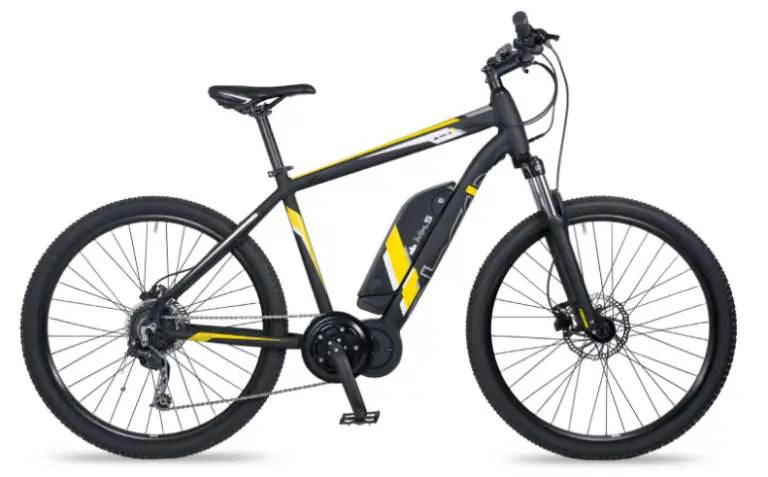 Ebco MH-5 Electric Bike Review
When you purchase through links on our website, we may earn a commission. Affiliate disclosure. Up until recently, any factory-produced electric bike that had a mid-drive motor fitted seemed to…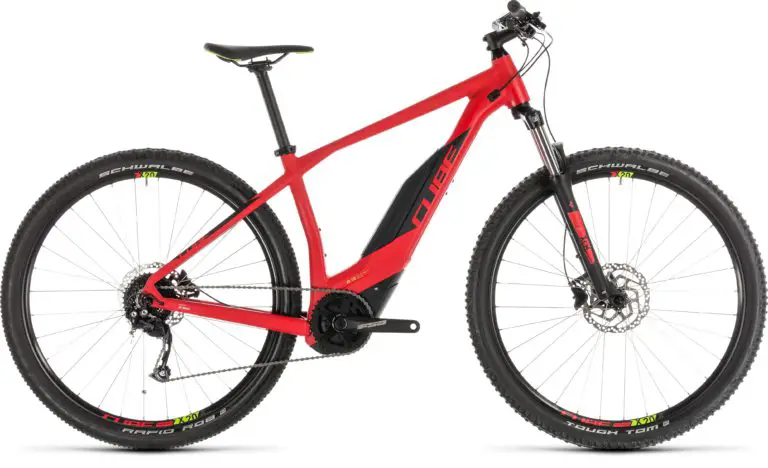 Cube Acid Hybrid One 400: Electric Mountain Bike Review
When you purchase through links on our website, we may earn a commission. Affiliate disclosure. First impressions As far as Bosch-powered electric mountain bikes go, the Cube Acid Hybrid One…
One Comment
Thanks for the review, even though I discovered this after buying my Powerfly 5, I still found it useful and relatable. I picked mine up in November and have given it a good testing over the winter months – what a brilliant bike! Even though I could have spent less for a Cube reaction, which I almost did. I'm glad I spent more on this. The only issues I have encountered are tyre pressures since going tubeless, but I think that's more the tape inside rather than the rims thenself.
Leave a Reply Cancel reply
Your email address will not be published. Required fields are marked *
So much adventure, so little stopping you Climb to new heights and explore the miles beyond with an e-MTB that supercharges the fun in every ride. Powerfly helps you take on steeper terrain, ride faster, and go farther thanks to the powerful Bosch Performance Line CX motor. Now with advanced smart system technology and a sleek new LED remote, Powerfly gives you more connection and control on every ride, so you can explore more of the world just the way you want to.
Assist Up to 20mph (25km/h)
Torque 85nm, range up to 5 hours, battery 500 to 625wh.
Bosch smart system LED remote Control is at your fingertips with Bosch's LED remote that lets you toggle through modes, including Walk Mode, and view your currently-selected assist level. Plus, it pairs with the eBike Flow app via Bluetooth for syncing your ride data and getting over-the-air system updates.
Bosch Kiox 300
The full-color Kiox 300 display gives you a quick look at ride metrics, tracks your fitness, and even helps you navigate. Found on Powerfly 7 and higher models.
Bosch Intuvia 100
The large-format Intuvia 100 display makes it easy to see your most important ride metrics. It's fully wireless, making it simple to remove for secure storage. Found on Powerfly 4 and 5 models.
Power to the pedal
Built to perform 
Since 1886 (you read that right) Bosch has been building technology based around two driving principles — precision and quality. Today, they make some of the most revered motors in the e-bike world. They deliver powerful, natural-feeling assist that's backed with a global network of support that's there for you no matter what.
Intelligent assist 
The Performance Line CX motor gives you 85Nm of torque to get you up steep climbs and accelerate to top speeds. Choose from 4 ride modes depending on the level of support you want. The Tour+ and eMTB modes automatically adjust the assist based on your pedaling input and the terrain so you get predictable, natural-feeling power.
Our Removable Integrated Battery (RIB) system lets you pull your battery off quickly and easily. No awkward reaching under your downtube or digging in the toolbox necessary. 
Built to elevate your e-bike experience, Bosch's eBike Flow app lets you take control of your ride. It works with both iOS and Android phones, auto-updates your remote and display with the latest features, and the home screen gives you a quick overview of your most important ride data like battery status and range. 
Customize your assist
Fine-tune assist modes to your liking. Get the most support on your climbs or stretch out the miles on longer rides with more efficient power use.
Set your record
Tracking starts as soon as your foot hits the pedal and pauses automatically when you take a break. Plus, your data synchronizes with integrated apps like Apple Health in real-time.
Tech built for Trek
Trek-exclusive integration means the eBike Flow app automatically recognizes your Trek e-MTB, provides service recommendations, and will even help you find your local Trek shop.
There's something in the air
Smart system connects over Bluetooth for completely wireless synching and updates over the air.
Easy handling
Comfortable, upright geometry feels great through long miles and allows for quick maneuvers through technical sections of trail.
One smooth ride
Soak up rocks and roots with just enough suspension to smooth out the trail without going overboard.
Smart wheel sizing
Everyone deserves a great ride, no matter their size. That's why we equip Powerfly with size-appropriate wheels to keep both shorter and taller riders rolling with confidence.
Powerfly Hardtail
Trail-tough, commute-ready, Powerfly Hardtails is dependable and rugged enough for whatever your to-do list holds. It may skip out on rear suspension but it more than makes up for it with cost-savings and a lighter weight package.
Powerfly Full Suspension
Take on bigger adventures with Powerfly Full Suspension. With 120mm of front and 100mm of rear travel, this Powerfly is ready for rockier terrain and helps boost traction and comfort in the rough stuff.
Powerfly Equipped
Trail bike capability meets city bike versatility on Powerfly Equipped. This e-MTB is made for rugged utility, with durable parts and a suite of adventure-ready accessories, like lights, fenders, a kickstand, and racks for hauling gear.
Looking for a more streamlined ride? Powerfly offers the same do-anything versatility as its equipped partner but skips the racks and extra gear. It's a rugged and ready blank canvas ready for you to accessorize and tweak to meet your needs.
Powerfly FS Gen 2 and Powerfly Gen 3 pack in all the power and features you need for adventurous rides and exploration, but skip Bosch's smart system and LED remote for a simple, app-free ride with Bosch's proven, previous-generation components. You get the same stable and confident geometry as the latest generation Powerfly, and a little more bike for your buck with a legacy e-system.
Powefly with smart system
New Powerfly FS Gen 3 and Powerfly Gen 4 give you all the same features the previous generation, plus the addition of Bosch's latest smart system for a streamlined setup and maximum integration. It's everything you love about the previous generation — just a little bit smarter.
Looking for something else?
Want an e-MTB that's ready to go big? Rail is the choice for riders who to blast up climbs effortlessly with a full powered, long traveled steed. It's built for those who consider the trail their second home and want a ride that rips as hard as its non-electric siblings.
Looking for a balance of power and natural trail bike feel? Fuel EXe offers just enough power to make climbing a breeze, and a lightweight, nimble ride that feels like a traditional trail bike, Fuel EXe is the go-to for those who want an e-bike that doesn't look like an e-bike.

Is Trek Powerfly 5 A Good Bike? [Trek Powerfly 5 Review]
Table of Contents
Trek Powerfly 5
Price: $4,199
Frame: Alpha Platinum Aluminum
Tires: 29×2.60″ 27.5×2.8″
What we love about it: The perfect pairing of the high-end Bosch e-MTB drive system with durable mountain bike components, it can accompany you on any trail.
What we don't like about it: it's too heavy and gets in the way when carrying it around.
Rating: (4.8/5)
Introduction
When fans asked for a review of the 2020 Trek Powerfly 5, as someone who likes pure mountain bikes, I had little interest in the Trek Powerfly 5 off-road e-bike. But I was stunned when I saw its sturdy body, which is really a rare heavyweight in my review.
To be honest, when I saw it, I thought of technical climbs and less-populated trails, and I changed my mind and wanted to review such a bike. We can see the Trek Powerfly 5 with a premium Alpha Platinum Aluminum frame, a wide-range SRAM SX Eagle 1×12 drivetrain, versatile Bontrager XR3 Comp29x2.30″ tires, and a high-end Bosch Performance CX motor, we were blown away by the Trek Powerfly 5's performance on technical climbs and thrilling descents.
Over four months of our review, the car accompanied me on challenging trails like Whistler Mountain Bike Park, traversing about 40 miles of desert terrain. Not only did I feel the car's superior climbing performance and athletic ability on loose terrain, it also gave me an intuitive adrenaline rush.
Really awesome. It's that free-spirited climb, like blending in with the trail, really got me hooked on the 2020 Trek Powerfly 5.
Below we break down the climbing and descending performance of the Trek Powerfly 5 as well as general ride, key features, components and specs, and other versions in the range.
If you want to know more, you can refer to our detailed explanation.
Learn more: Trek Procaliber 9.8 SL Review-How Does It Stand Out In Enduro Racing?
Trek Powerfly 7 Review – High-End Battery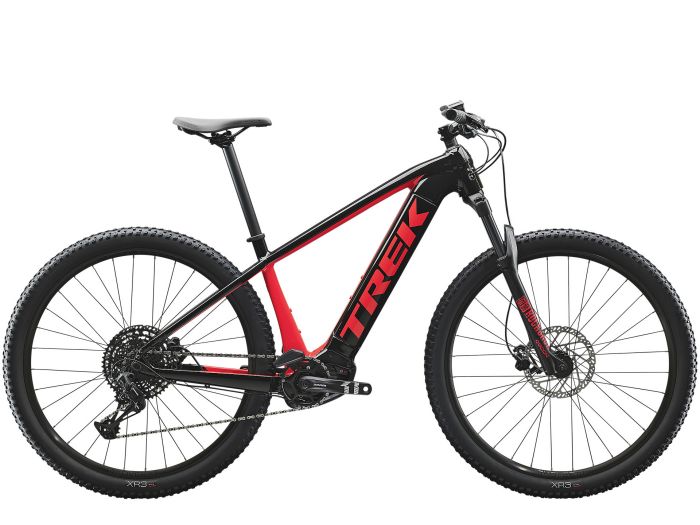 In my experience, in general, full-suspension mountain bikes are better at climbing, and with the front and rear shocks, the damping effect will be good, making the ride more comfortable. The car's climbing comfort probably can't match it. Yet on this technically difficult climb, the Trek Powerfly 5 excels at the same price as a full-suspension bike or XC.
The Trek Powerfly 5 came across as bulky due to its bulky body. The Powerfly 5 weighs 50.70 lbs (with tubes), which is unwieldy for me. I can't imagine how I'd be able to get up there without starting a climbing ride. But actual riding gave me the answer.
On a trail like this one at Whistler Mountain Bike Park, I started doing climbing reviews. The climbing trail has plenty of sharp rocks and mounds that bulge upwards.
But I have no fear with the Trek Powerfly 5. Its SRAM SX Eagle 1×12 drivetrain, high-end Performance Line CX motor, and RockShox Recon Silver RL 120mm fork travel allowed me to reach unimaginable speeds when climbing, which is better than XC at the same price.
Also, we did rides on steep trails after the rain, but the results were not as good as we thought. Some people feel that the 29×2.60″ tires are a little floating, which may be a hindrance for beginners, but I have no obvious feeling, and even I think the driving force of the tires is very fast, and it can follow the trails tightly.
Overall, I think the Trek Powerfly 5 has a lot of power on the climbs, and its high-end Performance Line CX motor gives me enough power that it makes me enjoy climbing more.
I like the sprint on the descent, but I also value safety. The Powerfly 5 excels on the climbs, but I'm concerned that the weight of its body will introduce too much inertia when descending and it will hinder the descent. "everything is possible".
The Powerfly 5 also exceeded my expectations on the descending. The Powerfly 5's Bontrager XR3 Comp 29×2.30″ tires provide plenty of traction, and the prominent tread pattern adds to the tire's grip.
Its RockShox fork and Solo air spring play a big part in the descent. The 120mm-travel RockShox fork encountered cliff-like jumps during the descent, and it provided responsive cushioning that allowed me to dampen vibrations even when I jumped from high places.
The air spring is more labor-saving and convenient while reducing weight. Not to mention, the power provided by the Performance Line CX motor and the braking of the Tektro HD-M275 hydraulic disc.
When I challenged the descending trail with the Powerfly 5, the ground was slippery due to the accumulation of water on the ground, and the fallen leaves created unforeseen obstacles.
In fact, the speed performance of the Trek Powerfly 5 is not as good as before, but its stability is on full display here. I think stability is a measure of bike quality in situations like this, and the Trek Powerfly 5 gives me a sense of security.
All in all, the Trek Powerfly 5 is good enough for me in both climbing challenges and descending performance, and the price is reasonable.
General Riding
My cycling started with my family. My father was an amateur cyclist and he had many beneficial influences on my riding.
I know he has a Powerfly 5, but I really never paid much attention to it. When my dad learned that I was reviewing the Powerfly 5, I had a rare family time with my dad after a long time, and discovered how important the Powerfly 5 is to my dad and why he loves the 2020 Powerfly 5 reasons.
I still had a little leg problem due to hard work when I was young, and my cycling dad couldn't go on long rides. The drive provided by the Powerfly 5's Performance Line CX motor solves that problem.
The Powerfly 5 was there for my dad, whether it was for the usual bodybuilding, commuting, or even climbing the slightest incline.
The versatility of the Powerfly 5 was exceptional with my dad, and I seem to have felt the designer's deepest mind here. The Powerfly 5 is not only our best friend, but also a great companion for those who love to ride, but can't ride very far.
If your family loves the Powerfly 5 too, take them to experience the Powerfly 5.
Main Feature
Trek powerfly 5 frame.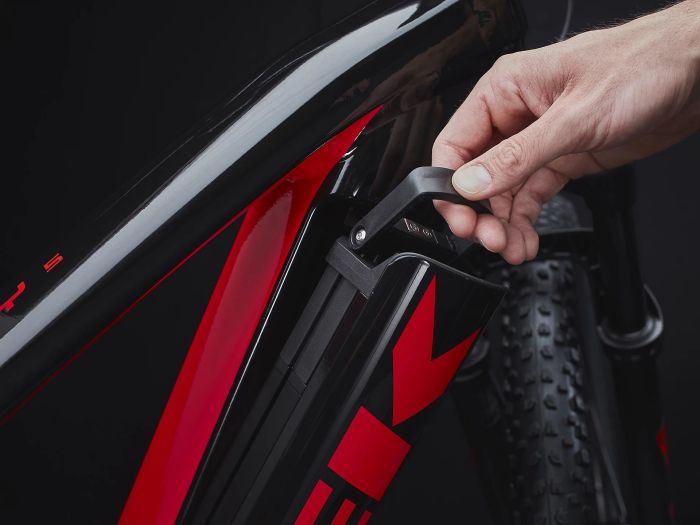 The Trek Powerfly 5 has an Alpha Platinum Aluminum frame with an overall weight of 50.70 lbs (with tubes), but I wouldn't think it's a frame issue, since aluminum is light and strong. We can notice that the Powerfly 5 doesn't have a single superfluous line as a whole, thanks to Control Freak's clean internal routing.
In addition, the removable integrated battery (RIB) also brings us enough driving force and convenience. Not only that, the proper frame space makes my ride more comfortable, and the two water bottle mounting holes make it easy for me to carry enough water.
Even when riding in harsh conditions, I think the Powerfly 5 is a reliable enough comrade-in-arms.
The ride comfort of the Trek Powerfly 5 I think has a lot to do with geometry. The body-friendly geometry not only makes it look balanced and beautiful but also enhances rider comfort.
The 2020 Trek Powerfly 5's steep seat tube angle (LG 71.7°) allows the rider to maintain a comfortable upright ride while increasing pedalling efficiency. Its slack head angle (LG 67.7°), while perhaps making the bike's steering less responsive than the tight head angle, made it easier for me to descend.
Plus, the Powerfly 5 has the right chainstay length (45.5mm) to stay stable on the descents and help on the climbs. Powerfly 5 Proper Reach (LG 42.7cm) allows you to achieve a good balance between the front of your body and your arms without your arms getting sore.
However, if you ride on bumpy terrain for a long time, it will still make your arms feel tired. The comfy Powerfly 5, at this price point I think it's an A.
If you value not just performance but comfort, you can try the Trek Powerfly 5.
Components and Specifications
Sram sx eagle 1×12 speed.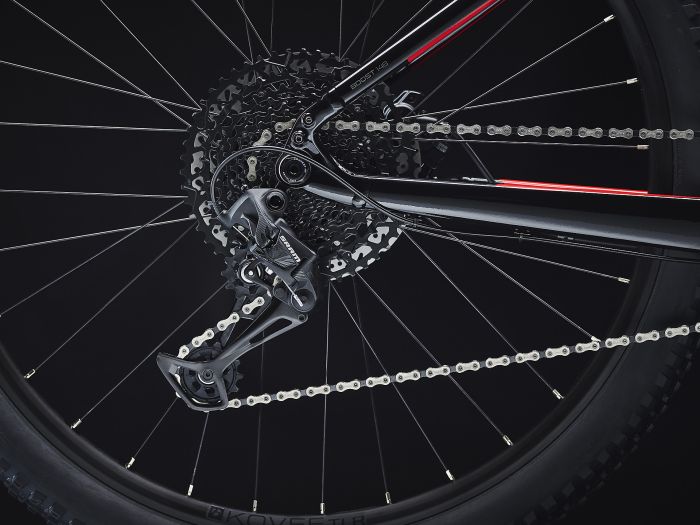 As we all know, SRAM has almost taken the shifting system of mountain bikes by storm with the Eagle series of 12-speed groupsets in recent years. Almost every mountain bike I've seen with a 12-speed is using SRAM.
The SX Eagle 1×12 speed we saw used in the 2020 Powerfly 5, some thought it might not be as good as the NX. The SX doesn't cost much, and in my riding experience, it's smooth and responsive too quickly.
In addition, the 12-speed range is sufficient for climbing or commuting, and the larger gear ratio range of 11-50t allows you to quickly change to the appropriate gear in different situations.
The only thing I feel like a bit of a complaint about the shifting system is that it's a little heavy, wish it could have been replaced with lighter and better gears.
Tektro HD-M275 Hydraulic Disc Brake
I prefer Shimano to the Tektro HD-M275 hydraulic disc, but that's not to say the Tektro HD-M275 is bad. The 2020 Powerfly 5 Tektro HD-M275 hydraulic discs are lighter in weight than mechanical discs and are much gentler on braking without harshness.
While reviewing the Powerfly 5, I did a brake test. Riding on muddy and twisty country trails and going fast on the road after the rain, its braking remains extremely stable. If you like safe, stable, and smooth braking, I think you'll be interested in the Powerfly 5.
Bontrager Commuter Comp Bicycle Saddle
The moment I sit in the seat, I feel what is called comfort. From the appearance, we can clearly see that the middle of the seat is empty, which will be very breathable. The Trek Powerfly 5's saddle combines a full open cell with air foam and dual-density shell to give me soft comfort and support while riding.
Not only that, the material is more durable, but its cover material protects the saddle's dual-density shell and air-foam construction, and it's even waterproof. Provides lasting comfort no matter where you ride.
Plus, the deceptively simple integrated Blendr mount makes it easy to add Bontrager Flare taillights to your needs. Even when riding in the evening, it can be noticed by others and not bumped into people. Of course, this possibility is almost 0.
Bontrager XR Endurance Comp Grips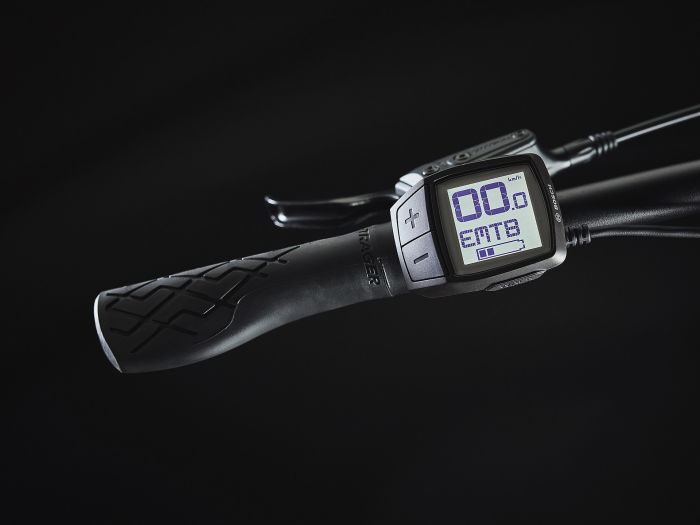 Many people will ignore the role of the grip, we must know that we rely on the grip to control the direction. The 2020 Trek Powerfly 5's grips are literally in the top 5 of the bikes I've reviewed in terms of looks and fit.
Not only does the XR Endurance Comp Lock-On Grip feature an ergonomic supportive shape for great support without sacrificing your comfort, but it also lets you go further.
Additionally, the pattern protects your palm (because of the padding) and your fingers stay in place at all times. I've had a bruised palm from grip issues a lot of the time on long rides, but the grips on the Trek Powerfly 5 not only alleviated that symptom, but made my rides easier.
Bosch Performance CX Motors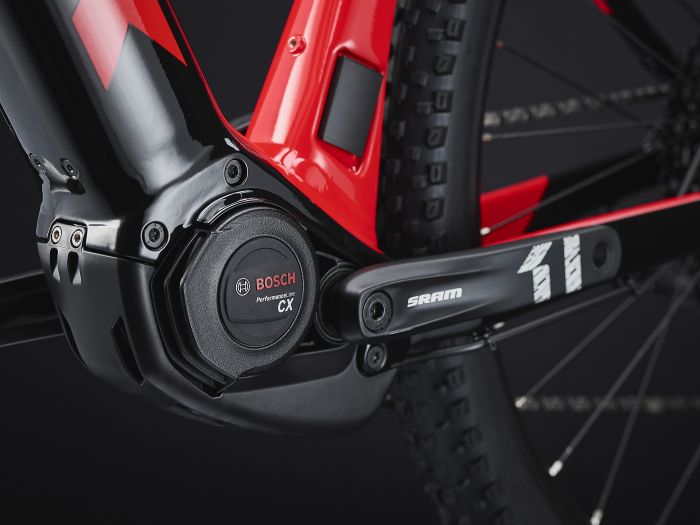 The Trek Powerfly 5 isn't your average hardtail mountain bike, it's electric, and that's what the Performance Line CX motor has to say. The high-end Performance Line CX motor is networked with other components on the e-bike via an intelligent system, and thanks to the eBike Flow app, I can easily keep track of the bike's trajectory.
Some people may think how can electric motors achieve the effect of fitness? But the truth is that the Trek Powerfly 5 does improve your health (my dad is one example).
You can appreciate the convenience brought by technology, the support of intelligent systems provides better protection for you and your e-bike, and the enhanced control brings you more riding pleasure.
Trek Powerfly 5 Tires – Bontrager XR3 Comp MTB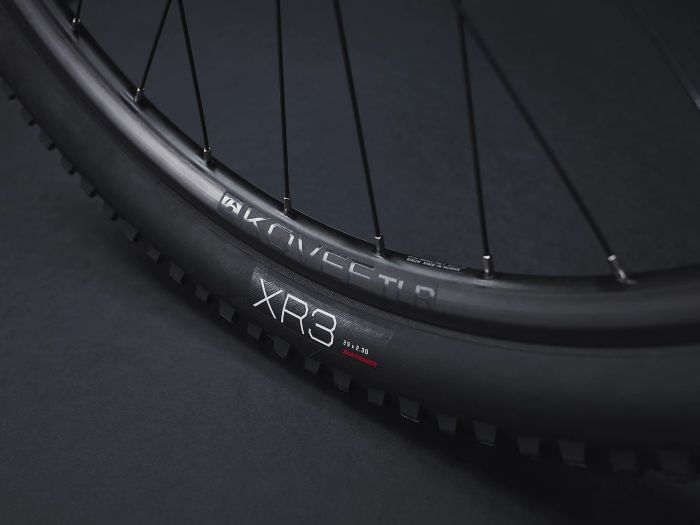 The tires of any bicycle are like the steps that carry us forward. The Trek Powerfly 5's Bontrager XR3 Comp 29×2.30" mountain bike tires are not only for mountain trails, but their excellent traction kept us going even on steep hills.
Its versatile tread also gripped the corners firmly when I faced sharp turns. Whether it's on a quick descent or a steady ascent, the Trek Powerfly 5's tires are on full display.
Other Versions of Trek Powerfly 5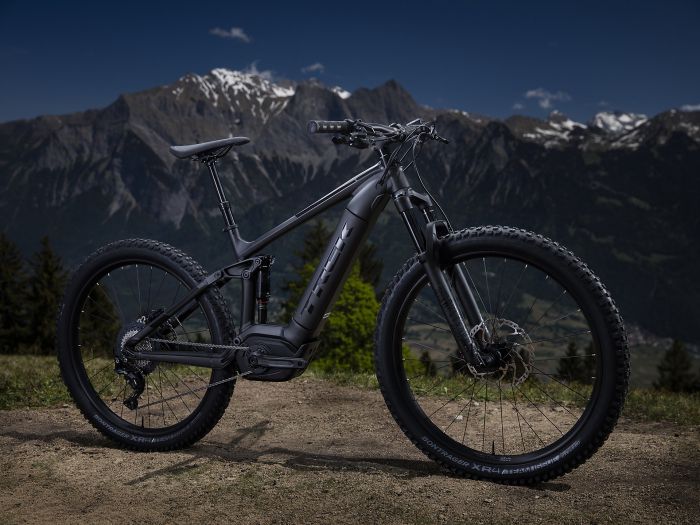 For a more comprehensive review of the 2020 Trek Powerfly 5, we also looked at the 2019 Trek Powerfly 5 and 2018 Trek Powerfly 5. After a comprehensive comparison, we found that although the 2020 Trek Powerfly 5 is a bit more expensive, its component upgrades are obvious to all.
First off, the 2018 and 2019 Trek Powerfly 5's drivetrain is 1×10, and the 2020 Trek Powerfly 5 is 1×12, with a wider shift range without ignoring shift comfort. Second, the 2018 and 2019 Trek Powerfly 5s have Shimano brakes that I like, but they're rudimentary Shimano brakes, and I'm a little disappointed at this price.
Finally, with the advancement of technology, the components and motors of the Trek Powerfly 5 have been upgraded. Even if the price will be a little more expensive, I am still willing to pay for the Trek Powerfly 5 from the sense of technology and applicability.
What do we like about it?
The speed range of 1×12 can be applied to more situations.
The high-end Performance Line CX motor provides plenty of assistance, allowing you to experience more riding pleasure.
Body-fitting geometry makes you more comfortable while riding.
It is one of the great gifts for your family.
Comfortable grips make you fall in love with riding.
The comfortable saddle makes me reluctant to get off.
What do we not like about it?
Some people may think that the body is too bulky.
The color selection of the car paint can be more abundant.
What is the frame material of the Trek Powerfly 5?
The frame of the Trek Powerfly 5 is Aluminium.
What is the drivetrain of the Trek Powerfly 5?
The drivetrain on the Trek Powerfly 5 is an SRAM SX Eagle, 12-speed.
What is the fork travel on the Trek Powerfly 5?
The Trek Powerfly 5 has 120mm of fork travel.
Accessories
Comparison Chart
2020 trek powerfly 5 vs trek powerfly 7.
We can see that the fork travel is different between the Trek Powerfly 5 and the 2017 Trek Powerfly 7. Although only a short 20mm difference, this makes a huge difference in the actual riding experience.
The 2020 Trek Powerfly 5's 120mm fork travel has better cushioning and shock absorption. Also, the 2017 Trek Powerfly 7Shimano Deore M8000 XT 1×11 has a smaller transmission range than the Trek Powerfly 5 SRAM SX Eagle 1×12.
In actual riding, I prefer the smooth shifting of the SRAM SX Eagle 1×12 and the wide 11-50t range. I think it's important to get the Trek Powerfly 5 for $200 more, which is more than enough for me.
Learn More: Trek Powerfly 7 Review – High-End Battery
2020 Trek Powerfly 5 vs 2021 Giant Stance E+ 2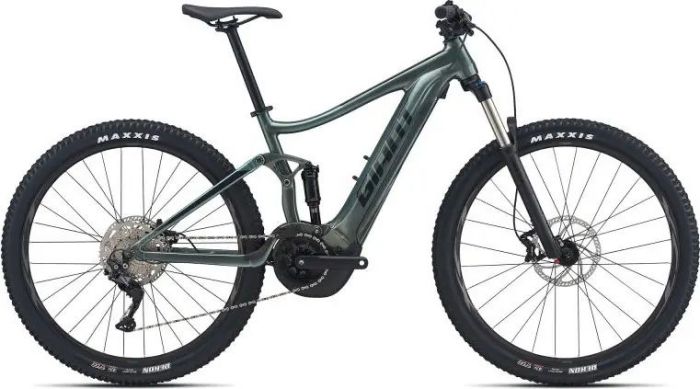 In fact, the 2021 Giant Stance E+ 2 is a full-suspension off-road electric bike with 130mm of fork travel and 120mm of rear fork travel. Like most full-suspension bikes, it's well damped on both descents and climbs, and its slack head angle (67°) makes it easier to descend.
However, the 2021 Giant Stance E+ 2 drivetrain is a Shimano Deore, 1×10 speed, and I think its drivetrain could be improved a bit at this price. Also, its single paint color feels too little choice (although this balsamic green looks good too).
Let's take another look at the Trek Powerfly 5, which has a 1×12-speed drivetrain with a wide range of speed options that allows me to experience the feel of different speeds. The Trek Powerfly 5 also has more paint options in three colors.
Not to mention that the Trek Powerfly 5 is $201 cheaper than the 2021 Giant Stance E+ 2. If you're after value for money, you can try the Trek Powerfly 5.
2020 Trek Powerfly 5 vs 2022 Norco Fluid VLT A2
When I saw the price of the 2022 Norco Fluid VLT A2, I thought it would most likely be a carbon frame bike. But it's an aluminum frame, although aluminum isn't bad.
It is undeniable that the 2022 Norco Fluid VLT A2 is a full-suspension electric bike. It has a front fork of 140mm, a rear fork of 130mm, and a dropper post configuration, which makes the 2022 Norco Fluid VLT A2 full of shock absorption. However, the gearing of the 2022 Norco Fluid VLT A2 1×10 gave me a bit of a gripe, and I wish it could be improved.
After all, the 1×10 transmission seems a bit outdated now, of course, this is not to say that the 1×10 is bad, but at this price, I think the 2022 Norco Fluid VLT A2 can do better. As many of you who know the Trek Powerfly 5 know, it has a 1×12 transmission.
Although not much, there is still a big difference in the actual riding experience. Not only that, the charger of the 2020 Trek Powerfly 5 is a Bosch compact 2A (100-240V) charger, which allows it to supplement energy at a voltage of 100-240V so that it cannot be freely charged due to voltage limitations.
While the 2022 Norco Fluid VLT A2 is a little better than the Trek Powerfly 5 in terms of braking, the 2022 Norco Fluid VLT A2 isn't bad either, with stable braking even in the rain. At this price, I think the Trek Powerfly 5 is adequate.
If you're looking for a $1290 cheaper Trek Powerfly 5, I think it's a no-brainer.
Learn more : Is 2023 Norco Fluid FS A4 Splendid? – [2023 Norco Fluid FS A4 Review]
Trek Powerfly 5 vs 2022 Transition Scout Alloy GX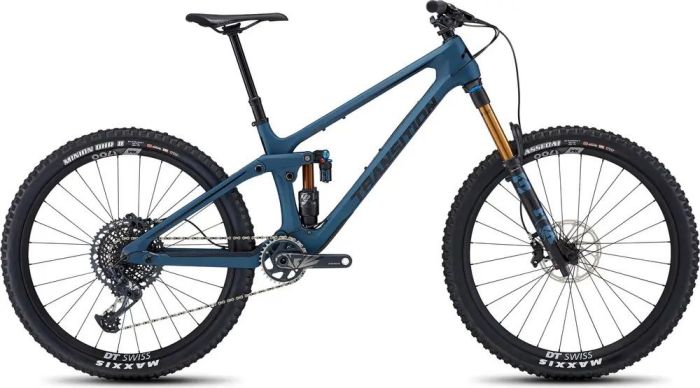 Looking at the 2022 Transition Scout Alloy GX full suspension trail bike, we must mention its 140mm chainstays, 150mm fork travel, and its dropper post. This allows it to adapt to more rough terrain and allows for a more comfortable ride.
Not only that, but the 2022 Transition Scout Alloy GX also has a 1×12 drivetrain, and its TRP DH-R Evo brakes very smoothly. In fact, my only complaint is the high price, and I think a carbon fiber frame might make me more willing to pay for it.
Not only is the Trek Powerfly 5 $800 cheaper, but it's also 1×12 speed. Some might think its transmission isn't advanced enough, but in this price range, it's adequate and I feel very stable in terms of braking.
If you're after value for money, you can try the Trek Powerfly 5.
In case, the above comments are helpful to you, please remember to share the subscription. Have a great day!
Learn more: Top 10 Best Hardtail Mountain Bikes [2023] – For Different Budgets
Seeking a reliable source for high-quality bikes? As a factory at the source with complete solutions, we supply well-known brands and can be your perfect partner! Fill out the form and let's start our collaboration! 🏭🚲🤝 3+4?
Related Posts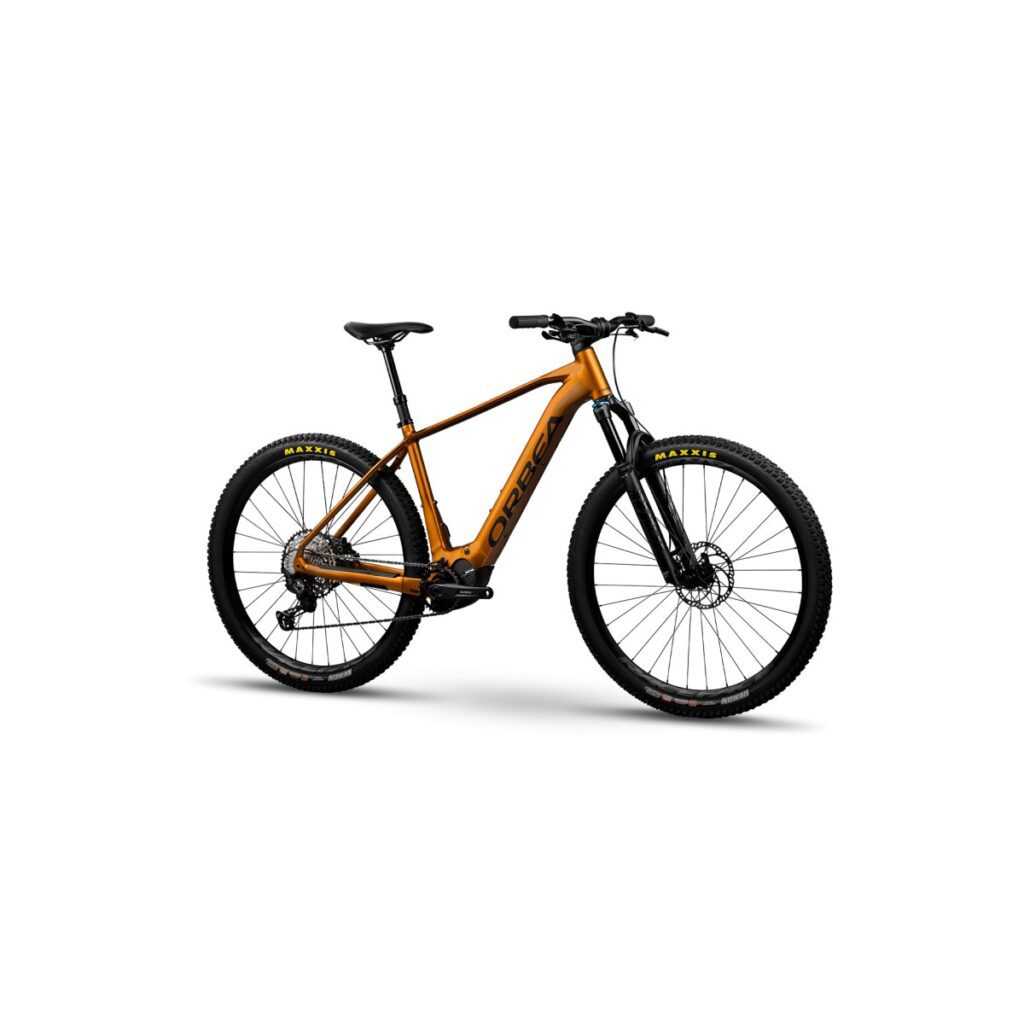 [2023 Orbea URRUN 10 20mph Review] – Best Used By People Who Enjoy Riding To Get AFeel For The Mountains!
[2023 schwinn admiral hybrid bicycle review] -is schwinn admiral hybrid bicycle worth buying?.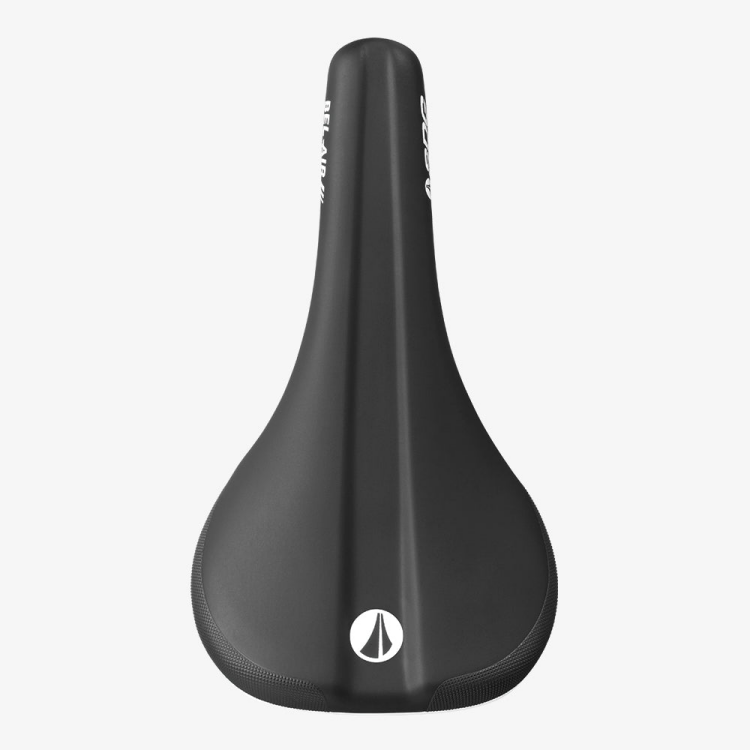 15 of The Best Mountain Bike Saddles You Can Buy [2023]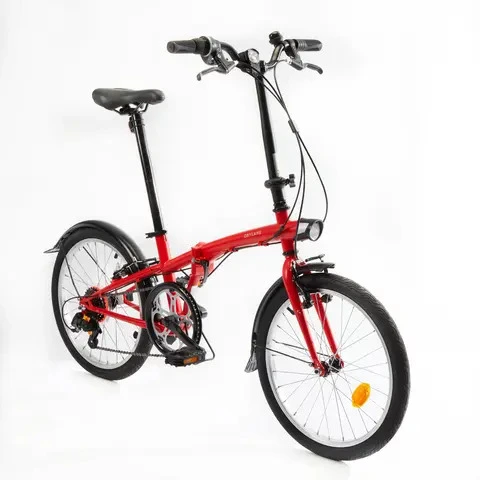 20 INCH FOLDING BIKE BTWIN 120 Review-Fold up and put in "pocket"
2023 The Best Gravel Bike (High-end Version)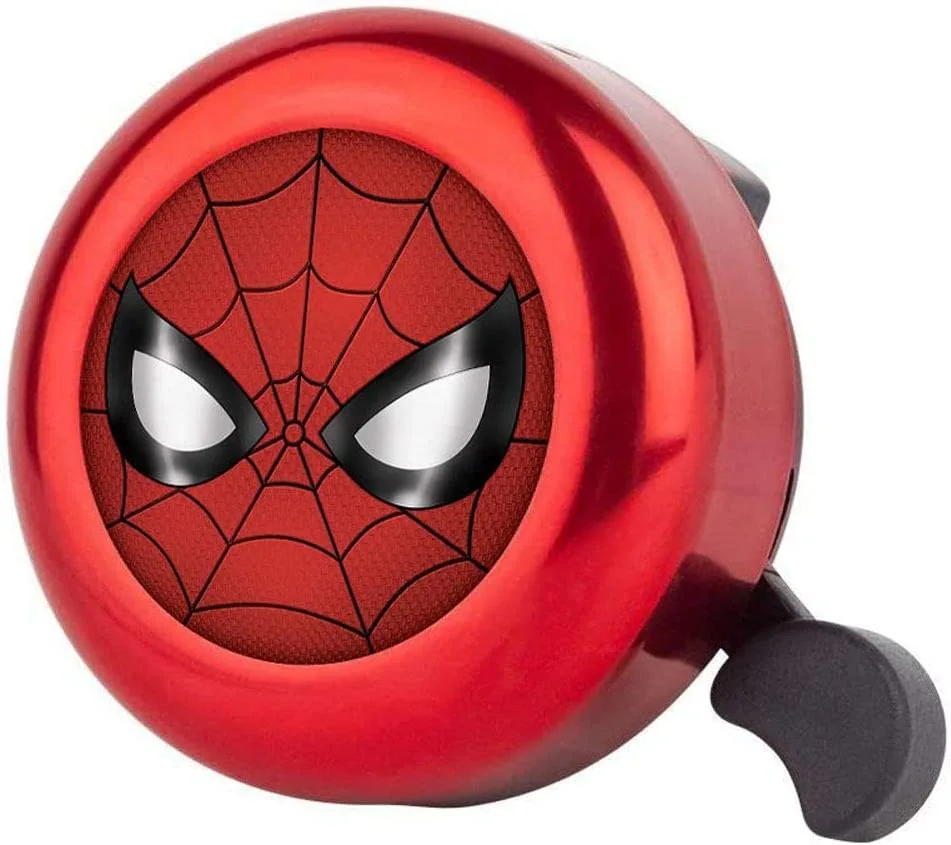 2023 Top 10 Best Fun Kids Bike Bells – Will This Bring Joy To Your Child's Ride?
2023 Top 10 Best Mountain Bike Bell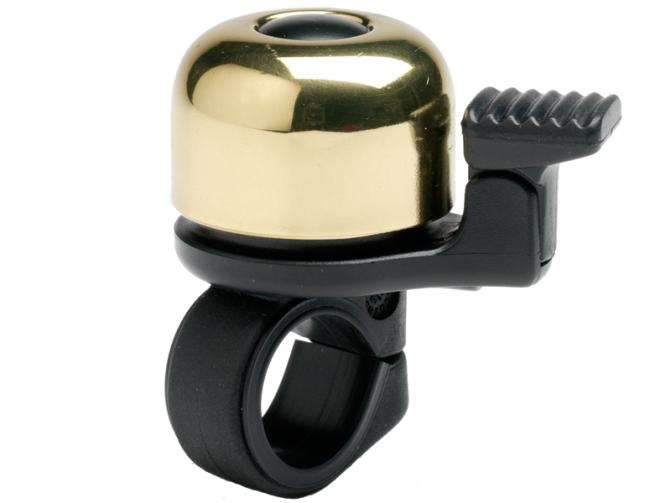 2023 Top 10 City Bike Bell – Super Value-For-Money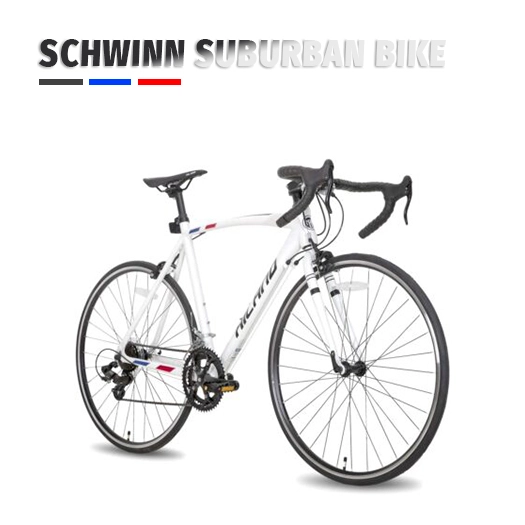 2023 Top 9 Best Road Bikes Under $500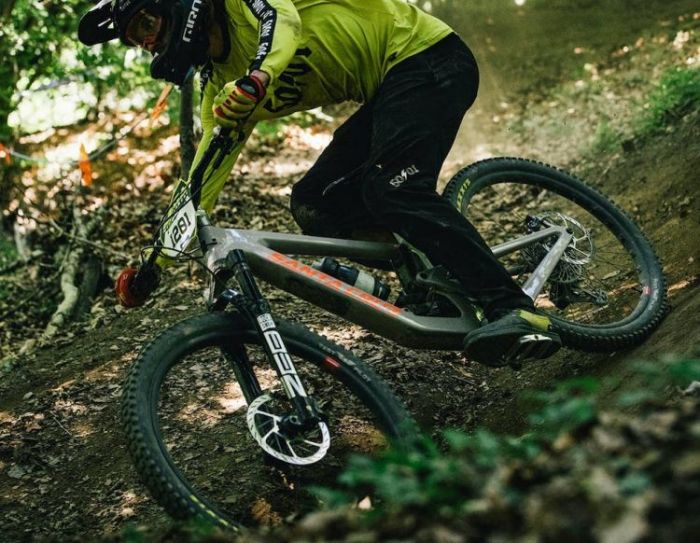 27.5 vs 29er Mountain Bikes – The Battle Of The Century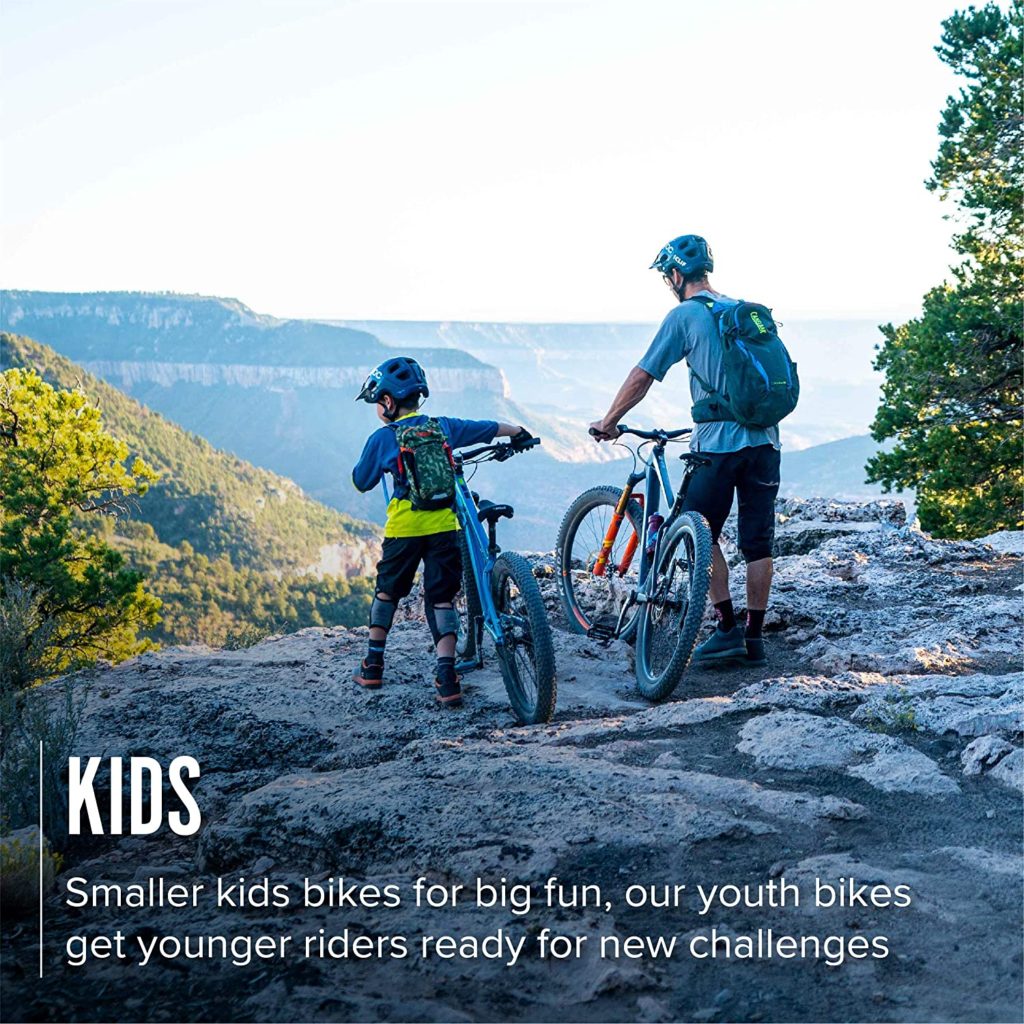 Best 20 inch Bikes For 6-13 Years Old Kids Bikes (With Gears)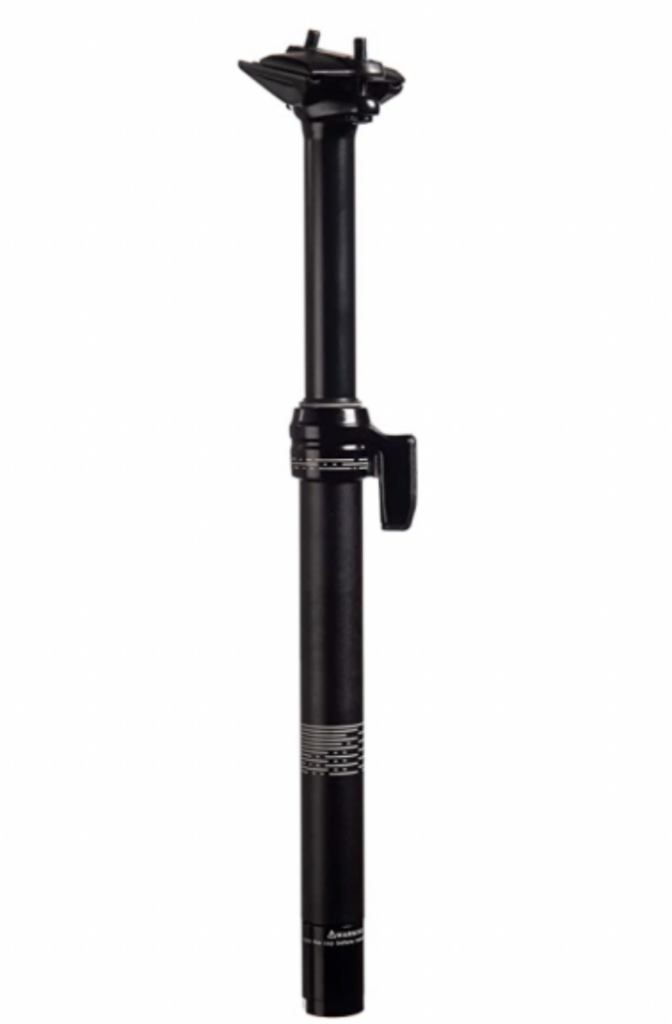 Best 27.2 Dropper Post In 2023
Leave a comment cancel reply.
You must be logged in to post a comment.
Balance Bikes
Touring Bikes
Indoor Recumbent Bikes
Indoor Folding Bikes
Indoor Upright Bikes
Indoor Spin Bikes
Dirt Bike Helmets
Best Electrical Dirt Bikes
BMX Bike Frame Size Calculator
Hybrid Bike Frame Size Calculator
Kids Bike Frame Size Calculator
Mountain Bike Frame Size Calculator Guide [2023]
Road Bike Frame Size Calculator
Electric Bikes
Trek Powerfly 5 Review
June 29, 2019
By Max Shumpert
E-bikes are a ton of fun! But there are so many models available that finding one which matches your preferences ends up being quite the confusing endeavor. It is important that you consider all the relevant aspects before choosing to purchase a specific model. Since an E-bike typically costs 3-5 times as much as a regular bike, it's an investment and you don't want to have buyers remorse after spending $3000 dollars plus on a bike. Speaking of the best e-bikes under $3000 ...The Powerfly 5+ from Trek is a great choice of an electric mountain bike that has people talking about its versatility. The following review looks at the various features on the Powerfly 5 and the overall performance it offers.
FRAME: Alpha Platinum Aluminum, Removable battery with a tapered head tube ENGINE : Bosch Performance CX BATTERY : Bosch PowerTube 500Wh, Lithium-ion BRAKE TYPES : Shimano MT200 Hydraulic Disc Brakes RIMS : Bontrager Kovee 23, Tubeless Ready, double-walled, 32-hole TIRES : Bontrager XR3, 27.5 BY 2.35
The frame on the Trek Powerfly 5 is made of alpha platinum aluminum to give it a rugged build for the tough terrains. This is reinforced by the motor armor protection to enhance durability. The frame has been manipulated around the motor and features a battery slot on the right side of the downtube. The low-lying frame gives the Powefly 5 a unique look that is suitable for both men and women. The overall geometry of the bike ensures that you have a comfortable posture as you ride on the trail. This bike is also available in a sports hard-tail version that is fully accessorized with a kickstand, rack, and fenders, etc. Furthermore, Trek also offers a model of the Powerfly designed for women. This delivers a similar high-performance that you get from the hard-tail but the geometry is slightly different.
It has a curved top that lowers the standover height, making it convenient for female riders to mount. This is paired with a women's saddle, as well as a narrower handlebar.
The Trek Powerfly 5 features a steady Bosch Performance CX motor to go with a 500Wh battery. The sleek mid-mount motor has been designed exclusively for off-road riding.
Its 75Nm of torque gives you the power to comfortably take on the most challenging grounds. It will also get you to a maximum speed of 20mph on pedal assist mode. The bike also uses Bosch's gear-shift detection technology which holds back the strain on the chain of the gear set as it switches from one gear to another. The motor has been programmed to cut out at 25km/hr but still gives you ample pedaling force of up to 300% in turbo mode. Another cool aspect that I liked about the motor is the intelligent E-MTB motor mode. This will automatically determine the amount of assistance you require depending on the trail, which makes sure that the ride will never be a struggle for you in challenging instances.
I must commend Trek for delivering a reliable e-bike that comes with a fully integrated battery. What this does is to ensure that the battery is safe from dirt and grime, which only increases its shelf-life. The powerful 500Wh Lithium-ion battery located on the drive-side of the down tube can easily be removed and slotted back into the frame. This increases ease of access and convenience when you want to recharge it. The battery boasts a nice range that will get you to 130km in eco mode or 60km in turbo mode when fully charged, which is enough time to enjoy your adventure. However, the exact run time will depend on a number of factors, including the terrain, your weight, and even riding style. The fact that the battery is waterproof allows you to enjoy your ride when it's raining without the risk of damaging it. The amour further protects the battery from stones and other debris on the trail. The only downside is that the battery takes too long to charge. When fully drained of energy, you will need 7.5hrs of compact charge to fully power it.
The Shimano MT200 disc brakes on the Powerfly 5 enhance safety when you are riding at high speeds and going down descents. They have a good stopping power that will give you the riding confidence to tackle the most feared trails.
The Bontrager Duster Elite rims are sturdy enough to withstand the punishment while riding on rough surfaces. The tubeless ready wheels also make them stiff to offer better traction on the trail.
The Bontrager XR3 tires offer good friction on off-road trails. However, I noticed that my Trek Powerfly 5 kept on over-shooting corners a little. I credit this to the 2.35 wide tires, which don't exactly give you the kind of stability you need in rugged terrain. One thing I may suggest changing is the size of the tires. A wider set will definitely give you better control of the ride, especially during descends.
What We Like
I like the Removable Integrated Battery system on the Powerfly 5. Not only does it improve the aesthetics of the bikes but also ensures that the battery is protected from dirt and stones on the trail. You also get ample space to mount a water bottle cage if needed. True to its name, the Powerfly 5 offers power when riding it. I was really impressed by the aggressiveness it showed when climbing inclines. Along with the pedal assist, I hardly broke a sweat as I rode the bicycle uphill. The Powerfly 5 is also a versatile bike. It is just as effective when used for commuting as it is on off-road adventures. There is no limit to where you can use it, which only increases the level of fun you can have with this bike. Finally, this bike will impress you with its durability. The alpha platinum aluminum makes it sturdy and the 500Wh battery has the longest range available from Bosch. It will serve you for the long haul and in demanding terrain without running the risk of getting damaged easily.
Strong frame
Powerful battery
Nice Design
Can be accessorized
Suitable for both sexes
What We Don't Like
I didn't exactly like the feel of the tires while descending hills. I can't say I had full control of the ride, especially when negotiating corners because the tires keep on overshooting. I believe a wider set of tires will solve this slight problem.
Buying Advice
The Trek Powerfly 5 lives up to the expectations of delivering in mountain biking situations. It comes in a variety of sizes and frames that will surely suit your body size and riding style. Whether you are a male biker or female rider, this e-MTB comes with exciting features that won't disappoint you when you are having fun in the trails. It is a great buy if you have the funds to spare.
The Trek team has done a good job of integrating the battery and motor into the Powerfly 5 frame, delivering a one-of-a-kind e-bike. It has a comfortable design and feel, as well as powerful battery and motor. All these quality specifications ensure that you enjoy the e-bike experience on a variety of terrains. If you are looking for an e-bike that packs extra power to increase the duration of your adventure, the Trek Powerfly 5 is a remarkable option that will take you through all manner of trails.
Shop in-store for even more deals!
Shop in store for even more deals we can't advertise!
Mountain Bike Suspension Service
Trade In Your Bike
Base Layers
Mountain Bike Shorts
Bibs, Tights + Knickers
Mountain Bike Shoes
SAFETY GEAR
Adult Helmets
Youth Helmets
Road Helmets
Casual Wear
Road Bike Shorts
Bibs, Tights & Knickers
Road Bike Shoes
Accessories/Parts
Safety Gear
Women's Helmets
Road Bike Helmets
Mountain Bike Helmets
WHEELS & TIRES
Road Wheels
Mountain Bike Wheels
Mountain Bike Tires
Wheels Accessories and Parts
Derailleurs
Chains & Cassettes
Cranks and Chainrings
Bottom Brackets
Cables and Housing
Power Meters
BRAKES & PEDALS
Clipless Pedals
Flat Pedals
Mountain Bike Brake Sets
Mountain Bike Brake Pads
Road Bike Brakes and Pads
All Brakes/Levers/Pads
Forks & Cockpit
Grips and Bar Tape
Rigid Forks
Suspension Forks
Accessories
Car Rack Accessories
Electronics
Front Lights
Tail Lights
Locks/Security
Media/Resources
Bicycle Mounted Racks
Pumps/Inflation
Tools/Maintenance
Trailers/Strollers
Trainers/Rollers
Travel/Storage
Water Bottles & Cages
Brand Guides
Bike buyer's guides, gear guides, new bike releases, summit bicycles online (855) 245-3663 [email protected] email, burlingame (650) 343-8483 [email protected] email, summit outfitters (408) 878-3252 [email protected] email, los gatos (408) 399-9142 [email protected] email, san jose (408) 264-2453 [email protected] email, palo alto (650) 304-0035 [email protected] email, summit bicycles mobile we'll come to you schedule mobile service today, (855) bike-one - for online orders and rental inquiries.
Account Account
Subtotal : $ 0.00 Checkout Cart
Bicycling Catalog
Trek Powerfly 5
Powerfly 5 is a highly capable electric mountain bike for a great value. It pairs a high-end Bosch e-MTB drive system with durable mountain bike components built to stand up to the trail. Plus, it features our user-friendly Removable Integrated Battery (RIB) system that fully encases the battery in the frame, yet doesn't require tools for removal. This bike is versatile, capable, and ready for adventure. It's right for you if... You've seen the e-bike light and want to expand your boundaries. Like us, you believe nothing should stand between you and your next great ride, including big climbs, headwinds, rugged trails you wouldn't otherwise be able to explore. The tech you get A lightweight and durable Alpha Platinum Aluminum frame that fully encases a 500Wh battery for sleek looks and protection on the trail, a new Bosch Performance CX 250-watt motor that assists up to 20 mph, and an ergonomic Bosch Purion controller. A RockShox Recon RL fork with 120mm of travel and a SRAM SX Eagle 1x12 drivetrain. The final word The best Bosch mountain bike electric assist system available on a value-minded e-MTB built with durable, reliable parts. The drivetrain, suspension, and components deliver solid all-around performance, so you can commute to the trailhead and then spend all day riding. Why you'll love it - The new, better-than-ever Bosch motor is smaller, lighter, and more efficient. It feels more natural while you're pedaling, and has less drag when you're not. - Trek's Removable Integrated Battery (RIB) system looks great and is super user-friendly: it fully hides the battery in the frame for protection, makes it easy to remove the battery without tools and lets you mount a water bottle cage. - The Purion controller has Walk Assist and an intelligent eMTB mode that automatically delivers the right amount of power based on your terrain. - It's equipped with an external charging port for easy charging on or off the bike. - The size S frame features a curved top tube that makes standing over the bike easier. Plus, Smart Wheel Sizing means you'll get the fastest wheel that fits—29" wheels on larger frames, 27.5" wheels on smaller frames.
Wheel size: Size Small: 27.5-inch Sizes Medium – X-Large: 29-inch
* Subject to change without notice.
Trek Powerfly 5: a mountain electric bike rich in technology
Need an electrically assisted mountain bike but don't know where to turn? Then learn more about the Trek Powerfly 5 . It's a high quality product, combining robustness, technology and comfort. Take the time to discover this extraordinary means of locomotion.
The 3 best ebikes of the market
Discover the best electric bikes on the market. See who are the direct competitors of Trek electric bikes.
Trek's electric bikes
The Trek electric bicycle brand is established in a highly competitive market. However, in spite of a discreet insertion on this last one, it imposes itself today as a reference in the field of the cycling. So, whether you prefer road or city bikes, there is bound to be a bike from the American group that suits you.
Electrically assisted bicycles are a means of transportation that is often confused with conventional electric bicycles. However, there are profound differences between these machines. For example, the electric bike has an intelligent motor, which is not the case with other electric bikes.
On the other hand, the electric motor starts as soon as you turn the pedals, while on electric bikes, the motor can start without the driver touching the pedals. This "start and stop" function, with which electric bikes are equipped, means that they can cover a longer distance. That said, at peak speeds, the electric bike will go faster because of its motor.
Presentation of the Trek Powerfly 5
The Trek Powerfly 5 electrically assisted bike is durable and can be used on all terrains. In fact, this mountain electric bike is the perfect mix between a regular electric bike and a mountain bike.
Unlike other models available on the market, Trek's batteries are housed in the frame, which allows for a good weight distribution. In addition, its high-end transmission will help you get around easily in all circumstances.
At first glance, the Trek electric bike looks like a simple mountain bike. But once you start riding it, you'll be surprised by how easy it is to ride. The pedals have an assistance that is due to the presence of the electric motor, the seat offers you a seat that is incomparable and the position of the handlebars is perfect for traveling long distances.
You are qualified to ride a Trek electric bicycle if you want to expand your horizons in complete peace of mind. We assume that we are all looking for freedom without limits. Thus, we can go on an adventure with complete peace of mind! It doesn't matter if it hides eternal coasts, challenging mountains or even Hawaiian beaches.
Trek Powerfly 5 guarantees an unbelievable experience! We've done this with the goal of offering the world a new generation of electric bikes. And it certainly comes with technology that is as efficient as it is comfortable.
Technical characteristics of the Trek Powerfly 5
Power and operation.
The Trek Powerfly 5 electric bicycle surpasses anything the competition has to offer. The Bosch Performance CX motor delivers power that easily reaches 25 km/h. The brand's experts have outdone themselves by making the Bosch motor much smaller and lighter than ever, but also much more powerful!
This way, you'll hardly feel it anymore, as pedaling has become more pleasant and smooth. Not to mention its drag is constantly reduced.
On the other hand, the single plate transmission provides 12 SRAM speeds. You always want more gears! The SRAM Eagle transmission makes up for this feeling with increased acceleration and more gears. With so much power, you can set the right pace for your needs and get the most out of it when you need it.
With so many high-performance parts, you'll feel an incomparable difference on and off the road. Plus, you don't have to worry about the air spring fork adjusting to your weight for unparalleled flexibility. If that's not enough! The 4-piston brakes and special wheels provide precise traction and a considerable reduction in punctures.
Electric mountain bike intelligent mode: is your new companion if you want to get the Trek Powerfly 5. In addition to an automatic mode that adjusts to the road, you can choose from 4 distinct assistance modes:
Eco: 60% support on pedal power
Tour: 140% support on pedal power
Sport: 240% pedal power support
Turbo: 340% pedal power support
The presence of a highly advanced assistance system on your Trek Powerfly 5 will give you the power you need as well as other riding aids. The frame of this bike houses a 625 Wh battery. With it, you'll be able to reach speeds of up to 25 km/h.
The autonomy of your means of locomotion is bound to vary according to a certain number of external elements such as the weather conditions, the weight of the user, that of the accessories but also according to the difficulty of the borrowed ground.
Weight and size
If you want to buy your Trek electric bike, you should know that you can get it in any size you like. In fact, the seatpost, handlebars and stem are available in S, M, L and XL. To make the best choice, we have made a listing of these according to the size of the rider:
XS : 137 – 155 cm; inseam: 64 – 73 cm
S : 153 – 166 cm; inseam: 72 – 79 cm
M : 161 – 175 cm; inseam: 76 – 82 cm
L : 174 – 188 cm; inseam: 82 – 88 cm
XL : 186 – 196 cm; inseam: 87 – 92 cm
The Trek Powerfly 5 was designed with the idea of achieving the perfect balance between lightness and strength. Therefore, it is relative to your size! However, to give you an idea, for example, the size M weighs only 23 kg. Better yet, it can support up to 136 kg (including luggage).
Equipment of the Trek Powerfly 5
You now have the possibility to integrate a mudguard, luggage rack, or to insert front or rear lights. These lights will be powered by the engine and can be installed without difficulty.
In addition, there is a user-friendly Purion Bosch control system. This allows you to consult all the information related to your driving and the assistance of your means of locomotion.
Comfort and safety
The engine armor is an exclusive shield because it is both light and strong. In this way, the motor remains inaccessible to the trunks, stones and various debris that it meets on the road.
The Trek electric bicycle already contains an internal cable ready to use for the addition of additional lights. To benefit from them, you just have to buy them from a dealer, then attach them to the bike and plug them in. To improve the practical aspects of the Trek electric bicycle, the manufacturer has reinforced several elements.
In order to achieve absolute flexibility and control of the bike, the brand went through a series of tests until it found the right diameter for the right frame size. Each sophisticated tube is made by hydroforming.
This is how the American group obtained a minimal weight for a maximum of solidity. Moreover, the RockShox Recon RL fork allows a 120 mm travel.
Prices and aids
Buying a Trek electric bike means getting out of the low-end category. Indeed, on this bike, each part has been thought to make your mountain electric bike more efficient while keeping a really unique style. To buy your Trek Powerfly 5, you should budget around 3999,00 euros.
However, the price of your bike can be reduced thanks to financial aid. In some European Union countries, like France for example, the state grants a subsidy of 200 euros, if you already benefit from a subsidy at the local level. To be eligible, you must meet certain conditions:
Be over 18 years old
Reside in France
Have an income less than or equal to 13,479 euros per year
Receive similar assistance in your locality
The insurance
For this means of locomotion, no specific insurance is required. Indeed, the electric assistance stops as soon as the speed of 25 km/h is reached. However, in order to avoid paying costs in case of damage to a third party, we advise you to take out a civil liability insurance.
Maintain your bike
In order for your bike to be usable everywhere, you must take care of it. To do this, it is best to leave its maintenance to professionals. By opting for the maintenance program offered by Trek, your equipment will always be operational. At Trek, you can choose from several maintenance programs. Choose according to your preferences:
The 25 hour program where your bike is cleaned and lubricated
The 50 hour program which includes washing the bike, adjusting and aligning the parts
The 100 hour maintenance program which is a refurbishment of the bike
If you don't want to take advantage of Trek's maintenance service, you can take care of your Trek electric bicycle yourself.
In this case, visit the manufacturer's website to find out how to wash your bike, clean it, lubricate the chain or learn what checks to make before each ride. In any case, with the Trek Powerfly 5 bike, you will benefit from optimal comfort.
The advantages of the Trek Powerfly 5
Its slightly futuristic look comes from Trek's new integrated removable battery and its easy-to-use system. The battery is completely hidden in the frame and requires no tools to disconnect. This initiative protects the battery completely and offers more space for the addition of a bottle cage.
You can enjoy a perfect experience with the Purion control mechanism. It has an intelligent eMTB mode and a walking assistance system that constantly offers appropriate assistance to the terrain you are walking on. Like an artificial intelligence that instantly adapts to its environment.
With the Trek Powerfly 5 you can count on a high performance mountain electric bike. Its onboard equipment and accessories make it an outstanding partner. It will adapt perfectly to your practice by not neglecting comfort and performance.
Coupled physical and magnetodynamic rotational diffusion of a single-domain ferromagnetic nanoparticle suspended in a liquid
Affiliations.
1 Kotel'nikov Institute of Radio Engineering and Electronics of the Russian Academy of Sciences, Fryazino Branch, Fryazino 141190, Moscow Region, Russia.
2 Department of Electronic and Electrical Engineering, Trinity College Dublin, Dublin 2, Ireland.
3 Laboratoire de Mathématiques et Physique (EA 4217), Université de Perpignan Via Domitia, F-66860, Perpignan, France.
4 Electricity Supply Board, Engineering and Major Projects, Dublin 3, Ireland.
5 The Moscow Institute of Physics and Technology (State University), Institutskiy st. 9, Dolgoprudnyy, Moscow Region, 141701, Russia.
PMID: 34134268
DOI: 10.1103/PhysRevE.103.052128
A concise operator form of the Fokker-Planck equation agreeing with that proposed by Weizenecker [Phys. Med. Biol. 63, 035004 (2018)10.1088/1361-6560/aaa186] for the joint orientational distribution of the coupled physical and magnetodynamic rotational diffusion of a single-domain ferromagnetic nanoparticle suspended in a liquid is written from the postulated Langevin equations for the stochastic dynamics. Series expansion of its solution in a complete set yields, using the theory of angular momentum, differential-recurrence equations for statistical moments for coupled motion with uniaxial symmetry of the internal anisotropy-Zeeman energy of a nanoparticle. The numerical results via the matrix iteration method suggest that the susceptibility is adequately approximated by a single Lorentzian with peak frequency given by the inverse integral relaxation time and are discussed in relation to those of the well-known "egg model".
Wind & weather forecast Dolgoprudny
Daily forecast
Wednesday, nov 15, thursday, nov 16, friday, nov 17, saturday, nov 18, sunday, nov 19, monday, nov 20, tuesday, nov 21, wednesday, nov 22, thursday, nov 23, friday, nov 24, nearby spots (within 25 km).
Sheremet'yevskiy 3km
Severnyy 3km
Sheremetyevo International Airport 6km Weather station Live measurements
Vagonoremont 6km
Povedniki 7km
Lianozovo 8km
Look at our wind map to find more spots among our 160,000 spots.
Dolgoprudny popularity
Most popular spots in russia.
Have a look at the top kitesurfing, windsurfing, sailing, surfing or fishing spots in Russia
Additional information
Check the wind forecast for Dolgoprudny when you search for the best travel destinations for your kiteboarding, windsurfing or sailing vacations in Russia. Or use our wind forecast to find the wind speed today in Dolgoprudny or to have a look at the wind direction tomorrow at Dolgoprudny.
Trek Powerfly 5 Gen 3
AUS $ NZD $ USD $ CAD $ GBP £ EUR €
Size / XS, SM, MD, LG, XL
At a glance
Where to buy.
Specifications
Frame Alpha Platinum Aluminium, Removable Integrated Battery (RIB), tapered head tube, Control Freak internal routing, Motor Armor, Boost148
Fork Size: XS, RockShox Recon Silver RL, Solo Air spring, Motion Control damper, lockout, tapered steerer, 46 mm offset, Boost110, Maxle Stealth, 80 mm travel; Size: S, M, L, XL, RockShox Recon Silver RL, Solo Air spring, Motion Control damper, lockout, tapered steerer, 42 mm offset, Boost110, Maxle Stealth, 120 mm travel
Motor Bosch Performance CX, magnesium motor body, 250 watt, 85 Nm, 25 km/h (15.5 mph) max assist, 32 km/h for New Zealand
Battery Bosch PowerTube 625
Hubs Bontrager alloy, sealed bearing, 6-bolt, Rapid Drive 108, Shimano MicroSpline freehub, Boost148, 12 mm thru axle
Wheels Bontrager Kovee Comp, double-wall, Tubeless Ready, 28-hole, 23 mm width, Presta valve
Wheel Size 29" 27.5"
Tires Bontrager XR3 Comp, wire bead, 30 tpi, 29x2.30""
Chain Shimano Deore M6100
Crank E*thirteen E*spec Plus, 34T, 165 mm length
Rear Derailleur Shimano XT M8100, long cage
Shifters Shimano Deore M6100, 12-speed
Brakeset Shimano 4-piston hydraulic disc, MT4100 lever, MT420 calliper
Handlebar Size: XS, S, Bontrager alloy, 31.8 mm, 15 mm rise, 720 mm width; Size: M, L, XL, Bontrager alloy, 31.8 mm, 15 mm rise, 750 mm width
Saddle Bontrager Commuter Comp
Seatpost Size: XS, S, Bontrager alloy, 31.6 mm, 12 mm offset, 330 mm length; Size: M, Bontrager alloy, 31.6 mm, 12 mm offset, 360 mm length; Size: L, XL, Bontrager alloy, 31.6 mm, 12 mm offset, 400 mm length
Stem Size: XS, Bontrager alloy, 31.8 mm, Blendr-compatible, 7-degree, 50 mm length; Size: S, M, Bontrager alloy, 31.8 mm, Blendr-compatible, 7-degree, 60 mm length; Size: L, XL, Bontrager alloy, 31.8 mm, Blendr-compatible, 7-degree, 70 mm length
Grips Bontrager XR Endurance Comp, lock-on
Q: How much is a 2023 Trek Powerfly 5 Gen 3?
A 2023 Trek Powerfly 5 Gen 3 is typically priced around €4,199 EUR when new. Be sure to shop around for the best price, and also look to the used market for a great deal.
Q: Where to buy a 2023 Trek Powerfly 5 Gen 3?
The 2023 Trek Powerfly 5 Gen 3 may be purchased directly from Trek .
Q: What size wheels does the 2023 Trek Powerfly 5 Gen 3 have?
The 2023 Trek Powerfly 5 Gen 3 has 29" and 27.5" wheels.
Q: What size 2023 Trek Powerfly 5 Gen 3 should I get?
No comments on this bike yet. Why not be the first?
Leave a Reply Cancel reply
Your email address will not be published. Required fields are marked *
Want more MTB in your mailbox?
The latest on mountain bikes delivered straight to your mailbox.
More Bikes in Range View All
Trek Powerfly FS 4
Trek Powerfly 7 FS Plus
Trek Powerfly 4 625
More trail bikes view all.
Cannondale Habit Carbon Women's 1
- Second Nature. A trail bike with its priorities straight: progressive design, playful agility and killer capability - all in the name of fun.
Niner JET 9 RDO 3-Star SRAM GX Eagle AXS LTD
- CVA (Constantly Varying Arc) suspension system - Internal cable routing via full sleeve cable guides - Includes Stan's NoTubes sealant - Sealed cartridge Enduro Max black oxide pivot bearings…
Deals View All
View all deals, recent posts view all.
Blackburn Honest Digital Pressure Gauge Review
It's 2020 people. The squeeze and bounce test doesn't cut it anymore (and this is…
Comparing Mountain Bikes
Mountain Bikes are complicated machines. They have parts from hundreds of different manufacturers, come in…
Undomestic Mountain Bikes: Here's what we know
Update March 2020: Undomestic has announced that they are manufacturing frames "at this moment" and…
Send Feedback
Have a suggestion? Looking for a bike that's not on MTB Database? Or perhaps you've spotted an error?
We'd love to hear from you. Let us know with the form below.
This website uses cookies to ensure you get the best experience possible. Learn more.
About MTB Database
Explore, search and compare thousands of the world's best mountain bikes here on Mountain Bike Database.
Compare prices, components, suspension, reviews, images and more on current and past MTB's. You can even share reviews, comments and questions on mountain bikes. View and compare a huge selection of bikes from brands such as Trek , Specialized , Giant , Santa Cruz , Norco and more .
We strive to provide accurate and up-to-date information for mountain bikes on MTB Database. If you've spotted any issues, please let us know . We also include helpful tools, such as our frame size calculator, to assist you in choosing the right mountain bike. Bear in mind that these tools serve as a guide and simply provide a general indication. Refer to information provided by your bike manufacturer for the most applicable information for your bike.
Bikes By Brand
Bikes by year, bikes by riding style, bikes by wheel size, popular bikes.
2022 Specialized Epic EVO Comp
2022 Trek Marlin 6
2022 Specialized Enduro Comp
2022 Specialized S-Works Epic EVO
2022 Specialized Epic EVO Expert
2022 Giant Fathom 29 1
2022 Trek Marlin 7
Latest Bikes
2022 Commencal CLASH PARK EDITION
2022 Commencal META SX V4 TEAM Frame
2023 Cannondale Habit Carbon 1 AXS
2023 Merida eBIG.NINE 400 (EP6)
2023 Merida eBIG.NINE 300 SE (EP6)
2023 Propain Tyee AL Shred2
2023 Propain Tyee CF Shred2