See Tokyo From A Local Perspective
Day and night walking tours of tokyo.
Day & Night Walking Tours of Tokyo
Tokyo is one of the most intriguing cities in world and our walking tours will show you why. You will learn about the old and new Tokyo, the food, religion, history and culture.
Best Activities in Japan
Local Tour Guides
50,000+ Online Bookings
1000's of 5 Star Reviews!
Custom Tours Available
Featured Walking Tours
A selection of our favourite Tokyo Walking Tours
Tuna Cutting Show
During our Tuna Cutting Show Tour, you will be able to see a tuna cut in a traditional Japanese way right in front of you. Along with fresh Tuna Sushi...
Saturday: 10:30
2 Hours 30 Minutes
Yanaka Walking Tour Tokyo
During the Yanaka tour, you will experience the good old days of Tokyo. Here are some traditional wooden temples and houses which survived WW2. You...
Enquire for Details
Tsukiji Fish Market Food Tour
During the Tsukiji Fish Market Walking Food tour, you will experience the histories about sushi and the stories about world's biggest fish market. We will walk around...
Daily: 09:30
Flagship Walking Tour of Tokyo
During the Free Walking Tour of Tokyo, you will get to experience both New and Old Tokyo; its food, culture, history and religion. This tour covers all that...
Asakusa Riverside Night Walking Tour
During the Asakusa Riverside Night Walking of Tokyo, you will get to experience the oldest district and temple of Tokyo. Also, you...
Limited Schedule
Shinjuku Night Walking Tour
During the Shinjuku Night Free Walking Tour, you will experience the craziest part of Tokyo nightlife and the Japanese drinking culture - see the Red Light...
Nightly: 19:00, 20:00
Best Activities & Tours
Voted Best in 2020 by YOU!
We're Hiring Tour Guides!
We are currently looking for enthusiastic Tour Guides for our Free Walking Tours! Apply today!
And We're Not Just In Tokyo!
Join us for a unique free walking tour in Kyoto, Osaka & Hiroshima!
We can assist you with one of following services:
Tokyo free guide (tfg).
***   One day Tour   ***
TFG provides a guided tour in Tokyo or its vicinity for a half or full day .
There is no guiding fee for this volunteer service. However, the costs of the guide during the tour such as transportation fares, entrance fees and meals are payed by the guests.
Usually TFG guided tours begin at the guest's hotel or accommodation .
TFG volunteer guides spea k  English , and some can speak Spanish , Italian and other languages.
TFG welcomes both individuals and group of  up to six (6) people . Guests can request a guide for a tour on several different days within two(2) months in advance of the requested dates.
Please note that TFG cannot fulfill all the requests we received due to seasonal demands and the availability of volunteer guides. TFG was able to provide a guide for 6 0% of requests in 2018.
To register, please fill out the form. You will receive an email from a guide when one comes available.
Click here  or click the above photo!
Tokyo Greeters (TG)
***   A Few Hours Tour   ***
TG provides   a tour for two or three hours   in one or two areas  in Tokyo.
TG provides walking tour  wi thout using local transportation and at places with no entrance fees. There is no tour fee for this volunteer service.
TG greeters and visitors meet at designate d locations such as information centers, notable landmarks and stations.
Most TG greeters speak English .
TG welcomes both individuals and a group of  up to six (6) people . Visitors can request a greeter for a tour on two(2) different days up to two(2) months in advance of the requested dates. However, TG can only provide a greeter on one of the requested days .
Please note that TG cannot fulfill all the requests we received due to seasonal demands and the availability of volunteer greeters. TG was able to provide a guide for 50% of requests in 2018.
To register, please fill out the form. You will receive an email from a greeter when one comes available.
Click here  or click the above photo!
Volunteer Guide Organization all over Japan
Japan tourism guide.
Copyright© 2005-2018 TOKYO FREE GUIDE.
Best things to do and see in Tokyo
Tokyo is the capital of Japan , located within the Kanto region and located in the center-east of the island of Honshu. It is a city that remains active 24 hours and has a large metro infrastructure to move quickly and quickly. In fact, the ideal is to spend the day visiting temples, parks and markets and then in the afternoon / evening to lose yourself in the streets of neighborhoods full of lights like Akihabara, Shinjuku or Shibuya. In Tokyo, another of the tourist attractions for the traveler is its cuisine that has specialties such as sushi, yakisoba, ramen, okonomiyaki, sashimi, tempura... To know a place like this, it is important to be clear about the essential and emblematic places . If you do a free walking tour in Tokyo , you can visit places like Chuo-Dori Street, Sensoji Temple in the Asakusa neighborhood, Kaminarimon Gate, its impressive viewpoints (Sori Tower, Metropolitan Government Building, Tokyo Skytree, Tokyo Tower), Tsukiji fish market, Takeshita-dori pedestrian street in Harajuku neighborhood, Odaiba island, Kabukicho red light district, Ueno park or Ginza neighborhood where you can see the traditional Japanese theater Kabuki-Za, the Sony building , Ginza Wako with his huge clock or the Tokyu Plaza Ginza. In the free tours (English, Spanish, Chinese) of Tokyo you can see the opinions of the walkers that have made the different tours that are offered in the city.
Want to share your culture with travelers from all the world?
Free walking tour near tokyo, others cities to visit after tokyo, where are you traveling to.
A Guide to the Best Free Walking Tours in Tokyo
Tokyo is a labyrinth of a city made up from what feels like hundreds of other tinier cities. This layout means two things; first - there's a lot of ground to cover, and second - no matter what corner you turn, there's always something new to discover. This makes walking around on foot one of the best options available. If you're looking for a little guidance and you don't have a lot to spend on getting around, Tokyo has plenty of free, volunteer-run tour companies, run by locals who are more than happy to show you their side of the city. These are some of the best.
This post may contain affiliate links. If you buy through them, we may earn a commission at no additional cost to you.
Tokyo Free Guide
Tokyo Free Guide is one of the most popular of all the free tour options. It's popular because it offers custom tours, but you do have to reserve. The company has over 500 volunteer guides on their books and every single one of them is at least bilingual with Spanish, Italian, and French being the most common languages after English. TFG is best suited to those who may have a specific niche or interest and want to learn about it further. Whether it's anime, fashion, food, Japanese history or something else within Japan, there's undoubtedly a TFG volunteer that's more than eager to show you around. While the service of the guide is free, guests are expected to pick up the bill if there are any admission, food, or transport fees during the tour. The company often receives more requests than they have available guides. So if you don't want to miss out, book via the website around four to six weeks before arriving in Tokyo.
Tokyo Localized
For a tour that's a little more structured, Tokyo Localized's walking tours are an option. These tours, run by Tokyo locals, cover all the tourist-centric bases and are an excellent jumping-off point for exploring the city. Tokyo Localized's flagship tour takes guests around Tokyo's geek center Akihabara, the historic and museum populated neighborhood of Ueno, Tokyo's old black market Ameyoko Shopping Arcade, and to Kanda Myojin Shrine, where you can pray for good luck, prosperity, and marriage. The company currently offers four other tour packages, covering youth fashion hubs Shibuya and Harajuku, the vibrant inner-city neighborhood of Shinjuku, and the historic streets of Asakusa. They also offer night walking tours too. Tours are only run in English, and because they've all been pre-designed, there's no room for customizations. To join one, sign up via the booking form online around two weeks in advance.
You'll need reservations while in Japan. See our writers' top picks!
Go Tokyo Guides
Go Tokyo, run by the Tokyo Convention and Visitors Bureau is a tourist service. It not only has one of the most detailed Tokyo travel websites out there, but they also offer pre-planned free tours. There are 13 tour routes available, but not all of them are free. The Shinjuku Walking Tour is one of the free options, and it's a perfect way to catch all the action happening in this fast-paced corner of the city. The tour route takes guests from the busy shopping district to the undergrounds department stores, to Shinjuku's Hanazono Shrine, and finally stops at Kabuki-cho to say hello to Godzilla. Group maximum is five people per tour, so book as far in advance as you can to avoid missing out.
Shinagawa SGG Goodwill Guide
If you're looking to see a different side of the city, then exploring Shinagawa is a great way to do it. The area isn't known for being a tourist destination, but it has plenty of hidden attractions, like the Hara Museum of Contemporary Art, the lush Gotenyama Gardens, and for photography fans the Nikon Museum. For more secretive Shinagawa gems, be sure to read our feature on the 20 places to visit in the area . The Shinagawa SGG Goodwill Guide is a volunteer group of Shinagawa locals eager to showcase the best-hidden gems this corner of the city has to offer. While the company does have Shinagawa in the name, they also offer custom style tours for visitors on the hunt for something a little more specific. The tour is free, but guests are expected to cover the expenses, including food, admission fees, and travel. To secure a guide, visit the website, click 'how to apply' then download the application form, fill it out and email it to [email protected] .
Tokyo Free Walking Tour
The team at Tokyo Free Walking Tour offer three tour packages: The Imperial Palace East Gardens, Asakusa, and Meiji Shrine and Harajuku. One of the main benefits of this company is that guests don't have to book in advance. Check out the tour calendar on the website and turn up to the site in time for the tour, and you'll be able to join the crew. The company's flagship tour is the Imperial Palace East Gardens tour. It runs every Saturday and meets at Tokyo Station before cruising around the Imperial Palace before stopping off at the remains of the Edo Castle. For more information on previous tours or what to expect, visit the company's Facebook page.
Tokyo SGG Club
The Tokyo SGG Club launched back in 1983 and since then has continued to offer the best and warmest hospitality Tokyo has to offer. The company offers tours through the city's more traditional tourist spots like Asakusa, Ueno Park Area, The Imperial Palace East Gardens Area Tour and the Yanaka area. The locations of choice make it a great option for those wanting to learn more about the history of the city and traditional Japanese culture. The way to book a tour is by visiting one of the service centers listed on the company's website. From there you can chat with one of the volunteers at the front desk and gather some valuable travel information while you book a tour.
Tour Guides: The Key to the City's Secret Side
Tokyo is so full of hidden delights, under-the-radar attractions, and fascinating stories to learn. But to really go beyond the regular tourist attractions and see just how this city works, there's nothing more valuable than speaking to a local tour guide. Tokyo tour guides know the city's secret sides better than everyone else, and they're more than happy to let you in. All these tours are free, but experiencing the city like a regular Tokyoite is truly priceless.
Header image credit: Jérémy Stenuit/ Unsplash
If you want to give feedback on any of our articles, you have an idea that you'd really like to see come to life, or you just have a question on Japan, hit us up on our Facebook , Twitter , or Instagram !
The information in this article is accurate at the time of publication.
tsunagu Japan Newsletter
Subscribe to our free newsletter and we'll show you the best Japan has to offer!
About the author
Related Articles
Related interests.
Factory tours
Instagrammable photo spots
Exhibitions
Skyline & Observatories
Beauty salons
Hair salons
Restaurant Search
Tsunagu japan sns.
Subscribe to the tsunagu Japan Newsletter
Sign up to our free newsletter to discover the best Japan has to offer.
Connect with Japan through tsunagu Japan
Let us introduce you to the best of Japan through our free newsletter: sightseeing spots, delicious food, deep culture, best places to stay, and more!
Free tours in Tokyo
Tokyo – A fusion of tradition, modernity & the beautifully bizarre.
The Japanese capital, Tokyo, is home to almost 13 Million dwellers across the 23 individually characteristic wards, or districts, which make up this bustling, vibrant, hectic and beautiful neon-lit metropolis.
It's sprawling, and overwhelming at first, but a free walking tour as recommended by FreeTour.com is certainly the perfect way to get your head around this fascinating capital – a place where intriguing heritage & traditional culture is balanced beautifully with tech innovation, international trend setting, delicious cuisine and a pop culture with a distinct affinity for the wonderfully weird. Join a lovely authentic local Tokyo guide to explore the key sights & rich history and get to grips with life lived here. See Meiji Shinto Shrine, East Gardens of the Imperial Palace, temples of old-town Asakusa and much more while learning about renowned Japanese & Tokyo traditional & modern culture - from Sumo Wrestling & Kimonos to Sushi & Hello Kitty.
The curious traveller is spoiled for choice in Tokyo and after your free walking tour there is plenty to see & do here, from an endless choice of delicacies to sample in the near innumerable restaurants & eateries to unbridled shopping adventures in ultramodern mega-malls or combining spectacular views with fascinating artworks at the Mori Art Museum, Tokyo will excite and engage you like no other city on the planet.
Join Freetour
Provider Sign In
Affiliate Program
Security & Privacy
Terms & Legal
Freetour Awards
Ratings & Reviews powered by
20 best free things to do in Tokyo
Aug 25, 2023 • 9 min read
From art to sumo wrestling, there's plenty to see for free in Tokyo © Mint Images / Getty Images
Exploring Japan's capital is a mind-blowing experience, but it can also blow your budget. Don't despair – there's an abundance of things to do and see in Tokyo that don't cost a single yen. From gardens and temples to contemporary art, sumo practice and a world-famous fish market, here's a list of Tokyo's best free attractions.
1. Stroll the grounds of the Imperial Palace
Follow the moats and paths surrounding Tokyo's central point, the Imperial Palace , for views of its famous bridges and remnants of the old medieval keep. It's 5km (3 miles) around the palace grounds – a popular local jogging course if you want to burn a few calories while taking in the scenery.
Take a detour through the accompanying gardens without dipping into your wallet. The Imperial Palace East Gardens encompass the honmaru and ninomaru, the former innermost circles of the castle, featuring broad lawns, small stretches of woodland and seasonal flora (check out what's in bloom on the Flower Calendar ). Kokyo Gaien National Garden marks the area in front of the palace's Sakuradamon Gate, where Ii Naosuke, a controversial proponent of opening Edo-period Japan to the outside world, was assassinated in 1860. Kitanomaru Park is the pick of the bunch, home of the Budokan, Japan's premier martial arts arena, and the Chidorigafuchi Moat – in spring, the path encircling the moat is enlivened by blooming cherry blossoms .     
2. Follow the pilgrim route to Sensō-ji
Follow in the footsteps of countless pilgrims by approaching Sensō-ji , Tokyo's most famous Buddhist temple, in Asakusa. The way is lined with colorful stalls selling all manner of souvenirs, from giant rice crackers to washi paper fans. Senso-ji is also Tokyo's most-visited religious monument, so prepare for swarms of photo-snapping tourists and a smattering of locals decked out in traditional kimono. 
Planning tip: Visit at the crack of dawn – the temple is open from 6am – for a quieter excursion. 
3. Explore the streets of Harajuku
The Harajuku neighborhood is probably the world's greatest eye candy; its main street Takshita Dori bursts forth in a maelstrom of vivid colors, kawaii (cute) motifs and the constant babble of frivolous consumers. 
Stroll tree-lined Omote-sandō , a glam boulevard of up-scale boutiques housed in contemporary buildings, or hang out in Yoyogi-kōen (Yoyogi Park). The sprawling green space hosts frequent international festivals celebrating cultures from Ireland to India, Spain to Thailand, Brazil to Sri Lanka, and many more.
4. See the tuna auction at Toyosu Market 
Want to witness Tokyo's famous tuna auction at Toyosu Market ? Set your alarm early because it starts around 5:30am and lasts approximately one hour. A limited number of visitors who apply in advance can watch from a viewing platform near the market floor; check the website for details.
Whilst Toyosu Market may lack the rustic charm of its predecessor in Tsukiji, visitors remain free to wander the sprawling complex. Infographics and exhibition spaces detail the storied history of the world's greatest fish market; scan the clearly indicated QR codes for multilingual interactive tours.
5. Watch sumo practice
Even if you can't make a sumo tournament, you can see sumo wrestlers going through their training drills at a sumo stable, such as Arashio Stable , where visitors watch the morning practice session (asa-keiko) through windows on the street. Practice typically takes place between 7:30am and 10am on weekday mornings, bar March, July, November and on the week following a major tournament. Call between 4 and 8pm the day prior to confirm if training is on; the stable's website has a basic sample script for speaking with phone operators in Japanese.
6. Visit Yasukuni Shrine
To some, Yasukuni-jinja is Tokyo's most controversial religious monument. To others, it's a source of pride. Then there's the argument that removing it would amount to revisionist history. 
Yasukuni Shrine commemorates Japan's approximately 2.5 million war dead (moral ambiguities notwithstanding), including the kamikaze pilots of WWII and convicted war criminals. Along its flagstone entranceway, you'll find locals paying homage to their fallen ancestors indicated by a procession of paper lanterns – all 30,000 of which are illuminated during the summer Mitama Matsuri – while the comparatively humble shrine building is surrounded by blooming groves of sakura (cherry blossoms) in spring.
7. Marvel at Shibuya Crossing
Every few minutes a wave of humanity washes across Shibuya Crossing , thought to be the world's busiest intersection. Join the masses or stand back and watch. An ideal vantage point is Mag's Park , on the roof of the Shibuya 109-2 department store. A couple of floors down, at the entrance to Mark City, check out the Myth of Tomorrow , a monumental mural by artist Okamoto Tarō.
8. Say hello to Godzilla 
Fans of kaiju (Japanese monster flicks) will want to pay their respects to the giant Godzilla that lords over the Hotel Gracery Shinjuku . Amateur videographers should head down between noon and 8pm when Godzilla belts out thunderous roars on the hour. While you're here, wander around the electrified Kabukicho neighborhood, Tokyo's red-light district, or head to nearby Golden Gai, a warren of Showa-period alleyways housing hundreds of shoebox bars.
9. Walk the Rainbow Bridge to Odaiba
This island of reclaimed land in Tokyo Bay is linked to the city by the Rainbow Bridge, which is illuminated in its eponymous colors come nightfall. Walk over the 798m-long (2618ft) single-span suspension bridge to Odaiba , an uber-modern commercial district, where you can sunbathe on an artificial beach (weather permitting), see a Statue of Liberty replica , and gaze upon a larger-than-life Gundam statue .
10. Have a taste of history at Yebisu Beer Museum
The Yebisu Beer Museum , run by one of Japan's largest brewers, covers the history of beer in Japan, including displays of cool vintage posters and bottles. Tastings sadly aren't free, but a serving here is only ¥400 ($2.80). 
Planning tip: After you've had a tipple, head to the 38th floor of the adjacent Yebisu Garden Tower for free views of the downtown Tokyo sprawl. 
11. Visit other weird, wonderful (and free) museums in Tokyo
Tokyo has some of the most bizarre museums in the world, and in a bid to attract curious eyes, many offer free admission. The Meguro Parasitology Museum , thought to be the only institution of its kind globally, displays a range of eldritch parasites suspended in formaldehyde-filled casings. The Rainbow Sewerage Museum delves into the engineering feats necessary to flush excrement from the world's most populous metropolis – interactive exhibitions included. For coin collectors and enthusiasts, head to the Bank of Japan Currency Museum , which is (ironically) also free. Or check out the Advertising Museum Tokyo , where montage displays of old ads illuminate the visual history of commerce in Japan over the last century or so.
12. Walk the forests of Meiji-jingū
Escape to the densely wooded grounds that envelope the capital's premier Shintō shrine, Meiji-jingū ; the walking path is particularly ethereal on misty and drizzly afternoons. If you're lucky, you might spot a traditional wedding procession or robe-clad priest.
13. Take a tour of the National Diet
Art and anime not your thing? Then how about a free tour of Japan's seat of governance, the National Diet , to view the wood-panelled, leather-bound and gilded interiors and the gardens planted with species from across the country. English tours take place on Mondays at 2pm, and Tuesday to Friday at 3pm (excluding national holidays). Reservations , with some stipulations, are necessary.
14. Crack open a beer at one of Tokyo's parks and gardens
Beautiful foliage and horticultural skills can be admired in Tokyo's traditional gardens . Free-to-enter gardens include those attached to the Hotel New Ōtani in Akasaka and the Hotel Chinzanso, as well as the lush grounds of Happō-en , near Shirokanedai Station. Tokyo also has excellent public parks, from Ueno-kōen in the north, to Inokashira-kōen in Kichijoji (where the not free-to-enter Studio Ghibli Museum is also located).
Planning tip: Parks are prime spots for joining beer-fueled hanami (flower-watching) parties during the spring cherry blossom season.
15. Travel back to pre-WWII Tokyo in Yanesen
The streets of Yanaka, Nezu and Sendagi – three areas collectively known as Yanesen – offer a lens into pre-WWII Tokyo. These areas were collectively spared by firebombings, so you'll find narrow walking streets, small temples and shrines, craft shops, galleries, and cafes, and Yanaka-reien , one of the city's oldest graveyards. Interesting galleries include SCAI the Bathhouse , in a 200-year-old public bath.
16. Traverse Tokyo's Winter Wonderlands
Tokyo embraces the festive spirit every winter with seasonal illuminations in parks and commercial complexes, many of which are free of charge. The Ao no Doukutsu (blue cavern) tunnels through Yoyogi Park with 600,000 crystal blue lights, while the barren zelkova trees of Omote-sandō are wrapped in champagne gold. Admire a glimmering LED display in view of Tokyo Tower from the observation bridge at Roppongi Hills. Or head to the Yebisu Garden Christmas Market presided over by a 10m-tall Christmas tree and Baccarat crystal chandelier.
17. Get arty in Roppongi
This fabled nightlife neighborhood is also a treat to explore in daylight. There's plenty of public art scattered around the glitzy commercial complexes of Roppongi Hills and Tokyo Midtown , as well as dazzling contemporary architecture at the National Art Center Tokyo . Tokyo Tower, the Eiffel-esque symbol of the modern metropolis is nearby; there's an admission charge, but a free stroll around the base gives a real sense of its imposing stature. 
[h2] 18. Take in the views from the Tokyo Metropolitan Government Building
Survey the city 202m (663ft) above ground from the observation deck of the Tokyo Metropolitan Government Building – on a clear day you may catch a glimpse of Mt Fuji . Come at dusk to see spectacular sunsets and the city burst into neon-lit action.
19. See the action at Tsukiji Market
Tsukiji Market has a bunch of stalls selling fresh seafood, dried aonori (edible seaweed), pickles, bamboo rolling mats, kitchen knives, and more. Come early to get breakfast (at a price) from the food vendors and to bask in some old Tokyo ambience. If the weather is on your side, embark upon a lengthy (approximately 6km/4-mile) stroll along the Sumida River promenade to Asakusa in the north, where Senso-ji Temple resides. Expect to find afternoon joggers, lone musicians practicing their craft, and chugging river taxis along the way. 
20. Climb Mount Takao
Deep in the west Tokyo suburbs sits Mount Takao, a 599m-tall (1,965ft) peak topped by an observation area, beer garden and Buddhist temple. There are several walking trails to the top, all of which are manageable with a moderate level of fitness. Head during the koyo (autumn leaves) season for the best views – but be prepared for crowds.
This article was first published May 2019 and updated August 2023
See our full range of Japan travel books
Make the most of your time in Japan with Lonely Planet's range of travel guides and phrasebooks. Be the architect of your own trip as you discover the best things to do in Japan through insider tips, suggested itineraries and handy maps.
Explore related stories
Jul 17, 2021 • 2 min read
Tokyo is famous for its secret bars but now there's another 'hidden' spot for you to uncover; a cafe dedicated to Nintendo called '84'.
Dec 24, 2020 • 6 min read
Aug 24, 2020 • 2 min read
Jul 21, 2020 • 1 min read
Apr 2, 2020 • 8 min read
Feb 10, 2020 • 2 min read
Jan 23, 2020 • 5 min read
Dec 2, 2019 • 3 min read
Oct 3, 2019 • 2 min read
Español ( Spanish )
Français ( French )
Deutsch ( German )
Italiano ( Italian )
Português ( Portuguese (Portugal) )
Polski ( Polish )
Català ( Catalan )
Nederlands ( Dutch )
Free Walking Tour Tokyo
Highlights of your trip.
Best Free Tours in Tokyo
Highlights of a free tour in tokyo, things to do in tokyo, free tours in more cities.
Free Tours in Your Language
Free Tour - Tokyo

More results...
Free Walking Tour Tokyo
Best-rated free walking tours in the capital of japan., free tokyo walking tour.
Tokyo Localized Free Walking Tours is operating several free and paid tours in Tokyo, the capital of Japan.
The tour covers all the must visit places in Tokyo and their stories. All our local guides are well-trained and passionate to show the city they live in and love. You will learn about the Old and New Tokyo, the food, religions, history, and culture .
Our mission is creating and providing impressive memories from you stay. Not only visiting famous sights, or getting to know what to eat, but also meeting with the locals and having some local experiences. This is the way to really see a place and experience its culture and history from a local perspective.
Tokyo Localized has been run by locals, who want to show travelers what Tokyo is really like, since 2017 and has been providing the best experience in Japan. We were chosen as the Best Tours in Japan in 2019 & 2020 by Trip Adviso r.
Pictures from our walks
Free Tour Schedule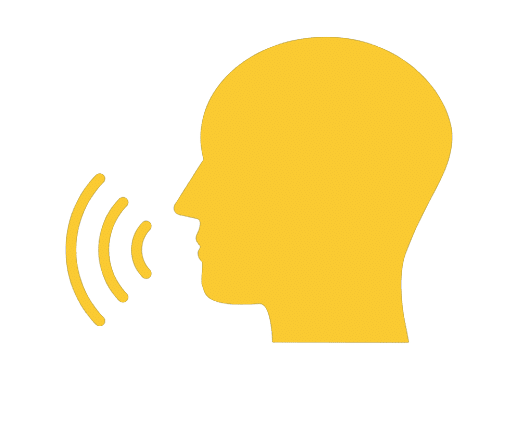 What visitors think about Free Tokyo Walking Tour?

Frequently asked questions about the tour
Do you run private tours in tokyo, too, do you also offer tours in spanish in tokyo, what should i bring to the free tokyo walking tour, is tipping the guide rude for a free walking tour in tokyo, is it safe to take the tour in times of covid-19, get inspired by the free tour community blog, want to know more about our tours.

Walking Tours
Privacy overview.
Things to Do
Food & Drink
Shopping & Style
Restaurants & Cafes
Music & Nightlife
Neighborhoods
Los Angeles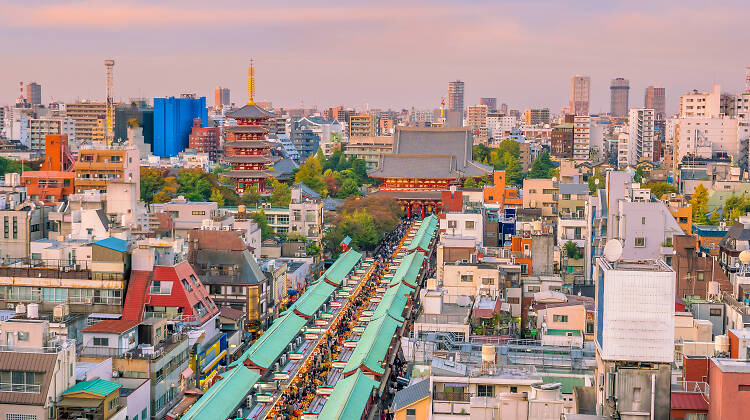 33 of the best free things to do in Tokyo
Live your best life without spending a yen at Tokyo's best museums, attractions, tours, observation decks and more
By some measures, Tokyo is one of the world's most expensive cities to live in, but you don't have to take out a loan to have a good time. From free views of the city skyline to cheap Michelin meals , hanging out in the big city doesn't have to cost you anything. That's right: you can enjoy Tokyo's best art, music and entertainment without spending a single yen.
So put your wallet away and follow our guide to the finest free attractions Tokyo has to offer, from local concerts to galleries featuring up-and-coming and established artists. And once you start feeling peckish, consult our cheap eats guide for the best grub under ¥1,000. Going out on a budget has never been this fun.
RECOMMENDED: For stunning free views, check out the best places to see the sunset in Tokyo
See Tokyo for free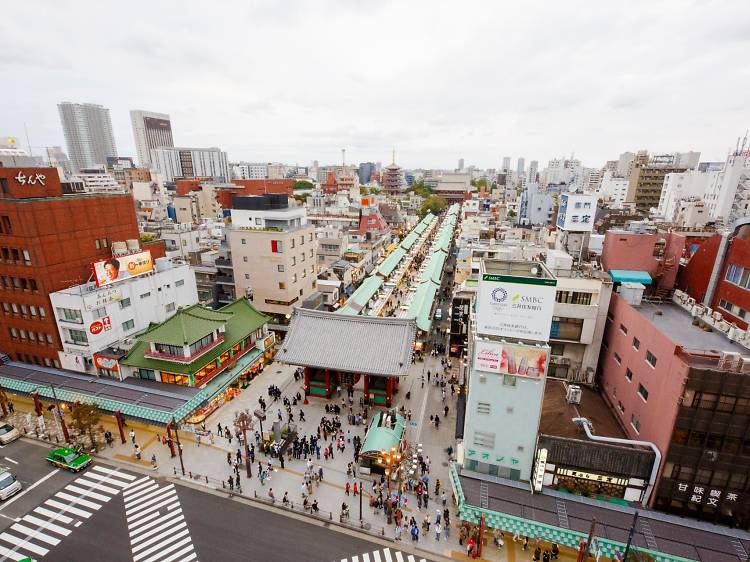 Asakusa Culture and Tourist Information Center
Things to do
Cultural centres
It's hard to miss the stunning Asakusa Culture and Tourist Information Center designed by Kengo Kuma, located across the street from another visitor magnet, Sensoji Temple's Kaminarimon gate. Besides offering free guided tours, currency exchange and an information desk, the eight-storey building also sports a (covered) rooftop observation deck, which offers the best view of Sensoji without having to jostle through the crowds. The deck is open until 10pm so you can also admire the grand temple lit up at night. You'll find exhibitions and cultural events on the other floors but if you're short of battery power, best make a beeline for the street-facing counter on the second floor – it's fitted with electrical charging points.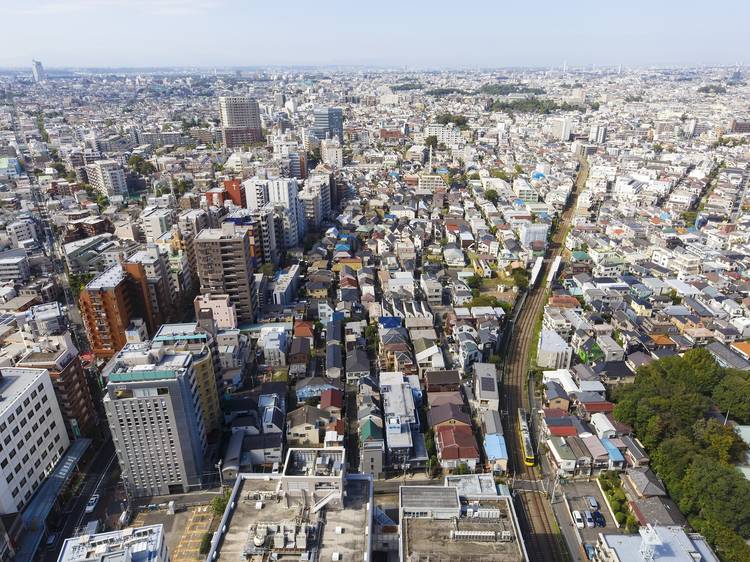 Carrot Tower
Attractions
Towers and viewpoints
Experience one more way that carrots can help you see in the dark, while taking in a spectacular free view of Tokyo from above. Carrot Tower got its name from the building's orange façade, and is home to a free observation deck on the 26th floor, along with a restaurant and a more affordable café. Don't expect close-up views of skyscrapers here as Sangenjaya, while just two stops away from Shibuya on the metro, is largely low-rise and residential – though the deck does make up for it with comfy sofas to sit on while enjoying the view. On a clear day, you might even get an unobstructed view of Mt Fuji.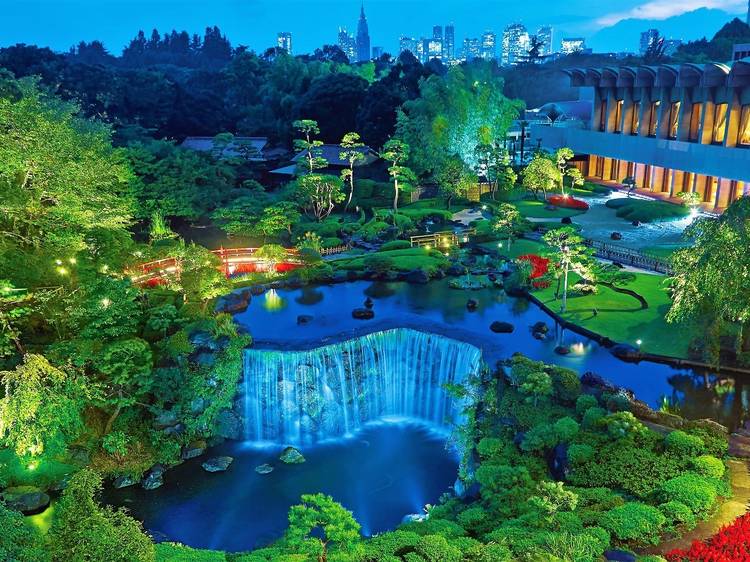 Hotel New Otani Landscape Garden
Yes, it's attached to a hotel, but the Hotel New Otani Tokyo 's landscape garden is open to non-guests too. The spacious garden, dating back around 400 years, has everything you'd expect from a classic Japanese landscape garden: a vermillion bridge crossing a large pond, a relaxing rock garden with stones from Sado Island, momiji maple leaves that burn bright red in autumn, and even a waterfall. When wandering it's easy to get lost amid the scenery, but the fine details of the landscape design and nature surrounding you make it well worth the risk. To help you retrace your steps, the garden is illuminated after sunset throughout the year.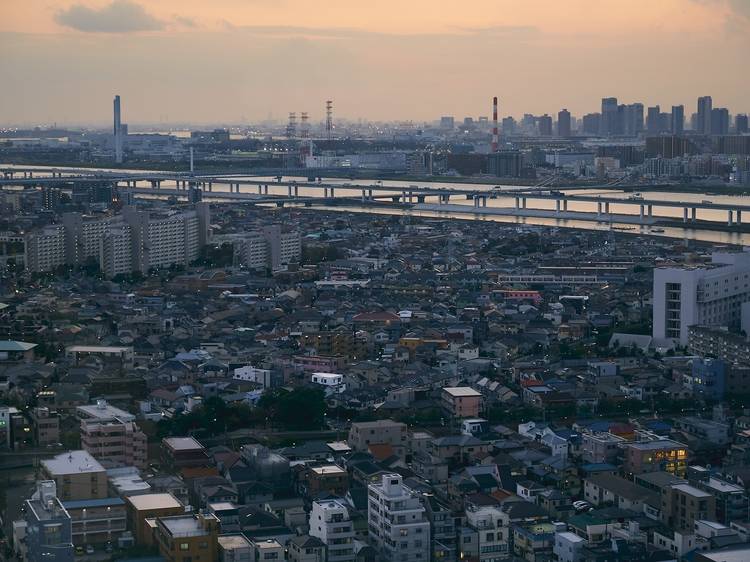 Tower Hall Funabori
In providing views out over eastern Tokyo, this 115m-high observation deck is something of a rarity. From here you can see the traditional neighbourhood of Edogawa, where the tower is located, Kasai Rinkai Park and its ferris wheel, the Tokyo Skytree and Mt Tsukuba in the distance. The building, which houses offices, restaurants, concert halls and a cinema, is easily identified by its sailboat-like structure jutting into the sky. If you're lucky, you might even see the occasional fireworks from Tokyo Disneyland and DisneySea.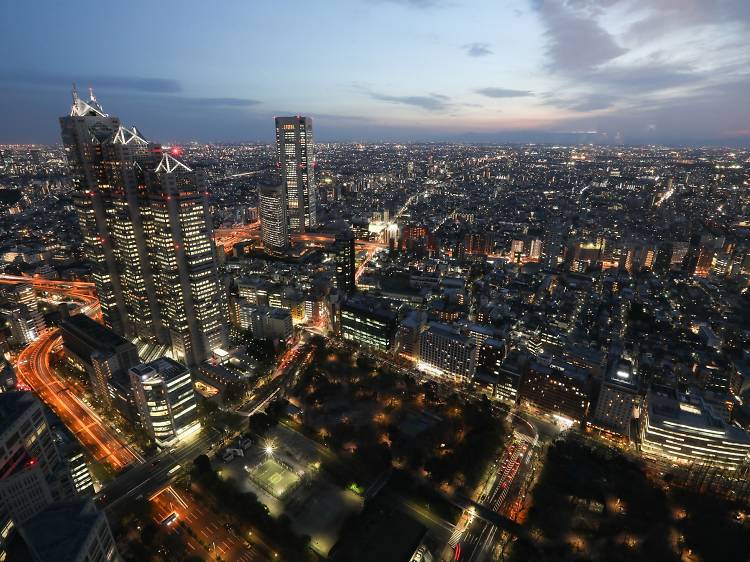 Tokyo Metropolitan Government Building
The government-owned towers of the Tokyo Metropolitan Building are a regular feature at the top of tourist to-do lists, and for good reason. The North and South Towers each boast a free observatory on their 45th floors, which unveil jaw-dropping views of Shinjuku's famed skyscraper skyline and beyond. Both towers feature a souvenir shop as well as an affordable cafeteria – but the South Tower has the added distinction of housing an eye-catching yellow, polka-dot piano designed by Yayoi Kusama, which is free for anyone who might want to tinkle out an impromptu sky-high recital.
Note that the North Tower is currently closed.
Free museums and art galleries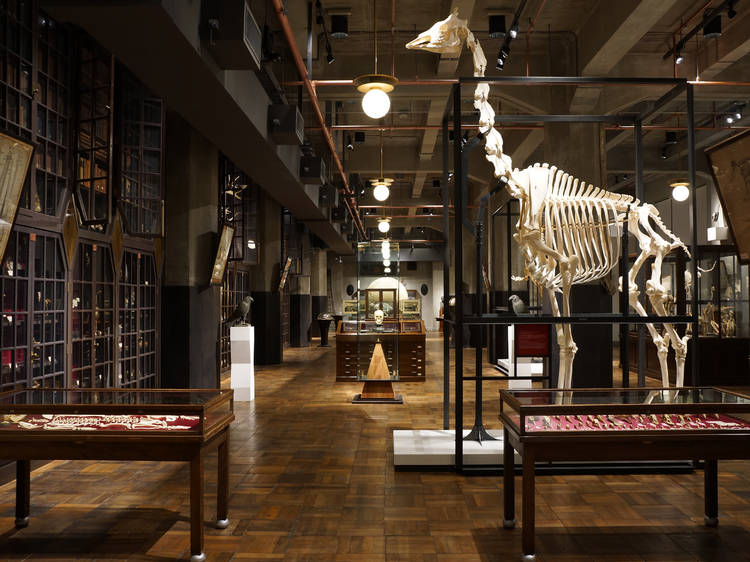 Intermediatheque
Located inside the Kitte shopping mall across from Tokyo Station, Intermediatheque (jointly run by Japan Post and the University Museum of the University of Tokyo) is a hidden museum dedicated to the intersection of culture, history and science. It holds a fascinating collection of scientific specimens and cultural artifacts, from steampunk oddities to an imposing menagerie from the natural world. You'll stumble upon taxidermy birds and forest animals as well as skeletons in all sizes, from a frog to a minke whale. Perhaps the most compelling exhibit, though, is the story of humans' evolutionary descent from our ape ancestors, told through progressively taller skeletons. Lovers of biology, history and design will enjoy wandering through the dimly lit halls that remind you of Hogwarts' library.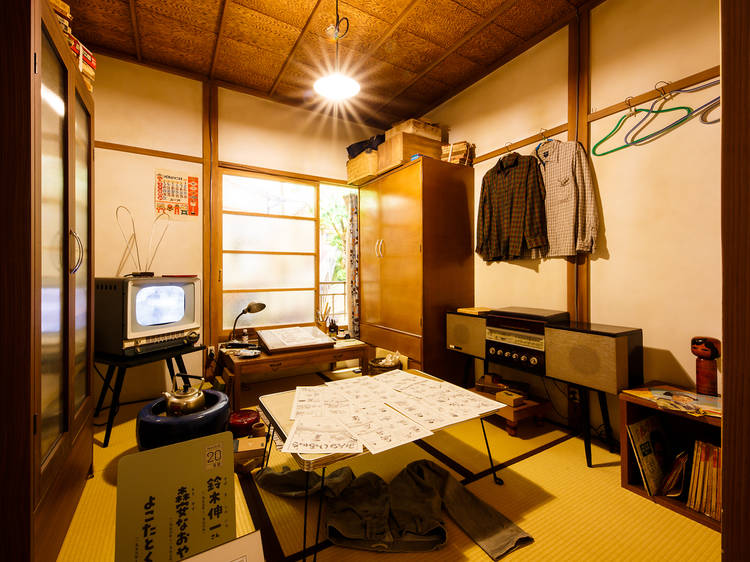 Tokiwaso Manga Museum
Did you know some of Japan's most famous manga artists lived together in an apartment building in Toshima? While the original building was knocked down, a replica has been built in Minami-Nagasaki, west of Ikebukuro, and turned into the Tokiwaso Manga Museum. The reconstructed apartment even copied the living situations of Osamu Tezuka, the creator of Astro Boy, as well as Hiroshi Fujimoto and Motoo Abiko, aka Fujiko Fujio aka the founders of Doraemon.
Now, budding artists can explore the highly successful mangakas' days of yore in this museum modeled after the trio's old apartment. The details are incredibly specific: you can see replicas of their tatami mat bedrooms filled with sketches, the communal kitchen and even see the Showa-era electronics and appliances.
Admission is free, but you'll have to make an online reservation in advance.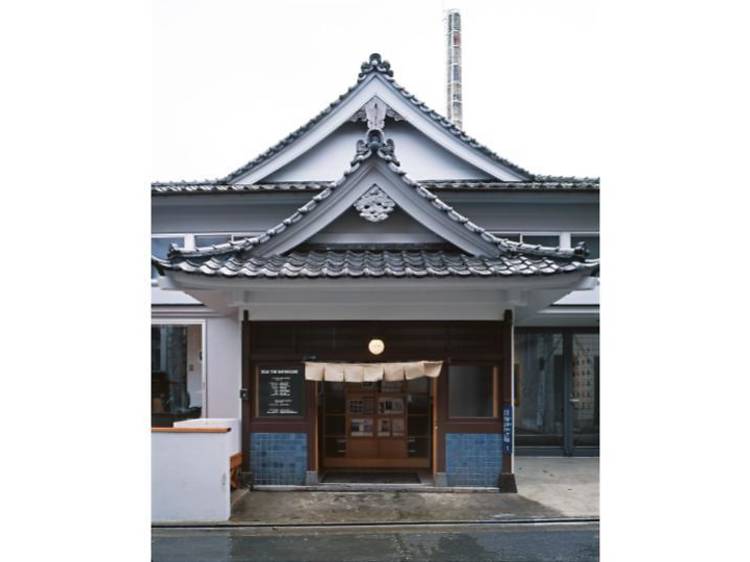 Scai The Bathhouse
Located a safe distance from Yanaka's main shopping street is the singular Scai the Bathhouse. It's easy to walk past the sento (bathing facility) without a second thought as the traditional architecture blends in with the quiet neighbourhood. But venture in, past the shoe lockers (a remnant from the building's previous life) and you're in for a pleasant surprise. Instead of dried-out bathtubs, the hollowed-out space now hosts rotating contemporary art exhibitions featuring a repertoire of local and international artists. Korean-born painter and sculptor Lee Ufan, Japanese painter Tadanori Yokoo and American artist Jenny Holzer have all presented their works here in the past.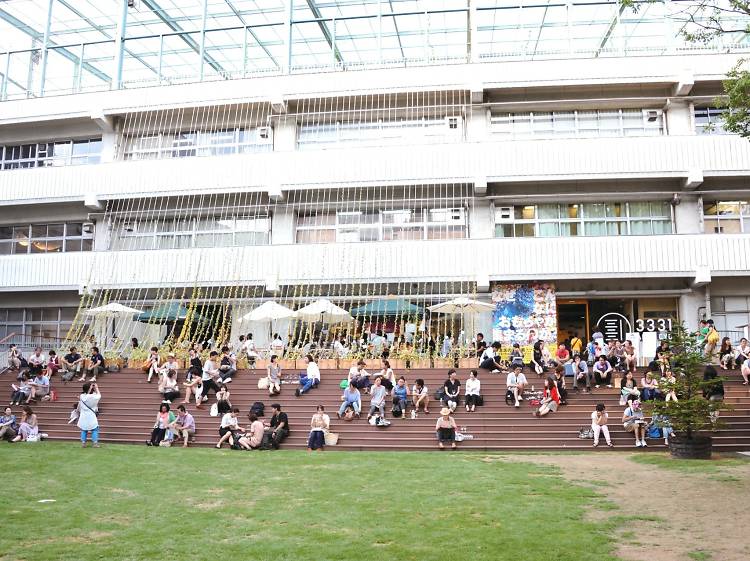 3331 Arts Chiyoda
Wander in and out of classrooms filled with art at 3331 Arts Chiyoda. The former junior high school may still look like an educational institution from the outside, but its interiors have been transformed to serve a very different purpose. Each classroom is dedicated to a gallery or creative space, whose occupants are free to experiment with the interior any way they choose. As such, every room feels like a world of its own: some simply display paintings gallery-style while others fill the space with installations. Artists can often be found in their classroom galleries and are happy to explain their art. The first floor houses a bigger gallery where large-scale exhibitions take place on a rotating basis, in addition to a café, gift shop, and small playroom for kids.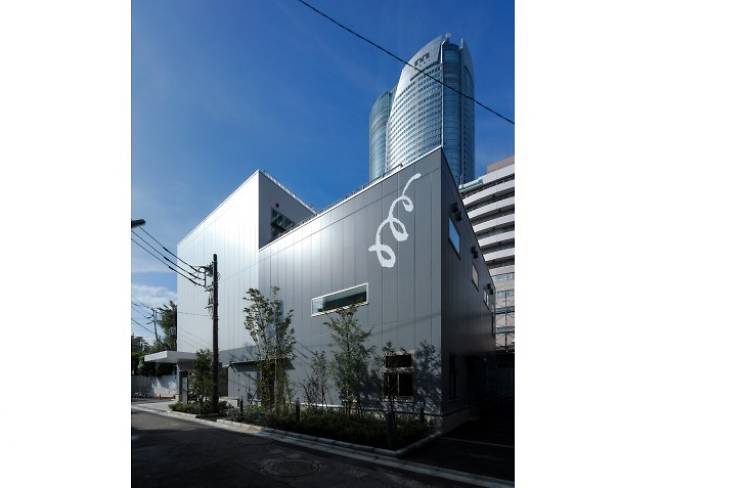 Established galleries Taka Ishii , Tomio Koyama and ShugoArts make up the three-storey Complex 665, along with the showroom of Broadbean, a modern furniture and design group, on the first floor. Tucked away from the hustle and bustle of Roppongi, the warehouse-like building stands out from its surroundings thanks to a distinctive white-spiral motif on its exterior. The galleries are spacious and so you'll find a wider variety of works here – not just in scope and topic but size as well – compared to other space-limited galleries in the neighbourhood. They have been known to exhibit floor-to-ceiling and wall-to-wall paintings as well as realistic life-size human sculptures.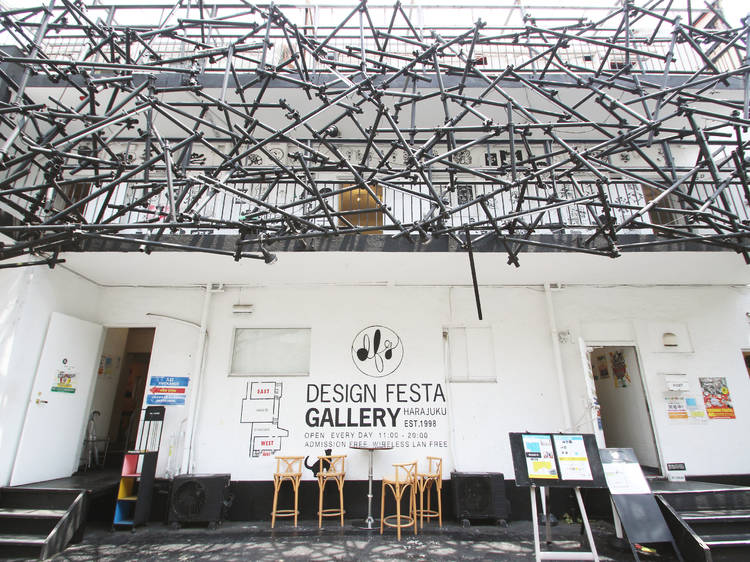 Design Festa Gallery
Happening twice a year at Tokyo Big Sight, Design Festa is a multidisciplinary celebration of everything from painting to performance art, with up to 12,000 artists and creatives participating in each event. This gallery is the festival's permanent outpost, open throughout the year with 71 exhibition rooms and spaces to explore. With a unique concept of allowing artists to display and sell their works without any commission fee, the exhibitions here are a constantly changing roster. There's also a bar and café on site, featuring more art on the walls.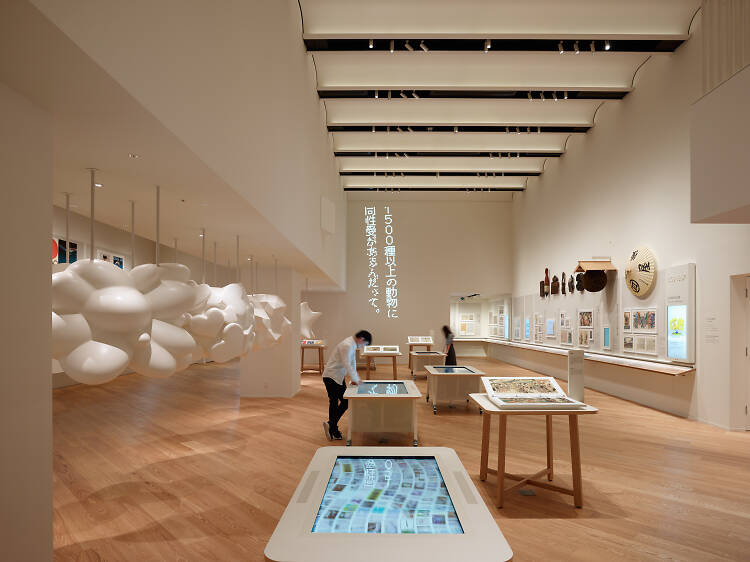 ADMT Advertising Museum Tokyo
This museum is devoted to Japanese advertising, from fascinating 17th-century woodblock prints to modern product-placement techniques. Although English explanations are limited, the images largely speak for themselves. Inspired technology allows touch-screen browsing of historic ads and on-demand viewing of award-winning commercials from the past three decades. The museum also contains a library of over 100,000 digitised images.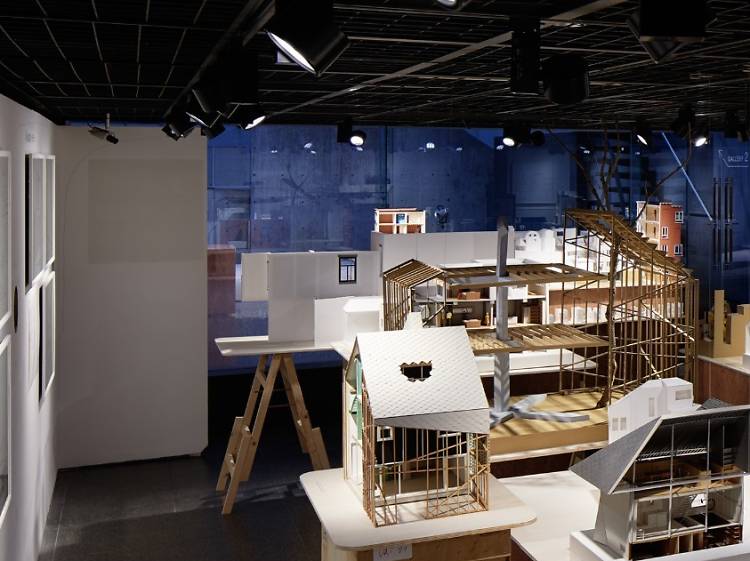 Toto Gallery Ma
Architecture aficionados rejoice: Toto Gallery Ma, while bearing the name of its associated company – which is well known for its high-tech toilets – is dedicated to the art and design of buildings and physical structures, and not the household white porcelain thrones. Located in the Toto Building, the gallery features changing exhibitions with models, diagrams and sketches that focus on a particular architect's or firm's prototypes and projects. The exhibitions spill out to the outdoor space, where you climb stairs to get a bird's-eye view of the showpiece.
The gallery reopens on October 21 for its new exhibition . Note that you'll have to make an online reservation in advance.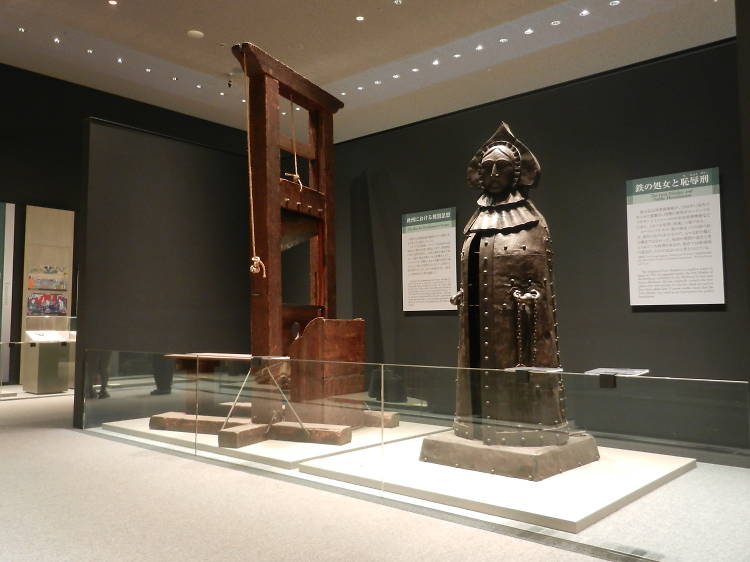 Meiji University Museum
With its fascinating mix of exhibits across three departments – commodities, criminal materials and archeology – this basement attraction in the huge Meiji University building is one of Tokyo's best secret museums. The first section is dedicated to traditional Japanese handicrafts such as pottery, indigo-dyeing, bamboo work, washi paper and lacquerware. The next section, which is also the highlight, is where it gets really interesting. It reveals the torture procedures used in the second half of the 18th century to punish criminals, such as haritsuke (crucifixion), gokumon (displaying the head publicly after a decapitation) and ishidaki gougu (putting large rocks on the knees of a sitting person). As a contrast, there are also some historical Western torture instruments including the iron maiden and the guillotine. There are English explanations, too, should you want to read up on all the details.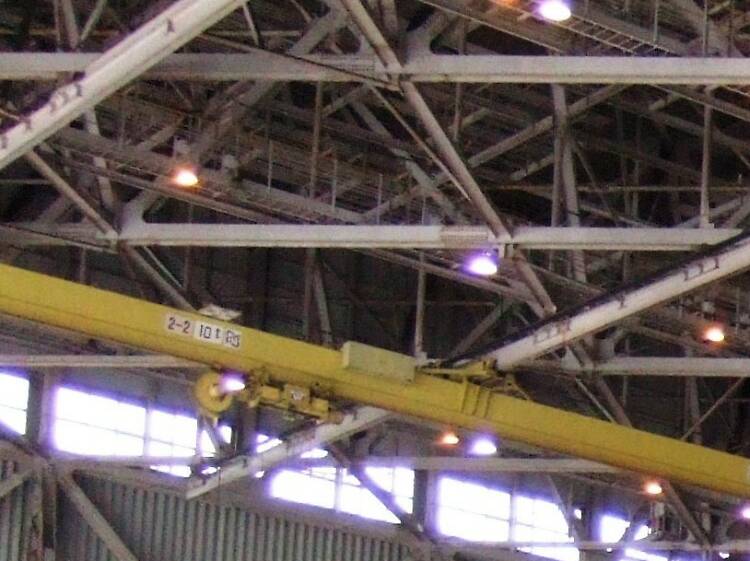 JAL hangar tour and Sky Museum
Japan Airlines' hangar tour takes an hour and 40 minutes and is split into three exciting sections. First, at the Sky Museum you will get an introduction to the airline's history from its beginnings in 1951, and a sense of how commercial air travel has evolved in the decades since, with a fleet of miniature aeroplanes and the changing fashions in flight-attendant uniforms over the past few decades. You can also take a seat in a faithfully recreated cockpit while listening to announcements in different languages.
The second part of the tour gets a bit more technical as you get into the nuts and bolts of how air travel works and are given an overview of Haneda Airport. The last part is what you've been waiting for: you'll be guided into the hangar to see aeroplanes up close, and watch the aeronautical engineers and mechanics at work.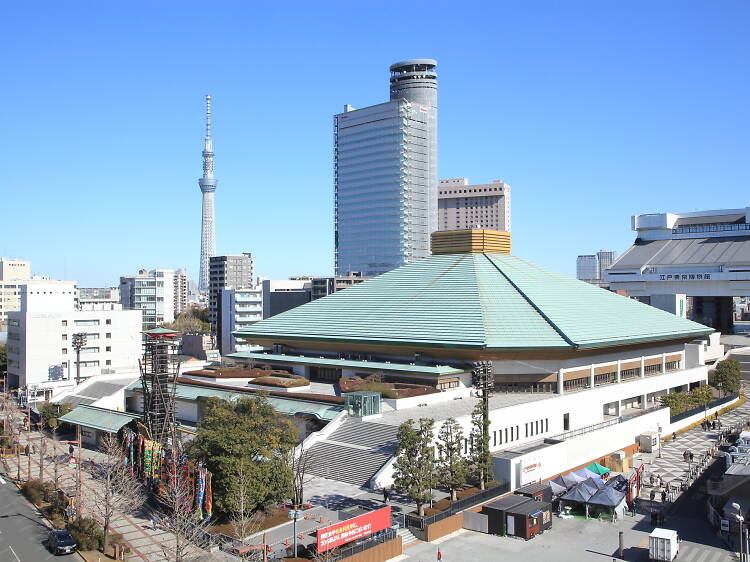 Sumo Museum
Learn about the history of massive men crashing into each other at Ryogoku's Kokugikan Sumo Museum, a veritable treasure trove of sumo-related memorabilia and woodblock prints. Special exhibitions are held six times a year.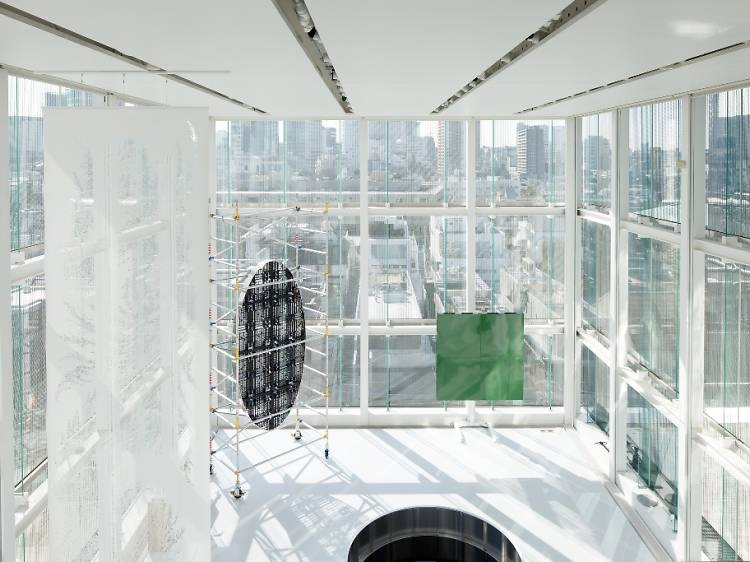 Espace Louis Vuitton Tokyo
Following the example of the Champs-Elysées Maison in Paris, Louis Vuitton transformed the seventh floor of its Jun Aoki-designed Omotesando store into an art gallery in 2011. Since opening, Espace Louis Vuitton Tokyo has held solo exhibitions by Alyson Shotz and Ernesto Neto, as well as group shows featuring work by artists from Finland, India and Japan.
Go on a free tour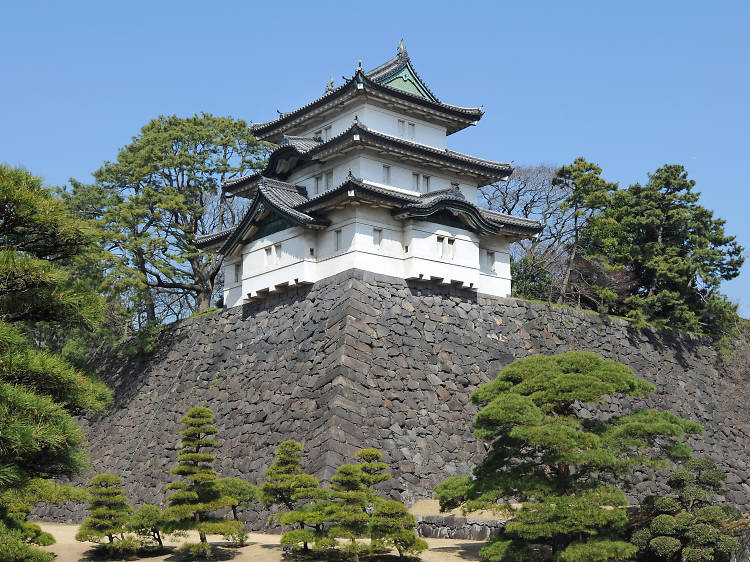 Imperial Palace
Historic buildings and sites
Occupying the site of the former Edo Castle, which was also the residence of the Tokugawa shogunate, Tokyo's Imperial Palace has been home to a succession of emperors since 1868. While the East Garden is open to the public – and free – throughout the year, visitors wanting to take a tour of the rest of the precincts must reserve in advance (see the English reservation site for details).
This will bring you to historic premises such as the former Privy Council building and the Imperial Household Agency Building (both constructed in the early 20th century boasting Western architectural designs), the beautiful Fujimi-yagura Keep and, of course, the Imperial Palace itself. The steel-framed reinforced-concrete structure was completed in 1968, using materials mainly produced in Japan. Tours are available in English and note that you can't step inside the buildings.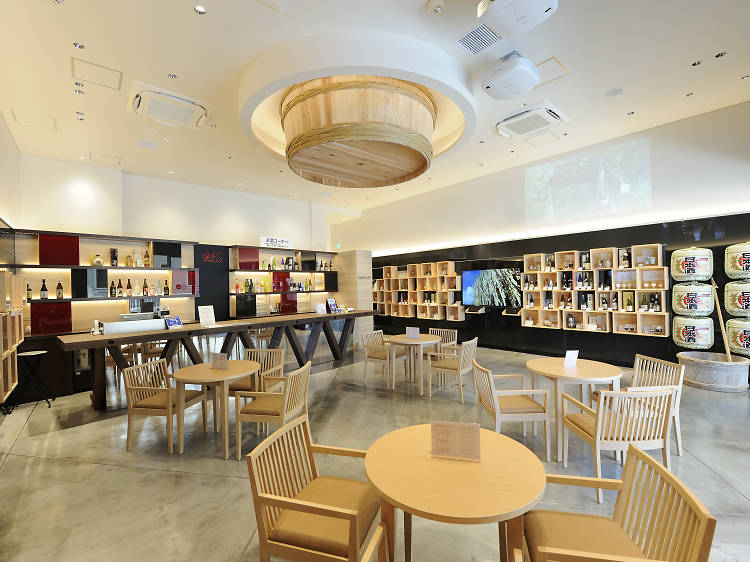 Japanese Sake and Shochu Information Centre
Also known as 'Sake Plaza', the Japanese Sake Information Centre makes available an abundance of information about Japanese alcohol. As well as being able to search for particular brands by computer, there is also a library with around 6,000 books on the topic of sake. You're welcome to give all that a miss, of course, and move swiftly on to the tasting area. Need we say more?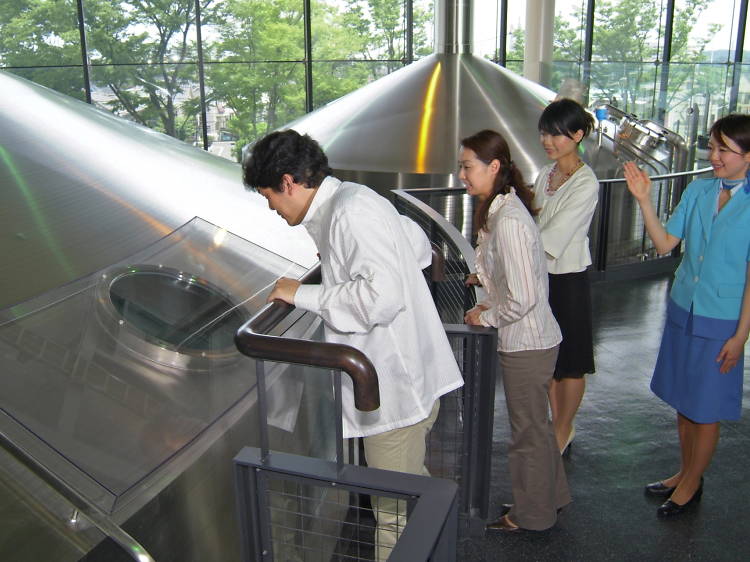 Suntory Musashino brewery tour
Known for its blue and gold cans of Premium Malt's, Suntory will take you on a tour of its brewery, walking you through the various stages of beer-making, from nurturing the hops to the customary sampling of the wares. The 70-minute tour starts with an introductory video before diving into the production process, and, somewhere along the line, you'll get the chance to walk into a beer vat. While you can't wander into the production line itself, explanatory footage with English subtitles give you the lowdown on what's going on as you look on from the observation gallery. At the end, you'll be treated to three draft beers – just what you need to relax after watching other people hard at work.
Explore the city with kids in tow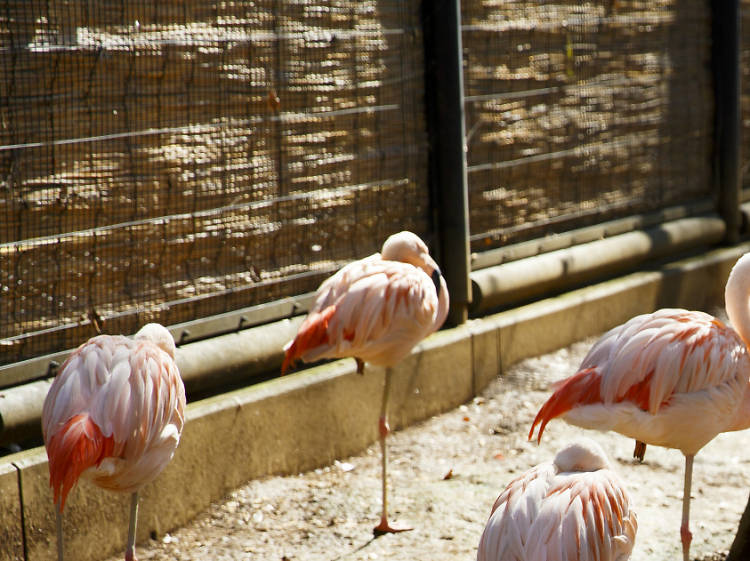 Yumemigasaki Zoo
Roughly 30 minutes from Shibuya, this tranquil zoo in Kawasaki combines animal-watching with a spot of cultural activity as it also houses two shrines and a temple. Established in 1972, it's home to more than 50 types of animals including mountain zebras, llamas and penguins. The grounds are especially scenic in spring, when 400 cherry trees are in bloom, making it the perfect spot for a picnic. Its uphill location also offers a splendid view of Kawasaki city.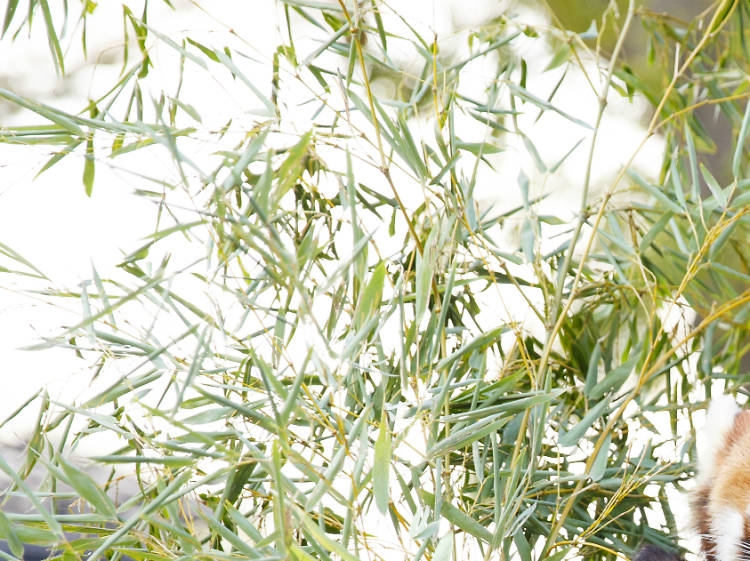 Nogeyama Zoo
This fully fledged zoo, located within Nogeyama Park on a hill overlooking Yokohama's Minatomirai area, was established in 1951, and is home to 93 species. There are the big game animals such as lions, tigers and giraffes to tick off your safari checklist, as well as pettable creatures the little ones can get their hands on, including squeaking guinea pigs and tiny mice at the Nakayoshi Hiroba (numbered tickets are required; check website for time slots). Don't miss the kagu; this greyish-blue bird with red eyes is originally from New Caledonia and, in Japan, can only be seen at Nogeyama Zoo. The relaxing grounds are also equipped with a café and gift shop.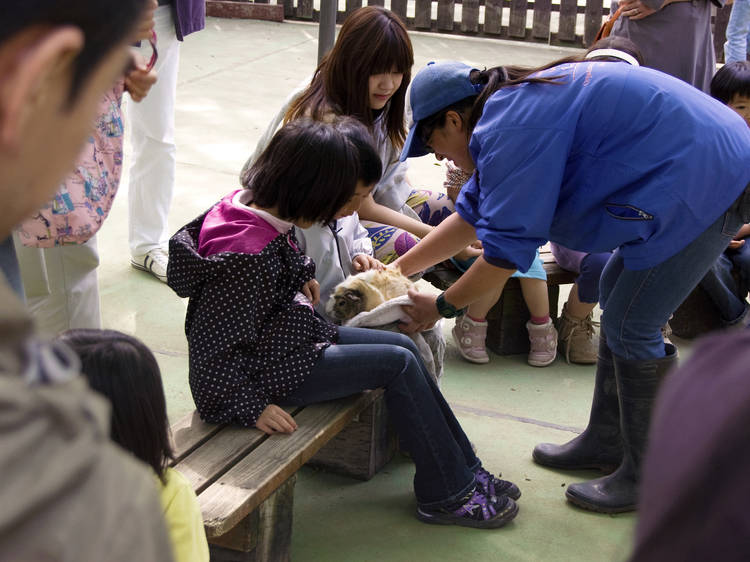 Himonya Dobutsu Hiroba
Himonya Dobutsu Hiroba is a great little place for families with young 'uns. Aimed at children below junior high school age, the kids get the chance to bother guinea pigs, rabbits, dogs and even ponies. The latter come with a nominal price tag (¥200 per ride), but the others are subject to a real live free-for-all. Renting a rowing boat on the nearby lake is so cheap it's almost free, too, costing a mere ¥200 per 30 minutes for a boat.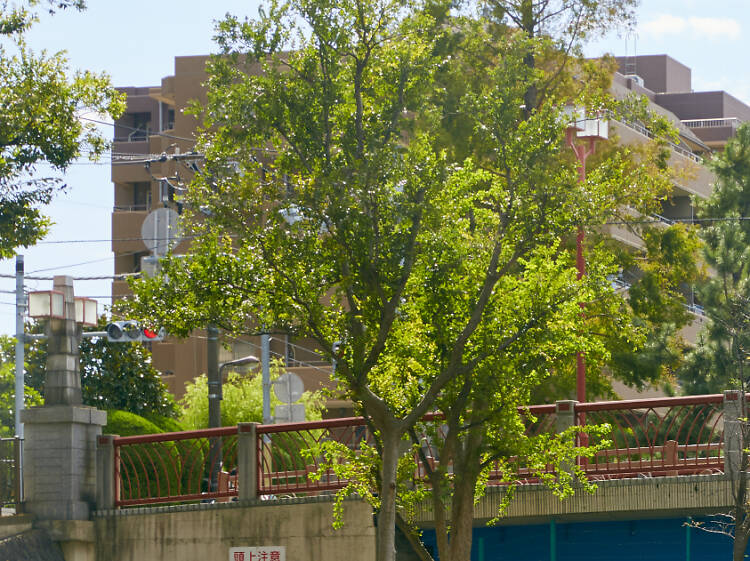 Wasen Tomo no Kai
Throughout the Edo period (1603-1868), traditional Japanese wooden boats known as wasen were used to transport goods and passengers along Tokyo's many rivers and canals. In order to preserve the wasen and its unique rowing techniques, members of the Wasen Tomo no Kai association provide free rides on these boats once or twice a week. No booking is required: just make your way to the Yokojukken-gawa Shinsui Park in Koto to enjoy a ride (roughly 20 minutes) on the canal. If you're lucky, the boat operator might even wear a shirushi-banten (traditional indigo-blue jacket) complete with a suge-gasa conical hat, perfect for your Instagram shot. The staff will also be delighted to teach you how to use the ro , a wooden propulsion tool more effective than the regular oar.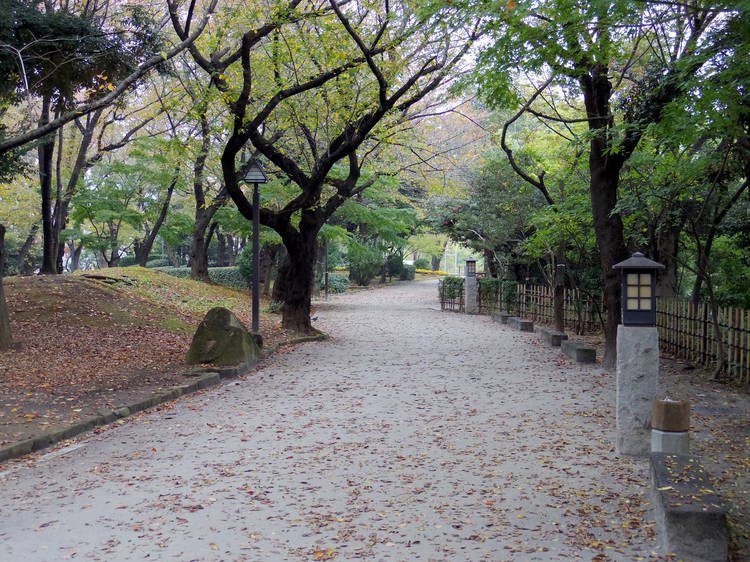 Asukayama Park Monorail
The entrance to this wooded hilltop park is right next to Oji Station, from where you can take the Asuka Park Rail, a free train that takes you all the way to the summit. Despite the one-way trip being only a two-minute adventure, the beauty of the spring flowers below makes it worth your while.
10am-4pm, closed on the 1st Thu in July and from 10am-noon on the 1st Thu of all other months due to maintenance.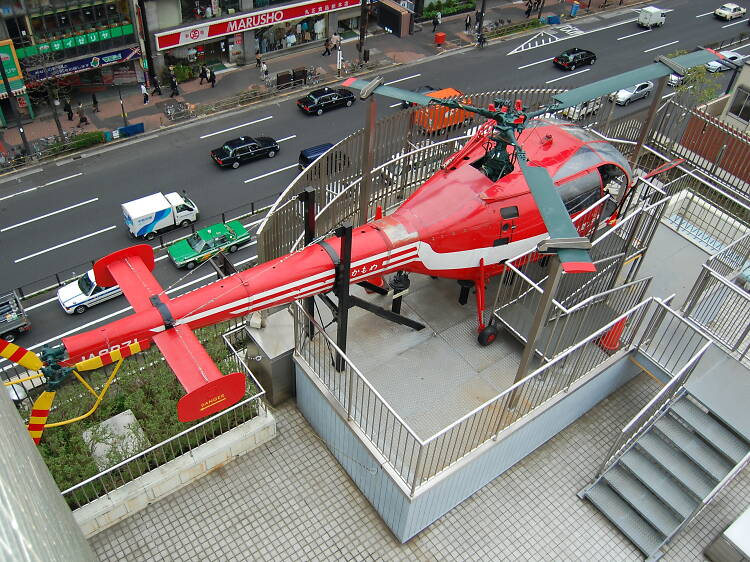 Fire Museum
Operated by the Tokyo Fire Department, this free museum is where you can learn about firefighting and disaster prevention through the centuries in Japan, presented through a series of woodblock prints, dioramas and historical documents. There's also a collection of stunning vintage fire trucks in the basement. But it's not all just show and tell. Kids can change into minisized firefighter uniforms on the third floor and explore the inside of a fire truck equipped with working sirens. Don't miss the huge helicopter on the fifth-floor outdoor terrace as well – you can climb into the cockpit and get a sense of the scale of the Fire Department's operations. The tenth floor, meanwhile, offers a panoramic view of the Shinjuku skyline, Tokyo Skytree and Mt Fuji on a clear day.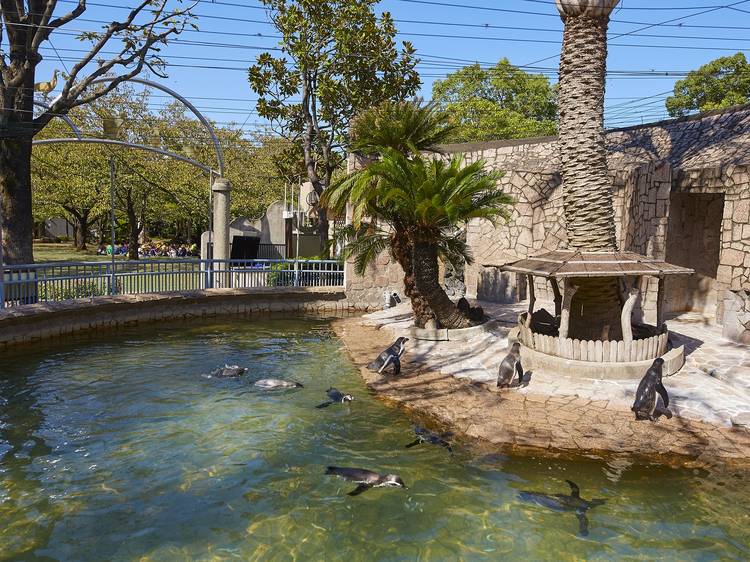 Edogawa Shizen Zoo
This small zoo in Edogawa ward's Gyosen Park may not have the big beasts but kids will love its variety of smaller animals such as rabbits, guinea pigs, sheep and goats, especially since they can interact with these friendly creatures at the petting area (sessions run 10am-11.45am, 1.15pm-3pm; summer 10am-11.45pm, 2.30pm-3.45pm).
The zoo is also home to adorable Humboldt penguins, Bennett's wallabies and spider monkeys plus the two crowd-favourites, red pandas and giant anteaters. The zoo's cosy atmosphere makes for a leisurely stroll, and there are seats scattered about for you to enjoy a lunchtime bento box. Don't miss the adjacent traditional Japanese Heisei Garden, which offers calming scenery far removed from Tokyo's hustle and bustle.
Note that the petting area is temporarily closed due to the coronavirus.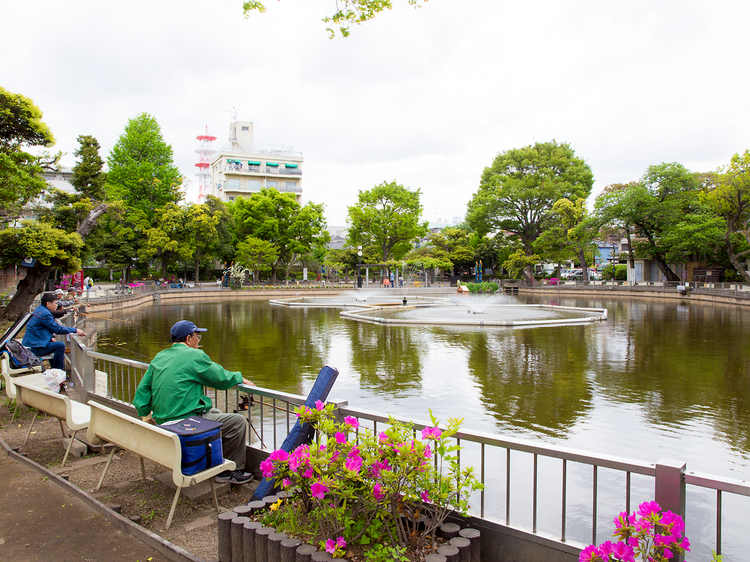 Fishing at Shimizuike Park
The pond at this quiet Meguro park was once used to irrigate farmland in the area, but now functions as one of the few free freshwater fishing spots in Tokyo. You're not allowed to take any fish home, so picking up dinner supplies will have to be done elsewhere.
Catch a free gig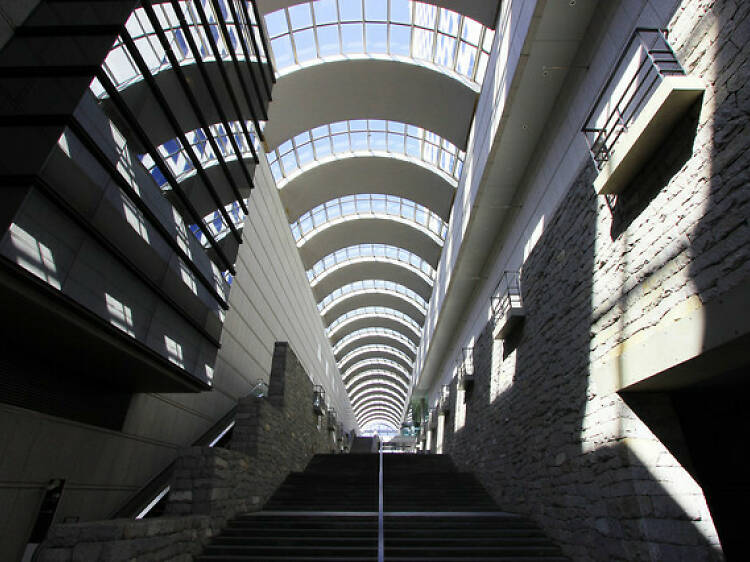 Pipe-organ concert at Tokyo Opera City
Tokyo Opera City Concert Hall is completely decked out in European oak, which is well known for its excellent acoustic qualities. Come enjoy the majestic sounds of the 3,826-pipe organ during the venue's free lunchtime concert. There's no reservation necessary: just drop in before the show starts, grab a seat either on the ground or second floor and let your cares drift away with the music. Check the website for the programme.
The concert is free, but you'll have to make a reservation in advance by calling the ticket centre (03 5353 9999).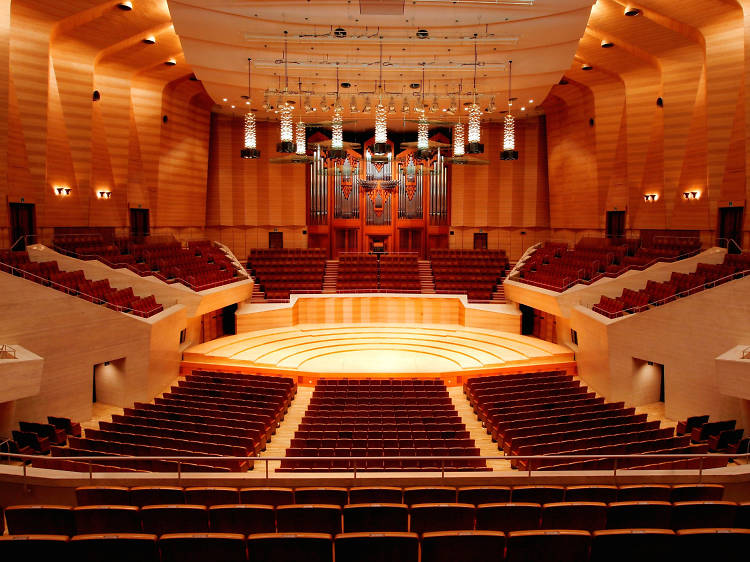 Suntory Hall Organ Promenade Concerts
The imposing Austrian-made organ at the world-class concert venue Suntory Hall has been described as a 'jewel box of sound' by Austrian conductor Herbert von Karajan. The acoustics are, of course, superb, and you can experience them for yourself at the free Organ Promenade Concert that's been a fixture since 1991. Once a month, on a Thursday lunchtime for half an hour, you can be immersed in the tones of one of the world's biggest organs, which features a total of 5,898 pipes. Check the website for the programme.
The concert is free, but you'll have to make a reservation in advance by calling the ticket centre (0570 55 0017).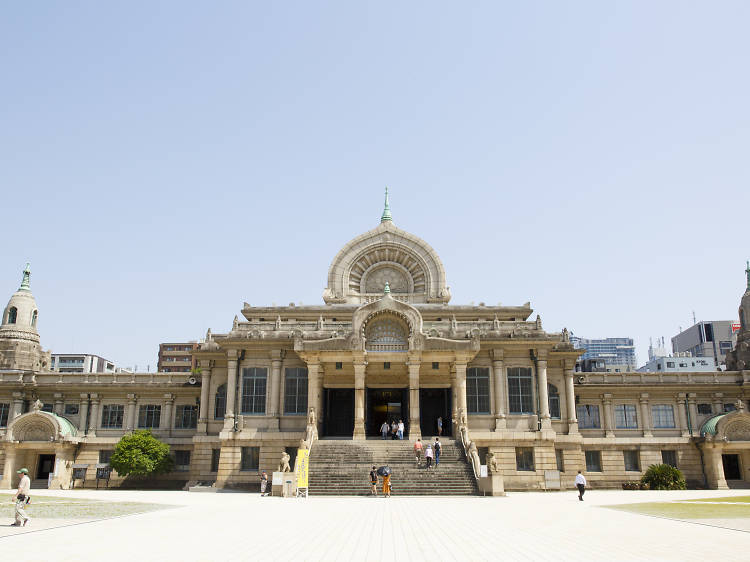 Pipe-organ concert at Tsukiji Hongwanji Temple
Religious buildings and sites
The distinctive Tsukiji Hongwanji Temple is well worth a visit for its unique stone architecture alone, inspired by traditional Indian temple designs. The interior is just as stunning but features classic Shin Buddhist temple aesthetics instead, complete with stained glass, chandeliers and beautiful furniture. The best way to experience the serene atmosphere, though, is during the free monthly pipe-organ concert , which takes place on a Friday lunchtime and usually includes a mix of classical tunes and Buddhist hymns.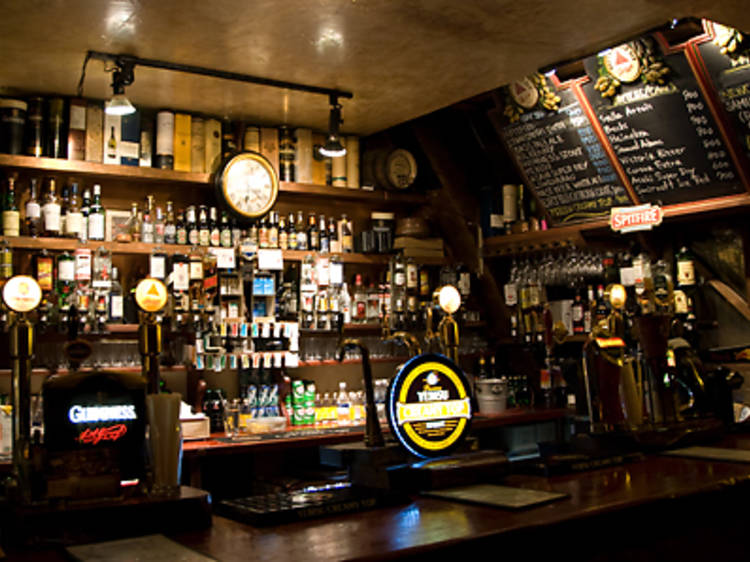 What The Dickens
Few would argue that Tokyo can charge a pretty penny when it comes to concert tickets, but gratis gigs are available if you dig about. You'll find plenty going on at this Brit-themed pub in Ebisu, where local bands plug in and wig out most nights of the week. The full schedule is available on their website.
More free things to do in Tokyo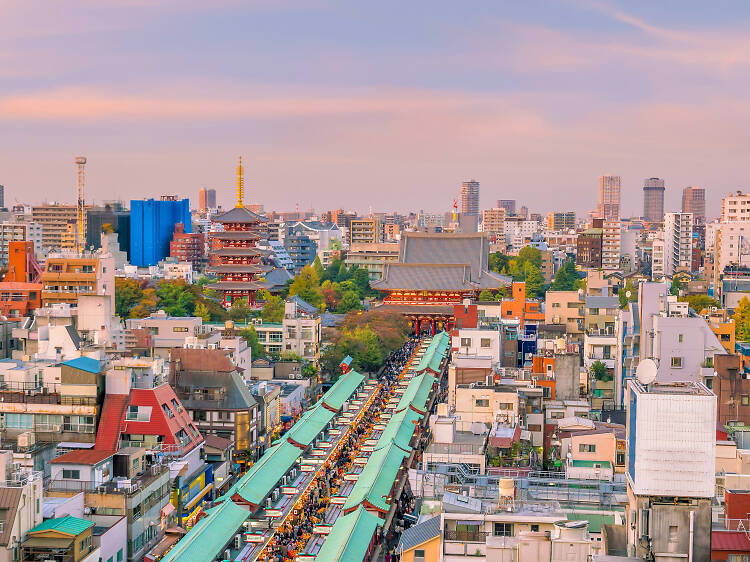 Where to see the Tokyo skyline for free
Admire the wonders of the Tokyo cityscape – from Mt Fuji to Tokyo Bay – without spending anything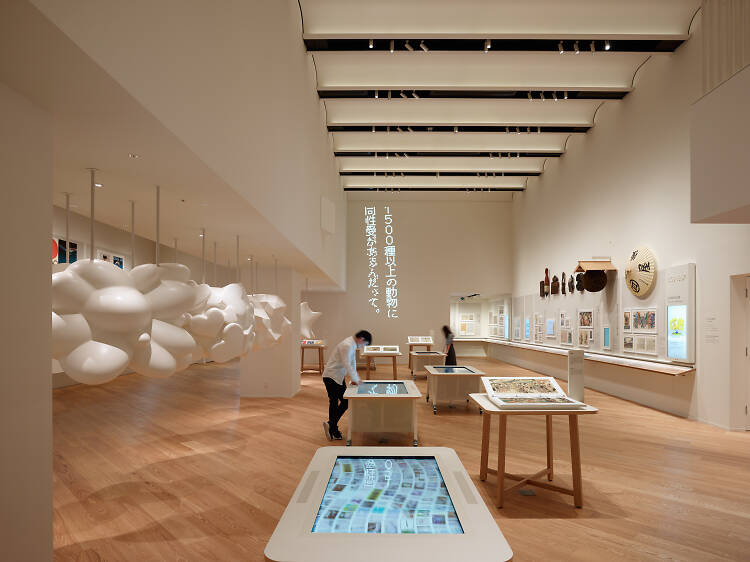 Best free museums in Tokyo
Here are our favourite free museums in Tokyo for art, history and even kids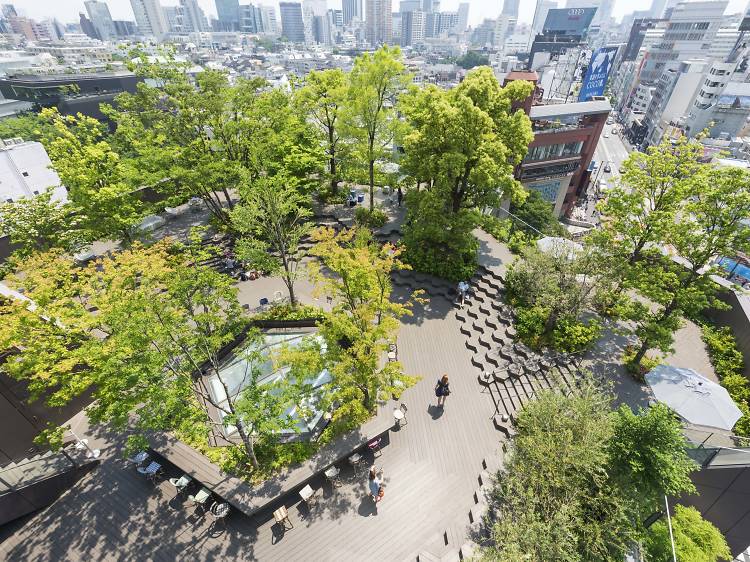 Best rooftop gardens in Tokyo
Relax in one of these secret parks and gardens, found way above ground on the city's shopping mall rooftops
[image] [title]
Discover Time Out original video
By entering your email address you agree to our Terms of Use and Privacy Policy and consent to receive emails from Time Out about news, events, offers and partner promotions.
🙌 Awesome, you're subscribed!
Thanks for subscribing! Look out for your first newsletter in your inbox soon!
Terms of use
Work for Time Out
Time Out Group
Advertising
Manage cookies
Time Out Tokyo
Magazine subscription
Digital edition
Buy the guide to Tokyo
Time Out products
9 Free Tokyo Walking Tours To Take A Fresh Look At Well-known Tourist Areas
Free Tokyo walking tours
Tokyo is a bustling city and the world's most populous one at that. People are constantly on the move, rushing on and off trains. But while rushing, we often miss out on the hidden alleys that will only be discovered on foot. If you're up for a new way to experience Tokyo, we've compiled a list of 9 free Tokyo walking tours so you can discover something new about Tokyo , no matter how many times you've visited.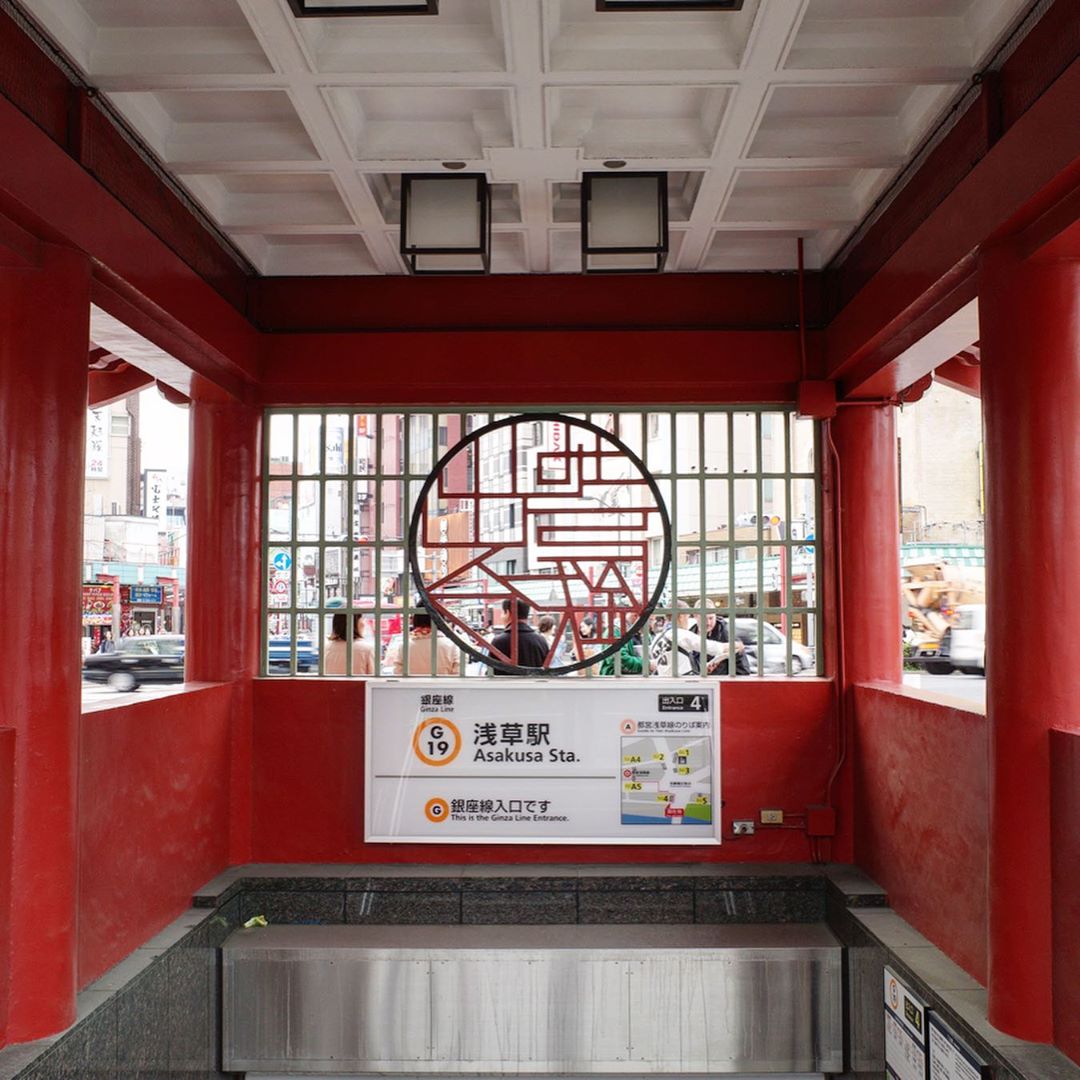 Asakusa suffered extensive damage from the World War II bombings , but it was rebuilt and is now a historical shitamachi (downtown area) that draws in tourists from all over the world.
This tour by a group of volunteers from Tokyo Free Walking Tour starts from the Kaminarimon Gate near Asakusa station and takes you through the main attractions in the area. The Kaminarimon Gate is easily identifiable by the 3.9m by 3.3m red lantern that hangs at the gate.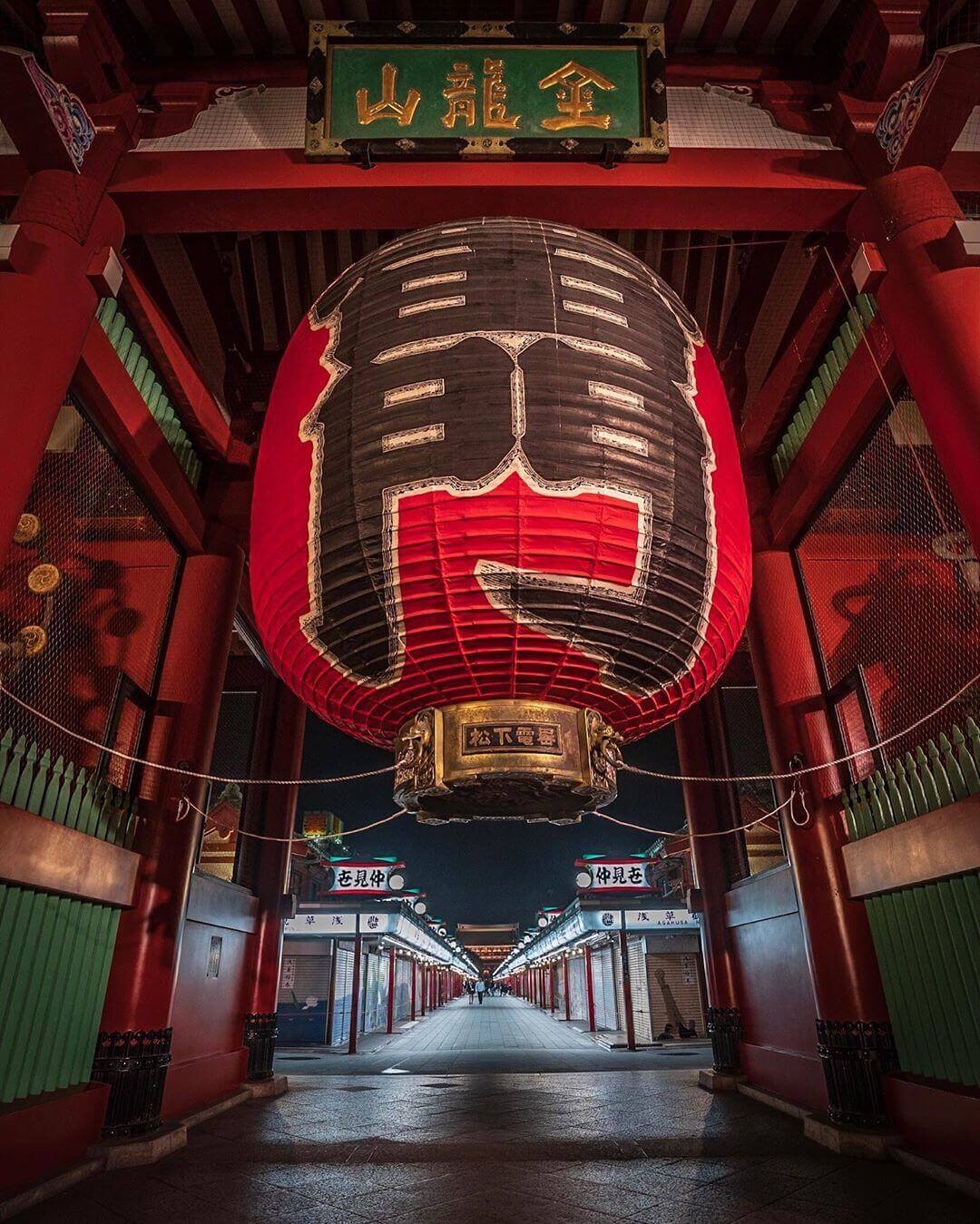 From the Kaminarimon Gate, which is the outer gate of Senso-ji Temple, you'll enter a 200m-long shopping street called Nakamise . Along this street, you can find traditional craft items, old-school local snacks, and typical Japanese souvenirs.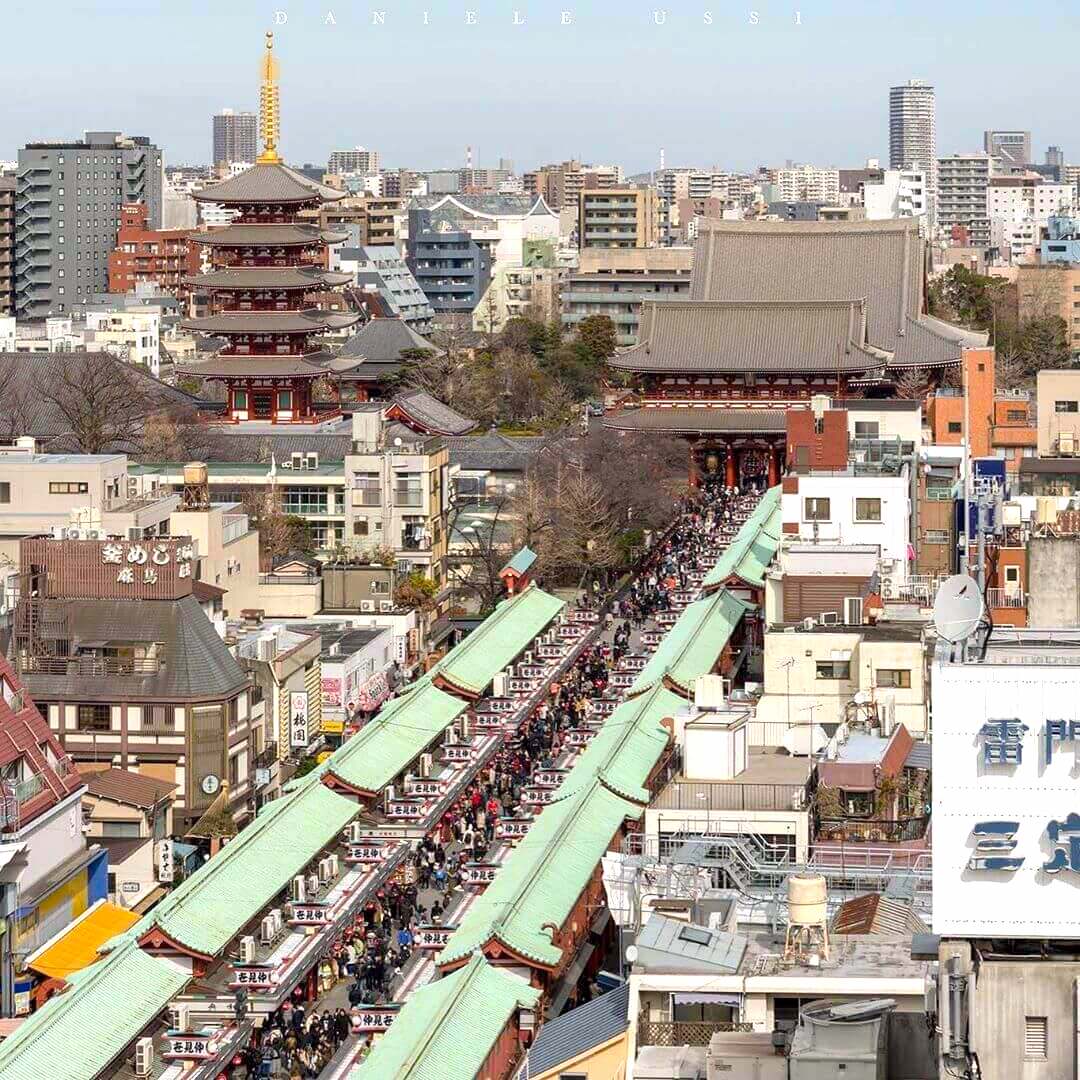 At the end of the shopping street is the Hozomon Gate of the Senso-ji Temple. Senso-ji Temple is one of the oldest temples in Tokyo and arguably the most popular one. It is a must-see if it's your first time in Asakusa.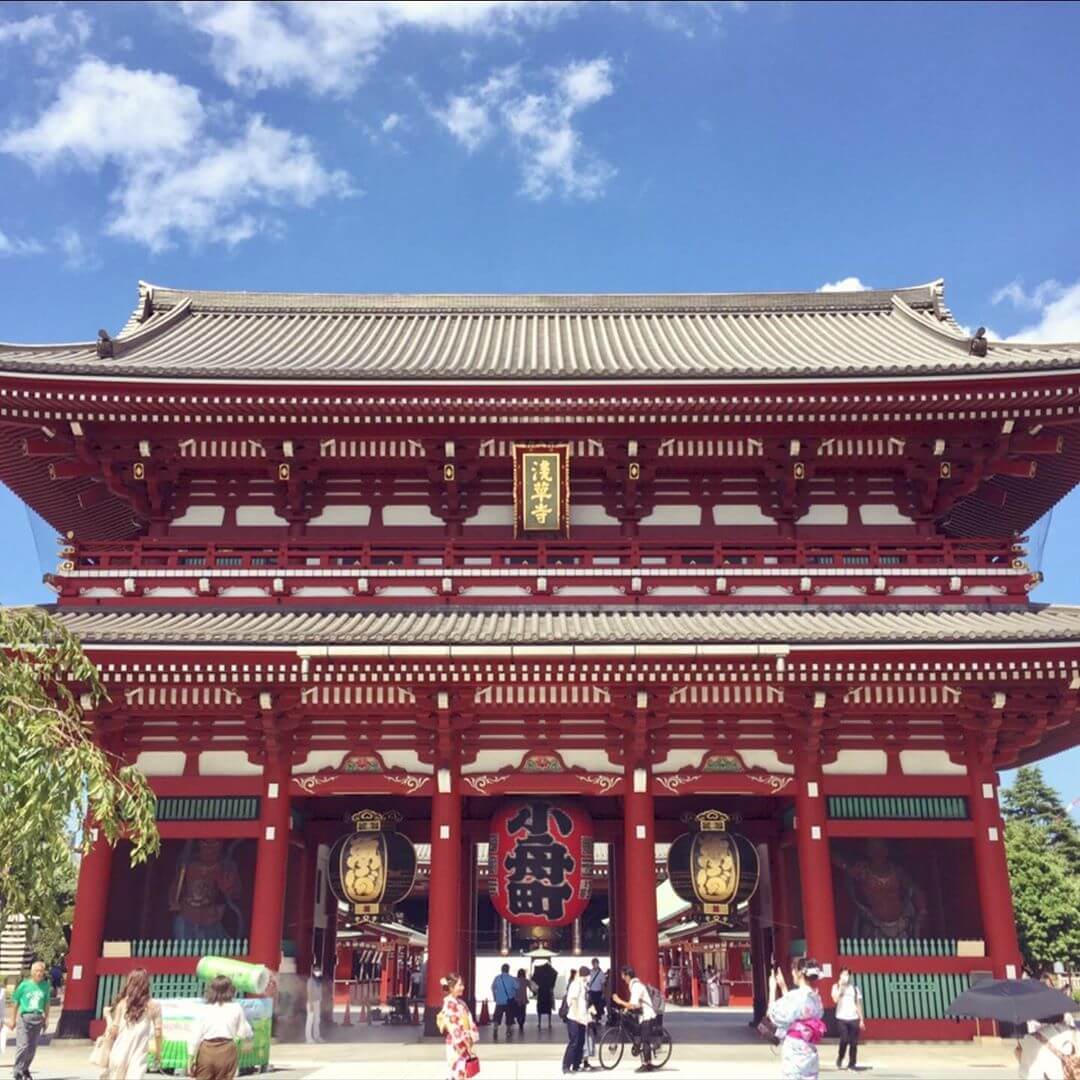 The temple has a main hall and a 5-storey pagoda, both of which were reconstructed after the war. The Asakusa Shrine stands on the left of the main hall.
This 1.5-hour Asakusa walking tour happens every other Sunday at 10AM and 1PM. No reservations are required – you just have to turn up at the meeting location on the specified date and time. The volunteer tour guides are well-rated on Tripadvisor and Facebook for being informative and providing a local perspective on the tourists attractions.
Note: Due to COVID-19, all tours are currently suspended. Refer to the Tokyo Free Walking Tours website and tour calendar for the latest updates.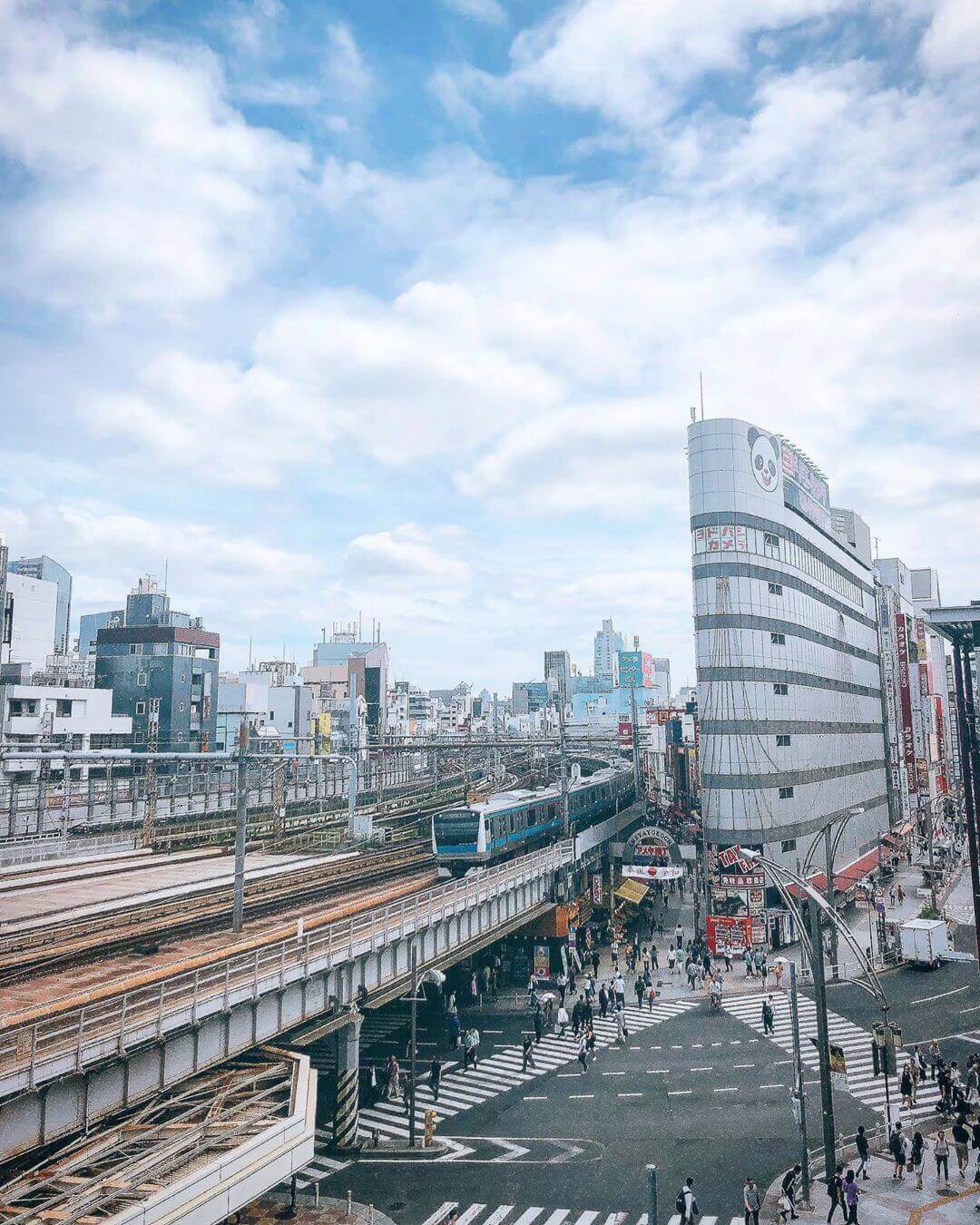 Ueno is a well-known sightseeing spot in Tokyo and it's especially popular for the cherry blossoms that fill Ueno Park in spring. Other attractions in the area include the Tokyo National Museum , the Tokyo Metropolitan Museum of Art , and the Ueno Zoo .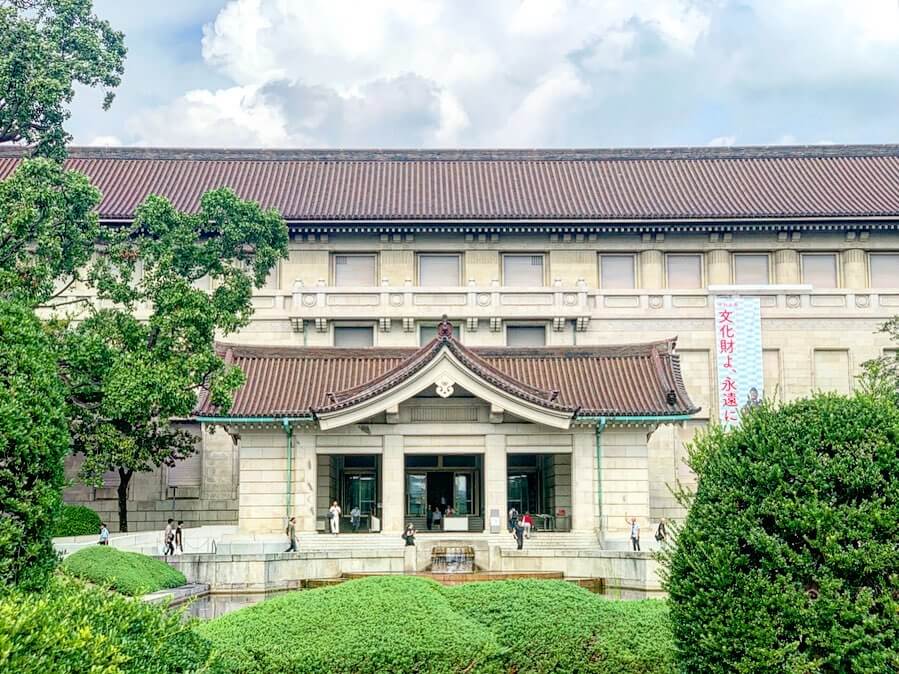 The Japan National Tourism Organisation (JNTO) has compiled a brochure with a list of walking routes for tourists who want to explore the city. It includes the Ueno route , which starts and ends at Ueno Station , and includes stops at Ameyoko Street and the Shitamachi Museum . This is an unguided walking tour so you can explore the area at your own pace . If something outside of the route catches your eye , you can always take a detour.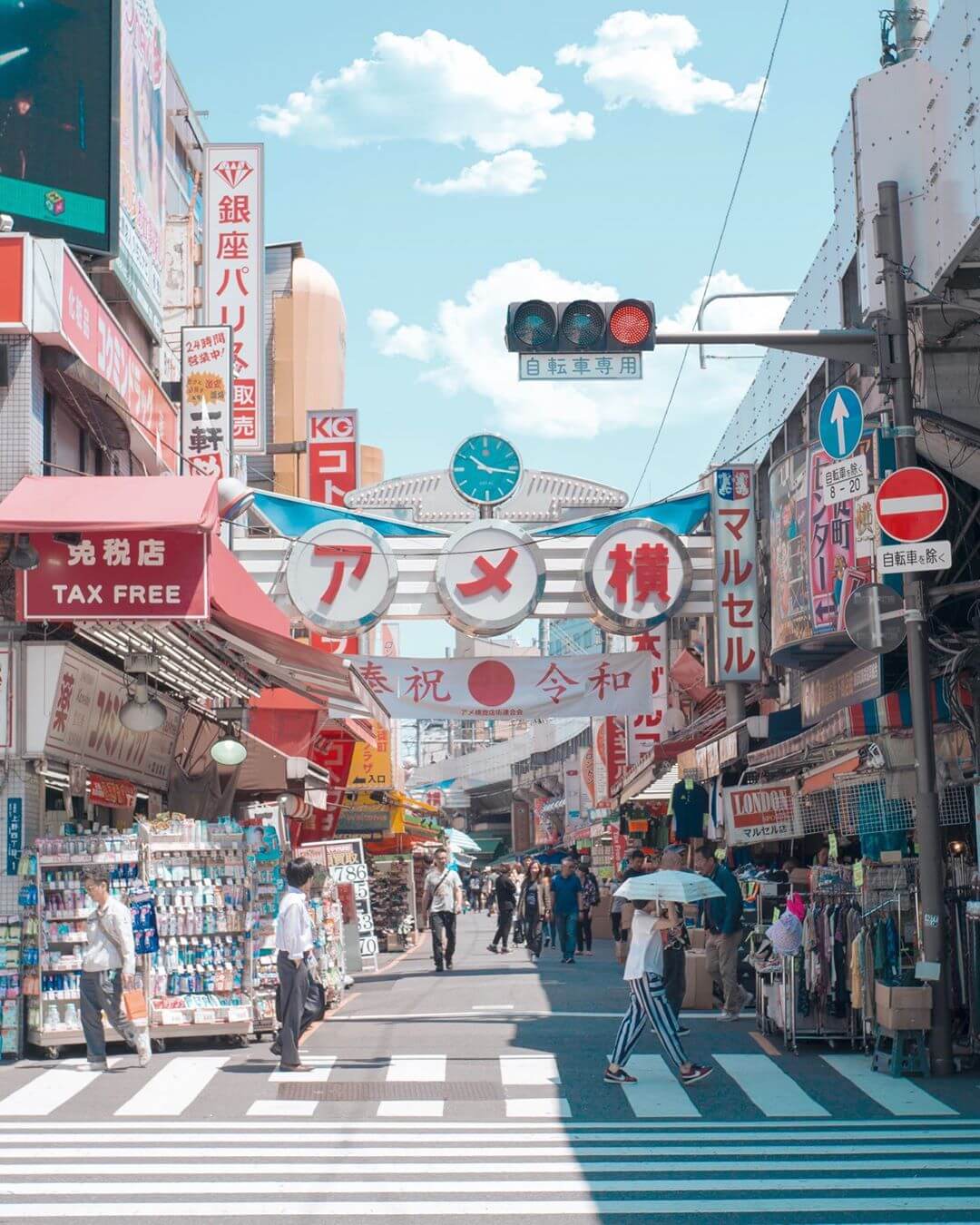 Ameyoko Street used to be a black market during World War II but is now a bustling shopping area especially on the weekends. Along this 500m-long shopping street, you'll find heavily discounted prices for a wide variety of goods such as clothing, cosmetics, and even fresh groceries. The Ameyoko Center Building has an extensive selection of herbs and spices as well.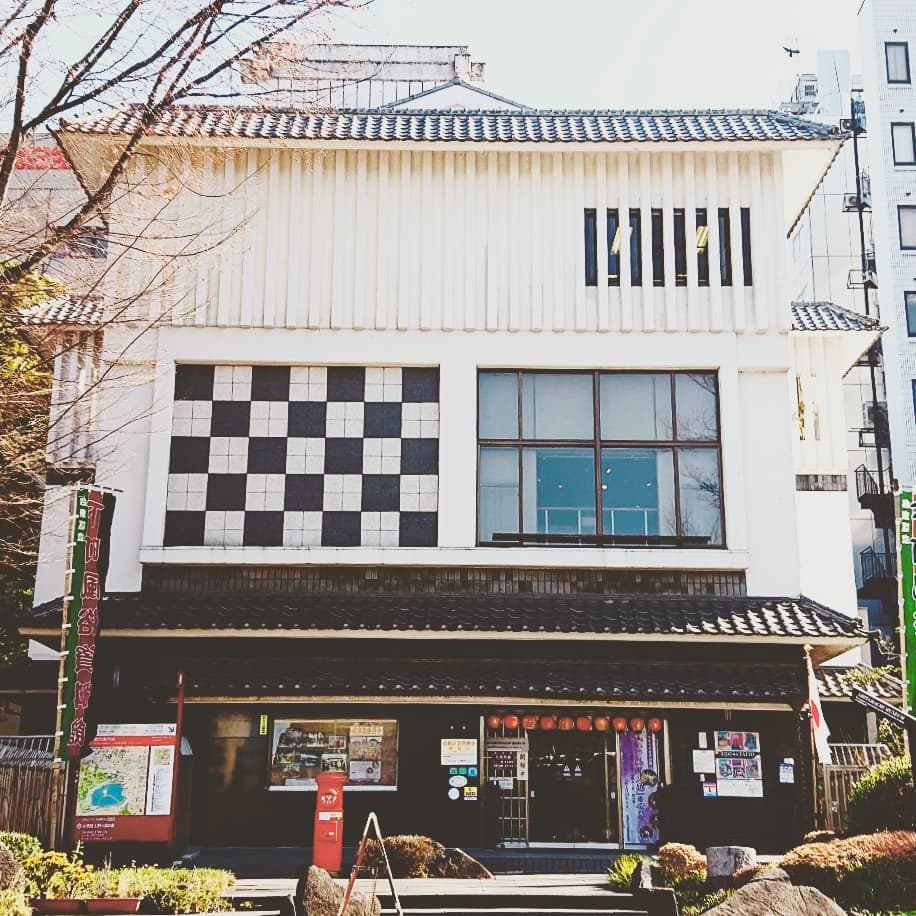 The Shitamachi Museum is a 2-storey museum that was established to preserve tradition and history and to showcase how life was in the Taisho era (1910s-1920s). Look out for the red postbox and the red-and-green banner when you're in the area so you don't miss this small and unassuming museum.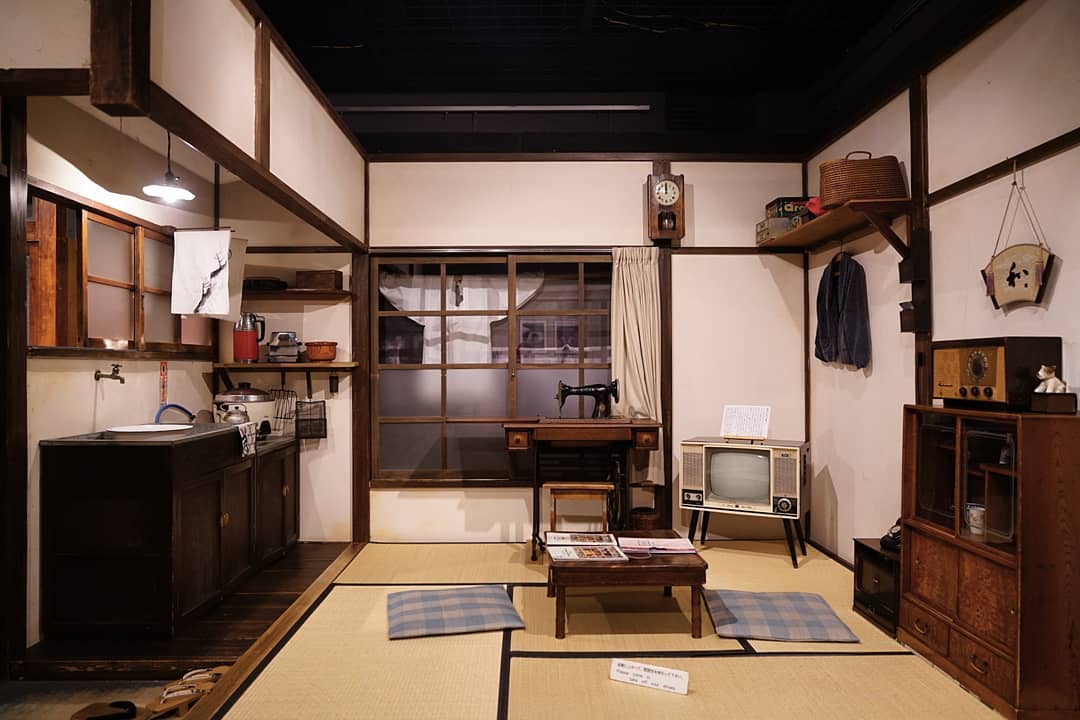 The 1st floor reproduces the landscape of the old town with a traditional sweet s shop, a coppersmith's workshop, and a communal well. The 2nd floor displays various objects like old household items, traditional children's toys, and artefacts from World War II.
Tickets are priced at ¥300 (~USD2.83) for adults and ¥200 (~USD1.89) for elementary to high school students. When you purchase your tickets, it is highly recommended that you ask for an English speaking guide. The guide will take you through the 1st floor of the museum and leave you to explore the 2nd floor on your own. There is no extra charge for the guide.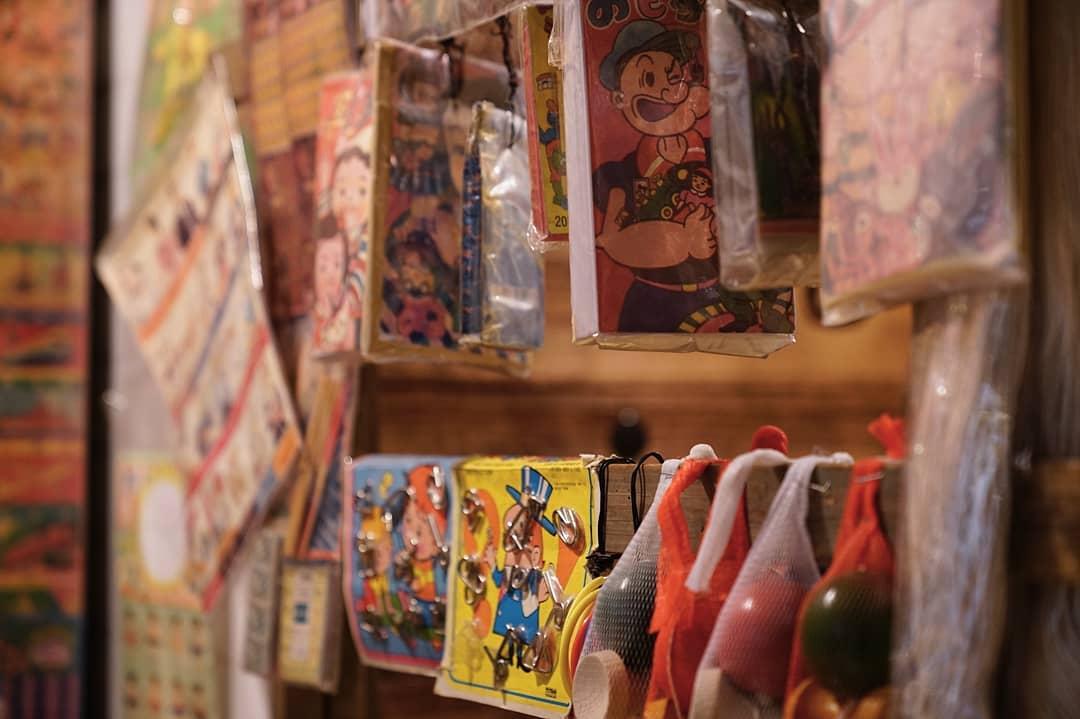 The JNTO brochure recommends setting aside about 3.5 hours for this Ueno route , but you can adjust this according to your fancy . Another place you can visit is the Yokoyama Taikan Memorial Hall which displays art in a Japanese-style residence. It isn't included in this particular route but it's a recommended attraction listed in the brochure as well.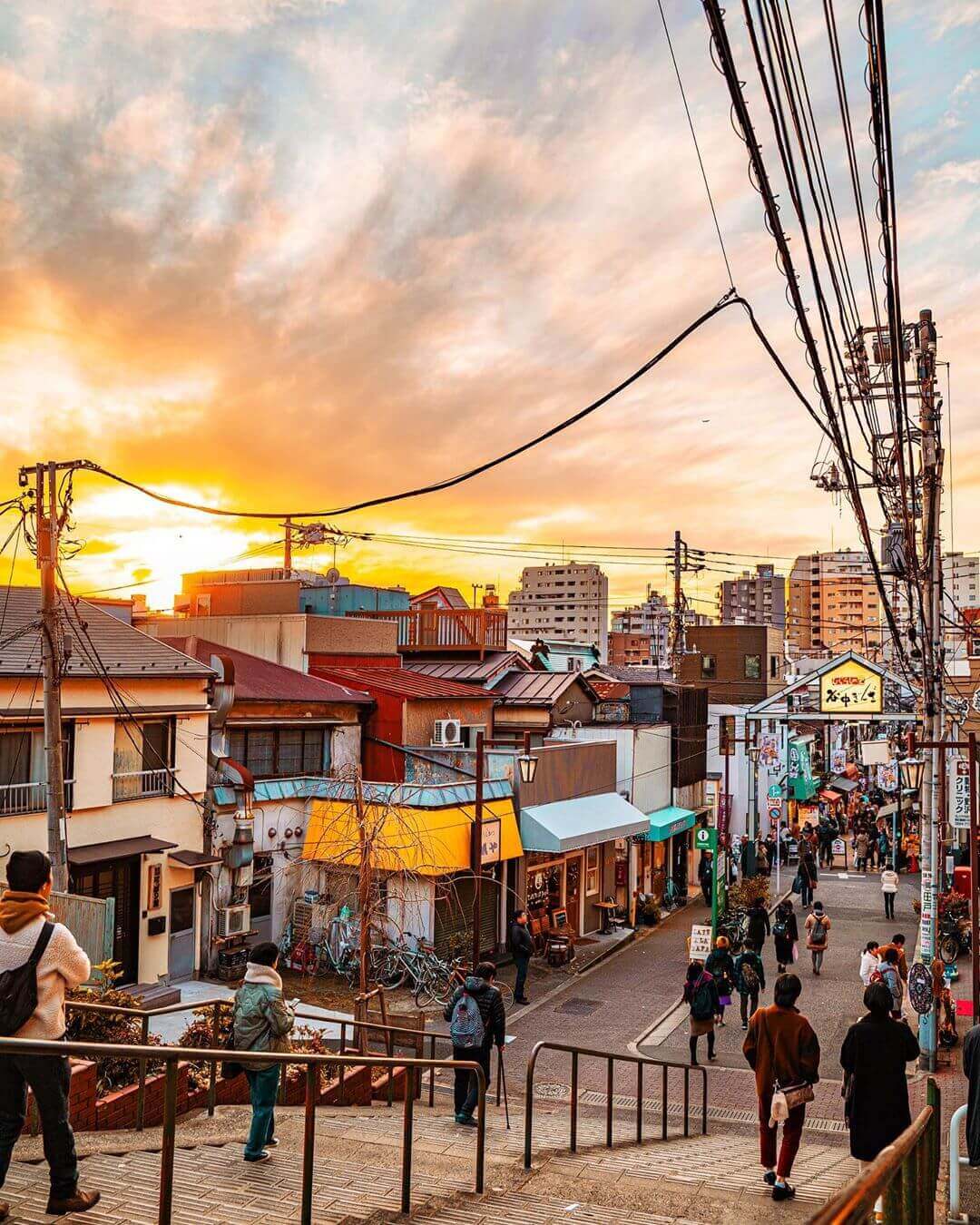 Yanaka district is within walking distance of Ueno Park, so it's possible to combine this walking tour with the Ueno route and complete it within a day. This area was spared from the bombings of World War II so most of the old buildings retain their old world charm.
The Tokyo Systematized Goodwill Guide Club (Tokyo SSG Club) offers a 1.5-hour Yanaka area tour every Saturday and Sunday at 10.30AM and 1PM. No registration is required for this tour but you have to be at the meeting point – the front yard of the Asakura Museum of Sculpture – 10 minutes before the start of the tour.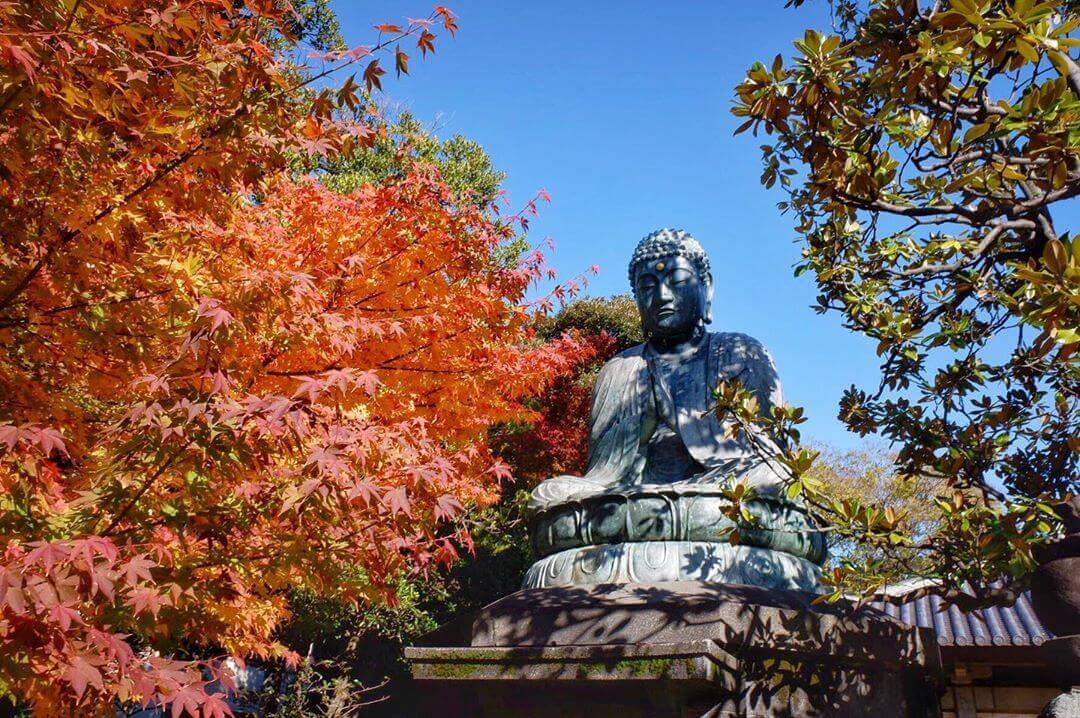 The tour will bring you to attractions in the Yanaka area, including the Tennoji Temple . The Tennoji temple has a peaceful atmosphere. A big statue of Buddha sits on the left of its main building.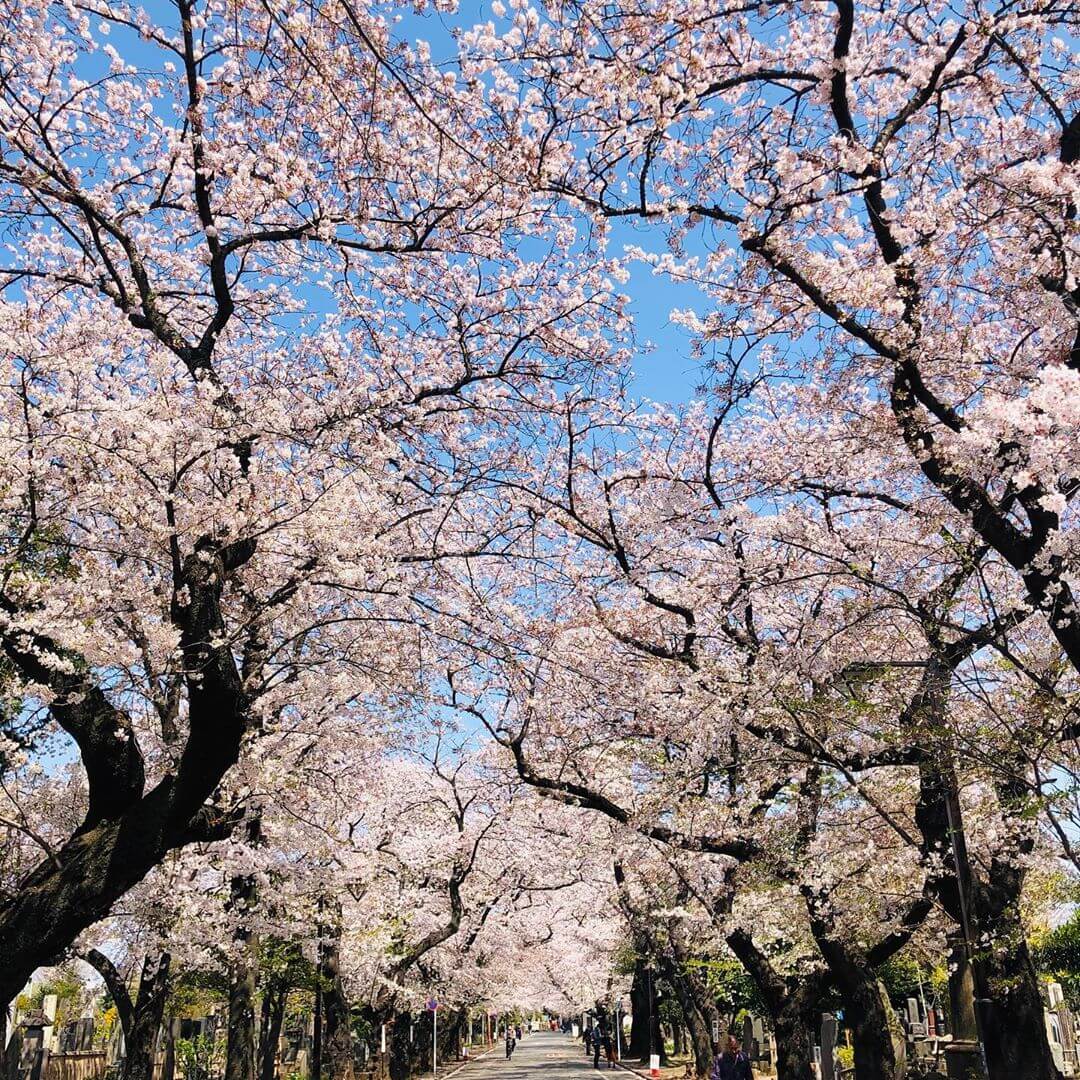 Beside the Tennoji Temple lies the Yanaka cemetery, which has also become an attraction thanks to the Sakura-dori street. During the cherry blossom season , the street is lined with large cherry blossom trees in full bloom. Yanaka cemetery is also the largest and most famous cemetery in Tokyo.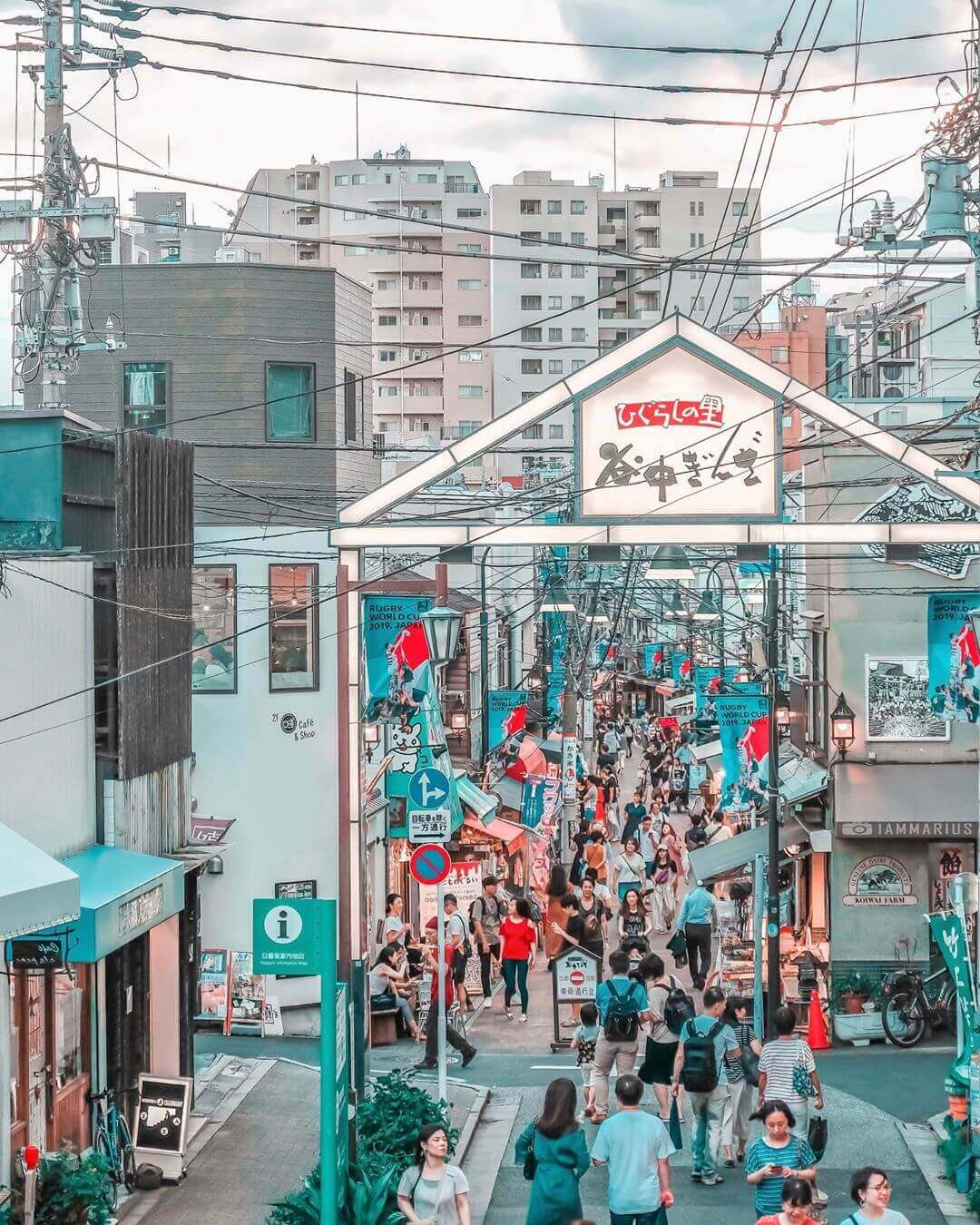 A must-visit in Yanaka is the Yanaka Ginza shopping street . Yanaka Ginza is a favourite among the locals. If you visit on a weekday, you'll see locals buying necessities and hanging out with their neighbours.
Along this 175m-long traditional shopping street, there are unique items such as Yanaka Shipoya (cat-tail doughnuts) and Yanaka shoga jelly (ginger-flavoured jelly sweets) that you might not be able to find elsewhere. Items such as chopsticks, foldable fans, and unique Japanese sweets are priced reasonably as they cater to the locals as well. There are also many stores selling food items so it's a good idea to come here on an empty stomach. English translations might not be available in stores so just go with your gut or follow what the locals eat.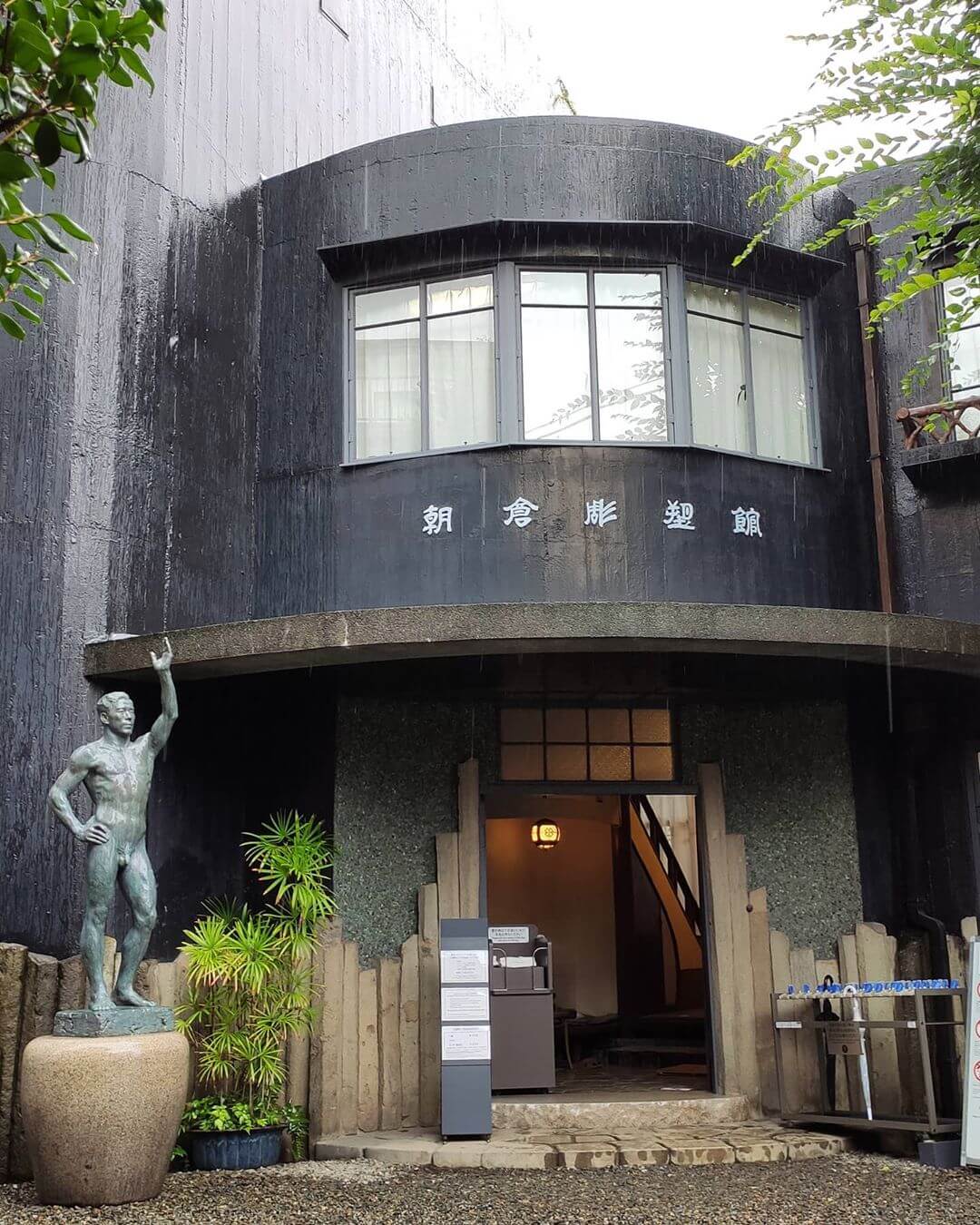 The meeting point of the tour, the Asakura Museum of Sculpture, doubles as one of the service centre locations of the Tokyo SSG Club. If you need more information regarding the walking tours, you can approach the museum or other service centre locations such as the Asakusa Culture Tourist Information Centre and the Ueno Park Desk . At the service centres, you can also get free brochures and maps .
Note: Due to COVID-19, the walking tours have been suspended until further notice. Refer to the Tokyo SSG Club's website for more updates.
4. East Gardens of the Imperial Palace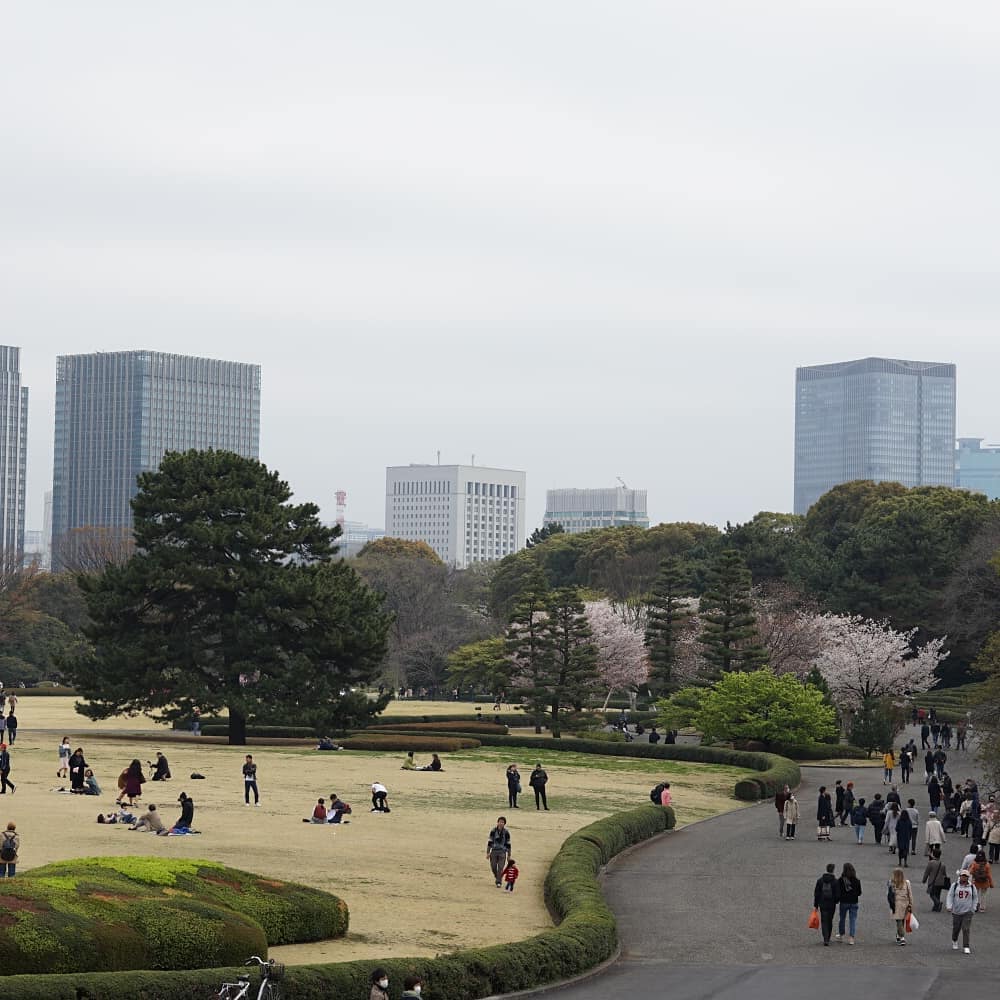 Part of the inner grounds of the Imperial Palace, the East Gardens of the Imperial Palace is open to visitors and is free of charge. There's a wide lawn where you can have a picnic. History buffs can also check out the statues, moats, walls and gates of the former Edo Castle .
The volunteers from Tokyo Free Walking Tour conduct a tour of the East Gardens every Saturday at 1PM. The tour lasts for approximately 2.5 hours and you just have to show up at Tokyo Station's Marunouchi Central Gate on the ground floor to join.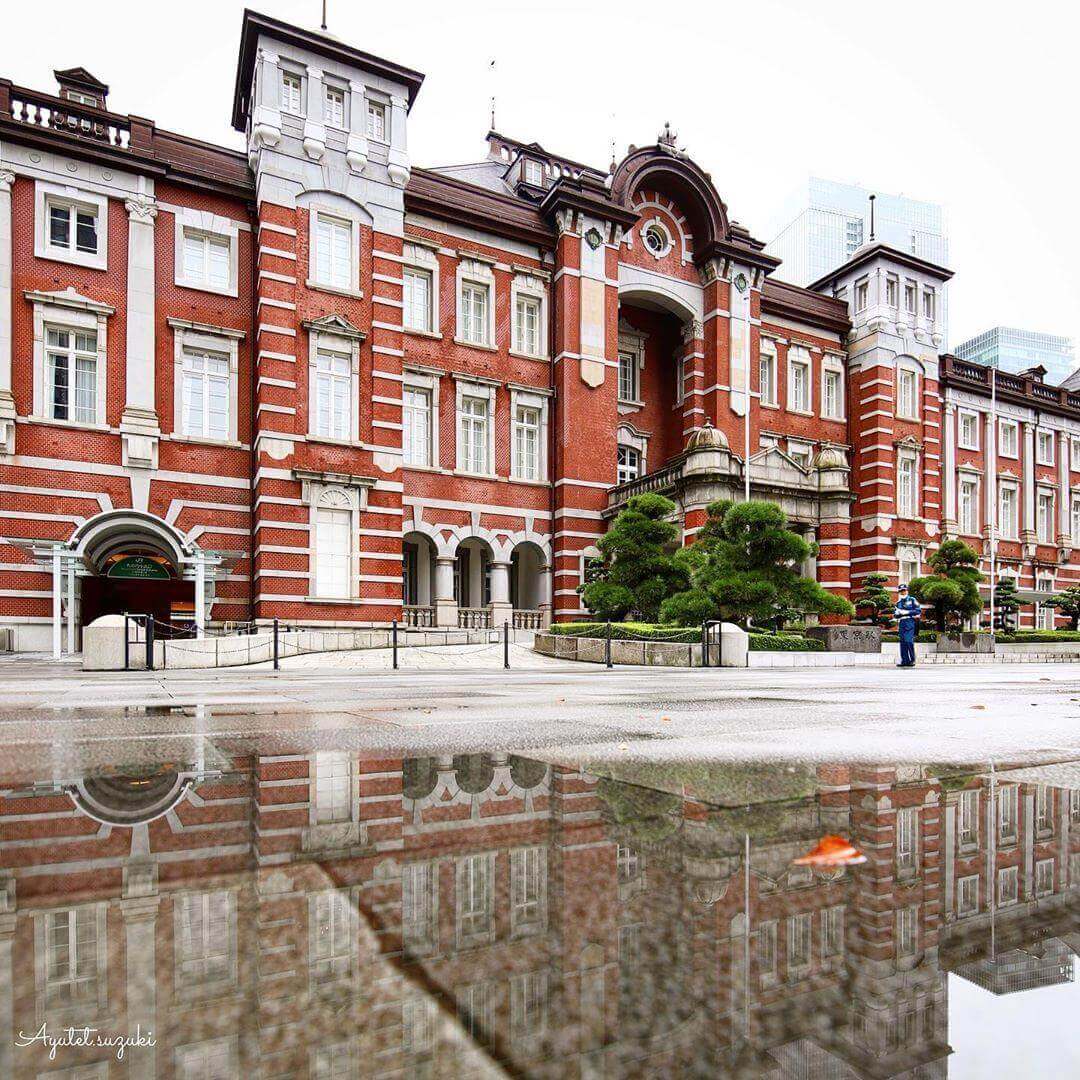 The remaining foundation of the former castle tower is found within the East Gardens. This castle tower used to be the tallest in Japan's history but was destroyed by citywide fires in 1657 and never rebuilt.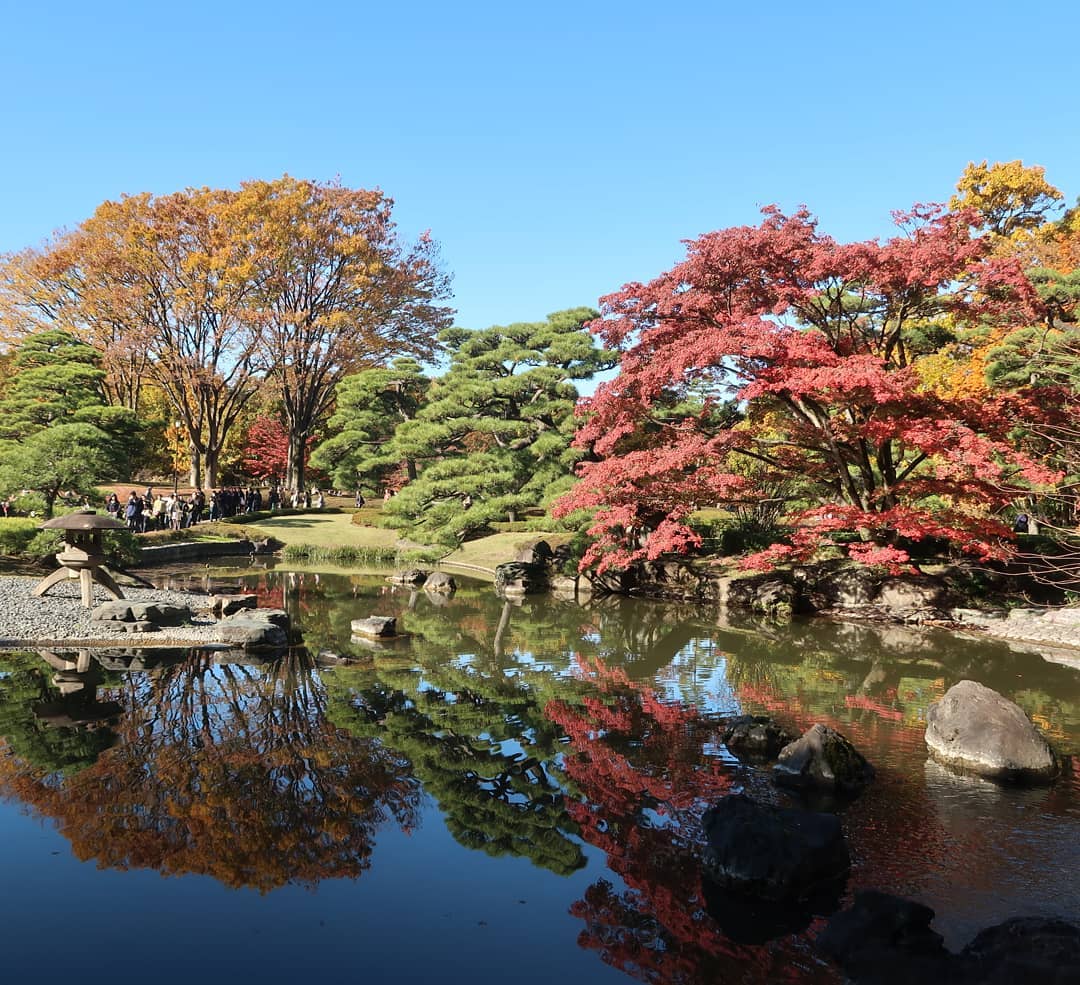 While you're there, enjoy the serenity of this Japanese style garden. The best time to visit is during the cherry blossom season or in autumn, but dozens of different flowers line the walkways so plants are blooming all year round.
5. Meiji shrine and Harajuku
Tokyo Localized organises a free walking tour around the Meiji Shrine and Harajuku area. The tour runs for approximately 2.5 hours and bookings must be made 10-14 days before the tour date . Their tour schedule is available on their website so you can make bookings accordingly. Be sure to book early as slots are limited due to the cap on the number of guests per group.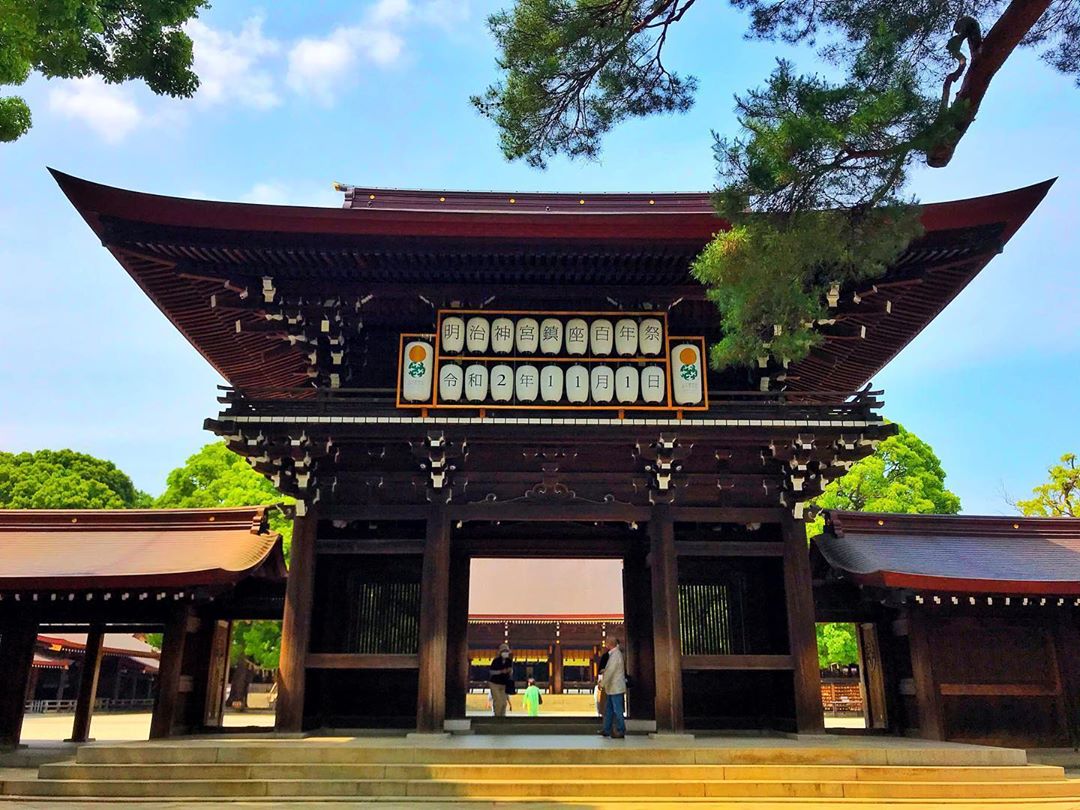 The Meiji Shrine is dedicated to the deified spirits of Emperor Meiji and his consort, Empress Shoken. There is a 70-hectare forest that surrounds the main shrine building , and the trees were planted by volunteers in honour of Emperor Meiji and Empress Shoken. This is one of the most popular shrines in Japan, especially during the first few days of the new year.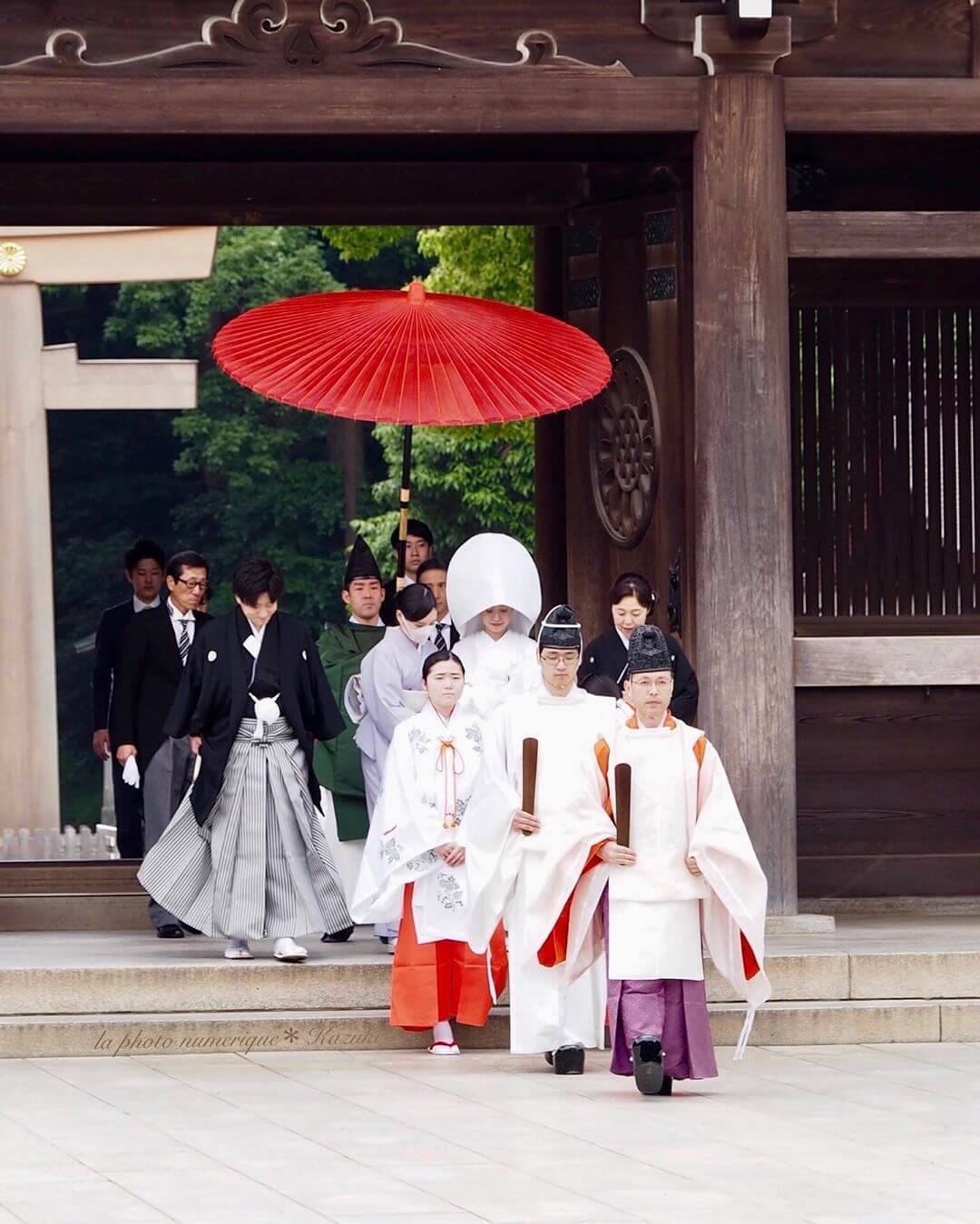 If you're lucky, you might be able to see a wedding procession in progress at the Meiji Shrine.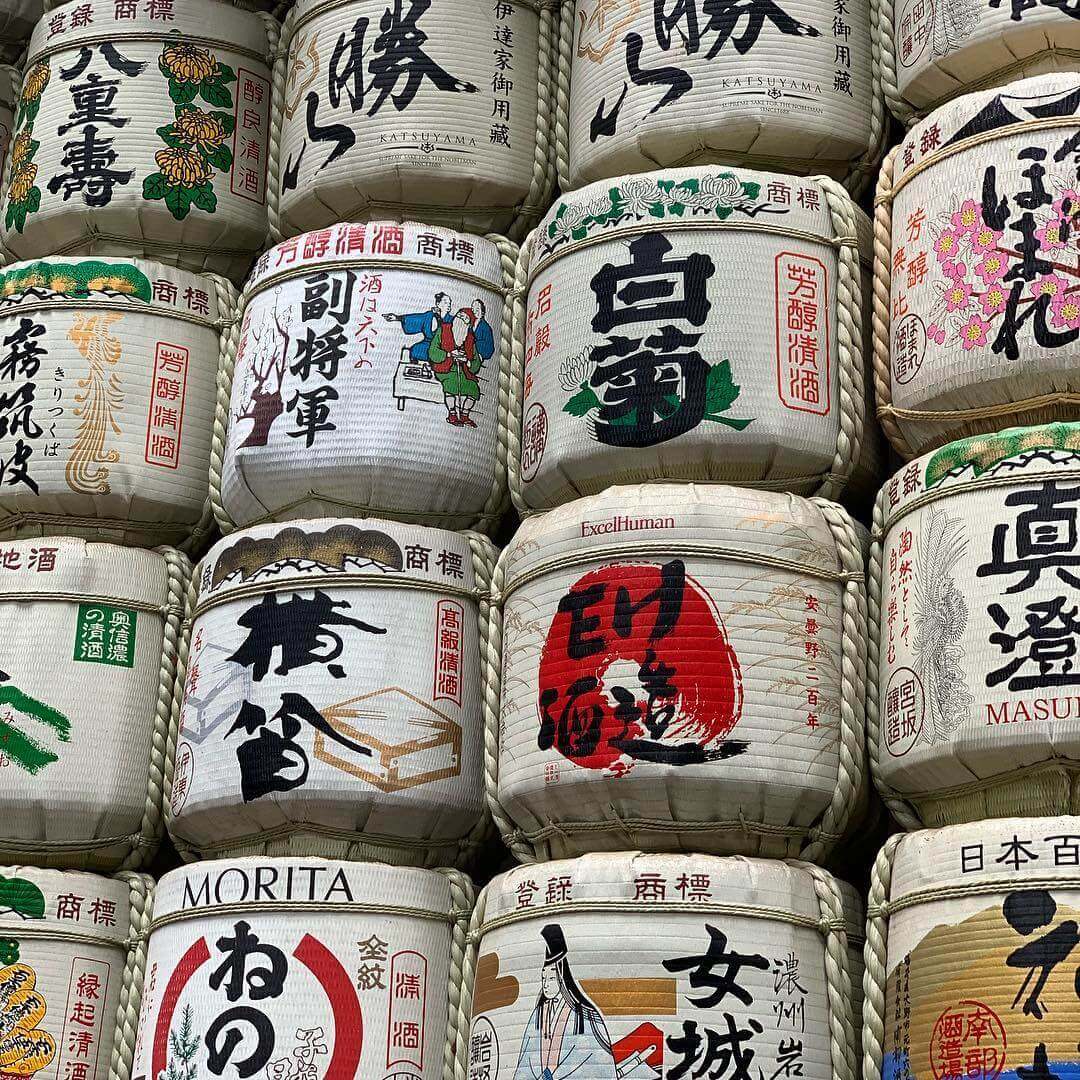 These sake barrels found on the shrine grounds are another symbol of Meiji Shrine. The barrels are decorated with the names and locations of the sake producers who contribute to the shrine annually. They are stacked 6 rows high, forming a wall of sake barrels.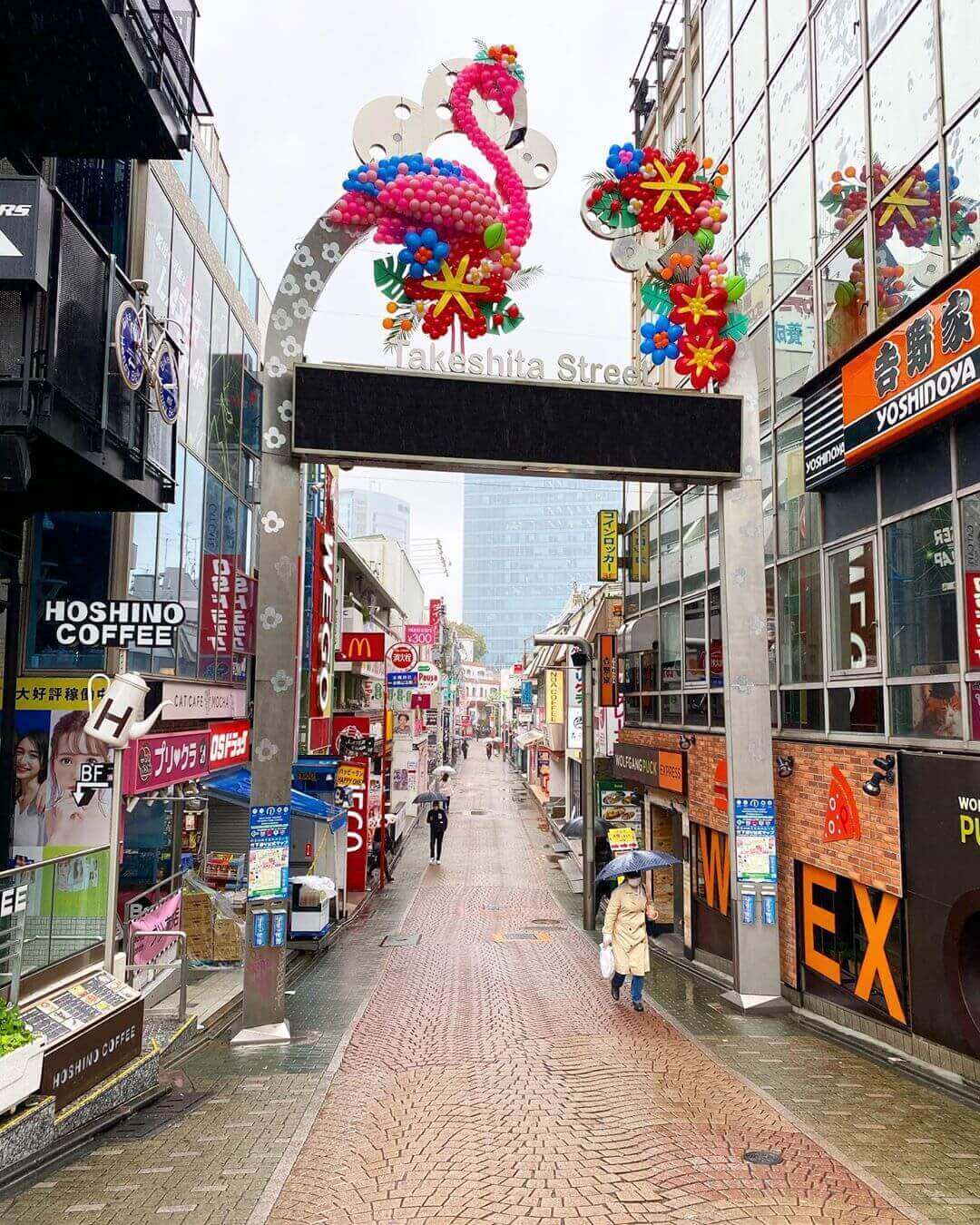 This walking tour also brings you to Takeshita Street, also known as Takeshita-dori , the focal point of Harajuku. Along this street, you can find everything trendy and wacky. The stores lining this street are mainly small and independent so it is likely you'll find unique trendsetting items. There are also many oshare (fashionable) food stores selling cute monster-themed food, crepes, rainbow-coloured cotton candy, and over-the-top milkshakes.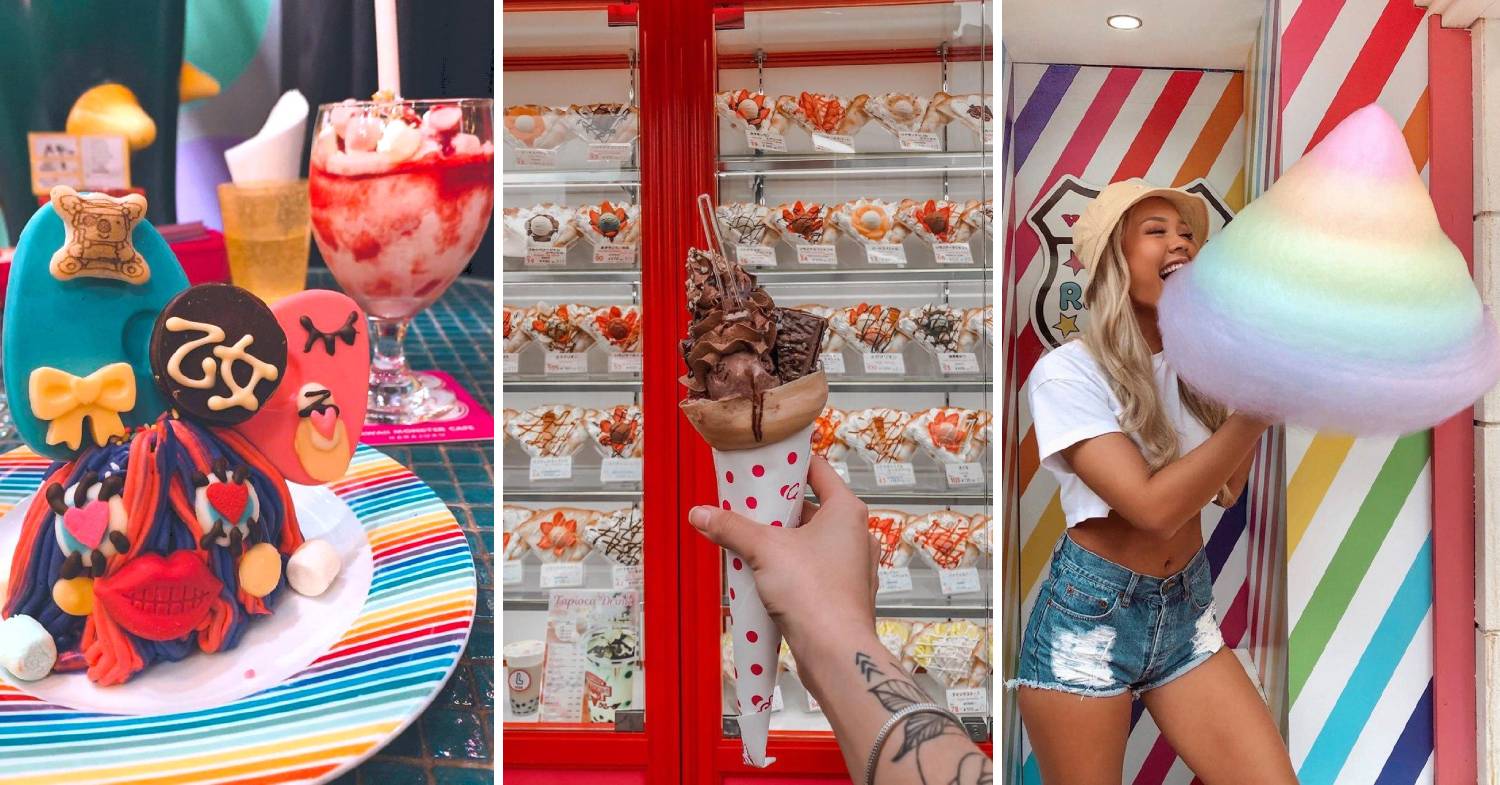 Keep a lookout for shoppers dressed in interesting costumes and approach them politely if you'd like a photo.
6. Akihabara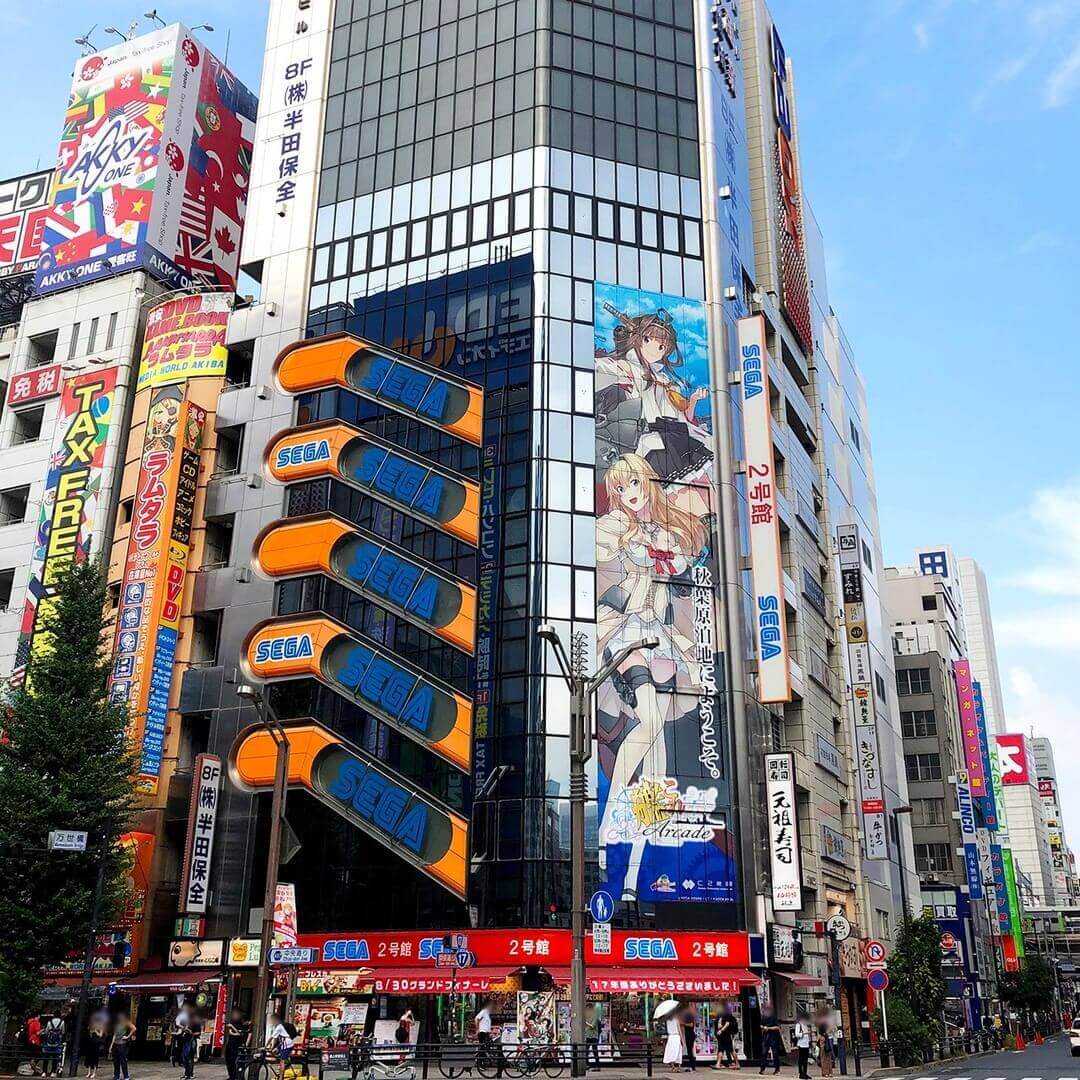 Although you can no longer visit the iconic 7-storey SEGA arcade since it closed on 30th August 2020, there's still lots to do at Akihabara. This self-guided walking tour by Go Tokyo brings you around the must-see spots in the area.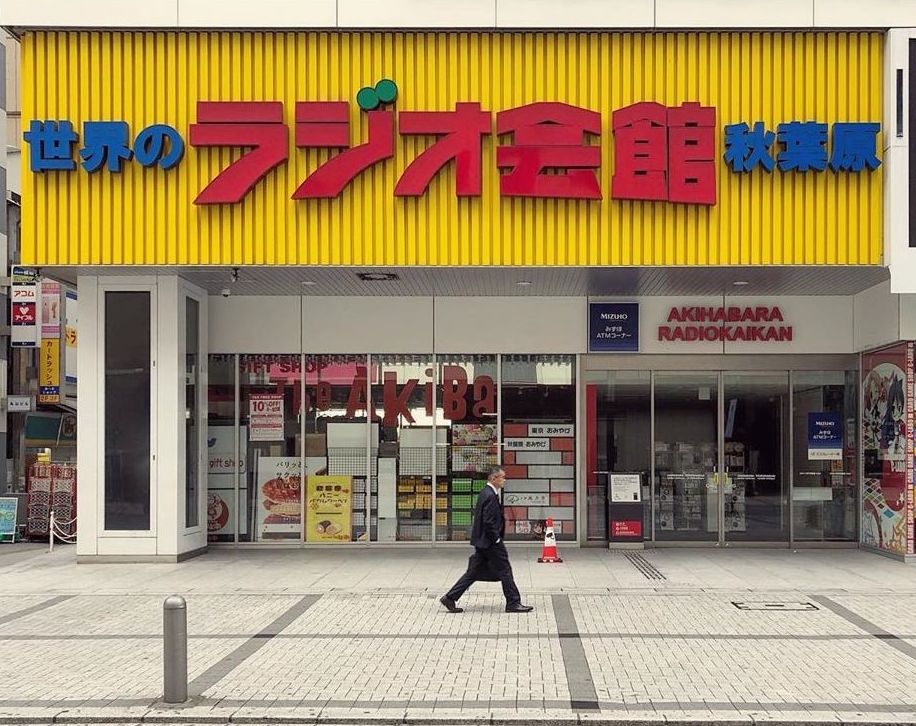 This bright yellow and red signboard belongs to the 12-storey Akihabara Radio Kaikan . Previously, most of the stores in Radio Kaikan sold electrical parts and wireless devices. Now, the stores feature anime-related figurines and goods, and some electronics.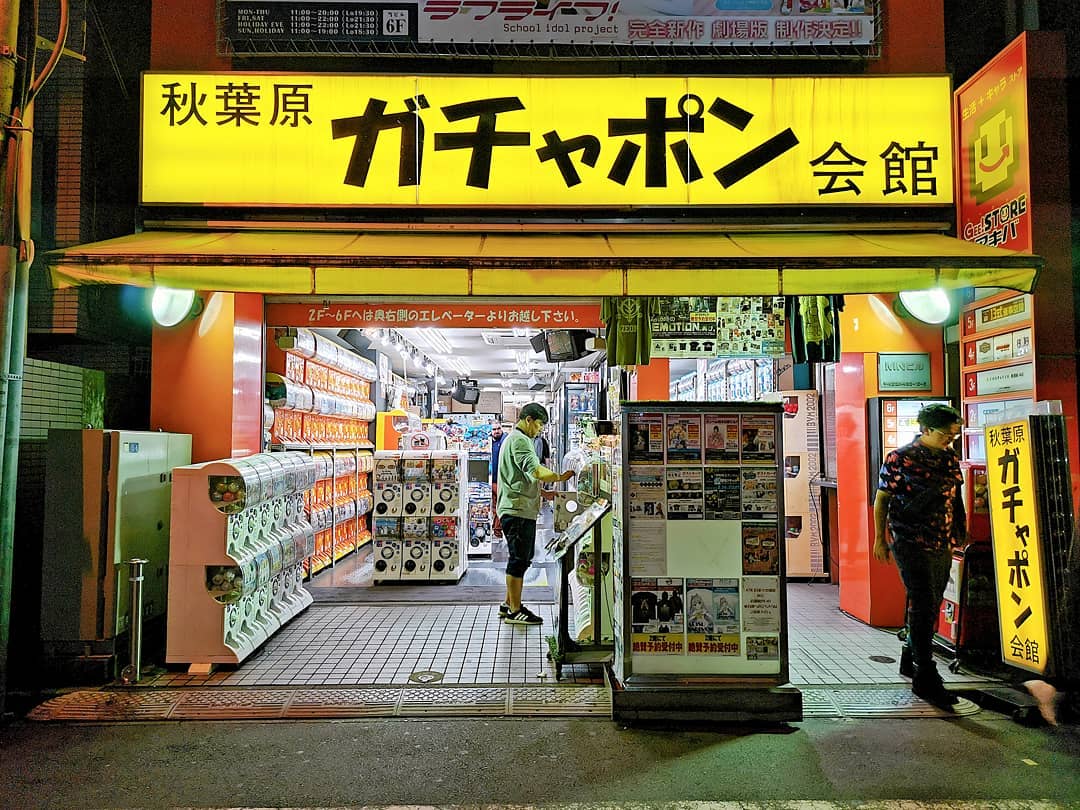 This gashapon (capsule machines) speciality store is slightly off the main street but worth a visit because of the 500 gashapon congregated here. Gashapon are found all over Japan and they carry a wide variety of items including functional items like hats for your pets, or cute display items.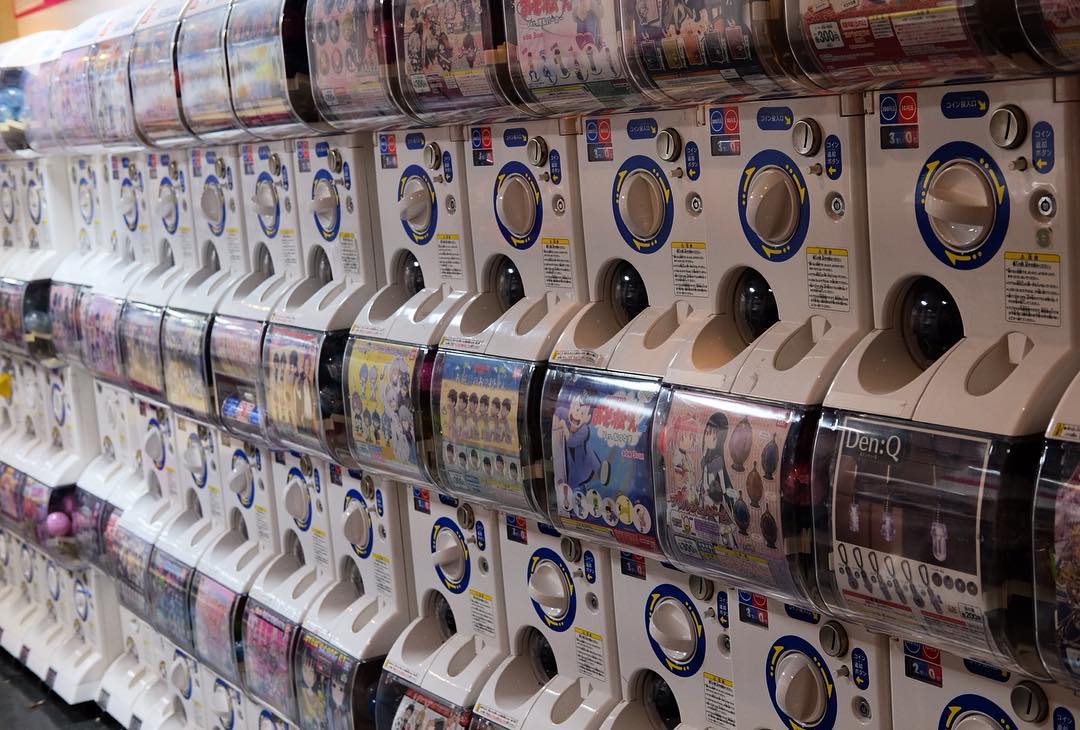 You'll be spoilt for choice here as you enter the store with gashapon machines stacked from floor to ceiling.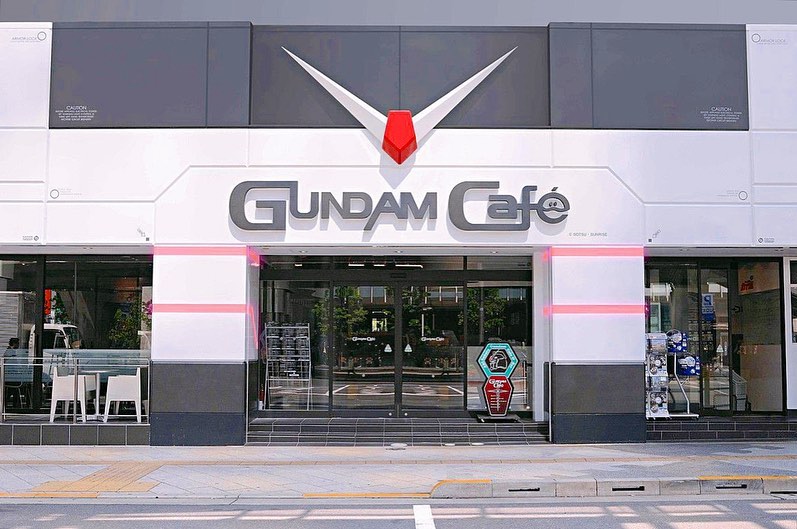 The final stop along this self-guided walking tour is the famous Gundam Cafe . If you're a huge fan of the mecha series, pay this place a visit to get your hands on exclusive Gundam items.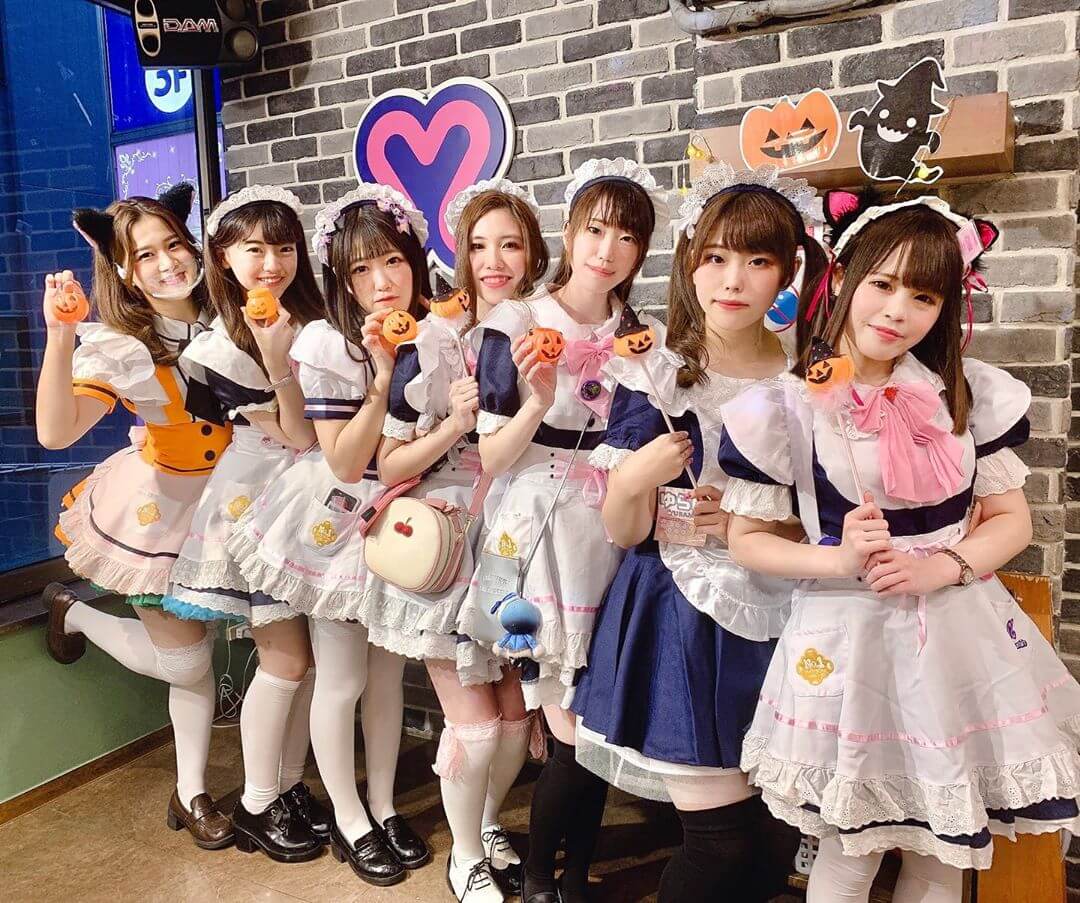 Akihabara is also known for maid cafes, so there's also something for those who aren't into Gundam . There are many maid cafes in Akihabara , and you can find one just a 2-minute walk from the gashapon speciality store. It is one of the outlets of the M aidreamin chain of maid cafes. You'll be served by waitresses dressed in maid uniforms while you dine in a cute and lively atmosphere.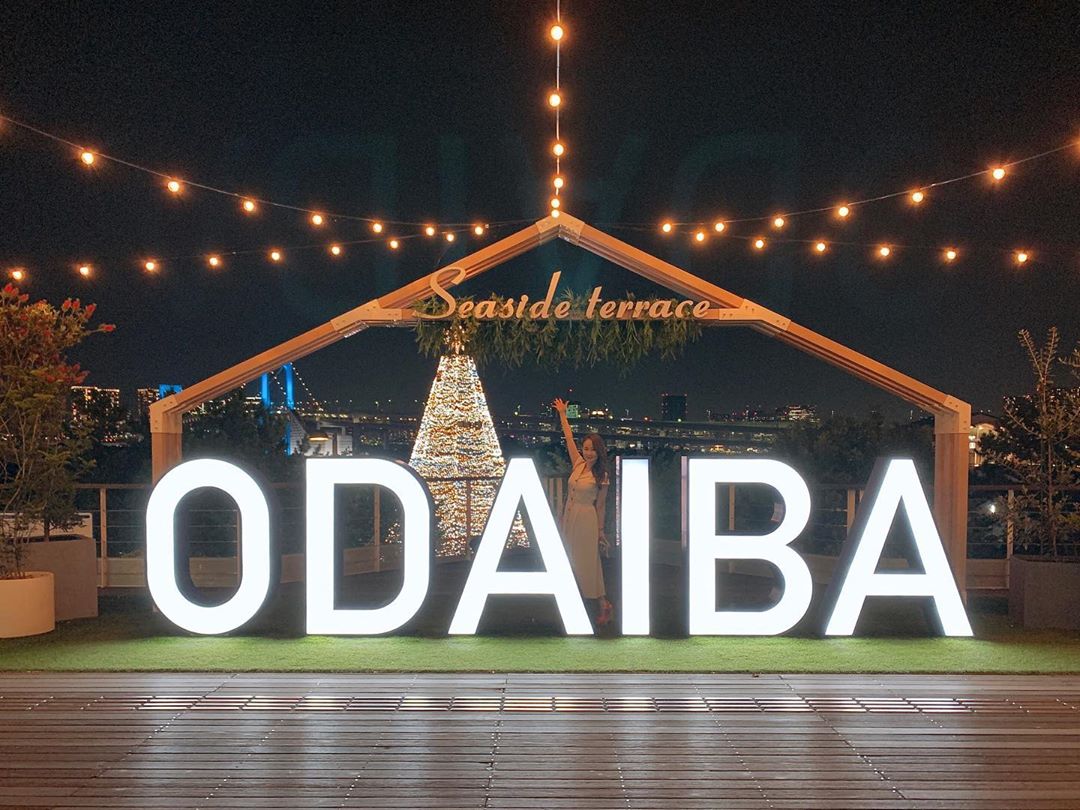 Odaiba is a popular shopping and entertainment destination on a man-made island in Tokyo Bay. A half-day self-guided walking route suggested by Japan Guide covers the popular attractions to visit.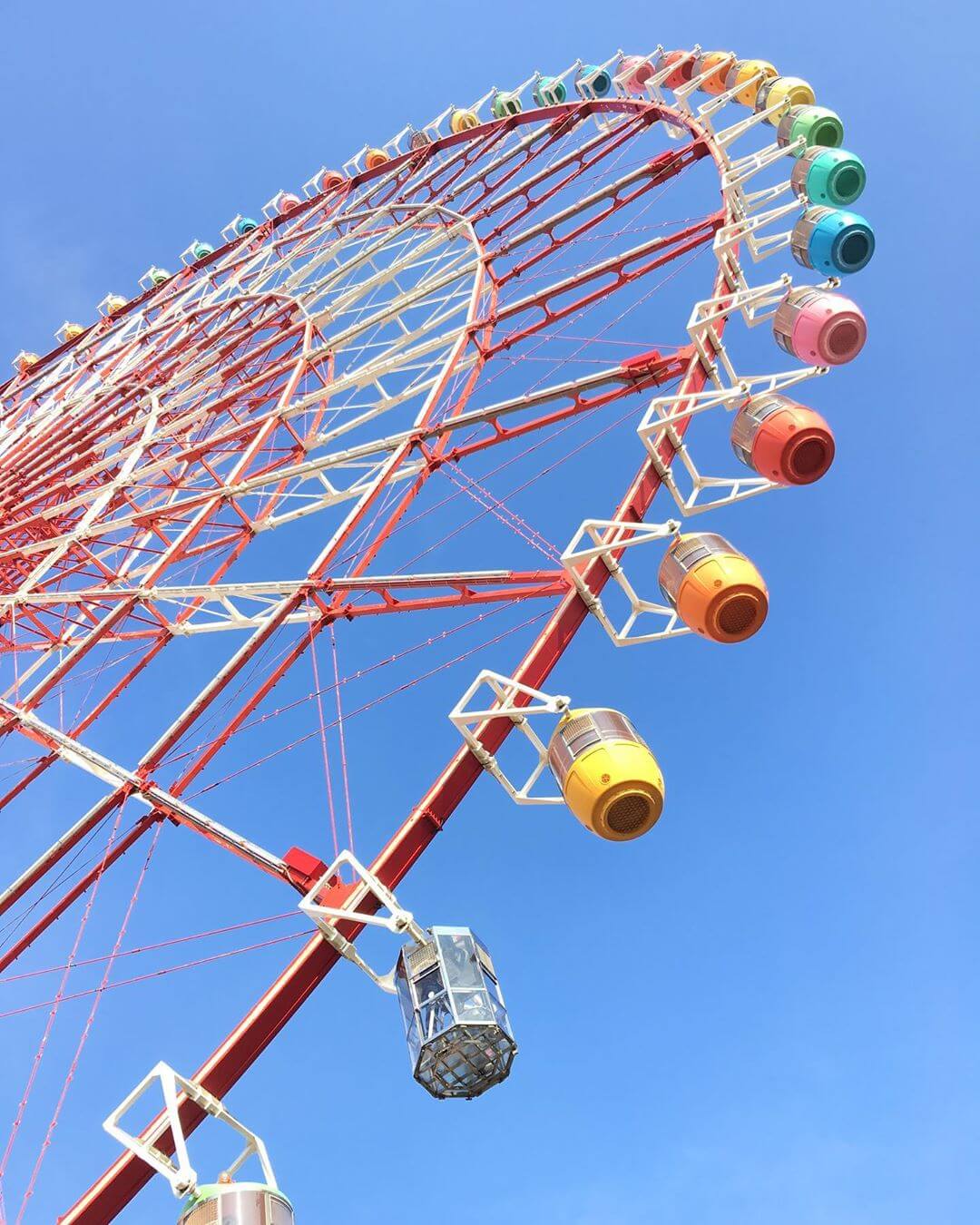 This giant Ferris wheel is an unmissable attraction located near Palette Town. It is the second-largest Ferris wheel in Japan and you'll get to enjoy panoramic views of the Tokyo metropolitan skyline from up there.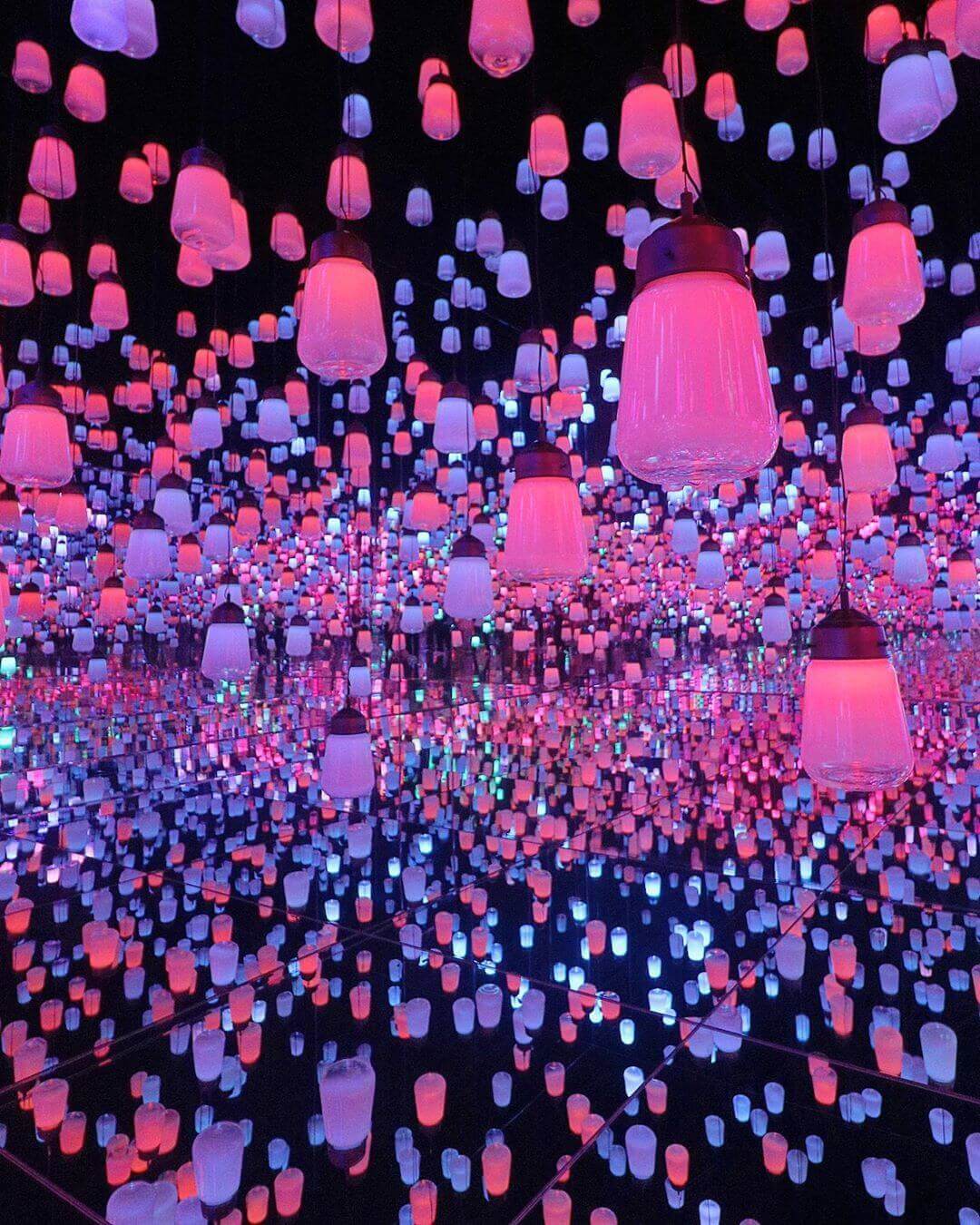 Within Palette Town , you'll also find the well-known MORI Building DIGITAL ART MUSEUM teamLab Borderless . It is an interactive digital art museum where some installations react and transform when touched .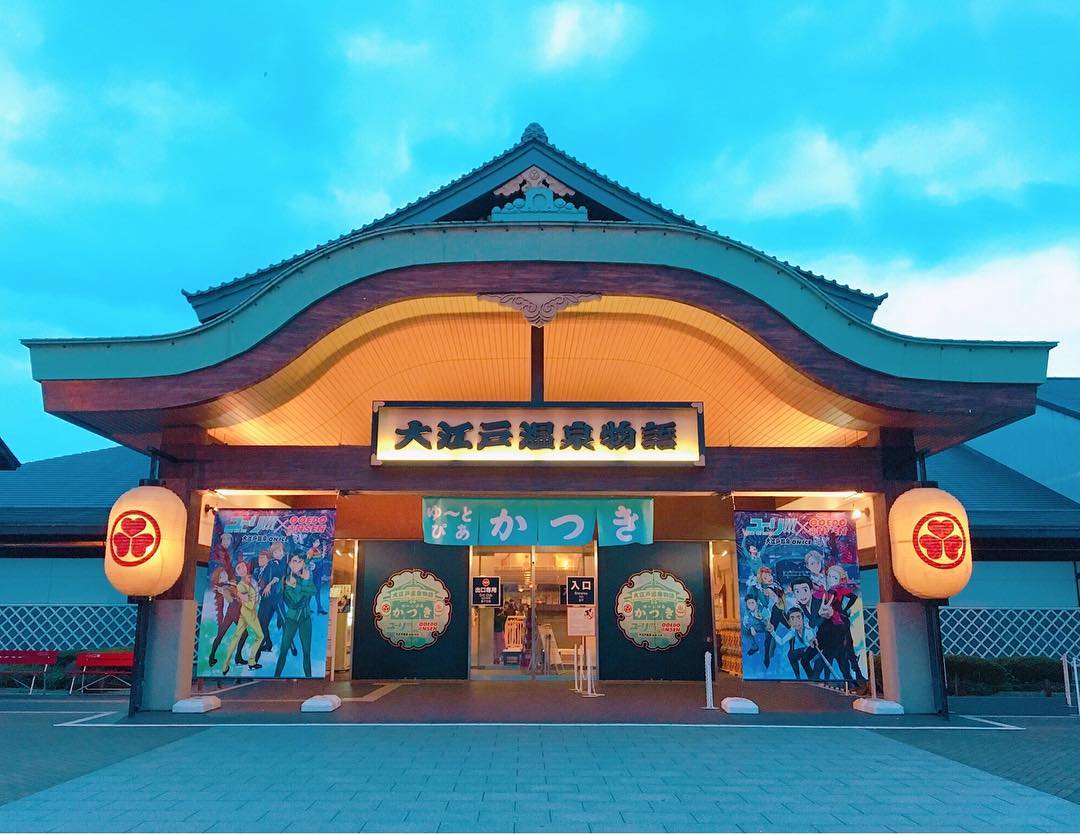 If your legs are sore after all that sightseeing around Odaiba, pay a visit to Oedo Onsen Monogatari . Oedo Onsen Monogatari is known as a hot spring theme park where you can enjoy various types of indoor and outdoor baths, dine in restaurants, play games, and have a massage.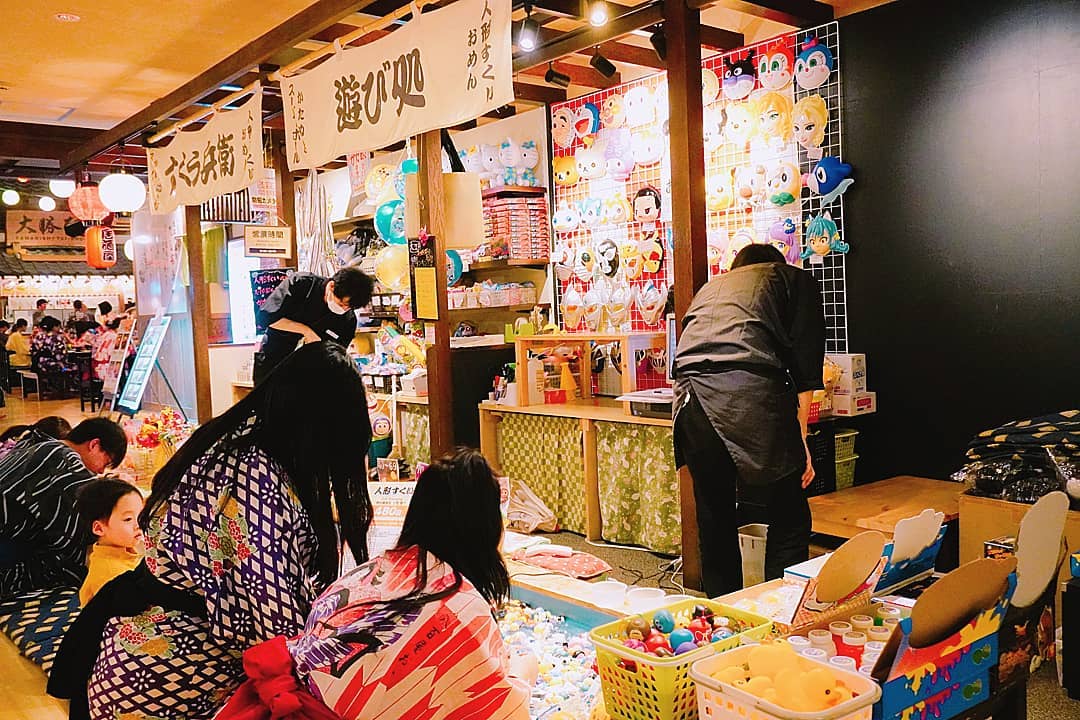 You do have to pay an entrance fee – check out their website for a full list of ticket prices. Once you're in, you can come and go between the hall, footbath area, and onsen as you like. 
The atmosphere in the hall is lively and festival-like. There are stalls selling festival favourites such as takoyaki , okonomiyaki , and crepes. You can wander around in your yukata while playing games and eating with your friends. If you'd like, you can even spend the night here for an extra ¥2,160 (~USD20.68) .
8. Shibuya night walk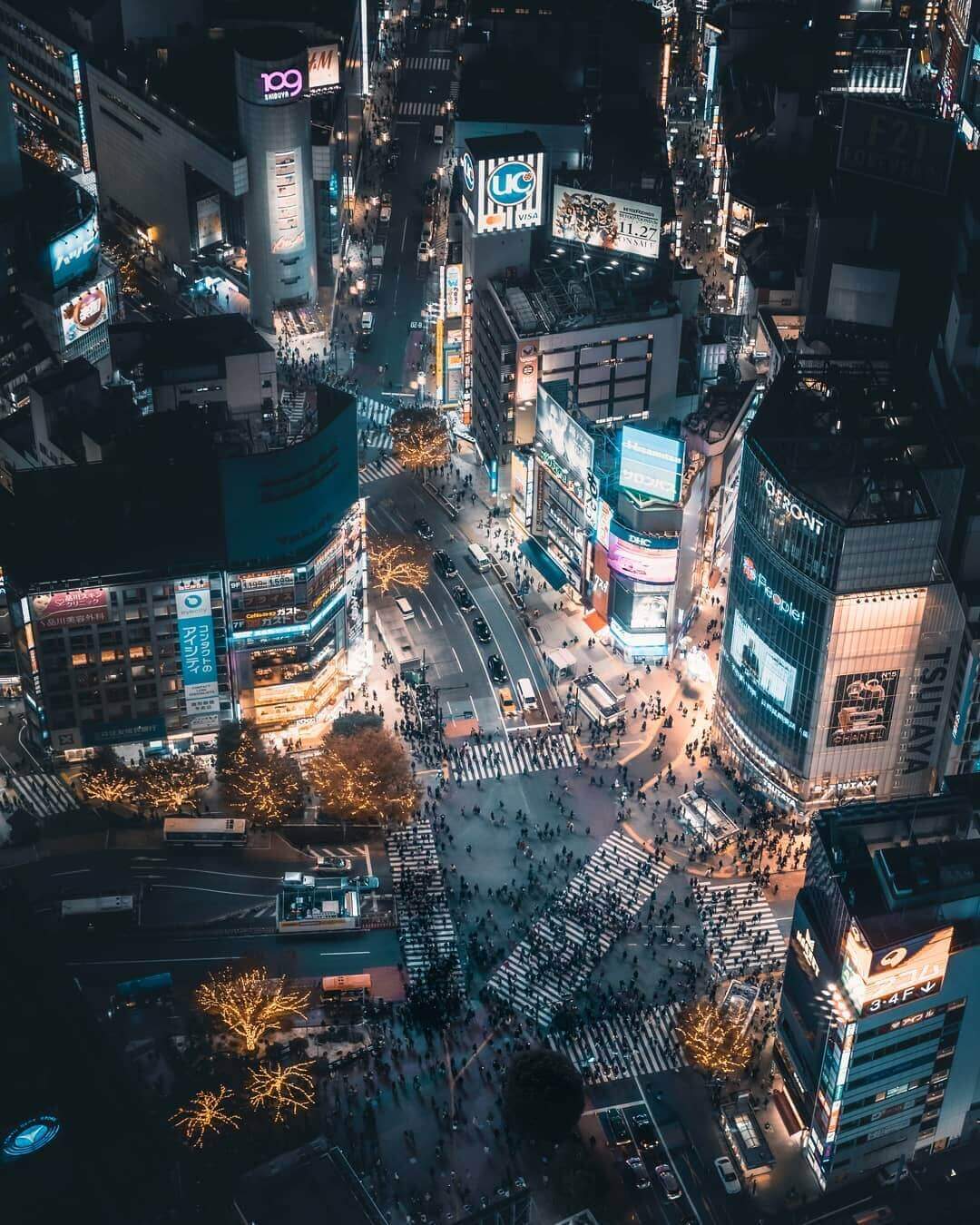 Shibuya is one of Tokyo's busiest districts, packed with shops , restaurants , and nightclubs. Many of the newest fashion and entertainment trends also originate from the streets of Shibuya.
Tokyo Localized organises a night walk tour around Shibuya that lasts for approximately 1.5 hours. You have to make a booking at least 10-14 days before the day of the tour so check out their tour schedule and plan your itinerary accordingly if you want to participate.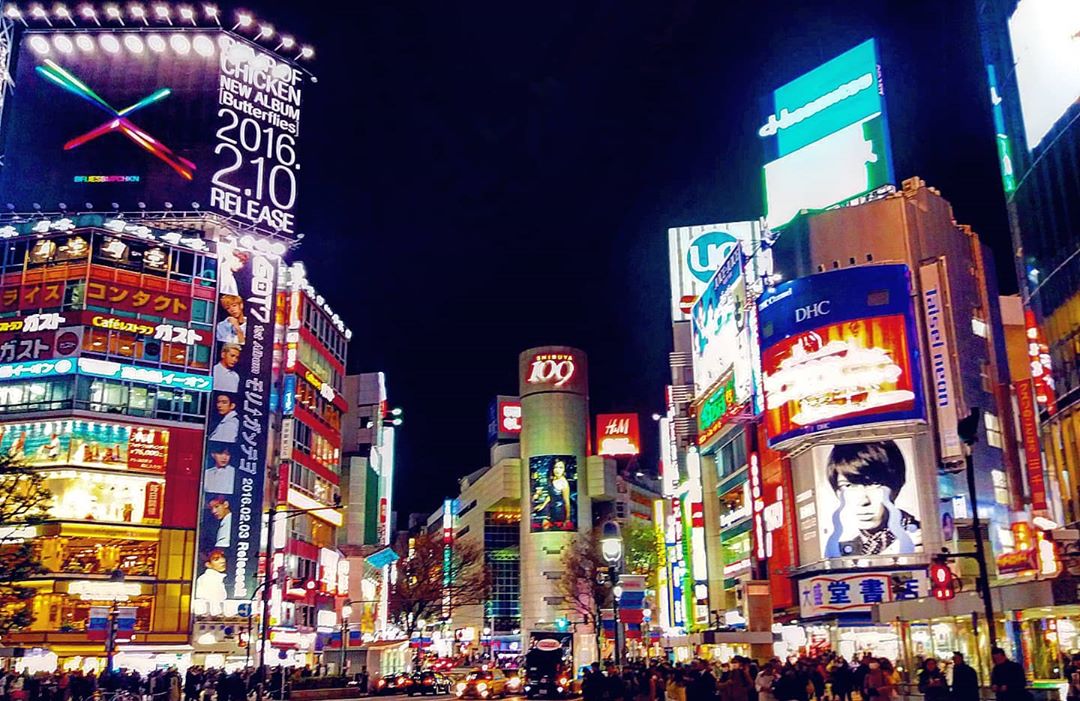 One of the most prominent landmarks is the large intersection, also known as the Shibuya Crossing . The intersection is surrounded by bright, vivid neon lights from billboard advertisements and screens. It is a popular photo spot that reflects the hustle and bustle of Shibuya and its vibrancy.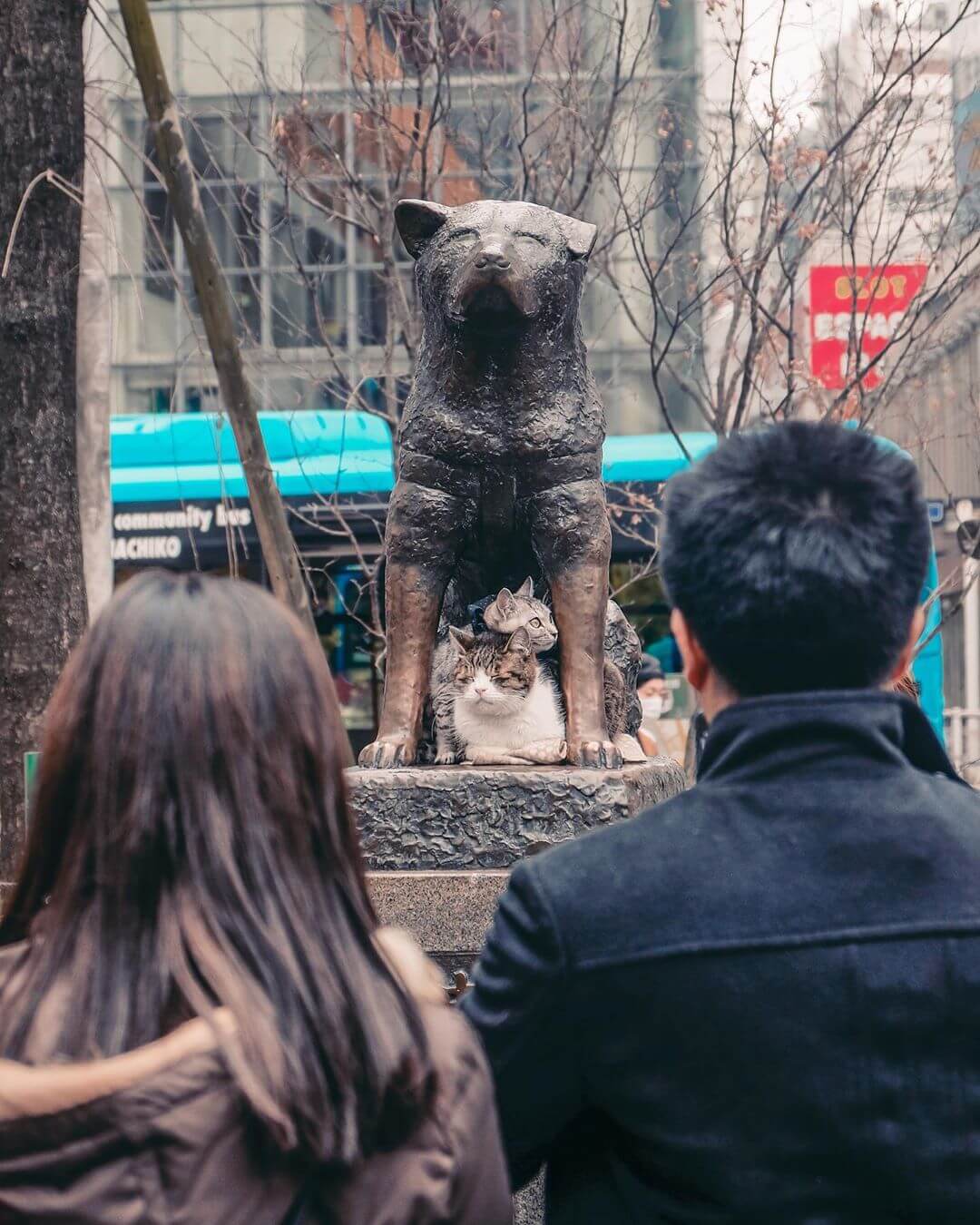 The Hachiko statue, a key landmark of Shibuya, was put up in honour of this dog's unwavering loyalty to his master. Every evening, Hachiko would go to Shibuya station to greet his owner. Even after his master died, he continued to do this for another 10 years, until his own death. It is now recognised as a landmark and a common meeting place as it is one of Shibuya Station's exits.
9. Shinjuku night walk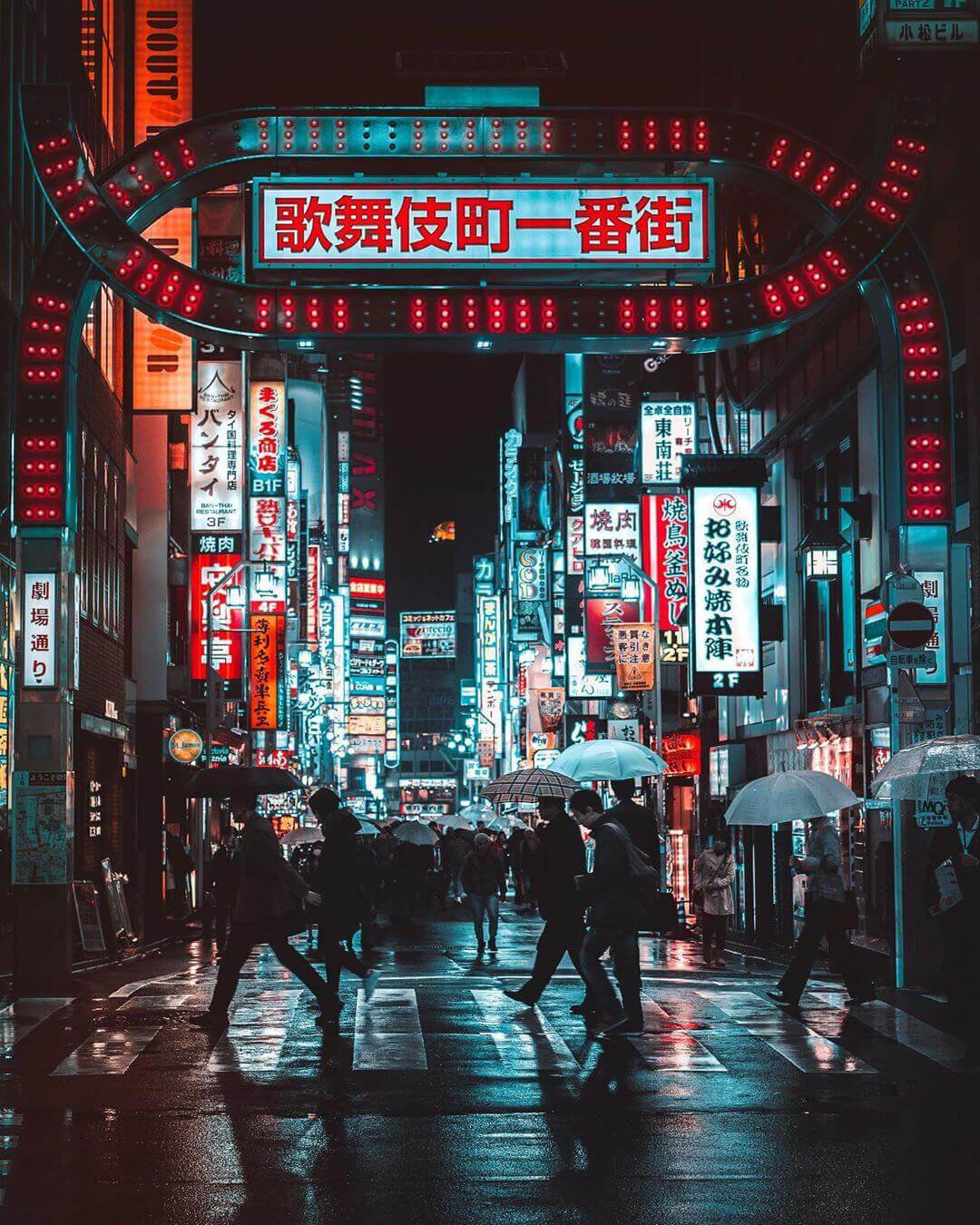 Shinjuku Station is the world's busiest railway station and it handles more than 2 million passengers every single day. The area is also known for Japan's largest and wildest red-light district – Kabukicho .
Kabukicho is one of the stops on Tokyo Localized's Shinjuku night walking tour . The tour runs for approximately 2 hours and you can book a slot by checking out their tour schedule . You can roam around Kabukicho and Shinjuku on your own but the benefit of having a guide is that you won't fall prey to the street hawkers and restaurant promoters that try to bring you to their stores. An innocent visit to one of these stores often comes with a hefty price tag.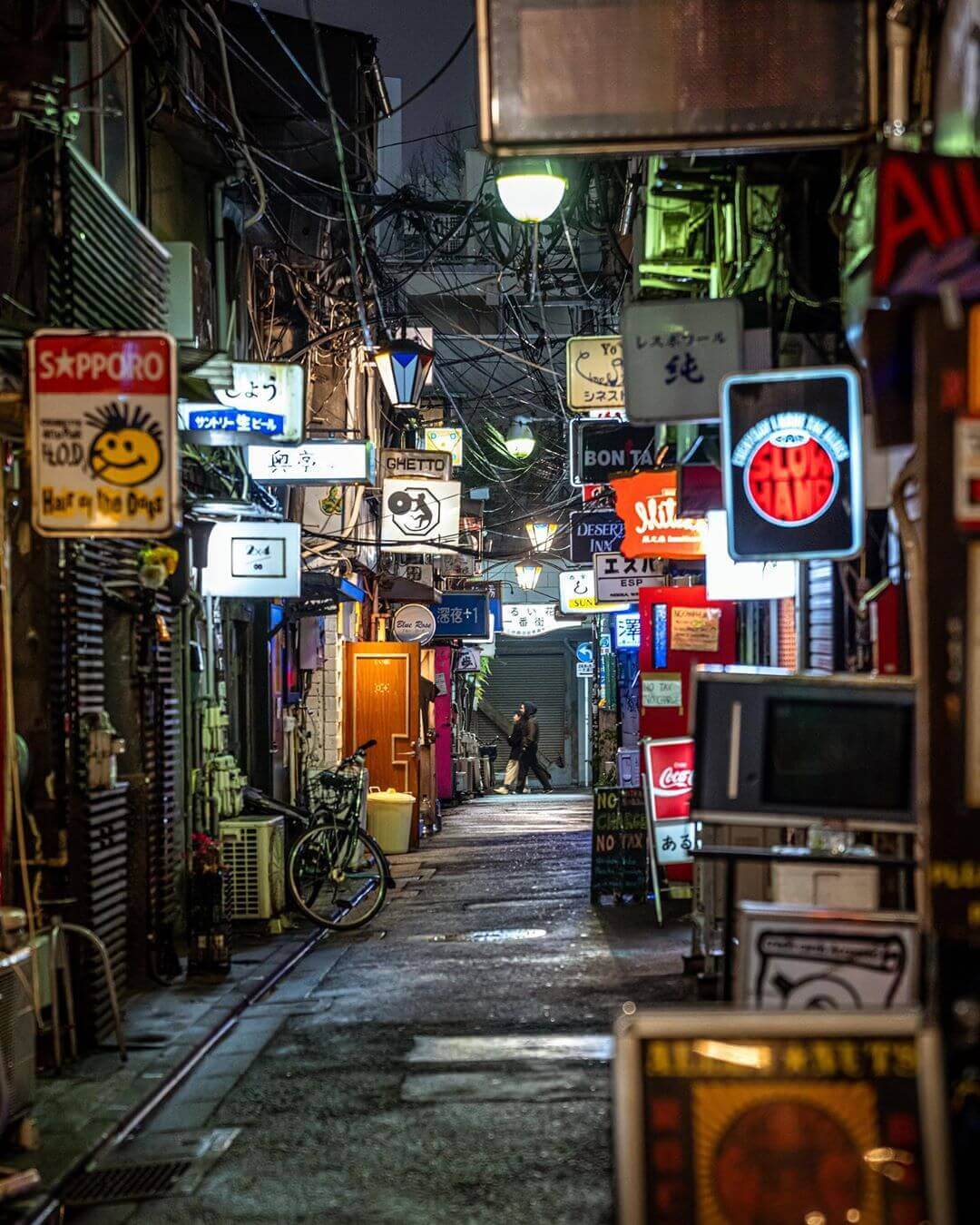 Even though you have to be on your guard while in Kabukicho, this place is brimming with nightlife and it is worth exploring. One of the stops on the walking tour is Golden Gai . Golden Gai features many small cosy bars, seating about 8 people each – maximum. The tour might not allocate time for you to chill at one of these bars but you can always come back on another evening.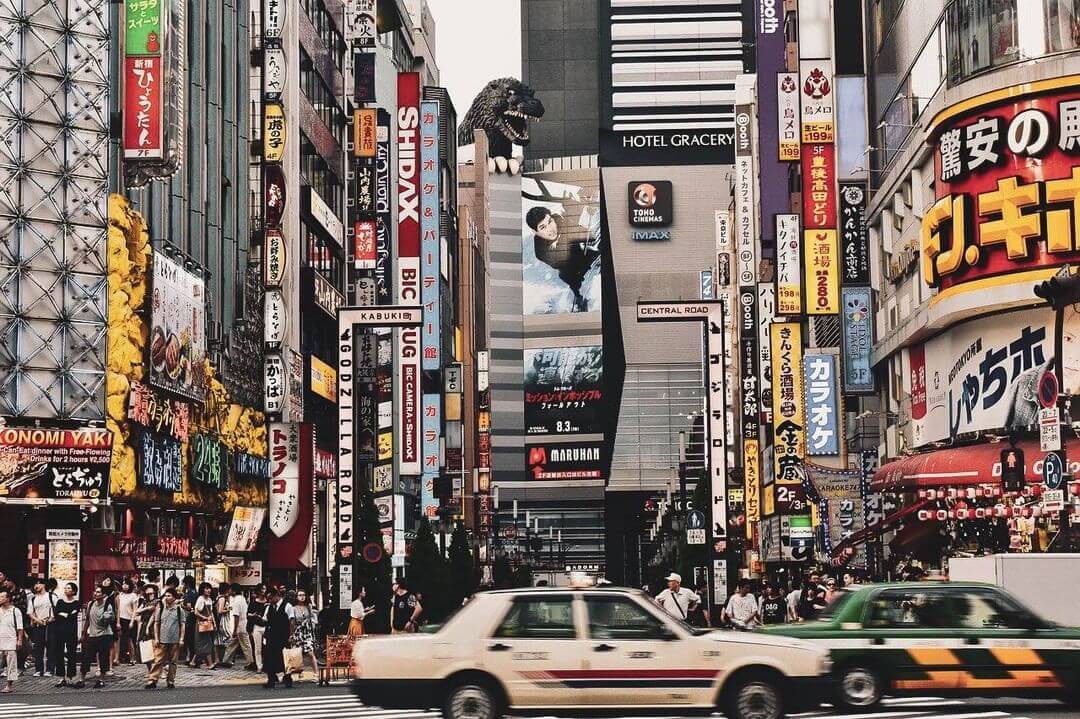 On this tour, you'll also get to visit Godzilla Street , where a giant Godzilla looms over the Toho Cinema building . It can be spotted easily from afar and lights up and roars several times a day. On the 8th floor of the Toho Cinema building, you'll find a rooftop terrace and a Godzilla cafe where you can see Godzilla up close during the day. 
Bonus: Virtual tour of Tokyo
As many of us can't travel to Tokyo and explore on foot right now, Tokyo Localized is offering a free virtual tour of Tokyo. The virtual tour covers the history and food of the area , and shares travel tips using a combination of presentation slides and videos.
You can also ask questions about Tokyo to help you plan for your next trip there. Currently, the tour runs almost every single day . Check out their tour schedule here.
Regardless of how many times you've visited Tokyo, these free walking tours are a great way to explore the city and its attractions on foot. Whether the tours are guided or not, going on a walking tour is a different experience. The tours with volunteer guides offer a local perspective on the attractions while the main draw of the self-guided tours is flexibility. Plus, all the tours on our list are free, although you can choose to give your tour guides a tip at the end of the tour.
Check out other Tokyo travel guides here:
Daikanyama guide
Japanese pancakes in Tokyo
Minimalist hotels in Tokyo
Speciality coffee shops in Tokyo
Cafes in Tokyo
Cover image adapted from: @paolochvz  and @chris_sssu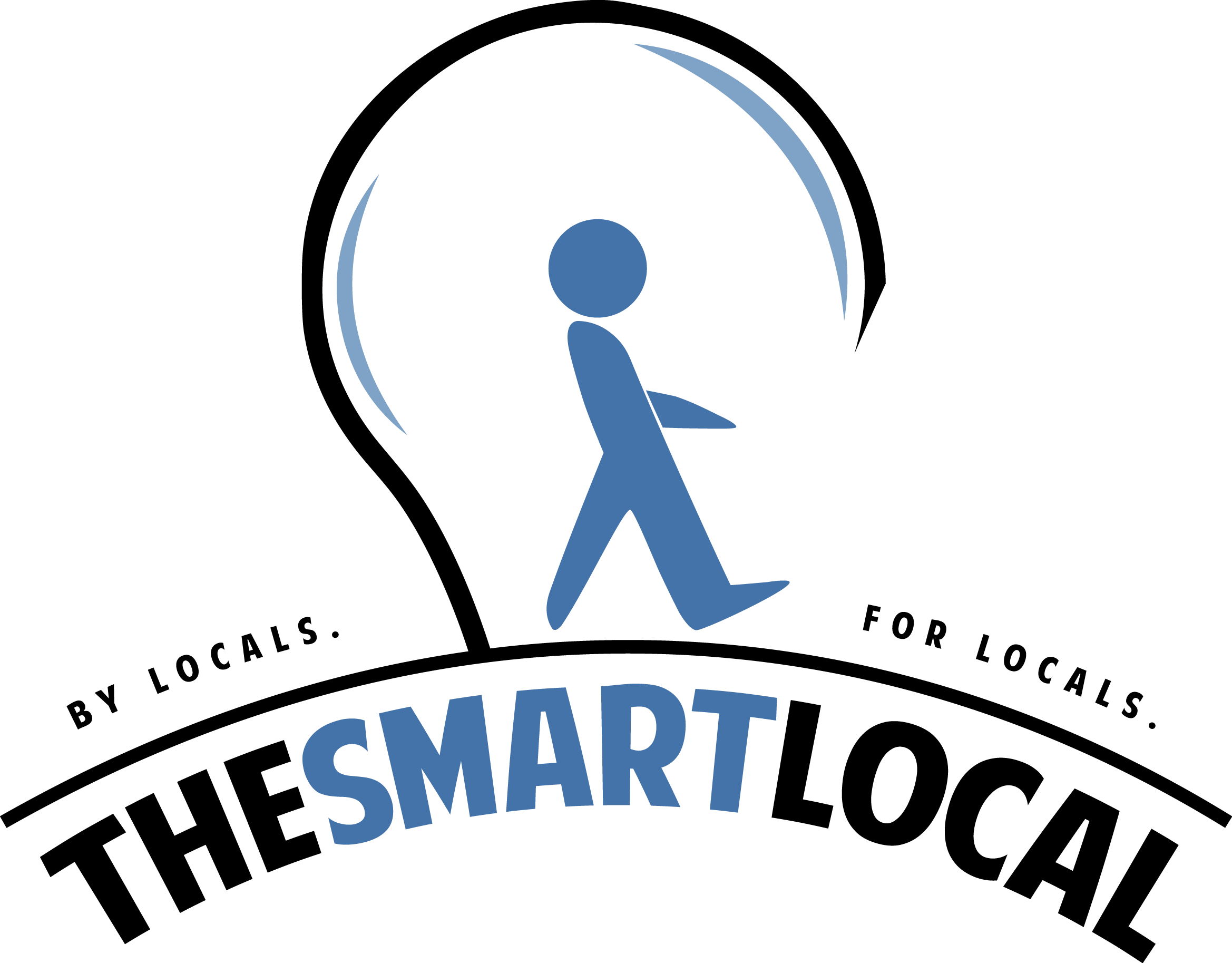 Get more stories like this.
Drop us your email so you won't miss the latest news.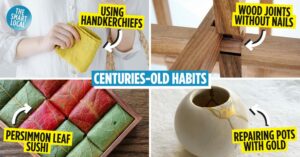 Tokyo Free Walking Tour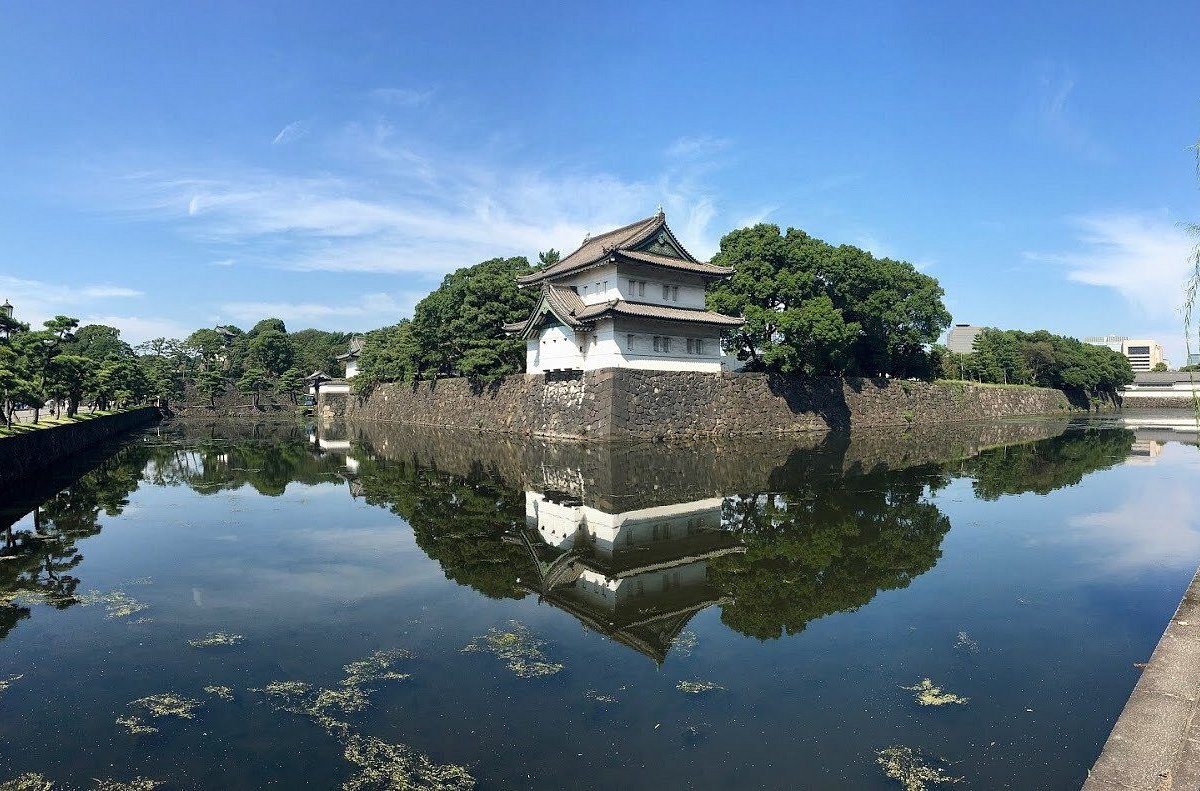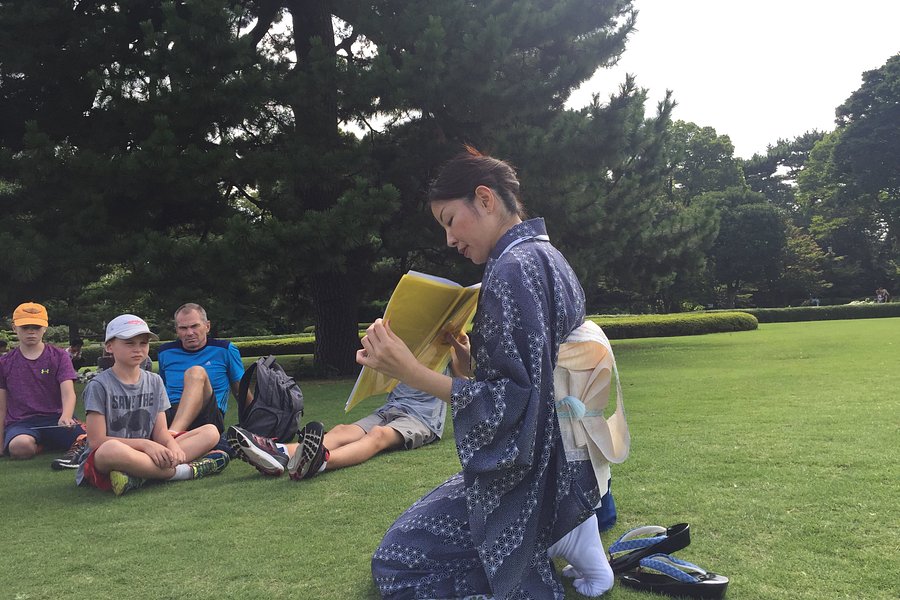 Similar Experiences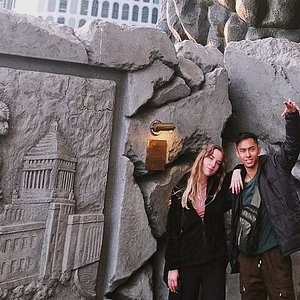 TOKYO FREE WALKING TOUR - All You Need to Know BEFORE You Go (with Photos)
Sign up on TourScanner
Don't know where to start, best places to visit in tokyo, tours and things to do in tokyo, best day trips from tokyo.
The 7 Best Guided Tours to Take in Tokyo

Tokyo Writer
Don't miss out on everything Tokyo has to offer. Sometimes the best way to explore a city is by learning from someone who knows it best. From haunted walks to cruises on the bay, discover the top guided tours to take in Tokyo .
View all trips, haunted tokyo tours – blood of samurai.
Haunted Tokyo Tours shows visitors an unexpected side of the city. Explore dark alleys, cemeteries and haunted hills, tunnels and residences hiding underneath Tokyo's tidy veneer while you learn the haunted histories of these regions. Spooky tours for families are also available.
Destinations Unlocked:
Looking for an expert's perspective.
CentralAmerica

Gorgeous Guatemala
1. guatemala.

Beachy Belize

Colonial Mexico
Back to map, southamerica.

Adventurous Ecuador

Ancient Peru

Seductive Southern Italy

Edinburgh And The Scottish Highlands By Train
2. scotland.

Complete Portugal By Train
3. portugal.

Soulful South Korea
1. south korea.

Thailand, Cambodia & Vietnam
2. thailand.

Secrets Of Sri Lanka By Train
3. sri lanka.

Epic Morocco

Ultimate Egypt

Immersive Kenya

Viator – Meiji Shrine, Asakusa Temple and Tokyo Bay Cruise
Viator's one-day tour of Tokyo is a great introduction to the city. Get acquainted with some of the top historic sights – Meiji Shrine and Senso-ji – and finish up with a cruise around Tokyo Bay .

Backstreet Guides – Night Out Tokyo Tour
Backstreet Guide's Night Out Tokyo Tour is one of their most popular walking tours. This guided trip will have you exploring the sights and sounds of Harajuku and Shibuya, including the famous Shibuya Scramble, before heading on over to Shinjuku to explore Kabukicho and Golden Gai. The tour lasts six hours, so be sure to come energized for a night of exploring.
Become a Culture Tripper!
Sign up to our newsletter to save up to 800$ on our unique trips..
See privacy policy .

Walk Japan – Tokyo Tour
Walk Japan's Tokyo Tour is a must-see for history and Japanese culture buffs as it focuses on informing tour groups about the history of the areas. This thorough two-day tour takes you through the Imperial Palace and the surrounding area; Koishikawa Koraku-en, one of few traditional Japanese gardens remaining from the Edo Period; along with Yanaka , the Edo Tokyo Museum, Ameyoko and more.

Tokyo Free Guide's Tours
Tokyo Free Guide is a service that connects local tour guide volunteers with visitors to Tokyo. Your tour guide can take you wherever you want, so this option gives you the most freedom and privacy. It's also easy on your wallet – since it's a volunteer service, there's no fee for guided tours.

Context Tours – Otaku: From Geek to Chic
If pop culture is your thing, Context Tours's Otaku: Geek to Chic is a perfect choice. This tour explores Akihabara , including a stop at one of the area's infamous maid cafes and a visit to nearby Kanda Shrine. Context Tours focuses on making their tours informative, so if you're looking to learn something on your trip it's worth looking into.

Truly Tokyo – Tsukiji Fish Market Tour
Truly Tokyo's Tsukiji Fish Market Tour is great for foodies and seafood enthusiasts. Navigate the bustling inner and outer markets, take a stroll through nearby Hamarikyu Gardens and finish up with a fresh sushi lunch. The tour price of Y30,000 is for a private tour of up to six people, so it's great if you're traveling with a group.

Volcanic Iceland Epic Trip
Meet our local insider.
HOW LONG HAVE YOU BEEN A GUIDE?
What do you love about your job, it's the personal contact, the personal experiences. i love meeting people from all over the world... i really like getting to know everyone and feeling like i'm traveling with a group of friends., what destination is on your travel bucket-list, i have so many places on my list, but i would really lobe to go to africa. i consider myself an "adventure girl" and africa feels like the ultimate adventure.
Every CULTURE TRIP Small-group adventure is led by a Local Insider just like Hanna.
See Our Culture Trips

KEEN TO EXPLORE THE WORLD?
Connect with like-minded people on our premium trips curated by local insiders and with care for the world
Since you are here, we would like to share our vision for the future of travel - and the direction Culture Trip is moving in.
Culture Trip launched in 2011 with a simple yet passionate mission: to inspire people to go beyond their boundaries and experience what makes a place, its people and its culture special and meaningful — and this is still in our DNA today. We are proud that, for more than a decade, millions like you have trusted our award-winning recommendations by people who deeply understand what makes certain places and communities so special.
Increasingly we believe the world needs more meaningful, real-life connections between curious travellers keen to explore the world in a more responsible way. That is why we have intensively curated a collection of premium small-group trips as an invitation to meet and connect with new, like-minded people for once-in-a-lifetime experiences in three categories: Culture Trips, Rail Trips and Private Trips. Our Trips are suitable for both solo travelers, couples and friends who want to explore the world together.
Culture Trips are deeply immersive 5 to 16 days itineraries, that combine authentic local experiences, exciting activities and 4-5* accommodation to look forward to at the end of each day. Our Rail Trips are our most planet-friendly itineraries that invite you to take the scenic route, relax whilst getting under the skin of a destination. Our Private Trips are fully tailored itineraries, curated by our Travel Experts specifically for you, your friends or your family.
We know that many of you worry about the environmental impact of travel and are looking for ways of expanding horizons in ways that do minimal harm - and may even bring benefits. We are committed to go as far as possible in curating our trips with care for the planet. That is why all of our trips are flightless in destination, fully carbon offset - and we have ambitious plans to be net zero in the very near future.

See & Do
An autumn trip to tokyo and sendai.

Places to Stay
Where to book a stay in tokyo for a local experience.

The Best Holiday Apartments in Tokyo, Japan

Angela Carter's Love Affair With 'the Most Non-Boring City on Earth'
Film & TV
Tokyo in 'lost in translation'.

Immersive Book and Bed Hostel Experience, Tokyo

Guides & Tips
Stay curious: experience tokyo from your living room.

Fun New Ways To Explore Tokyo's Most-Visited Attractions

10 One-of-a-Kind Ways To Explore Japan's Capital City, Tokyo

Where To Hunt for Vintage Fashion in Tokyo

How To Spend a Perfect Week in Tokyo
Places in Tokyo That Inspired Animator Makoto Shinkai
Black Friday Offers on Our Trips
Incredible savings.
Post ID: 1525468
Sponsored? No
View Payload
Tokyo Tourism
Tokyo Hotels
Tokyo Bed and Breakfast
Tokyo Vacation Rentals
Flights to Tokyo
Tokyo Restaurants
Things to Do in Tokyo
Tokyo Travel Forum
Tokyo Photos
All Tokyo Hotels
Tokyo Hotel Deals
Things to Do
Restaurants
Vacation Rentals
Travel Stories
Rental Cars
Add a Place
Travel Forum
Travelers' Choice
Help Center
Free Walking Tour - tipping etiquette - Tokyo Forum
Asia
Japan
Kanto
Tokyo Prefecture
Tokyo
Free Walking Tour - tipping etiquette
United States Forums
Europe Forums
Canada Forums
Asia Forums
Central America Forums
Africa Forums
Caribbean Forums
Mexico Forums
South Pacific Forums
South America Forums
Middle East Forums
Honeymoons and Romance
Business Travel
Train Travel
Traveling With Disabilities
Tripadvisor Support
Solo Travel
Bargain Travel
Timeshares / Vacation Rentals
Tokyo Prefecture forums
Tokyo forum
54 replies to this topic
I don't think you have to tip when the guides' performance is unsatisfactory, especially when you won't understand what the person is saying.
Regarding Dr. Shibuyakko's point, I now think that ¥5 is probably too little. I think the bulk of what I was trying to say is that "in most cases, people should tip at these kinds of tours," and it seems like ¥1,000 may be a good minimum amount. According to the Wikivoyage article for "Guided tours", "for many companies that advertise walking tours as 'free' however, the expectation is that at the end of the tour, patrons tip the guide whatever the patrons thought the value of the tour was to them." Again I might be over-analyzing this, but if I was a tour guide, I might perceive that the patrons felt that the tour was of no value to them if they don't tip.
I also think that the argument that this is a situation in which most Japanese wouldn't tip is a little faulty. I can certainly imagine this being the case for a restaurant in Japan , where Japanese don't tip and so foreigners shouldn't do so either, based on Japanese customs. But I think it's clear that Tokyo Localized cater basically entirely to foreigners, as their tours are held 100% in English. In which case it's less clear that typical Japanese customs would apply here. It is not typical in Japan for foreigners who are perceived to be from countries where tipping is widespread to be expected to tip, but I wonder if this may be an exception.
You'll find that kind of tip-soliciting, though self-proclaimed, free walk tours if you do your google-search. Scam or not, that's the way they run their businesses. Yes, it should be typical of tourists from tipping culture to give gratuities to the guides with whom they have interacted and who have sacrificed their precious or not so precious time for them.
So along the line above, my google-search got me the following:
Yes, how nice it would be if the said company were affiliated with Global Greeter Network!
"Come as a guest, leave as a friend!", wonderful!
"Worldwide Greeters," it is.
https://internationalgreeter.org/
https://internationalgreeter.org/category/destinations/japan
Go to their FAQs and click on *what does it cost to greet a Greeter*:
https://internationalgreeter.org/faq-greeter-questions
(No tipping, yeah!)
"Let one of our Greeters in more than 140 destinations take you
on free walks through their home city for 2-3 hours:
• Greeters are a worldwide non profit organisation.
• Destinations around the world offer private free walks with locals through cities for visitors.
• Our city walks – called Greets – are free of charge, no tipping"
Caveat: I do not know how good/bad their services are. But for those who feel nothing is better than no-tipping free walk tours, they are worth their thoughts, Imo.
Thanks again everyone!
Visit Japan Web 6:49 pm
Narita Airport to Hotel JR Kyushu Blossom Shinjuku 4:28 pm
Antique Katana stores (Tokyo/Kyoto)? 2:42 pm
Urgent - bus from Matsuyama to Kochi yesterday
4 hours between flights, and Haneda T3 Uniqlo Nov 13, 2023
jr tokyo wide pass or NEX and pay for individual tickets Nov 13, 2023
Letter from the U.S. to Tokyo as fast as possible? Nov 13, 2023
Return/refund IC cards Nov 13, 2023
Asakusa View Hotel Annex Rokku or Mimaru Tokyo Akasaka? Nov 13, 2023
Okutama ideas Nov 13, 2023
Manila-Tokyo Nov 13, 2023
Used Canon camera lenses store in Tokyo (Akihabara)? Nov 12, 2023
Where to stay in Tokyo in March 2025 Nov 12, 2023
Golden week - accommodation shortage Nov 11, 2023
top 10 best places to go in tokyo in 4 days? 10 replies
Confused with which area to stay 20 replies
Tokyo to Kyoto by train 7 replies
1st time in tokyo... where to stay?Ginza Shinjuku or Shibuya 23 replies
Fly in to Haneda or Narita Airport? 12 replies
Does Tokyo have a hop on and hop off Sightseeing Bus? 6 replies
Tokyo Weather in March? 8 replies
Tokyo-Kyoto bullet train advice 11 replies
Weird things to do in Tokyo? 22 replies
Did anyone fly Delta Airlines Singapore - Narita recently? 9 replies
Tokyo Hotels and Places to Stay
Tattoo Problems in Japan
Sample 5 Day Itinerary
Christmas & New Years in Tokyo?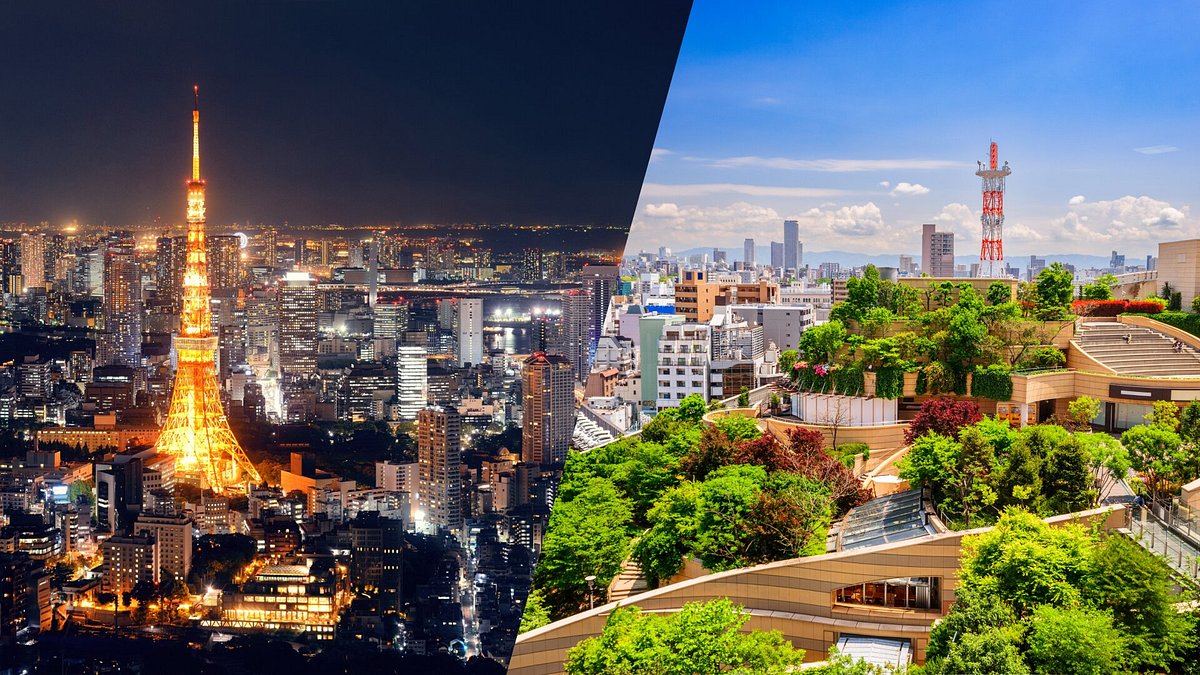 Entertainment
Photography
Press Releases
Israel-Hamas War
Russia-Ukraine War
Latin America
Middle East
Asia Pacific
Election 2024
AP Top 25 College Football Poll
Movie reviews
Book reviews
Financial Markets
Business Highlights
Financial wellness
Artificial Intelligence
Social Media
Blinken seeks G7 unity on Israel-Hamas war among items on crisis-heavy global agenda
High Representative of the European Union for Foreign Affairs and Security Policy Josep Borrell, center left, shakes hands with Italian Foreign Minister Antonio Tajani at the start of a working dinner G7 ministerial meetings, in Tokyo, Japan, Tuesday, Nov. 7, 2023. (Jonathan Ernst/Pool Photo via AP)
U.S. Secretary of State Antony Blinken, left, shakes hands with Japanese Foreign Minister Yoko Kamikawa on his arrival at Iikura guest house, ahead of G7 ministerial meetings, in Tokyo, Japan, Tuesday, Nov. 7, 2023. (Jonathan Ernst/Pool Photo via AP)
U.S. Secretary of State Antony Blinken, center, arrives at Iikura guest house, ahead of G7 ministerial meetings, in Tokyo, Japan, Tuesday, Nov. 7, 2023. (Jonathan Ernst/Pool Photo via AP)
U.S. Secretary of State Antony Blinken, left, shakes hands with Japanese Prime Minister Fumio Kishida, ahead of G7 ministerial meetings in Tokyo, Japan, Tuesday, Nov. 7, 2023. (Jonathan Ernst/Pool Photo via AP)
British Foreign Secretary James Cleverly, left, meets with Japanese Foreign Minister Yoko Kamikawa ahead of G7 ministerial meetings, in Tokyo, Japan, Tuesday Nov. 7, 2023. (Jonathan Ernst/Pool via AP)
U.S. Secretary of State Antony Blinken, left, meets with Japanese Foreign Minister Yoko Kamikawa at the Ministry of Foreign Affairs, ahead of G7 ministerial meetings, in Tokyo, Japan, Tuesday, Nov. 7, 2023. (Jonathan Ernst/Pool Photo via AP)
U.S. Secretary of State Antony Blinken walks to meet Japan's Prime Minister Fumio Kishida at the prime minister's official residence Tuesday, Nov. 7, 2023, in Tokyo. (AP Photo/Eugene Hoshiko, POOL)
Japan's Prime Minister Fumio Kishida, right, and U.S. Secretary of State Antony Blinken, left, meet at the prime minister's official residence Tuesday, Nov. 7, 2023, in Tokyo. (AP Photo/Eugene Hoshiko, Pool)
U.S. Secretary of State Antony Blinken waits to meet Japan's Prime Minister Fumio Kishida at the prime minister's official residence Tuesday, Nov. 7, 2023, in Tokyo. (AP Photo/Eugene Hoshiko, Pool)
High Representative of the European Union for Foreign Affairs and Security Policy Josep Borrell, British Foreign Secretary James Cleverly, German Foreign Minister Annalena Baerbock, U.S. Secretary of State Antony Blinken, Japanese Foreign Minister Yoko Kamikawa, Canadian Foreign Minister Melanie Joly, France's Foreign Minister Catherine Colonna and Italian Foreign Minister Antonio Tajani attend a working dinner during G7 ministerial meetings, in Tokyo, Japan, Tuesday, Nov. 7, 2023. (Jonathan Ernst/Pool Photo via AP)
France's Foreign Minister Catherine Colonna, left, is greeted by Japanese Foreign Minister Yoko Kamikawa on the arrival at Iikura guest house, ahead of G7 ministerial meetings, in Tokyo, Japan, Tuesday, Nov. 7, 2023. (Jonathan Ernst/Pool Photo via AP)
U.S. Secretary of State Antony Blinken, left, and Japanese Foreign Minister Yoko Kamikawa attend a working dinner during G7 ministerial meetings at Iikura guest house, in Tokyo, Japan, Tuesday, Nov. 7, 2023. (Jonathan Ernst/Pool Photo via AP)
High Representative of the European Union for Foreign Affairs and Security Policy Josep Borrell, British Foreign Secretary James Cleverly, German Foreign Minister Annalena Baerbock, U.S. Secretary of State Antony Blinken, Japanese Foreign Minister Yoko Kamikawa, Canadian Foreign Minister Melanie Joly, France's Foreign Minister Catherine Colonna and Italian Foreign Minister Antonio Tajani sit at a table at the start of a working dinner G7 ministerial meetings, in Tokyo, Japan, Tuesday, Nov. 7, 2023. (Jonathan Ernst/Pool Photo via AP)
U.S. Secretary of State Antony Blinken reacts during his meeting with Japanese Foreign Minister Yoko Kamikawa at the foreign ministry in Tokyo Tuesday, Nov. 7, 2023. (Toshifumi Kitamura/Pool Photo via AP)
Clockwise from left to right, Britain's Foreign Secretary James Cleverly, Germany's Foreign Minister Annalena Baerbock, U.S. Secretary of State Antony Blinken, Japan's Foreign Minister Yoko Kamikawa, Canada's Foreign Minister Melanie Joly, France's Foreign Minister Catherine Colonna, Italian Foreign Ministry's Director General for Political Affairs and International Security Pasquale Ferrara and High Representative of the European Union for Foreign Affairs and Security Policy Josep Borrell are seated ahead of the working dinner during the G7 Foreign Ministers' Meeting at the Iikura Guest House, Tuesday Nov. 7, 2023 in Tokyo, Japan. (Tomohiro Ohsumi/Pool via AP)
TOKYO (AP) — Fresh from a whirlwind tour of the Middle East, U.S. Secretary of State Antony Blinken shifted his intense diplomacy on the Israel-Hamas war to Asia on Tuesday with an appeal for the Group of Seven leading industrial democracies to forge consensus on how to deal with the crisis.
As he and his G7 counterparts began two days of talks in Japan, Blinken said it was critically important for the group to show unity as it has over Russia's war in Ukraine and other major issues and prevent existing differences on Gaza from deepening.
"This is a very important moment as well for the G7 to come together in the face of this crisis and to speak, as we do, with one clear voice," Blinken told Japanese Foreign Minister Yoko Kamikawa, shortly after talks with Prime Minister Fumio Kishida.
The devastating monthlong conflict in Gaza and efforts to ease the dire humanitarian impacts of Israel's response to the deadly Oct. 7 Hamas attack will be a major focus of the meeting. Yet with the Russia-Ukraine war, fears North Korea may be readying a new nuclear test, and concerns about China's increasing global assertiveness, it is far from the only crisis on the agenda.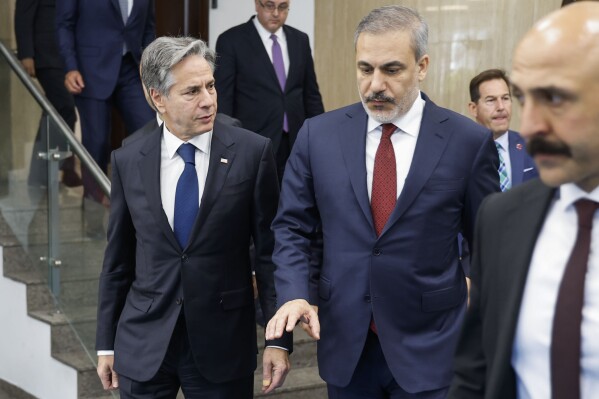 In Tokyo, Blinken and foreign ministers from Britain, Canada, France, Germany, Japan and Italy will be seeking common ground in part to prevent the Gaza war from further destabilizing already shaky security in the broader Middle East and seeking to maintain existing positions on other matters.
An early consensus on Gaza appeared to be building as at least four of the G7 members made statements in favor of strong common stance. And U.S. officials said they were expecting the group to release a communique featuring a common position after the meetings end on Wednesday.
Kishida said "the unity of G7 is needed more than ever with the situation in Israel and Palestine, the situation in Ukraine, and the challenges in the Indo-Pacific region," his office said in a statement, adding that the prime minister "highly appreciates the leadership and diplomatic efforts by the Biden administration concerning this issue."
"You have our utmost support," Kamikawa told Blinken.

German Foreign Minister Annalena Baerbock said that "as G7 countries, we are making clear that Israel has the right and the duty to protect its population and its people in the framework of international law." She said that she has been discussing with many partners "how we can finally get humanitarian cease-fires off the ground, in terms of time and also geographically."
Britain's Foreign Secretary James Cleverly told a select group of journalists, including The Associated Press, that his government only supports a time and geographically specific "humanitarian pause" and not a wider cease-fire.
"Firstly, we have seen and heard absolutely nothing that makes us believe that Hamas leadership is serious about (a) cease-fire," he said, adding that a cease-fire would hamper Israel's ability to defend itself.
Blinken's efforts include pushing to significantly expand the amount of humanitarian aid being sent to Gaza, getting Israel to agree to "pauses" in its military operation to allow that assistance to get in and more civilians to get out, beginning planning for a post-conflict governance and security structure in the territory and preventing the war from spreading.
Blinken described all of these as "a work in progress" and acknowledged deep divisions over the pause concept. Israel remains unconvinced and Arab and Muslim nations are demanding an immediate full cease-fire, something the United States opposes. There has also been resistance to discussing Gaza's future, with the Arab states insisting that the immediate humanitarian crisis must be addressed first.
Securing agreement from G7 members, none of which border or are directly involved in the conflict, may be a slightly less daunting challenge for Blinken.
Yet some small cracks have emerged over Gaza, which has inflamed international public opinion. Democracies are not immune from intense passions that have manifested themselves in massive pro-Palestinian and anti-Israel demonstrations in G7 capitals and elsewhere.
Last month in the U.N. Security Council, France voted in favor of a resolution calling for a humanitarian truce in Gaza that was vetoed by the United States because it didn't go far enough in condemning Hamas' attack on Israel, which ignited the war. Britain abstained in that vote.
Several days later in the U.N. General Assembly, a non-binding U.S.-Canadian resolution that would have condemned Hamas failed, while a separate resolution calling for an immediate cease-fire overwhelmingly passed. The U.S. voted against the second resolution while France voted in favor. Britain, Canada, Germany, Italy and Japan all abstained.
Since before Russia's invasion of Ukraine, the G7 has held together in defense of the international order that emerged from the destruction of World War II. Despite some fraying around the edges, the group has preserved a unified front in condemning and opposing Russia's war.
The group similarly has been of one voice in demanding that North Korea halt its nuclear weapons and ballistic missile programs, that China exercise its growing international clout responsibly, and also in calling for cooperative actions to combat pandemics, synthetic opioids, and threats from the misuse of artificial intelligence.
Blinken arrived in Tokyo from Turkey, the last stop on his four-day whirlwind through the Mideast that began with visits to Israel, Jordan, the West Bank, Cyprus and Iraq. From Japan, he will travel to South Korea and then on to India.
Associated Press writer Mari Yamaguchi contributed to this report.