Fortify Off-Road Front Coilover Kit for Chevy K5 blazer, K10, K20 and K30 trucks
Here is the Fortify Off-Road Front coilover conversion kit for 1973-1991 K5 blazers, suburbans, k10's, k20's, and k30's. The kit cycles 14"s of wheel travel from a 2.5x14" remote reservoir coilover. It provides excellent on road and offroad handling capabilities. Perfect long travel kit for a daily driver/weekend wheeler. The lift height can be adjusted from 4" of lift to 6" of lift over stock. It works with factory inner fenders, coolant overflow tank, battery tray, and windshield wiper reservoir. This kit is very easy to setup. it comes with pre-fabricated shock towers that will locate the top of the coilover. All you have to to is hold it up to the frame and weld it on! This kit includes everything needed, such as:
- Plate style shock towers - easy shock mounting!
- Axle link and coilover brackets
- Chassis link brackets
- Upper and lower links
- Bump stop mounts
- Panhard bar
- Crossover steering kit (pitman arm, drag link and tierod utilizing heim joints and heavy wall DOM tube) 
- PSC 2wd Steering Box
- All the joints and hardware
- limit straps and mounts
  We also offer Reman 2wd steering boxes, Please email for pricing and availability. 
Shock Packages include:
- A pair of 2.5x14" travel remote reservoir dual rate coil overs
- A pair of 2.0x2" travel air bumpstops
- Dual rate spring setup
 There is a good amount of welding required to install this kit. Having a professional shop complete the install is recommended. 
**Kits are build to order and typically take 10-14 weeks to complete, depending on shock package. All lead times are subject to change without notice** 
** Shipping will be calculated and billed seperately **
Share Share on Facebook
Tweet Tweet on Twitter
Pin it Pin on Pinterest
choosing a selection results in a full page refresh
press the space key then arrow keys to make a selection
[ November 6, 2023 ] Standing Strong: What Are the Safest and Deadliest Jack Stands? Products & Reviews
[ November 1, 2023 ] The Impact of Fuel Temperature on Engine Performance Technical Info
[ October 30, 2023 ] V8 Squarebody Swap in a Weekend: Powering Up Casper with a Small Block 350! Builds and Examples
[ October 30, 2023 ] Crafting Custom ATV/Motorcycle Cables: A Step-By-Step Guide How To & DIY
[ October 24, 2023 ] Building (and Improving) the Best DIY Car Ramps Ever DIY Projects
[ October 19, 2023 ] The Ultimate Cordless Screwdriver Showdown: DeWALT, Ryobi, Skil & More Products & Reviews
[ October 18, 2023 ] Are You Letting Brand Loyalty Hold You or Your Project Back? Builds and Examples
[ October 17, 2023 ] What is the Best Choice for an Engine Swap? LS vs. Hemi vs. Coyote Builds and Examples
[ October 15, 2023 ] Effortless Vehicle Lifting with an Adjustable Long Handle Pneumatic Jack Products & Reviews
[ October 12, 2023 ] Mulholland Drive: Hollywood's Iconic Road of Speed and Stars Hot Rod Lifestyle
[ October 9, 2023 ] Degreaser Showdown: Which Product Tackles Grease and Grime Best? Products & Reviews
[ October 9, 2023 ] How To Build a Hot Rod Frame from Scratch Builds and Examples
[ October 4, 2023 ] Uncovering Rare Mopar Options and Features Hot Rod Lifestyle
[ October 3, 2023 ] Mastering Bodywork: A Step-by-Step Guide To Using Body Filler How To & DIY
[ October 2, 2023 ] Is a Junkyard 6.0L LS Engine Worth the Extra Bucks Over a 5.3? Technical Info
[ September 25, 2023 ] Can a Cheap MIG Welder Compete with Premium Models? Products & Reviews
[ August 11, 2023 ] Size Matters: Stacey David's Dodge Power Wagon, aka SGT. ROCK Builds and Examples
[ August 2, 2023 ] Oil Viscosity: Does the Thickness of Your Oil Matter? Technical Info
[ August 1, 2023 ] 10 Oil Filters Compared: Finding the Best for Your Vehicle Products & Reviews
[ July 31, 2023 ] Big Block V8 Engine & Vintage Race Car TIME-LAPSE Restoration Builds and Examples
[ July 28, 2023 ] How To Paint a Car at Home Step-by-Step How To & DIY
[ July 18, 2023 ] The Fabulous Hudson Hornet: The Legacy of a Racing Legend Rides & Roadkillers
[ July 11, 2023 ] The Carb Cheater: Revolutionizing Carburetor Tuning for Classic Car Enthusiasts Products & Reviews
[ July 10, 2023 ] Does Higher Octane Fuel Deliver Better Performance and Efficiency? Technical Info
[ July 6, 2023 ] Improve Your Flux Core Welds with a Simple Nozzle Change Welding Basics
[ July 2, 2023 ] Top Oil Filters Tested for Restriction and Filtering Efficiency Products & Reviews
[ June 28, 2023 ] Cliff Dive Destroys Ford F-1 Race Truck in Pikes Peak Hill Climb Hot Rod Lifestyle
[ June 27, 2023 ] GM's Drag Race: C5 Corvette vs Chevrolet Camaro Four-Banger Hot Rod Lifestyle
[ June 26, 2023 ] Tips for Setting Up and Using a Self-Shielded Flux Core Welder How To & DIY
[ June 17, 2023 ] Does the Fuel You Choose Matter? Technical Info
Roadkill Customs
Diy hot rod tech, tools, rides & lifestyle, squarebody 73-87 gm truck longbed to shortbed chassis conversion kit.
February 2022 — Brothers Trucks is proud to announce the release of their highly anticipated 1973-87 Longbed to Shortbed Conversion Kit.
Just like their 1963-72 version , this kit takes all of the confusion out of this conversion and will provide you with the necessary provisions to complete this popular conversion yourself.
The kit includes a laser-etched steel template, a high-strength steel inner "C" channel brace, a new shortbed front-to-rear brake line, new shortbed parking brake cables, and all of the necessary hardware to install the kit, along with highly detailed instructions.
The kit includes everything needed to shorten your long bed frame with basic hand tools in your own garage. It does require welding to finish the conversion, but with our steel inner braces, you will be able to safely transport the vehicle to a certified welder, if needed.
Related: How To Shorten 1973-87 Chevy/GMC Squarebody Truck Bed Sides
A shortbed gas tank is required. The driveshaft will also have to be shortened before re-installation.
How To Use The Chassis Conversion Kit
Get The Chassis Conversion Kit
The kit is available in four variations that cover square body Chevrolet and GMC trucks from 1973 to 1987:
Fits 1/2 & 3/4 (under 8200 GVW) ton trucks only. Will not fit 3/4 ton (over 8200 GVW or 1-ton applications.
Purchase directly from Brothers Trucks: 1973-87 Chevy GMC Truck Longbed To Shortbed Conversion Kit
Download Full Product Instructions
Also of interest:.
1963-72 Chevy & GMC Truck Longbed to Shortbed Conversion
Full Build: Junkyard Square Body Tow Truck Is Restored and Modernized
How To Cut Your Long Bed to a Short Bed in a Weekend
How To Shorten a C10 Longbed to Shortbed with No Frame Welding
How To Shorten A Driveshaft

Related Articles
1970 Chevy P10 Step-Van to LS-Powered Badass Bread-Box
1969 Chevrolet C10 RestoMod Build Round-up
1940 Chevrolet Special Deluxe Coupe Hot Rod Build
© 1996-2022 Roadkill Customs
1500 SILVERADO/SIERRA
2500/3500 HD
COLORADO/CANYON ZR2
TROPHY TRUCK
BILLET UPPER ARMS
LONG TRAVEL KITS
ACCESSORIES
FUEL CELLS/ MOUNTS
CHASSIS COMPONENTS
TRAILING ARMS AND COMPONENTS
BATTERY MOUNTS/ SPEED TOOL MOUNTS
Out of stock
CHEVROLET/GMC 2500/3500HD 4WD LONG TRAVEL KIT 2001-2010
Kibbetech 01-10 Silverado/Sierra 2500/3500HD 4WD Long Travel Kit The front 4x4 LT kit includes; First 2 cad pictures represent the new style kit! A...
CHEVROLET/GMC 2500HD/3500HD 4WD LONG TRAVEL KIT 2011-2019
Kibbetech 2011-2019 Silverado/Sierra 2500HD/3500HD 4x4 Long Travel Kit Front 4x4 LT KIT INCLUDES  ALL NEW DESIGN (see first 2 cad model pictures)...
CHEVROLET/GMC 2500HD/3500HD 4WD LONG TRAVEL KIT 2020+
Kibbetech 2020+ Silverado/Sierra 2500HD/3500HD 4x4 Long Travel Kit Front 4x4 LT KIT INCLUDES  ALL NEW DESIGN CNC machined Billet aluminum upper c...
CHEVROLET/GMC 1500 2WD LONG TRAVEL KIT 2007-2018
Kibbetech 2007-2018 Chevrolet Silverado/GMC Sierra 2WD Long Travel Kit   Kit includes: Billet upper control arms Billet tie rods 4130 tig welded ...
CHEVROLET/GMC 1500 4WD LONG TRAVEL KIT 2007-2018
Fits 2007-2018 Silverado/Sierra 1500 4WD trucks  Retains 4WD  Includes Inner 934 cv adapter and extended axles fully assembled  4130 TIG welded tr...
CHEVROLET/GMC 1500 2WD LONG TRAVEL KIT 1999-2006
Kibbetech 1999-2006 Silverado/Sierra 1500 2WD Long Travel Kit   Kit includes: Billet upper control arms Billet tie rods 4130 tig welded lower con...
CHEVROLET/GMC COLORADO/CANYON/ZR2 4WD LONG TRAVEL KIT 2015+
ALL NEW DESIGN! CNC Machined Billet upper arms  CNC Machined Billet tie rods  Fabricated 4130 tig welded lower a arms  Fabricated 4130 tig welded...
FORD RAPTOR - GEN1/GEN2/F150 LONG TRAVEL KIT
Kibbetech GEN1 / GEN2 RAPTOR / F150 Long Travel Kit Fits GEN1/GEN2 RAPTORS and F150's Retains 4WD +3'' per side  Includes RCV axles 4130 TIG we...
CHEVROLET/GMC 2500/3500 LT - SWAY BAR KIT
Bolt on sway bar for 2011+ GM2500/3500 long travel kits  Additional stability with the added body roll induced by the added track width  Comes wit...
CHEVROLET/GMC 1500 2WD/4WD LT - SWAY BAR KIT 2007-2018
Sway bar kit for 2007-2018 2WD/4WD Chevrolet 1500 long travel kits  Additional stability with the added body roll induced by the added track width...
FORD RAPTOR - GEN1/GEN2/F150 LONG TRAVEL SWAY BAR KIT
Kibbetech GEN1 / GEN2 RAPTOR / F150 LT - Sway Bar Kit Weld on sway bar for GEN1/GEN2/F150 long travel kits  Additional stability with the added...
KING SHOCKS 3.0''x18'' IBP
King Shock race series 3.0'' diamter by 18'' stoke internal bypass coilover This is the shock we use on every shoty course link build (chevy, Rapt...
KING SHOCKS BOLT-ON BUMP STOP
King Shocks 2.5'' diameter by 4'' strok bolt-on style bumpstop With hardware Black cerakote body with Gold anodize parts Sold as pair This is what...
UNIBALL DUST CAPS
 Kibbetech Uniball Dust Caps ALL UPPER ARM KITS COME STANDARD WITH BLACK CAPS Our standard uniball dust caps we use on every OEM bolt in upper arm...
Best selling
Alphabetically, A-Z
Alphabetically, Z-A
Price, low to high
Price, high to low
Date, old to new
Date, new to old
Added to your cart:
Our updated website Learn more
Take a look around!
Welcome to our newly rebuilt online store! We're excited to offer you an improved shopping experience, making it easier than ever to find the products you're looking for. We hope you enjoy exploring our updated site, where you can learn more about our shop and the vibrant off road community. Thank you for your continued support and we look forward to helping you elevate your off road experience.
Check out the community blog Learn More

SDHQ and the Off-road Community
Our new blog is all about the off-road community and we'd love for you to be a part of it. Share your thoughts, leave a comment or review, and you might even discover a product that could upgrade your off-road experience. Join us and let's explore together.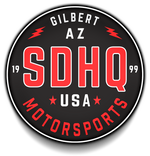 Land Cruiser
JT Gladiator
JL Wrangler
JK Wrangler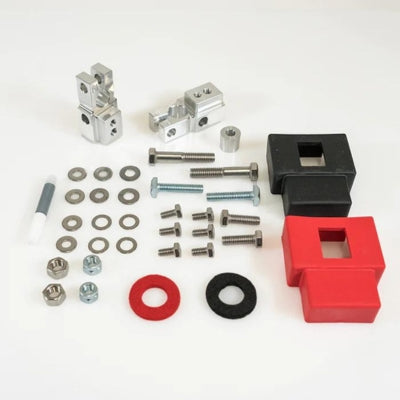 billet battery terminal kit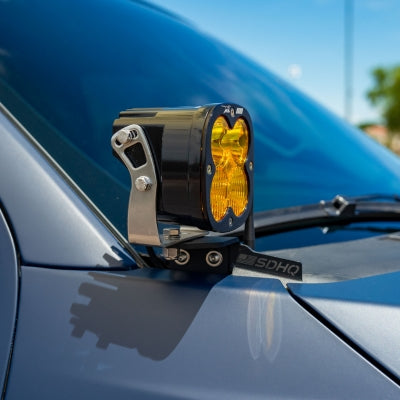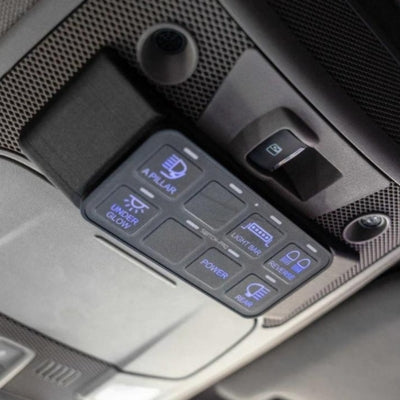 Switch pro panel
All SDHQ Built
Air Compressor Mounts
Rear Shock Guards
In-Bed Chase Racks
Switch Pros System Mounts
Behind the Grille Mounts
Electrical Products
Limit Straps & Mounting Tabs
Hidden Winch Mounts
Rock Sliders
Brake Line Kits
Fabrication Products
Body Mount Chop Filler Plates
Power Steering Reservoir Kits
Skid Plates
In Development
All Lighting
Light Mounts
Auxiliary Lights
Wiring Harnesses
Lighting Accessories
All Overland Accessories
Rooftop Tents
Chase Racks
Recovery Gear
Storage Boxes
Camping Gear
Coolers, Fridges, Freezers
Tire Carriers
Winch Mounts
All Suspension
Suspension Systems
Control Arms
Suspension Maintenance
Leaf Springs
Front End Components
Smooth Bodies
Coil Springs
Rear Suspension Components
All Electrical
Battery Terminals
Battery Accessories
Dual Battery Kits
Alternators
Wiring Harness
Switch Panels
Switch Pros Mounts
Switch Pros Complete Kits
Vehicle Tuning
All Performance
Superchargers
Intake Systems
Fuel Injection
Engine Boots
Engine Sensors
All Fabrication Parts
Body Mount Chop Plates
Limit Straps
Misalignment Spacers
Custom Steering Parts
Tube Clamps
All Air Systems
Air Compressors
Power Tanks
Tire Inflators/Deflators
All Bed Accessories
Bed Organization
All Interior Accessories
Device Mounting
Interior Dress Up
Steering Wheels
All Drivetrain
Gear Packages
Locking Differentials
CV Boot Kits
Drivetrain Maintenance
Freespin Kits
Diff Covers
All Fuel Systems
All Communication
GPS Systems
Race Radios
All Exterior Accessories
Roof Racks & Accessories
All Safety Products
Helmet Accessories
Race Suits & Clothing
Fire Extinguishers
All Tires and Wheels
All Maintenance
Meaning of SDHQ Built
Shock Rebuilds
Dealer Info
All Sport, Track & Luxury Builds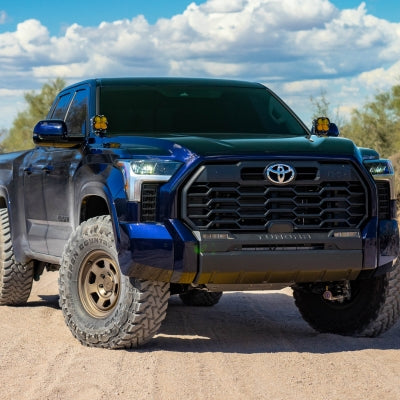 3rd gen tundra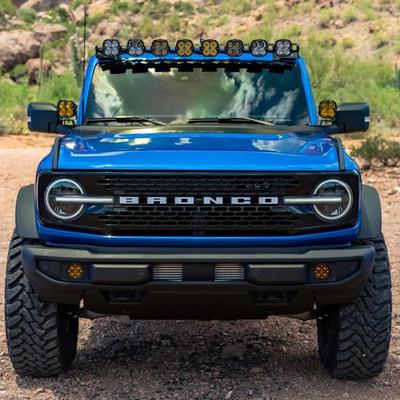 6th gen bronco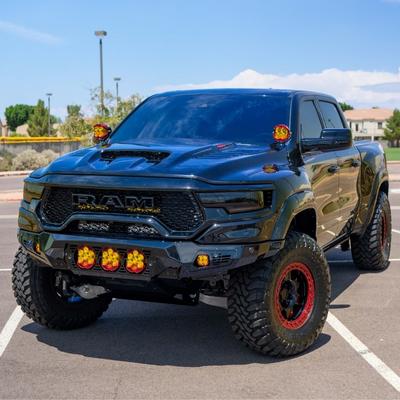 RAM 1500 trx
Complete Billet Battery Terminal Kit
Switch Panel Power System
Baja Designs XL 80 LED Light - Pair
Information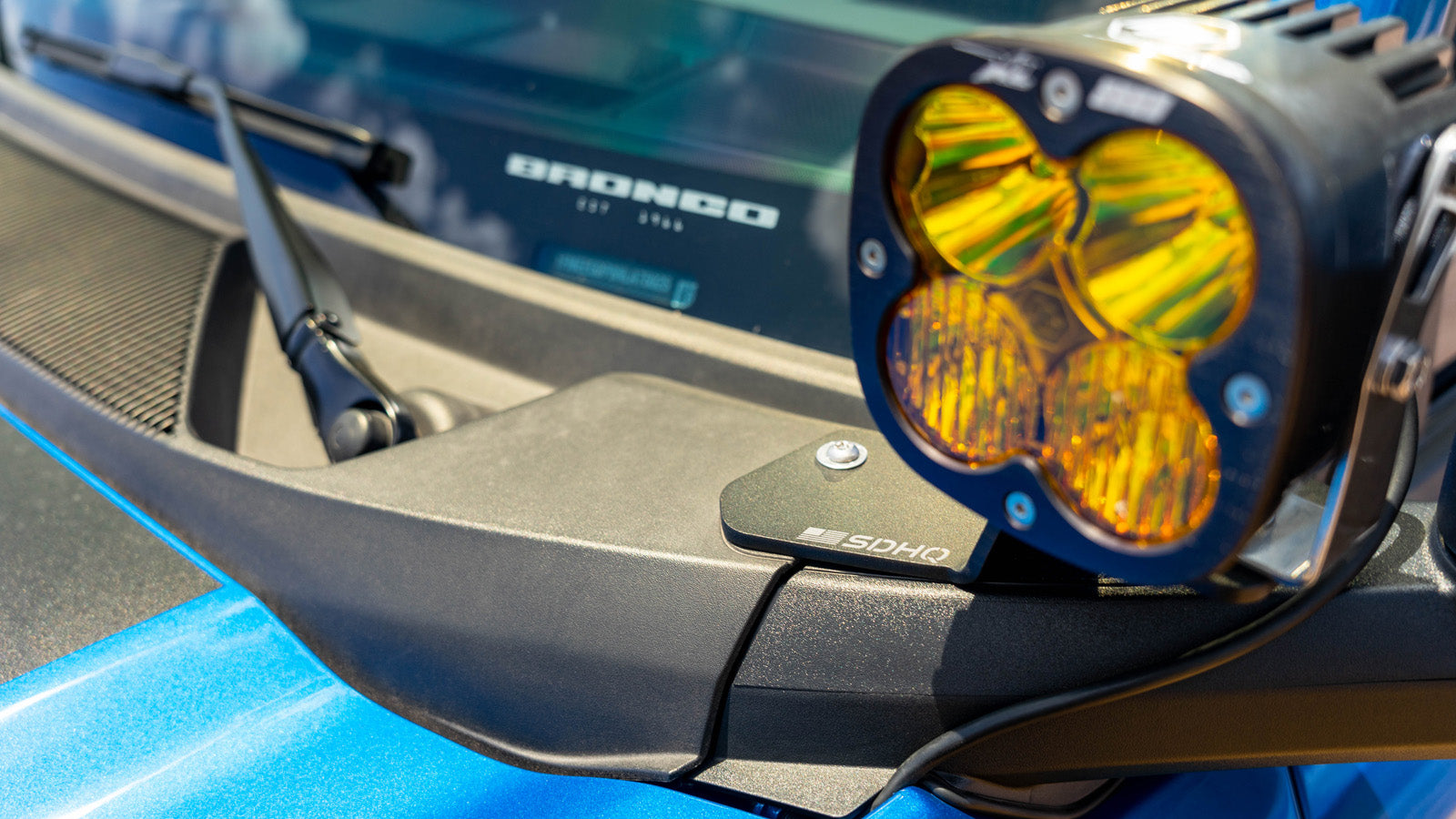 New online store, new deals and new reasons to sign up for exclusive offers.
Cookie policy
I agree to the processing of my data in accordance with the conditions set out in the policy of Privacy.
Your cart is empty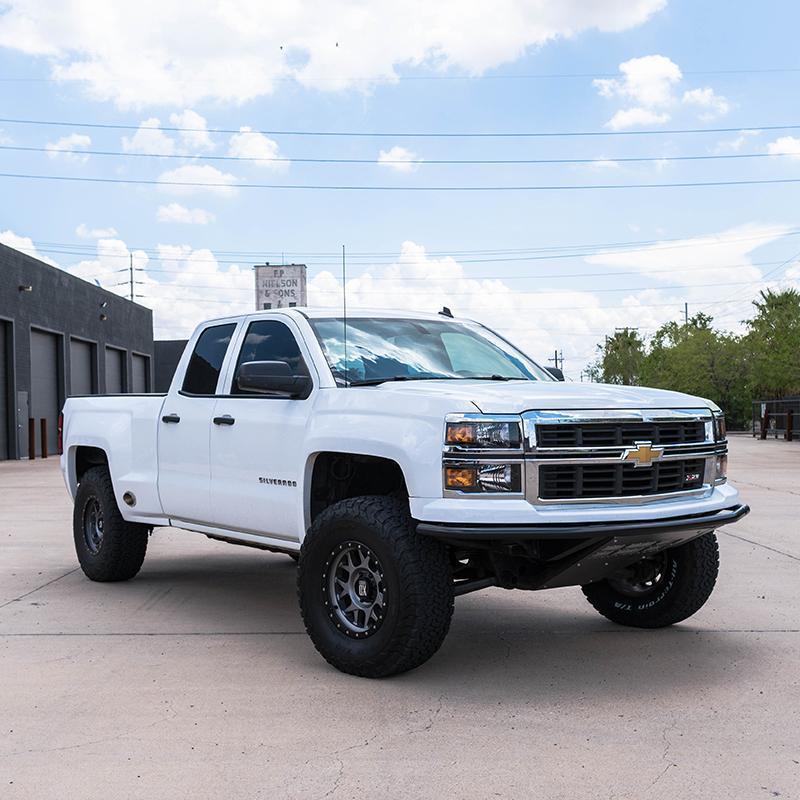 Long Travel Chevy 1500
This Chevy 1500 is equipped with King front coilovers, King rear shocks, Camburg front long travel kit, BFG TA/KO2 tires, KMC XD Series Wheels, a custom SDHQ Built front bumper, and other SDHQ Built Products
A-Pillar Mounts
Electrical / Battery Terminals
Switch Pro System Mounts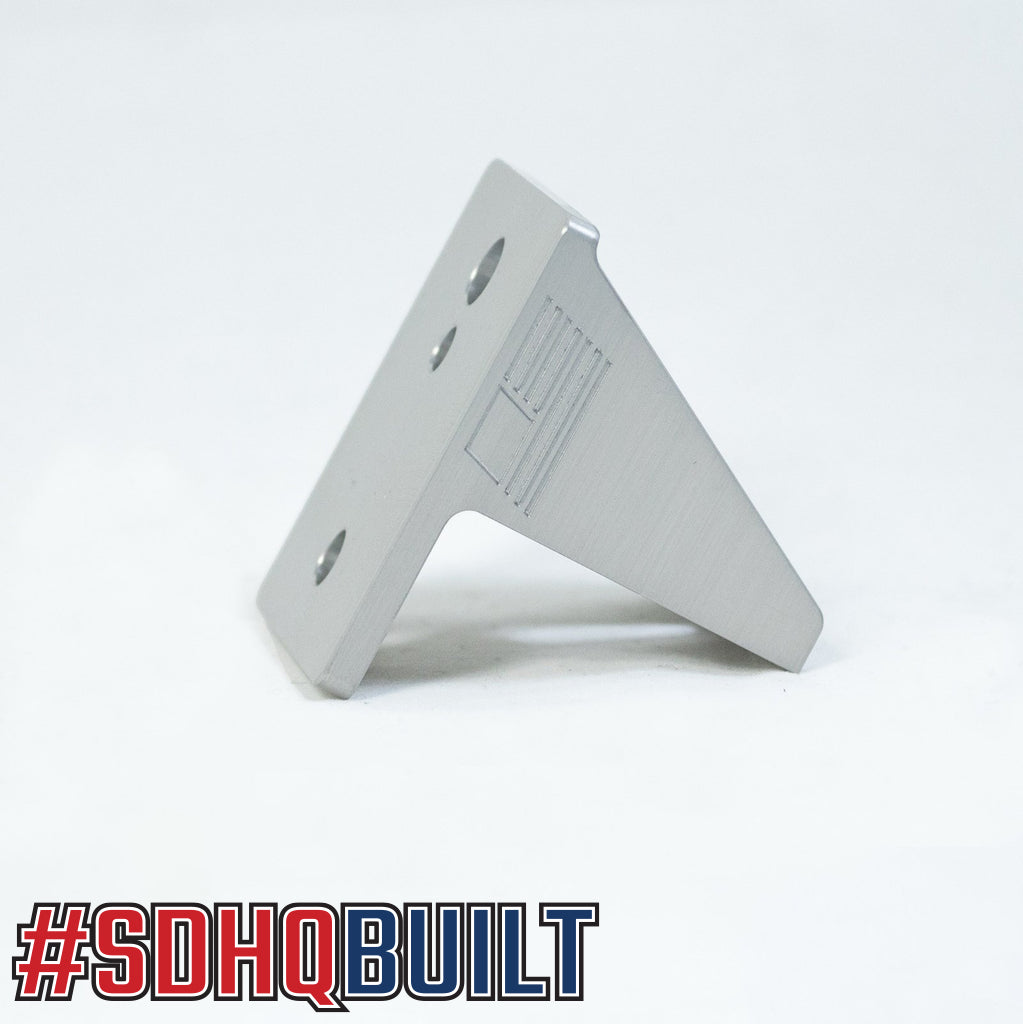 family owned
We are a family-run small business committed to providing top-notch service and products.
worldwide shipping
We do our best to offer the most affordable and expedient shipping options available.
Secure payment
Your payment information is always processed securely.
Need to contact us? Just send us an e-mail - [email protected]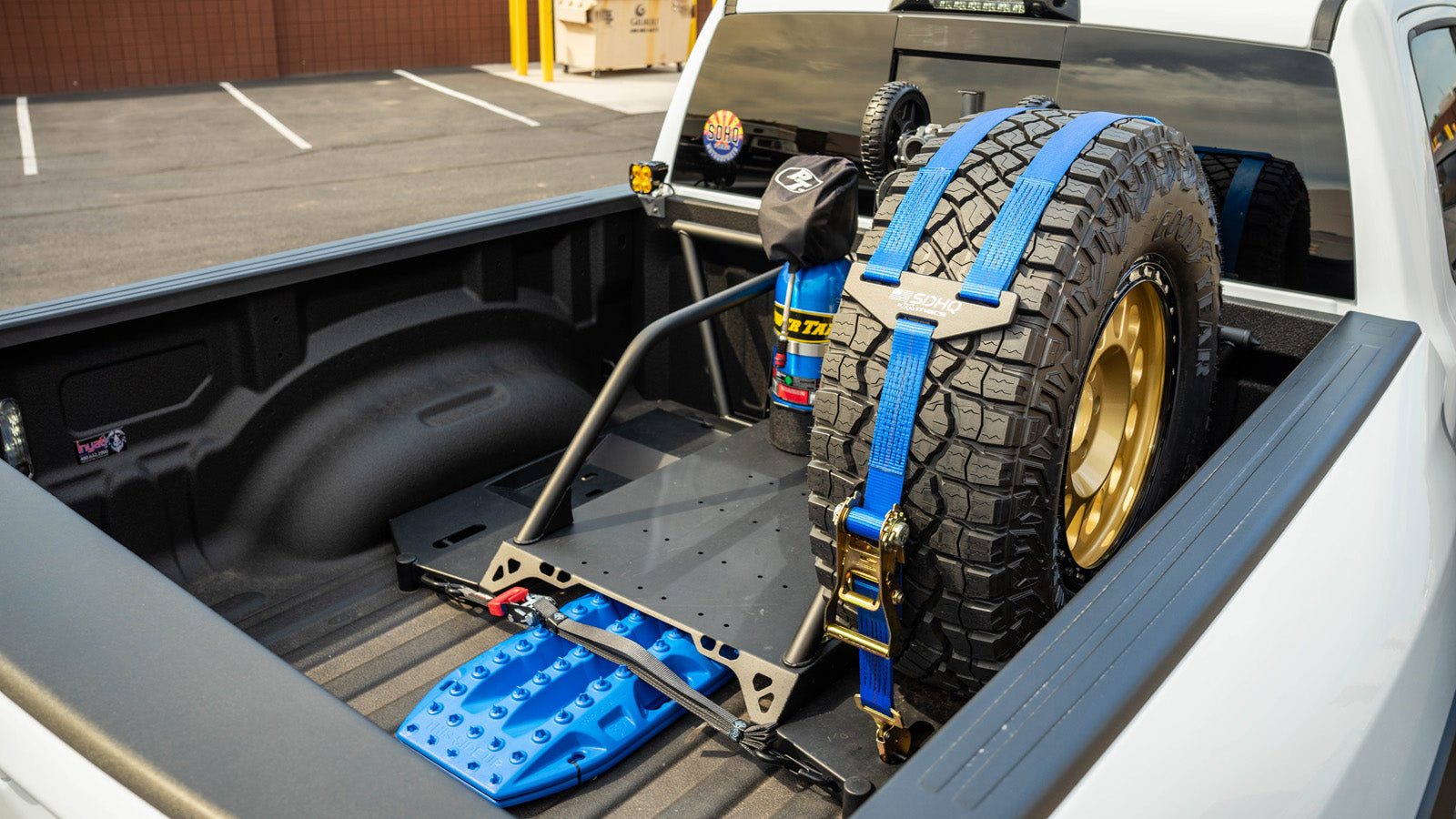 Subscribe to our newsletter
Promotions, new products and sales. Directly to your inbox.
HIGH QUALITY OFFROAD TRUCK PRODUCTS - MADE IN USA
LONG TRAVEL
2007-2018 CHEVY/GMC 1500 2WD LONG TRAVEL KIT / MZS-C4-2
2007-2018 CHEVY/GMC 1500 LONG TRAVEL / MZS-C3-1A
2019+ CHEVY/GMC 1500 LONG TRAVEL / MZS-C3-2
2007-2018 CHEVY/GMC 1500 FRONT SHOCK MOUNT / MZS-C3-1A-M
1999-2018 CHEVY/GMC 1500 SHACKLE AND HANGER / MZS-C7-1
1999-2006 CHEVY/GMC 1500 2WD LONG TRAVEL / MZS-C4-1
1999-2018 CHEVY/GMC 1500 2WD FRONT HUB / MZA-C2-1
choosing a selection results in a full page refresh
Camburg Engineering
Lost password?
New to site? Create an Account
Already have an account login, we'll be closed friday dec. 30th & monday jan. 2nd for new year's.
Phone: 714-848-8880 | Email: [email protected]
Shop By Vehicle
Camburg Chevy/GMC 1500 2wd/4wd 07-18 Performance Long Travel Kit
$ 3,695.00 – $ 7,701.99
Description
What's Included
Vehicle Applications
Our performance long-travel kit for the 2007-2018 Chevy/GMC 1500's is finally available. We spent a considerable amount of time dialing this kit in and getting the FOX shocks fine tuned for everyday driving and aggressive off-road use. This kit fits both 2wd and 4wd models and has multiple shock options to fit your budget and needs. The kit is designed around using bolt-in OEM style coilovers so if you already have some, no need to purchase new shocks. Since we're widening the track trackwidth 2.5″ per side, you will need fiberglass front fenders for the added tire clearance and coverage.
Looking to run bypass shocks with this kit? We have a pre-fabbed weld-on mount that is setup for a 2.5-3.0 bypass shock that is a custom tube layout to maximize performance and fitment.
Note: most factory wheels will not clear the upper arm and will require a wheel spacer. We highly recommend aftermarket wheels with a zero offset with all our Chevy kits for optimum performance and fit.
Boxed lower arms
Tubular heim upper arms
Stainless/Kevlar extended front brake lines (#CAM-230006)
Stainless CNC machined tie rod extensions (#CAM-960264)
Stainless heim & uniball spacers
Grade 8 hardware
4wd 4340 heat-treated axle shafts (optional) (#CAM-210050)
Fox or King coilers (optional)
You must identify your original OEM factory suspension type. Customer is responsible to order correctly, if not delays and added shipping costs will incure.
2007-2016 Cast Steel (black) (magnetic) (rough surface finish) = small upper and lower ball-joint tapers
2014-2016 Cast Aluminum (silver) (non-magnetic) (rough surface finish) = large upper and lower ball-joint tapers
2016-2018 Stamped Welded Steel (black) (magnetic) (smooth surface finish) = large upper and lower ball-joint taper
This kit requires front fiberglass fenders
Must remove factory droop stop from frame mount
You may also like…
Camburg Chevy/GMC 1500 2wd/4wd 07-18 Long Travel Rear Bedcage and Shocks
Deaver Chevy/GMC 1500 2wd/4wd 99-18 Rear Leaf Spring Kit
Progressive spring-rate design
Increased wheel travel
Camburg Chevy/GMC 1500 2wd/4wd 07-18 L/T Bypass Mounts and Shocks
JavaScript seems to be disabled in your browser. For the best experience on our site, be sure to turn on Javascript in your browser.
Compare ( )
Tech Center & Instructions
Create an Account
Front Coilover Kit With Fox Shocks
Front coilover kit with king shocks.
Ready for the pinnacle of suspension for your truck?
Look no further, our coilover system is the absolute best in ride quality for your rig!
From $60.00
To $7,414.50
* Required Fields
(Click to expand)
Why convert your truck to the offroad design coilover system, best ride possible.
With a leaf spring system your axle moves forward, back, and side to side so driving feel is very mushy. With links your axle as a designated path so everything feels more precise even the steering. This will make your truck perform more like a brand new one.
Your steering feel will even improve with adding the coilover link kit. As you steer your axle wont be pushed side to side like it does with leafs.
High quality shocks come standard
When getting into the coilover kit you instantly get a large body remote reservoir shock more than capable of handling anything you throw at it!
Long Lasting
Everything in this kit is comprised of very high quality materials that will lower your maintenance. No more replacing spring bushings or checking U bolts! Also having a softer suspension will be easier on the rest of the components of your truck.
Extremely Versatile
WIth our coilover kits you can do anything from nice on road daily driver to hardcore go fast dunes and everything in-between (rockcrawler, camping rig, overland, tow rig, and weekend cruiser). Weight is not a problem either! Can be anything from all aluminum LS to heavy diesel motored trucks with huge bumpers, the coilover kit will add performance with ease!
Can I install the coilover kit myself?
Since there are varying skill levels that is a hard one to answer. This kit does require a lot of welding, cutting, and also free form fab. To see if you are up to the task check out our coilover resources page under the tech center
Besides the coilover kit what other items are needed?
Crossover steering.
If you don't have it already you will need crossover steering to run the coilover kit. We do carry these kits! Stock push pull steering and High Steer (tie rod above knuckles) will not work with the coilover kit.
High Clearance Engine Crossmember
For the 73-87(91) trucks and suv's you will need a high clearance engine crossmember for the panhard bar to clear. We carry those on our website
Other Items
You may need other items like longer brake lines, drive shafts, and a lift or links for the rear to match the front if you are starting with a stock (not lifted) truck
What vehicles does this kit work with?
1969-1991 chevy trucks/suvs.
Our kit will work will the 1969-1972 era GM trucks and SUV's as well as the 1973-1991 squarebody GM trucks and SUV's. It will not work with the later GMT400 or GMT800 IFS trucks.
Why 4 link?
What makes parallel 4 link the best option.
They have better driving manners, less wear, and more flex compared to a radius arm setup
Frame Bracket Info
High clearance.
This bracket is used for lift heights of 4" or less and is mainly used for rock crawling applications to keep the links high up away from the rocks. These brackets use our offset links
Mid Clearance
This bracket is used for lift heights of up to 4" on k5, k10, k20, and suburban applications. Or up to 6" of lift in K30 applications. This bracket is geared toward an all around use for some off road and some on road. These brackets use our offset links.
Low Clearance
This bracket is used for lift heights of 4-8" on k5, k10, k20, and suburban applications. Or 6-8" of lift in K30 applications. This bracket is geared toward an use where ground clearance isn't and issue but better link geometry is wanted. Things like street driven, go fast, dunes, and tow rigs. These brackets use our straight links.
This bracket is used for lift heights greater than 9". These brackets use our straight links.
What axles does this kit work with?
This kit works with the Kingpin GM Dana 60, Kingpin Dodge Dana 60, Kingpin Ford Dana 60 (77-79 and 85-91), 67-72 2.75" tube and GM D44, 3" Tube GM D44/Corporate 10 Bolt. IT DOES NOT WORK WITH ANY OF THE BALLJOINT DANA 60s.
What travel shock should I get?
Shock travel options.
The lowest travel shock we can do with this kit is a 8" and the longest travel shock that will work is a 14"
Full Flex rock crawling
Go fast dunes, steet driven.
8"-10" Travel
Mixed use on/off road
Using tall truck bracket (9"+ lift), coilover specs, spring rates and valving.
We use the information you provide with use/info on the vehicle to spec out spring rates and valving for your build if your purchase the shocks through us. If you purchase shocks though another source sorry but we WILL NOT spec valving or spring rates.
King Shock Info
King coilovers.
Our standard King coilover is a 2.5" body, remote reservoir, with blue/silver anodizing (other colors can be custom ordered). King is an extremely high quality shock company manufactured here in the USA. They do have some add on options like the IBP Internal bypass (great for hard hits keeping the shock from bottoming out) and the compression adjuster (used for changing mid speed compression).
King external bypass shock
The external bypass shocks add even more on the fly tuning. These are great for when you are wanting to use your truck as hard as possible! So if you plan to see air under your tires all the time add some external bypasses!
King Bump Stops
The bump stops are used to slow down the bottoming out of the suspension. If you plan on hitting full bump a lot add some of these bump stop. We typically run 2.5x2.5 with most of our rigs
Does this kit require cutting in the engine bay
With this kit you will need to cut your inner fender wells for the shocks/shock mounts to fit. If you have a stock A/C box it can be very difficult fitting shocks/shock hoops around it, we suggest going to an aftermarket one that moves the components under the dash for ease of install.
Can I move my axle forward from stock
You can to a point.
Typically you can move your axle forward .75" from stock, some have made 1" forward work. Anything past that you will need to move your steering gearbox which we do have a kit for.
A sway bar can help tame down body roll with your new soft suspension. We do carry coilover sway bar kits. These kits are a heavier bar great for on road. When you want to get your full travel off road we recommend disconnecting it.
Want to see some of our vehicles with the coilover kit? Click the links below:
Cummins K30 Tow rig/camp truck
Convertible K30 Rock crawler/ultimate adventure rig
Willomet Suburban All around truck
Dirt Every Day Alaska/Alabama Army Truck
Moonpie Rock Crawler
Also here is a link to some coilover install resources:
Things you may need for the coilover system if you don't have them already
High Clearance engine crossmember
Crossover Steering kit Dana 44/10 bolt or Dana 60
Coilover Sway Bar Kit
Our springs are designed to give the best ride possible, so they have a low spring rate. To get the best of both worlds (nice ride and towing capacity) we recommend using a set of airbags when towing. There are quite a few kits out there for airbags on these trucks. One thing we highly recommend is the daystar airbag cradles, they allow the airbag to leave/return to the cradle when flexing off road. That way your suspension travel isn't hindered, we carry them on our website too!
Throwing a few hundred pounds of gear in the back of your truck is not going to be a problem. When you are looking at hauling more than that we recommend using airbags
Kmon Wid It!
Item added to your cart
Open media 1 in modal
Open media 2 in modal
Open media 3 in modal
Open media 4 in modal
Nickky Bobby Inc
Complete Long Travel Front Suspension Kit G-body / S10
Couldn't load pickup availability
I've teamed up with Trick Chassis to bring you guys the kit everyone has been looking for! Complete long travel front suspension package for your g-body or s10. This will include the following parts to make getting more travel, control, and tuning options for your rides front suspension! 
- Trick Chassis new no prep upper control arms. Featuring thicker wall tubing, no limiter cross brace, and ultra low friction 1" extended ball joints
- Trick chassis coil over tubular lower controls arms and hardware kit 
- You're choice of shock and spring combo. (all kits will go out with 14" 250lb springs, as this is the best starting point for the combo and can be changed/ fine tuned if needed down the road) 
- All shocks will come with hardware kit, thrust bearing kit, and spanner wrench kit 
- NBI bolt on long travel shock brackets and needed hardware 
This kit can take your chassis with stock parts and make it a long travel setup the same day! Everything needed is included in the kit
(bump steer kits must be ordered separately as most cars now days have rack and pinion and don't need the kit) 
*FOR OFF-ROAD USE ONLY* 
*Yes the shock towers will clear factory steering shaft 
*I also recommend welding the shock brackets to the frame if able. They do just fine bolted and have been race/ road tested but welding them on is always a great precaution! 
*KITS ARE MADE TO ORDER* Shock towers are in stock 99.9% of the time and will ship within the first day or two once order is placed. We're trying to keep all shocks in stock also but can be a 2-4 weeks out. Thanks for your patience and support!  Brackets will ship from NBI and the rest from trick chassis so you will receive multiple boxes 
Shipping & Returns
Care instructions.
Choosing a selection results in a full page refresh.
Opens in a new window.

USD CAD AED EUR MXN AUD
619.944.8913
Shopping Cart
Continue Shopping
Welcome to Dirt King!

Colorado 1500 2500 Tahoe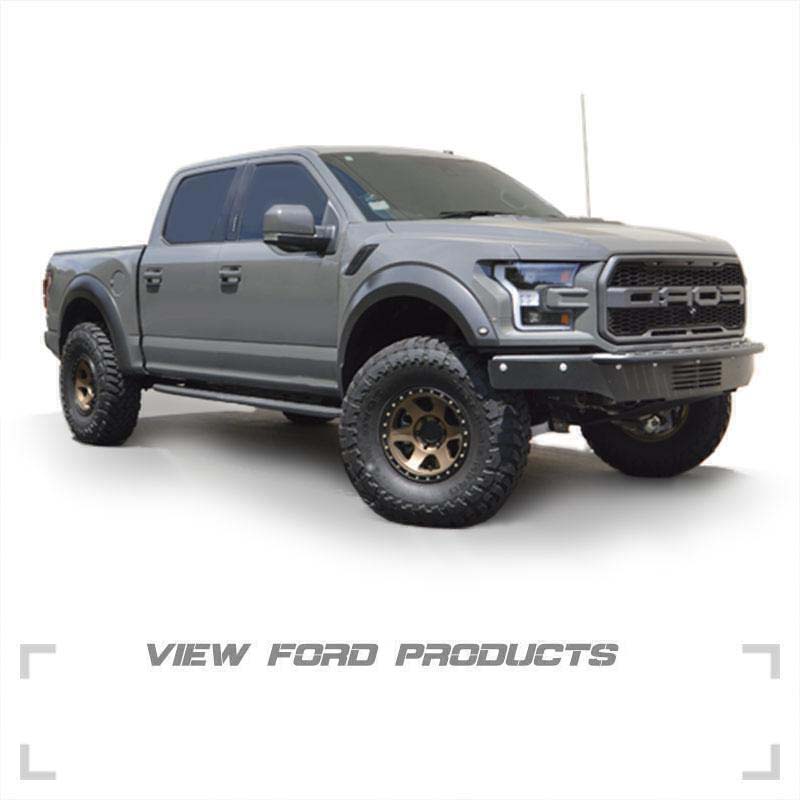 F-150 Raptor
Frontier Xterra Titan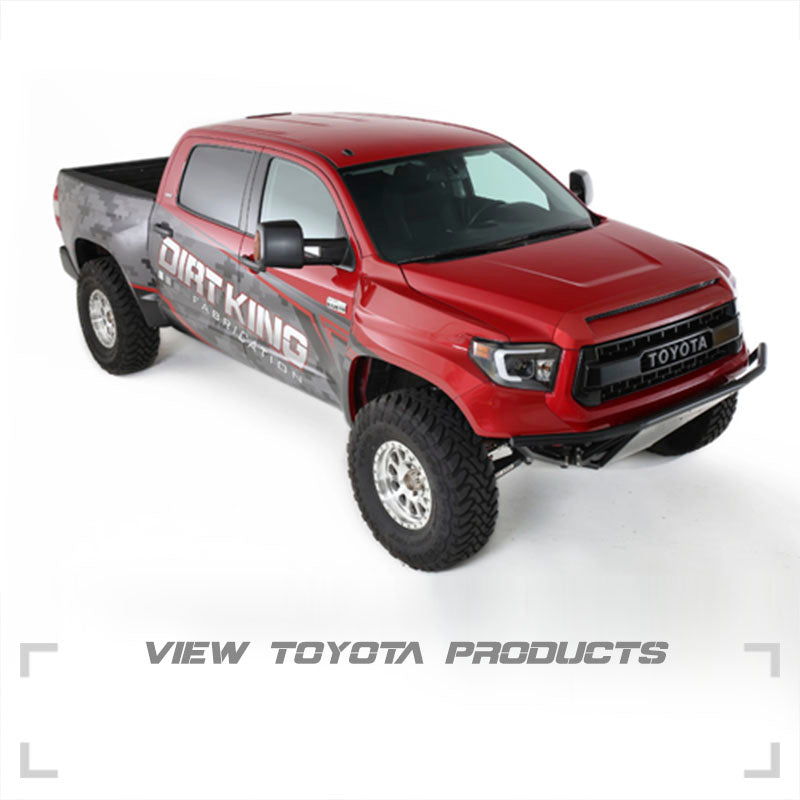 4Runner FJ Cruiser Tacoma Tundra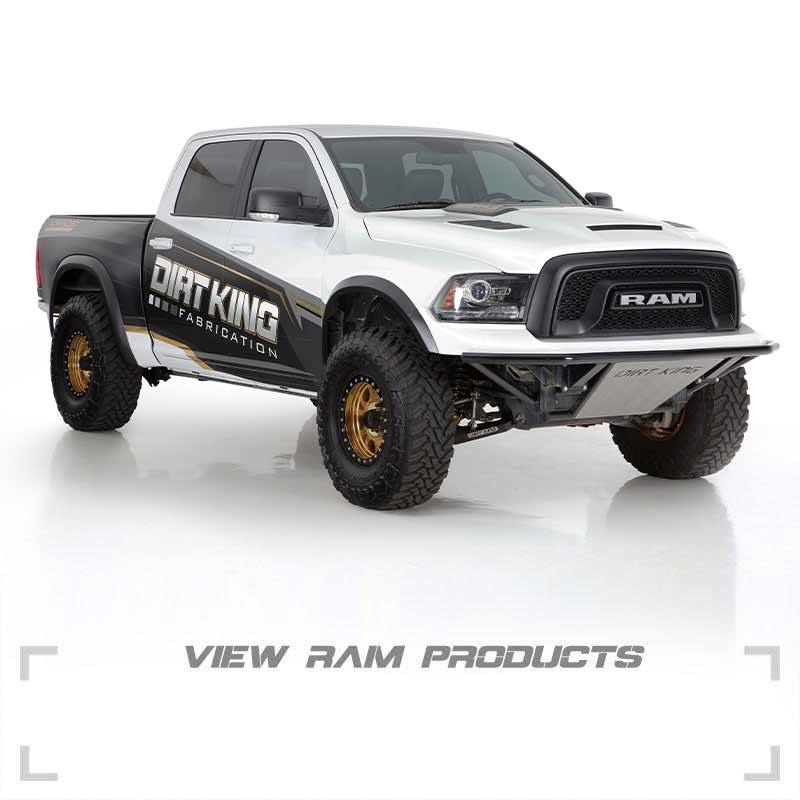 Featured Products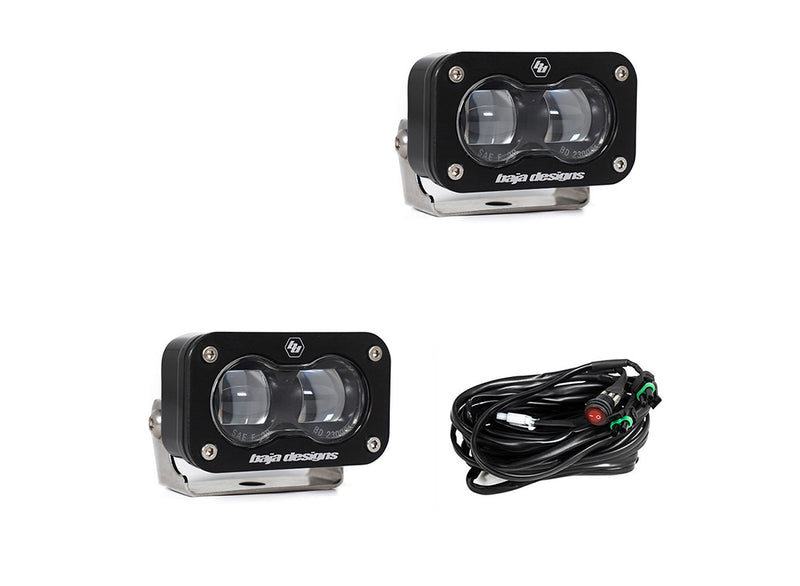 S2 SAE Light
SKU: Make Selection
LP6 Pro | LED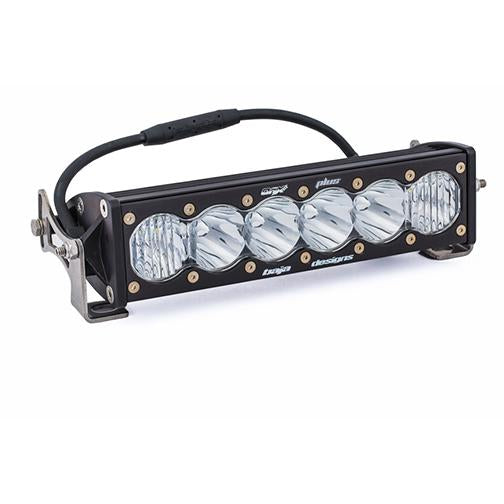 ONX6+ LED Light Bars | Clear | Straight (Sizes: 10"-50")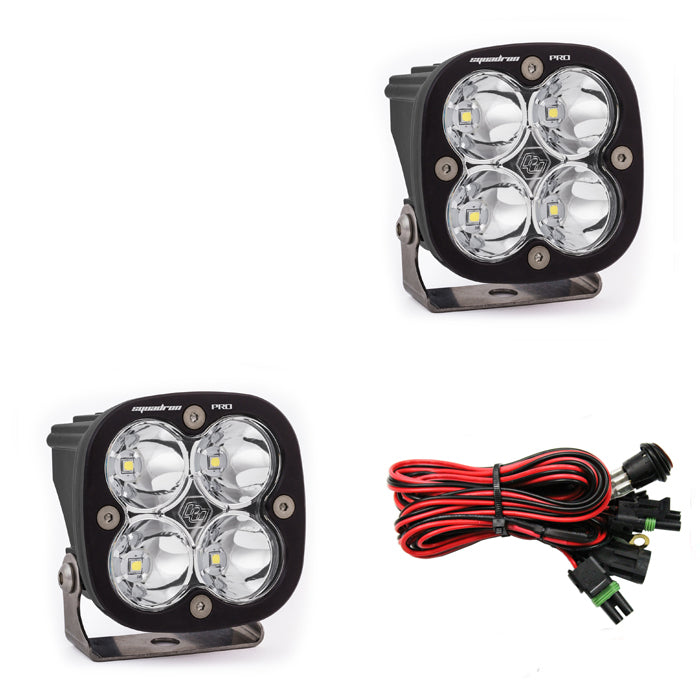 Squadron Pro Pair | Clear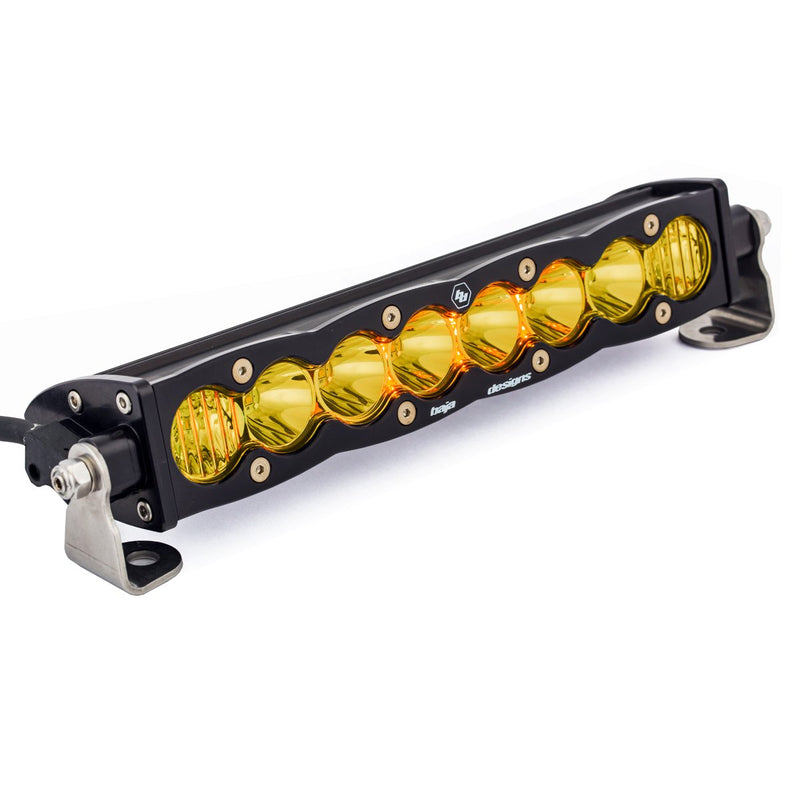 S8 LED Light Bars | Amber | Straight (Sizes: 10"-50")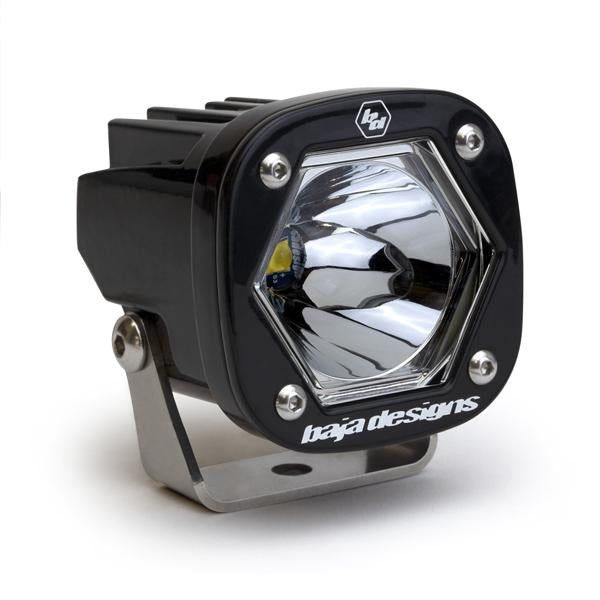 S1 LED Light | Clear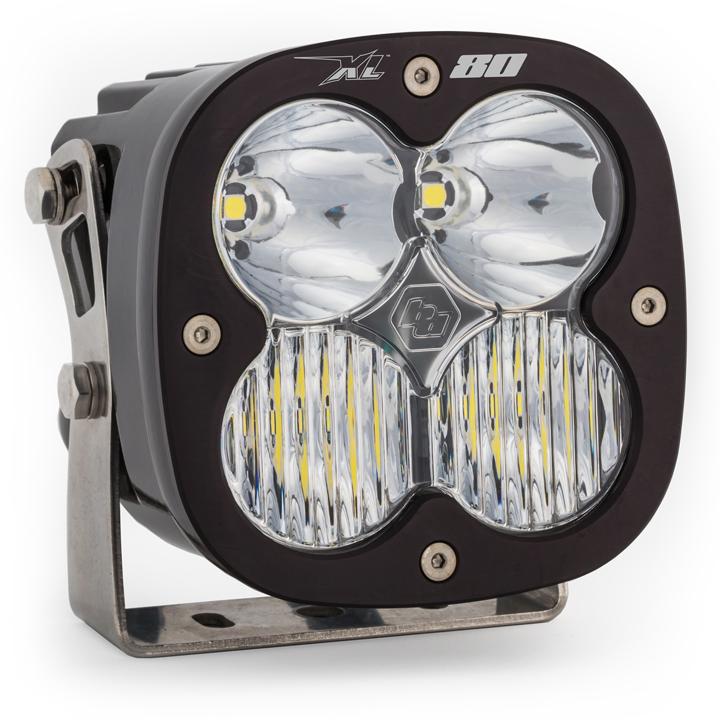 XL80 LED Light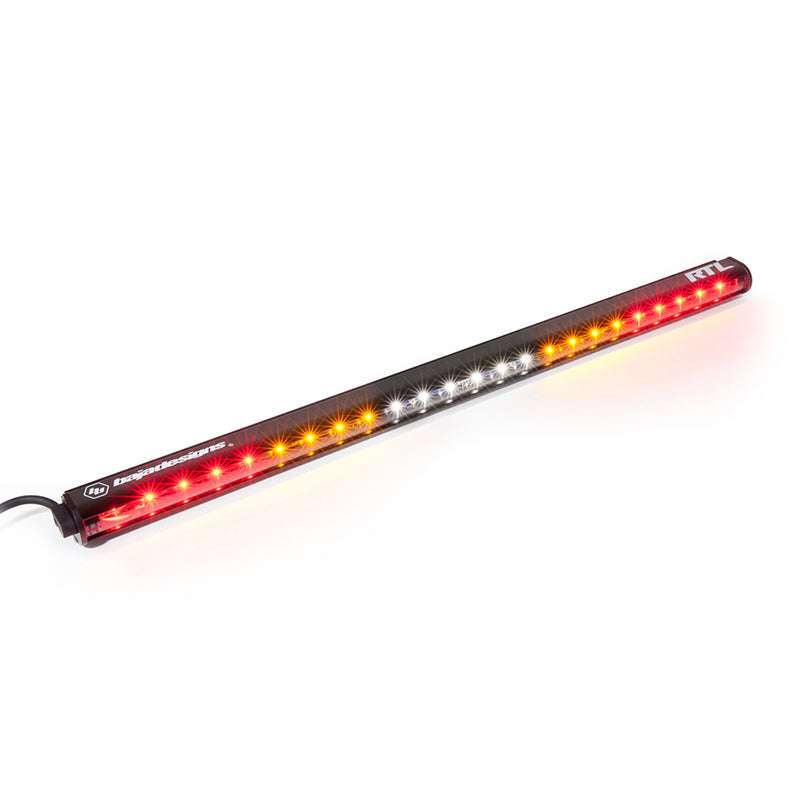 RTL-S | 30" Light Bar
SKU: 103004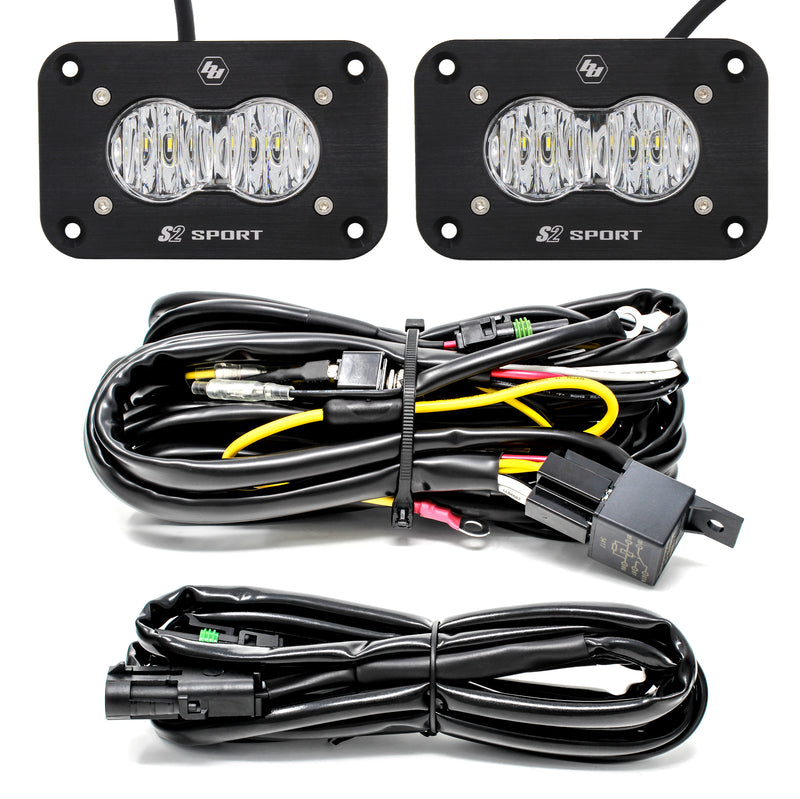 S2 LED Light Backup Kit | Flush Mount | Clear
SKU: 547807
Featured Video
FEATURED VIDEO | GMC Denali Prerunner Build
In this video we go over in detail every upgrade to this truck we installed. we are more than pleased with how this finished truck came out.   [ subscribe for more ] , recent builds.
Recent Articles
Dirt king on trucku | desert race tacoma.
The owner of this hard-driving Tacoma loves the adrenaline rush of hitting rough terrain at high speeds, so he's asked the guys at TruckU to set up the truck to do just that...
Feb 01, 2023
Dirt King Fabrication
Dirt King Shock Tuning Session
When it comes to performance off road suspension systems shock tuning is essential to fine tune the ride quality to your preference. Shock tuning refers to adjusting the damping characteristics of a shock absorber...
Follow us on Instagram
Dealer Locator
Become a Dealer
Clearance Section
Help & Contact
Shipping Policy
Refund Policy
Privacy Policy
Terms of Service
Keep in Touch
You Can Buy a 'New' Square Body Chevy Truck With 650 HP and Period-Correct 4×4 Style
Forget touchscreens and try not to sling yourself across the bench seat.
New pickups are bigger, more powerful, and more comfortable than ever. However, as the segment shows no signs of slowing down, many believe these new trucks just don't have the same charm as the old ones did. That's all well and good if you're ok with being knee-deep in a restoration, paying big for a low-mileage example, or browsing Craigslist until the end of time, but the people at Roadster Shop clearly weren't on board with that.
Apparently tired of rust repair and carburetor tuning, the company has come out with brand new reproduction '73-'80 Chevy pickups and K5 Blazers. These new trucks aren't sitting on sandblasted frames with rebuilt small-blocks in them, either. They're fresh machines complete with GM's supercharged LT4 V8 , which packs 650 horsepower and 650 pound-feet of torque. 
Luckily, it doesn't stop there as Roadster Shop updates nearly every component of each truck's drivetrain and suspension. The transmission is now a GM eight-speed automatic, and the 4WD transfer case is straight out of a 2500-Series truck. Just like in the new pickups, it's a push-button system, so no going outside to lock any hubs. To add to the experience, the LT4 isn't restricted by any OEM exhaust system; instead, brand new stainless steel pipes from Borla in combination with factory catalytic converters ensure great sound and performance.
The suspension is upgraded with a lot of big-name aftermarket parts such as custom-valved Fox shocks at every corner and Deaver long-travel leaf springs to suspend the rear axle. The front end is straight out of a 2017 Silverado 1500 as well, which means rack-and-pinion steering plus the peace of mind that parts are easy to get a hold of. Other things like the brakes—discs at every corner, thankfully—cooling system, and fuel system all consist of new GM parts as well.
Roadster Shop will also make sure your "brand new" Chevy looks the part of an old truck. Obviously, you get the C10 or K5 body of your choice, but factory interior and exterior colors are also available, built to the specs of the truck's original trim levels. New, factory-style 17- by 8-inch wheels with 34-inch A/T tires tie up the looks and give the truck a great stance as well. 
The cost of all of this new truck goodness? Well, if it's not listed, it's typically best if you don't ask, and that's the case here. We reached out to Roadster Shop and a representative told us that "these Survivor style builds will be in the $150k - $200k range depending on options and condition of the original vehicle." He made it clear that either they could help a prospective buyer source said vehicle, or the buyer could provide one themselves. 
If the buyer wants the entire cab of the vehicle restored as well, aka, the mystical "brand new" square body truck, then I hope they have $250,000 laying around. We weren't exactly expecting a steal, but that's still a ton of money for one car. And even If you have that kind of cash, you still have to decide between one of these or an Icon restomod . Decisions, decisions.
Got a tip? Send us a note: [email protected]
Why Chevy Should Bring Back The Square Body
Here are some of the reasons why now is the perfect time for a square body comeback.
Built from 1973 to 1991, the "Square Body" Chevy were the third generation of GM trucks in their C/K series. As you might have guessed by looking at it the square body got this nickname from its box-like shape. Interestingly enough, when these trucks first debuted, GM called them the "rounded-line" generation due to the round windshield, windows, and door frames. Having lasted for eighteen years in the American car market, it's clear that Chevy really nailed it with the square body. These trucks were GM's first to be designed using computer simulations and wind tunnels.
Under the hood, buyers had a wide variety of powerful and reliable engine options to choose from. On the inside, Chevy's engineers made the cabin more comfortable with added legroom, a four-door crew cab option, and climate controls.
By 1988, GM began to phase out the square body trucks in favor of the fourth generation of C/K . Here are some of the reasons why now is the perfect time for a square body comeback.
Trucks are a Growing Market
It is no secret that trucks have become massively popular in the American car market in recent years. In April of 2020, truck sales actually surpassed passenger car sales for the first time ever. In addition, four of the top ten best-selling cars in America are full-size pickup trucks. The main reason that trucks today sell better today than they used to is because of lifestyle buyers, or people who don't need a truck for work but like the idea of driving a pickup. With truck buying at an all-time high, now is the perfect time to bring back the square body.
Truck Buyers Miss That Old School Look
Despite the high volume of truck sales in the past few years, these stats shouldn't be taken to mean that truck buyers like modern American trucks a lot more than the trucks of the 1970s and 80s. Today's trucks fulfill the needs of both working people and lifestyle buyers by offering greater capability and cabin comfort than ever before. However, despite their advantages, there are many people who miss the rugged looks of older trucks. In fact, there are some who would say that today's trucks are just plain ugly . And who can blame them? Modern full-size trucks have abandoned the clean lines and lean proportions for a bulkier and more rounded look. The square body would immediately separate GM from the rest of the pack in a big way.
Related:  Chevy C50: The Nicest Pickup Restorations
Give Buyers a Cheaper Option
Prior to the "Old Body" trucks of the late 1980's, GM made inexpensive trucks with a great powertrain and not much else. While the square body c/k's interior was good for its time, there wasn't the same focus on cabin comfort as there is today. This meant that they were priced a lot lower than modern American trucks. For example, a 1975 C10 cost $3,600 back in the day. Adjusted for inflation, that truck cost about $17,500 today. Compare that with today's Silverado half-ton which can run anywhere from $28,000 to $61,000, and it's easy to see how much truck prices have really changed over the years. Back in the day, Chevy trucks were an affordable option for working people who needed a simple, reliable truck, and right now there is a wide-open space in the market for a full-size no-frills truck like the old square body.
Related:  10 Most Affordable Trucks Of 2020
Why They Won't Resurrect it
Despite the nostalgia surrounding the square-bodies, it isn't as simple as just duplicating the old ones. Industry standards have changed so much it would be very hard for Chevy to recreate the square body. For example, part of the reason that today's trucks look the way they do is to maximize fuel efficiency. It's a lot cheaper to reshape the outside of a car than to redesign its engine. So now when car companies are faced with heightened fuel economy standards, it comes as no surprise that Chevy chose to ditch the very angular look of the square bodies in favor of a more rounded look. Another consideration is cost, part of the reason old square bodies were less expensive is that there wasn't as much that went into them. Even today's budget car buyers have come to expect "standard" features, including more comfortable seats, computers and sensors that monitor engine performance, and safety features that weren't even invented when the square body was made. All of these new features mean cost and added weight. So even a base model, would still probably end up being much rounder, heavier, and more expensive than the original. However, there is a chance that another company could step in and replicate the square body as Gateway did with the Ford Bronco .
Next:  Here's Why The 2020 Chevy Silverado HD Is The Ideal Work Truck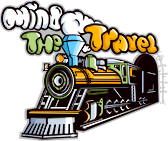 Travel Itinerary For One Week in Moscow: The Best of Moscow!
I just got back from one week in Moscow. And, as you might have already guessed, it was a mind-boggling experience. It was not my first trip to the Russian capital. But I hardly ever got enough time to explore this sprawling city. Visiting places for business rarely leaves enough time for sightseeing. I think that if you've got one week in Russia, you can also consider splitting your time between its largest cities (i.e. Saint Petersburg ) to get the most out of your trip. Seven days will let you see the majority of the main sights and go beyond just scratching the surface. In this post, I'm going to share with you my idea of the perfect travel itinerary for one week in Moscow.
Moscow is perhaps both the business and cultural hub of Russia. There is a lot more to see here than just the Kremlin and Saint Basil's Cathedral. Centuries-old churches with onion-shaped domes dotted around the city are in stark contrast with newly completed impressive skyscrapers of Moscow City dominating the skyline. I spent a lot of time thinking about my Moscow itinerary before I left. And this city lived up to all of my expectations.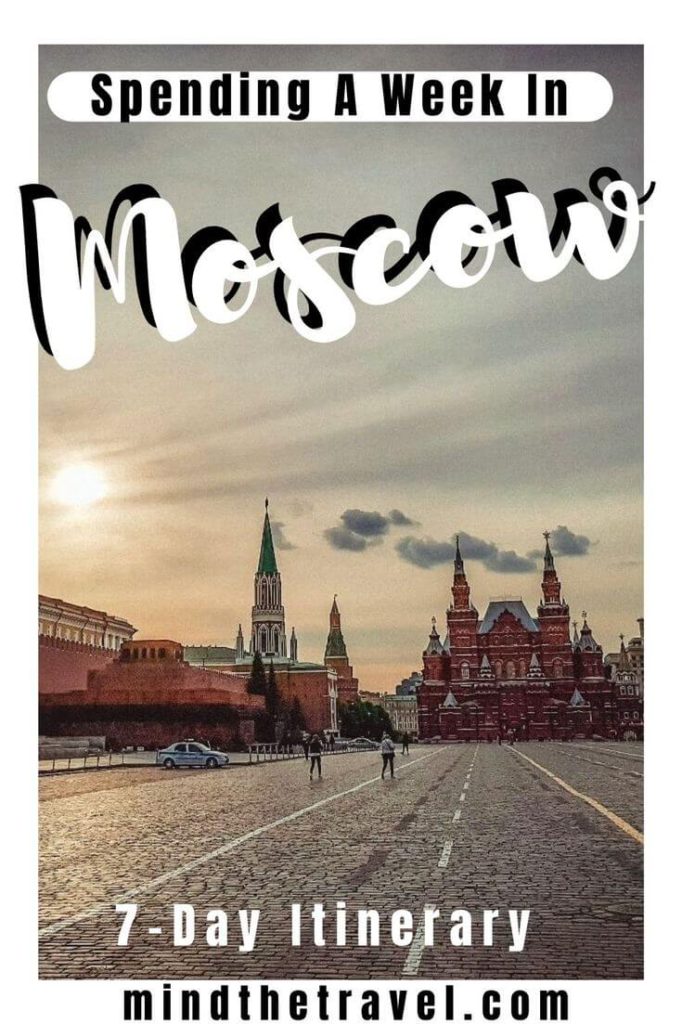 Travel Itinerary For One Week in Moscow
Day 1 – red square and the kremlin.
Metro Station: Okhotny Ryad on Red Line.
No trip to Moscow would be complete without seeing its main attraction. The Red Square is just a stone's throw away from several metro stations. It is home to some of the most impressive architectural masterpieces in the city. The first thing you'll probably notice after entering it and passing vendors selling weird fur hats is the fairytale-like looking Saint Basil's Cathedral. It was built to commemorate one of the major victories of Ivan the Terrible. I once spent 20 minutes gazing at it, trying to find the perfect angle to snap it. It was easier said than done because of the hordes of locals and tourists.
As you continue strolling around Red Square, there's no way you can miss Gum. It was widely known as the main department store during the Soviet Era. Now this large (yet historic) shopping mall is filled with expensive boutiques, pricey eateries, etc. During my trip to Moscow, I was on a tight budget. So I only took a retro-style stroll in Gum to get a rare glimpse of a place where Soviet leaders used to grocery shop and buy their stuff. In case you want some modern shopping experience, head to the Okhotny Ryad Shopping Center with stores like New Yorker, Zara, and Adidas.
Read More: Was Socotra a Mistake?
To continue this Moscow itinerary, next you may want to go inside the Kremlin walls. This is the center of Russian political power and the president's official residence. If you're planning to pay Kremlin a visit do your best to visit Ivan the Great Bell Tower as well. Go there as early as possible to avoid crowds and get an incredible bird's-eye view. There are a couple of museums that are available during designated visiting hours. Make sure to book your ticket online and avoid lines.
Day 2 – Cathedral of Christ the Saviour, the Tretyakov Gallery, and the Arbat Street
Metro Station: Kropotkinskaya on Red Line
As soon as you start creating a Moscow itinerary for your second day, you'll discover that there are plenty of metro stations that are much closer to certain sites. Depending on your route, take a closer look at the metro map to pick the closest.
The white marble walls of Christ the Saviour Cathedral are awe-inspiring. As you approach this tallest Orthodox Christian church, you may notice the bronze sculptures, magnificent arches, and cupolas that were created to commemorate Russia's victory against Napoleon.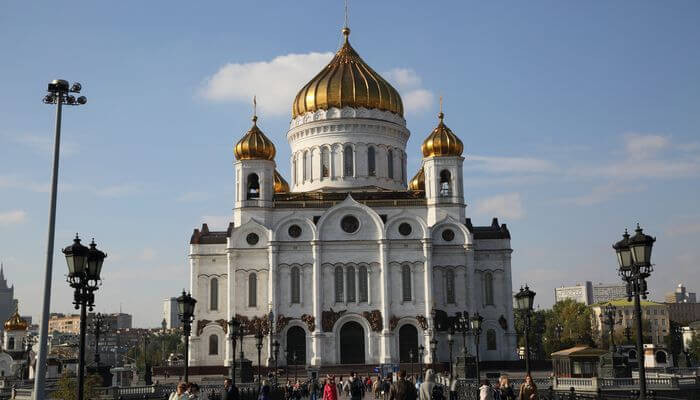 How to Get a Decent Haircut in a Foreign Country
Unfortunately, the current Cathedral is a replica, since original was blown to bits in 1931 by the Soviet government. The new cathedral basically follows the original design, but they have added some new elements such as marble high reliefs.
Home to some precious collection of artworks, in Tretyakov Gallery you can find more than 150,000 of works spanning centuries of artistic endeavor. Originally a privately owned gallery, it now has become one of the largest museums in Russia. The Gallery is often considered essential to visit. But I have encountered a lot of locals who have never been there.
Famous for its souvenirs, musicians, and theaters, Arbat street is among the few in Moscow that were turned into pedestrian zones. Arbat street is usually very busy with tourists and locals alike. My local friend once called it the oldest street in Moscow dating back to 1493. It is a kilometer long walking street filled with fancy gift shops, small cozy restaurants, lots of cute cafes, and street artists. It is closed to any vehicular traffic, so you can easily stroll it with kids.
Day 3 – Moscow River Boat Ride, Poklonnaya Hill Victory Park, the Moscow City
Metro Station: Kievskaya and Park Pobedy on Dark Blue Line / Vystavochnaya on Light Blue Line
Voyaging along the Moscow River is definitely one of the best ways to catch a glimpse of the city and see the attractions from a bit different perspective. Depending on your Moscow itinerary, travel budget and the time of the year, there are various types of boats available. In the summer there is no shortage of boats, and you'll be spoiled for choice.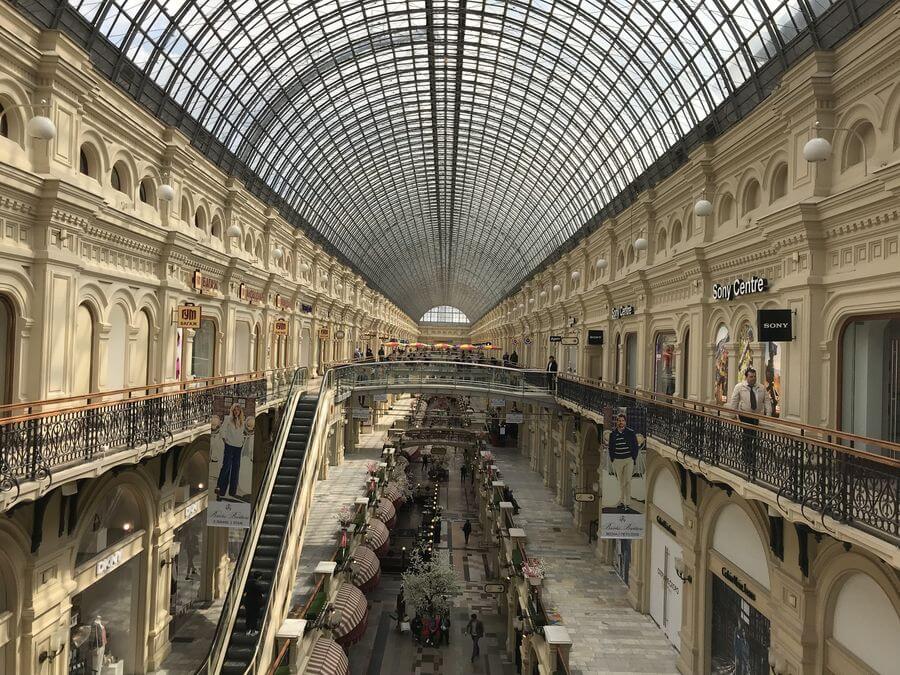 Travel Itinerary for One Week in Beijing
If you find yourself in Moscow during the winter months, I'd recommend going with Radisson boat cruise. These are often more expensive (yet comfy). They offer refreshments like tea, coffee, hot chocolate, and, of course, alcoholic drinks. Prices may vary but mostly depend on your food and drink selection. Find their main pier near the opulent Ukraine hotel . The hotel is one of the "Seven Sisters", so if you're into the charm of Stalinist architecture don't miss a chance to stay there.
The area near Poklonnaya Hill has the closest relation to the country's recent past. The memorial complex was completed in the mid-1990s to commemorate the Victory and WW2 casualties. Also known as the Great Patriotic War Museum, activities here include indoor attractions while the grounds around host an open-air museum with old tanks and other vehicles used on the battlefield.
How I Planned My Trip to Vietnam
The hallmark of the memorial complex and the first thing you see as you exit metro is the statue of Nike mounted to its column. This is a very impressive Obelisk with a statue of Saint George slaying the dragon at its base.
Maybe not as impressive as Shanghai's Oriental Pearl Tower , the skyscrapers of the Moscow City (otherwise known as Moscow International Business Center) are so drastically different from dull Soviet architecture. With 239 meters and 60 floors, the Empire Tower is the seventh highest building in the business district.
The observation deck occupies 56 floor from where you have some panoramic views of the city. I loved the view in the direction of Moscow State University and Luzhniki stadium as well to the other side with residential quarters. The entrance fee is pricey, but if you're want to get a bird's eye view, the skyscraper is one of the best places for doing just that.
Day 4 – VDNKh, Worker and Collective Farm Woman Monument, The Ostankino TV Tower
Metro Station: VDNKh on Orange Line
VDNKh is one of my favorite attractions in Moscow. The weird abbreviation actually stands for Russian vystavka dostizheniy narodnogo khozyaystva (Exhibition of Achievements of the National Economy). With more than 200 buildings and 30 pavilions on the grounds, VDNKh serves as an open-air museum. You can easily spend a full day here since the park occupies a very large area.
Places to Visit in Barcelona That Aren't Beaches
First, there are pavilions that used to showcase different cultures the USSR was made of. Additionally, there is a number of shopping pavilions, as well as Moskvarium (an Oceanarium) that features a variety of marine species. VDNKh is a popular venue for events and fairs. There is always something going on, so I'd recommend checking their website if you want to see some particular exhibition.
A stone's throw away from VDNKh there is a very distinctive 25-meters high monument. Originally built in 1937 for the world fair in Paris, the hulking figures of men and women holding a hammer and a sickle represent the Soviet idea of united workers and farmers. It doesn't take much time to see the monument, but visiting it gives some idea of the Soviet Union's grandiose aspirations.
I have a thing for tall buildings. So to continue my travel itinerary for one week in Moscow I decided to climb the fourth highest TV tower in the world. This iconic 540m tower is a fixture of the skyline. You can see it virtually from everywhere in Moscow, and this is where you can get the best panoramic views (yep, even better than Empire skyscraper).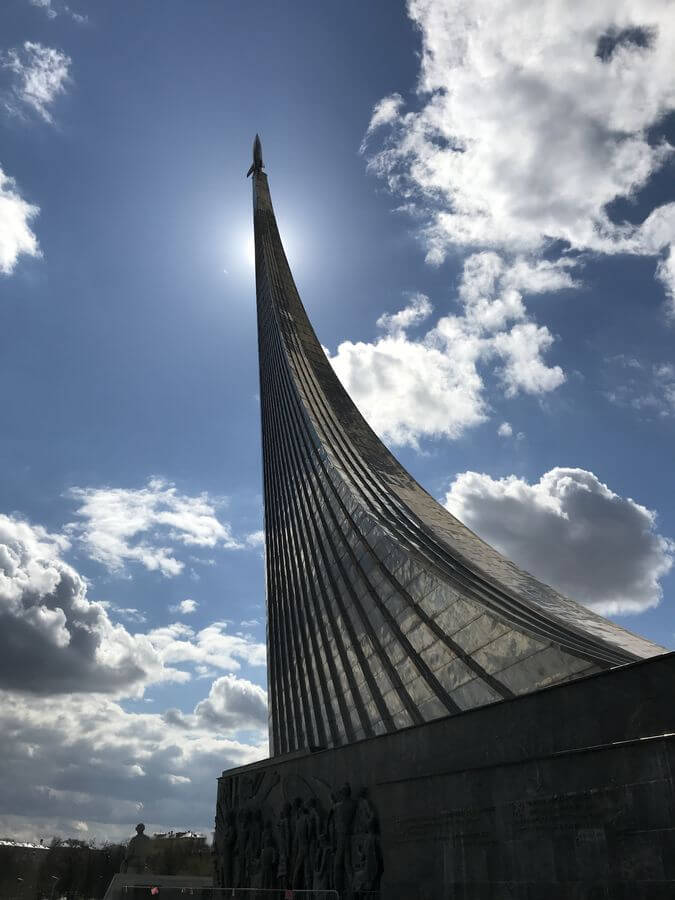 Parts of the floor are made of tempered glass, so it can be quite scary to exit the elevator. But trust me, as you start observing buildings and cars below, you won't want to leave. There is only a limited number of tickets per day, so you may want to book online. Insider tip: the first tour is cheaper, you can save up to $10 if go there early.
Day 5 – A Tour To Moscow Manor Houses
Metro Station: Kolomenskoye, Tsaritsyno on Dark Green Line / Kuskovo on Purple Line
I love visiting the manor houses and palaces in Moscow. These opulent buildings were generally built to house Russian aristocratic families and monarchs. Houses tend to be rather grand affairs with impressive architecture. And, depending on the whims of the owners, some form of a landscaped garden.
During the early part of the 20th century though, many of Russia's aristocratic families (including the family of the last emperor) ended up being killed or moving abroad . Their manor houses were nationalized. Some time later (after the fall of the USSR) these were open to the public. It means that today a great many of Moscow's finest manor houses and palaces are open for touring.
20 Travel Tips I've Learned From Travelling The World
There are 20 manor houses scattered throughout the city and more than 25 in the area around. But not all of them easily accessible and exploring them often takes a lot of time. I'd recommend focusing on three most popular estates in Moscow that are some 30-minute metro ride away from Kremlin.
Sandwiched between the Moscow River and the Andropov Avenue, Kolomenskoye is a UNESCO site that became a public park in the 1920's. Once a former royal estate, now it is one of the most tranquil parks in the city with gorgeous views. The Ascension Church, The White Column, and the grounds are a truly grand place to visit.
You could easily spend a full day here, exploring a traditional Russian village (that is, in fact, a market), picnicking by the river, enjoying the Eastern Orthodox church architecture, hiking the grounds as well as and wandering the park and gardens with wildflower meadows, apple orchards, and birch and maple groves. The estate museum showcases Russian nature at its finest year-round.
12 Stunning National Parks and Regional Parks In France
If my travel itinerary for one week in Moscow was a family tree, Tsaritsyno Park would probably be the crazy uncle that no-one talks about. It's a large park in the south of the city of mind-boggling proportions, unbelievable in so many ways, and yet most travelers have never heard of it.
The palace was supposed to be a summer home for Empress Catherine the Great. But since the construction didn't meet with her approval the palace was abandoned. Since the early 1990's the palace, the pond, and the grounds have been undergoing renovations. The entire complex is now looking brighter and more elaborately decorated than at possibly any other time during its history. Like most parks in Moscow, you can visit Tsaritsyno free of charge, but there is a small fee if you want to visit the palace.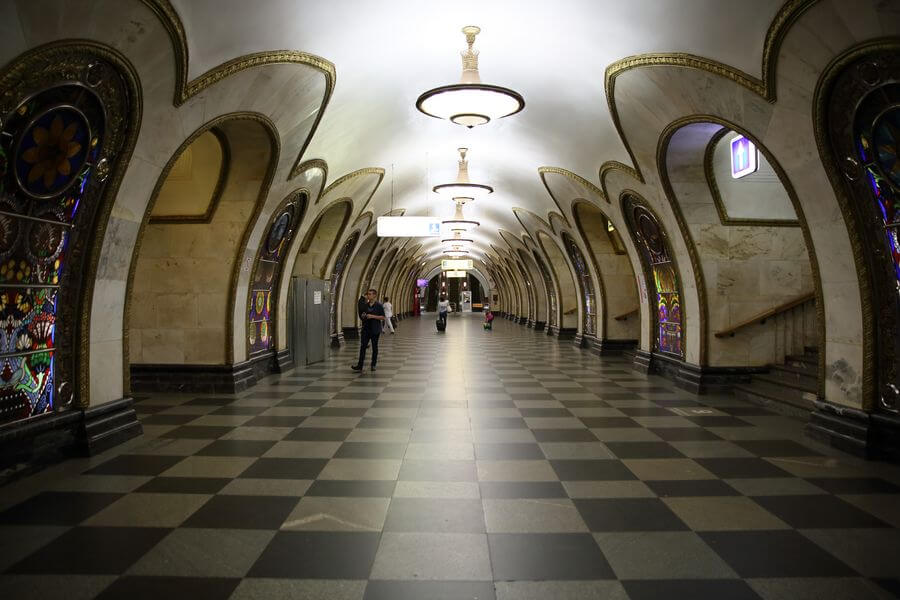 How To Stop Procrastinating When Trip Planning
Last, but by no means least on my Moscow itinerary is Kuskovo Park . This is definitely an off-the-beaten-path place. While it is not easily accessible, you will be rewarded with a lack of crowds. This 18th-century summer country house of the Sheremetev family was one of the first summer country estates of the Russian nobility. And when you visit you'll quickly realize why locals love this park.
Like many other estates, Kuskovo has just been renovated. So there are lovely French formal garden, a grotto, and the Dutch house to explore. Make sure to plan your itinerary well because the estate is some way from a metro station.
Day 6 – Explore the Golden Ring
Creating the Moscow itinerary may keep you busy for days with the seemingly endless amount of things to do. Visiting the so-called Golden Ring is like stepping back in time. Golden Ring is a "theme route" devised by promotion-minded journalist and writer Yuri Bychkov.
Having started in Moscow the route will take you through a number of historical cities. It now includes Suzdal, Vladimir, Kostroma, Yaroslavl and Sergiev Posad. All these awe-inspiring towns have their own smaller kremlins and feature dramatic churches with onion-shaped domes, tranquil residential areas, and other architectural landmarks.
Two Weeks In Thailand: The Perfect 14-Day Itinerary
I only visited two out of eight cities included on the route. It is a no-brainer that Sergiev Posad is the nearest and the easiest city to see on a day trip from Moscow. That being said, you can explore its main attractions in just one day. Located some 70 km north-east of the Russian capital, this tiny and overlooked town is home to Trinity Lavra of St. Sergius, UNESCO Site.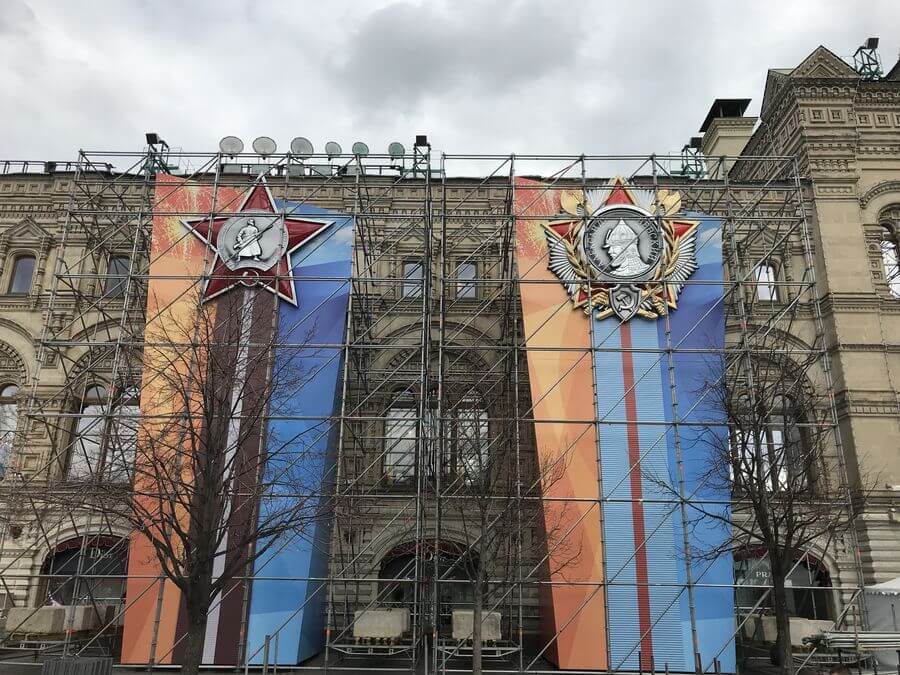 You Will Also Like: 3-Day London Itinerary
Sergiev Posad is often described as being at the heart of Russian spiritual life. So it is uncommon to see the crowds of Russian pilgrims showing a deep reverence for their religion. If you're traveling independently and using public transport, you can reach Sergiev Posad by bus (departs from VDNKh) or by suburban commuter train from Yaroslavskaya Railway Station (Bahnhof). It takes about one and a half hours to reach the town.
Trinity Lavra of St. Sergius is a great place to get a glimpse of filling and warming Russian lunch, specifically at the " Gostevaya Izba " restaurant. Try the duck breast, hearty potato and vegetables, and the awesome Napoleon cake.
Day 7 – Gorky Park, Izmailovo Kremlin, Patriarch's Ponds
Metro Station: Park Kultury or Oktyabrskaya on Circle Line / Partizanskaya on Dark Blue Line / Pushkinskaya on Dark Green Line
Gorky Park is in the heart of Moscow. It offers many different types of outdoor activities, such as dancing, cycling, skateboarding, walking, jogging, and anything else you can do in a park. Named after Maxim Gorky, this sprawling and lovely park is where locals go on a picnic, relax and enjoy free yoga classes. It's a popular place to bike around, and there is a Muzeon Art Park not far from here. A dynamic location with a younger vibe. There is also a pier, so you can take a cruise along the river too.
How to Save Money While Traveling in Europe
The Kremlin in Izmailovo is by no means like the one you can find near the Red Square. Originally built for decorative purposes, it now features the Vernissage flea market and a number of frequent fairs, exhibitions, and conferences. Every weekend, there's a giant flea market in Izmailovo, where dozens of stalls sell Soviet propaganda crap, Russian nesting dolls, vinyl records, jewelry and just about any object you can imagine. Go early in the morning if you want to beat the crowds.
All the Bulgakov's fans should pay a visit to Patriarch's Ponds (yup, that is plural). With a lovely small city park and the only one (!) pond in the middle, the location is where the opening scene of Bulgakov's novel Master and Margarita was set. The novel is centered around a visit by Devil to the atheistic Soviet Union is considered by many critics to be one of the best novels of the 20th century. I spent great two hours strolling the nearby streets and having lunch in the hipster cafe.
Conclusion and Recommendations
To conclude, Moscow is a safe city to visit. I have never had a problem with getting around and most locals are really friendly once they know you're a foreigner. Moscow has undergone some serious reconstruction over the last few years. So you can expect some places to be completely different. I hope my one week Moscow itinerary was helpful! If you have less time, say 4 days or 5 days, I would cut out day 6 and day 7. You could save the Golden Ring for a separate trip entirely as there's lots to see!
What are your thoughts on this one week Moscow itinerary? Are you excited about your first time in the city? Let me know in the comments below!
JOIN MY FREE WEEKLY NEWSLETTER!
Email Address *
YOU WILL ALSO LIKE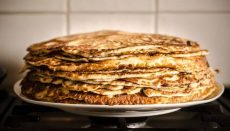 10 Dishes You Must Try When Going To Moscow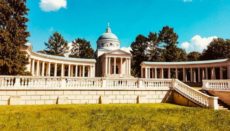 15 Fantastic and Easy Day Trips Close to Moscow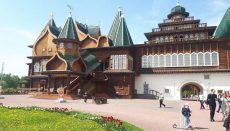 When Is the Best Time To Visit Russia
24 comments.
Ann Snook-Moreau
Moscow looks so beautiful and historic! Thanks for including public transit information for those of us who don't like to rent cars.
MindTheTravel
Yup, that is me 🙂 Rarely rent + stick to the metro = Full wallet!
Mariella Blago
Looks like you had loads of fun! Well done. Also great value post for travel lovers.
Thanks, Mariella!
I have always wanted to go to Russia, especially Moscow. These sights look absolutely beautiful to see and there is so much history there!
Agree! Moscow is a thousand-year-old city and there is definitely something for everyone.
Tara Pittman
Those are amazing buildings. Looks like a place that would be amazing to visit.
Adriana Lopez
Never been to Moscow or Russia but my family has. Many great spots and a lot of culture. Your itinerary sounds fantastic and covers a lot despite it is only a short period of time.
What was their favourite thing about Russia?
Gladys Parker
I know very little about Moscow or Russia for the\at matter. I do know I would have to see the Red Square and all of its exquisite architectural masterpieces. Also the CATHEDRAL OF CHRIST THE SAVIOUR. Thanks for shedding some light on visiting Moscow.
Thanks for swinging by! The Red Square is a great starting point, but there way too many places and things to discover aside from it!
Ruthy @ Percolate Kitchen
You are making me so jealous!! I've always wanted to see Russia.
Moscow is in my bucket list, I don't know when I can visit there, your post is really useful. As a culture rich place we need to spend at least week.
DANA GUTKOWSKI
Looks like you had a great trip! Thanks for all the great info! I've never been in to Russia, but this post makes me wanna go now!
Wow this is amazing! Moscow is on my bucket list – such an amazing place to visit I can imagine! I can't wait to go there one day!
The building on the second picture looks familiar. I keep seeing that on TV.
Reesa Lewandowski
What beautiful moments! I always wish I had the personality to travel more like this!
Perfect itinerary for spending a week in Moscow! So many places to visit and it looks like you had a wonderful time. I would love to climb that tower. The views I am sure must have been amazing!
I was lucky enough to see the skyline of Moscow from this TV Tower and it is definitely mind-blowing.
Chelsea Pearl
Moscow is definitely up there on my travel bucket list. So much history and iconic architecture!
Thumbs up! 🙂
Blair Villanueva
OMG I dream to visit Moscow someday! Hope the visa processing would be okay (and become more affordable) so I could pursue my dream trip!
Yup, visa processing is the major downside! Agree! Time and the money consuming process…
Save my name, email, and website in this browser for the next time I comment.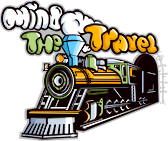 Privacy Overview
Strictly Necessary Cookies
My website uses cookies so that I can provide you with the best user experience possible. Cookie information is stored in your browser and performs functions such as recognising you when you return to my website and helping me to understand which sections of Mind The Travel you find most interesting and useful.
You can adjust all of your cookie settings by navigating the tabs on the left hand side.
Strictly Necessary Cookie should be enabled at all times so that I can save your preferences for cookie settings.
If you disable this cookie, I will not be able to save your preferences. This means that every time you visit my website you will need to enable or disable cookies again.
2018 Primetime Emmy & James Beard Award Winner
R&K Insider
Join our newsletter to get exclusives on where our correspondents travel, what they eat, where they stay. Free to sign up.
A History of Moscow in 13 Dishes
Featured city guides.