Search Smartraveller
Latest update
Exercise normal safety precautions in Cambodia.
Cambodia (PDF 264.05 KB)
Asia (PDF 2.31 MB)
Local emergency contacts
Fire and rescue services, medical emergencies.
Call 119 in Phnom Penh or go to a hospital. Outside of Phnom Penh you will need to contact a hospital directly.
Call police on 117 or contact the tourist police
Advice levels
Exercise normal safety precautions in Cambodia.
Protests may turn violent. Avoid large public gatherings. Officials may arrest and deport foreigners involved in protests. 
'Snatch-and-grab' crimes against travellers are common. Thieves often travel on motorbikes and target pedestrians or people in open taxis. Be prepared to surrender your valuables rather than risk injury in a struggle.
Fatal road accidents, particularly on provincial highways, are common. Be alert at all times on the roads and avoid travelling at night. 
Scams, credit card fraud and ATM fraud are common. Check for card-skimming devices before using ATMs.
Sexual assault occurs in tourist areas. Travellers have been assaulted after having their drinks spiked. Stick with people you trust, don't leave your drinks unattended in nightclubs and bars. 
Many people in Cambodia own guns. Gun crime, violent disputes and shootouts are common.
Be wary of invitations from strangers. Never carry parcels or luggage for others.
Severe storms and flooding can occur during the wet season (July to November). These can disrupt services and travel, including on the Mekong River. Check with your tour operator for updates.
Full travel advice:  Safety
Take care buying medication in Cambodia. Local pharmacies may sell fake medication. Carry enough medication from Australia for your trip.
Don't drink homemade or unlabelled alcohol. It may contain harmful substances, particularly methanol. Get medical help if you have symptoms of methanol poisoning, including fatigue, headaches, nausea and vision problems.
Insect-borne diseases include Dengue, Chikungunya, Japanese Encephalitis, and Malaria are present. Use insect repellent, wear appropriate clothing, and ensure your accommodation is insect-proof. For longer stays, consider taking anti-malarial medication and getting pre-travel vaccinations for Japanese encephalitis, particularly when travelling to remote areas.
Animals in Cambodia can carry rabies. Rabies is fatal without immediate treatment. Consider getting pre-travel vaccination for rabies. Get medical attention straight away if an animal scratches or bites you, even if you have received the pre-travel vaccination. 
Outbreaks of hand, foot and mouth disease are common, and other foodborne, waterborne, parasitic and infectious diseases include hepatitis, tuberculosis and typhoid. Drink only boiled or bottled water. Avoid raw or undercooked food. Don't swim in freshwater.
Medical facilities in Cambodia's public hospitals are often poor in quality and below international standards.
Full travel advice:  Health
Don't use or carry illegal drugs. Penalties for drug offences are severe. They include long prison sentences, even for small amounts.
Understand and follow local laws and customs. It's illegal to criticise or insult the King or monarchy. Lying to police, flying drones without a permit in certain areas, public nudity, and possessing or producing pornography is illegal.
Child sex offences are punishable under both Cambodian and Australian law.
Cambodian authorities enforce 'modesty' laws at religious sites, such as Angkor Wat. Wear clothing that covers your knees and shoulders.
Be careful when taking photos. Don't photograph people, including monks, without permission. Don't take photos near sensitive sites, such as military areas, transport hubs or government buildings.
Full travel advice:  Local laws
You need a visa to enter Cambodia. You can  apply for an e-visa online  or get a tourist visa on arrival. These are valid for 30 days. For longer stays or other situations, apply for a visa through an  embassy or consulate of Cambodia . 
Entry and exit conditions can change at short notice. You should contact the nearest embassy or consulate of Cambodia for the latest details.
Be careful when visiting regions near the border with Thailand. Landmines and unexploded remnants of war are a risk. Stay on marked roads if you're travelling in the north and northwest.
The Cambodian General Department of Immigration requires all foreigners to be registered in the Foreigner Present in Cambodia System (FPCS). Registrations are completed by hotel/guesthouse staff or residence owners, with foreigners in self-owned accommodation required to self-register.
Full travel advice:  Travel
Local contacts
The  Consular Services Charter  details what the Australian Government can and can't do to help you overseas.
For consular help, contact the  Australian Embassy in Phnom Penh .
To stay up to date with local information, follow the Embassy's social media accounts.
Full travel advice:  Local contacts
Full advice
Petty crime.
'Snatch-and-grab' crimes against travellers are common. Thieves often travel on motorcycles and steal from people who are:
walking along footpaths
using motorcycle taxis
travelling on tuk-tuks or rickshaws
Foreigners have been injured in these thefts. Be prepared to surrender your valuables rather than risk injury in a struggle. 
Some thieves use knives to cut bags as they snatch them.
Australians have had valuables stolen from locked hotel and guesthouse rooms, often in cheaper accommodation.
Theft from luggage on buses is common.
To help protect yourself from theft:
avoid carrying bags or carry only what you need and leave other valuables in a secure location
walk on footpaths (where available), away from the curb, with your bag on the opposite side to the traffic
if travelling by tuk-tuk, use those with barriers (curtains or netting) covering the passenger sides
always keep an eye on your belongings, particularly easy-to-grab items
avoid using ATMs on the street — use ATMs inside hotels, banks and shopping centres if possible
Sexual assault and other violent crime
Foreigners have been the target of  sexual assault , particularly in tourist areas.
Criminals often target victims:
when intoxicated
when travelling alone
Reports of groping and other sexual assaults are rising.
Drink spiking occurs. Foreigners have been sexually assaulted after having spiked drinks at nightclubs.  
To protect yourself from drink spiking:
only drink alcohol at reputable places
pay attention when your alcoholic drinks are being mixed
stay with people you trust in bars and nightclubs
Get urgent medical attention if you think your drink has been spiked.
Parties, including organised dance parties on islands off the coast of Sihanoukville, can be risky. They may place you at greater risk of sexual assault.
Coastal islands are often isolated. Access to medical or emergency assistance may be limited or not exist.
To help keep safe at parties:
pre-arrange transport with your hotel when heading out at night
stick with people you trust, and never leave your drinks unattended at parties, bars, and nightclubs.
See a doctor quickly if you're involved in a violent crime, especially rape. There is a risk of contracting HIV/AIDS, hepatitis, and other sexually transmitted diseases in Cambodia. 
More information:
Reducing the risk of sexual assault overseas
Advice for women
Partying safely
Gun violence
Many people in Cambodia own guns. People sometimes use guns to resolve disputes. 
People have fired gunshots into businesses, and shootouts have happened.
Traffic disputes have also resulted in violence involving weapons. Bystanders can get caught up in these disputes.
Armed  robberies  and home invasions targeting businesses or business owners happen across Cambodia.
Criminals have seriously injured or killed foreigners.
Motorcycle and taxi drivers sometimes  assault  and rob foreigners late at night. Areas popular with tourists and expats are particular targets.
To help keep yourself safe from assault:
be alert to danger at all times, especially after dark
avoid travelling alone at night
limit night-time travel to well-lit public areas, especially around Phnom Penh, Sihanoukville and Siem Reap
travel in groups wherever possible
don't travel by motorcycle taxi at night.
At night, car travel is often safer than travel by motorbike or tuktuk.
Ridesharing services are common in Phnom Penh, Siem Reap, Sihanoukville, and Kampot and are often safer than a flagged down taxi, motorbike or tuktuk. Prices are often cheaper than those you'll negotiate on the spot.
Criminal rings operate in Cambodia, particularly in Phnom Penh, and often use an apparently friendly person to approach travellers. They use ploys and stories to invite travellers to private homes.
Travellers are talked into playing card games, where they lose large amounts of money. Some are forced to withdraw money from an ATM or shop, often at gunpoint.
Online relationships and friendship  scams  also happen. Australians involved in these scams have been asked to take items with hidden drugs out of Cambodia or may be asked to send large sums of money to assist with fake problems.
Be aware of business and employment offers that appear 'too good to be true'. Foreign nationals have been trafficked into Cambodia and forced to work in fraudulent activity, with poor pay and living conditions, restrictions on movement, and severe mistreatment. Learn more about  business and employment scams on ScamWatch.
Credit card and ATM fraud occur. This includes using skimming machines to store card data.
To help protect yourself against scams:
be wary of invitations from strangers, including to visit private homes
never carry parcels or luggage for others
check for skimming machines before using ATMs and check your transaction statements.
Cyber security
You may be at risk of cyber-based threats during overseas travel to any country. Digital identity theft is a growing concern. Your devices and personal data can be compromised, especially if you're connecting to Wi-Fi, using or connecting to shared or public computers, or to Bluetooth. 
Social media can also be risky in destinations where there are social or political tensions or laws that may seem unreasonable by Australian standards. Travellers have been arrested for things they have said on social media. Don't comment on local or political events on your social media. 
More information:  
Cyber security when travelling overseas  
Civil unrest and political tension
Public protests and events that draw large groups of people may turn violent. Local police and security forces have occasionally responded with force and may not distinguish between demonstrators and bystanders.
Authorities may arrest and deport foreigners involved in protests, filming or taking photos of demonstrations, the military or the police. 
In Phnom Penh, possible sites for rallies include:
political party offices and court buildings
Freedom Park
the Prime Minister's home
government and military buildings or compounds
Roadblocks can be set up with little warning, restricting access through the city. Armed security personnel on the streets can increase around the time of local political events such as elections.
Land and border disputes along Cambodia's borders with Vietnam and Thailand have resulted in:
demonstrations
increased presence of armed forces
cross-border fighting
Tourist attractions and border crossing points in these areas close with little or no notice.
To protect yourself during periods of unrest:
avoid demonstrations, political events, protests, large-scale public gatherings and roadblocks
monitor the media about possible unrest, protest locations and roadblocks
follow the advice of local authorities
don't film or photograph protests, political rallies or armed security personnel
be particularly alert and careful in the lead-up to and during days of national significance, such as elections, commemorations, and religious events. 
show respect, especially in areas where royal family or religious activities are taking place
Demonstrations and civil unrest
In the last decade, Cambodian authorities have stopped planned bomb attacks.
Terrorism is a threat worldwide.
Climate and natural disasters
Severe weather  can happen without warning in Cambodia. In the wet season from June to November, beware of:
severe storms
widespread seasonal flooding
localised flash flooding
Floods may disrupt travel to some provinces. The  Mekong River Commission  provides news on flood levels for the Mekong River.
To stay informed and safe:
monitor the media, weather and flood level reports, especially during the wet season
check with your tour operator for the latest news on disruptions
take official warnings seriously
don't enter areas affected by flooding without advice from local authorities
If there's a  natural disaster , follow the advice above and:
keep your passport and phone in a safe, waterproof place
stay in touch with friends and family
register with the  Global Disaster Alert and Coordination System
Travel insurance
Get comprehensive  travel insurance  before you leave. 
Your policy needs to cover all overseas medical costs, including medical evacuation: the Australian Government won't pay for these costs.
If you can't afford travel insurance, you can't afford to travel. This applies to everyone, no matter how healthy and fit you are.
If you're not insured, you may have to pay many thousands of dollars up-front for medical care.
what activities and care your policy covers
that your insurance covers you for the whole time you'll be away
Physical and mental health
Consider your physical and mental health before you travel, especially if you have an existing medical condition. 
See your doctor or travel clinic to:
have a basic health check-up
ask if your travel plans may affect your health
plan any vaccinations you need
Do this at least eight weeks before you leave.
If you have immediate concerns for your welfare or the welfare of another Australian, call the 24-hour Consular Emergency Centre on +61 2 6261 3305 or contact your  nearest Australian Embassy, High Commission or Consulate  to discuss counselling hotlines and services available in your location.
Mental health support and counselling
Mental health services in Cambodia are extremely limited and expensive. Certain medications can be difficult to purchase, and be less effective due to the heat or stomach issues travellers may experience. Consider your personal mental health needs carefully before travelling.
General health advice
Healthy holiday tips   (Healthdirect Australia)
Medications
Not all medication available over the counter or by prescription in Australia is available in other countries. Some may even be considered illegal or a controlled substance, even if prescribed by an Australian doctor.
If you plan to bring medication, check if it's legal in Cambodia. Take enough legal medicine for your trip.
Carry a copy of your prescription or a letter from your doctor stating:
what the medication is
your required dosage
that it's for personal use
Local pharmacies may sell fake medication. It can be difficult to tell real medication from fake.
Health risks
Methanol poisoning.
Don't drink homemade or unlabelled alcohol. It may contain harmful substances, particularly methanol, which can cause:
serious illness
brain injury
Symptoms of methanol poisoning include fatigue, headaches and nausea.
The effects are similar to excessive drinking but with vision problems, such as:
blurred or 'snowfield' vision
flashes of light and tunnel vision
changes in how you see colour
dilated pupils
difficulty looking at bright lights
Get medical advice if you think you, or anyone you're travelling with, has been poisoned. This could be vital to avoiding permanent disability or death.
Report methanol poisoning to local police.
Insect-borne diseases
Insect-borne diseases are widespread in Cambodia, such as  Dengue ,  Chikungunya and  Japanese Encephalitis .
Malaria  is also common in some regions, especially along the borders in mountain regions.
To protect yourself from disease:
make sure your accommodation is mosquito-proof
use insect repellent
wear long, loose, light-coloured clothing
consider taking medicine to prevent malaria
get vaccinated against Japanese encephalitis before you travel
Discuss your travel plans and other vaccination needs with your doctor before you travel.
HIV/AIDS  infection is a risk in Cambodia.
Take precautions if engaging in sex or activities that expose you to risk of infection.
Rabies  is fatal if you don't get vaccinated or receive quick treatment. Animals across Cambodia carry rabies.
Rabies is found in infected dogs, cats, monkeys, bats and other mammals.
To reduce your risk of rabies, don't go near dogs and other mammals.
If you're bitten or scratched, seek medical help straight away.
Rabies vaccinations and post-exposure treatments are often available at larger medical facilities in tourist and expat areas. Treatment in Phnom Penh is usually available at:
Institute Pasteur Rabies Clinic No.5, Monivong Boulevard 12201 Phnom Penh, Cambodia
Bird flu (avian influenza)
Human cases of  avian influenza  are reported in Cambodia.
Hand, foot and mouth disease
Hand, foot and mouth disease (HFMD)  is common. Sometimes serious outbreaks occur.
HFMD mostly affects children under the age of 10 years. However, adult cases (especially young adults) do occur.
To reduce the risk of getting or passing on HFMD, practise good hygiene. Wash your hands well and often.
Other health risks
Waterborne, foodborne, parasitic and other infectious diseases are common. They include:
Serious outbreaks sometimes occur.
Isolated outbreaks of  cholera  occur in some rural areas.
Freshwater sources, such as rivers and lakes, carry parasitic diseases like  bilharzia (schistosomiasis) .
To protect yourself from illness:
drink boiled water or bottled water with sealed lids
avoid block ice
avoid uncooked and undercooked food
don't swim in fresh water
Get urgent medical attention if you suspect food poisoning, have a fever or diarrhoea.
Medical care
Medical facilities.
Public medical facilities in Cambodia are generally poor in quality. The services they can provide are limited.
Foreign private medical clinics are available in Phnom Penh, Siem Reap, and Sihanoukville. 
Outside Phnom Penh there are almost no medical facilities that can deal with medical emergencies.
Hospitals and doctors generally require cash up-front before they'll treat you, even in an emergency. Sometimes they'll accept proof of your medical insurance.
Hospital stays can be expensive. Costs often increase to thousands of dollars. The hospital might keep your passport until you pay.
If you become seriously ill or injured, you'll need to be evacuated to a place with better facilities. Medical evacuation can be very expensive.
Medical service providers in Cambodia
Medical tourism
Medical tourism  is growing in many countries in Asia, including Cambodia. However, medical care in Cambodia doesn't generally meet international standards. Life-threatening complications can happen.
Avoid elective and cosmetic surgery in Cambodia.
You're subject to all local laws and penalties, including those that may appear harsh by Australian standards. Research local laws before travelling.
If you're arrested or jailed, the Australian Government will do what it can to help you under our  Consular Services Charter , but we can't get you out of trouble or out of jail.
Penalties for drug offences are severe. They include long jail terms for even small amounts.
Surrogacy and adoption laws
Commercial surrogacy  is illegal in Cambodia.
Australia doesn't have an intercountry adoption program with Cambodia. This means the Australian Government can't process adoption requests.
The Attorney-General's Department is watching to see if Cambodia will accept intercountry adoption. The department is also waiting to see if Cambodia will comply with the  Hague Convention .
Going overseas for international surrogacy
Going overseas to adopt a child
Marriage laws
If you intend to marry a Cambodian citizen, you'll need approval from the  Cambodian Ministry of Foreign Affairs and International Cooperation . This doesn't apply if you're also a Cambodian citizen.
In Cambodia, it's illegal to:
criticise or insult the King or the monarchy, including online and via social media
lie to police, including in relation to an insurance claim such as reporting a crime that didn't happen or lying about the circumstances of an incident
be topless or naked in public places or at sacred sites, including Angkor Wat
have or produce pornographic material, including on mobile phones, cameras or computers for personal use
It's also illegal to:
buy or possess cultural or ancient artefacts without a permit
fly drones in certain areas without a permit. These include areas of Phnom Penh, Angkor Archaeological Park in Siem Reap or other sensitive areas. Seek approval from the local municipality
hunt wildlife without permission
traffic wildlife
work without a valid work permit — see  Travel
Australian and Cambodian authorities are committed to combating child sex offences. Penalties are severe under both Australian and Cambodian law.
You can be punished either in Cambodia or at home under Australian law. Penalties for having sex with anyone younger than 18 years include long jail terms.
Australian laws
Some Australian criminal laws still apply when you're overseas. If you break these laws, you may face prosecution in Australia.
Staying within the law and respecting customs
Local customs
Cambodian authorities enforce 'modesty' laws at sites of religious significance, such as Angkor Wat. Dress respectfully, including covering your knees and shoulders. You can't enter if you don't.
Don't take photos of people without their permission, especially monks and other religious figures. It's culturally inappropriate.
Avoid taking photographs near sensitive sites, such as:
military areas, assets or military personnel
transport facilities
government buildings
Dual citizenship
Under Cambodian law, you can't give up Cambodian citizenship. This includes even if a Cambodian citizen becomes a nationality of another country.
Always travel on your  Australian passport .
Cambodian dual nationals aged 18 to 30 years who live in Cambodia may have to enrol in military service. Military service for female citizens is voluntary.
If you're a dual national, contact the nearest  embassy or consulate of Cambodia  before you travel.
Visas and border measures
Every country or territory decides who can enter or leave through its borders. For specific information about the evidence you'll need to enter a foreign destination, check with the nearest embassy, consulate or immigration department of the destination you're entering. 
You need a visa to visit Cambodia.  Tourists can apply for an e-visa online or get a tourist visa on arrival. These are valid for 30 days. For longer stays or other situations, apply for a visa through an embassy or consulate of Cambodia .
Don't overstay your visa. This is a serious offence (see below).
You're required to stay at least one night after entering Cambodia, except when travelling via Phnom Penh International Airport.
Entry and exit conditions can change at short notice. Contact the nearest  embassy or consulate of Cambodia  for details about visas, currency, customs and quarantine rules.
Visa overstays
You can only stay for 30 days from the date of your arrival on a tourist visa. Other visa types will list the date by which you must have left Cambodia or extended your visa. Overstaying your visa is a serious offence. Authorities may stop you from leaving Cambodia until you pay a fine or serve a prison sentence. Fines increase daily.
If you overstay your visa by more than one month, you risk penalties such as:
deportation
being banned from returning to Cambodia
Check your visa and the dates carefully. If it was issued outside Cambodia, the expiry date is not how long you can stay. It's the final date you can use it to enter. 
If you want to stay in Cambodia for more than 30 days, you must renew your visa. Tourist visas can only be renewed once.
Renew your visa at a:
travel agency
vehicle rental company
You can also visit the Department of Immigration office opposite the Phnom Penh International Airport.
Land border crossings
If you plan to enter or exit via a land border crossing, first confirm it's open to foreigners. Check you can get a visa when you arrive. Day trips are not permitted at land border crossings.
Be alert to the security status of border regions and land crossings between countries.
Monitor local media for updates. Follow advice from local authorities. See  Safety .
Cambodia–Thailand border
There's an ongoing dispute over the Thailand–Cambodia border.
If you visit this border area, landmines and unexploded military weapons are a risk. The risk is higher in and around:
the Preah Vihear temple (known as Khao Pra Viharn temple in Thailand), between Sisaket Province in Thailand and Preah Vihear Province in Cambodia
the Ta Krabei (known as Ta Kwai temple in Thailand) and Ta Moan Thom (known as Ta Muen temple in Thailand) temples, in Oddar Meanchey province in Cambodia
Tourist attractions and border crossing points in this area can close with little or no notice.
Working in Cambodia
If you plan to work in Cambodia, you need the correct visa and a work permit. Your employment status isn't relevant.
The Ministry of Labour and Vocational Training issues work permits.
Living or working overseas
Some countries won't let you enter unless your passport is valid for six months after you plan to leave that country. This can apply even if you're just transiting or stopping over.
Some foreign governments and airlines apply the rule inconsistently. Travellers can receive conflicting advice from different sources.
You can end up stranded if your passport is not valid for more than six months.
The Australian Government does not set these rules. Check your passport's expiry date before you travel. If you're not sure it'll be valid for long enough, consider getting a new passport .
Lost or stolen passport
Your passport is a valuable document. It's attractive to people who may try to use your identity to commit crimes.
Some people may try to trick you into giving them your passport. Always keep it in a safe place.
If your passport is lost or stolen, tell the Australian Government as soon as possible:
In Australia, contact the  Australian Passport Information Service .
If you're overseas, contact the nearest  Australian embassy or consulate .
If your passport is lost or stolen in Cambodia, you'll also need to:
get a police report from the tourist police station closest to where the incident happened
get a replacement passport — contact the  Australian Embassy in Phnom Penh
get an exit visa from the Cambodian Department of Immigration
Exit visas take around 3 working days from when you submit your police report, passport and exit visa request.
Allow enough time to get a new passport and exit visa before you plan to leave. If you don't have a valid visa in your passport, this will delay your departure. You may be fined or detained.
Passport with 'X' gender identifier
Although Australian passports comply with international standards for sex and gender, we can't guarantee that a passport showing 'X' in the sex field will be accepted for entry or transit by another country. Contact the nearest  embassy, high commission or consulate of your destination  before you arrive at the border to confirm if authorities will accept passports with 'X' gender markers.
The official currency of Cambodia is the Cambodian Riel (KHR). US dollars are also legal tender.
ATM facilities are available in:
In other areas, ATM facilities are limited and may be unreliable.
Card skimming happens throughout Cambodia. 
Cashing services for credit card cash advances and traveller's cheques are available for a fee at banks in:
Take enough US dollars to cover basic travelling expenses.
Ensure your US currency is in good condition. Sellers may not accept:
dirty notes
high value notes
Fake money is common in Cambodia, check received notes carefully, particularly high value notes.
Local travel
Landmines are a danger in many parts of Cambodia, especially along the border with Thailand.
Large areas of rural Cambodia still have live landmines.
If you visit the north and north-west of Cambodia, stay on marked pathways.
Take extra care if travelling away from the Angkor Wat temple complex to other temples in the Siem Reap area.
Driving permits
If you want to drive a car or ride a motorcycle larger than 125cc, you need a Cambodian driver's (or motorcycle) licence, or your Australian licence and International Driving Permit.
You can apply for a Cambodian licence equivalent to your Australian licence in person at the Ministry of Public Works and Transport's main Phnom Penh office or at their outlets located inside Aeon Mall 1 and Aeon Mall 2 in Phnom Penh and at the Heritage Walk mall in Siem Reap. If you do not have a valid foreign licence you will need to undergo testing at their main office to receive a Cambodian licence.
If using an Australian licence and International Driving Permit you can only operate the vehicles listed. You must carry both documents when operating a vehicle and comply with all Cambodian traffic law.
Under Cambodian law, you can ride a motorcycle with an engine capacity of up to 125cc without a licence. However, check with your insurer. Some travel insurers may not cover you for riding a motorcycle at all, even if you're fully licensed. Others won't cover riders unless they hold an Australian motorcycle licence, even if riding a motorcycle with capacity less than 125cc.
Road travel
Travel by road, especially at night outside major cities, is dangerous because of:
poor road conditions
drunk drivers
wandering livestock
the risk of crime
Driving standards are often poor. Vehicles and roads are often not well maintained.
Streets are crowded in major cities. Drivers often ignore road rules.
Serious injuries from road accidents happen every day in Cambodia. Motorcycles, buses and coaches have high accident rates.
Large crowds can form quickly after road accidents. If you're in an accident, people might try to take advantage of you.
Speed limits for motorcycle drivers are:
30km per hour in towns
60km per hour on the outskirts
Other vehicle drivers can't go over:
40km per hour in towns
80km per hour outside towns
You must wear a helmet when riding a motorcycle.
If you get a speeding ticket, you need to pay the fine at a payment centre within 30 days. Always ask for a receipt.
If you plan to drive:
learn about local traffic laws
avoid driving at night outside major cities
Driving or riding
Motorcycles
Motorcycles are a common form of public transport in cities. Check your insurance policy covers you for motorcycles, either as a driver or passenger.
Always wear a helmet.
Most helmets in Cambodia don't meet Australian standards. Bring a helmet and protective clothing with you if you're:
visiting Cambodia for a motorcycle tour
expecting to travel a lot by motorcycle
Taxis and Tuk-tuks
Official, metered taxis are generally safe and convenient. However, be alert to possible scams and safety risks.
Registered drivers with ridesharing services are available in Phnom Penh, Siem Reap, and Sihanoukville. Limited services operate in Kampot and Battambang.
Flagged-down motorcycle taxis (moto), tuktuks and rickshaws are often used for short trips.
Many drivers do not use metered fares and may charge according to:
distance travelled
number of passengers
time of day
Drivers sometimes take passengers without understanding their destination. Destinations are often identified by common landmarks, such as the nearest pagoda.
Before using a moto, tuk-tuk or rickshaw, you should agree on the fare with the driver, have some idea of the best route to take, or use ride-hailing apps such as Grab and Passapp.
Rail travel
Rail services are unreliable and limited. Expect frequent changes and interruptions to schedules with little notice.
Transport and getting around safely
Travel by boat can be dangerous.
Boats taking passengers to islands off the coast of Sihanoukville have sunk.
Even modern boats may be overcrowded and lack basic safety gear.
To help keep yourself safe on the water:
ensure any boat you plan to board has suitable safety gear, including life jackets for all passengers
always wear your life jacket, even if others don't
check with your tour operator or boat manager that safety standards are in place, including passenger and weight limits
If safety standards are not in place, find another boat.
The safety and upkeep standards of local aircraft may be low.
Local airlines often cancel or reschedule flights at short notice.
DFAT doesn't provide information on the safety of individual commercial airlines or flight paths. 
Check  Cambodia's air safety profile  with the Aviation Safety Network.
Emergencies
Depending on what you need, contact your:
family and friends
travel agent
insurance provider
Call police on 117 or contact the tourist police (see below).
The police may not have the resources to help you in an emergency. They may not have time to look into crimes.
Police stations and emergency numbers might not be available 24 hours a day. Phone operators may not speak English.
The tourist police have booths in tourist areas and most cities.
In other towns, contact the nearest police station. You may need an interpreter.
Be wary of putting your fingerprint or signature on a police document if you can't read it.
Always get a police report when reporting a crime.
Your insurer should have a 24-hour emergency number.
Consular contacts
Check the  Consular Services Charter  for what the Australian Government can and can't do to help you overseas.
For consular assistance, contact the Australian Embassy in Cambodia.
Australian Embassy, Phnom Penh
No. 16B, National Assembly Street Sangkat Tonle Bassac Khan Chamkamon Phnom Penh, Cambodia Phone: (+855 0) 23 266 500 Fax: (+855 0) 23 266 588  Email:  [email protected] Website:  cambodia.embassy.gov.au Facebook: @AustralianEmbassyPhnomPenh  Twitter: @AusEmbPP
Check the Embassy website for details about opening hours and any temporary closures.
24-hour Consular Emergency Centre
In a consular emergency, if you can't contact an embassy, call the 24-hour Consular Emergency Centre on:
+61 2 6261 3305 from overseas
1300 555 135 in Australia
Travelling to Cambodia?
Sign up to get the latest travel advice updates..
Be the first to know official government advice when travelling.
Caution November 14, 2023
Worldwide caution, update november 14, 2023, information for u.s. citizens in the middle east.
Travel Advisories |
Contact Us |
MyTravelGov |
Find U.S. Embassies & Consulates
Travel.state.gov, congressional liaison, special issuance agency, u.s. passports, international travel, intercountry adoption, international parental child abduction, records and authentications, popular links, travel advisories, mytravelgov, stay connected, legal resources, legal information, info for u.s. law enforcement, replace or certify documents.
Before You Go
Learn About Your Destination
While Abroad
Emergencies
Share this page:
Travel Advisory July 24, 2023
Cambodia - level 1: exercise normal precautions.
Reissued with obsolete COVID-19 page links removed.
Exercise normal precautions in Cambodia. Some areas have increased risks. Read the entire Travel Advisory.
Exercise increased precautions in:
Phnom Penh due to crime.
Very remote areas of Battambang, Banteay Meanchey, Pursat, Siem Reap, Pailin, and Kampong Thom provinces due to land mines.
Read the country information page for additional information on travel to Cambodia.
If you decide to travel to Cambodia:
Enroll in the Smart Traveler Enrollment Program (STEP) to receive Alerts and make it easier to locate you in an emergency.
Follow the Department of State on Facebook and Twitter .
Review the Country Security Report for Cambodia.
· Visit the CDC page for the latest Travel Health Information related to your travel.
Prepare a contingency plan for emergency situations. Review the Traveler's Checklist .
Phnom Penh – Level 2: Exercise Increased Caution
Street crime, particularly phone and bag snatchings, occurs frequently in areas where foreigners gather; resistance can result in injury. Be aware of your surroundings at all times and to be extra vigilant when displaying items like jewelry, bags and cell phones in public. Violent crime, such as sexual assault and homicide, is common, sometimes against foreigners.
Do not physically resist any robbery attempt. Use caution when walking or driving at night.
Battambang, Banteay Meanchey, Pursat, Siem Reap, Pailin, and Kampong Thom provinces – Level 2: Exercise Increased Caution
Land mines and unexploded ordnance are found in very remote areas throughout Cambodia, and especially in Battambang, Banteay Meanchey, Pursat, Siem Reap, Pailin, and Kampong Thom provinces.
Do not touch unknown metal objects; instead notify the Cambodia Mine Action Center at 012-800-473/023-995-437. Use a local guide when walking in forested areas or dry rice paddies in these areas.
Embassy Messages
View Alerts and Messages Archive
Quick Facts
Six months.
One page is required per entry stamp; please note endorsement pages are not considered blank passport pages.
The import of local currency (Riel) is prohibited. When entering Cambodia foreign currency amounts over US $10,000 must be declared.
The export of local currency (Riel) is prohibited. Foreign currency can be taken out of the country up to the limit declared at customs on arrival.
Embassies and Consulates
U.s. embassy phnom penh.
#1, St. 96 (entrance on St. 51 between St. 96 and 102), Phnom Penh Telephone: 855-23-728-402, 051, or 234 Monday thru Friday 8:00 a.m. to 5:00 p.m. Emergency after-hours telephone: 855-23-728-000 Fax: 855-23-728-700 Email: [email protected] Facebook Twitter
Destination Description
Learn about the U.S. relationship to countries around the world.
Entry, Exit and Visa Requirements
Please visit the Embassy's COVID-19 page for more information on entry/exit requirements related to COVID-19 in Cambodia. 
You will need a valid passport and a Cambodian visa to enter Cambodia. Tourist and business visas are valid for one month from the date of entry into Cambodia.  Cambodia offers on-line visa processing . You may also apply in person at the Cambodian Embassy located at 4530 16th Street NW, Washington, DC 20011, tel. 202-726-7742, fax 202-726-8381.
Tourists, diplomats, and business travelers may also obtain a Cambodian visa at the airports in Phnom Penh, Siem Reap, and at all major border crossings. Cambodian immigration officials at airports now collect fingerprints upon entry using an inkless, electronic process. You will need a passport valid for a minimum of six months beyond the date of entry into Cambodia.
If you remain in Cambodia beyond the date of your authorized stay, Cambodian immigration officials will likely impose a fine of $10 per day overstayed. In cases of excessive overstays, you may be arrested for violating immigration laws and detained as you undergo official deportation proceedings at your own expense. Deportation from Cambodia may result in your being prohibited from reentering Cambodia in the future. You should contact the nearest Cambodian embassy or consulate, or visit the  Embassy of the Kingdom of Cambodia website  for the most current visa information.
The U.S. Department of State is unaware of any HIV/AIDS entry restrictions for visitors to or foreign residents of Cambodia
Safety and Security
The Department of State is concerned that individuals and groups may be planning terrorist actions against U.S. citizens and interests, including at sites frequented by Westerners in Southeast Asia. Extremist groups in Southeast Asia have transnational capabilities to carry out attacks against locations where Westerners congregate. Although the extremist threat in Cambodia is considered low and terrorist attacks are not common, U.S. citizens residing in, or traveling to, Cambodia should exercise caution in clubs, discos, bars, restaurants, hotels, places of worship, schools, outdoor recreation venues, tourist areas, beach resorts, and other places frequented by foreigners. U.S. citizens should remain vigilant with regard to their personal security and avoid ongoing police enforcement actions, crowds, and demonstrations. See Department of State's  Worldwide Caution .
Land mines and unexploded ordnance are found in remote rural areas throughout Cambodia, and especially in Battambang, Banteay Meanchey, Pursat, Siem Reap, Kampong Thom, and Oddar Meanchey provinces. Travelers in these regions should never walk in forested areas or even in dry rice paddies without a local guide. Areas around small bridges on secondary roads are particularly dangerous. Travelers should not touch anything that resembles a mine or unexploded ordnance; they should notify the Cambodia Mine Action Center at 012-800-473/023-995-437.
Crime:  Cambodia has a critical crime rate, including street crime. Military weapons and explosives are readily available to criminals despite authorities' efforts to collect and destroy such weapons. Armed robberies occur frequently, and foreign residents and visitors, including U.S. citizens, are among the victims. The Embassy has also received reports that residences and hotel rooms of U.S. citizens in Phnom Penh were burglarized while the occupants were asleep.
The most common type of theft is "snatch and grab" robbery, and anything that can be quickly grabbed is at risk: cameras, jewelry, purses, backpacks, mobile phones, etc. Exercise caution and keep belongings out of sight if you travel via "tuk-tuk," as passengers in these open-air vehicles have been targeted by thieves. If walking along the street, make yourself less of a target by carrying bags or items in your hand or on the shoulder that is furthest from the street. If someone attempts to rob you, you should surrender your valuables immediately, since any perceived resistance may be met with physical violence, including lethal force. The U.S. Embassy has received reports of violent robberies escalating into fatalities.
Pickpockets, some who are masquerading as beggars, are present in the markets and at the tourist sites. Sometimes they may act overly friendly, placing their hand on your shoulder or back to distract you in order to pick your pocket.
To avoid the risk of theft or confiscation of original documents, the U.S. Embassy advises its personnel and all U.S. citizens traveling to, or residing in, Cambodia to carry photocopies of their U.S. passport, driver's license, and other important documents and to leave the originals in a hotel safe or other secure place. The U.S. Embassy advises citizens not to give their passport as collateral for motorcycle rentals, hotels, etc. Local police rarely investigate reports of crime against tourists, and travelers should not expect to recover stolen items. It has also been reported that some police stations charge foreigners between $20 and $100 to file a police report.
Foreigners travelling to Cambodia should be aware of common scams targeting tourists, often involving card games. [MWP(P1] The Embassy has received reports of U.S. citizens being approached by individuals in public locations, such as popular shopping malls, and being invited to their homes where they end up participating in card games. These are often scams to steal tourists' money. If you find yourself a victim of one of these scams, you should contact the U.S. Embassy.
Foreigners travelling to Cambodia should be aware of crime targeting tourists involving drugged drinks. The Embassy has received reports of U.S. citizens' drinks being drugged at bars in order to incapacitate them for theft or sexual assault. Do not accept drinks from strangers and do not leave drinks unattended.
The U.S. Embassy advises citizens to be wary of scams involving individuals claiming they are in Cambodia and need financial assistance from the United States. The Embassy has determined that many of these requests are fraudulent and the individuals making the requests use false identities. In the past year, numerous confirmed media reports of large-scale scam operations have led to a crackdown by Cambodian authorities. These operations have been reported to lure non-Cambodians with false promises of gainful employment. Victims of this false recruitment have then been made to participate in the online/phone-based financial confidence scams.
See the  Department of State  and the  FBI pages for information on scams.
There have been numerous reports of visitors receiving fake or novelty $50 and $100 bills from ATM machines and banks across Cambodia. When receiving money from ATMs or bank tellers, you should count and examine the money while still in the presence of the ATM camera or bank teller. The fake money typically has a different feel than real U.S. currency and often has markings on the lower left that indicate it is for novelty purposes. If a suspicious bill is discovered, it should be shown to the ATM camera or teller, and the bank should be notified immediately.
The U.S. Embassy advises its personnel who travel to the provinces outside of Phnom Penh to exercise caution outside the provincial towns at all times. Many rural parts of the country remain without effective policing. Avoid walking alone after dusk anywhere in Sihanoukville, especially along the waterfront. You should be particularly vigilant during annual festivals and at tourist sites in Phnom Penh, Siem Reap, and Sihanoukville, where there have been marked increases in motorcycle "snatch and grab" thefts of bags and purses.
If you are visiting Cambodia, you should practice sound personal security awareness by varying your routes and routines, maintaining a low profile, not carrying or displaying large amounts of cash, not wearing flashy or expensive jewelry, and not walking alone after dark. In addition, you should travel by automobile and not use local moto-taxis or cyclos (passenger-carrying bicycles). These vehicles are more vulnerable to armed robberies and offer no protection against injury when involved in traffic accidents.
U.S. citizens are advised not to engage in commercial surrogacy arrangements in Cambodia. In October 2016, the Government of Cambodia issued an official proclamation banning commercial surrogacy in Cambodia. Please keep in mind that U.S. citizens and other foreigners in Cambodia are subject to Cambodian laws and procedures.
Although gambling and casinos are legal in Cambodia, the U.S. Embassy strongly encourages all travelers to be cautious in choosing to visit casinos or related gambling centers in Cambodia. The U.S. Embassy is aware of numerous reported incidents at casinos throughout Cambodia. In the past year, these incidents such as fires at casinos resulting in multiple fatalities, violent assaults, murders, and suicides under suspicious circumstances have occurred.
Victims of Crime:  Report crimes to the local police and contact the U.S. Embassy at 023-728-000. Remember that local authorities are responsible for investigating and prosecuting crimes.
In cases of sexual assault, U.S. citizen victims should contact the U.S. Embassy first before contacting local police or authorities.
See our webpage on  help for U.S. victims of crime overseas .
help you find appropriate medical care
assist you in reporting a crime to the police
contact relatives or friends with your written consent
explain the local criminal justice process in general terms
provide a list of local attorneys
provide our information on  victim's compensation programs in the U.S .
provide an emergency loan for repatriation to the United States and/or limited medical support in cases of destitution
help you find accommodation and arrange flights home
replace a stolen or lost passport
Domestic Violence:  U.S. citizen victims of domestic violence may contact the Embassy for assistance.
Tourism: The tourism industry is unevenly regulated, and safety inspections for equipment and facilities do not commonly occur. Hazardous areas/activities are not always identified with appropriate signage, and staff may not be trained or certified either by the host government or by recognized authorities in the field. In the event of an injury, appropriate medical treatment is typically available only in/near major cities. First responders are generally unable to access areas outside of major cities and to provide urgent medical treatment. U.S. citizens are encouraged to purchase medical evacuation insurance. See our webpage for more information on insurance providers for overseas coverage .
Local Laws & Special Circumstances
Criminal Penalties:  You are subject to local laws. If you violate local laws, even unknowingly, you may be expelled, arrested, or imprisoned. Penalties for possessing, using, or trafficking in illegal drugs in Cambodia are severe, and convicted offenders can expect long jail sentences and heavy fines. If you break local laws in Cambodia, your U.S. passport won't help you avoid arrest or prosecution.
The same rights and protections afforded those accused of a crime in the U.S. are not guaranteed in Cambodia, and the judicial process may be influenced by political, personal, and financial connections. In both the criminal and civil judicial systems, resources devoted to the investigation/discovery and trial process fall far below the standard expected in the United States. Cambodia routinely employs pre-trial detention for those charged with criminal offenses, sometimes for long periods of time before a trial is scheduled. Prison conditions in Cambodia are substandard and overcrowded, with little access to health care or basic nutritional requirements.
U.S. citizens in Cambodia should be aware that there are limits to the assistance the Embassy can offer to those with concerns about due process or the fairness of their trial, as the Embassy is unable to interfere in the legal processes of a host country.
You can be prosecuted in the United States for engaging in sexual conduct with children or for using or disseminating child pornography in a foreign country regardless of the legality of these activities under that country's laws. Counterfeit and pirated goods are illegal in the United States, and if you purchase them in a foreign country, you may be breaking local law as well.
Arrest Notifications:  If you are arrested or detained, ask police or prison officials to notify the U.S. Embassy immediately. See our  webpage  for further information.
Faith-Based Travelers:  See our following webpages for details:
Faith-Based Travel Information
International Religious Freedom Report   – see country reports
Human Rights Report   – see country reports
Hajj Fact Sheet for Travelers
Best Practices for Volunteering Abroad
LGBTI Travelers:  While there are no legal restrictions on same-sex sexual relations or the organization of LGBTI events in Cambodia, same sex marriage is not permitted. While Cambodians are relatively tolerant toward foreigners, LGBTI Cambodians routinely face discrimination and harassment, especially outside major urban areas. Public displays of affection are generally frowned upon for couples of any sexual orientation.
See our  LGBTI Travel Information  page and section six of our Human Rights report  for further details.
Travelers Who Require Accessibility Assistance:  While in Cambodia, individuals with disabilities may find accessibility and accommodation very different from what they find in the United States. Currently, except for buildings and hotels that have been built under international standards, most public places and public transportation are not accessible. Persons with disabilities will face difficulties with Cambodia's sidewalks, rest rooms, road crossings, and tourist areas.
Students:  See our  Students Abroad  page and  FBI travel tips .
Women Travelers:  There have been reports of sexual assaults in the vicinity of drinking establishments and possible drugs being used to incapacitate female travelers. See our travel tips for  Women Travelers .
Water Festival:  During this annual festival, which takes place in November, the population in Phnom Penh increases significantly as millions of Cambodians from every town and province flock to the capital for three days. For personal safety and security, you should avoid crowded areas near the riverfront during the Water Festival holiday.
Customs:  Cambodian customs authorities may enforce strict regulations concerning temporary importation into or export from Cambodia of items such as medications, firearms, antiquities, or ivory. It is advisable to contact the Embassy of Cambodia in Washington D.C. for specific information regarding customs requirements.
Restrictions on Freedom of Expression and Association: There are freedom of speech restrictions in Cambodia. Anyone who criticizes or insults the King by any means could face between one to five years in prison. This ban includes insults or criticism made online and via social media. The government of Cambodia has used libel and slander laws to restrict public discussion on topics it deems sensitive or against its interests.
Dual Nationality:  Dual nationality is allowed under Cambodia's 1996 nationality law. However, if you have Cambodian nationality and possess another nationality, you may be viewed as a Cambodian citizen in any court proceedings and face stricter sentences.
Business Transactions:  Some U.S. citizens have reported threats of personal injury, extortion, detention, or kidnapping related to personal business disputes, in particular those involving real estate. If you are planning to engage in real estate or other significant financial transactions, please proceed with caution and retain the appropriate legal counsel.
Financial Transaction:  The U.S. dollar is widely used, especially for larger transactions, and most prices are quoted in dollars. Ripped, torn, or stained U.S. bills are not accepted. Authorities encourage greater use of the Cambodian riel, but it is less favored and is mostly given to tourists as change for dollar purchases. The riel is commonly used in smaller towns and rural areas. Credit cards are accepted at some establishments within Cambodia, and a number of banks in Phnom Penh accept credit cards for cash advances. Credit cards are often subject to a service charge. Banks and major hotels accept travelers' checks but usually charge a service fee. Several international banks operate ATM machines that allow travelers to obtain U.S. dollar currency in Phnom Penh, Siem Reap, and other urban centers. Personal checks are not generally accepted. Several banks serve as Western Union agents, to which funds can be wired, including in Phnom Penh, Siem Reap, Sihanoukville, and other provincial cities. Information on Western Union can be found at their  website .
Photography:  Taking photographs of anything that could be perceived as being of military or security interest — including government buildings, military installations, airfields, and bridges — may result in problems with the authorities and confiscation of your camera.
Please visit the Embassy's COVID-19 page for more information on COVID-19 in Cambodia. 
Medical facilities and services in Cambodia do not meet international standards. Both Phnom Penh and Siem Reap have a limited number of internationally run clinics and hospitals that can provide basic medical care and stabilization. Medical care outside of these two cities is almost non-existent. Local pharmacies provide a limited supply of prescription and over-the-counter medications. Because the quality of locally obtained medications can vary greatly, make sure to bring a supply of your medications adequate for the duration of your stay in Cambodia. You should be wary of purchasing local medication. Counterfeit medication is readily available, often indiscernible from authentic medication, and potentially lethal.
 Be aware that neither U.S. Medicare nor Medicaid apply overseas.
Medical Insurance:  Make sure your health insurance plan provides coverage overseas. Most care providers overseas only accept cash payments. See our webpage for more  information on insurance providers for overseas coverage . Visit the U.S. Centers for Disease Control and Prevention for more information on what type of insurance you should consider before you travel overseas.
  Supplemental insurance  to cover medical evacuation is strongly recommended.
Always carry your prescription medication in original packaging, along with your doctor's prescription. Check with the government of Cambodia to ensure the medication is legal in Cambodia. Always, carry your prescription medication in the original packaging with your doctor's prescription.
Be careful if purchasing off-brand medication from pharmacies in Cambodia. Drugs sold in pharmacies can be fake and possibly dangerous.
Malaria, Dengue and Tuberculosis are serious health concerns in Cambodia. For further information, please consult the CDC .
Vaccinations:  Be up-to-date on all  vaccinations  recommended by the U.S. Centers for Disease Control and Prevention.
Further health information:
World Health Organization
U.S. Centers for Disease Control and Prevention  (CDC)
Air Quality: Visit AirNow for information on air quality at U.S. Embassies and Consulates.
Travel and Transportation
Road Condition and Safety:  You should not drive at night in Cambodia outside of city limits. Roads between major areas are adequate; however, roads leading to rural areas are poor. During the rainy season, road conditions deteriorate considerably, and roadside assistance is non-existent. Cambodian drivers routinely ignore traffic laws and vehicles are poorly maintained. Intoxicated drivers are commonplace, particularly during the evening hours. Travel is recommended in daylight between the hours of 6:30 a.m. and 5:30 p.m. There are also frequent bus accidents. Serious flooding occurs throughout Cambodia from June through November. Travel on unpaved or dirt roads is difficult after heavy rainfall. The National Route highways are the only roads that can be traveled, with caution, during this time of the year.
Traffic Laws: In the event you are in a traffic accident, you should cooperate with the police. You should also contact your insurance company for guidance in dealing with the other party and the police. To avoid the risk of theft or confiscation of original documents, the U.S. Embassy advises its personnel and all U.S. citizens traveling to, or residing in, Cambodia to carry photocopies of their U.S. passport, driver's license, and other important documents and to leave the originals in a hotel safe or other secure place.
While in Cambodia, you may encounter road conditions that differ significantly from those in the United States. Traffic in Cambodia is composed of a mix of automobiles, commercial trucks, motorcycles, bicycles, and tuk tuks. As a result of poor roads, driver intoxication, and disregard for traffic laws, traffic accidents are a common occurrence. You should exercise great caution in moving through the country, regardless of mode of transportation.
Public Transportation:  Travelers should exercise caution when using inter-city buses, including those to popular tourist destinations such as Siem Reap and Sihanoukville. Despite the wide availability of moto-taxis, you should not use them due to safety concerns. Be vigilant if traveling by "tuk-tuk" or "cyclo" as personal belongings can be easily stolen. Organized emergency services for victims of traffic accidents are non-existent outside of major urban areas, and those available in major urban areas are inadequate.
See our  Road Safety page  for more information. Visit the website of Cambodia's  national tourist office  and national authority responsible for  road safety .
Aviation Safety Oversight:  As there is no direct commercial air service to the United States by carriers registered in Cambodia, the U.S. Federal Aviation Administration (FAA) has not assessed the government of Cambodia's Civil Aviation Authority for compliance with International Civil Aviation Organization (ICAO) aviation safety standards. Further information may be found on the FAA's safety assessment page .
Maritime Travel: The Commandant of the Coast Guard has determined that effective anti-terrorism measures are not in place in Cambodia ports and has imposed conditions of entry on vessels that arrive in U.S. ports having visited ports in Cambodia. Mariners and passengers on commercial vessels traveling through the ports of Cambodia should exercise increased caution.
Mariners planning travel to Cambodia should also check for U.S. maritime advisories and alerts at Maritime Security Communications with Industry (MSCI) Web Portal | MARAD (dot.gov) . Information may also be posted to the U.S. Coast Guard homeport website , and the NGA broadcast warnings website  (select "broadcast warnings").
For additional travel information
Enroll in the Smart Traveler Enrollment Program (STEP) to receive security messages and make it easier to locate you in an emergency.
Call us in Washington, D.C. at 1-888-407-4747 (toll-free in the United States and Canada) or 1-202-501-4444 (from all other countries) from 8:00 a.m. to 8:00 p.m., Eastern Standard Time, Monday through Friday (except U.S. federal holidays).
See the State Department's travel website for the Worldwide Caution and Travel Advisories .
Follow us on Twitter and Facebook .
See traveling safely abroad for useful travel tips.
Review information about International Parental Child Abduction in Cambodia . For additional IPCA-related information, please see the International Child Abduction Prevention and Return Act ( ICAPRA ) report.
Travel Advisory Levels
Assistance for u.s. citizens, cambodia map, learn about your destination, enroll in step.
Subscribe to get up-to-date safety and security information and help us reach you in an emergency abroad.
Recommended Web Browsers: Microsoft Edge or Google Chrome.
Make two copies of all of your travel documents in case of emergency, and leave one with a trusted friend or relative.
Afghanistan
Antigua and Barbuda
Bonaire, Sint Eustatius, and Saba
Bosnia and Herzegovina
British Virgin Islands
Burkina Faso
Burma (Myanmar)
Cayman Islands
Central African Republic
Cote d Ivoire
Curaçao
Czech Republic
Democratic Republic of the Congo
Dominican Republic
El Salvador
Equatorial Guinea
Eswatini (Swaziland)
Falkland Islands
French Guiana
French Polynesia
French West Indies
Guadeloupe, Martinique, Saint Martin, and Saint Barthélemy (French West Indies)
Guinea-Bissau
Isle of Man
Israel, The West Bank and Gaza
Liechtenstein
Marshall Islands
Netherlands
New Caledonia
New Zealand
North Korea (Democratic People's Republic of Korea)
Papua New Guinea
Philippines
Republic of North Macedonia
Republic of the Congo
Saint Kitts and Nevis
Saint Lucia
Saint Vincent and the Grenadines
Sao Tome and Principe
Saudi Arabia
Sierra Leone
Sint Maarten
Solomon Islands
South Africa
South Korea
South Sudan
Switzerland
The Bahamas
Timor-Leste
Trinidad and Tobago
Turkmenistan
Turks and Caicos Islands
United Arab Emirates
United Kingdom
Vatican City (Holy See)
External Link
You are about to leave travel.state.gov for an external website that is not maintained by the U.S. Department of State.
Links to external websites are provided as a convenience and should not be construed as an endorsement by the U.S. Department of State of the views or products contained therein. If you wish to remain on travel.state.gov, click the "cancel" message.
You are about to visit:

Cambodia SIM Cards: Everything You Need To Know
by Melissa Giroux | Last updated Jun 7, 2023 | Asia , Cambodia , SIM Cards , Travel Tips
Visiting Cambodia soon? Make sure to know what to expect when it comes to purchasing a Cambodia SIM card .
Fortunately, Asia is one of the best places where you can buy a SIM card easily. You should be able to find a cheap SIM card pretty much anywhere in Asia. In fact, most data packages are affordable, which makes the whole thing easier!
In this guide, we'll explain where to buy a SIM card in Cambodia in person and online. We'll also discuss prepaid SIM cards and eSIMs if your mobile supports them.
Before you read this guide, you may wonder if you actually need a SIM card in Cambodia. If you don't mind not having Internet, you'll likely find free Wifi in restaurants, shopping malls, and hotels.
That said, if you need data to get around, call a cab, or translate Khmer – you may want to get a SIM card for your travels in Cambodia .
Best SIM Cards In Cambodia
If you're traveling in Cambodia, we recommend using a SIM card from Smart, Metfone, Cellcard, or Airalo. (I'll get back to Airalo later on, so keep reading to learn more!)
That said, if you're planning on visiting other countries during your trip to Asia , you might want to make sure to pick an option that offers coverage in other Asian countries.
How To Buy A SIM Card In Cambodia
You can either buy a Cambodia prepaid SIM card in person in some international airports, mobile provider stores, convenience stores, or online.
Usually, you can expect higher costs and low data offers at the airport, so we don't recommend buying a SIM card at the airport. That said, you won't necessarily find SIM card shops in every airport, so it's essential to keep this in mind. And, when you see a shop, you might also have limited options.
For this reason, I'd recommend buying a SIM card directly from the mobile provider store. Note that you may need your passport to buy one.
Although, this means you won't get data right upon your arrival. So, if you prefer to be connected at all times, you could use an eSIM or purchase an Asia prepaid SIM card online.
Planning your upcoming adventures? Travel by bus! (It's cheap!)
Now, let's take a look at the data plans offered by Smart, Metfone, and Cellcard.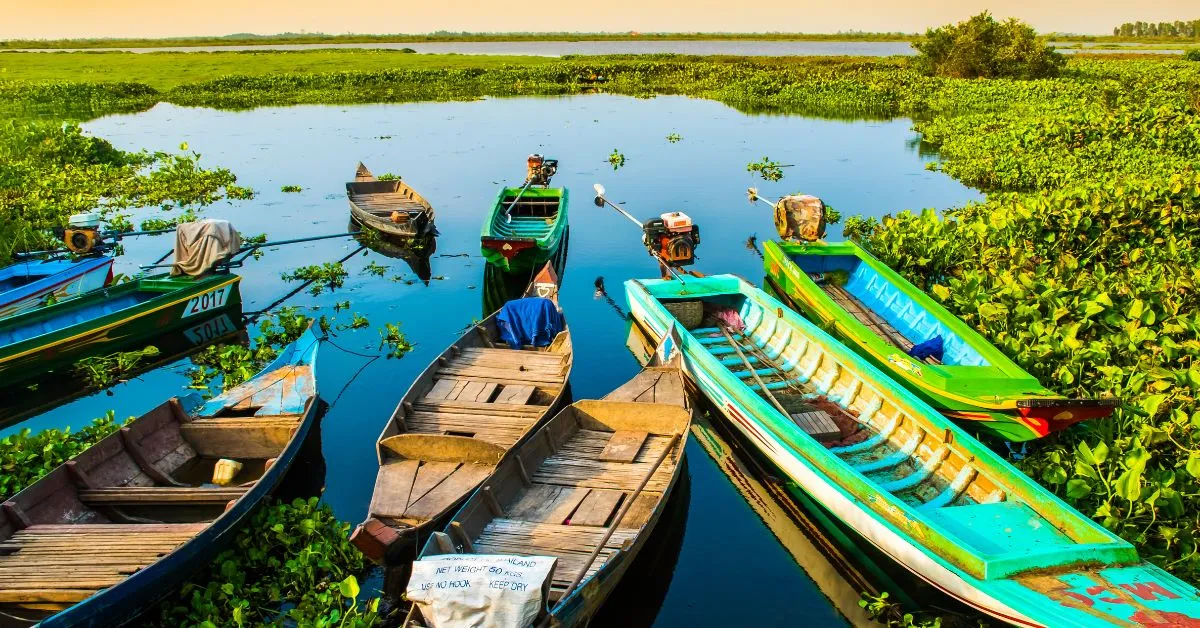 Smart SIM Cards
Smart offers the Smart Traveller plan to tourists, which includes:
30 GB of data, unlimited calls & texts online, valid for 7 days for USD 5
Metfone SIM Cards
Metfone is the largest mobile network in Cambodia and offers the following data-focused plans:
200 MB data, valid for 1 day, for USD 0.20
1.5 GB data, valid for 7 days, for USD 1.50
3 GB data, valid for 30 days, for USD 3
5 GB data, valid for 30 days, for USD 5
12 GB data, valid for 30 days, for USD 10
Cellcard SIM Cards
Cellcard offers three main SIM-only plans for tourists:
4 GB, valid for 7 days, for USD 2
8 GB, valid for 30 days, for USD 5
18 GB, valid for 30 days, for USD 10
Overall, we think Cellcard is the best option if you plan to buy your SIM card in person. That said, any would do if you can't find their store!
How To Buy A Cambodian Prepaid SIM Card Online
If you wish to have your SIM card ready for your arrival, you could purchase it online or on websites like Amazon.
You'll find different plans on Amazon. For example, the Prepaid Asia-Pacific SIM Card works in more than 17 countries and gives you unlimited data for 14 days. Cambodia is included.
But there are many other options worth considering, so have a look and make sure the countries you plan on visiting are listed.
Browse your options on Amazon
Another option is to purchase a prepaid Asian SIM card on Simify . This works if you live in the United States or Australia. They currently offer 3 different packages that cover Cambodia:
6 GB, valid for 12 days for $25 – works in 13 countries
6 GB, valid for 15 days for $40 – works in 18 countries
10 GB, valid for 30 days for $29 – works in 13 countries
Browse your options on Simify
Finally, the last option is to buy an eSIM card for Cambodia or, if you're traveling to multiple countries, an eSIM plan for Asia.
How To Buy An eSIM Card For Cambodia
eSIM is a new concept allowing you to have a virtual SIM card inside your phone. If your mobile phone supports eSIM cards – it's definitely one of the best options to get data in Cambodia.
Curious? Learn more about eSIMs for travelers on eSIM Roamers .
I started using eSIM as soon as my mobile phone supported it. And I first tried it when visiting my family in Canada. To buy eSIMs, I usually use Airalo . Keep reading to learn more about the best eSIMs for Cambodia.
Airalo Cambodia
If you want to buy an eSIM for Cambodia, you could purchase one on Airalo . This website offers many eSIM cards worldwide and special plans for Asia and Cambodia. I've been using Airalo for several months, and it works fine.
Here are the options available :
Connect Cambodia: 1 GB, valid for 7 days for $4.50
Connect Cambodia: 3 GB, valid for 30 days for $9
Connect Cambodia: 5 GB, valid for 30 days for $13.50

Here's an overview of the options available for Asia :
1 GB, valid for 7 days for $5
3 GB, valid for 30 days for $13
5 GB, valid for 30 days for $20
10 GB, valid for 30 days for $37
50 GB, valid for 90 days for $100
100 GB, valid for 180 days for $185
The options mentioned above are part of Asialink and offer coverage in 14 countries, including Cambodia.
Alternatively, if you're traveling in other countries that are not mentioned on the list, you can try Discover Global, which offers coverage in 87 countries, including Cambodia.
Here's an overview of the options available on Discover Global :
1 GB, valid for 7 days for $9
3 GB, valid for 15 days for $24
5 GB, valid for 30 days for $35
10 GB, valid for 60 days for $59
20 GB, valid for 180 days for $89
Now, one important thing to note about Airalo is that you'll need to keep an eye out for the provider in each country. Suppose you ever have trouble connecting to the Internet during your trip. In that case, it might be because you're connecting automatically to networks and need to select a network manually instead.
When you purchase the eSIM, you'll get access to the list of networks supported in each country.
Go to Airalo
Holafly Cambodia
Alternatively, you could look at your options on Holafly . You can read our Holafly review to learn more about this eSIM store.
Here's an overview of their plans for Cambodia:
8 GB data for 30 days for $47
Their Asia eSIM work in 12 countries (including Cambodia), and they offer the following plan:
Go to Holafly
Nomad Cambodia
Finally, Nomad is also a great eSIM provider. Here's an overview of the plans available for Cambodia:
1GB, valid for 7 days for $20
3GB, valid for 30 days for $48
5GB, valid for 30 days for $54
Nomad also has a global eSIM plan . This plan offers coverage in Cambodia. Here's an overview:
Go to Nomad
Final Thoughts On SIM Cards In Cambodia
As you can see, getting a prepaid SIM card in Cambodia or even an eSIM for your travels in Cambodia is pretty straightforward. You'll even be able to stay connected wherever you go in Asia without changing your SIM card, especially if you purchase an Asia plan.
I believe the eSIM card is the most convenient way to get data in Cambodia if you wish to have data upon your arrival. This way, you won't need to go to a store to buy a SIM card. Obviously, you need to make sure your mobile phone supports eSIM first.
Traveling to Cambodia soon? Read one of the following blog posts:
Best cities to visit in Cambodia
How to get to Cambodia from Thailand
Best places to live in Cambodia
2 day itinerary for Siem Reap

MY TOP RECOMMENDATIONS
BOOK HOTEL ON BOOKING.COM
BOOK HOSTEL ON HOSTELWORLD
GET YOUR TRAVEL INSURANCE
LEARN HOW TO START A TRAVEL BLOG
LEARN HOW TO VOLUNTEER ABROAD