High Heels & a Backpack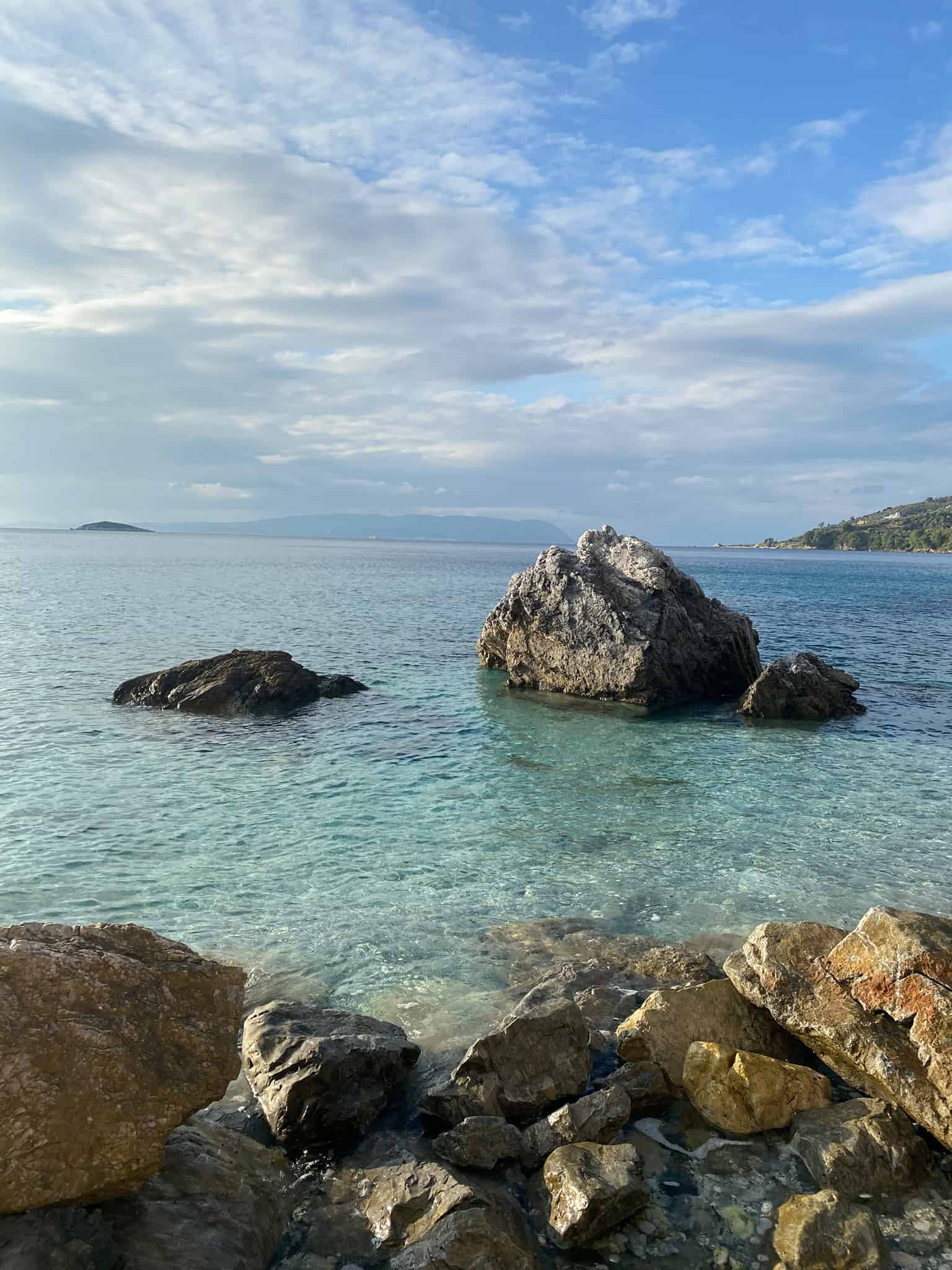 Skiathos to Skopelos Ferry & Transport Guide for 2023
Getting from Skiathos to Skopelos is very easy. Ferries depart from Skiathos port daily throughout the year, with an average of 5-6 services per day during the peak summer months.
Even during the winter, you will find that a ferry runs between the two islands every day. So whatever time of year you happen to travel, you will never struggle to find a connection.
There is no airport on Skopelos island. (The closest airport is on Skiathos island or on the mainland in Volos and Thessaloniki). The only way to get here from Skiathos is by sea.
Skiathos to Skopelos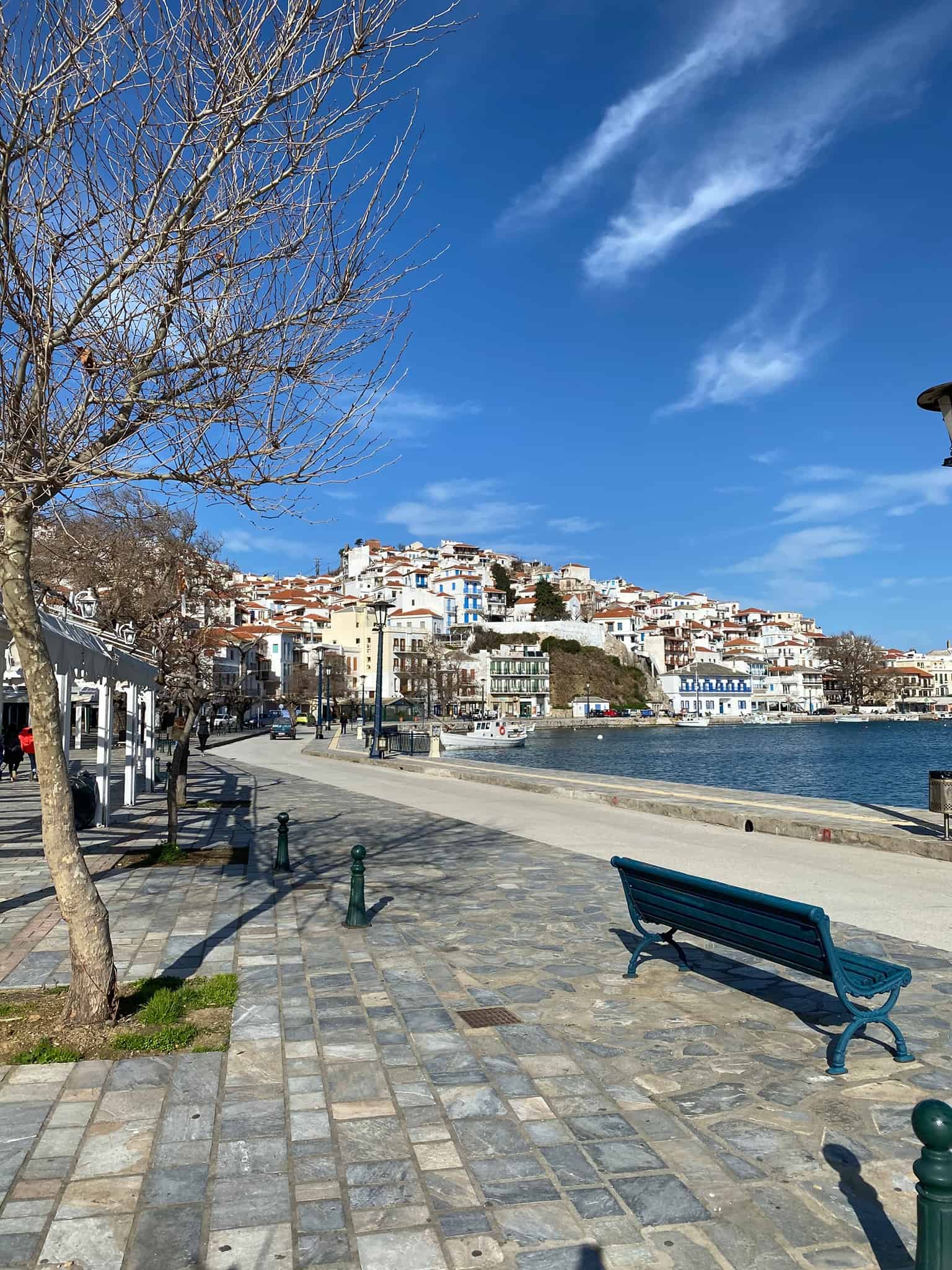 The journey from Skiathos to Skopelos is simple and pleasant. You can get from one island to another in less than 90 minutes.
(The exact journey time varies slightly depending on whether you are taking a "flying dolphin" high-speed hydrofoil boat, or you are taking a slower car ferry.) Hellenic Seaways, Anes Ferries, SeaJets. and Flying Dolphins are the ferry operators that service this route.
The ferry route starts in Volos on the mainland and then continues onwards to Skiathos, Skopelos, and finally, Alonissos . From Skiathos, you can actually choose to take the ferry to Glossa port, in the north of Skopelos, or Skopelos town port, in the south.
If you are travelling from Skiathos to Skopelos just for the day, with the intention of visiting the famous Mamma Mia church (Agios Ioannis Kastri) , you should travel to Glossa. If you are spending several days exploring Skopelos island , the main port at Skopelos town is perhaps your best option.
Skopelos town is arguably the best base for a trip to Skopelos. Being here means you are just a short drive or bus ride away from some of the best Skopelos beaches , and you have a plethora of excellent Skopelos restaurants , bars, and cafes right on your doorstep.
Skiathos to Skopelos Ferry Services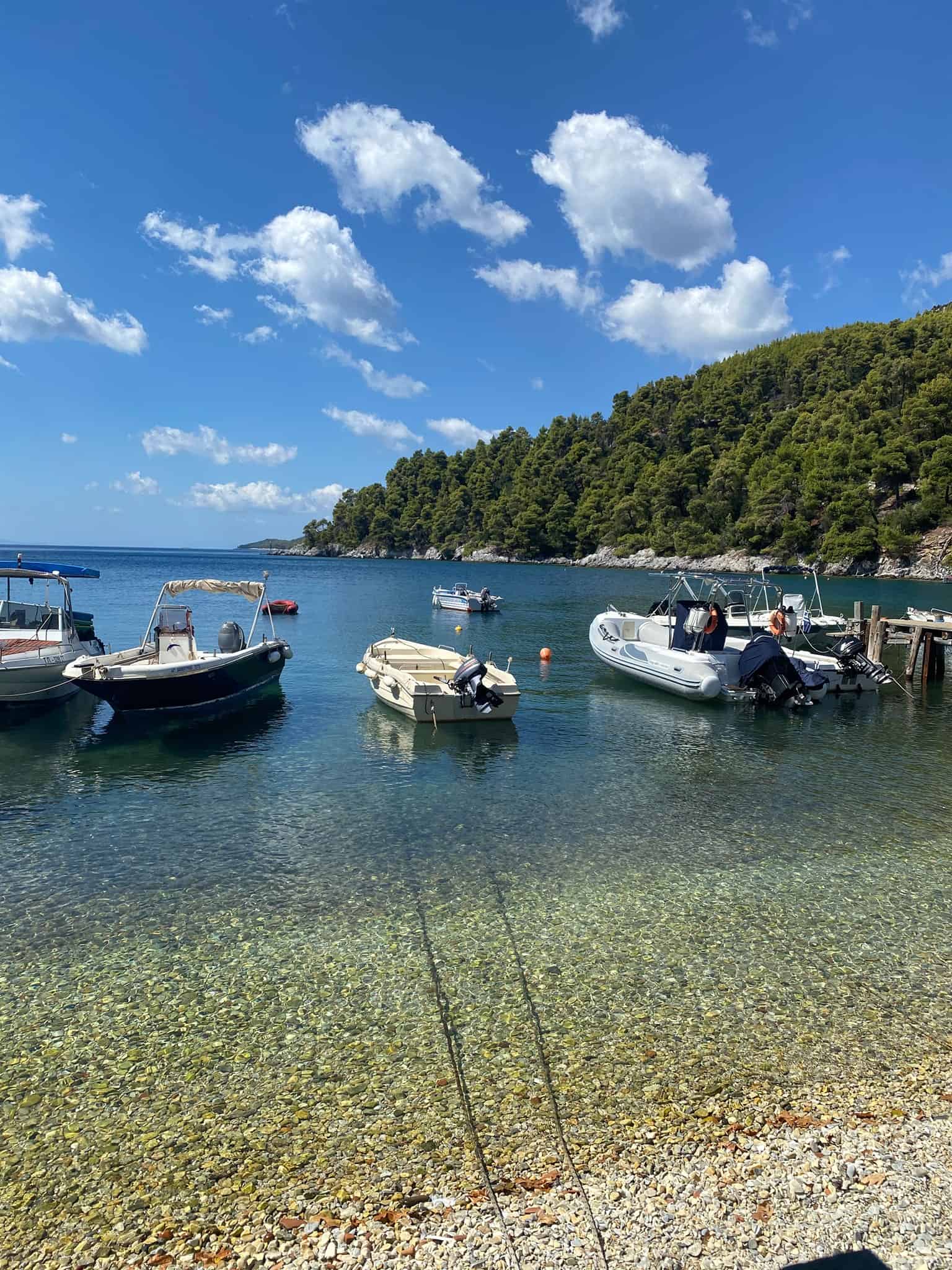 Hellenic Seaways and Anes Ferries are the two main companies that operate the boats from Skiathos to Skopelos. Schedules vary depending on the season. 
However, between May and September, there are as many as 6-7 departures per day. You can check the latest schedules via Ferryscanner.
However, as of yet, the spring/summer 2023 schedule is not published online. The first service departs at 10.40 am and the last one is usually between 18.00 and 19.00 pm.
When you check the ferry schedules online, you can also see information on which ferry provider each journey is with, and how long it takes. It is usually worth booking the higher-speed flying dolphin ferry to cut down on travel time.
Boats that run from Skiathos to Skopelos
The flying dolphin hydrofoil operated by Hellenic Seaways is the faster of the two options. It gets you from Skiathos to Skopelos in just 30 minutes and travels at speeds of up to 33.5 knots.
The boat operated by Anes Ferries is a larger car ferry. This gets you from Skiathos to Skopelos in an hour and fifteen minutes.
If you are particularly prone to seasickness, you may prefer to travel by a slower boat. However, the journey by flying dolphin is not excessively fast/choppy. 
The Anes ferry has two small coffee bars on board serving an array of drinks, snacks, and refreshments. Prices vary from €8 to €18.50 per person depending on the specific route and provider.
Purchasing ferry tickets 
You are usually fine to buy your Skiathos to Skopelos ferry ticket on your intended day of travel. The ferries rarely (if ever) sell out.
Skopelos doesn't see the same amount of crowds as more popular Greek islands such as Santorini, Mykonos, etc, and even in the peak summer months of July and August, it is never chaotic. Still, if you can, you might want to buy your tickets online in advance via Ferryscanner for your own peace of mind.
Tickets purchased online are available in electronic format which you can display on your phone. Alternatively, you can buy them at the Skiathos port ticket office.
You can check the latest routes and prices via Ferryscanner . Since Skiathos port is relatively small and perpetually crowded, it is a good idea to arrive here 30 minutes before your boat is due to depart, or an hour before if you also need to purchase a ferry ticket.
Arriving at Agnontas port in Skopelos
It is worth noting that although most ferries to Skopelos only stop at Glossa and Skopelos ports, they will sometimes stop at Agnontas instead of the town port if the weather is bad. If it is an especially stormy or windy day and your ferry stops at Agnontas, the ferry company will provide a complimentary bus service to get you to your final destination.
Getting to Skiathos Port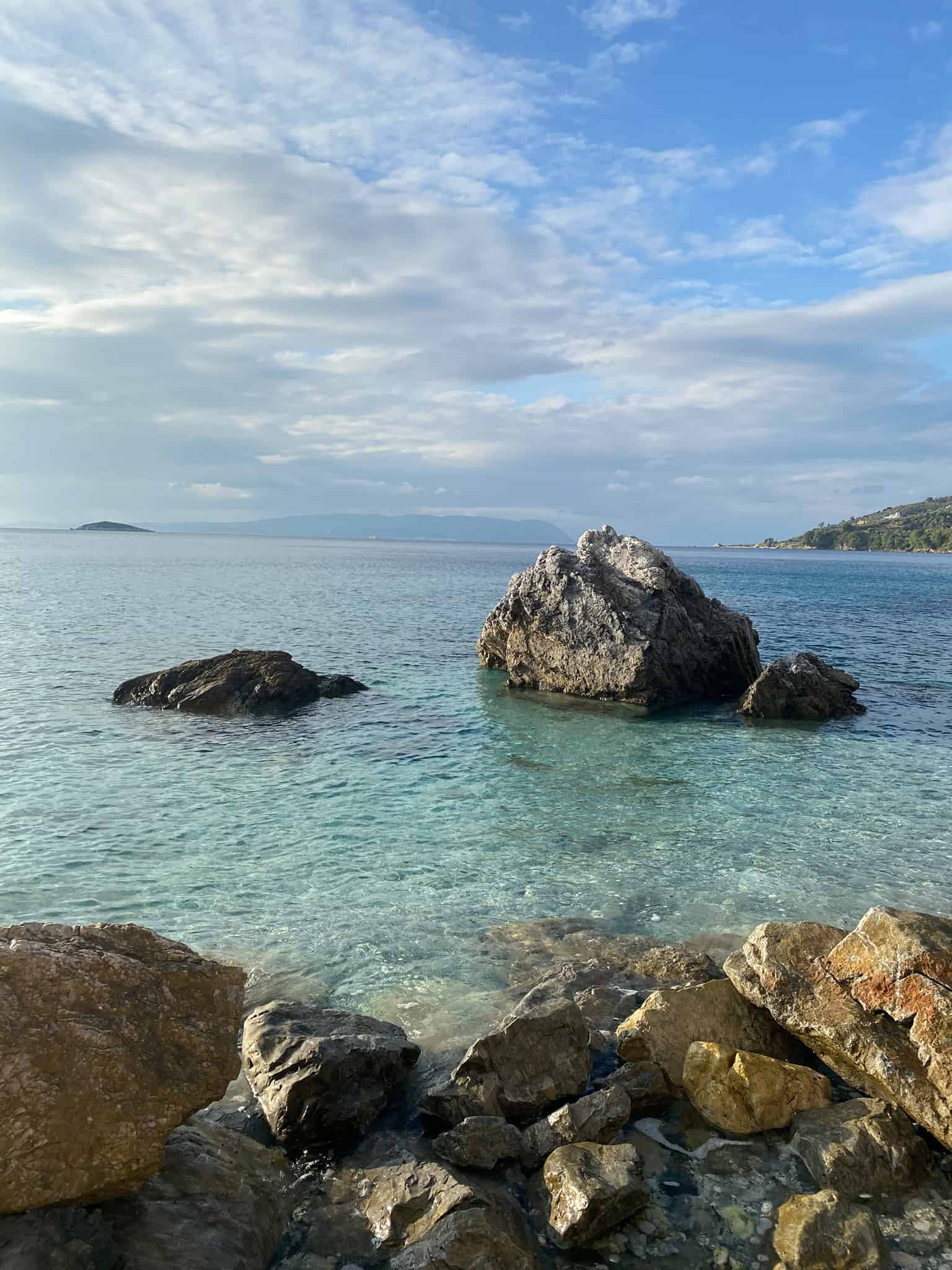 It is easy to get to Skiathos port for your ferry to Skopelos, wherever you are on the island. A cab from one side of Skiathos to another is not likely to cost more than €20.
The Skiathos bus is also an extremely convenient way to get around the island. If you are heading directly from Skiathos airport to the ferry port, your best option is to take a taxi.
Skiathos airport is conveniently located just five minutes away (1.2 miles) from the port area.
Skiathos' "Alexandros Papadiamantis" airport is very small and consists of only one terminal for both domestic and international flights.
There are usually cabs waiting outside the airport. However, you should keep in mind that during July and August, it can be very busy and you may have to wait for a little. To avoid this, you might want to consider pre-booking a cab or an airport transfer.
The number for the Skiathos Taxi Federation is (+30) 2427024461. Most cab drivers/telephone operators speak English so it's easy to organise a cab upon arrival if you don't find one outside.
If you are staying overnight in Skiathos before heading on to Skopelos island , your hotel may offer a shuttle service. Check with them in advance of boarding your flight. There is currently no public bus that operates on the route from Skiathos airport to the port.
Take a Cab or Organise a Transfer
The best way to get from Skiathos airport to the port is to take a taxi.
Skiathos to Skopelos Tours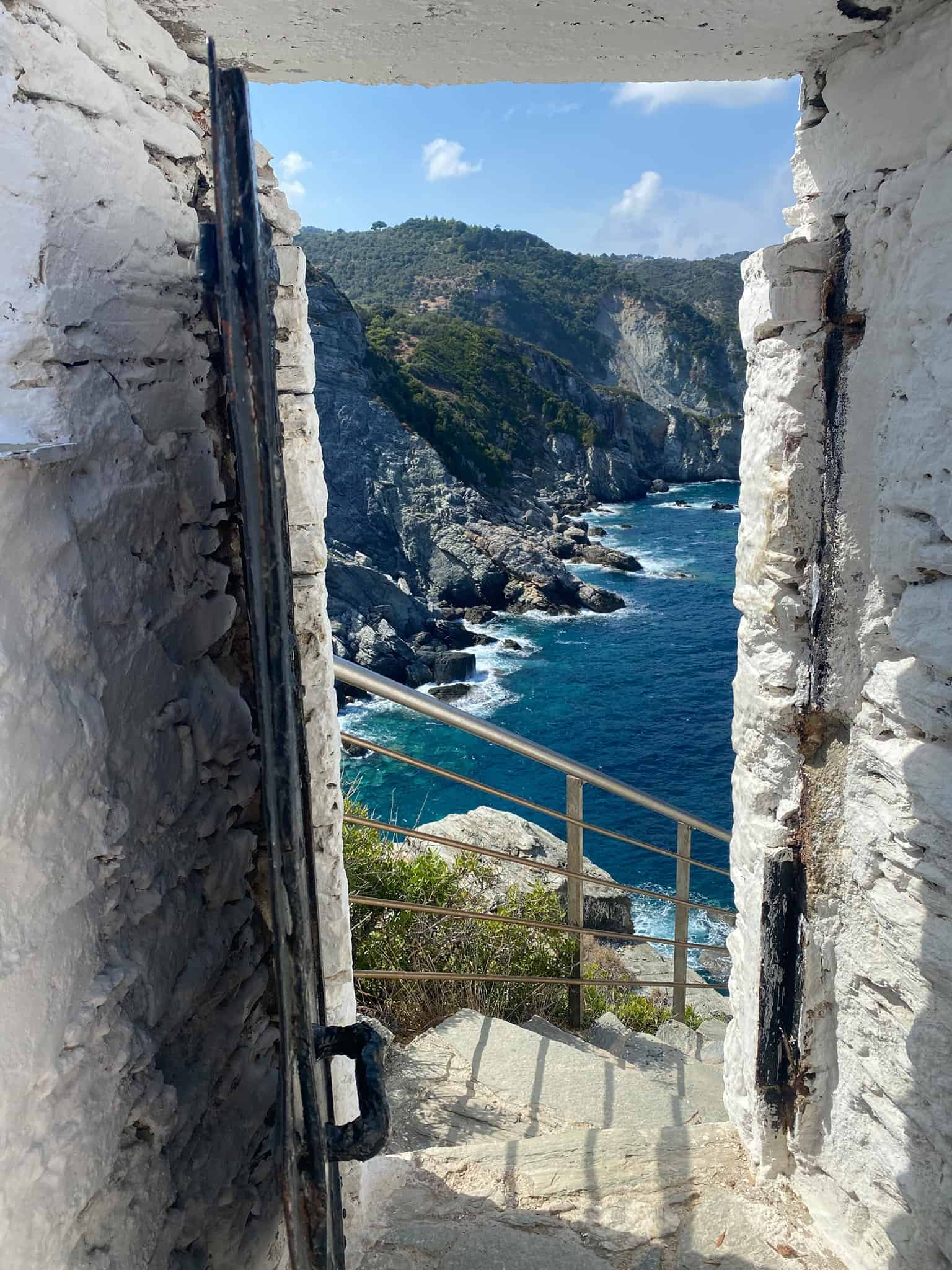 Numerous reputable local tour companies offer excursions to Skopelos. This can be a great way to see the island if your Greece itinerary doesn't give you the time to stay overnight.
It also takes a lot of the hassle out of managing the logistics of your trip and having to worry about how to get from A to B. Many tours include pickup and drop-off from your hotel/accommodation in Skiathos.
Most Skopelos day tours focus on the island's Mamma Mia filming locations. However, even if you haven't seen the movie or you are not a fan, these gorgeous churches, secluded beaches, and little towns are still wonderful stopping points.
Best Skopelos tours
A selection of some of the best Skopelos day tours is detailed below for your consideration. Reserve your place online in advance to avoid disappointment!
Skopelos: The Mamma Mia island tour
From Skiathos: Skopelos full-day sailing tour with lunch
Skiathos sea excursion: Private tour with a speedboat
Skiathos: All-inclusive full-day cruise and lunch
Skopelos: Easy guided hiking trip
Skiathos to Skopelos private water taxis 
It is possible to organise a private water taxi from Skiathos to Skopelos if there are between one and five of you travelling together. However, this is of course the most expensive travel option. 
Skiathos water taxis give you slightly more flexibility (as well as comfort and convenience) as you have the option to sail into any village/port in Skopelos, as opposed to just Glossa and Skopelos town as per the commercial ferry/flying dolphin route.
Prices and travel durations vary depending on the specific port you want to sail into. A breakdown of costs and times is provided below.
Skopelos town – €300 – 45 minutes
Glossa – €150 – 25 minutes
Neo Klima/Elios – €180 – 30 minutes
Panormos – €180 – 30 minutes
Adrina – €150 – 30 minutes
Agnontas – €200 – 40 minutes
There are two different companies that offer water taxi services from Skiathos to Skopelos. They are Skiathos Water Taxi (+306980200200) and Sea Cab Water Taxi (+306934343287). 
FAQs about Skiathos to Skopelos Ferries & Transport
Do you have any additional questions or concerns about making the journey from Skiathos to Skopelos? Hopefully, you will find the answers you are looking for below.
How long is the ferry from Skiathos to Skopelos?
The travel time between Skiathos to Skopelos varies depending on what specific boat you are travelling on and which port you are disembarking at. If you are taking the flying dolphin, you can expect to arrive at Glossa in 15 minutes, and at Skopelos port in 30 minutes.
If you are taking a slower car ferry, it may take 90 minutes to reach Skopelos.
Which is better? Skiathos or Skopelos?
Skiathos and Skopelos are both wonderful travel destinations in their own right, it all depends on what you are looking for. However, Skiathos has always been the most popular of the two islands.
Skiathos boasts a lot of dining and nightlife options, while Skopelos is quieter and more secluded. That being said, some parts of Skiathos can get very crowded during the summer months, which can detract from the experience somewhat.
If you are wanting to travel to a Greek island where you can effortlessly meet other people, have all of your home comforts, and constantly find a party, head to Skiathos. If you prefer walks in nature and secluded coves, head to Skopelos.
Can you do a day trip from Skiathos to Skopelos?
You can easily do a day trip from Skiathos to Skopelos as the two islands are located right next to each other. If you check the ferry times, you can do this independently by getting one of the earlier ferries in the morning and then coming back in the evening.
However, several local tour companies also offer day trips to Skopelos and this may be easier. They will transport you all around the gorgeous blue-green island and help you to make the most of your time.
How do I get from Skiathos airport to Skopelos ferry?
To get from Skiathos airport to the Skopelos ferry, your best option is to take a taxi from the airport to Skiathos ferry port. This journey only takes around 5 minutes. From there, you can board a ferry to Skopelos.
How often does the ferry run from Skiathos to Skopelos?
Tourism in the Sporades is very seasonal and so, the ferry schedules from Skiathos to Skopelos vary significantly throughout the year. Between May and September, there are as many as 6 departures per day. During winter in Greece , there are only 1-2.
Final thoughts on getting from Skiathos to Skopelos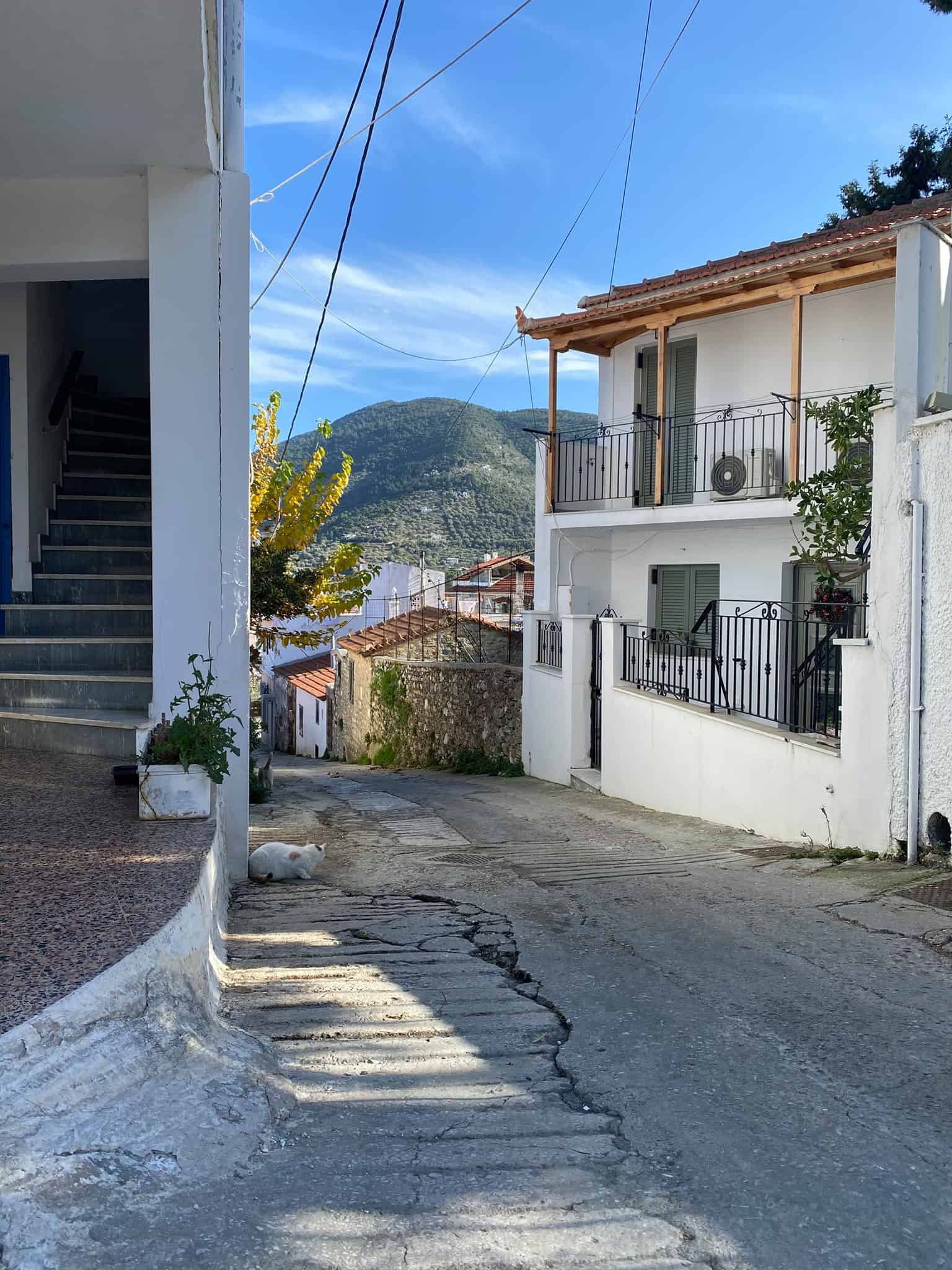 Do you have any additional questions about getting to Skopelos or planning a trip to Greece ?
I have lived here since 2017 and I spent eight months living in Skopelos in 2020/21. I have made this journey numerous times and this guide is updated periodically to ensure it contains the most accurate and up-to-date information.
Geia sou! Melissa xo 
Melissa Douglas
7 thoughts on "skiathos to skopelos ferry & transport guide for 2023".
Votre exposé est très intéressant.Mais depuis cette année 2021, la compagnie Seajet opère depuis Thessalonique, a Mantoudi en passant par skopelos et Alonissos
good day ! going from Skhiatos to Loutraki one way on may 8th 2022,when looking for a shuttle only skopelos appearing …different distance but same fare ? what's ferry company operates at that date ? thanks
Hey Alain, you can check Ferryscanner here to see the latest ferry routes/schedules. Most ferries stop at both Loutraki/Glossa and Skopelos town.
I checked the schedule for your ferry and it seems that the best choice for you is to board at 10.40am and disembark at Glossa/Loutraki.
Hi Melissa My teen daughter and I are flying into Skiathos in may 2022 and getting ferry to skopelos but was wondering if you have an recommendation for place to stay in Skiathos close to the port for access to ferry ?
We're hoping to visit skiathos in July this year from the UK. We're originally hoping to do 2 weeks and island hop betwee. Skiathos-skopelos-alonossos but would both be unvaccinated so wondered if covid testing would be required for every ferry trip?
Would you recommend island hoping and if so how long at each place?
Finally what are restrictions currently like on the islands related to covid?
As we don't want to travel and not be able to do anything as unvaccinated
Thanks Emma
Hi there, We are a family of four and will be staying in Skopelos in July/August for 10 days. Do you reccommend we take a hire car on the ferry from Skiathos or should we travel as passengers and hire in Skopelos instead?
Leave a Comment Cancel reply
You must be logged in to post a comment.
Dave's Travel Pages
Greek Island Hopping | Greece Travel Itineraries | Bicycle Touring
Skiathos to Skopelos Ferry Guide – Schedules, Tickets, and Information
There are 4 or 5 ferries per day sailing from Skiathos to Skopelos in the summer, and the trip takes about an hour. Here you can find out more about the Skiathos Skopelos ferry ride, where to buy tickets, and other useful travel information.
Situated between Skiathos and Alonissos in the Greek Sporades islands group, Skopelos is a lush green island with fantastic beaches.
Large scale package tourism still hasn't taken root on Skopelos thankfully, but as with almost every Greek island, August is the busiest time of year. Visit Skopelos in July or September if you want the best combination of warm weather and fewer tourists.
As Skopelos doesn't have an airport, you'll need to take a ferry to get there.
How to get from Skiathos to Skopelos
During the high season, it's very easy to take a ferry from Skiathos to Skopelos thanks to the regular services offered by ferry operators Hellenic Seaways, Anes Ferries, Aegean Flying Dolphins, and SeaJets.
The travel time between Skiathos and Skopelos in Greece ranges from half an hour to an hour and a half depending on which ferry you use, and which port you arrive at in Skopelos.
Which reminds me – Skopelos has two ferry ports you can arrive – Chora (Skopelos Town) and Glossa. Most people who want to stay in Skopelos will want to arrive at Skopelos Town as this is the best place to be based overall.
However, if you want to take a day trip from Skiathos to Skopelos to see the Mamma Mia church , you'll be better off taking a ferry from Skiathos to Glossa port.
Make sure you choose the right ferry port in Skopelos when booking accommodation etc! Take a look at the map here to see what I mean.
The quickest ferry crossing is between Skiathos and Glossa port, while the longest crossing is the one from Skiathos to Skopelos town port. The Skiathos to Skopelos town crossing is the most popular one.
The simplest place to look at schedules for Greek ferries, and to book a ferry ticket online is at the Ferryscanner website.
Getting To Skiathos Ferry Port
All ferries from Skiathos depart from the main port in Skiathos town. The Skiathos ferry port is located on the waterfront in the main town.
If you've arrived by plane to Skiathos airport, the best way to get to the ferry port is to take a taxi.
During the peak season there may be a queue for Skiathos airport taxis, so factor that into your travel itinerary and plans. If you have plenty of time between when your flight lands and your ferry departs Skiathos, then you can take a bus to the ferry port instead.
If you're staying in Skiathos town, you'll probably find it just as easy to walk to the port. Luggage with wheels is a good idea!
Passengers who already have a ticket are advised to be at Skiathos ferry port at least a half hour before departure.
Greek ferries rarely completely sell out, but these things do happen! I recommend that you book your ferry tickets in advance with Ferryscanner .
If you want to be more flexible, you could leave it until you get to Skiathos port and buy them there – I find this all a bit stressful though!
Ferry Companies Sailing Skiathos Skopelos Route
During the peak months of summer, you may expect between 5 and 7 ferries a day to sail between the Sporades islands of Skiathos and Skopelos.
Ferries start leaving at 10.00 in the morning, and the last ferry departs Skiathos at 16.10 for Skopelos Chora (Skopelos Town). Glossa ferries sometimes run until as late as 22.00
Ferry ticket prices are quite reasonable on this ferry route – somewhere between 8.00 and 18.50 Euros. A car will cost more of course.
Ferry crossings from Skiathos to Skopelos are operated by the following companies:
Hellenic Seaways
You might also find that people refer to this as the Blue Star Ferries ship (they are all part of the same Attica Ferries company). The ship is normally the Express Skiathos ans stops at both Glossa and Skopelos Town ferry ports.
The Sporades Star sails the route Skiathos to Skopelos, but only goes to Skeoplos Town and not Glossa.
Anes Ferries
The Proteus ship operated by Anes ferries is pretty old, and connects the Sporades islands along with Evia (Mantoudi). It's a conventional ferry which takes over 100 vehicles along with over 300 passengers. It's likely to be the slowest ferry on the Skiathos Skopelos route, but might be the cheapest.
Aegean Flying Dolphins
This is a high speed ferry that only takes passengers and not vehicles. With a trip duration of 55 minutes it's the fastest ferry from Skiathos to Skopelos and looks a lot of fun. You wouldn't catch me on this ferry on a windy day though!
Get ferry tickets and check timetables at: Ferryscanner
Water Taxis
If you plan to fly into Skiathos and then head straight out to Skopelos but can't find a suitable ferry, there is another option, and this is to take a water taxi.
SeaCab is the water-taxi option and is a bit more expensive but also faster and more direct. They have set prices for Glossa, but if you want to go from Skiathos to Skopelos town on a SeaCab you can expect to pay over 125 Euros.
The extra cost is probably reasonable all things considered if it's taking you to Skopelos Town (which is the other side of the island and further away) but obviously more expensive than a regular ferry would be.
Skopelos Island Travel Tips
A few travel tips for visiting Skopelos island:
All ferries from Skiathos depart Skiathos Port. Ferries arrive in Skopelos at either Glossa or Chora.
Skopelos Town is a good area to stay, but there is accommodation all over the island. I've a guide here on where to stay in Skopelos .
For some quality beach time, head to these beaches in Skopelos: Kastani Beach, Agnontas Beach , Milia Beach, Stafylos Beach, Velanio Beach, Adrina Beaches, and Panormos Beach. You'll also want to visit the famous Mamma Mia church in Skopelos as well!
If you are planning a day trip from Skiathos to Skopelos to see the Mamma Mia church, you'll want to arrive at Glossa port. There are taxis there which will take you out to the church. Expect a round trip to cost in the region of 50 Euros. Arrange with the driver to drop you off and then come back to collect you a couple of hours later. There's a nice beach near the church you can relax at and have a swim after seeing the chapel.
One of the best places to look at ferry schedules and to book tickets online is at Ferryscanner . I recommend you book your Skiathos to Skopelos ferry tickets in advance, especially during the busy summer months.
For further travel information and helpful tips about Skopelos, Skiathos and other places in Greece, subscribe to my newsletter .
Oh, and if you can get through your holiday there without singing at least one Abba song from Mamma Mia , you've done well!
I've another interesting guide you might want to read here: How to get to Skopelos island in Greece
FAQ about ferry connections from Skiathos to Skopelos
The most frequently asked questions readers sometimes have about traveling to Skopelos from Skiathos include :
How do we get to Skopelos from Skiathos?
You can only travel between Skiathos and Skopelos by taking a ferry. There are up to 7 ferries a day in the summer sailing to the island of Skopelos from Skiathos, and the ferry trip takes between a half hour, and one and a half hours.
Is there an airport on Skopelos?
There is no airport on Skopelos island. The closest airports are at neighbouring Skiathos island, and over at Volos on the Greek mainland.
How long is the ferry ride from Skiathos to Skopelos?
The journey time on the Skopelos route from Skiathos varies depending on the vessel. The quickest direct ferries can take between 15 and 30 minutes to reach Glossa port. Slower ferries ti the Chora Skopelos port might take a hour and a half.
Where do you get ferry tickets to Skopelos?
The easiest way to get hold of ferry tickets in Greece is by using Ferryhopper . Although I recommend you book your Skiathos to Skopelos ferry tickets in advance, you might also prefer to use a travel agency in Greece when you have arrived.
Is Skopelos expensive to visit?
Given that it isn't exactly under the radar any more thanks to Mamma Mia, Skopelos remains relatively inexpensive. Compare prices in Skopelos with destinations in the Cyclades at the same time of year, and you will see quite a difference!
You might also like to read:
Which Are The Best Greek Islands for Couples?
UNESCO Sites in Greece
Best Places To Go In Greece – 25 Amazing Places To Visit In Greece
Ferries in Greece – The most ridiculously in-depth guide to Greek ferries
10 Days in Greece: Fantastic Greece Itinerary Suggestions
Things to know before traveling to Greece – Travel Tips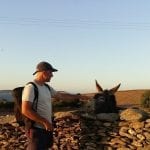 7 thoughts on "Skiathos to Skopelos Ferry Guide – Schedules, Tickets, and Information"
Hi Dave Do the ferries run from Skiathos to Skopelos in March and April? I've provisionally booked an apartment in Skopelos for the end of March/beginning of April 2024. Thanks
Yes the Skiathos ferry to Skopelos runs every day of the week all through the year. There might only be 2 Skiathos – Skopelos ferries in March and April though.
Dave Good morning. We normally holiday in Menorca but are planning our summer 2024 holiday and have decided on a hotel in Skopelos town. At the moment the TUI flight on 16/08/2024 lands in Skiathos at 13.20 hours and the return flight on 30/08/2024 departs at 14.20 hours. Would these arrival departure times be compatible with ferry sailing times, which ferry company would you recommend and how much would a Water Taxi for four people cost?
Hi Gary, Unfortunately there's no way to tell what the ferry schedules will be like for next year, although i would suspect it would be virtually the same as this year. The water taxi as an emergency option to get from Skiathos to Skopelos would be an option. More info here: Seacab
hi, I wonder if you can tell me if the timetables for Skiathos to Skopelos are now (18 Feb) the final ones or if more crossings will be added for May 2023. Our holiday in Skopelos town is 19-26 May and currently the flights arrive (12.40) after the last ferry and then depart (13.40) before the first ferry gets in to Skiathos.
I'm struggling to find out if the current schedules for May are the final ones. Hope you can help.
Hi Maria, I don't think that the complete ferry services are live yet. I don't see any Aegean Speedlines or Blue Star yet which is highly unusual. Last year, there were afternoon crossings from Skiathos to Skopelos – Looks like there were morning ones as well. I have a feeling more will be added after Greek Easter to the schedule. One backup plan is to use the water taxi (expensive, could be fun) Site here in case you need a backup plan: Water Taxis
Thanks for that Dave. I have been keeping an eye on the ferry timetables and see there are still none for my timings. Wondering how long I can leave it … Aegean Speediness still have nothing listed at all.
Leave a Comment Cancel reply
Ferry from Skiathos to Skopelos (Glossa)
Tickets, Prices & Schedules
Ferry Tickets
Ferry routes
Ferry schedules
Is there a ferry from Skiathos to Skopelos?
Yes, there are usually daily ferry crossings from Skiathos to Skopelos (Glossa port) all year round. The ferry route is operated by 4 ferry companies : Anes Ferries, Blue Star Ferries, Aegean Flying Dolphins, and Magic Sea Ferries.
Please note that ferry timetables are subject to change depending on the season. You can check real-time ferry schedules and ticket prices on Ferryhopper.
What's the ferry schedule from Skiathos to Skopelos?
There is usually at least 1 daily daily ferry connecting the 2 Sporades islands all year round. During the high season there are 3-5 daily ferry crossings from Skiathos to Skopelos (Glossa).
The first ferry usually departs from the port of Skiathos around 10:40 , arriving at the port of Glossa at 11:10. The last departure is usually scheduled at 19:30 , arriving in Skopelos at 20:00. On some days, there is also an evening crossing at 20:00.
Ferry Tickets, Offers & Discounts
How much is the ferry from skiathos to skopelos (glossa).
The cost of a single ferry ticket starts at €8 and can go up to €14.50 , depending on the type of vessel. The final ticket price also depends on discounts, offers, seat type, vehicle selection, and the ferry company.
On Ferryhopper, you can find all available offers for ferries to the Sporades. Take a look at available ferry routes, find the lowest prices and best deals, and book your ferry tickets easily and quickly .
Current offers are automatically applied when booking your ferry tickets.
For more info, take a look at our relevant blog post about cheap Greek ferry deals .
Traveling from Skiathos to Skopelos (Glossa) by ferry is easy and comfortable, and you can take advantage of lower-cost ferry tickets thanks to available discounts. Ferry companies offer discounts up to 50% for the following passenger categories :
Children from 5 to 10 years old
Students (Greek Public Universities and ISIC card holders)
People with disabilities and their accompanying persons
Permanent residents of islands (holders of Unique Islander Number)
Note : infants and children up to 4 years travel free of charge . However, keep in mind that available discounts may vary from one ferry company to another.
Ferry route info
How long is the ferry ride from skiathos to skopelos.
The ferry ride from Skiathos to the port of Glossa in Skopelos lasts from 15 min to 40 min depending on the type of vessel.
Tip : worried that weather conditions might affect your time of departure? You can see any changes and track your ferry in real time on the Ferryhopper App .
Is there a high-speed ferry from Skiathos to Skopelos?
Yes, during summer you can travel with a high-speed ferry from Skiathos to Skopelos. The fastest ferry takes about 15 min to reach Skopelos (Glossa).
What's the distance between Skiathos and Skopelos?
The distance from Skiathos to the port of Glossa in Skopelos is just 12 nautical miles (around 22 km).
Ferry Trip Tips
Useful tips for your ferry trip from skiathos to skopelos.
Here are some useful tips for your ferry trip from Skiathos to Skopelos (Glossa):
We recommend that you arrive at the port of Skiathos at least 45 min prior to your ferry departure, especially if you travel with your vehicle.
The Skiathos - Skopelos ferry route is perfect for planning a day trip from one island to another.
Island hopping around Skopelos is a great idea! Check our Map of ferries to discover ferry connections from Skopelos to nearby islands, such as Alonissos, as well as to the city of Volos in mainland Greece.
Summer ferry rides can be bumpy . There is nothing to worry about, but if you feel seasick you can ask the ferry crew for some aspirin or carry anti-nausea pills with you.
Find out about the magical green island on our Skopelos vacation guide .
For the latest information on Covid-19 and ferry travel in Greece , you can check our relevant post. Note that, for the time being, all restrictions have been lifted.
Where to take the ferry from Skiathos to Skopelos?
You can catch a ferry to the nearby Skopelos from the port of Skiathos .
The port of Skiathos is located in Chora town and pretty close to its center. You can get to the port by car, taxi or even on foot. The airport of Skiathos is only 2 km from the port. Near the port, there is also a parking lot with limited parking space for ferry travelers.
Can I travel on the Skiathos - Skopelos ferry with a car?
Yes, you can travel with a vehicle on some of the ferries from Skiathos to Skopelos (Glossa).
More specifically, you can bring your car or motorcycle on conventional Seajets , Blue Star Ferries and Magic Sea Ferries vessels that have car decks , but not on Aegean Flying Dolphins high-speed vessels.
Ferry luggage
Ferry companies are usually quite flexible regarding luggage size and weight. You can keep your luggage next to you or store your bags and suitcases in the designated luggage area on the ferry to Skopelos.
Good to know : bear in mind that there is no check-in procedure for luggage items .
Tip: each ferry company has its own baggage allowance policy. We recommend that you carry up to 50 kg of luggage to avoid delays due to restricted space in the luggage area.
The trip from Skiathos to Skopelos is quite short, so there are no cabins available on ferries serving this route. For extra comfort on board, you can book an airplane-type numbered seat .
On Skiathos - Skopelos ferries, you can travel with your pet free of charge . Bear in mind that each ferry company has its own pet policy.
Make sure to carry along all necessary pet health certificates , tickets and any supplies you may need for your trip.
Book cheap ferry tickets from Skiathos to Skopelos
On Ferryhopper, you can easily book Skiathos - Skopelos ferry tickets at the same prices as ferry companies . Discover all available routes to the Sporades, compare ferry operators and schedules, and plan your trip to Skopelos in no time !
Skiathos Tourism
Skiathos Hotels
Bed and Breakfast Skiathos
Skiathos Holiday Rentals
Flights to Skiathos
Skiathos Restaurants
Skiathos Attractions
Skiathos Travel Forum
Skiathos Photos
Skiathos Map
All Skiathos Hotels
Skiathos Hotel Deals
Last Minute Hotels in Skiathos
Things to Do
Restaurants
Holiday Rentals
Travel Stories
Add a Place
Travel Forum
Travellers' Choice
Help Centre
Skiathos to skopelos day trip - Skiathos Forum
Europe
Greece
Sporades
Skiathos
Skiathos to skopelos day trip
United Kingdom Forums
United States Forums
Europe Forums
Canada Forums
Asia Forums
Central America Forums
Africa Forums
Caribbean Forums
Mexico Forums
South Pacific Forums
South America Forums
Middle East Forums
Honeymoons and Romance
Business Travel
Train Travel
Traveling With Disabilities
Tripadvisor Support
Solo Travel
Bargain Travel
Timeshares / Holiday Rentals
Sporades forums
Skiathos forum
Hi all does anyone know if any of the boat trips just go to skopelos town for the day or half day trip.
For excursion boats look along the harbour the previous evening and see where they go. As far as I recall nothing would do just Skopelos town.
Cheapest and easiest is to take the ferry to/from Skopelos town, look in the agency by the port. Times going and back vary a bit weekends/weekdays/season. Return fares are just double the one way price, conventional ferries cheaper.
http://www.openseas.gr/
Am I right in thinking the local ferries are all enclosed? i.e. an open air tourist boat might be slower but a far nicer journey?
I don't think they are. A couple of years ago we got the ferry to Glossa and back to Skiathos from Skopelos Town.
We sat outside and the trip both ways was very nice.
The Flyingcat 5 is a totally enclosed catamaran. The view is poor through salt encrusted windows.
However the ones to look for are the 'Express Skiathos', 'Proteus', 'Express Pegasus'. Conventional ferries with open decks, and cheaper. If it calls into Glossa(Loutraki) as well then they usually go round the north tip and down the NE coast to Skopelos town.
That's why I referenced that website because you can tell easily the ferry name and calls into Glossa(Loutraki), and indeed press the icon for the return journey.
You would probably need to take one of those ferries one way and the other coming back. They are mainland ferries so you have to make creative use.
10 June Mon:
Out 11:00 'Proteus' to both ports.
18:00 'Express Skiathos' 18:05.
Go through the days of the week when you are there on that website. Obviously buy tickets on Skiathos.
This topic has been closed to new posts due to inactivity.
Is skiathos suitable for us? 23:29
steve_p53 ... 19:14
What have I done?? 12 November 2023
Seaborne Encore ⛴️ ... 09 November 2023
EasyJet/ Skiathos 07 November 2023
Winter flights to Skiathos 🛫 ... 07 November 2023
Skiathos recommendations 🇬🇷🇬🇷🇬🇷 06 November 2023
End of the UK season ... 31 October 2023
Skiathos Winter bus timetables ... 27 October 2023
Mama Mia lovers 26 October 2023
Transport from the airport to Troulos 20 October 2023
Skiathos In Late April 20 October 2023
Car hire recommendations 17 October 2023
Hotel rebranding, and renovating ... 17 October 2023
Strategic Airlines 656 replies
Achladies Eleni's Village 48 replies
Weather in September 8 replies
boat hire 27 replies
Which resort in Kefalonia? 8 replies
platanias,skiathos 4 replies
Skiathos - weather and see temperature in June 6 replies
Ferry Times Skiathos to Skopelos 22 replies
Skiathos Weather - Last week of September 11 replies
Skiathos weather July / August 5 replies
Skiathos Hotels and Places to Stay
Winter Bus timetables 2022/23
Peak Season Bus timetables 2022
The Skiathos bus stops from the harbour terminus to Koukounaries
Musken First time visitor June 2022
Getting cash from ATMs - Warning! (Updated)
What is Skiathos Like ?
Thinking of Skiathos - watch this video ...
Why Skiathos ?
Is Skiathos for a group in their 20s?
What is the weather like ?
The 2012 IN-Guide for Skiathos
Are there any ATM's / Cashpoints ?
Travelling independently via Easyjet
Day Sailing (MAMMA MIA TOUR SKIATHOS & SKOPELOS)
Our Destinations
Daily Trips
Day Sailing (MAMMA MIA TOUR SKIATHOS & SKOPELOS)
Our famous Mamma Mia Trip
Our trip to wonderful and romantic Skopelos, where the romantic musical Mamma Mia was filmed. We departure from Skiathos to the Beaches Panormos,Milies,Kastani,Dasia and Nisaki. Our Captain
For all excursions boats leave at 9:30 am – 10:00 am in the morning and return 17:30- 18:00 in the afternoon to Skiathos Harbour
During the trips, there are frequent swimming & snorkelling stops. On board, Captain offers you coffee, tea & cookies in the morning. Till Lunch comes we offer a small traditional Greek 'meze 'with oyzo or Tsipouro. Lunch includes Greek Salad and special spaghetti with tuna in red sauce. Offcourse we offer Water, soft drinks Greek wine, beer and juice In the afternoon, you are offered melon & watermelon and a variety of fresh fruits
Skopelos Mamma Mia Trip
Location : South side of Skopelos
Beach: Panormos,Milies,Kastani,Dasia,Nisaki
Access: Boat & Road
Conditions: Normally perfect conditions for sailing
Testimonials
BOOK YOUR TRIP
Amazing Day Trips to Take Around Skiathos by Boat

Feel like you're the star of your own show on the Greek island of Skiathos , best known for being one of the filming locations featured in the hit Hollywood musical Mamma Mia. Movie fame aside, the island has more than 60 gorgeously rugged beaches backed by steep white cliffs and thick pine forests as well as plenty of rickety tavernas and cosy bars in sleepy seafront villages. To see some of the island's best-kept secrets, it's best to hire a boat. Here we reveal some of the best sailing trips to embark upon around this special island.
View all trips.
Explore the coastline around the Greek islands with the Culture Trip's Sailing Trips.
Destinations Unlocked:
Looking for an expert's perspective.
CentralAmerica

Gorgeous Guatemala
1. guatemala.

Beachy Belize

Colonial Mexico
Back to map, southamerica.

Adventurous Ecuador

Ancient Peru

Seductive Southern Italy

Edinburgh And The Scottish Highlands By Train
2. scotland.

Complete Portugal By Train
3. portugal.

Soulful South Korea
1. south korea.

Thailand, Cambodia & Vietnam
2. thailand.

Secrets Of Sri Lanka By Train
3. sri lanka.

Epic Morocco

Ultimate Egypt

Immersive Kenya
Lalaria beach.

This knock-out of a beach is only reachable by boat from the port at Skiathos town and sits on the northeastern tip of the island. Expect wide sugary sand framed by soaring white cliffs. What makes this spot really unique is the natural rock bridge which spans the sand and arches over the crystal clear sea. The magnificent "blue" and "black" caves are located just before Lalaria and are definitely worth a visit. Be warned, there's not a hint of a beach bar along this strip so take refreshments ashore.
Mandraki Beach

This calm beach sits on a stretch of unspoilt coastline close to undulating hills carpeting the Koukounaries ecological park on the west coast of the island. It's roughly 15km (9mi) west of Skiathos Town. The golden sands are superbly soft and the waters clear. There are no watersport rentals on the beach but there is a shack-like taverna where you can stack up on snacks and drinks. As the beach is sheltered by pine trees and off the beaten track, it attracts the odd nudist.
Become a Culture Tripper!
Sign up to our newsletter to save up to 800$ on our unique trips..
See privacy policy .
Koukounaries Beach

This is the best-known beach in Skiathos but this stretch of sand never gets overcrowded even in the summer months. Sail into the bay and alight with fragrant pine trees scenting the air and sands as soft as talc underfoot. Thanks to its paradisiacal appearance, Koukounaries has been voted the most unspoiled natural beach of the Mediterranean. Despite its untouched guise, the beach has good amenities with restaurants and small hotels peppering the shoreline. There are also watersports on offer, a beach bar and sun loungers for rent.
Tsougria Island

Stand beneath the clock tower in Skiathos town and you'll get a clear view of Tsougria Island. It's only a short ride over to this outcrop with the boat ride costing around €10 if you don't have your own vessel and cruises regularly stop there. When you arrive, bask on one of four sandy beaches or hike up the island's rocky ridge where you'll be rewarded by panoramic views of Skiathos and nearby Skopelos. Tsougria is uninhabited but during summer a slickly-styled beach bar opens on the northwest coast.
Kastro Castle

The easiest way to access this 14th-century abandoned castle on the northern tip of Skiathos is by boat from the town. From there it's a strenuous hike upwards. The castle was restored after Greek independence from the Ottomans in the 1830s and has moved location more than once to avoid raids by pirates. The gate and drawbridge give this fortress a fairytale feel, while a mosque and three churches are other attractions that sit on the site. The largest church, Agios Nikolaos, is open to the public.

You may recognise the island of Skopelos as a Mamma Mia filming location. If you think Skiathos is green, wait until you see this place. Set to the east of Skiathos, and accessible by boat in around 80 minutes, more than half of the island is covered by virgin pine forest. Olive and almond trees also grow here, while honey is another local product. If you venture into the main town you'll find a mix of charming tavernas and bars. Or if it's a spot of relaxation you're after, the island's 70km (43mi) of coastline offers tree-lined shingle and sandy beaches including Kastani beach which also served as a Mamma Mia backdrop.
Eat and drink Skopelos
Wander through the narrow cobbled streets of Skopelos town to Rodi, an elegant courtyard restaurant festooned with orange trees and wildflowers. The menu features classic Mediterranean dishes with a twist. Meaty highlights include spiced lamb tagine and pork chops with citrus sauce and caramelised apples. The local cheeses are another must-try and all of the dishes are flavoured with herbs and greens picked from the kitchen garden. After dinner head to Mercurius for a fill of the best cocktails on the island.

Punta Peninsula
With a fine collection of golden beaches, evergreen pine forests and olive groves, this idyllic location is well worth marking on your Skiathos sailing itinerary. The best thing is the Punta peninsula is only a few minutes from Skiathos Town and very close to the airport. Drop anchor at the gorgeous windswept Lazareta beach for a lazy day of sunbathing and swimming with Greek snacks back on board to keep your energy levels up.
Papadiamantis Street

The lively main street in Skiathos old town is the perfect place to let your hair down after a day at sea. Before you decide on where to have dinner, stock up on local delicacies and products to take home from the upmarket Ergon deli which also has outposts in Athens, Thessaloniki and Mayfair, London. Nicos is a limoncello-hued taverna popular with locals and serves delicious grilled seafood. Meanwhile, the best spot for sunset cocktails and a view over the harbour and Aegean sea is The Windmill.
Did you know – Culture Trip now does bookable, small-group trips? Pick from authentic, immersive Epic Trips , compact and action-packed Mini Trips and sparkling, expansive Sailing Trips .
Volcanic Iceland Epic Trip
Meet our local insider.
HOW LONG HAVE YOU BEEN A GUIDE?
What do you love about your job, it's the personal contact, the personal experiences. i love meeting people from all over the world... i really like getting to know everyone and feeling like i'm traveling with a group of friends., what destination is on your travel bucket-list, i have so many places on my list, but i would really lobe to go to africa. i consider myself an "adventure girl" and africa feels like the ultimate adventure.
Every CULTURE TRIP Small-group adventure is led by a Local Insider just like Hanna.
See Our Culture Trips

KEEN TO EXPLORE THE WORLD?
Connect with like-minded people on our premium trips curated by local insiders and with care for the world
Since you are here, we would like to share our vision for the future of travel - and the direction Culture Trip is moving in.
Culture Trip launched in 2011 with a simple yet passionate mission: to inspire people to go beyond their boundaries and experience what makes a place, its people and its culture special and meaningful — and this is still in our DNA today. We are proud that, for more than a decade, millions like you have trusted our award-winning recommendations by people who deeply understand what makes certain places and communities so special.
Increasingly we believe the world needs more meaningful, real-life connections between curious travellers keen to explore the world in a more responsible way. That is why we have intensively curated a collection of premium small-group trips as an invitation to meet and connect with new, like-minded people for once-in-a-lifetime experiences in three categories: Culture Trips, Rail Trips and Private Trips. Our Trips are suitable for both solo travelers, couples and friends who want to explore the world together.
Culture Trips are deeply immersive 5 to 16 days itineraries, that combine authentic local experiences, exciting activities and 4-5* accommodation to look forward to at the end of each day. Our Rail Trips are our most planet-friendly itineraries that invite you to take the scenic route, relax whilst getting under the skin of a destination. Our Private Trips are fully tailored itineraries, curated by our Travel Experts specifically for you, your friends or your family.
We know that many of you worry about the environmental impact of travel and are looking for ways of expanding horizons in ways that do minimal harm - and may even bring benefits. We are committed to go as far as possible in curating our trips with care for the planet. That is why all of our trips are flightless in destination, fully carbon offset - and we have ambitious plans to be net zero in the very near future.

Restaurants
The best restaurants in skiathos, greece.

See & Do
The best things to do in skyros, greece.

The Best Things to Do in Skiathos, Greece

Bars & Cafes
The best bars in skiathos, greece.
Guides & Tips
Reasons why you should visit skiathos, greece.

The Most Beautiful Beaches on Skiathos, Greece
Black Friday Offers on Our Trips
Incredible savings.
Post ID: 1002054013
Sponsored? No
View Payload
Skopelos Tourism
Skopelos Hotels
Skopelos Bed and Breakfast
Skopelos Vacation Rentals
Flights to Skopelos
Skopelos Restaurants
Things to Do in Skopelos
Skopelos Travel Forum
Skopelos Photos
Skopelos Map
All Skopelos Hotels
Skopelos Hotel Deals
Last Minute Hotels in Skopelos
Things to Do
Restaurants
Vacation Rentals
Travel Stories
Rental Cars
Add a Place
Travel Forum
Travelers' Choice
Help Center
Skopelos or Skiathos? - Skopelos Forum
Europe
Greece
Sporades
Skopelos
Skopelos or Skiathos?
United States Forums
Europe Forums
Canada Forums
Asia Forums
Central America Forums
Africa Forums
Caribbean Forums
Mexico Forums
South Pacific Forums
South America Forums
Middle East Forums
Honeymoons and Romance
Business Travel
Train Travel
Traveling With Disabilities
Tripadvisor Support
Solo Travel
Bargain Travel
Timeshares / Vacation Rentals
Sporades forums
Skopelos forum
Hi, I am planning on visiting the islands early September next year but can't decide weather to stay on Skopelos or Skiathos!
Am thinking of staying on Skiathos and going on a day trip over to Skopelos, but how easy is this to do and would it be enough time to see much over there? I really want to see some of the mamma mia film locations! Any advice appreciated : )
Go to Skiathos as there is much more to do there however don't get me wrong Skopelos is lovely but a lot quieter. It's very easy to get across to Skopelos either via ferry or trips. Skiathos really has got something for everyone it was one of my best holidays, I'm sure you won't be disappointed.
Why decide at all, just go and stay on Skopelos for a few days, it's as easy as that. There are plentiful regular ferries/hydofoils/catamarans every day, dead easy.
Assuming you have say 14 nights just book say 4 nights on Skopelos and 10 nights on Skiathos.
I don't do packages but I'm sure there is someone that will one week on each.
One day is just not enough time to see Skopelos or Alonissos, other than a 'been there, done that scenario'.
I have just returned from skiathos and although the town is fab, i was very dissapointed with the beaches.
If you can split your time between the 2, it would be ideal...Skopelos is about 3 times the size of Skiathos so definetely not do-able (properly) in a day trip over..Skopelos has 2 entry ports..the one closest to Skiathos (Glossa) is about a 15 min ride..doesn't get closer (or easier)..some beautiful beaches to be had for sure! From Skopelos Town, the ferry over to Alonissos is again 15 min..another wonderful isle worth visiting:-) The Sporades are super close to each other so getting from one to another won't pose any problems..once you've planted yourself, moving will be the hard part:-) EnjoY!
It all depends on what kind of vacation you want. I went to both this year and thought Skopelos was, by far, the most amazing of the two. Skiathos seems a little more tourist oriented and, although the beaches are beautiful, I found the overall beauty of Skopelos much more pleasurable and varried. The locals, in my experience, were very kind and welcoming. I would recomend staying in skopelos town as there are some options for late night. Sure, Skiathos has all the night clubs but if your looking for a true greek island experience versus a "tourist destination" vacation, stay for a majority of your time in skopelos!
I'd recommend Skopelos but then I would say that as I live here!
It really depends on what type of holiday you want and what type of person you are! Personally I'm not that keen on Skiathos as it's a bit too touristy for me. Skopelos has a more laid back feel (unless you come in August when all the Greek and Italian holidaymakers are here!). As for seeing the Mamma Mia locations, you really need more than a day on Skopelos to be able to get around to them.
If you do want to do both islands you can do it as part of a package but you have to usually do a week on both if you do a package. Manos do it and Olympic I think and I would have thought Thomson do it too. I preferred Skopelos myself as it wasn't as crowded and more unspoilt.
For me it would definitely be Skopelos every time. I really enjoy going on holiday and getting it away from it all and that includes getting away from british/irish pubs/ full english. In skopelos it is very greek and you don't see any english breakfast/ Chelsea v Man Utd / Greek Nights. When you arrive in Skiathos walk around and you will see all of the above within a few minutes.
I know some people enjoy a few home comforts when away so if thats what you want stick with Skiathos.
Thanks everyone, very helpful. I don't want nightclubs or loads of brits, but like somewhere that does have a choice of restraunts to eat at in the evenings. Skopelos does sound more beautiful but does it have many sandy beaches?
Coach/mini bus hire Sep 15, 2023
Getting to Skopelos from the UK in August Sep 10, 2023
Skopelos update ... Sep 10, 2023
Recent Storms Sep 07, 2023
Cashback revolut or atm Sep 03, 2023
Taxi prices on Skopelos Sep 03, 2023
Skopelos to Agios Ioannis Sep 03, 2023
Weather in September? Sep 01, 2023
TUI Holiday to Stopelos Aug 20, 2023
Transport from Glossa port Aug 17, 2023
Skiathos Ferry in Early April? Aug 13, 2023
Ferry to mantoudi for Athens Aug 11, 2023
Villa in Skopelos May 24 - when to book Jul 30, 2023
Supermarkets in Panormos? Jul 29, 2023
transportation from Athens to Skopelos 15 replies
Blue Suites, Panormos Beach, Skopelos 11 replies
From Skopelos to Santorini 14 replies
Volos to Skopelos Car Ferry 14 replies
skopelos town vs. panormos 7 replies
Transfer from Skiathos to Skopelos 2 replies
Skopelos and skiathos hotels 16 replies
Skopelos Nudist Beaches? 8 replies
New Adrina Resort and Spa Hotel 3 replies
Villa Loutraki, Glossa 19 replies
Skopelos Hotels and Places to Stay
Up to date information from Skopelos ...
My Skopelos experience (a bit of a long resd I'm afraid)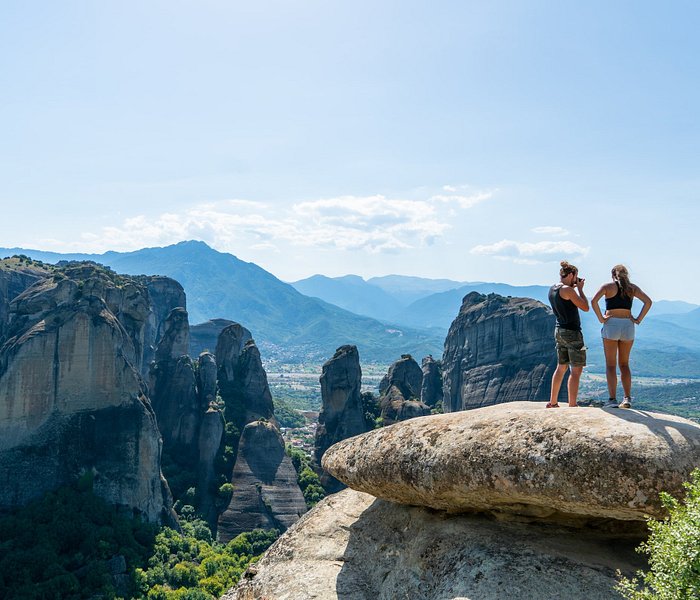 Fax (+30) 2421076900
Mobile (+30) 6976292001
Video Gallery
Summer Picture
Yacht Themis iv
North Evoia
Northen Sporades
Travel Blog
WEATHER & TOURIST INFO
Port Office & Authority
CHARTER AGREEMENT
Specifications Yacht
More Website
Legal Services
Day Trip : South Skiathos - South Skopelos
Day trip south skiathos - south skopelos on "click".
What is a boutique cruise
A boutique cruise is a unique sailing experience that will take you to places you never imagine on a comfortable home-like ship. Boutique cruises take place on small and medium vessels and therefore accommodate only a small limited number of travelers. Therefore, the atmosphere on board is relaxed and the service is exceptional. A boutique cruise ensures a direct connection to nature and maximum proximity to the sea.
History Of Skopelos
This green island, with its tree-studded beaches and secluded bays, may be where Mamma Mia was filmed, but it hasn't let fame go to its head....
Village Of Skopelos
Here your holidays will be painted green and blue. About 80% of Skopelos is covered in dense, luxuriant forest..
Church St.-John
Live Camera
Travel Tips
GDPR Privacy Policy
Your Greek Partner
Can you fly from Skopelos to Santorini?
FAQs about flying from Skopelos to Santorini
1. how long does it take to fly from skopelos to santorini, 2. are there direct flights from skopelos to santorini, 3. what are the transportation options from skiathos to santorini, 4. are there any budget airlines that operate flights between skiathos and santorini, 5. how much does it cost to fly from skopelos to santorini, 6. can i combine a visit to skopelos and santorini in one trip, 7. what are some other transportation options to consider for traveling from skopelos to santorini, 8. is it necessary to book flights and transportation in advance, 9. can i use public transportation to reach skiathos airport from skopelos, 10. are there any luggage restrictions for flights from skiathos to santorini, 11. are there any visa requirements for traveling from skopelos to santorini, 12. can i book a one-way flight from skiathos to santorini.
Yes, you can fly from Skopelos to Santorini, but since Skopelos does not have its own airport, you will need to take a combination of flights and transportation methods to reach your destination. The closest major airport to Skopelos is the Skiathos Airport, which is located on the nearby island of Skiathos. From Skiathos, you can take a ferry or a private boat to reach Santorini. The overall travel time and cost will depend on the availability of flights and transportation options on your chosen dates.
Flying from Skopelos to Santorini involves multiple modes of transportation, so the time it takes will depend on your specific travel arrangements. Generally, it takes around 2-3 hours to reach Skiathos Airport from Skopelos by ferry or private boat. From there, the flight from Skiathos to Santorini usually takes about 1 hour. However, please note that these times are approximate and can vary based on factors such as weather conditions and transportation schedules.
No, there are no direct flights from Skopelos to Santorini due to the lack of an airport on Skopelos Island. You will need to take a ferry or private boat from Skopelos to reach the nearest airport on the nearby island of Skiathos. From Skiathos, you can then catch a flight to Santorini. It is recommended to plan your travel itinerary accordingly and allow sufficient time for transfers between the different modes of transportation.
Once you reach Skiathos Airport from Skopelos, you can choose from several transportation options to reach Santorini. The most common and convenient options are to take a domestic flight from Skiathos Airport to Santorini Airport or to take a ferry from Skiathos Port to Santorini Port. The flight option is faster and takes around 1 hour, while the ferry option takes longer, usually around 4-5 hours depending on the ferry schedule. Private boat charters are also available for a more personalized and flexible travel experience.
Yes, there are budget airlines that operate flights between Skiathos and Santorini, offering more affordable options for travelers. Some popular airlines that fly this route include Olympic Air and Sky Express. However, it is important to note that availability and schedules may vary depending on the season and demand. It is advisable to check with the airlines and book your flights in advance to secure the best fares.
The cost of flying from Skopelos to Santorini can vary depending on the time of year, availability, and the specific travel arrangements you choose. The flight prices from Skiathos to Santorini typically range from $100 to $300, but this can change based on factors such as the airline, class of travel, and how far in advance you book your tickets. Additionally, you should also consider the cost of transportation from Skopelos to Skiathos and any additional expenses for transfers or accommodation during your journey.
Yes, it is possible to combine a visit to Skopelos and Santorini in one trip, especially if you are looking to explore the unique charms of both islands. By flying from Skopelos to Santorini, you can easily include both destinations in your itinerary. After enjoying the picturesque beauty and tranquility of Skopelos, you can fly to Santorini to experience its stunning volcanic landscapes, romantic sunsets, and vibrant atmosphere. It is recommended to plan your travel and allocate sufficient time to fully enjoy the attractions and activities in each destination.
Aside from flying, there are other transportation options to consider for traveling from Skopelos to Santorini. One popular choice is to take a ferry or a private boat from Skopelos to Santorini. While it may take longer compared to flying, this option allows you to enjoy a scenic journey across the Aegean Sea and appreciate the beauty of the Greek islands. Another alternative is to combine a ferry or private boat ride with a domestic flight, which can offer a more diverse and flexible travel experience.
It is highly recommended to book flights and transportation in advance, especially during the peak travel season, to secure the best fares and availability. Skopelos and Santorini are popular tourist destinations, and transportation options can fill up quickly, particularly during the summer months. By booking early, you can also avoid any last-minute stress or complications regarding your travel arrangements. It is advisable to check the schedules and availability of flights and ferries, and make your bookings as soon as your travel plans are confirmed.
Yes, you can use public transportation to reach Skiathos Airport from Skopelos. The most common option is to take a ferry from Skopelos Port to Skiathos Port and then connect to the airport using local buses or taxis. The ferry journey usually takes around 30-40 minutes, and once you arrive at Skiathos Port, you can easily find transportation options to reach the airport, which is located approximately 2 kilometers away. It is advisable to check the ferry and bus schedules in advance to plan your journey accordingly.
Luggage restrictions for flights from Skiathos to Santorini will depend on the specific airline you are traveling with. Each airline has its own set of rules and regulations regarding baggage allowances and restrictions. It is advisable to check with the airline directly or refer to their website for the most up-to-date information on baggage policies. It is important to comply with these restrictions to avoid any additional fees or inconvenience during your journey.
As both Skopelos and Santorini are part of Greece, if you are a citizen of a country that requires a visa to enter Greece, you will need to ensure that you have the appropriate visa before traveling. The visa requirements can vary depending on your nationality and the duration of your stay in Greece. It is advisable to check with the Greek Embassy or Consulate in your home country to determine the specific visa requirements and procedures. It is important to handle all necessary visa arrangements well in advance of your intended travel dates.
Yes, it is possible to book a one-way flight from Skiathos to Santorini. Many airlines offer both one-way and round-trip flight options between these destinations. Whether you are planning a one-way journey or considering a round-trip ticket, it is advisable to compare prices and check for any special offers or promotions that may be available. Booking a one-way flight can provide more flexibility if you have separate travel plans or if you are exploring multiple destinations in Greece.
About The Author
Kingsley asante, leave a comment cancel reply.
Your email address will not be published. Required fields are marked *
Save my name, email, and website in this browser for the next time I comment.
Plan a Road Trip
Plan a Flight
Find an Airport
Where to Stay
All Questions

Where's the best place to eat in Moscow?
Need some recommendations on somewhere to get food?
Trippy members suggest Pushkin Cafe , which was mentioned 4 times.
Want to research more popular restaurants in Moscow? Click the blue button below.
What are some things to do in Moscow?
This section could be endless, so rather than trying to suggest every local activity or attraction, we'll leave it open-ended.
These are some of the places people talk about on Trippy:
Of course, Trippy is the perfect place to ask questions because there's an entire community of travelers talking to each other and sharing tips and advice. Trippy is where you can get answers personalized for your tastes, budgets, trip dates & more!
For example, here are some questions people have asked about Moscow. Click on any question to see answers from the community!

Click the button below to explore more questions and answers related to Moscow.
Do I really have to go back home?
Yes, even this step is optional, because if you're on vacation who wants the trip to end? It's okay, you can start planning your next trip!
Want to plan the trip back? Get the reverse directions for a Moscow to Elektrostal drive , or go to the main page to plan a new road trip .
Looking for ideas for more destinations within driving distance of Elektrostal? Try searching for places within 1 hour of Elektrostal .
You can also compare the travel time if you're flying or driving by calculating the distance from Elektrostal to Moscow . Or get a full Elektrostal to Moscow flight plan .
Don't forget about exploring your own hometown with a staycation. You can also find some cool day trips or get away for a weekend.
And if you know Elektrostal well, please help your fellow travelers and answer their questions about Elektrostal!
More info on this route:
road conditions from Elektrostal to Moscow
places to eat
alternate routes
Google driving directions
Find company research, competitor information, contact details & financial data for !company_name! of !company_city_state!. Get the latest business insights from Dun & Bradstreet.
/ BUSINESS DIRECTORY
/ ARTS, ENTERTAINMENT, AND RECREATION
/ PERFORMING ARTS, SPECTATOR SPORTS, AND RELATED INDUSTRIES
/ SPECTATOR SPORTS
/ RUSSIAN FEDERATION
/ MOSCOW REGION
/ ELEKTROSTAL
/ KSK KRISTALL, ANO
Ilya Olegovich Kabanov Director
Dynamic search and list-building capabilities
Real-time trigger alerts
Comprehensive company profiles
Valuable research and technology reports
All Ski Resorts
Best Ski Resorts & Test Reports
Snow Reports
Accommodations
Novo-Peredelkino – Moscow
Test winners
Ski resort lies in multiple regions Novo-Peredelkino – Moscow
This ski resort is also located in:
Eastern Europe ,
Largest ski resorts
Most ski lifts
Biggest elevation difference
Highest ski resorts
Highest base stations
Most inexpensive ski resorts
Glacier ski resorts
Indoor ski areas
Piste maps/trail maps
Ski resort size
Slope offering
Snow reliability
Slope grooming
Accessibility, parking
Orientation
Cleanliness
Environmental friendliness
Friendliness
Accommodation offering
Families/children
Advanced skiers, freeriders
Cross-country skiing, trails
Open slopes
Open ski lifts
Mountain snow depth
Base snow depth
Season begin
Ski weather
Live streams
8 pers. chairlifts
6 pers. chairlifts
Gondola lifts for 8+ pers.
Combined installation
Tricable ropeway
Aerial tramway/ Reversible ropeway
Cog railways
1 pers. chairlifts
Moving carpets
Val Gardena
Val di Fiemme
Val di Sole
Weather day after tomorrow Novo-Peredelkino – Moscow (ski weather day after tomorrow)
Weather report day after tomorrow for the ski resort novo-peredelkino – moscow.
Friday, 17. November 2023
Weather report
Low priced accommodations/hotels
Holiday apartments
Guest houses
Holiday homes
Plane & Train
Driving map
Weather forecast day after tomorrow Novo-Peredelkino – Moscow (mountain weather day after tomorrow)
Day after tomorrow, friday, 17. november 2023.
Feedback/changes to Skiresort.info
URL being transmitted: https://www.skiresort.info/ski-resort/novo-peredelkino-moscow/weather/day-after-tomorrow/
Accommodation
Legal notice
Advertisement on Skiresort.info
Australia edition
International edition
Europe edition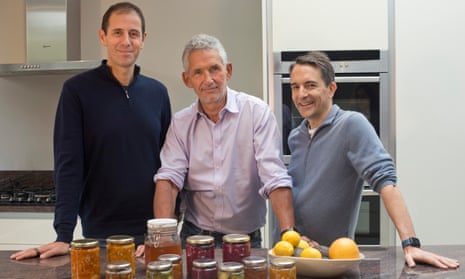 'I was overeating': the Zoe nutrition app founders on diet, raising millions and the perfect microbiome
The geneticist, tech specialist and engineer who set up the company aim to improve the health of millions – and maybe one day even make a profit
Tim Spector, professor of genetics and co-founder of the Zoe personal nutrition company, is recovering from a mild illness when the Observer meets him and the firm's other founders.
"People expect Tim to have the immune system of perfection," jokes co-founder and chief executive Jonathan Wolf, "but even he, with his almost perfect microbiome, occasionally gets sick."
Since its launch in April 2022, more than 130,000 people have signed up to Zoe's personalised nutrition programme, which aims to improve gut and metabolic health. Spector is a familiar figure on TV and radio, and through his books The Diet Myth and Spoon-Fed .
Zoe customers can be spotted by the circular yellow arm patch that means they are wearing a blood sugar sensor. Carrie Johnson, wife of former prime minister Boris Johnson, recently revealed on Instagram that she had signed up. Television presenter Davina McCall is one of its biggest advocates.
Zoe ("life" in Greek), gives personalised advice via an app on what users should eat, based on the results of gut health and blood fat tests and 14 days of blood sugar monitoring, all done at home and sent off to a lab.
Spector does not believe in miracle diets . But he has faith in the microbiome – the trillions of bacteria, viruses and fungi living in our gut – which as well as digesting food also play a vital role in regulating our immune system and our brain chemistry. "We've now realised that food is the most important choice individuals can make for their health," he says.
Born in north London, he trained as a doctor, then became professor of genetic epidemiology at King's College London . In 1992, he set up a registry of 15,000 adult twins at St Thomas' hospital in London, and his TwinsUK and Predict studies have shown that even genetically identical people respond to foods very differently.
He had his first eureka moment in 2012 during the twin study when he looked for factors that would explain why some had different diseases. "It was only when I tested the microbiome, that was the first thing I've ever found that was radically different between identical twins."
He had another "aha" moment on a skiing trip , after suffering a mini-stroke that left him unwell for three months. He reassessed what he knew about healthy eating.
"I was moving away from being an epidemiologist, studying populations, to wanting to give individuals precise advice. And that first individual was me."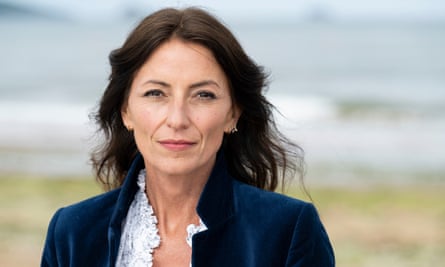 Spector discovered that his high-carb breakfast of muesli with low-fat milk and orange juice was "super unhealthy for me: it left me drained, tired and probably made me hungrier. So I was overeating, which meant I slowly gained a kilo a year."
These days, he does not eat until 11am, when he has kefir and full-fat yoghurt with berries, nuts and seeds, with a plant-based meal such as curry for lunch.
Wolf studied physics at Oxford and spent 20 years working for tech companies. He gained experience in artificial intelligence in his previous job as chief product officer at Criteo, one of Europe's biggest tech firms. He says he overcame food intolerances by ditching highly processed carbs and switching to a plant- and fibre-rich diet. "At breakfast, I'm hungry, so yoghurt and nuts is not enough. I still have some bread, but I have rye bread and I often have avocado as well."
The third co-founder, and Zoe president, is George Hadjigeorgiou, an engineer from Greece. He set up the largest online food takeaway company in Greece, e-food.gr, which was sold to Germany's Delivery Hero in 2015. He had high cholesterol but cut it by 40% by switching to berries, nuts and seeds, fish, pulses and extra virgin olive oil that he brings from Crete every year.
He and Wolf had worked together at Yahoo. After hearing a public talk by Spector about the twins study, they decided to put together a personalised nutrition business pitch.
"I said we really needed to do a big science project to prove this," recounts Spector. "And you guys are gonna go and raise several million for this to happen. I really wasn't sure whether I'd see them again."
But they raised €7m of seed money and Zoe was born in 2017. Then came Covid. The trio decided to pause the project in March 2020 and launched a Covid symptom tracker app, which went on to have more than 4 million users .
"It really proved that if you could get millions of people to participate in science at home, you can do better science than has ever been done in laboratories," says Wolf.
Spector's five top nutrition tips include eating a plant-rich diet, fasting overnight and reducing ultra-processed foods – from 60% in the UK to close to the 15% in Mediterranean countries.
A decade ago, his son Tom, then a student at Aberystwyth University, volunteered, as an experiment, to eat just McDonald's food for 10 days . Tom reported feeling good for three days, but then became lethargic and unwell. While he didn't gain weight, Spector says, "what was really worrying was that he lost about 30% of his microbial species, and even now, his microbiome is below average".
Zoe has identified almost 5,000 never-before-seen gut bacteria. Of those, 100 were strongly associated with health across all 35,000 participants – 50 good and 50 bad. This feeds into the app and members' personalised scores will be updated over time.
Some doctors have reportedly said that personalised nutrition apps can cause healthy people unnecessary worry. Zoe says it "delivers evidence-based advice and a clinically validated personalised nutrition programme designed to improve health".
The company will this week release the results of its recent Method study , showing that people who followed Zoe's personalised programme for 18 weeks saw improvements compared with a group receiving standard dietary advice. The Zoe group lost weight and had healthier body composition , improved blood fats and a better gut microbiome.
Critics had said earlier that the trial was flawed because people knew which group they were in. Among those critics are Deborah Cohen, former Newsnight health editor, and Margaret McCartney, a GP and writer, who wrote on UnHerd : "Zoe is only one of hundreds of apps that measure our biometrics in this age of the quantified self. But … are these promises of personalised advice based on sound medicine?"
A recent surge in demand means new Zoe users have to wait several weeks for their testing kit. It has so far attracted $101m in investment from several venture capital firms, Dragons' Den's Steven Bartlett, and NFL champions Eli Manning and Ositadimma "Osi" Umenyiora.
Results filed with Companies House show Zoe made a pre-tax loss of £10.5m in the year to the end of August 2022, up from £7.9m the year before, despite a jump in revenue to £5.9m from £1.8m, as distribution and salesforce costs also surged.
Joining the programme is not cheap: a starter kit costs £299.99 and membership starts at £24.99 a month. The company says the price will come down as lab testing gets cheaper, and in the meantime it provides free health advice through podcasts. It also hopes to work with the NHS in future and says its member database is anonymised. And data is also not shared with health insurers.
"We know from our Covid discussions how painful it is to get anything agreed in the NHS, but the three of us would love the NHS to adopt the Zoe programmes in some form or another," Spector says.
Tim Spector
Family Married with two children.
Education University College School, London; St Bartholomew's hospital medical school, London.
Last holiday Istria, Croatia.
Best advice he's been given "Ensure you enjoy what you're doing, otherwise life will be boring."
Biggest career mistake "I applied for very bad jobs, but luckily never got them."
Words he overuses "Marvellous" and "complete rubbish".
How he relaxes Sports, cooking, red wine and meditation.
Jonathan Wolf
Education Physics at Oxford University.
Last holiday Italy.
Best advice he's been given "Do something you love."
Biggest career mistake "Joining a dotcom firm in March 2000, on the day the Nasdaq bubble popped. At the time it was worth billions, and eight months later I was laid off."
Words he overuse s "Amazing", "actionable advice".
How he relaxes "I am known across the company for my need for a nice cup of tea at frequent intervals."
George Hadjigeorgiou
Education Anatolia College, Greece. Studied mechanical engineering at Tufts University, Boston, and Massachusetts Institute of Technology.
Last holiday Skopelos, Greece.
Best advice he's been given "Truth is the beginning of beautiful outcomes."
Biggest career mistake "Working for big companies longer than I should have."
Words he overuses "Focus", "orthogonal", "double-click".
How he relaxes "Going to a musical with my family, tennis, karaoke – if one can bear my terrible singing."
Food & drink industry
Observer business profile
Diets and dieting
Most viewed