Places the U.S. Government Warns Not to Travel Right Now
You may want to reconsider traveling to these countries right now.
Do Not Travel to These Countries
Crime, civil unrest and terrorism are common risk factors for countries that end up on the State Department's "Do Not Travel" advisory list. (Getty Images)
Global conflicts and climate crises , ranging from a series of coups across Africa to earthquakes and floods in catastrophe-prone countries, have affected international travel patterns in recent months.
Still, international tourist arrivals could reach 80% to 95% of pre-pandemic levels in 2023, according to the World Tourism Organization . But some destinations warrant more caution than others.
On Oct. 19, following the outbreak of war between Israel and Gaza and flaring tensions in the region, the U.S. State Department issued a worldwide caution advisory due to "increased tensions in various locations around the world, the potential for terrorist attacks, demonstrations or violent actions against U.S. citizens and interests." Prior to this update, the most recent worldwide caution advisory was issued in 2022 after a U.S. strike killed Ayman al-Zawahiri, Osama bin Laden's successor as leader of Al Qaeda, causing "a higher potential for anti-American violence."
The U.S. State Department issues travel advisory levels for more than 200 countries globally, continually updating them based on a variety of risk indicators such as health, terrorism and civil unrest. Travel advisory levels range from Level 1, which means exercise normal precautions, to Level 4, which means do not travel there.
About 10% of countries – 21 total – have a Level 4: "Do Not Travel" advisory as of Oct. 23. In Level 4 countries, the U.S. government may have "very limited ability" to step in should travelers' safety or security be at risk, according to the State Department. Crime, civil unrest, kidnapping and terrorism are common risk factors associated with Level 4 countries.
In the last two months, the State Department updated the Level 4 advisories for Russia, Gaza, Iraq, certain states in Mexico and Lebanon.
Places With a Level 4 Travel Advisory
These are the primary areas the U.S. government says not to travel to right now, in alphabetical order:
Jump to Place: Afghanistan Belarus Burkina Faso Central African Republic Myanmar (formerly Burma) Gaza Haiti Iran Iraq Libya Mali Mexico Niger North Korea (Democratic People's Republic of Korea) Russia Somalia South Sudan Sudan Syria Ukraine Venezuela Yemen
Afghanistan The Central Asian country is wrestling with "armed conflict, civil unrest, crime, terrorism, and kidnapping," according to the State Department. U.S. citizens are specifically at risk for violence or kidnapping. In December 2022, the government reinstituted public floggings and executions, and women's rights are disappearing under Taliban control. The U.S. Embassy in Kabul halted operations in August 2021. In the two years since the Taliban took control, many forms of international aid have been halted . Meanwhile, in October of 2023, some of this year's deadliest earthquakes killed more than 2,400 in Afghanistan while the country continues to face a years-long extreme drought.
Belarus: Belarus, which shares a western border with Russia and a southern border with Ukraine, has been flagged for "Belarusian authorities' continued facilitation of Russia's war against Ukraine, the buildup of Russian military forces in Belarus, the arbitrary enforcement of local laws, the potential of civil unrest, the risk of detention, and the Embassy's limited ability to assist U.S. citizens residing in or traveling to Belarus." The U.S. Embassy in Minsk halted operations in February 2022.
Burkina Faso: Terrorism, crime and kidnapping are plaguing this West African nation. Terrorist attacks may target hotels, restaurants and schools with little to no warning, and the East and Sahel regions of the country are under a state of emergency.
Central African Republic: While there have not been specific incidents of U.S. citizens targeted with violence or crime, violent crime and sudden closure of roads and borders is common. The advisory states that "Embassy Bangui's limited capacity to provide support to U.S. citizens, crime, civil unrest, and kidnapping" is a factor in its assessment. Recent data from UNICEF suggests the country has the worst drinking water accessibility of all countries in 2022.
Myanmar (Formerly Burma): Armed conflict and civil unrest are the primary reasons to not travel to this Southeast Asian country, which experienced a military coup in early 2021. COVID-19 restrictions, limited health care resources, wrongful detentions and "areas with land mines and unexploded ordnance" are also listed as risk factors.
Gaza : Hamas, a foreign terrorist organization as designated by the State Department, controls much of the Gaza Strip, which shares borders with both Israel and Egypt. On Oct. 7, Hamas fighters broke across the border into Israel, killing hundreds of civilians and soldiers in a brazen attack that stunned Israelis. On Oct. 10, Israel hit the Gaza Strip with "the fiercest air strikes in its 75-year conflict" according to Reuters , and rescuers say they've been hindered by additional attacks and a dwindling fuel supply. Nearly one tenth of Gaza's population, close to 200,000 people, have been displaced from their homes as they prepare for shortages of water, electricity and medical supplies. The State Department warns of terrorism, civil unrest and armed conflict within Gaza's borders.
Haiti: In July, the Department of State ordered all non-emergency U.S. government personnel and family members to leave the U.S. Embassy in Port-au-Prince in response to the increased risk of kidnapping and violent crime in the country , as well as armed conflict between gangs and police. That month, a U.S. nurse and her child were abducted near Port-au-Prince, according to the aid organization where she worked. The travel advisory states that cases of kidnapping "often involve ransom negotiations and U.S. citizen victims have been physically harmed during kidnappings." The travel advisory states that "U.S. citizens in Haiti should depart Haiti as soon as possible … in light of the current security situation and infrastructure challenges." A series of gang attacks in late September in the country's central department caused thousands to flee their homes amid escalating violence.
Iran: Kidnapping and wrongful detentions are risk factors for all travelers to Iran, while U.S. citizens are specifically at risk for "arbitrary arrest and detention." U.S.-Iranian nationals such as students, journalists and business travelers have been arrested on charges of espionage and threatening national security. Executions in Iran rose sharply between 2021 and 2022, bringing the country's total to nearly 580 people over the year, according to a recent report by Amnesty International.
Iraq: The State Department cites "terrorism, kidnapping, armed conflict [and] civil unrest" as cause for the country's Level 4 distinction. Iraq's northern borders, and its border with Syria, are especially dangerous. Since the escalation of conflict in neighboring Israel, there has been an increase in attacks against Iraqi military bases, which host U.S. troops and other international forces. On Oct. 20, non-emergency U.S. government personnel and eligible family members were ordered to leave the U.S. embassy in Baghdad.
Lebanon: Sitting on the Mediterranean Sea, Lebanon shares its northern border with Syria and its southern border with Israel, placing it in a region currently wrought with conflict . Following the outbreak of the Israel-Hamas war in early October, Lebanon was moved from a Level 3 to a Level 4 travel advisory level due to "the unpredictable security situation related to rocket, missile, and artillery exchanges" between Israel and Hezbollah or other militant groups. Family members of U.S. government personnel and non-emergency personnel have been authorized to leave the country, and the advisory states that the U.S. Embassy in Beirut has "limited capacity to provide support to U.S. citizens." The country's borders with Syria and with Israel, as well as refugee settlements within Lebanon, are specifically noted as Level 4 regions.
Libya: Following the end of its dictatorship over a decade ago, Libya has been wrought with internal conflict between armed groups in the East and West. Armed conflict, civil unrest, crime, kidnapping and terrorism are all risk factors. U.S. citizens have been targets of kidnapping for ransom, with terrorists targeting hotels and airports frequented by Westerners. The U.S. Embassy in Tripoli halted operations in 2014. In mid-September, floods, which some say were intensified by climate change , killed thousands in eastern Libya. Clashes between armed factions have escalated across the country in the last several months, including in the capital city of Tripoli and in Benghazi, which as of mid-October was under a communications blackout that authorities attribute to a broken cable.
Mali: After experiencing a military coup in 2020, crime, terrorism and kidnapping are all prevalent threats in this West African landlocked nation. In July 2022, non-emergency U.S. government employees and their families were ordered to leave the country due to higher risk of terrorist activity. A U.N. report in August said that military groups in the country, including both Mali security forces and possibly Russian Wagner mercenaries, were spreading terror through the use of violence against women and human rights abuses. Democratic elections were supposed to occur in February 2024, but Mali's military junta postponed the plans indefinitely. On Oct. 3, Reuters reported that the country "is in meltdown" and at-risk of civil war.
Mexico: Each state in Mexico is assessed separately for travel advisory levels. Six of the 32 states in Mexico are designated as Level 4: Colima, Guerrero, Michoacan, Sinaloa, Tamaulipas and Zacatecas. Crime and kidnapping are listed as the primary risk factors throughout the country. Nearly 112,000 people are currently missing across the country, a number the U.N. has called "alarming."
Niger: In early August, the country's travel advisory status was changed from Level 3 to Level 4 following an attempted coup, and the Department of State ordered all non-emergency U.S. government personnel and family members to leave the U.S. Embassy in Niamey. In late July, soldiers led by General Abdourahmane Tiani, the former head of President Mohamed Bazoum's national guard, detained Bazoum in the presidential residence in Niamey and announced that they had taken control of the country. In response, the World Bank has paused payments to Niger, the U.S. and the European Union have cut off aid, and neighboring Nigeria has cut power supply to Niger. The Economic Community of West African States, a regional bloc of 15 countries in West Africa, has threatened military action and imposed its own stringent sanctions on the country. In mid-September, France's ambassador to the country was being held hostage in the French embassy by a military junta, and while he has since returned to Paris , France quickly withdrew troops from Niger. While America has not announced plans to withdraw their own troops, in October, the U.S. suspended counterterrorism assistance, military training and foreign assistance programs in Niger, all a result of officially declaring the country's recent events a coup d'etat.
North Korea (Democratic People's Republic of Korea): U.S. passports are not valid for travel "to, in, or through" this country, home to one of the world's longest-running dynastic dictatorships. The travel advisory states that the Level 4 distinction is due to "the continuing serious risk of arrest and long-term detention of U.S. nationals." In July, a U.S. soldier fled across the border into North Korea, where he is believed to be in North Korean custody, the first American detained in the North in nearly five years.
Russia: The travel advisory for Russia cites its invasion of Ukraine , harassment of U.S. citizens by Russian government officials and arbitrary law enforcement as a few of the reasons for the Level 4 designation. Chechnya and Mount Elbrus are specifically listed as Level 4 regions. Terrorism, civil unrest, health, kidnapping and wrongful detention are all noted as risks.
Russia Invades Ukraine: A Timeline
Somalia: A severe drought resulting from five failed rainy seasons in a row killed 43,000 people last year, and caused an ongoing famine amid conflict with Islamist insurgents . Violent crime is common throughout Somalia , pirates frequent its coast off the Horn of Africa, and medical facilities, where they exist, have limited capacity. Crime, terrorism, civil unrest, health and kidnapping are all risk factors. In September, the European Union announced that aid to the country, meant to help it mitigate widespread famine, would be halted after a U.N. probe found theft and misuse in the system.
South Sudan: Several journalists with state-run South Sudan Broadcasting Corporation were detained in January for releasing footage of President Salva Kiir, who has been in power since the country separated from Sudan in 2011. Crime, kidnapping and armed conflict are the primary risk factors, with violent crime common throughout the country. Weapons are readily available, and travelers have been victims of sexual assault and armed robbery.
Sudan: The U.S. evacuated its embassy in Khartoum in April 2023, and the country closed its airspace due to the ongoing conflict in the country, only permitting humanitarian aid and evacuation efforts. Fighting has escalated in the region between two warring generals seeking to gain control after a military coup in 2021 ousted the country's prime minister. Civil unrest is the primary risk factor for Africa's third largest country by area. Crime, terrorism, kidnapping and armed conflict are also noted. The International Criminal Court is investigating alleged war crimes and violence against African ethnic groups in the country. Millions have fled their homes due to conflict, and the U.N. has said its efforts to provide aid have been hindered by a lack of support, safety and resources.
Syria: The advisory states that "No part of Syria is safe from violence," with terrorism, civil unrest, kidnapping, armed conflict and risk of unjust detention all potential risk factors. U.S. citizens are often a target for kidnappings and detention. The U.S. Embassy in Damascus halted operations in 2012.
Ukraine: Russian setbacks in their invasion of Ukraine have buoyed hopes in the country for 2023. However, Ukraine is a Level 4 country due to "Russia's full-scale invasion," with crime and civil unrest also noted as risk factors. The Ukrainian government declared a state of emergency in February 2022.
Venezuela: Human rights abuses and lack of health care plague this South American nation, which has been in a political crisis since 2014. In 2019, diplomatic personnel were withdrawn from the U.S. Embassy in Caracas. Threats in the country include crime, civil unrest, kidnapping, wrongful detention and poor health infrastructure.
Yemen: Six of the nine risk factors defined by the State Department – terrorism, civil unrest, health risks, kidnapping, armed conflict and landmines – are all present in Yemen. Despite private companies offering tourist visits to the Yemeni island of Socotra, the U.S. government argues those arranging such visits "are putting tourists in danger." Civil war and cholera are also both present throughout the country. The U.S. Embassy in Sanaa halted operations in 2015. The country has experienced a relative lull in the civil war fighting, but as peace negotiations have gotten traction, flare ups in the fighting have jeopardized progress.
Other Countries to Watch Since August 1, the State Department has updated travel advisories for 18 different countries, adding information about specific regions or risk factors, or simply renewing an existing advisory. Travel advisory levels can change based on several factors in a nation, such as increased civil unrest, policies that affect human rights or higher risks of unlawful detention.
The State Department has given about 20 countries an assessment of Level 3, meaning it recommends people "reconsider travel" to those destinations.
On Oct. 14, one week after the deadly Hamas attack on Israel, Israel and the West Bank were both moved from Level 2 to Level 3. A travel advisory for the region updated on Oct. 19 states that U.S. citizens wishing to leave Israel should take advantage of charter flights leaving Ben Gurion Airport, as commercial options are limited. It also noted that some U.S. citizens had successfully left the West Bank and Israel through border crossings with Jordan, and that the U.S. government was working on "potential options" to allow U.S. citizens to leave Gaza.
China became a Level 3 country in late 2020, and remains at that level due to "the surge in COVID-19 cases, arbitrary enforcement of local laws, and COVID-19-related restrictions," according to an update in December. In late June, the Hong Kong Special Administrative Region (SAR) was moved from the Level 3 to the Level 2 list, but travelers are still advised to be cautious in the area due to "arbitrary enforcement of local laws."
Several Level 3 countries are among the worst countries for human trafficking, as designated by the State Department's annual Trafficking in Persons Report . Level 3 countries on this list include Papua New Guinea, Guinea Bissau, China and Chad. There are also nine Level 4 countries designated as among the worst for human trafficking: Afghanistan, Belarus, Iran, Myanmar, North Korea, Russia, Syria, South Sudan and Venezuela.
Over 70 countries are currently at Level 2, meaning the State Department recommends travelers "exercise increased caution" when traveling to those destinations.
Sweden is designated a Level 2 country, with terrorism noted as the primary risk factor in the country. France, which has seen nationwide protests throughout 2023, has civil unrest and terrorism noted as risk factors for its Level 2 status.
In September, Gabon was added to the Level 2 list for civil unrest after having been Level 1. The month prior, a coup in Gabon ousted President Ali Bongo Ondimba, who had been in power since 2009, just minutes after it was announced he had been elected for another term. Within the week, the military junta swore in Gen. Brice Clotaire Oligui Nguema – the former leader's cousin and head of the republican guard – as the country's head of state. The African Union suspended the country's membership shortly after the coup, and the former president remains under house arrest. The cities of Libreville and Port Gentil are specifically noted for risk of crime, and some areas have a nighttime curfew in effect.
In June, Peru was newly designated Level 2 after having been Level 3 for the last several months. The Ambassador of Peru to the U.S. says the update "underscores the safe and stable reality we see on the ground in Peru." Peru had been designated Level 3 while the country experienced a period of political unrest , following the impeachment and detention of a recently elected president in December.
Bangladesh 's Level 2 travel advisory was updated in October to add a note about the country's upcoming general election, expected to take place by January 2024. The advisory states "demonstrations intended to be peaceful can turn confrontational and escalate into violence."
The State Department asks travelers to pay attention to travel advisory levels and alerts , review country information pages for their destinations and read related country security reports before going abroad.
Join the Conversation
Tags: Russia , Ukraine , Travel , Coronavirus , Travel Tips , Israel , Gaza , violence , Civil War , crime , kidnapping
Recent Articles
Best countries.
Best Countries Rankings
# 1 Switzerland
# 5 Australia
# 5 United States
Health News Bulletin
Stay informed daily on the latest news and advice on health and COVID-19 from the editors at U.S. News & World Report.
You May Also Like
Switzerland is world's best country.
The nation retained its top ranking while the United States slipped for the first time in five years.
Julia Haines Sept. 6, 2023
Photos: Best Countries Around the World
From Canada to Vietnam: Scenes from nations examined in U.S. News' Best Countries 2023 report.
Sept. 6, 2023
The 25 Best Countries in the World
These countries shine the brightest among the many assessed in a global survey.
Elliott Davis Jr. Sept. 6, 2023
Israel Raids Gaza's Al Shifa Hospital, Urges Hamas to Surrender
Reuters Nov. 14, 2023
Cuba Blames US Sanctions for Fomenting Irregular Migration Amid Exodus
An official website of the United States government
Here's how you know
Official websites use .gov A .gov website belongs to an official government organization in the United States.
Secure .gov websites use HTTPS A lock ( Lock A locked padlock ) or https:// means you've safely connected to the .gov website. Share sensitive information only on official, secure websites.
Travel Alerts
Below are travel alerts and airport wait times from the Department of Homeland Security and other federal agencies.
Airport Security Checkpoint Wait Times from TSA
Airport Wait Times  from U.S. Customs and Border Protection (CBP)
Current International Travel Warnings from the Department of State
Health Alerts from the Centers for Disease Control and Prevention
Transportation Security Administration (TSA)

Daily Voice Suffolk County MA
Jewel Thieves Target Elderly In Merrimack Valley: Police
Posted: November 14, 2023 | Last updated: November 14, 2023
Police are warning six communities in the Merrimack Valley to keep an eye out for a man and woman who they say are targeting the elderly of their jewelry.
Officials warned residents in Lowell, Tyngsborough, Chelmsford, Dracut, Billerica, and Tewksbury that the couple travel together and call people over to their car "to speak to them in a friendly and engaging manner," a post issued by the Middlesex District Attorney's Office said.
Police have not released the number of thefts.
"They are known to offer and place fake jewelry on victims," the alert reads. "While placing the fake jewelry, they will attempt to steal the jewelry belonging to and worn by the victims, sometimes in a violent nature, and then drive away."
Officials did not describe the man and woman but warned residents not to go up and speak with strangers, even if they appear friendly. 
"If you are walking alone in these communities, especially if you are elderly, try to keep your jewelry hidden," officials said. "If you are approached by someone suspicious or believe you see the suspects in the area, please call your local police department."
Related stories:
Missing Haverhill Man Vanished After Getting Into Unknown Truck: Police
DUI Arrest: Massachusetts Man Nabbed After Driving Past Cops In CT, Police Say
More for You
Supreme Court Delivers Blow to Vaccine Skeptics
Jennifer Hudson, Chance the Rapper and Quincy Jones Teaming Up to Reopen Chicago's Ramova Theatre (EXCLUSIVE)
A new COVID variant, HV.1, is now dominant. These are its most common symptoms
Winter Storm Warning Snow Totals Depend On Where You Live
Tower block at risk of collapse as residents told to evacuate immediately
IRS Increases Gift and Estate Tax Exempt Limits — Here's How Much You Can Give Without Paying
Judge Chutkan Just Shut Down Trump's 'Mischief'—Ex-Prosecutor
Female pool player Lynne Pinches refuses to play transgender opponent and walks off
Here's why people aren't buying EVs in spite of price cuts and tax breaks.
17 Polite Habits Most People Secretly Dislike
Forget the gloom of the 1970s—UBS thinks the U.S. economy is headed back to a Clinton-like era of the bustling 1990s
It's Official: This Map Shows America's Top Thanksgiving Pies in Every State
Congress just found the dumbest way to avoid a government shutdown
GP surgery blunder led to healthy 28-year-old being given fatal AstraZeneca Covid jab
Nuclear Attack Worst-Case Scenario Would See 90% of Americans Wiped Out
Professor who praised Hamas 'resistance fighters' on gliders no longer employed by Emory University
McDonald's fires 18 people after BBC investigation
These Inviting Colors Will Make You Want to Paint Your Bedroom Right Now
The Georgia district attorney who charged Trump expects his trial to be underway over Election Day
30 Thanksgiving Punch Recipes Perfect For Everyone In Your Thanksgiving Crowd
Police said pedestrian was in travel lanes near I-15, Charleston when struck by vehicles
LAS VEGAS (KTNV) — Nevada State Police said a pedestrian was struck by multiple vehicles early in the morning on Halloween.
Police said the crash happened at I-15 northbound, south of the Charleston Boulevard northbound off-ramp.
Preliminary information known to police indicates that a pedestrian was walking in the travel lanes in the area and then was struck by multiple vehicles.
Police said the pedestrian was pronounced deceased at the scene.
"The identity of the pedestrian will be released by the Clark County Coroner's Office following notification to the next of kin," police said. "This is an ongoing investigation that is being conducted by the Nevada State Police Highway Patrol Southern Command Multidisciplinary Investigation & Reconstruction Team."
The fatality marks the Nevada State Police Highway Patrol – Southern Command's 61st fatal crash, according to police, resulting in 74 fatalities for 2023.
On the day of the crash , police asked for witnesses with additional details regarding the crash. Anyone with information is invited to call (702) 486-4100.
Report a typo
HOW TO WATCH

Impacts highlighted as part of the red warning is a danger to life from flood water, extensive flooding to homes and businesses and severely disrupted travel conditions. This is the first Red warning for rain issued in the UK since Storm Dennis in February 2020.
A wider Amber warning for rain is also in force from early Thursday to late on Friday for eastern and central parts of Scotland. Within this area, 70-100mm of rain is likely quite widely, with some upland areas possibly seeing 150-200mm of rain through the period.
Strong winds from an easterly direction have also resulted in an Amber wind warning being issued for eastern parts of Scotland. Gusts in excess of 70mph are likely on Thursday, with particularly poor conditions on immediate coastlines.
A number of weather warnings are in force for Storm Babet, with heavy rain also likely for Northern Ireland, as well as large parts of England and Scotland.
Jason continued: "Storm Babet will track gradually northwards in the coming days, and although the most significant impacts are expected within the Red and Amber warning areas, there will still be wider impacts for much of the UK from this wind and rain."
Some heavy rain is also likely for parts of south and southeast England on Friday, associated with a second area of low pressure arriving from the south. In excess of 50mm of rain is possible in some spots.
Be prepared for potential flooding
David Morgan, Flood Duty Manager for the Scottish Environment Protection Agency (SEPA), said: "Storm Babet will bring heavy rain and high winds across Scotland from Wednesday evening, starting in the southwest before moving across to the northeast through Thursday and into the weekend.
"Impacts from surface water and rivers are likely, and with catchments saturated from recent heavy rain and flooding, we're urging people to be prepared for potential flooding. There is also concern that surface-water flooding may be exacerbated by debris blocking drainage, culverts, etc. as a result of the high winds.
"Flood Alerts and Warnings will be issued as required, and we continue to work with the Met Office to monitor the situation 24/7. People can check our  Flood Updates  for all the latest information and the  three-day Scottish Flood Forecast  to see what conditions are expected further ahead.
"If you live or work in an area that could be affected, consider any steps you need to take now to be prepared and stay safe, and to take extra care if you need to travel.
"If you have not already signed up to  Floodline , you can do so now to receive free updates for where you live, or travel through, directly to your phone. Follow SEPA's social media, especially @SEPAflood on X for the latest information."
Landslides possible
A spokesperson for the British Geological Survey said: "Whilst the landslides will be different to last week's failures in the West of Scotland with less potential of large-scale debris flows, there is a history of coastal landslides within the warning area. Infrastructure slopes are also likely to be affected with potential for disruption to roads and railway within the warning area."
Stay safe near the coast
RNLI Water Safety Partner, Sam Hughes, said: "The forecasted strong winds along with heavy rain are likely to cause dangerous conditions for those visiting the coast around the UK and Ireland.
"The RNLI advises staying a safe distance away from the water and cliff edges as the conditions could knock you off your feet or wash you into the sea. It is not worth risking your life.
"If you see someone else in danger in the water, call 999 or 112 and ask for the Coastguard if by the coast, or the fire service if inland. If you have something that floats that they can hold on to, throw it to them. Don't go in the water yourself – you may end up in difficulty too."
The RNLI advice is:
Stay well back from stormy, wintery seas and cliff edges
Check the weather forecast and tide times before you go out
Take a phone with you
In an emergency call 999 or 112 and ask for the Coastguard
Do you know your flood risk?
Could your property be at risk of flooding? Follow this three point plan to check and be prepared: 1.  Check if your property is at risk here .  If you are at risk take the next two steps to protect your property when you need to, 2. preparing a  flood plan , 3. Prepare an emergency flood kit. 
Further ahead
Low pressure is forecast to remain in charge of the UK's weather into the start of next week, with potential for further spells of wet and windy weather.
You can keep up to date with the latest forecast on our  website , by following us on  Twitter  and  Facebook , as well as on our  mobile app  which is available for iPhone from the  App store  and for Android from the  Google Play store .
Updated at 15:47 (UTC+1) on Wed 18 Oct 2023
You might also like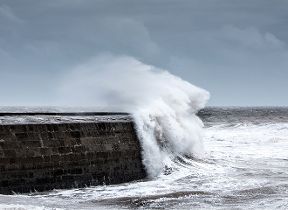 Help us improve our website
International edition
Australia edition
Europe edition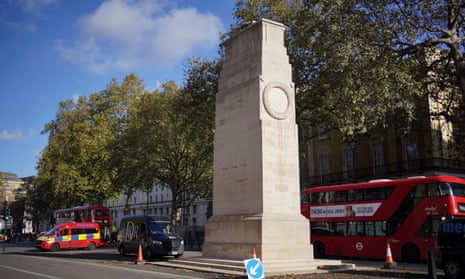 Organiser of Armistice Day Cenotaph event backs pro-Palestine march
Western Front Association, which holds the annual commemoration, believes in freedom of speech, says trustee
The organiser of the sole Armistice Day event at the Cenotaph in central London has given his support for the pro-Palestine march in central London on Saturday.
Richard Hughes, from the Western Front Association, a charity that holds a commemoration on 11 November for the casualties of the first world war, said his organisation believed in "freedom of speech".
"I think a lot of people are trying to whip this up," said Hughes, the association's legal trustee, who is also responsible for organising the annual commemoration. "The police are not going to let anyone near the Cenotaph. We are a democratic organisation that commemorates those who fought for democracy, so free speech is important."
Government ministers, including the home secretary, Suella Braverman, and the justice secretary, Alex Chalk, said they did not believe Saturday's march should proceed due to a "risk" of remembrance events being disturbed or the Cenotaph being defaced.
On Wednesday, Rishi Sunak said he accepted that the protest would go ahead but claimed the march was "disrespectful" and "offends our heartfelt gratitude to the memory of those who gave so much so that we may live in freedom and peace today".
Hughes acknowledged that the pro-Palestine march would be an additional drain on police resources and views would vary among the membership of the Western Front Association, but said: "I would hope that the two events could coexist without touching … If I was on one of those demonstrations I might say, 'They can do their stuff and we will do our stuff.'
"Some of the older members might think that it is not appropriate [to protest on Armistice Day] but it is very hard to be blind to what is going on in the Middle East."
Guests of honour at the Cenotaph on Saturday will be Lady French, the great-granddaughter of the commander-in-chief of the British Expeditionary Force, Sir John French; and John Nichol, a retired Royal Air Force navigator who was shot down and captured during the the Gulf war.
The main annual event at the Cenotaph takes place on Remembrance Sunday, which falls this year on 12 November. Until the second world war a commemoration for casualties would also take place on Armistice Day itself. The Western Front Association was inaugurated on 11 November 1980 to further interest in the war of 1914–1918 and reintroduce a moment of reflection at the Cenotaph. Saturday's event will last for 25 minutes and end with a piper's lament.
Hughes said security around the event had increased over recent years but he trusted in the judgment of the Met police commissioner , Sir Mark Rowley, that there was no risk of serious disruption on Saturday.
Israel-Hamas war
Palestinian territories
Metropolitan police
More on this story

Braverman clarifies Northern Ireland comments amid angry criticism

Wimbledon expansion plan dealt blow as planners advise rejecting it
Pro-Palestine protesters assemble in London as police jostle with far-right groups

Shell sues Greenpeace for $2.1m in damages over fossil fuel protest in North Sea

Counterprotest groups plan to confront pro-Palestine marchers, say Met police

How will recent and future legislation affect the right to protest in the UK?

Faked audio of Sadiq Khan dismissing Armistice Day shared among far-right groups

Sunak to hold Met chief 'accountable' for decision not to ban pro-Palestine march

Far-right groups plot London rally against pro-Palestine march on Armistice Day

Met police chief defies calls to ban pro-Palestine Armistice Day march in London
Most viewed.
Official websites use .gov
Secure .gov websites use HTTPS
Travel Advisory Updates
Office of the Spokesperson
April 19, 2021
State Department Travel Advisory Updates
In order to provide U.S. travelers detailed and actionable information to make informed travel decisions, the Department of State regularly assesses and updates our Travel Advisories, based primarily on the U.S. Centers for Disease Control and Prevention (CDC) Travel Health Notices (THNs) and secondary factors such as commercial flight availability, restrictions on U.S. citizen entry, and impediments to obtaining COVID test results within three calendar days.
The following Travel Advisories have been updated to reflect the current CDC THNs for COVID-19.
We continue to monitor health and safety conditions around the world, working with the CDC and other agencies, as conditions evolve.
This week, the following Travel Advisories have been assessed and reissued with updates, raised to a Level 4 – Do Not Travel:
This week, the following Travel Advisory has been assessed and reissued with updates, lowered to a Level 3 – Reconsider Travel.
U.S. Department of State
The lessons of 1989: freedom and our future.
State Department issues 'worldwide caution' for Americans overseas
The U.S. State Department issued a worldwide travel advisory on Thursday, urging Americans overseas to exercise increased caution.
The travel advisory cited "increased tensions in various locations around the world, the potential for terrorist attacks, demonstrations or violent actions against U.S. citizens and interests."
The State Department recommended U.S. citizens stay vigilant in locations popular with tourists and sign up for the Smart Traveler Enrollment Program , which can provide information and make it easier to locate them in an emergency.
"The U.S. Department of State has no higher priority than the safety and security of U.S. citizens overseas," a State Department spokesperson told USA TODAY in an emailed statement. "We take seriously our commitment to provide U.S. citizens with clear, timely, and reliable information about every country in the world so they can make informed travel decisions."
The warning comes as thousands have been killed in the Israel-Hamas war . At least 3,785 people had been killed in Gaza as of Thursday, according to the Gaza Health Ministry, including more than 1,500 children. Over 1,400 people have been killed in Israel, most of whom were civilians.
Learn more: Best travel insurance
Live updates: Hamas commander killed in air strike as Israel bombs 'safe zones' in Gaza:
The State Department raised a travel advisory for Lebanon to Level 4 on Tuesday, warning Americans not to travel to the country "due to the unpredictable security situation related to rocket, missile, and artillery exchanges between Israel and Hizballah or other armed militant factions." There is also an advisory in place warning against going to Gaza and urging travelers to reconsider visiting Israel and the West Bank.
Many Americans have been evacuating the region , including on a Royal Caribbean International cruise ship that carried U.S. nationals from Haifa to Limassol, Cyprus, earlier this week.
Nathan Diller is a consumer travel reporter for USA TODAY based in Nashville. You can reach him at [email protected].
Today's news
Skullduggery podcast
Conspiracyland
My Portfolio
Personal finance
Daily Fantasy
Horse Racing
GameChannel
Team apparel and gear
Shop BreakingT Shirts
Entertainment
Style and beauty
Privacy Dashboard
These Countries Have Warned Against Travel to The U.S. Learn Why
Travel advisories are a common way for countries to provide guidance to their residents when traveling abroad. Similar to the U.S. State Department, some countries issue warnings or advisories to alert their citizens to potential risks when traveling to certain destinations.
Despite the opinion of some, it's not always the case that the U.S. is considered a safe destination. While many countries advise taking normal safety precautions when visiting the U.S., others are issuing general warnings about crime. At least one country currently has a heightened travel advisory in place for the United States. Others have warned against travel to America in the past due to incidents of violence and hate crimes.
New Zealand
New Zealand categorizes its travel advisories into four levels, ranging from "exercise normal safety and security precautions" to "do not travel." The current travel advisory level for the U.S. is 2 out of 4, meaning travelers are advised to exercise increased caution.
New Zealand's government attributes the rating to the threat of terrorism. The U.S. remains a target of terrorist interest from both international terror groups and domestic-based extremists. Citing credible information assessed by U.S. authorities, New Zealand warns that individuals or groups have developed both the intent and capability to conduct terrorist attacks in the U.S., which could be indiscriminate and affect places visited by foreigners.
The Canadian government advises taking normal security precautions similar to those taken in Canada. However, the government notes the high rate of firearm possession in the U.S. and that it is legal in many states for citizens to openly carry firearms in public.
Incidents of mass shootings occur, which can result in casualties. The government advises tourists to familiarize themselves with how to respond to an active shooter situation. Additionally, Canada warns its residents about the risk of criminal incidents at the U.S.-Mexico border.
Australia's travel warnings range from 1 to 4, with the U.S. classified under the lowest level of exercising normal safety precautions. Australia does, however, warn its citizens that violent and gun-related crimes are more common in the U.S. than in Australia. Additionally, the country warns of a "persistent and heightened threat of terrorist attacks and mass casualty violence in the U.S.," and advises people to remain vigilant when in public places or attending events.
United Kingdom
The UK government shares on its website that violent crime, including gun crime, is not a common occurrence involving tourists in the United States. The UK acknowledges that incidents of mass shootings can happen, although they account for a small percentage of homicide deaths. The government recommends that individuals read the U.S. Department of Homeland Security's guidance on how to respond to an active shooter event.
France's Ministry of Foreign Affairs considers the United States to be among the safest countries. The department does, however, advise travelers about certain urban areas and an increase in carjacking incidents nationwide. The ministry provides a breakdown of potential threats in neighborhoods in major U.S. cities, such as Boston, New York, Chicago, Atlanta, New Orleans, San Francisco, and Los Angeles.
In Boston, the ministry recommends avoiding certain parts of Dorchester, Mattpan, and Roxbury when traveling alone, on foot, and at night. Similarly, travelers to Los Angeles should steer clear of certain areas, including east, south, and southeast neighborhoods like Watts, Inglewood, and Florence.
Venezuela & Uruguay
Two South American countries, Venezuela and Uruguay, issued travel warnings about the United States in 2019. Venezuela recommended that its citizens postpone travel to the U.S. or take extreme precautions due to the "proliferation of acts of violence and indiscriminate hate crimes."
Meanwhile, Uruguay's Ministry of Foreign Affairs urged travelers to take extreme precautions in the face of growing indiscriminate violence, particularly hate crimes, due to the widespread possession of firearms by the U.S. population. It advised avoiding places with large concentrations of people such as theme parks, shopping centers, festivals, artistic events, religious activities, gastronomic fairs, and any type of mass cultural or sporting events. These warnings followed mass shootings in El Paso, Texas, and Dayton, Ohio.
RELATED: Here's What Other Countries Warn Their Citizens About Before Visiting The US
Recommended Stories
Fantasy football: players to consider dropping for your week 11 waiver wire pickups.
4for4's Jennifer Eakins examines five players fantasy managers might be better off cutting as they push toward the playoffs.
Bills fire offensive coordinator Ken Dorsey after loss to Broncos
Heads are rolling after the Bills' latest loss.
After Jimbo Fisher's firing, here are 5 candidates for Texas A&M
Rife with mega-boosters and aggressive spenders, Texas A&M is expected to focus its coaching search on some of the highest-paid sitting Power Five coaches in the country.
Bills lament 'inexcusable' 12 men on the field penalty that cost them a win
The Bills practiced the substitution that cost them a win on Monday night.
Fantasy Football Waiver Wire Pickups: Rare week with plenty of RB talent available
Ty Chandler is among a group of widely available RBs ready to help fantasy managers. Andy Behrens reveals his top Week 11 pickups.
On Target 🎯 The luckiest (and most unlucky) fantasy football receivers this season
How has luck played into the success and disappointment of WRs this fantasy season? Scott Pianowski takes a closer look.
Who is Tyla? The South African singer is taking over TikTok with her infectious 'Water' dance trend
You've probably seen the Water Dance Challenge on TikTok. The post Who is Tyla? The South African singer is taking over TikTok with her infectious 'Water' dance trend appeared first on In The Know.
Travis Kelce traveled to Argentina for Taylor Swift, and late-night TV went wild
Love knows no borders as Travis Kelce chased Taylor Swift to South America, and late-night hosts had plenty to say.
What is 'the eldest daughter syndrome'? Eldest daughters on TikTok are getting candid about the pressure to parent
"Families don't often see the pain in us oldest daughters because we've become so conditioned to being strong." The post What is 'the eldest daughter syndrome'? Eldest daughters on TikTok are getting candid about the pressure to parent appeared first on In The Know.
Porsche's Turbo models to get new badge, exclusive "Turbonite" trim finish
Porsche is moving to improve consistency between its Turbo models by offering matching badges and new "Turbonite" trim with matching aesthetics.
Yankees GM Brian Cashman expects Giancarlo Stanton to get hurt next season: 'It seems to be part of his game'
Giancarlo Stanton has missed at least 20 games in each of the past five seasons due to injuries, and missed 61 last season for the Yankees.
Week 11 Fantasy Football TE Rankings
Check out our fantasy football tight end rankings for Week 11 of the 2023 NFL season!
Week 11 Fantasy Football WR Rankings
Check out our fantasy football wide receiver rankings for Week 11 of the 2023 NFL season!
Week 11 Fantasy Football RB Rankings
Check out our fantasy football running back rankings for Week 11 of the 2023 NFL season!
Women's college hoops AP Top 25 poll: Why Yahoo Sports voted Iowa, South Carolina 1-2
It is the first time in at least 25 years the top two teams in the Associated Press preseason poll lost before the second poll was released.
Bruce Willis's wife, Emma, shares update on actor's 'devastating' dementia diagnosis
Emma Heming Willis shares six lessons her family has learned amid husband Bruce Willis's frontotemporal dementia diagnosis.
This $10 shampoo is the industry's best-kept secret for curing bald spots and dryness: 'It's a miracle, actually!'
There are tons of shampoos that don't really do much. Over 11,000 Amazon shoppers say this cheap shampoo is the industry's best-kept secret.
Josh Jacobs complains about NFL's $21,855 fine, J.J. Watt says league is 'stealing money'
Players are getting fined at an astonishing rate this season.
Why 'The Marvels' bombed at the box office and what it means for the future of the once-mighty MCU
The Nia DaCosta-directed space adventure opened to $47 million domestically and just under $100 million worldwide, the worst start for any Marvel film since "The Incredible Hulk" in 2008.
Fantasy Football Early Week 11 Waiver Wire Pickups: Last call for Keaton Mitchell!
Three players, three pickups to consider early in Week 11.
Israel-Gaza latest: Israeli forces enter al Shifa Hospital in 'targeted operation' against Hamas
The US says it has unspecified intelligence that Hamas is using al Shifa hospital - Gaza's biggest - to run military actions. In response, Hamas says the White House is repeating "lies" propagated by Israel.
Wednesday 15 November 2023 01:35, UK
Please use Chrome browser for a more accessible video player
US claims it has own evidence Hamas is using hospital to run military actions
Hamas says it 'strongly condemns and rejects' the US claim
Mass grave dug at Gaza's biggest hospital | Israeli ambassador claims it is 'Hamas HQ'
Biden has message for hostages: 'Hang in there'
Hospitals become focus of war: Surgeon tells of 'relentless' day | Israel claims Hamas stash and signs of hostages found in basement | Incubators being supplied to al Shifa hospital, Israel says
Sean Bell analysis: Why have hospitals become a focal point?
The war explained: How reliable are the death figures? | What do ordinary Gazans think of Hamas? | A short history of this conflict
Updates from Mark Stone and Dominic Waghorn in Israel, and John Sparks in Lebanon
Hamas has now issued a statement on the IDF's raid on al Shifa hospital.
The militant group has blamed US President Joe Biden for the "storming" of the facility.
Hamas has also accused the US of giving Israel the "green light" to launch the raid by "adopting" Israel's claims that the hospital was being used by the group's militants.
It said it held Israel, president Biden, and his administration, "fully responsible for the repercussions of the occupation army's storming of the Shifa Medical Complex, and what the medical staff and thousands of displaced people are exposed to, as a result of this brutal crime against a health facility protected by the Fourth Geneva Convention."
Context: Israel has repeatedly claimed that the al Shifa hospital has been used by Hamas fighters.
On Tuesday, White House's national security council spokesperson, John Kirby, said on Tuesday that the US had it owns intelligence that Hamas militants were operating out of al Shifa.
However, Hamas responded to "strongly condemn and reject the claims".
Israel's operation in al Shifa comes just after Joe Biden said the hospital "must be protected".
"It is my hope and expectation that there will be less intrusive action," the US President said on Monday.
However, White House's national security council spokesperson, John Kirby, said on Tuesday that the US had intelligence that Hamas militants were operating out of al Shifa and that the site was probably being used to store weapons.
Hamas said it "strongly condemns and rejects the claims".
A Hamas official said on Tuesday that 25 of 35 hospitals in Gaza were out of use since Israel's bombardment and ground invasion.
The World Health Organisation (WHO) said on Wednesday that more than half of Gaza's hospitals were no longer functioning, due to a "lack of fuel, damage, attacks and insecurity".
Hospitals have protected status in wartime - but there are caveats to when this applies.
Here Sky News looks at what the rules are, and what both sides are saying.
The health ministry for the Palestinian Authority - based in the West Bank - has said Israeli forces are "fully responsible" for the lives of medical staff, patients and displaced people in Gaza's al Shifa hospital.
It comes after the Israeli military announced it had launched an operation against Hamas at the facility - the largest hospital in Gaza (see post 00.19).
The IDF says its forces have launched an operation against Hamas at Gaza's al Shifa hospital.
It has described the operation as "precise and targeted" and within a "specified area" of the facility - the largest hospital in Gaza.
The IDF has called on all members of the militant group present within the hospital to immediately surrender.
"In recent weeks, the IDF has publicly warned time and again that Hamas' continued military use of the hospital jeopardises its protected status under international law, and enabled ample time to stop this unlawful abuse of the hospital," the IDF said in a statement on X, formerly Twitter.
"Yesterday, the IDF conveyed to the relevant authorities in Gaza once again that all military activities within the hospital must cease within 12 hours.
"Unfortunately, they did not.
"The IDF has also facilitated wide-scale evacuations of the hospital and maintained regular dialogue with hospital authorities.
"We call upon all Hamas terrorists present in the hospital to surrender."
It comes after the US claimed to have evidence that Hamas was using al Shifa hospital to run military actions (see post at 19.54).
Hamas responded to "strongly condemn and reject the claims".
It also accused the White House of repeating the "lies" propagated by Israel (see post 21.39).
While tens of thousands of people have fled the hospital, it was estimated on Tuesday that around 650 patients and 500 staff were still in the facility, along with around 2,500 displaced Palestinians.
Israel's defence minister has claimed Hamas has "lost control" of northern Gaza, but warned the campaign will take "long months" to complete, not "a day or two".
In a televised news conference tonight, Yoav Gallant also said Israel has made gains in Gaza City.
"This entire city is one terror stronghold that the army is able to manoeuvre and operate in very well," he said.
But he warned the timeframe for the war ahead will last a long time, claiming: "We're talking about long months, not a day or two."
As a demonstration gathers thousands in Washington DC (see 20:43), protests continue elsewhere in the world in support of Palestinians.
In the Philippines, activists clashed with police today as they marched to the US embassy in the capital, Manila, protesting against American support for Israel.
After the US claimed to have evidence that Hamas was using al Shifa hospital to run military actions (see post at 19.54), Hamas responded to "strongly condemn and reject the claims".
The group said the White House is repeating the "lies" propagated by Israel.
"These statements give a green light to the Israeli occupation to commit further brutal massacres targeting hospitals, with the goal of destroying Gaza's healthcare system and displacing Palestinians," the group said.
The militants said they call for the UN to "establish an international committee to inspect all hospitals in Gaza", in order to "expose the falsehoods in the occupation's narrative".
The White House's national security council spokesperson, John Kirby, had cited unspecified intelligence that Hamas is using al Shifa hospital.
He added the facility is also probably being used to store weapons, but would not offer any evidence.
For more than three weeks, Aladdin, Olfat and their 20-year-old daughter were surrounded by an endless barrage of bombs in Gaza.
They fled south and after six attempts managed to enter Egypt through the Rafah crossing and return home to the UK.
Speaking to Sky News, Olfat said: "We feel guilty that we are alive and they are there."
Listen to their account in the video below:
A spokesperson for the Houthis in Yemen claims the group launched ballistic missiles on Israeli targets, including within the Israeli city of Eilat.
Earlier today, we reported that the group's leader had said it will continue attacks on Israel (see 14:23).
Tonight, the spokesperson claimed the latest attack came "after 24 hours of another military operation by drones on the same Israeli targets".
The Israel Defence Forces has not commented and there is no immediate indication any of the missiles hit targets.
Just hours ago, Israel's military said it used its Arrow aerial defence system to intercept a missile in the vicinity of the Red Sea after air raid sirens had sounded in Eilat.
The military said the projectile did not cross into Israeli territory and it did not say who had fired it.
The Houthi movement in Yemen has launched repeated missile and drone attacks on Israel.
The Houthis are part of an Iran-aligned regional alliance, which also includes Hamas and Lebanon's Hezbollah.
They govern swathes of Yemen, including the capital Sanaa, more than a thousand miles from Israel.
It has blamed Israel for instability in the Middle East.
Be the first to get Breaking News
Install the Sky News app for free
About MSP About MSP collapsed link
Services Services collapsed link
Law Enforcement Resources Law Enforcement Resources collapsed link
Divisions Divisions collapsed link
Posts Posts collapsed link
Public Information Public Information collapsed link
Mission Statement
Connect With Us
Laws & Statutes
Department Policies
Strategic Direction
Meet the Director
Fallen Trooper Memorial
Contact information for Freedom of Information Requests, Post Commanders, and the Webmaster.
Mission Statement of the Michigan State Police
Crime Tip Lines - Information for reporting a crime.
Information on Laws & Statutes relating to the Michigan State Police.
Learn about the Director of the Michigan State Police.
Information about the History of the Michigan State Police.
Community Service Troopers (CSTs)
Criminal History Records
Cyber Security
Fraud and Identity Theft
Freedom of Information Act (FOIA) Requests
Live Scan Vendors
Medical Waivers for Commercial Drivers
Missing Children
Missing Persons
Motor Carrier Regulatory and Credentialing
School Bus Safety Inspections
Sex Offender Registry
Traffic Crash Reports
Traffic Safety
Vulnerable or Impaired Person (VIP) Enrollment
AMBER Alert, Michigan Blue Alert, Public Threat Alert, Vulnerable Adult Medical Alert
Requesting Criminal History Records
Information on carrying concealed pistols, permits, renewal, frequently asked questions, pistol free areas, pistol safety training course information, and more.
Freedom of Information Act Requests
How to search for information on a missing person
Vulnerable or Impaired Person Enrollment
Audio-Video Analysis
Education & Training
Fire Investigation & Training
Forensic Artists
Law Enforcement Information Network (LEIN)
Legal Resources
Meth Response and Training
Michigan Commission on Law Enforcement Standards
Michigan Incident Crime Reporting
Michigan Intelligence Operations Center
MiCJIN Services
Statewide Records Management System
UD-10 Traffic Crash Reporting
Information relating to fire investigations including field office locations, arson tip line ,fire investigation services and fire fighter training information.
Information on Forensic Artists
LEIN Training and Certification Calendar
Legal Resources for Police Officers
Biometrics and Identification
Commercial Vehicle Enforcement
Criminal Justice Information Center
Emergency Management & Homeland Security
Forensic Science
Grants and Community Services
Intelligence Operations
Office of Highway Safety Planning
Special Investigation
Special Operations
State 911 Committee
Automated Print Identification
Combined DNA Index System (CODIS)
Digital Analysis Identification Section (DAIS)
Polygraph Section
Medical Waivers
Motor Carrier Advisory Board
Regulatory & Credentialing Section
School Bus Inspection Program
Title VI Nondiscrimination
CJIS Board Meetings
Law Enforcement Information Network
Purchase a Traffic Crash Report
Security & Access Section - NCJA
Traffic Crash Statistics
GLHS Training Conference & Expo
Grant Programs
Hazardous Materials
Homeland Security
Local Emergency Management Programs
Public/Private Partnerships (P3)
Programs & Publications
Public Assistance Grants Program
Public Information Center
Response & Recovery
Training & Exercise
News and Information
Task Force on Forensic Science
Laboratories
Policies & Procedures
Laboratory Services - Technical Disciplines
Video Library
Automobile Theft Prevention Authority (ATPA)
Comprehensive Opioid, Stimulant, and Substance Use Program (COSSUP)
Byrne JAG & RSAT
Sexual Assault Kit Initiative (SAKI)
Coronavirus Emergency Supplemental Funding (CESF)
Drug Endangered Children (DEC)
Office of School Safety
Prevention Services
Victim Services Program
Cyber Section
Michigan Intelligence Operations Center (MIOC)
Regional Communications Centers
OHSP - What we do
Secondary Road Patrol
Child Passenger Safety
Distracted Driving
Grant Proposal Requests
Governor's Traffic Safety Advisory Commission
Law Enforcement Programs
Traffic Safety Materials
Safety Programs
Safety Summit
Traffic Crash Data
Traffic Safety Partners
Investigating Units
Information on Aviation, Field Support, & Operations.
About State 911 Committee
Emerging Technology
911 Training
Legislative Action
911 Resources
911 Funding
Certification
Resident Guide
911 Center Employment Opportunities
Health & Mental Wellness
Training Academy Information
Courses & Registration
Online Courses
Breath Alcohol Program
Precision Driving Unit
First District - Central
Second District - Metro
Third District - Thumb and Tri-Cities
Fifth District - Southwest
Sixth District - West
Seventh District - Northern Lower Peninsula
Eighth District - Upper Peninsula
District and Post Commander Directory
Post Coverage by County Map
Prosperity Regions Map
Prosperity Regions 7 & 9 (District 1 - Central)
Prosperity Region 10 (District 2 - Metro)
Prosperity Regions 5 & 6 (District 3 - Thumb and Tri-Cities)
Prosperity Region 8 (District 5 - Southwest)
Prosperity Region 4 (District 6 - West)
Prosperity Regions 2 & 3 (District 7 - Northern Lower Peninsula)
MSP Newsroom
Statistics & Reports
Transparency & Accountability
Appropriation-Required Reports
Concealed Pistol License (CPL) Reports
Crime Statistics (MICR Annual Reports)
Michigan Annual Drunk Driving Audit
School Bus Inspection Reports
Traffic Safety Research Reports
Law Enforcement Resources
Public Information
Search is currently unavailable. Please try again later.
How Do I...
Find a Job at MSP
Get or Renew my CPL License
Run a Background Check
Submit a FOIA Request
Report Suspicious Activity
I'm Looking for...
Michigan Sex Offender Registry
Child Passenger Safety Information
Travel Information for Motorists
The web Browser you are currently using is unsupported, and some features of this site may not work as intended. Please update to a modern browser such as Chrome, Firefox or Edge to experience all features Michigan.gov has to offer.
Google Chrome
Microsoft Edge
Road Conditions, Traffic, and Construction Information
Click on Mi Drive for detailed driving information:
The Michigan Department of Transportation provides a traffic and construction information resource center for motorists seeking detailed driving information.
AAA Traffic and Construction Reports
SmarTraveler--Real Time Road Information
Winter Road Conditions
When making travel decisions during inclement weather, motorists should keep in mind that major roadways are the first to be cleared. It is unusual for conditions on rural and county roads to be better than those on major roadways. While drivers are encouraged to use all available information when making winter travel plans, even the latest, most accurate forecast information could change with little or no warning. If weather conditions appear to be too severe to travel, they most likely are.
The majority of winter driving crashes can be attributed to drivers going too fast for the roadway conditions. When this happens, drivers can lose control and begin to leave the roadway. Driving slow on snowy and icy roads allows the driver a longer reaction time. It can take up to 10 times longer to stop in snowy or icy weather. Drivers should be prepared to look ahead and begin braking well in advance of an intersection.
Remember: Active winter weather and hazardous traveling conditions create the greatest demand for police and EMS services. Please do not tie up telephone lines and dispatch personnel by calling to request weather or travel information.
MDOT Winter Roads and Travel Information
Weather Forecasts
Michigan County Forecasts/NOAA
The Weather Channel
Intellicast Weather Services
Weather Underground
Safe Driving Information
Safety Tips for Older Drivers
Teen Drivers
Driving Safety Tips for Pregnant Women
What to Expect During a Traffic Stop
Impaired Driving in Michigan
Motorcycle Safety
Pedestrian Safety
School Bus Safety
Marijuana and Driving
Winter Driving
What's Hot
Three countries issue travel warnings about visiting the u.s..
WASHINGTON, July 10 (Reuters) - Three countries have warned their citizens to stay on guard when visiting U.S. cities rocked by sometimes violent protests that erupted after a string of police shootings of black Americans.
The United States regularly issues travel warnings urging Americans to either avoid or exercise caution in countries marred by violence or political instability.
Now America is the focus of concern by foreign governments in the Middle East and Caribbean as protesters marched in U.S. cities throughout the weekend after police killed black men in Louisiana and Minnesota.
The protests have led to numerous arrests, scuffles and injuries in confrontations between police and demonstrators. America was also tense after a lone black gunman on Thursday shot dead five police officers during a protest in Dallas.
The U.S. embassy of Bahrain, a tiny Middle Eastern island nation, on Saturday urged citizens via twitter to "be cautious of protests or crowded areas occurring around the U.S."
Bahamas, a Caribbean nation where most people identify as being of African heritage, on Friday warned its people to be careful when visiting U.S. cities rocked by "shootings of young black males by police officers."
"In particular young males are asked to exercise extreme caution in affected cities in their interactions with the police. Do not be confrontational and cooperate," Bahamas foreign ministry said in a travel advisory.
The United Arab Emirates urged its students and other citizens in the United States to also be careful, using similar language the U.S. State Department employs when warning Americans about countries that have fallen victim to attacks by extremists.
"Please be aware of immediate surroundings and avoid crowded places when possible," the UAE embassy said in a statement that urged people to stay away from any U.S. demonstrations. "Exercise particular caution during large festivals or events, be alert and stay safe."
In July alone, the United States has issued travel warnings for Bangladesh, Venezuela, Iraq and Mali.
On Sunday, some tourists in New York's bustling Times Square said they were nervous about the tension and recent violence in America. "I don't like to be in crowded places anymore," said Eleanor Fairbrother, who was visiting from Ireland.
Before You Go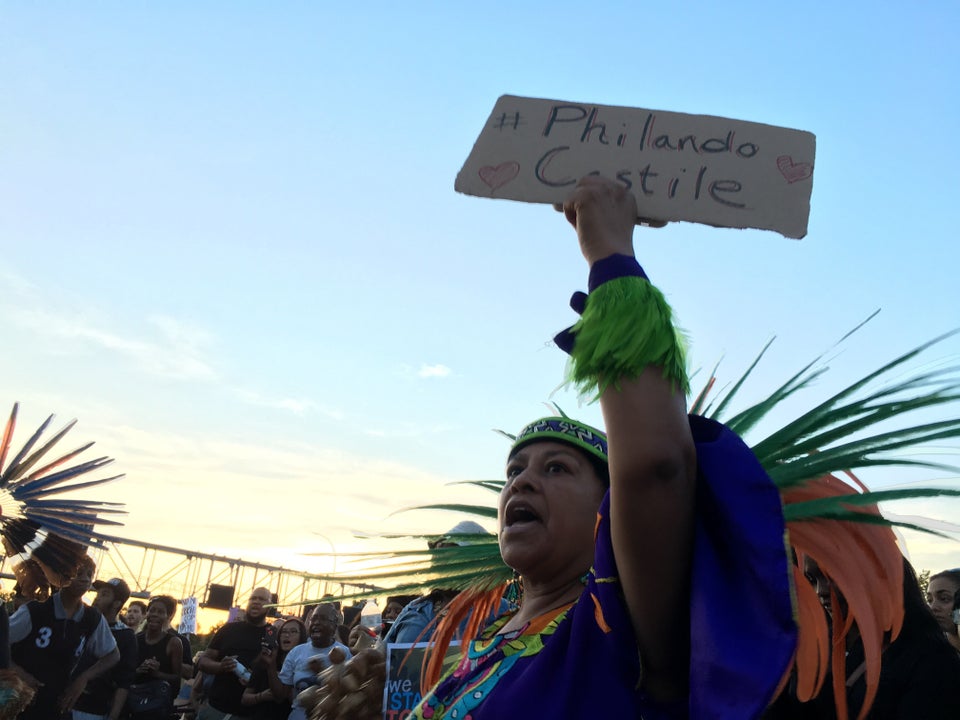 St. Paul Protesters Rally To Demand Justice
Do you have info to share with HuffPost reporters? Here's how.
Popular in the Community
From our partner, more in the worldpost.
Travel Warnings 2023
When planning a trip abroad, it is essential that you stay up to date on the latest travel advisories issued by the U.S. Department of State. These travel warnings are issued on a 4-point scale of increasing concern.
Level 1: Exercise Normal Precautions - This level is reserved for nations where there may be pockets or crime or unrest, but the majority of the country is generally safe for U.S. travelers. Travelers should still be mindful of these warnings as there may be locations in these countries that, on their own, would qualify for a much higher travel advisory levels.
Level 2: Exercise Increased Caution - This level applies to countries where Americans may be susceptible to higher than normal safety risks. There are a number of incidents that could trigger a level 2 designation including disaster recovery, high crime rates, mild political concerns, and/or the threat of terrorism. These issues may not be worth cancelling a trip over, but be sure to heed whatever warnings are issued - they are not to be ignored.
Level 3: Reconsider Travel - Destinations classified as level 3 (whether they be entire nations or specific regions within a country) should be avoided unless travel is absolutely necessary and safety precautions are taken. It takes serious activity to trigger a level 3 advisory such as a natural disaster, significant crime risks (including elevated incidents of violent crime, kidnapping, and/or sexual assault), health emergencies, terrorism, political uprisings, or civil unrest. Take any level 3 threat seriously.
Level 4: Do Not Travel - Traveling to a country or area that has earned a level 4 advisory - the highest advisory level the State Department issues - basically means that you are taking your safety (and possibly your life) into your own hands when traveling. The U.S. typically has limited abilities to ensure your well-being in these regions or provide support should you wind up in a crisis situation. Given that many of these nations are active conflict zones, terrorist hotbeds, and/or notably anti-American, the risks are great. Some of these nations will not permit Americans to enter. Those that do, will not go out of their way to offer protections or assurances of safety. Quite the contrary, many of these nations are quick to detain, incarcerate, or otherwise harass American nationals. Take the advisory's advice - do not travel to a level 4 destination.
The Smart Traveler Enrollment Program
If you choose to travel to or live in areas of unrest despite the travel warning, it would be in your best interest to enroll in the Smart Traveler Enrollment Program (STEP) .
STEP is the U.S. State Department's free program to keep international travelers and American expatriots up to date with all of the latest safety and security announcements. As an added benefit, enrolling in STEP also makes it easier for your nearest U.S. Embassy to contact you in the event of an emergency while ou are abroad. As such, you should make it a priority to keep all of your information in STEP up to date; it is particularly important when you enroll or update your information to include a current phone number and e-mail address.
While STEP is most conveniently accessed from an internet enabled devise like a computer or smartphone, U.S. citizens without internet access may enroll directly at the nearest U.S. Embassy.
The most recent high-level travel warnings issued by the U.S. Department of State are listed below with links to useful resources for a safer travel experience.
the border with Syria due to terrorism and armed conflict
the border with Israel due to the potential for armed conflict
refugee settlements due to the potential for armed clashes
Borno, Yobe, Kogi, and northern Adamawa states due to terrorism and kidnapping
Bauchi, Gombe, Kaduna, Kano, Katsina, Sokoto, and Zamfara states due to kidnapping
Abia, Anambra, Bayelsa, Delta, Enugu, Imo, and Rivers states (with the exception of Port Harcourt) due to crime, kidnapping, and armed gangs
South Sudan
Central african republic, burkina faso.
Areas designated as off limits by the Mauritanian military due to crime and terrorism.
Guinea-Bissau
Tigray Region and border with Eritrea due to sporadic violent conflict, civil unrest, and crime.
Afar-Tigray border areas due to sporadic violent conflict, civil unrest, and crime.
Amhara Region due to sporadic violent conflict and civil unrest.
Gambella and Benishangul Gumuz Regions due to crime, kidnapping, ethnically motivated violence, and sporadic violent conflict.
Oromia Region – Specific areas due to sporadic violent conflict, civil unrest, and ethnically motivated violence.
Southern Nations and National People (SNNP) Region due to sporadic violent conflict, civil unrest, and ethnically motivated violence.
Border area with Somalia due to terrorism, kidnapping, and landmines.
Border areas with Sudan, and South Sudan due to crime, kidnapping, civil unrest, and sporadic violent conflict.
Border areas with Kenya due to the potential for terrorism and ethnically motivated violence.
Democratic Republic of the Congo
North Kivu province due to crime, civil unrest, terrorism, armed conflict, and kidnapping.
Ituri province due to crime, civil unrest, terrorism, armed conflict, and kidnapping.
The eastern DRC region and the three Kasai provinces (Kasai, Kasai-Oriental, Kasai-Central) due to crime, civil unrest, armed conflict and kidnapping.
Lake Chad region due to terrorism.
Borders with the Central African Republic, Libya and Sudan due to armed conflict and minefields.
The former Central Market located on Chaussee Prince Louis Rwagasore in Bujumbura due to the risk of violent crime.
Cibitoke and Bubanza provinces and Kibira National Park due to potential armed violence.
Using any kind of public transportation or taxis
Visiting banks and using ATMs
Driving at night
Traveling anywhere between 1:00 a.m. and 5:00 a.m.
Traveling without prior approval and special security measures in place.
North Korea
All U.S. passports are invalid for travel to, in, or through the DPRK unless specially validated for such travel under the authority of the Secretary of State.
Special validations are granted only in very limited circumstances.
Burma (Myanmar)
Papua new guinea.
Southern Bougainville, particularly areas near the Panguna mine, due to civil unrest.
The Highlands region, other than the towns of Mt. Hagen and Goroka, due to civil unrest.
Trinidad and Tobago
Systematically target opposition figures (regardless of nationality), including former allies, political activists, business representatives, clergy, human rights advocates, and members of the press.
Arbitrarily detain pro-democracy advocates.
Prevent certain individuals from departing Nicaragua by air or land for political reasons.
Arbitrarily seize and/or search private property including personal phones and computers for anti-government content.
Arbitrarily detain individuals with terrorism, money laundering, and organized crime for political reasons.
Gracias a Dios Department due to crime.
San Marcos Department (except the city of San Marcos) due to crime.
Huehuetenango Department (except the city of Huehuetenango) due to crime.
Zone 18 and the city of Villa Nueva in Guatemala City due to crime.
El Salvador
Israel, the west bank and gaza.
Gaza due to terrorism, civil unrest, and armed conflict
Israel due to terrorism and civil unrest
West Bank due to terrorism and civil unrest
U.S. government employees can use on Routes 1, 90, and 443 at any time and
U.S. government employees are permitted non-overnight trips to Bethlehem and Jericho.
Saudi Arabia
Within 50 miles of the Saudi-Yemen border, as well as the cities of Abha, Jizan, Najran, and Khamis Mushayt;
Abha airport;
Qatif in the Eastern Province and its suburbs, including Awamiyah.
The Sinai Peninsula (with the exception of travel to Sharm El-Sheikh by air) due to terrorism.
The Western Desert due to terrorism.
Egyptian border areas due to military zones.
Afghanistan
Enroll in the Smart Traveler Enrollment Program (STEP) to receive security updates and ensure you can be located in an emergency.
Review your personal security plans and consider leaving at the first safe opportunity.
Be aware of your surroundings and local security developments at all times.
Keep a low profile.
Notify a trusted person of your travel and movement plans.
If not departing imminently, make contingency plans to leave when it is safe to do so and do not expect U.S. government assistance will be available to facilitate your departure.
Monitor local media.
Balochistan province and Khyber Pakhtunkhwa (KPK) province, including the former Federally Administered Tribal Areas (FATA), due to terrorism and kidnapping.
The immediate vicinity of the India-Pakistan border and the Line of Control due to terrorism and the potential for armed conflict.
Arauca, Cauca (except Popayan), and Norte de Santander (except Cucuta) departments due to crime and terrorism.
The Colombia-Venezuela border region due to crime, kidnapping, and risk of detention when crossing into Venezuela from Colombia.
U.S. government employees are not permitted to travel by road between most major cities.
Colombia's land border areas are off-limits to U.S. government personnel unless specifically authorized.
U.S. government employees may not use motorcycles
U.S. government employees may not hail street taxis or use public buses.
St. Ann's Parish (Steer Town and the Buckfield neighborhood near Ocho Rios)
St. Catherine's Parish (Spanish Town, Central Village, Areas within Portmore, including: Naggo Head, New Land, Old Braeton, Portmore Lane, Gregory Park, and Waterford)
Clarendon Parish (All of Clarendon Parish, except passing through Clarendon Parish using the T1 and A2 highways)
St Elizabeth's Parish (Vineyard neighborhood near Alligator Pond)
Hanover Parish (Logwood and Orange Bay)
St. James Parish/Montego Bay (All of Montego Bay on the inland side of the A1 highway and The Queen's Drive from San San to Harmony Beach Park)
Kingston and St. Andrew Parish (Cassava Piece, Downtown Kingston, defined as between Mountain View Avenue and Hagley Park Road, and south of Half Way Tree and Old Hope Roads. Downtown Kingston includes Arnett Gardens, Cockburn Gardens, Denham Town, Olympic Gardens, Seaview Gardens, Trench Town, and Tivoli Gardens, Duhaney Park, Grants Pen, Standpipe, Swallowfield, Elleston Flats, August Town)
Manchester Parish (Green Vale, Gray Ground, Red Ground, and Vineyard neighborhoods of Mandeville)
St. Thomas Parish (Black Lane neighborhood in Seaforth, Grands Penn, Church Corner neighborhood near Yallahs, Town of Yallahs, except when driving through on the main highway)
Trelawny Parish (Clarks Town)
Westmoreland Parish (Russia community in Savanna-la-Mar, Morgan Bay, Kings Valley, The Whitehall, Bethel Town, and Red Ground neighborhoods of Negril)
compel individuals to participate in PRC government investigations,
pressure family members of the restricted individual to return to the PRC from abroad,
resolve civil disputes in favor of PRC citizens, and
gain bargaining leverage over foreign governments.
The Colombian - Peruvian border area in the Loreto Region due to crime.
The Valley of the Apurimac, Ene, and Mantaro Rivers (VRAEM), including areas within the Departments of Ayacucho, Cusco, Huancavelica, and Junin, due to crime and terrorism.
Colima state due to crime and kidnapping.
Guerrero state due to crime and kidnapping.
Michoacan state due to crime and kidnapping.
Sinaloa state due to crime and kidnapping.
Tamaulipas state due to crime and kidnapping.
Zacatecas state due to crime and kidnapping.
Baja California state due to crime and kidnapping.
Chihuahua state due to crime and kidnapping.
Durango state due to crime.
Guanajuato state due to crime.
Jalisco state due to crime and kidnapping.
Morelos state due to crime and kidnapping.
Sonora state due to crime and kidnapping.
Aguacalientes state due to crime.
Baja California Sur state due to crime.
Chiapas state due to crime.
Coahuila state due to crime.
Hidalgo state due to crime.
Mexico City due to crime.
Mexico State due to crime.
Nayarit State due to crime.
Nuevo Leon state due to crime and kidnapping.
Oaxaca state due to crime.
Puebla state due to crime and kidnapping.
Queretaro state due to crime.
Quintana Roo state due to crime.
San Luis Potosi state due to crime.
Tabasco state due to crime.
Tlaxcala state due to crime.
Veracruz state due to crime.
Campeche state.
Yucatan state.
United Arab Emirates
Turkmenistan, marshall islands, hong kong sar.
The Transnistria breakaway region due to the unresolved conflict with the central government.
Cote d'Ivoire
Cayman islands.
The Nagorno-Karabakh region and surrounding territories due to recent hostilities.
Xaisomboun Province due to civil unrest.
Remote areas along the border with Burma due to crime.
Areas of Savannakhet, Xieng Khouang, Saravane, Khammouane, Sekong, Champassak, Houaphan, Attapeu, Luang Prabang, and Vientiane provinces, as well as along Route 7 (from Route 13 to the Vietnam border), Route 9 (Savannakhet to the Vietnam border), and Route 20 (Pakse to Saravane) due to unexploded bombs.
Carchi, Sucumbíos, and the northern part of Esmeraldas provinces, including Esmeraldas city, due to crime.
Guayaquil, south of Portete de Tarqui Avenue, due to crime.
Parts of the Mosquito Gulf due to crime.
Parts of the Darien Region due to crime.
North Mitrovica, Leposavic, Zubin Potok, and Zvecan due to the potential for civil unrest due to ethnic tensions.
Solomon Islands
New zealand.
The eastern area of Sabah State due to kidnapping.
French Guiana
Saint lucia.
Amambay, Alto Paraná, Canindeyu, San Pedro, and Concepcion departments due to crime.
The Yemen border area due to terrorism and armed conflict.
Antigua and Barbuda
Philippines.
The Sulu Archipelago, including the southern Sulu Sea, due to crime, terrorism, civil unrest, and kidnapping.
Marawi City in Mindanao due to terrorism and civil unrest.
Other areas of Mindanao due to crime, terrorism, civil unrest, and kidnapping.
Bosnia and Herzegovina
Turks and caicos islands, the kyrgyz republic, the bahamas, sint maarten, saint vincent and the grenadines, st. kitts and nevis, dominican republic, british virgin islands.
Yala, Pattani, Narathiwat, and Songkhla provinces due to civil unrest.
Sao Tome and Principe
Timor-leste, sierra leone, south korea.
Central Sulawesi and Papua due to civil unrest.
French Polynesia
South africa.
Any areas within 150 km/100 miles of Brazil's land borders with Venezuela, Colombia, Peru, Bolivia, Guyana, Suriname, French Guiana, and Paraguay due to crime. (Note: This does not apply to the Foz do Iguacu National Park or Pantanal National Park.)
Informal housing developments (commonly referred to in Brazil as favelas, vilas, comunidades, and/or conglomerados) at any time of day due to crime.
Brasilia's administrative regions (commonly known as satellite cities) of Ceilandia, Santa Maria, Sao Sebastiao, and Paranoa during non-daylight hours due to crime.
The Gambia's southern border area adjacent to Senegal's Casamance region due to the potential presence of landmines.
Within 30 km of southeastern Tunisia along the border with Libya due to terrorism.
Mountainous areas in the country's west, including the Chaambi Mountain National Park area, due to terrorism.
The desert south of Remada due to the military zone.
Jendouba south of Ain Drahem and west of RN15, El Kef, and Kasserine, next to the Algerian border due to terrorism.
Sidi Bou Zid in central Tunisia due to terrorism.
The desert region near the border with Iraq due to the prevalence of unexploded ordnance.
The Jeleeb Al-Shuyoukh area in Kuwait City due to crime.
French West Indies
Equatorial guinea.
The Casamance region due to crime and landmines.
Republic of the Congo
The state of Jammu and Kashmir (except the eastern Ladakh region and its capital, Leh) due to terrorism and civil unrest.
Within 10 km of the India-Pakistan border due to the potential for armed conflict.
Praia due to crime.
Northern border region adjacent to Burkina Faso due to potential for terrorism and kidnapping.
Areas north of Kande due to potential for terrorism.
The cities of Sokodé, Bafilo, and Mango due to civil unrest.
Sint Eustatius
Certain districts in Cabo Delgado Province due to terrorism.
Pemba, the provincial capital of Cabo Delgado, due to threat of terrorism.
Some sections of the EN1 and EN6 in Sofala and Manica provinces due to crime.
Antananarivo, Nosy Be, Toamasina (Tamatave), and Mahajunga
Ankarana and Montagne de Ambre National Parks adjacent to Diego
General area surrounding Tolagnaro (Ft. Dauphin), south of National Route (RN) 7 and RN 27 (excluding the tourist area on the coastal roads between Ambovombe and Farafangana)
Batterie Beach, north of Toliara
Urban areas due and crowded markets
when traveling by private or public transportation after dark, as criminal elements may use blockades to slow down and restrict movement of vehicles
in areas near the northern border in the Upper East and Upper West regions
Parts of the Bono East, Bono, Savannah, Northern, North East, and Upper East regions due to civil unrest.
Libreville and Port Gentil due to crime.
The Rwanda-Burundi border due to armed conflict.
The Rwanda-Democratic Republic of Congo (DRC) border due to armed conflict.
Kenya-Somalia border and some coastal areas due to terrorism.
Areas of Turkana County due to crime.
Nairobi neighborhoods of Eastleigh and Kibera at all times due to crime and kidnapping. Be especially careful when traveling after dark anywhere in Kenya due to crime.
New Caledonia
Mtwara Region in southern Tanzania due to the threat of terrorism.
Liechtenstein
Within 3.5 km of the Jordanian border with Syria and east of the town of Ruwayshid in the direction of the border with Iraq due to terrorism and armed conflict.
Designated Syrian refugee camps in Jordan due to Government of Jordan restrictions on entry into these camps.
Zarqa, Rusayfah, and the Baqa'a neighborhood of Ayn Basha due to terrorism and crime.
Ma'an City and as-Salt due to terrorism and crime.
Czech Republic
The netherlands.
Urban areas due to crime and kidnapping.
Phnom Penh due to crime.
Very remote areas of Battambang, Banteay Meanchey, Pursat, Siem Reap, Pailin, and Kampong Thom provinces due to land mines.
Switzerland
North macedonia.
Sirnak province, Hakkari province, and any area within six miles (ten kilometers) of the Syrian border due to terrorism.
United Kingdom
The Russian-occupied regions of South Ossetia and Abkhazia due to risk of crime, civil unrest, and landmines.
Areas near the eastern and southern borders due to terrorism and kidnapping.
Areas in the Sahara Desert due to terrorism and kidnapping.
North, Far North, Northwest and Southwest Regions, and Parts of East and Adamawa Regions due to crime and kidnapping.
Far North Region due to terrorism.
Northwest and Southwest Regions due to armed conflict.
International Travel
Entry Requirements
International Airfare
International Cruises
Travel Documents
Travel Insurance
Travel Tips
Travel Warnings
Travel Resources
Bestselling Luggage
Top Destinations
Travel Accessories
Travel Articles
Travel Business
Travel Deals
Travel Gifts
Travel Links
Travel Magazines
Travel Tools
Where to Stay
Passport Information
Expedited Passports
Registered Couriers
24 Hour Passports
Travel Visas
About :: Contact :: Privacy Policy :: Cookie Policy :: Terms of Use :: Sitemap © U.S. Passport Service Guide, All Rights Reserved
Caution November 14, 2023
Worldwide caution, update november 14, 2023, information for u.s. citizens in the middle east.
Travel Advisories |
Contact Us |
MyTravelGov |
Find U.S. Embassies & Consulates
Travel.state.gov, congressional liaison, special issuance agency, u.s. passports, international travel, intercountry adoption, international parental child abduction, records and authentications, popular links, travel advisories, mytravelgov, stay connected, legal resources, legal information, info for u.s. law enforcement, replace or certify documents.
Share this page:
Dominican Republic Travel Advisory
Travel advisory june 6, 2023, dominican republic - level 2: exercise increased caution.
Reissued with updates to health information.
Exercise increased caution in the Dominican Republic due to crime.
Country Summary: Violent crime, including armed robbery, homicide and sexual assault is a concern throughout the Dominican Republic. The development of a professional tourist police corps, institution of a 911 system in many parts of the country, and a concentration of resources in resort areas means these tend to be better policed than urban areas like Santo Domingo. The wide availability of weapons, the use and trade of illicit drugs, and a weak criminal justice system contribute to the high level of criminality on the broader scale.
Read the country information page for additional information on travel to the Dominican Republic.
If you decide to travel to the Dominican Republic:
Be aware of your surroundings.
Do not physically resist any robbery attempt.
Do not display signs of wealth, such as wearing expensive watches or jewelry.
Follow the advice of resort and tour operators regarding local safety and security concerns.
Enroll in the Smart Traveler Enrollment Program (STEP) to receive Alerts and make it easier to locate you in an emergency.
Follow the Department of State on Facebook and Twitter .
Review the Country Security Report for the Dominican Republic.
Prepare a contingency plan for emergency situations. Review the Traveler's Checklist .
Visit the CDC page for the latest Travel Health Information related to your travel.
Travel Advisory Levels
Assistance for u.s. citizens, dominican republic map, search for travel advisories, external link.
You are about to leave travel.state.gov for an external website that is not maintained by the U.S. Department of State.
Links to external websites are provided as a convenience and should not be construed as an endorsement by the U.S. Department of State of the views or products contained therein. If you wish to remain on travel.state.gov, click the "cancel" message.
You are about to visit: