facebook-official
pinterest-circled
youtube-play
How to Plan a Campervan Trip in New Zealand 🚐 [2023] Guide
Everything you need to know about buying, renting and road tripping in a campervan in new zealand.
So you've decided you want ultimate freedom to travel the country at your own leisure by campervanning in New Zealand. That's awesome! This guide will tell you all you need to know about travelling by campervan in New Zealand, from what sort of license you need to what costs to expect and more.
This ultimate guide to travel by campervan in New Zealand is for both those who want to rent a campervan in New Zealand and those who prefer to buy their own. We'll go over where to rent or buy a campervan from, important road rules to know for driving on New Zealand's roads, what costs to expect, and where you can legally sleep in your campervan.
So get ready to hit the road with this ultimate guide to travelling New Zealand by campervan!
Should You Buy or Rent a Campervan in New Zealand?
The main factor that determines whether you should buy or rent a campervan in New Zealand is time. How much time do you have in New Zealand? Although buying a campervan works out to be the most cost-effective solution in the long term, if you are on a short-term trip, you will waste a lot of your limited time on the buying and selling process.
For those of you planning to be in New Zealand for less than a month, then renting a campervan will get you on the road as quickly as possible. For those of you with more time in New Zealand, for instance by being on a working holiday , buying your own campervan in New Zealand will be the best value for money considering it is likely that you can sell the vehicle at the end of your trip.
Check out more pros and cons between the two in our complete guide, Should You Rent or Buy a Vehicle to Travel New Zealand?
Can You Legally Drive a Campervan in New Zealand?
If you can drive a car, you can drive a campervan in New Zealand – you will just need to have a valid license.
What Driving License Do You Need to Drive a Campervan in New Zealand?
To drive any vehicle up to a motorhome you need to have a full valid driving license written in English. If yours is not written in English then you will need to also carry an International Driving Permit (IDP) or a translation approved by the New Zealand Transport Agency. The former is easier to get and organise before arriving in New Zealand. Find out more in our complete guides on the subjects:
Why You Need an International Driving Permit for New Zealand
How to Translate an Overseas Driving License for New Zealand
How Old Do You Need to Be to Drive a Campervan in New Zealand?
The legal driving age in New Zealand is 16 years old. You usually need to be at least 18 to hire a campervan in New Zealand but most rental companies will not accept drivers less than 21 years old. What's more, many rental companies have a young driver's fee for drivers under 25 years old. Read up on the restrictions in Age Restrictions When Renting a Vehicle in New Zealan d . Or, simply choose a rental company from The Best New Zealand Car & Campervan Rentals for Ages 18 to 25 .
What Type of Campervan to Buy or Hire in New Zealand
Now you need to decide what type of campervan to buy or rent in New Zealand. There are so many options from small campercars to large motorhomes that it's really worth thinking about this thoroughly. For a full comparison, check out Which Campervan Rental Vehicle is Right for You? and What Model of Car or Campervan to Buy for Travelling New Zealand . Plus, if budget is important, you might want to look at our campervan vs. car rental cost comparison .
The most popular type of campervan available to buy at a cheap price in New Zealand is usually an SUV or people-mover with the back seats removed and fitted with a bed and other accessories. These are also the types of camping vehicles that you can rent without an age restriction as they are the easiest to drive. On the downside, expect it to get quite cramped once your luggage is inside and to have limited amenities. These types of vehicles are not likely to be certified self-contained, so you can only camp in campsites, holiday parks and hostels. In other words, you'll need our guide, Where Can You Camp in New Zealand if Your Campervan is Not Self-Contained?
The second most popular camping vehicle to buy is a campervan – simply a small van or minibus that has been converted into a camping vehicle. Although more expensive to buy and rent than campercars, they offer more room for amenities, perhaps even water storage, wastewater storage and a toilet which would allow you to have a self-contained sticker – something you will need if you want to be able to freedom camp . More on that below.
The most spacious campervans that you can legally drive with a normal driving license is a motorhome. They range from 2 to 6-berth (i.e. sleeping 2 to 6 people) and usually have the full-works in terms of amenities: bedding, dining area, kitchen, shower, toilet and more. However, these are the most expensive camping vehicles to rent, not to mention buying a motorhome is a pretty large investment taking you into the tens of thousands of dollars. Plus, buying and selling a motorhome is much more likely to be a lengthier process than with a smaller and more affordable camper.
The major advantage of motorhomes is that they are almost guaranteed to be self-contained meaning you can camp anywhere except where there are camping restrictions. For tips on travelling in a motorhome, check out Step-by-Step Guide to Renting Your First Motorhome .
How to Park a Motorhome (or Camping Vehicle)
We get it, driving a campervan and especially a motorhome can be intimidating for first-timers. If you need tips on parking these bad boys, head to The Best Tips for Parking a Campervan or Motorhome in New Zealand .
How to Get a Campervan for a Road Trip in New Zealand
Once you know that you have the right driving license and have an idea of the best type of camping vehicle for your road trip, it's time to start putting the wheels in motion; it's time to get a campervan!
How to Rent a Campervan in New Zealand (and Save Money)
When renting a campervan you need to compare the campervan rental companies out there and see which one suits your needs. This is pretty straightforward, as once you have found the right type of vehicle, you just need to book directly with the company. Follow our advice on How to Compare Car and Campervan Rental Companies in New Zealand and save money on your booking with 20 Ways To Save Money on Car Rental in New Zealand .
Paying for a New Zealand Campervan Rental
When booking a campervan to rent you will either need to pay in full or pay a non-refundable deposit. You do not pay after you have rented the vehicle. Many campervan rental companies in New Zealand require you to have a credit card on pick-up. There are some companies, however, that will accept the security bond via other payment methods. Find out who in How to Hire a Car in New Zealand Without a Credit Card .
The Best Campervan Rental Companies in New Zealand
While we're here, we might as well share with you some of the best campervan rental companies in New Zealand. Check out the links to rental company comparisons based on pick-up locations:
The Best Campervan Rental Companies in Auckland
The Best Campervan Rental Companies in Christchurch
The Best Campervan Rental Companies in Queenstown
The Best Campervan Rental Companies in Wellington
And check out our comparisons of the best campervan rental companies based on budget:
The Best Budget Campervan Rentals in New Zealand
The Best Affordable Campervan Rentals in New Zealand
The Best Premium Campervan Rentals in New Zealand
You might be more interested in comparisons of different "flavours" of campervans:
The Best Budget RV Rentals in New Zealand
The Best Family Campervan Rentals in New Zealand
The Best Backpacker Campervan Rentals in New Zealand
And finally, our top picks are in The Best Campervan Rental Companies in New Zealand !
Private Campervan Rental
You don't have to go with a campervan rental company at all! You can also hire a campervan privately by using website platforms similar to Airbnb (but, ya know, for camping vehicles). Find out more about hiring a private campervan in Private Campervan Rental: Should You Rent a Peer-to-Peer Motorhome?
Campervan Relocation
It's also worth mentioning campervan relocation, which can actually be the cheapest type of campervan rental in New Zealand! This is when rental companies need to relocate vehicles from one depot to another, often offering the rental for free! The downside is that usually the relocation is required to be completed within just a few days. Find if it's the right option for you by checking out our full campervan relocation guide, How to Get the Cheapest Campervan Rental in New Zealand .
How to Buy a Campervan in New Zealand
While there are plenty of campervans on the market, you need to follow the necessary steps to avoid buying a lemon. Find campervans for sale on backpacker Facebook groups , the New Zealand auction site TradeMe , on hostel notice boards, backpacker car markets and more. Get ideas from Where to Buy a Backpacker Vehicle in New Zealand .
Always inspect campervans in person before buying. Arrange a viewing with the seller and inspect the vehicle for any faults, including all the amenities inside the campervan. Does everything fold up correctly? Does the fridge/toilet/wastewater all work, for example? You will also want to make sure that the vehicle has all the necessary certificates like a WOF (Warrant of Fitness), electrical certificates and self-containment certificates if your van has power and a toilet.
Once you are ready to go through with the sale, complete the change of ownership form with the seller. There's a lot to go through but don't worry, we go through it all in Buying a Car in New Zealand Step by Step with tips that also apply to campervans.
Wilderness Motorhome Sales
To ensure the purchase of a high-quality motorhome for your extended trip around New Zealand, take a look at Wilderness Motorhome Sales . All of their motorhomes for sale are late models of Germany's leading motorhome manufacturer, Erwin Hymer Group, boasting clever designs for ultimate comfort. Choose from a range of compact and functional 2-berth campers to more spacious vehicles for the whole family. Their whole offering is available at Motorhomesforsale.com .
What to Pack for a Campervan Trip in New Zealand
If you're renting a campervan, you're going to have most of the essentials already included, while buying a campervan might mean that you'll have to purchase some. For a full guide on what it's like to live in a campervan, check out Vanlife in NZ: The Guide to Living in a Campervan in New Zealand .
What's Included in Your Campervan Rental
You will have the opportunity to choose some optional extras with your campervan rental, such as a GPS and picnic sets, however, you often have all you need already included in the rental from bedding to cooking utensils. Inclusions are often:
Basic insurance
Roadside assistance
Kitchen amenities: gas stove, fridge and sink
Kitchenware
Beds and bedding
Shower amenities (sometimes)
Consumables, like toilet paper and dishwashing liquid, aren't usually included in your rental, but you can purchase these at New Zealand's supermarkets , along with the food you'll need for cooking meals in your campervan. By the way, check out The Best Camping Meals, Inc. Camping Food List for easy meals to cook.
What's Not Included in Your Campervan Rental (and What You'll Need to Pack)
Most of what you'll need to pack are your personal items, such as clothing and toiletries. All of this we cover in our New Zealand Packing List: What to Pack for New Zealand .
If you're travelling in winter, there are some extra things you'll need to pack in order to keep warm, all of which we cover in How to Stay Warm When Camping in New Zealand , as well as in our Packing List for Winter in New Zealand .
For any extra camping gear you might want to consider, like extra sleeping bags or laundry lines, take a look at our Camping Essentials Checklist for New Zealand .
That just leaves a few miscellaneous essentials like a torch/flashlight and playing cards! All of this and more we cover in the 12 Essentials to Pack for a New Zealand Campervan Trip .
Other Things to Pack if Buying Your Own Campervan: WiFi and Power!
As mentioned, those buying their own camping vehicle might want a few more amenities, like the internet and a power source (if your camping vehicle doesn't already have one). Check out our guides on How to Get WiFi in Your Campervan in New Zealand and How to Choose a Generator for Your Motorhome, Campervan or Tent .
How to Drive a Campervan in New Zealand
Now you are ready to hit the New Zealand roads! However, there are likely to be a few road rules that you might not be used to on New Zealand's roads, so make sure you wise up before driving.
Although we go much more in-depth in How to Drive in New Zealand , here are the basic points:
Take it easy when driving a campervan, slow down on corners and let other drivers pass you where safe
Keep left! In New Zealand, we drive on the left side of the road
When at a traffic light and the light turns green, give way to pedestrians first before turning
It is illegal to use your phone while driving, you must use a hand-free set
There is an alcohol limit for driving (so don't drink and drive)
Do not overtake when the road has solid yellow lines
Only overtake when it is safe to do so, such as when on a passing lane
Keep left on passing lanes when you are not overtaking so other vehicles can pass you
You can only park on the side of the road in the same direction as the traffic flow
Stick to the speed limits
In winter, have snow chains if you intend to drive anywhere with snow (see Renting a Campervan in Winter: New Zealand Road Trip Tips )
Slow down for animals on the road and wait for the farmer's instructions
Slow down on gravel roads
Respect the priority markers on one-way bridges (which there are a lot of in New Zealand).
How Easy is it to Drive a Campervan in New Zealand?
Camping vehicles are more difficult to drive the bigger they are. You'll need to be more spacially aware when parking and will need to drive slower in windy conditions (and in general) but there are ways to make driving a campervan easier. See our driving advice in The Best Tips for Parking a Campervan or Motorhome in New Zealand .
A Note About Travel Times and Using a GPS
One extra thing to note is the New Zealand travel times and using a GPS. Expect travel times to take longer per km than what you would expect on straight roads and motorways. New Zealand's road networks consist of winding roads, gravel roads, narrow roads, as well as some motorways and straight roads.
Always prepare for journeys to take a little longer than the estimated time given on your GPS. If you are going somewhere a little off the beaten track, it is best to compare the directions of your GPS to another map or satellite view. Your GPS is likely to find the fastest route, which can sometimes be old gravel roads and sometimes dangerous tracks. What's more, some GPS data may be wrong or not updated so always double-check the route.
The Cost of Travelling by Campervan in New Zealand
There are quite a few costs to take into account when planning your campervan trip budget for New Zealand. Both buyers and renters will need to budget for fuel and the ferry if crossing between islands, while some costs differ between renters and buyers. See How Much Does it Cost to Rent a Car in New Zealand? which might be about rental cars but the information still applies to campervan rentals.
Cost of Fuel
Of course, fuel costs vary throughout the country, but the average cost for petrol is usually NZ$2 per litre (approximately NZ$7.60 per gallon). For diesel, it's NZ$1.35 (approximately NZ$5.10 per gallon) but you also have to pay a road user charge (RUC) which is around NZ$76-$82 per 1,000km (621 miles) and depending on the size of the vehicle. Check out weekly fuel price data on the MBIE website and RUC costs on the NZ Transport Agency website .
Another cost to put into your budget is the cost of the ferry between the North Island and the South Island. For example, it's around NZ$420 each way for a full campervan with four passengers. Find out more in Ferry Between the North Island and South Island .
The three toll roads in New Zealand are all on the North Island: the Northern Gateway Toll Road, the Tauranga Eastern Link Toll Road and the Takitimu Drive Toll Road. Find out more in our guide, Toll Roads in New Zealand .
Rental Costs
If renting a campervan, there is the obvious daily cost of the rental itself, which range from NZ$29/day for a small campervan in the low season to NZ$450/day for a motorhome in the high season.
Other rental fees may include a young drivers fee if you are under 25 years old, a one-way fee if dropping off the vehicle in a different location to where you picked it up, and an extra driver's fee. There may also be optional extras liking hiring a GPS or snow chains. If there is any damage to the campervan that you cause, it is likely you will have to pay for damages unless you have paid for the top insurance. We'll go through more of that below.
We kind of take budgeting for a campervan road trip very seriously here on NZ Pocket Guide, so we also advise you to take a look at How to Get the Cheapest Campervan Rental in New Zealand and Which is Cheaper: Campervan Rental or Car Rental + Stay in Hotel/Hostel/Airbnb?
Campervan Maintenance Costs
When having your own campervan, there is the risk of it breaking down or having some sort of engine problems. It's up to you to get these fixed, as most insurance companies don't cover major expenses past the basic breakdown cover. To reduce the chances of this happening, make sure you really check the campervan before buying it, plus keep the campervan well-maintained while it is in your care. Follow the tips in How to Maintain Your Car for Travelling New Zealand .
Be aware that you also may need to update the WOF certificate of vehicle registration too. On top of that, because your campervan is going to be your home for so many months, keep it clean to reduce the chance of attracting insects. Keep food in containers, for example, and wash bed sheets regularly.
Campervan Insurance
Insuring your own campervan.
While campervan insurance is not mandatory in New Zealand, some people do prefer to pay for insurance in case the worst should happen and the expenses are too much for them to afford. For your own campervan, we suggest you look at How Car Insurance Works in New Zealand to help decide whether campervan insurance is right for you.
Campervan Rental Insurance
When renting a vehicle, insurance is included in the price. You have the option to drop the excess to a lower price by paying a daily fee. For example, a high excess that might be included in your rental could be NZ$1,500-$3,000, but you may have the option to reduce this excess to, for example, NZ$250 excess or NZ$0 excess/no excess at an extra cost. For more information, check out New Zealand Rental Car Insurance: Explained!
Where to Stay in Your Campervan
In order to keep New Zealand beautiful, there are some restrictions on where you can camp. Campervans can camp in designated campsites, holiday parks, park over properties and sometimes even hostel car parks. Most of the rules on where you can and cannot camp surround whether your campervan is certified self-contained or not.
What is a Self-Contained Vehicle?
A self-contained vehicle is a vehicle that is able to store at least three days' worth of fresh water and wastewater and has a toilet on board. These must meet a particular standard to be given a Self-Containment NZS 5465 as the certification. A vehicle that is self-contained must display a blue self-contained sticker in order to freedom camp. Only self-contained campervans can park up somewhere for free and stay the night, except for zones that don't allow camping. Find out more about Self-Contained Campervans in New Zealand .
Campervan rental companies should state whether their vehicles are certified self-contained. If you're buying a camping vehicle, make sure to look for vehicles that are certified to be able to freedom camp. Otherwise, you can apply for the self-contained certification yourself by following How to Get Your Campervan Certified Self-Contained . Or modify your van yourself using How to Convert Your Van into a Self-Contained Campervan .
Parking Your Campervan in Holiday Parks
To recharge the power in your camper, dump your waste and get some quick comforts, you're likely to use a holiday park at least once on your campervan road trip in New Zealand. Holiday parks have powered sites and non-powered sites to park up your vehicle and make use of their facilities, including dump stations, kitchens, laundry, showers and sometimes more. To see what a holiday park is like in New Zealand, take a look at our Accommodation Guide to Holiday Parks in New Zealand .
Parking Your Campervan in Campsites/Campgrounds
Campsites are a little more basic than holiday park, offering much fewer facilities. For this reason, they are cheaper (sometimes even free) and have the bare essentials to keep the environment tidy. Most of the campsites are run by the Department of Conservation (DOC) . Find out more in What is the Difference Between a Campsite and a Holiday Park? Plus, see if it's worth getting a campsite pass in DOC Campsite Pass: How it Works & is it Worth it?
Parking in a Park Over Property (POP)
Some landowners allow self-contained vehicles to stay on their property overnight for a small fee.
Freedom Camping (Parking Your Campervan for Free)
There are very few areas around New Zealand where you can camp for free without a self-contained vehicle. Otherwise, camping with a self-contained vehicle is usually permitted on public land where there are no restrictions. Each district council in New Zealand have their own laws on freedom camping, so make sure you research before arriving in an area – you can use Freedom Camping Rules in New Zealand: Region by Region which links to all of the regional council websites concerning freedom camping. Finally, learn more about free camping in What it's Really Like to Freedom Camp in New Zealand .
The End of Your Trip: Selling or Returning Your Campervan
On that sad day when your campervan road trip in New Zealand comes to an end, what do you do?
Returning Your Rental Campervan
On the date, time and location agreed with the rental company, return your campervan. There is usually an inspection to see whether there are any damages to the vehicle. If there is any damage, the cost will be taken from your card if you have supplied the details or the damages will be taken from your deposit. Otherwise, your deposit will be returned to you and you are free to go. Make sure you don't leave anything behind in the campervan!
Selling Your Campervan
Because campervans usually take longer to sell than cars, we recommend giving yourself at least two weeks to sell your van at the end of your trip. Use the tips we give in How to Sell Your Car in New Zealand , which, yes, also apply to campervans.
New Zealand Campervan Itineraries
Now that you know everything about travelling by campervan in New Zealand, do you need some road trip ideas? Check out the following itineraries for the best campervan routes:
North Island in One Week : Road Trip Itinerary
South Island in One Week : Road Trip Itinerary
South Island Campervan Itinerary: 10 Days
North Island in Two Weeks : Road Trip Itinerary
South Island in Two Weeks : Road Trip Itinerary
New Zealand in Three Weeks : Road Trip Itinerary
New Zealand in a Month : Road Trip Itinerary .
Finally, get some last quick tips from our 10 Things You Need to Know About Camper Van Rental in New Zealand .
This article was reviewed and published by Robin, the co-founder of NZ Pocket Guide. He has lived, worked and travelled across 16 different countries before calling New Zealand home. He has now spent over a decade in the New Zealand tourism industry, clocking in more than 600 activities across the country. He is passionate about sharing those experiences and advice on NZ Pocket Guide and its YouTube channel. Robin is also the co-founder of several other South Pacific travel guides.
Was this article useful?
Related posts, 10 breathtaking photos of new zealand, how to sell your car or campervan in new zealand, 16 classic backpacker problems, what clothes to pack to backpack in new zealand, 10 things you did not know about new zealand wildlife, the 16 essential driving rules in new zealand, recommended for you, the best motorhome & campervan rentals in auckland 🚐 [2023], age restrictions for renting a vehicle in new zealand: full guide, 10 essential new zealand travel tips, destinations, travel tips, connect with us, accommodation.
Welcome/Kia Ora By using this website you agree to our Privacy Policy and terms of use within it which includes sponsored posts and affiliate links.
Connect with us
Welcome/Kia Ora! By using this website you agree to our Privacy Policy and the terms of use within it.
© 2023 NZ Pocket Guide. Contact – Disclaimer
Traveling New Zealand in a Motorhome: What You Need to Know
By: Author Guest Blogger
Posted on Last updated: July 26, 2021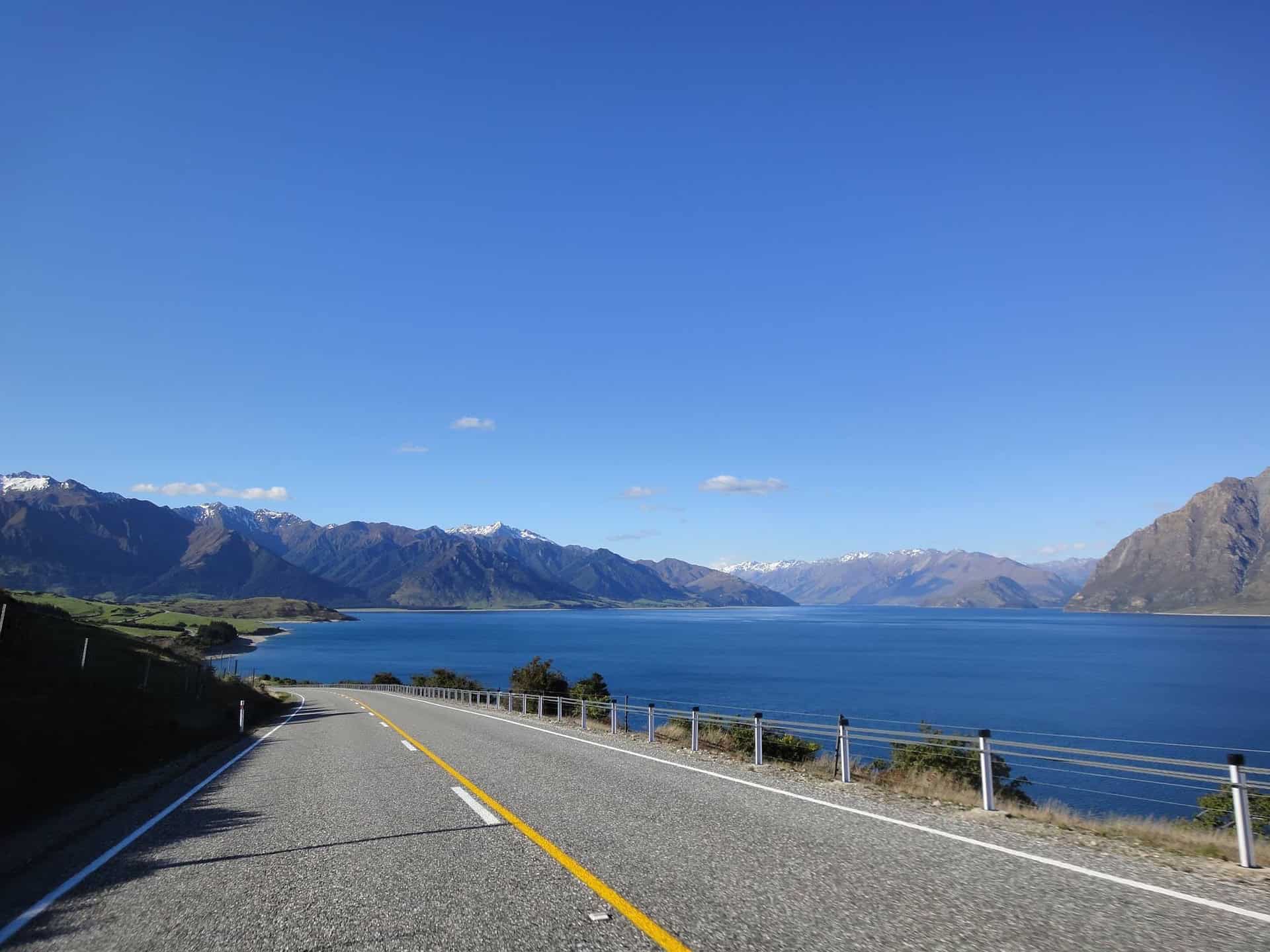 Taking a motorhome trip around Aotearoa? We have some tried and tested advice and top tips so you can travel worry-free.
It is universally accepted amongst everyone in New Zealand that a road trip is the best way to see the country.
Driving around in a motorhome allows you the flexibility to stop and stay places at your own pace.
You can explore the beautiful sightseeing spots and breathtaking scenery that makes New Zealand unique and memorable with no time crunches.
If a motorhome is new to you, this article shares advice and tips from seasoned travelers. This means that you are well prepared and can enjoy your travels without worries or mishaps.
Plan Your Trip
Choosing the right vehicle.
Motorhomes come in various sizes and layouts, and there are also differences in the amenities and equipment you will get.
You have to think about what you prefer. Would you like a smaller vehicle that will be easier to drive around but will have limited space and may get cramped with a family onboard?
Or, if you don't mind driving slower in a bigger vehicle and are not concerned about your turning radius, you can have a bigger space and live comfortably during your motorhome adventures.
This will be your home for the duration of your trip, so if space and convenience are important to you and your travel companions, we suggest booking a four-person sleeper, even when there are only two of you.
This means you have more space to move around, and you don't have to make up the beds every single day to have space to chill out.
If you plan to spend a large part of your trip exploring off-the-beaten-track locations or want to head to remote areas of NZ, then prioritize a large water tank, self-contained toilets and shower, solar panels, and a tap water filter as necessary amenities in your motorhome.
What's an "extra?"
Each motorhome rental company will have a set of things that are included in the upfront rental cost, and this will vary.
You must understand whether things like deposits, diesel tax, driver fees, and insurance are part of the deal or considered extra, adding to the overall rental cost.
Understanding types of insurance
You can get three types of insurance , and we strongly recommend that you get full insurance to ensure peace of mind during your motorhome travels.
The type you will most likely end up choosing is insurance specifically for a motorhome, and there are a ton of options.
You probably don't need the most expensive, so do some research and check out what level of coverage makes sense for you.
The second option is to get travel insurance. Some policies offer accident coverage in addition to standard illness, theft , and repatriation.
But do keep in mind you have to field the costs upfront in case of an accident and then apply for reimbursement afterward.
This means you need to keep a chunk of change aside in case there is an accident.
Finally, there's the insurance provided by your credit card company.
This is the least likely to apply given that the majority of motorhomes are 3.5 times over 8m3 or even bigger, making them ineligible for coverage.
But it is worth checking in with the bank or company that has issued your credit card to see if you can use this option.
Driving and parking your motorhome
Given the size of a motorhome, it is not just a typical passenger vehicle. It comes with its own set of requirements and challenges when it comes to driving and parking .
Even when you are driving on the designated left side of the road, your POV from the motorhome makes it seem like you're in the middle of the road, which takes some adjusting to.
Braking distance and accelerating take more time when driving a motorhome, and you literally take up more space on the road.
This means you need to allow more time for travel than you're used to, and also need to be a more courteous driver.
If traffic is building up behind you and cannot pass due to winding roads and your bulk, pull over when possible and let them pass.
Third, a motorhome is significantly taller than a car, so keep that in mind when parking under trees or shelters.
Driving at night becomes more challenging, as it's harder to see branches or know where you are on the road.
It's a great experience and the ultimate way to travel across NZ. Plan ahead, do your research, and it will be a trip of a lifetime.
This story is brought to you in partnership with Wilderness Motorhomes Ltd.
This post was written by a guest contributor. Please reference the author's byline in the post above for more information. If you would like to guest post on Go Backpacking, please read our submission guidelines . For information on advertising opportunities, go here .
Planning a trip? Go Backpacking recommends:
G Adventures for small group tours.
Hostelworld for booking hostels.
Saturday 24th of July 2021
I really like your blog it inspires me a lot. This is a really helpful post for someone like me who's just starting out. Keep sharing!
Meet the Team
Talk to The Broke Backpacker
Czech Republic
Netherlands
Switzerland
Scandinavia
Philippines
South Korea
New Zealand
South Africa
Budget Travel
Work & Travel
The Broke Backpacker Manifesto
Travel Resources
How to Travel on $10/day
Home » Oceania » New Zealand » Campervanning in New Zealand: Must Read Guide for Backpackers 2023
Campervanning in New Zealand: Must Read Guide for Backpackers 2023
New Zealand is my favorite country on Earth! I was fortunate enough to spend 15 months there working and traveling around on one incredible campervan trip.
In my honest opinion, there is no better way to experience all of the legendary natural beauty and adrenaline pumping activities in NZ than by campervanning in New Zealand.
It's simply the BEST way to take it all in, period.
New Zealand or  Aeoteroa—  as the Maori's call it — is a land of staggering diversity.
Snow-capped mountains and glaciers jut out of low lying temperate rainforest, the home to many plant and animal species that are found nowhere else on this Earth.
Dramatic beaches dot the ever-shifting coastline. Thermal hot-springs fill the air with sulfurous gases. This is Middle-Earth: the land of unparalleled natural elegance and power.
Due to its popularity among backpackers, campervanning in New Zealand is big business. Navigating the worlds of both buying a van or campervan hire in NZ can be a challenge for travelers that have just landed in the country.
That is exactly why I wrote the ultimate guide to campervanning in New Zealand. So you can head out on your epic campervan road trip with ease.
Let's begin!

Unlock Our GREATEST Travel Secrets!
Sign up for our newsletter and get the best travel tips delivered right to your inbox.
Why Go on a Campervan Road Trip in New Zealand?
Campervan hire in new zealand, buying a campervan in new zealand, nz road trip travel tips for campervan backpackers, self-contained vs non-self-contained campervans in nz, what to pack for campervanning in new zealand, final thoughts on campervanning in new zealand.
Whether you're coming to New Zealand on a year-long working holiday visa or just intend to make an epic 2-week road trip in a campervan, this is the guide to help you sort out all of your New Zealand campervan questions and needs.
New Zealand is a huge country made up of two islands, simply named North Island and South Island. Getting around these two islands is easy because NZ has a great network of buses that can take you from one town or city to the next.
The most economical way to see New Zealand is by hiring a car. But, you still need to pay for accommodation. To save money on accommodation, that's where camper vans come in.
A campervan road trip allows you the freedom to explore these rural, off-the-beaten-track locations, and even camp there. Imagine waking up next to a gorgeous lake with snow-capped mountains in the background? You'd pay a pretty price for an Airbnb with that view.
It's a no-brainer then, that travelling in your own campervan is the way to travel New Zealand .
Your camper van road trip in New Zealand need not be complicated. This guide breaks down everything you need to know in the realm of NZ campervanning.
Learn about the process of campervan hire in New Zealand, compare rental companies, learn where and when to buy a campervan, how to sell your campervan, Freedom Camping, driving in NZ and much more…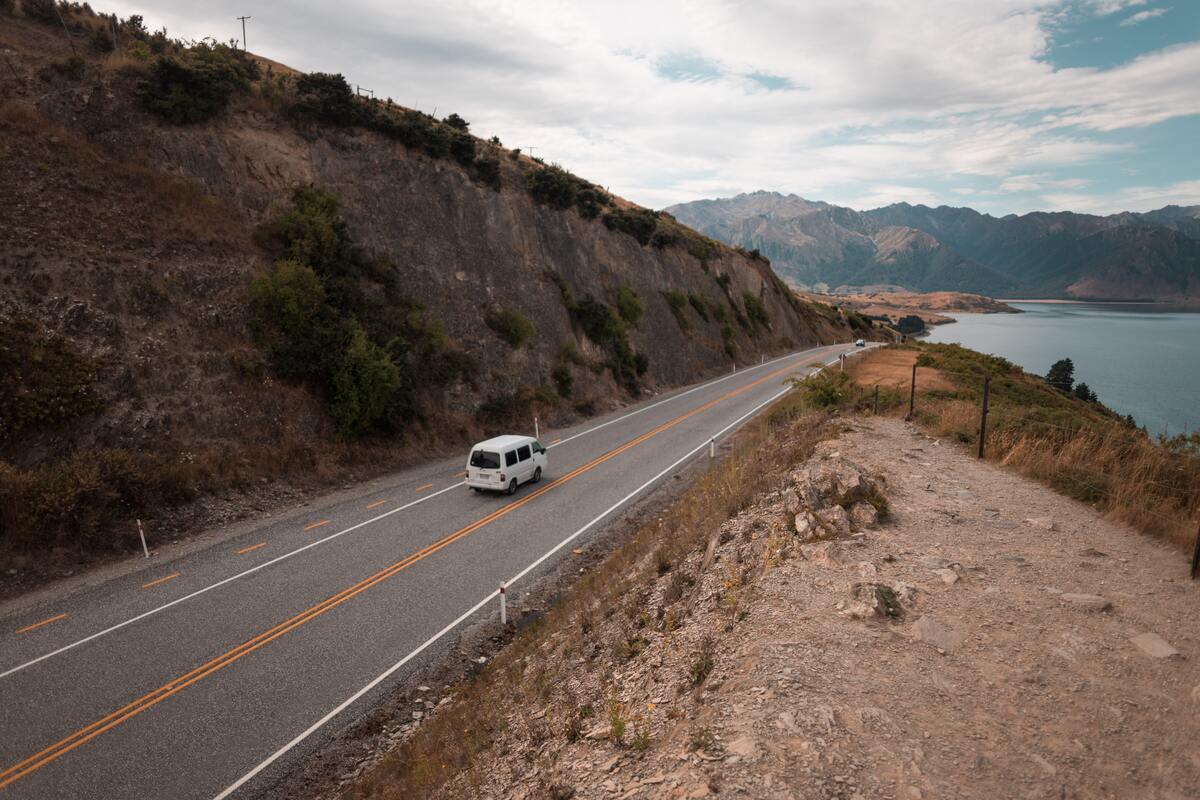 Renting a campervan in New Zealand is a great solution for both long and short-term travellers. If you are only coming to visit New Zealand for a couple of weeks (or a couple of months), then renting your own camper van is the obvious way to go.
For long-term NZ backpackers, renting a van is certainly the less hassle alternative to buying a van. Obviously renting a van will end up being more expensive (in theory) than buying one.
The main benefit to renting is you don't have to spend ages hunting for the right camper van if you're short on time and you also don't have to sell it off at the end of your journey.
Your needs, schedule, budget, and travel plans all factor into the important decision of how best to get your hands on a campervan.
In every "major" city or travel hub in New Zealand, it is possible to rent a campervan. The prices vary wildly depending on the season, length of rental, and the type of campervan you decide to go with.
It is probably the most convenient for you to pick-up your campervan directly from the airport in Auckland , Christchurch, or Queenstown, but this tends to be more expensive. You can save money by hiring from independent companies in the city if you're willing to shop around.
For those backpackers who only have a few weeks (or less) to spare, it is absolutely essential to book your campervan in advance before arriving in NZ.
The last thing you want to be doing is scrambling for a campervan while you are in the country. Often times in the summer season, the cheaper van options are not available without a prior booking. Most rental companies will offer you a discount if you rent for longer than a few weeks, but it's always good to shop around.
With a little planning and preparation, you can score the right campervan best suited to your budget and travel style.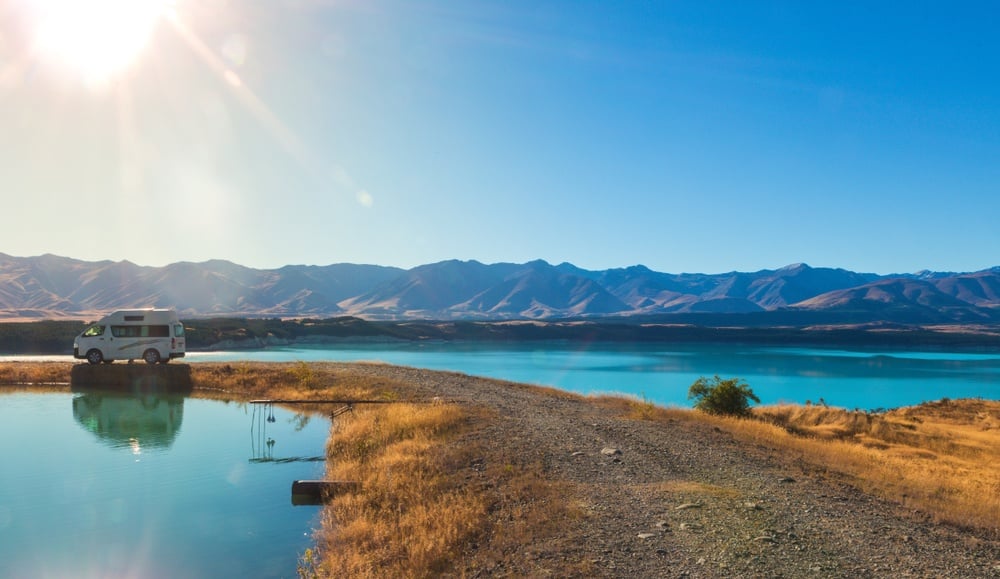 Seasonal Prices for Campervan Rentals in NZ
Want to rent a camper van in the New Zealand summer (December – March)? So does every other campervanning fan coming to New Zealand. Prices in the summer are always double what they are in the winter.
I recognize that campervanning deep in the South Island in the middle of winter might not be so fun. That said, there are plenty of places on the North Island that see moderate temperatures throughout the winter.
To get the absolute best price for a campervan rental in NZ, you are going to have to plan your road trip for the winter. The winter definitely has the double bonus of being the tourist low-season in addition to rental prices being at their most reasonable.
Here is a look at several New Zealand campervan rental companies…
*Author's Note : The prices (USD) and specs featured in this table are based on the cheapest campervans (sleeping two people) each company offers. I kept the price estimates wide-ranging to account for seasonal rates.
Renting a Campervan in NZ: Company Breakdowns
Of all the companies renting campervans in New Zealand, Wicked Campers seem to be the most backpacker-friendly outfit.
Their prices are low and reasonable. The customer service has great reviews. All of their campervans offer just enough luxury for your average backpacker to have a kick-ass road trip.
Certainly, Wicked campervans do not feature all of the bells and whistles other campervan rentals might have, but then again you'd be surprised at what is actually useful and what is not whilst campervanning in NZ.
The major drawback for Wicked Campers is that the standard two-person campervans are NOT self contained vehicles. Meaning there is no toilet, shower, or gray-water system.
For me personally, I never had access to a self contained vehicle in New Zealand and I managed just fine (my then-girlfriend, now wife too).
Whilst it can be inconvenient not having a toilet on board, it really isn't that big of a deal. You can find toilets and showers at holiday parks or campsites when you stop. In fact, some people might like not having a toilet in their vehicle because, y'know, the smell…
A close competitor of Wicked Campers is Hippie Campers . This company has taken the iconic image of hippies and campervans we all have in our minds and turned it into a corporate marketing scheme.
There is nothing "hippie" about this company. That said, they do offer quality campervans at low prices. What you get in terms of campervan features is about the same as Wicked offers.
Juicy also basically offers the same sort of campervans as the previous two companies but for double (or triple) the price. Personally, I would never rent a Juicy campervan as it is basically just pissing money away when cheaper options of equal quality exist.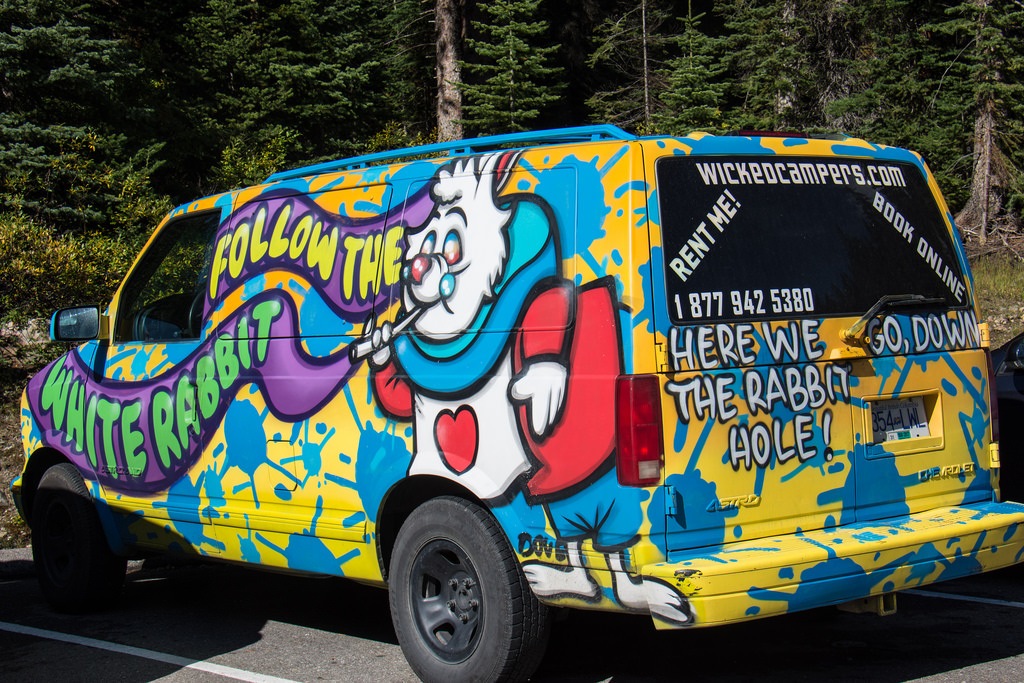 Self Contained Van Rentals
For backpackers looking for fully-loaded, self contained vehicles, two companies dominate the market: Britz and Maui .
For younger backpackers on their gap year in NZ under the age of 21 (yes, I am talking about all of you gap-year European youngsters!), Britz and Maui campervans are off-limits due to age restrictions (21+). They don't want young drivers screwing up their fancy campervans!
Let us be clear, Britz and Maui campervans are 3-5x the price of Wicked and Hippie, though if truth be told they are nicer inside. They come with self-contained certification, which includes a water tank, toilet, and gray-water system.
Like anything in life, you get what you pay for. If you are the kind of backpacker that enjoys a more comfortable road-tripping experience you certainly can have it with a Britz or Maui campervan. You'll just have to pay for it.
They are definitely not the budget choice for backpackers living on a shoestring.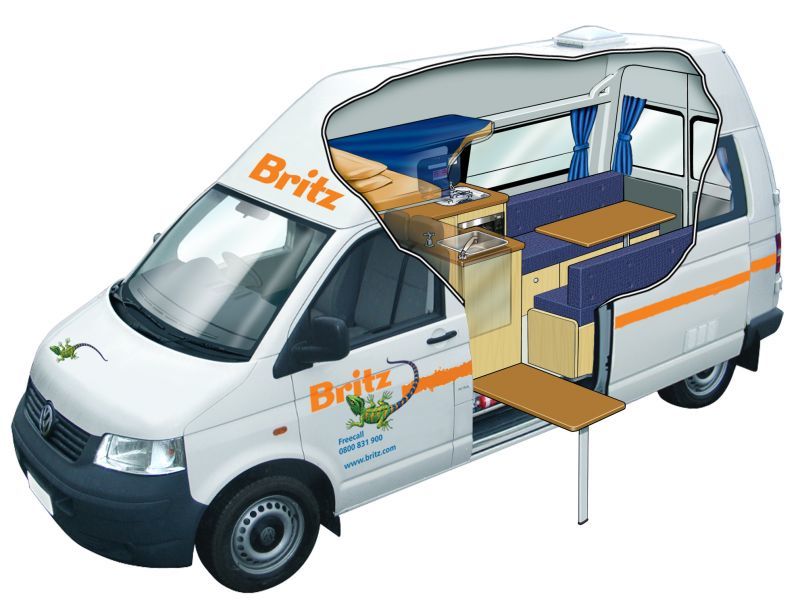 Extra Costs When Traveling New Zealand By Campervan
New Zealand is expensive . When factoring together your campervan rental costs, keep in mind that petrol in New Zealand is expensive , and you will also need to buy insurance for your rental.
We recommend purchasing a RentalCover.com policy to cover your vehicle against any common damages such as flat tires, chipped windscreens, theft, and more at a fraction of the price you would pay at the rental desk.
If you plan on taking the ferry between North and South islands, the cost for two people and a campervan is around $260 NZD one way.
Also, most companies charge a (sometimes high) fee when you drop off your campervan rental at a different location than you picked it up from.
Campervanning in New Zealand is not without its costs. To get the most out of your time campervanning in New Zealand you need a realistic idea of what to expect!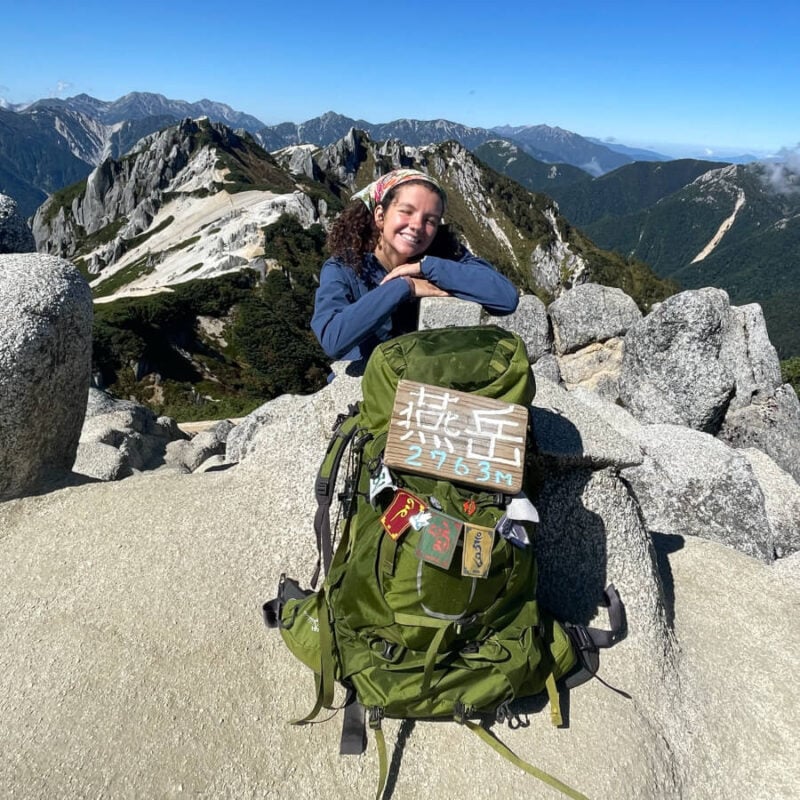 We've tested countless backpacks over the years, but there's one that has always been the best and remains the best buy for adventurers: the broke backpacker-approved Osprey Aether and Ariel series.
Want more deetz on why these packs are so  damn perfect? Then read our comprehensive review for the inside scoop!
If you know that you are coming to New Zealand for more than a couple of months then you should seriously think about buying a campervan.
Buying your own campervan will be the most important investment you make on your campervan trip in NZ.
I see buying a car or a campervan in NZ as a sort of right of passage for backpackers here. It is a challenging, stressful process. You never really know what you are buying. Which can be very scary for backpackers with little money.
There are a TON of campervans constantly changing hands in New Zealand. Some campervans have gone through 15 different backpacker owners in the last 5 years alone. You can imagine all of the wear and tear these vans must have endured during that time.
I have personally met at least three fellow backpackers who paid several thousand dollars for a campervan only to have it break down within days (or hours). The cost of repair in one case was more than the total amount she paid for the van!
Sadly, this is more common than you might think. I don't believe a backpacker possessing even the slightest conscience would intentionally sell you a campervan on the verge of death. Though shitty people exist and it has definitely happened.
Campervanning in New Zealand is not without its perils when it comes to buying one, but with a little common sense and forethought, you can hopefully avoid tragedy.
So what can you do to prepare for your big day purchasing a campervan in New Zealand?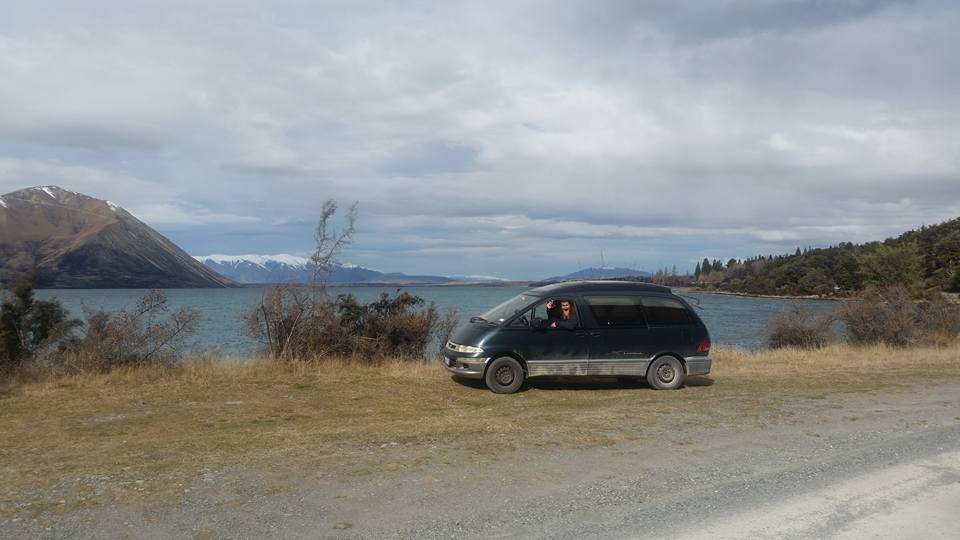 Tips for Buying a Campervan in New Zealand
There are many different paths to take when buying a campervan.
Numerous Facebook groups exist for the sole purpose of buying/selling cars in New Zealand. There are specific FB groups just for campervans. I actually sold my vehicle through a Facebook group .
The risk and benefits of buying directly from a fellow backpacker or Kiwi person are straightforward. You are likely to get a better price (you can ALWAYS negotiate) when buying from a backpacker or individual.
The obvious drawback is that you are buying the campervan as is. No refunds. Zero exchanges. No ifs, and, or buts about it.
In the case, you go this route (which I did) it is your responsibility to get the campervan checked out by a professional mechanic. The person selling the campervan should pay for it.
It is possible that the owner has already done a recent mechanic check prior to you meeting them. If this is true you should absolutely demand to see the paper(s) proving/showing all of the details including the date of the inspection.
Another good website for buying/selling Campervans is Trademe.co.nz .
Buying a Campervan Through a Private Company
Another option is buying a campervan from an authorized dealer or private company. This route might be more expensive, but usually, the car will have some sort of minimum guarantee or limited warranty.
Depending on the purchase agreement, if your campervan takes a shit on you two days after you buy it, then there might be something the dealer can do to make amends.
I wouldn't say that buying from a dealer is a fool-proof security net by any means. Though it is a safer bet than purchasing a car from someone you just met on Facebook.
Some friends of ours in Auckland run a car/campervan dealership there: Travel Cars NZ . Friends of the Broke Backpacker can receive a $100 discount on any vehicle purchase .
Check them out as they really do have an excellent stock of campervans available throughout the year! Be sure to mention us too to receive your $100 discount or simply show them the coupon featured below!
When Buying a Campervan Always:
Get this vehicle history (when possible)
Ask when the current Warrant of Fitness expires
Find about about maintenance history
Ask when the last oil change was.
Take the campervan to get looked over by a mechanic.
Take the campervan for a test drive.
Do a thorough visual inspection of the interior.
Inquire if any other camping gear comes with the campervan (tables, chairs, gas cooker, cookware, etc)
When to Buy a Campervan in NZ
As renting a campervan is affected by seasonal prices, so is buying one. Prices are at their highest in the New Zealand summer. Locals and backpackers alike are scouring the internet and vehicle ads in search of that perfect campervan for summer.
If you are arriving in New Zealand say in January, you might want to wait a couple of months before buying anything. Find a place to stay in New Zealand 's towns such as Wellington or Auckland, find work, and start saving up.
The summer is the best time to find a job as the tourism sector will be in full swing. If you need to be somewhere close to the action, there is a lot to do in Queenstown during the summer.
The trick is to not be in any mad hurry. When you are in a hurry you are liable to make a mistake. Mistakes can be very costly in this game. Being in a rush and making a bad decision could condemn your New Zealand campervanning experience from the start.
Some of the best deals can be found when fellow backpackers are in a rush to sell their campervan. They might be rushing to sell for example because they are leaving the country in two days' time.
I have heard of backpackers basically giving away their campervans at the airport because nobody would give them a fair price, knowing that they were leaving.
You will do severe damage to your travel karma if you low-ball a fellow backpacker to the point of breaking their hope in humanity.
You can also put up a notice in your hostel in New Zealand , or ask around the common areas, as someone is bound to know someone who is looking.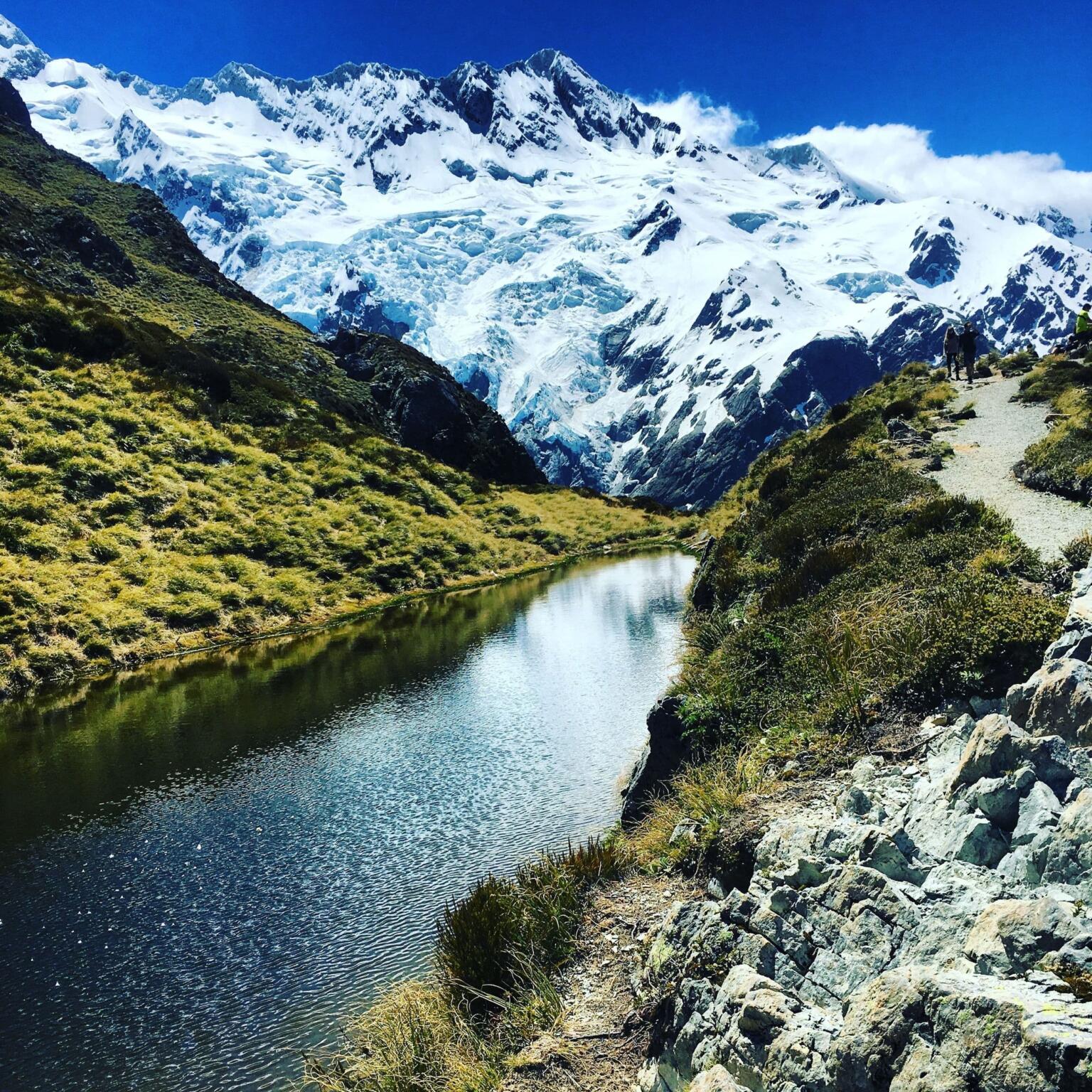 How to Sell your Campervan in New Zealand
One of the greatest benefits of buying a campervan is that you can sell it off again at the end of your trip and make some money back.
When the time came for me to leave New Zealand, I sold my vehicle for the exact same price I paid for it six months earlier.
Basically, I got a free vehicle (minus the insurance and the cost of petrol) for six months. Pretty sweet deal right?
So, as you gathered from what I said in the previous section, you as the seller do not want to be in a rush to sell. If you wait until the last minute to sell your campervan, you will certainly not get the best price for it.
I started actively trying to sell my ride about six weeks before leaving New Zealand. I'd say that is the minimum amount of time, especially if you have a rough and ready old backpacker campervan.
On the other hand, if you have a badass self-contained van it is possible to unload it at a great price (even more than you paid for it) in just a couple of days.
Campervans sell like there is no tomorrow in NZ. There are new backpackers arriving into the country every single day and odds are at least one of them wants to buy your campervan…
Don't Cheat Fellow New Zealand Backpackers!
I advise potential campervan sellers to also price their vehicles in good conscience. Don't rip people off by charging them way more than you paid originally. Always always be honest about the state of your campervan when the time comes to sell.
If the campervan has issues be upfront about that.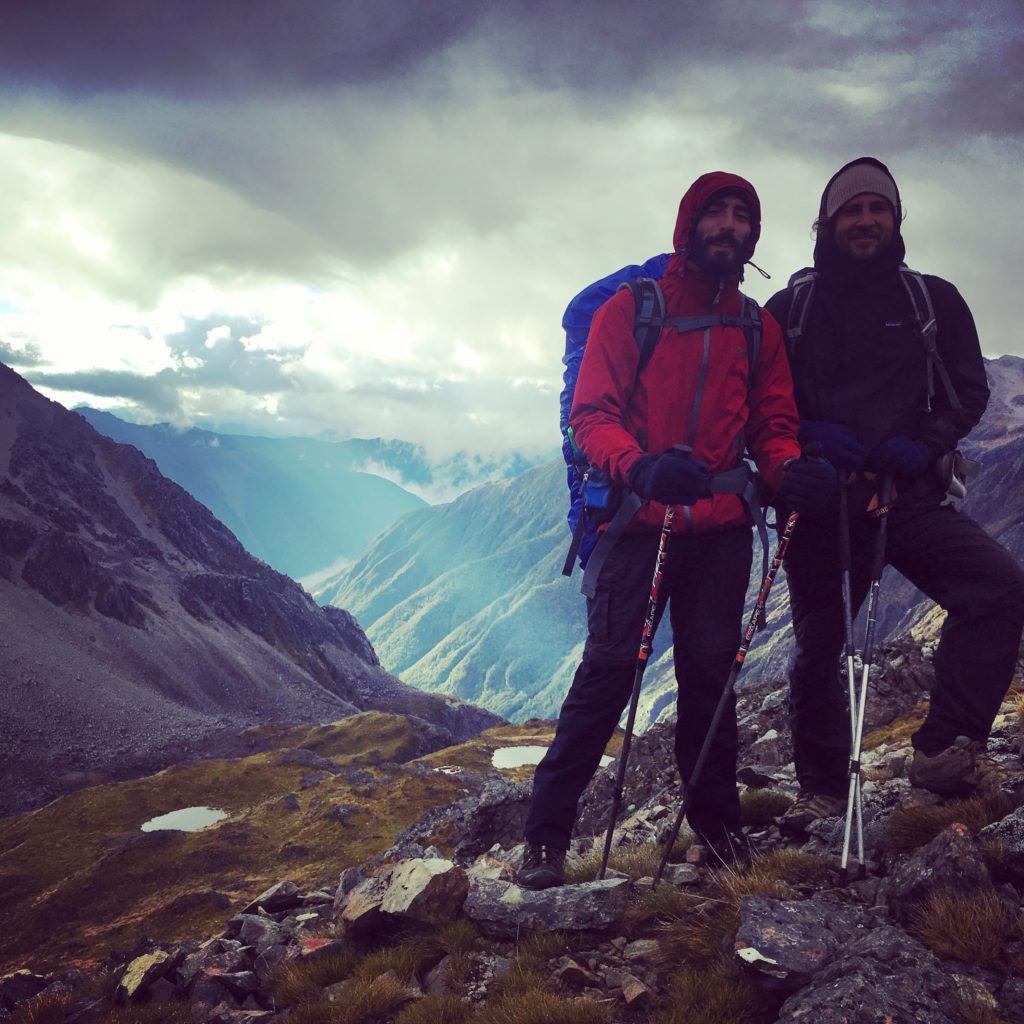 To sell your campervan it will be the easiest for you to make a quick sale if you are near or in a big city. The more remote you are the fewer the people who can visit you to check out the campervan.
Again numerous Facebook groups were created for the sole purpose of buying and selling campervans.
Selling your campervan completes the journey of campervanning in New Zealand.
You have now come full circle and probably had tons of amazing experiences along the way! That is what it's all about!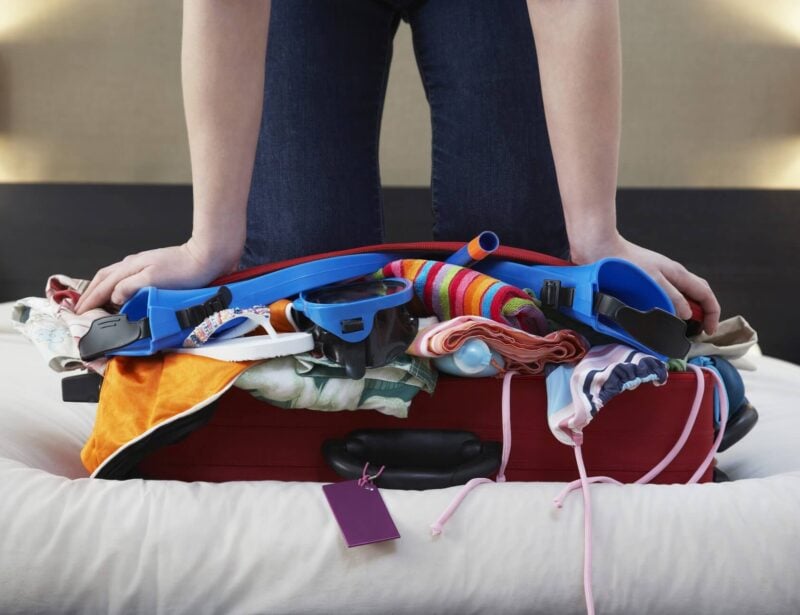 Wanna know how to pack like a pro? Well for a start you need the right gear….
These are packing cubes for the globetrotters and compression sacks for the  real adventurers – these babies are a traveller's best kept secret. They organise yo' packing and minimise volume too so you can pack MORE.
Or, y'know… you can stick to just chucking it all in your backpack…
Before you hit the high road and start exploring, here are just a few more tips to consider before you go.
Driving a Campervan in New Zealand
As you may or may not know, the driving orientation is on the left (like in the UK). Always use extra caution if you are not used to driving on the left!
The New Zealand "highways" are predominately made up of small 2-lane roads. There is an increasing number of fatalities every year involving foreign tourists.
The Chinese, in particular, are notoriously dangerous drivers in New Zealand. Unfortunately, this has become so much more than a stereotype that I am mentioning it here.
There are bad drivers in every country on Earth, certainly. Though in New Zealand the influx of more Chinese drivers has caused significant enough damage in recent years that authorities are connecting the dots.
That being said, the landscape is so jaw-dropping that anyone can lose focus when at the wheels. Remember when you're driving, especially if you're planning to take a lush South Island road trip through natural scenery, to keep an eye on the road when you're driving. If the view grabs you, pull over and enjoy it.
Driving Licenses Needed for New Zealand
If you are visiting New Zealand for a year or less you're in luck. For many nationalities, you can drive in New Zealand on the license issued by your home country. This includes the UK, the USA, Europe, Canada, ETC.
If you are from a non-English-speaking country, you will have to obtain a formal translation of your license. My wife, who is French got her license translated at the French Embassy in Wellington (at the cost of $50 NZD).
Before heading to New Zealand you can apply for an international driving license in your home country. In most countries, it is free to do.
Perhaps the first question you should ask yourself before buying or renting a campervan in New Zealand is whether you want a self-contained van.
In New Zealand, the government issues permit certifying self-contained campervans. Basically if certified, the campervan in question meets all the requirements to be self-contained.
New Zealand Self-Contained Campervan Requirements:
The campervan can contain water for up to 3 days
At least 12L fresh water tank
Gray waste water tank: 12L per person for 3 days
Evacuation hose
Rubbish bin with lid
Toliet: fixed or not fixed
Self-contained campervans will ALWAYS be more expensive to maintain/rent/buy.
It is possible (and common) to buy a non-self contained basic campervan for between $1400-1800 USD.
When you start venturing into the realm of self-contained campervans the price is more like $3500-5000 USD at least.
Where you can park up for the night whilst campervanning in New Zealand can depend on whether you're self-contained or not.
Freedom Camping laws intended to prevent people from just parking (and shitting) everywhere are strictly enforced in NZ.
Let's take a look at what the Freedom Camping Laws mean for your New Zealand road trip…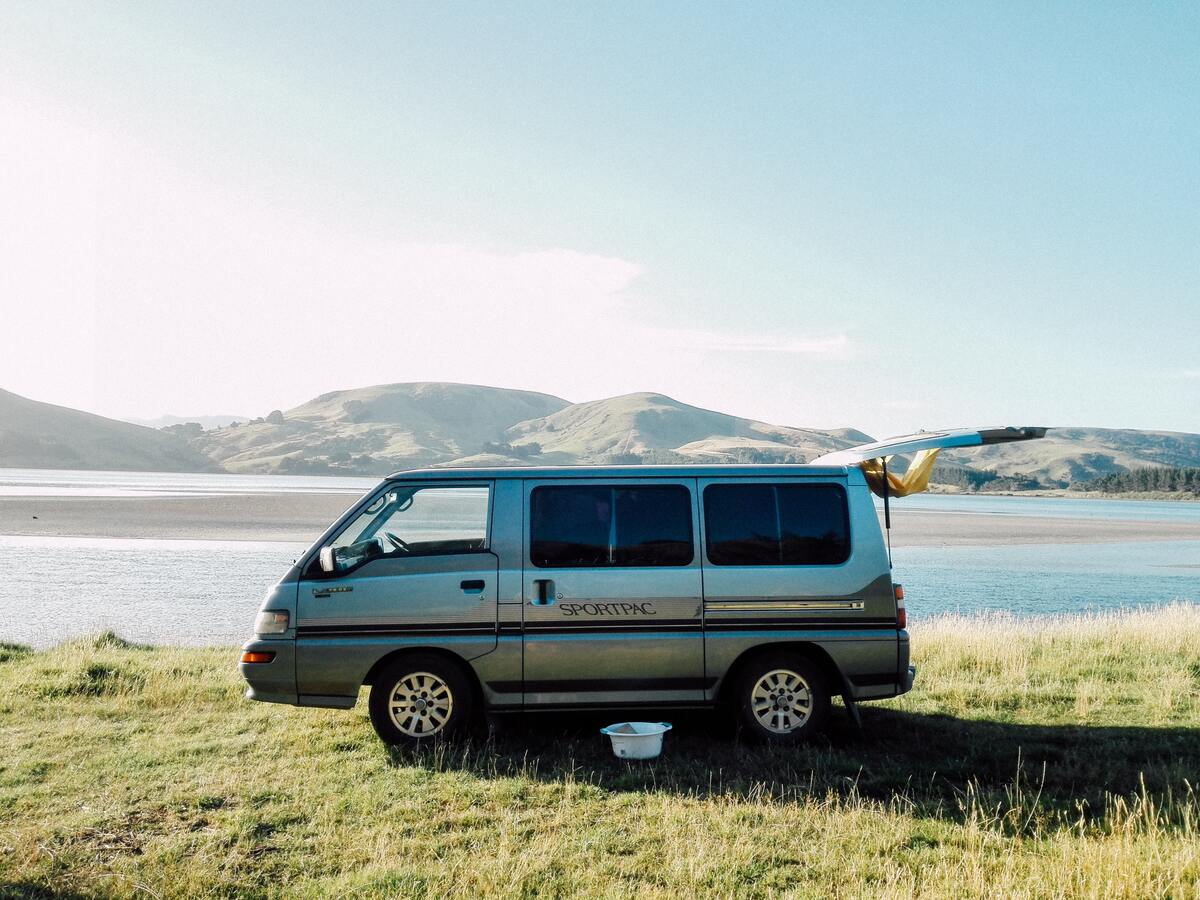 Freedom Camping and Campervanning in New Zealand
Kiwis love campervanning too. As you drive down the road in New Zealand you will see many different campervans in action. A majority of these vans are owned by Kiwis, not backpackers (though backpackers might overtake Kiwis soon in this regard).
Freedom Camping, or free camping, is great in one sense that you can essentially park up anywhere that is public land. That said there are a few asterisks attached to that statement.
Because there are so many campervans in New Zealand there are specific laws protecting the natural environment as well as local communities from free camping (humans specifically) abuse.
The law states:
Anyone parking in a public space overnight is bound by the same laws as occupying public land at any other time. i.e. respect for the environment (including not causing damage or littering or improperly disposing of waste) and respect for the rights of others (not being a nuisance, etc).
Any person of legal standing has the right to freedom of movement in any public space in New Zealand.
This right is also enshrined in New Zealand's Bill of Rights.
Therefore, any person has the right to park overnight in any public space. *For this to apply to you, you MUST have a self-contained van.
Local councils or governments can create their own legislation and rules surrounding Freedom Camping.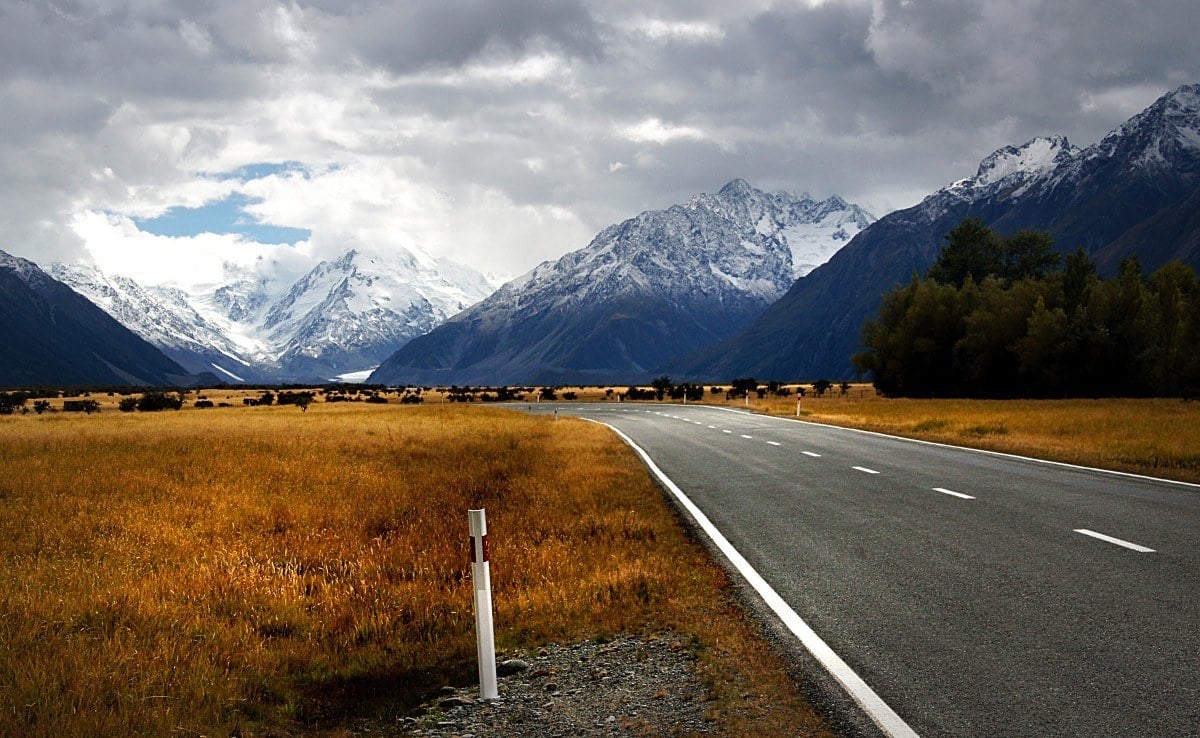 Zero Tolerance for Non-Self Contained Campervans
In 2018 and beyond New Zealand locals have had enough of disrespectful campervan owners. In recent years there has been a real battle waged over where people can freedom camp their campervans overnight.
Mostly, this has to do with people leaving copious amounts of trash, toilet paper, faeces, and urine in their wake as they visit some of New Zealand's most treasured landmarks.
If you are renting/buying a self-contained campervan you WILL have more actual freedom in relation to where you can park (which is almost anywhere really).
If you are not-self contained, do not expect to park your van in a town or populated car park unless there is signage permitting you to do so. More often than not there will be signs communicating the opposite.
That said there are still literally millions of places you can park/sleep for the night that don't require a self-contained campervan.
Do not feel like having a self-contained van is mandatory because it certainly isn't. You still have PLENTY of options!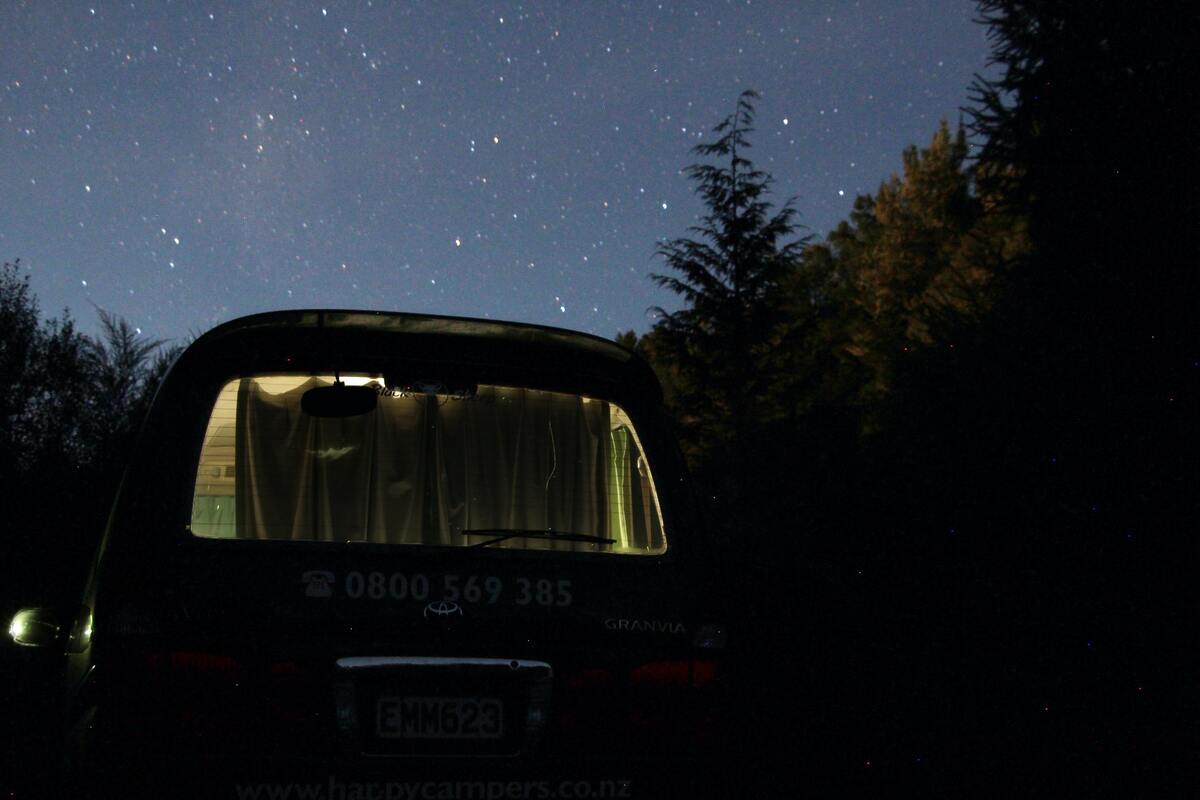 DIY Self Contained Vans in New Zealand
If you are a crafty backpacker looking to get your hands on a self-contained campervan for as cheap as possible, I recommend the DIY method.
The DIY method is just as it sounds: you do-it-yourself.
Basically, you buy a van (in working order) for as cheap as you can manage. Then you trick it out just enough to get the self-contained certification.
All said and done, it might cost you around $500 (more or less) if you do all of the work yourself.
Really it isn't that complicated. Anyone with a little knack for building can do it. There are many, many helpful Youtube videos on the subject.
Good luck and bonus points for you!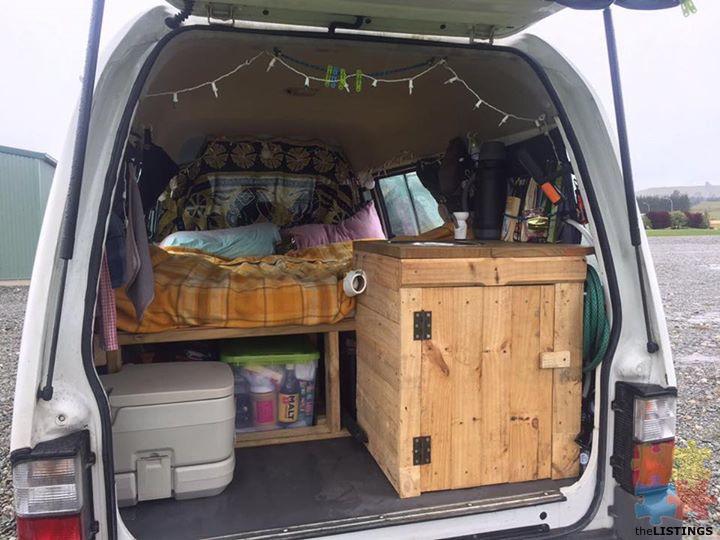 Being that your Campervan will be your home away from home you'll need a few things to make it comfortable. A majority of items can be bought in New Zealand.
Remember that almost all campervan rentals in NZ come with bedding, towels, pillows, plates, etc.
You won't however, be spending all of your time in your campervan. You will be exploring all of the beautiful landscapes New Zealand has to offer.
New Zealand is one of the best trekking destinations on earth. It's also a great spot for camping! Make sure you bring a decent tent and warm clothes so you can enjoy some of those sweet camping spots.
It goes without saying that investing in some quality backpacking gear is a must before arriving. Outdoor gear is notoriously expensive in New Zealand, so I advise that you sort out your NZ packing list before you go.
On every adventure, there are five things I never go traveling without: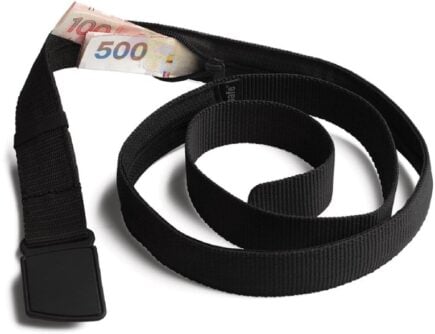 Travel Security Belt
This is a regular looking belt with a concealed pocket on the inside – you can hide up to twenty notes inside and wear it through airport scanners without it setting them off.
Microfiber Towel
Hostel towels are scummy and take forever to dry. Microfibre towels dry quickly, are compact, lightweight, and can be used as a blanket or yoga mat if need be.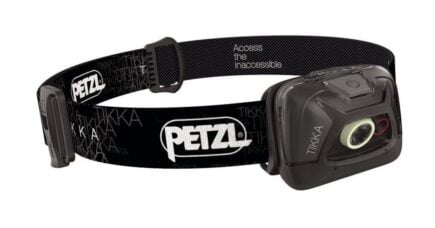 Petzl Actik Core Headlamp
A decent head torch could save your life. If you want to explore caves, unlit temples, or simply find your way to the bathroom during a blackout, a headtorch is a must.
'Monopoly Deal'
Forget about Poker! Monopoly Deal is the single best travel card game that we have ever played. Works with 2-5 players and guarantees happy days.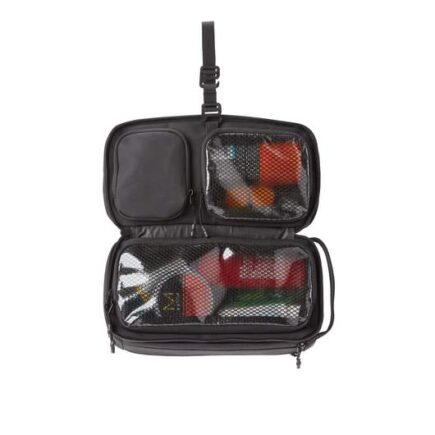 Hanging Toiletry Bag
I always travel with a hanging toiletry bag. It's a super-efficient way to organize your bathroom stuff. This one by Nomatic is splash-proof and made to last.
Responsible Campervanning in New Zealand
As you might have gathered I am passionate about preserving New Zealand's natural beauty.
If you are buying or renting a campervan in NZ it is your responsibility to manage all of your own rubbish and bodily waste.
Conveniently enough almost every town I went through in New Zealand has FREE public toilets. Also, there are plenty of super cheap campgrounds and holiday parks where you can park up for the night, refill/empty your water tanks, and grab a shower.
If you need to use the toilet in a more remote area, by all means, do it. But do it in a way that doesn't leave a pile of mess and filth for the next person to find.
Bury all of your waste at least 6 inches deep. Never go to the toilet near a drinking water source, near a public road, or close to a hiking trail .
Public park grass lawns are off-limits for relieving yourself for obvious reasons. I shouldn't have to tell you that!
New Zealand truly is a phenomenal place for road tripping with a campervan . Please do your part to protect it so that future generations of people can also enjoy NZ.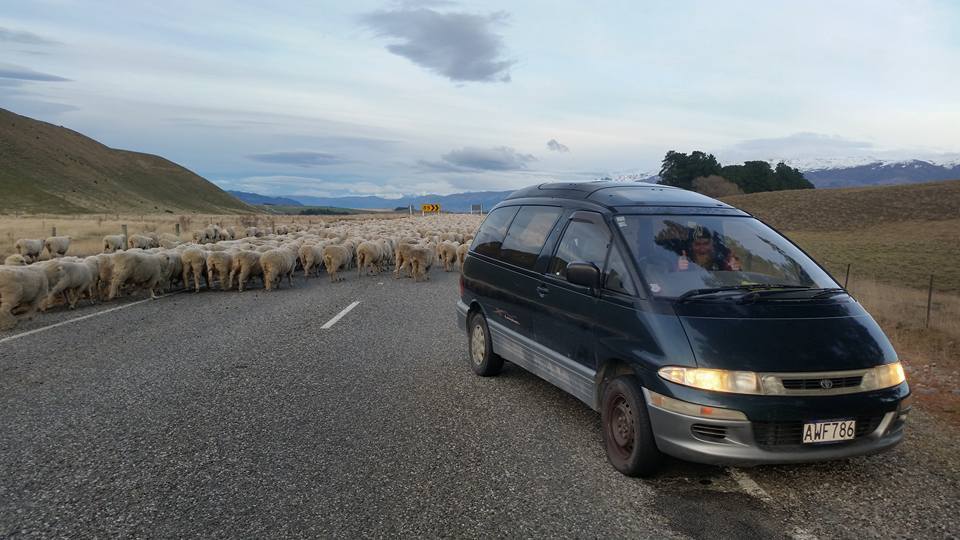 Driving the road to Milford Sound, exploring all the North Island highlights and wild camping in Tongariro National Park, are all adventures you could be having in your own camper van.
From cruising the highway lined with purple wildflowers and witnessing Mt. Cook looming out in the distance to navigating the small dirt tracks in the Coromandel at sunrise, there's nothing quite like this viewpoint.
These wonderful New Zealand scenes are forever burned into my memory.
This is the essence of what makes a campervan road trip in New Zealand such a worthwhile life experience. That feeling of freedom and the open road isn't just a stereotype found in travel novels. It's real, and it's fantastic.
I hope you found this guide to all things campervanning in New Zealand helpful. The goal is for you too to have an awesome campervanning travel experience in this truly special part of the world. I hope this helped you achieve that!
And for transparency's sake, please know that some of the links in our content are affiliate links . That means that if you book your accommodation, buy your gear, or sort your insurance through our link, we earn a small commission (at no extra cost to you). That said, we only link to the gear we trust and never recommend services we don't believe are up to scratch. Again, thank you!
Updated by Louisa Smith, June 2022.
Chris Lininger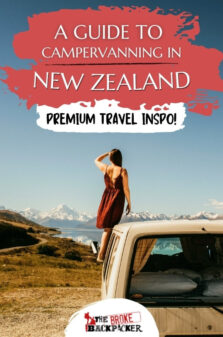 Share or save this post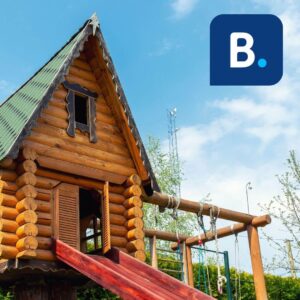 Just a couple corrections/updates: 1) Jucy is spelled wrong in your pricing table and 2) They do offer self-contained vans. I just rented one this month. 🙂
Thanks for all the great info!
Thanks for the update!
What an amazing read. Your insights on the type of camper vans and on freedom camping would definitely had helped me plan my NZ trip.
We haven't been campervanning yet but I totally agree about the prices in the off season. So much cheaper than the summer, it is crazy the difference. Such a good tip for people to remember
Even I've been to New Zealand multiple times, and I lived there for one year back in 2018. So for my 4th trip to New Zealand, I wanted to make a proper road trip around New Zealand. To do that I am thinking about to rent a campervan as New Zealand is popular to rent a camper van. And this blog helped me in making my decision.
Leave a Reply Cancel reply
Your email address will not be published. Required fields are marked *
Save my name, email, and website in this browser for the next time I comment.
A Guide To Planning An Epic Motorhome Trip In New Zealand
There's no better way to explore the enchanting country of New Zealand (NZ) than on a road trip. Yes, you can ride trains and buses to travel around the country. However, having your own vehicle in the Land of the Long White Cloud allows you to visit places that other modes of transportation essentially don't access.
New Zealand is one of those corners of the world wherein renting a motorhome or campervan to explore the best attractions is extremely popular. Motorhome road trips differ slightly from traditional road adventures in terms of the vehicle you're driving and where you'll be staying. Still, the overall purpose is the same—the flexibility to see and do as much as you want.
First Order Of Business: Getting The Vehicle
If you're only visiting New Zealand for a few weeks or months, renting a campervan is the sensible way to go. The main advantage of renting is that you don't have to waste time looking around for the right motorhome if you're pressed for time. It's also less hassle on your end since you don't have to worry about selling it off as your journey comes to an end.
But if you live in NZ or you plan to do a long-term trip, renting a vehicle might just prove to be more expensive than buying your own in the long run. Motorhomes for sale offer many different paths if you're serious about investing in one. You can search online for second-hand units you can buy at a fraction of the cost.
Backpackers often buy and sell their vehicles as they go around the country and that's your opportunity to score a decent deal. There's just one obvious drawback to this method—you're buying the motorhome as is. There'll likely be no refund or exchange possible once you've made the deal. If you're not really confident in this method, you can opt for credible websites that buy and sell campervans and motorhomes.
The Best Time To Visit New Zealand
New Zealand has four distinct seasons, each with its own set of attractions and natural beauty. The seasons and temperatures are much milder on the North Island; meanwhile, the weather on the South Island is more extreme and temperatures can get cold at any time of year, particularly at higher elevations.
If budget is your main concern, you might want to plan your adventure during the winter during which van rate offers are generally cheaper compared to the summer season. Winter in NZ (June to August) can be pretty cold, hence, the low prices and few crowds.
If you enjoy winter sports, winter is definitely the ideal time of the year for you to plan your epic motorhome trip to New Zealand. Be sure to check out the South Island, which is famous for several skiing spots.
Planning Your Motorhome Itinerary
You have your ideal vehicle and you've already decided on the time of the year to visit New Zealand. Before packing for your trip, you need to map out a route to make sure you'll have the best motorhome experience. Where you start your New Zealand campervan trip will be influenced by where your flight arrives and where you pick up your van.
So, a great starting point is to find out where your motorhome will be ready for pick up. Arrange with the seller before your scheduled flight so you can do your research in advance. Van rentals typically have their garages in airports, so be sure to ask for the details.
Consider the South Island as your road trip highlight if you're flying in and out of Queenstown. Here are some spots that you can include in your itinerary:
Arthur's Pass;
Lake Pukaki Campsite;
Mueller Hut;
Tasman Glacier National Park;
Milford Road Highway;
Vineyards in Marlborough; and
A North Island itinerary is ideal if you have less time to explore NZ. Although the area is relatively smaller, it won't disappoint with its fair share of stunning volcanic scenery and pristine beaches. Be sure to include a stopover in Wellington, a fun and vibrant city that offers plenty of things to do. If you're into hiking, be sure not to miss the Tongariro Alpine Crossing spot for an unforgettable and rewarding adventure.
Final Words
New Zealand is regarded by many travel experts as ideal for motorhome trips. There are freedom camping sites all over the country, making it easy to find a place to rest, shower, and refill your water tank. Few places in the world make campervan travel as simple as NZ, so you might as well take advantage of it when you have the chance.
Without a doubt, exploring New Zealand through a motorhome trip is the best way to have an adventure you won't easily forget. Imagine waking up next to majestic landscapes as you cook your own meals, stop at your own pace, and spend quality time with family or friends. 
Make sure you have everything you need
What to pack for your next trip.
Make your next trip as simple and as enjoyable as possible by packing smart. It's amazing how much stress top travel items can save you, so choose carefully. Things like lightweight travel backpacks, for example, are ideal for short trips and allow you to move around with ease, and a passport holder will make sure you keep your documents safe at all times. Check our travel checklist guide for 2021 to make sure you haven't missed anything, and travel to your next destination in style and with maximum comfort.
Related posts:
Leave a reply cancel reply.
Your email address will not be published. Required fields are marked *
Save my name, email, and website in this browser for the next time I comment.
Notify me of follow-up comments by email.
Notify me of new posts by email.
New Zealand Travel Tips And Activities
8 Things You Need To Know Before Renting A Motorhome In New Zealand
If you ask me what the ultimate road trip destination is, I wouldn't have to think twice. New Zealand of course! And what's a better way to do a road trip than in a campervan? 
I have friends that visited who loved every second of living in a camper and some who absolutely detested it. Admittedly though, they didn't know what they were getting themselves into and did little research beforehand.
Since the publication of my  New Zealand Travel Guide ,  I receive emails from you on a daily basis often asking about tips on travelling in a motorhome in New Zealand. 
Are you thinking of renting a Motorhome in New Zealand? Here are 8 things you should know before.
After road-tripping across many different countries and even buying my very own campervan in Europe I can say with confidence that I have learnt the ins and outs of motorhome travel. Today I will finally share those tips with you, along with a few photos to make you excited about your New Zealand road trip!
1. Parking your campervan
Believe it or not,  you can't just park overnight anywhere . The same parking restrictions apply regardless of the vehicle you are in. However,  parking spaces are much easier to find, the smaller your vehicle.
There are often designated and signposted motorhome parking spots around tourist towns. I am not going to sugarcoat it though, in the high season they are pretty much always taken.
So just remember the bigger your vehicle, the more comfortable you'll be, but it will limit you on your parking options. Getting to your destination early is essential if you don't want to drive around looking for a parking spot.
2. Dump stations
Vehicles that are self-contained , meaning they are equipped with a toilet, will have to be emptied regularly. Every time you flush the toilet, whatever was in the bowl is stored in your vehicle and has to be disposed of in the correct location.
Dump stations are found at many campsites and roadside pull-outs and for the most part, are free of charge or included in campsite fees. 
Different motorhomes have different processes for emptying your 'black water tank'. I won't be getting into it here. When picking up your motorhome you will be shown how to do it. Make sure to ask any questions you may have!
It's not a pretty job but absolutely necessary  if you want to keep using your toilet and keep your van stink-free! Don't worry, it's not as bad as it sounds and you won't have to do it every day either (unless you have some serious bladder problems). 
Personally, I've mostly avoided using mine as there are public toilets, cafes and campsites everywhere. I only really used it at night when I was too sleepy to go outside, oh and never for number 2!
3. To rent a motorhome or to buy?
This is a tough one which pretty much boils down to one thing. How much time in New Zealand do you have? If you are buying a camper expect to spend at least a week beforehand looking for one, purchasing, registering etc and then up to a month on the end of your journey trying to sell it.
Do not fall into the trap of trying to sell your vehicle at the end of summer.  Trust me, you won't, or you will, but only for a fraction of the price that you bought it for. People don't buy cars at this time. You'll have no problems selling your car at the start of NZ's summer though!
Buying certainly poses more of a risk but can be rewarding. If you can sell the vehicle for almost what you paid for it then effectively you've just had an almost free rental.  If you can't sell it then you'll end up spending much more than a rental.
Rentals are way easier and have no risk but are more expensive. Depending on the season, cheap campers can go for as little as 25NZD a day but in the summer expensive motorhomes can be more than 500NZD a day!
I reckon unless you plan on travelling in New Zealand for at least 2-3 months don't even bother with buying and just rent instead!
4. Self-contained campervan vs non-self-contained?
Being self-contained has many more advantages than just going to the toilet whenever you want.  In most towns, there are often free-of-charge self-contained parking lots where you can stay overnight.  Let me say that again. Free of charge.
You will find it hard to find free overnight parking lots if you are not self-contained.  Non-self-contained vehicles are, for the most part, restricted to staying in paid campsites with toilets.  Campsites can range from 5$ to 50$ per person per night depending on the facilities and location.
This should also be factored into costs when choosing between a self-contained versus a non-self-contained vehicle. Self-contained vehicles will be more expensive but could potentially save you from further campsite costs when you are on the road.  
5. What campervan size to pick?
I've been in everything from a tiny two-person van to a 5m luxury motorhome and whilst I was certainly more comfortable in the latter, it did cost more and was harder to park/drive. Although, not as hard as I thought it would be.
Big motorhomes are also designed to sleep 4, 5 or even 6 people, so if you're travelling in a group this can be advantageous as you can split the costs. If you are a family looking for a motorhome this is an ideal option.
I went to the Jucy headquarters in Christchurch to photograph their fleet to give you an example of what you can expect from each different size.
Two Berth Sleeper van
From the cheapest and smallest option, you can expect a bed with some storage and a fridge underneath (roughly 0.04m3), cooking equipment but no kitchen, portable stoves, a fold-out table, camping chairs and a couple of USB charging ports.  Nothing flash but certainly enough to survive.  Usually included is a 10L or 20L fresh water tank.
Cheaper companies will have older models with more kilometres but all vans should be really well maintained.
Approximate Economy: 12L/100km or 20mpg (US gallon)
Price Range: 700$ a week during Christmas, 200$ a week during winter
2-4 berth high top
A two-birth luxury van will include  everything that's in the smaller sleeper van, but will also have a kitchen. The kitchen will usually include 2 hobs, a sink and therefore a grey water tank  that will have to be emptied. Some extended versions will have a porta-potty toilet and even a shower! 
In my eyes the toilet in a small campervan like this is not intended for use, but only for the self-contained certification which permits the use of many free parking lots.
Another huge plus is that normally they are high tops so you can stand up inside. Absolutely great on a typical rainy day in New Zealand.
Often these will be described as 3 berths but realistically it's big enough for 2 adults and a child or 3 smaller adults.  
Approximate Economy: 14L/100km or 17mpg (US gallon)
Price Range: 900$ a week during Christmas, 300$ a week during winter
4 Berth Motorhome
As you'll be paying more for this option  normally they are newer vehicles, that are more efficient per person and have done fewer kilometres.
They will include everything you need including  two double beds . One of those beds will be formed from a day-use sitting area and a platform. Not ideal for the elderly or for those with back problems.
The big 4-berth motorhome will have toilets and showers in a separate space. The kitchen will also be equipped with an oven and you can even expect a microwave. 
The extra batteries installed in the van might even last up to 3 days, depending on the use, but if you want to continue to use the electricity you will have to stay in a paid campsite every few days to plug in your van and recharge the batteries.
Price Range: 2500$ a week during Christmas, 450$ a week during winter
5-6 Berth Motorhome
The biggest of all campervans these will be above 3m in height, and up to 8m in length and cost the most. The plus is that you can split the cost between lots of people. They will have fully functional kitchens including an oven, tables, seating, lots of storage, a toilet, a shower and maybe a TV. Although if you ask me I find it completely unnecessary. The views outside the car window will beat any reality show!
Everything you need will be inside including plug sockets, several USB ports, lights, heating and air conditioning! This is a 5-star hotel on wheels!
Approximate Economy: 14l/100km or 17mpg (US gallon) (will be diesel)
Price Range: 4000$ a week during Christmas, 600$ a week during winter
6. What motorhome rental company to pick?
There are loads of companies offering campers in New Zealand. Jucy has always been reliable and well-maintained, I've had mixed experience with Spaceships aimed at budget-type travellers and would advise staying away from Wicked Vans.
Maui and Apollo are great for larger motorhomes and are usually aimed at families.
For price comparison between them all as well as reservations, I always recommend Motorhome Republic. It will save you lots of time than going through each company separately.
Check the reviews . Especially on what people say about customer service in negative situations such as car breakdowns. It can happen and it doesn't mean the company is bad if it does. Have you ever owned a car? They need constant maintenance and occasionally they do break! However,  the efficiency in which the company reacts to a potential breakdown is very important!  
Check how old the car is . It's tempting to get an older van, especially when the price is cheaper. Just remember that in general, the older the car is the less economical it is and the more chance it has of breaking down.
In the end, you will spend the same amount of money or even more, but you'll end up travelling in an old banger and the initial savings will bring nothing. Remember, generally  y ou get what you pay for! 
7. How to find campsites
I know many people choose to travel in a campervan for the freedom it gives them. You don't have to stick to a strict schedule and can choose to stay longer in a destination you particularly liked and vice versa. However, that's not always the case. 
If your road trip in New Zealand falls within a busy period from December until February I would highly advise that you prebook your campsites, especially in the top tourist destinations such as Wanaka, Queenstown or Franz Josef.
There's a particularly handy mobile app called Camper Mate which I always use whenever I am road tripping in New Zealand. Another one which I used religiously is Park4night. Download them before your trip and familiarise yourself with them.
They both give information on what campsites are available in each area, pricing, ratings, whether they are for self-contained vehicles only etc. 
8. Additional things to look for when reserving a campervan
With the recent surge of tourism in New Zealand the number of companies offering campervan rental grew accordingly. Remember these points  when searching for your rental:
Look for what deposit you will need to leave. When you rent a van with basic insurance it usually involves a big excess and a big deposit. That means that a certain amount of money will be blocked on your credit card on the day your rental begins. This amount can sometimes be as high as $8000NZD!
If you will be involved in an accident (your fault or not) the repairs will be covered by this amount. Anything above will be covered by the insurance (unless you breached the contract by driving on a road you weren't supposed to drive on etc). You can buy extended insurance to lower the excess even down to 0. 
The small print in the contract
Read the rental contract to avoid any surprises. I really shouldn't remind anyone of that, but from a personal experience i know, that many people don't read the information they are given.
Is there something I forgot to cover? Do you have any more questions about motorhome travel in New Zealand? Leave them in the comments below! I always answer.
Hi! I am the photographer and creator of www.inafarawayland.com. I come from Poland, but I've been living, travelling and working around the globe since I turned 18. A few years ago, during one of my trips to Scotland, I bought my first DSLR and my adventure with photography began. When I am not stuck to my computer editing photos, you can find me hiking somewhere in the mountains.
Related Posts
Milford Sound – The 8th World Wonder in 8 Beautiful Photos + Tips for Visiting
San Francisco of the Southern Hemisphere. Exploring New Zealand's Charming Capital – Wellington in 48 hours.
The Wai-O-Tapu Thermal Wonderland – New Zealand's Geothermal Experience
I am planning a 2 weeks canpervan/motorhome trip to South Island from March 22 to April 6th with 2 kids – 13 and 11. 1. Is that a good time ? 2. How much can I expect to shell out on fuel for these Mandy ATS in a 4 berth (big) motorhome. 3. Will Milford sound be as beautiful in April ?
Hi Agrawal. Thanks for visiting. Yes March and April are still very good months for travelling the South Island, however the nights can already get quite chilly, so if you are travelling in a campervan you need to take it under consideration. As for fuel it is hard to say, this depends on so many things (how many kilometres you will do, what kind of Motorhome you will rent and also your style of driving) I am afraid I cannot give you a straight answer here. Milford Sound is stunning at any time of the year. I have been there many times and I think the light in the autumn and winter season is even better than in the summer.
Hi, I'm going to NZ at the end of November with 2 other people. My friend wants to get a 4-6 person motor home for the 2 weeks. I'm just worried that it will be hard to drive it on mountain rds and park at trailheads, as we are planning to visit all the big NPs. What do you think? I have never driven a motor home, but I'm of the mind – that I can figure anything out. I'm only thinking that it might be going too slow uphill and downhill, hard to park and really slow us down 🤔
Hey Guzal. Thanks for stopping by. I like your can-do attitude. As for your question. All main places are accessible with Campervan. New Zealand has great infrustructure for it, however I will be lying if I said that it is easy to park. For example I wouldn't drive a Motorhome in Queenstown and when there I would only focus on public transport. You also won't be able to drive the van into Matukituki valley in Mount Aspiring NP (near Wanaka) because it is a gravel road. For that a 4×4 will be needed. All the rest though will be fine and you can easily manage as many people do.
Hi Marta we are thinking of a month in the North and a month in the South with a mix of motorhome and car/BNB. Which would be the better island to use the motorhome in – we are both good drivers but have little motorhome experience. Cheers
Hi Lee. Thanks for stopping by. It does depend on the month you will be travelling in. Both can be great, but if you are going later in the season (March/April) then North will be better for campervan and South for staying in hotels and BnBs. South Island is colder and the nights can get very cool for sleeping in a campervan. I would also say it is less intimidating to drive on the North Island with a bigger car because the road system is more extensive as more people live on the North Island. However bear in mind that whichever you choose you won't be disappointed. It's also quite common to rent campers and drop them off at different locations. So you could even do 2 weeks in the van and alternate it with 2 weeks in Airbnb then again 2 weeks in the 2 and 2 weeks in BnB. I hope that helps!
I am thinking of buying a motor home. Which motorhomes have the best steps to get in and have good sleeping arrangements without having to make beds up
Hi Denis. I am afraid my knowledge about motorhomes isn't as extensive as your question. I would recommend that you contact dealerships in your area directly and they will be able to help you out with your question. Good luck with your search for a perfect motorhome!
Leave a Reply Cancel Reply
Your email address will not be published. Required fields are marked *
Name *
Email *
Add Comment *
Save my name, email, and website in this browser for the next time I comment.
Post Comment
Campervan road trips
Take in the mountain views, New Zealand
By Britz Campervans
Jucy campervan, New Zealand
By Jucy World
Cathedral Cove, Coromandel
By Alistair Guthrie
Hit the road, stray from well-worn paths and experience the real New Zealand.
From Northland to Southland, embark on a collection of campervan suitable road trips throughout New Zealand.
Ready to get away? Find the highlights, map it out and plan your New Zealand road trip of a lifetime.
North Island road trips
Hire a campervan or motorhome and road trip through the North Island.
Wake up the sunrise over a rugged beach, drive past active volcanoes and camp under a dark sky reserve.
South Island road trips
Road trip around the South Island, watch the sunset behind Aoraki Mount Cook, marvel at wildlife in Kaikōura and eat Bluff oysters in the deep south.
A driving holiday through the mountainous South Island is a trip of a life time.
Start planning your New Zealand campervan trip
Bus find & book campervans.
You browers does not support iframes Find Airfares
ferry Find & book ferries
Driving in New Zealand
Important things you need to know about driving in New Zealand.
Tiaki - Care for New Zealand
The Tiaki Promise is a commitment to care for New Zealand, for now, and for future generations. By following the Tiaki Promise, you are making a commitment to act as a guardian, protecting and preserving our home.
View the road trips below
Share on Facebook
Share on Twitter
Share by email
Where to next?
Travel time and distance calculator long-arrow-right
Explore Campervan Deals in New Zealand long-arrow-right
Motorhomes and campervans long-arrow-right

Guide to RV Parks & Campsites in New Zealand
This post contains affiliate links.
The vacation of a lifetime. That's what you get when you have an RV journey in New Zealand, staying at the thousands of RV parks and campsites readily available.
There are RV parks to suit all budgets and styles of travel. From luxury RV parks, with a full range of facilities, to budget-friendly options with fewer facilities. At the other extreme there are free camping locations with no facilities – but incredible scenery.
Here's how to find the best RV parks and campsites to suit your pocket and lifestyle choice.
Types of RV Parks and Campsites
Full-service holiday parks and campgrounds.
Holiday Parks and campgrounds provide you with everything you need.
Power:  Plug your RV into the 240-volt power supply with the power cord supplied with the vehicle.
Bathroom  – with toilets and hot showers. (The best provide full heating in winter, so you don't get chilled as you step out of the shower.)
Communal kitchen  – Equipped with stovetops, sinks, and fridges. Often also, toasters, pots, pans, etc. Also, a great place to meet other travelers and share notes and recommendations.
Laundry facilities  – Coin-operated washers and dryers (Many are commercial-sized so take large loads.)
TV lounges and games rooms  – A place to watch TV or pull out your yoga mat.
Swimming pool, hot tubs and spa pools  – Usually heated, especially in winter.
Play areas  – safe areas to keep the children occupied.
Please enable JavaScript
Shop  – where you can buy ice cream, basic food, toilet paper and coffee.
Travel information  – New Zealanders are proud of their country and love to provide advice on tourist attractions and the many activities available.
Many holiday parks also provide motel units and cabins for hire.
Two top chains are the TOP 10 Holiday Parks and Kiwi Holiday Parks & Accommodation network. (Both chains offer discount cards for accommodation and other travel services that can also be used in Australia.)
Campgrounds
There is an extensive network of commercial campgrounds across the country. These are owned and run by local councils, private businesses, and other organizations responsible for racecourses and showgrounds that can be used as campgrounds for much of the year when not needed for their principal function.
These campgrounds provide differing facilities of varying quality.
The least you can expect is:
Bathroom amenities that include hot showers and toilets
Many will provide:
Kitchens with cookers and sinks for dishes
Laundry facilities
A lounge area
Play equipment
Dump station and freshwater
Most are spotless, while others are old and need a little maintenance. (It pays to read the reviews of the camping apps if you want to know what to expect.)
You generally get what you pay for. That will depend on the campgrounds location which could be adjacent to the beach or with good access to tourist activities.
Department of Conservation Campsites
Many "DOC" campsites are in wilderness areas located within national parks, both on the North Island, South Island and Stewart Island.
According to the  DOC website  – DOC manages more than 200 campsites throughout New Zealand.
DOC campsites are places to relax, enjoy and explore the outdoors. You can choose campsites within or a short walk from forest settings, lakeshores and sandy beaches.
Some of these campsites need to be rebooked due to location and demand, but most are freely available for you to simply turn up on the day.
You can also purchase a DOC pass that provides discounted rates on most campsites for consecutive nights from 7-day, 30-day or 365-day.
DOC campsite facilities
DOC campgrounds come with varying facilities and are categorized appropriately.
Basic & backcountry campsites
Serviced campsites
Serviced campsites are similar to commercial campgrounds with many facilities and services. Flush toilets, tap water, kitchen/cooking bench, hot showers, rubbish collection and road access for all types of vehicles.
Serviced campsites may have caravan & RV sites, tent sites, laundry facilities, barbecues, fireplaces, cookers and picnic tables.
Scenic and Standard campsites
Scenic and Standard campsites have fewer facilities but include toilets and water supplies that could be treated or untreated tap water. Wood BBQs and fireplaces, cold showers, picnic tables, a cooking shelter and rubbish bins may be provided; this will vary from site to site. You pay more for scenic locations.
Basic campsites
Basic campsites are often in remote areas. They have minimal facilities (not even a public toilet), so your RV will need to be entirely self-sufficient. 
These are free campsites – due to the lack of basic amenities. The bonus is that they are often close to native bush and off the beaten track.
If you are squeamish about your toilet habits and bathing, then choose your campsite to suit.
But if you want to get out in the wilderness and experience the best of what New Zealand has to offer, then don't be fussy, and you will be rewarded.
Freedom Camping
New Zealand has what is formally called – Freedom Camping.
Freedom camping is the regulated provision of free camping in designated areas.
You can camp on public land only if you are camping responsibly .
Or your can freedom camp on land under the management of the Department of Conservation (except at DOC reserves) – as long as the site is not documented as a prohibited (no camping) site.
Many local authorities create their own by-laws that tell you where you can and cannot freedom camp.
Prohibited sites for freedom camping will have signs. Follow them!
If in doubt, check the local authority's website for the freedom campsites in that region. And follow the rules.
New Responsible Camping Act on Freedom Camping
An updated Responsible Camping Act will come into full effect by Summer 2024/2025.
"These changes seek to improve the sustainability of freedom camping in New Zealand, protect the natural environment and local communities' enjoyment of it, and support efforts to ensure that all freedom camping is done responsibly."
This has come about because of the vast numbers of tourists that road-tripped New Zealand in small campervans and slept in their cars before the Covid19 pandemic.
These lucky tourists often did not take sufficient care of the environment and created noise or messes to the annoyance and distress of local residents.
It is a long-standing Kiwi tradition to have the right to freedom camp, but it does need to be managed.
There are fines for breaking freedom camping rules, with some councils employing enforcement officers who will check that you and your vehicle are compliant.
The best local authorities that are " Motorhome Friendly " encourage freedom campers because they appreciate the positive impact on their economy, especially for small retailers and tourist venues.
However, some councils deter tourists from accessing freedom camping locations.
When this happens, avoid the ire of the enforcement officer and visit elsewhere. Or enjoy the benefits of a commercial campground.
Best Time to Visit New Zealand RV Parks and Campgrounds
The best time to visit New Zealand RV parks and campgrounds is in the summer months. However, be aware that many New Zealanders use the summer holidays to take the family camping during the school holidays that run from before Christmas until the end of January.
Alternatively, the warmer months from late summer and through autumn, when there is settled weather, and the scenery is stunning, is the perfect time to come to New Zealand for an RV road trip.
Camping grounds will be filled with many retired New Zealanders enjoying their own country in campervans, motorhomes and caravans. The welcome will be warm and friendly.
( Read here about s u m m e r i n New Zealand .)
There is never a wrong time to visit New Zealand for an RV holiday but beware of the winter weather. ( Here are more details on New Zealand winters ).
New Zealand winters will provide you with a breathtaking snowy drive through the South Island.
Best RV and Camping Apps for New Zealand
The app provides information on every legal New Zealand camping location and allows for easy filters for other tourist features, including top-ranked walks, natural attractions, and practical amenities. 
The Rankers app also features offline maps, which are valuable as internet coverage can be poor in some areas.
New Zealand Motor Caravan Association
If you own an RV, campervan, motorhome, or caravan, joining the New Zealand Motor Caravan Association is a great option.
You get access to a great app, but the organization also provides members with safe overnight sites and benefits such as a discount on the ferries that run between the North Island and South Island.
Another great app used for traveling around both New Zealand and Australia.
The app is free and uses GPS to find nearby points of interest, such as public toilets, dump stations, campervan sites, rubbish bins, local travel tips, etc.
Other RV camping information can be found on the  Campable  app and on websites like  RVExplorer.co.nz .
What is a public dump station?
Most New Zealand RVs, motorhomes, campervans, and caravans do not contain black-water tanks as part of their bathroom facilities.
Instead, RVs depend on cassette toilets which require the portable tank to be emptied every three to four days.
A cassette toilet is an RV toilet that is permanently installed with a detachable portable holding tank with wheels like a suitcase .
There is an extensive network of free access to Public Dump Stations throughout the country.
Also, dump stations are also located in many RV parks and campgrounds.
This is where you dispose of the wastewater from the RV's greywater tank, which stores the dirty water from showers, sinks, etc.
Visit New Zealand by renting or buying an RV. You won't regret it!
12 Must-know tips for a New Zealand motorhome road trip
New Zealand is an ideal destination for a motorhome adventure! After years of dreaming about doing one, we finally decided to plan a motorhome road trip of our own. We spent 11 days exploring the South Island in winter, taking advantage of the stunning mountains, snowfields and great food along the way. We had an amazing time and wanted to share with you some of the things we did right and some of the things we wish we'd done differently! Hopefully, our tips help you plan and prepare for an amazing New Zealand motorhome road trip of your own. You may also like to read:  This is how much a New Zealand motorhome road trip actually costs.
1. Hardshell suitcases aren't ideal
When we picked up our motorhome we quickly realised it wasn't practical to open and close a suitcase each time we needed something. So, we unpacked our luggage into the motorhome's storage areas. That left us with three hardshell suitcases to store! During the day we'd store them in the sleeping area above the driver's cabin and at night we'd put them in the kitchen nook. But life would've been a lot easier if we'd packed soft luggage that could be rolled up and stashed away. Long story short, hardshell suitcases aren't ideal for an NZ motorhome road trip!
2. Bring a shower kit
We stayed in RV/Holiday Parks for the duration of our trip and opted to use the on-site showers rather than the motorhome's shower. I would recommend packing a pair of shoes you can wear in the shower and to/from the shower blocks (this is where crocs really shine!) I would also recommend bringing a reusable bag you can put your clothes and shower products in. It'll reduce the risk of dropping something en route to the shower, make it easier to carry everything and, most importantly, you'll have somewhere to put your clothes when you take them off, ensuring nothing touches the ground!
3. Familiarise yourself with road rules and driving conditions
If you aren't a New Zealand local it's really important you familiarise yourself with the road rules. This is easily done by google search and there are some good videos on YouTube too if you're more of a visual learner. If you aren't from a cold climate, it's also important you learn about the unique winter driving conditions in New Zealand, particularly around black ice and fitting snow chains. Again, there are some great YouTube videos you should watch to help you prepare! Always drive to conditions and ask questions if you are unsure – Kiwi locals are particularly lovely and will be happy to answer questions, I'm sure.
4. Take advantage of having everything with you
One unexpectedly awesome part of our trip was the freedom of having everything with you at all times! When we felt like a coffee break all we had to do was pull over in a safe, scenic spot where we could boil the kettle and set up our picnic chairs. The same went for meals! We would make delicious salad and vegetable wraps for lunch, sit out in the sunshine, gaze at the mountains, talking and laughing while we ate. It made us feel like we were making the most of our time in New Zealand and gave us a huge sense of freedom.
5. Slippers are essential
After a few days getting used to our motorhome, we realised we needed slippers and had to go to the store to buy some because we hadn't packed any. We found our outdoor shoes were making an absolute mess of the inside of the motorhome. In a bid to keep things clean, we started taking our shoes off when we got inside but quickly worked out that the floor was far too cold to get around in just socks. Hence, slippers! They feel especially cosy when you put them on after a big day on the ski fields.
6. New Zealand is made for motorhomes
None of us had ever driven a real motorhome before and we were all a little bit nervous about how we'd go manoeuvring such a large vehicle. Turns out, we had nothing to worry about because New Zealand is made for motorhomes! Everywhere we went we noticed motorhome-friendly things like designated parking bays, great places to turn around and dumpsites. Not only that but navigating was really easy too. There was never a time we felt we were out of our depth or incapable of handling the situation. If you have the same fears we did, you needn't worry!
There are a few different options when it comes to parking your motorhome overnight. These include Freedom Camping , Campable and Holiday Parks. We visited in late June, which is winter in New Zealand, and really enjoyed staying at Holiday Parks. It meant we could rely on the on-site facilities like showers, toilets laundry and wifi. It also ensured we had power hook up each night and didn't need to worry about the 12-volt battery being run down. If you have the budget, I'd definitely recommend staying at the Holiday Parks as they're really well priced and make things easier.
8. There's a lot to remember, but you'll get the hang of it!
Matt and I felt a bit overwhelmed when we picked up our motorhome because there's a lot to remember and we didn't want to make a mistake and break something! When we collected the motorhome the lovely staff took us through everything twice and they also gave us a TomTom/GPS with all the information in it so, regardless of whether we had wifi access or not, we could find the answers to any questions that arose. The first two days were spent trying to remember everything and worrying we'd forgotten to turn the gas off or lock the toilet hatch. After two days, we were a well-oiled machine! We each had our jobs and before we set off would do a little check, "Hey, did you lock the toilet?" "Yep! Did you turn the gas off?" If you feel overwhelmed by the amount of information when you first collect your motorhome, don't worry! You'll get the hang of it and be a total boss in a day or two.
9. BYO entertainment
At the very last minute, I decided to throw a pack of Uno cards in my carry-on, just in case! Those cards ended up being one of our favourite things about our trip. Each evening, after dinner, we'd sit around and talk about the day while playing Uno. It was really fun and an unexpectedly joyous part of our trip. I'd recommend packing a deck of cards, Uno or other games you might like to play. I'd also recommend devising some great playlists you can listen to during the long drives. We have Spotify premium so I just downloaded a whole bunch before we left for New Zealand. It was really nice having good music we could listen to and sing along with on the road.
10. You need more time than you think
While that heading may sound a little vague, you really do need more time than you think for everything . In the morning we always needed an extra 15 minutes before hitting the road so we could dump the waste and greywater then refill with fresh water. As we couldn't drive faster than 90km/hr we also needed a bit of extra time when calculating drive times. Not only that but we needed to add extra time for fuel and sightseeing stops too as we'd often come across a beautiful spot and want to pull up for photos or just to explore a bit more. In everything you do, allow a bit of extra time in your itinerary!
11. Be aware of peak times
When I started planning our trip, I opted to visit outside of New Zealand school holidays. We visited a few years ago during the peak snow season which perfectly coincides with school holidays (that cannot be a coincidence, NZ!) By visiting before the start of those peak school holiday times we were able to avoid a lot of the crowds, especially on the snowfields like Cardrona, Coronet Peak and The Remarkables. Being the start of the season, the powder wasn't as good as it is at can be but that didn't bother us one bit. We still had an amazing time and much preferred the smaller crowds. For us, it was a good trade-off.
12. Don't forget the essentials
The day we collected our motorhome in Christchurch , we went straight to the local supermarket (Countdown). If you're planning on doing the same thing, I'd just recommend bearing in mind you'll need a whole bunch of essentials! These include oil, salt, pepper and garlic as well as clingwrap, dishwashing liquid, air freshener, bin liners, rubber gloves and hand sanitiser gel. The hand sanitiser and gloves were particularly important! Our winter visit meant the water was really cold and sometimes washing your hands seemed a bit rough, hand sanitiser made this easier. We also used the rubber gloves when dumping the waste and greywater for the van, keeping things sanitary. Before you set off, just be sure to think about all the essentials you might need and jot down a list so you don't forget them.
Hiring a motorhome
Our trip was made possible thanks to the amazing team at Motorhome Republic , who I approached about working together after finding them online. Think of them as the Skyscanner , Booking.com or Agoda of motorhome rentals! What I like about Motorhome Republic is they pull together a large range of vehicles from different brands, which makes it easier to find one that suits your needs and budget. They list a huge amount of information on their website, which gives you everything you need to know upfront and helps the planning/decision-making process easier too. When I was scouring their website planning our trip, the rates I saw were lower than what I'd seen elsewhere. Not only that, their customer service team speak multiple languages so if English isn't your first language, you can connect with someone that can help you and answer all your questions. If you haven't booked a motorhome yet and are still in the research phase, I recommend checking out Motorhome Republic as we had a great experience with them. We had a 6-berth Maui Platinum River Home and loved it!
Useful travel resources for your next adventure!
If you found this post useful, I'd be grateful if you used the affiliate links below. I'll make a small commission at no extra cost to you. Rest assured, these are the products and services I love and use . Thanks for your support! – Matt
Read the disclaimer for more information.
Agoda – hotels Booking.com – hotels Cover-More – insurance Motorhome Republic – RVs RentalCars.com  – rentals Simify  – SIM cards Skyscanner – flights Surfshark – VPN TourRadar – tours Welcome Pickups – transfers
Similar Posts
Where to stay in the Blue Mountains: The Hydro Majestic
4 of Sydney's best beaches
Where to stay on the Gold Coast: Intercontinental Sanctuary Cove Resort
How to spend a weekend in Newcastle…
The BEST Carnarvon Gorge Travel Guide (everything you NEED to know!)
Discovering the Darling Downs
Little Grey Box Newsletter
Explore New Zealand's Best with Our 2-Week Campervan Itinerary: A Comprehensive Guide [2021]
**Short answer: new zealand campervan itinerary 2 weeks**
A two-week New Zealand road trip in a campervan should include must-see destinations like Auckland, Rotorua, Queenstown, and Milford Sound. Driving from north to south or vice versa, travelers can also explore scenic routes like the Coromandel Peninsula and Mount Cook National Park. Allow time for outdoor activities such as hiking, kayaking, and glacier tours. Check vehicle rental policies and campsites availability before planning the itinerary.
Step-by-Step Guide: Creating the Ultimate New Zealand Campervan Itinerary for 2 Weeks
If there's one thing that Kiwis know best, it is the art of exploration. With its breathtaking landscapes and pristine natural beauty, New Zealand has become a hotbed of adventure tourism over the years. And what could be a better way to explore this stunning country than with your very own campervan ?
With nearly 15,000 km of coastline and endless open roads, you can see why driving a campervan across New Zealand is one of the top bucket list items for thrill-seeking travellers worldwide. If you're planning on exploring this island nation, we've got you covered with our ultimate guide to creating an unforgettable two-week itinerary.
Step One: Choose Your Campervan
Choosing the perfect campervan that meets all your needs is essential for an enjoyable road trip in New Zealand. Based on your budget and expected requirements, there are various options available – from luxury motorhomes to compact camper trailers – which will ensure you get the most out of your journey.
If it's just yourself or a couple travelling, then go for van conversions like Jucy or Spaceship rentals as they provide convenient and affordable rental packages. If traveling with family or larger groups and need more space to move around comfortably during long drives or overnight stays, then Camperman or Britz are great options providing larger RVs with countless amenities including cutlery sets, outdoor chairs & tables that make packing a lot easier.
Step Two: Choose Your Route
New Zealand has so much to offer travelers; epic hikes through national parks, unique wildlife spotting opportunities in secluded areas or even tasting some outstanding wine while taking in incredible vistas of rolling hillsides – anything here makes for an experience worth cherishing for life!
Whatever might interest you pick one route out of few popular ones like Auckland-Wellington along State Highway 1 (SH1) or Christchurch-Queenstown via State Highways 73 + 6 to Te Anau or maybe hire a ferry from the North Island to South Island and explore it along State Highway 6 (SH6) with an added extra touch of Milford Sound, it has all of it. That said, do your research and customise your stops depending on what appeals most to you.
Step Three: Plan Your Stops
Once you know where you're heading, planning out stops is the next essential component – whether you're looking for fun thrills in nature or bonding experiences with locals. The locations of popular sights such as geothermal hot springs like Rotorua, vibrant cities like Wellington and Christchurch would make great pit stops.
Make sure also to check the best free or paid campsites available with facilities such as water supply, clean toilets and shared cooking areas before hitting those winding roads . New Zealand's Department of Conservation (DOC) offers endless options that provide visitors with access to some breathtakingly unique landscapes compared to any other country in the world.
Step Four: Pack Smart
Packing for a campervan holiday can be tricky so make sure to pack light but smart! Depending on how many people are travelling ensure enough appropriate clothing is packed: hiking boots/shoes, sunglasses & hats/chilly weather wear/fleece jackets/rain gear/sunscreen etc. Do purchase a mobile data plan for browsing maps/ directions if you don't want to go old school carrying physical copies during road trips .
No matter what route you choose or how long your journey takes – this spectacular country will undoubtedly leave you craving more – So just buckle up because there's nothing quite like exploring New Zealand by campervan !
FAQ about a New Zealand Campervan Itinerary for 2 Weeks: Everything You Need to Know
New Zealand is a land of breathtaking scenery, hidden valleys and pristine natural beauty. The best way to see it is by campervan! A campervan tour not only gives you the freedom to explore at your own pace, but also lets you enjoy the stunning landscapes along the way. Here's everything you need to know about planning a 2-week campervan itinerary in New Zealand.
Q: What's the best time of year to travel in New Zealand? A: The best time to visit New Zealand for outdoor activities is during summer (December-February). However, this is also peak tourist season, so prices might be higher and popular sites can get busy. In autumn (March-May), the rates are usually more affordable and there are fewer crowds. Winter (June-August) offers great skiing opportunities, but some roads may be closed due to snow.
Q: Which rental company should I choose ? A: There are numerous rental companies operating in New Zealand, ranging from high-end luxury vehicles to budget-friendly options. Consider the size of your party, length of stay and budget when selecting a rental . Some popular brands include Apollo, Maui Motorhomes and Britz.
Q: How much does it cost? A: Campervan rentals typically range from around $100 – $300 per day depending on size and amenities provided. You'll also need to factor in fuel costs as well as food expenses if you plan on cooking your meals.
Q: Where should I go? A: This really depends on your personal interests! If you're into hiking and nature walks then visiting national parks like Abel Tasman or Fiordland would be ideal. For wine lovers head down south towards Marlborough region while adventure seekers will love Queenstown! Make sure that you do ample research before arriving in NZ so that you can make an informed decision about which places interest you.
Q: Do I need insurance? A: Yes, insurance is mandatory when renting a campervan in New Zealand. Most rental companies offer insurance packages to cover liability, damage and loss of personal items . Most NZ policies are comprehensive in nature as they include theft protection for the vehicle and all your equipment.
Q: Are there any restrictions on where I can park my campervan ? A: It's important to know local laws regarding freedom camping (i.e parking overnight at places that are not designated camping sites). New Zealand has various rules about free camping, which differ between regions. You'll want to research or ask around before attempting it so you don't break any laws.
Q: Do I need to book campsites in advance? A: Yes, advance booking is always recommended particularly during peak tourist season. Some popular spots sell out very quickly!
Q: What's the driving like in NZ? A: The roads vary from winding mountain pass roads to long stretches of straight highway. Be prepared for changes in weather patterns and road conditions while driving. Remember that Kiwis drive on the left-hand side of the road – this may take a bit of getting used to if you're coming from a country that drives on the right!
Q: Can I do laundry while travelling? A: Many campsites have laundry facilities but it's best to check ahead of time with each location you plan on staying at just to make sure.
In short, travelling by campervan is an amazing way to experience all of New Zealand's natural beauty up close — just follow these basic guidelines and you will be well-equipped for an unforgettable adventure!
Top 5 Must-Know Facts About a New Zealand Campervan Itinerary for 2 Weeks
New Zealand is a destination that is truly meant to be explored at your own pace. With so much natural beauty to discover, it can be difficult to decide on an itinerary that will allow you enough time to see everything you want without feeling rushed. That's where a campervan comes in – it's the perfect way to experience New Zealand's stunning landscapes and get off the beaten track. Here are our top five must-know facts about a New Zealand campervan itinerary for two weeks:
1. It's all about freedom
One of the biggest advantages of travelling in a campervan is having the freedom to go wherever you please and stay as long as you want. You are not bound by schedules or hotel reservations, making it easy to change your plans on a whim if something interesting catches your eye.
2. The roads can be challenging
While New Zealand has some of the most breathtaking roads in the world, they can also be quite challenging for novice drivers. Many roads are narrow and winding, with steep inclines and hairpin turns that require careful navigation.
3. Plan ahead but remain flexible
When planning your itinerary, it's important to have a rough idea of where you want to go and how long you plan on staying there. But remember – sometimes the best experiences happen when you least expect them! Stay open-minded and allow yourself some wiggle room in case you want to detour or spend more time exploring an area than anticipated.
4. Respect nature & Leave no Trace
New Zealand boasts some of the most pristine natural environments globally, and preserving its beauty should be at the forefront of every traveller's mindset when visiting this country with their camper van rental NZ based service provider encourages responsible tourism practices through their 'Leave No Trace' policy which promotes conservation efforts throughout campervanning excursions.
5. Embrace local culture
Finally, take time out from sightseeing activities for immersive cultural experiences such as indulging in the local cuisine, partake in Maori cultural activities, exploring ancient forests and soaking up some of the laid-back Kiwi lifestyle. With this open-minded approach to travel, you are sure to return home from your campervan adventure with a newfound appreciation for this stunning country.
In conclusion, New Zealand is an ideal destination for campervanning enthusiasts who crave freedom and independence when itinerary planning such as Two Fishes- a leading Campervan Hire New Zealand company suggests that travellers research areas well in advance and create an itinerary based on where they wish to travel throughout the North or South island before taking off on their exciting adventure. Remembering through responsible tourism practices such as 'Leave No Trace' policy its delicate environment will remain preserved for future generations of Kiwis and tourists alike! So grab a map or dust off your GPS, rent yourself with a reliable campervan rental provider, hit the roads of NZ and embark on an unforgettable self-drive journey filled with epic nature sights, sensational landscapes, diverse cultures – all at your own pace!
Discovering the Best Scenery on a New Zealand Campervan Itinerary for 2 Weeks
New Zealand, the Land of the Long White Cloud, is a country that offers some of the most breathtaking scenery in the world. From towering mountains and pristine lakes to rugged coastlines and lush forests, the natural beauty of this country is simply stunning.
One of the best ways to experience New Zealand's stunning landscape is by exploring it on a campervan itinerary. With two weeks at your disposal, you have plenty of time to discover some of the most iconic natural wonders in the North and South Island. All you need to do is rent a campervan or motorhome and set off on an adventure you'll never forget.
Your North Island Itinerary
Begin your journey from Auckland, New Zealand's largest city, situated on the north island. This vibrant city provides ample opportunities for fun-filled activities such as sightseeing or visiting interesting museums.
After spending a couple of days here soaking up all that Auckland has to offer, it's time to get back on the road. Head over westwards towards Waitomo- home to numerous magical underground limestone caves made up of stalactites & stalagmites reaching up to 250 feet in height- then onwards towards Raglan–famous amid surfers for its long stretches of beach with huge waves that are perfect for surfing.
Making your way down southward be sure not to miss out Tarawera- also known as Waimangu Volcanic Rift Valley located near Mt Tarawera – where visitors can enjoy thermal activity such as geysers and hot springs amidst nature trails within one vast park & take scenic helicopter rides too if interested. Continue onward in order visit Rotorua; famed for Maori culture experiences including traditional dance performances (like Haka dance), mineral springs as well as other thrilling attractions like jet-boats & bungee jumping guaranteed to get any adrenaline-junkie excited!
Heading further Southeast brings us towards Tongariro National Park alongside Lake Taupo, which boasts a total of three amazing mountains hike: Mount Ruapehu, Mount Tongariro and Mount Ngauruhoe. The Tongariro Alpine Crossing is one of the most iconic hikes in New Zealand- Also known as "The Lord of the Rings" mountain.
Finally, it's time to hit Wellington- the capital city with highlights like visiting Te Papa Museum or riding on the cable car for stunning city views along the harbor.
South Island Wonders
The South Island of New Zealand is home to some of the country's most spectacular scenery. After crossing over from Wellington on ferries- ensuring breath-taking views of Queen Charlotte Sound & Abel Tasman National Park – get ready to be amazed by what awaits you next.
Start off by making your way up Christchurch along Akaroa Hills & Hiking trails, then make your way back down south towards Lake Tekapo – famous for turquoise-colored water as a result of glacial sediment which provides gorgeous panoramic views amidst rugged mountains & stars-filled skies alike. Consider spending nights here stargazing as you will see everything that Astrology has to offer under clear skies!
Further down leads us to Franz Josef Glacier–one amongst two glaciers in Westland Tai Poutini National Park that are renowned worldwide for their unmatched beauty and uniqueness. Visitors can enjoy glacier walks/hikes as well as helicopter rides allowing them private access via fox & Franz valleys right onto glaciers' ice cliffs alongside competent guides !
Next stop should be nearby Wanaka-Lake Hawea areas where adventure enthusiasts can indulge in various thrilling activities such as jet boating, skydiving or even deciding against jumping out from perfectly good aircraft altogether within Wingspan Bird show territory amidst picturesque landscapes that makes all these even more unforgettable experiences.
Lastly stopping at Queenstown closes this trip itinerary sheet off! This island township 'Queenstown', located southwards among Southern Alps & Lake Wakatipu guarantees an unusually wide range of activities ranging from Bungee jumping off the Kawarau Bridge over the rivers nearby or even braving ahead to climb Mt. Earnslaw and Lake Wakatipu from above thanks to prominent local tour guides cruising on private boats allowing hikers plenty of photo-opportunities coupled with stunning navigational views for you to end your trip itinerary.
New Zealand is a country that overwhelms visitors with its natural beauty, and embarking on a campervan itinerary offers the perfect way to explore everything this amazing nation has to offer. With two weeks at your disposal, there's no limit as to where your exploration can take you; "just keep driving"- something new awaits around every bend or crook-dotted along these diverse terrains offering plenty in terms of attractions, nature hiking, adventure activities & cultural exposure making it a vacation option that caters well for all sorts of visitors. Enjoy an unforgettable experience as you discover the best scenery on this incredible New Zealand campervan itinerary!
Foodie Delights and Local Cuisine on a New Zealand Campervan Itinerary for 2 Weeks
New Zealand is a dream destination for foodies who love to indulge in local cuisine while travelling. A campervan trip across New Zealand offers an unmatched experience of exploring the country's stunning landscapes and local delicacies at your own pace. With a plethora of gourmet options available, you are bound to have an amazing culinary adventure while on your 2-week campervan itinerary across this beautiful country.
Here are some of the must-try foodie delights that you can add to your New Zealand campervan itinerary:
1. Geographical Food Trail: New Zealand's varied topography makes it a treasure trove of natural produce. You can take a geographical food trail where you will discover fresh seafood, organic vegetables, and fruits grown in fertile soil. Some popular stops for local produce include Farmers Markets in Auckland or Christchurch, or berry farms in Nelson.
2. Seafood Delights: With its long coastline, New Zealand has an abundance of fish and seafood available around every corner. Freshly caught fish like snapper, hoki or blue cod served with chips is one of the most popular dishes enjoyed here by locals and tourists alike. The iconic seafood chowder made with creamy fish broth and clams is another must-try dish.
3. Charcoal Grilled Barbecue: The Kiwis know their craft when it comes to barbecuing meat perfectly over charcoal grills. From lamb chops to T-bone steaks or even venison sausages – there's something for every meat-lover out there. You could stop off at a scenic spot like Queenstown or Lake Wanaka where there are several public barbecue areas set up along the foreshores perfect for enjoying these delicacies.
4. Winery Tour: Make sure to visit any one (or all!) of the many vineyards throughout New Zealand during your campervan trip- as they offer wine-tasting trails for visitors amid beautiful scenery. The Marlborough wine region near Blenheim is a popular place to start your winery tours where you can taste Sauvignon Blanc, Chardonnay or Pinot Noir as well as local cheeses.
5. Seafood pizza: If you are in Dunedin city, make sure you try out the famous seafood pizzas. These delicious pizzas come loaded with fresh seafood toppings like mussels, prawns and scallops along with rich tomato sauce and oozy cheese!
6. Local Ethnic Cuisines: New Zealand is home to various ethnic communities which bring their own unique foods to the table, such as sushi in Wellington, dumplings or ramen soups from Japan, Vietnamese banh mi sandwiches, Indian curries or kebabs.
Wrapping Up
A New Zealand campervan itinerary presents the perfect opportunity for indulging in local cuisine and discovering gourmet delights with ease! Whether it's trying fried fish from a food truck on an isolated beach road trip or dining at one of New Zealand's top-rated restaurants – there is something here for everyone's palate.. Happy Eating!
From Beaches to Mountains: The Most Exciting Activities on Your New Zealand Campervan Itinerary For 2 Weeks
New Zealand is undoubtedly one of the most scenic countries in the world. This small island country located in the southern Pacific Ocean boasts of an array of breathtaking natural wonders, ranging from pristine beaches to imposing mountains. With a campervan rental , you can explore this stunning landscape at your own pace and enjoy all that New Zealand has to offer.
A 2-week New Zealand campervan itinerary can be jam-packed with exciting activities for adventure-seekers, nature lovers, and beach bums alike. Starting off with the coastal destinations on New Zealand's North Island like Auckland and Bay of Islands boasting an extensive network of sandy shorelines perfect for surfing or swimming. Even for those who prefer a more relaxed setting, the subtropical climates allow them to watch dolphins frolic around in their natural habitat.
New Zealand's South Island offers majestic mountain ranges for trekking enthusiasts looking to bag one of its many peaks or indulge in skiing during winters. Christchurch is often the starting point for these adventures as it's close by several towering ranges such as Mount Cook, Arthur's Pass or Queenstown know as an adrenaline junkie paradise.
However, if scenic spots are what entice you the most; travelling along Milford Sound should top your list! This side road gives travellers access to cinematic waterfalls flowing between staggering cliffs surrounded by dense forests spilling into deep glacial valley below making it one of the most photographed and awe-inspiring areas across New Zealand!
Don't forget soaking up some culture while there? "For LOTR fans Hobbiton Movie set near Rotorua is bound to create unforgettable memories as they visit Hobbit holes adorned with artful carvings made by local artisans showcasing Middle Earth!"says Sarah from Cheapa Campa NZ.
These two weeks aren't just enough and will leave travellers lusting for more but here are a few highlights not worth missing:
On Your Way Down • Visiting Whangarei with a mandatory stopover at Whangarei Falls to see views of the cascade • Bay of Island to view dolphins and whales, historic sites and uninhabited islands
South Island Discovery • Adventure through Milford Sound for those foggy mornings and uncanny still water reflections • Trekking glaciers such as Fox for its scenic views or Franz Josef for its gravity-defying climbs both set in West Coast & Nature Walks • Head over to Wanaka to jump off the cliff at Puzzling World, some great photos there!
Exploring Christchurch • See the historic New Regent St. heading out on Tramway, reaching stops like Canterbury Museum that showcase Maori culture • Visit the International Antarctic Centre or go skiing during winters
New Zealand's campervan scene is popular amongst travelers who get a chance to have an authentic experience discovering hidden gems be it beaches or mountains allowing one-in-a-lifetime travel experiences, which will keep you craving following these unforgettable adventures all year long!
There is absolutely no doubt that your 2-week journey through New Zealand via campervan would be full of adventure, beautiful landscapes and memories you're bound never to forget!
Table with useful data:
Information from an expert: new zealand campervan itinerary for 2 weeks.
As an expert in travel planning, I highly recommend exploring New Zealand via campervan . For a two-week itinerary, start your journey in Auckland and head towards the Bay of Islands for some island hopping and marine wildlife exploration . Then make your way south to Coromandel Peninsula for hot water beach and cathedral cove. Next up, visit Rotorua for geothermal parks and Maori cultural experiences. Continue your adventure down to Queenstown for some outdoor activities like bungee jumping and jet boating. And finally, end your trip with a relaxing time at the beautiful Milford Sound before returning to Christchurch. Remember to plan ahead and book campsites along the way as they can get filled quickly during peak season. Happy travels!
Historical fact:
New Zealand, also known as Aotearoa in Maori, was first settled by Polynesian ancestors over 1,000 years ago. They arrived in traditional canoes known as waka and established their communities across the islands of New Zealand. It wasn't until the arrival of Europeans in the 17th century that these communities were disrupted and changed forever. The legacy of these early settlers can still be seen today through Maori traditions, language and customs.
Related Posts
Short answer: Campervan rental in Massachusetts can be found through various companies that offer RV…
Short answer: Campervan rental in Sydney is a popular option for exploring the region. Companies…
5 Tips for Choosing the Perfect Campervan Awning [Plus a Personal Story]
Short answer: A campervan awning is an accessory that provides shade and shelter outside the vehicle. It attaches to the side of a campervan and…
Terms and Conditions - Privacy Policy
Work With Us
Blogging Bootcamp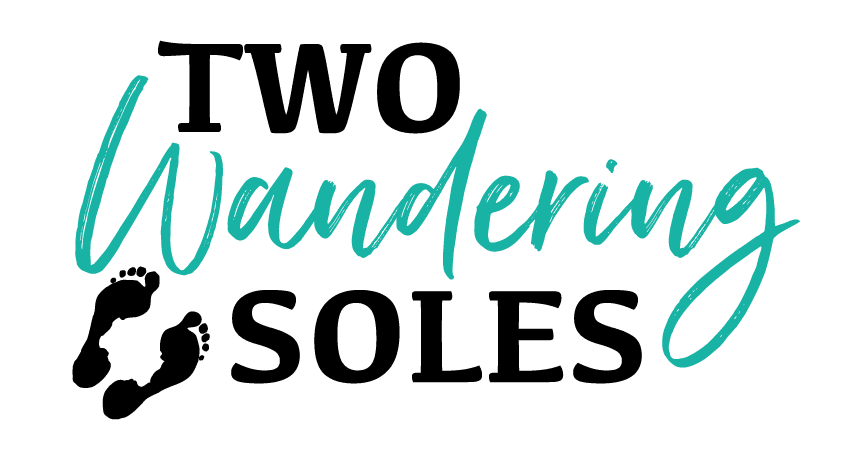 Campervan Life
Van Conversion Academy
Campervan Shop
Campervan Rentals
Plan a Trip
Itineraries
Destinations
Responsible Travel
Family Travel
Budget Travel
Scuba Diving
Travel Credit Cards
Digital Nomad
Teach English Abroad
Blogging Resources
Income Reports
Travel Shop
Meet Katie & Ben
About Two Wandering Soles
Personal Stuff
Portfolio & Press
Best Campervan Rental in New Zealand: Ultimate Guide
Home » Blog » Campervan » Best Campervan Rental in New Zealand: Ultimate Guide
There are so many campervan rentals in New Zealand, choosing one can feel overwhelming. We're breaking down all the important things you need to look for to find the best campervan hire for your New Zealand road trip. We're even sharing exactly which companies we recommend.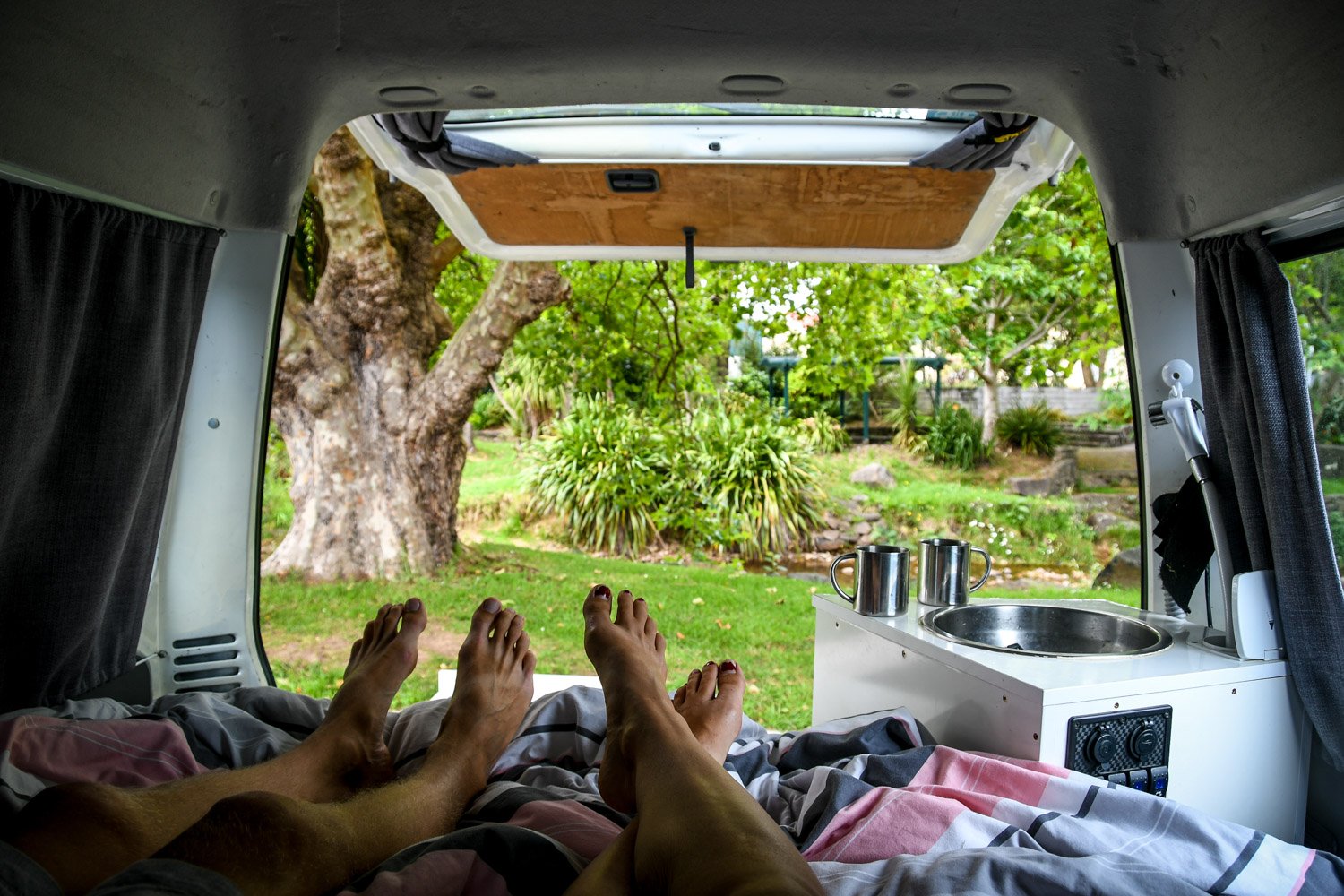 Without a doubt, renting a campervan in New Zealand is the best way to travel around this country (or "hire a campervan" as the Kiwis would say).
Ever since we built our own campervan in the U.S., we've been itching to get back behind the wheel. So we set our sights on NZ, and it did not disappoint.
There are few countries in the world as well set up to accommodate campervans than New Zealand.
With holiday parks and campgrounds everywhere (as well as countless places to freedom camp!) you'll have no problem finding a place to sleep. And with landscapes that look like they're straight out of a movie — oh wait, they are! ( Lord of the Rings, duh!) — endless adventures await you.
If you've been wanting to test out #vanlife, New Zealand is a perfect place to try it out. I even convinced my (60-something) parents to give it a go and they absolutely loved it.
New Zealand campervan rental guide
Get a quote
Things to consider
Best campervan rentals
Budget campervan rentals
Mid-range campervan rentals
High-end campervan rentals
Want to save time and energy on planning?
We spent 5 weeks traveling around New Zealand in a campervan, and we've been lucky enough to explore a lot of what this country has to offer!
We took our 5-week travels and condensed it down to 30 days (because so many people wanted a 1-month route) that hits the top destinations on both the North and South Islands.
We'll send you our complete 1 month itinerary, filled with tips and advice. Just click below to get your 30-day New Zealand road trip itinerary today!

Know exactly what you're looking for already?
"Katie and Ben, I already know what I'm looking for and just want to see the best campervan rental companies…" Great! Jump down to that section here .
OR get a quote right now!
Enter your travel dates and pick up/drop off locations and get a selection of vans to choose from:
But hold up! Choosing the best campervan can be tricky. And truthfully the best campervan company for us may not be the best for you .
Things to consider before renting a campervan in New Zealand
Every traveler has their own expectations, level of comfort and budget they're able to spend. So let's start by going over the factors you should consider before you start looking at companies.
Write down your answers to the following criteria:
1. What is your campervan budget?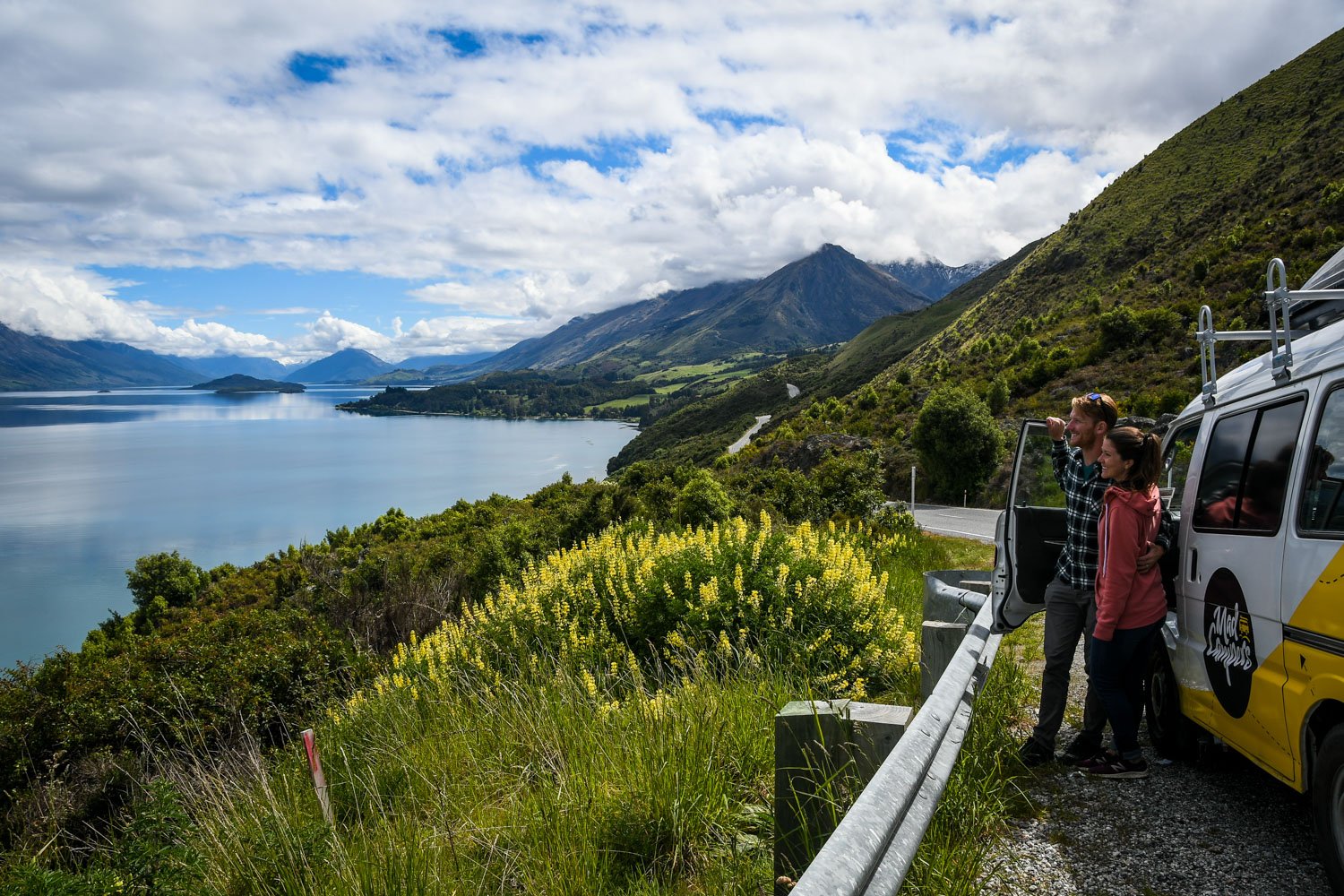 We're going to come right out and say it: Renting a campervan in New Zealand ain't cheap. Even if you go with the absolute cheapest company out there, you'll still be paying a considerable chunk of money.
However, traveling in a campervan is a great way to save money during your trip because you can cook your own meals (much cheaper than eating out!) and you can even find campsites for free (cheaper than staying in hotels!).
Related: Money-saving tips for traveling in New Zealand on a budget
So just how much do campervans cost in New Zealand?
Well, it depends on a few things.
First of all, the time of year can affect the price significantly. If you are traveling in the peak summer season (aka December – March), expect to pay peak rates. And on the opposite hand, if you travel during off-peak season, you might be able to score a nice rate. Shoulder seasons (before and after peak season) will grant you a rate that is neither crazy expensive nor super cheap.
Here is an idea to get you started:
Peak Season (Dec to Feb): $120 – $420 NZD per day ($82 – $288 USD)
Low Season (June to Aug): $30 – $120 NZD per day ($20 – $82 USD)
Shoulder Seasons (any other time of year): Expect to pay somewhere in the middle
Additional Costs: One important thing to remember is you'll also likely be paying for campsites. Yes, there are free sites out there, but they do not have any facilities *erm showers!*. So unless you plan on going au naturel during your entire trip (more power to you!), your daily rate will go up a bit when you factor in campsite costs (more on that later!).
How much do you expect to spend per day? Now multiply that by how many days you plan to travel in New Zealand.
2. What are your expectations when it comes to comfort?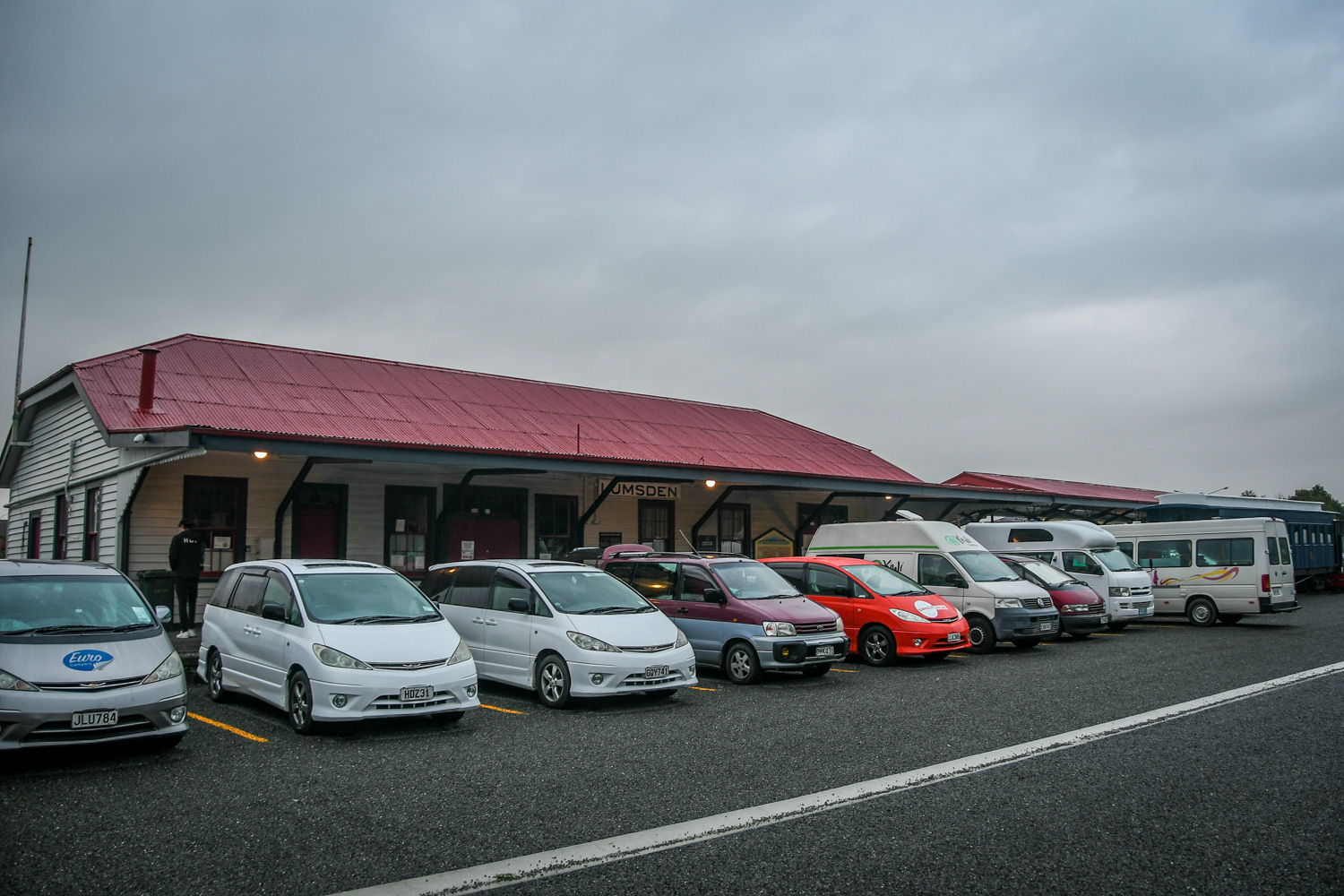 Another very important thing to consider is what level of comfort you are expecting.
"I can make do with just about any campervan."
If you are an avid camper and are used to tents and all the discomforts that come with sleeping on the ground, any campervan you choose will feel damn near luxurious. And if you're used to sleeping in hostels, you'll love the privacy that comes with your own space. Even if you choose the smallest, cheapest, oldest campervan, you will still have a good time.
"I will be more comfortable with a nicer campervan."
However, if you are used to roomy hotel rooms and are a bit nervous about this whole "campervan thing", you might want to choose one of the more plush options to make this new experience a bit more comfortable.
You know yourself and you're the only one that can really decide what comfort level you are going to be comfortable with.
Here are some helpful things to consider:
Do you want to be able to stand up in your campervan?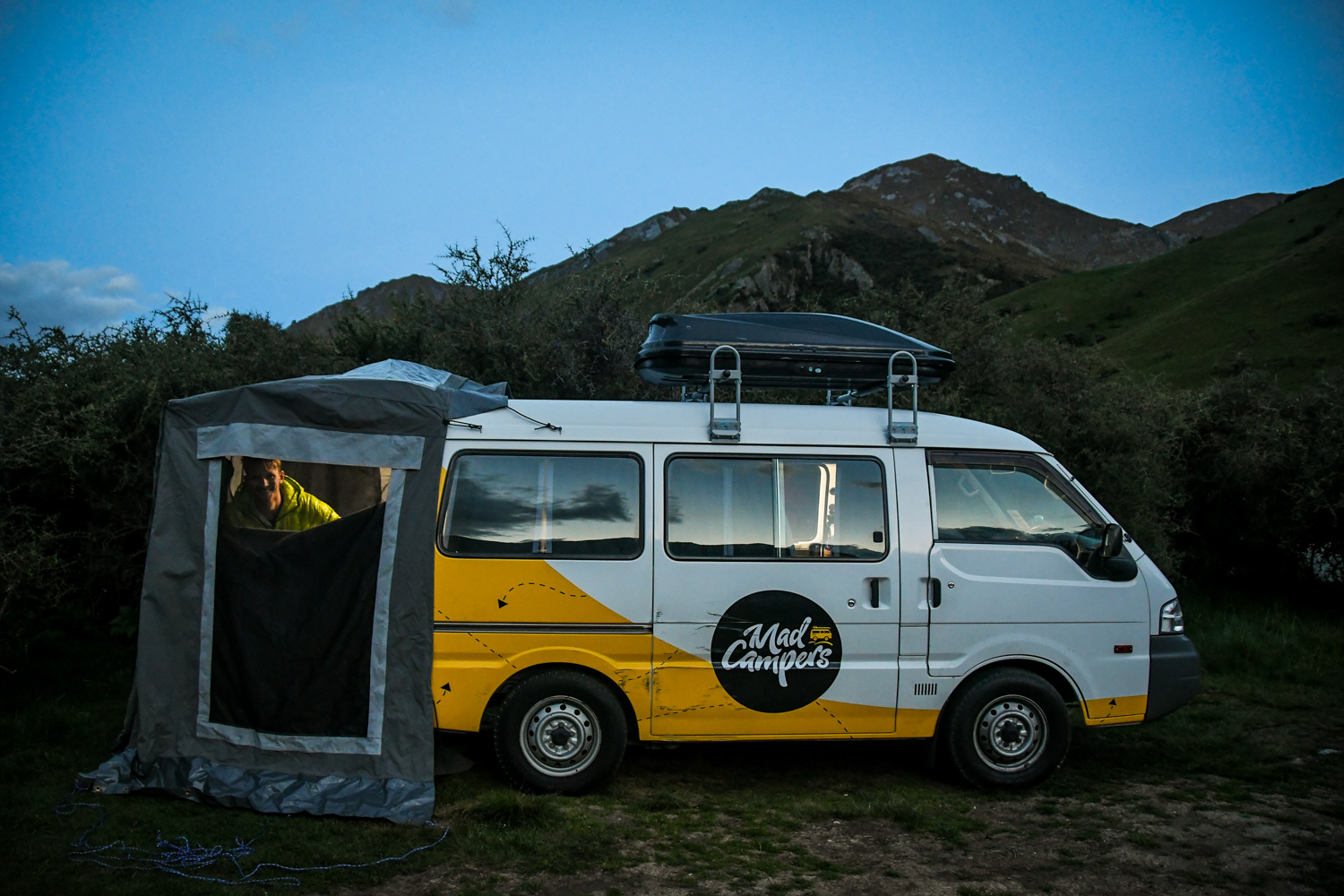 Many of the budget campervans are not designed to be able to stand up inside. So think about what this means and whether or not it is a deal-breaker for you.
Both the campervan we built ourselves and the one we rented in New Zealand were not possible to stand up inside. We did just fine in both cases, but both agree it would be much more comfortable to be able to stand.
Good to know: Campervans that don't allow you to fully stand up, typically have the kitchen in the rear so you can cook outside without hunching over. But other tasks, like making the bed and getting dressed, can be a bit tricky when you can't stand upright. A plus to this type of vehicle is they are more streamlined, use less gas, and are easier to drive if you're not used to big vehicles.
Do you mind converting your bed every night and morning?
In most smaller campervans, the bed converts into a couch during the day. It can be tedious every night transforming your sitting space into your bed, especially at night in the dark with bugs trying to attack you. We speak from experience!
Some of the large campervans have a designed bed that you won't have to convert twice a day. But this likely, nay, definitely, means a higher price tag.
Psst! Wondering where you'll be sleeping? We've got you covered with a round up of the best campsites in New Zealand from our own experience, plus advice from fellow travel bloggers.
3. How many people will you be traveling with?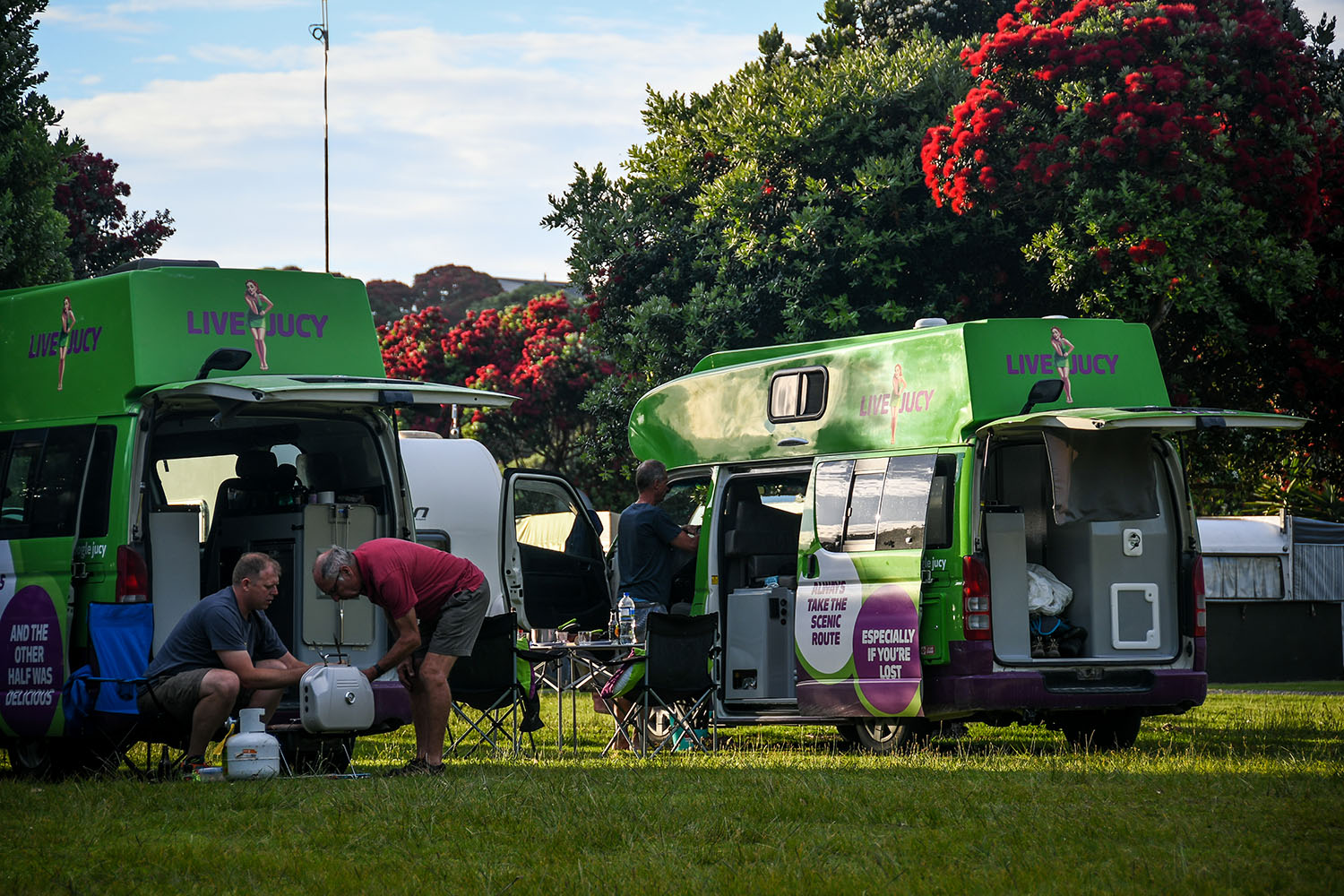 The number of people you'll be sharing the vehicle with can make a big difference in determining the vehicle you choose.
If you're traveling solo, there is really only one company (Mad Campers) with single-berth vehicles designed for only one person. Bonus: Jump down to the Mad Camper section , enter your email and we'll give you 5% off . (You could also rent a 2-berth vehicle and enjoy a little extra space all by yourself.)
If there will be two passengers, you will have the biggest selection of vehicles to choose from, as this is the most common layout.
3-berths are a bit more uncommon, and are typically laid out as a double bed below with a small "loft-style" bed above.
If you have 4 passengers or more, you might have to consider whether you want everyone in one vehicle or should you split up 2 in one and 2 in the other. Of course you will want everyone to have their own seat, but then that means you'll need a bigger vehicle.
If you are campervanning with kids, you'll want to make sure they have their own seat and bed, so a 4-berth might be the way to go.
Another important thing to consider is this: How close are you to the person/people you are traveling with?
If it is a new friend or acquaintance, you may want a bit more room, as living in a campervan is… umm, how shall we put this … very close quarters. If it is a close friend or partner, you may do just fine with less space.
Psst! Make sure you ask these questions to your campervan travel partner before you book your van rental.
4. What size vehicle are you comfortable driving?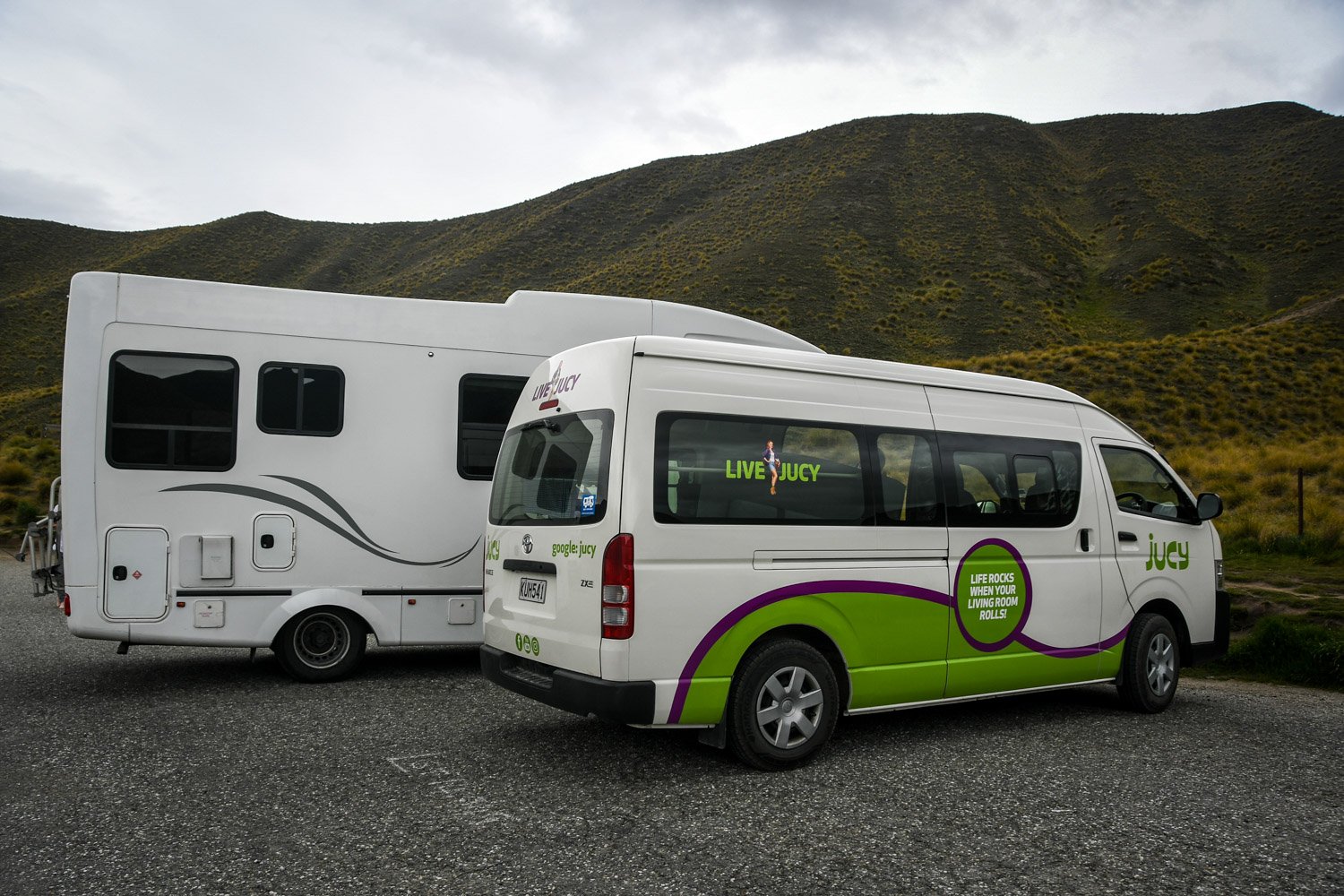 If you have a big budget to work with and you are hoping for a pretty high level of comfort, you might be drawn to the bigger motorhomes. They do look pretty damn luxurious! But before pulling the trigger, consider what it will be like to drive a large vehicle like that.
The roads in New Zealand (particularly on the South Island) can be quite narrow and winding. For the most part we felt pretty comfortable driving our van, but there were a handful of times we were incredibly happy we weren't driving one of those gigantic motorhomes.
If you're used to driving on the left-hand side of the road or have experience with large vehicles, you might be just fine operating one of the bigger models.
But if you're a more cautious driver and driving on the opposite side of the road makes you nervous, then maybe a smaller vehicle will make an easier transition.
On that note, make sure you have good travel insurance for rental cars just in case you do get your lefts and rights mixed up and have an accident. We never go without t ravel insurance and we have a whole article on what insurance we use and recommend. Campervan insurance is usually not covered on a standard travel insurance policy, or credit card insurance, so we recommend to do a bit of digging to determine whether you need extra coverage.
Budget Note: Remember that larger vehicles are going to require a significantly higher gas budget.
5. How far in advance do I need to make reservations?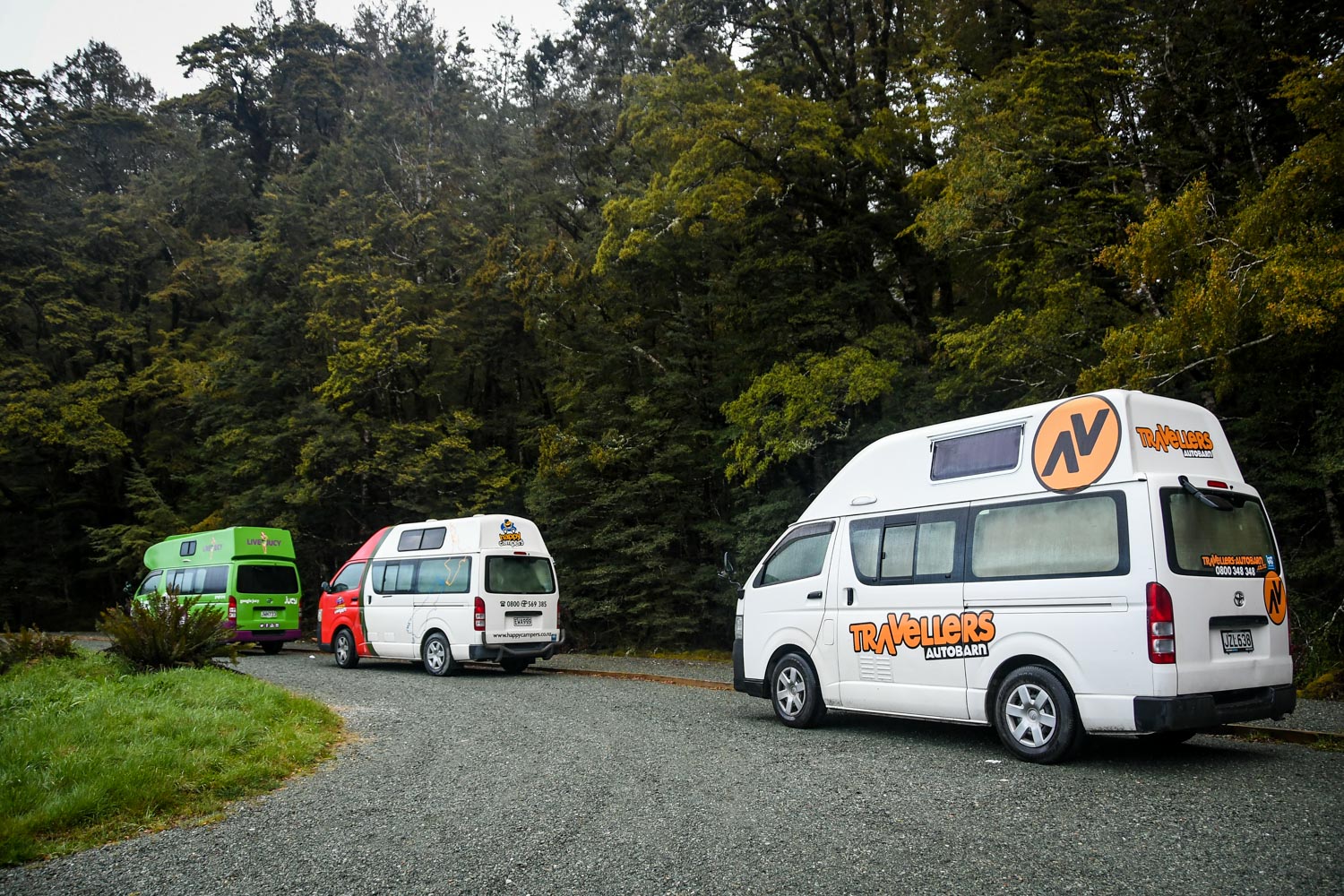 If you are planning to travel during New Zealand's high tourist season (December – March), make your reservation as far in advance as possible.
Personal Note: My parents were planning a trip from mid-February through mid-March and by the time they started looking in early January, many of the good companies had already been fully booked, or the prices were insane! They were still able to find something, but just barely. So if that gives you any indication, you'll want to start looking at least 2 months in advance (if not more).
If you are traveling in shoulder or low season, you'll have a better chance of finding something more last minute. But you might not have much of a choice when it comes to your options.
So if you're particular about what you're looking for and have a tight budget, we'd still recommend reserving your vehicle as far ahead as you're able.
6. What will my campervan come with?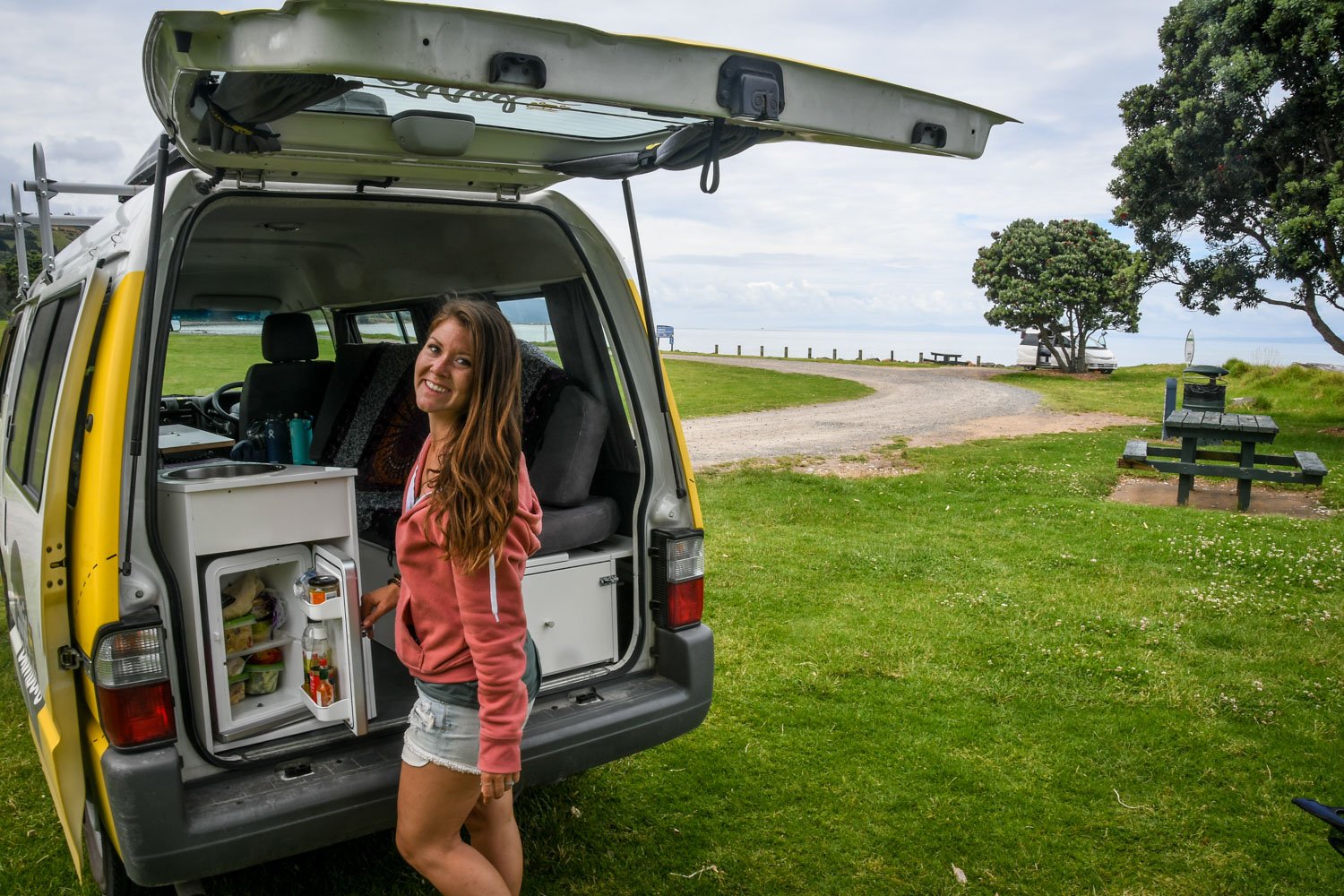 This depends greatly on which company you rent from. However, nearly all campervans should come with the following:
Bed & Bedding
Sink with running water (and a tank you can fill with fresh water)
Stove & Propane
Cookware and utensils
Cooler and/or refrigerator (Fun fact: Kiwis call coolers "chilly bins"!)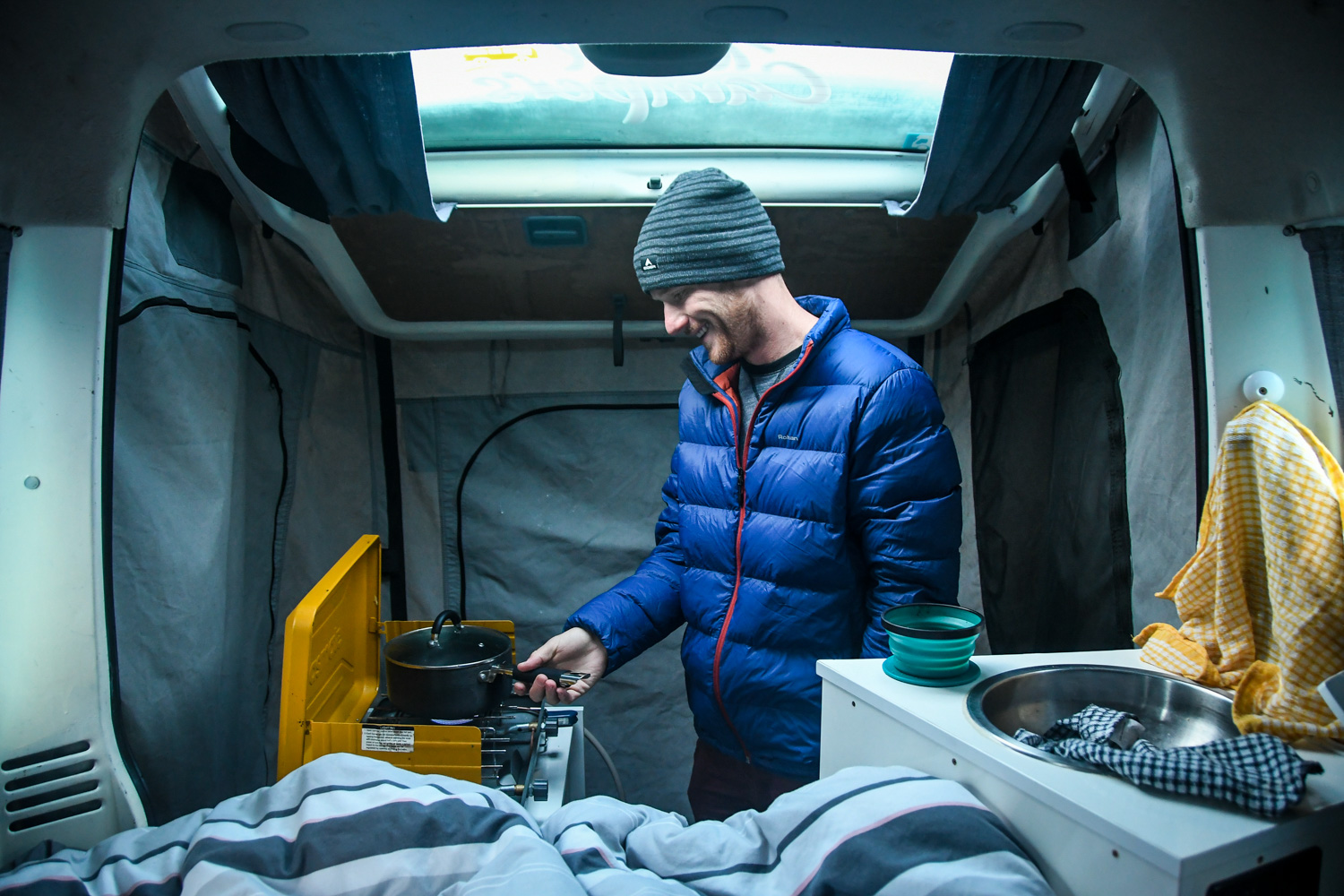 Depending on the campervan rental company, these amenities can be very basic or quite luxurious. Also, most companies have the option to add extras, which are typically charged separately. This can include:
Camp chairs or table
Rain tarp (pictured above)
Solar Shower
Roof Rack (depending on the company, this might come free with your rental)
Our experience: During our trip, we got several add-ons and felt like some of them were very necessary, while others just added clutter.
Rain tarp: Once we figured out how to use it (it's super simple, but looks intimidating!), the rain tarp was night for being able to cook when it was windy or rainy and we weren't staying at a holiday park. (It's bulky, so you'll need to store it in the roof rack container.)
Solar shower: We had the solar shower add-on, but never even brought it out of the box. We'd say this is totally unnecessary.
Table and camp chairs: The chairs were great to have, as we liked sitting outside at the campsites when the weather was nice. However, you can also buy these for cheap at The Warehouse (similar to Walmart). So if your rental company doesn't include them, that is one option. The table was nice for chopping veggies, however it took up a lot of space in the van.
What about the rest?
We've put together the ultimate campervan packing guide for New Zealand to make sure you bring everything you need to get the most out of your trip. Just enter your email below and it'll appear in your inbox immediately!

7. Do I need a self-contained campervan?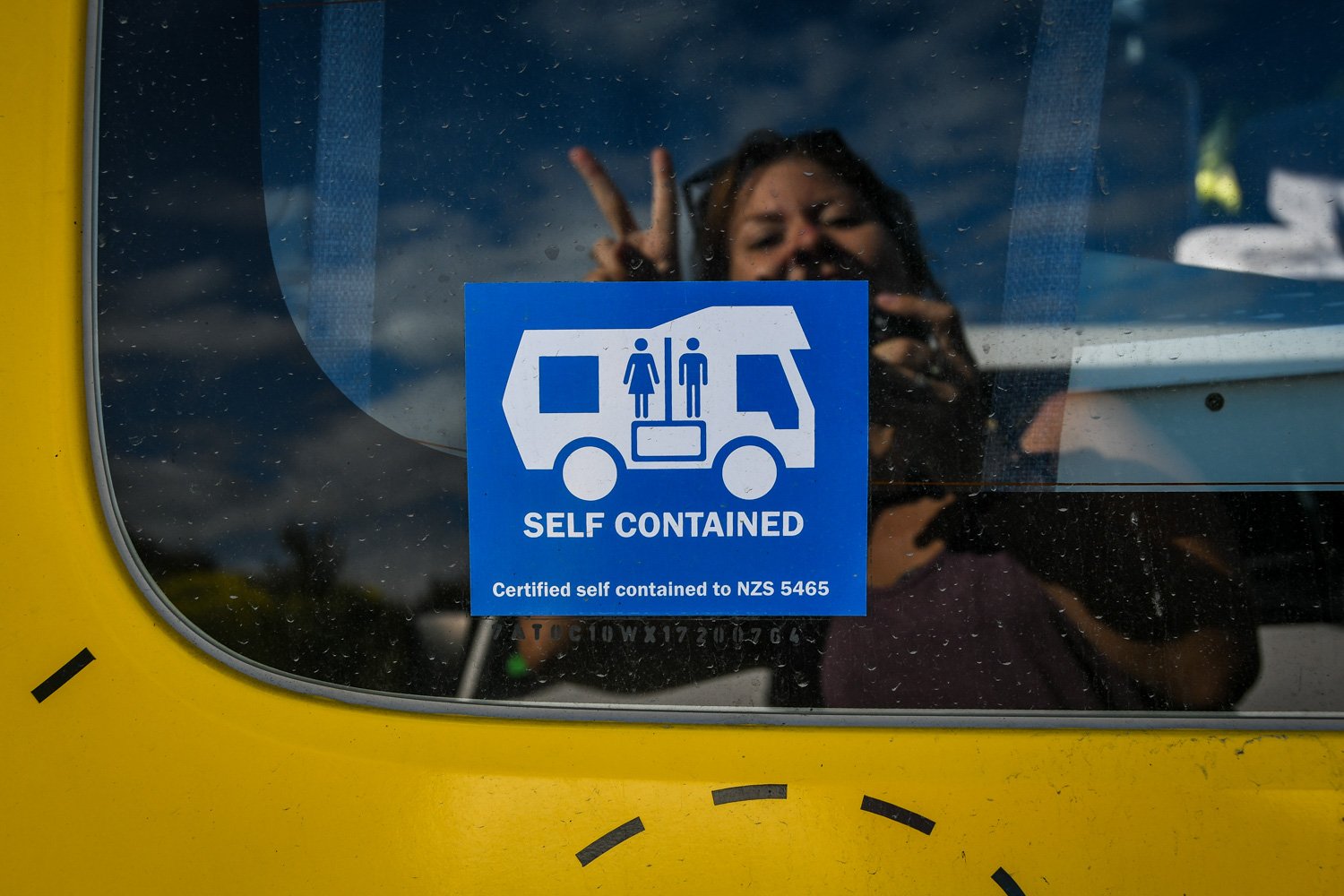 First, let's go over what makes a vehicle "self-contained".
While traveling around New Zealand, you'll see vehicles with a "self-contained" sticker on their rear window (NZS 5465).
This means that the vehicle has equipment onboard to remove any waste created by freedom camping. Simply put, the campervan has some sort of toilet and a grey water tank (a holding container for dirty water that goes down the sink).
There are certain campsites that only allow "self-contained" vehicles. And the only way you can legally do "freedom camping" is with a self-contained campervan.
Now, is it really necessary?
Like most other answers, it depends on you.
Freedom camping is, like the name implies, FREE! So if you're on a tight budget and would like to try freedom camping at least a few times on your trip, then YES, you definitely need a self-contained vehicle.
If, however, you don't think you'll want to poo in your vehicle, then it might not be necessary. There are plenty of free (and cheap) sites that are perfectly fine for vehicles that are not self-contained.
Our pick: For us, it was important to have a self-contained vehicle not only to keep our camping options open, but to also dispose of any grey water at proper dumpsites and not harming the environment. We had a portable toilet, but to be honest we never used it. There are literally toilets everywhere in NZ.
8. What about campervan insurance?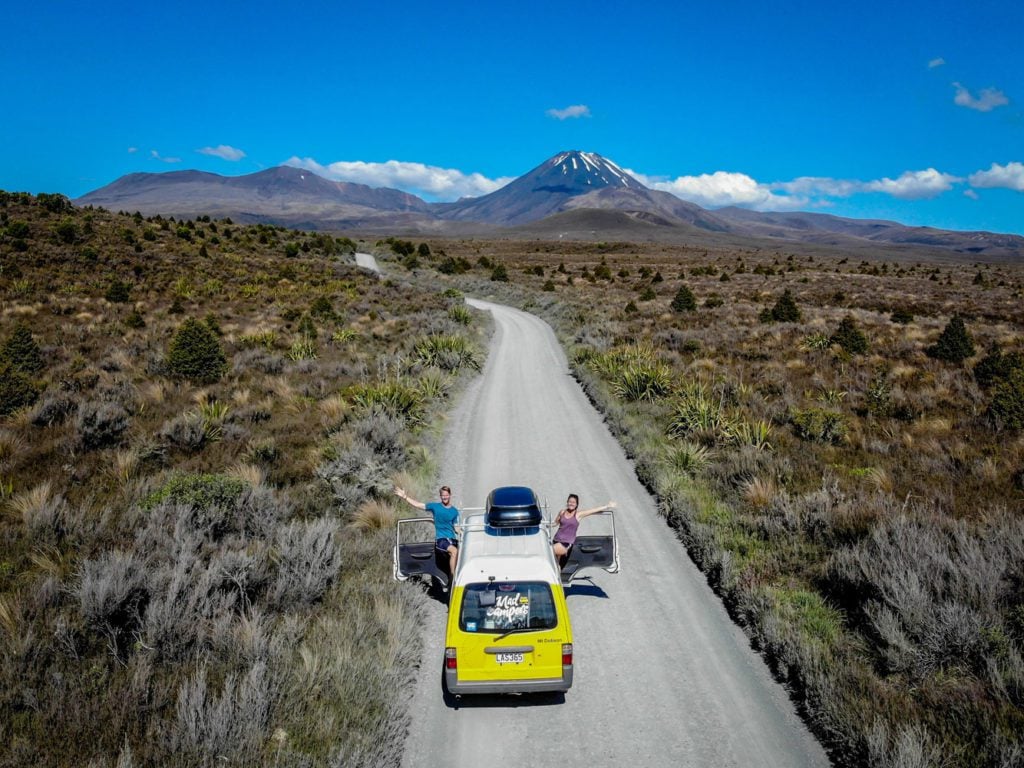 While most travel insurance policies will cover you for renting a car, however campervans are not included in that coverage. Credit card insurances typically do not cover you while driving a campervan either.
Just like rental cars companies, all campervan companies should offer some form of insurance on your vehicle. We would recommend taking the insurance because accidents do happen and you wouldn't want that extra collision expense to ruin your holiday.
In addition, it is always a good idea to have travel insurance, for instances of theft, baggage loss, delayed flights, or medical emergencies. We never travel without and we share our favorites providers we use in our article all about travel insurance .
Psst! Once you've chosen your rental, we've gotchu covered with everything you need to know about planning a campervan trip in New Zealand !
Best campervan rentals in New Zealand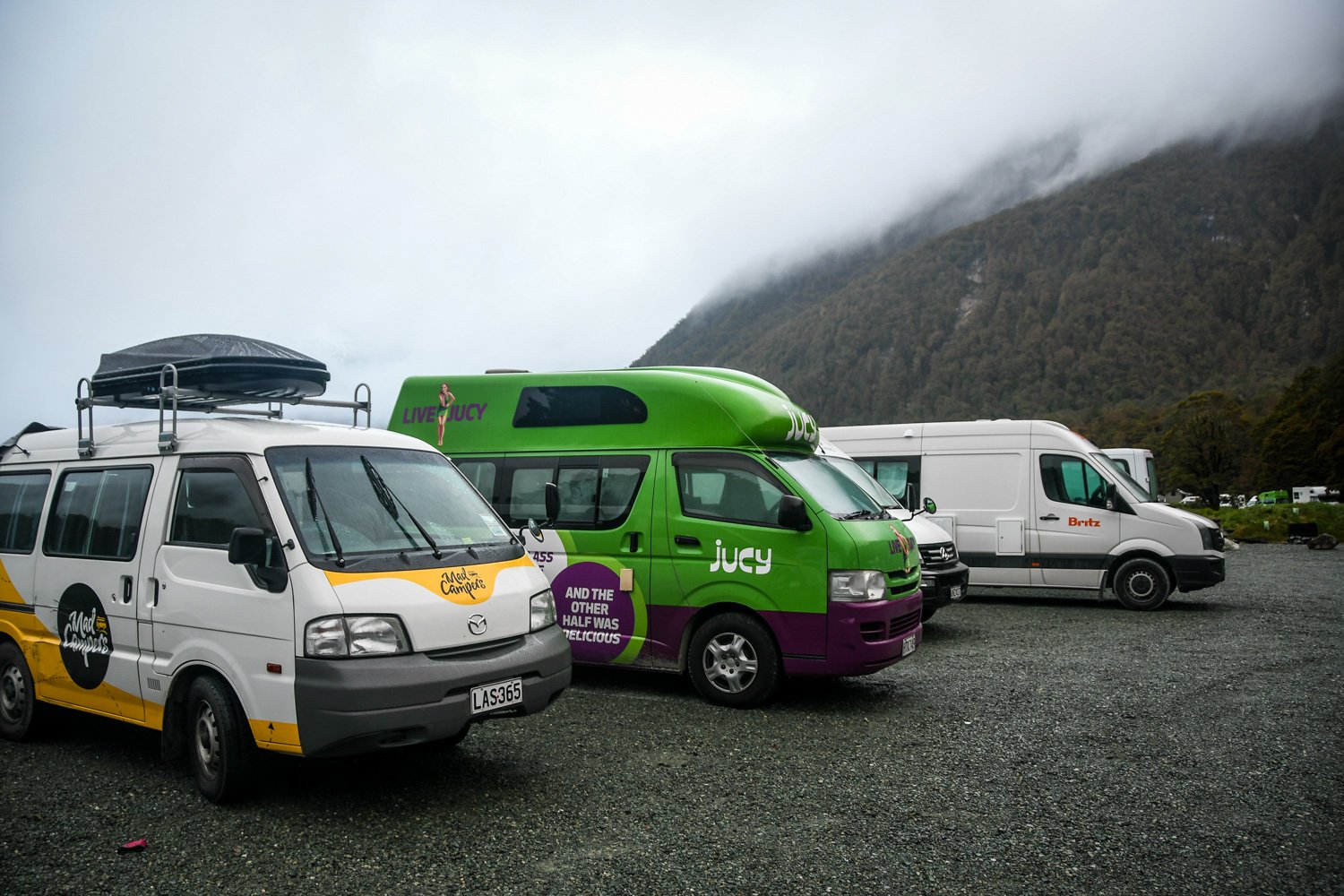 Now that you know exactly what you are looking for in a campervan, here are the best rental companies and compare their offerings.
These will be your best affordable options with basic yet functional designs.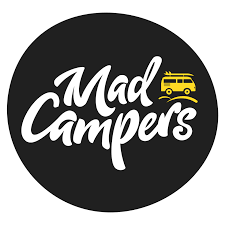 These companies offer a bit more room and features than the super budget options, yet they are still affordable.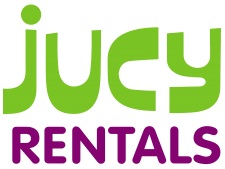 If you are looking for more creature comforts during your NZ road trip, these companies will be the best bet. Their vehicles are damn near luxurious, but they come with a price tag that more closely resembles a hotel than a bed on wheels.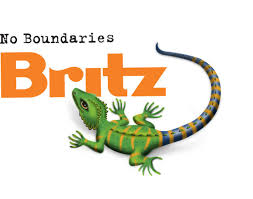 Budget Campervans
If you're traveling New Zealand on a tight budget, you'll be happy to know you have some great options!
Personal note: Beware that not all budget campervans are created equal . We traveled with a friend who rented the cheapest campervan she could find. You get what you pay for, and she had many problems with it along the way: No orientation of the vehicle when she first arrived, missing items that were supposed to be included (like sheets, cooking utensils, etc.), and pieces of the van repeatedly fell off.
We can't recommend all budget options, but Mad Campers and Escape Campervans are two companies we can!
Mad Campers
After lots (and LOTS!) of research, this is the company we personally chose. We liked their fun business model, their function-forward design, and the affordable price tag. We also noticed that they had excellent reviews from past customers, so this was the final push to book with them.
Disclosure: Mad Campers gave us a partial sponsor on our campervan rental, but all our opinions and feedback are 100% honest.
Who is this rental for: Easy going, budget-minded travelers with a sense of adventure to get off the typical tourist trail.
Recently, Mad Campers gave their whole fleet an upgrade with built-in cookers, better storage, better fridges, new curtains and complimentary roof storage!
Type of vehicles: 1-Berth (Mad 1) and 2-Berth (Mad 2) campervans
2-berth van that drives very well
Self-contained
Decent gas mileage
Very functional and details have been really thought through. It had everything we needed for our month-long trip.
Outdoor kitchen with built-in cookers
Small Kiwi-owned company
We have a 5% off for you (below)!
Limited storage space makes the (free) roof rack an essential place to store extra bulk. But it can be a bit frustrating to keep accessing things inside the roof rack.
Can't stand up inside.
One-Way transfer fee of $150 NZD.
Cost per day: Varies depending on campervan style:
2-Berth: Peak Season $160 NZD per day, Low Season $50 NZD per day.
1-Berth: Peak Season $100 NZD per day.
Bonus offer for YOU!
Wanna see what's inside our campervan .
Check out our quick Mad Campers video tour:
Double bonus!
If you rent with Mad Campers, be sure to take part in their "Mad Challenge" .
This is basically a scavenger hunt where you'll need to take pictures doing some fun Kiwi activities –like swimming at a waterfall and eating fish 'n chips on the beach – while wearing your free Mad Campers t-shirt that you'll receive upon arrival.
When you complete the challenge by posting these shots on your Instagram with the hashtags #MadCampersNZ #MadChallengenz , you'll get a 5% refund on your rental cost! (That can add up to be a good chunk of change!)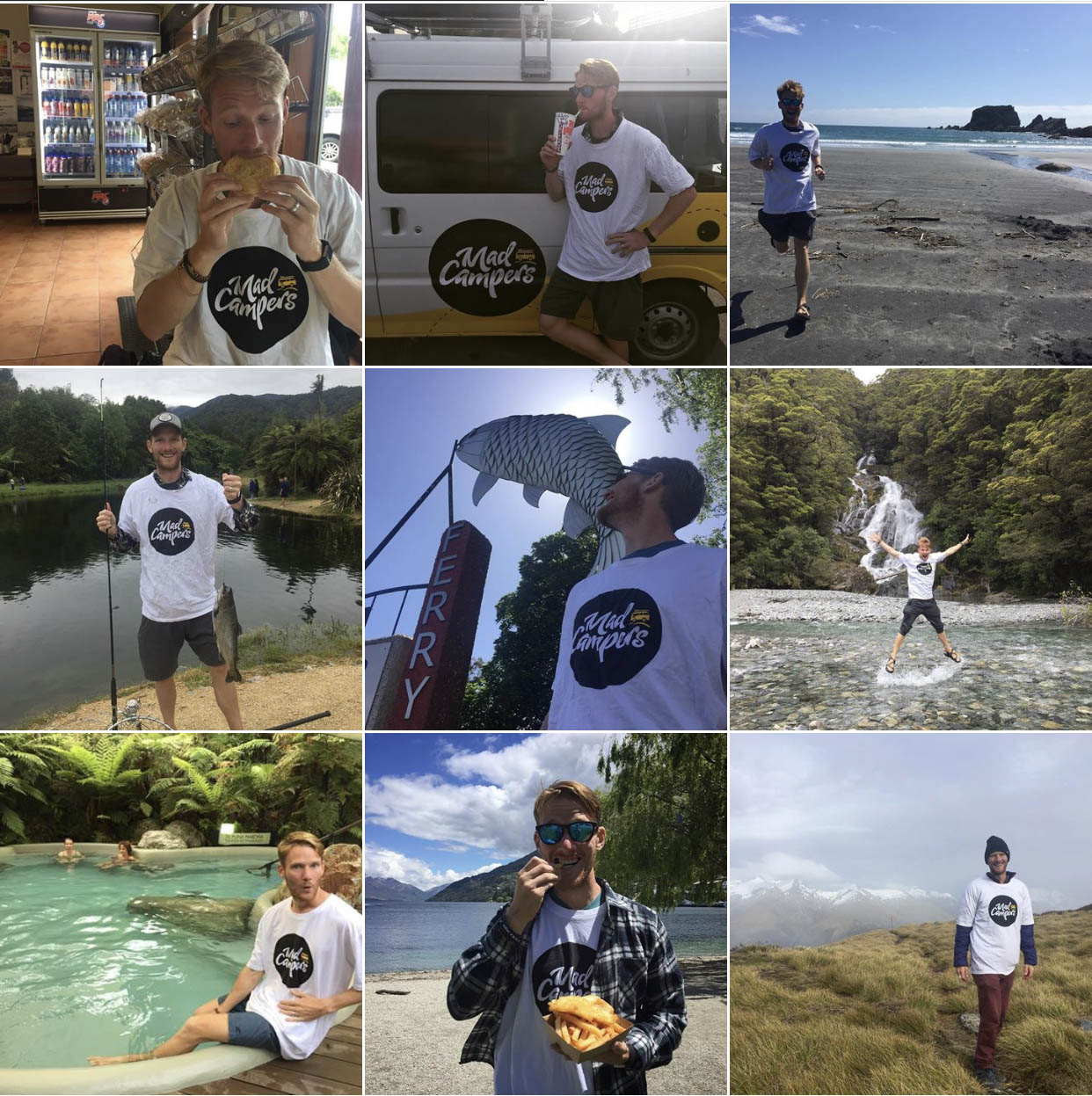 Don't forget to use the promo code: TWOWANDERINGSOLES for 5% off your campercan rental with Mad Campers!
Escape Campervans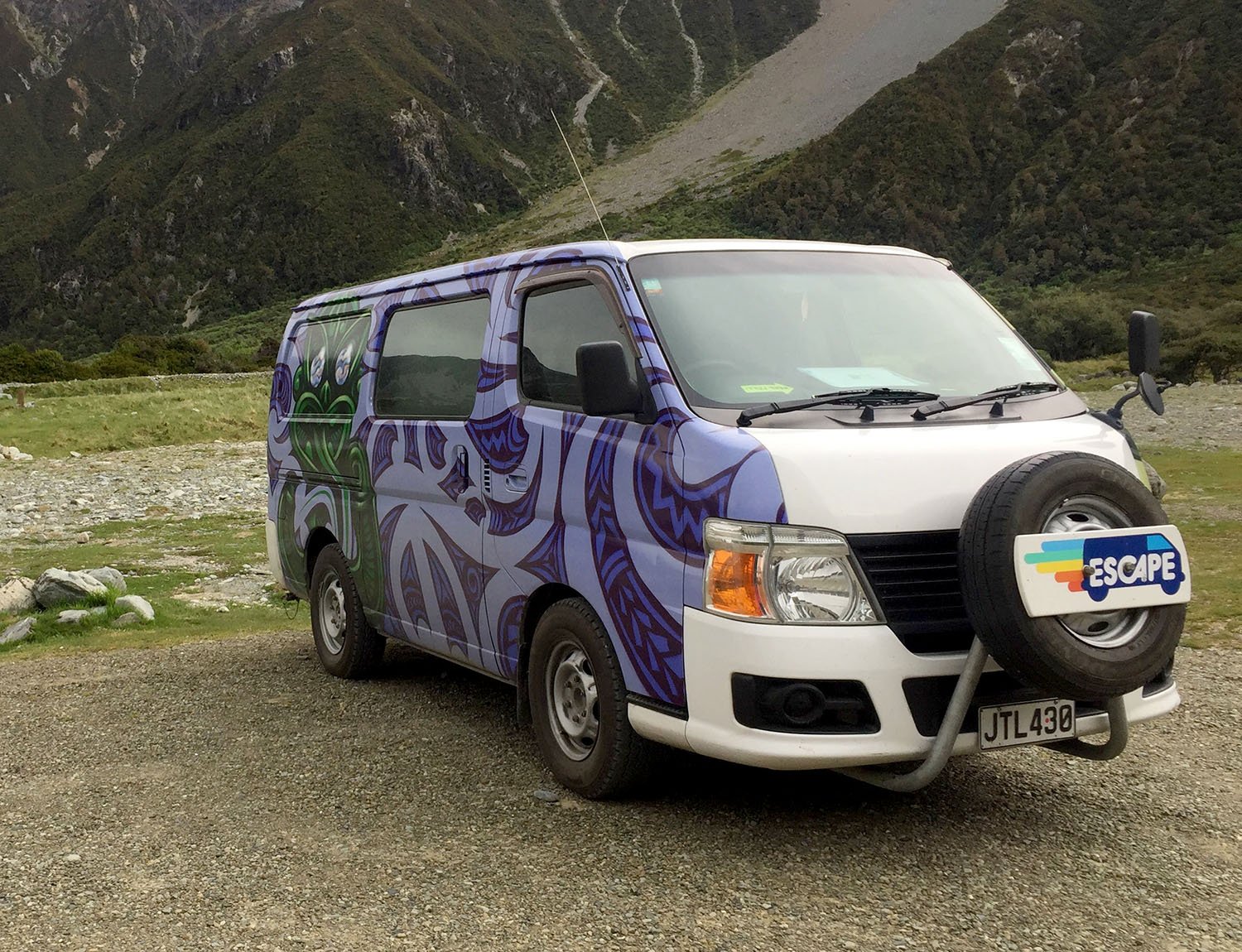 Who is this rental for: Backpackers and international travelers looking to travel as cheaply as possible, and don't mind cuddling 3 wide. Best for really close friends.
Type of vehicles: 2-Berth and 3-Berth. The 2-Berth is spacious for 2, but the 3-Berth is the same style campervan but you simply add a third person in the middle front seat and in the bed.
Unique and fun design painted on each campervan.
Reliable international company.
One of the cheapest options available.
Self-contained options available.
Not able to stand up in the van.
Limited storage space.
If you are planning on traveling with three friends this options would be uncomfortable.
Depending on your personality, the loud design on the exterior of the vehicle may be a drawback
Cost per day:
2-Berth & 3-Berth: Peak Season $121 NZD per day, Low Season $29 NZD per day.
Mid-Range Campervans
If your budget is a bit more flexible, you'll have more campervan options to choose from.
Who is this rental for: Travelers wanting the convenience of renting from a powerhouse in the international campervan game, Jucy has campervan rentals down to a science. They have several different models, making this company a great option for most types of travelers.
Type of vehicles: 2-Berth Campervans (JUCY Cabana Minivan & JUCY Coaster Campervan), 3-Berth (JUCY Chaser), 4-Berth (JUCY Compass & JUCY Condo)
Well-known company
Many different styles and layouts to choose from. Some are pretty spacious!
Some styles have an indoor kitchen
Able to stand up in the 4-berth vans
The larger models can be a bit difficult to drive if you're not used to it (especially on mountain roads and in high winds).
Larger models also have lower gas mileage.
Cost per day: Varies depending on campervan style:
2-Berth: Peak Season $175 NZD per day, Low Season $25 NZD per day.
4-Berth: Peak Season $250 NZD per day, Low Season $48 NZD per day.
Travellers Autobarn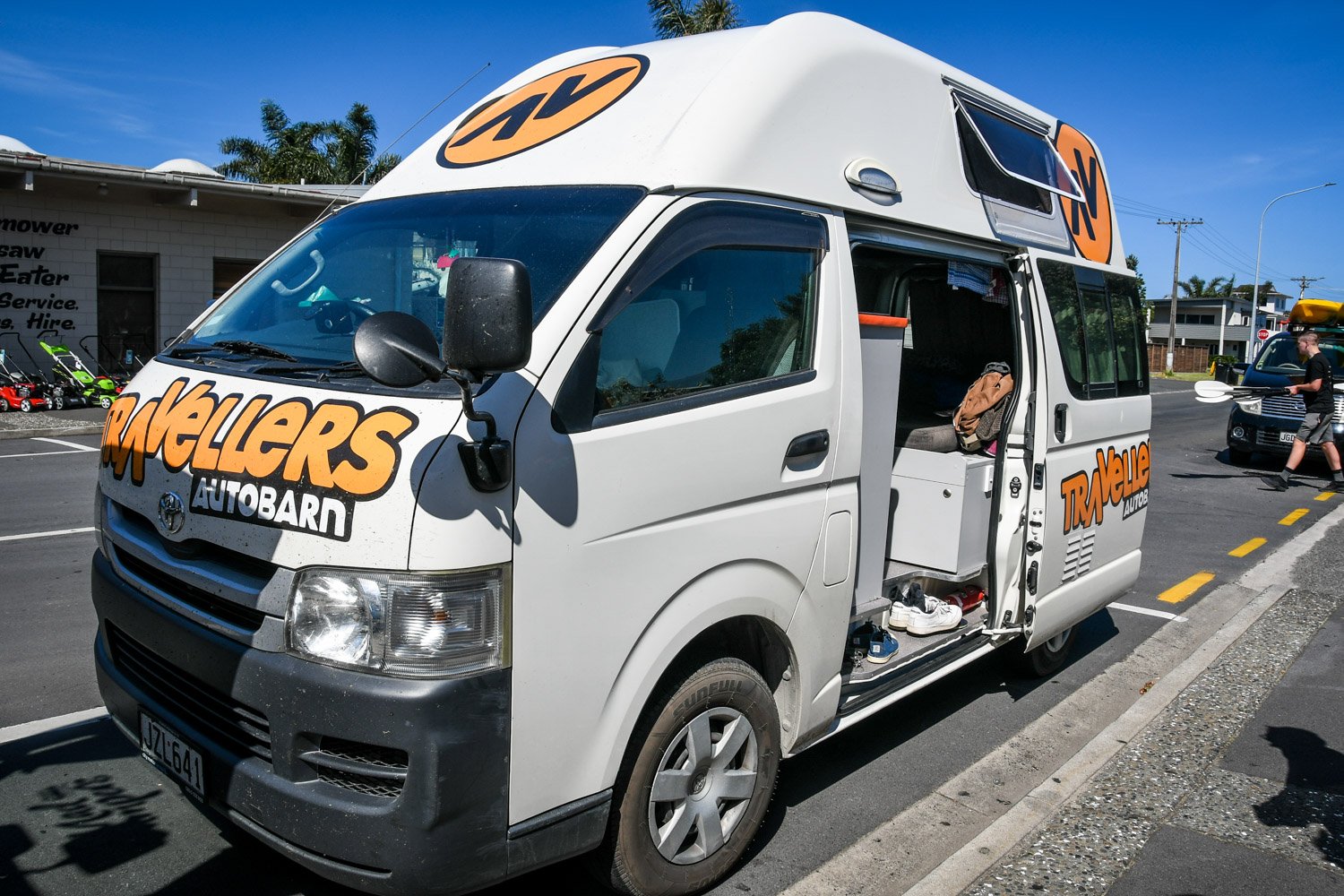 Who is this rental for: Travelers with a little higher budget, but don't want to drive around the big rigs. These campervans are also one of the better options for 3 people traveling together, as there is a loft bed and extra seats in some models.
Type of vehicles: 2-Berth Station Wagon, 3-Berth Hitop & Kuga Campervans, 4-Berth Hi5 Campervan.
Smaller vehicle with lots of space and you can stand up in the back.
The kitchens are inside and include fridge (sometimes a freezer), microwave, and a 2-burner stove.
Can stand up inside the van.
Only portable toilet (no indoor toilet)
Getting to be on the more expensive side
2-Berth Station Wagon: Peak Season $89 NZD per day, Low Season $21 NZD per day.
3-Berth: Peak Season $236 NZD per day, Low Season $41 NZD per day.
4-Berth: Peak Season $274 NZD per day, Low Season $55 NZD per day.
High-End Campervans
And if you've got money to spare, you can travel New Zealand in luxurious style! The companies listed below created true homes on wheels, and you might even forget you're "camping"!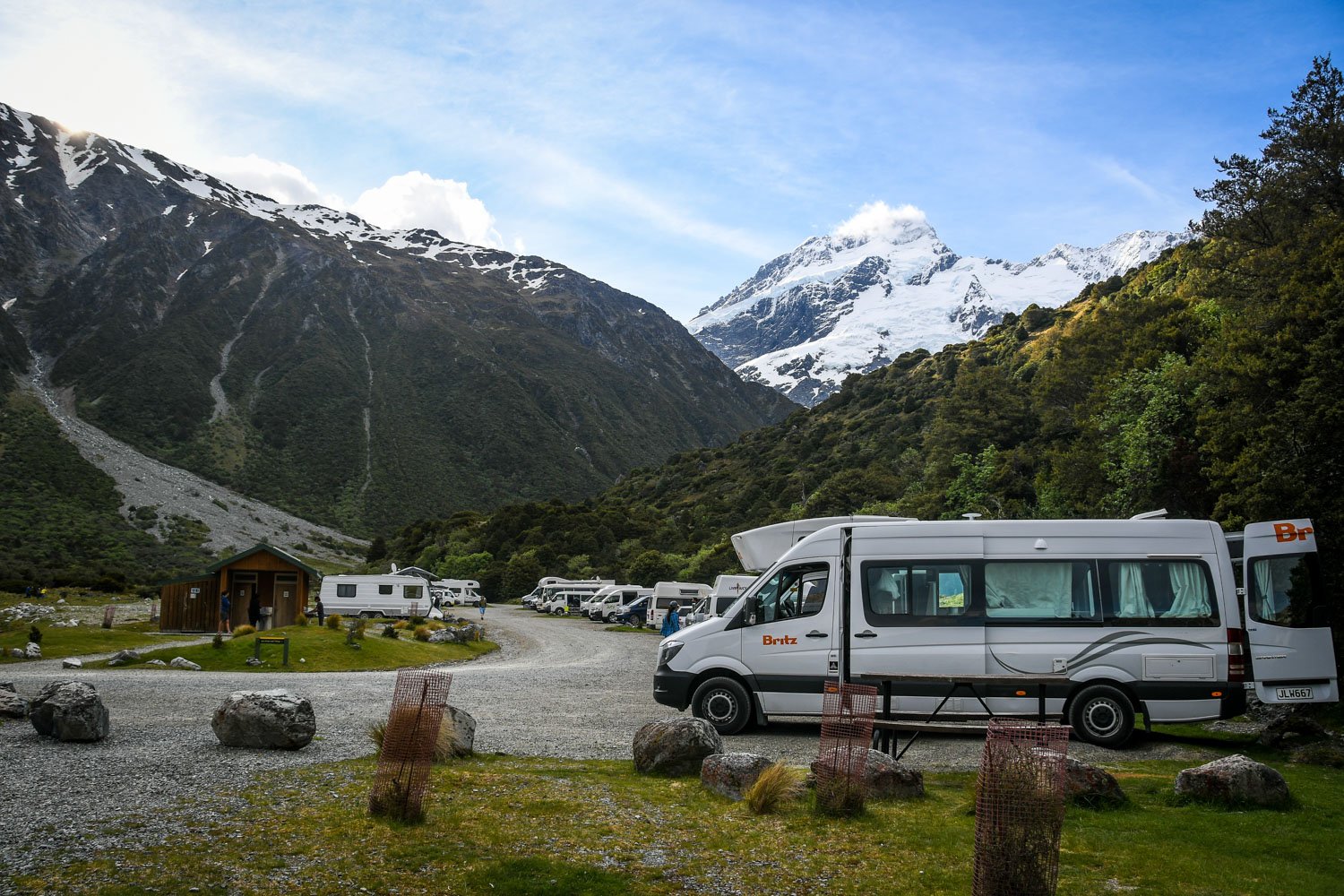 Who is this rental for: 30+ travelers looking for a no-nonsense campervan because you might be exploring with loved ones and kids. You want the comforts of home in your camper but still seeking new adventures.
Type of vehicles: 2-Berth, 3-Berth, 4-Berth and 6-Berth campervans and motorhomes. Wide variety of amenities and add-ons in each type of vehicle.
Quality campervans and motorhomes that can fit the whole family.
Newer vehicles, 2016 and 2017 models.
Indoor kitchens and bathroom (toilet/shower) in campervan.
Lots of storage.
One of the best campervans/motorhomes in New Zealand.
Large vehicles and can be difficult to drive.
Low gas mileage (but it is diesel, so a bit cheaper)
High cost per day.
2-Berth Action Pod: Peak Season $158 NZD per day. Low Season $95 NZD per day.
2-Berth Venturer: Peak Season $420 NZD per day, Low Season $70 NZD per day.
4-Berth Discovery: Peak Season $410 NZD per day, Low Season $80 NZD per day.
Maui Campervan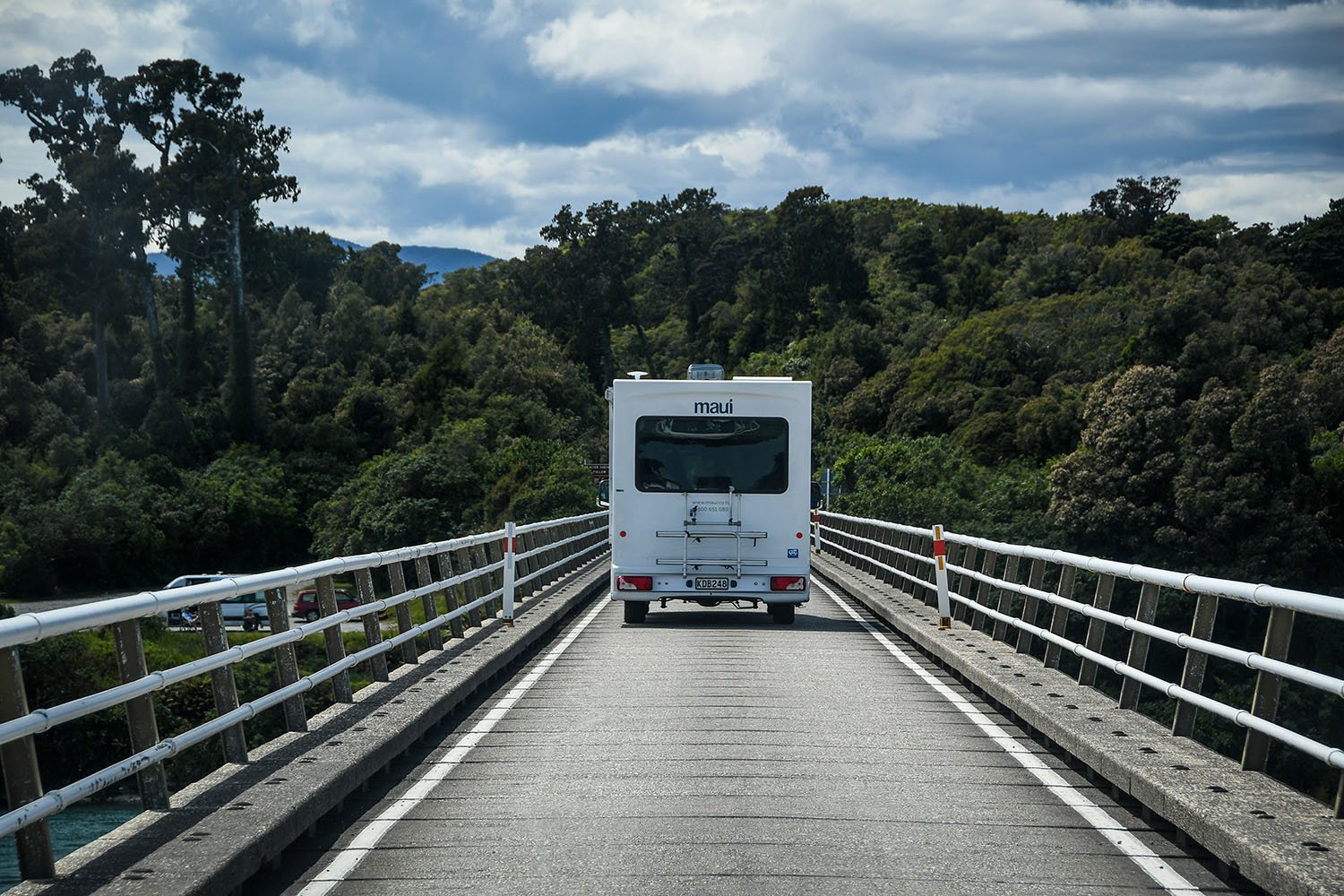 Who is this rental for: 40+ couples or families looking to travel New Zealand at their own pace, valuing local experiences and seeking spontaneous adventure.
Type of vehicles: 2-Berth, 2+1 -Berth, 4-Berth, and 6-Berth campervans and motorhomes.
Maui has all the comforts of home, but on wheels.
All vehicles are less than 2.5 years old with most less than a year old, so no worries about car issues.
All have bathrooms (toilet and shower) and kitchens (multiple burners & microwaves) inside the motorhome.
Loads of storage space and hot water from taps. Talk about luxury!
Low gas mileage (but it is diesel, so a bit cheaper).
2-Berth Ultima: Peak Season $420 NZD per day. Low Season $110 NZD per day.
4-Berth Cascade Motorhome: Peak Season $450 NZD per day, Low Season $110 per day.
6-Berth River Motorhome: Peak Season $450 NZD per day, Low Season $125 NZD per day.
Still not sure on which New Zealand campervan company to choose?
Are you having trouble deciding on a campervan rental for New Zealand? Check out Motorhome Republic to compare different campervan companies in order to find the right vehicle for you and your dates.
Don't miss out on this epic New Zealand road trip itinerary!
If you like doing travel research, all the power to you! Feel free to use our itinerary outlines as a starting point as well as our city guides for ideas of things to do (we've got a bunch of them!).
But if you want to save some hours of your life , we've already put in more than enough for you and us combined. Trust us.
And we're happy to share everything we learned — from digging through reviews, Youtube and all sorts of Internet rabbit holes, as well as actually traveling in New Zealand by campervan for 5 weeks!
We've curated what we think is the perfect New Zealand road trip , and we want you to be able to copy our route!
Are you planning a trip to New Zealand?
We have TONS of resources on travel in New Zealand and destinations throughout the country. Check out our Ultimate New Zealand Travel Guide for all the answers to your most burning questions, or read some of our favorite articles below.
The Ultimate Guide to Planning Your Campervan Trip in New Zealand
The Best New Zealand Campsites: Ultimate Guide + Free Map!
54 Things to Know Before Traveling in New Zealand
Perfect 1-month Road Trip Itinerary for New Zealand
Save this article on Pinterest for later!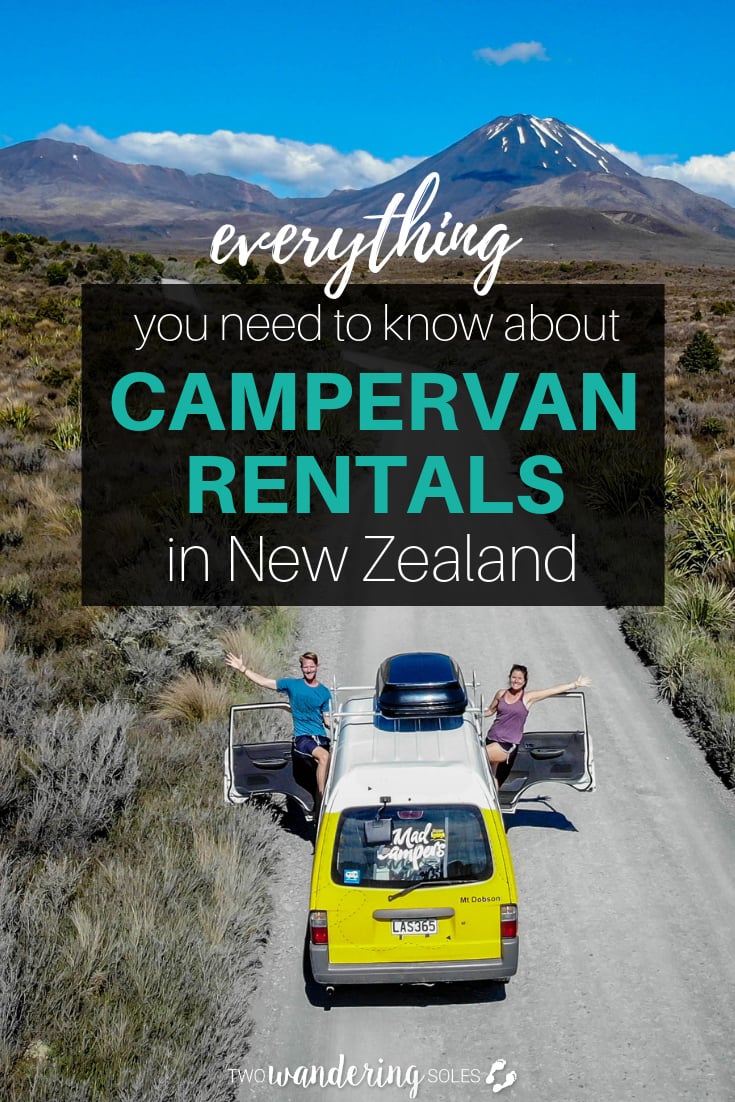 We want to hear from you!
Which campervan sounds best to you? Still have questions or trouble deciding? Leave a comment below and we'll try our best to answer! It's likely others will have similar questions to yours.
Comments (36) on " Best Campervan Rental in New Zealand: Ultimate Guide "
I've just returned from a trip around New Zealand in a campervan and I can say without a doubt that it was the best decision I ever made! The scenery was absolutely stunning and the campervan was perfect for the trip –
Your travel blog gives great info regarding camper vacation in NZ ! I signed up (several times) for the "25% off deal" with Mad Campers. However, I never received an email reply from you,
Thanks for leaving a comment. We were doing some maintenance to our email list and sequences (which we just completed!), so sorry about the delay in getting you the 5% off code. Let us know if you have any other questions, we are happy to help!
Hi, is the code still active? Used the link above for Motorhome republic.com and got error on the code for the Mad1. Thanks!
This guide is a fantastic resource for anyone planning a campervan adventure in New Zealand! Katie Diederichs provides valuable insights and recommendations for finding the best campervan rental, making the whole process much less overwhelming. It's clear that she and her team have a passion for exploring New Zealand by campervan, and their enthusiasm shines through in their informative content. If you're considering a New Zealand road trip, this guide is a must-read. 🚐🌄🇳🇿
Thank you so much, Stella, for your sweet comment! These messages always make our day!
Love the site. Lots of good information, especially for first -timers. Probably missed this information, but I'm wondering if some, most, or all of the vans in New Zealand come with an electrical supply compatible with devices that normally are plugged into a wall outlet. Second question : Will the companies rent to a 76-year-old? Thank you.
Additional feedback on Tui: I rented a 6 berth (Ford Transit, around 2011 model) from them this 2022-23 summer, and was very disappointed. The vehicle was Really tired, with worn and smelly upholstery, with many pieces of trim that had fallen off, been badly glued back in place, only to fall off again during our trip (eg most fly screens). The camper really should have been scrapped by now, rather than rented at prices befitting a much newer vehicle. Tui waived road user charges to compensate for our inconvenience, but that was a tiny giveback compared with what we paid. They were totally unwilling to do return any more, and refused to provide a shuttle transfer because we were 20 minutes after the normal service close time despite having arrived around 30 minutes before close time. All in all, I recommend people look elsewhere for a better provider.
I rented a Toyota Voxy from Tui Campers. It started out with a red flag, as I picked up the van, had a good experience with the women who worked there, less with the men. Didn't get far when the key fob battery died. I paid for an outdoor chair but didn't get one. On the 5th day I had an unfortunate accident on the Coromandel Peninsula on a narrow winding road. I paid for full comprehensive insurance. Tui offered no assistance. I got a ride back to the Holiday park from the husband of the woman involved in the accident. Tui said there were no replacement vehicles available, and charged me to my credit card $4,703.82 for towing on top of an $1,800 credit I had, all of this when I was in shock with minor injuries. I had to hitchhike in the rain back to Thames to get a bus to Auckland. I requested a written receipt with an explanation of the towing charge after talking to the towing company, who said they were paid about $200 by the insurance company, and were appalled and said I was clearly ripped off. The husband of the woman in the accident has been in regular touch and has said Tui has been very unhelpful and rude. They have refused to send me a copy of the Insurance policy and now turn on the voicemail when I call to talk to them. I've been very polite and friendly to them to keep things nice but the management there is clearly running a scam, thinking they can get away with it with tourists. If you can rent with another company I would highly recommend it. Everyone I have met outside of the company has been lovely and supportive, and I am now pursuing legal advice through the Citizens Advice Bureau.
Two old folks who are planning a 7-10 day trip for mid-October 2023 (we'll both be in our early 70s); we have a 40' RV with tow car here, so comfortable with a bigger van, even driving on the "wrong" side of the road. Need to be able to stand and have our own bathroom, plus fridge (diabetic). Want a one way rental, pick up in Auckland, drop off in Christchurch (where my cousin lives). Recommendations?
How are you getting on with your planning, Diana? My bh and I are looking at an almost identical trip from the UK next year! We don't want to have to make the bed up every day but would rather have a smaller panel Van than a coach built. Interested to know what you've decided!
Your article is quite helpful! I have so many questions, and you have answered many. Thank you! Such a nice and superb article, we have been looking for this information about best campervan rental in new zealand.Great post.
Love you blog and tips! We have been in NZ for 3 months now (stranded during covid 19). We are taking advantage of Britz's $29/day campervan deal as we are now coming out of lockdown. (Don't know if you are in NZ currently). We are over 30, well way over, over 50 even, and not the camper type. But we are going to give it a go; as you mentioned NZ is the place for this. And at $29/day, I can get an air B&B everynight I need some luxury. Thank you for the tips, you can follow our journey on hummingalong.net.
Hi. Its a bit of a long shot but does anyone know if it would be too cold or uncomfortable and wet to travel in a campervan (with heating) to South Island now? Considering our L2 options limiting to North Island or to travel further to South Island. Any advice would be appreciated. We are a family of 4 with 2 small kids (5 and 7 years old).
Hi Mai Ling, Great question! We traveled during New Zealand's springtime, so we wanted to ask some friends of ours who traveled during the winter and get their advice for you.
Here's what they said:
"For us the winter was awesome!!!! I'm not sure if we just had a really lucky winter or what but it was really mild and amazing. So we went most of July and were only in the South Island. The Madcamper people gave us extra blankets and also those heat packs but we never even used them. It never got unbearably cold. It rained maybe three days of our whole trip! And that was near Milford Sound. Our boat trip in Milford was freezing and raining but I mean, what can you do! For that, we stayed at a camping place with a pretty nice lobby and kitchen so we didn't feel like stuck in the van while it was raining.
It didn't snow at all. And also I'd even recommend winter because there was nobody around — no crowds and the roads were easy. And I remember reading in your blog sometimes like "oh this is a popular campsite" and in winter you never have to worry about that. It was one of my favorite trips ever."
So according to our friends, NZ winter can be a great time to travel (even in a campervan). They're happy to answer more questions if you have them.
I would say if you're up for it after reading their advice, go for it! But if you're still hesitant, listen to your gut. Everyone has different levels of comfort and personal preference (especially if you have kids along). But I hope this has given you a bit of comfort and helps with making your decision.
Best of luck and we wish you a wonderful trip in New Zealand!
Your post on best campervan rental in New Zealand is so amazing. When I read your post, then I could not stop to commenting myself. It's really impressive content, its really helpful and full of knowledge. I have also found this resource Comparenewzealandrentalcars.com useful and its related to what you are mentioning.
Outstandingly thorough guide! Wish I had read this before our trip last year.
Really enjoying your posts, thanks so much for all the information (NZ bound March 11th!!! 🙂 )
thankyou for a wonderful site, wife and I have been twice before 4 and 6 weeks, for 2 weeks we had a 4 berth camper van on south island. planning our final visit to NZ early next 6 weeks in total. Taking another couple with us on their first visit, 3 weeks in both island, south camper van, if you want the space advised last time to go up one size, last time 2 of use took a 4 berth, this time 6 berth. Yes they are large vehicle but the speed and volume of traffic compared to UK is so much yes, if I say my wife will only drive my C3 Picasso in the uk but she drove the campervan last time. As advised book as soon as you can.
thank you for your wonderful post. I would like to ask. a 30+ couple with a 4 month old baby and not so tight with budget. which option would be best? ( the date is 2 weeks from now)
Hi there Avital, for a couple with a baby, you might want to look at the mid-range campervans. Reason being that you will want to have your own sleeping space plus an area for your baby. You'll also want to have a van that can be suited with a car seat for safety. I hope this helps.
HI! Love your posts! If I only have 4 days to travel before meeting up with a group for a workshop, is it still worth it to get a camper van? I like to be outdoors, and have allergies, so Air Bnb is dicy. I also want to have my own vehicle…. Is there tent camping in NZ? thanks!
Hey there, you'd be surprised with how much you could see in just 4 days in New Zealand! I would recommend getting a campervan because it gives you the freedom to get outside of the city, but tent camping is possible as well. Also I'd like to mention that Airbnb's are a great option when traveling in New Zealand. They are very safe and inexpensive.
Perfect guide to planning a trip to NZ. With so much breathtaking natural beauty, New Zealand is one of the most incredible places in the world and has an interesting culture. I am also looking to visit this place from the last year. Great and keep sharing!!
Thank you so much, Samuel. New Zealand is amazing! I can't wait to go back!
Another thing i forgot to ask in the previous comment, how we refill the clean water and dry out the waste water if we are using self contained vehicle? Do we have to pay for refilling the clean water and drying out the waste water? And we I choose the smaller van , is it difficult to find public toilet and bathroom ? How much the cost for using public toilet and bathroom?
The great thing about New Zealand is that the whole country is made for traveling by campervan! There are rest stops very frequently with free bathrooms (or drop toilets, like the ones you'd find in national parks, if your a bit further out from civilization). All Holiday Parks will have a waste water drop area and a separate fresh water fill station. Most of the time those are free if you are staying the night at the holiday park.
Hi Kat n Ben. So grateful that I found your blog which I think it is very helpful and informative. I plan to travel with campervan in Nz. But still hesitate because I have never travelled in car/van. I usually opt hotel while travelling.
The thing that I am considering is I prefer a nice, clean, and fully equipped campervan with complete amenities, but i am not sure about driving big car such as motorhome since I predict it will be so much difficulty in handling while driving a sich big vehicle. And another thing is I wonder if such big vehicle is allowed to enter the city.
What do u recommend me if I want to travel with convenient van but still easy to drive and park?
Regards, Jeff
Hi Jeff, Great question. If you want a campervan with more comfort but not too big so you can handle it better and also drive it in a city comfortably, I'd recommend a larger Jucy van or a Britz (the sprinter style van, photo above). Both of those will have a kitchen and a lounging area with lots of space, and they will be pretty easy to drive. Does that help?
This is my first time to New Zealand (North Island) and my first try on campervan in my life, a little nervous because usually our accommodation are Hostel / Hotel. I'm keen to look for campervan with shower and toilet as my husband unwilling to use the Public Bathroom. But does this really necessary? Is the Public Bathroom clean enough?
Britz have a new 100% electrical campervan (Evolve) which i'm quite interesting, but 100% battery fully charged can only drive for 120 km, (from point A to point B easily over 120 km). Could you do a review for that?
Hi Bennie, Even though there are free and very clean public toilets frequently throughout the country, I can understand wanting to have your own private bathroom. If you want a campervan with a shower, it will have to be a decent sized campervan. Plus you have to think about being able to fill up your fresh water more frequently. As for the Britz Evolve electrical campervan, I can't speak much about it, because we have never driven one (but Britz, if you're reading this, we'd love to try one out!! 😉 But we love the idea of a 100% electric car, however… I would say, you'd have to map out your route very carefully with strategic charge points so you don't run out of juice. That would be very difficult in the south island, I would imagine.
What time of your did you travel?
Best xx Heather
Hey Heather, we had our campervan in New Zealand from the last week in November 2018 to mid-December 2018. Are you planning on traveling to New Zealand soon?
Brilliant post guys! We are looking at doing a mid year campervan trip with the kids this year so this was perfect timing for your post!
That sounds like a great trip Holly! You'll love hiring a campervan in New Zealand, it's honestly the best way to travel there. Let us know if you have any questions!
Leave a Reply Cancel reply
Your email address will not be published. Required fields are marked *
Save my name, email, and website in this browser for the next time I comment.
Work With Us
Who are faramagan.
After 6 years of long distance, Darren and Lauren quit their day jobs to live the day dream. Far am a gan translates to "where am I going" from the Scot's language, Doric. A phrase muttered several times a day by this travelling twosome as they avoid adulthood one adventure at a time. Through this blog they document the tales (and fails) from their experiences, offering a refreshing and unfiltered approach to travel in the hope they inspire others to embrace adventure.
Yes, I agree with the privacy policy .
Follow the adventure
New Zealand In A Campervan: Budget, Itinerary & Top Tips
Thinking of travelling New Zealand in a motorhome or campervan? This is the only guide you need! Travelling New Zealand by campervan is the best way to explore this beautiful country and this guide will share exactly how to do it.
Coming from the other side of the world we had so many questions and felt overwhelmed planning our road trip – is it best to buy a van or rent a van? How long do you need to travel both islands? And most importantly, how much does a campervan trip in New Zealand cost?
Well, thankfully we survived the sat nav fall outs to discover the hidden gems and top tips and we're sharing them all with you. From how to find cheap campervan hire to the best free campsites, this New Zealand campervan guide will save you time, money and stress on the road!
WHEN IS THE BEST TIME TO TRAVEL NEW ZEALAND IN A MOTORHOME?
When deciding the best time to visit New Zealand, the first thing you should note is that it is in the Southern Hemisphere. This means seasons are the opposite to what we're used to in the North and home in Scotland (which is no seasons, just one day of Summer and rain all round ha!)
The second thing to note, is that the weather differs on each island – the South is more turbulent and unpredictable with the North generally more mild. That being said, we experienced a complete wash out in the North, with us unable to visit Cape Reinga as the road was literally washed away.
Although the internet will have may opinions on the best time of year for travelling New Zealand in a motorhome, it is entirely up to you. Being Scottish, rain doesn't bother us so sunshine isn't essential. We'd rather have a cheaper trip with a little drizzle, than a more expensive trip with crowded campsites but recognise this isn't the case for everyone.
Summer: December to February
This is PEAK season for both tourists and locals as it's school holidays too. Although you can expect crowded campsites alongside higher costs, it is an ideal time to go campervanning in New Zealand if you want the best weather. The average temperature is around 20 – 25˚C (68 – 77˚F) so perfect for exploring the outdoors.
Spring: September to November
Spring is a great time for travelling New Zealand in a motorhome as you can expect cool nights but warm days which makes sleeping in a van more comfortable. Although the temperatures are more mild than Winter at an average of 16 – 19˚C (61 – 66˚F) you can still expect high rainfall.
Winter: June to August
Winter can get VERY cold in New Zealand with many roads and hikes cut off from tourists due to snow and heavy rainfall. This weather can severely impact your trip especially if you have a strict itinerary. It does however mean campsites are super quiet so you won't struggle for space and its the best time of year for discounts and deals on campervan hire in New Zealand. Not to mention if you are into skiing or snowboarding this is the ideal time of year for you.
Autumn: March to May
For us, we'd recommend this being the best time to visit New Zealand – the price was slightly cheaper as it was in shoulder season, we never struggled to find a free campsite with availability and the weather was incredible.
We were able to hike the Tongariro crossing in sunshine but experience Milford sound after heavy rainfall when the waterfalls were at their best. The average temperature in March is 17 – 21˚C (62 – 70˚F) but we found some days were even 23˚C – 27˚C. Our only slight issue was Cape Reinga which was at the very end of our trip. The road had been washed away and due to being in a rental van we were unable to drive on the beach which was the only alternative route to visit the very north of the island.
IS IT BEST TO BUY OR RENT A CAMPERVAN IN NEW ZEALAND?
The first step of travelling New Zealand by motorhome is selecting the vehicle itself and most importantly, to rent or to buy. There are definite pros and cons to each, which we will discuss based on not only our opinions but the opinions of friends who have also travelled New Zealand in a campervan. Here's our best advice:
Buying a Campervan in New Zealand: Advantages
It's yours: This may sound obvious but it means you have complete freedom to make it your home on wheels. Although you can add cushions and fairy lights to a rental van, we've seen some epic van conversions that feel like mini hotels. With your own van you can make it feel really like your own home on wheels.
No Road restrictions: With a rental, you are restricted to sealed roads only. We all know that the best campsites, waterfalls, hikes and hidden gems are often at the end of the bumpiest roads. This means if you want to get off the beaten track, you will have the complete freedom in your own van without the worry of losing a deposit or expensive fines from rental companies if you get stuck.
It's less touristy: Although this didn't affect us personally, we have heard horror stories of people's vans being targeting by angry locals and the obvious way to spot a tourist is by a van that screams "I AM RENTED" adorned with in your face logos. Particularly in the very south of the South Island, we read of campsite reviews where rental vans were easy targets for stones, scratches and break-ins. With your own van, it blends in to the crowd.
Its cheaper: If you have plans on travelling New Zealand by campervan for longer than a month or two then it will prove cheaper to buy your own. If you time your buying right, you can grab a bargain as many travellers need to get rid of their vans before they leave.
Buying a Campervan in New Zealand: Disadvantages
Selling it again: The main reason we did not buy a campervan in New Zealand is because we only had 5 weeks to visit both islands. It would be incredibly difficult to find, buy, road trip then sell a van within this time. The supply and demand of campervans in New Zealand majorly depends on the time of year – if it's the end of the warmer seasons backpackers are settling into work not to mention being skint after a Summer of exploring so you may need to discount heavily to get rid of it. If you're selling at the start of the season (Spring/early Summer) this is when there is a higher demand so finding a buyer may be easier.
Breakdown Fees: If you break down in a rental van, you simply phone up the helpline and voila a mechanic appears and you'll be back on the road in no time (or you're given a replacement vehicle.) If your own van breaks down, depending on your insurance you will have to find a way to take it to the mechanic and you could then be weeks off the road and thousands in mechanic fees. We didn't fancy that headache, so again this fuelled our reasons to rent.
Renting a Campervan in New Zealand: Advantages
Timing: If you only have a short time to go campervanning in New Zealand you won't want to spend most of it trying to sell your van or sitting in a garage waiting on repairs. With a rental, you'll make the most of your time.
They come equipped: Even with cheap campervan hire in New Zealand you van will likely come equipped with items such as plates, utensils and bedding. This not only saves time but it will save you money too. Our van even came equipped with useful extras such as matches, tea and coffee, camping chairs and washing up liquid.
Enjoy the discounts: Most campervan rental companies have deals with campsites to encourage their customers to stay there. For example, with our campervan rental in New Zealand we received a discount of 10% in certain campsite if we showed the Travellers Autobarn keyring.
Help is always on hand: If your first taste of van life is touring New Zealand by campervan you may not feel brave enough to buy your own. Instead, having the rental helpline on hand as well as 24/7 roadside assistance is a good safety blanket for when things go wrong, or generally for advice. We had issues on morning one of our South Island road trip with our hob not igniting and it was so reassuring to phone the rental helpline (at 8am on a Sunday!) and have someone talk us through how to fix it.
Cost: If we were to travel around by bus or car and then stay in hostels or hotels it would have been far more expensive. By renting a campervan in New Zealand it was both our transport and our bed for the night – many nights of which were spent in free campsites so it worked out cheaper!
Renting a Campervan in New Zealand: Disadvantages
Beware of the Small Print: Campervan hire in New Zealand may seem like a good deal but beware of the small print. Many insist on a large deposit or security bond which will impact your adventure fund. Not forgetting the horror stories of dodgy rental companies who have kept the bonds or deposits for unfair reasons, so make sure you opt for a reputable company (don't worry, we can help with that!)
Restricted Access: As mentioned above, you are restricted to sealed roads only when campervanning in New Zealand in a rental. This means some campsites or remote beaches etc are out of bounds.
They Look like Rental Vans: Yes, the most millennial excuse ever but with your own van you can change the appearance both inside and out. Your holiday snaps may be tainted by a van emblazoned with logos and vibrant colour – not to mention it screams, I'm a tourist.
HOW TO CHOOSE THE BEST VAN FOR CAMPERVANNING IN NEW ZEALAND
Based on the pros and cons above, you may have decided to rent (like we did) or buy a campervan in New Zealand. Regardless of the option you choose, you need to ask yourself the following questions to make sure the van you opt for is suitable for your dream road trip.
1. Will you be free camping in New Zealand?
If yes, your campervan must be a self-contained vehicle . This means your campervan has a toilet and water in it (even a portable toilet passes) otherwise you may face fines for free camping in New Zealand without the correct van. This also means "campercars" are usually out of the question. Although they are cheapest to hire, their seats just fold down into a bed and all cooking/washing up must be done outside the van so space is limited and they won't be self-contained certified. The laws are SUPER strict (and rightly so) so please be a responsible traveller and only go free camping in New Zealand if your van is self-contained, unless there are toilets on site.
2. Are you old enough to drive in New Zealand?
Depending on the country where you passed your test will depend if your license is eligible to go campervanning in New Zealand. Many companies will not insure drivers who are under 25 especially for rentals. Some may not insure you even in your own van without an International Driving Permit (IDP). If you are younger, this can often incur higher bonds or excess if you do need to claim on insurance – both for buying and renting.
3. How long have you been driving?
Even though Darren has been driving for 10+ years, the roads in New Zealand are incredibly unique – tight turns, steep hills and ever changing weather conditions means experience is essential. Particularly on routes such as Te Anau to Milford Sound where there is no phone signal the entire way and the road is renowned for closures due to weather, so it is difficult to call for help.
If you are a new driver, lack confidence or you're used to a wee Fiat 500 you may not want to opt for a 6 berth vehicle when travelling New Zealand in a motorhome. It will be terrifying to not only drive, but park! Not to mention you will need to drive on the "wrong side" for some as well as having to navigate cities and wildlife behind the wheel, so choose your campervan in New Zealand wisely.
4. How many people are joining your New Zealand campervan trip?
While teaming up with others does make buying or renting a van cheaper, more people means less space. Although we were two people we opted for a 3 person campervan in New Zealand because Daz is 6ft 4 so needed the height and Loz the wannabe chef needed the extra space for cooking up a mess storm. If you have plans to literally only use your van for sleeping in, then a smaller van may be more cost efficient. For us, we spent a lot of time in the evenings in our van as well as cooking all our meals so welcomed more space.
You can watch the video below for a full van tour – cribs style! We loved our Kuga campervan in New Zealand so much, we hired the exact same van again through Travellers Autobarn when camping in Australia so although the video below is from our Aussie van, it's the exact same vehicle.
HOW TO FIND CHEAP CAMPERVAN HIRE IN NEW ZEALAND
Step one: the time of year.
If searching for cheap campervan hire in New Zealand, do not expect to find good deals from December – February. This is peak season and companies hike up the price. Play around with dates as even a week or two can make a huge difference to your rental fee. Although the weather is not as good during the Winter months and roads may be prone to closures due to rain, we feel New Zealand is stunning regardless of the weather so if budget is the only thing putting you off campervanning in New Zealand opt for the off-season for the best deals!
Step Two: Compare
You are likely aware of comparison sites for hotels and accommodation but did you know for campervan hire in New Zealand there are comparison sites too? We really recommend using Motorhome Republic as you can filter by size, budget and dates to then narrow down the competition. This saved us so much time when planning our trip as it avoided us going through each site individually and getting overwhelmed or forgetting valuable info – you can easily compare in one place.
Step Three: Haggle
From the hundreds of companies that do campervan hire in New Zealand, we narrowed it down to two companies thanks to the comparison site which were very similar in price. However, there were pros and cons to both such as, one offered free camp chairs & table the other offered free ferry transfer. We then emailed the two companies with each other's quotes and used instant chat to tell them they'd made the final of Loz & Daz's Campervan Search.
Our honesty paid off. It instantly started a bidding war with one company even sending us cute puppy memes to try and persuade us to choose them over the second option. There is always wiggle room with companies for discounts, the odd cheeky freebie and of course puppy memes always help sweeten the deal when on a mission for cheap campervan hire in New Zealand.
Step Four: Booking The Best Deal
Finally our search for cheap campervan hire in New Zealand was over and our champions were Traveller's Autobarn . However, being Scottish we love a bargain (and so many people miss this step out) so for a further discount BEFORE making your final booking we recommend taking your quote to a third party company such as Rat Pack Travel or STA Travel who offer promo codes and discounts on top of your chosen hire.
We took the quote we'd received from Traveller's Autobarn to STA and they went above and beyond to ensure we booked with them. Not only did they throw in our ferry ticket for free which was meant to be NZ$200.00+ but also our camping equipment such as table & chairs where other companies were charging extra.
Although this may seem like a lengthy process, it is definitely worth it if you want to find cheap campervan hire in New Zealand – follow these steps and you'll save vital pennies for the wine adventure fund.
HOW MUCH DOES IT COST TO TRAVEL NEW ZEALAND IN A MOTORHOME?
Despite all the help online, from Youtube videos, friends and guides there is one vital element that many people do not discuss about campervanning in New Zealand – COST!
We have broken down every penny we spent during our 5 week road trip of both islands. We will be honest, you could definitely do this cheaper if you missed out the major tourist attractions and rented off peak but as a guide, we spent:
HIRE: £3,378.27
This was in March/April for 5 weeks and included a $0.00 excess for insurance (35 nights)
FUEL: £868.80
This was for both islands and we drove 6619km (4112 miles)
CAMPSITES: £422.94
This could have been much cheaper but as it was our first time travelling New Zealand in a motorhome (and of van life ever!) we opted for paid sites around 70% of the time and free for the remaining. This could technically be £0 if you are free camping in New Zealand.
FOOD / DRINKS: £1,528.85
We did "big" food shops in places such as Pak'nSave and New World but did eat out at times. We also loved the New Zealand wine a little too much, which may explain this expense…
ACTIVITIES: £545.36
This included some big adventures such as Hobbiton, Waitomo caves, Milford Sound , a wine tour in Queenstown + more!
TOTAL (2 PEOPLE): £6,744.22 – Approx. NZ$12,720.00
Budget Tips for Campervanning in New Zealand
We created our route of both islands, calculated the total distance, then worked out how many km to the litre of petrol we would get. This gave us an approximate figure for fuel prior to our New Zealand road trip.
Bear in mind other expenses such as insurance, ferry transfers, toll roads and break downs.
If you are short on time and budget, look into campervan relocation . For as little as $1 a day you can relocate vehicles for hire companies!
When shopping at most supermarkets in New Zealand, check your receipt as you receive discount off your fuel (around $0.06 per litre).
PLANNING THE PERFECT ITINERARY FOR NEW ZEALAND IN A CAMPERVAN
You've found the van of your dreams now you need to plan a road trip to match. Not gonna lie, this is the hardest (although the most fun) part – deciding where to go!
You may feel overwhelmed with ideas and we did too, so we have shared our highlights below but left enough room for you to get lost, meet people, head off the beaten track and find your own hidden gems. When campervanning in New Zealand always leave wiggle room – roads might close, you might join a convoy, you may love one island so much you never leave.
Before we get to the juicy details, there are a few points to consider when planning a route for New Zealand in a campervan:
Where to start your New Zealand campervan trip
Deciding where to begin your New Zealand campervan trip will depend on two things – where your flight gets into and where to pick up your van. For us, it was cheapest to fly into Christchurch and this also worked perfect for our rental as Travellers Autobarn had a garage near the airport.
How long do you need for a New Zealand road trip?
FOREVER. If you think I am joking, the minute you sit behind that wheel or sleep under the New Zealand stars you will never want to give up van life in New Zealand. Sadly, we only had 5 weeks which initially sounded more than enough time, but in hindsight we would have loved more time, especially as we squeezed in both islands.
We asked friends who had lived in New Zealand for help and they explained 3 weeks in the South and two in the North will allow us to see the highlights of both but would leave limited time to go off the beaten track. If its your first New Zealand campervan trip 5/6 weeks is perfect to see the main attractions and towns but if we were returning we would plan atleast 2 months in order to enjoy more time in each place rather than a new campsite every night.
Where to end your New Zealand campervan trip
As a tip, when searching for cheap campervan hire in New Zealand it is often more expensive to drop your rental off in a different city than you picked it up. However, this does mean you are limited to how far you can travel as you will need to loop back to your starting point. We ended our road trip in Auckland in the North as this was the cheapest place to fly out from – it also meant we were able to make the most of our time on both islands.
Why not take our handy Campervan cookbook with you?
Recipes with ideas for breakfast, lunch & dinner
Digital E-book so you can download instantly
Use offline on your phone, tablet, laptop or print off
Recipe ideas without the need for bulky cookbooks or Wi-Fi
Price: £7.99
New zealand south island itinerary: 3 weeks.
We have created a detailed South Island itinerary with a day by day guide of things to do and where to camp each night.
However, if you prefer to find your own way around we totally understand but will let you in on a few highlights that you cannot miss from your South Island road trip.
South Island Highlights
Lake Pukaki Campsite (our favourite free campsite on the South Island )
The incredible drive from Te Anau to Milford Sound + camping at Milford Sound Lodge
The Steampunk town of Oamaru
Arthur's Pass – if travelling New Zealand by campervan you cannot miss it.
Tasman Glacier National Park – both the drive & short hike itself, worth the detour.
NEW ZEALAND NORTH ISLAND ITINERARY: 2 WEEKS
We had less time on the North Island as it was slightly smaller however, with the epic volcanic scenery, stunning beaches and warmer weather we would have loved longer than two weeks. Our detailed North Island itinerary shares a day by day guide of the best things to do and the most time efficient route.
North Island Highlights
Wellington – it was such a vibrant, fun little city with so many free things to do.
Wai-O-Taupo Thermal Wonderland – an unforgettable day trip, like walking through a different planet
Hiking Tongariro Alpine Crossing , the most challenging yet rewarding hike we've done so far
Waking up in our campervan on our birthdays, then treating ourselves to glamping at Takou River lodge .
FREE CAMPING NEW ZEALAND VS PAID SITES
Although renting or puchasing a van can be quite pricey, one of the best ways to save money when travelling New Zealand in a campervan is by opting for free camp sites. Free camping in New Zealand is an amazing experience, not only because you save money but these sites often offer the best views, stargazing spots and space.
"So why pay for any campsites?" we hear you ask, well there are definite pros and cons to both – which, as you may guess so far we like to be honest in our guides to give you the full picture, so here's our overview:
1. Power & Poops
If you are in a campervan you will need to charge your battery, empty waste water and top up with fresh water every 3 days or so. This is not always possible when free camping in New Zealand and you will be required to book a site and pay for power.
Free campsites in New Zealand request you are a self-contained vehicle, defined by "a self-contained vehicle must retain all waste within the confines of the vehicle and leave no trace of its visit to a site" which essentially means you have a toilet and water on board.
Free camping in New Zealand with a car is far more difficult as you won't be self-contained so are limited to which free sites you can stay at and fines will incur if you break these rules.
2. Toilets & Showers
Some of the free sites in our North & South Island camping grounds guide do have showers and flush toilets but many do not. Most free campervan sites in New Zealand offer drop toilets which do exactly as it sounds.
Your "business" literally drops into a pit. They can smell horrific and at times are full of flies, which can make a trek to the toilet in the dark even more frightening but it's all part of the New Zealand in a campervan fun!
3. Beating the Competition
Free camping in New Zealand is incredibly competitive. As mentioned, these spots often have the best views and obviously don't cost a penny so lots of people want to camp there. This means, if you have a busy day ahead booking a paid for site is usually a better option as you're guaranteed a space regardless of what time you arrive.
When we used free campervan sites in New Zealand it was usually on days where we were finished site seeing by around 4 or 5pm so we could secure a spot early.
It's worthwhile noting, to PLEASE be a responsible traveller and read the campsite rules. Many free campervan sites in New Zealand have limited spaces of say, 10 vans yet more and more people would arrive later at night. This is destroying the landscape as they're parking outwith designated spaces, not to mentioning threatening the closure of the free campsites if it continues.
Thankfully, the DOC and New Zealand authorities are cracking down on thoughtless campers, so a heads up to any readers who are tempted to break the rules.
4. Keep it Clean
Not just where you stop to sleep, but during any point campervanning in New Zealand you should take only photos and leave only footprints. When idiots urinate outside, leave litter and park out with designated areas it not only causes havoc to the eco-systems in these areas but will result in more and more free campsites in New Zealand being closed.
Only park where permitted and leave the site exactly (or better!) than you found it as unlike paid sites there won't be someone tidying up after you and likely no bins or toilets.
THE BEST CAMPERVAN SITES IN NEW ZEALAND
When travelling New Zealand in a campervan, the hardest part is choosing where to sleep each night. With the lack of Wi-Fi and endless options, we felt a little overwhelmed choosing campsites however, we've put together a few very helpful guides. We created these guides as they are the sort we wished we could find prior to campervanning in New Zealand and hope they will help you guys with your epic adventure too!
We have rounded up the best campervan sites in New Zealand (both paid for and free ) based on facilities, affordability, location and Wi-Fi. They all also accept tents if you're looking for other camping options during your trip. We even created a cheeky little cheat sheet that has every campsite we stayed when travelling New Zealand by campervan in one handy place – it's completely free to download, save and use!
Our Favourite Campsites from New Zealand In A Campervan
This is a round up of the best campsites on the South Island including costs, facilities & tips.
This is a round of of the best campsites on the North Island including costs, facilities & tips.
Download our FREE New Zealand Campsite Cheat Sheet featuring all 27 campsites and in route order.
Looking for a free New Zealand campsite cheat sheet?
Sign up to our monthly newsletter now to receive our free New Zealand campsite cheat sheet along with our latest posts, travel tips and discounts!
The New Zealand campsite cheat sheet download link will be sent to your email address.
WHAT ARE DOC CAMPSITES IN NEW ZEALAND?
When campervanning in New Zealand, DOC campsites are essentially a happy medium – they're not entirely free but they are super cheap. They stand for Department Of Conservation and as they are managed by the government specially for tourists.
There are over 200 DOC campsites throughout the country, which ideal for those travelling New Zealand by campervan but on a budget. Generally, they have better facilities than free camping sites but are not as luxurious as the chain camping grounds.
With DOC campsites you can expect flush toilets, tap water ( not always drinkable) kitchen facilities (usually outdoor), rubbish collection and road access for all types of vehicles (hooray for rentals!). They sometimes have handy extras such as laundry facilities, showers, BBQs, firepits and picnic tables.
The best part is the price, generally they cost NZ$6-20.00 and have the best views nearby nature reserves, peaceful lakes, forest walks and the best star gazing spots. DOC camping site prices vary depending on the location and facilities available.
THE BEST RECIPES FOR VAN LIFE
Alongside free campsites, another way to majorly save money when campervanning in New Zealand is cooking in your van instead of dining out.
Cooking in a campervan can be challenging for numerous reasons: you are limited on space, gas, time and budget! Luckily for you we have SO MANY campervan recipes to suit all budgets and tastes including one pot camping meals and vegetarian camping meals .
We even put together a guide on the best food to take camping to avoid waste, spillages and cooking catastrophes so it will be happy tummies all round.
We also recommend watching our cooking in a campervan videos on YouTube , to be honest we're not going to put Jamie Oliver out of a job however, they give you a great insight into what cooking in a campervan is like in terms of space, recipe ideas and how to use leftovers.
Our final suggestion would be to read our cooking in a campervan top tips . We learned SO MUCH from campervanning in New Zealand such as storage ideas, cleaning hacks, no-cook recipes etc which we have rounded up to help you out too.
WHAT TO PACK FOR CAMPERVANNING IN NEW ZEALAND
Although some vans will come equipped, these are the items that saved us money, time and stress when road tripping New Zealand in a campervan. Although there were still a few disasters, travelling as a couple isn't always straight forward (especially when you feed Daz a 5 bean chilli then have to sleep next to him in a van) these were the essentials that helped keep us alive/stop us from killing each other.
Download our Free Road Trip Packing List
You can download our free road trip packing list and tick off the items as you travel. This interactive PDF works on both mobile and desktop so you'll never leave home without a road trip essential again! Check out our other free downloadable tools we have such as a budget tracker on our resources page .
Looking for a free road trip packing list?
Sign up to our monthly newsletter now to receive our free road trip packing list along with our latest posts, travel tips and discounts!
The road trip packing list download link will be sent to your email address.
1. Head Torch
Nothing tests a relationship than holding the torch for the other as you brave a pee in your first dark drop toilet or ideal for more romantic stuff like midnight stargazing strolls.
LED USB rechargeable head torch.
2. Portable Speaker
Tunes make everything better including your cooking skills.
Why not purchase an eco-friendly bamboo Bluetooth speaker from Amazon now?
3. Coffee Grinder / Nanopresso
Save money (and the planet) by avoiding buying barista coffee and make your own instead from the comfort of your wee van!
Wacaco nanopresso portable espresso maker bundled with protective case.
4. Fairy Lights
You may have fell out every 20 minutes over the sat nav but fairy lights make everything look cute (including each other after 3 days without showers)
Warm white battery powered fairy lights
5. Camping Chairs
If your campervan rental in New Zealand does not include these, get some! Essential for Al Fresco dining, days down the beach and stargazing!
Extra large padded folding outdoor camping chair with bag.
6. Portable Charger
Essential for campervanning in New Zealand, as you won't have electricity often. This is the best one we have ever used as you charge it once, then it lasts around 1 week – 7 full charges of a mobile phone. It can also be used to charge Go Pro & camera batteries!
Anker PowerCore 20100mAh portable charger.
7. Mobile Wi-Fi Hotspot
During your New Zealand road trip you will struggle for Wi-Fi which can be essential for booking activities, campsites and finding directions. We recommend this one because it can be used in almost any country and is open to all operators SIM cards, so grab a local data SIM and connect your devices.
E5577Cs-321 4G LTE mobile WiFi hotspot.
8. Insect Spray
Both repellent against sandflies and mossies but you might want to invest in ant spray too, to kill any crawlies that get into your van (our campervan hire came with).
100% deet mosquito, tick and insect repellent.
TOP TIPS FOR NEW ZEALAND IN A CAMPERVAN
1. Van life is a community: if you have too much of something / not enough fridge space etc, share it with your neighbours. Karma will reward you!
2. Arrive early: If you're using free campervan campsites in New Zealand, arrive early to secure a spot (ideally before sunset)
3. KEEP TO THE LEFT: Especially if this is not your usual side but also because the majestic scenery of New Zealand is incredibly distracting, keep your eyes on the road.
4. Join Kiwi Club: Our campervan rental in New Zealand gave us a Kiwi Club keyring which gave us 10% off all Kiwi campsites and money off local attractions.
5. Do not take a suitcase: It will be impossible to store a suitcase in your campervan (unless you've hired a beasting 6 berth motorhome) Instead we use packing cubes inside our Osprey backpacks , these fitted perfectly under the seats! (Take a peek at our van tour for an idea of how much storage space we had)
6. Star places on Google Maps: This is one of our favourite apps for backpackers , especially for the stars feature as you can download the maps to use offline which is ideal when Wi-Fi & signal will be scarce. The stars will help plan your route (or also mark the favourite places you've been to look back on) saving you time and stress!
7. Leave enough time: That being said, Google maps may tell you a driving time but always consider the weather, road conditions (gravel is common on New Zealand roads) as well as the never ending photo/petrol/toilet stops. The most common thing to slow you down when campervanning in New Zealand is the huge motorhomes – they go slower than tractors uphill so getting stuck behind one of these bad boys will add considerable time to your journey.
8. Download Campermate : Another favourite app to ensure your New Zealand in a campervan trip goes as smooth as possible!
9. Park in the direction of travel: Daz almost got a parking fine in Wellington but then actually got a fine in Australia for not parking in the direction of travel (on the left). It is illegal in both New Zealand and Australia to park facing oncoming traffic.
10. Pull over: As campervanning in New Zealand is so popular, you can understand the locals frustration at being stuck behind motorhomes and vans regularly on their way to work etc. For this reason there are several places to pull over for slow moving vehicle to let those faster moving vehicles past you. Don't forget to beep as a thank you, all part of the van life etiquette that keeps locals welcoming us back.
Hopefully you have the most epic time travelling New Zealand in a campervan. As mentioned, we loved it so much we then rented the exact same van and went camping in Australia too. To date, our time campervanning in New Zealand has been our favourite adventure, with so much to see and do we loved every minute. Let us know in the comments if you have any questions or if we've missed out any tips – we hope you enjoy van life as much as we do!
Sharing Is Caring Share this content
You Might Also Like
Backpacking Fiji – Everything You Need To Know
10 Tips You Need For Cooking In A Campervan
Best Apps For Backpackers To Save You Time And Money
This Post Has 36 Comments
Great post with lots of useful information! Straight off the bat, your first tip helped as I didn't realise that you needed to hire a self-contained vehicle if you wish to stay at free campsites!
Such an informative post and btw I am SO JEALOUS!! We did Australia in Traveller's Autobarn Camper and loved every minute of it, but sadly budget didn't allow for us to do NZ as well, though it's probably our one regret! Just another excuse to go back though I suppose!!
What a comprehensive guide to seeing New Zealand in a campervan! I love to see both famous, as well as off the beaten path attractions (I'd never miss a chance to see a national park either)! Great tips also!
WOW, this list is beyond amazing. it has everything you need at all. I had NO idea about the free campsites that is such helpful information. I dont have any plans to go to New Zealand right now but after reading through this, I need to get there pronto! Thank you for creating and sharing this!
We had zero plans either, until we saw photos from friends and now that we've been it has been our favourite country (so far)
Love this comprehensive guide. A few years ago we did the campervan – not self contained – trip around Christchurch for a week. It was such a hassle to try find camping spots. Wish I had read this.
Also our hire company didn't send us puppy memes. I'm not going back to them again!
More travel companies should jump on the puppy meme bandwagon – it would definitely help sweeten alot of deals ha 😉
I had no idea about so many of these things but this has been on my bucket list for ages. Thanks for all your help!!!
No worries – I hope you have the most incredible time!!
This sounds like a fun and unique way to see New Zealand. Although I don't know if I'd be up to driving there. People drive on the left side, right?
Yeah haha that was one of our top tips as it confuses ALOT of people 😉
The views in New Zealand are so stunning! I wish my husband and I can also do a road trip in the country. This is a very helpful and comprehensive article for those who are planning to do a road trip in NZ. Great guide!
I hope you make it one day!!
Great tips on a New Zealand road trip! it is such a beautiful country with lots to see. Tongariro is incredible, I loved the hike I did there, though I didn't do the full crossing, it's on my lists of reasons to go back to New Zealand. I do love road trips, but have nether thought of taking a portable speaker along, I have no idea why!
Tongariro was definitely our highlight! I don't know how I'd manage without our portable speaker!!
Driving around New Zealand in a camper van is on our bucket list so we've saved this post for later. There's lots of really interesting tips….especially not eating too much bean chili or similar gas-producing foods!
hahaha definitely a top tip for sleeping in confined spaces 😉
What a unique idea! I would think I'd need to live in New Zealand if I were to do a road trip there. The views alone would definitely be worth it!
After our road trip we wanted to live there too!
Wow, you guys are brave for going on such a long road trip! Thanks for sharing your detailed tips and helpful information, I have always wondered about the driver's license issue in other countries.
It sounds long but it went past way too quickly – we loved every minute and would do it again in a heartbeat!
We absolutely loved New Zealand! It's so beautiful! We saw many camper vans and it seemed like every other vehicle was a Jucy camper van. You've written such a comprehensive article, I'll pin it for reference if we go again.
We found ALOT fo jucy vans too but as we say, when it came to finding the best one Travellers Autobarn came up tops – would definitely recommend them 😉
Such a detailed and impressive guide. Even for going during the high season, It seems like you got a reasonable deal. Toilets and showers are a huge concern for me, and as you said, some will be better than others. Looks like a great time and a way to really see the culture.
Definitely feel we explored more of the local landscape and learned more about the culture this way than we would've touring hostels…fingers crossed you get to go one day!
Love the detail in this article – the toilet/shower situation, food and the detailed costs. Have not been to New Zealand yet, and I'm intrigued by the idea of taking a campervan through. Saving this article for later
What a great post! Love the photos and ho detailed it is:) Really need to make plans for a van trip to NZ!
New Zealand is so beautiful, I've done it via road trip but never particularly in a camper van. That totally sounds like an ideal way to explore this country — no time wasted checking in and out, just on the road! Love it!!
Thank you so much for sharing this. This is the most helpful guide I've read. So much I didn't know and will have to save this post to use as reference once I get to NZ ✌
We wrote the sort of post we wanted to read before our NZ trip, so I'm glad it's helping others too 🙂 You will have the best time…our favourite country (so far)
The steampunk town is Oamaru, not Timaru
Oops – forever muddling those two up as they sound so similar! Tweaked now. Luckily we got it right in the South Island itinerary post 😉
Oh this took me back to my camping trip around New Zealand. Blown away with how detailed it is. Amazing 🙂
Pingback: The Ultimate New Zealand 2 Week Itinerary | At Lifestyle Crossroads
Thank you very much for sharing about New Zealand in a campervan here… I really hope I can work on your tips and it works for me too, I am happy to come across your article. Great post I must admit, keep sharing more…Great to find Aotearoasurf which has same kind of wonderful tips, if possible then visit.
George I would encourage anyone who is unfamiliar with crypto trading to exercise extreme caution while investing or to avoid crypto altogether. I was obliged to deposit a huge portion of my life savings on a Forex platform to gain more profit where I lost about 10,000USD to this evil scheme. After investing and my profits had accumulated, I was denied withdrawals of my funds. I wrote to the customer support but all to no avail, then I knew I had been scammed. After a lot of searching on how I could get help, I was just lucky and blessed to have met a real deal retrieval agent at Richard Pryce's wizard, I decided to give a try and I described my position to him, and he assured me that he would assist me in recovering my funds. Truth be told, he did an excellent job and all of my money was returned to my wallet account in a matter of days, I'm so grateful to have met a person with such great skills it's really amazing. Email- [email protected] or whatsapp:+1 (614) 963-6517
Leave a Reply Cancel reply
Save my name, email, and website in this browser for the next time I comment.
Britz Campervans
Mighty Campers
Maui Australia
Britz Campervans and 4WDs
Roadbear RV Rentals
El Monte RV
Buy a Motorhome
Self Check-In
Contact Us 24/7
Online Check-in
Customer Care
Feel At Home. Wherever You Roam.
Fully self-contained motorhomes that have everything you need for unscripted holiday experiences. Book and travel with confidence.
Motorhome Hire New Zealand
Why travel with maui motorhomes
maui is New Zealand's most recognised premium motorhome brand with modern vehicles, panoramic views, plenty of storage, and all the amenities for a fully self-contained holiday. Don't miss your chance to see New Zealand like never before, in a maui Motorhome.

Total Comfort
All motorhomes are under 2.5yrs on fleet and have been designed with comfort and convenience in mind.​

National Network
Offering return, and one-way vehicle hire options from our branches in Auckland , Christchurch and Queenstown .

Book with Confidence
We've got your back even if your circumstances change. Check out our booking options and book with confidence.

Supported Travel
Help videos, navigation tools, and 24/7 phone support via our thl Roadtrip technology .

Safe Travel
We're COVID Clean Approved , ensuring the highest hygiene and safety standards and peace of mind.

Branch Parking
Recommended parking options near our branches for ultimate convenience at the start and end of your trip.

Unique Experiences
See the wonders of New Zealand in a new way and have new and unique experiences with Winery Havens .

and Trust Us … 
We've been around for over 35 years and have an average rating of 88% across 8,000+ reviews.
Join thousands of RV travellers
Sign up for our Go By Camper newsletter to receive inspirational travel content and awesome deals, and we'll send you a copy of our Ultimate RV guide!
maui is committed to protecting your privacy and information security. Your information will be used in accordance with any application privacy law, our internal policies, and our Privacy Policy , and will be held securely.
Please confirm subscription in your email.
Our new zealand motorhome hire deals.
The secrets out, there's no better way to experience New Zealand. Our booking terms ensure peace of mind. Premium vehicles at incredible prices, for a limited time.
Premium NZ Motorhome Hire
We don't just rent motorhomes and campervans, we design, build, live and breathe them. Our innovative maui motorhomes are proudly made in New Zealand and bring you closer to nature by maximising windows and indoor-outdoor flow. Offering only the best, motorhomes are guaranteed under 2.5 years on fleet, and maui elite is the newest of the new, with under one year on the road. Compare our maui motorhomes now .
Reasons to choose Maui
Maui is an experienced and trusted campervan hire brand in New Zealand and we have delivered great self-drive holidays for​ more than 35 years. We are focused on our continual quest for design enhancement and innovation to ensure our travellers, just like you, experience the very best in campervan holidays with our stylish interiors and spacious design right down to our warm personalised service.
Our campervan hire range
If your idea of a real holiday is to have all the comforts of home at your fingertips, whilst having the flexibility to travel wherever the road may take you, then we think a maui campervan hire is the perfect self-drive option for your New Zealand journey. With the freedom and flexibility to explore New Zealand at your own pace, you can stay in one place for as long as you like. Because you decide the pace, the only schedule you have to work to is your own. Choose from the range of maui campervans that sleeps up to two, four and six people – perfect whether you are travelling as a couple, family or group of friends. If you are looking for ultimate space, style & comfort, then we recommend maui campervans to you. Designed with warm neutral tones, reading spotlights and roomy living areas, we believe they have a feel more akin to an apartment than a traditional motorhome. Sleeping between two and six people comfortably, the ultima , ultima plus , beach , cascade and river campervans each feature a unique layout design, so you can choose the layout and space that works best for you. Guaranteed less th an 2.5 years old, the campervans drive as superbly as they look. Plus they're automatic transmission, so a pleasure and breeze to drive.
Apartment-style kitchen & living equipment with the personal touch for your campervan hire New Zealand
We try to think of everything that will make your holiday easy and convenient. So you'll find all our motorhomes are stocked with apartment-style kitchen equipment (including holiday essentials such as wine glasses, crockery and coffee plunger), freshly laundered bedding and a range of other useful items so you can travel the country in our campervans without sacrificing the comforts of home. When you travel with us, you can also be sure that our service compliments our superb motorhomes. We know it's the small things that count, from a personal recommendation of the best cafe in town to the convenience of being able to replenish your linen at any of our branches during the course of your holiday. Peace of mind makes a holiday even more relaxing so we also offer 24/7 Customer Care should you need us. We are just a phone call away.
Maui quality campervans and motorhomes rental New Zealand
You may already know that maui is part of Tourism Holdings Limited (thl), a business firmly established as New Zealand's premier tourism company with operations also in Australia. maui , has a new vehicle sales brand: Motek. If you are a Kiwi you may have known them previously as Ci Munro and maui Vehicle Sales. Motek manufacturing excellence means you can rest assured that your camper has been designed and built by an experienced company within the thl house of brands. maui is also endorsed by the quality assurance programme Qualmark, backing up our commitment to delivering a quality product and experience. We also take the environment seriously and are the first company in the country to have its camperans independently emissions tested. We are also a partner with LOVE NZ to encourage recycling at all of our branches. It would be our pleasure to have you travel with us for your campervan hire New Zealand. Please contact our team, anytime, 24/7.
Drivers licence important information
If you are a holder of a valid and current overseas car licence (equivalent to a New Zealand Class 1), you can drive any of our campervans which are all under the maximum gross laden weight limit allowed of 6,000 kg. You must comply with the following conditions: you have a current and valid overseas licence or driver permit, and you haven't been given a disqualification or suspension in New Zealand, and you came into New Zealand less than 12 months ago, and your overseas licence is in English, or you have an accurate translation, and you haven't been granted a New Zealand driver licence since you last entered New Zealand.
International Numbers
NZ - Free Toll 0800 688 558 Call
NZ - Local (+64 9) 255 3910 Call
Australia 00 61 800 827 821 Call
UK 00 800 200 80 801 Call
Germany 00 800 200 80 801 Call
Netherlands 00 800 200 80 801 Call
France 00 800 200 80 801 Call
Canada 011 800 200 80 801 Call
USA (from landline only) 011 800 200 80 801 Call
View our contact page
Hi, choose the models you want to compare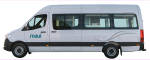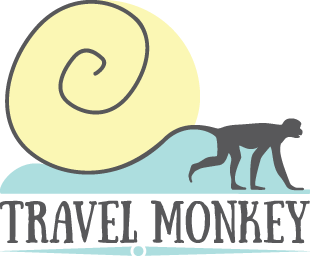 Ready to Go? Sign up for FREE and get exclusive advice and tips for planning your next trip
Join 10,000 travelers like you. No spam, I promise.
2 Weeks in New Zealand: Itinerary for a Perfect Campervan Road Trip
January 23, 2023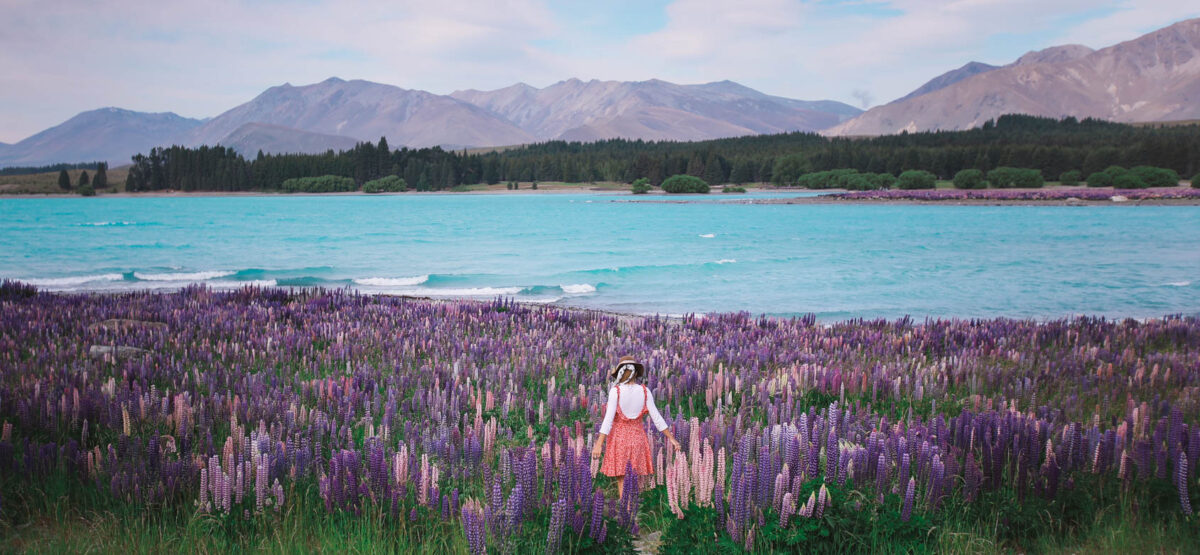 This post may contain affiliate links. I receive a small commission at no cost to you when you make a purchase using my link.
New Zealand is a remote island country known for its sharp Alpine peaks, volcanic formations, and Hobbiton valley. Because it is so remote (unless you are traveling from Australia ), planning a trip here requires thorough research, especially if you are doing a packed 2 weeks in New Zealand itinerary.
From the snow-capped mountains of the South Island to the white sand beaches of the North Island, New Zealand has an abundance of stunning natural attractions to explore. Whether you're looking to explore the country's many stunning national parks or take a dip in its crystal-clear lakes and rivers, there's something for everyone to enjoy.
Our New Zealand road trip in a campervan took place in November 2019 during springtime and we managed to travel through both the North and South islands in 14 days.
2 Weeks in New Zealand Itinerary Day by Day
Our 2 weeks in New Zealand road trip started in Auckland – went though Rotorua geothermal area region – Lake Taupo – Wellington – on to West Coast on South Island – through Wanaka – Lake Tekapo – ending with Christchurch on East Coast of South Island.
New Zealand road trip itinerary map
Day 1. Arrival to Auckland and Hobbiton
Day 1 of your campervan journey on 2 weeks in New Zealand itinerary begins with your arrival in Auckland, the largest city in the country. Day one will be hectic since you will have to go through customs, pick up the campervan, stock up the fridge with groceries, and figure out the first night stop. Be ready to lose around half of the day for that.
After picking up your campervan, you can explore the city and its many attractions, such as the Sky Tower, the Harbour Bridge, and the Auckland Art Gallery. In the afternoon, you can make your way to Hobbiton, the movie set of the Lord of the Rings and The Hobbit films. Here, you can take a guided tour of the set, see the hobbit holes, and learn about the making of the films. After the tour, you can spend the night in your campervan, parked at a nearby camping ground. This is a great way to start your New Zealand adventure, immersing yourself in the culture of both the city and the countryside.
Day 2: North Island – Geothermal Rotorua
Day 2 of your road trip in New Zealand takes you to the geothermal wonders of Rotorua. You can start the day by visiting Wai-o-tapu Thermal Wonderland, a geothermal park known for its colorful pools and bubbling mud pools. You can walk around the park and see the Lady Knox Geyser, the Champagne Pool, and the Artist's Palette. After that, you can head to Waimangu Volcanic Valley, the world's youngest geothermal system. Here, you can hike around the valley, see the boiling mud pools, and learn about volcanic activity.
Rotorua is not only known for its geothermal activities, but also for its cultural experiences providing insights into the life of Māori people. Once you are here and have spare time, take a tour to Tamaki Māori Village for an unforgettable experience of Māori rituals.
We visited two geothermal parks in the Rotorua area: Wai-o-tapu Thermal Wonderland and Waimangu Volcanic Valley . But if you have more time on your hands, be sure to also check out Orakei Korako Geothermal Park & Cave for gushing geysers, hot springs, and bubbling mud pools.
Wai-o-Tapu Thermal Wonderland
Make sure to arrive early. It gets pretty busy very fast. We arrived by 08:30 for the opening time and there were already busses with people queueing. The entire walk of three loops took us 1,5 hours to complete. I was truly astonished to see all the geological formations the park has to offer.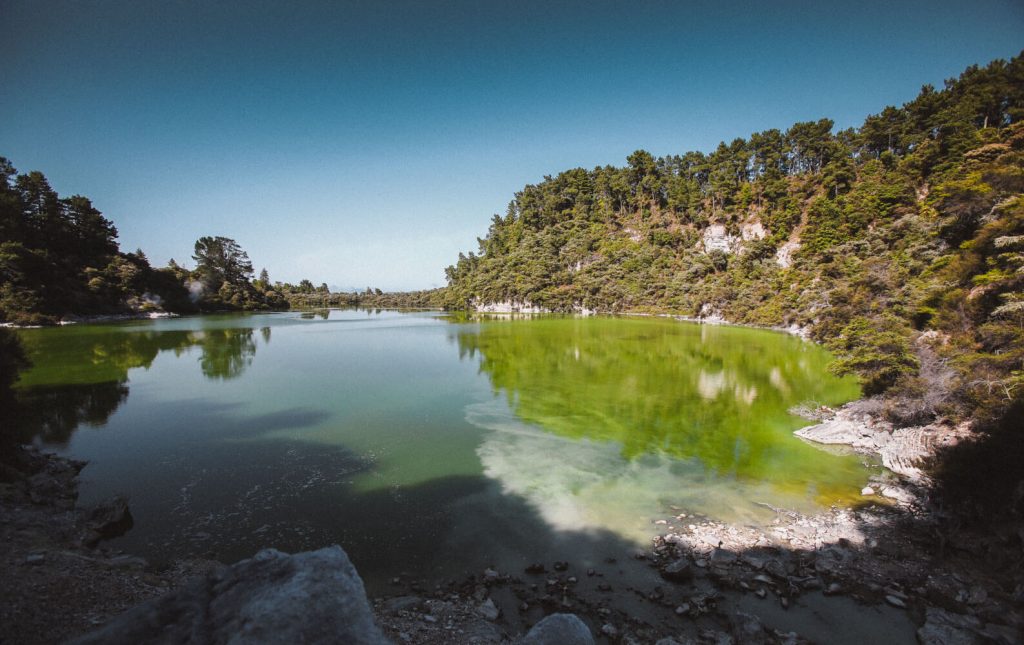 If you have limited time or resources and you need to go with one park only, I would choose the Wai-o-Tapu. It has a bigger variety of geothermal structures to show and it is easier to walk through.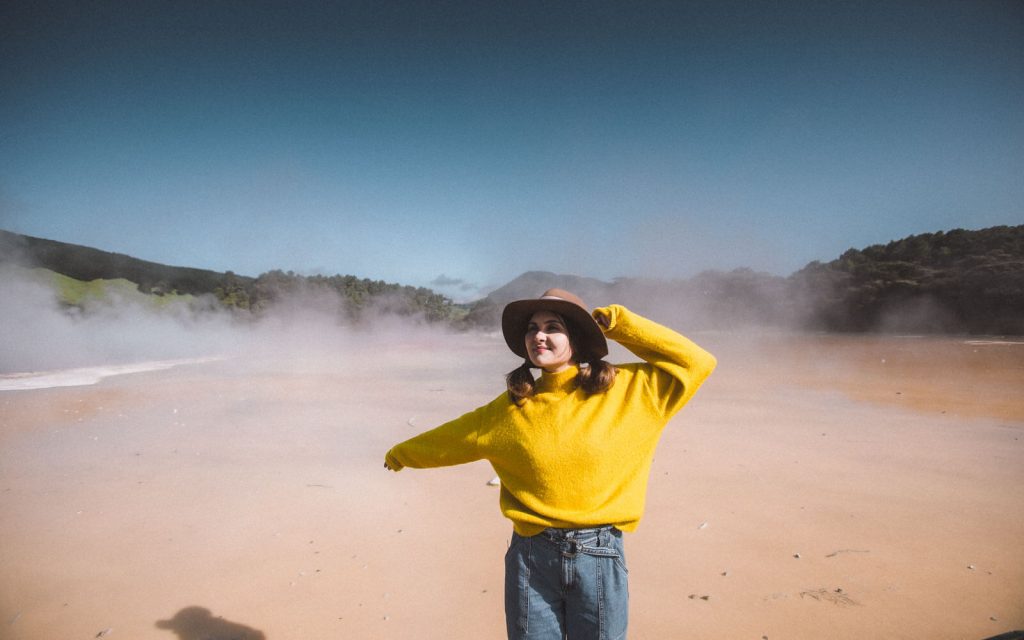 There is a geyser that you can experience in its active state around 10:15-10:30. There are seats gathering crowds much like in the ancient amphitheater. If you are curious about how is it possible that a geyser erupts daily exactly at 10:15 am, do not be puzzled. The park ranger will come and induce the geyser eruption with a few chemicals for everyone to witness. This of course diminishes the charm but allows everyone the possibility to see the geyser in action.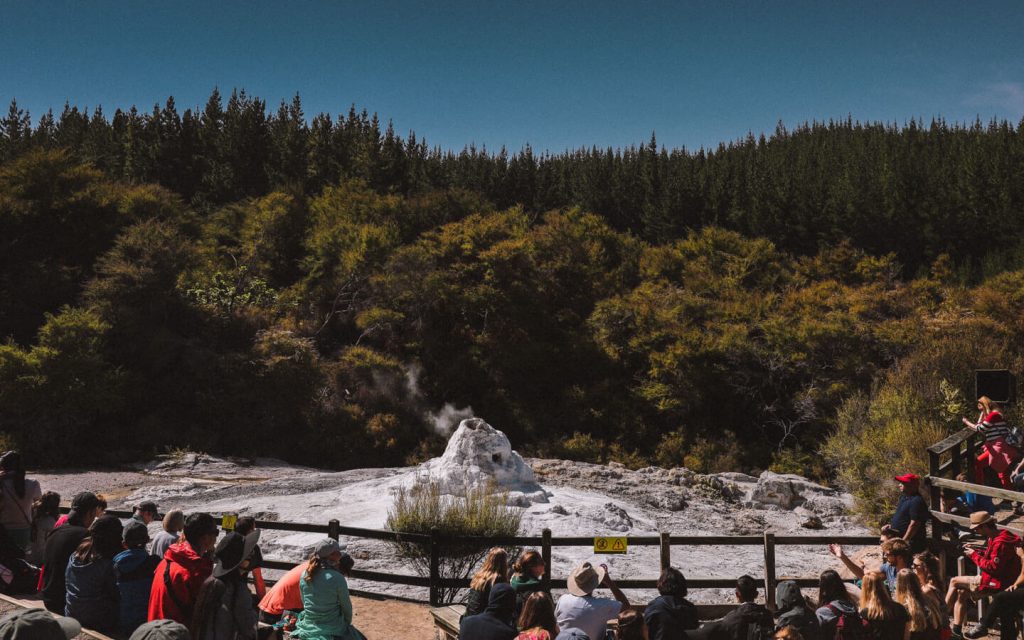 Waimangu Volcanic Valley
The lady at the entrance said it would take about 2 hours to complete the walk. We finished a bit sooner, but there were certainly some gaze-grippers that made us pause in amazement. The highlight of this hike was the Inferno Crator of course. Make sure to use your time in a good fashion so that you come just in time for the bus that can take you back to the Visitor Center. It goes only once an hour.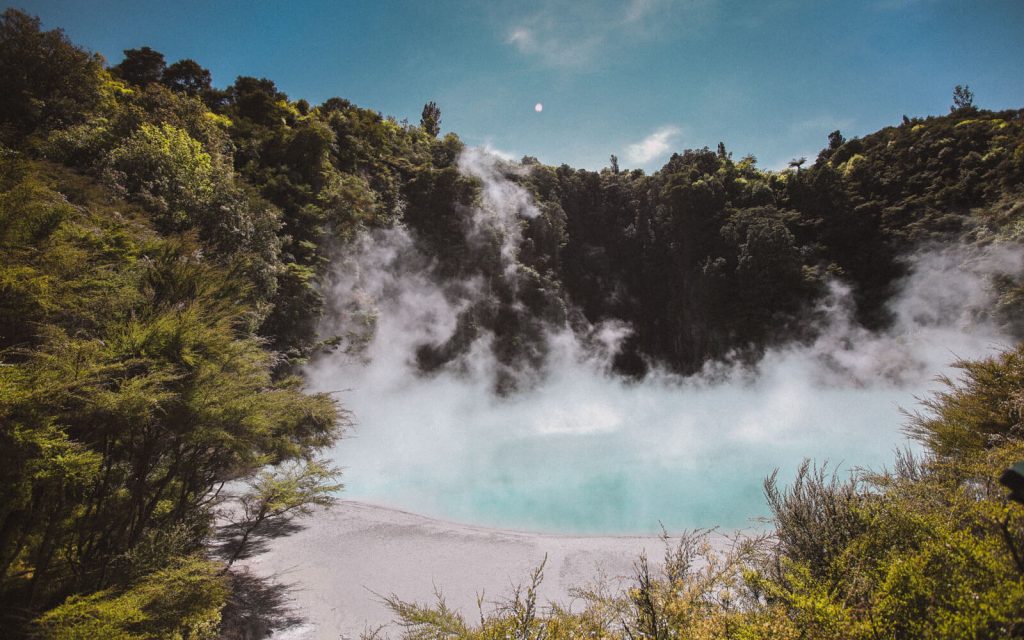 The parks are a funny representation of hell on earth.
After a day of exploring the geothermal wonders of Rotorua, you can spend the night in your campervan, parked at a nearby camping ground.
We decided to stay overnight at Lake Taupo camping, which was a great ending to the day. The Five Mike Parh campsite might not have the best facilities but it certainly has the best views!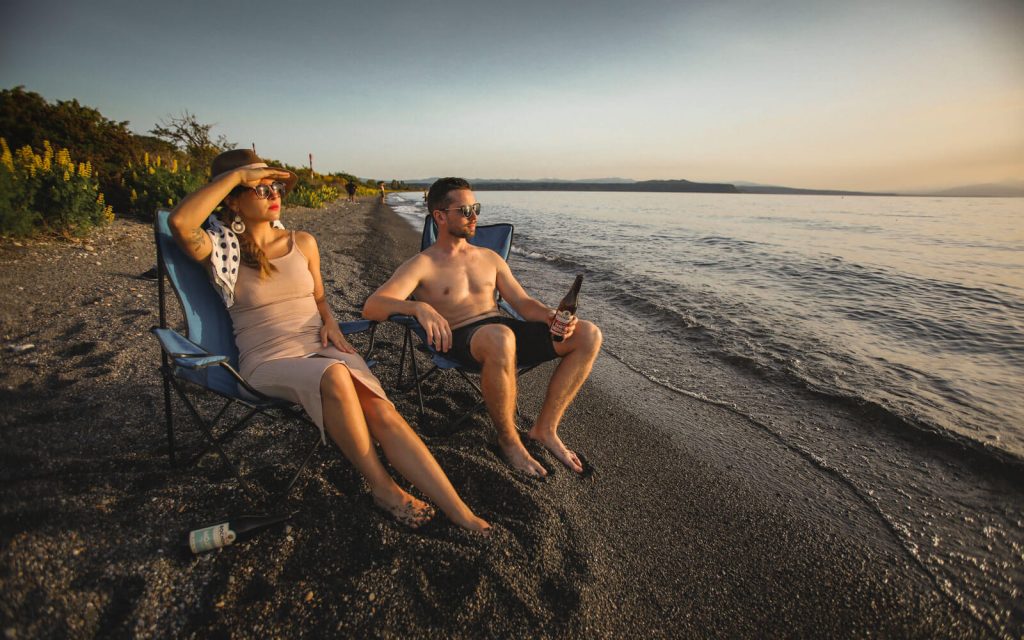 There is only one vault toilet with no water or trash bins, so it is suitable for self-contained vehicles only. But once you settle in, enjoy the view towards the snowy mountain peak across the lake covered with yellow lupins.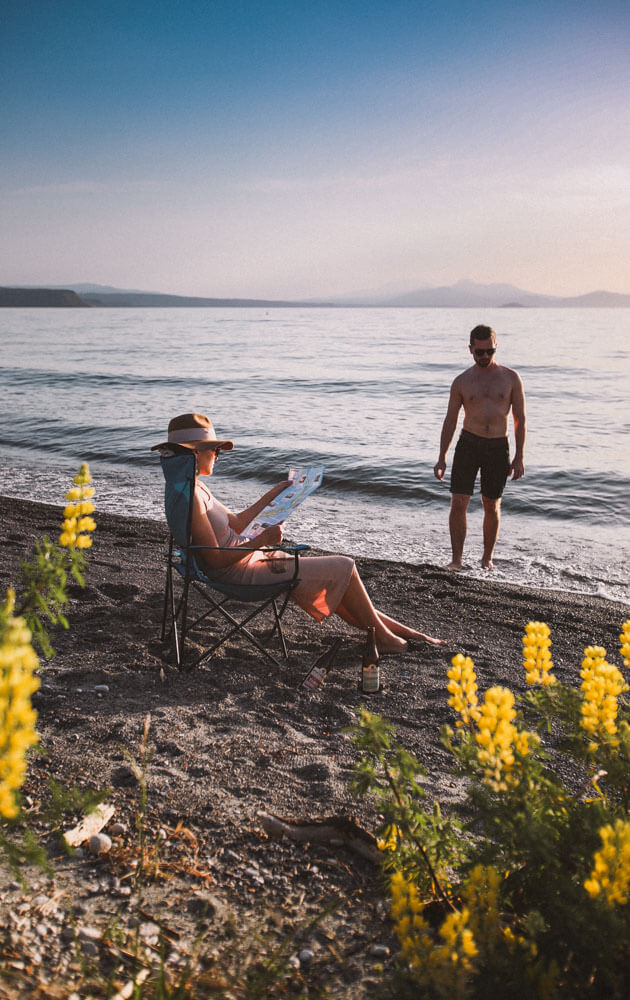 Day 3: Scenic Drive through Wellington to South Island
Day 3 of this two-week New Zealand itinerary will be all about driving through the Wellington region to reach the South Island.
If you have enough time, you can make a stop to explore Wellington, the capital city of New Zealand, where you can visit the city's many attractions such as the Te Papa Museum, Parliament Buildings, and the Botanic Gardens.
We drove from Lake Taupo, took the ferry from Wellington to Picton, and drove a little more through beautiful Marlborough wine fields.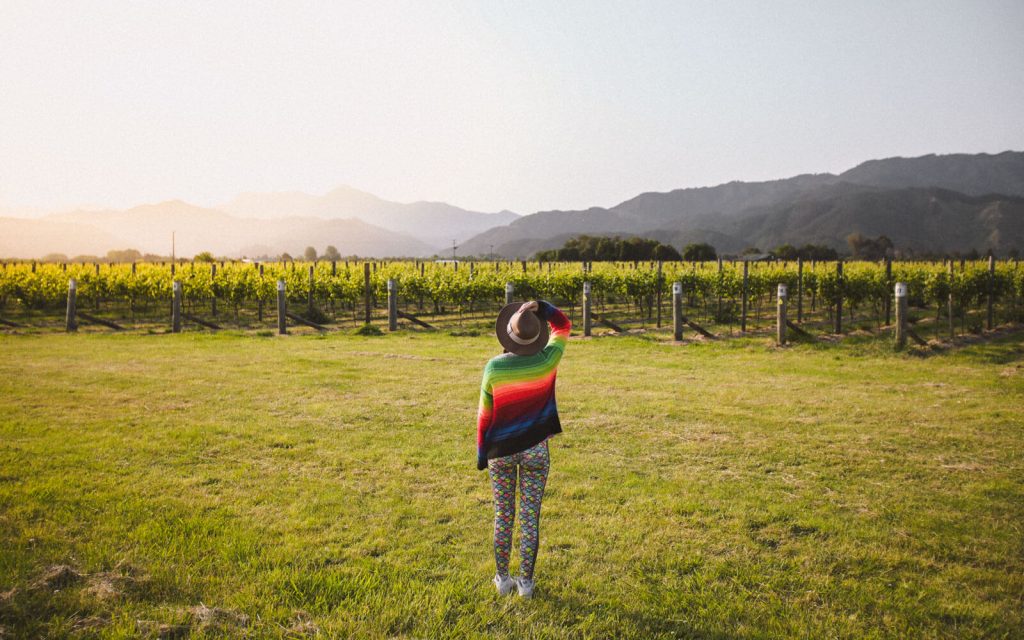 The drive through Marlborough will take you through picturesque countryside, with stunning views of the vineyards and the Pacific Ocean. Along the way, you can stop at some of the local wineries, where you can taste the wines and learn about the wine-making process. Marlborough is known for its world-renowned Sauvignon Blanc wines, you will have the opportunity to try some of the best wines in the region.
Once you reach Lake Rotoiti, you can take a leisurely stroll around the lake, and enjoy the tranquility of the surrounding nature. For the overnight stay, you can pick Kerr Bay Campground situated in St. Arnaud right on the lake. If you are lucky, you might spot quite a number of black eels who enjoy hiding under the lake bridge.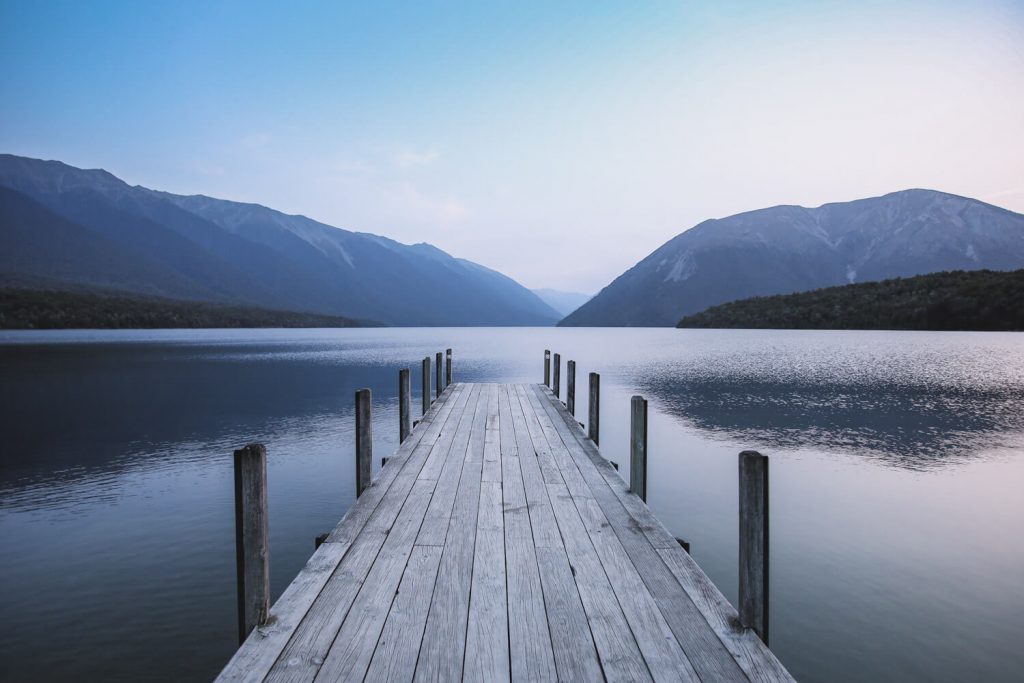 Day 4: Pancake Rocks and West Coast
On the way to the famous Pancake Rocks, we make a stop in a little ghost town Lyell, which is practically non-existent anymore. Lyell is a historic gold mining town, known for its picturesque scenery, including the Buller River, and the Lyell Dam. You can take a walk around the town and learn about its history, and visit the Lyell Museum. It is a nice rest spot with a small suspension bridge leading the way for a bicycle hike track.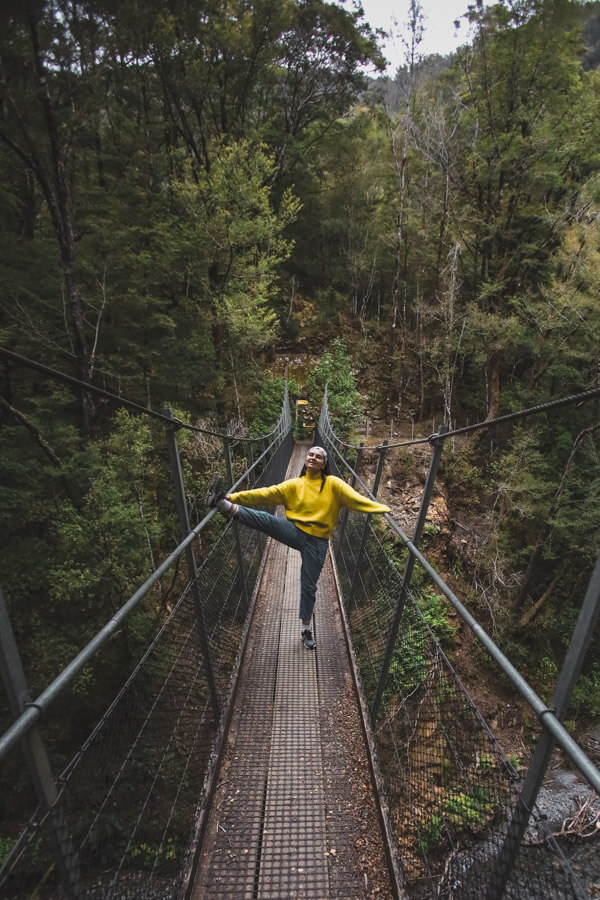 After that, you can drive to Punakaiki, home to the famous Pancake Rocks and Blowholes, a unique rock formation created by the erosive power of the sea. Here, you can take a walk along the coastal path to see the Pancake Rocks, the blowholes, and the limestone cliffs. You can also take a hike in the Paparoa National Park, where you can see the limestone landscape and the native flora and fauna.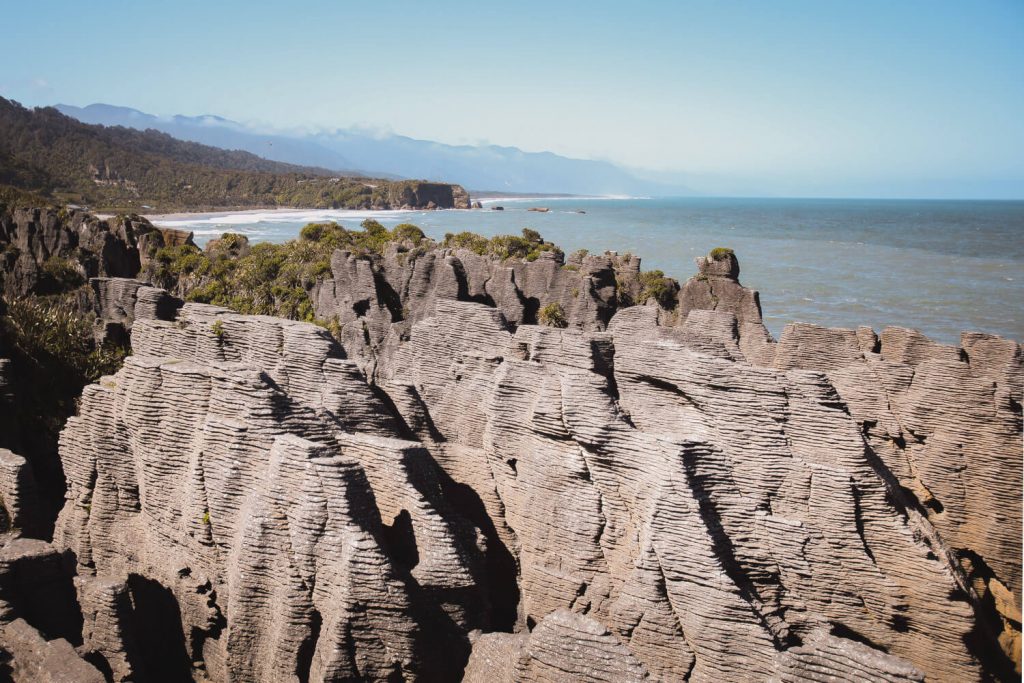 Punakaiki introduces us to the vastness of the West Coast ocean with constantly crashing waves. The rugged shore really is a dramatic place for some drama movies waiting to be shot.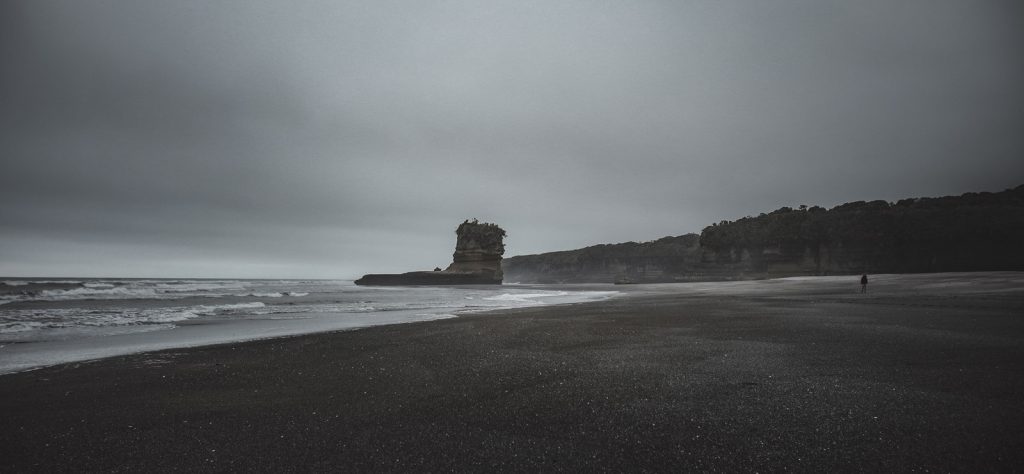 Day 5: Blue Lakes of New Zealand
Moving down South through the west coast is as easy as it is scenic. There are plenty of beautiful spots to stop by and snap a shot. The next pin on our New Zealand travel route was Hokitika George, a beautiful baby-blue water creek.
The Blue Lakes, also known as the Hokitika Lakes, are a series of glistening blue-green lakes located in the Hokitika Gorge. The lakes are fed by the Hokitika River and are surrounded by lush native forests, making for a picturesque setting. You can take a hike around the lakes and take in the natural beauty of the area. After that, you can visit the town of Hokitika, a small town known for its arts and crafts, particularly jade and greenstone jewelry. You can take a stroll along the main street and browse through the local shops and art galleries. You also can visit the Hokitika Heritage and cultural center to learn about the history of the town and the region.
To be frank, I was skeptical of the pictures I saw on the internet but I immediately gasped with amazement when we approached the waters of Hakitoka George. Yep, it is better than pictures. The baby-blue color is real.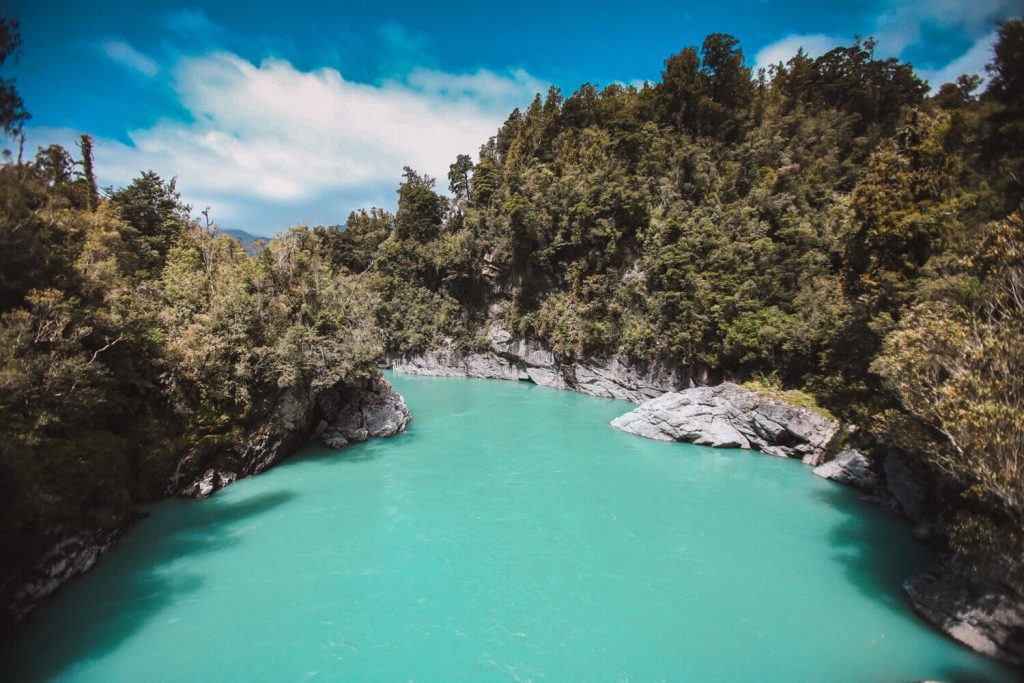 Day 6: Franz Josef Glacier
On this day we finally reached Glacier city which is way more lively than any other spot on the west coast. This, however, is mainly due to tourists who come here to see the glaciers and take scenic helicopter flights.
The choices for adventure here are plenty: you can either take a guided full-package glacier tour including helicopter pickup and drop-off with hours of glacier hiking (or even overnighting), have a short scenic flight above the glaciers, or take a self-guided free walk towards the Franz Josef glacier.
The walk is easy and takes 1-1.5 hours. You can't get close to the glacier because it melted a lot in the last 10 years and the area is now dangerous due to rock falls.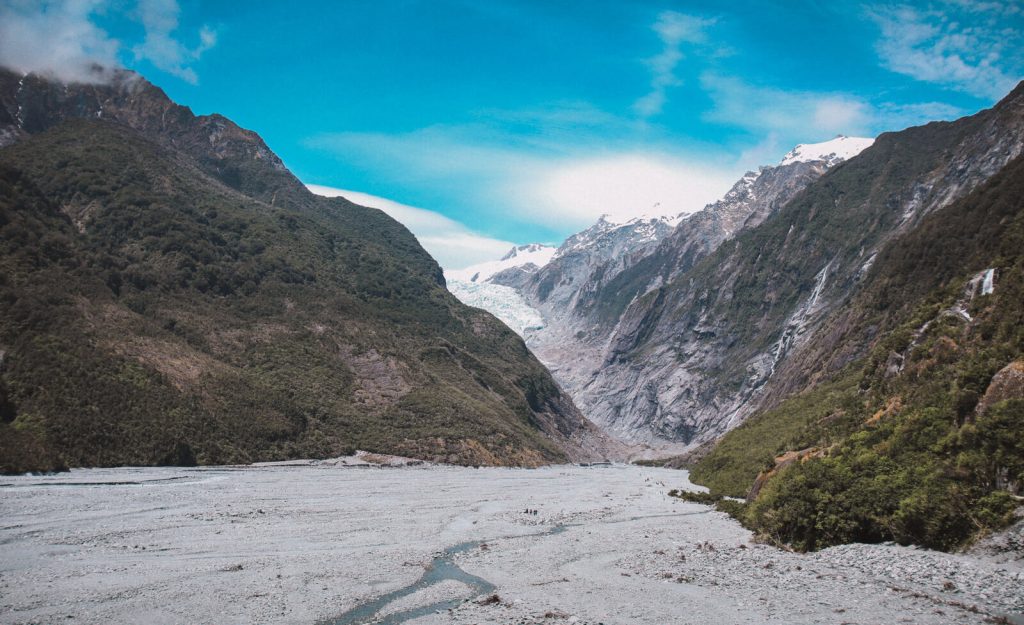 You can relax after your icy adventure by soaking in hot pools. The entrance fee is $29 per adult. The facility has three pools with different temperatures of 36, 38, and 40 degrees. After a cold day, we were happy to soak in the pools in the evening.
Day 7: Fox Glacier
A short 30-minute ride away is another wonder of New Zealand a twin of Frank Josef – Fox Glacier. The Fox Glacier is located in the same national park and offers a different perspective of the glaciers.
This time, instead of hiking towards the glacier, we took a circuit walk around Matheson Lake. The lake is known for its beautiful reflections of Mt Cook and Mt Tasman, similar to the European lake of Lago do Braies in Italy . For the best views, try to visit at dawn or dusk when the water is calm. The slightest wind disturbances can ruin the mirror effect. The walk is an easy 1.5 stroll.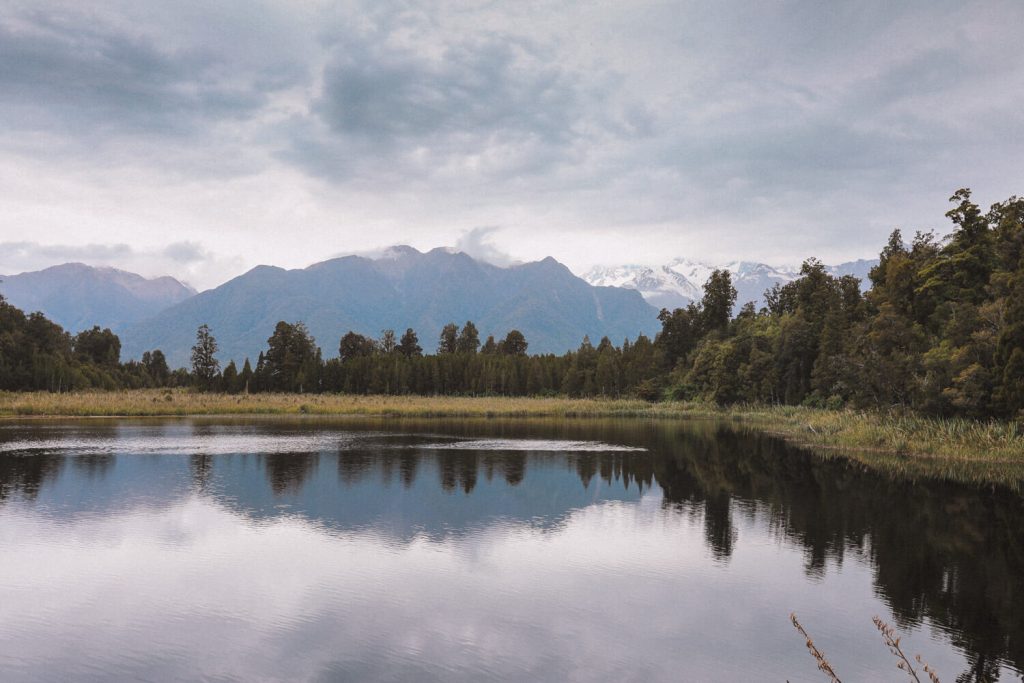 Day 8: Drive Through Blue Pools to Lake Wānaka
Leave the glaciers behind and drive through Haast Pass, a scenic route that takes you through lush rainforests and along the Haast River. Stop at the Blue Pools and Thunder Creek Falls for a refreshing swim and a picnic. The walk to the pools is a short 20-minute hike and a good stretch for your legs on this long day of driving.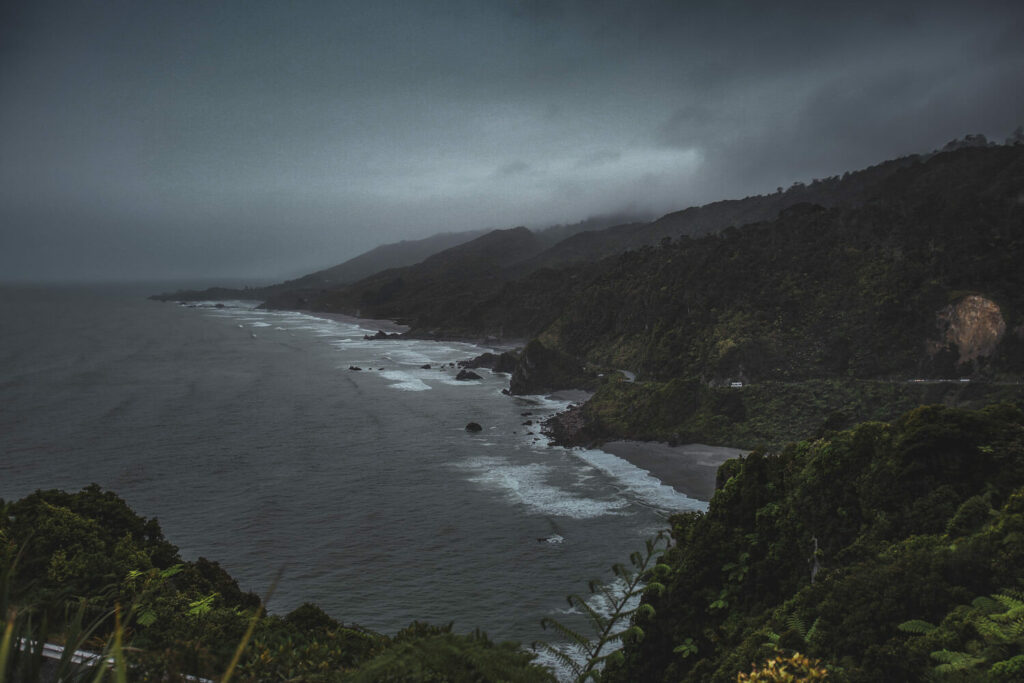 A long drive led us all the way to Wānaka lake, which greeted us with sunshine peeking through the thick cloud carpet. Wānaka is a great getaway spot for water activities, skydiving, hiking, you name it! It is also one of a few cities on our route, so it was a good spot for getting petrol, shopping for groceries, and getting WiFi. It was getting close to the sunset and we ended up stopping at the Neck between Wānaka and Hawea lakes and taking a bunch of beautiful pictures. We camped at Lake Hawea Freedom Campsite with nice facilities and an amazing view of the lake.
Day 9: Lake Pukaki – Another Turquoise Gem
Only a two-hour drive away is Lake Pukaki, which exceeded all the expectations I didn't have. The water is so incredibly bright blue, that it made me question my own vision. Could it be that my sunglasses distort it? No, it's real. Not far from it, glorious Mt. Cook is visible among other mountain peaks.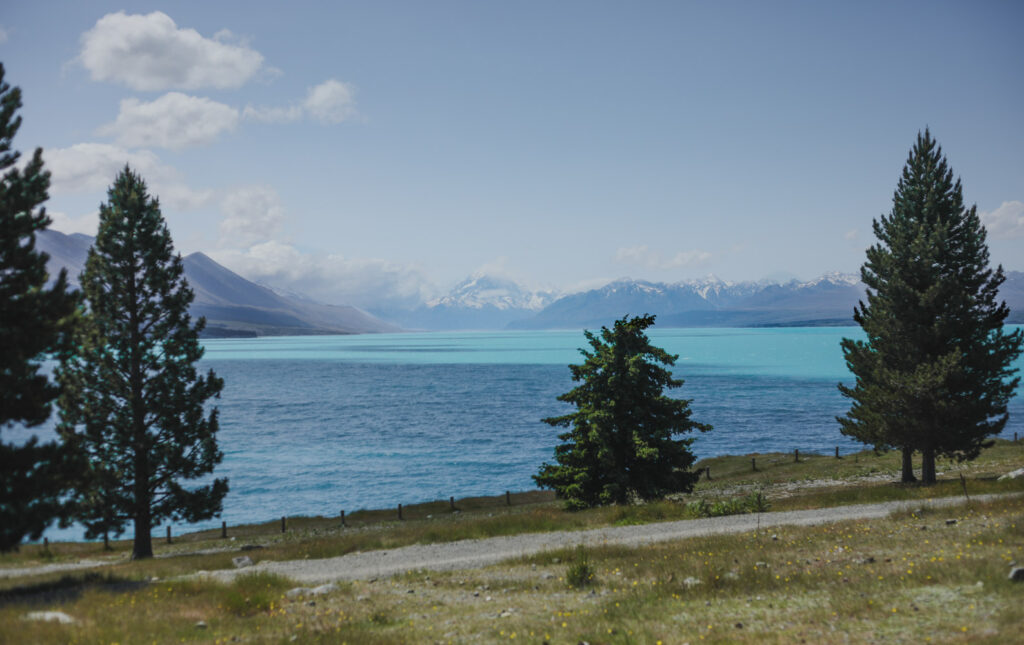 If you have the time, make a stop at Lake Ruataniwha. It is far less known which makes it a special little treat. Lake Ruataniwha has this unusual green and see-through water. You can have this lake all to yourself since it is far less popular.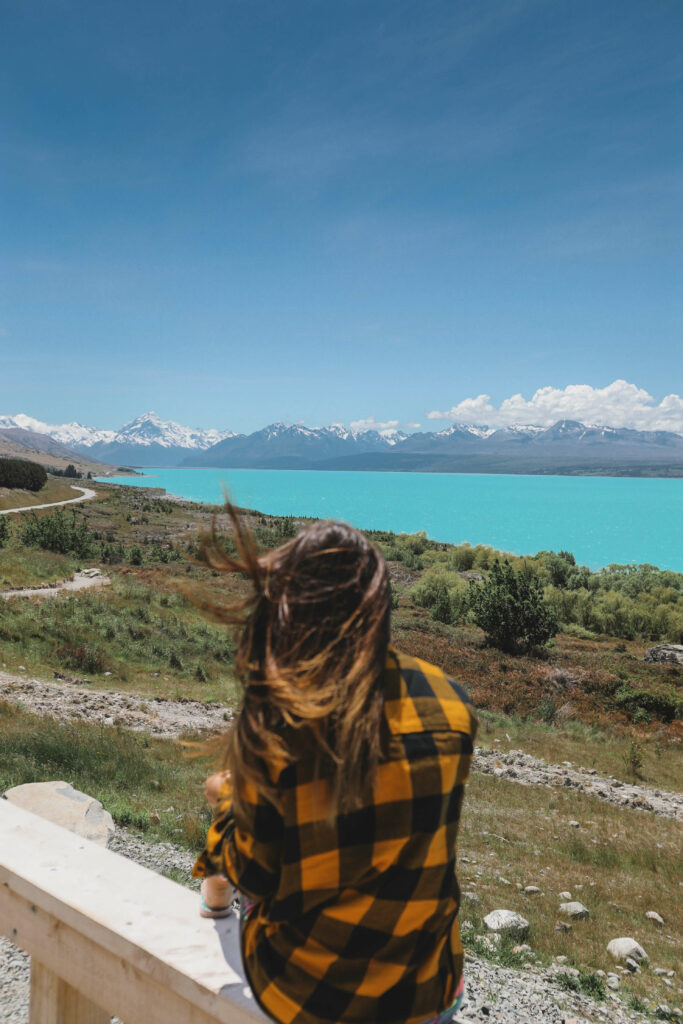 Lake Pukaki, on the other hand, is a large glacial lake known for its stunning turquoise blue waters and the surrounding mountain ranges, which offer breathtaking views. The lake is a popular spot for camping, fishing, and boating. Visitors can also take a tour of the hydroelectric power station at the lake's outlet, which provides insight into the region's energy production.
Day 10: Mt Cook National Park
The wow effect starts during the drive approaching the mountain range as it grows bigger and bigger in front of your eyes and all you want to do is stop and take pictures. So that's what we did!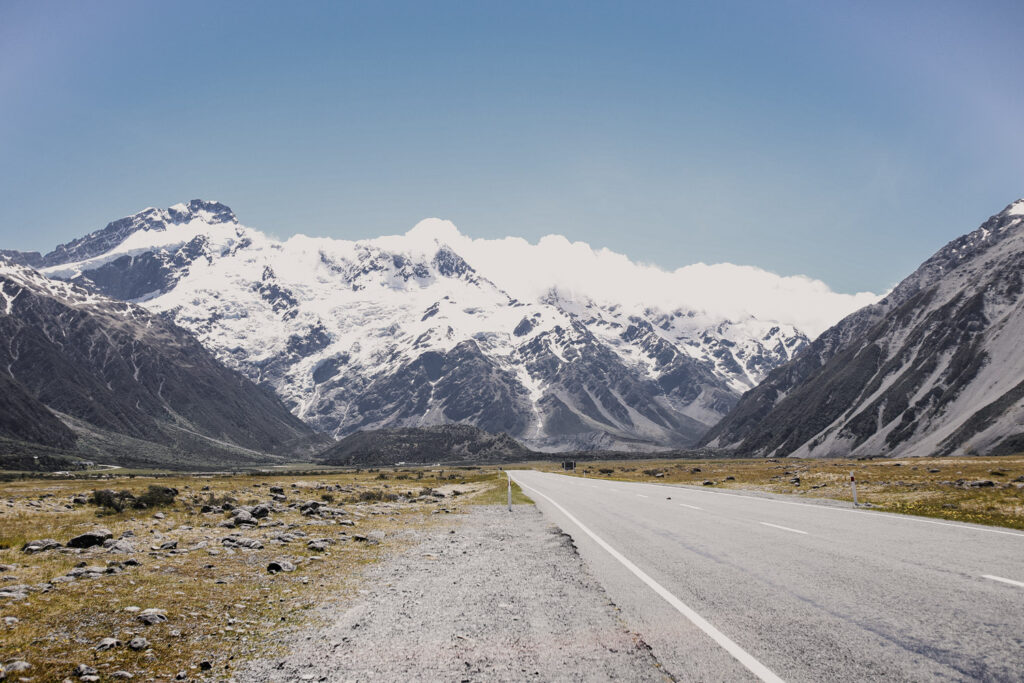 The road from Pukaki lake is just 40 minutes of pretty easy drive. I was expecting windy mountain roads and complexity but the road was straight all the way, following the toxic colors of lake Pukaki half of the way.
What you find arriving in Mt Cook National Park is a small village with a few cafes (we found 2 cafes and 1 restaurant), a visitor center, and a shelter where tired travelers can take a break, use the kitchen, bathroom, and even take a shower for free.
There is a number of hikes one can attempt in Mt Cook National Park. I went for a 3-hour return trail to Hooker lake. This is an easy trail that passes through 3 hanging bridges and Mueller lake as a bonus. The Hooker lake is where the Glacier ends here you can still see pieces of ice floating about. But the best thing about it is the nice view towards Mt Cook that sits just right above the glacier.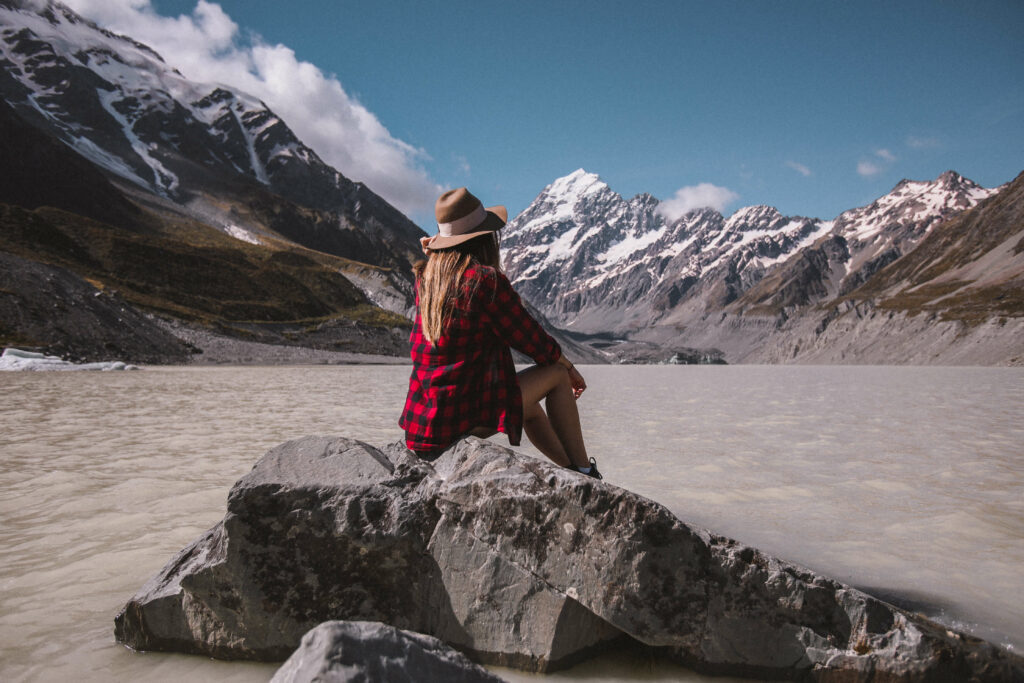 The most exciting adventure of our stay happened at dusk when all visitors dispersed and we were the only ones going on a hiking trail in a nearby Tasman valley. An easy 10-minute trip to the Blue lakes brings instant reward! The lakes were more green than the name suggested, but they were 3 tiny mountain lakes perfectly still upon the sunset. You could photograph the reflection of the mountain drop in it too.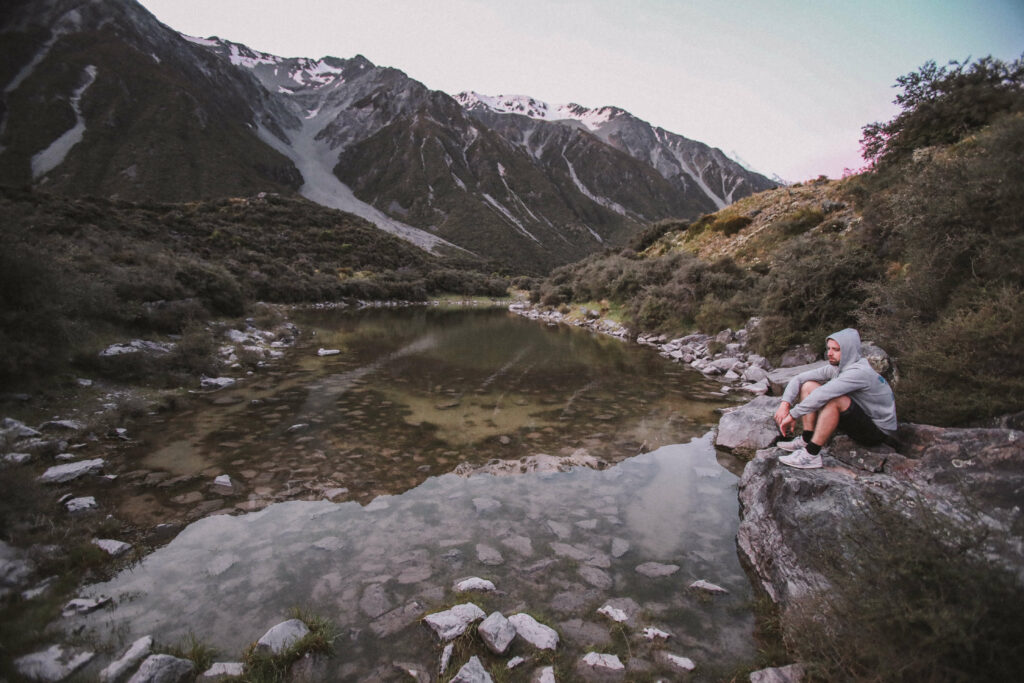 Being adventurous souls that we are, we didn't stop there but climbed up the hill to get a better sunset view and we weren't disappointed. The Tasman lake with its same-named glacier appeared in front of our eyes. The sunset rays looked incredibly good on it and made the water almost glow blue in the twilight. This little climb definitely made my day.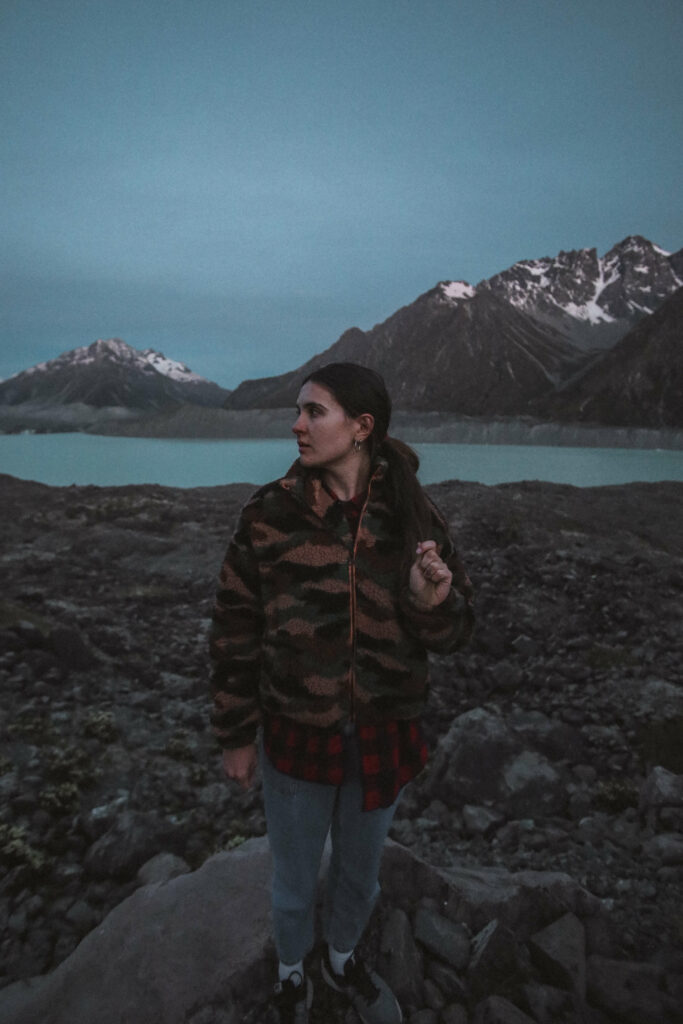 Day 11: Lake Tekapo
All I knew about New Zealand landscapes before my trip was lake Tekapo. But it still ended up looking much better in life than pictures can tell.
That is all because most people photograph the same location with flowers and while it is a nice spot, honestly, flowers are everywhere in Tekapo! The town is quite small but charming, there are cafes and supermarkets here. The highlight is of course the lake itself with its unreal bright baby-blue color, the same as Pukaki.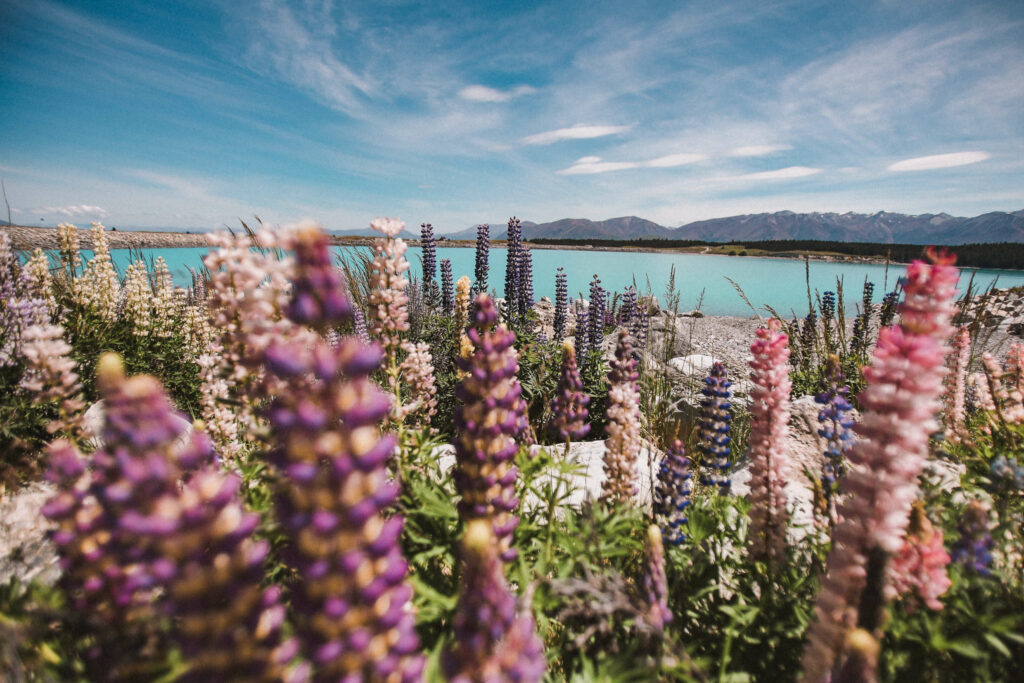 Of course, the signature card of Tekapo is lupin flowers that grow absolutely all around the lake in late spring. A sharp contrast to Rotorua with its thermal smells, lupins in Tekapo made the entire city smell like perfume.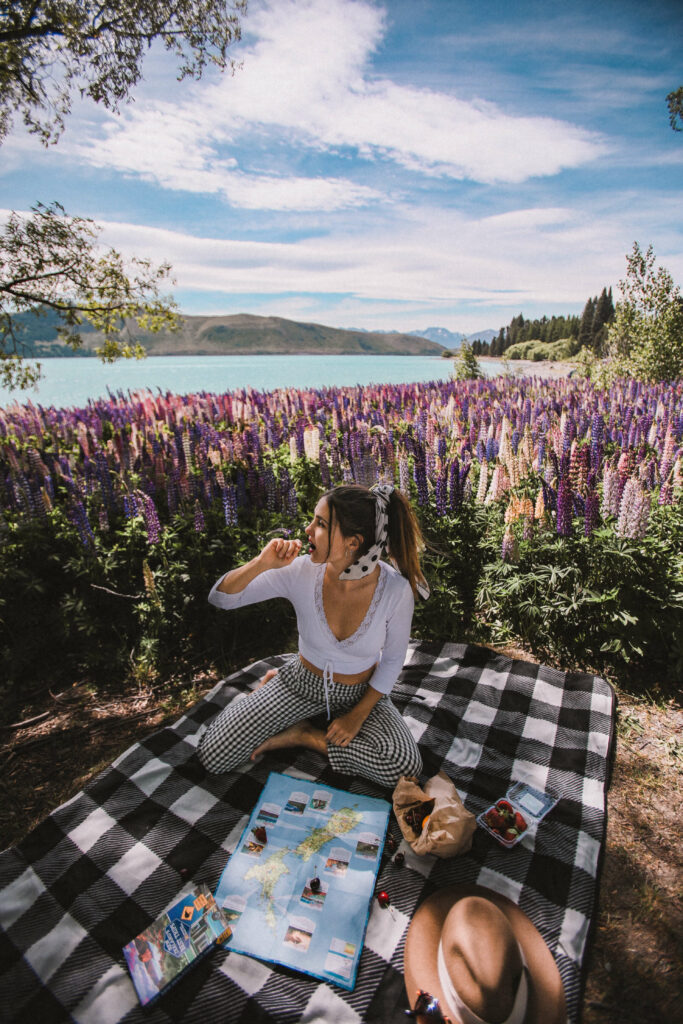 Among things to see in Lake Tekapo, is the Church of a Good Shepherd, a tiny rock church standing on the lake shore. I encourage you to go inside. No photography is allowed there, but just take a moment of peace and be present. Church of a Good Shepherd is the most photographed place in lake Tekapo especially for night photography. This is because Lake Tekapo is a perfect stop to gaze at the night sky. There is a number of star-gazing and night photography tours in the area, including the tour to the Mt John Observatory.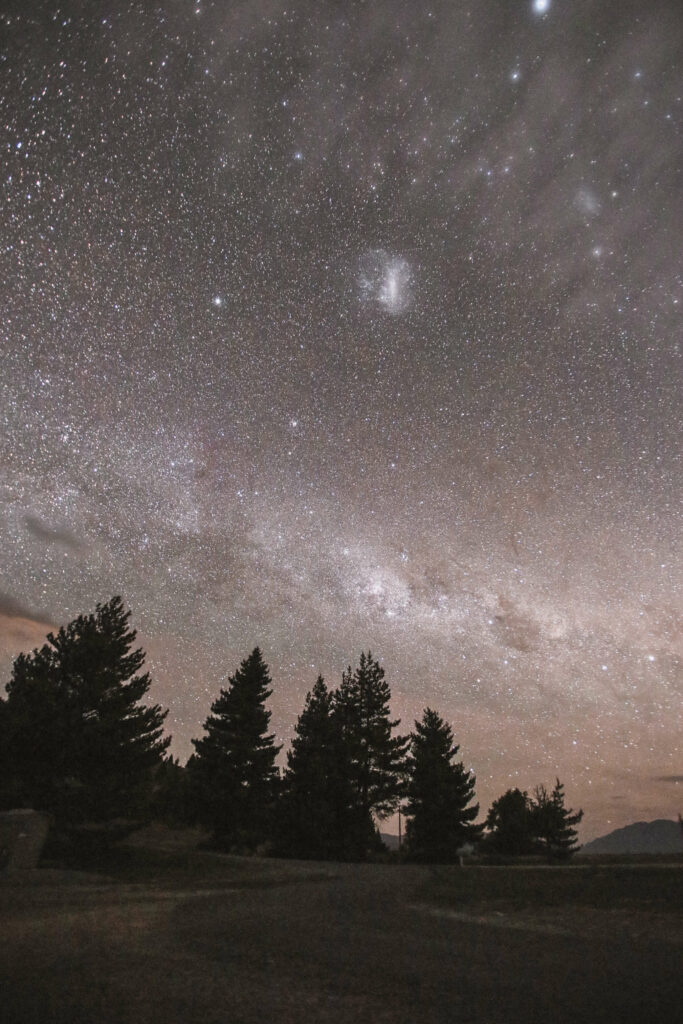 Day 12: Akaroa
Leaving Lake Tekapo, we started slowly heading towards Christchurch, the point of our departure and end of our 2 weeks in New Zealand adventure.
Akaroa is a small town located on the Banks Peninsula known for its stunning natural beauty, rich history, and French and British colonial heritage.
Apart from that, Akaroa is home to a large population of Hector's dolphins, the world's smallest and rarest marine dolphins, which can be observed in the wild. Therefore, it is a perfect spot to wind down and enjoy nature.
You might also enjoy reading "A Detailed Guide to Planning an East Coast Australia Road Trip"
Day 13: Christchurch
It's time to head towards Christchurch – the last stop of our 2 weeks in New Zealand itinerary. We didn't want to rush out of our new beloved spot by the water but it was time to return our hired campervan. Christchurch is the largest city in the South Island, which proved to be a very charming calm little town with the aspiration to be a cultural hub. The Anglican churches all around give it a little European feel and a little tram going around the city reminded me of San Francisco. It was easy to find good food and a good hotel – our stay at The Grange B&B added extra charm as well.
Overall, a nice spot to end two weeks adventure in New Zealand.
Day 14: Departure from Christchurch
It is time to say goodbye to your magical campervan road trip with 2 weeks in New Zealand itinerary, the land of kiwi.
Like It? Pin It!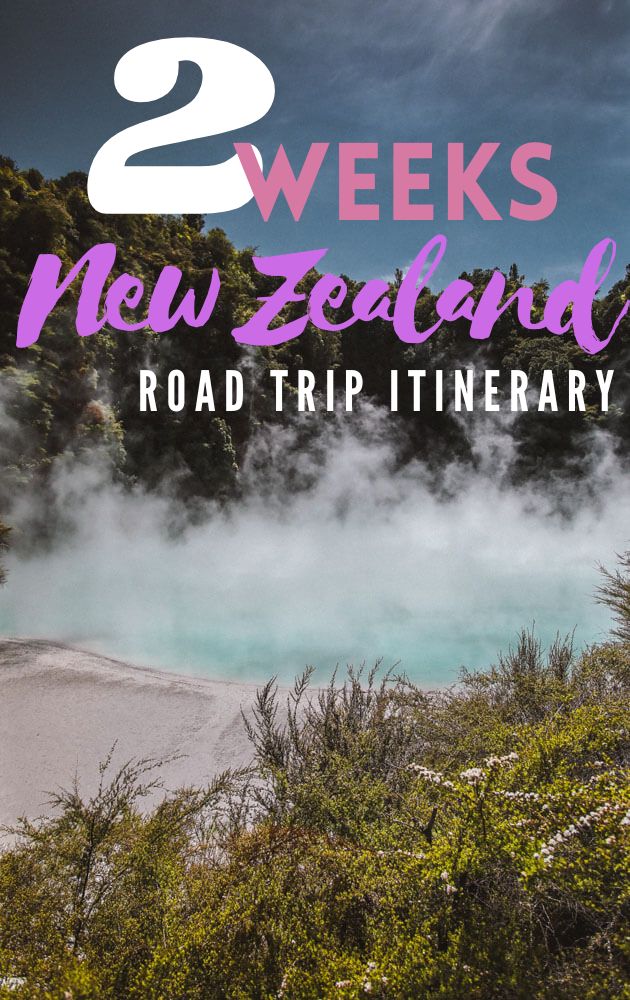 Leave Your Comments Cancel reply
Your email address will not be published. Required fields are marked *
Destinations
Privacy Policy
Work with me
Recent Posts

How to plan a perfect trip to Greenland

Subscribe to the Blog via Email
Skip to main content
Skip to header right navigation
Skip to site footer

Albom Adventures
Capturing the essence of travel through photography
Inspiring New Zealand travel through photography
New Zealand by Motorhome: Exploring Hidden Wonders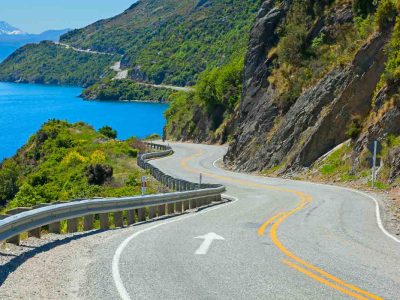 Exploring New Zealand by motorhome enables you to experience the ultimate freedom as you navigate scenic roads, discovering hidden gems and breathtaking wonders along the way . John Carlton, who has explored over 20 countries in his motorhome, guides you on such a journey.
Imagine waking up to a stunning sunrise over sparkling, crystalline waters, stepping outside, and inhaling a new morning's crisp, clean air in an untouched landscape. Your journey has no constraints, no rigid schedules, and no interruptions.
You're embarking on a self-directed exploration of New Zealand's enchanting, otherworldly beauty from the cozy comfort of a motorhome. This unique journey transports you into the heart of the country's wilderness, revealing its hidden gems at your own pace.
Discovering New Zealand's untouched corners
Motorhome travel, or as some call it, campervan travel, has surged in popularity due to its inherent flexibility and ability to reach remote, less-travelled regions. For those considering embarking on this incredible journey, several options are available, ranging from rentals to campervans for sale .
The latter can be cost-effective for those anticipating extended or recurring adventures amidst New Zealand's stunning landscapes. Whether you're a nature enthusiast, a wine connoisseur, or a history buff, this guide presents attractions that can ignite your curiosity and inspire your wanderlust.
Majestic Milford Sound
Rudyard Kipling once described Milford Sound as the eighth wonder of the world, and it's indeed a destination every road-tripper must visit. Here, you'll experience the majesty of towering cliffs emerging from dark waters, spectacular waterfalls plunging from dizzying heights, and a vibrant ecosystem teeming with unique wildlife. An overnight stay presents a mesmerizing starlit sky, unparalleled in clarity and brilliance.
Take the opportunity to fully immerse yourself in this extraordinary landscape by venturing out on a kayak or boarding a small cruise ship to navigate the Sound. Take advantage of the underwater observatory for a glimpse of marine life, showcasing the biodiversity of this natural sanctuary.
Exploring the Southern Alps of New Zealand by motorhome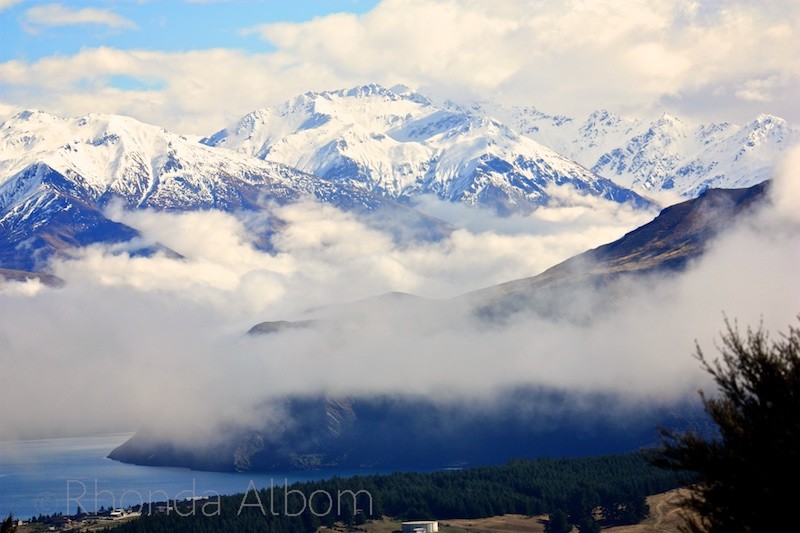 As you journey through the South Island, the striking ridges of the Southern Alps command your attention. Drive through Arthur's Pass, the highest and most breathtaking route across the Southern Alps. The experience is steeped in natural beauty, featuring snow-capped peaks, otherworldly waterfalls, and lush rainforests.
While exploring this region, seize the opportunity to traverse some renowned trails, such as the Bealey Valley Track or the Devil's Punchbowl Walking Track. Your efforts are rewarded with magnificent views and potentially even an encounter with the Kea, the world's only alpine parrot.
Geothermal wonders of Rotorua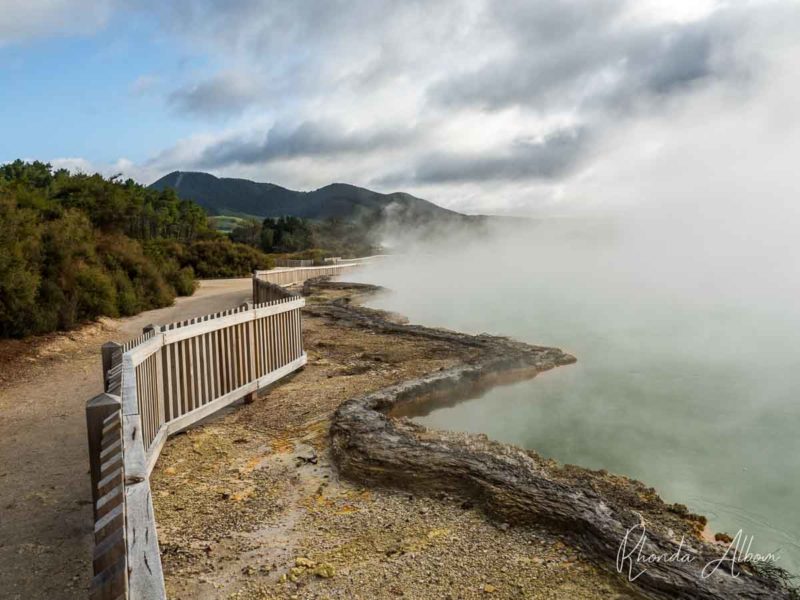 A North Island road trip is only complete with a visit to Rotorua , famous for its geothermal activity. Rotorua mesmerizes visitors with its amalgam of boiling mud pools, erupting geysers, and natural hot springs, all underscored by the distinctive scent of sulfur in the air.
Indulge in a soothing soak at one of the numerous geothermal spas, such as Hell's Gate. The mineral-rich waters offer rejuvenating properties. Make sure to immerse yourself in Māori culture by visiting a local village and relishing a traditional hāngī feast.
Wine tasting in Marlborough
Marlborough, New Zealand's leading wine-growing region , is globally renowned for its crisp Sauvignon Blanc. The freedom afforded by your motorhome allows leisurely exploration of these expansive vineyards. What could be more idyllic than enjoying a picnic amidst the vines, complemented by a glass of world-class wine?
Consider visiting iconic wineries such as Cloudy Bay and Yealands Estate, or discover some of the smaller boutique vineyards. Many offer guided tours, allowing you to delve into the intricacies of winemaking and the art of tasting and appreciating fine wine.
Tongariro alpine crossing
Often dubbed New Zealand's best day-hike, the Tongariro Alpine Crossing journeys across a lunar-like landscape dotted with craters, coloured lakes, and volcanic peaks. This world heritage site , rich in cultural significance and natural beauty, is an unforgettable adventure.
Though the trek can be challenging, it offers plentiful rewards. The Emerald Lakes, Blue Lake, and Red Crater are among the many marvels you'll encounter. Remember to dress appropriately for the changing weather conditions and always respect the sacred Māori land you traverse.
Hobbiton: a nostalgic journey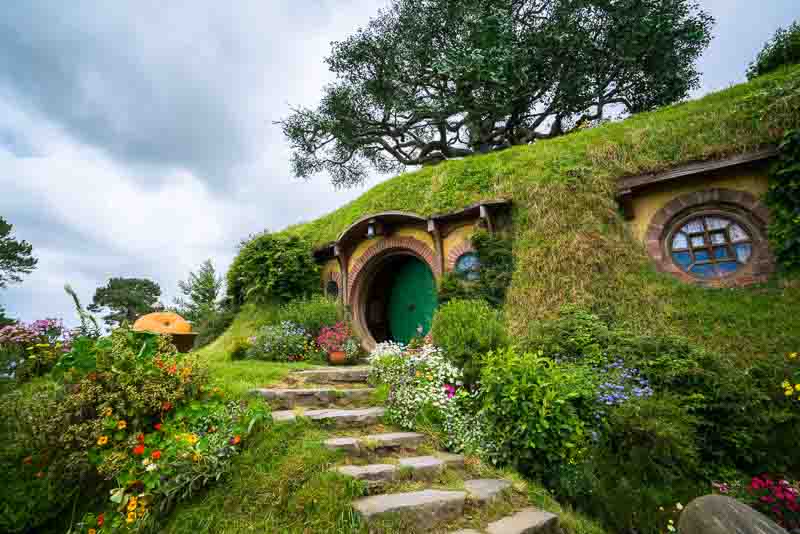 For ' Lord of the Rings ' and 'Hobbit' fans, stopping at the Hobbiton movie set is an unforgettable experience. Meander through the charming paths of the Shire, peek into hobbit holes, and even enjoy a pint at the Green Dragon Inn. It's a nostalgic journey into the magical world of Tolkien.
The movie set, nestled amidst Matamata's lush farmlands, is meticulously detailed and well-preserved. Your visit not only stimulates a sense of adventure but also provides insights into the immense work of crafting a movie set of such magnitude and detail.
Final thoughts on exploring New Zealand by Motorhome
A motorhome adventure through New Zealand offers the chance to uncover the country's hidden gems at your leisure and in your own way. From the captivating wilderness of Milford Sound to the geothermal wonders of Rotorua, from the grandeur of the Southern Alps to the tranquil vineyards of Marlborough, this journey promises rewarding experiences and memories to cherish. Embrace the adventure, choose your path, and prepare to be enthralled by the astounding beauty of New Zealand.
Save on your trip with these resources
These are our go-to companies when we travel. We believe this list to be the best in each category. You can't go wrong using them on your trip too.
Flights : we use Expedia for the best and cheapest flight options.
Accommodations: we use Booking.com (hotels), VRBO (self-contained), or Hostelworld (budget).
Cars (gas or electric): we use RentalCars to search for deals and dealer ratings.
Campervans or Motorhomes : we use Campstar where Albom Adventures readers get a 3% discount.
Motorcycles : we have heard good things about BikesBooking .
Private guides : we love the private guides at Tours by Locals .
Travel Insurance: while not required, we always opt for travel insurance and start at InsureMyTrip to compare coverage plans.
Check out our travel resources page for more companies that we use when you travel.
Save for later
If you enjoyed this article on New Zealand by motorhome, please share it on social media and save it for later on Pinterest.
Where will you explore New Zealand by motorhome?
More articles to help you plan your New Zealand motorhome holiday
Getting Around New Zealand: How Will You See This Beautiful Country?
Renting a Campervan in New Zealand: What You Need to Know
How to Make the Most of Your New Zealand Motorhome Holiday
Bring a Portable Solar Generator on Your Next Camping Trip
Photo Credits:
All photos on this page are either shot by our team and watermarked as such or stock images from Depositphotos .
About the author
David Carter is a seasoned travel writer and an avid explorer based in Auckland, New Zealand. In his work, he passionately shares his knowledge about his homeland and its many hidden wonders. Outside of his writing pursuits, David enjoys hiking, photography, and immersing himself in the vibrant cultures he encounters during his travels.
For more tips … join Explore New Zealand, the country's largest NZ travel and photography group on Facebook (free).
About Albom Adventures Editorial Team
Albom Adventures' editorial team consists of travel bloggers and other travel writers who periodically provide content to this blog. If would like to join our editorial team, please send us an email via the information on our contact page .
Reader Interactions
Alex+J.+Cavanaugh
July 16, 2023 at 5:32 am
Stunning scenery. So many mountains on such small islands. And yes, Visiting Hobbiton is high on my list.
Leave a Reply Cancel reply
Your email address will not be published. Required fields are marked *
Save my name, email, and website in this browser for the next time I comment.
This site uses Akismet to reduce spam. Learn how your comment data is processed .
Privacy Overview
New Zealand RV Travel Guide: 7 Things To Know
Quick Jumplinks to Navigate
Before you can travel through beautiful New Zealand on motor home and experience great adventures without sacrificing comfort, you'll need to know some things that'll come in handy. New Zealand is a country that has a lot to offer to its guests with the beautiful Māori culture, picturesque landscape, beautiful beaches, lakes, fantastic camping, and hiking trails, amongst others. The best way to experience all New Zealand offers is by choosing a motorhome to cover all the adventure. With a motorhome, you can explore everything at your own pace while still having the freedom and flexibility of being spontaneous. Most people get skeptical when they think about the hassle of driving a motorhome. However, New Zealand is full of motorhome-friendly things that ease the maneuvering process.
Here are the following seven things to know:
1. hiring a motorhome.
The process of planning an adventure throughout New Zealand on the road will include the hiring of an RV. As a result, you'll need to find a motorhome that'll be able to offer comfort at a budget-friendly price. Perform a deep dive into finding the right company by visiting companies such as Wilderness Motorhomes . These websites will offer more information to guide you and make the decision process more manageable. When choosing, factor in the number of people you're traveling with and the level of comfort you want. For instance, if it's only two travelers, then a smaller-sized motorhome will be more fitting than a family trip that'll need additional bed space and level of comfort. Also Read:- Places to Visit in New Zealand
2. Add More Time To Your Itinerary
Traveling in a motorhome won't be the same as traveling and staying in hotel rooms. With a motorhome, you'll have to factor in extra time that you'll use for tasks such as refilling fresh water and cleaning after yourself. It's as opposed to staying in a hotel room with a service that cleans after you making it easy to stick to your itinerary and timeline. In addition, RVs may have a limited speed that will put you back several hours, and it'll be prudent to have extra time when calculating drive times. Must Read:- Things to Do in New Zealand
3. Pick Ideal Luggage
Motorhomes maximize space without having to sacrifice comfort. As a result, it'll only offer limited storage space that'll fit the basics. Taking this in mind, opt for comfy pieces of luggage that will be easy to store without taking up space. Since the RV doesn't boast of a high ceiling, opening the suitcase and accessing different things is impractical.
4. Carry A Shower Kit
Nothing beats a nice warm shower after a long hot day of exploring, and an RV shower comes in handy. However, RV showers tend to be cramped, and you won't enjoy an unlimited water supply. As a result, it'll be essential to carry a shower kit as most places in New Zealand have on-site showers. Since it's a shared space, you'll need to pack a pair of shower shoes to avoid walking barefoot on a bacteria-laden floor. And to also avoid dropping anything, pack a reusable bag that'll keep all your belongings safe without touching the ground. Suggested Read:- 55 New Zealand Honeymoon Packages
5. Load Up On Essentials
Before setting off to explore and find new adventures, you have to load up on essentials that'll ensure you're very comfortable. Having a portable hose suited for drinking water will provide you have a constant supply of clean water used for everything. In addition, get a water filter that'll eliminate things like bacteria, fluoride, heavy metals, and many more. And to ensure supplies don't fall over, get levelers that'll give your RV a leveled place to park even on uneven ground. Other essentials include food, electronics, extra clothes, swimming essentials, travel documents, personal effects, kitchen items, camping, and outdoor gear.
6. Acquaint Yourself With Road Rules
The most important part of planning to travel in an RV through New Zealand is learning about driving. If you hope to move, it's required to be twenty-one years and above of age with a driver's license that covers appropriate motorhome driving. Driving done on the left and seatbelts is a requirement at all times, with a failure of proper use of seatbelts resulting in a hefty fine. Another essential rule to note is that there are forbidden rules on drinking and driving, with the alcohol limit being fifty milligrams of alcohol per hundred milliliters of blood. Anything exceeding these limits will subject you to outstanding penalties. You'll also need to follow speed limits that vary depending on what road you're on. If you have to overtake, ensure that you can see a hundred meters of clear road in a place without a solid yellow line. Book Now:- Best New Zealand Tour Packages
7. Pick The Right Time
Seasons tend to impact the best times to travel through New Zealand in a motorhome. Temperatures are great during the peak season that ranges between December to February. The summer season begins with Kiwis going on vacations and tourists beginning to arrive during this time. You'll need to consider the high chances of crowding at tourist attractions sites. However, during the off-season that falls in Autumn and Spring, the weather gets favorable, and the availability of motorhome rentals is high. The weather makes it a great time to tour NZ in a motorhome during the off-season as you'll enjoy low vehicle prices and mild weather without being around large crowds.
In conclusion, there are several things one needs to know before hopping on an adventure in New Zealand. The first thing to do is find a motorhome company that offers great RVs at great prices. Next, you'll need to add more time to your itinerary to ensure you get every activity done. When packing, use soft luggage that easily stashes away without losing space. You'll also need to carry a shower kit and load up on essentials that will ensure you still have access to your comfort. Lastly, take time to acquaint yourself with road rules to avoid fines or penalties due to different road rules.
I have been travelling across India for a long time and I am using this blog to share my experiences with you so that you can see the tremendous beauty which India has to offer. Thrillophilia Blog
Leave a Comment Cancel reply
Motorhomes , Travel Tips
Why travel new zealand by motorhome.
So you're thinking of a motorhome trip in New Zealand? Good choice! Here are some of the best reasons to explore NZ on an epic road-trip…
New Zealand is a country of breath taking landscapes, diverse wildlife, incredible beaches and lakes and numerous outdoor activities. Exploring this stunning country in a motorhome is a dream come true for many travellers. The freedom and flexibility that motorhome travel offers can't be beaten. If you're considering hiring a motorhome in New Zealand here are some reasons to help you make the choice to book your trip today!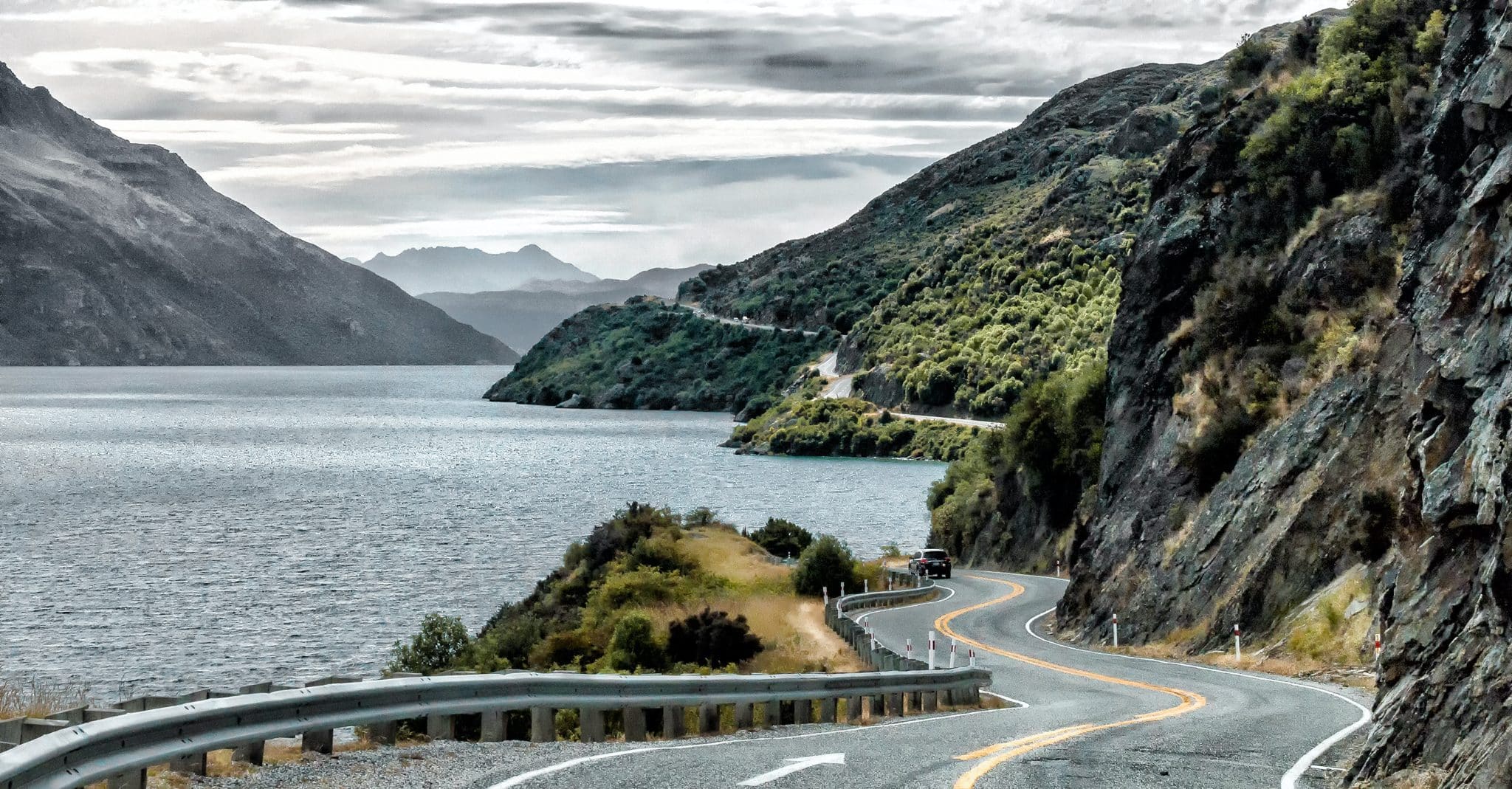 Scenic Drives
New Zealand is renowned for its picturesque drives, and motorhome travel is the best way to experience them. The South Island's Southern Scenic Route, North Island's Forgotten World Highway, the Thermal Explorer Highway, and the legendary Milford Road are just a few examples of scenic routes that will leave you in awe. These drives take you through majestic mountains, lush forests, and along the pristine coastline New Zealand is so well known for.
Freedom Camping
One of the biggest advantages of motorhome travel in New Zealand is the freedom to camp in many beautiful and remote locations and hiring a campervan from Roam means you are in a fully self-contained vehicle giving you access to more locations to camp. New Zealand's Department of Conservation (DOC) provides a list of designated camping areas, allowing you to immerse yourself in nature without the constraints of traditional accommodation.
Check out the links for more information on where to freedom camp in your luxury Roam motorhome…
https://www.doc.govt.nz/parks-and-recreation/places-to-stay/stay-at-a-campsite/
https://www.freedomcamping.org
Incredible Campsites
If you prefer a more structured camping experience, New Zealand offers a plethora of well-equipped campgrounds for you to park your motorhome. From basic facilities in serene settings to holiday parks with all the amenities you need, you can choose the level of comfort that suits you. Some campgrounds even have thermal pools, adding a unique touch to your stay. Check out the Top 10 Holiday Park list and be amazed at what is on offer.
https://top10.co.nz/find-a-park
Wildlife Encounters
New Zealand is a biodiversity hotspot, and motorhome travel provides ample opportunities for wildlife encounters. Visit the Otago Peninsula to spot rare yellow-eyed penguins, take a whale-watching tour in Kaikoura, or explore the bird-filled rainforests of the West Coast and Central North Island. You can add one of our Bird Watchers Fun Packs to your booking, which gives you a pair of binoculars to spot our native species and a book on the birds you will see in New Zealand. Don't forget to keep your camera at the ready as you will be sure to be amazed at the wildlife you encounter along your campervan road trip!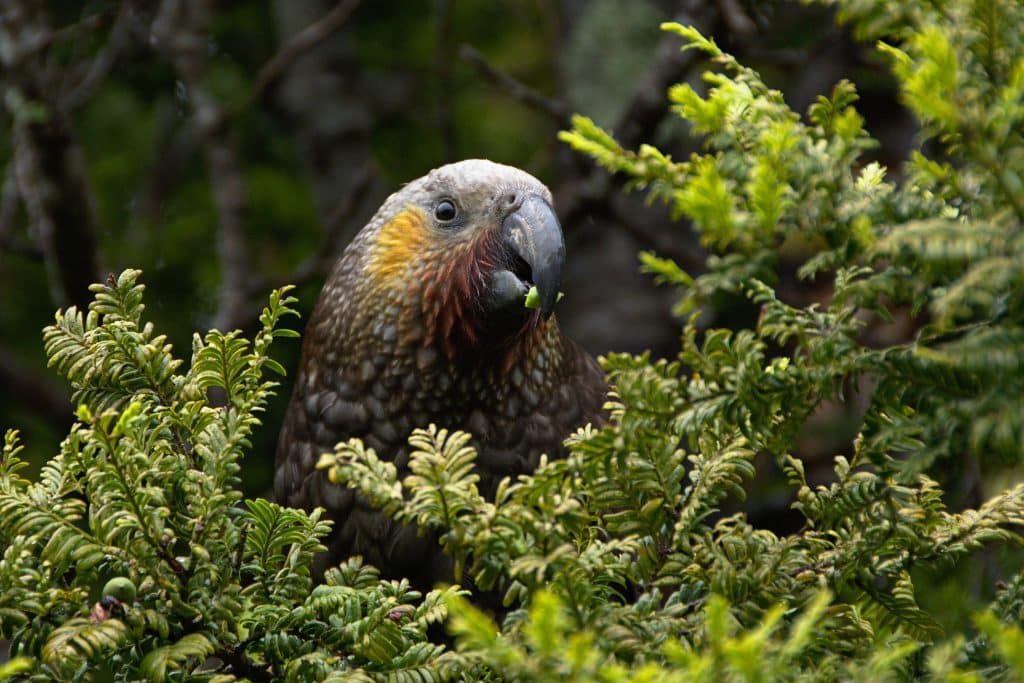 Cultural Experiences
While enjoying the natural wonders of New Zealand, take time to explore the rich Maori culture. Visit a marae (meeting grounds), experience a traditional hangi feast, or learn about the indigenous history of the land. The Waitangi Treaty Grounds in the far North and Te Papa Tongarewa Museum in Wellington are excellent places to start your learning journey on the history of our country.
New Zealand's beaches are quite literally stunning! From wild West Coast beaches with their rugged yet beautiful scenery to the more sedate East Coast, we have a beach to suit every kind of traveller. Explore the Moeraki Boulders on the beach near Dunedin, or relax with a more tropical beach like Maitai Bay in the North. Most of our gorgeous beaches have campsites either on the beachfront or within a short distance. Book a paddle board fun pack to go with your Roam motorhome hire and get out onto the water. You will be spoilt for choice if you love the ocean!
Outdoor Adventures
If you're an outdoor enthusiast, New Zealand is where you need to be. It is a paradise for adventure seekers. Hiking and bushwalks pepper the country, both North and South Islands and range from short, easy hikes to multi day adventures! Adventure travel is your thing? Go bungee jumping in Queenstown or white water rafting in Taupo! Love mountain biking? Pick from the many trails on offer and add a bike to your booking, we have both e-bikes and mountain bikes available to rent with your motorhome. There's something for everyone if you love the great outdoors. Motorhome travel allows you to transport all your gear conveniently, making it easier to embark on these thrilling escapades .
New Zealand's low light pollution and clear skies make it a prime destination for stargazing. While on your motorhome journey, take a trip to Tekapo to visit one of the least light polluted places in the world. With your self-contained Roam motorhome you will be able to park in remote campsites to experience the visual wonder of the stars like you have never seen before. Turn off your lights, and gaze up at the Southern Hemisphere's dazzling night sky. If you're lucky, you might even catch a glimpse of the Southern Lights, the Aurora Australis.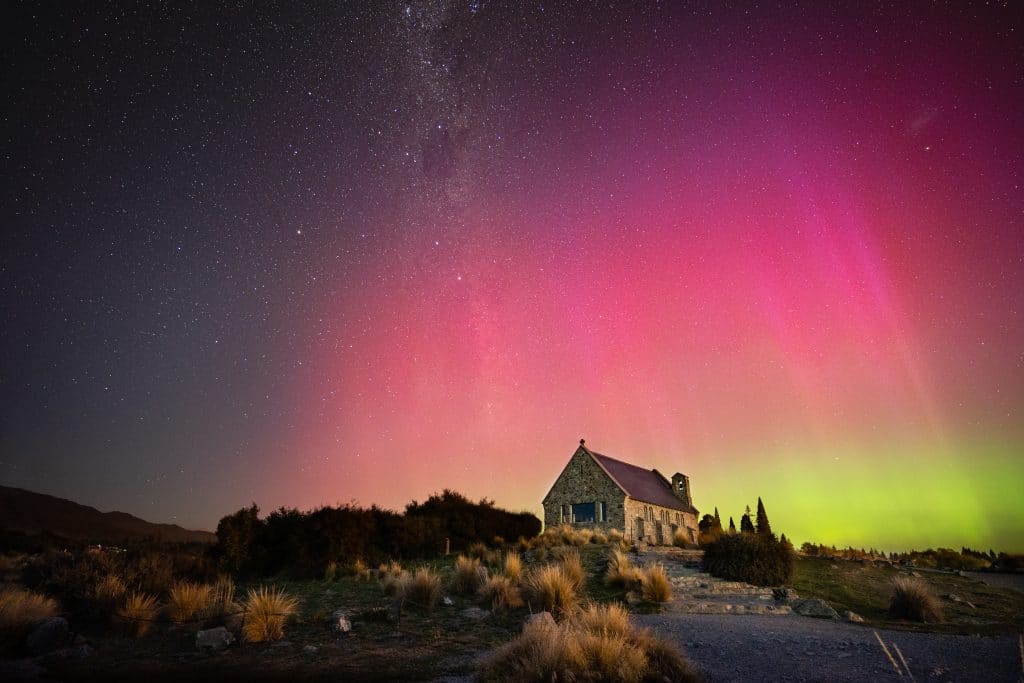 Friendly Locals
Last but certainly not least, New Zealanders, or "Kiwis," as we are affectionally called are known for warm hospitality and friendliness. Don't hesitate to strike up conversations with locals, ask for travel tips, or share stories around a campfire. Their insights and welcoming nature will enrich your motorhome adventure and may just have you never wanting to leave our beautiful country!
Motorhome travel in New Zealand offers an unparalleled opportunity to experience the country's natural beauty, culture, and adventure. From the stunning landscapes to the friendly locals, this journey will leave you with cherished memories that will last a lifetime. So, book with us today, then pack your bags, hit the open road, and embark on an unforgettable motorhome adventure in the Land of the Long White Cloud!
Leave a Reply Cancel reply
Your email address will not be published. Required fields are marked *
Save my name, email, and website in this browser for the next time I comment.
What's Included?
Booking info
Rental Terms & Conditions
Fun Packages
Why book with us?
Useful Links
Driving in Nz
Compact for 2
Compact Plus
Double for 2
King/Twin for 4
Double for 4
Extras & Accessories
Terms & Conditions
Tools & Guides
Motorhome Selector Tool
How To Book
Itineraries
NZ Seasons & Travel
The Wilderness Difference
Meet the Team
Environmental Promise
Customer Reviews
Search motorhomes
Ultimate Guide to Renting a Motorhome in New Zealand
At wilderness, we truly believe that a campervan or motorhome holiday is the best way to explore new zealand..
We're here to supply you with all the knowledge and tools that you'll need to plan and enjoy a remarkable New Zealand motorhome holiday. In our Ultimate Guide to Motorhoming in New Zealand, we answer the questions we get asked most frequently.
Table of Contents
What are the benefits of a motorhome holiday in nz.
Let's face it, any trip to New Zealand is going to be great, so why hire a motorhome for your adventure? At Wilderness, we believe that a road trip is the best way to experience all that New Zealand has to offer . You can explore at your own pace and get off the beaten track with all the comforts of a hotel room.
Freedom and Flexibility
Holidaying in a motorhome means freedom and flexibility. Fell in love with Lake Wakatipu? Stay an extra night. Want to see the place where the Lord of the Rings movies were filmed? Plug Hobbiton into your GPS and hit the road. Hiring a motorhome lets you be spontaneous, set your own schedule and take on New Zealand on your terms.
Convenience
You can't beat the convenience of a motorhome tour. When you book, you're sorting your transportation and accommodation in one convenient step. Say goodbye to organising a rental car, stressing about hotel check in and out times, and struggling to find an Airbnb in your chosen area. Hiring from our fleet is like having a mobile luxury hotel room with a full-service bathroom, fully equipped kitchen, and comfortable sleeping and living areas combined with a generously sized rental car. You can stop anytime. Imagine pulling over to make a cup of tea or use the onboard bathroom while the kids stretch their legs, or parking up on the coast to enjoy a sunset across the ocean.
A new vista every day
Why settle for the same view each day? In a Wilderness motorhome, you can bask in new vistas every day without the hassle of packing and unpacking each time. New Zealand has a fantastic range of campgrounds and holiday parks where you can stay in your motorhome (many of which are beside beaches or lakes). If you're feeling a bit more adventurous, you can try freedom camping and park up in any number of scenic locations . If you time it right you can experience your sunsets and sunrises with a new backdrop every day. Still not sure if a motorhoming adventure is right for you? Check out our blog post " Why travel NZ in a campervan? " to learn more about why we think it's the best way to see New Zealand.
What is the best time to take a motorhome trip in New Zealand?
It's important to consider what time of year you'd like to visit New Zealand, since each season has its own unique opportunities and challenges. If you're from the northern hemisphere, bear in mind that seasons in New Zealand are the opposite of those you're familiar with.
Summer
(December, January, and February) is the busiest time for travel in New Zealand. This is the time of year with the most consistent weather and lends itself to activities involving the sea, rivers, and lakes. Daylight hours are also the longest allowing you plenty of time to do the most activities in a day and find the perfect place to park your motorhome.
(June–August) features affordable rental rates, access to winter sports activities, gorgeous photography opportunities and lots more . Keep in mind if you're motorhoming in snowy conditions, you'll need to add snow chains and consider the costs of extra gas for heating your motorhome rental.
Spring and Autumn
Spring (September–November) and Autumn (March–May) are good seasons to travel in because they feature lower rental rates and fewer crowds than summer. The weather in spring and autumn is typically pretty fair, but be prepared for rain and the potential to get stuck in the mud if you're parking on unsealed ground. Find out more about New Zealand seasons and motorhome travel .
Is it easy to drive a motorhome in New Zealand?
Ease of driving a motorhome.
First time driving a motorhome? Relax, it's not so different from driving a car. Motorhomes are generally significantly longer than a standard car, reaching up to 9m in length but this does not affect the driving experience significantly. We do encourage you to use a spotter outside the motorhome for maneuvering any tight spots, or in campsites where there are low hanging trees or barriers. Here at Wilderness, we prefer European motorhomes for their comfortable drive with automatic transmission and plush, adjustable driver seats. Some new drivers may worry about a lack of rearview mirror - but in fact a great reversing camera and large wing mirrors make reversing easy. Combined with good visibility out the front and minimal blindspots, driving a European motorhome like those on the Wilderness fleet is a fun and comfortable experience. Read more about how easy it is to drive a Wilderness motorhome .
Am I allowed to drive a motorhome?
All you need to start driving is a current driver's licence from your home country. If your licence isn't in English, you'll also need an English translation or International Driving Permit (IDP) with you when driving in New Zealand. You can have a translation issued by a translation service approved by the NZ Transport Agency (a list is available here ), a diplomatic representative at a high commission, embassy or consulate; or the authority that issued your overseas licence. With your full car driver's licence, you can drive a rental campervan or motorhome with a TARE weight (the weight when empty) of up to 4.5 tonnes, even if there's a lower weight limit on your licence. This covers all Wilderness rental motorhomes (at the time of writing). You can only drive vehicles covered by your driver's licence or International Driving Permit. Learn more about the type of licence you need to drive a motorhome in New Zealand .
What's different about driving in New Zealand?
In New Zealand, we drive on the left hand side of the road. We also have many winding roads and a diverse landscape that means travel times can be skewed and trips are likely to take longer than expected. Even though New Zealand is only about 2050km (or 1274 miles) in length, you could tour for years and still not see everything the country has to offer. Because of this we recommend you choose a few of your favourite destinations and really take the time to experience these locations during your vacation (our motto is: drive less, see more). Curious how long your ideal adventure might take? Use this New Zealand travel time and distance calculator to explore your options. It's also worth noting that some of our railway crossings do not have active warning bells or lights so you must always stop at these to check before crossing. Additionally, we have some strict road rules worth learning and exploring in more detail. When driving you will need to carry your license and accompanying documentation with you at all times. You must always wear a seatbelt at all times (or suitable child restraint for children aged 0-7). You can chat to our Wilderness reservations team about hiring car seats for children. When driving you cannot use handheld mobile phones. You also will be heavily penalised for driving under the influence of alcohol and driving above the speed limit. First time motorhomer? Check out our guide to driving a motorhome in New Zealand .
How do I choose a motorhome rental company?
With a number of different companies offering campervan rentals in New Zealand, it can be challenging to understand your options and choose a rental provider. Luckily we've created a list of considerations to make that will guide you to the ideal rental company for your trip.
So how do you choose which company to rent from?
Know your budget range.
To get started with your research, we recommend you first take our quiz on what budget category of campervan will suit you best . This quiz will give you a quick idea of whether you should be choosing a premium, mid-range or low budget motorhome rental company to hire from. Remember that rates vary depending on season and company.
Luxury campervan rentals - This category is recognisable by its stellar customer service, free add-ons lack of hidden costs. The campervans on a premium fleet are high spec and feel luxurious with a focus on quiet and comfort. They also tend to be the most expensive option.
Mid-range campervan rentals - This is the most common category in NZ with lots of competition and potential for deals. The motorhomes on a mid-range fleet can vary a lot with the pricier mid-range options generally having lower mileage but the same interior and layout.
Low budget campervan rentals - Motorhomes in this category are usually aimed at budget-conscious travellers like young travellers and couples. The campervans provided are usually smaller, converted vans around the size of a standard car. These have significantly less space inside but have the added convenience of being easier to park.
Figure out your budget
Understand any restrictions, additional costs and terms.
Most companies have some restrictions like driver age, license type , distance you can drive and roads you can drive on. They may also have additional costs such as road user charges and insurance. A lot of this information will be captured in terms and conditions which it always pays to read. This comprehensive article can guide you in understanding motorhome and campervan rental terms and conditions in New Zealand. Make sure you're happy with the terms, restrictions and any costs before you make your choice.
Check if they offer the additional extras that you want
Were you intending on paying for wifi, bikes, a BBQ, camping chairs or baby carseats for your trip? Wilderness offers all of these extras as well as a free sim card to get in touch with our on-road support team. However, not all campervan rental companies will have these available and those that do may be charging more than you're prepared to pay. Make sure the company you choose offers the extras that you need for a memorable trip. As you start doing your research, you might find this rental comparison worksheet helpful to keep track of key differences in rental inclusions for various companies.
Check if they offer self contained campervans
Identify what size you need.
The budget category is often associated with a particular size and amount of space. Budget rentals will generally be smaller and suit one or two people. If you have a family of three or more, you'll likely need to choose from mid-range or premium rental companies with more beds. Make sure that there is ample availability for the size of motorhome you want to rent too - there's nothing worse than making a decision only to find there is no availability.
Check Qualmark ratings
Qualmark is a grading system for activities, accommodation, service and transport owned by Tourism New Zealand . Before choosing a motorhome provider you should check what rating they have been awarded to ensure you are booking the experience you're hoping for.
Read reviews
Reading reviews is a great way to explore genuine experiences from customers of the company you're considering. It's best to check Google reviews of the company as well as additional places like Facebook ratings for their page and using Google to find any other review sites.
Seek advice on travel groups, forums and websites
Groups, travel forums and websites are great resources for asking questions from people who are also planning trips or keen to share their own experiences. Try websites like TripAdvisor , Quora and Lonely Planet as well as Facebook groups .
To find out more, check out our full guide on choosing the right campervan company .
If you're thinking about hiring a private campervan through a sharing platform, check how a private campervan hire is different from a rental .
How do I choose a motorhome?
Once you've chosen one or two companies that you're excited to rent from, it's time to pick you perfect motorhome from their fleet. The layout of your motorhome or campervan is a very important choice. If you're taller than average, are travelling with children or have unique needs, not all layouts will be suitable for you. Make sure to consider the bedroom, bathroom and living area separately before making a choice. At Wilderness, each of our premium fleet comes with unique layout options to best fit your needs. Want to find out more? Use our comprehensive guide for more information about how to choose the perfect motorhome .
Campervan bedroom considerations
Our fleet offers flexible options when it comes to sleeping configurations, so you can choose the model that best fits your needs. You should consider things like:
How many people are you travelling with?
Are you travelling with a baby or children?
Do people want their own separate beds?
At Wilderness, our various bedding options include:
Permanent single (that can be converted to king) and double beds with slatted bases and high-quality mattresses (no need to muck about converting the lounge into a bed at night)
Drop down double beds that are stored in the ceiling cavity when not in use (typically found in the models with larger dining/living areas)
Not sure which motorhome bed is right for you? Check out this length, layout and bedding guide for more information about choosing the right bedding configuration.
Campervan bathroom considerations
There are two general choices when it comes to bathrooms in motorhomes: combined or separate. Combined bathrooms may lead you to think that after taking a shower, the whole bathroom gets wet and you'd have to wipe everything down. However, in most of our motorhomes, clever design allows for the toilet area to remain dry even after using the shower (which isn't always the case with motorhomes from other providers). Having a combined bathroom frees up space for larger sleeping or living areas.
Campervan living area considerations
The living area in most modern motorhomes feature what's known as a walk-through cab, allowing you to access the living area without having to go outside (which is a definite plus during the sometimes wet and windy weather in New Zealand). Some models might feature swivel front seats which allow the driver and passenger seats to rotate and serve as additional dining seating when parked. With so many options available, selecting the ideal motorhome for your journey can feel overwhelming. No need to worry—we've got you covered. Check out our motorhome selector tool to help take the guesswork out of choosing the perfect motorhome for your upcoming New Zealand adventure.
What does a motorhome rental cost?
Daily rate inclusions When choosing a motorhome provider, it's important to consider what extras they include in their daily rental rate (and what's going incur additional fees) so you have set expectations for your provider . Things such as liability reduction options, bedding and linen, on-road support, or any extra hidden fees (like extra driver or one-way fees) may or may not be included in your rental depending on which provider you choose. Wilderness provides transparent pricing that allows our guests to see the value they are getting for their money. We also offer loads of extras and accessories to further enhance your experience.
What are the additional costs of renting a motorhome?
Aside from the rental hire, it is important to think about other costs that will be part of your motorhome adventure. You may incur extra fees for additional perks and services, such as:
Extras and accessories (such as mobile WiFi, camping tables and chairs and snow chains)
Additional driver's fees
One way fee
Liability reduction options (to cover repair costs in case of an accident)
Ferry tickets (if you're visiting both islands)
Fuel (use an app like Gaspy to check prices along your route)
Campsites and holiday parks (some spaces require a fee to stay)
Food and groceries
Unique NZ experiences
The additional cost of these and other similar items and services should be taken into consideration when planning your New Zealand vacation. Check out this list of what we include in the price when you rent a Wilderness motorhome .
Motorhome relocations
If you're looking for a low cost rental option, are flexible with your dates and want to pick up and drop off in different cities,, it's worth looking into available motorhome relocations. At Wilderness, our relocations typically include a ferry ticket, 1200km of travel free and standard insurance. Always check relocation terms carefully and be aware that relocation offers are sometimes withdrawn so may not be as secure as booking through conventional means.
How do I plan my New Zealand motorhome trip itinerary?
New Zealand has two islands to choose from when planning your vacation: the North Island and the South Island. The North Island (home of Hobbiton) features rolling green hills and volcanoes, while the South Island is more akin to the Southern Alps (think Lord of the Rings). Not sure which one to choose? Check out some of our guest stories to help you decide:
Five views that will make you fall in love with Northland
How to spend three weeks in the South Island of New Zealand .
While each has its own unique appeal, the country is set up in such a way that a one-way trip from Auckland and Christchurch allows travellers with more time to see both islands during their adventure. To make this trip, you'll need to budget for one-way ferry tickets to get you and your campervan across the Cook Strait.
Learn everything you need to know about motorhome ferry travel . We have created a few itineraries to get you started including this full-circle three week itinerary that spans the North and South Islands showing off the best that NZ has to offer as well as this ten day itinerary of South Island must-sees. Want to plan your own unique motorhome itinerary ? Our free Wilderness NZ app helps give you the confidence to explore the country well off-the-beaten-track. It's ideal for planning where you want to park up each night on your journey. Download Wilderness NZ from the App Store or Google Play . Also check out our motorhome trip planning tips .
How do I prepare for a motorhome trip?
After you've completed your booking , Wilderness has a pre-arrival checklist and other resources and travel planning tools to set you off on the right path—especially if this is your first motorhome adventure. We suggest that you arrive early to pick up your motorhome leaving plenty of time to consider adding additional extras, paying any outstanding balance and checking paperwork. Our friendly team will also take the time to teach you all about using your motorhome. We also suggest that you take the time to snap some photos of your motorhome including any existing damage, and the number plate so you have records of how your motorhome looked before you drove away for insurance purposes, Not sure what to bring? Check out this helpful blog post on what to pack for your Wilderness trip.
Where can I camp in my motorhome?
When it comes to choosing where and how you want to camp in New Zealand, you have plenty of options.
Freedom camping spots
Holiday parks
Department of Conservation (DOC) and regional park campsites
Private properties (using Campable )
Choosing a rental motorhome that is certified self-contained allows you to take your pick of campsites in NZ and gives you access to freedom camping. The entire fleet at Wilderness has this certification, so when you hire one of our motorhomes you'll be able to freedom camp overnight at incredible locations other travellers might never get to see.
Freedom Camping and the The Tiaki Promise
Freedom camping, or responsible freedom camping as it is called in NZ, is defined as camping in a tent, campervan or motor vehicle on public land with minimal or no facilities such as toilets. Responsible freedom camping is free of charge. You'll find freedom camping spots all over New Zealand. Many have spectacular views of beaches, lakes, native bush and mountains. Some are just a few steps from some of New Zealand's best day walks . Keep in mind that freedom camping rules differ from region to region. When you visit a new area, be sure to read all signs, check out official government info and drop by the local visitor centre ( i-SITE ) to check rules in that region. You can be fined if you stay in places where freedom camping isn't allowed or that only allow self-contained vehicles to camp. At Wilderness, we are committed to the Tiaki Promise, which is all about preserving the pristine wilds of New Zealand for future generations. We strongly encourage our guests to engage in responsible camping to help us keep this promise. Check out our Guide to Responsible Camping for more information. As part of the Tiaki promise there are a series of rules that apply to freedom camping anywhere in New Zealand:
Dispose of rubbish responsibly - remove all your waste from the site to ensure it is clean for the next campers.
Use real toilets - keep NZ clean by always using public toilets or certified vehicle toilets.
Use recycling facilities where possible.
Use waste disposal stations - empty waste from toilets and grey water at designated dump stations only.
Camping at holiday Parks in New Zealand
Holiday parks are commercial campgrounds that feature both powered and unpowered campsites. They offer a wide range of amenities, from the very basic to a full-on resort experience (think Internet, communal kitchen/laundry, barbecue areas, TV lounges, fresh water filling stations, wastewater dump stations, and more) all in a secure site. Some holiday parks even offer heated pools, shops, and restaurants, or allow you to hire bikes or boats during your stay. There are hundreds of such sites across the country, many of which are family-owned. Staying at a holiday park gives you the opportunity to meet other travellers. These sites are popular, so we recommend you book in advance (especially if travelling during summer).
Camping at Department of Conservation (DOC) and regional park campsites
New Zealand features 14 national parks and over five million hectares of protected land in parks and reserves. The national parks feature more than 250 motorhome-accessible camping areas which are managed by DOC . While these sites are quite simple (some having no or only basic facilities), they provide clean, reliable, year-round camping to travellers utilising motorhomes. If you'd like to utilise this option, the Wilderness fleet is approved for use at these conservation campsites.
Camping on private properties
For a really authentic New Zealand experience, you can also choose to camp on private properties using the Campable app . At a Campable campsite you can get up close and personal with Kiwi life while staying at places like working farms, vineyards, beaches, resorts, and much more.
Camping spot resources
You can find camping spots of every variety through several travel apps including Campable , Camping NZ and CamperMate . Make sure to check the availability of each campsite on multiple sources to ensure that it is open for campers including checking the Google Map listing , checking the local iSITE and reading the listing and reviews on various apps or websites.
Enjoying exclusive spots with Wildernessts
We know how important freedom camping is to both our international and domestic tourists. That's why we've joined forces with experienced travel guide author Scott Cook to create a list of the most exceptional freedom camping (and low cost) spots around NZ exclusively for our customers. We call them Wildernessts .
What happens when you return a motorhome?
They say all good things must come to an end. When it's time to return your motorhome or campervan, most providers will have you run through a return checklist to make sure you've followed their rental terms and conditions. The check-out process can take additional time, so be sure to plan for it (especially if you're flying home after your trip is over). Also be aware if you want to change your drop off location when you're already on the road, you may need to pay a substantial fee to cover the rental company relocating this vehicle back to the branch you picked it up from. These are the most common return requirements for motorhome rentals:
Refuel with diesel
Top up fresh water
Empty waste water (grey water) tank
Top up LPG (propane bottles)
Tidy up the motorhome and remove all your personal items (don't forget to check cupboards)
Empty toilet cassette
Your provider will also likely inspect the motorhome for any damages during the check-out process.
Some motorhome rental providers may offer services to help organise your transfer to the airport or hotel after dropping off your motorhome, but be sure to check ahead of time in case you have to make arrangements yourself.
Ready for your adventure? Book a motorhome today.
We want to make your trip planning as easy as possible, so please feel free to get in touch . You can ask our motorhome holiday experts anything.
Other Helpful Resources
View all resources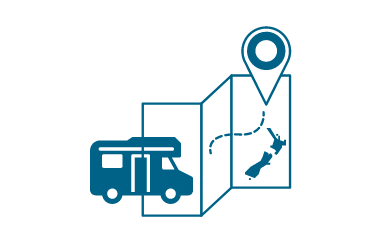 Guide: Motorhoming in New Zealand
At Wilderness, we truly believe that a motorhome or campervan is the best way to explore New Zealand.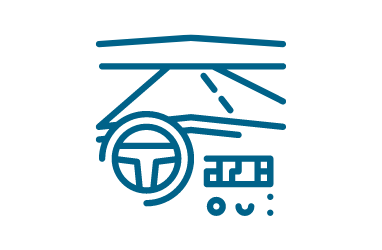 Guide: Driving a Motorhome in NZ
A great guide for first time motorhomers - Find out how easy it is to drive, manoeuvre, and park a motorhome — and how driving on New Zealand roads may differ from your home country.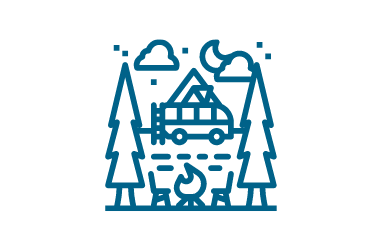 Guide: Motorhome Camping in New Zealand
Travelling's easy when you know the rules.
Privacy Policy
Terms and Conditions
maui Motorhomes
Britz Australia
Mighty Campers
Roadbear RV Rentals
El Monte RV
Buy a Campervan
Self Check-In
Britz Price Match
Contact Us 24/7
Customer Care
Unforgettable holidays start here.
Feel at home, where ever you roam with a Britz Campervan. Our fully self-contained campervans have everything you need for unscripted holiday experiences.
Campervan Hire New Zealand
Why travel with Britz campervans
Britz New Zealand is perfect for every adventure or family getaway. Plenty of space for your parents, your kids, and even your dog. As well as your favourite bike, cricket bat, and cook book. Don't miss your chance to get moving and see New Zealand like never before, in a Britz campervan.

Local Pick-Up
Offering return, and one-way vehicle hire options from our branches in Auckland , Christchurch and Queenstown .

Book with Confidence
We've got your back even if your circumstances change. Check out our booking options and book with confidence.

Safe Travel
We're COVID Clean Approved , ensuring the highest hygiene and safety standards and peace of mind.

Supported Travel
Help videos, navigation tools, and 24/7 phone support via our thl Roadtrip technology .

Branch Parking
Recommended parking options near our branches for ultimate convenience at the start and end of your trip.

Pet Friendly
Options to bring along your furry friends when you pick-up at Auckland, Christchurch, or Queenstown.

Many Options
We've got every travel style and budget covered across our motorhome fleet , ready for your adventure.

and Trust Us …
We have been around for over 35 years and have an average rating of 86% across 14,000+ customer reviews​.
Join thousands of fellow campervan travellers
Sign up for our Britz newsletter to receive inspirational travel content and awesome deals, and we'll send you a copy of our Ultimate RV guide!
Britz is committed to protecting your privacy and information security. Your information will be used in accordance with any application privacy law, our internal policies, and our Privacy Policy , and will be held securely.
Please confirm subscription in your email.
Get moving with extraordinary prices. our new zealand campervan hire deals..
There's never been a better moment for ticking off all the places in New Zealand that you've been meaning to see. For a limited time, check out the extraordinary rates that will get your campervan adventure going.
Britz Campervans. Built for New Zealand.
Travel with everything you need and nothing you don't. With our wide range of Britz campervans, there's one to suit every type of person and place! Take your friends, family, and even the dog; there's space for your bike, cricket bat and cookbook too! Compare all Britz campervans now .
Reasons to choose Britz
A lifetime of memories awaits! Britz offers the widest choice of campervans in New Zealand. Our vehicles range from brand new up to five years on fleet and all are certified self contained. Britz - it's the natural choice for affordable, quality campervans.
All campers feature AM/FM radio and CD player, fridge, gas stove and microwave. Supplied in the camper you will find your linen and bedding, kitchen essentials including crockery, cutlery and cooking utensils plus all the general living gear you'll need. Don't forget to pack soft bags instead of a suitcase - much easier to store in the camper!
International Numbers
New Zealand 0800 081 032 Call
Australia 1300 738 087​​​ Call
UK 00 800 200 80 801 Call
Germany 00 800 200 80 801 Call
France 00 800 200 80 801 Call
Netherlands 00 800 200 80 801 Call
Switzerland 00 800 200 80 801 Call
USA (from landline only) 011 800 200 80 801 Call
Canada 011 800 200 80 801 Call
View our contact page
Hi, choose the models you want to compare
Questions? Talk to us now