Electric Scooter Buying Guides
Hover 1 journey scooter review.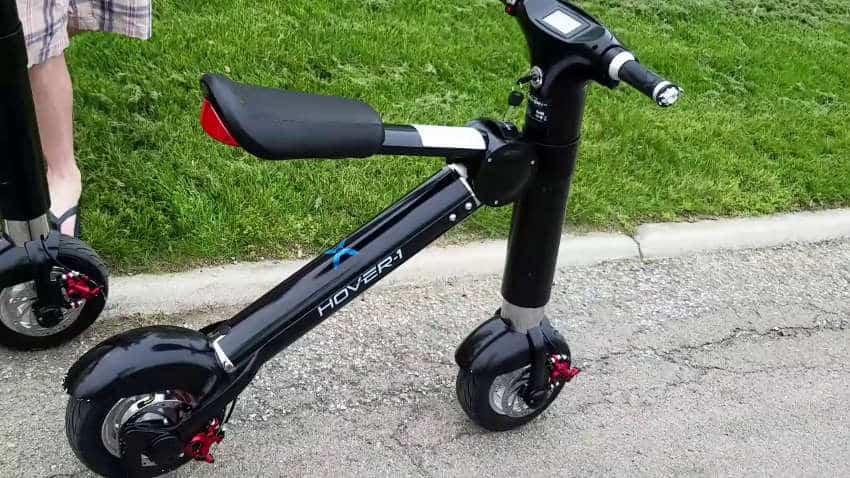 The Hover 1 journey is a great scooter that is very reasonably priced and is available worldwide. It is considered a clone of the much more expensive Xiaomi M365 scooter due to the uncanny resemblance and similar features. This scooter is very fast and is able to hit 18 miles per hour which is really good for a lightweight electric scooter. It is important to note that the Hover 1 journey does not have an age limit. All that is required is for you to read the manual beforehand and decide whether you want it to be used by your child . Although this scooter is considered a lightweight scooter, it supports an astonishing maximum weight of 145kg (320 lbs.). This is the heaviest amount of weight supported by a scooter of this size and weight. To achieve all these great milestones, the Hover 1 journey is equipped with some very key features. Learn on the Hover 1 Journey Scooter Review for more details.
1.1 It features a comfortable and tech-savvy cockpit/handlebar
1.2 Front and rear LED lights
1.3 Long-lasting battery
1.4 Hover 1 journey has a Bluetooth App
1.5 Powerful Brakes
1.6 High-quality build
2 Pros and Cons – Hover 1 Journey Scooter Review
3 Final Verdict
Hover 1 Journey Scooter Review – KEY FEATURES
Hover has been in the scooter manufacturing business for almost two decades now. Since then, they have been steadily improving the quality of their scooters and moving with the times. The Hover 1 journey scooter is one of the lightest electric scooters in the market today and this is no surprise. Their first electric scooter which had been the lightest electric scooter in the world failed miserably and they had to go back to the drawing board. Three more scooters later, the Hover 1 journey came up with some new powerful and creative features.
It features a comfortable and tech-savvy cockpit/handlebar
The handlebar or cockpit is the bar you hold onto while riding. The Hover 1 journey has a nice looking techie cockpit with all the necessary features a handlebar should have.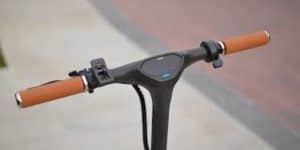 First, there is a central LED battery status indicator so that the scooter does not unexpectedly die on you. There is a speed indicator that displays the gear and speed you are in. And finally, there is Bluetooth pairing information. The display is neat and tidy although a bit dim in bright sunlight. Besides the display is a single button that does the following functions: power the scooter on and off, control the gear and turn the lights on at night. This handlebar is also detachable meaning, in case you need to fit your Hover 1 journey in a car, you can simply detach it and make it smaller.
Front and rear LED lights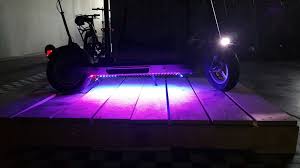 A scooter is small and needs to be spotted by other road users at night. Because of this, the Hover 1 journey is fitted with a bright front LED light that is mounted high up the step. The rear light is also bright and is mounted in a low position on the fender. If you find that these lights are not enough, you can add more lights to improve your safety.
Long-lasting battery
The Hover 1 journey comes with a large sentry shield lithium-ion battery which can last up to 11 miles on a single full charge. It needs three and a half hours to be fully charged.
Hover 1 journey has a Bluetooth App
The Hover 1 journey is a modern scooter with modern features. Among them is the Hover 1 journey Bluetooth app which lets you control a couple of things in the scooter. The app lets you turn the front light on and off, switch between gear modes without having to click the single button in the Morse code, and lock the scooter by setting it to gear 0.
Powerful Brakes
The Hover 1 journey scooter is very fast and is able to reach 18 mph. This is really good for a lightweight electric scooter. But with this high speed, the brake also had to be greatly improved. The rear disc brakes provide powerful solid stops and are assisted by the front brakes. The front brakes are electric and are activated immediately you pull the brake lever. They work together to provide a solid comfortable stop even when you're at high speeds.
High-quality build
Overall, the Hover 1 journey has been built from high-quality material and you will notice this just by looking at it. Everything from the frame of the scooter to the folding lever feels very solid and sturdy.
Pros and Cons – Hover 1 Journey Scooter Review
The Hover 1 Journey is a smart scooter with a mobile app that lets you control important aspects.
It is very affordable and offers great value for money.
The scooter can last up to 11 miles after charging.
It comes with a very detailed manual that will show you everything you need to know about riding a scooter safely.
There is no suspension system
Most users have an issue with the cruise control feature on this scooter
View price on Amazon
Final verdict.
Our review of the Hover-1 Journey electric scooter showed a great electric scooter you can buy today. With all the necessary features of a good scooter, you will not go wrong with this scooter. It is also very fairly priced compared to other electric scooters in its league. If you need a more powerful and faster scooter then it may not be right for you. Otherwise, we highly recommend it. This scooter is readily available on Amazon at an affordable price. You can check also our review of the Hover-1 Pioneer .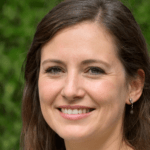 Kerry Washington
Kerry Washington is a philanthropist, she runs a trust that helps to get kids out of the streets and back to school. Drugs and crime rates are at an all-time high and the sad part is that young adults who are below the age of 25 get caught easily in the vice. She is currently working on a project whose mission is to see the young adults get part-time jobs with food stores as scooter riders. Born with the desire to help, Kerry therefore, had to conduct thorough research on all aspects of the project she wants to engage in, and most importantly on the scooters. The comprehensive information on scooters has been borne out of a thorough research to be used as a blue in laying the foundation of her project.
You may also like
Segway ninebot max review – g30p and g30lp..., apollo explore review – new urban electric scooter, segway e22 review – ninebot electric kick scooter, gotrax g4 review – new g-series electric scooter, yonos k9 electric scooter review, razor ecosmart metro electric scooter review, viro rides vr 550e electric scooter review –..., speedway leger review – minimotors electric scooter, zero 11x electric scooter review, hiboy s2 electric scooter review.

Electric Cars
Electric Bikes
Electric ATV's
Electric Scooters
Electric Skateboards
Electric Unicycles
Hoverboards
About Electric Ride Lab
Hover-1 Journey Electric Folding Scooter Review
Table of Contents
The Hover-1 Journey Electric Folding Scooter is an excellent commuter scooter from Hover-1. It is a modest E scooter designed for an exciting mode of travel, without interfering much with the price point.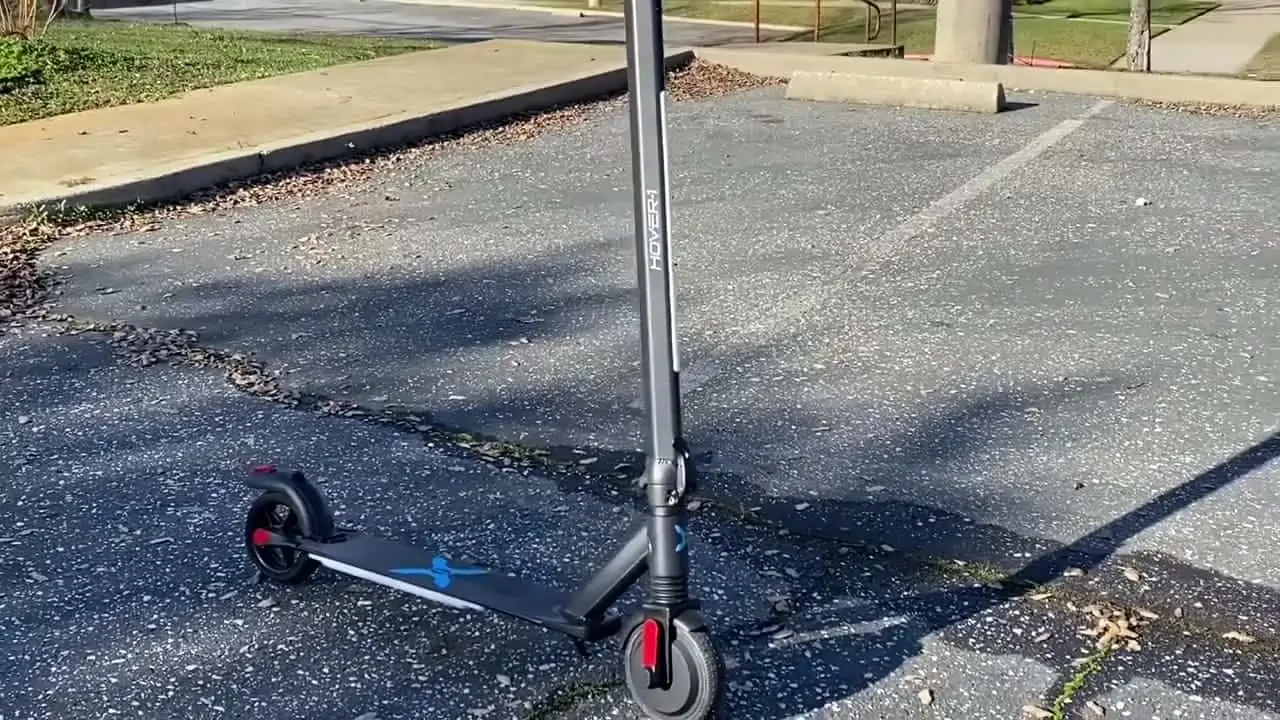 The Hover-1 Journey comes equipped with an ultra-safe 36V battery pack and a 300 W motor that provides a reasonable range alongside a maximum weight limit of 220 lbs.
At just 27 lbs, the whole thing is lightweight and folds up nicely, making it one of the most portable models in the current e scooter niche.
On the flip side, however, the full 16-miles battery pack sounds to be pretty much overstated, where users report as short distances as 6 miles per charge.
While that might be subjective, there are other few catches, such as the low-maximum speed of 14 mph, that makes the Hover-1 Journey fall short in some phases.
Still, it is a great electric scooter overall.
Hover-1 Journey: Features and Specification
Made by one of the more prominent scooter manufacturers, the Hover-1 Journey boasts some new handy features such as electronic and foot brake capability, making it a competitive option in the market today.
Motor: 300 W brushless
Battery: 36V UL-certified
Maximum Distance: 16 miles
Maximum Speed: 14 mph
Product Weight: 27 lbs
Weight Limit: 220 lbs
Height (Deck to handlebars): 37 Inches
Tires: 8.5 Inches Air-Filled Tires
Brake: Electronic/Foot brake capability
Best Features
The 36V UL-certified battery pack is safe and reliable, and comes with an easy-to-use charge included in the package. And with a full charge duration of up to 6.5 hours, you can easily plug it in before bedtime and be ready when the morning comes.
The 36V battery pack supports up to 16 miles of total range, meaning you will have enough juice to cruise through the neighborhood.
The 300 W brushless motor allows you to travel up slight inclines. However, the speed will lower drastically, and the battery will discharge faster, riding on hills .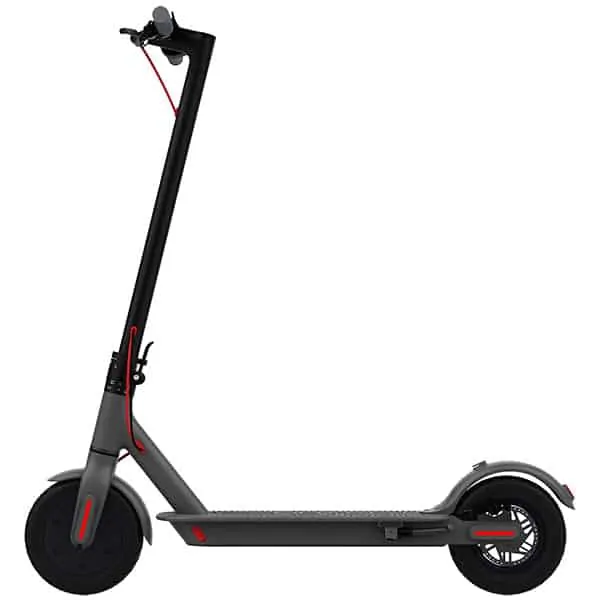 Weight Capacity
The Hover-1 Journey electric scooter is designed to withstand max user weights of up 220 lbs, which is pretty good for a lightweight electric scooter. We love the fact that this e scooter comes with 8.5" tires, which are much sturdier to handle most terrains options.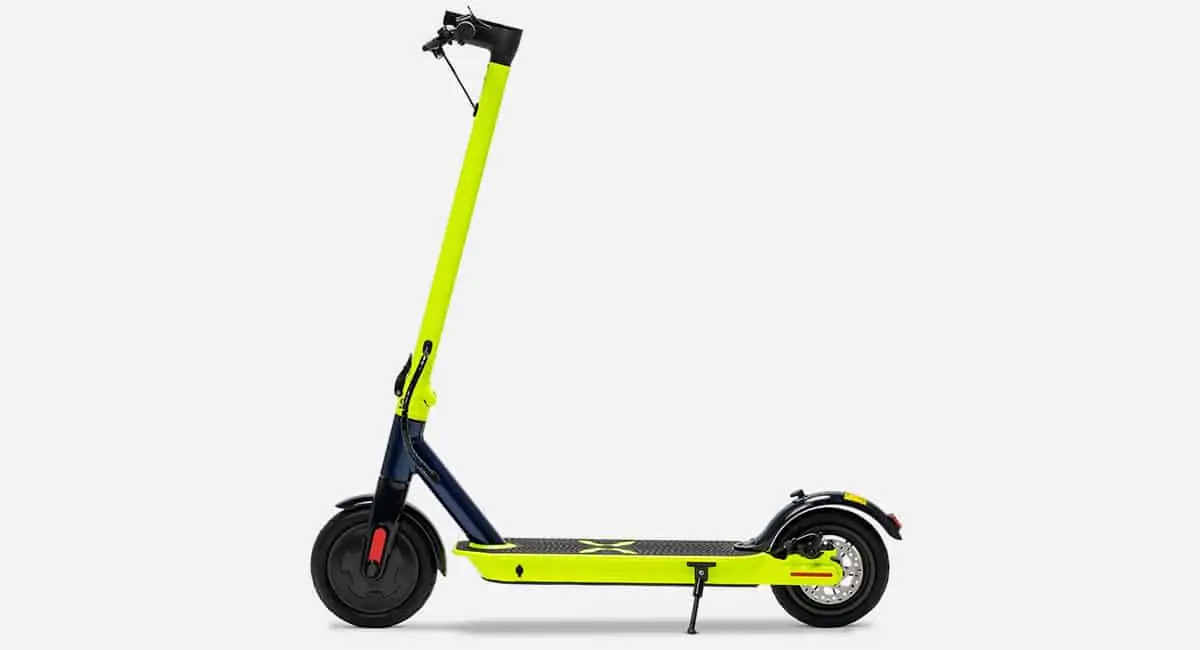 Testing Evaluation
Tested against similar models within the same category
Main Features:
Riders Weight Limit | 220 lbs
Motor | 300 W – Brushless
Range | 16 miles
Battery | 36V Lithium-ion Battery
Speed | 14 mph
Check Best Price
Brakes and Light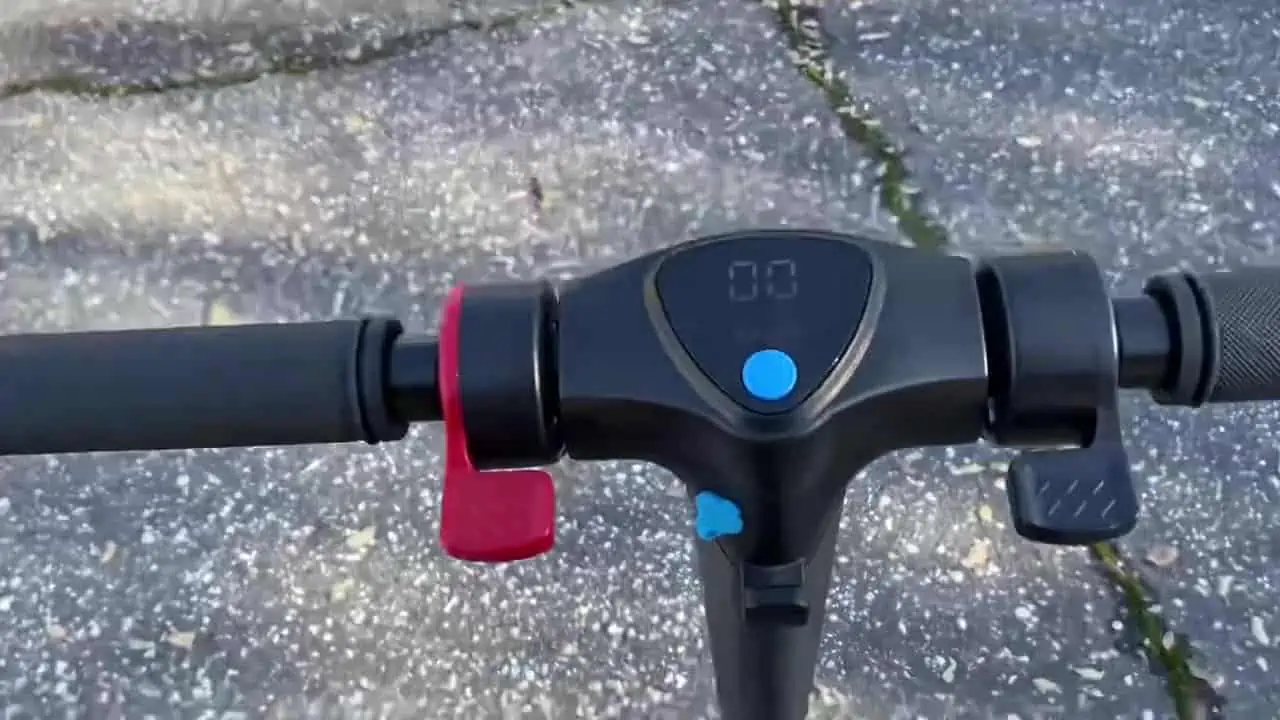 It's nice to see that this model features both hand and foot brakes for a complete ultra-safe stop. The brakes are sensitive and take no time to get used to. The LED headlight is bright enough to keep you safe at night.
Portability
You don't have to worry about things like portability. Like the name suggest, the Hover-1 Journey Folding Electric scooter features a folding mechanism that works nicely. It makes up for a convenient, stylish, and exciting form of transportation and easy storage whenever you're not using the scooter.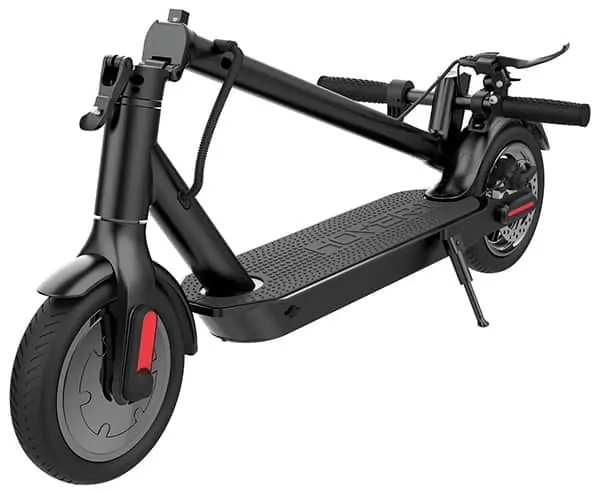 Quiet Operation
You also don't have to stress about squeaks or clacks. The overall construction is tight and sturdy for quiet operation, although it can only accommodate users up to 220 lbs.
Nonetheless, it's relatively quieter than some of the more premium e scooters out there.
Ease of Use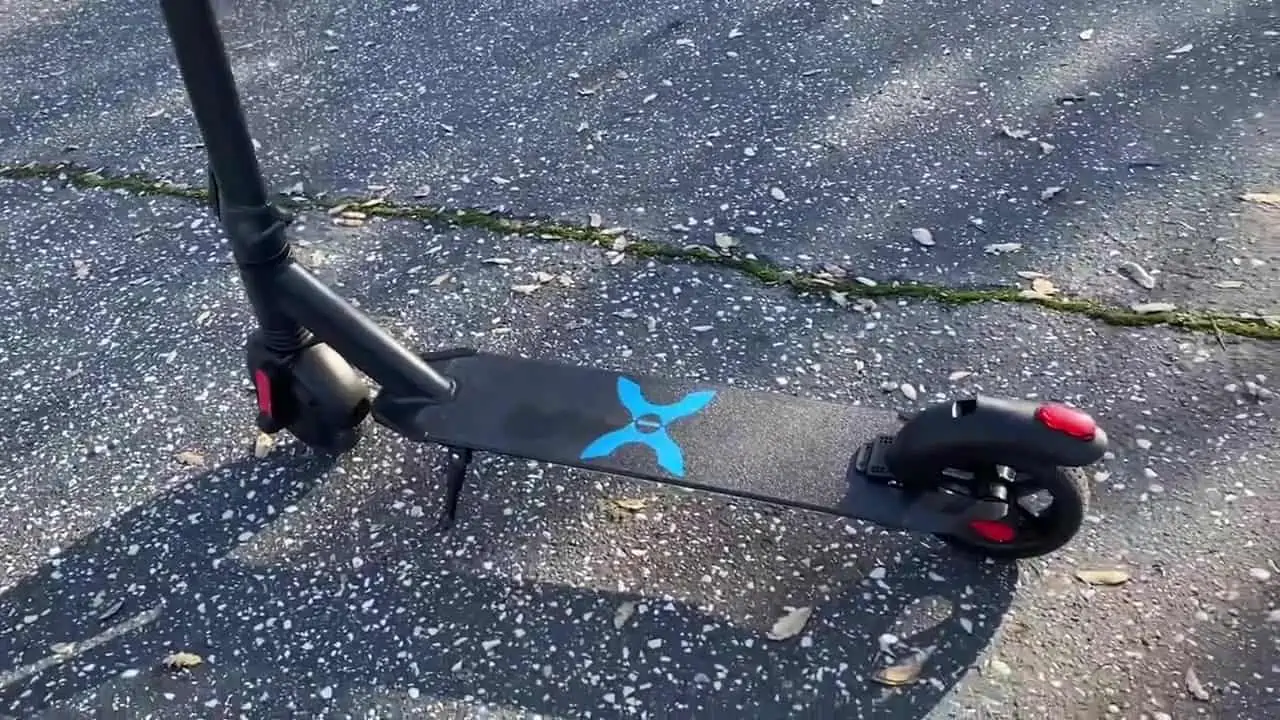 The Hover-1 is also easy to assemble, short of any detailed directions. The overall design and compactness are very respectable, considering the price. And although it has a relatively slower top speed at 14 mph, you can get 15 mph going on level ground or a slight hill.
With that said, always ride responsibly. You can't be too careful when it comes to e-riding. The buyer and riders of these models are bound to know and obey all the state and local regulations when operating this commuter scooter . It's always best to read and internalize the product details procedures, including safety precautions such as protective gear.
Who It's Best For
The Hove-1 Journey Electric Scooter can be a great addition to those seeking a fun way of walking or biking outdoors.
Great portability, ease of use, and reasonable price tag make the Hover-1 Journey such a nice purchase, especially to those who have kids in college.
So, in case you're pretty curious about the Hover-1 Journey, know that it's an interesting electric scooter to whizz around the campus, city, and neighborhood as well.
Who It's Not For
Although the Hover-1 Journey excels in most aspects in terms of performance and functionality, it offers a low maximum speed of 14 mph. Although it is reasonable for most average commuters, you might not enjoy riding this scooter if you're a kind of hurry individual.
Hover-1 Pioneer Vs. Journey
Both the Hover-1 Pioneer Vs. Journey shares a lot of similarities to the most part. The maximum range in both electric scooters is the same at 16 miles. Even though the prescribed weight limit in Hover-1 Pioneer is slightly higher at 264 lbs, both models are meant for the same maximum speed of 14 mph.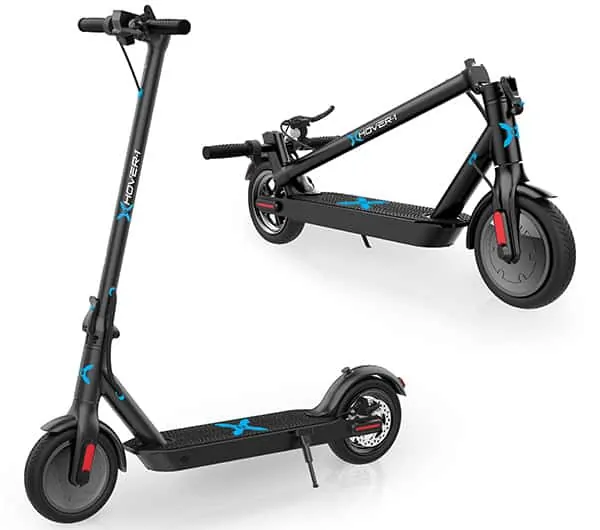 Electric throttle and hand-operated braking systems are present in both e scooters, and the price point is almost equal. They are both foldable with 8.5-inch tires on board.
The Hover-1 Pioneer Electric Folding Scooter features a 30 Cell Lithium-Ion battery, which takes 3-5 hours to charge fully.
In comparison, however, the Hover-Journey comes with a 36V UL-Certified battery pack that takes up to 6.5 hours to charge fully. The Hover-1 comes in at 36 lbs, which is already heftier compared to the 27 lbs that of Hover-1 Journey.
Overall, both models have many features that make them ideal options for those looking for a reliable electric scooter.
Folding design for easy storage
Lightweight at just 27 lbs
Pretty decent electric scooter
8.5-inch to ensure stability on most terrains
Less charging time of 4.5-6.5 hours
Quiet operation
Great acceleration, especially on flat, smooth grounds
A low maximum speed of 14 mph
Not the best to ride through puddles or wet surfaces
Alpha vs. Journey Comparison 
Final thoughts.
Overall, the Hover-1 Journey Folding Electric Scooter is a great option in the e scooter market. Streetwise, the Hover-1 is value-priced and is still among the most competitive models in terms of features and functionality.
The cruise control is easy to use, and the whole thing gets uphill really well, though the stated top speed of 14 mph may not please most users. Hover has been amazing in the e-riding community for almost two decades now. The brand has constantly been improving the quality of their products and evolving with the times. Both the Hove-1 Pioneering vs. Journey Electric Scooters are parallel to the same extent. You may want to choose the Hover-1 Pioneer for that extra weight limit and short recharging time. But for a portable, lightweight electric scooter, you might want to check the Hover-1 Journey Electric Folding Scooter .
Robert Walter
Recent topics.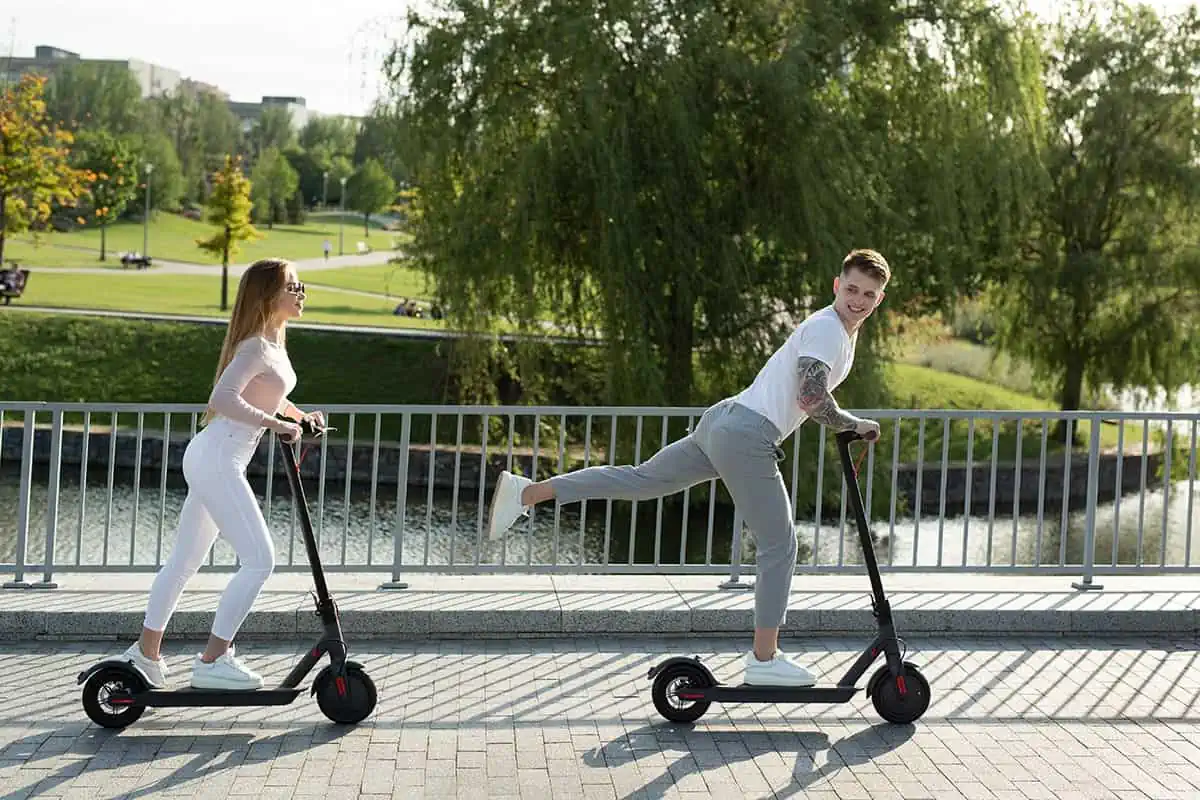 Exploring the Thrill of Speed: How Electric Scooters Are Getting Faster
Himiway Launches New Mission and Products to Revolutionize E-Bike Transportation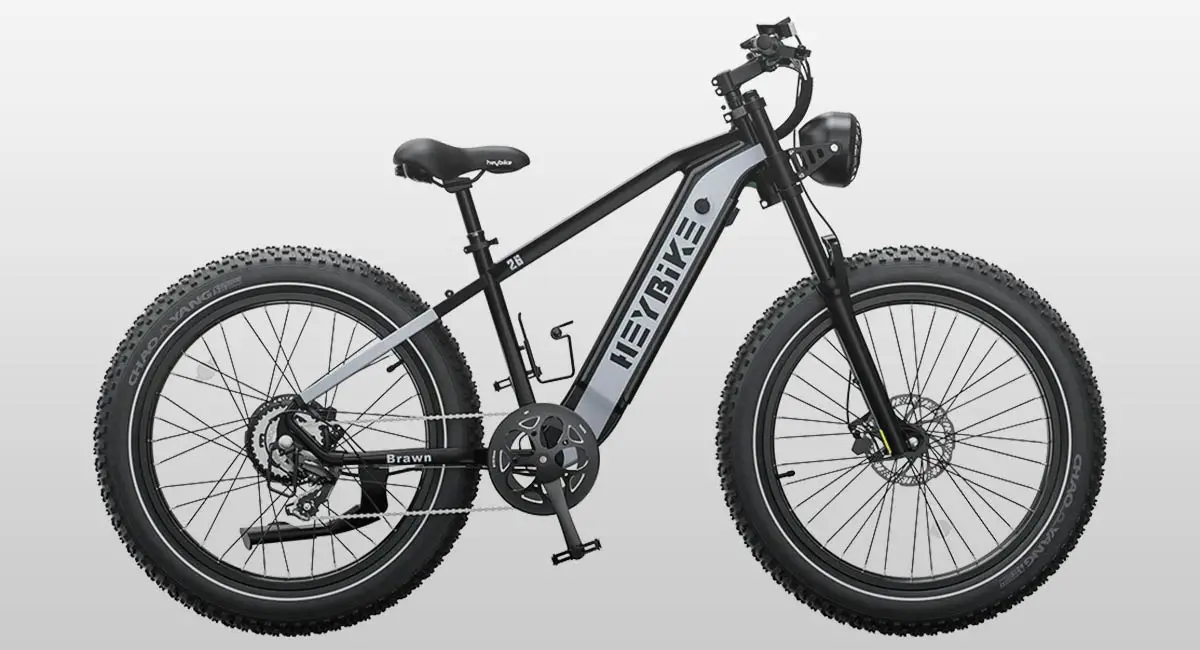 Brawn All-Terrain Electric Bike Review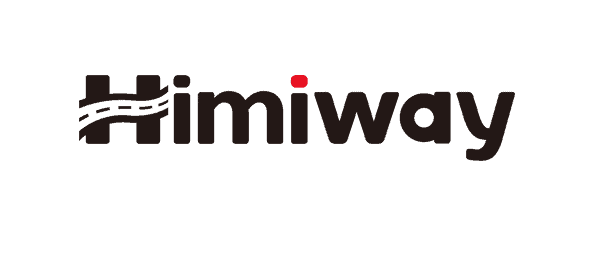 Himiway's New Product Forecast for 2023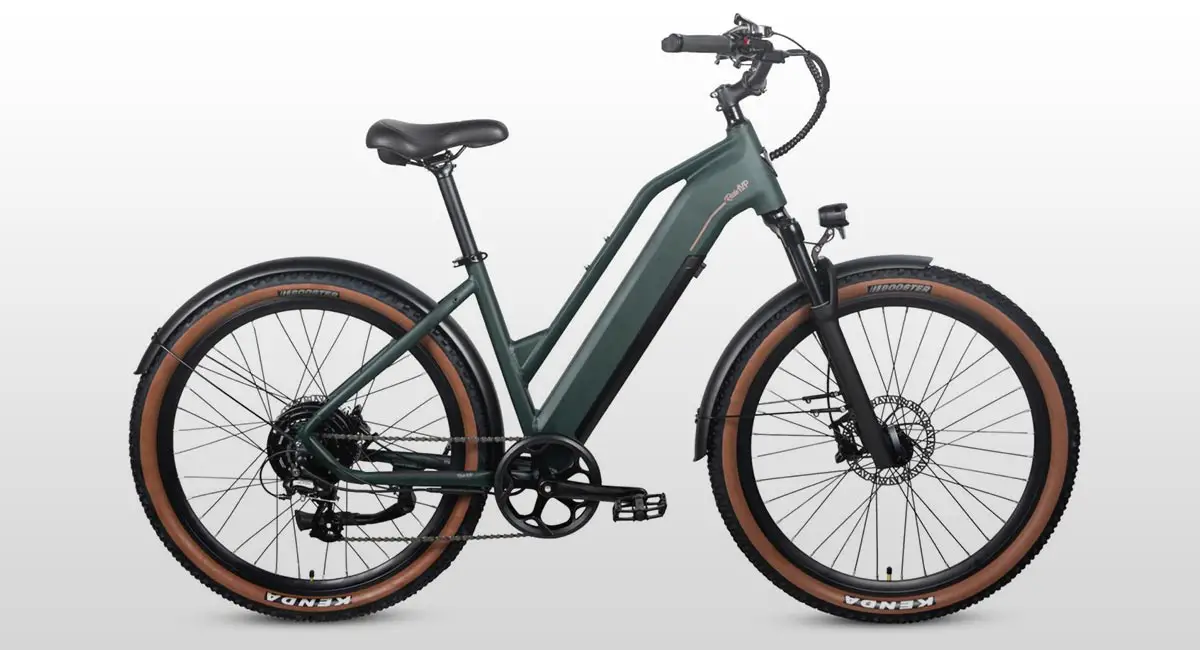 Turris eBike Review
Hoverboards
Attachments
Kids Ride On's
150 Lbs or Less
150-200 lbs
200-250 lbs
3 MPH to 7 MPH
7 MPH to 10 MPH
15 MPH or More
3 Miles to 7 Miles
7 Miles to 10 Miles
10 Miles to 15 Miles
15 Miles or More
IMPORTANT RECALL INFORMATION
Hover-1 Rideables
Find My Ride Age Range 8 & Older 12 & Older 16 & Older Weight Capacity 150 Lbs or Less 150-200 lbs 200-250 lbs 250+ lbs Top Speed 3 MPH to 7 MPH 7 MPH to 10 MPH 15 MPH or More Max Range 3 Miles to 7 Miles 7 Miles to 10 Miles 10 Miles to 15 Miles 15 Miles or More Price $100-$200 $200-$250 $350+
HOVERBOARDS
Attachments, pro series altai e-bikes, current sales.
ALL-STAR 2.0 HOVERBOARD
RENEGADE E-SCOOTER
FLARE KIDS E-SCOOTER
ALPHA PRO E-SCOOTER
FALCON BUGGY ATTACHMENT
ROGUE HOVERBOARD
Top products .
PRO SERIES ALTAI PRO R750 E‑BIKE
PRO SERIES ALTAI R500 E‑BIKE
HOVER-1™ BOSS E-SCOOTER
HELIX HOVERBOARD
ALPHA E-SCOOTER
RANGER+ HOVERBOARD
Just added to the website, hover1™ pro series altai r500 e-bike.
With its massive LED headlight, 20" fat tires, and stunning red, blue, and black color schemes, the Altai R500 is guaranteed to attract attention. The strong spring suspension fork makes this E-Bike just as capable offroad as it is on-road, opening up a world of riding possibilities. Altai R500 is the new benchmark of e-mobility.
HOVER-1™ PRO SERIES ALTAI PRO E-BIKE
Take the Altai Pro offroad with its 20" fat tires and adjustable air suspension fork or zoom through the city at up to 28 mph for the most exciting commute you've ever had. The Altai Pro comes loaded with accessories that make it the most practical E-Bike imaginable.
The Ranger+ is an unprecedented option. It comes with two nice-sized 6.5" wheels, which will allow you to ride on numerous surfaces comfortably.
DREAM HOVERBOARD
The Dream lives up to its name with stand-out features at a stand-out price. Make your travel dreams come true with the Hover-1™ Dream!
Don't let this lightweight hoverboard fool you. Featuring dual 200W motors and easy bodyweight controls, you'll find yourself zooming all day long.
BOSS PRO SERIES E-SCOOTER
Formula go-kart, the interactive find your ride guide.
We're a pioneer in electric rideables and continue to push the envelope for the ultimate ride. Engage with our interactive video to find the perfect ride for you, and discover just how electrifying our electric rideables can be!
be seen going gReen
Hover-1™ is here to change the future of transportation and the health of our planet. Every Hover‑1™ rideable is powered by the industry's best Lithium-ion battery, so enjoy going from A to B emission-free. Hover‑1™ is on a mission for sustainability, so enjoy an exciting ride that's truly green.
ALPH PRO E-SCOOTER
COMET KIDS E-SCOOTER
ALL-STAR HOVERBOARD
AXLE HOVERBOARD
ALTAI R500 E-BIKE
ALTAI R750 E-BIKE
INSTINCT E-BIKE
BOSS E-SCOOTER
ALPHA PRO E-SCOOTER
JOURNEY E-SCOOTER
NIGHT OWL E-SCOOTER
SWITCH E-SCOOTER /SKATEBOARD
HELIOS E-SCOOTER
HIGHLANDER E-SCOOTER
RANGER HOVERBOARD
ELECTRO HOVERBOARD
TITAN HOVERBOARD
i-100 HOVERBOARD
MY FIRST HOVERBOARD
DRIVE HOVERBOARD
i-200 HOVERBOARD
My First E-Bike
E-TRACK DIRT BIKE
MY FIRST FORKLIFT
Top products.
PRO SERIES ALTAI R500 E‑BIKE
HOVER-1™ BOSS E-SCOOTER
View our rideables on instagram.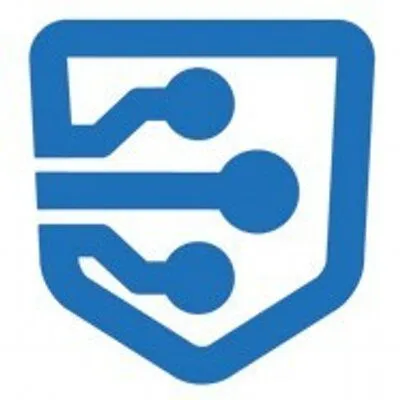 Pocketables
News and reviews for the hype weary
The Hover-1 Journey 2.0 – a ride
I'm testing out the Hover-1 Journey 2.0 electric scooter for other sources, and may have a solid review of it up here later, but figured I would give a quick shout on Pocketables because there's been next to nothing to write about that interests me that isn't embargoed, or still in testing. This particular scooter and a trip I took on it interested me.
Just a quick note – this is not a review, it's some musings I had while testing a scooter out. If you're looking for a review, that may be coming soon. This is not it. You do not have to read it. This is just a journey I took on the Journey.
The TL;DR scooter review is the motor and battery perform exactly as expected, I had issues with the latch, and the brakes catch and need adjusting. Minor annoyances that you can adjust. This was my first ride to a dead battery on it. I've done three so far and as far as scooter writeups I'll probably have one at some point.
Story not about the Journey, but about the journey.
There's a trailhead for the Cumberland River Greenway right near the 65 overpass in Metrocenter . I started there with the bright yellow scooter on a test and I headed toward downtown Nashville. On the way in I sat in a cool little park for a few minutes, and then moseyed along, finally ending the distance I felt safe risking the battery dying on me. I was at Church and Gay (2.2 miles out over relatively flat terrain,) or very close when I turned around. Top end estimates I usually divide by 3 considering my weight and the terrain, and I'm usually not far off in performance mode.
I do performance mode… I can't do eco… it's too slow and there's too much to do in life.
Heading back toward my car, I ran into a Segway tour, wondered if it was fun riding those and decided I was having quite a bit of a time on the scooter I'm testing. As I was walking up a hill with the scooter I learned from the tour that the Nashville Predator's mascot was from a 1971 find of a Saber Toothed Tiger underneath what is now the UBS building. I did not know that, thought he was like a puma with an overbite… may have known at one point but was like "oh, that's something I probably have been wrong about my entire life." What happens when you're actively not paying attention to a mascot.
You know how concrete pouring trucks keep themselves clean? Well now you know. Something I ran into on the way back.
Picture of a Marathon gas plant below. Lot of different gas places on the river I discovered. Something I never wandered into.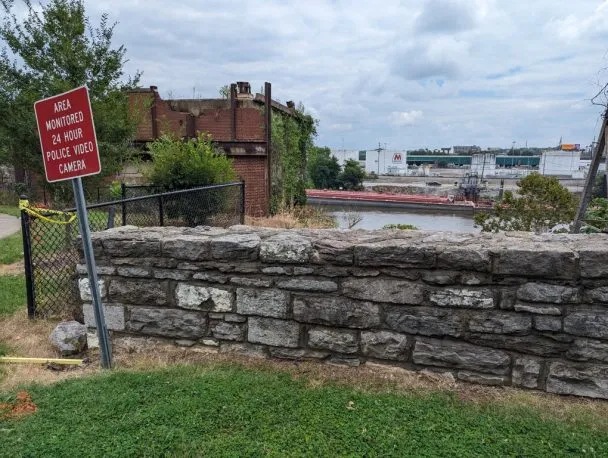 Now, if you have not ridden on an electric scooter before, something about them for a man my size (248 pounds at ride time,) is that going up a slight incline they tend to slow down. A lot of times it's better to just get off and walk. Flat they're great. Downhill they're great. Up a slight incline and it's jump off chubby.
I'm right on the railroad tracks area, on a street that can barely be called a street, they've shoved condos there and it's obvious a small group of women I am slowly approaching are part of a bachelorette party at an AirBnB and are heading to lunch while waiting for a ride. Lemme tell you, the street was eh, not somewhere I'd want to be hanging out but whatever, it was daylight. They were almost at the top of a slight incline.
My initial thought was to jump into the road and scoot full throttle, but no, there was a vehicle coming. As my scooter neared them it slowed, slowed, slowed, and I passed them at a steamroller pace as they tried to figure out if I was going to tip my glasses at them while wearing my kitten DJ shirt, riding a neon yellow scooter and perhaps say in a lusty voice … "ladies" before cracking a Joe Biden smile, finger gunning, blowing the imagined smoke off, and laying down tracks while ignoring someone screaming "Negative ghost rider the pattern is full."
In all my kitten-shirt splendor I managed to keep moving.
I passed a homeless camp, and the remnants of another camp that TDOT came in and destroyed a few weeks back. Me and my 10yo had been right there as the destruction started and tossed our councilperson a note about the unexpected clear cutting/evictions. TDOT had, I am told by the councilperson I texted with, not bothered to contact Metro's homeless outreach so our asking about it triggered someone heading out there. There's still a bunch of kid toys laying about, they clear cut the area and I don't know what's going on but TDOT has placed what appears to be low voltage wire along a few hundred feet. I'm assuming it's for streetlights.
I got back to the area my car was in. This was about 4.8 miles at this point in performance mode. The battery claimed I had over half a "tank." I knew this was a lie but I wanted to continue on my little journey a little longer because I was having fun. It's been hard with the health problems I had and the still uncertain health problems I'm waiting on a CAT scan to tell me about. I have not had fun lately. I went north from my starting point and flew with dragonflies and dodged butterflies. This happened a lot over the next five minutes, this was kind of amazing but after a few minutes it became "damnit butterflies do you just want to die?" – I do report that I managed to kill no butterflies. I don't know how.
Nashville is not normally home to this many dragonflies. They're out in insane numbers.
I stopped at the second bench area going north, on the path. I'd passed the starting point/my car. I sat down and tried to figure out how to adjust the rear brake as I'm not a fan. It just grabs, jerking you to a halt. Pulled up the manual as a speed boat sped by on the Cumberland, looked at the general area where the police training area is. You can't see it from the Greenway, but when they're going you can figure it out. The nonstop gunfire at certain times there greets the students over at Hull Jackson and John Early Middle schools. It wasn't going at that point but I remembered picking Moo up from HJ one day and it sounded like a warzone.
I powered up the scooter, failing to figure out how to adjust the brake with tools I had handy. Decided it was time to end my journey as I didn't expect it to continue and I was about half a mile from the car.
As I headed back toward the car as the scooter started dying on me… slower and slower… right as three, what I assume are teenagers these days, were coming at me…. well, I mean anyone coming that direction was coming at me, it's a two way greenway, but I hate slowing down for no reason around people because I always feel like they'll think I want an interaction… nope… just slight hill or in this case dead battery. Probably social anxiety but if I don't have to talk to humans I generally don't.
The unit shut off, with 2 bars left, and nearly sent me flying at 5ish mph but I gracefully dismounted as these giants walked by me talking about a musician I had never heard of.
I was, I'm guessing, about a tenth of a mile away from the car. The slower pace and walking made me realize there had been some graffiti on a massive scale placed above the view of Nashville as you enter from the North. Moist indeed.
It was a fun ride. It could have been accomplished by either of the two other scooter I've reviewed on Pocketables about the same. I suspect the Shell RIDE would have had a little less awkward hill slowness, and died about the same time. The Atomi Alpha would have gotten me downtown faster, and back as well. Choking somewhere slightly before I got back.
It opened up some new adventures, although I was not traveling with any way to lock the thing up so this was just a sight-seeing trip and giving me a little hint to what to write about other than "SCOOTER OMB SUCH FUN FIVE STARS" which seems to be what passes for a review these days.
But like I said, this wasn't the review. That may come some other time, this is just about getting out with something scooty.
Share this:
BLUETTI AC60 Portable Power Station: greatness claimed, is it though?
The EPOS Impact 1000 AI-Infused ANC headset
Paul E King
Paul King started with GoodAndEVO in 2011, which merged with Pocketables, and as of 2018 he's evidently the owner. He lives in Nashville, works at a film production company, is married with two kids. Facebook | Twitter | Donate | More posts by Paul | Subscribe to Paul's posts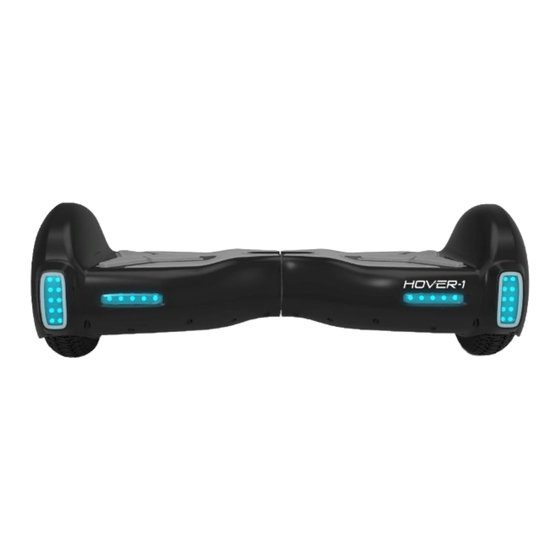 Hover-1 Manuals
Operation manual
Hover-1 HY-H1 Operation Manual
Manual (27 pages)
page of 34 Go / 34
Advertisement
Quick Links
Related manuals for hover-1 hy-h1.
Summary of Contents for Hover-1 HY-H1
Page 1 E L E C T R I C S C O O T E R OPERATION MANUAL HY-H1...
Page 2 HELMETS SAVE LIVES! Always wear a properly tted helmet that complies with CPSC or CE safety standards when you ride your bicycle. Correct Fitting: Make sure your helmet covers your forehead. Incorrect Fitting: Forehead is exposed and vulnerable to serious injury.
Page 3 2. The operating temperature range of the charger is 32° F-104° F (0-40° C). 3. The operating temperature range of the Hover-1 is 32-104° F (0-40° C). 4. Do not ride on icy or slippery surfaces. 5. Read the user manual and warning labels before riding.
Page 4 LOW TEMPERATURE WARNING Low temperature will affect the lubrication of moving parts inside the H1 scooter, increasing internal resistance. At the same time, in low temperatures, the discharge capacity and the capacity itself of the battery will be significantly decreased. Use caution when riding the H1 in cold temperatures (below 40 degrees F).
Page 5 • Do not operate, or allow others to operate, the Hover-1, until the user understands all instructions, warnings and safety features described in this manual. • Check with your doctor if you have a medical condition that could affect your ability to use the H1 •...
Page 6 INTRODUCTION The Hover-1 H1 is a personal transporter. Our technology and production processes are developed with strict testing for each Hover-1 scooter. Riding without following the contents of this manual may lead to damage to your device, or may cause bodily injury.
Page 7 Inspect the entire device thoroughly before every ride, and do not ride it until any problems have been corrected. SPECIFICATIONS Model: HY-H1 Net Weight: 22.04 lbs (10 kg) Load: 44-265 lbs (20-120 kg) Max Speed: Up to 9 mph (14.4 km/h) Max Distance Range: Up to 9 miles (14.4 km)
Page 8 STATUS INDICATOR When the operator triggers the foot mats, the LED Status Indicator will light up, which indicates that the Hover-1 is now ready for use. When the system has an error during operation, the status LED light will turn red (for more details see SAFETY ALERTS).
Page 9 SMART PHONE APP Your H1 is an App-enabled scooter that works with most mobile devices. You must download the Hover-1 app in order to change certain features of your H1 such as headlight colors and skill mode. Please download the App from either the App Store or download the App from the Google Play Store.
Page 10 2) DASHBOARD Before allowing you to access the dashboard, a safety screen will pop-up for 3 seconds. Please review the safety notes in this screen while the dashboard loads. The dashboard will appear as shown below. Connected E L E C T R I C S C O O T E R ODO 9.3 miles TRIP 12.4 miles...
Page 11 LOADING... Remember to always wear protective gear while riding your Hover-1 Remember to be alert at all times and be aware of your surroundings 1. Connect Your H1 - To connect to your H1 through Bluetooth on your smart phone, press "Connect". If your H1 is already paired, this part of the screen will show "Connected"...
Page 12 3) CONNECT Press "Connect" to have the App begin scanning for any Hover-1 devices. Your H1 must be powered on and your smart phone's Bluetooth must be enabled. If your Bluetooth is not enabled on your smart phone, the App will remind you to enable it.
Page 13 The mode will only change if you are not using your H1 scooter. • Beginner Mode - This mode is recommended for first time Hover-1 scooter users. In this mode, the sensitivity and top speed are very low.
Page 14 7) HEADLIGHTS Press "Headlights" to set a custom color for your H1's Path Illumination Lights. Simply choose your desired color from the color wheel. For your convenience, 4 basic colors have also been set as presets below the brightness bar. Headlights Power Presets...
Page 15 The H1 has a powerful built-in wireless speakers so you can play your music while riding. PAIRING THE SPEAKER 1. Ensure your H1 is turned off. If it is not, please turn off your Hover-1 first before pairing. 2. Turn on your H1 and the speakers will announce that it's waiting for a Bluetooth connection.
Page 16 IPX4 WATER RESISTANCE Ideal for both indoor and outdoor use, the H1 scooter features a water-resistant, weatherized case that protects its components from splashing water. This ensures that the high-quality tech within the H1 is protected while riding around outdoors & indoors and getting caught in the rain.
Page 17 Hover-1 is not liable for tickets or violations given to riders who do not follow these regulations. • For your safety, always wear a helmet that meets CPSC or CE safety standards.
Page 18 • Slow down at all street intersections and look to the left and right before crossing. Your Hover-1 is not equipped with reflectors. It is not recommended that you ride your bike in conditions of low visibility. If you are riding your scooter in low-visibility conditions, ensure your LED lights are turned on, and that you are wearing bright, reflective clothing.
Page 19 • The device can be used on paved roads that are flat and even. If you encounter uneven pavement, please lift your Hover-1 over and past the obstruction. • Do not ride in inclement weather: snow, rain, hail, sleek, on icy roads...
Page 20 • Do not ride in or near pools or other large bodies of water. • Bend your knees when riding on bumpy or uneven pavement to absorb the shock and vibration and help you keep your balance. • If you are unsure if you can safely ride on a specific terrain, step off and carry your device.
Page 21 • Do not step forward off of your device. • Do not attempt to jump on or off your device. • Do not attempt any stunts or tricks with your device. • Do not ride the device in dark or poorly lit areas. •...
Page 22 RIDING YOUR H1 FAILURE TO FOLLOW ANY OF THE FOLLOWING SAFETY PRECAUTIONS CAN AND MAY LEAD TO DAMAGE TO YOUR DEVICE, VOID YOUR MANUFACTURER WARRANTY, LEAD TO PROPERTY DAMAGE, CAUSE SERIOUS BODILY INJURY, AND CAN LEAD TO DEATH. Before using your device, be sure to familiarize yourself with the operating procedures.
Page 23 The Hover-1 is an incredibly intuitive device; it senses even the slightest bit of motion, so having any anxiety or reservation about stepping on may cause you to panic and trigger unwanted movement. When you first begin using your device, the fastest way to move in your desired direction is to focus in that direction.
Page 24 Make sure to lift your leg completely off the foot mat to clear the device when stepping back to dismount. Failure to do so may send the Hover-1 into a tailspin. NOTES: If the H1 is not placed on a level surface, an alarm will sound and the warning indicator will light up and prevent the H1 from moving.
Page 25 BALANCE & CALIBRATION If your Hover-1 is unbalanced, vibrating, or not turning properly, you can follow the below steps to calibrate it. • In order for the balance calibration system to work properly, please place the scooter on a flat, horizontal surface.
Page 26 SAFETY ALERTS While riding your H1 scooter, if there is a system error or improper operation performed, the device will prompt the user in a variety of ways. You will notice the Running Indicator Light will turn RED and you will hear a beep sound alerting you to take precaution and cease operation.
Page 27 When the H1 turns off during a Safety Alert, all operation systems will halt. Do not continue attempting to ride the H1 when the system initiates a stop. Turn your Hover-1 off and back on to unlock it from a Safety Lock.
Page 28 CHARGING YOUR H1 CHARGING THE DEVICE • Ensure that the charging port is clean and dry. • Make sure that there is no dust, debris or dirt inside the port. • Plug the charger into a grounded wall outlet. • Connect the cable with the power supply (100V ~ 240V; 50, 60 Hz). •...
Page 29 • The battery contains dangerous substances, do not open the battery, or insert anything into the battery. • Use only the charger supplied by Hover-1. • Do not attempt to charge the device if the battery has discharge or emits any substances. In that case, immediately distance yourself from the battery in case of fire or explosion.
Page 30 FCC STATEMENT This device complies with part 15 of the FCC Rules. Operation is subject to the following two conditions: (1) This device may not cause harmful interference, and (2) this device must accept any interference received, including interference that may cause undesired operation.
Page 31 CARE & MAINTENANCE • Do not expose the device to liquid, moisture, or humidity to avoid damage to the product's internal circuitry. • Do not use abrasive cleaning solvents to clean the device. • Do not expose the device to extremely high or low temperatures as this will shorten the life of the electronic device, destroy the battery, and/or distort certain plastic parts.
Page 32 WARRANTY This product comes with a 30 day limited replacement warranty for manufacturer's defects. This includes defects to the motor, gyroscopic sensor battery, etc. This product comes with a 120 day parts and labor warranty. Shipping & handling costs are not included. The condition of this warranty and our responsibilities under this warranty are as follows: Manufacturer's warranty is non-transferable.
Page 33 All repairs are performed at a Hover-1 facility. Parts that have been replaced or exchanged become property of Hover-1.
Page 34 2) Hover-1 will try to diagnose and solve your problem. If it is determined that a warranty claim exists, you will be given an RMA number (Return Material Authorization) and will be asked to send the product to Hover-1.
This manual is also suitable for:
Rename the bookmark, delete bookmark, delete from my manuals, upload manual.
Bahasa Indonesia
Slovenščina
Science & Tech
Russian Kitchen
Moscow is testing FLYING taxis (PHOTOS + VIDEOS)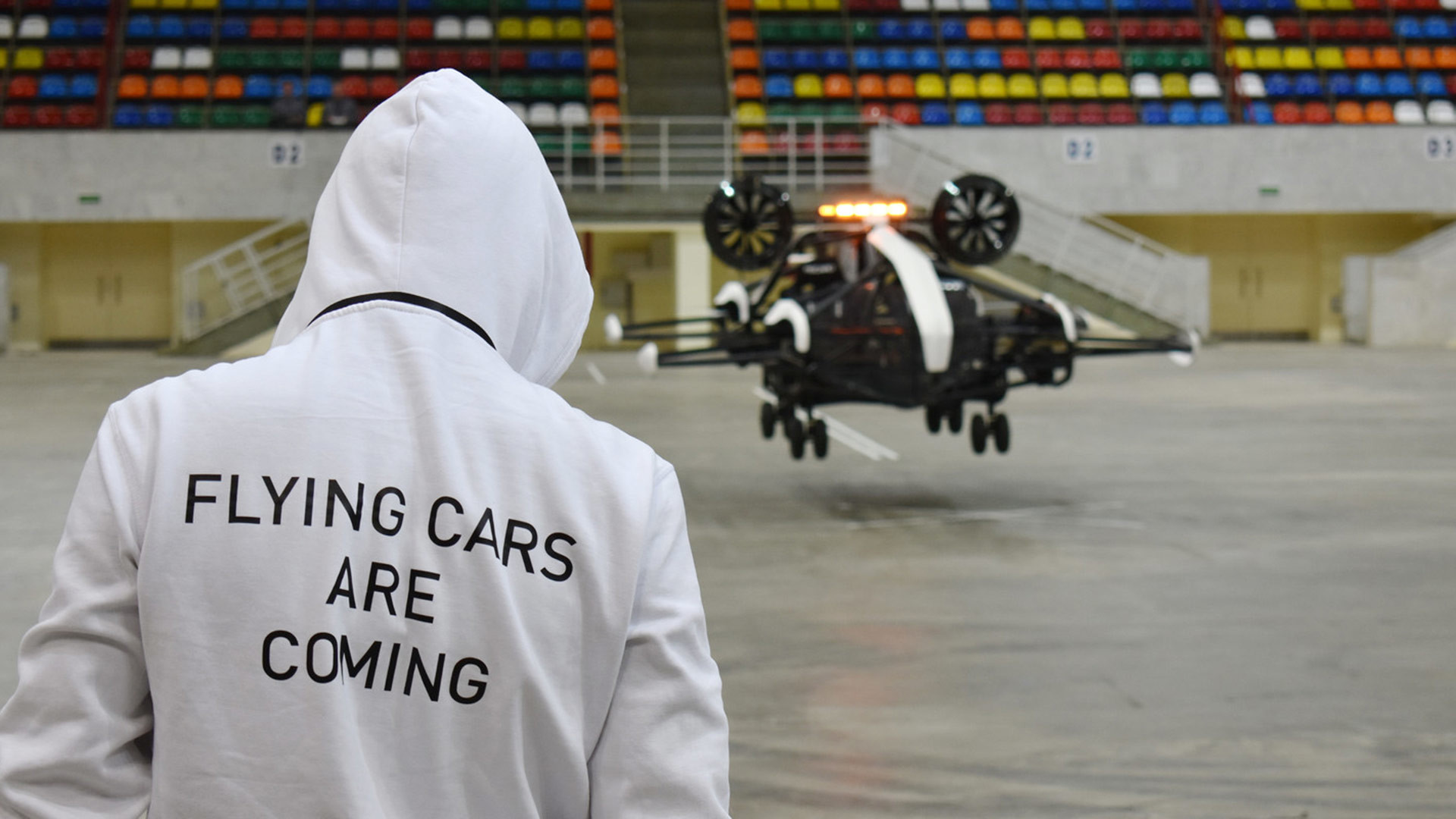 In January 2021, 'Hoversurf', a Russian urban air mobility company, started testing its Hover drone taxi, a flying vehicle that can transport passengers and cargo, 'Popular Mechanics' magazine reports .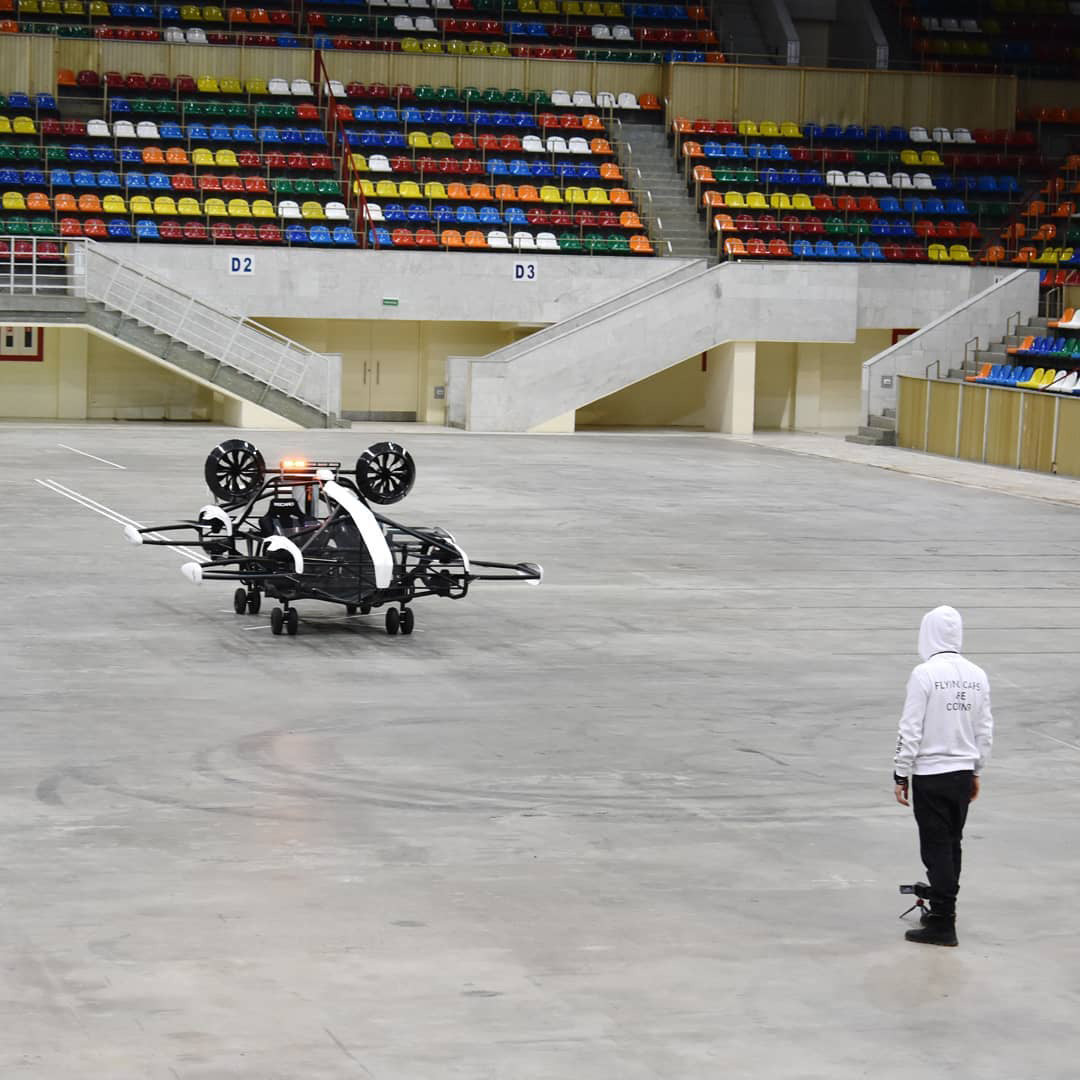 The drone taxi is the size of a standard sedan car (5 m x 1.6 m), says TASS news agency, citing the press service of the Moscow city Department of Entrepreneurship and Innovative Development.
It can reach an altitude of 150 meters and cover a distance of up to 100 kilometers in one go. The drone taxi does not require the construction of special runways, as it can land on an ordinary parking lot and is also capable of maneuvering onto a parking lot and flying into a garage. It will be able to carry two people or up to 300 kilograms of cargo and to develop a speed of up to 200 km/h (124 mph).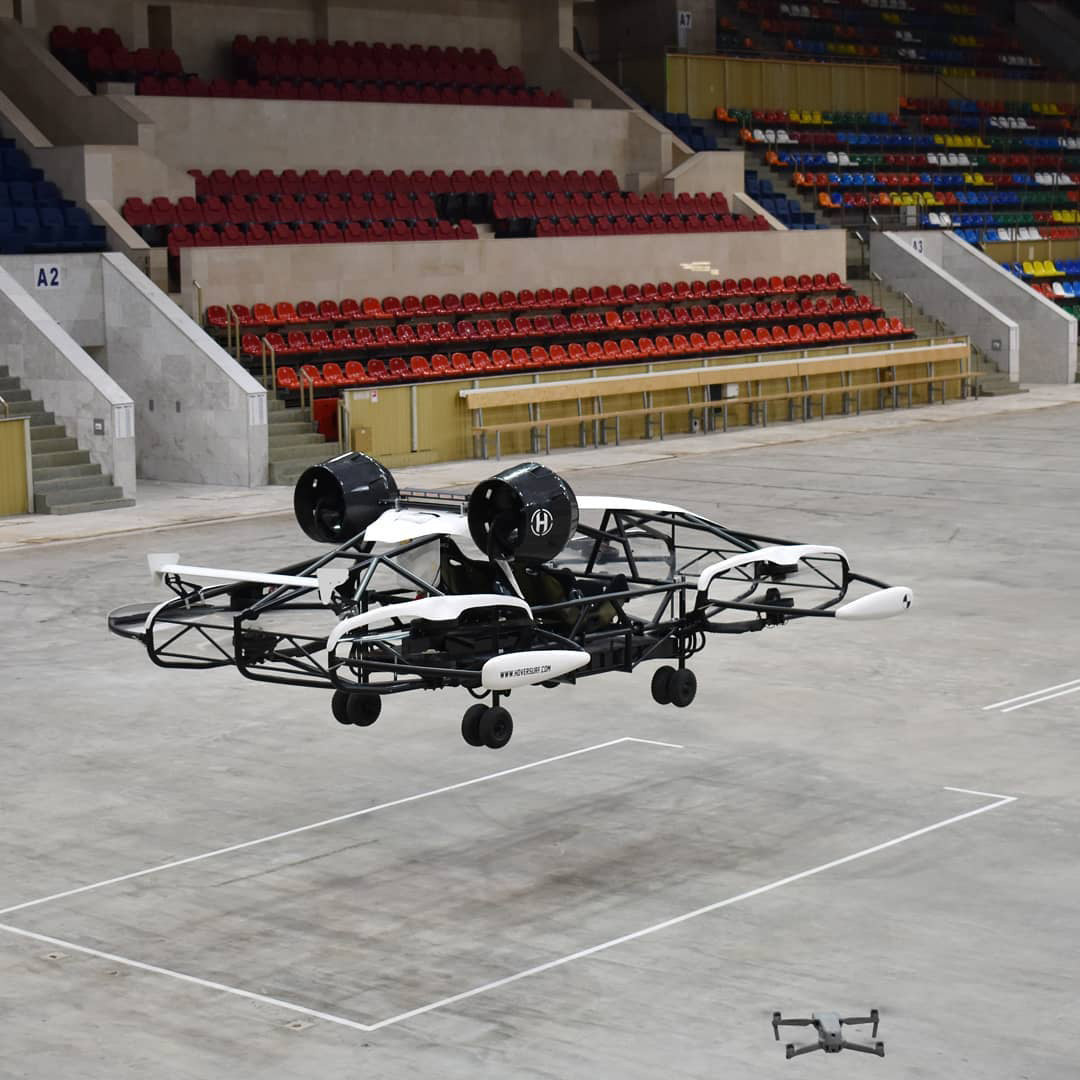 The drone taxi is currently being tested at an indoor arena of the Luzhniki Stadium. For the time being, the prototype is testing the 'Lift & Cruise' flight mode, whereby the take-off, landing and horizontal flight are taken care of by different groups of engines and is trialling a parachute system to be used in emergencies.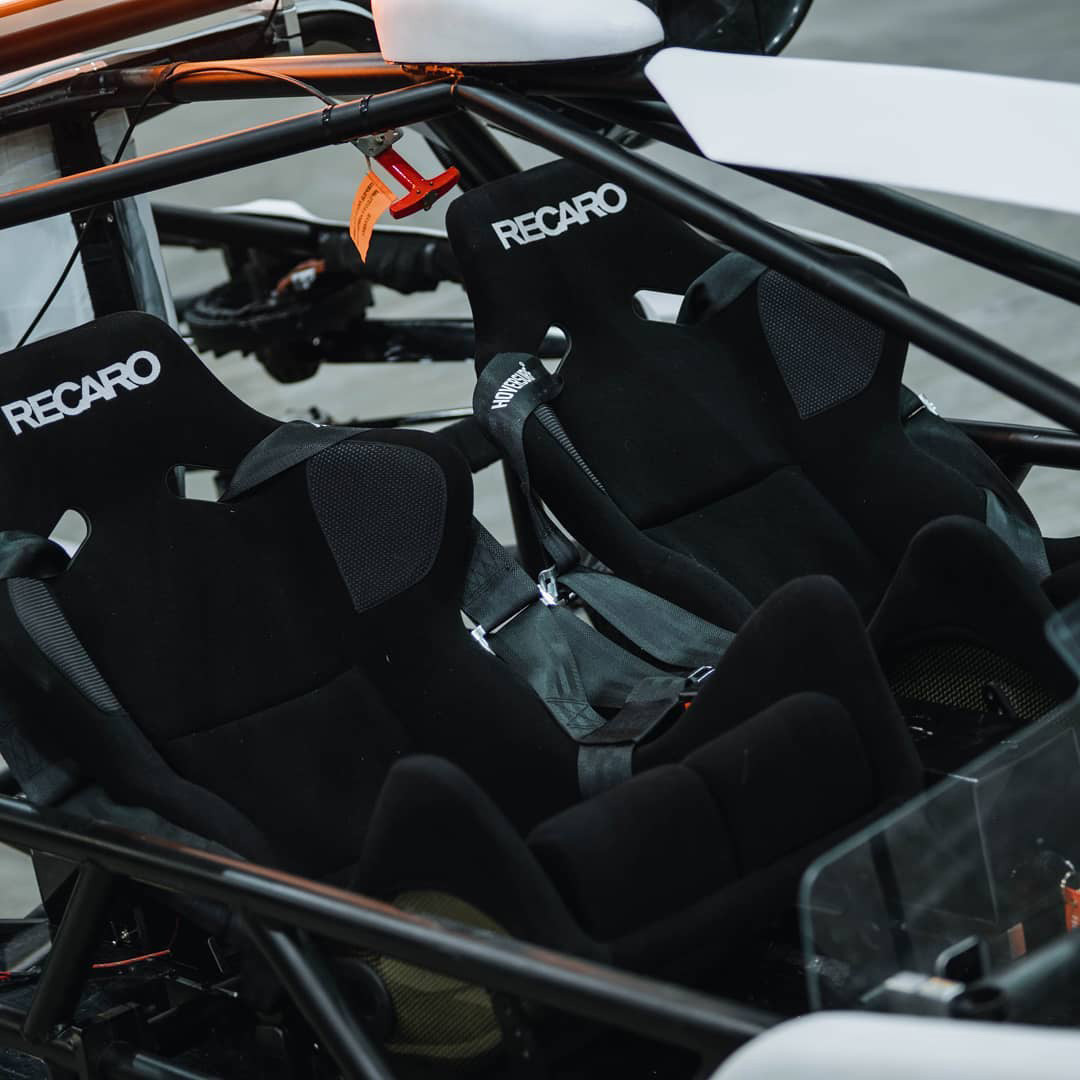 Inventor and businessman Alex Atamanov, the founder of Hoversurf, began developing the drone taxi in 2018. In addition to this project, Hoversurf has a hoverbike project, which Atamanov presented in 2016.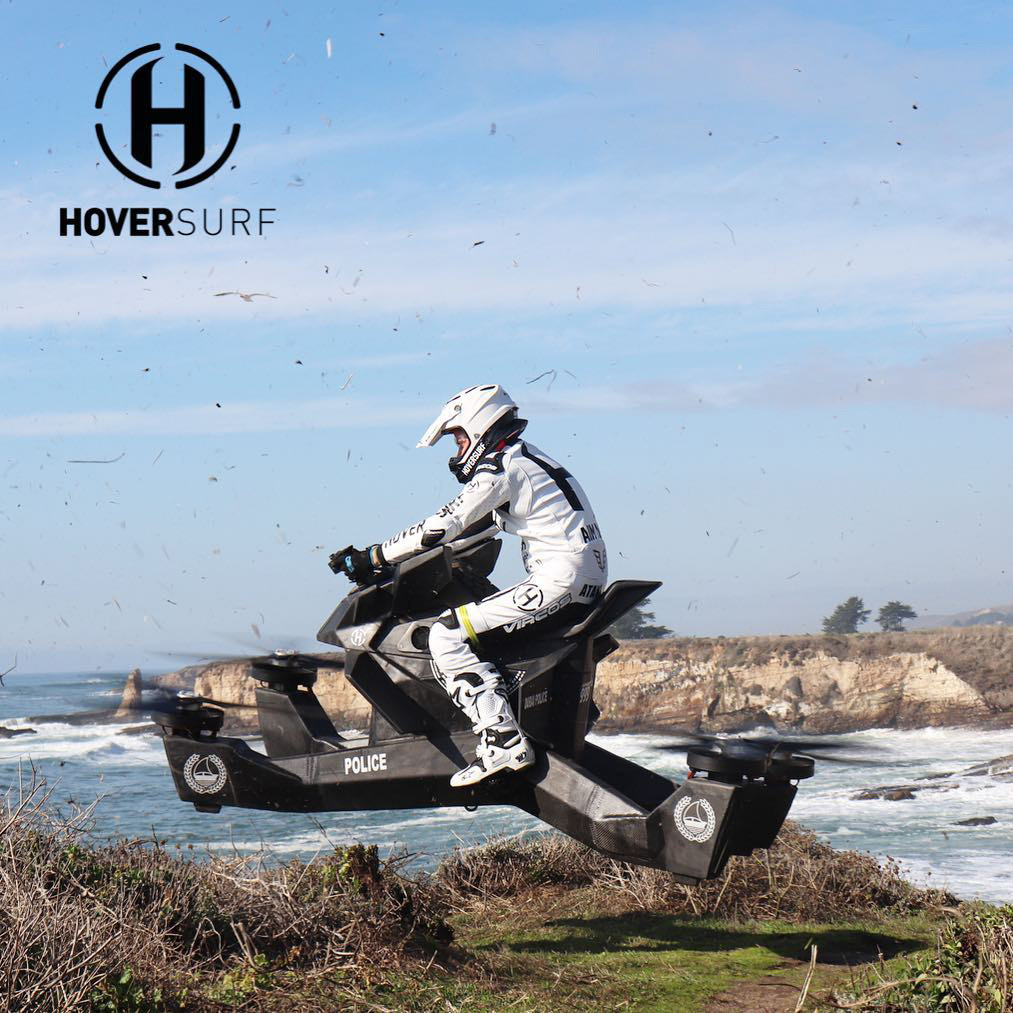 The hoverbike can fly for up to 40 minutes and reach a maximum speed of 96 km/h (59 mph). After its public testing at the 'Startup Village' conference in Skolkovo, the company received 3,500 pre-orders for its hoverbike. For the time being, the hoverbikes are sold one at a time, with each one taking a month to assemble, Atamanov said in an interview with Vc.ru in 2019.
The Hover Taxi now has more chances of entering mass production, Atamanov told the Popular Mechanics magazine. He said that by the spring of 2021, the Moscow City government has plans to build a new platform at Skolkovo for testing the drone: it will have a 5G signal and will make it possible to improve the drone's AI-based control system, which maps routes, operates the drone and ensures flight safety.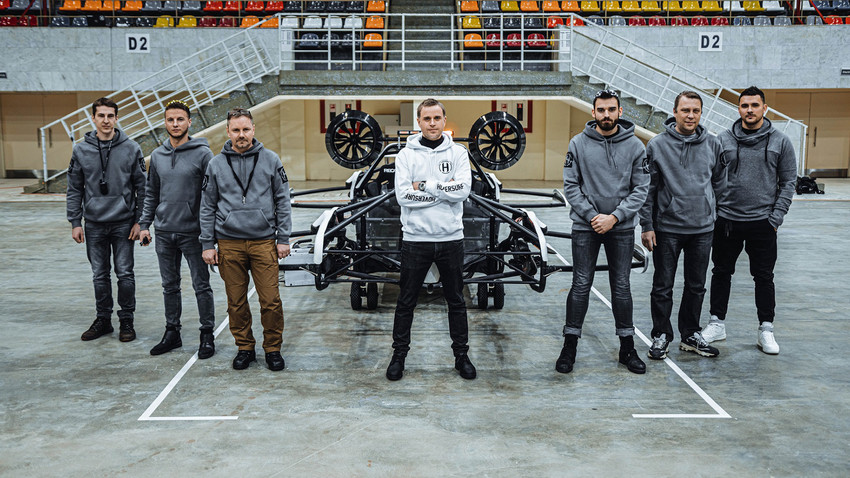 Hoversurf expects to be able to produce the first production models of its drone taxi in 2021. However, they will not be able to enter mass use until 2023-2025, when Russia gets a 5G network and adopts a law allowing the use of drones like these on the country's territory.
If using any of Russia Beyond's content, partly or in full, always provide an active hyperlink to the original material.
to our newsletter!
Get the week's best stories straight to your inbox
Moscow may swap passports for a MOBILE APP. What to expect?
Top 7 Russian electric cars (PHOTOS)
This incredible LEATHER car is for sale in Russia (PHOTOS)
This website uses cookies. Click here to find out more.
ALL MOSCOW TOURS
Getting Russian Visa
Top 10 Reasons To Go
Things To Do In Moscow
Sheremetyevo Airport
Domodedovo Airport
Vnukovo Airport
Airports Transfer
Layover in Moscow
Best Moscow Hotels
Best Moscow Hostels
Art in Moscow
Moscow Theatres
Moscow Parks
Free Attractions
Walking Routes
Sports in Moscow
Shopping in Moscow
The Moscow Metro
Moscow Public Transport
Taxi in Moscow
Driving in Moscow
Moscow Maps & Traffic
Facts about Moscow – City Factsheet
Expat Communities
Groceries in Moscow
Healthcare in Moscow
Blogs about Moscow
Flat Rentals
The Moscow Metro – MCC – MCD – everything about capital's subway
Moscow Metro map and journey planner app called Yandex.Metro is available for iOS and Android for free.
We have a great Moscow Metro & Stalin Skyscrapers Private Tour across all famous metro stations, available for you every day.
1. Famous Moscow metro stations
Kievskaya (circle line).
The station was opened on March 14, 1954. It was named after the nearby Kievsky Railway Station. Decorating of station is devoted to friendship of Russian and Ukrainian people. Rich mosaic decoration is made from smalt and valuable stones by project of Ukrainian architects, chosen from seventy-three works presented on competition.
Kievskaya (Dark-blue line)
It was opened on April 5, 1953. Design of the station is devoted to the Soviet Ukraine and reunion of Ukraine and Russia. The station is decorated with a large number of the picturesque cloths executed in style of socialist realism in fresco technique. The fresco «Holiday in Kiev», made in 1953 was practically destroyed in 2010, due to an accident during nearby constructing works. While the fresco recovery, restorers revived its original appearance that had gone through many changes since its creation.
Ploshad Revolutsii
The station was opened on March 13, 1938. The most interesting feature of the station is 76 bronze figures, situated in niches of 18 arches. This peculiar gallery of images of Soviet people, aimed to personify force and power of the country, its glorious past and bright future. One of the bronze sculptures — a dog that accompanies a frontier guard — is believed to bring good luck if you touch its nose.
Prospekt Mira
Prospect Mira station of the Circle line was opened on January 30, 1952. It used to be called Botanical Garden up to June 20, 1966. The station's decoration is devoted to development of agriculture in the USSR. Light marble and bas-reliefs by sculptor G. I. Motovilov decorate poles of the station. Famous smalt panel «Mothers of the World» by A. N. Kuznetsov is situated in the lobby.
Komsomolskaya
Komsomolskaya station was opened on January 30, 1952. The station has rich decoration devoted to a fight of USSR against overseas aggressors and victory in the Great Patriotic War. Mosaic panels from smalt and valuable stones, created according to sketches of the Lenin Award winner Pavel Corin, represent famous Russian commanders and weapons of different eras.
Novokuznetskaya
The station was opened on November 20, 1943. Its name was originally written through a hyphen: 'Novo-Kuznetskaya'. The interior of the station is rich with decorating elements. The idea of creative force and power of Soviet people, its remarkable victories in the Great Patriotic War found realization in architectural design of station. The perimeter of the escalator arch is decorated with bronze sculptures by the sculptor N.V.Tomsky.
Novoslobodskaya
Novoslobodskaya station was opened on January 30, 1952. It was called after Novoslobodskaya street, where the station is situated. 32 original stained-glass windows from multi-colored glass, framed with steel and gilded brass and the famous mosaic panel «World peace», situated at the face wall the station, are made by sketches of Pavel Dmitriyevich Corin.
Dostoyevskaya
Dostoevskaya is comparatively new station, opened on June 19, 2010. It is situated at Suvorovskaya Square. Russian writer Fedor Dostoyevsky was born and lived in this district of Moscow. Therefore, the station bears his name and features scenes from his works «Crime and Punishment», «The Idiot», «Demons», «The Brothers Karamazov». Artist Ivan Nikolaev, the author of the decoration, said that depicting scenes of violence shows depth and tragedy of Dostoevsky's work.
2. General information about Moscow metro
Metro working hours, navigation, wi-fi.
The Moscow Metro is open from about 5:30 am until 1:00 am. The precise opening time varies at different stations according to the arrival of the first train, but all stations simultaneously close their entrances and transitions to other lines at 01:00 am for maintenance. The minimum interval between trains is 90 seconds during the morning and evening rush hours. Each line is identified according to an alphanumeric index (usually consisting of a number), a name and a color. Voice announcements in Russian refer to the lines by name and by numbers in English. A male voice announces the next station when traveling towards the center of the city or the clockwise direction on the circle line, and a female voice – when going away from the center or the counter-clockwise direction at the circle. The lines are also assigned specific colors for maps and signs.
Free Wi-Fi is called MT_FREE and available on all 14 lines (inside the trains).
Using Metro services is frequently the fastest and the most efficient way to get from one part of the city to another. But during daytime Moscow Metro stations are usually overcrowded so if you want to just enjoy the beauty of the underground, it's better to visit it late in the evening.
MCC and MCD
Since 2016 The Moscow Metro is connected to two new types of rail transport. The first one is MCC – Moscow Central Circle. It has 31 stations around the city with changes to metro stations (most of them require to walk a few minutes via the street). The second one is MCD, Moscow Central Diameters, a system of city train services on existing commuter rail lines in Moscow and Moscow Oblast. MCD has several lines, they're being marked as D1, D2 etc. Changing to both MCC and MCD from the Metro is free when your journey is within the city. Both MCC and MCD lines exist on all of the Moscow Metro maps.
Interesting facts about Moscow metro
213 people were born in the metro during the World War II, when it was used as a bomb shelter.
There are 76 bronze sculptures of workers, peasants, soldiers, sailors, etc. at Ploshchad Revolyutsii station. There is legend connected with this station. To pass any examination successfully, a student should touch the bronze dog's nose («the Frontier Guard with a Dog» sculpture). You can easily understand high popularity of this legend by looking at the polished nose of the dog.
It is said that some of the magnificent mosaics at several central stations, for example the «World Peace» mosaic at Novoslobodskaya, were made with the pieces of enamel and smalt, taken from the famous Christ the Savior Cathedral, before it's destruction.
As any other dungeon the Moscow metro, has its own ghosts. The most famous one is the old lineman. He is not dangerous and usually hides into the wall, when people appear. The ghostly metro train is much more dangerous. It appears after midnight at the Circle Line and consists of old-time carriages. It sometimes stops at the stations and opens its doors, and then goes back into the darkness. It is said that the souls of Stalin's prisoners, perished during the building of the metro are locked in the train forever.
3. Moscow Metro tickets
1 or 2 trips.
You can buy tickets in ticket offices or in automatic ticket machines. Passes for 1 or 2 trips are the most expensive. They sold only in ATM and cost 55 and 110 rubles (€0.75 and €1.51) respectively.
More than 2 trips
All the other kinds of tickets are available in the ticket offices. Tickets for bigger amount of trips are more profitable.
«90 Minutes» ticket
A ticket «90 minutes» is valid for one trip on the metro and an unlimited number of trips on surface transport within this time. It costs 65 rub (€0.89).
The «Troyka» card
You can also use «Troyka» – refillable card to pay for travelling on all kinds of public transport – metro, buses, trolley-buses, trams, monorail and blue minibuses. With «Troyka» one trip costs 35 rub (€0.48).
PLAN YOUR TRIP WITH US
Happy to help you with everything, from general plan of your visit to plane tickets or hotel stay. We may also support your Russian Visa request with a letter of invitation if you need so.
SEE OUR TOURS
We host around 60 tours every month in English, Russian, German, Italian, Spanish, Arabic and other languages. All of our tours =>
SAVE THIS LINK
If you only started to think about visiting Moscow, just save our site in your browser's bookmarks or follow us on Facebook and Instagram to be in touch.
Tour Guide Jobs →
Every year we host more and more private tours in English, Russian and other languages for travelers from all over the world. They need best service, amazing stories and deep history knowledge. If you want to become our guide, please write us.
Contact Info
+7 495 166-72-69
119019 Moscow, Russia, Filippovskiy per. 7, 1
Mon - Sun 10.00 - 18.00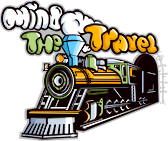 Travel Itinerary For One Week in Moscow: The Best of Moscow!
I just got back from one week in Moscow. And, as you might have already guessed, it was a mind-boggling experience. It was not my first trip to the Russian capital. But I hardly ever got enough time to explore this sprawling city. Visiting places for business rarely leaves enough time for sightseeing. I think that if you've got one week in Russia, you can also consider splitting your time between its largest cities (i.e. Saint Petersburg ) to get the most out of your trip. Seven days will let you see the majority of the main sights and go beyond just scratching the surface. In this post, I'm going to share with you my idea of the perfect travel itinerary for one week in Moscow.
Moscow is perhaps both the business and cultural hub of Russia. There is a lot more to see here than just the Kremlin and Saint Basil's Cathedral. Centuries-old churches with onion-shaped domes dotted around the city are in stark contrast with newly completed impressive skyscrapers of Moscow City dominating the skyline. I spent a lot of time thinking about my Moscow itinerary before I left. And this city lived up to all of my expectations.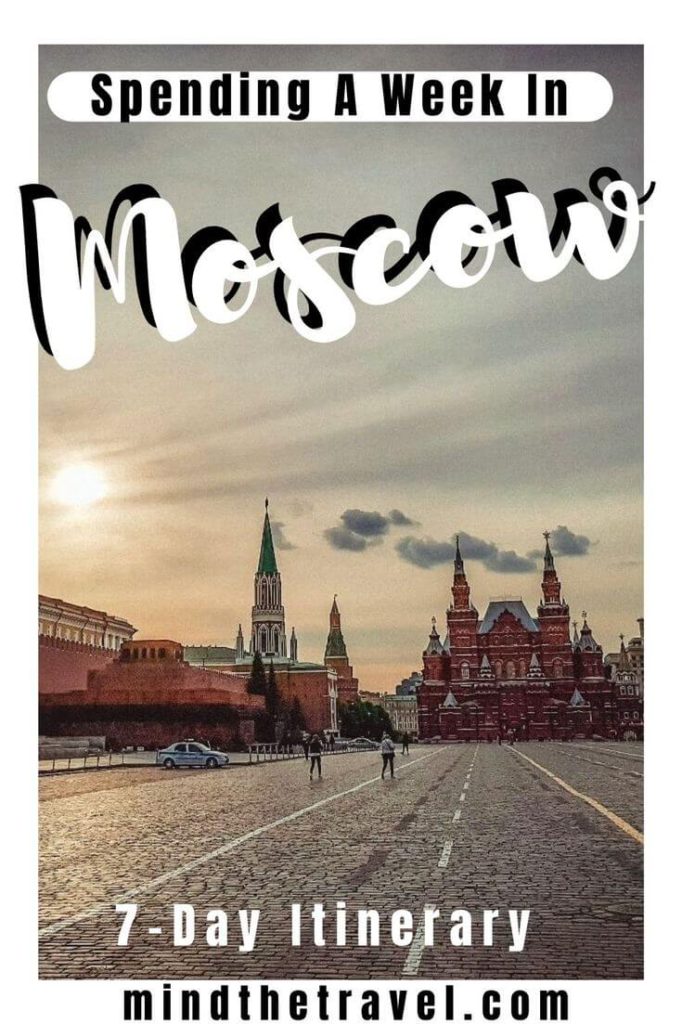 Travel Itinerary For One Week in Moscow
Day 1 – red square and the kremlin.
Metro Station: Okhotny Ryad on Red Line.
No trip to Moscow would be complete without seeing its main attraction. The Red Square is just a stone's throw away from several metro stations. It is home to some of the most impressive architectural masterpieces in the city. The first thing you'll probably notice after entering it and passing vendors selling weird fur hats is the fairytale-like looking Saint Basil's Cathedral. It was built to commemorate one of the major victories of Ivan the Terrible. I once spent 20 minutes gazing at it, trying to find the perfect angle to snap it. It was easier said than done because of the hordes of locals and tourists.
As you continue strolling around Red Square, there's no way you can miss Gum. It was widely known as the main department store during the Soviet Era. Now this large (yet historic) shopping mall is filled with expensive boutiques, pricey eateries, etc. During my trip to Moscow, I was on a tight budget. So I only took a retro-style stroll in Gum to get a rare glimpse of a place where Soviet leaders used to grocery shop and buy their stuff. In case you want some modern shopping experience, head to the Okhotny Ryad Shopping Center with stores like New Yorker, Zara, and Adidas.
Read More: Was Socotra a Mistake?
To continue this Moscow itinerary, next you may want to go inside the Kremlin walls. This is the center of Russian political power and the president's official residence. If you're planning to pay Kremlin a visit do your best to visit Ivan the Great Bell Tower as well. Go there as early as possible to avoid crowds and get an incredible bird's-eye view. There are a couple of museums that are available during designated visiting hours. Make sure to book your ticket online and avoid lines.
Day 2 – Cathedral of Christ the Saviour, the Tretyakov Gallery, and the Arbat Street
Metro Station: Kropotkinskaya on Red Line
As soon as you start creating a Moscow itinerary for your second day, you'll discover that there are plenty of metro stations that are much closer to certain sites. Depending on your route, take a closer look at the metro map to pick the closest.
The white marble walls of Christ the Saviour Cathedral are awe-inspiring. As you approach this tallest Orthodox Christian church, you may notice the bronze sculptures, magnificent arches, and cupolas that were created to commemorate Russia's victory against Napoleon.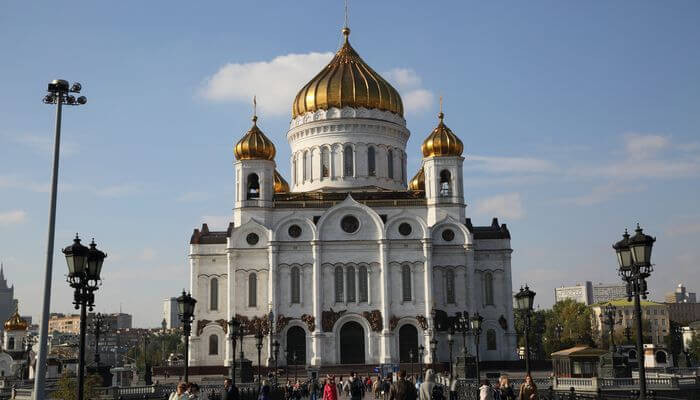 How to Get a Decent Haircut in a Foreign Country
Unfortunately, the current Cathedral is a replica, since original was blown to bits in 1931 by the Soviet government. The new cathedral basically follows the original design, but they have added some new elements such as marble high reliefs.
Home to some precious collection of artworks, in Tretyakov Gallery you can find more than 150,000 of works spanning centuries of artistic endeavor. Originally a privately owned gallery, it now has become one of the largest museums in Russia. The Gallery is often considered essential to visit. But I have encountered a lot of locals who have never been there.
Famous for its souvenirs, musicians, and theaters, Arbat street is among the few in Moscow that were turned into pedestrian zones. Arbat street is usually very busy with tourists and locals alike. My local friend once called it the oldest street in Moscow dating back to 1493. It is a kilometer long walking street filled with fancy gift shops, small cozy restaurants, lots of cute cafes, and street artists. It is closed to any vehicular traffic, so you can easily stroll it with kids.
Day 3 – Moscow River Boat Ride, Poklonnaya Hill Victory Park, the Moscow City
Metro Station: Kievskaya and Park Pobedy on Dark Blue Line / Vystavochnaya on Light Blue Line
Voyaging along the Moscow River is definitely one of the best ways to catch a glimpse of the city and see the attractions from a bit different perspective. Depending on your Moscow itinerary, travel budget and the time of the year, there are various types of boats available. In the summer there is no shortage of boats, and you'll be spoiled for choice.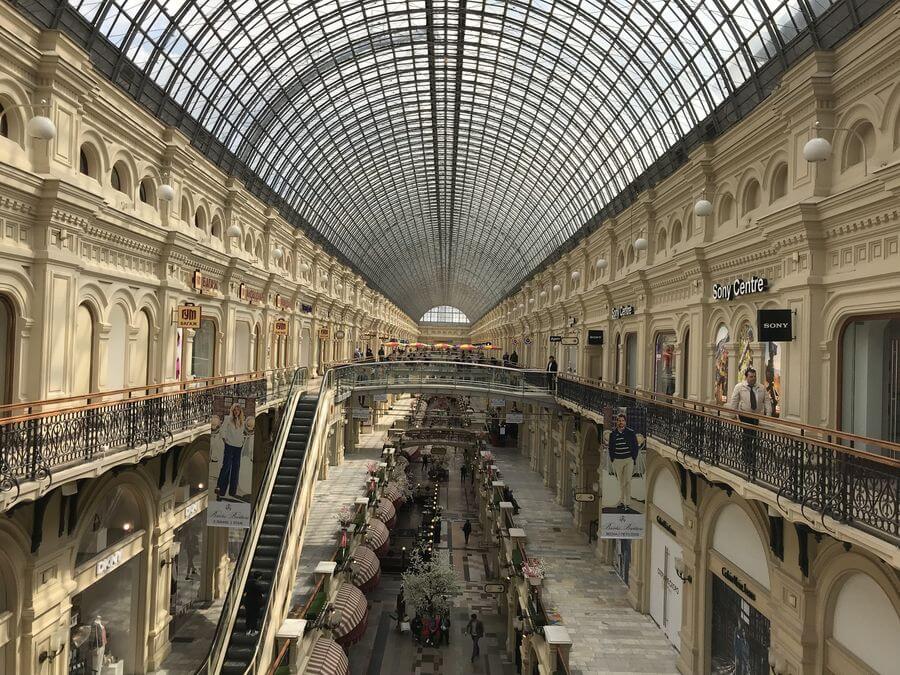 Travel Itinerary for One Week in Beijing
If you find yourself in Moscow during the winter months, I'd recommend going with Radisson boat cruise. These are often more expensive (yet comfy). They offer refreshments like tea, coffee, hot chocolate, and, of course, alcoholic drinks. Prices may vary but mostly depend on your food and drink selection. Find their main pier near the opulent Ukraine hotel . The hotel is one of the "Seven Sisters", so if you're into the charm of Stalinist architecture don't miss a chance to stay there.
The area near Poklonnaya Hill has the closest relation to the country's recent past. The memorial complex was completed in the mid-1990s to commemorate the Victory and WW2 casualties. Also known as the Great Patriotic War Museum, activities here include indoor attractions while the grounds around host an open-air museum with old tanks and other vehicles used on the battlefield.
How I Planned My Trip to Vietnam
The hallmark of the memorial complex and the first thing you see as you exit metro is the statue of Nike mounted to its column. This is a very impressive Obelisk with a statue of Saint George slaying the dragon at its base.
Maybe not as impressive as Shanghai's Oriental Pearl Tower , the skyscrapers of the Moscow City (otherwise known as Moscow International Business Center) are so drastically different from dull Soviet architecture. With 239 meters and 60 floors, the Empire Tower is the seventh highest building in the business district.
The observation deck occupies 56 floor from where you have some panoramic views of the city. I loved the view in the direction of Moscow State University and Luzhniki stadium as well to the other side with residential quarters. The entrance fee is pricey, but if you're want to get a bird's eye view, the skyscraper is one of the best places for doing just that.
Day 4 – VDNKh, Worker and Collective Farm Woman Monument, The Ostankino TV Tower
Metro Station: VDNKh on Orange Line
VDNKh is one of my favorite attractions in Moscow. The weird abbreviation actually stands for Russian vystavka dostizheniy narodnogo khozyaystva (Exhibition of Achievements of the National Economy). With more than 200 buildings and 30 pavilions on the grounds, VDNKh serves as an open-air museum. You can easily spend a full day here since the park occupies a very large area.
Places to Visit in Barcelona That Aren't Beaches
First, there are pavilions that used to showcase different cultures the USSR was made of. Additionally, there is a number of shopping pavilions, as well as Moskvarium (an Oceanarium) that features a variety of marine species. VDNKh is a popular venue for events and fairs. There is always something going on, so I'd recommend checking their website if you want to see some particular exhibition.
A stone's throw away from VDNKh there is a very distinctive 25-meters high monument. Originally built in 1937 for the world fair in Paris, the hulking figures of men and women holding a hammer and a sickle represent the Soviet idea of united workers and farmers. It doesn't take much time to see the monument, but visiting it gives some idea of the Soviet Union's grandiose aspirations.
I have a thing for tall buildings. So to continue my travel itinerary for one week in Moscow I decided to climb the fourth highest TV tower in the world. This iconic 540m tower is a fixture of the skyline. You can see it virtually from everywhere in Moscow, and this is where you can get the best panoramic views (yep, even better than Empire skyscraper).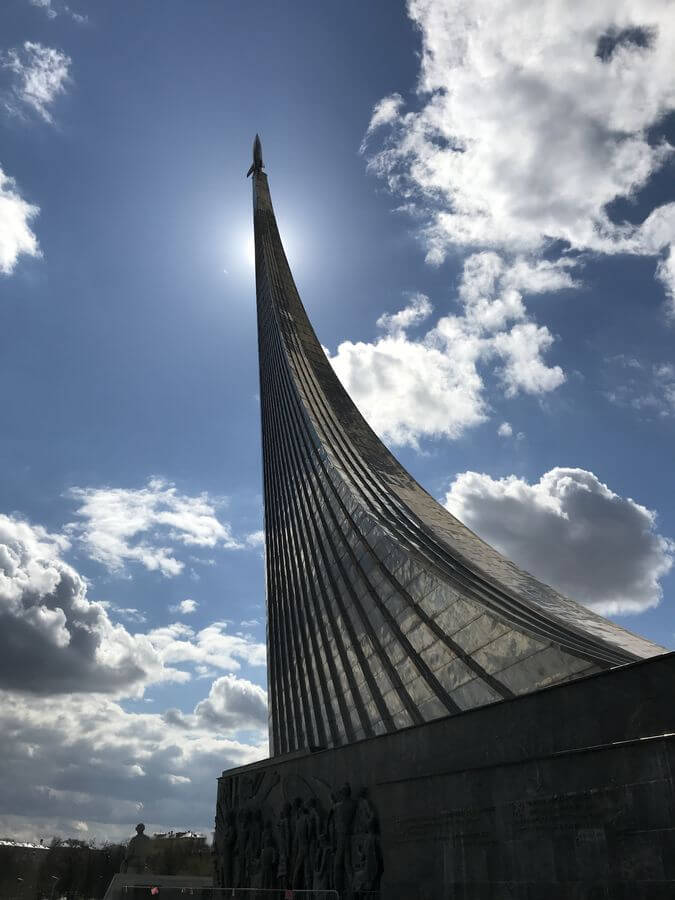 Parts of the floor are made of tempered glass, so it can be quite scary to exit the elevator. But trust me, as you start observing buildings and cars below, you won't want to leave. There is only a limited number of tickets per day, so you may want to book online. Insider tip: the first tour is cheaper, you can save up to $10 if go there early.
Day 5 – A Tour To Moscow Manor Houses
Metro Station: Kolomenskoye, Tsaritsyno on Dark Green Line / Kuskovo on Purple Line
I love visiting the manor houses and palaces in Moscow. These opulent buildings were generally built to house Russian aristocratic families and monarchs. Houses tend to be rather grand affairs with impressive architecture. And, depending on the whims of the owners, some form of a landscaped garden.
During the early part of the 20th century though, many of Russia's aristocratic families (including the family of the last emperor) ended up being killed or moving abroad . Their manor houses were nationalized. Some time later (after the fall of the USSR) these were open to the public. It means that today a great many of Moscow's finest manor houses and palaces are open for touring.
20 Travel Tips I've Learned From Travelling The World
There are 20 manor houses scattered throughout the city and more than 25 in the area around. But not all of them easily accessible and exploring them often takes a lot of time. I'd recommend focusing on three most popular estates in Moscow that are some 30-minute metro ride away from Kremlin.
Sandwiched between the Moscow River and the Andropov Avenue, Kolomenskoye is a UNESCO site that became a public park in the 1920's. Once a former royal estate, now it is one of the most tranquil parks in the city with gorgeous views. The Ascension Church, The White Column, and the grounds are a truly grand place to visit.
You could easily spend a full day here, exploring a traditional Russian village (that is, in fact, a market), picnicking by the river, enjoying the Eastern Orthodox church architecture, hiking the grounds as well as and wandering the park and gardens with wildflower meadows, apple orchards, and birch and maple groves. The estate museum showcases Russian nature at its finest year-round.
12 Stunning National Parks and Regional Parks In France
If my travel itinerary for one week in Moscow was a family tree, Tsaritsyno Park would probably be the crazy uncle that no-one talks about. It's a large park in the south of the city of mind-boggling proportions, unbelievable in so many ways, and yet most travelers have never heard of it.
The palace was supposed to be a summer home for Empress Catherine the Great. But since the construction didn't meet with her approval the palace was abandoned. Since the early 1990's the palace, the pond, and the grounds have been undergoing renovations. The entire complex is now looking brighter and more elaborately decorated than at possibly any other time during its history. Like most parks in Moscow, you can visit Tsaritsyno free of charge, but there is a small fee if you want to visit the palace.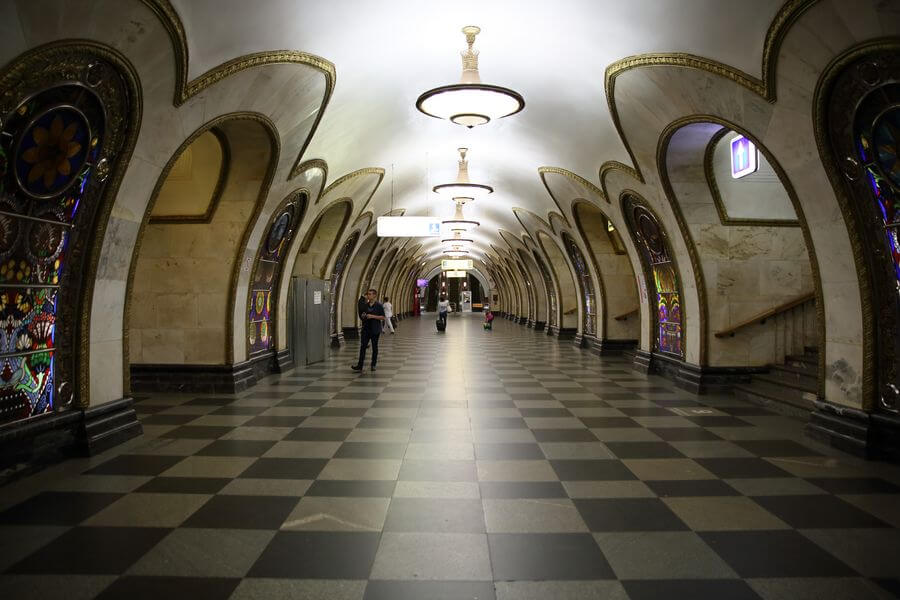 How To Stop Procrastinating When Trip Planning
Last, but by no means least on my Moscow itinerary is Kuskovo Park . This is definitely an off-the-beaten-path place. While it is not easily accessible, you will be rewarded with a lack of crowds. This 18th-century summer country house of the Sheremetev family was one of the first summer country estates of the Russian nobility. And when you visit you'll quickly realize why locals love this park.
Like many other estates, Kuskovo has just been renovated. So there are lovely French formal garden, a grotto, and the Dutch house to explore. Make sure to plan your itinerary well because the estate is some way from a metro station.
Day 6 – Explore the Golden Ring
Creating the Moscow itinerary may keep you busy for days with the seemingly endless amount of things to do. Visiting the so-called Golden Ring is like stepping back in time. Golden Ring is a "theme route" devised by promotion-minded journalist and writer Yuri Bychkov.
Having started in Moscow the route will take you through a number of historical cities. It now includes Suzdal, Vladimir, Kostroma, Yaroslavl and Sergiev Posad. All these awe-inspiring towns have their own smaller kremlins and feature dramatic churches with onion-shaped domes, tranquil residential areas, and other architectural landmarks.
Two Weeks In Thailand: The Perfect 14-Day Itinerary
I only visited two out of eight cities included on the route. It is a no-brainer that Sergiev Posad is the nearest and the easiest city to see on a day trip from Moscow. That being said, you can explore its main attractions in just one day. Located some 70 km north-east of the Russian capital, this tiny and overlooked town is home to Trinity Lavra of St. Sergius, UNESCO Site.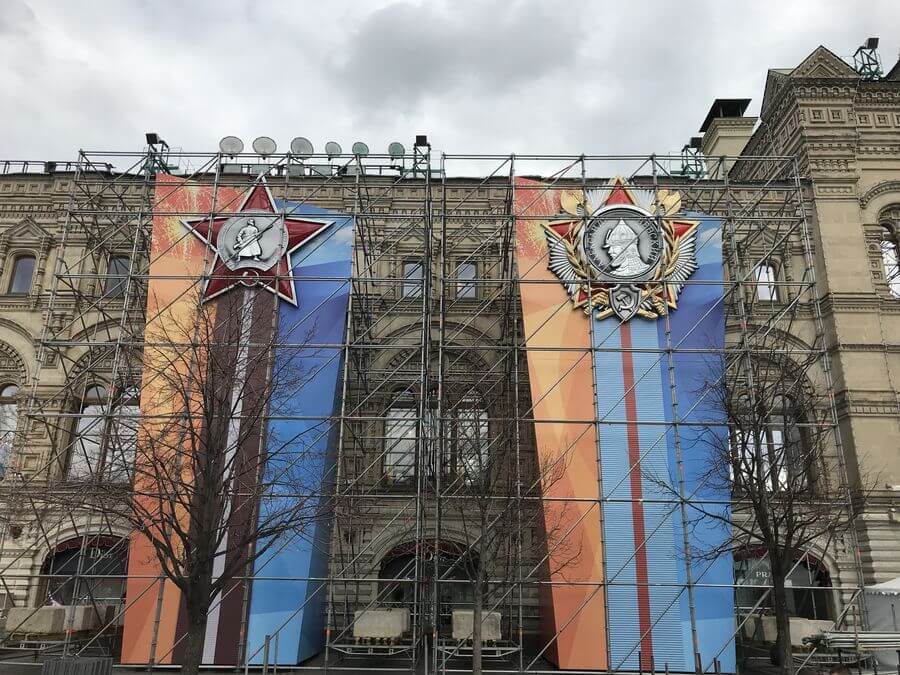 You Will Also Like: 3-Day London Itinerary
Sergiev Posad is often described as being at the heart of Russian spiritual life. So it is uncommon to see the crowds of Russian pilgrims showing a deep reverence for their religion. If you're traveling independently and using public transport, you can reach Sergiev Posad by bus (departs from VDNKh) or by suburban commuter train from Yaroslavskaya Railway Station (Bahnhof). It takes about one and a half hours to reach the town.
Trinity Lavra of St. Sergius is a great place to get a glimpse of filling and warming Russian lunch, specifically at the " Gostevaya Izba " restaurant. Try the duck breast, hearty potato and vegetables, and the awesome Napoleon cake.
Day 7 – Gorky Park, Izmailovo Kremlin, Patriarch's Ponds
Metro Station: Park Kultury or Oktyabrskaya on Circle Line / Partizanskaya on Dark Blue Line / Pushkinskaya on Dark Green Line
Gorky Park is in the heart of Moscow. It offers many different types of outdoor activities, such as dancing, cycling, skateboarding, walking, jogging, and anything else you can do in a park. Named after Maxim Gorky, this sprawling and lovely park is where locals go on a picnic, relax and enjoy free yoga classes. It's a popular place to bike around, and there is a Muzeon Art Park not far from here. A dynamic location with a younger vibe. There is also a pier, so you can take a cruise along the river too.
How to Save Money While Traveling in Europe
The Kremlin in Izmailovo is by no means like the one you can find near the Red Square. Originally built for decorative purposes, it now features the Vernissage flea market and a number of frequent fairs, exhibitions, and conferences. Every weekend, there's a giant flea market in Izmailovo, where dozens of stalls sell Soviet propaganda crap, Russian nesting dolls, vinyl records, jewelry and just about any object you can imagine. Go early in the morning if you want to beat the crowds.
All the Bulgakov's fans should pay a visit to Patriarch's Ponds (yup, that is plural). With a lovely small city park and the only one (!) pond in the middle, the location is where the opening scene of Bulgakov's novel Master and Margarita was set. The novel is centered around a visit by Devil to the atheistic Soviet Union is considered by many critics to be one of the best novels of the 20th century. I spent great two hours strolling the nearby streets and having lunch in the hipster cafe.
Conclusion and Recommendations
To conclude, Moscow is a safe city to visit. I have never had a problem with getting around and most locals are really friendly once they know you're a foreigner. Moscow has undergone some serious reconstruction over the last few years. So you can expect some places to be completely different. I hope my one week Moscow itinerary was helpful! If you have less time, say 4 days or 5 days, I would cut out day 6 and day 7. You could save the Golden Ring for a separate trip entirely as there's lots to see!
What are your thoughts on this one week Moscow itinerary? Are you excited about your first time in the city? Let me know in the comments below!
JOIN MY FREE WEEKLY NEWSLETTER!
Email Address *
YOU WILL ALSO LIKE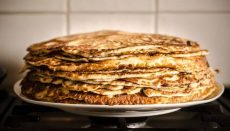 10 Dishes You Must Try When Going To Moscow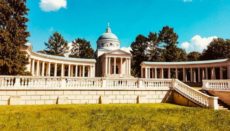 15 Fantastic and Easy Day Trips Close to Moscow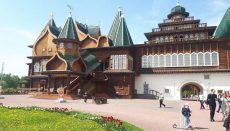 When Is the Best Time To Visit Russia
24 comments.
Ann Snook-Moreau
Moscow looks so beautiful and historic! Thanks for including public transit information for those of us who don't like to rent cars.
MindTheTravel
Yup, that is me 🙂 Rarely rent + stick to the metro = Full wallet!
Mariella Blago
Looks like you had loads of fun! Well done. Also great value post for travel lovers.
Thanks, Mariella!
I have always wanted to go to Russia, especially Moscow. These sights look absolutely beautiful to see and there is so much history there!
Agree! Moscow is a thousand-year-old city and there is definitely something for everyone.
Tara Pittman
Those are amazing buildings. Looks like a place that would be amazing to visit.
Adriana Lopez
Never been to Moscow or Russia but my family has. Many great spots and a lot of culture. Your itinerary sounds fantastic and covers a lot despite it is only a short period of time.
What was their favourite thing about Russia?
Gladys Parker
I know very little about Moscow or Russia for the\at matter. I do know I would have to see the Red Square and all of its exquisite architectural masterpieces. Also the CATHEDRAL OF CHRIST THE SAVIOUR. Thanks for shedding some light on visiting Moscow.
Thanks for swinging by! The Red Square is a great starting point, but there way too many places and things to discover aside from it!
Ruthy @ Percolate Kitchen
You are making me so jealous!! I've always wanted to see Russia.
Moscow is in my bucket list, I don't know when I can visit there, your post is really useful. As a culture rich place we need to spend at least week.
DANA GUTKOWSKI
Looks like you had a great trip! Thanks for all the great info! I've never been in to Russia, but this post makes me wanna go now!
Wow this is amazing! Moscow is on my bucket list – such an amazing place to visit I can imagine! I can't wait to go there one day!
The building on the second picture looks familiar. I keep seeing that on TV.
Reesa Lewandowski
What beautiful moments! I always wish I had the personality to travel more like this!
Perfect itinerary for spending a week in Moscow! So many places to visit and it looks like you had a wonderful time. I would love to climb that tower. The views I am sure must have been amazing!
I was lucky enough to see the skyline of Moscow from this TV Tower and it is definitely mind-blowing.
Chelsea Pearl
Moscow is definitely up there on my travel bucket list. So much history and iconic architecture!
Thumbs up! 🙂
Blair Villanueva
OMG I dream to visit Moscow someday! Hope the visa processing would be okay (and become more affordable) so I could pursue my dream trip!
Yup, visa processing is the major downside! Agree! Time and the money consuming process…
Save my name, email, and website in this browser for the next time I comment.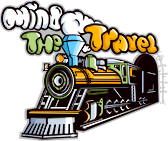 Privacy Overview
Strictly Necessary Cookies
My website uses cookies so that I can provide you with the best user experience possible. Cookie information is stored in your browser and performs functions such as recognising you when you return to my website and helping me to understand which sections of Mind The Travel you find most interesting and useful.
You can adjust all of your cookie settings by navigating the tabs on the left hand side.
Strictly Necessary Cookie should be enabled at all times so that I can save your preferences for cookie settings.
If you disable this cookie, I will not be able to save your preferences. This means that every time you visit my website you will need to enable or disable cookies again.
2018 Primetime Emmy & James Beard Award Winner
R&K Insider
Join our newsletter to get exclusives on where our correspondents travel, what they eat, where they stay. Free to sign up.
A History of Moscow in 13 Dishes
Featured city guides.