Glass Bottom Reef Tours
Quick Details
User Ages: All Ages
Hour Glass Duration: 50 minutes
Dive into a Reef Adventure Above the Surface in a Glass Bottom Boat!
Our Glass Bottom Boat Reef tours depart from the Kailua-Kona Pier and will take you on a 50-minute adventure in Kailua Bay. Cruise along the coastline hovering within inches of the coral reef. Enjoy a lively narration as you take in the beauty above and below the ocean's surface. Join us for an eco-tour for all ages!
Bonus: possible viewing of dolphins, turtles and other sea creatures.
Our usual departure is from Kailua Pier and will take you on a 50-minute glass bottomed adventure in Kailua Bay.
There are also private charters available from Kailua Bay Charter Co.
Related Activities
Hour Glass 50 min - 4 hours
User All Ages
Ash Scattering at Sea
Give your loved one a beautiful send off with an ash scattering at sea. The "Marian" can accommodate up to 24 passengers. You may bring your own flowers, food, and drinks (including alcohol). Click the picture for more information.
Private Sunset Glassbottom Boat Cruise
Enjoy a truly unique sunset cruise aboard the Kona glass bottom boat. This private charter departs from the Honokohau Harbor and will start out with a tour along the coast while viewing the reef through the glass bottom windows. Book your tour online!
Private Charters in Kailua Kona
Enjoy your own exclusive, private reef tour or use our glass bottom boat for a special occasion. Book your adventure online today!
Winner Best Watersports 10 Years Running. Enjoy Xtra Savings Up to $30*
Celebrate Thanksgiving on Fury's Ultimate Adventure H2.0! View Trip >
DEPARTURE POINT DIRECTIONS
SPECIAL TRIPS & EVENTS
SPECIAL OFFERS
JOB OPPORTUNITIES
MEDIA TICKET REQUEST
PRIVATE CHARTER INQUIRIES
WEDDING CHARTER INQUIRIES
ENVIROMENTAL COMMITTMENT
MAKE A WISH FOUNDATION
MEET THE CAPTAINS
BIKE RENTALS
PRIVATE CHARTERS
GOLF CART RENTALS
THINGS TO DO IN KEY WEST
VISIT KEY WEST
KEY WEST ADVENTURE GUIDE
BEST KEY WEST BARS
PLACES TO WATCH THE SUNSET
KEY WEST PARASAILING
KEY WEST SNORKELING
KEY WEST WATERSPORTS
KEY WEST SANDBAR TRIPS
KEY WEST WEDDINGS
FOR CRUISE GUESTS
Your phone number will not be shared with a third party, nor will it be sold or used for purposes other than providing you with directions to the selected destination.
Reef Eco Tour
Key West's only window to the sea! Stay cool and dry as you view a stunning array of tropical marine life in air-conditioned comfort aboard Fury's Glass Bottom Boat. Through our windows to the sea, guests can witness the wonder of North America's only living coral reef. You may even observe sea turtles, rays and fish of all kinds gliding through the crystal waters they call home.
Check-In, 11:30am, 1:30pm & 3:30pm
Approx. 2 hrs
Departs, 12:00pm, 2:00pm & 4:00pm
Glass Bottom Boat
Taking Visitors To Key West's Reefs For Over 70 Years
Check-In 11:30am, 1:30pm & 3:30pm
Departs 12:00pm, 2:00pm & 4:00pm
Guests (Ages 4-10)
Guaranteed best price when you book direct.
GROUPS OF 8 OR MORE CALL FOR DISCOUNT Flexible & Refundable Reservations.
Trip Features
See North America's Only Living Coral Reef in Comfort
Special Glass "Windows to the Reef" Provide Continuous Viewing for all Passengers
Expert Tour Guides
Air-conditioned viewing cabin makes it easy and comfortable to view the reef
See colorful tropical fish, rays, sea turtles, numerous species of coral and more*
Private & Wedding Charters Available Learn More
" This was an incredible glass bottom boat experience. The ride out to the viewing area was fabulous and the information given during viewing the soft coral and fish was entertaining and educational. This all topped by an incredible sunset on the way back in."
This is a 10 out of 10!! It was an awesome day, professional, friendly staff all the way around! Thanks for a great day in Key West!
" The glass bottom boat was awesome! Took us off the coast of Key West to the coral reef where they pointed out various fish and coral who reside there and the history of it. They also narrated sites on the island on the way out to the reef as we passed them."
" Was very relaxing. It very interesting getting to see the fish swimming in and around the reef. Learned something new about the reef and the eco system it provides for the oceans. A must see for families"
"My husband and I went on the glass bottom boat tour at 6pm. The views were spectacular and the staff very informative. The reef was absolutely beautiful."
What's Included
Reef Safe Sunscreen
Snack Bar ($)
Last trip of the day includes sunset views on the way back to port
What to bring.
Gratuities Customary
Refillable Water Bottle
Selection of Chips, Peanuts, Crackers & Cookies  ($1.00 each)
Selection of Sodas  ($2.00 each)
BOAT FEATURES
State-of-the-Art Catamaran Glass Bottom Boat (65ft)
Air Conditioned Viewing Area
Twin 45 Degree Observation Hulls
Large Seated Sundeck
Modern Marine Restrooms
Twin Hull Design for Maximum Stability
About Reef, Wildlife & Weather
We are very lucky that so many days here in Key West look exactly like the beautiful photos and video you see on our website & other marketing materials. However, you should be aware that all of our water adventures are outdoors and influenced by Mother Nature. Many days underwater visibility is 80+ feet and teeming with sea life; others are not. Though we hope that every day is perfect, we are not in control of the wind, waves, clouds, rain or underwater sea life. If we are aware of any concerning factors regarding conditions, we will make an announcement before your trip departs. At that time, you may elect to take the tour, reschedule or receive a refund. 
Explore the reef in comfort
Key West's only window to the sea! Explore dramatic underwater vistas generally reserved for scuba divers from our glass bottom boat. A wide variety of fish and other sea creatures await you as you gaze into the underwater world of Key West. In addition, you will have the opportunity to see North America's only living coral reef , one of the most biologically diverse marine eco-systems in the world. Majestic elkhorn and impressive brain coral, sturdy in appearance yet fragile and vulnerable, stand sentry for the more than 300 species of fish that complete the colorful and intriguing seascape. Along the trip, our experienced captain and crew will provide a unique and informative eco-tour and point out some of the most interesting marine life that inhabit the waters of this incredible island. Special glass "windows to the reef" provide continuous viewing for all passengers.
Reef Eco Tours & Sunset Cruise Combo Package
Read More Key West Glass Bottom Boat History
Duval Street
Located between Ocean Key Resort & Pier House Resort, at the end of Duval Street.
Glass Bottom Boat & Sunset Cruise
Ultimate 90 Min. Jet Ski Tour
No, this is a viewing trip only.
It is a 65 foot catamaran, air-conditioned, enclosed, with a shaded viewing cabin, snack bar, sundeck, and 2 restrooms.
The Glass Bottom Boat has a spacious, air-conditioned viewing cabin that can accommodate many guests.
7 miles to the reef
How long does the ride to the reef take? 30-40 minutes
How long are you at the reef? 25-30 minutes
Yes, Our knowledgable crew members will share some historical Key West facts while going through the harbor and a full guided tour while at the reef pointing out many corals and marine life.
Yes, the Glass Bottom Boat is great for all ages.
No, the Coast Guard won't allow it. We'll hold it on the dock until trip returns.
Manual wheelchairs allowed, 2 per trip (electric wheelchairs not allowed.) Fury has one manual wheelchair that is available for guests to use. Guests must have assistance that can help move them safely to the manual chair.
Yes. It is necessary for Fury to collect your paid in full voucher and give you a boarding pass. This helps us maintain an accurate count for the Coast Guard.
Yes! To receive a military discount on any Fury trip, please book through the MWR office on Key West's Sigsbee base by calling 305-293-4174.
Yes, life jackets are onboard for everyone in case of emergency.
We provide water and a snack bar for purchase for the duration of the tour. Sodas are $2 and a selection of chips, peanuts, crackers and cookies for $1. You are more than welcome to bring lunch and snacks just no glass containers, please.
We will not be taking any photos on this trip.
No, we do not offer any wifi on our vessels.
Please bring a Valid Government Issued Photo ID. Gratuities are customary.
Departure Location #2 0 Duval Street – Located between Ocean Key Resort & Pier House Resort, at the end of Duval Street.
Yes! Fury operates 365 days a year. Be sure to check out our Special Trips & Events to see if we are running any special Holiday trips.
Fury Water Adventures does not operate in unsafe weather conditions, but a light rain shower is not a deterrent. The Captain will assess the weather and should the Captain determine that the conditions are unsafe to run the tour, the tour may be postponed or it will be canceled. If a trip is canceled by Fury Water Adventures for any reason, every effort will be made to reschedule the trip during your stay in Key West. If you are unable to reschedule, you will have the option of receiving a voucher for a future trip or receiving a full refund. Every effort will be made to run tours, as advertised. Should Fury have to amend or alter your tour due to extraneous circumstances, tickets remain non-refundable on tours taken.
All cancellations must be made at least 4 hours prior to your trip's scheduled departure time or scheduled rental time. To place a cancellation, please call 1-888-976-0899 and refer to the confirmation number at the top of your confirmation document. Failure to place a cancellation at least 4 hours in advance will result in your credit card being charged the full amount of the reserved trip or rental. No refunds will be issued for reservations cancelled within 4 hours of departure or rental. Please note that failure to show for the reserved trip or rental without cancellation will result in no refund. If a trip is cancelled by Fury Water Adventures® for any reason, every effort will be made to reschedule the trip during your stay in Key West. If you are unable to reschedule, you will have the option of receiving a voucher for a future trip or receiving a full refund.
No, we do not provide parking at any of our check in locations, but you can use street parking, pay to park lots or parking garages.
Most Fury tours will require the minor guest's  natural parent be present at check in to sign them in. Please call 888-976-0899 for specific policy details for your preferred tour.
Fury allows service animals only. A service animal is any dog that has been trained to perform tasks to benefit an individual.  The work performed must be directly related to the individuals disability.  According the ADA service animals for emotional support, therapy, comfort or companionship are not considered service animals.
The guest requiring the service animal must be in possession of the animal at all times. Due to the nature of Fury tours,  guest and service animal  may  be required to remain on the boat for the entirety of the tour . This is to ensure the guest's safety as well as that of the service animal, Key West wildlife, other guests, captain and crew.
Related Trips You May Also Like
LET'S TURN UP THE HEAT ON SAVINGS!
Sign up to receive an email with a one time offer code to use on select trips.
Departs 2:00pm
Food & Beverages
Departs 9:00am-3:00pm & 4:15pm
You are using an outdated browser. Please upgrade your browser to improve your experience.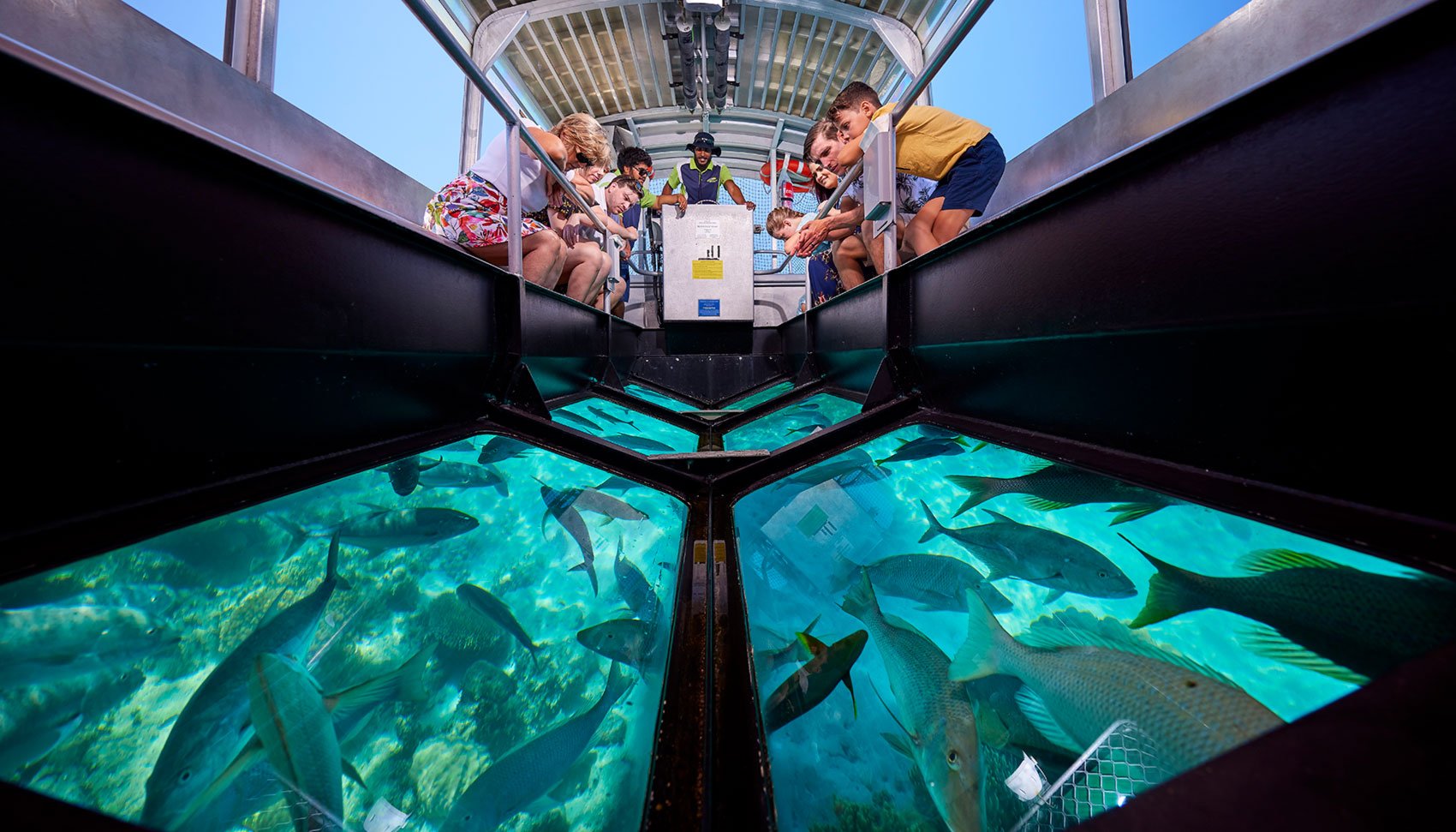 Things to do
Glass Bottom Boats
Great Barrier Reef & Ocean
Enjoy the view without diving in
Seen from under the water, the Great Barrier Reef is dazzling. Apart from the corals that come in all colours and shapes – purples and pinks, blues and yellows, spiky staghorns and delicate fan corals, brain corals and table corals – there is an endless array of marine life to marvel at, from tiny damselfish to imposing Maori wrasse, darting rays to curious turtles.
The good news is, you don't need to dive in to enjoy the view. If you would rather stay dry, glass-bottom boat tours are a great way to open a window onto this enchanting world. Perfect for the less mobile or families with young children, these tours give crystal-clear views of what is happening beneath the surface, often with an expert commentator on hand.
Or consider a semi-submersible … sitting about a metre underwater and surrounded by glass, you'll get a fish-eye view of the reef wonderland from these air-conditioned vessels. Divers and snorkellers don't need to miss out on these boating adventures either: there are plenty of tours that incorporate both glass-bottom boats and semi-submersibles along with underwater exploration.
View beautiful coral from a glass bottom boat on the Great Barrier Reef
Through the looking glass
Discover what lies beneath the reef – and stay dry – on a glass-bottom boat.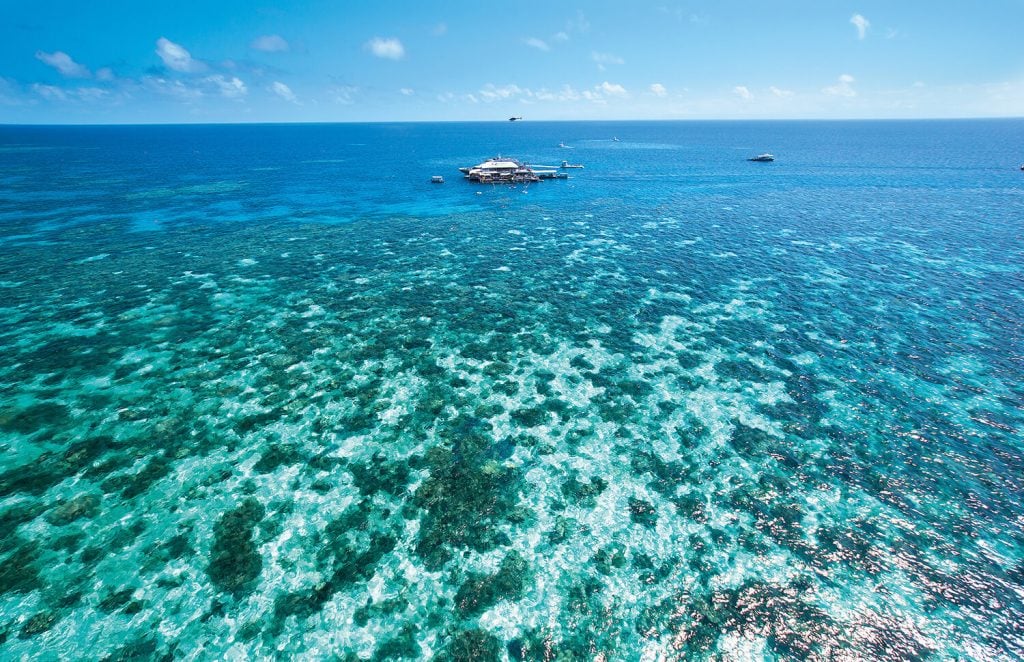 This is what a day on the reef looks like
Ready to dive in? Pack your swimmers, hat and sunscreen. Quicksilver Cruises has you covered with all the rest.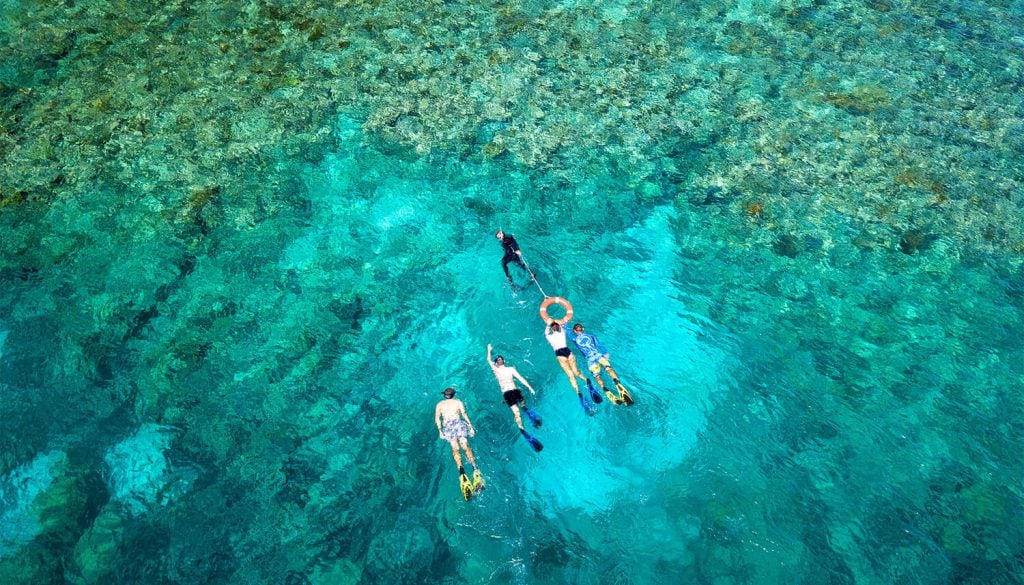 Snorkel vs intro vs certified dive
Check out this handy guide to find your reef style – from donning a mask and snorkel or taking your very first dive, to unique diving experiences reserved for certified divers.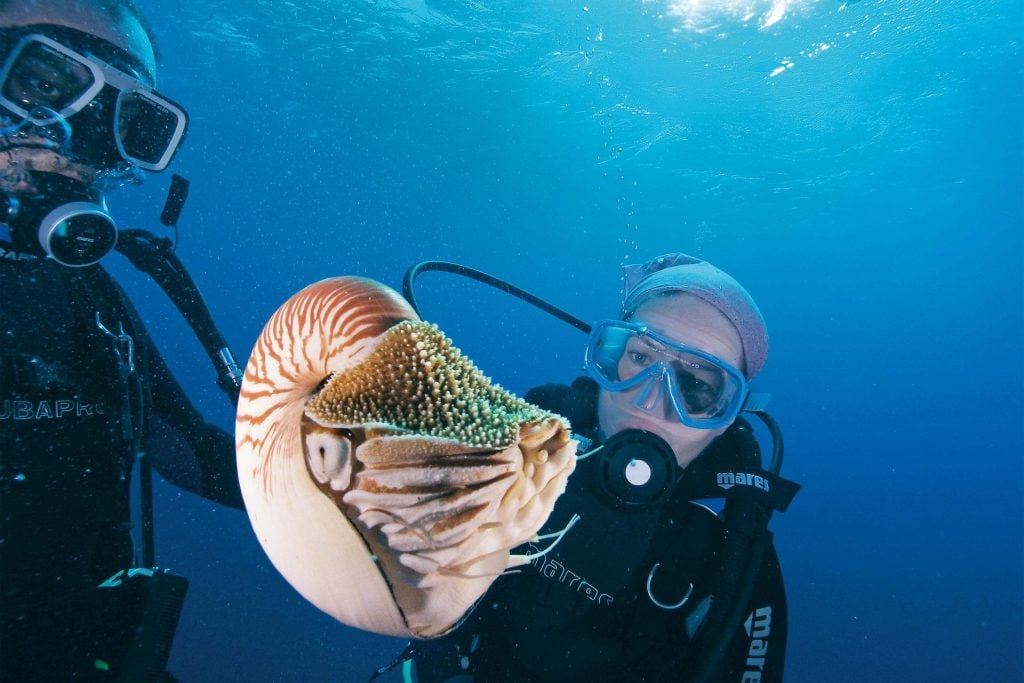 25 Fun facts about the Great Barrier Reef
As you'd expect from one of the seven Natural Wonders of the World, the Great Barrier Reef is home to some weird, wonderful and just plain loveable creatures. Here's 25 fun Great Barrier Reef facts about a marine world larger than Italy.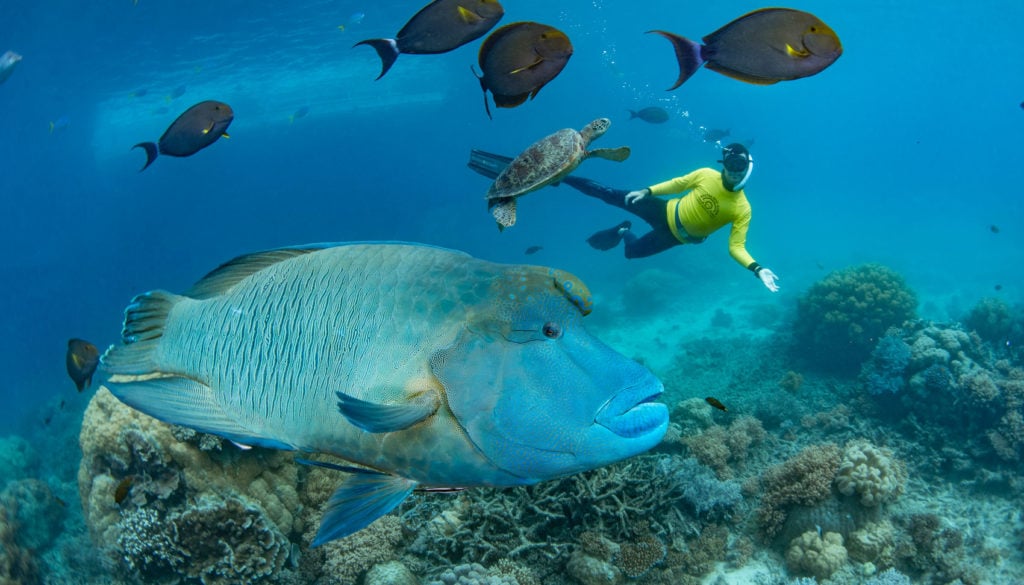 12 Famous residents of the Great Barrier Reef
Only 12 residents? There's probably a gazillion of them, but let's start things slowly shall we. It's not easy to keep track of every single one of the Great Barrier Reef's inhabitants but here are some of the most famous ones in Tropical North Queensland.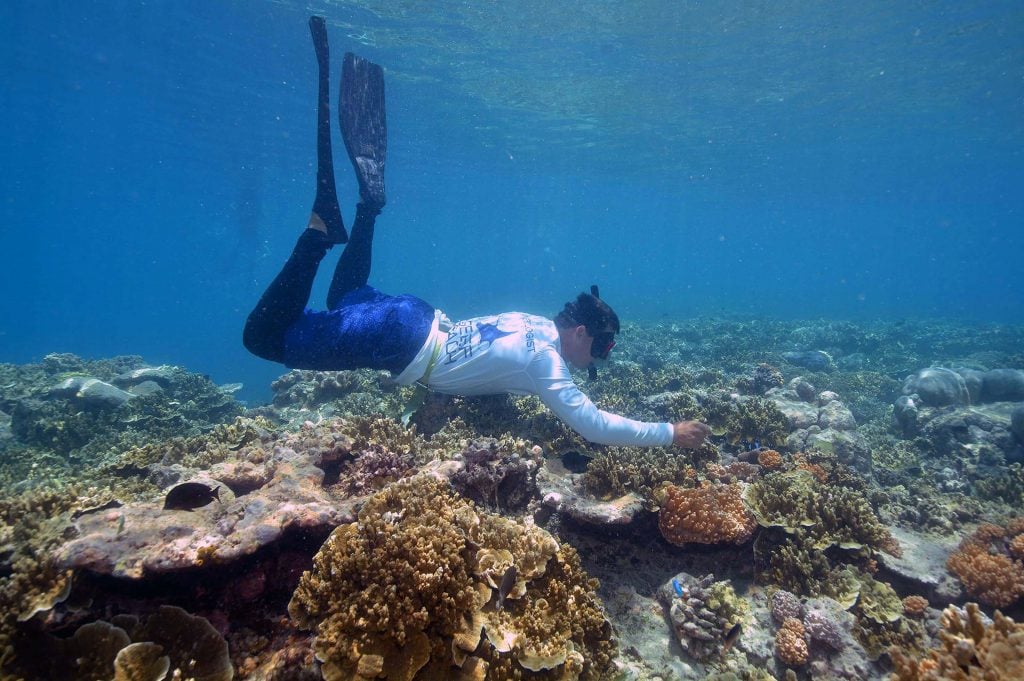 Reef Talk – A chat with marine biologist Gareth Phillips
The Great Barrier Reef is a thriving, living marine environment. It inspires all who visit, even those who see it every day, like marine biologist and owner of Marine Discoveries, Gareth Phillips.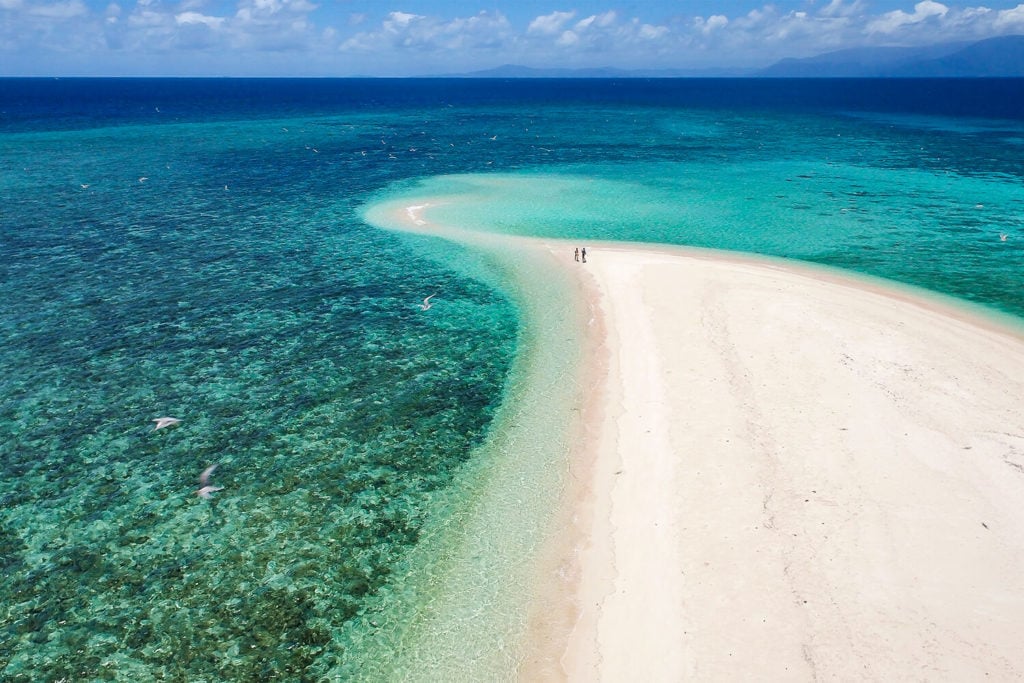 Dreamy sand cays you must visit on the Great Barrier Reef
We've all seen those gorgeous wisps of whiteness poking out from an azure sea on Great Barrier Reef. But what are they? More importantly, where are they? And how can we get a piece of sand cay action? We're here to reveal all.
Explore Glass Bottom Boats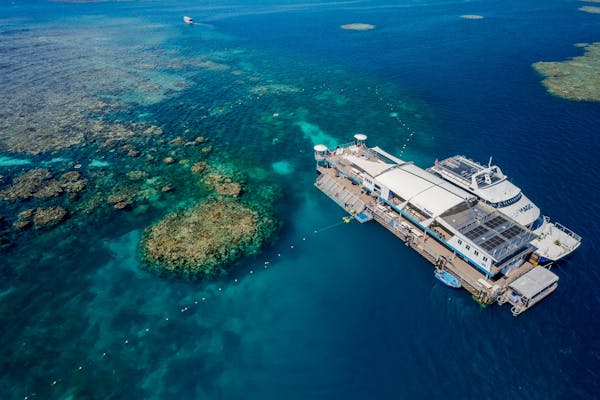 Reef Magic Cruises
Great Adventures Reef and Green Island Cruises
Big Cat Green Island Reef Cruises
Quicksilver Cruises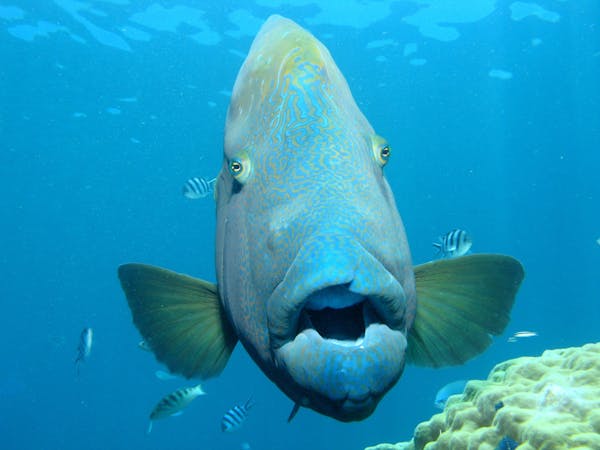 Calypso Reef Cruises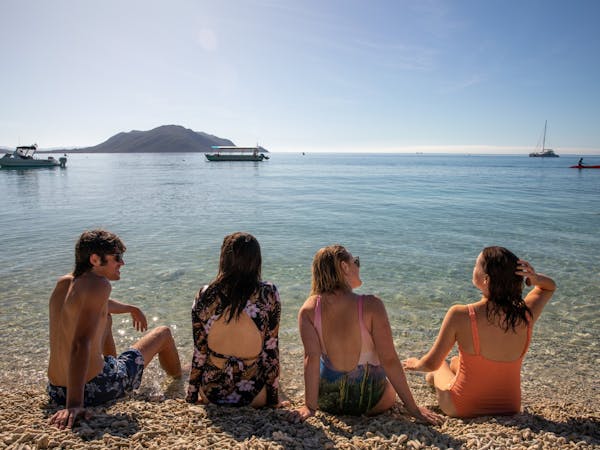 Fitzroy Island Adventures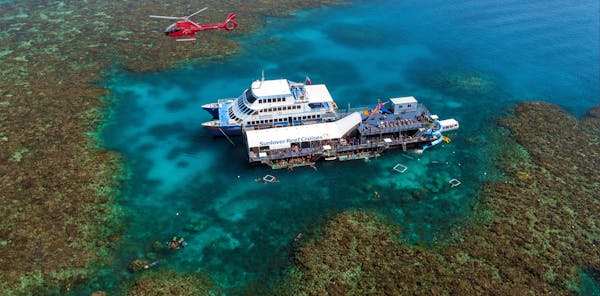 Sunlover Reef Cruises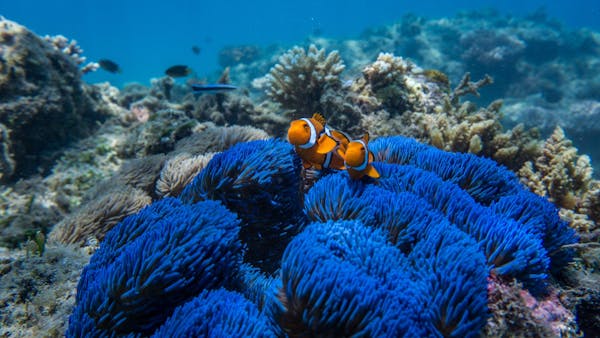 Frankland Island Reef Cruises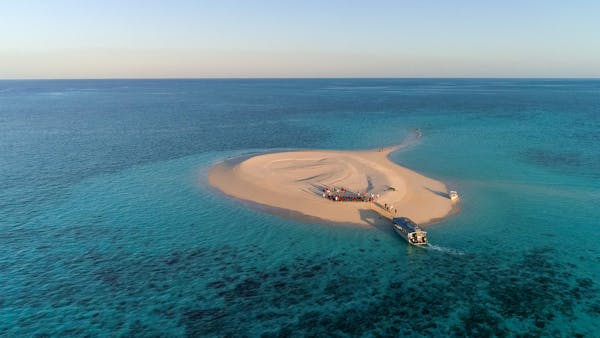 Coral Expeditions | Great Barrier Reef
Privacy overview, accessibility, accessibility modes, online dictionary, readable experience, visually pleasing experience, easy orientation.
Cairns & Great Barrier Reef Accessibility Statement
Accessibility Statement
tropicalnorthqueensland.org.au
November 15, 2023
Compliance status
We firmly believe that the internet should be available and accessible to anyone, and are committed to providing a website that is accessible to the widest possible audience, regardless of circumstance and ability.
To fulfill this, we aim to adhere as strictly as possible to the World Wide Web Consortium's (W3C) Web Content Accessibility Guidelines 2.1 (WCAG 2.1) at the AA level. These guidelines explain how to make web content accessible to people with a wide array of disabilities. Complying with those guidelines helps us ensure that the website is accessible to all people: blind people, people with motor impairments, visual impairment, cognitive disabilities, and more.
This website utilizes various technologies that are meant to make it as accessible as possible at all times. We utilize an accessibility interface that allows persons with specific disabilities to adjust the website's UI (user interface) and design it to their personal needs.
Additionally, the website utilizes an AI-based application that runs in the background and optimizes its accessibility level constantly. This application remediates the website's HTML, adapts Its functionality and behavior for screen-readers used by the blind users, and for keyboard functions used by individuals with motor impairments.
If you've found a malfunction or have ideas for improvement, we'll be happy to hear from you. You can reach out to the website's operators by using the following email
Screen-reader and keyboard navigation
Our website implements the ARIA attributes (Accessible Rich Internet Applications) technique, alongside various different behavioral changes, to ensure blind users visiting with screen-readers are able to read, comprehend, and enjoy the website's functions. As soon as a user with a screen-reader enters your site, they immediately receive a prompt to enter the Screen-Reader Profile so they can browse and operate your site effectively. Here's how our website covers some of the most important screen-reader requirements, alongside console screenshots of code examples:
Screen-reader optimization: we run a background process that learns the website's components from top to bottom, to ensure ongoing compliance even when updating the website. In this process, we provide screen-readers with meaningful data using the ARIA set of attributes. For example, we provide accurate form labels; descriptions for actionable icons (social media icons, search icons, cart icons, etc.); validation guidance for form inputs; element roles such as buttons, menus, modal dialogues (popups), and others. Additionally, the background process scans all of the website's images and provides an accurate and meaningful image-object-recognition-based description as an ALT (alternate text) tag for images that are not described. It will also extract texts that are embedded within the image, using an OCR (optical character recognition) technology. To turn on screen-reader adjustments at any time, users need only to press the Alt+1 keyboard combination. Screen-reader users also get automatic announcements to turn the Screen-reader mode on as soon as they enter the website.
These adjustments are compatible with all popular screen readers, including JAWS and NVDA.
Keyboard navigation optimization: The background process also adjusts the website's HTML, and adds various behaviors using JavaScript code to make the website operable by the keyboard. This includes the ability to navigate the website using the Tab and Shift+Tab keys, operate dropdowns with the arrow keys, close them with Esc, trigger buttons and links using the Enter key, navigate between radio and checkbox elements using the arrow keys, and fill them in with the Spacebar or Enter key.Additionally, keyboard users will find quick-navigation and content-skip menus, available at any time by clicking Alt+1, or as the first elements of the site while navigating with the keyboard. The background process also handles triggered popups by moving the keyboard focus towards them as soon as they appear, and not allow the focus drift outside of it.
Users can also use shortcuts such as "M" (menus), "H" (headings), "F" (forms), "B" (buttons), and "G" (graphics) to jump to specific elements.
Disability profiles supported in our website
Epilepsy Safe Mode: this profile enables people with epilepsy to use the website safely by eliminating the risk of seizures that result from flashing or blinking animations and risky color combinations.
Visually Impaired Mode: this mode adjusts the website for the convenience of users with visual impairments such as Degrading Eyesight, Tunnel Vision, Cataract, Glaucoma, and others.
Cognitive Disability Mode: this mode provides different assistive options to help users with cognitive impairments such as Dyslexia, Autism, CVA, and others, to focus on the essential elements of the website more easily.
ADHD Friendly Mode: this mode helps users with ADHD and Neurodevelopmental disorders to read, browse, and focus on the main website elements more easily while significantly reducing distractions.
Blindness Mode: this mode configures the website to be compatible with screen-readers such as JAWS, NVDA, VoiceOver, and TalkBack. A screen-reader is software for blind users that is installed on a computer and smartphone, and websites must be compatible with it.
Keyboard Navigation Profile (Motor-Impaired): this profile enables motor-impaired persons to operate the website using the keyboard Tab, Shift+Tab, and the Enter keys. Users can also use shortcuts such as "M" (menus), "H" (headings), "F" (forms), "B" (buttons), and "G" (graphics) to jump to specific elements.
Additional UI, design, and readability adjustments
Font adjustments – users, can increase and decrease its size, change its family (type), adjust the spacing, alignment, line height, and more.
Color adjustments – users can select various color contrast profiles such as light, dark, inverted, and monochrome. Additionally, users can swap color schemes of titles, texts, and backgrounds, with over 7 different coloring options.
Animations – epileptic users can stop all running animations with the click of a button. Animations controlled by the interface include videos, GIFs, and CSS flashing transitions.
Content highlighting – users can choose to emphasize important elements such as links and titles. They can also choose to highlight focused or hovered elements only.
Audio muting – users with hearing devices may experience headaches or other issues due to automatic audio playing. This option lets users mute the entire website instantly.
Cognitive disorders – we utilize a search engine that is linked to Wikipedia and Wiktionary, allowing people with cognitive disorders to decipher meanings of phrases, initials, slang, and others.
Additional functions – we provide users the option to change cursor color and size, use a printing mode, enable a virtual keyboard, and many other functions.
Browser and assistive technology compatibility
We aim to support the widest array of browsers and assistive technologies as possible, so our users can choose the best fitting tools for them, with as few limitations as possible. Therefore, we have worked very hard to be able to support all major systems that comprise over 95% of the user market share including Google Chrome, Mozilla Firefox, Apple Safari, Opera and Microsoft Edge, JAWS and NVDA (screen readers), both for Windows and for MAC users.
Notes, comments, and feedback
Despite our very best efforts to allow anybody to adjust the website to their needs, there may still be pages or sections that are not fully accessible, are in the process of becoming accessible, or are lacking an adequate technological solution to make them accessible. Still, we are continually improving our accessibility, adding, updating and improving its options and features, and developing and adopting new technologies. All this is meant to reach the optimal level of accessibility, following technological advancements. For any assistance, please reach out to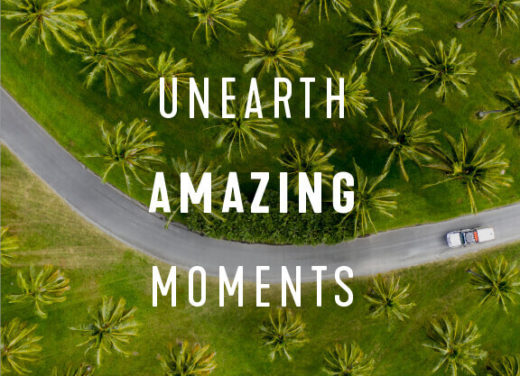 Subscribe to our newsletter
Opt in below to start receiving inspiration straight to your inbox
John Pennekamp Coral Reef State Park
Snorkeling Tours
Scuba Tours
Glass Bottom Boat
Kayaks and Paddleboards
Glass Bottom Boat Reservations
Glass Bottom Boat Tour
Or reserve by phone: 305-451-6300
Reservations
Thank you for submitting your reservation for John Pennekamp State Park.
City & State*
All Reservations need to be made online, click here to Book Now! For the most up-to-date info call (305) 451-6300 .
Glassbottom Boat Tours
Limited wheelchair accessibility is also available on the glassbottom boat Spirit of Pennekamp .
Please call for special group rates and payment information for 25 or more passengers.
For reservations please call (305) 451-6300
Travel Web Design by Wodu.
102601 Overseas Highway (MM 102.5)
Key Largo, FL 33037
P.O. Box 1560
(305) 451-6300
© Coral Reef Park Company, Inc.
Explore John Pennekamp State Park
About The Park
Park Amenities
Job Opportunities
Boat Rentals
Kayak Rentals
Kona Glassbottom Boat - Kailua Bay Charter Co.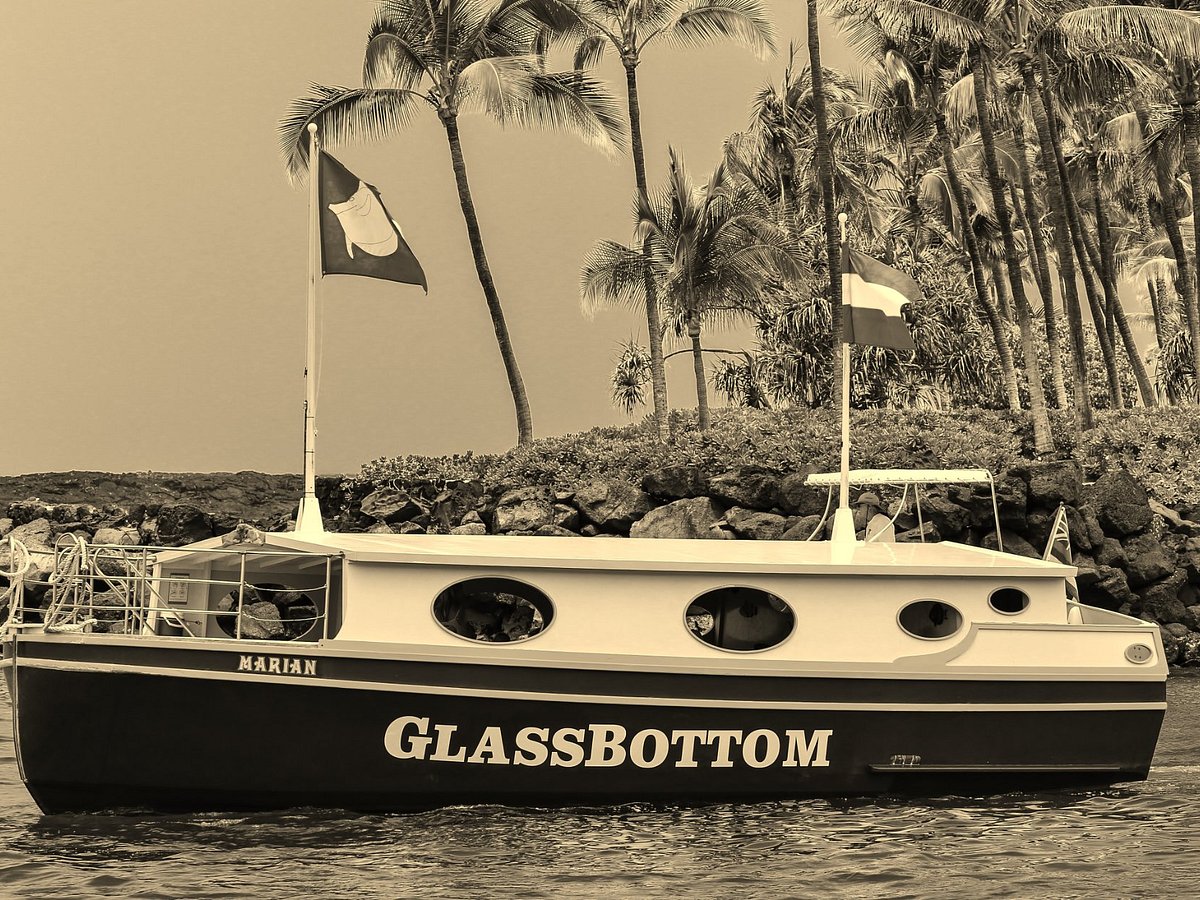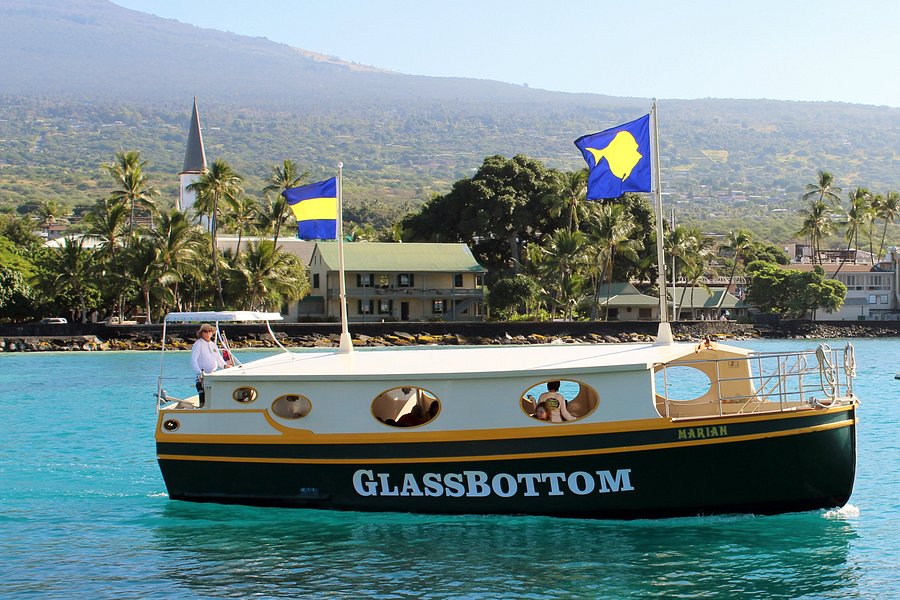 Glass-bottom Boat Reef Tour

Kona Glassbottom Boat - Kailua Bay Charter Co. - All You Need to Know BEFORE You Go (with Photos)
Kona glassbottom boat - kailua bay charter co. information.
Ningaloo Glass Bottom Boat
The best coral viewing, snorkelling & boat cruises in exmouth, wa, ningaloo ecology cruises, glass-bottom boat tours, exmouth, australia, experience the wonders of the world heritage listed ningaloo reef with us.
Coral Viewing Tour
Let us take you on a one-hour tour on our comfortable, open air, glass-bottom boat. We will show you Ningaloo's beautiful coral gardens and marine life from above and below the surface.
All year round
Hour Glass 2 hours
Coral Viewing and Snorkelling Tour – With FREE Courtesy Bus Service
With two hours on the water including coral viewing and snorkelling, let the fresh air wash over you as we show you the best of Ningaloo's lagoon. Optional on this tour is a courtesy pickup, with stops narrated by our knowlegable guides.
Half-Day Snorkelling and Coral Viewing Tour
Our team of local skippers and guides use their experience to find you the best Ningaloo has to offer each day. Enjoy Ningaloo like the locals do & join us for a half-day tour with snorkeling and three hours on the water.
Coral Viewing & Snorkeling Tour – MEET on Ningaloo Reef
Join us for a snorkelling tour with nearly two hours in the water!
Ningaloo Glass Bottom Boat is a family-owned and operated multi-award winning business offering daily glass bottom boat trips throughout the heart of the Ningaloo Reef.
Our friendly and passionate tour guides share with you the wonders of Exmouth and the World Heritage Site Ningaloo Reef.
Our guides are outgoing people who love everything about the Ningaloo Reef, they make your trip enjoyable and informative.
We also offer exclusive tours all year-round, including coach charter tours, excursion tours for school kids, weddings, and corporate getaways.
Explore the heart of Ningaloo Reef with us!
Check Out Our Reviews & Awards!
Absolutely great experience! Would highly recommend!! Very accommodating and a fun day out. Craig and his wife were lovely!
If you're thinking about doing this tour, do it! Really good history of the town of exmouth given on the bus out there, stop off at a ship wreck and the lighthouse then heaps of time on the boat. The guys have amazing knowledge of the area and the ocean. We saw turtles, rays and learnt a lot about corals. Even in the wind the boat was steady and the glass super clear! Loads of time for snorkelling if you want and all the gear supplied. This bloke loves what he does and it shows, well worth the money! Thanks for an amazing trip to Ningaloo!
We really enjoyed this glass bottomed boat trip. The guides were very knowledgeable and great fun! We would definitely book again if we return to Exmouth.
It's All About The Memories You Make