City Tour in Dubai
Half Day Dubai City Tour 2023 Offers
Go for Half-day Dubai City Tour that covers Museum, Dubai Creek, Burj Al Arab, Dubai Marina and many more. Get these sightseeing tickets deals before it's filled up.
Availability: Daily | Duration: 4 Hours (Approx) | Pickup & Drop Back |  from AED 175   AED 100
Discover Dubai as you have never seen before. You can make the most of this city simply by exploring some of the finest places. No matter which destination you choose to be ready to experience something you have never experienced before.  Half-day Dubai tour is about seeing different places. Click images by travelling on minivan or coach, take in Dubai's top destinations to absorb into the grandeur. Remember you have just half of the day to make the most of this beautiful city. Whether it's for a business trip or family time, there is nothing like the half-day trip.
1/2 Day Dubai City Sightseeing Tour Overview
On the tour, you would explore what's famous about new and old Dubai. You get to travel with the expert guides to help you get the best experience from this city. Get to enjoy numerous stops for your photo sessions so you can carry back memories of the good time. Check out the grand mosques for a wonderful spiritual sojourn.
What's included in Dubai Half Day City Tour?
Before you dive into exploring Dubai, you definitely would want to know what's included in it. Right? Have a look at what you get when you book a half-day Dubai city tour.
You Will Be Picked Up From Your Hotel/Residence In Dubai on Sharing Basis
Private Pick Up can be done at Additional Cost
Clean And Air- Conditioned Vehicle
Professional licensed tour guide
Dubai Museum (Al Fahidi fort)
Visit Dubai Creek (Bur Dubai Creek Side)
Jumeirah Mosque (Drive through)
Photo-sessions At Jumeirah Beach
Burj Al Arab (Great Photo Opportunity The World's Only 7 Star Hotel)
The Palm Jumeirah, Atlantis The Palm Hotel With Photo-sessions Stops
Dubai Marina Skyline View With Photo-sessions Stop
Mall Of The Emirates (Drive through)
The Dubai Mall (Drive through)
The World's Tallest Tower Burj Khalifa (Drive through)
Drop Back To Your Respective Hotel/Location In Dubai
Note : Only the morning tour will be conducted on Friday.
Photo Gallery
What Not Included
The Entrance Ticket For Burj Khalifa Is Not Included
No Meals Are Provided In This Tour
You get a great experience and that's a bonus. However, the food and beverages are on you. So, you can eat what you want wherever you want.  The guide can assist you if you want some assistance.
You will be advised a day prior so you can stay well prepared.
Morning Tour
Starting Time: 8:45 AM – 9:15 AM
Ending Time: 1:00 PM – 2:00 PM
Afternoon Tour
We can arrange an Afternoon Half Day Dubai City Tour on a Private basis at your convenience time.
Some important information
You need to note that confirmation would be received at the time of booking.  Also, it is advisable that you carry a copy of your valid passport for day travel. Even though a wheelchair is accessible in many places, some places won't allow it. Coming to payment, online payment is accepted. The tour is suitable for all age groups.
Allocation of the seat depends on the management and the availability. All the tours are operated on a sharing basis unless requested or confirmed otherwise.
From 20th December to 10th January 2023, there will be a surcharge of AED 25 to 50 per person when visiting.
Cancellation policy
Cancellation should be done 24 hours before.
All refunds done against any purchase would be refunded through the original mode.
Dubai city is full of surprises and packed with amazing places to explore. You can never make the most if it unless you enjoy a half-day Dubai city tour.
Half Day Dubai City Tour FAQs
Which places can I visit during my half day Dubai city tour?
Burj Khalifa:  This place doesn't need any introduction. Visitors here can enjoy the stunning views of Burj Khalifa and can take selfie. Inside the building, there are several luxury restaurants and lounges, including the famous At.mosphere restaurant, which is located on the 122nd floor.
Dubai Museum:  This is among the popular tourist attraction in the heart of Dubai city. The museum offers visitors a glimpse into the rich cultural and historical heritage of Dubai, that shows how it was look like before the oil boom and new era.
Burj Al Arab:  Go to Burj Al Arab and witness the luxurious global icon of UAE. This most beautiful five-star hotel in the world has a sail like shape and situated on the coastline of the city.
The Dubai Mall:  This is counted among the biggest mall in the UAE where 1,200+ retail outlets exists.  You can enjoy a range of experiences at The Dubai Mall, from shopping and dining to watching movies, ice skating, and visiting the  Dubai Aquarium and Underwater Zoo .
From where will you pick me up for the half day city tour of Dubai?
We will pick you up from your Dubai accommodation in the morning. Mention the pickup point or the hotel address while booking tickets. Also, inform us about the number of people traveling with you so that we can arrange the transport accordingly.
Can I get an air-conditioned cab during the tour?
Yes, we will provide you with an air-conditioned cab. Moreover, the cab will be spacious having enough leg room to ensure a pleasant traveling experience.
When I have to book the half day city tour?
You have to book the tour one day before your planned date. Doing so will help you avoid the last hour rush. Moreover, advance booking is also recommended if you want to do a lot of activities during the tour.
Will you provide us with an English-speaking guide?
Yes, our professional tour guide can speak English as well as Arabic.
What is the duration of this half day city tour Dubai?
The duration of this half day city tour Dubai is approximately 5 hours. Once the tour is over, spend the remaining hours in leisure.
Make sure to reach the activity spot at least half-an-hour before the scheduled time.
+971-56-686-8499
Adventure Tours
Attraction Tickets & Tours
Burj Khalifa
City Tour Dubai
Desert Safari
Yacht Rental Dubai
Dune Buggy Safari Dubai
Quad Biking Tour Dubai
Dhow Cruises
Theme Parks Dubai
Water Parks Dubai
Water Sports Dubai
"NEW-YEAR" Tours
Ras Al Khaimah
Tour Packages for Dubai
Atlantis Aquaventure Tickets
Wild Wadi Water park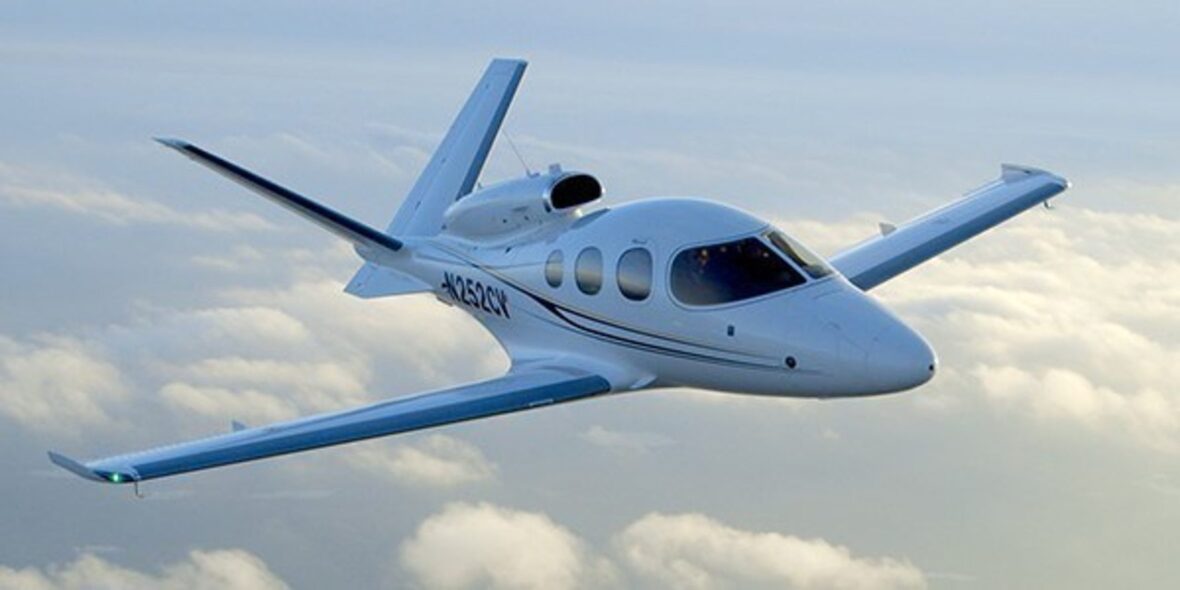 Reset Password
Dubai Half Day City Tour
Instant Confirmation
Pickup Service
To explore Dubai city this vehicle tour offered unmatched itinerary including all the important gems of the city like Burj Al Arab Hotel, the world's only seven-star hotel that is especially noted for its distinctive silhouette resembling a billowing sail, the Palm Island, the crescent-shaped man-made island, the Atlantis Hotel, and the Burj Khalifa, the towering building that is one of its kind in the whole world. Equally noteworthy are Dubai's scenic attractions, and a photo stop at well-maintained Jumeirah Beach will provide you with a unique opportunity to immerse yourself in the city's natural beauty. The journey ends with a drive through Sheik Zayed Road, which has imposing skyscrapers lined on either side and shopping at one of the city's prominent shopping malls with museum of the future pass by. Whether you're a history buff, a shopping freak, or just here to have a glimpse of the city's significant tourist attractions this is the best tour to explore the city.
Itinerary Details
Operated by: Liyana Tourism LLC
Important Details
Additional Info
Infants are required to sit on an adult's lap
Suitable for all physical fitness levels
Meeting Point
Guest will be picked from hotel lobby.
Cancellation Policy
You might also like.
From Dubai: Abu Dhabi Sightseeing, Grand Mosque & Etihad Towers
Fujairah Full-Day Tour from Dubai With Spanish-Speaking Guide
Dubai: Quad Bike Tour with Camel Ride, Sand Boarding & BBQ
Platinum Desert Safari Private & Sharing
Morning Desert Safari with Quad Bike, Sand Boarding & Camel Ride
Dhow Cruise Dubai
Overnight Desert Safari Dubai With Hot BBQ Dinner & Breakfast
Tickets to Miracle Garden or Butterfly Garden or Global Village
Dubai City Tours
Top 10 best city tours.
Dubai is a city of dreams, where the world's tallest buildings, largest shopping malls, and most luxurious hotels coexist with traditional souks, ancient mosques, and stunning desert landscapes. With its year-round sunshine and warm weather, Dubai is the perfect destination for a winter getaway or a summer vacation.
On your Dubai City Tour, you will visit some of the most iconic landmarks in the world, including the Burj Khalifa, the Dubai Mall, the Spice Souk, and the Gold Souk. You will also learn about the city's rich history and culture at the Dubai Museum. And of course, no visit to Dubai would be complete without a desert safari, where you can enjoy dune bashing, sandboarding, and camel riding.
Whether you are interested in shopping, culture, history, or adventure, Dubai has something to offer everyone. So book your Dubai City Tour today and experience the magic of this amazing city!
Half Day City Tours
Full Day City Tour
Private City Tour
Hop on Bus Tour
Dubai Cultural Tour
Shopping Tour
Private Dubai City Tour
Hop on Bus Dubai City Tour

DUBAI CITY TOUR PACKAGES
DUBAI SIGHTSEEING TOURS
Half Day Dubai City Tour
Half day dubai city tour package, price and itinerary.
The Dubai half day city tour is a widely recognized and highly recommended package for anyone wanting to discover both the modern and historic facets of the city, boasting its esteemed status as the shining jewel of the Middle East. Despite being brief, the Dubai half day city tour offers ample opportunities to witness the city's impressive landmarks and gain valuable insight into its history and culture. Although exploring Dubai in its entirety is close to impossible in a single day, the half day Dubai city tour is tailored to help travelers experience as much as possible within a limited time frame.
Dubai half day city includes a visit to historical sites such as the Museum and the Jumeirah Mosque, as well as prominent attractions like the Dubai Mall, Mall Emirates, Palm Island, and The Atlantis Hotel. A drive-by of the luxurious Burj Al Arab Hotel and Sheikh Zayed Road, which offers scenic views of skyscrapers and shopping opportunities at one of the city's malls, are also included. Our Dubai City Tours aim to satisfy all types of tourists, whether interested in history, shopping, or famous landmarks.
Half Day Tour Highlights
Dubai Museum (Al Fahidi fort)
Visit Dubai Creek, Bur Dubai creek side)
Jumeirah Mosque, drive through
Jumeirah Beach, photo opportunity
Burj Al Arab, Great photo opportunity
The Palm Jumeirah, Atlantis The Palm Hotel
Dubai Marina skyline view with photo stop
Mall Of The Emirates, drive through
The Dubai Mall, drive through
Burj Khalifa, the world's tallest tower, drive through
The Cost Includes
Sharing basis hotel pick and drop off in air-conditioned vehicle.
Profession tour guide to assist you throughout the city tour.
Plain water throughout the tour will be available in vehicle.
The Cost Excludes
Entrance tickets to the famous attractions (Burj Khalifa)
Food and beverages during the Dubai city tour.
Anything not mentioned in the inclusion or itinerary.
Half Day Tour Itinerary
Half day Dubai city tour starts with the hotel pick-up centrally located in Dubai or Sharjah Sahara center (Dubai Side). We will pick you up around 08:00 am from the given locations. The hotel pick-up time can be adjusted from 60 minutes depending on the trip schedule and traffic.
Dubai Creek, a saltwater creek in the UAE, is a critical seaport that separates the city into two and links the trading port to the desert. Due to its significance as a trading center, it has deep historical roots and excellent cultural value. Nowadays Dubai Creek offers visitors plenty of attractions such as dhow cruises or strolling around waterfront developments like Dubai Creek Harbour.
Jumeirah Mosque, located on Jumeirah Beach Road in Dubai, is a significant landmark. While often visited as a photo stop on city tours, non-Muslim travelers can enter for an hour-long visit accompanied by a guide from the Sheikh Mohammed Centre for Cultural Understanding. The mosque offers morning and afternoon visits, and its majlis timings are from 9:00 am to 5:00 pm.
Burj Al Arab is a luxury hotel located in Dubai, United Arab Emirates. It is known for its distinctive sail-shaped design and is considered a symbol of Dubai's economic boom and future-oriented outlook. Managed by Jumeirah hotel group, it is one of the tallest hotels in the world, renowned for its seven-star status and features like fine-dining restaurants and private beaches.
An artificial archipelago in Dubai designed like a palm tree, The Palm Jumeirah invites you to discover luxury residences, hotels, and attractions. Among its remarkable landmarks is Atlantis The Palm Hotel, notable for its dazzling architecture that encompasses a water park, aquarium, and lavish amenities.
Dubai Marina is a lively wate­rfront district that offers breathtaking views of its magnificent skyline. The area boasts towering skyscrapers, opulent residential towers, and an active marina that all contribute to the urban landscape's captivating charm. For visitors looking to capture Dubai's beauty, a photo stop at this vibrant location is an absolute must do!
Mall of The Emirates in Dubai is a popular spot for visitors looking to indulge in some serious retail therapy. Beyond its extensive shopping options, the mall boasts exciting entertainment facilities such as Ski Dubai and various dining venues. For those who want to experience all of this grandeur without leaving their car, a drive through option is available to take it all in at once.
The Dubai Mall boasts its position as one of the largest and most famous retail destinations globally. Its striking architecture and lively ambiance are worth experiencing with a drive-through. The mall houses an extensive array of luxury brands, while visitors can also explore various entertainment options including the amazing Dubai Aquarium & Underwater Zoo as well as several dining choices.
The Burj Khalifa, recognized as the world's tallest skyscraper, may be experienced via a drive-through option. While it doesn't provide access to the building's interior, visitors can still marvel at its extraordinary exterior and towering height. This iconic structure represents Dubai's remarkable architectural innovations and engineering feats.
The half day Dubai city tour concludes around 01:00 pm to 02:00 pm and all the valued guests will be dropped back to their hotel accordingly.
Important Information
It is advised to carry a copy of your valid passport for day travel.
For children under 3 years of age will be taken as infants and will be free.
Children aged from 3 to 10 years will be charged as per child rate.
Children above 10 years will be taken as adults and will be charged full price.
Booking & Cancellation:
All the tours must be booked and paid for at least 24 hours before departure.
Cancellations made 24 hours before the tour departure will be free.
Cancellations made within 24 hours before departure will be 100% charged.
If you are eligible for the refund, the amount will be returned to your account within 10 working days.
Write a Review Cancel reply
Thank you. Your review will appear after admin approves it.
Please fill all the fields.
Your email address will not be published. Required fields are marked *
Review Title*
Date Of Experience
Photo Gallery Invalid File Type. Supported File Type: JPEG/JPG, PNG. Drop your Image or click to browse Supported file : JPG, PNG, GIF
Save my name, email, and website in this browser for the next time I comment.
Best Price Guaranteed
Easy Booking & Cancellation
Professional Local Guides
Featured Trips
Dubai Airport Transfers
Dubai marina dhow cruise.
Abu Dhabi City Tour From Dubai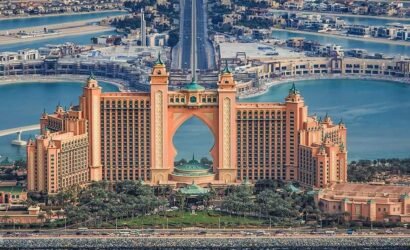 Click on the above button to add social media icons. You can also change the order of the social icons.
This is now in your Top Picks!
Login or create an account to save your favourites and receive personalised recommendations.
Login to like
Sign in or register to like this content
Explore Dubai
Things to do
Eat & Drink
What's on
Plan your trip
Related sites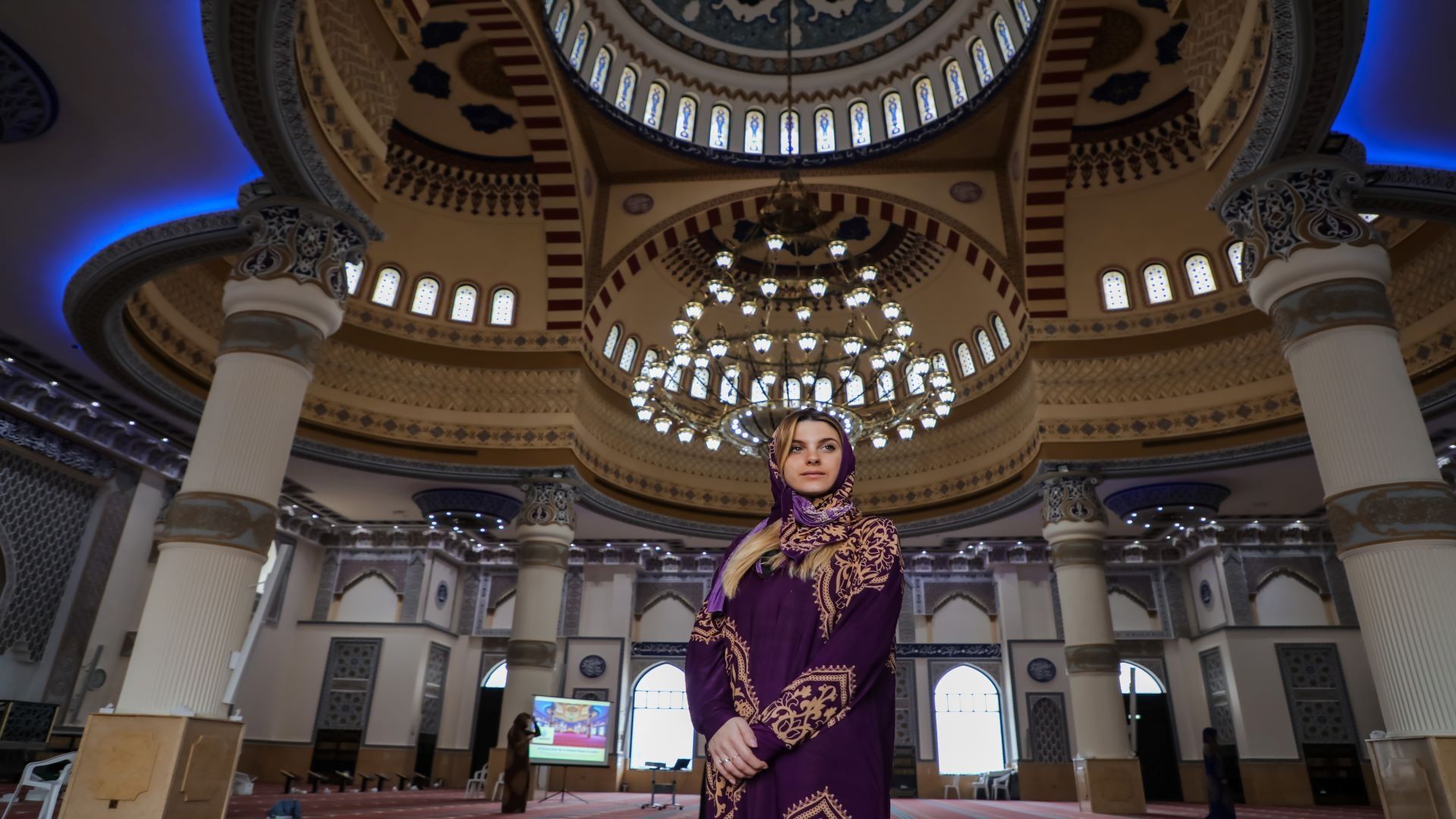 Half-day Dubai City Tour with Blue Mosque visit
Dubai city tour half-day with blue mosque visit - german, dubai city tour half-day with blue mosque visit - spanish, dubai city tour half-day with blue mosque visit - french, half-day dubai city tour with blue mosque visit supplied by: oceanair travels.
Explore the best of both old and new Dubai during this fascinating and educational half-day sightseeing tour.
Visit some of the city's best known attractions
Stop by The Pointe, Palm Jumeirah and enjoy views of the Atlantis
Admire the architectural beauty of the Blue Mosque
Stop and shop at the buzzling Gold and Spice Souks
Explore the traditional charm of Al Khayma Heritage House
What's included
Pick-up and drop-off at selected hotels and locations
Transfers by clean, air-conditioned vehicle
Professional, licensed tour guide
Admission fees to the attractions mentioned above
Abra water taxi fees
Al Khayma Heritage House visit
Cold mineral water during the tour
Any extra services or expenses not mentioned above
Explore the best of both old and new Dubai in this sightseeing tour. Visit some of the city's finest attractions, such as The Pointe, Palm Jumeirah, the Blue Mosque, Old Emirati House and many more! You can't help but admire the charm of 'The City of Lights'. Choose the language of the tour: English, German, Spanish or French.
Know before you go
Please note, the tour duration will be between 4 and 5.5 hours, depending on traffic. This tour may be conducted in two different languages simultaneously This trip is not wheelchair accessible. The duration of the tour includes pick-up and drop-off. The operator will contact you within 24h to 48h of the tour date to confirm pick up location and time. All of our products are operated in line with local Covid-19 legislation requirements.
Cancellation policy
For a full refund, cancel at least 24 hours in advance of booked time slot. No-shows and late cancellations are non-refundable.
Additional Information
The operator will contact you within 24h to 48h of the tour date to confirm pick up location and time. All of our products are operated in line with local Covid-19 legislation requirements.
Venue address
Top Dubai City Tour Packages
Adventure Tours
Dhow Cruise in Dubai
Water Sports and Activities
Water Parks
Theme Parks
Kids Activities
+971-56-1919-970
[email protected]
Dubai Half Day City Tour
So you are in Dubai but you have only half a day to spend sightseeing in Dubai? You need to relax on that as here is how you can make the most out of a half-day tour. Go out on a city tour to explore what's old and new in Dubai.

Tour Overview
You can avail of a coach or a minivan and visit the best places. Get ready to be enthralled in a never-before experience of unique places. You can take the help of expert guides who would take you on rounds through the city to experience what is new and striking. Stop for photo sessions while on this half-day tour or go on a shopping spree at the famous malls in Dubai. In case you want to go on a spiritual tour, you can visit the famous mosques.
Dubai is a city full of wonder and surprises. You must follow the rules and regulations of the places you visit to make your trip a hassle-free one. Follow the dress codes while in mosques and also the rules that you need to follow at the museums and at the malls to make the most of your half-a-day Dubai Tour.
Inclusions of Half Day Dubai City Tour
Here is what you can find included in your half-day Dubai tour schedule.
Pick-up will be arranged from your residence or hotel in Dubai on a shared basis.
Drop off to the same location after the tour is over.
You get to travel in an air-conditioned and clean vehicle.
Your entry to the Dubai Museum is included.
Dubai Creek (Bur Dubai sight)
You see the Jumeirah Mosque and the Jumeirah Beach along with it
Take pictures at Jumeirah Beach
Burj Khalifa the world's tallest tower
Mall of the Emirates
Photo session opportunity at Burj Al Arab, the 7-star hotel
Stop for a photo session at the Dubai Marina Skyline View.
Even wonderful photo sessions at the Palm Jumeirah, the Atlantis Hotel.
The meal is not inclusive of the tour charges.
Tour Timing
The tour starts – at 8.30-9.00 AM
The tour ends – at 1.00-2.00 PM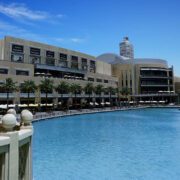 Important Information
Here is some important information that should be kept in mind while on this half-day tour in Dubai.
The tour is suitable for all age groups.
Advance payment is required to book your Half-Day City tour ticket.
The tours are arranged on a sharing basis; Private pick-up and drop are available at additional charges.
The confirmation should be made at the time of booking the tickets.
Tourists have to carry their passports while on tour.
Some places like the Dubai Museum would not allow wheelchairs.
The seating arrangements and allocation will be made on availability.
Booking Policy
Tickets have to be canceled 24 hours before.
If the ticket will be canceled in less than 24 hours then there will be 100% cancellation charges.
All refunds are to be done using the original model.
In case of a refund, the amount will be sent back in 7 working days.
Related Tours
Dubai City Tour from Abu Dhabi
Abu Dhabi City Tour
Full Day Dubai City Tour
Dubai City Tour with Desert Safari
Abu Dhabi City Tour With Ferrari World
Review scores, add a comment cancel reply.
Save my name, email, and website in this browser for the next time I comment.
Tour Information
Tour location, languages support.
Whatsapp us
Last Minute Deals
Yellow Boat Dubai
Royal desert safari dubai.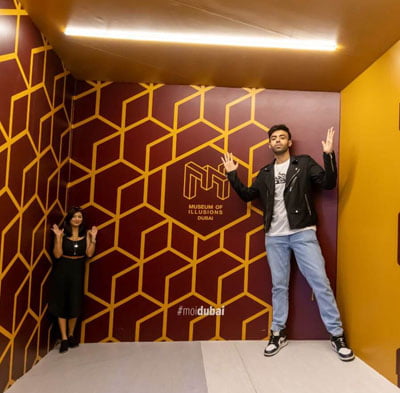 Museum of Illusions Dubai Tickets
Love Boats Dubai for 90 Minutes
Reset password.
Dubai Half Day City Tour
Dubai half-day city tour is a tour in a comfortable minivan around the Dubai. During this trip you will discover the most famous and beautiful places in Dubai , learn a lot of interesting information about the city and get the best advices from a local guide.
So, what places and attractions will you visit during the Dubai half-day sightseeing tour?
Depending on the places of residence of the tour participants, the order of the places you will visit may vary. However, you will definitely see the best places to visit in Dubai and get a great experience.
Atlantis The Palm Hotel
Burj al arab, jumeirah public beach, jumeirah mosque, dubai creek boat ride, the dubai mall.
Best City Tours
Other things to do in Dubai
Famous Atlantis The Palm is the first hotel built on the Palm Jumeirah island and one of the most iconic sights of the city. The complex consists of two buildings of the hotel and a bridge connecting them, a spa area and private beach.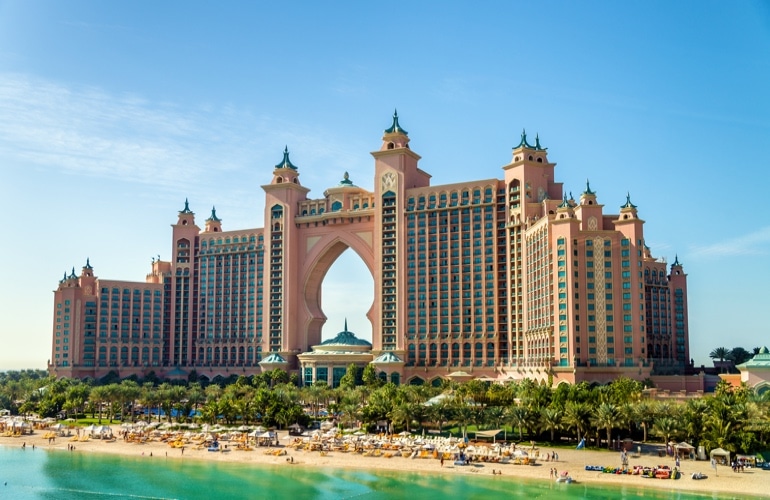 Also, numerous restaurants and the famous water park Aquaventure is situated in Atlantis hotel, as well as aquarium Lost Chambers and the Dolphin Bay. Atlantis The Palm is a really unique hotel. You can find their Underwater Suits which stretch over three floors, have an aquarium instead of a wall and their own elevators.
During your tour you will have an opportunity to enter the iconic hotel and see its interior. Besides that, the guide will show you a secret place with one of the best views of Burj Al Arab.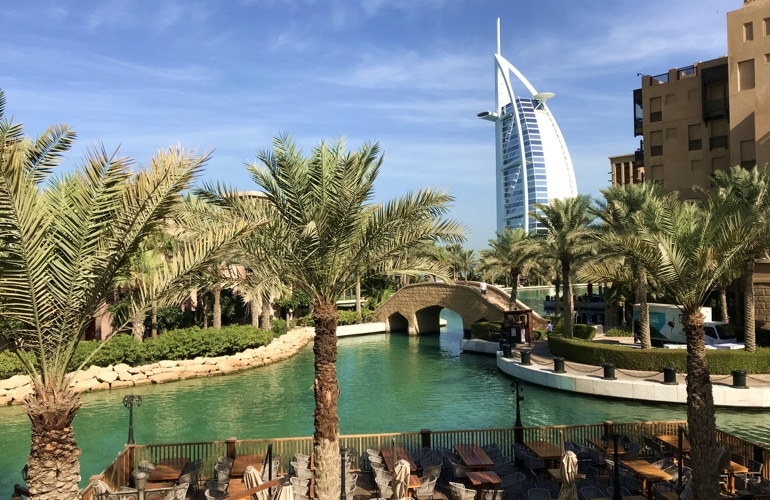 One of the most luxurious hotels in the world, Burj Al Arab is built in the form of a sail and situated on a separate artificial island ("Burj" from Arabic means "tower"). 280-meter bridge connects the magnificent building with the ground. This is interesting, that to decorate the Burj al-Arab interior was used about 8,000 square meters of 22-carat gold leaf.
The best views of the unique construction are provided from the Atlantis The Palm hotel, Jumeirah Public Beach and from the water during the speed boat tour.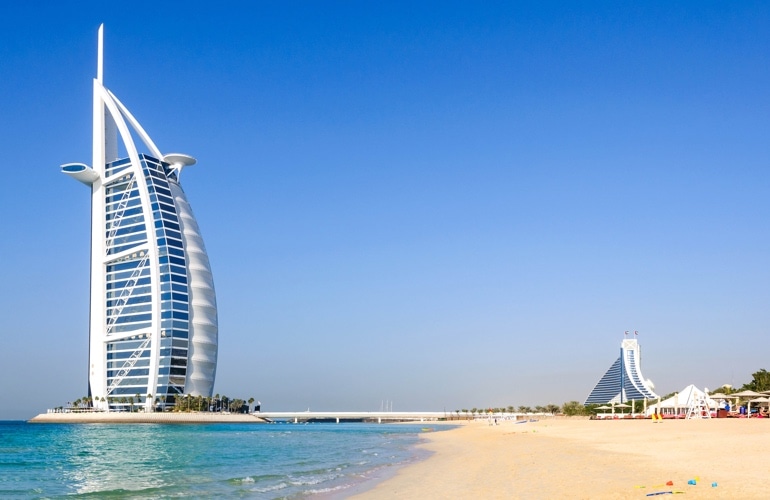 The advantage of such tours is also in the fact that you can visit without hurry a large number of places in half a day. One of these places is Old Dubai where Deira Gold Souk and Dubai Spice Souk Market are situated.
Gold Souk is the largest and most visited souk in Dubai. If you plan to buy jewelry , or just want to experience the atmosphere of the real Arabic market, you should definitely visit this marketplace. There are so many jewels here that, if you put them all together, you'll get around 10 tons of gold.
Indeed, here you can find jewelry for every taste and budget. Do not hesitate to bargain with the sellers, as the final price may be significantly lower than the one indicated on the price tag. Also, before buying items you like, make a tour around and take a look at the nearest shops. Often the same product is sold in different stores, and the price may vary.
There are also guided tours organized to Golden Souk.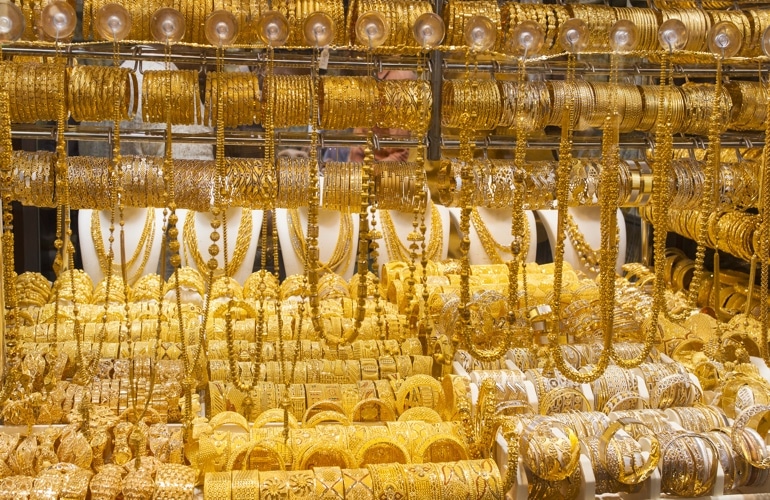 This is a traditional market in Deira where you can buy different kinds of spices, cinnamon, lemon, saffron, rose, chili, powders, herb, incense, nuts, dried fruits . In addition, various tea, oils, perfumes, textiles and shisha are sold here. In Spice Souk you can also buy souvenirs at a cheaper price than in other areas of Dubai.
As in every Arabic market, don't hesitate to bargain and do not buy things right away in the first shop you find. Most likely, the sellers will treat you with sweets and offer to try the products of their shop. You are free either refuse or accept the offer. Even if you try the candies that were presented to you, it does not commit you to make a purchase.
As in every Arabic market, don't hesitate to bargain.
During the tour your guide will show you the most interesting shops to go . Don't hesitate also to ask him about local products and best souvenirs.
Check Spice Souk tours & reviews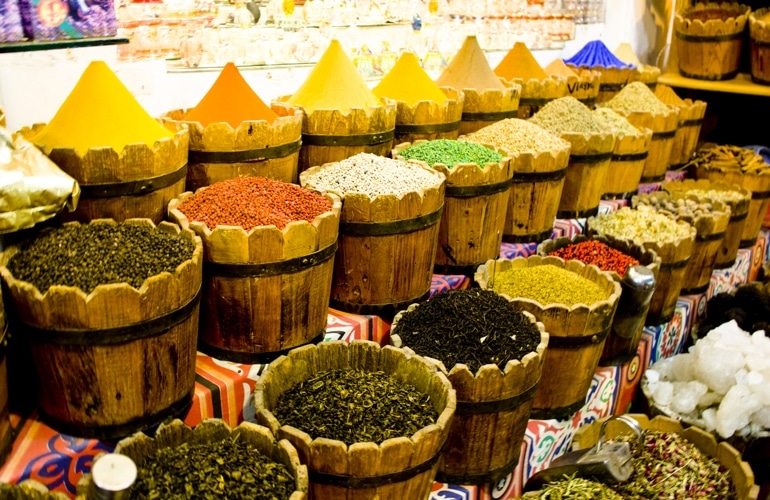 This beach is located in Jumeirah , one of the central areas of Dubai. This is one of the most popular beaches in the city. It is free for all the visitors and offers a classic view of the Burj Al Arab tower .
The guide will bring you to the place, which provides the best landscape and you will have some free time to make beautiful photos.
Your next stop will be near the Jumeirah mosque . It is located in the Jumeirah area on the eastern side of Jumeirah Public Beach. Representatives of other religions, not only Muslims, can enter there. In the building of the mosque is situated the Center for Intercultural Communication under the patronage of Sheikh Mohammed.
The mosque was built in 1979 in the Fatimid style of architecture. It is interesting, that you can find the Jumeirah Mosque on the banknote of 500 UAE dirhams. This is also one of the most beautiful and most visited places in Dubai.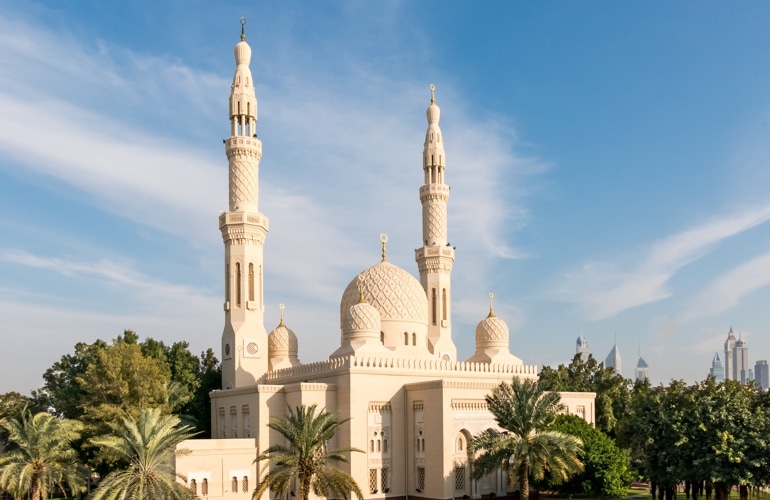 A pleasant surprise during the trip will be a trip on a boat along the coastline of Dubai. This is a journey on one of the small wooden boats called "abra" . Riding along the Dubai Creek you can imagine what Dubai looked like hundred years ago, when merchant ships rode here with might and main.
Moreover, you will not need to pay anything for that trip, as it is already included in the price of the sightseeing tour.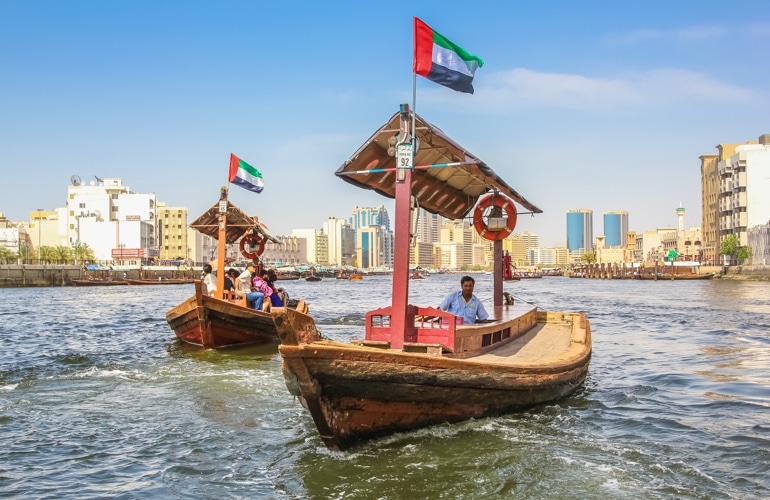 The Dubai Mall is the world's largest destination for shopping , entertainment and leisure situated next to the the Burj Khalifa building. It has a 250-room luxury hotel, 22 cinema screens, 1200 shops and around 200 restaurants.
Even if you will spend in each shop only 1 minute, you will need more than 24 hours to visit them all :)
In 2011 Dubai Mall was the most visited building on the planet - over 54 million people visited it for one year. And today it remains the second largest shopping mall in the world. If you really want to do great shopping, count on at least 4-5 hours to spend there. In fact, despite the huge area, it is difficult to get lost in this mall, as informative signs are everywhere.
There are shops for every taste and budget, as well as restaurants of various cuisines . By the way, excellent veggie and vegan menus are offered at the Asian inspired restaurant "WagaMama". Look for in on the ground floor, near the Sar Atrium Place and P1 Cinema Parking. The Dubai Mall is open every day from 10am to 12am.
The Dubai Mall will be the last point of your sightseeing tour, so you can enjoy the shopping in the afternoon there.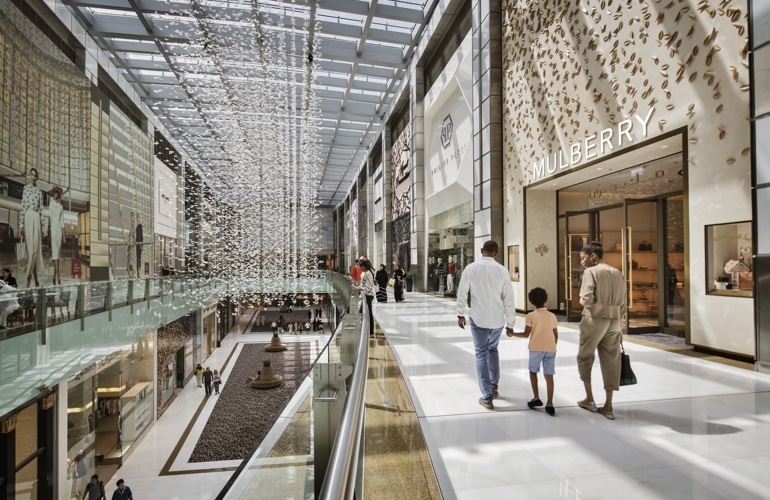 What are the best city tours in Dubai?
There are several major companies in Dubai that offer city tours. They are mainly divided into those that last half a day and that last one day.
Dubai Super Saver: City Sightseeing Tour and Desert Safari: Check prices & reviews
Dubai: Half-Day City Tour: Check prices & reviews
Magical Dubai 8-Hour Tour with Burj Khalifa Experience: Check prices & reviews
Dubai City Half-Day Sightseeing Tour: Check prices & reviews
Dubai by Night City Tour with Fountain Show: Check prices & reviews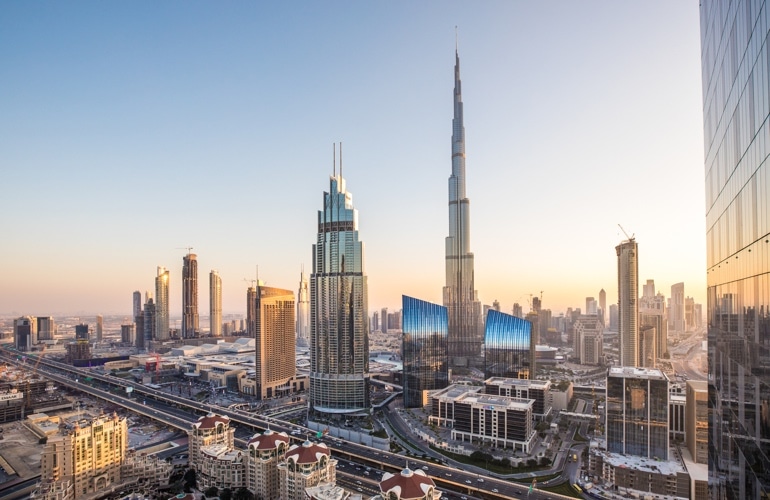 What else to do in Dubai?
Burj khalifa visit.
Burj Khalifa is the highest structure in the world , a skyscraper with a height of 828 meters situated in Dubai Downtown. Before 2010 the tower was called "Burj Dubai" ("Burj" from Arabian means "tower").
An outdoor observation deck, named At the Top , has opened on 5 January 2010 on the 124th floor. Later, on October 2015 Burj Khalifa opened 148th floor SKY level at 555 m, which today remains the highest viewing platform after the Shanghai Tower's observation deck. To the both viewing platforms small-group tours are organized every 15 min.
Opening hours of At The Top are: between 8:00 am and 3:00 pm and between 3:30 pm and 6:00 pm. For sure, the best time to visit the Burj Khalifa is around 4pm. In such a way you can firstly have an amazing view of Dubai and can take photos in daylight. Than, after waiting for a little, you can enjoy the beautiful sunset from the highest building in the world. It is best to book tickets in advance to avoid queues.
Check Burj Khalifa tours, prices & reviews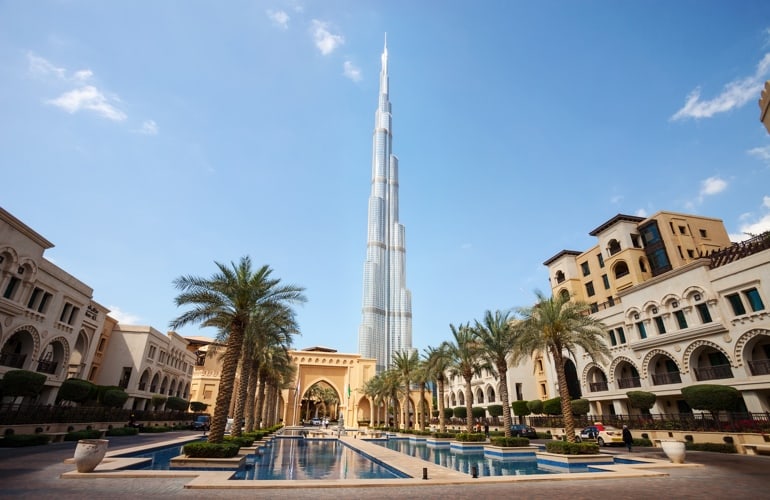 Desert Safari
Discover the wonderful world of the desert safari , traveling to Rub-al-Khali, the hottest desert in the world. Rub-al-Khali is translated as "empty quarter". This desert stretches 1000 kilometres long and 500 kilometres wide. Its area is 50,000 km2 and some dunes are 250 meters high! For a long time, this dessert was considered the most impassable and difficult to live. For several hundred years caravans carried precious incense, spices and fabrics from South Asia through this desert.
Check Desert Safari tours, prices & reviews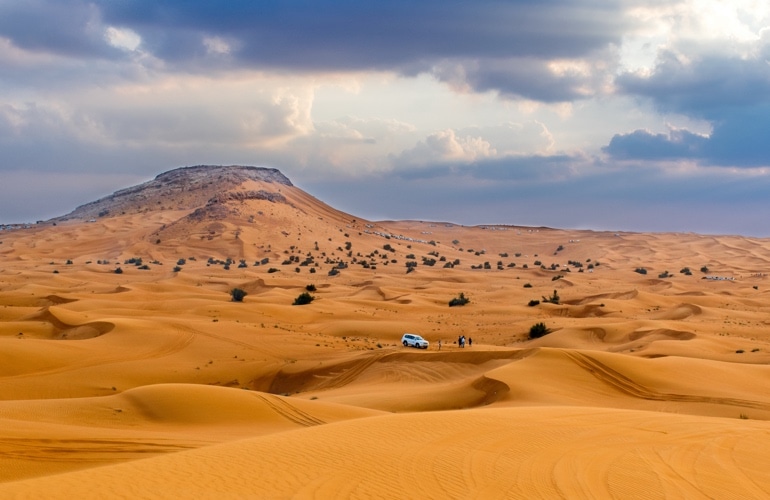 Aquarium & Underwater Zoo
Indeed, one of the best things you can do after / before visiting Burj Khalifa is to go to the Dubai Aquarium . The giant aqua complex consists of Aquarium Tank, Aquarium Tunnel and Underwater Zoo .
Entrance price starts from 120 AED (30 EUR). The most economical option is to buy a combo ticket for 170 AED (40 EUR) which includes:
Aquarium Tunnel
Underwater Zoo
Behind the Scenes tour
Submersible Simulator
Aquarium Glass Bottom Boat.
Dubai Aquarium tickets, prices & reviews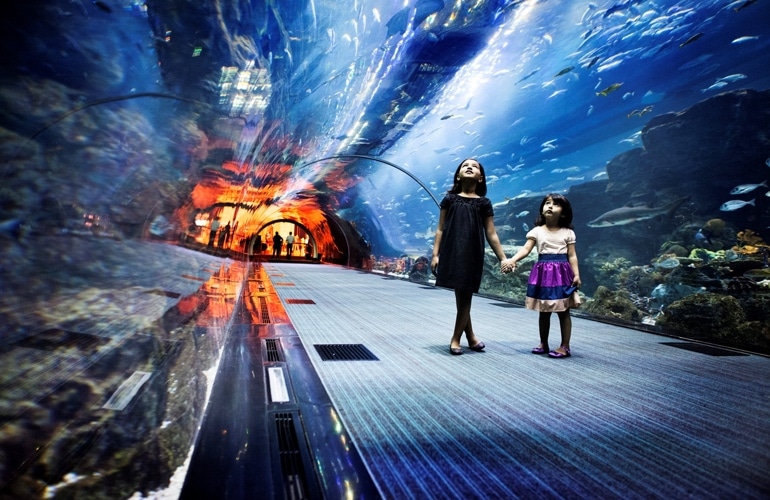 Speedboat tour
Speedboat tour is a thrilling sea journey in the Persian Gulf on Rigid Inflatable Passenger boats (RIB) . This is a special type of lightweight but very high-performance boat. Due to its characteristics, it is one of the safest boats for a water city tour and it can reach a really high speed .
While driving you will enjoy wonderful sea views and get incredible emotions from high-speed drive. You will also see the main sights of Dubai from the deck of your boat, make beautiful photos and get unforgettable memories.
Speedboat tours, prices & reviews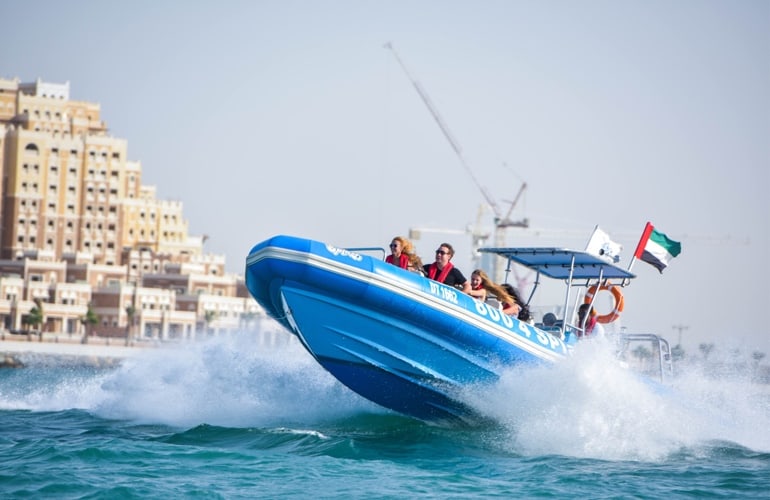 How long is Dubai Half Day City Tour?
The city tour starts at 9 am , before that the driver comes to pick you up at the hotel around 1 hour in advance. In average, to visit all the places of interest takes about 5 hours , so you will be free by 2pm . This time may vary depending on traffic on the roads.
Indeed, if you travel to Dubai in any time of the year and want to know better this beautiful city, the sightseeing city tour is the best way to discover the main sights and to get a lot of useful and interesting information.
Related articles