To reserve services please click the book online button or call 313-309-4595.
All guests must be eighteen (18) years or older. D.Tour Spa does not perform pregnancy massage.
Spa Signatures
$115/50 minutes
$165/80 minutes
$210/110 minutes
$200/50 minute
2 guests/60 minutes
3 guests/90 minutes
4 guests/110 minutes
$140/person
Two guest minimum.
D.Tour Express
per service $67.50 (minimum two express services per person)
MotorCity Mud
D.tour classics, d.tour rocks, urban escape.
Enjoy beautifully engineered body treatments, blending organic botanicals and essential oils. Our body treatments begin with a scrub and are followed by a mask, offering the ultimate in hydration and detoxification.
Exclusive, luxurious, and skin softening, our body exfoliation series is inspired by the powerful fusion of gentle sugar or salt and exotic botanicals
Enjoy pampering nail care in our ultra-private nail suites.
M:$70 P:$90
M:$60 P:$80
M:$55 P:$75
OPI GelColor Replacement:$85
OPI GelColor Removal:$25
M:$35 P:$55
Full Set - $85
Single - $15
Acrylic Soak Off - $45
Nail Repair per Nail - $5
French Tips - $20
Polish Change - $20
Nail Art - $8 per nail
Paraffin Hand or Foot Treatment - $20
Both Hands and Feet - $35
Gel Polish Change - $30
$225/110 minutes
$75/25-minute express
$130/50 minutes
$180/80 minutes
$155/50 minutes
$215/80 minutes
$75/25 minute express
$170/50 minutes
$240/80 minutes
$295/110 minutes
$340/50 minutes
$440/80 minutes
$540/110 minutes
$505 per couple/2 hours
Enhancements are service upgrades that can be added to any massage treatment.
Scalp Treatment - $25/10 minutes
Body Butter - $25 Signature D.Tour, Pink Cadillac, Prickly Pear, Turquoise Sage, Ocean Dew
Hot Stone - $30/five stones
MotorCity Music - $10
Aromatherapy - $20
Cupping Therapy - $20
*We do not offer Pregnancy Massage
We're proud to feature the International Quantum, a world-renowned aesthetic system that combines premier skin care technologies to treat and combat the signs of aging. Featuring micro-current, the acclaimed Non-Surgical face-lift, this technology is unparalleled.
$200/50 minutes
$380/110 minutes
$95/25 minutes
Our Classic Facials use highly effective, scientifically-based skin care that prepare the skin for nourishment, cell regeneration, and protection.
$190/80 minutes
A series of 10 to 12 Signature treatments is recommended to achieve long-term results.
$220/80 minutes
$75/25 minutes
$160/50 minutes
Eyebrow - $25
Upper Lip or Chin - $20
Underarm - $30
Half Arm - $30
Full Arm - $40
Bikini - $45
Playboy - $60
Brazilian - $80
Half Leg - $55
Full Leg - $80
Neck & Shoulders - $35
Chest - $50
Abdomen - $50
Nose/Ears - $25
Please discontinue shaving, tweezing, and using hair removers 2-3 weeks prior to your appointment; hair should be at least ¼ inch long for successful waxing. Trim hair that exceeds ½ inch.
This is the current listing of services and pricing which may, at times differ from our printed brochure.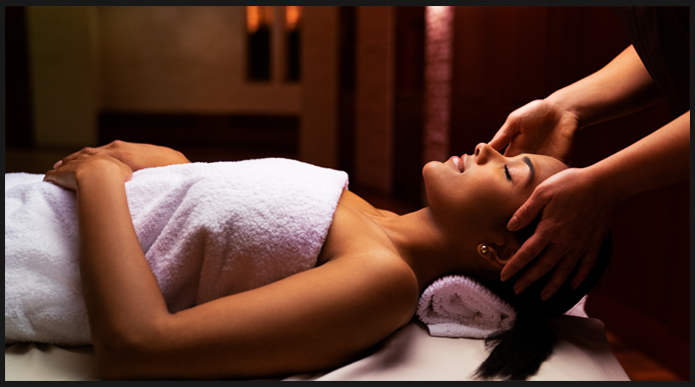 Book Your Escape!
To reserve a D.Tour Spa treatment, please contact our Spa Coordinators at 313-309-4595.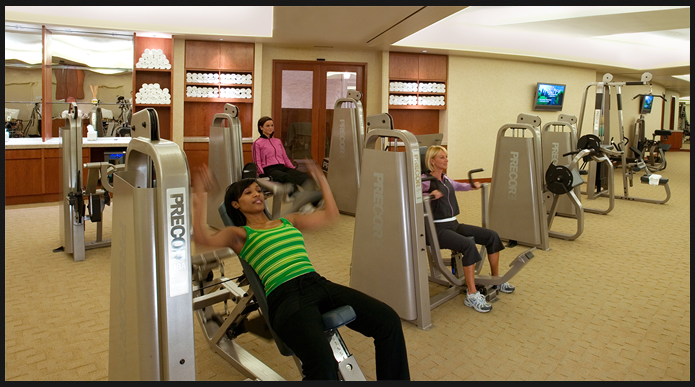 Fitness Center
Our state-of-the-art Fitness Center is open 24 hours for hotel guests.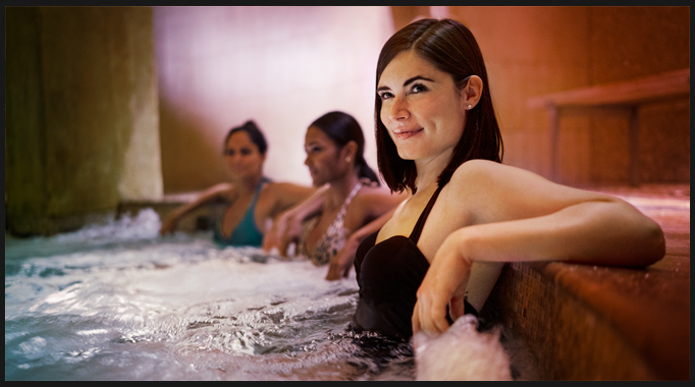 Pamper yourself with massages, treatments, whirlpools, steam rooms, saunas...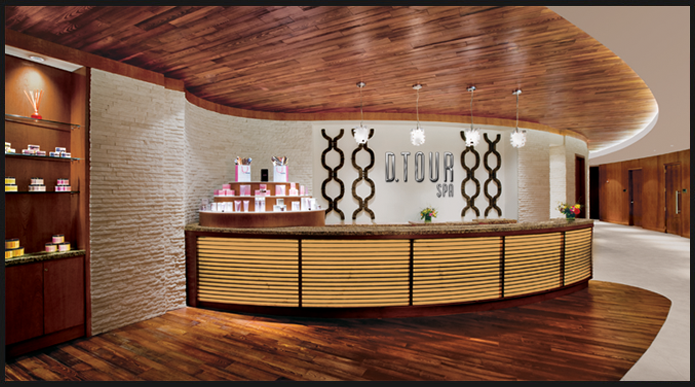 Unwind. Get Comps.
Relax your body, mind and soul in 13,000 square feet of pure decadence. Get Comps.

Getting Around
Weather & Average Temperatures
Detroit Travel Guide
Newsletter Sign-Up
Explore Detroit Pass
International Visitors
VISITEURS INTERNATIONAUX
Detroit Auto Culture
Arts & Culture
Cruises & Tours
Entertainment & Nightlife
Spas & Wellness
Itineraries
Detroit Vibe Blog
Annual Events
Submit Your Event
Downtown Detroit
Windsor, Canada
Breweries, Wineries & Distilleries
Eats in the D
Where to Stay
Digital Passes
Meetings & Groups
Partnership
Media Resources
The Ultimate Metro Detroit Spa Experience
Story by lindsay whitman drewes.
It's time to relax and Detroit has just what you need. With various luxury, traditional, and cutting-edge wellness practices, anyone can ease tight muscles and receive a massive dose of relaxation in the Motor City.
Whether you're looking for an individual, couple, or group session, there's something for everyone. Book a bridal party, couple's massage, or private treatment at one of the top luxury spas in Michigan. Or explore a world of inner peace with holistic energy healing treatments. Detroit is the place to go for the ultimate spa experience.
Luxury Spas
Woodhouse day spa.
Location 1) 1447 Woodward Ave, Detroit, MI 48226
Location 2) 364 N Adams Rd, Rochester Hills, MI 48309
Woodhouse Day Spa offers the ultimate spa experience in Detroit. Book for a quiet day on your own or reconnect with friends, Woodhouse Day Spa has the capacity for groups as well. On top of facials, massages, and nails, many unique wellness treatments are offered. Try a Meditative Mood Soak, Restorative Sleep Massage, or Shirodhara to release tension and find deep relaxation.
Detroit Club Spa
712 Cass Ave, Detroit, MI 48226
Book a thermal bath, couples massage, detoxifying seaweed wrap, or more at Detroit Club Spa. Detroit Club Spa brings the ultimate luxury spa treatments to Motor City.
22070 Michigan Ave, Dearborn, MI 48124
Om Day Spa blends Eastern and Western techniques to bring clients mind and body wellness. This spa offers facials, massage, and breakthrough therapies like Votiva and Monalisa Touch.
Corporate Mind Body WELLNESS Renaissance Center
600 Renaissance Center, Detroit, MI 48243
For those working in the RENCEN, stress relief is just steps away. Specific relaxation treatments are designed to help busy professionals. Massage, reflexology, and oxygen therapy are just a few of the services offered.
Hotels with Spa Options
Motor city casino hotel and d-tour spa.
2901 Grand River Ave, Detroit, MI 48201
The 13,000-square-foot D-Tour Spa offers a complete spa experience. The D-Tour Spa moves you into deep relaxation with thermal whirlpools, large steam rooms, dry saunas, and rain showers. For a uniquely Detroit service, try the MotorCity Music Massage that incorporates touch and sound therapy.
MGM Grand Detroit and Immerse Spa
1777 3rd Ave, Detroit, MI 48226
This 20,000-square-foot spa is an incredibly luxurious experience. Located within MGM Grand Detroit, you can find an ultimate spa oasis. Book a couple's massage, pregnancy massage, manicure, or facial.
MGM Grand Detroit pool
Townsend Hotel
100 Townsend St, Birmingham, MI 48009
Townsend Hotel offers in-room spa services by Spa Mariana. Enjoy a facial or massage from the comfort of your own room.
Other Spa Services
Meta physica wellness center.
1701 Trumbull Ave., Ste. 3, Detroit, MI 48216
Meta Physica Wellness Center has traditional massage therapies, infared saunas, and in-depth services to address various health issues. Arvigo Abdominal Therapy, Vagus Nerve Work, and Craniosacral Therapy are some of the unique treatments offered by Meta Physica Wellness Center.
The Trap Yoga and Massage Studio
3179 Franklin, Detroit, MI 48207
Unlock the mind and body at The Trap Yoga and Massage Studio. Traditional massage techniques are offered as well as the unique BlacThai technique. BlacThai uses conventional massage techniques alongside stretching and works to open energy pathways and give a sense of inner peace.
You May Also Like
Step into the Spirit of Luxury: 313 Day in Detroit
Much like how Mardi Gras means so much more in NOLA, today is March 1…
Take a ​ ' Workcation' in Detroit
In this new world of remote work, many people are choosing to take "workcations," meaning…
Spend Your Unused Vacation Time in Detroit
There's nothing like a 4-day weekend. Kicks off on Thursday and doesn't end until late…
We ask that you read the following terms of use, which constitutes a license that covers your use of this website and any transactions that you engage in through this website ("AGREEMENT"). Legal/Privacy Policy
The whole world knows it – Detroit is THE Motor City. From Henry Ford to…
Aside from being known as the Motor City, Detroit is also commonly known as Motown…
Cruises & Tours
Yacht cruises, pub crawls, home tours, bike rides and beyond. Set yourself up with hassle-free…
Bring the whole family to Detroit for an educational and fun vacation. Museums, zoos, parks…
Would you like to get the insider's scoop on the best things to do and experience in Detroit? Take the first step and sign up for the Detroit Vibe email update.
SalonDiscover
Best Beauty Salons Near You
4.2 – 98 reviews • Spa
D.Tour defines the Urban Spa Experience with an offering of unique spa adventures. Our 13,000-square-foot facility features dedicated lounges that include thermal whirlpools, large steam rooms, dry saunas and rain shower facilities. We offer 10 private treatment rooms with a specialized selection of massage and body treatments and expert finishing touches to bring out your best. To reserve a treatment, please contact our Spa Coordinators at 313-309-4595. If you're staying in the hotel, please dial 84595 to be connected to the spa. There is a $25 facility usage fee that will be waived with any spa service of $75 or more.
Located In: MotorCity Casino Hotel
Appointments: spatime.com
Address and Contact Information
Address: 2901 Grand River Ave, Detroit, MI 48201
Phone: (313) 309-4595
Website: http://www.motorcitycasino.com/Spa.aspx
Related Web Results
D.tour spa – home | facebook, d.tour spa – motorcity casino hotel, day spa | fairhope, al – delatorre day spa, dela spa, manna massage, leave a comment cancel reply.
Save my name, email, and website in this browser for the next time I comment.
Review Highlights
" This place is the real deal spa - from sauna, jacuzzi, steam room, two lounges, spa music throughout. " in 10 reviews
" I received the Swedish massage with Roderick and he did a great job... " in 2 reviews
" I ended up going in for a last minute facial and Natalie was so sweet and she did such a fantastic job. " in 2 reviews
Location & Hours
Suggest an edit
2901 Grand River Ave
Detroit, MI 48201
You Might Also Consider
6.5 miles away from D.Tour Spa
in Medical Spas, Skin Care, Laser Hair Removal
Milan Laser Hair Removal
Get Permanent Results
in Laser Hair Removal
Masri Clinic for Laser and Cosmetic Surgery
5.6 miles away from D.Tour Spa
Marah J. said "This is a nice place to get the job well done. They are very professional and well informed. They make you feel very comfortable with any procedures they performs. I admire they're honesty and professionalism!" read more
in Cosmetic Surgeons, Medical Spas, Plastic Surgeons
Amenities and More
Ask the community.
Ask a question
Yelp users haven't asked any questions yet about D.Tour Spa .
Recommended Reviews
1 star rating Not good
2 star rating Could've been better
3 star rating OK
4 star rating Good
5 star rating Great
Select your rating
Overall rating
A massage here was a wonderful gift from a good friend . This was wonderful experience . Highly recommended.
This spa is amazing. I had the 1 hour massage and Gavin was my masseuse. Gavin was fantastic. The spa is beautiful and very clean, the staff was very friendly. I would highly recommend this spa. It was a wonderful experience.
Wow. Wow. Wow. This place is amazing. I originally planned to visit the Spa at the Westin, but since they don't know how to keep appointments as scheduled, i went here. What a fantastic surprise. This place is the real deal spa - from sauna, jacuzzi, steam room, two lounges, spa music throughout. Super clean and accommodating. You will pay more here than your average spa, but you get all the amenities with it. My only regret was not staying longer to enjoy it all! The facial, manicure and pedicure were all amazing. My manicure is still going strong 4 days later, no chips. My face is refreshed and ready for the summer. My feel have never felt softer! All in all, a fantastic experience. Do yourself a favor and block off a whole day for this spa!
My visit to D. Tour Spa was amazing. As soon as I got off the elevator onto floor S I felt instantaneously relaxed. This spa is beautiful and truly exudes luxury. The staff is amazingly friendly, which is a plus. Many of the higher end spas are a little stuffy and stuck up, I felt very at home and welcomed. I came with a group of my gal pals and needless to say we spent over six hours there and did not want to leave. I got the MotorCity Music Massage and it was wonderful. I'm not really one for massages because the intimacy of it all (I'm old fashioned), but coming to the D. Tour Spa has dramatically changed my mind. I felt very comfortable with the masseur and to tell you honestly I haven't had any back pains since my massage (it's been about a month since my visit). I also had a body treatment as well as a facial. The body treatment I received was the D. Tour Drive Wrap. This made my skin so silky soft, I highly recommend this treatment especially after a long winter. This will make your skin also glow and provide an ideal base for tanning especially if you spray tan or use tanning beds. The facial was also amazing - the technician who administered the facial was very knowledgeable and skilled. She provided counsel on proper skin care as well as products to stay away from. She was able to teach me how to identify trouble areas and showed me how my skin should feel. My skin has been so dull; it was nice to see it have that wonderful youthful glow again. I will definitely be back for another facial. The prices are a little higher here, but it's worth every penny - you will definitely get everything you pay for and more. They also have a wonderful large whirl pool and a dry and wet sauna. It definitely is one of the nicest spas to visit in Metro Detroit. I highly recommend coming here.
This is a great spa! Of the Detroit Casinos, D. Tour Spa easily wins! The only spas I've been to that compare are the luxury spas in Las Vegas ... if you don't know, that's some significant praise! Don't get me wrong, though, this spa falls short of its Vegas counterparts. It's not as big and it has less to offer overall. In Michigan, though, this spa is absolutely amazing! D. Tour has a beautiful hot tub (gigantic) and all of the things you would expect in a top tier spa (saunas both dry and wet, rain forest shower area, massaging shower heads, lounging areas with fruit and beverages). The treatments offered, while expensive, are truly amazing. Everything is done professionally and the people giving the massages are very well trained. The only thing they really lack is a big pool to swim around in. MGM has a better spa for you if that's something you're looking for. Also, you are only able to go to this spa if you're a hotel guest. If you're getting a treatment and have a friend with you, they can purchase a spa pass for around $20.00 and they'll have a great time! MGM allows you to buy spa passes (I think it's $30.00 a person) even if you're not a hotel guest. I fully recommend the D. Tour Spa!
For the city of Detroit this is probably the best offer in regards of a full service spa. However, it's overrated compared to the spas in other major cities and resorts. The quality of services are good but not compared to the prices. The guests services are not accommodating, judgmental and put certain customers in a you are from Detroit box. I'm a professional who travels the world and would much rather spend my dollars elsewhere. Do yourself a favor and experience a true full service spa in other state. If you just want a massage or facial, your best bet is a day spa not D Tour.
I was pleasantly surprised after my visit here. The front desk staff were nice and the amenities were amazing. I am officially in love with the Eucalyptus steam room. After relaxing for a bit, I was called to a treatment room where I was getting a massage by Aaron. The massage table was really comfortable and he used a dry oil so I didn't leave all slimy. I was extremely impressed by his upper body work, I get massages on a regular basis and no one has ever come close to his attention to detail on how he tended to every muscle. There was no routine that he simply followed, he massaged differently according to the pressure needed in different areas. I would be a regular of this place if it weren't so far away. The only down side was the music. I did not find it particularly relaxing.
Customer Service at this place is terrible. They have a 24 hour canalization policy and will charge you in full without questions or a call back. I asked if we could meet in the middle on the price and they said no. So they charged me in full $360. Seems hardly fair when I didn't use the service. I tried calling the day before to cancel but kept getting transferred around and never got a voice mail. I explained all that but they didn't care. Very rude manager.
Very overpriced but an incredible spa experience! The facial was wonderful and the facilities are always spotless. Love the hot tub! Great place to relax and spoil yourself esp in the winter.
Business owner information
Business Manager
May 20, 2015
Monica, this sounds heavenly right about now. Thanks for the five stars!
My experience at D. Tour spa was excellent! This was my first time so I was a bit nervous but they make you feel more than welcomed and are extremely nice. I was a bit nervous when I got my first Brazilian wax done but Shalada made it very comfortable for me. She took her time and you can tell she enjoy what she do. She also waxed my under arms and they feel amazing. She didn't rush and she got every single hair you can possibly see...no lie I will be going back in 5 weeks but if you want a wonderful experience please request Shalada...well worth the money.
5 other reviews that are not currently recommended
ReAwaken Med Spa
We offer several aesthetic services including: Botox/Dysport/Jeuveau/Daixxify Fillers Microneedling with PRP PRP/PRF injections Hair restoration PDO threads- face, neck and body lift Sculptra Weight loss Vitamin injections and IV… read more
in Skin Care, Medical Spas, Cosmetics & Beauty Supply
Kelsey S. said "Three days ago, I had my prom! I decided to have my makeup done at Sephora. The day was hectic so I showed up at 2:30 hoping that my beautician would be able to see me earlier than my appointment at 3:00pm. Miranda was so incredibly…" read more
in Skin Care, Cosmetics & Beauty Supply, Perfume
Collections Including D.Tour Spa
Spa Day - Metro Detroit
By Kristina K.
By Honor G.
Best of Detroit
By Diane L.
People Also Viewed
Immerse Spa
Soak Spa Detroit
Beauty Retreat Studio
Tantra Aveda Spa
Spa in the Woods
Krystyna's European Spa
Luxurious Essentials
Thai Spa Pavilion
Essential Massage Therapy
Browse Nearby
Nail Salons
Things to Do
Restaurants
Breakfast & Brunch
Couple Spa Near Me
People found D.Tour Spa by searching for…
Couples Spa Package Detroit
Day Spa Couples Massage Detroit
Day Spa Massage Detroit
Day Spas Detroit
Hot Tub And Private Saunas Detroit
Nail Salons Detroit
Private Jacuzzi For Couples Detroit
Resort Spas Detroit
Spa Pool Detroit
Spa With Sauna And Steam Room Detroit
Spray Tan Detroit
Tanning Salon Detroit
Other Day Spas Nearby
Find more Day Spas near D.Tour Spa
D. D.TOUR Spa is one of the Three Best Rated® Spas in Detroit, MI.
2901 Grand River Avenue, Detroit, MI 48201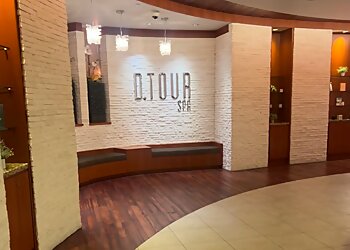 TOUR Spa is an exceptional urban spa that provides unparalleled spa adventures and an exquisite atmosphere. Spanning across a 13,000-square-foot building, the spa boasts dedicated lounges featuring inviting heated whirlpools, expansive steam rooms, indoor saunas, and invigorating rain shower facilities. Within the premises, you'll find ten private treatment rooms offering an extensive selection of massage and body treatments to cater to your specific needs. At D.Tour, their highly skilled staff ensures a professional touch that leaves you feeling truly rejuvenated. Fresh towels and bottled water are thoughtfully provided to enhance your comfort and well-being throughout your visit. To secure a reservation for a desired treatment, their spa coordinators are available 24 hours a day, ensuring seamless assistance and convenient booking options.
Motor City Music
Deep Tissue
Non-Surgical Face-Lift
Reflexology
Aromatherapy
D.Sport Massage for Men
Pink Cadillac Body Wrap
Couple's Massage
Couple's Body Suite and Couple's Suite
Signature Facials
Classic Facials & D.Tour Signature Eye Lift
Contact Business
Very nice quiet atmosphere. . I went on a Thursday. I had a very peaceful birthday. Jade was awesome. Very professional. Steam/ sauna/whirlpool baths showers were all clean and sanitized often. The rooms are very spacious Two lounge areas Women and men are separate. So you don't need to worry about being fully clothed. Which I enjoyed.
Great spa treatment, friendly staff. The rain room was a shower. I was thinking more of a simulation based on the pictures on the site. Fresh cucumber water was a great touch. I did not like the changing area. It is a small locker room and literally no space. I would prefer more privacy. But overall I had a great experience.
Love love love it here I go every month and every month they give me the same courtesy as if it my first time. I love it. My experience is always great.
Write a Review
Massages: Swedish 25-minute express: $75 50 minutes: $130 80 minutes: $180 110 minutes: $225 Deep Tissue 50 minutes: $140 80 minutes: $190 Hot Stone 50 minutes: $170 80 minutes: $220 110 minutes: $295 Facials Classic Facial $130/50 minutes $190/80 minutes Resurfacing Facial $95/25 minutes Pure Perfection Facial $170/50 minutes $220/80 minutes Brightening Facial $170/50 minutes $220/80 minutes Body Wraps Turquoise Sage Wrap $170/60 minutes Pomegranate Age Defense Body Wrap $170/60 minutes Pink Cadillac Body Wrap $170/60 minutes D.Tour Drive Wrap $170/60 minutes
Location / Contact:
2901 Grand River Avenue, Detroit, MI 48201
Phone : (313) 309-4595
Website : motorcitycasino.com/spa.aspx
Working Hours:
Wed & Thu: 10am - 6pm Fri & Sat: 10am - 7pm Sun: 10am - 5pm Mon & Tue: Closed
TBR® Inspection Report:
Nearby spas in detroit:.
WOODHOUSE SPAS 1447 Woodward Avenue, MI 48226
IMMERSE SPA 1777 3rd Avenue, MI 48226
Your message has been successfully sent. Thank You!
Error occurred
Sorry for the inconvenience. Please try later.