Croatia in October: Events, Tips, Weather & More
Croatia is beautiful all year round, but there's something special about the October month.
With the start of October, the magical autumn season approaches and the whole country experiences a final catharsis after busy summer days.
I always loved experiencing October in Croatia when I was young as we'd get back to school sits, friends would reunite and the heat along mosquitoes would be finally gone.
A few years later as I got older, things haven't changed as October remains my favorite month!
So, if you plan to visit Croatia in October I am more than excited to be your guide!
Is October a good time to visit Croatia?
October is the best month to visit Croatia for those who are not keen on peak summer tourist season which comes with disadvantages such as hot and muggy weather, high accommodation and tourist-related services prices, mosquitos and ticks, and a super-busy environment wherever you go.
In October, the days begin to shorten, yet there's still enough daylight, the temperatures significantly fall to release us from chronic heat strikes and mugginess yet it's not cold, the country settles down after the summer hustle and the colors become truly magical at every corner.
Thus, you can pack your stuff and arrive in Croatia right after most tourists leave the country, and enjoy it all for yourself!
What's there to do in Croatia in October?
You'll find many Croatian attractions that start to bloom in October of which I'll mention the ones I love and I know you'll love as well.
While I always recommend coastlines and islands during the summer months, when October approaches, the rest of Croatia becomes way more interesting!
So, I'll share with you some places you might not have ever heard of as they are not as popular as summer tourist attractions, but trust me they'll win your heart.
Services We Recommend and Trust
Best destinations and events to visit in october, plitvice lakes.
Plitvice Lakes national park is a must-see tourist attraction and thus everybody hurls to Plitvice Lakes from July to September, but it clears off in October.
Big crowds always ruin the experience for me as it's difficult to move, the waiting times are longer and obviously, the prices are more expensive with the increased demand.
However, what I find to be most beautiful about Plitvice Lakes in Autumn, and especially in October, are the golden-colored trees and leaves on the ground that reflect upon the lakes and waterfalls.
Dubrovnik
Dubrovnik is as usual among the top destinations for tourists even in October.
While Dubrovnik is renowned for its medieval walls and old town where Game of Thrones was filmed, it offers great hospitality during the summer season as it's home to pristine beaches and clear sea.
During October, summer hobbies such as swimming and snorkeling fall back into the second plan, but the city remains a great destination to explore.
Before October, Dubrovnik is known for being extremely crowded as it's everyone's priority on an itinerary and the summer temperatures put their toll on the visitors.
Visiting Dubrovnik in October when the tourist season finishes is actually a good idea!
Kastav, Bela Nedeja
Kastav, a peaceful small town 10 minutes away from Rijeka by car receives a new veil during its famous October festival Bela Nedeja.
The festival Bela Nedeja takes place between 1. And 3. October and during this time everybody forgets their plans and drives to Kastav to experience the celebration of the beginning of Autumn.
Lots of food, street food deserts, music events, and festive vibes will totally immerse you, and if that's not enough, the famous must wine won't leave you dissatisfied, but rather with a big smile on your face.
Marunada, Lovran
Not far from Kastav, Lovran, the next town after Opatija, hosts magnificent autumn events throughout October.
Starting in the early October days, the popular chestnut-based event called Marunada , Lovran takes place.
Imagine all kinds of chestnut-based foods such as grilled chestnuts, cooked chestnuts, chestnut cakes, pies, chestnut honey, and spirits, everything is about chestnuts.
Moreover, you'll be able to enjoy the oldtimers' show-offs, brass bands, Illusionist performances, storytelling and programs for children, live music, poems, and more spectacles to start the autumn season with the style.
Slunj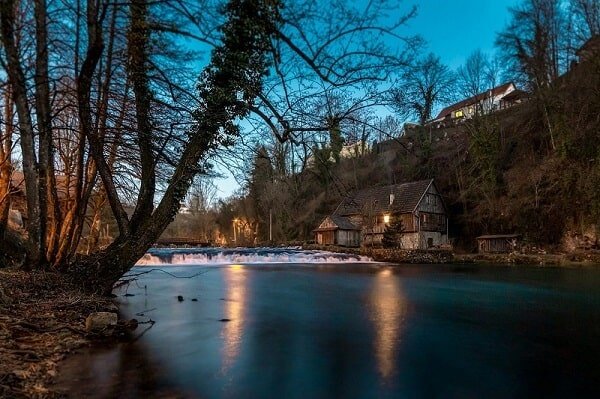 Photos source: slunj-rastoke.hr/en/gallery-slunj/ , 2023
Less than 30 minutes from Plitvice Lakes, lays the idyllic land of Slunj.
Slunj is the epitome of fairy tale places you'd read about in books.
The medieval old town hugged by rivers Slunjčica, Korana i Mrežnica is a growing tourist attraction, and among the top destinations to see in October.
In October, Slunj organizes the autumn hike event for tourists where you explore the region with the help of a guide.
You'll discover magnificent old villages such as Rastoke and many more along your journey!
Žumberak, Samoborsko Gorje Nature park
Žumberak, Samoborsko Gorje Nature Park is home to the most beautiful hiking trails and walking paths which lead you through magical forests, landscapes, meadows, hidden waterfalls, and streams.
Discover medieval towns, fascinating tales, archeological sites where ancient Celtic coins were found, and fantastic cuisine inspired by old, medieval recipes.
Žumberak is particularly beautiful in October, so I would put it as a priority place to visit if you plan to travel further to Croatia away from the coastline.
And, don't forget to try original Samoborska kremšnita (Samobor's Cream slices) and sweet mead!
Fužine
Fužine is the area near Kvarner, in Gorski Kotar just 10 kilometers from the coast.
Fužine is beautiful in October when the leaves fall, as the whole region breathes autumn vibes.
You'll find yourself surrounded by mountains and three large artificial accumulation lakes which along the rich forest provide fresh air and a true cozy feeling to visitors.
Fužine is the real escape from the urban lifestyle, you'll find small villages and plenty of flora and fauna, yet 20 minutes by car and you are back into civilization.
Fužine were one of my favorite destinations when I was a child as they are only 30 kilometers away from Rijeka.
Islands are empty in October
While Croatian islands are my top recommendation during the summer months, as soon as September ends they become ghost lands.
Basically, there's no in-between, the islands are either full of tourists and amazing attractions and service or everything closes and only a minority of locals remain.
For instance, Cres is alive during summer, but as it ends there are only a few thousand locals populating it as everything returns back to the shore and continental region.
So, if you are looking to experience the beauties of island hopping be sure to do it before the middle of September.
What's the weather like in October?
The weather in Croatia in October cools off from high summer temperatures, so a normal daylight temperature can be between 18°C and 25°C in the early days, with temperatures leaning on the warmer side by the coastline.
However, a sudden change in temperature is to be expected and sometimes this sudden change can happen in the very early days of October depending on the year.
Thus, the daylight temperature can easily reach between 14°C and 18°C , and while during the warmer October days, the nighttime temperature is usually also between 14°C and 18°C , temperatures can fall down to 10°C .
Moreover, the harsh mugginess disappears, so the air becomes easier to breathe, but along wind stikes, Croatia becomes acceptable for rain strikes, especially in the continental region and Kvarner.
We have a saying, if October begins with rains and wind, it's likely for the rest of the month to remain cold, so depending on your luck you'll either catch a warm or rainy, chilly October in Croatia.
That said, some regions in continental Croatia can get even colder as further from the sea, the colder it gets.
It's windy
Don't underestimate the strong Croatian wind that comes with October.
The strongest Croatian wind, the notorious "bura" is capable of achieving unbelievable speed.
One of the records from previous years that I remember was 234 km/h recorded by the coastline.
However, this is rare, and most times you'll experience a lovely breeze that will accompany you on your autumn journey.
It's just important to remember that Croatia is windy, and it's important to bring a jacket to protect against possible wind strikes.
It's rainy
Croatia isn't a dry country, and this is especially the case during autumn.
While it can be annoying to get caught by rain after visiting a beach in summer, rain creates that cozy feeling in autumn.
Whether you like rain or not, you got to prepare for it if you visit Croatia in October!
Can you sunbathe?
Sunbathing in Croatia in October is possible, but expect that not every day will be sunny and that sudden strikes of wind and rain are possible.
Usually, the cold approaches by the end of October, and in the early days of the month you can still catch some sun, especially if you can find a good spot at the prime time of the day which is between 12 am and 2 pm .
In October, the sun weaknesses so it's not harsh but the days can still be moderately warm and you can receive plenty of Vitamin D, although it will be hard to catch the skin color.
What to wear in October in Croatia?
Forget about your summer clothing and fashion collection during October days and nights in Croatia.
The change in weather is significant, and while on some days you may feel warm or even hot in a jacket, it's important not to forget one!
So, wear lighter clothes , but don't forget a jacket because you'll need it.
As soon as the sun goes out, and the night approaches you'll regret not bringing a jacket with you.
Moreover, forget flip-flops and sandals, as shoes and boots should be your choice, especially when sudden clouds decide to spit down the blasts of rain in the middle of the day.
Can you swim in Croatia in October?
You can swim in early October days in the Adriatic Sea, but the sea temperature will significantly drop.
However, the sea will still be good for those who like refreshments and aren't afraid of mild to cold showers.
It's important to catch the sun during the day and not forget that the night falls a bit sooner than in September, so if you miss the chance to dry off, it could be an awkward feeling, especially when the autumn breeze comes to say hello.
Another advantage of visiting Croatian beaches during October is the fact that the beaches are mostly empty as the season is over, so you can capture that dream spot without fear of competition.
I remember spending a lovely time on beaches in October on sunny days, it's actually just a fresher experience than during the summer, but due to a high amount of cloudy and rainy days swimming in Croatia during October isn't an everyday thing you can plan.
Is the Adriatic Sea rough in October?
The Adriatic Sea starts being rough in October and continues to get rougher as the winter approaches.
It's important to notice that cruising the Adriatic Sea after the summer ends becomes very challenging, so it's not possible to plan a sea adventure and manage to pull it off.
The Adriatic Sea is to be respected, and with the sudden change in weather in October, the Adriatic Sea is not to be played with!
How expensive is Croatia in October?
In October in Croatia, all prices in popular tourist destinations go significantly down, but also most summer attractions also go dormant until the next summer season.
You'll find better prices for accommodation and related tourist services and attractions because as the demand goes down, so does the supply or in other words the prices.
While prices for an average apartment during summertime could be 90-150 euros per night, in October the prices go significantly down and you'll be able to find an apartment for 50-100 euros per night.
For instance, I checked the ticket prices for National Park Plitvice Lake, the priority tourist attraction for those keen on the wonders of nature.
During the summer season, the prices for adults were listed at around 45 euros for adults , and in October the ticket prices for adults literally halved in the price .
In a similar fashion, you can expect prices to go down in all similar tourist attractions.
What's even better, in my opinion, some of these attractions such as Plitvice Lakes are more enjoyable in autumn and winter than in summer, but that might be just my personal preference.
Regarding the prices of groceries, food, drinks, and tobacco the prices are similar throughout the entire year, as with the absence of tourist-oriented facilities, the prices normalize.
During October festivals and events you can expect higher prices for drinks and food, but that's common for any type of event everywhere in the world.
To visit Croatia in October is the right choice for all who appreciate the autumn beauties, hate harsh sun, high mugginess and temperatures, and big crowds.
I tried to showcase that Croatia has more beauty and attractions than what's usually portrayed in popular media during the peak summer season.
While the Croatian coastline is beautiful during the summer, one should discover the rest of the country's beauties from October to the spring.
Dino is a local who has spent 27 years of his life in Croatia. He's here to provide you with useful information and some local guidance.
Recent Posts
Pros and Cons of Living in Rijeka
Rijeka is a port city in Croatia with a strong history and promising future. As a main port back in the day, Rijeka was the city of crucial importance which played a big role in building the...
7 Poisonous Plants in Croatia You Shouldn't Touch
Croatia, with its stunning landscapes and diverse flora, is a captivating destination for travelers seeking natural beauty and outdoor adventures. However, amidst the breathtaking wilderness,...
Work With Us
Blogging Bootcamp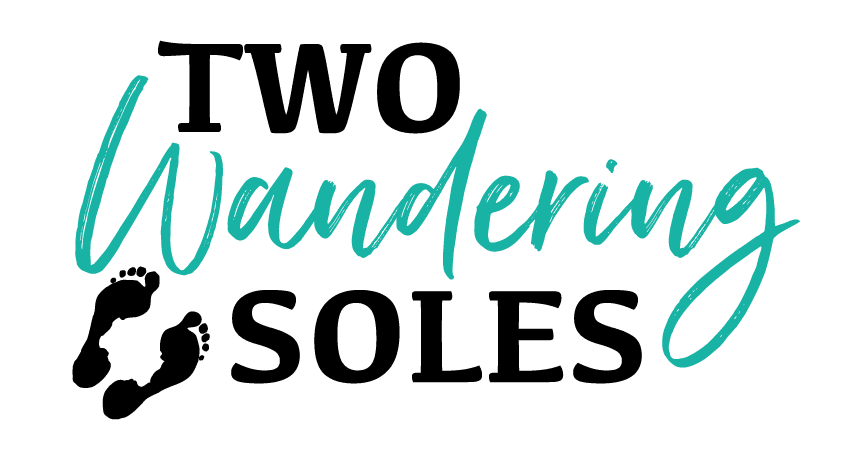 Campervan Life
Van Conversion Academy
Campervan Shop
Campervan Rentals
Plan a Trip
Itineraries
Destinations
Responsible Travel
Family Travel
Budget Travel
Scuba Diving
Travel Credit Cards
Digital Nomad
Teach English Abroad
Blogging Resources
Income Reports
Travel Shop
Meet Katie & Ben
About Two Wandering Soles
Personal Stuff
Portfolio & Press
Best Time to Visit Croatia: When to Go & When to Avoid
Home » Blog » Europe » Croatia » Best Time to Visit Croatia: When to Go & When to Avoid
Croatia is a year-round travel destination for foodies, nature lovers, and beach-goers. We've put together this seasonal and monthly overview to help you determine the best time to visit Croatia for your specific trip.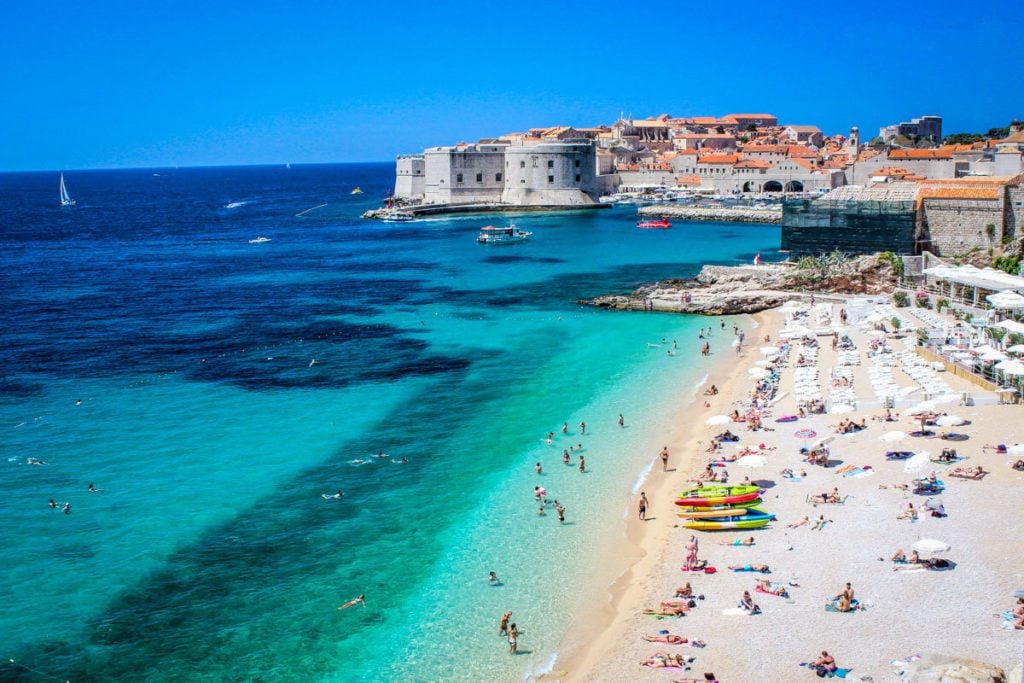 Quick Note: As of January 1, 2023, Croatia joined the Eurozone and adopted the Euro as their currency. Kuna (kn or HRK), the former currency of Croatia, will no longer be accepted as a form of payment. However, Kuna banknotes and coins can be exchanged until December 31, 2023. This also means Croatia is now part of the Schengen Area and adheres to those laws and visa requirements .
As one of the most sought-after escapes along the Mediterranean Coast, Croatia is packed full of idyllic beaches hugging rocky coastlines with jewel-bright waters. White stone cities capped with vermillion rooftops dot the coast line. And the history runs deep, with ancient ruins spread throughout the north.
Many of the places and activities that make this country so spectacular are seasonally dependent, which is why it's important to know the best time to visit Croatia.
Summer is notorious for being THE season to visit Croatia. However, after squeezing through the packed streets of Split and Dubrovnik during our visit in July, we could say otherwise.
There was a lot that we didn't know when we planned our visit to Croatia. We discovered that it's all about finding the sweet spot: when the summer is still lingering but the crowds have (relatively) subsided.
However, the answer isn't always so simple, as it will change depending on where you're going and what you're doing.
In this article, we breakdown all the seasons month-by-month in Croatia, as well as the pros and cons of each season, so you can time your trip to Croatia perfectly.
When is the best time to visit Croatia?
In short, you'll have the most favorable weather and avoid peak season crowds during the late spring and early fall.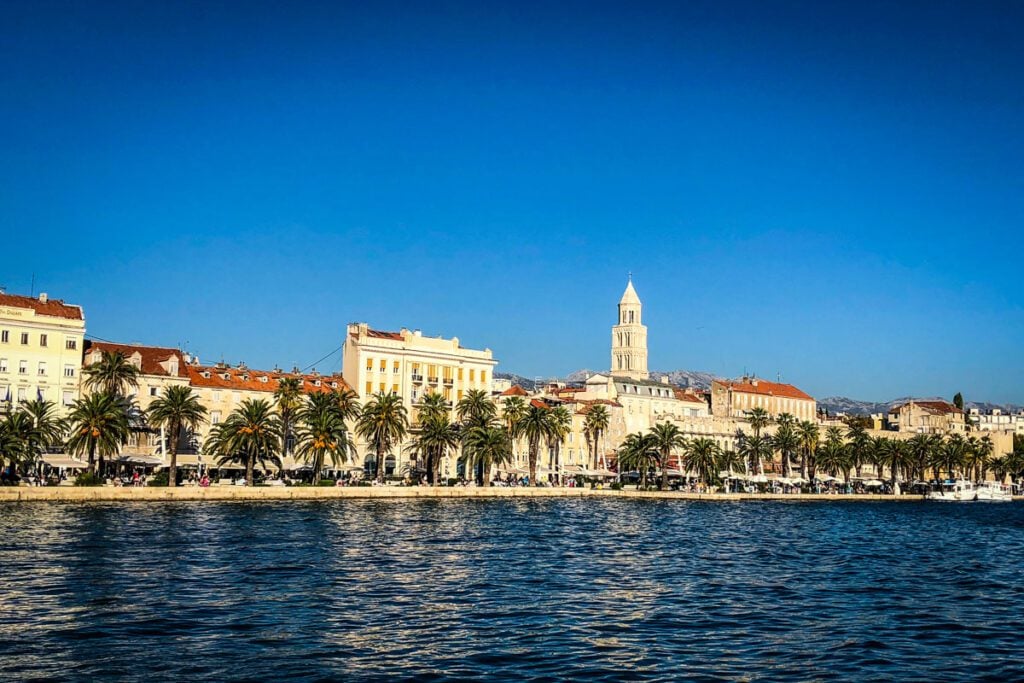 Although Croatia's busiest season is during the summer, the sheer number of crowds and scorching heat are no joke. So while it is the most popular time to visit, those factors may heed you to reconsider.
However, each season and month has its own draws and drawbacks, so there's really no correct answer as it really depends on what you're doing and where you're going.
Answer these questions to get started:
What region of the country do you plan to visit?
Are you easily bothered by crowds?
Are you negatively affected by high humidity?
Do you prefer to spend your time outdoors at the beach or exploring a new city?
Do you plan on doing any specialized activities, such as truffle hunting?
Thinking about your answers to these questions will help you start to determine when to visit Croatia.
Not sure where to go? Check out our guide on all the best places to visit in Croatia to help narrow down your list.
Best Time to Visit Croatia Guide
Our experience in croatia, croatia geography overview, weather in croatia, summer in croatia, fall in croatia, winter in croatia, spring in croatia.
Overall BEST time to visit Croatia
Want a quick recommendation? Jump down to see our personal advice for the best time to visit Croatia. Plus, we'll share what times of year we'd avoid visiting!
We've visited Croatia in May, July and September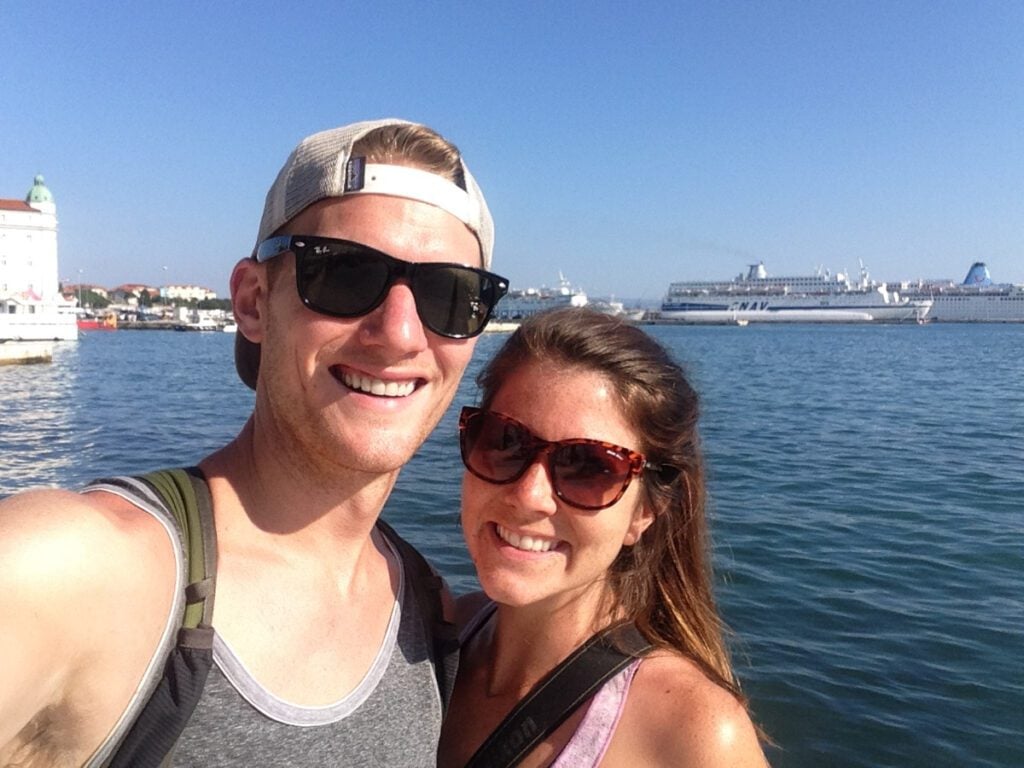 Our experience:
We visited Croatia in July 2016 and found it to be one of the most crowded places in Europe that summer. It was our fault for sticking mainly to the popular tourist spots, and we wished we would have added some lesser-known places to our route.
Our Director of Content, Amanda, has visited Croatia in May 2018 and September 2018.
I (Amanda) spent a month in Croatia in May 2018. The majority of that month was spent in Split (where I was based), but I also visited some of the islands, Dubrovnik, and road tripped through Istria.
As a beach destination, Split was just beginning to "come to life" at the start of May. By the end of the month there was a noticeable increase in visitors as well as beach clubs that had opened fully and were offering their full services.
Though I will mention, the sea water was still pretty chilly in May.
Dubrovnik was the most crowded of all the places I visited in Croatia and the weather was already pretty hot.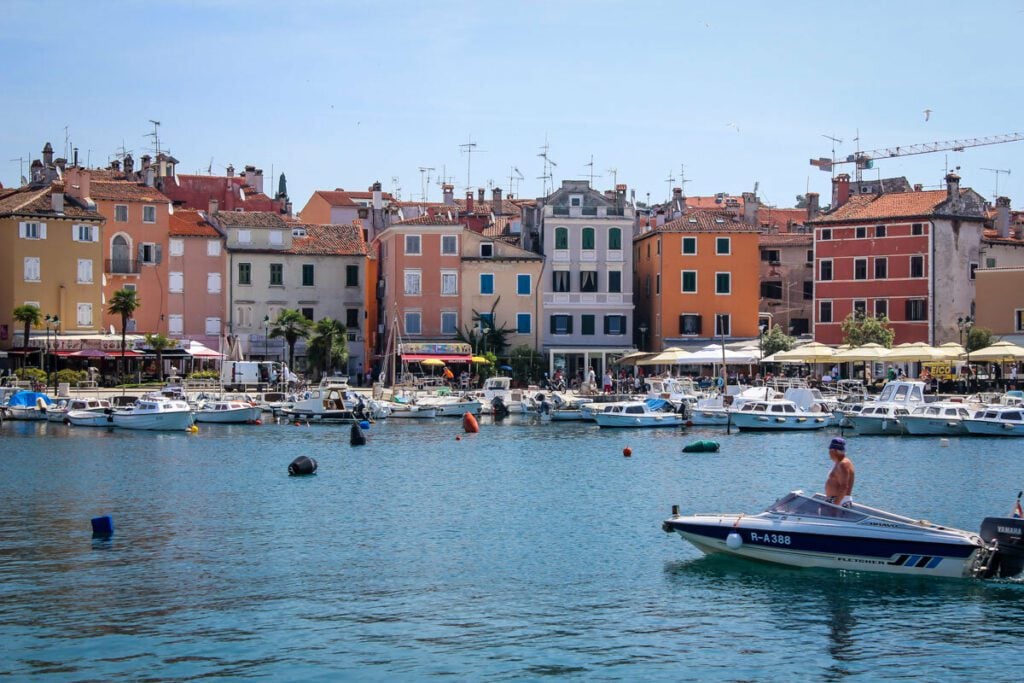 Istria was much less touristy (as a lesser-visited area of the country in general). And the islands were still waking up from their hibernation period so they weren't too crowded yet.
On the day I'd planned to visit Plitvice Lakes, a storm rolled in very quickly and completely rained us out. Since we weren't at all prepared for the weather, we were not able to really enjoy the park and sadly that was the only day we could make it.
Would we recommend visiting in spring?
Yes! Spring was a beautiful time to visit Croatia, especially if you want to experience less crowds but still have a warm weather experience.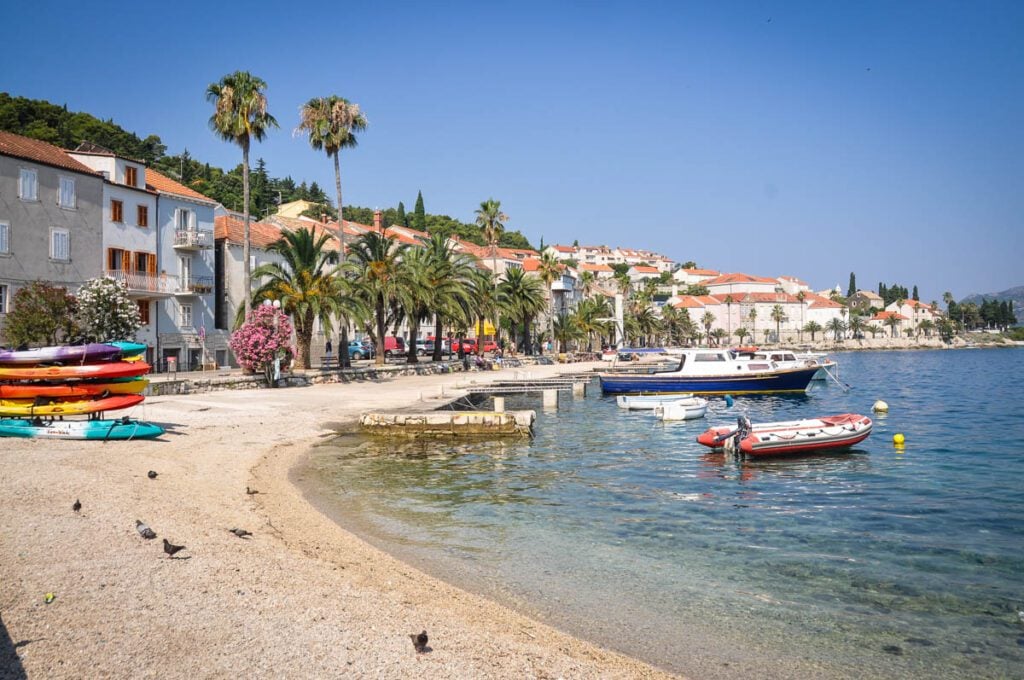 We (Katie and Ben) visited Croatia in the peak of summer season. Not to mention during the time Game of Thrones was still on TV and Croatia was really seeing its star rise as a European destination.
We actually found our experience to be less enjoyable than anticipated because of the overwhelming crowds and we talk about that experience in our completely honest Croatia travel guide .
Aside from the crowds, the weather was hot. In fact, it was scorching hot! With little repreve from the sun while doing popular activities like walking Dubrovnik's famous walls, it wasn't the most ideal time to be there.
Would we recommend visiting during summer?
Not particularly… If you can avoid visiting Croatia during the peak of summer season (June – August), we would recommend that.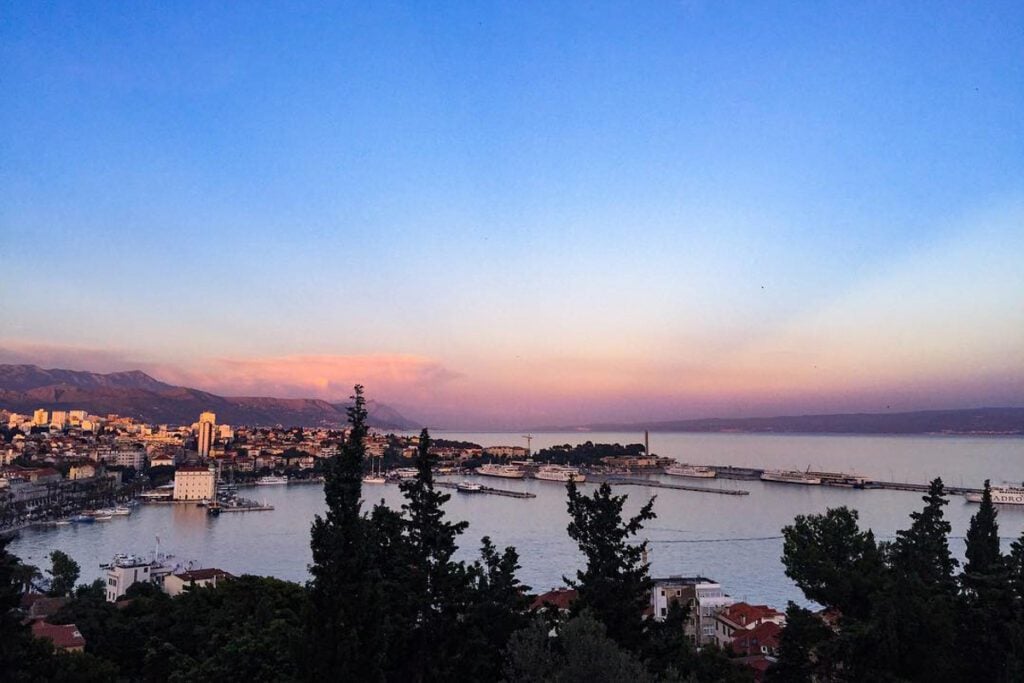 I (Amanda) visited Croatia in September, the same year after visiting in May (back then it was an escape from the Schengen Zone visa – which is sadly no longer the case).
I was in both Hvar and Split. Both places had near perfect weather in September with fewer crowds than what I would expect in the summertime. Prices were also slightly cheaper, however, some beach bars were already closed down for the season and no longer offered services like beach chairs.
Would we recommend visiting during the fall?
Yes! Fall is a great time to experience Croatia, particularly if you still want a bit of beach time mixed in with sightseeing.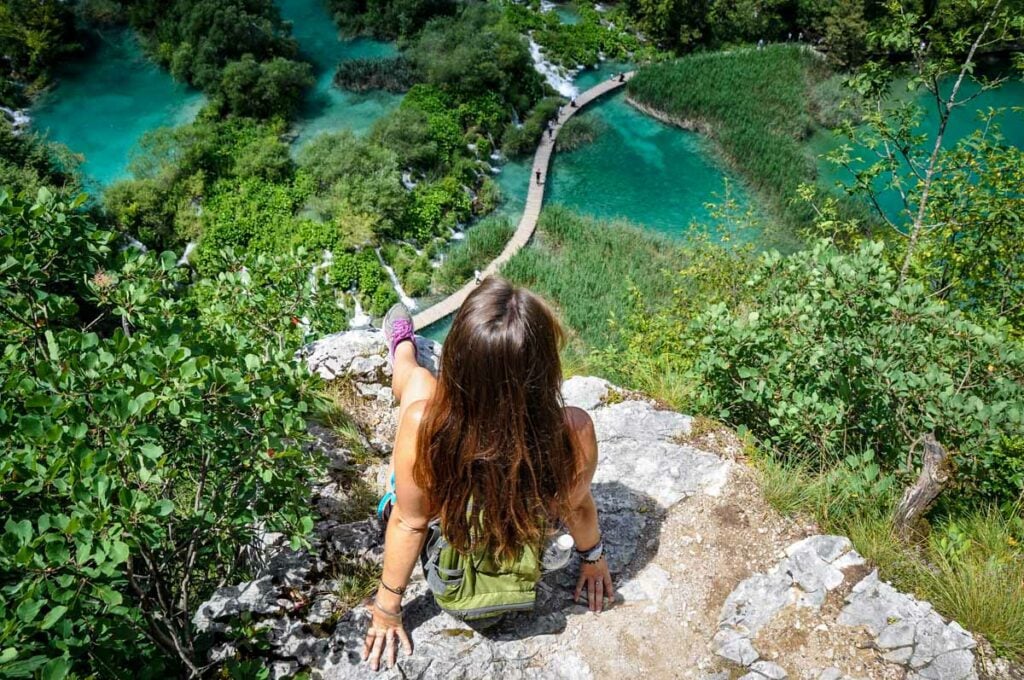 Although Croatia is bite-sized on the map, its landscapes are considerably diverse, from the flat, fertile plains in the northern inland to the low mountains and highlands along the coast.
The Dinaric Alps just north of Zadar slice the country in half with peak elevations around 6,000 feet (1,828 meters). A few smaller ranges are dotted around this part of the country as well.
In Dalmatia, along the coasts and on islands, the terrain is hilly and rocky, hence all the pebbled beaches.
The country has many significant river and lake systems, the two most famous being the Krka River and the Plitvice Lakes systems that formed due to meltwater of the middle mountain ranges.
Croatia is bordered by 5 different countries: Slovenia , Montenegro, Bosnia and Herzegovina , Hungary , Serbia, and maritime Italy.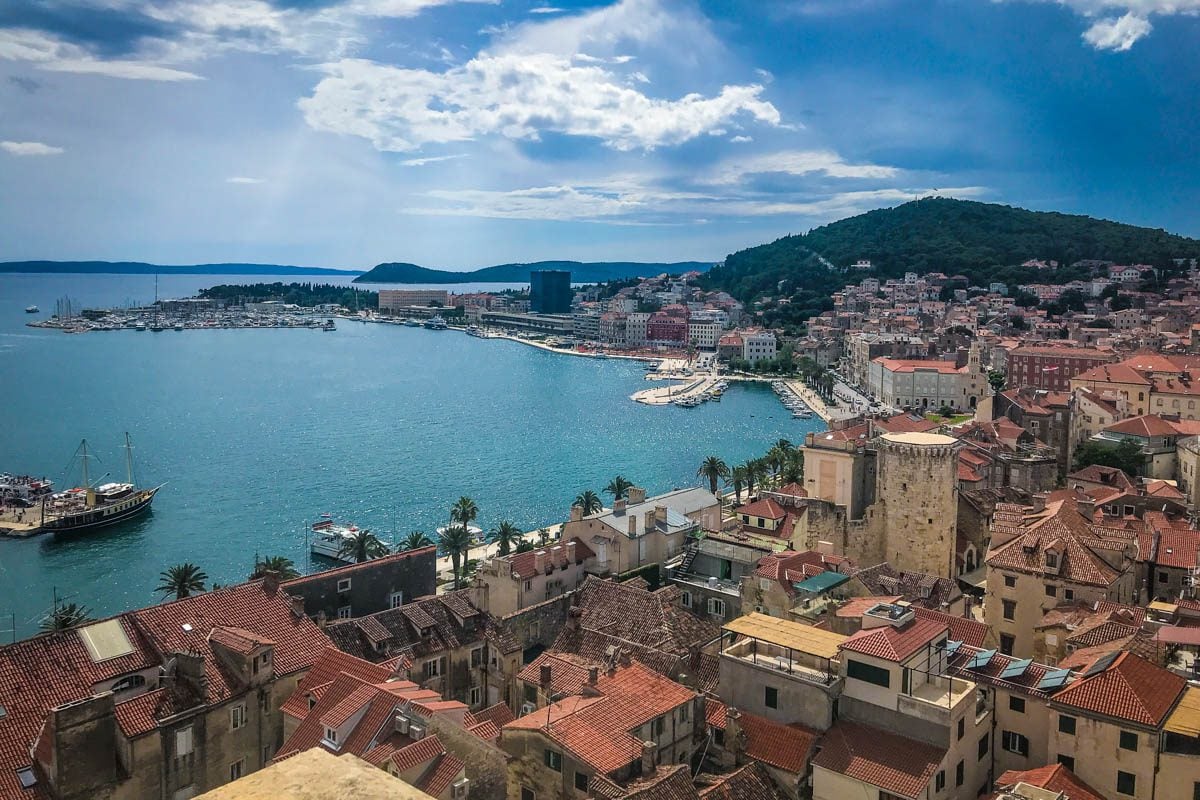 The inland areas tend to have more contrasting weather patterns, such as freezing winters and scorching summers. Conversely, the coastal regions have a Mediterranean climate: hot summers and mild winters.
The summers across Croatia are both hot and dry, whereas the winters are wet, cold, and have notoriously high winds known as bura . Spring and fall are shoulder seasons where the weather will be a bit more inconsistent.
In general, since the country is so small, you can expect really close seasons in both regions. Significant differences are from elevation increases in the mountainous areas and proximity to the coast.
Also note that the inland areas will experience more rain throughout the year. Additionally, the coastal regions have one notorious storm every summer, so be aware that could happen while you're here.
Stats on Croatia weather & seasons:
Warmest month(s) in Croatia: July & August
Coldest month(s) in Croatia: December & January
Rainiest month(s) in Croatia: November & December
Driest month(s) in Croatia: July & August
Most crowded month in Croatia: August
Least crowded month in Croatia: November
June, July, August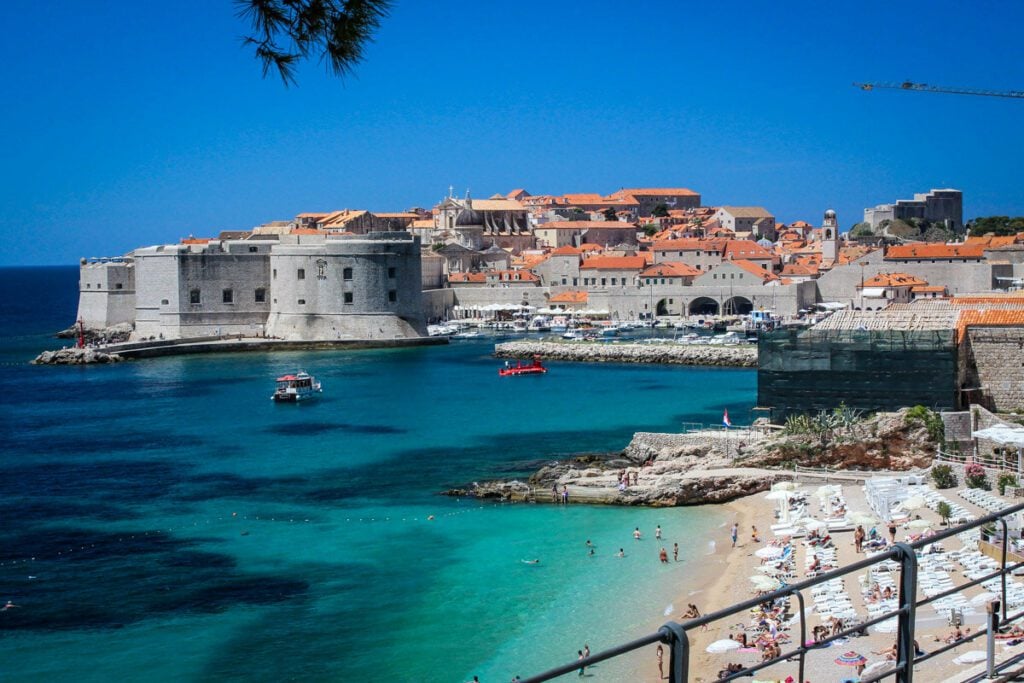 Like most countries in Europe, summer is when Croatia is at its peak.
The daytime temperatures are at an all-time high, sitting from 27-35°C (80-95°F) during the day. Tourists and locals alike take to the beaches and islands of the Adriatic and Dalmatian Coasts to soak up the sun.
As it's the high season, accommodations, tours, ferries, and tickets sell out fast, so it's crucial to book well in advance if you're planning to visit during the summer.
You can also expect high prices this season that are comparable to Western Europe.
It's the most sought-after time to visit. But after navigating the jam-packed streets of Croatian destinations in July, we really don't recommend visiting in the summer unless you're going to an event, are okay with navigating the Disneyland level of crowds, or are planning to get off the beaten path.
If you're into this sort of thing, Yacht Week, Sail Week, and ULTRA Europe are defining events this season as they top many travelers' Croatia bucket lists.
Summer months at a glance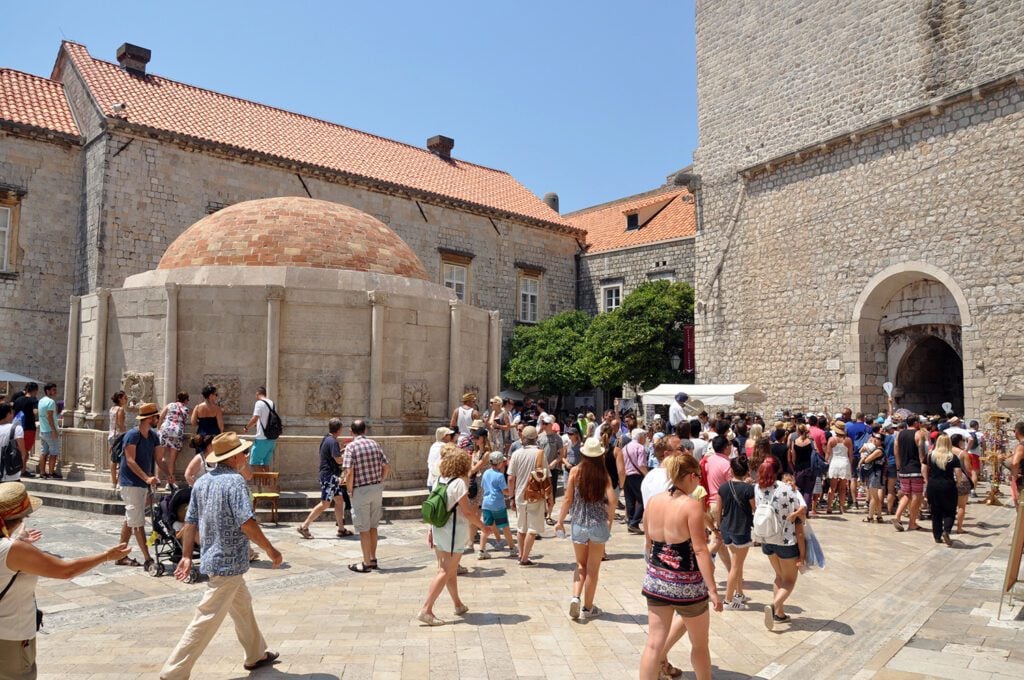 June is the best time to visit Croatia if you're set on a summer holiday. The summer crowds haven't peaked, but the ferries are fully operating, and the weather is hot and dry. Still be sure to book everything in advance to avoid disappointment.
July is the height of the event and festival season in Croatia. City streets are crowded, beaches are packed, and the weather is hot and sunny. Book everything well in advance and get off the beaten path in lesser-known destinations.
August has scorching temperatures, peak crowds, and an array of interesting events happening around the country. Relish in 14+ hours of daylight and late sunsets every night, giving optimal time for exploration and relaxation. Book well in advance and expect it to be packed.
Best places to visit during summer in Croatia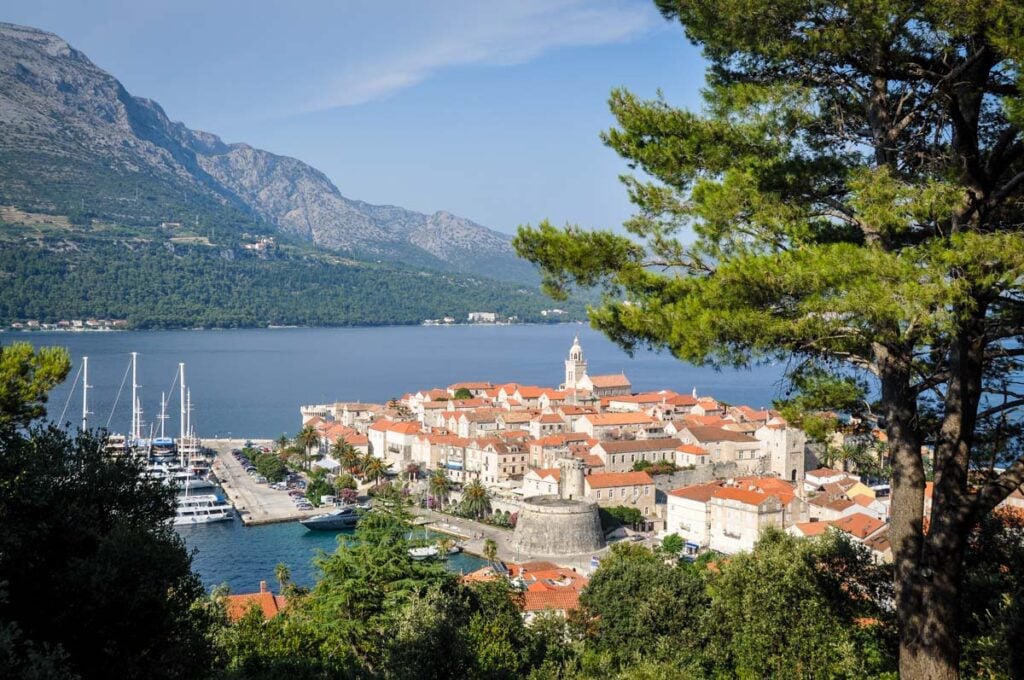 Kor č ula: for food, music, and wine festivals
Vis: for relaxation
Gorski Kotar: for pristine mountain wilderness
Š ibenik: to slow down and enjoy authentic culture
Mljet: to beat the summer crowds
Best things to do during summer in Croatia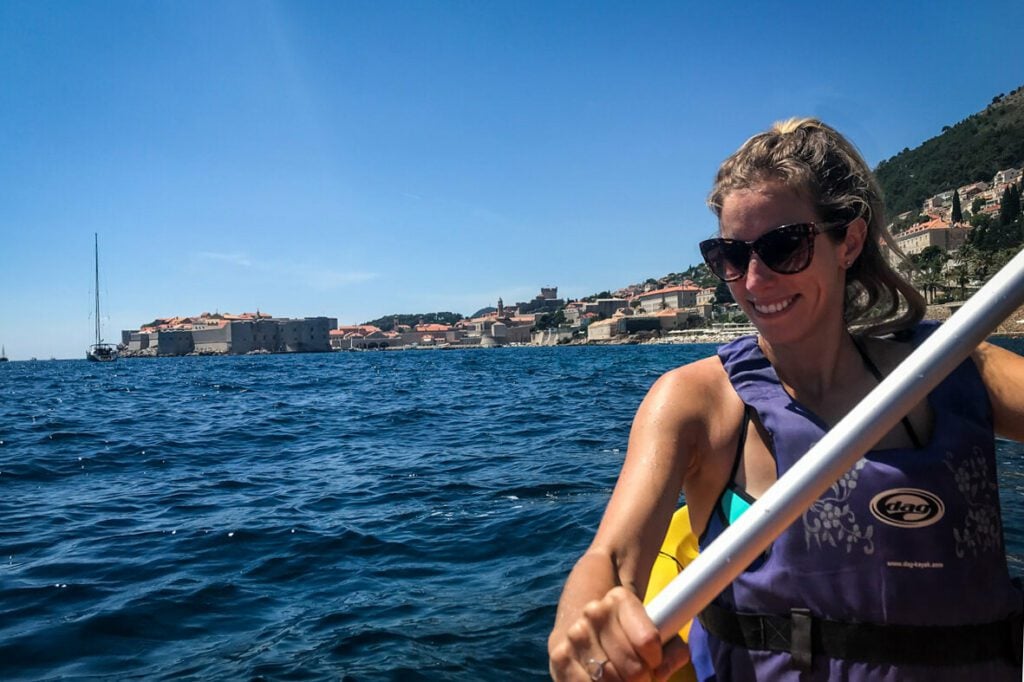 Yacht Week or Sail Week (July)
ULTRA Croatia (July)
Go to the beach
Diving/sailing/kayaking/water sports
Road trip the coast
Visit a lavender field (late June/early July)
September & October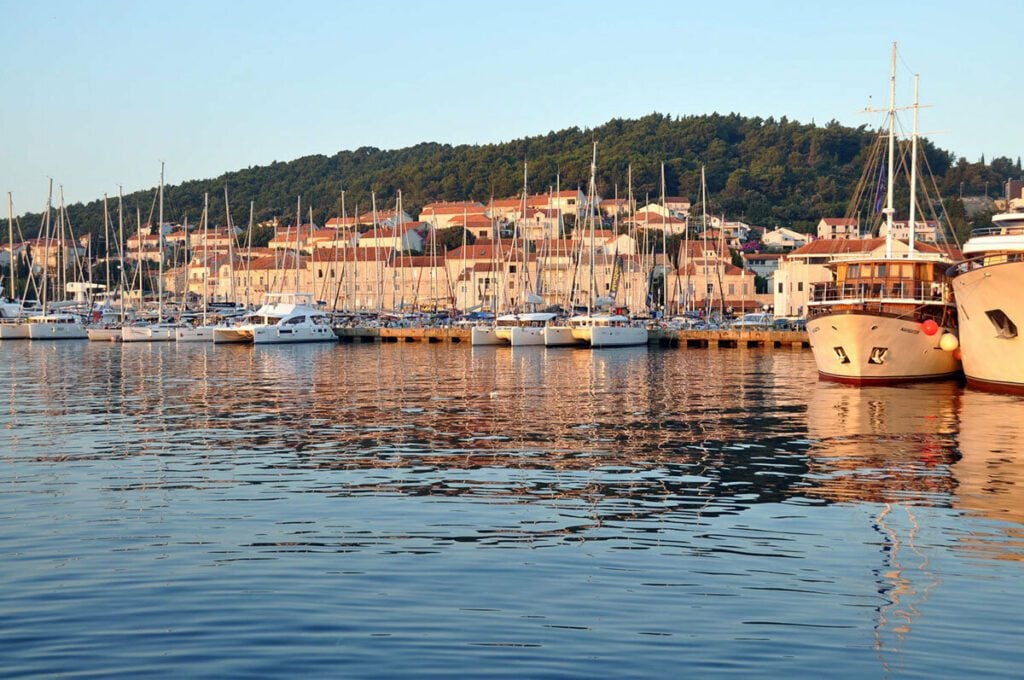 Autumn is a beloved season across Croatia as the country very slowly makes its way into the winter season.
September shakes away the brutal summer heat as daytime temperatures dip to around 25°C (77°F), then fall to around 20°C (68°F) by the end of October. Nighttime temperatures hang around 13-16°C (55-61°F).
This season is great since the country slows down significantly from summer, but islands are still accessible, sea temperatures are favorable, and the streets aren't nearly as packed.
As the temperatures drop, fall foliage soon blankets the country, putting on the most impressive show among the waterfalls of Plitvice Lakes and Krka National Parks.
Many cultural events happen this time of year: prime truffle season in Istria, Nights of Diocletian in Split, and the Zagreb Film Festival.
Fall months at a glance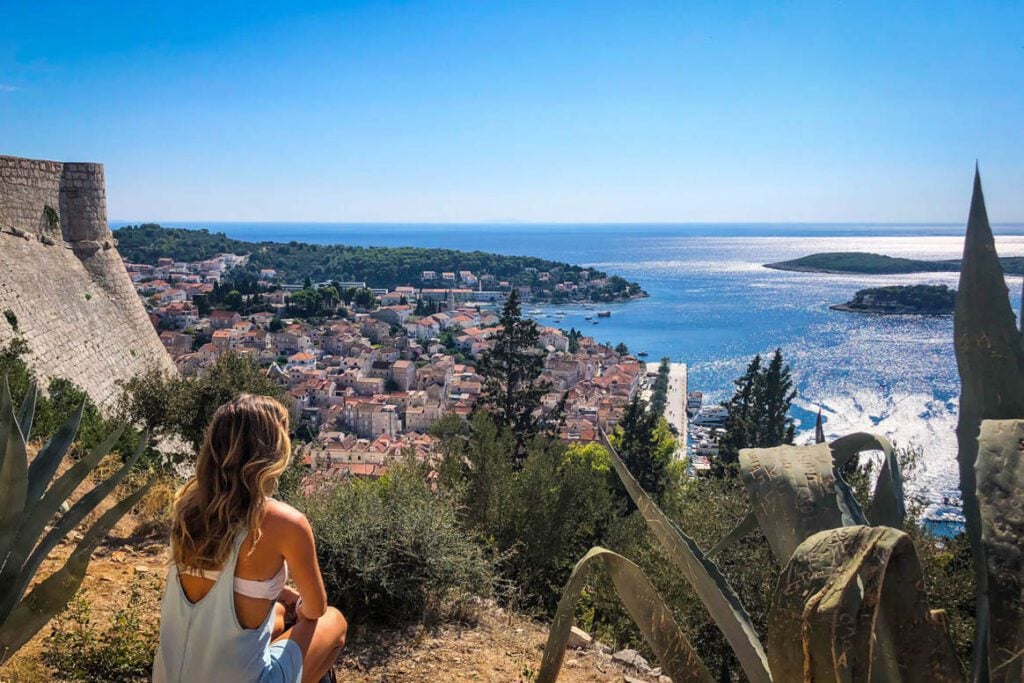 September is a fantastic month to visit Croatia for an all-encompassing visit. The summer crowds have subsided, the sea waters are still warm enough for summertime adventures, and the last bit of nice weather is holding on.
October in Croatia welcomes the first signs of fall with cooling temperatures. Stunning fall foliage blankets Plitvice Lakes and Krka. Throughout the month, ferries and establishments slowly begin to close for the winter season, but you can still get around just about anywhere.
Best places to visit during fall in Croatia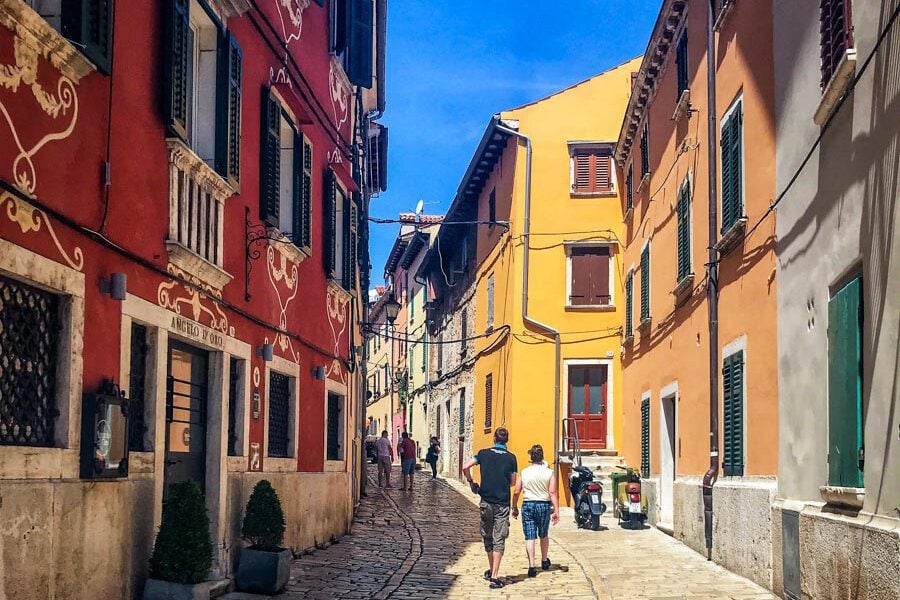 Krka National Park : for fewer crowds
Split : fewer crowds
Pula: comfortable temperatures
Motovun: for truffles
Rovinj
Best things to do during fall in Croatia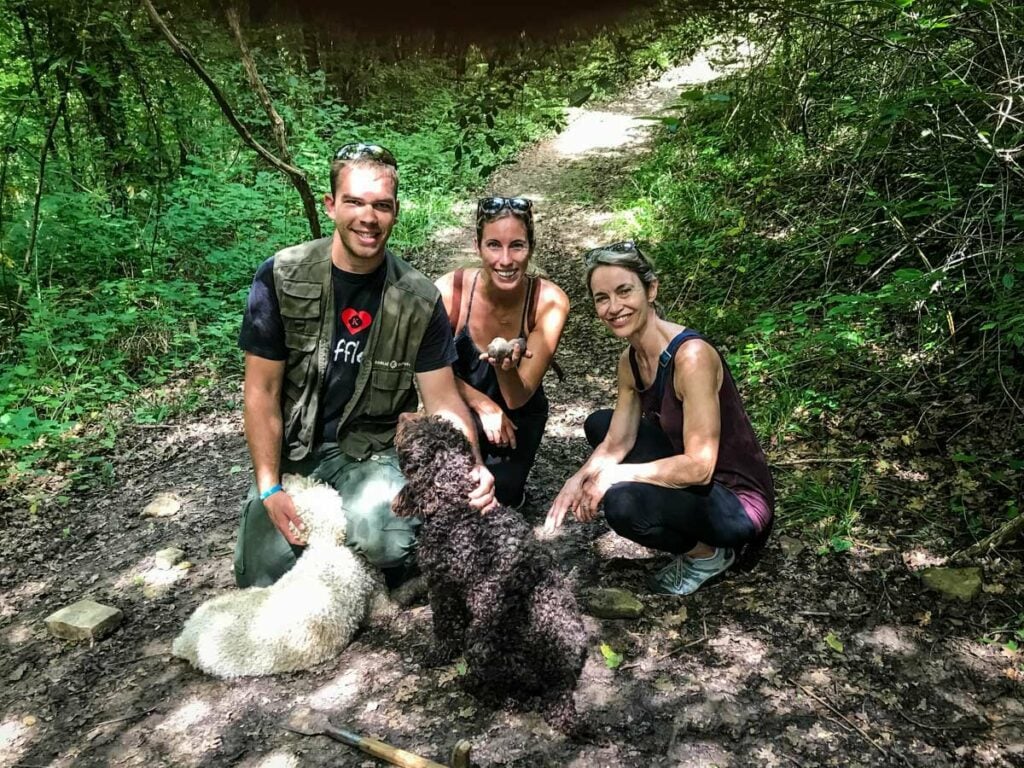 Experience Istria Truffle Days (September) and take a truffle hunting tour
Island hopping in Dalmatia
Sunbathing at the beach
Zagreb Film Festival (October)
November, December, January, February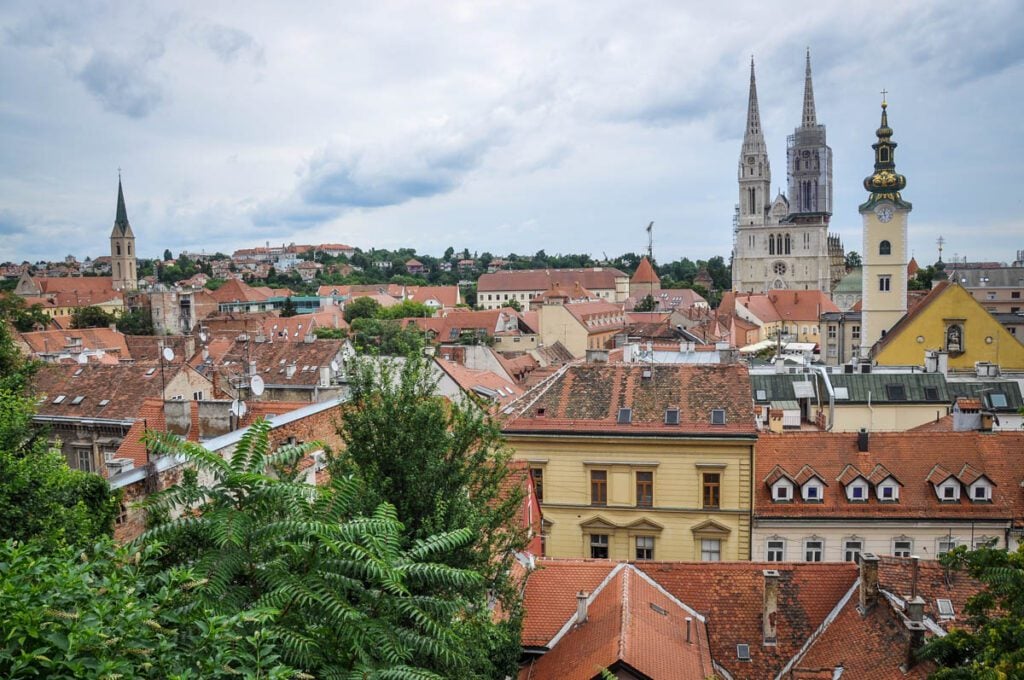 Croatia experiences mild and wet winters across the country. This is the slowest time of year for tourism as rain sprinkles the coast. Both prices and crowds are at an all-time low.
Average temperatures range from 4-8°C (39-46°F) during the night and 9-14°C (48-57°F) during the daytime.
Much of the country is hibernating this time of year with tours on hiatus, ferries off limits, and shops closed, but it's a fantastic time to enjoy local culture and winter sports. Plan your visit near the holidays for a bit of vibrancy among drury days.
Winter months at a glance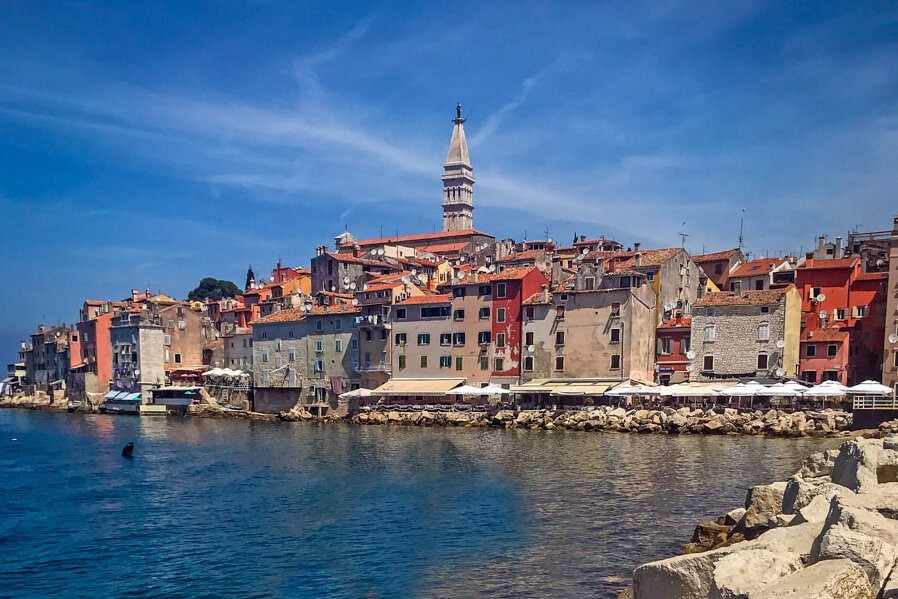 November is the slowest month in Croatia. Watch the last leaves of the fall and potentially the first snow of winter along the city streets.
December is the start of the winter sports season with fresh snowpack in the mountains. In the cities, browse Christmas markets and sip mulled wine.
January brings the coldest temperatures across Croatia. It's one of the best times for skiing and snowboarding or enjoying uncrowded city streets.
February is the tail end of winter, but boasts the exciting Carnival celebration. The weather begins to dry up near the end of the month, but is cold, wet, and windy the majority of the time.
Best places to visit during winter in Croatia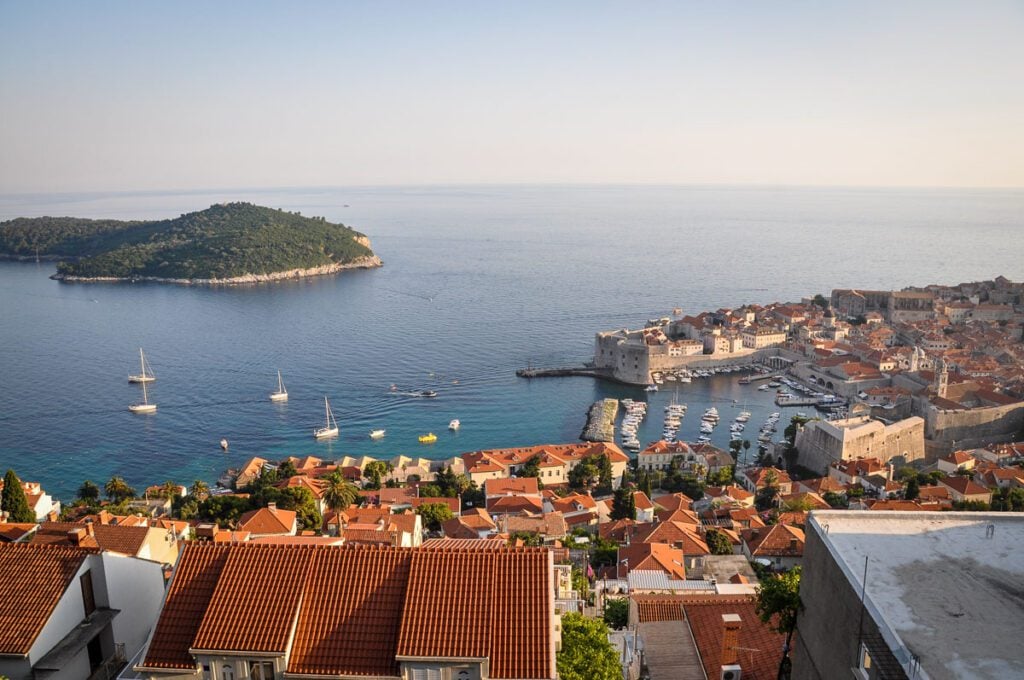 Trogir: for super quiet, breathtaking streets
Rijeka: for Carnival
Dubrovnik: for New Years and crowd-free streets
Hrvatsko Zagorje region: for snow-capped castles
Best things to do during winter in Croatia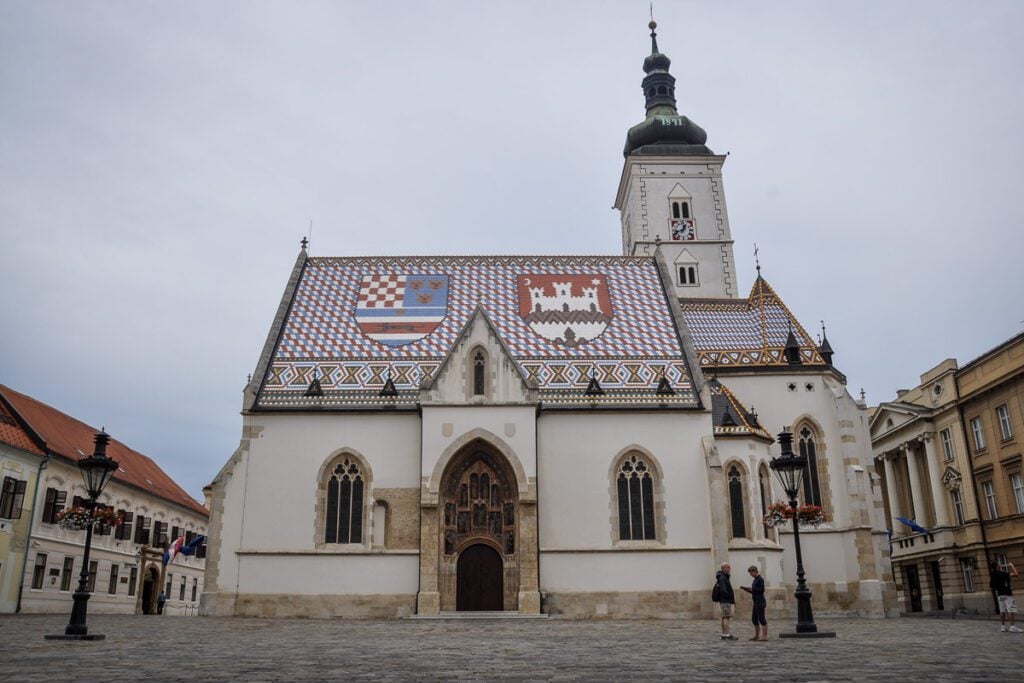 Wander Zagreb's Christmas markets
Skiing/snowboarding
Soak in a thermal spa
Harvest mandarins in Neretva
Indulge in hearty Croatian food
March, April, May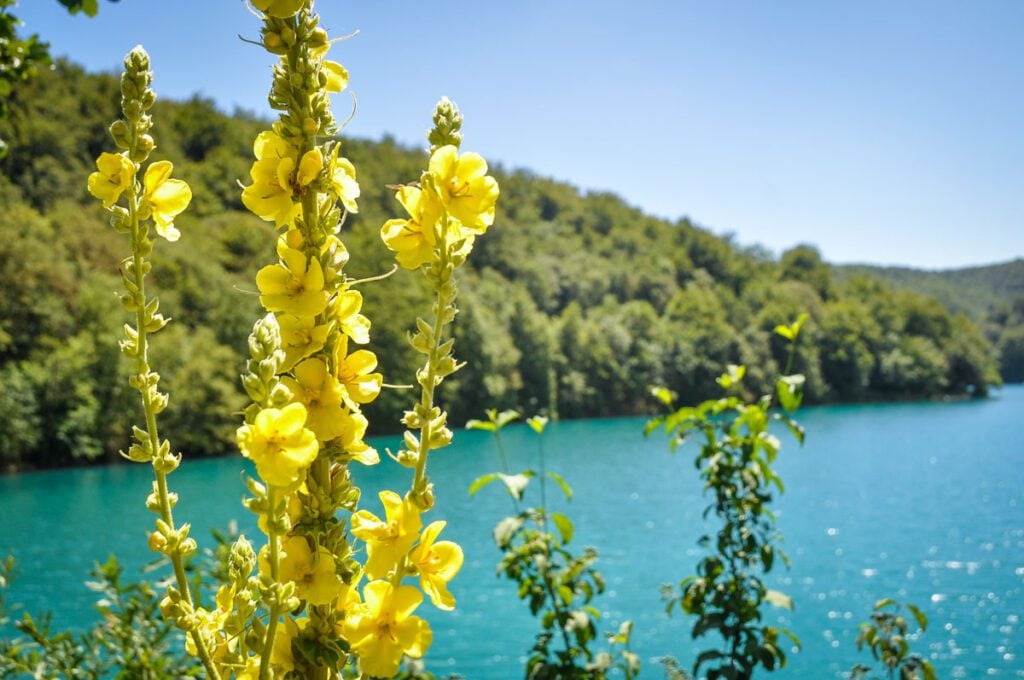 In the spring months, Croatia slowly warms up and prepares for the wave of summer tourism.
While you won't want to hit the beaches and island hop this season, you'll love enjoying the country with the locals, sightseeing in the cities, and scoring deals on flights, accommodation, and excursions.
Daytime temperatures early in the spring rarely exceed 13°C (55°F), then gradually build up to 23°C (74°F) by the beginning of summer.
Easter celebrations are a highlight this season, as well as oyster/asparagus season for foodies.
Spring months at a glance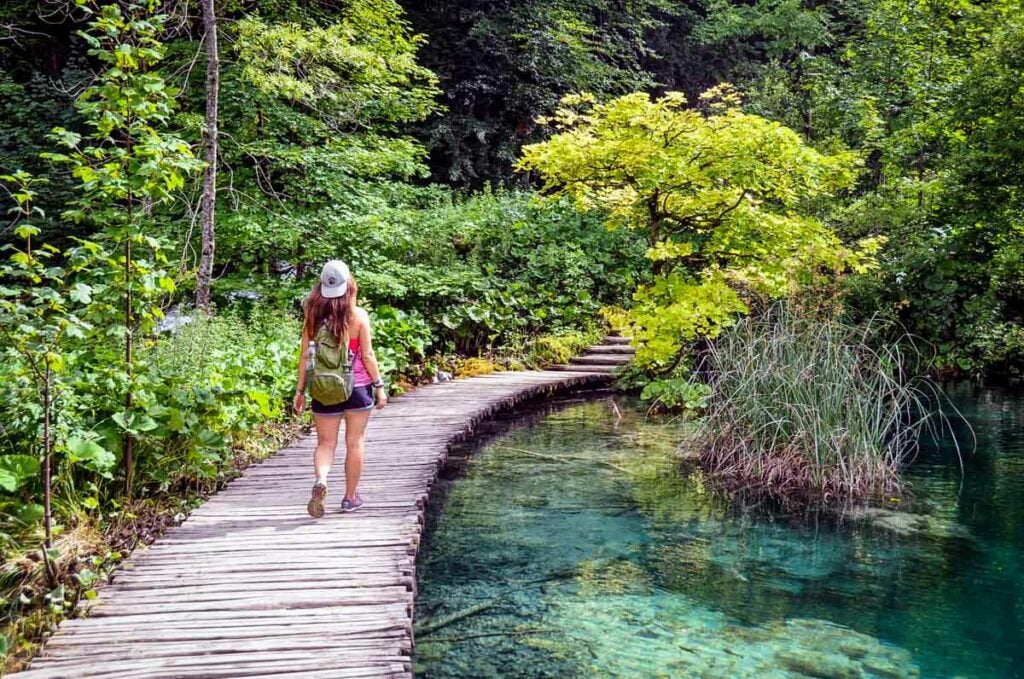 March in Croatia is when the winter finally melts away and the first signs of spring show. Waterfalls in Plitvice Lakes and Krka are powerful from snow melt. Note that it's still a bit chilly for a beach day or a dip in the sea, but it's a great time for sightseeing in cities.
April is a toss-up month for visiting Croatia as the weather can be unpredictable, so pack for all the seasons. Businesses and tours slowly open up this month, Easter brings life to city streets, and the beaches begin to stir near the end of the month.
May concludes the rainy season as the coast warms up and everything comes alive. Locals still outnumber tourists this month and everything opens, preparing for summer. Flexibility will be key as the summer ferry schedules aren't released til the last weekend of May.
Best places to visit during spring in Croatia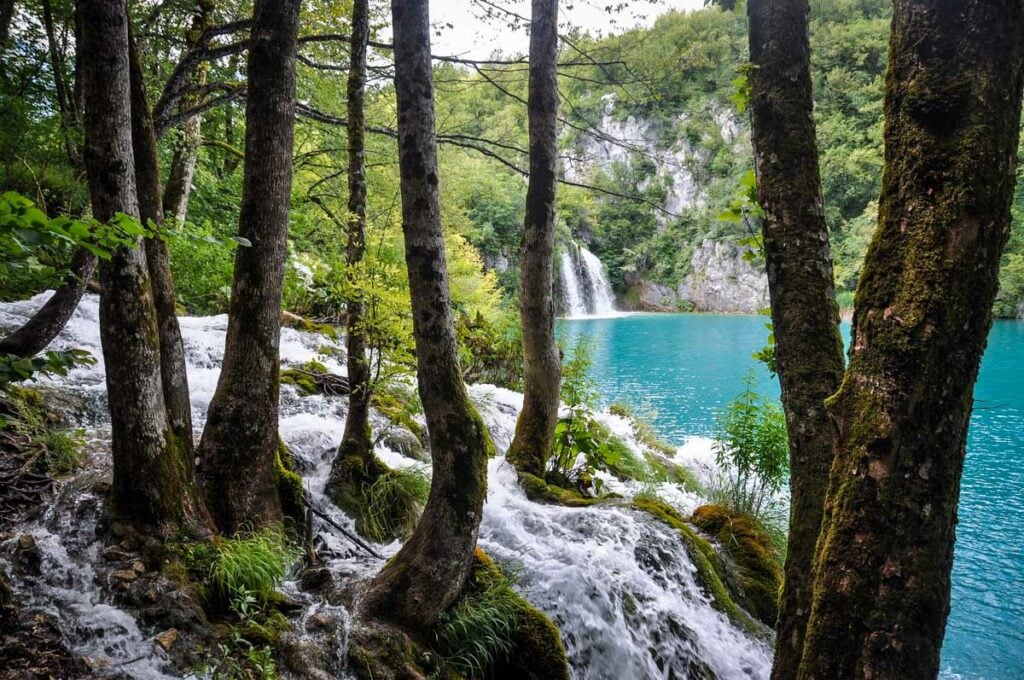 Zagreb: for blooming parks and buzzing streets
Plitvice Lakes National Park – for coursing waterfalls and fewer crowds (late Spring)
Dubrovnik : for mild weather and fewer crowds
Hvar Island: for Easter
Best things to do during spring in Croatia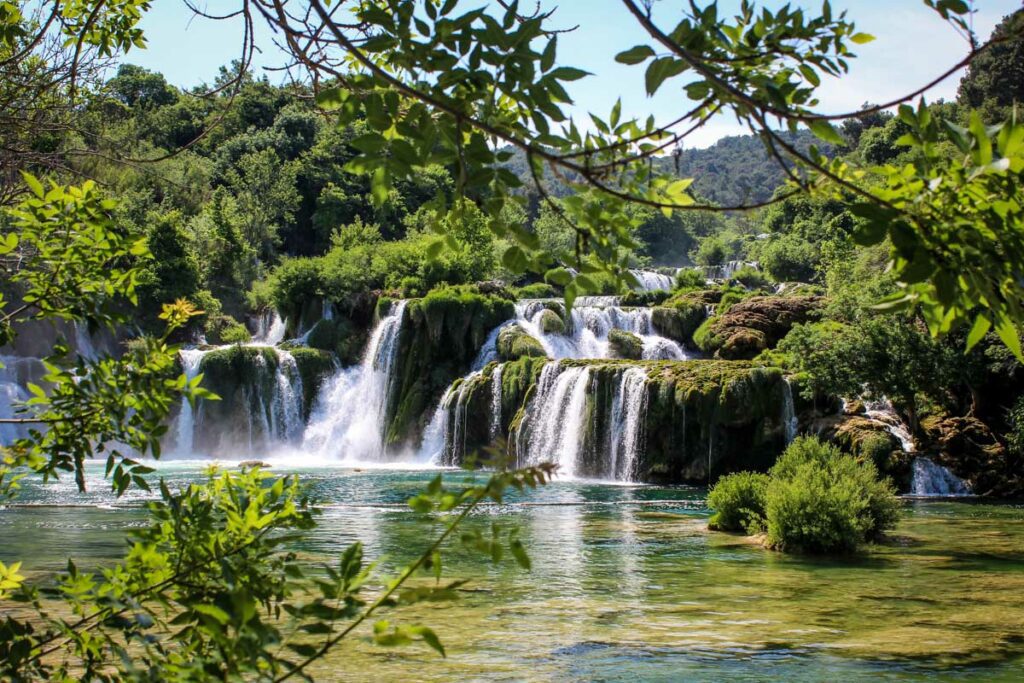 Ston Oyster Festival (March)
Dubrovnik Festiwine (April)
Forage for wild asparagus in Dalmatia
Hiking/white water rafting/outdoor sports
Porec's Vinistra (May)
Best time to visit Croatia in our opinion…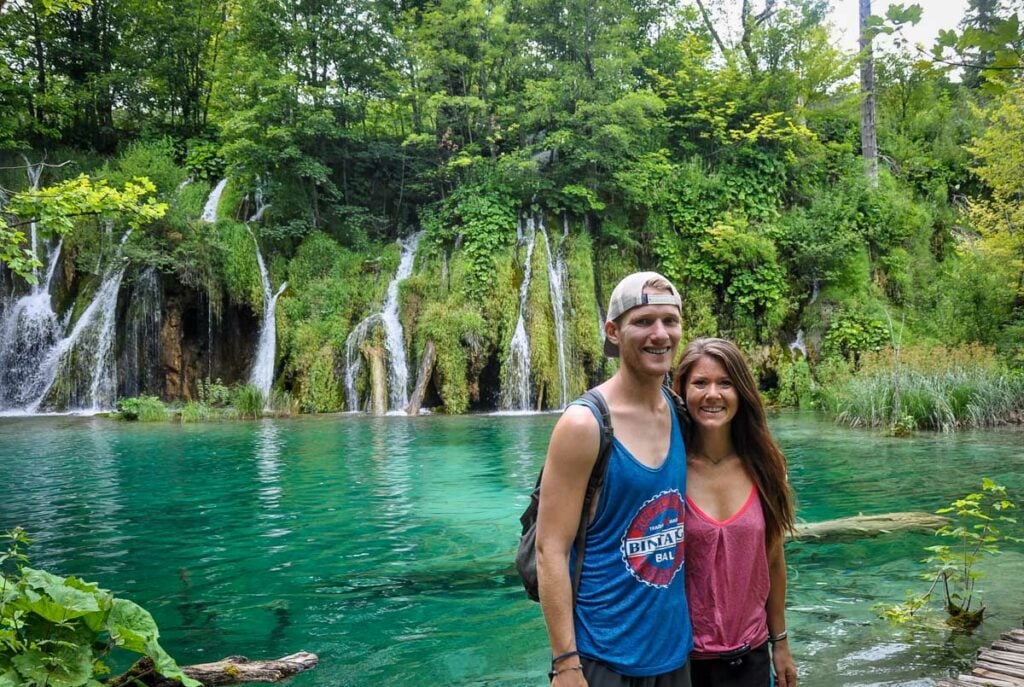 In our opinion, the best time to visit Croatia depends on what you prefer to do.
In general, for the best weather and fewer crowds, visit in the shoulder seasons. Late April – May and September – early October are both excellent times to visit.
If you want to go sailing, island hopping, and indulge in water sports, summer is most popular, but note that this season experiences extremely large crowds and Western Europe prices.
We recommend avoiding summer (peak season) altogether as the most popular sites are filled to the brim with tourists and daytime temperatures are at an all-time high.
September and early October give you all the great weather of summer along the Dalmatian coast, but without the summer crowds and prices. The water is still warm and ideal for snorkeling, swimming, and island hopping. Plus, the weather is ideal for sightseeing in the cities.
If hiking and exploring the National Parks is your goal, March through May is best, as you'll have favorable daytime temperatures and melting snowpack gives powerful waterfalls.
For foodies, late spring is an ideal time to visit for food and wine festivals, the start of truffle season, and asparagus foraging.
Are you planning a trip to Croatia?
We have lots of resources on travel in Croatia and destinations throughout the country. Check out our Croatia Travel Homepage for everything you need to know, or start by reading some of our favorite Croatia articles here:
Croatia: A Completely Honest Travel Guide
Fun Things to Do in Dubrovnik + Advice for Traveling
Can't-Miss Things to Do in Split, Croatia + Travel Guide
Krka National Park: Ultimate Visitor's Guide
Save this article on Pinterest for later!
We want to hear from you!
After reading through this article, have you decided on the best time to visit Croatia for YOU? Let us know in the comments below and we'll do our best to get back to you!
Comments (2) on " Best Time to Visit Croatia: When to Go & When to Avoid "
Such a nice article. You have mentioned each and everything in details I love to read it. The places are amazing, i love to travel these places and would definitely try to visit this place. The place has such a wonderful sights. Each thing you mentioned in this article is very helpful for the people who are looking for a Croatia trip. Thank you for sharing this great with us.
Love Croatia! I swear I learn more and more from each of your guy's blogs!
Leave a Reply Cancel reply
Your email address will not be published. Required fields are marked *
Save my name, email, and website in this browser for the next time I comment.
Beaches & Islands
Discover Magical Bays & Island Pearls
Event & Nightlife
The Best Party Spots in Croatia
Tourist attractions
Visit The Most Attractive Destinations
Event Calendar
Plan & Visit
Health & Beauty
Find Your Relaxing Oasis
Et cum elit aenean nunc, tempor id. Ac sed ac rutrum.
Fine Dining
The Ultimate Dining Experience in Luxury Restaurants
Craft Drinks
Try Croatian Best Craft Beers & Special Drinks
Authentic Products
Unique Gifts To Take Home With You
Taste The Pleasure From Different Regions
Private Accommodation
An Extraordinary Experience in Luxurious Villas
Accomodation 4
Hotels & resorts.
A Dose of Glam in The Best Hotels & Resorts
Accomodation 5
Luxury real estate.
Find a place to call your own
Accomodation 6
Luxury transfers.
Premium Transfer Services in Croatia
Private Jet & Helicopter
Experience Deluxe Rides
Vip Travel Agencies
Your Most Exclusive Assistant
Private Yacht Charters
Feel Glamour & Exclusivity On The Sea
Architecture & Design
Top Luxury Real Estate Developments in Croatia
The Best Fashion Brands in Croatia
Innovation & Technology
Country's Tech Success & Trends
Business & Investment
Croatia's Luxury Market & Investments
Sustainability
The Sustainability Movement in Croatian Companies
Subscribe to our newsletter and receive our free luxury guidebook.
By subscribing to our newsletter you agree to our User Agreement and Privacy Policy & Cookie Statement.
Let's get in touch
Thank you for contacting us! We are pleased to accommodate any requests you might have. Please be as detailed as possible so we can ensure to completely fulfill and exceed your expectations.
All Regions
Editor's choice
Why You Should Visit Croatia in October: The Best Places to Explore
WRITTEN BY:
Luxury Living Croatia
When it comes to European travel destinations, Croatia often tops the list with its stunning coastline, historic cities, and Mediterranean charm. While the summer months draw the largest crowds, savvy travelers know that October is a hidden gem for visiting this beautiful country . With pleasant weather, fewer tourists, and a unique blend of autumnal colors, Croatia in October is a perfect choice for an unforgettable adventure. In this article, we'll explore why you should consider visiting Croatia in October and highlight some of the best places to visit during this magical time .
Photo credit:
Shutterstock.com
Ideal Weather
October in Croatia offers the ideal weather for exploration. The stifling summer heat has mellowed out, and temperatures are comfortable for outdoor activities. Expect daytime temperatures ranging from 15°C to 20°C (59°F to 68°F), making it perfect for hiking, sightseeing, and enjoying the country's natural beauty.
Fewer Tourists
One of the most significant advantages of visiting Croatia in October is the thinner crowds. Popular tourist destinations like Dubrovnik, Split, and Plitvice Lakes National Park can get quite crowded in the summer, but in October, you'll find more space to enjoy these stunning locales without the hustle and bustle of peak season.
Lower Prices
With the drop in tourist numbers, you'll find that accommodations, flights, and various activities are more budget-friendly in October . You can enjoy a high-quality experience at a fraction of the cost compared to the peak season.
Autumn Colors
October brings a unique charm to Croatia with its autumn foliage. The landscapes burst into a kaleidoscope of reds, yellows, and oranges , creating a picturesque backdrop for your adventures. The contrast of these vibrant colors against the deep blue Adriatic Sea is a sight to behold.
Festivals and Events
Autumn in Croatia is packed with vibrant festivals and events, offering unique cultural experiences you won't find any other time of the year. Among the standout occasions, you'll discover the Teran Wine and Walk , which beckons wine enthusiasts to traverse picturesque vineyards while savoring the flavors of Croatia's exceptional wines . Meanwhile, the Istria Truffle Festival invites you to embark on a gastronomic adventure, exploring the world of truffles , a cherished and sought-after delicacy in this region.
In Osijek, the HeadOnEast festival offers a captivating blend of contemporary arts, food, and music, drawing in artists and enthusiasts from across the country and beyond. And if you're a cinephile, the Split Film Festival promises an exhilarating cinematic experience with a showcase of compelling international and domestic films.
While these festivals add a delightful buzz to the Croatian autumn, the country's capital, Zagreb, takes on a particularly enchanting atmosphere in October. The Zagreb Film Festival unfolds, offering a curated selection of thought-provoking films from around the world, providing cinephiles with an enriching cultural treat. Simultaneously, the Zagreb Oktoberfest brings a taste of Bavarian culture to the heart of Croatia, with lively beer celebrations that include traditional music, hearty food, and, of course, an abundance of fine brews to enjoy.
In conclusion, visiting Croatia in October is a fantastic choice for travelers seeking a more relaxed and budget-friendly experience. With pleasant weather, fewer tourists, and a burst of autumn colors, this is the ideal time to explore Croatia's stunning landscapes, historic cities, and delicious cuisine.
Shutterstock.com, Unsplash.com, Pexels.com
Unsplash.com
Sign Up for In-Depth and Trending News, Tips and Articles, and receive our Free Luxury Guidebook!
Crystal-clear waters and lush landscapes: krka national park's allure, exploring the nature's untamed beauty: croatia's top 7 hiking trails, autumn foliage and culinary treasures: slavonia and baranja awaits, experience the thrill of tandem paragliding above spectacular croatia, 20th sailing regatta jabuka: unique adventure for experienced skippers, where can you go truffle hunting in croatia istria, of course, sky bike dubrovnik: pedaling your way into perfect panoramic view, tourist hot spot blue cave in croatia - is it worth visiting, nature park kopački rit: discovering europe's hidden marshland gem, the call for adventure of a lifetime: highlander croatia velebit 2023.
PREVIOUS POST /
/ NEXT POST
Unwind in the Serenity of Casa Foresta, Gorski Kotar's Secluded Retreat
Step into the kusshh world: the best kept secret of the island of krk, a gastronomic journey through towns and islands of the šibenik – knin region, how to increase the value of your savings by purchasing investment gold, cigar club mareva – a place that unites pleasure & refinement, forestland festival croatia – edm heaven for nature lovers.
Subscribe to our newsletter and receive a free luxury guidebook
PARTNERSHIP
PROUD MEMBERS OF:
FOOD & DRINK
VIP SERVICES
Send us a message
It is very important for us to keep in touch with you, so we are always ready to answer any questions that interest you.
Croatia in October-A complete guide for a wonderful vacation!
Croatia is a gorgeous country in the Balkans. In recent times, the popularity of this country is increasing. This beautiful country is home to many waterfalls, mountain ranges, valleys, hiking trails, thousands of beaches, islands and national parks. Visiting Croatia in October is a little different because of the offseason. You'll get ample time to do shopping in Croatia . This is when the peak season settles down. Let us know more about the country's weather, the best places to visit, exciting things to do, festivals and some travel tips!
Croatia Tour Package Starting @ ₹ 52,194
Dubrovnik Old Town. Diocletian's Palace. Gornji Grad. Zlatni Rat Beach. Game of Thrones Tour
Weather in Croatia in October
The weather in Croatia in October is very pleasant and warm. The temperature ranges between 12 to 18 degrees celsius. The sea temperature remains very subtle and perfect for swimming, sunbathing and other water sport activities. You can visit many beautiful places, do island hopping, pub crawl, hiking, trekking, swimming, snorkelling and sailing. There are also many stunning beaches to explore in Croatia! In total, the total experience will be totally worth it! Build your Croatia travel package right away for a wonderful vacation!
Also, read- Croatia in June for a splendid vacation
Top destinations to visit in Croatia in October
Plitvice Lakes National Park
Dubrovnik Town
Hvar Island
Zlatni Rat beach
The Makarska Riviera
1. Plitvice lakes national park
Plitvice lakes national park is one of the enigmatic national parks in Croatia . To begin with, this place is mesmerisingly beautiful with 16 plunging waterfalls, limestone canyons and lakes. These lakes are not suitable for swimming. There are also many hiking trails and bridges for tourists to travel across the lakes and waterfalls. While walking on the bridges you can get a very close view of the gorgeous waterfalls. Also, you can find many electric boat services to take you on a tour around the park. There are also many camping sites where you can build a tent and spend the night in the woods. Your Croatia trip can never be complete without visiting this amazing place!
Also, read- 5 beautiful waterfalls in Croatia
2. Dubrovnik Town
Dubrovnik is the topmost attractive town in Croatia. Its aesthetic old town walls, authentic Croatian food , multilingual cultures and festivals make this city even prettier. Talking about Croatian cuisine, you can taste some of the best fusion foods of Central European and Mediterranean cuisines in Croatia. Also, there are many Roman ruins, museums, cultural and art festivals, islands to visit and beaches to explore. Some of the best sandy beaches in Dubrovnik are Copacabana, Kolocep, Uvala Lapad and Bellevue beach. Try visiting this place on your vacation to Croatia in October and have the best of times!
Also, read- 10 beautiful places in Dubrovnik
3. Hvar Island
Hvar is such a magical place to visit on your trip to Croatia. The Hvar town is as beautiful as the Hvar island and beaches. Talking about the islands in Croatia, Hvar tops the list. It is one of the best and lively Croatian islands . And, did you know? Hvar is also one of the most alluring party islands in the world! You can experience some of the best cultural fests, dance performances, authentic Croatian wine and cocktail parties on this island. The rustic walls, pretty sunsets, peppy colour lights and deep blue waters give enough reasons to pay a visit to this stunning island. You can go swimming, peacefully sunbathe, play water games, go snorkelling and explore the caves by sailboats on the beaches. This place in total is handcrafted for beauty and entertainment! Add this to your bucket list of places and enjoy!
Also, read- Best things to do in Hvar
4. Zlatni Rat beach
Zlatni Rat or the Golden Horn beach in Brac island is one of the most unique beaches in the world. This beach is also a very famous attraction in Europe. It looks like a golden horn from an eagle's vision. This place is a package of lush green pine forests, soft blue ocean waters and golden sand. There are many amenities around this beautiful beach. There are many beach resorts, restaurants, beach essentials shops and options for water sports. You can go on a sailboat, do snorkelling, go paragliding and go surfing. This is a kid's friendly beach with many games like beach volleyball, Croatian snacks stalls and boat rides. Do visit this unique beach and click plenty of pictures on your vacation in Croatia!
Also, read- 8 best things to do in Croatia
5. The Makarska Riviera
The Makarska Riviera is a beautiful town beach region in Split . This is a stunning part of the Croatian coast between the Biokovo mountains and the Adriatic sea. It is basically in the shape of a horseshoe. This place is also home to some of the best pebble beaches in Croatia. Some of the must-visit beaches in Makarska are Punta Rata beach, Baska Voda beach, Nugal beach and the Tucepi beach. There is also comfortable sidewalks to leisurely walk during the evenings. You can peacefully sunbathe or swim all day long. This place is such an underrated destination but it is receiving so much attraction in recent years. Do visit this pretty little beach town on your Croatia tour!
Also, read- 8 free activities to do in Croatia
Amazing things to do in Croatia in October
Explore the Paklenica national park
Go paragliding
Skywalk in Biokovo
Go snorkelling or scuba diving in the beaches
1. Explore the Paklenica national park
Paklenica national park is one of the reserved areas in the country. This park is very famous for the majestic Velika and Mala Paklenica limestone canyons, naturally formed rock structures, dense black pine forests and caves with rare bat species. It is also home to many rare species like falcons, wild bears and vultures. Paklenica national park is also home to one of the best hiking trails in the world. You can hike up to the snowy mountains and enjoy the hypnotising view from above. There are many day trips to this national park. There are also many cruise trips, sailboats, snorkelling, scuba diving and cave exploration activities in this national park. On your next trip to Croatia, do not forget to visit this beautiful national park! Exploring this place in Croatia in October is one of the peaceful things to do!
2. Go paragliding in Croatia in October
Paragliding is one of the most thrilling water activities to do. There are many safe and best paragliding options in Croatia. First, sail on a boat to the middle of the sea and reach a focal point. Then, open your paragliding suit and fly high above the stunning Adriatic sea. Some of the best beaches to try paragliding are Zlatni Rat beach, Punta Rata beach, Motovun, Baska, Pecnik and white field. This is one of the must-try adventure sports in Croatia on your vacation!
3. Skywalk in Biokovo
The Skywalk Biokovo is a famous attraction in the Biokovo nature preserve in Croatia. In this place, you can walk over a sturdy glass bridge that overlooks the gorgeous Biokovo national park and the stunning city. The total height of this unique observation deck is 1228 meters. There are also many attractions near this place. Biokovo mountains, Tucepi beach, fishing trips and butterfly diving are some of the top attractions. This is one of the adventurous things to do in Croatia in October!
4. Go snorkelling or scuba diving in the beaches
Have you ever tried snorkelling? If not, try it on your vacation in Croatia! Dive deep into the sea and get to see some of the most beautiful sea creatures, fish, coral reefs, oysters with pearls and a treasure chest maybe if you are lucky! This is one of the best things to try on your Croatia travel!
Also, read- Nightlife in Croatia- For the best experience
Festivals in Croatia in October
Dubrovnik Film festival
Istrian Truffle Days
International Folklore festival
Marunada chestnut festival
1. Dubrovnik Film festival
During the Dubrovnik film festival, you can watch many outdoor screenings, contemporary films, short films and documentaries from all over the country.
2. Istrian Truffle Days
During this festival, you can enjoy authentic Istrian ham, truffles, food and wine throughout the week.
3. International Folklore festival
This is a very vibrant and lively festival in Rovinj province in Croatia. You can enjoy many dances, music, arts and cultural performances, exhibitions and concerts.
4. Marunada chestnut festival
This festival occurs during the fall season in October. You can go on cycles or walk down the streets to collect as many chestnuts as you want!
Also, read- 6 festivals in Croatia to participate
What to pack for a trip to Croatia in October
Pack a set of beach dresses, swim suits, sunscreen, sun glasses and beach flipflops
Sweaters or jackets incase the temperature drops unexpectedly
Trekking shoes and a pair of extra shoes/slippers
That is everything you need to know about visiting Croatia in October. It is the perfect time to visit the country because, the crowd will be less and you can enjoy the beaches, islands and cities all for yourself! Croatia is one of the best choices for an amazing international vacation! Plan your vacation with Pickyourtrail and have the best vacation ever! Also, check out the Croatia tour packages to know about the pre-packaged itineraries and package tours! You can also customise your Croatia itinerary according to your preferences and comfort!
42 Posts Published.
Related itineraries.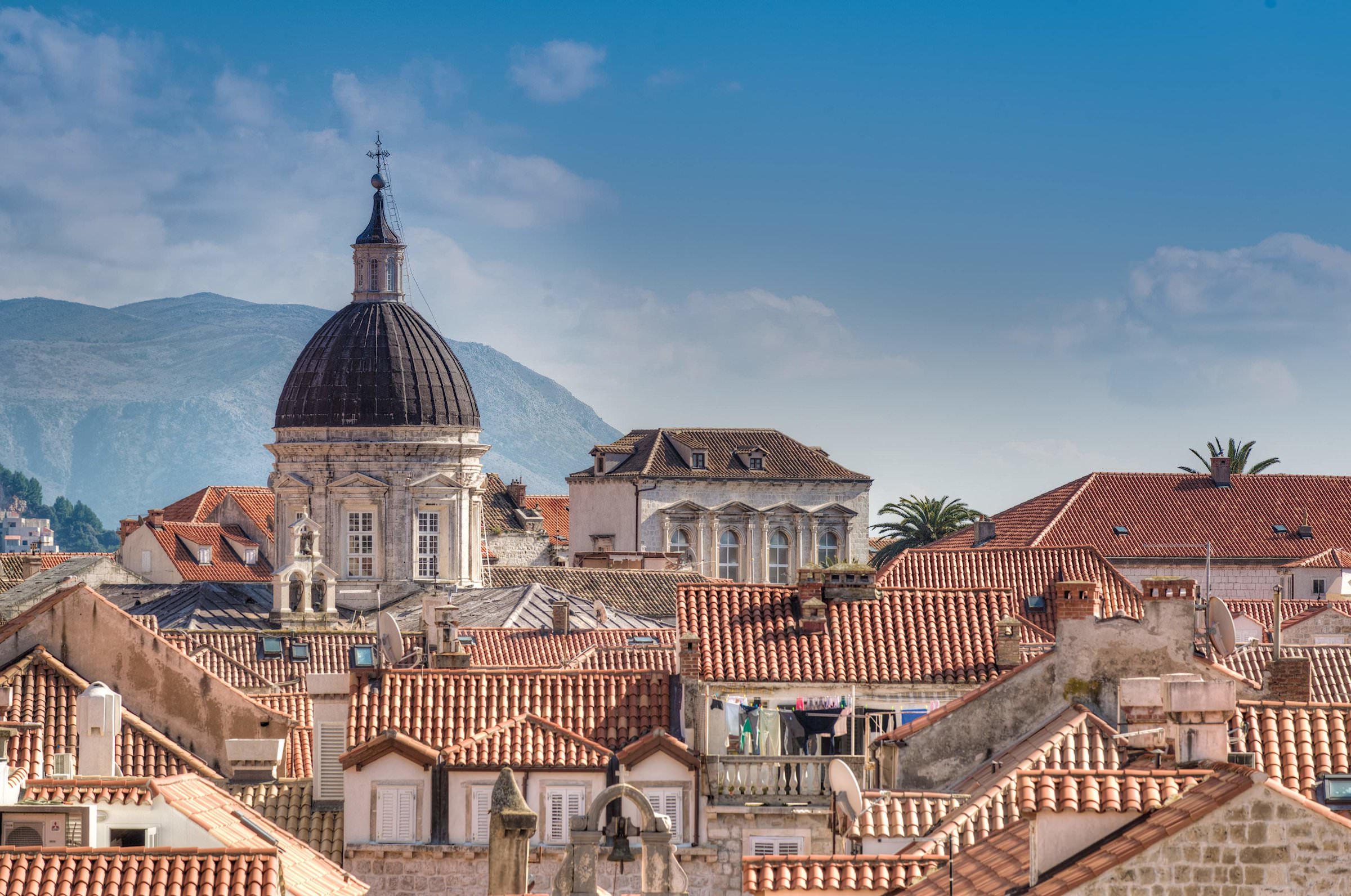 Magical 7 Nights Croatia Tour Packages
Flights excluded
4 star accommodations
10 activities
Shared transfer
₹ 57,778
Starting price/person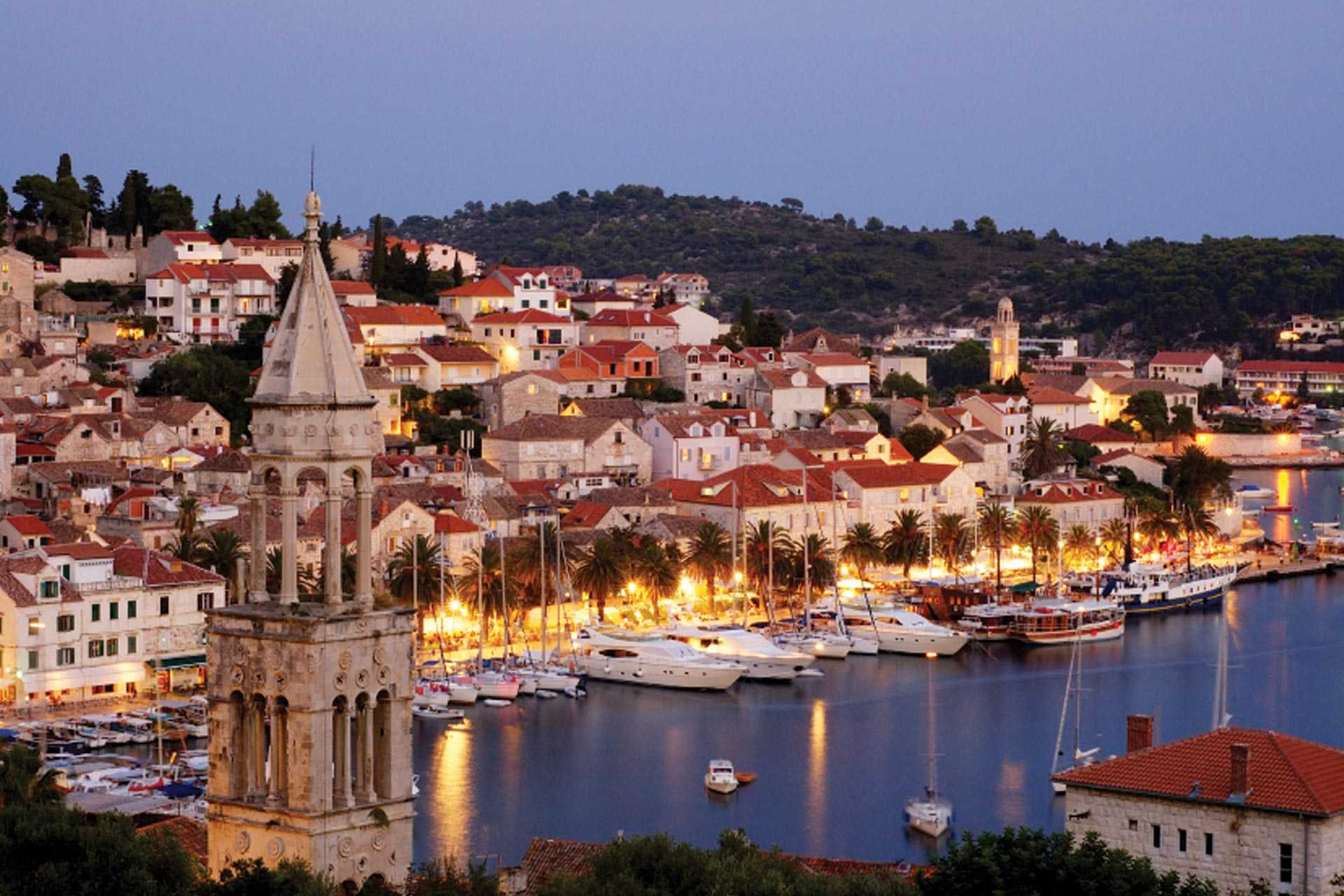 Scenic 6 Nights Croatia Holiday Package
Flights included
6 activities
₹ 1,95,610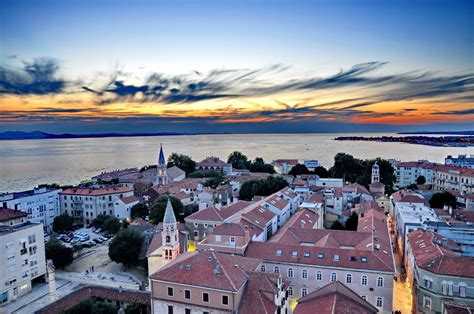 Majestic 8 Nights Croatia Package from India
₹ 39,204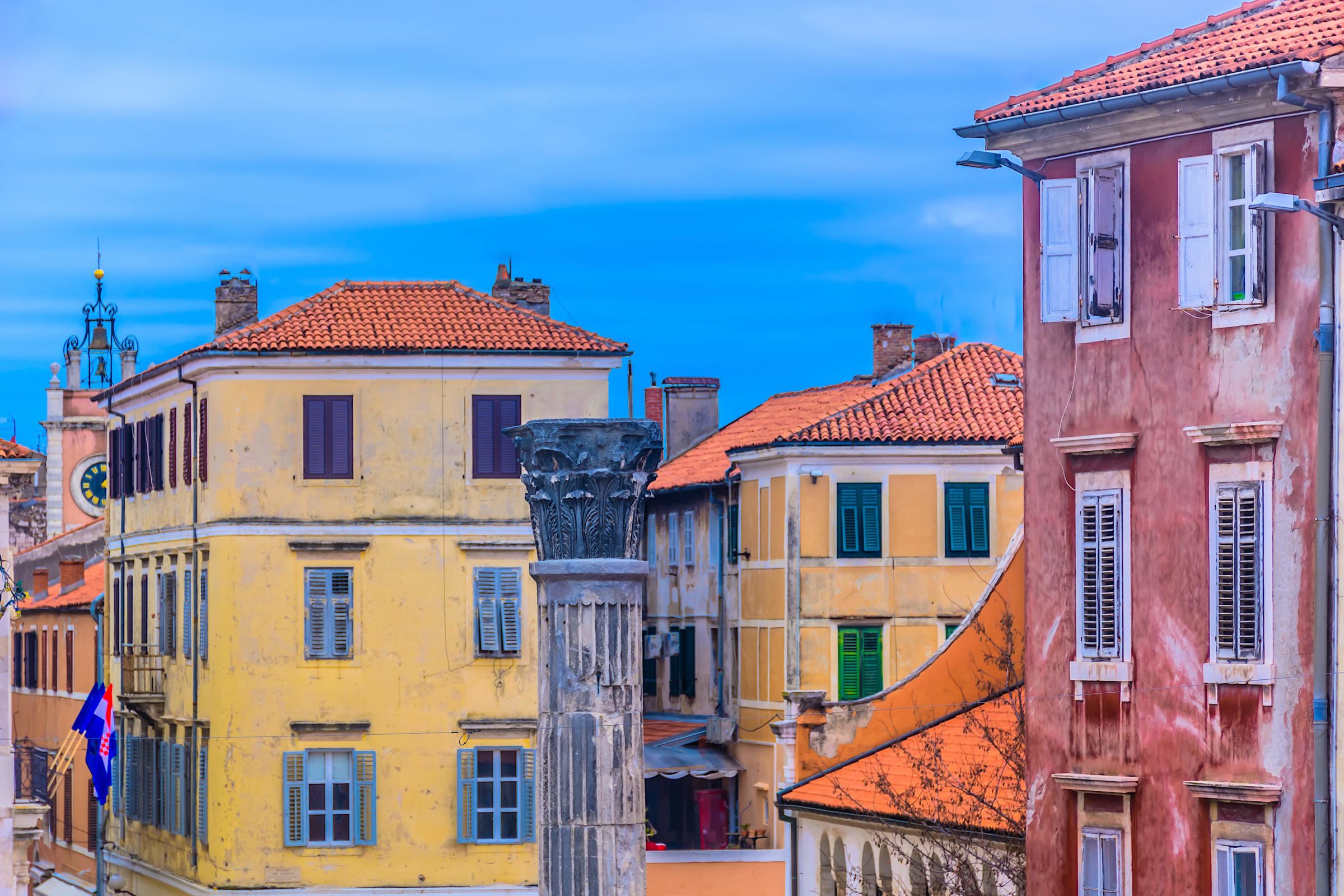 Stunning 7 Nights Croatia Trip Package
₹ 1,09,832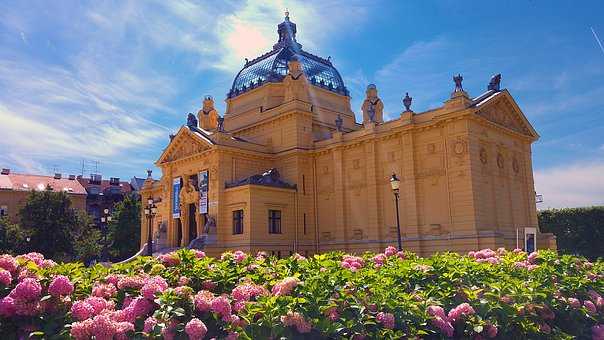 Spectacular 7 Nights Croatia Tour Package from India
₹ 48,191.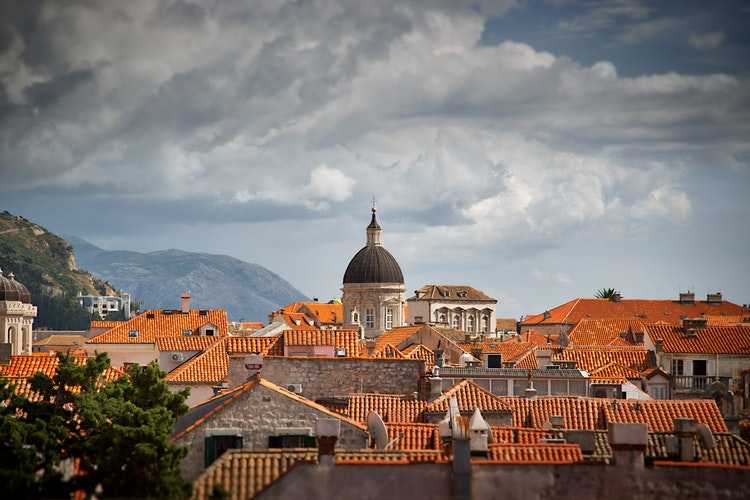 Romantic 10 day Croatia Couples Holiday
3 star accommodations
7 activities
Private transfer
₹ 2,16,757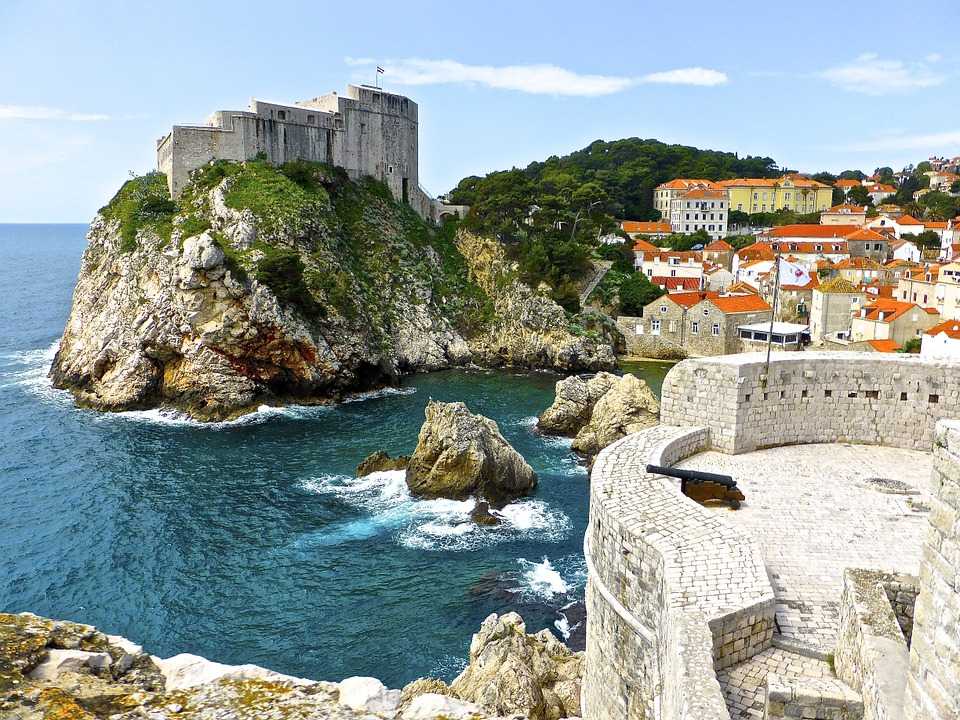 A 11 day Croatia All Inclusive Honeymoon
₹ 90,768
Lovely 5 nights croatia travel packages.
2 star accommodations
1 activities
₹ 21,253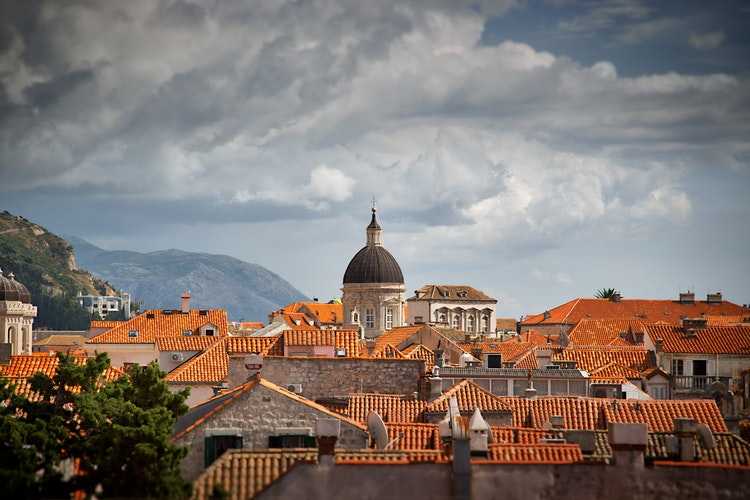 Exciting 8 Nights India to Croatia Tour Package
₹ 33,879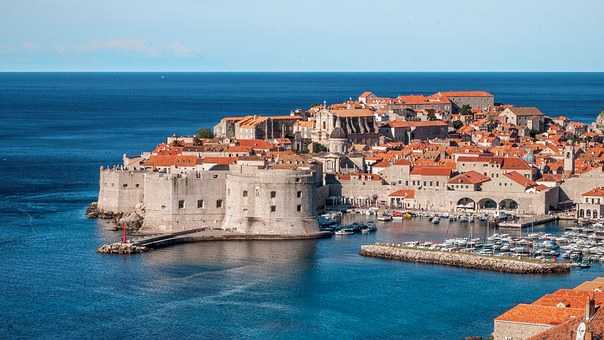 Stunning 9 Nights Croatia Travel Packages From India
₹ 52,401, related posts, how to reach croatia from india, european countries indians can travel right now, 10 best indian restaurants in croatia- for your desi indian cravings, top 10 souvenirs to buy in croatia on your vacation, croatia in january, croatia in march – a complete guide for your march vacation, croatia in february, croatia in september- a travel guide for innumerable exploration, croatia in april- a complete guide for a splendid vacation, top 7 countries to visit in eastern europe, croatia in november- everything you need to know for a peaceful vacation, meet the girl who travels the world in a saree.
Book a vacation completely online
Our community is growing fast
Sign up for exclusive PYT Club membership and access jaw-dropping deals before the rest of the world!
Signup with Email
Facebook community
Telegram Community
Access exciting travel deals at best prices
New Zealand
South East Asia
United Kingdom
United States
Switzerland
Travelogues
Travel News
Guest Posts
Write for us
Croatia Tours
Croatia Travel Guide
When to Visit Croatia
Croatia in October: Travel Tips for Perfect Weather
Wander the streets of the Old Town of Dubrovnik, hike through spectacular Plitvice Lakes, or head to the island of Brac for a beach holiday. Croatia in October can be a great destination for a peaceful holiday experience. October marks the start of the low season, so the tourist arrival in the country is little during this time. This means visitors will get to explore Croatia with a lot less distraction as opposed to during peak tourist season. What's more, the weather is also perfect, as the summer heat dissipates paving the way for a cool, gentle fall.
Georgia Jones
From England
Croatia Weather in October
Croatia's average daily temperature in October is 15°C during the day and 7°C at night. The islands along the Dalmatian Coast still experience warmer weather. For instance, Korčula enjoys an average maximum daytime temperature of 20°C. Meanwhile, Dubrovnik has cooler weather fluctuating between 14°C and 19°C, while rainfall is also fairly common. With the sea temperature averaging 20°C, you can still enjoy the beaches of Croatia in October. However, the weather can get pretty cool at night, so bring a mix of clothing to accommodate the warm days and cool nights of October.
See the seasonal breakdown and the best time to visit Croatia here.
Weather in Croatia in October - Rainfall and Temperatures
Why visit croatia in october.
The peak tourist season in Croatia is between May and September. However, there are many good reasons why you should visit Croatia in October instead. Here are some of them.
Enjoy local produce: There are farmer's markets throughout Croatia and visiting them is one of the best ways to experience the local culture and cuisines. And what better time to do this than in October, which is the harvest season. Head to Zagreb 's Dolac Market, where you'll find stalls selling seasonal produce, from apples to tomatoes, figs, and pomegranates.
Fewer crowds: Popular attractions like Plitvice Lakes can get very crowded during the peak tourist months as the hiking trails are very narrow. This will not be an issue if you visit Croatia in October. You can enjoy the country's attractions in peace and at your leisure.
Good weather: Even though the weather in Croatia starts to get colder in October, it is still warm enough in most places, especially the islands along the Dalmatian Coast. You can still enjoy a nice swim and sunbathe on the beach. The weather is also perfect for sightseeing, boating and hiking.
Reasonable prices: Another good thing about visiting Croatia in October is lower prices for travel and accommodation. If you plan on visiting famous sites like Krka National Park, you'll pay much less for the accommodation. Also, entry fees are cheaper during this time of the year.
Where to Go and What to Do
One of the best things to do in Croatia in October is to explore the town of Dubrovnik and visit the sites like the Dubrovnik Cathedral and Treasury. However, since October is the rainy season in Croatia, it's a good idea to have a backup plan, such as visiting indoor attractions at museums and galleries in Old Town.
For a beach holiday, head to the island of Brac and spend a few days swimming and sunbathing at Zlatni Rat, one of the most beautiful beaches in the Mediterranean. October is a low season for sailing trips in Croatia, but the winds are steady, and the sea is still warm from the higher summer temperature to take a cruise tour to visit other islands. Depending on the number of days you have in Croatia , you will find many different cruises to book.
After exploring and swimming, end your holiday by getting pampered at some of Croatia's best spas. Big cities like Zagreb, Split, Zadar and Dubrovnik have luxury hotels with spas that offer relaxing massages and body treatments. You can also take advantage of the cool weather to visit the coastal wine region of Istria and explore its stunning vineyards.
Visit the charming city of Split when you are in Croatia in October. As the second-largest city in Croatia, Split offers many places to explore, from the Unesco-listed Diocletian Palace to the ancient St. Duje's Cathedral and the Peristil Square.
If you do not like your holiday experience overrun by large tourist crowds, you should visit Croatia in October . It is the best time to explore Croatia as the visitors' footfall is low and the prices of tours and accommodation are also cheaper compared to the high season. The weather is also good during this time to enjoy the beaches and take part in outdoor activities in Croatia.
If you want to save up more money and make the most of your time in Croatia in October, reach out to our local travel experts who will help you customize your Croatian holiday plan .
Other articles: Croatia in September Croatia in November
Related Articles
Best Time To Visit Croatia
Croatia has always been a picture–perfect des... read more
Croatia in January: Weather, Tips and More
January is the coldest month of the year to v... read more
Croatia in February: Carnivals and Travel Tips
February is the last winter month in Croatia.... read more
Croatia in March: Weather and Travel Tips
Thinking about visiting Croatia without spend... read more
Croatia in April: Fewer Crowd and Better Rates
Croatia in April offers plenty of sunny days ... read more
Croatia in May: Travel Tips For Spring
It is the start of the tourist season in Croa... read more
Croatia in June: Weather, Tips & Water Sports
The high tourist season starts in Croatia in ... read more
Croatia in July: Travel Tips For Summer
July is Croatia's most popular tourist month—... read more
Croatia in August: Travel Tips for End of Summer
Looking for the best place to vacation in Aug... read more
Croatia in September: Weather and Travel Tips
September in Croatia is when summer is in its... read more
Croatia in November: Travel Tips for Start of Winter
November is when autumn gives way to winter i... read more
Croatia in December: Tips for A Christmas Holiday
Croatia in December spells the arrival of win... read more
Summer in Croatia: Perfect Weather & Enchanting Experiences
Nestled along the azure waters of the Adriati... read more
Popular Destinations
Europe Tours
Everest Base Camp Trek
Italy Tours
Spain Tours
Argentina Tours
Canada Tours
Sri Lanka Tours
Chile Tours
Antarctica Tours
Destinations
Things to Do
Restaurants
Art & Culture
Music & Nightlife
Los Angeles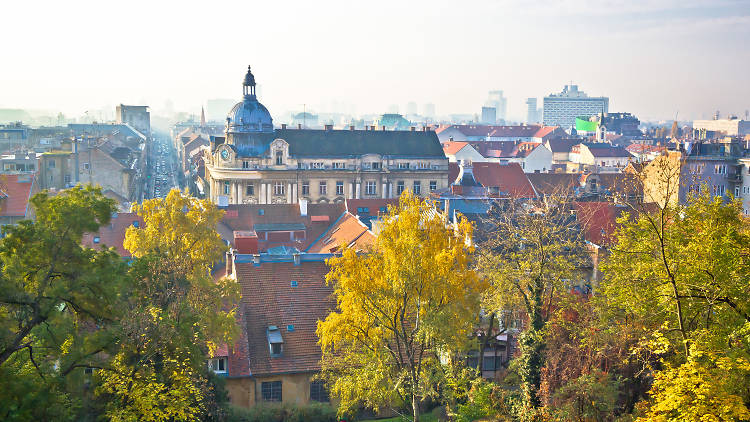 31 brilliant things to do in Croatia this October
Our ultimate list of the best things to do in Croatia in October
If you're after things to do in Croatia in October, there's no shortage of choices. The summer is breathing its last gasps but you might be surprised just how warm and sunny the days can be. This time of year is also harvest time, with excellent food and drink festivals celebrating the new produce - look out for truffle festivals in particular. There are also several interesting exhibitions showing this month and many music concerts by both visiting international artists and some of the best from the regional scene. Here are 31 brilliant things to in Croatia this month.
[image] [title]
Discover Time Out original video
By entering your email address you agree to our Terms of Use and Privacy Policy and consent to receive emails from Time Out about news, events, offers and partner promotions.
🙌 Awesome, you're subscribed!
Thanks for subscribing! Look out for your first newsletter in your inbox soon!
Work for Time Out
Privacy policy
Website terms of use
Manage cookies
Time Out Croatia
Advertising
Editorial enquiries
Time Out products
Mobile applications
Time Out Global
The best time to visit Croatia: our season-by-season guide to planning an Adriatic adventure
When is the best time to visit Croatia? Whenever you're ready! Whether you're chasing summer sun, celebrating the harvest, or cozying up for winter festivities, Croatia is ready to welcome you. Join us on one of our Croatia tours and see for yourself why there's no bad time to visit this diverse, coastal country.
Explore our Europe tours
4.7 star rating
4.6 star rating
4.5 star rating
4.3 star rating
More travel inspiration
Ekorna > Blog > Weather in Croatia in October
Weather in Croatia in October
Wandering when is the best time of the year to travel to Croatia ? Without further ado let us tell you that weather in Croatia in October is perfect ! That is the time of the year when the crowds are gone and the temperatures become pleasant. Furthermore, especially in the second half of October, the rates of the accommodations get lower and you can easily afford a hotel of higher category and better location. In other words: in October you get more for your money.
Trust us, we are a local agency specialised in tailor-made tours all over the Balkans, therefore we know all the secrets and travel hacks. Weather in Croatia in October is just perfect for exploring its historical coastal towns, such are Dubrovnik , Split or Zadar . Check our pre-prepared week-long itinerary and visit Croatia on a tour from Zagreb to Dubrovnik (or vice versa). Remember, the trip can be further adjusted to your wishes.
for a tailor-made tour of Croatia
Let's have a more detailed look at weather in Croatia in October compared to summer:
As you can see in the table above, the temperatures in October are significantly lower than in the summer which makes strolling the old streets of Dubrovnik more pleasant. Not to mention the absence of the crowds! You can actually enjoy the walk along the famous walls of Dubrovnik without having to avoid other tourists all the time! Don't be afraid you will miss out on something, as all of the attractions are still open at least until the end of October and so are the restaurants.
Those who travel to Croatia for its beautiful beaches and summertime fun, will of course prefer the months of June, July, August or even September, but if you are vising this Mediterranean country mostly for its cultural sights, October should be your preferred option. Thanks to its mild climate, the region of Dalmatia is popular throughout the year. Yes, it's true you might get a bit wet, but the chances of rain on the Adriatic coast are significantly lower than in the hinterland.
Another advantage of vising Croatia in autumn, especial in the late October, is the picturesque scenery created by colourful trees. One of the best places to admire them is defiantly the Plitvice Lakes National Park * , which gets a totally different image worth seeing in person.
CRUISES IN OCTOBER
The popular week-long Adriatic cruises that allow you to visit all the most important Dalmatian islands on a small ship can also be booked for autumn. Some of the routs offer departures in the first two weekends of October and the rates are significantly lower than in September. As you can see, October sea temperatures are still pretty high and even allow you to take a swim. Contact us at ➨ [email protected] for more information on Adriatic cruises.
Speaking of the island of Hvar – did you know it holds the record in having the highest number of sunny days in the country? It gets an average 2,674 hours of sunshine per year – October included! Besides it is also one of the most beautiful Croatian islands, so the overall experience should be very rewarding. Its rich culture and the beauty of its natural environment along with the amazing Mediterranean gastronomy will make you want to expand your stay until November.
The weather in Croatia in October is great for sightseeing
Did we convince you that the weather in Croatia in October is great for cultural tours ? Get in touch with our friendly agents who will be happy to give you further advice. Ekorna Travel Agency is specialised in tailor-made tours to Croatia , Slovenia and other Balkan countries. Our goal is to offer unique experiences on well organised, yet flexible and completely personalised tours. In addition we also offer group tours escorted by a professional guide in various languages.
Well, if you don't have time to travel in October, you are of course welcome to visit any other month of the year. Even though the main tourist season in Croatia usually runs from April to October, the capital of Zagreb is also very nice in winter. Did you know that Zagreb was named best European Christmas Market for several years in a row? Why don't you visit and see it for yourself? In addition you can take a daily excursion to Plitvice National Park which in winter time can also be magical. Don't worry, cold weather can easily be defeated with worm clothes.
Whether you want to visit Croatia in October or any other month that suits you most – we can are here to prepare a unique experience you will never forget. Trust us, we are the locals and we know all the secrets.
GET IN TOUCH
Interesting itineraries
Essential Croatia
Travel 9 days
from 1.260,00 €!
Pearls of Croatia
Travel 8 days
Balkan Triangle
Dalmatian Islands from Dubrovnik
from 1.500,00 €!
Our destinations
➨ Travel to Slovenia ➨ Travel to Croatia ➨ Travel to Montenegro ➨ Travel to Bosnia ➨ Travel to Serbia ➨ Travel to N. Macedonia ➨ Travel to Albania ➨ Travel to Romania ➨ Travel to Bulgaria
Types of trips
➨ Tailor-made trips ➨ Cultural tours ➨ City Breaks ➨ Escorted Tours ➨ Hiking & Cycling Trips ➨ Fly & Drive Trips ➨ Unique Experiences ➨ Small Ship Cruises
i[email protected] 00386 40 935 093 Litijska 43, Ljubljana, Slovenia
Terms and conditions
Early Black Friday Deals: Solo Adventures Up to 50% OFF
Destinations
Croatia tours in october 2025.
Nov '23
Dec '23
Jan '24
Feb '24
Mar '24
Apr '24
May '24
Jun '24
Jul '24
Aug '24
Sep '24
Oct '24
14 Croatia trips in October 2025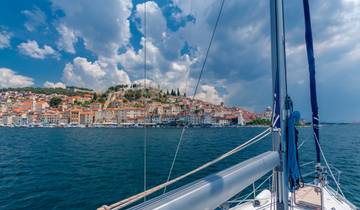 Active Adventure
Fully Guided
Personalized
Christmas & New Year
Lux Croatia Zagreb, Split, Korcula, Dubrovnik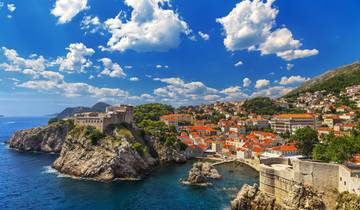 In-depth Cultural
Coach / Bus
The Croatian
"We had a excellent trip. It was fast moving and each day was busy with something..."
Tailor-Made Best Croatia Tour with Daily Departure
Book With Flexibility This operator allows you to rebook your dates or tours with them for free, waiving change fees.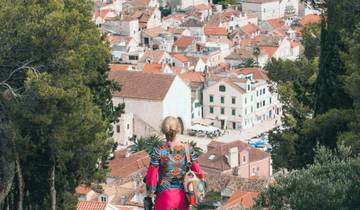 Zagreb to Dubrovnik: Parties & Plitvice Lakes
"The itinerary was great! Would have loved an extra night in Hvar. The night in Plitvice..."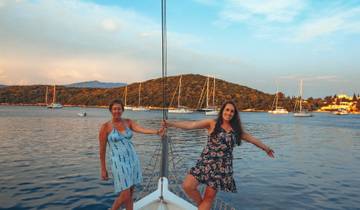 Country Roads of Croatia (Classic, 14 Days)
"We were treated like royalty from the very beginning. Travelling with Insight offered..."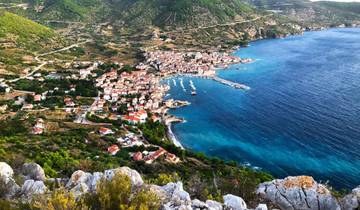 Hiking & Trekking
Self-Guided
Magical Vis Island Walk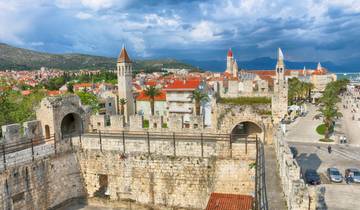 Customized Private Croatia Tour with Daily Departure and Guide
Black friday 2023 is coming.
Subscribe to our newsletter to get notified about the year's biggest deals at TourRadar
By submitting this form, I agree to the TourRadar T&Cs and Privacy policy .
You've subscribed! Stay tuned for our Black Friday deals.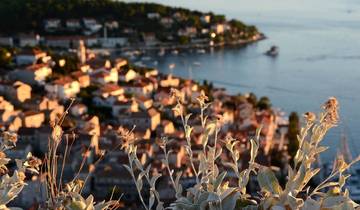 Dalmatian Vis And Hvar Islands Walk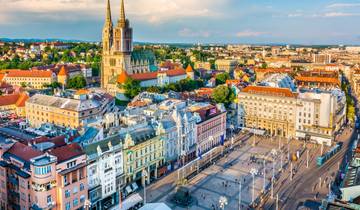 Country Roads of Croatia (Small Groups, 14 Days)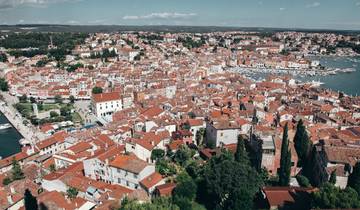 Best of Croatia and Slovenia (11 Days)
"Kassie was fantastic, very organized, always making sure that everyone had what they..."
€100 deposit on some dates Some departure dates offer you the chance to book this tour with a lower deposit.
Discover Croatia + Bosnia in 6 days all seasons tour from Zagreb to Dubrovnik. Dalmatian Riviera, UNESCO Venetian towns, fortresses and scenic roads.
10% deposit on some dates Some departure dates offer you the chance to book this tour with a lower deposit.
Discover Croatia + Bosnia in 7 days all seasons tour from Zagreb to Dubrovnik. UNESCO venetian towns of Dalmatian Riviera and scenic roads.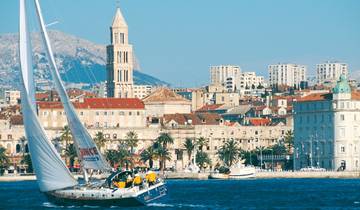 The Dalmatian Coast: Rome, Dubrovnik & Adriatic Dreamin'
Croatia Islands Cycling Holiday
Croatia in october 2025: tour & trip reviews.
"Amazing trip! Everything was well planned and taken care of. Our travel director,..."
"Amazing! Everything about the trip was amazing. Kassie was the best guide we have..."
Adriatic October 2025 (12)
Dalmatia October 2025 (7)
Croatian Islands October 2025 (7)
Regions in Croatia
Adriatic (12)
Dalmatia (7)
Croatian Islands (7)
Fall / Autumn 2023 tours (29)
Winter 2023 / 2024 tours (20)
Spring 2024 tours (228)
Summer 2024 tours (266)
Fall / Autumn 2024 tours (242)
Winter 2024 / 2025 tours (20)
Spring 2025 tours (26)
Summer 2025 tours (20)
Croatia Travel Guide | All You Ne...
Best 7 Day Croatia Itineraries 20...
International Versions
Deutsch: Kroatien Rundreise im Ok...
Nederlands: Kroatië Rondreizen in...
Visiting Croatia in October 2021
Summer may have finished, by visiting Croatia in October is still possible…and highly recommended! We take a look at what you can see and do this month in Croatia, as well as what you need to know for travelling there.
Travelling from the UK to Croatia in October
Negative tests no longer required for double vaccinated travellers from the uk.
Latest update As of 24th October , fully vaccinated travellers returning to England from Croatia (or indeed, from anywhere else) can book a cheaper lateral flow test or a PCR test for the required day 2 test. See Travel to England from another country during coronavirus on the GOV.UK website for more details – and to check the rules for Wales, Scotland and Northern Ireland.
Latest update As of 1st October , double vaccinated travellers from the UK no longer need a negative test to enter Croatia…great news! Obviously, if you are not fully vaccinated and/or cannot prove you have had covid in the previous 365 days, you do still need a negative test to enter the country. Full details of this here: Double vaccinated UK travellers to Croatia no longer need a negative test .
New travel rules for England from 4th October
On Monday 4th October at 4am, the travel rules for England change. The green and amber lists are being combined into one 'safe list' whilst the red list remains…red. Croatia is currently on the green list, so will definitely be on the new safe list from this date.
The rules for travelling back from a safe list country – including Croatia – from 4th October vary depending on whether you are fully vaccinated or not.
If you are fully vaccinated, to travel back from Croatia to England, you need:
book and pay for a day 2 PCR test (a test to get back into England is no longer required) – we recommend Randox
complete the passenger locator form in the 48 hours before returning to England
do the day 2 test
If you are NOT fully vaccinated, to travel back from Croatia to England, you need:
take a pre-departure test in the 3 days before returning to England
book and pay for day 2 and day 8 PCR tests – we recommend Randox
quarantine at home/your place of stay for 10 days
do the day 2 and day 8 tests
This is a change as, up until 4th October, non-vaccinated and vaccinated had to do a pre-departure test to return to England…and non-vaccinated travellers did not have to quarantine for 10 days.
Travelling from elsewhere to Croatia in October
As well as the major change mentioned above – that double vaccinated travellers from the UK no longer need a negative test to enter Croatia – there have been some additional rule changes as of 1st October 2021 :
If you are entering Croatia using a vaccination certificate, the second dose of your vaccine (or single dose in the case of single-dose vaccines) must have been administered within the previous 365 days . (This number of days has changed – it was previously 270 days.)
If you are entering Croatia using a positive test result from a previous covid infection (at least 11 days must have passed the test result!), this is valid if the test has been taken in the previous 365 days (also previously 270 days)
Take a look at our Croatia Travel Restrictions page for other regulations, and do also take a look at the rules posted on the Ministry of the Interior website.
Flights from the UK & Ireland to Croatia in October
There are still plenty of flights to Croatia if you fancy an October break! They include:
British Airways 5x then 4x/week from London Heathrow for the rest of the year
Ryanair daily from London Stansted for the rest of the year
(Note: Ryanair will start flying 2x/week from Manchester, and 3x/week from Dublin from 2nd December)
Easyjet 1x/week from London Luton until 30th October
Easyjet 2x/week from Bristol until 30th October
Ryanair 3/x week from London Stansted until 28th October
Ryanair 5/x week from London Stansted until 30th October
Ryanair 2/x week from Manchester until 30th October
Ryanair 2/x week from Edinburgh until 27th October
Ryanair 2/x week from Dublin until 27th October
Easyjet 3x then 2x/week from London Gatwick until 30th October
Easyjet 4x then 3x/week from London Luton until 31st October
Easyjet 5x/week from Bristol until 30th October
Easyjet 2x/week from Manchester until 30th October
Easyjet 2x/week from Glasgow until 24th October
Easyjet 5x/week from Belfast until 30th October
Ryanair 3/x week from Dublin until 29th October
Wizzair 2x from London Luton until 30th October
TUI 2x/week from Manchester until 8th October
Jet2.com 1/x week from London Stansted until 31st October
Jet2.com 1/x week from Birmingham until 31st October
Jet2.com 3x then 2/x week from Manchester until 30th October
Jet2.com 1/x week from Leeds Bradford until 16th October
To Dubrovnik
British Airways daily from London Heathrow until 31st October
Easyjet 3x/week from London Gatwick until 30th October
Easyjet 2x/week from Bristol until 31st October
Easyjet 2x/week from Manchester until 9th October
Easyjet 2x/week from Edinburgh until 6th November
TUI 1x/week from London Gatwick until 24th October
TUI 1x/week from Manchester until 24th October
Jet2.com 3/x week from London Stansted until 31st October
Jet2.com 1/x week from Birmingham until 30th October
Jet2.com 3/x week from Manchester until 31st October
Jet2.com 1/x week from Newcastle until 31st October
Jet2.com 2/x week from Leeds Bradford until 31st October
Jet2.com 2/x week from Edinburgh until 24th October
Aer Lingus 3x/week from Dublin until 30th October
That's a lot of flights! Take a look at our Flights to Croatia from the UK & Ireland 2021 page for the full schedule.
Events in Croatia in October
There's absolutely loads on in Croatia this month! Take a look at some of the highlights below:
Autumn is truffle season in Istria! Zigante Truffle Days actually stretches out from 18th September to 14th November 2021; this year, it's primarily centred around Restaurant Zigante in Livade in northeastern Istria
The Zadar Street Food Festival is on now (until 3rd October) – take your pick from food stalls offering delicacies from local restaurants
The annual professional road cycling CroRace is on from 28th September to 3rd October; there are six stages taking place across the country, from Osijek in eastern Croatia to central Dalmatia, to Istria and then finishing in Zagreb on the final Sunday. Pop along if you're in one of these regions to watch the cyclists whizzing past (or watch it on TV for lovely scenes of Croatia!).
Northern Croatian town Koprivnica hosts the Podravski Motivi / Podravina Motfis on 2nd & 3rd October, showcasing items typical from the region (such as naive art) as well as young wine and chestnuts
Dubrovnik's Triathlon will be taking place on land and in the waters around the city on 2nd October – there will be different races for experienced triathletes as well as first-timers
In a similar(ish) vein, the 29th Zagreb Marathon will be hitting the streets of Croatia's capital on 10th October
Dubrovnik Film Festival is on from 14th to 17th October
On the island of Krk, the Baska Outdoor Festival offers outdoor adventures for all abilities and ages over a weekend in mid-October (15th to 17th)
Held all over Croatia, Restaurant Week ( Tjedan Restorana ) is on from 15th to 24th October – participating restaurants (check the website!) offer menus for a special price
The Biograd Boat Show , the largest such event in Croatia, is taking place from 20th to 24th October
Weather in Croatia in October
The weather forecast is looking exceedingly lovely for the first part of October – along the coast (and the further south you go, the better your chances of warm weather) in places such as Split and Dubrovnik, you'll find temperatures of low to mid-20s Celsius every day. There are occasional rain showers forecast, yes, but most days will see plenty of sun. The long-range forecast for October is the same. Further north up the coast temperatures will be similar if a few degrees less; inland likewise also with more mixed weather (more rain).
Take a look at the Croatian Meteorological Service website for forecasts.
What to See and Do
October is the month that straddles the seasons in Croatia – whilst the early part of the month may well be very pleasant indeed (see under "Weather" above!) the temperature slowly declines. On the coast you'll enjoy plenty of sunshine although it will probably be a little too cold for sea swimming; hitting the pool, meanwhile, should be okay! We would certainly recommend heading to destinations in and around Split and Dubrovnik , as well as Istria , for a holiday this month. The islands, however, will be a bit on the quiet side…so we'd suggest leaving these for another trip next year.
October is traditionally the month that 'tourist facilities' (restaurants, bars, cafes and similar catering to visitors) start shutting up shop towards the end of the month before the cold months set in, so you'll still be able to enjoy these.
This October is Croatian Tourism Month (unfortunately, the website appears to be in Croatian only!). Some tourist services, facilities and venues – including accommodation, restaurants and cultural attractions – across the country are offering discounts of 35% off.
Do be aware that ferry/catamaran schedules (i.e. Jadrolinija 's) change from high season to low season ones in early October, so take this into account if you're planning on travelling around. Bus schedules will also see fewer buses on long-distance routes, but you'll still have plenty of choice.
October is a great month to make the most of some of Croatia's top experiences – without all the summer crowds – particularly with the country taking on an autumnal hue. If you're able to do, we'd certainly recommend a trip to one of Croatia's national or nature parks , such as Plitvice or Krka .
Zagreb is an excellent choice for Croatia in October – there's plenty to explore (sights, restaurants, experiences, even shopping) and it's a very easy city to navigate.
We hope you enjoy Croatia in October!
You might also like
More on Visit Croatia
About Visit Croatia
Contact Visit Croatia
Cookie Policy
Privacy Policy
Updated daily
New & Updated on Visit Croatia
City Break in Croatia Lovran Two Days in Pula Vrsar Ugljan Family Holidays in Croatia Buje 15 Things You May Not Know About Croatia Mlini Two Days in Zadar Solo Holidays in Croatia Koprivnica Vukovar ETIAS and Croatia Osijek Photos of Sibenik
Useful information on Croatia
Money in Croatia Visa Requirements for Croatia Buses in Croatia Ferries in Croatia Top Ten Destinations in Croatia Map of Croatia About Croatia
Orvas villas in Croatia
Villas In Croatia
Villas on Hvar Island
Villas On Brac Island
Villas On Korcula Island
Villas in Makarska Riviera
Villas in Split Riviera
Villas in Trogir Riviera
Villas in Sibenik Riviera
Villas in Zadar Riviera
Villas in Dubrovnik Riviera
Villas in Istria
Villas in Dalmatian Hinterland
Orvas Villas Selection
Pet Friendly Villas In Croatia
Beach Villas In Croatia
Wedding Villas In Croatia
Luxury Villas In Croatia
Croatia Destinations
Hvar Island
Brac Island
Korcula Island
Makarska Riviera
Split Riviera
Trogir Riviera
Sibenik Riviera
Zadar Riviera
Dalmatian Hinterland
Rent Apartment In Croatia
Villas In Croatia - Deals
Croatia Travel Blog
Croatia Weather
Terms and conditions
Privacy Policy
Why You Should Visit Croatia in October
October is genuinely an Autumn month, temperatures are cooling down, and the holiday spirit is starting to manifest worldwide. Weather for Croatia in October is pretty much always nice and warm (no traffic jams, less tourists are also a plus!) so October would be the perfect time to visit our beautiful country and enjoy one of many spectacular villas in Croatia . Explore the wonders that Croatia has to offer and enjoy.
Temperature
Although the temperature starts to cool down in October, it can reach high 22 degrees in the day. Weather is ideal for sitting on the beaches throughout Dalmatia and soak up the Mediterranean sun. Also, the cooler weather allows you to explore the historical sights and natural surroundings without getting sunburn or heatstroke. We recommend bringing warmer clothes for the night.
Independence Day
Independence Day in Croatia is a national holiday taking place on the 8th of October. It's celebrating the decision of the Croatian Parliament to separate Croatia from Yugoslavia. It is a holiday that brings national pride and is a way to pay tribute to Croatia as an independent country. You will find celebrations all throughout Croatia, but the best can be found in Zadar, Croatia's oldest city. Zadar played a huge role in the Croatian War of Independence and the patriotism is tangible on this historic day. Friendly locals celebrate this holiday and you will be able to sense a true feeling of pride when visiting this city.
Halloween & All Saints Day
Halloween isn't massively celebrated in Croatia. It has gained some popularity in more recent years within the clubs and bars. Split is famous for its nightlife and many nightclubs will put on costume competitions and special menus. Halloween is the day before All Saints Day, which is a public holiday in Croatia that takes place on the 1st of November. All Saints Day is when family and friends celebrate those that have passed away by visiting cemeteries and remembering fond memories of those they have lost. Families will clean the graves, leave flowers and then return home where they will celebrate with a feast.
Truffle Days in Istria
Truffles are world-famous for their unique taste and high price. October is the top month for white truffles, and Istria celebrates throughout the month with various food events and celebrations for this beautiful item of food. There are exhibitions, fairs and markets where you can purchase truffles and truffle oil. Also, you can meet locals and get recipes for truffle dishes. You will find truffles throughout the peninsula and in all dishes. Truffles here have much more agreeable prices than anywhere else in Europe. If this sounds convincing, cross Istria off your bucket list and stay in one of many Istrian villas - you will be amazed at how stunning they are!
What Else Can You Do in Croatia in October?
With the above October particularities, you can enjoy more this month. Although it seems unbelievable, the Adriatic Sea is still warm (20 degrees Celsius), and you can swim. However, if you like warmer water, you can choose one of many villa selection with a heated outdoor pool and relax completely. Local oranges and tangerines are ripening and will delight you with their juiciness. Along with them, many more fruits and vegetables are mellowing in October in Croatia. In all better restaurants, you will have the opportunity to eat local seasonal food superbly prepared. You should take the chance and enjoy fresh olives - maybe even participate in the local olive harvest! And you can also visit one of the oil mills and watch the process of making olive oil. You can do or see many more exciting things in October. Although the weather may be cooler, the Croatian culture thrives and offers visitors a unique opportunity to experience authentic local holidays and events. If you need more ideas, feel free to ask us . Orvas Villas specialize in luxury holidays to Croatia , providing you with a luxury base while you explore the wonders of Croatia.
#CroatiaTimeNow
#WeatherForCroatiaInOctober
1 800 970 7299
Live Chat (Online) Live Chat (Offline)
My Wishlist
Find a Trip
Your browser 'Internet Explorer' is out of date. Update your browser for more security, comfort and the best experience on this site.
Top Croatia Tours Departing in October 2024
Destinations
If "will travel for food" is your motto, October is the month to get your stomach to Croatia. 
When traveling through charming Croatia , it's important to leave room in the itinerary (and belly) to sample the  local cuisine ; from fresh fish in Hvar, to local wine in Korcula, and smoked Dalmatian ham in  Split . If you're taking one of our small group tours from  Dubrovnik  this month, giving yourself a few extra days in the city to attend the week-long Good Food Festival is an absolute MUST. Plus, if you need a little physical activity to kickstart your appetite, October's mild temperatures make hiking and cycling  a dream.
Top Croatia tours in October 2024
Croatia tour reviews.
Croatia sailing tours
Croatia departures by month.
Read more about travel in Croatia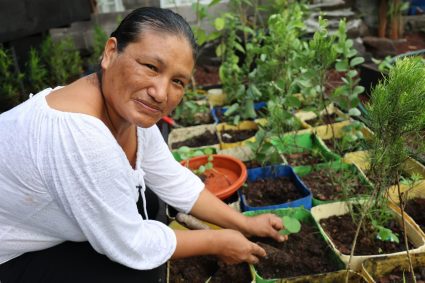 Sep 04, 2023
22 new ways we're creating positive....
Our not-for-profit, The Intrepid Foundation, is welcoming 22 new partners in 2023....
Dec 29, 2016
Why you should take a sustainable....
Ask anyone that's been to Croatia in the last few years: the familiar backdrop to...
Apr 03, 2018
What to pack for a sailing adventure....
Croatia was made for sailing, with a gorgeous coastline, delicious Dalmatian...
Mar 29, 2023
What to expect on an intrepid premium....
From sipping drinks on the rooftop of a royal haveli in India to taking part in a...
Jun 06, 2023
Greece vs croatia: where to travel next.
Got visions of the Med dancing in your head?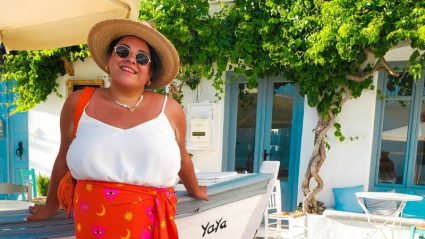 Jul 20, 2022
A plus-size travel guide to dubrovnik....
No matter your size, exploring Dubrovnik and Greece just got a whole lot easier.&...
Croatia is an outdoor paradise, on and off the coast
Oct 30, 2023 • 6 min read
From striking shorelines, cozy coves, dreamy forests, and woodsy lakes – to mighty islands, rugged mountains, rushing rapids, and tumbling waterfalls – the scenery of Croatia is so varied there are year-round options for adventure © Aleksandar Gospic / CNTB
Sponsored by
An island-speckled coastline and ancient walled towns place Croatia among the world's best-known destinations and a bucket-list experience second to none. But there's even more to this wild, sustainable, and authentic country just begging to be explored. Come with us as we take in the sun and sea, and explore more of the exciting natural wonders and activities awaiting those who are willing to get off the beaten path.
From striking shorelines, cozy coves, dreamy forests, and woodsy lakes – to mighty islands, rugged mountains, rushing rapids, and tumbling waterfalls – the scenery of Croatia is so varied there are year-round options for adventure. As impressive as the landscape is, it's matched by a commitment to conservation. A sizable chunk of these pristine pockets of nature is protected ­– Croatia has eight national parks and 12 nature parks, covering more than 10 percent of the nation.
Dubrovnik: A unique view of history
In Dubrovnik, Croatia's "pearl of the Adriatic" made even more famous for its appearance in   Game of Thrones , walking the ancient city walls is an outdoor adventure in itself. From the top, the view over the old town and the shimmering Adriatic is sublime. However, walking the walls is a popular attraction – for a more intimate experience, get here early in the morning and enter through the less-crowded Buža or Ploče Gates; the Pile Gate is by far the busiest.
For an even more thrilling way to see the old town, sign up for a kayaking tour and marvel at astonishing sunsets over these monumental fortifications that have guarded the city for more than 500 years. The gorgeous coastline of Croatia is perfect for alfresco adventures, especially from May through October. With its crystalline waters and stellar water quality, a swim is irresistible. Both the mainland and the islands are lined with beaches and swimming spots of dizzying variety. Look out for spiky sea urchins that live in the shallows, or wear water shoes.
Heading north: Off-the-radar adventures
Leaving Dubrovnik, head north toward Split – but don't be afraid to explore. The area between these two hubs is full of adventure. There are hundreds of beaches along the coast – strips of pebbles, serene bay hideaways, and remote coves you need to hike to – truly a beach for each. Water temperature hovers around a pleasant 68 degrees (20°C) from June through October.
The delta of the Neretva River valley is full of lush landscapes and mandarin plantations. In addition to being gorgeously fertile and just plain pretty, Neretva is also a stellar spot for windsurfing and kiteboarding. You can easily spend a day swept by winds here.
When you're back on the road, another worthwhile stop is the Makarska Riviera . Check out the spectacular Brela beach, perfect for unwinding, or scale the soaring Biokovo mountain that rises above the coastline and hike one of the trails crisscrossing Biokovo Nature Park. While up high, be wowed by marvelous vistas from the horseshoe-shaped Biokovo Skywalk, a steel-and-glass viewing platform that hovers dramatically above sharp cliffs and provides astounding panoramas of the Adriatic Sea.
While these mountains may look accessible at first sight, don't underestimate them. Always check the weather before heading up and make sure to wear proper shoes (no flip-flops up and down these hills).
Split and around: Thrills and relaxation
Just before you reach the city, stop for a day of adventure on the roaring rapids of the Cetina River near the town of Omiš . It's about 30 minutes south of Split on the edge of a canyon where the Cetina drains into the sea. With the craggy Dinara Mountains as the backdrop, the area is an outdoor playground ideal for a rush of adrenaline, where you can go cliff jumping, rafting or canyoning.
After that, you're ready for Split itself, the vibrant coastal stunner in Dalmatia, with its ancient Diocletian Palace , a UNESCO-protected gem, as the showcase. Try a game of picigin , a local water polo-like sport, on Bačvice, the city's iconic beach. Then hop on a quick ferry ride to Brač Island , where the pretty town of Bol features the horn-shaped Zlatni Rat beach with its smooth golden pebbles. Swimming is tops here, as is windsurfing due to the steady summer wind called mistral (for beginners, mornings are the best time, before the wind has picked up).
Zadar and the Kvarner Gulf: Natural excitement
Further up the coast, spend some time in the coastal charmer of Zadar , with its mesmerizing Sea Organ sculpture that entrances visitors. It's the best-kept secret on the adventure circuit of Croatia. This gateway to pristine archipelagos and rugged wilderness is just under an hour from Paklenica National Park, a dazzling trekkers' paradise with karst canyons, remarkable gorges and a maze of alpine trails. Rock climbing is excellent on these hair-rising uphill routes that make you scramble up dramatic ascents.
For more serious and skilled adrenaline seekers, a patchwork of ridges, ravines and crests fill the coastline-hugging Northern Velebit National Park. Next up is the magnificent Kvarner Gulf , where you'll have a choice of well-marked mountain biking routes, in woodsy Gorski Kotar, Učka Nature Park and the islands of Krk , Rab , Lošinj and Cres .
Inland Croatia: Waterfalls and wildlife
Further inland, the showpiece of Croatia's national parks, Plitvice Lakes , deserves a detour for a wander through its exquisite water wonderland, with a string of turquoise lakes and rushing waterfalls amidst dense woods.  
In fact, continental Croatia is a treasure trove of nature parks worth a visit. In the east of the country – the stunning but yet-to-be-discovered Slavonia – the floodplains of Kopački Rit Nature Park feature a profusion of birdlife and an Amazon-like vibe. Take a boat trip through its lakes and canals, looking out for white-tailed eagles, black storks and purple herons.
Right on the edge of Slavonia, in a region called Posavina, another nature park to roam is Lonjsko Polje , an expanse of tiny heritage villages set around a wildlife-rich swamp. The park is famed for its white storks that hang out here from late March through late August and nest atop the wooden houses in Čigoč village, known as a 'stork meeting point'.
Istria: Rides, rails and underground rooms
In the very north of the Adriatic coast, the triangle-shaped peninsula of Istria features an array of outdoorsy activities. Guided underground jaunts tunnel through the shadowy depths of Pazin Cave – Inspiration for author Jules Verne. This 100m-deep abyss, through which the Pazinčica River sinks into subterranean passages forms three underground lakes.
Above ground, take a cycling adventure along the Parenzana Trail, which follows a former narrow gauge railway line. The Croatian portion of the trail stretches 50 miles (78km), and has become a popular way to enjoy the highlights of Istria, especially in spring and autumn. Afterward, go windsurfing off the Premantura Peninsula at the southernmost tip of Istria – but watch out for strong currents.
Make sure to weave in a visit to the coastal city of Pula and its Arena , the magnificently preserved Roman amphitheater dating back to the 1st century. It's a perfect jumping-off point for all the adventures in the region – and the perfect place to reflect on the natural wonders that make Croatia so spectacular.
Sponsored by Croatian National Tourist Board
As a travel entertainment and inspirational media outlet, we sometimes incorporate brand sponsors into our efforts. This activity is clearly labeled across our platforms.
This story was crafted collaboratively between Croatian National Tourist Board and Lonely Planet. Both parties provided research and curated content to produce this story. We disclose when information isn't ours.
With sponsored content, both Lonely Planet and our brand partners have specific responsibilities:
Brand partner
Determines the concept, provides briefing, research material, and may provide feedback.
Lonely Planet
We provide expertise, firsthand insights, and verify with third-party sources when needed.
Explore related stories
Jul 25, 2023 • 7 min read
Walking along medieval walls, white-water rafting, and hiking through national parks – all these and more are our favorite things to do in Croatia.
Jan 25, 2023 • 7 min read
Jan 13, 2023 • 7 min read
May 16, 2016 • 7 min read
Feb 10, 2012 • 6 min read
Jul 6, 2023 • 7 min read
May 29, 2023 • 9 min read
Feb 7, 2023 • 7 min read
May 19, 2022 • 7 min read
Apr 26, 2022 • 10 min read