A practical guide to living your best vanlife in Iceland: campers, routes and rules
Jan 5, 2022 • 7 min read
These tips for traveling around Iceland in a van can help you live your best #vanlife © Klaus Vedfelt / Getty Images
Traveling to Iceland is hotter than ever, and it's not just because of 2021's volcanic eruption . The land of fire and ice is a magical island nation with stunning waterfalls, rich culture and customs, and gas station hot dogs worth the trans-oceanic trip alone (yes, we mean it), so it's no surprise that as flights become more available, everyone is looking to check Iceland off their bucket list. 
As #vanlife has grown beyond a trend into a dedicated travel style, getting around Iceland via camper is also growing in popularity; it's an excellent destination for road-tripping and camping. Iceland is also notoriously expensive , but camping is an inexpensive alternative that also enables visiting parts of the country often unseen by those who stick to Reykjavik and its nearby sights.
Here's how to plan your #vanlife trip to Iceland.
Choose a camper van that's right for you
When choosing your camper van, it's essential to keep a few considerations in mind. First, what season are you traveling in? Summer travelers can find comfort with the barest of accouterments (though it's always important to pack for inclement weather in Iceland), while off-season or winter travelers will want to consider things like a heating system, extra blankets and winter tires.
Next, how many people are joining you? The typical small, entry-level van is enough to comfortably fit two adults and their luggage, but any more traveling companions and you'll need to splurge for more room. The largest vans usually don't seat or sleep more than five adults.
Lastly, what are your driving skills or abilities? Manual transmissions are more common in Iceland than they are in the US, and often automatic transmissions are more expensive. Further, if you're planning to drive into the Highlands or along any of the designated "F" roads, you'll need a camper equipped with 4WD, which can add to cost and complexity.
Where to find a camper van rental
This is not a comprehensive list of camper rental companies to consider, but these are the most popular and best-reviewed. It's wise to purchase insurance, as Icelandic roads, weather, and geologic features can be temperamental.
Happy Campers is Iceland's first-ever camper rental company. It's family-owned and has a great track record for having reliable vehicles, as well as an emphasis on being eco-friendly, planting one tree for every camper that's booked. The vehicles range from mid-size vans that sleep two to large vans that sleep five. Manual and automatic transmissions are both available, and amenities like sleeping bags, barbecues, and camp chairs can be added on separately.
Kuku Campers is Iceland's largest camper van rental company, with vehicles sleeping two to five people and ranging from manual to automatic transmission. Amenities like sleeping mats, portable toilets and acoustic guitars can be rented at an extra fee. A bonus of Kuku is that its fleet includes vehicles with rooftop tents, an alternative to bringing or renting one.
Campervan Iceland rents out not only camper vans, but motorhomes as well. Its vans range from standard to large, while the motorhomes come in various sizes as well, and can sleep up to six people. Renting with Campervan Iceland also includes sleeping bags, chairs, and cooking equipment, among other amenities. There are only a few items that need to be brought or rented in addition to the vehicle.
Don't go overboard on the extras
Most campers are tight, meaning space for amenities comes at the cost of space for passengers. The priority when camping in Iceland is to stay warm. If the camper does not come with sleeping bags, be sure to bring or rent them, as well as extra blankets. If you'll be cooking, grab a stove, grill, utensils, table and camp chairs. And although you won't be going off road, renting a safety kit can help in an emergency.
What you need to know once you're on the road
Meals: from grocery stores to gas stations.
Renting a stove and buying provisions at grocery stores like Bónus (look out for their logo of a wild-eyed pig) is a cost-effective way to eat in Iceland, and often the only option at the more remote campgrounds. Otherwise, most towns have at least one restaurant, and all the gas stations sell Iceland's famous hot dogs, as well as a selection of produce and snacks.
Routes: rental companies can help you plan your way
Most road-trippers will encircle the country on the Ring Road while going in and out of the Westfjords ' numerous peninsulas is a close second. Go Campers has a guide to driving and camping in that specific region. Otherwise, Kuku Campers suggests a few routes for your road trip, a helpful planning tool while selecting which campsites to book. And Happy Campers has a trip planning guide that can help you figure out your Iceland camping trip based on if you want to visit during winter, go to places requiring 4WD, or want to see the top attractions.
Gas: plan fuel stops in advance
Iceland may seem little, but what's truly small is its population of 350,000. More than half of this number live in Reykjavik, meaning it's possible to drive great distances between villages and towns – sometimes up to 150 miles apart on the Ring Road. Gas stations are not prevalent in empty areas of the country, so it's important to plan your gas station stops with that in mind: remember that half-full means empty in Iceland. Fuel prices are always in flux but expect to pay roughly ISK 203–235 per liter (roughly $6–7 per gallon).
Driving in Iceland: road rules and conditions
Iceland does a great job of maintaining its roads, at least the parts that are paved. There are still plenty of areas where gravel and dirt make up the roads, which can be tricky to navigate. This is especially so when strong weather hits, which in Iceland tends to be every five minutes (or so the local joke goes).
Driving carefully is essential given the unpredictable weather, and also because of the country's resident sheep that roam about unfenced during the summer. Hitting them is an unfortunate accident that does happen, and if it does, there is protocol to follow. Search for the sheep's owner by checking its ear tag, find that rancher, and make sure they are compensated for their loss.
When it comes to passing cars, however, wait for the driver in front of you to indicate to the right that the way ahead is clear. It's likely only Icelanders will do this, and not other tourists, but the locals will surely appreciate their custom being picked up by visitors. They also ask that drivers not pull off the road (or worse, the middle of the road) for photos or to check a map. Instead, wait for a designated shoulder or turn-off to do so.
There are lots of toll tunnels, one-way bridges, and seasonally accessible roads called F-Roads, so be ready for anything. Be sure to scrutinize signs, as the strong weather can change road availability, and download the 112 app for emergency assistance including getting lost. The allure of Iceland is often in its remote emptiness, but that's not as fun when you're accidentally stuck there.
You might also like: 8 unforgettable road trips in Iceland
How to find the perfect campsite
Campers are legally obligated to pitch their tents in designated campsites, except in the Highlands where wild camping is permitted. Do not pitch a tent on private property or you could feel the wrath of an angry Icelander, which is not recommended. It's much easier to browse Happy Campers guide to camping in Iceland, including the addresses of every campsite in the country. Rent.is , another camper rental company in Iceland, also shares an updated map on their site.
Each campsite is unique when it comes to price, rules, timing, and size. Some have facilities like kitchens, wi-fi or hot springs, while others are more pared down. Campingcard is €159 (around $180) option giving campers access to over 40 designated campsites without having to book in advance or pay an individual fee upon arrival. 
Westfjords, Iceland, is on our 2022 Best of Travel list. For more stories from some of the world's most exciting destinations click here .
Safety recommendations and restrictions during a pandemic can change rapidly. Lonely Planet recommends that travelers always check with local authorities for up-to-date guidance before  traveling during Covid-19 .
You might also like: The hidden costs of #vanlife    In Iceland's remote Westfjords region, a new bicycle route takes shape    Why you should check out these magical Icelandic beaches   
Buy Lonely Planet's Best in Travel 2022
Lonely Planet's Best in Travel 2022 ranks the world's must-visit countries, cities and regions to provide a year's worth of travel inspiration.
Explore related stories
Jul 19, 2023 • 5 min read
Get to know the striking beaches of Iceland, from black sands dotted with icebergs to blond geothermal coves.
Jul 18, 2023 • 3 min read
Jul 6, 2023 • 10 min read
Mar 8, 2023 • 4 min read
Nov 15, 2022 • 7 min read
Jul 7, 2022 • 5 min read
Jun 19, 2022 • 4 min read
Jun 10, 2022 • 5 min read
Dec 24, 2021 • 5 min read
Oct 29, 2021 • 6 min read
The Ultimate Guide to Traveling Iceland in a Campervan
This year we set out to experience the ultimate camper van road trip: driving around the entire Iceland in 7 days.
Iceland has become a very popular tourist destination in the last few years, and for a good reason. Filled with waterfalls, glaciers, mountains, geysers, and hot springs, there are endless things to see and do in Iceland.
There are many ways how to travel around Iceland, but an increasingly popular option is renting a camper van and trying out the "van life" lifestyle. Driving around Iceland in a camper van is great for those who like minimal planning, preparation and prefer to go with the flow.
Traveling in a camper van is so much easier because you don't have to worry about getting to your hotel or bus at a certain time and you can adjust your schedule as you go. If you find something you like, it's easy to spend more time there instead of rushing to your next destination.
You could spend a few weeks in Iceland on a vacation and not run out of stuff to do, but you can also be ambitious like us and drive around the entire island in a week.
If you are set on exploring Iceland in a camper van, there are some things you should know before your trip. This guide will cover everything you need to know in order to best prepare for a van-life trip through this beautiful country.
Some Things You Should Know Before Visiting Iceland:
What is the best camper van rental in iceland, what to bring for a trip through iceland in a camper van, where can i park the camper van at night in iceland, what to see in iceland, what should i wear in iceland, what is the currency used in iceland.
Is It True That Everything In Iceland Is Expensive?
What Is The Language Spoken In Iceland?
A Few Icelandic Laws To Keep In Mind
Iceland has multiple van rental companies with many sizes and levels of amenities to choose from. We went with Happy Campers and their mid-sized green camper van and we couldn't be happier.
We chose Happy Campers because of their excellent reviews and it also appealed to me that it was a family run business.
And during our trip, it did feel like I became a part of a big family! Whenever a Happy Camper driver would see another one, there was always a friendly wave or a chat. It was almost like a bonding experience with other travelers, like being a part of a big, fun happy family.
Beyond that, the camper van was also very comfortable which was a must for me. It was my first "van-life" experience and I wanted it to be memorable and fun, not struggle with it. The camper vans were very spacious and equipped with everything I needed to spend a week driving around Iceland.
We liked the camper set up so much that we adopted a similar set up to our own van that we bought after the trip and converted into a full-time campervan .
The green mid-size Happy Camper vans come equipped with a couch that converts into a bed, kitchen, and plenty of storage. The kitchen comes with a sink, stove, kitchen utensils, cups, plates, silverware, even can openers, cleaners, and towels. Besides food, there wasn't much that I needed to buy on my trip which was very convenient.
The rental van came with all the necessities for the cold nights in Iceland like extra blankets and pillows.
It was also set up with a heater that would keep the van comfortably warm during the night. On a low setting, the heater would run all night up until 8 am when it was time to get up.
If you are concerned about staying warm at night, you can also rent extra sleeping bags at the van rental shop but I didn't find them necessary.
Whenever you pick up your camper rental, make sure to get gravel protection or insurance. Just about every 2 out of 10 rental cars need their windshields replaced from gravel rocks so your chances of getting your rental's windshield cracked or broken are pretty high.
Just like a lot of other things in Iceland, fuel is very expensive. During the trip, gasoline was about $7.50 a gallon and diesel was $7.15 a gallon.
Thankfully, the van had a diesel engine that was very efficient and saved us a lot of money in fuel, especially driving in Eco mode. The entire distance of Iceland's Ring Road is around 800 miles, but in the 7 days I ended up driving 1400 miles around Iceland and spent only $300 in gas.
Make sure to keep this in mind when renting a van because the cheaper rentals will come with gasoline engines that use twice as much gasoline and end up costing you much more.
But by far, my favorite part about traveling in a Happy Camper van rental was how little planning I needed to do ahead of time.
Instead of spending months planning routes and booking hotels, I was able to just arrive and get going. Realistically I only spent a few hours preparing for the Iceland trip which was mostly just researching places to see along the Ring Road.
If you're looking for some cool things to see and do in Iceland, check out my must-see Iceland itinerary here .
If you decide to go with a Happy Camper van, the only things that you will need to bring with you that are not provided in the van are toiletries and a shower towel. Here is a list of suggested toiletries for a van-life road trip:
travel size soap
travel size shampoo and conditioner
I also recommend bringing a water bottle that you can refill or buy one when you get to Iceland.
Water bottles can be refilled in most visitor centers and campground stops so you can save money by refilling the same one. Don't be afraid to refill a water bottle from a bathroom sink since tap water in Iceland is safe for drinking.
For electronics, it's always wise to bring a power adapter on international trips. But since I knew I would spend most of the time in a van, before my trip I bought car chargers for all of the electronics such as my laptop, phone, camera, and drone.
The van had a few plug-ins so I was able to charge all of my electronics without any problems.
A huge misconception about renting a camper van in Iceland is that you can park it and sleep just about anywhere at night. THAT IS NOT TRUE.
Iceland has a very fragile ecosystem so to protect its wildlife and nature with the increased amount of travelers, a law was passed in 2015 that only allows camping at designated campgrounds. Staying overnight at random locations can potentially get you a fine.
Thankfully these campgrounds are located all over Iceland and are not too far apart. If you do take a chance of parking the van overnight at a random location, you are taking a risk of getting a pretty hefty ticket.
Below is a map of Iceland's campgrounds where you can camp and park your camper van at night.
The campgrounds usually cost around $15 per person and are mostly private lands that owners have turned into campgrounds.
Some campgrounds, especially on the south side, come with a pretty nice view. My favorite was the Skógafoss campground that was located right in front of the breathtaking waterfall.
Most campgrounds come with showers included, but some charge separate for the showers. The amenities and fees just depend on your host.
The campgrounds typically have bathrooms but many will have a single bathroom for 100 guests. It can get crowded and sometimes lines can form to take a shower or use the toilet. That's just normal for Iceland's busy summer season.
The most popular route that the majority of people choose to drive in Iceland is its famous Ring Road, also known as Route 1. This road is a huge circle around the island and for the most part, it is in excellent condition.
If you are looking for a Ring Road itinerary, I have created a list of top things to see in Iceland along with a Google Map.
Iceland's Ring Road Map & Itinerary
Most stops along the Ring Road are well marked, have paved roads leading up to them and have designated places where you can park and hike.
Think of Iceland more as a National Park instead of the Wild West that it is often portrayed as. Although there are many hidden gems in Iceland too, don't be too disappointed to find out that Iceland is quite structured, has good roads but also tons of people trying to see the same things as you are.
A week is about the minimum time you should take to drive the Ring Road in a rental car or van. If you have less than a week, the best bet is exploring the southern part of Iceland. There are so many great things to see in southern Iceland and you won't tire yourself spending a lot of time behind the wheel.
When it comes to clothing, think comfortable and waterproof. The weather in Iceland can be somewhat unpredictable so you should bring a good waterproof jacket because it constantly rains on and off. A good pair of hiking shoes is also a must.
Nights do get a bit chilly so you want to bring multiple layers to keep you warm while making dinner and hanging out.
If you're pondering on bringing cute outfits for dinners or photos, I would advise against it.
While driving around Iceland in a camper van you will value more clothes that are waterproof and warm over cute. On my trip, I brought along a dress for photos and it just sat in my bag. I wish I would have taken that space to bring extra t-shirts or another jacket.
One of the coolest things about traveling around Iceland in a camper van is that you have the freedom to visit tons of outdoors hotspings and hot pools. Make sure to pack in a bathing suit for those awesome Iceland hot springs!
The currency of Iceland is the Icelandic Krona. The current 2017 conversion rate is 1 USD to 105 Krona.
The best way to convert Icelandic price into USD is to remove the last two zeros. For example, if you see something at the store for 800 Krona, that item equals to approximately $8 USD
Is It True That everything In Iceland Is Expensive?
If you have heard the rumors of $30 burgers in Iceland, yes that is absolutely true.
Iceland was hit very hard with inflation during the economic downturn and has experienced price increases that are double or triple of anywhere else. On top of that, Iceland has to import just about everything into the island. Because of these factors, things just cost much, much more in Iceland than anywhere else.
BUT, you can still find ways to save money on food. The biggest money saver for a week-long trip is buying food at the local stores and supermarkets versus eating at restaurants, fast food places or gas stations. The two most popular supermarkets in Iceland are Bonus and Kronan.
Not everyone had the luxury of doing this, but because the Happy Campers van came with a good-sized fridge and fully stocked kitchen, I was able to buy groceries for two people for an entire week for about $150. My shopping list looked something like this:
sandwich meat
brie cheese
peanut butter and jelly
mac and cheese
ground beef, buns, and sauce for burgers
ground beef and beans for a stew
Every once in a while I still let myself indulge in snacks like chips, chocolate, and some candy too.
Make sure to stock up on food and water whenever you can. Some portions of the Ring Road are less inhabited and can take a while until you reach the next town.
Local tip : For $10 you can also try out Icelandic fermented shark called Hakarl and a local Viking beer. The taste of the fish is not very pleasant so you'll need the beer to wash it down, but it's a local tradition that should be tried at least once. Just make sure to do it outside because the smell will definitely linger.
Icelandic is the official language spoken in Iceland. It looks something like this:
Icelandic language sounds nothing like English but don't worry – most people in Iceland speak English and language is not a huge barrier while traveling around.
Few Icelandic Laws To Keep In Mind
Iceland has a lot more laws and restrictions than you may think.
For example, it's illegal to even have one drink and drive. With a legal limit of .02%, you should wait until you get to a campsite at night before having a sip of alcohol. Even going to a restaurant and having one drink will likely set you over the legal limit.
In Iceland, it's illegal to go off-roading or to go on "F" roads without a 4×4. Passenger cars are not insured when driven off major roads in Iceland and any damage caused by driving on F-roads will not be covered by your rental insurance. Most tourist attractions can be reached without going on an F-road so this is only a concern if you're truly going off the beaten path.
One of the cheapest Icelandic airlines is WOW Air, which cost under $450 for my ticket round trip. I even added a week-long layover in Ireland for free! It's very similar to Spirit Airlines in the US, which we use all the time to fly for ultra cheap .
Download music or podcasts ahead of time for the Ring Road drive in Iceland. Some parts of Iceland, especially throughout the north, have very limited reception. Instead of driving for hours in silence, download some songs on your phone or podcasts to listen to before your trip.
While driving on Icelandic roads make sure to watch out for sheep crossing. The wild sheep tend to roam around Iceland without any fences to keep them off the roads and sometimes they get injured by oncoming cars and traffic.
Reykjavik is the capital of Iceland and about a third of Iceland's population lives in Reykjavik. If you have extra time on your trip, it's worth a visit, although it is very expensive especially to dine out in a restaurant.
Driving around Iceland is the perfect way to submerge yourself into its beauty, nature, and culture. There's no better way to experience Iceland than by road tripping in a camper van. By following our guide and tips you will be ready to conquer Iceland and the famous Ring Road in a camper van!
Related Articles:
Best Travel Camera For Beginners
10 Reasons Why Oregon Is Better Than Iceland
20 Things To See And Do In Ireland
15 thoughts on "The Ultimate Guide to Traveling Iceland in a Campervan"
Great tips!
Thanks, Kate! : )
Very informative blog! Thank you for sharing this info on Iceland van-camping!
You are so welcome, Julie! : )
Hi, Laura. I'm planning a to travel Iceland by camper van in 2018. Couple questions if you don't mind…How far in advance did you book your camper van? What form of payment did you use to book your camper van? Did you encounter any difficulty with being charged the correct amount? Thank you!
Hi Jennifer,
I booked the camper van two months in advance, but they do tend to get booked up pretty quickly in the busy summer season so I would recommend to book it a lot sooner. I used an international credit card to book the van. I opened a Chase Sapphire credit card that doesn't charge international fees and gives you $600 cash back if you spend a certain amount. The only additional item in my final bill that I didn't account for was paying to replace a windshield. Our van's windshield got hit by a rock on day 2 of our trip and cracked it beyond repair. We didn't get gravel or any other type of insurance upon arrival so that's something I would recommend to get or at least consider. Please let me know if you have any other questions! Hope you have a great time on your trip.
Cheers, Laura
Hi Laura, I, too, appreciate your summary — my 11 year old and I are going to rent a camper van next summer in our visit. I have a question; Did you find you were okay without camping reservations in most places? How did you manage that planning aspect? Thanks!
The campsites in Iceland don't require reservations. Most of the campsites are just big lots of land that private owners rent out as camping sites. They don't have assigned numbers, instead people typically park and set up a tent wherever a spot is available on the grass.
There are campsites along Ring Road in Iceland every few miles. Typically we would drive during the day and start looking for a campsite on the map towards the end of the day (I have included a map with campsites in this article for reference). I hope this help! Please let me know if you have any other questions.
Hello, I absolutely love your blog!! So informative. What time of year did you travel. We are hoping to rent a camper van in early September. Thanks for all the tips!
I am so glad that you find the blog helpful! Nothing makes me happier than hearing that! : )
We visited Iceland mid-August. If you are planning on renting a camper van, I would recommend booking your van reservation as early as possible. They do tend to get sold out pretty quickly.
Hope you have a blast!
I like the tip you gave to check your rental vehicle for damage and report it to the ownership before you start driving, so you will not be charged with unnecessary fees. My wife and I are taking a long vacation where we will need to rent a vehicle, so we are looking for the best tips for when we get the rental. I will be sure to check for damage before we start driving.
Hi Easton! I definitely advise to inspect the van before driving and to report any damages. Also, I highly recommend getting insurance if they offer it. We didn't get insurance in Iceland and a rock hit and broke our windshield within the first few days of our trip. We had to pay for the damage out of pocket but if we had gotten gravel insurance, the entire thing would have been covered. It was a costly lesson we learned so now I highly recommend getting insurance if they offer it.
Good luck on your trip! Laura
Hi! I didn't see any info on getting fuel. Did you keep up with the cost on your full trip? I like to budget! Also, was fuel fairly accessible along the way?
We spent around $300 in fuel cost for the entire trip and we drove around 1400 miles. Fuel was easily accessible all around the island and we didn't have any issues finding gas stations during our road trip.
How do you power up the electronics: fridge, heater, etc? Do all the campsites have bathroom facilities? Is there toilet in the van? Thank you for the blog.
Leave a Comment Cancel Reply
Your email address will not be published. Required fields are marked *
Search Please fill out this field.
Manage Your Subscription
Give a Gift Subscription
Sweepstakes
Adventure Travel
How to Plan the Ultimate Campervan Trip in Iceland, According to Someone Who Did It
I spent three weeks traveling around Iceland in a campervan — here's what I learned along the way.
I've never been camping before. There was no assembling tents at Girl Scouts or hopping into an oversized RV , not even a pop up in the backyard. So, when I told friends and family that my partner and I were renting a campervan to drive around Iceland for three weeks, they all laughed — audibly.
While spending 21 nights in a campervan wasn't without its challenges, there's no better or more affordable way to see Iceland. From the wildly remote gravel roads of the Westfjords to the snowy slopes of the Eastfjords, through the quaint northern villages and countless waterfall stops in the south, here's what I learned while camping my way around Iceland.
Choose the Right Camper
Travelers are spoiled for choice when it comes to camper companies in Iceland. There are dozens to choose from, and they all seemingly offer the same things. We went with the family-owned Happy Campers , the first mini-camper rental company in the country. They plant one tree for every booking, and when we realized we drove almost 2,500 miles, we were happy to offset the footprint, albeit slightly. The clincher for us, though, was the free 4G Wi-Fi on tablets and all the positive reviews.
Although we picked the right company, we did not select the right camper. We chose the Happy 1 Auto , a VW Caddy. While it would have been perfect for a week-long trip or for one traveler, the extra room in Happy 2 or even Happy 3 would have been better for our three-week journey. When in doubt, opt for more space. On those cold, rainy Iceland nights, you won't mind having a bigger area to hang out in the back.
When to Travel
There's no question, Iceland is at its tourism peak during the summer months . Travelers can take advantage of the midnight sun, driving, and sightseeing until, well, midnight. However, this is also the busiest time of year, so expect higher camper prices, limited supply, and crowded campsites, especially those on the Iceland Camping Card .
We opted for the shoulder season of September. There was still plenty of sunlight and much less traffic at the campsites. However, the majority of the country's campgrounds close on Sept. 15. While you can park overnight for free, all the facilities, including the toilets, are locked.
This required planning our destinations further in advance, and when in remote places like the Westfjords, it meant hours of driving to reach an open campsite. But earlier sunsets allowed us to slide open the camper door and search for the northern lights .
Which Route To Take
A common question for visitors heading to Iceland is, "Which way should we travel, clockwise around the Ring Road or counterclockwise?" The most straightforward answer is: Follow the good weather.
As you've probably heard, Iceland's weather can be as temperamental as its erupting volcanoes . We arrived right as the autumn colors started to emerge and the weather began getting colder. This meant heading clockwise around the Ring Road, up to the stunning Strandir region of the Westfjords, and stopping at Siglufjordur along the Arctic Coast Way was the best option.
We ended up making the right choice because a few days after completing the region, we got an email alert from Happy Campers, letting us know the area was being hit by massive snowstorms and 25 mph winds grounding cars and campers alike. Tip: Always check road.is for updates on road closures and en.vendur.is for accurate weather forecasts.
Pack the Essentials
When loading up the camper, we immediately realized our two checked bags and two carry-on suitcases wouldn't fit into the storage area underneath the seat-turned-bed. Our only option was to take all of our belongings out and keep our empty suitcases at the Happy Camper's headquarters. While you may want to be over prepared, try to resist bringing bulky luggage or tons of clothing options — it is camping after all.
We discovered a few items we couldn't live without during our trip — the first, quick-drying microfiber towels. Not only were they useful for the various remote hot pools, like Hellulaug and Krossneslaug, but they also came in handy as an extra layer of curtains while sleeping. Happy Campers also offers extras like an inverter, which we used to charge our phones and laptops at the end of each day.
Not All Campsites Are Equal
We referenced the Happy Campers' campsite map for all of our stays. It included details about each campsite's facilities as well as the cost, with the average being about $25 per person, per night.
Cross-checking the campsite with Google reviews came in handy more than once, alerting us to facilities we didn't want, including the occasional communal shower. During our trip, many sites had dirty bathrooms, showers, and kitchens, so be sure to pack flip-flops, shampoo, and soap. Alternatively, there were several new facilities with little luxuries like new washers and dryers, heated floors, and even instant wall heaters.
And just because you're in a campervan doesn't mean you can't treat yourself to the occasional hotel stay. We took advantage of a long, hot shower at the plush Hotel Rangá . Their aurora wake-up call also made it much easier to spot the northern lights.
Why Travel in a Campervan?
Camping is ideal for the adventurous soul. It allows you to explore remote corners of the country where you can easily set up camp and bask in the natural beauty. Being able to fall asleep next to a rushing river and wake up near a cascading waterfall connects you with nature in a way that only Iceland can.
There's also the added benefit of saving hundreds, maybe thousands of dollars on both a car rental and accommodations. Plus, travelers can store all of their belongings in one place, as they don't have to unpack and repack multiple times. There's no check-in or checkout, either. Renting a campervan offers the ease of waking up, rolling over, and starting your day exploring.
My trip has just ended, but I can't wait to return to Iceland and revisit my favorite places. Next time, I'll make sure to book a bigger van.
By clicking "Accept All Cookies", you agree to the storing of cookies on your device to enhance site navigation, analyze site usage, and assist in our marketing efforts.
This World Traveled
Traveling the world one place at a time.
Faroe Islands
Netherlands
Northern Ireland
South Africa
Philippines
Travel Guides
Adventure Travel
Animal Encounters
Eating & Shopping
First Timer's Guides
Outdoor Adventures
Packing Lists
Sustainable Travel
Travel Tips
Where to Stay
Campervan Iceland Road Trip: Everything You Need to Know about Renting an Iceland Camper Van
October 28, 2016 · In: Iceland , Outdoor Adventures
There's just something so freeing about taking your home with you wherever you go. No plans and no place to be. Having the complete freedom to travel wherever you please, whenever you please.
This is the beauty of the camper van . It can literally be your home and vehicle wrapped into one kooky, adventurous, colorfully painted package.
Traveling to Iceland?  Don't leave home without getting travel insurance! You never know when something could go wrong and you'll definitely want to be covered by insurance! Click HERE to get a quote!
pin it for later
Why Should You Explore Iceland with a Camper Van
Filled with rugged landscapes, endless waterfalls and ever-changing scenery, Iceland is a country that appeals to outdoor lovers who seek a bit of adventure.
There is so much to see in do within this Island country that the best way to explore it is by getting behind the wheel of a camper van and setting off on your own adventure.
As you may have guessed, Iceland is a country that isn't exactly equipped with a public transportation system outside of Reykjavik. This means that there are limited options in which explore the island if you want to go beyond the Golden Circle or popular south coast waterfalls.
These options include taking organized tours, renting a car and staying at accommodations along the way or renting a camper van. In this post I will be discussing why you should choose a camper van rental in Iceland.
During two of my trips to Iceland I decided to give myself complete freedom and flexibility by renting a camper van. I have also traveled Iceland by combining a rental car with accommodation. Both are great options but I will explain the one major benefit of renting a camper van.
Freedom and flexibility.
A camper van gives you the kind of freedom that just doesn't exist otherwise. It allows you to move around the country at your own pace and stop wherever you want for the night. Tired and don't feel like continuing to drive any further?
No problem, just find the closest campsite and put your van in park. Or maybe you decide to drive further than expected, covering more ground and exploring more places within the country.
These are the things that you just can't do if you've pre-booked your accommodation. Speaking of accommodation, there aren't a ton of options in Iceland once you've left the main towns and are driving on the open Ring Road (Route 1).
The times I have traveled through Iceland and stayed at proper accommodations I always found them to be a bit far from the main sights. We ended up doing a lot of back-tracking during those trips.
Another benefit to renting a camper van is that you can make all of your meals in your car and won't need to search for a restaurant when you want to eat. We found this to be incredibly handy and was a great way to save even more money.
The best part is that Iceland is very well equipped for camper vans. There are numerous accessible and inexpensive campsites located along the ring road, which allows travelers plenty of options for places to park their camper van or pitch a tent.
Best Camper Van Rentals in Iceland: Which Company to Choose?
With so many different companies it can be hard to choose the right camper van rental in Iceland. After doing a lot of research we ultimately chose to rent our camper van through a company called  KúKú Campers .
KúKú Campers has beyond excellent customer service. Our initial inquiry was met with a speedy reply from a real person who really works there! Not someone from some large corporate office who you'll never put a face to.
Their reservation specialists are super helpful in accommodating your requests and will make sure to get you set up with the best camper van option for your trip. KúKú Campers has a large fleet of  various sized camper vans.
From a two person Renault Kangoo to the larger Ford Transit five person van, the choice of these typical vans or even a Ford F-250 or Land Rover Defender. They literally have all the sleeping arrangements one could ever need with 15 camper van options for you to choose from.
There are manual transmissions, automatics, 4×4 vehicles and more. But like I said, the staff will be able to give you great insight in helping you choose which is best.
I've stayed in both a Category A (AB & AA) camper van for 2 people and a Category C camper van for 4 (up to 5) people.
KúKú Campers, as well as some of the other companies, offer pick up and drop off services with the rental. This is helpful since the Keflavik airport is actually quite far from their main offices in Reykjavik.
These options, even with the extra cost of €60 (€120 total), put KúKú Campers at the top of our list. To top it all off there is no additional cost for extra drivers and there is free mileage!
Driving in Iceland: Important Things to Know
1. driver's license needed to rent a car or campervan iceland.
In order to rent and drive a car or camper van in Iceland you will need a valid driver's license from your home state or country. You do not need an International Drivers License. However, you do need to be 21 or older to rent a car or regular camper van and 23 or older to rent a 4×4 vehicle.
2. Insurance
Renting a campervan in Iceland will come with some sort of basic insurance. KúKú Campers applies the standard CDW (Collision Damage Waiver) Insurance to all of their rentals. Basically this means that you are responsible for paying up to €3,000 in damages if something were to happen.
Your credit card may give you some insurance benefits as well but you'll need to check with your bank prior to your trip.
Luckily, you can purchase additional insurance once you arrive in Iceland. The extra insurance that we added on and recommend you do the same was the sand and ash protection.
This cost an extra €10 per day but covered the costs of any damages that could be caused to the paint, windows and lights. Since we know how unpredictable the weather can be and how strong the winds are in Iceland we felt like this was worth it to add on.
3. Speed Limits and Speed Cameras
There are 4 main speed limits in Iceland and the laws are strict. Yes, there are speed cameras and they do work. If you receive a speeding ticket you will have to pay when you return your rental and with KúKú Campers that comes with an additional €50 processing fee.
The speed limit on the highway (Route 1) is 90 km/hr (55 mi/hr), in tunnels it is 70 km/hr (43 mi/hr), on gravel roads it is 60 km/hr (37 mi/hr) and in towns it is 50 km/hr (30 mi/hr). While these speed limits may seem slow they won't feel slow when you are driving around taking in as much of the scenery as you can!
In all seriousness though, the speed limits are put into place for your safety and the safety of the wildlife in Iceland. Especially the sheep who have a mind of their own and will cross the road whenever they please!
Designated Roads to Drive on in Iceland
Driving in Iceland can sometimes be challenging. This is especially true in the winter when some of the roads may be closed or just not that safe to drive on. You can check the road conditions through the website Road.is where they provide the best up to date information, as well as a web cam.
One of the main things to worry about when driving around Iceland is the incredibly strong winds. We were advised that the wind can rip off car doors when opened so we maintained extreme caution every time we opened our doors. If it is really windy then be sure to park into the wind.
Driving up into the north of Iceland in the winter may require you to rent a 4×4 camper due to potentially icy roads. However, that is something I would discuss with the rental company.
» DO NOT STOP for any reason in the middle of the road in Iceland. You'd be surprised by how many people we saw actually doing this and it is so incredibly dangerous!
Route 1 (Ring Road) Iceland
The Ring Road or Route 1 in Iceland is the main highway that you will drive during your travels around the island. It is well marked, easy to follow and passes through all the main sights in Iceland.
Toll Roads in Iceland
During your road trip through Iceland you may drive through the toll tunnel in the north. This is actually the only toll road in Iceland as all the other roads are completely free to drive on. The Vaðlaheiðargöng tunnel has a fee of 1500 ISK ($12 USD) . You don't have to drive through this tunnel but it will save you 16 km (9 mi) of travel time.
To pay the toll fee you can either pre-pay by logging on to veggjald.is and proceeding to their rental car payment section. You will need to enter your license plate number, use a credit card and select the time when you will be driving through.
You can also pay this fee after you've driven through the tunnel but you will need to do so within 3 hours. Otherwise the fee will be sent to the rental car company and you will receive an additional 1000 ISK ($7 USD) collection fee. Pay online after driving through the toll HERE.
F-Roads in Iceland
The F-roads are essentially inland roads that traverse through the highlands and mountainous areas of Iceland. There are quite a few regulations about driving on these roads and the first is that you will need a 4×4 vehicle.
They only have seasonal access and are closed the majority of the year due to weather. Typically the F-roads are open from beginning of June to the end of August but those times can vary. It is best to check on the website Road.is prior to attempting to travel through any F-roads.
Go to Road.is , click travel info, then select condition and opening of mountain roads. Or you can just click HERE as I've linked the exact page for you. They publish a new Mountain Roads brochure every year for foreign travelers which gives the approximate dates that the mountain roads will open.
One-Lane Bridges in Iceland
One lane bridges are exactly what they sound like. It is a single lane bridge that you have to take turns driving over if there are cars coming in both directions. The rule is that whoever gets to the bridge first goes first, simple as that.
But that's not to say that people will forget to use common sense and there could potentially be a stand off in the middle of the bridge. Don't let this be you. Use caution when crossing the bridge and only proceed once you've seen that it is clear.
Gas Stations in Iceland
While there are plenty of gas stations located throughout the country you could drive for some time without ever seeing one. This is why it is always important to stop and fill up whenever you come across one while driving along the Ring Road (Route 1).
Typically you won't see many, if not any, gas stations outside of a town. The most prominent gas stations that you will see in Iceland will be either N1, ÓB, Olís and Orkan.
Also good to note is that if you are filling up at a gas station at night then you will need to use a debit card with a pin. During the day you'll be able to pay inside with cash or a credit card.
When is the Best Time to Visit Iceland?
When to visit Iceland depends entirely on what you want to see and do. There are pros and cons to each season so I will do a quick breakdown for you.
Visit Iceland in the Summer
Longer hours of daylight with the midnight sun (from May until August)
You can see puffins, whales and seals
Slightly warmer temperatures and less rain
All campsites and roads are usually open
Very crowded and lots of tourists
High season so everything is more expensive
You'll need to make reservations for places like the Blue Lagoon farther out
No northern lights
Visit Iceland in the Winter
You can witness the Northern Lights ( tips for photographing the northern lights )
Many winter activities such as ice caving, glacier hiking , dog sledding, snowmobiling and more!
Less tourists and cheaper rates due to low season
Less daylight hours due to the winter solstice. During December and January you might experience only 4 hours of daylight.
Less campsites are open
Colder weather so you'll need to pack more with layers and big coats
Visit Iceland in the Spring or Fall
Milder temperatures and normal daylight hours
You can see the purple lupin flowers in some parts of the island
Shoulder season so prices are lower
Less tourists
Less wildlife and less likely to see the northern lights although it is still possible around March and early April. As well as late September into October but the activity needs to be fairly strong with almost no cloud coverage.
The weather (rain, wind and snow) is a bit more unpredictable in the shoulder season
Where to Park Your Camper Van in Iceland
While I do like to camp and find that tents can be quite cozy, Iceland's unpredictable weather and high probability of rain made me feel that a camper van was a far better option. An Iceland camper van not only protects you from the notoriously temperamental weather but also makes packing and unpacking a breeze. Honestly, it was a no brainer.
Iceland appeals to campers and adventurous travelers with its rugged landscapes and frequent campsites. During your time driving around the country you won't have any problems finding a place to sleep.
There are many dedicated campsites all around Iceland with sections for tent camping and camper vans. There is an entry fee of $10-20 USD per person plus a small tax to stay at the campsite. This will be paid via credit card or cash upon entry to the campsite. The campsites in Iceland do not allow reservations but we never had any issues with them being full.
It is illegal to wild camp in Iceland. You must stay at a designated campsite or get a written approval from the landowner to stay on their land. If you are not at a designated campsite you could be fined. Rule of thumb is to stick to areas with signage stating it is a campground. If you aren't sure if a place is off-limits to camp then you can find a list of those places HERE .
My first adventure in the camper van was in the summer, where the midnight sun and warmer temperatures were definitely an advantage. In the summer months all of the camp grounds around Iceland are open unlike in the winter. They have restrooms, showers and some even have kitchens and laundry facilities.
You can easily look up the closest campsite to your location through an offline map such as maps.me. If you have an internet connection, you can also find all the campsites that are open in the summer HERE .
Like I briefly mentioned before, the only snafu we ran into when we again rented with KúKú Campers in the winter months was that most of the camp sites were closed. That also included the showers and bathrooms. We ended up spending a couple of nights parked in the Jökulsárlón Glacier Lagoon visitors center after asking for permission.
There still are campsites that are open, however the options are a bit more limited. You can find all the campsites that are open in the winter HERE .
One huge bonus of having a camper van during the winter months is that you can drive out searching for the northern lights and then stay at a campsite nearby! Find them, photograph them and when you're tired just climb into your cozy sleeping bag. Sounds like a dream, right?
Best Resources for Driving and Camping in Iceland
112 is the Emergency number for Iceland. You can also download the 112 Iceland Emergency app which will allow you to send your location directly through the app if there is an emergency.
Road.is is the best website to check for current road conditions. You can also call 1777 for up to date information on road conditions during the day.
The website Gasvaktin will show you the closest gas station to your location.
Vedur.is provides the most accurate weather updates in Iceland. This is saying a lot considering the weather can change within minutes anywhere on the island. They also have an app that you can download right to your smartphone.
Safetravel.is is filled with tons of safety tips including driving in Iceland, avalanche safety, camping safety and more.
Campeasy.com provides a very useful map of all the campsites in Iceland. There is also a map for hot springs, museums and specific winter campsites.
My Aurora Forecast is one of the best northern lights apps you can download if you are chasing the lights on your own! We've used this app for our trips through Iceland and Norway when we were chasing the northern lights!
Add on Rentals for Your Iceland Camper Van
KúKú Campers offers tons of extra stuff to rent so that you don't have to pack and bring it with you. We've rented sleeping bags, a heater (for the winter nights), a power inverter and a cooler.
Fear not, they automatically supply each of their camper vans with all the cooking essentials (utensils, plates & bowls, a pot & pan and electric burner) so that you'll never go hungry!
In addition they include some trash bags and a dusting pan to keep your "home" clean. The five person van has an electric cooler, a sink and a water reservoir for cleaning dishes and freshening up.
With permission from the workers, we refilled our (removable) water reservoir from the water spigot on the back of the visitors center at the Glacier Lagoon.
Most of the camper vans also have the option to rent a portable wifi for a daily fee. This is a great option if you don't want to purchase an Iceland SIM or an international phone plan.
Is it Safe to Rent a Camper Van in Iceland?
Traveling around Iceland in a camper van is no doubt awesome. The one concern that many travelers have during any trip is safety. Luckily, Iceland is easily one of the safest countries in the world and we were never worried about anything during our travels there.
WHAT CAMERA GEAR DO I USE?
Main Camera: Sony A7III
Wide angle lens: Sony G Master 16-35mm f/2.8
Zoom lens: Sony 24-240mm f/3.5-6.3
Secondary Camera: Canon 6D Mark II
Canon wide angle lens: Canon EF 17-40mm f/4L
Underwater camera: Leica X-U
Camera with gimbal: DJI Osmo Pocket & Underwater Housing
Drone: DJI Mavic Pro
Camera Bag: Polar Pro Drone Trekker
External Hard Drive: LaCie 1 TB rugged mini external hard drive
FREE SEO GUIDE
Discover the top 6 SEO tips to boost your blog traffic and land you on the first page of Google!
You'll Also Love
May 23, 2020 at 5:29 am
Iceland is amazing and I would love to have a campervan experience. Thanks for sharing this useful guide
May 23, 2020 at 2:40 pm
I have been in Iceland and drove around for 10 days, I agree with you – it is the best way to explore Iceland. Great post and the pictures are incredible. It makes me want to go back again.
May 23, 2020 at 4:20 pm
Wow, so many useful tips!! I would love to do this one day – but I've been to Iceland before so I keep prioritising other places! First world problems haha. Your photos are amazing too!
December 21, 2020 at 12:16 am
That makes sense! I have been to Iceland quite a few times and loved doing the camper van so if you do make it back that would def be the way to go!
May 24, 2020 at 12:30 am
These are great tips!If I end up in Iceland this summer I would love to rent a camper van! How many days do you think you need?
May 24, 2020 at 4:37 am
Iceland is a huge bucket list for me. I am still torn between summer or winter but I guess I will choose Summers. I agree Campervan is a good option here.
Leave a Reply Cancel reply
Your email address will not be published. Required fields are marked *
Playing with lemurs on Lemur Island in Madagascar
FOLLOW MY JOURNEY ON INSTAGRAM
Explore the Blog
Find a Post
Copyright &copy 2023 This World Traveled · Theme by 17th Avenue
Privacy Policy
Iceland by a camper van
Iceland is one of the most spectacular and unique countries in the world, and the best way to experience it is by taking an adventure in a camper van. Imagine waking up to the sounds of the ocean and the smell of fresh sea air, while being surrounded by rugged landscapes that will take your breath away. This is the ultimate road trip, where you can experience the raw and natural beauty of Iceland in a way that is both comfortable and exciting.
As you set out on your journey, you'll be greeted by Iceland's famous Golden Circle, which includes the awe-inspiring Gullfoss waterfall and the geysers of Geysir. These natural wonders are a must-see for any traveler and are a great way to start your adventure. As you drive through the country, you'll be able to see the Northern Lights dancing in the sky at night, and during the day, you'll be able to explore the black sand beaches, glaciers, and volcanic landscapes.
One of the best things about traveling in a camper van is the freedom it provides. You're not tied to a schedule and you can stop wherever you want to take in the stunning views and snap some photos. Plus, having a camper van means you can camp out in some of the most remote areas, giving you a truly unique and authentic Icelandic experience. With a camper van, you have the opportunity to explore Iceland's wild and remote places, which are often inaccessible to regular cars. This allows you to experience Iceland's natural beauty in a way that is truly unforgettable.
If you're looking for a more action-packed adventure, Iceland has plenty to offer. You can go kayaking on the glistening glacial lakes, or take a dip in the hot springs. For the more daring, you can take a hike on a nearby volcano or go ice climbing on a glacier. Iceland is a country that offers a wide range of outdoor activities for all levels of adventure-seekers. Whether you're a seasoned hiker or a beginner, there is something for everyone in Iceland.  More details on great tours can be found at www.icelandontheweb.com
As you make your way around Iceland, you'll also have the opportunity to sample some of the local cuisine. Fresh seafood is a must-try, as is the traditional dish of smoked lamb. And, of course, you can't leave Iceland without trying the famous Skyr yogurt. Icelandic cuisine is unique, and it is a great way to experience the country's culture. The local food is delicious, and it is a great way to get a taste of Iceland's traditions.
When it comes to accommodations, Iceland has a wide range of options, including traditional hotels and guesthouses, but nothing beats the freedom and flexibility of camping in a camper van. In a camper van, you can easily explore Iceland's remote and beautiful places, and you can also enjoy the comfort and privacy of your own space. This allows you to experience Iceland in a way that is truly unique and unforgettable.
Another great thing about traveling in a camper van is that it is a budget-friendly option. The cost of renting a camper van is often less expensive than staying in a hotel, and it allows you to save money on food and accommodations. This makes it a great option for those who are traveling on a budget.
In conclusion, Iceland is a country that is truly unique and spectacular. It is a place where you can experience the raw and natural beauty of nature in a way that is both comfortable and exciting. Traveling by camper van is the perfect way to see it all, and you'll come away with memories that will last a lifetime. So pack your bags, grab your camper van , and set off on an Icelandic adventure of a lifetime! Whether you're
Campervan Rental in Iceland
Experience iceland with our heated, fully-equipped campervans. skip the hotel for our cheap, price-matched rentals starting at €39,00/day..
100% Refundable Down-payment / Free Cancellation
No hidden fees
Free Pickup at (KEF) Keflavík Airport & Reykjavík
Zero Excess Campervan Protection
Fully-Equipped with an Over-Night Heating System
Search Campervan Deals

Why Choose Us for your Campervan Rental in Iceland?
Our goal is to equip you with premium, cost-effective campervans for an unforgettable icelandic journey. rely on our superior rentals for a comfortable and hassle-free exploration of iceland's majestic terrains..
Free Cancellation
We will cancel your booking on request, no questions asked, provided there are more than 48 hours until the pickup date.
Customer Support
We deliver fast responses to your queries with a very high customer satisfaction rating
Dispute Support
Should a dispute arise between you and the supplier, we serve as an intermediary between the two of you, guaranteeing you a response and a conclusion to the issue.
Key Travel Insights
Handy pointers for your campervan journey in iceland., should i hire a motorhome or a campervan in iceland.
Iceland is perfectly suited for both campers and motorhome / RV travel, with campsites spread across the country and most of them even offering waste disposal and other facilities necessary for motorhomes. Whichever you should go for, depends on what type of travel you're looking for.
For couples or small groups, who don't mind not having a bathroom, shower and ample space on-board, a camper van is perfect and affordable. The motorhome , while more expensive, is better suited for families with children or those who prefer a fully equipped RV on their journey around Iceland.
Both options afford you the opportunity to travel across Iceland's majestic landscapes with a new backyard every morning.
Can I park my campervan rental anywhere in Iceland?
No, you cannot. While exploring Iceland in a rental campervan provides a wonderful sense of freedom, it's essential to know that you cannot park your campervan just anywhere. For the protection of Iceland's unique and fragile environment, wild camping or parking overnight outside of designated camping areas is prohibited.
Campervan rental servies in Iceland always advise that you follow these regulations closely.
What should I know before renting a Campervan in Iceland?
Going on your adventure with a Campervan rental in Iceland is a thrilling experience, but it also requires an understanding of the rules of the road and regulations to ensure a safe and enjoyable trip.
Here are some essential points to keep in mind:
Fuel Up: Gas stations can be sparse in the more remote parts of Iceland. To ensure you're not caught out, make a habit of topping up your fuel tank whenever you have the opportunity.
Road Safety: Some of Iceland's roads can be challenging to navigate, especially in the highlands . Be aware when driving on gravel roads and be cautious around single-lane bridges, blind hills, and corners. It's also important to watch out for animals on the road to prevent accidents.
Emergency Number: In case of any emergency, the number to dial is 112. The 112 Iceland app is also a valuable tool for your journey. In addition to providing emergency contact, it can send your location to the emergency services if required.
Weather Conditions: The weather in Iceland is notorious for its rapid and dramatic changes, which can be especially severe during the winter months. It's always a good idea to check the weather forecast and road conditions before setting out on your journey each day.
Respect the Environment: Iceland's breathtaking landscapes are as fragile as they are beautiful. It's vital to treat these natural spaces with care. Do not leave any trash behind and always use the designated camping facilities available. Remember, driving off-road is not just harmful to the delicate Icelandic environment; it's also illegal.
Can I drive the Ring Road (Route 1) in a Campervan?
Yes, you can. Driving the Ring Road (Route 1) in Iceland, a popular route for those using a Campervan Rental in Iceland, typically takes around 7 to 10 days. This 1,332-kilometer (approximately 828 miles) circuit circles the island, passing through many of Iceland's most famous sights.
Do you offer both manual and automatic transmission for my camper van rental ?
Yes, both manual and automatic transmission camper rentals are available for hire. Your choice depends on your driving preference and comfort.
Are there many campsites in Iceland?
Iceland boasts approximately 200 campsites, most of which are located along the coast and the ring road. These campsites vary from remote patches of grass with no facilities to major campsites with state-of-the-art facilities. With the increased popularity of campervan travel, the number of campsites has also increased, catering to both locals and travelers from all over the world
Iceland also has three National Parks: Þingvellir, Vatnajökull, and Snæfellsjökull. Each offers unique landscapes and activities. Most are camper-friendly and accessible via the main roads.
Is there 24/7 roadside assistance available?
Yes, there is a 24/7 roadside or breakdown assistance available for camper van rentals. In case of a breakdown we recommend calling the number on your voucher and follow any processes you now need to follow. In case of emergencies, call the Icelandic emergency number 112 .
Is it important to have an over-night cabin heating system?
Yes, having a camper heating system can significantly enhance comfort, especially when exploring Iceland. Given the country's typically cold climate and chilly nights, a heating system can ensure a warm and cozy sleeping environment within the campervan.
Not all camper rentals come equipped with a heating system due to space constraints. That's why, through our booking system, we've made it easy for you to check if your preferred campervan has an over-night cabin heating system. This feature allows you to make an informed decision and select a camper van that best suits your needs.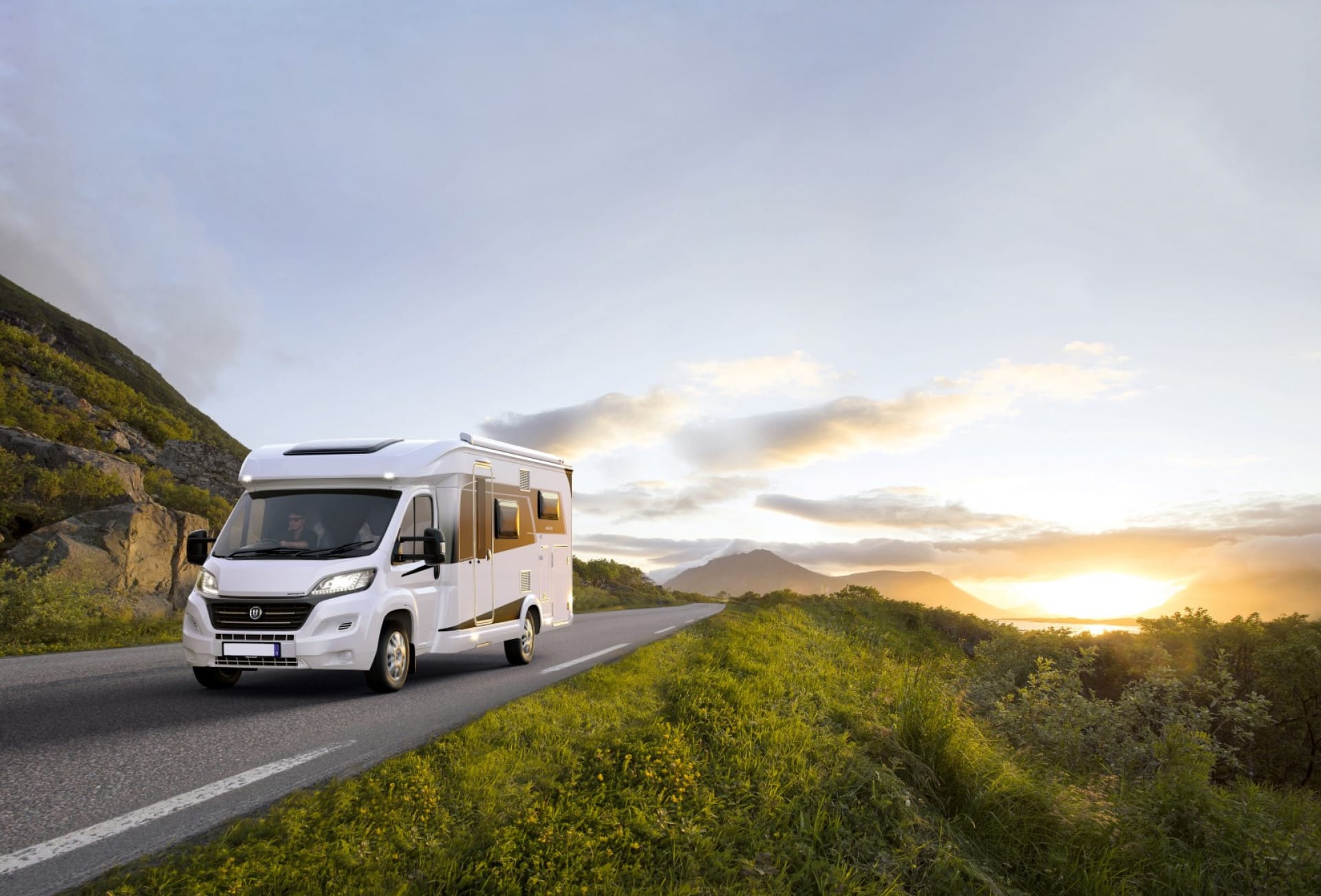 Discover Iceland's Spectacular Scenery
Secure Your Iceland Campervan Hire Now
Hiring a campervan in Iceland gives you a passport to the heart of our awe-inspiring environment and one-of-a-kind highlights. Our campers come complete with all necessary amenities for a cozy, memorable trip through Iceland's picturesque treasures, such as the Golden Circle, Blue Lagoon, and the South Coast's dramatic black sand beaches. Book your Iceland campervan hire with Northbound now and witness the unmatched splendor of this realm of fire and ice.
Small Campervans / Roof Tents
Discover Icelands scenic wonders with our compact and fuel-efficient small campervans, perfect for solo travelers or couples.
Medium-Sized Campervans
Strike the perfect balance between comfort and convenience with our medium-sized campervans, ideally suited for small families or groups.
Large Campervans & Motorhomes
Embrace the pinnacle of road trip luxury with our large campervans and motorhomes.
Should I hire a campervan in Iceland?
Iceland is an ideal location for campervan exploration, boasting a broad network of campsites nationwide, many of which provide waste disposal and other essential facilities for campervans. A campervan presents you the freedom to journey through Iceland's grand panoramas, delivering a refreshed vista from your doorstep each morning
Real Reviews from Real Customers
Over 12.000+ reviews from our customers.
Rented a camper in Oct 2023
Rented a camper in Sep 2023
Rented a camper in Aug 2023
Rented a camper in Jul 2023
17 Amazing Iceland Camping Sites & Tips for Camper Van Rentals in Iceland
Last updated Aug 21, 2023
According to our dedicated research , camping is the BEST WAY to see Iceland. We spent almost two weeks exploring Iceland's Ring Road and out into the West Fjords in a campervan and absolutely loved it.
Traveling by campervan (or getting a rental car and tent camping if you're extra outdoorsy – or budget-conscious) is an amazing way to see all the great places in Iceland. Most top Iceland stops – like the iconic Golden Circle – are already very nature-focused, so you can often find some of the best Iceland camping sites nearby.
While the scenery was stunning during our Iceland road trip , the cozy and peaceful vibe of the campsites was one of our favorite parts. After a long day of exploring, we loved to settle in, cook a meal, and chat with other travelers. Plus, the vehicle, accommodation, and kitchen-to-go combo saved us a decent chunk of money!
Table of Contents
Why Camping in Iceland in a Campervan is Amazing
While renting a campervan has become a go-to way to see Iceland. Some extra adventurous people bicycle camp, car camp, or tent camp as well! The elements are just a little too unpredictable for us to be totally exposed though.
Here are the top reasons we loved staying in a campervan in Iceland:
1. Flexibility
The top reason we chose to rent a campervan for our first extended trip to Iceland is because we wanted to be able to take our time if we fell in love with a specific area. We think going at your own pace is always a good idea when possible.
Whenever we travel, locals and other travelers tend to give us tips, and if our itinerary is too set we can't act on that great info! Being in a campervan allowed us to change our route or plan on a whim and we loved it.
2. Close to Nature
Getting to sleep in beautiful areas with the wind and rain rocking us to sleep just felt like how you should experience Iceland. We'd awake to lambs "bahhing" some mornings and would hear birds or waterfalls in the distance. It was just epic!
Since we visited in early autumn , we also were graced with an aurora borealis appearance!
3. Convenience
Many campgrounds are close to great hikes, restaurants, and attractions. It's great to not have a long commute to the next stop on the map! It's also nice to have a little toilet, shower, and kitchen on board (most vans) when you need it.
4. Cost Savings
One of our favorite reasons to get a campervan is the savings. Iceland is notoriously one of the most expensive countries to visit. By combining your rental vehicle and accommodations, you can save a decent amount of money. Plus, you have a kitchen with a small refrigerator to help you avoid the high cost of meals out at restaurants.
Iceland Camping Rules & Tips for Camper Van Rentals in Iceland
Headed to Iceland and planning to campervan around? Here's what you need to know:
No More Wild Camping in Iceland (Womp Womp)
Until recent years, you could pretty much camp wherever in Iceland. They had an amazing law that allowed you to camp on any uncultivated land as long as you follow "leave no trace" principles.
However, it is now illegal to camp in any national park and most tourist sites because some disrespectful visitors ruined it. You should now only use a designated campsite when camping in Iceland – especially in a campervan.
Always Respect Land & Facilities
If camping or taking a bathroom break, always use facilities when provided and don't use the restroom or dispose of waste outdoors. Yes, that means you need to remove toilet paper and waste if you don't have access to a toilet.
Don't pee outside when you can help it, either. A big complaint that led to wild camping restrictions is popular tourist camping areas smelling like pee and people just doing their business without disposing of it!
When using facilities, please clean up after yourself and be a good guest as well.
Book Ahead for Popular Iceland Campsites
In some areas of the country, it won't be necessary to book ahead. However, when you are camping in the more popular areas of Iceland (like the Golden Circle and South Coast), booking your campsite ahead is a good idea!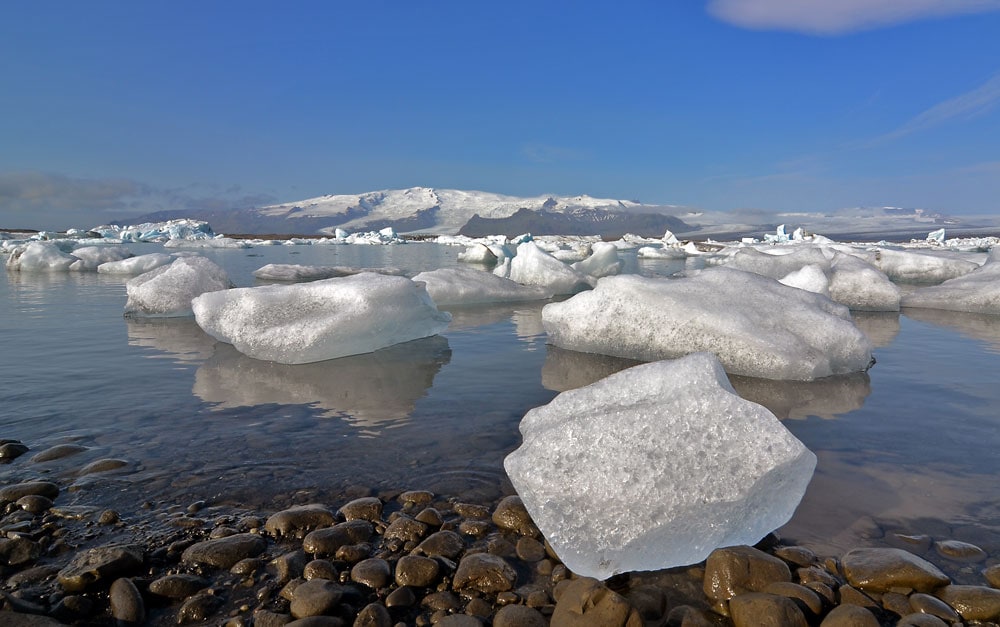 Icelanders also like to camp, so weekends and holidays are extra important to book in advance. If you haven't booked and you arrive after dinner time, your odds of getting a spot are low. So, arrive early if you aren't booking your campsite.
You should be able to book by using your credit card online. In Iceland, credit cards are also very commonly used.
Watch Out for f Roads
In Iceland, road conditions vary greatly. One type of road to look out for on your map are Iceland's f-roads because they are only for 4×4 vehicles! Most are found in the mountainous highlands region in the center of the country, but be sure to keep a lookout when turning off the main Route 1.
Don't Make a Fire
Iceland may be the "land of fire," but that's not an invitation to make your own! Since Iceland is very lush and also has strong winds, fires are usually prohibited unless using a designated grill provided by a campground. Having a small gas stove to travel with is a good alternative!
Don't Drive Dedicated Roads
Iceland's nature is very fragile and can also be dangerous! Stay on roads (whether paved, gravel, or dirt). Your map and local signs should indicate where the road is, so stay on it to protect the environment and yourself. This is one of the most important things to remember when in any rental vehicles!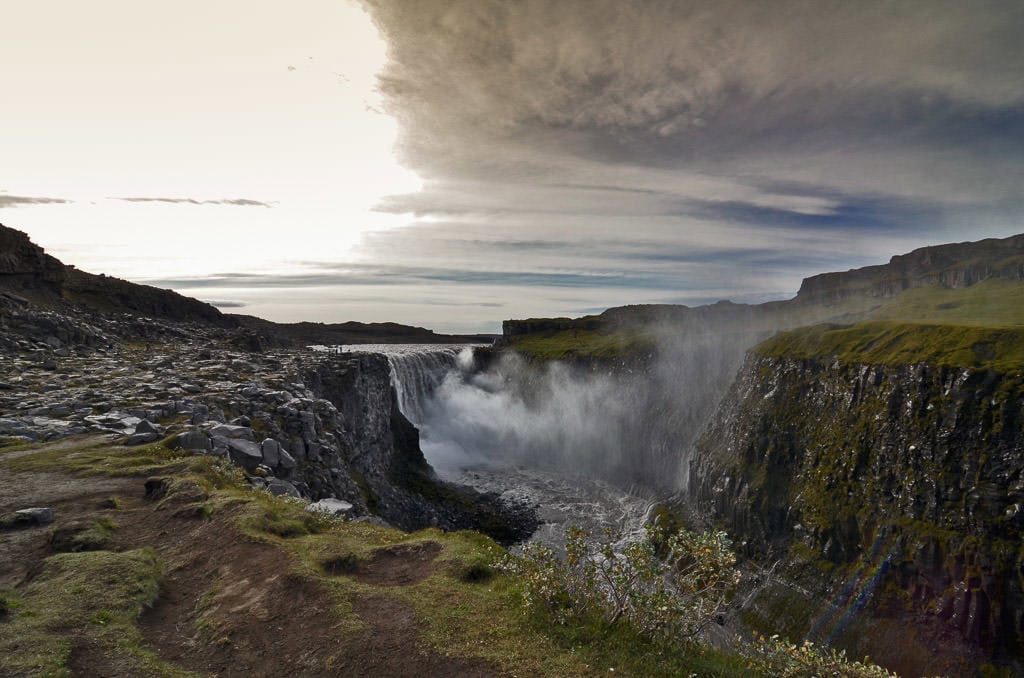 Keep an Eye Out for Gas Stations
Once you leave the city, gas stations do become a little more spread out. Be sure to fill up before going to the more remote areas of the country. Making sure you have enough drinking water in your fresh water tank at all times is also key.
Go the Speed Limit & Follow Driving Laws
While driving, look for speed limit signs and be sure to comply with them. Most of the country has free-roaming sheep which can be hazardous. Slowing down in certain areas, especially close to farm land, can be life-saving … for you and the sheep!
There are also camera speed traps along the ring road and fines can be very expensive. Apparently, the rental car company can use the credit card on file to pay for these, so don't think you'll get away from the fee when you leave.
There is a pretty much zero tolerance policy for drinking and driving also and it is taken very seriously. Wearing seatbelts is also legally required and you can't use your phone when driving.
When is the Best Time to Camp in Iceland?
Since the winter months have very extreme weather, the summer months are the most popular time for camping in Iceland. The weather is comfortable and less severe. Also, most campsites are only open from May through September, so early fall is probably the latest you would want to plan your campervan trip.
However, there are some campgrounds open year-round, they just aren't very common.
Remember, It Doesn't Get Dark in Summer
A perk and downfall of doing a summer campervan trip through Iceland is that it doesn't get completely dark ever. This means more daylight hours to play outside, but it also could make it difficult to sleep at a campsite due to the "midnight sun." Bringing an eye mask and making sure you have curtains on your windows can help.
If you go on a campervan trip in September, it will get dark! But it will also be colder, so make sure you have a heat source in your van. However, you'll also have a chance of seeing the Northern Lights (aurora borealis) – like we did!
Read more guidelines about camping in Iceland here.
Iceland Campgrounds Overview
With hot showers, kitchen facilities, an open dining area, washing machines (usually), and an opportunity to be social with other travelers while hanging out in the common area, a campground is the best option when traveling in a campervan around Iceland. Some may even have free Wifi, a swimming pool, hot tubs, and other amenities!
Campsite hours, rules, pricing, and availability varies and may change at any point. Be sure to check with the office of these campgrounds before planning to stay. Some may also require booking ahead to reserve a spot – especially in the busy summer high season.
Keep in mind, areas like the shared kitchen will be busy at peak times, so planning your meals at off hours may help you avoid the hectic times when using the cooking facilities.
Overall, we loved the Iceland campsites we experienced. Some with hiking trails and grocery stores nearby would even make the perfect base for a few days. You can look on Google Maps when deciding where to stay to make sure the location is the best choice for you.
Finding the best campsites for your Iceland camping trip takes a little bit of research and some good luck with booking in time! While you can usually find something, the best places will book up ahead of time in peak season. So, if you are just winging it, have different campsites in mind as backup!
Top Iceland Camping Site Locations for Campervans
1. Reykjavík Campsite: Located in the capital city, this very large campground was conveniently walking distance to downtown and also next to a pool and spa. We also felt like this one had a strong community feel with travelers sharing extra resources and tips! The commitment to sustainability is another huge perk. Read more.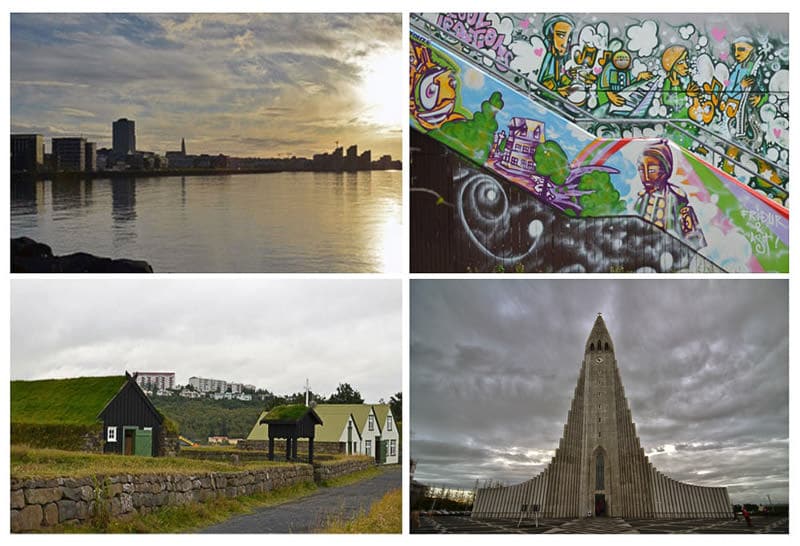 2. Thingvellir National Park Campgrounds ( Golden Circle Iceland ): If you are like us and feel extremely tired on your first day in Iceland, staying in the Golden Circle is ideal to have first dibs at hiking the next day. This campsite is right in the action.
3. Skógar Campground (South Iceland): Although EXTREMELY popular, this campsite provides a unique camping experience with the iconic Skógafoss waterfall as a backdrop.
4. Þakgil Campsite (South Iceland): This more secluded campground near Vík has stunning scenery and access to hiking trails. They also offer cottages if you want to take a break from the camping life. It's a nice stop along Iceland's south coast, which includes epic Black Sand Beaches !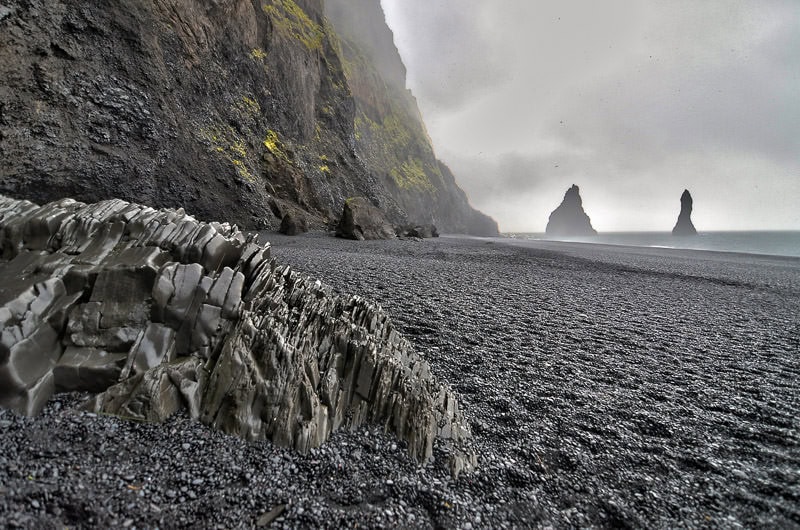 5. Skaftafell Campsite (Southeast Iceland): With the stunning views of Vatnajökull National Park included, this campground is a great option to be near all the NP hiking opportunities.
6. Kirkjubær II Campground (Southeast Iceland): This peaceful, large campground in Kirkjubæjarklaustur (near Höfn) was our favorite since it was surrounded by nature, hiking trails, and had a great local shop nearby to get meals and necessities.
7. Seyðisfjörður Camping Ground ( East Iceland ): The scenic location of this campsite in the town of Seyðisfjörður makes it a popular stop, as well as it proximity to hiking trails. Read more .
8. Egilsstaðir Campsite (East Iceland): We stopped here and were treated to a wonderful show of the Northern Lights! While aurora is not guaranteed, this is a wonderful stop if needing a break from driving in the remote east Iceland area.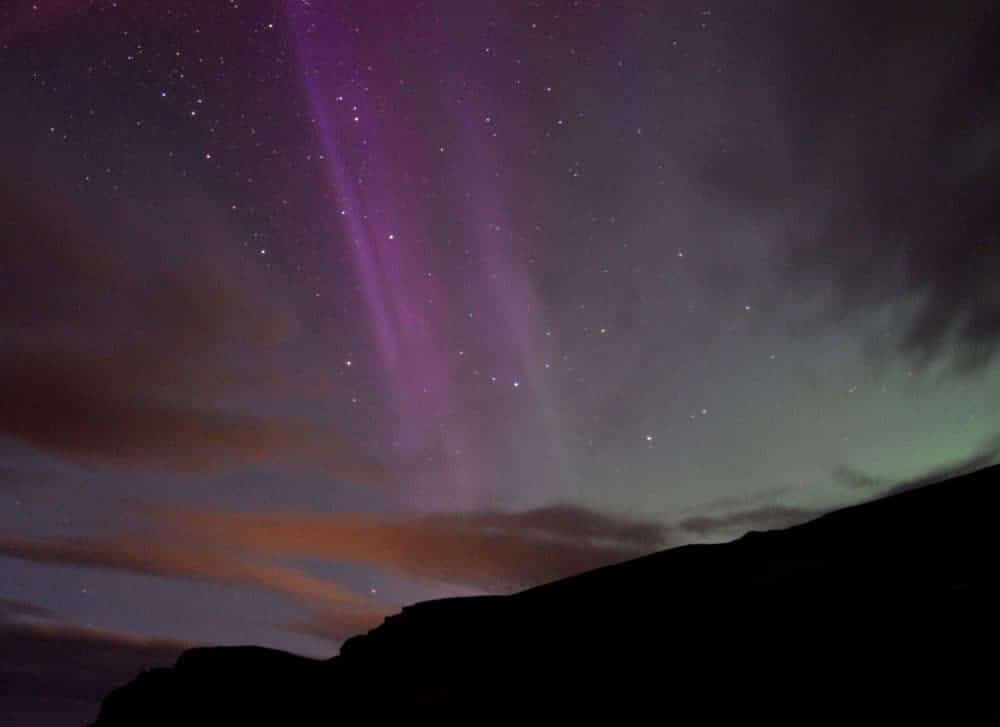 9. Hamrar Campsite (North Iceland): Located in Akureyri , the largest town in northern Iceland, this campground is in nature (yes – most are!). And it even has boat rentals on offer! Learn more.
10. Húsavík Cape Campsite (North Iceland): This campsite offers a picturesque coastal setting and easy access to whale watching tours.
11. Vogar Campsite (North Iceland): Located near Lake Mývatn , this campsite is open all year and has great scenery. Read more.
12. Ásbyrgi Campsite (North Iceland): Located in the Ásbyrgi Canyon in the northern portion of Vatnajökull National Park, this campsite offers a peaceful and enchanting setting.
13. Siglufjörður Campsite (Far North Iceland) : If you plan to go further up north, this campground is tucked right into the lush mountain scenery. See more.
14. Sæburg Campground (Northwest Iceland): Funny enough, I haven't seen this gem on any other list, but it was one of our favorites that we just stumbled upon! Sæburg Campground was a little before the West Fjords and had an awesome seaside hot tub and big sitting area with a kitchen. Learn more.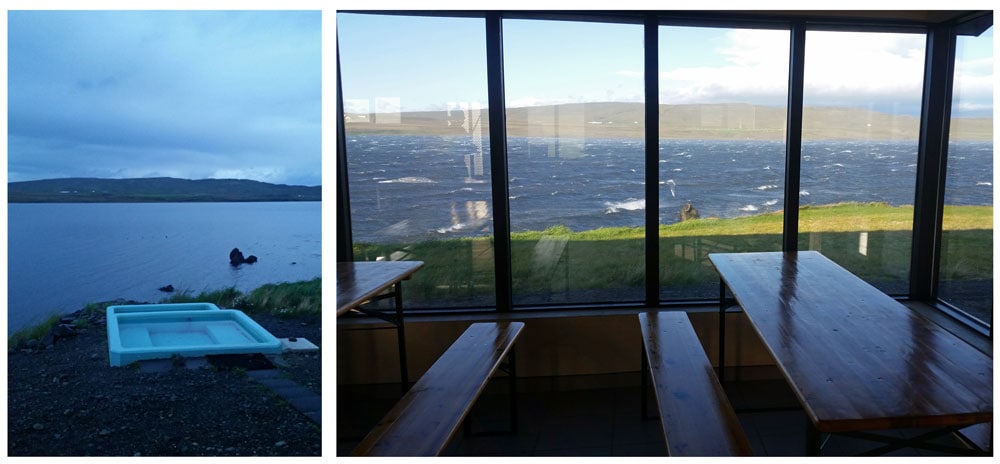 15. Breiðavík Campground ( Iceland's Westfjords ) : This is the go-to campsite when visiting Iceland's iconic Látrabjarg Cliffs to try to spot puffins. It is lovely and conveniently located.
16. Þingeyraroddi Camping Ground (Iceland's Westfjords): Located near the famous Dynjandi waterfall, this campground has brand-new facilities.
17. Hellissandur Camping Ground (West Iceland): This campsite is on a lava field at the tip of the Snæfellsnes Peninsula northwest of Reykjavik. It also has updated facilities.
Learn more about Iceland camp sites.
Top Companies with Motorhome, RV & Camper Van Rentals in Iceland
There are multiple campervan rental companies in Iceland. Happy Campers is the one we chose, but we've compiled a list of others to consider and check.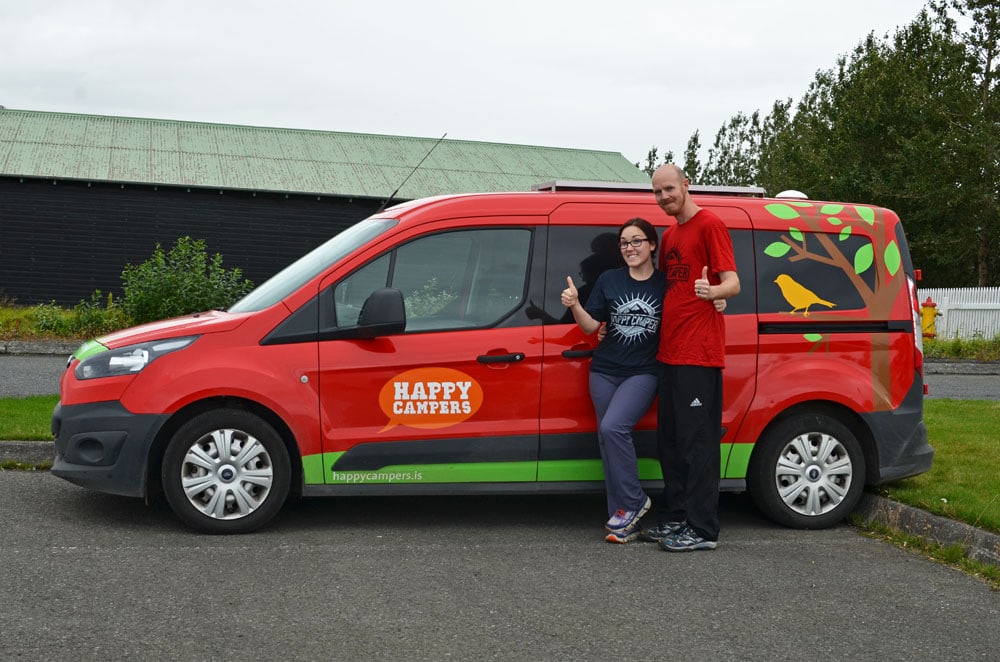 Kuku Campers
Campervan Reykjavik
Campervan Iceland
Lava Car Rental
Cozy Campers Iceland
Remember, each option has different perks and pricing. Some options may have a bed big enough for two people while others just have a rooftop tent setup. One rental company may include unlimited kilometers while another may have a maximum before imposing an additional fee.
Be sure to read the rental car agreement and vehicle description carefully before booking your campervan hire. A collision damage waiver is also usually needed.
Things to Consider when Choosing a Campervan in Iceland
Ask yourself these questions when trying to choose the best campervan rental for your Iceland vacation.
Do you want manual transmission or automatic transmission? Pick what you are most confident with, not the cheapest option. Getting stranded is no fun! If you are planning to go on gravel or non-paved roads, 4×4 may be needed.
Would you prefer a small motorhome rental or are you drawn to larger vehicles to camp in? Most Iceland RV rentals are converted vans which don't offer much space to move around, but some larger vans and other options do exist.
What amenities does the van come with? Will you have a gas stove to make meals on the go or a heating source for cold nights? Do you need to bring your own bedding, cooking supplies, etc.?
Do you have unlimited mileage (kilometers) or will there be a fee past a certain point?
Is the booking process simple and is customer service helpful? We had a GREAT experience with Happy Campers and felt like we had a ton of support to make our adventure the trip of a lifetime. However, not all Iceland camper van rentals come with that same level of help. Read reviews before committing.
Are you getting a good rental price? Be sure to shop around, look for special offers, and sign up for email lists of companies that send out deals.
Costs to Consider When Planning an Iceland Campervan Trip
Campervan Rental Cost
This varies widely and depends on the rental companies you are looking at, type of van, and time of year. In general, the per night cost will be around US$150 per night (before additional fees).
We save by using our Chase Sapphire Reserve card because it includes primary rental insurance coverage which can add a lot to the total price of a rental.
Camping Fee (Camping Card Available!)
Campsites usually range from US$10-20 per person per night. However, you may find the occasional free Iceland campsite ! Electricity and shower usage is usually extra at many campsites. Credit cards are usually accepted, but some showers and washing machines may require coins.
In recent years, Iceland's Camping Card has become a popular option for travelers planning to camp at multiple destinations. For €179, you get to camp for up to 28 nights for one family.
It includes more than 35 of Iceland's 200+ campsites, but that means you need to make sure your route aligns with using these to make it worth it. It is also only available from May 15 to September 15. Learn more about the Iceland Campingcard .
Fuel is pricey in Iceland – at about $9 per gallon, so driving a lot will add up. Being in a larger vehicle can also increase that price. Some campervan rental companies, like Happy Campers, offers a fuel discount card! However, expect to spend about $500 or more on fuel for a two-week trip .
Food & Drinks
Iceland is notoriously expensive for going out to eat. We recommend stocking up at Costco before leaving Reykjavik , if you have a membership. This is a great way to save on road trip staples like peanut butter and bread.
If you want alcohol, purchasing it at duty free before leaving the airport can save you a lot. For water, a refillable water bottle is all you'll need since fresh water is abundant in Iceland.
What to Bring for Your Iceland Campervan Trip
The Basics: Most companies will include basic sleeping and cooking supplies, but make sure there isn't anything you need to bring, like an extra sleeping bag for warmth, washing up soap, or towels (quick-dry towels are ideal for van life!).
Coins & Credit Cards: Shower facilities as well as laundry facilities are often paid for using coins, so having some on hand for a warm shower is helpful. Most other items can be purchased with a card.
Driving license : Key to prove you are allowed to drive a car! You may need an international driver's license if yours is from the U.S., Canada, or Europe.
Prescription Medication & First Aid Kit: Make sure you have whatever you may need for the entire trip – including allergy and cold meds, since these can be difficult to get.
Toiletries & Necessities: We like to bring bar soap, shampoo, and conditioner for less mess. Comfortable clothes for driving and exploring is also great to have. Layers are key!!
Rain Gear & Cold Weather Clothes: Skip the umbrella since it is too windy, but waterproof outerwear and boots as well as some cold weather clothes (even in winter) are all good to have.
Bathing Suits: It would be a shame to not experience the natural hot springs or an iconic Iceland spa, so be sure to pack your suit!
We hope this ultimate guide helps you to plan an epic Iceland trip. It really is the perfect place for nature lovers as well as wannabe van lifers.
Read about our entire trip here ! And check out our Iceland page for even more ideas of things to do in this amazing country – even in winter .
About the Author: Brooke Baum
Brooke is a freelance writer, editor, and content manager for various blog sites. After five years of full-time travel with her husband Buddy, they made the beautiful island of Oahu, Hawaii, their permanent home base. However, they still travel regularly and are always planning their next trip.
You may also like
Vancouver's Capilano Suspension Bridge Park in Fall for Canyon Frights!
14 Best Fall in Europe Destinations for Autumn Foliage & More!
Crawling Into Makauwahi Cave: A Scenic & Unique Kauai Hike
Companies we recommend, submit a comment cancel reply.
Your email address will not be published. Required fields are marked *
Sign me up for updates from Trailing Away!
Brooke's Books
Become a House Sitter
10 Best Camper Van Rentals In Iceland To Discover Breathtaking Landscapes On Wheels
Discover a selection of the best-rated camper van rentals in Iceland, offering nomads comfort and style as they explore Iceland.
Camper vans offer a unique and adventurous alternative to traditional hotel stays in Iceland, allowing travelers to embrace a nomadic lifestyle on the road.
Google Maps makes it easy for road trippers to navigate their way through Iceland, find popular attractions, and locate top-rated restaurants and hotels.
There are various camper van rental options available in Iceland, such as Go Campers, KuKu Campervan Iceland, Lava Car Rental, Rent.is, Camp Easy, Happy Campers, Affordable Campers, Motorhome Iceland, and Cozy Campers. These rentals offer a range of vehicles and amenities to suit different preferences and budgets.
Camper vans have become a welcome trend among road-trippers and other thrill seekers charmed by the adventure it offers. Sightseers can opt for an alternative experience besides relaxing in a hotel in Iceland and sipping champagne, which is beautiful, but where is the adventure in that? Especially compared to the unique experience of living on the road.
The excitement of trying something new is a positive score for trying out camper vans. However, the icing on the cake is that the nomadic lifestyle allows travelers to spend their days and night enveloped in this unique experience.
Camper van rentals allow road trippers to traverse Iceland's smooth roads, transitioning from one adventure to the next without the inconvenience of scheduling and rescheduling transportation. What's better? Technologies such as Google Maps have made the nomadic lifestyle more efficient. Google Maps provides an effortless means for nomads to locate landmarks, attractions, and destinations, including restaurants and top-rated hotels in Iceland . Locals can easily find directions, and visitors can discover top-rated nearby spots.
The Camper Van rentals listed below have been carefully chosen based on research and their high ratings and reviews. Their star ratings on popular sites such as Google.com and Trustpilot have an average of 4.0 stars.
The Reykjavik Edition
Park inn by radisson reykjavik keflavik airport, bb hótel, keflavik airport, keflavik micro suites, airport hotel aurora star, hotel berg by keflavik airport, eldey airport hotel, hotel keflavik by reykjavik keflavik airport.
Go Campers Iceland is a camper van rental company in Iceland . Nomads can opt for their 3-person spacious automatic van fitted with pots and pans and cooking utensils, plates and bowls, dish soap, sponges, and towels. Campers will appreciate the provisions made, as they will cook inside the van away from the strong Iceland breeze.
Go Campers also offer various tours to patrons. These tours include Golden Circle, Snæfellsnes Peninsula, Blue Lagoon, and Katla Ice Cave. These are available in different packages and at different rates.
Marriott International
Austurbakki 2, Reykjavik 101
Related: Book These 10 Best Iceland Tours To Uncover The Wonders Of The Land Of Fire And Ice
KuKu Campervan Iceland
Tourists can check out the KuKu Campervan Iceland for the best ride to serve a group of friends. Although Iceland is considered one of the best countries for solo travelers in 2023, there is every need to bring along family and friends to explore the pristine jungles, volcanic eruptions, and beautiful mountains and valleys in Iceland. Road trippers can choose from minivans to 4WD campervans. Apart from getting recommendations from the team of seasoned campervan travelers, tourists would be at ease knowing that KuKu Campervan also offers roadside assistance.
Finally, their special offer includes camping chairs and a table for the entire family (or group) to sit sound and make merriment.
Southern Peninsula, Keflavik, Iceland
Lava Car Rental
Lava Car Rental offers a smooth process from booking to finding their office . Lava Car Rentals offers a wide variety of vehicles that tourists can select from. They can select the well-equipped and cheap 2WD and 4x4 campervan for their voyage in Iceland.
These campervans will allow them to venture into different terrains, including paved roads, gravel roads, F-roads, highlands, and mountains. Tourists can travel in style as they explore Iceland and all it offers. These include the small towns and beautiful stops along Iceland's Ring Road .
Keflavik, Southern Peninsula, Iceland
Related: 10 Best Iceland Cities Where Vibrant Urban Hubs Await Your Exploration
Explore an exciting collection of campervans offered by Rent.is , with several deals for various budget sizes. These allow road trippers to experience the best Iceland tours and explore the best things the country offers. Tourists can make their choice to suit their style. Options include well-equipped campers for two, 4x4 campers with roof tents, and the Jeep Renegade 4×4.
Rent.is also loaded its rental campervan with essentials such as utensils, sleeping beds, tables, chairs, and other fixtures for convenience. Travelers can enjoy a seamless journey through the breathtaking terrain of Iceland and visit numerous landmarks for a fun and memorable experience.
Hafnargata 65, Keflavik 230
Nomads seeking adventure can find their perfect home on wheels with Camp Easy's selection of top-notch camper vans. Campers can begin their journey at the Camp Easy station in Keflavík, Iceland, and explore all the city offers. They can experience the fascinating Viking world and take advantage of its prime location on a peninsula to discover water sports. For the best self-drive tour in Iceland, environmentally-conscious travelers would appreciate the Tesla Camper Y 4×4 . Regrettably, cooking utensils have been replaced by custom-built mattresses for added comfort and convenient storage. However, campers can still stop by campsites in Iceland and use their facilities.
Related: Explore Frozen Giants: 10 Most Beautiful Glaciers In Iceland
Go Car Rental
Mobile homes at Go Car Rental boast unique designs that meet diverse needs. Their fleet offers campervans perfect for solo explorers who can choose from their collection of compact cars like the Hyundai i10 2022 . In addition to its sleek exterior, which adds finesse and boosts the rider's confidence, this rental is fuel efficient.
Alternatively, families and groups seeking to make memories together can opt for a midsize car, a spacious 4x4, or a large van. All these are perfectly customized to ensure smooth cruising on the ring roads in Iceland while checking out remarkable spots like the fishing village ghost town while on the cruise.
Bakkavegur 17, Keflavik 230
Happy Campers
Happy Campers offer travelers an amazing and wholesome experience while they make unforgettable memories. These include everything from the Happy Campsite Keflavik to The Happy Challenge 2023.
Happy Campsite Keflavik is one of the cheapest campsites in Iceland. It offers travelers a place to retire after a day of exploring all that Keflavík offers.
Furthermore, the Happy Challenge 2023 offers travelers incentives for visiting 20 well-known locations around Iceland. The reward for the Happy Challenge 2023 includes discounts and a place on their Wall of Fame. Nomads who need additional drive and a pre-planned itinerary should partake in the Happy Challenge 2023 for its ease and incentive.
Top places worth visiting in Keflavík include Litli Hrútur Volcano, exploring Reykjanes Peninsula, and The Diamond Circle. Tourists can explore everything from waterfalls, volcanos, and hot pools to black and golden beaches.
Austurgata 13, Keflavik 230
Related: 10 Most Beautiful Ice Caves In Iceland That Transport You Into A World Of Frozen Wonder
Affordable Campers
Affordable Campers is a campervan rental company in Iceland that offers nomads campervans at a great price. Their fleet of campervans comes fully equipped with heating and a powered fridge, making it both convenient, functional, and affordable to explore this stunning country and its landmarks. With various packages under €100 per day, road trippers can hit the road and explore the geothermal hot springs, Goðafoss Waterfall, and experience other exciting things to do in Reykjavik .
Motorhome Iceland
Motorhome Iceland is a family-run campervan rental company that offers luxury camper vans to various groups of travelers. These include everyone from lovers on a romantic trip around Iceland to luxury motorhomes for a family of four on a camping trip. The team comprises locals familiar with the routes of all the fun spots in Iceland who can give excellent pointers and recommendations to guests in the city.
Tourists must check out their collection of 4x4 motorhomes and let the teams locals at Motorhome Iceland help them decide which ride bests suits their travel needs. Besides getting a great ride for an adventure through Iceland, tourists can explore some unforgettable experiences in Iceland in the summer and all year round. These include glacier hikes, whale watching, and swimming in Iceland's world-famous Blue Lagoon.
Vatnsnesvegi 12-14, Keflavik 230
Related: See The 10 Most Beautiful Iceland Waterfalls And Immerse Yourself In Nature's Cascading Splendor
Cozy Campers
Cozy Campers offers various camper van services to fit different budgets . These range from budget-friendly and premium ones for couples seeking an unforgettable experience. The Cozy Camper premium range is made of Camper vans modified to enhance safety and comfort throughout the Icelandic adventure. Passengers can enjoy the stunning landscapes of South F208 through the panorama sunroof. This is perfect as the region boasts some of Iceland's most beautiful sights. Meanwhile, drivers can easily navigate the typically challenging terrain thanks to modifications explicitly made for Icelandic F roads. These modifications include bigger tires, a raised chassis, a Seikel suspension system, and more.
Hlidasmari 5, Kopavogur 201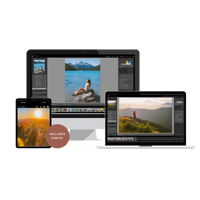 Get My PNW Presets!
This preset collection can enhance your photos and will help you define your style and save you time.

11+ Tips on Renting a Campervan in Iceland
Thinking of exploring Iceland in a camper van? Seeing this stunning country on a road trip is an unmissable experience that's sure to imprint itself into your memories.
With its verdant hills, breathtaking waterfalls, glaciers, volcanoes, wildlife, and so much more, there's simply no reason not to visit the land of fire and ice. It's a nature lover's dream and the perfect destination for any landscape photographer.
And with all that beauty out there, it would be a shame to base yourself in one or two hotels for the duration of your stay. There's simply too much to see across the entire island! That's where campervans come in handy. They're your on-the-go solution to seeing Iceland without breaking your budget.
So tie up your favorite hiking boots , and let's get planning for your Iceland camper rental vacation. This guide will take you through everything you need to know for an effortless getaway.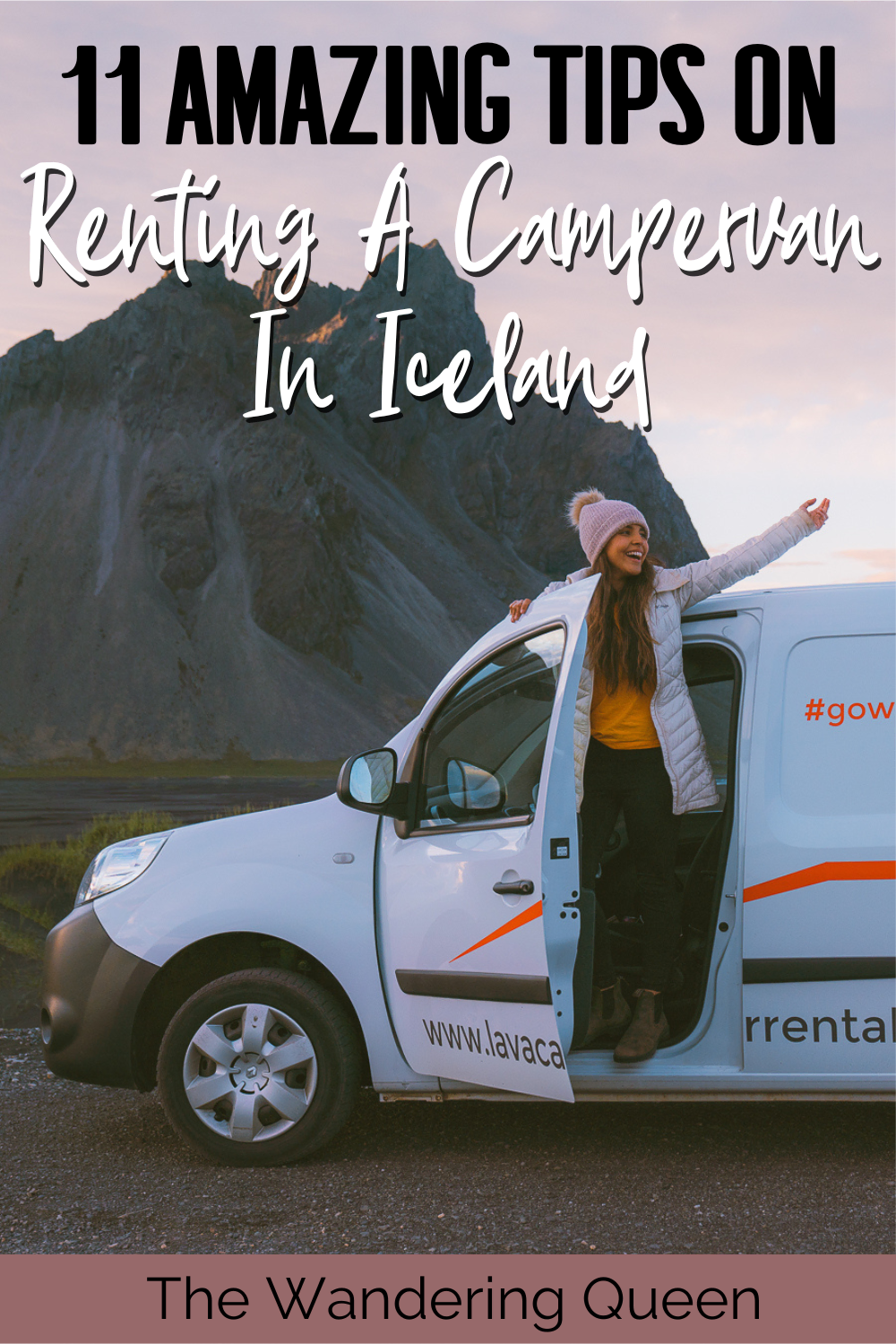 Disclosure: This post contains affiliate links. If you click one of them, I may receive a small commission (for which I am very grateful for) at no extra cost to you.
You Can Save Money Using A Campervan (Among Other Benefits)
If you're still unsure whether you should opt for a camper van rental in Iceland, consider the many benefits of this option. When renting a campervan, you're combining your accommodation and travel costs — perhaps even your food expenses into one.
Campervan rentals in Iceland start around $100 per day, while hotels and rental homes can easily cost way upwards of $100 per night. If you're hopping between hotels, you'd have to pay for a car rental or other means of transport to move between accommodations as you road-trip through Iceland. This, along with fuel prices, can really hurt your pockets.
The other benefit of seeing Iceland with a campervan is that you won't have to pack and unpack as you move through different accommodations. You'd simply have to unpack your items into the campervan on arrival and pack it up again at the end of your vacation.
Campervans are also ideal for really taking in the natural beauty Iceland has on offer. With glaciers, verdant hills, and rivers all around, who wouldn't want to settle down in a grassy corner of this paradise?
You'll also find that campervans offer a much more comfortable experience than traditional tent camping. Many campervans have advanced heating systems, cooking facilities, cutlery, and everything you need for a good night's sleep. This means you can pack light and show up with almost all the necessities provided.
The final benefit of using a campervan while road-tripping through Iceland is the freedom it provides. There are plenty of camping sites set near villages along the Ring Road. So you can spend as little or as much time in a particular area of Iceland without having to worry about arriving at your pre-booked hotel in time. With Iceland campsites, you can show up anytime and book on the spot.
Tips Before Renting a Camper Van in Iceland
In order to find the best camper van option for your Icelandic vacation, there are a few things to consider beforehand. Have a look at these tips below.
Map Out Your Itinerary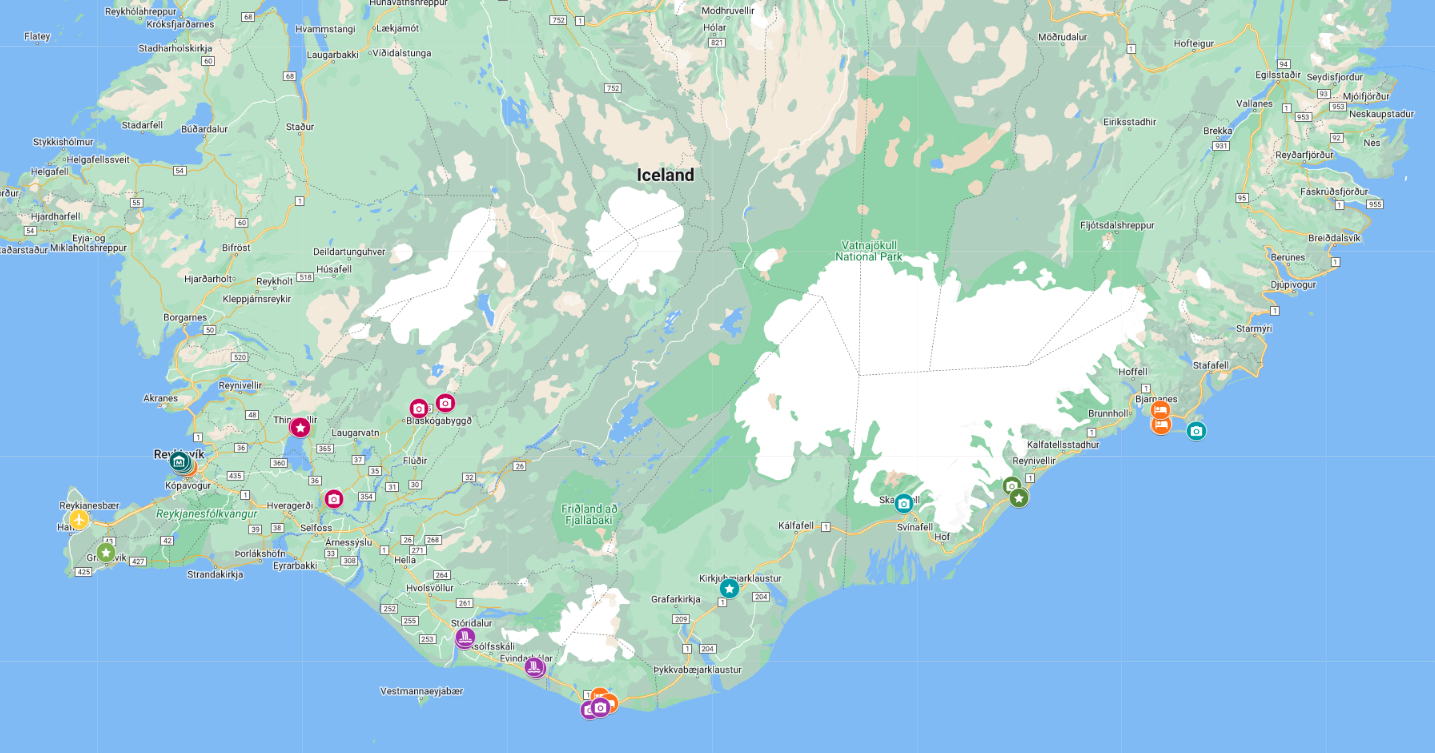 The most popular route in Iceland is the Ring Road. As the name suggests, it circumvents the Island of Iceland, covering just over 800 miles. The entire Ring Road takes about 16 total hours of driving to complete.
One of the most important things to do when preparing for a road-trip vacation in Iceland is to plan your itinerary ahead of time. Start with mapping out which sites you'd like to visit in Iceland, then have a look at the roads you'll have to take. Are you staying on the Ring Road or heading into more off-road areas?
Knowing which roads you'll be taking will help you determine which type of campervan to get (more on this later).
Once you've got a good sense of the roads you'll be following, map out the campsites, gas stations, grocery stores, and emergency stops along your way. This will help you understand where you'll need to stock up on more gas or food before heading into more isolated areas. You'll also have the comfort of knowing where to go in case of an emergency.
Ideally, you'd need about ten days to explore Iceland and see the top sights. If you're short on time, a seven-day Iceland itinerary will suffice, while two weeks will give you ample time to explore at leisure.
It's important not to be too strict with your Iceland itinerary. While it may be tempting to pack your days full of activities and sights, this, along with traveling, can be extremely exhausting. Be sure to leave some free time between visiting attractions so you don't feel rushed.
Pick a Reputable Campervan
Your campervan will be your mode of transport and your accommodation for the duration of your Iceland visit. So it's essential that you choose a reputable campervan rental company that won't let you down in cases of emergency.
While you can technically make an Iceland trip with a standard van, campervans are specifically made to accommodate your sleeping and traveling needs. And, in Iceland, one of your biggest needs will be a good heating system.
The family-owned Lava Car Rental , founded in 2016, is a great choice in this regard. Not only are their campervans kitted with a Webasto heating system, but they also include many other amenities to make your experience as comfortable as possible. They also provide unlimited mileage, theft protection, roadside assistance, and CDW Insurance on all their 2WD and 4×4 vehicles.
Best Time To Rent a Campervan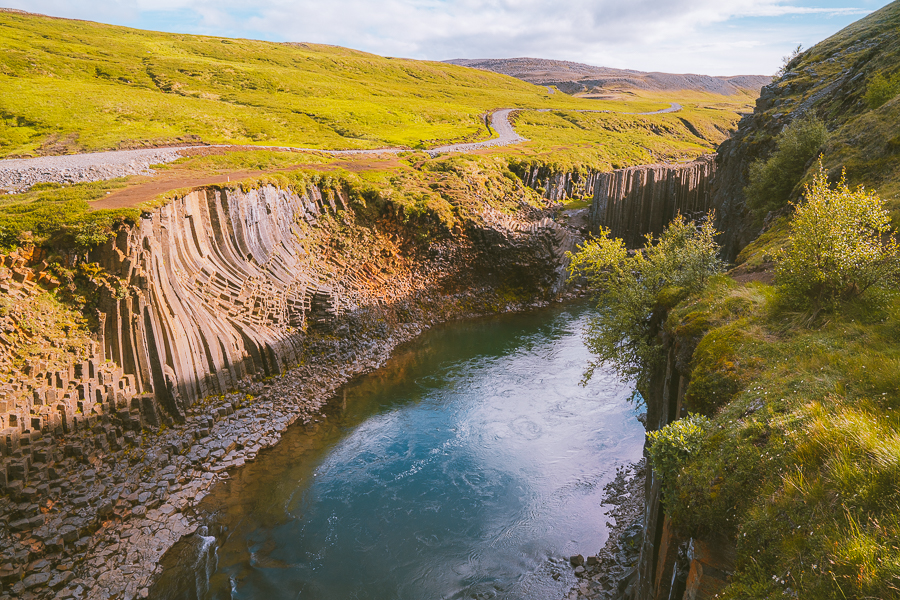 So when is the best time to rent a campervan in Iceland? The ideal time to visit would depend on your needs.
Summer
The most popular time for renting a camper van is during the summer months — between the end of June to around mid-September. At this time, the temperatures are a bit more bearable, you'll get to enjoy the midnight sun, and most campsites are open.
Summer is also when you'll spot Icelandic wildlife such as the cute Puffins, arctic foxes, and deer. This is also the best time to see sperm whales, blue whales, humpbacks, and orcas in Iceland.
But, there are some downsides to visiting during summer. As summer is the most popular time for campervan rentals among travelers and locals, prices go up. You're also likely to encounter larger groups at the top sights and tours, as summer is the peak tourism season in Iceland.
You also won't be able to see the Northern Lights in Iceland, as they usually only appear between September and March.
The Shoulder Season (Fall and Spring)
Going on a campervan excursion during the shoulder season is excellent if you'd like to save some money. As demand decreases, accommodations, tours, and rental vans may be slightly cheaper.
These seasons can be colder and wet, but you'll get to save some money and avoid large crowds.
Download my free Outdoor Photography Guide
While camping among a blanket of snow may sound like an idyllic dream, it might not be the most practical time to rent a campervan. Winters are cold and snowy, and roads can be hazardous. You might have to drive over icy roads or make your way through the snow. And the last thing anyone wants is to get stuck in a snowstorm.
Some areas of Iceland, like Westfjords and the Highlands, are not accessible during winter, and many camping sites close during this season. While you might still be able to stop at these closed sites, you won't have access to the facilities like hot showers and toilets.
Of course, the plus side of renting a camper van during winter in Iceland is that you'll likely get a great view of the Northern Lights. And there are still plenty of fun activities in Iceland in winter . Prices also tend to drop during this time, as it's the off-peak season for tourism.
When To Start Booking a Campervan
If you're planning on renting a campervan during the high season (summer and festive holidays), you'll want to book a few months ahead. You'll be competing with locals and tourists for the ideal Iceland camper rental. So if you rent at the last minute, the rental companies may not have the right van for your needs — or you'll have to pay a higher rental fee.
Manual vs. Automatic
Another reason to book your campervan as early as possible is that most campervan companies in Iceland offer manual transmission vehicles. Lava Car Rental has a few automatic options, but if you can only drive automatic, you'll want to book ahead, as these can go fast. You may also need to pay slightly more to rent an automatic vehicle.
Manual transmission campervans may offer you more control over the vehicle. But automatic campervans make your drive more comfortable and effortless. So whichever one you choose will depend on preference and availability.
You Might Need a 4×4
One of the most important reasons to map out your itinerary is to get an idea of which roads you'll use. Iceland's Ring Road is a paved road that's easy to navigate. If you'll be staying on this road and paved roads in villages and towns, you'll do just fine driving a 2WD campervan.
However, Iceland also has a few unpaved, gravel roads that can be steep or involve traversing water. These are usually unmaintained highland roads in remote Iceland areas. In these cases, you'll need a 4×4 campervan, as two-wheel-drive vehicles are forbidden from entering F-roads.
You're also strongly encouraged to opt for a 4×4 campervan during the shoulder season or winter. These seasons tend to see more rain and snow, making safe driving more challenging.
Do I Need an International Driver's License?
You don't need an International Driver's License (IDL) to rent a campervan or drive it in Iceland. However, you do need a National Driver's License, which needs to be more than a year old.
If your National Driver's License is not in English, it may be good to consider getting an IDL for translation purposes. Icelandic officials may not always understand your national language.
Some rental companies may even require that you get an IDL if the language on your license is not in English or Roman script, so always double-check.
Rent the Van From the Airport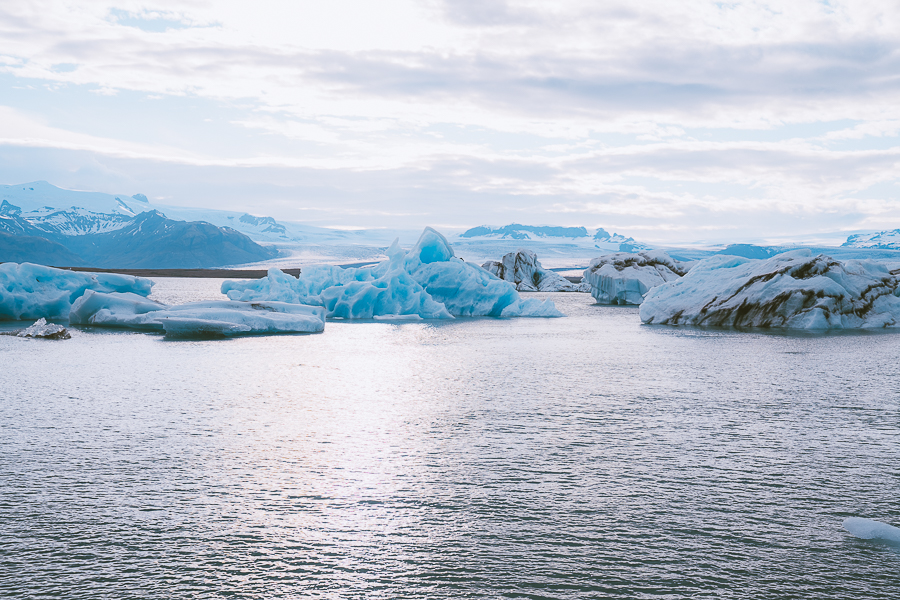 One of the greatest benefits of renting with Lava Car Rental is that they offer complimentary airport pickup and transfer to their offices about five minutes away. This means you won't have to wait for a taxi and spend extra money on a short trip.
Lava Car Rental will request your flight number to pick you up on time at Keflavik International Airport. Pickups usually happen at parking lot P1.
When renting from a company near the airport, you also won't have to worry about extra travel time to the airport after returning your van.
Inspect the Campervan
While you may be giddy to unpack and get going with your campervan rental, it's essential that you inspect it beforehand. As it will be your home and transportation method for the next few days, you want to ensure that everything is up to standard.
Double-check that all included amenities mentioned in your rental description are present and that the vehicle, heating system, and gas stove are all in working condition.
This is also an excellent time to look out for any damages to paint, the body and interiors of the van, and the windows. Take note of these and mention them to your rental provider before heading out so that you're not held liable for the damages.
Get Insurance
Your campervan rental will come with standard insurance to offer you peace of mind on your journey through Iceland. Lava Rental Company offers CDW insurance, theft protection, third-party liability cover, and a collision damage waiver up to a capped amount. The rental company also offers roadside assistance and breakdown services.
You can upgrade your insurance package with the rental company or add certain types of insurance. Gravel insurance is a must-have, as little pieces of flying gravel can cause significant damage to the van's paint or windows.
You'll also want to ensure that you have travel insurance to cover other travel-related risks. These include medical emergencies, stolen or damaged luggage, personal liability cover, and financial losses from cancellations due to having to cut your trip short.
If you'd prefer to use your own insurance through your credit card and opt out of the included campervan insurance, you may do so. But, you won't be refunded for forfeiting the included insurance, so you may as well opt to keep it.
What Is Included With Your Iceland Campervan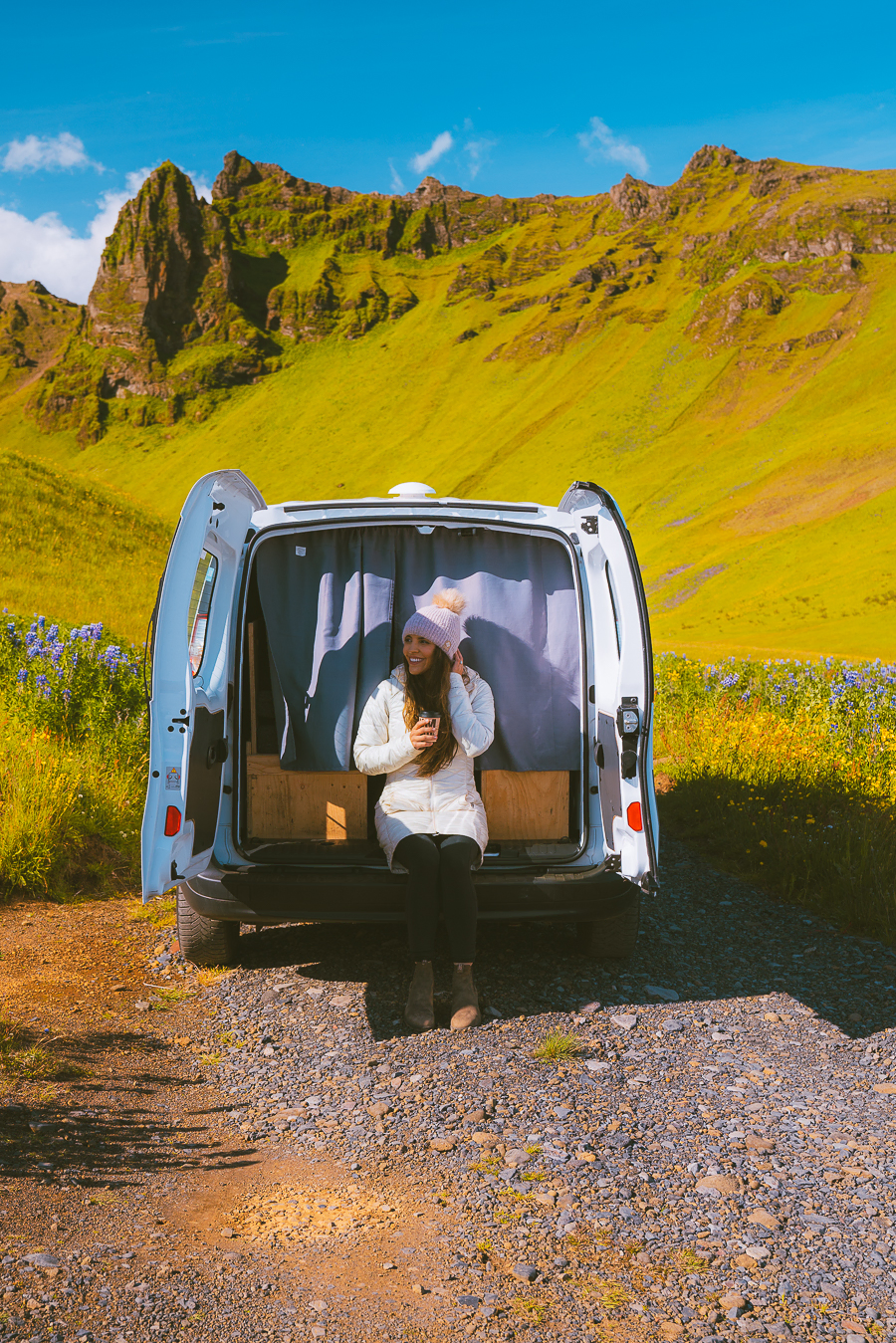 All 2WD and 4×4 vehicles at Lava Car Rental include the above-mentioned heating system and insurance. But they also include a range of amenities that'll help you keep your luggage light and your costs down.
Vans include beds with mattresses, pillows, linens, and sleeping bags. You'll also have a gas stove, pots, pans, cutlery, utensils, dishwashing equipment, and a foldable table and chairs to enjoy your meals on. Of course, you'll want to keep certain produce cold, so you'll be thankful to find an electric refrigerator or 28-liter cooler added to the mix.
If you're traveling with a little one, you'll also have the option to add a child seat and booster.
Tip: Campervans also have a 10-liter water tank, which you can fill up with tap water whenever you get the chance. Iceland has excellent potable water, so you won't have to splurge on tons of bottled water on your Iceland trip.
What to Pack When Renting a Campervan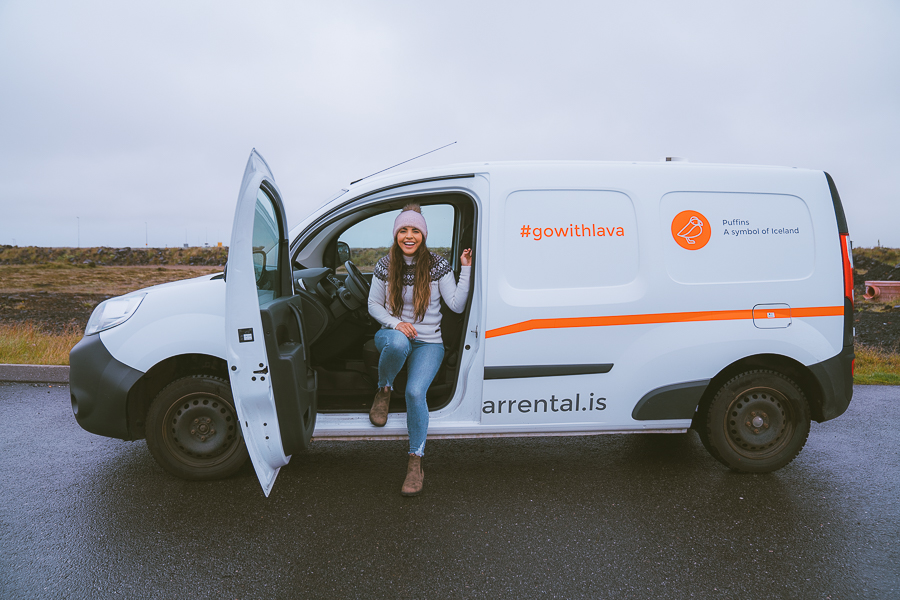 Now that you know what is included in your caravan, you may have a good idea of what not to pack. But what are the road-trip essentials for a campervan trip in Iceland?
First off, it's important to note how much space you'll have in your campervan. As you'll be driving and sleeping in this van, there won't be as much space as you'd expect.
Your first priority should be proper clothing. There are a few essential things to wear in Iceland , as the weather is unpredictable and nights can get icy, even during summer. Below are some clothing must-haves:
A water and windproof jacket
Thermal clothing as base layers (so you can still rock your cute outfits without freezing)
Waterproof hiking boots
Hats, gloves, and a scarf
Waterproof pants
Adventure Gear
You'll also want to pack particular hiking and outdoor gear if you (hopefully) plan on hiking in Iceland. Have a look at this guide to the best winter hiking gear and clothes if you're visiting Iceland in winter — or even the shoulder season.
If you're an avid rock climber, kayaker, skier, etc., you may also want to bring your favorite gear along or identify rental shops before your trip.
Electronics
This goes without saying, but you'll want to bring your favorite camera gear along. But, there are a few other electronic road trip essentials. These include:
Earphones/ headphones
Adaptors and extension cords
Chargers for all devices (camera, laptop, cellphone, tablet, etc.)
Power bank (can be lifesaving on hikes)
Hygiene
It can seem challenging to maintain proper hygiene while camping or backpacking , but it's not impossible. You'll have a water tank in the van which you can use to wash your hands, face, and intimate areas and brush your teeth. Remember to pack the following for your trip:
Toothpaste and toothbrush
Antiperspirant/ deodorant
Wet wipes/ surface cleaning wipes
Insect repellant
Hand sanitizer
Entertainment
Besides having a boppy playlist, consider bringing your favorite book or board game along. If an unexpected storm comes through, you may find yourself stuck inside for a few hours, and board games are a great way to pass the time.
Last but most importantly, you'll want to pack an updated first aid kit — it may also be helpful to refresh your knowledge on basic first aid procedures .
Also, be sure to pack enough of any prescription medication for the duration of your trip.
Claim your FREE Hiking Checklist
Ready to start hiking? Grab my free hiking checklist and never forget anything at home!
11 Tips for Renting a Campervan in Iceland
Once you've found the perfect camper rental company and settled into your campervan, these tips below will help you along the way.
You Need to Find Campgrounds Legally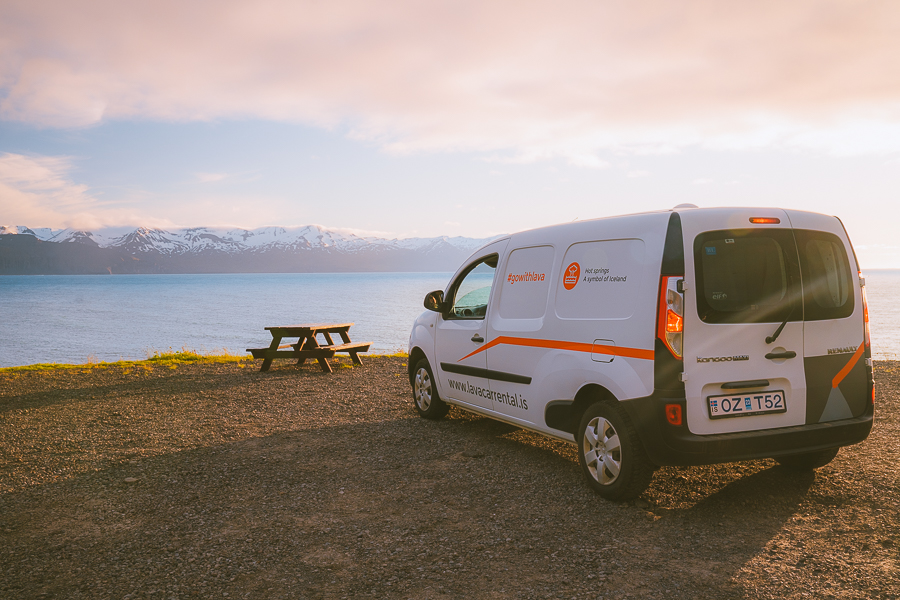 Wild camping is forbidden anywhere outside of designated campsites in Iceland. Luckily, there's no lack of campsites in Iceland.
The camping spaces range from simple fields with minimal facilities to fancier sites with showers, restrooms, laundry spaces, and sometimes even electric hookups. You can expect to pay an average of around $10-$20 per person per night at these campsites.
You may also have to keep some spare change with you to use facilities like showers and toilets at certain campsites. Accessing these facilities can cost around $4 for a shower and about $8 for an electric hookup. This may sound a bit hefty, but it's not nearly as much as you'd pay for hotel accommodation.
During the summer, you can expect almost all camping sites to be open. But, if you're visiting in the shoulder season or during winter, you may need to do extra planning, as many sites close during this time.
Have the Right Credit Card
Most rental companies require a valid credit card with a high limit to book your campervan. Usually, the company will test your card limit by reserving (but not taking) a certain amount. This is to make sure that you'll be able to cover any fees in case of liability. Because of this procedure, you can't pay with a debit card.
Acceptable credit cards include HCC, American Express, Visa, and Mastercard — you can also use your travel credit card to be safe. Certain gas stations may not accept your credit card, as some may require a pin. So it's a good idea to carry some cash with you too.
Certain camping sites also don't offer the option to pay by card, so you'll need to have some cash at hand.
Make a Budget for Gas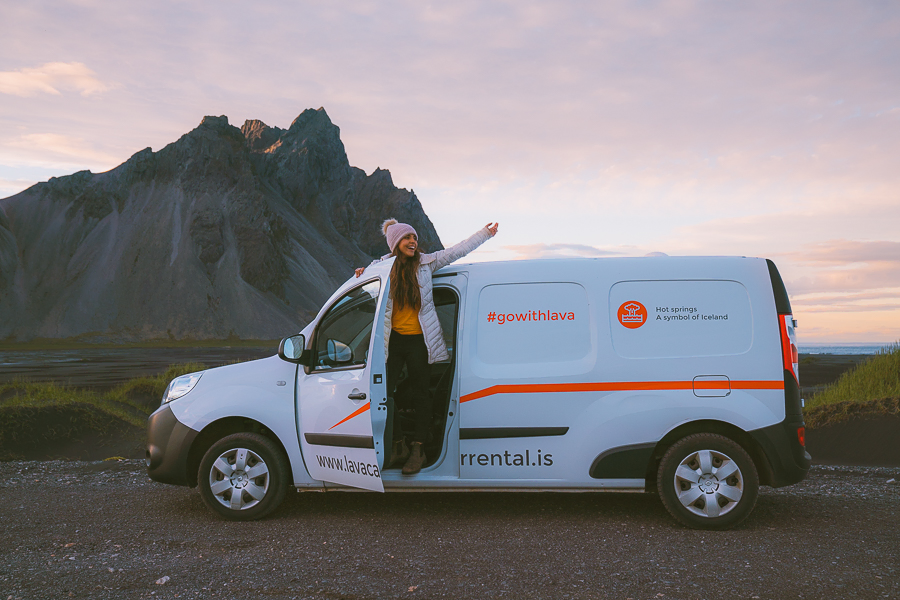 Gas prices are pretty hefty in general, and it's no different in Iceland. While prices tend to fluctuate, you can expect to pay around $8 for a gallon of gas. This may sound like nothing, but those numbers quickly add up when you fill a campervan's large fuel tank.
Map out how far you'll be driving and determine how much gas your campervan will require to cover that distance. You'll also need to account for the gas used to heat the vehicle.
Be sure to identify all gas stations along the route you'll be following to determine how often you'll need to stop and fill up. Your safest bet is to fill up whenever you see a gas station. But, it's especially important to be on the lookout for areas of the road where you won't encounter a gas station for many hours so that you can prepare adequately.
Have the Emergency Number in Hand
Some areas of your road trip around Iceland can be extremely rural and far from any gas stations or health centers. So it's essential that you keep all emergency numbers on your phone — and even written down on paper so that it's easily accessible.
The last thing you want is to struggle to find an emergency number in the middle of an urgent situation.
At the very least, you should have the following numbers saved or kept on speed dial during your trip:
The number of your Iceland campervan company
The national emergency number: 112
Your personal emergency contact
There is also a super handy emergency app developed in response to the growing number of Iceland visitors. The Iceland Emergency Number App can be a lifesaver if you get stuck in a snowstorm or experience an emergency during a hike.
You'll have the option to either press the "Emergency" or "Check-in" button. If you press the "Emergency" button, the app will send a text message with your GPS coordinates to a contact center. You may not always have a strong enough signal to make a call, so having the option to send a text message is much more convenient.
The handy "Check-in" button allows you to have your GPS location sent to authorities, and the last five check-ins will be stored. This is ideal if you're on a hike and fear you may be lost, as this data will give the authorities a better idea of your movements.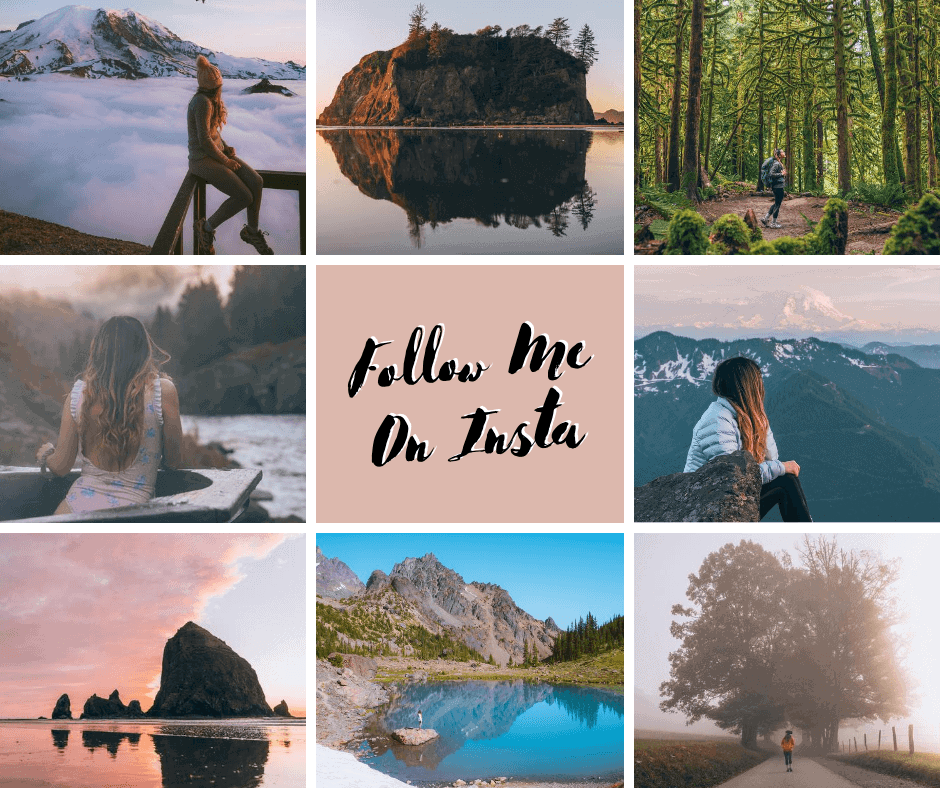 Be Careful With Getting a Ticket
The road rules may feel a bit unfamiliar to you, depending on which country you're coming from. But it's essential that you familiarize yourself with the rules and follow them.
In Iceland, road users drive on the right side of the road and overtake on the left side. The speed limit ranges around 30-50km/h (19-31 mph) in residential areas and cities and about 80-90 km/h (50-56 mph) on larger gravel and paved roads.
These limits may sound relatively low, but Iceland has very unpredictable weather, which can affect road safety. You're also required to keep your headlights on at all times of the day, as visibility may not always be excellent.
All passengers are legally obliged to wear a seatbelt at all times, and the allowed blood-alcohol level while driving is 0. Meaning you may not consume any alcohol before driving. This is, once again, because Iceland's roads can be extra dangerous due to extreme and unexpected weather conditions.
You will be given a hefty fine if you break any of Iceland's road rules, especially if you exceed the limit. Be extra vigilant on the roads and drive responsibly to protect yourself, your passengers, and other road users.
More Posts About Iceland
30 awesome things to do in iceland in the winter, the absolute best iceland itinerary: 7 days, ultimate guide on what to wear in iceland, download a map beforehand.
Some rural areas of Iceland might not have the best signal. You can prepare for these situations by downloading your itinerary map to your phone or tablet to use offline. You can do this with Google Maps, but not Apple Maps.
If you'd like to be extra secure, in case all your cellular devices fail you, you can also keep a printed version of Iceland's map in your Iceland camper rental.
Download a Playlist
This is pretty self-explanatory, but with around 16 hours of driving ahead of you, you'll be thankful for having downloaded a playlist (or six). Save all your favorite bops to your tablet or phone so you can play music, whether the signal is excellent or non-existent.
Stop and Take Pictures (Safely)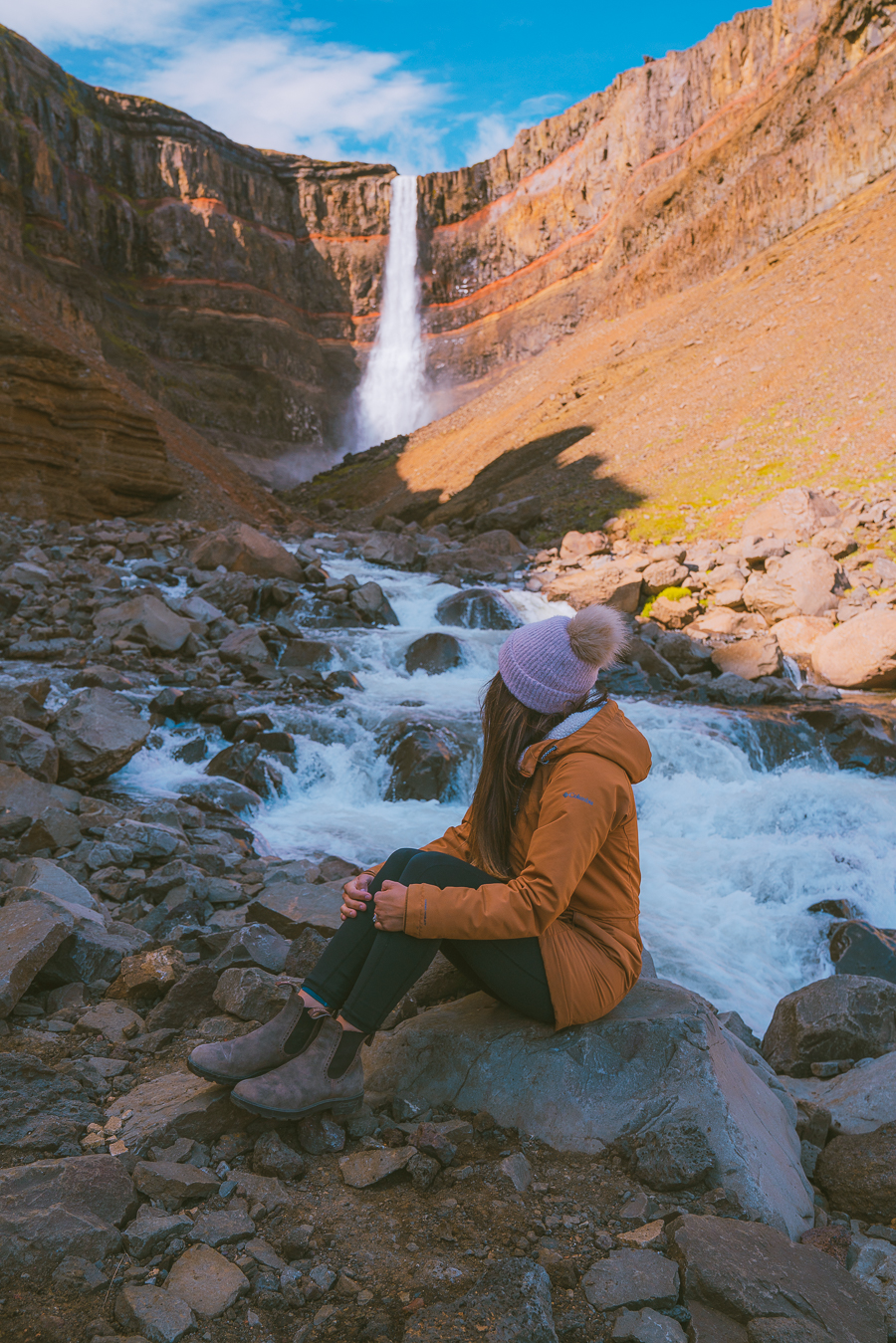 Iceland's Ring Road not only offers a convenient way to get to some of the country's top attractions, but it's also one of the most scenic roads in the world. You'll come across dramatic mountainscapes, lakes, charming little towns, and beaches along the road and around your camping sites.
But it's essential to keep in mind that it's illegal to stop and take pictures on the side of the road. This is to ensure road safety and prevent congestion, as some routes have single-lane roads. If you'd like to capture the roadside beauty, the best places to do this are gas stations and designated parking spaces.
You can also take your best hiking camera gear along and capture the breathtaking landscape from the mountains. This will give you a unique angle for capturing memorable shots.
Cook Meals to Save Money
Eating out can quickly add up to hefty bills while traveling through Iceland. Instead, stock up on some fresh local produce and non-perishables and get creative with your gas stove. Your camper van will have cooking and eating utensils, cutlery, and glassware.
You might not be able to whip up the most adventurous meals with your limited facilities, but you'll definitely be able to prepare some hearty meals. Look up a few one-pot recipes online, like one-pot pasta, stews, and curries. These can usually be achieved with limited ingredients and in a short amount of time.
With a few solid recipes in mind, you can plan a grocery list and stock up on all the essentials before your Iceland trip. This way, you'll also avoid wasting food because you won't be buying items at random.
Good food items to stock up on for your road trip include non-perishables like pasta, rice, oats, quinoa, and canned foods. You'll have limited cooler space, so try to keep meat purchases to a minimum.
It's also a good idea to map out where you'll find grocery stores or food markets to give yourself an idea of how often you should stock up on certain items.
Taking a Shower
Camper vans may be a step above general vans, but they're not as kitted-out as an RV. Your camper van won't have a shower in it, so you'll have to seek those out at campsites. You'll need a few coins to enjoy a hot shower at these sites, but it won't break the bank.
Another great way to get in a shower on your road trip is to visit the Iceland swimming pools. You legally have to shower before entering the pools and baths, and you'll usually find that these facilities are much nicer than at camping areas.
A visit to the pools and baths is a more exciting way to get clean, as you'll get to unwind in the hot tubs, steam baths, or pools after your shower. They're also usually open until late and entry fees range from free to $20.
Using the Restroom
As with showers, you'll find restrooms at most, if not all, camping sites. You can also use the toilets at gas stations, certain shops or shopping centers, restaurants, and at certain baths or pools with extra facilities. You may also have to pay a small fee to make use of these facilities, so keep a few coins in hand.
Final Iceland Camper Van Rental Tips
By now, you're hopefully filled with all the necessary tips, knowledge, and excitement to plan the perfect vacation with a camper van in Iceland. It may feel overwhelming at first. But, once you've identified the perfect Iceland campervan rental companies and decided where to camp, the rest should be smooth sailing.
And, once you've got the planning sorted, you can rest assured that you'll have a stress-free and smooth trip. While enjoying Iceland's natural surroundings, remember to respect the environment and follow the principles of "leave no trace."

new on the shop
The ultimate camping trip planner.
Our camping trip planner helps you stay organized and plan all aspects of your adventure so that you can conquer new territories with ease.
Pin For Later: Renting A Campervan Iceland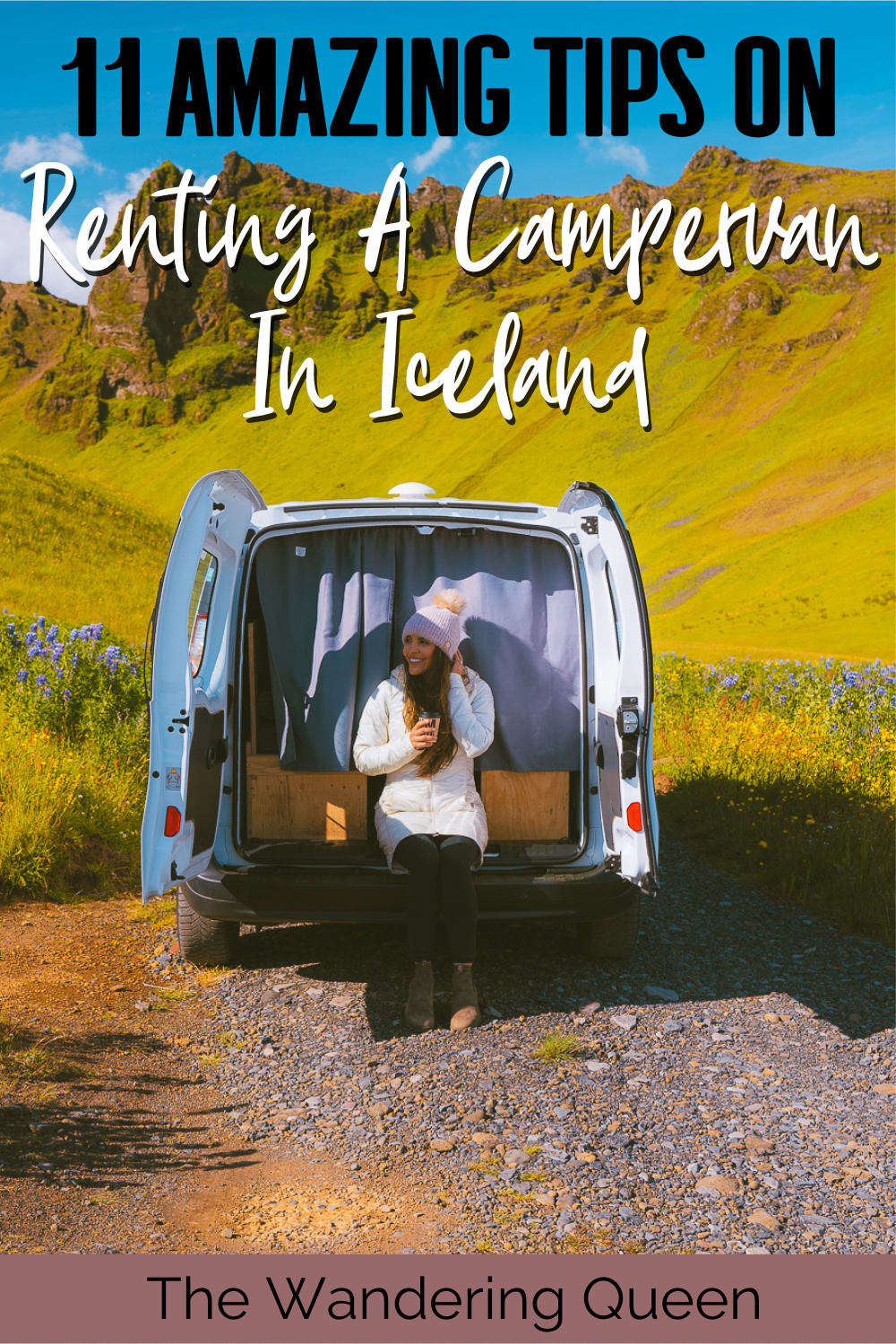 Similar Posts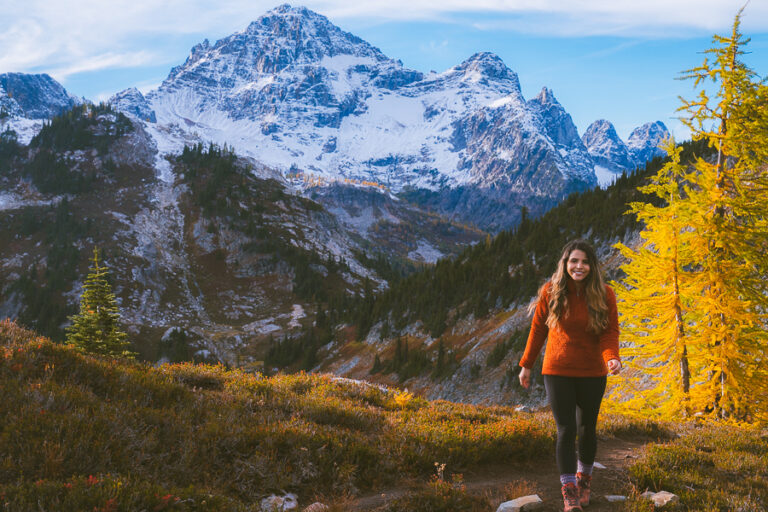 The 26 Of The Absolute Best Hikes In National Parks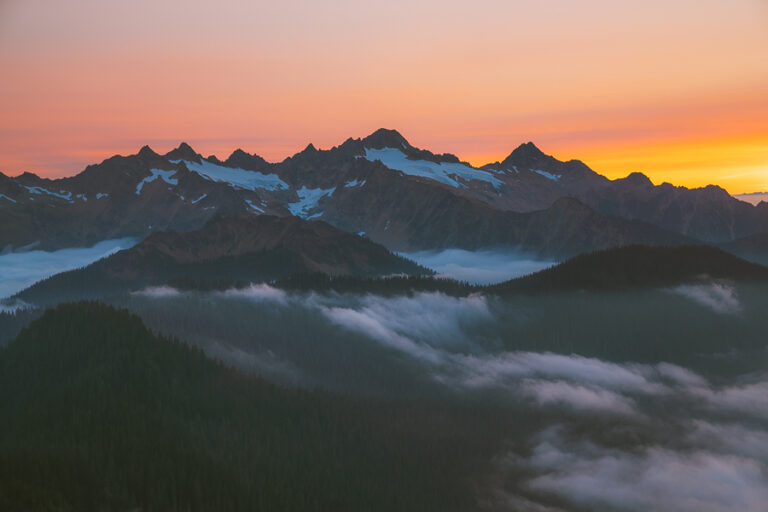 35 Best Things To Do In Washington State
22 Best Winter Hikes In Washington State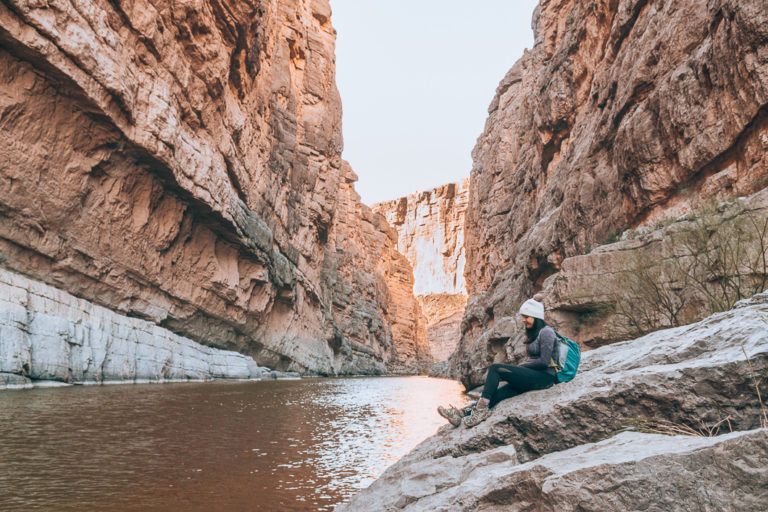 The 16 Best Hikes In Big Bend National Park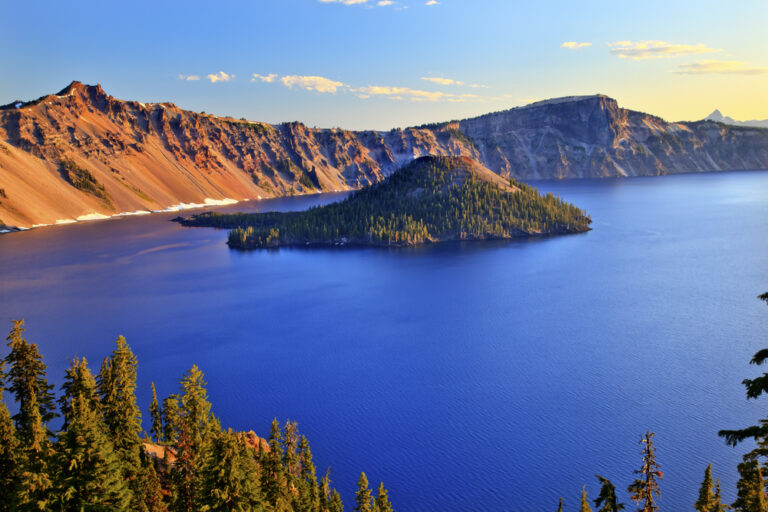 11 Best Hikes At Crater Lake National Park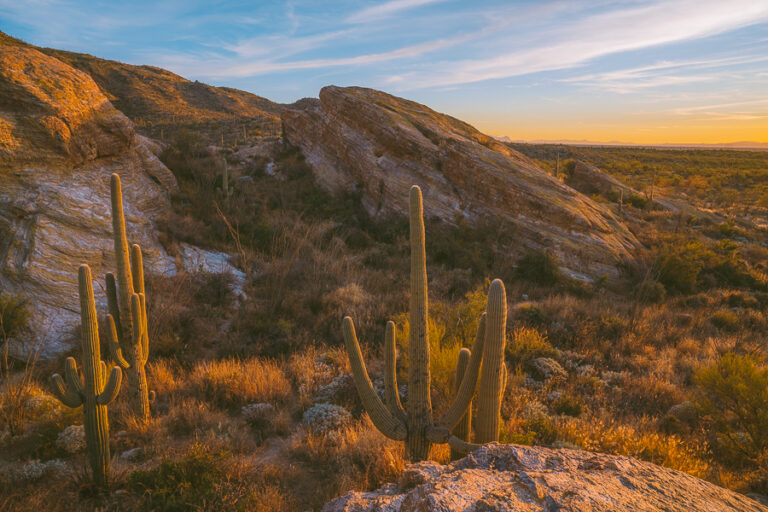 Best Hikes In Saguaro National Park: 11 Hiking Trails You'll Love
Leave a reply cancel reply.
Your email address will not be published. Required fields are marked *
Save my name, email, and website in this browser for the next time I comment.
This site uses Akismet to reduce spam. Learn how your comment data is processed .
What are you looking for?
10 best campervan & motorhome/rv rentals in iceland [2023].
It's no secret that Iceland is an expensive country to travel through.
But renting a campervan in Iceland is by far the best and CHEAPEST way to explore.
You get to save a bunch of money on expensive accommodation, whilst also spending your nights camped out under the beautiful Icelandic skies.
Better still, exploring Iceland in a motorhome gives you flexibility and the chance to go off the beaten track. 
As it's such a popular way to get around, there are lots of rental companies in Iceland.
To make things easier, I've handpicked the top ones for you! 
As well as giving my best tips on where to book in order to get the best price possible.
Let's take a look ...
Travellerspoint
How to book your chosen rental
When it comes to camper rentals in Iceland, you'll often find the best deals by using  
GoSee is a price comparison site that will help you find cheap rentals.
The website is effortless to use, making it easy to find vehicle availability for your chosen dates, and the best rental packages available. 
There are also other benefits of booking with Motorhome Republic including: 
An easy booking process with no hidden charges or booking fees.
A Price Match Guarantee if you find your camper cheaper elsewhere.
A support team is available 24/7 to help with any issues.
A Vehicle Guarantee , so if your rental lets you down you're covered, Motorhome Republic will find you a comparative van at no extra cost. 
Where possible, I've included links to GoSee to make your booking process much smoother! 
For more info, read our in-depth review of GoSee Travel (Motorhome Republic) .
1. Camp Easy - Best camper and motorhome rentals in Iceland
Pick up/drop off location/s - Keflavik, 4 minutes from KEF airport 
Price range - $-$$$
Best suited for - couples and friends 
Availability - Check here
Camp Easy is a family-run rental company that has nearly 10 years of experience in campervan hire. 
Their office is situated right by KEF airport, and free transfers are available for anyone who books with this company! 
They have support on hand 24/7, as well as on-the-go email and phone support. 
Not only that, but Camp Easy has a live fleet management system, which means they'll never cancel a booking!
With such great reviews and a wide variety of vehicles to choose from, this is a great option when it comes to camper rentals in Iceland.
Vehicles on offer: 
Camp Easy has 12 different vehicles available to hire, ranging from small campers to large vans. 
Each rental comes with everything you need including a quality stove, kitchenware, running water, and even a laundry rack. 
You'll also be pleased to hear that all campers come with heating and a ventilation system, so you can travel around Iceland whenever!
Camp Easy also has three 4x4 campervans that are specifically designed to tackle Iceland's F-roads.  They come with larger tyres and raised chassis, which means you can go wherever your heart desires!
2. Happy Campers - Best budget campervan rental in Iceland
Pick up/drop off location/s - Keflavik, a 5-minute drive from KEF airport 
Price range - $-$$
Best suited for - Any type of traveller
If you're looking for cheap campervan rentals in Iceland, then Happy Campers is the one to go for! 
Not only will you save a ton of cash, but you'll have access to the 'Happy App' which is an itinerary builder - perfect to help you find those hidden gems.
Once you've booked your van you'll also get access to the 'Happy Iceland e-book', and can enjoy a wide variety of partner discounts as you travel around the country. 
Happy Campers is also an eco-friendly company that plants at least 1 tree for every booking! 
This rental company includes a Collision Damage Waiver within their rental price, and they also have different bundles to choose from when booking your camper.
Happy Campers have nine different vehicles available to rent.
The cheapest option is the Happy 1 EX which can be hired out from just 9,670 ISK ($74) per day. 
Trust me - that's a real bargain for Iceland and you won't find many better deals than that!
Each rental comes with a gas stove, sink with running water, a heating system, and a refrigerator among other amenities. 
3. Hertz - Great company for cheap motorhome hire in Iceland
Pick up/drop off location/s - Keflavik International airport, Reykjavik & 11 other locations throughout Iceland 
Best suited for - couples and families 
Hertz is a car & van rental company that has a great reputation across the world. 
Each of their campervans comes fully equipped with everything you need for the perfect road trip around Iceland.
Campervan rentals also come with unlimited mileage, a Collision Damage Waiver, and VAT is included so you won't find any hidden charges!
Not only does Hertz offer discounts on rentals, but they also have a special offer for KEF airport (this is the only pick-up location available for campervans and motorhomes).
Hertz has three different campers to choose from including a VW Caddy Beach Camper, a Toyota Hilux Camper, and a large motorhome. 
The VW Caddy Beach Camper is best for couples, whilst the motorhome sleeps four people so is great for small families.
If you'd prefer to hire a large motorhome whilst in Iceland, then Hertz is a great choice. The prices are very reasonable, and they often have special discounts & offers available.
It's important to note that you'll have to choose the Toyota camper if you're planning to visit the highlands, as the other two rental vehicles are not permitted there! 
4. Lava Car Rental - Best small camper rentals in Iceland
Pick up/drop off location/s - near Keflavik airport and free shuttle from/to the airport
Best suited for - couples & pairs of friends
If you are looking to rent a smaller camper for getting around Iceland, then I recommend checking out Lava Car Rental .
They are a local and family-owned company with years of experience and thousands of happy customers/good reviews under their belt.
Having built up a large presence on the island as a top rate car rental company they are now a big player in the campervan rental space as well, with large renovations to their fleet planned for the coming year.
As you will see, they specialise in smaller campers . There are a lot of benefits to renting a smaller vehicle in Iceland, as opposed to a larger motorhome.
Not least in wintery conditions and if you have little experience driving larger vehicles (especially abroad).
Vehicles on offer:
Their vans are built on the hugely popular Renault Kangoo, offering a compact and reliable vehicle for travel almost anywhere in Iceland.
All vehicles are fitted with a Webasto heating system, keeping you warm throughout those cold Icelandic nights. As well as all other essential camping equipment; such as cooking gear, sleeping bags, tables and chairs.
It's worth noting that this comes as standard, which is something to factor into pricing. Many other rental companies will charge you more for such items.
So if you are traveling as a couple or pair of friends, then these guys are definitely worth considering!
Other features worth pointing out when booking are:
They all include unlimited mileage, CDW insurance & Theft Protection
Lowest down payment percentages when booking (just 10%)
No hidden charges & free cancellation up to 48 hours before arrival
5. JS Camper Rental - Specialises in 4x4 camper rentals
Pick up/drop off location/s - Keflavik, 10 minutes from the airport
Price range - $$
JS Camper Rental specialises in 4x4 rentals, which is a must if you're heading down Iceland's F-roads. 
Their vehicles are unique, as they are pickup trucks with a small caravan-style roof box on top, which offers plenty of room for travellers. 
Each rental includes a Collision Damage Waiver, VAT, and unlimited km, so you won't have to worry about the distance you travel. 
There are also plenty of optional extras available including more insurance options, and an extra driver but the cost will increase with these.
All the vehicles at JS Camper Rental have been upgraded to the newest Toyota Hilux pickup.
The 4 wheel drive will allow you to explore Iceland's highlands if you wish, which gives you complete flexibility for your trip. 
Each rental comes with a gas stove and heater, a refrigerator, 40L of fresh water, and volt sockets. 
Although the vehicles are smaller than many other campers on this list, there is so much space! 
If you're not feeling confident enough to drive a large van in Iceland, then a Toyota Hilux is a great option. This is the same base vehicle we used for touring the rugged landscape of Norway , and it was perfect!
6. Touring Cars   - Premium camper rental in Iceland
Pick up/drop off location/s - KEF International airport, and nearby hotels
Best suited for - families and groups 
Part of Touring Car's fleet is dedicated to luxury motorhomes that have all driven less than 100,000km. 
So, if you choose this company you know you're getting a reliable, great-quality vehicle.
They also provide free pick up and drop-off between KEF airport, and free transfers to and from nearby hotels.
Each rental comes with all the essentials including unlimited km, insurance, and 24/7 roadside assistance. 
However, it's important to note that you'll only be able to hire campervans with this company if you're aged 23 or over! 
Touring Cars has six motorhomes available to hire ranging from 2 to 6 berths, and each one comes with a navigation system, kitchenware, and a cleaning kit.
The only thing to keep in mind about Touring Cars' motorhomes is that they're all large. If you'd prefer to drive something smaller, you may want to look somewhere else. 
These motorhomes are also designed with space and luxury in mind, so they aren't very budget-friendly.
However, if you're travelling as a family or a large group they're perfect. 
7. Europcar - One of the world's biggest car & van rental services
Pick up/drop off location/s - Akureyri, Egilsstadir, Hofn, Husavik, Isafjordur, Keflavik, Reykjavik, Saudarkrokur
Best suited for - any type of traveller
Although Europcar doesn't specifically specialise in campervan rentals specifically, they do have a lot to offer! 
Not only do they have several pick up points across the country, but they have over 50 years of experience. 
Vehicles also come with a GPS navigation system, mobile WiFi (which is incredibly handy), and child seats if you're travelling as a family.
If you're looking to save a bit of cash, Europcar also offers a free discount tag during your hire period which gives you exclusive discounts on fuel.
Europcar has a huge variety of vehicles at their disposal, but they don't have a big choice of vans.
The vehicles they do have include ford transits, and Volkswagen caddy's. 
You'll also find that they won't typically be kitted out as a campervan, but they're more just a way to get around Iceland.
If you're planning to bring a tent with you and camp, this will be no problem for you but just keep this in mind. You'll also be able to sleep in the vehicle if you're happy to put the seats down, but don't expect the comfort of other vehicles on this list. 
8. Go Campers - One of the leading campervan rental companies in Iceland
Pick up/drop off location/s - Hafnarfjörður, just 10km from Reykjavik
Best suited for - any type of traveller 
Go Campers is one of the most trusted camper rental companies in Iceland. 
They pride themselves on their 'no hidden charges' policy, which means you won't be hit with any unexpected fees or add-ons.
You also get unlimited mileage with each rental, a collision damage waiver, and an extra driver for FREE included! They also offer emergency 24/7 roadside assistance. 
Not only do they have a lot to offer for campers, but Go Campers is also an eco-friendly rental company. 
They offer guests the chance to offset their carbon footprint by tree planting in collaboration with the Iceland Carbon Fund .
Go Campers have 10 vehicles available to hire ranging from compact to large campers. They also have a selection of 4x4 vehicles. 
Although the amenities included differ with each vehicle, many of the campers have a heating system, a gas stove, and also come with free sleeping bags. 
If you're travelling on a budget, then Go Campers are a great choice as their vehicles start from just 10,900 ISK per day ($83). 
This is an absolute bargain, so if you're looking to save some cash - check this company out! 
9. Kuku Campers -  Has one of the largest campervan fleets in Iceland 
Pick up/drop off location/s - Keflavik
Kuku Campers has to be one of the best choices when it comes to Iceland campervan rentals. 
They have a huge fleet of vehicles , and they offer plenty of awesome extras with their rentals.
This includes unlimited mileage and a collision damage waiver. However, that's not all!
Kuku Campers also include a FREE extra driver with each rental, and fuel discounts. 
With great prices, plenty of included extras, and lots of vans to choose from - it's no wonder this company is so popular. 
They also have some great budget-friendly options!
The thing that sets Kuku Campers aside from the rest is the number of vehicles they have available to hire.
There are 15 campervans in total ranging from a 4x4 with a rooftop tent, to a large campervan. Whether you're looking for a small or large vehicle - Kuku has you covered! 
Each camper comes with a gas stove, cooking utensils, cleaning tools, and a mattress. Some of the larger vehicles also come with an overnight heater, and running water. 
So, no matter what you're looking for - you're bound to find something with this awesome rental company! 
10. Campervan Iceland - Budget-friendly company with a wide variety of campers & motorhomes
Pick up/drop off location/s - Keflavik (airport and surrounding hotels)
If you're looking for cheap campervan rentals in Iceland, this company is a perfect choice. 
They have great offers all year round, but if you travel during the low season you can get up to 50% off your rental . I thought that would get your attention! 
Each rental also comes with included VAT, unlimited mileage (on certain vehicles), and a collision damage waiver. There will also be 24/7 mechanical assistance available.
You'll even get a fuel discount card to save you some money on the road.
With so much to offer, make sure you check out Campervan Iceland! 
Campervan Iceland has eight different campers available to hire, and six motorhomes. 
They have one of the biggest fleets in Iceland, so you won't be short of options. Their vehicles range from mini-campers, right up to large motorhomes that sleep up to six people. 
Each camper has a different set of included amenities, but generally, your rental will come with sleeping bags, a heating system, a camping stove, and kitchenware.  Some even come with WiFi! 
Iceland Campervan/Motorhome Hire FAQ
How much does it cost to hire a campervan in iceland.
The cost of your camper rental in Iceland will depend on several factors. This includes the size of the vehicle, the duration of your trip, and the company you decide to go with. 
When it comes to hiring a campervan in Iceland, generally you'll pay between 10,000-25,000 ISK ($76-$190) per day for a smaller campervan , whilst renting a large motorhome will set you back between 48,000-70,000 ISK ($365-$530) per day.
How long does it take to drive around Iceland?
If you're just planning to drive the iconic Golden Circle route then this can technically be done in a day - however, we'd recommend taking your time to fully enjoy the sites.
If you want to drive your camper along the full ring road in Iceland, then you'll want to allow at least two weeks. 
Can you wild camp in a campervan in Iceland?
Since 2015, Iceland has brought in a series of new camping rules. This is to reduce the impact of tourism on the fragile environment, as t he country attracts up to 2 million visitors a year. 
If you're planning to explore Iceland by campervan, you're legally required to stay at campsites overnight. You can no longer wild camp anywhere whilst driving around the county. 
How old do you need to be to hire a campervan in Iceland?
Typically, you have to be at least 21 years of age to rent a campervan in Iceland. 
Some companies will allow you to hire a camper at 20 years of age, but it all depends on who you choose! This often comes with certain requirements like having had your driving license for at least a year. 
How long is the Golden Circle in Iceland?
The Golden Circle is the most iconic road trip route in Iceland and is 300km (186 miles) long. 
This route is also known as the Golden Triangle, as it takes you to three of the most popular attractions in the country - the Geysir Geothermal area, Gullfoss Waterfall, and Thingvellir National Park. 
So, are you ready for your Iceland road trip?
Now you've taken a look at the best campervan rentals in Iceland, it's time for the fun part! 
Whether you want to go whale watching, explore Iceland's many waterfalls, or head out on a few hikes - there are endless things to do in this beautiful country. 
Of course, your itinerary will differ depending on whether you're just road tripping the Golden Circle (like we did) or the full ring road but this country has many awesome places to visit. 
If you have any questions about campervan rental in Iceland, don't hesitate to drop them in the comments below!
For those who decide not to go for a campervan, you can always rent a car instead.
Leave a comment
Let us know what you think.
5 million people can't be wrong
Camper Rental in Iceland
Rent a campervan in iceland.
Northern Lights Special
Additional 15% Off  for all Campers for Fall and Winter 2023/2024 Seasons. In addition, 50% Off  Zero Risk Insurance
Simplified Offers
We offer exceptional discounts for Longer Rentals. Example: 35% Discount on rentals that exceed 15+ days. We also offer discounts for Repeat Customers and Multiple Campers .
Book 2 months in advance for a 1% discount. For every additional 2 months, you get a 1% discount.
6 REASONS TO CHOOSE CAMPEASY
Trip planner and navigation tablet.
You can Plan your trip from scratch or choose from expert-created templates and have it waiting for you in the included tablet with turn-by-turn navigation. At no additional rental cost! Easy Guide details.
The Only Toy Rental in Iceland
With us, you can truly get to go on the vacation you deserve. Who doesn't want a scooter, golf set , or a kayak on their holiday in Iceland? A wide range of equipment for rent, from surfboards to bicycles .
Make Continuous Changes to your Custom Vacation
Once you've booked, you get full access to your reservation in the Client area . There you can edit your dates, extras, activities, itinerary, transportation from airport, vehicle type and more.
Reduce all Deductibles to 0 ISK with Zero Risk Insurance
For 5.990 ISK a day, reduce deductibles to 0 ISK. Now includes the only camper van River Crossing Insurance in Iceland. Find better insurance options in Iceland , we dare you.
Truly All-Year-Round with Extensive Modifications
Exclusively, we insulate the interior with wool and then carpet walls and ceiling. Modified heating system to account for snow storms, added a battery (3 total) and added the Winter Kit.
Save Big by Cutting out the Middleman
Book directly with us for special deals and direct communications from the start. We offer generous discounts for Early Birds, Long Rentals and full payment.
Bring your own, or rent with us. Bicycles, surfboard, golfing gear, fishing gear, skis, or whatever you are into. We can mount it.
We have an incredibly large selection of "Toys" you can rent with us. We also provide mountings for each type- free of charge.
Highest rated campers in Iceland. We insulate using wool, have a powerful heating system, and buy expensive models from the dealer.
Build your trip online, and have it waiting for you in the camper. You can start from scratch or select an expert-made itinerary.
We have put together a selection of activities ideal for the camper way of travel. Book now, or in your included Tablet when you arrive.
0-2 Year Old Campervans
New campers, easy luxury 4x4, 0-2-year-old campervans.
Tesla Camper Y 4X4
0-2 year-old tesla.
Easy Viking 4X4
Easy Clever 4X4
Easy Ranger 4X4
0-2 year-old campers.
2023 Models Guaranteed
Tesla CAMPING Y
2-5 Year Old Campervans
Easy viking 4x4 x, 2-5-year-old campervans.
Easy Clever 4X4 X
Easy Small X
Discover guided Events operated by CampEasy and our partner Vanlife Iceland. We gather a group of like-minded explorers and adventure around Iceland. During these days we cover the best Iceland has to offer combined with the magic of living in a home on four wheels
Discover CampEasy Events
Discover Vanlife Iceland
EASY GUIDE TRIP PLANNER
Most 5-Star
#1 in industry.
VERIFIED CUSTOMER REVIEWS
Marty Upham Took out the Easy Clever in July 2019 CampEasy was a great company. The people were friendly, the unit we rented was basically brand new and it worked great. I would highly recommend anyone to use CampEasy. We saw some other people using other companies campers and I noticed that some did not have very good tires on them and looked to not be in as good of condition as CampEasy's units. We also liked how easy it was as far as how much equipment and service comes standard when you rent. It was not an extra fee for everything like Wifi, GPS system, bedding, cooking supplies. Read Original Review
Stefan Schiltknecht Took out the Easy Clever in February 2020 Very well organised company with helpful and friendly staff. We especially liked the integrated tablet solution for navigation, internet access, hot spot, manuals and a chat channel with CampEasy. Well done :-)! Read Original Review
Patricia Rojas Took out the Easy Small in January 2020 A great experience to explore Iceland also in winter! The Camper is so hot during the night, the GPS is so helpfull with the news, routes, information about campings… We didnt have any problems 😊 Also Yonan was really kind with us! I recommend CampEasy Iceland very much 🥰 thanks a lot Read Original Review
Jacquelyn Happel Took out the Easy Clever in December 2019 We had a wonderful time sight seeing this December with our CampEasy camper van. It kept us toasty warm at night and handled the snowy roads well. The staff at CampEasy, Yoann and Holly, went out of their way to make sure we had an awesome trip. I would highly recommend them and will use CampEasy again on our next trip. Read Original Review
Oscar Reyes Took out the Easy Clever in November 2019 Really convenient to be able to drive around and just stop to sleep in a van that has it all including a heating system for those cold nights. Makes chasing northern lights a lot easier. Definitely changed the way i want to travel and highly recommend this company. They are very clean, organized, and helpful! Read Original Review
Lousion Henry Took out the Easy Small in November 2019 I rent the "easysmall" campervan for two weeks, after a very bad experience with another renting company, this was simply perfect!!! The staff is super friendly and really helpfull, the camper was clean, practical and well maintained. The wifi is really efficient even in the middle of nowhere. I couldn't recommend enough this company. Thanks to the nice Luxembourg guy who check me out and the sweet Australian lady who check me in. Read Original Review
8 REASONS WE GET SUCH GOOD REVIEWS
Available 24/7, 365 days of the year. bottom right, try it now and see..
We are available 24/7, 365 days of the year. You can ALWAYS reach us on our website through the live chat in the bottom right corner. Try it now and see. We also answer all emails within 24 hours.
We take your calls 24/7 when you are on the road.
Whatever you are facing, you can always reach us. We guarantee assistance in case of breakdowns. We take your calls 24/7 when you are on the road.
Free ride to CampEasy from the airport.
Everyone gets a free ride to our offices from the airport. You book your shuttle in the Client Area. We then drop you off at the airport or bus station, at the end of your rental.
Extra duvets, pillows, pots, and much more for free.
When you go through the booking process, you'll find free extras in step 2. We want you to have everything the way you like it, so we offer extra duvets, pillows, pots, pans and more for free.
Live fleet management. We never cancel a reservation.
Once you've booked with us, you get a confirmation through the client area and via Email. Your camper is reserved in the fleet management system and we never have to cancel a reservation. If something comes up, we have a large reserve fleet to deal with it.
A pantry where customers leave unused foods for each other.
We have an exchange market, where customers stock unused foods and ingredients upon return. In stock there are always the basics like rice, pasta, salt, sugar, paper towels, cereal etc.
Wool insulation, carpeted walls, thick duvets, and 3 batteries.
Best insulation and heating system available. We are the only ones that insulate using wool, guarantee 12 hours of heating overnight and we provide thick duvets with every rental.
We answer all emails within 24 hours.
It's important to respond to every inquiry or problem quickly. We are aware that small details matter for the success of a good holiday. We'll always respond promptly.
Iceland travel advice when traveling with a campervan
For some, visiting Iceland in a campervan is just another bucket list country, and for some – the very first Icelandic vanlife experience! Our travel experts prepared answers to our customers' most common questions before traveling to Iceland and renting a campervan in Iceland.
What is the best time to visit Iceland with a campervan?
Choosing a date to visit Iceland could be overwhelming. But worry no more! There is no best or worst time to visit Iceland – just like our camper rental, Iceland is open all year round, offering a different types of activities and sightseeings ! Let us guide you through the main seasons – preparation is the key! Let us introduce you to Iceland seasons to help you to decide when it is best to book a camper in Iceland for you.
Spring (April – June) . The first Thursday after April 18 is a National holiday – the first day of summer. When you might think we get too excited – you have to experience visiting Iceland in spring and then prove us wrong. The average Iceland temperature in spring is between 0 and 10°C (32-50°F) favored, and extending daylight looks good on our treasured island. Spring is also a great time to witness Iceland's gems with the minor tourist traffic. Be sure to check out our expert-made travel trip templates for year-round road trips in Iceland or our Iceland vacation packages to find the best Iceland trip for you.
Summer (June – September) . One of the best times to visit Iceland and rent a campervan in Iceland, of course, is the summertime. The summer months are perfect if you prefer long sunny days and mild Icelandic warmth — Iceland's summer temperature swings around 10 to 15°C degrees Celsius (50-59°F). Sometimes, the sun might surprise you, and the temperature can reach 20-25 °C (68-77 °F)! Extended daylight and warmer weather are perfect for flexible sightseeing and traveling in Iceland, but remember to expect more crowds in main tourist areas.
Autumn (September – October) . The average Iceland temperature in autumn variates around 0 – 10°C (32-50°F), with a possible chance of that great summer weather come back (at times up to 18°C or 64°F). Autumn in Iceland creates a new taste for beloved attractions. Check out our Iceland self-drive vacation packages or add a few stops from our selection of tours and activities in Iceland .
Wintertime (November – March) . If you choose to travel to Iceland during the winter, buckle up – you are about to see a completely different Iceland and escape all the crowds! Iceland's temperature in winter usually stays around 0°C (32°F), bringing stronger wind and snow storms. Doubting whether you should hire a campervan in Iceland during the winter? We encourage you to do so – it's the perfect time for winter activities , and our campers are ready for any weather challenges. Also, you can rent winter sports equipment from us, bring your own, and easily mount it on the roof rack. Our campers feature a Webasto heating system and insulated wool layer, which assists our happy customers in traveling in colder seasons. It's simply easy to get the most out of Iceland camping in winter when renting a campervan in Iceland.
Is it better to plan the trip ourselves or get holiday packages to Iceland when renting a camper in Iceland?
Planning a trip might be overwhelming if you visit Iceland or it is one of your first trips abroad. We encourage you to use our predefined Iceland trip templates in the Trip Planner tool , which our clients simply love. Create or pick a template, adjust your trip, and all that's left – your arrival to Iceland! After receiving the campervan, your trip template will wait in your Easy Guide tablet , with all the necessary information and tools for a road trip around Iceland.
CampEasy Iceland vacation packages are a salvation for those who want to spend less time and effort planning their Iceland campervan road trip. Our experienced travel experts put their knowledge and time into creating the best vacation packages in Iceland. We offer Iceland self-drive tours for those who want to experience Iceland privately and make adjustments to their needs.
We are also the only campervan rental in Iceland hosting all-inclusive Iceland events . Our custom-tailored events are for those who want a planned experience in Iceland with the local hosts and a group of like-minded adventure lovers. Is there a better way of experiencing Iceland and its hidden gems than going on an adventure with locals?
What is the weather like in Iceland?
The weather in Iceland is cold, windy, and gloomy for most of the year. High latitude and the icy winds from the North Pole, impaired by the ocean and the passing pleasant Gulf Stream, is a recipe for a typical Icelandic winter. In winter, there is a limited temperature difference between day and night, winter and summer, and there are constant abrupt changes in weather and temperature. That is one of the reasons you will hear the locals say: "if you don't like the weather, just wait 15 minutes, and you'll get something different.". Want to know more? Check our information center and extensive article on traveling in Iceland before hiring a campervan, and thank us later!
What is the best time to see the Northern Lights in Iceland, and where to find them when renting a campervan in Iceland?
The Aurora Borealis or Northern Lights in Iceland are a must when visiting Iceland in winter, especially when renting a camper in Iceland. To witness these magic sky dancers, aim to late September to April. Polar nights in Iceland make these months perfect for the Aurora Borealis hunting in Iceland. Remember that the Northern Lights might not be visible in or near populated areas due to light pollution, eliminating the conditions for spotting the Northern Lights in Iceland. If you expect to visit Iceland in the summer, expect to leave the Northern Lights for the next visit. Due to Polar days, the Northern Lights are unavailable from May to September.
Planning on renting a campervan in Iceland to witness the Northern Lights but want to skip looking for the best locations? Check out our carefully selected tours and activities in Iceland to find the best Northern Light experience in Iceland for you.
How hot are hot springs in Iceland, and where to see them?
Hot or natural geothermal springs are safe to enjoy when their temperature ranges from 36-44°C (96-111°F). We advise always paying attention to nearby displayed warnings or information signs. Be mindful and enjoy safely!
Planning to rent a camper in Iceland, but not sure which hot springs in Iceland are the best or how to find them? You are welcome to check out our extensive guide on hot springs in Iceland and their locations in hot springs in Iceland article .
What factors should I consider before renting a campervan in Iceland?
Before renting a campervan in Iceland, you should consider the size of the campervan you need, whether you require 2WD or 4WD (4WD may be necessary for specific itineraries and is more expensive), and your budget. Also, consider what is included in the rental, such as sleeping bags, cutlery, unlimited mileage, and insurance​.
Iceland currency
The national currency in Iceland is the Icelandic Krona (ISK). If you are wondering about getting Icelandic Kronas before visiting Iceland, we advise leaving this worry alone. Iceland has a highly developed transactional system, and we barely use banknotes or coins – it is hard to find a place that doesn't accept credit or debit cards.
Need more bits of advice on renting a campervan in Iceland? Don't forget to check out our information center , CampEasy blog , or join Iceland Camper Community on Facebook for more relevant information about visiting Iceland in a campervan!
You can do more with CampEasy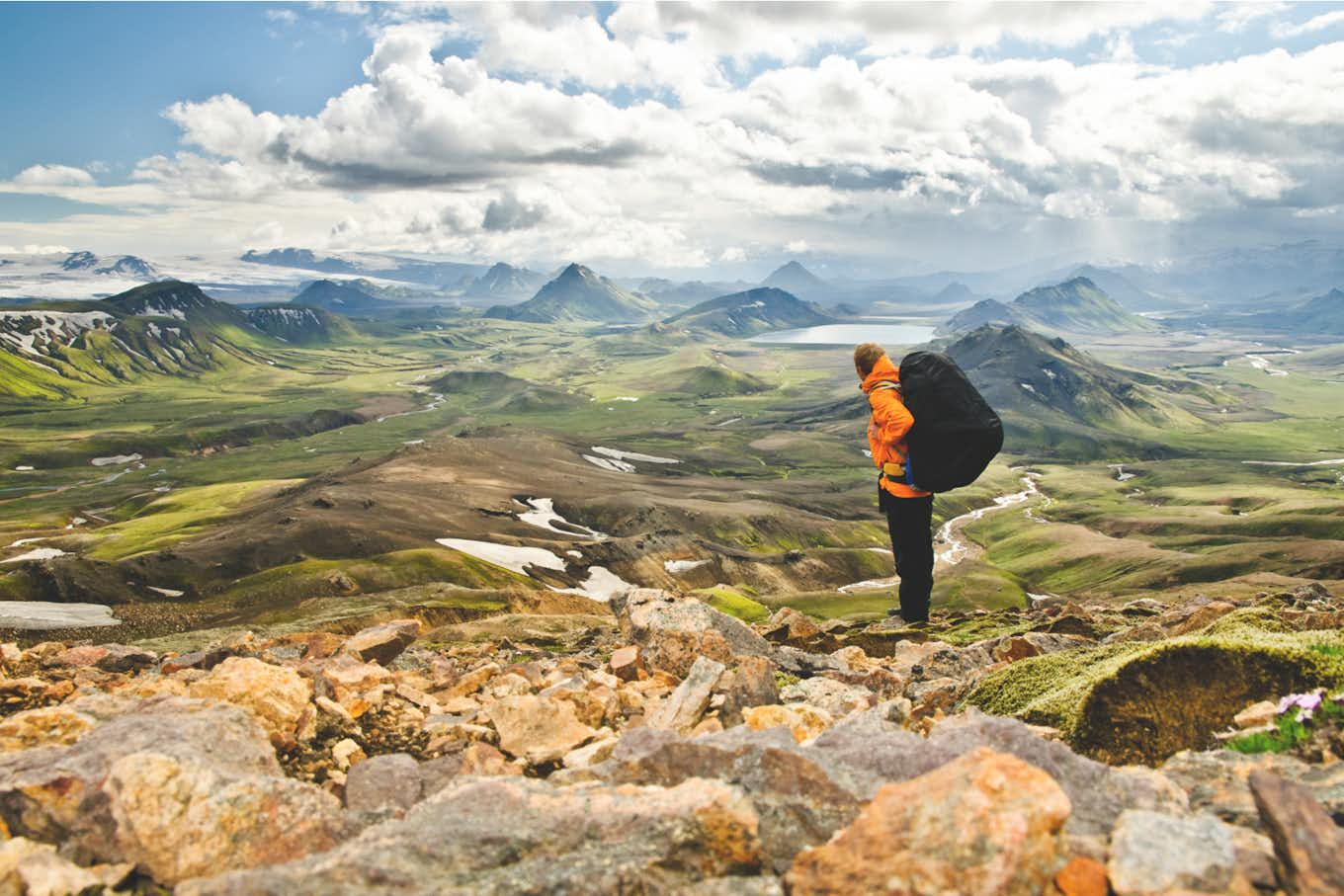 Campervan Rental in Iceland
The best fleet of RVs, campervans and motorhomes for rent in Iceland

Quick and easy booking
The process is swift, easy, and can be completed online. Simply enter your travel dates, pickup and drop-off locations, and find your perfect adventure on wheels.
Nº 1 road trip provider in North America, Oceania and Europe
Over 6.000 RVs, motorhomes, and campervans for rental across +70 locations in Europe, Oceania and North America. Start dreaming and travel with us!
Campervan and RV Rental in Iceland
Black sand beaches, lush green valleys, and thousands of waterfalls are just a few of the impressive natural features that the country of Iceland offers. Rent a campervan or RV in Iceland and explore the fairytale landscapes of the Icelandic wilderness.
Iceland National Parks
Crowded within Iceland's borders are 5 national parks, making up nearly 20% of the country's protected area. Drive your campervan or RV rental around the ring road to see otherworldly basalt columns and ancient ruins and hike up towering volcanoes.
Snæfellsjökull National Park is perched on the Snæfellsjökull peninsula. This national park is home to some of Iceland's most mesmerizing landscapes. Walk across shimmering glaciers, lava plateaus, and through rocky coves in this stunning national park.
Drive your campervan rental east from Reykjavík to the UNESCO world heritage site of  Þingvellir National Park . Learn about Iceland's rich history as you explore the ruins of the first Icelandic settlement. Or, hike between the dramatic Almannagjá fault line to see a physical thumbprint of the geological activity that lies just below the ground. 
Explore the mighty Vatnajökull glacier, which covers an astonishing 13% of Iceland's total landmass, at Vatnajökull National Park. Tour glittering ice caves, walk up Iceland's tallest waterfall and marvel at the world of volcanoes hidden below the glacier. All with the comfort of your campervan or RV rental.
Iceland Coastline, Lakes, and Rivers
When you rent a campervan in Iceland, you will have unlimited access to the glittering coastline. Rivers, springs, and lakes are abundant in Iceland and are just to be explored. 
Iceland's ring road will give you easy access to dozens of impressive waterfalls and coastlines. Drive your campervan rental towards the Havítá river. Here you'll find Gullfoss falls– the largest volume waterfall in Europe.  
Continue driving your campervan or RV rental to Dettifoss, located on the Jokulsá á Fjöllum River. Along the way, you'll pass by the gorgeous glacial lake Jökulsárlón. 
Of course, you would be remiss to pass up the stunning black sand beaches of the southern Icelandic coast. Watch nesting puffins and wild arctic waves from the black sands of Reynisfjara and Solheimasandur. These basalt-framed beaches are certainly worth the visit.
Campgrounds in Iceland
Traveling by campervan and RV in Iceland is as thrilling as it is easy; however, it's always a good idea to plan to ensure you have a safe place to stay.
Most camping sights in Iceland accept reservations ahead of time, but some operate on a "first come, first served" basis. It's always a good idea to call ahead to ensure there is room for you and that the facility can accommodate your size campervan or RV rental.
Some campsites you might consider when planning your trip are Skaftafell Campground, Hvolsvollur campsite,  Þingeyraroddi campground, and Fossatún campsite. 
For more information about campervan life, check out our blog for tips , tricks, and how-to guides. Iceland is a land of untouched beauty. Rent a campervan or RV in Iceland and explore the picturesque beauty of the Land of Fire and Ice.
Own a campervan in Europe? Earn over $30,000 per year
Have you considered earning money when you don't use your RV? List your vehicle for free and rent it out whenever you want to.
Indie Campers welcomes you at these pick-up center locations
These are the places where Indie Campers depots can be found
Check out our blog for tips on traveling in a campervan in Iceland
Your Trusted Campervan Rental Iceland
Welcome to go campers in iceland.
Keflavik Office - Airport Shuttle service
Keflavik Office
Keflavik Hotel - Shuttle service
Our great selection of campers in Iceland
Go smart camper 2-pax.
Go ICELAND Camper 2-pax
Go SMART Automatic Camper 2-pax
Go LITE Camper 3-pax
Go LITE Automatic Camper 3-pax
Go BIG Camper 5-pax
Go BIG Automatic Camper 5-pax
Go 4x4 Camper 2-pax
Go 4x4 TOP Camper 2-pax
Go 4x4 WRANGLER Camper 4-pax
Go 4x4 PRO Camper 4-pax
Go 4x4 LUX Camper 3-pax
Check Availability
Check out our customer reviews.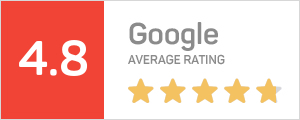 Martina & Christian
What a service provider is able and willing to do for you shows best when the circumstances get difficult – which was the case in this Corona year 2020.
With all the sudden unexpected changes in the overall situation, tightening quarantine rules in Iceland etc. Go Campers was the best partner we could have hoped for, to still make the trip happen despite all the challenges.
Jim Saunders
We wanted to thank you for everything. You were so very helpful from the first contact through to the day we returned the van. Any request for information or answers were answered very quickly and always provided the information required.
The van itself was collected very clean and the full tank was a nice surprise :-) It was small but that meant it was easy to drive and even easier to keep warm. The cooking equipment was spot on, and we cooked nearly three meals a day every day!
Why go with Go Campers?
We are travelers like you
Go Campers is your friendly, local campervan provider in Reykjavík, Iceland. We believe that seeing Iceland's beautiful nature doesn't have to be expensive and that if you rent a camper van in Iceland, you'll have an unforgettable experience in our stunning country.
With a foundation built on high customer satisfaction, today we're one of the leading campervan companies in Iceland. We are glad to provide information about things to do, what to bring, and where to go in Iceland. 
We have an excellent team that designs, builds, and maintains the fleet of campers. With years of experience in the field, we believe that our campers are ideally designed for Iceland's rough conditions.
Brand ambassadors of Go Campers
We have been fortunate enough to work closely together with these amazing people that we are proud to feature as brand ambassadors of Go Campers in Iceland. These guys are second to none when it comes to creating superb content, and it's a pleasure working with them. They have been able to test our various camper types and give valuable input on the design and our services. Check them out!
Ása Steinars  is an adventure content creator from Iceland. She grew up in the north, where she was surrounded by extreme landscapes and forever-changing weather which gave her a tight bond with nature and its forces.
She feels the best when outdoors, exploring, and taking on new challenges. Her lifestyle is built around adventures, where the industry is often lacking girls within that niche
Ása has been working with us for a few years creating beautiful content.
James Taylor is an Australian travel journalist living in Barcelona, Spain. Specializing in travel articles on Europe, he has published stories in magazines and on websites across the world.
Iceland is his favorite destination; it was while living in Reykjavik that he got his first piece of writing published. Since then, he has written about the country countless times, updated an entire guidebook to Iceland, and is currently authoring a curated guide to Reykjavik.
James has created and written all our guides, tips, and itineraries which you can find under useful info.
Check out our new customized itineraty. 
Arnúlfur  is a full-time content creator and photographer from Iceland. He has a passion for photography and videography which is showcased across his social media channels. He currently lives in Sweden but visits Iceland frequently to see family and create content.
He has been entirely focused on creating content since 2016 for his social media. He says that the key to being successful in this field is to be consistent and stubborn - in short, don't give up.
Arnúlfur has tried out a few of our campers and taken them out for trips around Iceland where he has created beautiful content for Go Campers.
Iceland Campervan Rental tips
Travel guides, blogs and tips for iceland road trip.
What to Know Before Visiting Iceland
Iceland is one of the world's most unique destinations. Find out what to know before planning your trip to Iceland.
Reykjavik on a Budget
Discover how to explore Reykjavik on a budget with our top tips for affordable accommodations, food and drink, transportation, and budget-friendly activities and sights.
The Best Tours in Iceland
There are plenty of tours in Iceland that can take your campervan trip to the next level. We break them all down in this article.
Campervan travel information
Here you can find all the information for your campervan iceland travels.
Campsites in Iceland
Camping in Iceland is one of the best ways to see the country. While renting a campervan allows you to be mobile and see the country at your own pace, campsites provide you with a safe, comfortable space to bunk down at night at an affordable price.
Read information
Special Campervan Offers
We try our very best to have all our best rates and offers presented online in our booking process. Here we have some additional campervan special deals and offers that can be secured with a credit card. Please check them out!
You'll quickly realize once you're on the ground in Iceland that it's much bigger than it looks. Here we have itineraries, puffin locations, gas stations, restaurants, and guides to various parts of Iceland.
Download these maps to your phone and navigating Iceland in your camper will be a breeze.
F requently A sked Q uestions
Find answers to most of your iceland camper rental questions in the faq section, how to get to you office (airport shuttle service).
Once you touchdown at Keflavik International Airport, you'll find our shuttle service waiting for you at the Meeting Point area on the departure side of the terminal. 
You can follow these check points:
1. As you leave the arrivals, take an immediate left turn.
2. Walk past "Arion Banki" (a currency exchange point) and take a left turn.
3. Stay on this path until you spot the red Meeting Point sign at the end of the hall.
Just a friendly note, during busy times, there may be a teeny bit of a wait for your pick-up. We promise we're doing our utmost to make this as quick as can be, and we're incredibly grateful for your understanding and patience.
What is the cancellation policy?
If you cancel your booking with more than   24 hours   of notice before the rental starts we will refund the booking in full.
Feel free to contact the Go Campers team if you have any questions. 
Where can I camp with a camper in Iceland? Are there designated campgrounds?
We advise using the campsites here in Iceland. They are plentiful and have good facilities like showers, kitchen areas, and even indoor dining halls at some locations. There's no need to make a reservation either; show up whenever you like. If you need any equipment you can contact a camping equipment rental.
Here is a map with all campsites in Iceland and all-year campsites.
If you don't have access to campsites, you must seek permission to camp for the night from the owner of the land you plan to stay on as it is not legal to camp wild. In a national park, you must use the campsite. Off-road driving is illegal in Iceland and please do not litter or leave anything behind.
All measures at the Icelandic border due to COVID-19
PLEASE BE ADVISED - All measures at the Icelandic border due to COVID-19 have been lifted as of 25 February 2022.
Why should I rent a camper when traveling in Iceland?
Iceland, the land of fire and ice, is a country of magnificent landscapes, from the epic fjords along the coast to hot springs, volcanoes and the mountainous interior. It's a country built for road trips. But campers and motorhomes are different. Motorhome rentals and RV rentals in Iceland are too bulky and car rentals leave out accommodation; campervans are a perfect choice.
Renting a camper in Iceland also happens to be the most affordable way to travel around the country. A cheap camper van in Iceland helps you save a lot of money.
How to choose the best campervan for a road trip in Iceland?
Go Campers offer a variety of different campers for your trip in Iceland, from basic and affordable 2-person vans to larger 4x4 campers. The most important thing to consider is where you're planning on traveling. For many, the Ring Road is the obvious choice. For this, any RV rental or camping rental in Iceland will do.
Others might want to venture into the Icelandic Highlands, where you'll need a 4x4 campervan to tackle the rough roads that traverse the country's interior.
What is the best time of year to visit Iceland in a campervan?
Summer is the most popular time to visit and explore Iceland because that's when the weather is at its most stable. But winter weather isn't bad! With a strong chance of snowy landscapes with the iridescent northern lights shimmering above, an entirely different adventure awaits those who rent a campervan in Iceland during winter.
On either side of the summer and winter, the shoulder seasons are also a fantastic time to travel. Prices are still cheap, the weather is varied and interesting, and the crowds haven't arrived yet.
What do I need to know before driving a car in Iceland?
Driving a camper in Iceland is a different beast. The dramatic weather conditions here can change rapidly, with strong winds, snowstorms, rain and fog.
The Ring Road is also special in that it's the main highway in the country and only a single lane each way. There are even some one-lane bridges across glacial rivers – you can probably start to see that Iceland is different.
With a bit of caution and one eye constantly on the weather, driving in Iceland shouldn't be any trouble.
Can you get by without a car when traveling around Iceland?
It's possible to travel around Iceland using public transport, but you'd miss out on all the incredible experiences that Iceland has to offer. With our Iceland van rental, you're free to travel where you want, whenever you want.
Do I need a 4x4 camper in Iceland?
A 4x4 camper in Iceland is necessary if you're planning on traveling into the Highlands of the country. This is the interior region of the country, traversed by the rough F-Roads where the only vehicles allowed are 4x4. For the Highlands a regular camper rent in Iceland or motorhome rentals in Iceland will not be enough and might even be dangerous.
What is the best time of year to rent a camper in Iceland?
The best times to rent a camper in Iceland are late March to May or September to October, offering a balance of mild weather, fair prices, and varied activities. Summer and winter provide more extreme conditions with unique experiences like extended daylight in summer or northern lights in winter.
SEE MORE FAQ
Go Campers Videos
We're constantly collaborating with travel bloggers and content creators who come to Iceland looking for an unreal adventure. Get inspired for your own Iceland campervan trip and watch the videos below.
View more videos
The Quaint Little Town of Hella in Iceland
Homepage Blog Things to do
Posted Nov 13, 2023 in Things to do
Posted Nov 13, 2023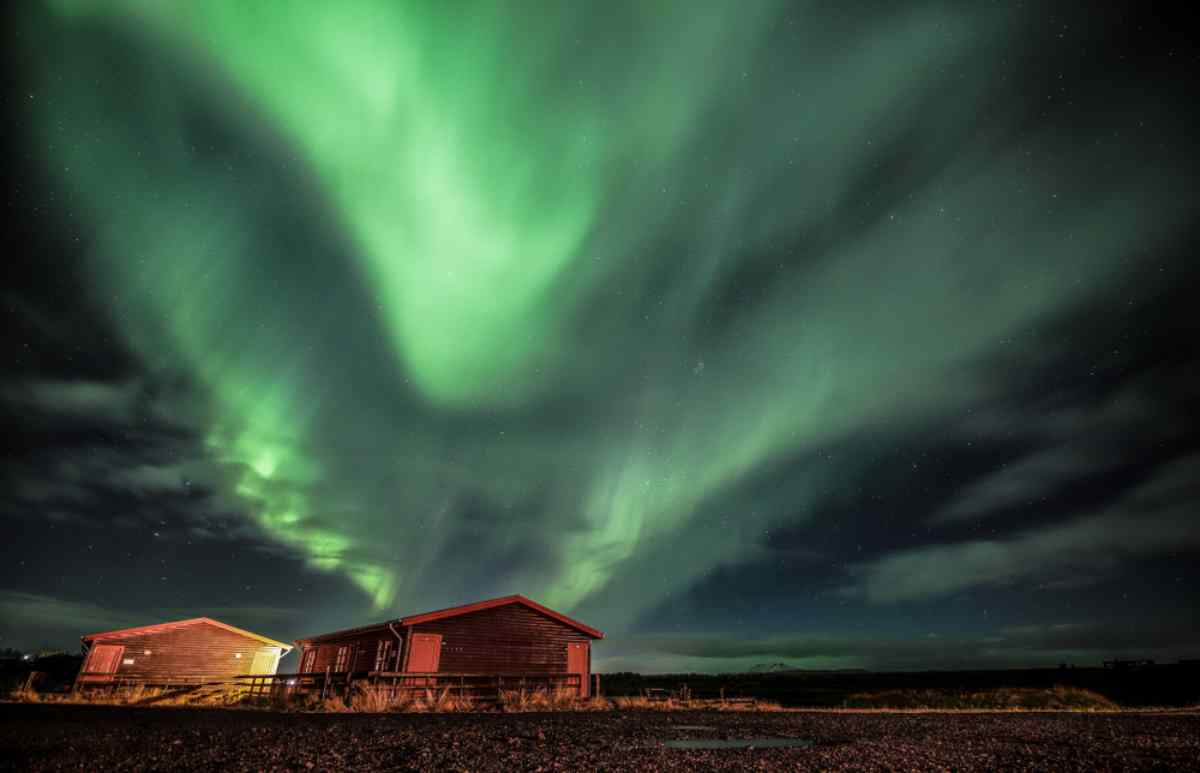 Iceland is sprinkled with smaller towns and villages that remind one of a time long ago or a picturesque setting in one of your favorite fairy tales. Hella is the perfect example of one of these quaint little towns, boasting a population of about 1600 people.
In this article, we tell you how to get to Hella and what you can expect from a visit to the town, as well as give you a few extra ideas as to activities and attractions in the surrounding area that you can add to your trip itinerary.
Where is Hella in Iceland?
Hella can be found in the south of Iceland, nestled on the shores of the Ytri-ranga River . It's about 94 kilometers from the capital city of Reykjavík, making it possible to visit as a day outing, although we'll always recommend that you spend a bit more time in the area. Since the town is located so conveniently close to the Ring Road many opt to add Hella as a stop and sleepover point along their Ring Road road trip route.
How to Get to Hella in Iceland
There are a couple of ways that one can get to Hella in Iceland:
Although you might find a few tour operators that have tours stopping at Hella, you'll have better odds hiring a guide for a private tour. Since Hella is not one of the more well-known tourist attractions in Iceland, other guided tours such as dedicated day tours or combo tours are hard to come by.
You can catch the Reykjavik to Landmannalaugar via Hella bus from the capital city. It departs daily during the busy summer months, but you'll need to double-check the operating hours during the "down" season.
Via a Self-drive
This will always be the best way to explore the island. This way, you're not reliant on anyone else and remain in full control of your time and itinerary. Getting to Hella when you've got your own transport is pretty easy. Take Route 49 to the Ring Road by taking the Vik/Hverageroi exit from Route 49. Just continue straight on with the Ring Road till you see the signs of the turnoff towards Hella. The drive will take you about an hour and 20 minutes.

The History of Hella
Hella has quite an interesting history. It's one of the towns that had some of the very first settlers on the island , but not in the way that you would've imagined. These settlers were Irish monks who only made Iceland their home for a certain period of the year.
Living off of the water and salmon from the river, they used the caves along the river as their temporary homes. But in 1927, Hella was officially founded when a man called Porsteinn Björnsson set up a store next to the bridge at the river. Today, you will still find a memorial built for him here in Hella.
Other Things to Do Near Hella
You will find plenty of things to do in and around Hella such as:
Salmon fishing
Icelandic HorseWorld Horseback riding tours
Seljalandsfoss Waterfall
The Hella Caves
Sagnagardur Visitor Centre
Keldur Turf Houses
Where to Stay Near Hella
With all the above-mentioned things to see and do in the area, it's no surprise that we recommend you stay over for a night or two. If this is something that you're considering, the following recommendation comes highly recommended:
Hotel Hella
Welcome Riverside Guesthouse
Hvolsvöllur Campsite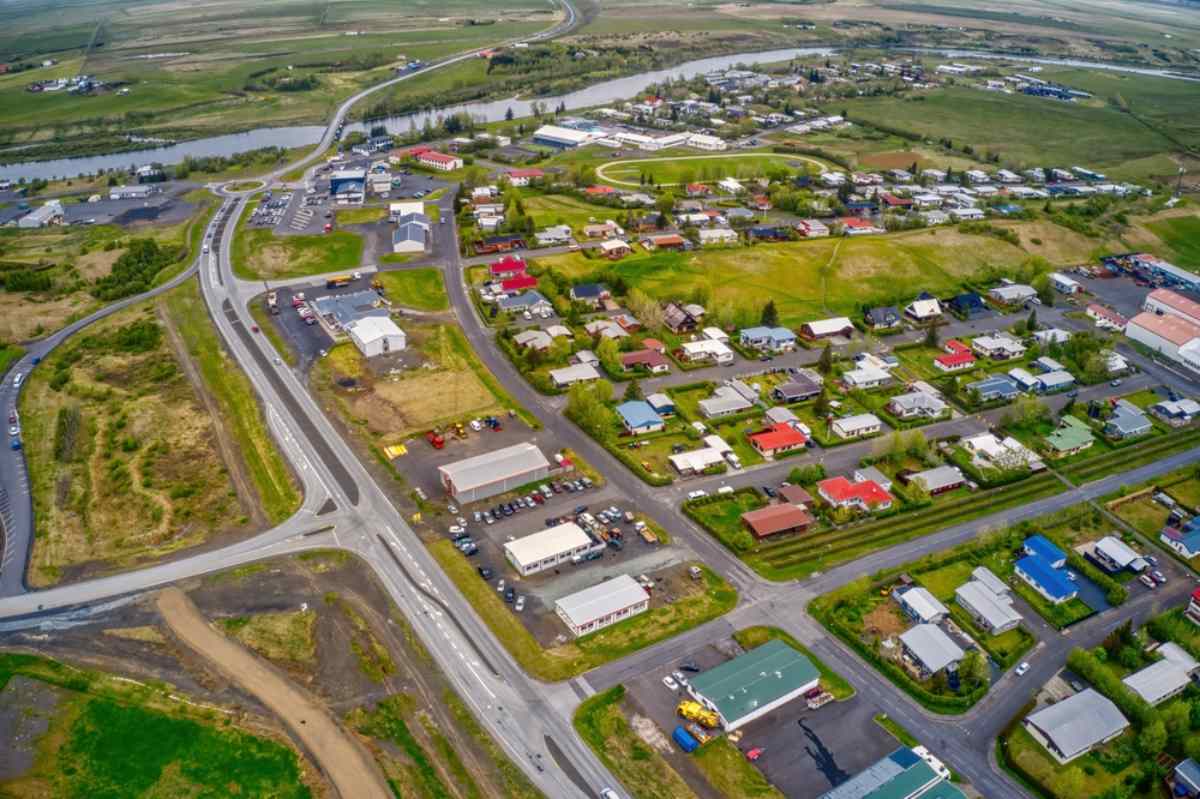 Hella; A Quaint Little Town with a Rich History
Iceland's little towns have somehow managed to encapsulate modern times whilst celebrating their rich history and origin stories. Hella is no different in this regard. And if you rent a campervan in Iceland , and stay a couple of nights at Hvolsvöllur, you'll get to experience the little town along with the wide range of other attractions and activities it has to offer. Hella is a must-add stop on any Ring Road road trip.
Related Posts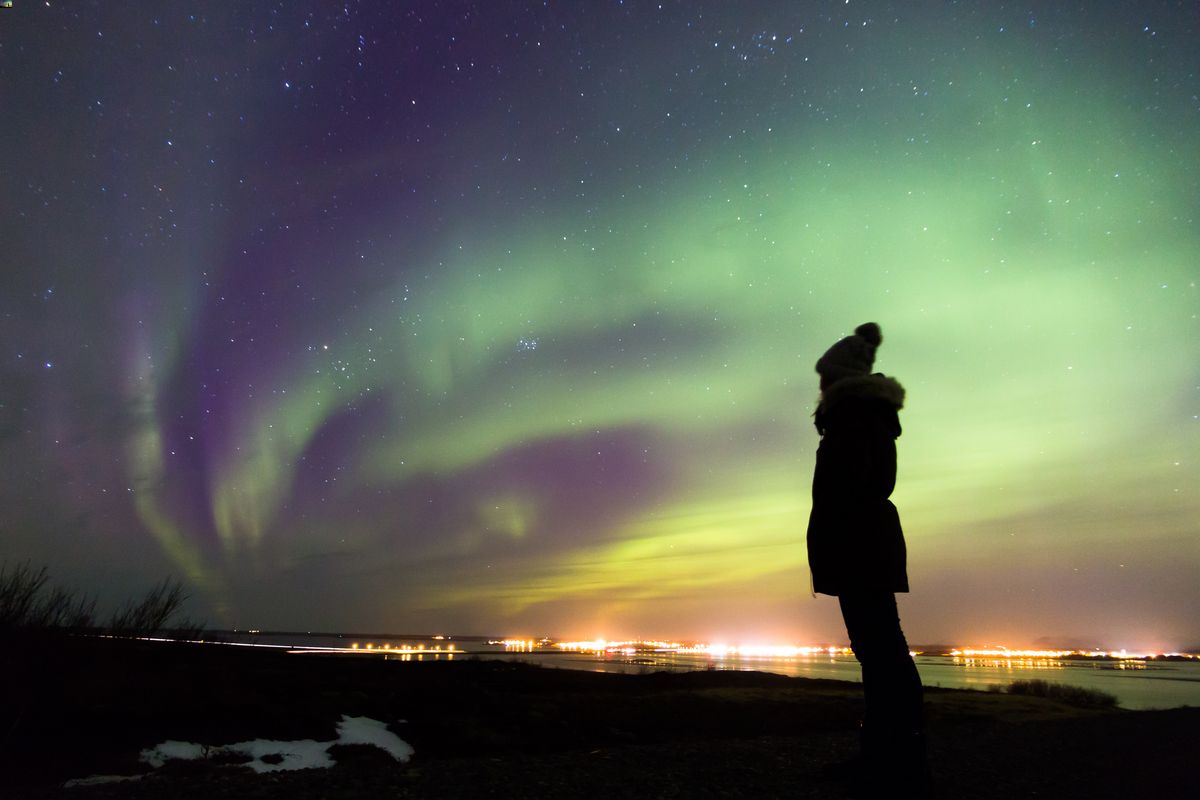 September Guide To Iceland - Discover The Best Things To Do In Iceland In September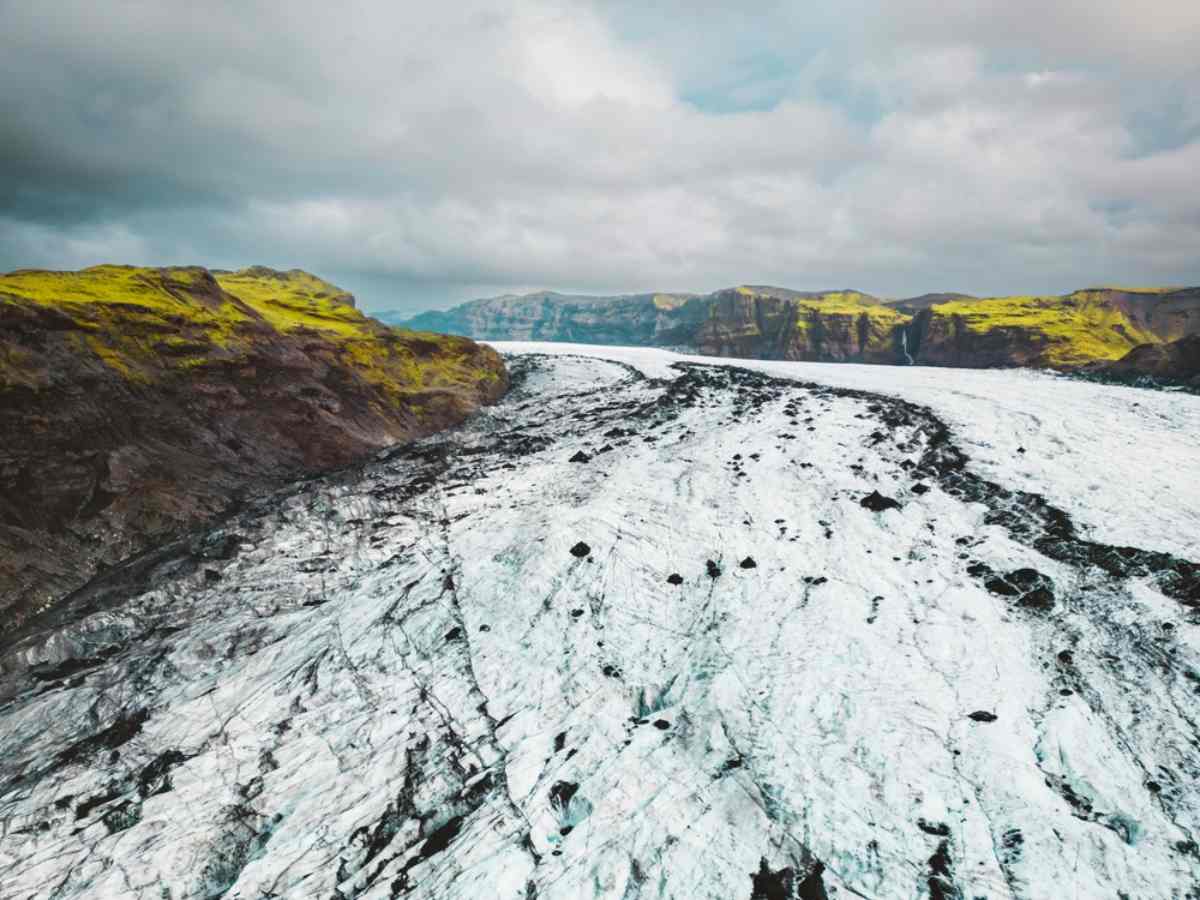 Your Comprehensive Guide To Exploring Langjökull Glacier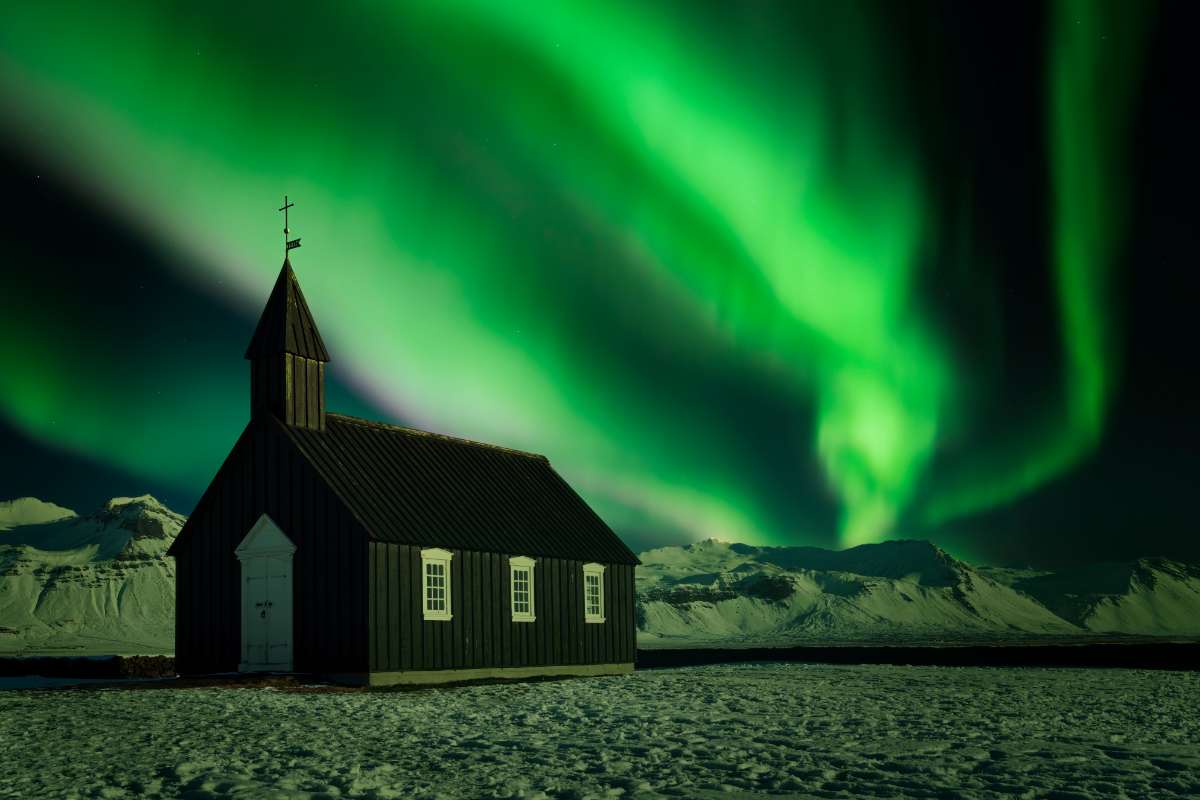 The Most Famous Churches In Iceland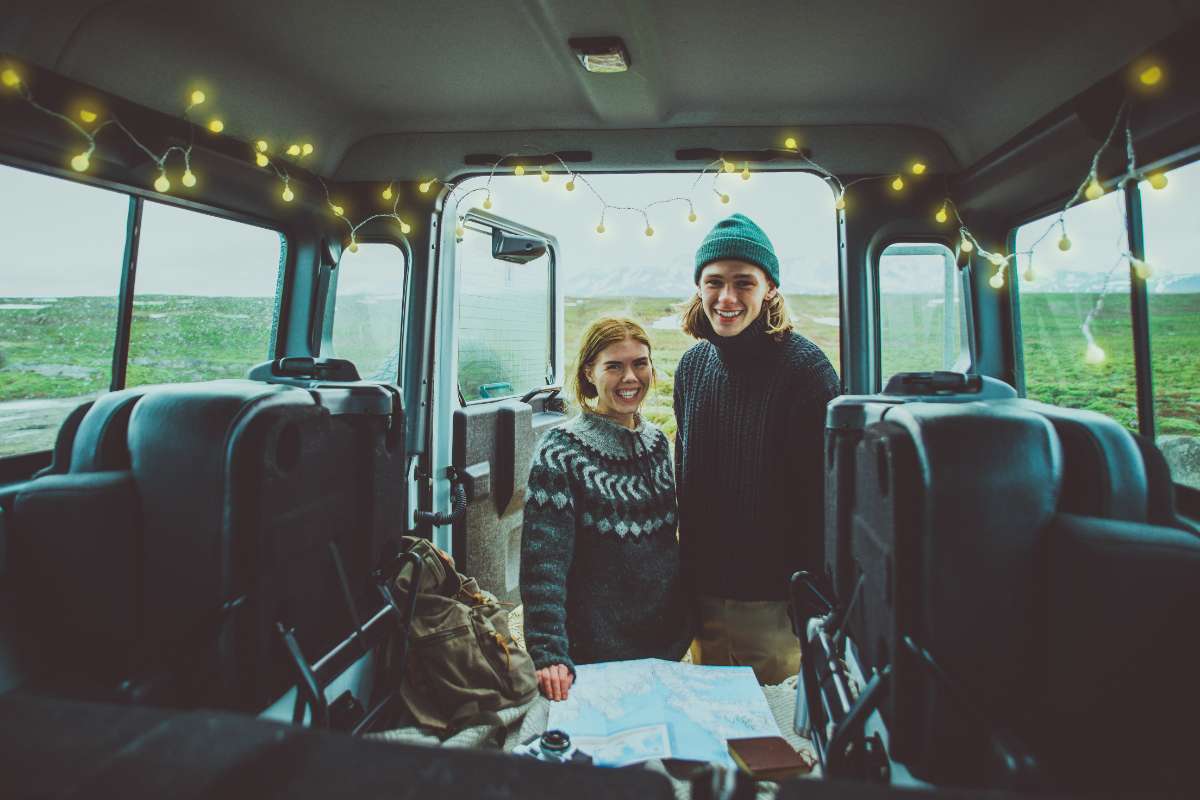 The Ultimate Iceland 10-day Itinerary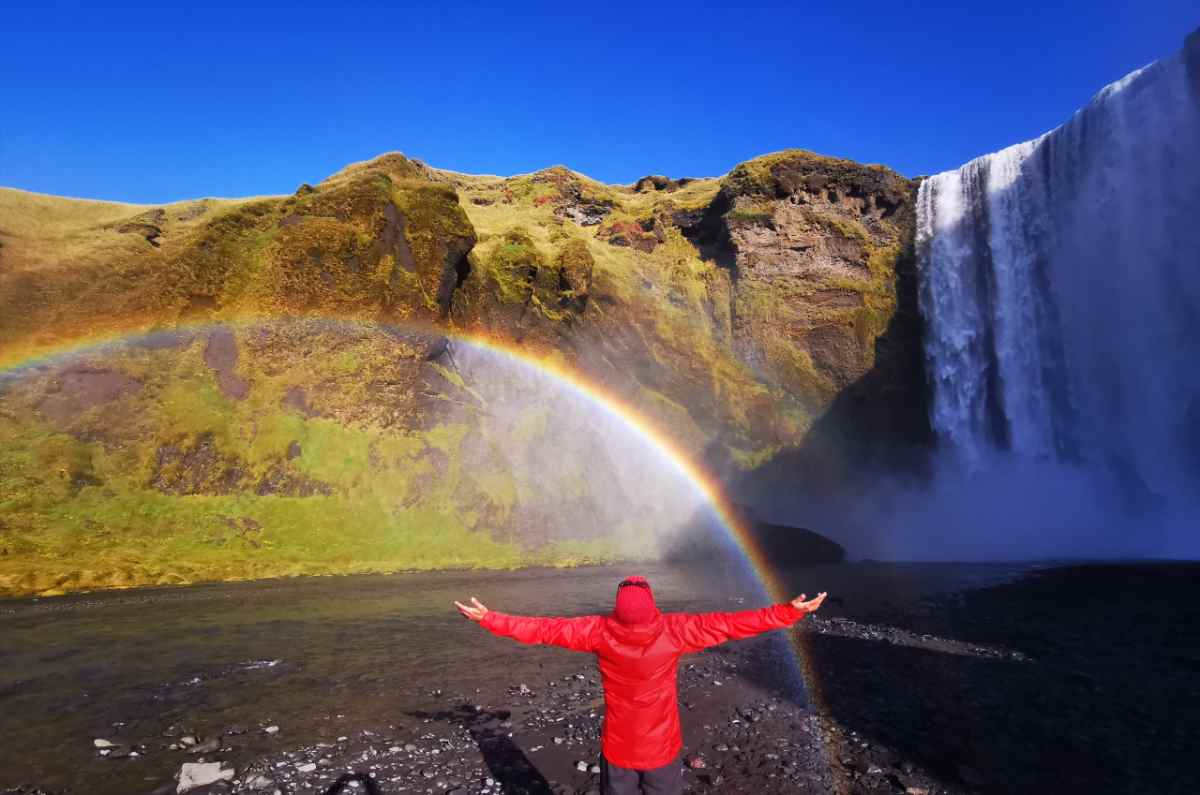 Top Things To Do In June In Iceland
Let's go on an adventure!
Unbeatable prices. Premium customer service.
Learn more about Campervan Iceland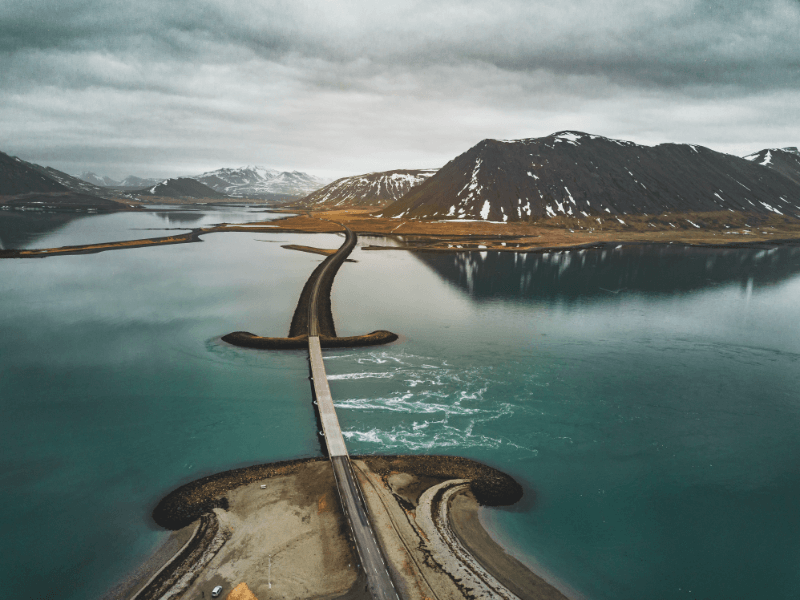 Our website uses targeted advertising cookies. By continuing, you are agreeing to allow us to deploy cookies, as detailed in our privacy and cookies policy. Learn more
Welcome to Happy Campers
Camper rental in iceland.
Don't be a tourist. Be a Happy Camper. Combine transportation and lodging in one Happy campervan in Iceland to make your adventure simple, easy, and fun.
Most experience
Eco-friendly
Family business
2,000+ 5-star reviews
Highest safety standards
Most travel resources
Our Campers
Happy 1 (NEW)
Happy 1 Auto
Renault Trafic
Happy 2 – 3pax
VW Crafter or similar
Happy 4×4
VW Transporter
Happy 4 x 4 – 3 pax
Happy 4×4 XL
Nissan NV200 or similar
Renault Trafic or similar
Renault Master
Check out our variety of extras and insurance options that you can book with any campervan from Happy Campers
Happy App + WiFi
The Happy App is an all-in-one solution that comes installed on a tablet in your van. The app serves as a GPS, itinerary builder & library, WiFi hotspot with unlimited data, weather warning system, emergency service assistant, and more. Free with new vans but €10/day for EX-categories.
Sleeping Bag
Make your adventure extra warm in the colder months (Sep – Apr) by renting a sleeping bag. In the summer, most customers are comfortable with the bedding included in the camper van rental, but if you tend to be cold, we suggest renting a sleeping bag any time of year.
Premium Plus
0 Self-risk / deductible on all of our insurances for maximum protection and peace-of-mind. Also includes free services such as vehicle lockout, incorrect fueling, and dead battery assistance.
Take all available insurance in one package and get a better price.
Gravel Protection
Gravel Protection covers damages to the entire front of the vehicle (including the windshield, headlights, and hood) caused by gravel hitting the car. This type of damage can occur when gravel is thrown into the air by the tires of another vehicle.
Nothing makes us happier than firing up the BBQ after a long day of exploring Iceland. If you are a fellow grillmeister, rent our portable gas grill, which comes with everything you need for grilling, including utensils and a propane tank.
A 12V/230V inverter (Europe) or 12V/110V (American) will allow you to charge your electronic devices using the 12V "cigarette lighter" socket in the car. It also adds a couple of USB chargers to the car, which can be convenient to charge your phones and other devices.
Camping Chair
A camping chair can make your trip a little extra special. You can sit in the perfect spot and watch one of our beautiful sunsets or bundle up and gaze at the stars. Be sure to check out our camping table for rent, too.
Our simple camping table makes it easy to enjoy a meal outside, or even inside in our larger vans. The collapsable table is simple to store in the van and lets you enjoy your meal, play cards, do the plank, or whatever makes you Happy.
Extra Driver
Would you like to make your trip more relaxing by having more than one driver? It's only fair that you get to enjoy the views from the passenger seat a bit, too. Just bring a valid driver's license for all drivers and you're all set.
Child Car Seat
We welcome all adventurers, big and small. We have child seats of all sizes available for rent so that all family members can stay safe and comfortable on the road. All chairs have been inspected and we do not use expired chairs. Safety first.
Coffee Press
For coffee lovers like us, the Bodum coffee press & thermos is as important as warm clothes. Just bring coffee and you're ready to brew and drink fresh coffee every day while on the road. Caffeine is great, isn't it?
Make your adventure easier by renting a GPS from us. You can change the language settings so you get directions in your own language (although we recommend keeping the keyboard in Icelandic so you can spell street names correctly).
Happy Iceland eBook
Get our ultimate Happy Iceland eBook when you book a Happy Campers van. This is where we share all of our knowledge in one place. Our eBook covers every important topic about traveling in Iceland so you're super prepared even before you get here.
This is the ultimate recycling station. Departing travelers leave their unused camper products for arriving travelers to enjoy, absolutely free. Stock up on the camping basics in our Free Zone.
Gas Canisters
We're the only camper rental that includes cooking gas for up to 12 days (4-5 canisters). Not only do you save money but more importantly, you don't have to spend time shopping for it when you run out during your trip.
For that extra bit of camping fun, pick up one of our yard games at the office for free. We got you covered with things like Kubb, frisbees, bocce ball, and more.
A Collision Damage Waiver (CDW) is mandatory in Iceland and we included it for free with every booking. This means that we waive the right to hold you fully liable for damages. Your maximum liability, or deductible, would be €2,500 (~$3,000), even if you total a €60,000 van.
TPL Insurance
Third Party Liability (TPL) Insurance covers damage to property your accident caused, excluding the van itself. It also covers injuries to others, including your own passengers.
Extra Blankets
Grab as many extra blankets as you need to stay warm and cozy during your trip.
Extra Cookware
Need an extra plate, can opener, or pot? Grab as much extra cookware as you need for your trip.
As a part of our mission to provide the best winter #vanlife experience, we make sure that all of our vans are equipped with studded winter tires, a shovel, starter cables, and an ice-scraper. We also include an extended winter orientation at the office.
24/7 Dropoff
Is your flight super early or late? No problem! Return the van anytime and head over to the airport. We'll take care of the check-out process the following morning. Automatically applied to all bookings with the dropoff time outside of business hours.
Bluetooth Speaker
Bring the party wherever you go with this JBL Bluetooth speaker.
Trekking poles
Planning on going some epic hikes? Rent our simple trekking poles and make the hike a bit more enjoyable.
Take the party to the next level with one of our Happy Guitars.
Safety Equipment
Safety always comes first, so we include a fire extinguisher and first aid kit in all camper rentals.
Luggage space is valuable, so you can just rent one of our (black) beach towels for your entire trip. Check out our higher-quality Happy Campers towels for purchase at the office as well.
The Super Collision Damage Waiver covers the same things as the CDW, but lowers the deductible from €2,500 (~$3,000) to €600 (~$700)
Sand & Ash Insurance
This insurance covers you in case of damage from ash and sand. Although rare, it is actually more common than most people realize and requires expensive repairs. Sandstorms are common in the highlands, and we live on an active volcanic island where anything can happen.
Theft Insurance
Protects you from liability in case the van or other included items get stolen. This only covers Happy Campers rental items, not personal items.
Scratch & Dent Insurance
Don't worry about smaller scratches or dents (less than 3 cm) by getting the S&D insurance. Zero (0) deductible on this type of damage will give you that peace-of-mind.
Adblue is used to clean up diesel emissions and we take that seriously. We guarantee that your van is stocked with Adblue for your trip.
Tire Insurance
If you damage a tire so that it needs to be replaced, you are not responsible for the cost. Just change to the spare tire, call our service phone, and we will guide you through the process of getting a new tire and you won't pay anything.
Clothesline
Don't let damp clothing and towels ruin your camping experience. This lightweight, foldable clothesline is the perfect solution for quickly drying your damp laundry.
Why Happy Campers
Happy Campers is a family-run camper van rental in Iceland. We take pride in our camper vans and take no shortcuts when designing and building them. We are the oldest and most experienced campervan rental in Iceland , so you know you'll be in good hands when you join the Happy Campers family.
Rent a camper van from Happy Campers with a few clicks, and spend the rest of your time doing what you came here for – exploring Iceland. It's simple, it's easy, it's fun!
We are Iceland's oldest campervan rental, so we have the experience to ensure that your trip is a success. We're old in years but young at heart.
Happy Campers is committed to minimizing the carbon footprint not only for our own happiness and love for Iceland but to make sure that our travelers can travel in Iceland with a clear conscience.
We're a family business and when you rent a Happy van, you'll be joining our even larger family of travel- and Iceland lovers.
Our campervans are designed to be the perfect travel companion in Iceland. You will not find a more carefully designed, colorful, quirky, and efficient vans in Iceland.
We take safety seriously and bet that you won't find these safety features elsewhere. Iceland demands that. Be sure to rent a safe camper for the unpredictable Icelandic conditions.
We want you to get the most out of your Iceland trip. That's why we created the Happy App with itinerary builder, a large video library, free eBook, the Happy blog, the Happy Challenge, a newsletter, and more. When you book with us, you'll be getting more than just a campervan.
Our goal at Happy Campers is to make the most of your trip in Iceland. We do this in many ways but perhaps most importantly, we make sure that you have all the tools, tips, and information you need before your trip. Check out our blog, extensive guides, itinerary builder, and enjoy even more after booking a van, including our eGuide.
When you book a Happy Campers van, you will get access to Iceland's most powerful trip builder app. Create your perfect itinerary with our trip builder or browse our pre-built itineraries. The app also includes other neat features, such as WiFi, weather warnings, booking services, and much more.
Have you heard of the Happy Challenge? This is where you can visit some or all of our favorite attractions and win up to 30% off your rental price, not to mention a permanent place on our Happy Wall of Fame.
As a Happy Campers customer, you'll get access to exclusive coupons and deals from over 40 trusted partners. We only work with companies we have tried ourselves and would genuinely recommend to our travelers. Take us up on our recommendations and get up to a 20% discount.
Happy Campers hosts the Iceland Camping Community on Facebook, where over 6,000 Happy Campers share their best tips, experience, and questions. A customer or not, we would love for you to join the community.
Our most useful resource is our Happy Campers map. The map includes every single campsite in Iceland and is categorized into summer, winter, and hybrid campsites. Each campsite has information about prices, facilities, and more.
Are you a professional blogger, photographer, filmmaker, influencer, or other content creator? We have a long history of successful collaborations with content creators traveling to Iceland so why not send us a line and see if we can work together?
Increased Seismic Activity on Reykjanes Peninsula: What You Need to Know
We offer a 100% refund up to 24 hours before your rental, no questions asked.
You can rent a campervan if you have a valid driver's license, are at least 18 years old, and have a credit card with at least EUR 2,500 credit limit.
Prepaid credit cards and debit cards are accepted if the customer purchases  the Premium+ insurance or the Happiest Bundle .
Yes, Happy 3 , Happy 3 EX and Happy 4×4 XL can fit up to 5 people.
We take all major credit cards and offer the following payment options:
Standard deposit: Pay 30% now and 70% when you pick up the van
Pay 100% now
Prepaid credit cards and debit cards are accepted if the customer purchases the Premium+ insurance or the Happiest Bundle .
100% refund if you cancel at least 24 hours before the start of your rental.
Find us on Instagram enjoying jaw-dropping #HappyIceland photos
happycampers_
1,263 30,713
It's the Happier version of Netflix. Start binge-watching travel videos.
Privacy Overview
Celebrate with us and for a limited time get 14% off your camper rental!
Use code HC14BDAY at checkout.
No thanks, I'm not interested!
Campervan Rentals in Iceland
Select locations
Driver's age
Driver's age : 30 - 65
I live in : Iceland
Pick-up details
Select dates
Select time
Pick-up time
Drop-off time
Most popular cars
Choose from the most popular cars in Iceland
4X4 Suzuki Grand Vitara Automatic + Roof Top Tent 2015
Nissan NV 200 2018
VW Transporter 2020
Verified customer reviews.
Read first-hand reviews by customers from across the world
Great service and an excellent price. Discussed all additional options for insurance to ensure we were appropriately covered for our trip. The car was great ( Dacia Duster) especially on the icy roads. We were collected at the airport and taken to Collect the car and then returned to the same place , very near the airport , to drop off the vehicle when flying home. All very seamless. We rang once to ask a question and got a quick response . Thankyou and will definitely use again
Joe Colclough
Great service and very freindly. We arived at the airport early so we called to let them know and someone came and picked us up within 15 minutes. Quick and easy collection process and drop off
Danny Young
Car was very dirty upon pickup. I had to stop and wash windows. Suzuki stalled or hesitated at lights and stop signs. Car also had numerous dingson exterior, which we photographed. Aside from that, all was well.
Awesome vehicle and service! Would recommend to anyone :)
Best car rentals
Check out the best car rental companies in Iceland
Frequently asked questions
Why rent a mini camper or campervan in iceland, why rent a van in iceland, what sort of cars are considered campers and camper vans in iceland, what is the difference between a camping van and a car with a rooftop tent, do i need a special license to rent a van or mini camper in iceland, what are the most popular choices of campervans and mini campers to rent in iceland, what is included in a campervan rental, are cars in this category suitable for driving in iceland in all seasons, what sort of tires do these campervans have, can i go into the icelandic highlands in this type of car, is it legal to camp in the wild in iceland, do all mini campers and vans in iceland come with a heating system, top things to do in iceland.
Book your complete trip with the best companies only
Explore an Ice Cave
Find the Northern Lights
Visit the Blue Lagoon
Go on a Road Trip
Do the Golden Circle
Visit Reykjavik
See the Glacier Lagoon
Discover the South Coast
Work With Us
Blogging Bootcamp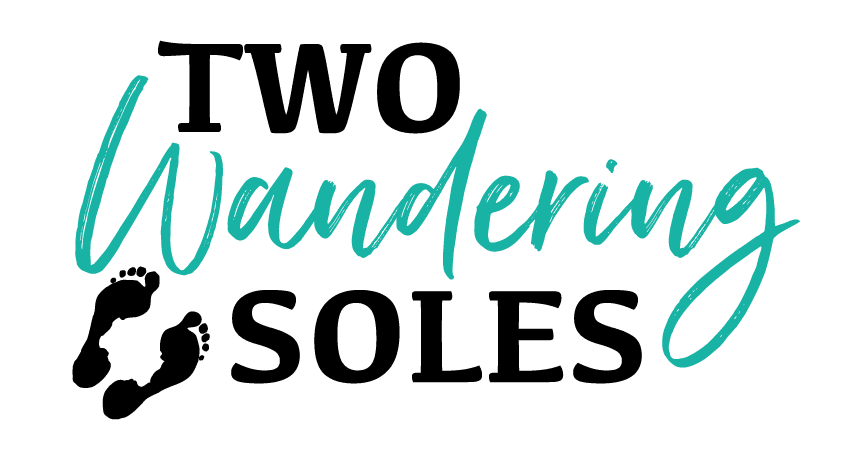 Campervan Life
Van Conversion Academy
Campervan Shop
Campervan Rentals
Plan a Trip
Itineraries
Destinations
Responsible Travel
Family Travel
Budget Travel
Scuba Diving
Travel Credit Cards
Digital Nomad
Teach English Abroad
Blogging Resources
Income Reports
Travel Shop
Meet Katie & Ben
About Two Wandering Soles
Personal Stuff
Portfolio & Press
Best Campervan Rentals in Iceland: Ultimate Guide (+ Discount!)
Home » Blog » Europe » Iceland » Best Campervan Rentals in Iceland: Ultimate Guide (+ Discount!)
If you're looking for an Iceland campervan rental, you've come to the right place. In this article, we break down all of the FAQs about traveling Iceland in a campervan, plus tell you about the best Iceland campervan rental company which we just so happen to have an exclusive discount code for.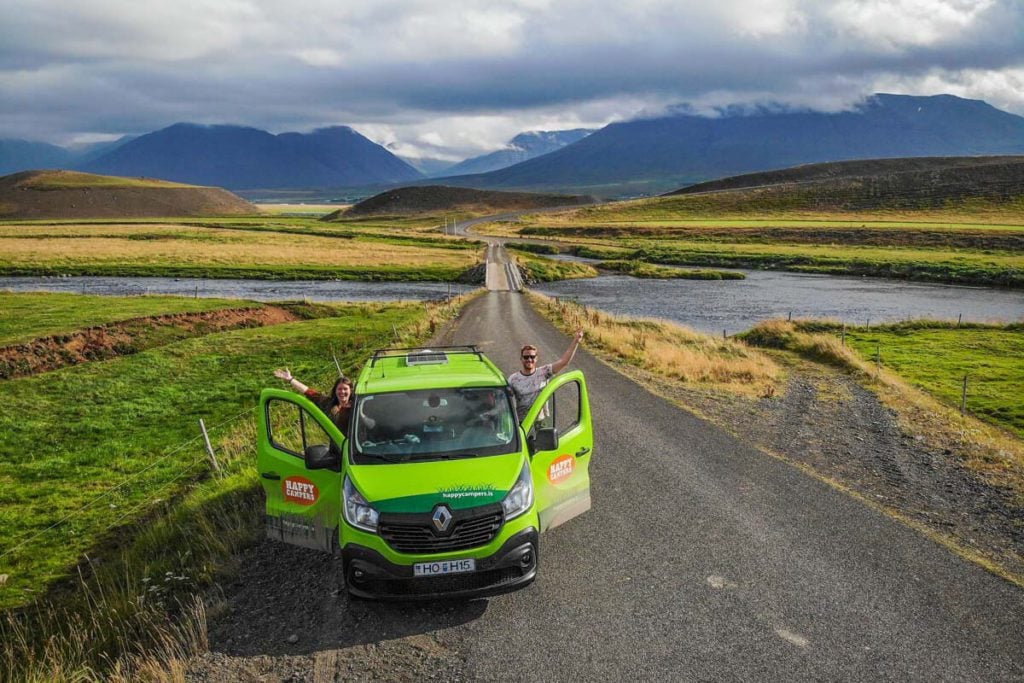 Exploring Iceland in a campervan was a dream trip of ours for many years. We finally made it happen, and I can honestly say it lived up to our expectations in every possible way.
If you've been tossing around the idea of renting a campervan in Iceland, our initial reaction is to scream through our computer screens, " JUST BOOK IT! YOU'LL HAVE THE ADVENTURE OF A LIFETIME! "
But if you're still hesitant and have lingering questions (and aren't totally convinced by the slightly crazy all-caps exclamation above!), you've come to the right place.
In this article we're going to go over pretty much everything you need to know about renting a campervan in Iceland – including the not-so-pretty parts.
We'll share exactly how to choose the best van rental company for your needs and we're sharing our personal campervan packing list (full of items we've personally tried and tested over the years).
We're also going over all the most commonly-asked questions about campervan travel so you feel 100% prepared for your trip.
Psst! Read this next to help you plan your ultimate Iceland road trip .
We truly do believe that after reading this, you'll be totally ready for a once-in-a-lifetime adventure taking on Iceland in a campervan!
So what are you waiting for? Let's dive right in…
Guide to Renting a Campervan in Iceland
Here's what we cover in this guide. Click on any of the links below to jump down to that section, or keep scrolling to get all the juicy details.
Why trust us?
Our experience campervaning in Iceland
How to Book an Iceland Campervan Rental
Best Campervan Rentals in Iceland
Why hire a campervan or RV in Iceland?
Why not rent a campervan in Iceland
Campervan vs. tent.
Iceland campervan rental guide
Iceland campervan FAQs
Tips for traveling in a campervan in Iceland
Iceland campervan packing list
Why you can trust us about campervan rentals in Iceland
If you're new to this blog (welcome!), we want to share a few reasons why you can trust us about all things campervan-related:
We have personally built 3 campervans from scratch .
We have traveled all over the US in our own campervans.
We have rented vans all over the world, in New Zealand , Iceland , Scotland , and Ireland .
Now do you understand why I said we're obsessed!?
I mention all of this to let you know we have a lot of personal experience on this subject. We truly know what we're talking about and in this article, we're sharing our expertise with you.
Also, we simply love connecting with others who are interested in RV and campervan adventures, so let's be friends !
Quick English language note: We use the words "rental and "hire" interchangeably in this article. So we might say "Iceland campervan hire" or "hiring a campervan in Iceland" and it means the same as "renting a campervan in Iceland."
Our personal experience traveling in a campervan in Iceland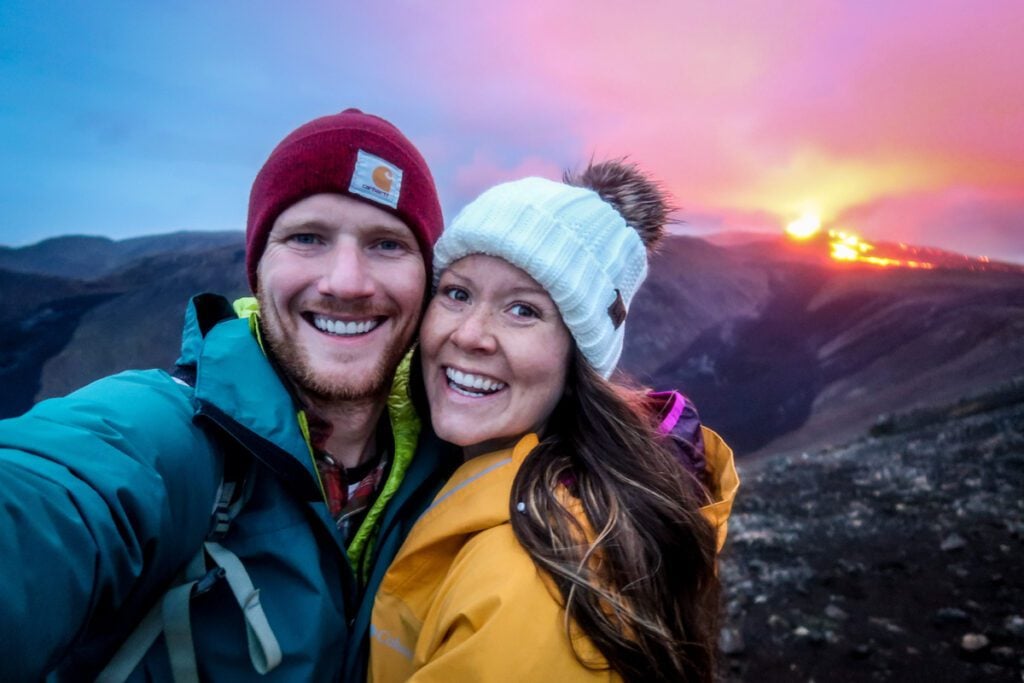 We've traveled to Iceland multiple times and one of those trips was a two-week campervan road trip around the Ring Road .
We feel like a campervan or motorhome really gives you an added level of freedom that you just don't have when you're staying in a hotel or Airbnb, and we honestly think it's the best way to explore Iceland.
Since we've personally explored Iceland in a camper ourselves, you can trust that we know what we're talking about in this article and are sharing tips that will truly help you plan your own trip.
Our top Iceland campervan rental recommendation
If you just want to skip to our overall recommendation, here it is:
Our top pick is Happy Campers . We booked with them and LOVED it! We also have a discount code for you down below so keep reading for that.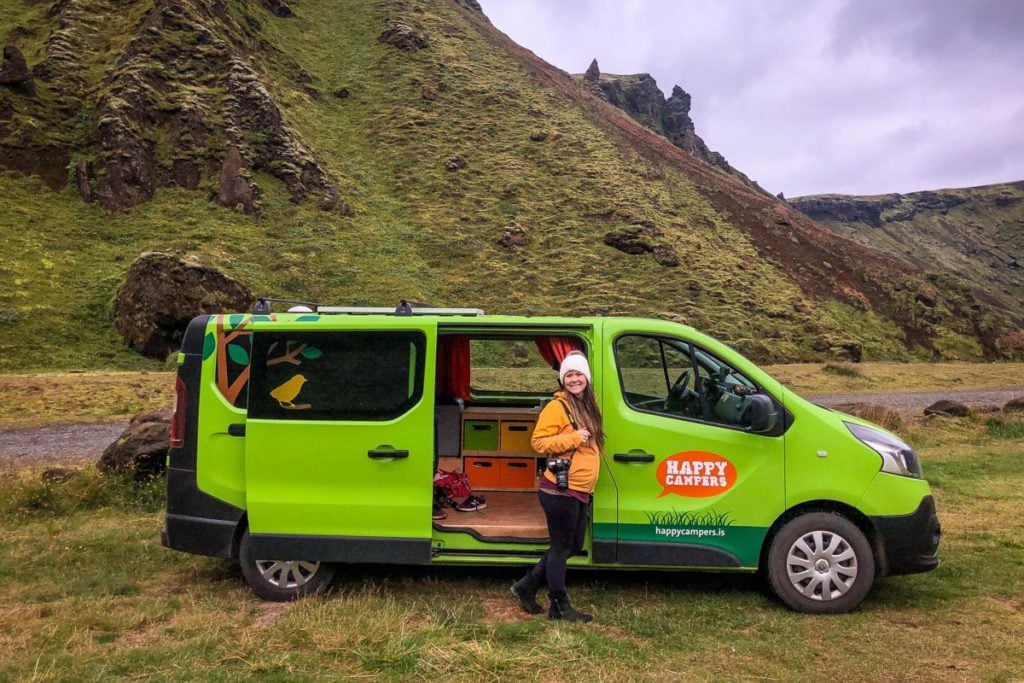 If for some reason our top pick doesn't work out for you, we'd recommend using Motorhome Republic to compare all rental options for your dates.
We'd highly recommend you continue reading this guide as it is packed with insider tips on what to look for when choosing your vehicle, mistakes to avoid, and some other companies we'd recommend if you have a different budget or travel needs.
Want to save time and energy on planning?
We've traveled to Iceland 3 times now and spent weeks living in a campervan, traveling around the country. We've been able to explore a lot of what Iceland has to offer!
We've compiled our experience to create the  perfect Iceland itinerary . Our itinerary is for 7-9 days and meant to be explored while traveling in a campervan. It includes the  highlights of the southern coast of Iceland. 
We'll send you our complete 7-9 day customizable itinerary, filled with tips and advice. Just click below to get your perfect Iceland itinerary today!

How to book a campervan rental in Iceland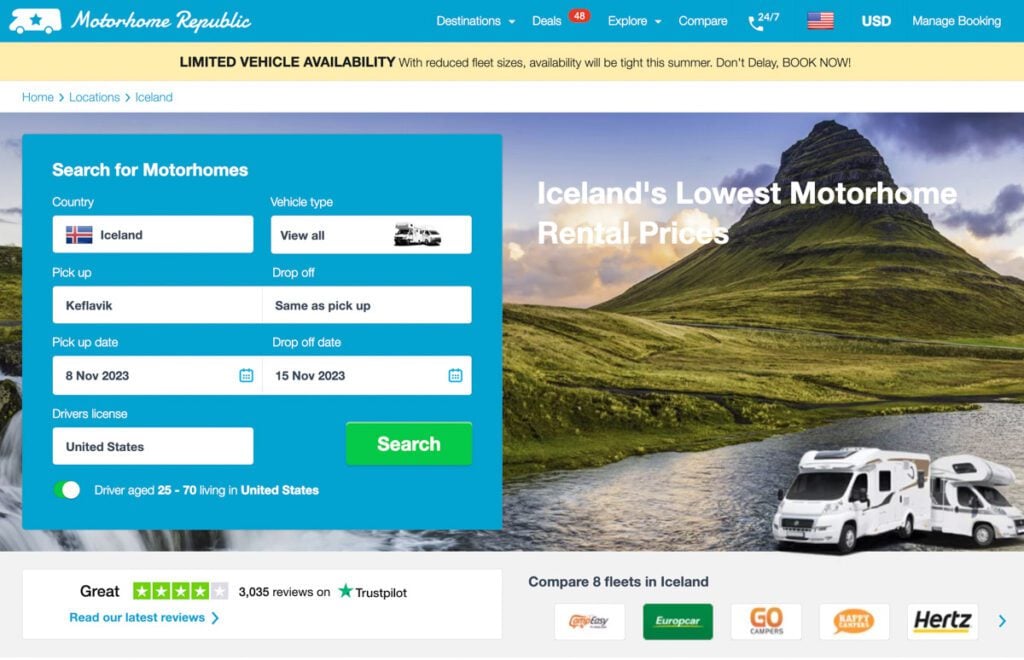 Trying to figure out which company to rent a campervan through can be a daunting task.
We've done it 4 times now, so we know how overwhelming it can be the first time.
Our go-to place to find the best campervan rentals in a particular destination is Motorhome Republic . This is an aggregate (kind of like what Booking.com is for hotels or what Discover Cars is for car rentals) that rounds up all the options in one place so you can easily compare them .
We really like using their filters because you can input the number of travelers, and other important features like "automatic transmission" and amenities like a toilet or shower.
Additionally, you can choose to display options within a price range or filter by the highest reviews, making it a really handy and user-friendly tool.
Take our recommendation: If you simply trust us that Happy Campers is the best (which it is!), go to the Happy Campers website , scroll down to the type of camper you fancy, and tap BOOK NOW. Select your dates, and fill in your info and you'll be all set!
Best campervan rental companies in Iceland
Okay, you've got Motorhome Republic pulled up for your dates and you can see all your options… But how do you even begin to choose between the companies?
Being that we've personally rented campervans all around the world (and have built 3 of our own!), we feel like we have a really good handle on what to look for.
The companies below have been hand-picked by us , and we think each can be a good choice depending on what it is you're looking for.

We've scoured reviews, compared specs, and analyzed prices to bring you a comprehensive list of the best campervan rentals in Iceland so the decision is a little simpler for you.
We're sharing what company we chose to rent with, but we'll also highlight some other companies in case you think a different one would be a better fit for your personal needs or budget.
For each company, we're sharing pros, cons, and price points (budget or mid-range) to make this big decision a breeze.
Happy Campers
Price range: $-$$
Recommended for: all types of travelers
Pick-up/drop-off locations: Keflavik, just 5 minutes from the airport
Check availability here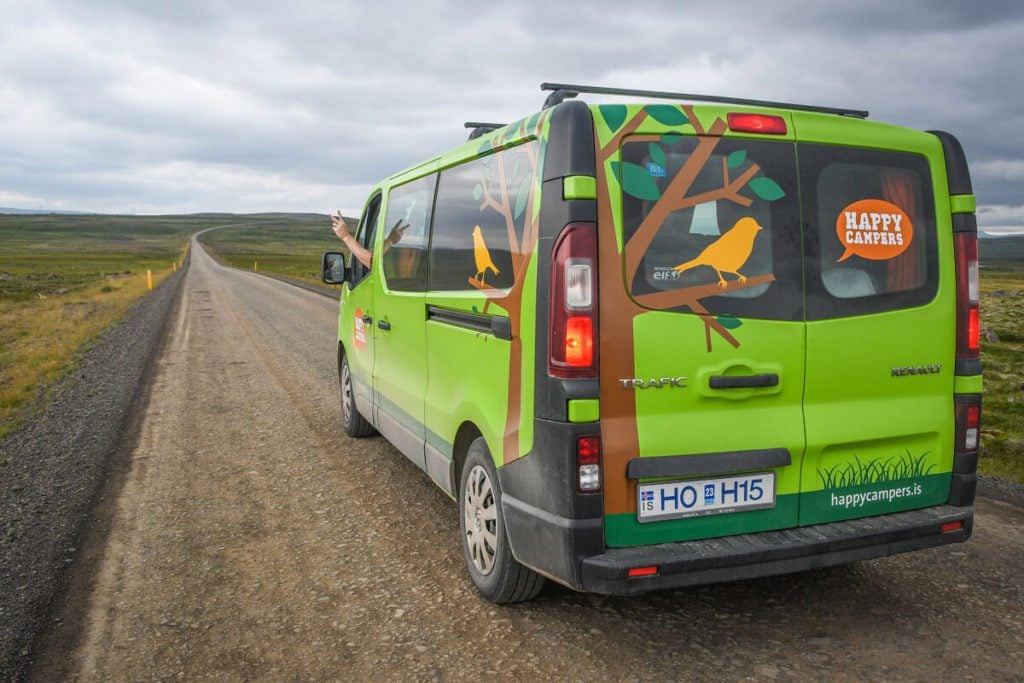 Happy Campers is a family-run campervan rental company that was established in 2009, making it the first of its kind in Iceland. They have more than 1,200 5-star reviews , so we're not the only ones who've had a great experience with them!
In an effort to keep this section short (we'll go into further detail about our experience in the next sections) we're just sharing our favorite pros and some cons we noticed when renting through Happy Campers. But don't forget about the discount code below !
Type of Vehicles: Happy 1 (sleeps 2, drives 2), Happy 2 (sleeps 2, drives 4), Happy 3 (sleeps 5, drives 5, tall roof), Happy 4×4 (sleeps 2, drives 4, 4×4 vehicle)
Here are some of the things we appreciated about Happy Campers:
Family business in Iceland
1,200+ 5-star reviews
Colorful and well-designed van layouts
Longest-running campervan rental company in Iceland
Many different layout options as well as different price points
The Happy App comes on the tablet in your van, and is super helpful!
Unlimited 4G WiFi for up to 5 devices (in most of their rentals)
Unlimited miles
Partner discounts are available for some tour companies around the country
They have everything you need for renting a campervan during the winter season
They plant 1 tree for every booking in their "Happy Forest", which is located near the rental office
Free cancellation
Free airport shuttle
Like most campervans in Iceland, Happy Campers 1, 2, and 3 are not insulated well. The Happy 4×4 is insulated. But the Webasto heater kept us warm all night long.
Access to the under-seat storage was a bit clunky but doable.
Happy Campers Discount Code
Now here's the part you've been waiting for…
We've partnered with Happy Campers to offer an exclusive discount to our readers. When booking, be sure to use the code TWS5 to get 5% off your total rental bill (that adds up to quite a bit!).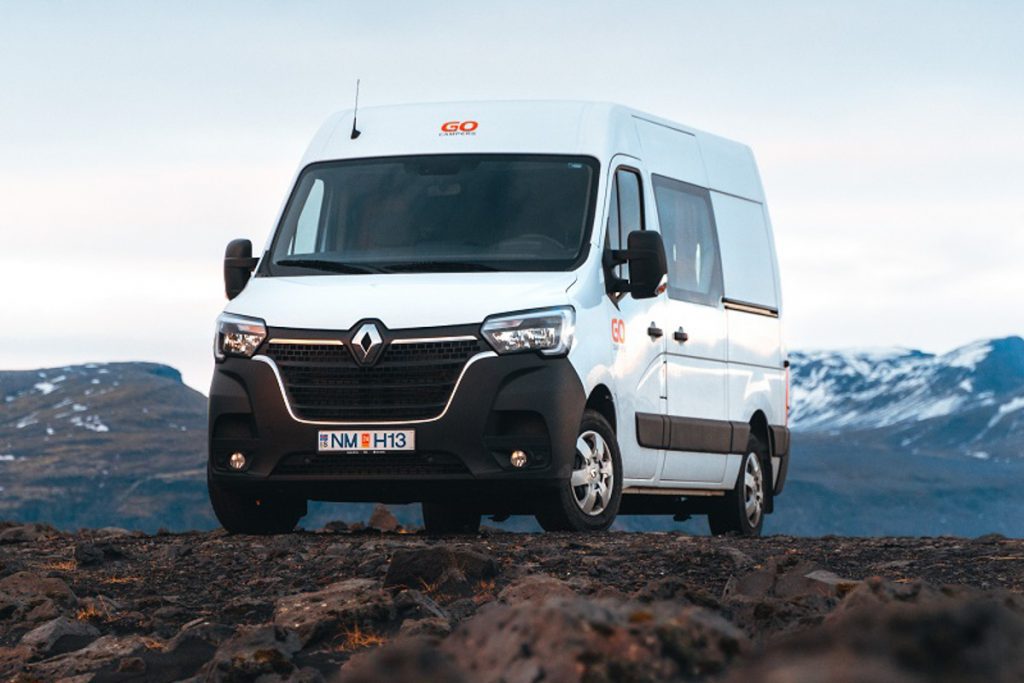 Go Campers is one of the most popular rental companies in Iceland. We love supporting locally owned companies while we travel, so this was one of our top contenders when we were on the hunt for the perfect Iceland campervan rental.
They have one of the widest varieties of rentals from a basic campervan to larger rigs with 4×4 capabilities, so no matter your travel style, you can find a campervan that best suits your specific travel needs.
Who is this rental for: Travelers that don't want to break the bank, but want a variety of options to find the perfect campervan. Go Campers have ten different campervan builds to choose from, so they're a great company to go with for all types of travel styles.
Type of vehicles: Go Smart (2-Pax), Go Iceland Camper (2-Pax), Go LITE Camper (3-Pax), Go Big Camper (5-Pax), Go 4×4 Camper (2-4 Pax)
Highly-rated local company
Rentals come with a fuel discount card at select gas stations
Rentals are compact and easy to drive.
Larger rental options that fit the whole family.
The rental fleets are newly built ranging from 2015 to 2022.
A lot of different rental options depending on where you're traveling in Iceland.
Depending on your travel style, the plain exterior design is excellent for staying under the radar.
You can only stand up in the larger model conversions.
The 4×4 models are more compact and offer less space.
No toilets inside.
Some vehicles have a 5-day minimum.
Cost per day: Varies depending on campervan style
Peak season costs: 32,000 – 88,000 ISK/day (~$240-$647 USD/day)
Low season costs: 11,600 – 39,700 ISK/day (~$85-$290 USD/day)
Recommended for: all travelers, especially couples and friends
Pick-up/drop-off locations: Keflavik, just 5 minutes from KEF airport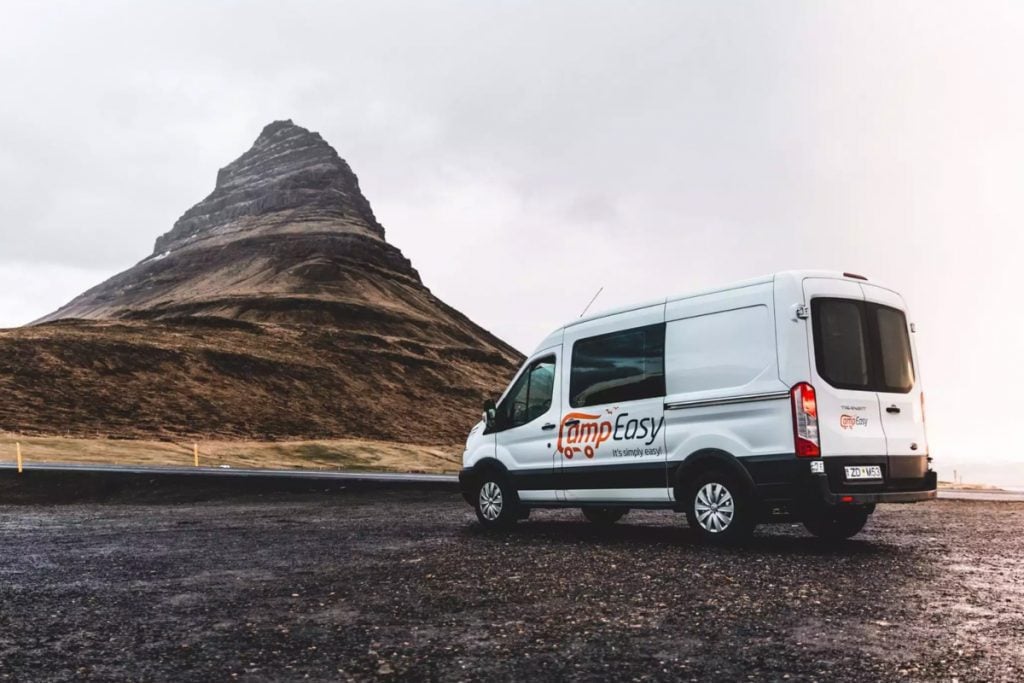 CampEasy is the highest-rated, family-run campervan rental company in Iceland. Their builds focus on comfortable beds and roomy living areas so that you can make the most of your home on wheels while exploring Iceland.
They prioritize feature-rich Volkswagen base models to build the perfect custom campervans to add to their existing fleets.
If you're looking for a new and shiny campervan to take for your road trip, their new fleet has an impressive selection of vans that are 2020 and newer. If you don't mind an older build, they rent their older fleet for cheaper, making it a great budget-friendly option.
Who is this rental for: From backpackers to boujie travelers that are looking for a reliable Iceland campervan without compromising comfort and amenities.
The new fleets are appealing for those that want all the frills and have extra money to spend while the older fleets are a great budget-friendly option.
Type of vehicles: New Fleet: Easy (Small, Fun, Auto, Big), Easy 4×4 (Ranger, Clever, Viking) / Older Fleet: Easy X (Small, Fun, Auto Big), Easy 4×4 X (Clever, Viking)
One of the highest-rated Iceland campervan rentals.
Large-capacity fuel tanks and amazing gas mileage.
Larger rentals are available that will fit the whole family.
They rent out their older campervan fleet for cheaper.
Discounts are available for early bookings, low-season bookings, and bookings over five days.
Depending on your travel style, the basic exterior design is excellent for staying under the radar.
You cannot stand straight up in smaller models.
Limited storage space.
Cost per day: Varies depending on campervan style
Peak season costs: 53,000 – 91,000 ISK/day (~$389-$665 USD/day)
Low season costs: 14,000 – 35,500 ISK/day (~$105-$259 USD/day)
Important Note : These prices are before any discounts are applied, so make sure you put in your trip dates to see all of these prices discounted. The discounts on their 4×4's (both fleets) are especially worth looking into to compare prices.
Campervan Reykjavik
Price range: $$-$$$
Recommended for: larger-budget travelers
Pick-up/drop-off locations: Keflavik, 5 minutes from KEF airport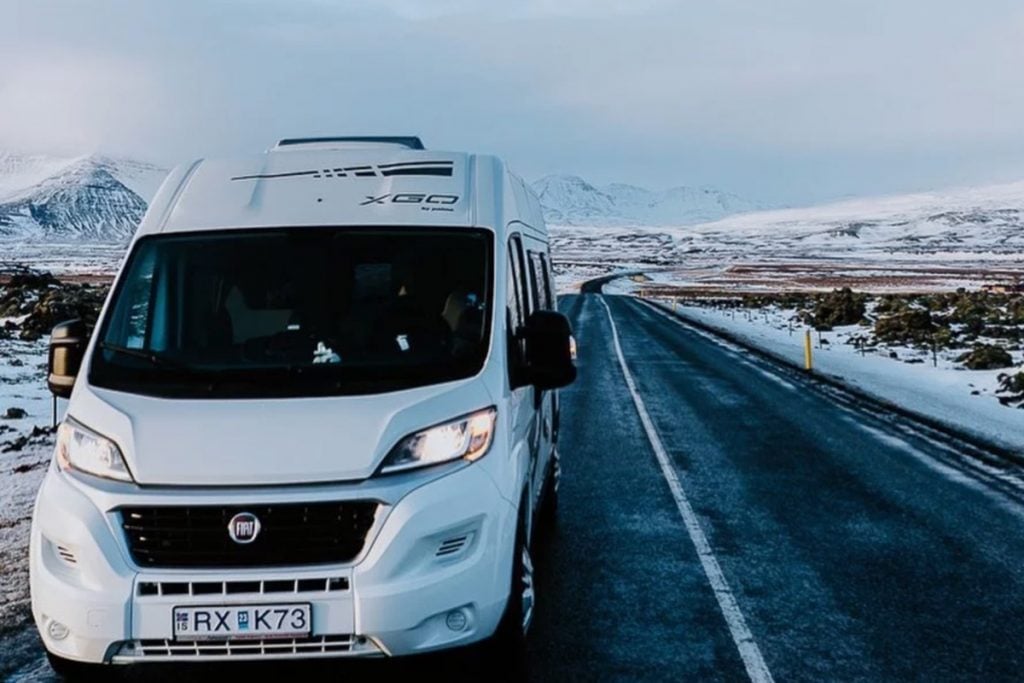 Campervan Reykjavik is registered with the Icelandic Tourism Board and has been providing quality, top-notch Iceland campervan rentals since 2008. Almost all their builds are new and updated, so they can take on rough roads and Iceland's ever-changing weather with ease.
They value creating long-lasting relationships with their customers by sharing their extensive local knowledge and experience so that you can have the most memorable campervanning trip.
Who is this rental for: From travelers with a larger budget that don't want to drive big rentals to couples that prefer a full-service motorhome for road trips.
Type of vehicles: Nissan NV-200/Kangoo, Fiat Doblo Maxi, VW Caddybeach Mini Camper, Duster/Jimney 4×4 Roof Tent, Forester/Renegade 4×4, Renault Trafic, Renault Master, Marco Polo 4×4 / VW Ocean, Fiat Ducato XGO X-Van, FIAT Citroen Plasy HP63, Knaus Weinsberg Pro, FIAT XGO Dynamic 35/39.
Full pricing transparency
Many different styles and layouts to choose from, including motorhomes.
Newer models from 2016 to 2022.
Low-profile builds and rooftop tent options for stealth camping
Free insurance (CDW, SCDW, GP, and TP)
Fewer automatic options.
On the expensive side since all insurance is automatically added to the cost (and you're unable to take it off).
Rentals don't come with kitchen utensils, table and chairs, or sleeping bags.
Larger rentals can be difficult to drive.
Cost per day: Varies depending on campervan style *prices include insurance
Peak season costs: 19.000 – 66.000 ISK/day (~$135-$460 USD/day)
Low season costs: 11.000 – 47.000 ISK/day (~$80-$330 USD/day)
Motorhome Iceland
Recommended for: Couples and large families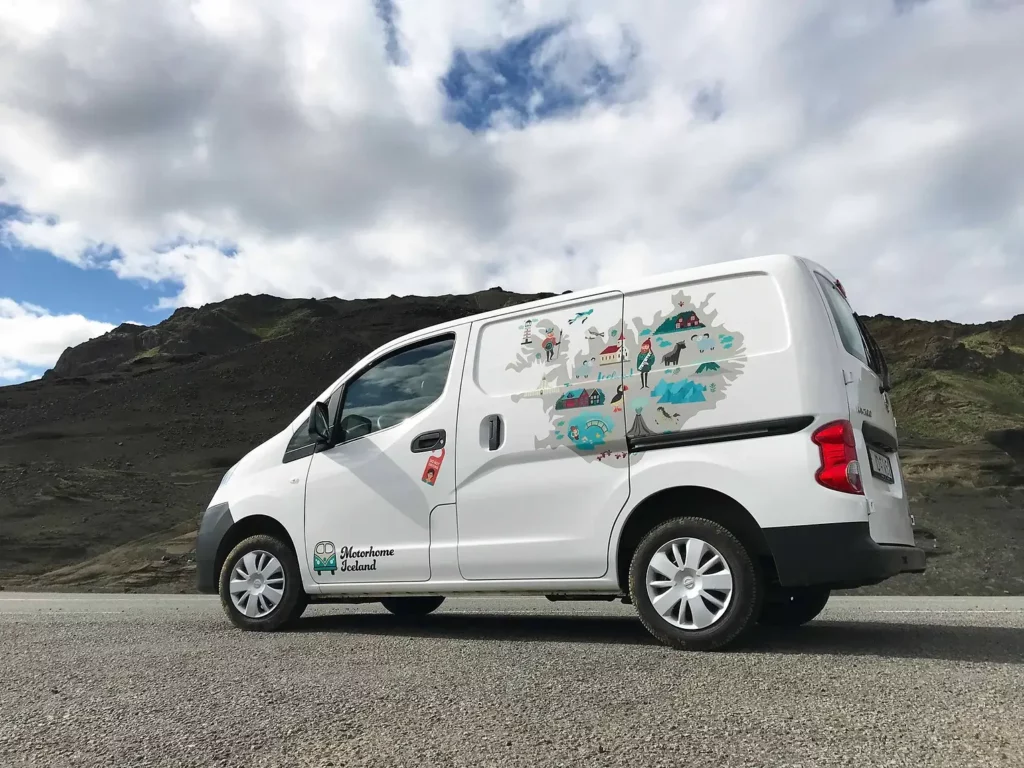 Motorhome Iceland is one of the most trusted motorhome rental companies for bringing all the modern amenities of a home on the road.
They're a part of Scandinavian Travel Services EHF, which is recognized by the Icelandic Tourist Board, which means they offer stellar customer service along with updated campervans with all the bells and whistles.
Who is this rental for: Couples and large families that want to travel Iceland thoroughly, at their own pace. Motorhomes are an attractive option for older couples looking for the most comfortable place to stay after adventuring all day.
Type of campers: Camper for 2, Camper for 3, Camper for 5, Camper 4×4 for 3, Camper 4×4 Navara, Camper 4×4 for 5.
Type of motorhomes : Motorhome for 2+, Motorhome for 3, Motorhome for 4+ PLUS, Motorhome for 6, Motorhome for 6+.
All the comforts of home, but on wheels.
Showers and toilets inside the motorhomes.
Loads of storage space and potable water inside the builds.
New builds reduce the risk of car troubles.
Driving a larger vehicle can be difficult.
Poor gas mileage for motorhomes.
High cost per day.
Peak season costs: 44.000 – 102.000 ISK/day (~$310-$715 USD/day)
Low season costs: 20.000 – 44.000 ISK/day (~$140-$310 USD/day)
*Note: You cannot book motorhomes during winter time.
Kuku Campers
Recommended for: backpackers and budget-conscious travelers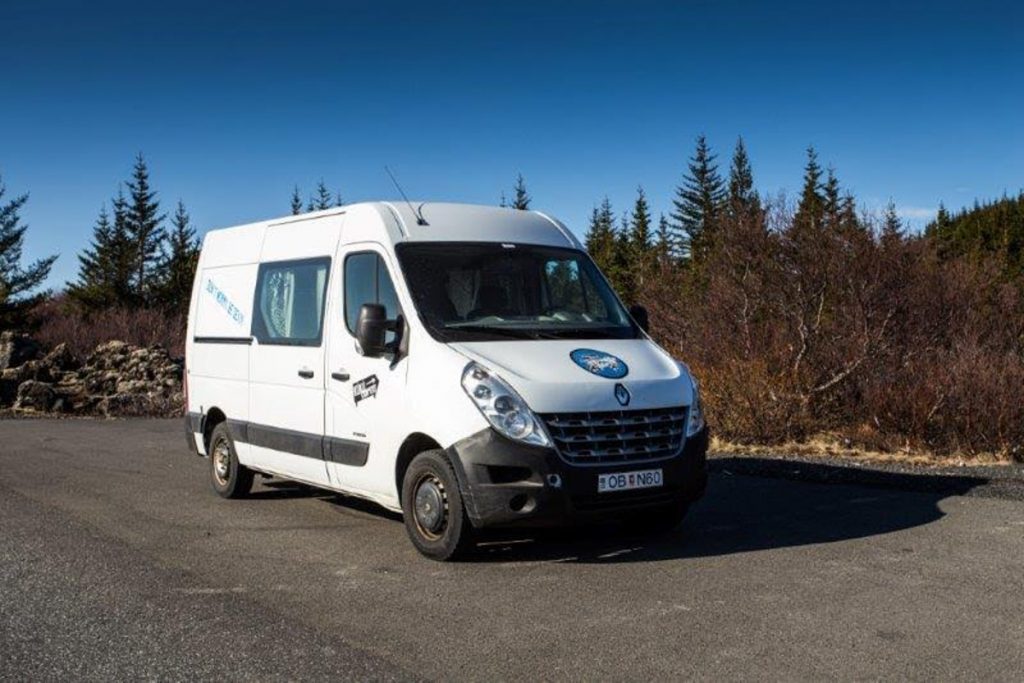 Kuku Campers is the largest campervan rental company in Iceland and has offered a variety of rentals for the ultimate road trip since 2012.
They value " doing vacation differently " by getting off the beaten path and away from all the tourists. With their variety of unique Iceland campervan rentals, you'll get to have the trip of your dreams without breaking the bank on a rental.
Also, if you're a Game of Thrones fan, some of the employees know a few hidden filming locations around the island…
Who is this rental for: Backpackers and international travelers looking for the best, budget-friendly way to get around. Great for close friends since the smaller models can sleep three across.
Type of vehicles: Campervan (A, AA, AB, B, BA, C, CA, E, EA), Camper (D, F, G, H, I J)
Their rental fleets offer campervans with fun exteriors or stealth exteriors depending on your style and personality.
The fleet is unique for a wide variety of trips through Iceland.
Free extra driver and basic insurance.
One of the cheapest options available.
The cancellation fee is €100 (the rest of the cost is refunded, but this gives less cushion for booking far in advance).
Peak season costs: €145 – €349/day
Low season costs: €77 – €102/day
NorthBound.is
If you're not interested in using our Happy Camper discount above or they just don't work out for your travel dates and you don't fancy any of the other options we've shared, you can search for the perfect camper on NorthBound.is. and check their availability for your travel dates.
It's a booking website like KAYAK, but more localized and specifically for campervans and cars in Iceland. They have a filter for 4×4 vehicles and another for motorhomes if you are looking for something like that.
Why rent a campervan in Iceland
It's no secret that we're obsessed with campervans. We've built two of our own and rented them around the world. In total, we've spent more than a year living in different campervans, so we'd like to think we know a thing or two about the subject.
We even wrote an entire article about why we love vanlife .
If you've never traveled in a campervan before, you may be wondering what makes it a good choice for your Iceland trip.
Well, here are a few reasons we personally think traveling Iceland with a campervan is an amazing way to experience this country:
Wanna fuel your wanderlust? Check out these road trip quotes and get ready for one epic adventure!
Iceland is very well set up for campervans. There are campgrounds and facilities all around the country to make it easy to travel in a van, even if you're a newbie to this travel style.
It's a more comfortable camping experience. Unlike with a tent, a campervan will allow you to sleep on an actual mattress rather than on the ground. Plus, a campervan will protect you from the elements like rain and wind, and you don't have to set anything up or tear it down – you are always camping-ready .
It can save quite a bit of money. With a kitchen on wheels, you can cook as many meals as you'd like. Plus, you can skip costly hotels.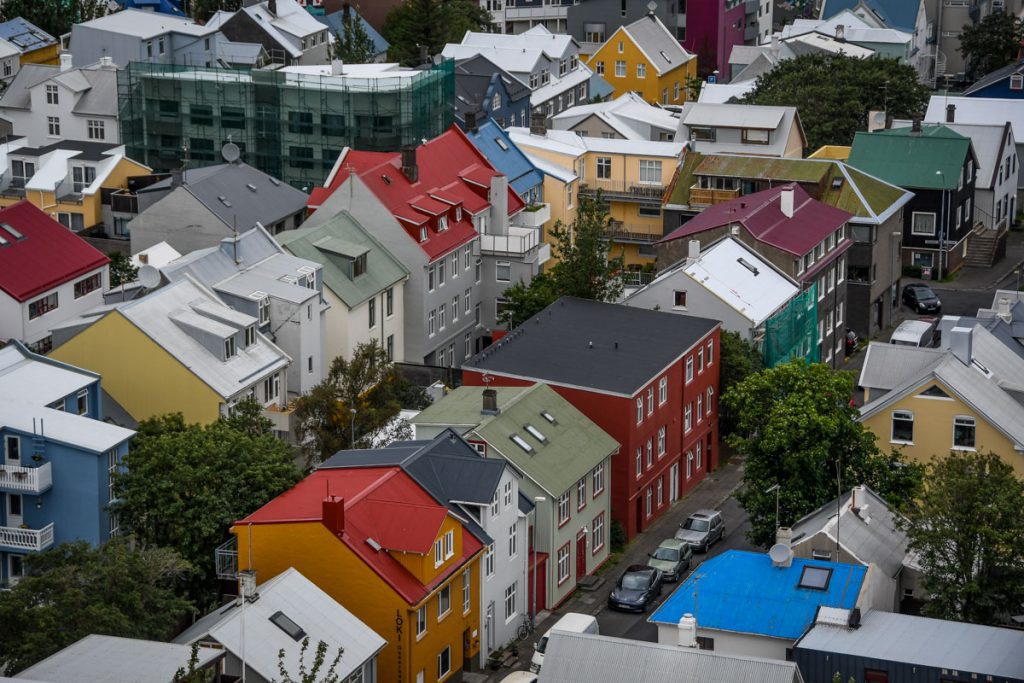 While we are biased and think campervans are pretty damn great, we know this type of travel is not for everyone. We're going to be totally honest with you…there are definitely some not-so-wonderful parts about campervan travel. We even wrote all about our least favorite parts of vanlife here !
Before committing to renting a campervan, see if any of these statements sound like you.
Renting a campervan in Iceland may not be for you if…
you're not on board with the idea of using a public shower or toilet. While most campground showers that we used were very private and decently clean, they did vary in quality. Plus, it's not like a hotel where you have your own shower inside your room. You still need to make a trip to the shower, and in some cases may need to wait until others are done using it. Same goes for toilets.
you don't feel comfortable driving a large vehicle. While we felt like our campervan drove almost identical to a minivan, we know that people have all different levels of comfort when it comes to driving (especially in a different country). You know yourself and whether this is something you can get used to or not.
you have a hard time sleeping in new places. While campervan travel is definitely going to be a big step up in comfort from camping in a tent, you'll still be making some sacrifices. You won't have nearly as much privacy as in a hotel. You'll have to walk to use the bathroom or shower. You'll be able to hear the wind and rain much more than you would inside a building. And your bed likely won't be as comfortable as a mattress in a proper guesthouse. If these things are going to make it difficult for you to enjoy your trip, you may want to reconsider renting a campervan.
If after reading those statements, you think you might be better off renting a car and staying in hotels or Airbnbs along the way, no worries – you'll still have an incredible trip.
Psst! Be sure to check out our round up of the best Airbnbs in Iceland !
However, if that didn't scare you off, we are pretty confident you will have an absolute blast with a campervan in Iceland.
But one last thing before you commit (we want to make sure you've fully thought it through!)…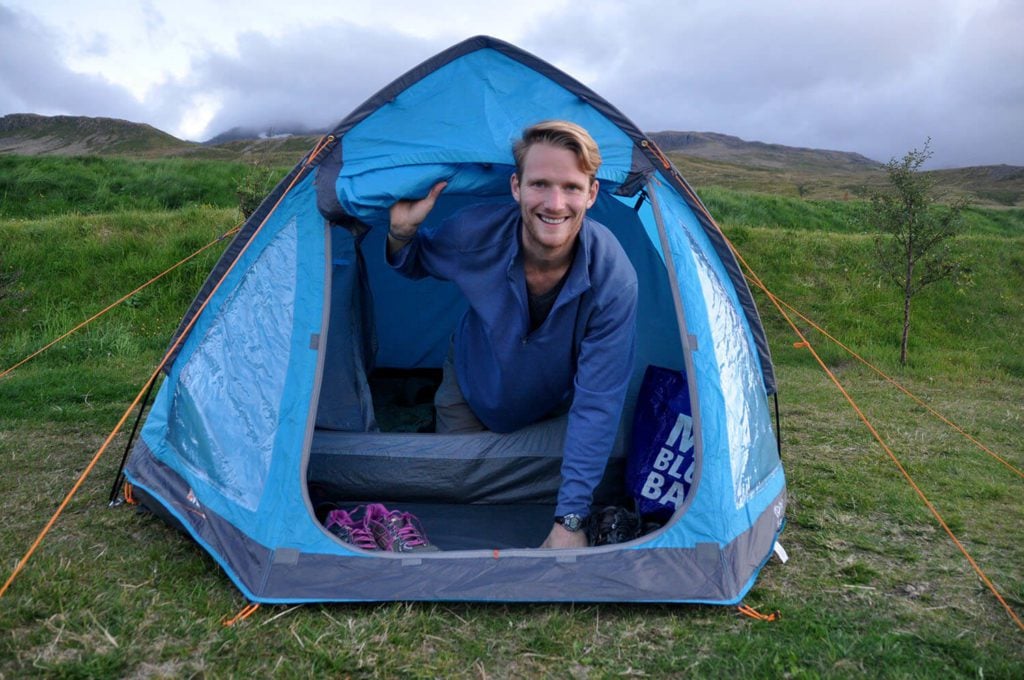 Are you curious how a campervan compares to sleeping in a tent?
Well, we've experienced both tent camping and renting a campervan in Iceland:
During our first trip to Iceland in 2016, we camped in a tent.
On our more recent 2021 trip, we rented a campervan.
Both trips were incredible, so we are proof that either option can be a good one, depending on your needs and priorities.
Out of the two options, we personally enjoyed the campervan more. Iceland is known for harsh weather, a campervan will protect you from the elements like strong winds and heavy rain. Let's just say, tent camping in these conditions will be quite an… adventure.
That said, tent camping is undoubtedly cheaper, so the best option for you comes down to your budget and personal preference.
Still need help deciding? We've gone over all the pros and cons of tent camping vs. campervans in Iceland here .
Iceland Campervan Rental Guide
By this point, you should be pretty confident that traveling Iceland in a campervan is a good choice for you.
But now what…?
I bet you've got a bunch of questions scrambled up in that head of yours: Which rental company is the best? How much does a campervan rental cost? When do you need to make your reservations?
Let's just say we've been there, and we're here to help!
Things to consider when choosing a campervan rental in Iceland
First, let's go over all the things to think about as you start looking for a campervan rental in Iceland.
1. What is your budget?
Obviously, your budget is going to play a large role in the type of campervan you choose to rent. There are quite a wide range of rental options – from pretty budget-friendly (and somewhat bare bones) to damn near luxurious with a price tag to match.
Getting an idea of how much you plan to spend per day on a campervan rental will help you determine which company and model is the best choice for you.
Keep in mind that your campervan rental is both your transportation and your accommodation. Instead of paying for a hotel and a rental car, you have just one cost.
That said, you'll also need to factor in two more things:
Campgrounds: on average 1500 ISK / $12 per person per night
Gas: 250 ISK per liter / $7.30 per gallon
Read Next: Use our guide to figure out your total Iceland trip budget .
Ways you can save money on a campervan rental:
Opt for a low-top van
Choose manual transmission over automatic
Skip the 4×4
Travel outside of peak season
See if the campervan rental company has older vehicles that they rent for a discounted price (with Happy Campers, these models are called "EXperienced")
Bonus budget tip: Use our exclusive discount code! That's right, if you choose to go with Happy Campers (the company we rented from), use our code TWS5 to get 5% off your total rental bill (that can add up to quite a bit!).
2. Do you want a high-top or a low-top campervan?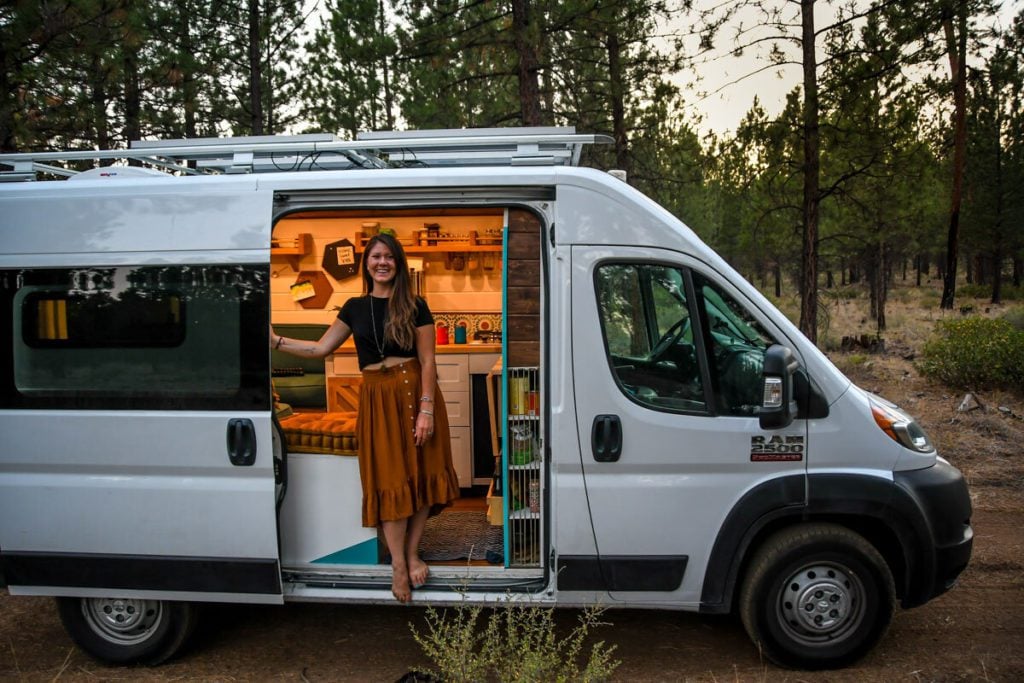 Many of the budget campervans are not designed to be able to stand up inside.
In a low-top vehicle, certain tasks like making the bed, cooking and getting dressed can be a bit tricky when you can't stand upright. On the flip side, a benefit to a low-top vehicle is they are more streamlined, uses less gas, and are easier to drive if you're not used to big vehicles.
Think about what this means and which vehicle you'd prefer. If standing up is a priority for you, be prepared to shell out a little more money for this luxury. Also, try to make your booking as early as possible, as there are fewer of these types of vehicles on the market.
Personal experience: We've had experience in both campervans that you can stand up inside and those in which you cannot stand. While it is definitely more comfortable to be able to stand, we personally feel like low-top vehicles are easier to get used to than you might think. Our very first DIY campervan conversion was a low-top.
Our campervan rental in Iceland had a low roof (aka we could not stand up inside), and we made it work just fine for our 2-week trip. That said, if you have a larger budget to work with, a high-top roof might be a worthy splurge.
3. How many people will you be traveling with?
The number of people you'll be sharing the vehicle with can make a big difference in determining the vehicle you choose.
If you're traveling solo, you'll be just fine with even the smallest campervan.
If there are two of you, you will have the biggest selection of vehicles to choose from, as this is the most common layout.
If you're traveling with 3-5 people, you will have a limited option of layouts you can choose from, but there are options! For example, the Happy 3 model sleeps 5 people.
Another important thing to consider is this: How close are you to the person/people you are traveling with?
If it is a new friend or acquaintance, you may want a bit more room, as living in a campervan is… umm, how shall we put this … very close quarters. If it is a close friend or partner, you may do just fine with less space.
Psst! Make sure you ask these questions to your campervan travel partner before you book your van rental.
4. What size vehicle are you comfortable driving?
If you have a big budget to work with and you are hoping for a pretty high level of comfort, you might be drawn to the bigger motorhomes. They do look pretty damn luxurious! But before pulling the trigger, consider what it will be like to drive a large vehicle like that.
There are many gravel roads throughout Iceland, and while we felt very comfortable driving our van, there were a handful of times we were incredibly happy we weren't driving one of those gigantic motorhomes.
If you have experience with large vehicles, you might be just fine operating one of the bigger models. But if you're a more cautious driver and the thought of handling a big rig makes you nervous, then maybe a smaller vehicle will make an easier transition.
Budget Note: Remember that larger vehicles are going to require a significantly higher gas budget.
5. Do you prefer Manual vs. Automatic Transmission?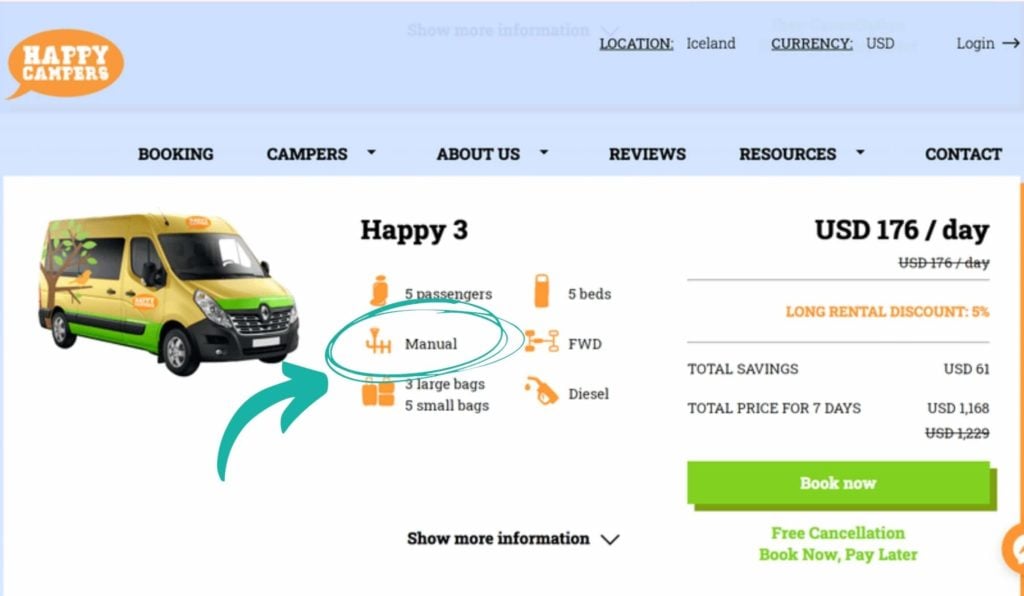 A very important factor that can be easily overlooked if you're not paying attention is whether you want to rent a vehicle with an automatic or a manual transmission.
Many vehicles in Iceland are manual, and while this will be disclosed in the vehicle's description, it's not always the first thing you'll see.
Whether you're renting a car or a campervan, be sure you know for sure whether it's automatic or manual.
Budget tip: If you know how to drive stick shift, this can be a way to save a bit of money as manual transmission cars tend to be a bit less expensive. That said, if you're not super comfortable with it, this is not the place to save money.
6. Determine if you need a 4×4 vehicle
It's important to figure out whether or not you need a 4×4 vehicle , as this will impact your rental options.
So this begs the question: "Do I need a 4×4?"
Probably not.
If you are planning to drive the Golden Circle or explore on the Ring Road, you can see all the major sights with a regular (non 4×4) vehicle.
Here's why you may want to consider a 4×4:
You plan to visit the Highlands. This remote part of Iceland is only accessible via "F roads", which can only be driven with 4×4 vehicles.
Another region where we'd recommend having a 4×4 is the Westfjords. We were told we could still go there in a non-4×4, but the roads are in pretty rough condition, making a 4×4 pretty handy.
You plan to be spontaneous and get off the beaten path often. If you don't want to be limited to which sights you can see, having a 4×4 vehicle might be a good choice. While you can drive on many gravel roads in a normal vehicle, a 4×4 will handle better. In truth, there were a few spots we wanted to visit during our trip but couldn't since we did not have a 4×4.
You plan to visit Iceland in the wintertime. While not crucial if you're sticking to the main roads, it could give you a little more peace of mind knowing you have more control in potentially slick conditions.
Final thoughts: All in, 4×4 vehicles aren't too much more expensive, so if you're on the fence, it might be an upgrade you're happy to make. That said, there are far fewer 4×4 vehicles in Iceland, so they tend to book up quickly. If having a 4×4 is important to you, be sure to make reservations as soon as you're able.
Search on NorthBound.is to find the perfect 4×4 truck or campers for your travels in Iceland.
7. Know what's included
Before booking your campervan rental, be sure you're super clear on what is included and what's not.
Here are a few things to do some digging on:
Cancellation policy: Will you get your money back if you need to cancel? How far in advance do you need to make this decision? (The rental company we chose gives customers a 100% refund up to 24 hours before their reservation, which is super generous!)
Insurance: What is included in your rental price? Do you want to add additional coverage? How much does it cost per day?
Mileage: Do you have unlimited miles? Most rental companies should have unlimited miles/kilometers but double-check this as you don't want to get stuck paying a fee for going above the limitations.
Accessories: What accessories are included? What's not included that you will have to pay extra for? Does it make sense to rent or buy this item?
Airport shuttle: Will your campervan rental company pick you up from the airport? Will they drop you off there after returning your van? Do they have a shuttle to Reykjavík? Transportation to and from the airport can be quite expensive, so a shuttle service is definitely a perk that can save you a bit of money.
The Best Campervan Rental in Iceland: Happy Campers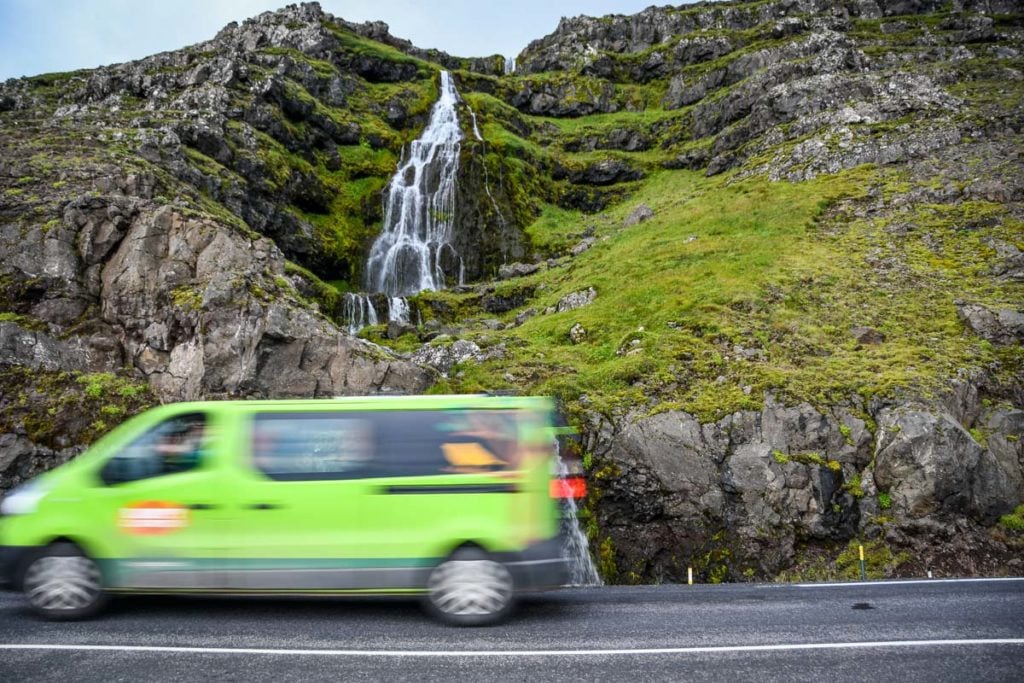 There are a lot of campervan rental companies out there, and they all have their pros and cons. Some cater toward travelers with bigger budgets and higher-end taste, while other companies work to make campervan rentals affordable to all. And then there are companies in between that have options for all sorts of travelers.
As long as you do your research, read through reviews, and have realistic expectations, we think you'll find a company that you are truly happy with.
The company we chose may or may not be the best option for you, so it's important for you to really take into consideration your needs and budget (aka really read the section above!), so you can determine the best choice for your trip.
What campervan rental company did we choose?
We did a ton of research, and chose Happy Campers for many reasons, all of which we'll be explaining below.
Campervan Rental Options from Happy Campers
One thing we really appreciate about Happy Campers is that they have a pretty great variety of options to choose from when it comes to campervans. There are different layouts – from small and minimalist to more decked out – and they have quite a few different price points to satisfy travelers with varying budgets.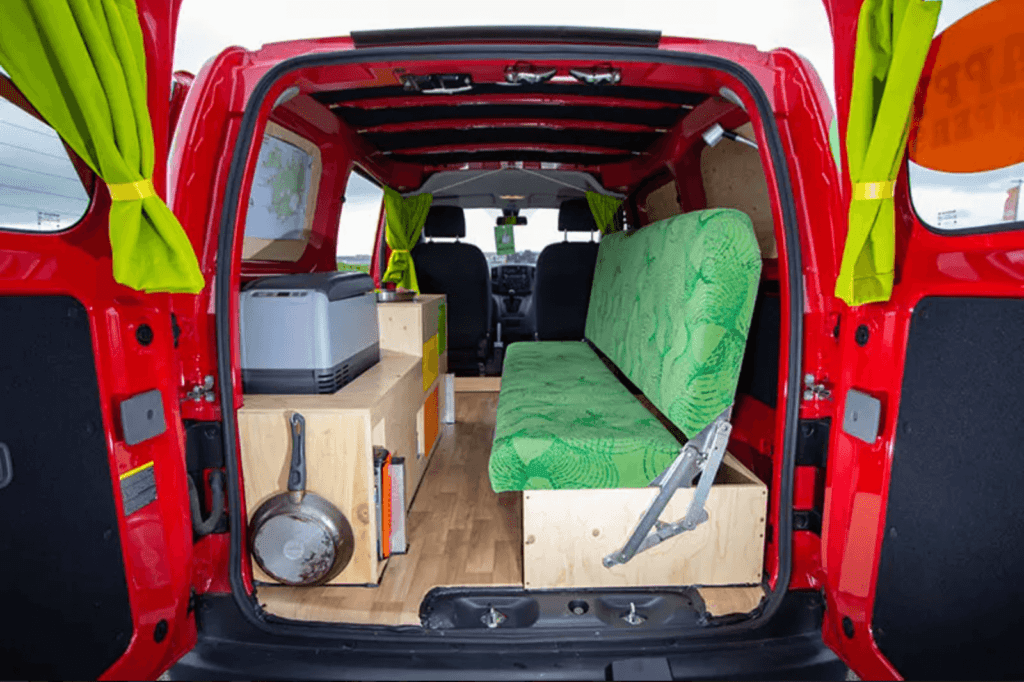 Sleeps 2, Drives 2
Budget-friendly
Compact layout, but has everything you need
Easy to Drive, like a small SUV
Manual and Automatic Transmission (Automatic costs slightly more per day)
Summer (Peak): €150/day June 15 – Aug 31
Spring/Fall (Shoulder): €120/day May – Jun14 & September
Winter (Low): €90/day October – April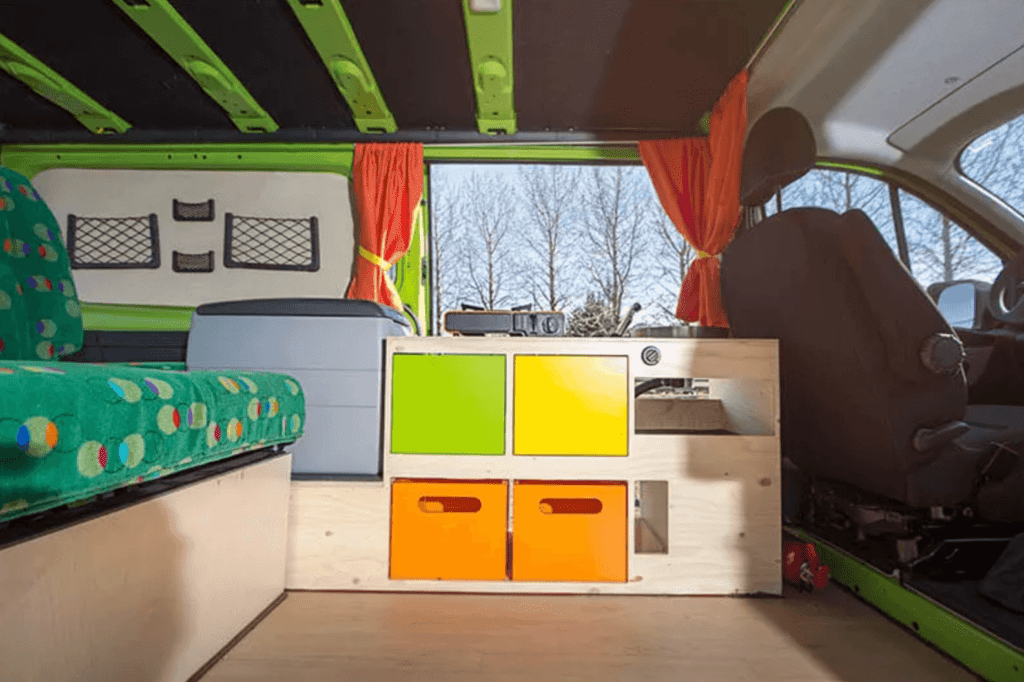 Sleeps 2, Seats 4
Roomier than the Happy 1
Able to store more luggage
Drives like a minivan (in a good way)
Summer (Peak): €220/day June – August
Spring/Fall (Shoulder): €180/day May & September
Winter (Low): €135/day October – April
Sleeps 5, Seats 5
The most cost-effective if you have more people to split the cost
Good to know: If standing upright is a must for you, this is the only model that allows you to have all the headspace you need!
The cargo van size looks intimidating but is actually easy to drive
Plenty of room for luggage
Manual Transmission Only
Summer (Peak): €280/day June 15 – Aug 31
Spring/Fall (Shoulder): €210/day May – Jun14 & September
Winter (Low): €150/day October – April
Happy 4×4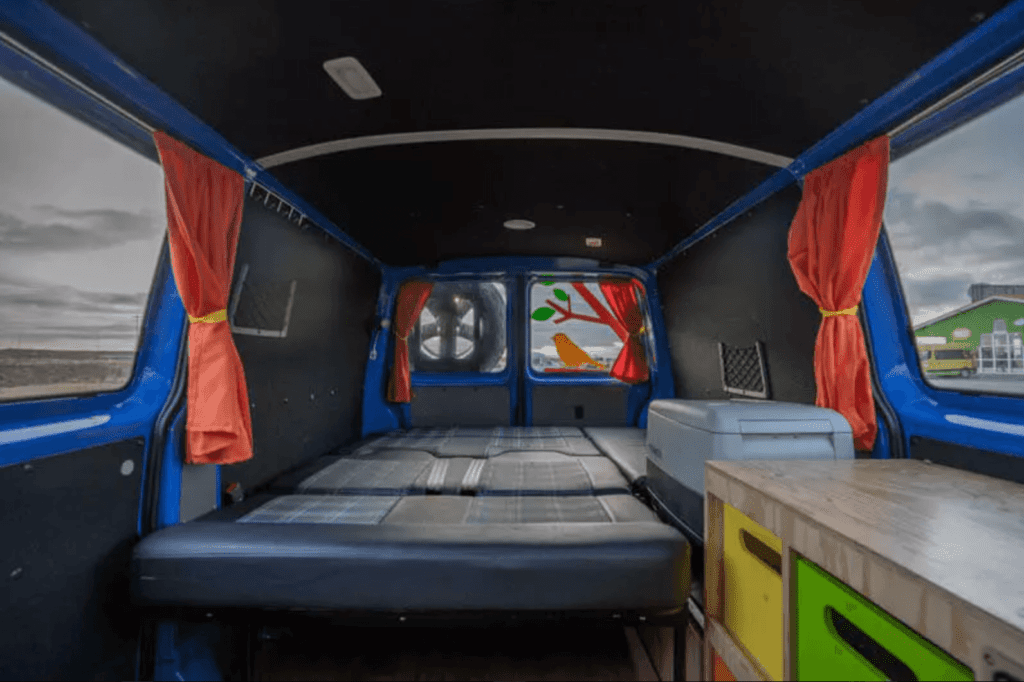 Sleeps 2, Drives 4
4×4 vehicle makes it capable to drive on F-Roads
Wool insulated walls
Same convenient layout as Happy 2
Drive like a minivan, but the 4×4 makes dirt roads a breeze
Plenty of space for luggage
Automatic Transmission Only
Summer (Peak): €310/day June 15 – Aug 31
Spring/Fall (Shoulder): €240/day May – Jun14 & September
Winter (Low): €210/day October – April
EX versions of Happy Campers
Get ready for a HOT BUDGET TIP…
If you're browsing on the Happy Campers site , you might notice that they offer the same vans but an "EXperienced" version of them, denoted with the EX after the name (i.e. Happy 1 EX).
The EX models have the exact same layout as the regular campers but they are in a slightly older (aka "well-loved") vehicle.
So how old are we talkin'? 2014 is the oldest version they still operate, while most of their regular inventory are 2019 and newer ( as of the time of writing this in November 2021 ).
You'll get all the same gear as the other Happy Campers but at a reduced price, about €20 to €30 off per day depending on the season and camper style. EXperienced versions are available in Happy 1 EX, Happy 2 EX and Happy 3 EX. There is no Happy 4×4 EX (as of now).
Important Note: The EX models do not come with the Happy Driver App or Internet Hotspot, but can be added on for an extra €10 per day.
Automatic vs. Manual
This is another consideration you'll have to make when booking your campervan rental. Do you want an automatic or manual transmission?
Budget Tip: The manual vehicles tend to be slightly cheaper, so if you're comfortable driving stick and want to save a little cash, it makes a good choice! The automatic models are anywhere from €5 to €40 more per day depending on the season and type of camper, so be sure to check before you book.
Check to see if the model you're interested in comes in manual or automatic:
Happy 1: Manual AND automatic options
Happy 2: Manual AND automatic options
Happy 3: ONLY manual
Happy 4×4: ONLY automatic
Our experience: We meant to get an automatic, but accidentally booked a manual transmission and we were pretty surprised when we hopped in the van for the first time. Luckily, Ben knows how to drive a manual so we were all good.
However, since my stick-shift experience is limited to driving around parking lots and spouting out a lot of curse words, this meant Ben had to drive the entire time. Oops! (Maybe we didn't book this by accident after all…)
Good to know: If you can only drive automatic vehicles (like me), you may need to start your search for a campervan rental a bit earlier as this will limit the vehicles you're able to drive. Automatic models tend to book up a faster, so try to get a head start on the reservation process. Remember, you can always cancel your booking with Happy Campers free of charge.
Campervan Tour Highlights
Let's bring you on a little tour of the van we rented…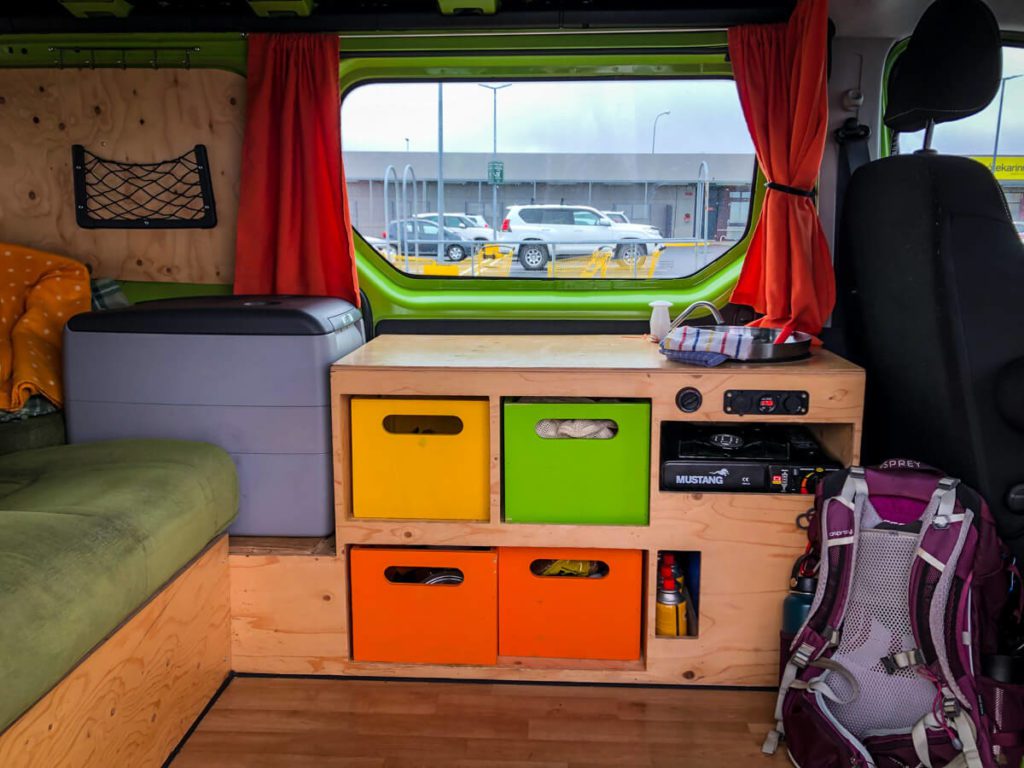 Happy 2 Model
Not an EX model
Manual transmission
Electric cooler
Single burner stove
Dishware, cutlery, dish soap
Sink with hand-pumped water
Passenger's seat is on a swivel
Gives another place to sit inside the van
Bench seat converts into a bed
Decently comfortable (though we're spoiled with an amazing mattress in our campervan at home, so we wished there was a bit more padding)
Thick duvet, fleece blankets, pillows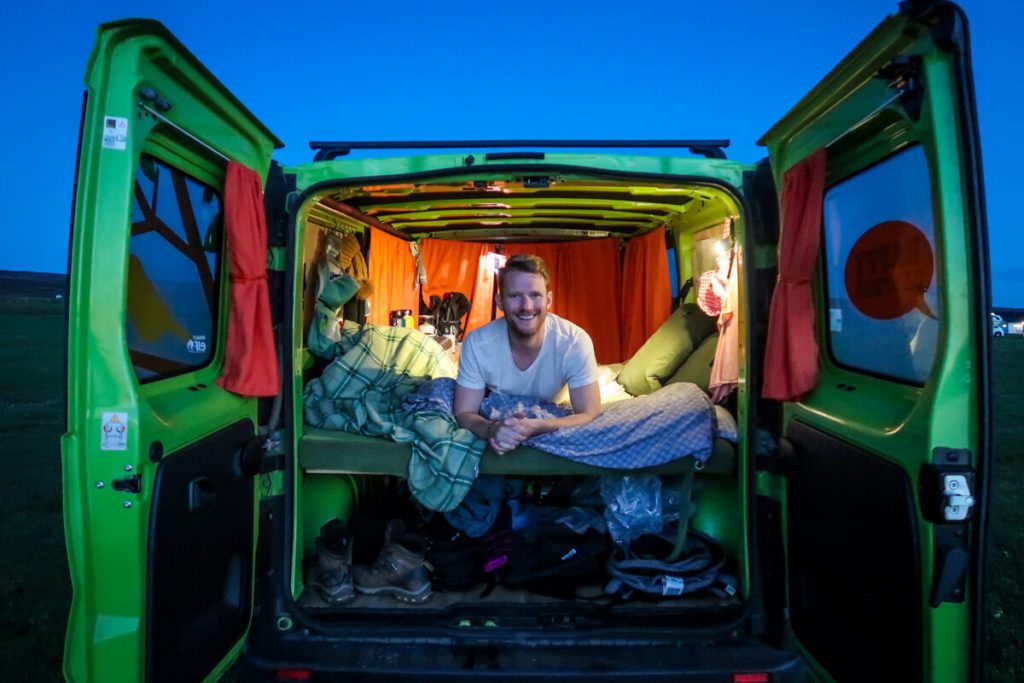 Powerful heater
Personally, we only had to run it for about 10 minutes before bed to get the van warm enough for sleeping. It can be run throughout the night if you'd like.
Nice crates in the kitchen area in which we stored our food, toiletries and other things we needed to access easily.
There was also storage in the back of the van that we could reach by opening the trunk. This was perfect for storing our bags, hiking boots, tripod, and other bulky items.
There were also quite a few hooks for hanging damp towels and swimsuits, as well as little pouches where we could keep small things like our headlamps, gloves, and a deck of cards.
Bench seat storage is good for keeping things like clothes, however, in our vehicle, this was kind of cumbersome to access.
Our (honest!) opinion about Happy Campers
We truly had a great experience with Happy Campers and we would 100% book with them again. That said, just like any campervan rental, there is room for improvement.
In this section, we're sharing exactly what we loved and what we didn't love, so you can determine if they are a good fit for you.
Happy Campers Pros: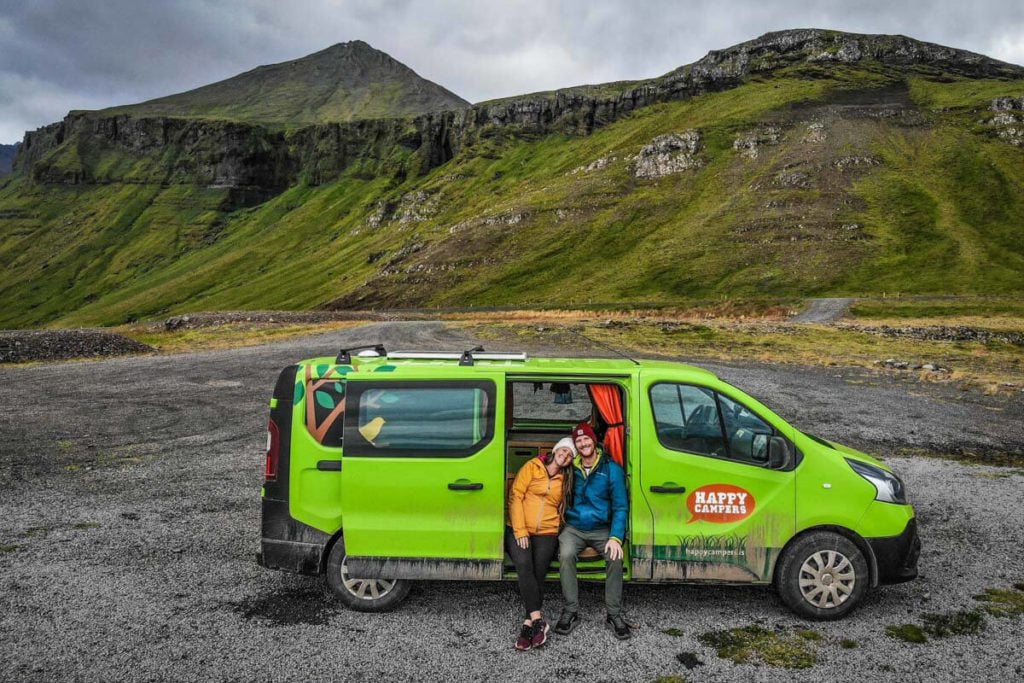 There were many things we really loved about our Happy Campers van. Here are a few:
Customer service: Prior to our trip, we were very impressed by the level of customer service we received. We had (a lot!) of questions, and the Happy Campers staff was patient and helpful.
When we showed up in Iceland, the staff greeted us and gave us a thorough orientation to driving and camping in Iceland. Oh, and they have an espresso machine you can use for a pick-me-up (which is essential after an overnight flight!).
Additionally, a staff member came with us to give us a full, 1-on-1 tour of our specific van. He went over exactly how to use everything and answered all of our questions.
Free cancellation: Happy Campers offers customers 100% of their money back if they cancel before 24 hours of picking up the vehicle. This is a super generous cancellation policy, and while we didn't have to use this, it was nice knowing we'd get our money back in case of an emergency.
Many choices of campervans: Happy Campers has a large and diverse flight of vans to choose from. They have options for most budgets and travelers.
If you're on a budget, make sure you look into the vans labeled as "EX". This stands for "EXperienced", meaning they've been on the road a bit longer and are rented out at a lower price than their newer twins.
If you don't know how to drive a manual transmission, don't worry! Happy Campers has a good selection of automatic vehicles too. Just be sure to book earlier if possible, as these are in high demand.
If you want to get off the beaten path, you might be interested in the 4×4 models, as they will allow you to venture off on the "F roads".
If you're traveling with a big group, the Happy 3 has room to sleep 5 people.
Navigation & Chat system: The tablet that is provided is clutch! Not only does it have a GPS, but it also works as a hotspot to share WiFi with your other devices.
Additionally, with the tablet you can live chat with staff at the office. This came in handy a few times for us – once when a light came on in the vehicle indicating we needed to fill up with AdBlue (a liquid that reduces the emissions of a diesel engine) and once when our battery died.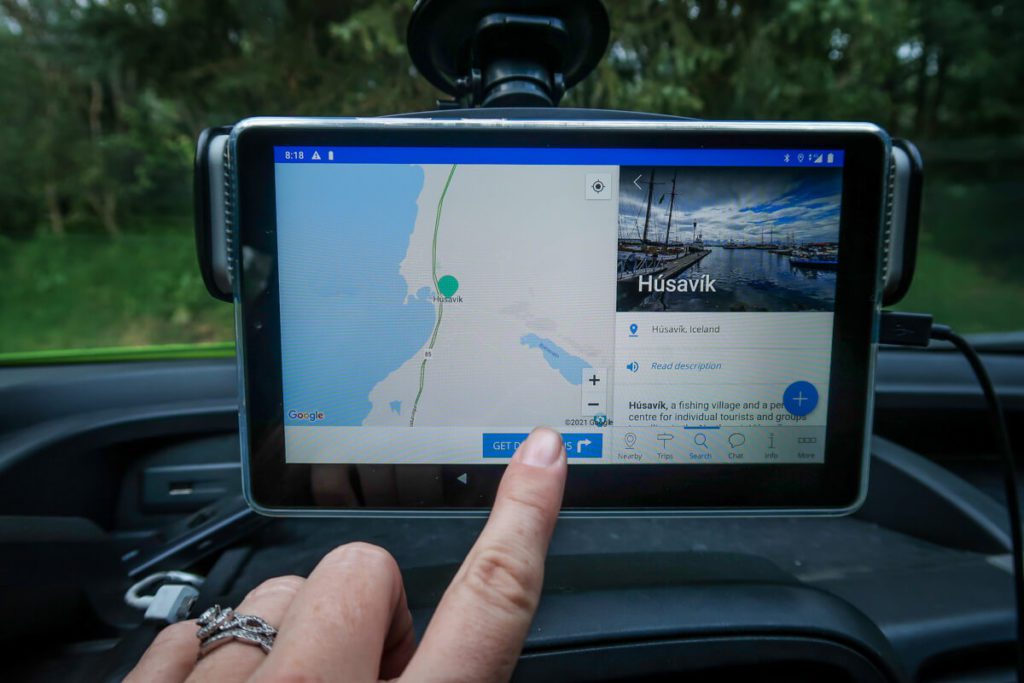 Heater: The heater worked incredibly well to warm up the van. Personally, we like sleeping in cooler temperatures, so we found we only needed to run it for about 10 minutes before hopping into bed and the van heated up to a toasty temp. It can be run all night long if you prefer cozy sleeping conditions. With a heater this powerful, there truly is no need to worry about getting cold in your campervan
Kitchen: The kitchen was well-equipped and had pretty much everything we needed for cooking.
Insider Tip: We rented folding chairs from Happy Campers (it's an add-on they offer), and while we didn't have the opportunity to use them outside very often, we always set up one for cooking. It was much more comfortable to have a chair to sit on since we couldn't stand up in the model of van we rented.
Cooler: The cooler worked a lot better than we had anticipated. In fact, when turned up to the higher settings, it froze some of our produce, so we had to make sure we had it set in the middle.
Easy to drive and park: The model campervan we chose (the Happy 2) drove very similar to a regular minivan. There wasn't even really a learning curve to driving it, and parking it was simple. It was in good condition, and we really had no complaints about the vehicle itself. If you choose a larger vehicle, it might take a little longer to get used to.
Privacy curtains: In our personal campervan, we are spoiled with magnetic blackout curtains that also insulate (they're honestly amazing!). I will say the curtains in the Happy Camper were better than I anticipated. They did a good job of giving us privacy.
That said, they didn't do anything for insulation (more on that in the cons section). And they weren't exactly black-out curtains, which can be noticeable during the months with long daylight hours.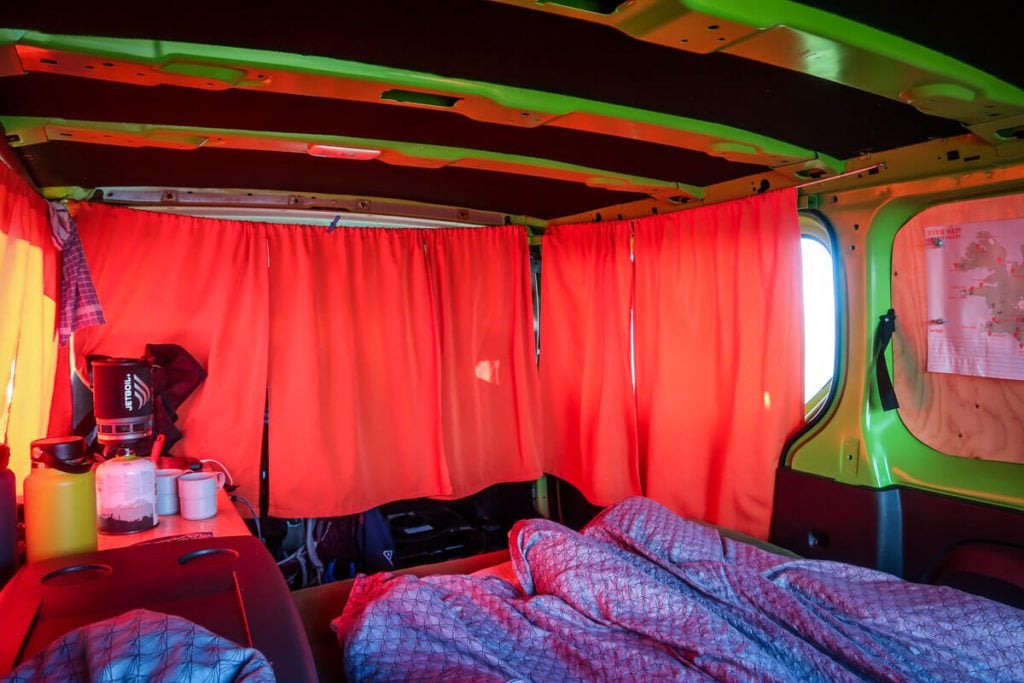 Happy Campers Cons:
We'll be honest and say that we are kind of picky about campervans, as we've built two of our own to be just the way we want them. So we are tough critics.
Here are some of the (minor) things that weren't ideal:
Storage under the seat: There was plenty of storage in our van, however, there was a little bit of an issue. The best place to store our clothes was beneath the bench seat, which was pretty tricky to access. This opens up and also converts into the bed.
The problem is that instead of opening up like a chest, the seat opens up toward you. This means you have to bend over the seat to reach down and get whatever is stored beneath (which was very difficult for a short person, like myself).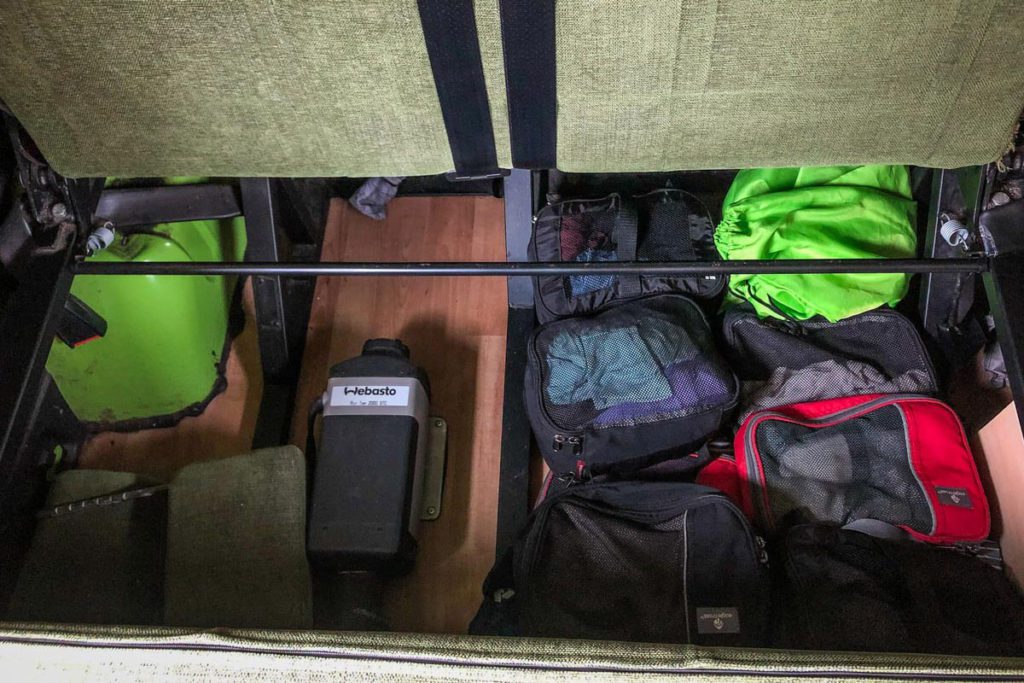 Insider Tip: We were so happy we had all our clothes organized in packing cubes . Even though it was a pain to bend over the bench, we could just grab a cube instead of trying to find an individual piece of clothing.
Lighting: There wasn't a ton of lighting inside the van. The overhead lights turned on when the door was open, but it wasn't a good solution to leave them on very long. The only lights that were really meant to be turned on at night were two "reading lights" near the bed.
While the sun doesn't set until quite late during most of the summer, it would have been nice to have a bit more light inside the van. Luckily, we had packed headlamps as well as an inflatable solar light , both of which we used pretty often.
Pillows: The bedding we were provided was just fine. We even snagged a few fleece blankets to have as extras (they have these for all customers to take if they'd like). The problem was we hadn't checked our bedding thoroughly before leaving the parking lot, and that night we discovered we only had one pillow. Thankfully, we had packed our own camping pillows , just to be safe.
Hopefully, this won't be an issue for you, but it brings up a good point: no matter what company you choose to go through, be sure to confirm you have all the essentials (including bedding) before leaving the parking lot.
Not insulated: This was probably our biggest gripe with our rental van. When building our own van conversion, we made sure to insulate our campervan with sheep's wool .
So we know firsthand how big of a difference it can make at controlling the temperature inside the van (keeps it cool when it's hot out and warm when it's cold outside). Plus, it helps handle moisture really well, keeping our van from getting damp and stinky.
Note: The only Happy Camper that is insulated (and with sheep's wool) is the Happy 4×4.
Not being insulated meant that it got cold quickly, and on the rare hot days, it was hard to cool it down inside.
A bigger frustration was that without insulation, moisture would condensate inside the vehicle. This was especially hard on our DSLR camera. When we'd wake up in the morning, the lens would be full of condensation. Thankfully, we found a pretty good solution to keep moisture at bay…
Hot tip: If you're traveling with camera equipment, try this so you can avoid lens condensation: Wrap the camera in a soft towel, then put it inside a large dry bag (make sure you have a high-quality one that is large enough to fit your camera).
Make sure you get the air out and seal it up tightly. In the morning, wait until you've had a chance to open up the doors and let the moisture in the vehicle escape before opening the dry bag. This should keep your camera free from condensation.
Long story short: We wished that the Happy Campers vans were insulated, as this would have helped keep the temperature inside more stable, and more importantly, it would control the moisture.
Iceland Campervan FAQs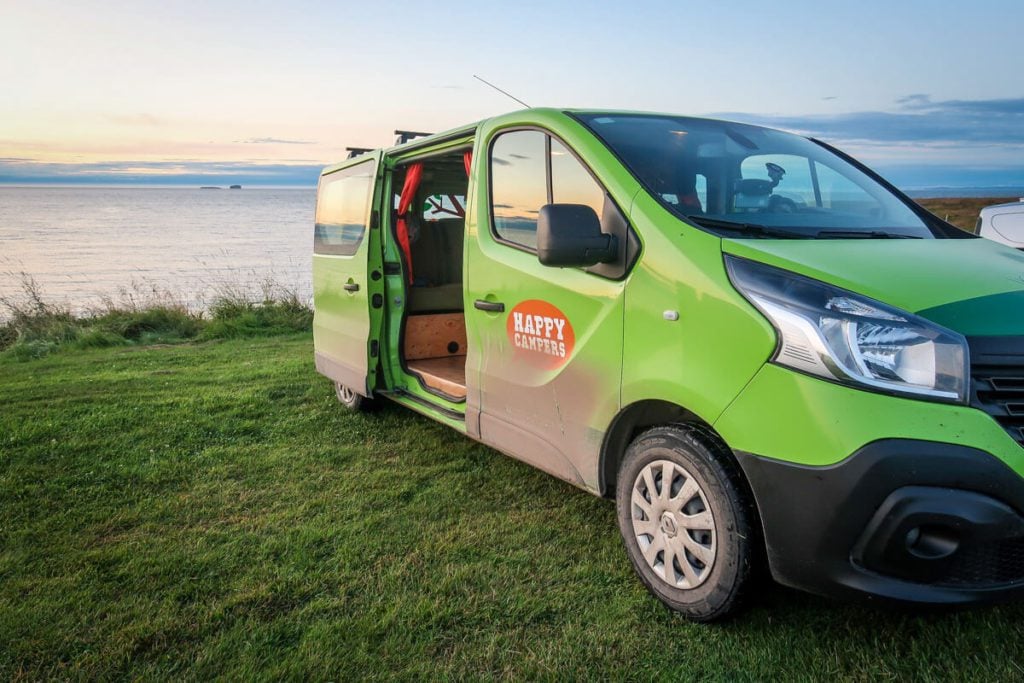 I know we had tons of questions at this point, so we're going to go over some of the things you may still be wondering…
What's included in a campervan rental?
This depends greatly on which company you rent from. However, nearly all campervans should come with the following:
Bed & bedding
Sink with running water (and a tank you can fill with fresh water)
Stove & propane
Cookware & utensils
Cooler and/or refrigerator
Heater
Depending on the campervan rental company, these amenities can be very basic or quite luxurious. Also, most companies have the option to add extras, which are typically charged separately. This can include:
GPS system (included in our Happy Campers rental)
WiFi hotspot (included in our Happy Campers rental)
Camp chairs or table
Coffee press (if you don't want to rent, we suggest this AeroPress , which is made for travel)
How much does it cost to rent a campervan in Iceland?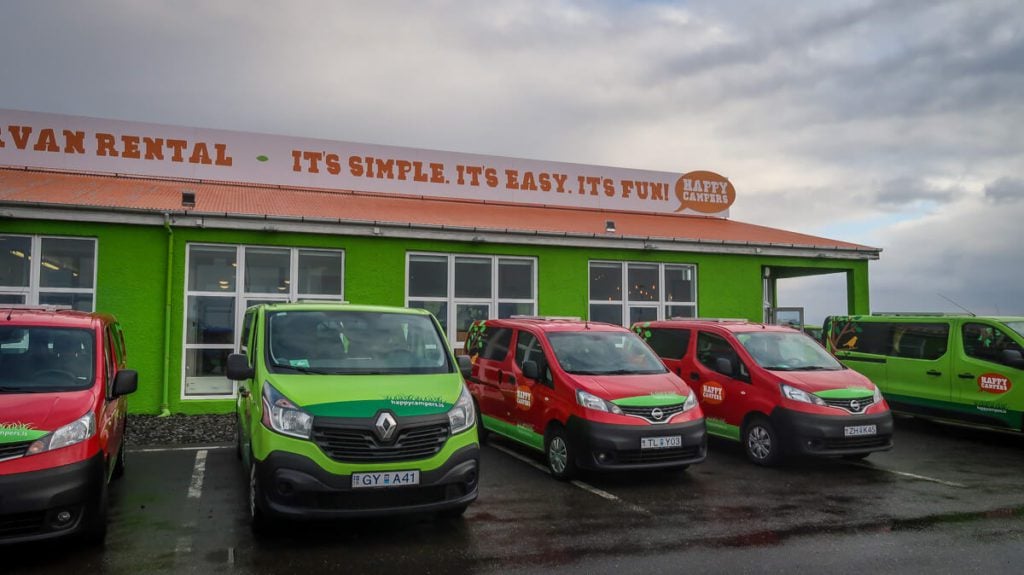 We're going to come right out and say it: Iceland campervan rentals aren't cheap. Even if you go with the absolute cheapest company out there, you'll still be paying a considerable chunk of money.
However, traveling in a campervan is a great way to save money during your trip because you can cook your own meals (much less expensive than eating out!) and campsites are much cheaper than staying in hotels.
So just how much do campervans cost in Iceland?
Well, it depends on a few things…
Time of year: First of all, the time of year can affect the price significantly. If you are traveling in the peak summer season (aka June – August), expect to pay peak rates. And on the other hand, if you travel during off-peak season, you might be able to score a nice rate. Shoulder seasons (before and after peak season) will grant you a rate that is neither crazy expensive nor super cheap.
Here is an idea to get you started:
Happy 2 Prices:
Peak Season: €220/day (June – August)
Shoulder Seasons: €180/day (May & September)
Low Season: €135/day (October – April)
Type of van: The cost of your van will also depend on the type of van you choose.
Are you renting a 4×4? What about automatic vs. manual transmission? Are you renting an older version or a newer model? All of these factors will impact the overall cost of your campervan rental.
For instance, the Happy 4×4 is more expensive than the Happy 2 because it has 4×4 capabilities as well as being insulated.
Happy 4×4 Prices:
Peak Season: €310/day (June 15 – August 31)
Shoulder Seasons: €240/day (May – June 14 & September)
Low Season: €210/day (October – April)
Additional Costs: One important thing to remember is you may also have add-ons and insurance fees.
Do I need an international driver's license?
Most likely, no .
Any valid driver's license with Latin letters is accepted in Iceland for rental cars and campervans.
However, if your driver's license does not have Latin letters (for instance, if it only has Japanese characters or Cyrillic script), you will need an international driver's license.
What is the best time for a campervan trip in Iceland?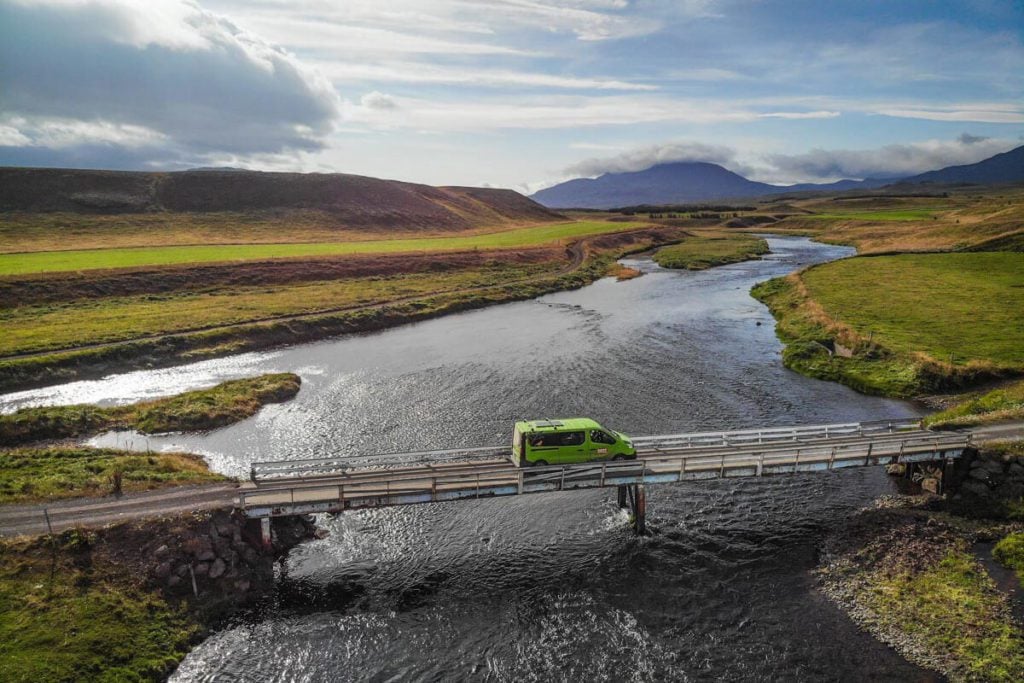 The best time to camp in Iceland is arguably going to be during the summer months. This is when you'll have the most hours of daylight during which you can explore. Plus, you'll have the best chance of mild temperatures.
That said, summer is peak season and rental prices will be at their highest. If you can plan your trip for spring or fall, you could snag a better rate.
Curious about seasons and weather throughout the year? We've broken down what to expect in this article about the best time to visit Iceland .
Can I rent a campervan in Iceland during the wintertime?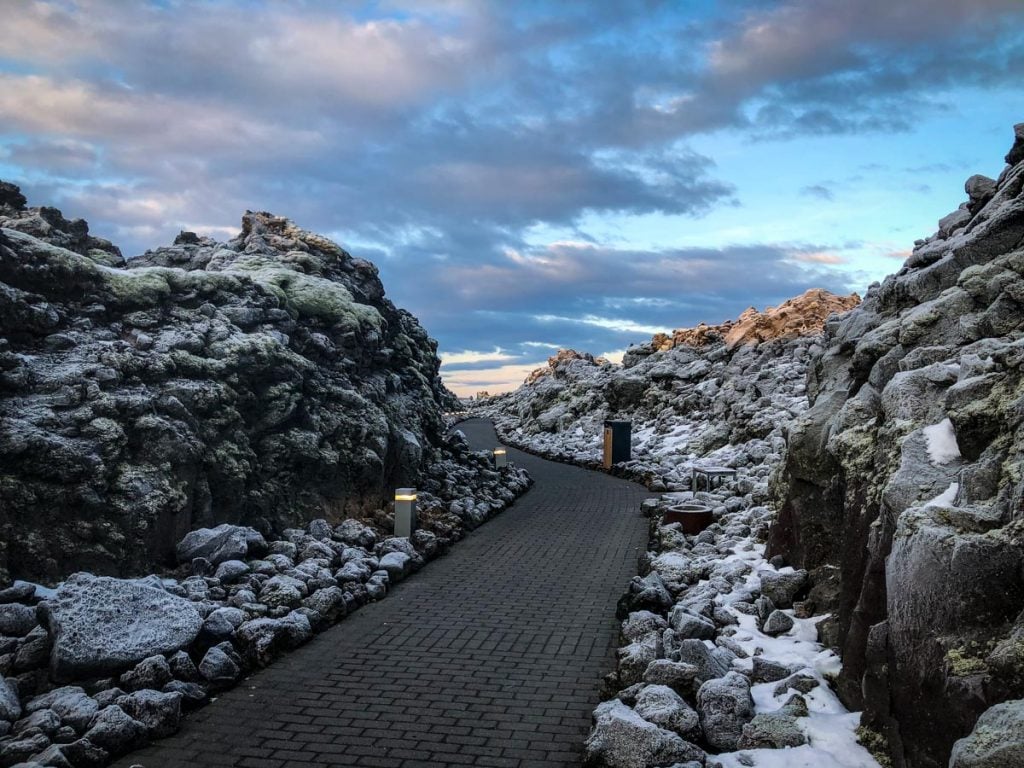 If you are hoping to see the Northern Lights in Iceland, you'll want to visit between October and February for the best chance of spotting them (though you could get lucky and see them during the off season!).
An important thing to know is that many of the campgrounds in Iceland close at the end of September. There will still be some open, so you'll want to do a little extra research.
Also, if you plan to travel in a campervan during the winter, make sure your rental company provides a "winter kit". Happy Campers , for instance, provides guests with a winter kit, studded snow tires, a powerful heating system, extra power, and insulation.
What about campervan insurance?
Most companies include Collision Damage Waiver (CDW) insurance included in the price of the rental, which typically covers theft or damage to the vehicle. CDW does not cover bodily injury caused by an accident. This is one of the many reasons we never leave home without travel insurance .
Insurance through your credit card: Some credit cards cover the CDW with their own rental car insurance, but those coverages typically don't apply to campervans, RVs or trucks. Be sure to read the fine print on your credit card rental car insurance policy.
Vehicle insurance is always a little bit tricky, but it feels even more complicated in Iceland.
There are all sorts of types of coverage you can add on that are unique to Iceland. We've broken it all down for you right here so you have a better idea of what to expect and how to make the best decision for you.
Bottom line: Adding or declining insurance is really a personal choice, and you have to assess the risk you're willing to take.
How far in advance do you need to make reservations?
We'll get straight to the point here: The earlier you can make your reservation the better.
Iceland is a small island nation and frankly, there is a limited supply of vehicles in general. There are even fewer campervans. And if you're looking for something specific – say automatic transmission with a high-top roof – you'll definitely want to get a head start on your search.
Additionally, if you are planning to travel to Iceland during peak tourist season (June – August), you'll want to get a jump start on making any crucial reservations (like your campervan booking) as early as you can.
Something to consider: Understand the cancelation policy of the company you choose to rent through. Some of them are very strict, while others have no penalties for canceling, meaning it might make sense to go ahead with that booking as soon as you are able.
For instance, Happy Campers has free cancellation up to 24 hours before pick up, so we weren't too worried about making our reservation as early as possible.
Where can you camp in Iceland?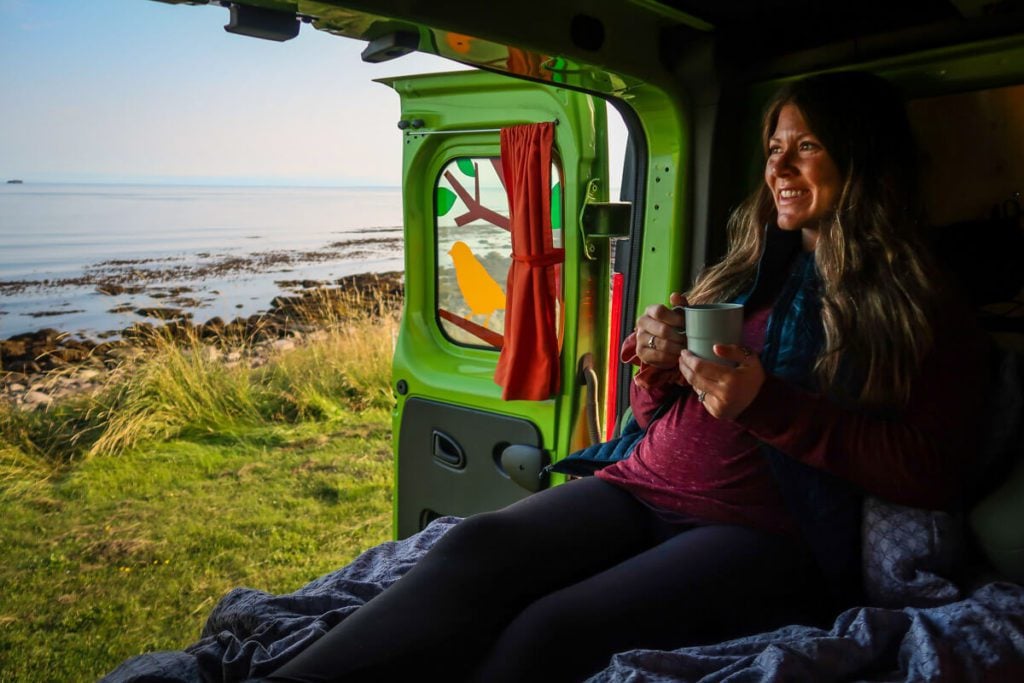 In Iceland, you must camp at a designated campsite (see below for a couple of exceptions).
Campgrounds in Iceland may be a bit different from what you're used to (especially if you're coming from the USA or Canada).
We've written all about what to expect at campgrounds in Iceland so you feel prepared!
Are there toilets in campervans in Iceland?
Most campervan rentals in Iceland do not come with a toilet. There are exceptions to this, and if having a toilet is essential to you, this will help you choose a rental company (as many will be eliminated from the get-go!).
Why don't most campervan rentals have a toilet?
For one, there are public restrooms all over the country and every campground has toilet facilities.
Secondly, the most common type of toilet you'll see in campervan rentals is a cassette toilet, which is honestly good for emergencies but not a great solution for every time you've gotta go. They often require chemicals and frequent emptying, making them kind of a pain. (And they're not very convenient for going number 2.)
Still curious? We wrote an entire article about campervan toilets (not even shitting you!), so you can understand how they work and what different options there are on the market.
Even if you have one for emergencies, you might not find yourself using it all that often. For example, we had a cassette toilet in our campervan rental in New Zealand , but because of how annoying it would be to clean and empty, we didn't even use it once in our month-long trip.
For that reason, we didn't find it necessary to spend a lot more money to have a toilet in our Iceland campervan rental.
So, where do you go to the bathroom?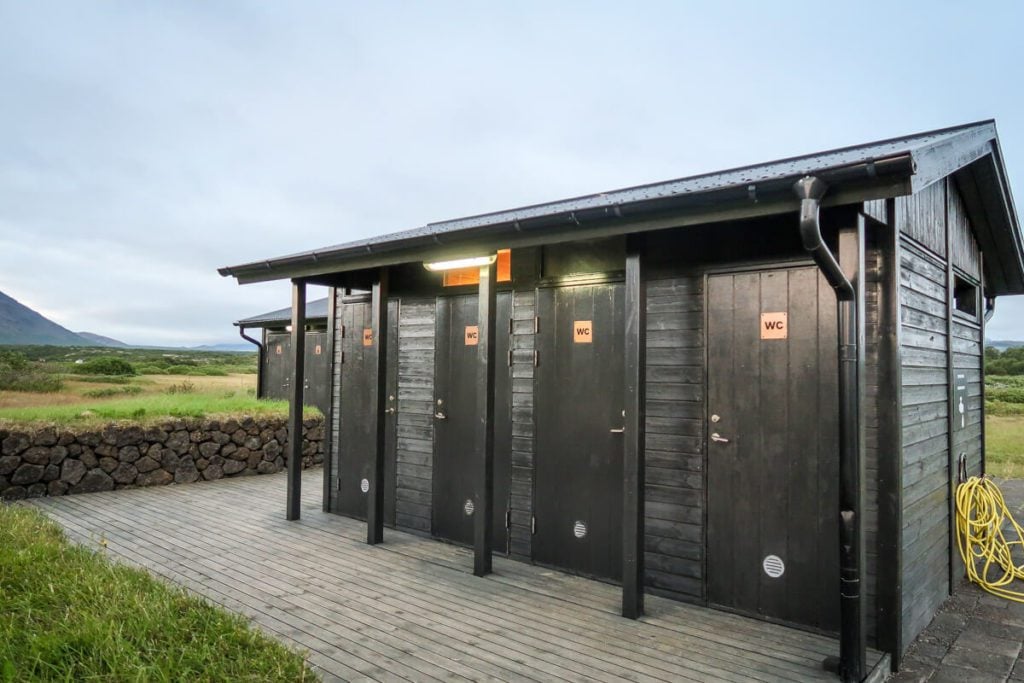 Attractions: Almost every major attraction will have a public restroom. There are a handful of them that charge a fee (and usually accept credit cards), so just be prepared for that. I believe we only paid for one such restroom during our entire trip.
Hiking trails: Many (but not all) hiking routes have toilets at the trailhead.
Restaurants, stores, cafes: If you're eating or shopping, be sure to take advantage of the facilities.
Rest stops: There are a handful of turnouts along the Ring Road that have toilets (some with a fee). Typically you'll see signs for these, but you can also search "restroom" on Google Maps to see any that are nearby.
Gas stations: Another good place to relieve yourself on the road.
Campgrounds: All campgrounds have toilet facilities. Consider parking near them if you don't want to have a long walk.
Still feeling uneasy about not having a toilet?
I feel ya. Let me remind you that I was 6.5-months pregnant during our Iceland trip, so this was a major concern of mine too. I didn't want to have to throw on shoes and a jacket in the middle of the night to hobble over to the public bathroom, after all.
The solution? It might sound crazy and kind of strange (I thought so too!), but have you thought of having a large (empty) bottle in your van to, well, you know…? If you're a guy, this is a simple solution that needs no extra explanation. But for ladies, you'll also need one of these devices to help you out.
I'll say from personal experience that it's not the most comfortable pee of your life, but once you get used to it, it can be a lifesaver. Just be sure to keep a little TP around too!
How do you shower?
Unless you rent a full motorhome, you will not have a shower in your campervan. And honestly, it's not that big of a deal because almost all campgrounds have shower facilities.
We'd recommend paying specific attention to campground reviews that mention the showers. Here are a couple of things to look out for:
Cleanliness: Campground showers do vary in cleanliness. Pay attention to reviews that discuss this. We only stayed at one campground where we felt that the showers were in need of maintenance. All the rest were what we would expect of a public shower.
Cost: Some campgrounds charge a fee for guests to use their shower. Typically, these campgrounds might have a lower per person cost per night (but not always). We only stayed at one such campground, and it cost 300 ISK ($2.30) for 3 minutes of hot water.
Hot water: Campground showers should almost exclusively have hot water. We did not encounter any that did not have hot water. That said, we made sure to read reviews and chose ones that seemed to have nicer facilities.
Insider Tip: When we were debating between where to stay, we'd often choose the campgrounds that had better showers or didn't charge extra for them.
Our experience: Not having a shower in our campervan wasn't a big deal at all as we were able to find them whenever needed. There was never a day where we wanted to shower and could not find one.
Here are a couple of takeaways:
We found we didn't need to shower every day anyway. After long hikes, we obviously wanted to clean up and there were other days when we were chilly and just wanted to warm up in a hot shower. But there were also days where we didn't even work up a sweat (it can be pretty cold even in the summertime!), so we didn't feel like we needed to rinse off. And there were also days where we did so much adventuring that we arrived at our campground so late we didn't feel like showering. We packed body wipes to freshen up with on these days.
When going to developed hot springs, you'll have access to their showers , so you likely won't need to shower at your campground too.
Tips for traveling to Iceland in a Campervan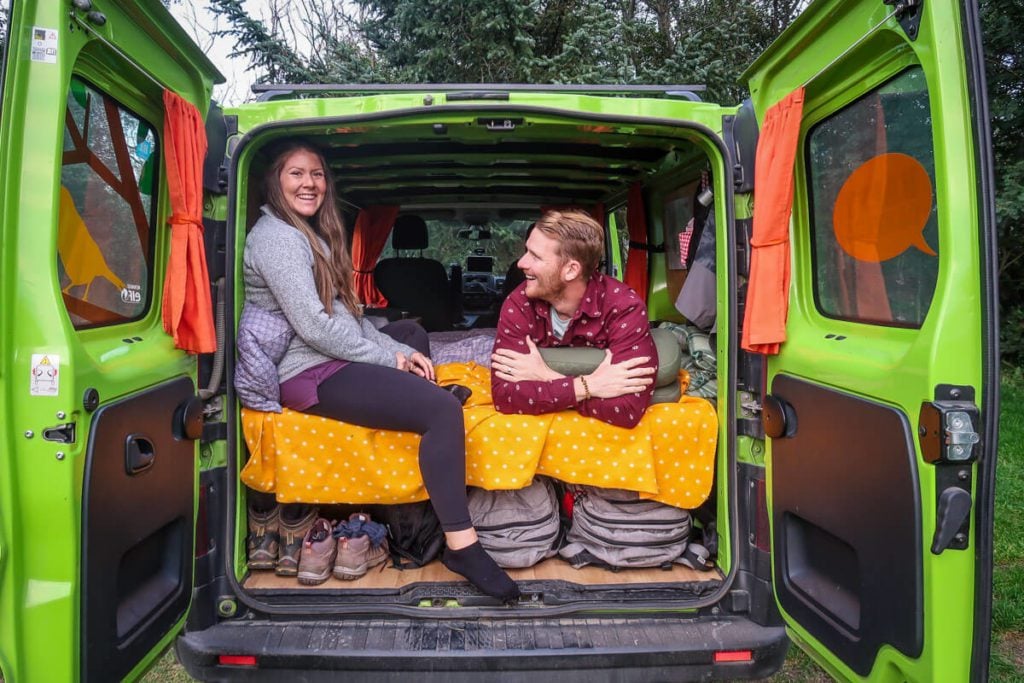 We've built two of our own campervans and have traveled in van rentals around the world, so we'd like to think we've picked up a few tips and tricks along the way.
Here is some of our best advice to keep in mind, especially if this is your first time traveling in a campervan.
1. Pack smart
While living and traveling in a tiny space, it's important to pack only what you need and not a ton more.
Clothes: When it comes to clothes, think about packing layers, waterproof items and things that can be worn more than once. You really won't need a brand new outfit for every day (trust us on this).
Other items: There are some things that make campervan travel infinitely easier. Lucky for you, we've created a list of items to think about packing – many of which are things you probably have sitting around at home but might not have thought to bring.
2. Stay organized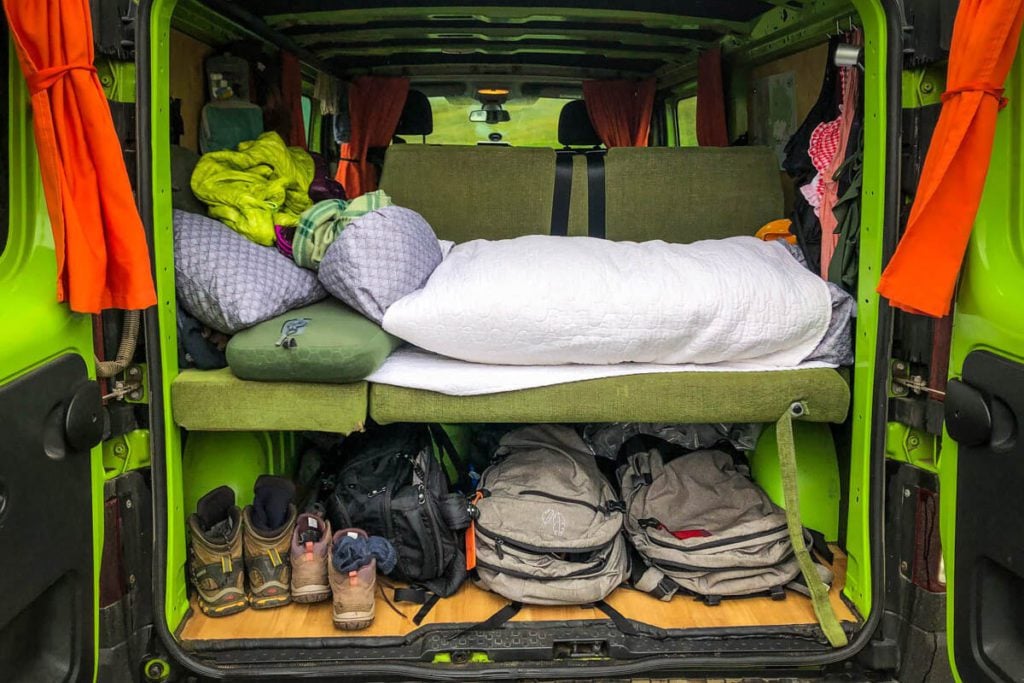 Trust me when I say that clutter in a campervan will make you start to go a little crazy! The more organized you can stay, the better.
We'd suggest taking a half hour when you first get your campervan to get everything in place. Our van from Happy Campers had colorful crates, which were super handy for keeping essential items easy to access.
They had them already organized with utensil holders, dishware, etc. We moved things around a bit and consolidated so we could have an entire crate for food and another one for toiletries.
These items are super helpful for staying organized in a campervan:
Packing cubes : keep your clothes compact and organized
Laundry bag: use this to keep your dirty clothes separate from clean ones (if you don't have an actual laundry bag, a drawstring backpack works great)
Toiletry case: organizes all the toiletry essentials in one place
Chip clips and/or rubber bands: for closing food bags
Reusable baggies : helpful for storing all sorts of things – from snacks to small miscellaneous items
3. Take "before" photos
Before putting those keys in the ignition, be sure to take photos of the exterior and interior of your campervan, paying extra attention to any flaws. Keep them in an album in case you need to dispute any damage when you return your vehicle.
We do this when renting any type of vehicle anywhere in the world. We've never had to use the photos as proof, but it gives us peace of mind knowing we have them just in case.
4. Be sure you have all the essentials before driving away
As we already mentioned, we realized when we were making the bed the first night of our trip that we only had one pillow. There are so many things that go into a campervan, so we can see how it got overlooked.
Our recommendation is to make sure you have blankets, pillows, utensils, pots, and anything else you know you'll need before leaving the parking lot. We were already too far away to return, so we made due with one pillow along with the camping pillows we had packed.
5. Have a plan for cooking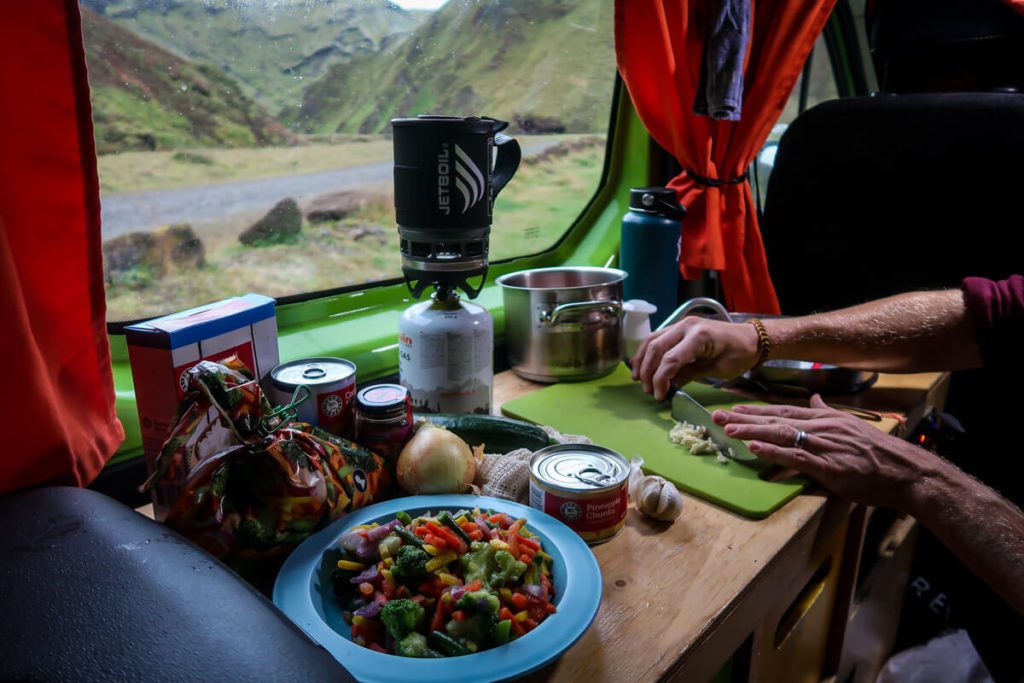 If you've never done much camp cooking, you'll probably want to come up with a bit of a plan before your trip. Cooking in a campervan kitchen or a shared kitchen at a campground will likely be quite a bit different from what you're used to at home. Having some meal ideas will come in super handy.
We've built two of our own campervans and have rented them for travels around the world. So it's safe to say we've cooked many-a-meal in tiny campervan kitchens!
Lucky for you, we've got just the things you need:
Ultimate guide to grocery shopping in Iceland , including easy meal ideas with ingredients you can easily get
Check out some of our favorite simple campervan recipes
Simple 1-pot recipes that are perfect for camp cooking
6. Research campsites ahead of time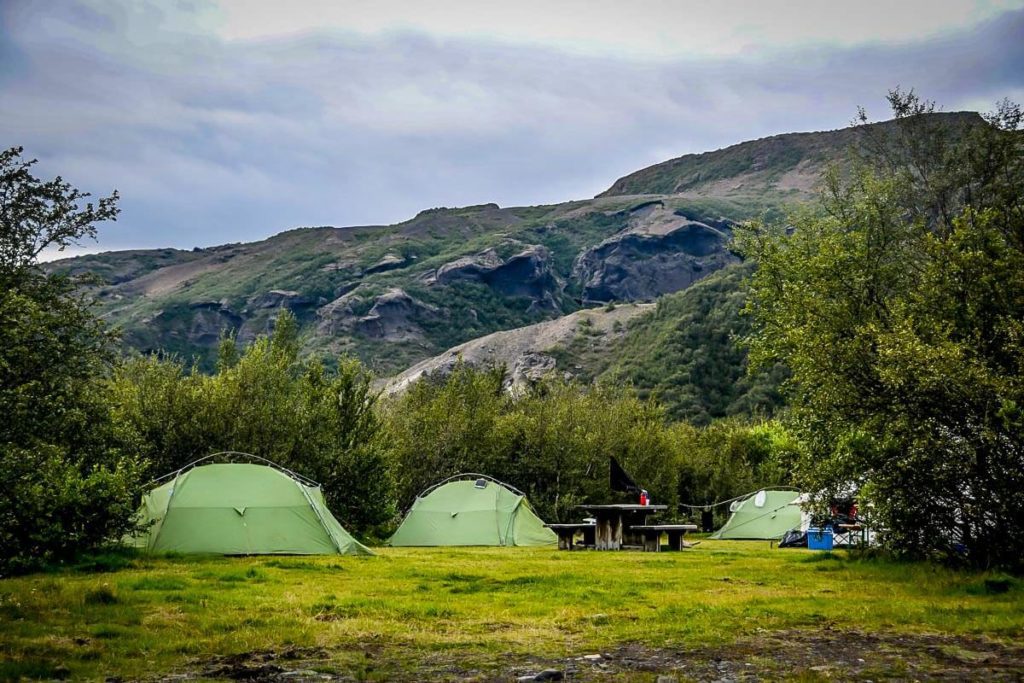 Campsites in Iceland can vary quite a bit in the facilities they offer, so do a little bit of research ahead of time so you know what to expect at each. We also like reading recent reviews so we have realistic expectations.
We personally find that if our own expectations are in check, we'll have a better attitude and can enjoy our experience more than we would if we arrived and are completely disappointed because we expected more.
Let me just sum it up for you like this: Some campgrounds in Iceland are wonderful – clean with generous amenities. And others leave a bit to be desired, but are the only option around, so they work just fine for a night (as long as you're prepared!).
Check out some of our favorite campsites in Iceland here .
7. Come with a route in mind…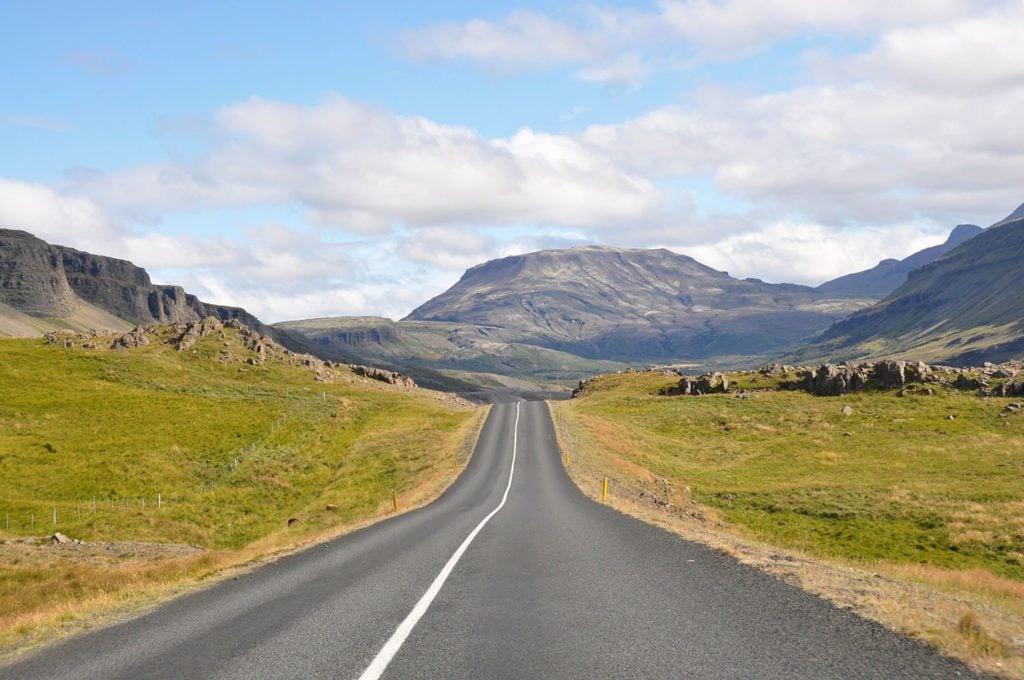 Part of the magic of taking a road trip is taking side roads and getting a little lost, wouldn't you agree?!
However, in our opinion, Iceland isn't a place to just completely "wing it". Here's why:
a) It's easy to miss amazing spots if you don't know where they are. We'd highly recommend pulling over at any roadside stops that pique your interest, however, many cool places aren't marked with road signs.
You'll want to narrow down the major spots you want to stop along the way before your trip because it's very easy to miss them. You don't want to find out that you passed by an epic hot spring simply because you didn't know it was there.
b) Do you need a 4×4? Before reserving your vehicle, you'll want to know whether or not you need a 4×4. This means you'll need to do some research on the places you plan to visit, as there will be roads that are only accessible if you have the proper vehicle.
Not sure if you need a 4×4? We've given our two cents here…
c) Gas is expensive. Being that Iceland is an island nation and all petrol must be imported, gas is not cheap. It makes more sense to really think through the places you want to see so you don't have to backtrack or go significantly out of the way and rack up an eye-watering bill at the gas station. Having a somewhat planned route will help you make the most of your gas budget.
Curious about how much gas in Iceland costs? We recorded every single cent we spent on our Iceland trip (including gas money), and are sharing our total Iceland trip cost so you know what to expect.
We compiled all of our experiences from 3 separate visits and put together what we think is the perfect 7-day Iceland itinerary for your first trip. You can follow ours exactly or just use it to help you plan your own route along Iceland's Ring Road .
8. …but be flexible too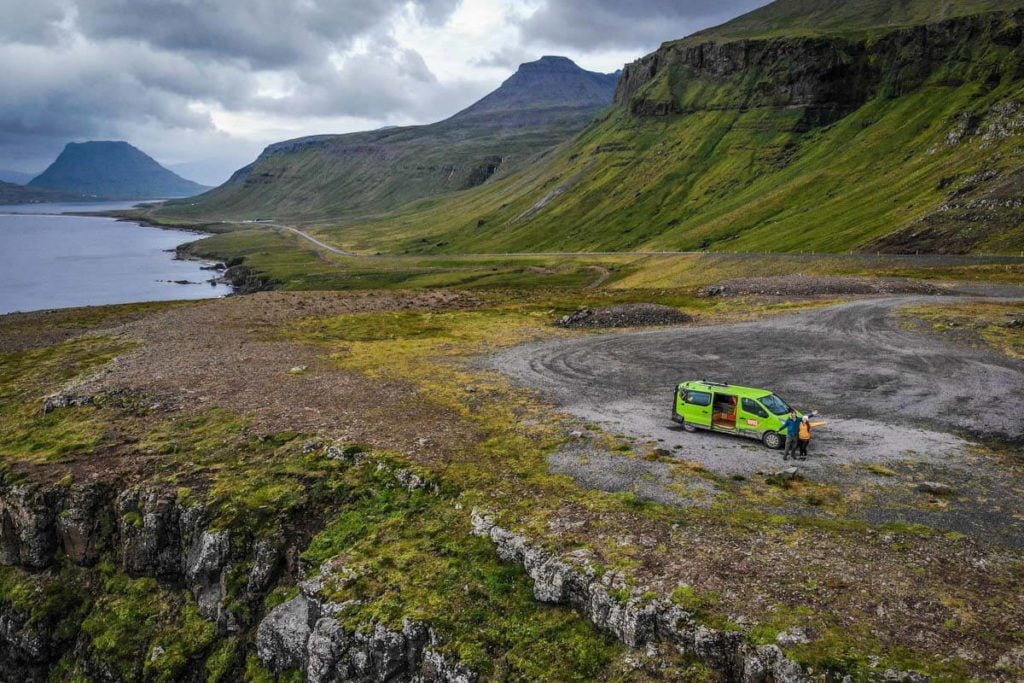 We think the point above is very important, but perhaps even more crucial is to come to Iceland with an open mind.
During your trip, keep in mind that the only thing you can count on is that some things will go differently than you expected.
If you come with a super strict itinerary with no wiggle room, chances are you'll have some major disappointments.
Weather in Iceland is unpredictable, and some views might be completely clouded over. This happened to us on more than one occasion.
You may experience some trouble on the road and need to adjust your schedule. Our van battery died in the middle of nowhere and we had to figure out how to get a jump!
Driving times between places may take significantly longer than you expect. This is super common, so give yourself ample time to get from place to place.
Some small businesses may be closed when you arrive. Yep, even if it says they should be open on their website.
Our advice is to make plans, but be flexible and willing to alter your schedule a bit if needed. This attitude will help you have a much more enjoyable trip.
Wondering how to start planning your itinerary? Here's the process we use to plan a killer road trip .
9. Be prepared for ALL weather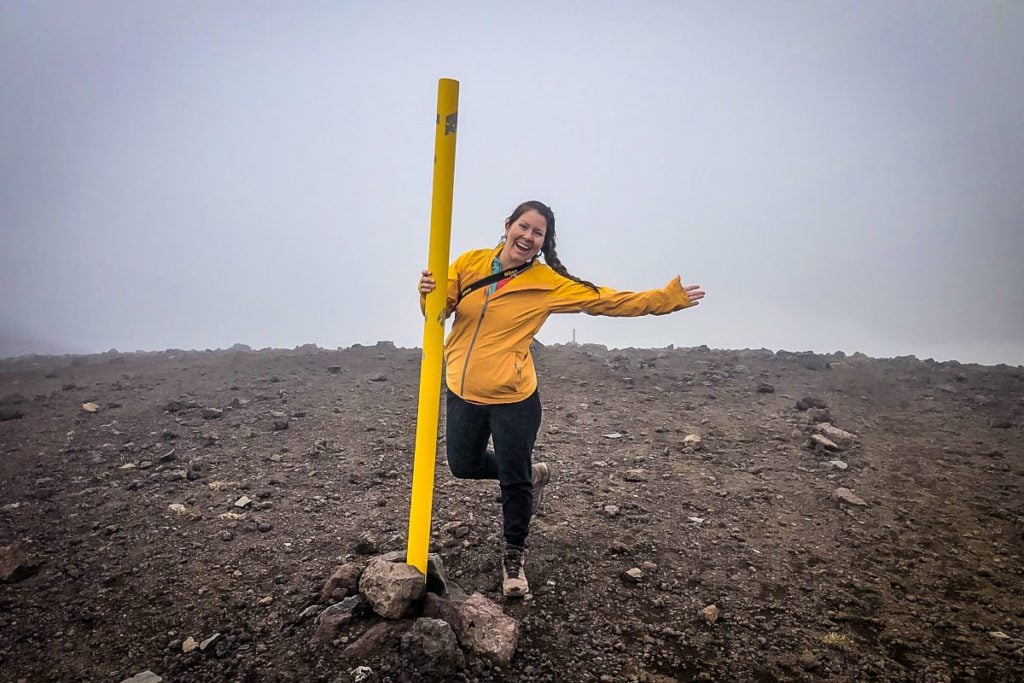 Let's get cliché for a moment. Read the quotes below and let them really sink in:
"If you don't like the weather, wait 5 minutes."
While this quote was originally from Mark Twain, and many places around tout it as sort of a local anthem, you'll hear it a lot in Iceland. The weather is notoriously unpredictable, and in one day you can experience sunshine, wind, rain and sleet.
Even if you set out on a hike and there are no clouds in the sky, bring a rain jacket with you. And when you show up to a view and it's totally obstructed by fog and rain, have a little patience. Sometimes waiting just a few minutes will be all it takes for the winds to shift.
In a similar vein, if you wake up to sunshine, don't expect that to last all day. The climate and weather will vary quite a bit just miles apart, so you could very well drive through all different conditions in one day.
"There isn't bad weather, just bad clothes."
Being born and raised in Minnesota, we're both very well-versed with this quote. Throughout bitter Midwest winters, this is a popular saying, and I think it translates really well to planning a trip to Iceland as well.
No matter what time of year you visit Iceland, here's what you can count on:
Cold temperatures
Strong winds
Be prepared with rain gear (the high-quality stuff makes a huge difference), warm layers, and a good attitude. With the proper gear, you can still explore in less-than-ideal conditions.
You'll especially want to make sure you have clothing that is warm enough and quick-drying if you are traveling in a campervan. Being cold and wet is going to make you miserable, so pack accordingly.
10. Download these apps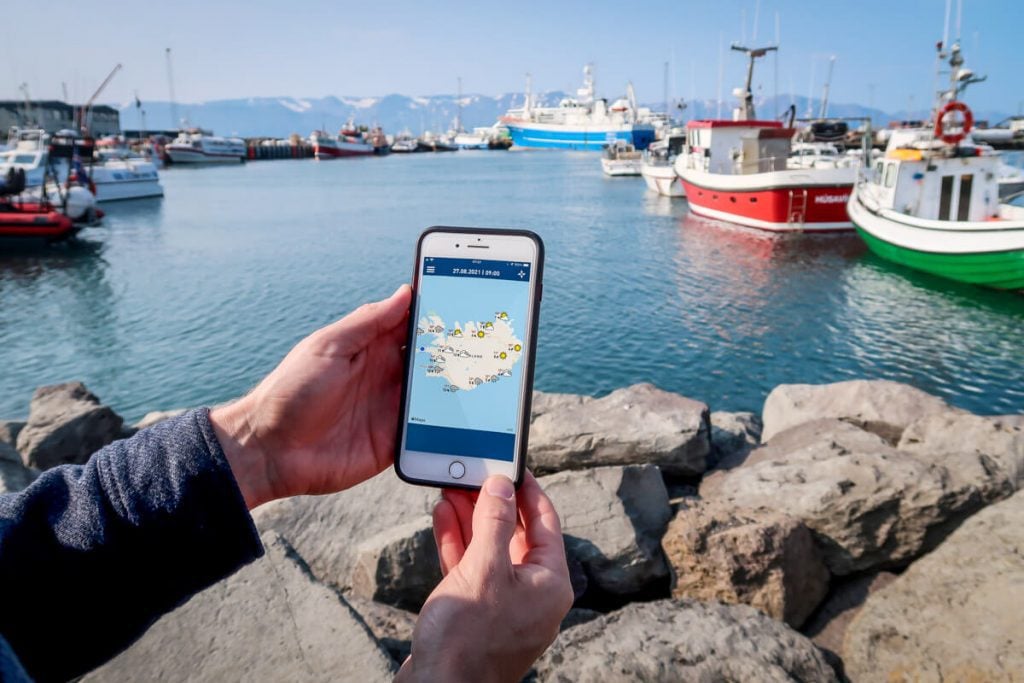 There are a handful of apps that'll make traveling in a campervan a lot easier (or more fun):
SafeTravel: shows current road conditions
Google Maps: download the offline version of Google Maps
Vedur: this has the most accurate weather forecast for Iceland
112: this app can help you share your GPS location in case of emergency
Bensin: this shows you the best gas prices at stations near you so you can choose the cheapest place to fill up
Spotify: queue up your favorite road trip playlist
Libby: connect to your local library and borrow audiobooks for free! Perfect for road tripping!
Psst! Here are more Iceland apps to download before your trip!
11. Do some reading before you get behind the wheel in Iceland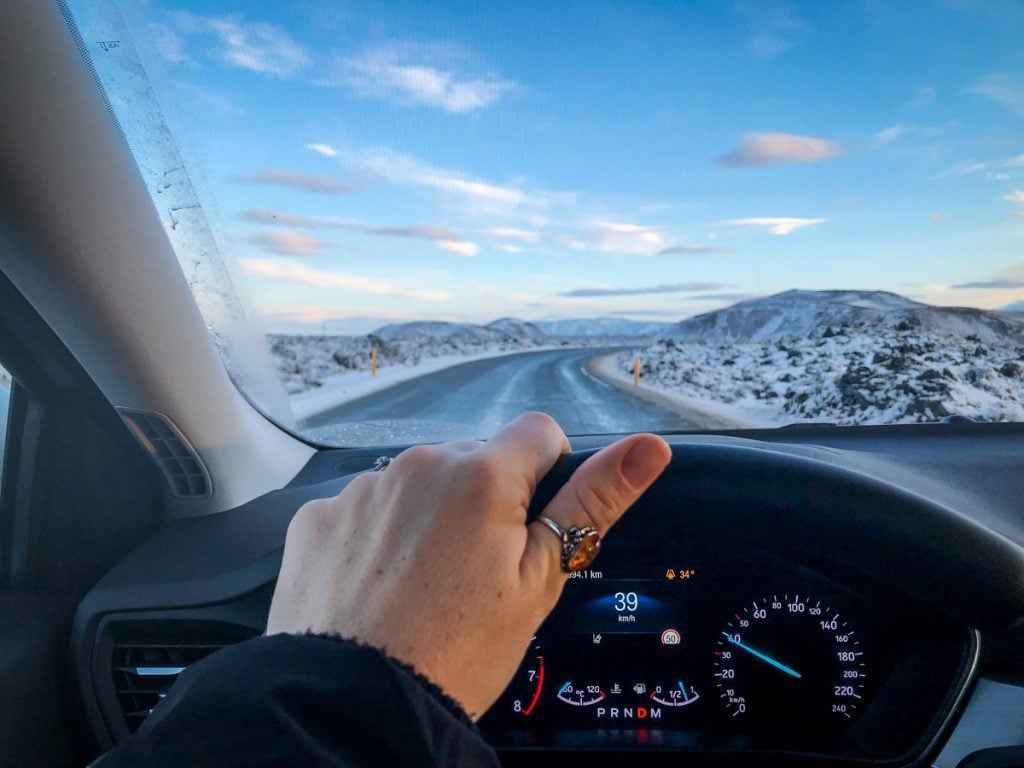 You may be wondering how difficult it is to drive a campervan in Iceland, and the truth is, this is a very personal question.
It is going to come down to the specific campervan you choose as well as your comfort level driving larger vehicles in general.
Personally, we found driving in Iceland to be quite easy. With the exception of Reykjavík and the surrounding area, the roads typically aren't too crowded.
In Iceland, you drive on the right side of the road (which we're used to in the United States), and most roads are pretty easy to navigate.
All that said, there are some things that are super important to know before popping those keys into the ignition.
We've created a guide dedicated to tips for driving in Iceland that will be helpful whether you're driving a car or campervan. It goes over things to watch out for, a tricky rule for roundabouts that can cause accidents if you're not prepared, and much, much more that is specific to driving in Iceland.
Make sure you check out that article and bookmark it so you feel confident when getting behind the wheel.
Iceland Campervan Packing List
Here are some items we'd recommend packing specifically if you are renting a campervan in Iceland. Many of these are items we keep in our own campervan and have come to love having with us.
Organization
Packing cubes : an essential for keeping your van organized
Hanging toiletry organizer : we were able to hang this on a hook in the van, making it super easy to access what we needed
Dry bag : essential for keeping valuables dry in Iceland's wet climate
Reusable grocery bag: for grocery shopping and organization
Reusable baggies : come in super handy for snacks and storing small items
Kitchen
Rubber bands & chip clips: Trust us, you'll need a way to keep those food bags closed so they don't spill all over your van.
Garbage bags: Our van didn't have a garbage can or bags, so we were happy we brought a few small garbage bags from home. Regular plastic bags could work too, but you must pay for them in the stores in Iceland.
Spices ( see what spices we packed )
Snacks: dried fruit, nuts, protein bars
AeroPress Go : If you are a coffee drinker, this is super handy!
Note: If you bring a Jetboil, you can't fly with propane, and will need to pick one up once you land in Iceland. Your campervan rental company may even offer these.
Dehydrated meals (optional): These are a super quick meal idea and work great for a quick hot lunch or dinner.
Multi-tool (you can only pack this in checked luggage)
Dr. Bronner's biodegradable soap : our campervan didn't have a grey water tank, so packing a small container of this biodegradable soap made us feel more comfortable doing dishes when the water would go into the ground. Bonus: Ben also uses this as body wash and shampoo!
Quick-dry towel
Body wipes: For a way to freshen up on days you don't feel like showering
Dry shampoo
Hand sanitizer ( this one is our favorite! )
First Aid Kit
Eye mask: especially helpful during the summer months where the sun sets very alte
Travel pillow: good to have just in case you don't love the ones provided (or so you can have more pillows for sitting up in the bed)
Hat and gloves: yes, even during the summertime!
Sleeping pad (optional): We wouldn't recommend buying one specifically for this trip, but if you have a lightweight sleeping pad at home, you may as well bring it for some extra cushion. We wished we had packed ours because while the mattress was fine, it could have used a bit more padding.
Electronics
Headlamps : Nice for midnight runs to the toilet
Car Inverter : Your campervan will likely have USB outlets for charging devices like your phone. But if you need to charge larger devices like a laptop or drone, this car inverter will come in clutch. And yes, you can fly with it!
Inflatable solar lamp : nice for lighting up the van at night, as we felt like the lighting inside wasn't quite enough
Portable jumper cables (optional): This tiny little device has a power pack that effectively jumps your vehicle (without another car). Our campervan battery died in the middle of nowhere during a torrential rainstorm, and it took us hitchhiking to a nearby farm to find jumper cables. We wished we would have had one of these (in fact, we bought one as soon as we got home!).
Be sure to download our complete packing list for Iceland ! It's packed with good suggestions and insider tips to help plan your Italy trip. And it's completely FREE , so why not!?

Are you planning a trip to Iceland?
We have TONS of resources on travel in Iceland and how to make the most out of your trip. Check out our Ultimate Iceland Travel Guide for all the answers to your most burning questions, or read some of our favorite articles below.
Perfect Iceland Itinerary
Iceland Trip Cost + Surprising Budget Tips
Golden Circle Iceland: The Ultimate Guide
Groceries in Iceland: Money-Saving Guide to Icelandic Supermarkets
Save this article on Pinterest for later!
Disclosure: In full transparency, our Happy Campers rental was sponsored in exchange for coverage on our website. As with anything that we get for free, we disclose this to our readers and share our completely honest opinions (even the not-so-great parts). Additionally, we did a great deal of research before our trip to compare many campervan companies. For several reasons, Happy Campers was the one we would have personally chosen regardless of having a partnership.
We want to hear from you!
Are you planning a campervan trip and still have questions about your Iceland campervan rental options? Leave your comment below and we'll do our best to get you the answers you're looking for!
Comments (2) on " Best Campervan Rentals in Iceland: Ultimate Guide (+ Discount!) "
I am loving all the info you provide in these posts about road-tripping through Iceland! The CamperVan info especially has been so helpful! I have alot of questions about water. I see you mentioned there is a fillable water tank for fresh water, where would you get your fresh water from? Could you then drink the water that comes from the pump sink? Do they provide enough pots to have one for boiling water (for coffee) and another strictly for food? Did you have a separate clean fillable container (not the tank) that stored your drinking water/ water you put in a bladder for hikes? Sorry lots of water questions here and I didn't see anything posted about it. One more: is there a campervan company that you know of that is insulated with a smaller 2-person model (like the model you rented)? Thank you 🙂
Hey Nicole, great questions. You can drink water out of the tap all around Iceland. It is clean and delicious! Every campsite and some popular tourist parking lots have water fill stations that you can fill into your van fresh water. Then you can drink that water that gets pumped into your van sink. There are some pots in the van for boiling and cooking, but we brought our JetBoil so we could cook on one burner and then have our hot water in the JetBoil for coffee. We just had our water bottles but you could pack a backpack bladder for your convenience. There are a few vans that are insulated, but you'll have to search through some filters. Happy Campers 4×4 is insulated just for reference. Hope this all helps your planning!
Leave a Reply Cancel reply
Your email address will not be published. Required fields are marked *
Save my name, email, and website in this browser for the next time I comment.