Things to Do
Restaurants
Vacation Rentals
Travel Stories
Rental Cars
Add a Place
Travel Forum
Travelers' Choice
Help Center
Go Brutus!! - Spectacular Jumping Crocodile Cruise
South Pacific
Australia
Northern Territory
Top End
Darwin
Darwin - Things to Do
Spectacular Jumping Crocodile Cruise
Go Brutus!!
Great family run operation. We saw between 8-10 crocodiles all up and they all jumped for us. The star of the show was Brutus. All 5.4m of him. I am certainly glad that he only lifted his front out of the water. He is a huge beast. While he was talking to us a smaller one came along and was shown in no uncertain manner that he was not welcome. Brutus chased him across the river and both went down and only Brutus came back up. This was probably a quite rare sighting. Excellent commentary from first hand knowledge. If you want to see real croc's, this is the one. Highly recommend!
The cruise did not only include jumping crocodile but also eagle feeding! You get to see them up close as they fly just by the boat, incredible! We got to see a sea eagle, regular eagles, a jumping croc and a jumping baby croc too! Jess and Mark(?) were passionate you could see they love their jobs and that is awesome to see. Totally recommend this tour!!!
Great tour, lots of knowledge, got to witness the jumping crocs at their finest!! Highly recommend doing it, quite a thrill as to how close they get...Tha is again for the flattery Casanova 😉 Cheers TJ and I hope I'm correct...Benji for the awesome tour 😉
Myself and 2 friends are so glad we came to visit this tour - we had an unforgettable time! We came on the 1PM cruise and saw 3 different crocs up super close.. their names were Casanova, Pearl and Ziggy! You come so close to them and can take some brilliant photos/videos whilst in a safe environment. And as a bonus we were very lucky and got to feed some large birds of prey too. A massive thank you to the girls who looked after us on our tour - our skipper Aleena and our croc feeder Jess - both girls were super enthusiastic and passionate about their work. Thank you both for answering all our questions and being so informative and happy! I would highly recommend this for anybody who is visiting Darwin.
This tour was fantastic. Thank Alex and Chelsea was very informative about Crocodiles and the wild life that lives on the Adelaide River. Great to be able to see the crocodiles up close and jumping. Went with another company to this but well worthwhile.
I was really impressed with the team. Visiting from Melbourne, I did a half day tour with another company that included a visit here. They really got the crocs moving!. Stumpy the croc was impressive! The team are alot of fun and made it a great day out..... Highly recommend
Thanks for your positive comments ...Our crew are very passionate about their work with wildlife.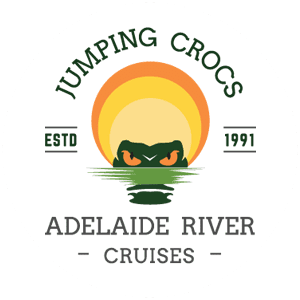 RE-OPENING FOR 2023 DRY SEASON: 18 MAY 23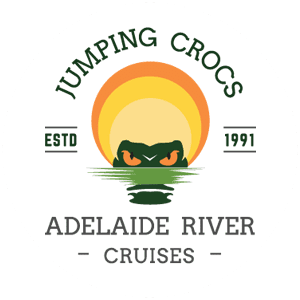 Croc Cruise News
Adelaide River's giant showdown: Dominator vs. Brutus - A battle of crocodile titans!
Australia's saltwater crocodile populations are on the rise, and one of the most densely populated regions in the country is the Adelaide River, located in the Northern Territory where we operate our cruises. Within this region, resides Dominator, an enormous crocodile measuring over 6 metres in length and weighing over a metric ton. Reputedly the second-largest crocodile ever documented, Dominator dwells in the murky depths of the Adelaide River and never fails to captivate our visitors with its impressive displays. While this colossal reptile is undoubtedly awe-inspiring, it is not the sole inhabitant of the area. Dominator's rival, Brutus, is slightly smaller but equally formidable. The competition for dominance between these two creatures is evident in their interactions. They harbour a mutual dislike, often leading to Dominator sneaking up on Brutus and vigorously chomping on his tail, causing Brutus to thrash about desperately in the water, fighting for survival.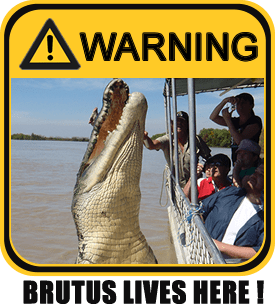 All photographs on this website remain the property of Hunter Safaris (unless otherwise stated).
 They may not be copied or distributed in any way.
© Copyright
Hunter Safaris t/a Adelaide River Cruises
Privacy Policy / Terms and Conditions
Digital Marketing by Simple Pages
Adelaide River crocodile guide Harry Bowman says farewell after 30 years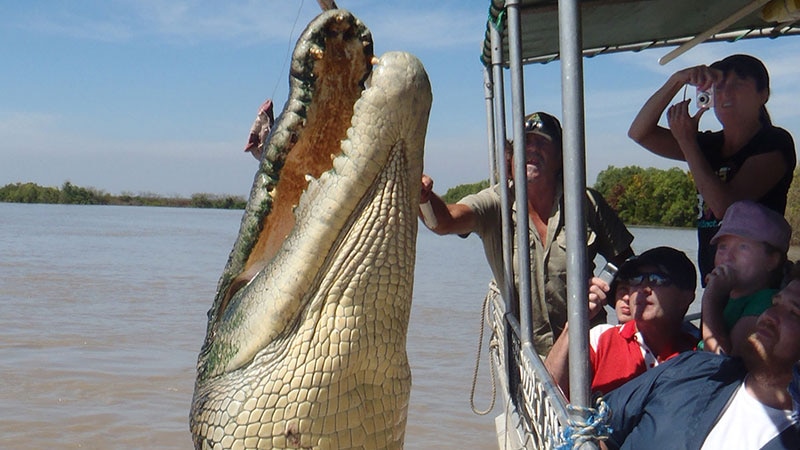 Harry Bowman has been the face of the Top End's crocodile cruises for more than 30 years, but the time has come for him to say farewell to his "business partner" — Brutus the giant saltwater croc.
A legend of the Adelaide River, Mr Bowman reckons he would not be in business at all without his world-famous, five-metre mate.
Now nearing his 70s and looking forward to retirement, Mr Bowman started his tourism career trekking through the uncharted paths of Kakadu National Park and can look back at an "incredibly fulfilling career".
"I would have to sit down for a few hours to come back with a list of my favourite experiences," he said.
"I've always loved my thong-tan along my toes.
"I have always said those are my work boots — I have been very lucky to rock into work in a t-shirt with a huge smile every day,
"From Kakadu down to the banks of the Adelaide River, I have met so many wonderful people from around the world.
Mr Bowman said he wanted to "enjoy the next few years".
"I have always said to myself 'don't leave it too bloody late'."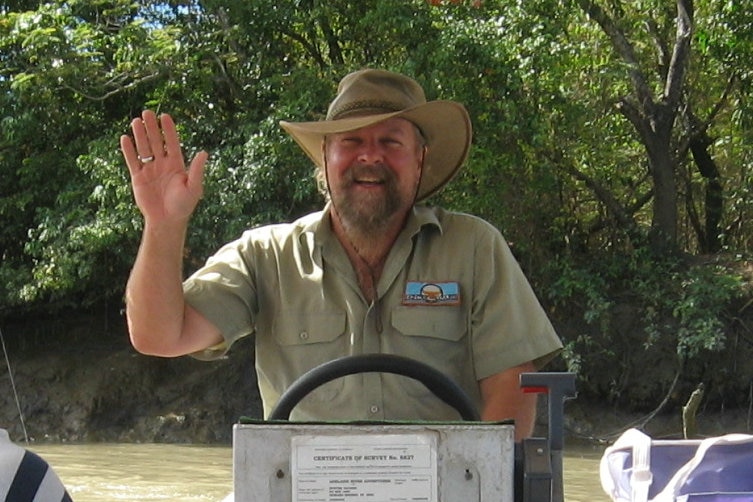 A business partner named Brutus
Mr Bowman said he had relied on one colleague appearing alongside his tinny as often as possible — Brutus the saltie.
"I have come to know Brutus for the past 25 years," Mr Bowman said.
"He would be as big as a trooper van now and he has lost most of his teeth."
Mr Bowman said Brutus used to be a more healthy specimen a few years back but at one stage turned up "with a leg missing".
"Doesn't stop him. He knocks off a pig here and there and he would be around 90. Who knows he might even outlive me!"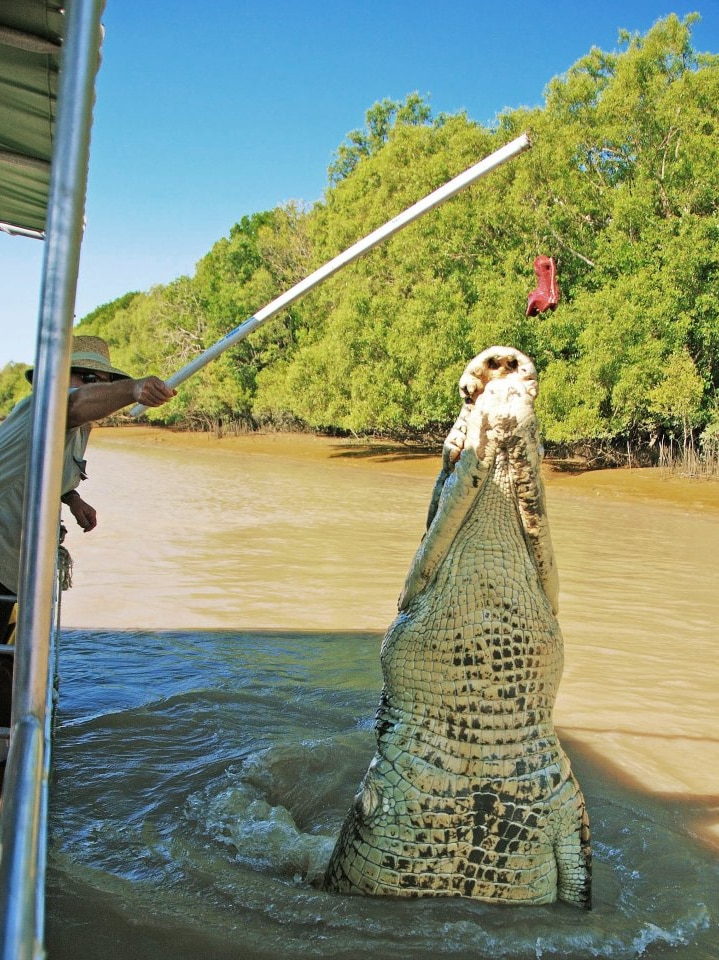 Mr Bowman said learning to understand the crocodiles that inhabit the Adelaide river took time.
He said it was about building trust.
"When we first received our government permit to feed crocodiles, it took us weeks to lure them close enough to the boat.
"Believe it or not crocs can be pretty shy creatures," he said.
"They spent about five weeks sussing us out and eventually came closer to grab at the bits of meat.
"A little while later they get to know and trust you. Now I give a few of them a scratch on the back of the head with a stick."
Mr Bowman said there had only been a few incidents where he has had to get up-close and personal.
"A few years ago old Brutus had a vine wound around his guts and down his throat.
"He came up to the boat jumped up and as I gave him a scratch I noticed he was looking really crook.
"He's my business partner so I can't let him die with this vine down his throat.
"While he was up against the boat I shoved a small hook down to grab it out and pulled about two metres of vine out of his jaws.
"My tour was pretty grossed out to say the least, but I had to look after him and help him out. I couldn't do this gig without Brutus."
Tragedy on the riverbanks
Despite his admiration for Brutus and the rest of the river family, Mr Bowman said he witnessed one event which reminded him that crocodiles are dangerous predators.
"I was coming back from a day trip and I looked under the bridge over the river.
"There was a young bloke wading in the water with a fishing rod," he said.
"I kick myself for not being a little more firm with this fella, but I told him to be careful and keep an eye out for crocs — especially one the locals nicknamed Michael Jackson.
"Only a few hours later that bloke was taken by Michael, and his wife watched the whole thing happen. I can still hear her screaming, it was horrific."
Mr Bowman said he still felt some guilt for not coaxing the fisherman away from the riverbank.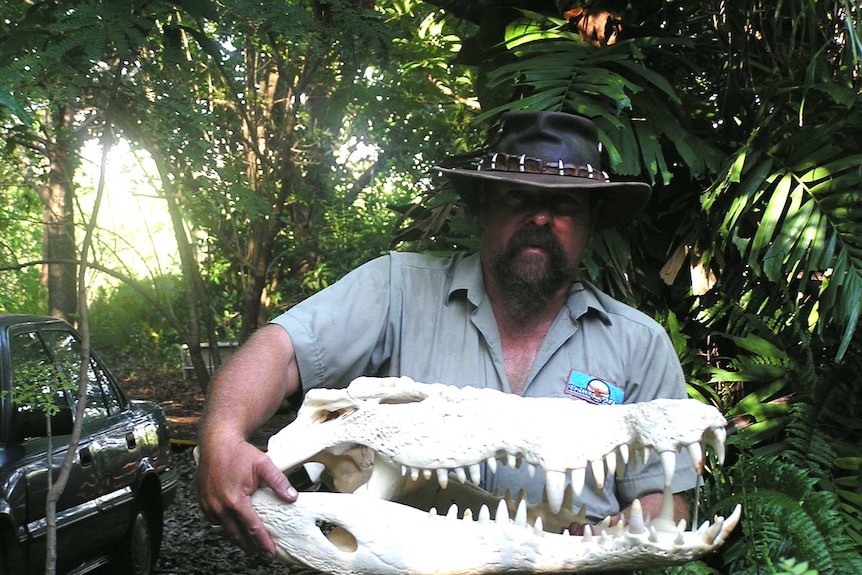 "Two lives were lost that day because after the bloke was taken the cops came down and shot poor Michael Jackson," he said.
"These creatures are apex predators, you can't be too careful around them and there are no second chances with a croc."
Although Mr Bowman has passed his company down to his son and plans to travel around Australia during his first year of retirement, he said he would not be giving up on crocs completely.
"We have quite a lot of croc memorabilia around the house, a few framed photos, some skulls and teeth. the grandkids love it," he said.
"I won't be saying goodbye to Brutus completely, I will still visit and join in on the tours occasionally and head down to say hello."
Related Stories
On the trail of a killer with a freelance crocodile hunter.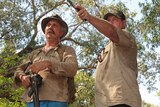 The King of Fashion is dead. Will luxury brands follow him to the grave?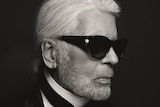 The new road driving travellers into the mouths of maneaters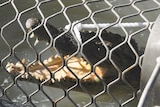 Adelaide River
Human Interest
Tourism and Leisure Industry
Travel and Tourism (Lifestyle and Leisure)
CLOSED UNTIL FURTHER NOTICE - Click Here for more Information
THE ORIGINAL JUMPING CROCODILE CRUISE
A family-owned and operated territory business..
Five purpose-built custom vessels offer guests two unique experiences of the Salt Water Crocodiles of the Northern Territory. Operating to the highest Australian safety levels with expertly trained guides and crew. An intimate and comfortable cruising experience, offering high standards of care without formality or stuffiness. Our crew are trained to be attentive and is always open to a friendly chat. Cruising with us ensures the Best. Authentic. Entertaining and Educational Experience offered on the Adelaide River.
Darwins Original Jumping Crocodile Cruises Since 1985
User All ages
Hour Glass 1 hour
Pathfinder Jumping Crocodile Cruises
Feel the excitement out in the open air on the Adelaide River as your knowledgeable skipper takes you up closes on an unforgettable journey to see crocodiles in the WILD!
Adelaide River Queen II Jumping Crocodile Cruise
Well, the real Northern Territory hasn't been seen till you take a trip on the river on the Adelaide River Queen! Come see crocodiles up close!
Jumping Crocodile Cruise Tours from Darwin
Get up close safe and comfortably, tour available include Litchfield and/or Lunch.
Please call for more information as this is not bookable on our website.
Small to Large groups welcome
Hour Glass From 1 hour
Private Charters
School Groups
Conferences
Celebrations
Private group bookings are available with optional catering, the best onshore facilities in a tropical atmosphere right on the river's edge.
Unrivalled Safety, Quality And Comfort
Nothing comes close to this 1-hour unforgettable experience viewing Australia's deadliest reptile, the famed Australian Salt Water Crocodile Crocodiles are often viewed in cages or enclosures, however, the chance to view the majestic jumping crocodiles 100% in the wild and in their own habitats is one not to be missed.
Adelaide River Queen Cruises interacts with hundreds of different crocodiles offering both educational and exciting whilst being brief enough to ensure there is minimal impact on the surrounding ecosystem.
We have 5 custom-designed vessels (Adelaide River Queen II, Kakadu Pathfinder, Pathfinder II, Pathfinder III and Pathfinder IV) providing differing cruise experiences, all offering superior quality and comfort and safety.
We also have a coffee shop, open daily, serving barista coffee, food and cold drinks. Fantastic views of the majestic Adelaide River.
Gift store, air-conditioned with gifts for every age. Toys, leather products, cards and stubbie coolers and much much more.
#1 Boat Tours In Darwin ★★★★★
Previously used this company a couple of times now so it was a no brainer to have my eldest daughter and her boyfriend go on the same tour and they loved it. The guides are friendly, welcoming, full of information. Only company to use A++++
Everything was great. The boat was comfortable and safe. The tour guide was highly knowledgeable and made sure that everyone git an excellent viewing opportunity, regardless of where you sat. Could nit recommend highly enough.
Connie our guide was pretty up front and honest that the heat and the time of year meant that it may be difficult to spot crocodiles. However, we got really lucky with coming across four on the hour tour. Some history on each of the crocs was given, as with the local area. Very enjoyable! Thanks team 🙂
Highlight of our holiday! The tour guides were informative (and very funny + friendly), the animal came out to play and star employees who held up the fort, made our day. Absolutely recommend!
The staff were so helpful with having a one month old on the cruise. Connie the tour guide was funny and very informative about the local wildlife. Even though there weren't many croc's out on the day due to mating season, Connie was still able to get a few croc's out and did a fantastic job of making them jump out of the water. Highly recommend and would do it again.
Follow Us On Instagram!
jumpingcrocodilecruises

08 8978 9077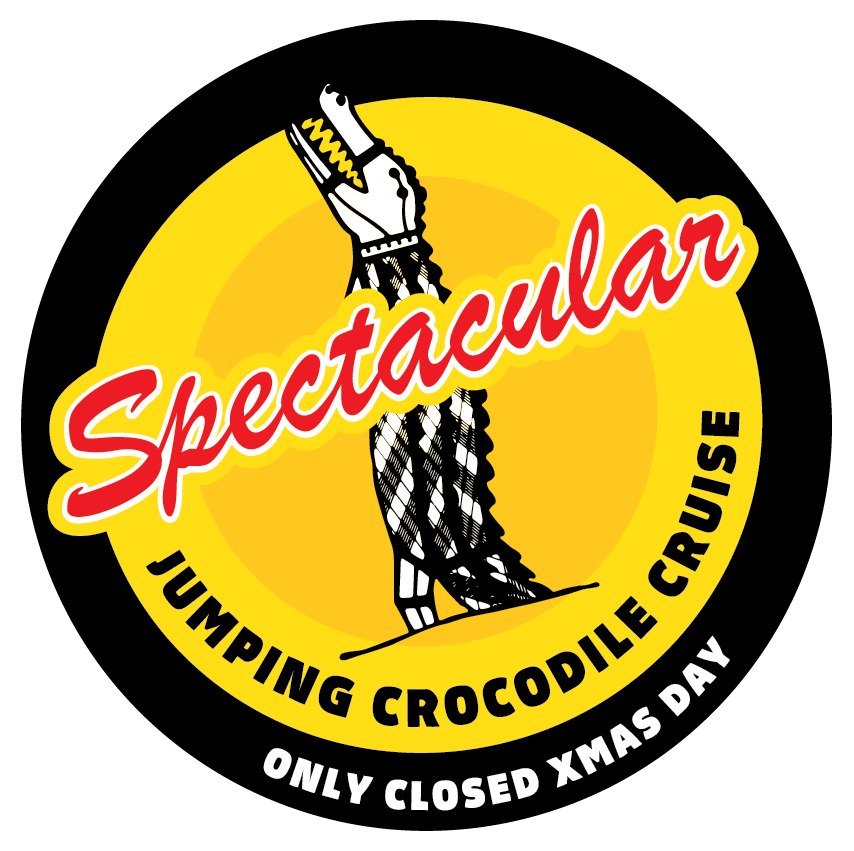 Watch Video
Get face to face with 100% wild crocodiles
– 4 Cruises Daily –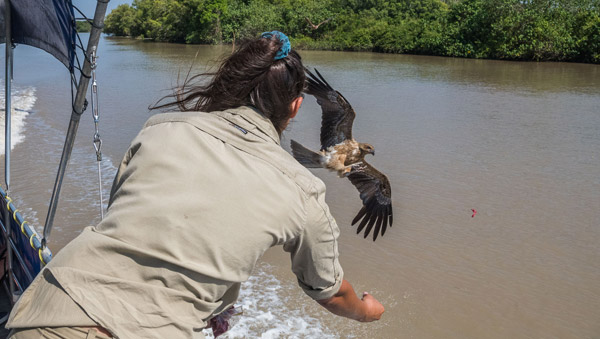 So much more than just crocs!
Experience all that the Adelaide River Floodplains have to offer!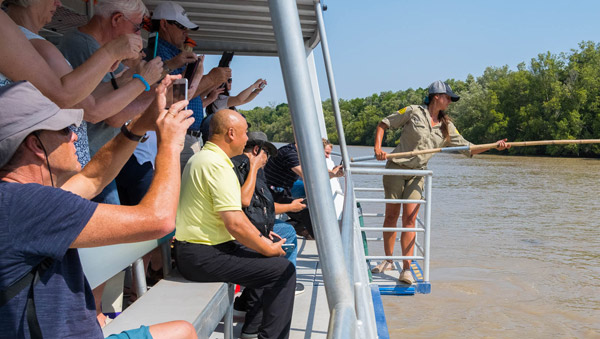 See what other's have to say!
Read testimonials from our passengers about their experience!
Getting here and what to bring!
Check our Frequently Asked Questions to help get prepared for your cruise!
#spectacularcrocodilecruises
Your NT croc & wildlife adventure starts here. Tag us to be featured!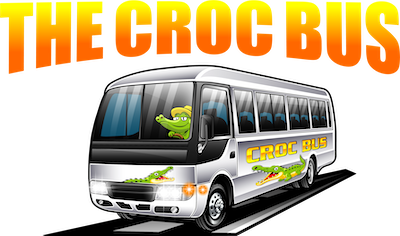 JUMPING CROCS DARWIN
Wildlife tours & cruise.
See The NT in Just Half a Day
THERE ARE NO ENCLOSURES HERE!
Jumping crocodile darwin.
Take the Croc Bus to The Famous Jumping Crocodile Cruise Darwin from the City and back. Hotel Pickups, then immerse yourself within the Outback. Get close and personal with Wildlife (but not close!) & Enjoy one of the best activities in Darwin. Stunning landscapes within just Half a Day!
Enjoy Our Comfortable 24 Seater Bus
With aircon and plenty of cold water.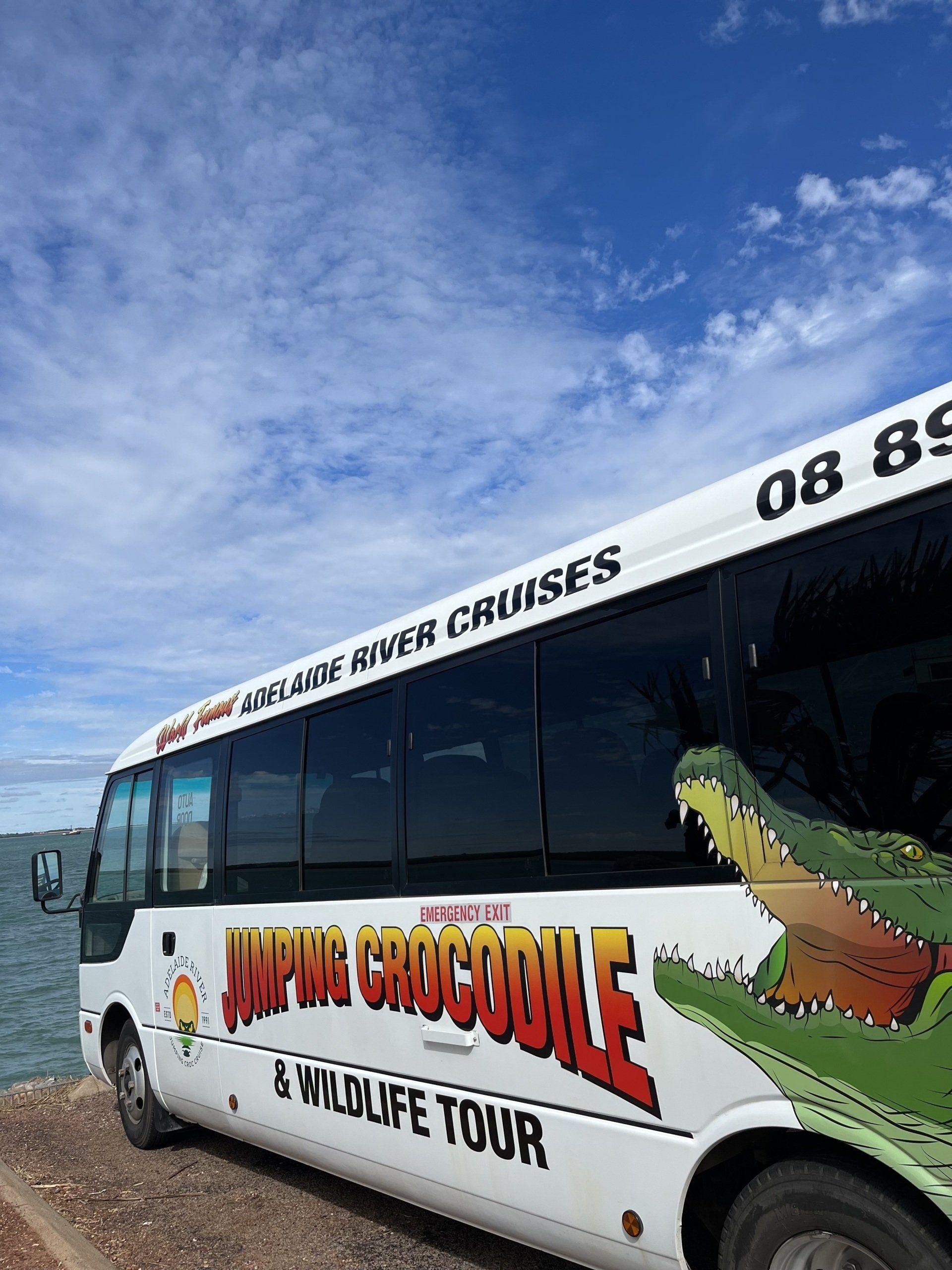 Shuttle Service
Jump on board, be entertained and get your cameras ready! Return bus transfers from Darwin City to Adelaide River Cruises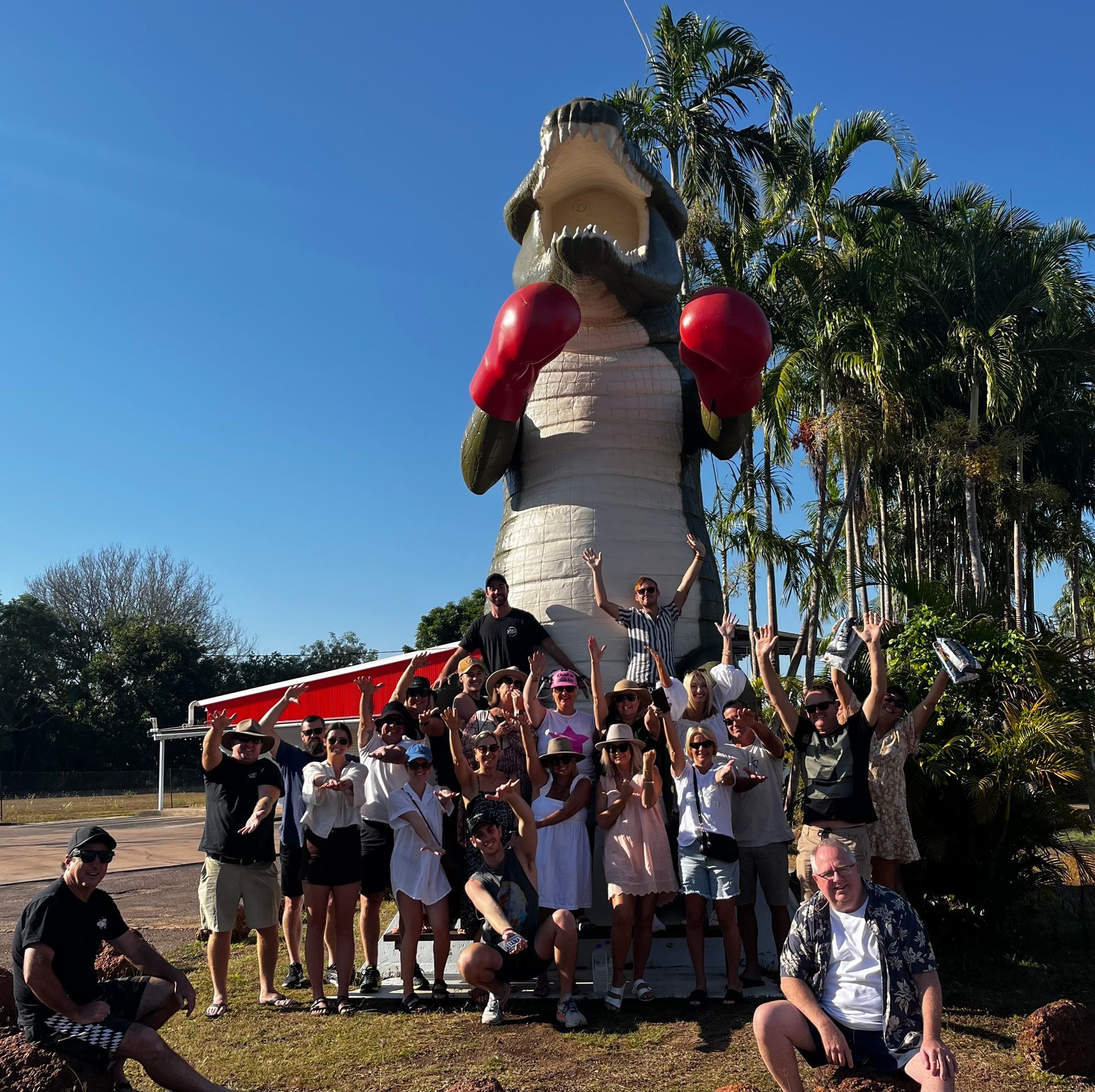 Boxing Croc
Get a photo with the world's largest boxing crocodile at our quick stop in Humpty Doo about 45 minutes out of Darwin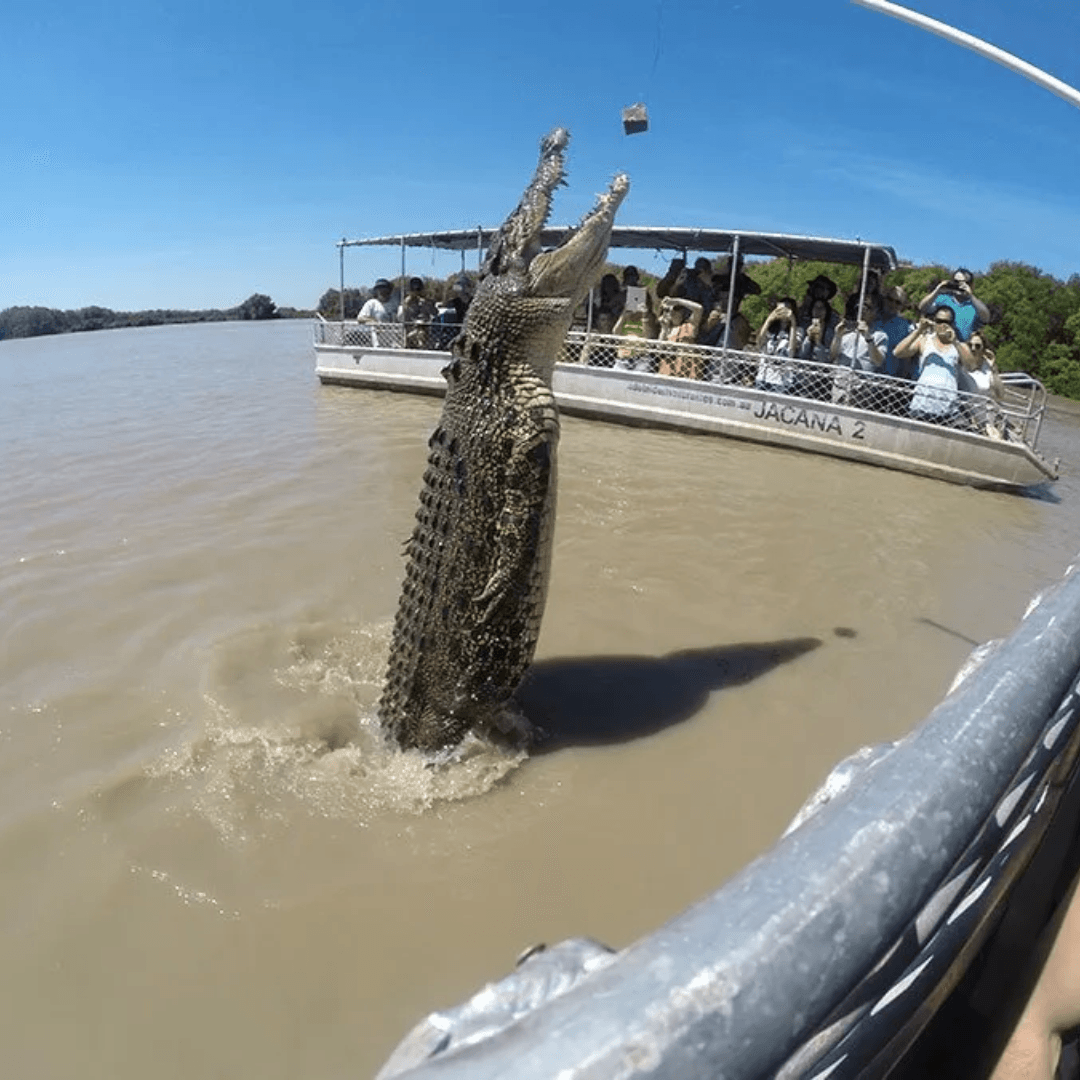 Jumping Croc Cruise
Meet the Famous Jumping Crocodiles including Brutus who has made his way to fame through his size and ability to jump out of the water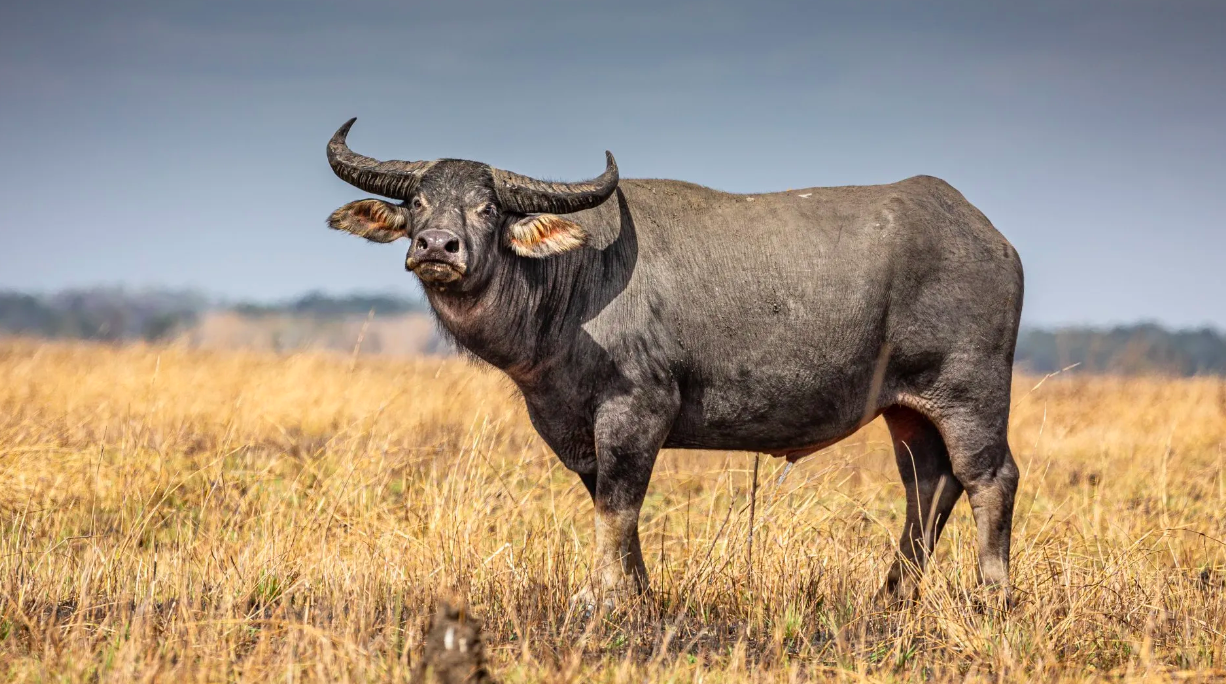 After the Croc Cruise, experience the vast wildlife at Fogg Dam Conservation Reserve, a wetland area approximately 70 km east of Darwin
Catch up on all the Croc News on board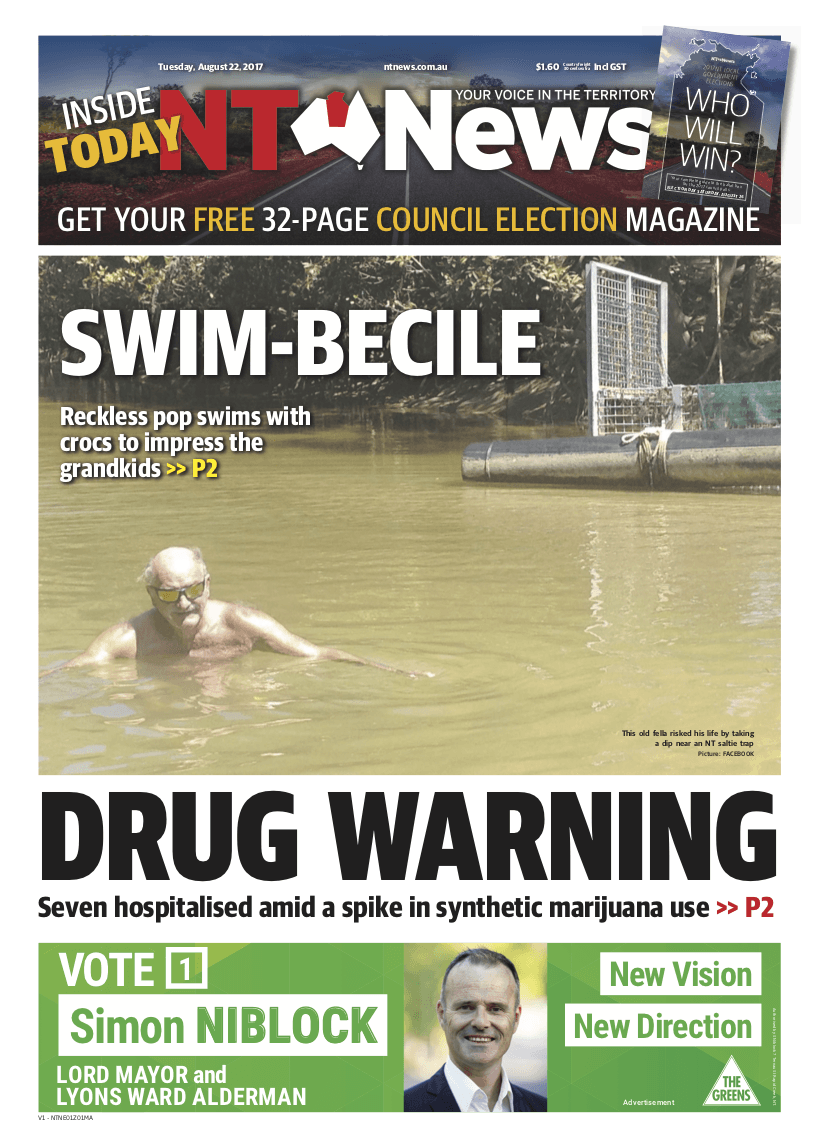 Experience the Thrill of Darwin Croc Jumping Tour
Are you ready for an unforgettable adventure in the heart of Australia's wild? Look no further than The Croc Bus for one of the best things to do in Darwin . Enjoy the thrilling experience of our Darwin croc jumping tour. Our unique tour offers an up-close encounter with the magnificent jumping crocodiles of Darwin for a memorable wildlife encounter.
Witness the Majestic Jumping Crocodiles of Darwin
The star of our Darwin Crocodile tours is the famous Estuarine Crocodile, also known as the Saltwater Crocodile.
We find these apex predators with their exceptional skills predominantly in the Northern Territory. They can launch out of the water with astonishing force to ambush and capture their prey. This behaviour is unique to Darwin crocodiles, and our knowledgeable guides will provide fascinating insights into the characteristics of these animals, ensuring a captivating journey through our crocodile cruise in Darwin.
Join us aboard our safely designed Darwin crocodile tour bus as we venture into the heart of Croc territory. Witness these magnificent Estuarine reptiles showcasing their remarkable jumping prowess.
Crocodile Cruise Darwin: Safe for All Ages
Book your spot on The Croc Bus and get up close and personal with these awe-inspiring creatures in their natural habitat. Our experienced team prioritises safety while providing an exhilarating educational experience within our jumping crocodile cruise in Darwin, making this a must-do trip for wildlife enthusiasts of all ages.
Our Reviews

A World Class Crocodile Experience!

© Copyright
The Croc Bus
ABN 46 908 675 382
Website by Simple Pages

A Jumping Crocodile Cruise is a must for wildlife lovers
Kate Bettes
Travel Journalist
18 August 2023
Contrived spectacle or Attenborough adventure? Jennifer Pinkerton braves infested waters on a jumping crocodile cruise
"Tell me you're not," snorts my mate Graham, a Northern Territory resident of five years who I've just told that I'm planning on going on the famous jumping crocodile cruise .
"It's a bloody circus, Jen." He adjusts his glasses, shakes his head and scans the crowd at Darwin 's Roma Bar cafe.
"Are you… checking to see who heard me say that?" I ask indignantly. What's so bad about a little tourist activity in my newly adopted hometown?
"Croc jumping is a ride. And you can only do it in the Northern Territory," my boss Alice had urged the previous month. She'd drawn me a map of the Darwin- Kakadu loop, marking 'must-dos' with an insistent, scrawled star.
First unmissable item to do in Darwin : is this jumping croc cruise, in the Adelaide River catchment – home to one of the world's highest concentrations of saltwater crocodiles. Yup, the casually humungous kind.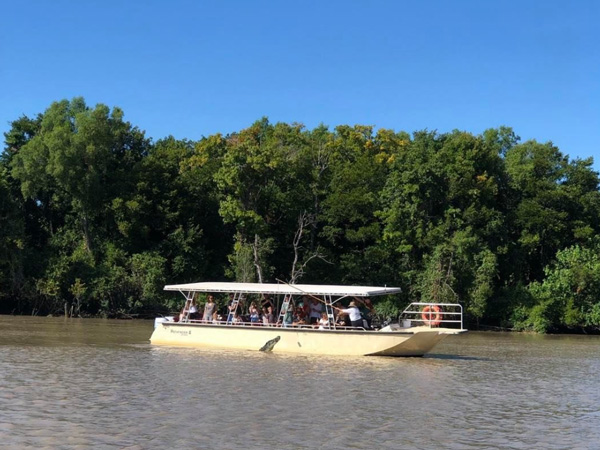 Off to see crocodiles along Adelaide River. (Image: Jumping Crocodile Cruises)
First impressions of a croc cruise
Mentally torn between enthusiasm and disdain at today's distinctly touristy activity, I arrive at croc central on a Sunday afternoon in dry, 30-degree heat.
A painted sign for the jumping croc cruise sits propped between two orange plastic chairs, pointing to parking. Two tourists with tanned arms whisper in the shade.
"You're on a small boat today; there's only 10 of you. And you've come at the best time. The tide's low so there'll be crocs baking on the river beds," says my friendly South African host, running an old-fashioned manual slide over my credit card.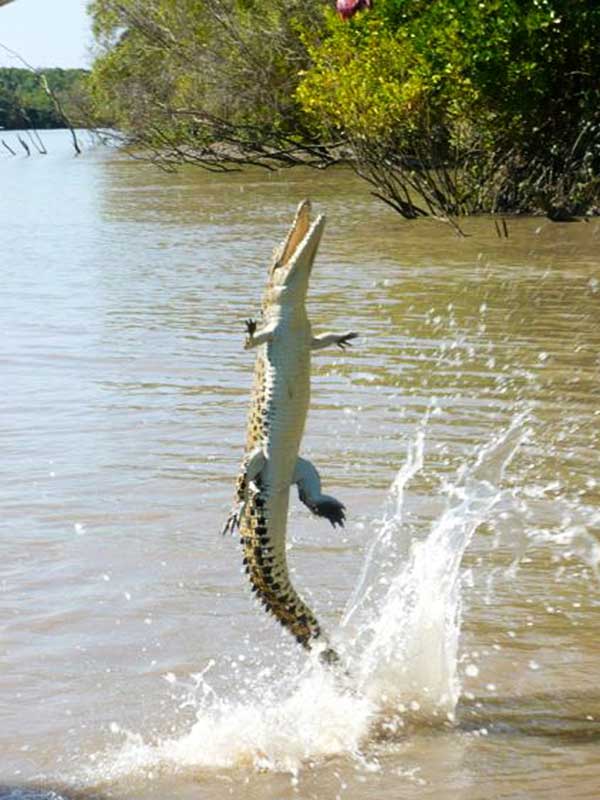 A perfect 10 'croc' jump on the Adelaide River.
She's a modern-day Linda Kozlowski I decide, waiting to catch sight of her Mick Dundee. Instead, I spot the 'penthouse', a two-storey staff hut. The thing looks like it'd blow over in a gentle breeze.
Time to see those crocodiles up close
There's a small jetty visible through the shrubs and I wander out for a view of the river.
I see one! A croc! Its marble eyes and long snout lift out of the khaki water. It's looking STRAIGHT AT ME.
I holler for my travel companion to check-this-the-frig-out.
"Oi, you guys, step away from there, please. That's meant to be cordoned off." Dundee's got a gap-toothed smile, tufts of curly red hair, and, disappointingly, the name 'Morgan' stitched on his shirt. "Ready to croc n' roll?" says Kozlowski, without a hint of irony.
What to expect from the jumping crocodile cruises
Taking my seat up front for the ​​jumping crocodile cruise, mild panic strikes. The boat's a little sunken and passengers sit at water level. The only thing separating us from the currents is a two-centimetre-thick metal grill.
We amble around the first bend and spy a croc on the bank. The boat putts out into the open river. In waves, flocks of birds make an exodus from the trees. Fellow cruisers coo. This is a pretty spot.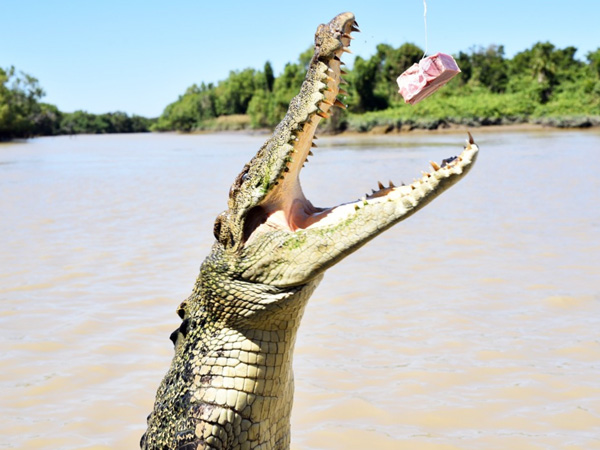 The monster from the deep ready to devour its meal. (Image: Jumping Crocodile Cruises)
Morgan rams the boats in a messy nook of branches. We pause. "Here she comes. She's a monster." He hooks a palm-sized cut of meat onto a pole and dangles it over the edge.
She slides towards us at full speed, snaps at the teasing hook, then lunges from the water – half her body in the air. A flurry of broken, yellowed teeth and dead, glazed eyes swipe past the grill. The croc is close enough to touch – should you be partial to losing a limb.
I won't lie. I shriek like a baby.
"Are they fighting? Is there a second one?" I'm semi-hysterical, pointing at a tail slapping five metres from the mouth.
"It's the same one. She's almost six metres. Don't lean out of the boat, people!" says Morgan, eyeing a French backpacker zoning out behind her Raybans.
A child buries his face in his father's legs. Ho-ly crap.
Six crocs later, our boat drifts to a stop. The crocodile jumping is over for now.
"You haven't got a spare pair of undies, do ya?" asks the man with tanned arms. I grin.
That was thrilling, freaky fun. I make a mental note to chastise cynical Graham. Circus? Mate. This is a jungle.
Reviews of the jumping crocodile cruise
Jennifer Pinkerton, who paid her own way and visited anonymously, says:
" I'd gazed longingly at the 'turn left for crocodile cruise' sign many times before taking the plunge, fearing something kitsch and touristy. Surprisingly, it was intimate and had an unexpected danger factor. Far better than seeing crocs in the zoo ." – Jennifer Pinkerton, Australian Traveller
" What a shockadile! Brutus, 17-foot monster, rises from the Adelaide River near Darwin, Australia, to snack on a hunk of buffalo meat as fearless tourists look on ."– New York Post
Jumping crocodile cruise tour details
About the jumping crocodile cruises.
The jumping crocodile cruises have been running now for over 30 years. They run through saltwater crocodile territory on the Adelaide River. The tours aren't just for spotting crocodiles though: there are lots of other wildlife to see in this environment.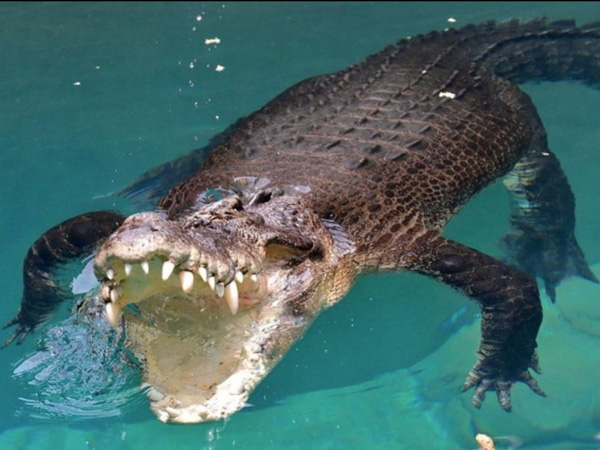 Look at those huge teeth. (Image: Crocosaurus Cove)
Where are the jumping crocodile cruises?
An hour's drive or 70km from Darwin CBD, off the Arnhem Hwy.
How much are the jumping crocodile cruises?
$50 for a one-hour cruise. Runs four times daily.
Best time to go
The tours run several times daily from mid-May until November. To avoid the crowds and join a smaller boat, choose a 9 am or 3 pm cruise.
Is a jumping crocodile cruise safe?
The tours take place in an undercover boat, manned by crew members who ensure the safety of both passengers and the animals.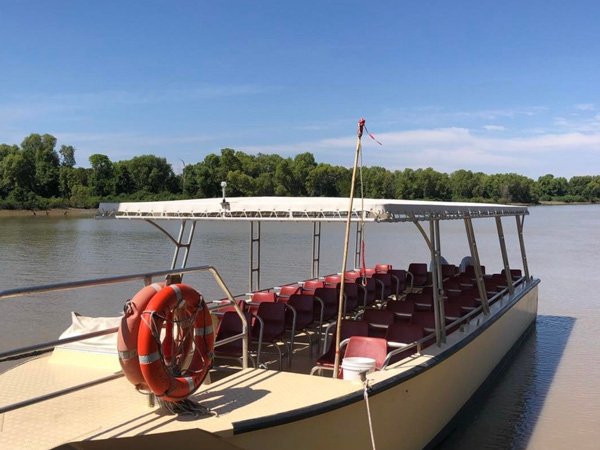 The Jumping Crocodile Cruise boat is comfortable, safe, and spacious.
Who is a jumping crocodile cruise best for?
The boat itself is suitable for a range of fitness and mobility levels and is catered for passengers of all ages.
What is the best contact for the jumping crocodile cruises?
08 8983 3224 or [email protected]
Where can I see more crocodiles around Darwin?
There are plenty of crocodiles in the region, but probably one of the most famous and family-friendly is Crocsaurus Cove: you can check out our review of it here .
Kate Bettes is a freelance travel writer. Whether having a picnic in Vietnamese jungle with new friends, or partying in the back of a limousine in Hollywood, Kate's experiences have left her with the sneaking suspicion that the best travel memories happen when you least expect. It's this feeling - and how to get it - that she loves to write about.
LEAVE YOUR COMMENT
Cancel reply.
Save my name, email, and website in this browser for the next time I comment.
You might also like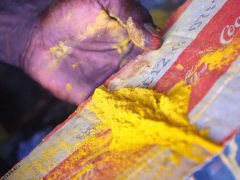 Tiwi Islands Art Tour: a review
If it's earthy, meaningful and one-of-a-kind Aboriginal art you seek, take to the Tiwi Islands for an art tour – just don't pack your fear of he...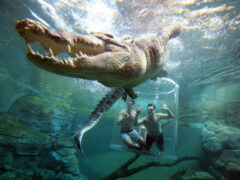 Swim with crocodiles at Crocosaurus Cove Darwin
For many, the thought of encountering a giant crocodile is the stuff of nightmares. But swimming with saltwater crocs is truly a one-of-a-kind experie...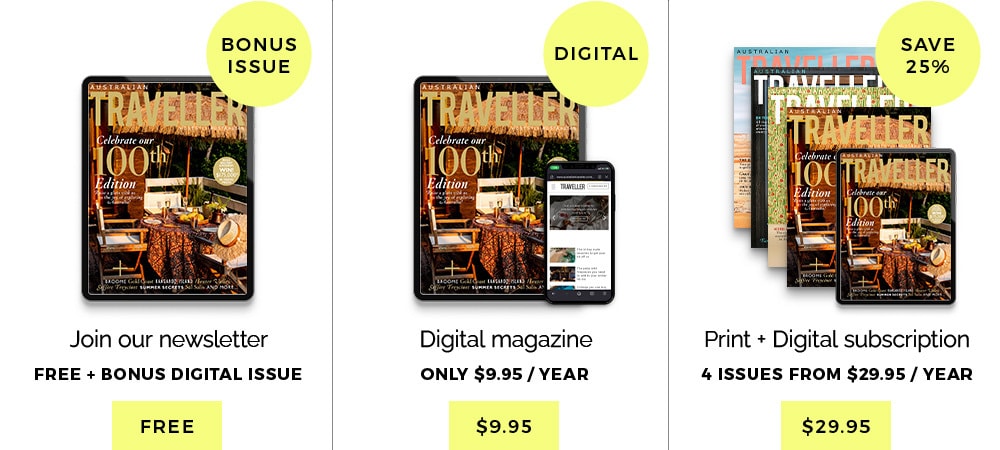 © Australian Traveller Media 2023. All rights reserved.