Get the Best Travel Deals by Experts
Our CRM team analysis your requirements and assign to destination expert. Assignment happen as soon as possible on best effort basis.
CRM team sends first response to you which includes advisors contact details and response time etc.
Sales advisor gives quotation to you with in 4 hrs for FIT (1-10 people) 24 hrs for group (more then 10 people)
Note: We work from mon - fri 9:30 AM to 6:30 PM
11 Best Cities in South Africa For Travelers
Metropolises of the Wild: 11 Cities to Explore in South Africa
Explore South Africa like a local and feel the enthralling vibe that breathes life into its bustling cities.
South Africa is one of the most remarkable countries in the world to travel and explore. Often called 'the world in one country', it is a fascinating country with a diverse mix of cultures, traditions and people. With wildlife parks and natural wonders in close proximity to bustling metropolitan areas, you can go shopping, track lions and relax with a pint, all on the same day. While the national parks and scenic highways are heavily promoted, its lively cities are often overlooked.
Here is a list of the 11 cities you must visit to get the most out of your South African trip :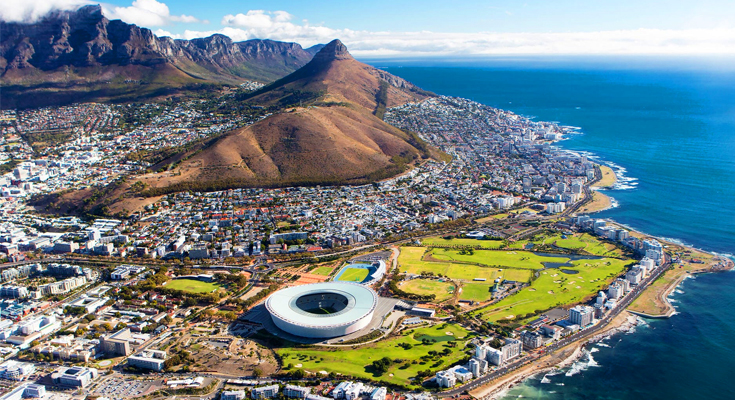 The most visited city in South Africa , Cape Town is a gorgeous heartwarming place to go. Located at the farthest southwest, the city is the gateway to the Cape Peninsula. The shimmering waters, countless beaches along with the backdrop of the imposing Table Mountain make the cityscape one of the most picturesque in the world.
A multicultural city with a vibrant arts scene, there are plenty of restaurants and clubs and has an amazing nightlife. You can also go for fun thrilling activities such as jungle safaris, diving with sharks, hiking the Table Mountain and roaming around the surrounding wineries.
A few miles off the coast of the city lies Robben Island, a testament to the country's difficult past, where Nelson Mandela was imprisoned for 18 years. There is also the Boulders Beach, a part of Table Mountain National Park, which has a penguin colony thriving in the sand and sun.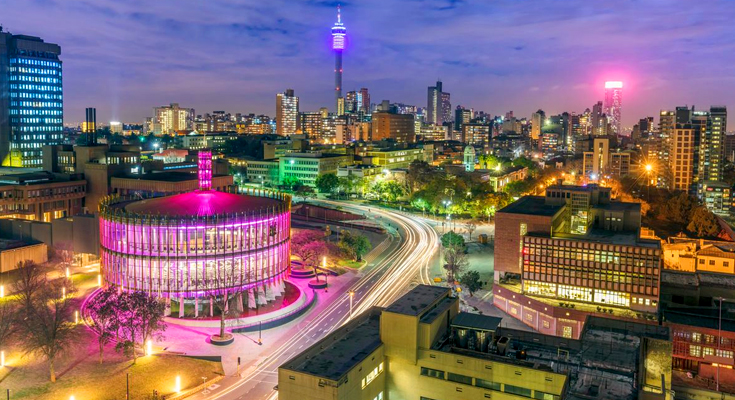 Johannesburg is South Africa's largest city and the economic centre of Sub Saharan Africa. After nearly two decades of decay, the city is slowly bouncing back as a powerhouse of economy and tourism. The hip neighbourhood of Maboneng is one of the most successful urban redesign projects in Africa. For an eye-opening tour, visit the historical sites dotted around the city. These include the Apartheid Museum, Constitution Hill and the Soweto settlement, the birthplace of South African figures such as Nelson Mandela and Desmond Tutu.
With great nightlife and urban life, Johannesburg is a must-see city in the southern country. Filled with rooftop bars, live music venues and upscale shopping districts, along with safaris and expeditions a stone throw away, Johannesburg offers a city trek like no other.
South Africa's third-largest city, Durban has one of the best waterfronts in the country. Located on the Indian Ocean coast, Durban has a huge picturesque harbour and a number of sandy sun-soaked beaches. It is also one of the most diverse cities in the southern coast, with huge Kwa-Zulu and Indian communities.
The Durban waterfront is known for its watersports such as snorkelling and diving, along with other attractions such as the uShaka Marine World, one of the largest aquariums in the world. With plenty of markets, restaurants and street food, Durban is a city filled with fun and frolic that welcomes you with open hands.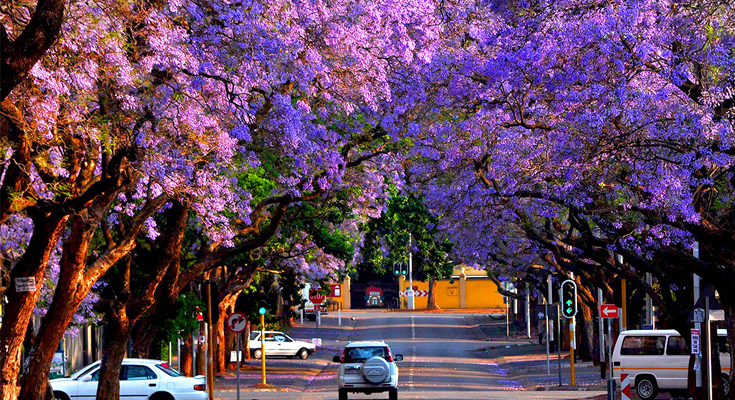 Pretoria, the administrative capital of South Africa, is a cultural hub filled with leafy suburbs. During the spring, jacaranda trees are in full bloom and it gives a pretty purple hue to the entire city.
Within the city, the remnants of the past are visible. Once the center of the apartheid regime, the city has transformed itself into a multicultural hotspot. Dotted with museums and historic sites and surrounded by many of the country's national parks, Pretoria is a melange of all that South Africa has to offer.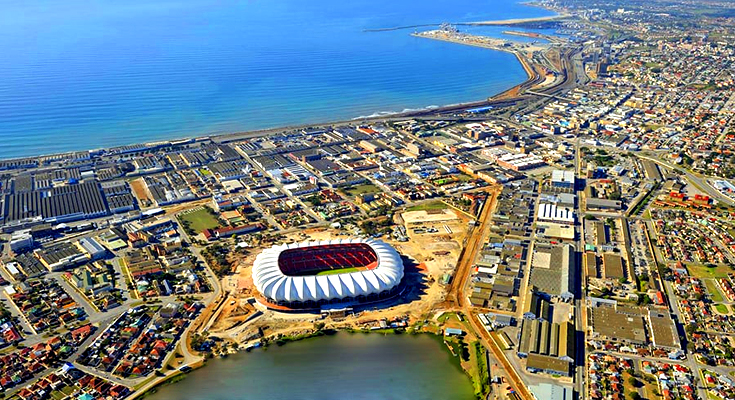 Port Elizabeth is known for its surf, sun and sand. With abundant marine life in the waters, the city is now a go-to for travellers wishing to catch glimpses of dolphins and whales. The port city is mostly a stopover for travellers. The city center, once avoided due to indiscriminate industrialization has started to welcome travellers with chic cafes and cozy restaurants, thanks to the urban redesign efforts. Heritage buildings that showcase the splendour of South African architecture from the bygone days have either been restored or left untouched. The Addo Elephant Park nearby is a great place to socialize with the trunked giants in their own turf. The azure waters of the Indian Ocean and the rich marine life are what draws visitors to the shores of Port Elizabeth. A perfect spot to stop along the Garden Route, head to Port Elizabeth for a wonderful sun-filled time.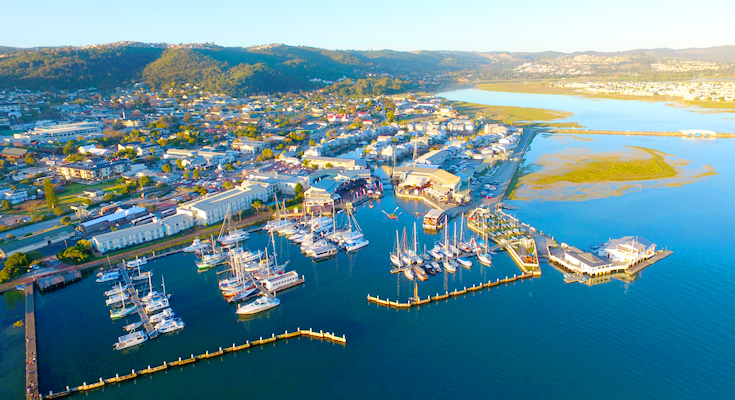 Knysna is one of the most famous cities along the Garden Route. Once the center of the timber industry, the city has some intricate wood architecture to take in. Located on the coast of the Indian Ocean in the Western Cape, Knysna is surrounded by a delightful lagoon. The lagoon is a favourite among sailing and boating enthusiasts and there's a plethora of boating activities. With amazing hotels and restaurants around every corner, the artsy city is one of the major highlights of the Garden Route. A charming city with lots to do, Knysna is not to be missed.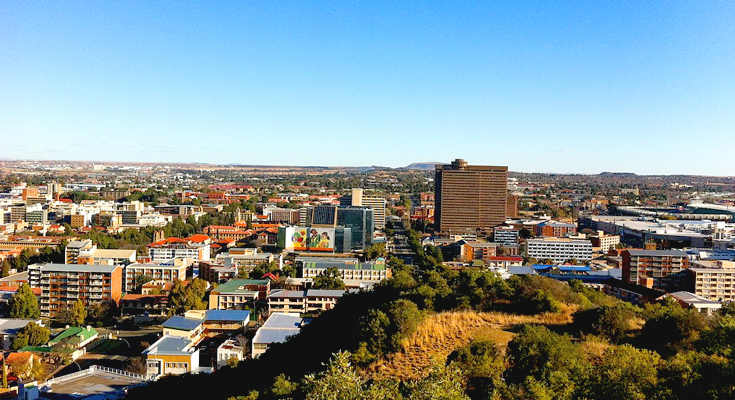 Bloemfontein is a rather small and picturesque city despite its importance as South Africa's judicial capital. While the city does not have much to offer in terms of attractions, the provincial quaint feel of the city is more than enough. You will definitely pass by the city while travelling through the heart of South Africa, as the city is sort of a crossroads between the cape roads, South Africa's most famous national parks and the Kalahari Desert. While activities are scarce, there are plenty of museums and galleries to soak up the history of South Africa and the province of the Free State.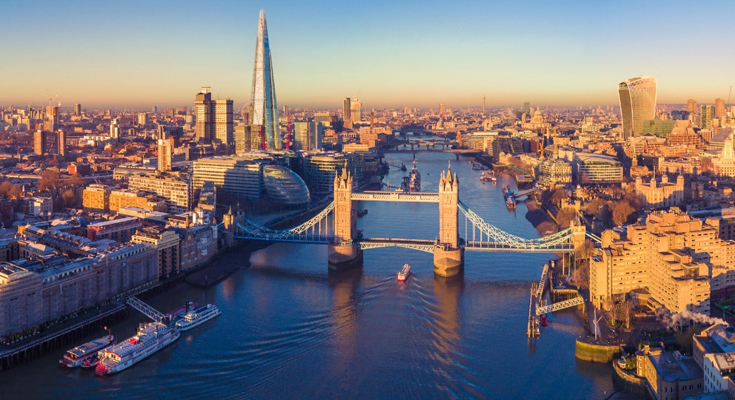 Another picturesque city located on the Eastern Cape, East London is known for its beaches, boardwalks and surfing. The city is not yet crowded by tourists, making it a great place to visit if you want to avoid the crowds. As the other beaches are being thronged by tourists, many choose East London as their go to beach in South Africa. For this reason, it is fast becoming the only South African city yet to be explored by tourists.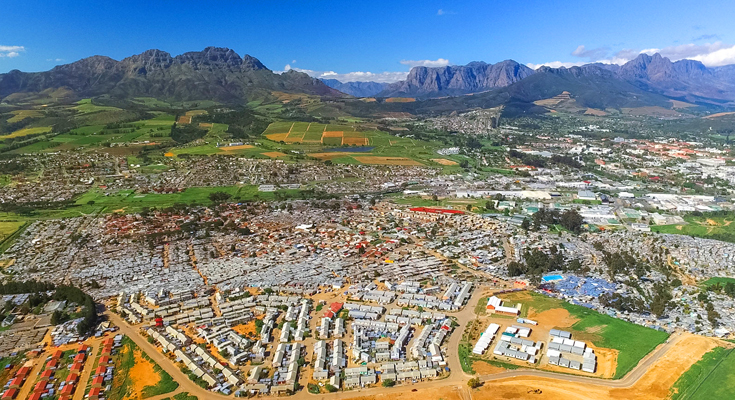 Stellenbosch is South Africa's wine country, located close to Cape Town. With one of the country's most premier institutions in the backyard, the city has a youthful, carefree feel to it. The outskirts of the town are dotted with various vineyards producing a wide range of wines. Wine tasting tours are a favourite among travellers and South Africans on vacation. This quaint town is right at the starting point of the Garden Route and you can hit the road after a cozy afternoon here. Just don't drink and drive.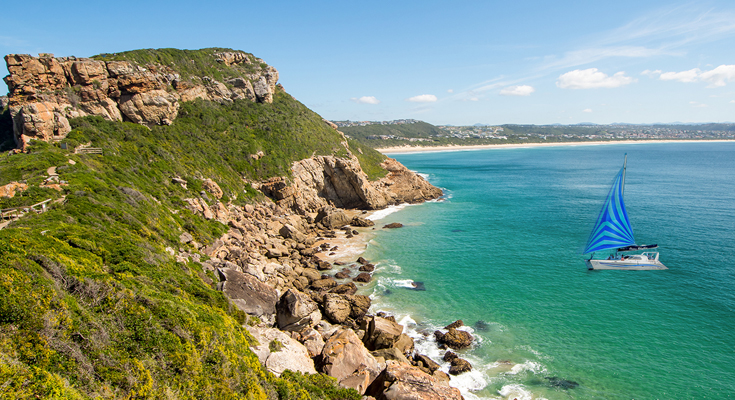 One of South Africa's top tourist towns and a must-stop on the Garden Route, Plettenberg Bay is surrounded by rolling hills, white sandy beaches and crystal clear waters. During the warm season, you can catch magnificent views of whale breeding in the water. With one of the best coastlines in South Africa, there are a wide range of water sports activities and the opportunity to get up close and personal with the diverse marine life. The hills in close proximity also allow you to go hiking or climbing and there are a number of wildlife sanctuaries housing indigenous monkeys and birds.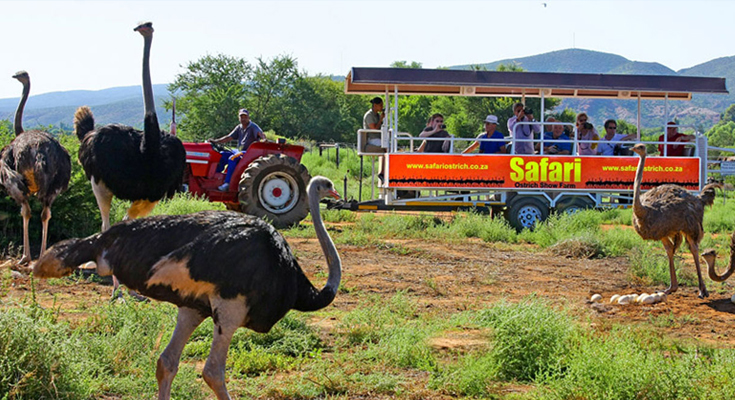 Oudtshoorn is the perfect base for exploring the Karoo regions of South Africa. But the city itself has a lot more to offer. Known as the 'ostrich capital of the world', Oudtshoorn is home to more than 400 ostrich farms. The outskirts of the city are dotted with waterfalls and national parks. From driving with crocodiles and tracking cheetahs to tasting locally crafted wines, Oudtshoorn is a stopover with a lot of activities and abundant natural scenery.
South Africa is a lot more than the Cape of Good Hope and jungle safaris. It's cities hold as much charm and mysticism as the jungles around them. With multicultural metropolises and small quaint towns, the bustling urban areas of South Africa are definitely worth exploring.
Best Cities in South Africa
Cities to Visit in South Africa
Most Visited Cities in South Africa
Tourist Cities in South Africa
Recent Blogs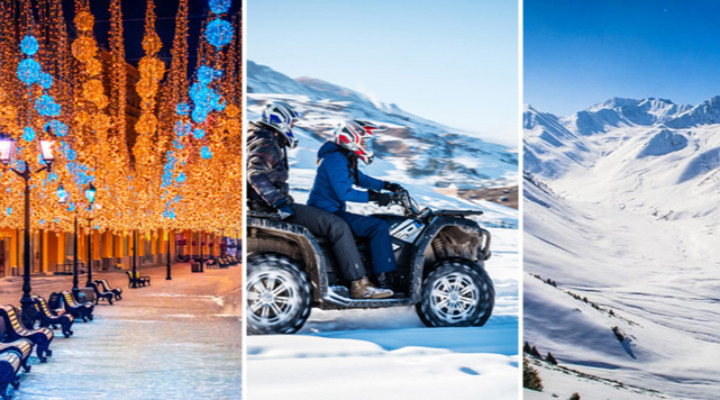 10 Best Places to Travel in 2024
Nov 14, 2023 - by Dook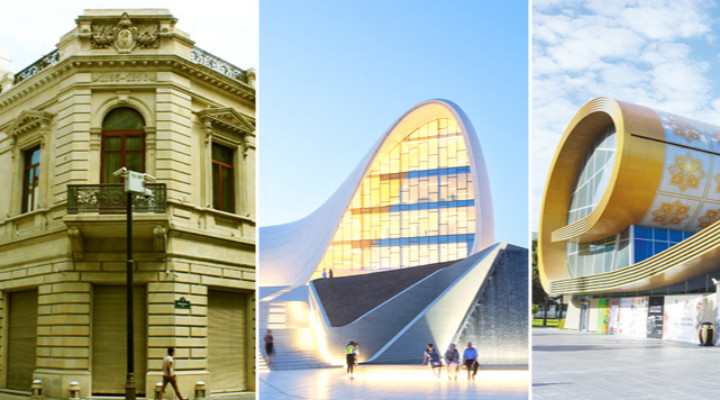 Top 10 Iconic Museums in Azerbaijan that Depict the Art & History
Oct 27, 2023 - by Dook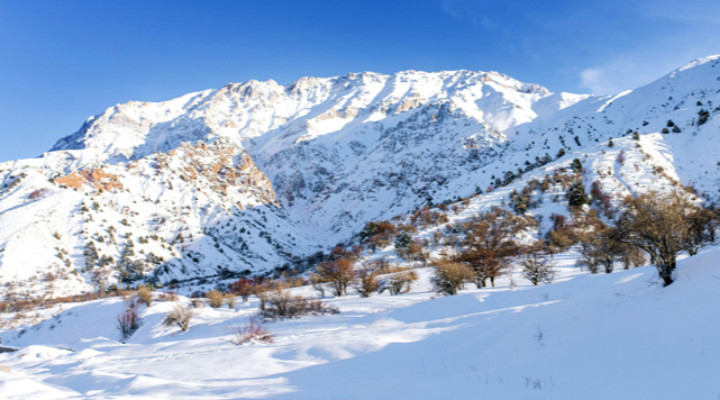 Winter in Uzbekistan: A Surreal Getaway to Winter Wonderland
Oct 26, 2023 - by Dook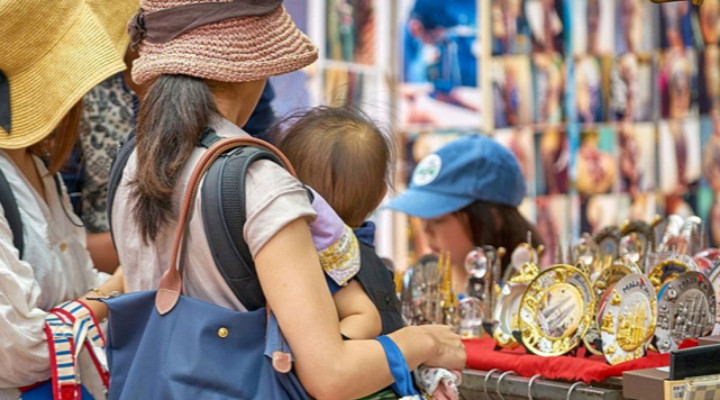 Shopping in Uzbekistan: A Heartfelt Experience for Travelers
Oct 18, 2023 - by Dook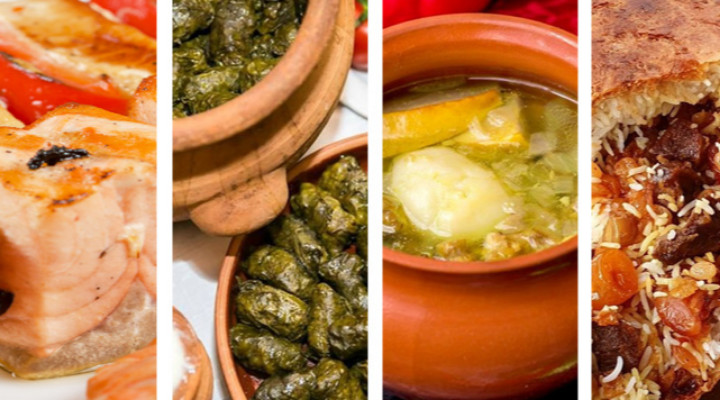 Azerbaijan Food: Taste 10 Most Flavorful Cuisines
Oct 17, 2023 - by Dook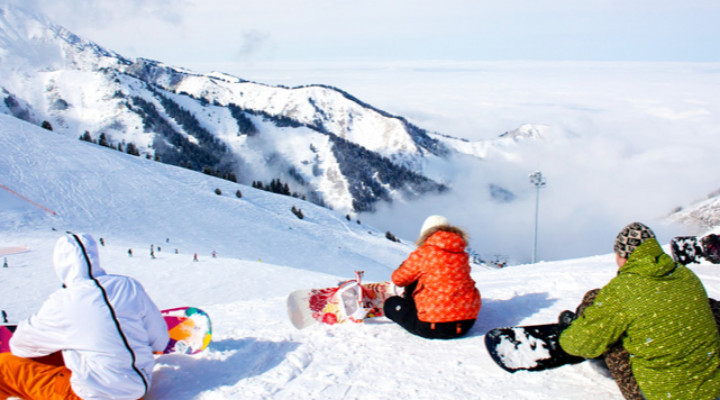 Winter in Kazakhstan: A Snow-filled Holiday Experience
Oct 13, 2023 - by Dook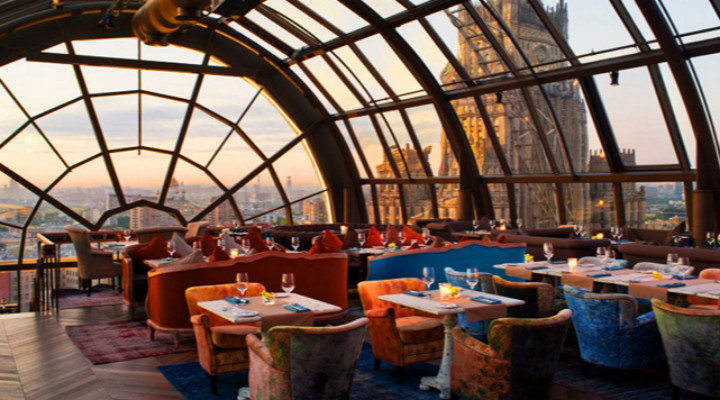 10 Best Cafes in Moscow that Are Perfect for Hangout
Oct 11, 2023 - by Dook
10 Best Shopping Destinations in Almaty for a Shopaholic Heart
Oct 10, 2023 - by Dook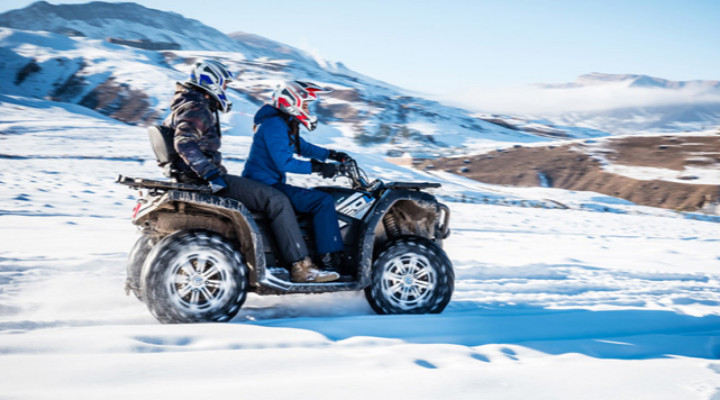 Experience the Magic of Winter in Azerbaijan
Oct 09, 2023 - by Dook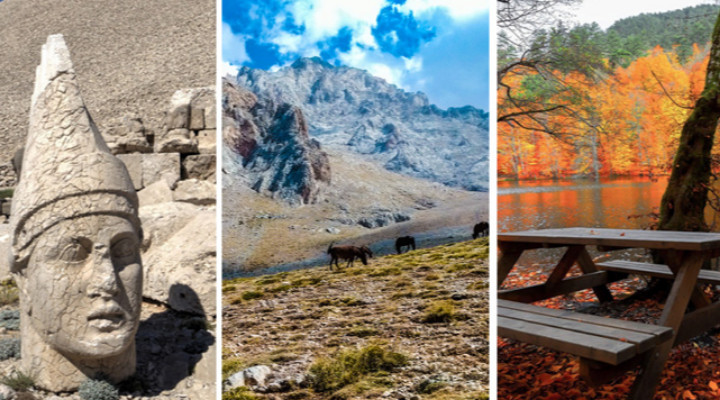 10 Best National Parks in Turkey for a Tranquil Escape
Oct 05, 2023 - by Dook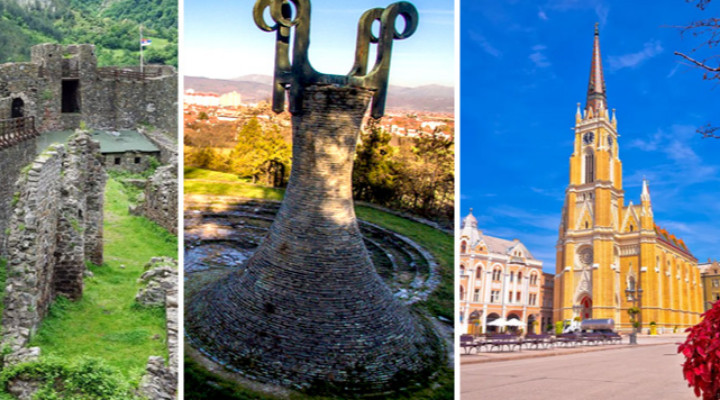 Top 15 Stunning Cities in Serbia to Visit
Oct 03, 2023 - by Dook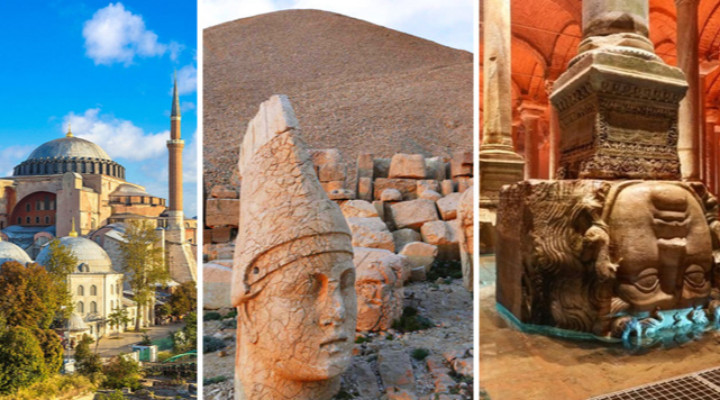 Top 10 Timeless Historical Places in Turkey
Sep 28, 2023 - by Dook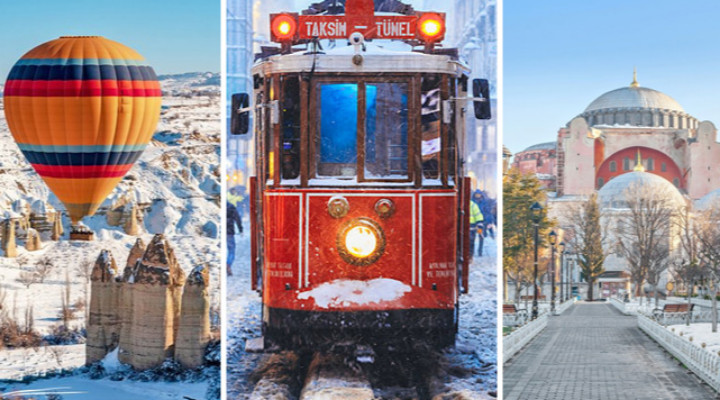 Turkey in Winter: A Heaven-Like Experience
Sep 26, 2023 - by Dook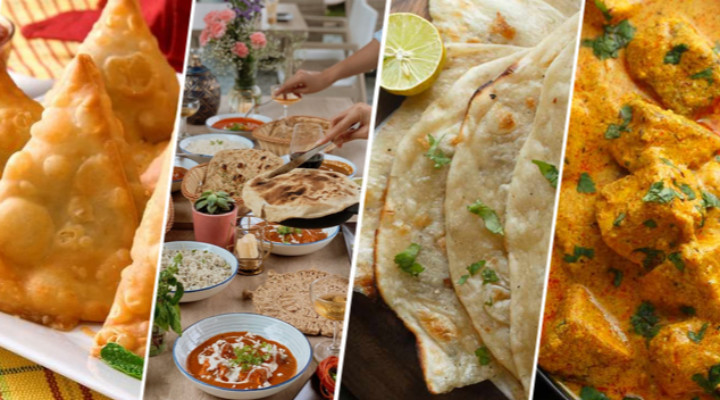 10 Best Restaurants in Almaty & Kazakhstan
Sep 25, 2023 - by Dook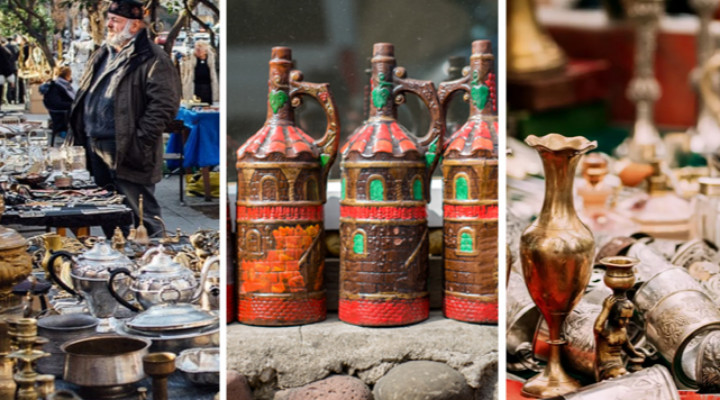 Shopping in Georgia Tbilisi - 10 Best Shopping Centres & Malls
Sep 22, 2023 - by Dook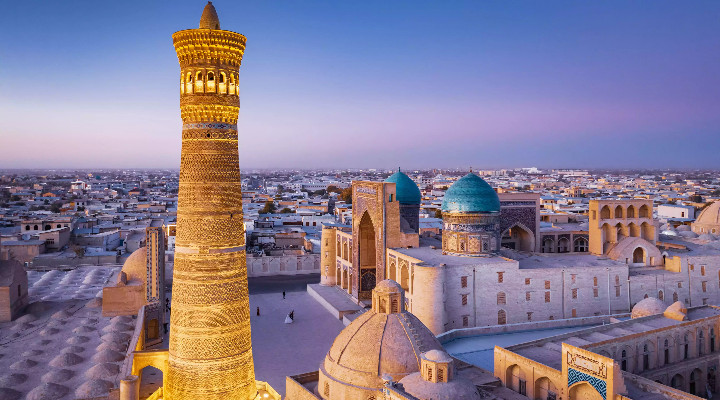 15 Interesting Facts About Uzbekistan
Sep 19, 2023 - by Dook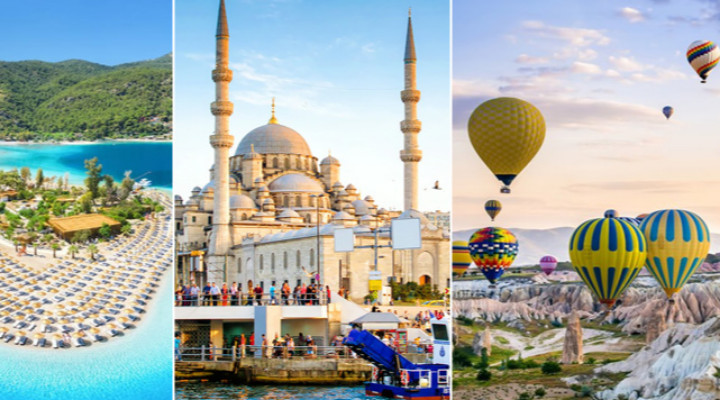 Top 21 Most Visited Cities in Turkey
Sep 18, 2023 - by Dook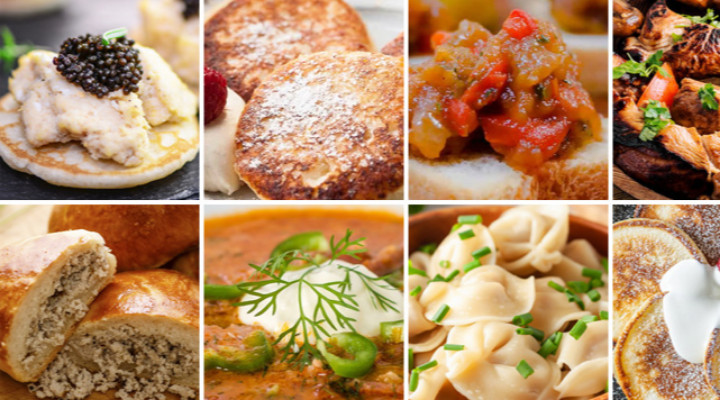 15 Most Popular Russian Food & Cuisines
Sep 15, 2023 - by Dook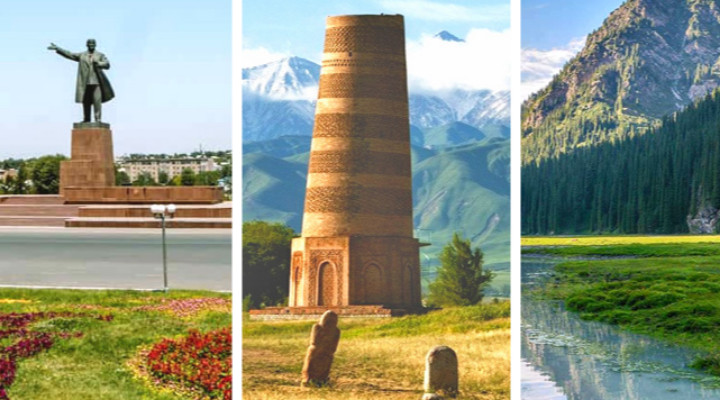 10 Best Cities in Kyrgyzstan to Visit
Sep 14, 2023 - by Dook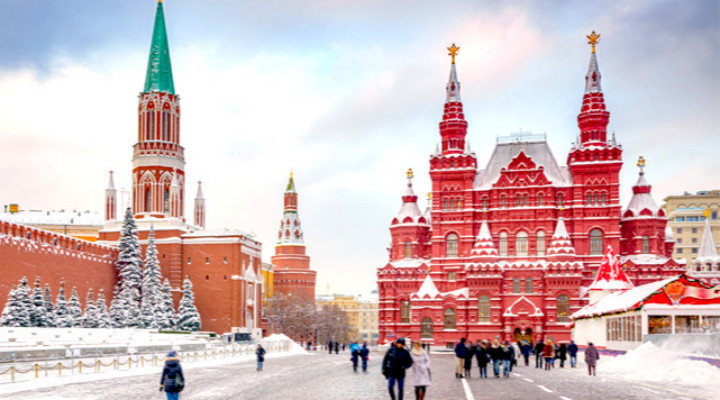 Winter in Russia: A Heartfelt Experience for a Snow-Lover
Sep 13, 2023 - by Dook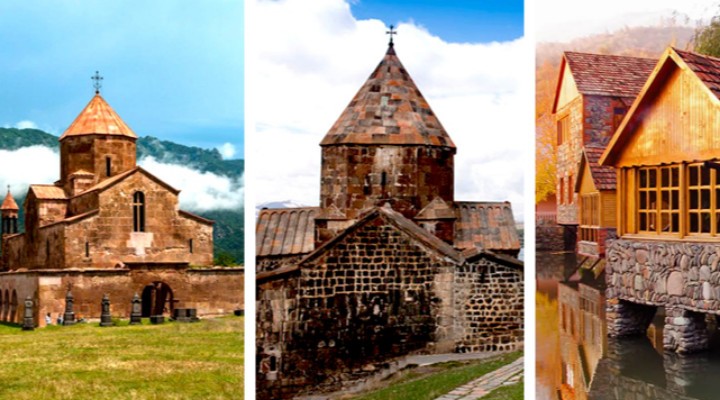 11 Best Cities in Armenia that You Must Explore
Sep 05, 2023 - by Dook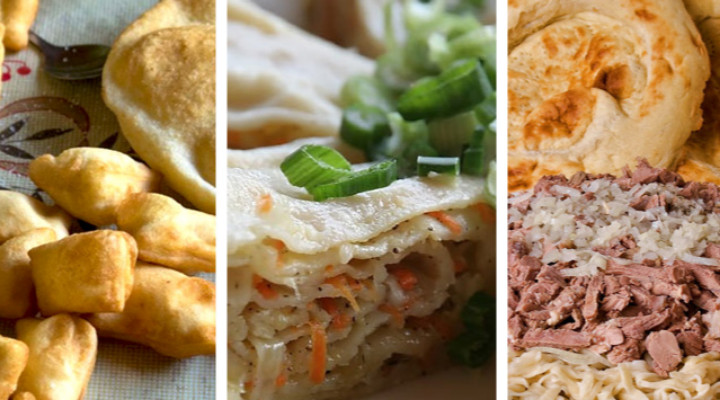 15 Must-try Traditional Kyrgyzstan Food & Cuisine
Aug 28, 2023 - by Dook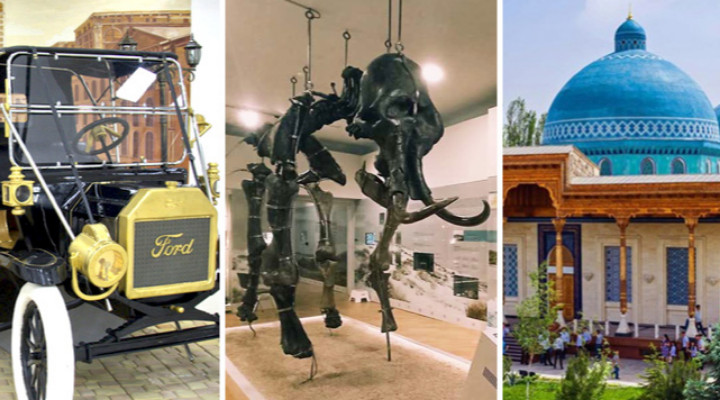 Top 10 Museums in Tashkent to Explore
Aug 25, 2023 - by Dook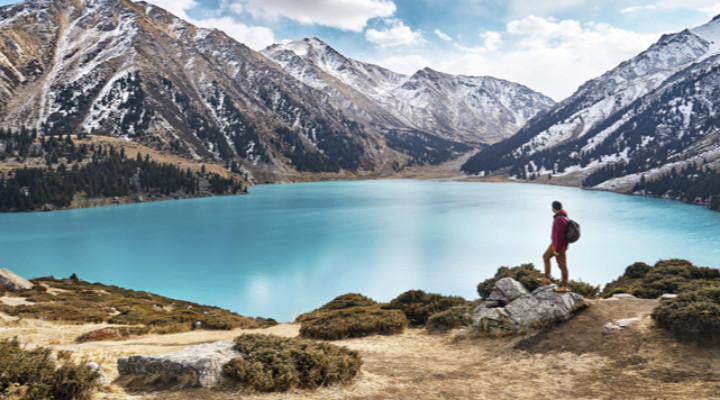 10 Best Cities in Kazakhstan to Visit for Your Next Travel
Aug 22, 2023 - by Dook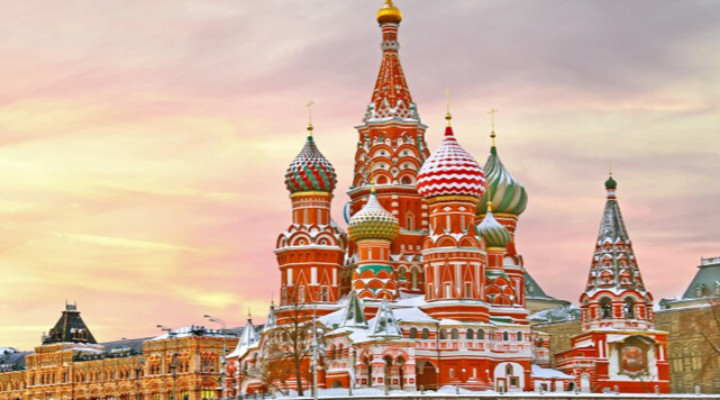 15 Best Russian Cities That You Should Visit
Aug 21, 2023 - by Dook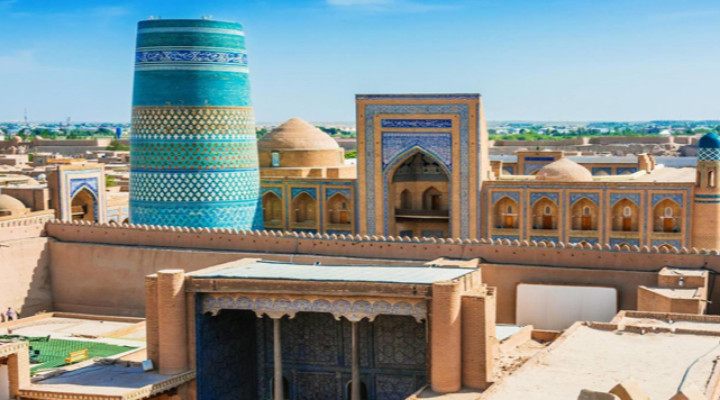 Tashkent - Unwind the Timeless Magic of Uzbekistan
Aug 17, 2023 - by Dook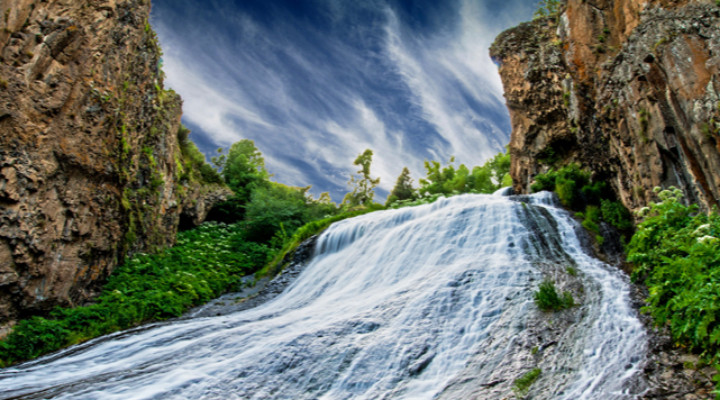 Jermuk- Explore A Quaint Yet Classical City of Armenia
Aug 11, 2023 - by Dook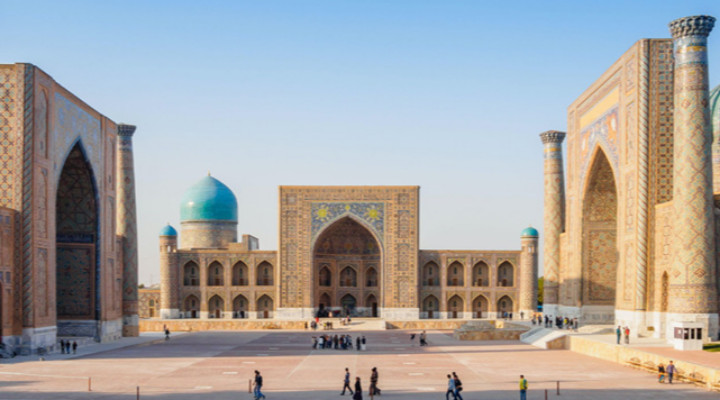 Samarkand – A Historical City of Uzbekistan
Aug 09, 2023 - by Dook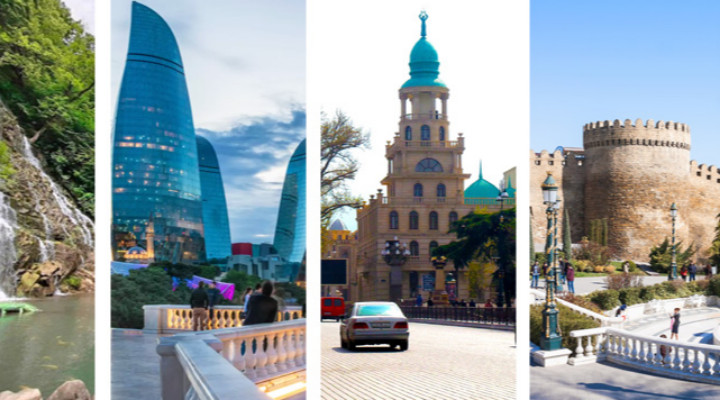 10 Best Azerbaijan Cities That You Must Explore
Aug 04, 2023 - by Dook
Dook Reviews
Dook international.
Customer Rating
From 8863 travelers
Send us a query
Ready to venture out into the world? Fill the form below and start your brand new journey with us
Data collected by Dook International is used for internal purposes to process and respond to your request.
Driving in South Africa
Safety in South Africa
How to Spend 10 Days in South Africa
Foods to Try in South Africa
Drinks to Try in South Africa
Best Restaurants in Johannesburg
Best Restaurants in Cape Town
Things to Do in South Africa
Things to Do With Kids
Best Beaches
Best Surfing
Best Dive Destinations
Best Golf Resorts
Kruger National Park
48 Hours in Johannesburg
Things to Do
Apartheid Museum
Airport Guide
Table Mountain
Game Reserves Near Cape Town
Best Time to Visit
Weather & Climate
Places to Visit
18 Best Places to Visit in South Africa
Located on the southernmost tip of Africa, South Africa is one of the largest countries on the continent and the cities of Johannesburg and Cape Town have become popular tourist destinations for travelers from around the world. However, there are many other places in South Africa to visit than just the two biggest cities.
Travelers looking to escape the ordinary can enjoy the mountain air in Hogsback and the Drakensberg; settle back with world-class wines from the Cape Winelands; relax on the coastline of Knysna : or enjoy a safari in the oldest and best Wildlife Park in Southern Africa, Kruger National Park .
Fortunately, it's also relatively easy to travel around South Africa with several low-cost airlines operating throughout the country and excellent roads, which makes it convenient to rent a car to explore the country yourself. 
Cape Town, Western Cape
Known for its cultural diversity and social tolerance, Cape Town is a trip highlight for many visitors to South Africa. The Mother City is blessed with a variety of great sights, experiences, dining destinations, and outdoor activities perfect for travelers of all ages and interests.
While in Cape Town, you can enjoy breathtaking scenery—from the white-sand beaches of the Cape Peninsula to the iconic cliffs of Table Mountain —or a whole selection of world-class restaurants and local wines. You can also spend leisurely mornings browsing beachside farmer's markets or shopping at the V&A Waterfront; and afternoons hiking, surfing, scuba diving, or making friends with the penguins at Boulders Beach.
Cape Town is also full of important cultural sites, including Robben Island (where Nelson Mandela was imprisoned for 18 years), and the apartheid-era ghettoes of Bo-Kaap and District Six.
There are several safari parks within a few hours' drive of the city center.
The Cape Winelands, Western Cape
TripSavvy / Anna Haines
To the east of Cape Town lies the Cape Winelands, a spectacular region full of verdant mountains and fertile valleys. Visitors love the area for its astounding scenic beauty, for its culture (best represented by the stunning Cape Dutch architecture of its towns and outlying farms), and for its world-famous vineyards.
There are several distinct viticultural regions, the most popular of which include Stellenbosch, Franschhoek, Wellington, and Paarl. Each one offers wine-tasting tours and an array of superb restaurants, most of which showcase the Western Cape's finest local produce.
Tourists can rent a car in Cape Town to explore the vineyards independently, book a stay at a local B&B, or hop aboard the Franschhoek wine tram to take in a variety of vineyards and sample many different wines while in the region.
Hermanus, Western Cape
Located 120 kilometers southeast of Cape Town, the seaside town of Hermanus has earned itself a reputation as the whale-watching capital of South Africa.
Every year, migrating southern right whales pass within a few hundred feet of the Hermanus shoreline, with many of them stopping to breed and calve in the town's own Walker Bay. You can book a tour with one of Hermanus' many whale-watching boats , or you can enjoy the whales' antics for free from any of the lookout points along the Cliff Path.
In the center of town, the restaurants that line scenic Gearing's Point are a great place to sample gourmet cuisine while keeping an eye out for passing cetaceans. The whale-watching season lasts from July to November, but there are also plenty of other attractions worth seeing in Hermanus year-round.
Knysna, Western Cape
 TripSavvy / Jess Macdonald
South Africa's Garden Route is world-famous for its plethora of enchanting coastal towns, and Knysna is arguably the most beautiful of them all.
Nested between the Outeniqua Mountains and the Indian Ocean, Knysna offers a wide range of charismatic guesthouses and bed and breakfasts, in addition to art galleries , boutiques, and craft centers. It's especially well known for its seafood restaurants, which feature oysters freshly harvested from the town's picturesque lagoon.
While in Knysna, you can take a hike to the top of the twin cliffs known as the Knysna Heads; spend idyllic days on the golden beaches of Leisure Isle and nearby Brenton-on-Sea; or encounter the world's largest terrestrial animal at the Knysna Elephant Park .
Oudtshoorn, Western Cape
The small town of Oudtshoorn makes a great pit stop along Route 62 through South Africa's wine country. Known for its ostrich farms and the nearby Cango Caves, Oudtshoorn offers a variety of attractions ranging from wildlife parks and ostrich museums to hot air ballooning over the countryside.
Among the top attractions in the region, the CP Nel Museum is dedicated to early 20th-century and Victorian-era life in the region as well as the rich history of the ostrich trade, which put the city on the map. While you're there, you can also take a guided tour of the Safari Ostrich Farm or the Cango Wildlife Ranch for an up-close look at the wildlife around Oudtshoorn.
Hogsback, Eastern Cape
Situated high in the misty Amathole Mountains, Hogsback is a quaint town said to have inspired J.R.R. Tolkien (who was born in South Africa) when he wrote  " Lord of the Rings." The surrounding landscape is lush, green, and dotted with hiking trails that take you through the forest to a series of hidden waterfalls and streams.
The dense indigenous woodland also plays host to an array of endemic birdlife, including the highly endangered ​ Cape parrot . The town itself is steeped in fairy folklore. Here, you'll find a bohemian collection of backpacker lodges, guesthouses, art galleries, and New Age boutiques. Perhaps most magical of all, however, is the view from the cliffs at The Edge Mountain Retreat .
The Transkei, Eastern Cape
Designated as a Black homeland under apartheid, the Transkei region was once considered separate from South Africa. Now, it is a wild, unspoiled area of incredible natural beauty that extends from the Great Kei River to the Umtamvuna River in the Eastern Cape.
As the birthplace of anti-apartheid leaders including Nelson Mandela, Walter Sisulu, and Oliver Tambo, the Transkei has a proud cultural heritage. The traditional Xhosa way of life is still observed in its remote rural villages, and its rolling landscapes are dotted by simple rondavel huts and herds of indigenous Nguni cattle.
With its abandoned beaches and pounding surf, the Transkei is also a haven for fishermen, hikers, surfers, and nature lovers. 
Durban, KwaZulu-Natal
The cosmopolitan center of KwaZulu-Natal province, Durban , is known for its golden beaches, its tropical climate, and its rich Indian culture.
Flavorful curry restaurants dominate the city's culinary scene; and after dark, an impressive array of bars and nightclubs await visitors. For the best view with your cocktail, head to Moyo at the end of uShaka Pier. During the day, visitors embrace the perennial vacation atmosphere of Durban's Golden Mile, home to some of the most famous surf spots in South Africa .
Shopping is another favorite pastime—whether you choose to explore the colorful stalls of Victoria Street Market or to spend your money in upscale malls like the Gateway Theatre of Shopping in Umhlanga.
Pietermaritzburg, KwaZulu-Natal
The capital of KwaZulu-Natal province, Pietermaritzburg, is a great destination. Popularly referred to as Martizburg, this industrial hub known for its colonial buildings, rich gambling culture, and the lush nature found in parks and reserves nearby.
If you're a fan of sports, you can catch the Comrades Marathon between Pietermaritzburg and Durban in June or the yearly Amashovashova cycling race held between the two cities in October. For history and art enthusiasts, Martizburg is also home to a number of museums and galleries including the KwaZulu-Natal Museum, City Hal, the Imperial Hotel, and the Tatham Art Gallery.
Additionally, Albert Falls Nature Reserve, Midmar Public Nature Reserve, Queens Elizabeth Park, World's View, and Howick Falls are all within a few miles of Maritzburg, making it a great place to stay if you hope to explore the upland savanna around the city.
The Drakensberg Mountains, KwaZulu-Natal
The uKhahlamba-Drakensberg mountain range stretches along the border of South Africa and Lesotho. It includes the country's highest peak and Blyde River Canyon , the third largest canyon in the world. It's an impressive playground full of soaring summits and plunging valleys and is the ideal destination for those with a love of hiking, climbing, horse-riding, whitewater-rafting and mountain fly-fishing.
A series of trails cater to all abilities, with options ranging from hour-long hikes to multi-day expeditions. However, you choose to explore, keep an eye out for rare regional wildlife, including 300 different bird species and altitude-adapted mammals like the klipspringer and the mountain reedbuck. The mountains are also home to many fine examples of ancient San rock art.
Soweto Township, Gauteng
Soweto may not be the most beautiful destination in South Africa, but it certainly ranks as one of the most culturally important sights the country has to offer.
A sprawling township located in​ Johannesburg , Soweto is home to over 1.3 million people. Much of the struggle against apartheid played out in the slums of Soweto, and the township was in a virtual state of war during the 1970s and 80s. Nowadays, Soweto is still subject to crippling poverty and a high crime rate; however, it also features some of the most vibrant music and theater South Africa has to offer.
Visitors can join a township tour to explore the area's incredible history and culture in safety. Sample local food, visit Nelson Mandela's house, or even opt to stay overnight at a township bed and breakfast. 
Johannesburg, Gauteng
While Soweto may be one of the biggest draws of the city, the rest of Johannesburg has plenty to offer tourists of all persuasions. What started as a gold-mining settlement, Johannesburg is now the biggest city in South Africa and the capital of the Gauteng province.
While you're there, you can visit underground shebeens (speakeasy-style bars) in the surrounding townships, eat traditional shisa nyama (a form of barbecue) at local restaurants, or enjoy the nightlife in thriving the Braamfontein neighborhood.
The history of Johannesburg is another important aspect to explore on your trip, and there are plenty of museums, monuments, and historic sites to discover including the former home of Nelson Mandela, The Mandela House, which is now a moving museum.
Pretoria, Gauteng
Located in the northern part of the Gauteng province, the city of Pretoria is similar to Johannesburg but much more relaxed. Known for the Union Buildings that house the set of South Africa's government, Pretoria is also a great place to take in some history, culture, and wildlife.
Popular attractions in Pretoria include the Voortrekker Monument, dedicated to the Afrikaans settlers who arrived in South Africa in the 1830s; the National Zoological Gardens of South Africa, a research hub and 210-acre zoo; and the Freedom Park Heritage Site and Museum, which is dedicated to the South African freedom fighters.
Kruger National Park, Limpopo, and Mpumalanga
South Africa's first national park is also its most famous attraction, offering one of the best safari experiences on the continent.
Located in the far northeast of the country, the Kruger offers an incredible variety of flora and fauna, including Africa's Big Five and the lesser-known Little Five . The birdlife is exceptional, too, with over 500 species recorded within the park.
There are countless different ways to explore: You can rent a car and drive along the park's well-maintained roads, or sign up for a private game drive and benefit from the knowledge of an experienced guide. Night drives and walking safaris are also well worthwhile. In terms of accommodation, your options range from rustic campsites to five-star lodges. 
Bloemfontein, Free State of South Africa
Bloemfontein is the capital city of the Free State of South Africa and one of the country's three national capitals; however, it's also known as the "city of the roses" due to the huge rose festival held in the city each spring.
Bloemfontein is also full of history, culture, art, and wildlife to explore and discover. Stop by the Oliewenhuis Art Museum and gardens or the Gallery on Leviseur for a look into the modern art scene of the country. To learn about the history of the region, you can visit the Anglo Boer War Museum or the National Museum of Bloemfontein.
For an outdoor adventure, you can head over to the Free State of South Africa National Botanical Garden or meet the wildlife up close at the Bloemfontein Zoo or an exclusive Cheetah Experience found right outside the city.
East London, Eastern Cape
Located on the Indian Ocean on South Africa's eastern coast, East London is a quiet, relaxed beach town perfect for an escape any time of year.
Cove Rock and Nahoon beaches are the biggest attractions in East London, but a variety of wild game reserves nearby and the local East London Museum also provide a chance to get to know the history, culture, and natural habitat of the region. Mpongo Park Game Reserve, the Nahoon Estuary Nature Reserve, the East London Aquarium, and the East London Lion Park are all popular attractions.
Port Elizabeth, Eastern Cape
A little further southwest along the eastern coast of South Africa, Port Elizabeth is a bustling city on Algoa Bay known for its thriving port, numerous beaches, and the wild elephants, rhinos, and other big game living on wildlife reserves nearby.
Encounter cheetahs at the Kragga Kamma Game Park or explore maritime and natural history at Bayworld, a kid-friendly museum dedicated to aquatic life. Tourists can also take private boat tours of Algoa Bay, where rare birds and whales are often seen enjoying the warm climate.
Kimberley, Northern Cape
The capital of the Northern Cape province, Kimberley, is known for its 19th-century diamond mines, including the hand-dug Big Hole—the world's largest diamond mine.
Kimberley is also the home of Da Beers, one of the nation's most popular brands, as well as a variety of history museums, art galleries, and colonial houses built in the 1800s.
Along with visiting The Big Hole, tourists can learn about natural and cultural history at the McGregor Museum, see endangered species at Mokola National Park, and explore South African and European art at the William Humphreys Art Museum.
South Africa Guide: Planning Your Trip
The Best Time to Visit South Africa
Weather in South Africa: Climate, Seasons, and Average Monthly Temperature
12 Best Things to Do in Cape Town, South Africa
The Perfect Itinerary for a 10 Day Trip to South Africa
20 Best Things to Do in South Africa
How to Travel From Cape Town to Johannesburg by Plane, Train, Bus and Car
The Best Time to Visit Johannesburg
The Top 18 Things to Do in South Africa's Eastern Cape Province
An Introduction to South Africa's Transkei Region
10 of the Best Small Towns in South Africa
18 Top Things to Do in South Africa's KwaZulu-Natal Province
Is It Safe in South Africa?
How to Get to Antarctica From Cape Town, South Africa
Top Five Game Reserves for Safaris Near Cape Town
18 Top Things to Do in Gauteng, South Africa
By clicking "Accept All Cookies", you agree to the storing of cookies on your device to enhance site navigation, analyze site usage, and assist in our marketing efforts.

16 Best Cities in Africa
Written by Carri Wilbanks and Becca Blond Updated May 3, 2023
Home to more than 50 different countries, the African continent has some of the world's best cities to explore. Vibrant, eclectic, and culturally rich, many African cities are modern affairs set to a beautiful backdrop.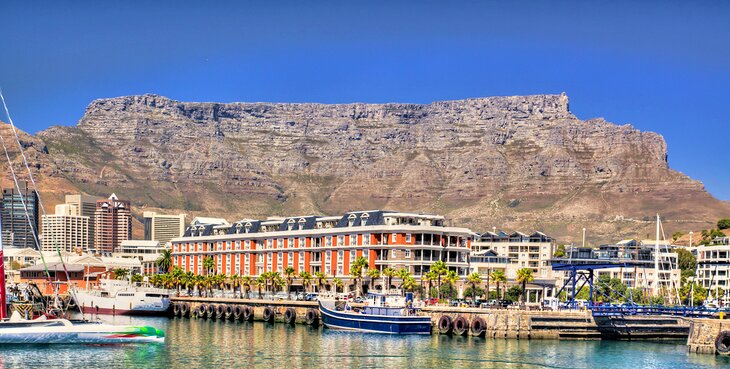 South Africa 's Cape Town , for instance, is often considered one of the world's most beautiful cities for its mix of natural beauty — there's a 6,000-foot table-shaped mountain in the center and a string of white-sand beaches — and buzzy atmosphere. Visitors can expect stylish hotels, delectable restaurants with global cuisine, and plenty of cultural attractions and adventurous things to do.
Other African cities, like Marrakesh , Morocco , offer the best of old and new. In Marrakesh, you will find an up-and-coming art scene, five-star resorts, and contemporary restaurants set next to ancient bazaars, souks, and markets.
And Africa has cities for all styles of travelers, from fast-paced and sprawling metropolises like Egypt's Cairo , Nigeria's Lagos , and South Africa's Johannesburg to cities like Stone Town on the island of Zanzibar, where the pace of life moves slow.
Selected for their diversity, beauty, and reasons a tourist would want to include them on a vacation, here we present our list of Africa's best cities.
1. Cape Town, South Africa
2. marrakesh, morocco, 3. cairo, egypt, 4. stone town, zanzibar, 5. johannesburg, south africa, 6. kigali, rwanda, 7. essaouira, morocco, 8. windhoek, namibia, 9. durban, south africa, 10. nairobi, kenya, 11. lagos, nigeria, 12. algiers, algeria, 13. accra, ghana, 14. luxor, egypt, 15. dar es salaam, tanzania, 16. fes, morocco, map of cities in africa.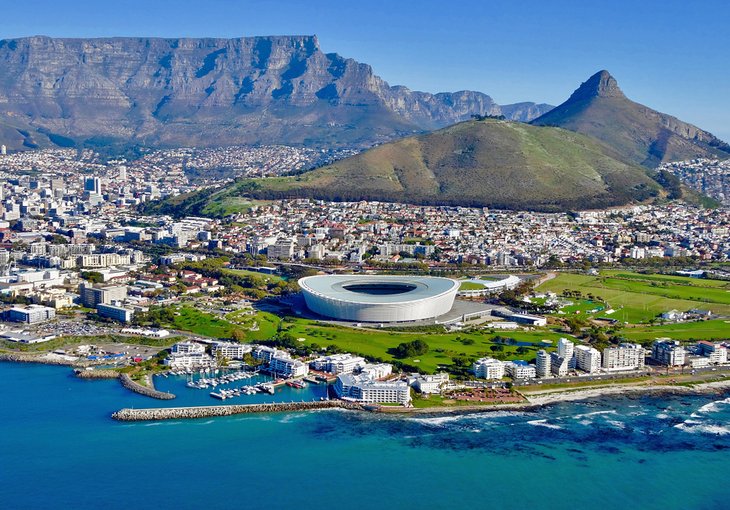 Located at the base of Table Mountain and right on the Atlantic Ocean, Cape Town has it all. The city is home to a string of beautiful beaches and a plethora of natural attractions like climbing to the top of Lion's Head to view the sunrise or hiking in Table Mountain National Park. It also features the gorgeous Kirstenbosch Botanical Garden , and there is an opportunity to see wild African penguins just about 30 minutes outside the city center.
Cape Town is also culturally rich and home to a myriad of museums, galleries, and historical attractions, like Robben Island , where Nelson Mandela was imprisoned for 27 years. When it comes to dining and shopping, Cape Town has excellent restaurants and contemporary shops. Don't miss the lively Victoria and Alfred Waterfront , which is home to both.
There are also hotels for all budgets of travelers and due to a favorable exchange rate for Americans, Canadians, and Europeans, even the luxury hotels here are affordable. If you do want to splurge, The Silo Hotel is one of the nicest in town, with Instagram-worthy bathtubs.
Read More: Best Attractions & Places to Visit in Cape Town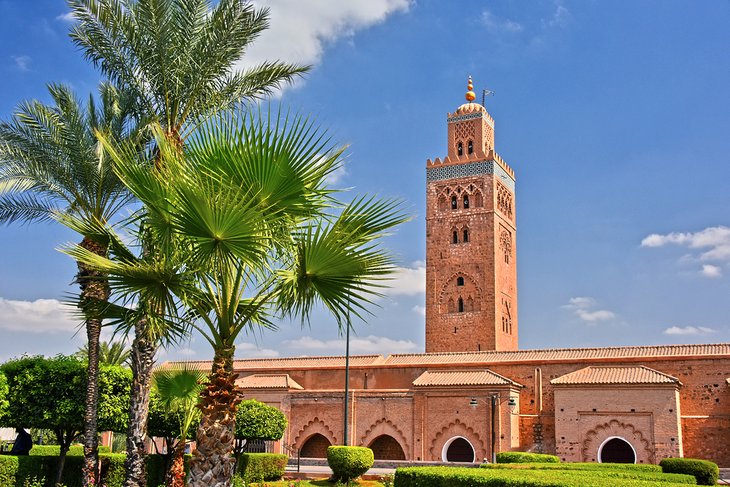 Morocco's fourth-largest city, Marrakesh is a mesmerizing place to visit filled with ancient architecture and modern culture. In the western part of the country, Marrakesh is home to a vibrant medieval walled medina , which dates back to the Berber Empire. You'll want to spend some time wandering its narrow maze-like streets, where you'll find souks (marketplaces) selling all sorts of traditional goods from jewelry to spices and textiles.
Another one of Marrakesh's must-sees is the 12th-century Koutoubia Mosque , with its Moorish minaret that forms an integral part of the city skyline. Also don't miss new attractions like the Museum of African Contemporary Art Al Maaden and the galleries making up Marrakesh's burgeoning arts scene.
If you're trying to decide where to stay, the luxe Oberoi, Marrakech is one of the best sleeps in the city.
Read More: Top-Rated Day Trips from Marrakesh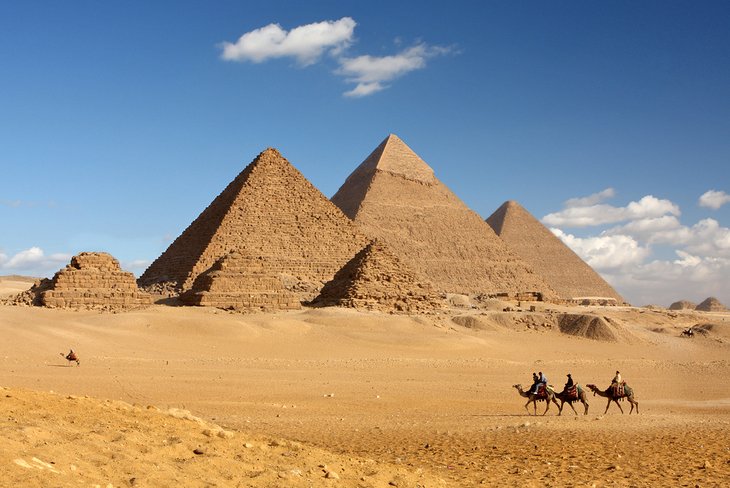 Right on the banks of the Nile River, Cairo is a chaotic and bustling city that is also the largest in Egypt. It's dubbed the "city that never sleeps" — there is always something going on in this sprawling metropolis, where ancient culture meets modern skyscrapers. Expect to hear a cacophony of horns and the rumble of traffic day and night, but the sounds are invigorating to those who like large cities.
Travelers come to Cairo to explore Egypt's long and storied history. Top Cairo attractions include the Egyptian Museum , which is filled with millennia worth of antiquities and artifacts, including mummified bodies of ancient rulers. The large, public Tahir Square with its central traffic circle is the heart of Cairo and also known as a location for political demonstrations. For panoramic city views, you'll want to visit the 187-meter-high Cairo Tower in the Zamalek district of the Gezira Island suburb.
Also nearby is Giza , where you'll find Egypt's most famous attractions : the iconic pyramids dating back to the 26th-century BCE and the Great Sphinx. Visit on a camel for sunrise or sunset.
Accommodation: Top-Rated Resorts in Egypt
Read More: Pyramids of Giza: Attractions, Tips & Tours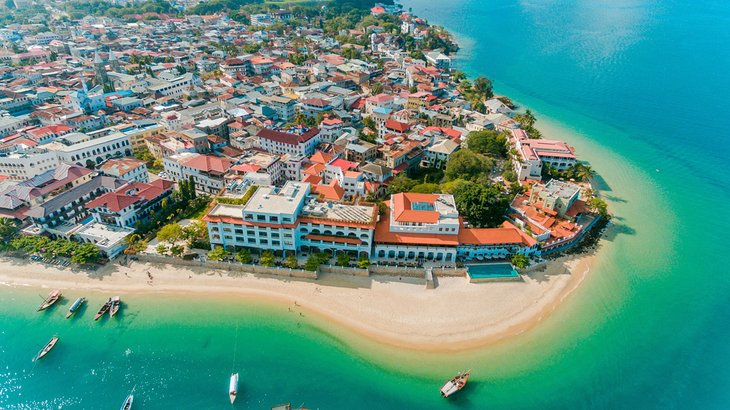 Stone Town is no major metropolis; it is an old Swahili coastal trading town, but it is one of the most intriguing destinations in Africa . Located on the beautiful island of Zanzibar off the Tanzanian coast in the Indian Ocean, Stone Town is the heart and soul of the island.
The town dates back more than 200 years and is a UNESCO World Heritage Site . It is filled with winding alleys and old riads, with their intricate carved wooden doorways that serve as guesthouses now. Check out the town's vibrant bazaars, and grab dinner from one of the multiple food vendors cooking up fresh dishes right on the waterfront.
Read More: Top-Rated Tourist Attractions in Tanzania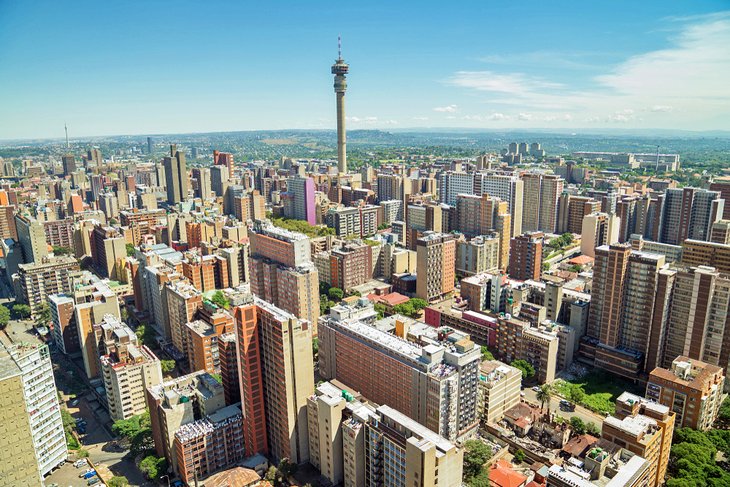 Johannesburg, or Jo'burg as the locals call it, is South Africa's largest city and one of Africa's most wealthy and modern. Expect skyscrapers, world-class hotels, and a host of restaurants that can rival those in major western cities like New York. In fact a lot of Jo'burg has a feeling similar to NYC — it has a young, vibrant, frenetic, goes-all-night energy about it.
The city center is home to attractions like the not-to-be-missed Apartheid Museum . But the suburbs here are also notable and where most of the hotels and restaurants are located.
Johannesburg is also filled with shopping malls that people still flock to, and you'll find these anchored by more classy hotels and restaurants. The township of Soweto is another cultural must-see to understand South Africa's complicated history.
Rwanda's capital city is known for being one of Africa's cleanest cities. Set in the middle of the country and just a 2.5-hour drive from Volcanoes National Park , where tourists come to trek to see Rwanda's mountain gorillas, it has a great geographical location for exploring this emerging destination.
The city, which sits at just over 5,000 feet above sea level and dates back to the 11th-century, is hilly, with buildings set on ridges and accompanying valleys. The Kigali Genocide Memorial is a top (if somber) Kigali attraction , documenting the horrific 1994 mass killings during Rwanda's civil war.
For traditional handicrafts, from wooden carvings to jewelry and woven baskets head to the numerous vendors making up the Caplaki Craft Village . Kigali also has a lively restaurant and entertainment scene.
Read More: Top-Rated Attractions & Things to Do in Rwanda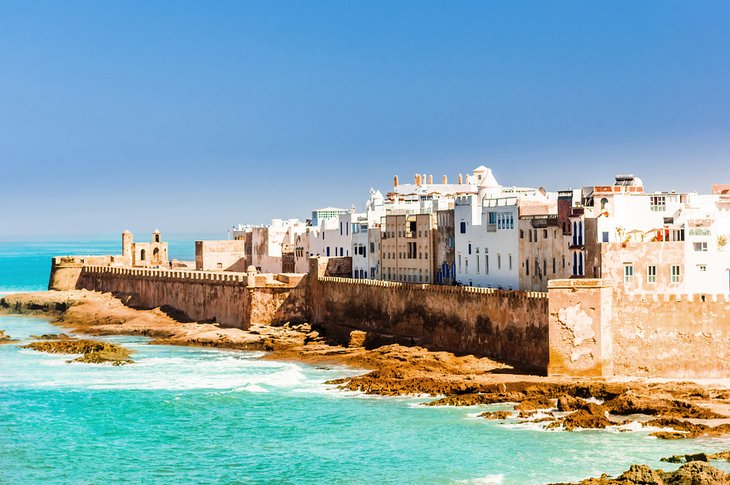 The Moroccan port city of Essaouira on the country's Atlantic coast is one of its most beautiful. The city, which is also a popular resort town, has some lovely beaches and is known for its excellent kitesurfing, windsurfing, and regular surfing, thanks to strong currents and plenty of wind — it is actually known as the Wind City of Africa.
Head to the old medina to begin sightseeing. It is protected by 18th-century seafront ramparts and is filled with palm-lined avenues and narrow streets where you'll find cafés, art galleries, and small hotels. Also check out the old brass cannons lining this picturesque fishing town's fortified walls.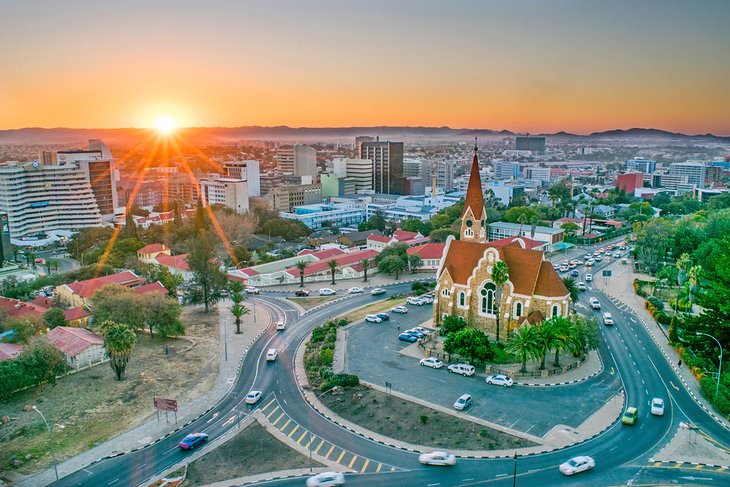 Namibia's capital city is one of Africa's easiest to navigate. Safe, contemporary, and clean, it is filled with traditional German houses and pastel-hued buildings. Despite being Namibia's largest city, Windhoek has more of a small-town vibe.
The pedestrian-friendly city is easy to explore on foot. Don't miss its many craft shops, fun and tasty restaurants, and neo-Baroque cathedrals that join skyscrapers to make up the city's skyline.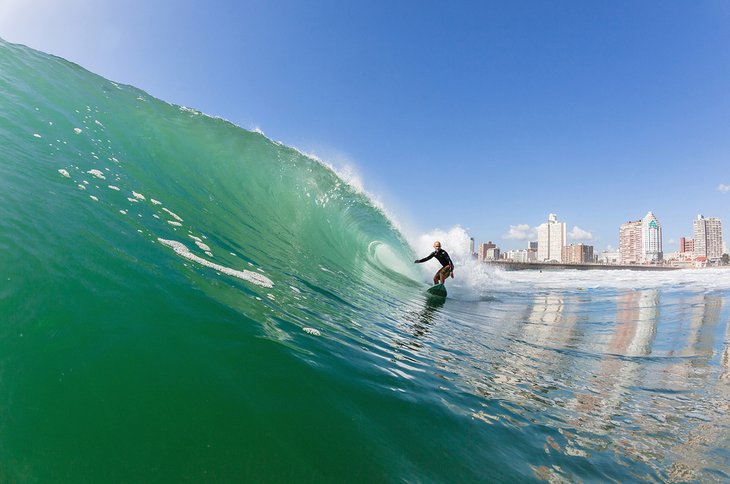 South Africa's third major city, Durban has a unique multicultural history and is known as the birthplace of Mohandas Karamchand Gandhi who was born here on June 7, 1893.
Today, the city on the Indian Ocean coastline is a top South African beach destination (the sea here is quite a bit warmer than in Cape Town), with some good surf breaks. It is also known for its large Indian population and excellent restaurant scene.
Top Durban attractions include a seafront promenade that runs from uShaka Marine World , a large theme park with an aquarium, to the Moses Mabhida Stadium , which was built for the 2010 soccer World Cup. It is also known as the Golden Mile.
The Durban Botanical Gardens is another popular attraction and showcases a larger variety of African plants.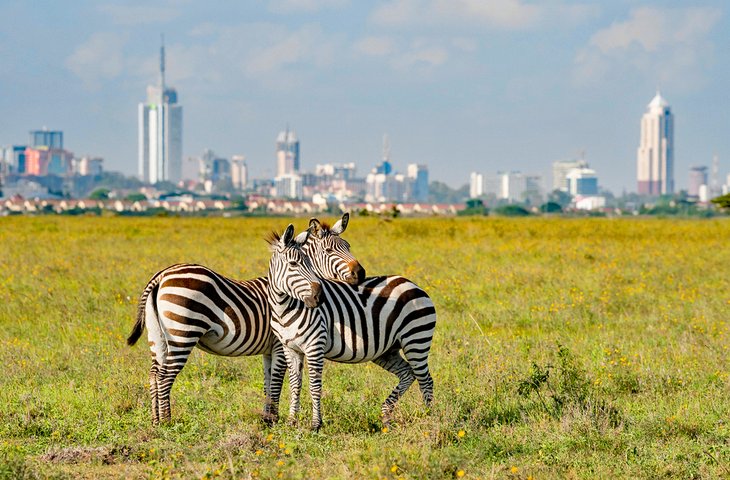 Kenya's capital city, Nairobi, is a vibrant and unique destination with some of the best infrastructure on the African continent. Expect a mix of contemporary skyscrapers and traditional Kenyan style plus a healthy dose of culture and historical sites.
One of the coolest facets of Nairobi is its accessibility to African wildlife safaris. Located just on the outskirts of the city center is Nairobi National Park , a game reserve famed for breeding endangered black rhinos. It is also home to other animals, from zebras to lions and giraffes. Another Nairobi top attraction is the elephant orphanage run by the David Sheldrick Wildlife Trust next to the reserve.
For lodging, you'll want to check out Giraffe Manor . It is one of the most unique boutique properties around; guests here can interact with giraffes.
Read More: Top-Rated Tourist Attractions in Kenya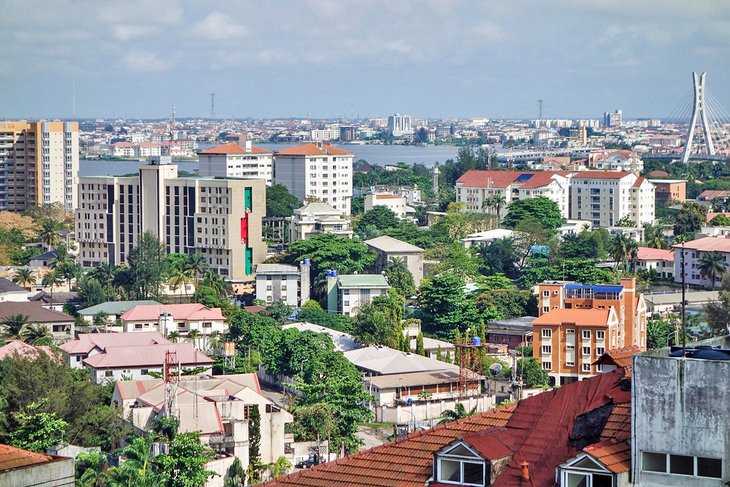 Nigeria's largest city, Lagos is also the country's richest metropolis and its financial epicenter. The city is also where to come if you are hoping to make a name for yourself in Nigeria's thriving film and music industries — many dream of appearing on stage at Freedom Park , which served as a prison during the colonial era and is now a popular concert venue.
Lagos stretches inland from the Gulf of Guinea and across the Lagos Lagoon. Victoria Island is a popular destination for tourists, as it has some of the best beach resorts, lively restaurants, and shops and boutiques in the city.
For a dose of culture head to Lagos Island , where you'll find the National Museum of Lagos , which is filled with cultural artifacts.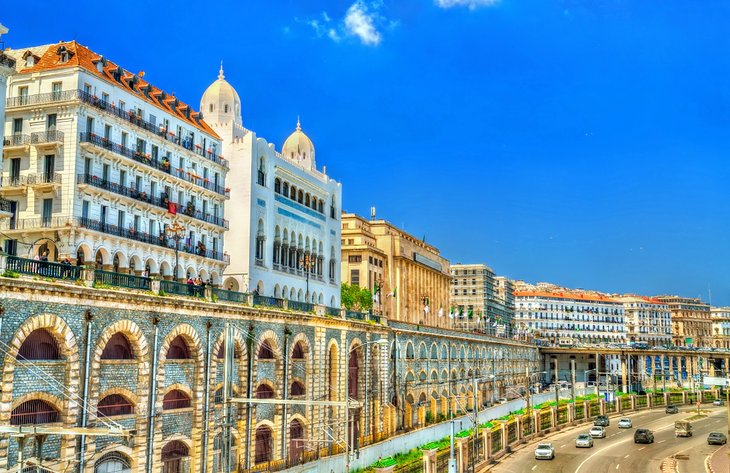 European and Arab influences blend together in Algeria's capital city Algiers, which is often referred to as the "Paris of North Africa." The visually beautiful city sits on a bay on the Mediterranean coast and is home to some gorgeous beaches. There are also cosmopolitan restaurants, shops, and tourist hotels.
Made sure to wander the white-washed buildings of the Kasbah. The old town is filled with steep, windy alleyways and palaces left over from the Ottoman empire. The Ketchaoua Mosque is another top place to visit. It dates back to the 17th-century and has two large minarets.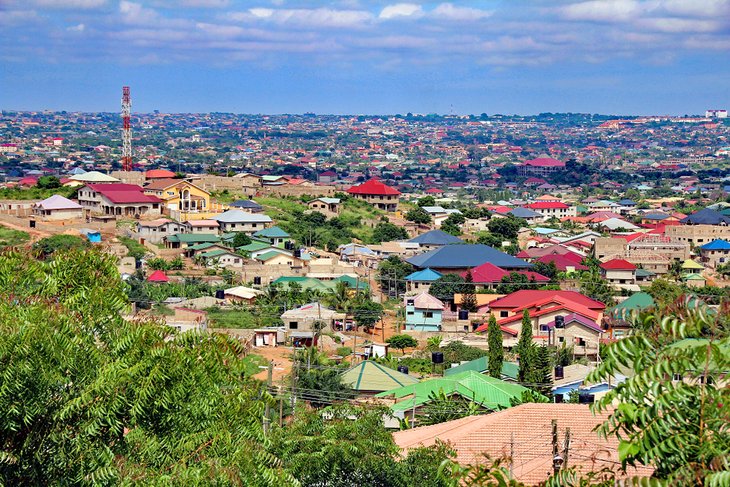 The port city of Accra is Ghana's capital and largest metropolis. Right on the Atlantic coast, it is also home to gold-sand beaches like Labadi Beach and Kokrobite Beach and boasts a tropical climate. A favorite vacation spot for wealthy Nigerians who have weekend houses here, Accra is filled with lively restaurants and large shopping malls.
Kwame Nkrumah Memorial Park is a top attraction. The park honors Ghana's first president, who helped the country achieve independence from Great Britain. On the park grounds, you'll find Nkrumah's mausoleum and a museum detailing his life and accomplishments. Also check out the colorful Makola Market for all sorts of goods.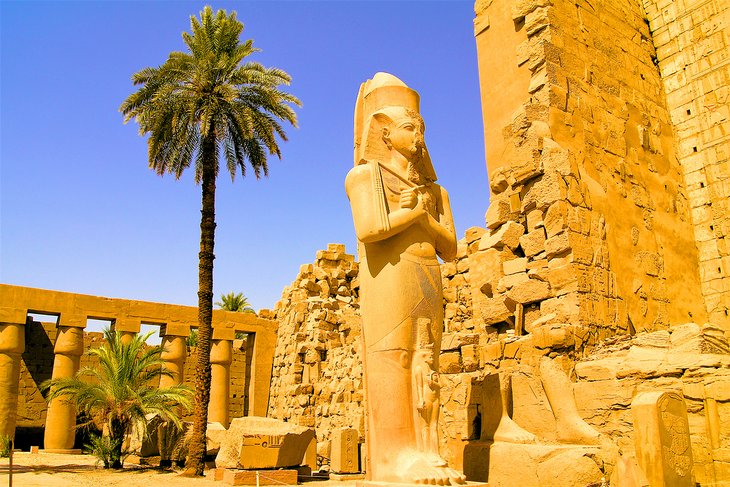 Designated a UNESCO World Heritage Site in 1979, the city of Luxor in southern Egypt sits on the east bank of the Nile River. Between the 16th and 11th centuries BCE, it was the site of the ancient city of Thebes, which was the seat of power for the pharaohs during the height of their reign.
Today, the modern city is built around two surviving monuments from these ancient times. Don't miss the Luxor and Karnak Temples . Other top Luxor attractions from the past include the royal tombs of the Valley of the Kings on the Nile's west bank.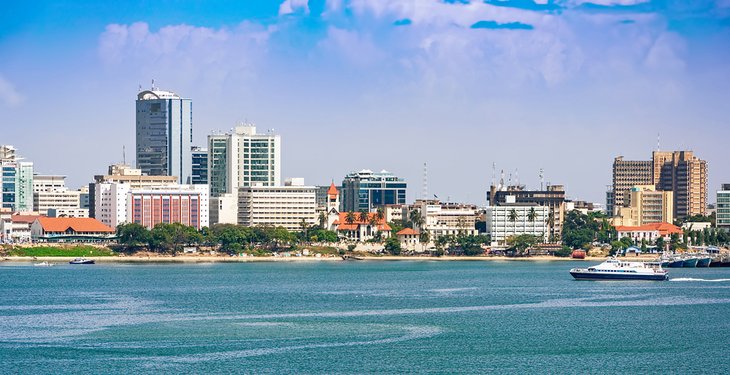 Arabic for "Abode of Peace," Dar es Salaam is Tanzania's largest city and industrial hub. It also serves as a major trade port for eastern Africa. Although Dar, as it is often referred to, is not Tanzania's official capital – that designation belongs to Dodoma – it serves as the seat for most of the country's government administration.
Founded in 1862 by the sultan of Zanzibar on what was once the site of the village of Mzizima, Dar es Salaam began to really grow in 1887 when the German East Africa Company established a station here. In 1907, the Central Line railroad was built, connecting it to Kigoma on Lake Tanganyika to the west with a stop in Dodoma.
Between 1891 and 1916, Dar served as the capital of German East Africa, and following independence in 1964, of Tanzania. It served in this capacity for a decade until Dodoma was designated the official national capital in 1974.
Today Dar es Salaam is a bustling city with a rich mix of architecture that reflects its colonial past. You'll see Swahili, British, German, and even Asian styles in this melting-pot city. Home to an international airport, pretty beaches, and easy access to the rest of Tanzania, Dar is also a popular tourist destination and a great place to spend a few days before heading off on safari or to the island of Zanzibar .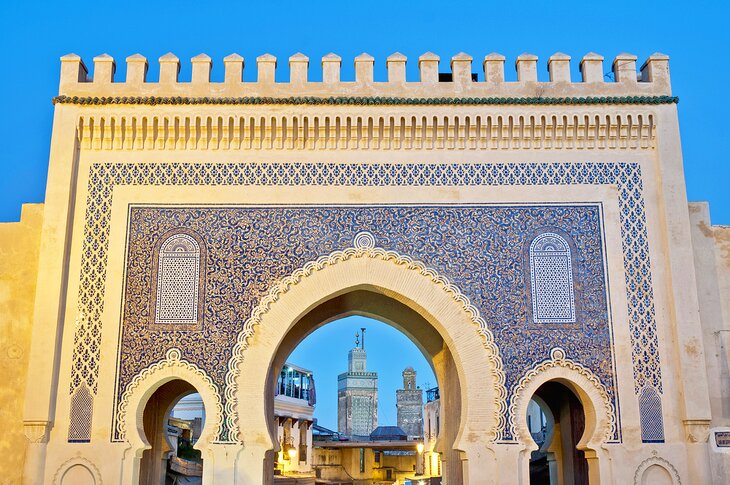 Fes is Morocco's spiritual capital and the country's best city for historic sightseeing. The oldest neighborhood, and top tourist attraction , is Fes el Bali, which is thought to be the world's largest intact ancient medina.
Enter through the main gate at Bab Boujiloud. From here you have the best views of the minaret of the Medersa Bou Inania. The famous landmark was built between 1350 and 1357 and sits just inside the gate. It is one of the few religious buildings in Fes that non-Muslims may visit, and as such is one of the city's top tourist attractions.
You can spend hours just wandering the medina's crooked, narrow alleys here that spiral into two districts separated by a river. There is also plenty of shopping to be had in the medina's souks. Fes is known for its handicrafts from metalware to ceramics.
While in Fes, you'll want to book a stay in one of its riad hotels. These are usually found in traditional median mansions, complete with central courtyards, intricately detailed carved doors, and tilework, which have been converted into guesthouses.
Check out Karawan Riad in the Andalous Quarter. It is in a beautifully renovated 17 th -century mansion. It has a gourmet restaurant and a spa on-site.
Read More: Best Riads in Morocco

More on South Africa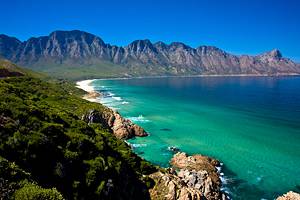 Explore South Africa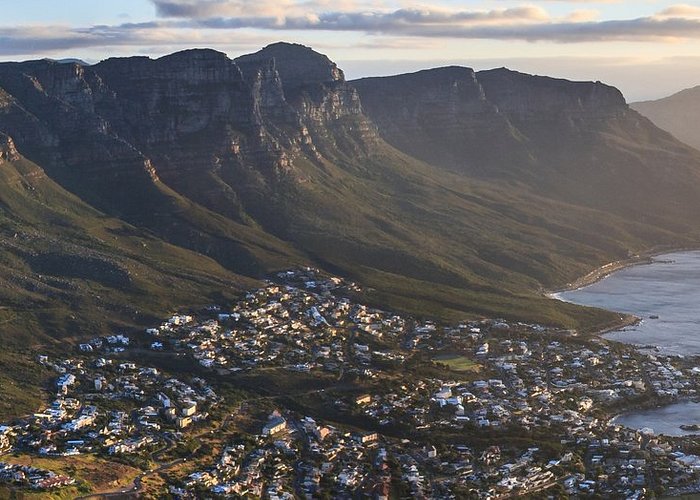 Plan Your Trip to South Africa: Best of South Africa Tourism
Essential south africa.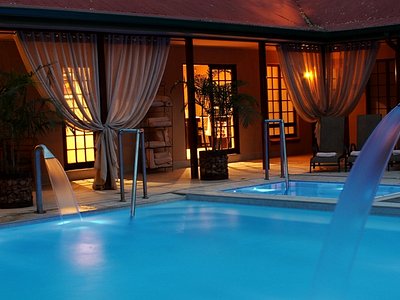 Get all the best tastes of Africa
Trending in the forums.

South Africa Is Great For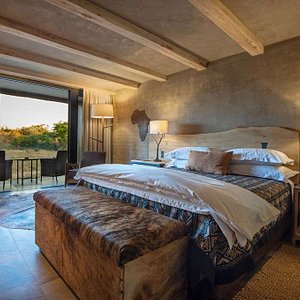 Eat & drink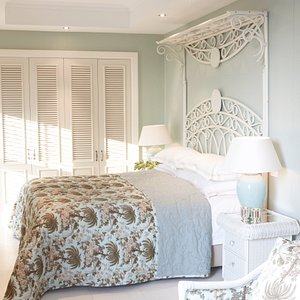 The great outdoors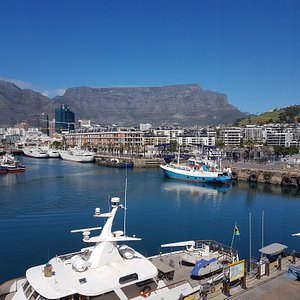 Travel Website
Travel trade website
Business events website
Corporate & media website
Welcome to South Africa
What you need to know
Things to do
Places to go
Travel deals
Get in touch
Choose your country and language:
Asia Pacific
South Korea
Netherlands
United Kingdom
By creating an account, I agree to the Terms of service and Privacy policy
Bustling city life
Explore south africa's top 10 vibrant cities.
F F rom picturesque Cape Town and laid-back Durban, to friendly Port Elizabeth and bustling Johannesburg, here's a rundown of the top 10 cities.
Cape Town , Western Cape
The "Mother City", as it is fondly known is home to one of the New 7 Wonders of Nature - Table Mountain. This stunning city sits at the tip of Africa and has been named one of the top 10 surf cities in the world by Surfer (a surf culture magazine) for a reason, considering tourists flock to its pristine beaches, including Clifton Beach and Muizenberg.
Durban , KwaZulu-Natal
Situated on the east coast of the country, Durban is well known for its rich culture and delicious cuisine made by the locals. Think warm weather all-year round, world-class beaches and incredible eateries in-and-around vibey hangout spots – that's Durban for you and more.
Johannesburg , Gauteng
Johannesburg's Central Business District continues to evolve, with an on-going urban renewal and cultural regeneration programme breathing new life into the city. These new bustling districts include Maboneng and Braamfontein. What you'll love about the place is the multi-cultural cosmopolitan vibe and an attitude that says "let's party".
P P ort Elizabeth , Eastern Cape
Also known as "The Friendly City", Port Elizabeth is a beautiful urban hub that stretches for 16kms along Algoa Bay. Highlights of this incredible city include the Addo Elephant National Park.
Pretoria , Gauteng
A visit to this stunning city will leave you in awe of the beautiful jacaranda trees sprawled across most suburbs. It's also known as "The Jacaranda City" for this very reason. There are many highlights of Pretoria including old yet significant buildings and fascinating museums.
Bloemfontein , Free State
Bloemfontein is unique in that it's the size of a large African city, yet has the feel of a small country town, with thousands of rose bushes colouring the streets. The literal translation of Bloemfontein from Afrikaans is "fountain of flowers", which gives the city its nickname, "The City of Roses".
Nelspruit , Mpumalanga
Consider this city one of the country's many gems, being the gateway metropolis to the Kruger National Park. One of the many things to tick off on your to-do list while passing through Nelspruit is a visit to the oldest caves on Earth and the city's remarkable botanical garden.
East London , Eastern Cape
East London, affectionately called Buffalo City by the locals, is situated 1000km from Cape Town on the South East coast of South Africa. Lying in between the Nahoon River in the north and the Buffalo river to the south it is the only river port in South Africa. The shores are lapped by the warm waters of the Indian Ocean and with its sub-tropical climate is a sought after tourist destination for local South Africans and international tourists alike.
Related articles
Cape town: a south african historically significant city, joburg's most iconic buildings, the history of joburg, city of gold, the 10 best restaurants in joburg, eating out in cape town - an eclectic mix of restaurants, quirky hotels - trailers, ox wagons, tree houses and even a castle (3), montecasino - explore italy while visiting johannesburg, the university of cape town (uct) - a place of learning excellence and cultural history, south africa on social media.
South Africa is rich with wildlife making it an ideal destination for birdwatching. Learn about the best places to… https://t.co/1EUyjiPZO4
Disconnect from the outside world and enjoy the natural paradise found at Table Mountain 😍. #MeetSouthAfrica🇿🇦 📸: I… https://t.co/YK7kQYHF97
In desperate need of a change of scenery? The Wathaba Hiking Trails have just what you are looking for.… https://t.co/laZQCnpLAv
Trust us, with a view like this; you'll fall in love with Cape Town 🤩. #MeetSouthAfrica🇿🇦 📸: IG/… https://t.co/wTCgYOCW04
Come as you are. Leave as you'll never be again. #MeetSouthAfrica🇿🇦 #LiveAgain https://t.co/sDqGN0aAlS
Take your hiking adventures to Stadsaal Caves and be prepared to be blown away by the rock formations and views!… https://t.co/Cz6REgaRin
Are you looking to catch some waves? Check out this guide for the best surfing beaches in Africa:… https://t.co/gD0Eqjyfpd
Rhinos are one of the many wonderful animals you can find during your next Safari adventure 🦏. #MeetSouthAfrica🇿🇦 📸… https://t.co/5HyLNaqKYr
We're certain this type of peace can only be found in South Africa. 🤩 #MeetSouthAfrica🇿🇦 📸: IG/ ryanwarneke https://t.co/VKEMmjCvOn
Calling all foodies! @goodhousekeeping has included South Africa as a top food holiday destination. Discover the ra… https://t.co/hNUR3NCx67
Witness how our country's natural beauty is being showcased on the silver screen in #TheWomanKing. Get the scoop on… https://t.co/Cx81QMfaqx
#MeetSouthAfrica🇿🇦 when you check out one of our many world-famous beaches in Tsitsikamma. 📸: IG/ feliciapetresq https://t.co/PHIxngipXr
Planning a trip to South Africa with your friends and don't know where to start? Check out this LGBT+ travel guide… https://t.co/nxpJ3AgFB7
Enjoy the beauty of our South African skies when you visit Franschhoek in the Western Cape 😍. #MeetSouthAfrica🇿🇦 📸… https://t.co/FonEB8r1H0
Find yourself exploring all the nature and fauna in Kruger National Park on your next trip to SA. 🍃… https://t.co/lKxr0Wgqpa
RT @boomaero: On #WorldTourismDay, we're celebrating the people working to ensure travel is a net good. Hear from Sustainable Travel Forum…
. @TheTravel_com_ gives an inside look into the beauty and popularity of Kruger National Park. Learn more about the… https://t.co/e9GGR5p4Wt
Rhinos are one of the many wonderful animals you can find during your next Safari adventure 🦏. #MeetSouthAfrica🇿🇦 📸… https://t.co/FI02DlK4T6
Get your daily dose of vitamin sea at Tsitsikama National Park in South Africa. #MeetSouthAfrica🇿🇦 📸: IG/ ail_photos https://t.co/PewpGJ2gQe
Picture yourself enjoying this view and the tranquility of Camps Bay. 🌞 #MeetSouthAfrica🇿🇦 📸: IG/ chris_sparkes https://t.co/0kuCe1vRvP
Useful links
Travel Trade Partners
Business Events
Travel trade
Find accommodation
Useful contacts
Visa & entry info
Image Library
Digital Asset Library 17 Best Places to Visit in South Africa (+Map & Tips)
By Author Jurga
Posted on Last updated: April 19, 2023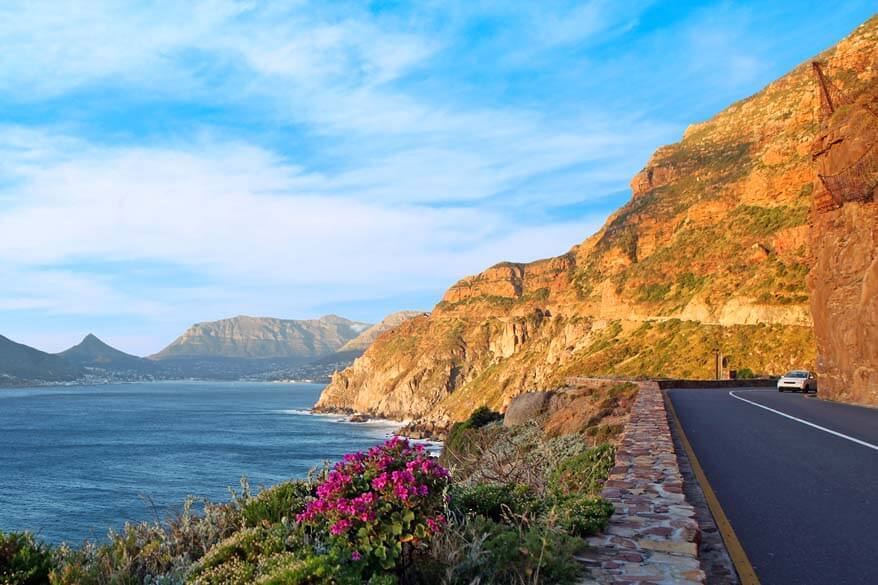 If you are reading this because you searched for the best places to visit in South Africa , then it probably means that you already know that South Africa is one of the most remarkable countries in the world and that you are considering a trip there. Go for it! South Africa is one of the most beautiful destinations you'll ever visit!
South Africa is so special and unique that it's often called The World in One Country . And so it is! S-A is like a perfect mix of the very best of the entire world in one place. At the same time, it's like no other place on Earth…
In this article, you can find a list of the very best places to see in South Africa. 17 incredible destinations in South Africa that are worth a trip from the other side of the world. Find out!
Disclosure: This article is sponsored by South African Tourism . It's not a secret that South Africa is our absolute favorite country in the world, so we are really excited to be working with them to inspire you to discover this incredible country. All opinions and enthusiasm about South Africa are, of course, our own.
We fell in love with South Africa the first time we visited it many years ago and I'm sure you'll feel the same way too. It's a place that captures your heart forever.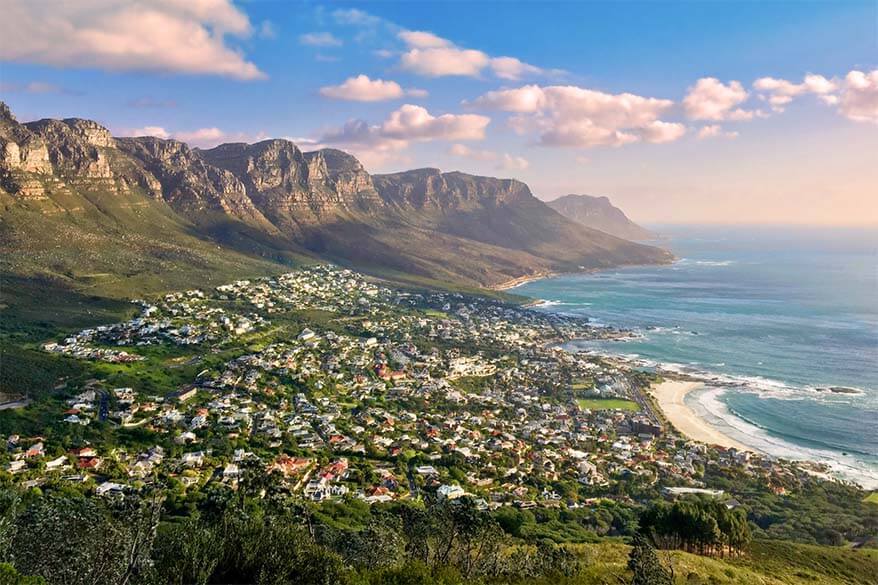 Below, you can find the list of the most amazing places you should visit in South Africa .
This is in no way a complete list, but it should give you a good idea of what to expect and where to go when visiting for the first time. It's the list of the very best things to do and places to see in South Africa .
I ranked this list by putting my own favorites on top. So if you are limited in time, I suggest that you start with the top of the list and work your way down. At the bottom of this article, you can also find the map indicating all the main tourist attractions in South Africa mentioned in this post. Find out!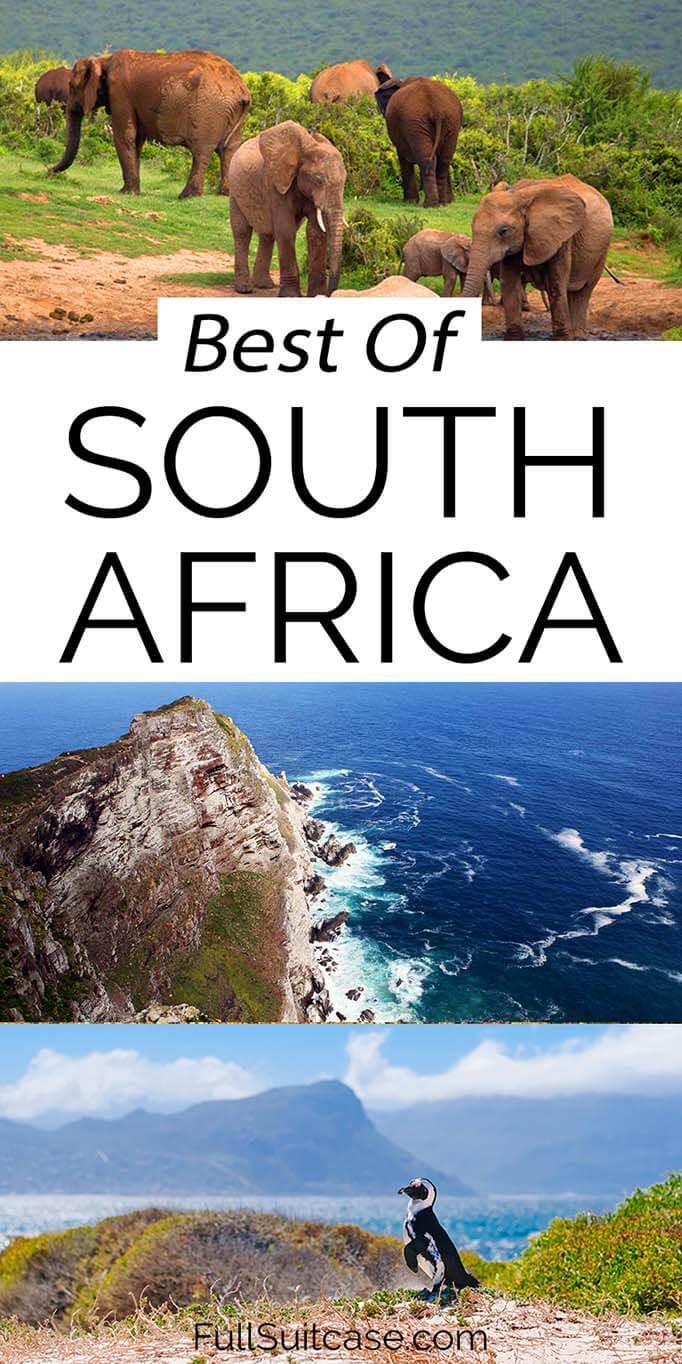 TIP: If you are not sure how to plan your trip, please check our South Africa 2 week itinerary that covers most of the must-see places in South Africa. Please note that it's a very complete itinerary, but it doesn't leave much extra time to explore deeper.
If you want to visit every place from this list, you'll need at least 3 weeks and it will be rushed. If you want to see all the best places in South Africa mentioned in this article AND have some time to explore somewhat deeper, you'll probably need at least a month…
These are the best places to visit in South Africa:
1. Cape Town
If there is one place you absolutely have to see in South Africa, it's Cape Town . It was the oldest European establishment in South Africa (1652) and is therefore often referred to as the Mother City.
It's difficult to describe in just a few words what Cape Town is all about. You really have to experience it in order to be able to appreciate the mingle of African and European cultures, a mix of tradition and modern, and the unique blend of city life and nature… If South Africa is the world in one country, then Cape Town is the world in one city. Absolutely not to be missed when visiting South Africa!
Here are some of the main places you have to see in Cape Town : Victoria and Alfred Waterfront , Table Mountain , Signal Hill & Lion's Head , Robben Island , Bo-Kaap area , Kirstenbosch National Botanical Garden , Two Oceans Aquarium , and also the city center with its local markets, shops, restaurants, and museums.
TIP: If the gondola to the top of Table Mountain is open, go there first. It often gets closed due to high winds, so don't leave it for the last day.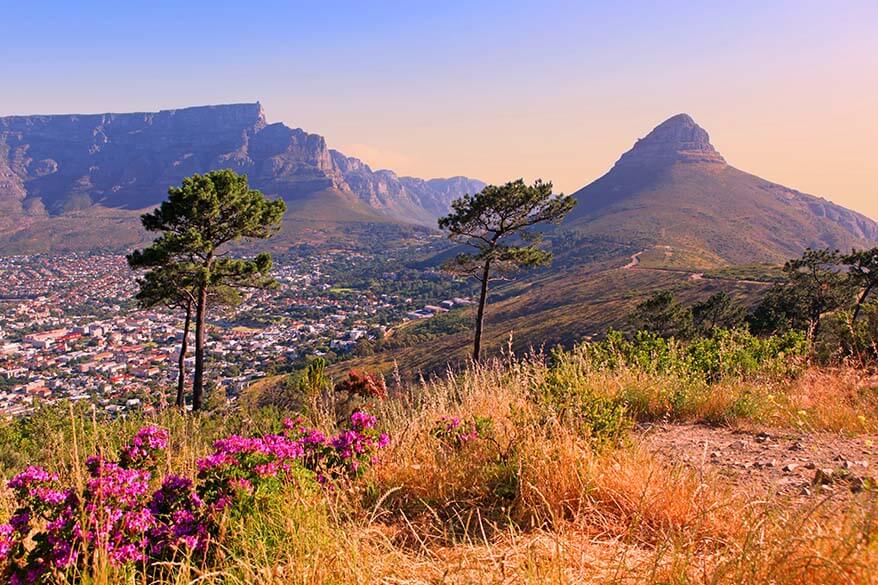 2. Cape Peninsula
Together with Cape Town, Cape Peninsula is one of the most impressive regions of South Africa. This is one of those places that you really don't want to miss!
The absolute highlights of the Cape Peninsula include Cape of Good Hope and Cape Point and the stunning 12 Apostles coastline from Camps Bay to Hout Bay and further south along the Chapman's Peak Drive .
Not to be missed is Simon's Town with Boulder's Beach penguin colony (yes, you can see wild penguins in South Africa!) and also an ocean walkway from Muizenberg to Kalk Bay via St. James beach is really nice. Groot Constantia wine region in Cape Peninsula has spectacular scenery and some of the best wines in South Africa.
Also, in Hout Bay you can take a boat to see a seal colony – it's called Duiker Island , but most people just refer to it as Hout Bay Seal Island. This is a very popular tourist attraction, so you may want to book in advance. For a more unique experience, you can even go snorkeling with the seals .
TIP: One day is hardly enough to see the highlights of Cape Peninsula. So if you can, try to spend at least a few days in this area. I recommend at least a week for Cape Town and Cape Peninsula, with 3-4 days being an absolute minimum.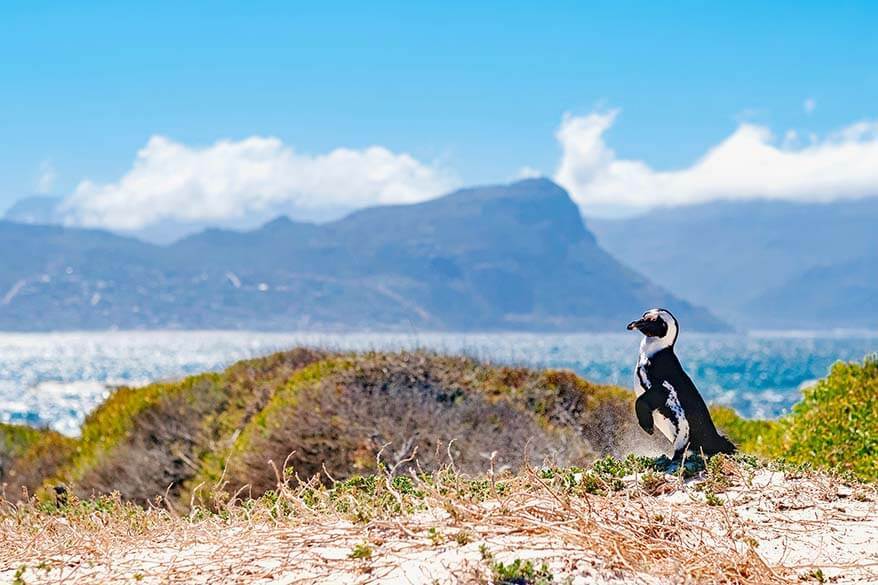 3. The Garden Route
Another absolutely amazing region, the Garden Route is one of those places you really have to see in South Africa as well. This +-200km stretch between Mossel Bay and Stormsrivier is one of the most scenic routes in the world, but you have to take the time in order to truly appreciate it.
You could drive the Garden Route in just half a day, but you won't see much just by sitting in the car. So ideally you take at least a couple of days to explore this area. Some of the nicest places along the Garden Route are Storms River and Tsitsikamma National Park , Robberg Nature Reserve , Plettenberg Bay , the whole area around Knysna (don't miss the Heads and the Featherbed Private Nature Reserve!), Wilderness , and the beautiful coastline along the entire route.
Oudtshoorn , famous for its ostrich farms and Cango Caves , is a bit out of the way from the rest, but it's also considered as part of the Garden Route. Well worth a visit.
TIP: If you are traveling with kids or if you just love wildlife, don't miss Monkeyland and Birds of Eden (both just next to each other). Plettenberg Bay Game Reserve is a great place for a family-friendly safari along the Garden Route and Knysna Elephant Park is one of the best ethical places to interact with elephants in South Africa.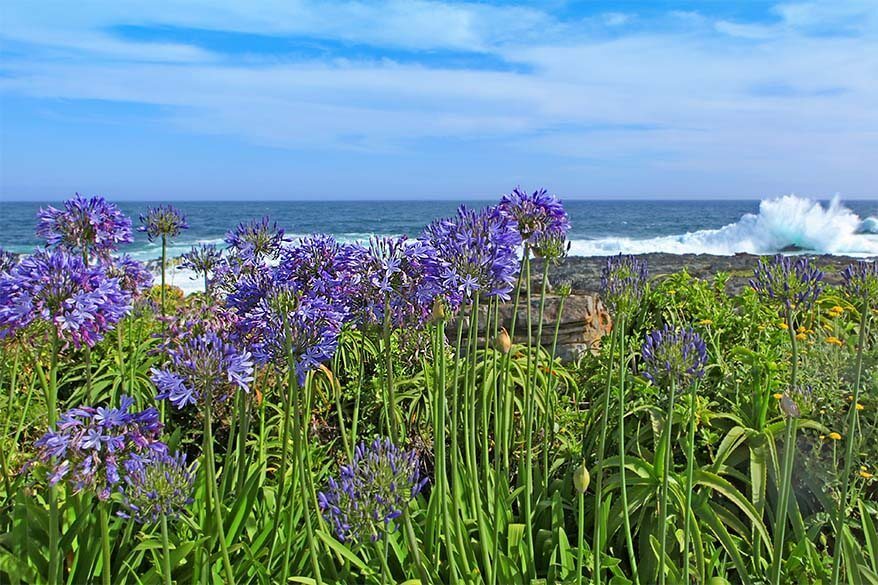 4. Kruger National Park
Without any doubt, Kruger National Park is one of the best-known places to visit in South Africa. If you want the best wildlife safari experience in South Africa, then Kruger NP is definitely the place to be.
Kruger is the oldest and also the biggest National Park in South Africa. To give you an idea, with 2,000,000 hectares (20,000 km 2 ), it's about the size of Israel or the state of New Jersey. In other words, Kruger NP is huge! Ideally, you plan to spend at least 2-3 days in Kruger NP and make several game drives.
Hundreds of animal species call Kruger home and it's also the best place to see the Big 5 in South Africa. The Big 5 refers to five most difficult African animals to hunt on foot: lion, leopard, elephant, rhino, and Cape buffalo. Hunting is really not cool anymore, but this term is widely used as a sort of '5 must-see African animals' list.
There are 101 ways to explore Kruger National Park. You can opt for one of the many luxury lodges and private safari rides , organized day tours , or you can drive and explore Kruger NP with your own car. No matter which way you choose to explore Kruger National Park, it's a place that you really must see in South Africa!
If you have never been on a safari before, please check our ultimate guide to safari in Africa .
TIP: Combine a visit to Kruger National Park with the nearby Panorama Route and Blyde River Canyon (see below).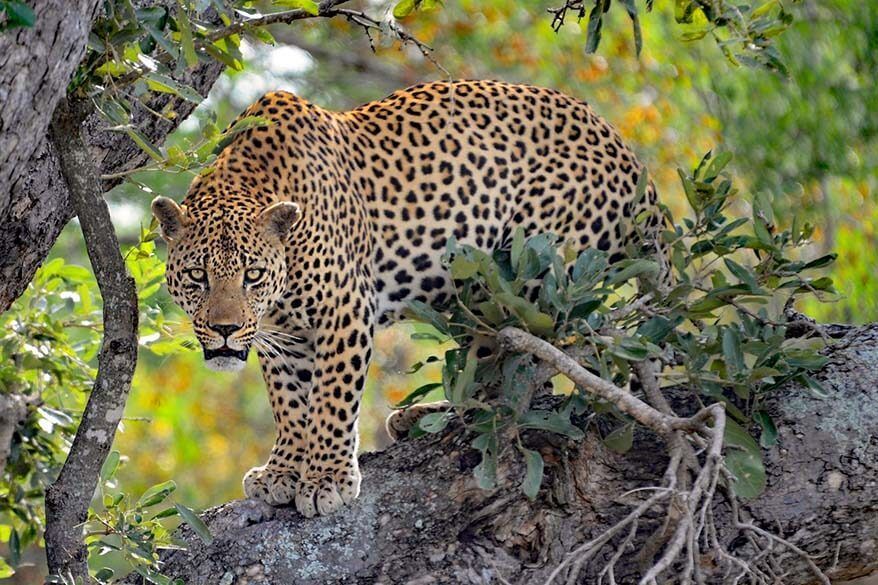 5. Blyde River Canyon & Panorama Route
Blyde River Canyon is one of the most beautiful natural landmarks of South Africa. It's also one of the largest canyons in the world. Due to its proximity to several main entrances of Kruger National Park, Blyde River Canyon Nature Reserve and the whole Panorama Route make a very popular day trip in the area.
Together with Kruger NP, Blyde River Canyon is one of the most popular tourist attractions in northern South Africa.
Start your day with breakfast at the famous Harrie's Pancakes in Graskop . Then head north to the Pinnacle , God's Window , and Wonder View . Further highlights of the Panorama Route include Lisbon Falls and Berlin Falls , also Bourke's Luck Potholes , and Lowveld viewpoint . But the most impressive of them all is the Three Rondavels viewpoint . The scenery here is simply spectacular!
Three Rondavels was one of the first places we visited just after arrival in South Africa and that image stayed with us forever. It was here that we fell in love with this amazingly diverse country and realized that it has so much more to offer than we ever imagined… Don't miss if you are visiting Kruger NP and have a day to spare!
If you have more time, you can also consider a visit to the Echo Caves or a small museum-town called Pilgrim's Rest.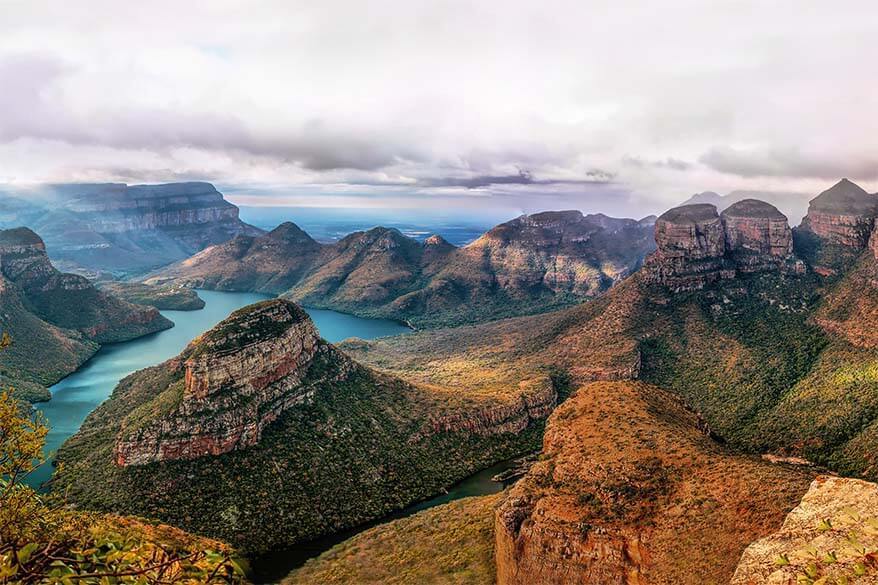 6. Hermanus
Hermanus is my husband's favorite place in South Africa, one we always wish we had stayed longer at…
The town itself isn't that special, but its coastline is second to none! Grab a picnic and explore the beautiful coastal walking path. The bay near Hermanus is known as the best place to see whales and dolphins in South Africa and it definitely lives up to its reputation!
You can take a whale watching boat tour and get really close to these majestic animals, but you can usually also see them from ashore. Both experiences are very different and each special in their own way. I really recommend both – taking the boat tour and also walking the coastal route in Hermanus and watching whales and dolphins from the shore.
Please note that whales are not always around. The best time to see whales in Hermanus is between June and December, but some years they arrive earlier or leave later, so you just never know.
We have been on many whale-watching tours all over the world, but nowhere did we see so many whales from so close by as in Hermanus. There were tens of whales just meters away from our boat… We also saw hundreds of dolphins while walking along the coast. It sure is one of the best places to go whale – and dolphin-watching in the world.
TIP: Nearby Gansbaai is also a beautiful place with a stunning coastline and a good chance to see the whales. It's not as well known and therefore much less visited than Hermanus, but it's a perfect place to visit for those who have more time in the area and looking to discover some off-beat hidden gems.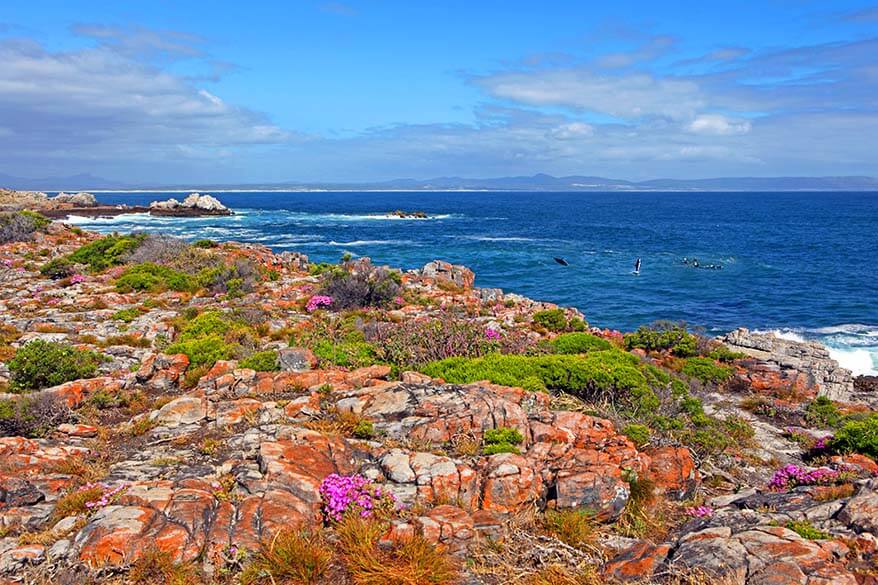 7. South Africa Wine Region: Stellenbosch and Franschhoek
South Africa has become world-famous for its wines and the best region to see the wineries and taste some wines is the beautiful area between Stellenbosch, Paarl, and Franschhoek. It's just a short drive from Cape Town and is therefore really easy to visit, even if you only have limited time in South Africa.
Stellenbosch and Paarl are bigger towns and I'm not sure if they are worth a visit, but the nearby wineries and the surrounding scenery is a must. We loved the quaint little Franschhoek town with its white buildings, hilly landscapes, and a very cozy atmosphere. Such a beautiful region – a place you have to see in South Africa!
TIP: Don't drink and drive! If you are staying in Cape Town, you can visit the wine region with an organized day tour. Here is one of the best-rated and most complete wine region tours from Cape Town that I was able to find.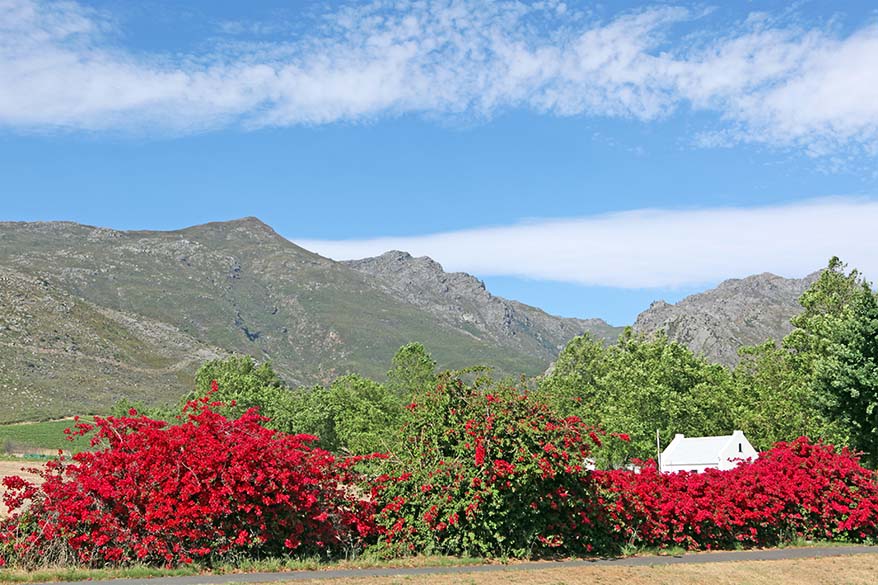 8. Cape Agulhas – Southernmost Tip Of Africa
Cape Agulhas, the Southernmost place in Africa , is so far from every other landmark in South Africa and main tourist routes that it doesn't get the attention it deserves. But what a beautiful and unique place it is! Standing at this point where two oceans meet you truly feel like you've reached the end of the world…
The best way to visit Cape Agulhas is by making a stop there on your way from Cape Town to the Garden Route (or vice versa). We once did it in a day, just stopping there when driving from Knysna to Cape Town, but it was a really long drive.
TIP: I suggest that you break the drive and either stay in Cape Agulhas or in the area around Hermanus or Gansbaai for one night.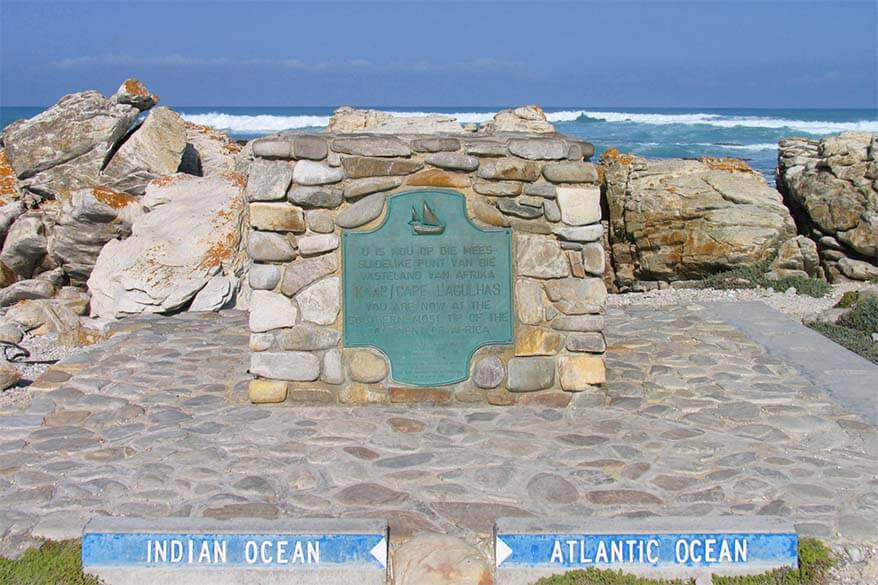 9. Drakensberg
Another wonderful region a bit off the beaten tourist path in South Africa is the Drakensberg mountains . The Dragon Mountain is a +-200km mountain range between the Kingdom of Lesotho and KwaZulu Natal province in South Africa, a few hours drive from Durban.
The region is known for its incredible vistas, countless waterfalls, mountain streams, rock pools, caves, and tranquil scenery pretty much undisturbed by human development. The Drakensberg is the highest mountain range in South Africa and if you visit here in the winter (July) as we did, be prepared for the freezing cold temperatures at night.
Theoretically, you could visit the Drakensberg region just for a day, but ideally, you spend at least a couple of days here. There is a wide range of outdoor activities available, such as hiking or golf to mention just a few…
TIP: If you stay close to the Underberg area (we stayed at this hotel ), you can pop over the border and visit Lesotho for a day ( day tours are available too).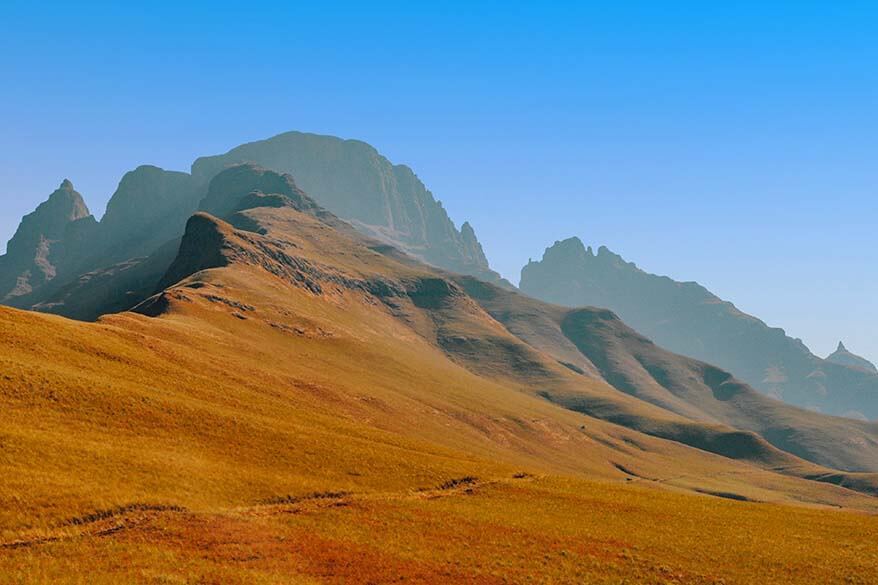 10. Addo Elephant National Park
If you are looking for a malaria-free family-friendly safari experience in Africa, Addo Elephant National Park is one of the very best places to do that. South Africa's third-largest National Park is located in the southern part of the country, close to Port Elizabeth and just a few hours drive from the Garden Route.
As the name suggests, Addo Elephant NP is a perfect place to see wild elephants. This park is home to over 600 elephants and they are all around. Many other African animals live here as well and if you are really lucky, you may even get to spot The Big 5…
TIP: You can easily explore the park on a self-drive safari. But – as always – a guided open-jeep safari tour will give you a very different experience. If you come here for a few days and have your own car, I suggest you do both – visit the park on your own but also book at least one safari ride.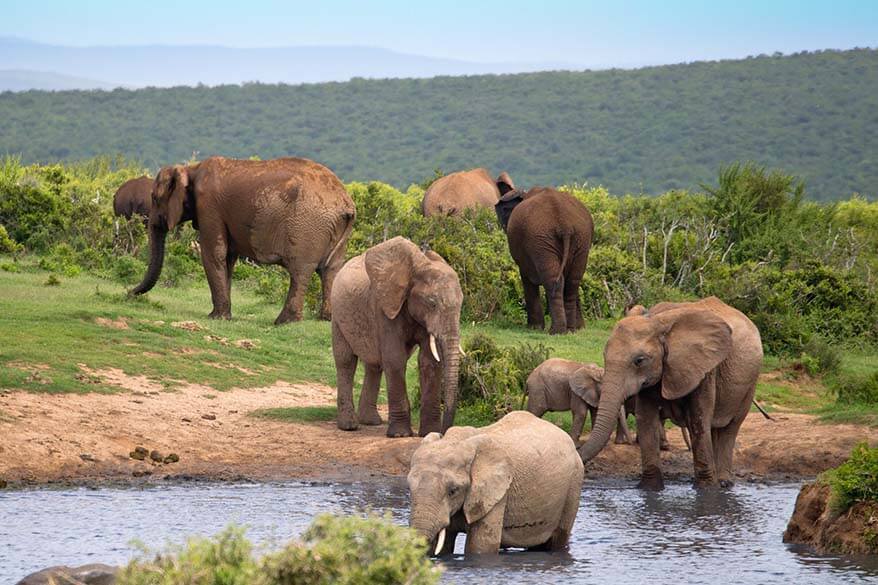 11. iSimangaliso Wetland Park
Listed as a UNESCO World Heritage Site, iSimangaliso Wetland Park has a lot to more to offer than it looks at first sight. It's not that widely known and definitely not one of the main tourist attractions in South Africa, but it's well worth a trip.
iSimangaliso Wetland Park has it all: beautiful scenery, unique landscapes, white-sand beaches, snorkeling, diving, and lots of wildlife. You can expect to see rhino, zebra, buffalo, troop baboons, wildebeest, and even elephants, to name just a few…
One of the main reasons tourists visit this area is to see hippos in the wild. iSimangaliso Wetland Park is a paradise for water-loving animals and is, therefore, one of the best places to see hippos and crocodiles in South Africa .
TIP: You can visit the park by car, but if you really want to get close to the hippos and the crocodiles in a safe way, it's best to book St. Lucia estuary boat tour . The boat tour takes just two hours, so you can spend the rest of the time self-driving and exploring the park.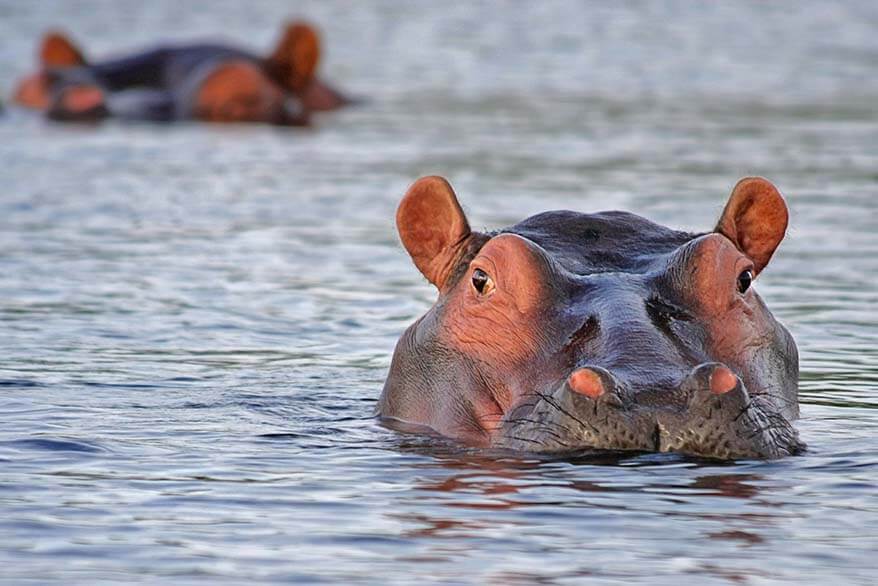 12. Pilanesberg National Park
Just over 2 hours drive from Johannesburg, Pilanesberg National Park is probably one of the easiest and best-accessible places for a wildlife safari in South Africa.
Pilanesberg Game Reserve is set in an extinct volcanic crater, where the soil is rich with grasslands, perfect for wildlife. A man-made lake, Mankwe Dam, is used as a drinking waterhole – a perfect place to see African animals. Wildlife here includes zebras, lions, elephants, rhinos, leopards, and many other species. Because the park is rather small, it's quite easy to find the animals, even if you come here just for a few hours.
TIP: You can visit Pilanesberg National Park as a day trip from Johannesburg , but if you have some time to spare, stay a few days. If you like places like Las Vegas in the US , don't miss the nearby Sun City with entertainment for young and old.
From luxury resorts and casinos, waterparks and golfing, to outdoor activities, wildlife viewing, and even hot air balloon safari – this area truly has it all.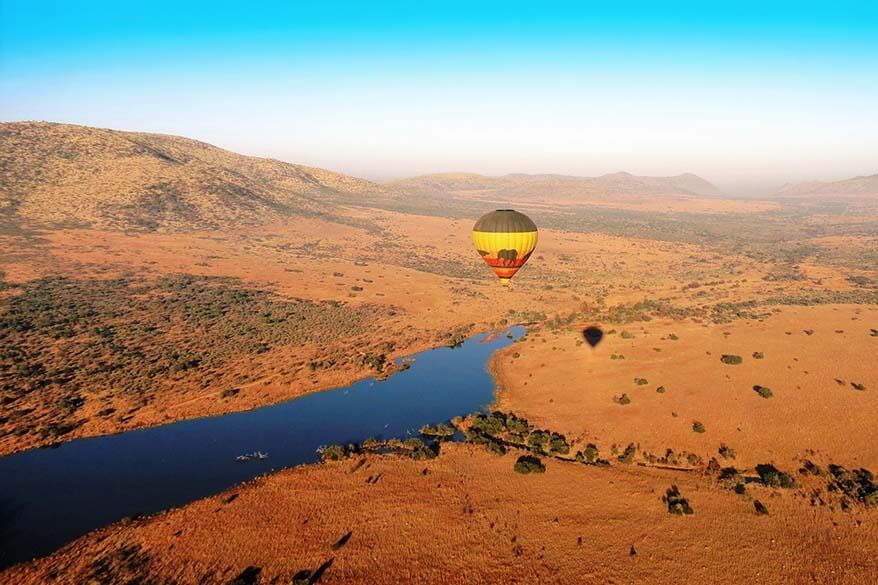 13. Hluhluwe-iMfolozi Park
One can never have too many safari experiences in Africa, right? So if you are visiting St.Lucia/Durban area, then I really recommend a day trip to Hluhluwe-iMfolozi Park .
This park is not as well known as Kruger and the other National Parks mentioned above, but it's just as beautiful and offers amazing wildlife viewing. Africa's Big 5 live here and, of course, many other animals.
TIP: You can visit this park on a self-drive safari or take a guided safari tour from Durban . If you want to make the best of your short time, you can also opt for a tour that combines Hluhluwe and iSimangaliso Wetlands, mentioned above.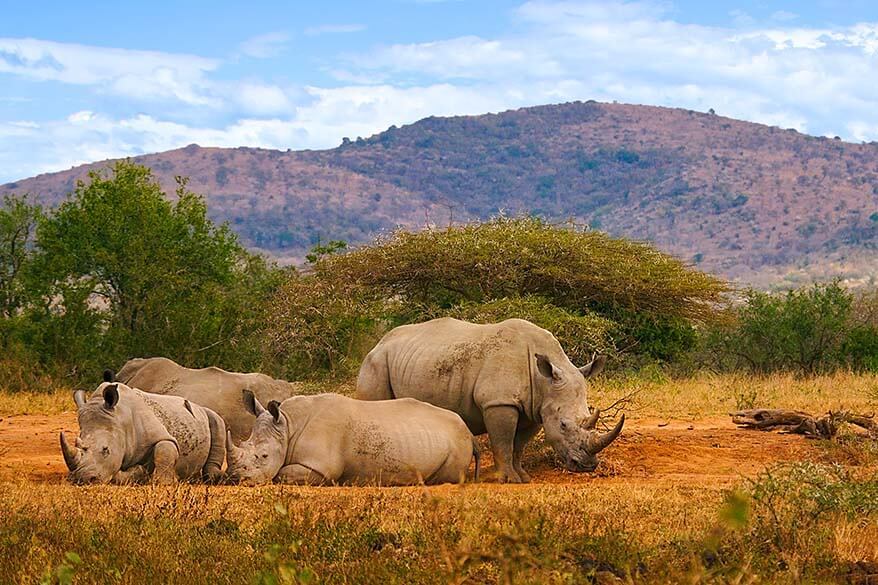 14. West Coast National Park
Just an hour drive north of Cape Town, West Coast National Park is the locals' favorite, so if you come in a warm season, expect it to be busy. This park has beautiful beaches, stunning coastlines, scenic hiking trails, wildlife, and lots of wildflowers. Springtime (August – September) is the best time to see the flowers and the park might be even busier than usual.
West Coast National Park is considered a real jewel. It's not a must-see in South Africa if you are short on time, but if you are staying in Cape Town and have a day to spare, definitely check it out!
TIP: There aren't many facilities here; it's all about nature. So if you come for a day, make sure to bring some food and plenty of water.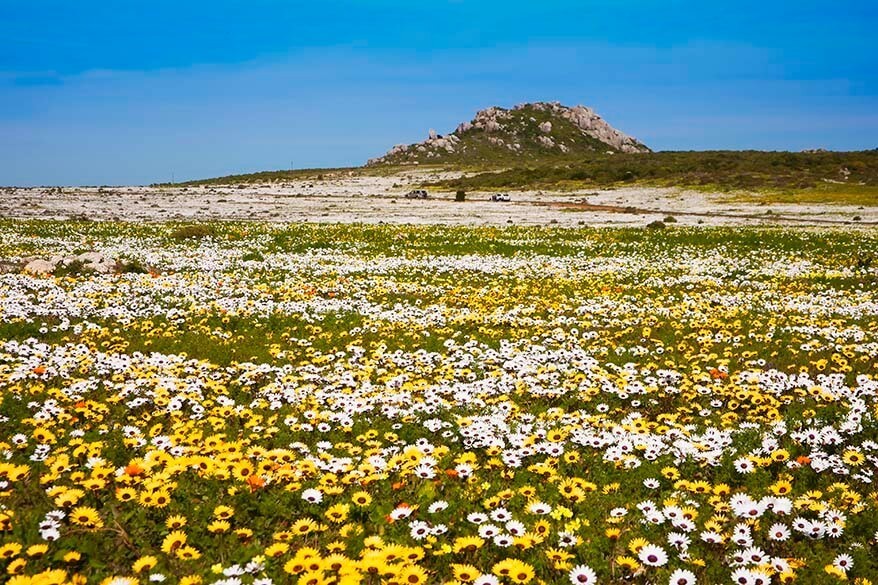 Durban is considered one of the cities that you should see in South Africa. We found that there were better ways to spend our time in South Africa than visiting its cities… so we didn't stay in Durban longer than necessary. Just in case you wonder, Cape Town is a whole other story, one city you have to see.
Nevertheless, if you are traveling in this area, you shouldn't miss Durban. One of the best things to do here is go to the beach and stroll the Golden Mile , visit UShaka Marine World or Durban Botanic Gardens .
Durban is also a good base for a day trip to the earlier mentioned Hluhluwe-iMfolozi NP and iSimangaliso Wetland Park, and also to the Drakensberg mountains. A really interesting thing to do in Durban is also this Shakaland and Zulu culture day trip .
TIP: If you are short on time, fly from Durban to Port Elizabeth or Cape Town – it will save you lots of driving.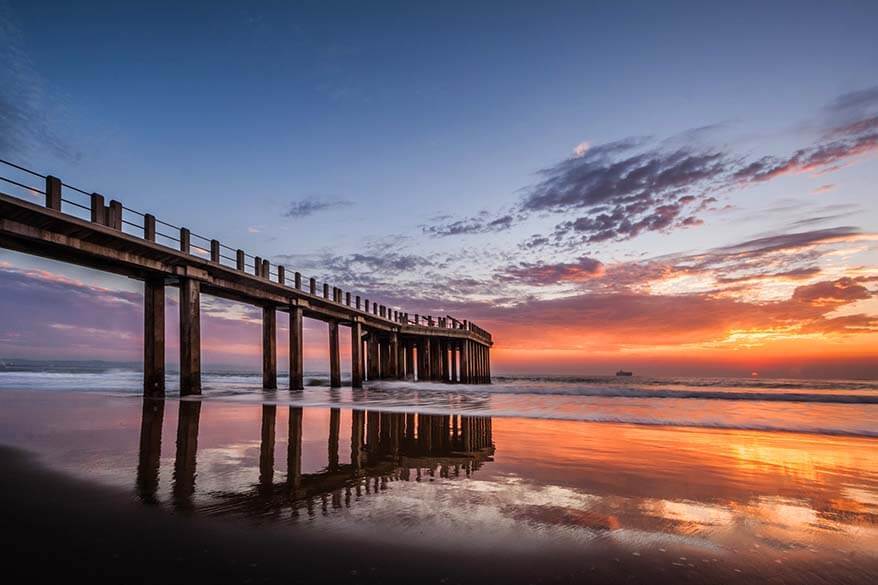 16. Johannesburg
The largest city in South Africa, Johannesburg's history goes back to the 19th century. It's hard to believe that this bustling city with a population of 1 million started as a gold-mining settlement.
If you want to learn about South Africa's long part to democracy, then don't miss Soweto township ( go with a guide! ) which was once home to Nelson Mandela and also Desmond Tutu.
Must-see in Johannesburg is the Apartheid Museum and Constitution Hill , a former prison complex. Mahatma Gandhi, Nelson Mandela, and tens of thousands of others were imprisoned here at some point in South Africa's turbulent history…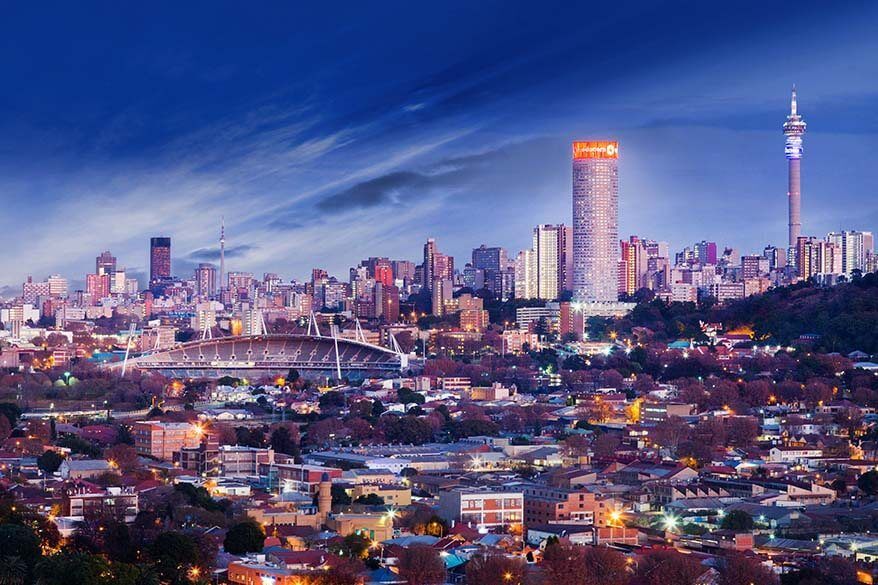 17. Namaqua National Park & Namaqualand
Namaqualand and Namaqua National Park , close to the Namibian border, are so far from all the other tourist attractions in South Africa that you'll hardly ever see it mentioned as one of the best places to visit in the country. It's actually more of a hidden gem of South Africa.
Come spring and the dusty valleys are transformed into a magical wildflower wonderland. The whole area is covered in colorful flower carpet, attracting local visitors and international tourists alike.
If you are visiting South Africa in August-September and feel like getting off the beaten path, you may want to include this unique region in your itinerary.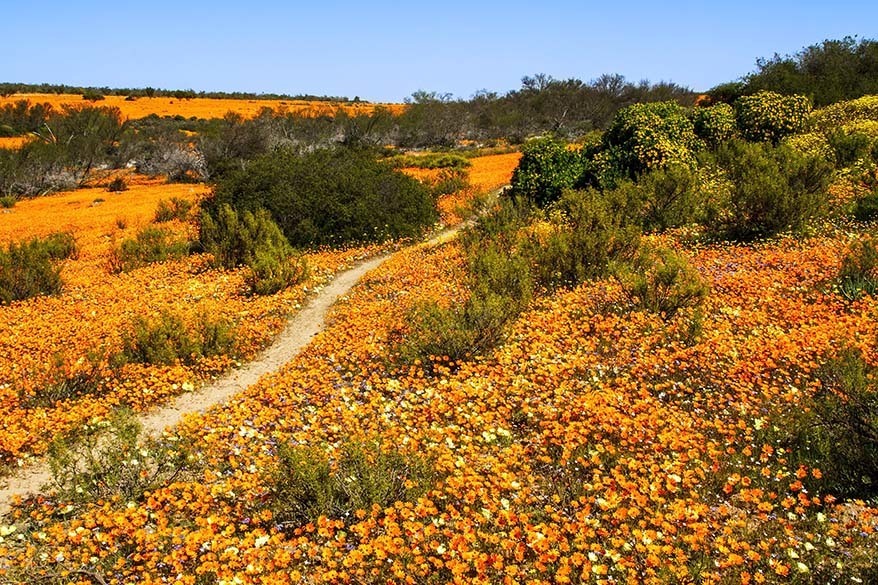 Best places to visit in South Africa on the map
In order to help you plan your trip to South Africa and visit as many of the highlands as possible, I created this map indicating all the places mentioned in this article. This way you can get a better idea of where everything is located and plan accordingly.
How to use this map: Use your computer mouse (or fingers) to zoom in or out. Click on the icons to get more information about each place. Click the arrow on the top left corner for the index. Click the star next to the map's title to add it to your Google Maps account. To view the saved map on your smartphone or PC, open Google Maps, click the menu and go to 'Your Places'/'Maps'. If you want to print the map or see it in a bigger window, click on 'View larger map' in the top right corner.
So, this is our list of the most beautiful and trip-worthy places to visit in South Africa . If you are wondering where to go and what to see in South Africa, now you should have a much better idea.
South Africa Travel FAQ
Here are some of the popular questions our readers ask about visiting South Africa:
South Africa is a year-round destination and every season has something to offer. The best time to see wildlife in Kruger National Park is the dry season between May and October. Whereas the best time to visit Cape Town and the Garden Route is between September – November and from March to May.
South Africa is huge and there are so many beautiful places to see. But if you have to choose just one area to visit, we recommend Cape Town and Cape Peninsula.
South Africa is not the safest place to visit in the world and the crime rate is quite high. That being said, if you are cautious, aware of your surroundings, and do not take unnecessary risks, crime against tourists is really not that common. We visited South Africa several times, also with kids, and we never experienced any problems.
No, South Africa is not an expensive destination. The biggest cost or the trip is the flight to get there. Accommodation, food, and activities are quite cheap in South Africa. But – as everywhere in the world – a lot depends on the choices you make and mostly on the accommodations that you choose.
2 weeks is the minimum time if you want to see the most beautiful places of South Africa. If you have about 10 days, spend 3 days in Kruger NP and fly to the south of the country for the rest of the trip. If you have 1 week or less, it's best to concentrate on just one area – either Kruger NP and surroundings or Cape Peninsula and the Garden Route.
TIP: When planning a trip to South Africa, make sure to also check our South Africa itinerary . It contains most of the highlights of South Africa from this list and shows you how to see all the best places in just two weeks. Check it out – it will help you plan a trip of a lifetime!
And if you are traveling with a family, check out this guide for more info on what to expect and where to go when visiting South Africa with kids .
If you found this post useful, don't forget to bookmark it and share it with your friends. Are you on Pinterest? Pin these images!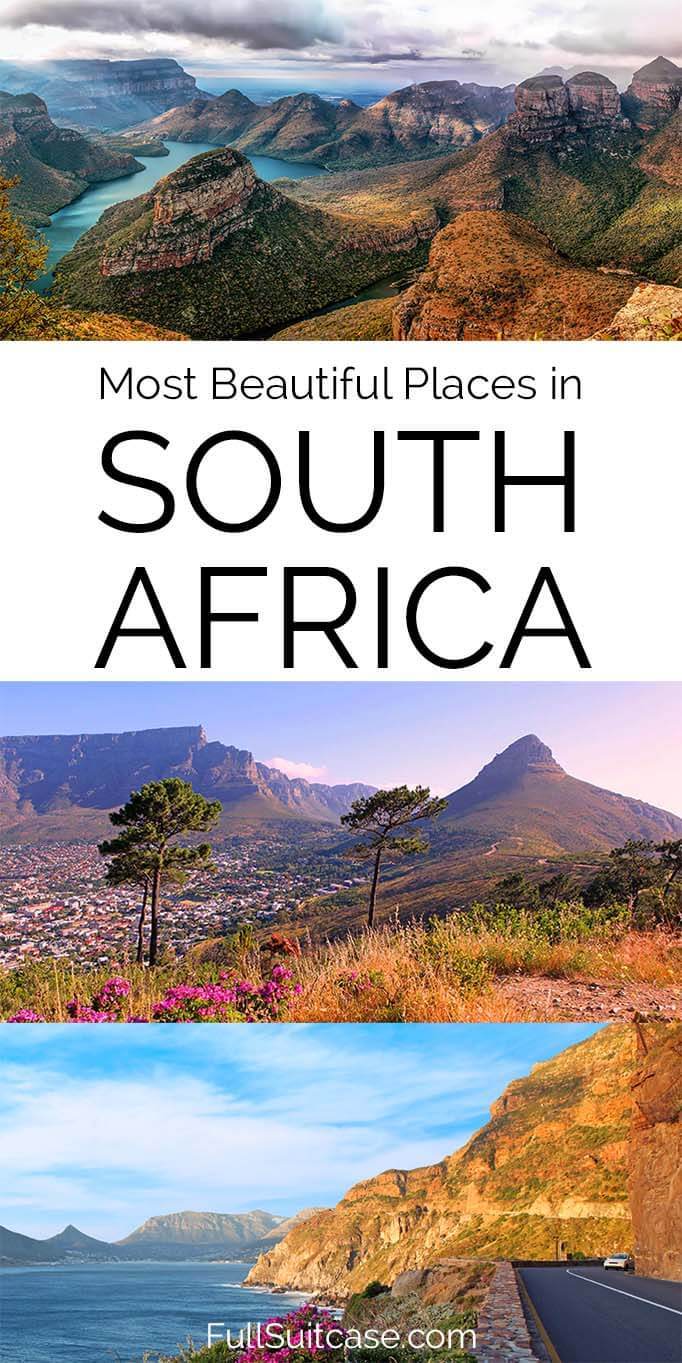 This site uses Akismet to reduce spam. Learn how your comment data is processed .
Sunday 30th of October 2022
Hi, South African here living in Jhb. A must is Oribi Gorge Southern KWAZULU-NATAL, if planning a Durban trip. I love traveling my country as well as other African countries.
We just got back this September from a road trip to Etosha National Park, Namibia. As always we absolutely loved it.
Sunday 6th of November 2022
Thanks for the additional tip and happy travels, Vennie!
Sunday 18th of September 2022
This is so helpful! I will definitely go to South Africa someday. Thank you so much!
Monday 19th of September 2022
Glad to hear that. Hope you can visit South Africa one day - it's a wonderful country!
Wednesday 4th of May 2022
Thanks Jurga! This is a great source of information. Just planning a three week trip to South Africa for December 2022. My first trip to South Africa since 1991. You've given me plenty of ideas for my itinerary.
Oh, lucky you! We're also contemplating another trip to S-A soon. Good luck with the planning and have a great trip! PS We also have a guide with a sample 2-week South Africa itinerary - check it out. You could build on it if you want to visit all these places and add more since you have 3 weeks.
Tuesday 22nd of March 2022
Thanks for sharing such a beautiful informative information on the blog. I have read your other posts which are all really informative for any traveler before arriving South Africa.
Wednesday 23rd of March 2022
Glad to hear you found our guides useful. Happy travels!
Thursday 10th of February 2022
The end of this month I am going to travel to South Africa by myself. I am 21 years old and I am from the Netherlands. The first 2 weeks I am going to work at an Baboon orphanage center in Phalaborwa, which is next to the Kruger National Park. In these two weeks I will have some free time to visit the Kruger Park on a safari. After the two weeks I have 4 weeks to travel by myself to see other beautiful places in South Africa, and stay in hostels etc. My idea is to take a flight after the two weeks from Hoedspruit airport to Durban or Kaapstad, and then stay there for a while and see other nice places. Do you guys have any tips for my journey?
Kind regards,
Friday 11th of February 2022
Hi Jesse, this sounds like an amazing experience for you! With 4 weeks to travel in South Africa (and already having seen Kruger before), you can see a lot. Durban - Drakensbergen area is nice, but I'd definitely try to spend more time in the south - the Garden Route, Cape Town, etc. If you are not renting a car, it will be a bit more difficult to explore outside the cities, but you can find a lot to do in/near them too. If you choose just one place, then Cape Town is really the best option. And you can also take some tours if there are some places you absolutely want to see and can't easily get to on your own. Hope this helps a bit. Have a great time in South Africa!
15 of the best things to do in South Africa
Aug 23, 2023 • 14 min read
Experience the best that South Africa has to offer with these top things to do © RudiHulshof / Getty Images
It's no secret that South Africa is one of the world's top Big 5 safari destinations.
You could come here only to go on safari and think South Africa was the best country ever. But wait – there's so much more to this fascinating realm perched at Africa's southernmost tip.
South Africa's ethnic and cultural diversity influences its cuisine and art in exciting, unexpected ways. Its scenery is stunning, from wave-crashed shorelines and wildflower-carpeted deserts to wildlife-filled bushveld and tropical forests. The country has cosmopolitan cities, charming wine towns and important cultural traditions. Apartheid's struggles are faced head-on at several important sights. 
You can hike, surf, kayak, fish, whale watch, horseback ride, dive with sharks and crocodiles and stargaze under some of the planet's darkest skies. The only problem is how to even begin planning a visit to this immensely blessed, multifaceted land. Start planning your trip with this list of the top things to do in South Africa.
1. Walk among the wildflowers of Namaqua
Most of the year, the remote region known as Little Namaqualand is parched, a seemingly sunbaked wasteland in South Africa's Northern Cape. But for a short period in July, as winter rains begin to fall, the area bursts to life with billions of blooms. Endless carpets of flowers in every hue cover its diverse topography, from deserty plains to fertile valleys to towering mountains. 
But what truly sets this spectacle apart is the sheer variety of flowers; more than 3500 species grow here, more than half rare or endemic, meaning they live nowhere else on Earth. The most iconic is the Arctotis, commonly called the African daisy. Gazania glows with hot yellow and orange petals, and Carpobrotus, commonly known as pigface, creeps along the ground.
The best places to take in the ephemeral flowery show are Richtersveld , with a backdrop of yawning canyons and jagged mountains; Skilpad Wildflower Preserve west of Kamieskroon, part of the bigger Namaqua National Park , a fabulous spot to gaze at the famed Nama daisies; and the 14,973-hectare (37,000-acre) Goegap Nature Reserve outside Springbok, with some 600 indigenous plant species. 
Planning tip: Accommodations in the park (primarily campsites and chalets) are in high demand during this short blooming season. Either book reservations as soon as they open (usually 11 months in advance), or find places to stay in the nearby towns of Kamieskroon and Garies.
2. Spot the Big 5 and other wildlife in South Africa's parks
As the early morning sun rises over the bushveld, a herd of elephants thunders past, a leopard enjoys a snack up in a tree, and a lion stalks its prey. These are the joys of going on safari in South Africa, where you have an excellent chance of spotting the Big 5 (lion, leopard, rhino, buffalo and elephant) in national parks and wildlife preserves across the country. 
Kruger National Park is the prime game park, with 19,485 sq km (7523 sq mi) of bushveld, tropical forests, savannah and mountains teeming with more than 140 mammal species. Addo Elephant National Park in the Eastern Cape is the world's first "Big 7" Conservation Area, home to the traditional Big 5, plus the unique marine additions of the great white shark and southern right whale.
Hluhluwe-iMfolozi Park in KwaZulu-Natal is South Africa's oldest game reserve. It was founded to conserve and repopulate Africa's rhinos , so this park is hands down the best place in South Africa to see these one-horned, short-legged megafauna. 
In all, South Africa has 19 national parks and countless private game reserves, each offering an unforgettable wildlife experience where no two days are ever the same.
Planning tip:  Plan your trip from June to September for optimal wildlife viewing. Animals tend to gather at watering holes during these drier, cooler months.
3. Hike or ride up Cape Town's iconic Table Mountain
The flat-topped Table Mountain stands watch over Cape Town , a 1085m (3560ft) natural landmark of sandstone and granite adored for its breathtaking views from the top: glittering Table Bay, historic Robben Island and all of Cape Town's City Bowl sprawl at your feet. 
Dozens of trails wind up Table Mountain's flanks, opening up valleys of fynbos (the local floral kingdom), shady forests and waterfalls. The most popular (and heavily trafficked) is Platteklip Gorge Trail, a 2.8km (1.8 miles) uphill push that is nature's answer to the StairMaster, offering view after breathtaking view the higher you go. 
Avoid the crowds with 1.5km (0.9-mile) Kloof Corner, a dramatic and somewhat hair-raising trek that rewards with fabulous views of Lion's Head, the 12 Apostles and the Cape Town City Bowl. The difficult 2.5km (1.5 miles) India Venster Trail follows the route beneath the aerial cable car, up the mountain's frontal face. Of course, you can just take the cable car, a quick five-minute ride to the top.
Planning tip:  Many trails in South Africa limit how many hikers can be on them simultaneously, so book your spot ahead of time and hike with a group for safety (some longer trails actually require that you're not alone).
4. Learn from South Africa's apartheid past in Johannesburg
South Africa has made steps in atoning for its apartheid past through education at various sites. Johannesburg 's Apartheid Museum is a sobering but enlightening place to start. Exhibits take you through the history of apartheid using videos, documents and photographs. 
At the Hector Pieterson Memorial and Museum in Soweto, spoken testimonies, videos and photographs detail the tragic story of a 13-year-old student who became the first victim of police fire in 1976 when students protested their Bantu (black) education system. Nearby, Nelson Mandela lived in a humble, four-room house, which today is the Mandela House Museum , showcasing family photos and personal belongings and providing insight into the beloved anti-apartheid leader who, after 27 years in prison, became South Africa's first democratically elected president.
5. Taste Pinotage in the Cape Winelands
When the Dutch East India Company came to South Africa some 350 years ago, it established a provisioning station for ships, which of course needed wine! The company partnered with the French, and soon vineyards draped the valleys in the fertile region now known as the Cape Winelands . Over the years, the art of wine-making has been fine-tuned, including the perfection of Pinotage, South Africa's signature red wine that's a rustic cross between Pinot Noir and Cinsault.
The Cape Winelands reigns as one of the world's finest wine regions, with its patchwork of vineyards and hundreds of wine estates, farm markets, little museums, gastronomic restaurants and three main wine towns dating from the 17th century: Franschhoek , settled by French Huguenots; Stellenbosch , filled with Cape Dutch architecture; and Paarl, colonized by 23 families from Stellenbosch. Excellent places to sample Pinotage include Delheim, on the slopes of Simonsberg Mountain outside Stellenbosch, and Lanzerac , established in 1692 near Stellenbosch with stunning views of mountains, vineyards and oak-shaded gardens. 
Detour:  If you need a break from all the wine tastings, take a drive (or bike ride) outside Paarl on Bainskloof Pass. This scenic mountain pass features almost 30km (19 miles) of unforgettable vistas and a caravan park at its halfway point.
6. Get lost on the Wild Coast
Sea breezes, crashing waterfalls, emerald valleys and footprint-free, cliff-fringed beaches define the untrammeled realm of the Wild Coast , a fittingly named 250km-long (155-mile) sweep of coastline fronting the Indian Ocean in the Eastern Cape . This is the place to get away from it all, soaking in the solitude of pristine nature, where you'll see more cows than people. Be warned: the roads are full of potholes, and gas stations are far and few between, but that's what keeps the less intrepid away.
You can hike, swim, ride horseback, canoe, surf or just catch the rays on your own private beach. The hike to Hole in the Wall along the coast is a three-hour foray across undulating hills and through local villages, ending at the fabled rock arch with its swimming lagoon. The Xhosa River is a canoeing paradise with sparkling clear waters and bright Xhosa huts along its banks. Mirror-smooth Jbay Lagoon draws SUPers, kayakers and canoers. The Xhosa people have lived in this enchanted land for centuries, and you'll see their turquoise rondavels dotting the lush green hills. 
This is also the birthplace of anti-apartheid revolutionary leader Nelson Mandela, and several small museums in Mthatha and Quno are open to visitors.
Detour: Take a hike on one of Dwesa Nature Reserve 's walking trails through pristine forests, grasslands and coastline. It's a paradise for a wide variety of wildlife – including around 290 bird species.
7. Go whale watching by land or sea
Some 37 species of whales and dolphins frequent South Africa's shores, so it's no wonder whale-watching is a popular activity. You can hop on a boat from plenty of places along the country's three coastlines to view these behemoths in their watery haunts. 
But here's a twist: in some places, you don't even have to step on a boat to see a whale – you can see them up close from the shore. Watch whales from the shore in Lambert's Bay, Yzerfontein and Plettenberg Bay , but the most celebrated land-based viewing spot is Hermanus , about 100km (62 miles) east of Cape Town. Between June and November, southern right whales stop by on their annual migration from Antarctica, and right off the coast, they splash, breach and lobtail (slap their flippers and tail against the water). The town even has a whale crier who blows a kelp horn when whales approach the shore. 
8. Immerse yourself in Zulu culture
The Zulus reigned between 1816 and 1897 in much of present-day KwaZulu-Natal as one of Africa's most brutal empires. Despite their fierce fighting abilities, the British defeated them in the 1870s, and their kingdom was integrated into the Union of South Africa. But their culture remains strong – they are South Africa's largest ethnic group – and the Zulu royal family is still active, reigning (but not ruling) in KwaZulu-Natal.
You can experience the Zulu culture at Shakaland , a reconstructed Zulu homestead. Some people consider Shakaland a Zulu Disneyland, but its traditional activities offer a fairly authentic chance to experience – and even partake in – the culture, including dancing, consulting with a witch doctor, sampling homemade beer, and watching spears and shields being made by hand. Visitors can stay overnight in luxury beehive huts. 
You can also visit the Battlefields Region in the province's northwest, where the Zulus fought 63 battles against a succession of invading forces. Monuments and museums such as Blood River and Isandlwana commemorate these clashes.
9. Bask in the sun on Durban's Golden Mile
With more than 320 sunny days a year, Durban is a much-loved playground of golden-sand beaches lapped by the Indian Ocean's azure waters. An expanse of sun-soaked paradise dubbed the Golden Mile (although it's more like four miles) runs from uShaka Beach in the south to Suncoast Casino and Entertainment World in the north and offers beaches and beachy activities for everyone.
Beginners can surf from South and Addington beaches, and fishers can drop a line at Bay of Plenty Beach . Other stretches of sand, such as Umhlanga Rocks just slightly north of the Golden Mile, have a lively vacation vibe. If you want to picnic or just hang out with your travel companions, Blue Lagoon is a fabulous choice. A promenade runs along much of the Golden Mile, with Zulu artisans selling their wares and runners, walkers, cyclists and skateboarders catching the rays.  
10. Explore the evolution of humanity 
Deep beneath Gauteng 's highveld (high plateau), 20th-century researchers discovered two distant relatives of all humankind in the region's labyrinthine limestone caves: Mrs Ples, the 2.1-million-year-old skull of an Australopithecus Africanus (a precursor to the genus Homo) and Little Foot, a nearly complete, three-million-year-old Australopithecus skeleton. Then, in 2015, a new species of human relative was uncovered, Homo naledi, whose placement in the evolutionary chain is still unknown.
You can explore this significant archaeology at the Cradle of Humankind, about an hour northwest of Pretoria. Entertaining, world-class exhibitions provide context at the Maropeng visitor center, and you can go beneath the earth to the excavation site at Sterkfontein Caves .
11. Ride the Blue Train
Sit back and soak in the golden age of travel aboard the Blue Train , a five-star hotel-on-wheels ranked as one of the world's great – and most luxurious – rail journeys. Warm birch paneling, plush leather seating and full silver service at gourmet five-course meals befit the 19th-century British diamond and gold magnates who demanded traveling in the finest luxury, and this train journey remains one of the classiest. 
The Blue Train travels between Pretoria and Cape Town, with two nights onboard. While you'll enjoy the best of service and decor, it's the scenery outside the windows that will dazzle the most: cactus-dotted desert, rocky mountains, vineyard-dotted hills, lush valleys and a front-row seat for Africa's famous sunsets. Meals, drinks, Monte Cristo cigars and even a personal butler come with the hefty price.
Planning tip: Book your Blue Train ride during the low season (Nov–Aug) for significantly lower fares.
12. Follow the enchanting Garden Route
Take a scenic road trip through seaside villages, glittering beaches and misty mountains along the Garden Route , which some call the Garden of Eden. You can drive the 200km (125 miles) straight through, from Mossel Bay to Storms River, but this is one to take your time dipping into. Scuba dive to see Knysna seahorses, surf crashing waves, hike shadowy forests, see elephants in the wild, bungee jump into a plunging gorge, or simply plunk down on an empty beach. Good bases are Plettenberg Bay and Knysna . A minimum of four days is recommended, though you could seriously spend weeks here.
Detour:  Make a Saturday morning pit stop at Wild Oats Community Farmers Market  for fresh produce, baked goods, breakfast and more, just 1.5km (1 mile) east of Sedgefield. The market is a beloved Garden Route stop.
13. Drive from Cape Town to Africa's southwesternmost point
The Atlantic and Indian Oceans converge at historic Cape Point – aka the Cape of Good Hope – about 65km (40 miles) south of Cape Town. It's thrilling to stand on this wind-blown, jagged landmass jutting into the sea, the southwesternmost point in Africa, observing the roiling waves and indigo waters as far as the eye can see. These treacherous waves have been the bane of seafarers for centuries, causing hundreds of shipwrecks. For spectacular views, jump on the Flying Dutchman Funicular or walk the steps to the 86m (285ft) lighthouse-topped summit. 
Planning tip: Don't rush your journey here. A drive from Cape Town reveals along the way dazzling beaches, cliffside vistas, fishing villages, and miles and miles of remote bushveld inhabited by zebras, ostriches and baboons. The African penguin colony at Boulders Beach is one of only two land-based penguin colonies in the world.
14. Sample Cape Town's culinary heritage
Throughout Cape Town's long history of colonization and immigration, a parade of cultures has taken root, each contributing its unique traditions and customs. The most obvious – and cherished – result is the city's diverse, innovative cuisine. Many call Cape Town the foodie capital of South Africa. You'll find dishes influenced by the British, French, Indians, Dutch, Asians, Africans and more.
The Cape Malay, for example, is a community influenced by African, Asian and Dutch cultures; they're known for their variety of spice-infused bredies (stews), curries, savory snacks and porrings (a warm pudding). Braai – derived from the Dutch word braden , meaning "to roast" – has become ubiquitous throughout the country. But braai is much more than barbecuing meat: it's a social event where friends and family gather. Many township tours offer a traditional braai experience. Local chefs are taking note of this rich cultural heritage. Chef Luke Dale-Roberts' three award-winning Cape Town restaurants – Test Kitchen , Pot Luck Club and Shortmarket Club – are prime examples, with their innovative twists on traditional fare.
Planning tip: Making restaurant and hotel reservations will be much easier   if you avoid traveling during the peak Christmas and Easter seasons.
15. Go on a sky safari in the Karoo
The Karoo's sparsely populated landscapes are immense by day, and its skies are just as vast by night. In this magical semi-desert realm – encompassing nearly 500,000 sq km (1.9 million sq miles) within Western Cape, Northern Cape, Eastern Cape and the Free State – the stars pierce some of the Earth's darkest, cleanest skies, seemingly so close you can reach out and touch them.
It's no wonder that the South African Astronomical Observatory , the southern hemisphere's largest, is found here. You can take a guided tour by day, but the nighttime stargazing safaris are the major draw.
Planning tip:  The charming, historic town of Prince Albert is a good stargazing base.
This article was first published January 2022 and updated August 2023
Let Elsewhere plan your next trip
Meet Elsewhere, Lonely Planet's new travel-planning service. From Argentina to Vietnam, our worldwide network of local experts can plan your trip from arrival to departure, so you can spend less time poring over train timetables and more having the best experiences possible.
Explore related stories
Oct 25, 2023 • 19 min read
We've released our Best in Travel 2024 list of the top destinations and experiences for next year. Find out the best time to make these dream trips a reality.
Apr 26, 2023 • 6 min read
Nov 13, 2020 • 2 min read
Aug 9, 2020 • 5 min read
Jun 18, 2020 • 7 min read
Jun 8, 2020 • 2 min read
May 28, 2020 • 4 min read
Mar 31, 2020 • 4 min read
Mar 31, 2020 • 1 min read
Mar 30, 2020 • 17 min read

Touropia Travel Experts
Tours & Top Tens
23 Top Attractions & Things to Do in South Africa
Last updated on November 3, 2023 by Alex Schultz - 16 Comments
One of the continent's most popular countries to visit, South Africa boasts loads of epic scenery and amazing wildlife. Asides from safaris and nature spots, some parts are just as famed for their wines and whale-watching or surfing and shark cage diving.
Occupying the southernmost end of Africa, the 'Rainbow Nation' is bordered by the Atlantic and Indian oceans. A biodiversity hotspot, it includes everything from dramatic deserts and gorges to savannahs, mountains and wine lands. Dotted all about the huge country are gigantic game parks and nature reserves home to the Big 5.
While Cape Town and Kruger National Park dominate most peoples' itineraries, almost every corner of South Africa has new and interesting things to do to offer. Visitors quickly discover that the rich history and colourful inhabitants ideally complement the top tourist attractions in South Africa, which creates an unforgettable experience.
In this post, we'll cover:
23. Sabi Sands Game Reserve
Part of the Mpumalanga province, the sprawling Sabi Sands Game Reserve lies nestled in the northeast of the country. One of the most luxurious safari experiences you can have, its top-end lodges almost guarantee up-close encounters with incredible animals.
Named after the two rivers that flow through it, the park was founded as a private game reserve in 1938. Now dedicated to conservation, it has hundreds of species of animals, birds and reptiles residing within its confines. The most sought after and special to see are, of course, the Big 5.
As the upscale lodges employ expert guides and trackers, guests return raving about all the elusive animals they've seen. Thanks to their efforts, you can often watch leopards, elephants and lions roam about, right beside the jeep. It is these superb safaris and the five-star service that make the considerable outlay well worth it.
22. Cape Agulhas, Western Cape
The southernmost tip of the African continent, Cape Agulhas is where both the Atlantic and Indian oceans meet. Oft-overlooked in favour of Cape Point, which is much closer to Cape Town, it contains some absolutely stunning scenery. In addition, there is also a charming old lighthouse and a photo spot to prove you've been here.
Fittingly named 'Cape of Needles' by Portuguese navigators, it overlooks a rough patch of sea renowned for winter storms and rogue waves. To protect the sailors and ships rounding the cape, a lonely lighthouse was built here in 1849. Its red-and-white striped tower now makes for some fantastic photos as does the large metal relief map of Africa nearby. There is also a scenic boardwalk to stroll along and rock pools to explore.
Although it is nowhere near the country's most impressive bit of coastline, we were still happy we stopped by while driving along the Garden Route. It was quite special seeing the oceans meet and their glittering waves stretching away endlessly into the distance.
21. Surfing in Jeffreys Bay
One of the best surf spots in the world, the laidback town of Jeffreys Bay can be found in the Eastern Cape, about an hour's drive from Port Elizabeth. Known for its consistent swells, breaks and big waves, it hosts top-class surfing competitions each year.
Since The Endless Summer surf documentary came out in the sixties, both expert and amateur surfers have flocked to J-Bay. It is most famed for its fast right-hand point break that sometimes continues for over a kilometre. At times, its waves also reach up to three metres in height with the Super Tubes stretch being the most popular.
Even if you're not into surfing or are fed up with falling off your board, Jeffreys Bay is still a nice place to spend some time. It has beautiful beaches full of pretty shells to lounge on before trying some of its delicious seafood restaurants.
20. Addo Elephant National Park
Also lying near PE (or Gqebera as the coastal city is now known) is the Addo Elephant National Park. One of the most popular places to visit in SA, it houses over 600 of the enormous animals. Whales and white sharks can also sometimes be spied in its waters.
Established in 1931 to protect the area's last eleven elephants, it is now the third-largest park in the country behind Kruger and Kgalagadi. Besides herds of zebra, antelopes and Cape buffaloes, you can also see rhinos, lions and leopards amidst the bush. Cute African penguins and Cape gannets form large breeding colonies along the coast and on its two offshore islands.
Hiking and horseback riding about the park is a truly epic experience as is taking a night safari to see its nocturnal creatures. The only park in the world that boasts the 'Big 7', Addo definitely isn't to be missed out on.
19. Wildflowers of Namaqua
A natural phenomenon like no other, the semi-desert area of Namaqua is transformed each spring when thousands of succulents seemingly shoot up over night. Watching the colourful wildflowers bloom in the remote region is now an increasingly popular activity.
Spread across a large part of the Northern Cape, the biodiversity hotspot contains roughly 5,000 species of plant. Many of these are endemic to the area and can survive amidst all its dry and dusty landscapes. In August and September of the year, the biome changes dramatically for just several weeks thanks to the winter's rains.
During this period, succulents paint the desert a mesmerizing mix of colors with daisies and lilies seen next to aloes and even quiver trees. Cool rock formations and a diverse array of animals can also be seen from Namaqua's scenic roads and trails.
18. Sun City Resort
If after all the sightseeing and safaris you're looking to kick back and relax in style, then Sun City Resort is the place to go. At the 'Las Vegas of South Africa', guests can enjoy fun water parks, golf courses and a casino.
Long a popular holiday and weekend destination, the resort opened in 1979 amidst the rolling mountains outside of Rustenburg. Nowadays, its four high-end hotels offer up all kinds of exciting family-friendly activities and exhilarating watersports.
Asides from rides and water slides, you can quad bike and water ski or try your luck at the casino. It also has plenty of fine dining options while scintillating shows and events take place all the time. As it only lies two hours drive from Pretoria and Johannesburg, the luxury resort makes for a great getaway.
17. Boulders Penguin Colony
As Boulders Beach is located so close to Cape Town, you must go and see its adorable African penguins. Here you can watch the entire colony nest, feed, play and swim about without a care in the world.
Since the first two breeding pairs arrived at the beach in 1982, the tiny birds' numbers have swelled considerably. Around 3,000 now inhabit its sheltered sands and hulking great granite boulders. From its boardwalk, you can see the colony of black-and-white birds bustle about bask in divine views over False Bay.
Although a bit pricey for international visitors, the fee does go to protecting their natural habitat and raising awareness about the endangered African penguins.
16. Ride the Blue Train
An unforgettable (yet expensive) way to see more of the country is to book a lavish suite aboard the Blue Train. As it is advertised as a 'five-star hotel on wheels', expect to pay top dollar for its elegant lounges, fine dining cars and butler service.
One of the world's most luxurious train journeys, the 1,600 kilometer-long line connects Cape Town to Pretoria. Since 1923, countless presidents, politicians and even members of royal families have ridden along the historic route.
While relaxing in its carpeted compartments, you can see some of South Africa's most spellbinding scenery outside the window. In some suites, guests can even sit and soak in a bubble bath as the train trundles along the tracks.
15. Cradle of Humankind
For those interested in history, the Cradle of Humankind on the northeastern outskirts of Jo'burg is an absolute must-visit. As well as cool caves and a splendid museum, its site contains the largest concentration of human ancestral remains in the world.
Since the first finds were unveiled in 1936, numerous fossil sites and 200 caves have been discovered at the paleoanthropological site. Many of these remarkably old stone tools, skulls and skeletons are now displayed in its visitor center. Informative texts also explain the history of the Earth and human evolution.
After enjoying its exhibits and short underground boat ride, you can brave the deep, dark reaches of the Sterkfontein Caves. Amidst its atmospheric tunnels and caverns, some of the oldest human fossils like 'Little Foot' and 'Mrs. Ples' were uncovered.
14. Kgalagadi Transfrontier Park
Straddling the border between SA and Botswana is the Kgalagadi Transfrontier Park; one of the world's largest wildlife preserves. Its endless desert landscapes and golden grasslands are home to massive herds of wildebeest and springbok. Here too you can also spy some of the cunning lions, cheetahs and leopards that prey on them.
As it lies largely within the southern Kalahari Desert, the park is quite arid. Only sparse vegetation and dried out river beds punctuate its rolling dunes and open plains. Despite its inhospitable nature, KTP is a haven for local wildlife. This is thanks to its hundred or so waterholes that giraffes, gemsbok and eland all congregate around.
The only park of its kind in Africa, it was founded in 2000 to protect animals and birds migrating between the two countries. Although you may not see as much wildlife as in Addo and Kruger, the park is still well worth visiting. This is because its bleak but beautiful scenery makes sightings even more special.
13. Apartheid Museum, Johannesburg
A harrowing place to visit, the Apartheid Museum covers a hugely important yet horrific part of South Africa's past. The well-done displays and oral testimonies really highlight the daily atrocities and inhumanity of the racist system.
Only opened in 2001 (just seven years after multiracial elections were finally allowed), it occupies a concrete complex in the center of Johannesburg. Once you walk through its racially-segregated entrance, you'll find rooms packed with photos, videos and artifacts to explore. These chronicle the rise and fall of Apartheid, how races were classified and just what the country's constitution now includes.
Its exhibits will evoke a wide range of emotions, leaving you exhausted but upbeat at the end. As Apartheid's impact is still sadly seen (and felt) wherever you go in SA, you really have to spend at least half a day here. This will help you better understand all the peoples and places you visit.
12. iSimangaliso Wetland Park
Another spot to enjoy for completely different reasons is the iSimangaliso Wetland Park along the east coast of KwaZulu-Natal. After two and a half hours drive from Durban, its idyllic bays, beaches and reefs really are a treat to explore.
Home to Africa's largest estuarine system, its name fittingly means 'a miracle' or 'something wondrous' in the Zulu language. We certainly found its beauty captivating as savannas and mangrove forests border pristine beaches and waters teeming with life.
Here you can see huge numbers of hippos and crocodiles as well as the odd leopard, white rhino and elephant. Playful dolphins and pods of whales can sometimes also be spotted just offshore.
11. Whale-Watching in Hermanus
If you want to see more of the majestic mammals, then Hermanus is one of the best places to head. From atop of the popular seaside town's craggy cliffs, visitors often see whales migrating all along Walker Bay. Memorable boat trips and sea kayak excursions to get an even closer look are also popular things to do in Hermanus.
Located just off the Garden Route, the cute little town lies around ninety minutes' drive southeast of Cape Town. From as early as June through til December, southern right, humpback and minke whales can all be sighted. Watching them slowly swim along its dramatic coastline is an amazing experience you won't forget anytime soon.
Other than sightseeing cruises and walking along its surrounding cliffs, you can visit the Old Harbour Museum and Whale Museum. The town also hosts the annual Hermanus Whale Festival. This celebrates the start of the calving and mating season that occurs in its shallow waters and sandy coves.
10. Robben Island
Certainly the most famous historic site in South Africa, Robben Island is where Nelson Mandela was imprisoned for 18 years. Now a museum, it offers up a fascinating look at the lives of the inmates during Apartheid. On tours, it is usually ex-prisoners themselves who actually take you around the cell blocks.
Discovered by Bartolomeu Dias in 1488, the isolated island was later fortified and used as a prison by the Portuguese, British and Dutch. From 1961, the South African government kept political prisoners here who opposed Apartheid. They were sadly often beaten, fed poor food and forced to work in quarries, particularly in the early years.
While the tours conducted by the former political dissidents sound super interesting, we didn't manage to make it ourselves. On our last day in Cape Town, bad weather meant our short ferry from the Victoria and Alfred Waterfront was unfortunately cancelled. Just be aware this can happen if you're on a tight schedule.
9. Blyde River Canyon
In a country awash with stunning landscapes, scenery and nature, the Blyde River Canyon still manages to stand out. Part of the Mpumalanga province, it is often visited alongside the nearby Kruger National Park by tourists traveling up from Johannesburg.
Stretching 26 kilometers in length, the colossal canyon is named after the winding river that runs through it. Coating its steep sides and sweeping slopes are vast swathes of subtropical forest. Twinkling waterfalls also course their way down its stupendous rock formations. For the best panoramas of the canyon and river, head to either the Pinnacle Rock or God's Window viewpoints.
From up high, you can look out over distinctive rocky outcrops such as the Three Rondavels and Bourke's Luck Potholes. For a different perspective, hike and horseback ride along the canyon floor or enjoy a relaxing cruise along the river.
8. Hluhluwe-Umfolozi Game Reserve
Just inland from both St. Lucia and the iSimangaliso Wetlands is another popular park to hit up: the Hluhluwe-Umfolozi Game Reserve. Mostly hilly, it boasts the Big 5 and one of the largest remaining white rhino populations in the world.
The oldest nature reserve in Africa, it was established back in 1895 in what is now central KwaZulu-Natal. Thought to be a royal hunting ground during the days of Shaka, Hluhluwe-Umfolozi is renowned for its rich wildlife and world-class conservation efforts.
Much less crowded than Kruger, it contains large numbers of lions, leopards and cape buffaloes. The stars of the show though have to be its wonderful white rhinos. Staying at the rustic Mpila Camp or luxury Rhino Ridge lodge overnight enables you to see even more amazing animals. Wake up early and head out to see everything from hyenas and hippos to crocodiles, cheetahs and wildebeest.
7. Cape Winelands
As South Africa is famed for its reds, whites and roses, make sure to take a trip around the Cape Winelands . Covering a large part of the Western Cape, all its fertile farms and vineyards produce some absolutely superb wines. At the heart of the picturesque area is the historic university town of Stellenbosch which is also well worth visiting.
Thanks to its hot dry summers and cool wet winters, the region is perfect for growing grapes. Countless top-class wineries coat its plains with tours often taking you around a handful in one go. These allow you to enjoy your time at the attractive estates and not have to worry about driving back.
The chic J.C Le Roux pairs some fine sparkling wines with creative food combinations, as does the award-winning Beyerskloof. Wherever you go, you're guaranteed delicious drinks in a gorgeous setting. On top of all this, you can enjoy outstanding views of the Cape Fold Mountains rising above the region in the distance.
6. Drive the Garden Route
After seeing Cape Town and Stellenbosch, many people spend about a week driving along the delightful Garden Route. One of the top things to do in South Africa, it takes you past magnificent coastal scenery and peaceful little seaside towns.
From Mossel Bay in the Western Cape, the perfectly paved road meanders its way 170 kilometres to Storms River in the Eastern Cape. While the Outeniqua and Tsitsikamma Mountains border it to one side, the other looks out over the ocean. Lining its shores are beautiful beaches, lagoons and tidal pools.
As there is so much to do, everyone has a different itinerary. Stops at Plettenburg Bay's beaches are almost a given though as is whale-watching and ambling around charming coastal towns. Knysna and Nature's Valley are pretty popular as are shark cage diving trips and hiking Tsitsikamma National Park's numerous trails.
5. Durban's Golden Mile
A legendary stretch of sand, the Golden Mile is one of the main places in Durban where people relax and enjoy some exercise. Lining its long promenade are dozens of hotels and eateries as well as swimming pools, skate parks and surf spots.
Bordered by the central business district, its wide, sandy beaches extend six kilometres or so in length. Overlooking them are lots of high-rises that mostly date to the seventies. Some arresting Art Deco architecture can still also be spied however alongside the busy boardwalk down below.
For decades, tourists have flocked here for its flashy entertainment complexes and fun, family-friendly attractions. These include the excellent uShaka Marine World aquarium and Durban Funland amusement park. There is also the Suncoast Casino if you want to try your luck at some table games of slot machines.
4. Victoria and Alfred Waterfront, Cape Town
In contrast to the Golden Mile, the Victoria and Alfred Waterfront positively sparkles before your eyes. Immaculately maintained, the shopping and entertainment complex has a lively yet laidback feel. Adding to its appeal is the shimmering sea before it and iconic Table Mountain rising in the background.
As one of Cape Town's largest tourist attractions and most visited destinations, the Victoria and Alfred Waterfront invokes images of the earliest days of the harbor. Located right in the heart of Cape Town , you'll find hundreds of upmarket shops and restaurants along with an excellent art museum, aquarium and African crafts market.
Besides shopping, dining and enjoying some of its live entertainment, you can watch the boats come and go or snap photos of its picture-perfect waterfront. From here, you can hop on harbour tours and take trips to Robben Island.
3. Drakensberg Mountains
Reaching between 2,000 and 3,482 meters in height are the massive and majestic Drakensberg Mountains. One of the most rugged and wild parts of South Africa, it is known for its jaw-dropping peaks, buttes and death-defying drops.
Meaning 'Dragons' Mountains' in Afrikaans, the absolutely enormous escarpment stretches over a thousand kilometers in length. As well as encircling the central South African plateau, it forms the border with the landlocked Kingdom of Lesotho. Countless trails crisscross its steep slopes and sweeping valleys. Some of the most popular places to head are the awe-inspiring Amphitheater cliffs and Cascades series of waterfalls.
The ginormous mountain range is also home to Tugela Falls which is impressively the second-highest waterfall in the world. Its dramatic 947 meter drop and all the stunning views make the arduous hike more than worth it.
2. Table Mountain
One of the most recognizable landmarks in South Africa, the marvelous Table Mountain towers over Cape Town and its coastline. Famed for its distinctive flat-topped plateau, it offers up some great hiking, rock climbing and wildlife viewing. The panoramas from its summit are also out of this world.
Now protected as a national park, its prominent plateau is flanked by the equally arresting Devil's Peak and Lion's Head. Together with Signal Hill, they form the colossal City Bowl which creates a breathtaking backdrop to the coastal city.
Getting the cableway down is an even more memorable experience. As it actually rotates, you enjoy unrivaled views over Cape Town , Table Bay and even Robben Island in the distance. Although it descends over a thousand meters to the city below, the ride only lasts five minutes in total.
See also: Where to Stay in Cape Town
1. Kruger National Park
Another of South Africa's most popular attractions is the incredible Kruger National Park in the very northeast of the country. Its confines contain a staggering number of animals with the Big 5 regularly sighted amidst its scenic savanna, woods and grasslands.
Now one of Africa's largest game reserves, it was established in 1926 with Zimbabwe and Mozambique both bordering the park. It encompasses fourteen different ecozones, each of which have their own fauna, flora and landscapes for you to explore.
On unforgettable hikes and safaris, you are almost sure to spot some of the thousands of lions, leopards, elephants and rhinos that inhabit its territory. Crocodiles and hippos can also be seen in its reflective lakes and rushing rivers. Dozens of camps are dotted about the park should you want to stay even longer.
Map of Things to Do in South Africa
Share this post: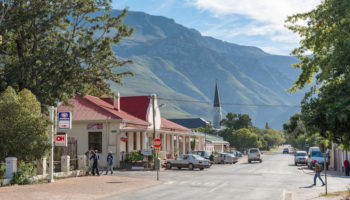 16 Most Charming Small Towns in South Africa
15 Best Cities to Visit in South Africa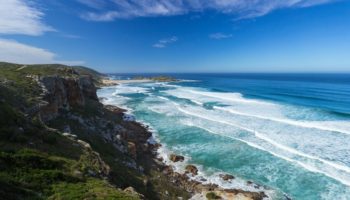 10 Best Places to Visit in South Africa
10 Best Beaches in South Africa
10 Most Beautiful National Parks in South Africa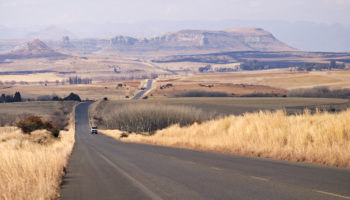 9 Most Beautiful Regions in South Africa
7 Best Day Trips from Cape Town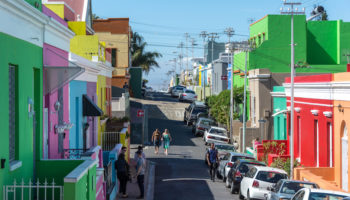 Where to Stay in Cape Town: Best Neighborhoods & Hotels
15 Best Places to Visit in Eastern Cape
15 Best Places to Visit in Western Cape
Reader interactions.
February 25, 2019 at 11:40 am
Traveled to south Africa 4 times twice in a RV 2 first time two months second time one month the entire country is amazing it holds a special place in my heart would love to retire there some day
December 30, 2014 at 2:16 pm
This will be my seventh trip back to South Africa, it never gets boring visiting and revisiting some places is never the same experience twice. Recommend anyone who wants to visit RSA… Just do it! I fall in love with the Country every time I visit.
November 20, 2014 at 7:21 pm
Another well kept secret is Phinda Private Reserve, located in South Africa's KwaZulu-Natal Region in between the Mkuze Game Reserve and the St. Lucia wetland Park. Phinda is remarkable because it allows you to get the closest to wildlife. Here you can see Africa's Big 5 up close; elephants, lions, leopards, cape buffalo, and rhinos.
April 10, 2014 at 12:16 am
it was great their never had such fun in the outdoors i would really like to visit knysna again
January 23, 2014 at 5:46 am
A lot of natural beauty are there. Amazing!!!!!!!!
October 7, 2013 at 8:54 am
Drakensberg. I'd never heard of that, but it looks absolutely stunning, thanks so much for tipping me off about this 🙂
Fun note on names, as well, almost the same as we'd say in Norway, Drageberg… Or maybe I'm just being a language geek again 😉
October 27, 2012 at 12:19 am
Thanks for bringing back my memories when I was there at South Africa. I volunteered there as a doctor for almost 10 years. Mostly of the spots above particlarly the Table Mountain have a special place in my heart. I hope to be back soon!
October 13, 2012 at 4:19 am
There are too many things to do in South Africa. We think that we'll go next year, so we take in account your tips! Greetings from Spain!
October 9, 2012 at 6:34 am
Woah! I like having a coffee break at Knysna because I love outdoor adventure. Great shots and reviews on South Africa!
September 22, 2012 at 9:04 am
Every time I see pictures of wild animals in a forests, it amuses me. There are still places like this for animal to live with freedom.
September 17, 2012 at 1:27 am
Many people do not know how great and beautiful South Africa is. They fail to grasp that South Africa is one of the most recommended place with its virgin forest and grandeur city.
September 9, 2012 at 1:42 pm
Look at those animals. I think this is one of the best country to visit and to enjoy nature. Almost all places here are spectacular. Cant wait to go in South Africa.
September 8, 2012 at 12:22 pm
Just WOW!!!!!!
What a collection of colors. South Africa is really too much beautiful country. The Table mountain, Blyde River Canyon,and Sun City Resort are simply awesome. Thank you for this nice post.
September 4, 2012 at 11:12 am
Great list. I've been itching to travel to South Africa for years now. It's definitely high on my list and posts like this make me want to go all the more. Of course, my bank account disagrees. Details, details 🙂
July 20, 2012 at 1:13 am
I'm genuinely shocked knowing there is also a great canyon similar to the breathtaking views in Colorado. I would certainly take on more details about this spot since I love the things I see in these Canyon formations.
July 19, 2012 at 11:33 am
Wow some wonderful pictures here! I never knew how colorful and diverse South Africa is. This is on my list of places to travel. Now just what part of South Africa is what I need to figure out next.
Leave a Reply Cancel reply
Your email address will not be published. Required fields are marked *
This site uses Akismet to reduce spam. Learn how your comment data is processed .

Ready-made safaris
Experiences
Special offers
Accommodation
Booking form
Booking terms
East or Southern Africa safari?
Solo travellers
Women on safari
October - best safari month?
November - unique safari moments
December - beaches & lush bushveld
January - predators, chimps & gorillas
All stories
Afrika Odyssey Expedition
Photographer of the Year
Read on our app
Collar a lion
Save a pangolin
Rules of engagement
Job vacancies

South Africa's top tourist attractions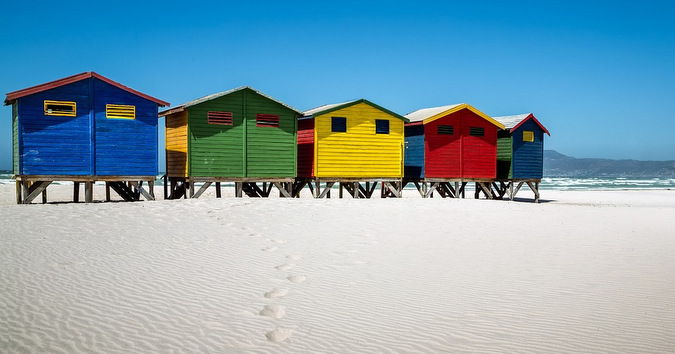 If there was a checklist for the perfect travel destination, South Africa would tick most of the boxes. Famed for its amazing wildlife and landscapes, superb local cuisine, warm hospitality and great weather, it's easy to understand why tourism is so big in South Africa. With an average of 15 million visitors flocking to the country every year, the allure is strong.
We've put together a list of South Africa's most popular tourist attractions, based on bookings by our safari desk:
Cape Town and the Cape Winelands
Nestled between a rugged mountain range and the Atlantic Ocean, Cape Town is one of the most beautiful cities in the world. It's also one of the most popular tourist destinations in all of Africa. This multicultural city enjoys a superb natural setting, pristine beaches, sophisticated infrastructure and a mild, Mediterranean climate.
A few city and peninsula headline acts include  Table Mountain and Lion's Head  (the most iconic landmark in South Africa), the magnificent  Kirstenbosch Botanical Gardens , Boulders Beach for  penguins  that waddle along golden beaches in and amongst holidaymakers, the  Victoria & Alfred Waterfront , the famous  Robben Island (where Nelson Mandela and other political prisoners were imprisoned during the apartheid years) and  Cape Point . And there is no shortage of world-class trendy restaurants and a vibrant nightlife for all tastes. It's no wonder that Cape Town is the crown jewel of the country.
For the active traveller, the Cape Town peninsula is a treasure trove of hiking and mountain biking trails, kayaking and wind-surfing spots – in fact just about every physical outdoor pursuit is catered for within a relatively short radius of the city.
South Africa is famous for its award-winning  wines , and some of the best wine in the country comes from the scenic rural outskirts within a short drive of the city – including  Stellenbosch, Franschhoek, Constantia  and  Robertson . Set against a picturesque mountain backdrop the Cape Winelands are among the most scenic in the world and feature many historic wine estates that date back centuries. The area is also home to charming boutiques, gourmet restaurants and five-star hotels. A drive through South Africa's wine country is well worth the trip – especially if you're not the 'designated driver'!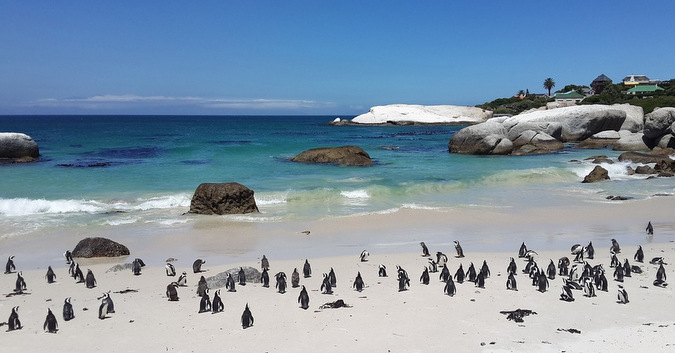 Kruger National Park and private reserves
South Africa's iconic national park and one of Africa's conservation success stories, the Kruger National Park is a must-do safari for any bush lover and for those keen on ticking off the  Big 5  (lion, leopard, rhino, elephant and buffalo) in a relatively short space of time.
The park and adjoining private reserves (Sabi Sand, Timbavati, Klaserie, Umbabat and Balule) that share its unfenced western border make up about 2,2 million hectares (22000km²) of varied bushveld with six ecosystem types, and are collectively referred to as the  Greater Kruger National Park . Kruger's vast size and variety of ecosystems results in a wide diversity of wildlife (including over 500 bird species) and some of the finest game-viewing in Africa.
In terms of wildlife, the sheer number and diversity of wildlife is almost unparalleled, making this the perfect place to spot the Big 5 and much more while out on a game drive, or even a guided walking safari. While Kruger National Park receives over 1.4 million visitors a year, you'd be surprised at how often you find yourself alone in the vast open spaces, giving you a truly authentic African wilderness experience. The national park offers self-drive options and affordable self-catering accommodation options, but there are also areas within the park boundaries set aside for the exclusive use of private lodges, and together with the adjoining private reserves to the west of the park, these private lodges guarantee exclusivity, low visitor numbers and sensational game viewing – where sightings of the Big 5 are almost a daily occurrence.
A safari in the Greater Kruger National Park is a must for first-timers and is also very popular with experienced bush-goers who go back year after year.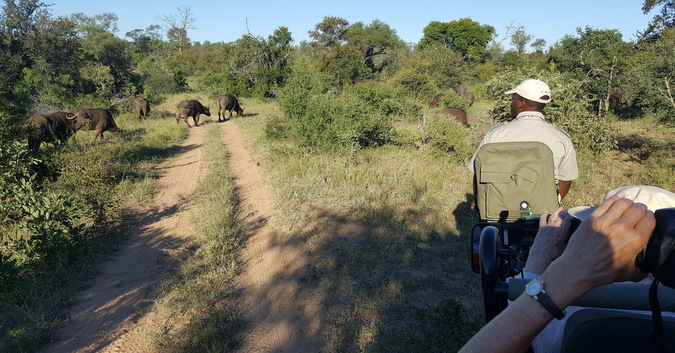 Madikwe Game Reserve
The  malaria-free  75,000 hectare (750 km²) Madikwe Game Reserve in northern South Africa, close to the Botswana border, is favoured by those who want a  Big 5  safari, but without the crowds sometimes associated with larger, more popular reserves. Madikwe does not permit day trippers or self-drive game drives, ensuring a private safari experience.
The dry Kalahari ecosystem offers an alternative to the Lowveld bush seen in the Kruger National Park, and so Madikwe offers some unique and exhilarating safari game viewing and photographic opportunities. Aside from the Big 5 species, Madikwe offers the chance to see wild dogs, cheetahs, brown hyenas and large numbers of plains game – and about 360 species of birds.
The absence of malaria plus easy access from Johannesburg via road and air makes Madikwe an excellent choice for family safaris, and some lodges even cater for children-friendly activities. The range of accommodation, from luxury to basic, means that there is something for everyone.
Madikwe is something of a success story for wildlife conservation, local community economic empowerment and private/public enterprise. The land and animals are managed by the state, private investors profit from the lodges, and three nearby villages benefit via sustainable jobs and skills advancement.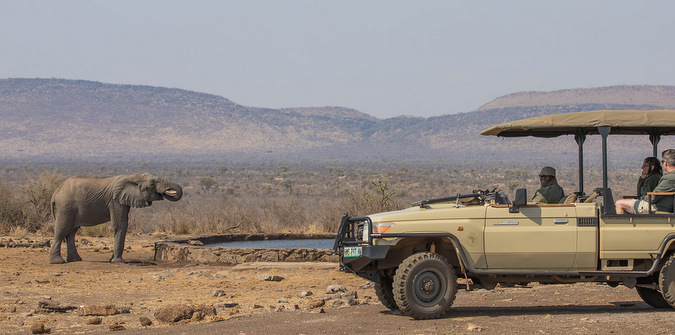 Garden Route and Little Karoo
Sandwiched between vibrant Cape Town and the malaria-free Cape Game Reserves – are the idyllic Garden Route and Little (Klein) Karoo, together offering an unrivalled mix of experiences and adventures within a proverbial stone's throw of each other.
The  Garden Route  offers a laid-back and intoxicating blend of beaches, lagoons, craggy mountains and ancient indigenous forests. Gorgeous historical coastal towns such as Knysna, Plettenberg Bay and Nature's Valley offer a range of accommodations to suit every need, and the many smaller rural villages along the way each offer an authentic charm. While the spectacular landscape is enough to leave you awestruck, it's worth exploring the many hidden nooks and crannies, where some of the true gems lie. Expect to unearth artist communities, wood cutter clans, fishing communities and many visitors who arrived on holiday and have never left this forested coastal paradise.
Whether you're into rambling through art and craft markets, zip-lining through forest canopies, chilling on golden beaches or relaxing at a health spa, the Garden Route has it all in spades. You will be seduced by this charming haven and emerge relaxed and ready to resume your real life.
The  Little Karoo  lies inland of the lush Garden Route, just across craggy mountains that themselves harbor many wild and secret places. The dry semi-desert Karoo is a place of historical ostrich farms, olive groves, wine, the famous Route 62 and adorable habituated meerkats.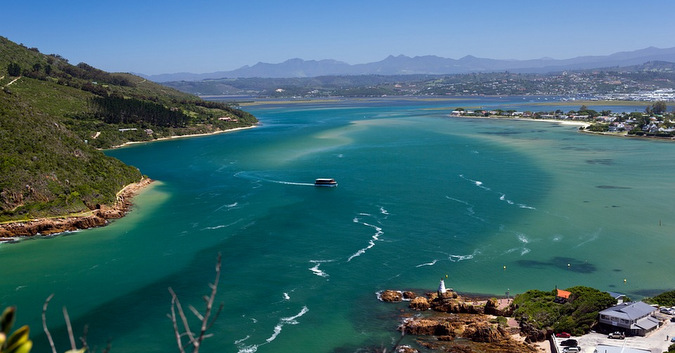 KwaZulu-Natal
The northern coastline and bushveld of KwaZulu-Natal hosts one of the most diverse habitat matrices, endemic species strongholds, successful conservation projects and enthralling Big 5 safaris in Africa. And to top it all off, there are a wealth of cultural and ecotourism activities, miles and miles of sandy beaches with warm water and, for some reason, relatively few tourists.
Zululand and the Elephant Coast, where black and white rhinos recovered from almost going extinct, plays home to the mighty Zulu warrior and to iSimangaliso Wetland Park – Africa's oldest protected area and South Africa's first World Heritage Site. This is also the home of other renowned protected areas such as  Hluhluwe-iMfolozi ,  uMkhuze ,  Ndumo  and  Thembe , offering a wide array of habitats such as woodlands, wetlands, palm savannas and coastal forests. And amongst this vast network of protected areas are private game reserves such as Phinda, Pongola, Zululand Rhino and Zimanga, which offer luxury safaris to our discerning guests, with exceptional sightings of big cats, rhinos and elephants in addition to a host of other species.
For the avid birder, KwaZulu-Natal is not only a haven for colourful endemics, it also offers the best birding infrastructure in South Africa.
The adventurous can expect exciting walking safaris and a stunning coastline bathed in warm water and offering the best scuba in South Africa – with coral reefs, whale sharks, dolphins and breeding turtles.
For the history buffs, the battlefields of KwaZulu-Natal were the anvil that forged South Africa's political past.  The famous battlefields of Isandlwana, Blood River and Spionkop witnessed fierce clashes between British forces, Zulu warriors and 'Boer' soldiers.
So, if a combination of bush, beach and history is your thing, visit KwaZulu-Natal.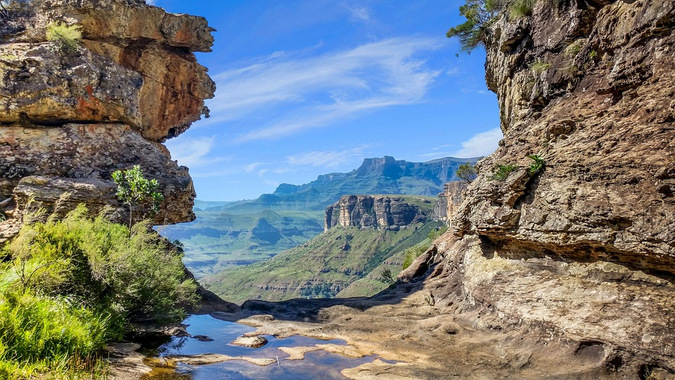 Cape Game Reserves
For those seeking a malaria-free bush break closer to Cape Town than the traditional bushveld destinations, the Cape Game Reserves have much to offer, even for Big 5 fans.
Expect a range of dry bushveld types, from the vast and arid plains and mountains of the Great Karoo to the succulent Klein Karoo and the dense valley thickets of the Eastern Cape. You will even see big game in mountainous Cape fynbos habitat, in amongst the proteas and ericas. Some Eastern Cape reserves even offer boat trips down winding rivers for a day at the nearby idyllic beaches for that classic bush/beach combo.
Most Cape rural areas have been historically farmed, and many of the private and even government reserves are reclaimed farmland – a great success for conservation. Purists might prefer the classic upcountry game reserves of Kruger National Park, Madikwe Game Reserve, KwaZulu-Natal or the Kalahari – but others enjoy the proximity to Cape Town for their bush break.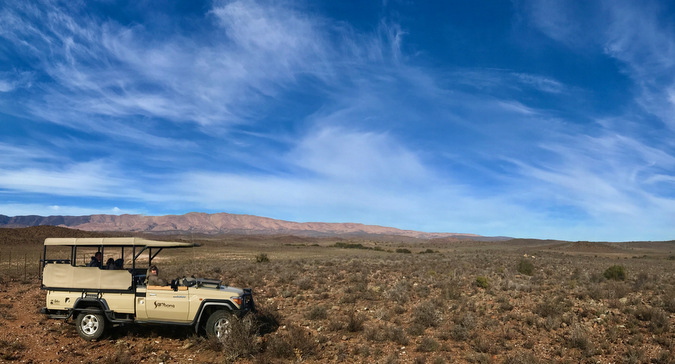 The vast  malaria-free  Kalahari offers a true desert safari experience – with endless vistas of red dunes and grass savannahs dotted with massive gnarled camelthorn trees, and the desert-adapted species that thrive here.
This unique ecosystem hosts a remarkable population of arid-specialist species, including the rare desert-adapted black rhino, Kalahari lions, cheetahs, wild dogs, springbok, oryx (gemsbok) and sought-after smaller species such as aardvark, honey badger, brown hyena, pangolin and aardwolf. There are also a few habituated colonies of meerkats that provide excellent photographic opportunities.
The absence of malaria makes the Kalahari an excellent choice for family safaris.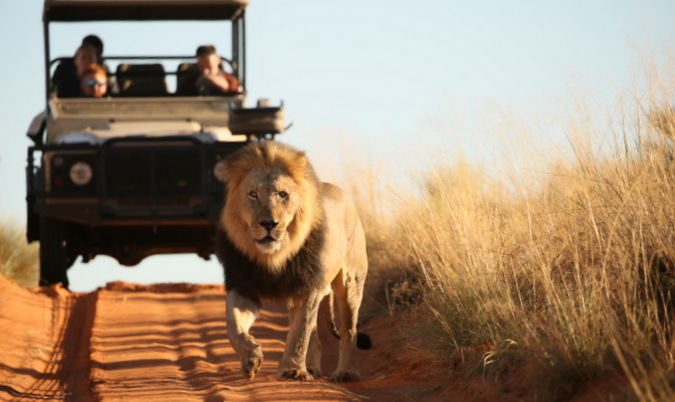 For accommodation options at the best prices visit our collection of camps and lodges:  private travel & conservation club . If you are not yet a member, see how to JOIN below this story.

HOW TO GET THE MOST OUT OF AFRICA GEOGRAPHIC:
Enquire now
Subscribe to our FREE newsletter / download our FREE app to enjoy the following benefits.

We're an eclectic pack of safari experts, storytellers, admin and tech nerds and digital natives whose sole mission is celebrating Africa and doing good. We do this by creating life-changing, responsible safaris just for you, publishing informative, factual articles about Africa's incredible natural wonders and raising donations for worthy causes. This MANIFESTO explains our approach to travel and conservation.

Friend's Email Address
Your Email Address
Home » Travel Guides » South Africa » 15 Best Places to Visit in South Africa (Update 2023)
15 Best Places to Visit in South Africa (Update 2023)
I use this article to share my love of South Africa's best places to visit. Having roamed this masterful country from tiny hamets to the biggest cities, I've picked out its most unmissable destinations. And having traveled extensively in each and every one of them, you can be sure my picks are worthy of such a list!
With more landscapes and terrain than just about another country on Earth, South Africa takes the lead when it comes to diversity. An epic country at the tip of an epic continent, wildlife is likely your first draw. And why not, when you can boast hippos on the Limpopo River, penguins on the Cape, and Kruger's Big Five?
But don't forget about South Africa's other attractions. There's over 1800 miles of dramatic everchanging coastline. There are some of Africa's best museums, an intriguing history, incredible cuisine, and no shortage of nightlife either.
Coming from an country which struggled for decades under the racial segregation of apartheid, this is utterly extraordinary. The legacy of apartheid can still be felt in places.  But the education and welcome you'll receive will give you hope for the country's future. Be sure to plan for a long trip, or at the least plan to return again and again. You'd need a lifetime to experience and appreciate this magnificent country in full.
1. Cape Town
South Africa's 'mother city' – it's oldest – is a microcosm of the country as a whole. Here you'll find evidence of Europe's earliest footprint on the continent at the Company's Gardens and Castle of Good Hope.
At the same time, attractions including Zeitz MOCAA, the world's largest gallery dedicated to Africa's contemporary art scene, show Cape Town still has what it takes to wow.
A myriad of diverse neighborhoods each offer something different, from street art to amazing architectural examples.
Then there's Table Mountain, cool indie shopping on Long Street, almost endless nature trails, water sports, golden beaches, and fine dining. Plus a literally unique flora, which can be explored at Kirstenbosch Botanical Gardens.
The adventurous can abseil from Table Mountain or paraglide off Lion's Head. The historic farms of nearby Constantia offer relaxing wine tasting, while game reserves promise sightings of Africa's wildlife.
2. Kruger National Park
When it comes to seeing Africa's best known species, there's little argument over the best place in South Africa to head – Kruger National Park . The size of a small European nation, the density and diversity of animals within Kruger National Park makes it one of the world's greatest.
You'll find all the iconic safari species here – leopards, lions, cheetahs, rhinos, buffalo, giraffes, elephants, and zebras.  Plus about 140 other mammals and 500 varieties of birds. While areas of the park can get busy, Kruger is large enough at 8000 square miles that it's also possible to be the only game vehicle in sight. The longer you spend here, the more likely this is to be the case.
More than just savanna grassland, Kruger also contains granite hills to its south, the Lebombo Mountains in the east, and sub-tropical forest in the north. It's no wonder Kruger's species list is so extensive!
Part of the famous Garden Route, Knysna is known for its oyster festival and incredible views which stretch from Leisure Isle all the way to the Knysna Heads – a difficult passage of water where many ships have been wrecked.
All the same, the reason to include Knysna on your South Africa itinerary is for relaxation with a little added adventure.
Top attractions include Featherbed Nature Reserve for communing with nature, alongside the incredible Knysna Elephant Park and Monkeyland Primate Sanctuary.
Dolphin sightings are pretty regular in Knysna too. There are several dolphin spotting boat trips to choose between. Many include a stop at Plettenberg Bay or the Robberg Peninsula in order to see the noisy seal colonies there.
4. Stellenbosch
During the Anglo-Boer War, British soldiers who showed courage and valor on the battlefield where sent to Stellenbosch as a reward. Head there today and it will feel like you're being rewarded too. Stellenbosch is a beautiful town with restaurants, street cafes, and some of South Africa's oldest buildings. These days, the town is centred on the university, one of the leading educational institutions in the country. As a result, the atmosphere can be very differnet between term time and the university holidays. There are also some fantastic wine estates here – check out Spier (established in the 17th century) to enjoy Segway tours, picnics, Eagle Encounters, and an amphitheatre for entertainment.
Other top picks include Thelema, Tokaa, and Blaauwklippen. For food, Stellenosch has two of the top ten "Best Restaurants in South Africa". For something a little different, there's AmaZink. This restaurant has a night dinner show recounting the history of the neighboring Kayamandi Township with music and dance.
South Africa's most famous township is undoubedly Soweto, an abbreviation of South West Townships. Created in the 1930s as a means of pushing black communities out of central Johannesburg, Soweto became a vocal centerpoint for protests against apartheid. Nelson Mandela even lived in its Orlando West neighborhood until his imprisonment in the 1960s. His home here is now an important stop on any tour of Soweto.
These tours include places like Walter Sisulu Square, where South Africa's Freedom Charter was signed in 1955, and the Hector Pieterson Memorial, where the 1976 uprising began. There's also Vilakazi Street, once home to Archbishop Emeritus Desmond Tutu and Nelson Mandela. It makes it the only street in the world where two Nobel peace prize winners have lived.
For some fun, take a look at Chris Hani Baragwanath Hospital.  It's listed in the Guinness Book of World Records as the largest hospital in the world. To get the adrenaline flowing, opt for a bungee jump between the famous painted cooling towers of the decommissioned Orlando power station.
Durban is where South Africans head on vacation, making it one of South Africa's most popular holiday destinations. Why? Because just a short stroll from the city center you'll find mile after mile of perfect golden sand. Add to this excellent year-round weather, and you have the beginnings of a great few days. If you somehow tire of the beach, check out the gondola rides, fishing, or uShaka Marine World theme park and aquarium.
When you want a break from the sun, head downtown and discover the wonderful art deco facades amid the more urban parts of town. Its buildings include the Durban Natural Science Museum, which contains one of the most complete dodo skeletons in the world among its artifacts. Stroll through its markets and you'll wonder if you're still in South Africa, given the influence of the city's Indian community. They gifted Durban delights including bunny chow, a vegetable stew packed with flavor.
7. Bloemfontein
The capital of Free State and one of South Africa's three national capitals, Bloemfontein is one of South Africa's most attractive cities. Meaning 'fountain of flowers' in Afrikaans, 'Bloem' is often called 'the city of the roses.' Flower beds line many of its broadest streets, while a rose festival is held here each year. But it's more than just beautiful to look at, the city has a plethora of cultural, historical, and natural attractions.
For a start, try the Oliewenhuis Art Museum, the National Museum, the Free State National Botanical Garden, Vodacom Parkland, or the Anglo Boer War Museum. For round two, try the digital planetarium, the music scene at Die Mystic Boer, or go fishing at Maselspoort. For something a little different, head up to Naval Hill's Franklin Game Reserve. Popular with joggers and cyclists, this hilltop reserve contains zebras, giraffes, and wildebeests, in addition to a plethora of bird species.
8. Blyde River Canyon
Though it's a very small province, Mpumalanga is truly exciting. Mountain vistas, cooler climates, and green valleys make the region a magnet for outdoor lovers. Abseil down waterfalls, river raft, canoe, inner tube, trek, mountain bike, or throw yourself off a cliff! All are possible.
The main attraction is definitely Blyde River Canyon, which has been carving its way through the Drakensberg Escarpment for centuries. It's truly one of South Africa's iconic sites. Although less than 17 miles long, it's the perfect destination for nature and walking lovers. A rich dense carpet of green provides habitats for a huge number of species, from monkeys to birds.
Plus, the canyon is right next door is Kruger National Park. Its surrounding towns form a great base camp while you spend time exploring this magnificent area. Expect the best treks to last between three and five days.
9. Johannesburg
The 'city of gold', Jo'burg has it all – if you know where to look. It's true to say that downtown Johannesburg has seen better days. The last 20 years haven't been kind to South Africa's most populous city. However, things are rapidly changing for the better in Newtown and Braamfontein, the two cultural districts. Here you'll find the restaurants, cafes, museums, and theatres you'd expect from a city the size of Jo'burg. Indeed, the energy here is almost infectious.
Even the inner city is quickly becoming a tourist hotspot.  You'll want to make a stop at Maboneng, a hipster type neighbourhood on the eastern side of downtown. While in the area, try and pay a visit to Johannesburg Art Gallery in Joubert Park. With 15 galleries and a sculpture garden, its collection includes a mix of classical European works and modern home-grown art.
It's a city still struggling with its history, but Johannesburg isn't pretentious and has a lot to offer. Don't forget to make a stop at the Apartheid Museum on its outskirts for a sobering reminder of just what Johannesburg has gone through.
10. Kimberley
Another historic city is Kimberley, also known as 'the city that sparkles' because of its link to South Africa's diamond industry. Located in the heart of the Diamond Fields region, it's the home of De Beers and has a rich mining past. The billion dollar company's first headquarters, a tiny tin shack, still exists beyond the train station.
Not to be missed is the Big Hole and Mine Museum. It's surrounded by a series of old buildings relocated to the site, including a functioning old time saloon. Inside, visitors first get to watch an enjoyable documentary into just how Kimberley became the center of diamond mining. You'll then get to see the Big Hole – the world's largest hand dug pit.
Reaching a depth of 240 meters, and covering 170,000 square meters, the Big Hole miners discovered 3000 kg of raw diamonds before it was closed in 1914.
11. East London
If you want a laid back beach scene that doesn't have the crowds, East London is perfect for you. Flying somewhat under the radar, it's got everything you would want in a beach getaway. Its coast is lined with sandy beaches, its Indian Ocean waves are warm, there's wall to wall sunshine, and loads of water sports and other outdoor adventures to consider.
East London Museum contains two examples of the coelacanth too. Often called a 'living fossil,' it's a large scaly fish that was thought to have been extinct for millions of years before one was caught in a fishing net in the 1930s nearby.
Meanwhile, Potters Pass Nature Reserve protects rare coastal grasslands which burst into life during the spring months. It's here you'll also discover the historic Hood Point Lighthouse.
12. Oudtshoorn
Welcome to the ostrich capital of the world, where a trip to an ostrich farm is a must. Located between the Swartberg and Outeniqua mountains, Oudtshoorn is another ideal destination for outdoor and nature lovers. You have to travel through Klein Karoo to get there, but that's no trouble given the beauty of this semi-desert area.
The mountain range has been declared a Cape Floral World Heritage Site, and you'll see some stunning vistas as you explore the area. Nearby are the Cango Caves and the historical village of De Rust. If you're in the mood for a road trip, consider crossing the Swartberg Pass or driving down the 25km Meiringspoort.
If you're there around Easter time, don't miss the Klein Karoo Nasionale Kunstefees – the largest language arts festival in the country.
13. Pietermaritzburg
This heritage city is located in the forests and rolling pastures of the Natal Midlands. The provincial capital of kwaZulu-Natal, it's considered one of the best preserved Victorian cities on Earth. A tour through town to look at the historic buildings will take you back to another age. They include the magnificent City Hall building.
Pietermaritzburg's treasures extend to the Msunduzi Museum and Tatham Art Gallery. Once known as the Voortrekker Museum, the Msunduzi Museum contains a complex of historic buildings including the humble home of Andries Pretorius, a major Boer leader.
The Tatham Art Gallery has a fine collection of 19th and 20th century artworks, all housed in the Old Supreme Court building.
14. Pretoria
'Jacaranda City' is swimming in a sea of purple Jacaranda trees.  The sister to Johannesburg, but much more laid back, Pretoria has great museums, historical buildings, and natural attractions for your enjoyment.
Once the heart of apartheid South Africa, a new energy is infusing the city as foreign embassies, businesses, and tourism reach Pretoria. When you want a relaxing stopover as you travel the country, Pretoria is definitely worth a visit.
Named after our old friend Andries Pretorius, any tour of the city should start at Church Square. From here, head the short distance to the Union Buildings on Meintjieskop hill – the home of South Africa's presidency. On another hill, Salvokop, Freedom Park contains a monument to all the South Africans who lost their lives during wars and the apartheid era.
15. Port Elizabeth
Most South African cities seem to have a nickname, and Port Elizabeth's is the 'friendly city.' It's located at the eastern end of the Garden Route, and the western end of the Sunshine Coast, on Algoa Bay.
As you might expect from such a location, there are blue-flag beaches and water sports offerings. Summerstrand's beaches are particularly popular with surfers. Yet there's a surprising amount of history here too.
Now officially known as Gqeberha, the city was founded in 1820. There are therefore plenty of grand Victorian buildings at its heart.
However, my personal favorite thing to do in Port Elizabeth is stroll across Donkin Reserve. Blending a historic lighthouse and memorial pyramid with modern sculpture and art, its a wonderful place to wander.
15 Best Places to Visit in South Africa (Update 2023):
Kruger National Park
Stellenbosch
Bloemfontein
Blyde River Canyon
Johannesburg
East London
Pietermaritzburg
Port Elizabeth

Adventure Travel / Africa / Ask RAI / Solo Travel / Travel
10 Best Places To Visit in South Africa for First Timers
Published August 31, 2023 · Updated August 31, 2023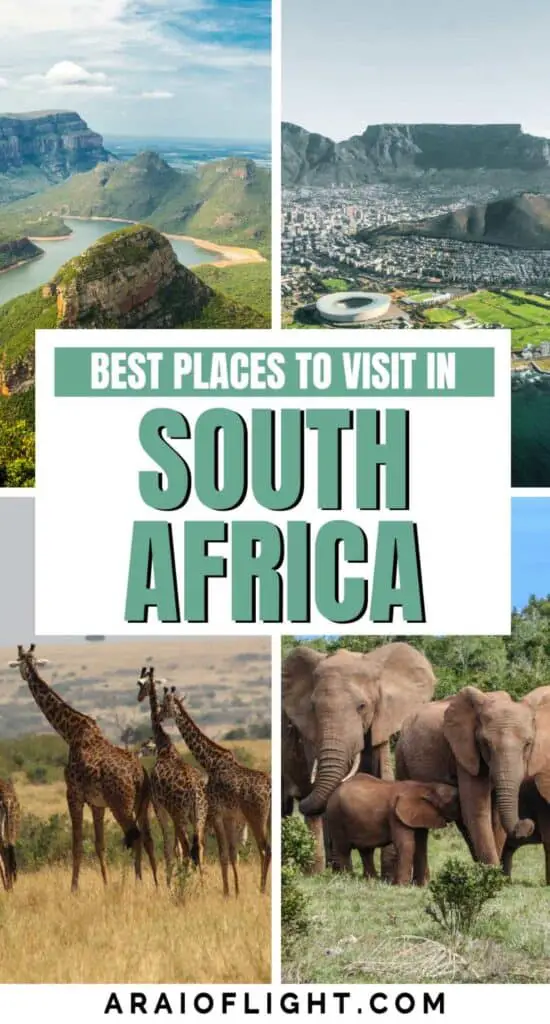 South Africa: A world in one country. Millions of travellers visit this country found at the southern tip of Africa to witness its breathtaking scenery, incredible variety of wildlife, cosmopolitan cities, and to take advantage of its amazing year-round weather. The rainbow nation is also known for its rich and diverse cultures. Often voted as one of the most beautiful countries in the world, visitors to South Africa are enticed with a land that is bountiful in sweeping vistas, dramatic coastlines, rolling grasslands, wild plateaus, impressive mountainscapes, and untamed bushveld. 
How to decide where to go? That's what I'm here for. Check out this list of the best places to visit in South Africa in 2023 .
Other reasons to visit South Africa include its unparalleled biodiversity, friendly locals, adventure activities, good food and wine. The country is also known for its great tourist infrastructure and abundance of accommodation options. Not to mention, South Africa is an affordable tourist destination. So what are you waiting for? Book that trip to South Africa!
>> Further reading:
35+ essential South Africa travel tips to know before you go
The best countries to visit in Africa in 2023
Be inspired to visit with these quotes about Africa and songs about Africa
Revealed: The richest countries in Africa
Where to find the best sunsets in Africa
10 cheapest islands to visit
What is South Africa famous for?
Your Guide to the Best Places To Visit in South Africa
What part of South Africa is best for your first trip?
Here's some inspiration for you…
1 | Kruger National Park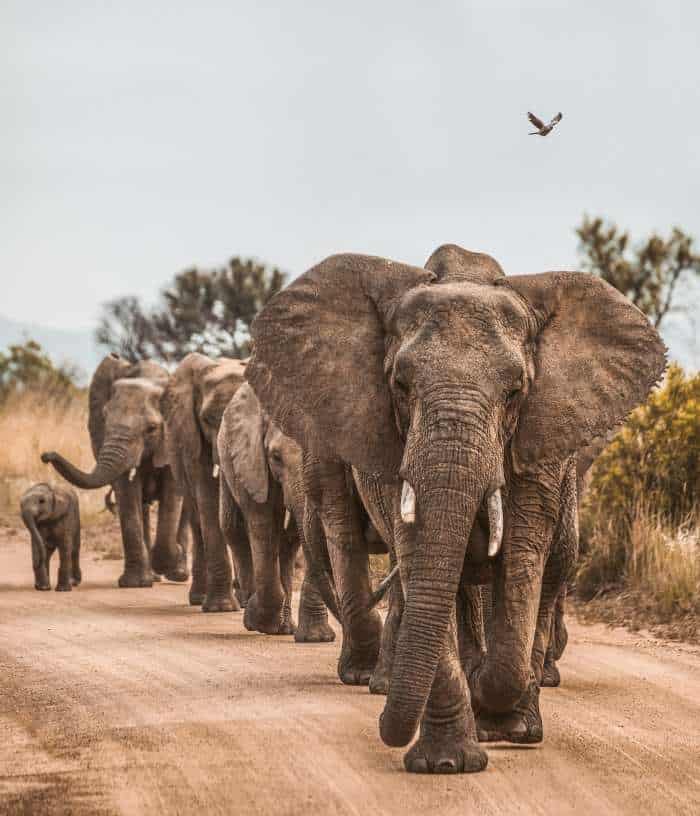 Often described as the real Africa, the Kruger National Park encompasses almost 2 million hectares of the world's most iconic wildlife and safari species. Established way back in 1926, the park is one of Africa's largest game reserves and certainly one of the most famous. 
Found in the northeastern part of the country, it is the region with the greatest diversity of wildlife in the country with over 3,000 species of fauna and flora. Animals to be found in this massive expanse include the Big 5 – lion, elephant, rhino, leopards, buffalo – as well as cheetah, giraffe, zebra, springbok, hippo, hyenas, wild dogs, and crocodile. It is also a haven for bird watchers with more than 500 species of birds found living here.
A self-drive through the park on designated routes is a great way to go at your own pace, starting at one of the 10 entrance gates. Skukuza is the main rest camp of the park and the current daily conservation fee in 2023 is R440 per person.
What is the best month to visit Kruger National Park?
When planning a trip, it is worth bearing in mind that the best time to visit the Kruger National Park is during the dry season from May to October. During this period the vegetation is thinly dispersed and scattered, making the wildlife easier to spot. Prepare to spend at least 4 days exploring this fascinating region to really get a taste of the park's amazing wildlife viewing. You'll also be happy to know that crime is not an issue in the Kruger Park and it is very safe to visit.
No trip to the southern part of Africa is complete without experiencing the magnificence that is the Kruger National Park and it remains one of the best places to visit in South Africa in 2023. It is simply the perfect destination for nature lovers and wildlife enthusiasts.
>> Your guide to the safest countries in Africa . Is South Africa on this list?
2 | Cape Town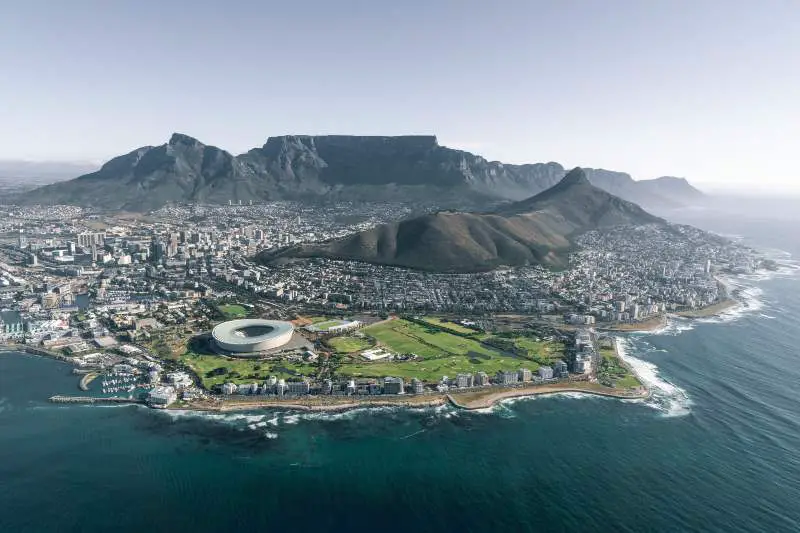 This beautiful city needs no introduction and is often voted as the best place to visit in South Africa for first timers. Charmingly located between the Atlantic Ocean and Table Mountain, the Mother City is a tourists' playground and a top vacation spot in the world.
This hub of culture, history, beauty, nightlife, and cuisine has something to offer everyone. Whether you're visiting as a family , a couple, a bunch of friends , or as a solo traveler, you're bound to have a good time.
A week in Cape Town will give you ample time to discover the city and its immediate surroundings. However, you could spend weeks in this African city and not run out of things to do and adventures to have. 
The first thing you should do is hike up or take a cable car to the top of Table Mountain, the country's most iconic landmark and most photographed site. This significant tourist attraction, one of the 7 Natural Wonders of the World, offers the best views of cape Town and the surroundings below.
Other popular tourist attractions in Cape Town include the V&A Waterfront, Lions Head, Kirstenbosch National Botanical Gardens, Bo Kaap, Camps Bay, and the Two Oceans Aquarium.
Don't miss a trip to see the penguins of Boulders Beach as well as the Cape Peninsula, Cape Point, and the Cape Winelands. You will also want to prioritise a drive along the scenic Chapman's Peak and a visit to Robben Island, a living museum dedicated to the history of the country.
The best places to stay while in Cape Town include the Atlantic Seaboard and the City Bowl, with the former being my personal favourite. Cape Town is enticing and inviting, with a whole lot of good vibes. Once here, you may not want to leave.
3 | The Garden Route
Picture a 300 km stretch of spectacular coastline along the southwest coast of the country filled with amazing beaches, evergreen forests, lagoons, lakes, rocky shores, charming towns, and a vast ecologically diverse landscape. This is the Garden Route, a top contender as one of the best places to visit in South Africa, that extends from Mossel Bay in the Western Cape to Storms River in the Eastern Cape province.
Is the Garden Route worth doing?
This popular holiday destination in South Africa is one of the leading scenic drives, offering something for everyone with lots of interesting things to do, see, and eat along the way. It requires at least 4 or 5 days to see the popular attractions along the main route. 
When planning a road trip, prime spots to add to your itinerary include Plettenberg Bay, Wilderness, Oudtshoorn, Nature's Valley, Jeffrey's Bay, Mossel Bay, Knysna, Storms River Mouth, and the Map of Africa. Animal lovers should not miss the Knysna Elephant Park, Gondwana Game Reserve, Monkeyland, Birds of Eden, and Jukani Wildlife Sanctuary.
Other things to do along the Garden Route are hiking in Robberg Nature Reserve, paragliding over Wilderness Beach, abseiling in the Kaaimans Gorge, and bungee jumping off the Bloukrans bridge.
For adrenaline-filled adventure, breathtaking scenery, delicious cuisine, and rich wildlife, the Garden Route is the ideal option for you.
>> Speaking of cuisine, don't miss this list: The most weird foods eaten around the world
4 | The Drakensberg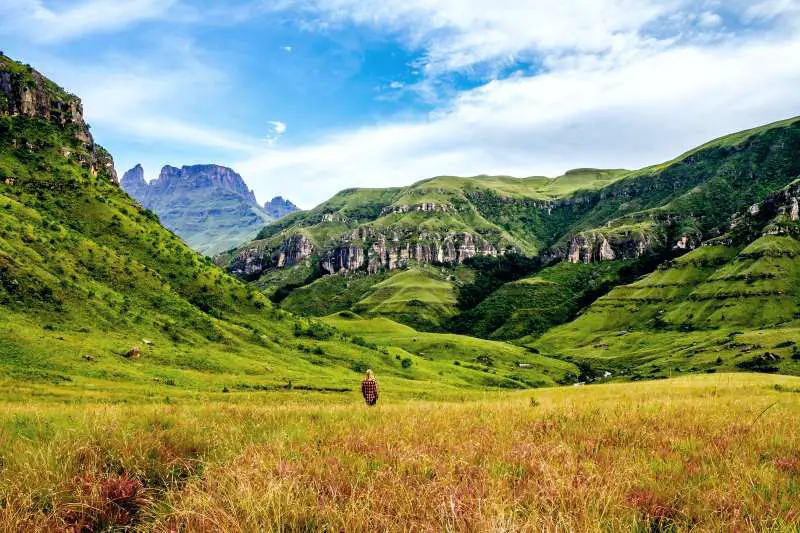 The highest mountain range of Southern Africa , the Drakensberg extends over 1,125 km along the province of KwaZulu-Natal and the kingdom of Lesotho. Roughly translating to "dragon mountains," it rises over 3,475 metres and remains one of the best places in South Africa to visit.
The Drakensberg was declared a world heritage site in 2000, not only because of its physical beauty, but also due to its cultural and ecological diversity that goes back 182 million years.
The world-renowned Amphitheatre holds one of South Africa's most impressive cliff faces. Here you will come across cliffs rising 1220 meters for over 5 kilometres in length.
What is the Drakensberg famous for?
Along with being Southern Africa's highest mountain range, the Drakensberg is sought after for its many hiking routes with trails that cater for all ages and every ability. Of these, the Tugela Gorge and Amphitheatre Rim hikes are the most popular. Other hiking routes worth considering include Rainbow Gorge, Cathedral Peak, Icidi Gorge, Gudu Falls, and Monks Cowl.
These mountains are also home to a number of nature reserves with plenty of wildlife. Chasing waterfalls is a pleasurable activity here along with star gazing, fly fishing, slack-packing, a visit to Kenmo Lake, and a drive along the Sani Pass.
If you have some extra time, why not check out the ancient rock art sites of the indigenous San people found at giants Castle in the Southern and Central Drakensberg.
The Drakensberg is a pleasant 3 hour journey from Durban. The entrance charge is R20 per person. You will want to plan a visit to the Drakensberg region during the spring and autumn months to take advantage of the mild weather, long days, and reduced chance of heavy rain and thunderstorms.
5 | Blyde River Canyon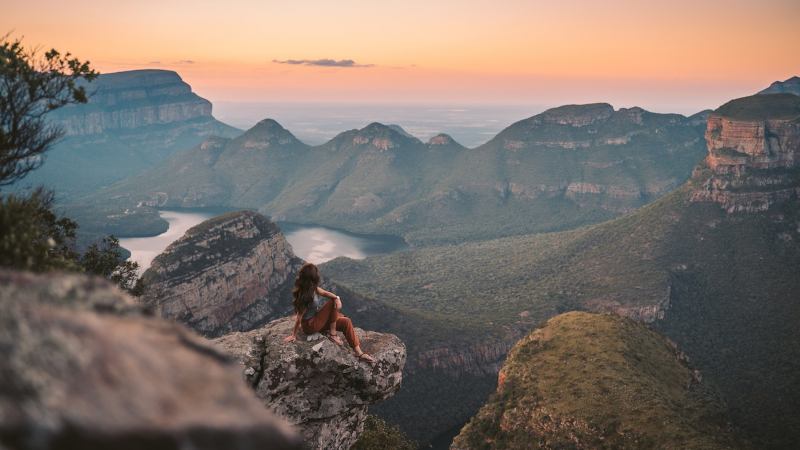 The Blyde River Canyon, charmingly positioned between the Drakensberg Mountains and the refreshing waters of the Blyde River, is the largest green canyon in the world.
What is unique about Blyde River Canyon?
This ancient geological wonder, dating back almost 100 thousand years, is unique due to its subtropical vegetation that dominates the region. Located in the northeast of South Africa's Mpumalanga province, the canyon measures 25 kilometers in length, with an average depth of 750 meters.
The R35 entry fee into the Blyde River Canyon allows you access to the canyon viewpoint and the Three Rondavels, a distinct rock formation. From here take in the magnificence of one of the most beautiful views in South Africa, extending for over 50 kms along the lip of the great African escarpment.
Once you're done admiring the view, take your pick from one of the many adventurous activities on offer among the dramatic scenery that include hiking, kloofing, water rafting, fly fishing, and horse riding. While exploring the area that is home to an abundance of plant and animal species, don't miss the weeping face of nature, a truly hidden gem in South Africa.
The Blyde River canyon, part of the Blyde River Canyon Nature Reserve, is a highlight of any visit to Mpumalanga and should not be missed. 
>> Learn how to say hello in African languages
6 | iSimangaliso Wetland Park and St Lucia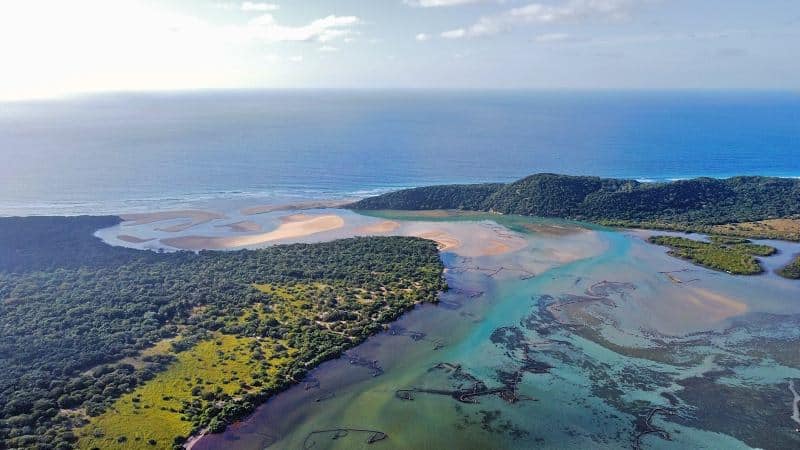 A natural habitat for a plethora of Africa's iconic wildlife, a land of unmatched beauty, lush green forests, and welcoming warm waters, make St Lucia and the surrounding wetlands one of the best places to travel in South Africa.
This huge protected area along the coast of South Africa's KwaZulu-Natal Province covers an area of 3 280 km² and perfectly intertwines eight inter-locking ecosystems.
iSimangaliso, meaning miracle and wonder, is South Africa's first official World Heritage Site that offers long sandy beaches, coral reefs, costal dunes, swamp forests, lakes, and wetlands.
What activities can one do in iSimangaliso?
Things to do in iSimangaliso Wetland Park include a river boat cruise along Lake St Lucia, going on a big-five game drive, exploring the lakes at Kosi Bay, going on a midnight turtle walking tour, wandering the fig forest in Mkhuze Game Reserve, and visiting a crocodile farm.
St Lucia, a hub for the iSimangaliso Wetland Park, is renowned for its rich birdlife and marine life. The region also supports an abundance of hippos, crocodiles, and rhinoceroses.
Cape Vidal, located within the iSimangaliso Wetland Park, is arguably the most popular spot for snorkeling in South Africa. Other activities in the area include hiking, fishing, diving, horse riding, and whale watching.
The best time to visit this top tourist destination is during the spring and summer months of September to May, although it is best to avoid the peak school holiday season between December and mid-January to avoid the crowds and the higher prices that come along with it.
>> Describe the journey with these: Creative travel words for the travel lover
7 | The Cradle of Humankind
Just over 50 km northwest of Johannesburg lies the ultra-rich paleo-anthropological World Heritage site that is the Cradle of Humankind. As one of the most important fossil sites in the world, the Cradle of Humankind is a must visit during your first time in South Africa. Fortunately, it is pretty easy to get here and is one of the best day trips from Johannesburg .
Is the Cradle of Humankind worth visiting?
Aptly named so, the site is home to the largest concentration of human ancestral remains and hominid fossils anywhere in the world, dating as far back as 3.5 million years ago and is definitely worth checking out. Traces of fossils, tools, and skeletal remains have been found that provide valuable information about the evolution of humans as a species and the confirmation that some of the earliest ancestors of modern humans originate from this area.
Top attractions to be found within the Cradle of Humankind World Heritage Site include the Maropeng Visitor centre, Strekfontein Cave, and the Kromdraai Gold Mine. A R175 entry fee will give you access to these sites. A visit can be done as a half of full day tour from Johannesburg. Alternatively, if you opt to spend the night , there are a number of great accommodation options to choose from.
Once inside, you get to witness the interactive exhibitions about the history of the human species, replicas of hominids, the stone tools that were used during that time period. Don't miss the underground boat ride within the Tumulus building.
You also have the option of partaking in numerous outdoor activities such as caving, abseiling, hot-air ballooning, quad biking, horse riding, and fishing.
>> Learn more about the world in this Geography trivia quiz (with answers)
8 | God's Window & Panorama Route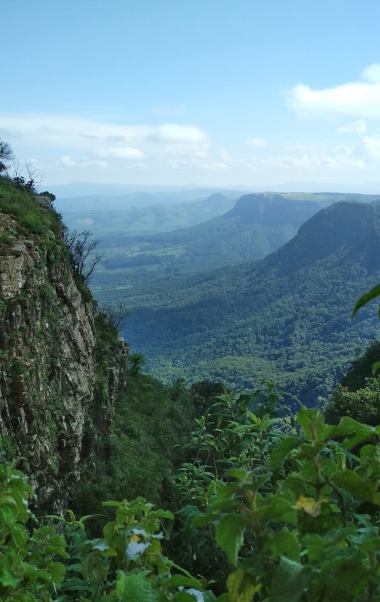 Mpumalanga, or land of the rising sun , is without doubt of best places to visit in South Africa 2023. The area, known for its incredible natural beauty, is a landscape of forests, wetlands, savannahs, and pristine wildlife.
The panorama route, a 160 km stretch of road, is said to be one of the most scenic drives in the world. The route, steeped in the history of the country with picture perfect natural and cultural attractions dotted along the way, takes you into the heart of the province of Mpumalanga. 
The star attraction of the Panorama Route is a viewpoint, aptly named God's window. From here witness another awe-inspiring place in South Africa, providing a panoramic vistas of the Lowveld region and the lush indigenous forest clad ravine that surrounds. On a clear day you may even be able to see as far as the Indian Ocean.
There is a R10 entrance fee to access the viewpoint that is reached after following a trail of 300 steps.
What attractions are found along the Panorama Route?
In addition to God's Window, other highlights found on the Panorama Route include Bourke's Luck Potholes, Mac Mac Pools, The Pinnacle Rock, Berlin Falls, Lisbon Falls, Sudwala Caves, and the Echo Caves.
If you're feeling adventurous, be sure to stop by at the Big Swing in Graskop, one of the world's highest cable gorge swings with a free-fall of 70 meters in under 3 seconds.
The best way to discover this region, one of the most beautiful places in South Africa, is to hire a car and plan a road trip . Set aside around three days to fully immerse yourself in the region and its surrounding beauty. 
>> Keep these questions about travelling and car ride trivia handy for all those long journeys
9 | Wild Coast and Coffee Bay
Last up on this list of best places in South Africa to visit is the exotic and untamed wilderness of the Wild Coast. This 250 kilometre long stretch of unspoilt coastline between the Mtamvuna River in the north and the Great Kei River in the south along the Indian Ocean encompasses wild beaches, lagoons, bays, rugged headlands, and forgotten shipwrecks. 
What is there to see along the Wild Coast?
Coffee Bay is one of the most popular spots along the Wild Coast. This popular backpacking getaway spot harmoniously combines spectacular surroundings with authentic culture.
For the perfect photo op and a lovely swim in a lagoon, be sure to stop by at the Hole-in-the-Wall. This impressive natural rocky archway, dating back 260 million years, is located at the mouth of the Mpako River and features a huge detached cliff with a hole carved through its centre by the surrounding Indian Ocean.
Other amazing attractions in the Wild Coast include Silaka Nature Reserve, Hluleka Nature Reserve, Waterfall Bluff, and Wild Waves Waterpark. Adventure activities include diving, cliff jumping, hiking, fishing, canoeing, abseiling, and surfing. 
To get to the Wild Coast, you have the option of a flight to Durban or Mthatha, depending on which section of this coats you intend on exploring. On arrival at the airport, you can choose to rent a car or make use of a private transfer. 
10 | Other Places to Travel in South Africa
The Cape Winelands Pilanesberg National Park Kgalagadi (Kalahari) Transfrontier Park Clarens Stellenbosch Durban Natal Midlands Magaliesberg Karoo Addo Elephant National Park Hermanus Tsitsikamma National Park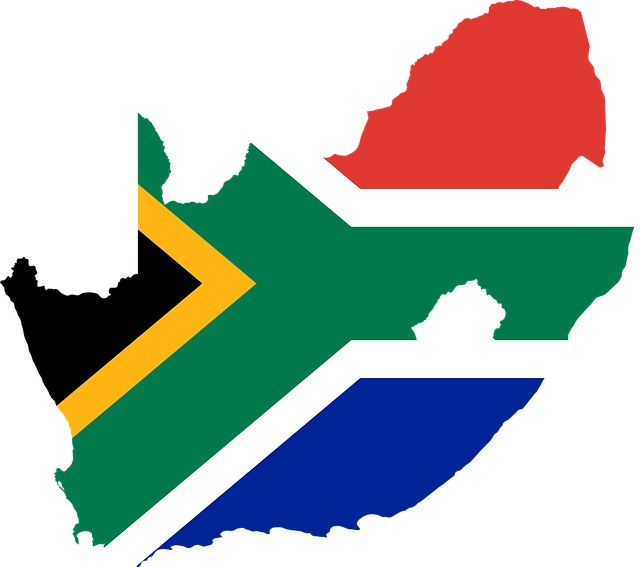 And there you go. Your perfect intro into the best places to go in South Africa. I would recommend using this list as a base for your South African travel itinerary and adding to it based on your own personal interests, travel style, and the length of your vacation time.
As the popular travel slogan goes, South Africa is alive with possibility. There's no end to the adventures that await you in this unique land.
Hamba kahle, 
You may also like...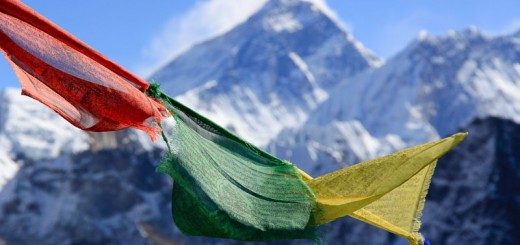 Epic List: The Best Short Treks in Nepal!
June 14, 2023
 by Raihaan · Published June 14, 2023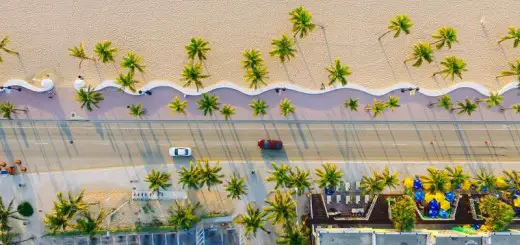 200+ Best Beach Captions for Instagram
March 22, 2023
 by Raihaan · Published March 22, 2023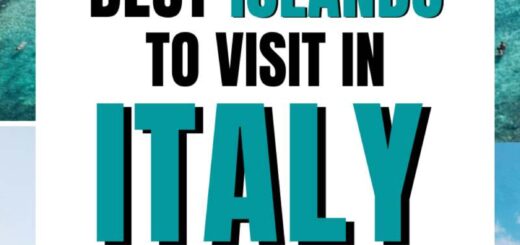 The Best Islands To Visit in Italy
October 10, 2022
 by Raihaan · Published October 10, 2022 · Last modified February 22, 2023
Leave a Reply Cancel reply
Your email address will not be published. Required fields are marked *
Next story 201 Fun, Captivating, (and totally random) Road Trip Questions + Car Conversation Starters
Previous story 10 Best Destinations and Cities in Southern Spain | Best of Andalucia
WHO IS ARAIOFLIGHT ✈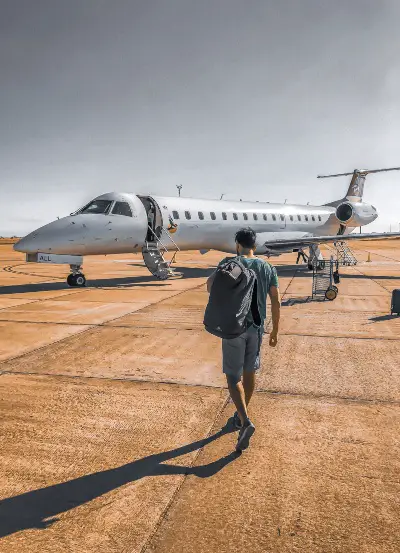 Welcome to A Rai of Light!
A home for extraordinary people around the world. If you've ever felt like there must be more to life, this site is for you.
Out of a love for travel, writing, photography, sharing stories and a desire to inspire others , I created this space to connect with other like-minded individuals.
Along the way, I share my journey and strategies on Travel , Art and Life . Enjoy!
DISCOVER MORE: POPULAR ✈
Recent Posts
Popular Posts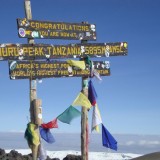 How Long Does It Take To Climb Kilimanjaro ⛰️

31 Fun + Unique Things To Do in Aruba in 2024

WEIRD Food around the world | 35 World Travelers reveal the strangest food they've ever eaten

RANKED: The Safest Countries in Africa 2024 (+ Where To Avoid!)

300+ Perfect SUNRISE CAPTIONS for That Sunrise State of Mind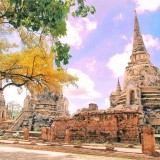 Visiting Temples in Ayutthaya: The Best Day Trip Tour from Bangkok

13 Fun and Cheap Florida Vacation Spots in 2024

Ranked: 15 Most Beautiful Flags in the World in 2023

List: The Wealthiest African Countries in 2023 Ranked by GDP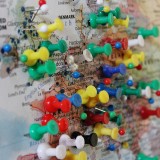 List: Which Countries Can You Visit on a Schengen Visa in 2023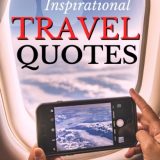 ✈ 100 Ultimate Travel Quotes To Inspire You To See the World
100+ Interesting Dominican Republic Facts To Know! What is the Dominican Republic Known For?
First Trip to Egypt? My Ultimate Guide of Insider Tips To Know BEFORE You Go
FOLLOW THE ADVENTURE ✈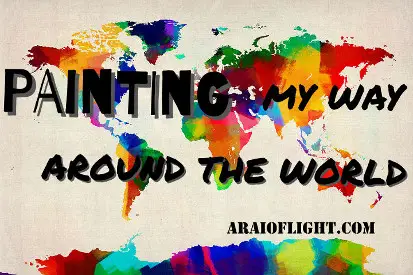 1-866-438-8677
1-888-360-2392
1-800-619-441
0800-404-9451
South Africa
Destinations
Where to go
Chat with someone who's been here.
10 Best Places to Visit in South Africa
Choosing the best places to visit in South Africa is a bit like selecting which countries to visit on a global tour. Each region is so different, offering a diverse range of experiences, places of interest, and premier South Africa vacation spots. It's also important to know when to go to South Africa . Whether you visit the naturally beautiful city of Cape Town and the bottle-green hills of its wine valleys or head out on a Big 5 safari in the wild Kruger, a South Africa vacation will tick all the right boxes.
1. Kruger National Park: A Big 5 Capital
South Africa's biggest and best-known national park is home to the country's greatest diversity of wildlife. As one of the oldest conservation areas in Africa, it boasts healthy populations of wildlife and highly sought-after sightings of cheetah and wild dog. But the Kruger's pièce de résistance is an almost guaranteed encounter with the super-celebrities of the safari circuit: Africa's iconic Big 5. You can expect up-close sightings of elephant, buffalo, rhino, lion and leopard all year round. The Kruger is one of the best South Africa vacation spots and delivers unparalleled safari experiences.
2. Cape Town: Africa's Most-awarded City
If you're looking for some of the best South Africa vacation ideas, look no further than Cape Town . Consistently voted as one of the top vacation spots in the world for families, couples and solo travellers, Cape Town is one of the best places to visit in South Africa. The 'Mother City' boasts spectacular natural beauty, superb accommodation and fantastic weather year-round – and some of the best beaches in the world! The city's acclaimed food and wine experiences are as alluring as its iconic landmark: Table Mountain, one of the 7 Natural Wonders of the World. And for some of the best land-based whale watching on the planet, head for the Whale Coast during whale season.
3. Cape Winelands: South Africa's Culinary Heart
The beauty of the Cape Winelands' green valleys ensconced by craggy mountains is as much of a treat for the eyes as its cuisine is a treat for the palate. Sip, swirl and sample award-winning wines, indulge in gourmet farm-to-table cuisine or wander down oak-lined streets to local art galleries with this stunning scenery as your backdrop. Although only an hour's drive from Cape Town, a night or two in this peaceful patchwork of vineyards and mountains will dissolve any lingering city stress. It really is one of the prettiest places to visit in South Africa.
4. Garden Route: Africa's Most Gorgeous Coastline
A firm favourite when it comes to South Africa vacation ideas for families, the world-famous Garden Route is a beautiful length of coastline that stretches from a couple of hours outside Cape Town to just after the seaside town of Plettenberg Bay. The ideal way to explore all the Garden Route's sandy beaches, rocky shores, quaint towns and indigenous forests is to rent a car and drive yourself – although charter flights are available between destinations, if you don't have the luxury of time. Don't miss the picturesque town of Knysna, famous for its fresh oysters and sunset boat cruises.
5. Madikwe Game Reserve: South Africa's Best-kept Secret
About a five-hour drive, or short charter flight, from Johannesburg lies one of South Africa's least known game reserves: Madikwe . Its Kalahari grasslands and woodlands are surprisingly full of animals, a haven for the Big 5 and endangered wild dog. Unique desert specialists like brown hyena and the rare aardwolf also thrive here. Madikwe offers fantastic family-friendly South Africa vacation ideas, incredible game viewing and exquisite safari lodges. A selection of romantic retreats and honeymoon suites also make it a great choice for couples.
6. Eastern Cape: A Family Favourite
The Eastern Cape is hard to beat when it comes to exciting and stress-free Big 5 safaris for the whole family. The region offers a combination of child-friendly lodges in malaria-free reserves , all within driving distance of the Garden Route's finish line or Port Elizabeth International Airport. But it's not just families who get to have all the fun in the Eastern Cape – the area's parks and reserves also have a handful of secluded, luxurious lodges that are among our favourite places to visit in South Africa for romantic safaris.
7. KwaZulu-Natal: Big 5, Beaches & Historic Battlefields
It's often said that locals know best. When South Africans go on a vacation, their favourite choice is often KwaZulu-Natal (KZN) . From the broad beaches of its sunny subtropical coast to historic battlefields among soaring mountain peaks and beautiful Big 5 game reserves, KZN has some of the best South Africa vacation spots for bush and beach combinations .
8. Johannesburg: Place of Gold
In the past, visitors to South Africa whizzed through Johannesburg , stopping just long enough to catch their connecting flight. Nowadays, however, Johannesburg (or Jozi as it's known to locals) is one of the most exciting places to visit in South Africa. Boasting a fantastic selection of hotels and guest houses, a thriving café culture, budding restaurant scene and thrumming night life, Jozi offers its visitors a unique perspective of urban South Africa. Catch the ultra-modern Gautrain straight from the airport to the heart of Sandton; its shining shopping centres are filled with high-end boutiques. For greater insight into South Africa's recent past, we recommend a visit to the Apartheid Museum. It's a highly informative and moving experience.
9. Sun City: Africa's Premier Holiday Resort
About three hours from Johannesburg lies Sun City , South Africa's undisputed 'Kingdom of Pleasure'. This is one of the top South Africa vacation spots if you're looking for true escapism and non-stop entertainment. There are championship golf courses and world-class casinos, slide-filled water theme parks plus nightclubs, shops and restaurants. They've even built their own beach! And if that's not enough, Sun City is right next to the Pilanesberg National Park, where you can go on a Big 5 safari .
10. Pilanesberg National Park: Sun City's Big 5 Neighbour
Set within the crater of an ancient volcano and centred around a large hippo- and croc-filled lake, the Pilanesberg National Park is one of the best places to visit in South Africa if you don't want to travel far from Johannesburg to enjoy a fantastic safari experience. Although conveniently close to Sun City, these two top destinations feel worlds apart. Some visitors choose to stay in Sun City and pop across for a half-day safari, but with such great Big 5 game viewing on offer – plus a wide selection of excellent safari lodges – we recommend a night or two in this beautiful piece of African wilderness.
12 Best South African Safari Tours
South africa safari: how to combine cape town & kruger safari, 20 best luxury hotels, lodges & camps in south africa.
1800-123-5555
Travel Agent? Join Us
Get Travel Triangle in your pocket.
Get your app via sms
Honeymoon Packages
Family Packages
Holiday Packages
Holiday Deals
Luxury Holidays
Destination Guides
Holiday Themes
Plan My Holiday
Indian Destinations
International Destinations
Sikkim - Gangtok - Darjeeling
South Africa
Seasonal Packages
Water Activities
Places To Visit In South Africa
Explore the beautiful land of south africa, best time to visit.
Places to visit
Things to do
Essential Information
Get Free Quotes
Rated 4.30 / 5 ( based on 105 reviews )
Quick Information
Ideal duration, starting from, http://southafrica.net/in/en/.
Ideal For Family
Ideal for friends
Adventure Activities
Tourist Places In South Africa
South Africa, located on the outermost tip of the African continent. Officially known as the Republic of South Africa, this country is known for its vast forests, beautiful scenic beauty and the presence of various wild animals. Of all the things to do and places to visit, South Africa has many wildlife sanctuaries and parks, which offer a closer view of nature and these majestic animals.
Furthermore, any South Africa tri p is never complete without a visit to the western side of the country, which is laden with beaches, craggy cliffs and also has the Cape of Good Hope. With various South Africa points of interest, there is never a shortage of places to visit in South Africa . Find the time to explore the dazzling beauty of the country and enjoy it at its best with friends, family or alone.
With a number of tourist attractions in South Africa , one can find various places to visit to make the most out of their trip to South Africa. Here is a list of the most famous South Africa attraction s :
Kruger National Park, Mpumalanga and Limpopo Provinces : One of the most famous wildlife Parks in the world, this park is located only a few kilometres away from Johannesburg. This park has a wide variety of various animals, flora and offers to help the visitors see the " Big Five. " The big five here refers to sightings of elephants, leopards, rhinos, lions and buffalos. These five animals are quite distinctive in features than that found in other parts of the country. Furthermore, the majestic elephants here and the lions are some of the most famous animals for viewing.
Cape Town, Western Cap e : Cape Town falls among one of the most spectacular cities in the world. Surrounded by beautiful scenic beauty, hills and close to the ocean, this city is one of the best places to spend a vacation in South Africa.  A hike to the Table Mountain is a must when in Cape Town. Furthermore the South Africa sightseein g in Cape Town also includes watching the penguins waddle along the False Bay, Cape Point is yet another place to visit as it has various species of animals. Other than this Victoria and Alfred Waterfront, Two Ocean's Aquarium, Camp's Bay and Chapman's Peak Drive are other attractions are to visit in Cape Town.
The Drakensberg, KwaZulu-Natal : Is yet another tourist attraction to visit. The word Drakensberg means Dragon Mountains . Among one of the top places to visit in South Afric a , this place is majestic and is surrounded by nature, which helps one to marvel at the natural beauty. With many lands and various open spaces everywhere, this places offers one a serene way to spend their time and enjoy a quiet vacation. Dense forests and impressive valleys are the correct way to describe this area.
The Garden Route : Located on the southeastern coast, this route runs for about 200 kilometres. Stretching from the Indian Ocean from Mossel Bay to the Storms River, this place is a popular diving spot. One of the top destinations in South Afric a for diving and various other activities, this place is known for its coastal towns, lagoons and spectacular scenic beauty.
Durban's Golden Mile, KwaZulu-Natal : A legendary tourist spot for all visitors, this place is popular with swimmers, divers and beach lovers. The long sandy beaches and various things to do on the beach have made this place one of the most popular tourist destinations in South Africa.
Boulders Beach : Located in False Bay near the town of Simon, this beach is famous for its white sands and penguin residents. Housing around 3000 African penguins, it becomes one of the best places to visit for kids and penguin lovers. This beach also houses dolphins, whales, and some small mammals.  
V&A Waterfront : One of the best destinations to visit for tourists and local families, alike, V&A Waterfront has been named after Great Britain's Queen Victoria and her son- Alfred. Crammed with curio shops, live entertainment choices, fine dining spots, adventure spots, and some shopping outlets, here one can have a gala time together with their loved ones.
Table Mountain : Nested at the height of around 3560 ft., Table Mountain with its distinguished flat top, is one of the most recognizable natural icons in the world and one of the best South Africa tourist place s . To cherish its magnificent panoramic view, one can either choose to hike up to its summit, or get on a five-minute cable car ride.
Franschhoek Motor Museum : If someone loves cars, especially vintage ones, then a visit to Franschhoek Motor Museum is a real treat for them. Housing one of the best collections of vehicles, bicycles, and motorcycles, here one can learn about the evolution of motor cars.
Newlands Brewer y : For the love of beer and its history, Newlands Brewery is one of the best places to enjoy some time at. From the process of brewing to the last one, a visit to its production line gives them a chance not only to enjoy the finest beers, but also let them know that it goes through some of the stringent quality processes.
Romantic Destinations in South Africa
For an immensely romantic honeymoon excursion, couples can choose to explore the surroundings of Franschhoek in Cape Town, which is a complete alpine treat for lovers; Queenstown in Eastern Cape, famed for being one of the most romantic honeymoon  destinations in South Africa , The Garden Route in Western Cape for its amazing offerings, and Johannesburg in Gauteng to gorge on authentic South African cuisine and vibrant nightlife.
Bo Kaap in Cape Town
Stranding the slopes of Signal Hill above the city centre of Cape Town, Bo Kaap in Cape Town is known for its culturally diverse demography, and lines of bright and colourful houses, shops and cafes. Bo Kaap in the Afrikaans language means 'above the cape', which is the actual position where the neighborhood is located – ju...
Sightseeing
Ideal for families
Boulders Beach In Cape Town
Cape Town is a city surrounded by beautiful and exciting beaches, and one of the most interesting ones is Boulders Beach . It is a sheltered coast comprising of inlets between granite boulders, which gave the beach its name. Located near Simon's Town, the main attraction here are the Boulders Beach penguins . But other than t...
Cape Point In Cape Town
Cape Point is a jagged piece of land that juts out into the sea at the southeast corner of Cape Peninsula. Located a little north of Cape of Good Hope, this scenic promontory is a beautiful landscape of rugged landforms, a rich maritime crystal blue ocean and Cape Point tourism has a plethora of opportunities for recreation...
Castle of Good Hope In Cape Town
Castle of Good Hope is also known as the Castle or Cape Town Castle locally. One of the most important places to check out when in South Africa, this 17 th -century castle originally used to be on the coastline of the Table Bay. But after land reclamation, this castle now falls inland.
The Castle Of Good Hope, South Africa ...
Robben Island In Cape Town
The Robben Island in Cape Town is a roughly oval island which is also a UNESCO world heritage site and stays on the list of must do things for the tourists. The Dutch translation of its name means the 'seal island.' The various historical sites present on the island have lately formed the Robben Island Museum . The major cen...
Signal Hill In Cape Town
The Signal Hill, Cape Town is another flat-topped hill standing next to Lion's Head and the Table Mountain. This 350 m high hill is also called the Lion's Rump or the Lion's Flan. When one has a view of the Signal Hill along with Lion's head, it looks very much like a lion sphinx. The Signal Hill, South Africa offers beauti...
Table Mountain In Cape Town
Table Mountain, Cape Town exists as a very important destination for the tourists. Standing, 1085 m high, the Table Mountain is a flat topped mountain which forms a major landmark that overlooks the Cape Town city. This mesmerising mountain is a part of the Table Mountain national park and is found in the Cape Fold Belt mou...
Two Oceans Aquarium In Cape Town
Two Oceans Aquarium is a prime attraction on the iconic Victoria and Alfred Waterfront in the city of Cape Town. The Two Oceans Aquarium, Cape Town , gets its name from its very location, where the Atlantic Ocean on the west and Indian Ocean on the east meet each other at the shore. Opened, in November, 1995, the place has s...
Apartheid Museum In Johannesburg
Apartheid Museum, South Africa tells the tale of the 20 th century South Africa to its visitors. Off lately, it has become a popular tourist destination for one and all. This museum showcases the lives of the South Africans under the Apartheid system through videos, photos, press clips, personal artifacts and moving anecdote...
Braamfontein In Johannesburg
Braamfontein history dates back from as early as the year 1853. The very first suburb on the farm of Braamfontein was named after the name of the farm itself in the year 1888-1889. The area is still known as Braamfontein.
Braamfontein is the central suburb of Johannesburg, seat of the Constitutional Court of South Africa a...
Popular Packages
Unlimited Choices. Trusted Agents. Best Prices. Happy Memories.
Captivating Cape Town Sightseeing Tour Packages
Starting from:
Captivating Cape Town Tour Package
A marvelous honeymoon in cape town, 5 days cape town package, ravishing south africa honeymoon package, lovely johannesburg honeymoon package, joyful johannesburg sightseeing tour package.
Charming Cape Town Honeymoon Package
Thrilling johannesburg tour package with kruger safari, splendid south africa family package, a magical cape town itinerary, exhilarating johannesburg tour package, charismatic south africa sightseeing tour package, enchanting johannesburg honeymoon package, delights of south africa honeymoon tour package, an adventure-fueled south africa trip, an fun-filled south africa family package, spirited south africa honeymoon package, incredible tanzania tour package, wonderful south africa honeymoon package.
Our experts would love to create a package just for you!
Fill in your requirements here >
Your Preferences
Where do you want to go?
Fastest Growing Holiday Marketplace
Verified Agents
Happy Travellers
Destinations
Easy, Secure & Reliable
Traveltriangle
Quality Control
South Africa Tour Packages
Read on to find out why our customers love us!
Guru's 10 days trip to South Africa
S's 5 days trip to south africa, mayankmaki's 9 days trip to south africa.
Chinthabinoy
Chinthabinoy's 4 days trip to South Africa
Rajani Damani
Rajani's 7 days trip to South Africa
Jennifer's 11 days trip to south africa.
Aniruddha Jasu
Aniruddha's 9 days trip to South Africa
Sonaleeka Dash
Sonaleeka's 6 days trip to South Africa
Rajesh Kazankodath
Rajesh's 11 days trip to South Africa
Yanshuk Sharma
Yanshuk's 8 days trip to South Africa
Property types in south africa.
Want best packages handpicked just for you?
Fill the form and get a callback from our holiday experts
How It Works
Personalise This Package
Make changes as per your travel plan & submit the request.
Get Multiple Quotes
Connect with top 3 agents, compare quotes & customize further.
Book The Best Deal
Pay in easy installments & get ready to enjoy your holiday.
We are hiring!
Testimonial
Travelogues
Terms and Conditions
Privacy Policy
Corporate Office:
Holiday Triangle Travel Private Limited
Address: Plot No - 52 , 3rd Floor,
Batra House , Sector 32,
Gurugram - 122001 ,Haryana
Landline: 1800 123 5555
Connect with us on :
All rights reserved © 2023
Protect Your Trip »
Best places to visit in africa in 2023.
Africa may not always register on the average traveler's radar, but those who visit have the chance to experience the perfect blend of ancient and modern, wild and urban, and East and West. From Cape Town's coastal beauty to Tanzania's game reserves, choosing your adventure on the second-largest continent can be difficult. To help you start planning, U.S. News ranked the best places to visit in Africa based on accessibility, affordability and the variety of things to do, as well as user votes and expert opinions. Help us choose next year's top spots by voting for your favorite destinations below.
Serengeti National Park
Victoria falls, masai mara national reserve, kruger national park.
If you're enamored with the prospect of coming face to face with elephants, giraffes, zebras and wildebeests, then a safari tour through Tanzania's Serengeti National Park is the bucket-list adventure for you. The price will be steep, but a journey here affords an unforgettable African savanna experience. To save some coin, book one of the park's campgrounds instead of staying at a high-end safari lodge or luxury tented camp. Plan on arriving in January or February (calving season) or between June and October (dry season and prime migration time) for the best game-viewing conditions.
Outdoorsy types travel far and wide to admire this breathtaking UNESCO World Heritage Site. Straddling the border between Zambia and Zimbabwe in Mosi Oa Tunya National Park, Victoria Falls is roughly twice as deep and wide as Niagara Falls, making it one of the world's most jaw-dropping waterfalls . To see this natural wonder at its prime, plan a visit in April or May when the region's rainy season has concluded. Popular vantage points include the Knife-Edge Bridge, Livingstone Island and Devil's Pool. When you're not enjoying the view from above, go whitewater rafting in the Zambezi River to admire the falls from a different angle.
Most tourists head to Tanzania to go on safari, but you'd be remiss if you didn't save time for the country's other must-see treasures. In addition to its animal-filled plains, Tanzania boasts otherworldly natural wonders, including red-hued Lake Natron, Ngorongoro Conservation Area's expansive crater and Mount Kilimanjaro – the tallest mountain in Africa (and largest free-standing mountain on Earth). For the ultimate adrenaline rush, book a climbing excursion up the continent's famous mountain through a local tour operator.
Mauritius appeals to vacationers in search of a bit of everything. Though its main draws are its powdery sands and luxe beach resorts , this small island nation east of Madagascar also charms visitors with its mix of cultures; friendly locals; lively festivals and tasty teas and rums. After a day of exploring some of the island's nature reserves and soaking up the sun, retreat to one of its premier properties to savor fresh seafood while watching a traditional sega dance performance or the sun set over the Indian Ocean.
Home to cheetahs, elephants, lions, wildebeests, hippos and more, Masai Mara National Reserve is one of Kenya's premier spots to see wildlife. Sign up for a safari to explore this protected area's 373,000-plus acres of rolling grasslands. (Tip: Look for companies with guides certified by the Kenya Professional Safari Guides Association.) For an extra dose of adventure, opt for a horseback riding excursion or hot air balloon safari. To increase your chances of spotting the big five (lions, leopards, rhinos, elephants and buffaloes) and other migrating animals, time your visit between July and October during the Great Migration.
Zanzibar offers something for everyone, whether you're in search of beautiful white sand beaches or an unforgettable adventure. After trekking to this Indian Ocean archipelago off the coast of East Africa, you'll instantly feel at ease as you lounge on quiet beaches like Matemwe and Kiwengwa. Next, visit UNESCO World Heritage-listed Stone Town, where you'll find the ruins of a 19th-century palace and a graveyard with ties to Zanzibar's former Arab royals. And no trip would be complete without taking a spice tour in the countryside and exploring Jozani Chwaka Bay National Park. As an added bonus, you'll find this is a surprisingly cheap tropical destination .
A grouping of 115 islands in the Indian Ocean, the Seychelles has long attracted those looking for a truly relaxing, off-the-beaten-path getaway. Spend your days lounging on pristine, crowd-free beaches like Anse Lazio and Anse Source D'Argent, one of the most beautiful beaches in the world. Or, head deep into the UNESCO World Heritage-listed Vallée de Mai nature reserve to gaze at its unique flora and fauna. Keep in mind that lodging here is expensive (especially at the luxury resorts), so it's best to save up and book in advance.
With numerous hiking trails, miles of dramatic scenery and stunning beaches (including one with wild penguins), this South Africa hub caters to both adventurous and laid-back travelers. Getting to Cape Town won't be cheap, but your dollar will go far once you arrive. Make sure you take the aerial cableway up Table Mountain, visit Nelson Mandela's jail cell on Robben Island and explore the world-renowned Constantia Valley wine region. You'll also want to save time to trek through the Cape of Good Hope, which lies 40 miles south of Cape Town on the southern tip of Africa.
Cairo can be overwhelming, as there's so much to see and do everywhere you turn. From Islamic Cairo's bustling Khan El-Khalili bazaar to the ancient Pyramids of Giza to the picturesque Nile River, you'll be immersed in this Egyptian city's history and culture before long. Though winter offers the most pleasant weather of the year (with daytime temperatures in the 60s and 70s), it's also the busiest season, so consider visiting in spring or fall when room rates are lower, temps are bearable and crowds thin out.
Like other historic Moroccan cities, Marrakech buzzes with life: Performers vie for your attention in Jemaa El Fna (an open-air square in the heart of the Medina of Marrakesh) while vendors hawk aromatic spices, homemade textiles, ornate lanterns and more at the bazaars along the alleyways. When you need a break from the hustle and bustle of the city, unwind at a hammam, visit the Jardin Majorelle or head to a rooftop bar and relax before retiring to your riad. During your visit, keep an ear out to hear the striking tones of the nearby mosques' calls to prayer.
You'll spot plenty of animals – ranging from lions to rhinos to elephants to giraffes – in this massive game preserve in South Africa. Kruger National Park's network of paved roads makes it easier to navigate than Serengeti, and it tends to be cheaper to visit. However, its popularity (especially from May to October, which are the best months for wildlife viewing) means you're more likely to encounter hordes of visitors during game drives. Consider visiting one of the park's private game reserves for a more exclusive experience, and to ensure lodging, flight and tour availability, you'll likely want to finalize your trip at least a year in advance.
The habitat on the island of Madagascar is unlike any other in the world: Most of the landscape is unspoiled, giving visitors a chance to see animals in their natural environment. Travelers should look out for the country's signature animal: the lemur. Madagascar is home to more than 100 species of these creatures, as well as 11,000-plus plant species, including majestic baobab trees. Some of the best places to see wildlife and Madagascar's geological wonders include Isalo National Park and Tsingy de Bemaraha Strict Nature Reserve. Be sure to save some time to island hop to Nosy Be for its world-class beaches.
Despite its small size and landlocked location in southeastern Africa, Malawi draws visitors with its gorgeous lake, diverse wildlife and friendly people. At Lake Malawi, one of the deepest lakes in the world, travelers can enjoy water sports activities like kayaking and sailing, soak up some sun on a white sand beach or dive beneath the lake's surface to look for colorful cichlid fish. The tiny country also features nine national parks and wildlife reserves, making it an excellent less-crowded option for a self-drive or a guided safari. For the best wildlife viewing, arrive during the dry season, which lasts from May to October.
Adventurous travelers who dream of spending their vacation surrounded by nature will love Botswana. A less crowded alternative to nearby safari destinations like South Africa and Tanzania, Botswana has a strong conservation focus and offers ample opportunities to spot rhinos, elephants and more in protected areas like Khama Rhino Sanctuary, Chobe National Park and Moremi Game Reserve, the oldest reserve of the Okavango Delta. Plus, adrenaline junkies can participate in all kinds of heart-pumping activities, including quad biking, mokoro (canoe) safaris and helicopter tours.
Kenya's capital city offers the perfect blend of urban pursuits and natural splendor. With museums highlighting its pre- and post-colonial heritage, bustling street markets and a thriving nightlife scene, Nairobi is a cultural hub. But its proximity to (and preservation of) wildlife is what makes Nairobi one of the world's most unique cities. The city boasts its own national park – Nairobi National Park, whose grassy plains host 100-plus mammal species including black rhinos – as well as wildlife conservation parks such as the Giraffe Centre and Sheldrick Wildlife Trust. What's more, scenery seekers can also visit the urban Karura Forest or hike the surrounding Ngong Hills.
Vote to Add these Destinations to the Rankings
Alexandria, Egypt
Addis Ababa
You May Be Interested In
Best Places to Visit in Asia
Best Places to Visit in Europe for 2023
Australia & The Pacific
Best Places to Visit in Australia and The Pacific in 2023
Best National Parks in the World for 2023
Central & South America
Best Places to Visit in Central and South America in 2023
Best Islands in the World for 2024
If you make a purchase from our site, we may earn a commission. This does not affect the quality or independence of our editorial content.
Recommended
44 Cheap Tropical Vacations That Feel Expensive
Holly Johnson|Alissa Grisler November 10, 2023
18 Fall Family Vacation Ideas
Amanda Norcross September 11, 2023
The 26 Best Zoos in the U.S.
Rachael Hood August 11, 2023
30 Fun Fall Weekend Getaways for 2023
Holly Johnson July 18, 2023
The 32 Best Dog-Friendly Beaches in the U.S.
Gwen Pratesi July 14, 2023
The 21 Top Ecolodges Around the World
Mackenzie Roche|Amanda Norcross June 30, 2023
The 26 Best Fall Festivals in the U.S. for 2023
Katie Hearsum|Timothy J. Forster June 28, 2023
27 Amazon Prime Day Luggage Deals You Can Shop Now
Amanda Norcross June 27, 2023
The 34 Best Couples Vacations
Gwen Pratesi June 26, 2023
Carry-on Luggage Sizes by Airline
Amanda Norcross June 26, 2023
What are the Main Tourist Attractions in Africa?
This post may contain affiliate links which means we may get a commission if you make a purchase at no additional cost to you. As an Amazon Associate we earn from qualifying purchases. Please read our disclosure for details.
"Each product we feature has been independently selected and reviewed by our editorial team. If you make a purchase using the links included, we may earn a commission."
Africa is a vast continent with the most diverse countries in the world. Filled with lush inland forests and picture-perfect beaches, Africa is a growing tourist attraction in itself. Here is the list of the best tourist attractions in Africa.
Each country has something unique to offer from tradition and culture to natural wonders the draw tourists from all over the world looking to experience their own piece of Africa. 
To choose just one reason to visit Africa and select one attraction is impossible, there are many. To help you on your journey toward your own African adventure, here are just ten of the best tourist attractions in Africa. Of course, this list is by no means comprehensive; however, these should give you plenty of food for thought.
The Top 10 Tourist Attractions in Africa
Cape town, south africa.
As far as the best tourist attractions in Africa go, Cape Town as a city and its surrounding area is very much the easiest and most accessible way to get a taste of Africa as a whole. 
Cape Town is one of the top tourist destinations in the world, a colorful mix of people, cultures, tradition, history, nature, and food, is perhaps the best way to define the Mother City.
Here a tourist can explore top tourist attractions in Cape Town South Africa , everything from Robben Island to the iconic Table Mountain National Park, Cape Point, Cape Winelands, and Camps Bay, getting a taste of fresh mountain air and ocean breezes all year round. If you play your cards right, you might be able to attend one of the best music festivals in South Africa .
Best Time to Visit: Peak Season is from November to January. Secret Seasons (best time to be a local) are October and late February to March.
Victoria Falls, Zimbabwe, and Zambia
The falls in Zimbabwe and Zambia are something everyone has heard about, and for many, what African dreams are filled with. Victoria Falls is a jointly owned tourist attraction and can be viewed and explored from either Zambia or Zimbabwe. 
A majestic 108 meters high cascade of water, often called "The Cloud that Thunders" is not only one of the top tourist attractions in Africa but the world. Victoria Falls is a mesmerizing and awe-inspiring top ten tourist attractions in Africa that is a bucket list item for millions of people. 
Best Time to Visit: February to May
Omo River Region, Ethiopia
The Omo River region of Ethiopia is one of the most remote and secluded places in the world. Vast expanses of this picturesque African plains are extremely difficult to reach. To visit this place to explore the depths of African culture barely touched by the world in the 21st century, you will have to use a specialist tour . 
Historically, Ethiopia tends to heavily value their independence and unique culture by restricting external influence. However, it is slowly opening its doors to let the rest of the world experience its paradise. Once you visit Ethiopia, your view of Africa will be changed forever, and you will understand why it is of the main tourist attractions in East Africa.
Best time to visit: September to April – especially the very beginning of September and the end of April.
Mount Kilimanjaro, Tanzania
Mount Kilimanjaro , or just "Kili" to many in the climbing fraternity, is a major tourist attraction in Africa. For those seeking an adventure holiday, a trek to the peak of Mount Kilimanjaro is perhaps the epitome of such a vacation. 
Standing at 5,895 meters tall, it takes around 5 to 10 days to summit and returns back to the foot of the tallest mountain in Africa. The climb does not really require any specialist climbing equipment, but the right level of fitness is essential. Be warned of altitude sickness, this is a prevalent problem among those who attempt the climb.
Best times to visit: January to March, which is much colder with the potential of snow and June to October.
The Maasai Mara National Reserve, Kenya
When people think of Africa, they think of wild animals and safaris . The Massai Mara National Reserve in Kenya is one of the top 10 tourist attractions in Africa, and every tourist has a dramatically different experience when they visit. 
The Massai Mara is one of the top 10 tourist attractions in Africa, not just to see but experience the big 5 but because of the wildebeest migration. Continuing through the Maasai Mara National Reserve will lead you to the Serengeti National Park and Game Reserves in Tanzania.
There are many specialist tours of this impressive nature reserve and with a variety of game viewing experiences from regular overland vehicles to hot air balloons.
Best time to visit: The cold season from July to October is the best time to visit. This is peak season and can be costly.
Virunga National Park, DR Congo
African wildlife is by far the number one tourist attraction in Africa, and each African nation has different animals to see.
The Congo and nearby Uganda are famous for its mountain gorillas, and the Virunga National Park is perhaps the best place in the world where these impressive beasts can be seen. 
Established in 1925 as the very first national park in Africa, the park is also one of the top places in the world to see chimpanzees in the wild. Tourism to this beautiful region is growing and as well as seeing a wide variety of apes tourists. You can climb the slopes of the Nyiragongo Volcano and see the world's largest pool of lava. 
Best time to visit: April, May, October and November
Okavango Delta, Botswana
One of the most breathtaking places on earth, the Okavango Delta, a UNESCO world heritage site, is one of the top tourist destinations in Africa.
This vast river delta at the foot of the massive Kalahari attracts thousands of tourists each year who want to experience the true beauty and wilds of Africa. 
Many tourists explore the wild game hotspot by air either in light aircraft or hot air balloon, and the views are beyond comprehension. The land-based safaris offering some of the best game spotting experiences anywhere in the world, and many tourists simply wish they could stay a lot longer in the fantastic place.
Best time to visit: May to September
Zanzibar, Tanzania
Just off the coast is an exotic archipelago with pristine beaches and warm oceans. This fantastic location is one of the top tourist destinations in Africa because, for some, it is the ideal place for the perfect, relaxing beach holiday. 
With a vibrant history dating back to the 17th century, the destination has a magical blend of Arabic, Middle Eastern, Moorish, and Indian cultures and styles, making it unique like no other place in Africa.
Best time to visit: June to October
Giza Necropolis, Egypt
A lot of people do not think of Egypt as being in Africa. In the Giza Necropolis, you will get to see the Great Pyramid of Giza , the Pyramid of Menkaure , and the Pyramid of Khafre .
Still, it is, and the Giza Necropolis has to be something on many travel bucket lists. The ancient Egyptian civilizations are brought back to life along the river Nile through pyramids and tombs. Not the Africa everyone immediately thinks of but certainly a part of Africa everyone should indeed visit.
Best times to visit: October to April when temperatures are cooler
Kruger National Park, South Africa
South Africa is perhaps the most accessible of all African nations. While Cape Town attracts the majority of tourists, the Kruger National Park in the North of the country is often the starting point for a superb trek down the coast toward Cape Town. 
This South African National Park is one of the top places in the world to spot all the Big 5 and top tourist attractions in South Africa. Visitors can obtain a permit to visit and take a self-drive safari. Still, the majority of visitors join an organized safari.
Best time to visit: Between April and September
Concluding the Top Tourist Attractions in Africa
Africa has so many top tourist destinations , and each country, region, and the town will have its own hidden gems. To cover everything in one place would be difficult.
Visiting Africa is becoming easier with major airlines flying into most major African cities. There is a lot to see in Africa. 
Whether you choose a grand tour starting at the bottom with South Africa and all the way up to Egypt , or if you merely cherry-pick the destinations of your choice, the continent welcomes you.
For many people, exploring Africa is a dream, and we would love to turn your vision into reality. We would love to hear your thoughts. What tourist attractions in Africa are on your bucket list, and which attractions exceeded your expectations?
FAQs for the Main Tourist Attractions in Africa
Cape Town, South Africa Victoria Falls , Zimbabwe, and Zambia Omo River Region, Ethiopia Mount Kilimanjaro, Tanzania The Maasai Mara National Reserve, Kenya Virunga National Park, DR Congo Okavango Delta, Botswana Zanzibar, Tanzania Giza Necropolis, Egypt Kruger National Park, South Africa
Africa has several top tourist destinations. However, with about 25 million annual visitors visiting Victoria and Alfred Waterfront in Cape Town, it is considered the most notable tourist destination in Africa.
Perhaps the country with the most Tourist attractions in Africa is South Africa , as this is one of the fast-developing countries in terms of tourism diversity.
This is the most impossible question to answer. From pyramids to mountain ranges, people to places, and oceans the plains of Africa. Africa means something different to everyone, but the continent is well known for the Safaris.
In recent years, Africa has opened up in terms of tourism. Tourists today are a great deal more adventurous and independent. Safaris are still very popular, as are pure sunshine and sand beach holidays. Where tourists got is ultimately up to them. However, most tourist's first visit is either to South Africa , Kenya , Tanzania , Morocco , or Egypt .
The definition of "best" can be subjective. However, for tourists, because of the robust infrastructure, booming tourism, and ease of travel to the country, South Africa is regarded as the best country to visit in Africa.
Beauty is more than skin deep. To answer this, you need to visit and get under the surface of the country you are visiting. Africa itself is perhaps the most perfect definition of beautiful that you will ever find. However, Ethiopia , Seychelles , South Africa , and Guinea , are known to be amongst the most beautiful countries in Africa.
Love it? Pin it!
You may also enjoy:
Maputo 2023: best of maputo, mozambique travel and …, 12 comments.
How could this list dare forget the Famous Serengeti plains, the top most largest wildlife attraction in the world, with an amazing scenic value. The famous largest seasonal wildlife migration.
Hello Fadhili, that's a great point! The Serengeti national park should be on the list. We'll definitely include it in the next blog post update! 🙂
Love, Lydia
YOU ARE RIGHT — SERENGETI NATIONAL PARK IN TANZANIA SHOULD BE IN THE LIST ( BEST NATIONAL PARK IN AFRICA , ALSO AMONG SEVEN NATURAL WONDERS OF AFRICA)
I second that, Tino! You can see our previous comment for reference.
Thanks for the article. Visiting more Africa countries is on my bucket list. Do you have an article focusing on the best countries to visit based on different regions (e.g., West coast/East Coast)?
Hello Wayne, we do have a post on the best African countries to visit . However, it's not ordered by region. If I were to pick one country per region, these are my recommendations:
North Africa: Morocco
West Africa: Ghana
East Africa: Kenya (this is a tough choice since there're so many great options)
Southern Africa: South Africa (same as East Africa, many great options)
The reason I chose these countries is they have a well-developed tourism industry and cater specifically to visitors. A tip for South Africa, stick to the tourist areas, and you'll be fine. Please let me know if you have any other questions.
Dear Wayne, if you want to visit East Africa, the dream place to visit is Uganda. You will surely discover why its called the "Pearl of Africa".
Hi! Thanks for sharing such a great post related to tourism,I also wanna know about some best things to do in Sharjah, So I request you to also post some instructive guidelines related to Tourism, as I have some great interest in such kind of things.
Thanks for visiting our site. We only cover content about Africa so Sharjah wouldn't be a good fit. If you do have any African-related questions, please let us know.
This is ammazing.. too bad my trip was canceled earlier this year due to COVID 19
I would love to see more pictures. l am awed at the ones that l saw, my heart is beating.
Leave a Reply Cancel reply
Your email address will not be published. Required fields are marked *
Save my name, email, and website in this browser for the next time I comment.
Follow Us Around the World
Our next destination.
Fez, Morocco
Most Visited Cities In Africa And Their Attractions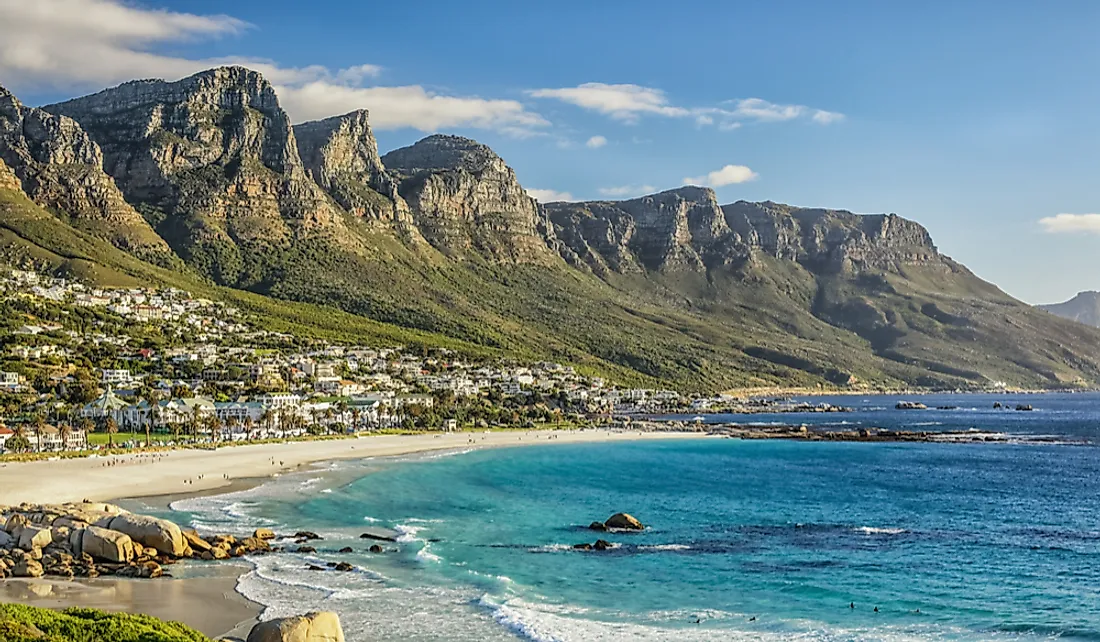 Africa is the second largest and also the second most populous continent in the world. The continent is home to over 1.1 billion people spread across the 54 countries . Africa is surrounded by the Red Sea, Mediterranean Sea, Indian Ocean, Sinai Peninsula, and Suez Canal. Africa's climate ranges from tropical, subarctic, arid, to desert. The continent boasts a diversity of wild animals especially the Big Five , wild cats, dominant reptiles, aquatic life, and amphibians. Africa is also home to some of the vast evergreen forest and lush vegetations. The continent is one of the preferred travel and tourism destinations for most tourists around the world. The African culture and cultural communities, nature, sandy beaches, historical sites, cities, and ruins are some of the tourist attraction sites on the continent. Africa's most visited cities include Johannesburg, Cape Town, and Cairo.
Most Visited Cities in Africa
Johannesburg.
Johannesburg is the biggest city in South Africa and the most visited city in Africa. The city attracted 4253968 tourists in 2014 according to MasterCard. The city has a lot to offer tourist visiting the country. For cultural lovers, the city has more than 40 art galleries and also hosts cultural studios and institutes throughout the year. Johannesburg Art Gallery features several landscapes and painting while Market Theater stages several Anti-Apartheid plays. The city also has a UNESCO-listed archeological area that displays the cradle of humankind. Johannesburg Zoo and Lion Park are some of the major attraction for wildlife lovers. The restaurants in the city offer a wide variety of cuisine including the local dishes, Ethiopian cuisine, Italian food, fish, and seafood. The high-end hotels offer world-class accommodation to the visiting tourists. However, Cape Town also records a high number of tourists because it is a transit point for most people visiting Cape Town, Durban, and Kruger National Park.
Cape Town is considered the second most popular tourist destination in Africa with 1.6 million tourists visiting the city in 2014. The well-developed infrastructure, favorable climate, and the natural setting are some of the factors promoting international tours in the country. Natural features such as Table Mountain National Park offer hiking excitement for tourists while enjoying the nature view. The several Cape Town Beaches are perfect for sunbathers and also offer a variety of seafood and coastal dishes for tourist. The cultural attractions such as Victoria and Alfred Waterfront are popular since they also provide shopping opportunities for visitors. Cape Town is also famous for the Dutch architectural heritage in particular among the old government buildings which continue to attract tourists to date. The hotels in Cape Town offer perfect accommodation and a variety of meals for different nationalities visiting the city.
Cairo is one of the most visited cities in the Northern part of Africa. In 2014, Cairo received 1,353,019 international visitors, especially from Europe and Asia. The city is a preferred destination for most of the visitors because of the several historical sites, cultural heritage, architectural designs, nature, and people. Some of the attraction sites include the Egyptian Museum, Mosque of Muhammad Ali, Pyramid ruins, Babylon fortress, and Rhodes Island. The cultural events held in the city of Cairo regularly acts as a major attraction for visitors all year round.
Other cities frequented by tourists in Africa include Lagos, Casablanca, Durban, Accra, Nairobi, Dakar and Entebbe. The numerous natural resources including National Parks, beaches, and mountains are major attractions in these cities. The people's culture, cuisine, and infrastructure also play a significant role in attracting visitors.
Safety And Security In Africa
Africa is a highly volatile region where civil war and violence can erupt anytime, and occasionally safety can be tricky on the continent. Tourists are advised to do their homework and to be updated on the developments in their places of destinations. There is travel advisory given by the US and UK governments to warn travelers going to potentially dangerous places. There are also vaccines recommended before going to Africa which may include Hepatitis A and B, Rabies, yellow fever, and typhoid, and there are preventative measures against malaria as well. Another safety precaution is to avoid buying food from roadside vendors, always eat in a decent restaurant and drink only bottled water. It is not safe to use ice in drinks because they could have been made using contaminated water and there is the potential of getting infected with parasites, dysentery, typhoid, and cholera.
Historically countries in Western Sahara are potentially dangerous for the tourist from the West because they are targets by the Muslim fundamentalist who kidnap foreigner for ransom money. Countries like Mauritania , Chad , DRC, Sudan , and Somalia are the most dangerous places in Africa with pirates, Kidnappers, separatist warlords, and dangerous criminal gangs.
African Attractions: Which Are The Most Visited Cities In Africa?
More in travel.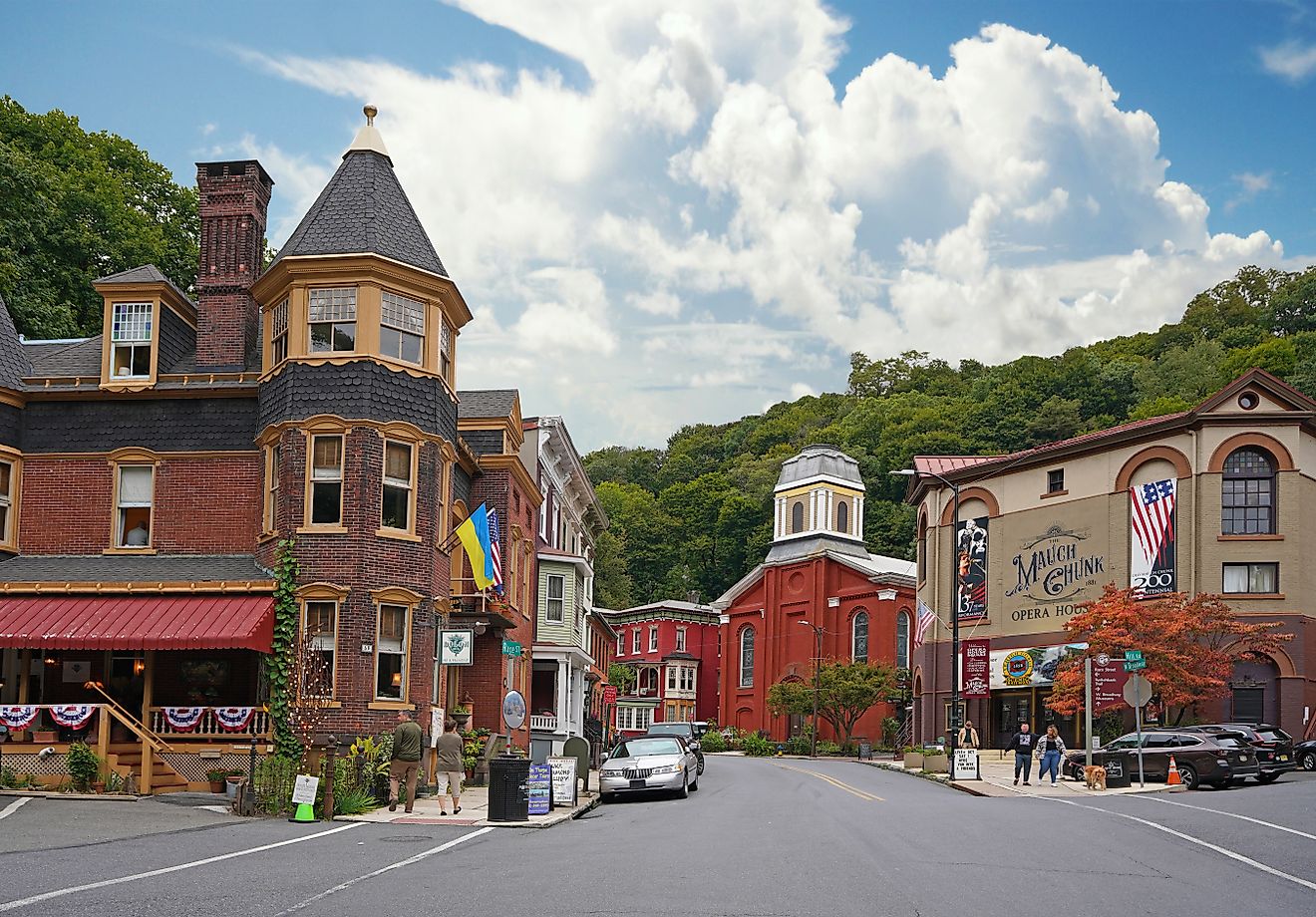 7 Most Underrated Towns In The Poconos To Take A Trip To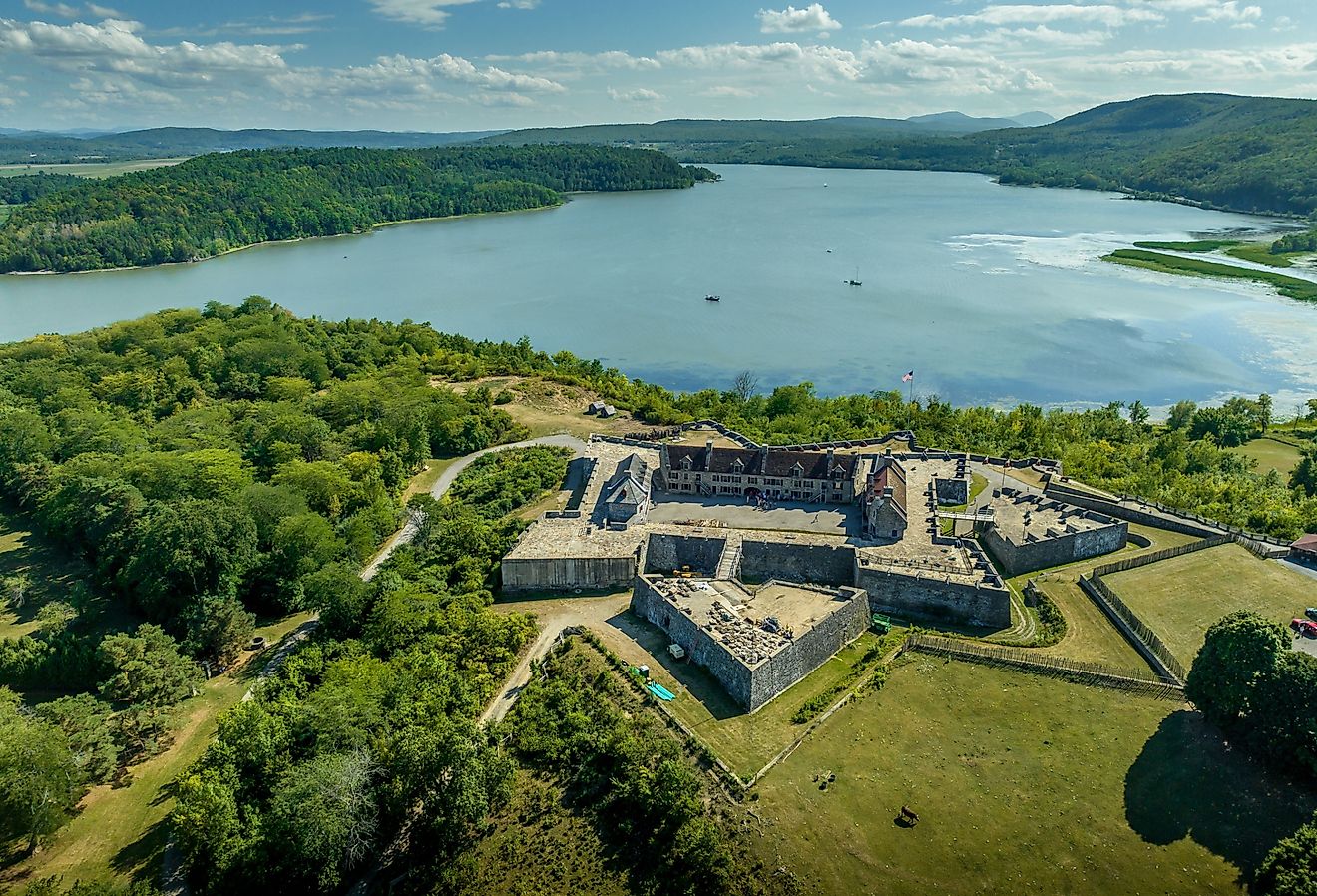 9 Most Underrated Towns In The Adirondack Mountains To Take A Trip To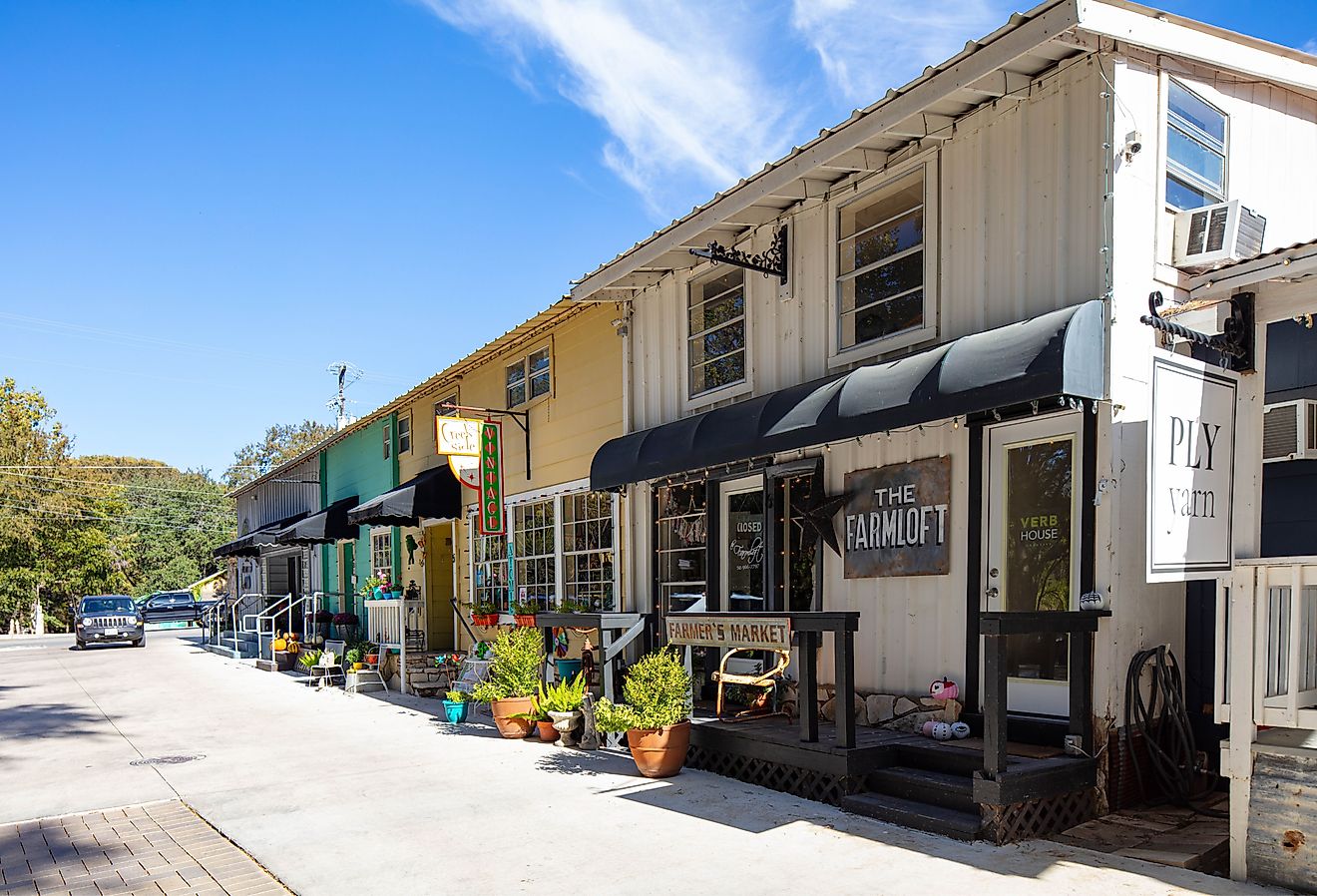 12 Most Underrated Towns In Texas To Take A Trip To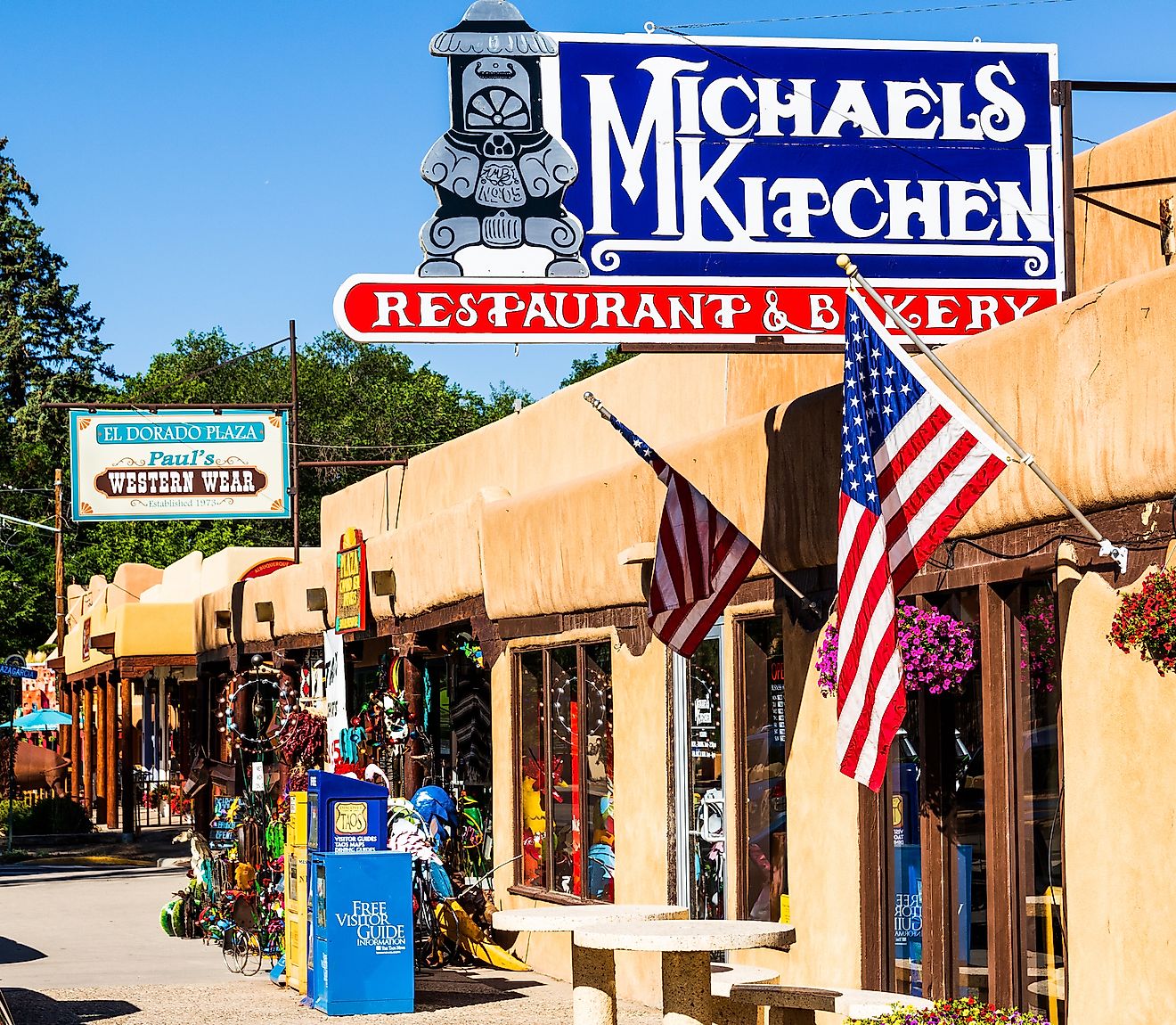 7 Most Underrated Towns In New Mexico To Take A Trip To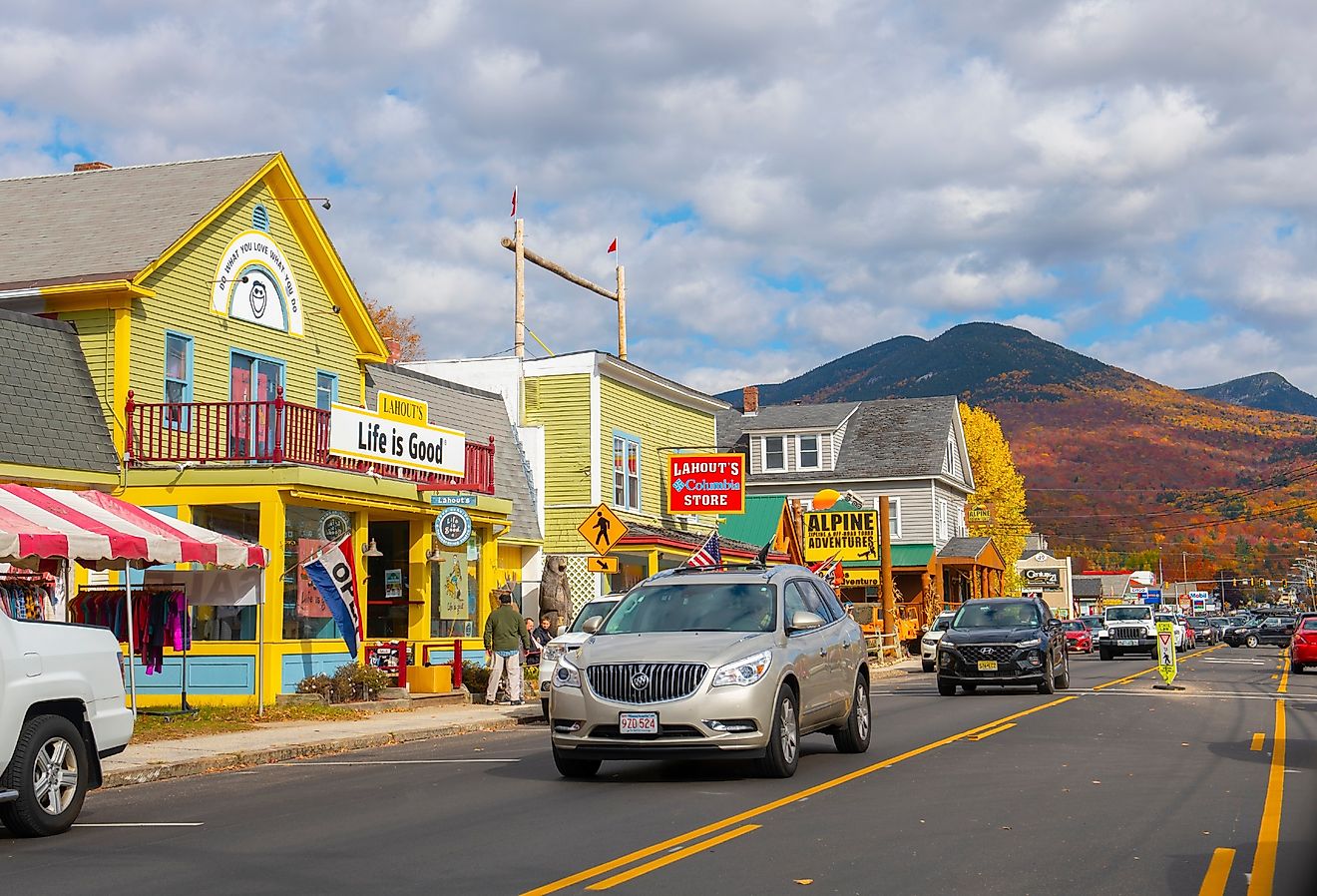 8 Most Underrated Towns In New Hampshire To Take A Trip To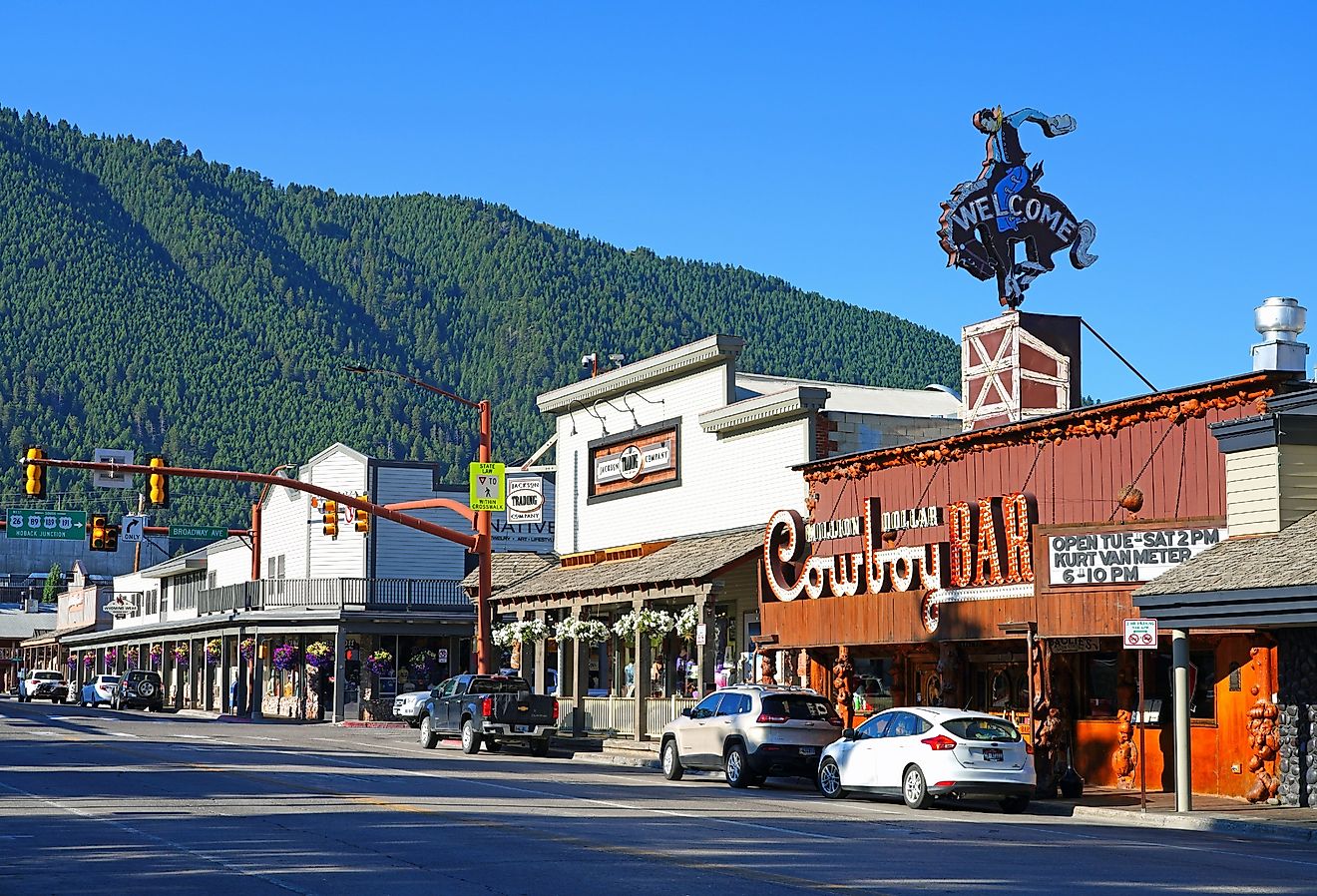 8 Most Underrated Towns In Wyoming To Take A Trip To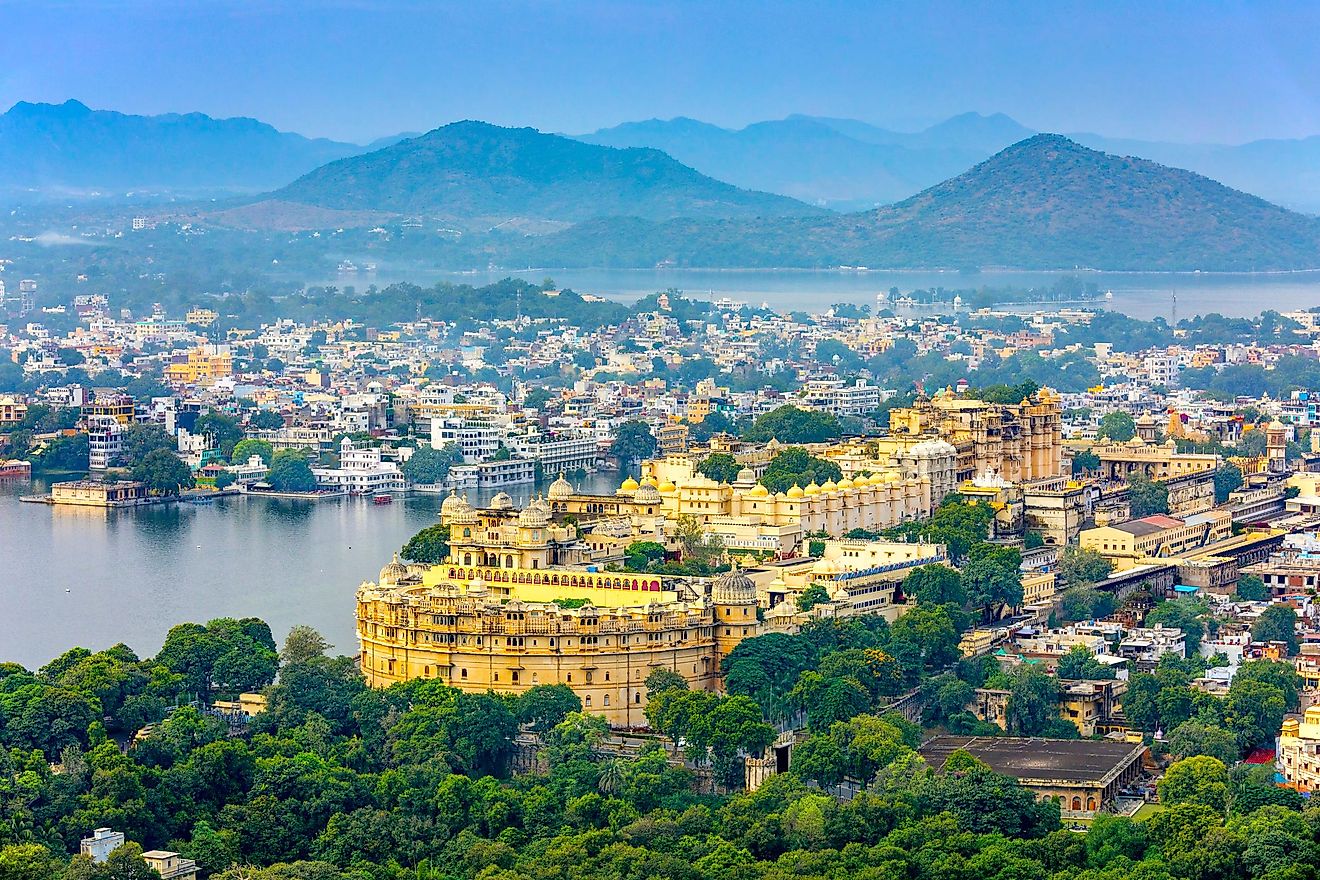 Udaipur Travel Guide: Things To Do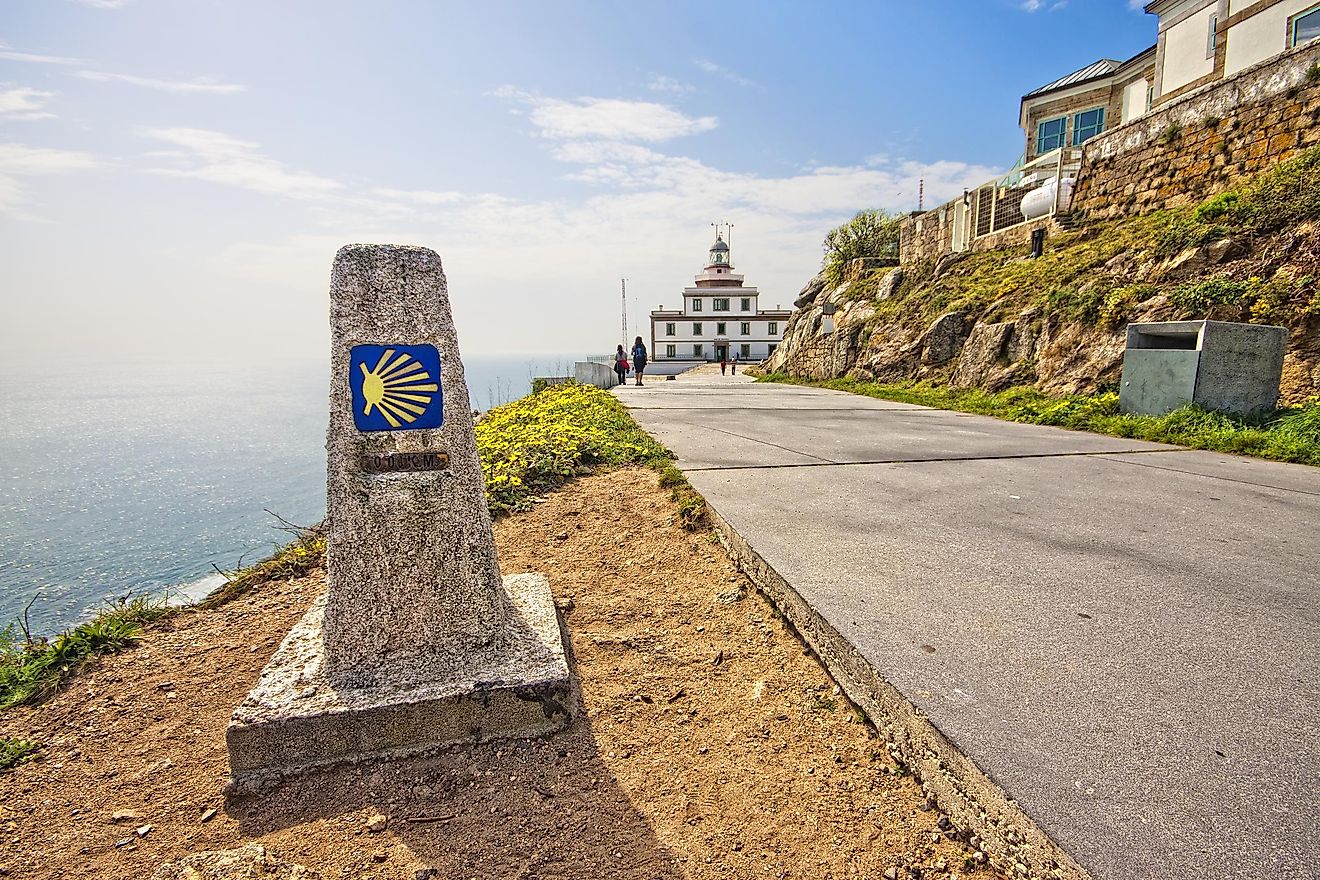 The Classic Routes of the Camino de Santiago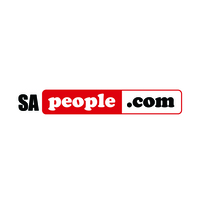 Holiday season: Five things to do in Cape Town under R50
Posted: November 14, 2023 | Last updated: November 14, 2023
Cape Town is fast becoming South Africa's most loved destination by locals and international tourists. 
The Mother City has much to offer as it caters to both young and old. Here are  five things you can do under R50 . 
THINGS TO DO IN CAPE TOWN ON A BUDGET 
Mayoral Committee Member for Economic Growth, Alderman James Vos said there is so much to see and do in the Mother City for families, couples, groups, or solo sight-seekers.
"The best part is that people needn't break the bank to experience it all," he said.
Strawberry-Picking at Polkadraai
The beautiful Polkadraai Strawberry Farm is in Stellenbosch. Strawberry picking takes place between September and January. One can walk through rows of fruit beds and pick strawberries with family or friends. Activities for kids include face painting, pony rides, and a playground.
Prices: Strawberry Picking: R50 per person
Tractor Ride: R25 per person
Mini Golf: R25 per person
Pony Rides: R25 per child
Face Painting: R25 per child
Arts and Crafts: R40 per craft
ALSO READ:  THIS Cape Town road will be closed for approximately 24 months
Visit The Penguins at Boulders Beach
Home to the famous colony of African Penguins, Boulders Beach makes the perfect day out. You can dip in the False Bay Ocean, find a spot on the sand for a picnic, or relax and watch the penguins roam in their natural habitat.
Price: R44 per adult; R22 per child (SA citizens)
ALSO READ:  Cape Town's most affordable neighbourhoods
The Magic Company at GrandWest Casino and Entertainment World
The Magic Company at GrandWest has all the fun for kids and teens or adults looking to free their inner child to enjoy. You can race a superbike, shoot some hoops, hit a strike in ten-pin bowling, immerse yourself in a virtual reality experience in the X Rider, try out the Lazer Zone, or compete in a friendly ice hockey game.
Prices: Ten-Pin Bowling (Mon-Thurs): R45 per person
Laser Tag: R50 per person
X-Rider: R40 per person
Arcade Games: R2 per token
Locally known as "The Castle", the City of Cape Town says this bastion fort is considered the best-preserved example of a 17th-century architectural structure in the world. A bell tower over the main entrance was built in 1684. The original bell, also known as the oldest in South Africa, was cast in Amsterdam in 1697 and weighs just over 300 kilograms.
The Castle also acted as the local headquarters for the South African Army in the Western Cape and today houses the Castle Military Museum and ceremonial facilities for the traditional Cape Regiments.
Price: R25 – R50
If you want to learn salsa and get your hips swinging on the dance floor, head to Mojo Market for free beginner Salsa classes every Sunday at 6:30 pm. Everyone is welcome, whether you are single, a couple, or in a group. Be sure to stay afterward for the Salsa Party featuring a hot line-up of DJs, unique bars, and food stalls.
Price: Free
ALSO READ:   Five SA airports ranked amongst the top 10 best in Africa
THOUSANDS OF TOURISTS EXPECTED IN THE MOTHER CITY
According to the City of Cape Town bookings for the coming months looked positive with Cape Town International Airport poised to welcome an impressive 31,000 passengers daily, with approximately 215 international flights landing each week.
"Let's work together to make this season truly wonderful for visitors and locals, understanding that our collective efforts have far-reaching economic impacts. As Capetonians, let's give ourselves the chance to experience our city. We might think we know all the gems Cape Town has to offer, but there is an endless bounty of beautiful and interesting places to see and things to do. After a long year, we deserve to go out and find those gems," Vos said.
CLICK HERE TO READ MORE ARTICLES BY NOKWANDA NCWANE
The post Holiday season: Five things to do in Cape Town under R50 appeared first on SAPeople - Worldwide South African News .
More for You
Forget the gloom of the 1970s—UBS thinks the U.S. economy is headed back to a Clinton-like era of the bustling 1990s
40 Classic Homemade Soup Recipes
Supreme Court Delivers Blow to Vaccine Skeptics
Winter Storm Warning Snow Totals Depend On Where You Live
Hagar the Horrible by Chris Browne
Tower block at risk of collapse as residents told to evacuate immediately
It's Official: This Map Shows America's Top Thanksgiving Pies in Every State
Congress just found the dumbest way to avoid a government shutdown
A new COVID variant, HV.1, is now dominant. These are its most common symptoms
'Panicked' Russia Pulls Warships From Crimea: Report
IRS Increases Gift and Estate Tax Exempt Limits — Here's How Much You Can Give Without Paying
Israel's Golani Brigade avenges troops killed by Hamas on Oct 7 with Gaza gains
We Tried And Ranked 17 Of The Best Frozen Pizzas And The Winner Had Us Shook
The Georgia district attorney who charged Trump expects his trial to be underway over Election Day
The Best Christmas Towns in America You Should Visit at Least Once
Three potential landing spots for Patriots HC Bill Belichick
Hit The First Vehicle, Hit The Last & Trap The Rest: The Ukrainians Used A Classic Tactic To Devastate A Russian Ammo Convoy
Maps Show Biden's New Nuclear Bomb Compared to World's Most Powerful Nukes
Why a Blue-Leaning Swing State Is Getting Redder
Professor who praised Hamas 'resistance fighters' on gliders no longer employed by Emory University
According to recent statistics, these cities are among the most dangerous in the world. Images-Image, @SAPoliceService/Canva
Cities in South Africa best to 'steer clear of'
Cape Town, Durban, and Gqeberha have secured spots in the top 20 deadliest cities globally, making the some the cities 'best avoided' in SA.
Recent data reveals an alarming trend—four of South Africa's cities secure a spot among the world's top ten most dangerous urban areas.
With the Q4 crime statistics set to be circulated in the coming week, the cities may be privy to change, but as it stands, these are the cities best avoided, according to the Mexican Council for Public Security and Criminal Justice .
ALSO READ: THESE South African cities, among DEADLIEST in the WORLD
The council, dubbed a "collegial citizen body," overseeing public security, reports Cape Town, Durban, and Gqeberha rank among dangerous North and South American cities.
TOP CITIES BEST TO STEER CLEAR OF IN SOUTH AFRICA
1. Cape Town
Cape Town, positioned at twelfth, reports a staggering 2998 murders, topping the list despite its global ranking.
ALSO READ: Crime stats:Tips to protect your assets against Break-ins
With a population exceeding 4,7 million, this translates to 63 homicides per 100 000 people.
Durban, with just over four million residents, records 2405 murders, equating to 59 murders per 100 000 people.
ALSO READ:  These SA cities ranked in the Top 20 most violent in the WORLD
3. Johannesburg
Johannesburg, South Africa's most populous city, holds the largest spot on the list with 2547 murders. However, considering its vast population of over 6.1 million, the per capita rate stands at 41 murders per 100 000 people.
4. Qqeberha
Gqeberha (Nelson Mandela Bay), despite having a comparatively lower murder rate of 687 for 2022, sees a higher rate of 57 murders per 100 000 people given its population surpassing 1,3 million.
ALSO READ:  Crime Index: Apparently this is SA's most 'dangerous city'
ALARMING DISPARITY
According to the UK's Daily Mail , the combined murder count in Johannesburg, Cape Town, and Durban for 2022 surpasses the total murders in all other cities on the list.
The gravity of the situation highlights a concerning trend in South Africa's urban centers.
ALSO READ:  Crime Stats: Over 6000 people murdered in first three months of 2023
According to The South African , Johannesburg, South Africa's most populous city and the largest on the list, had 2547 murders on the list, but with a population of over 6,1 million, only 41 people are killed per 100 000.
Relatively, the large metro's Gqeberha (listed as Nelson Mandela Bay) had a low murder rate for 2022, with just 687 murders. However, with a population of over 1,3 million, the murder rate is 100 000 at 57.
CLICK HERE TO READ MORE ARTICLES BY BONOLO MOLOI
WIN R250 per day with our Christmas Advent Calendar competition - CLICK HERE
Latest Posts
Bobby Motaung pinpoints why Kaizer Chiefs keep hiring and firing coaches
Bobby Motaung unhappy with the club's scattergun approach to managers
WATCH: Sixteen Gauteng hospitals suffered water cuts [VIDEO]
Furry Fun Fact of the Day: When did sphynx cat breeding start?
Guinness World Records: Longest handmade wig
Springboks robbed? SA Rugby offices reportedly burgled [watch]
Mountain View, CA
Mountain View
Around the Globe
Hurricane tracker, severe weather, radar & maps, news & features, winter center, trending now.
Now Playing